Want to know what it is like to stay at Great Wolf Lodge in Grapevine, Texas? I have you covered! Find out what it is like to stay in a Grizzly Bear Suite and have a water park right in your resort!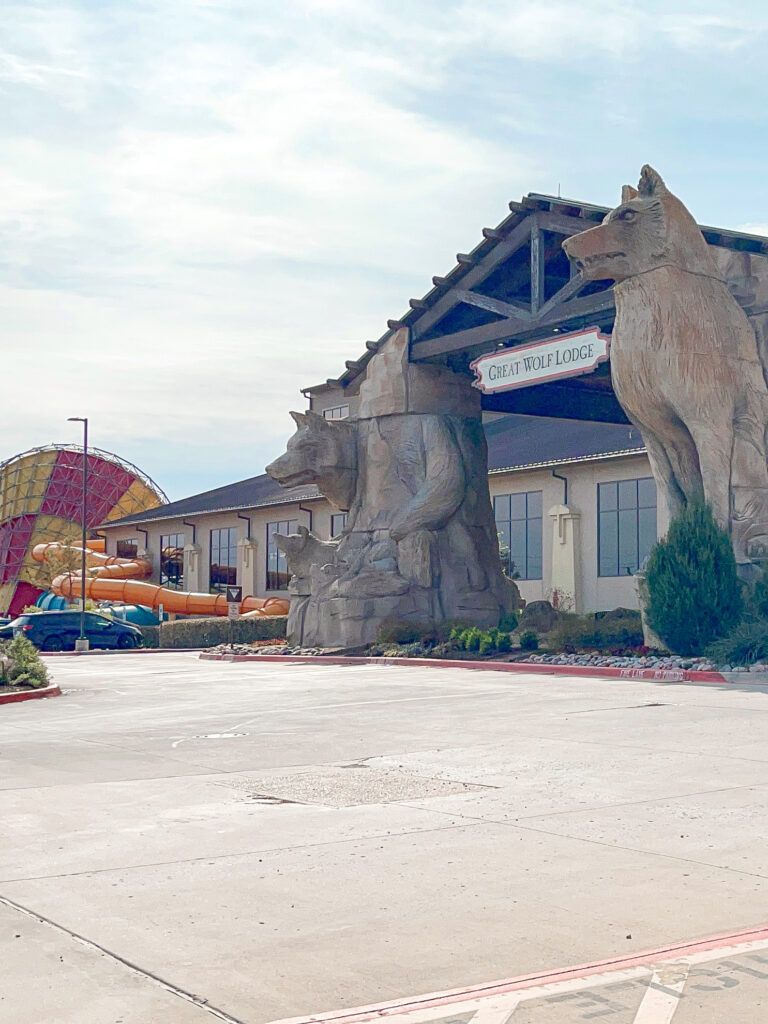 My family and I recently had the opportunity to go to Texas and stay at Great Wolf Lodge in Grapevine. Grapevine is located right outside of Dallas/Fort Worth and is a short ride from both DFW Airport and Dallas Love Field Airport.
In this article you will find a review of our Grizzly Bear Suite as well as a tour of both the indoor and outdoor water parks.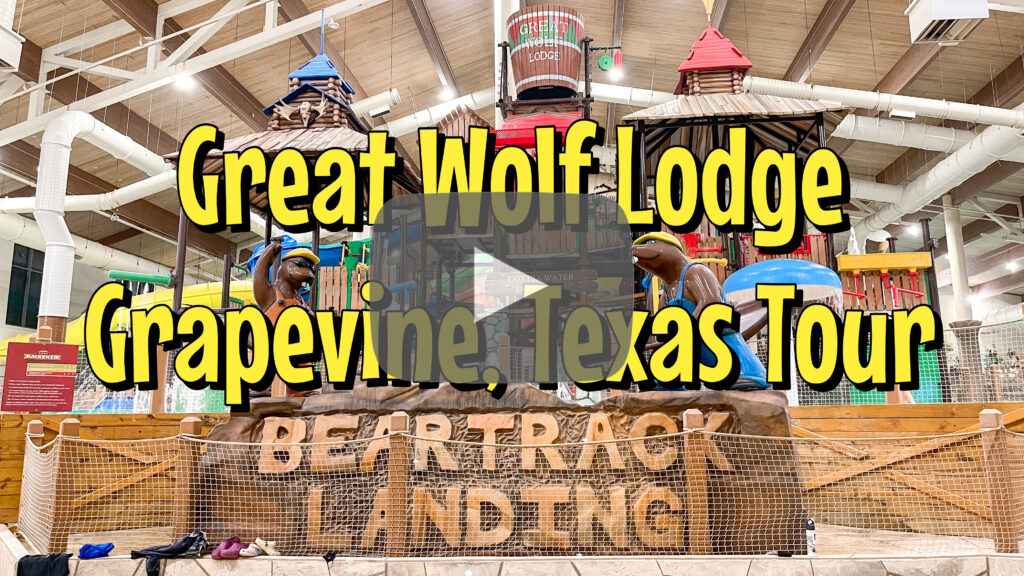 Make sure you are subscribed to Mommy Mouse Clubhouse on YouTube here and have turned on notifications so you won't miss any of my Great Wolf Lodge fun and Disney tips & tricks!
Great Wolf Lodge Texas
Before we head into the room, you'll want to watch the video above to see a quick short cut we found if you happen to stay on floors 4 or 5!
Instead of waiting in the super long elevator lines, you can head right up these stairs from the lobby and end up on your floor! It saved us so much time.
Grizzly Bear Suite Tour
Welcome to the Grizzly Bear Suite! This is by far our favorite room type because there is so much space. We can easily fit our family of five, with tons of space to spare.
If you can make it work with your budget, I highly recommend this room type. Want more info about this room? Check out our Grizzly Bear Suite here in Arizona, and here in Washington.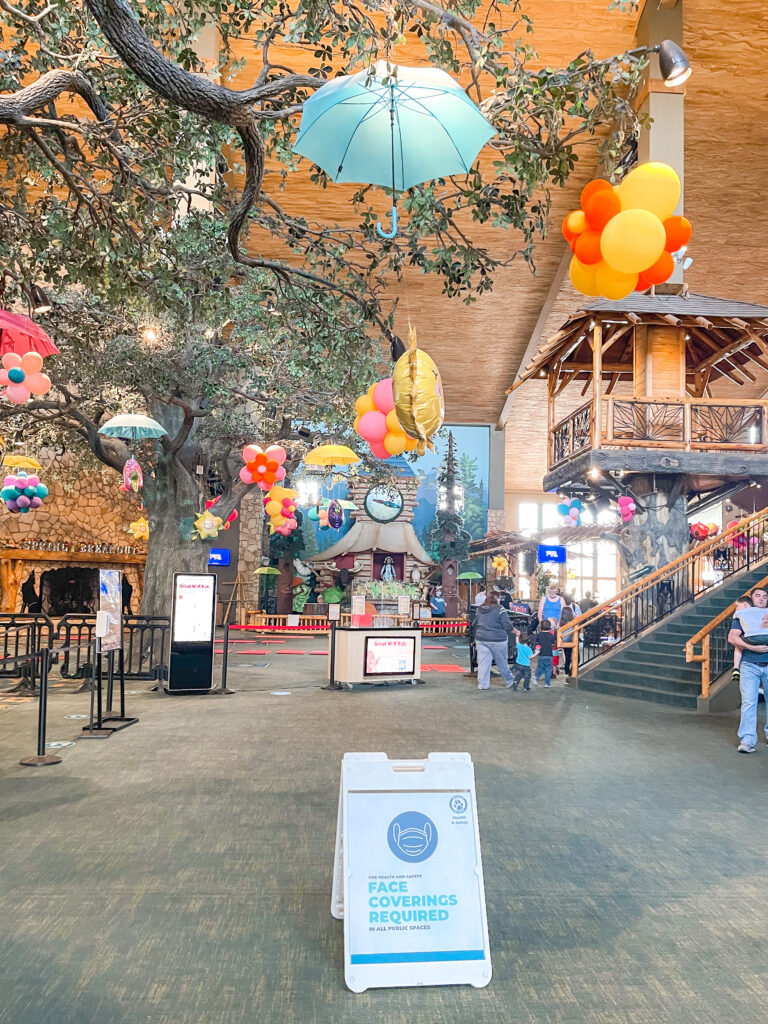 If you have preschool through late elementary age children, you might also want to check out our Wolf Den Suite in California and our Kids Cabin Suite in Arizona!
Entry Way Closet
Right when you enter the room, there is a small closet which was a great place for my family to keep their shoes and to store our swimming supplies to grab on our way to the water park. There are a few hangers as well as an iron and an ironing board.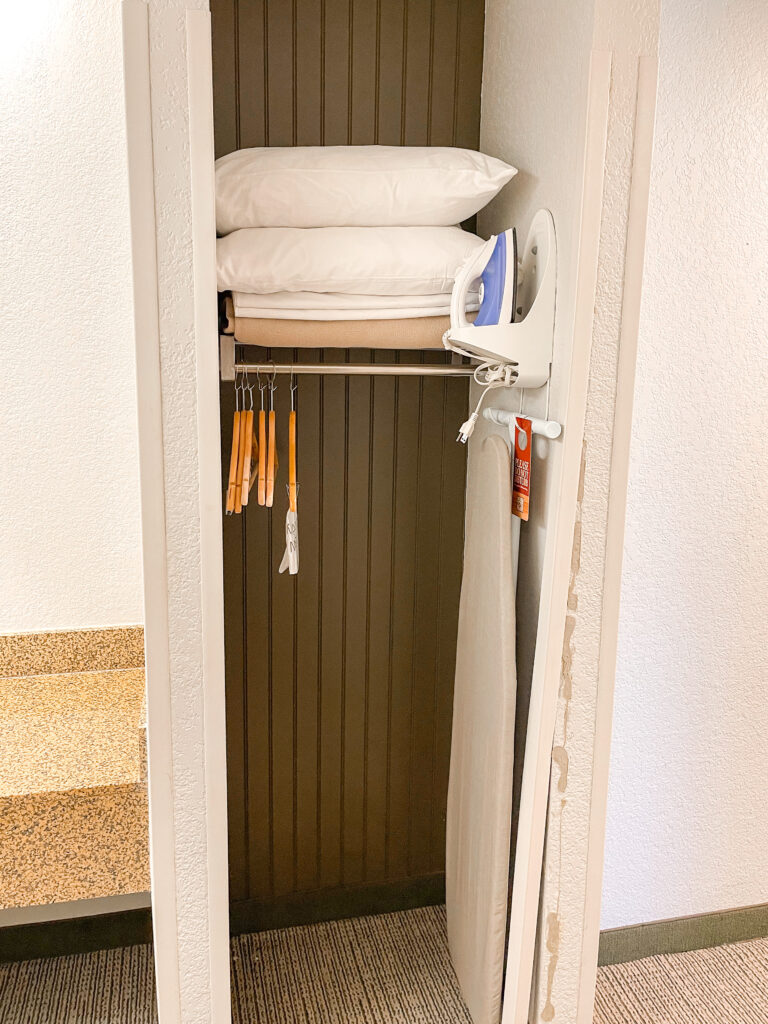 Bathroom
One of the perks of staying in a Grizzly Bear Suite at Great Wolf Lodge Texas is that there are two bathrooms. This really helps when you have a large family! The first bathroom is located right inside the entrance to the room.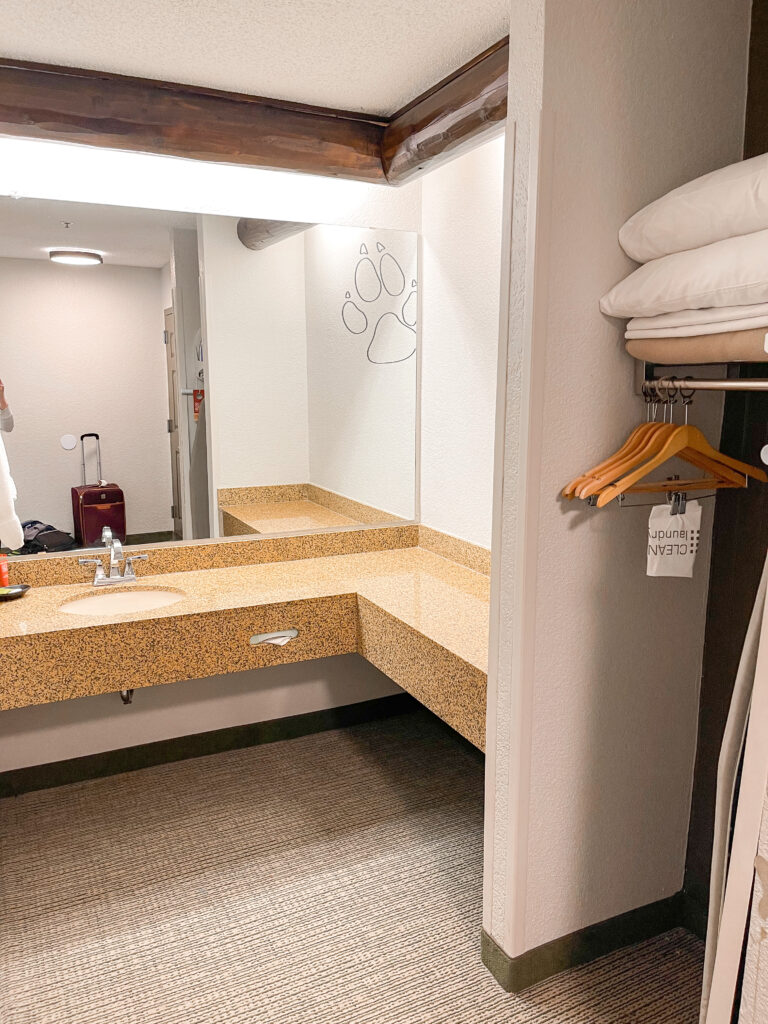 Here is a picture of the sink and large counter area. I like that the sink is separate from the toilet and shower. That way, someone can be in the bathroom, while someone else is using the sink.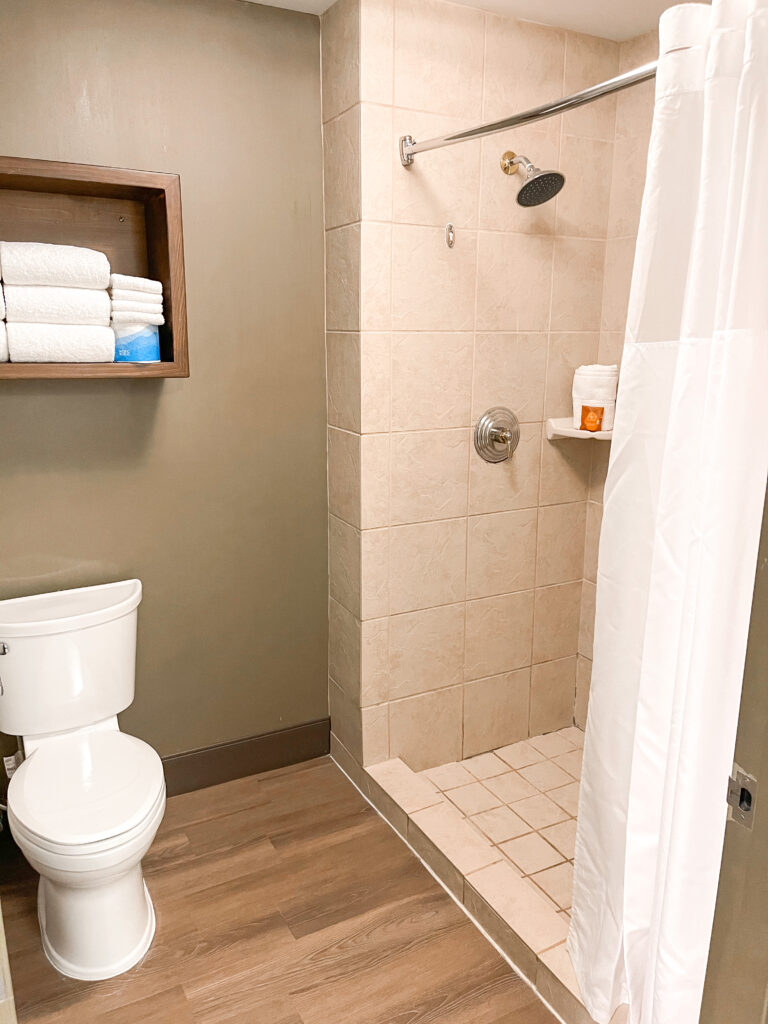 The bathroom has a toilet and a large stand up shower. Shampoo, wolf paw-shaped soap, and body lotion are provided complimentary to resort guests.
Hallway
In the entrance hallway, there is tons of counter space for storage. Underneath the counter is empty space with is a great place to store snacks or small suitcases.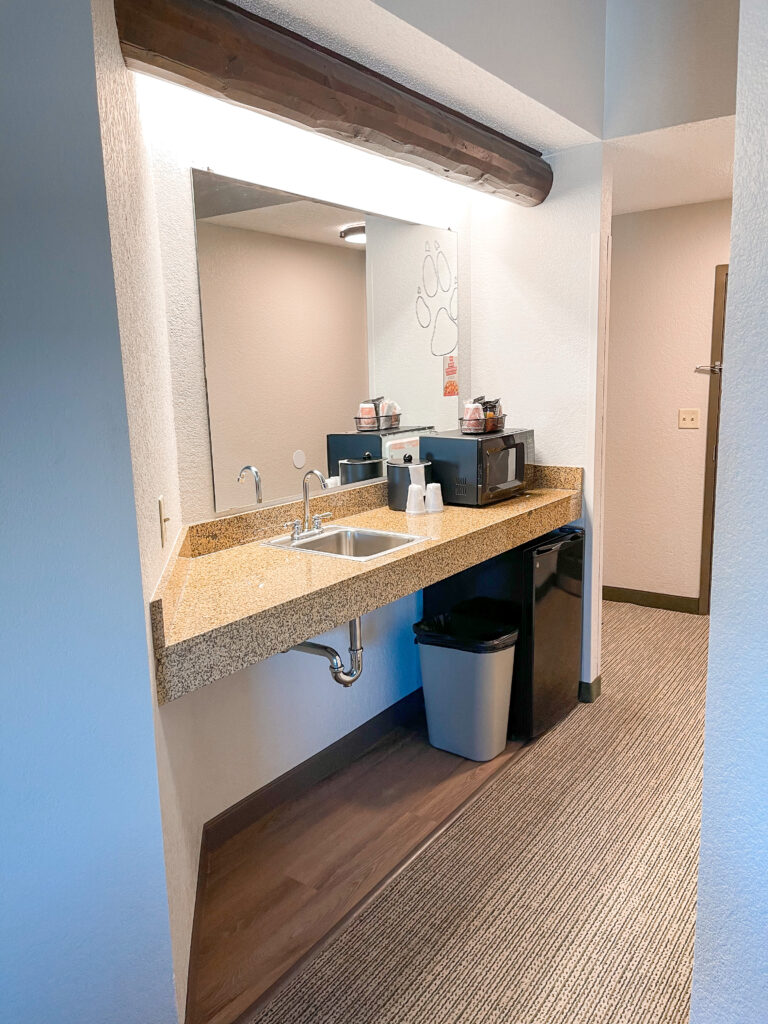 This area also has a small microwave, a coffee maker, and a refrigerator that is actually a decent size for a hotel room.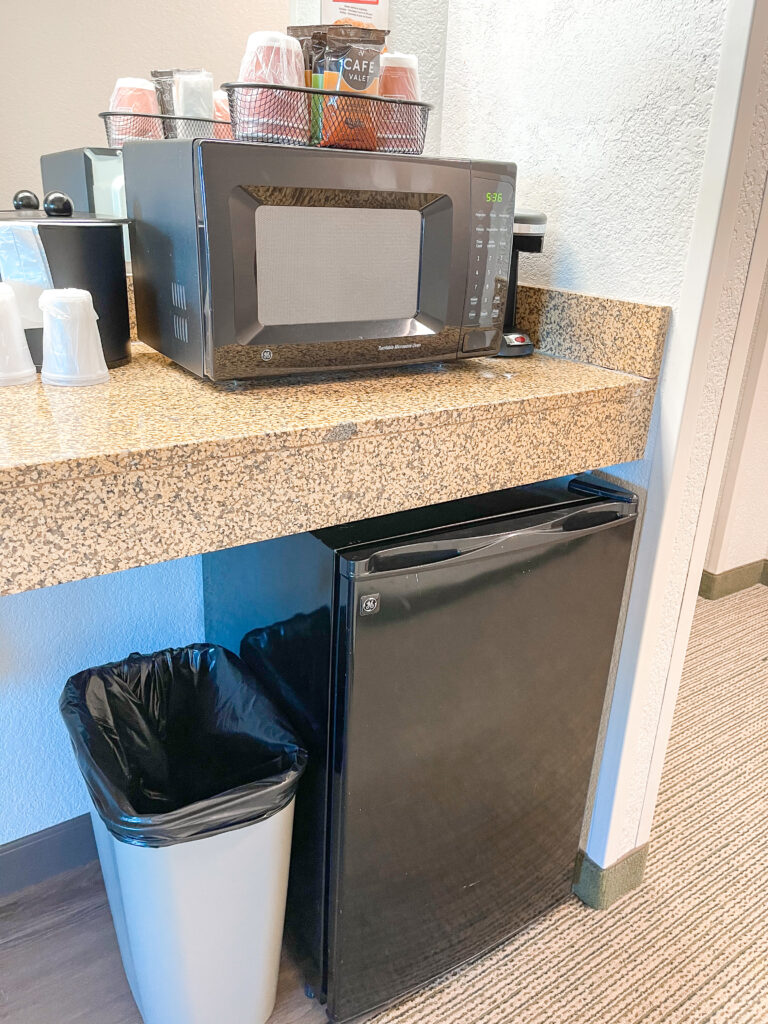 During our stay, we ordered grocery delivery from Walmart so we would be stocked with snacks and lunch items, and we had no problem storing them in this area!
Queen Bedroom
Bedroom number one has two queen sized beds with a nightstand in between.
Directly across from the queen beds is another closet, a dresser, and a large television.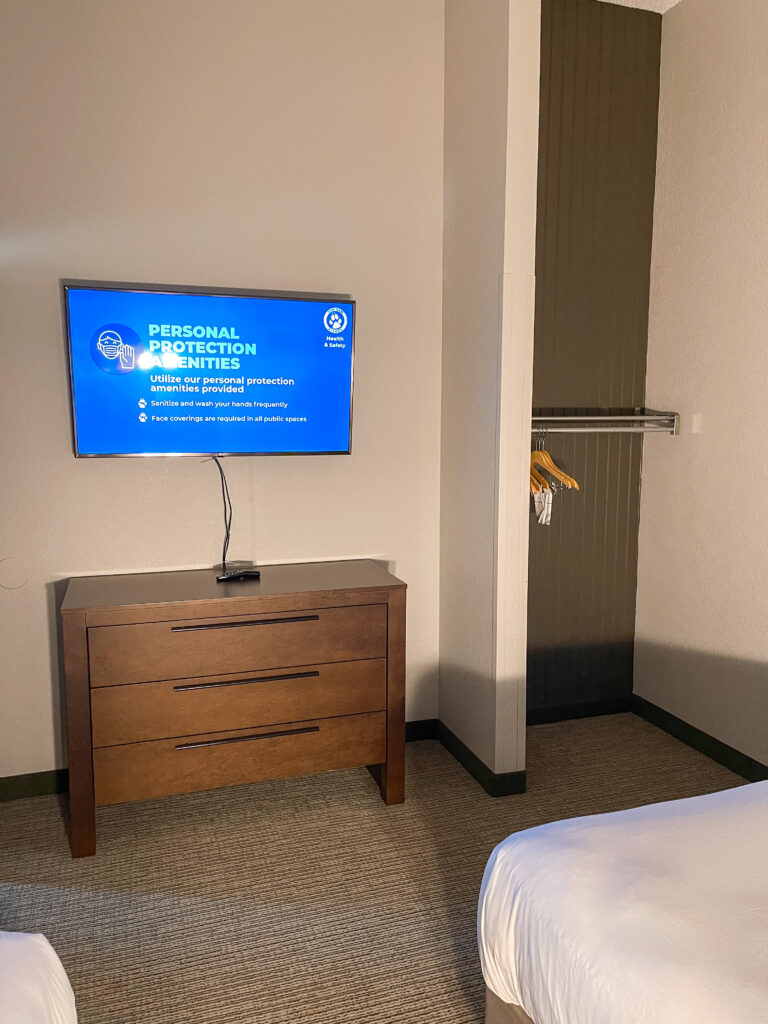 Master Bedroom
The master bedroom is located directly across the hall from the queen bedroom and has a king size bed with one nightstant.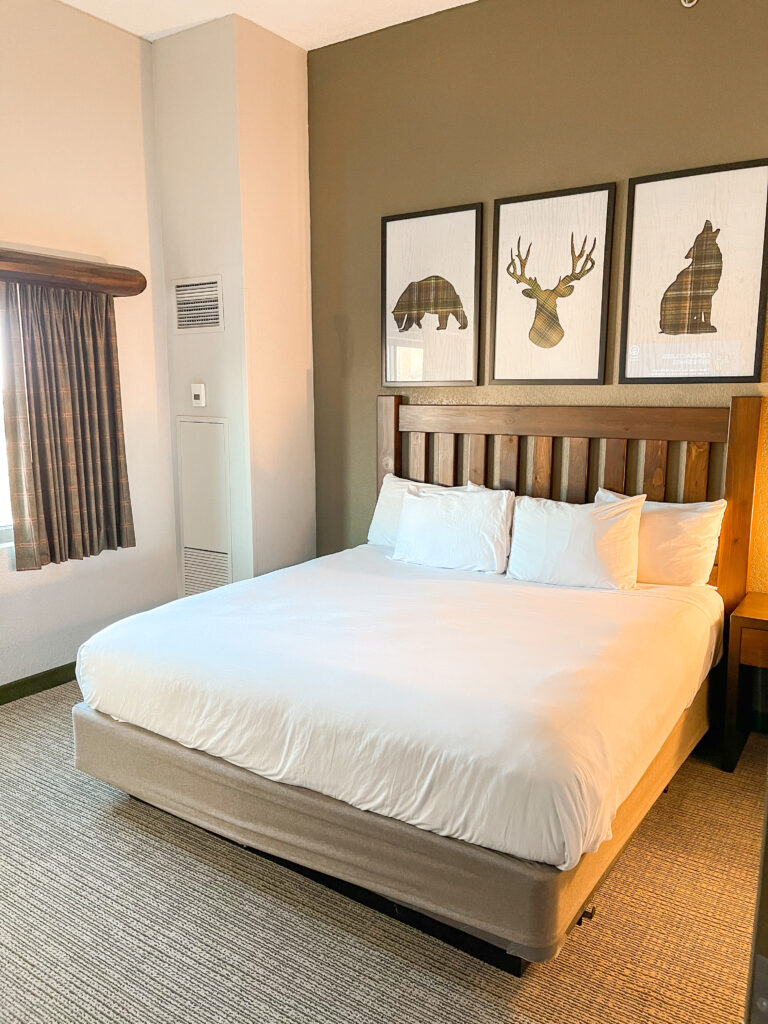 This room also has a large television, a dresser, a floor lamp, and its own private master bathroom.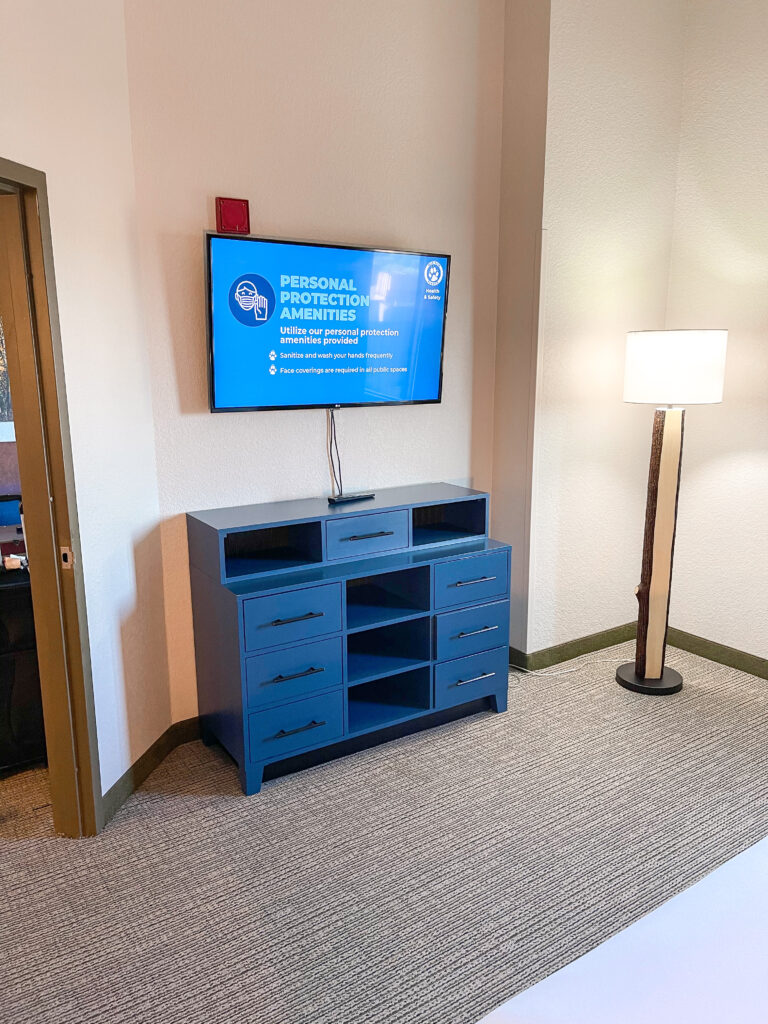 Master Bathroom
I love that the Grizzly Bear Suite has two bathrooms! This is the Master Bathroom which has a large vanity and towel storage over the toilet.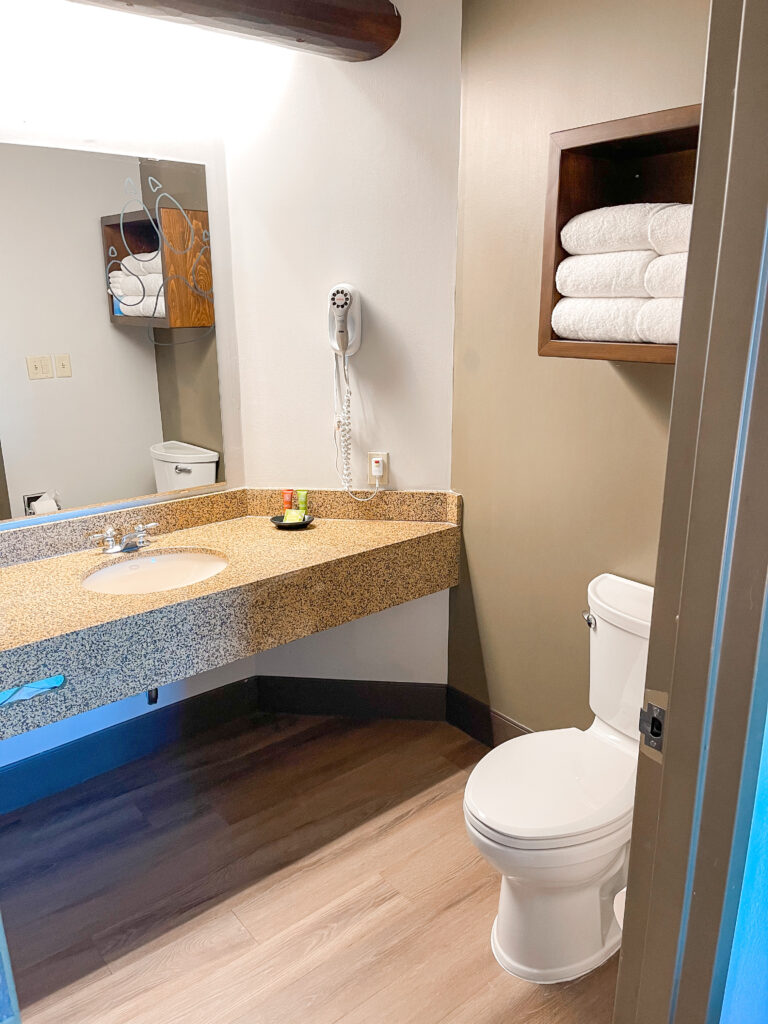 The master bathroom has a whirlpool bathtub and with a shower combination.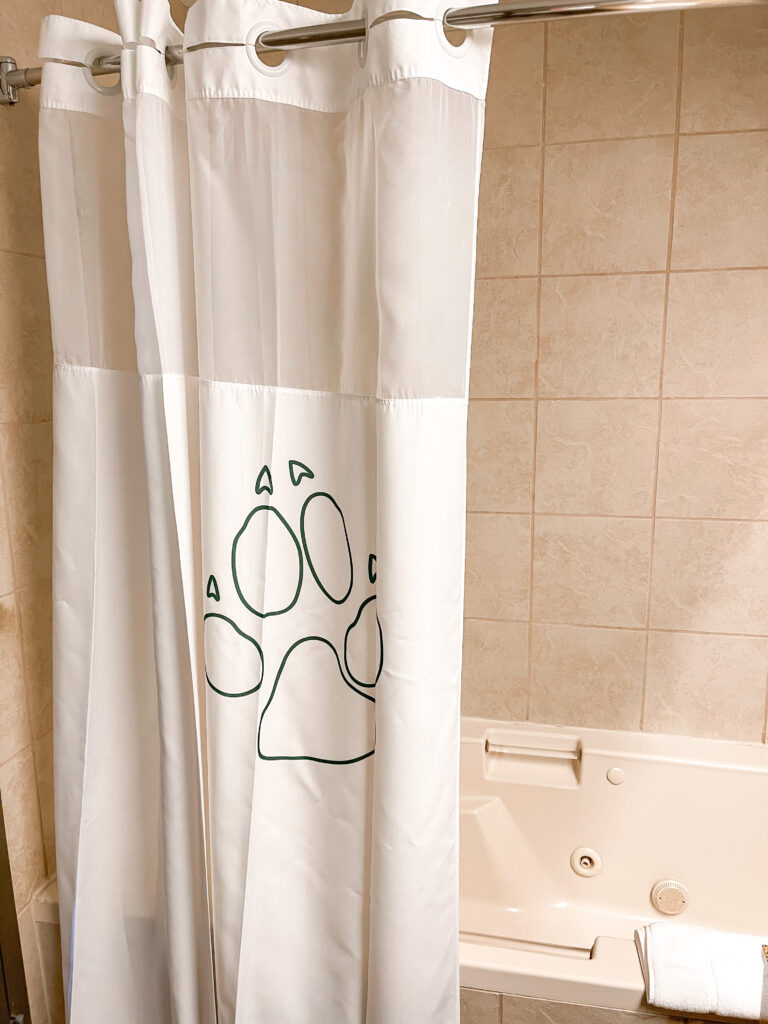 Living Room
The living room/sitting area has a chair, coffee table, and a couch that pulls out into a full-size bed. There is also a small table with two chairs and another tv.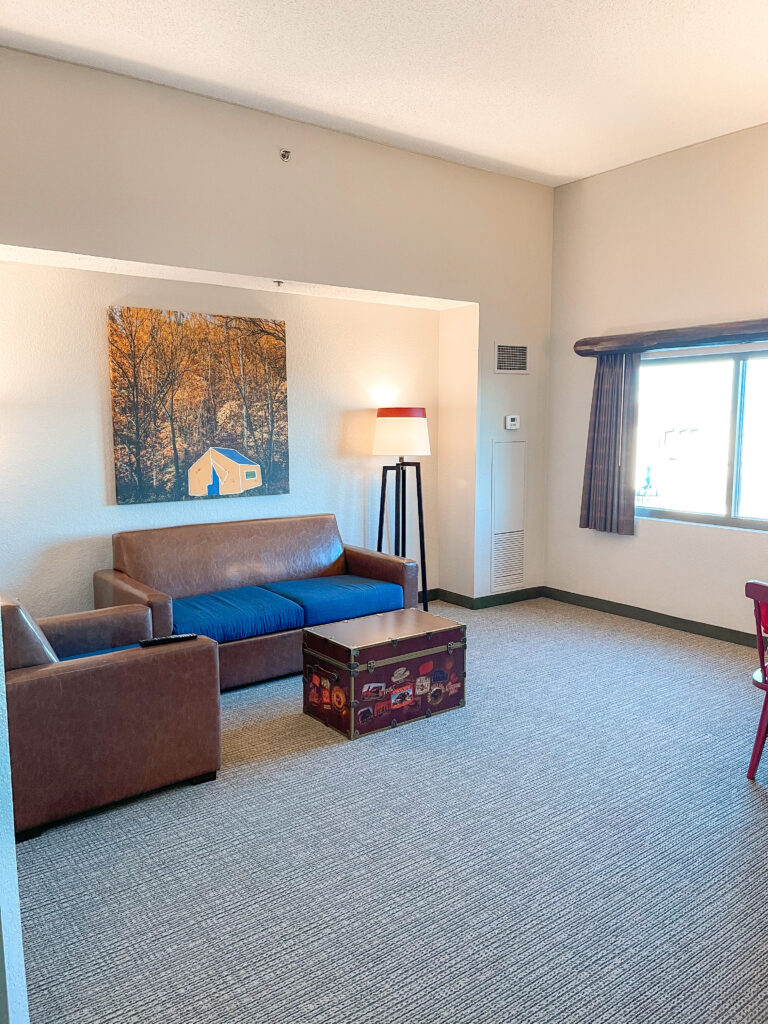 Indoor Water Park
Now let's head to the Indoor water park. The water park is included and is a huge perk when you stay at Great Wolf Lodge. You have access to the water park the day you check in starting at 1:00 until closing time the day you check out.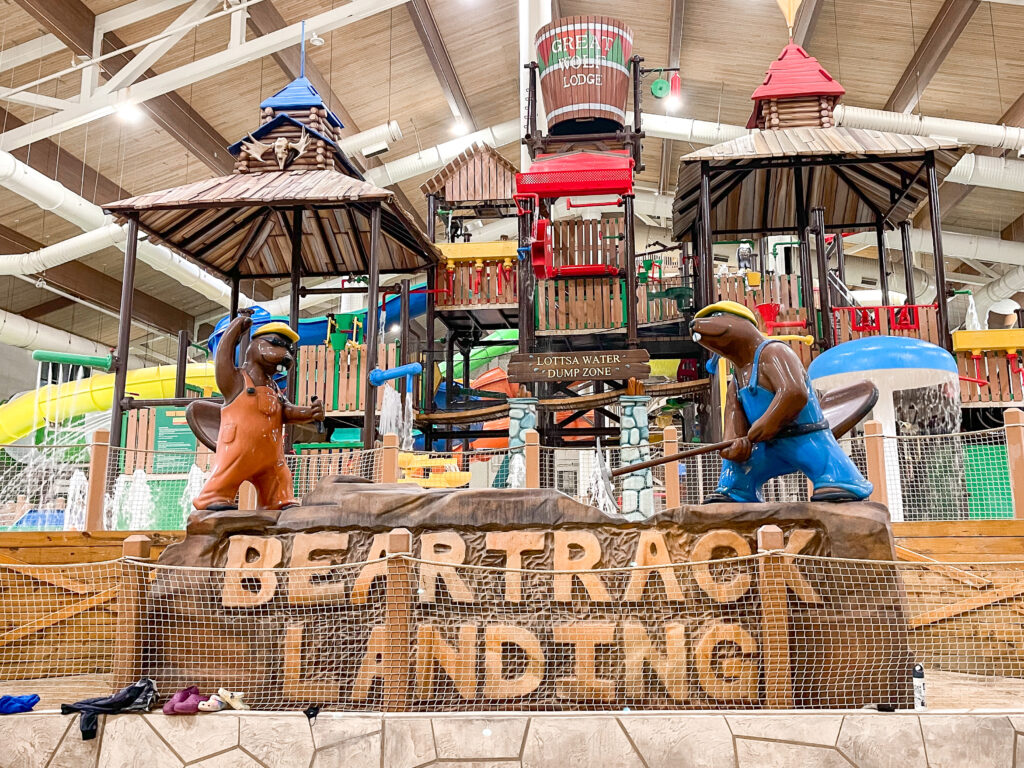 When you visit the water park, you don't have to worry about You can check out fresh towels each time you go to the water park by using your room key.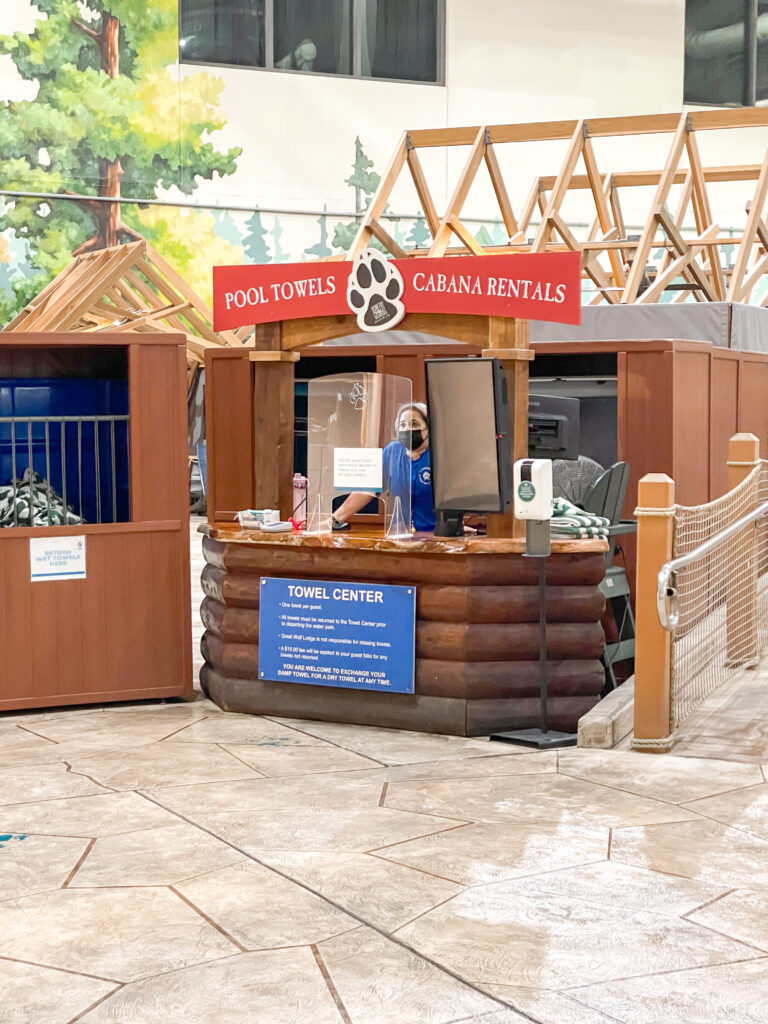 There are also life jackets readily available for smaller guests who may need them.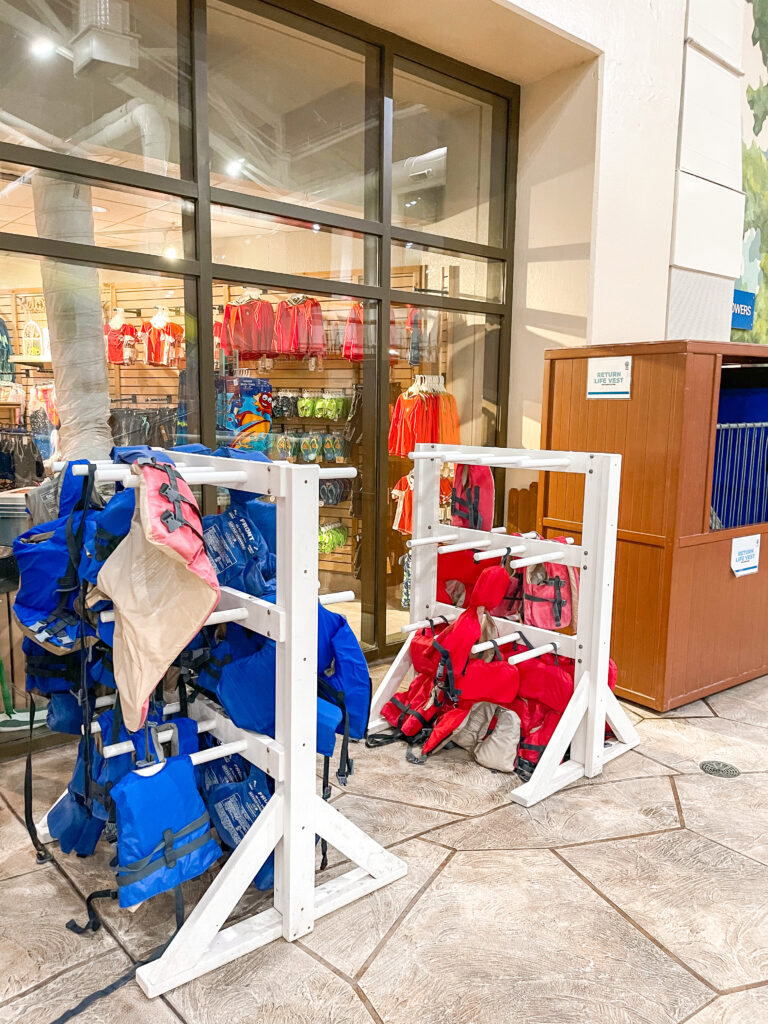 Water Playground
There is a super fun water playground for school age kids called Fort McKenzie. My boys loved this area! The are tons of water features as well as a couple of water slides, just for kids!
Lazy River
Another fun area to hang out in is the lazy river, located between the wave pool and water playground. There are tubes always floating around so you just need to find and claim an empty one and you'll be on your way.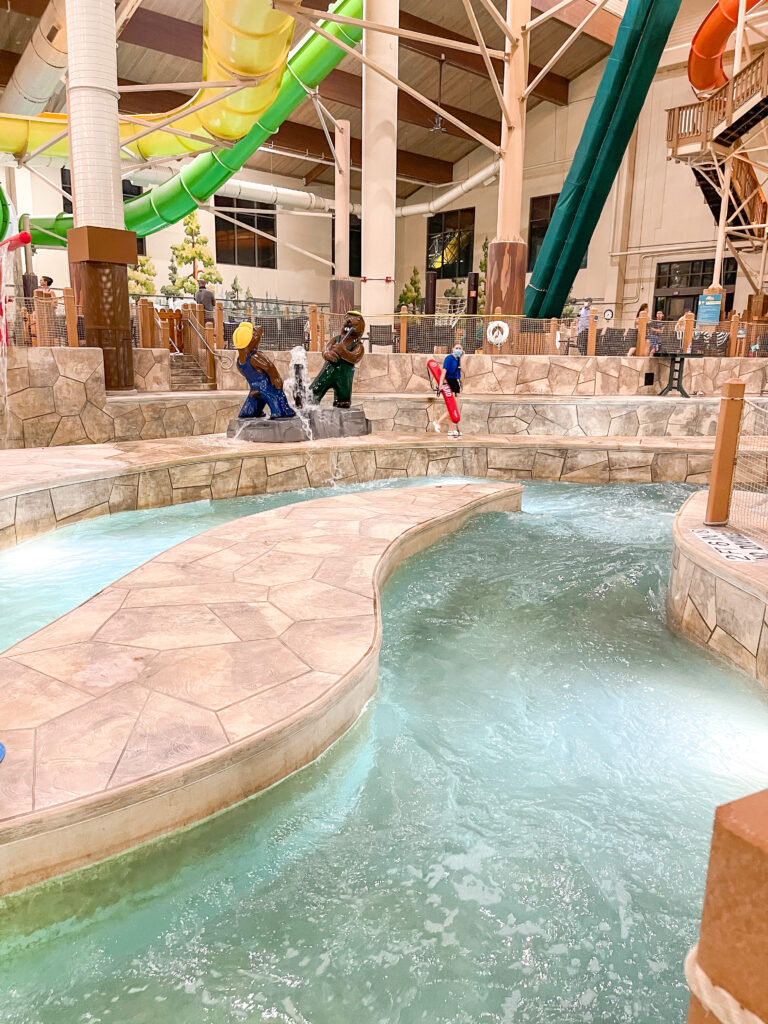 Wave Pool
The wave pool was one of my kids favorite things in the water park! They had a good time just swimming around. The best part is when you hear the wolf howl and the waves start to come!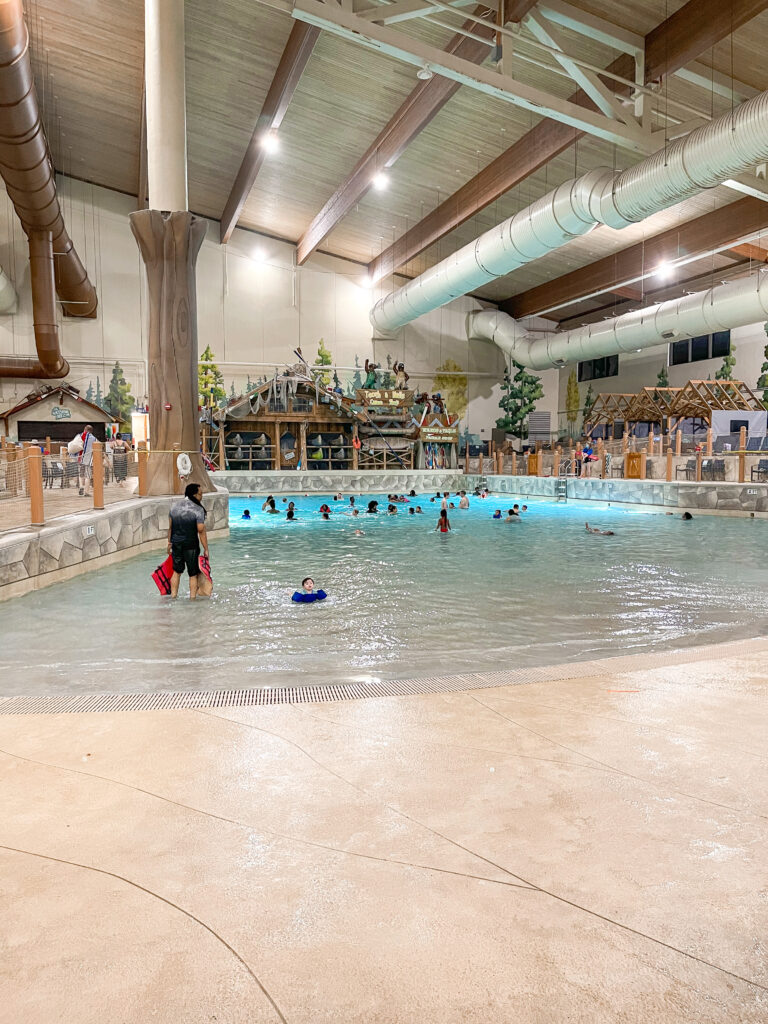 Water Slides
Let's take a look at the water slides! There were three slides that could accommodate 1-2 riders and two slides that you ride in a raft that will fit up to four people!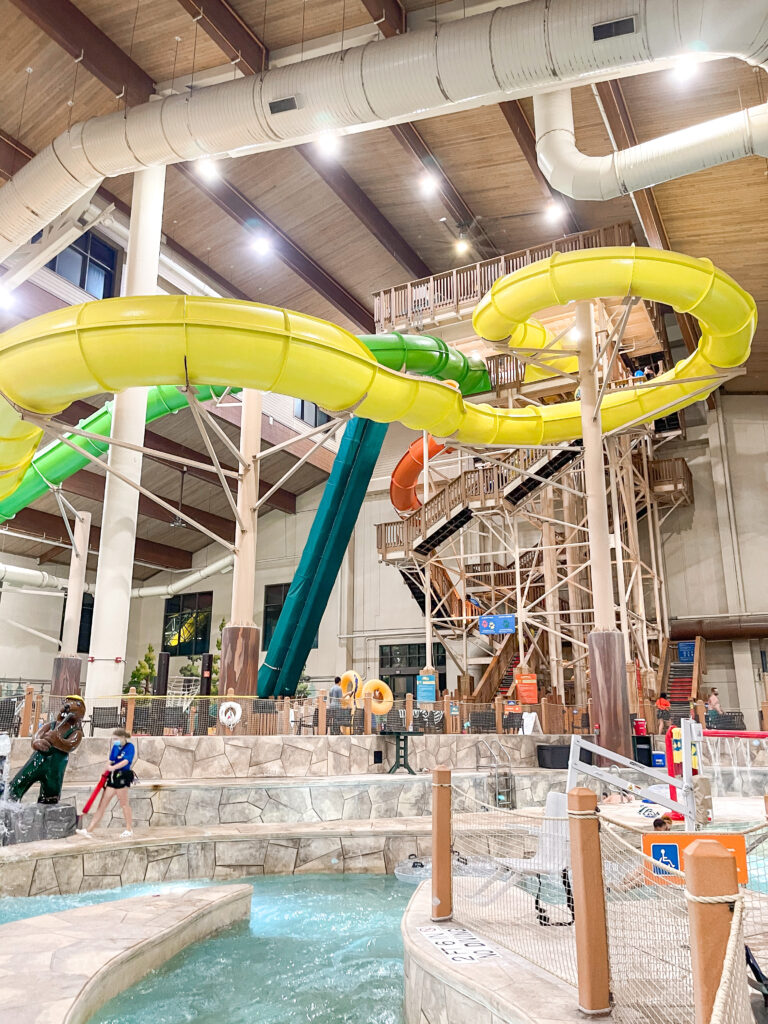 Each slide has different height requirements, so you'll want to make sure you pay attention to that before you get in line!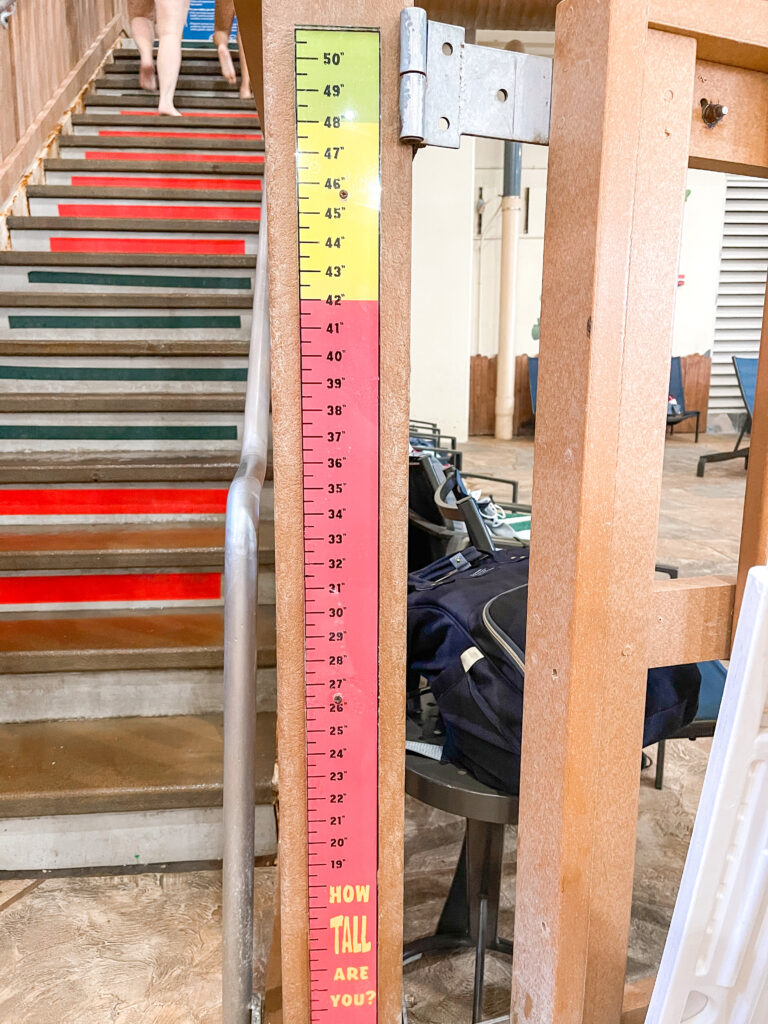 Toddler Area
The indoor water park has quite a large toddler area. There were tons of areas to splash as well as a few smaller water slides that are perfect for little ones.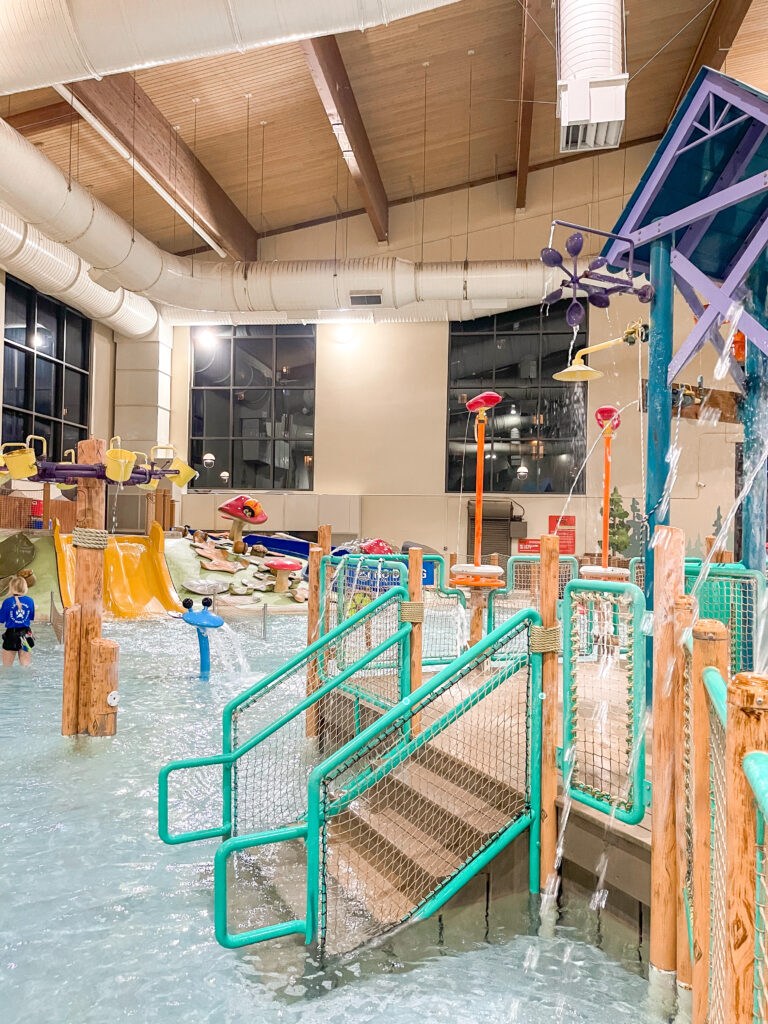 Chinook Cove
Chinook Cove was a fun area for older kids that had logs to float on, giant Lilly pads, and basketball hoops. My boys spent a lot of time in this pool.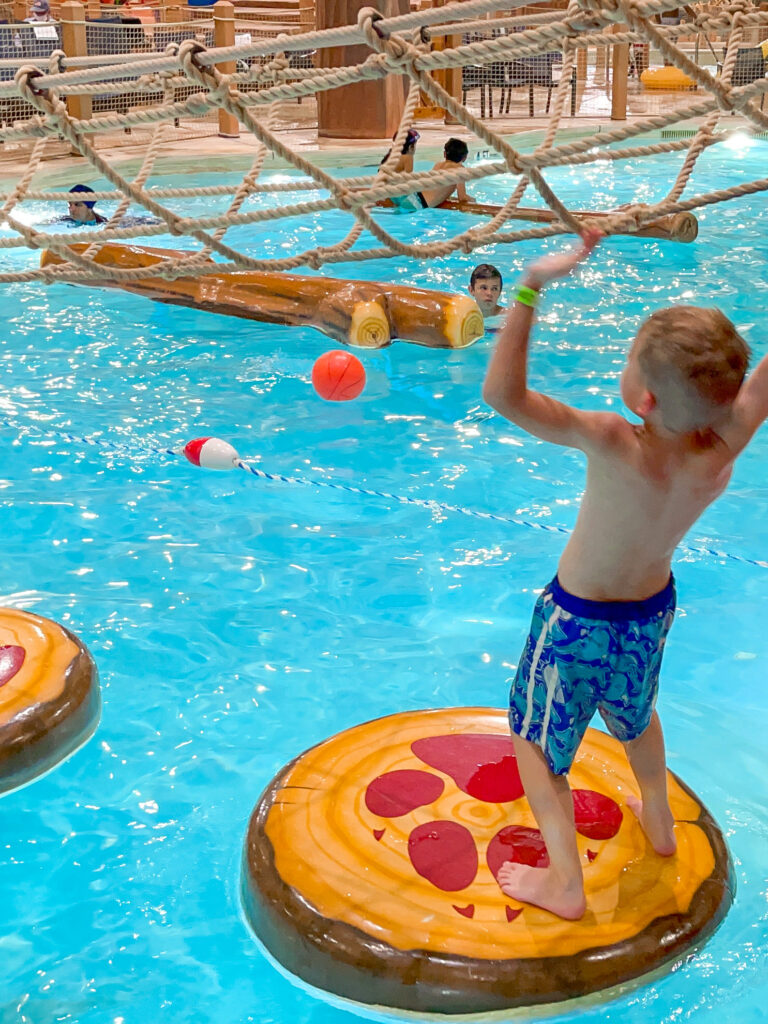 Outdoor Water Park
Now let's head outside. There is a large pool area with basketball hoops and is shallow in parts for little ones to play. There are also two large water slides.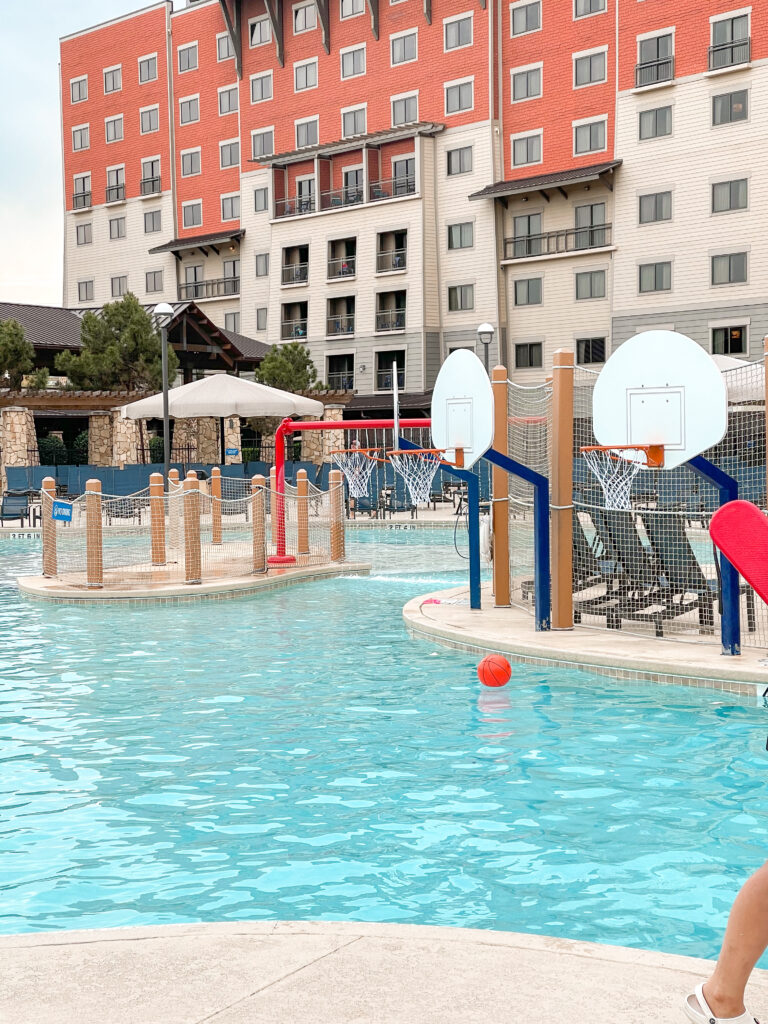 Unfortunately, we didn't get to spend a lot of time out here because it was a little chilly during our stay. But it didn't stop my 6 year old from taking his dad down the water slides!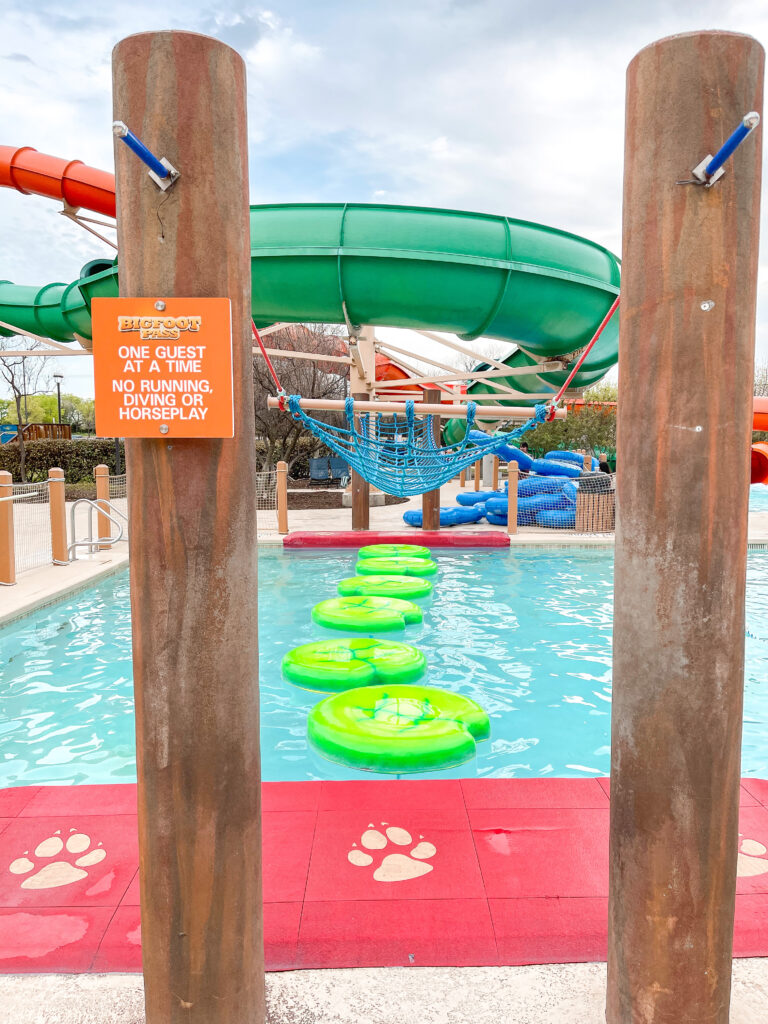 Besides the water parks, the ropes course has been my boys favorite thing to do at every Great Wolf Lodge location we have been too and Texas was no exception.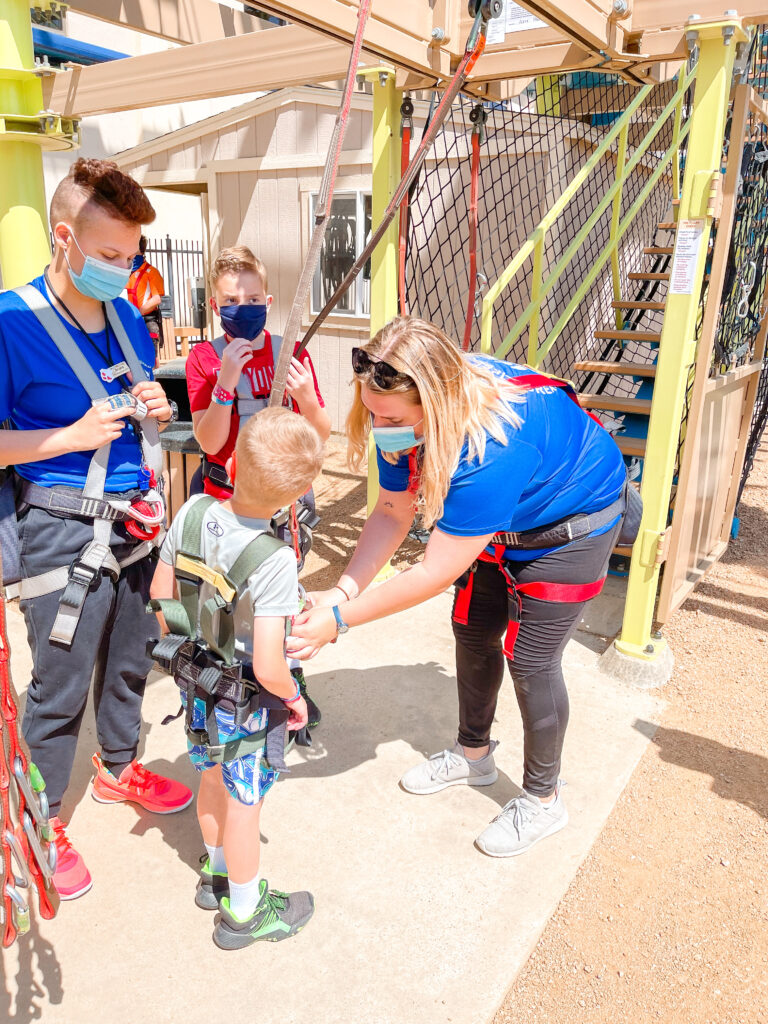 We ended up purchasing the Ropes course unlimited pass for each of my boys which allowed them to climb any time they wanted throughout the duration of our stay.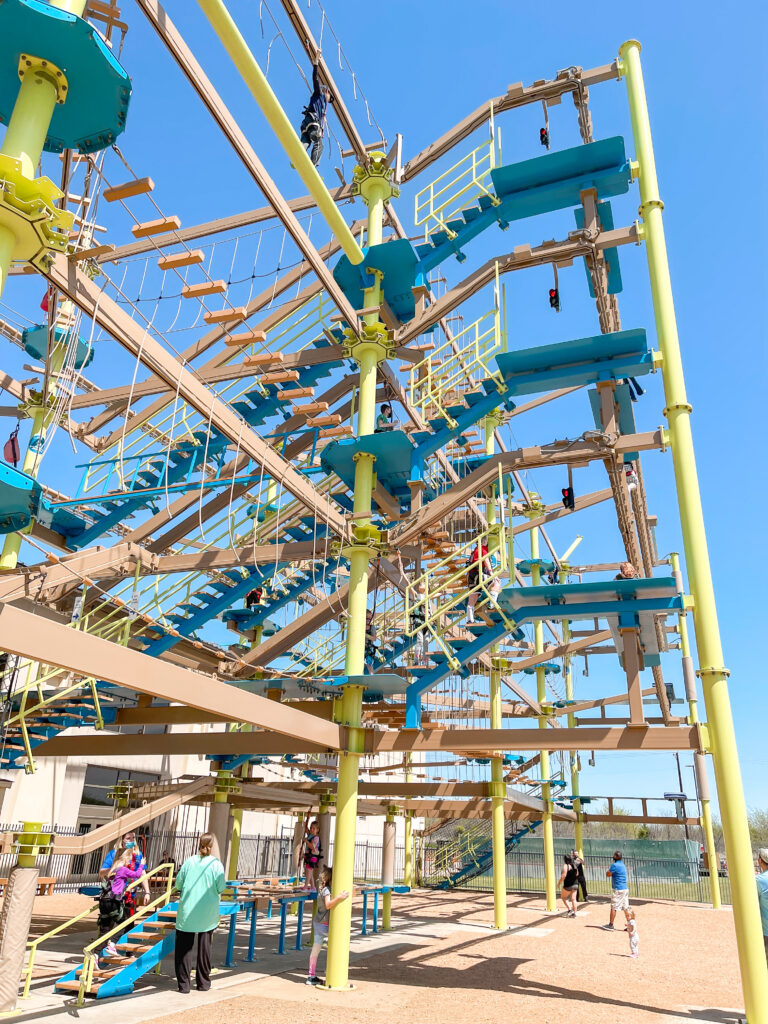 I hope you enjoyed taking a look around Great Wolf Lodge in Grapevine Texas with me. We really had a great time! If you want to see more Great Wolf Lodge fun, check out our videos from Arizona, California, and Washington.
More Great Wolf Lodge Reviews: