Are you wondering what it is like to visit Great Wolf Lodge in Arizona? Here you will find my review of Great Wolf Lodge Scottsdale, located near Phoenix, Arizona. You will find out all about the water park, Wolf Passes and take a tour of a Kids Cabin Suite!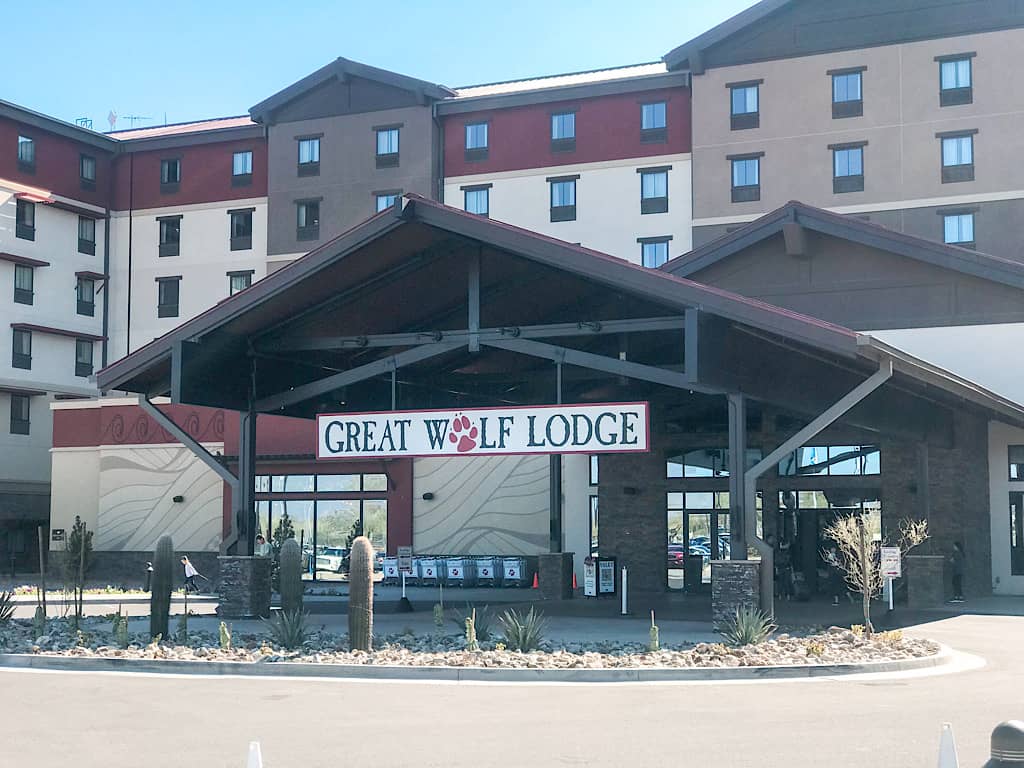 Great Wolf Lodge is one of my families favorite vacation destinations. We have now stayed at three different locations and have had a blast at each one.
We recently had the opportunity to stay at Great Wolf Lodge in Arizona and I think it is by far the most beautiful on the inside.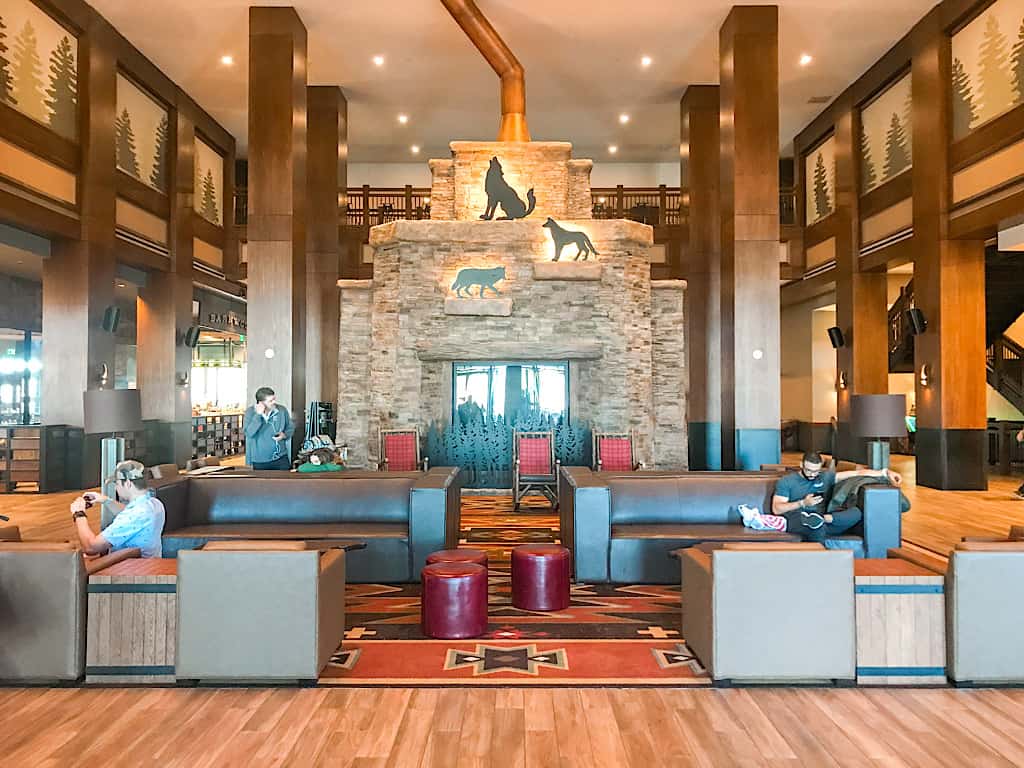 The lobby is absolutely amazing! With its high ceilings and large fireplace, you will feel like you are in a lodge in the middle of the woods.
Read all about health and safety procedures from Great Wolf Lodge here.
Check In
When you check in, you will be given a wristband for each member of your family.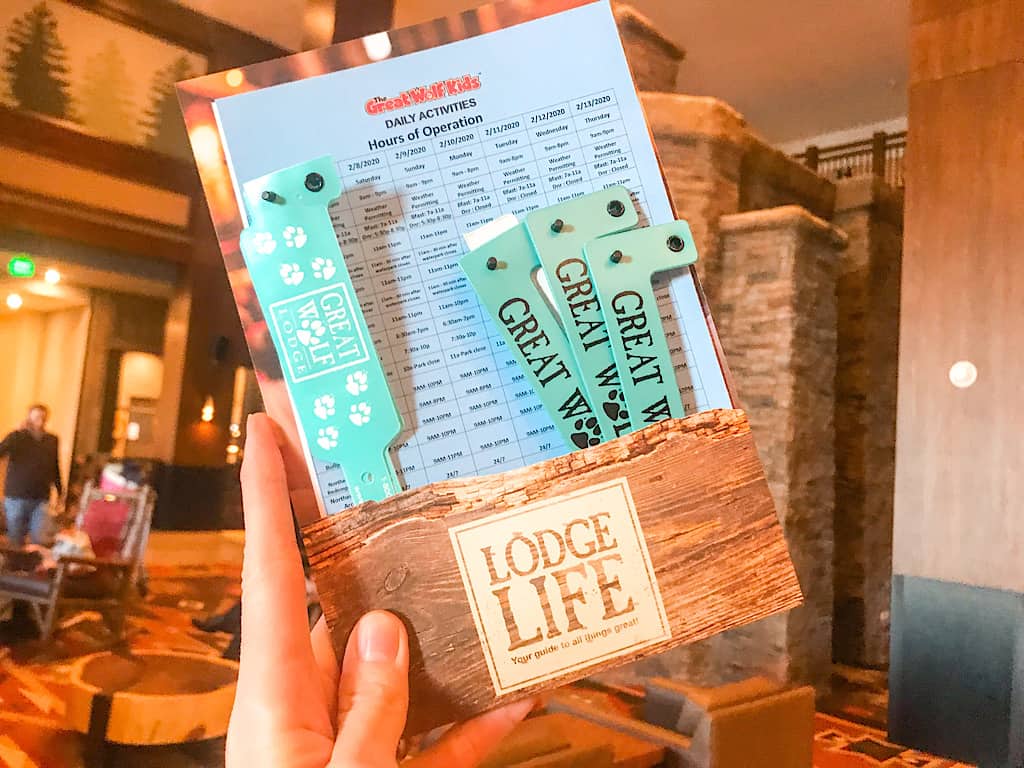 These wristbands will allow you into the water park. The adult wristbands also act as your room key and can be connected to a credit card to allow you to make purchases throughout the resort.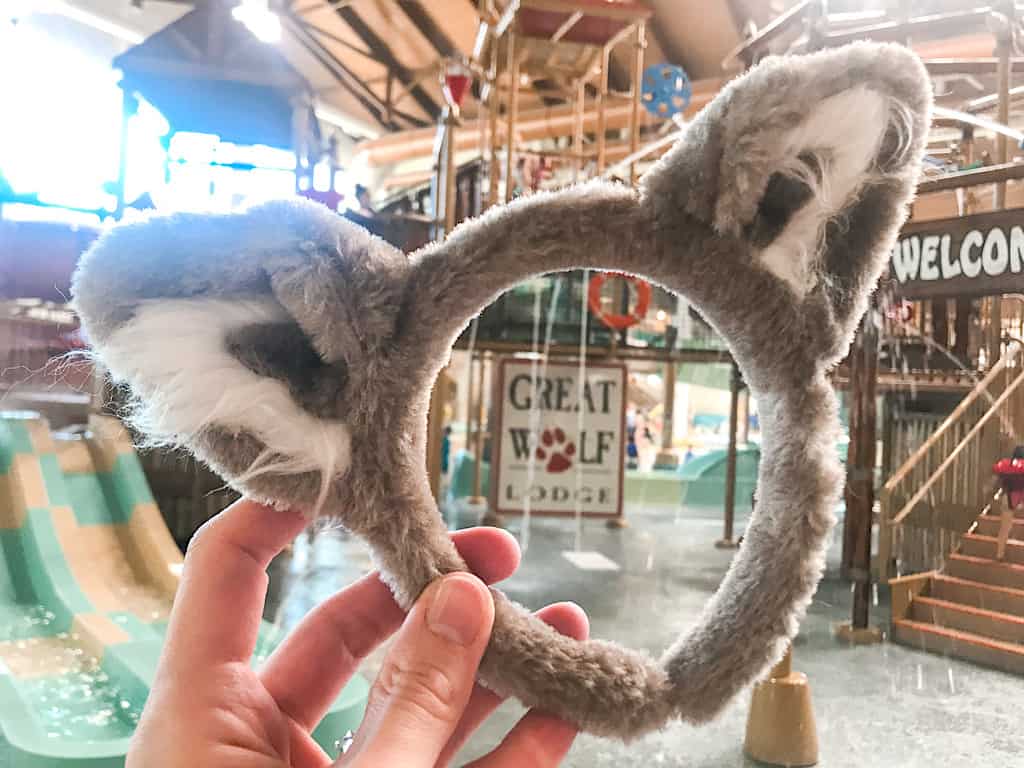 Each child in your room will also receive a set of complimentary Wolf ears. These are so fun for little ones to wear around the property and really add to the experience.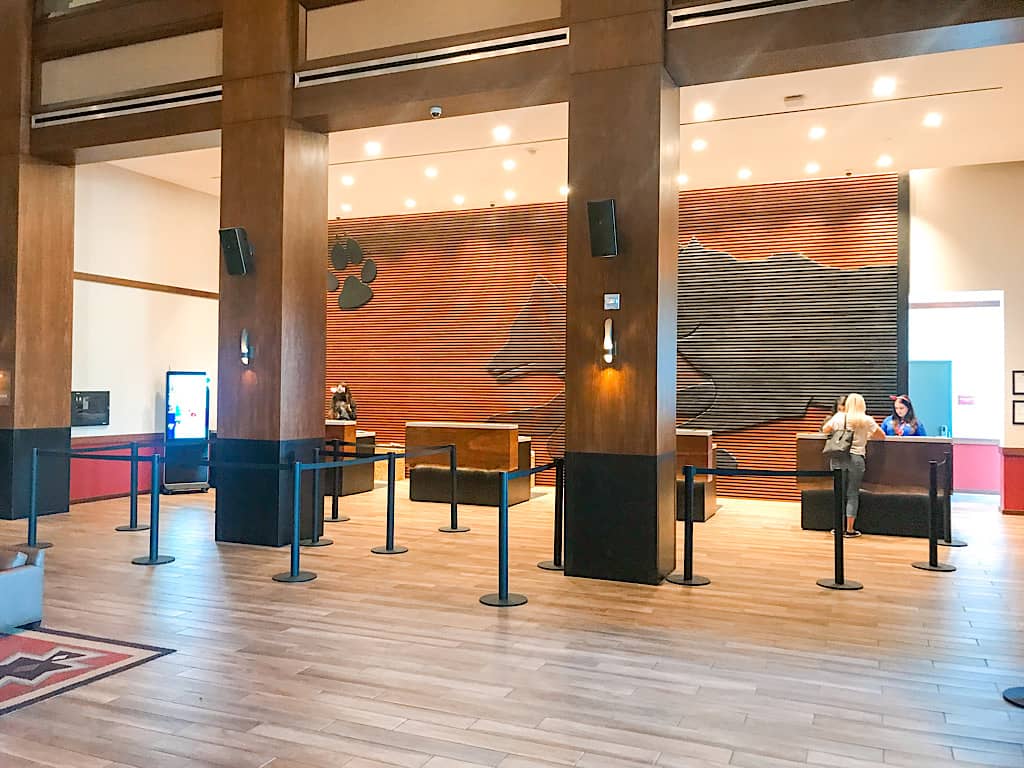 Check In at Great Wolf Lodge begins at 4:00 pm. However, if your room happens to be ready before that time, you will receive a text to let you know. We arrived around 1:30 pm and our room was ready by 2:00.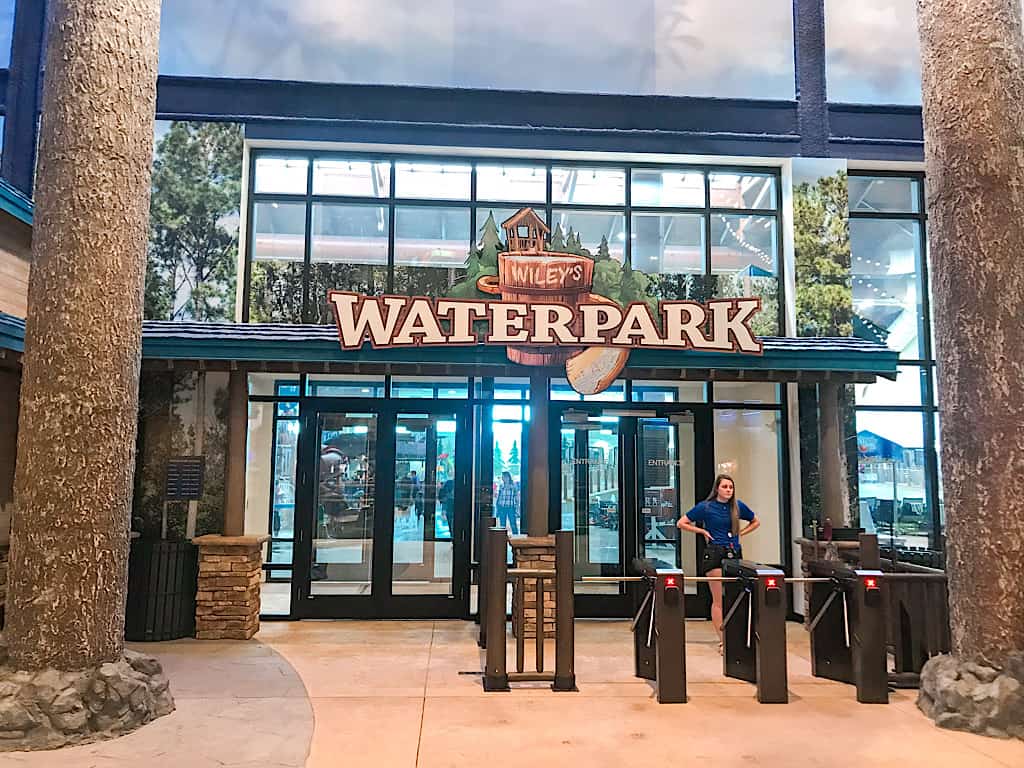 If you arrive early, you are able to have access to the water park at 1:00 while you wait for your room to be available. And, on the day you check out (11:00 checkout time) you still have access to the water park for the entire day!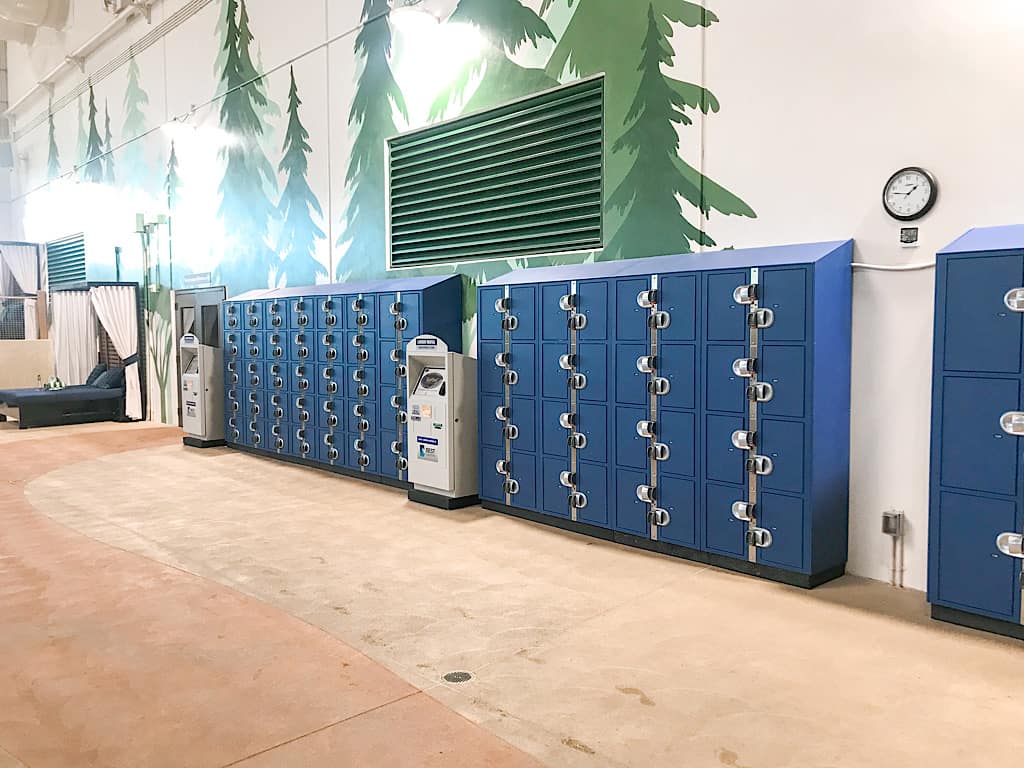 There are lockers and a spacious locker room with showers available inside the water park for the day you arrive and the day you check out.
Water Park
Speaking of the water park, let's talk about just how awesome it is!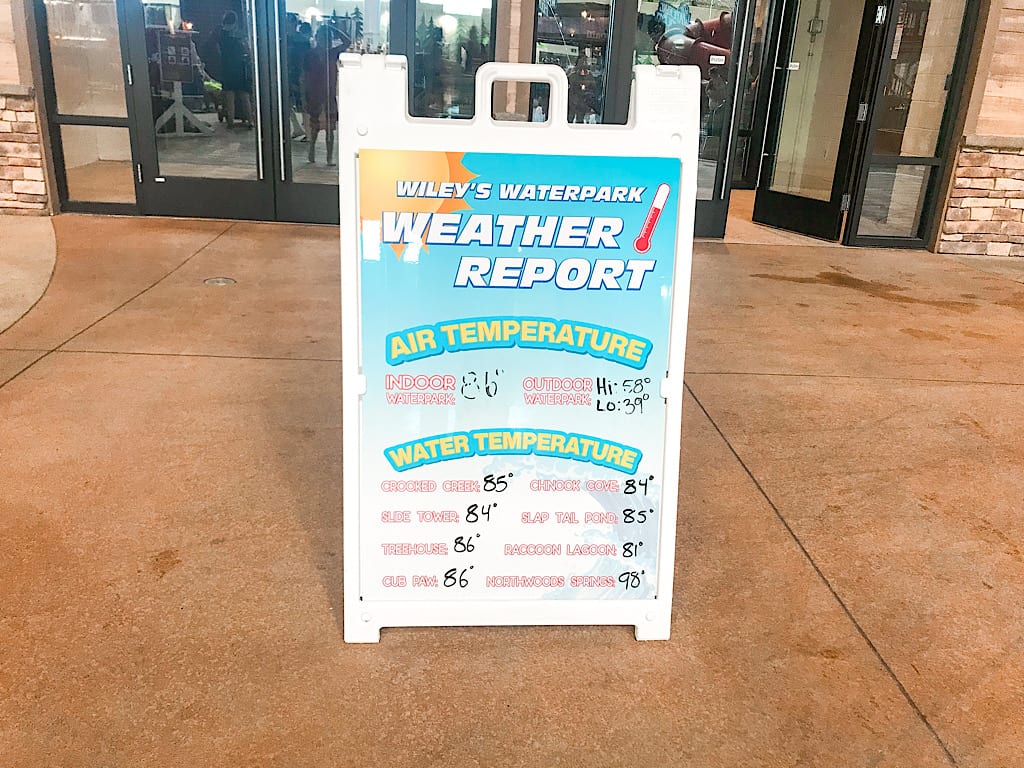 This isn't just a hotel pool with a couple of little slides, it is a full-blown water park. This amenity alone is such a great value add to your stay at Great Wolf Lodge.
Towels
The water park has special towels that are to be used while you are there. No need to bring towels from your room.
Each person is entitled to a towel. To pick them. up, you will head to the towel stand. The attendant will scan your wrist band so they can keep track of the towels.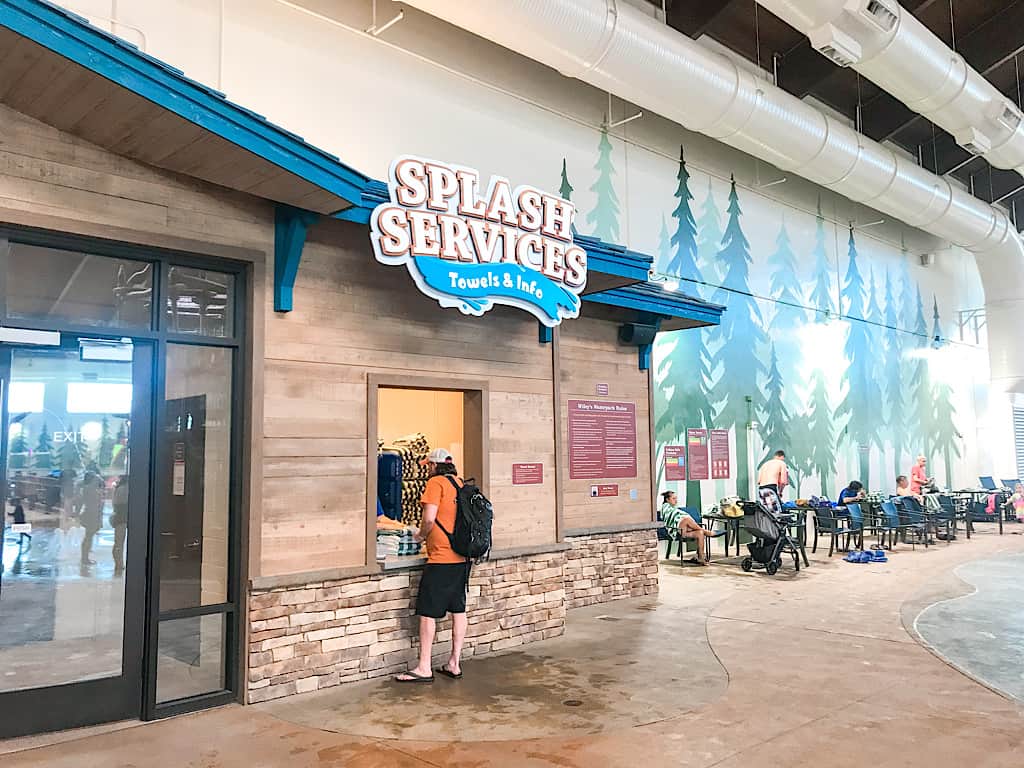 Make sure to turn them back in either when you leave the park or by the end of the stay to avoid being charged. You are also able to switch out a used towel for a fresh towel at any time!
We found it easier to just check the towels back in as we left the water park to go back to our room. That way we didn't have to worry about losing them.
Water Slides
There are so many slides at the Great Wolf Lodge water park in Arizona. On River Canyon Run and Diamond Back Drop, you will ride in a large raft with 3-4 people. It is so much fun!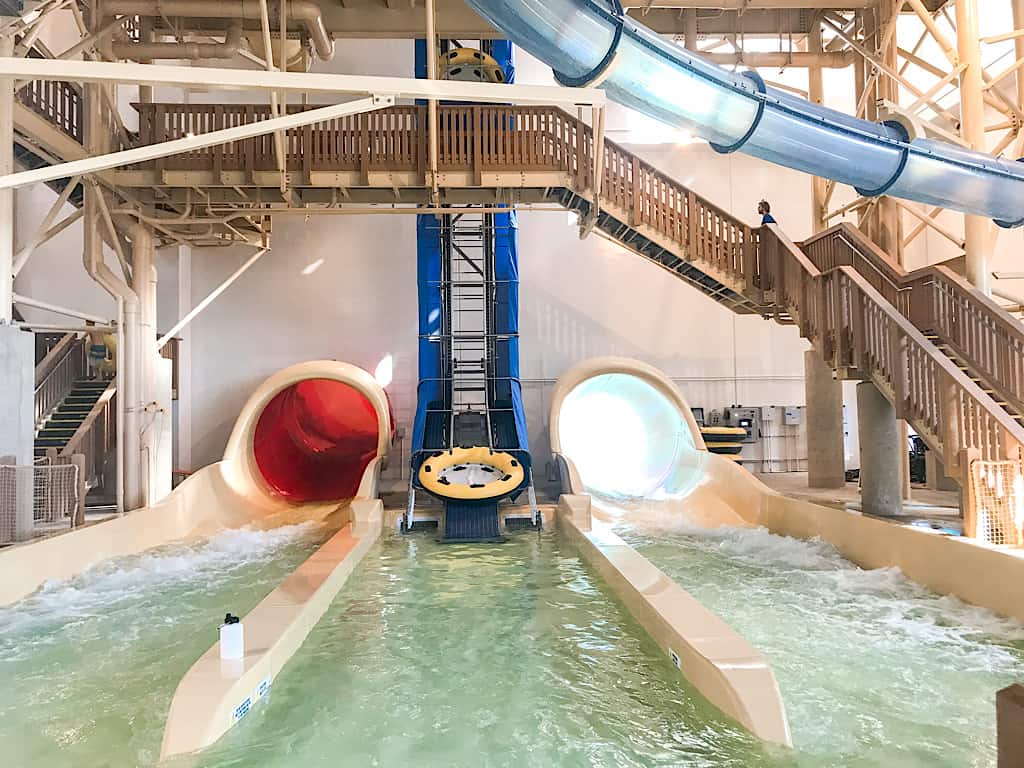 When you ride Alberta Falls, you will either ride in a single tube or a double tube, tandem with someone else. This was a fun slide to go on with my 5-year-old.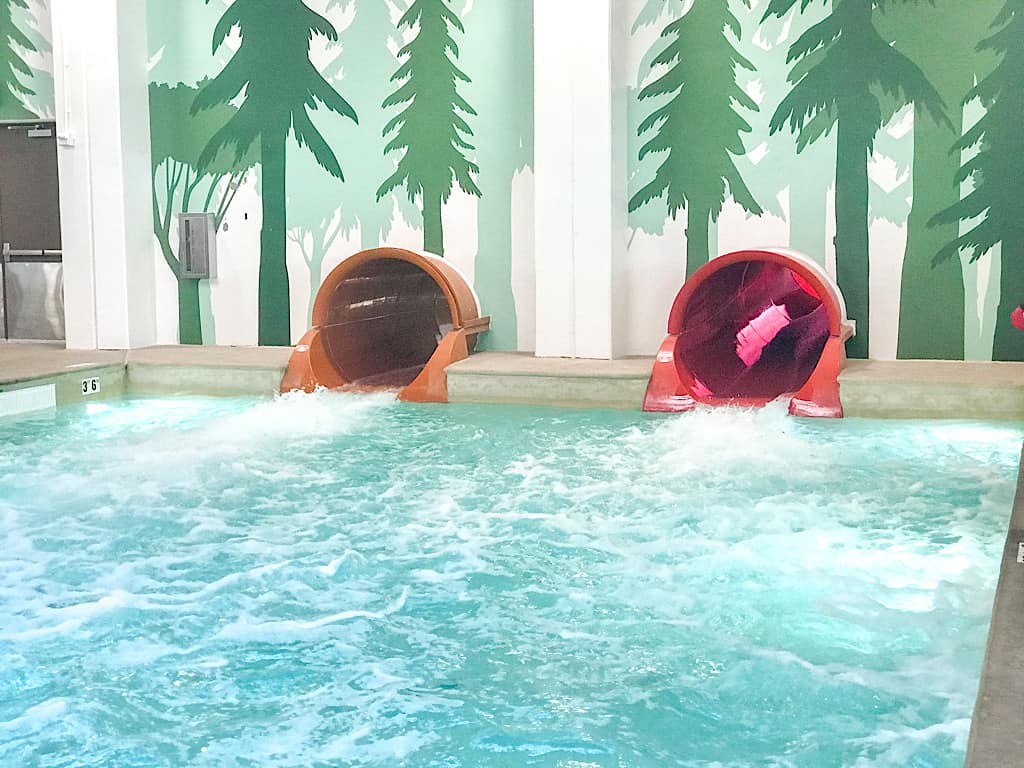 Wolf Tail was my 10 and 12 year old's absolute favorite. It is a thrill slide where the floor drops out from under you sending you on an adventure trough hair pin turns!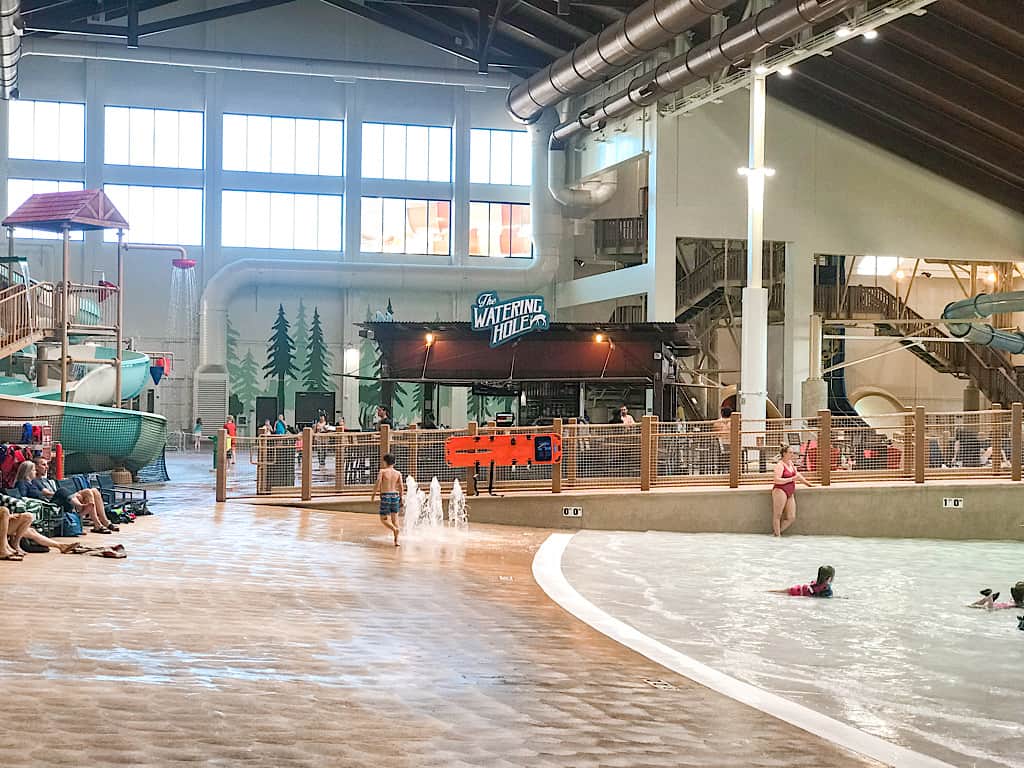 Water Playgrounds
Talking Stick Treehouse is a giant multi-level water playground that is so much fun!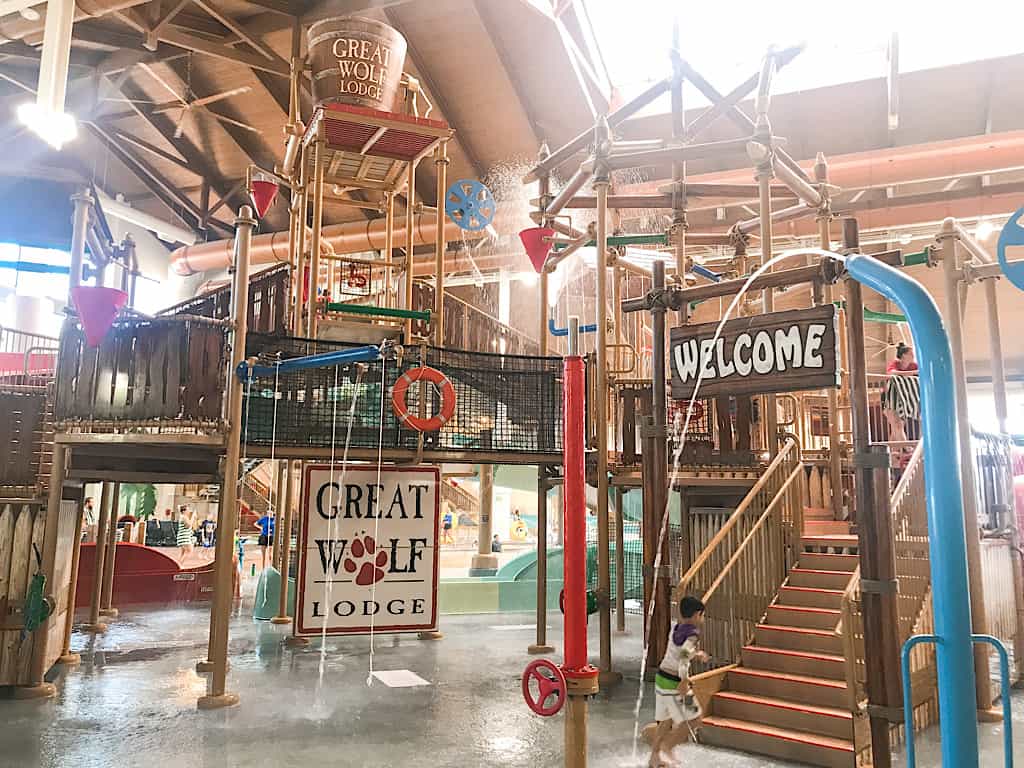 There is splashing water everywhere, and slides that are just the right size for kids. This area kept my boys busy for a long time.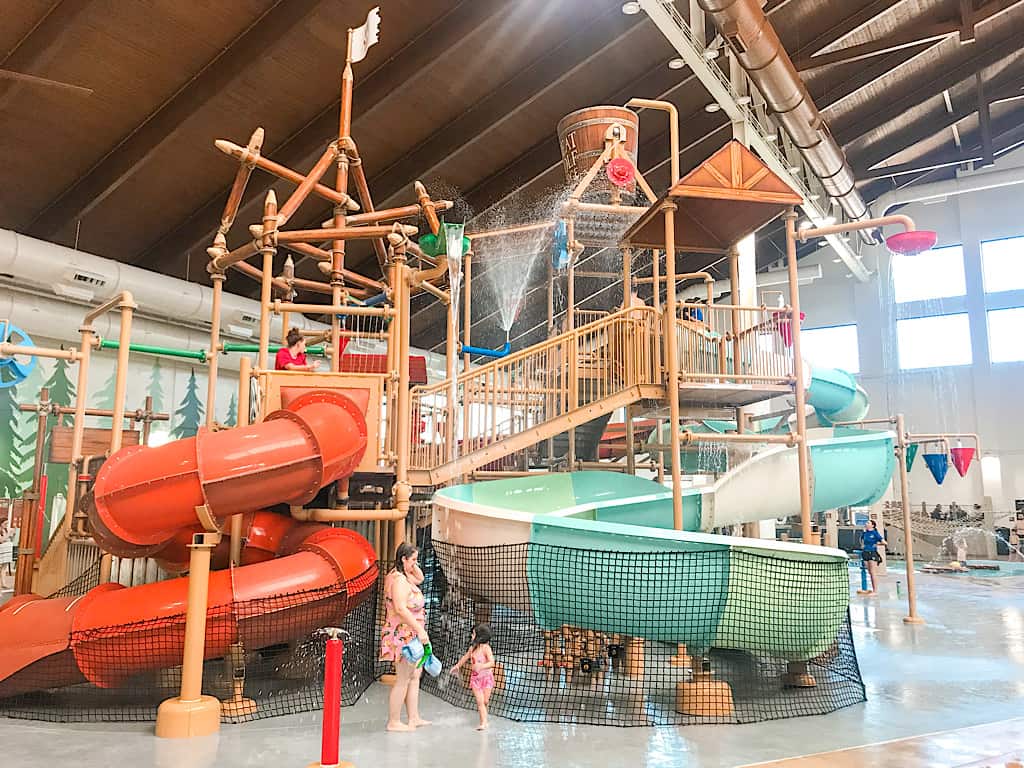 There are a couple of other playground areas, Cub Paw Pool and Whopping Hollow that are great for preschoolers and toddlers.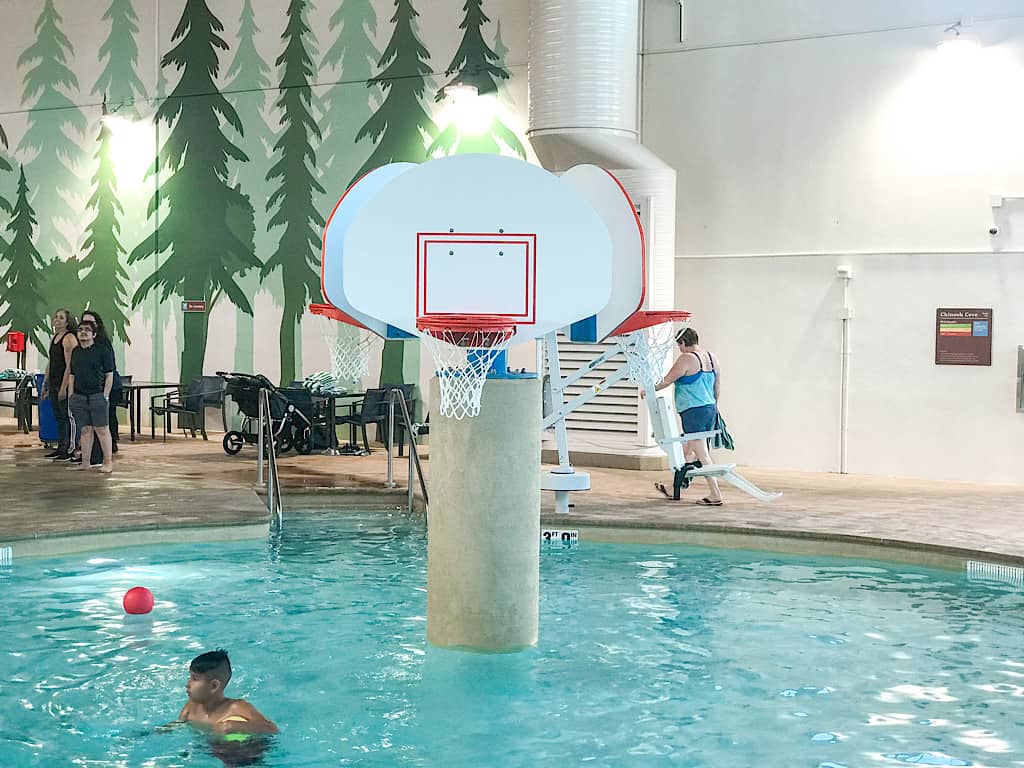 My boys loved Chinook Cove which had tons of basketball hoops in a large pool. In the same pool, you will find Bigfoot Pass where kids can test their balance on giant floating lily pads.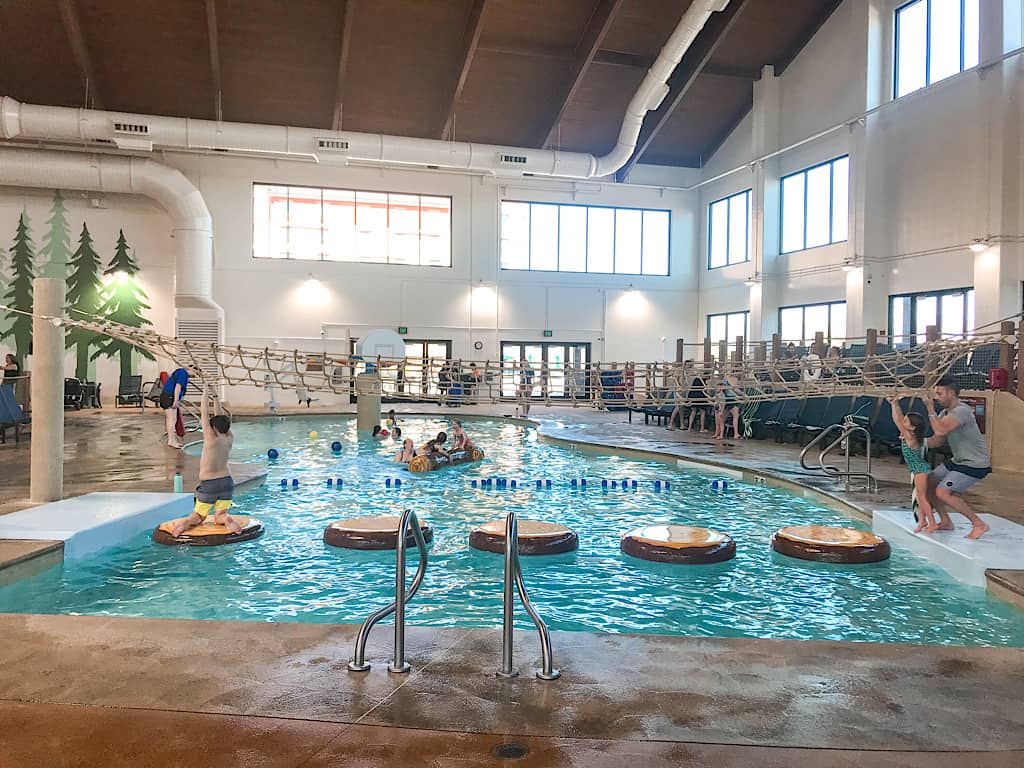 Lazy River
Great Wolf Lodge has an amazing lazy river called Crooked Creek. It is a great place to slow down, relax, and float around without a care in the world.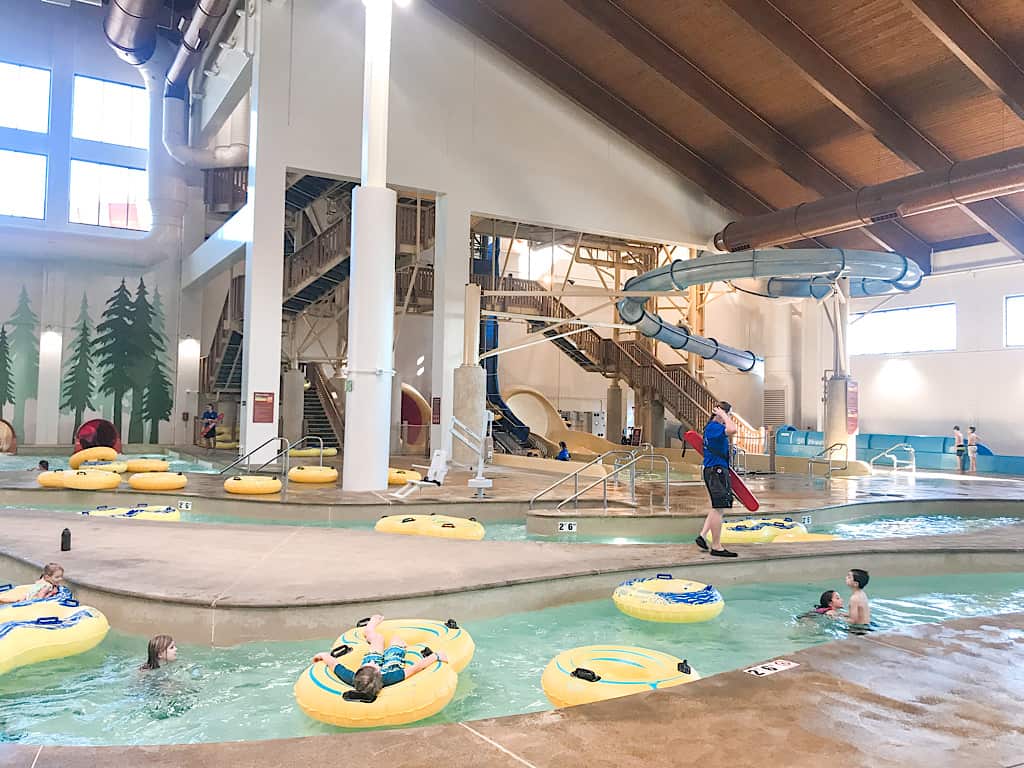 Wave Pool
We spent a lot of time swimming in the waves of Slap Tail Pond. Every few minutes you will hear a wolf howl which will let you know that the waves are about to begin!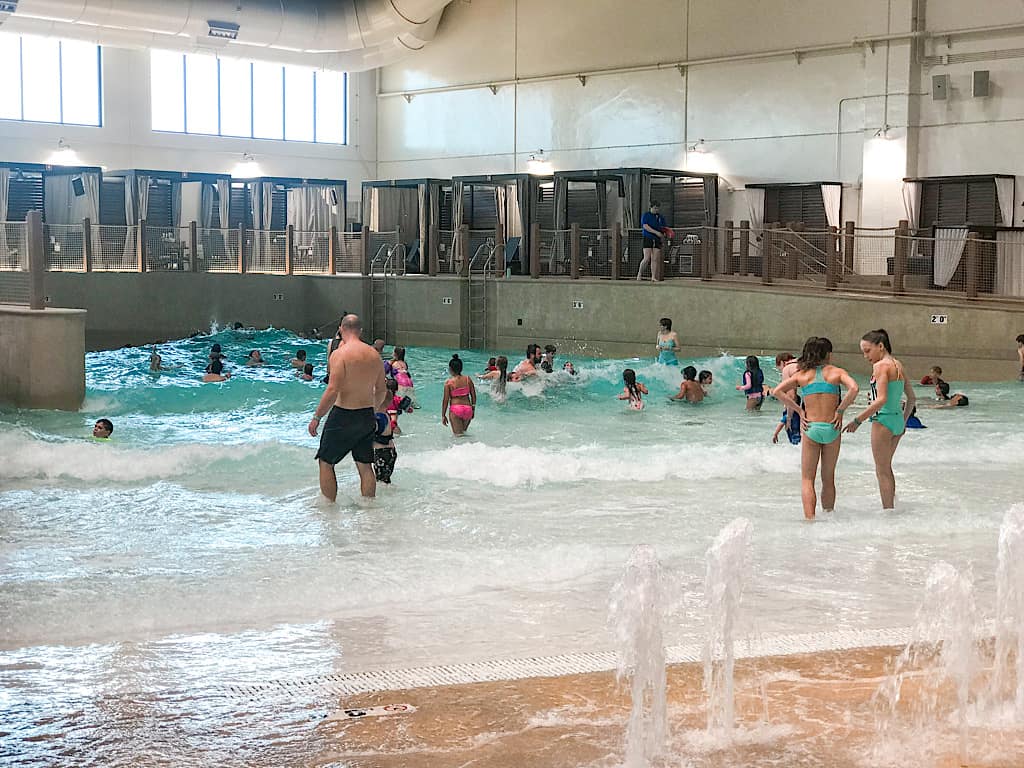 Outdoor Area
The outdoor swimming area is called Raccoon Lagoon. There is a large swimming pool surrounded by lounge chairs. There are also a couple of hot tubs.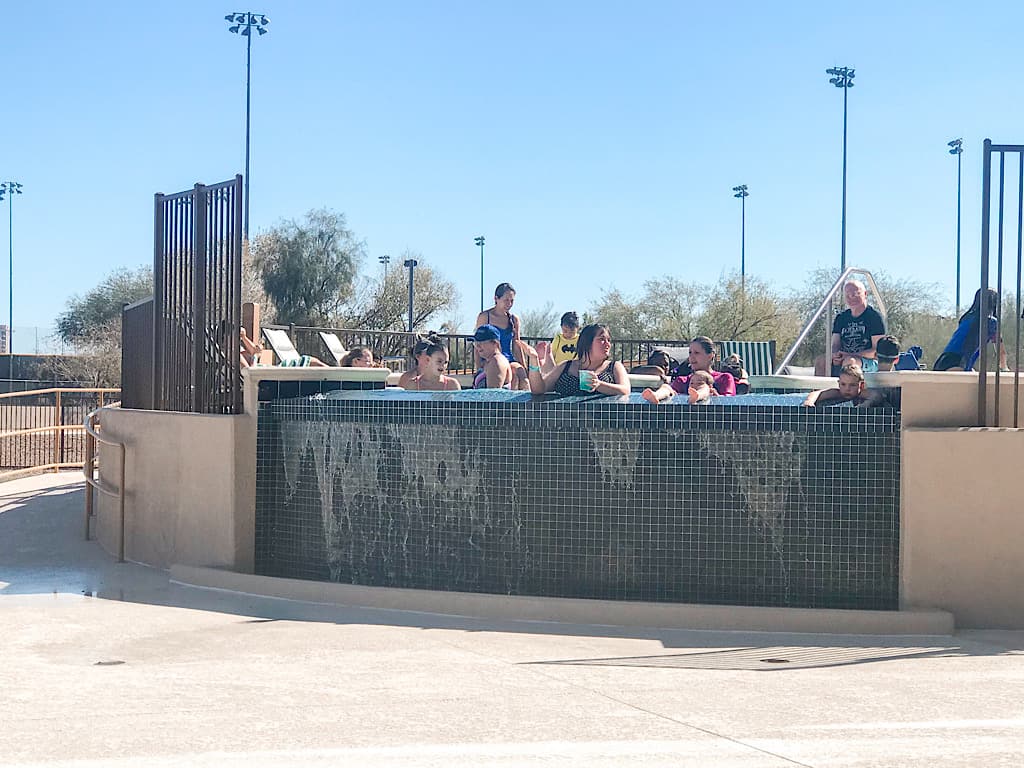 Water Park Dining
If you want to grab a bite to eat while you are enjoying the water park, head to Buckets Incredible Craveables or The Watering Hole for a drink.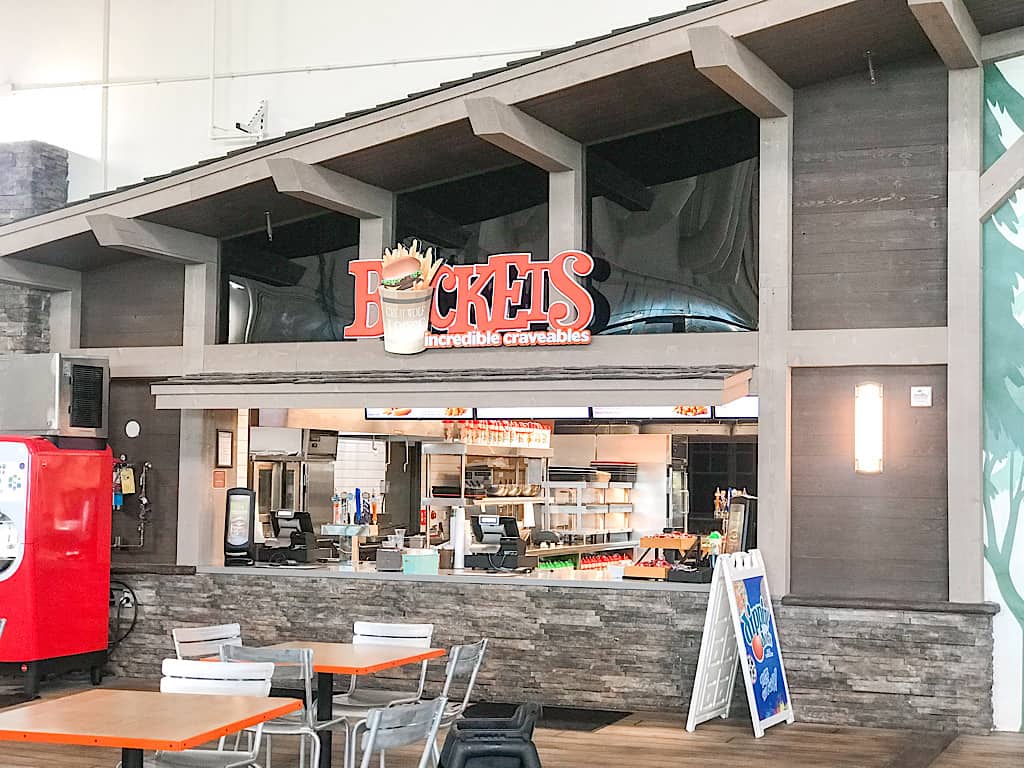 Kids Cabin Suite Room Tour
During our visit to Great Wolf Lodge Arizona, we stayed in a Kids Cabin Suite and my boys were in heaven!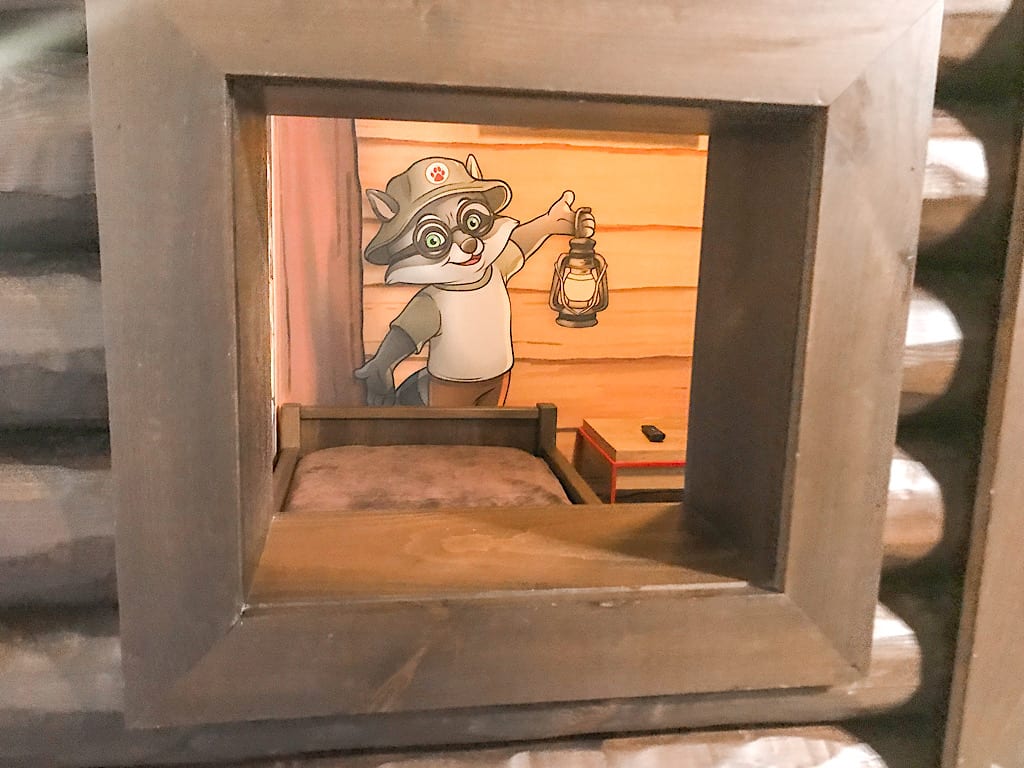 As you enter the room, there is a closet that reminds me of a small mudroom. In the closet, there is also a bench and a couple of shelves that definitely helps keep your items organized.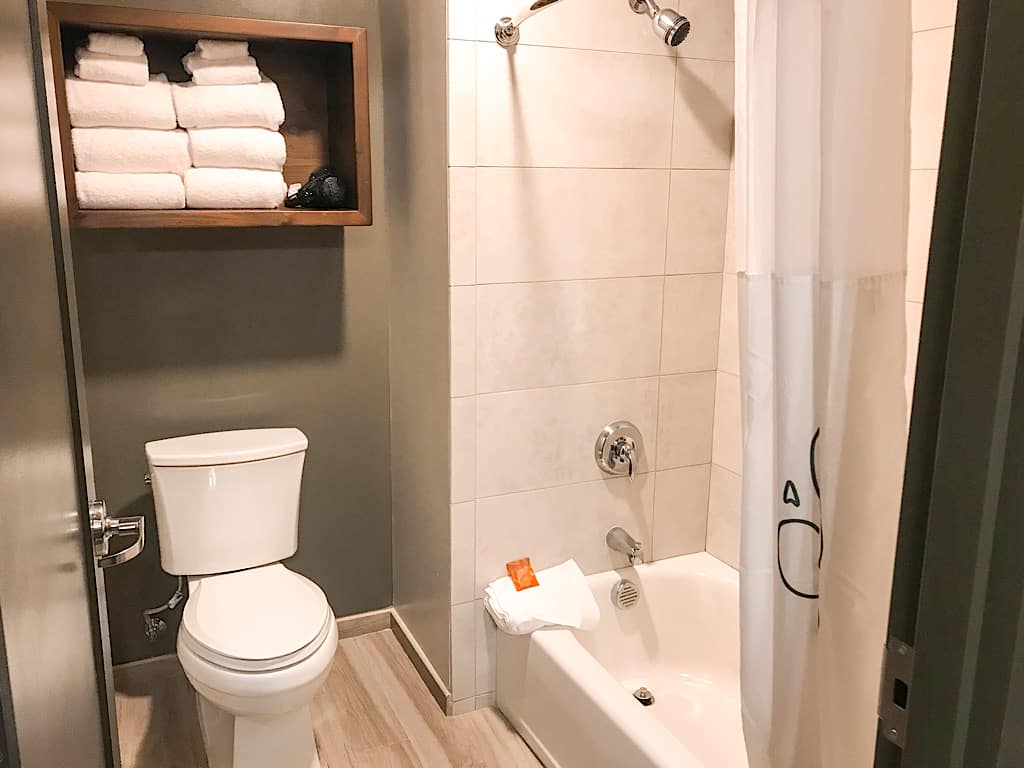 Across from the closet is the bathroom. It is pretty standard with a shower/tub combination.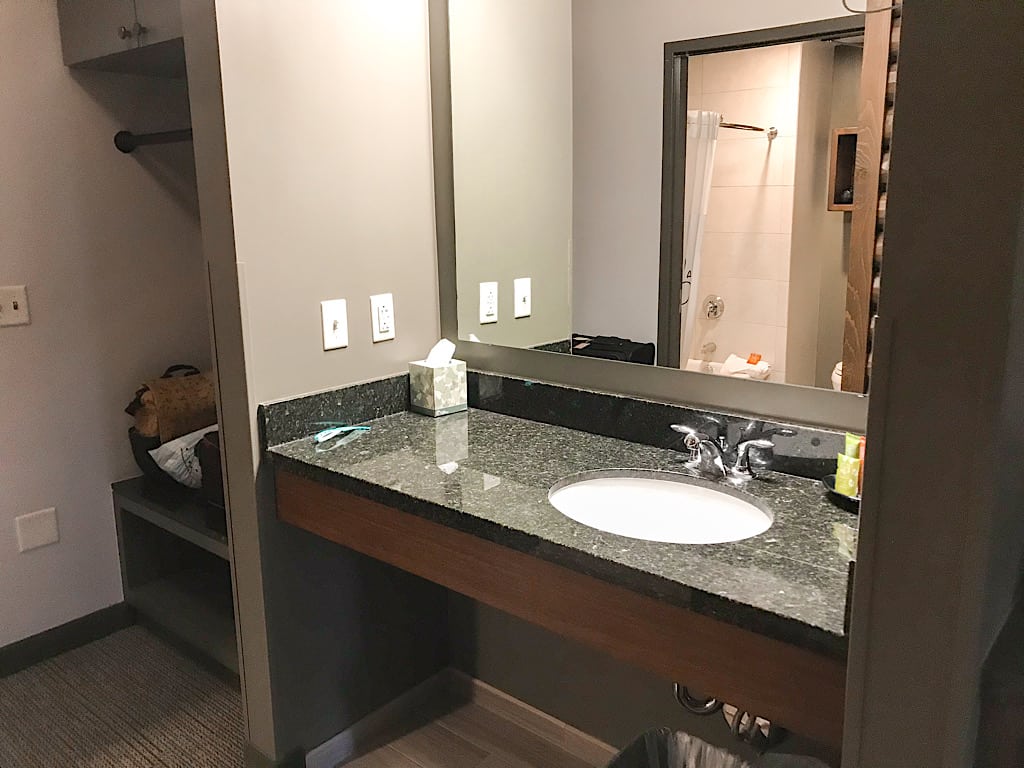 The vanity (sink and mirror) are outside the bathroom which is nice with a big family.
The Kids Cabin portion of the room has three twin sized beds, two of them are bunk beds which was perfect for my three boys.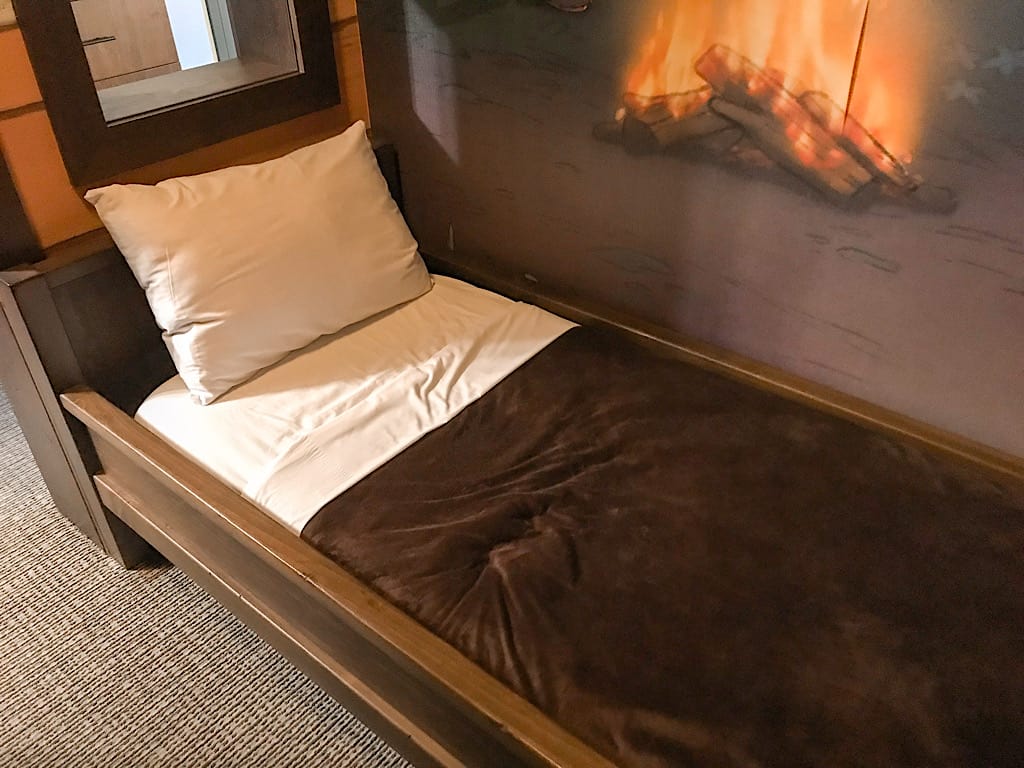 There are murals of the Great Wolf Lodge characters as well as a TV!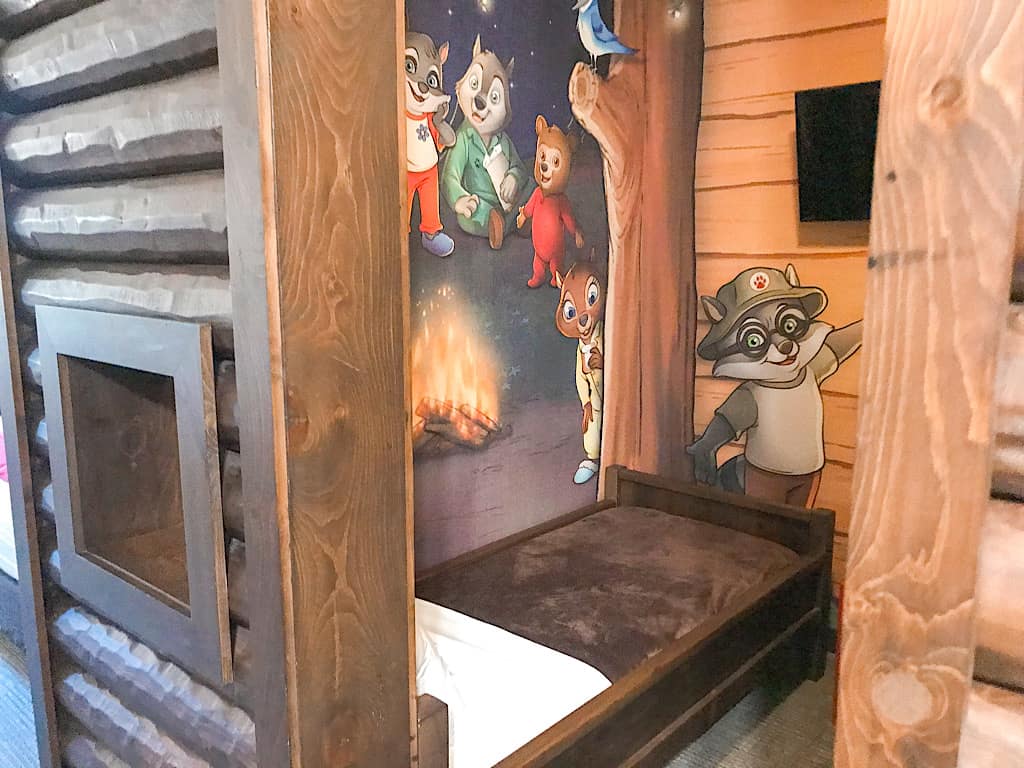 The main room has a queen size bed and a full-size sleeper sofa. I loved the mural on the wall that made you feel like you are in a tent in the middle of the woods.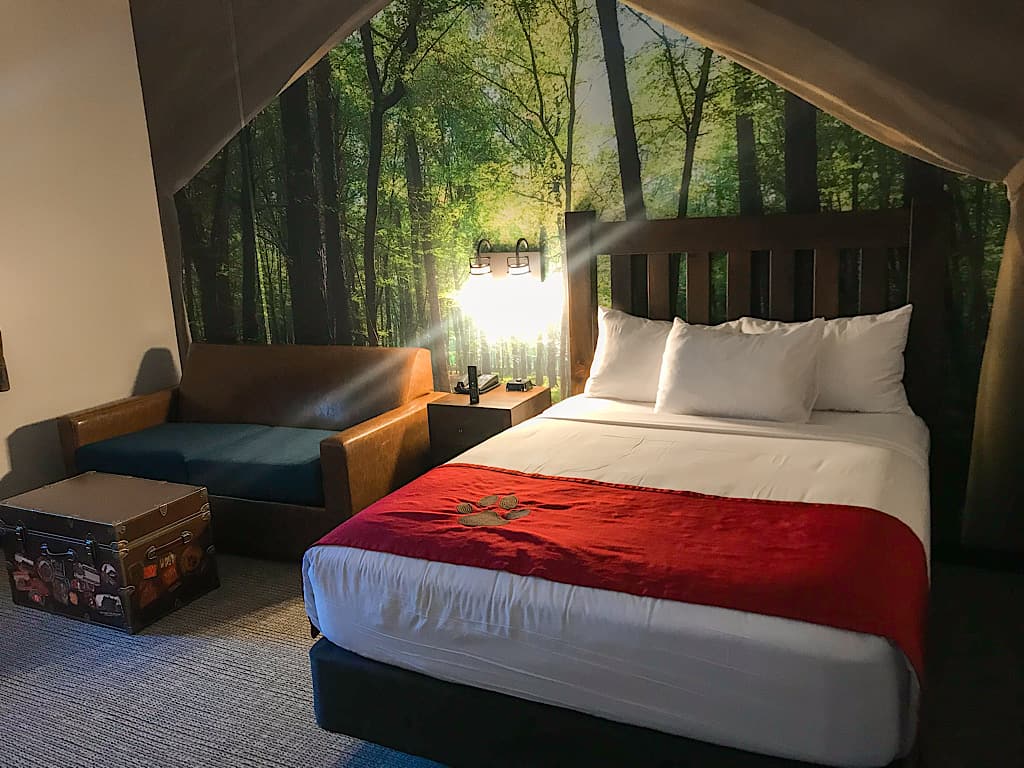 There was also a small table with two chairs, a dresser for storage, and a mini fridge next to more storage.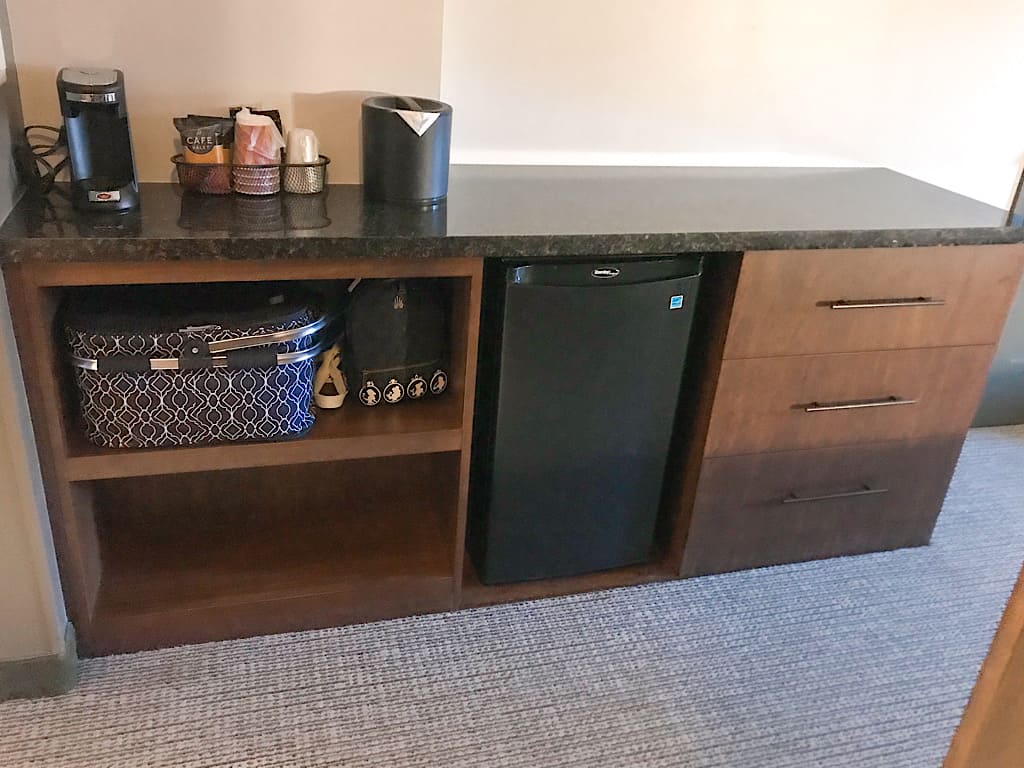 Great Wolf Lodge Arizona Amenities
Great Wolf Lodge has more than just fun rooms and a water park. There are a variety of attractions and shops.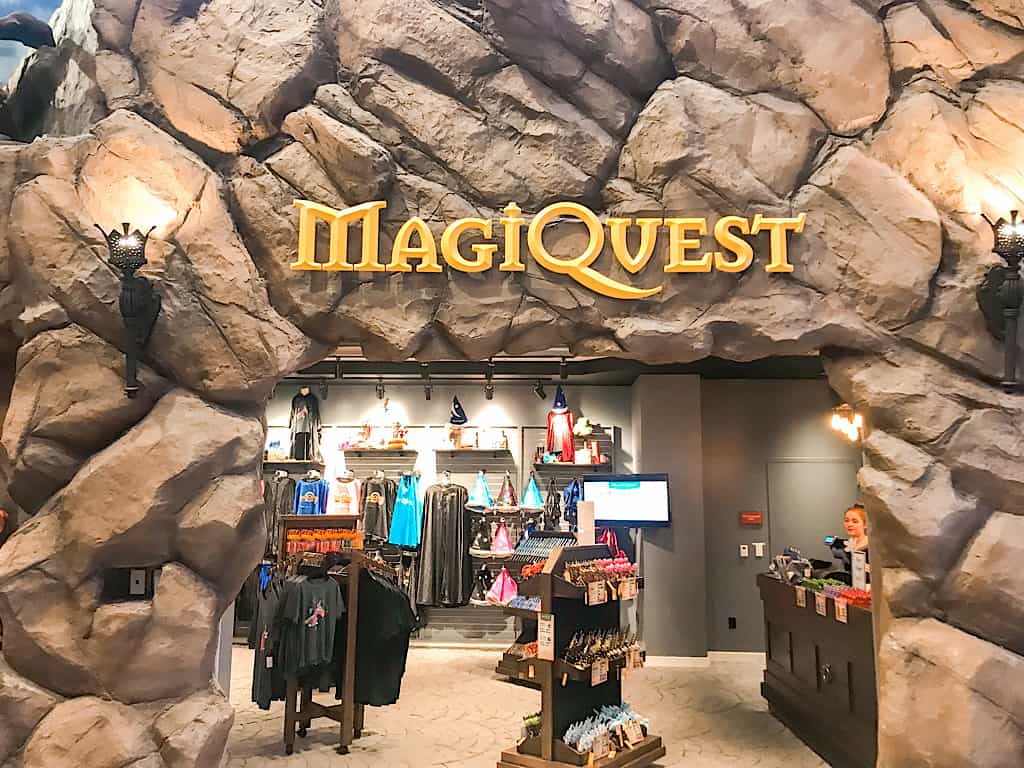 To enjoy the fun, you can purchase a Paw, Pup, or Wolf Pass that will bundle these attractions with an affordable price.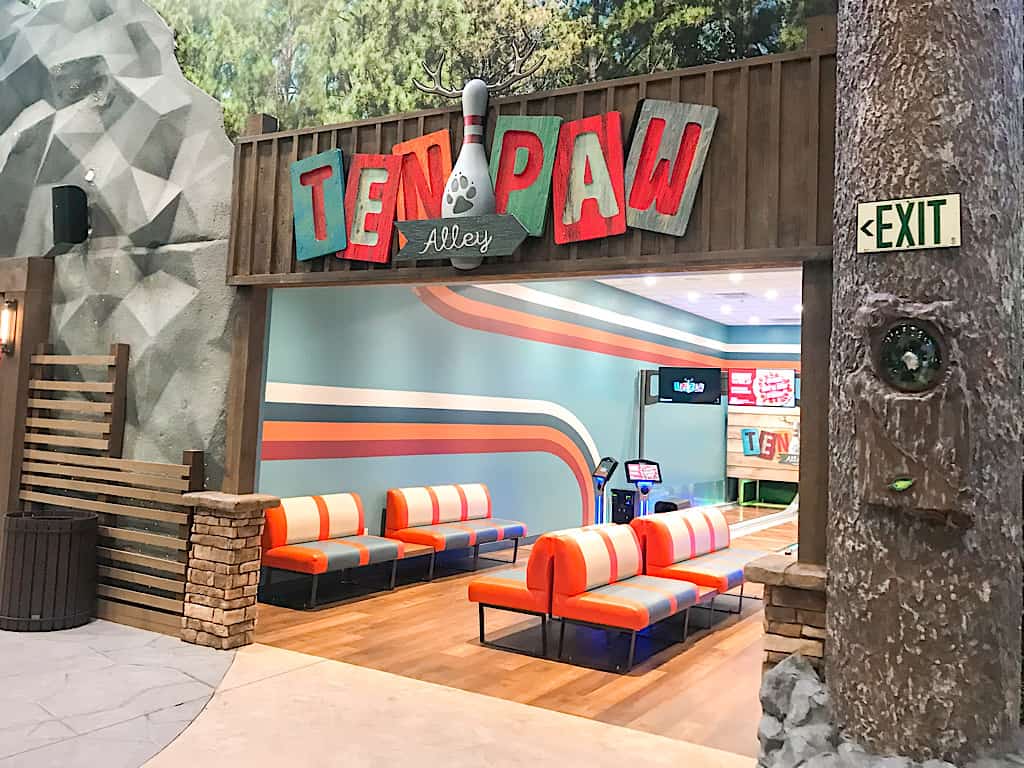 Our visit was too short to enjoy these attractions in Arizona, but if you want to learn more about these passes and what they include, check out my article about Great Wolf Lodge in Washington here.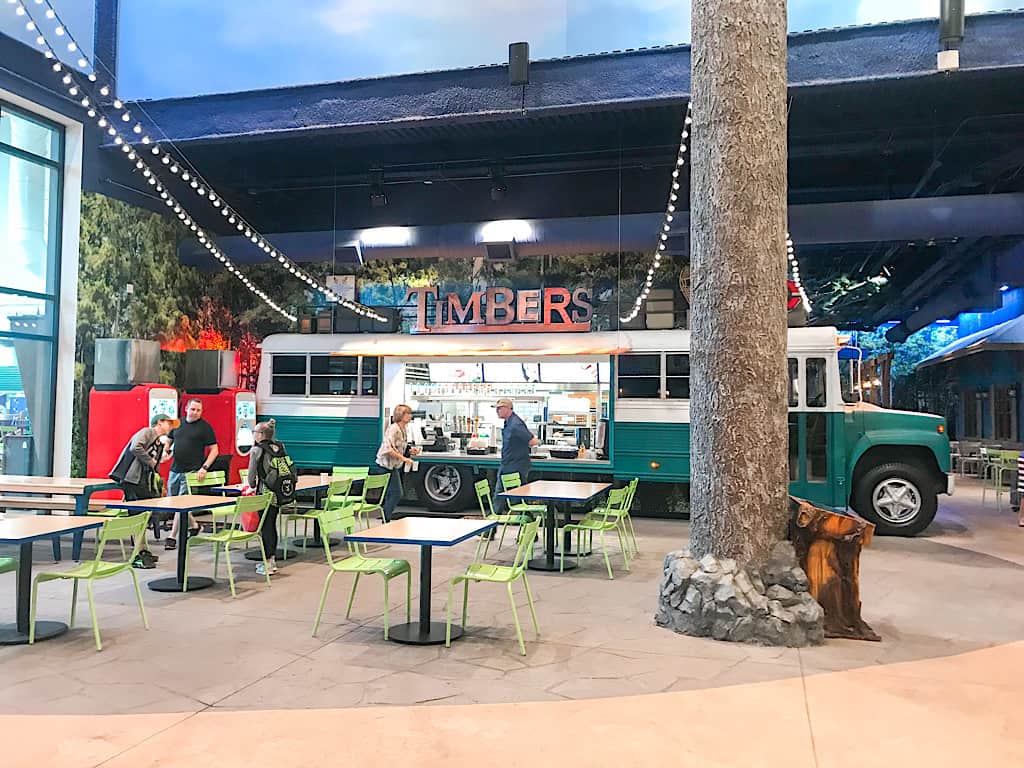 There are also a few restaurants that you can enjoy while staying at Great Wolf Lodge. Between Campfire Kitchen, Barnwood, Hungry as a Wolf, Timbers Tacos, Freshwoods Market, Dunkin' Donuts, and Ben & Jerry's, there is truly something for everyone!
Great Wolf Lodge Arizona Review
After staying at Great Wolf Lodge and enjoying the water park in Arizona, I would definitely stay here again.
This resort is definitely a destination and I would plan on spending a lot of time on the property to fully appreciate all that is offered.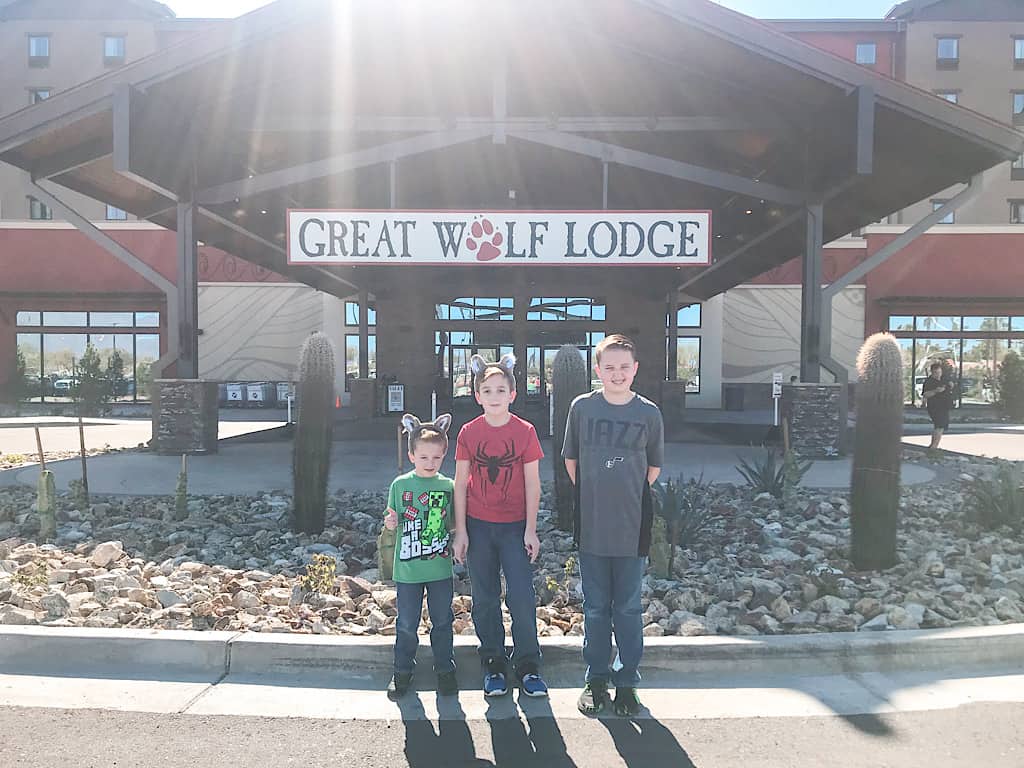 Check out more Great Wolf Lodge reviews: