Are you wondering if you should you go to Great Wolf Lodge right now?Here is my review and experience of COVID-19 protocols and procedures in place at Great Wolf Lodge to protect employees and guests.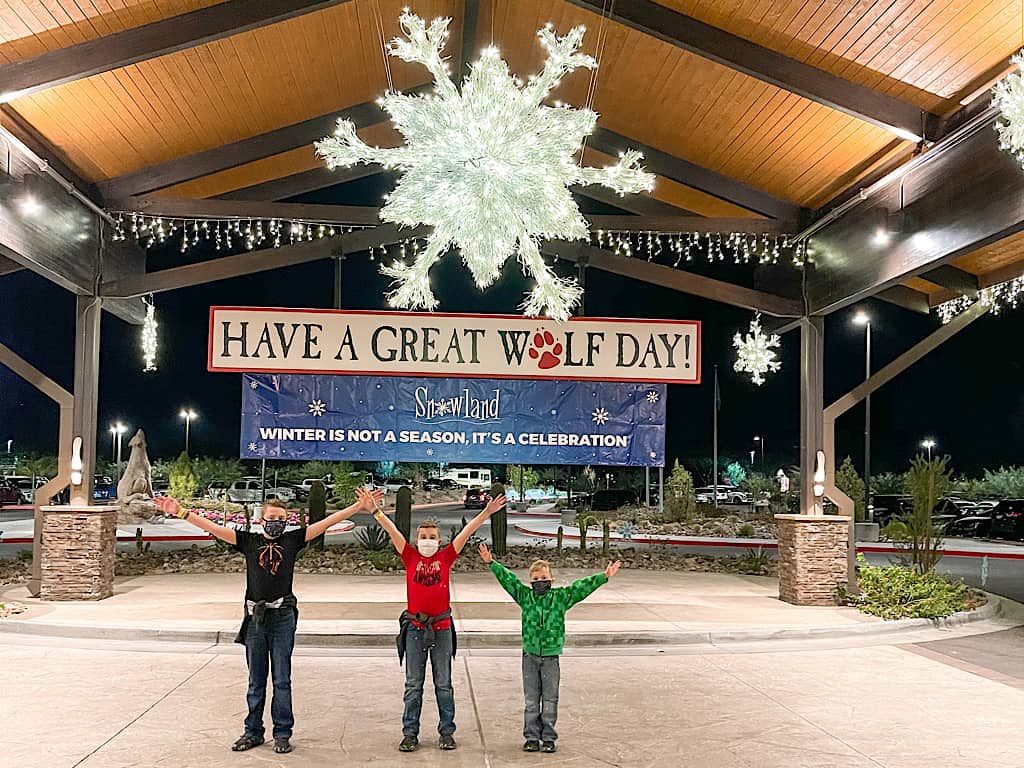 My family was given complimentary Wolf Passes from Great Wolf Lodge. All opinions are my own.
Recently, my family and I had the opportunity to visit Great Wolf Lodge in Arizona. We were curious what actions and procedures were in place to keep guests safe during the current pandemic.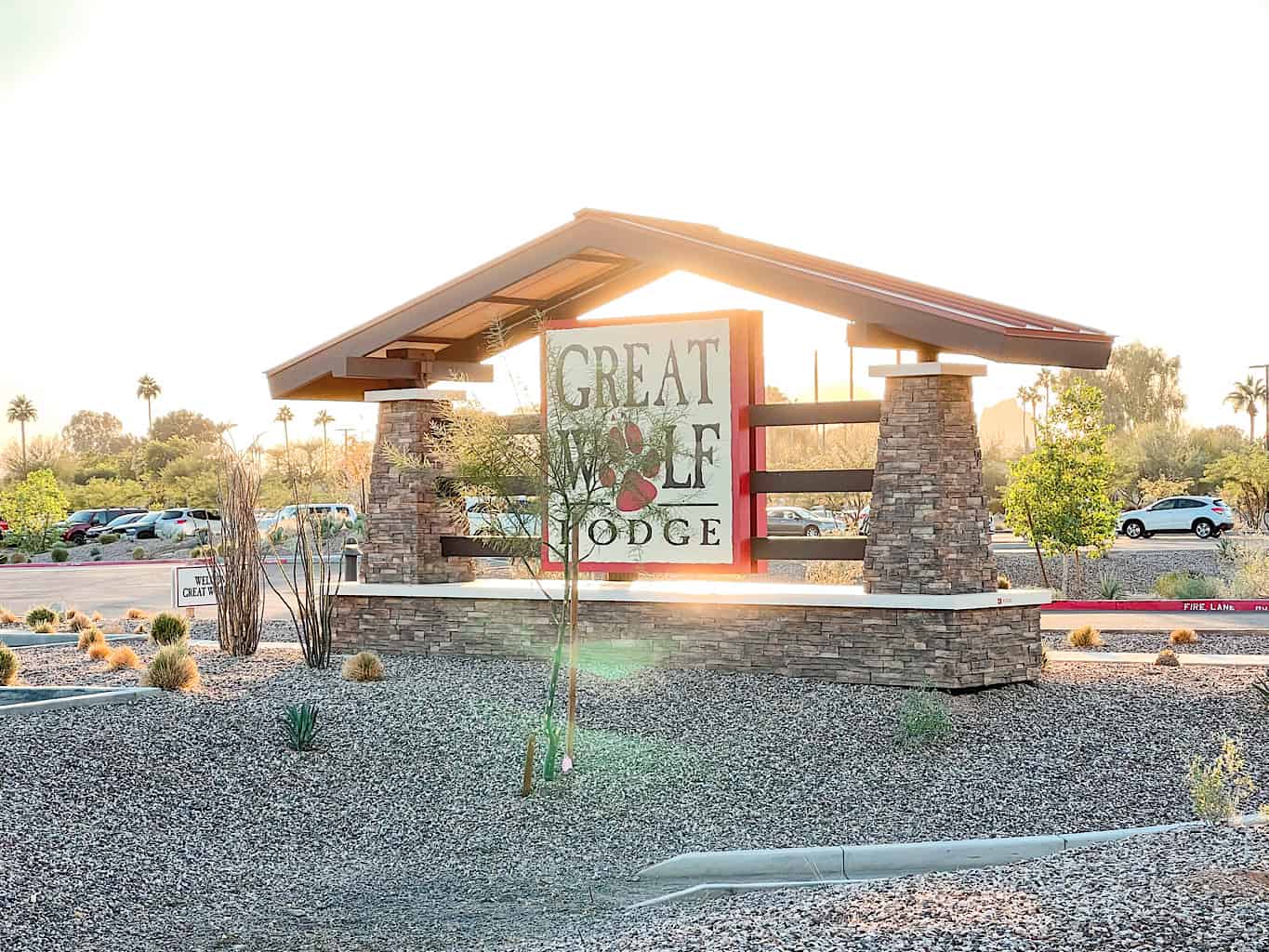 After visiting Great Wolf Lodge in Grand Mound, Washington in July, we were confident that we would be able to keep ourselves safe and still be able to enjoy time together.
Before we get started, make sure that you are subscribed to my YouTube channel and have turned on notifications so you won't miss any videos.
Also, head over to @MommyMouseClubhouse on Instagram to follow along with our adventures there, and have a look around www.MommyMouseClubhouse.com to find family travel tips and fun recipes.
Great Wolf Lodge Paw Pledge
Great Wolf Lodge has implemented what they call Our Paw Pledge during this time of the COVID-19 pandemic.
This is a list if items that they are doing in order to help stop the spread of the virus as well as allow guests to still enjoy their resort and amenities.
Checking in at Great Wolf Lodge
Before checking in, guests will receive an email with a list of things to know before you arrive.
Check in at the front desk is limited to one person. Do abide by this protocol, I was the only one who interacted with a Great Wolf Lodge employee, while my husband stayed farther back in the lobby.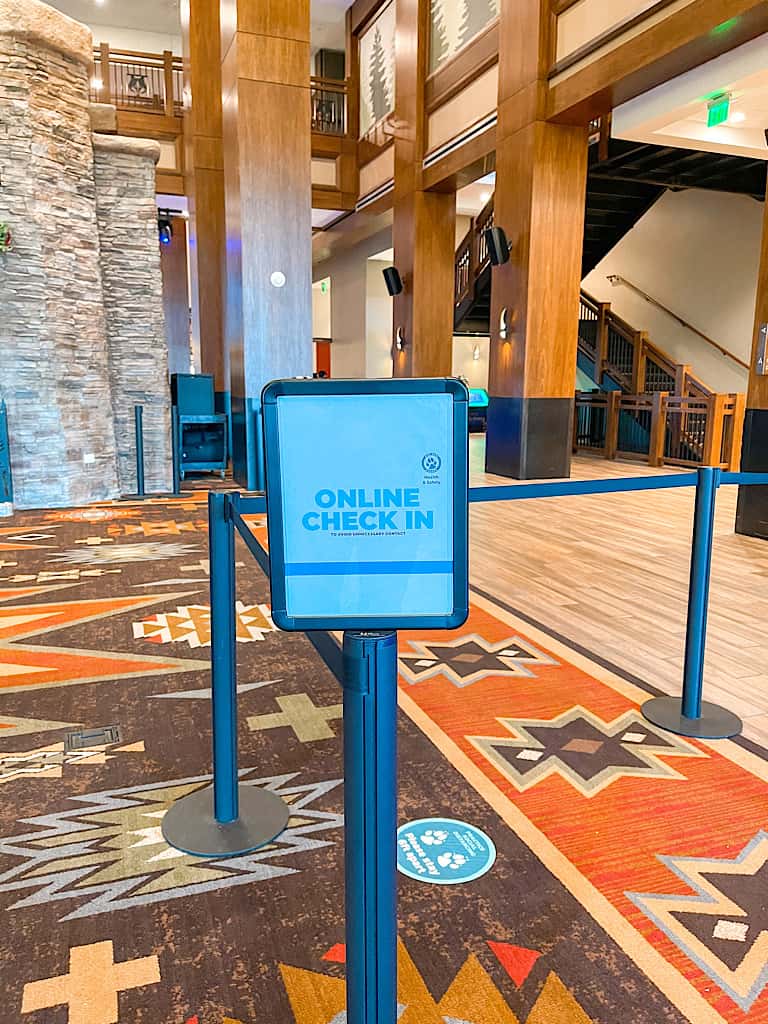 The lodge is cashless right now, meaning that no cash will be accepted for any transaction, including check in.
It is also important to note that there will be no housekeeping during your stay, to limit contact with employees.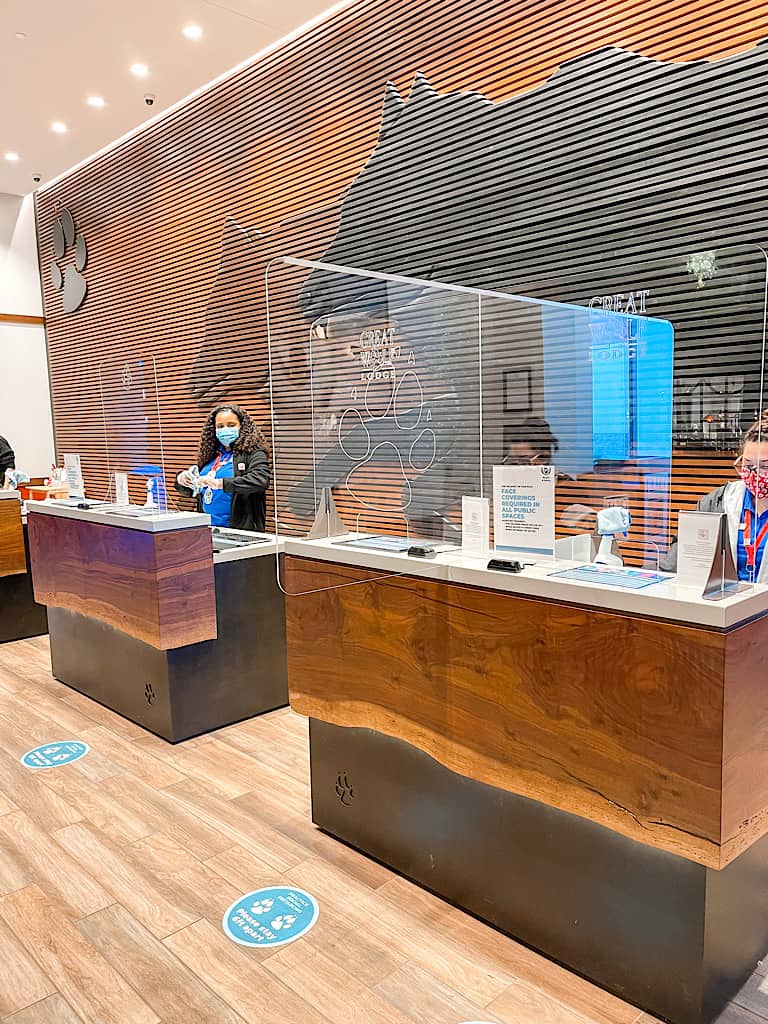 This wasn't a big deal to us, I would just recommend bringing along some Clorox Wipes for quick clean ups.
If you need your garbage emptied, just leave the full cans outside of your door and it will be emptied quickly.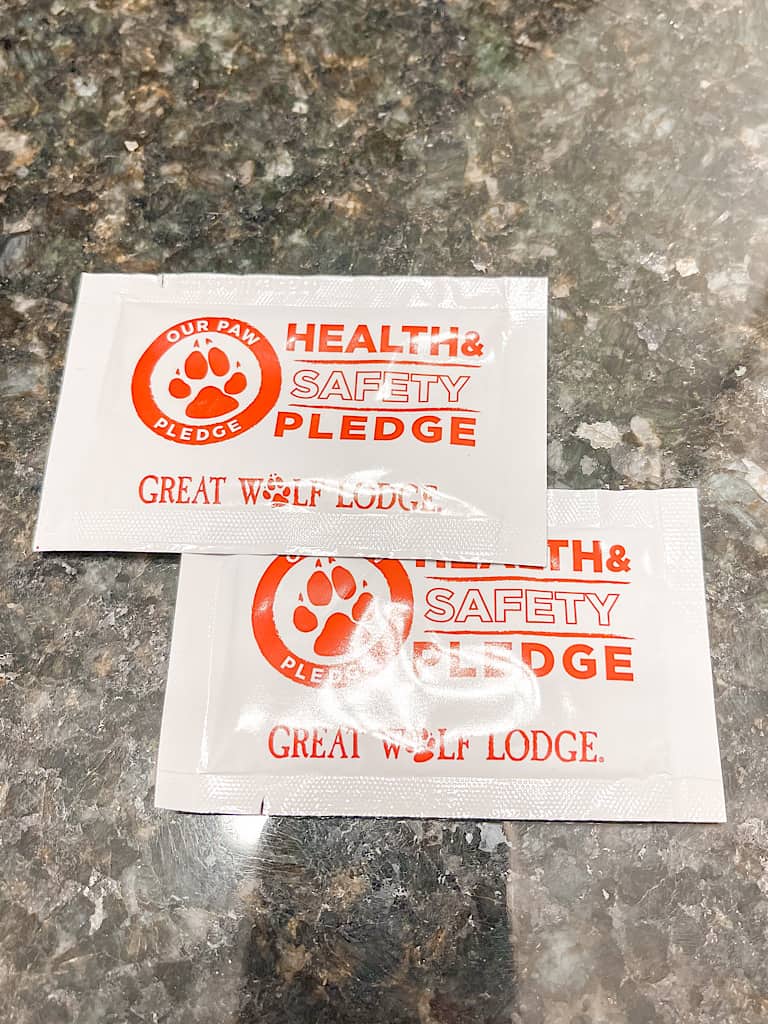 Also, if you are in need of anything during your stay, you can send a quick text to Willow (who will text you before you arrive) and whatever you need will be left outside your door.
We used this feature when we needed an extra blanket in our room.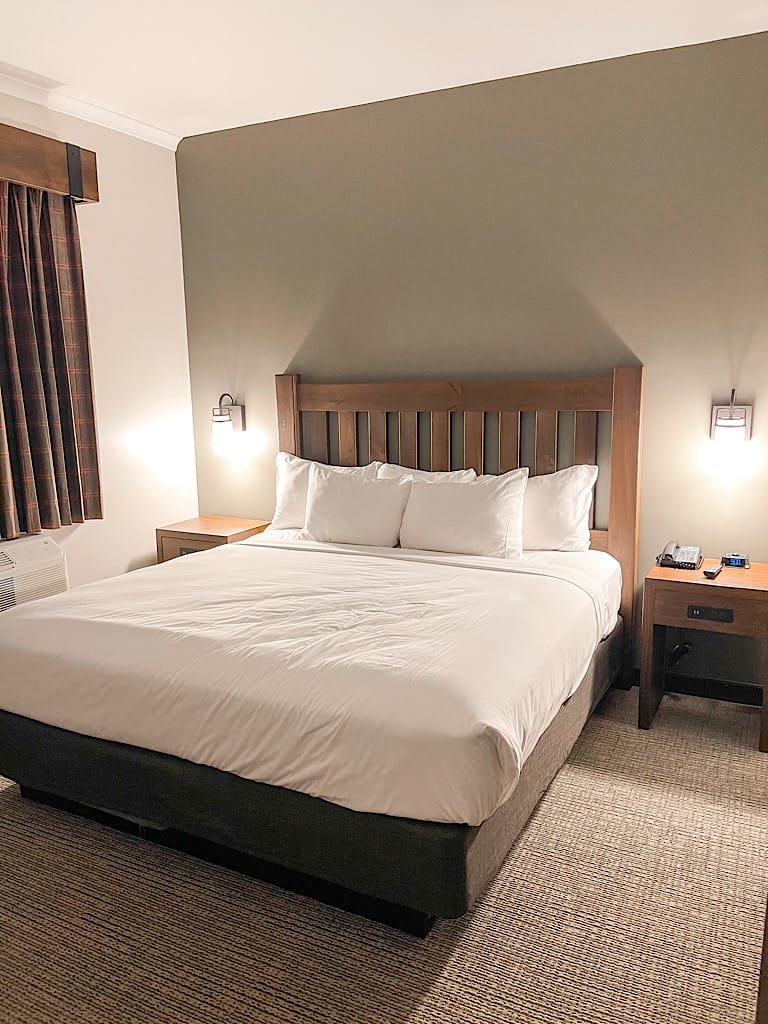 Great Wolf Lodge Health Questionnaire
About 24 hours before check in, you will also receive an email with a health-screening questionnaire.
This questionnaire will ask you if you or anyone in your family have any symptoms or have been in close contact with someone who has tested positive or if you have been asked to quarantine, etc.
If anyone in your family is feeling under the weather, Great Wolf Lodge has a pretty nice cancellation policy in place right now. So, don't hesitate to cancel if this is the case.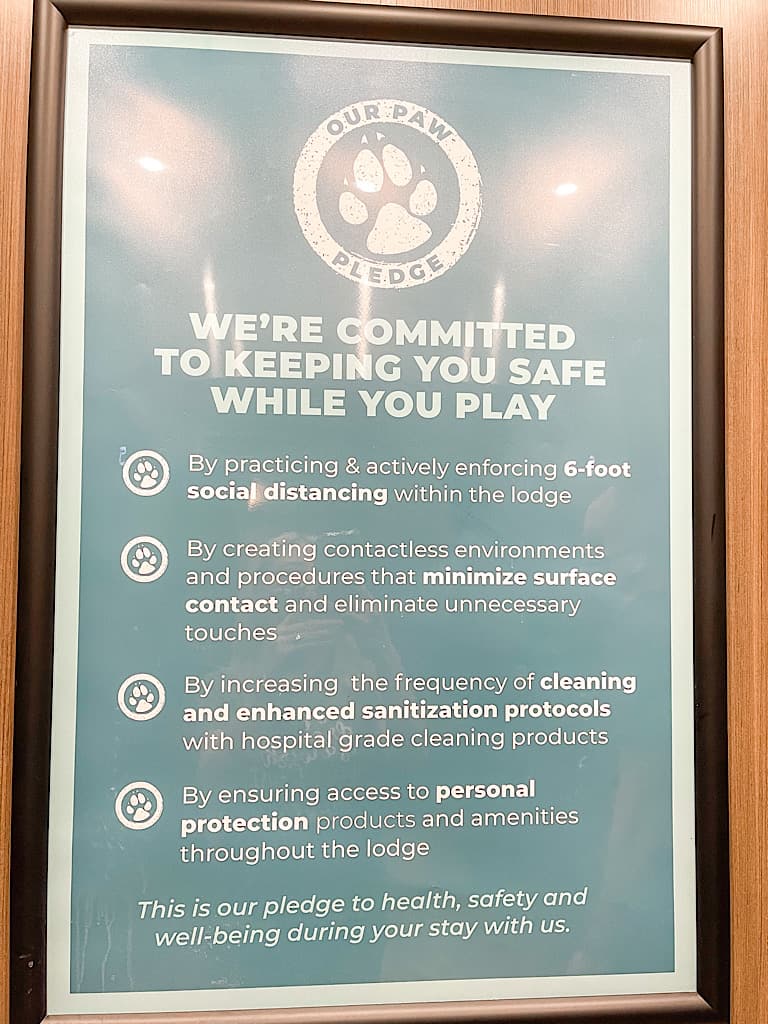 All of these safety requirements are posted in many places throughout the resort to remind everyone what is expected.
Social Distancing
The Paw Pledge promises to protect guests by practicing and actively enforcing 6-feet social distancing within the lodge.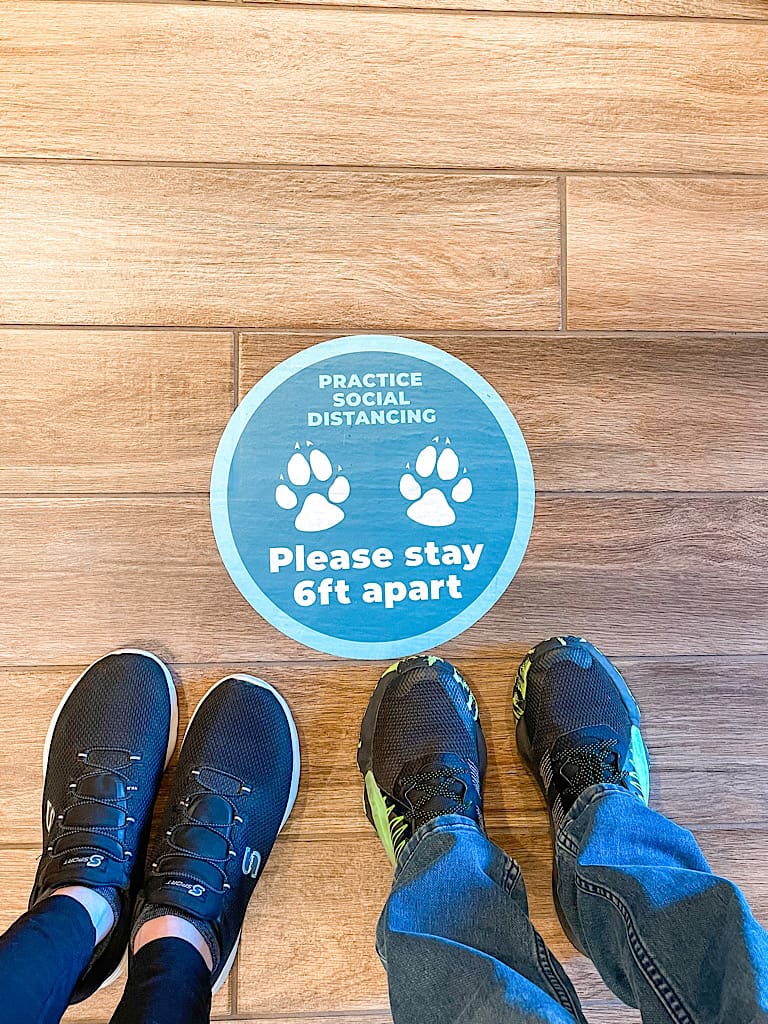 There are social distancing markers all over the resort, especially in places where lines or groups of people may form.
Drinking fountains are currently closed for obvious reasons, so make sure to plan ahead and bring your own bottle of water.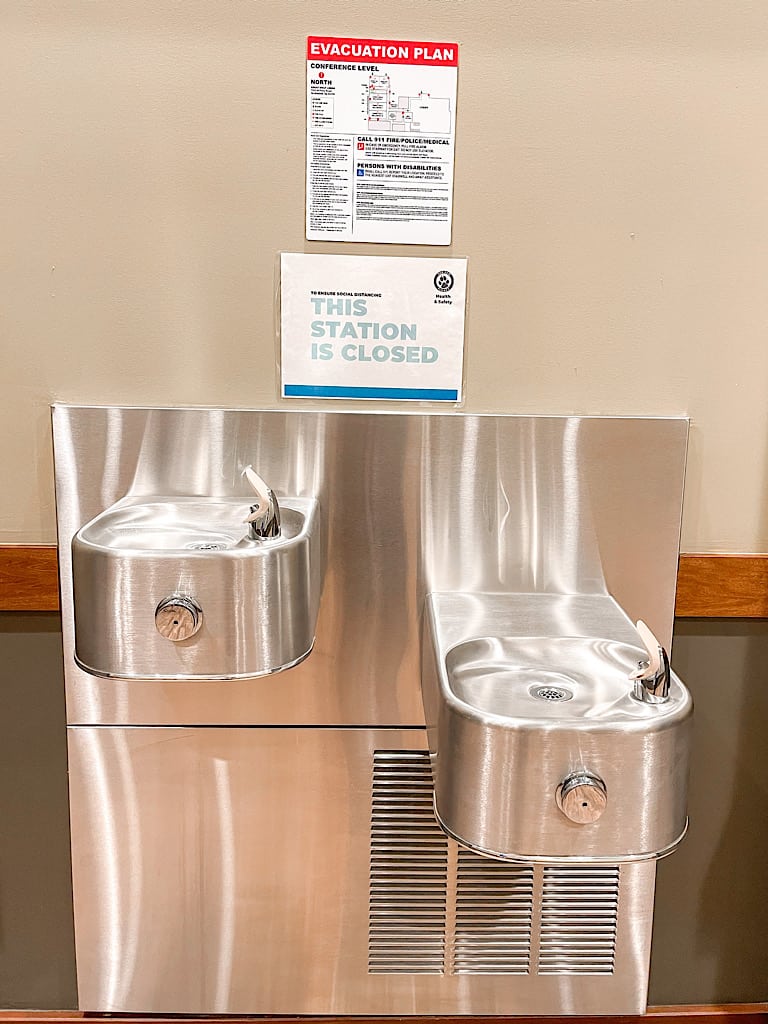 When riding in an elevator to and from your hotel room, only one family is allowed at a time.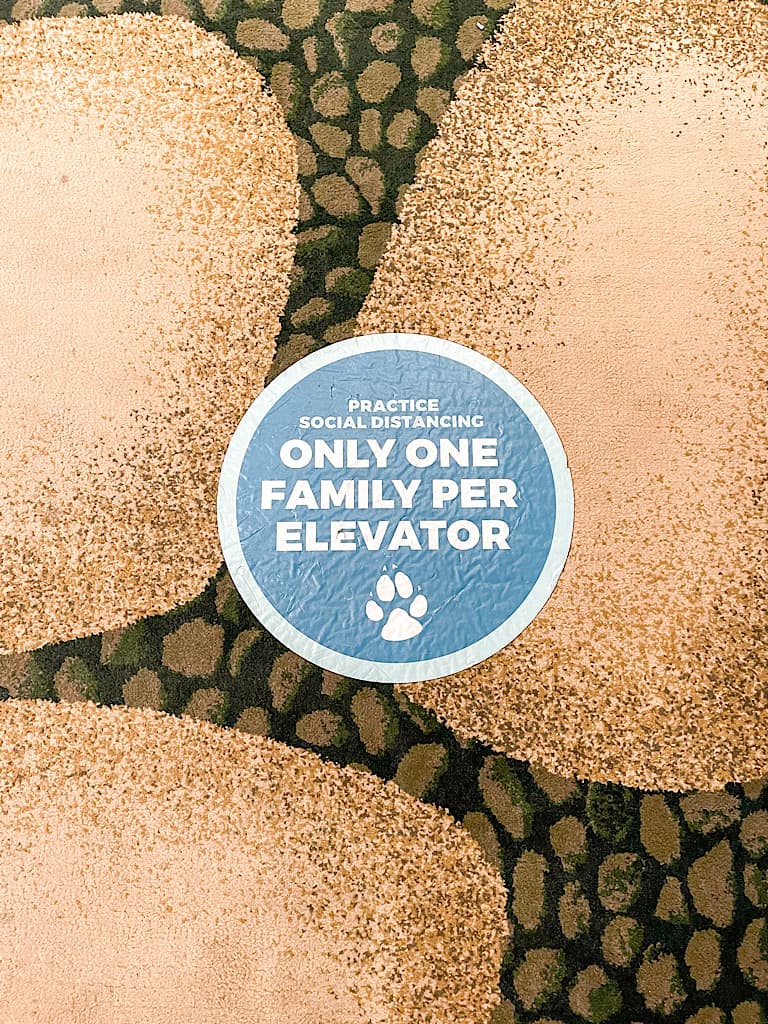 Story Time
Special events are like story time and yoga, are still happening at this time. There are a few things to be aware of though.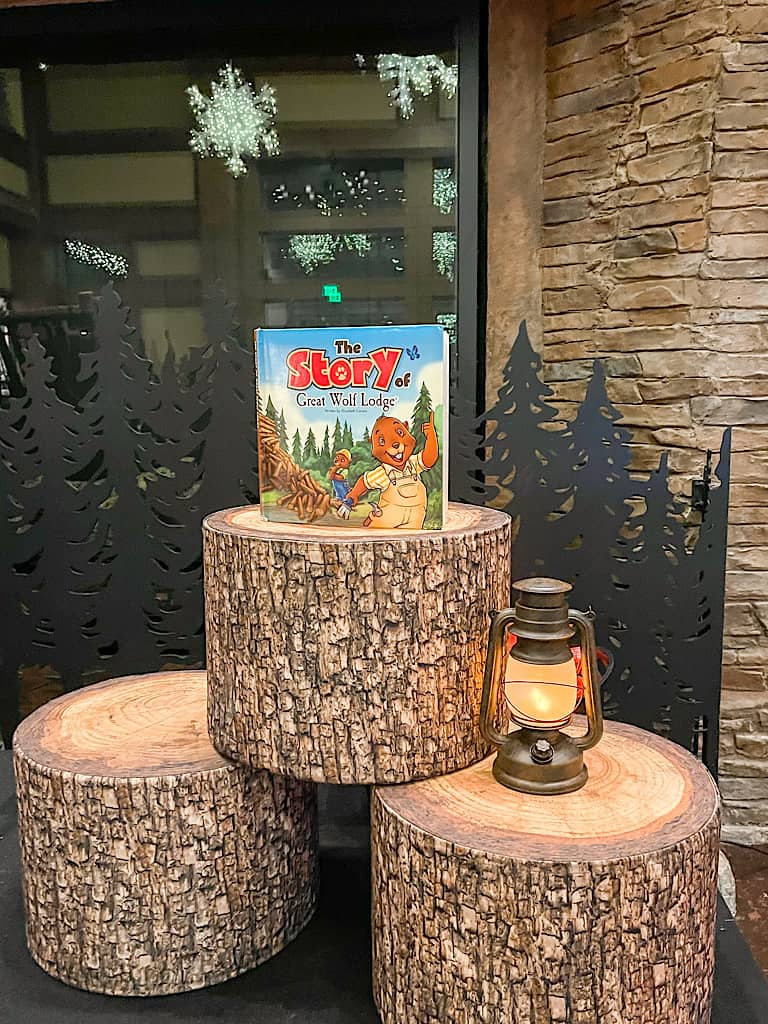 These events are functioning at limited capacity. Once the event fills up, no other guests will be let in. If this is something your kids want to participate in, make sure to arrive early.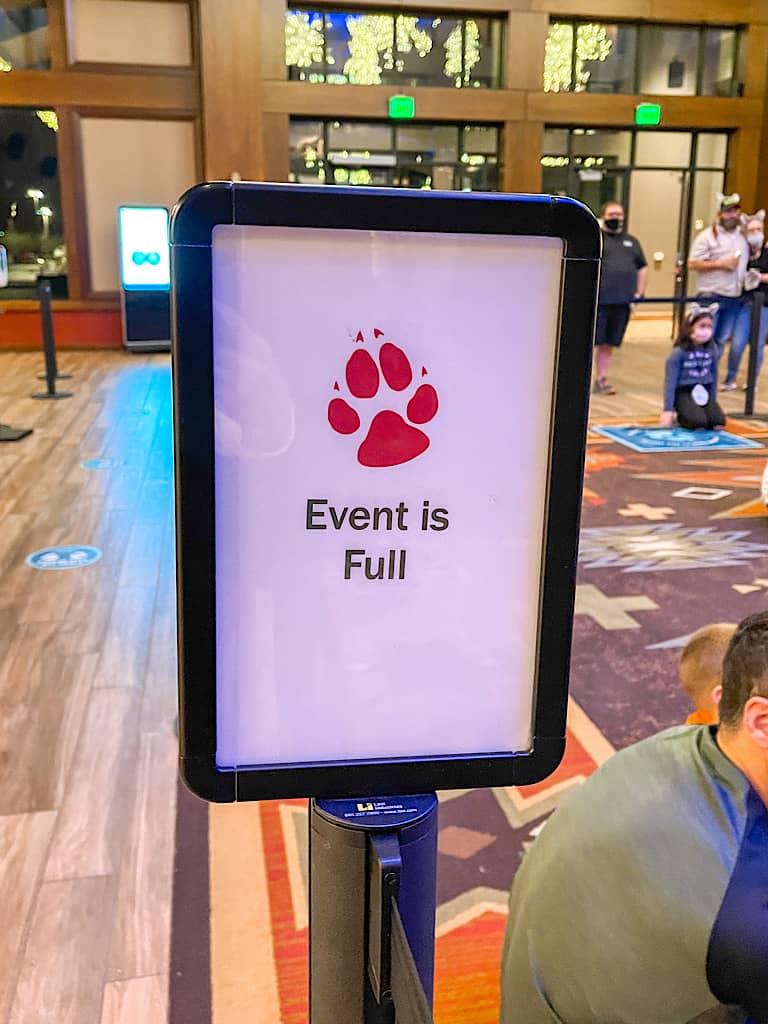 We came about 10 minutes before story time each night, and we were able to join in every time.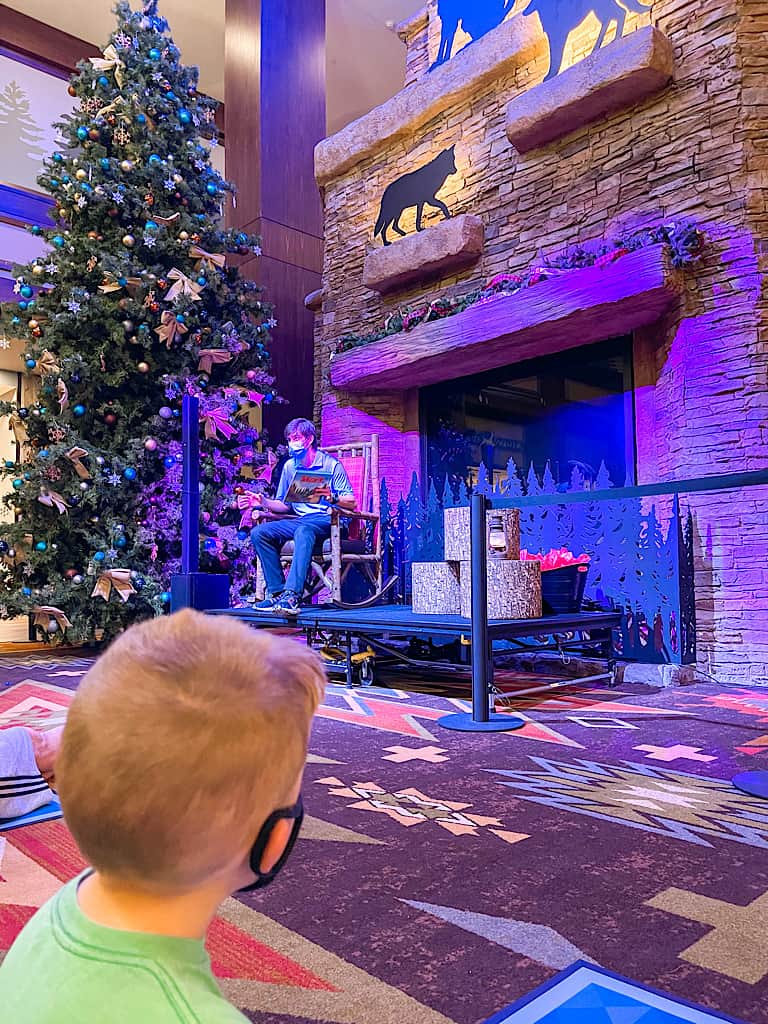 Guests are also socially distanced during these events through markers located on the floor.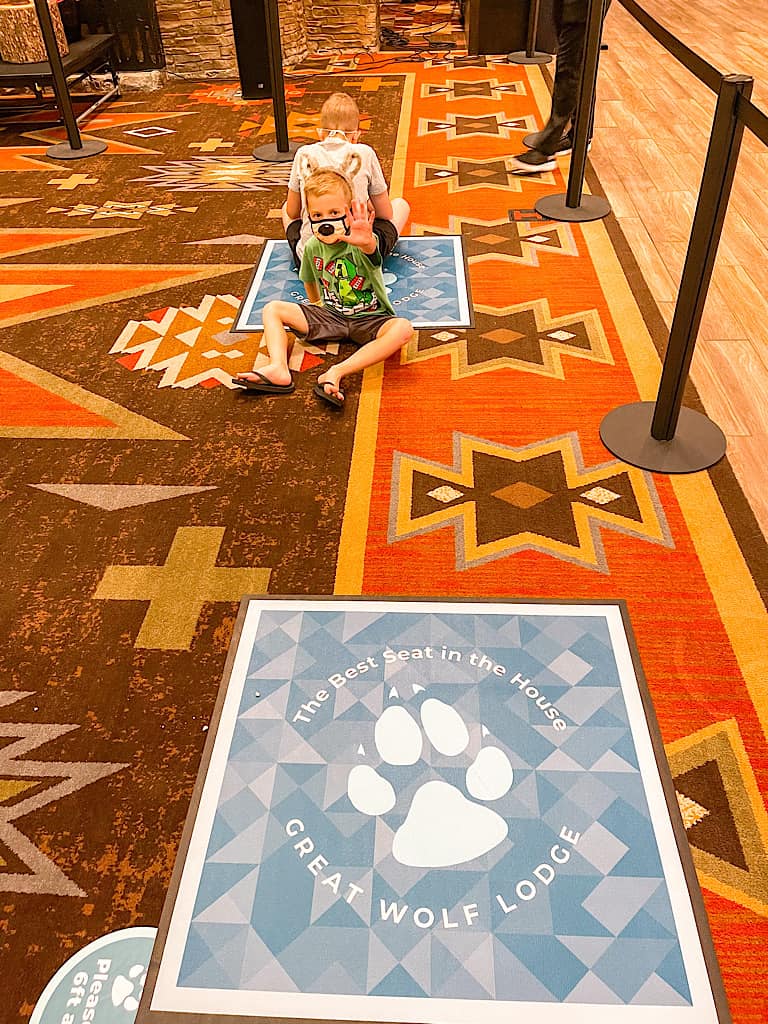 Characters like Wiley Wolf may appear, but will not be available for hugs and high fives.
Water Park
In the water park, lounge chairs have been distanced from each other to separate groups of people and allow everyone plenty of space.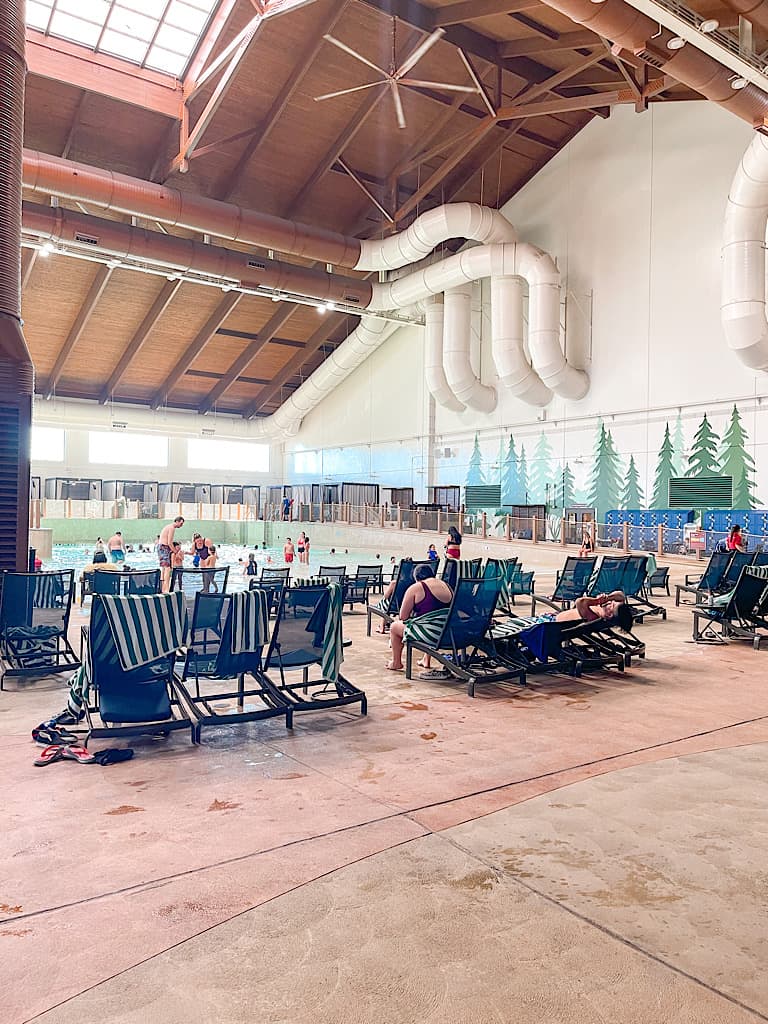 There are many signs to remind everyone to stay 6-feet apart, which especially important in the water park.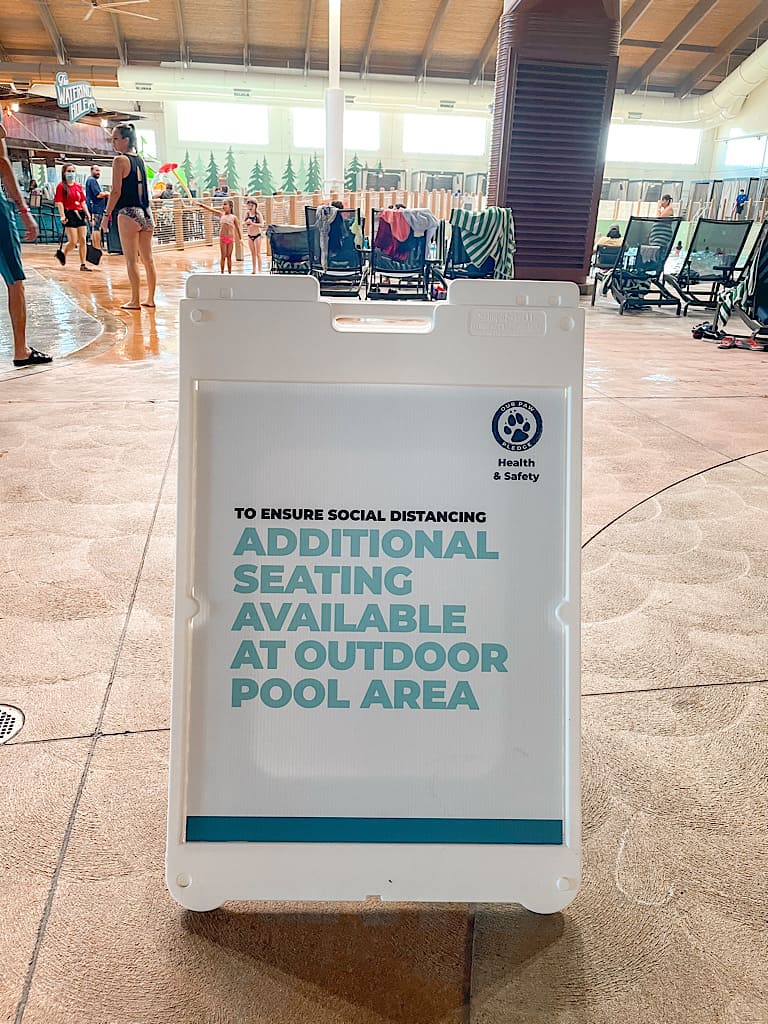 When waiting in line for a waterslide, there are social distancing markers on the stairs (green tape) to show you where to stand so that you are not too close to other guests.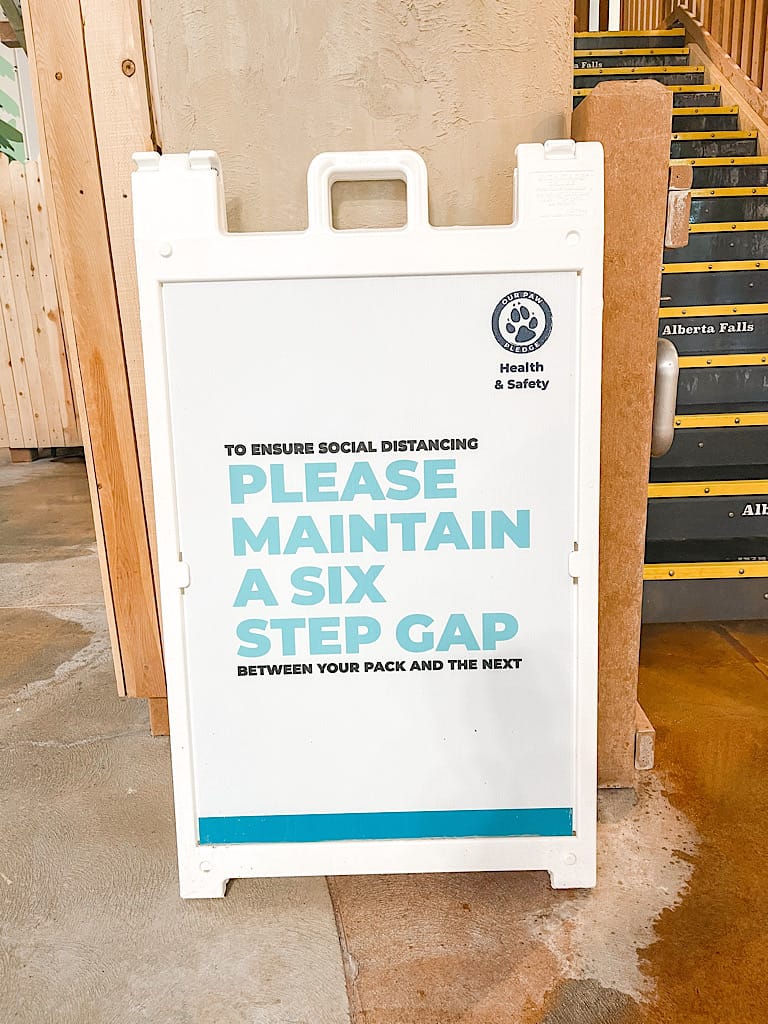 Unfortunately, the hot tub is also closed at this time to ensure social distancing. I was pretty sad.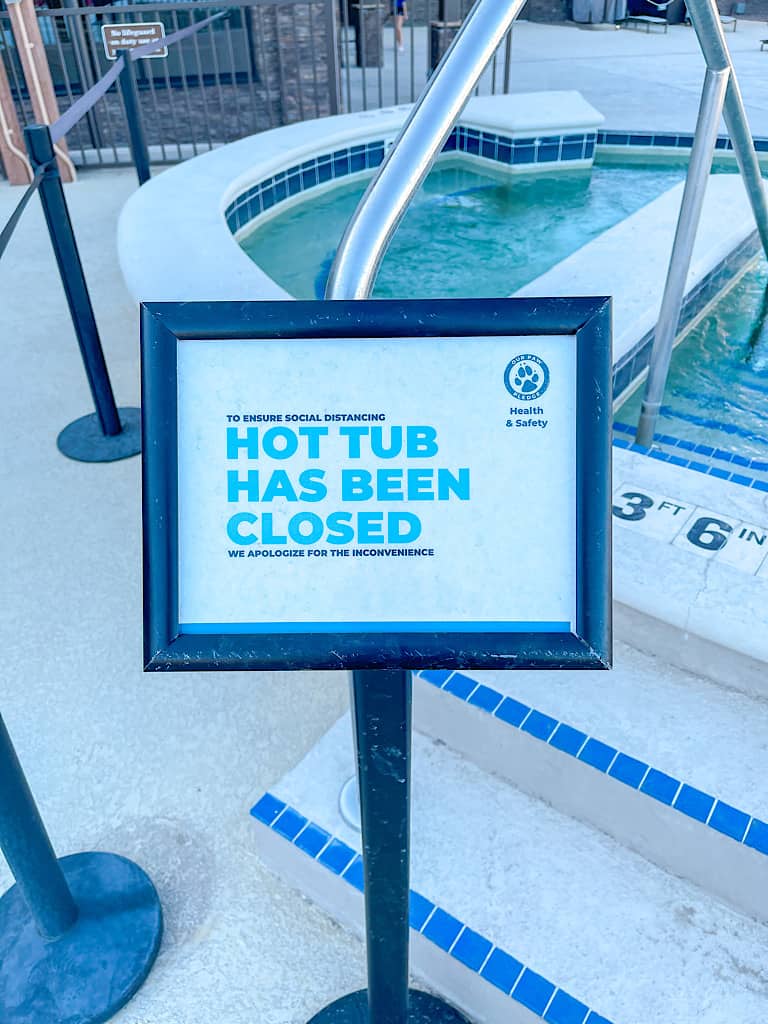 Arcade, Ropes Course, & Magi Quest
In the arcade, not only are there markers on the floor, but there are signs reminding you to only play certain games with members of your family.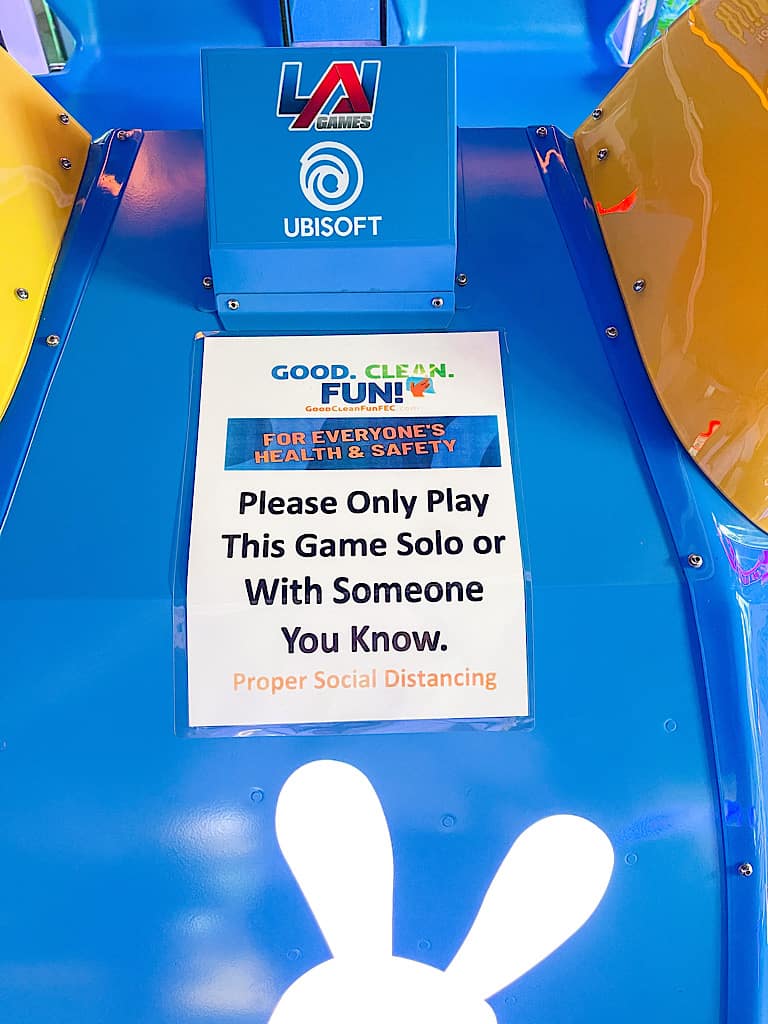 On the ropes course, only one guest at a time is allowed on a platform, to keep people from gathering too close together.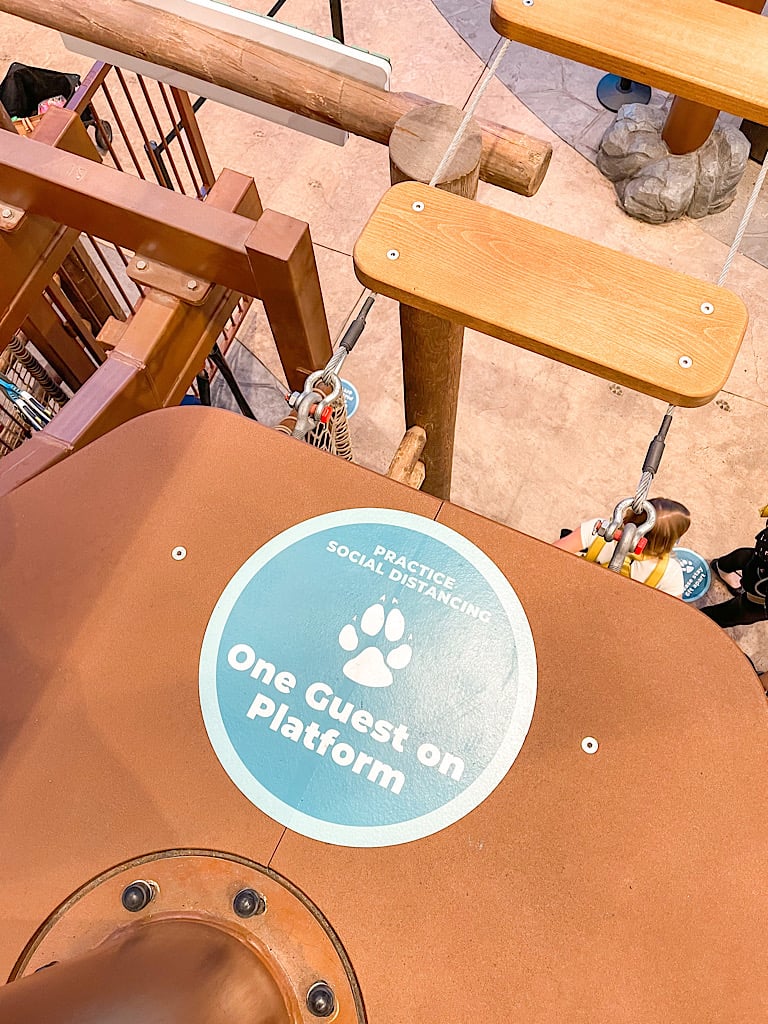 There are also social distance markings near each MagiQuest station to keep kids from gathering together.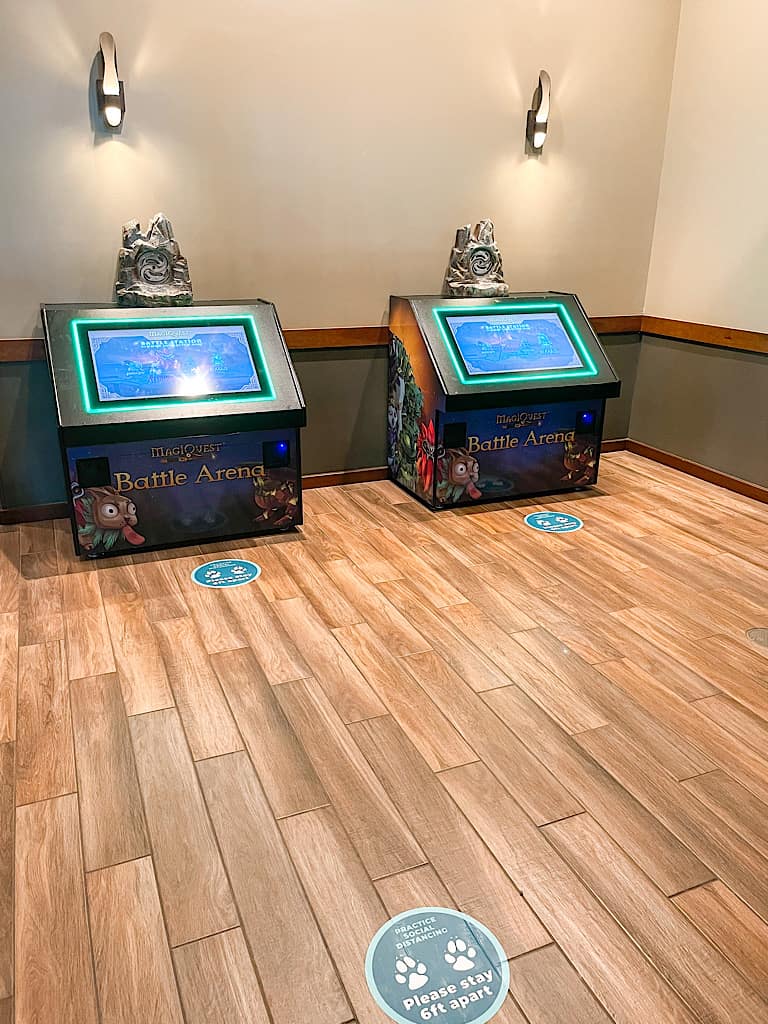 Restaurants
In restaurants, mobile ordering through the Great Wolf Lodge app is encouraged and there are markers on the floors to keep people six feet apart.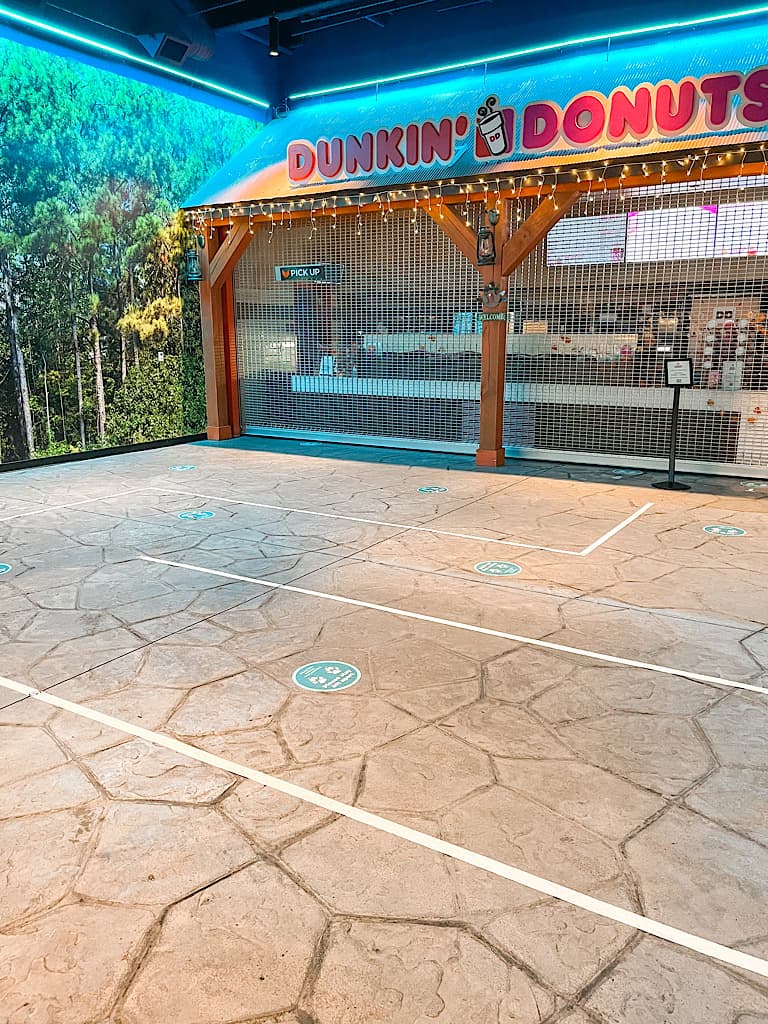 Tables in restaurants have been spaced out to give each family enough room to enjoy their meals.
Contactless Environments
Great Wolf Lodge has implemented many procedures to help minimize surface contact and unnecessary touches, starting right at check in.
You can to check in to your room online or on the Great Wolf Lodge app 24 hours before your arrival.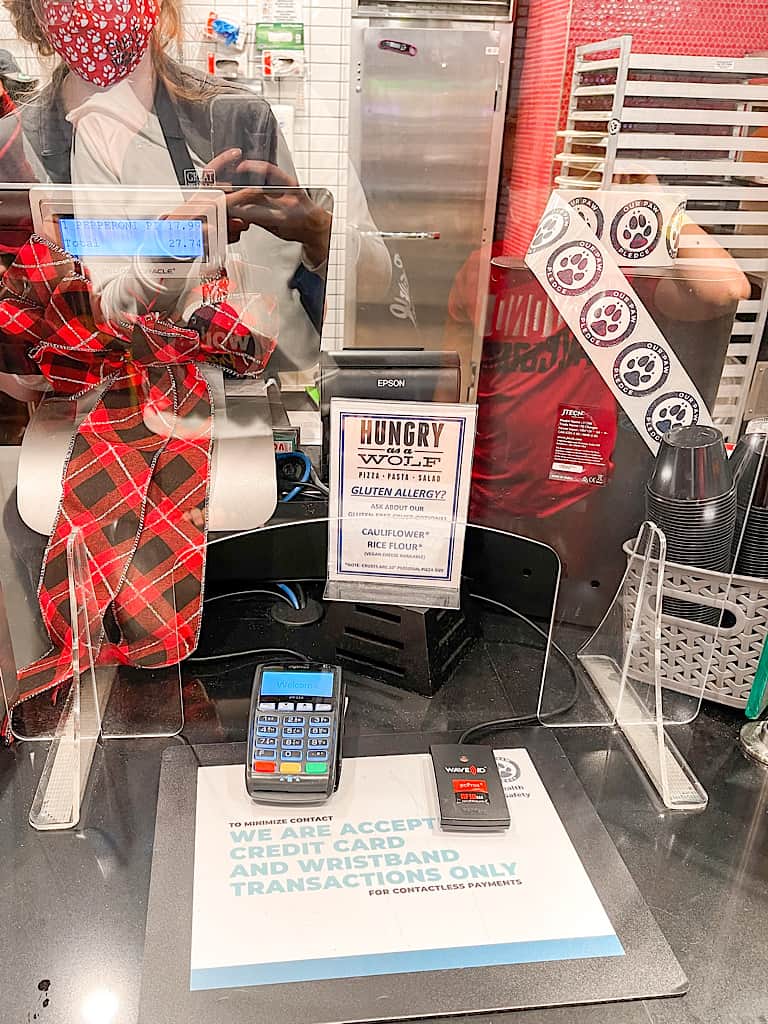 When paying for a meal or an item at the gift shop, you can use a credit card, or charge to your room with your Great Wolf Lodge wrist band. This came in handy during our stay, and I used it often.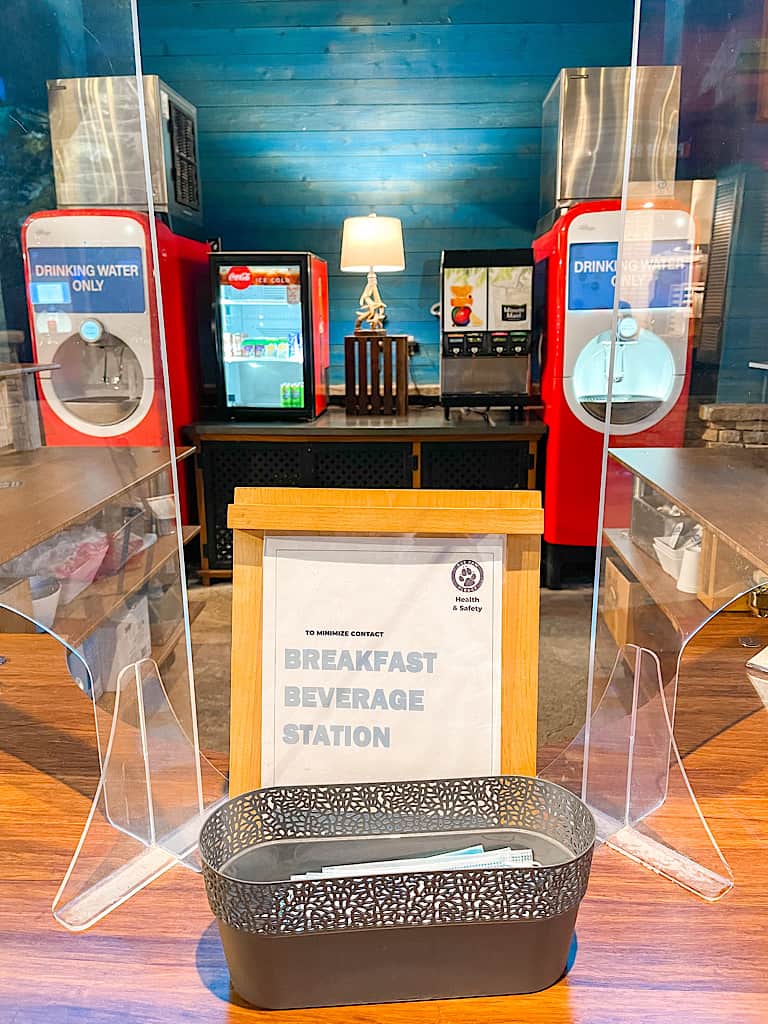 Plexiglass dividers have been been installed in many locations between guests and employees.
Increased Cleaning Procedures
Although there is no housekeeping service during your stay at Great Wolf Lodge, cleaning and sanitizing protocols have increased throughout the rest of the resort.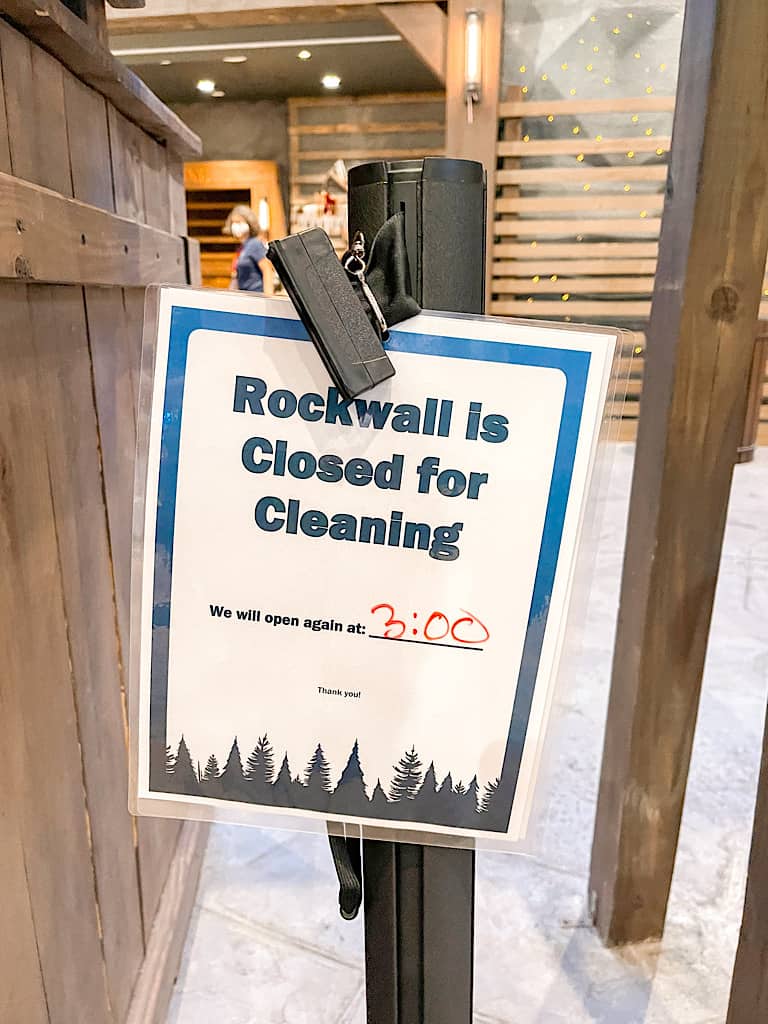 When checking in, the area is cleaned between each guest and attractions like the rock wall and ropes course are closed frequently for cleaning.
Hand Sanitizing Stations
What I noticed at Great Wolf Lodge was an abundance of hand sanitizing locations.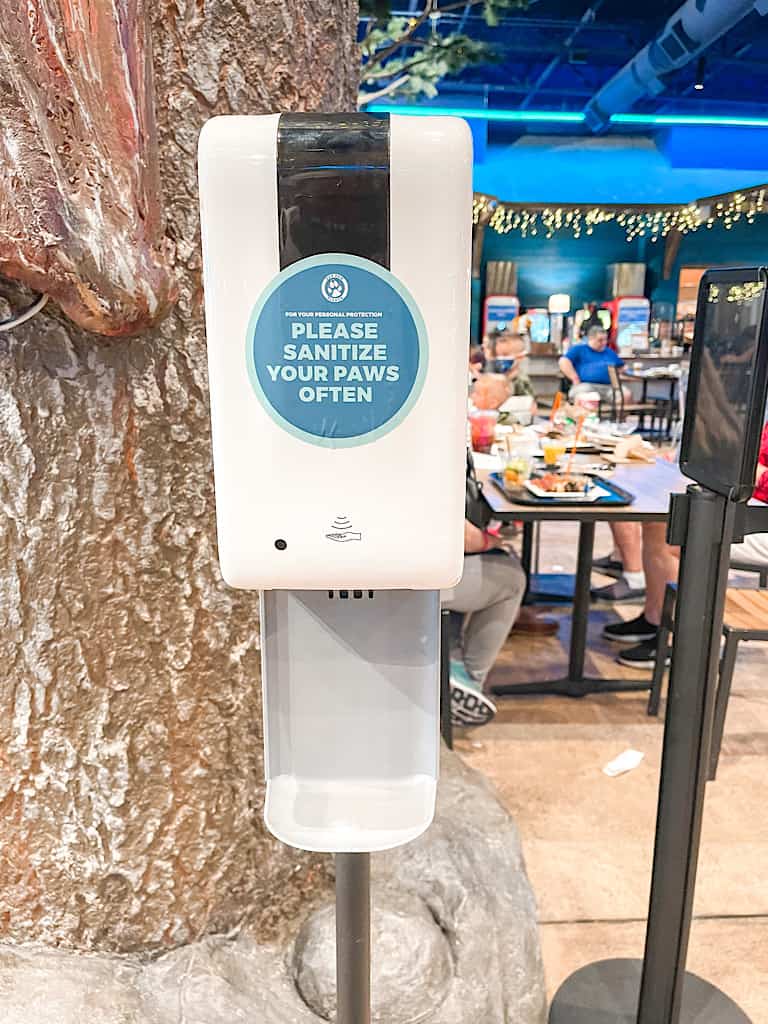 They were located outside of each attraction, in the lobby, next to restaurant entrances, and all over the water park.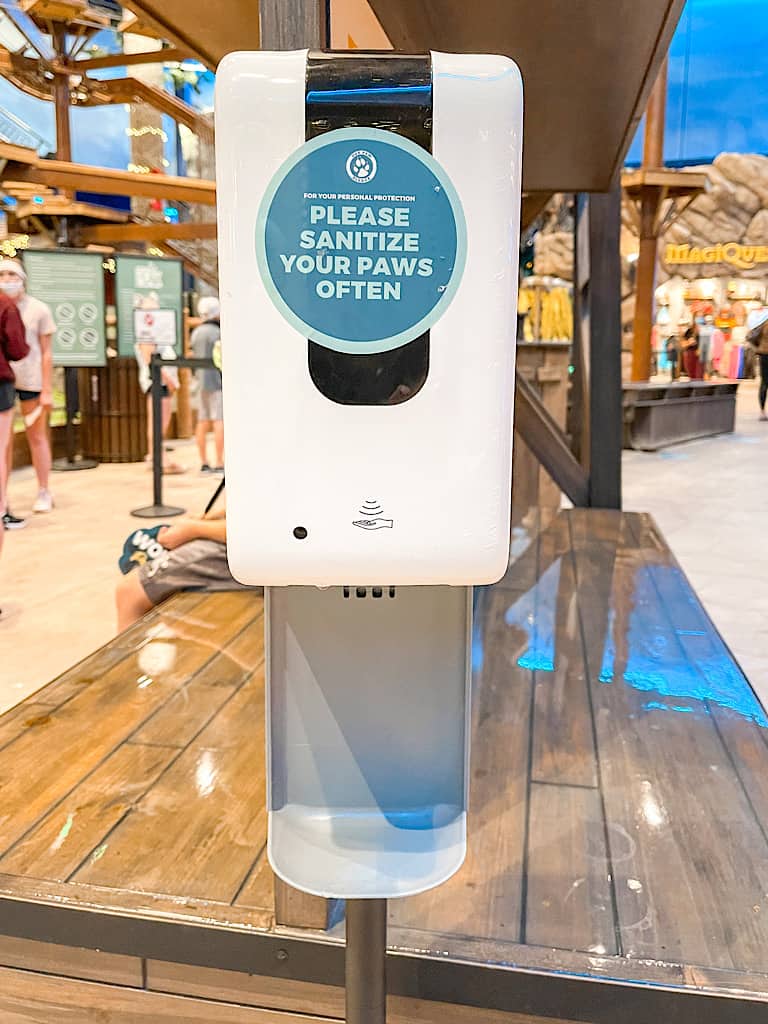 Mask Requirements
All guests at Great Wolf Lodge ages 5 and older, are required to wear a face covering that fully covers their nose and mouth, and secures under their chin in all public areas of the resort.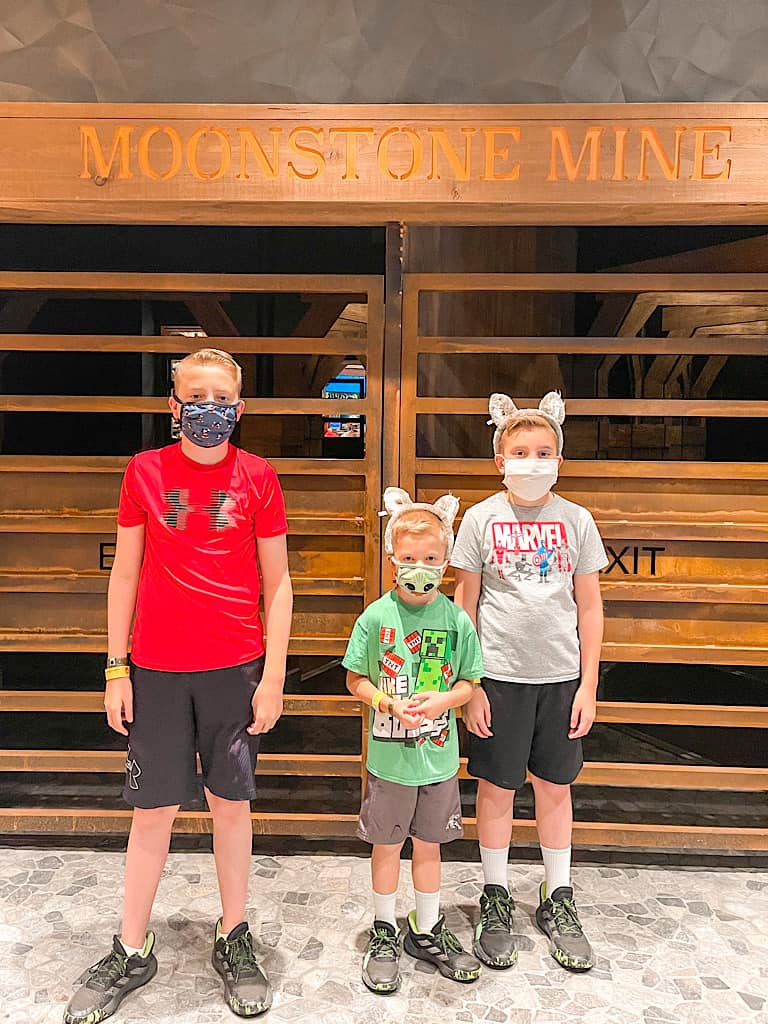 Exceptions to this rule are while you are actively dining, visiting an outdoor area where a physical distance of 6 feet is maintainable, or when actively enjoying the water park.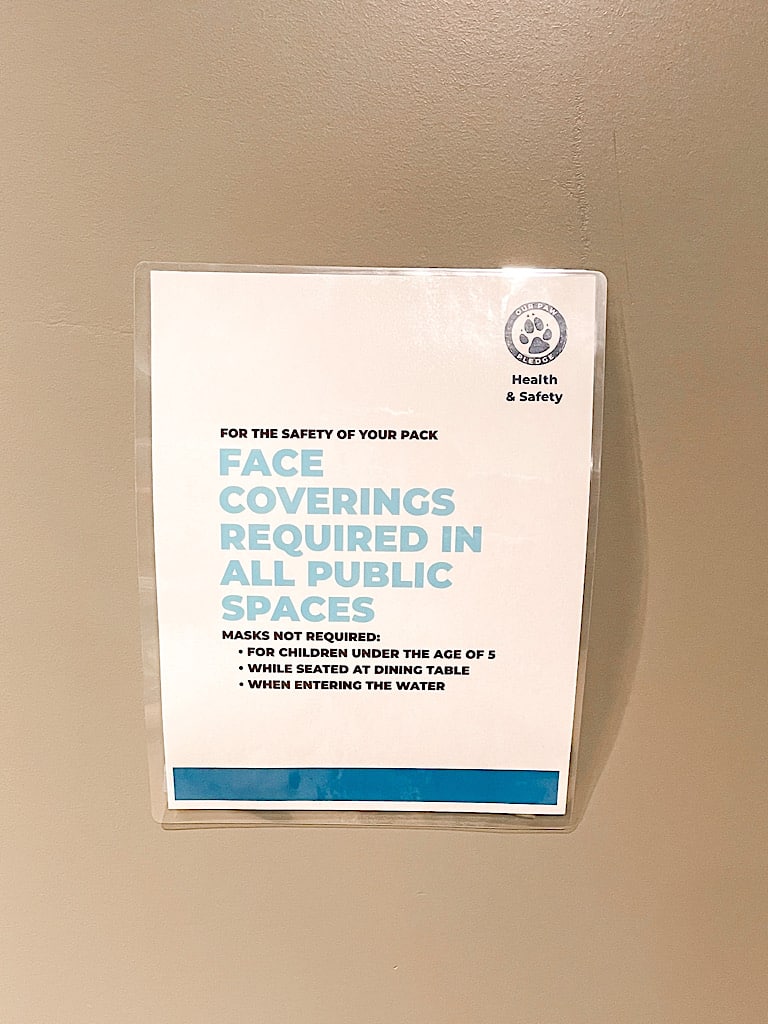 During our stay at Great Wolf Lodge in Arizona, this was the only safety protocol that I saw many guests having a hard time doing, which was a little frustrating at times.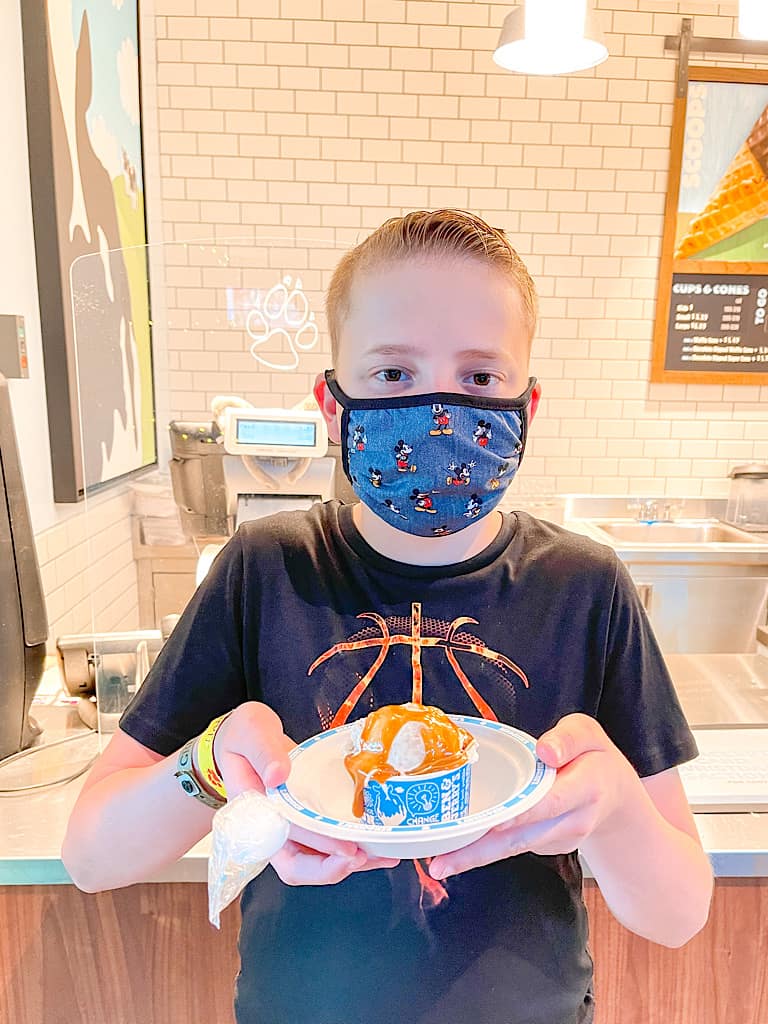 Directional Markings
In order to maintain social distancing and help lines flow better throughout the resort, we saw many directional arrows letting guests know which way to go.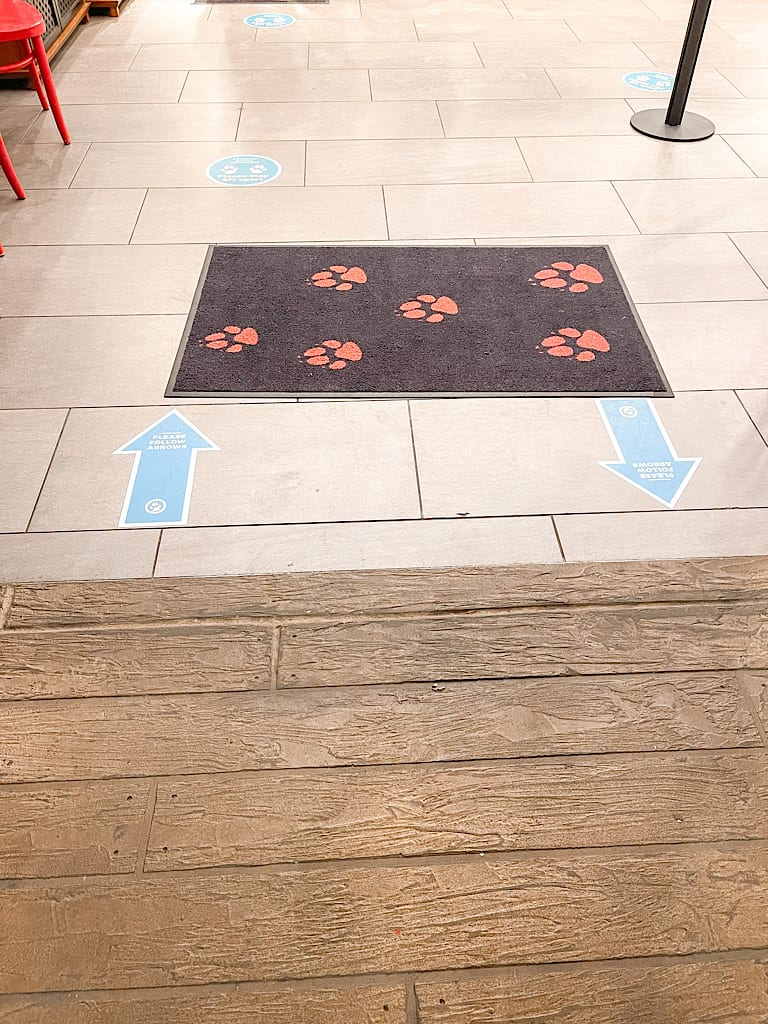 Great Wolf Lodge COVID Review
I hope that this video has helped you see what is going on at Great Wolf Lodge to help keep you safe if you decide to visit. We had a great time and enjoyed everything that the resort has to offer.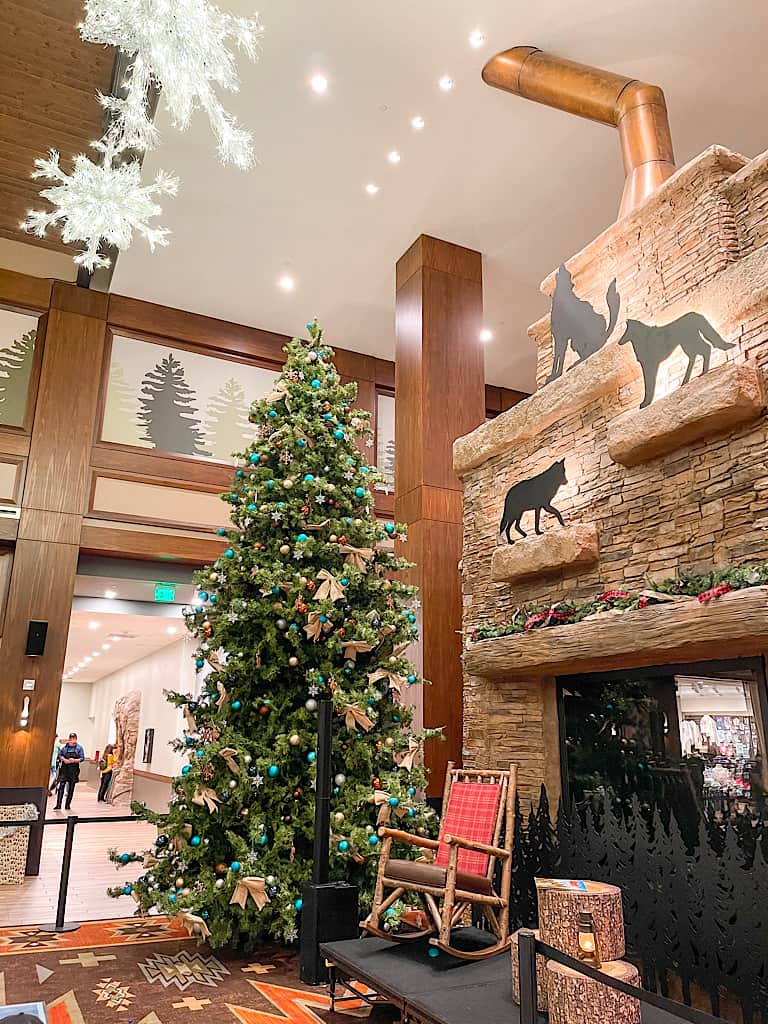 Make sure to check out my video with a tour of the Arizona location, as well as locations in Grand Mound Washington, and Anaheim California. I will link them down below in the description.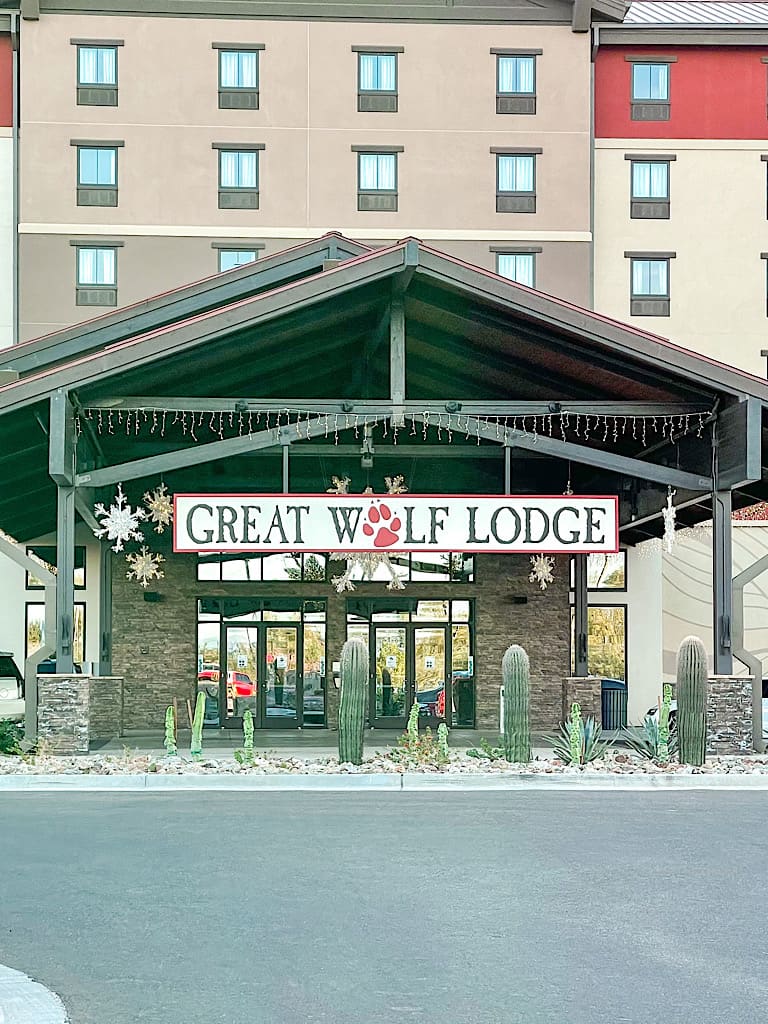 You can also find full reviews of each of these resorts here in my Great Wolf Lodge section. Make sure to subscribe, if you haven't already, and I'll see you next time!
More Great Wolf Lodge Reviews: