A review of Great Wolf Lodge Southern California located in Anaheim, California near Disneyland. Stays include a full water park and fun activities!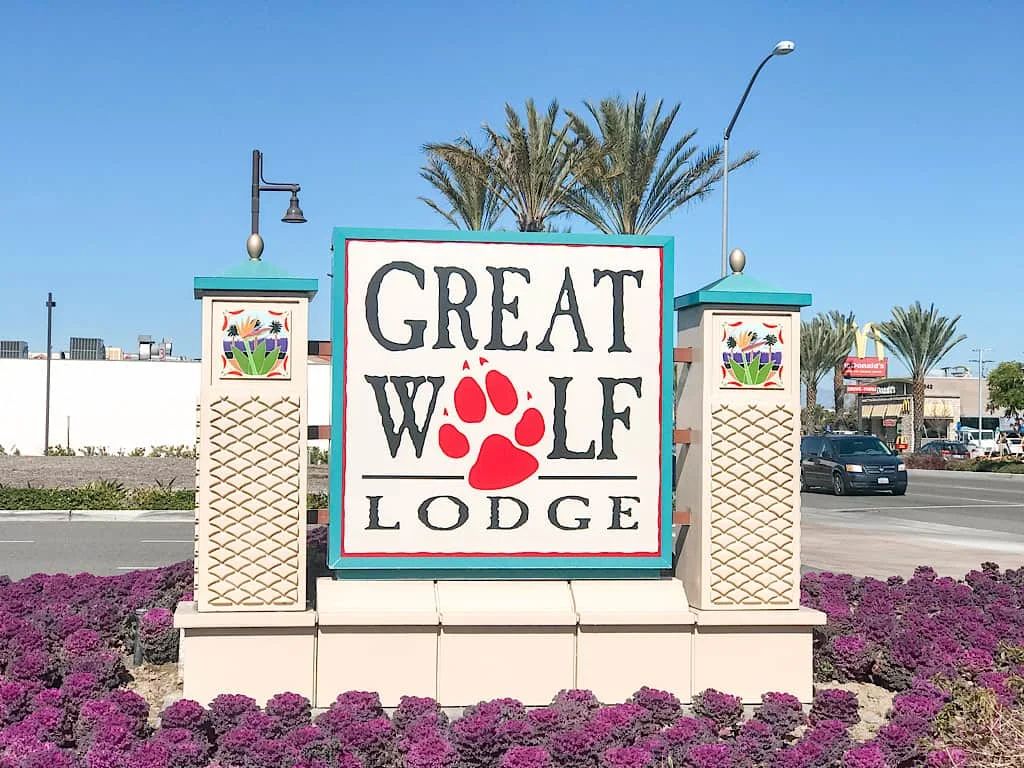 This post may contain affiliate links. When you click on these links, I get a small percentage back at no cost to you! For more information see my disclosure policy.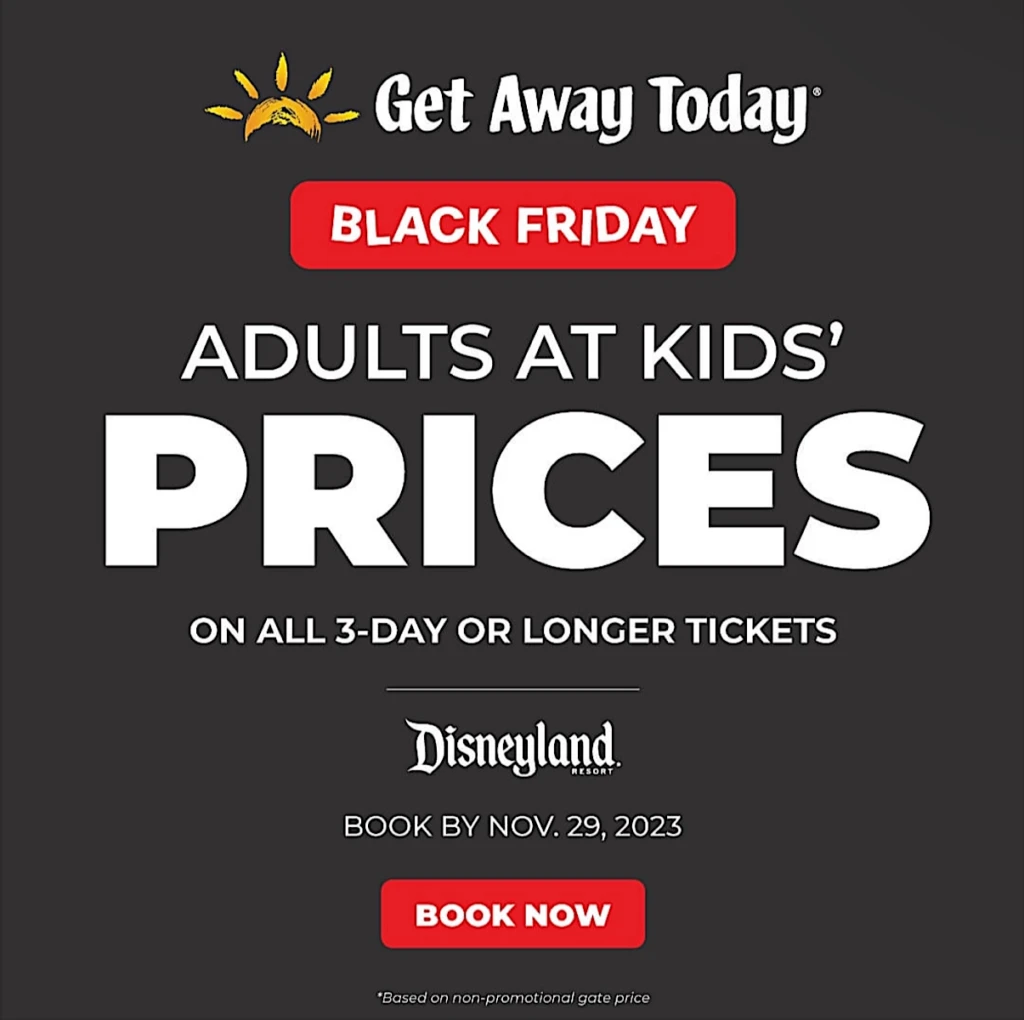 Get Adult tickets at Kid's Prices with this Disneyland Black Friday Ticket Sale from Get Away Today! Tickets are valid through December 31, 2025. Combine this deal with a hotel stay and use code: Clubhouse10 to save even more!
My kids have been begging me to go to Great Wolf Lodge since they saw it on YouTube.
So when we planned to take a trip to Phoenix for a family wedding, my husband thought it would be a great idea to stay at the new Great Wolf Lodge location near Scottsdale, Arizona, which we loved.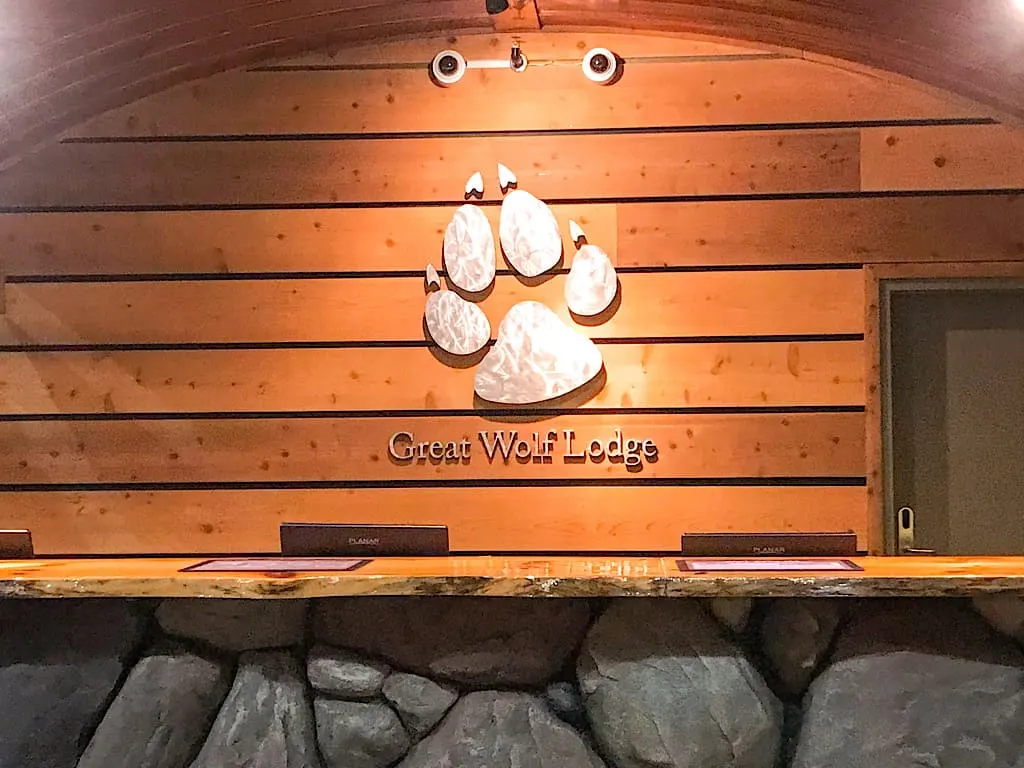 We ended up driving over to Anaheim to go to Disneyland, because why not?
We enjoyed our stay in Arizona so much, that we booked a Wolf Den Suite at Great Wolf Lodge Anaheim for 3 nights.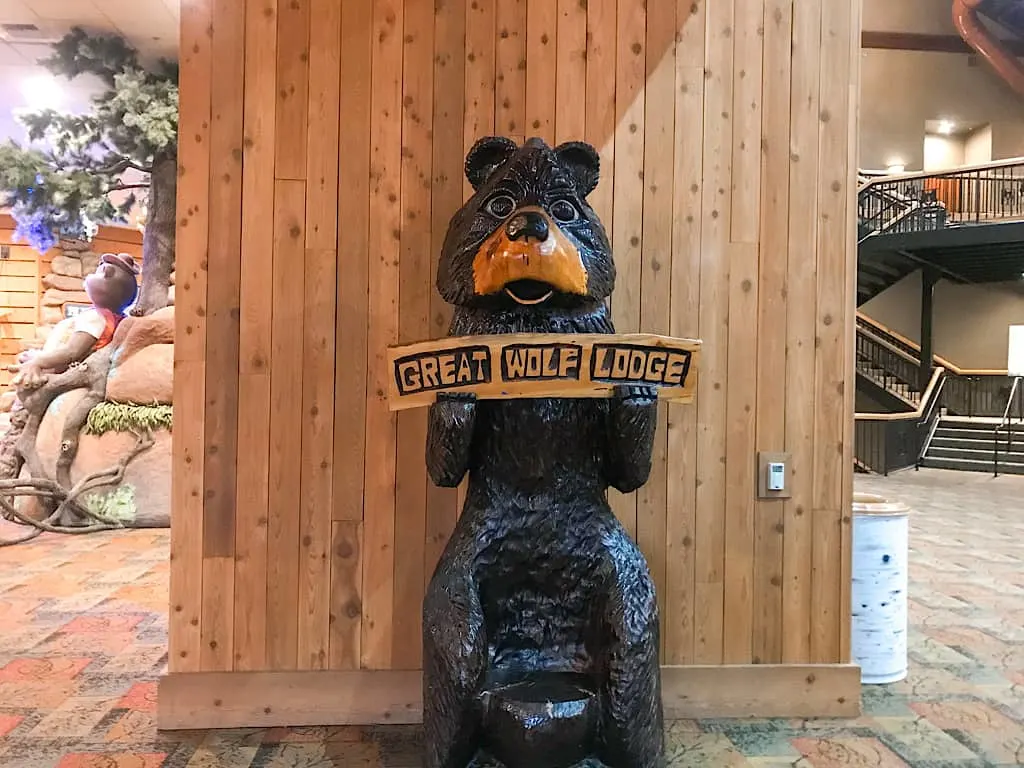 Great Wolf Lodge Anaheim
Your stay at Great Wolf Lodge includes passes for each person in your party to their enormous water park.
This isn't just a hotel pool with a couple of waterslides, it is a full-sized water park complete with a wave pool and flow rider.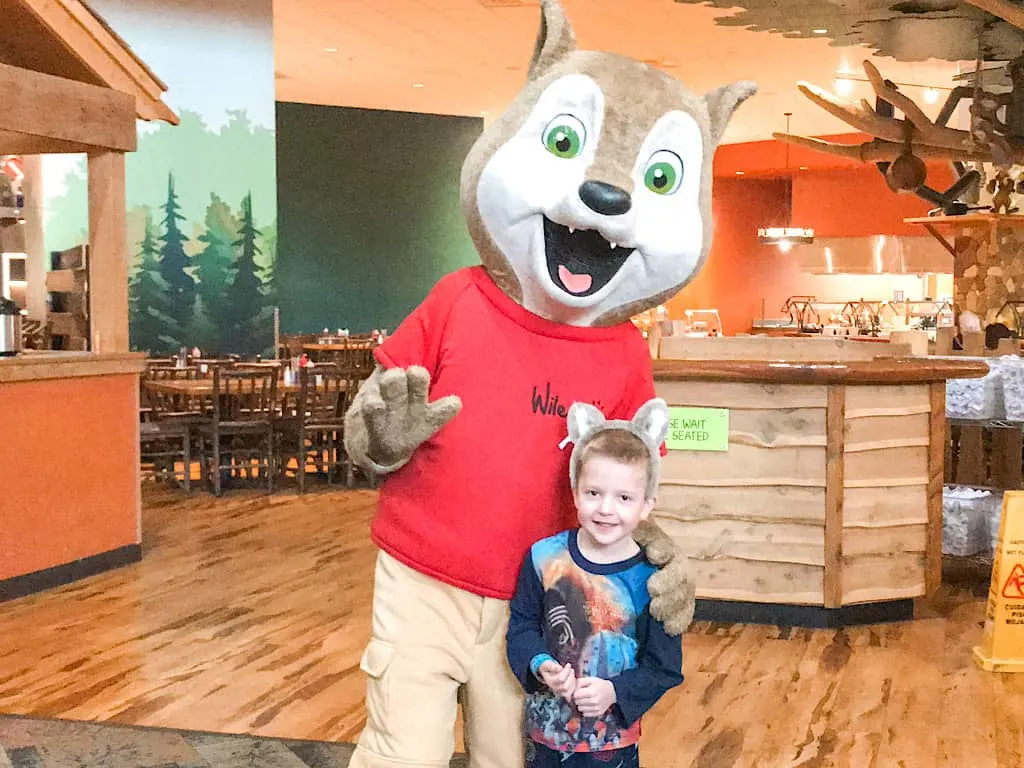 We'll get to the water park more in a minute.
Great Wolf Lodge also has other things that are not included but might be worth a doing if you have the time.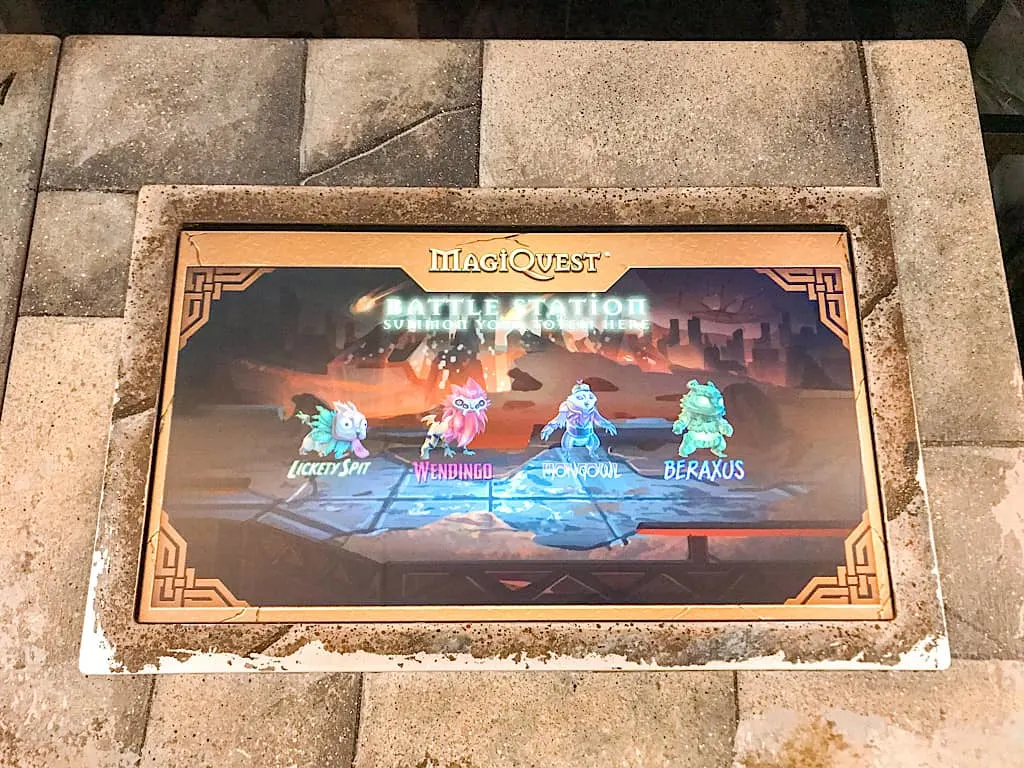 Pup, Paw, and Wolf passes can be purchased which include many of the extras bundled together. Read about our experience with Wolf Passes here.
There are also a few restaurants including a character breakfast and a pizzeria.
We ordered a pizza and garlic bread at Hungry as a Wolf pizzeria and thought it was really good.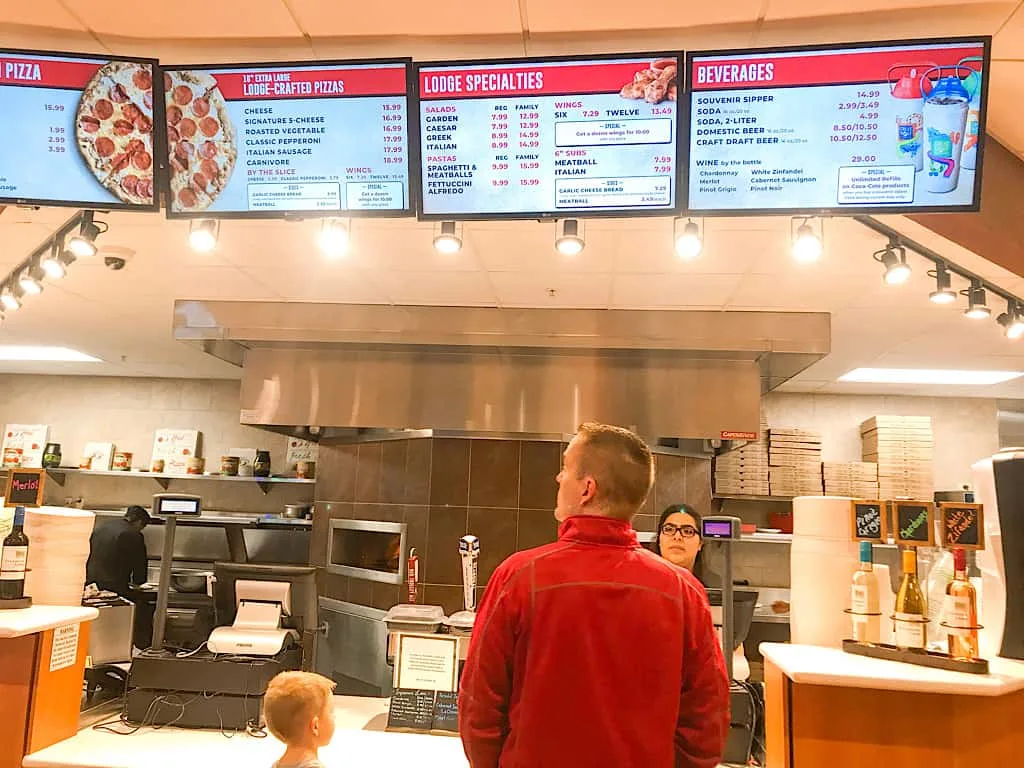 Wolf Den Room Tour
Great Wolf Lodge has 3 categories to rank their rooms.
Standard, which as you probably guessed, are regular hotel rooms with a couple of beds and a bathroom.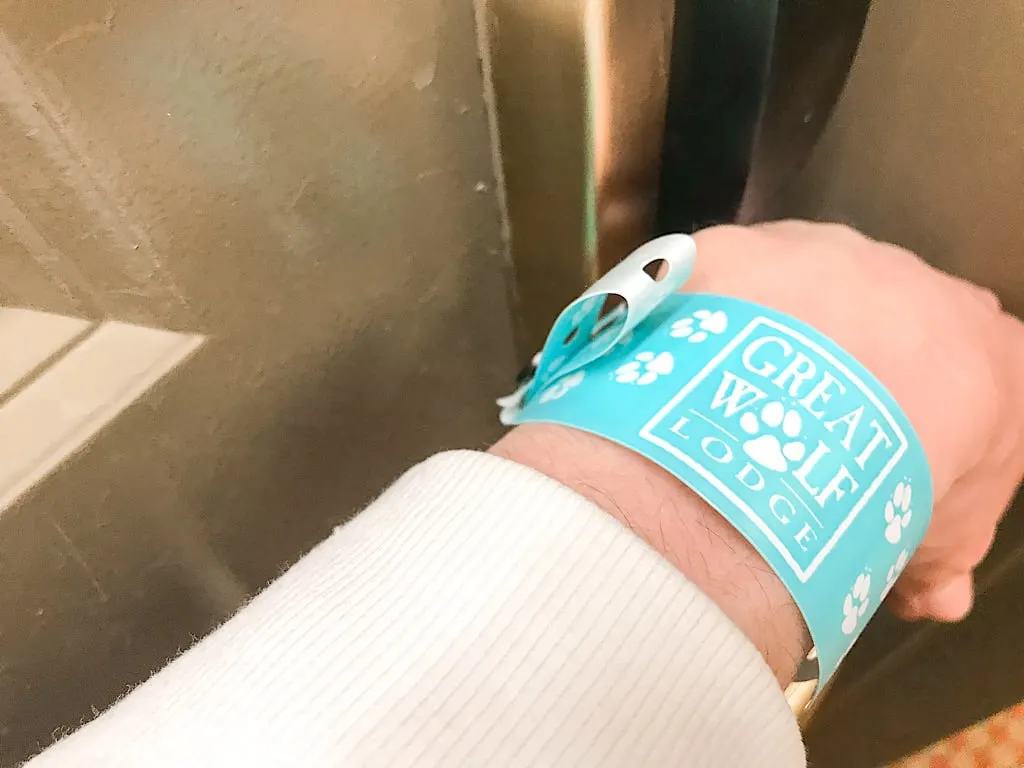 Premium rooms, which are a little bigger and offer more amenities. See my review of the Grand Bear Suite here.
The third category are Themed Rooms. In Arizona, we stayed in a Kids Cabin Suite which you can see here. Here in California, we choose the Wolf Den Suite.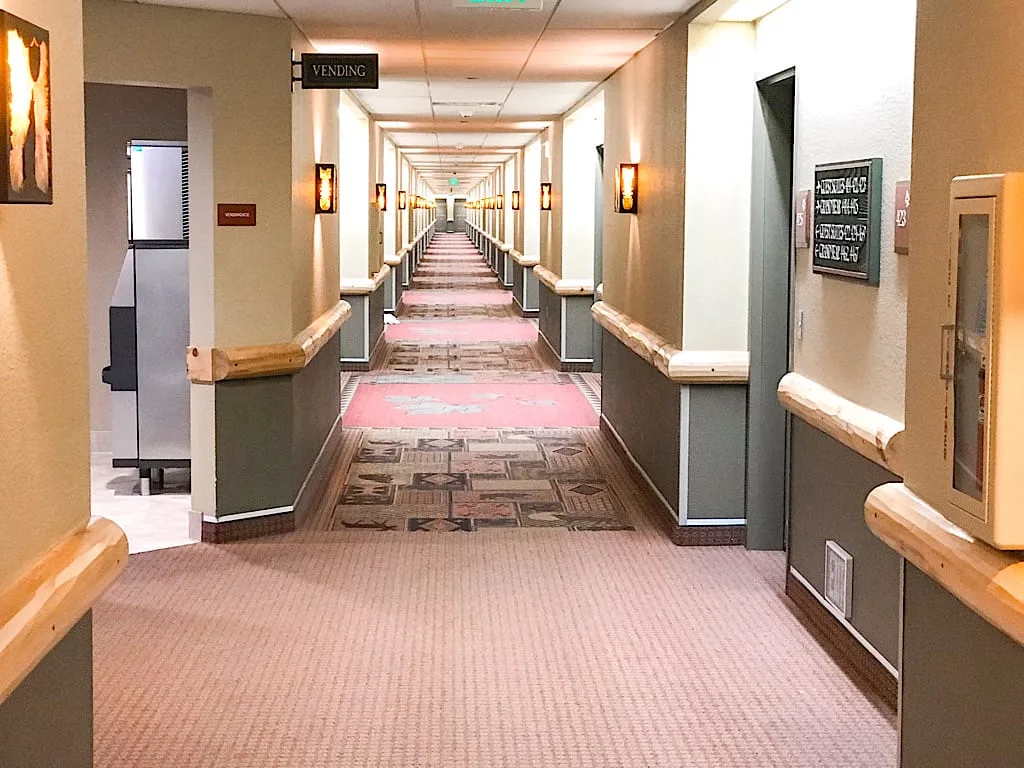 Entrance/Bathroom
As you entered our room, the bathroom was immediately to the left.
The bathroom was pretty standard with a shower/tub combination and cute wolf paw-shaped soap.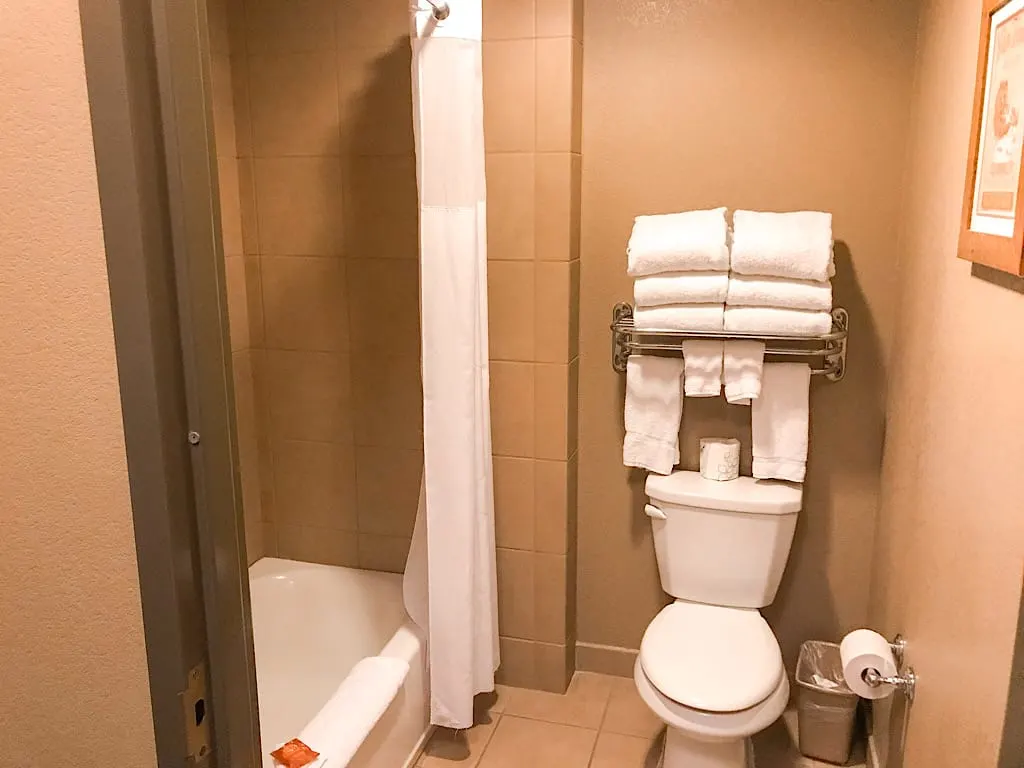 Across from the bathroom was an open closet with an in-room safe.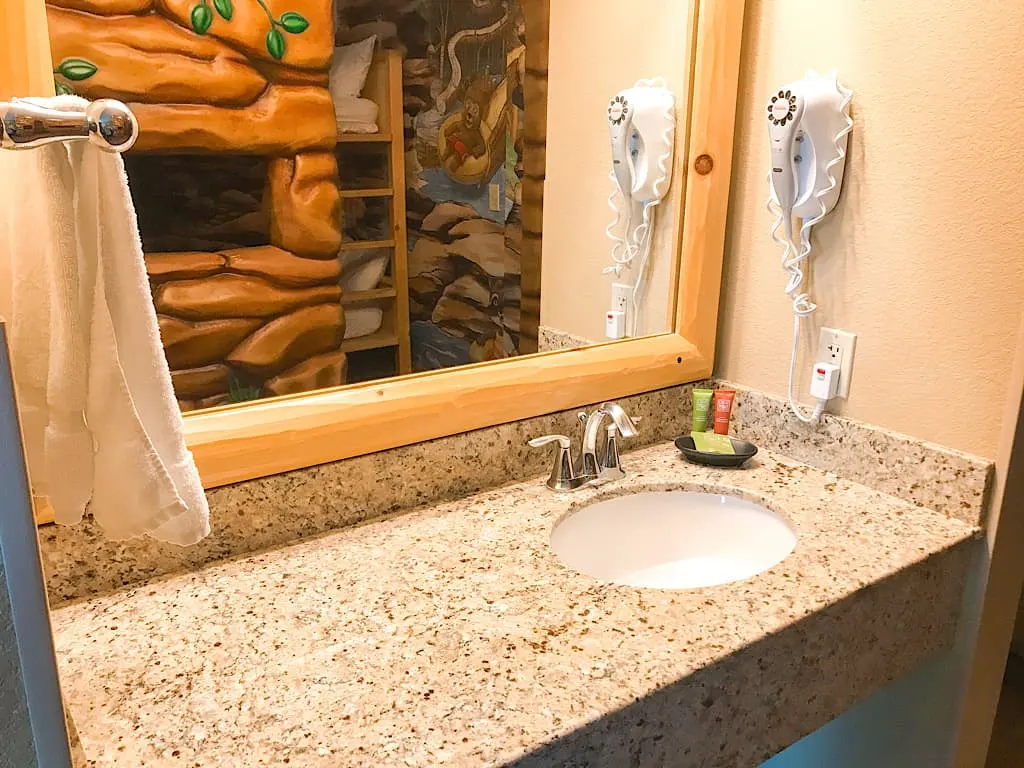 Next to the closet is an open vanity with a sink and large mirror.
I liked that the vanity was separate from the bathroom so they could both be used at the same time which is great for a family.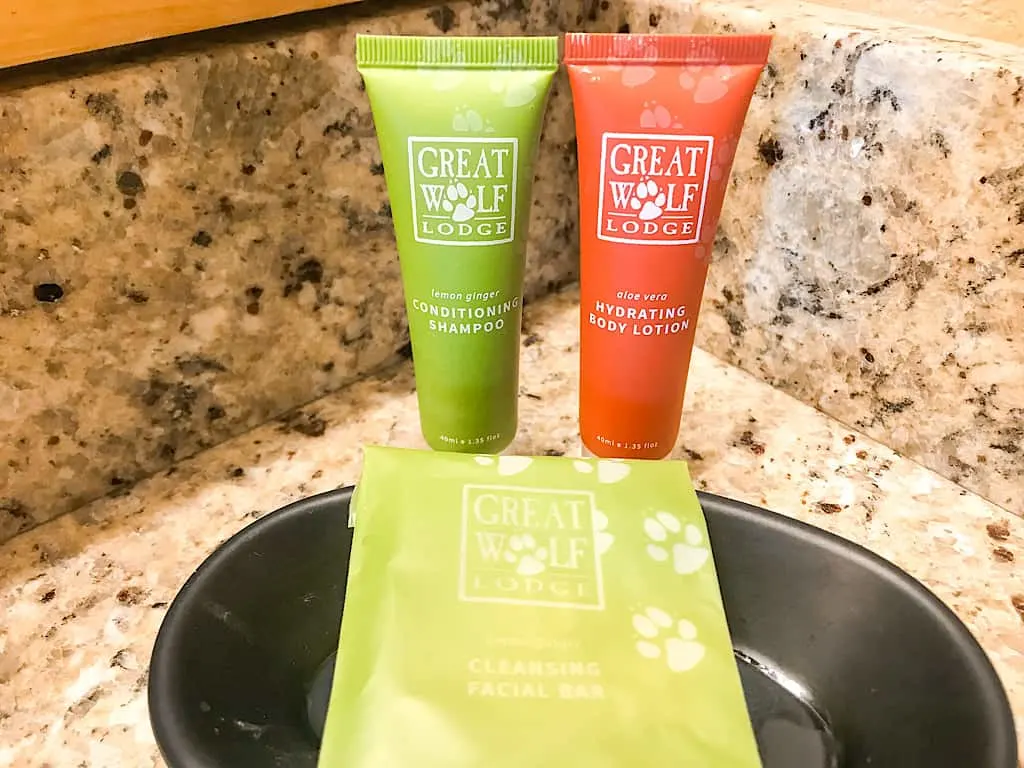 Wolf Den
My boys loved the Wolf Den! It was like having their own room within our hotel room.
The outside looks like it is made of logs and inside is a set of bunk beds and their own tv.
There were only two beds in the Wolf Den which caused a little bit of friction because we have three boys, so next time I would probably get the Kid Cabin again, just to avoid fighting.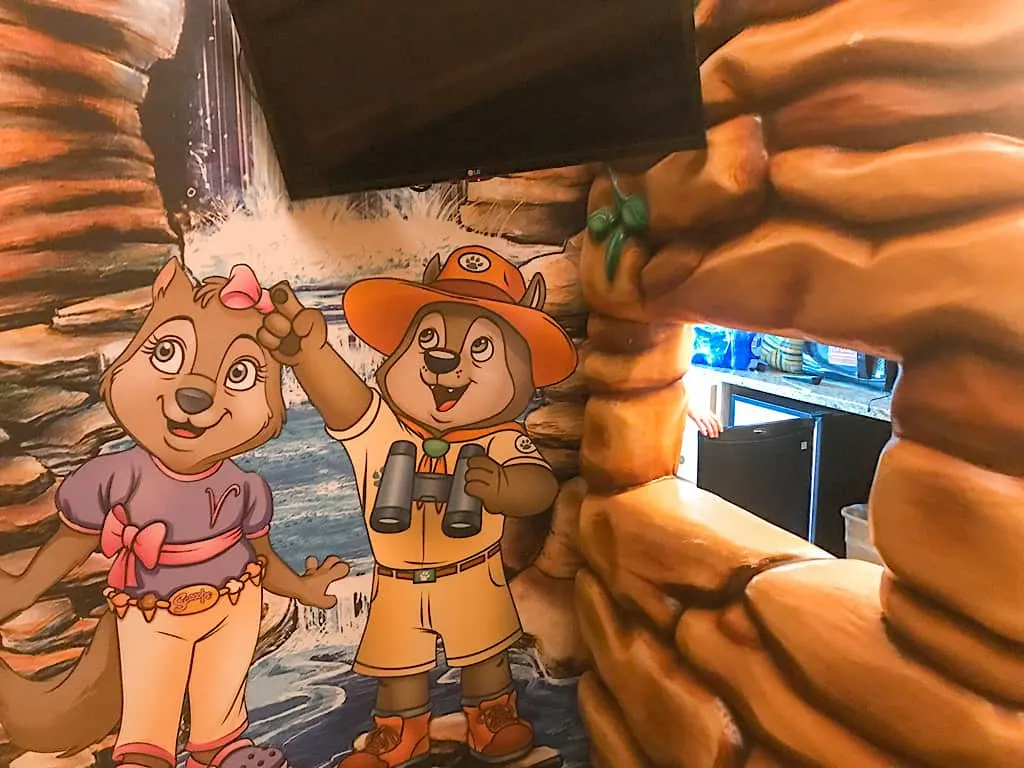 Bedroom
The bedroom had a queen-size bed next to a seating area with a full-size sofa sleeper and coffee table.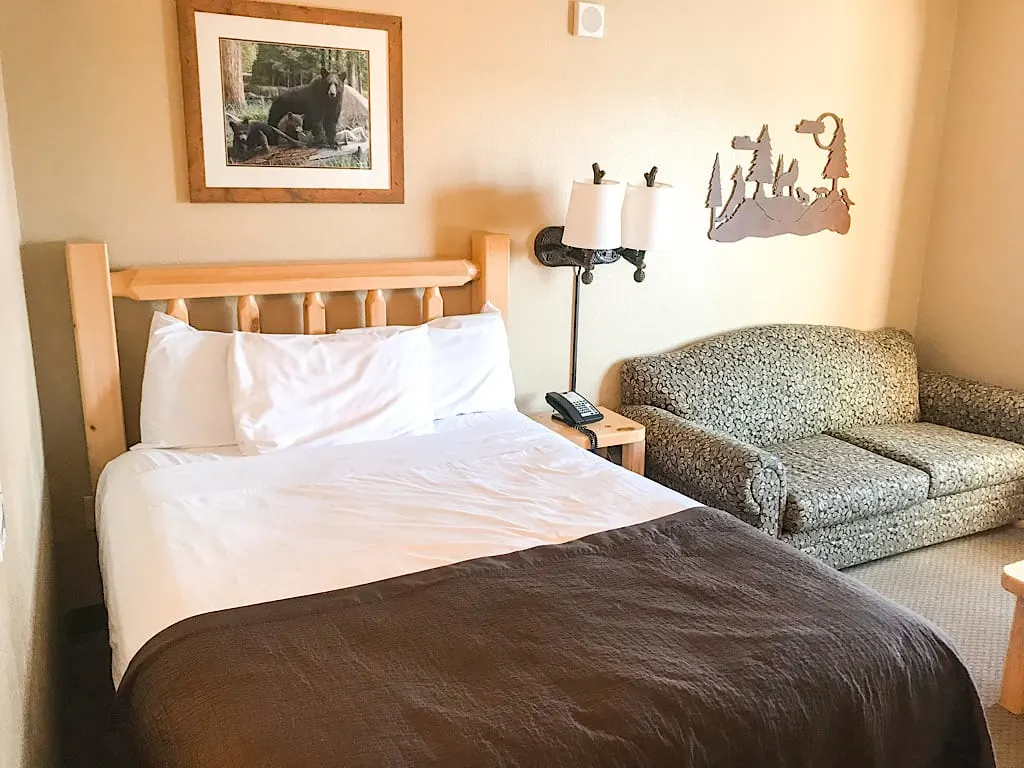 In the corner, there was a table and chairs. There was also a large counter with drawers for storage, a microwave, television, and mini fridge.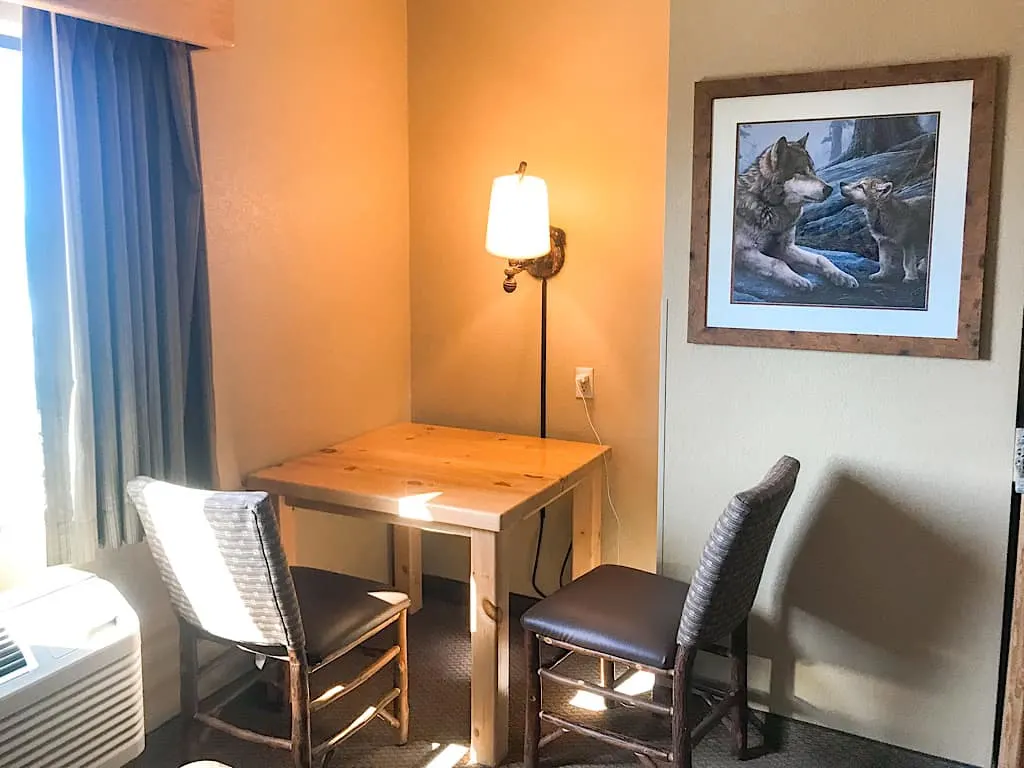 The televisions in the room were smart tv's and we were able to watch our favorite Netflix and YouTube shows just by signing in!
Great Wolf Lodge Water Park
Now let's get to the water park. That's what the kids really came for, right?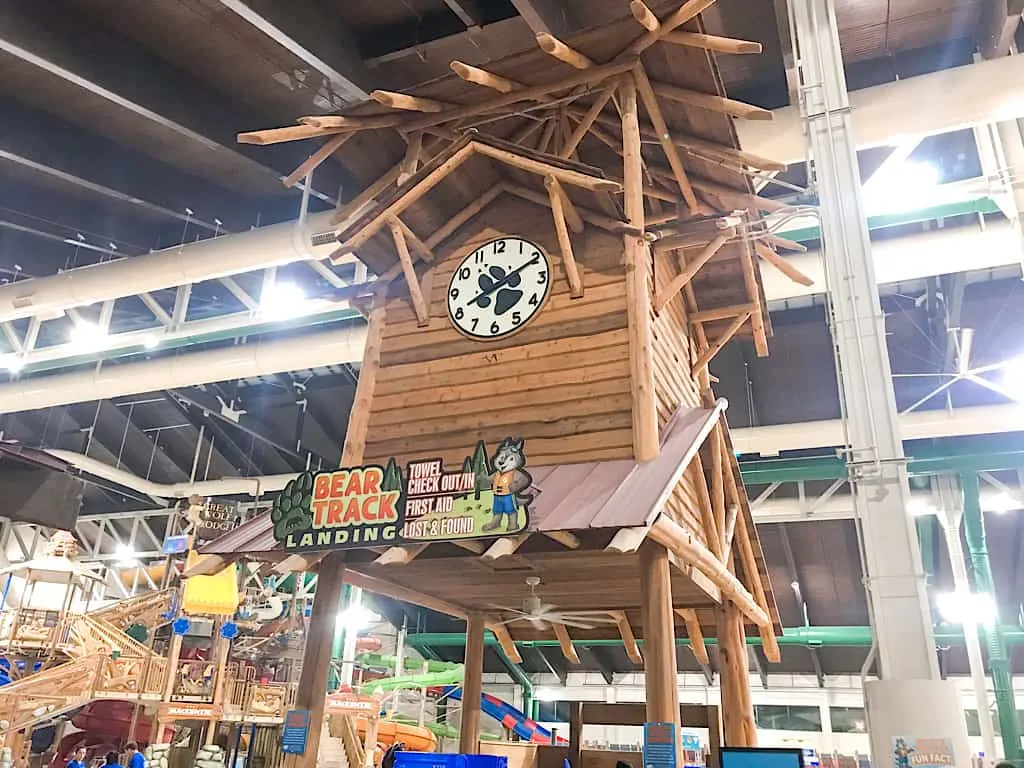 Height Requirements
When you enter the water park for the first time with kids, a Great Wolf Lodge employee will measure their height.
Your child will get a bracelet with a corresponding color according to how tall they are.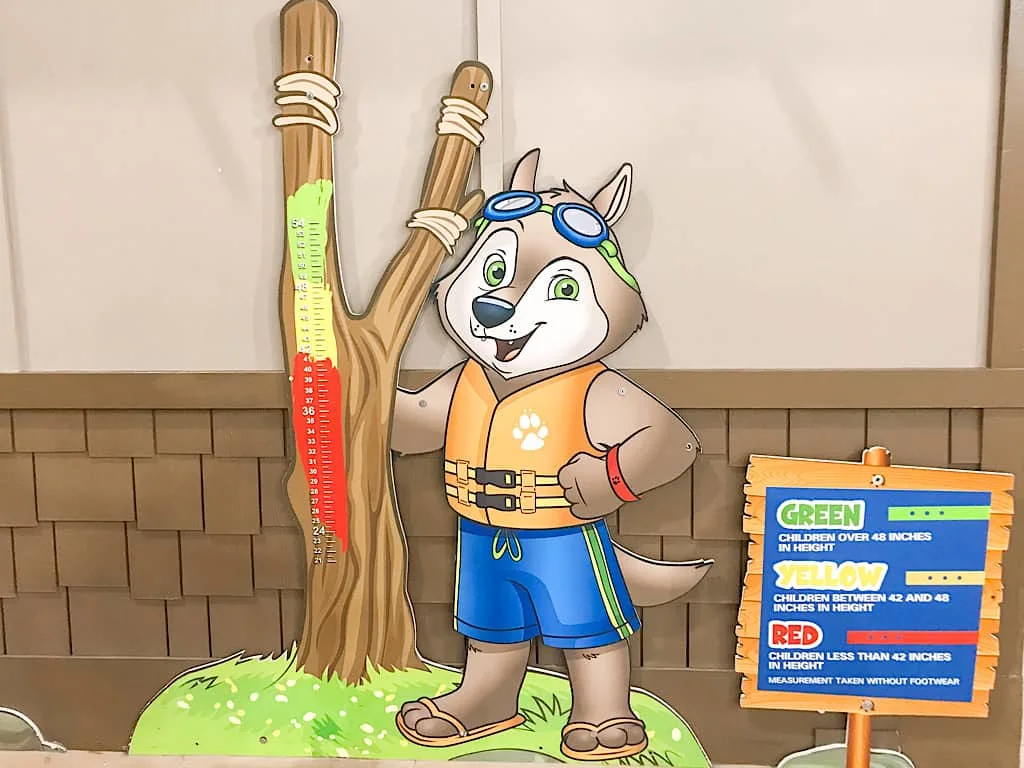 This bracelet quickly lets life guards know if your child is tall enough for certain slides.
Towels
Each member of your family is entitled to a towel when you are in the water park.
To pick up your towel, let the attendant know how many towels you need and they will scan your wristband/key.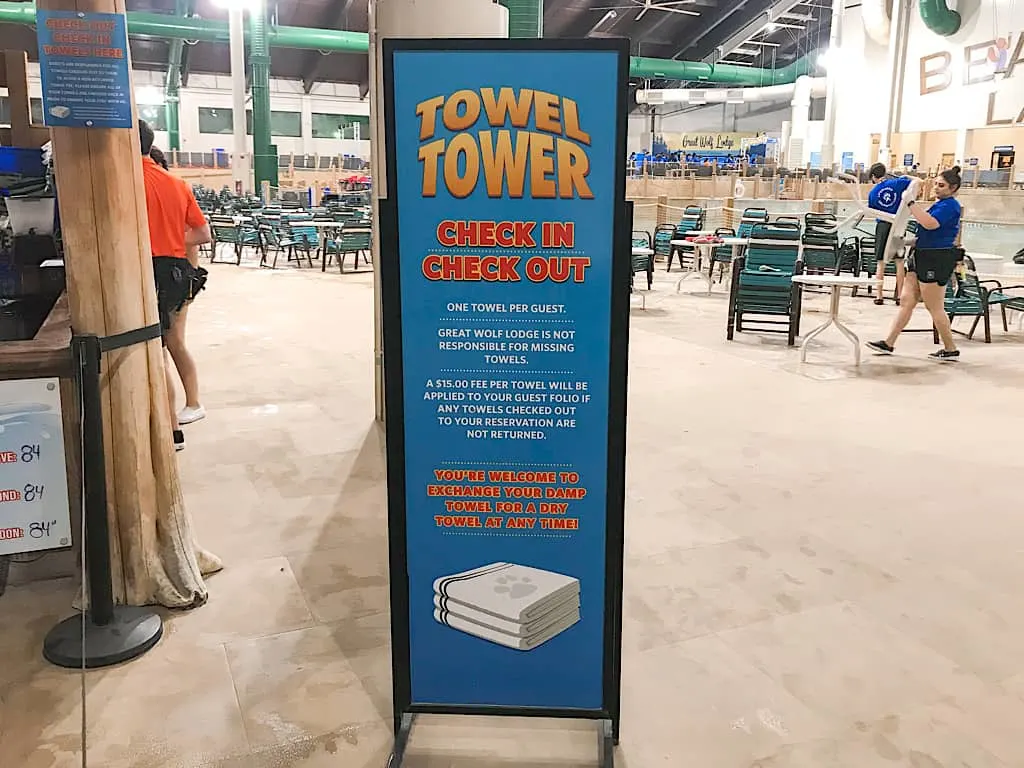 You may take the towels back to your room with you, but you will need to keep track of it.
Make sure that you turn in your towel at the end of your stay to ensure that you are not charged for it.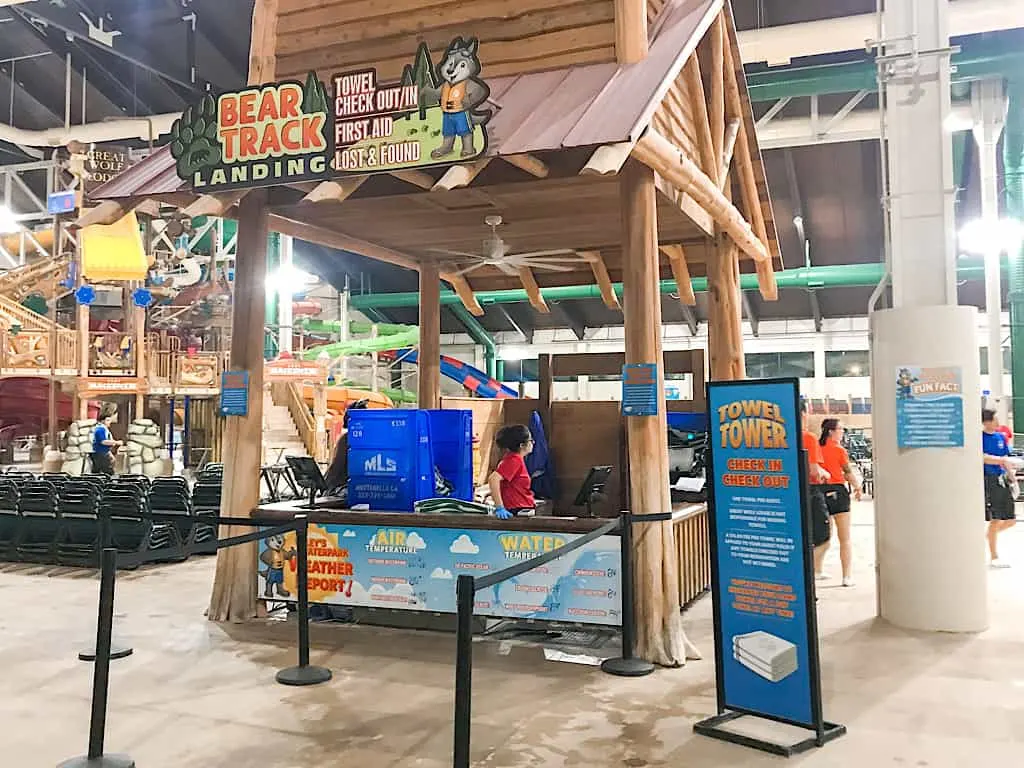 I found that it was just easier for us to check our towels back in before leaving the water park. That's what worked for us.
Fun For Little Kids
There are tons of things to do for kids of all ages in the water park.
The next few items are great for little ones when you visit Great Wolf Lodge.
Some will need some adult supervision.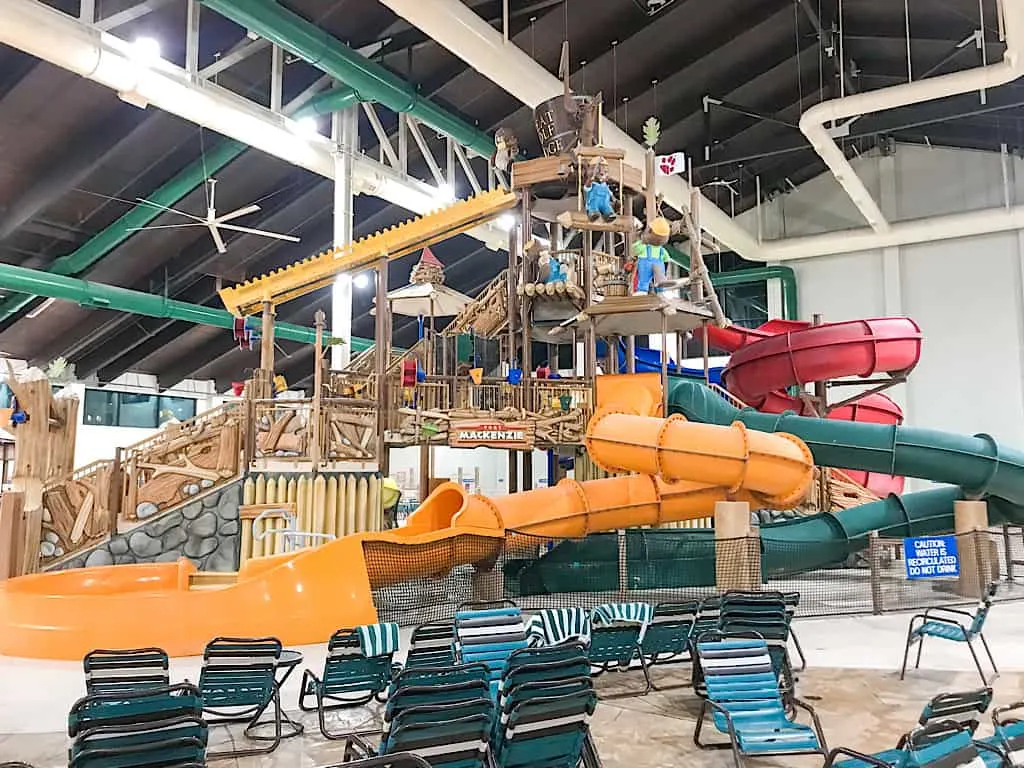 Fort Mackenzie
My 5-year-old loved Fort Mackenzie! Fort Mackenzie is a large interactive playground with water splashing everywhere!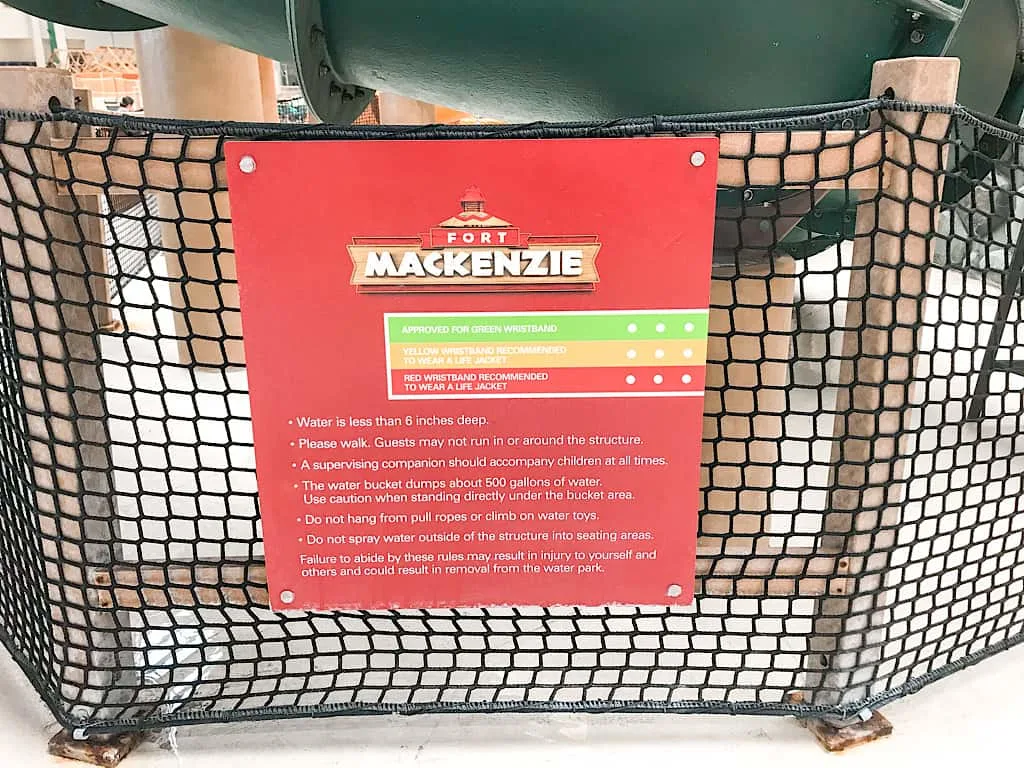 There are a few water slides that are perfect for little ones, there are water falls, and ways to shoot water at each other.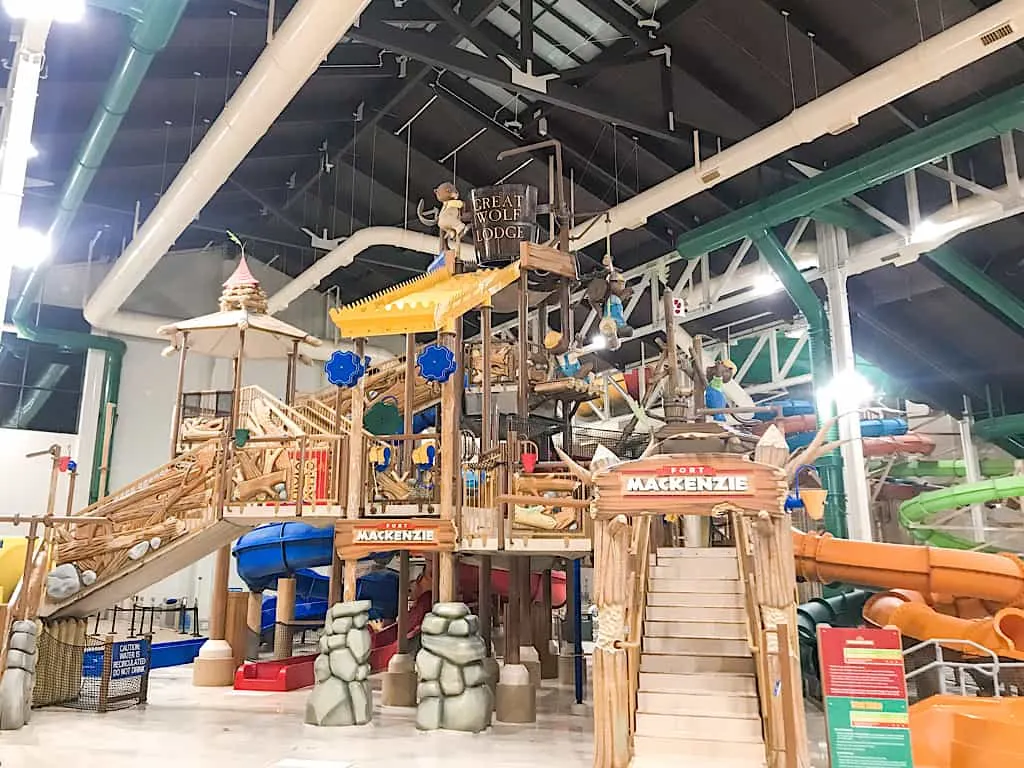 The best part of Fort Mackenzie is the large bucket on top of the structure.
The bucket is continuously being filled with water and once it fill up, will dump out over anyone who happens to be below!
Raccoon Lagoon
Raccoon Lagoon was a fun area for kids, if the weather is cooperating.
It is an outdoor area with a pool and a splash pad.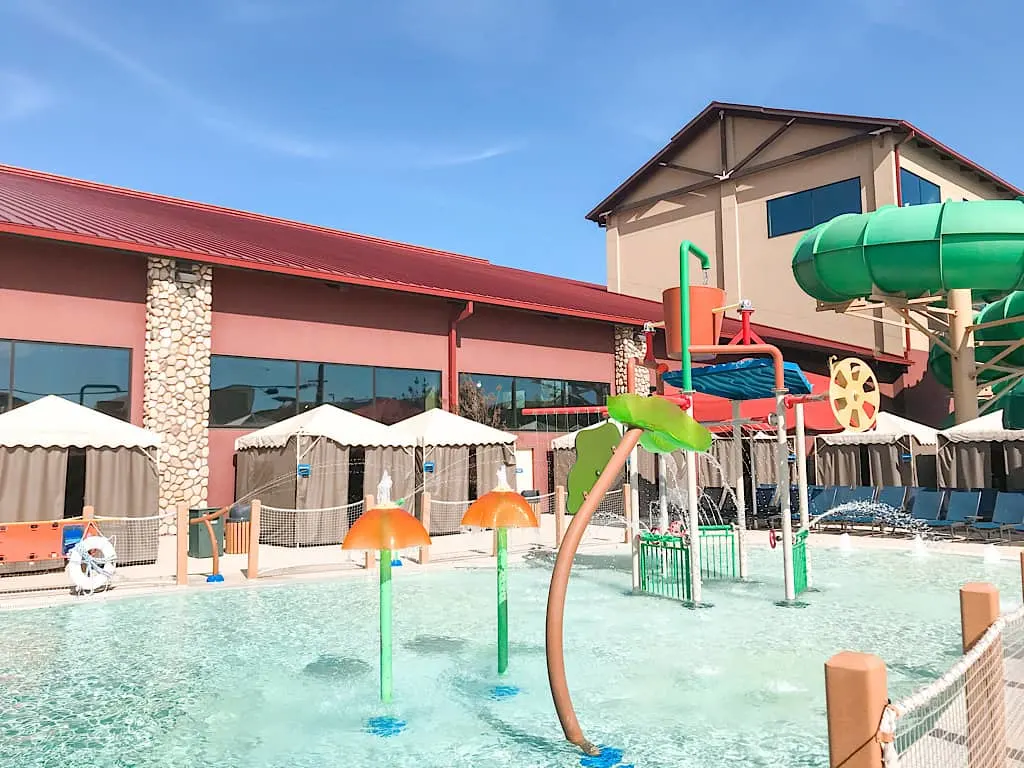 If you head out here, bring along your sunglasses. It can get pretty bright.
Slap Tail Pond
Slap Tail Pond is large wave pool that is fun for the whole family.
Every few minutes, you will hear a wolf howl, then the waves will begin!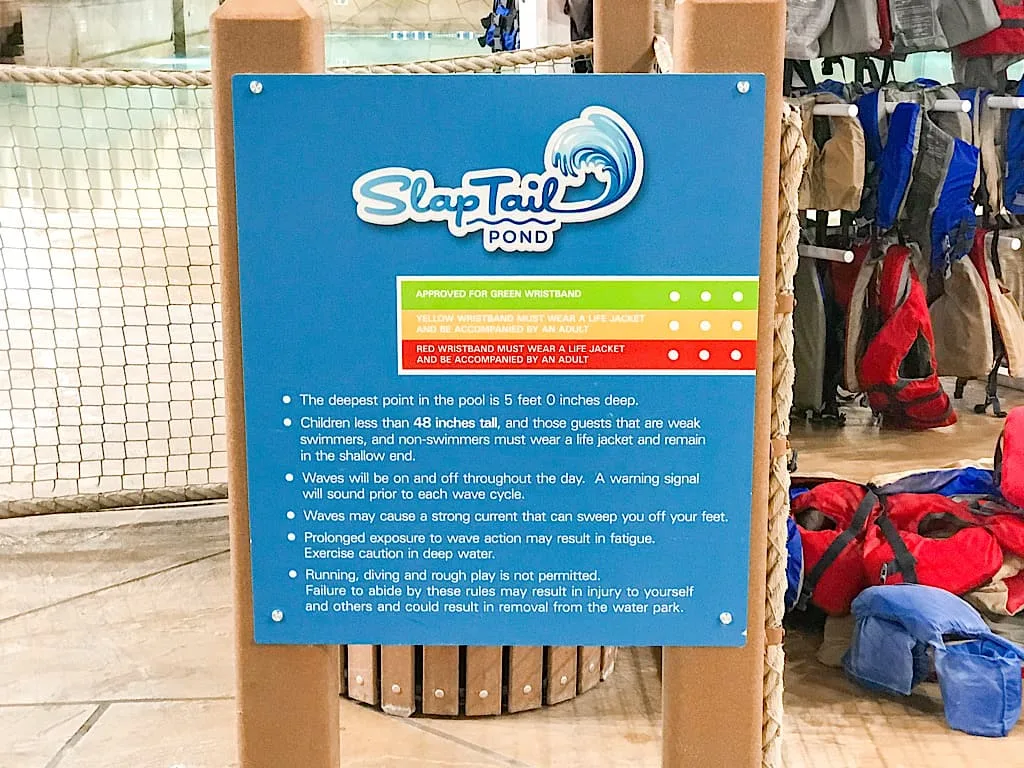 If you take little ones into the wave pool, I definitely recommend having them wear a life jacket.
When the waves are on, it can get pretty deep.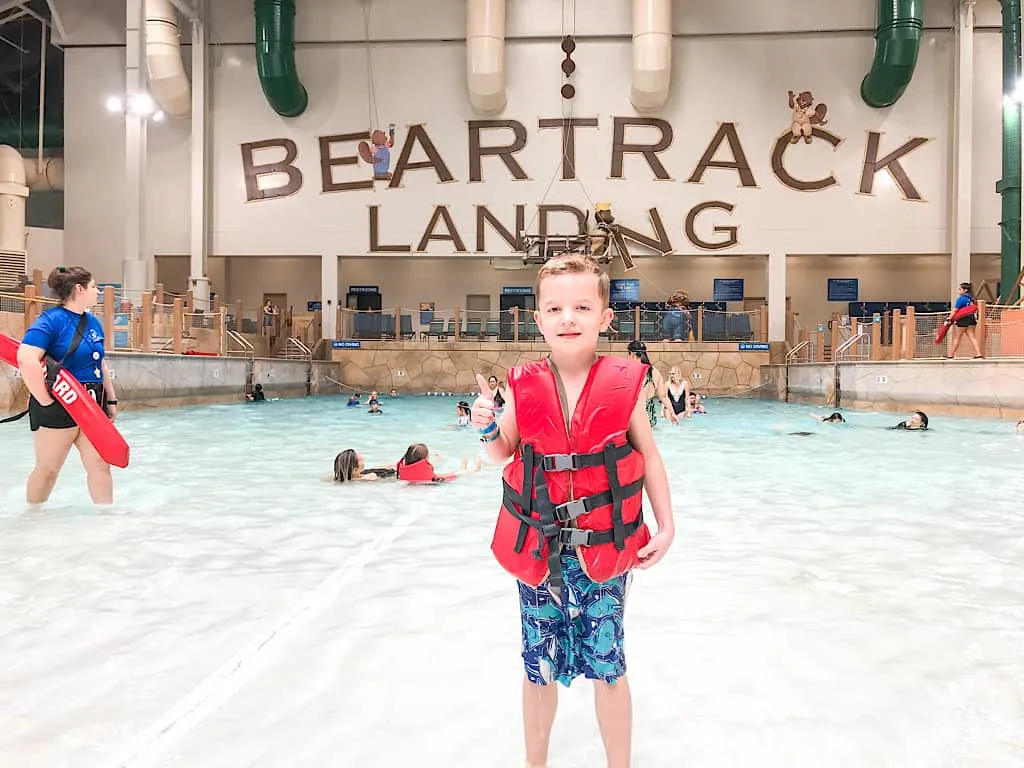 Whooping Hollow & Cub Paw Pool
Both Whooping Hollow and Cub Paw Pool are areas that are great for toddlers and pre-schoolers.
Kids over 52″ are not allowed in these spots, so little ones are free to play!
Crooked Creek
Great Wolf Lodge Anaheim has a lazy river called Crooked Creek.
This is a great spot to lay on a tube and relax as you float around the water park. All three of my boys loved playing here.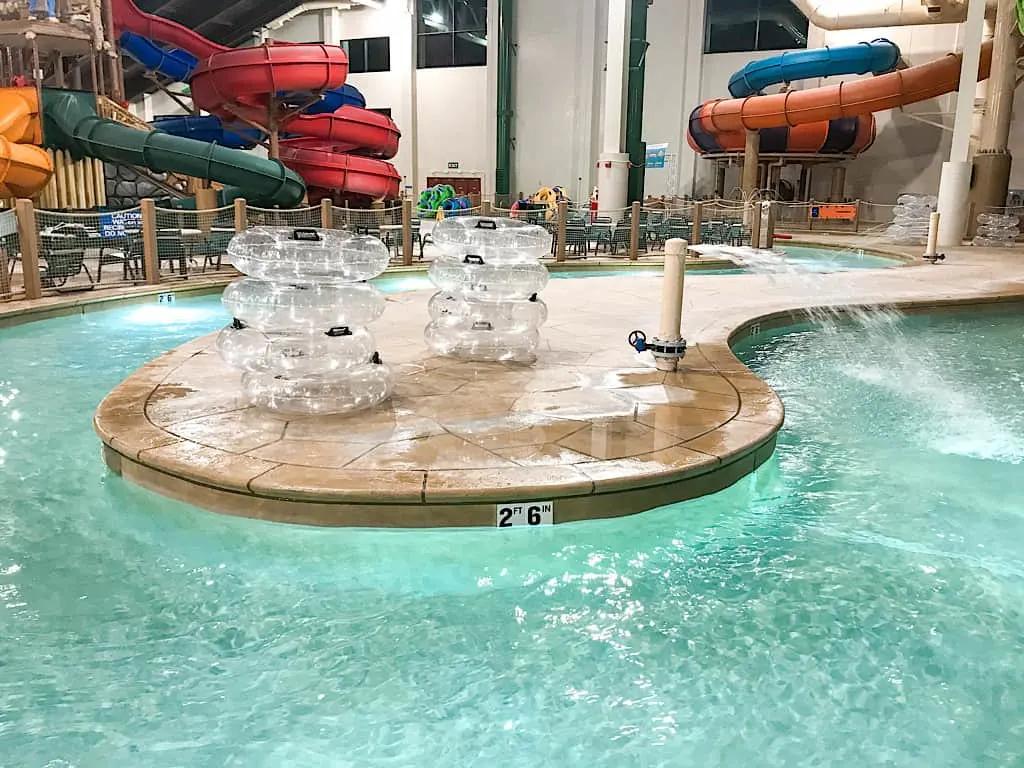 Chinook Cove & Bigfoot Pass
This is another area that is great for kids of all ages. Chinook Cove has basketball hoops which are perfect for bigger kids.
Bigfoot Pass has floating logs that kids can use to try and balance on.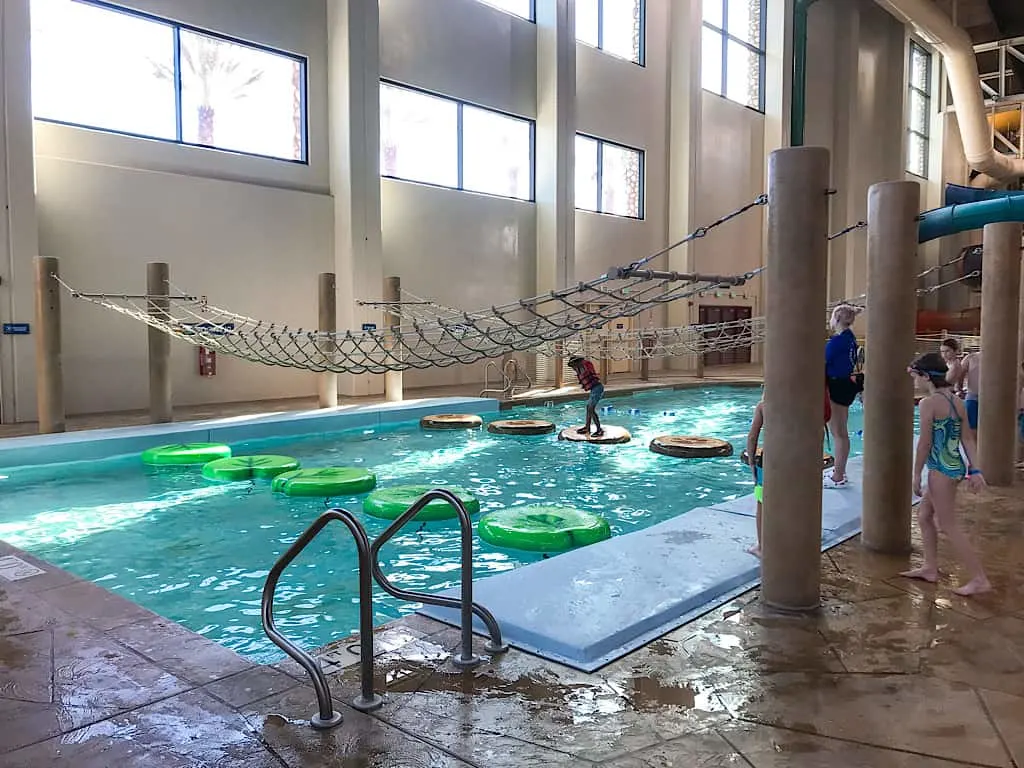 For Big Kids, Teens, and Adults
Not only is Great Wolf Lodge Anaheim great for little kids, there are tons of things that are fun for big kids, teens, and adults as well.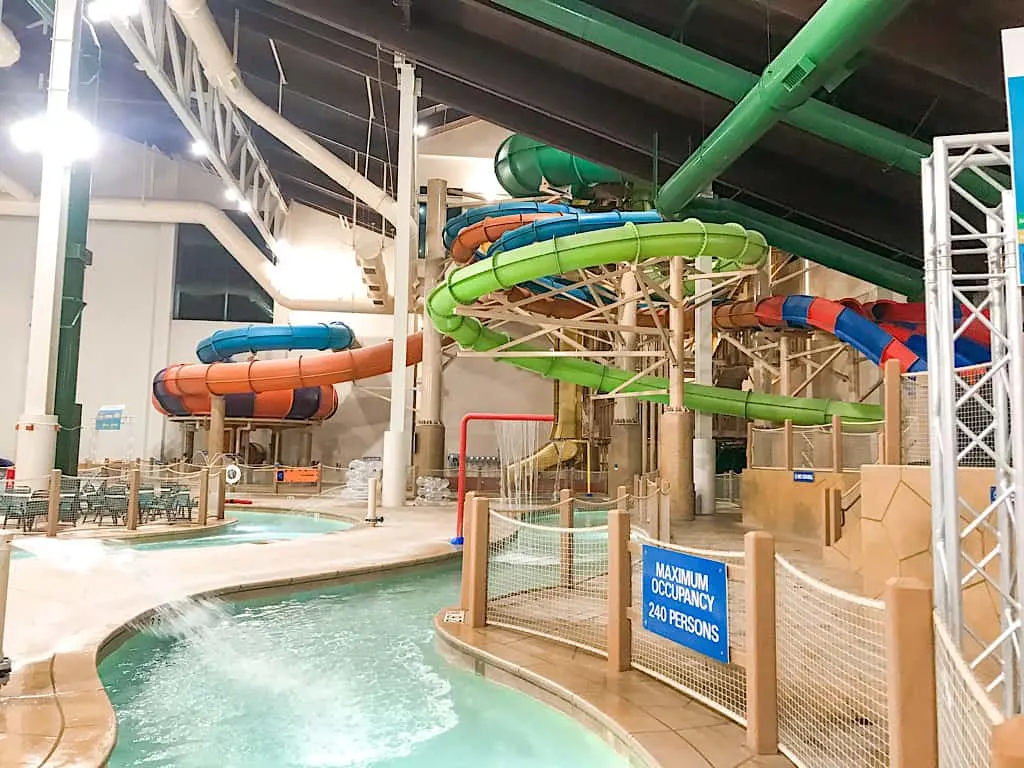 Water Slides
My boys loved Coyote Canyon water slide because of the large vortex that you enter into and swirl around.
It is fun because you never know when you are going to exit the vortex.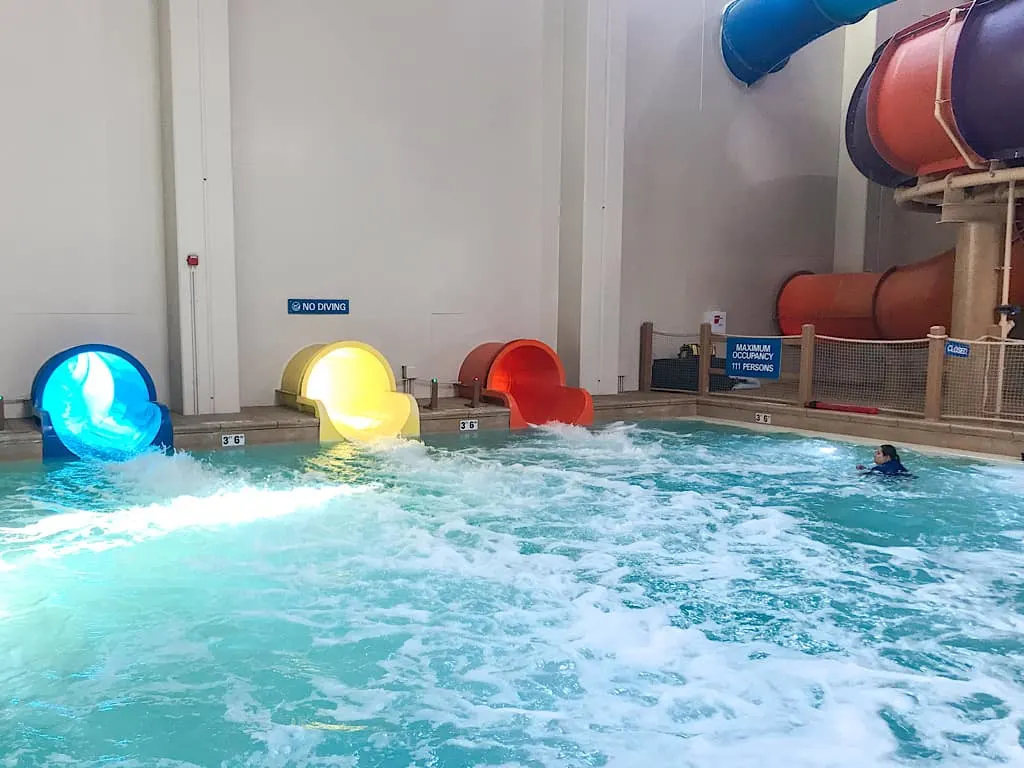 Alberta Falls, is a tandem slide where you ride with some one else. It makes it that much more fun!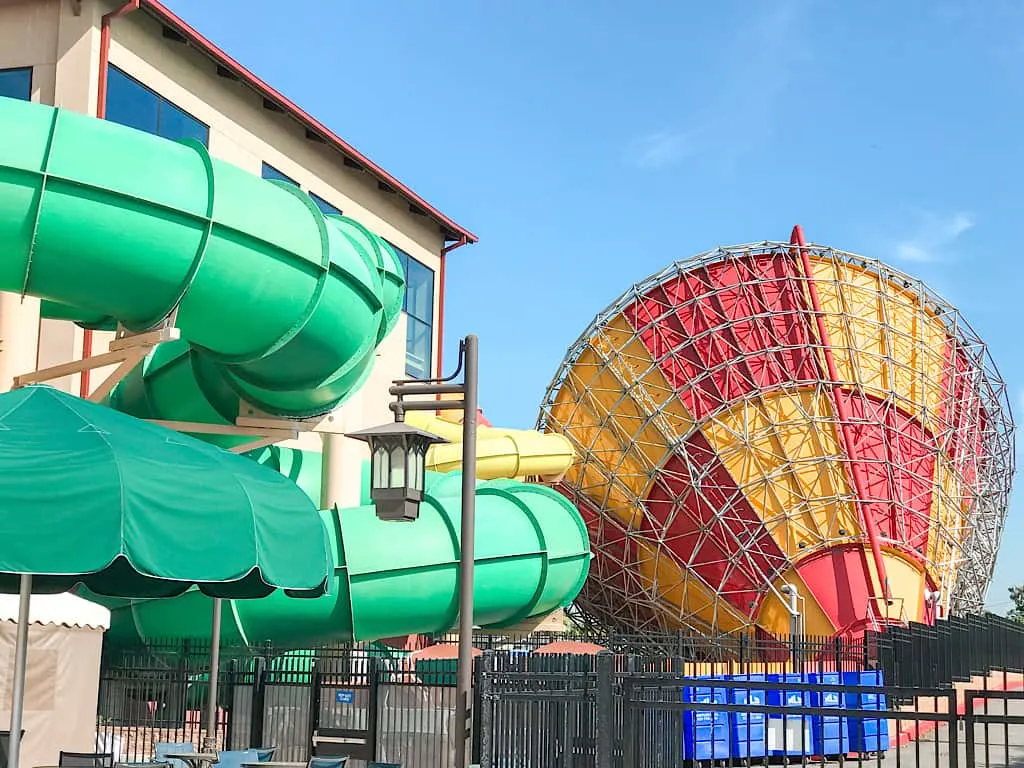 When we rode Howlin' Tornado, my boys thought it would be funny to not tell me that there was a huge drop!
Check out our video below to see my reaction!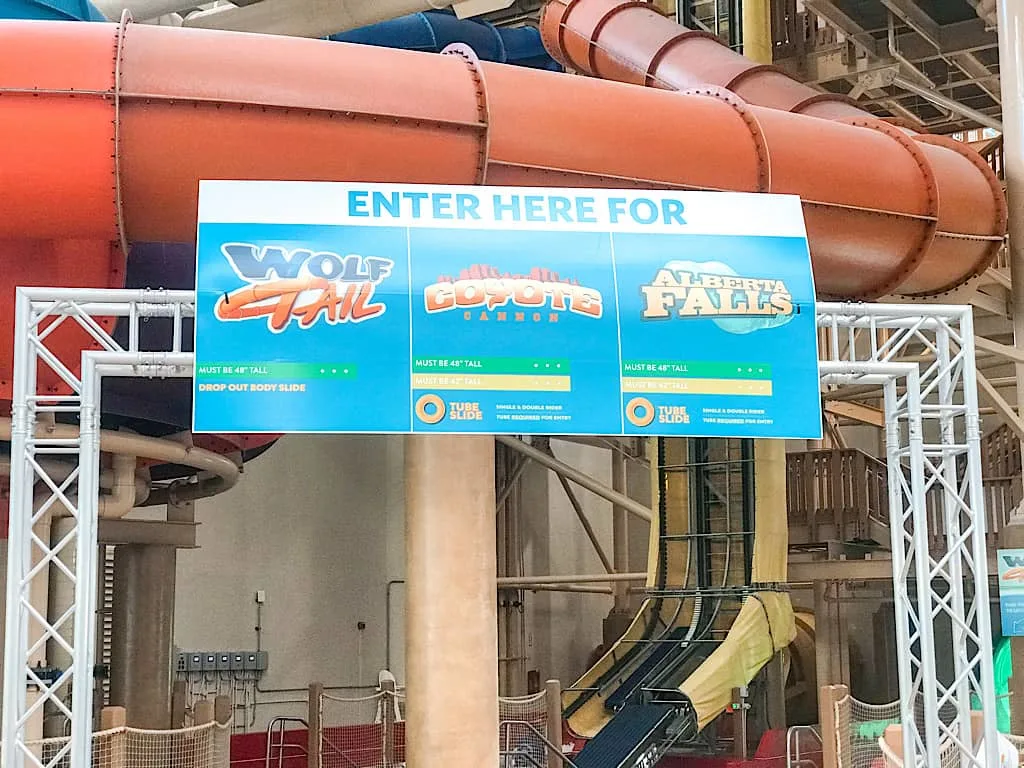 I was to chicken to take a ride on Wolf Tail because the floor drops out on you!
But, my 12-year-old loved it so much he went 6 times in a row.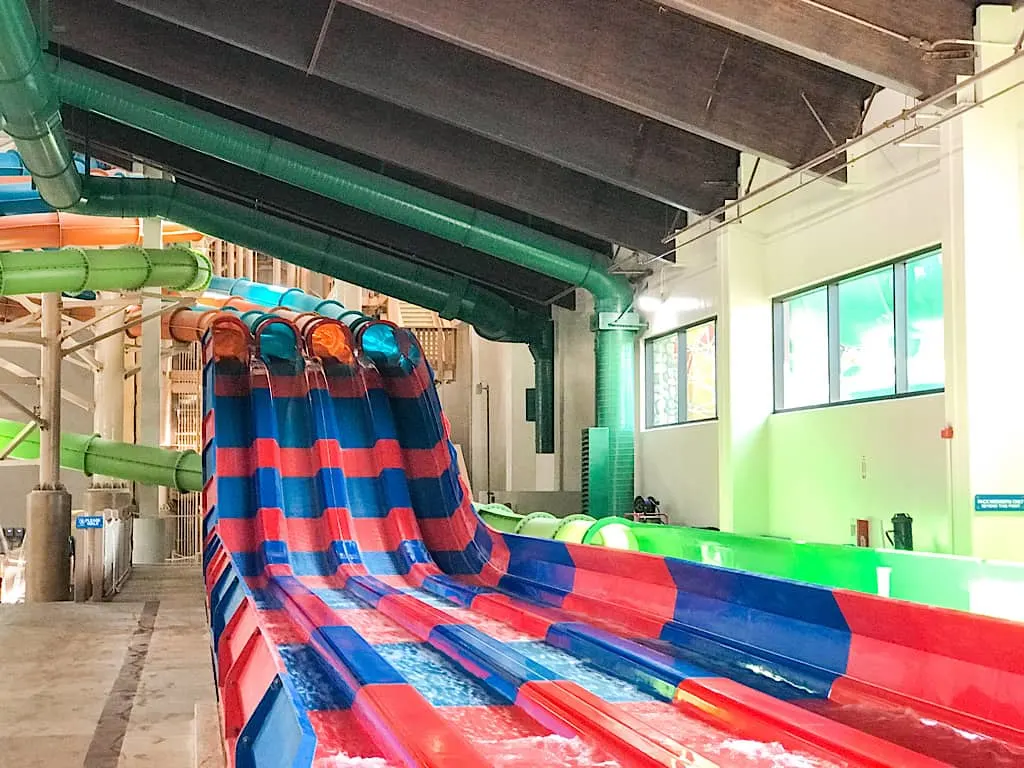 Mountain Edge Raceway was super fun because my whole family was able to ride at the same time.
It was great to see who ended up winning by crossing the finish line first. It was usually my 5-year old 😉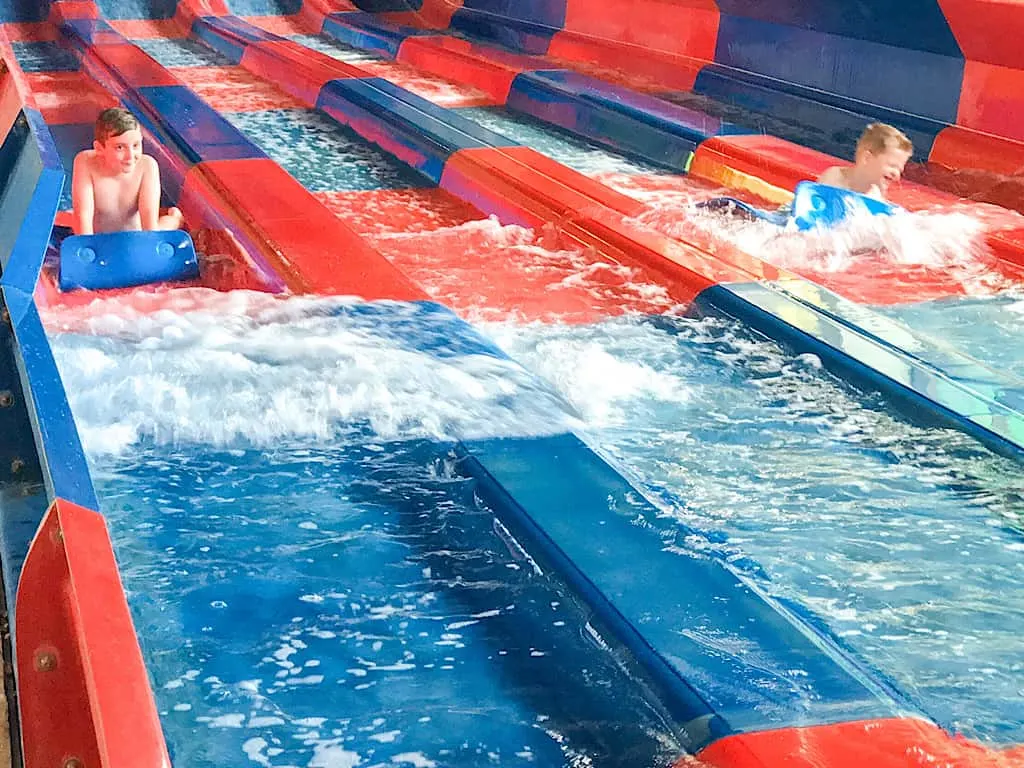 You don't want to miss a ride on River Canyon Run. This is a slide that you can ride with 3-4 in a large raft.
I loved being able to watch the smiles on the faces of my kids as we went down the slide together.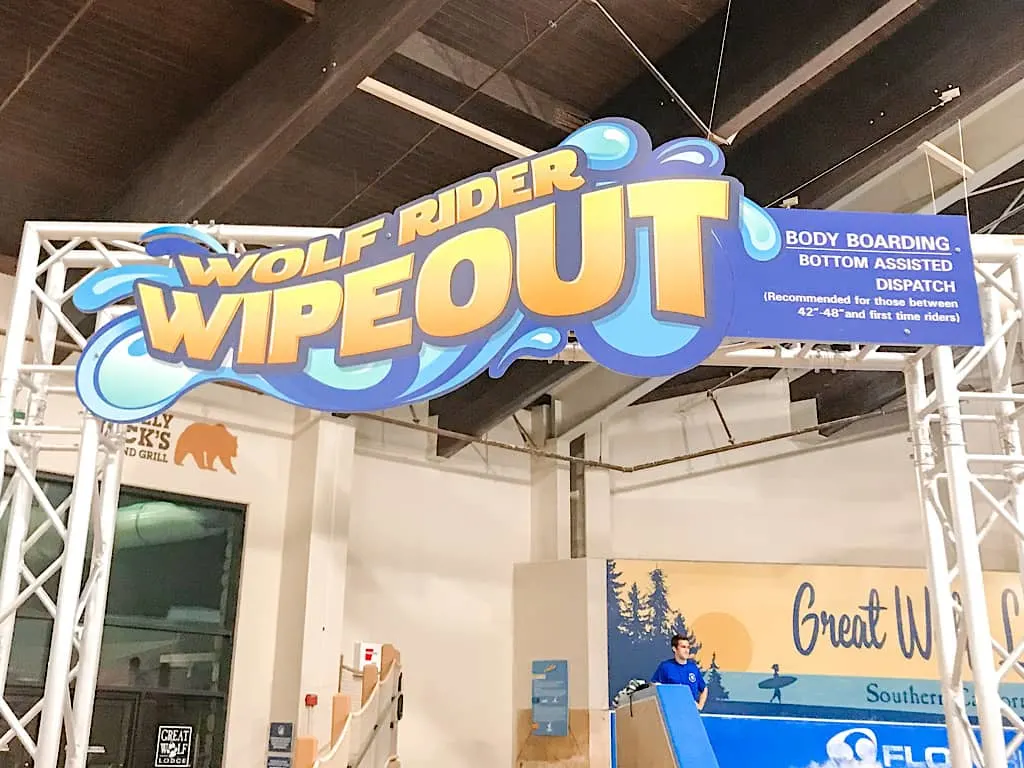 Wolf Rider Wipeout
Our family spent a significant amount of our water park time at the Wolf Rider Wipeout which is basically a flow rider attraction.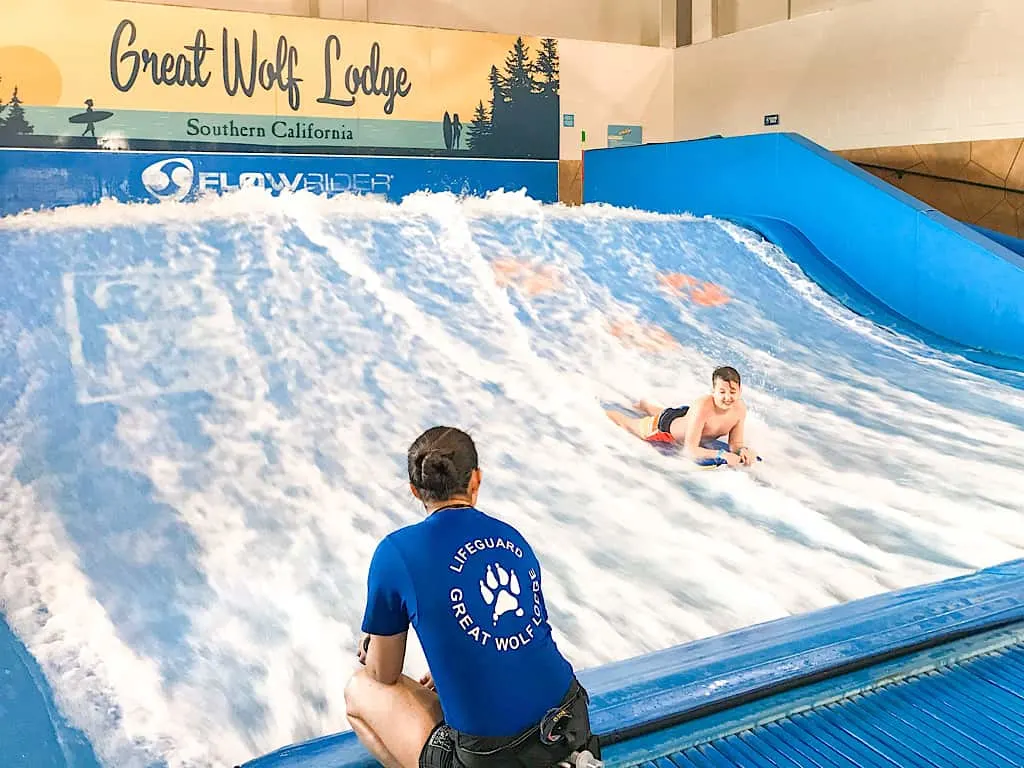 Each of my boys had a blast learning how to sit, kneel, and stand on the board as it flows over the water.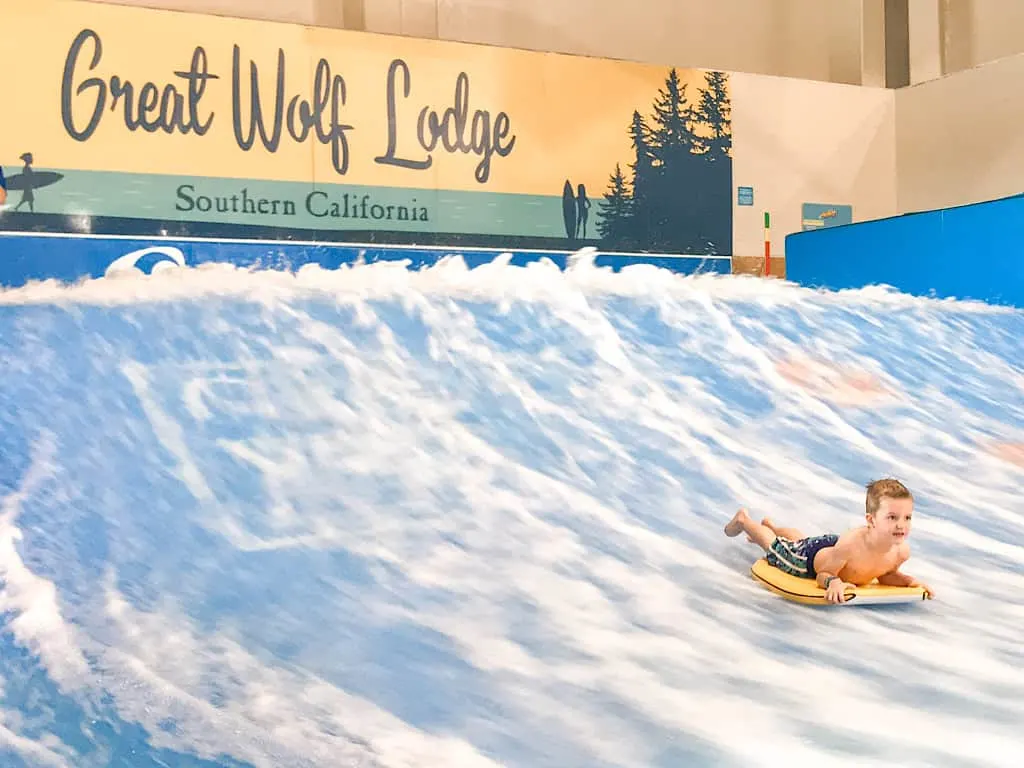 The employees even helped them learn how to do a few tricks. Of course, my 5-year-old was a total natural and never wiped out once!
Great Wolf Lodge Extras
Besides the amazing water park included with your stay, and the passes for attractions that are available for purchase, Great Wolf Lodge offers many complimentary activities as well.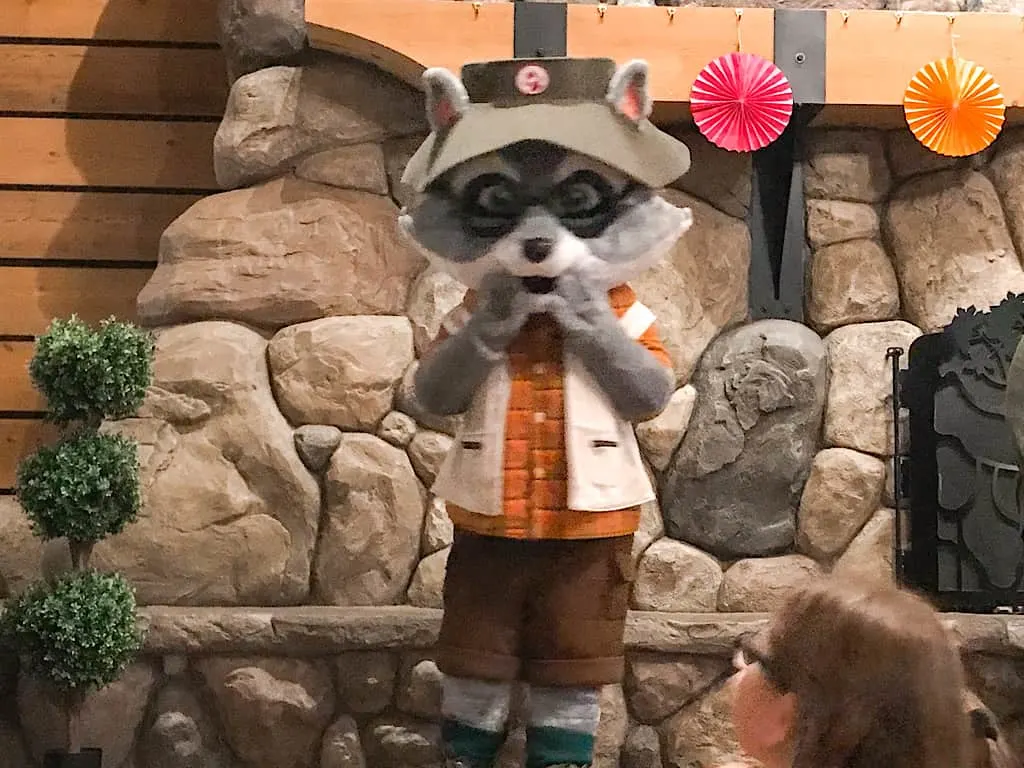 My boys were able to attend a couple of the arts and crafts classes that were offered to guests and had so much fun!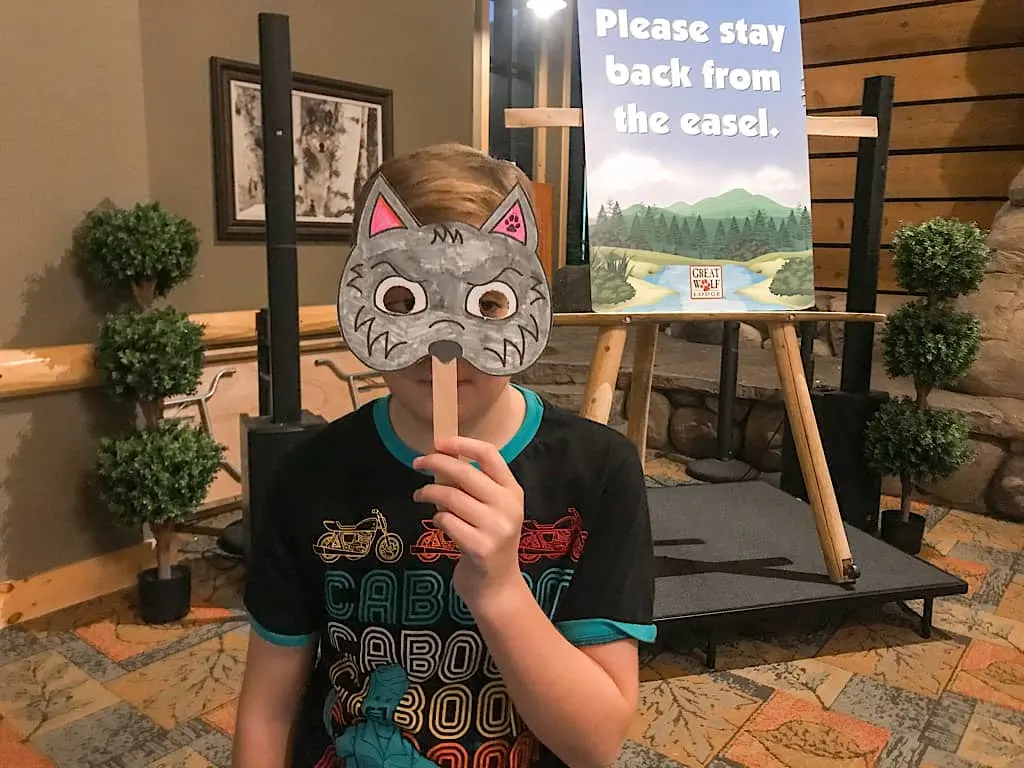 There was also a story time for kids and their families each night.
We got to sit by the fireplace in the lobby and listen to a fun bedtime story about the characters who live at Great Wolf Lodge.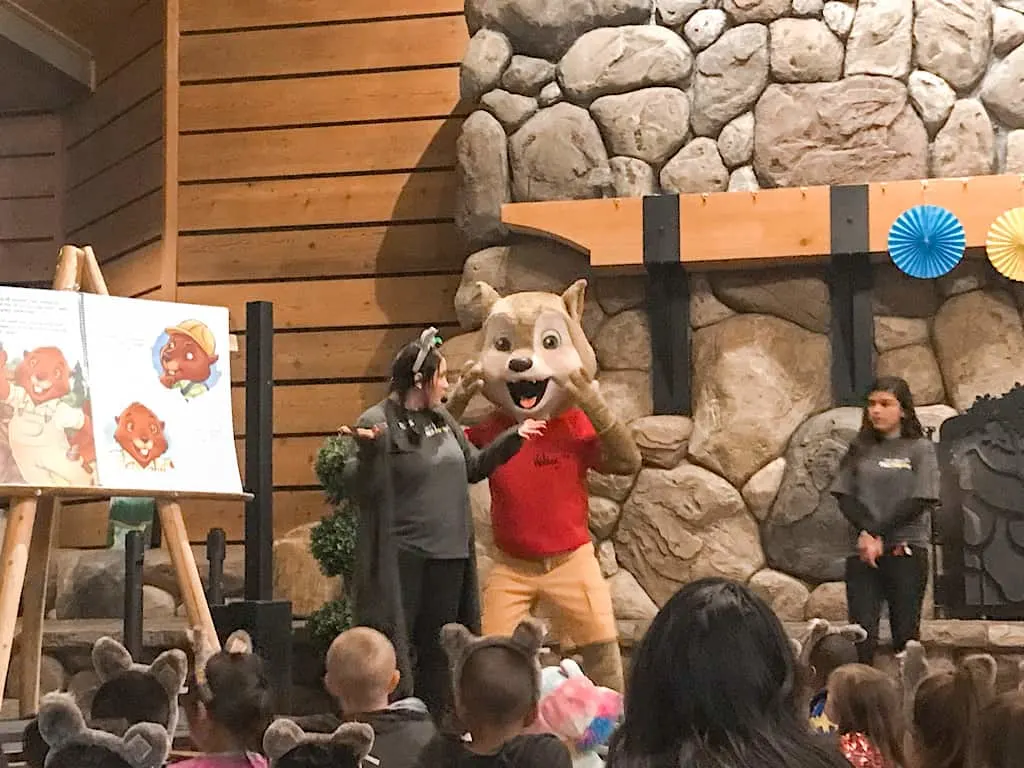 Character meet and greets are another fun perk of staying at Great Wolf Lodge.
Some of these opportunities are listed on a schedule, and other times, you can catch the characters walking around.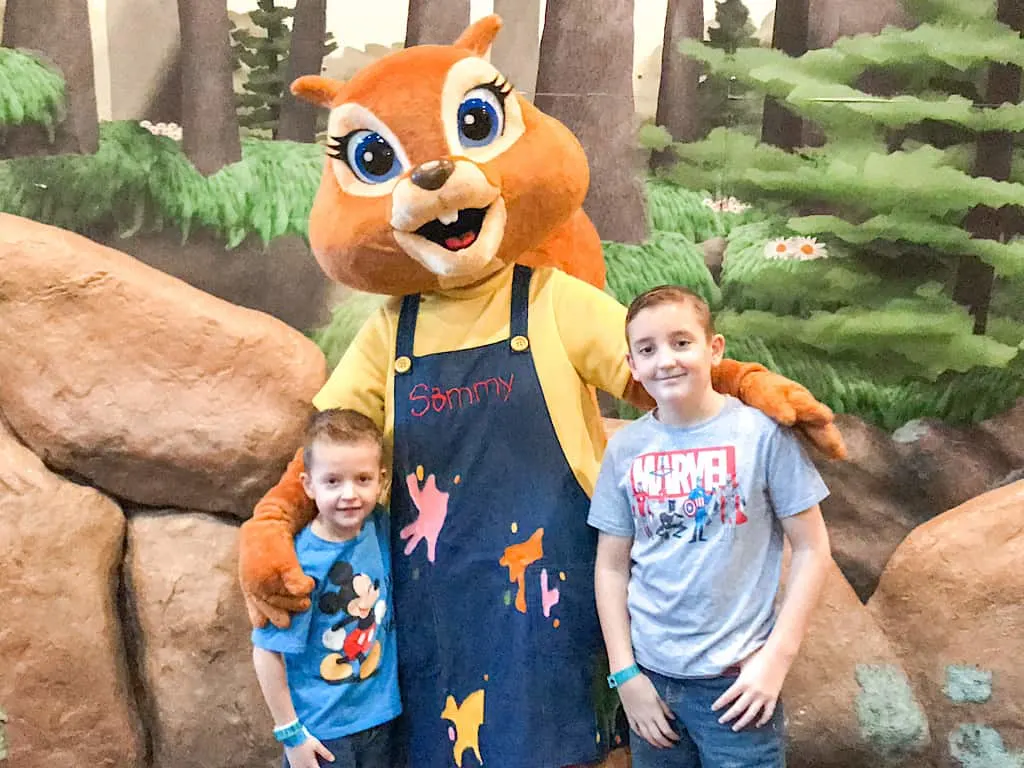 These interactions make staying at Great Wolf Lodge tons of fun for kids! My boys can't wait to go back.
How to Get to Disneyland from Great Wolf Lodge
We never go to the Anaheim area without making a stop at Disneyland! Great Wolf Lodge is located on Harbor Blvd about 2.7 miles from Disneyland.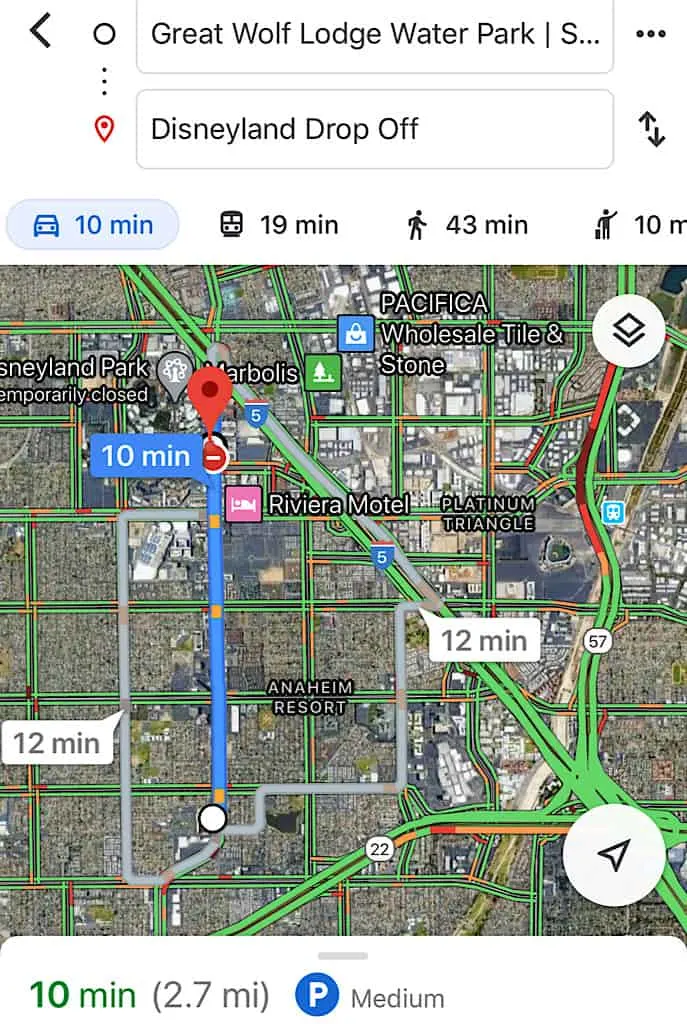 To get to Disneyland from Great Wolf Lodge Anaheim, the best route is to go right down Harbor.
We ended up grabbing an Uber car from the hotel and having it drop us off at the pick up lot right near the entrance to Disneyland on Harbor Blvd. It worked great for us.
Great Wolf Lodge Southern California Review
We loved our stay at Great Wolf Lodge Anaheim. The room was great and the water park is definitely a value add.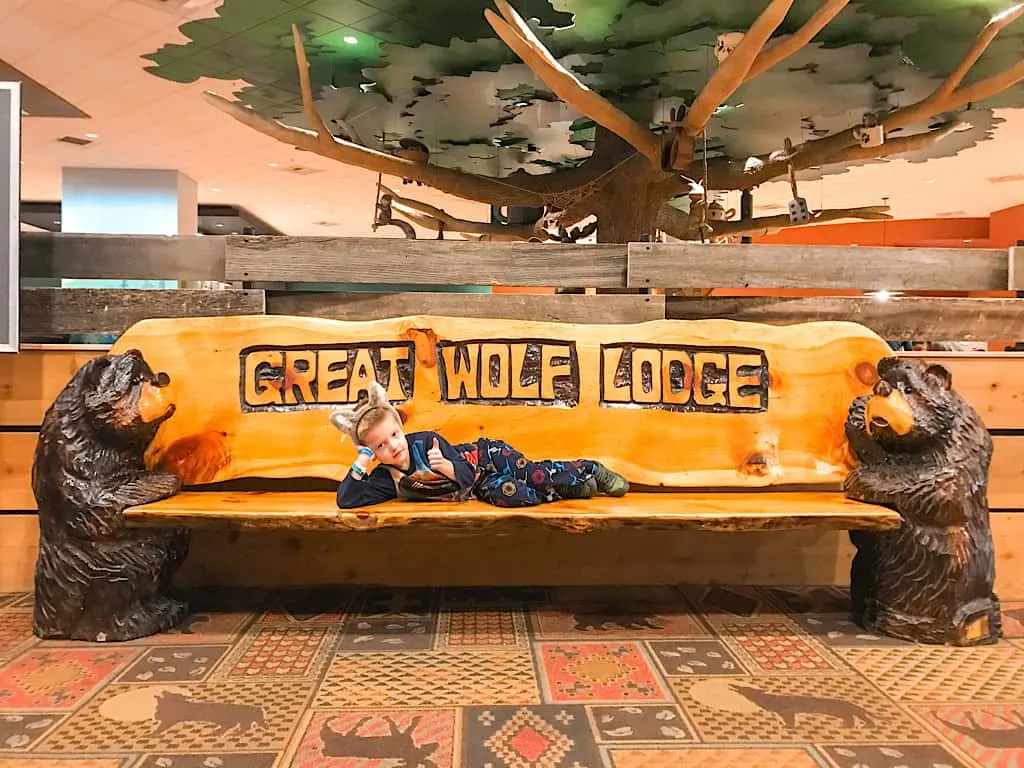 If it fits into your budget, I would definitely recommend a stay here, especially with kids!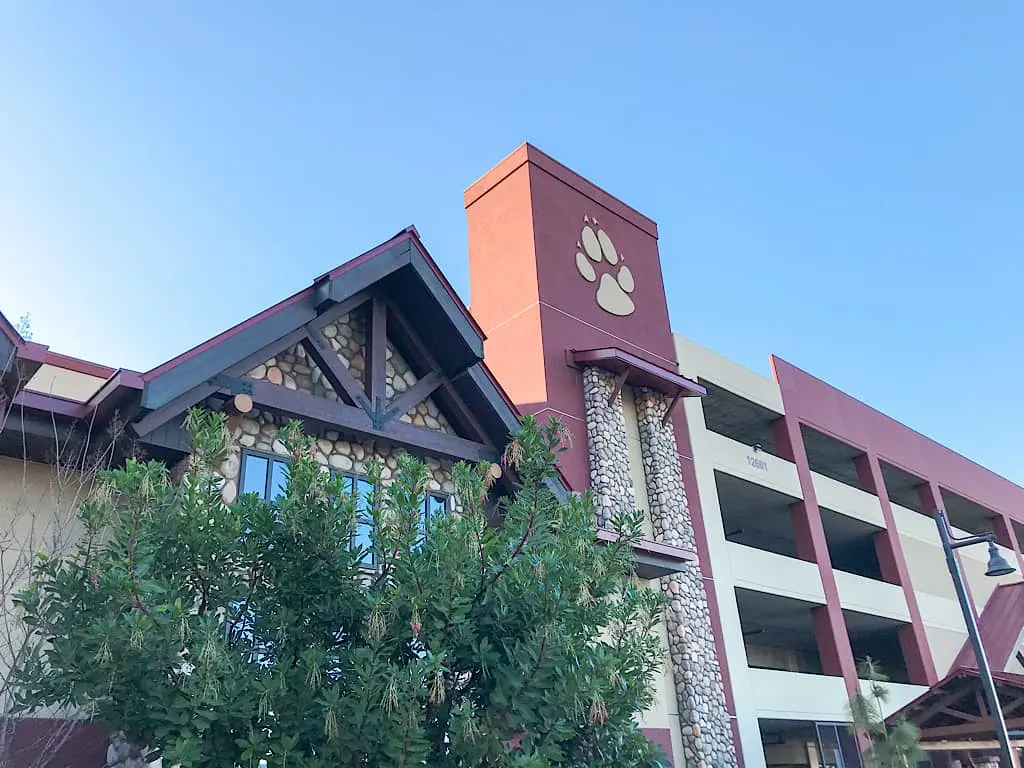 More Southern California Hotel Reviews