Are you thinking of adding a visit to Universal Studios Hollywood on your next Southern California vacation? I have a full review of what it was like to go to Universal Studios Hollywood with kids. You will also find tips, tricks, and discount tickets!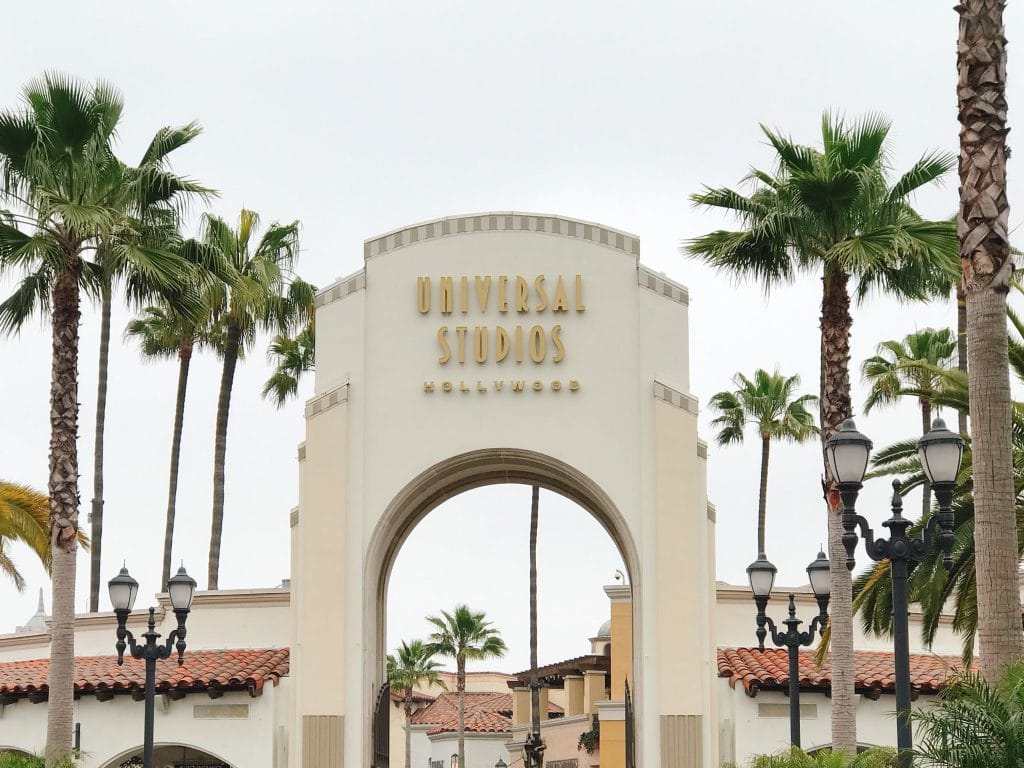 This post may contain affiliate links. When you click on these links, I get a small percentage back at no cost to you! For more information see my disclosure policy.
My family was provided complimentary Express tickets from Universal Studios Hollywood to experience the them park. All views and opinions are my own.
Have you been to Universal Studios Hollywood lately? My family and I had the opportunity to go and we had so much fun!
There was so much to see and do for everyone in my family, from age 4 to adult.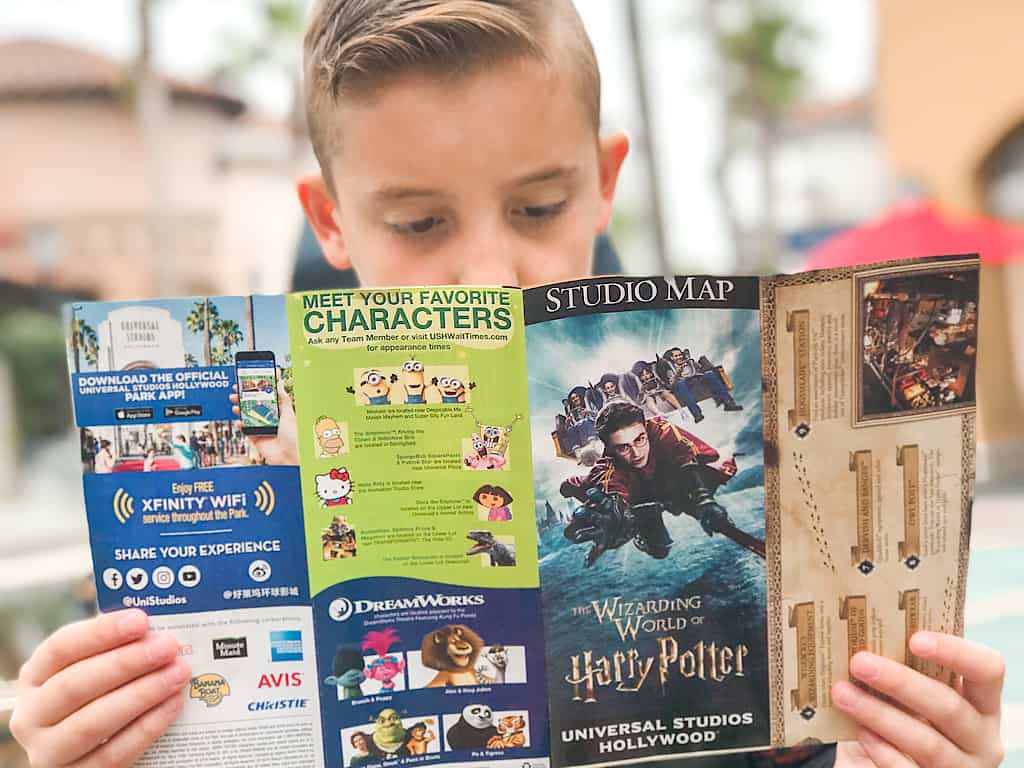 I've compiled a list of things that every family needs to do on their next trip to Universal Studios Hollywood with kids!
And, don't forget to check out the video of our adventure down below!
1. Universal CityWalk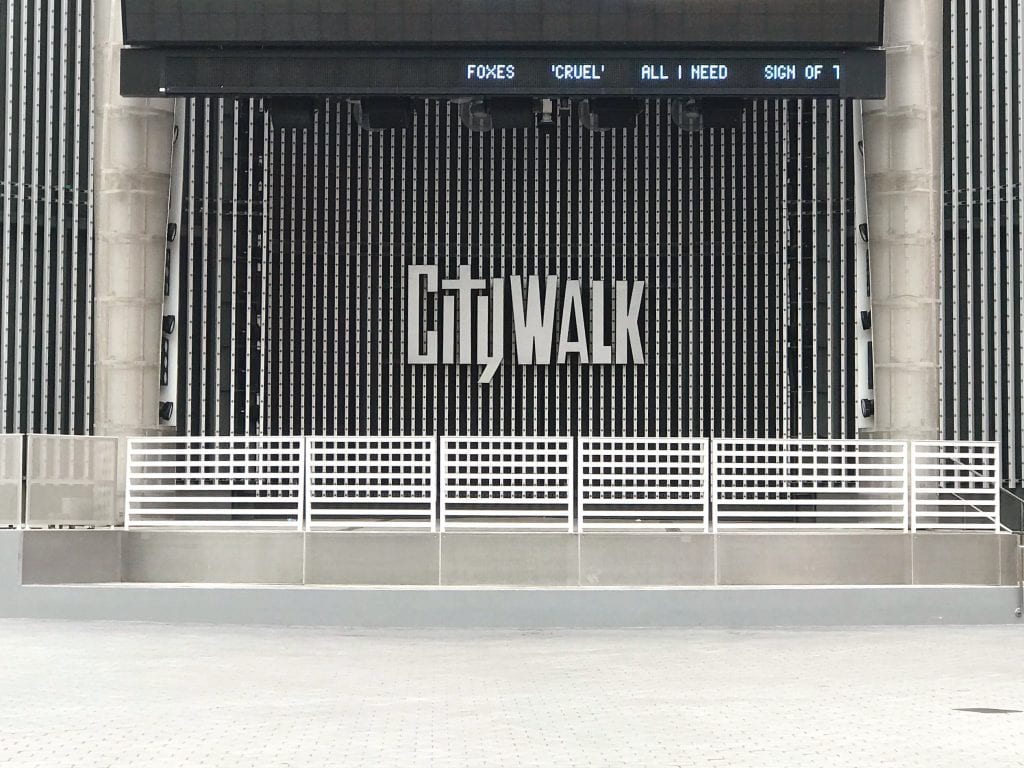 One of the things I love about visiting Universal Studios Hollywood is that you get to walk through the fun Universal City Walk on your way to the theme park. You could easily spend an entire day there.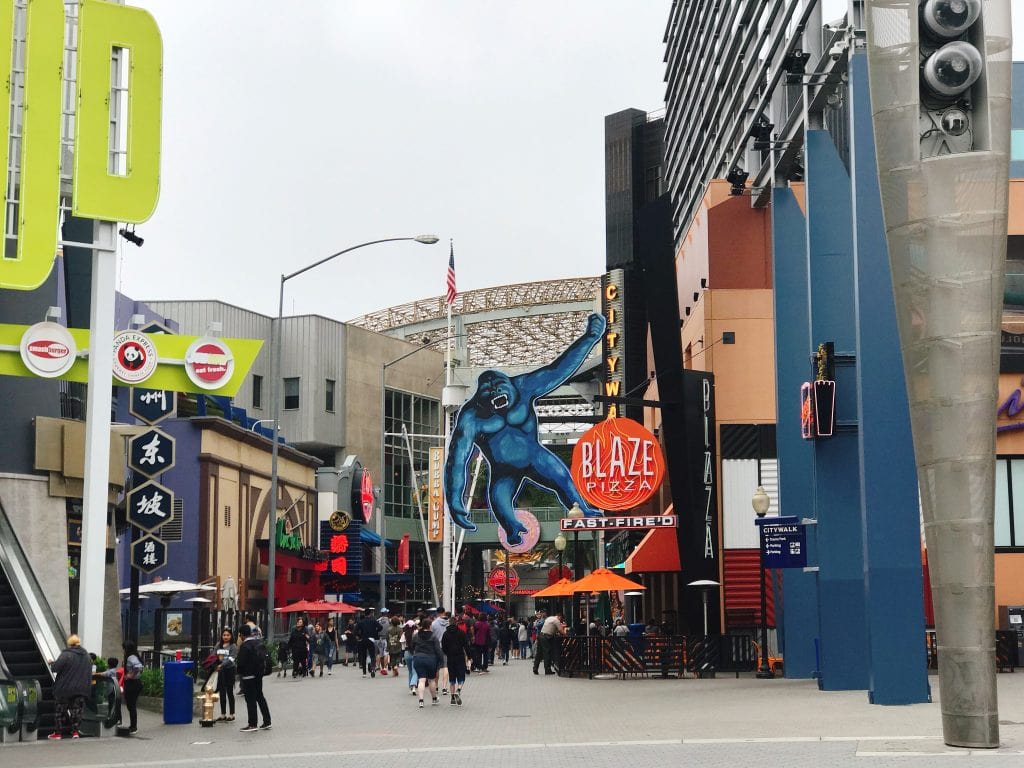 There are entertainment options like an AMC movie theater and the 5 Towers, a state-of-the-art outdoor concert stage, as well as dining and shopping opportunities.
My favorites were Johnny Rockets and the Universal Studios Store.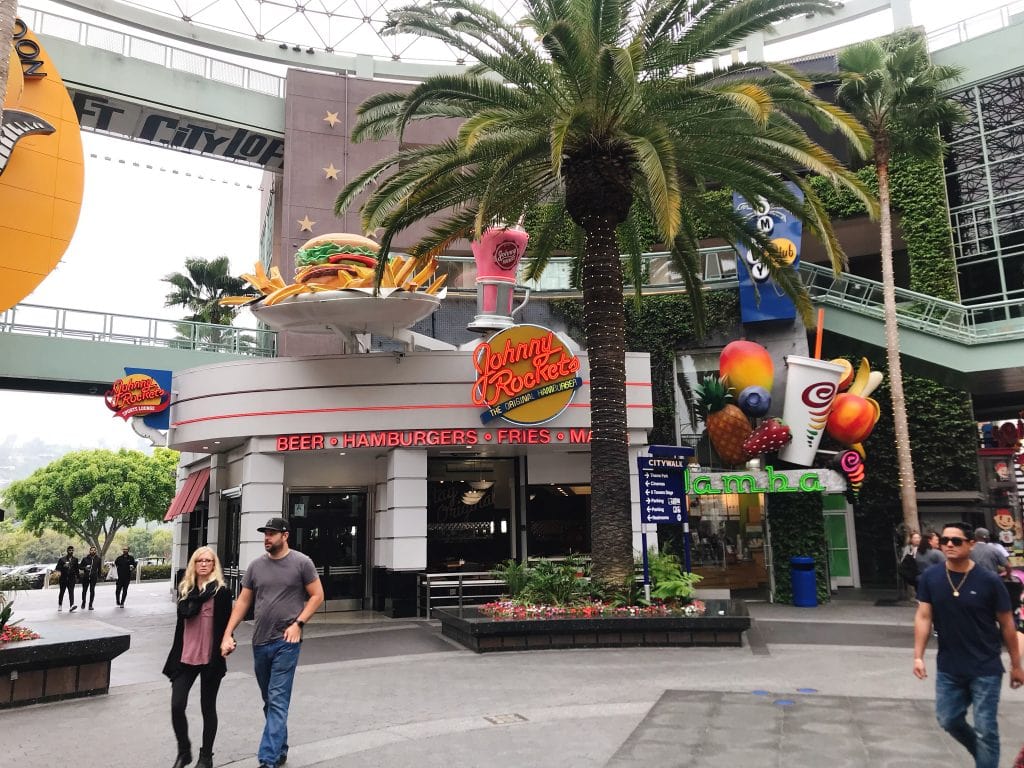 2. The Wizarding World of Harry Potter at Universal Studios Hollywood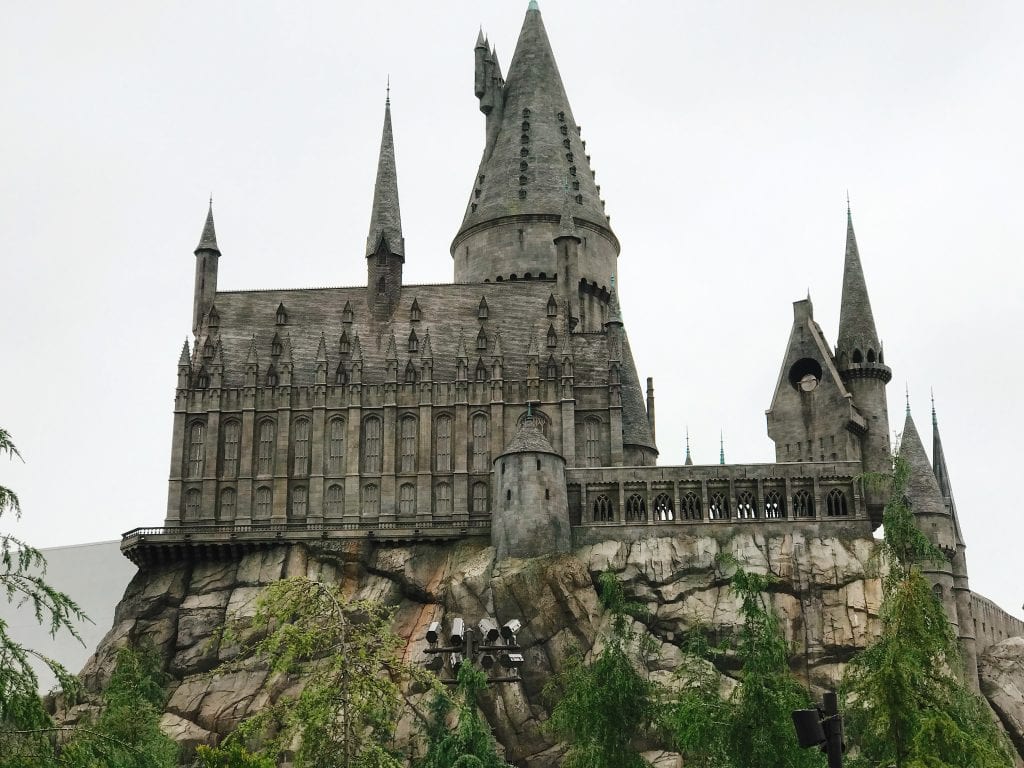 Our first stop after entering the gates of the theme park was The Wizarding World of Harry Potter™. My Harry Potter-loving boys couldn't wait to take in all of the amazingly thought-out scenery.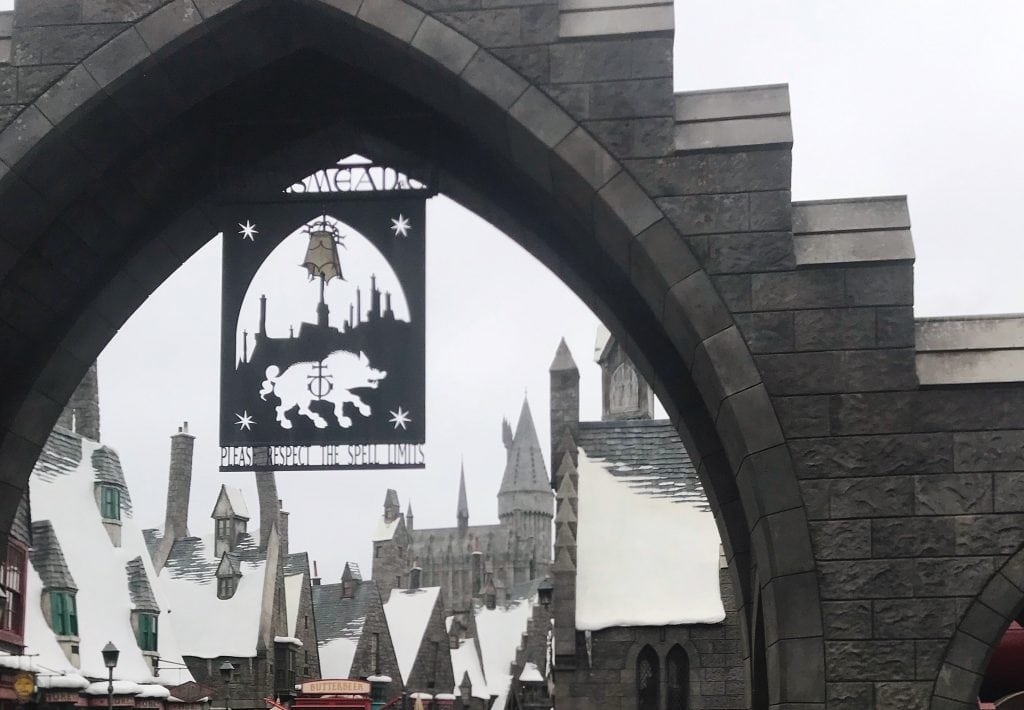 As you enter through a large archway, you see Hogsmeade come to life and it makes you feel like you in the very places you've read about and seen in the movies!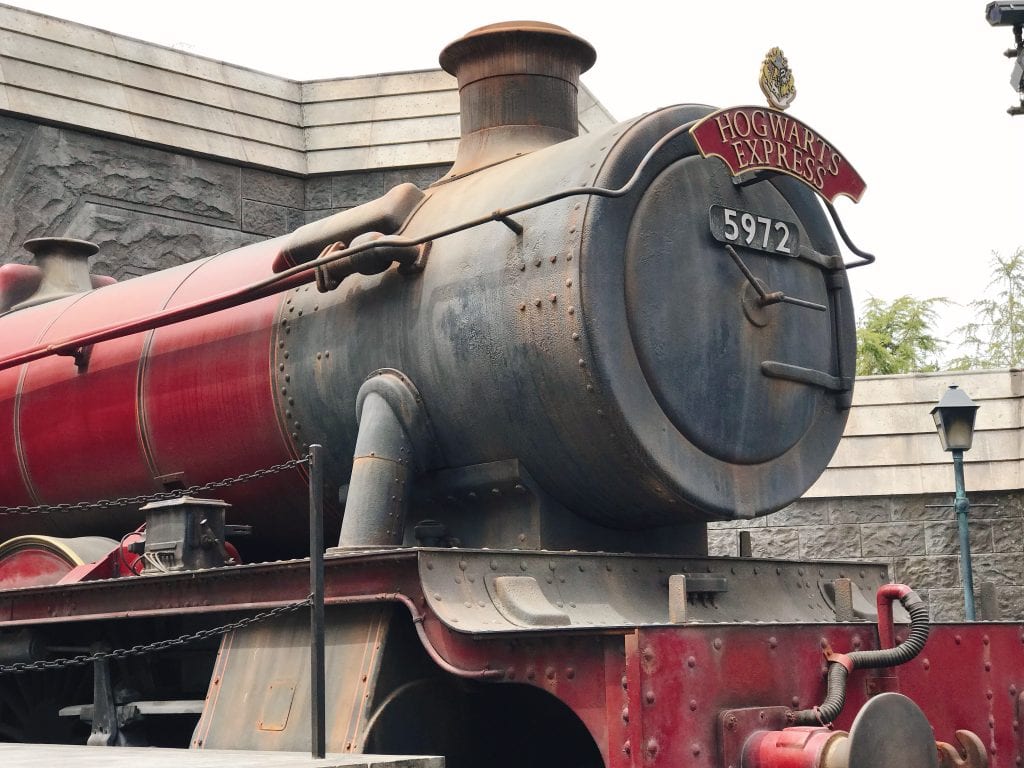 We really liked the photo opportunity with the train and conductor that welcome new arrivals.
Make sure to check out the shops and enjoy a delicious Frozen Butterbeer!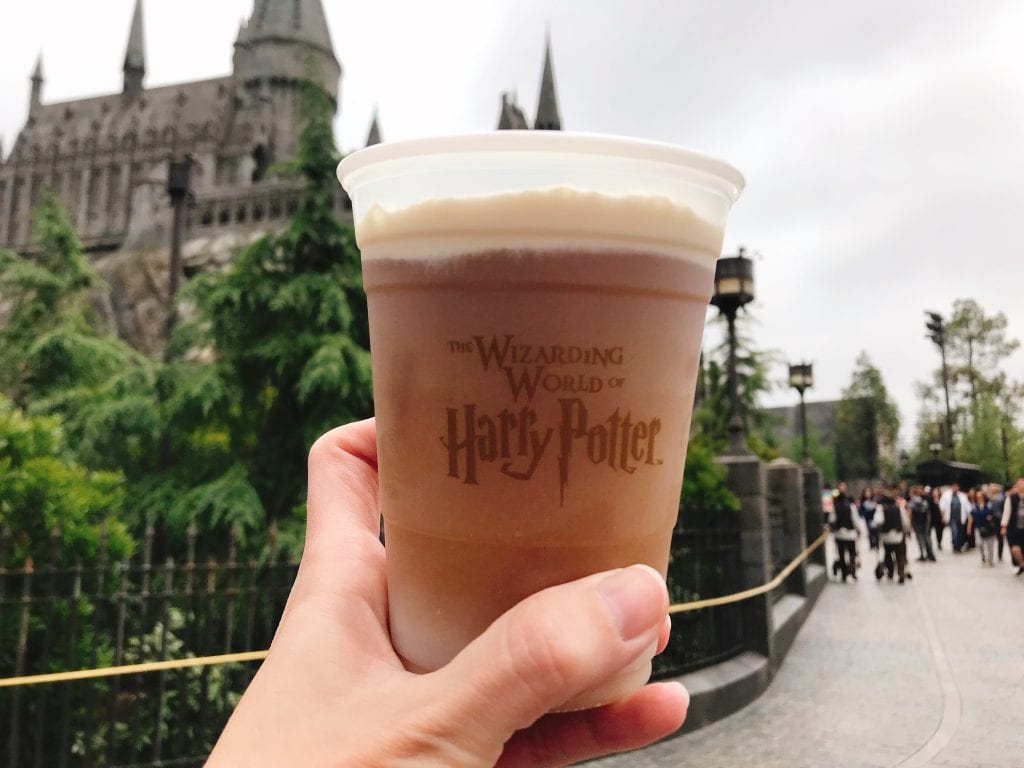 Try my recipe for Harry Potter Butterbeer Cupcakes here!
Flight of the Hippogriff™
After taking in the atmosphere of The Wizarding World of Harry Potter, you need to take your kids to rode Flight of the Hippogriff™.
This fun roller coaster is on the milder side and is definitely appropriate for little ones who meet the height requirement of 39 inches. Make sure to watch the video at the end of this article to see how much fun it was!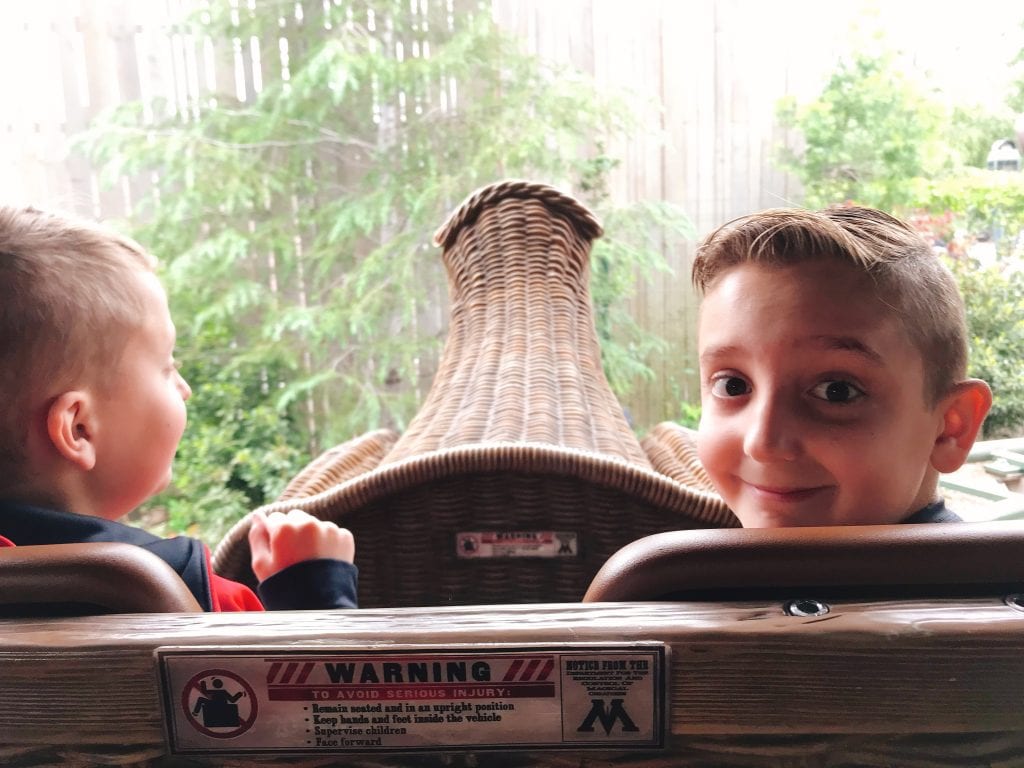 Harry Potter and the Forbidden Journey
The must-do ride on our Universal Studios Hollywood bucket list with kids was Harry Potter and the Forbidden Journey.
My youngest son did not meed the height requirement of 48 inches so we took advantage of the Universal Studios Child Switch service!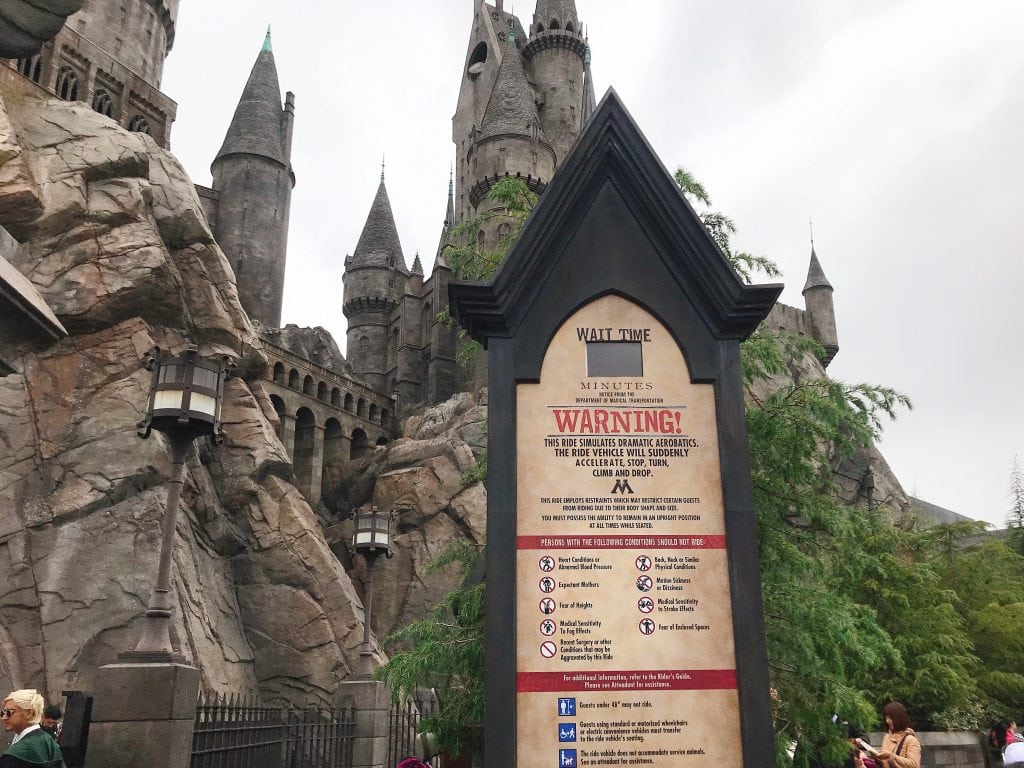 Child Switch is available at all Universal Studios Hollywood attractions. If your little one doesn't measure up, here is what you can do:
One or two adults can step out of line with them and wait in a child switch area while the rest of the group boards the boards the attraction. When the other members of the party return, they can stay with the little one and the others can step right up to bard the ride without any extra wait or starting over.
Just notify a Universal Team Member when you arrive at the attraction and they will be able to guide you to the Child Switch waiting area.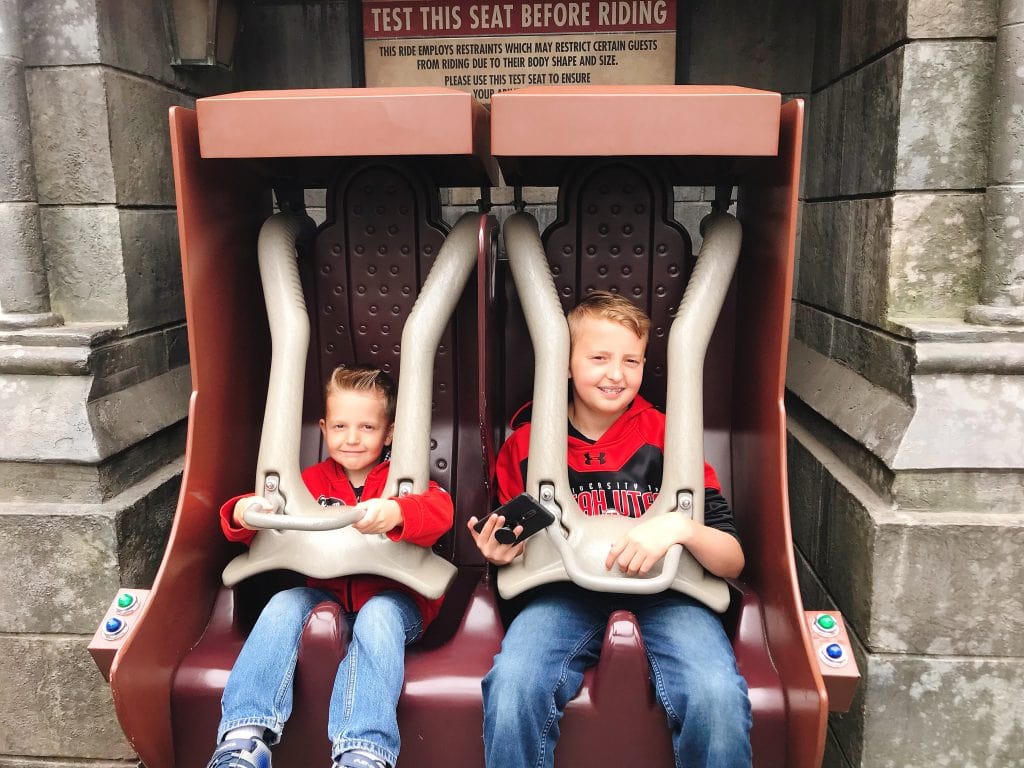 I didn't really now what to expect with this ride, but it was totally amazing!
Without giving too much away, you will definitely feel like you are riding on a broomstick alongside Harry Potter!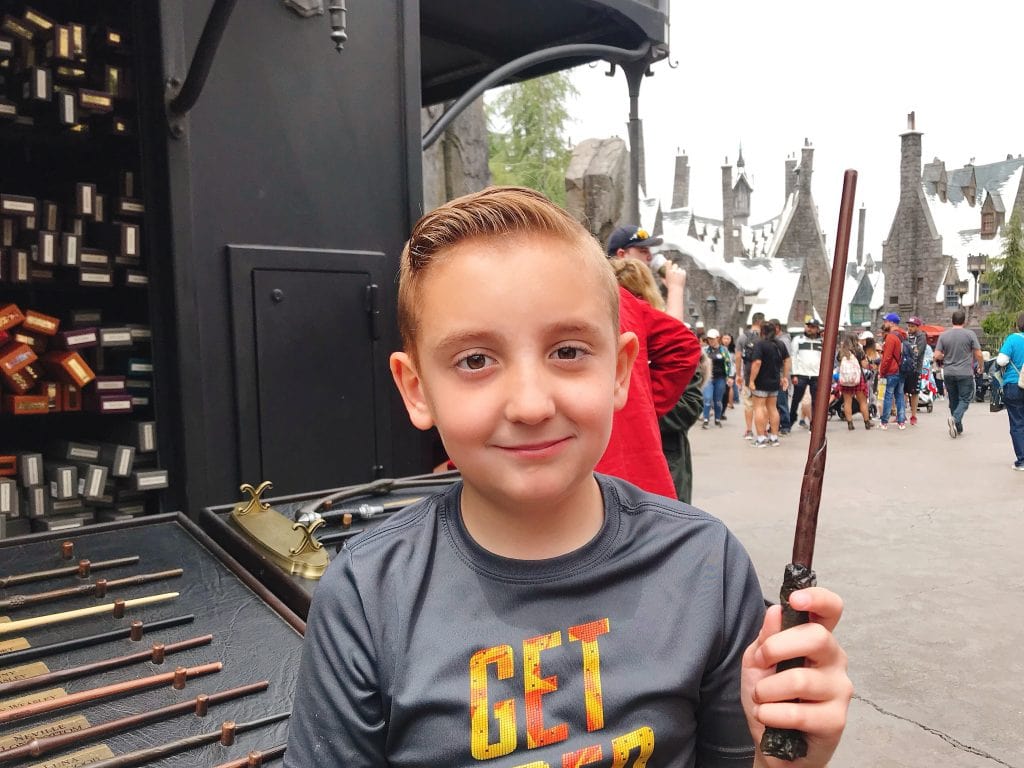 The one thing I wish we would have done at The Wizarding World of Harry Potter is to purchase a magic wand to use throughout the land.
There are many magic locations where guests can cast spells and magical effects will happen. We saw so many kids having a blast doing this, so it is something you should consider checking out.
3. Special Effects Show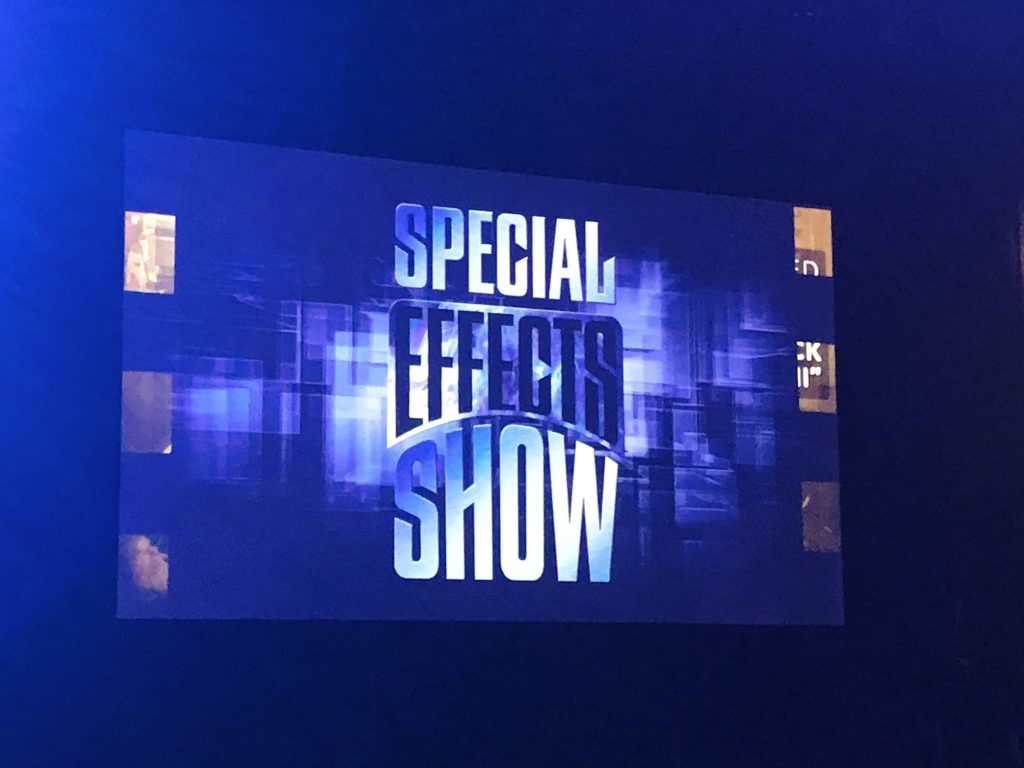 The Special Effects Show was so much fun for all three of my boys! My family happened to be at the right place at the right time and were chosen to be "helpers" during the show.
We had the opportunity to go up on stage and provide the sound effects for a movie clip. It was fu to see my little guy take his job of jingling a pair of hand-cuffs so seriously!
4. Springfield/ The Simpsons Ride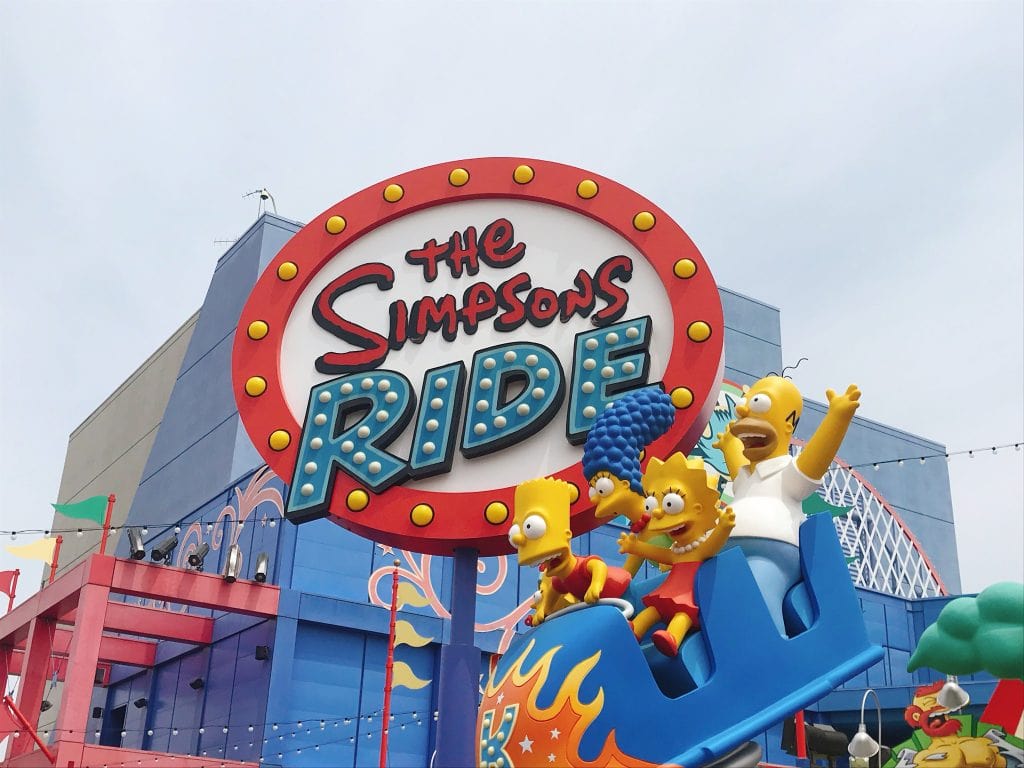 The next stop on our Universal Studios Hollywood bucket list was to visit the fictional town of Springfield™, the hometown of TheSimpsons™.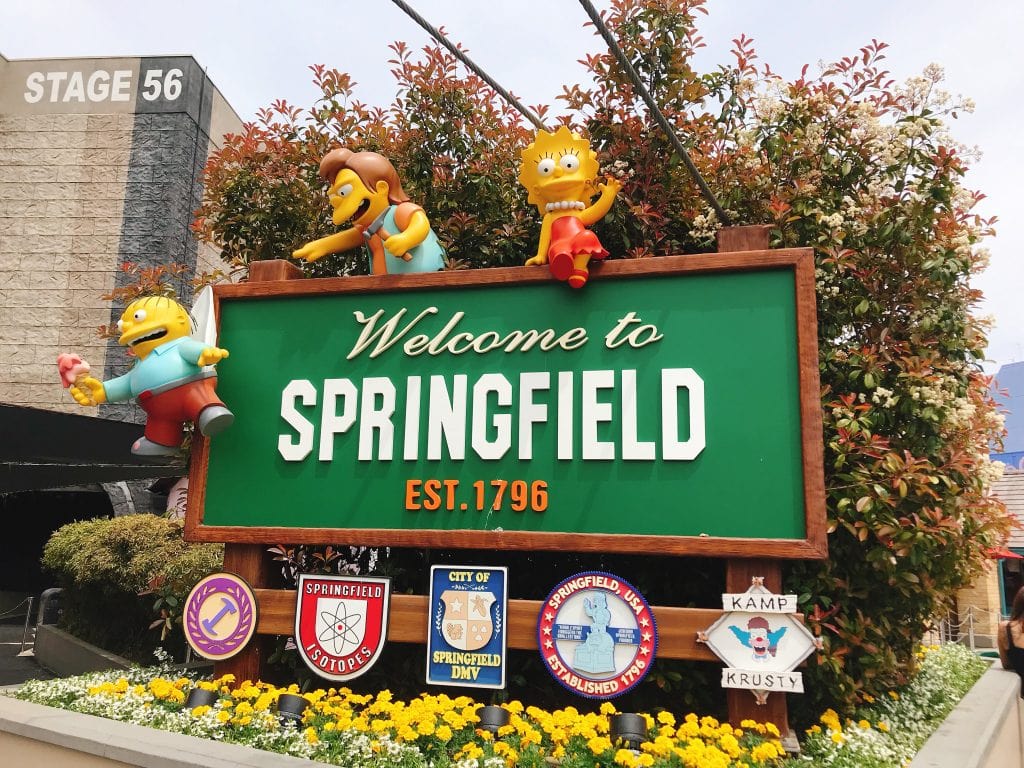 I was amazed at how life-like this town was. My kids thought the giant donuts were so cool and we had a delicious lunch at Krusty Burger.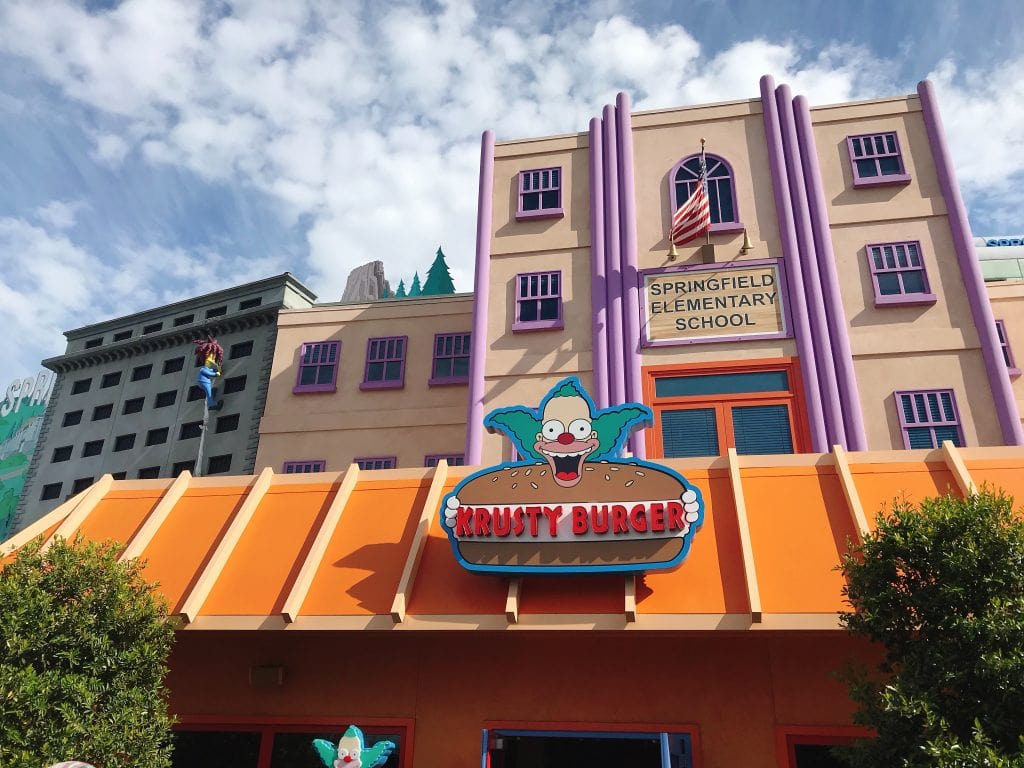 You can't help but have fun when you are surrounded by a larger than life cartoon town!
The giant sign with Krusty the Clown at the entrance of The Simpsons Ride™ puts a smile on your face!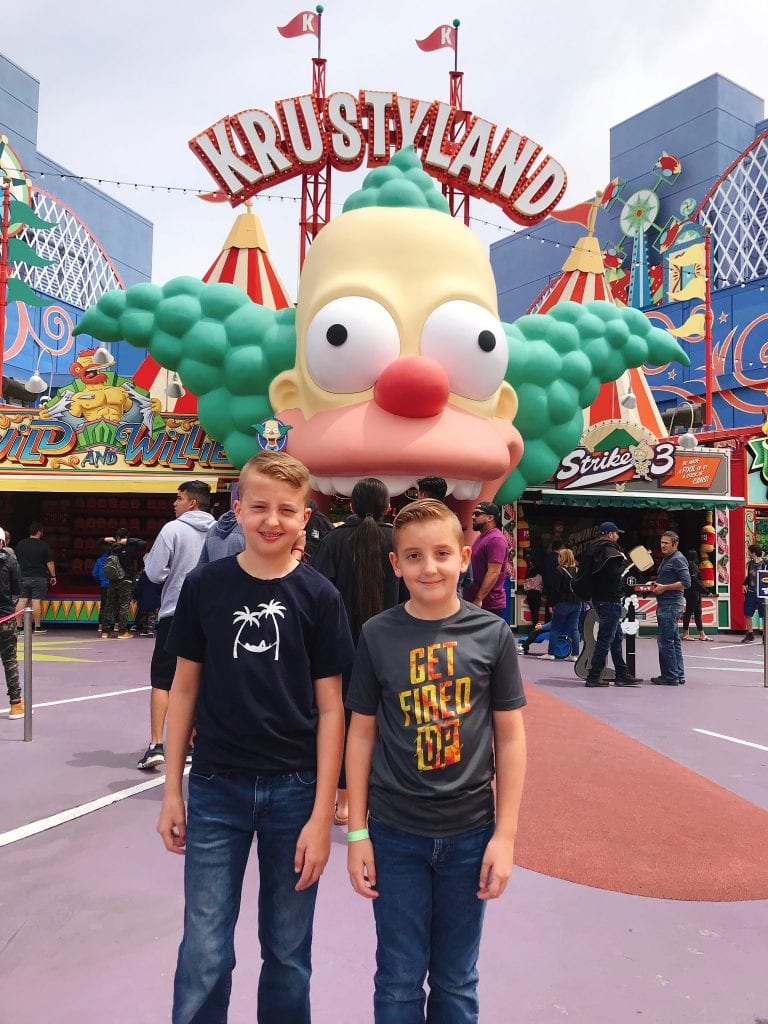 5. The World-Famous Studio Tour at Universal Studios Hollywood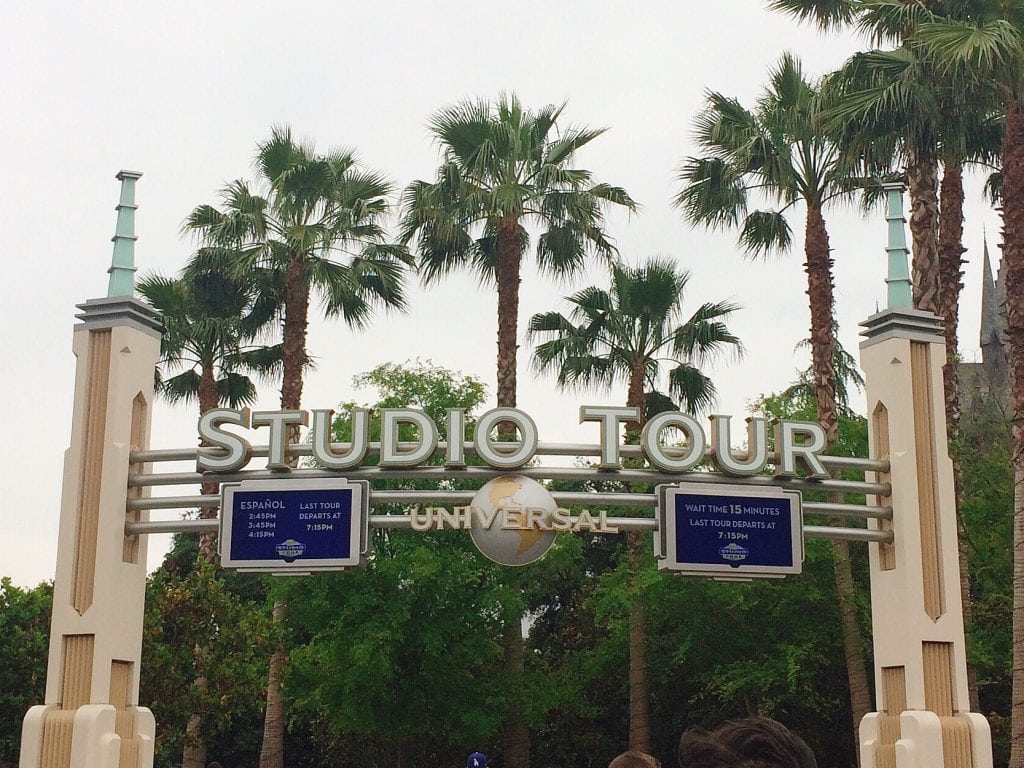 The Studio Tour is the signature attraction at Universal Studios Hollywood.
It gives guests the chance to go behind the scenes and see movie sets and special effects in action! And it is hosted by Jimmy Fallon from The Tonight Show!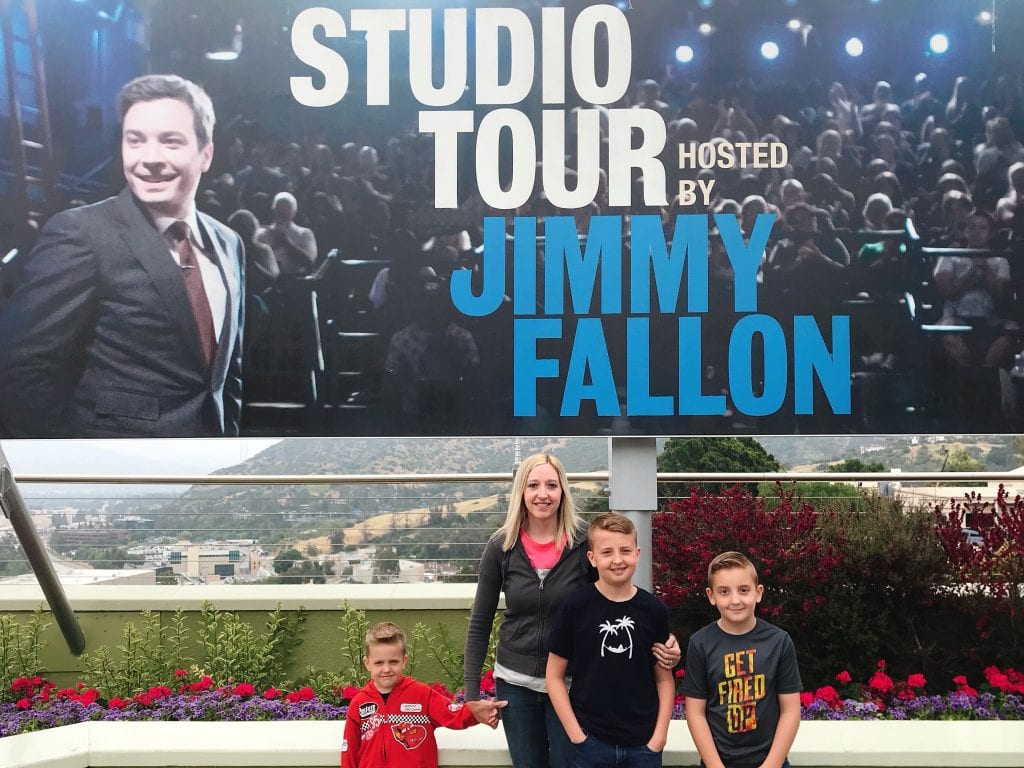 The Studio Tour was actually one of the most entertaining attractions for my kids at Universal Studios Hollywood.
They loved experiencing Earthquake—The Big One, especially when the gasoline truck crashed through the ceiling!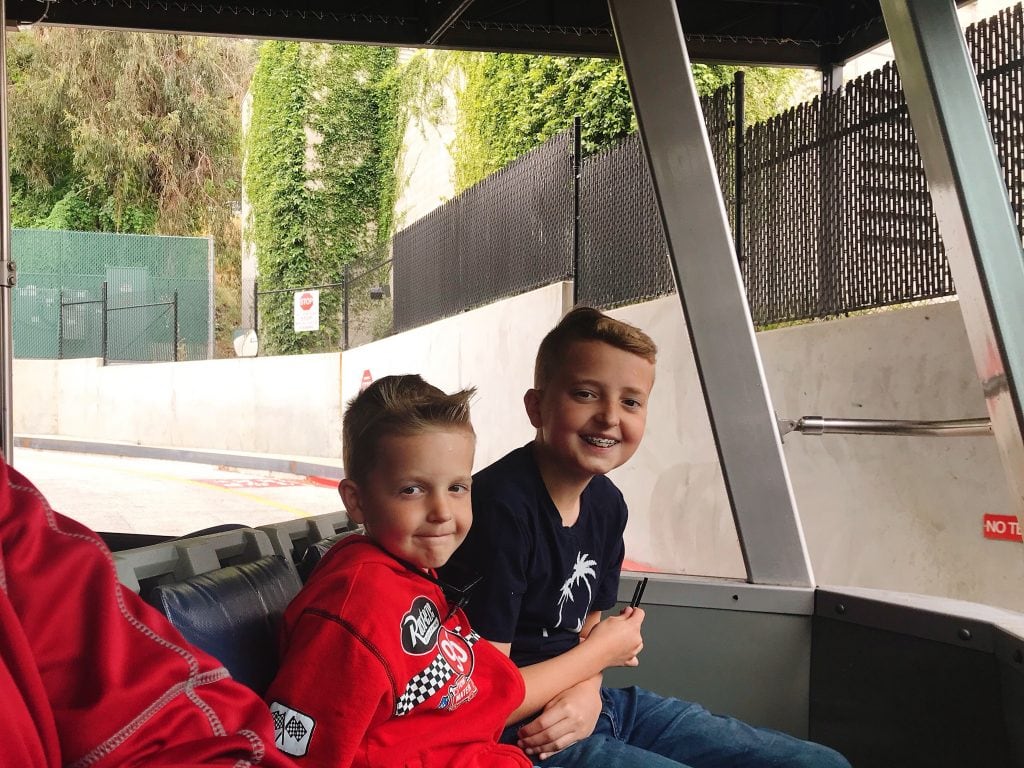 Another highlight was when our Studio tram drove by The Bates Motel from the movie, Psycho. Norman Bates came toward us with a knife and our tour guide sent him to "time-out".
They thought that was hilarious! I caught that part on video so make sure to check it out here on YouTube or at the end of this post!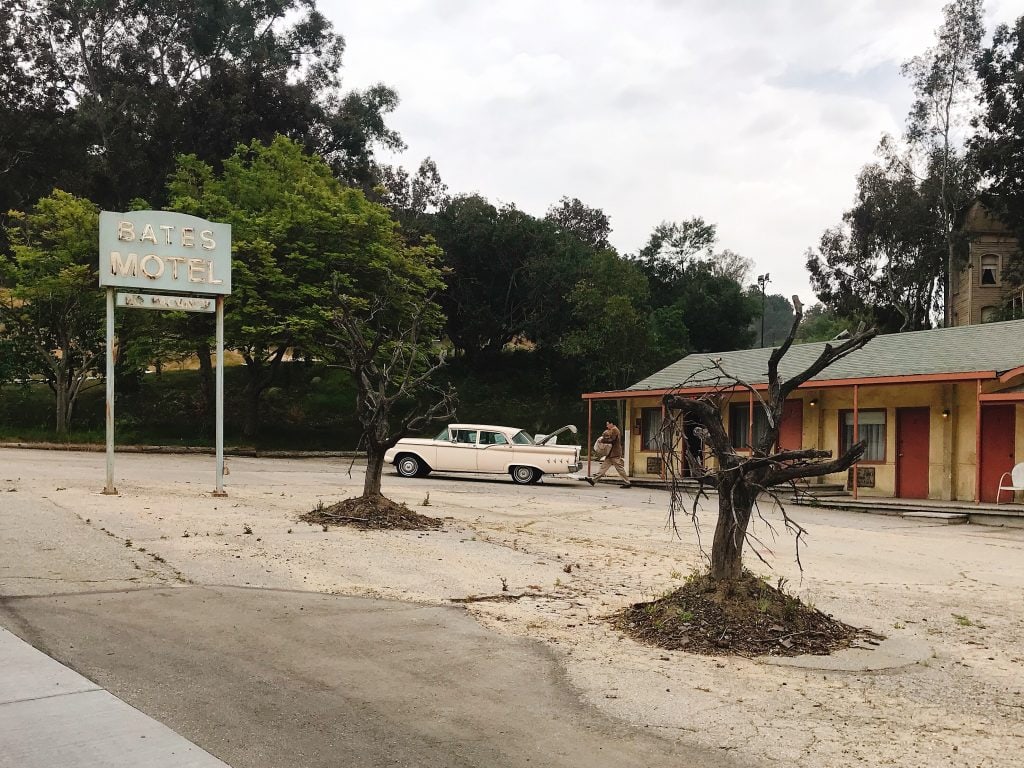 There is also a stretch of the Studio Tour where you will pass by prop vehicles that have appeared in many different films!
We thought it was cool to see a damaged tram vehicle that was still smoking!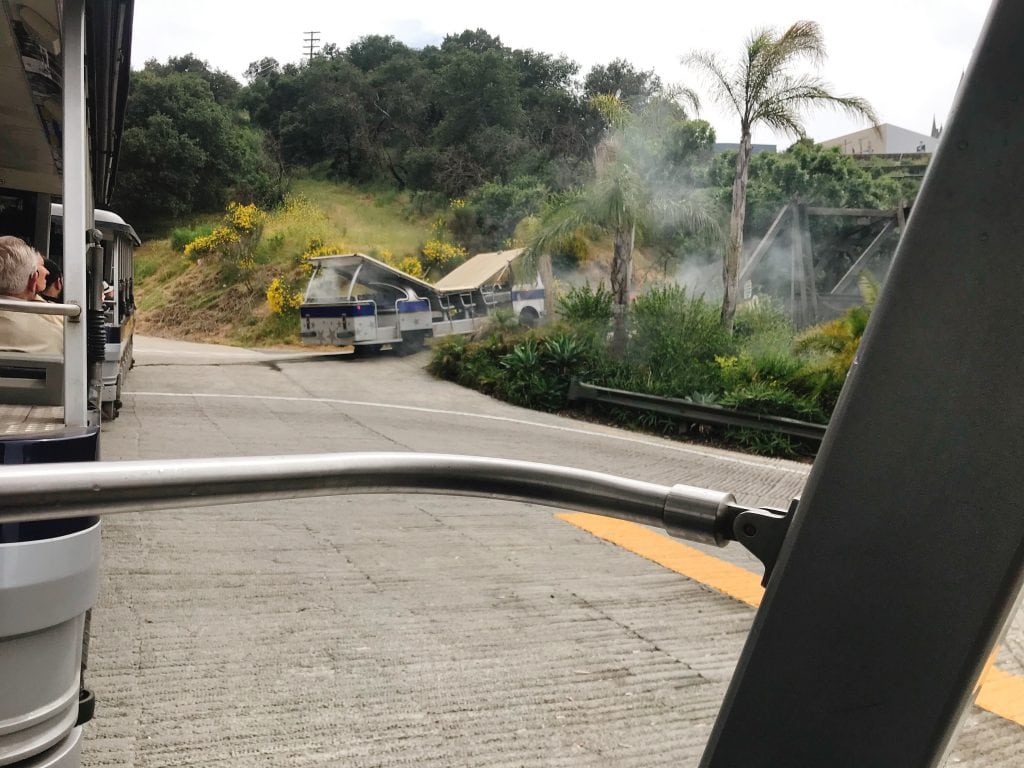 6. Raptor Encounter
The next thing we happened upon after the Studio Tour was the Raptor Encounter.
We headed down the many escalators called Star Way to the lower lot. As we approached the bottom we could hear a deafening sound.
When we rounded the corner, we were met by Blue, the Velociraptor from the Jurassic World franchise!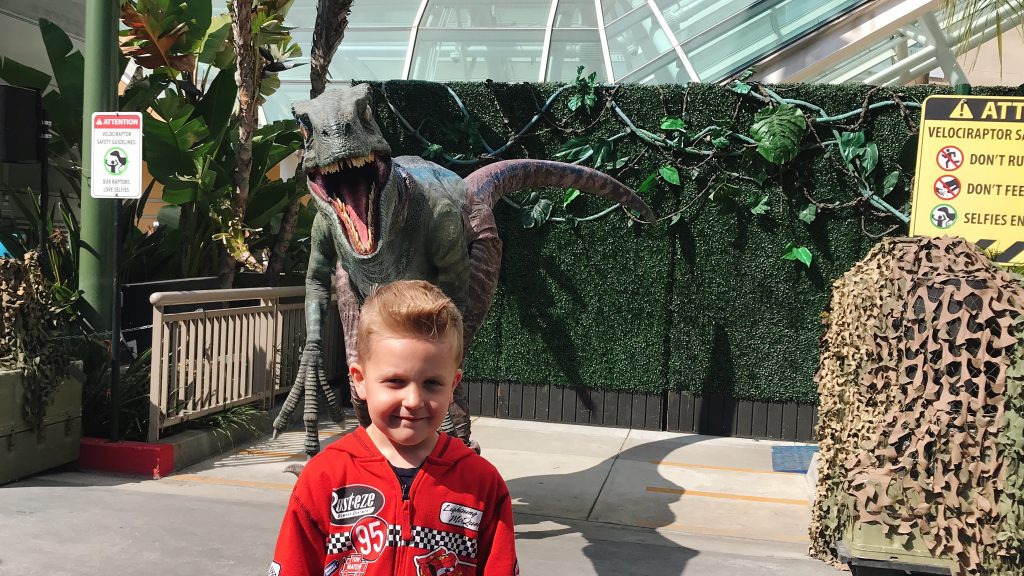 My 4-year-old and I, immediately got in line to have an encounter with the dinosaur, while my husband took my two older boys to ride Revenge of the Mummy-The Ride.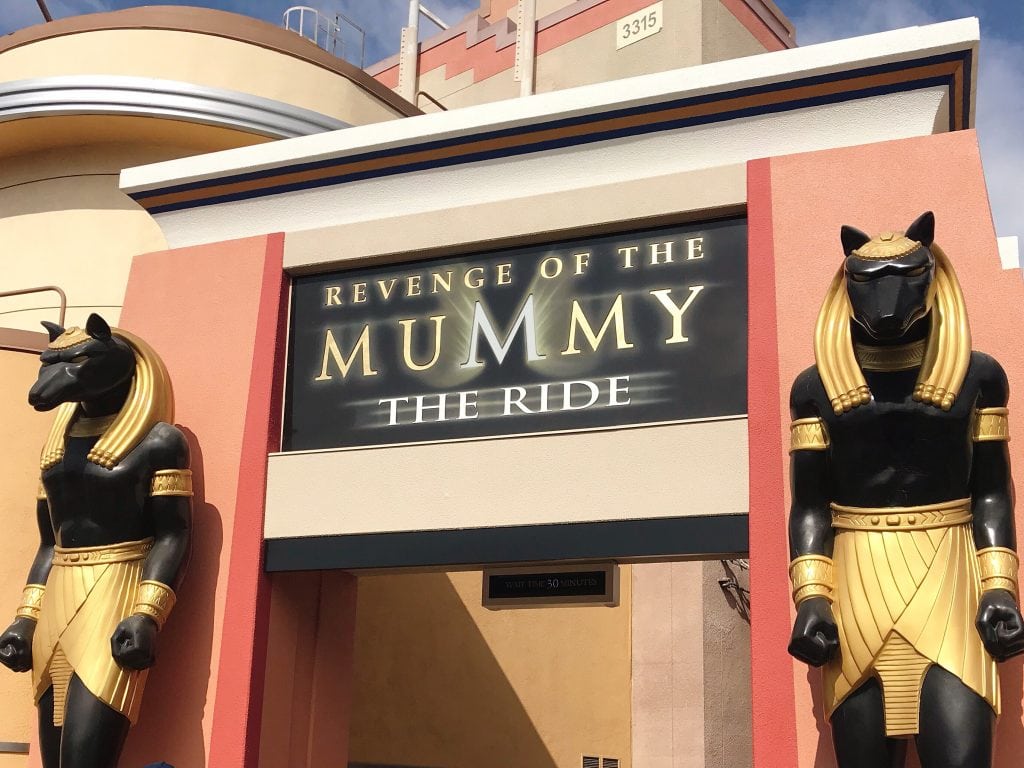 If your little one is easily scared, I would maybe observe Blue from afar, but my little guy had no fear meeting the 15-foot-tall dinosaur!
This is also an interaction you'll want to check out in the video!
7. Transformers: The Ride-3D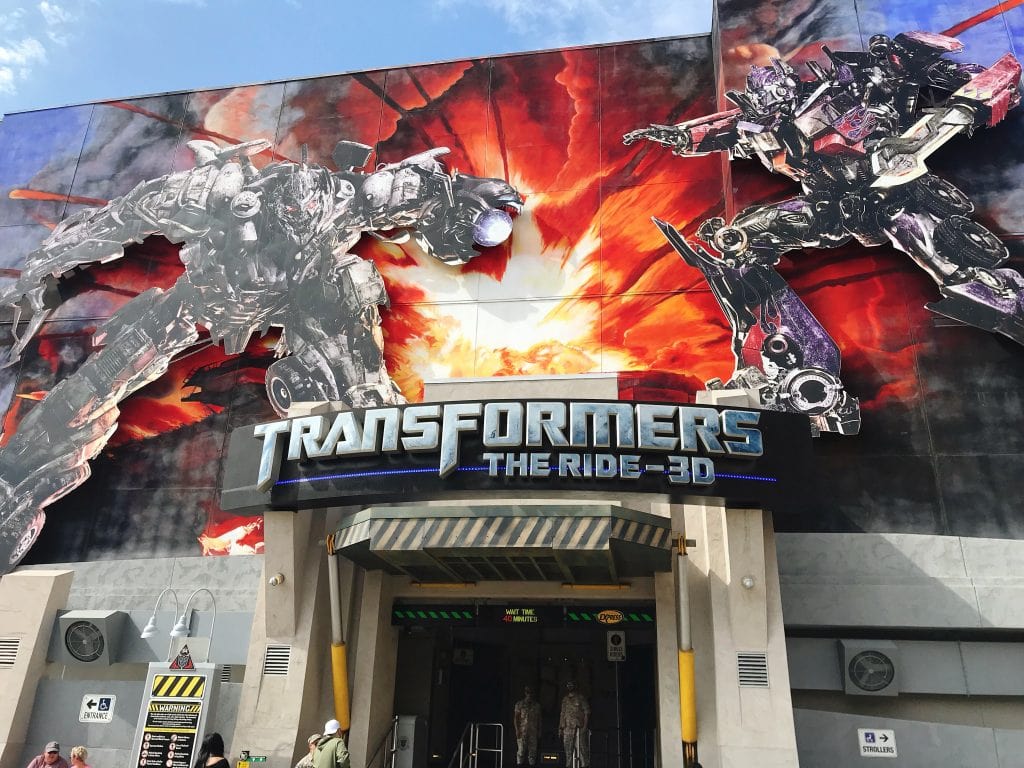 After our encounter with a dinosaur we headed over to TransformersTM: The Ride 3-D.
This attraction is based on the Transformer toys from Hasbro as well as the film franchise, directed by Michael Bay.
This ride uses amazing high-tech elements to send you through a Transformers story that you will never forget!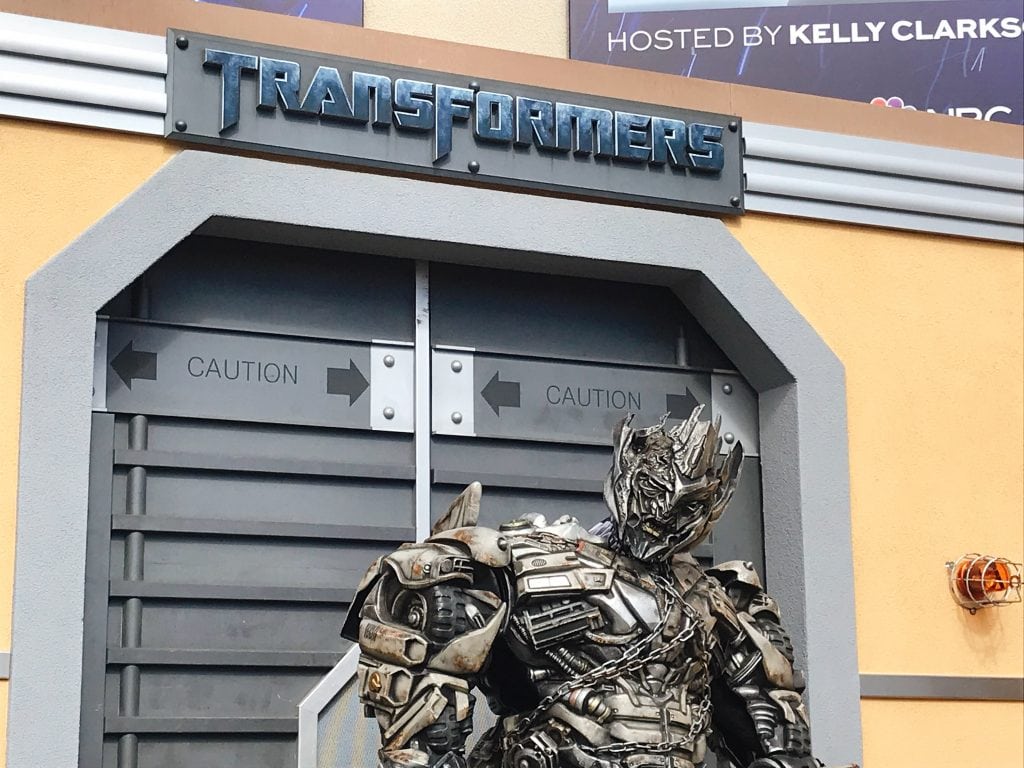 When you exit the ride, keep your eyes open for a chance to meet your favorite Transformer.
My son and husband had the chance to meet with Megatron and had a hilarious encounter!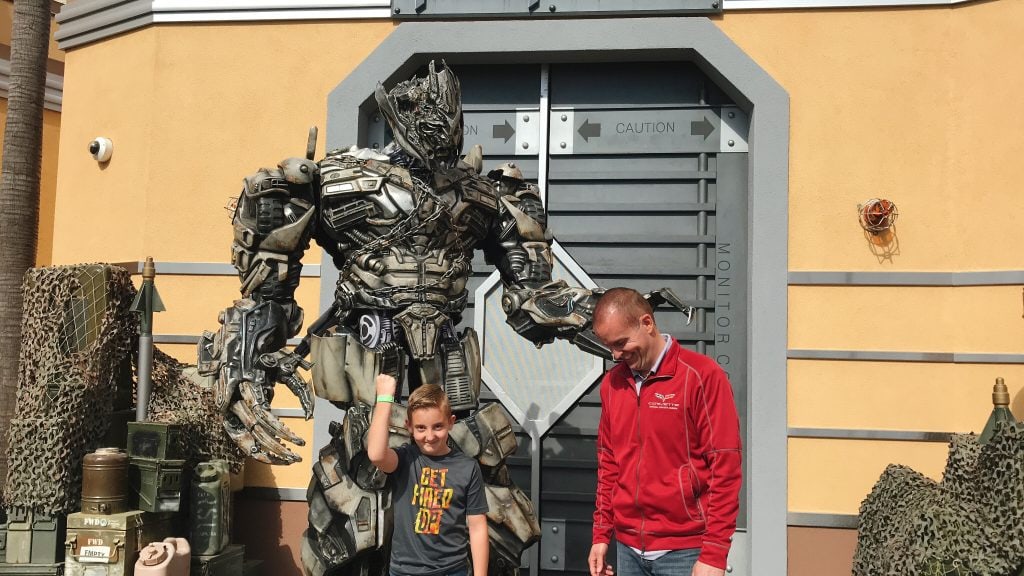 Basically, my husband told Megatron that he wanted to be an Autobot but my son wanted to be a Decepticon.
Megatron then told my son that he was now in charge of the family and that my husband was a failure. Check it out in my YouTube video! It's the best!
8. Universal's Animal Actors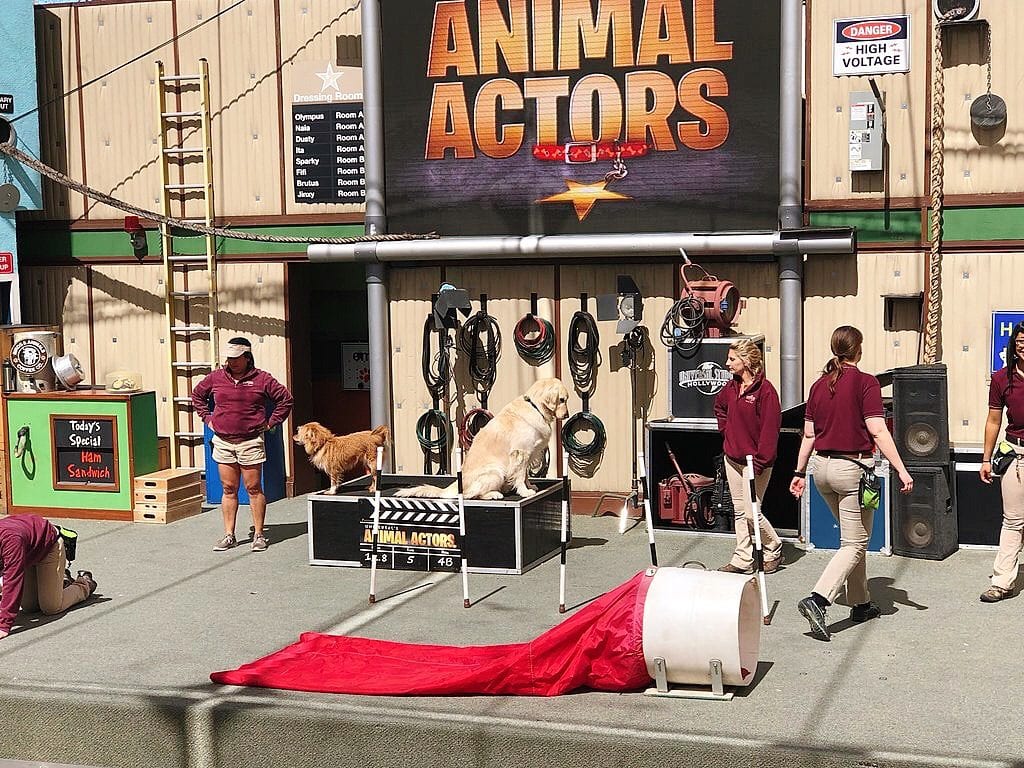 The last show that we were able to view that day was Universal's Animal Actors. Kids will love this show because of all of the cute animals!
It was fun to see how the trainers interacted with different species and all of the cool tricks they were able to do.
9. Despicable Me/Super Silly Fun Land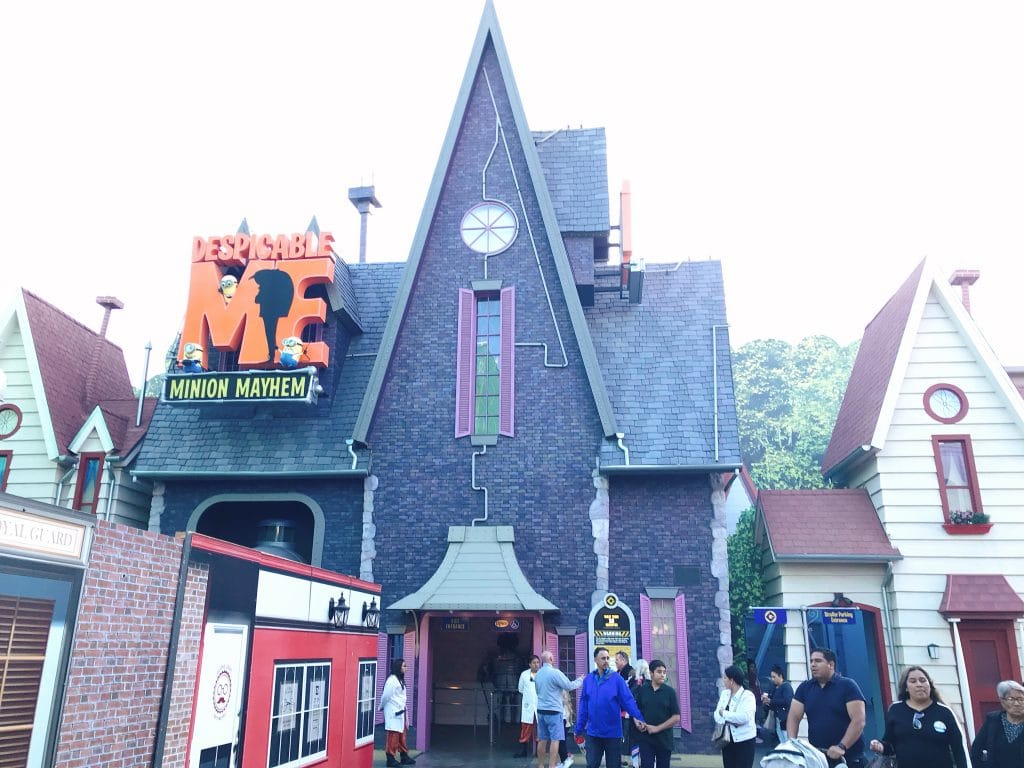 If your kids love the Despicable Me movies, they will love Despicable Me Minion Mayhem and the adjoining Super Silly Fun Land!
When you ride Despicable Me Minion Mayhem, you are taken on an adventure where you are turned into a minion yourself! (Or at least you think you are.)
My boys had a great time and thought it was funny when Gru sprays his fart gun. #boymomlife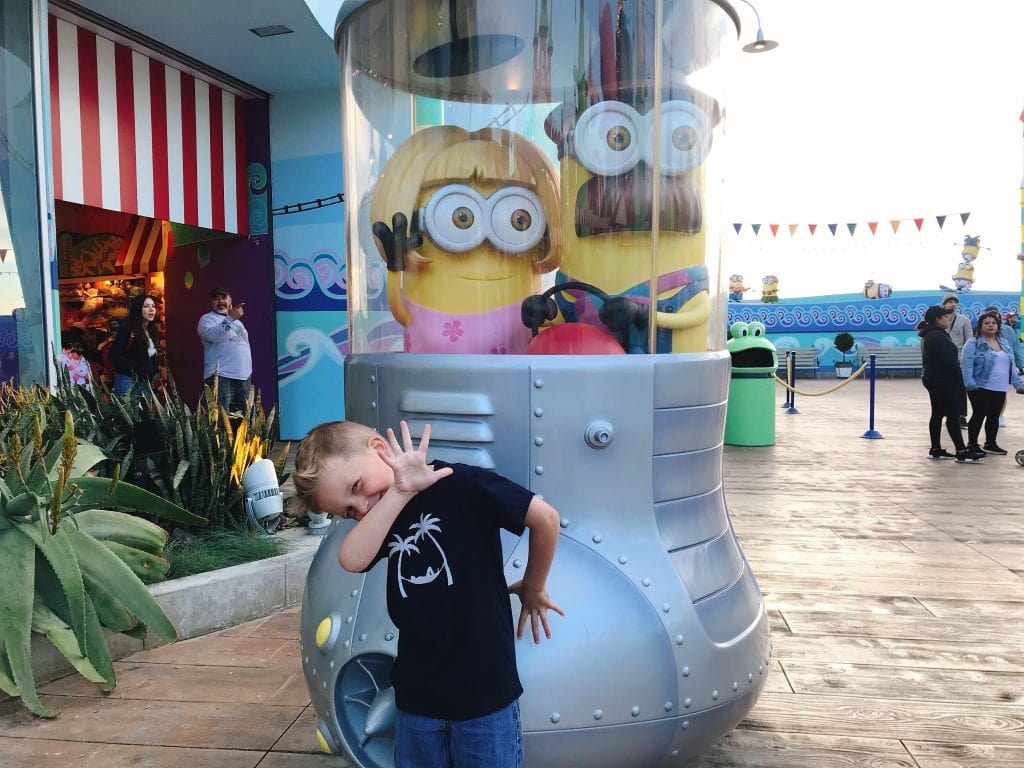 When you exit the attraction, you are let loose in the play zone known as Super Silly Fun Land. The bright colors and amazing theming make you feel like you are in the movie!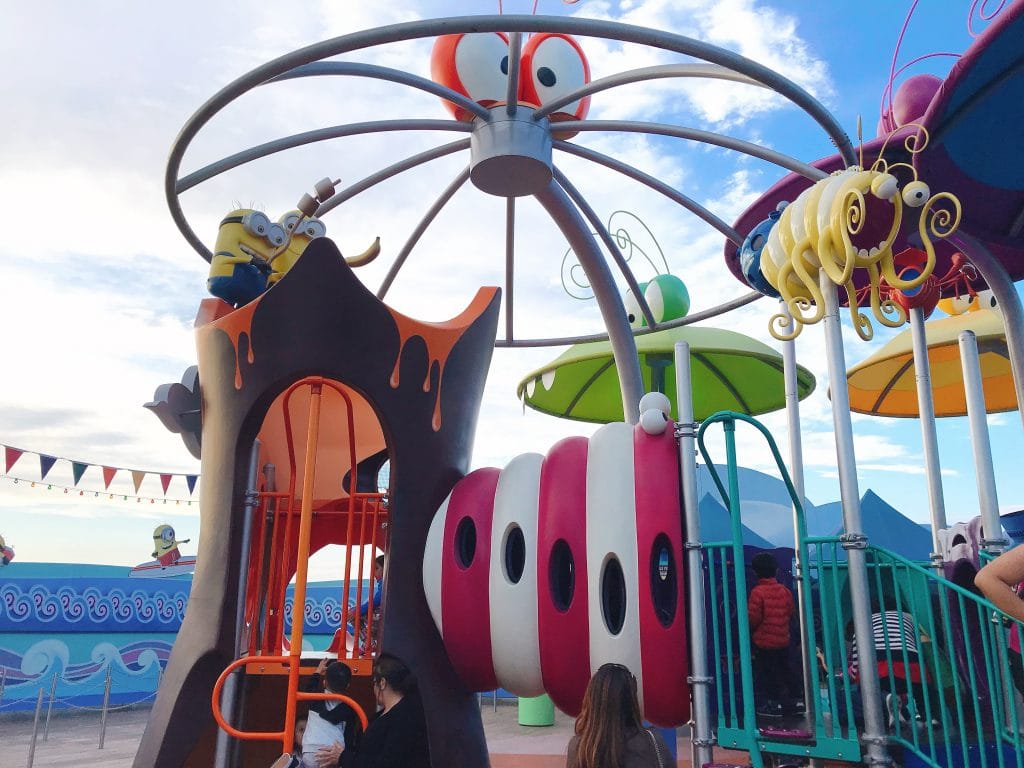 The dry zone has a couple of slides and all kinds of things for little ones to climb on. It's definitely an area where your kids can get their wiggles out!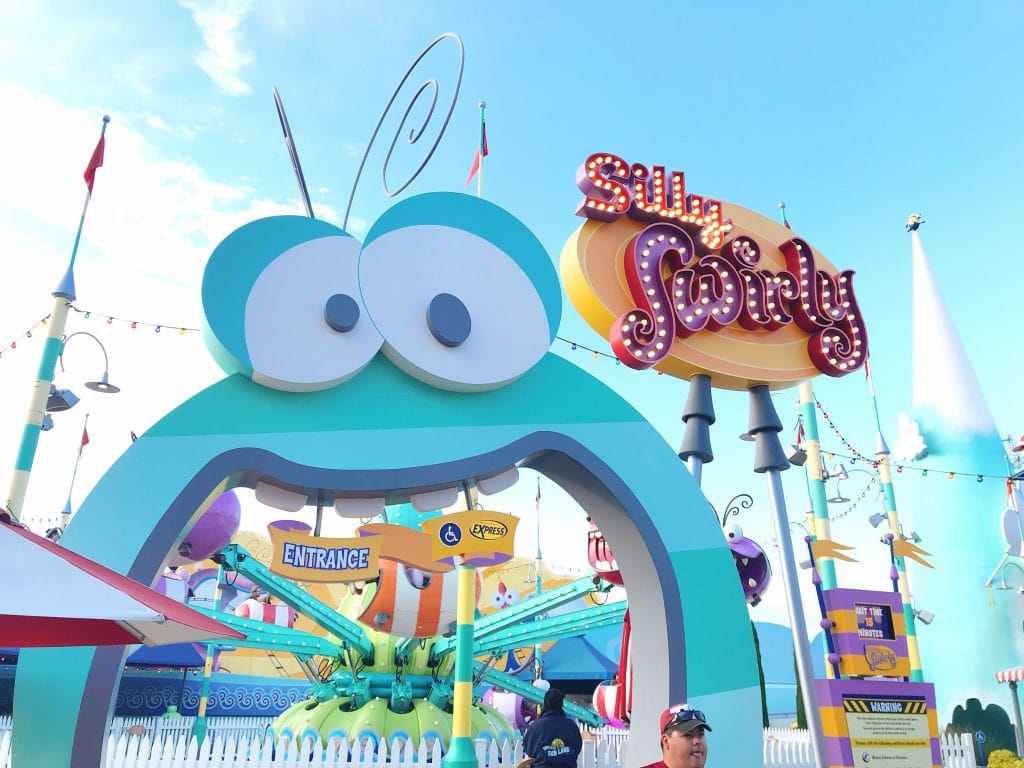 Next to the playground is a Minion themed ride called Silly Swirly Fun Ride. You and your kids will spin around for a 360-degree view of the land!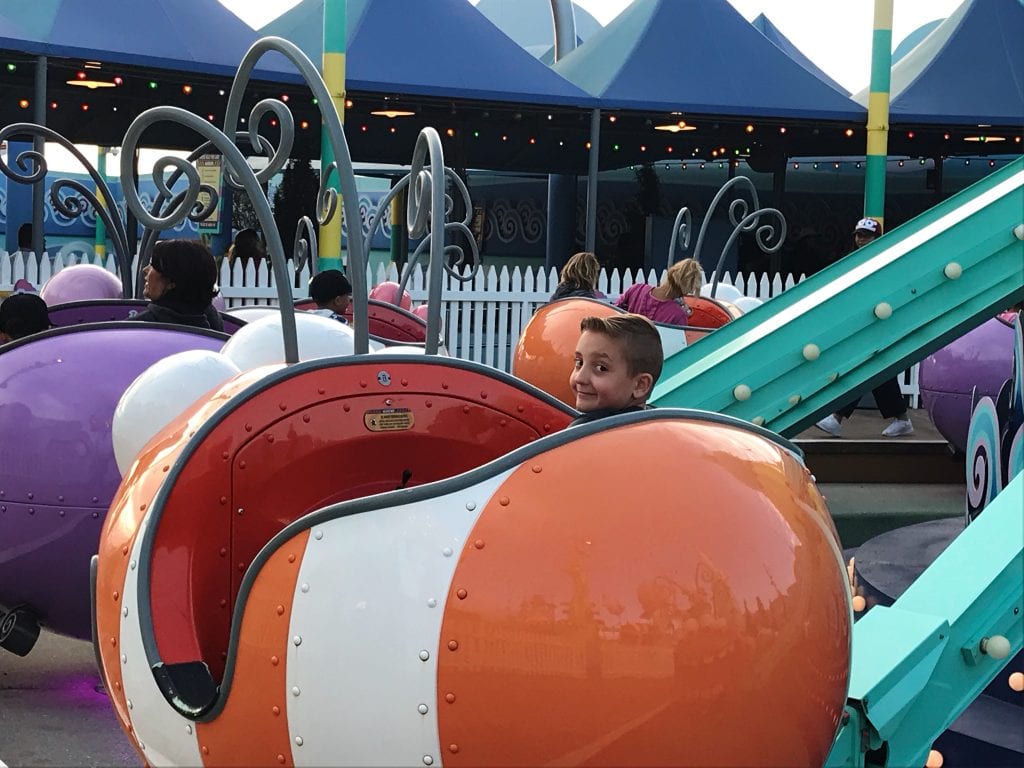 On the other side of the ride is a large water playground. This would be perfect for kids to cool off, while having fun, on a hot Southern California day!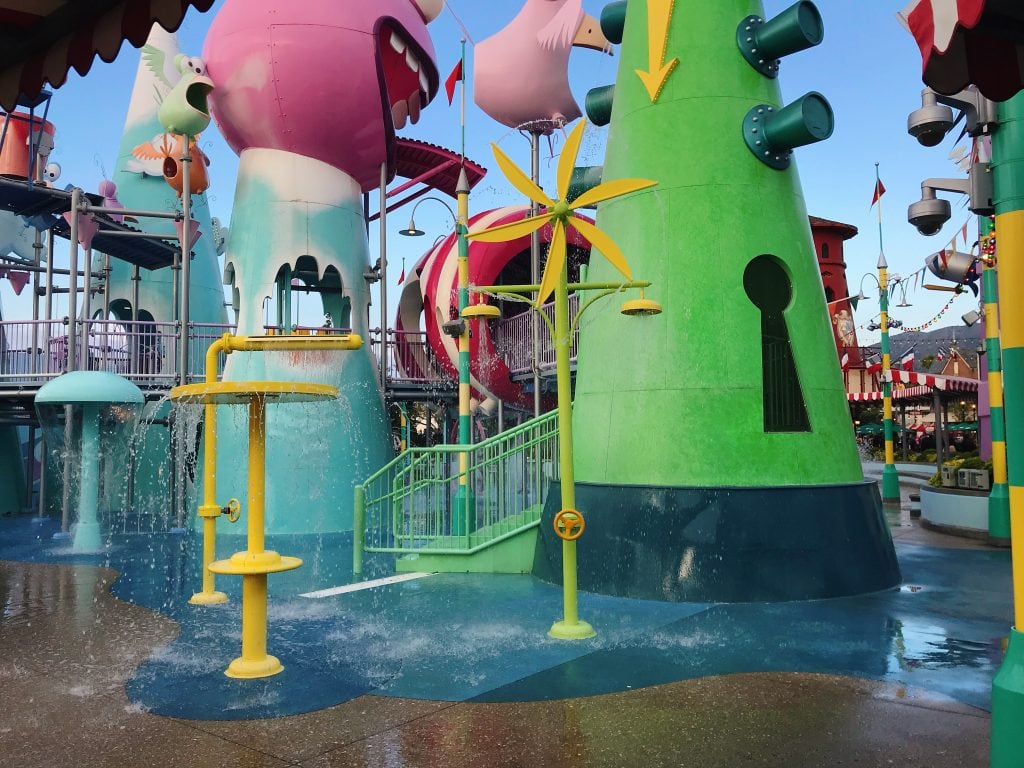 10. DreamWorks Theatre featuring Kung Fu Panda Adventure
The multi-sensory attraction, DreamWorks Theatre featuring Kung Fu Panda Adventure was the last stop on our day at Universal Studios Hollywood and it was ending to our adventure!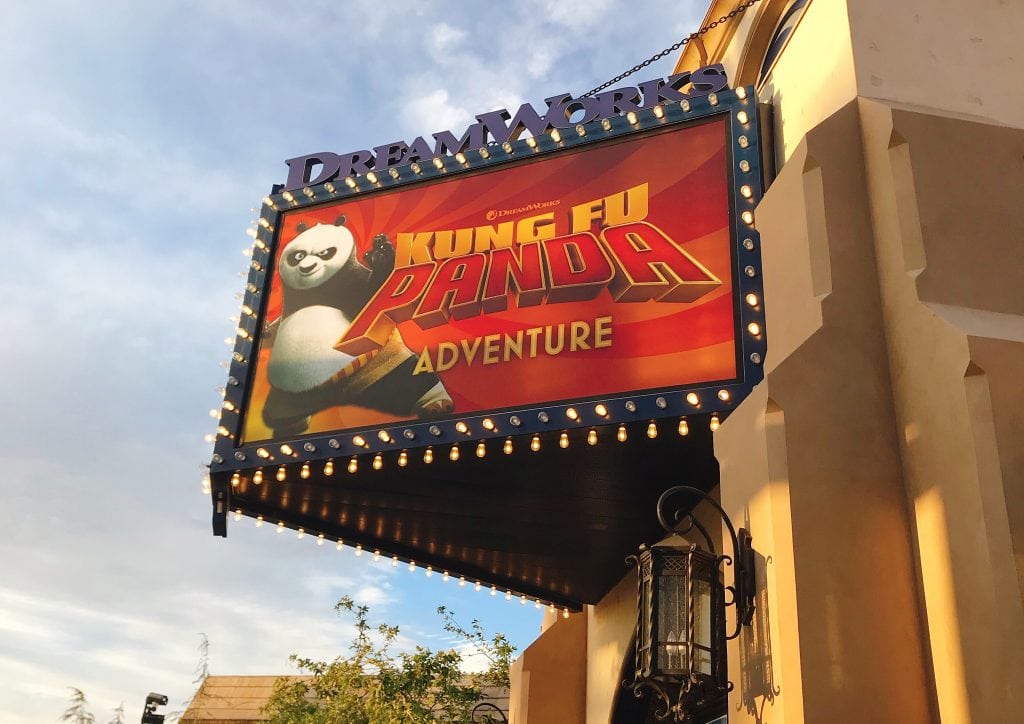 You enter the theatre, find your seat, and get ready for the fun to start!
The seat moves and vibrates with what is happening on the screen, adding to the experience! Your kids will love this attraction.
Will Kids Have Fun at Universal Studios Hollywood?
The answer is YES! If you've been on the fence about taking your little ones to Universal Studios Hollywood, you should definitely go!
There are tons of fun things to see and do with your kids, and with Universal's Child Switch service, there is no need for you to miss out on the fun.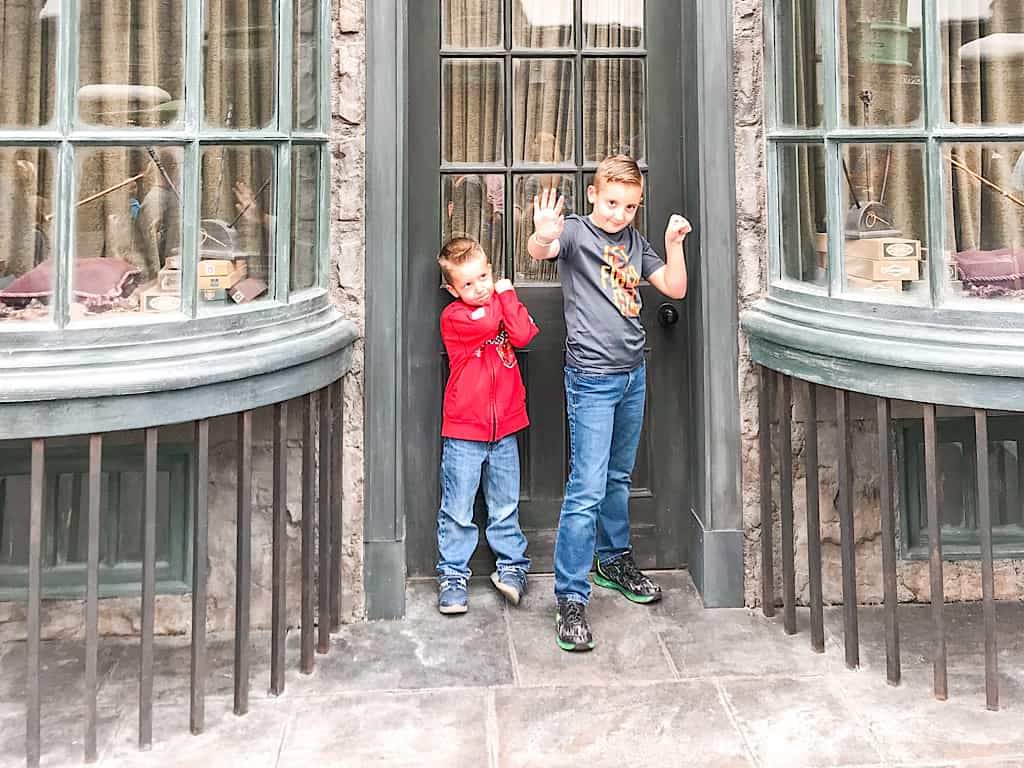 How to Get Discount Tickets to Universal Studios Hollywood
I talk all of the time on my Disneyland posts about how great it is to book vacations a buy tickets from my travel partner, Get Away Today.
The great news is that you can also purchase discount Universal Studios tickets through them as well!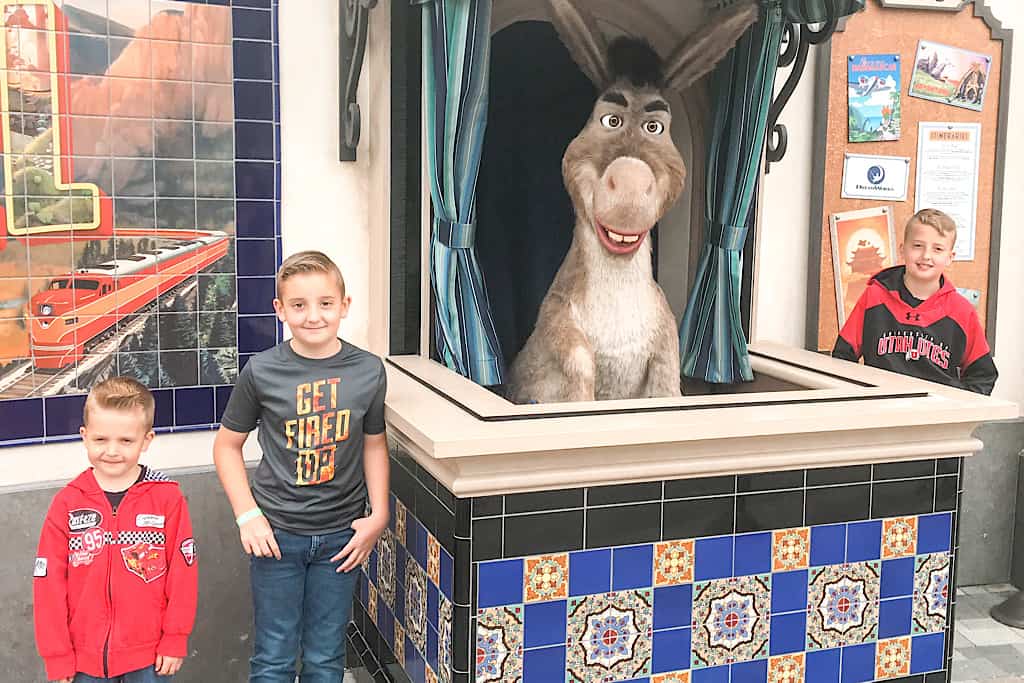 If you bundle the tickets with a 2-night or longer hotel stay in Southern California, you can use my special promo code: MommyMouse to save even more!
Visit GetAwayToday.com to check out their prices and hotel options or give them a call at 877-GET-AWAY and tell them Mommy Mouse Clubhouse sent you!
I hope you found this article helpful and will pin it for later! Don't forget to follow @mommymouseclubhouse on Instagram and YouTube!
Check out this video below: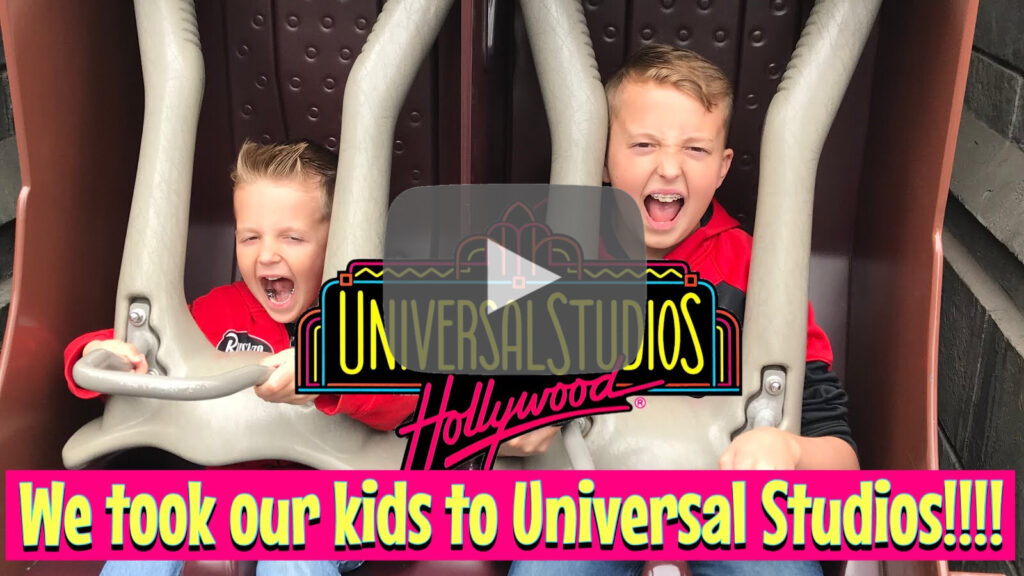 More Southern California Tips: