There are so many kid-friendly activities in Orange County California and I have a list of some of the best that you can do with families below!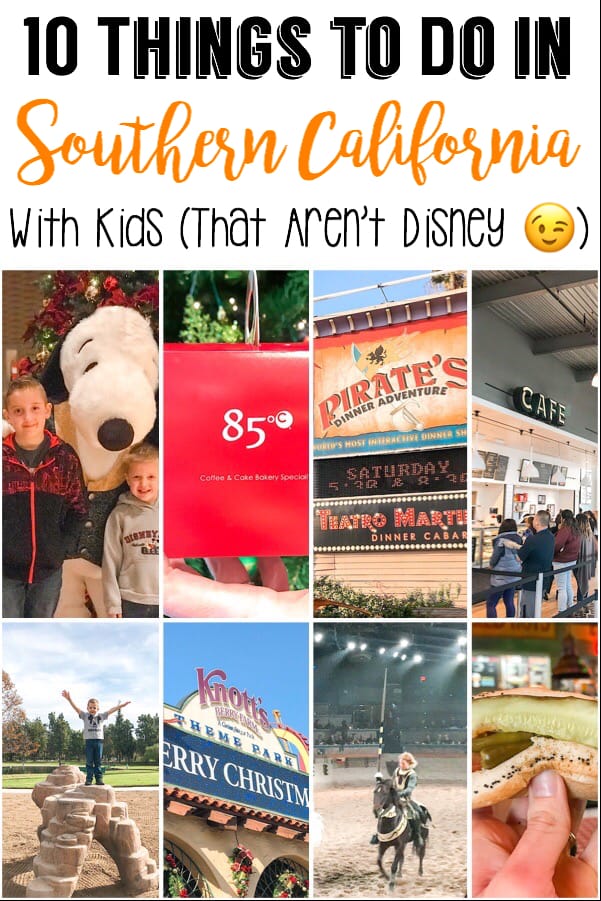 This post may contain affiliate links. When you click on these links, I get a small percentage back at no cost to you! For more information see my disclosure policy.
Tickets, food and accommodations were provided complimentary to my family. All opinions are my own.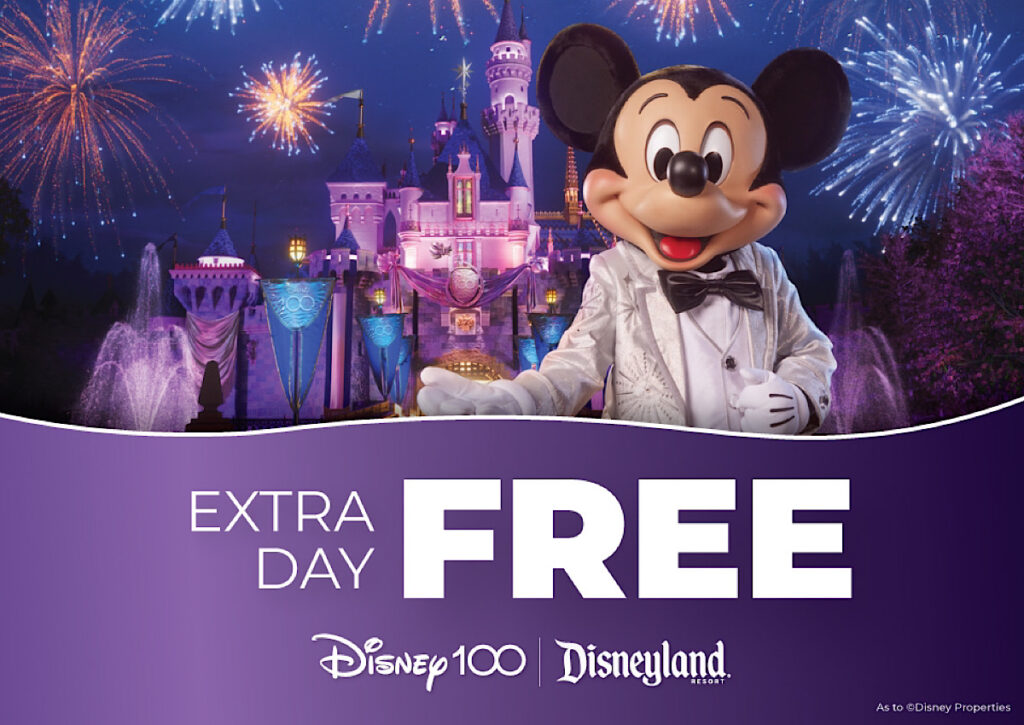 To celebrate Disney100, you can get an EXTRA DAY FREE when you purchase tickets from Get Away Today. Combine this deal with a hotel stay and use code: Clubhouse10 to save even more!
There's no doubt that Southern California is one of my family's favorite vacation destinations.
One of the reasons that I love it so much is that there is so much to do. Even if you visit frequently, you can have a different experience each time.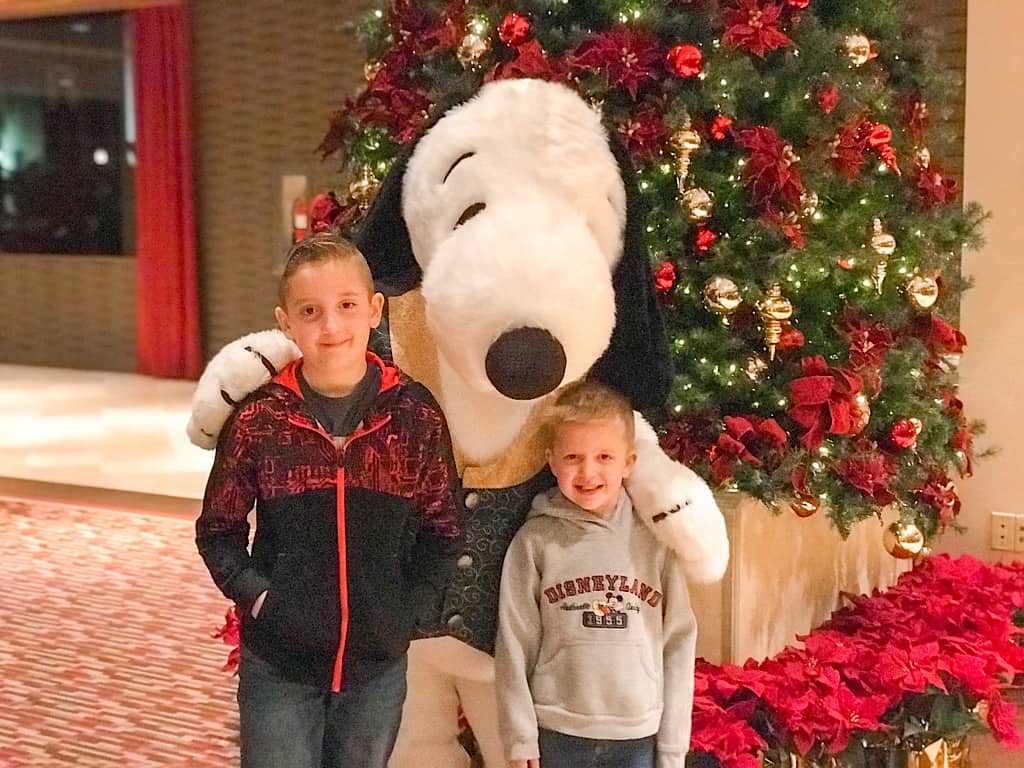 I am going to share all of the fun things we did and yummy things we ate on our recent visit to Buena Park, California!
Family Activities

in Orange County
John's Incredible Pizza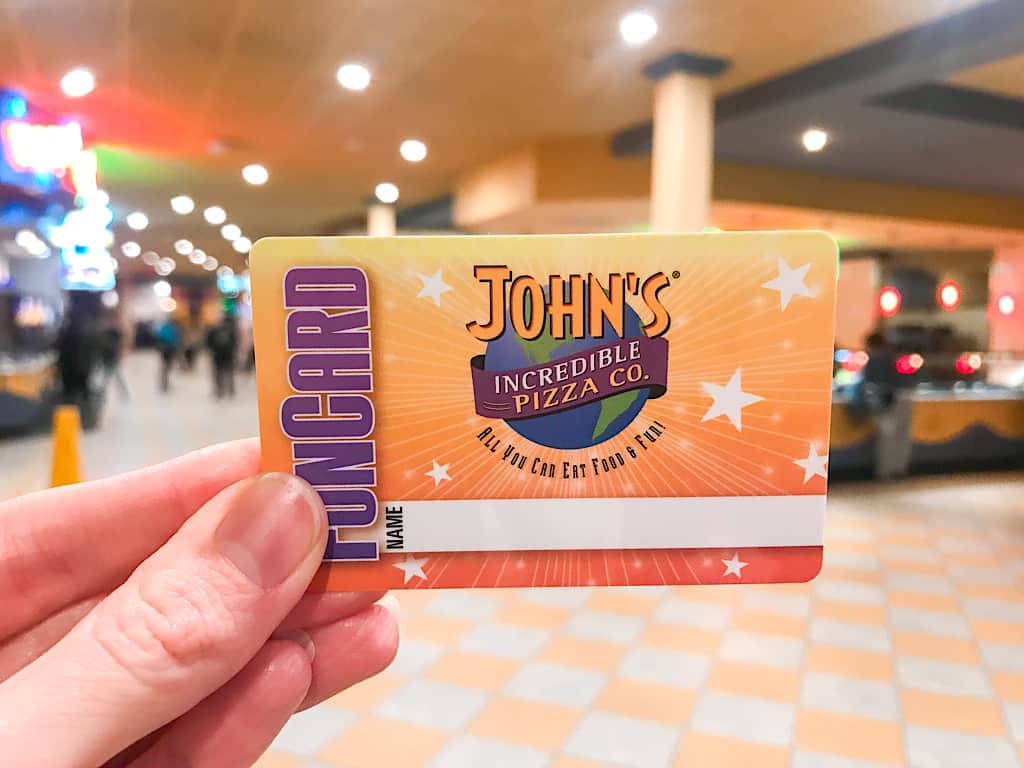 John's Incredible Pizza is located at Buena Park Downtown which is a large shopping mall, a few blocks from Knott's Berry Farm.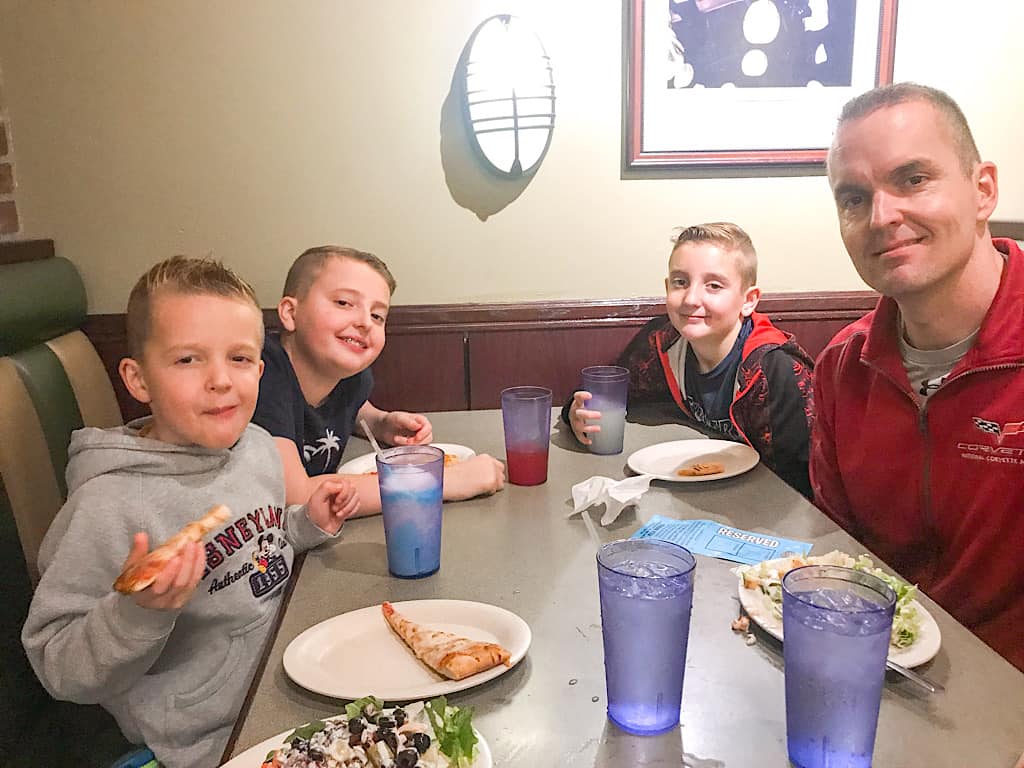 They offer an all-you-can-eat pizza buffet, arcade games, and rides and is one of the best family-friendly things in the area.
My boys had so much fun at John's Incredible Pizza, it was hard to get them to come back to the hotel to go to bed!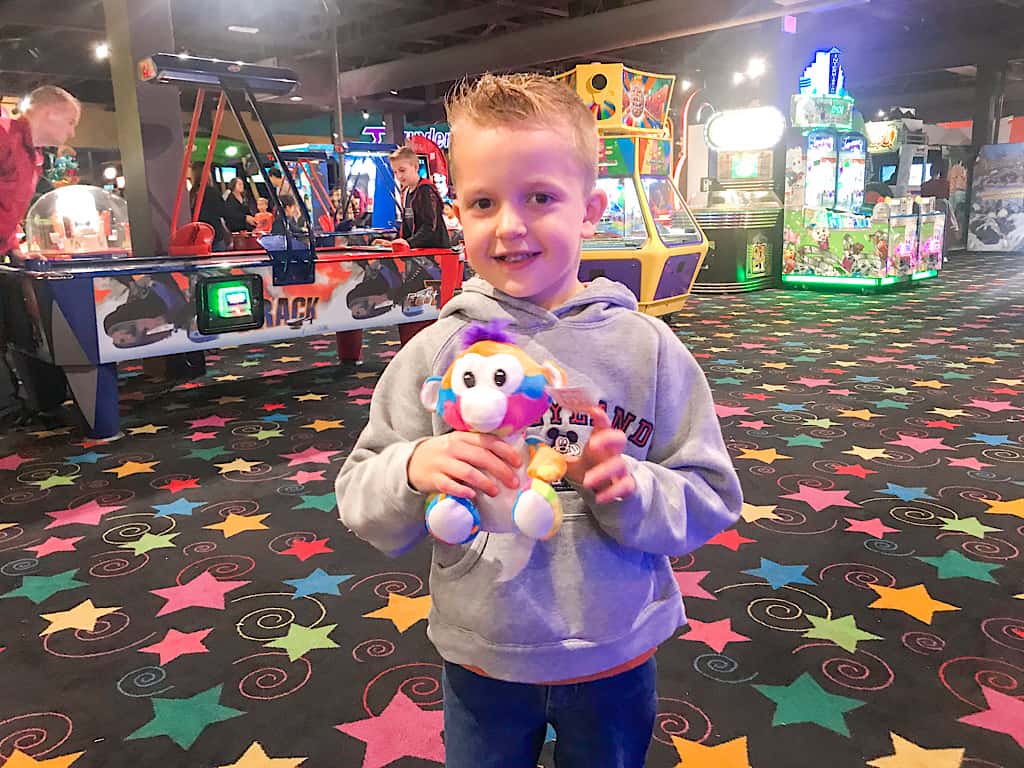 If you have the chance to play there, make sure to try the churro donuts!
Knott's Berry Farm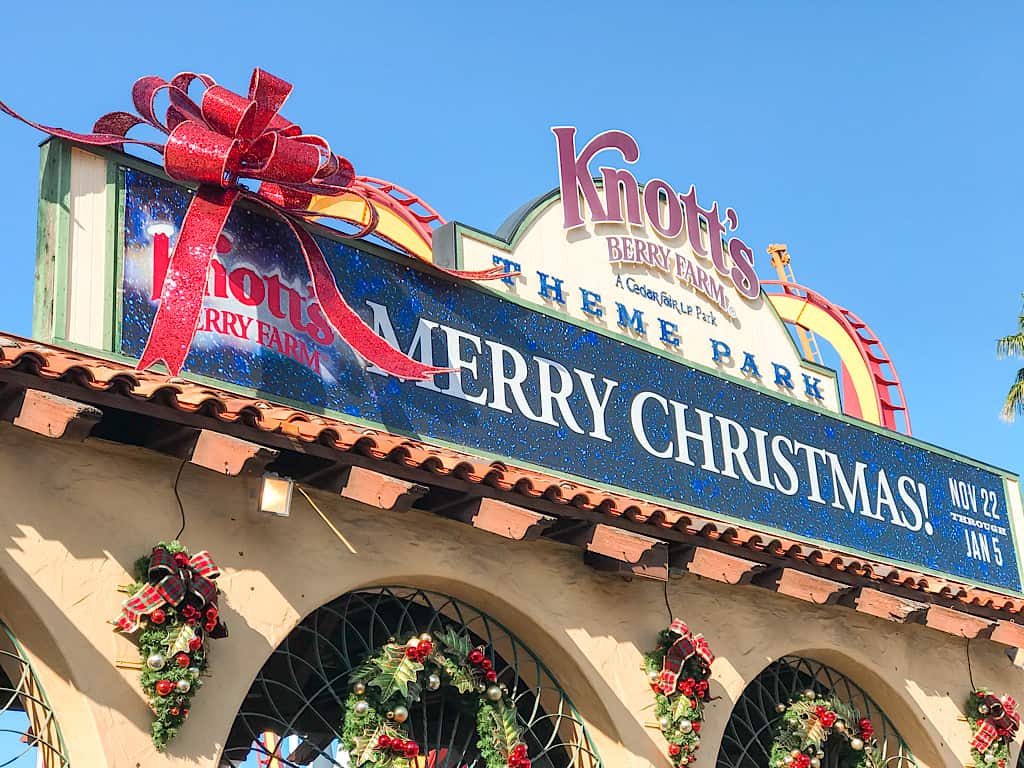 I love Knott's Berry Farm amusement parks and it is a popular spot for families in Orange County! My all-time favorite roller coaster, Ghost Rider, can be found in this fun theme park.
It is the longest and fastest wooden roller coaster on the West Coast. All I can do is laugh the whole time I'm riding it!
I grew up coming to this park with my family and am happy that my kids love it as much as I do.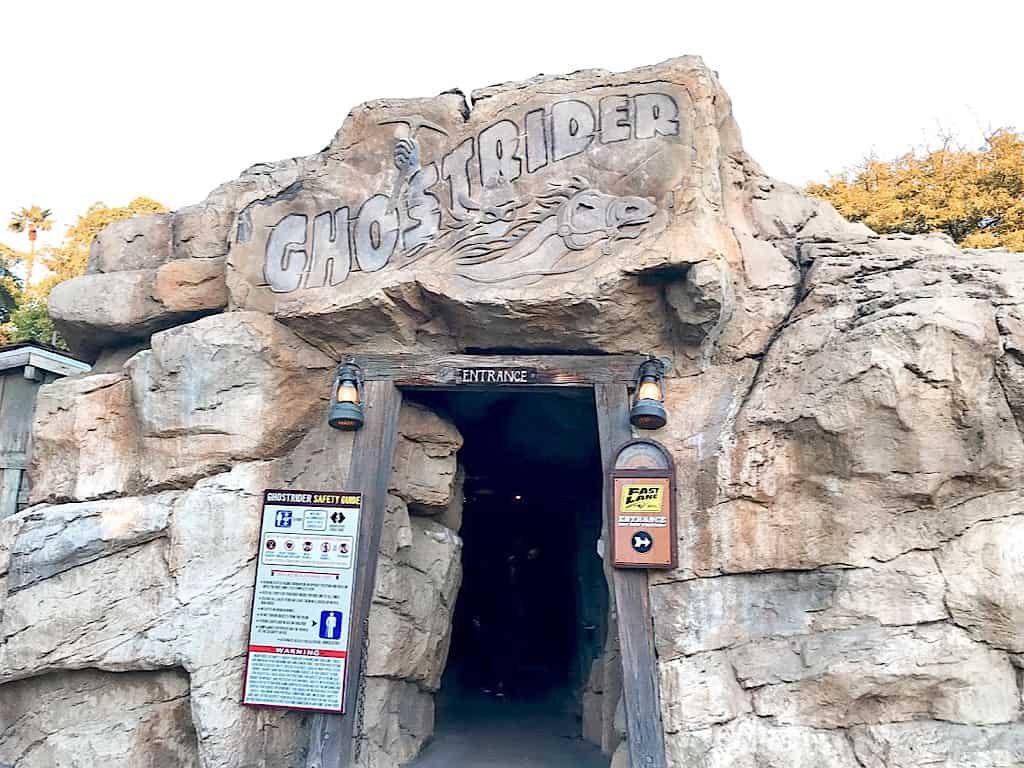 Thrill Rides
My husband and older boys LOVE thrill rides and roller coasters like Xcelerator The Ride®, La Revolucion, Silver Bullet, and Montezooma's Revenge.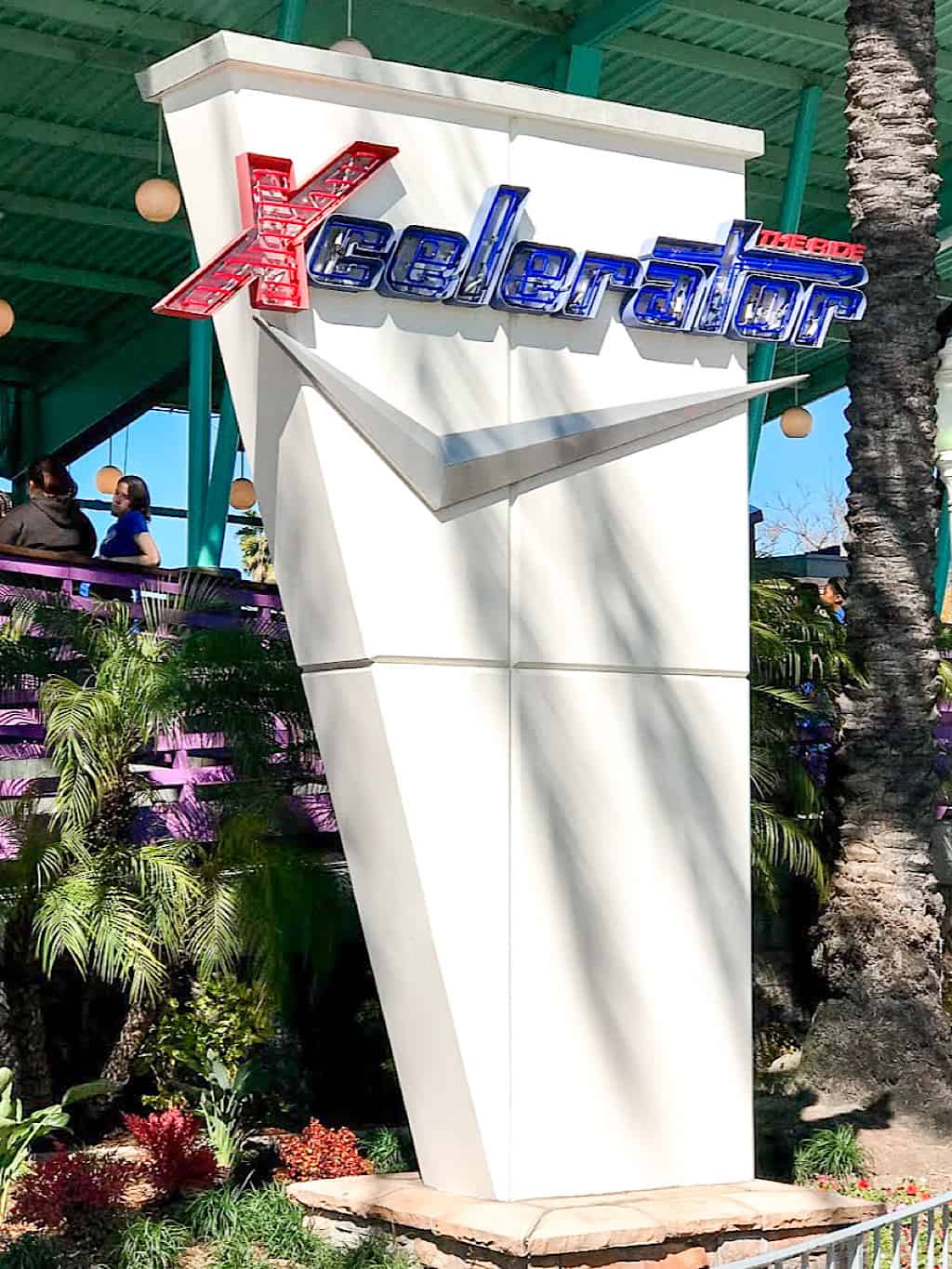 Kids Rides
Young kids will love exploring Camp Snoopy. His favorite adventures were Linus Launcher, Camp Bus, and Rocky Mountain Trucking Company.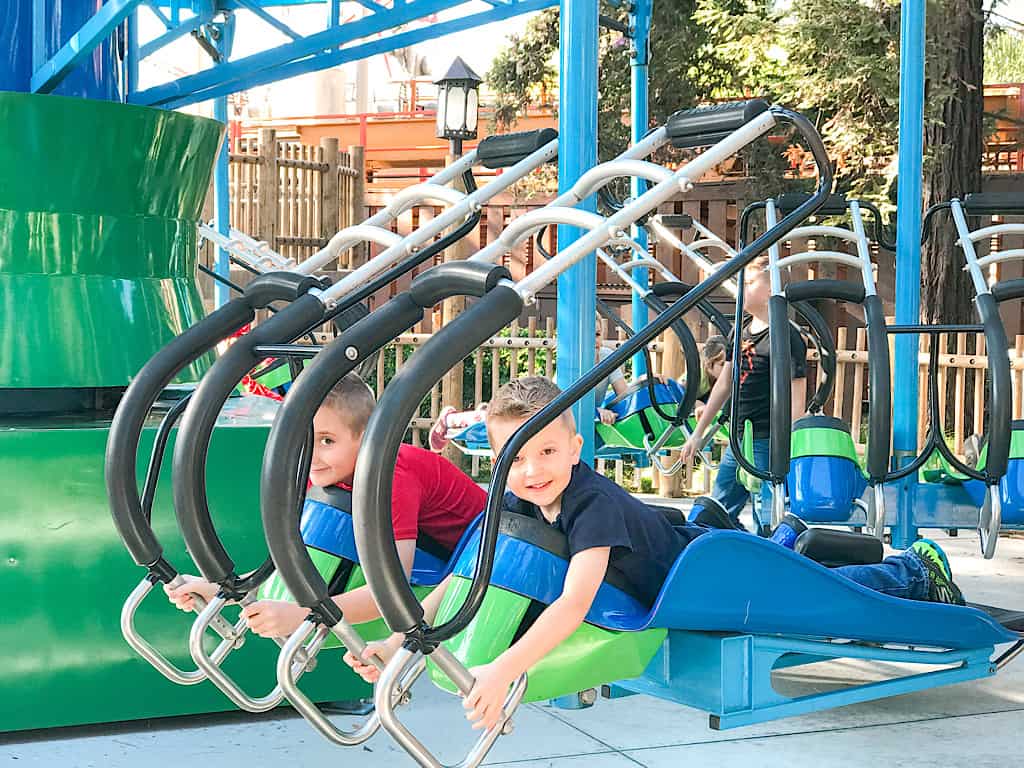 Family Rides
I also love that Knott's Berry Farm has attractions and shows that our family could experience all together.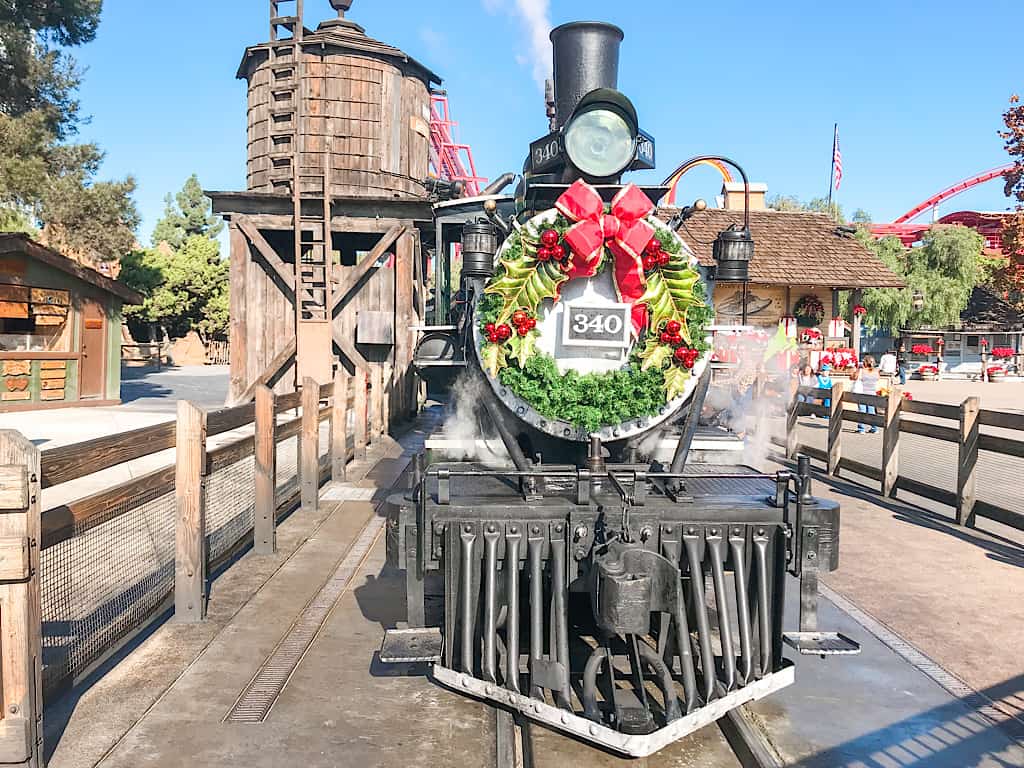 Calico Railroad, which is an authentic Denver and Rio Grande Narrow Gauge train used in the early 1900s, is a great attraction for everyone..
It's fun to ride around the theme park, and you might even meet a couple of cowboys on your journey!
Wheeler Dealer Bumper Cars was another favorite. It is a classic bumper cars ride that will have you twisting and turning all over the place.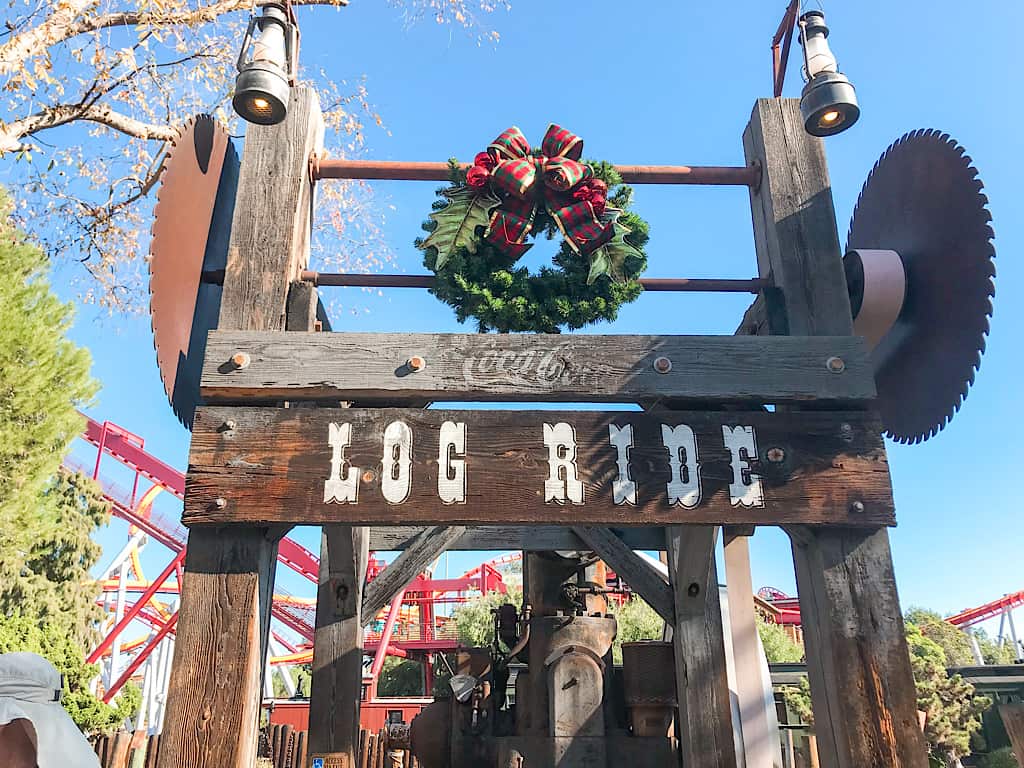 The Timber Mountain Log Ride has been a favorite of mine since I was a child. There is nothing more exhilarating than making the final drop and creating a giant splash!
If you happen to visit during the summer, be sure to check out Knott's Soak City Water Park as well!
Knott's Berry Farm Dining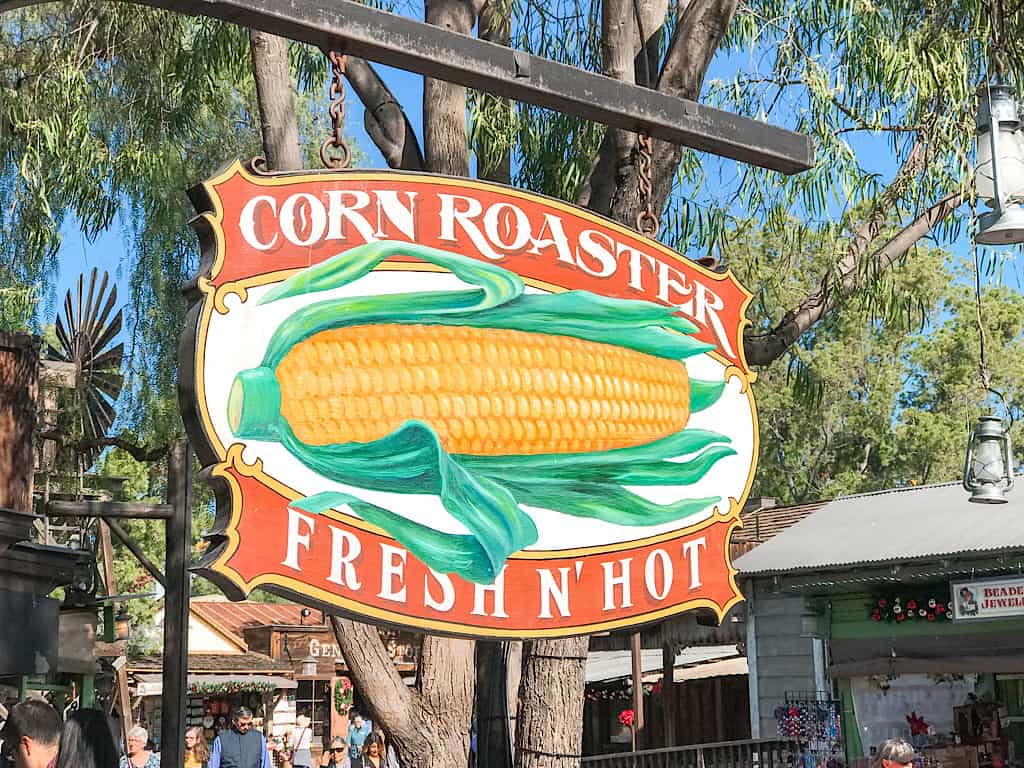 Knott's Berry Farm offers a couple of different dining passes for their guests. The All-Day Dining and the Single Meal Deal.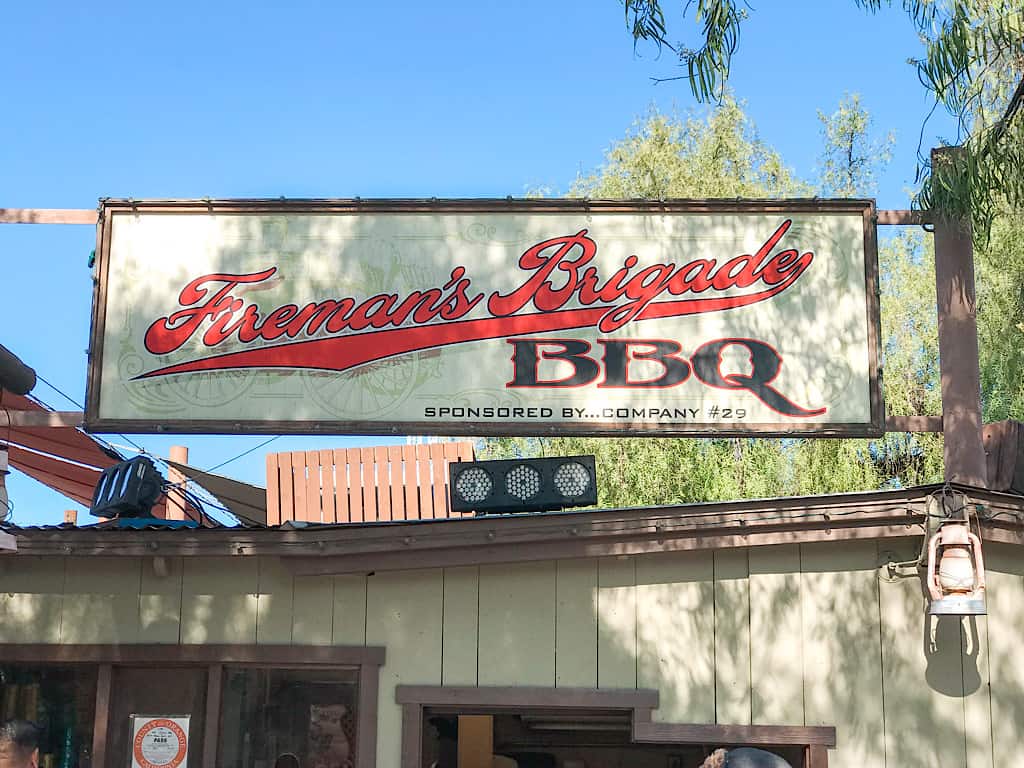 Our family had the Single Meal Deal for lunch and we choose to redeem it at Fireman's BBQ located in the heart of Ghost Town.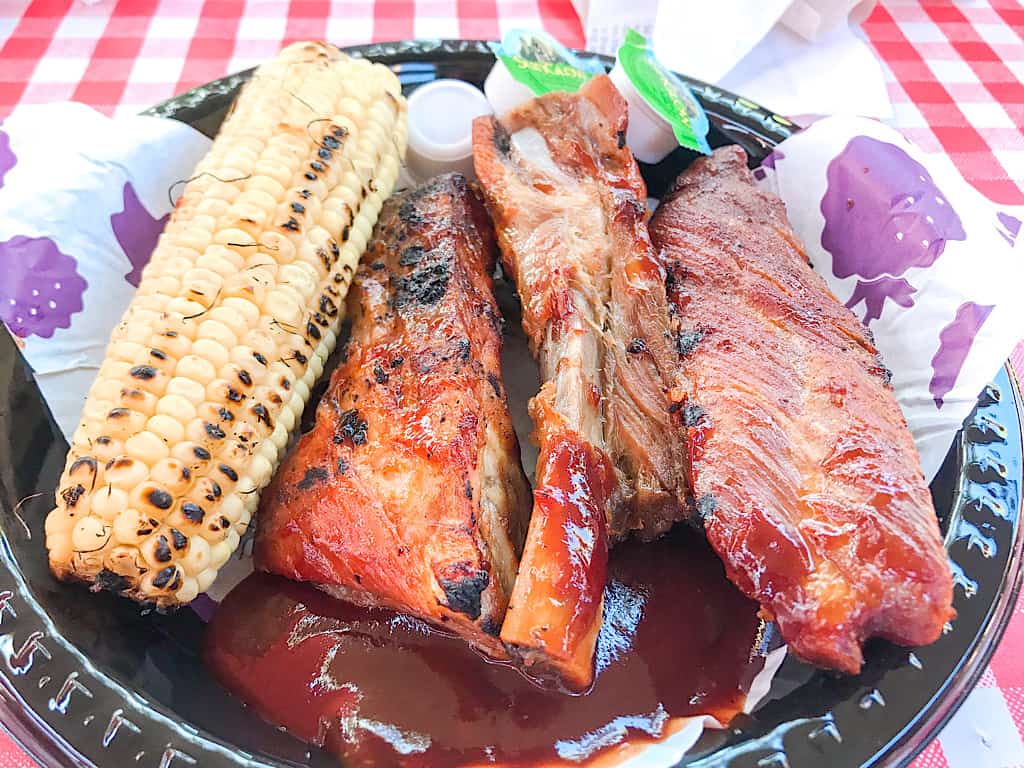 I definitely recommend the Ribs, Fire Roasted Corn on the Cob, and the Boysenberry Punch. Don't forget to check out the famous Mrs. Knott's Chicken Dinner Restaurant near the entrance to the park, if you get the chance.
Pirates Dinner Adventure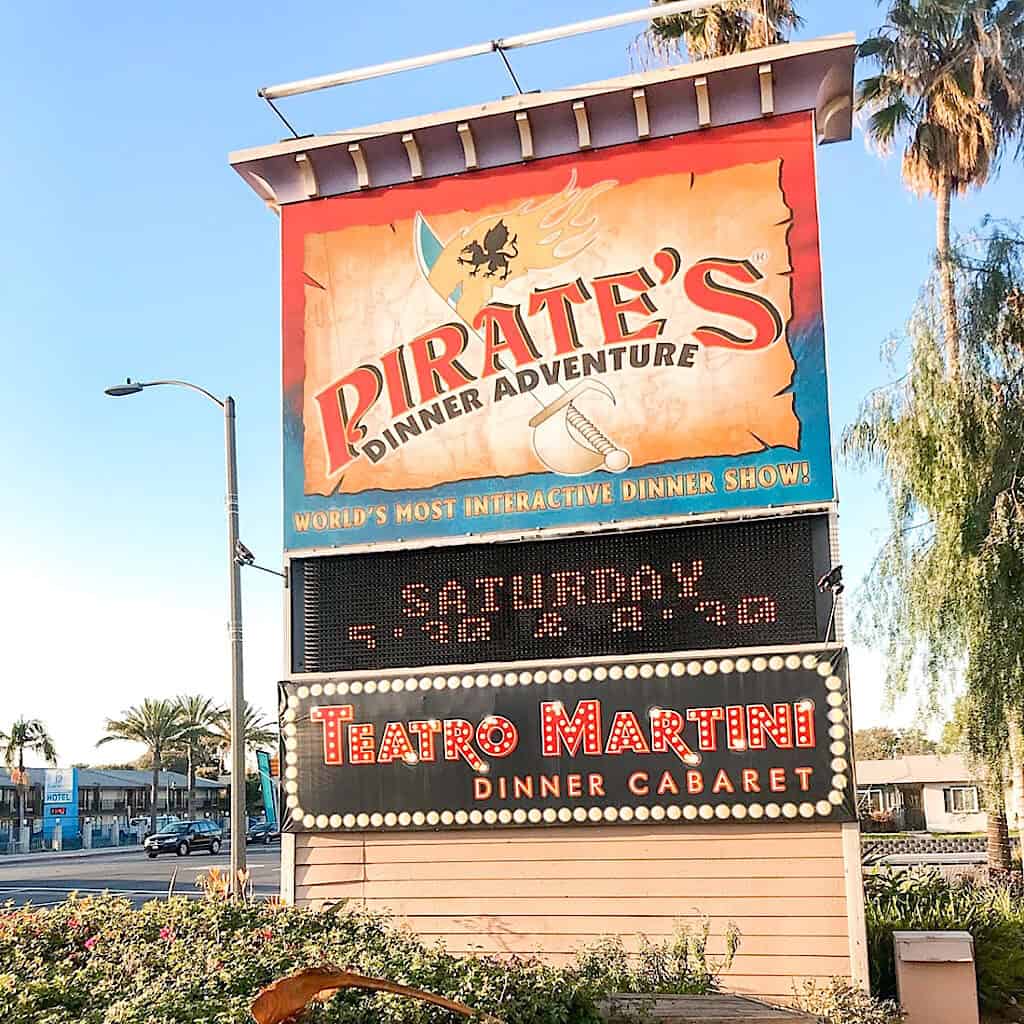 The Pirates Dinner Adventure in Buena Park, California can be classified as an attraction and a restaurant in one.
When entering the adventure, you are immediately immersed in everything pirates.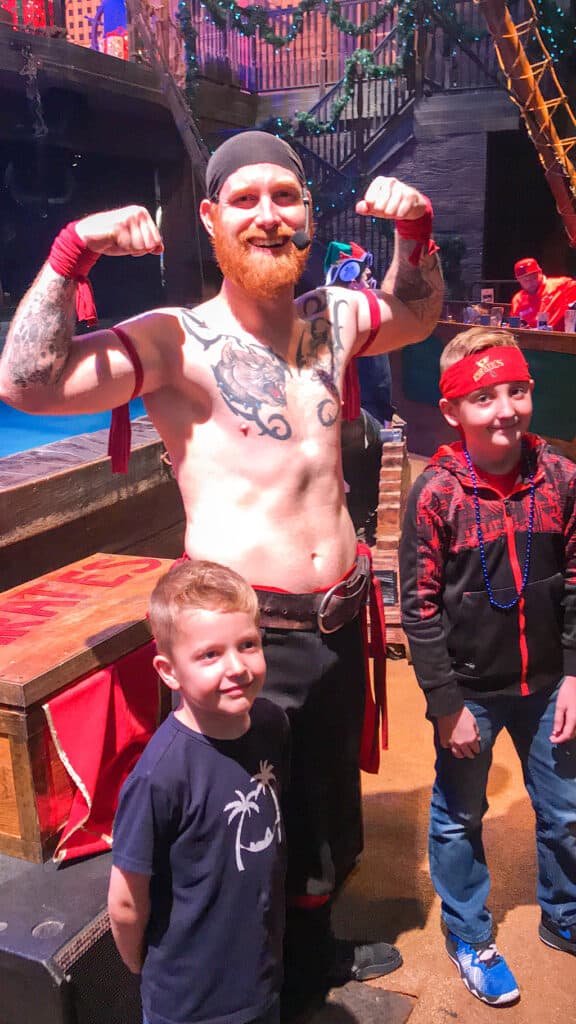 From the pre-show activities, to the entertainment, and dining, there is no way your entire family won't have a great time!
What's for Dinner?
Inside the theater, there is a large replica of a pirate ship complete with a lagoon surrounding the stage.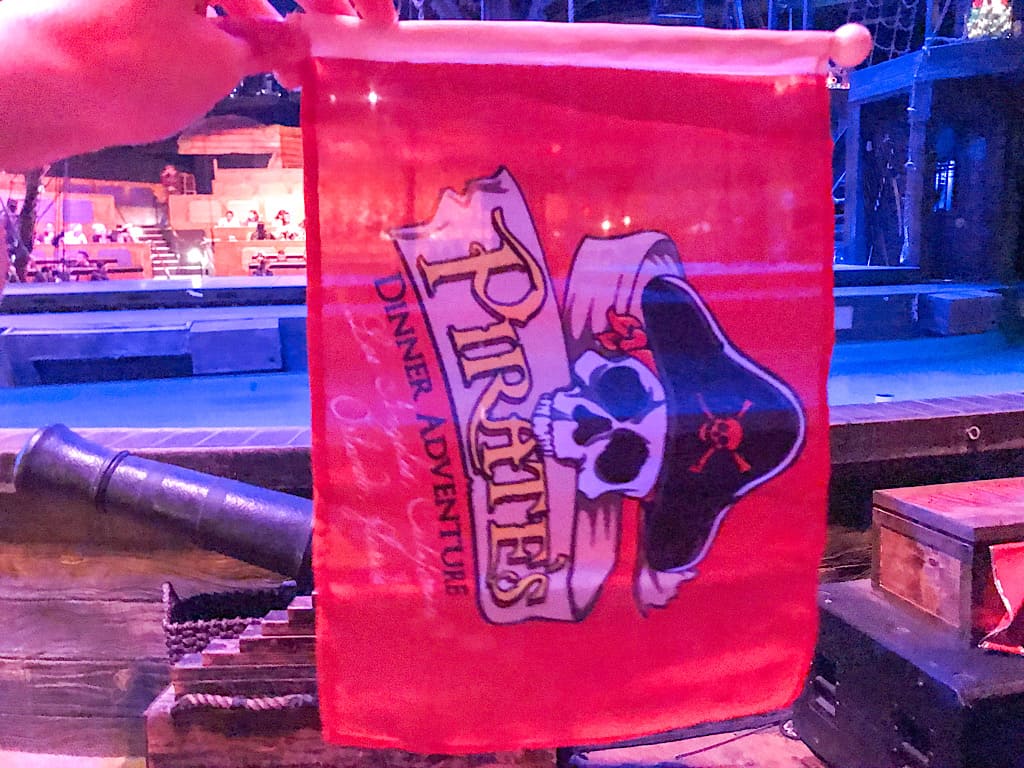 When you are assigned your seat for dinner, you are seated in a section and given a color.
Each person is given a flag that represents your pirate and color.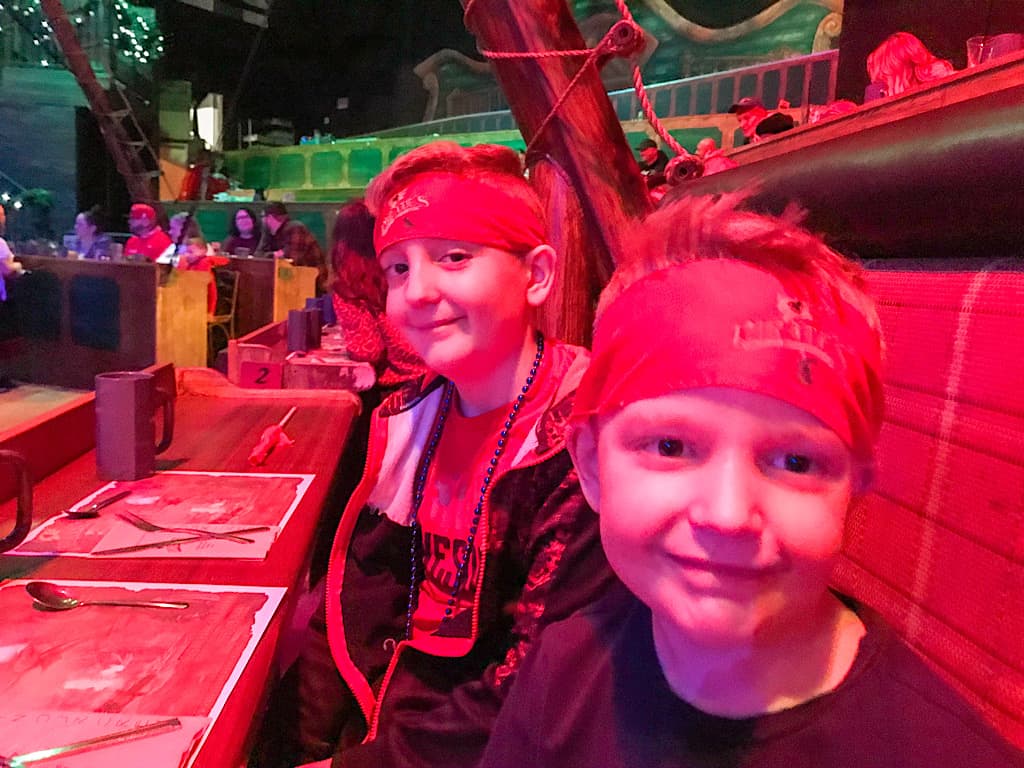 Dinner consists of a three course meal. A salad or soup to start, a chicken and shrimp entree for the main course, and chocolate cake for dessert.
My kids were given a hamburger slider, macaroni and cheese, mashed potatoes, and fruit.
Pirate's Dinner Adventure Show
The show we got to see was the Christmas version. Santa is kidnapped by bad pirates and it is up to the other pirates to save him, Mrs. Claus, and Christmas!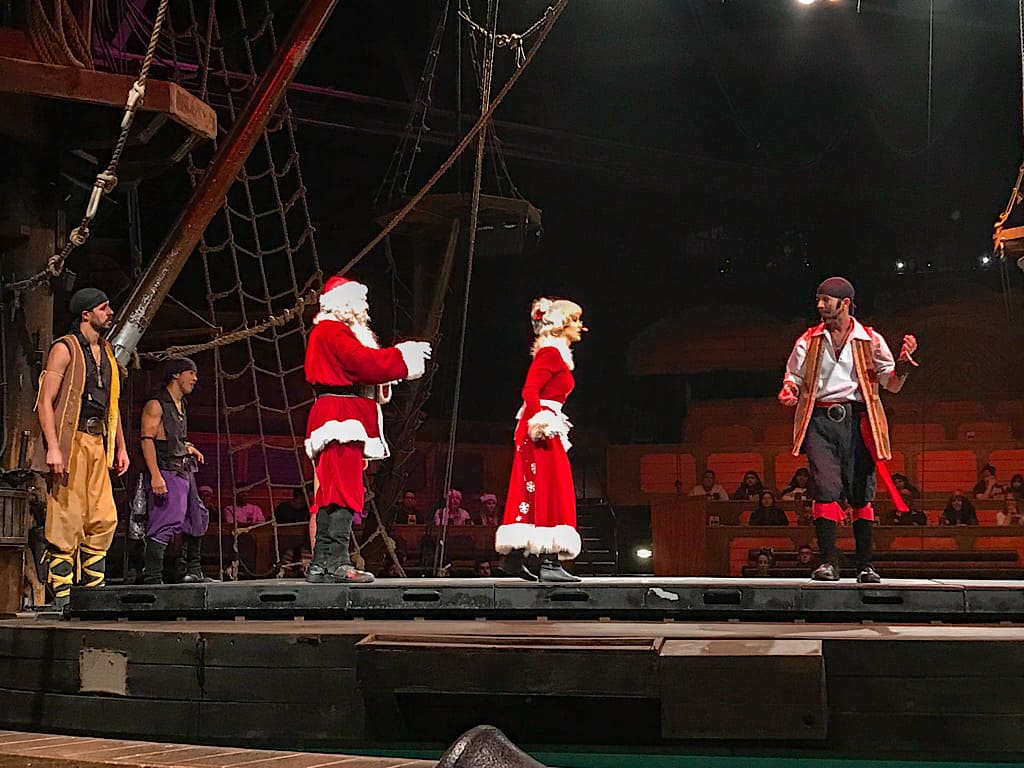 The pirates do a great job involving the audience as well. I was able to toss little basketballs up to our pirate so he could try to win a challenge.
My son was chosen to ride in a boat around the stage while another pirate sat in his seat and began to eat his dinner. It was hilarious!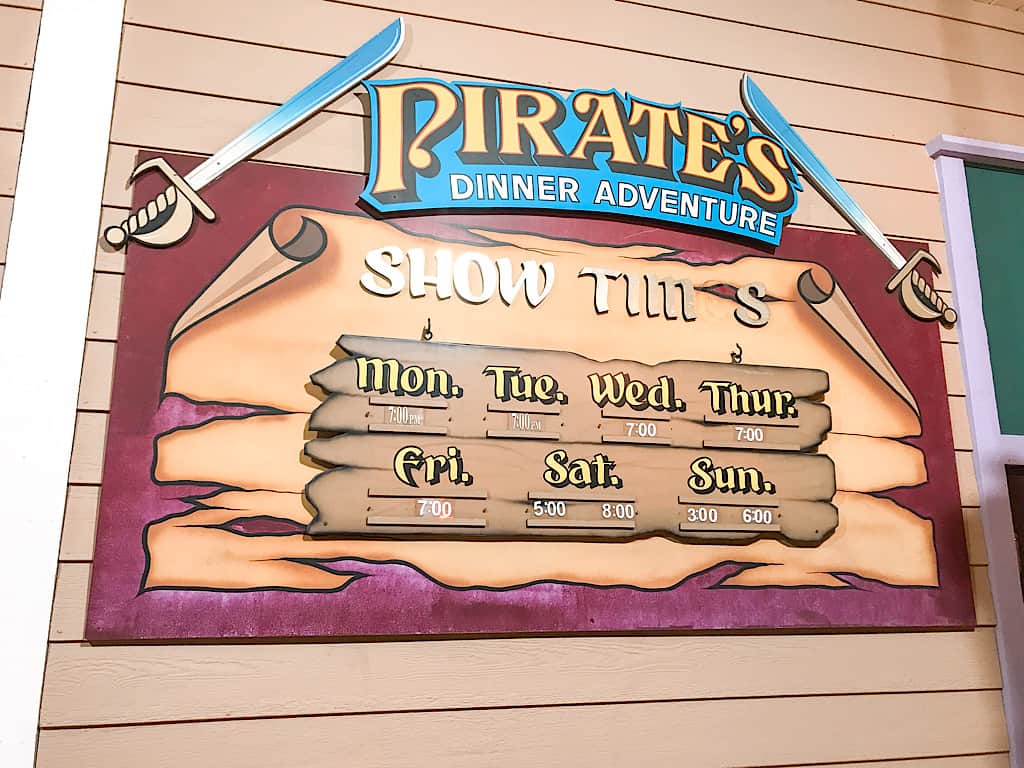 To check out available dates, times, prices, and to purchase tickets, visit www.piratesdinneradventureca.com.
Ralph B Clark Regional Park – Interpretive Center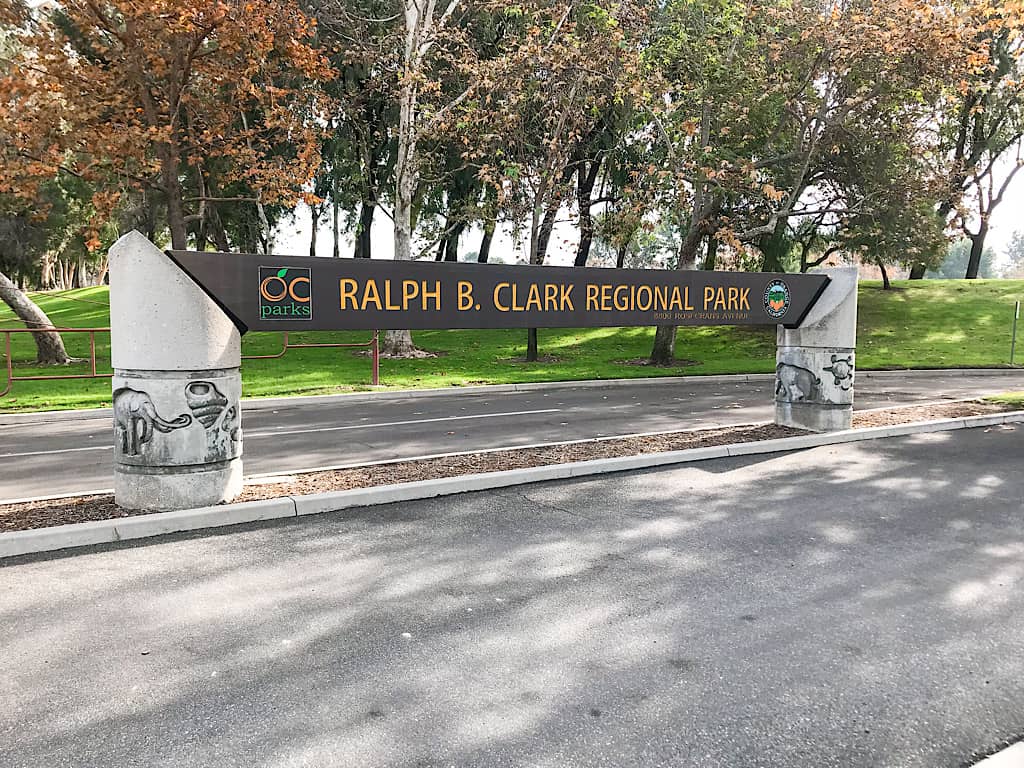 If you're looking for a place to relax and be active at the same time, Ralph B Clark Regional Park is a great place to visit!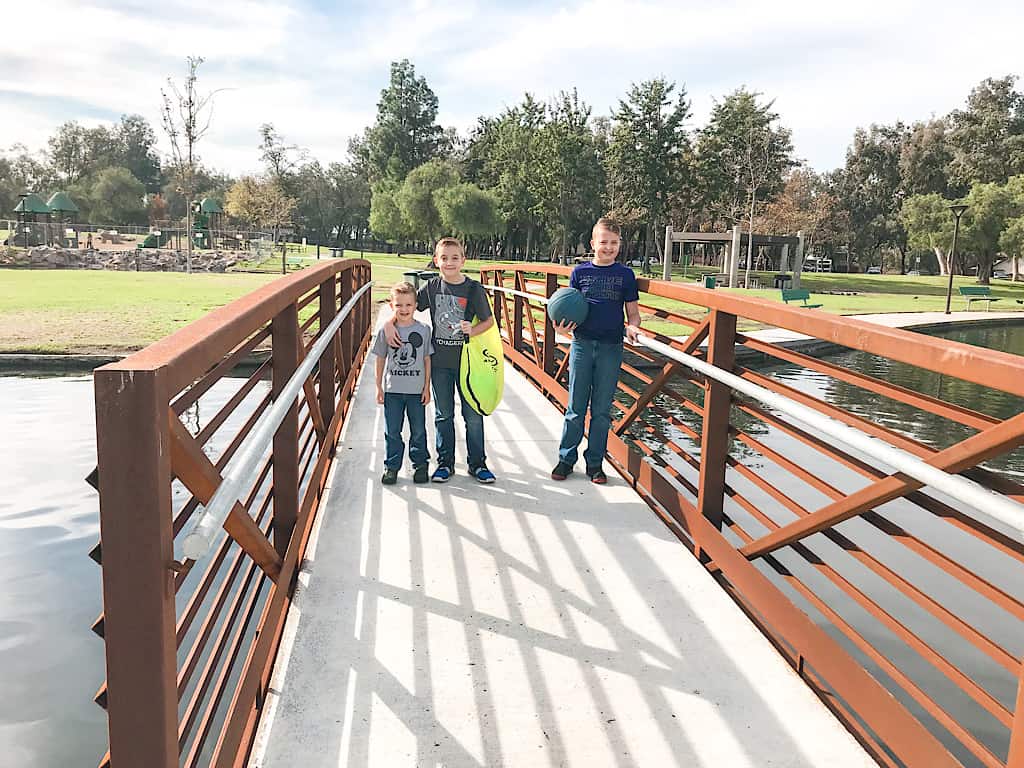 I have three energetic little boys who loved taking a break and getting a little fresh air during our visit to Southern California.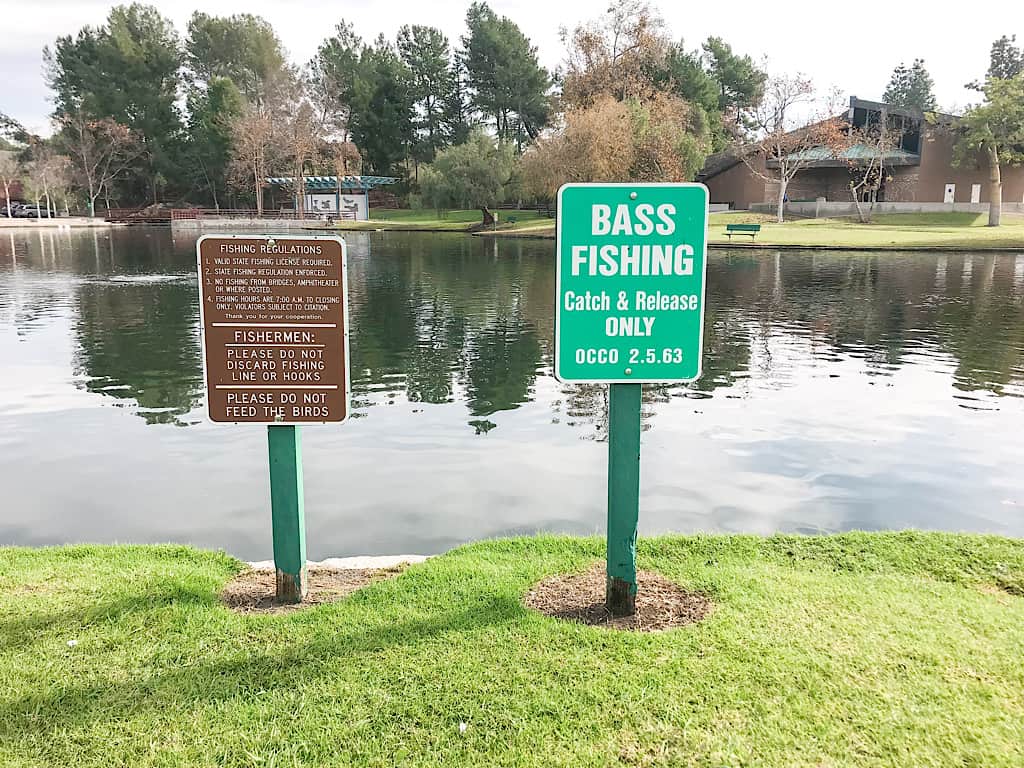 There is truly something for everyone at this park from hiking and biking trails, fishing, tennis, baseball, and volleyball courts to play grounds, shaded picnic tables, and lots of open space that my boys used to play soccer.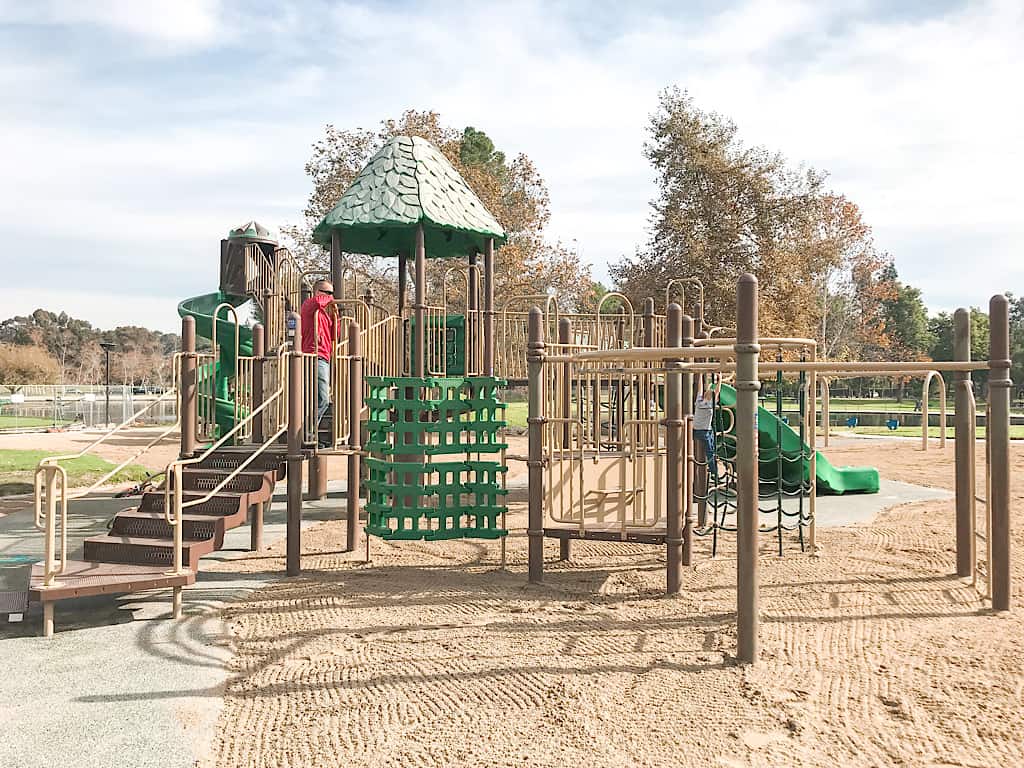 For more information and driving directions, visit www.ocparks.com/parks/Ralph.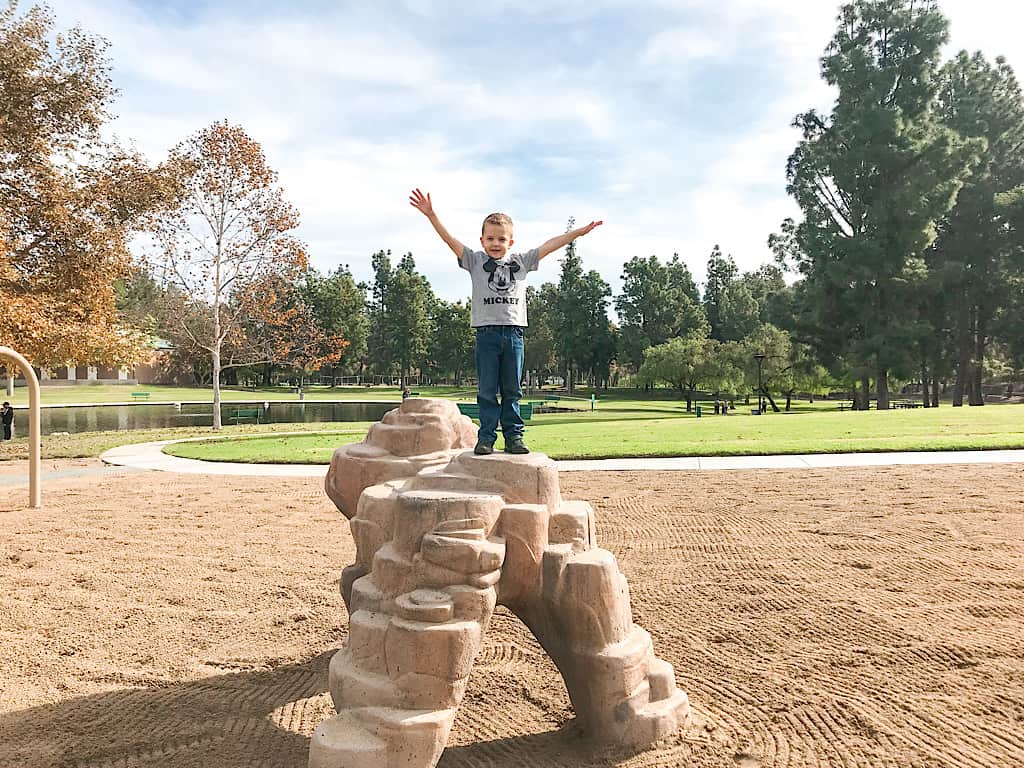 Big Air Buena Park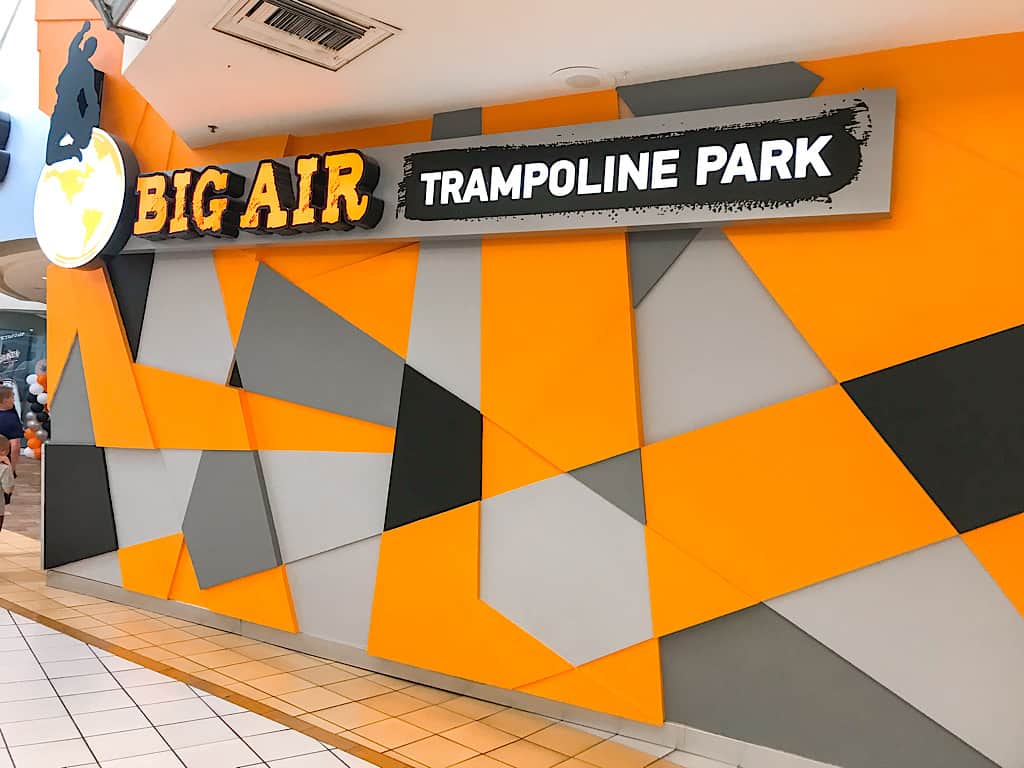 My family LOVED Big Air Buena Park! I knew my boys were going to love it, but I didn't know how much fun my husband and I were going to have as well.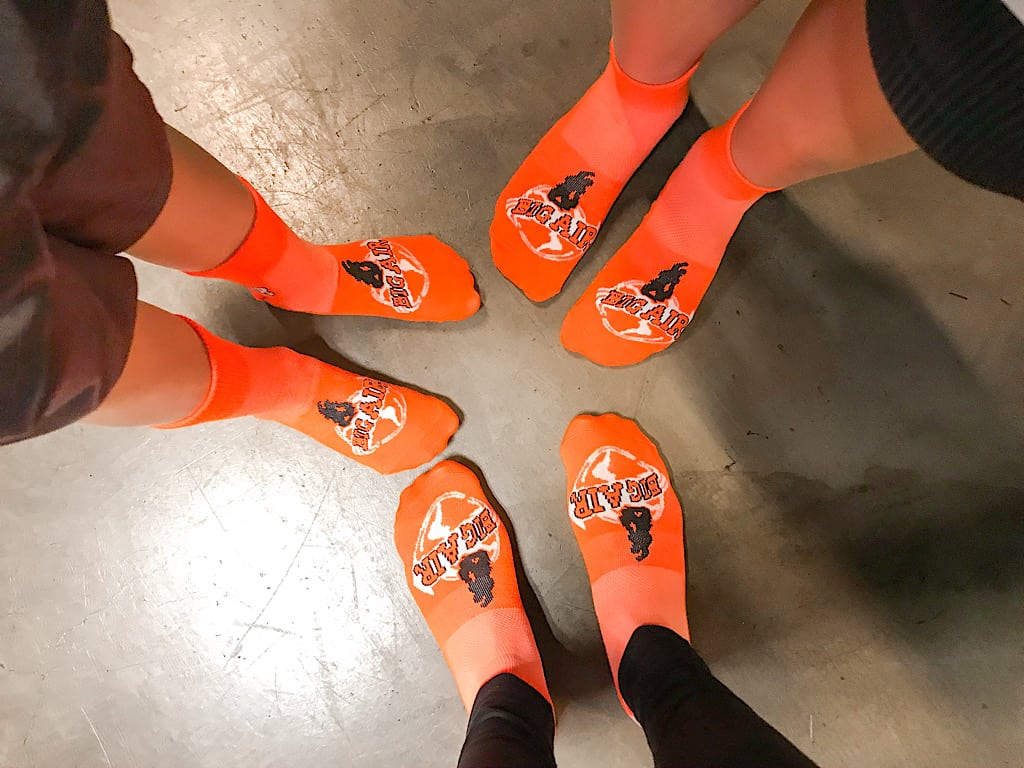 Big Air is located at Buena Park Downtown mall and is not just an average trampoline park. Here are some of the fun things you can experience: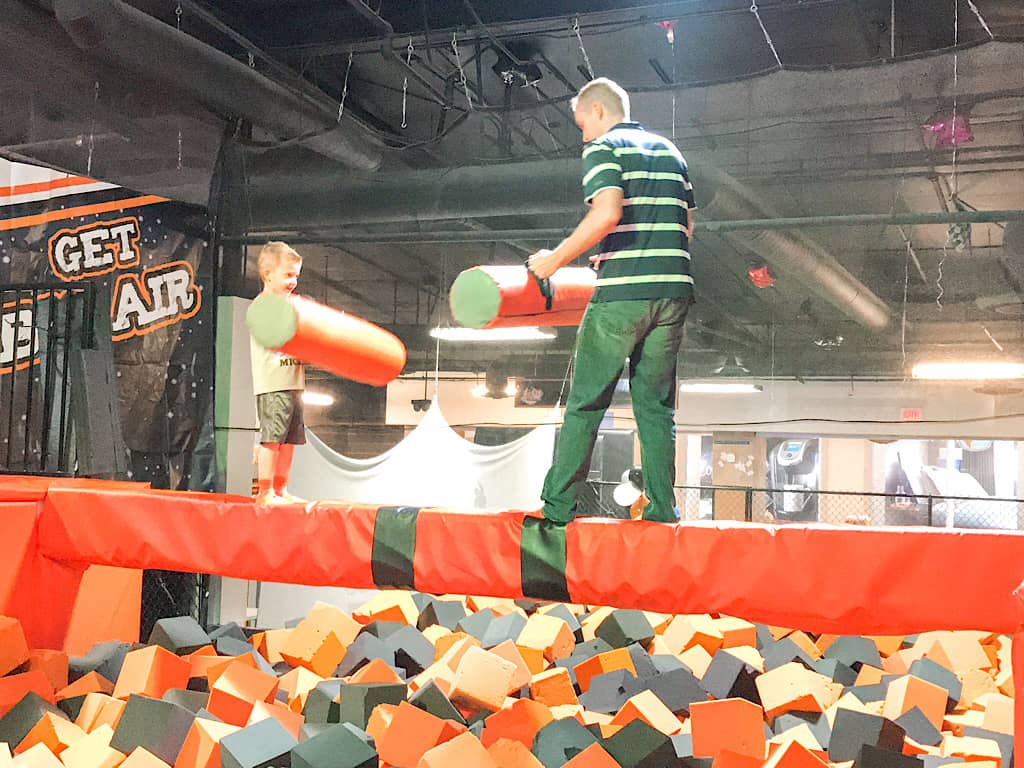 Zero-Gravity Court
Martian Mountain
Space Slam (the favorite of my boys)
Haley's Dodge-It
The Launch Pad
The Big Bull (my husband's favorite)
Galactic Gladiators Battle Beam (my favorite and a great way to get out some aggression)
Lil' Air which includes fun-size versions of the bigger attractions specifically for little ones
Medieval Times
Medieval Times is also one of those attraction/dinner experiences in one and is a great experience for the whole family.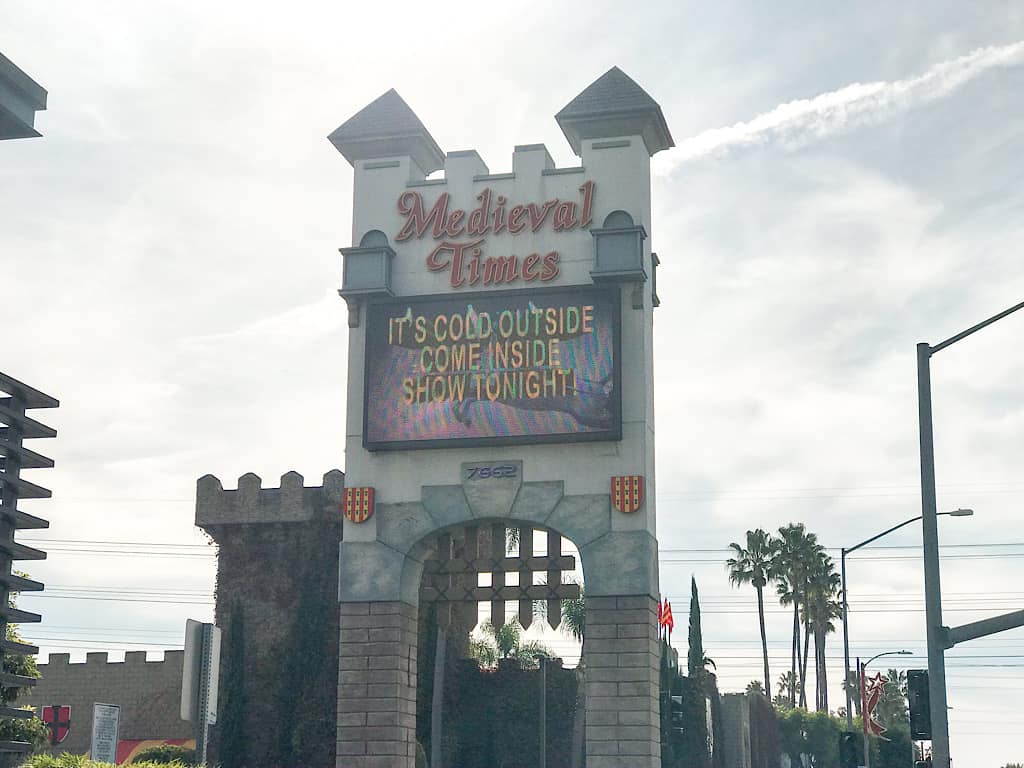 Before the Show
Before the dinner show begins, you have the opportunity to dress up and have a medieval-style photo taken of your family.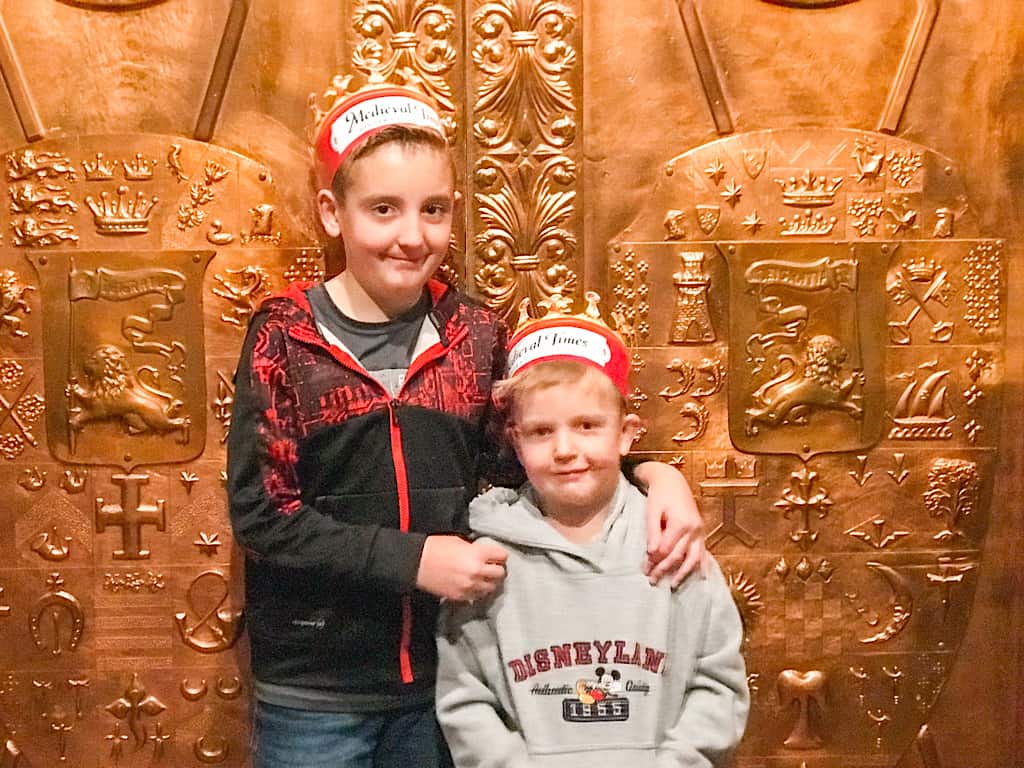 You will then enter the lobby where you may purchase drinks and souvenirs that can be used during the show.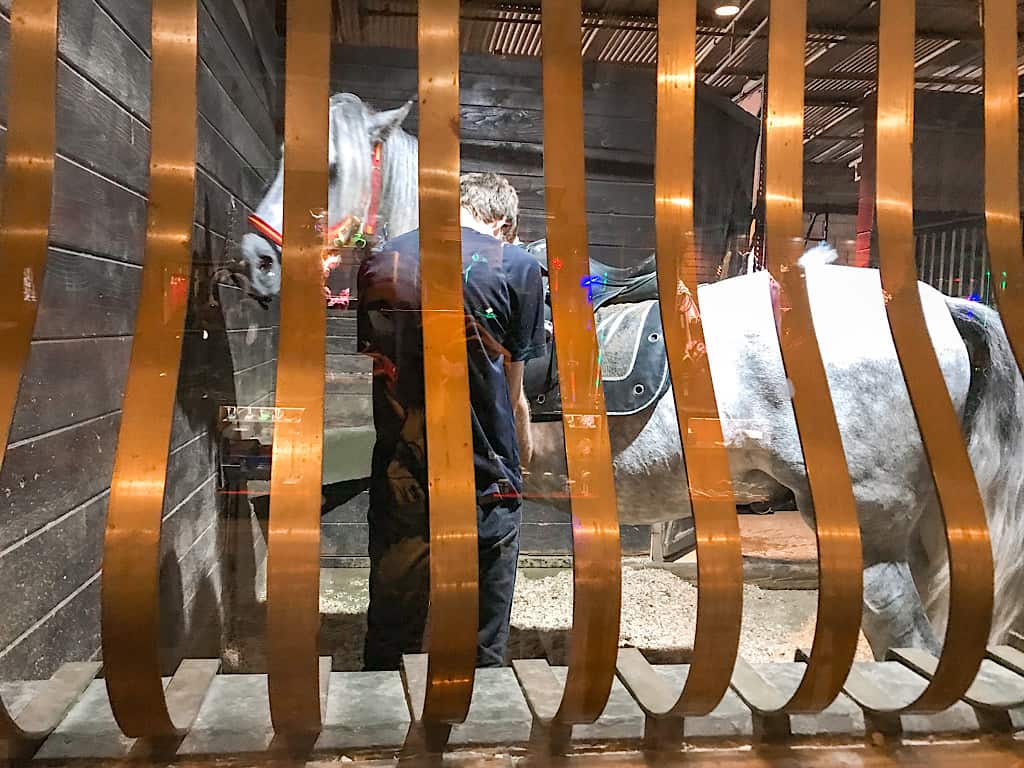 You can also take a peek at the horses that are used in the show as they prepare for their performance in the indoor stables.
We had the best time seeing these majestic animals up close!
The Show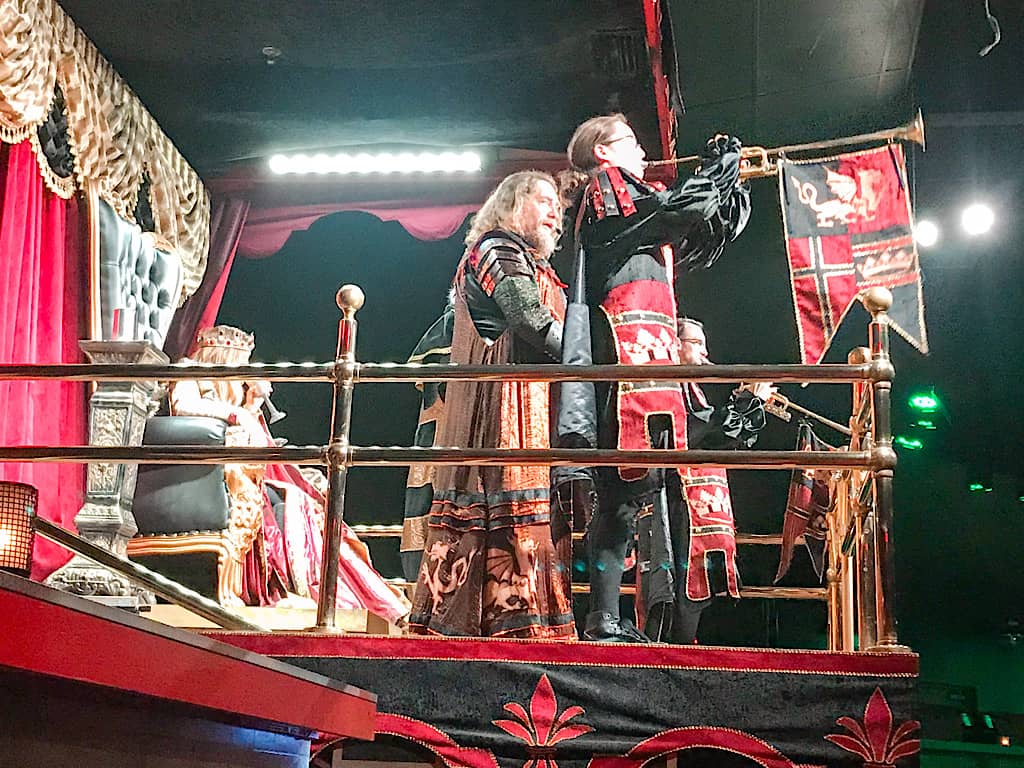 You will be seated in a section that is assigned a color, similar to the Pirates Dinner Adventure. We were in the red section and cheered for the Red Knight.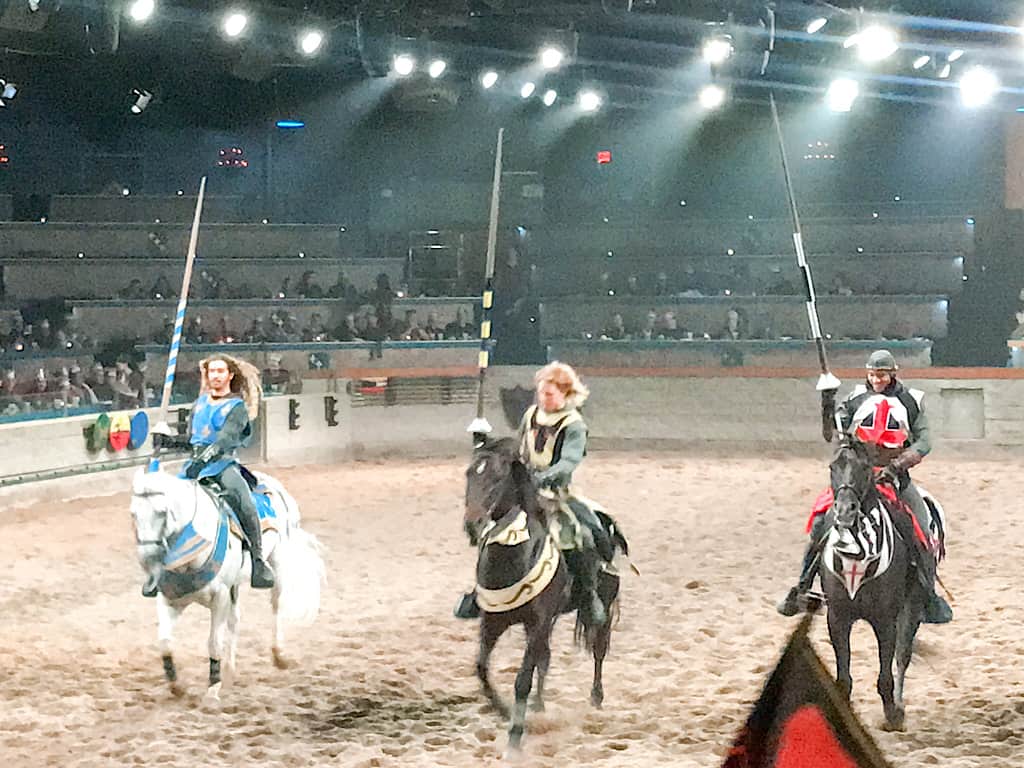 The Knights take turns showing off their skills in jousting competitions and hand-to-hand sword fights and you will see amazing tricks performed by the talented horses.
Medieval Times Dinner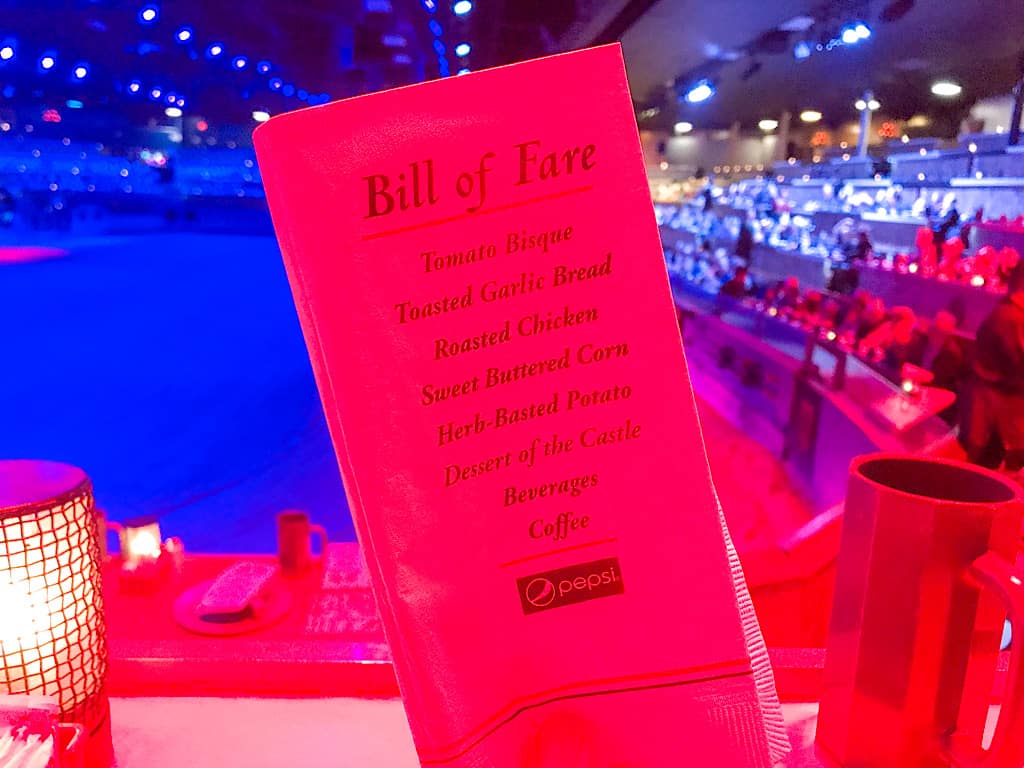 Our three-course meal consisted of tomato bisque soup, roasted chicken, herb-basted potato, garlic bread, sweet buttered corn on the cob, and ice cream for dessert.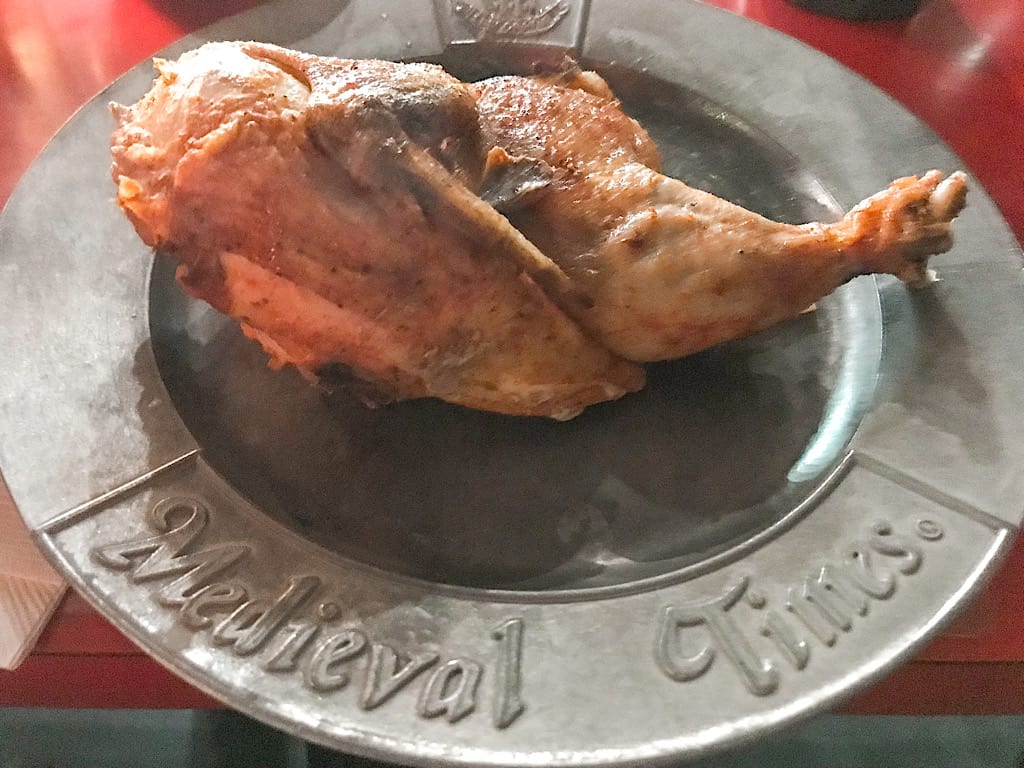 More Orange County Activities:
Read my Disneyland Resort tips and tricks here. Heading to San Diego? Find out the Best things for kids in San Diego here.
Where to Eat in Southern California
Amber Waves Restaurant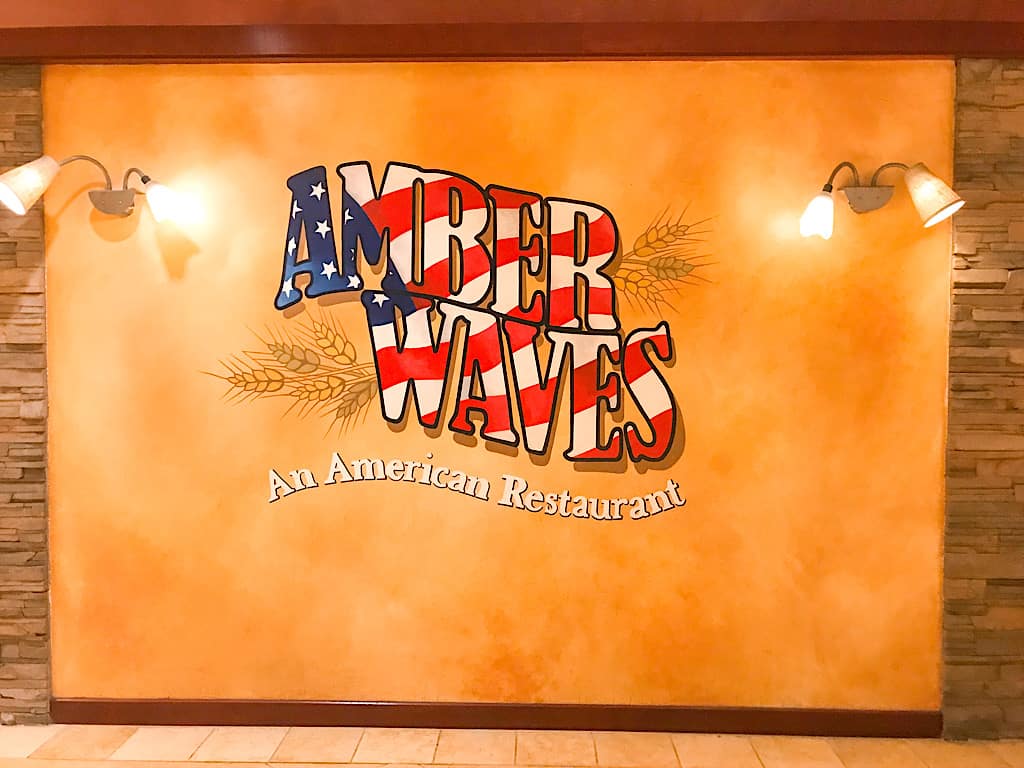 Amber Waves Restaurant and Bar is located inside of Knott's Berry Farm Hotel. They are a full service restaurant that offers breakfast, lunch and dinner.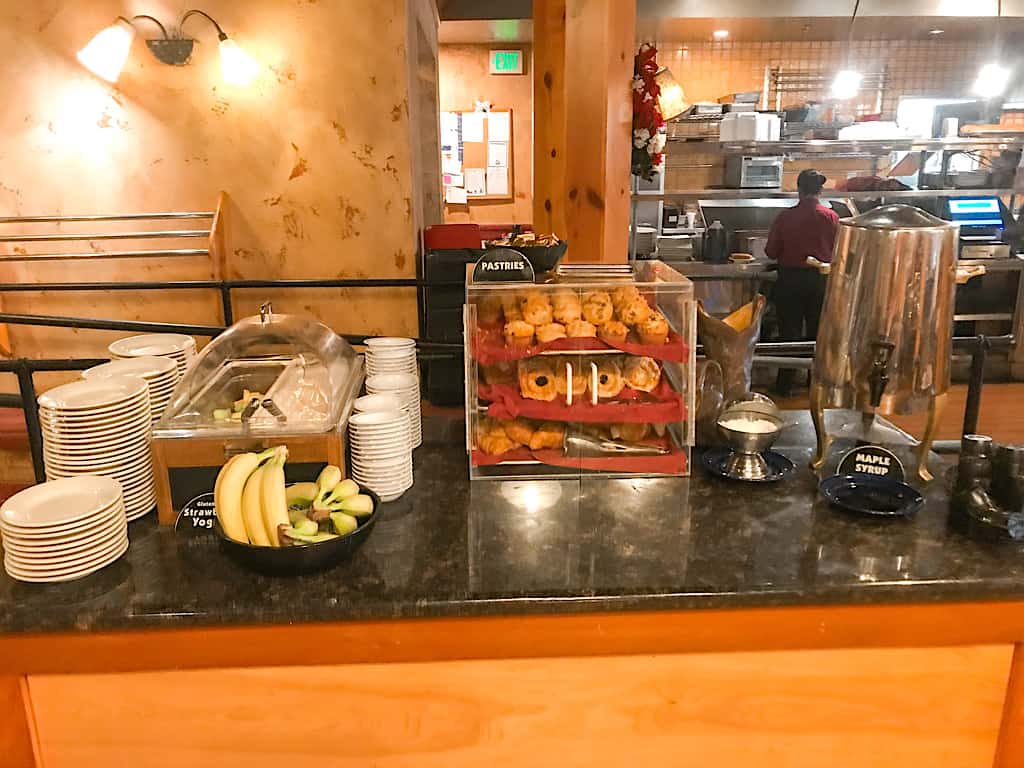 We were treated to the breakfast buffet before our day at Knott's Berry Farm and it was delicious! There were a variety of offerings including yogurt with assorted toppings, pastries, eggs, bacon, sausage, biscuits and gravy.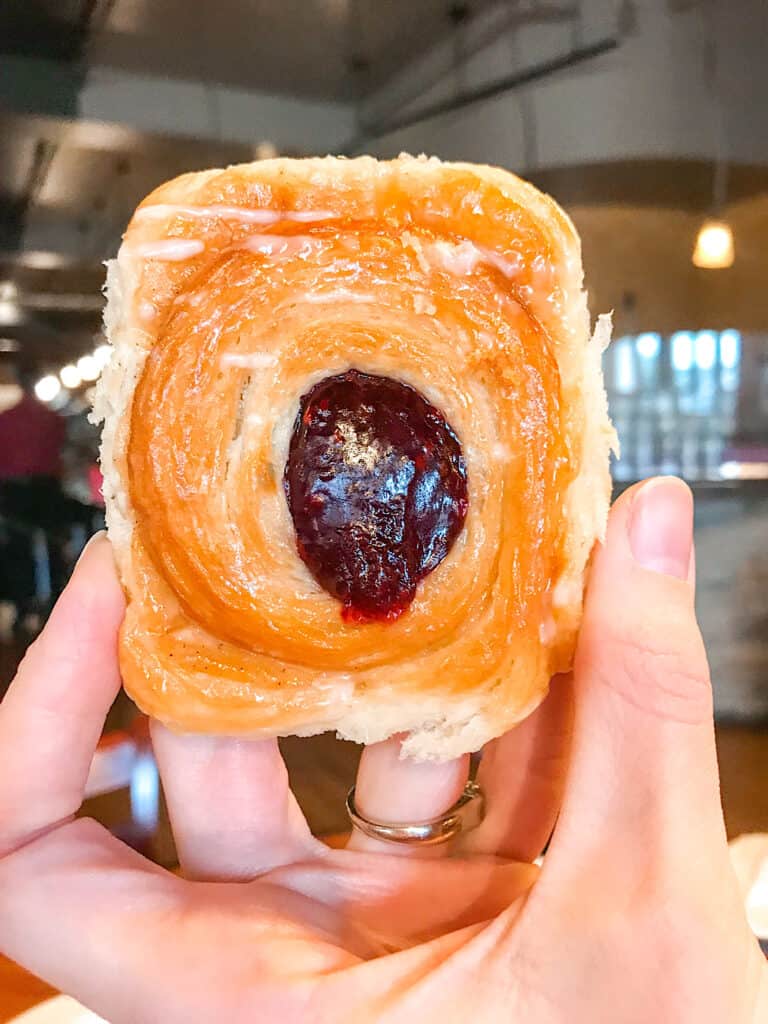 Kids under 11 eat free with a paying adult each day for lunch and dinner which can definitely be a big savings.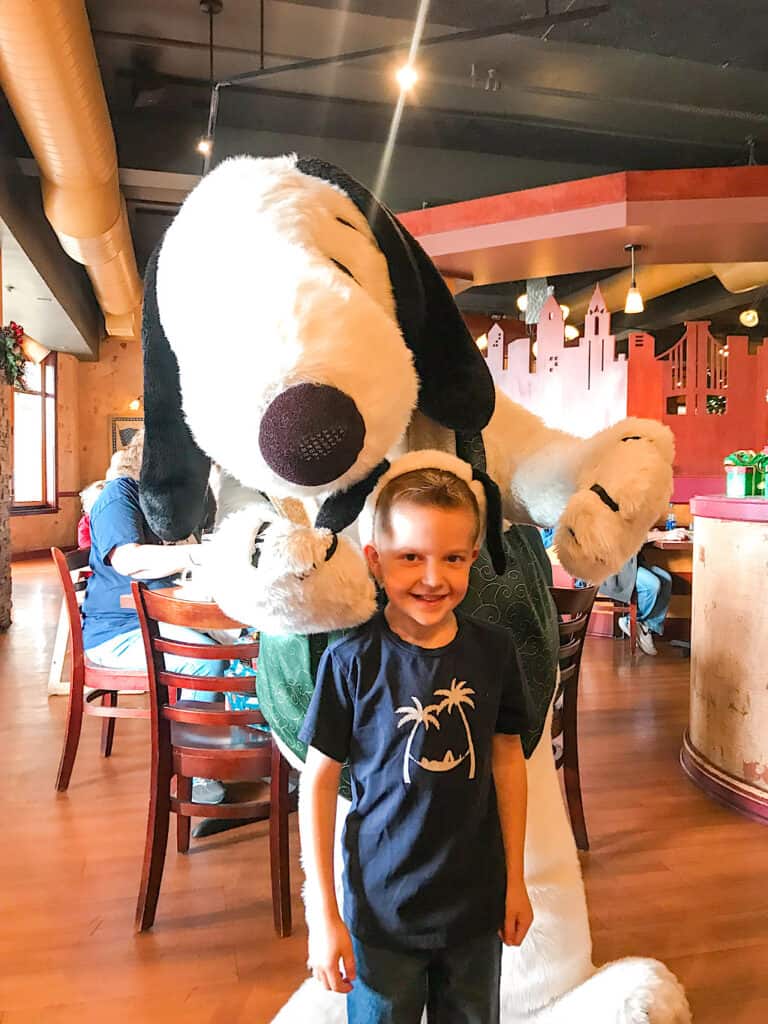 And Snoopy greets guests at the restaurant nightly from 6:00 – 6:30 and 7:00 – 7:30. He even made an appearance while we ate breakfast!
Porto's Bakery & Cafe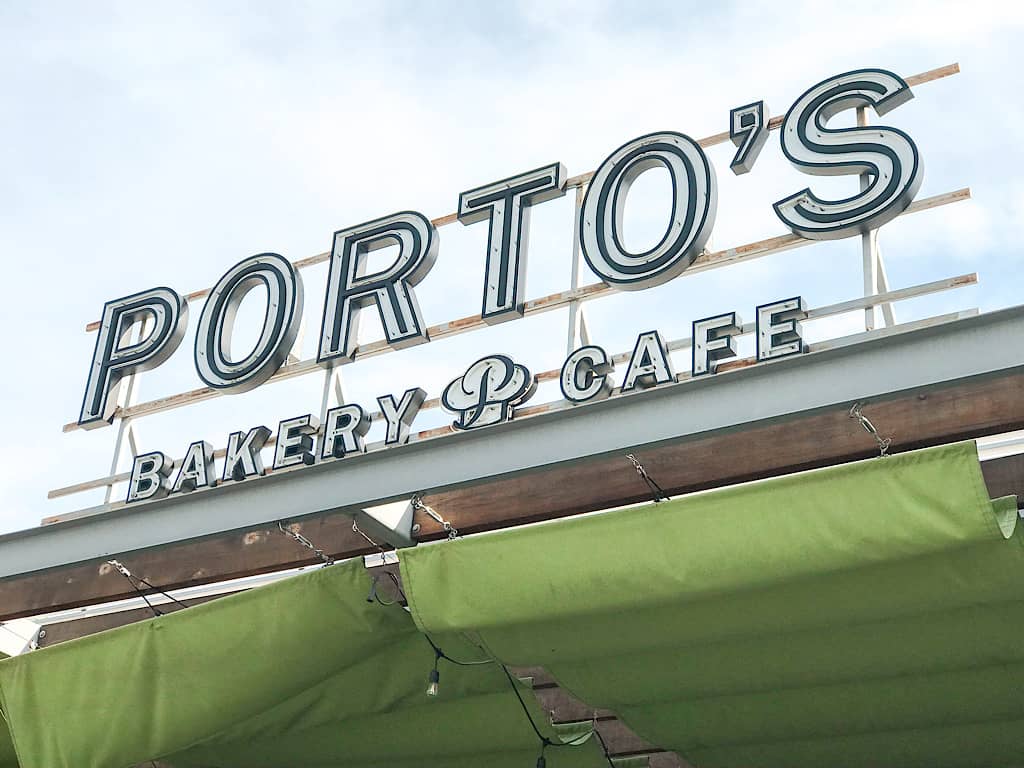 I don't know how I have never been to Porto's Bakery & Cafe before! It is definitely a destination all by itself.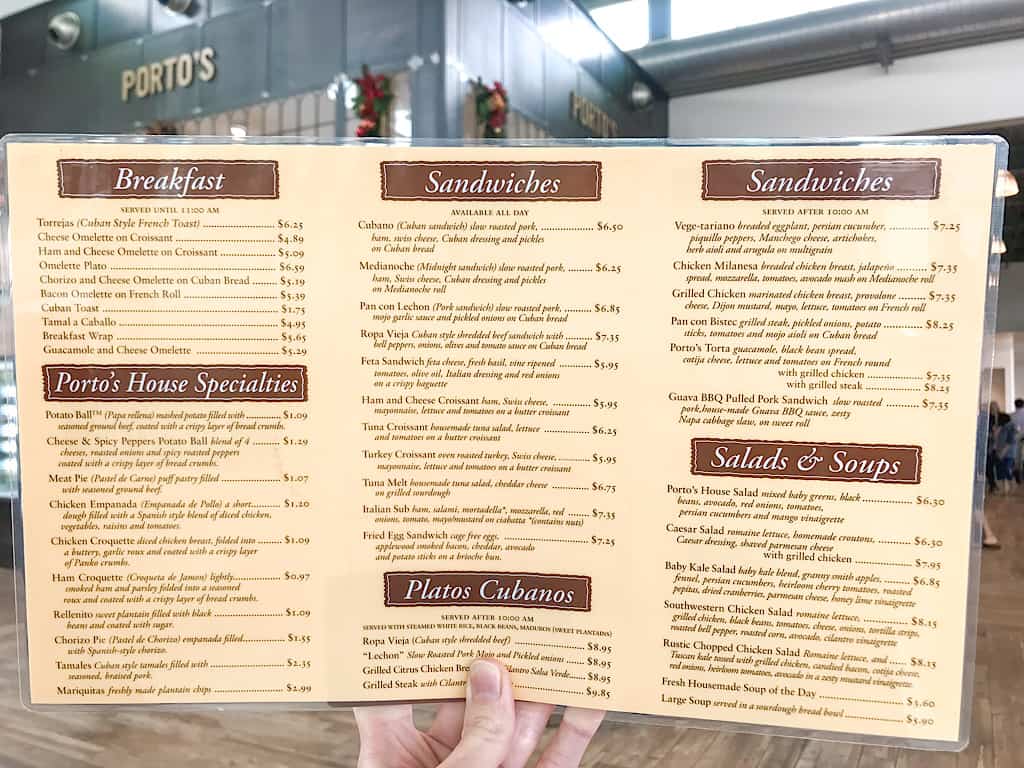 The Buena Park location is huge and can be a little overwhelming at first. Luckily, there is a nice employee at the entrance who is ready to direct you where you need to go.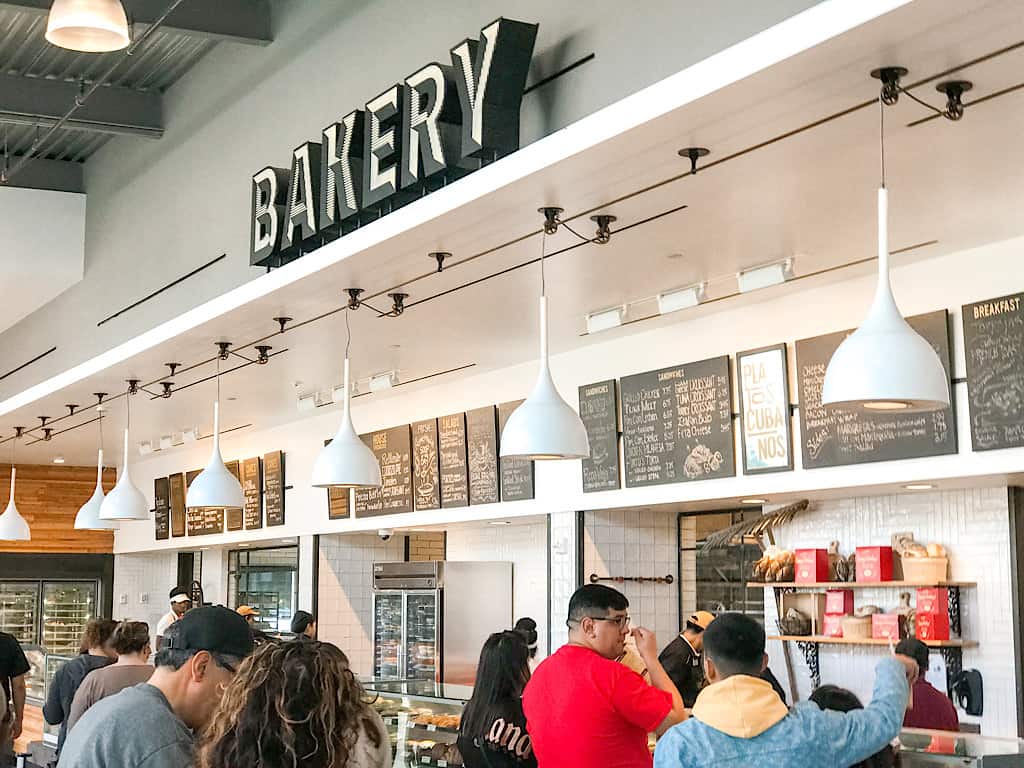 We actually ate at Porto's twice on our trip to Southern California. Once for breakfast and again for dinner. Both experiences were amazing and we found it the perfect place to grab a bite to eat with kids.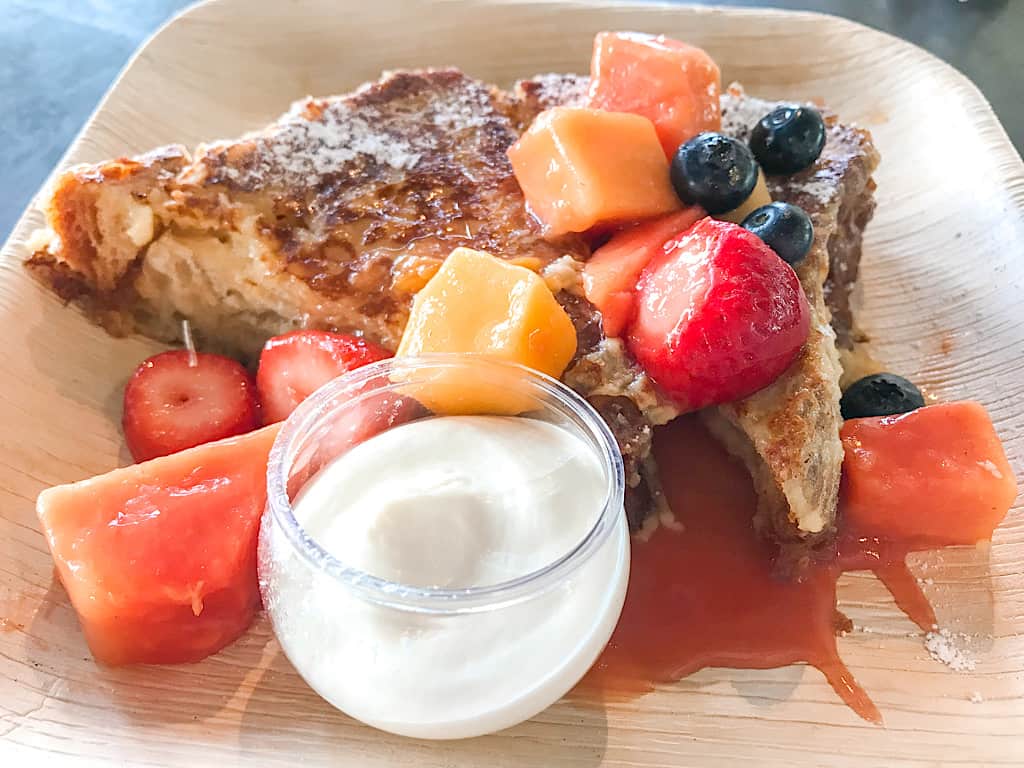 For breakfast we sampled raspberry cheesecake, carrot cake, apple strudel, and Torrejas (Cuban Style French Toast) and it was all amazing!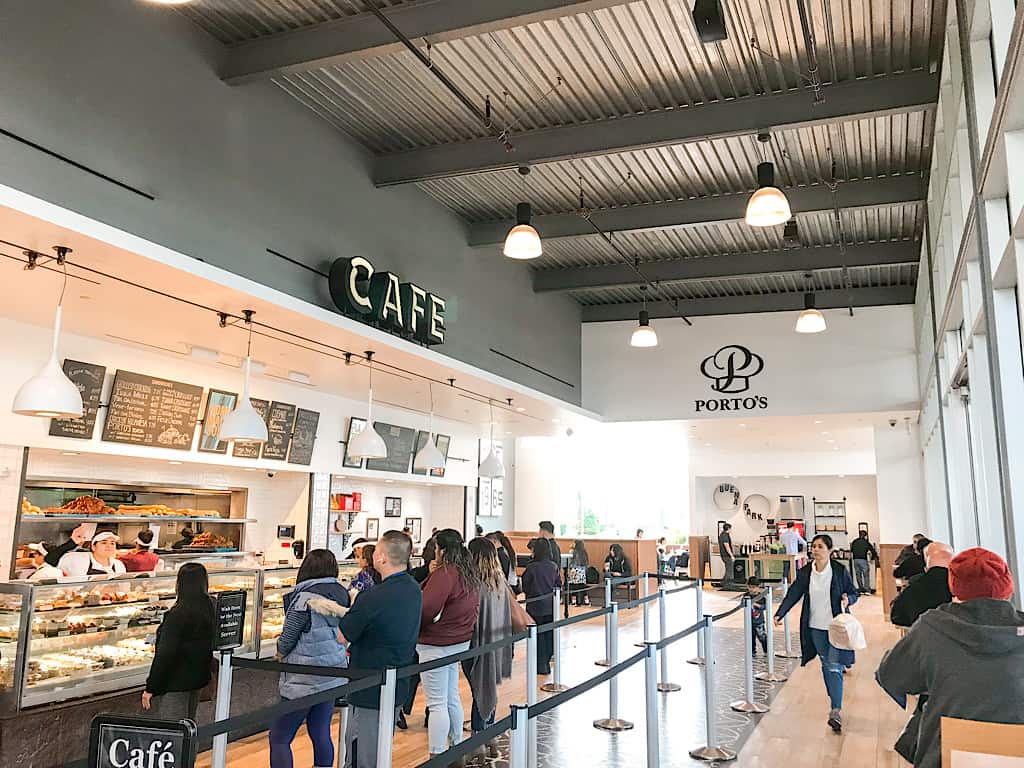 For dinner, my Italian Sub Sandwhich was delicious, but I definitely had my eye on the Cauliflower and Broccoli Soup in a bread bowl that my husband was eating!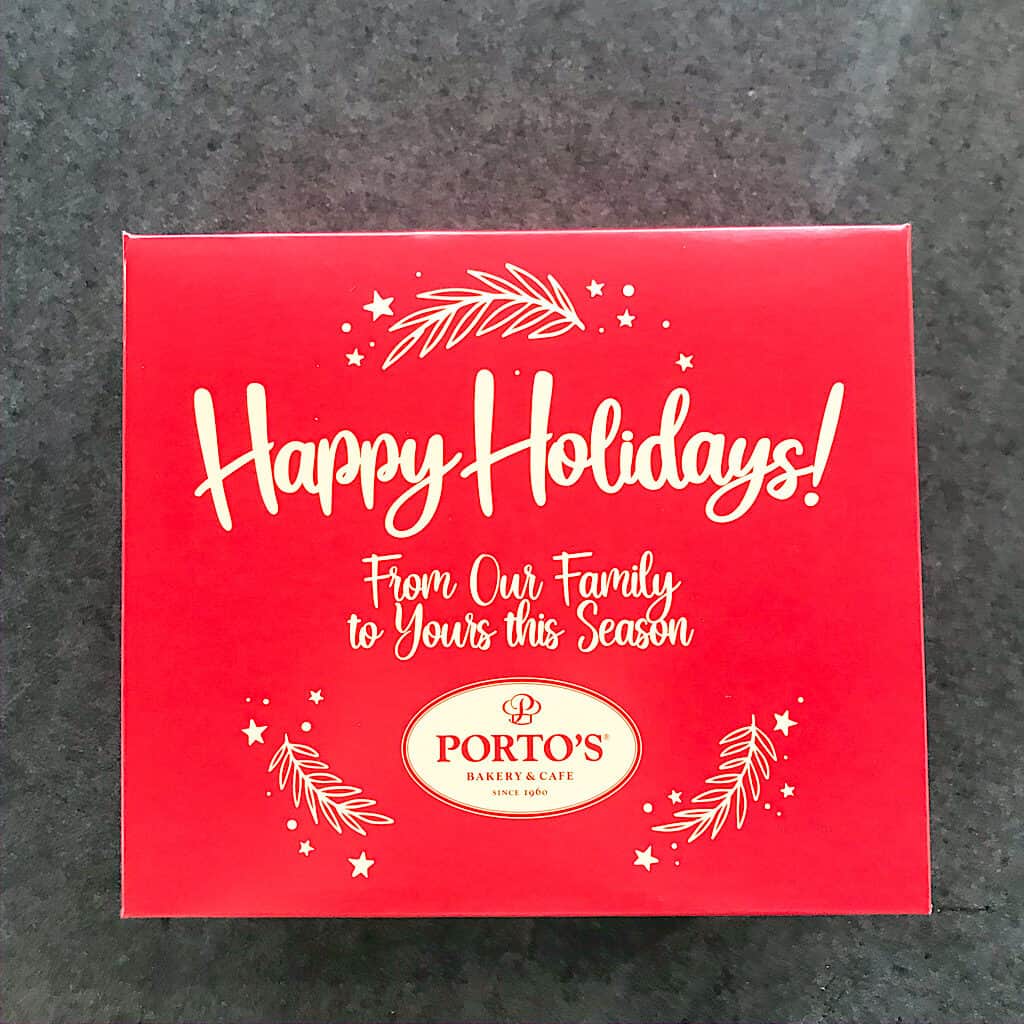 Portillo's
Portillo's is actually one of my favorite dining spots in Southern California!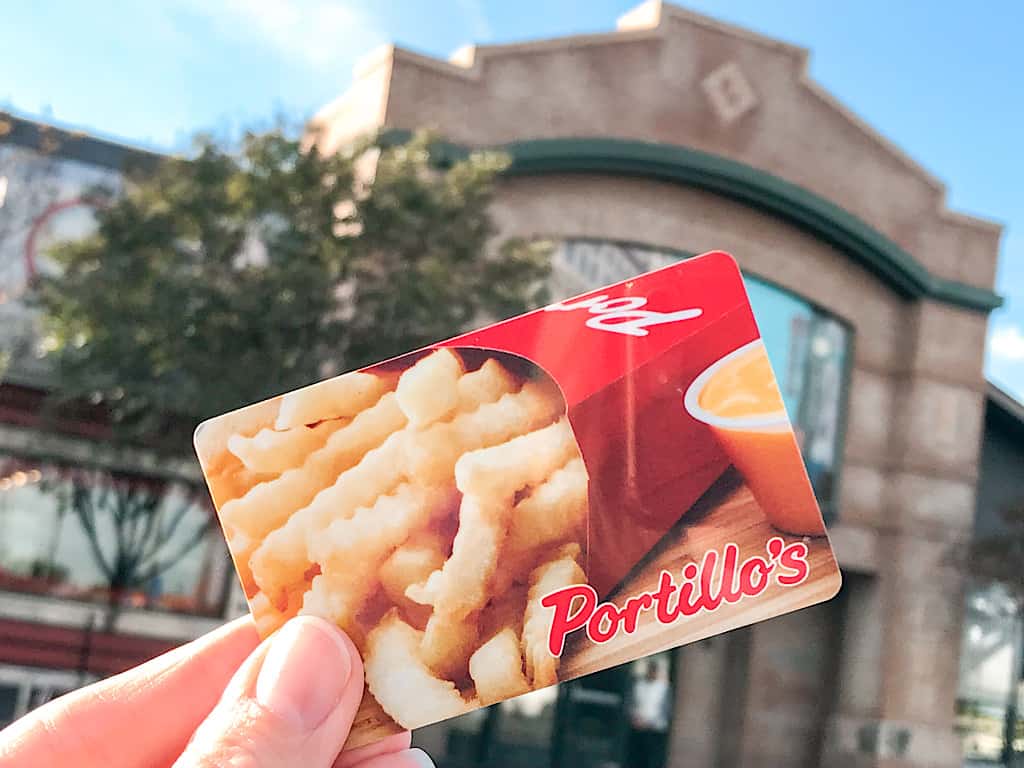 They are a Chicago-style restaurant that is famous for their hot dogs and Italian Beef sandwiches. I have had both and they are delicious!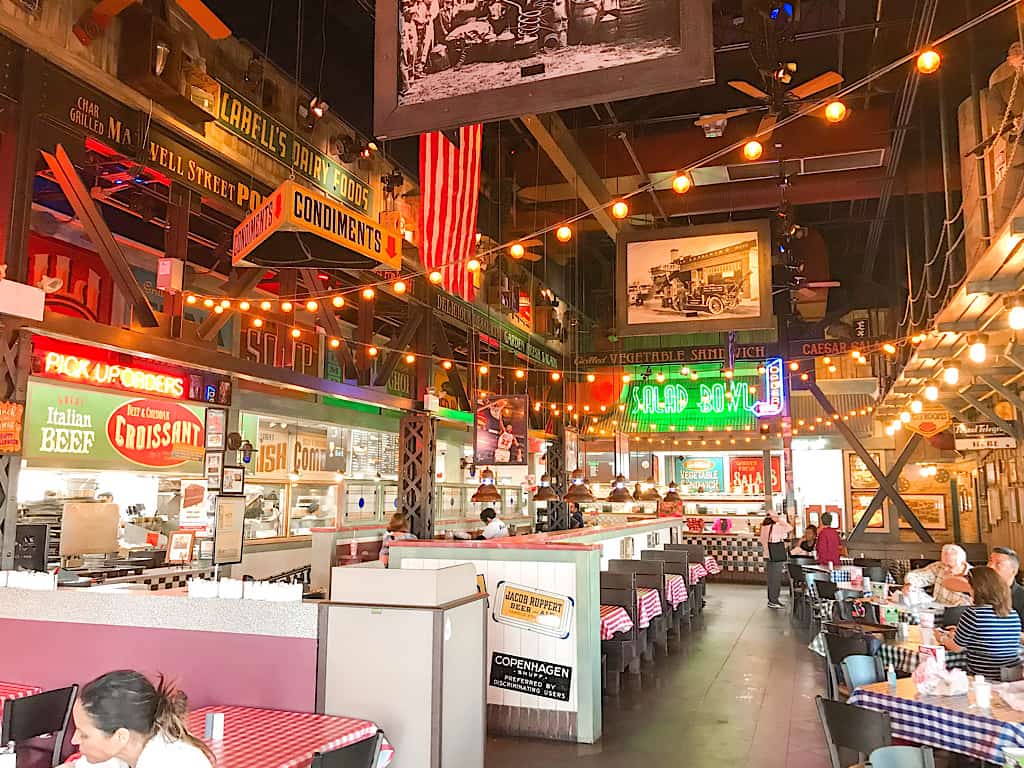 My meat-loving 10-year-old son opted to get a 1/2 rack of ribs and they definitely did not disappoint! The portion is huge and their sauce is amazing.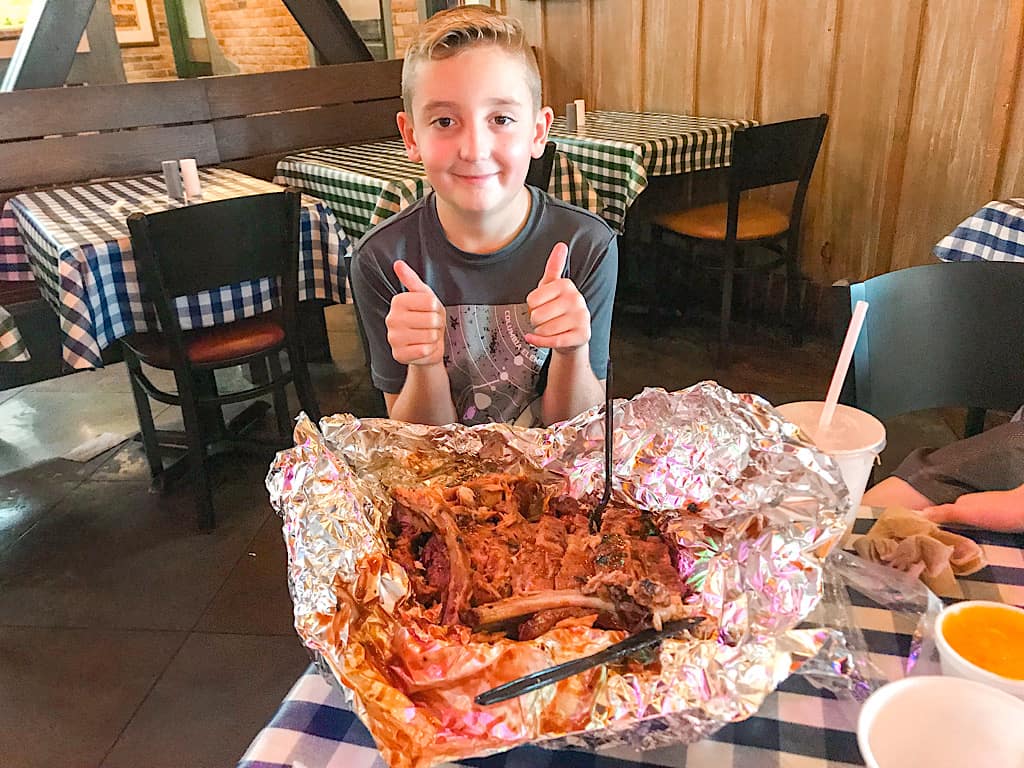 No trip to Portillo's is complete without a slice of their decadent chocolate cake. But, my favorite way to enjoy the cake is to order a large Chocolate Cake Shake.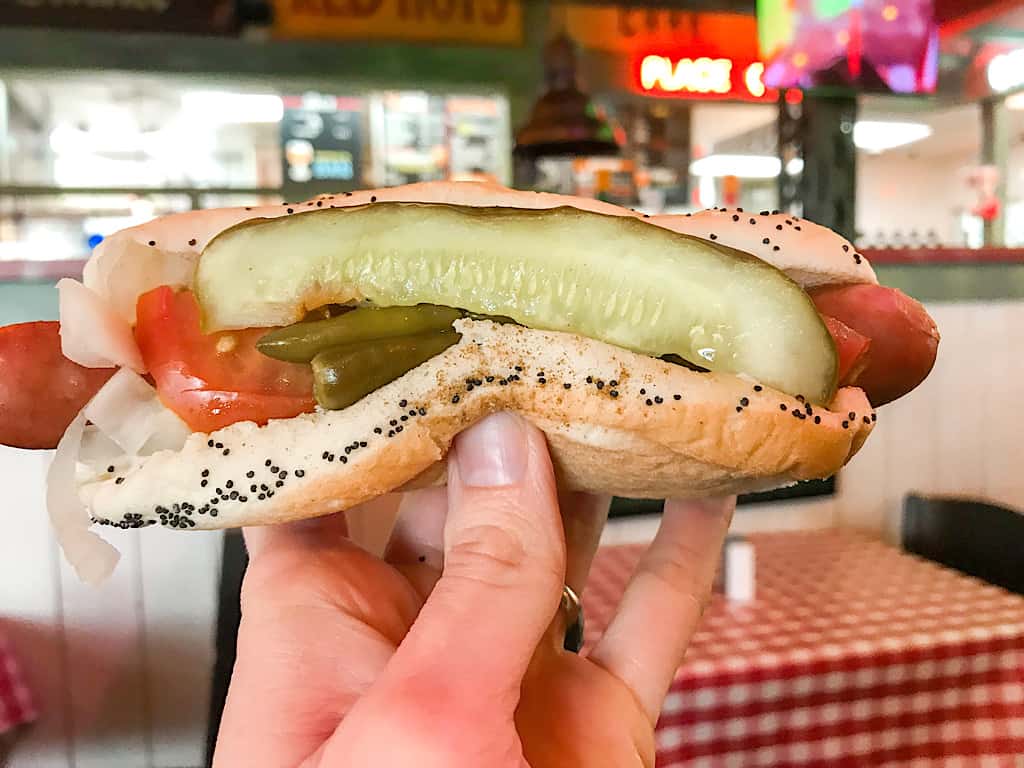 The Chocolate Cake Shake is exactly what it sounds like. A milkshake with an actual slice of chocolate cake shake mixed in.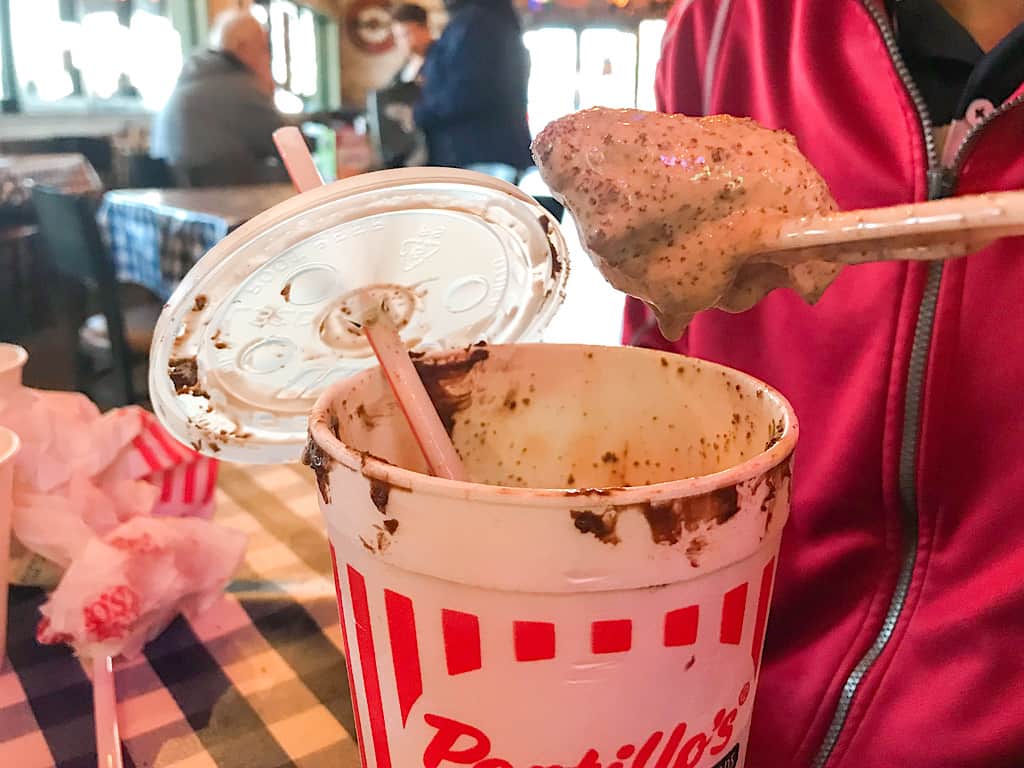 The best part? Sometimes there are big chunks of cake that you find in the ice cream. It's like a delicious surprise!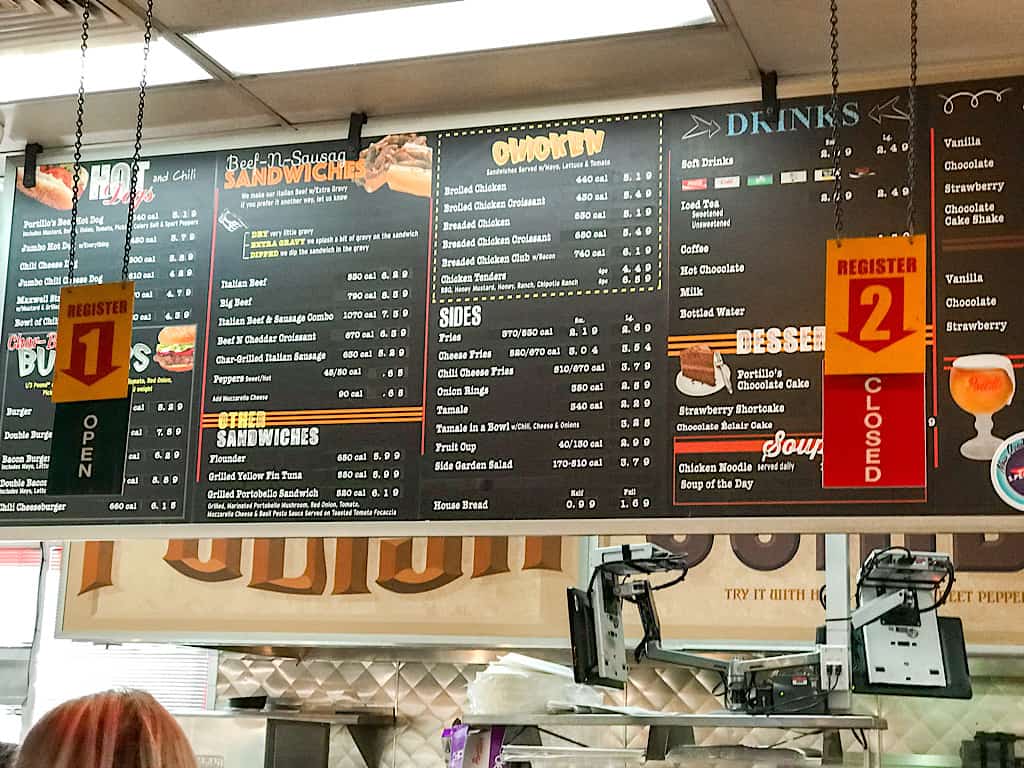 85°C Bakery Cafe
We visited 85°C Bakery Cafe for breakfast on our trip and loved everything about it!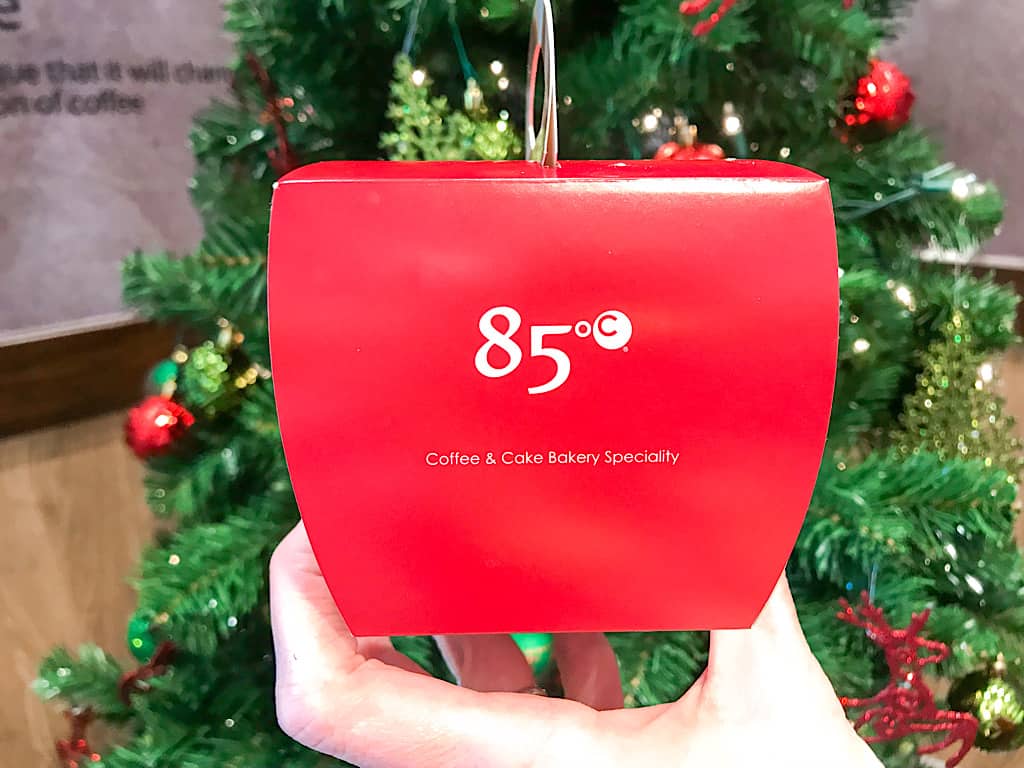 The goal of 85°C Bakery Cafe is to provide 5-star quality desserts at affordable prices.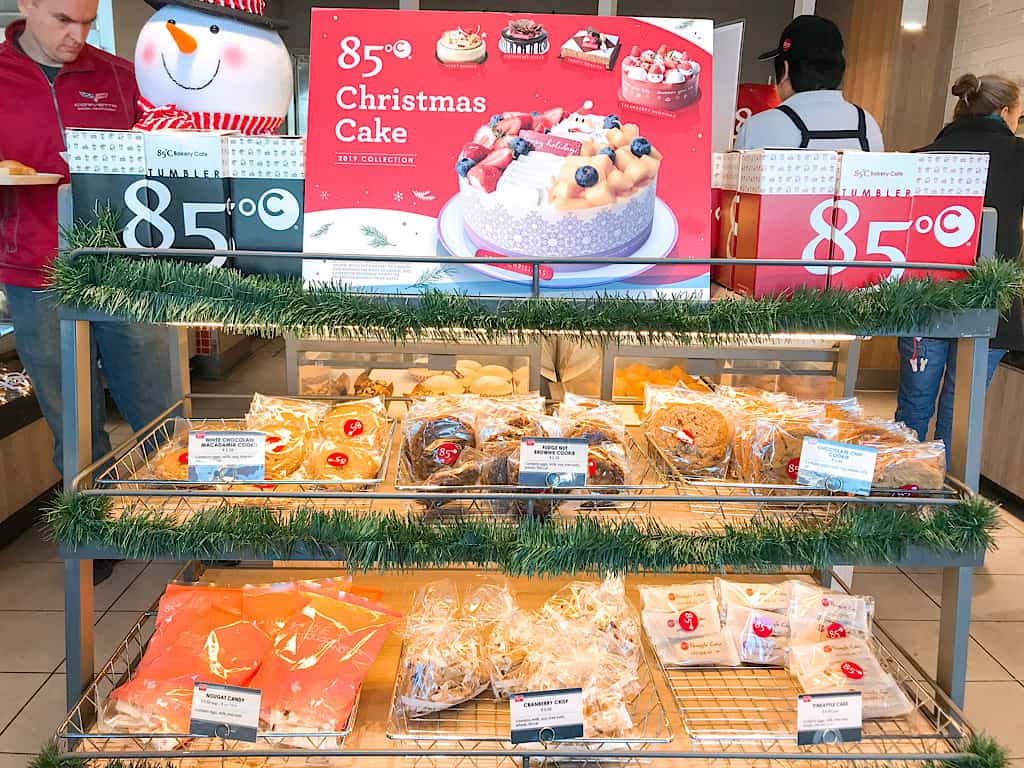 I can assure you that they are reaching this goal based on the delicious chocolate strawberry cake I shared with my 5-year-old.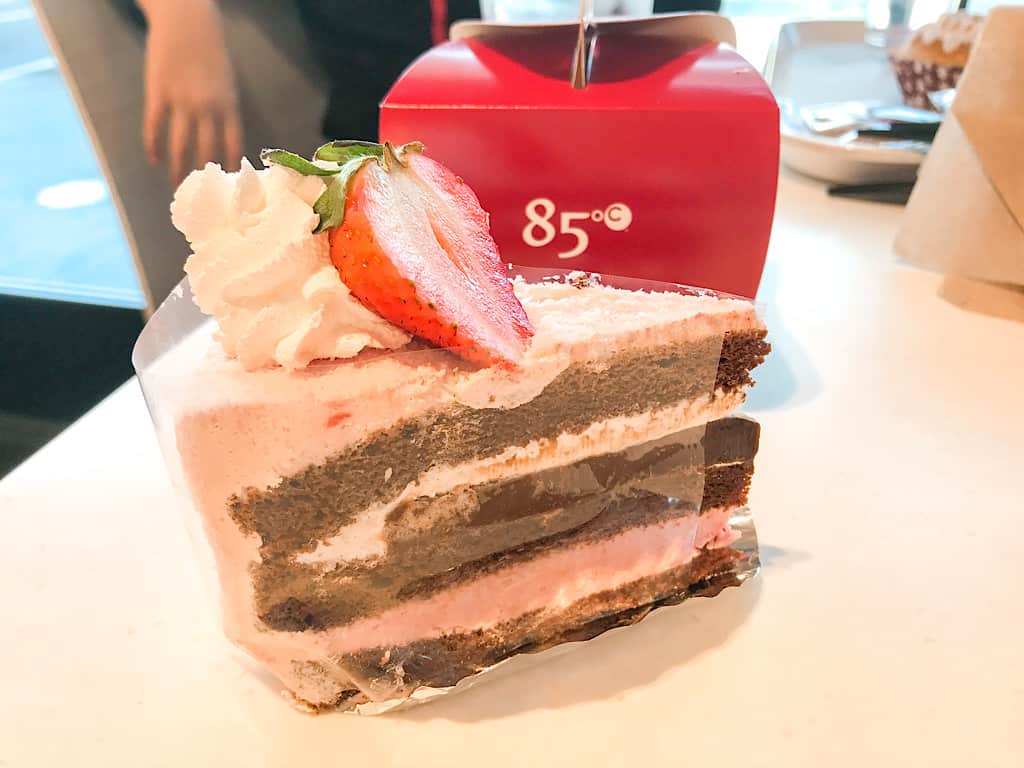 We also enjoyed a variety of other pastries as well including the Caramel Danish, and Apple Almond Danish.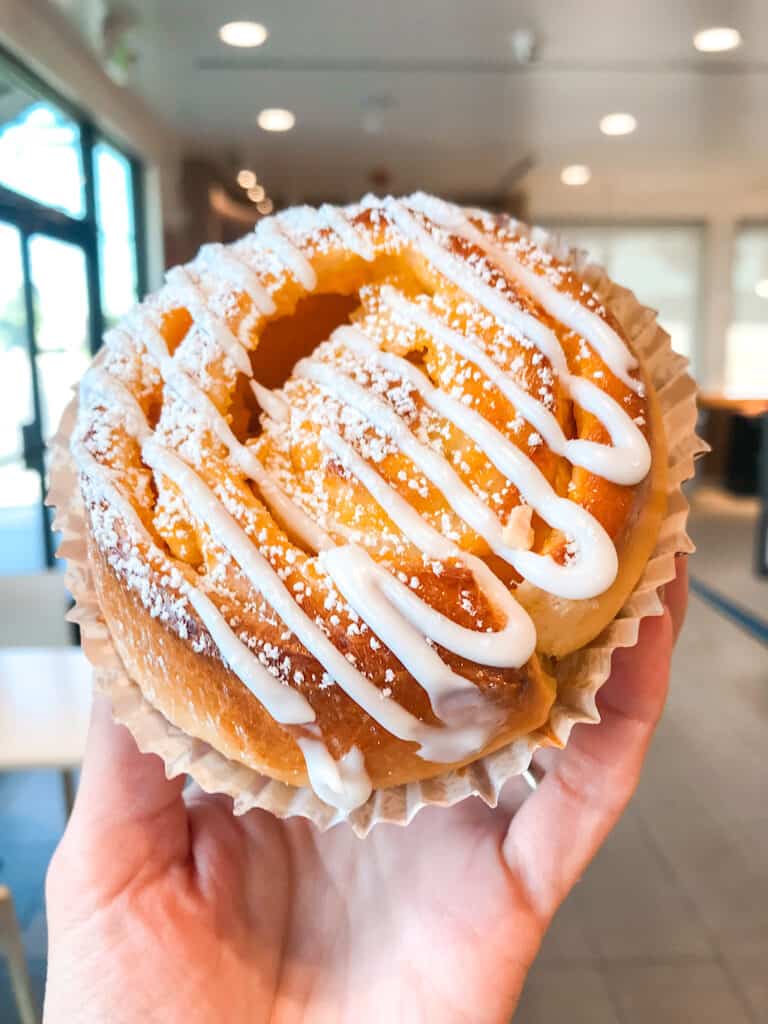 If you're looking to pick up something sweet for breakfast, or any time of the day, I definitely recommend you stop by 85°C Bakery Cafe.
Read about all of my favorite places to eat in Orange County here.
Where to Stay in Southern California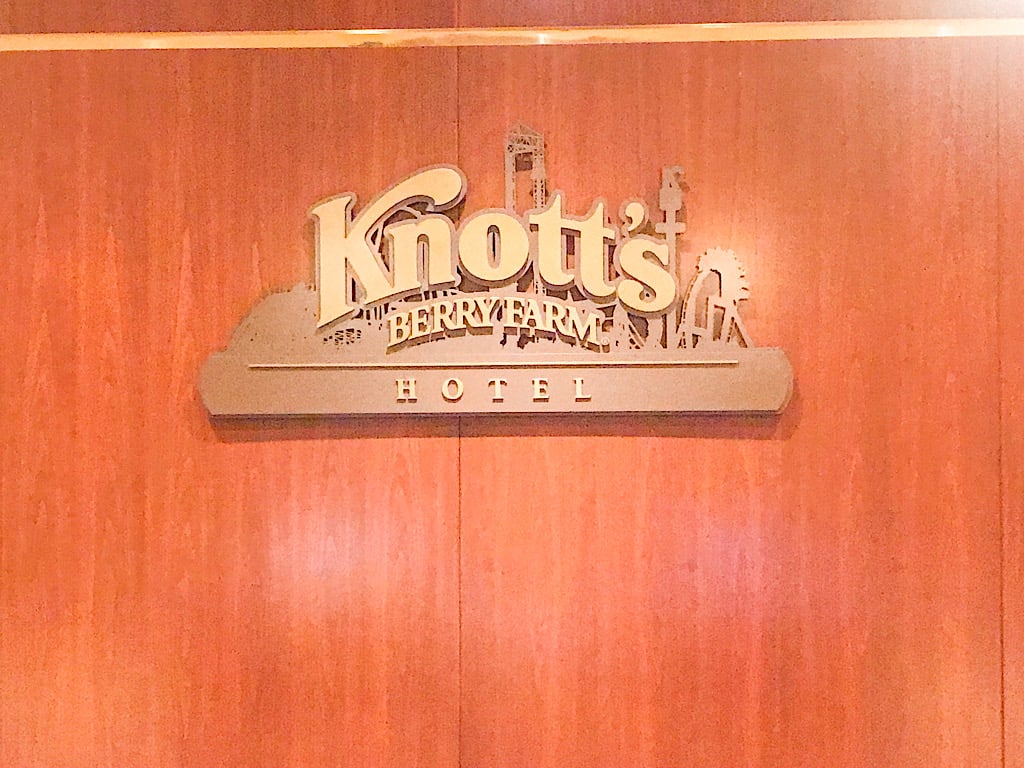 Knott's Berry Farm Hotel
We loved our stay at Knott's Berry Farm Hotel. It is just a few steps away from Knott's Berry Farm theme park and is very large and spacious.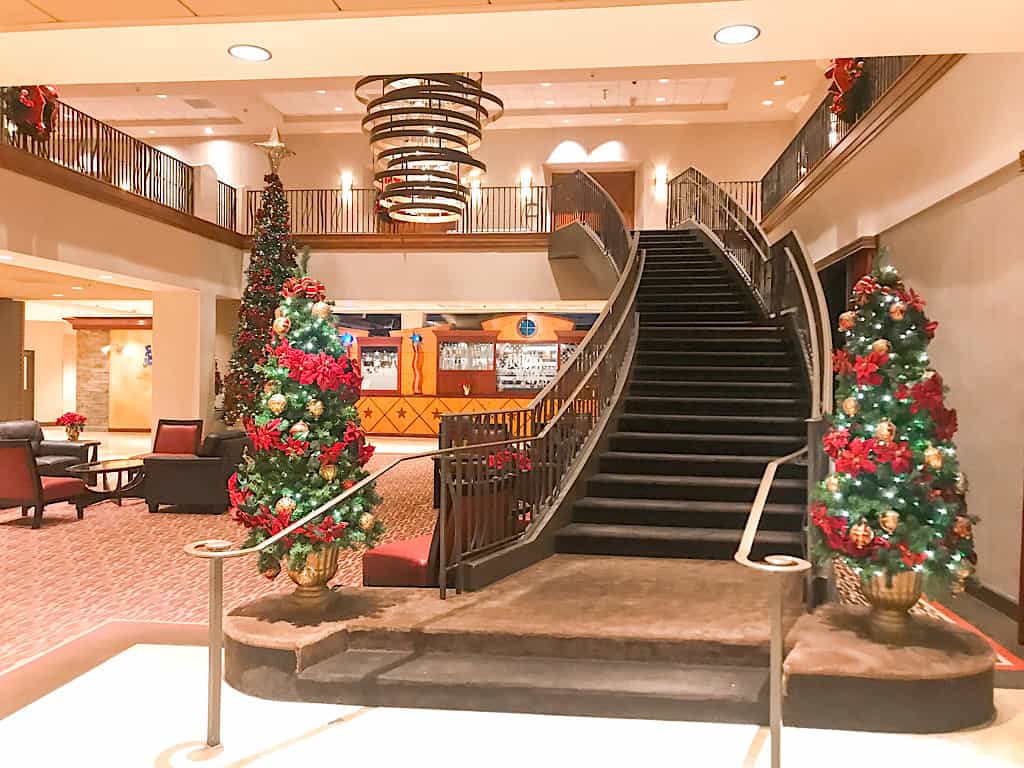 It was so nice to wake up in the morning, grab a quick breakfast, and walk for five minutes to our adventures at the park!
Hotel Rooms
Knott's Berry Farm Hotel has 5 room options to choose from. That makes it easy to find a space that will work for your family.
Camp Snoopy Two Queen
Personal Visit From Snoopy to tuck kids into bed
Special Snoopy-themed decorations
300 Square Feet
Two Queen Size Beds
Maximum Occupancy: 4
Cable TV
Wi-Fi
In-Room Safe
Single Queen
280 Square Feet
One Queen Size Bed
Maximum Occupancy:2
Cable TV
Wi-Fi
In-Room Safe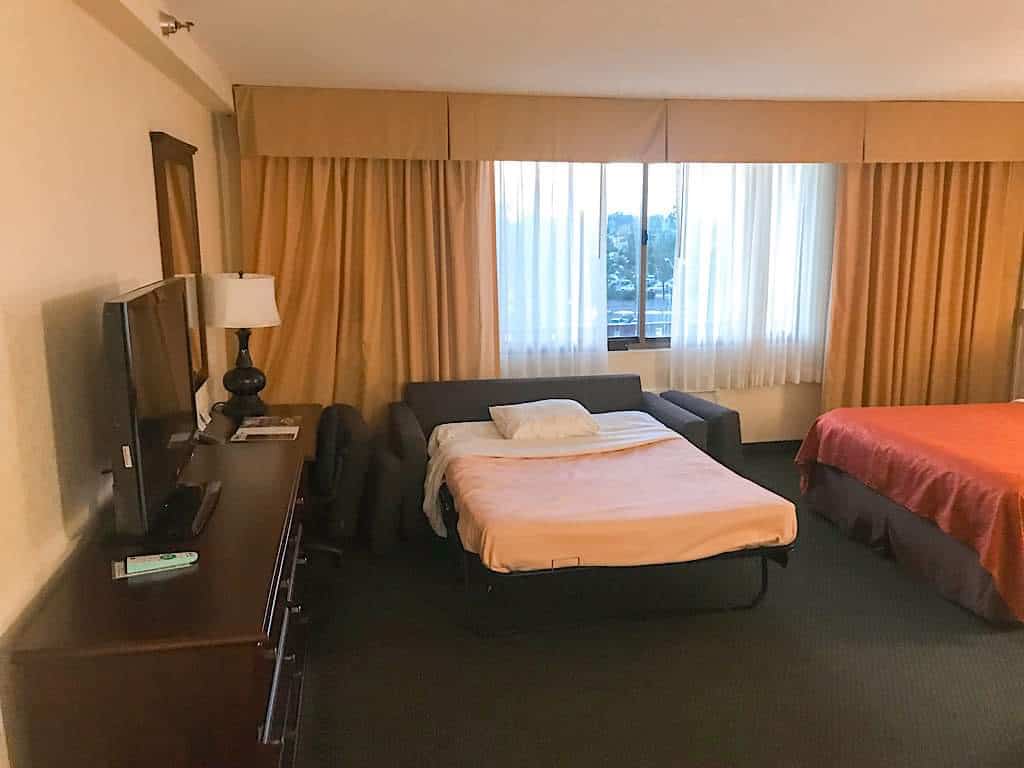 Single King
300 Square Feet
One King Size Bed
Sleeper Chair
Maximum Occupancy: 3
Cable TV
Wi-Fi
In-Room Safe
Oversized – Two Queen
400 Square Feet
Two Queen Beds
Sleeper Sofa
Maximum Occupancy: 6
Cable TV
Wi-Fi
In-Room Safe
Wet Bar
Mini Refrigerator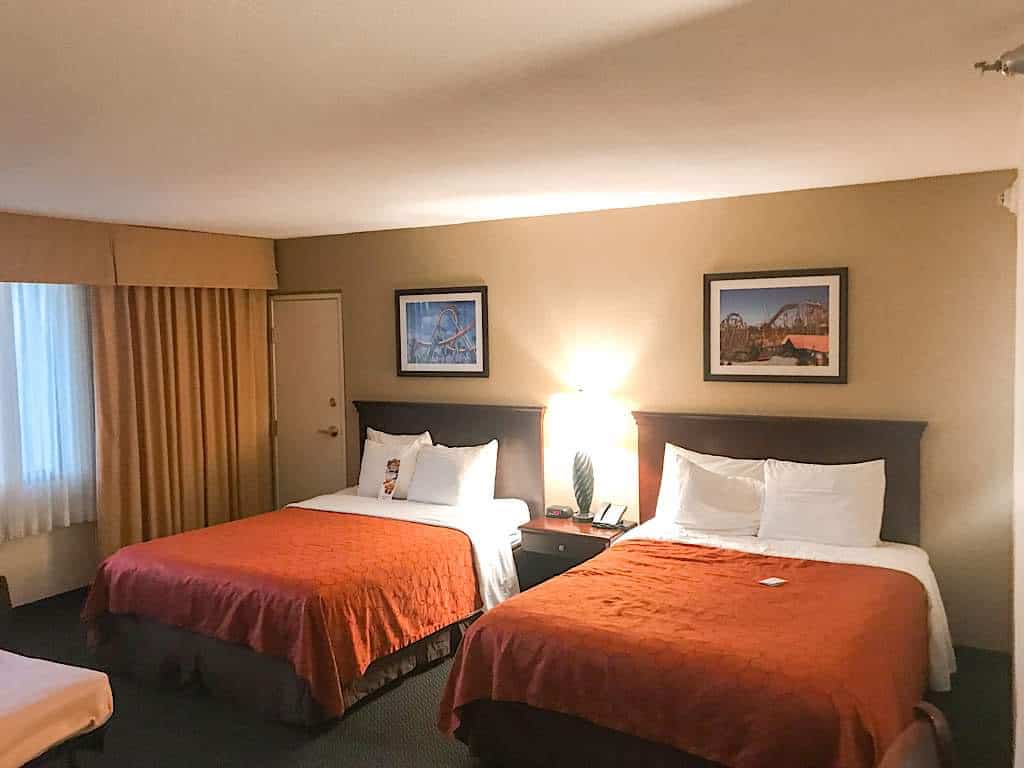 Standard Queen
300 Square Feet
Two Queen Beds
Maximum Occupancy: 4
Cable TV
Wi-Fi
In-Room Safe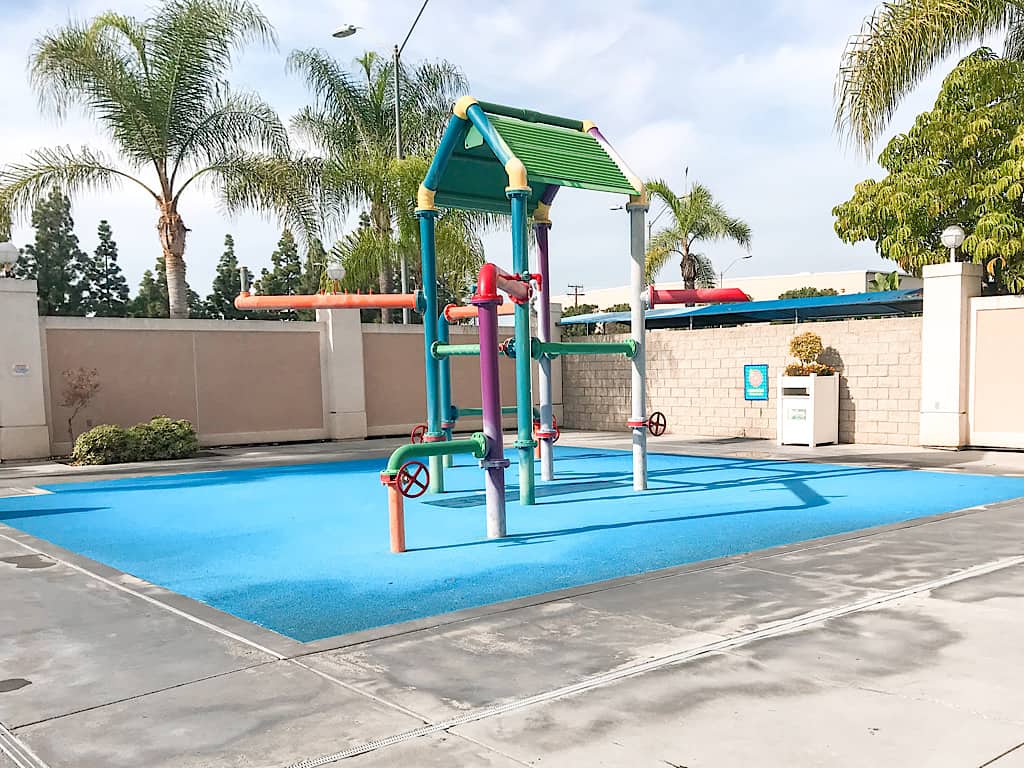 Hotel Amenities
Pool
Splash Pad
Complimentary Shuttle to Disneyland
Spa
Lighted Basketball Court
Lighted Tennis Courts
Fitness Center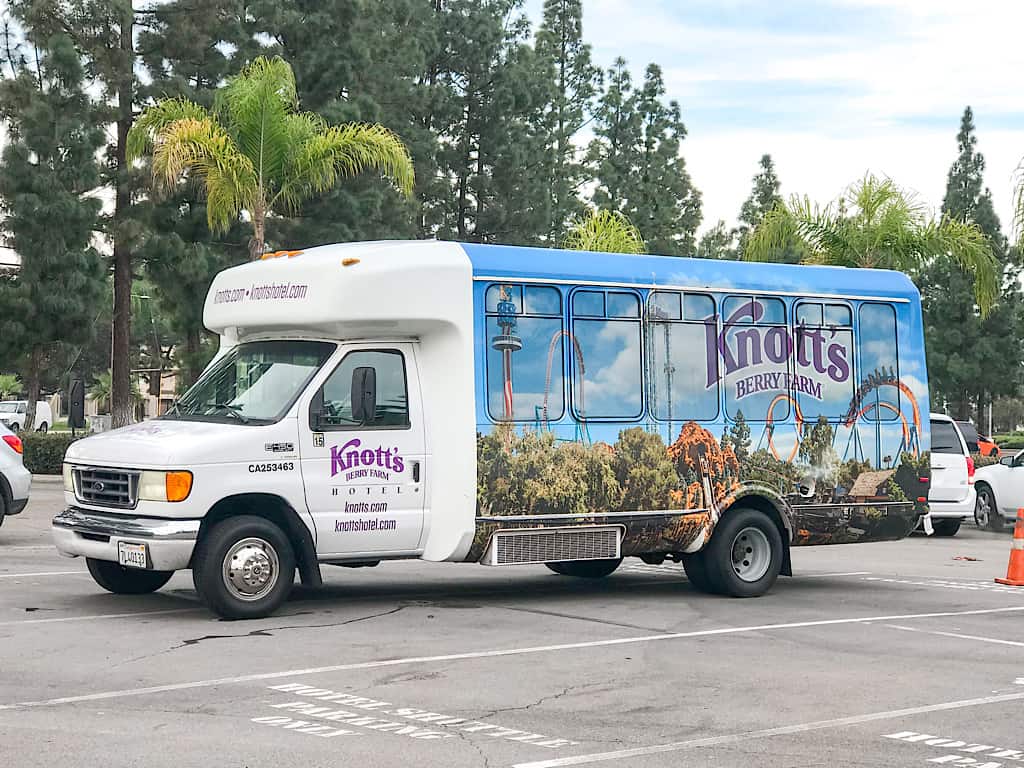 For more information and to book your stay visit online Knott's Berry Farm Hotel HERE.
More Places to Stay:
I hope this post gives you plenty of ideas of things to do in Southern California with kids! Have a fun trip!