Want to visit one of America's most beautiful national parks with your kids? You're in the right place! Find out my tips and tricks for visiting Zion National Park with Kids!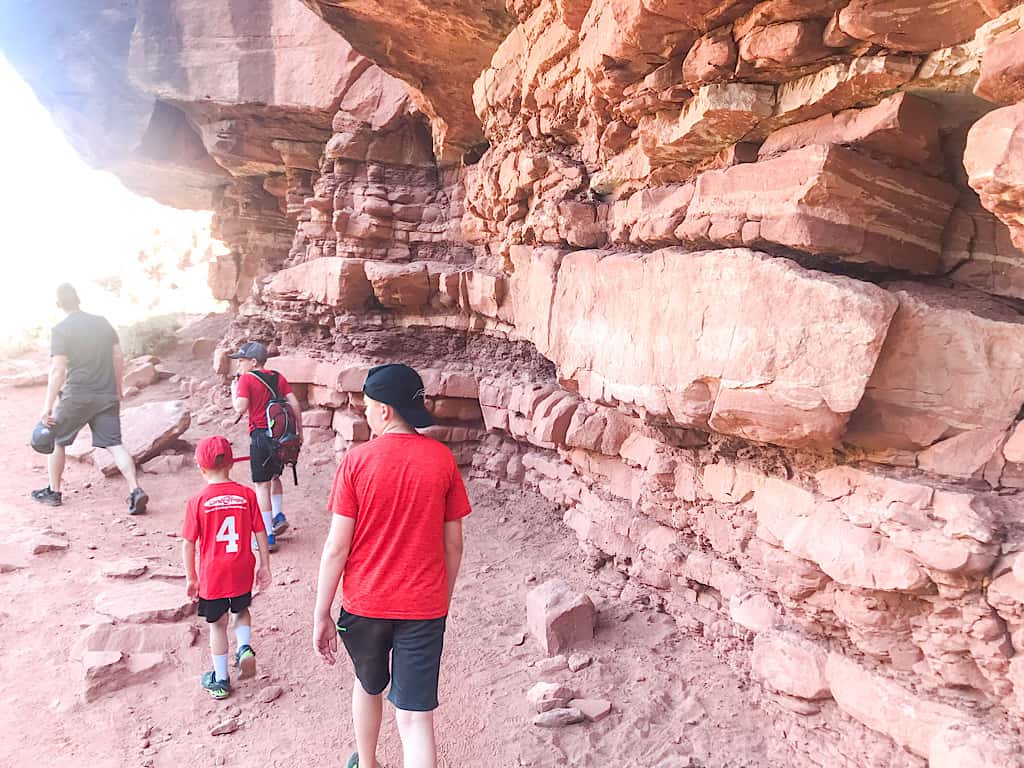 This post may contain affiliate links. When you click on these links, I get a small percentage back at no cost to you! For more information see my disclosure policy.
My family are big travelers and we ALWAYS travel with our kids because it is one of the best ways to bond together. Although our destination is usually involves some kind of Disney trip, that has not been possible lately.
We have been looking for ways to travel, yet keep our distance from other travelers and stick relatively close to home.
Our most recent adventure was to Zion and Bryce National Park!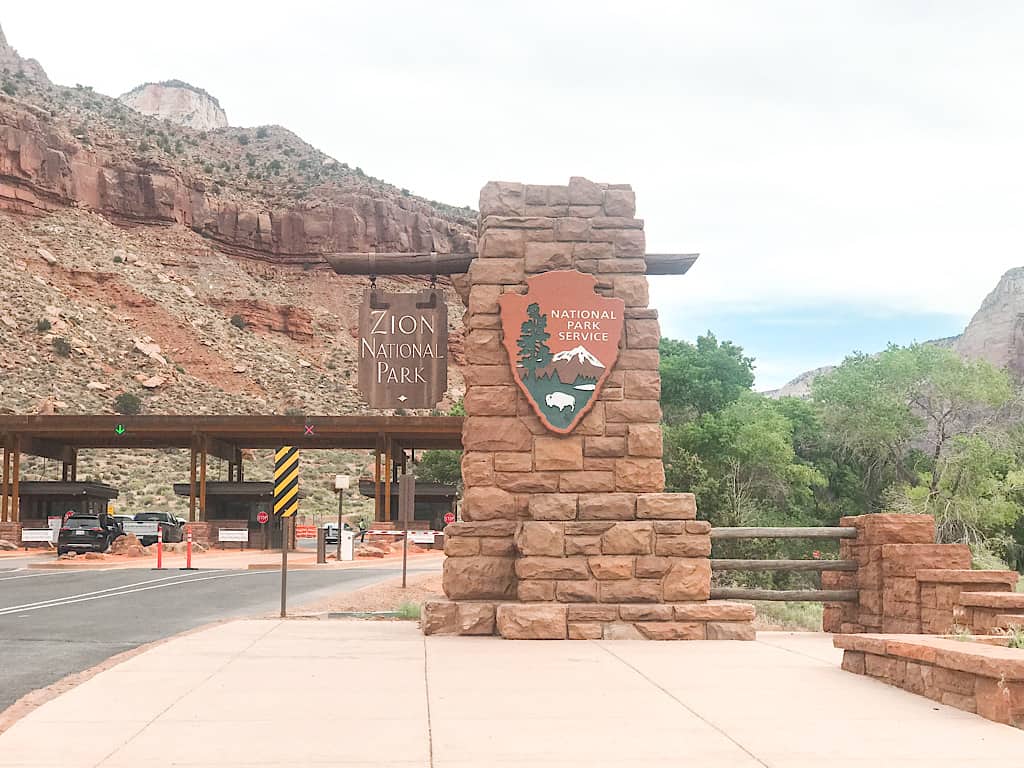 Where is Zion National Park
Zion National Park is located in southwestern Utah.
The nearest moderately sized city is St. George, Utah which is about 40 miles from the entrance of Zion and will take about 50 minutes to drive.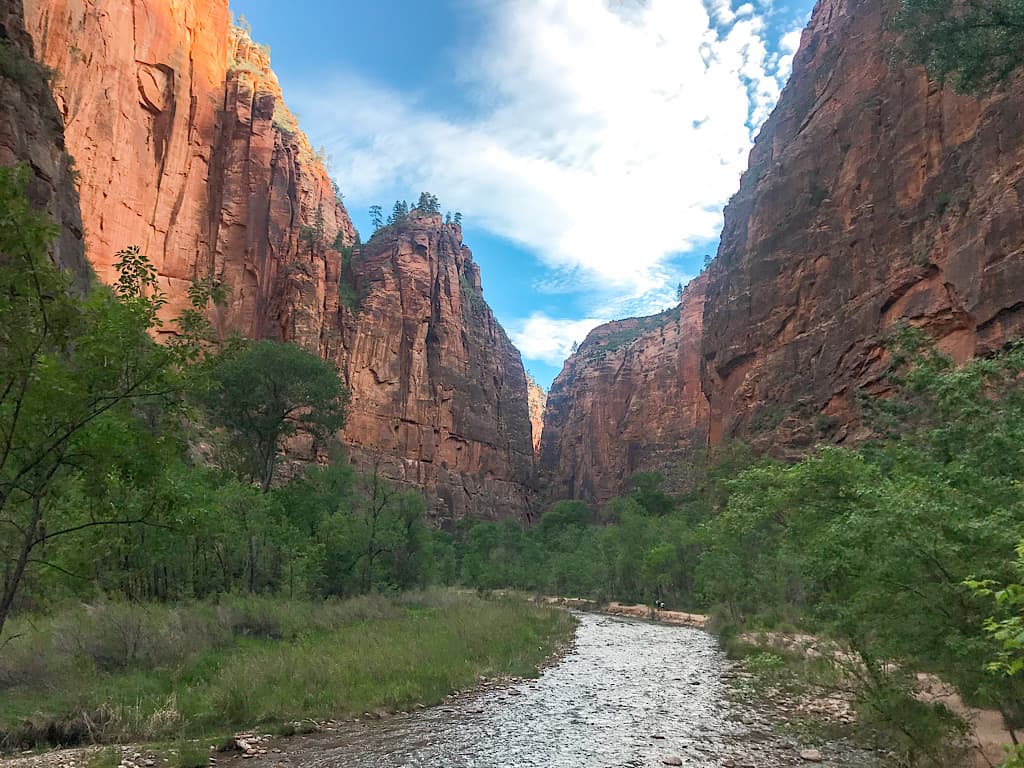 How to Travel to Zion
McCarran International Airport
The closest major airport to Zion is McCarran International Airport in Las Vegas, Nevada.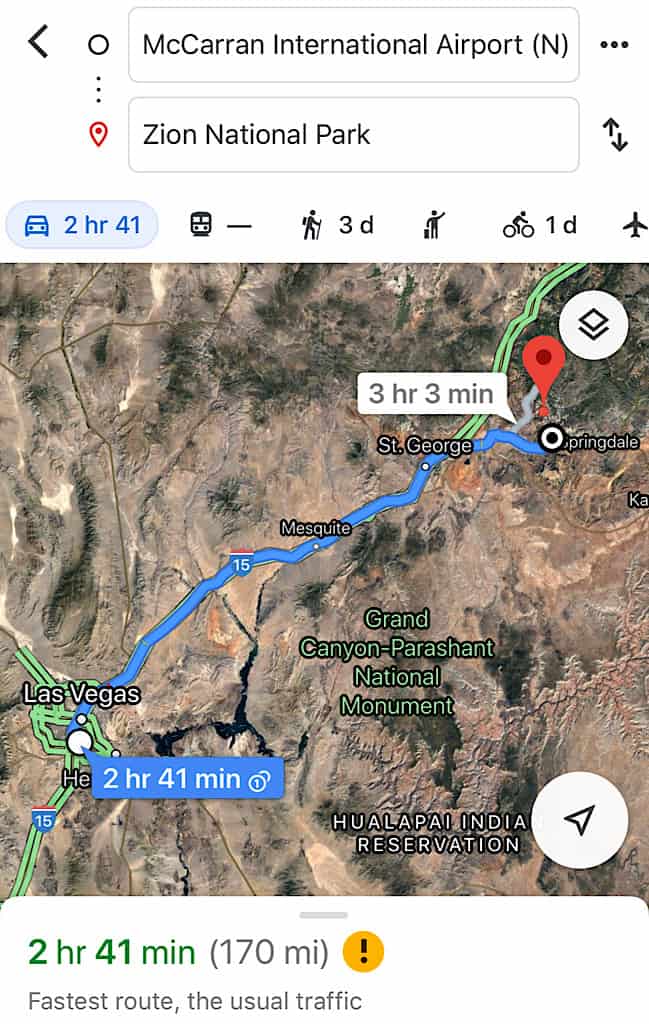 If you choose to fly into Las Vegas and drive 170 miles to Zion, it will take you about 2 hours and 41 minutes.
Salt Lake International Airport
Another option is to fly into Salt Lake International Airport.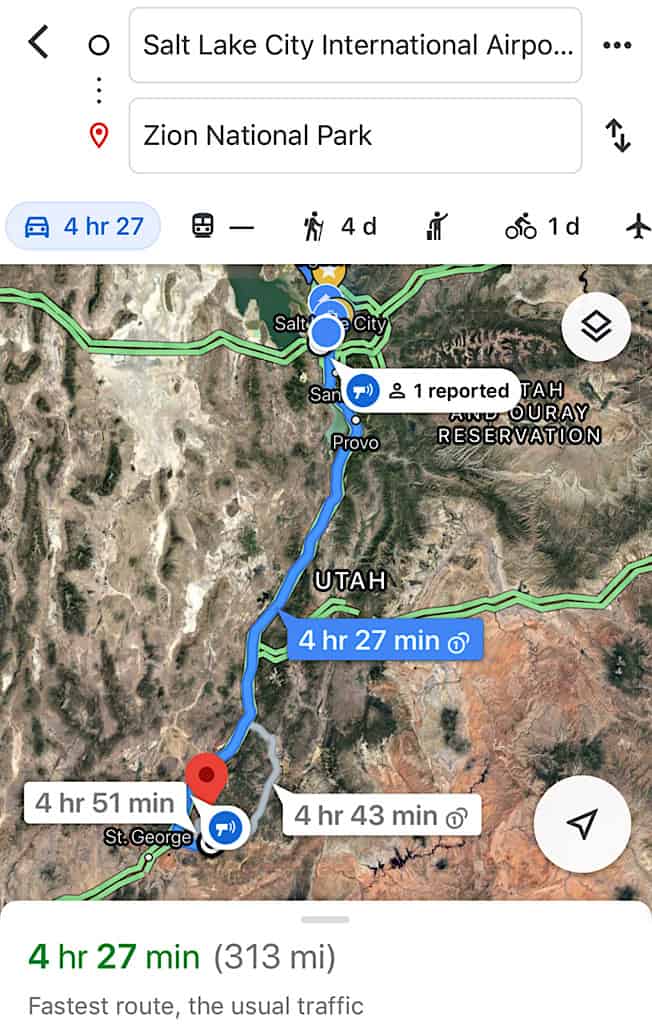 The distance from Salt Lake City to Zion National Park is 313 miles and will take about 4 1/2 hours.
What are the fees to enter Zion National Park
For general admission into the park, you will pay $35.00 per vehicle. That pass will be valid for 7 days.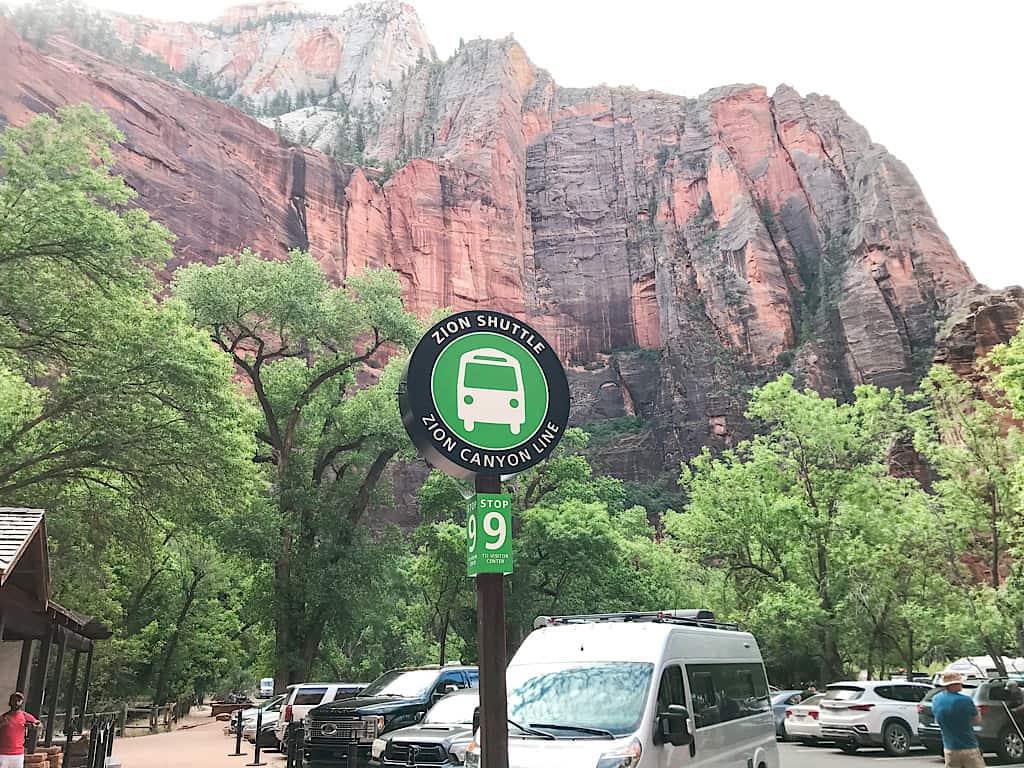 Every Kid in Outdoors Pass
If one of your kids happens to be in fourth grade, you can get the Every Kid in Outdoors Pass.
These passes are provided by a federal public lands youth initiative that allows all fourth graders to visit national parks for free!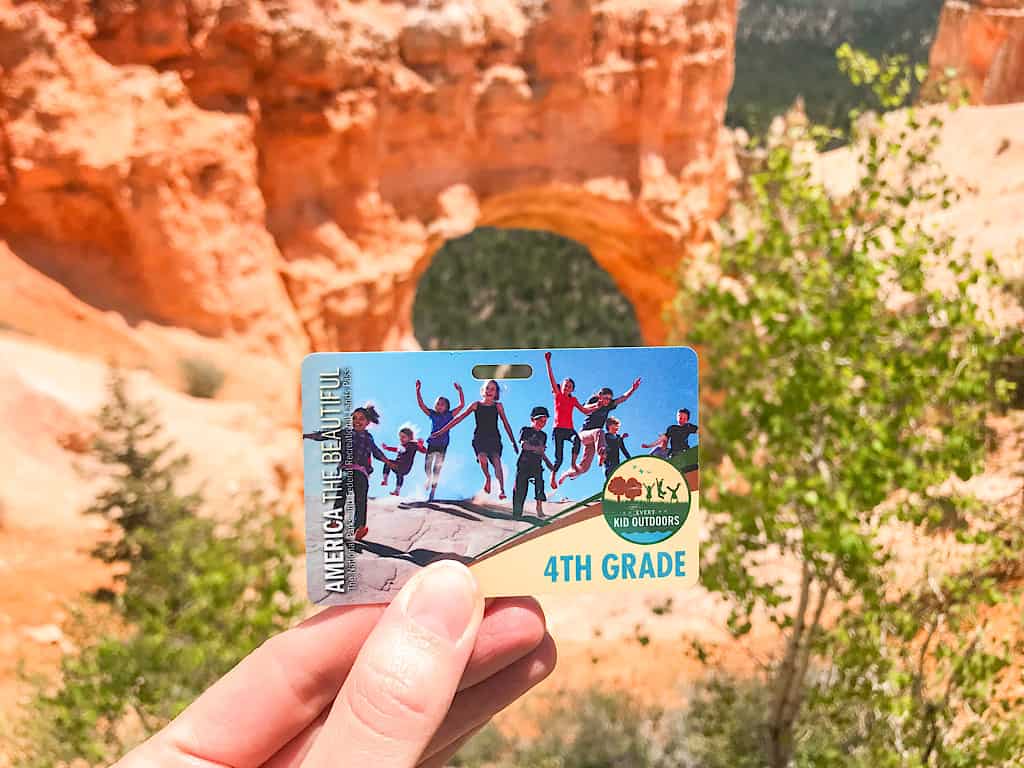 To learn more about these passes and to sign up for your child visit the National Parks website here.
What To See with Kids in Zion National Parks
Kid Appropriate Hikes
Hiking is so much fun at Zion National Park with kids. There are so many gorgeous hikes in Zion.
They range from easy, like Riverside Walk, to extremely difficult like angel's landing. The majority of these hikes located along Zion Canyon Scenic Drive.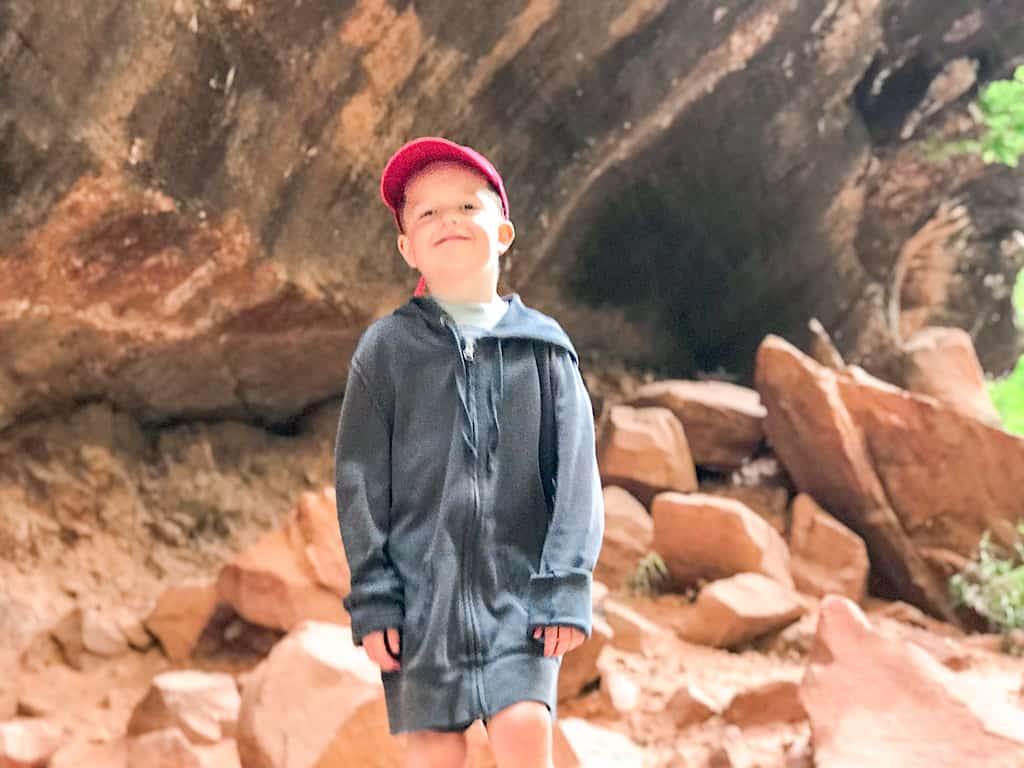 Visiting the park with 3 kids ages 13, 10, and 6, we wanted to keep the hikes we participated in, on the low to moderate scale.
Riverside Walk
Our first hike of the day was Riverside Walk which is located at the top of the canyon. If you are able to take the shuttle, this hike is at stop #9 Temple of Sinawa.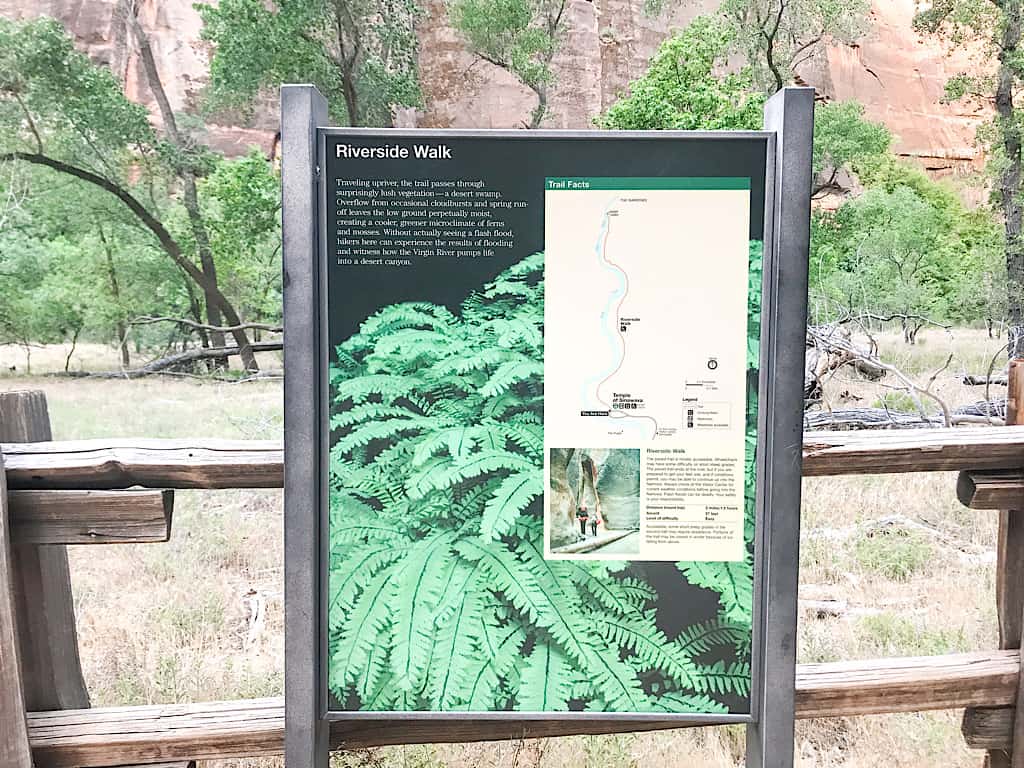 This hike is paved and follows alongside the Virgin River to the entrance of The Narrows. There are a couple of slopes, but nothing little ones can't handle.
Riverside Walk is approximately 2.2 miles round trip and is considered an easy hike. All three of my boys were able to complete it with no problem.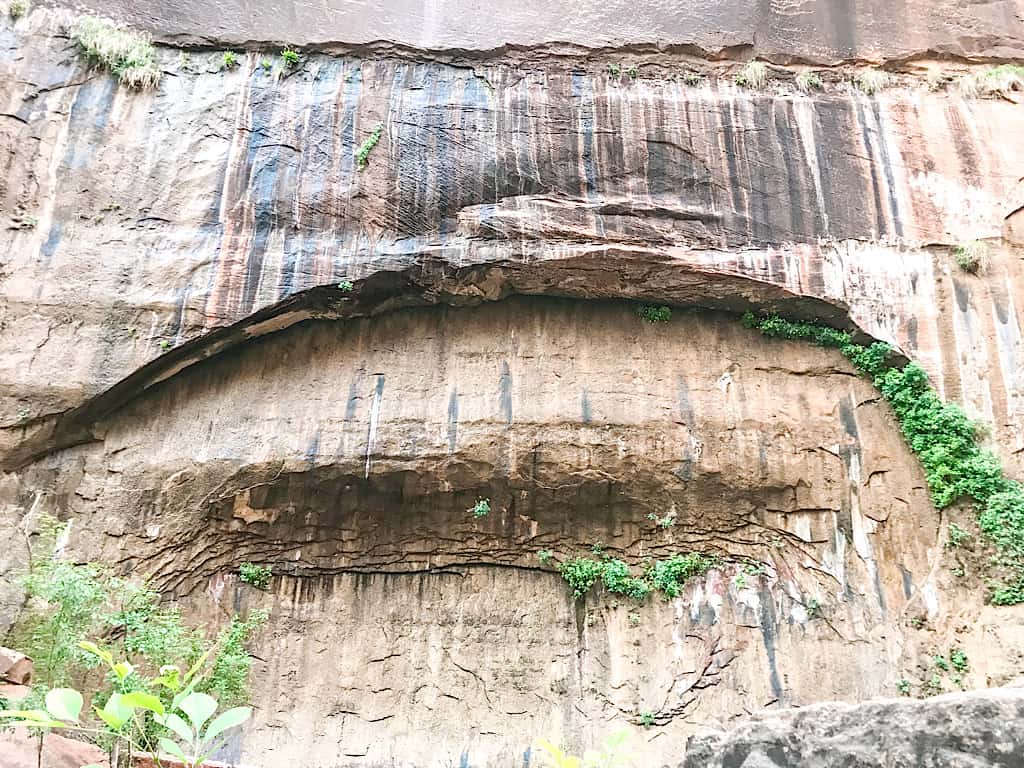 Upper Emerald Pools Trail
Our second hike of the day was the Upper Emerald Pools Trail.
To get to the pools, you take the Kayenta Trail, which meats up with the Upper Emerald Pools Trail.
This hike is considered moderate, with some semi-steep inclines and some minor drop offs. You'll definitely want to keep an eye on your kids.
Upper Emerald Pools Trail combined with Kayenta Trail is about 3 miles round trip. Make sure to bring plenty of water, sunscreen, and a couple of snacks.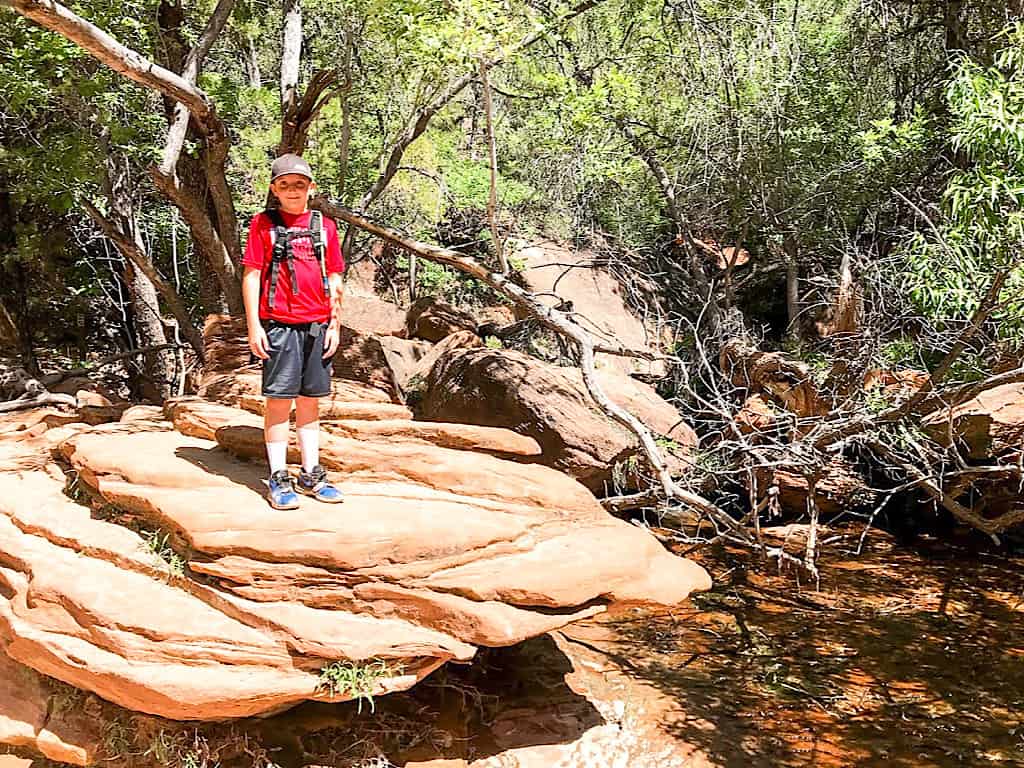 My 6 year old did great on this hike, but I don't think I would take a child younger child on this trail.
Watchman Trail
Watchman Trail was one of the best hikes during our visit to Zion. It is also a moderate hike that is probably too difficult for kids under 5.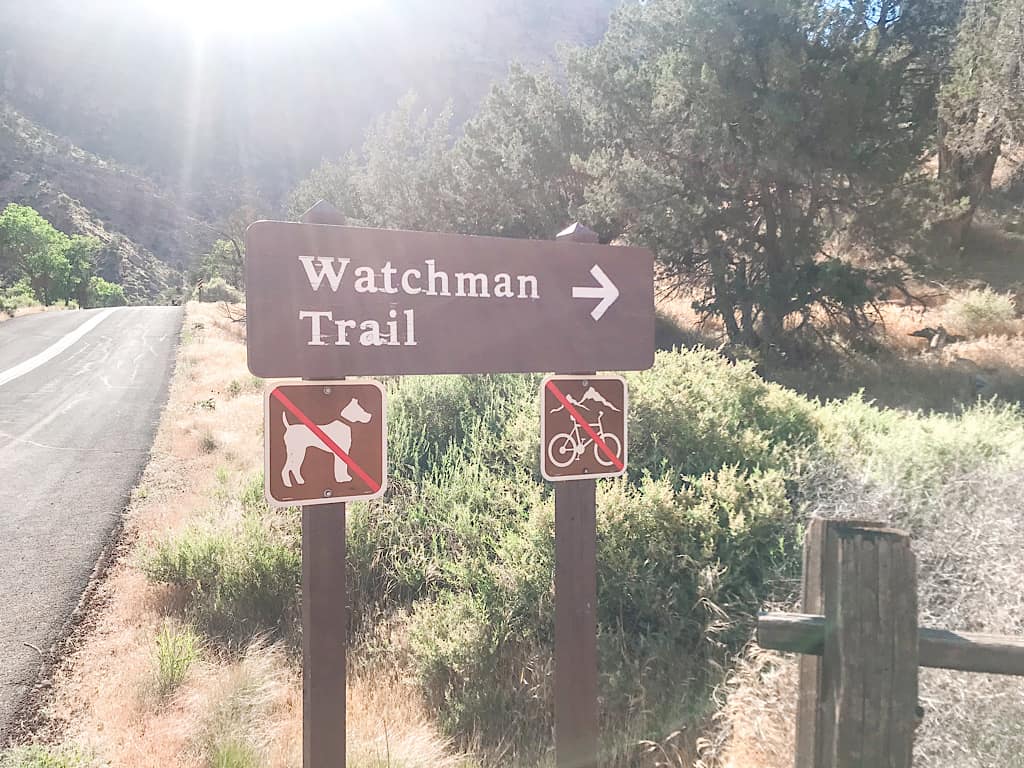 The distance of this trail roundtrip is approximately 3.3 miles, but the view from the observation point when you reach the top is absolutely worth going on this hike.
There are quite a few steep inclines and drop offs and there are a few sections of the trail that are filled with large rocks, so you'll want to watch your step!
On all of these hikes, my boys had a great time looking for lizards. They counted 14 on one hike alone!
Get all Zion Hike descriptions here!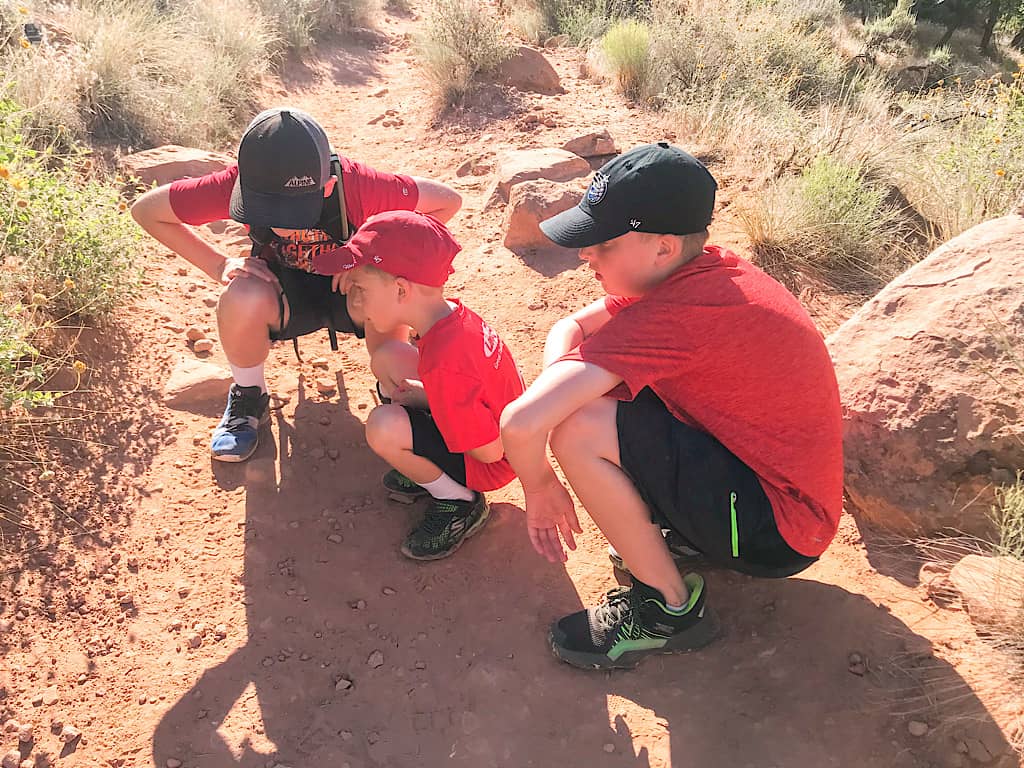 Zion-Mount Carmel Highway
Taking a drive along Zion-Mount Carmel Highway is a must when you visit Zion National Park with kids.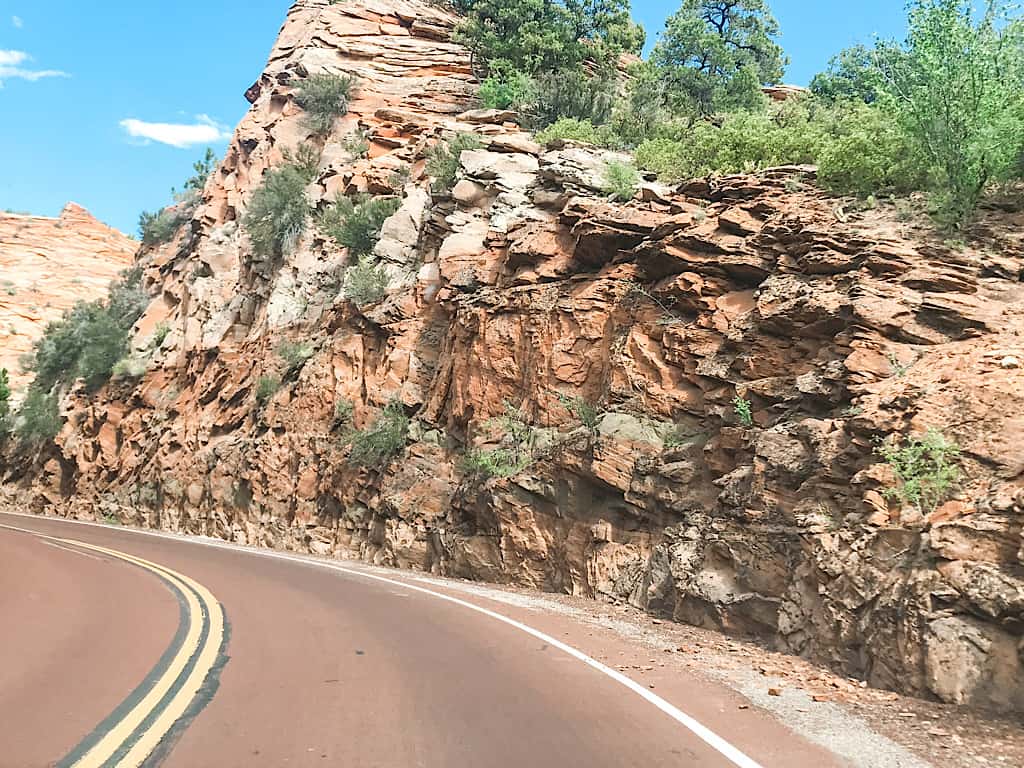 The views are absolutely breathtaking, and there is a good chance you will be able to see some wildlife including bighorn sheep, along the way.
On our way back to Springdale, the town near the entrance of Zion, we caught a glimpse of a herd of female Big Horn Sheep that decided to cross the road in front of us!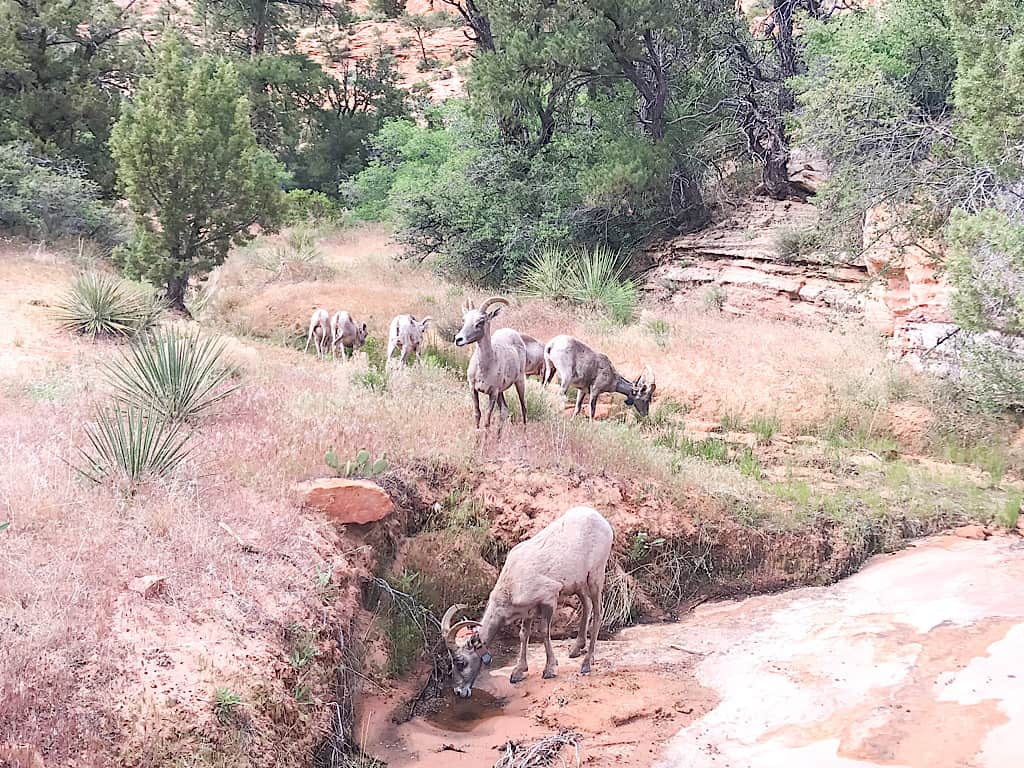 Zion-Mount Carmel Tunnel
There are two tunnels along this scenic drive. The longest is called Zion Mount Carmel Tunnel and is 1.1 miles long.
It was created to connect Zion to Bryce Canyon and Grand Canyon National Parks.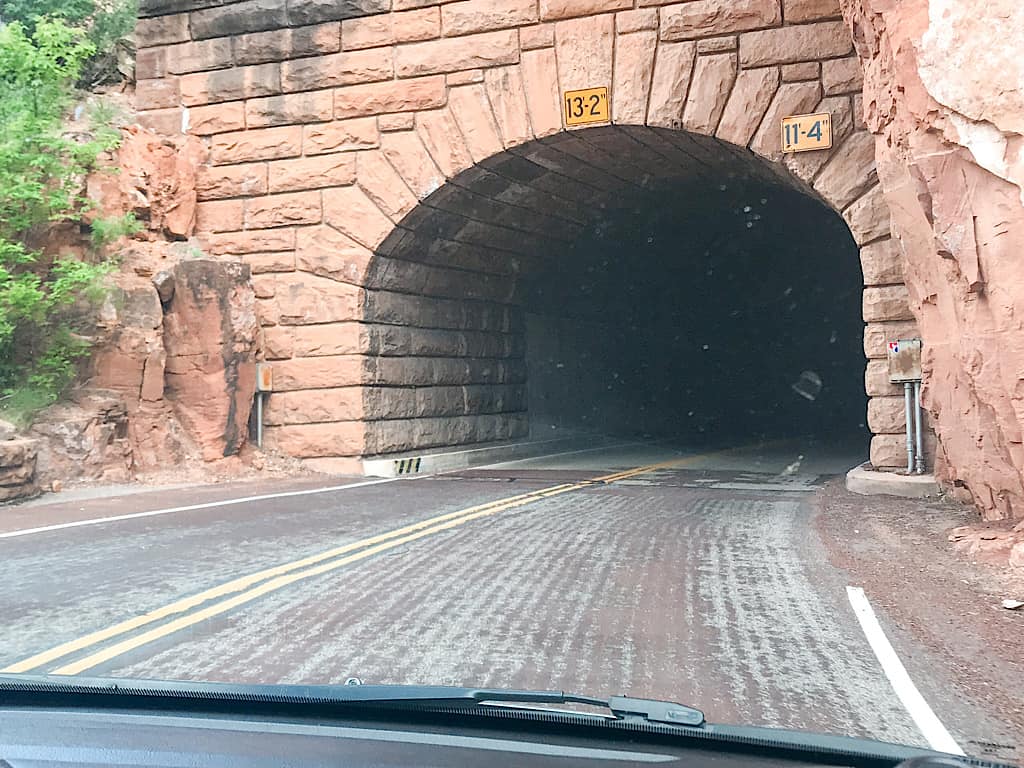 What is most amazing to me is that it was built in the 1920's and completed in 1930. Make sure that you check out the view from the windows cut out throughout the tunnel. We counted six windows in all.
Some of the Best Places Worth Mentioning
With our three night stay at Zion National Park, there was no way we would be able to do everything that the park has to offer. Here are a few places you should consider seeing on your visit.
Zion Canyon Visitor Center
The Zion Canyon Visitor Center is a great place to get started on your visit to Zion National Park.It is at the entrance of the park and has plenty of parking. The visitor center is open all year round, but hours do change seasonally.
Scout Lookout
Scout Lookout is one of the best places to get a panoramic view of Zion Canyon.
To get to Scout Lookout, you take the Angels Landing Shuttle to stop #6 and then hike about 1/2 a mile up a well-marked trail. This is considered an easy hike with little elevation change.
The Narrows
The Narrows is one of the most popular trails in Zion National Park and for good reason! It is an incredibly scenic hike that takes you through a slot canyon with walls that are a thousand feet high in some places!
The Narrows is a trail that you can hike as long or short as you want. We only hiked about 1/2 a mile in since we had small children with us, but there are people that hike the entire 16 miles roundtrip!
If you want to hike The Narrows, you will need to get a permit. You can apply for a permit up to three months in advance, and they are given out on a first-come, first-serve basis.
Angels Landing Trail
Angels Landing is one of the most popular and most famous hikes in Zion National Park, and it is also one of the most difficult.
This hike is not for small children or people with a fear of heights. There are sections of this trail that are extremely narrow with very steep drop offs on both sides.
If you do decide to tackle Angels Landing, be sure to take plenty of water and snacks with you. It is a strenuous hike that is approximately 5 miles roundtrip.
Lower Emerald Pool
I mentioned Upper Emerald Pool earlier, but you can also hike to Lower Emerald Pool.
The trailhead is located near the Zion Lodge, and the hike is only about 1/2 a mile long. It is considered to be an easy hike with little elevation change.
Zion Human History Museum
The Zion Human History Museum is a great place to learn about the people that have lived in Zion National Park throughout the years.
The museum is located near the Visitor Center and is open all year round.
Temple of Sinawava
The Temple of Sinawava is another great place to take in the beauty of Zion National Park.
It is located at the end of the Riverside Walk trail, which is a paved, easy walk that is wheelchair and stroller friendly.
Checkerboard Mesa
Checkerboard Mesa is one of the most iconic landmarks in Zion National Park.
This mesa got its name from the checkerboard pattern that was created when the rock was eroded over time.
You can see Checkerboard Mesa from many different places throughout the park, but one of the best views is from the Weeping Rock trail.
Kolob Canyons
Kolob Canyons is located near Cedar City in southern Utah and is aa great place to visit if you want to get away from the crowds.
This section of the park is much less crowded than Zion Canyon, and it offers some incredible views.
There are several different trails to hike in Kolob Canyons, ranging from easy to difficult.
Canyon Overlook Trail
The Canyon Overlook Trail is a great option if you are looking for an easy hike with incredible views.
This trail is located near the Visitor Center, and it is only about 1/2 a mile long.
Pa'rus Trail
The Pa'rus trail is a paved, easy trail that is perfect for strollers and wheelchairs.
This trail follows along the Virgin River and is a great option if you are looking for a short, easy hike.
Slot Canyons
There are several different slot canyons located throughout Zion National Park.
These canyons are created when water runs through cracks in the rock and over time, widens them out.
You'll want to keep checking weather reports to ensure that flash floods aren't a threat.
How to Get Around Zion National Park
While you are able to drive your own vehicle around Zion National Park, parking lots are often full, especially during the busy season during peak times.
One way to avoid this problem is to park your car in the town of Springdale and utilize the Zion shuttle service which has many shuttle stops all around the park and near popular landmarks.
You can pick up a map of a shuttle route from the National Park Service at the visitor center near the entrance. There seemed to be a shuttle bus at almost every place we stopped!
Where to Stay near Zion National Park with Kids
There are quite a few options for accommodations near Zion National Park.
We decided to stay at Hampton Inn & Suites in Springdale, because it was a name we knew we could trust, the hotels rooms looked nice, there was a parking spot for our car, and it was located near the park entrance.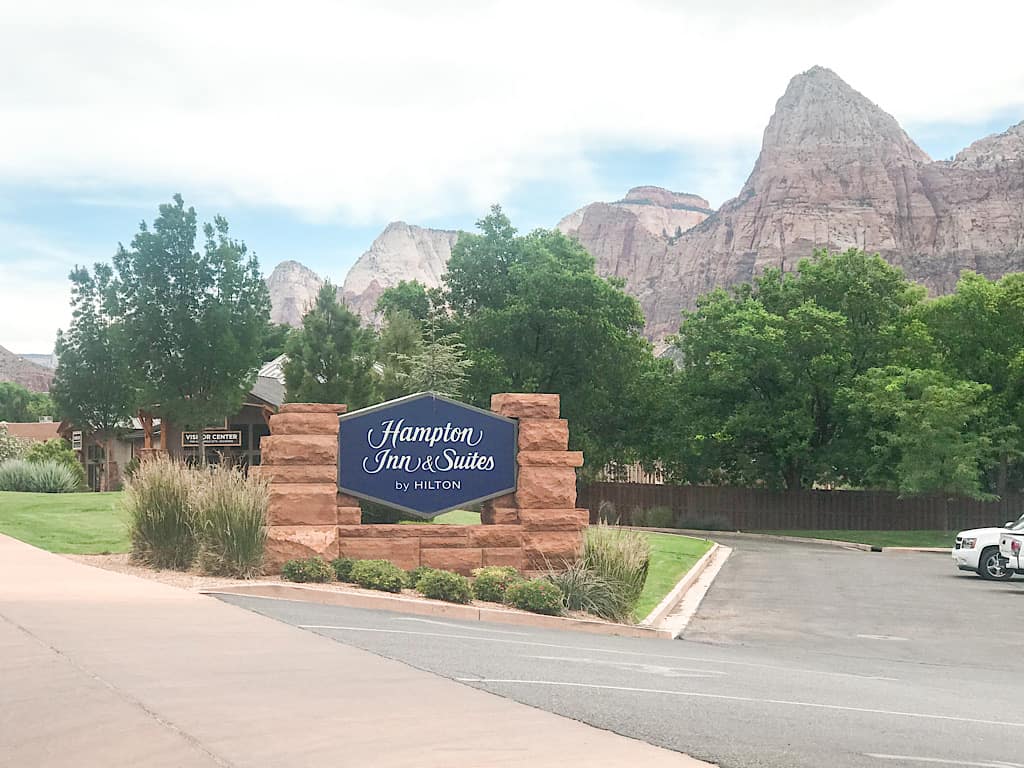 Unfortunately, we had a couple of snags with check in, but our room and the pool were amazing!
Hampton Inn & Suites Springdale Review
Like I mentioned above, we had a couple of issues upon check in. The hotel had our check out date wrong and we were given the wrong room type at first.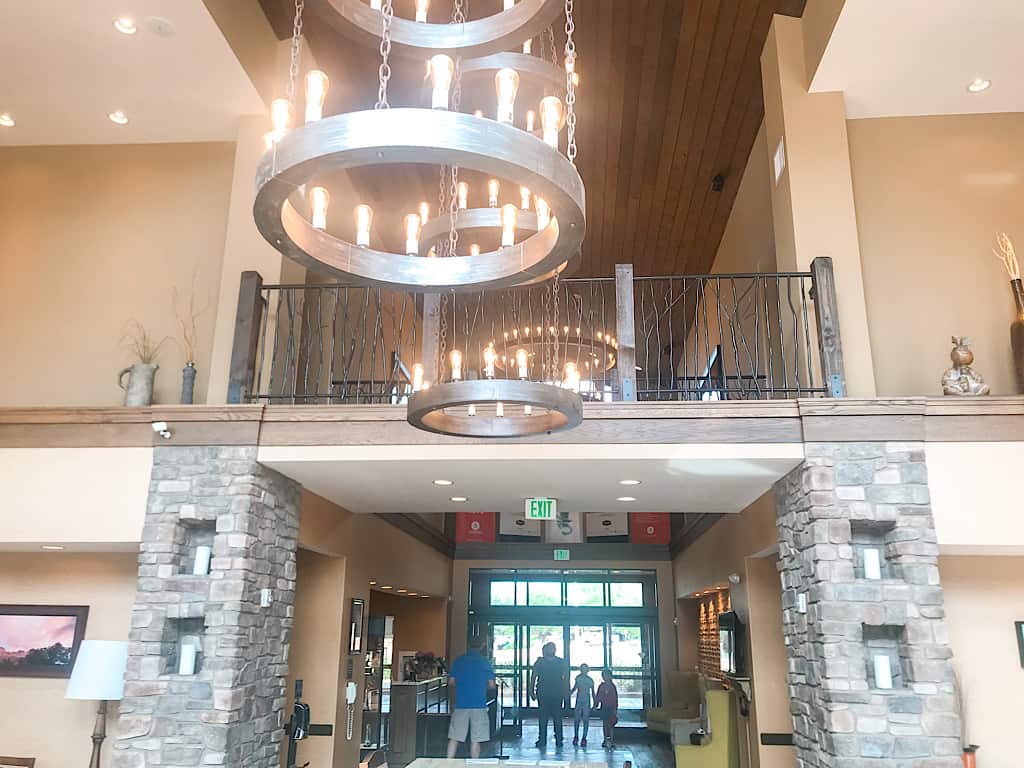 These issues were quickly rectified once we provided our email confirmation that stated the correct date and room type.
Hotel Room
The room that we reserved was a King Studio Suite. As you walk in the room, there is a sink, microwave, and mini-fridge.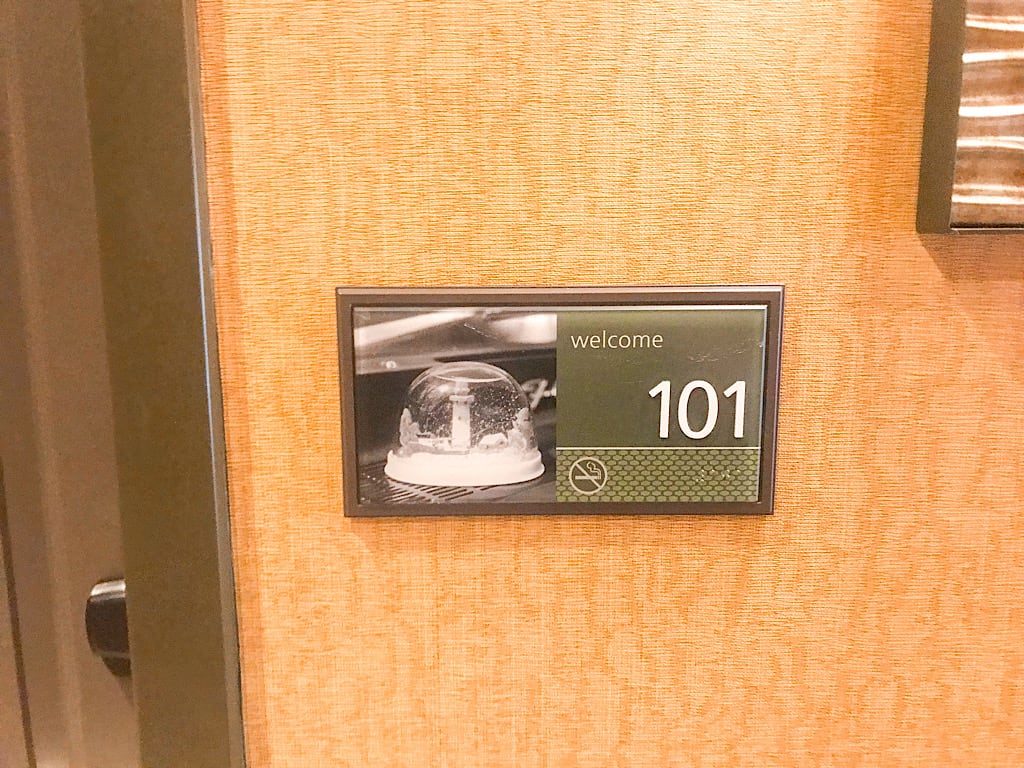 Straight ahead, you will find a couch with a pull-out bed, as well as a large desk and flat screen television.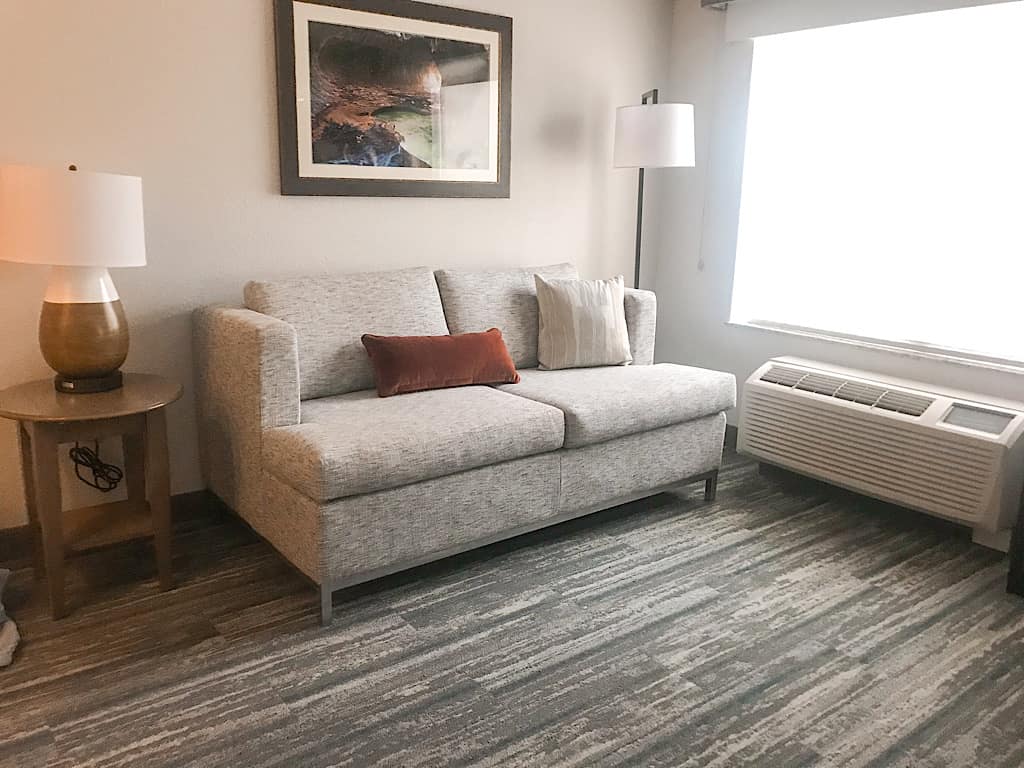 On the other side of the desk, is a king-size bed and two nightstands.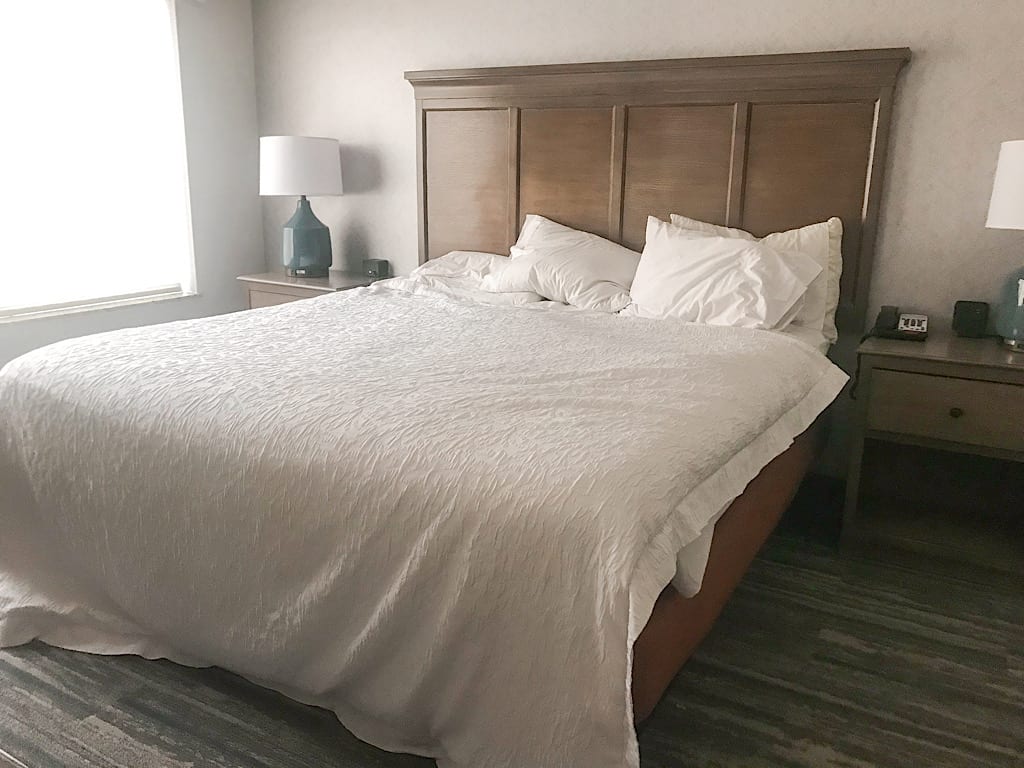 The bathroom has a tub/shower combination and the vanity is located separate from the bathroom, which makes getting ready in the morning with multiple people more convenient.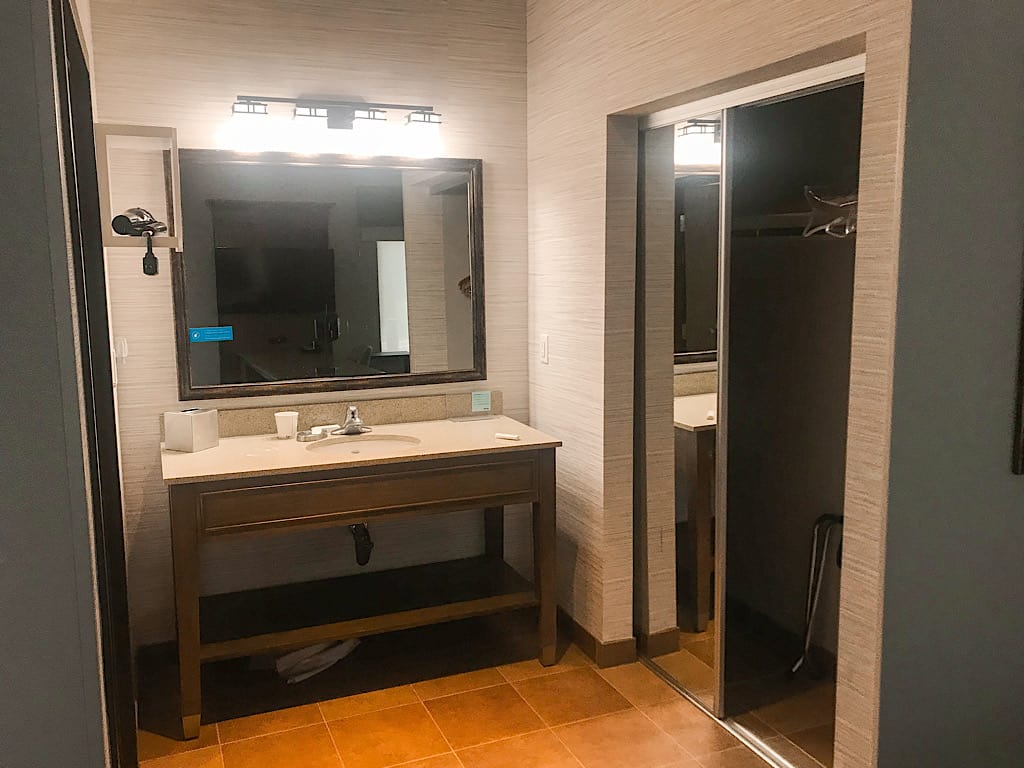 Pool Area
The Hampton Inn has a pretty large pool as well as a hot tub.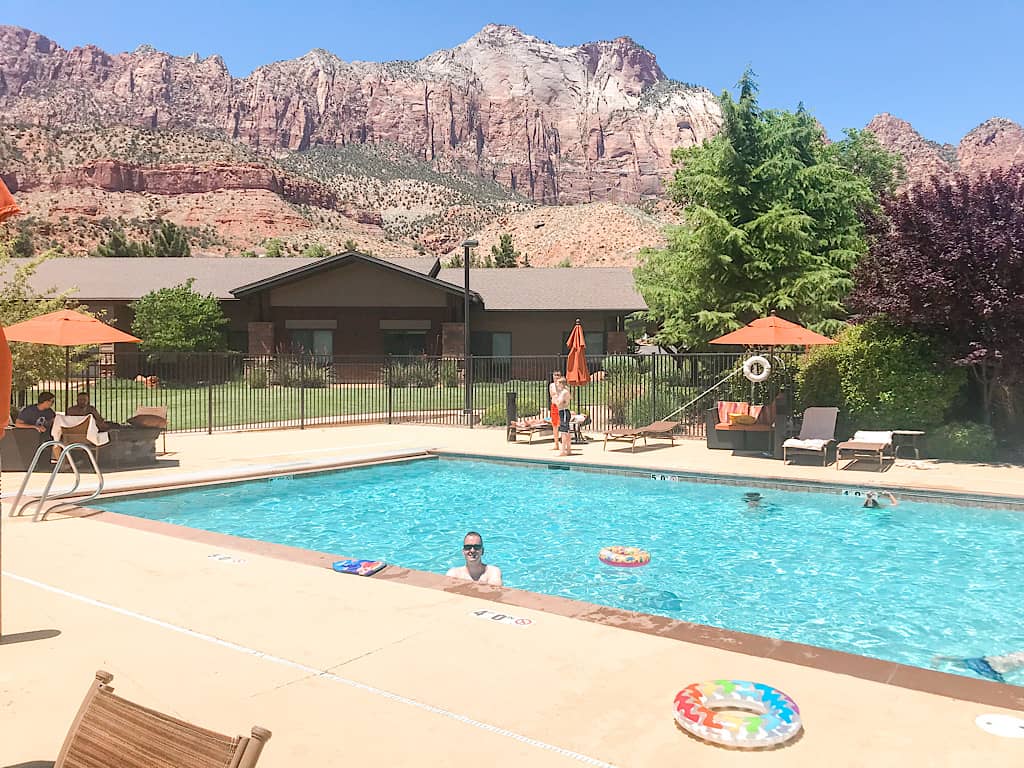 There are also quite a few seating options surrounding the pool with umbrellas available to provide some shade.
Amenities
We were quite busy visiting Zion, and we didn't have a lot of time to check out many of the amenities available at Hampton Inn.
During a normal Hampton Inn stay, you are able to get a delicious warm breakfast. We happened to visit when there was a need for social distancing.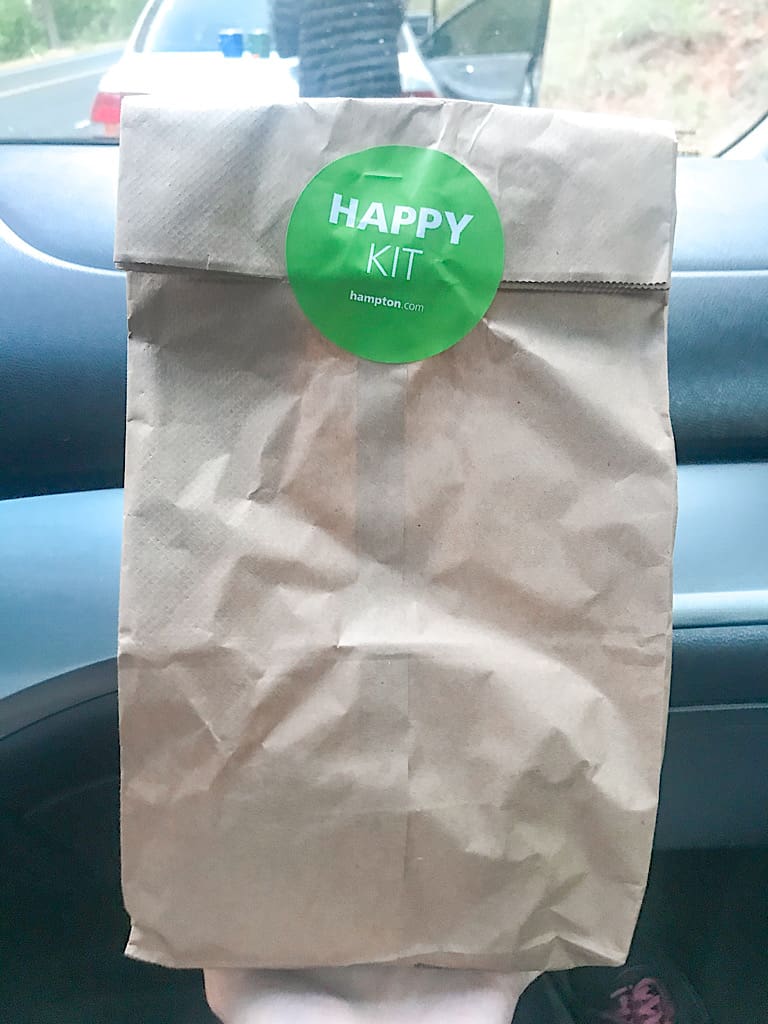 I loved Hampton's solution to this issue. They provided each guest with an individual grab and go breakfast.
Inside the bag was a breakfast sandwich, that could be warmed up in your room, an orange, yogurt, orange juice, and a granola bar.
Where to Eat near Zion National Park with Kids
On our trip to Zion, we stayed a total of three nights. We had breakfast provided at our hotel each day, we packed a lunch to take with us to the park, and we tried to find a yummy place in Springdale to go out to dinner, because often times, food can be one of the best things on a vacation!
Meme's Cafe
We really liked the food and service at Meme's Cafe in Springdale.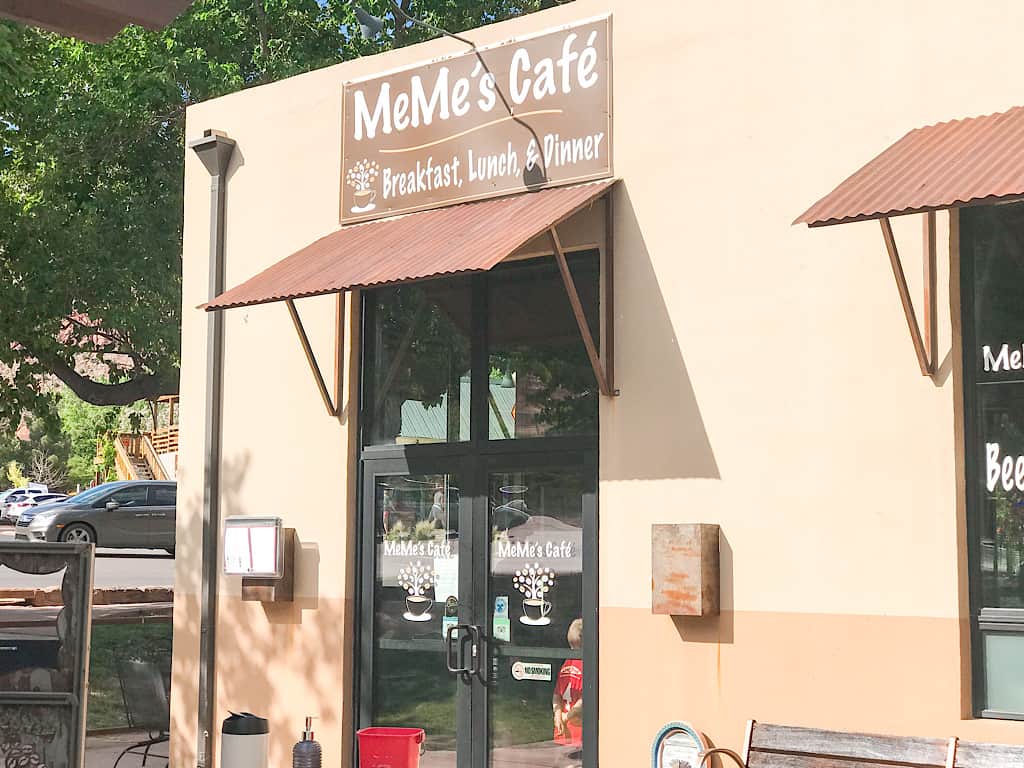 Their menu consists of crepes, salads, burgers and sandwiches. My husband ordered the Bacon Ranch Grilled Cheese Sandwich and I had the Barbecue Salad. Both were delicious.
The kids meals were $7.99 each and had breakfast items, crepes, grilled cheese sandwiches, and chicken strips.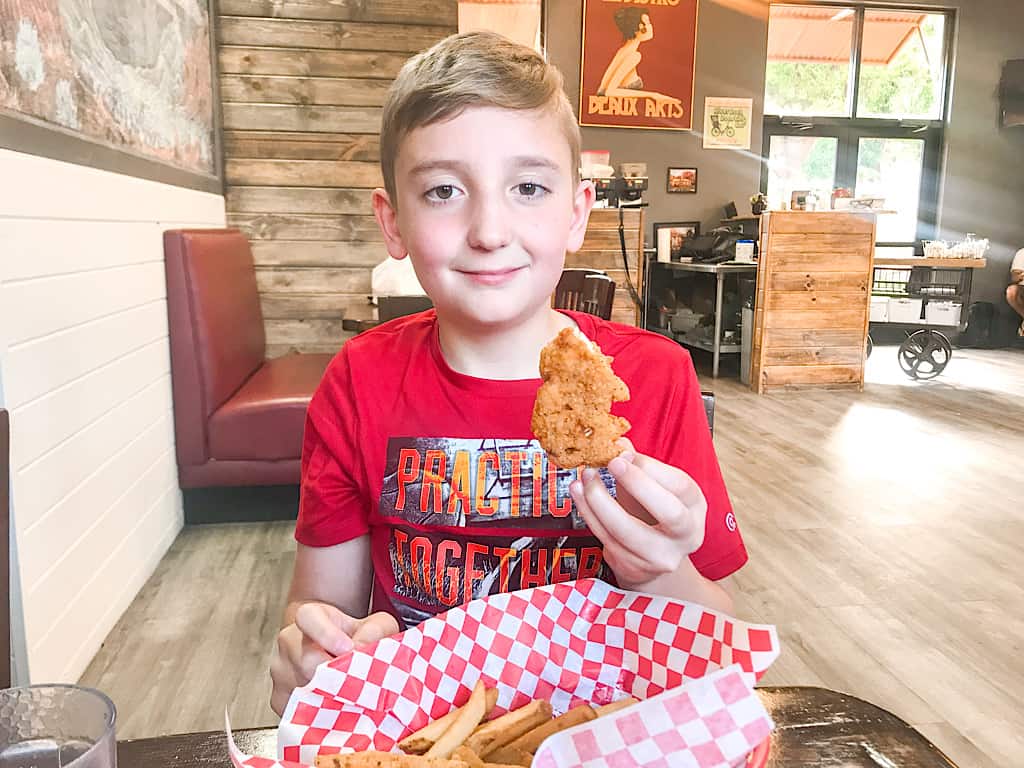 Oscar's Cafe
Oscar's Cafe is also located on the main road in Springdale. When we arrived, there was a short wait of 20 minutes.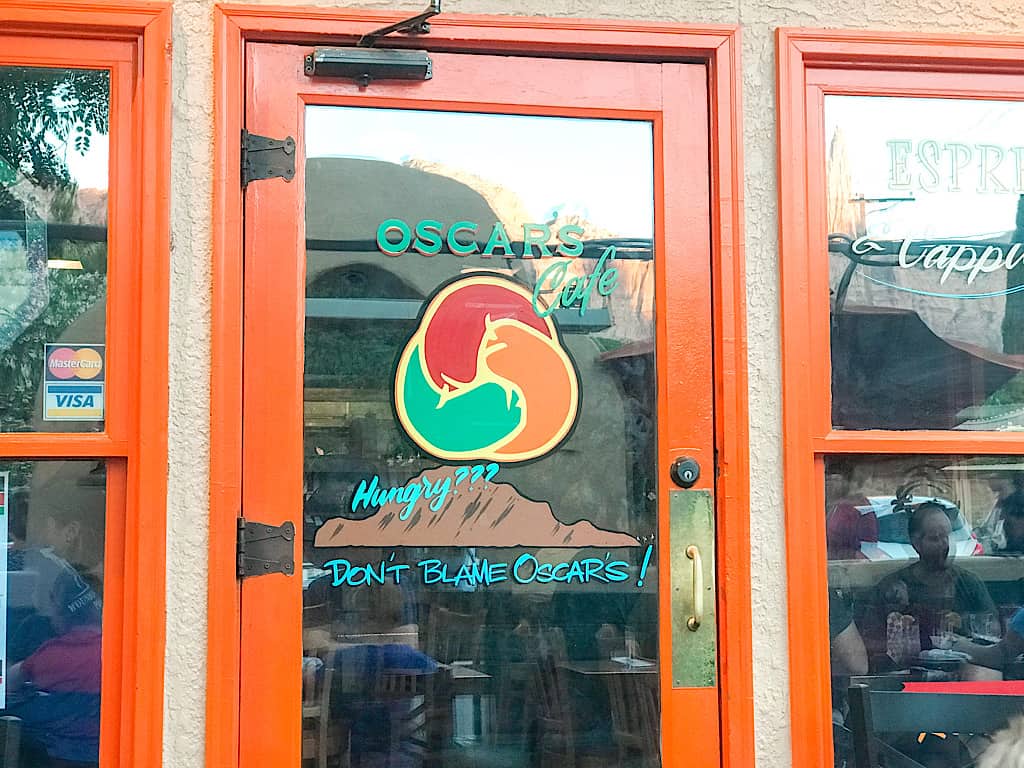 The menu at Oscar's offers Mexican Food as well as burgers. After doing some research on Yelp and Instagram, we saw a lot of hype about the Murder Burger.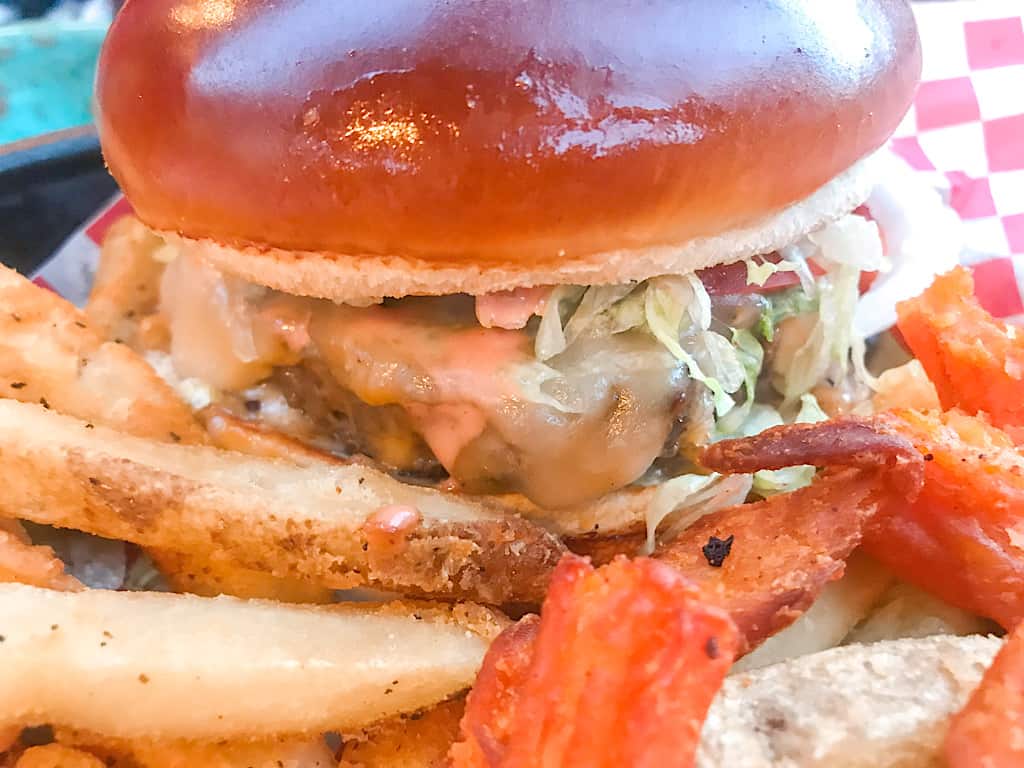 My husband and I split it and it was more than enough and was delicious. We also ordered Chips & Salsa and of course, the guacamole!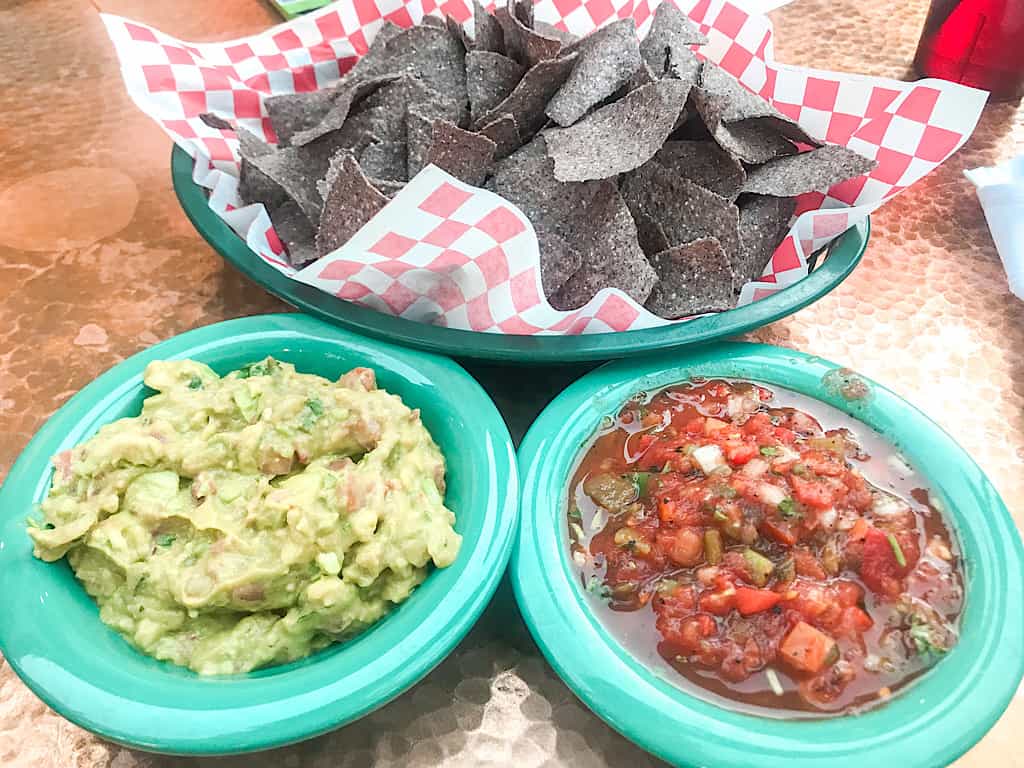 If I make it back to Oscar's Cafe again, I definitely want to try one of their burritos.
Bryce Canyon National Park near Zion
If you are visiting Zion with kids, and have some extra time, I definitely recommend taking a trip over to Bryce Canyon National Park for a few hours.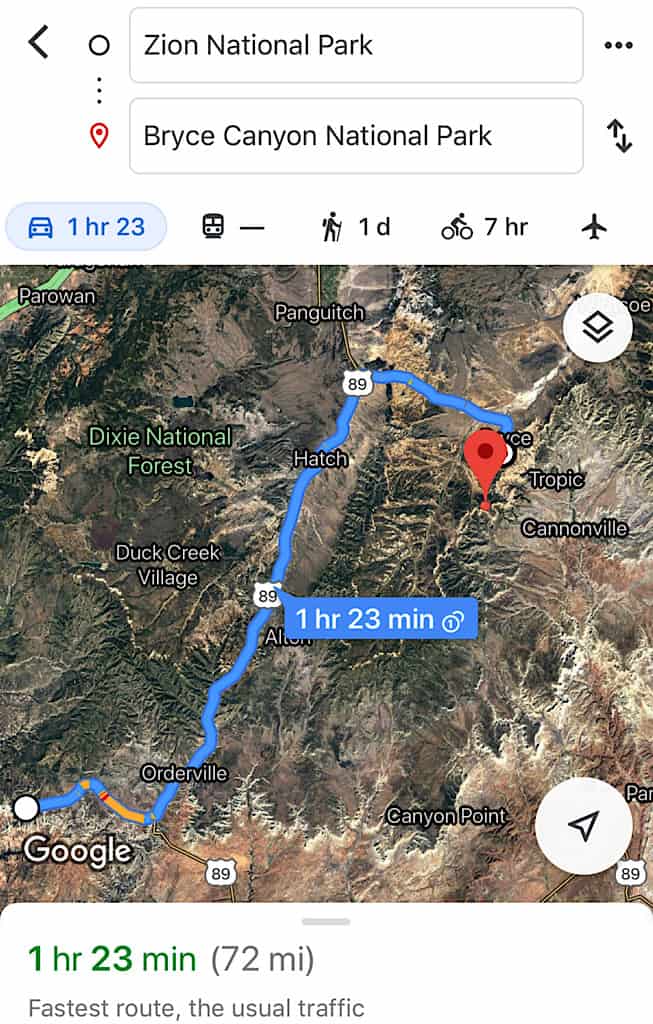 Coming from Zion, Bryce Canyon National Park is 72 miles to the East and will take just under and hour and a half to drive there.
Bryce Canyon is great for kids because there are a lot of amazing things to see in a relatively small area.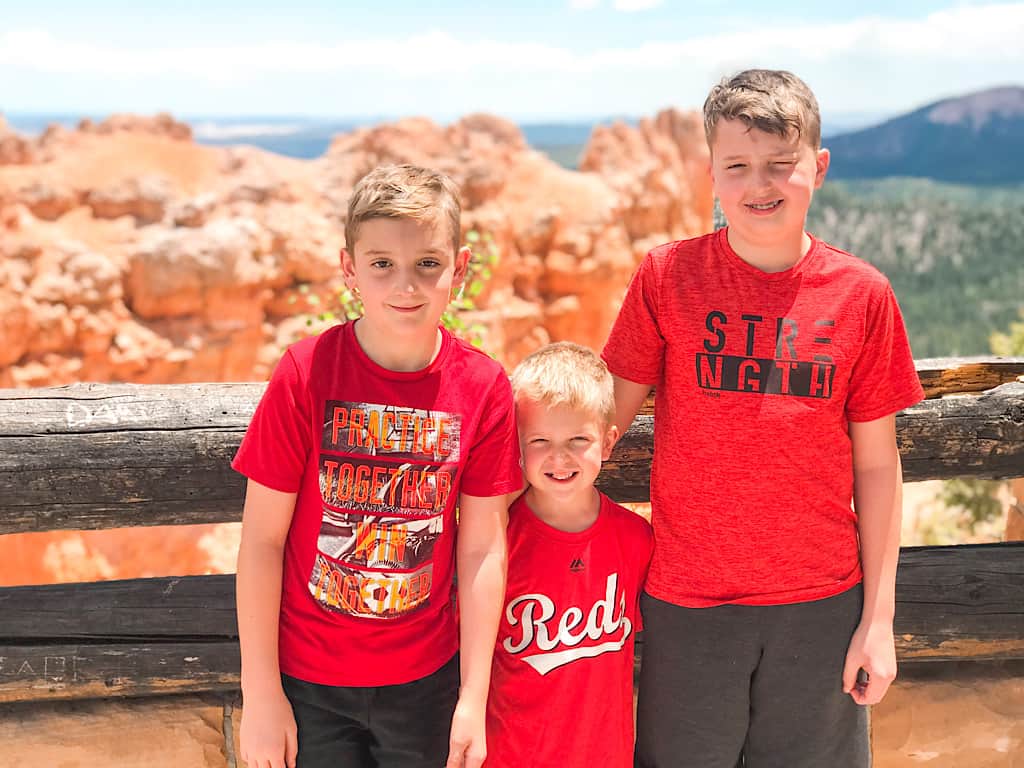 My kids loved having a break from hiking and having the ability to drive up to landmarks, get out and view them, and move on to the next.
Drive to Bryce Canyon National Park
If you drive to Bryce Canyon from Zion, you will get to drive through some amazing landscapes, and even a couple of arches.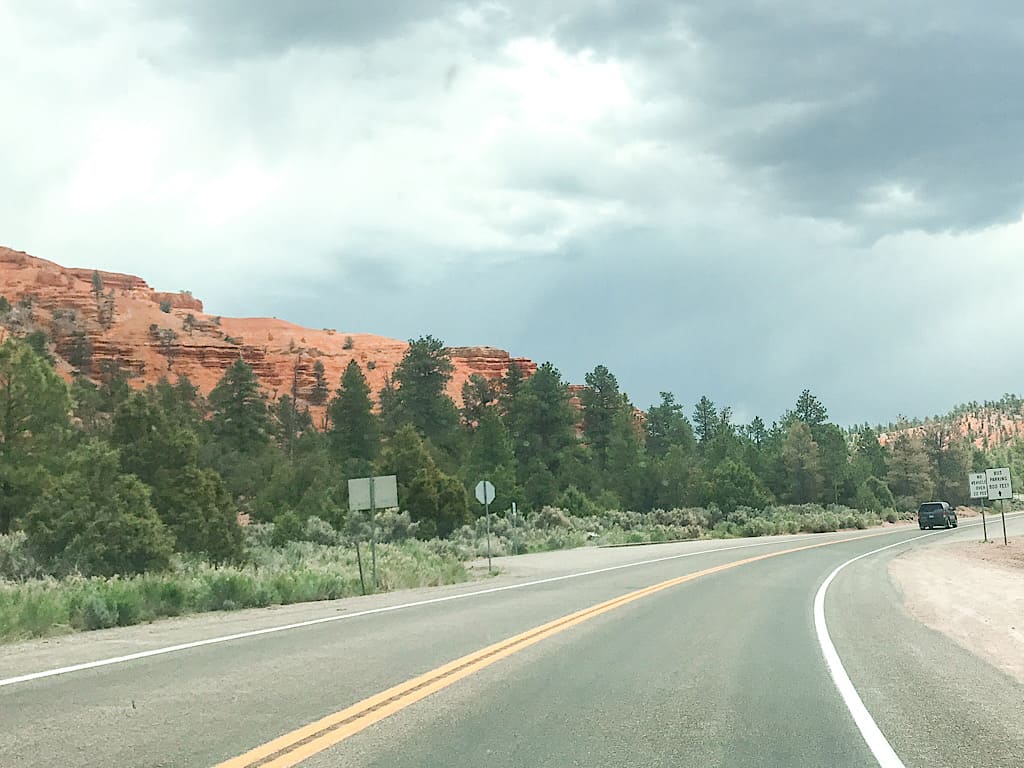 If you have time, make sure to stop and see Thunder Mountain. This area is the inspiration for Big Thunder Mountain Railroad rides at Disneyland and Disney World!
Natural Bridge
Natural Bridge is a must see if you visit Bryce Canyon with kids. It is one of several arches located in the park.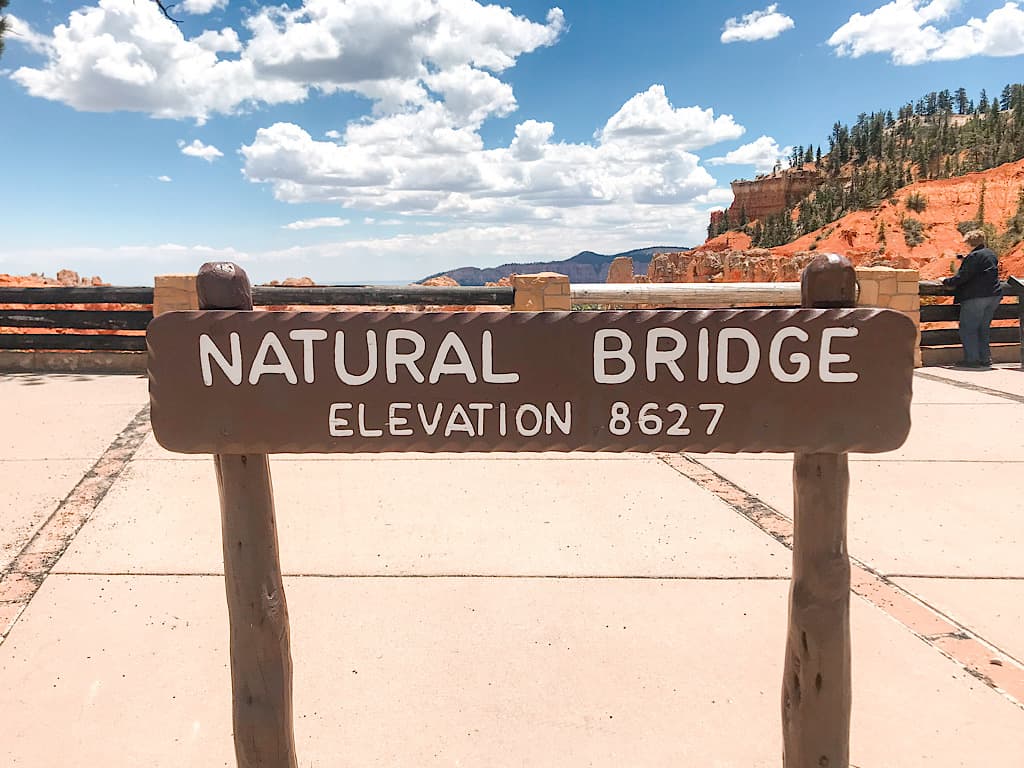 These arches are formed by rock erosion from streams or rivers. It is amazing to see the stark contrast of the red rocks and the green forests.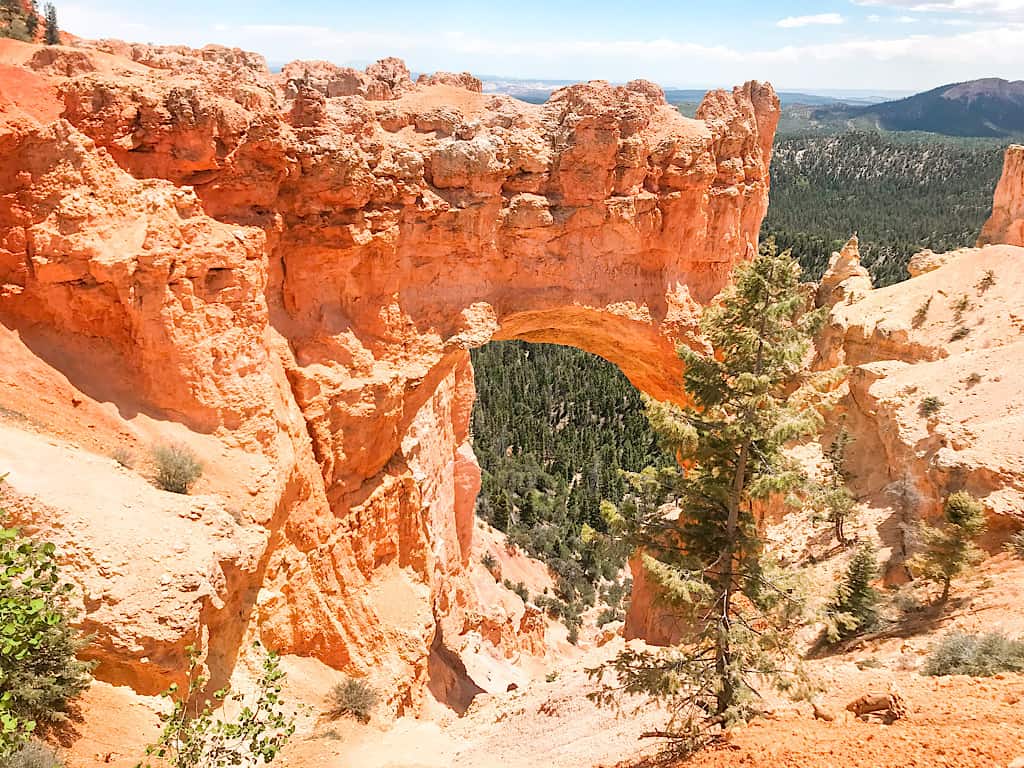 Agua Canyon
Agua Canyon was another fun little stop on our trip through Bryce Canyon. Make sure to catch a glimpse of the two large towers.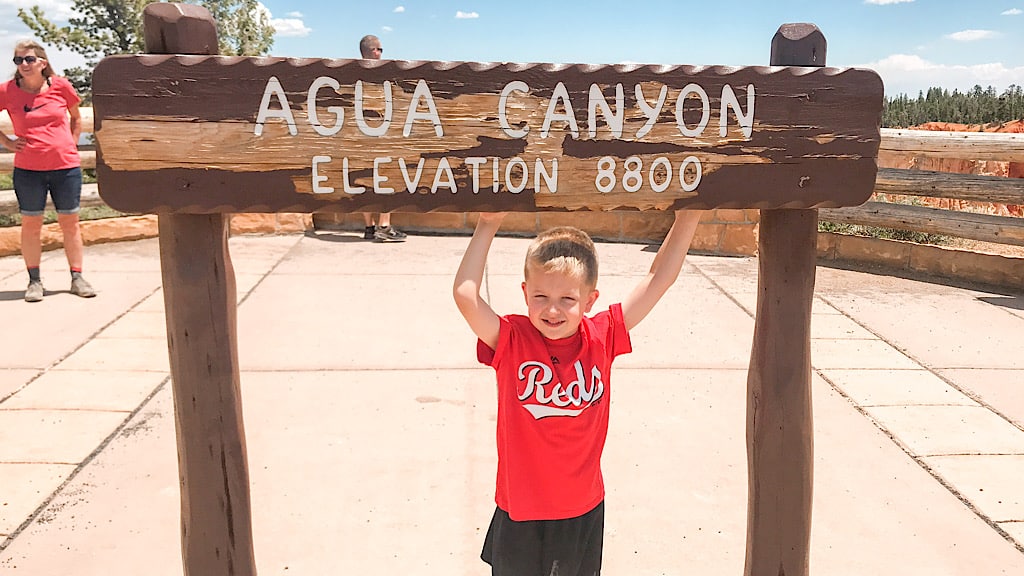 The taller tower is know as "The Hunter" and the shorter is known as either "The Rabbit" or "The Backpacker".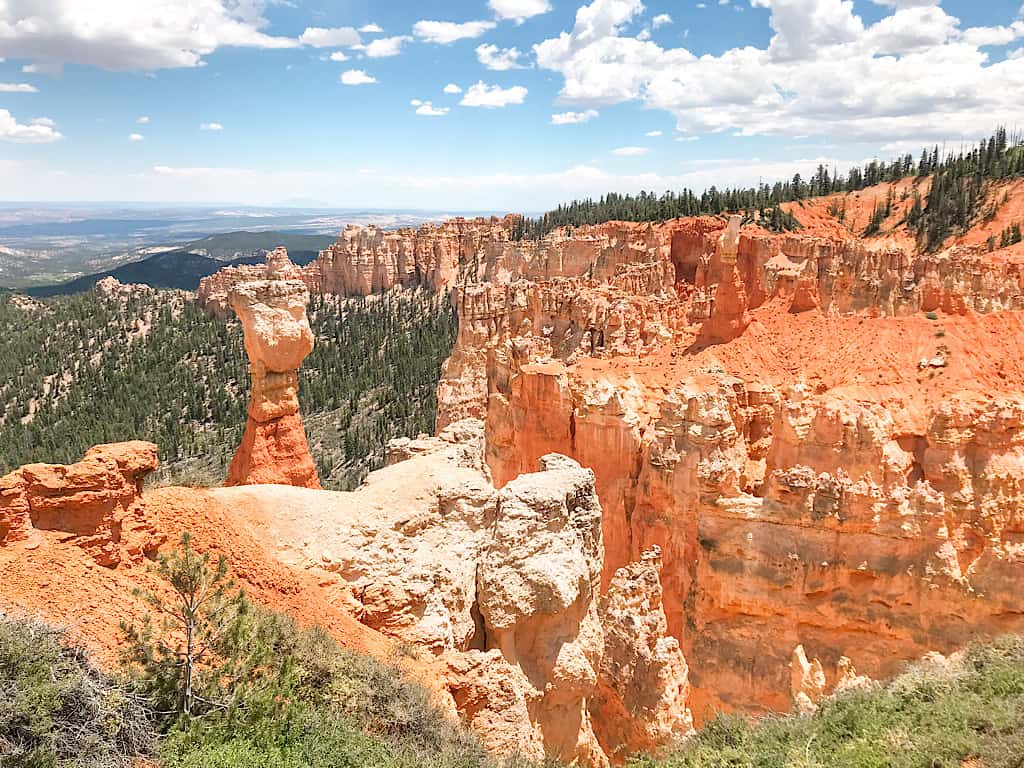 Rainbow Point
When you visit Bryce, make sure to stop at Rainbow Point. This area will give you an overview of the entire park and is absolutely breathtaking.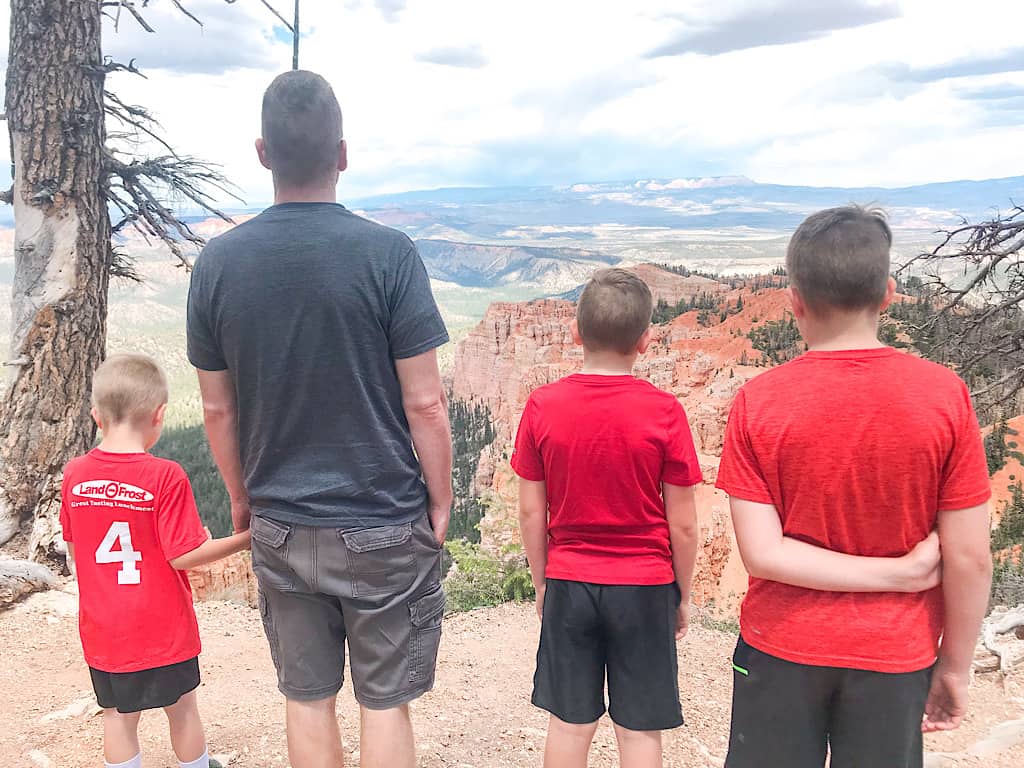 Check out the video below to see the beauty of Zion and Bryce Canyon National Parks!
More from Mommy Mouse Clubhouse: