Wondering what to do at Arches National Park and Canyonlands National Park with kids? I've got you covered! Here is a 2-day itinerary to keep kids entertained that incorporates both parks plus some extras!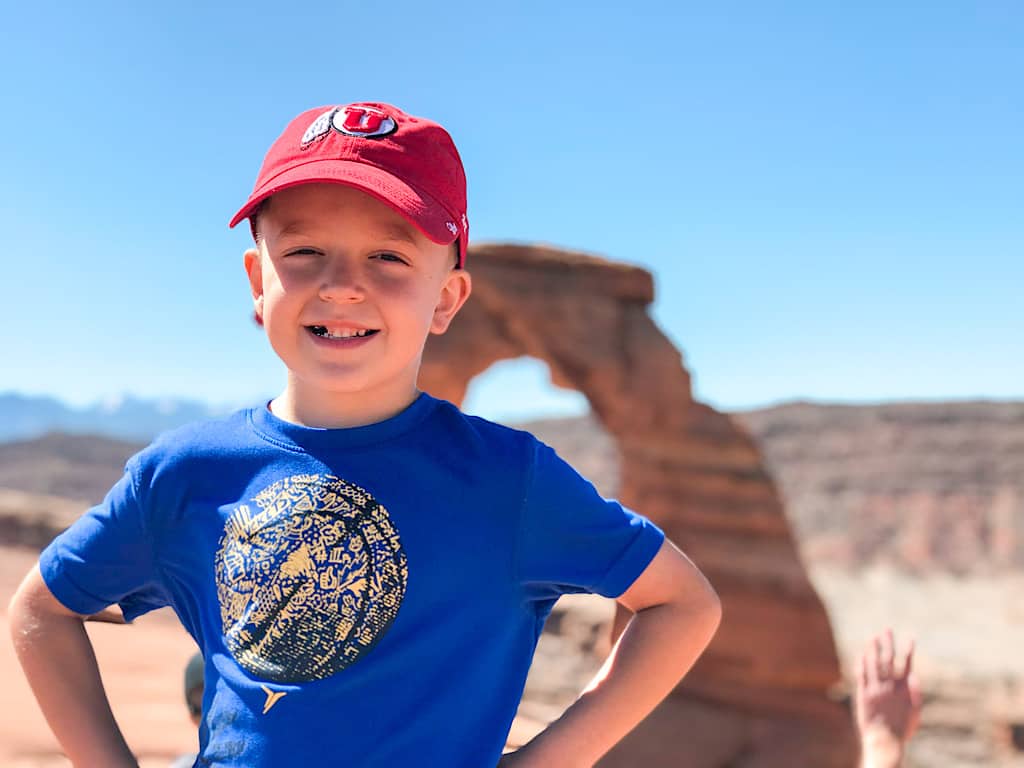 This post may contain affiliate links. When you click on these links, I get a small percentage back at no cost to you! For more information see my disclosure policy.
We have definitely been taking advantage of my 4th Grader's free pass into National Parks this summer.
Every 4th Grader in the United States is eligible for this pass.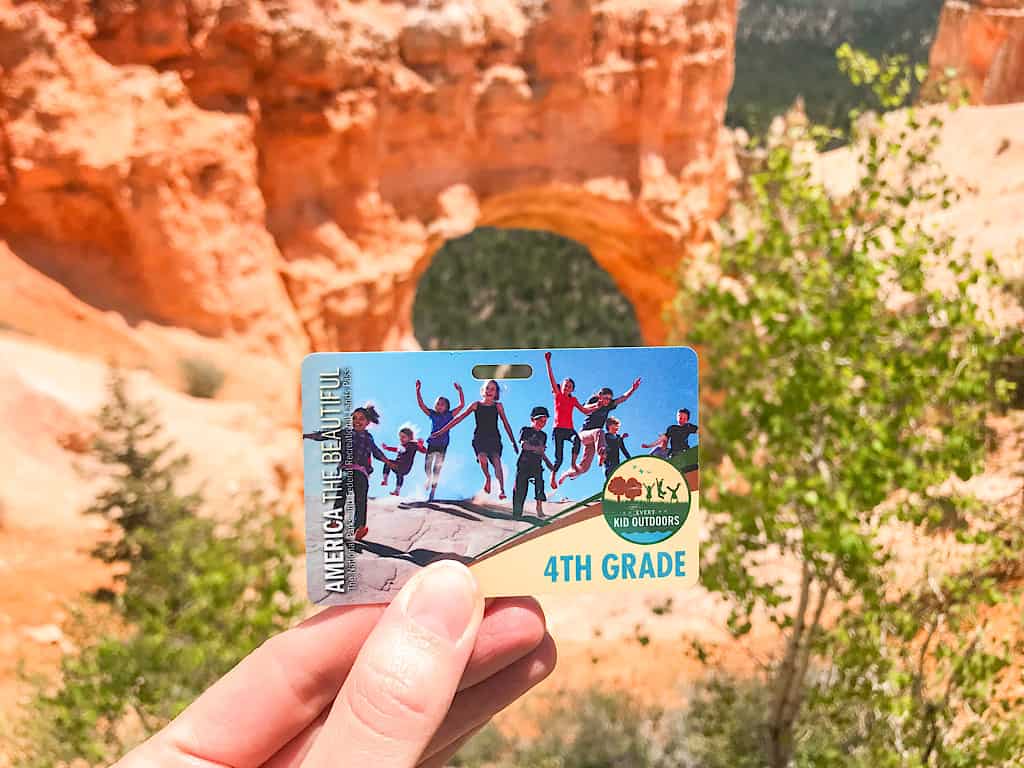 So far this summer we have explored 4 out of the 5 National Parks in Utah (Zion, Bryce Canyon, Arches, and Canyonlands) and have also ventured into the National Parks of neighboring states (Yellowstone and Grand Teton).
Read all about visiting Zion and Bryce Canyon National Parks with kids HERE!
I highly recommend getting your kids out into the fresh air and exploring some of the beauty the United States has to offer!
Arches National Park
Arches National Park was definitely one of our favorite National Parks.
It is crazy driving around and viewing the random rock formations and arches that seem to be around every corner.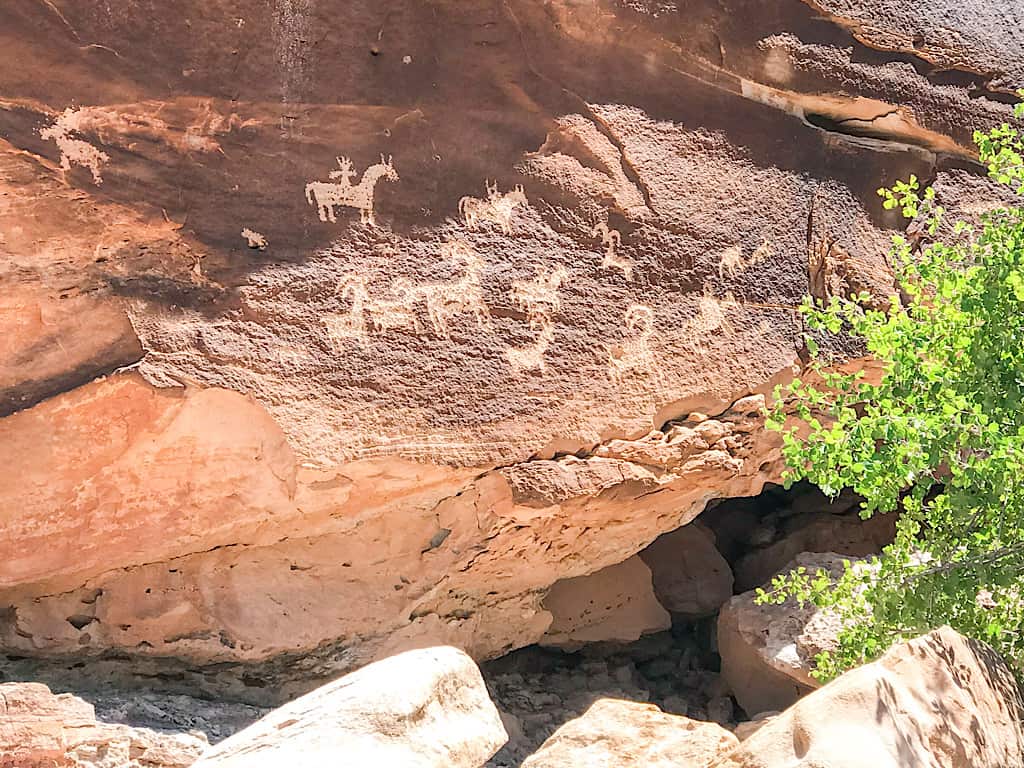 The landscape in this area has been carved out and formed over millions over years by different forces including wind and water.
For more interesting information on how this occurred, visit the National Park Service website here.
Where is Arches?
Arches is located in South Eastern Utah. It is right outside the city of Moab and can easily be accessed from Interstate 70 and State Road 191.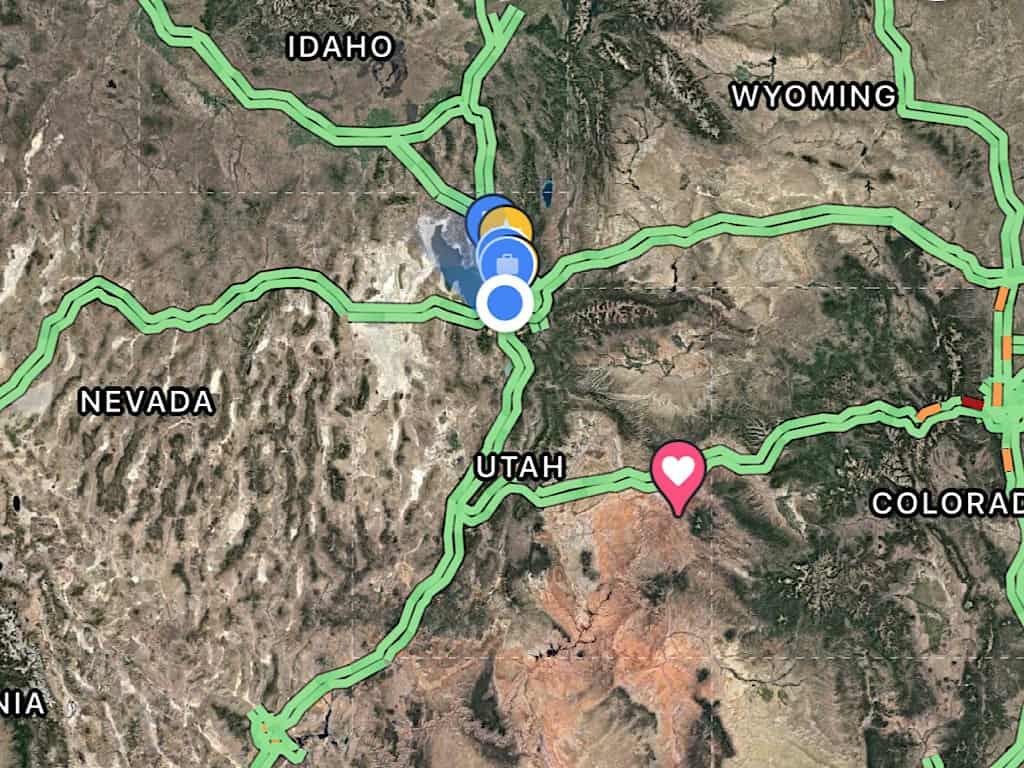 It is approximately 230 miles from Salt Lake City and will take you about 3 1/2 hours to travel by car.
From Denver, Colorado, Arches is about 350 miles and will take about 6 1/2 hours to travel to by car.
What to see in Arches National Park with Kids
Arches has so much to see and do! But, not all of it will be easy or appropriate to do with kids.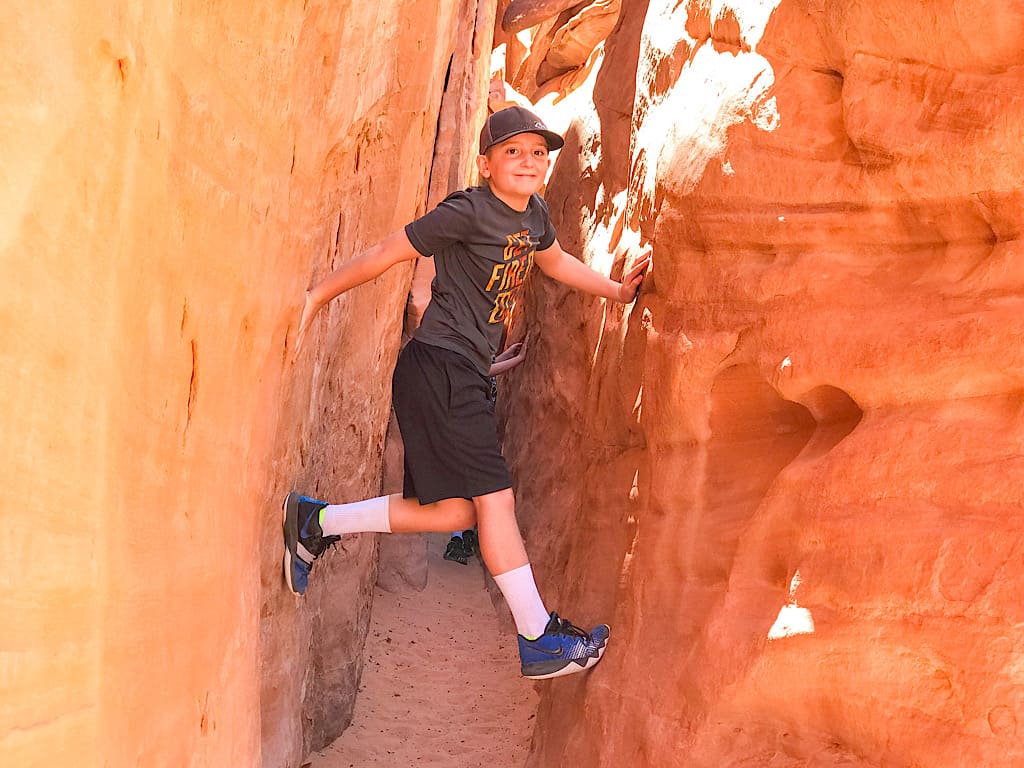 Here are a few of the things that my boys ages 6, 10, and 13 loved. Hopefully your kids will love them too!
Delicate Arch
Our first stop was Delicate Arch. This is the most iconic arch inside of the Park and we wanted to make sure we did it early in the morning before it got too hot outside.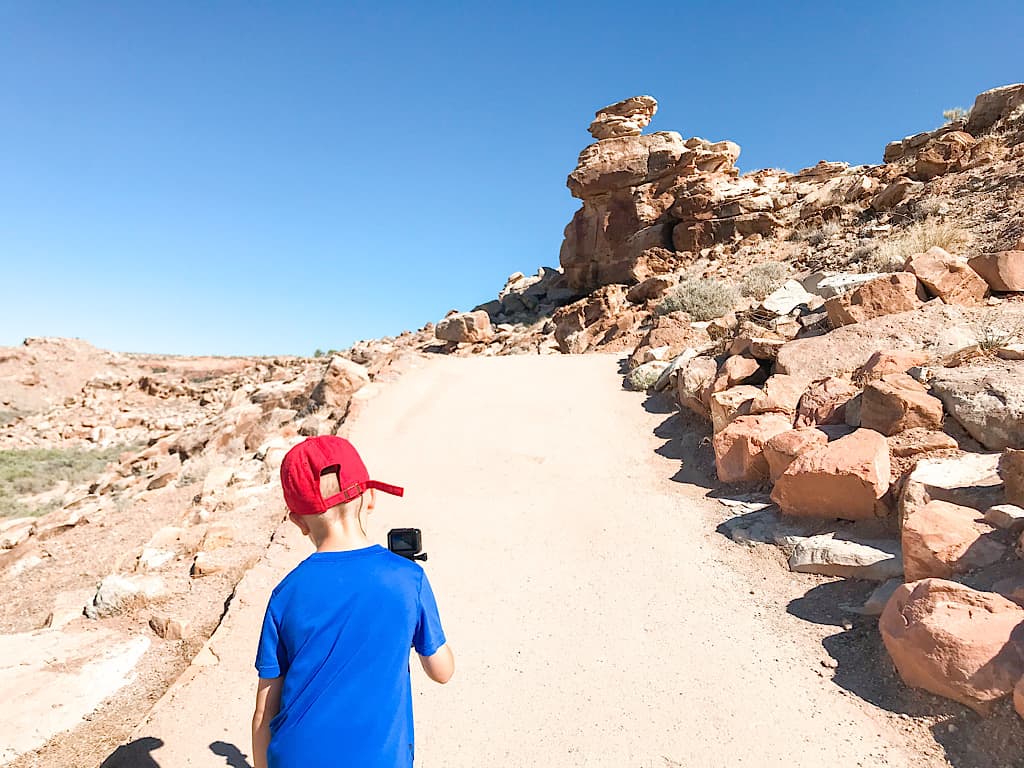 To get to Delicate Arch, you will hike 3 miles round trip. The terrain of this hike can be pretty steep and rough in some areas.
My boys did a great job but this hike might be a little too difficult for kids under 5 unless you use some kind of baby carrier designed for hiking.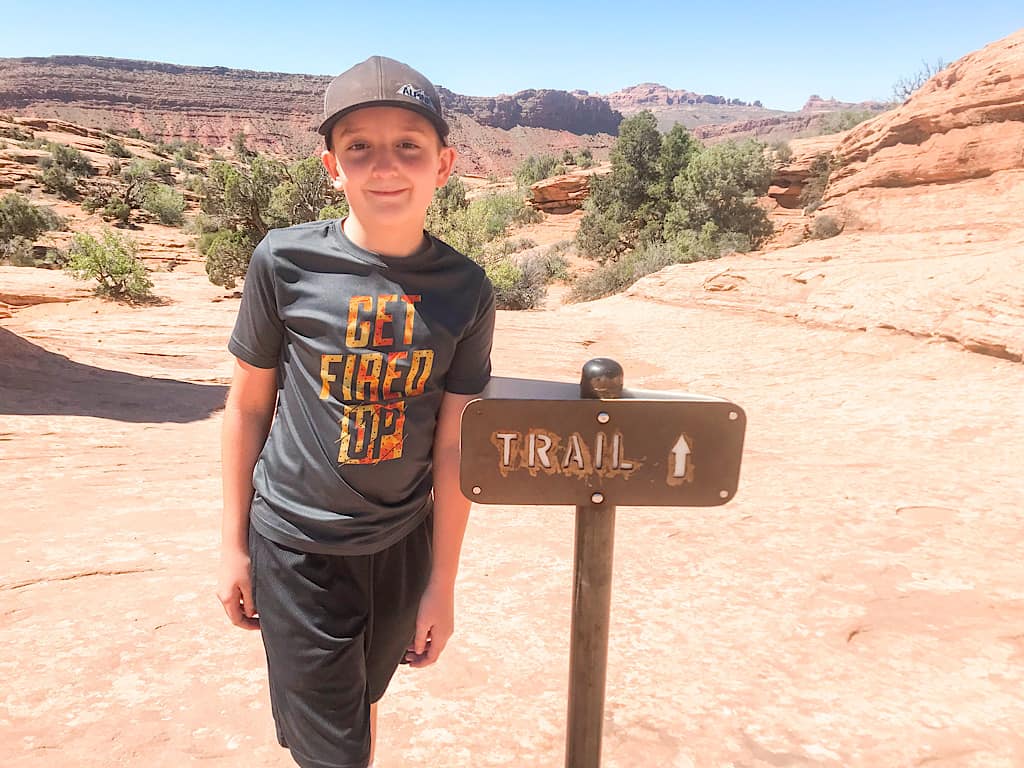 It can get pretty warm in the spring and summer months on this trail, so I definitely recommend using sunscreen and wearing a hat.
You'll also want to make sure you take plenty of water.
When you reach Delicate Arch, there are some really steep drop offs.
Make sure to hold on to your kids to keep them safe.
The family next to us dropped a camera off the ledge because they let their guard down to take a picture.
Sand Dune Arch
Sand Dune Arch was a quick stop on our visit to Arches. It is a pretty short trail, about .2 miles from the parking lot through a short slot canyon.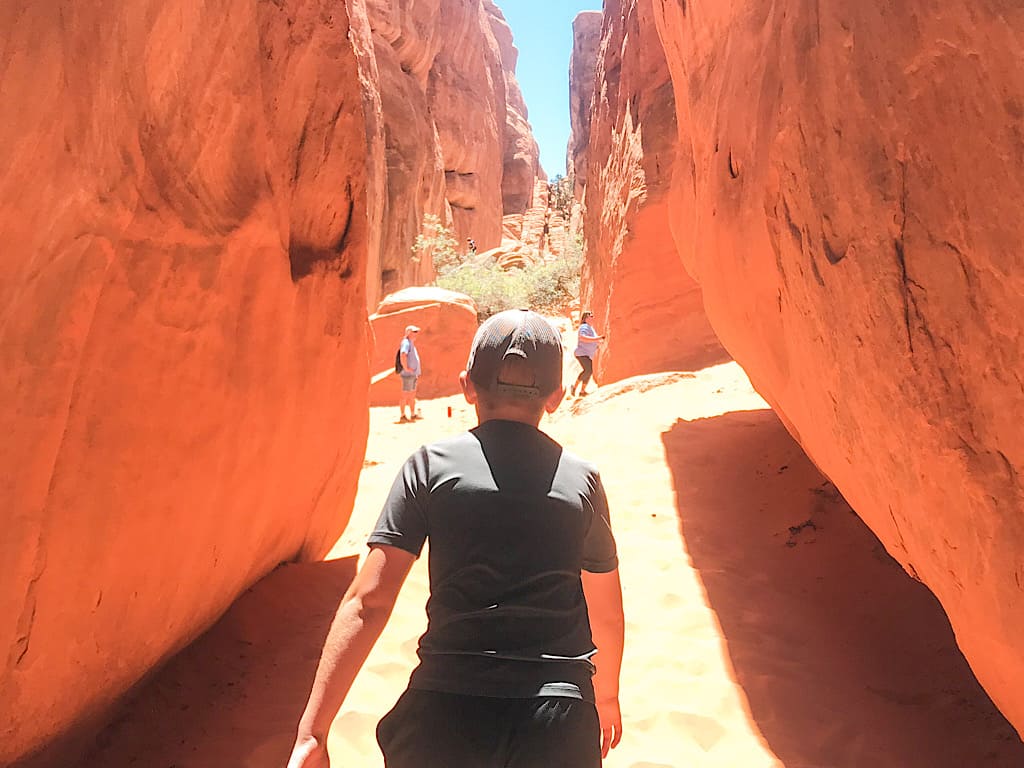 The arch is surrounded by sand which my boys loved walking through and playing with. I definitely recommend stopping here.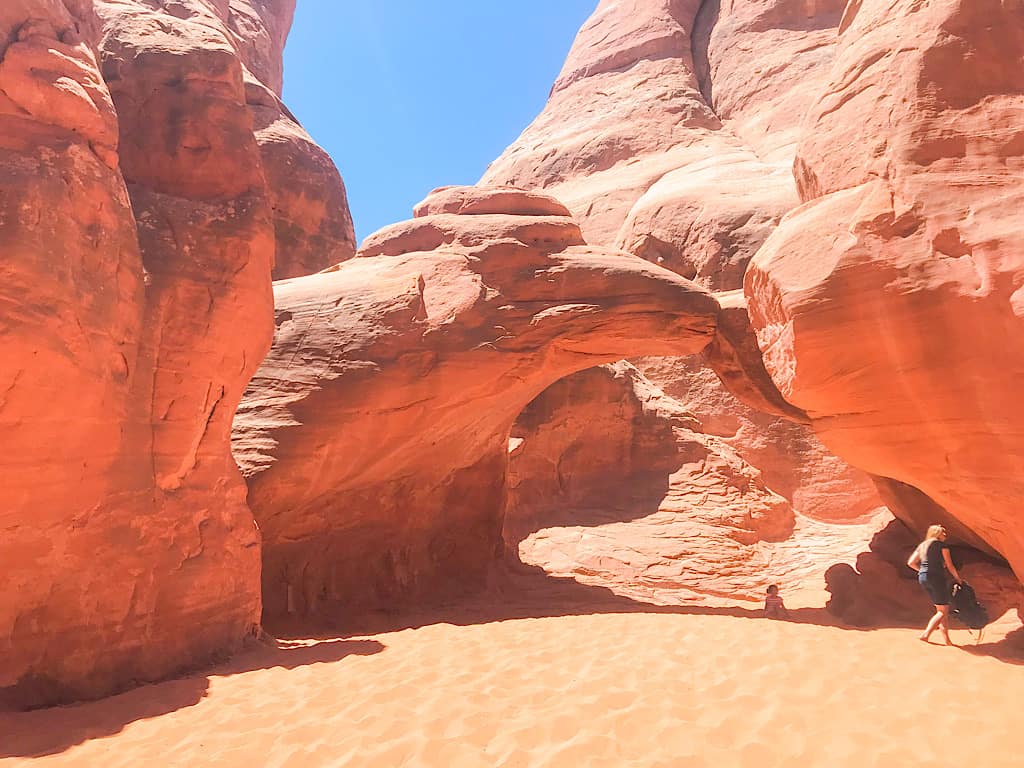 Double Arch
When you visit Arches National Park with kids, make sure to stop and see Double Arch is another easy trail that is mostly covered with gravel and is about a half mile.
It ends at two massive arches that meet together. It's definitely a must see.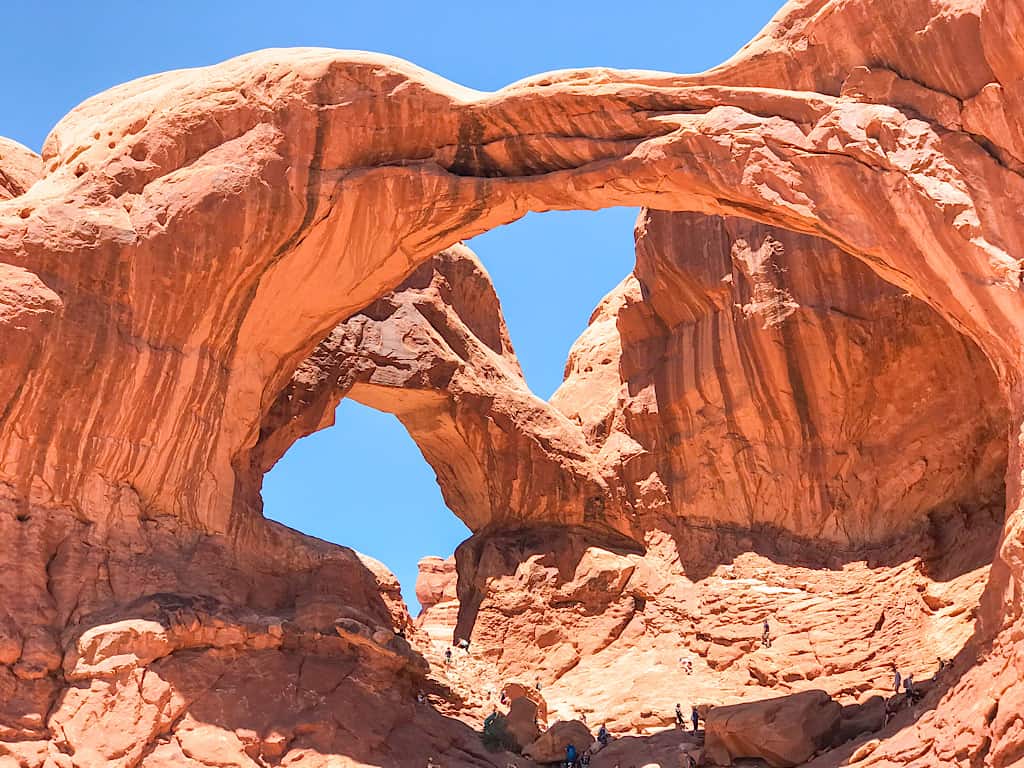 You'll want to plan on spending at least 20 minute here to check out the amazing sights!
Canyonlands National Park
Canyonlands National Park is directly west of Arches and is also accessible from Moab, Utah.
The breathtaking canyons are carved out by the Colorado River and it tributaries.
It is divided into four sections. We spent our day exploring the Island in the Sky.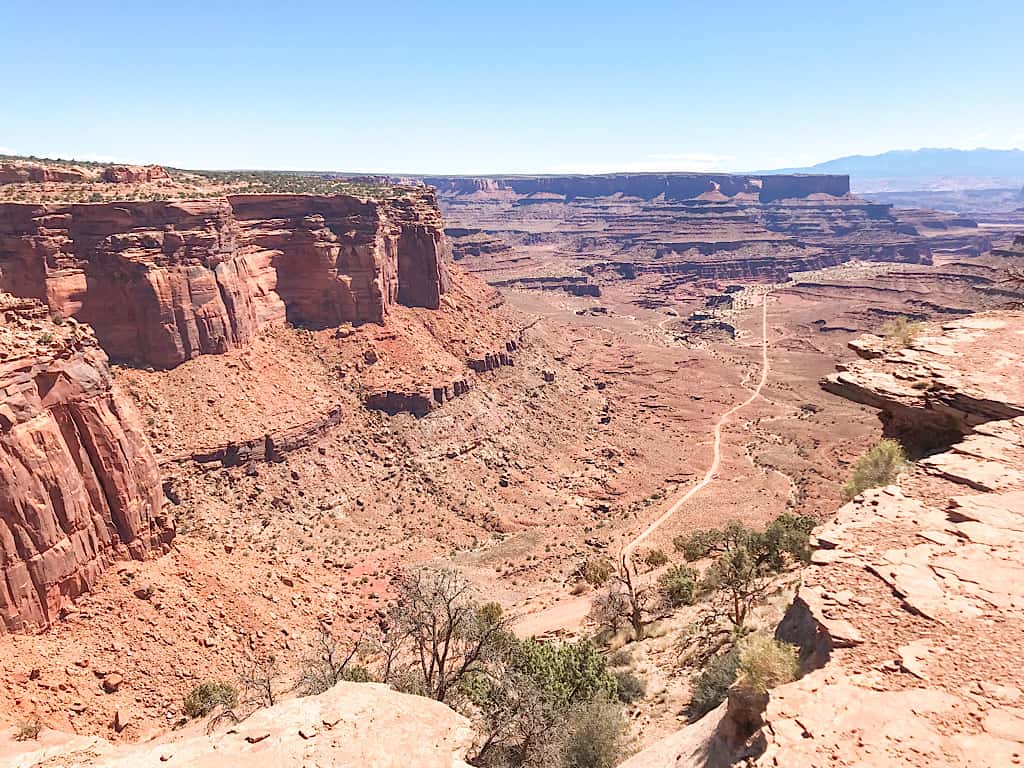 Island in the Sky Area
Island in the Sky has the closest entrance to the entrance of Arches.
It is a large mesa that has a canyons on one side created by the Colorado River and canyons on the other side created by the Green River.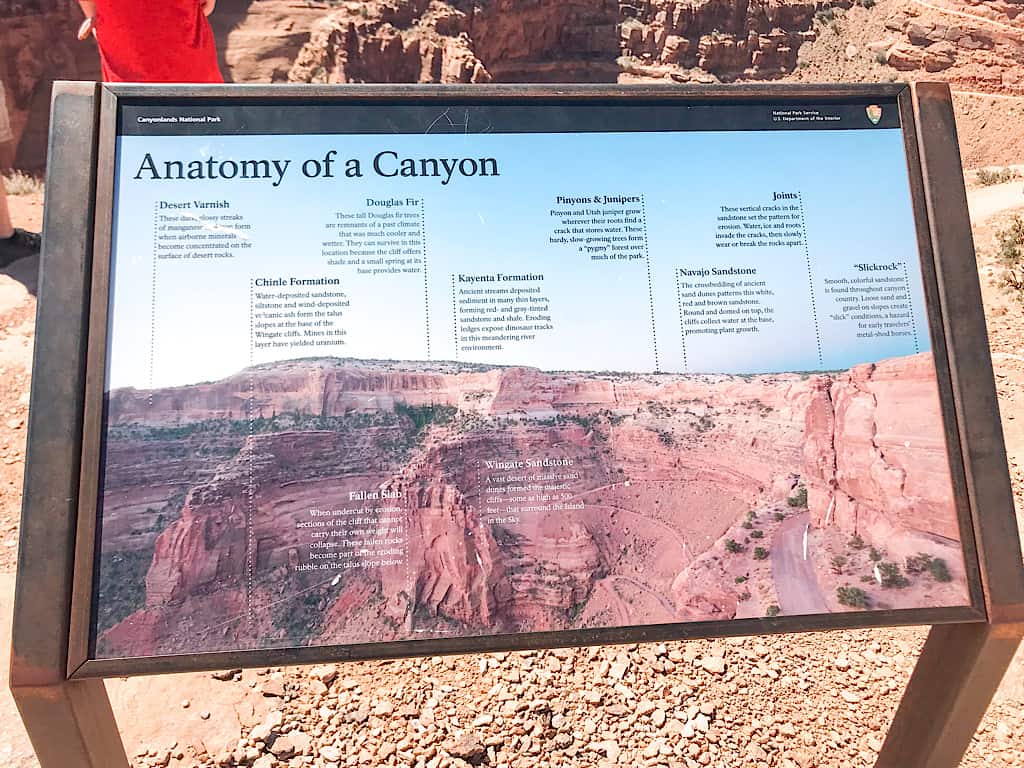 Green River Overlook
You'll definitely want to check out the Green River Overlook in the Island in the Sky section of Canyonlands National Park. The landscape is amazing!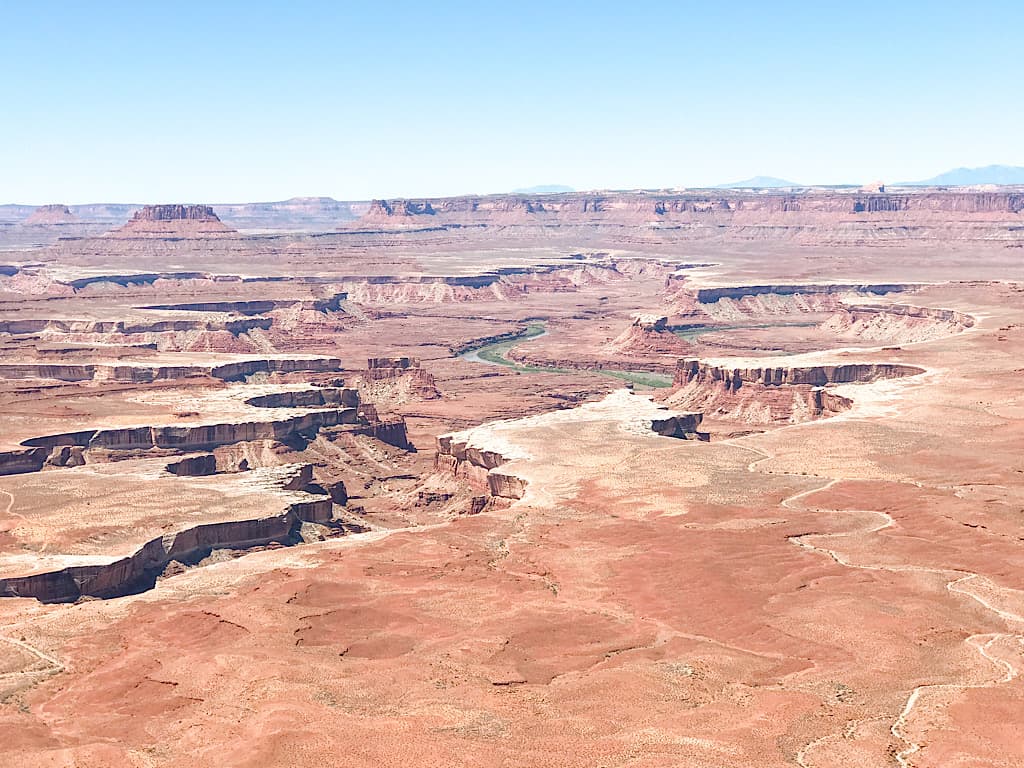 Its a quick stop right next to its parking lot, so no hiking is required. Make sure to check out my video below to see the breathtaking views!
Grand View Point Overlook
The Grand View Point Overlook is definitely grand. It is located and the southern most point of the Island in the Sky section.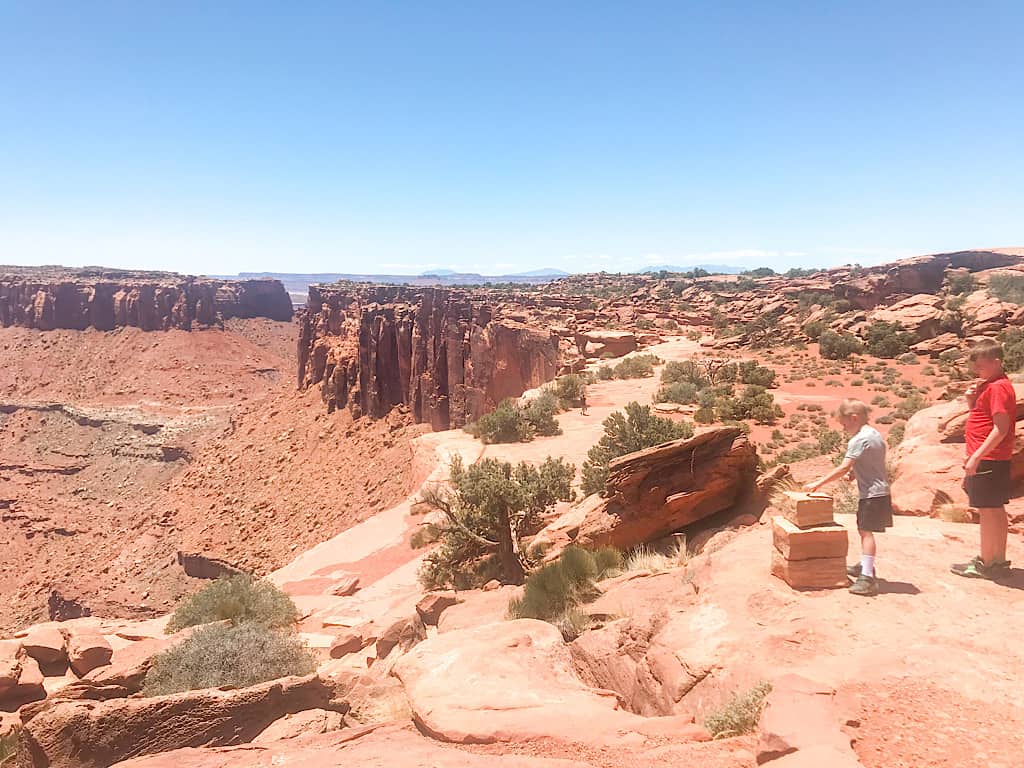 From the parking lot, we walked on a paved trail about 100 yards to the first overlook. You can continue on, but we did not.
Mesa

Arch
Our last stop at Canyonlands was Mesa Arch. This is a stone arch that overlooks the canyons below.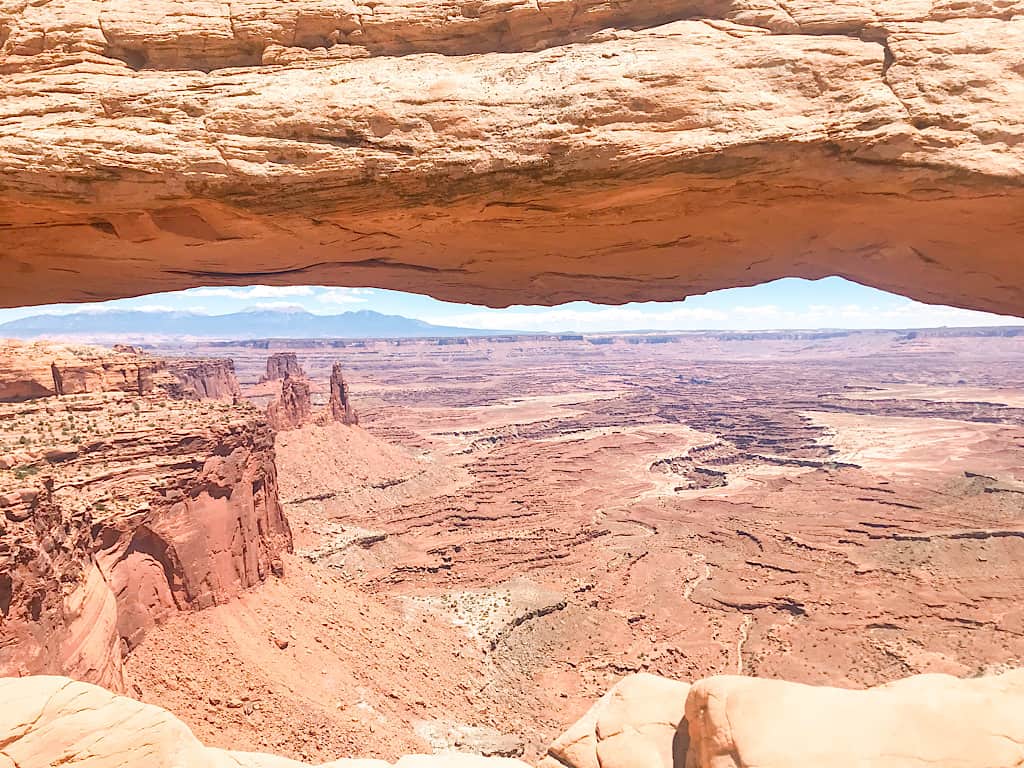 It was actually the picture that was hanging on the wall in our hotel room!
The hike to Mesa Arch is pretty easy, about half a mile. Make sure to take some beautiful pictures here.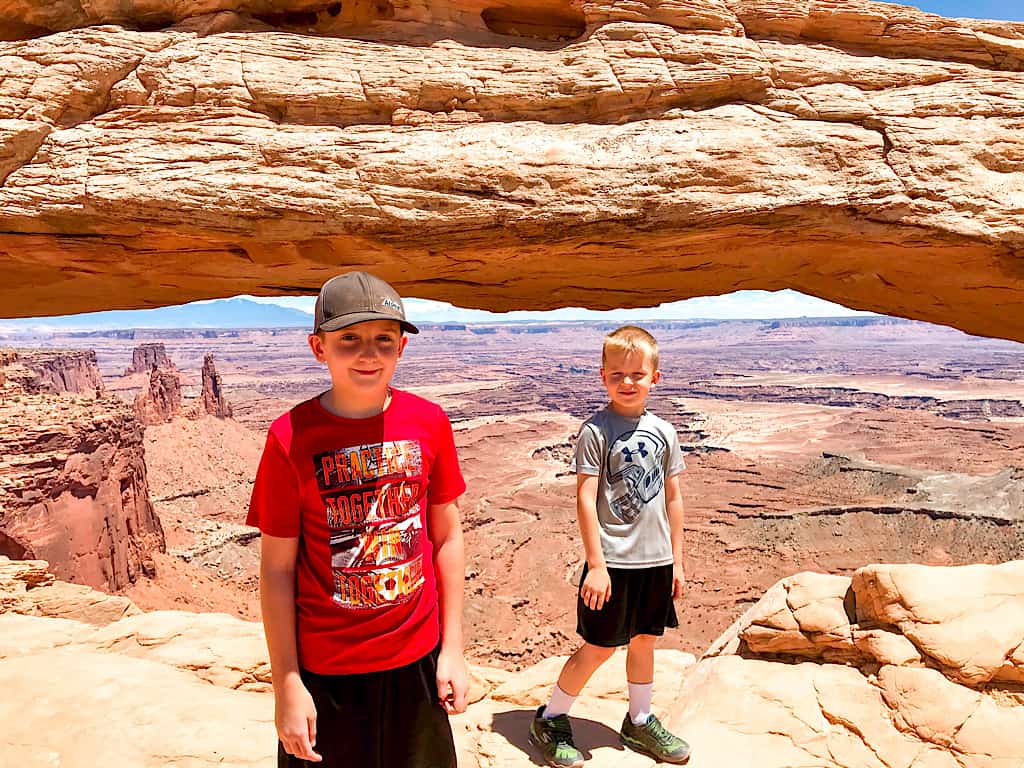 Mill Creek Trail
On our last day in Moab, we decided to try out the Mill Creek Trail.
The hike is about a half mile round trip and has a super fun swimming hole created by a waterfall.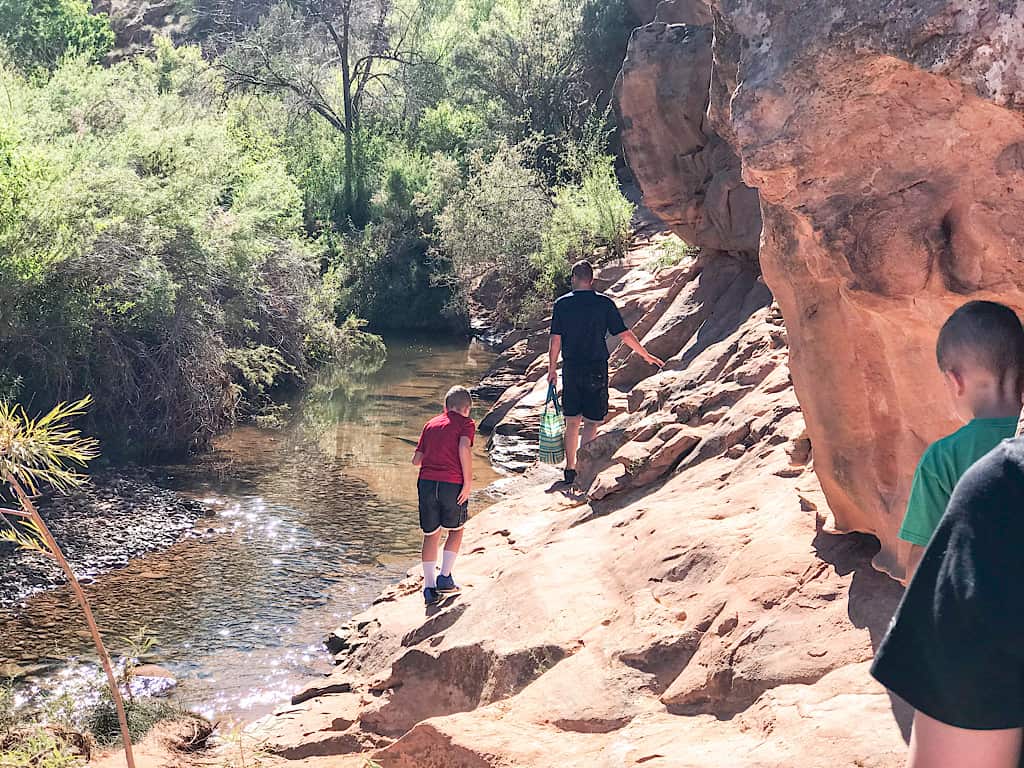 The trail follows along side Mill Creek. There are areas where the trail crosses the creek, so plan on your feet getting wet.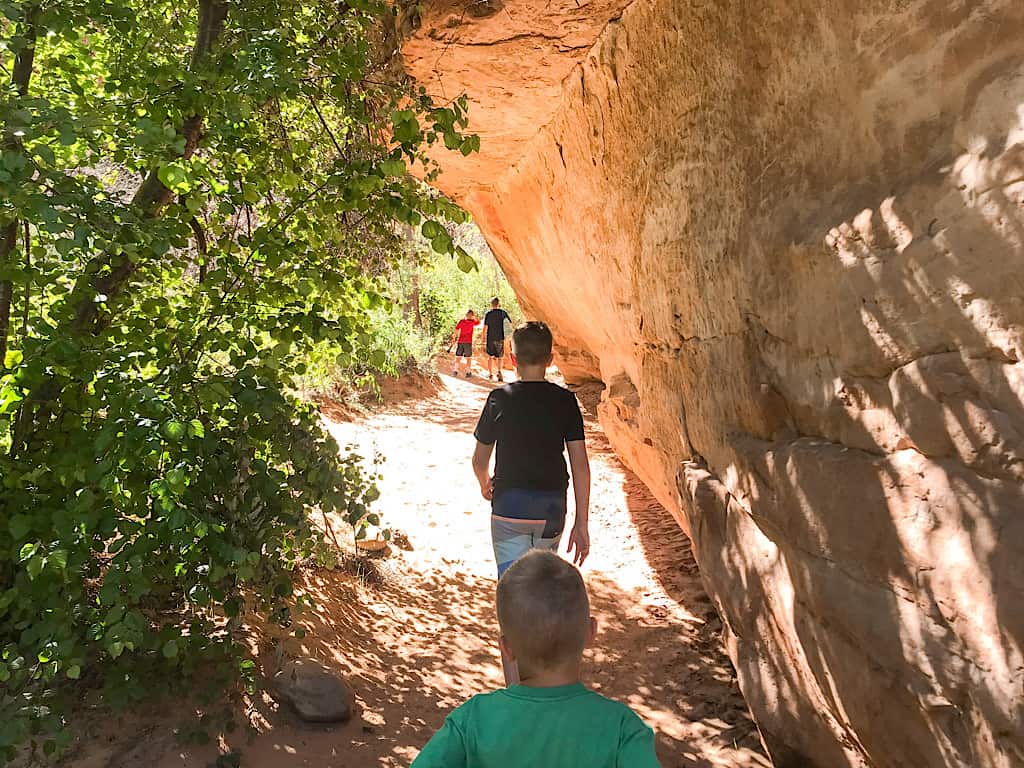 We brought along a bag with some swimming essentials so we were prepared when we got to the pool.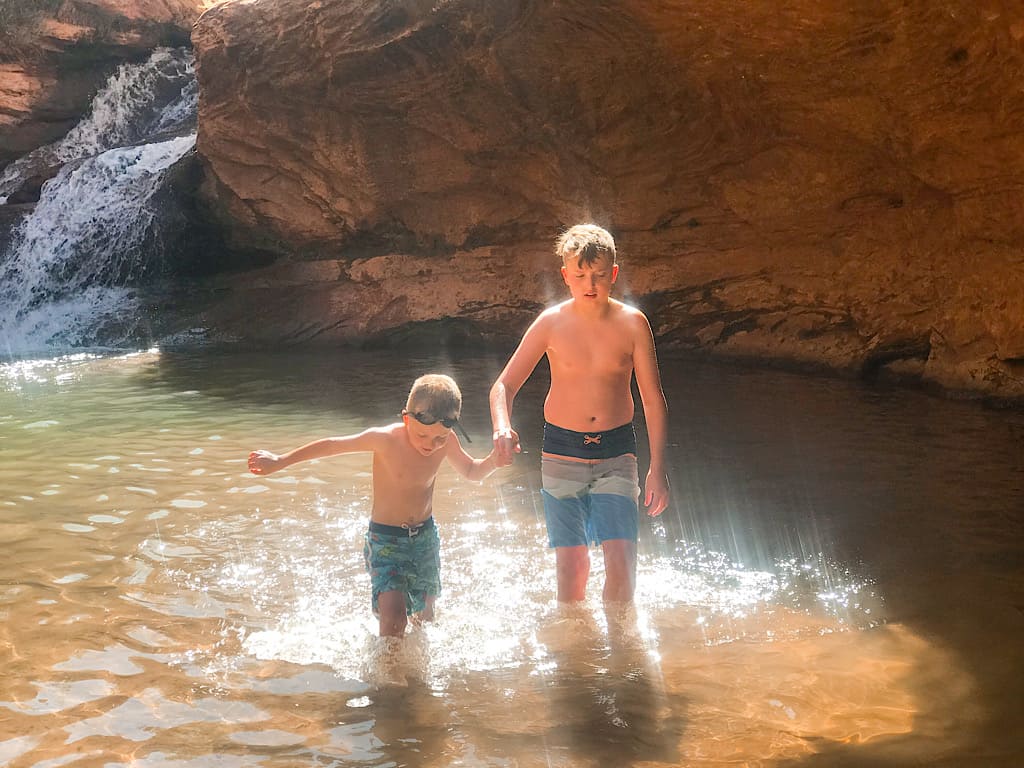 We weren't prepared for how cold the water was though! We're talking ice cold, but definitely refreshing on a hot day.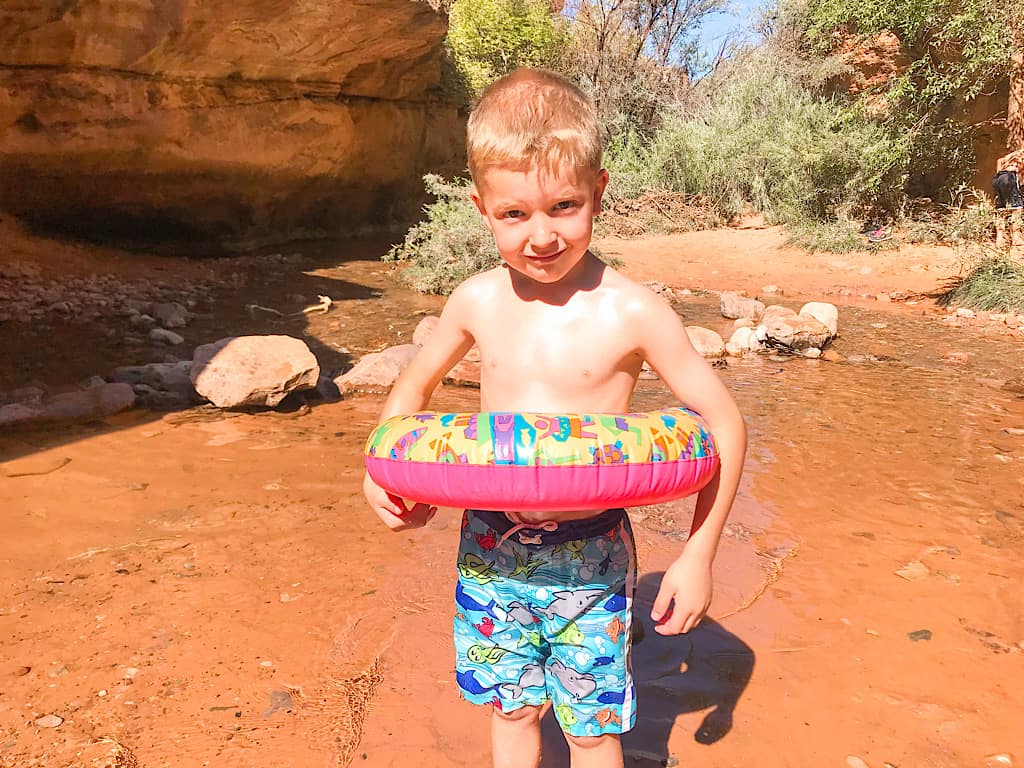 Where to Stay in Moab near Arches National Park
There are tons of campgrounds in the Moab area, but I'm not much of a camper, so a hotel is great for me!
After a quick Google search, we found what we were looking for.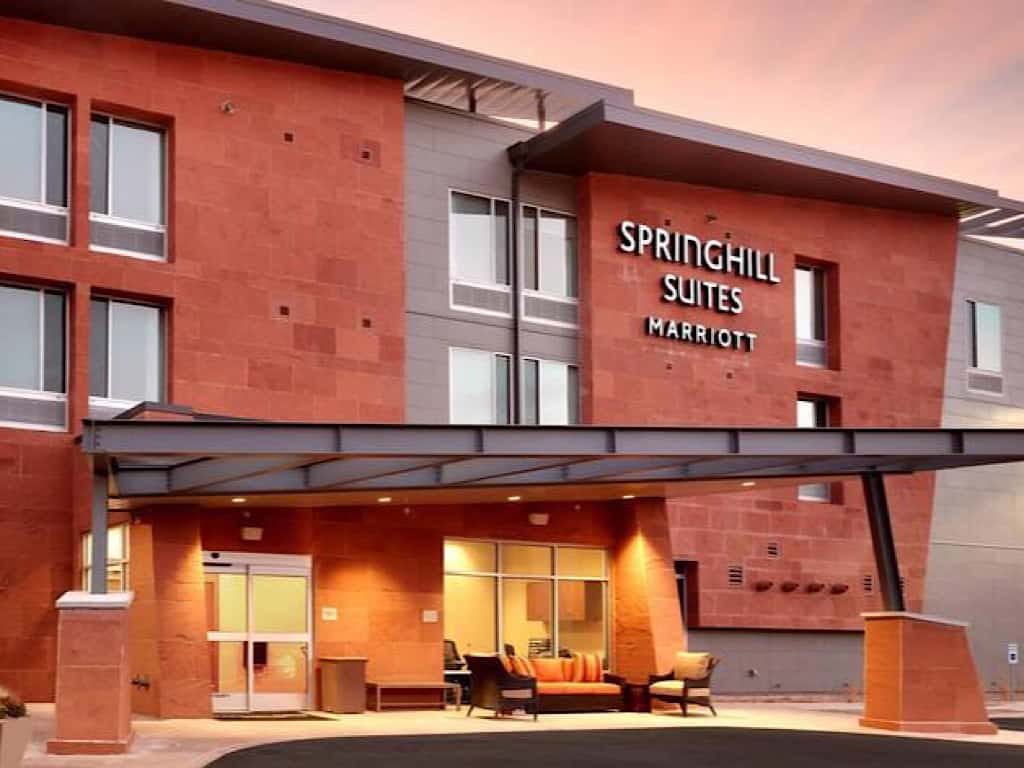 Springhill Suites Moab
We stayed at Springhill Suites and loved our time there.
There were many amenities that made our National Park visit very comfortable.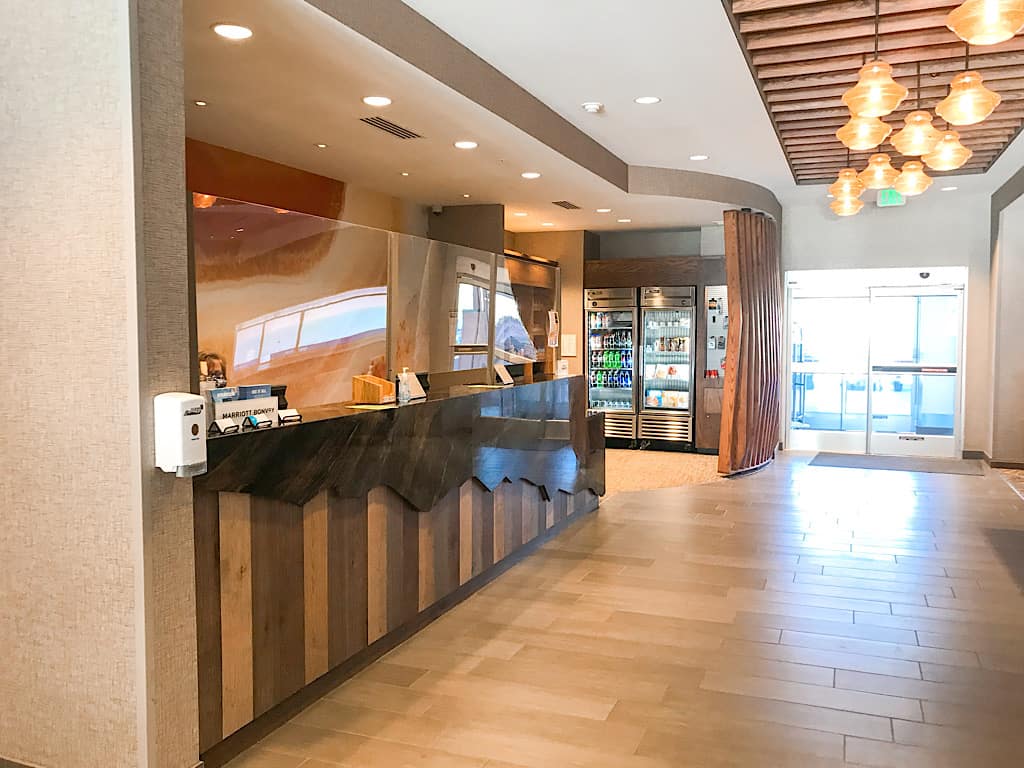 Hotel Room
We booked a 2 Queen Studio Suite. As you enter the room, you immediately see a refrigerator and microwave in the small seating area.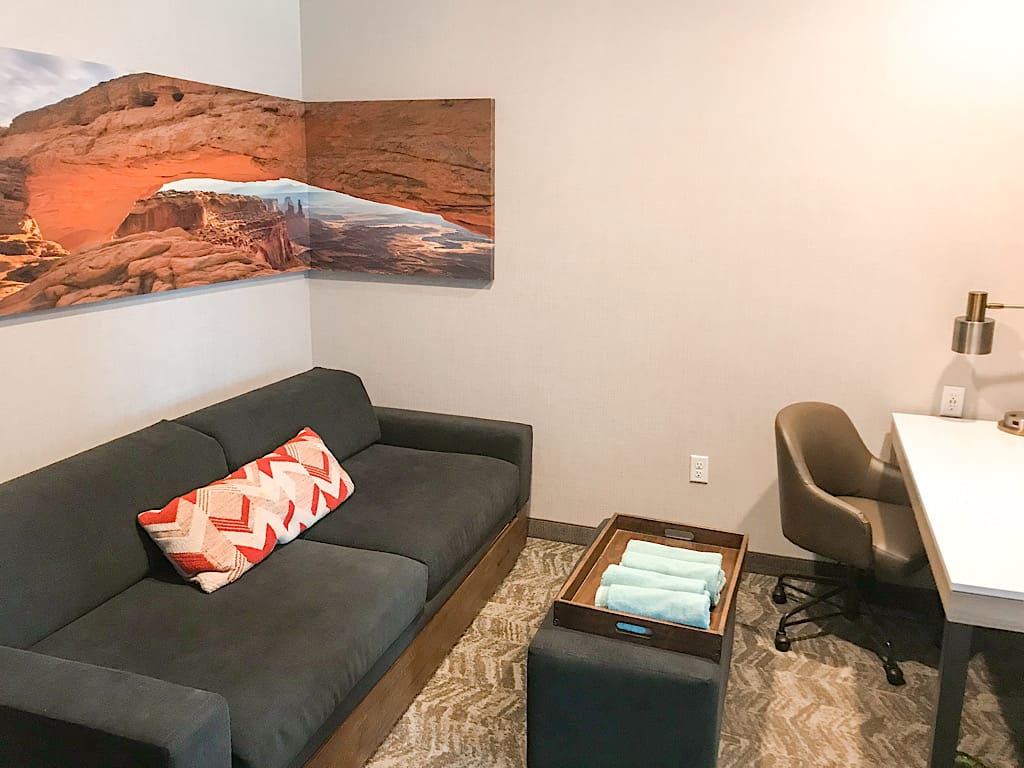 There was also a desk, chair, television, and a couch, which had a trundle drawer which when pulled out, was a twin-sized bed.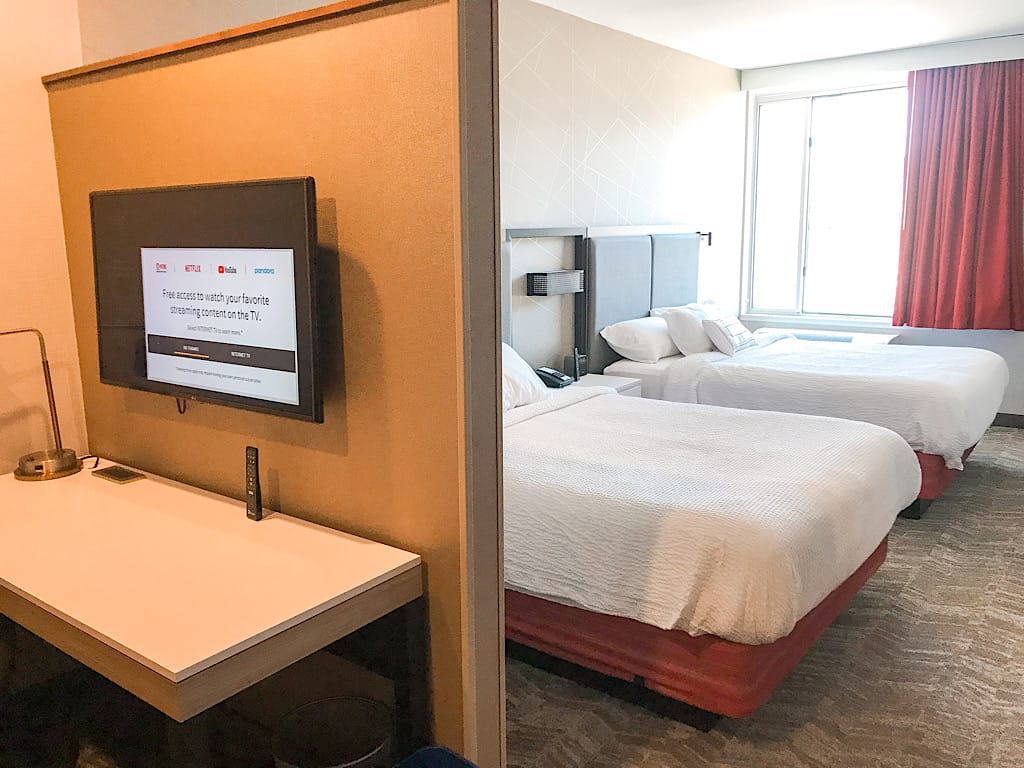 There is a half-wall/partition between the bedroom and sitting area. The bedroom had two Queen size beds and a second tv.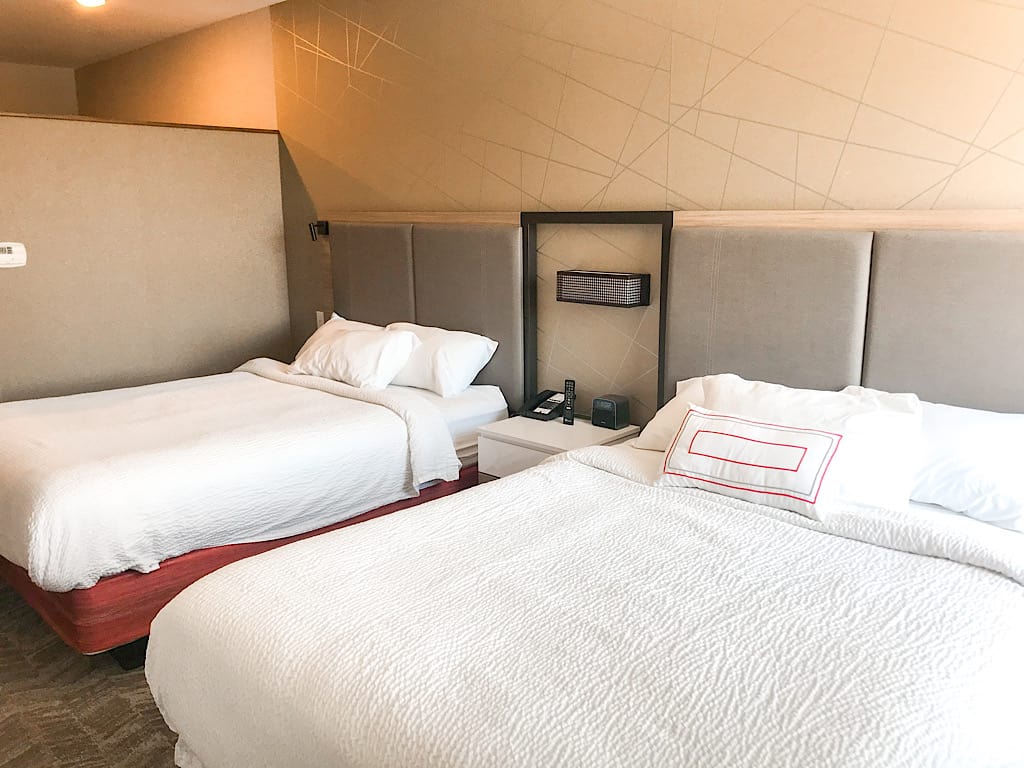 Our room also had a very large walk-in closet but no dresser space.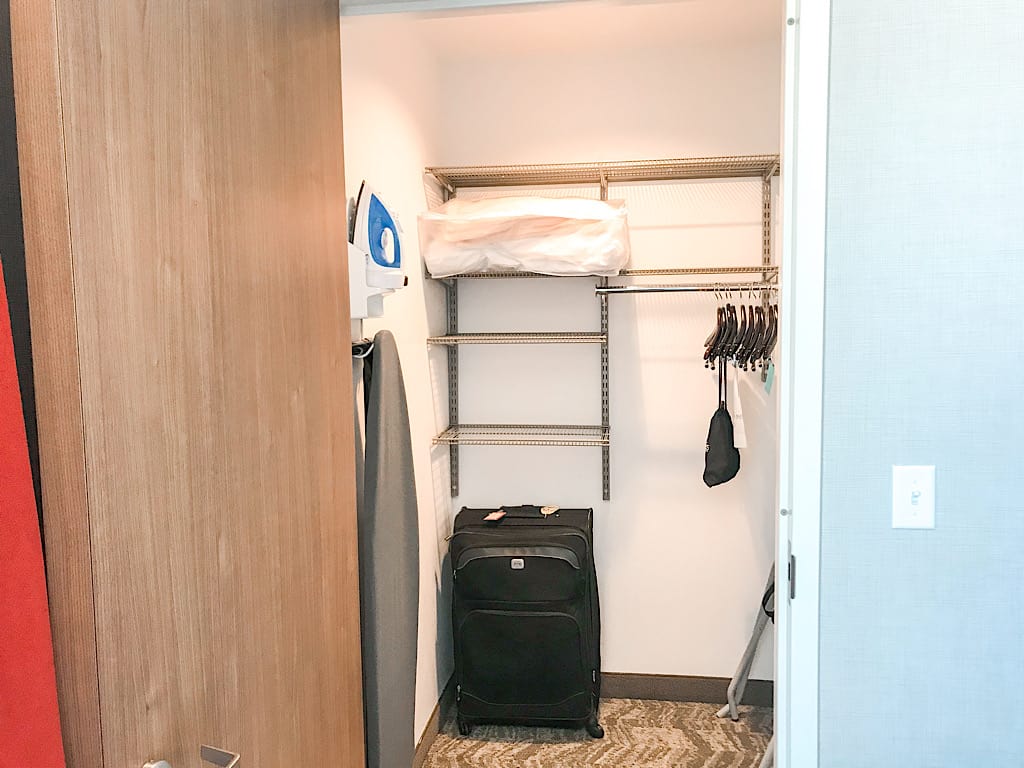 The bathroom had a large vanity and a separate room with a toilet and shower/tub combination.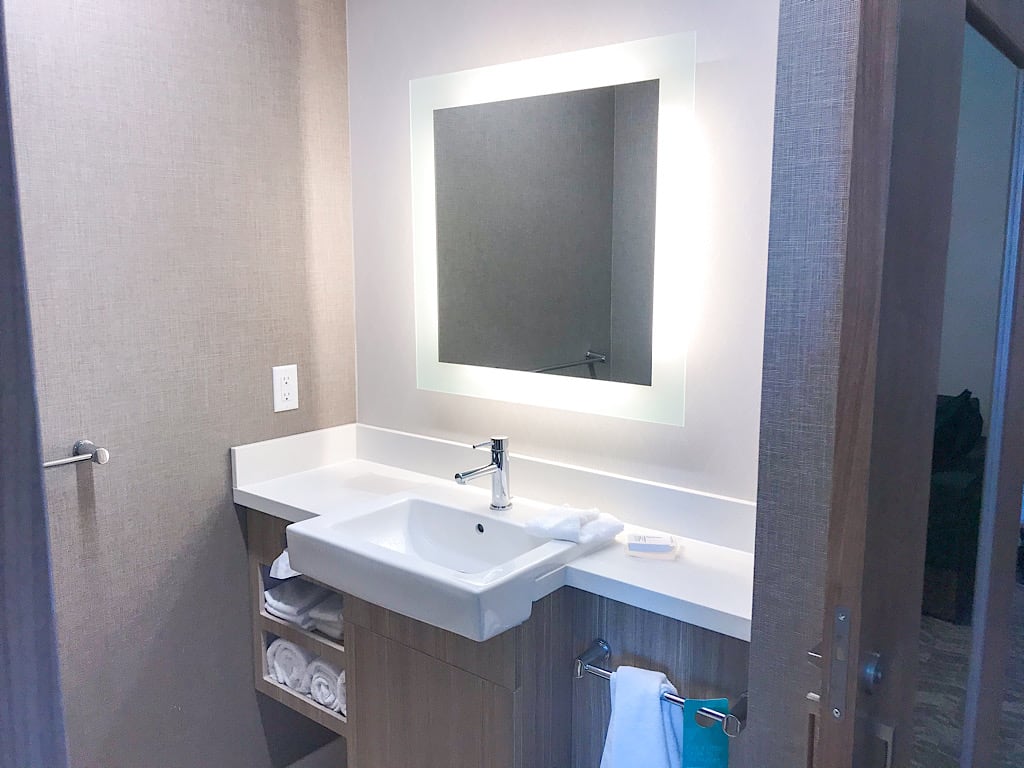 Breakfast
A stay at Springhill Suites in Moab includes a buffet-style breakfast. During our stay things were a little different.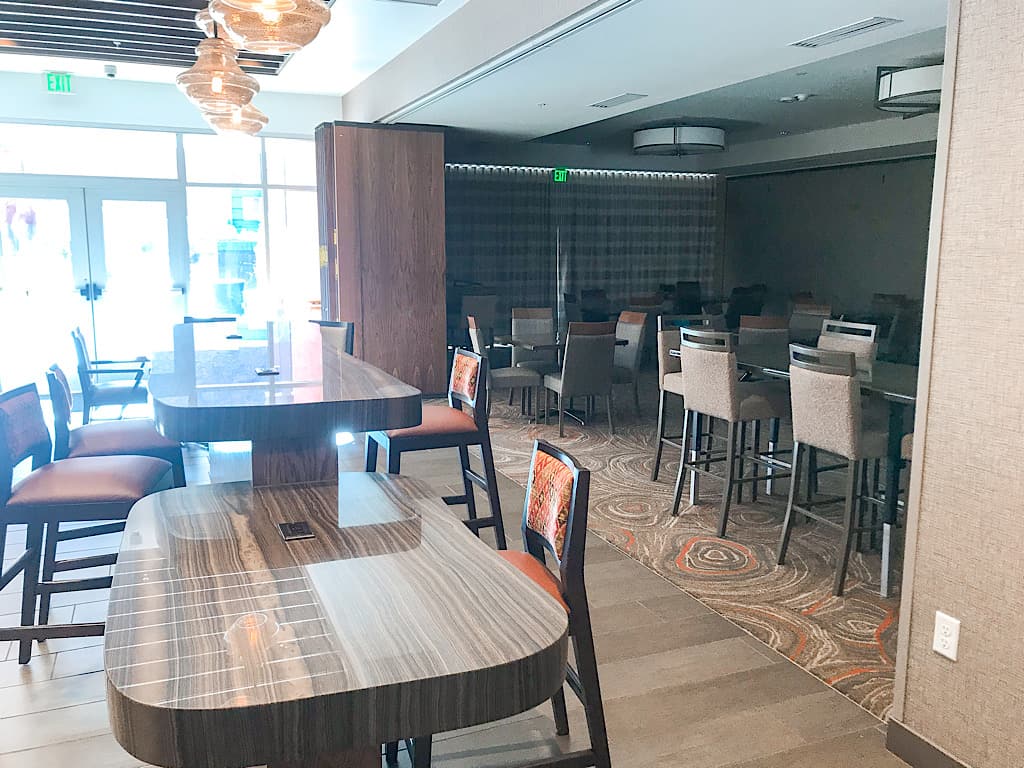 Each morning during breakfast time, you could go down to the breakfast area and choose one of 4 options.
The helpful hotel employees would place your items in a paper sack to be enjoyed in your individual room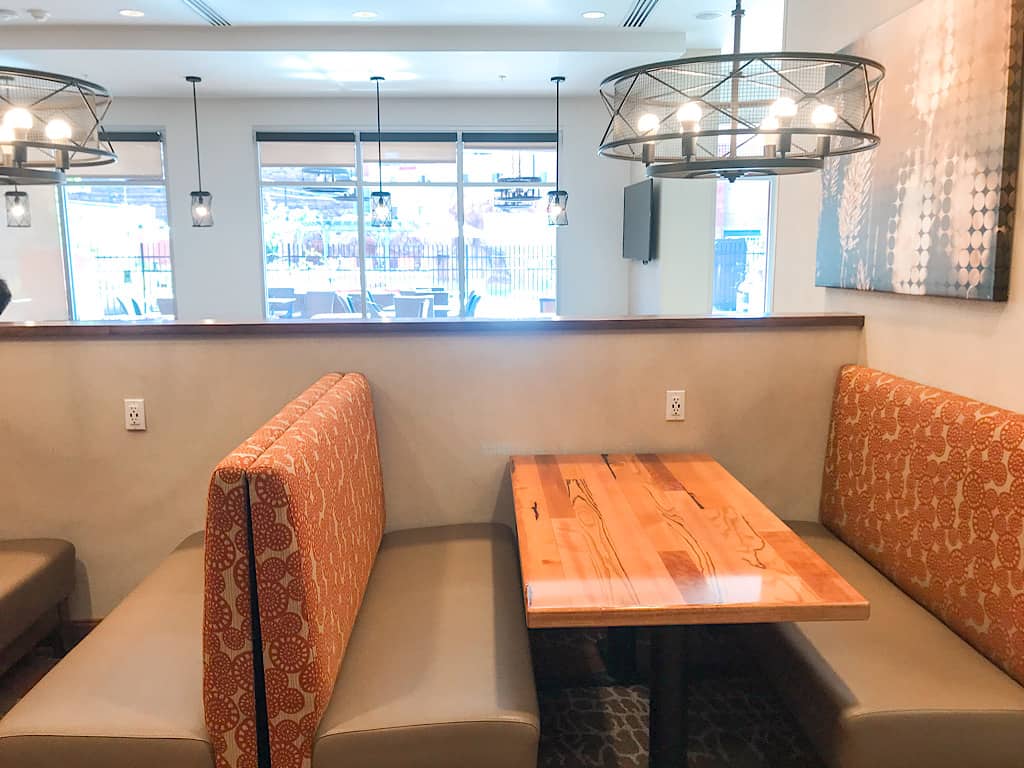 Basketball Court
My boys absolutely loved that there was a basketball court on the property. They pretty much spent all of their time out there or at the pool.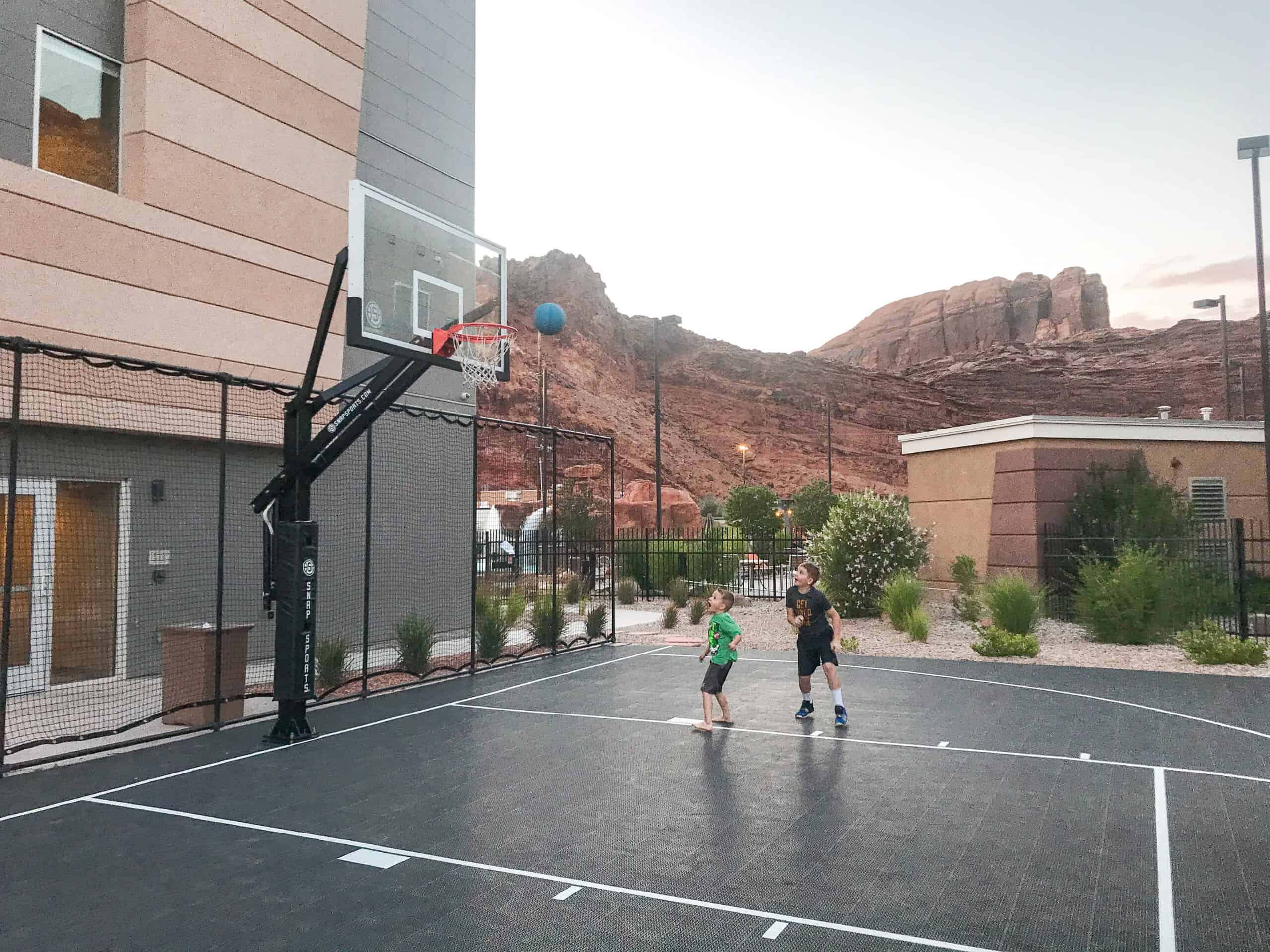 I had read about the basketball courts before we left, and brought our own basketball from home.
But don't worry, if you don't bring one, there are basketballs available at the front desk for guests to use.
Pool
The pool area was amazing! There was a large pool with a few waterfalls. My kids spent most of their time here.
There was also a second pool which was great because this area was shared with another hotel.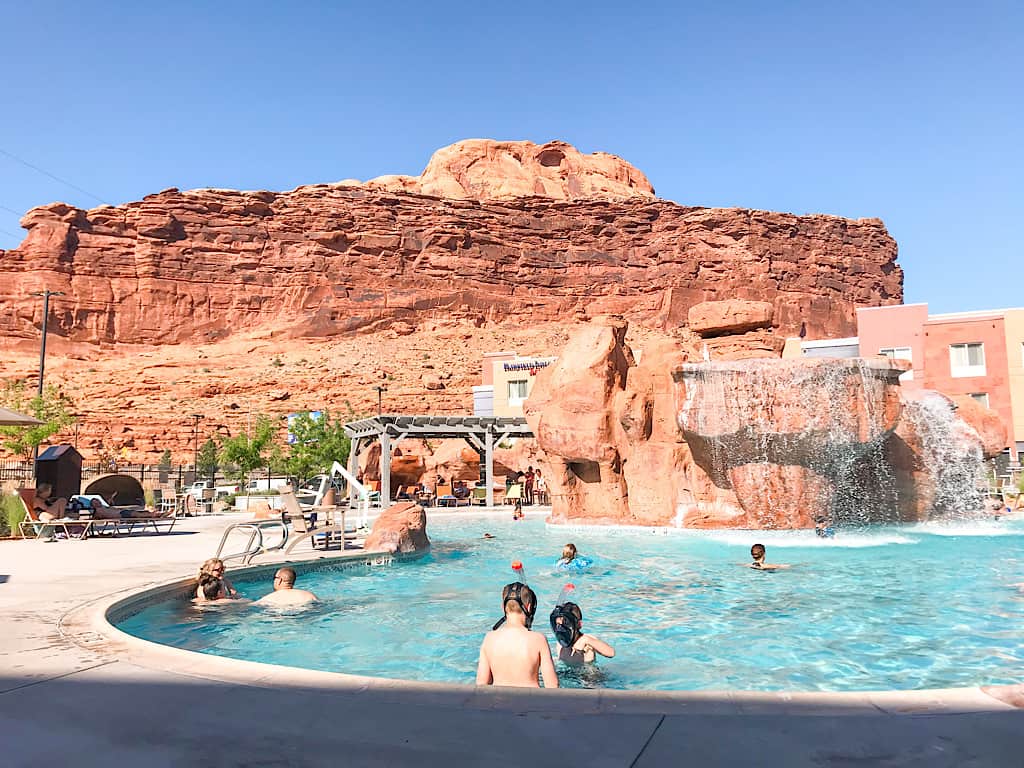 There was a splash pad area with plenty of waterfalls that was great for kids!
I liked the area because it was made of red rock just like our view from the hotel.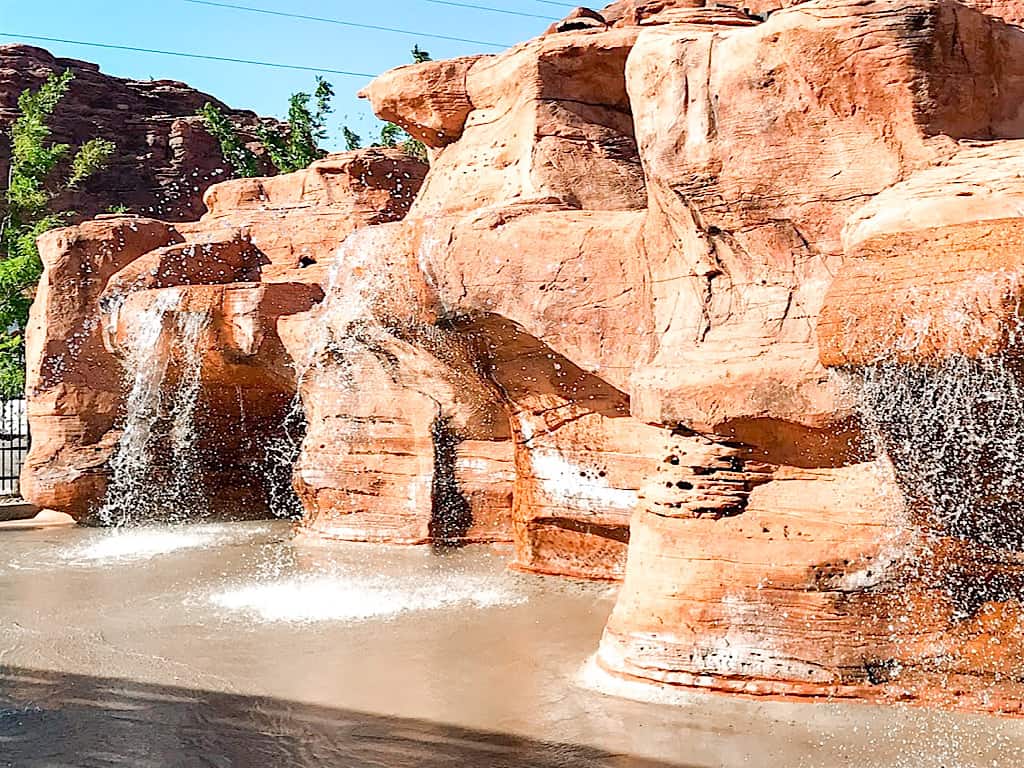 My favorite part of the pool area was the 4 hot tubs. That's right 4!
They were quite large hot tubs as well, which was great to help keep our distance from other guests.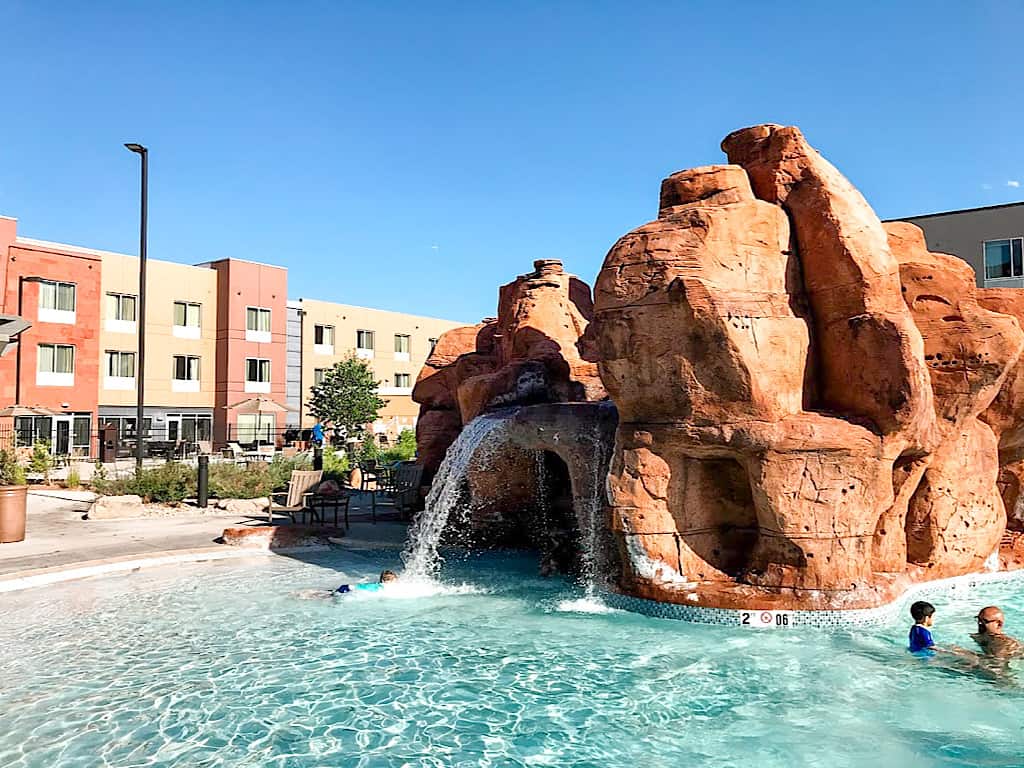 I would definitely stay at Springhill Suites again and I would recommend it for anyone looking to stay in the Moab area.
Where to Eat in Moab
Here are a few of the places we ate in Moab with our kids, including the kids menus!
Zax Restaurant
We stopped by Zax Restaurant on our first night. It was recommended to us by a friend.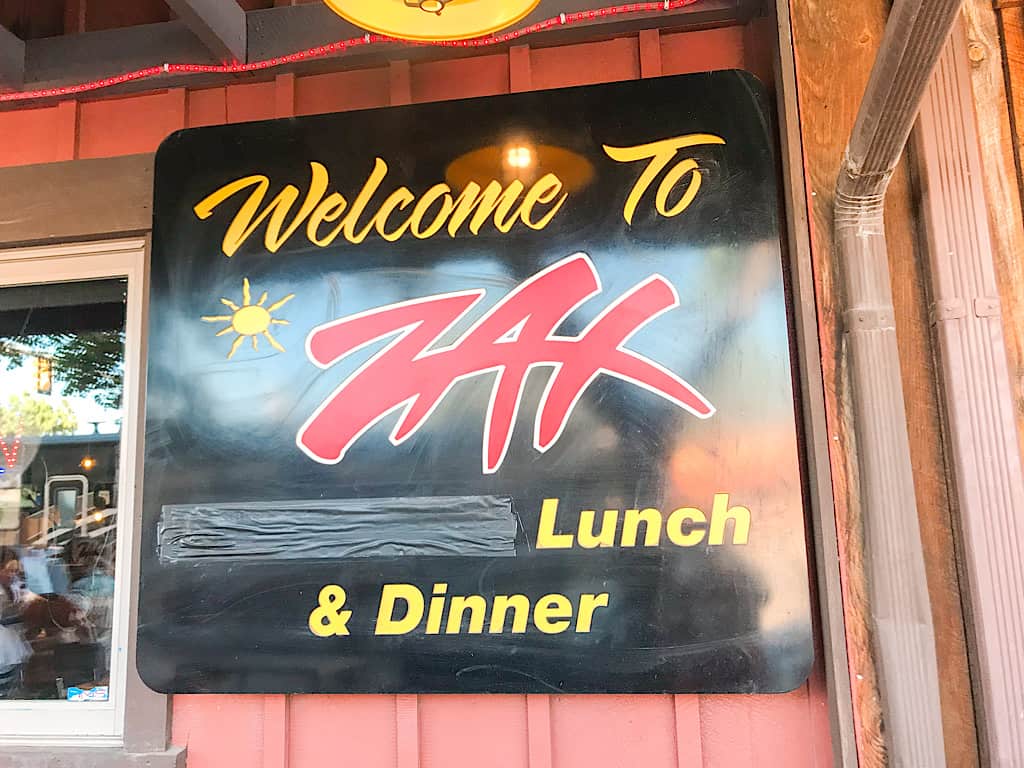 We heard good things about the pizza so my husband and I split the Nothin' but Meat pizza. It was great!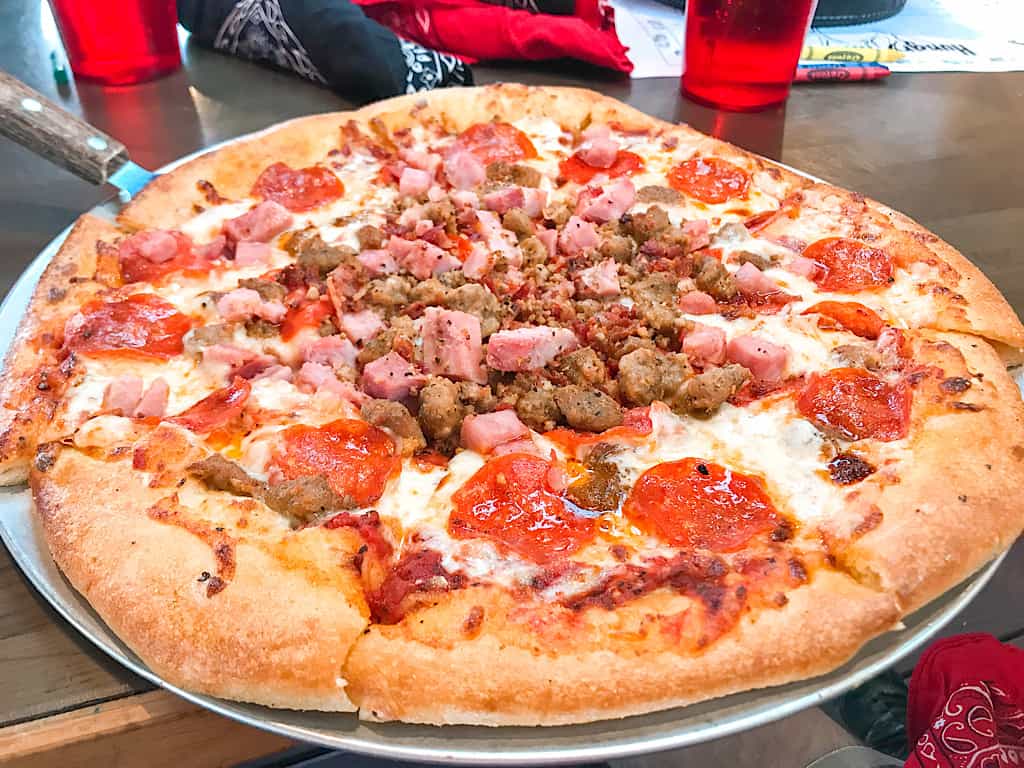 Next time I would order a pizza with less toppings, just because the crust was so good! Check out their menu here!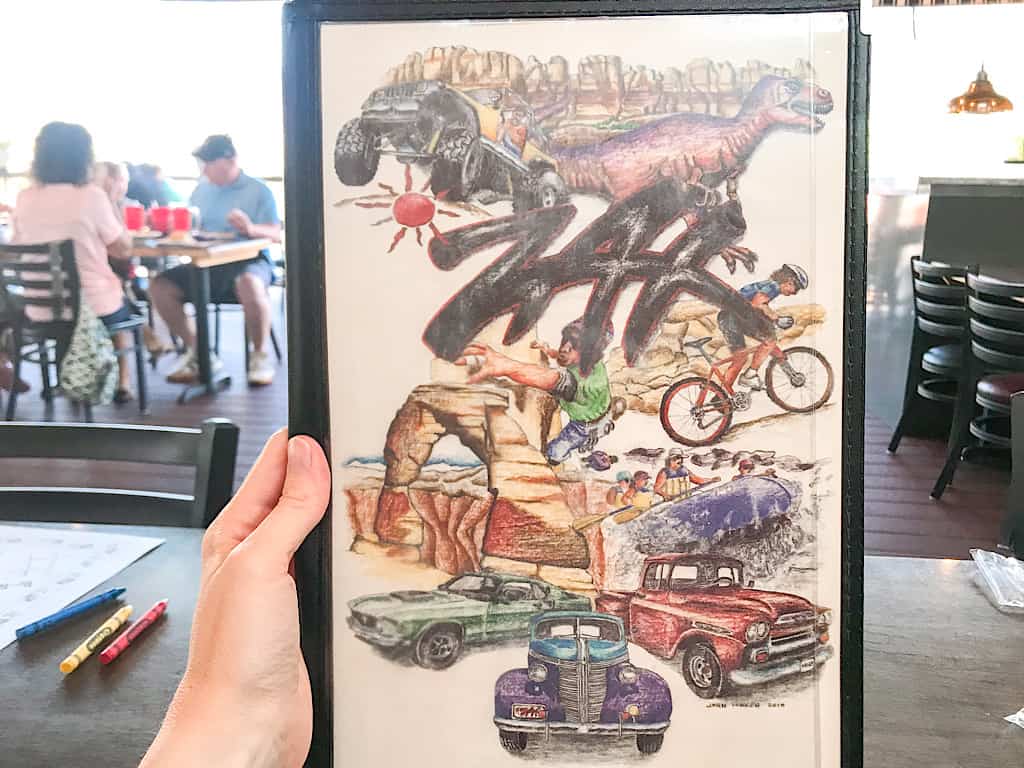 The kid's menu has standard kids items like chicken tenders, burgers, etc. and the prices were fair.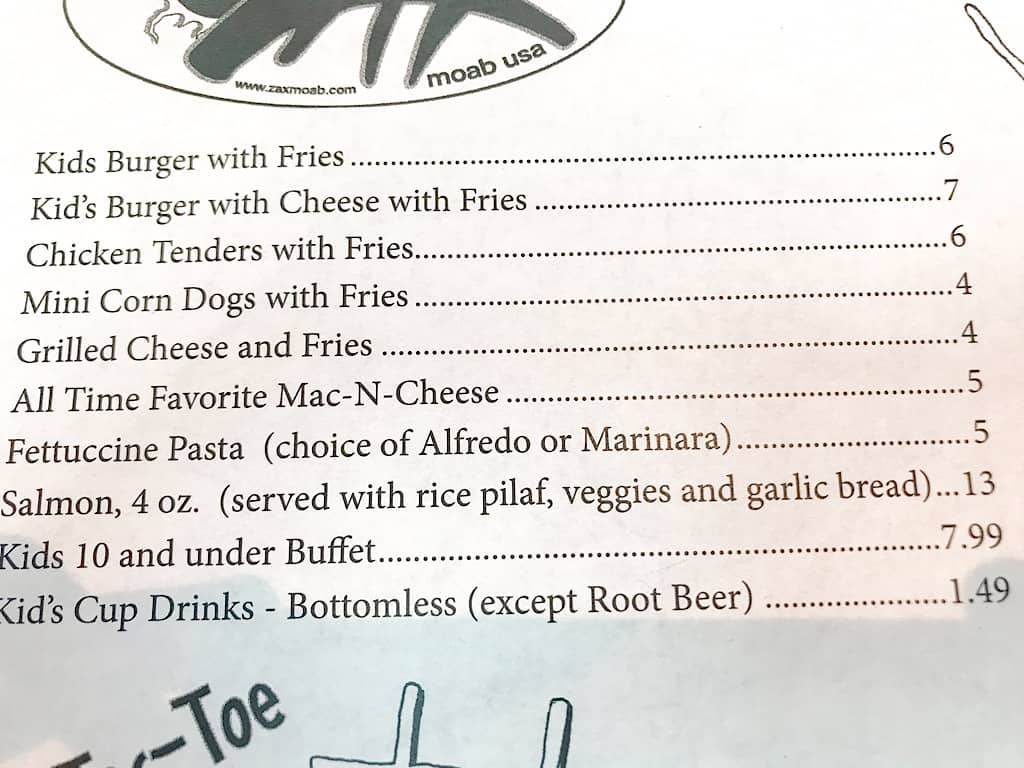 Just be aware that soft drinks are not included with the meals.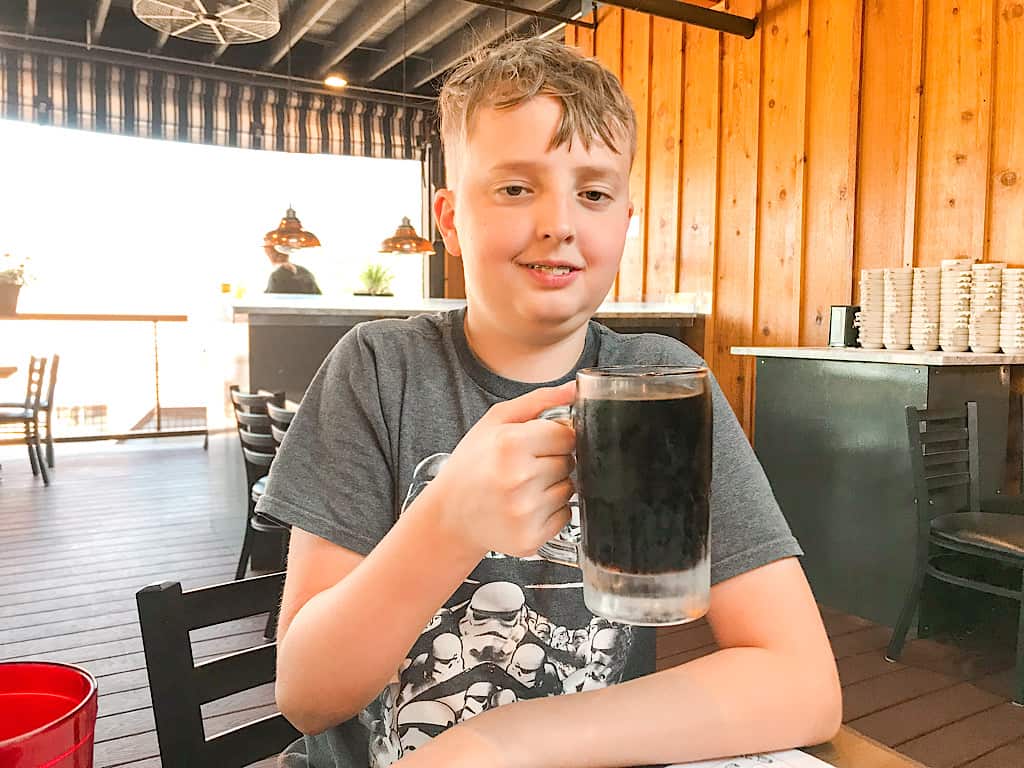 Milt's Stop & Eat
On our second night we decided to give Milt's Stop 'N Eat. It was an old-fashioned drive up, or walk up.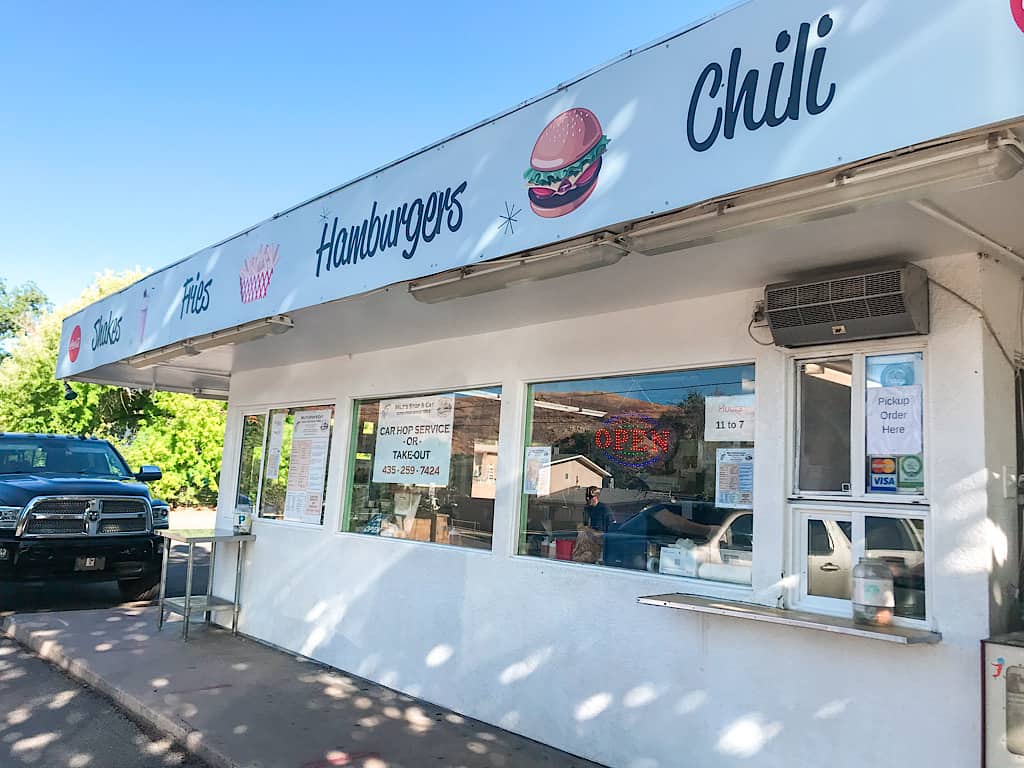 We went up to the window and ordered our burgers, fries, and milkshakes.
I recommend the Western BBQ Beef Brisket Burger and Oreo shake!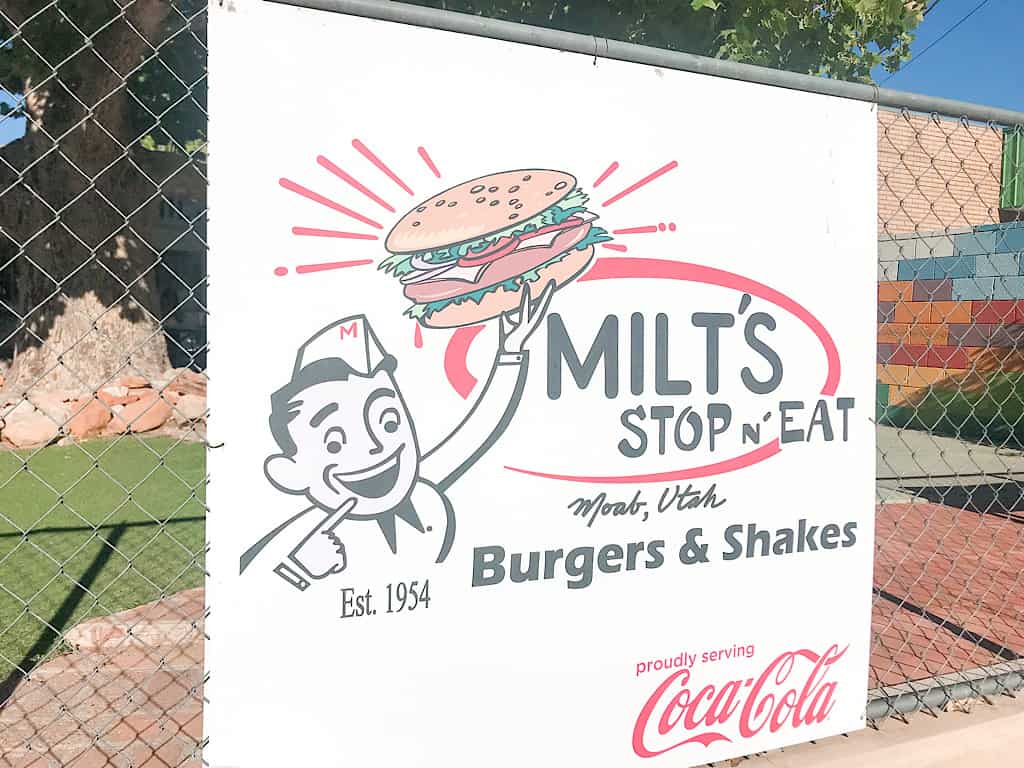 El Charro Loco Mexican Grill
My favorite place that we ate at on our visit to Arches National Park with kids was El Charro Loco Mexican Grill. It was amazing!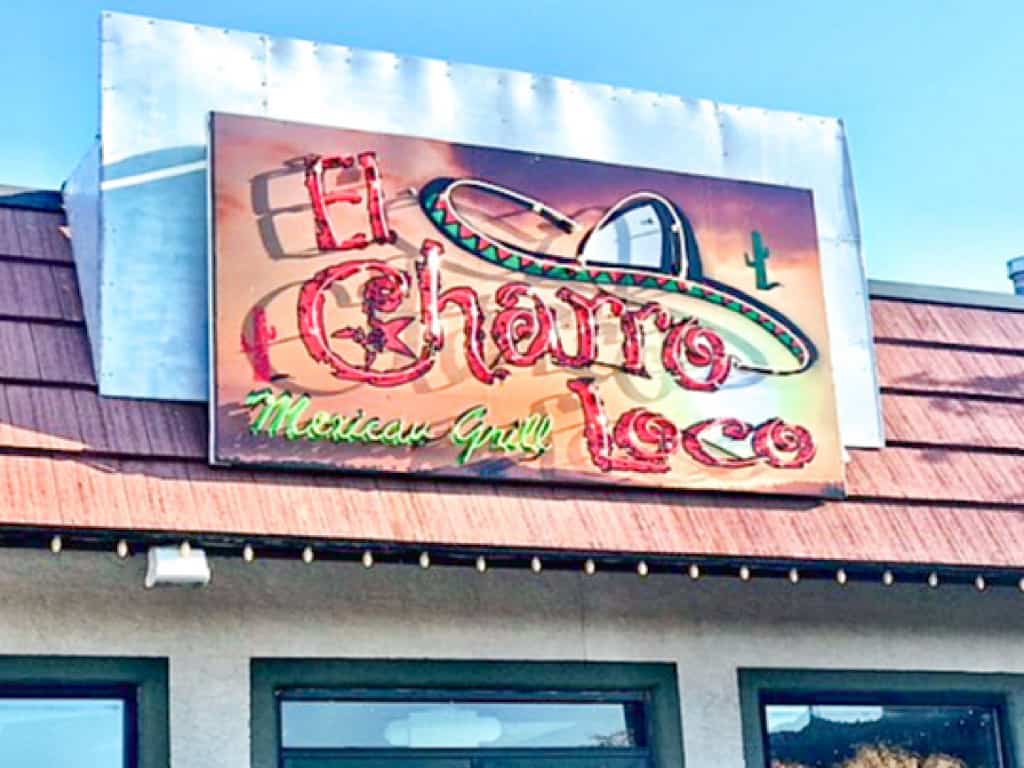 They had delicious chips & salsa and fabulous service. My husband and I shared the El Charro Loco Plate.
It is a pineapple cut in half and filled with fajita peppers, onions, beef, chicken, shrimp, and cheese. It was delicious and the presentation was top notch!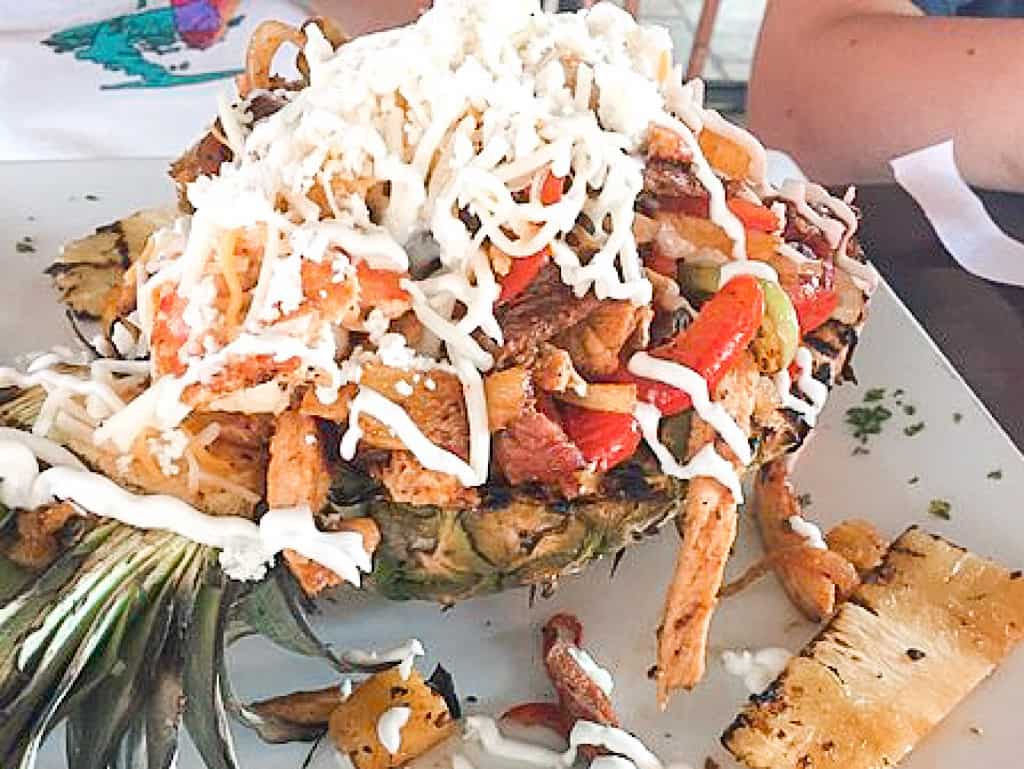 Moab Coffee Roasters
On our way out of town, I made my husband stop at Moab Coffee Roasters.
With a giant sign outside that advertises that they sell gelato, how can you not stop?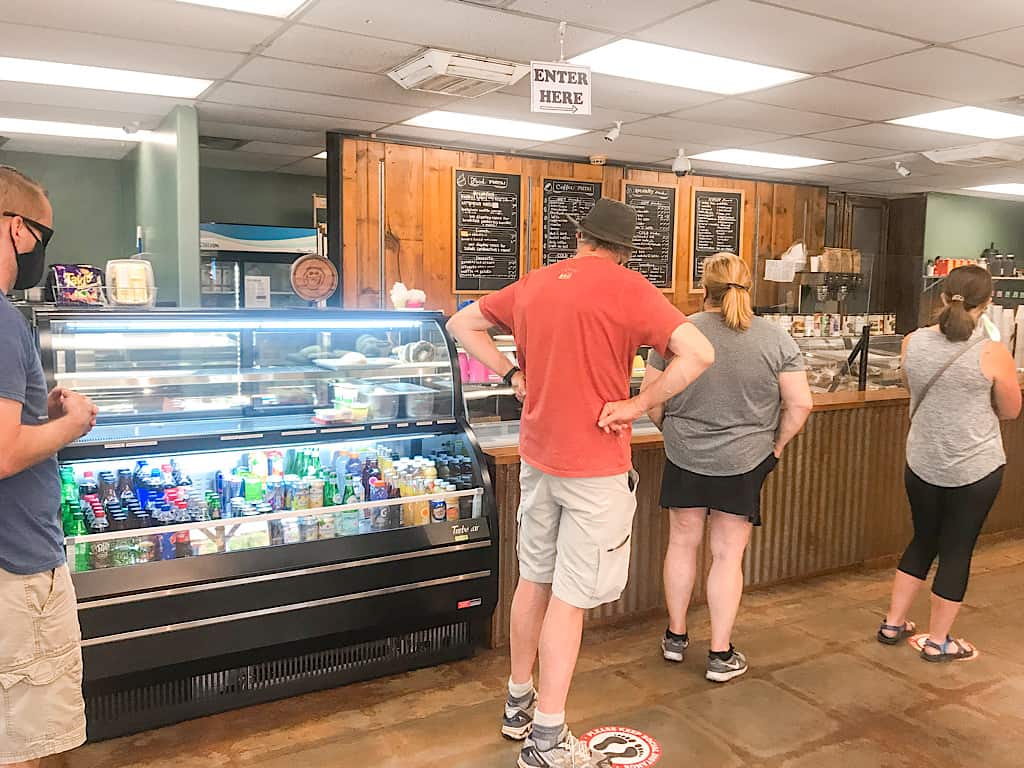 My boys ordered the cookies and cream gelato and I got the Coconut, Almond, Chocolate Chip.
It's the best gelato I have ever had! I will definitely go back for that the next time we go to Moab.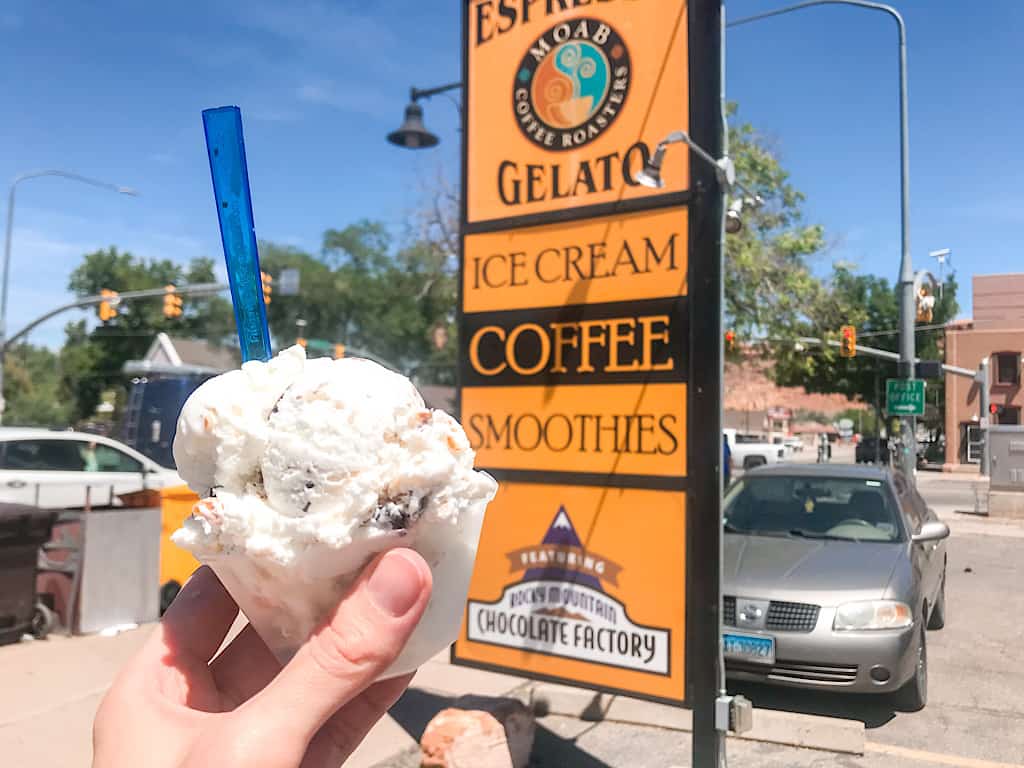 Check out my video to see footage of all of these sights in Arches, Canyonlands, and Moab!
Hopefully this post can help you decide what to see in Canyonlands and Arches National Park with kids!