Check out these Five Awesome Places to Eat in Orange County, California. Delicious food and kid-friendly restaurants!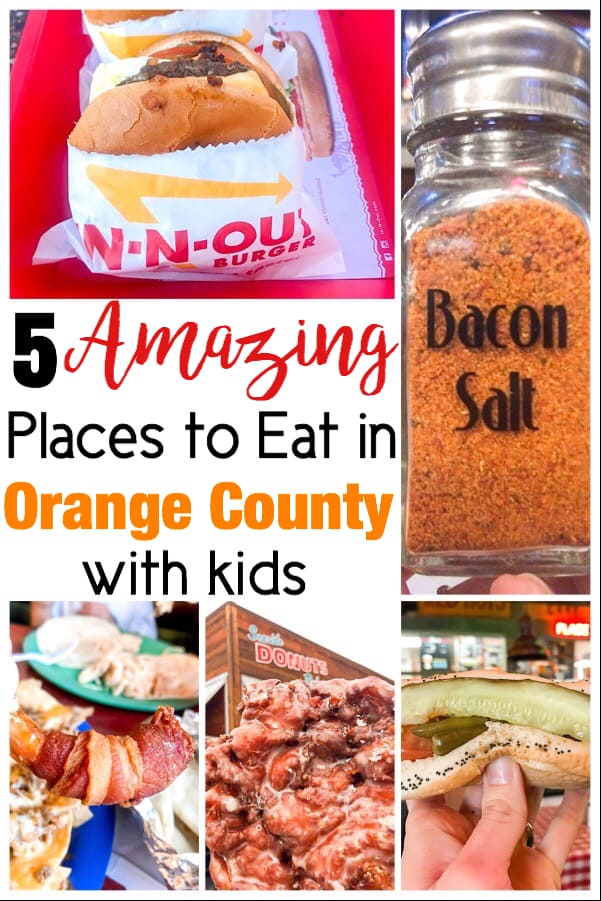 This post may contain affiliate links. When you click on these links, I get a small percentage back at no cost to you! For more information see my disclosure policy.
Orange County, California is one of the most beautiful and exciting places to visit.
Of course there are the world-famous theme parks like Disneyland and Knott's Berry Farm, but if you are going to Orange County for a vacation, make sure you check out all that the area has to offer beyond the theme parks.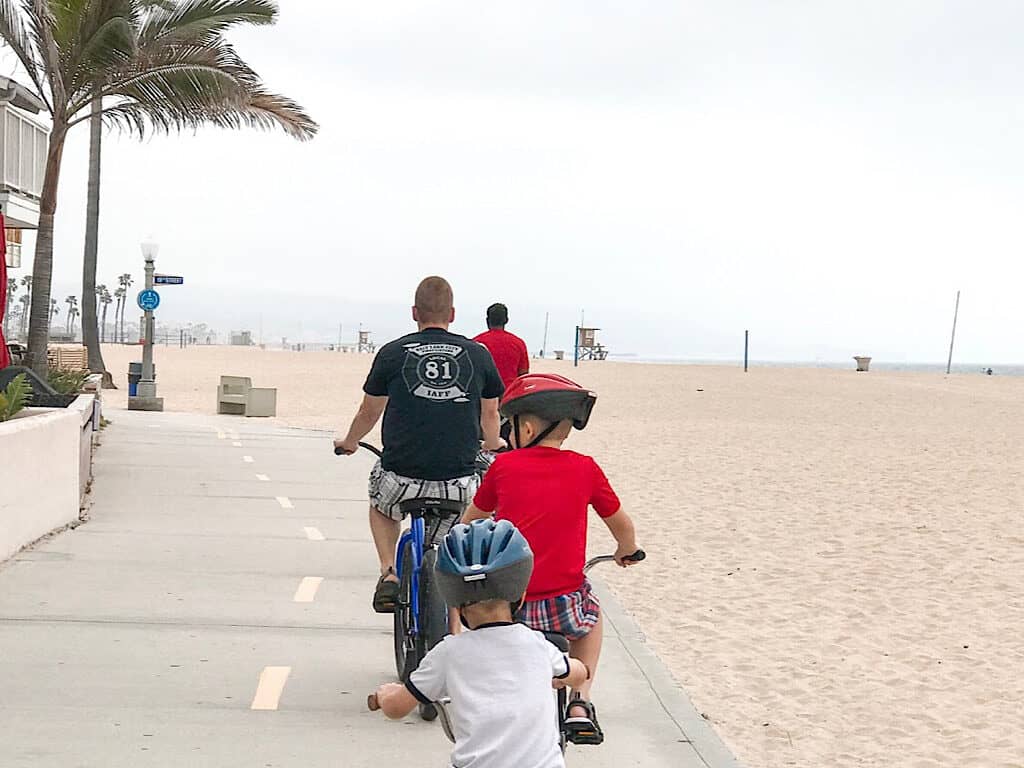 There is so much to do, see and EAT in Orange County, you will not be bored.
In this post I'm going to focus on Five Awesome Places to Eat in Orange County that you are not going to want to miss!
In-N-Out Burger
I'm pretty sure if you have been Southern California, you have seen an In-N-Out Burger location.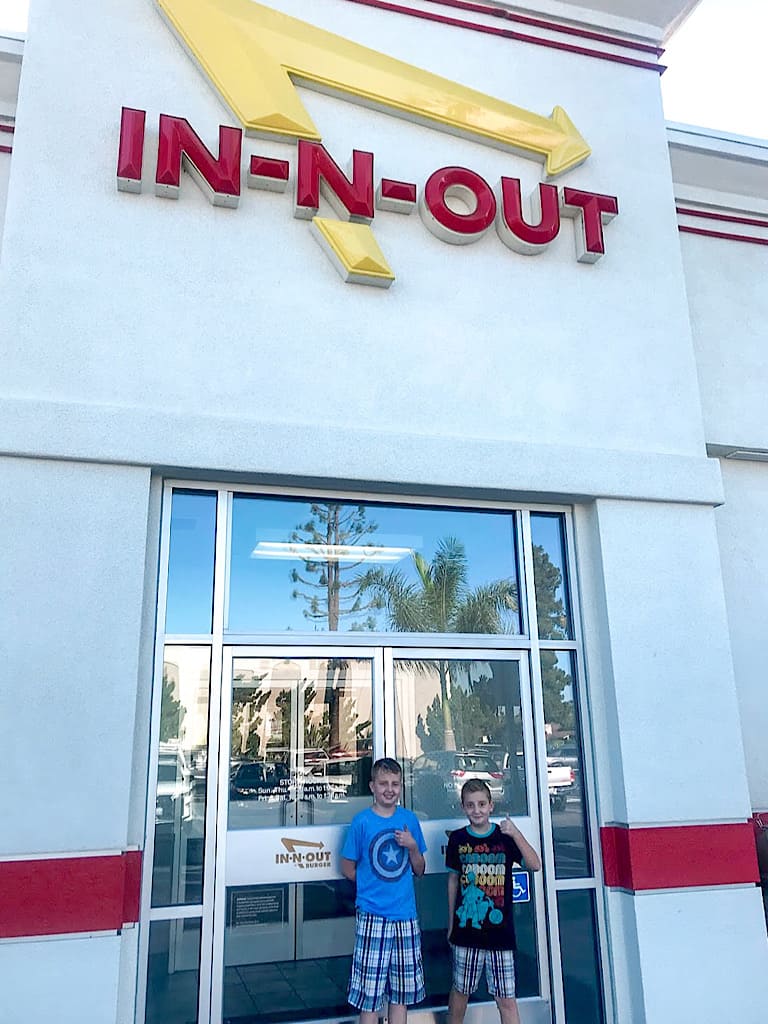 In-N-Out Burger is a California icon. I have to admit that before trying an In-N-Out Burger, I always thought that it must be over-rated.
I mean, a fast food joint that has so much hype and a massive following? It's fast food.
But then I tried it. WOW.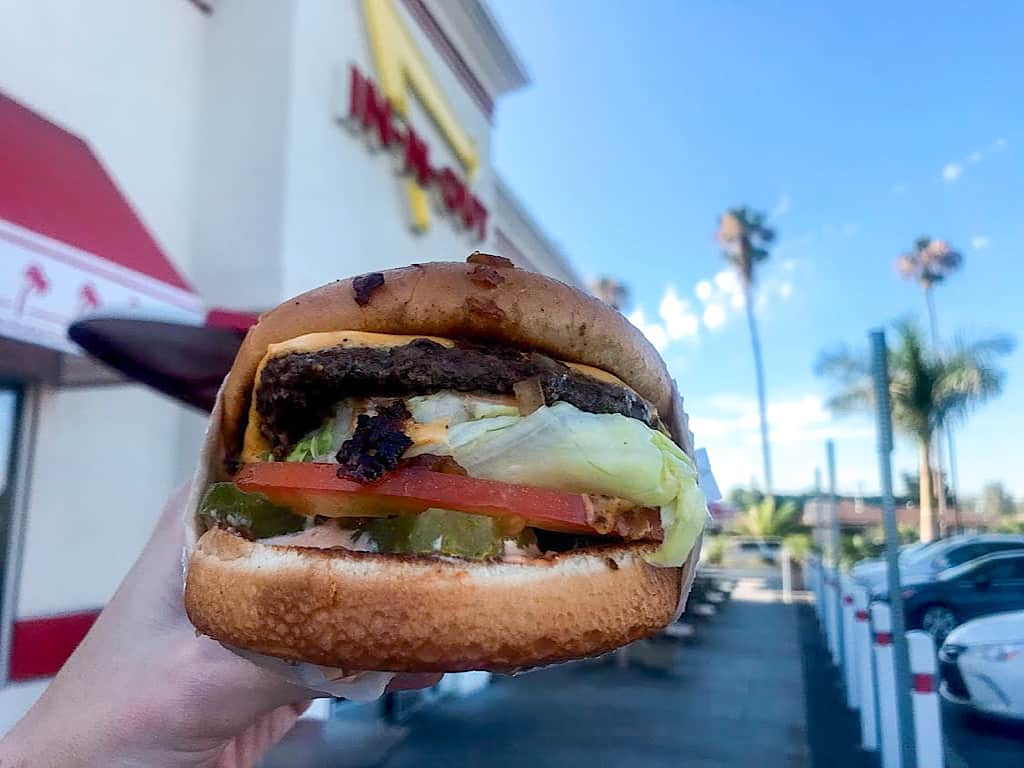 Their ingredients are high quality and always fresh.
I have never had a burger anywhere, let alone a fast food restaurant, that had such crisp lettuce and juicy tomatoes.
My mouth is watering right now just thinking about it.
The prices at In-N-Out Burger are very reasonable as well. My family of 5 can eat there for around $25.
In-N-Out was where my oldest son had his first hamburger and its no surprise that it is his favorite place to eat now.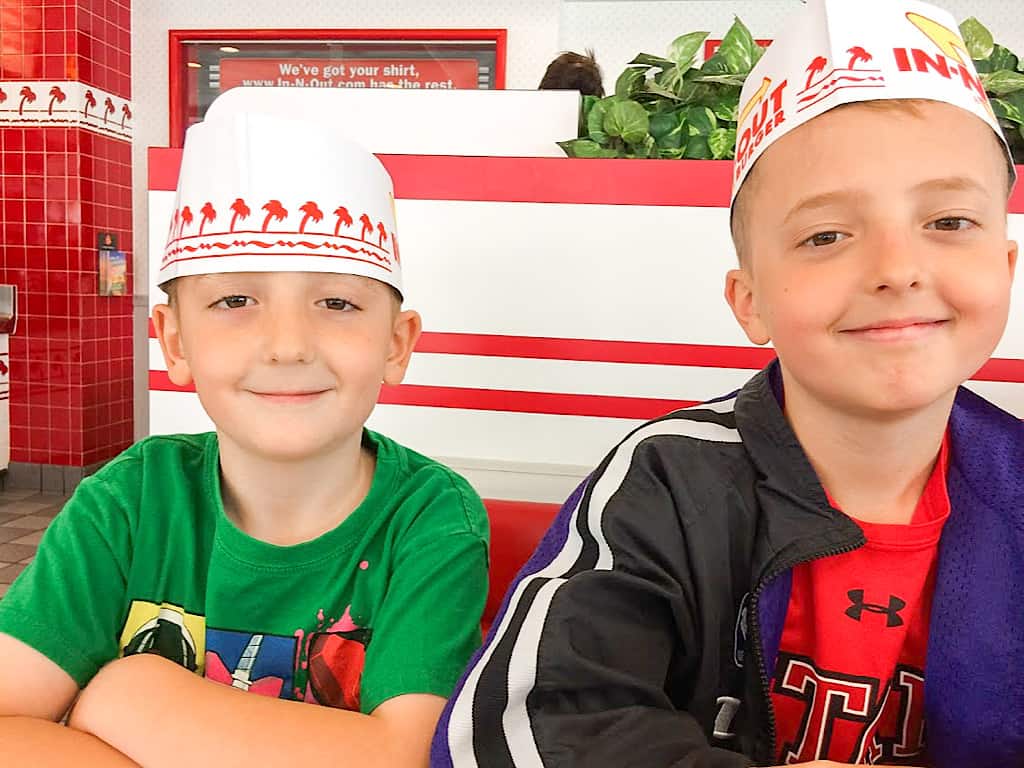 Every time we go out to eat, he requests to go to In-N-Out Burger and will get mad if we choose to go somewhere else.
One of the cool things about in-N-Out Burger is the Secret Menu.
Their regular menu is pretty simple, which I like. Burgers, fries and milkshakes.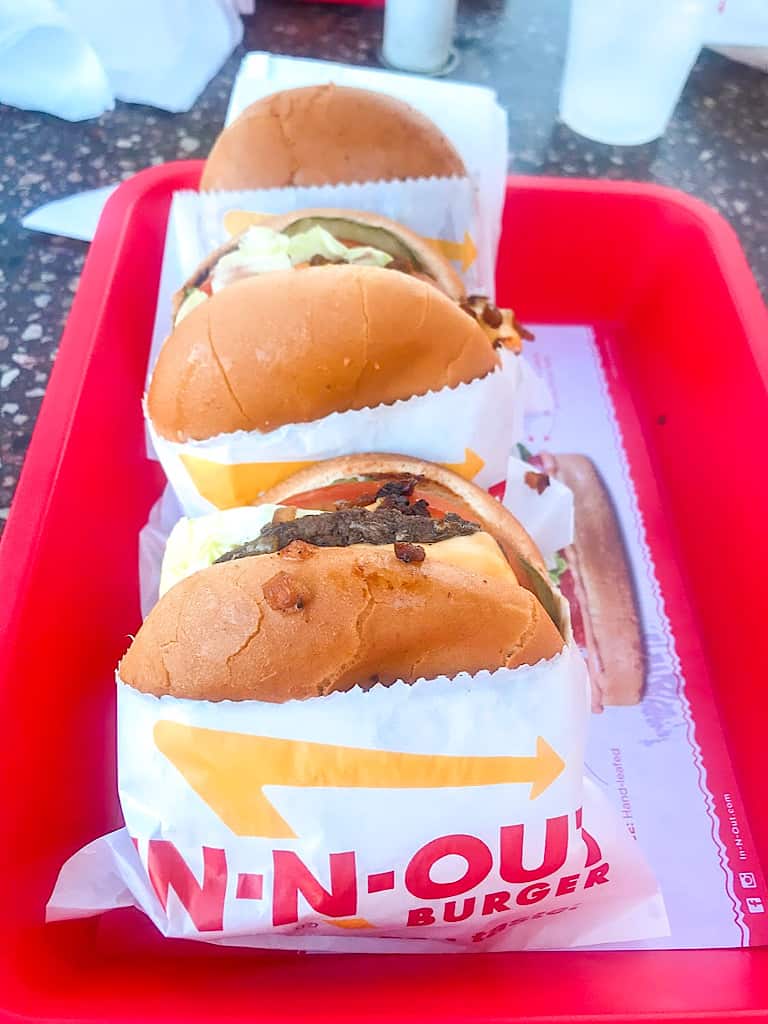 But you will feel pretty special when you order your cheeseburger, Animal Style, which is definitely how I recommend it.
If you're in Orange County, make sure you check out one of the many In-N-Out Burger locations.
Seaside Bakery
Seaside Bakery, where do I begin? We just happened upon this place a few years back when visiting our favorite beach.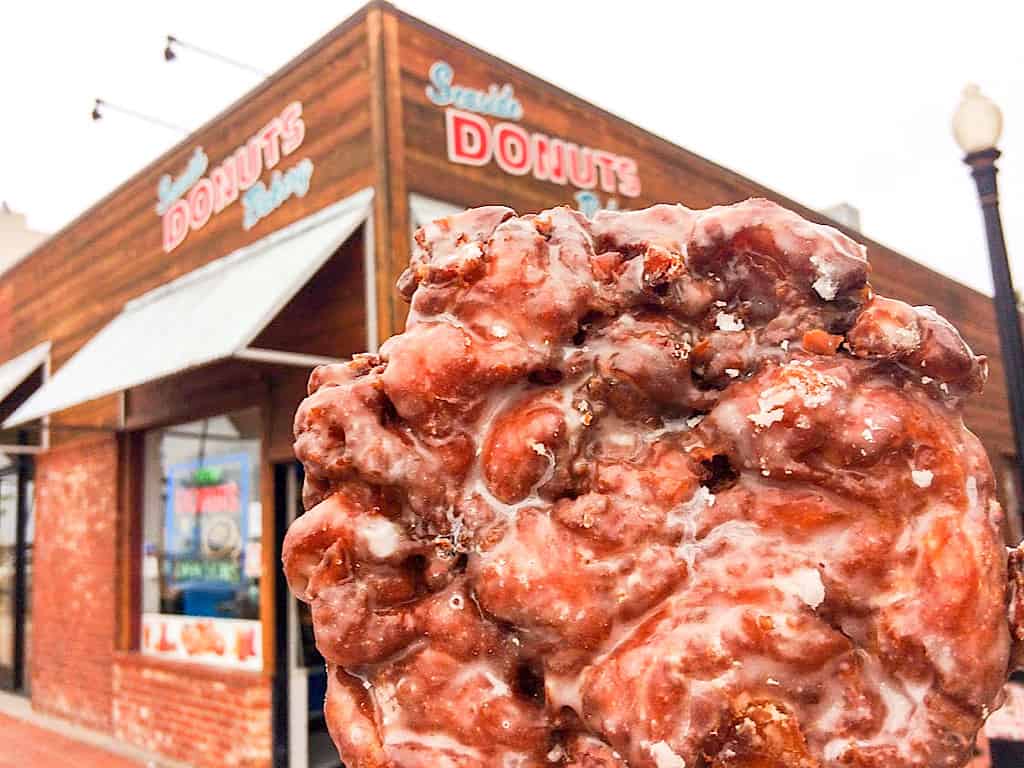 Seaside Bakery is located right on the boardwalk in Newport Beach, California.
When I go there, I always order an Apple Fritter, which happens to be the size of my face. It's that big and that delicious.
My kids will vary what they get, but they really like the giant cinnamon rolls.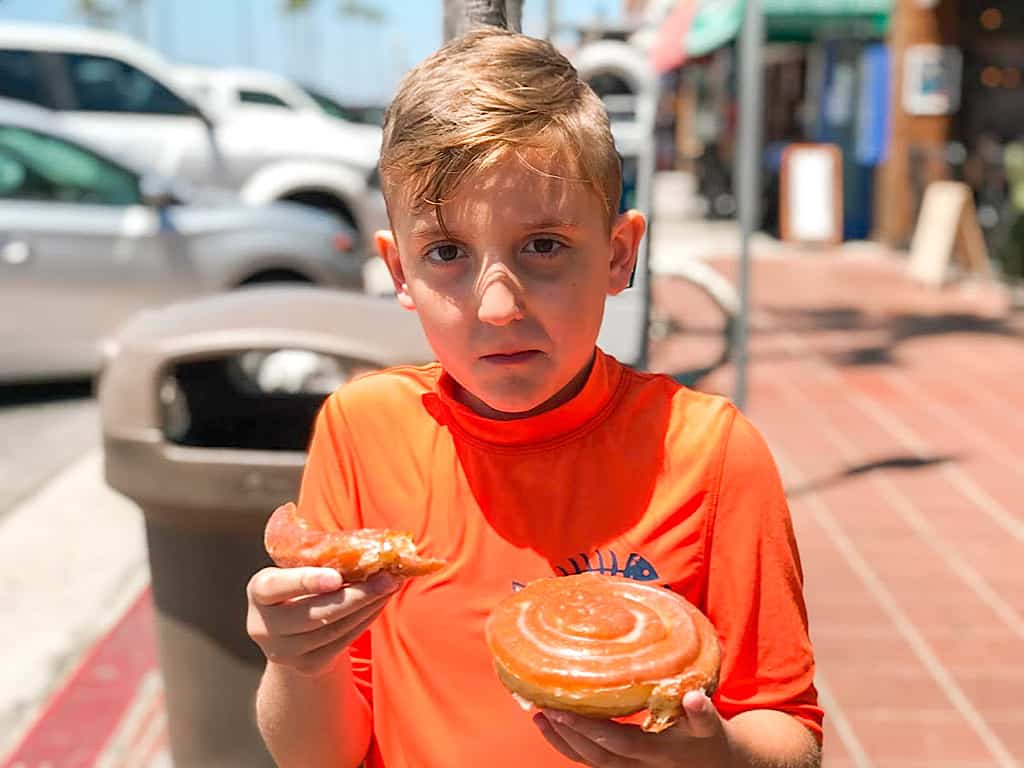 It's hilarious trying to watch them eat a donut that is almost as big as they are!
Seaside Bakery is open 24 hours, which is really convenient if you NEED a donut at 2 a.m. I won't judge.
We always make a day out of our trip to Newport, renting bikes to ride along the boardwalk and then stopping in to Seaside Bakery for a yummy treat.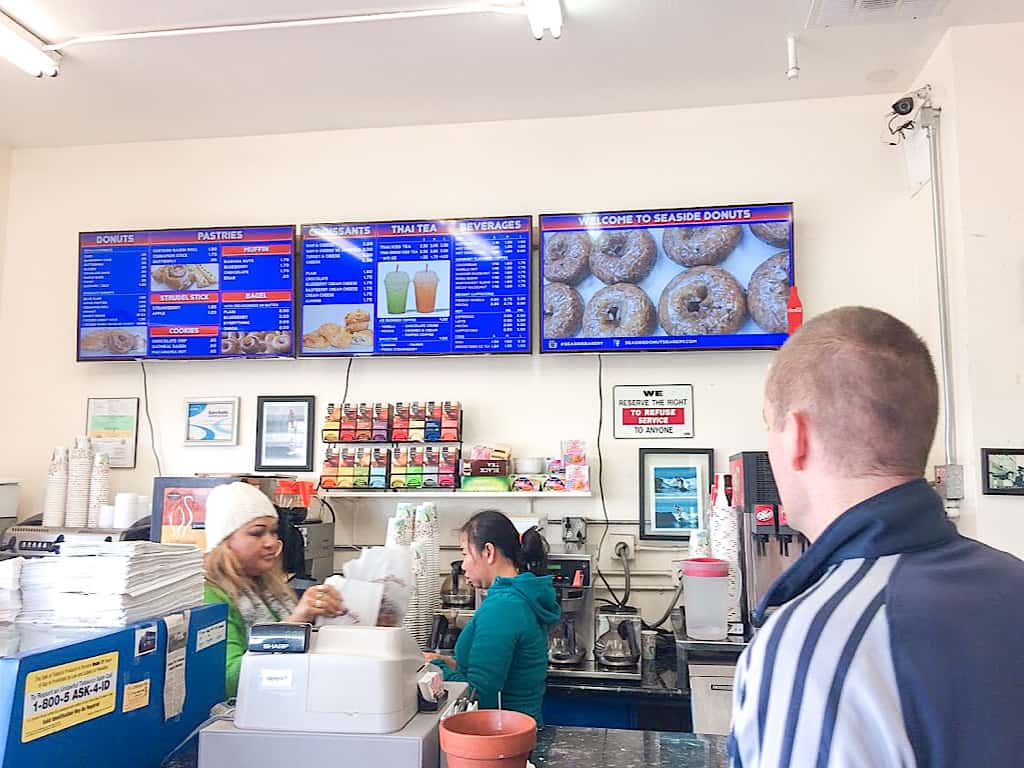 If you don't want to take my word for it, go ahead and check out the reviews for Seaside Bakery. Next time you're in town, make sure you give it a try!
Portillo's Hot Dogs
Portillo's Hot Dogs actually originated in Chicago, but there are a couple of locations in Orange County, California.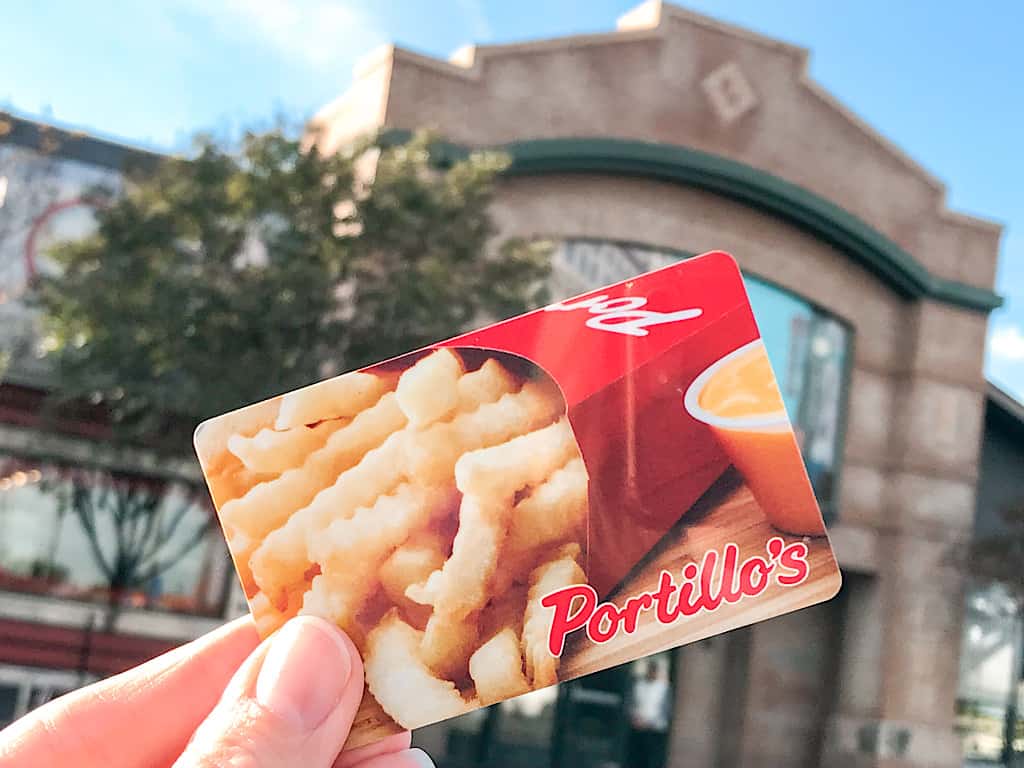 It's a great place to take kids! The atmosphere is pretty fun, but it is loud.
They have a well-rounded menu, that should be able to please just about anyone.
We usually get the Chicago Dog or the Italian Beef Sandwich with both sweet and hot peppers, mmmm. And my son gets the ribs!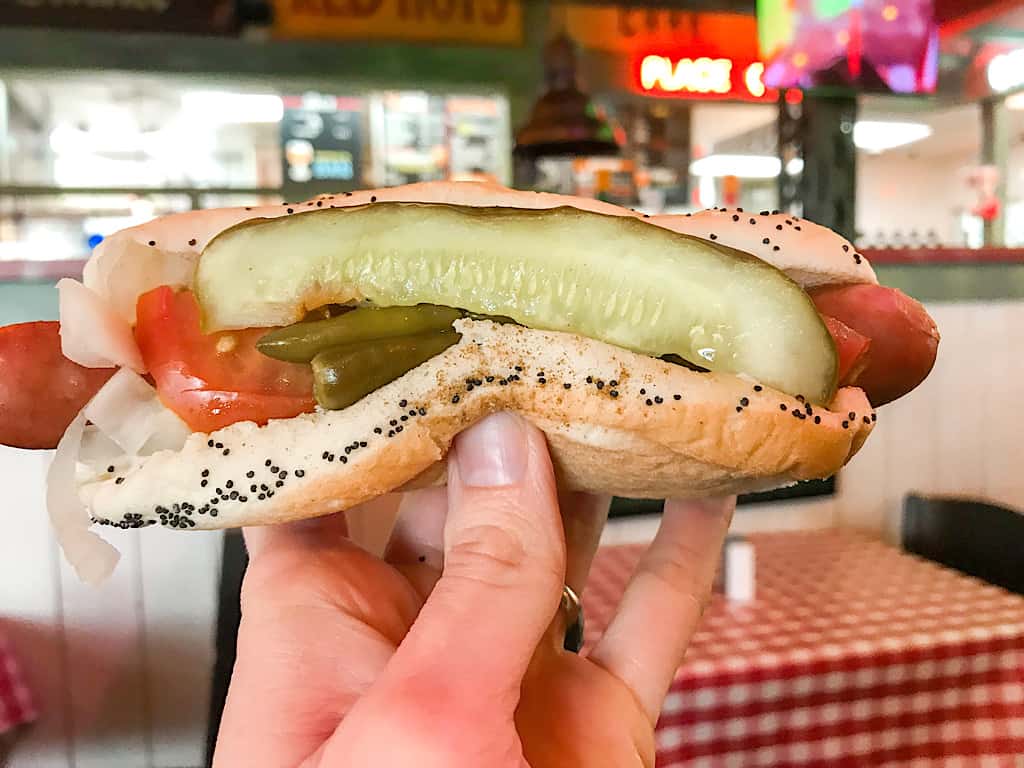 But the one thing you MUST get at Portillo's Hot Dogs is the Chocolate Cake Shake. I had read reviews about Portillo's that all mentioned this shake.
I thought it was going to be a standard chocolate shake with maybe a couple of cake crumbs in it. But, that was not the case.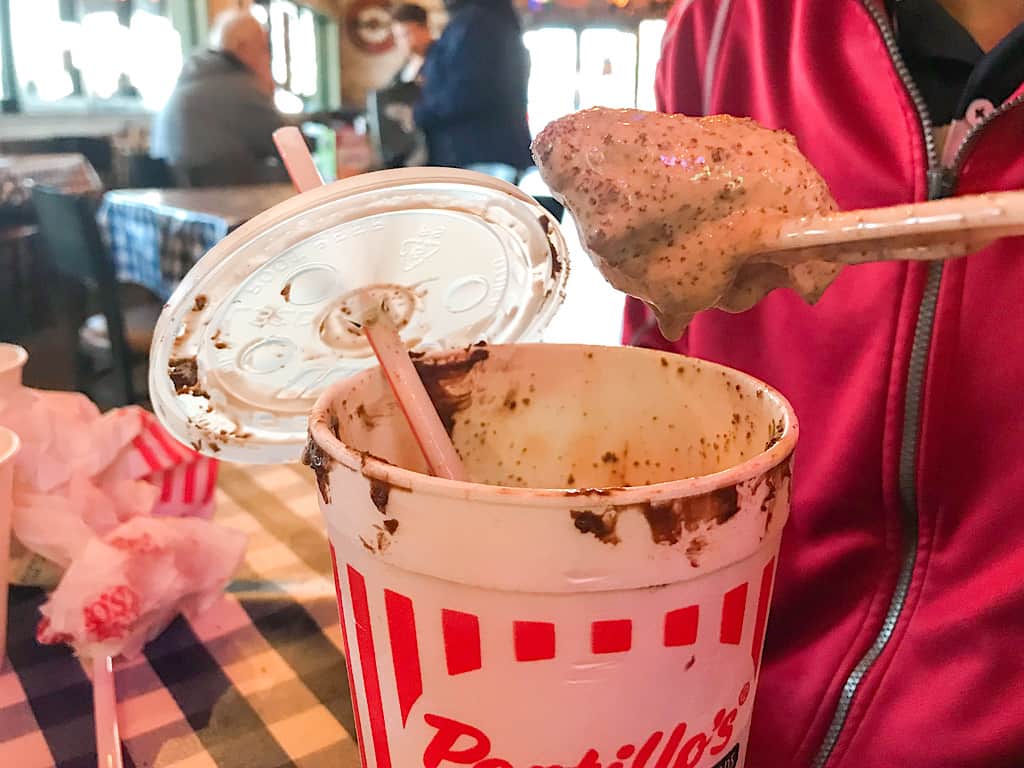 Imagine my surprise when I got to the bottom of my shake and found and entire piece of cake! Mind blown.
This has to be one of the best milk shakes of all time. Not only was the milkshake great, but there was a delicious piece of cake as well.
Two treats in one? Yes, please.
Try Portillo's Hot Dogs next time you are in Orange County, you won't be disappointed.
Slater's 50/50
Slater's 50/50 is called that because of their famous hamburger which is 50% ground beef and 50% ground bacon.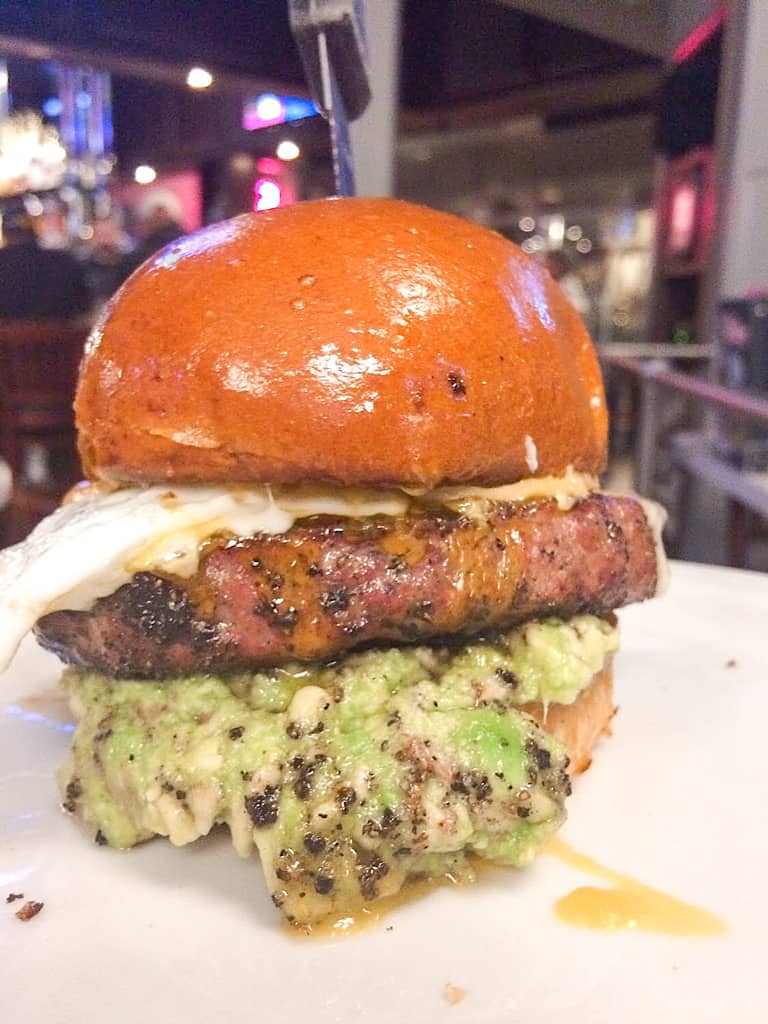 Did someone say bacon? Yes, there is ground bacon right in the hamburger patty!
The menu at Slater's 50/50 has more than just burgers. There are hot dogs, chicken sandwiches, salads and more, but they are known for their interesting burger combinations.
The most intriguing burger is called, "Peanut Butter and Jellousy". Here is the description from their menu:
"100% Black Canyon Angus beef, thick-cut bacon, peanut butter, strawberry jelly, honey wheat bun".
Sounds interesting right? Peanut Butter and Jelly on a burger? I've never been brave enough to order the "Peanut Butter and Jellousy" but I've heard that it is fantastic.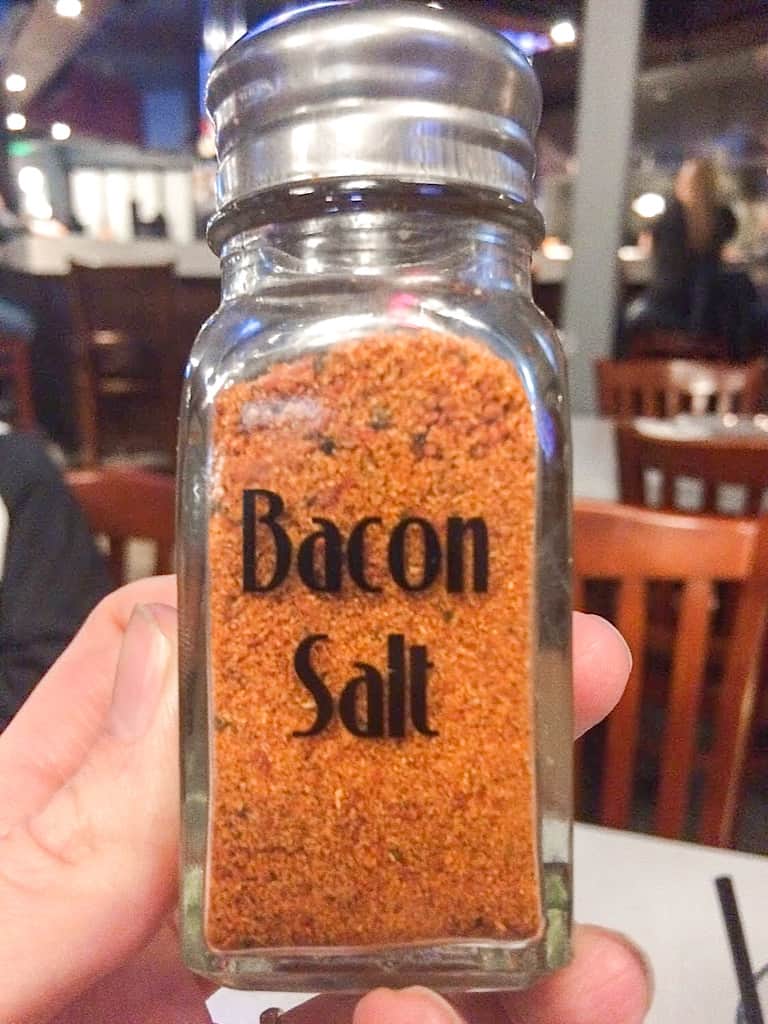 I usually stick to the "Original 50/50" which is a "50/50 blend of beef and bacon, pepper jack, sunny side up egg, avocado mash, chipotle adobo mayo, brioche". It's pretty tasty.
The service at Slater's 50/50 is great and I thought the kids meals were a good value. Definitely give Slater's 50/50 a try!
Los Sanchez Mexican Restaurant
Los Sanchez Mexican Restaurant has been a family favorite of ours for years. It is located in Garden Grove California, a couple of miles from Disneyland.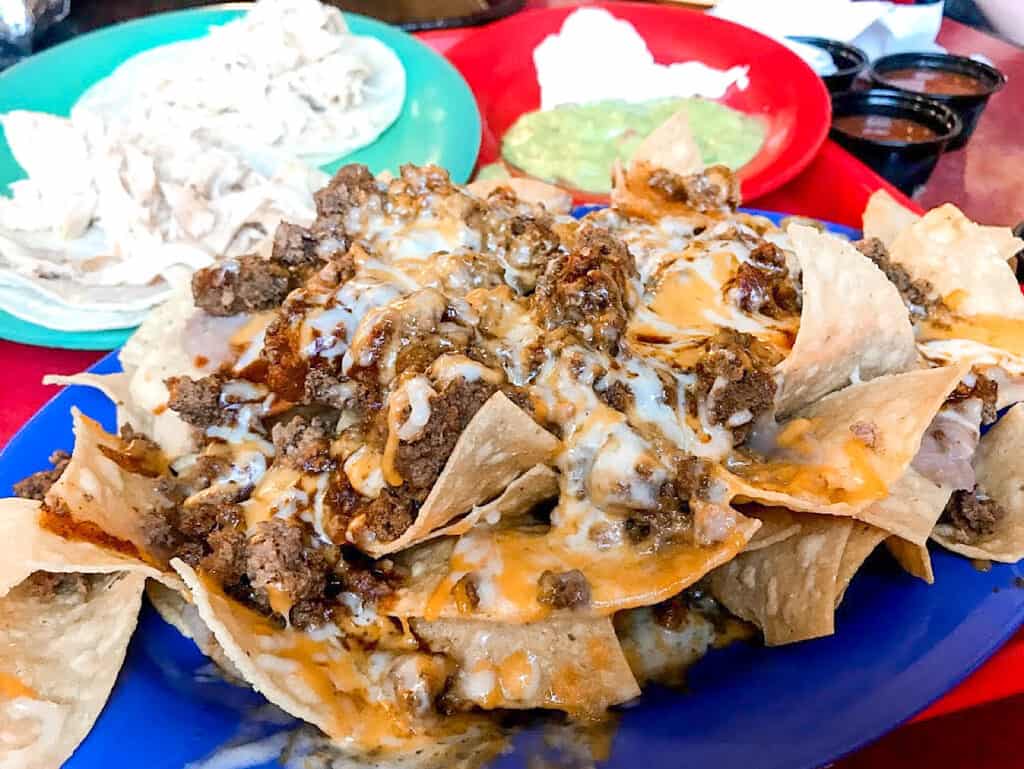 The first time that I went to Los Sanchez, it was located about a half a mile from its current location and boy did it need an update.
My sister had been there before and promised me, despite the run-down appearance, the food was amazing.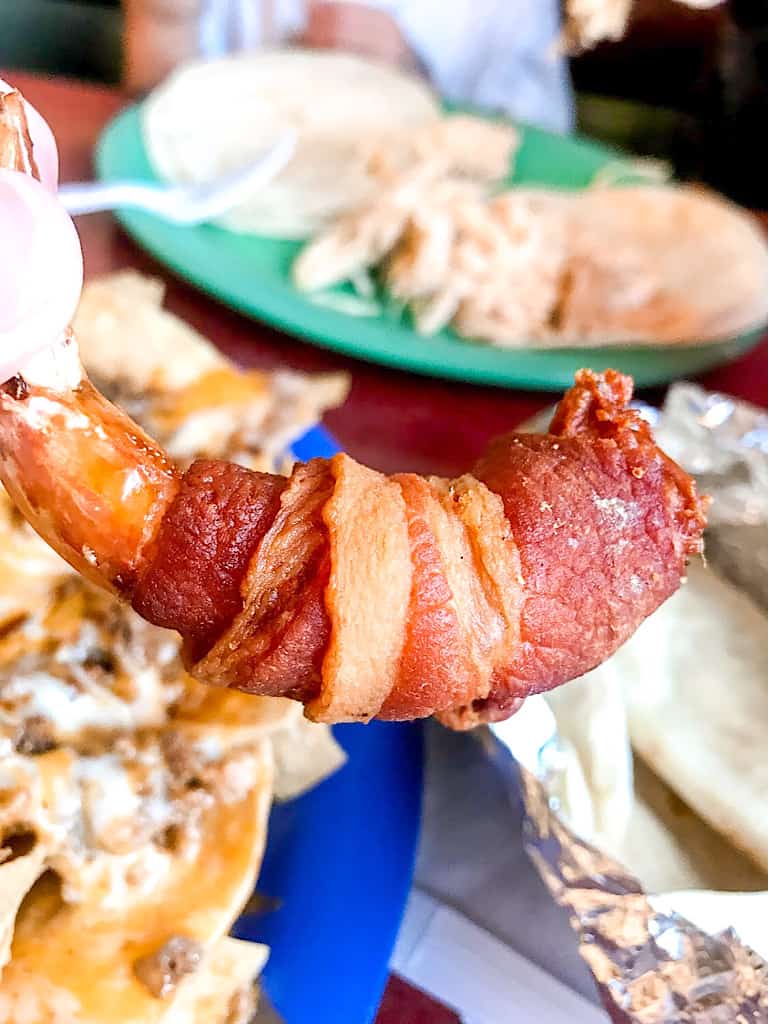 I gave it a try and have never looked back. The old location was torn down and replaced with a large hotel. The current location is much nicer.
The best part is that "Mr. Sanchez" was able to make the move to the new location.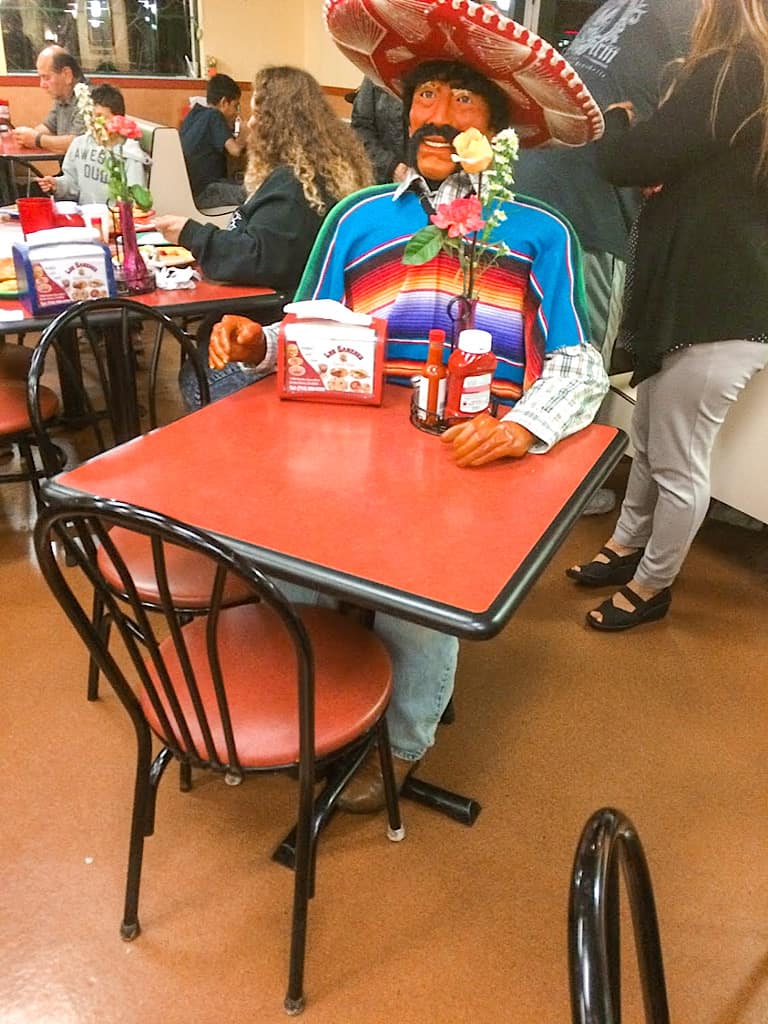 "Mr. Sanchez" is a mannequin who sits at a table while wearing a large sombrero. It might seem a little creepy, but I think it's awesome!
The portion sizes at Los Sanchez are huge and you can definitely share an entree between two adults. My son's cheese quesadilla was the size of a hubcap! No lie.
I love that the menu at Los Sanchez Mexican Restaurant is all pictures.
I don't speak Spanish, so it makes ordering a lot easier. It's also nice to see exactly what your food will look like.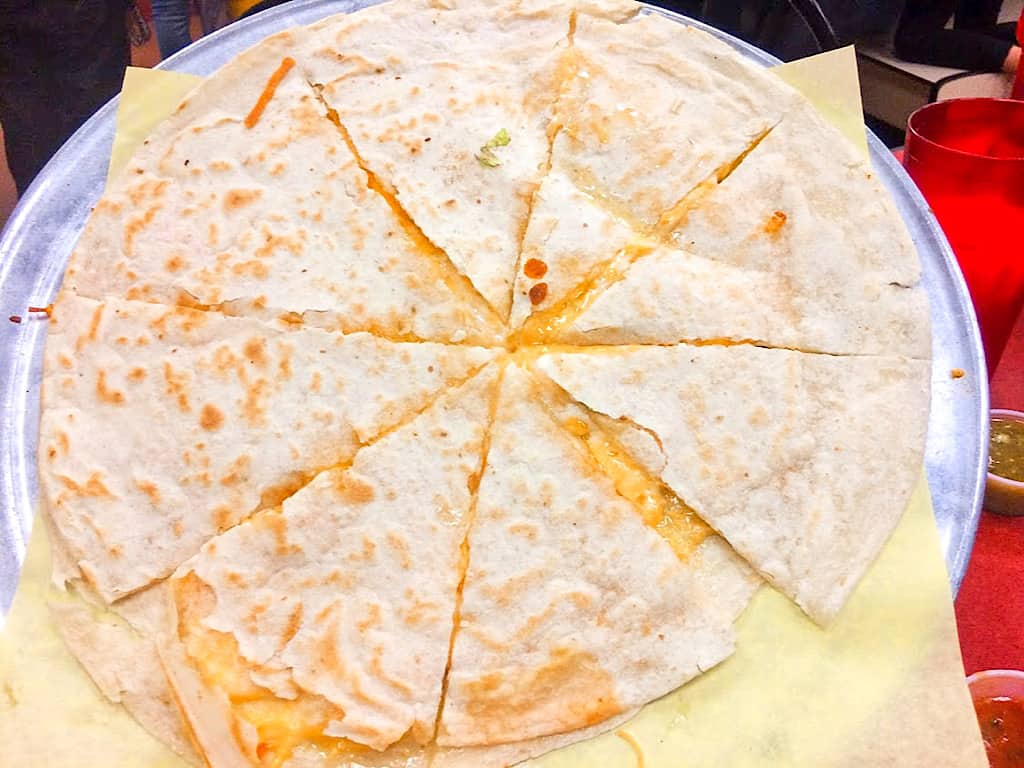 My current favorite menu item is a chicken chimichanga with enchilada sauce. If you stop by, make sure you say "Hi" to Mr. Sanchez for me.
Well, there you go! I hope next time you head to Orange County to visit or to go to Disneyland, you will know where to eat in Orange County, California!

Disneyland Ticket Savings
There aren't a lot of Disneyland ticket discounts out there, but they can be found if you know where to look.
Get Discount Disneyland Tickets Here
Make sure that if you buy Disney tickets from a third party, that they an authorized ticket seller.
I buy my tickets from Get Away Today. Their ticket prices are always a few dollars cheaper than Disneyland's gate prices and you can now purchase tickets from them that include Disney MaxPass!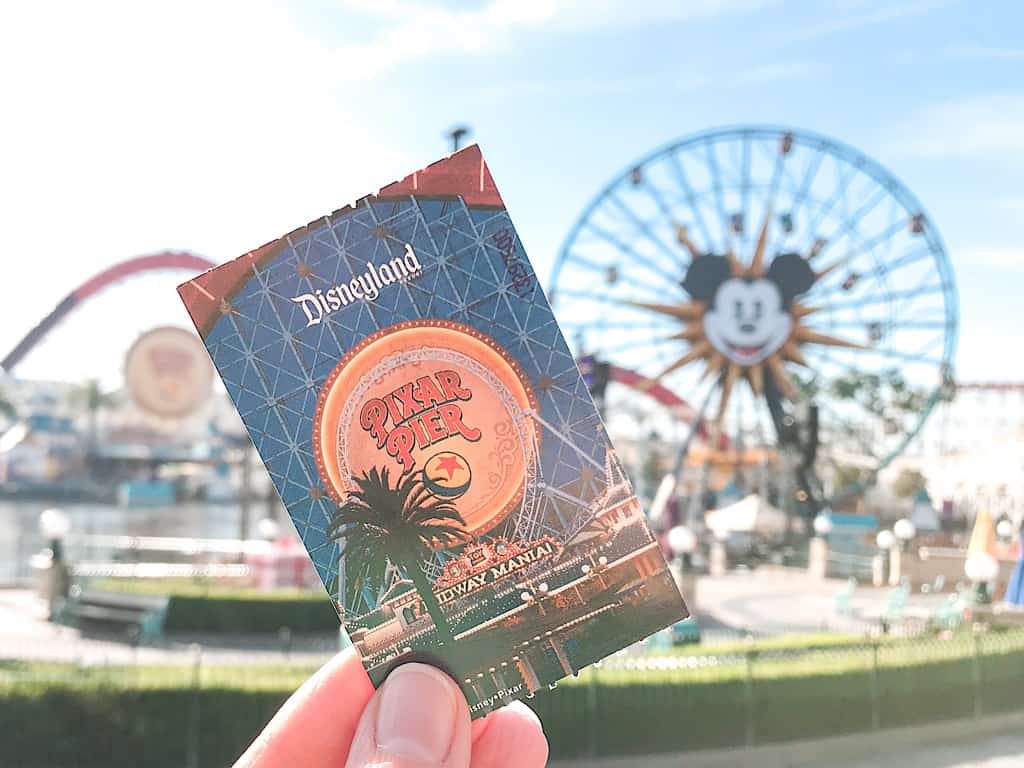 Get Away Today is almost always offering some kind of special on tickets and/or hotel vacation packages.
Use the promo code: MommyMouse to get an extra $10 off any 2-night or longer Southern California vacation package. (Hotel and 2 ticket minimum purchase to qualify for the discount.)

Check out our recent visit or Orange County!