Legoland California is the perfect destination for a fun-filled family vacation, especially for a LEGO fanatic. With lots of attractions suitable for kids of all ages, you'll want to make sure you don't miss out on any of the great experiences this destination has to offer. To help make your trip even more enjoyable, I've put together a list of the best tips and tricks for visiting Legoland California. These tips will ensure your experience is smooth sailing and full of fun!
This post may contain affiliate links. When you click on these links, I get a small percentage back at no cost to you! For more information see my disclosure policy.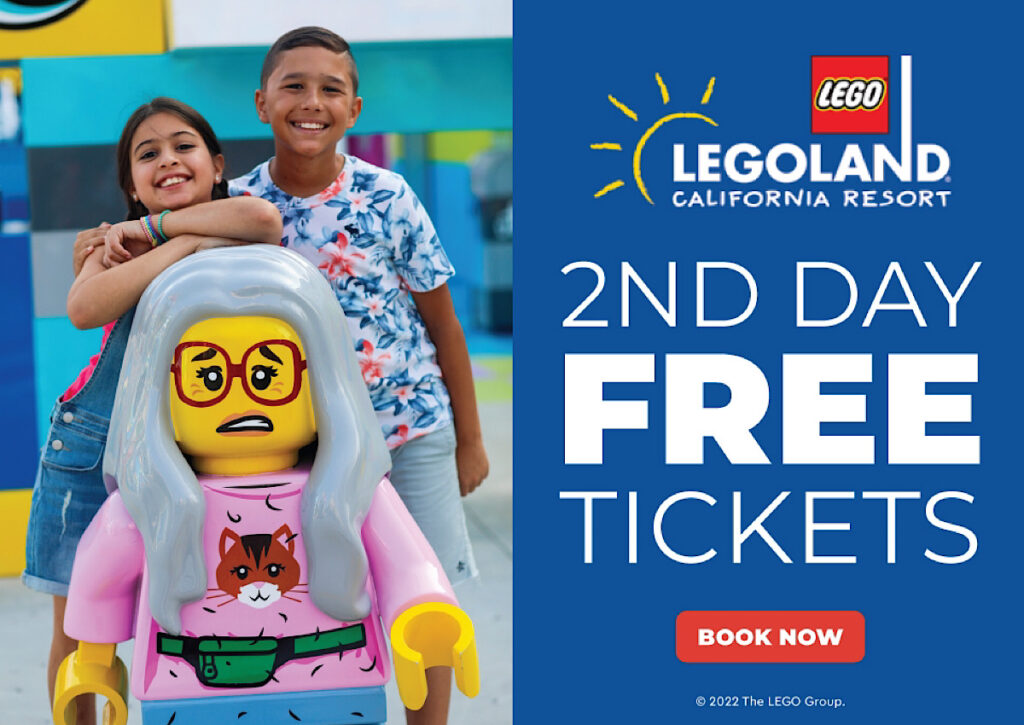 Check out this awesome Deal! Get a 2nd Day FREE at Legoland California when you book with Get Away Today. Combine this deal with a 2-night hotel stay and use the code: Clubhouse10 to save even more!
Why Go to LEGOLAND California?
LEGOLAND is such a fun place to visit when you are in southern California! It is a great destination in and of itself, but is close to both Disneyland and San Diego and can easily be added to a vacation at these locations.
The area features over 60 rides and attractions, which makes it an entertaining place to explore. There are many interactive activities as well, like the LEGO Star Wars Miniland Model Display and Driving School.
Get Discount LEGOLAND California Tickets
Before heading to LEGOLAND, you'll want to purchase your tickets. My travel partner, Get Away Today, is an authorized ticket seller and sells LEGOLAND tickets at a discount. Check out their website for the best deal here. If you visit in October, they you can almost always buy tickets for adults and get free kids tickets!
You can combine your visit with a 2-night or longer hotel stay and use the coupon code: Clubhouse10 to save even more! Check vacation package prices at www.GetAwayToday.com. I recommend the LEGOLAND Hotel or LEGOLAND Castle Hotel if you can swing it!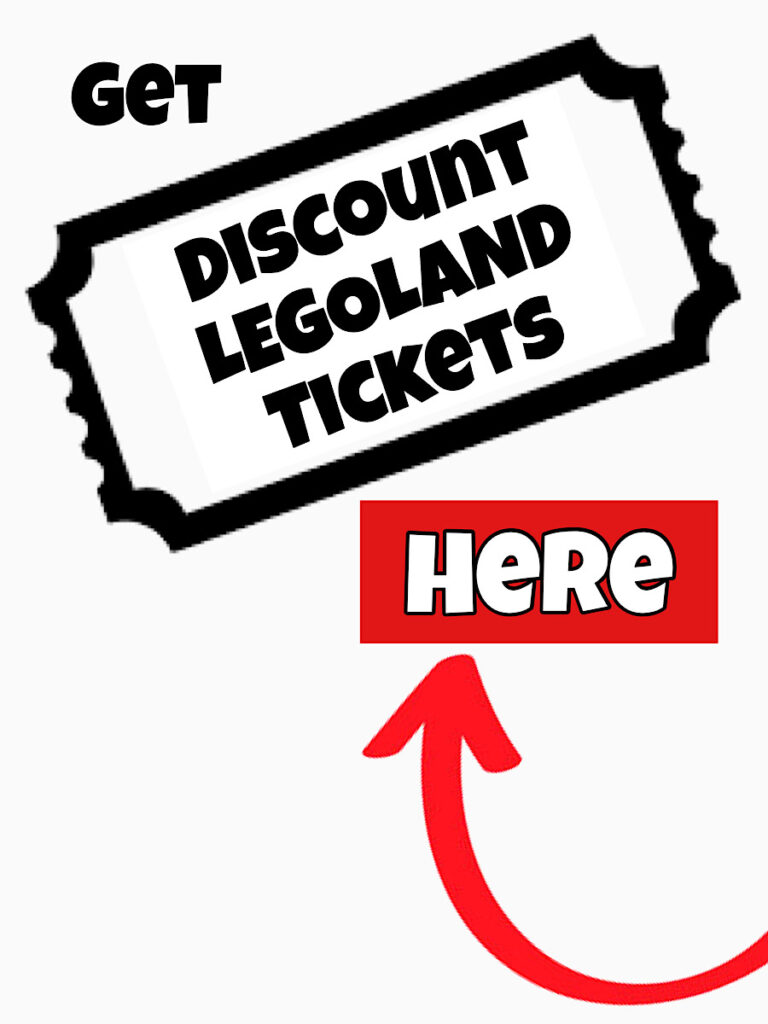 How Far is LEGOLAND from Disneyland
LEGOLAND California is about 60 miles from the Disneyland Resort. It is 1-2 hour drive depending on traffic. This distance makes LEGOLAND a great add-on to a Disneyland vacation.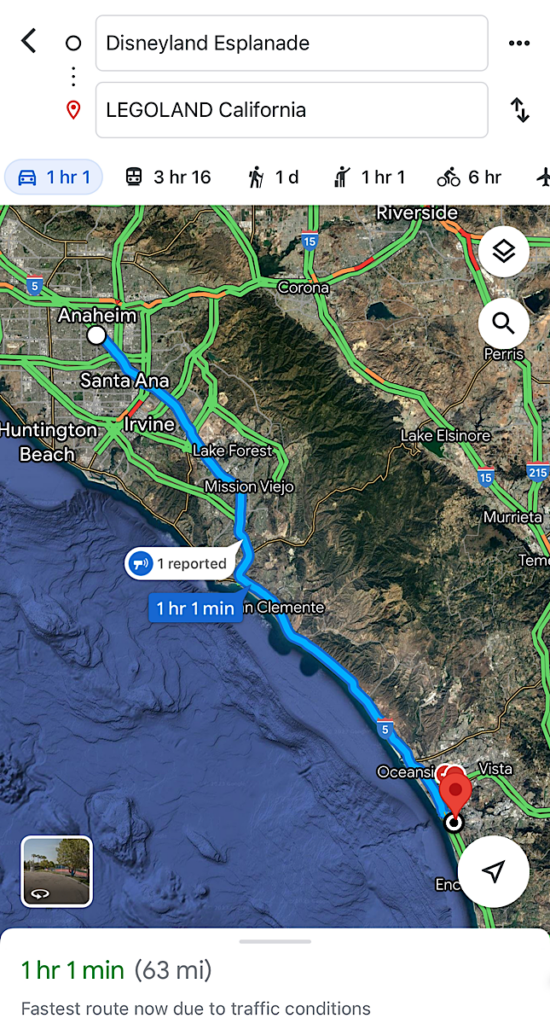 How Far is LEGOLAND from San Diego
LEGOLAND California is about 38 miles from downtown San Diego. It takes between 45 minutes and 1 hour to drive, depending on traffic. This distance also makes LEGOLAND a great add-on to your San Diego vacation!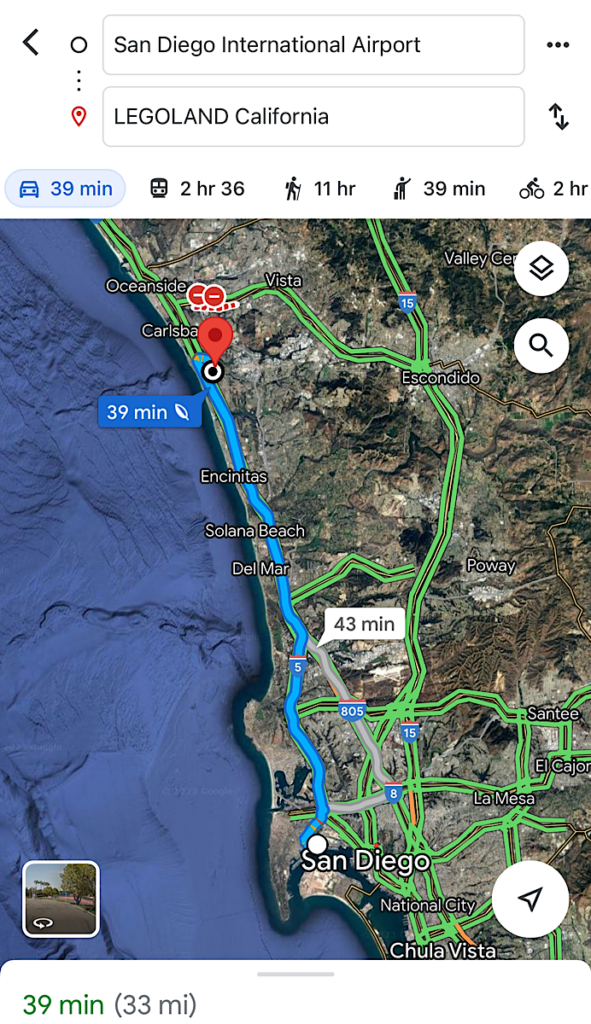 What Ages are Best for LEGOLAND California
According to LEGOLAND, the theme park is geared toward 2-12 year-olds. In my experience, the best ages for LEGOLAND ARE 4-8 years old.
The Best Tips for Visiting LEGOLAND California
Below you will find my best LEGOLAND tips and tricks for visiting LEGOLAND California!
Check LEGOLAND Hours
As far as theme parks go, LEGOLAND has shorter hours and closes earlier than other parks in the area. There are even times during the off-season when LEGOLAND is only open on select days of the week. You'll want to check their website for hours to help you plan your day.
Make Reservations
Reservations are currently required to visit LEGOLAND. Be sure to check availability and make reservations as soon as you purchase your tickets.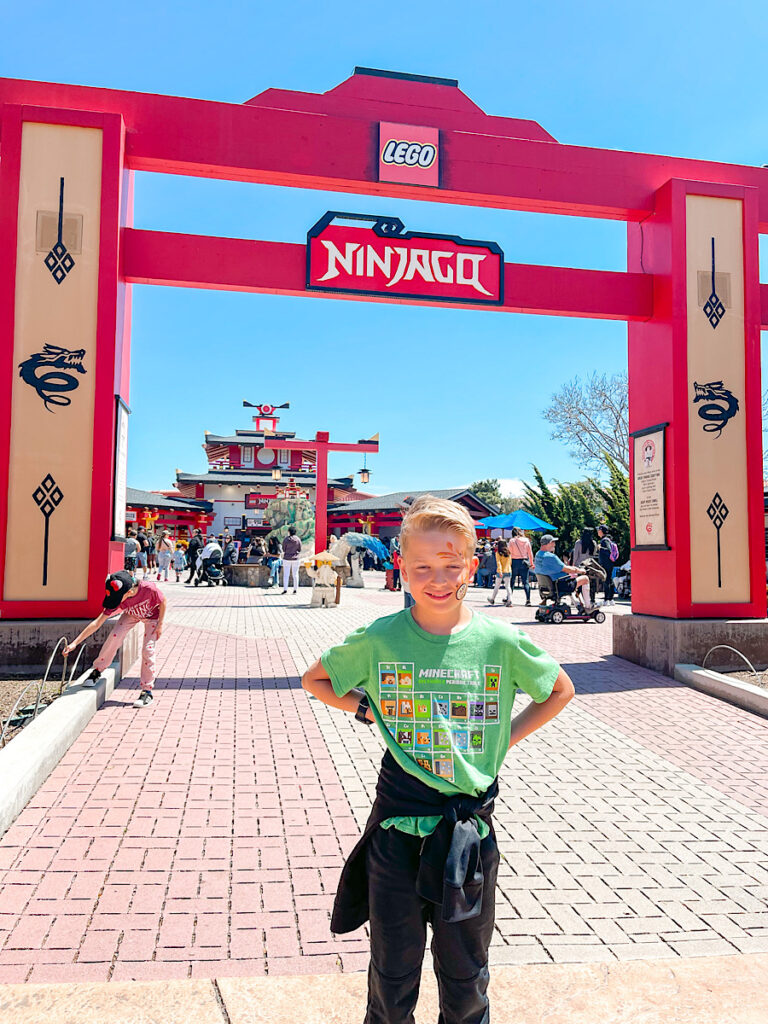 Arrive Early
LEGOLAND California opens at 10am, so plan your arrival for around 9:30 to allow yourself enough time to find parking and to take advantage of lower crowds and shorter wait times in the early morning hours.
Even better, stay onsite and get early entry 30-60 minutes before the park opens to other guests.
Plan Ahead
Come with a plan or itinerary of the attractions you and your family would like to visit that day. This will help keep you organized and focused on the attractions that will be most enjoyable to everyone. Make sure to check height restrictions for rides so that you and your kids will know what to expect.
I like to maximize my time and start at the back of the park. That way you will be going the opposite direction of everyone else and can avoid waiting in long lines.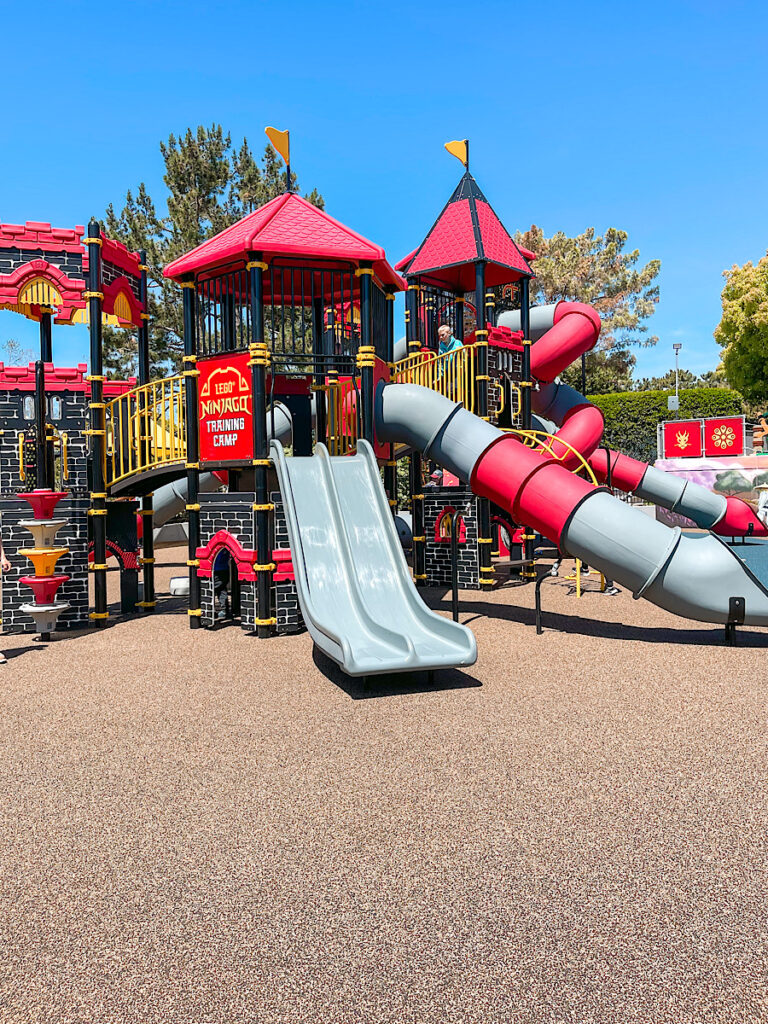 Bring Snacks
LEGOLAND California allows small snacks, which is a great way to save money during your visit. I recommend packing granola bars, apples, fruit snacks, or other easy snacks that can fit into pockets or backpacks.
Purchase Tickets Online
You can save money when you purchase tickets online in advance of your visit. As I mentioned earlier, Get Away Today often has special discounted tickets to LEGOLAND, so it is always a good idea to check their website when you are planning your visit. For example, right now you can get a second day free when you purchase one day!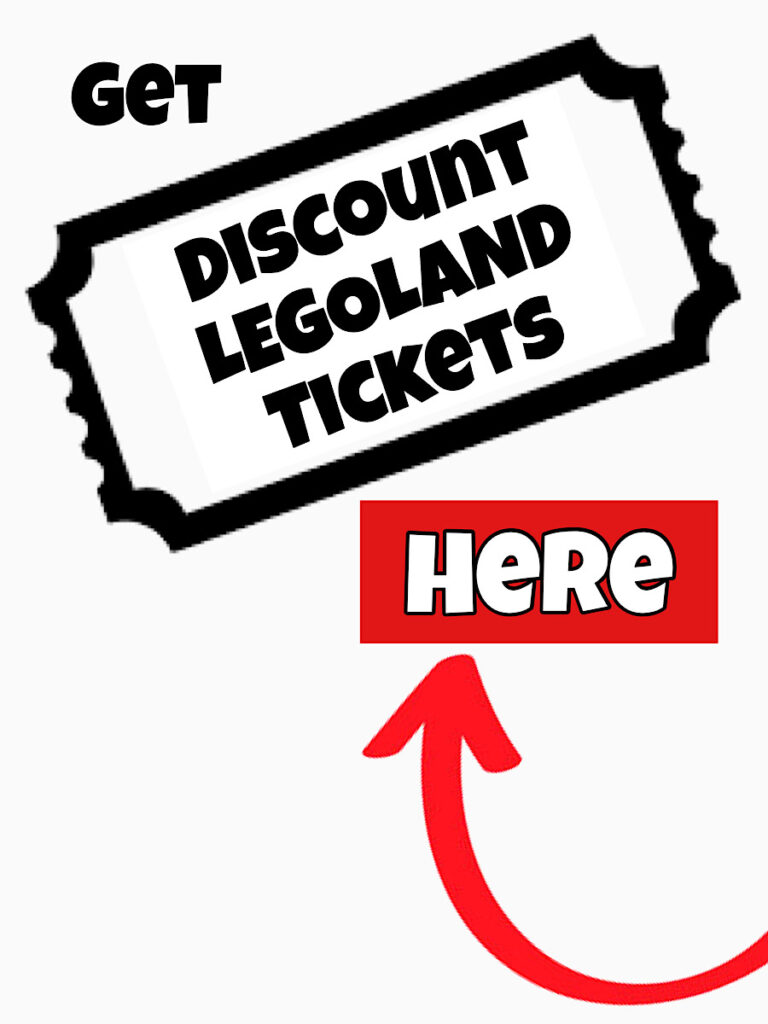 Wear Comfortable Shoes
This will make exploring the park much easier as there is much ground to cover! You will be walking a lot, so it might also be a good idea to start taking walks with your kids before your visit, to get them used to covering a lot of ground.
Stay Hydrated
Bring reusable water bottles with you to keep you hydrated throughout the day at Legoland California so that you stay cool and refreshed while walking around the park.
Prepare for the Sun
Wear sunscreen, hats, and sunglasses! With plenty of sunshine every day, it's important to pack plenty of sun protection gear for everyone in your family.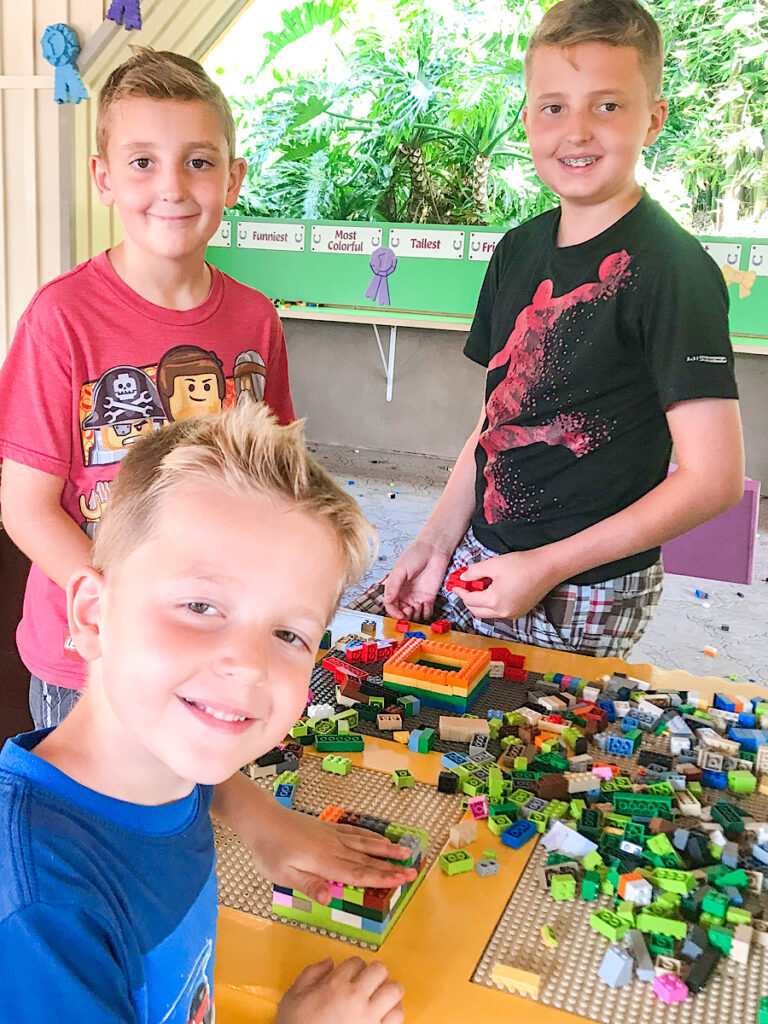 Play with LEGO Bricks
One of the things we love about LEGOLAND is the LEGO building stations located all throughout the park. My boys love the one right next to Miniland USA where they can build a boat and then sail it in the water.
There are also LEGO building stations located in the queues for many rides, providing entertainment for kids while parents hold their place in line.
Download the Mobile App
The LEGOLAND app is a great way to help you navigate around the park. You will find a map, showtimes, ride wait times, and more! Make sure to download the LEGOLAND California app and become familiar with it before your visit.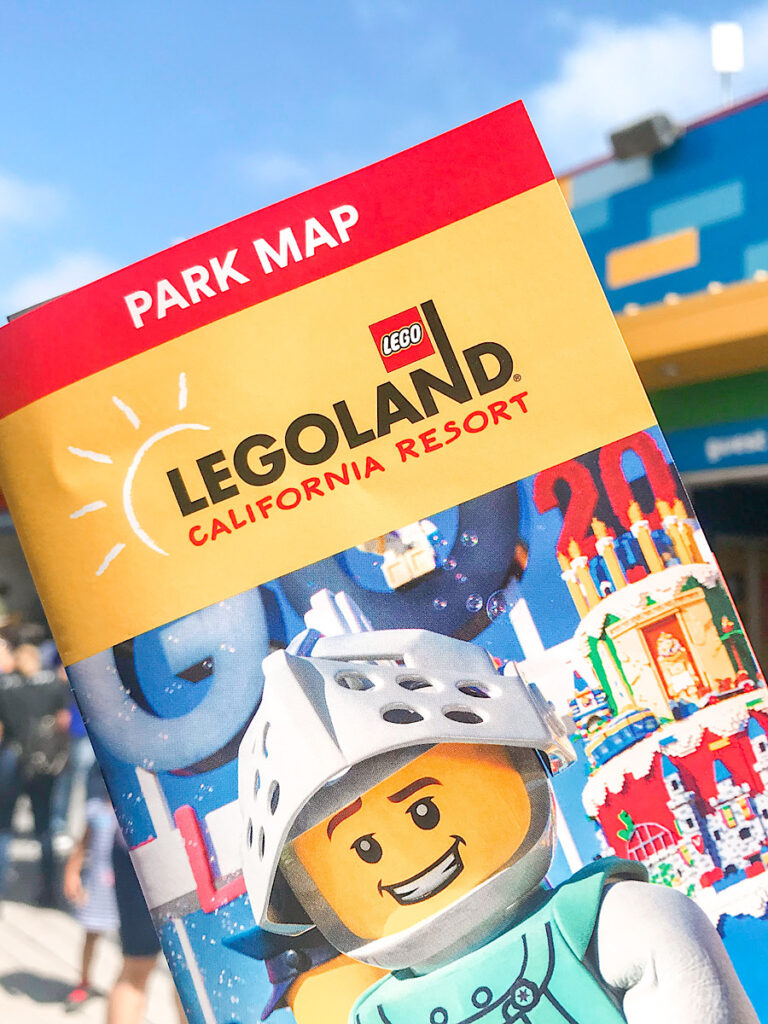 Use Parent Swap
If you are visiting with small children, you can take advantage of "Parent Swap" if the child is too small to go on a certain ride.
"LEGOLAND California offers our visiting parents who have children that meet and don't meet the minimum height restriction the opportunity to do a "Parent Swap" at any ride that parents are allowed to ride. All members of the party are required to wait in line together. When you reach the front, let the ride operator know of your intention, so that he can accommodate you. When the first ride is over, the parents may then switch places and the other parent can then ride with the older child."

LEGOLAND Website
Use Reserve 'N Ride
Reserve 'N Ride is a way to reserve your spot in line and return at a certain time without having to wait in an actual line. This service does come at an additional cost though. I would consider purchasing it if you plan to visit on an extremely busy time, like spring break, or if your goal is to ride every attraction in one day.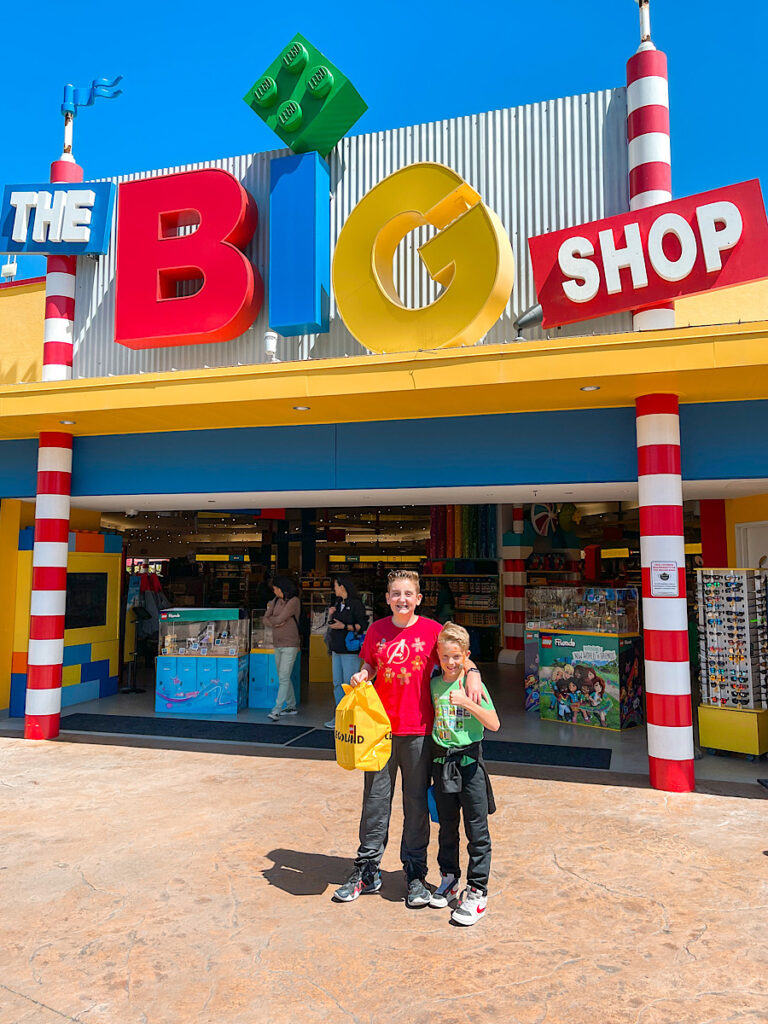 Send Purchases to the Exit
When my family goes to LEGOLAND, we almost always purchase a LEGO set or two from the gift shop. LEGOLAND California has a service that will send your purchase to the front of the park, where you can pick it up at the end of the day. This makes it so that you don't have to carry around a shopping bag all day during your visit.
Stay at a LEGOLAND Resort Hotel
If you're looking to make your LEGOLAND adventure even more magical, consider staying at the LEGOLAND Resort Hotel. Staying onsite not only gives hotel guests early access to into LEGOLAND park, but also lets you take advantage of fun amenities like character meet and greets and plenty of LEGO play areas. You can even purchase a Pirate, Adventurer, or Kingdom Room package! My kids loved our room with bunk beds!
I can't tell you how nice it was to have a hotel room just steps from the entrance. My kids (and husband) almost always need a break during the day, so to avoid a meltdown, we took an hour break in the afternoon to swim and relax in the room. It also gave my kids a chance to work on the new LEGO sets!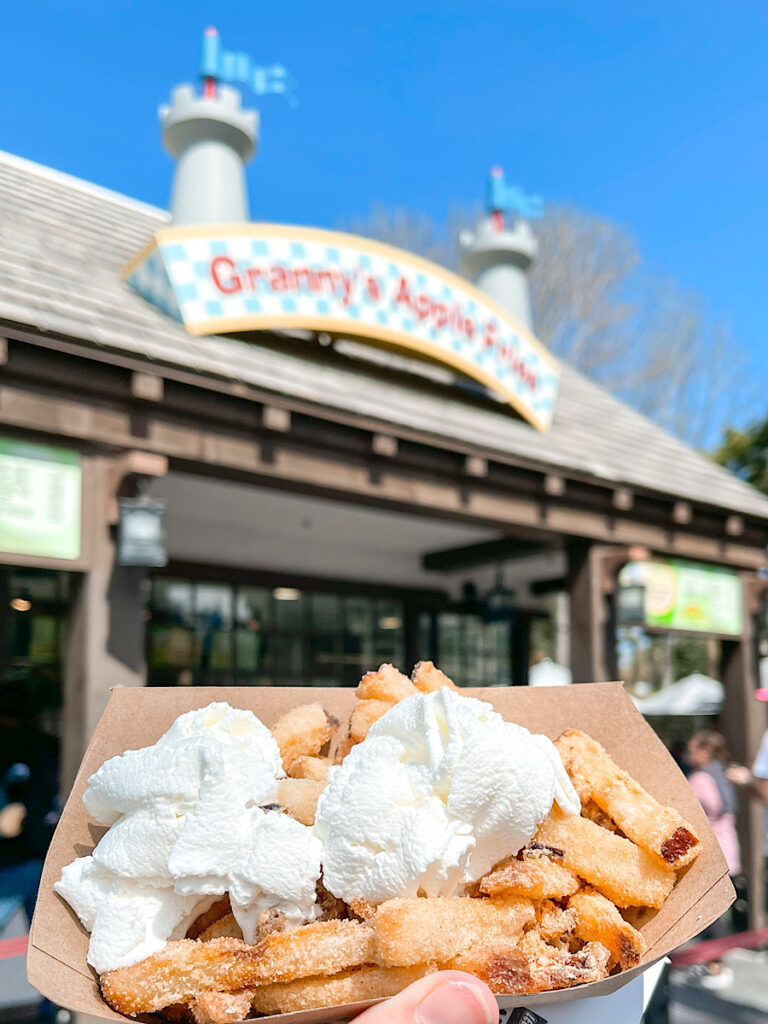 Get the Apple Fries
I am all about the food, and at LEGOLAND, you don't want to miss the Granny's Apple Fries. We purchase these every single time we visit! They are fried apples dusted with cinnamon sugar and served with whipped cream. They are so good, you might want to get an order all to yourself!
Bring Extra Clothes or a Swim Suit
There are a few water play areas including a splash pad in the LEGO Movie World area, in the park that your kids might want to take advantage of. To avoid having to spend the day in wet clothing, pack an extra set of clothes or have your kids wear a swimsuit underneath their clothes. This is also great if you get wet on any water rides.
Visit the LEGOLAND Water Park or Sea Life Aquarium
LEGOLAND not only has a theme park, it has a water park and aquarium too! With Get Away Today's current 2nd-day free deal, this would be a great time to upgrade and take a trip down one of the water slides or check out the marine animals in the aquarium.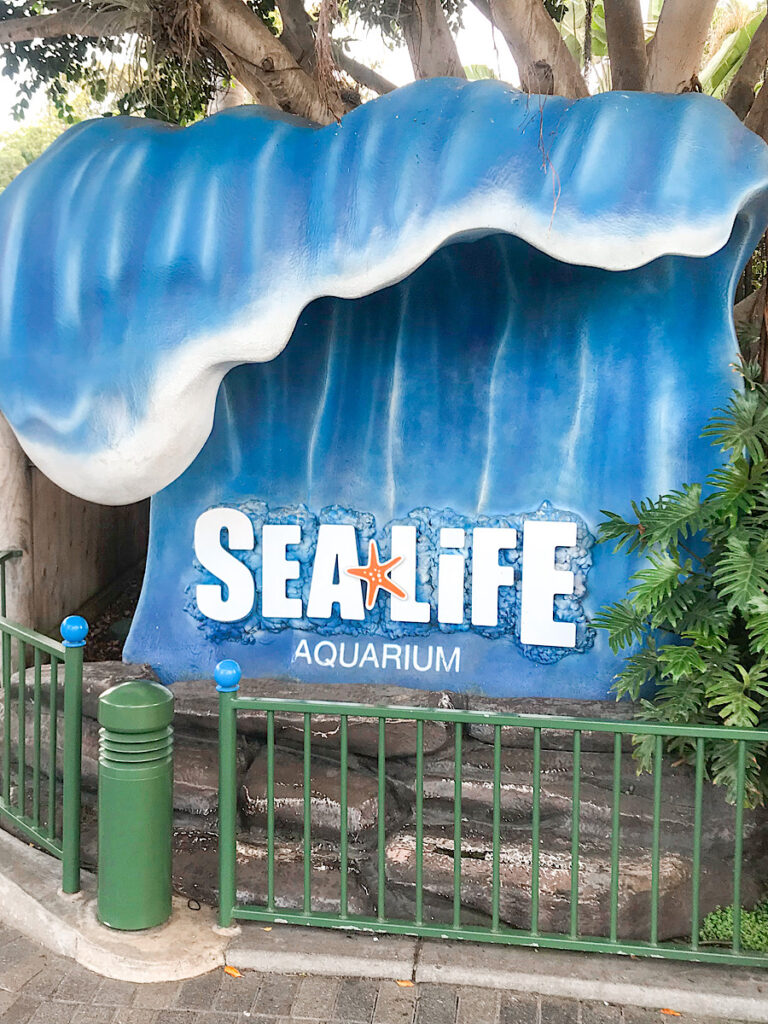 Bring Minifigures to Trade
Disneyland has pin trading, and LEGOLAND has minifigure trading! To participate in this fun tradition, bring a few of your minifigures and trade them with employees when you see them around the park. Just ask a LEGOLAND employee if they would like to trade – it's always a fun surprise!
Book a LEGOLAND California Resort Vacation
Have I convinced you to go to LEGOLAND yet? If so, you'll want to start planning your vacation! Head to www.GetAwayToday.com to see what ticket prices and specials are available and also check out hotels in the Carlsbad area (I recommend the LEGOLAND Castle Hotel), San Diego area, and the Disneyland area.
Use the coupon code: Clubhouse10 to save on a 2-night or longer on Southern California vacation packages that includes hotel & tickets or give them a call at 855-GET-AWAY and let them know Mommy Mouse Clubhouse sent you!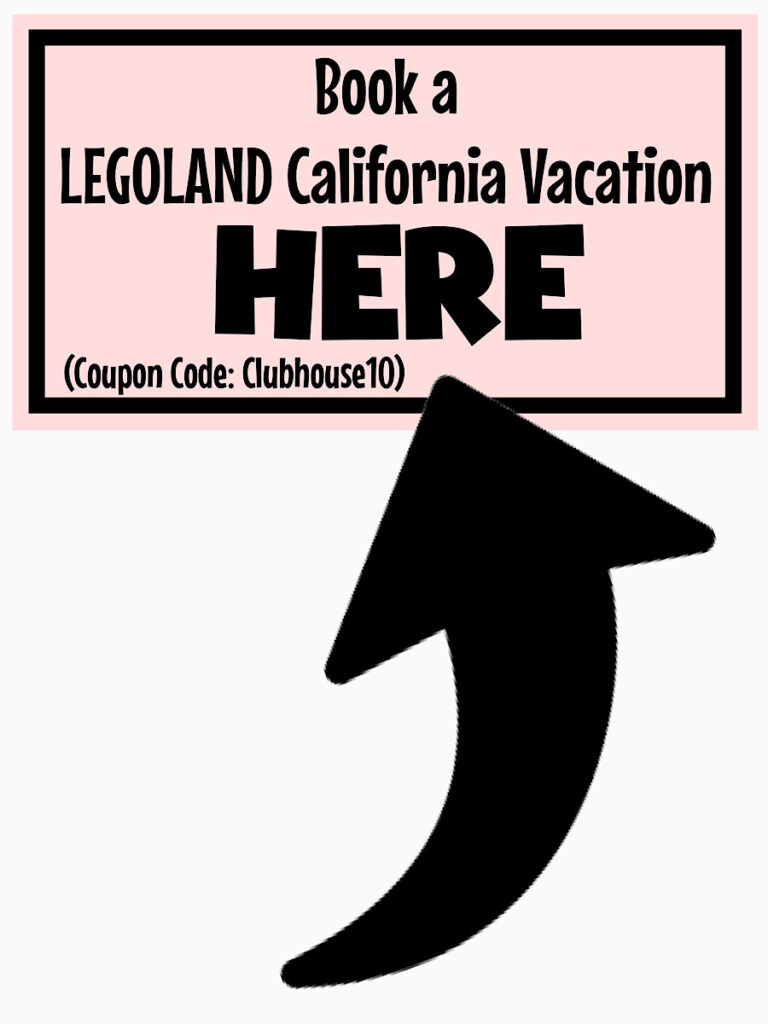 Frequently Asked Questions
What age is best for Legoland California?
The best age for LEGOLAND California is between 3-12 years old. The park has rides, shows, and activities geared specifically toward younger kids.
Are strollers allowed in Legoland?
Yes, you can bring your own stroller into LEGOLAND California or rent one at the front gate. Keep in mind that these strollers cannot be taken on rides.
Do I need to buy tickets in advance?
It is always a good idea to purchase LEGOLAND California tickets in advance as it can save you time at the gate and allow you to make park reservations. Plus, Get Away Today offers exclusive discounts!
How much does it cost per person to go to Legoland California?
The price of admission to LEGOLAND California varies depending on the season and ticket type. Generally, prices range from $80-90 for adults (ages 13+) and $70-80 for children (ages 3-12).
Can Legoland California be done in one day?
Yes! With proper planning, you can visit all the attractions in one day. Keep in mind that it might be too much for younger kids and plan to take a break during the day if needed.
Are adults allowed at Legoland California?
Yes, absolutely! While LEGOLAND California is geared toward younger kids, there are plenty of attractions for adults too. From the roller coasters to the aquarium and water park, you'll find something for everyone at LEGOLAND California.
Final Thoughts
LEGOLAND California is a great family vacation destination or a great add-on for any southern California vacation. for the entire family. With tons of attractions, delicious food, and unique experiences, there is something for everyone at LEGOLAND! Make sure to plan ahead and be prepared for a fun-filled day!
I hope you found this guide helpful in planning your next trip to LEGOLAND California. Have fun exploring the park and let me know what your favorite experience is.
More Theme Park Tips for Kids