Find out 9 Disneyland Tips for Moms when visiting the Happiest Place on Earth!
This post may contain affiliate links. When you click on these links, I get a small percentage back at no cost to you! For more information see my disclosure policy.
Are you and your family heading to Disneyland soon? Well your favorite Disney Mom has you covered with some fun Disneyland tips for Moms!
Check out Day 1 at Disneyland on our recent trip to Southern California where I'll share some of my favorite tips, and what to do if your kid has a meltdown at Disneyland!
Disneyland Tip #1 Main Street U.S.A.
When you're on Main Street at Disneyland Park, stay out of the middle of the road!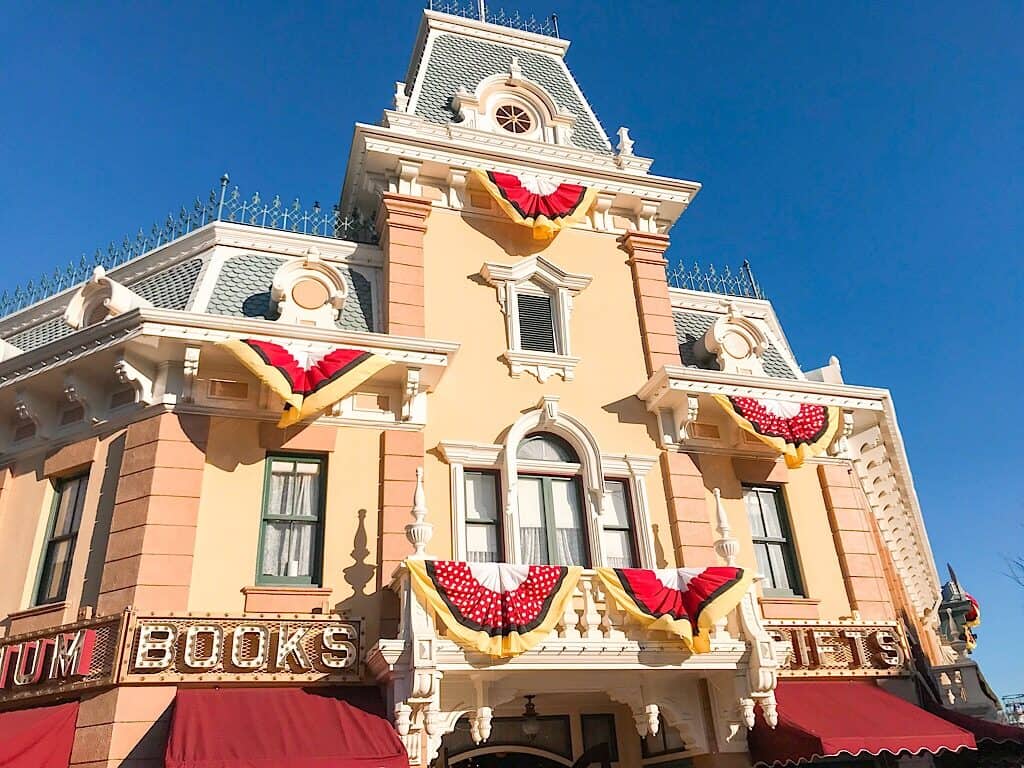 There are tracks for some of the Main Street vehicles that your stroller, or your foot can get caught in, and it's not fun!
Also, if you need to get down Main Street during a parade, the gift shops along the street are all connected so you can get from one end to the other pretty quickly!
Tip #2 Fantasyland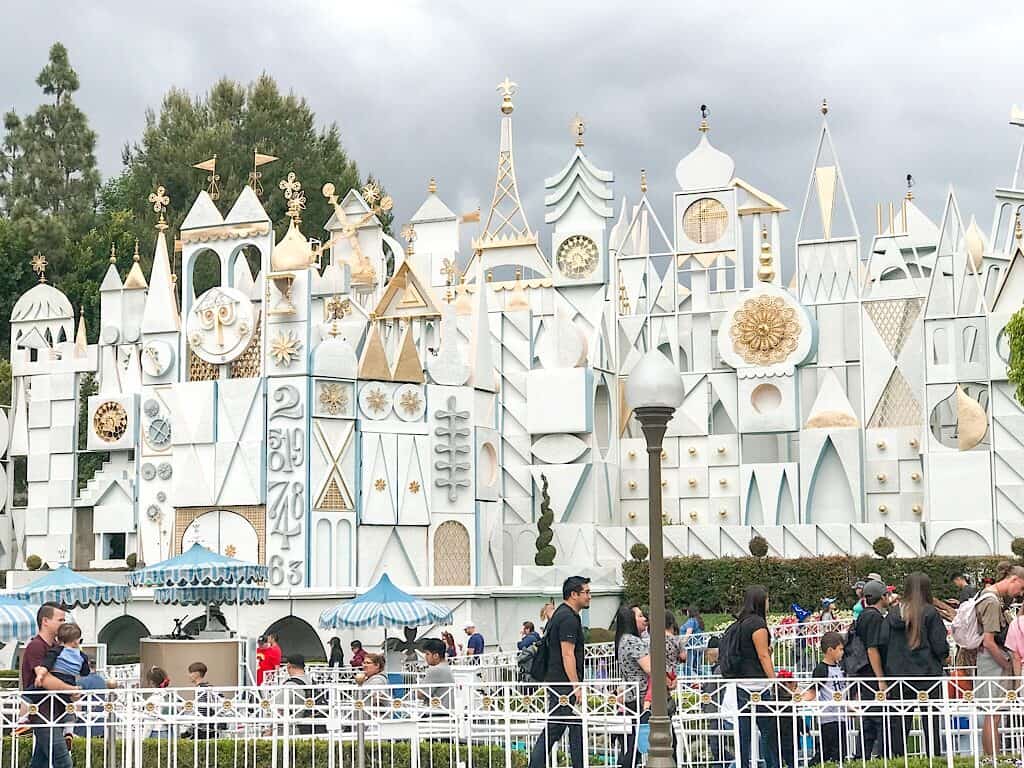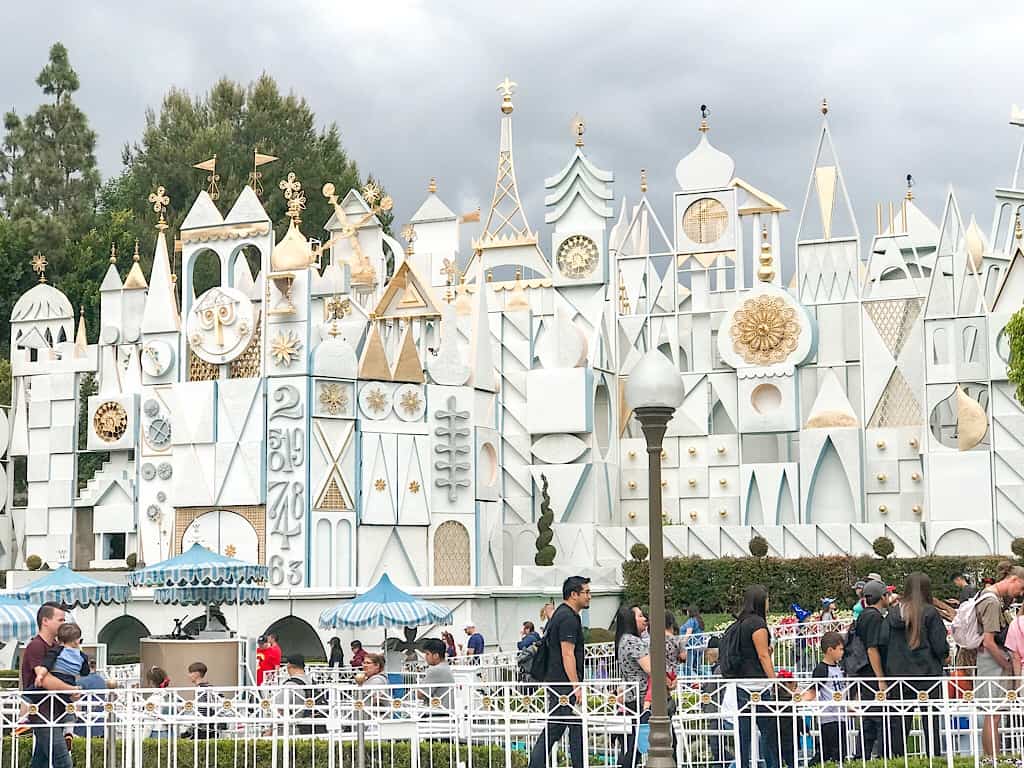 Go to Fantasyland Early, at rope drop, because lines for rides like Peter Pan's Flight and Dumbo get pretty long later in the day and don't have a Fastpass option.
Tip #3 Try the Grey Stuff
Try the Grey Stuff it's delicious! Trust me. You need this in your life. It is available for breakfast, lunch, and dinner at Red Rose Taverne in Fantasyland.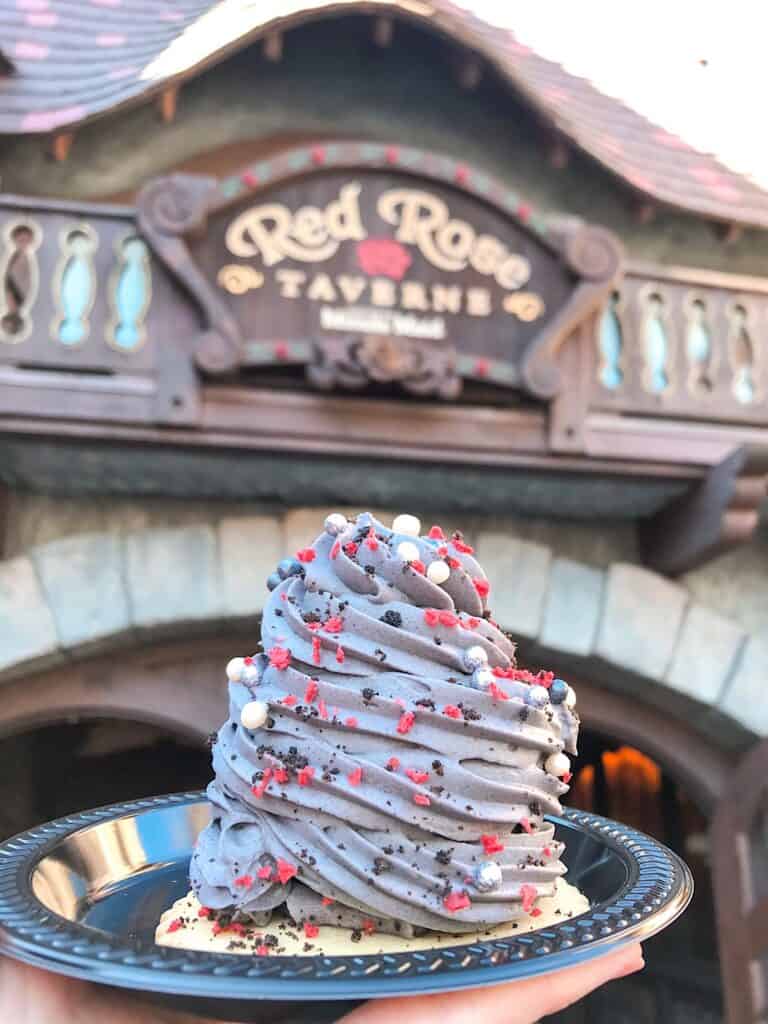 The Grey Stuff is red velvet cake and raspberry filling, with cookies and cream white chocolate mousse piped all around it.
It is amazing, but very rich. It's a great snack to share! The recipe will be coming soon, but you can check out more Disney recipes here.
Tip #4 Handling Unhappy Kids at Disney
Unfortunately, kids are going to have meltdowns and tantrums, even at Disneyland! Fortunately, some cotton candy and ice cream came to the rescue!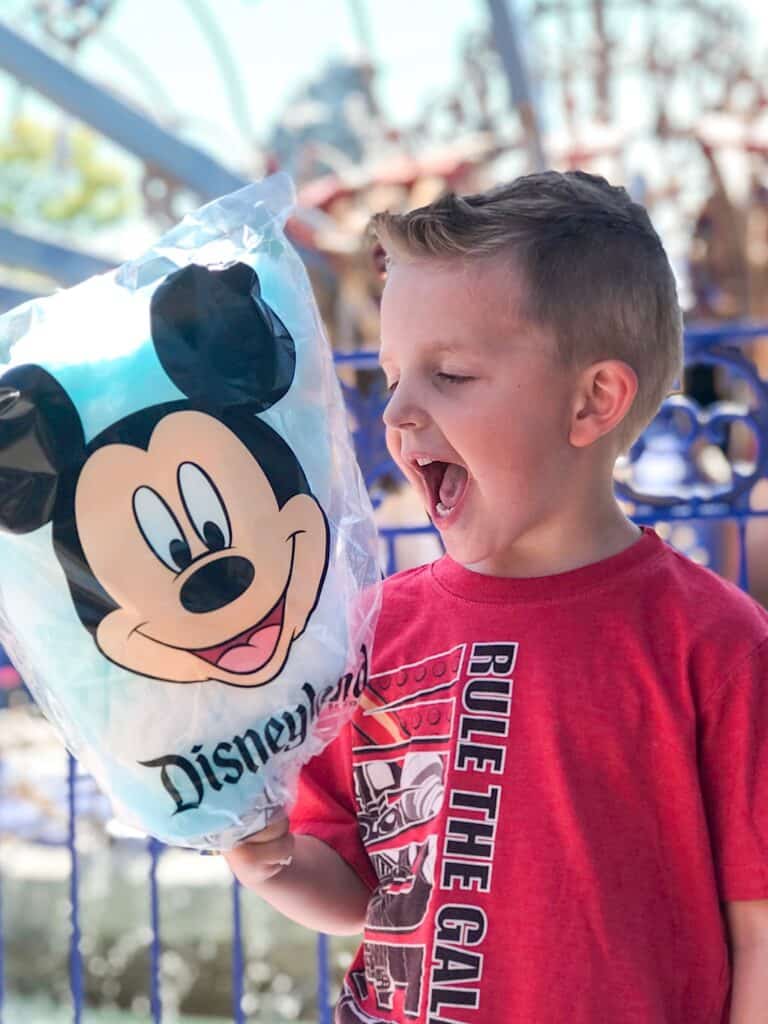 Treats and snacks will work sometimes, but you might just need to find a quiet place for your little one to calm down.
If you've dealt with cranky kids at Disney, let me know how you handled it in the comments down below!
Disneyland Tip #5 Autopia
My kids love Autopia! On one visit to Disneyland, my kids rode it over and over all day!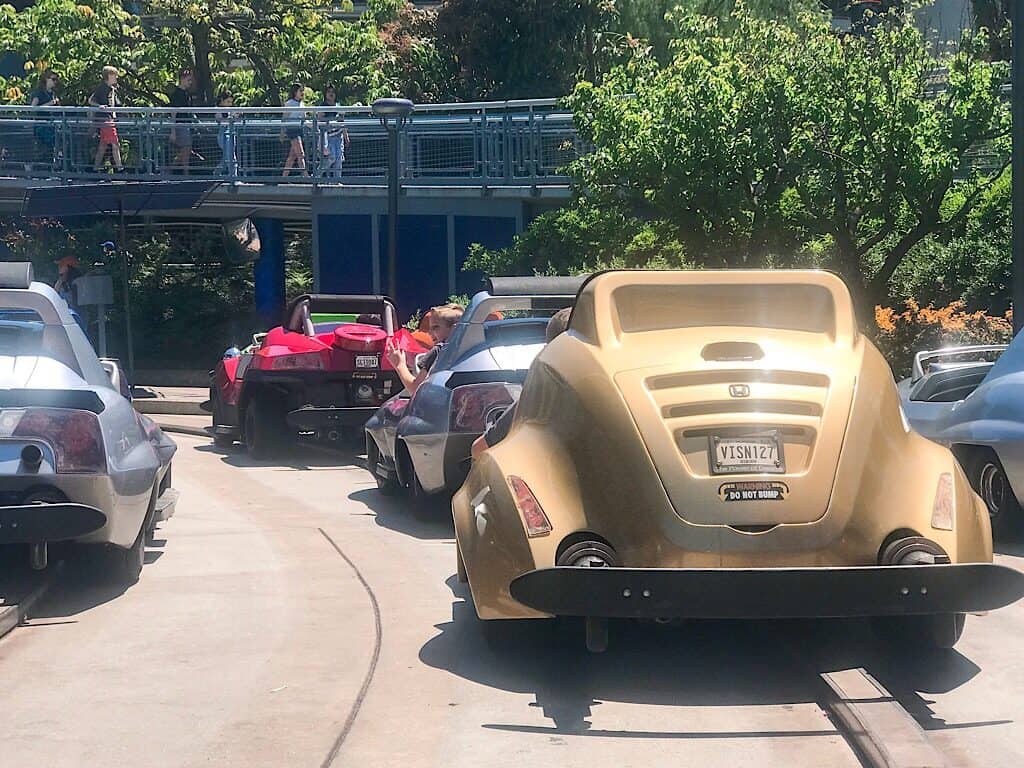 Autopia used to have a Fastpass option available, but that is no longer the case.
The line can take a really long time, so if it is something that your kids want to ride, you should ride it as early in the day as possible, or wait until right before closing.
Tip #6 Star Wars Launch Bay
Star Wars Launch Bay is located in Tomorrowland at Disneyland. It is not a part of the new Star Wars: Galaxy's Edge.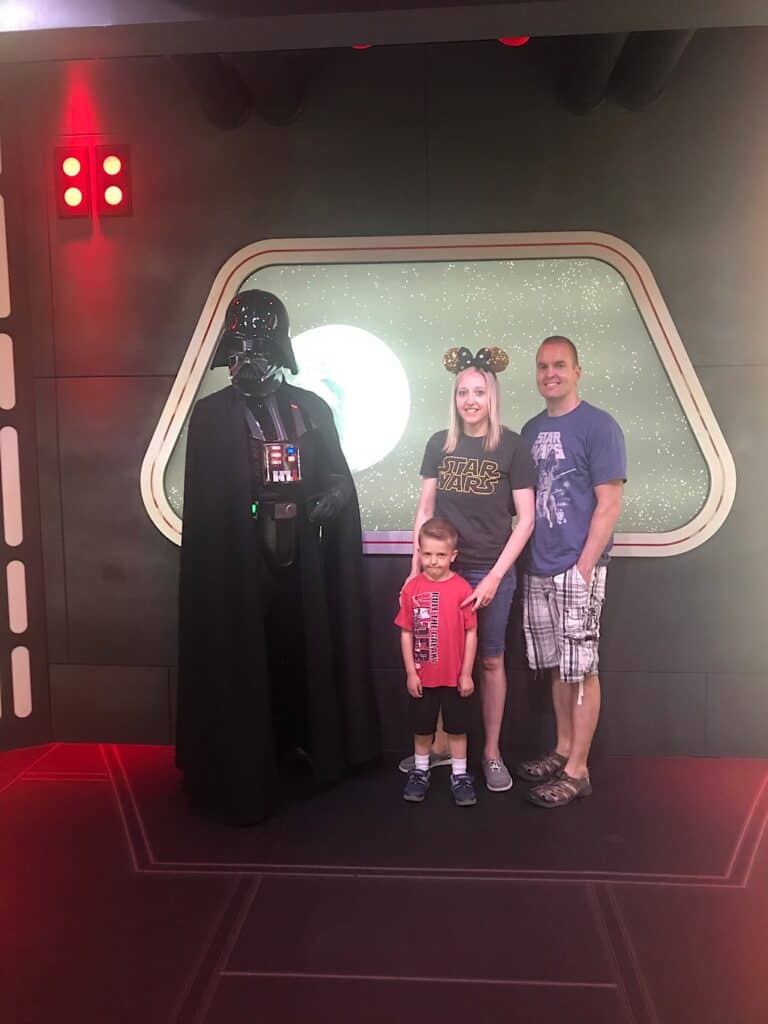 It is a heaven for Star Wars fans! Inside you'll find props and costumes from the movies, an area filled with Star Wars video games, which is my boys' favorite part!
You can also meet some Star Wars characters like Darth Vader and Chewbacca. And of course, there is a gift shop!
Disneyland Tip #7 Space Mountain
Don't ride Space Mountain without a Fastpass! The line for Space Mountain gets long quickly and stays long the whole day.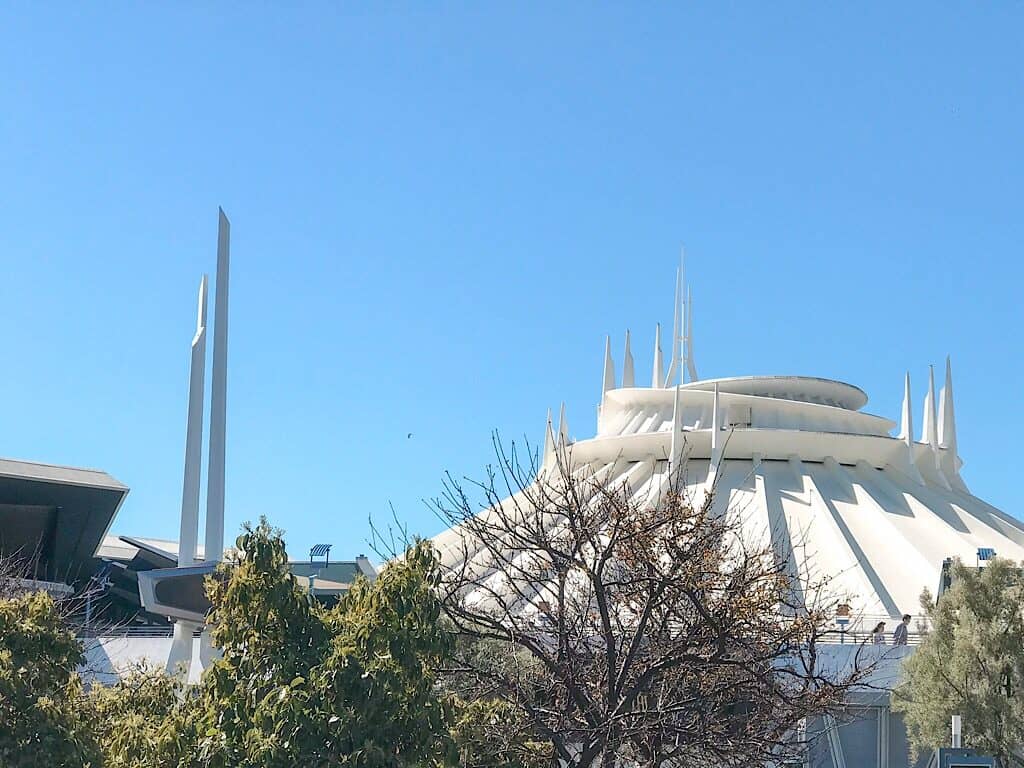 Tip #8 Rider Switch
My little guy was finally over 40 inches, so our whole family was able to ride Space Mountain together!
But, if you have little ones who are not that tall, Disneyland has a program called Rider Switch.
How Rider Switch works:
Basically, you walk up to a Cast Member at the entrance of the ride with your entire group and let them know that you need a Rider Switch.
One adult will stay out with the younger children, while the other adult goes on the attraction.
When they have finished, the adult that stayed with the kids is able to skip the line, kind of like having a Fastpass.
Disneyland Tip #9 Jungle Cruise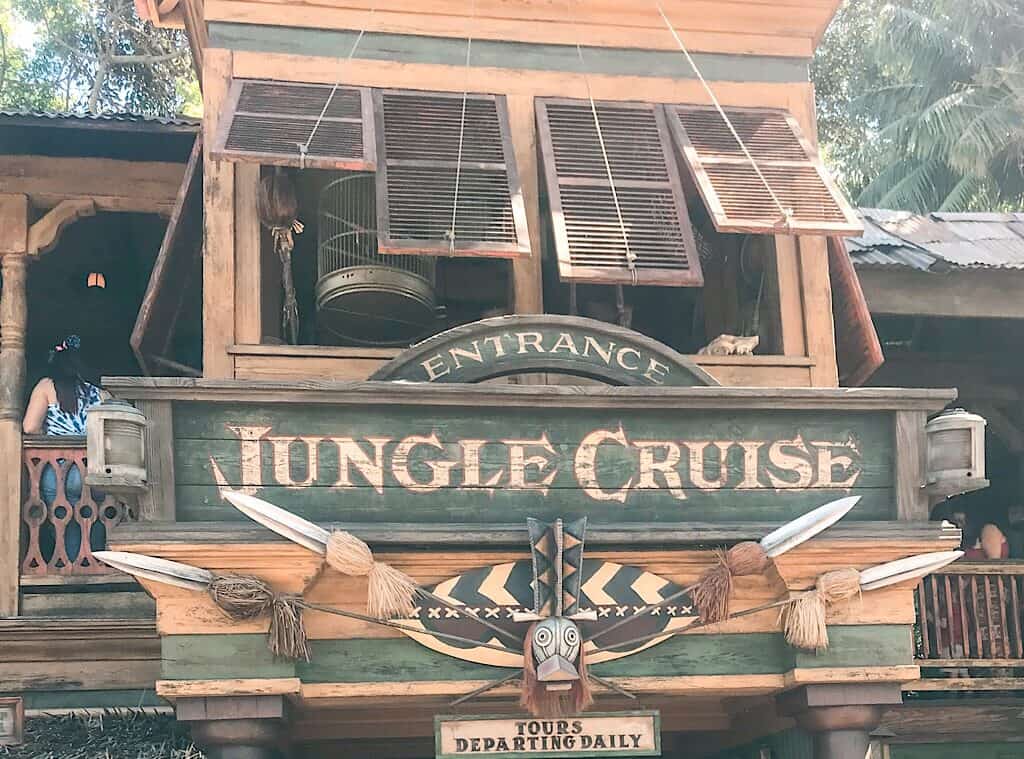 Don't miss out on riding the Jungle Cruise in Adventureland! It is always a must-do attraction for our family and is something that everyone can ride together.
And…the jokes are the best!
Remember to subscribe to the Mommy Mouse Clubhouse on YouTube if you haven't already, and hit the notification bell so that you'll know when I upload a new video with Disney tips and tricks.
How to Get a Deal on a Disneyland Vacation
*I book my vacations through Get Away Today and have done so for 20 years! They are legit, have the best prices, and great customer service!
For Disneyland Ticket & Hotel Packages

Price Matching
Get Away Today PRICE MATCHES! If you find a lower price on the same vacation package somewhere else, call 1-855-GET-AWAY. You can give them the Clubhouse10 coupon code over the phone as well!
Disneyland Vacation Layaway Plan
If you don't have the money to pay for your entire vacation upfront, Get Away Today has an amazing Layaway Plan! you can make payments on it until you leave for your trip!
Making smaller monthly payments instead of a lump sum is a lot easier for most families to make their Disneyland vacation happen!

Follow Me:
I hope you enjoyed these Disneyland tips for Moms! For more Disney tips and tricks, visit my Disney Tips page!
Instagram @MommyMouseClubhouse
YouTube @MommyMouseClubhouse
Facebook @TheMommyMouseClubhouse
Twitter @MommyMouseClub
Pinterest @MommyMouseClubhouse