Are you considering a family trip to New York City? Look no further! This comprehensive article serves as a guide to help you plan an unforgettable experience in the Big Apple with your kids. Discover the best New York attractions for families and activities that are guaranteed to keep everyone entertained and create lasting memories of a fun-filled adventure in the vibrant city that never sleeps!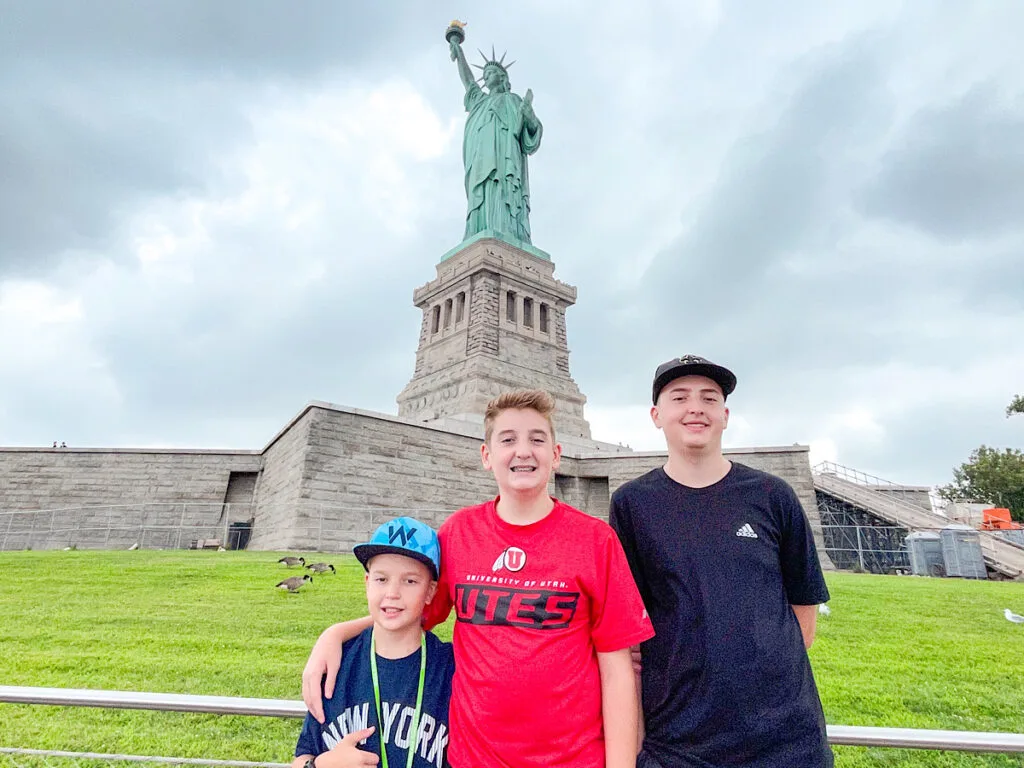 This post may contain affiliate links. When you click on these links, I get a small percentage back at no cost to you! For more information see my disclosure policy.
Visiting New York with Kids & Teens
Young children and teens are sure to be wowed by the many attractions that New York City has to offer, from iconic and famous landmarks such as the Empire State Building and Statue of Liberty, to amusement parks like Coney Island. There's something for every age group, no matter their interests.
The attractions and places below are places I recently visited with my 9-year-old, 13-year-old, and 16-year-old on our family vacation. We had an amazing time and did some of the best things! I hope some of these suggestions give you an idea of what you can do with your own family, and what to expect when you visit with kids.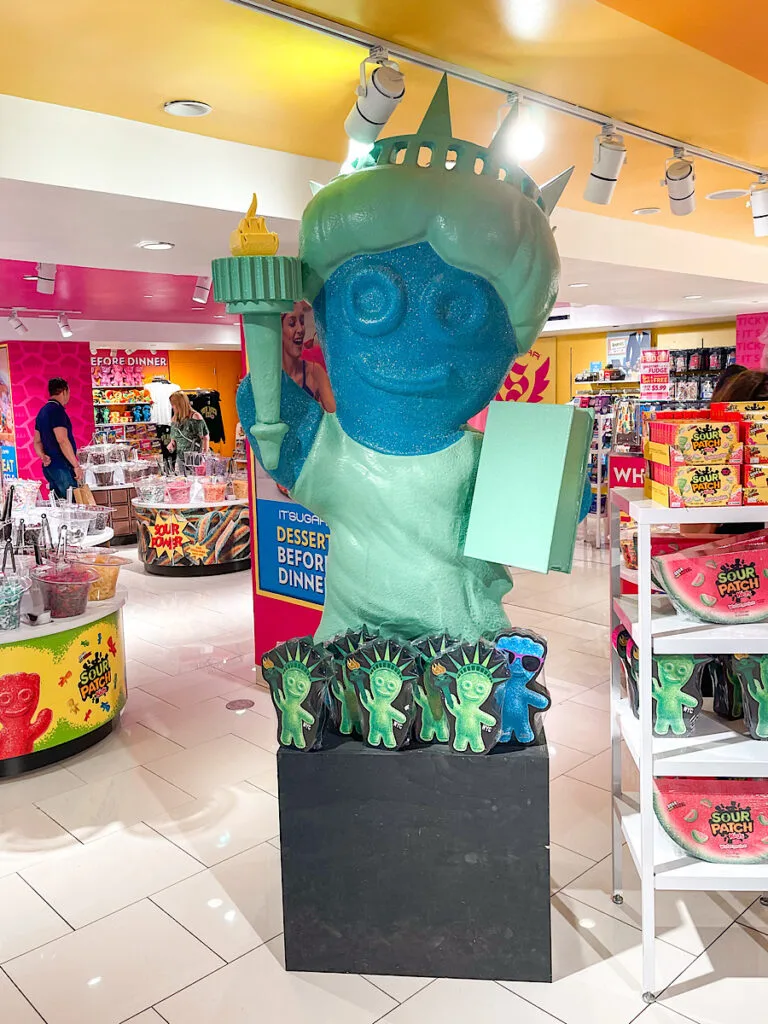 #1 Central Park
Central Park is an oasis of green space in the middle of Manhattan. It's a great place to relax, have a picnic, or explore the park's many attractions. There are playgrounds for kids, boats for rent on The Lake, and even the Central Park Zoo and carousel! You could easily spend an entire day here exploring all that Central Park has to offer.
My family are huge fans of The Beatles so we made a special stop to see Strawberry Fields, a memorial for the late John Lennon near the Upper West Side. We also saw the Dakota building, where John Lennon lived.
Tips: There are many vendors at the entrance to the park that you can rent bikes from, get a ride in a rickshaw, or go for a horse-drawn carriage ride. Because there are so many vendors, you can negotiate prices with them. If you prefer not to do these things, make sure to tell the vendors no, and keep walking by.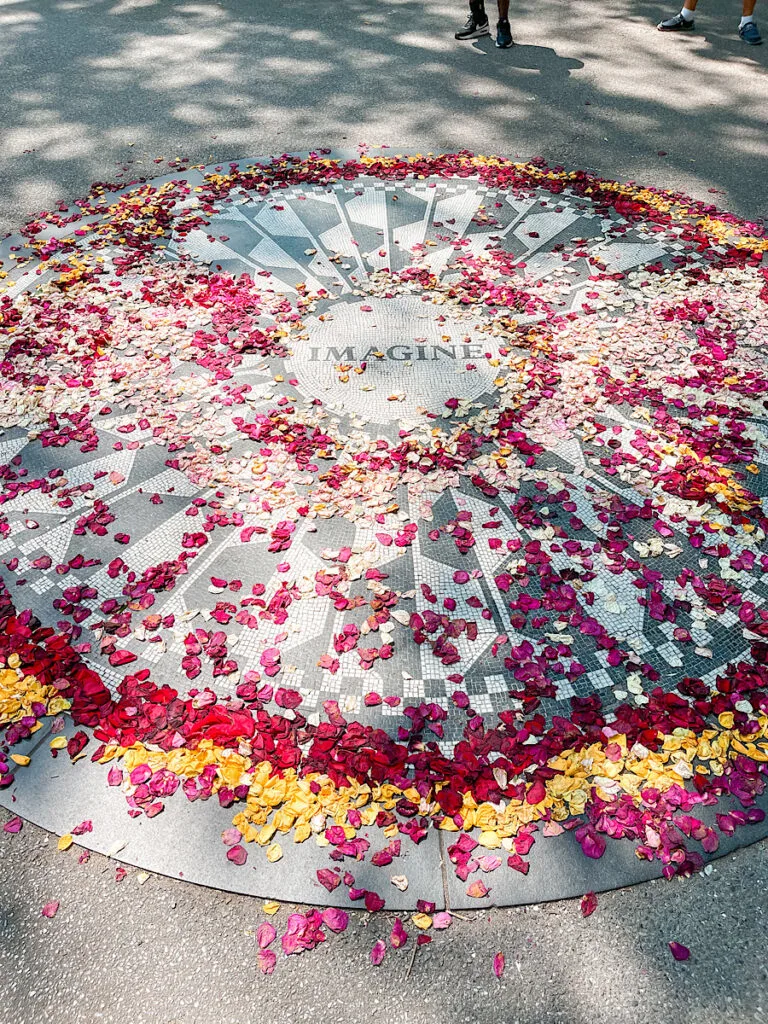 #2 9/11 Memorial Museum & Grounds
This is a must-see when visiting NYC. The 9/11 Memorial Museum and Grounds honors the victims of the tragic attacks on September 11, 2001. It's a powerful experience that I highly recommend to older kids and teens.
The museum contains artifacts from that day, survivor stories, interactive exhibits, video clips, and information about the history of the attacks. It's a great way to introduce children to this important part of US history. Be sure to check out the memorials outside and the amazing view of One World Trade Center.
Ticket Prices:
Child (Ages 0-6) FREE
Youth (Ages 7-12) $21
Young Adult (Ages 13-17) $27
Adult (18+) $33
Tips: We were able to save money by purchasing the Family Pass that included 2 Adult and 3 Youth/Young Adult passes (7-17) for $97. Check to see if this pass is a better deal for your family.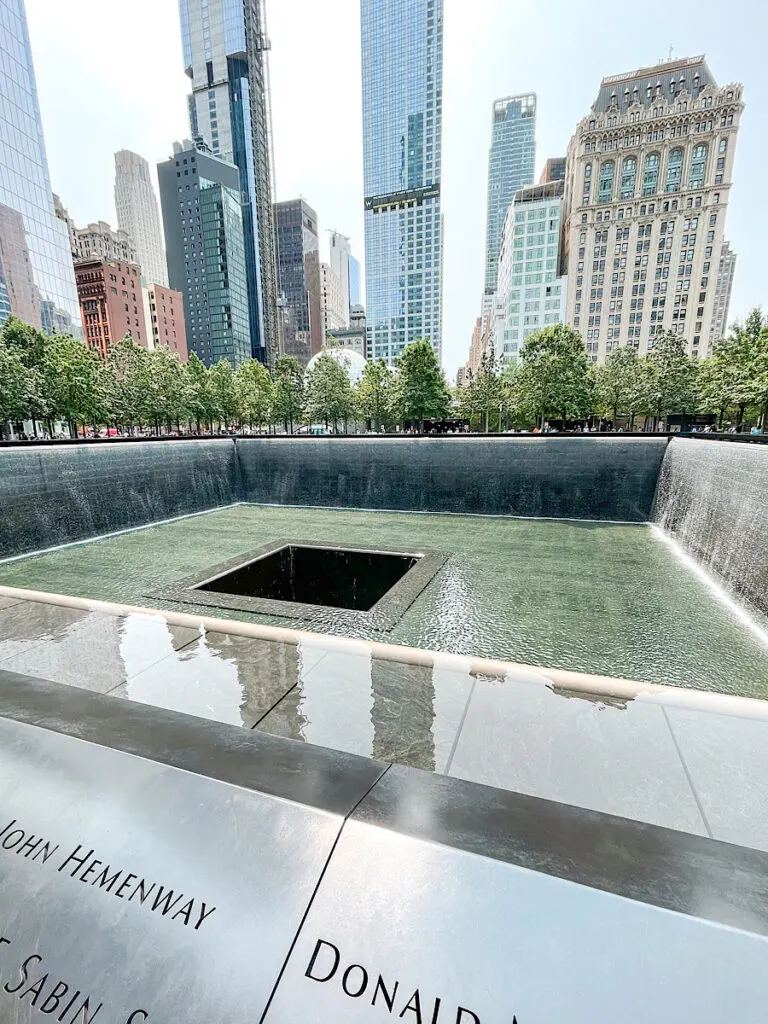 #3 Times Square
A trip to New York City wouldn't be complete without a visit to the iconic Times Square. It's sure to be filled with energy and excitement! Feel the buzz of all the activity, admire the bright neon lights, and take some pictures against the colorful backdrop.
There are also plenty of entertainment options, such as eateries, catching a Broadway show, shops, and interactive experiences that your kids will love. My kids loved stopping at the M&Ms store and the Disney Store.
Tips: Times Square can be very busy, so be sure to keep a close eye on your kids at all times. Also, while there are plenty of fun shops and restaurants to visit, it can get expensive quickly. Make sure to plan ahead and set a budget for your visit. Also, to avoid the afternoon/evening crowds, visit earlier in the day for less craziness.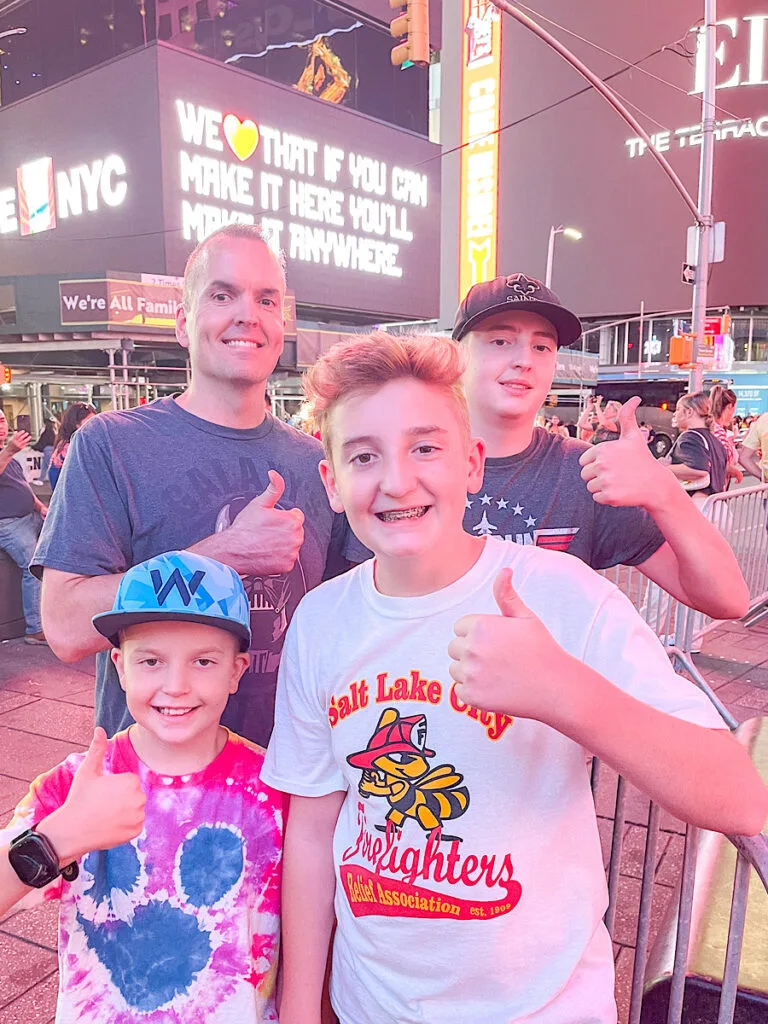 #4 Statue of Liberty & Ellis Island
The iconic Statue of Liberty is an absolute must-see when visiting New York City with your family and is a national historic landmark. If you have the time, a great way to experience Lady Liberty is by taking a ferry ride from Battery Park to Ellis Island and back.
Liberty Island will be your first stop and is where the Statue of Liberty is located. Spend some time admiring the statue, take some pictures, and explore the gift shop. An audio tour is available.
Then hop on a ferry to Ellis Island, where many immigrants first arrived in the United States. The Ellis Island Immigration Museum is sure to be an educational and eye-opening experience for older kids.
Ticket Prices
(Ages 0-3) FREE ADMISSION
Child (Ages 4-12) $19
Adult (Ages 13+) $31.50
Tips: Because the ferry ride is quite popular, it's best to book your tickets in advance. Be aware that getting through security and waiting for the ferry can take a long time. We arrived an hour before our reserved time and waited about 90 minutes, with no shade.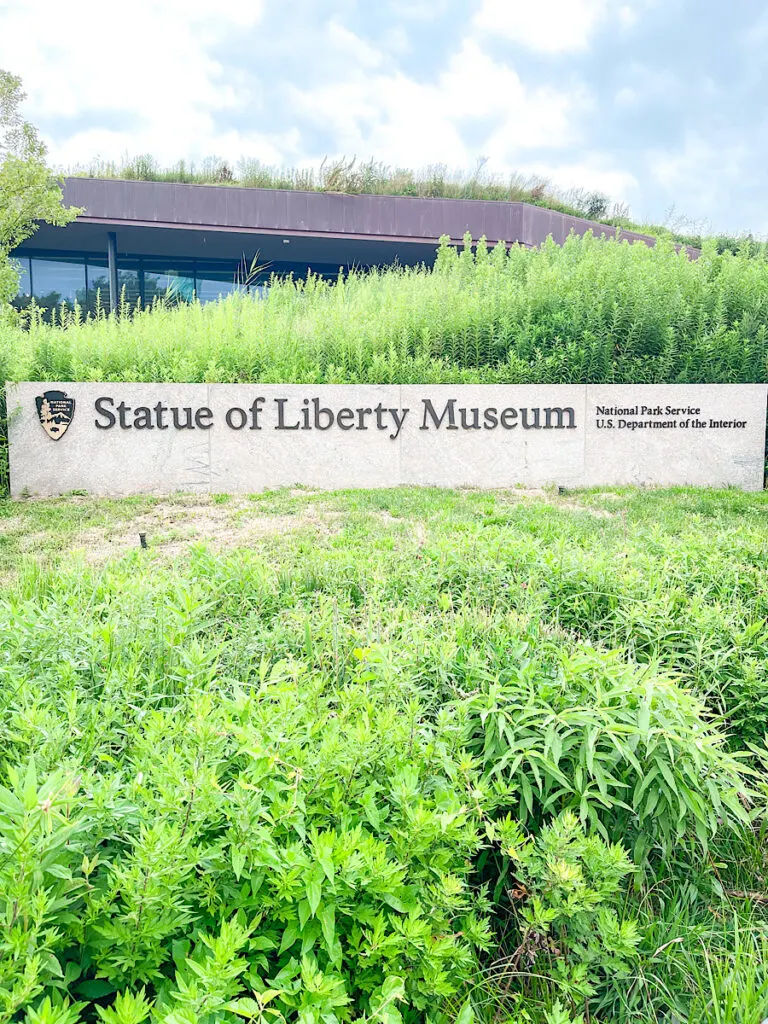 #5 Coney Island
If you're looking for a fun day of amusement rides and carnival games, head to Coney Island! This historic boardwalk is full of nostalgic attractions that your kids will love.
Take a ride on the iconic Cyclone roller coaster, or play some classic carnival games at Luna Park. There's also an arcade with plenty of video games and a few carnival-style rides.
Tips: Coney Island can get crowded on weekends so plan accordingly. Also, I recommend bringing cash with you as some vendors only accept cash. Lastly, don't forget to check out the iconic Cyclone roller coaster – it's a must-do!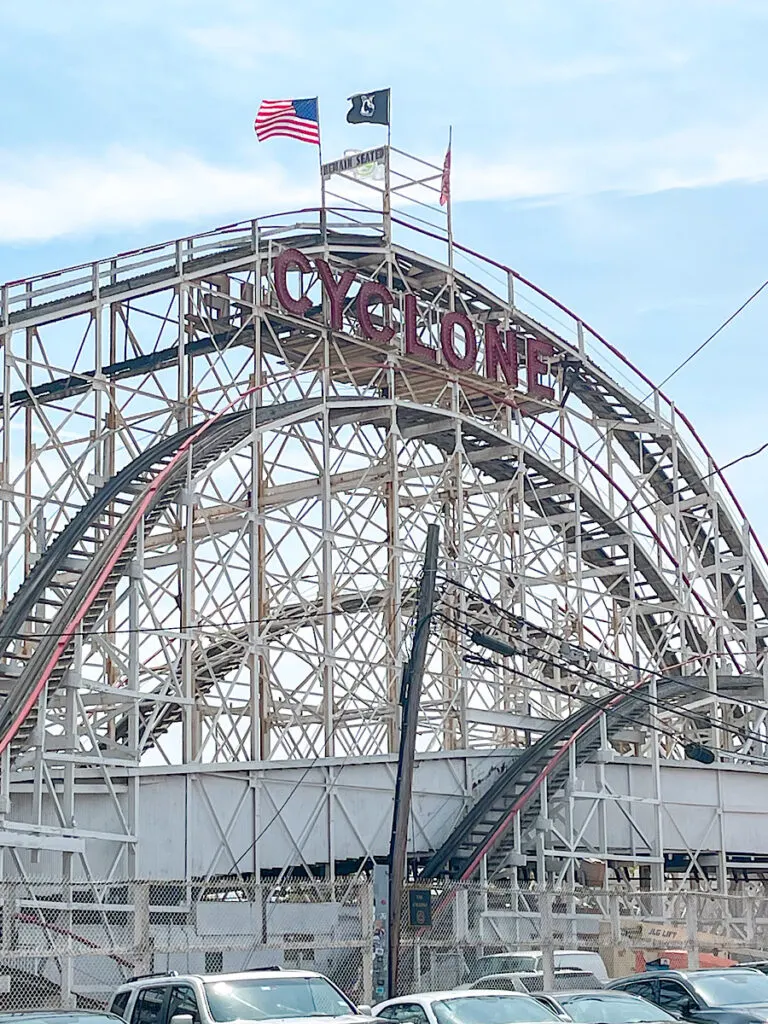 #6 Watch a Yankees Game at Yankee Stadium
Baseball is a beloved American pastime, and taking your kids to a Yankee game will surely be an experience they'll never forget. Whether you're rooting for the home team or not, you can expect plenty of excitement and energy at Yankee Stadium!
Tickets are relatively affordable compared to other baseball stadiums and it makes for a great family outing. Make sure to check out the Yankee Museum inside the stadium and Monument Park in Center Field.
Tips: Get there early to explore the stadium and pick up some souvenirs! There are plenty of food stands within the stadium, but prices can be steep. To save some money, eat outside the stadium.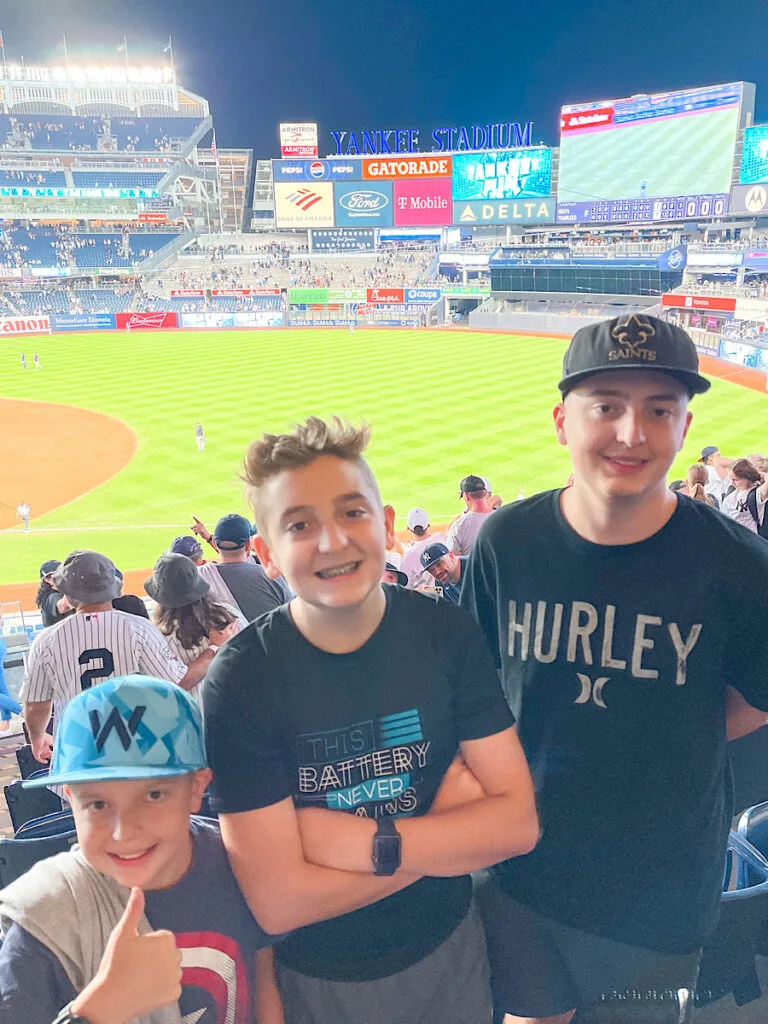 #7 Empire State Building
This iconic skyscraper is an absolute must-see when visiting New York City. For a true NYC experience, take the elevator up to the 86th floor observation deck of the Empire State Building and enjoy the breathtaking views of Manhattan. Look out for familiar landmarks such as Central Park, The Brooklyn Bridge, and The Hudson River.
My kids absolutely loved this experience! Make sure to bring a camera and snap some pictures of the beautiful skyline.
Ticket Prices:
(Ages 0-5) FREE
Child (Ages 6-12) $38
Adult (Ages 13+) $44
Tips: The line for the elevator can be long, so it's best to go early or purchase tickets online beforehand. Also, plan on spending at least an hour here as there is a lot to explore both inside and outside of the building.
#8 Grand Central Terminal
Although Grand Central Station is mostly known as a transportation hub, it's also a great place to explore with your family. The historic building is filled with shops and eateries, and you can even find some hidden gems such as the Whispering Gallery!
This is a great spot for kids of all ages – my son loved running around the station and exploring all of the shops. We also stopped to have lunch at one of the restaurants in the terminal, which was a nice break from sightseeing.
Tips: Grand Central Station can get very crowded during peak hours, so plan accordingly. Make sure to leave yourself plenty of time for exploring as there is lots to see and do. Also, don't miss out on the Whispering Gallery – it's a great spot to take some fun photos and make memories.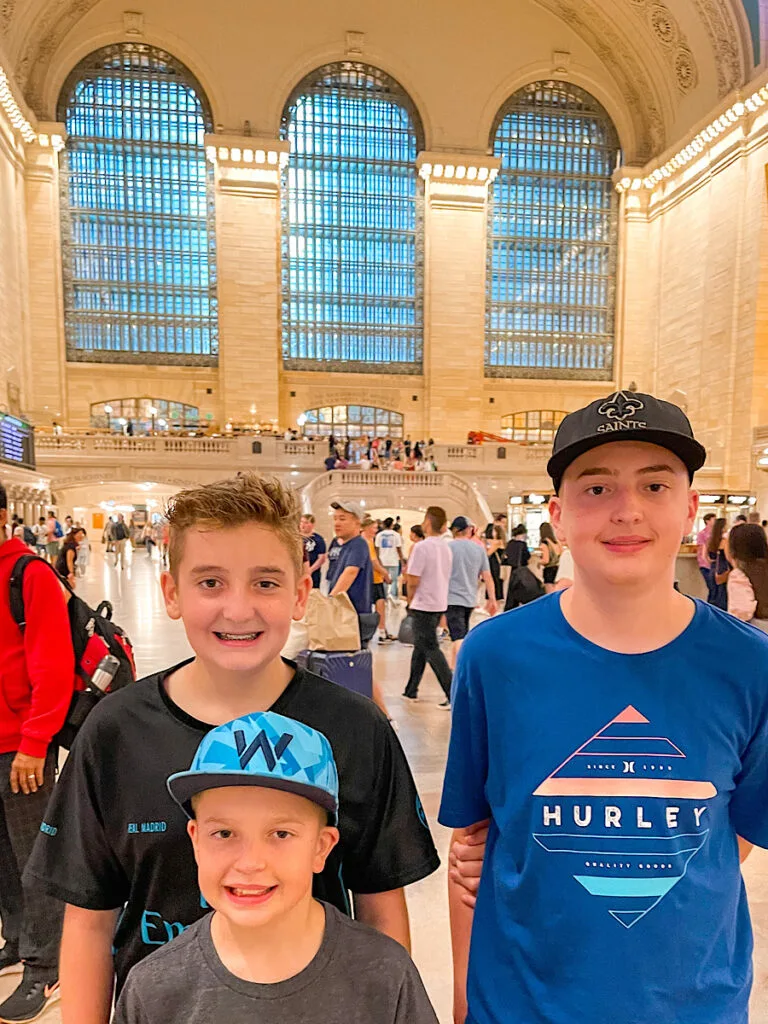 Places to Eat with Kids in New York City
When traveling with kids, it's important to find kid-friendly restaurants. New York City is full of great options for families – here are a few of our favorites:
#1 Gray's Papaya
This hot dog stand is a NYC institution. It's the perfect place for a quick and inexpensive bite to eat while sightseeing with your family. My kids loved the hot dogs and the papaya juice!
Just be aware that there are no tables and chairs inside the small restaurant. There were a couple of stand up tables right outside though.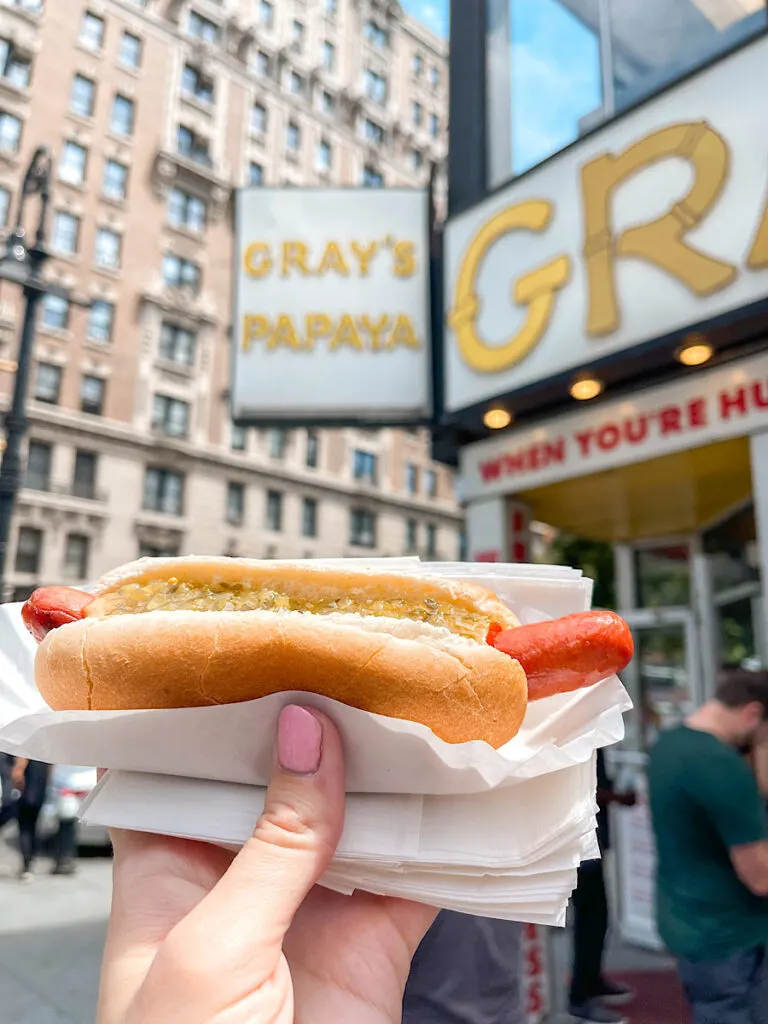 #2 Olde City Cheesesteaks & Brews
If you want a delicious Cheesesteak, you need to try Olde City Cheesesteaks & Brews! My husband happened to find this restaurant on Yelp and it did not disappoint.
My husband and I both had a classic cheesesteak sandwich, my 16-year-old had Lemon Pepper chicken strips, my 13-year-old had the mild Buffalo chicken strips, and my 9-year-old had the Hot Buffalo Chicken Sandwich. We loved it all!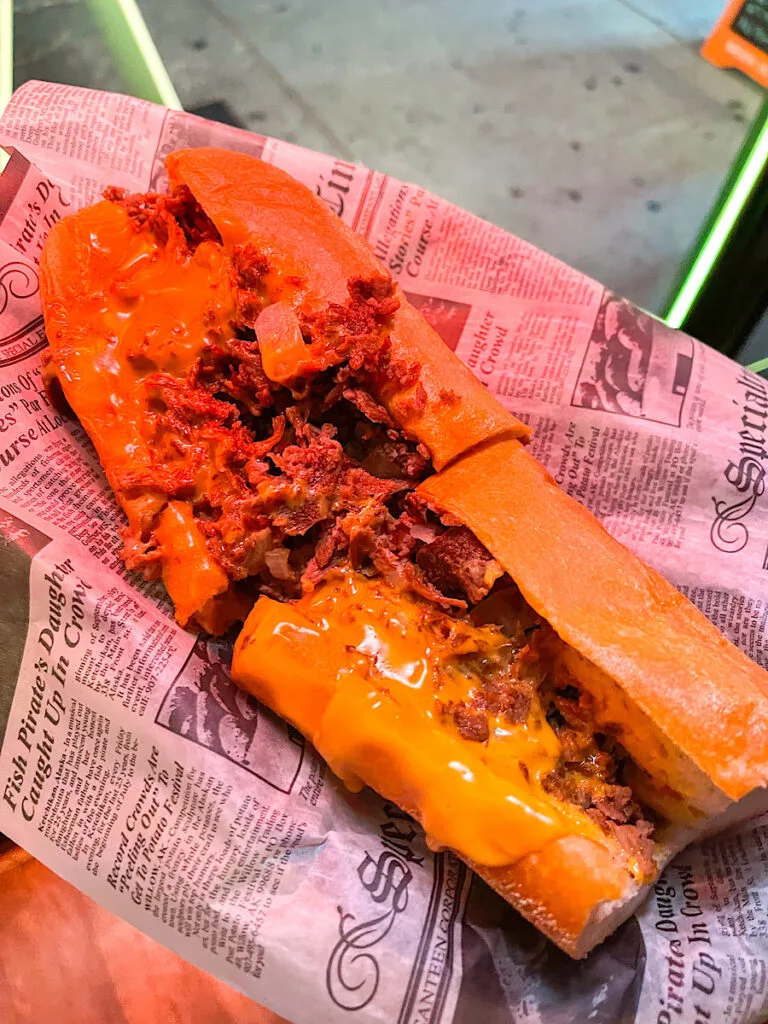 #3 Bleecker Street Pizza
If you're in the mood for a classic New York slice of pizza, head to Bleecker Street Pizza in Greenwich Village. This place is always packed with locals and tourists alike – and for good reason! The slices were huge and delicious. My kids loved it!
We ended up ordering a whole pizza, which saved us money overall. Our pizza was half cheese and half Nonna Maria, which I highly recommend!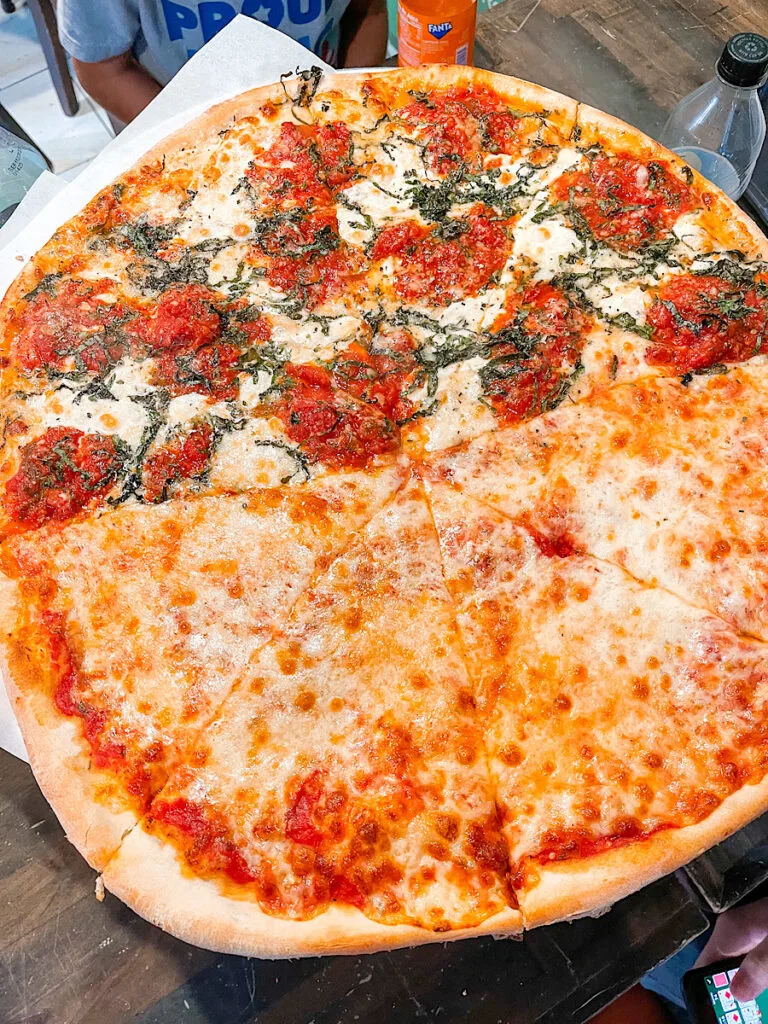 #4 Nathan's Famous Hot Dogs
This classic hot dog stand can be found all over the US, but there's something special about visiting Nathan's Famous Hot Dogs in New York City. This establishment is part of NYC history and has been serving delicious hot dogs since 1916! My kids loved it and we highly recommend it.
You definitely want to visit their location in Coney Island, home of the 4th of July Hot Dog Eating Contest!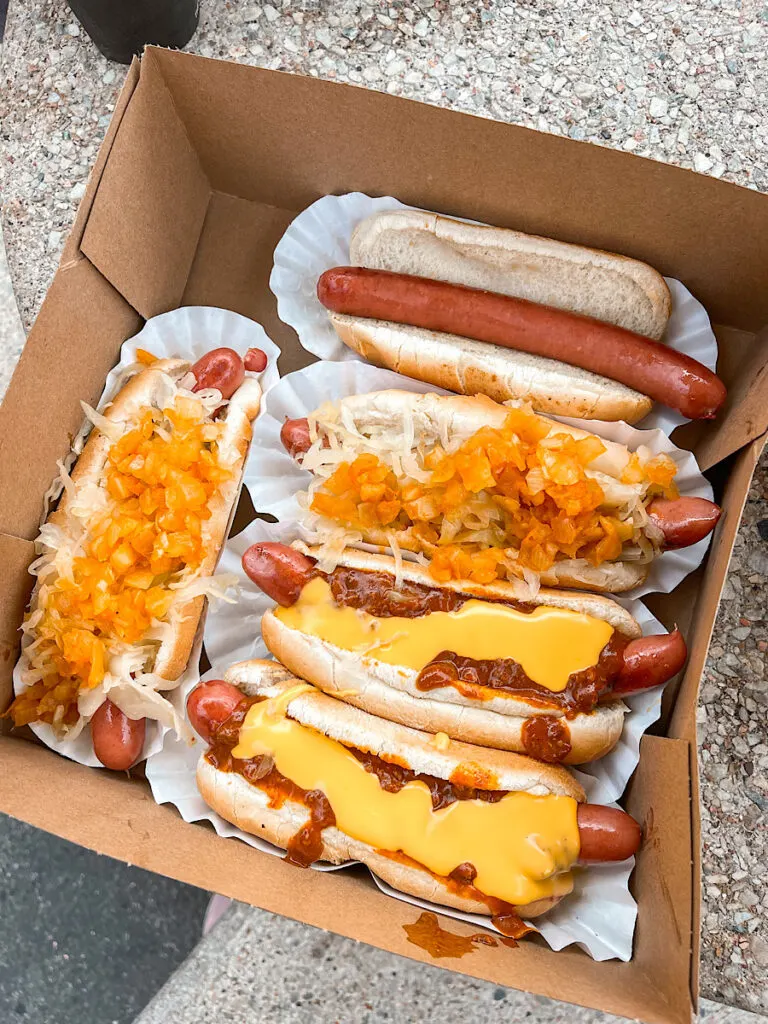 #5 Katz's Delicatessen
Katz's Delicatessen is a NYC staple – and it's the perfect place to take your family for lunch. This classic deli has been around since 1888, and they serve delicious sandwiches, soups, and salads and the BEST pastrami I've ever had!
My kids particularly enjoyed the homemade pickles that come with every sandwich! Katz's is a great place for the entire family.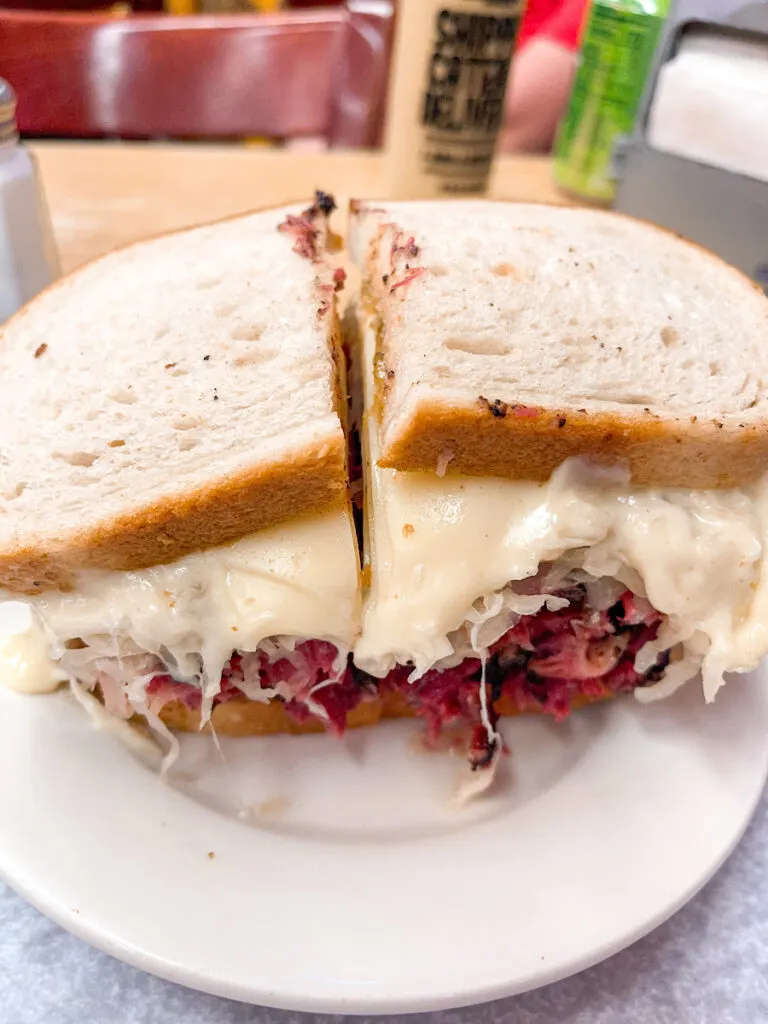 #6 99¢ Fresh Pizza
This was a restaurant that I heard about from my neighbor, who visits NYC often. It was amazing! And so was the price. We bought a whole pizza and 5 cans of soda, all for under $20. It was delicious and definitely a great spot to grab a quick bite with your family.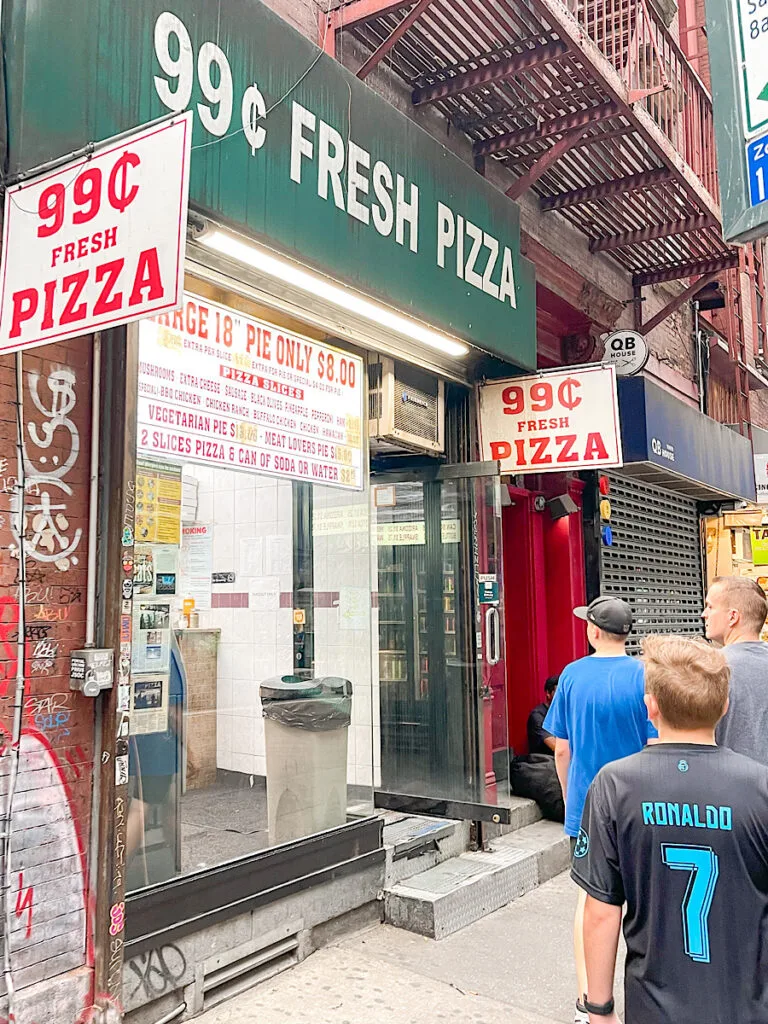 #7 Juniors Cheesecake
Junior's Cheesecake is one of the most famous restaurants on NYC. It's been around since 1929 and it serves some of the best cheesecakes in town! My kids absolutely loved their desserts, and I can definitely recommend it for your next family outing in NYC.
We stopped at the Times Square location and got our cheesecake slices to enjoy back at our hotel. Our favorite flavor was the Raspberry Swirl!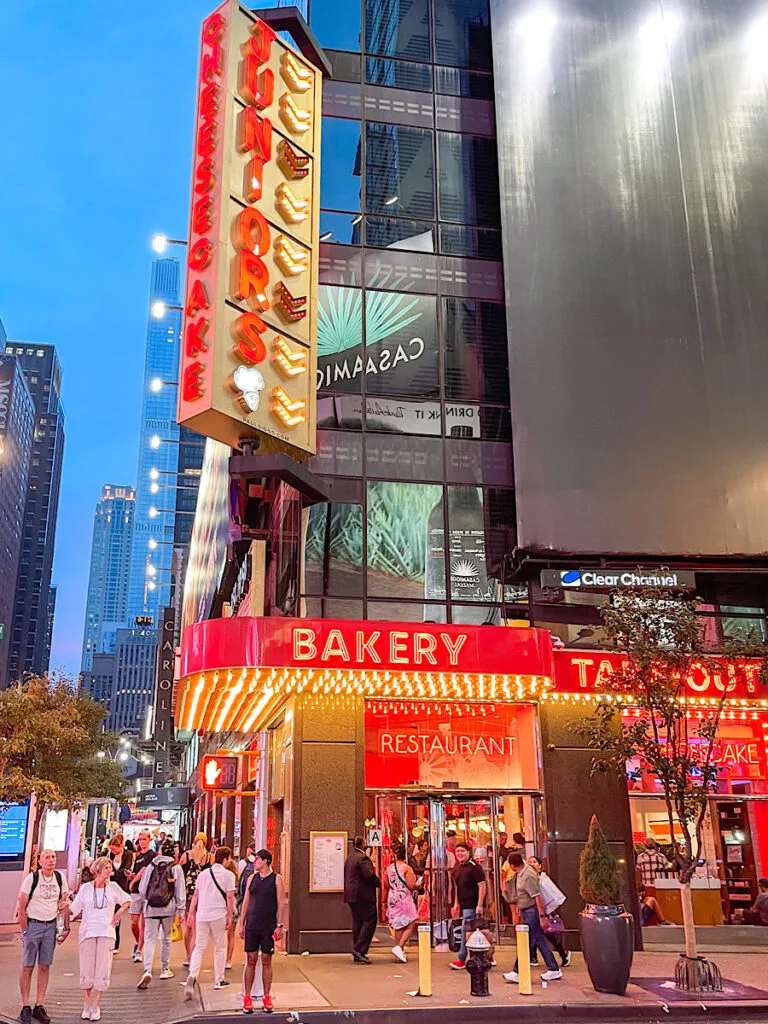 Getting Around NYC with Kids
Getting around NYC with kids can be a bit intimidating, but the good news is that there are tons of options for families.
Uber/Lyft
When traveling with kids, it's always best to have a car at your disposal. Uber and Lyft are great options for getting around NYC – they're usually cheaper than cabs and you can order one using the app on your phone. This is especially helpful if you want to avoid public transportation during peak hours.
We used Lyft to get to and from the airport and hotel in Midtown Manhattan.
Taxi
Sometimes, taking a taxi is the best option when traveling with kids. It's usually faster than public transportation and more convenient if you're traveling with lots of luggage. You can hail a taxi on the street or order one using apps.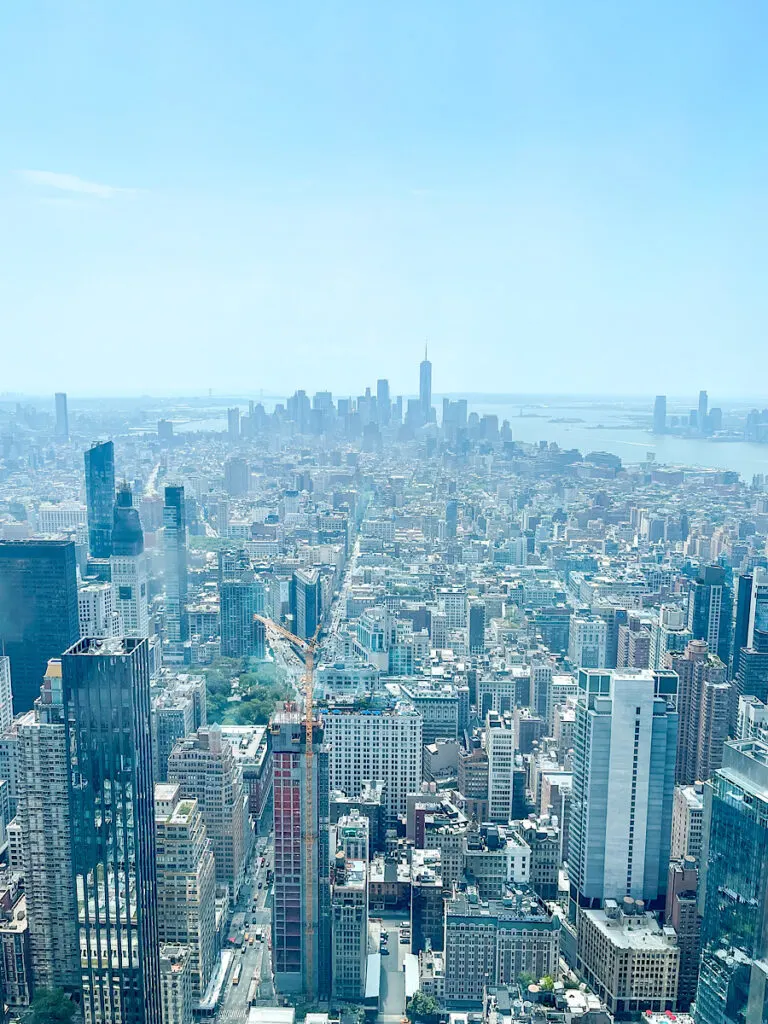 Subway
Using the subway in NYC is a great way to get around, especially if you're on a tight budget. The entire system can be confusing at first, but once you get the hang of it, it's quite easy!
Make sure to save some money and buy an unlimited ride metro card so that you don't have to worry about buying new tickets each time you take the subway. We bought a 7-day pass that was around $34.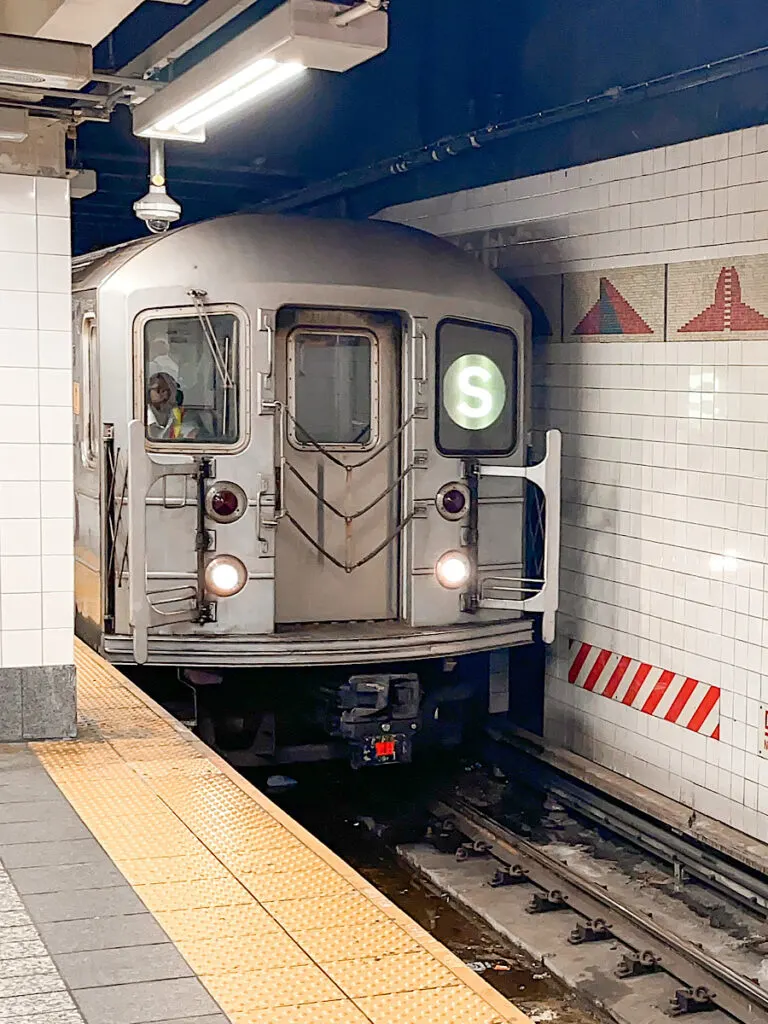 Walking
Walking is one of my favorite ways to explore any city, and New York City is no exception. Exploring the city by foot allows you to get up close and personal with some of the most iconic sights in town – just make sure that your kids can handle it!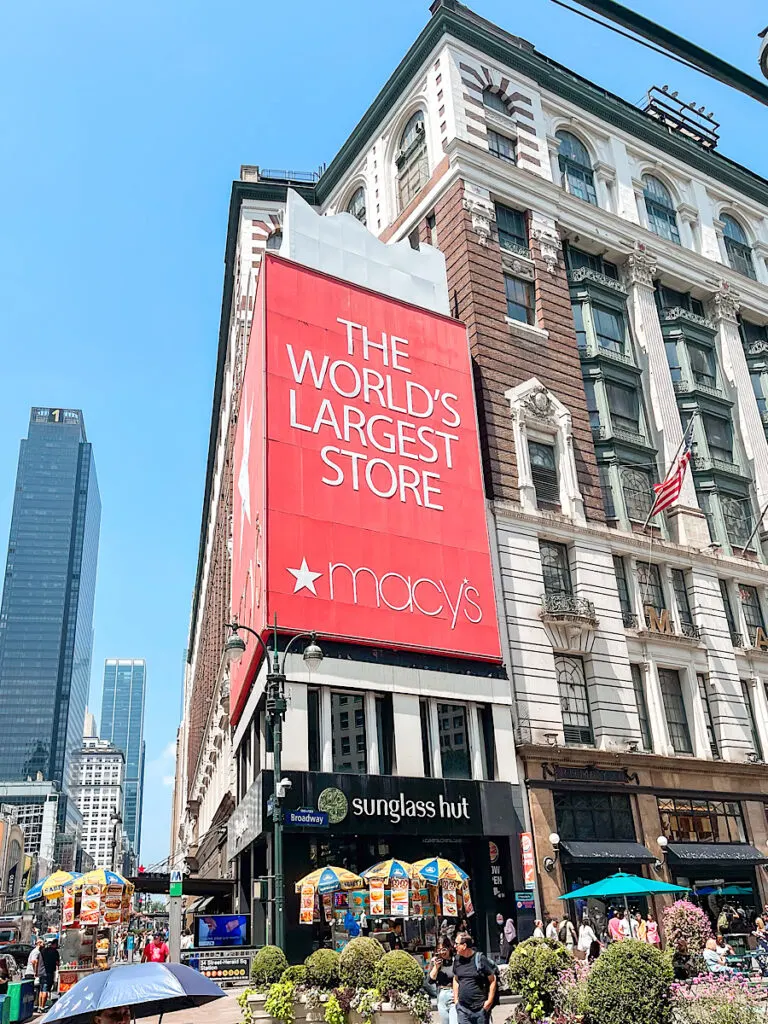 Finding Family Hotels in NYC
Finding family friendly hotels in NYC can be a bit overwhelming. We stayed at a great hotel in Midtown Manhattan – it was within walking distance to most attractions and near Rockefeller Center.
If you're looking for more affordable options, Airbnb is a great alternative. You can find entire apartments for rent in great locations for a fraction of the cost of hotels.
Hilton New York Midtown Review
Searching for a hotel for a family of 5 in Manhattan was a bit of a challenge. My husband and I had a bad experience with a hotel before we had kids that taught us to only stay in name-brand hotels.
The New York Hilton Midtown happened to have a couple of suites that were large enough for my family, and it is has a well-known name.
We choose the Presidential Suite that included access to the Executive Lounge. I booked this room through Delta Vacations so that I could earn an extra 20,000 Sky Miles.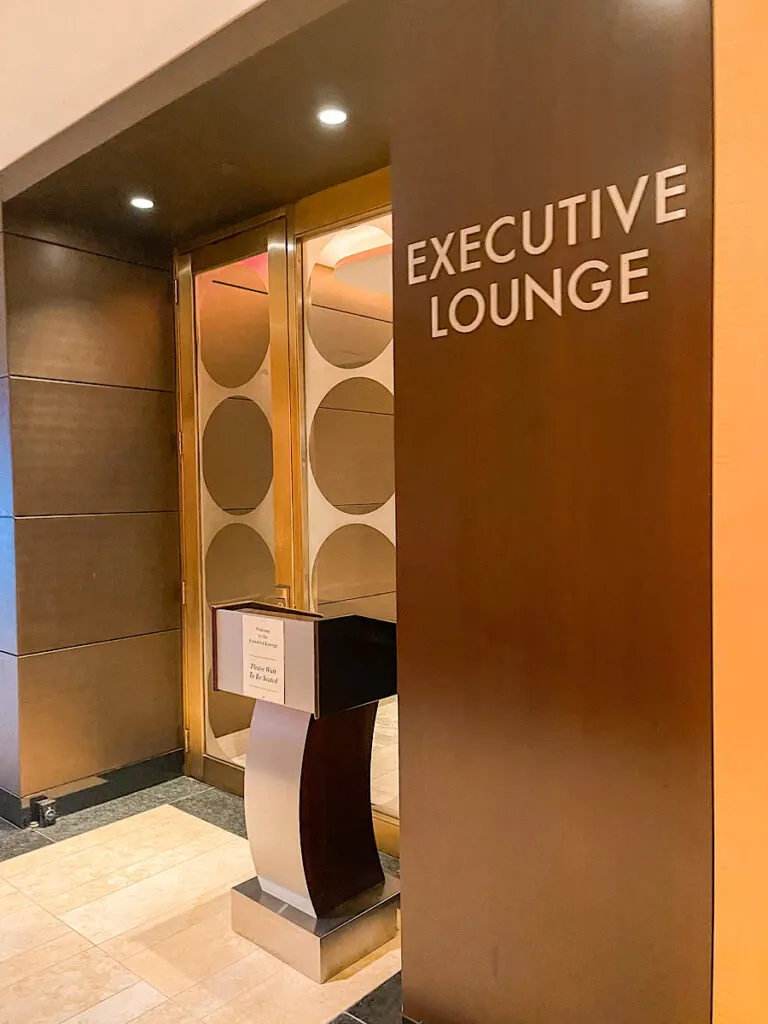 Presidential Suite
Our 1-Bedroom Presidential Suite had so much space! Way more than what it looked like with the pictures online. As you walk in, there was a closet to the left and a mini refrigerator with a high counter top and bar stools.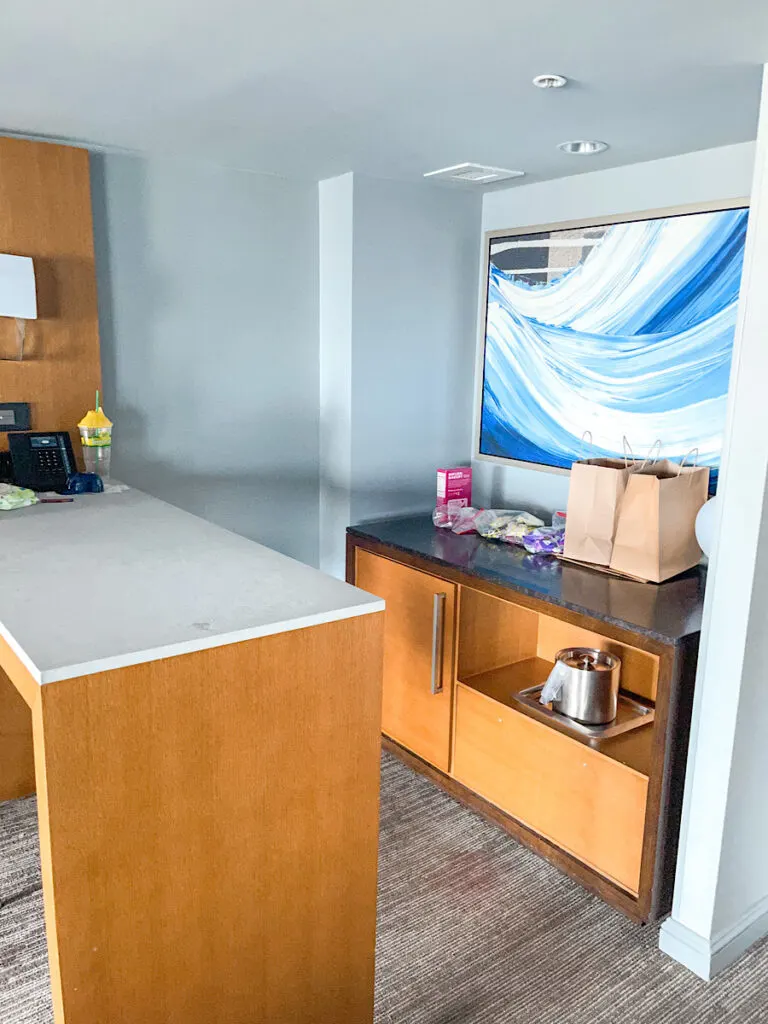 There was a large dining table with enough chairs to seat 8.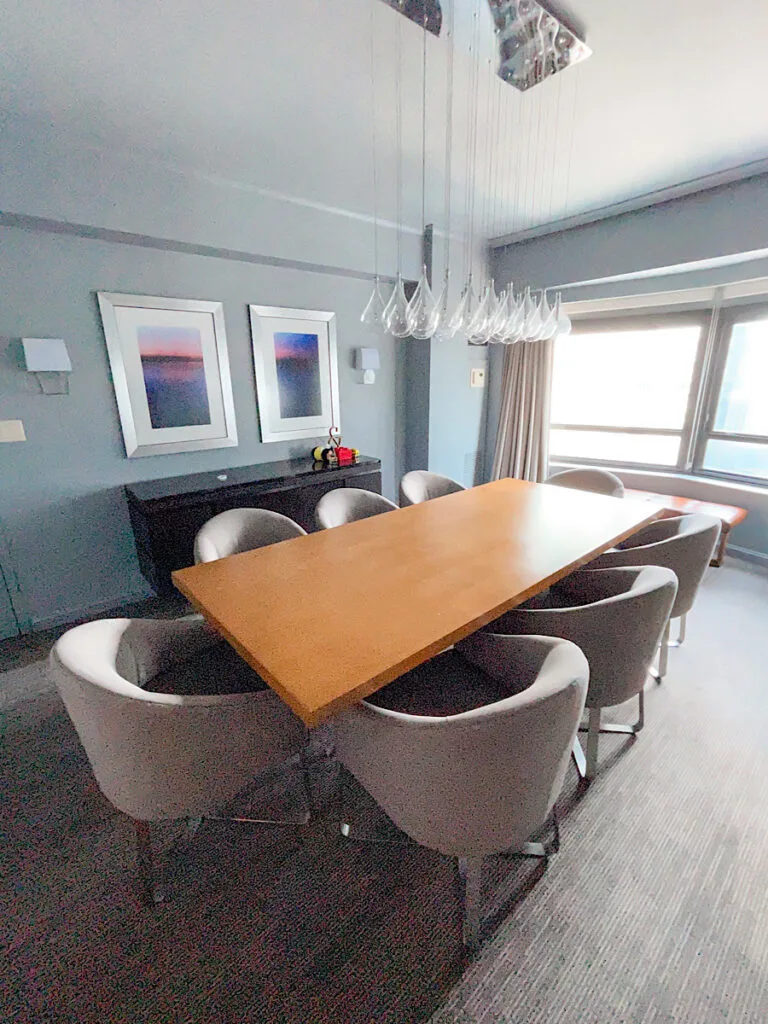 The sitting area had a couch with a pull-out queen sized bed and a chaise lounge. There was also a large tv in this area.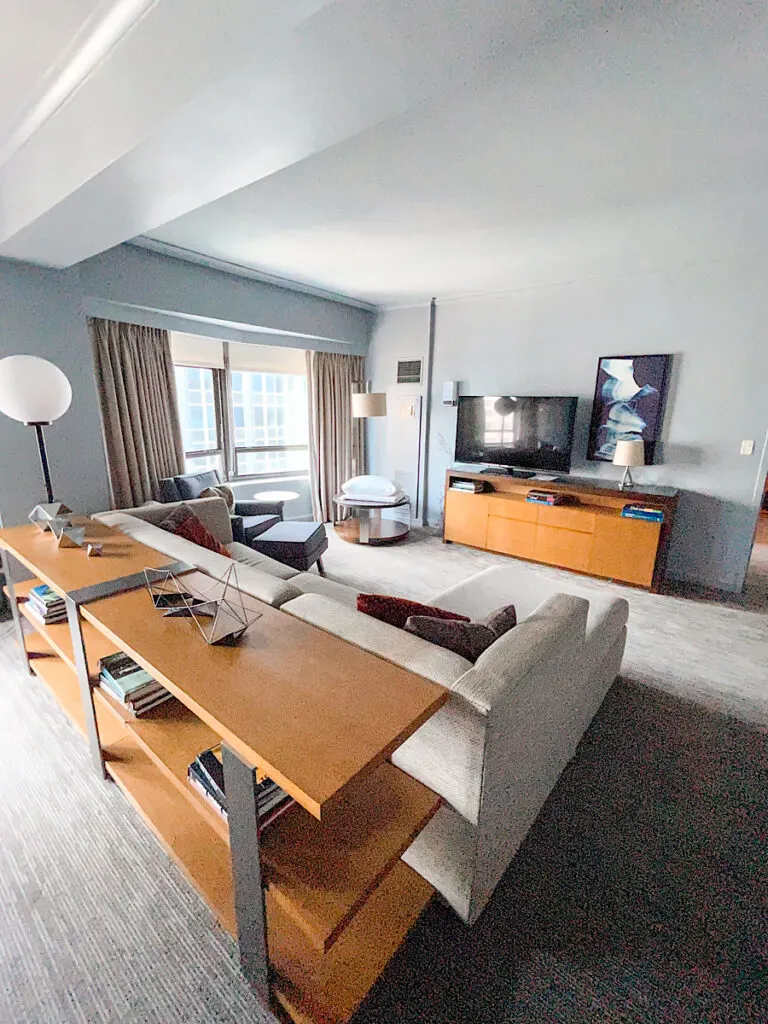 The bedroom was very spacious and had a king sized bed with two nightstands, a dresser, chair and ottoman, a large tv, and a walk-in closet.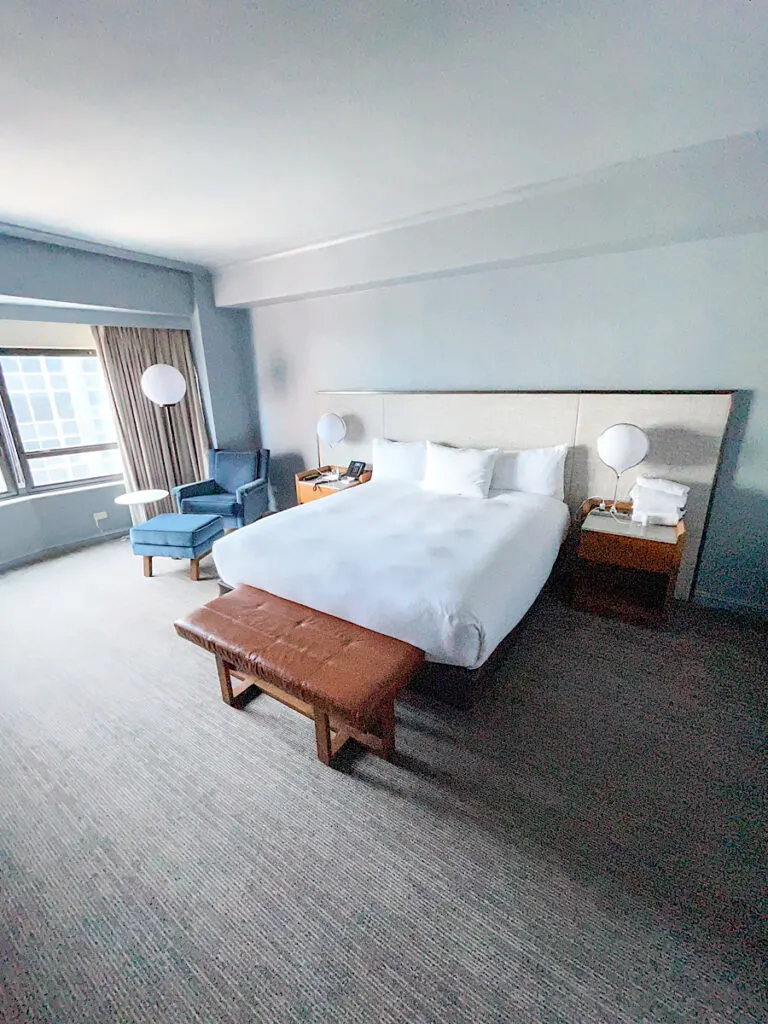 There were two bathrooms in this suite, both with a shower/tub combination, a vanity, and a toilet.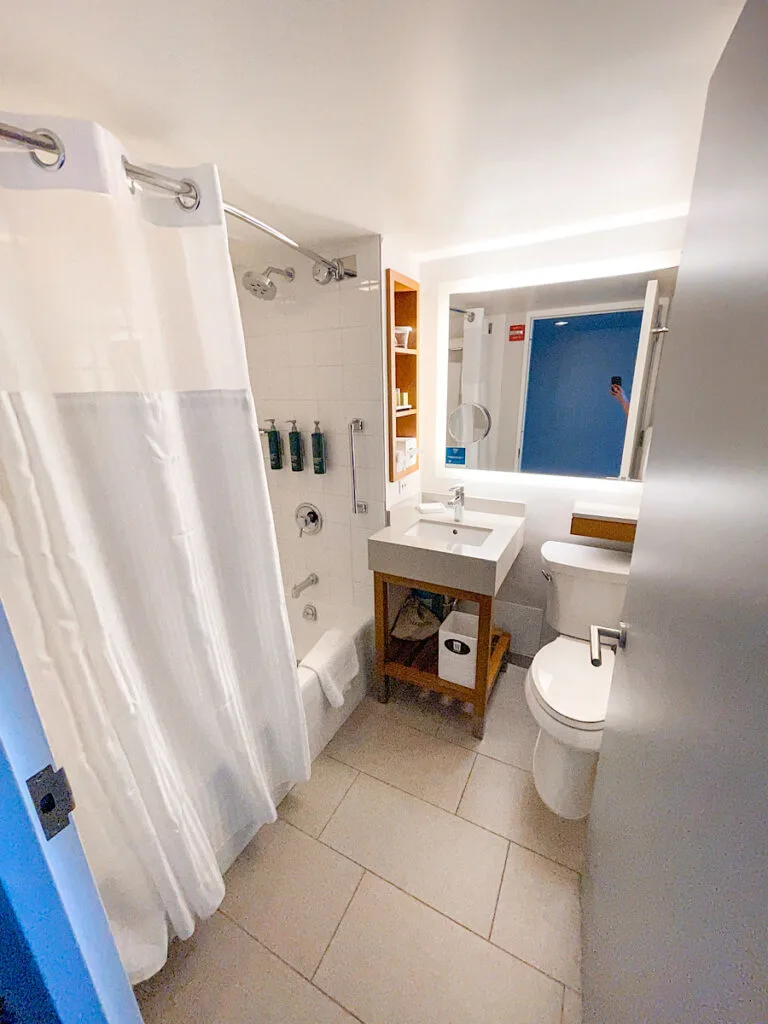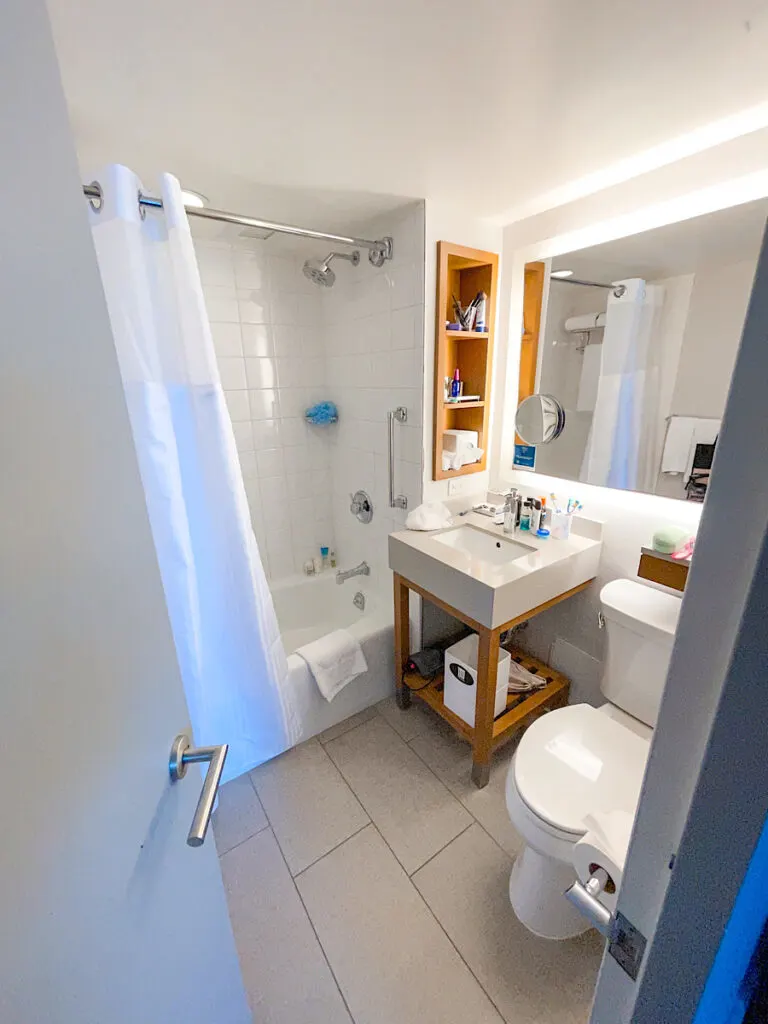 Executive Lounge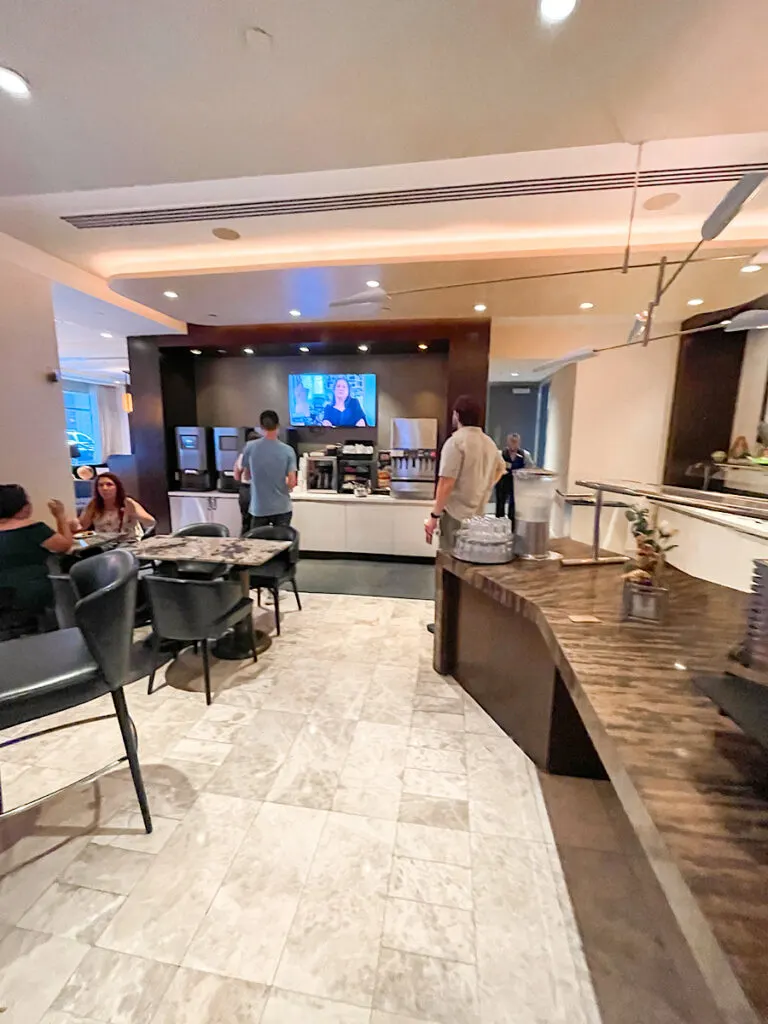 Booking the Presidential Suite gave us access to the Executive Lounge at the hotel. Breakfast was served from 6:00 am – 10:00 am and included pastries, fruit, cereal, juice, scrambled eggs, toast, bagels, yogurt, and coffee.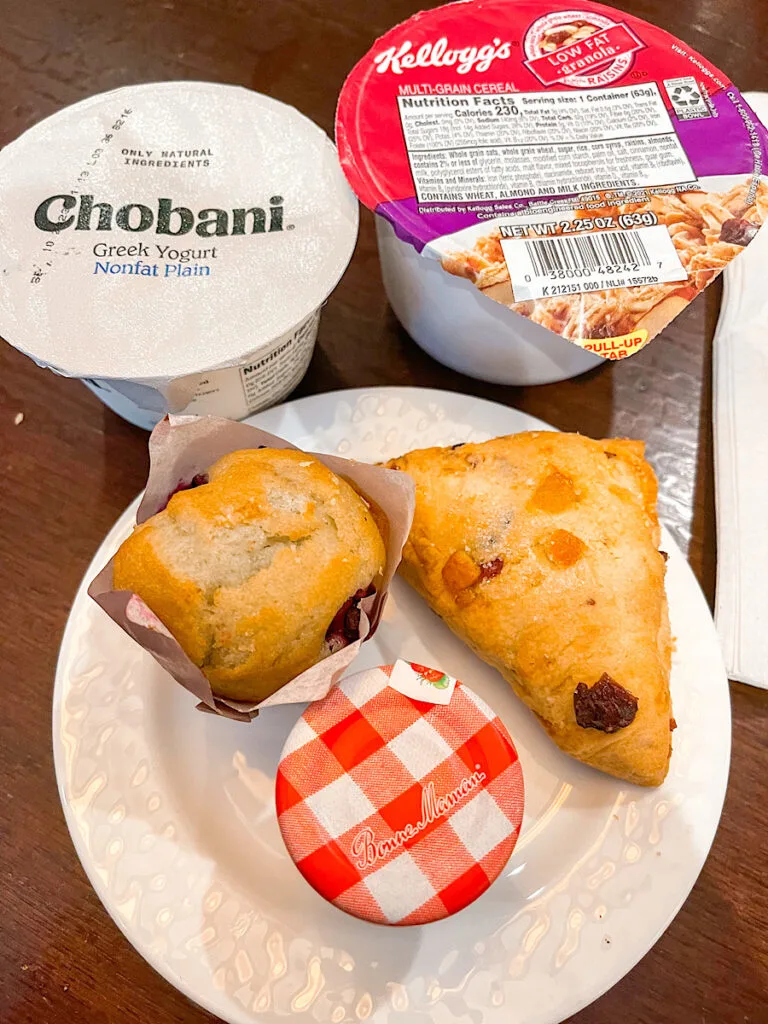 Throughout the day, soda and coffee were available as well as freshly-baked cookies.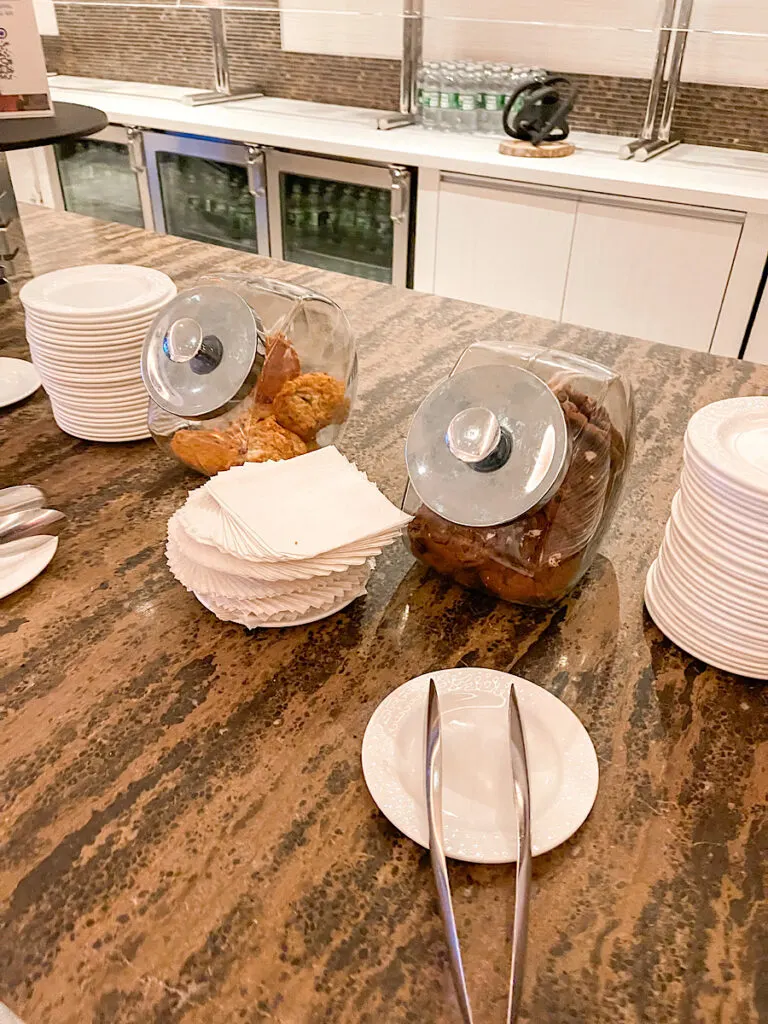 From 5:00 pm – 7:00 pm small appetizers like cut vegetables, cheese, and items like egg rolls and empanadas were served.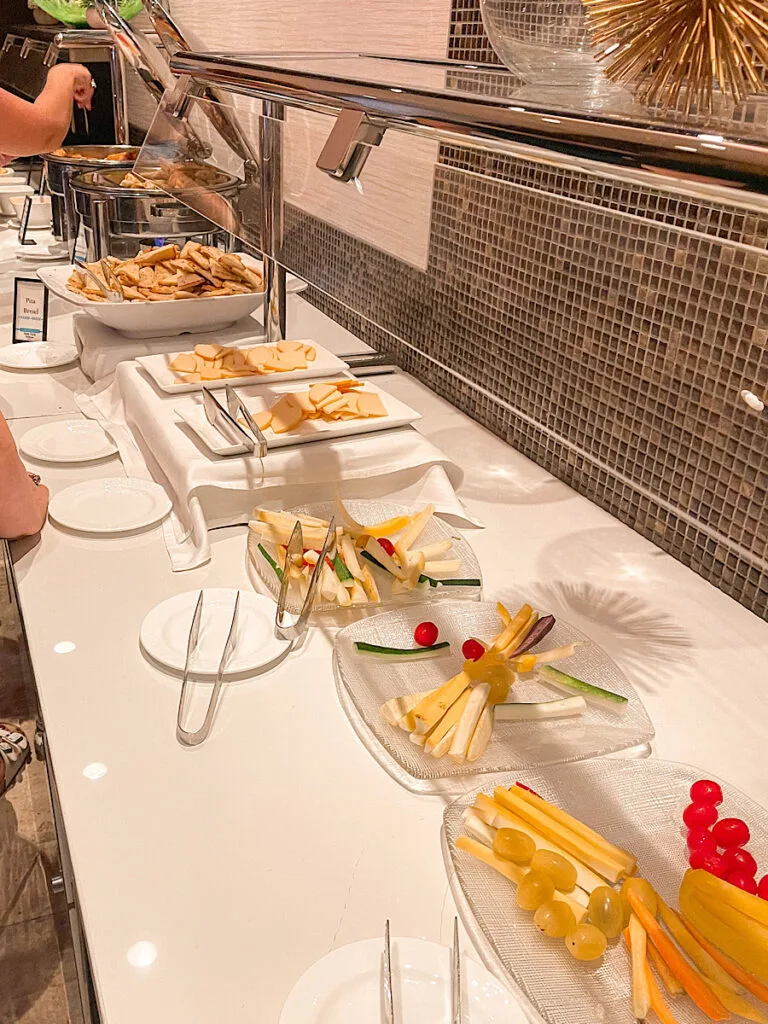 Mandatory Food & Beverage Fee/Credit
The Hilton charged a daily fee of $35 that could also be used as a food and beverage credit. I'm not really sure what the point of it was.
We used this credit every day to buy everyone a soda in the snack bar and a candy bar for the kids. Make sure to ask for the prices for the candy if it is not listed. Most of the candy listed was between $3 – $4, but my kids chose licorice one day, that didn't have a price, and I didn't notice that it was $7 until we were back in the room and the kids had opened the package.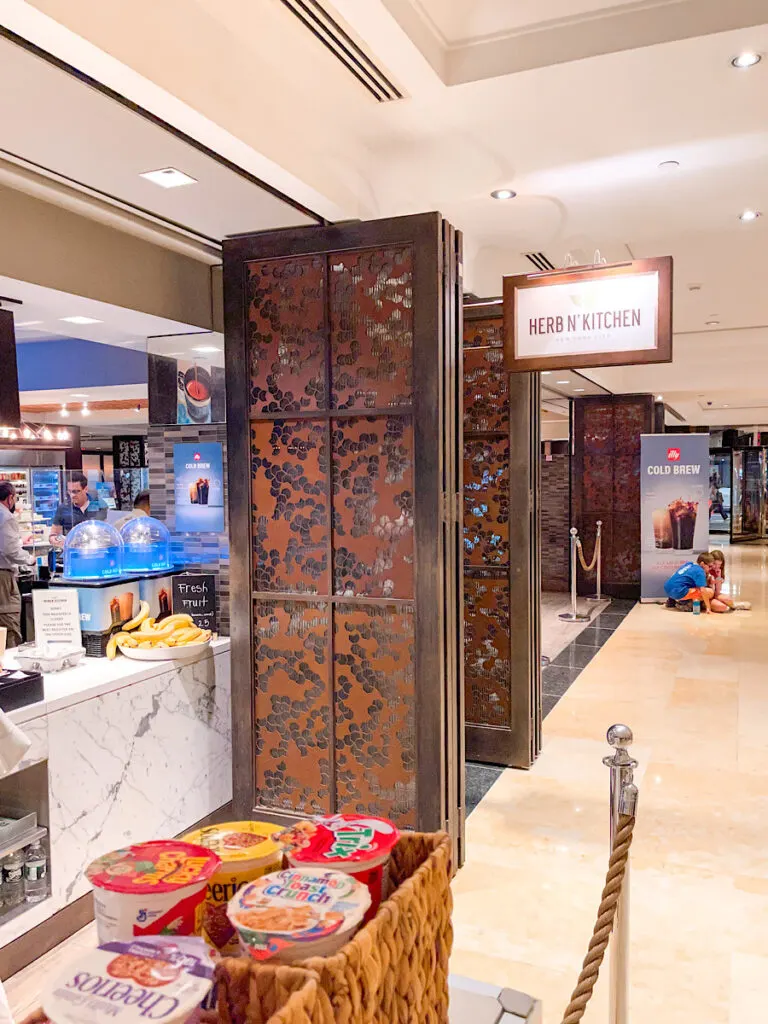 Luggage Storage
The day that we checked out of the hotel, our flight wasn't until later in the evening. We had plans to explore the city and visit the Empire State Building. The Hilton offers luggage storage, but at a cost of $5 per item.
All 5 of us had a carry-on sized suitcase and a backpack, so we ended up paying $50 to have them store our luggage for 3-4 hours.
Final Thoughts About Visiting New York with Kids
Visiting New York City with kids is an amazing experience that the whole family will never forget. The city has so many incredible sights to see and fun activities for all ages.
It's important to do your research when it comes to hotels, transportation, and food options so you can make the most of your trip! We had a great time and would definitely recommend the New York Hilton Midtown for families visiting the city.
Watch the Video: