Are you planning to take your family to Lava Hot Springs in Idaho? My family made a trip and I've compiled a one-day itinerary as well as some tips and tricks that will help you have an amazing time!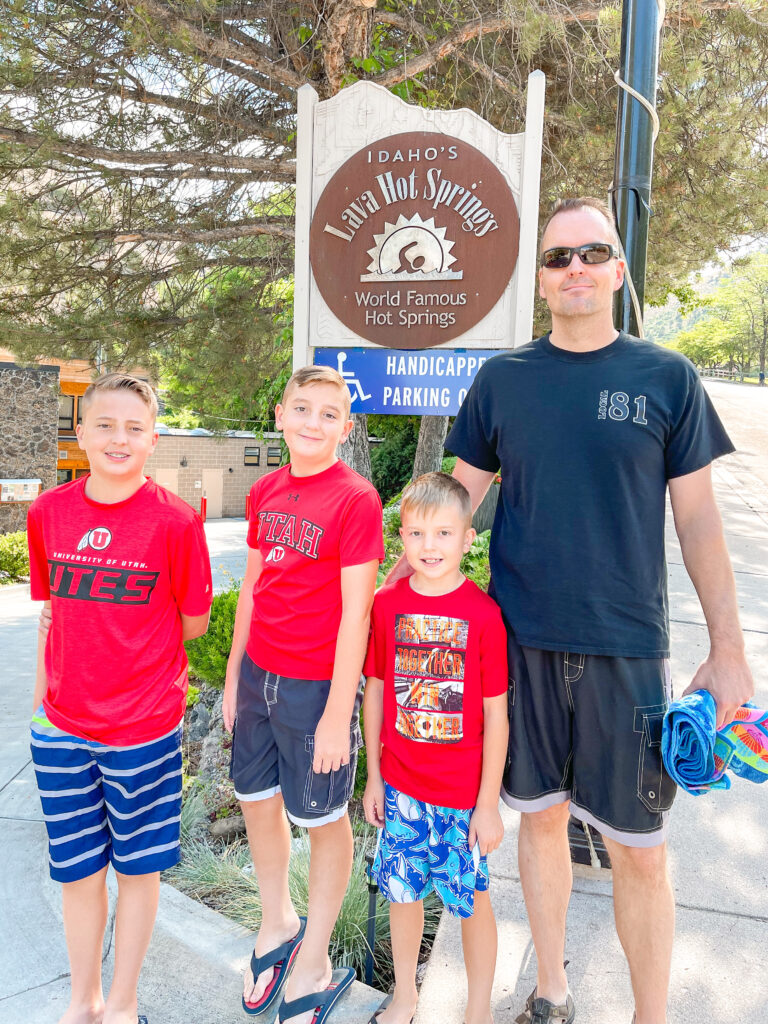 Do you want to take your family on a quick getaway this summer? There are plenty of options within driving distance from Boise and Salt Lake City. One such gem is Lava Hot Springs, Idaho.
This small Idaho town has all the amenities you need for an affordable vacation with kids in tow including great food, outdoor activities and even a water slide park!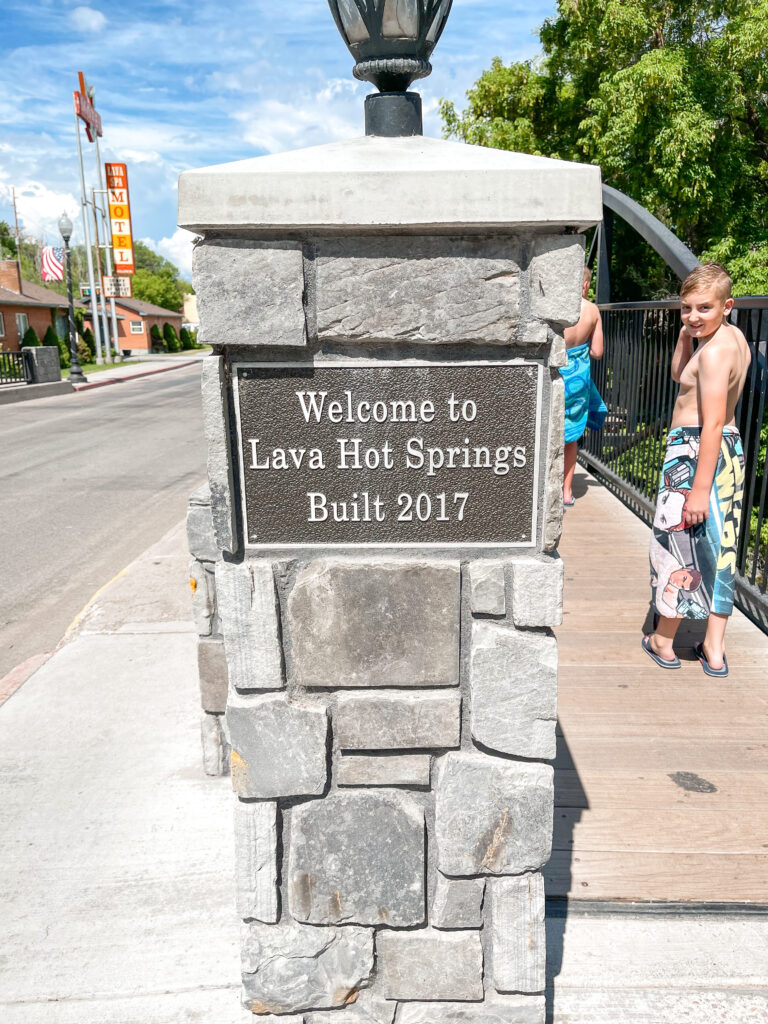 In addition to these fun attractions, there are also some more relaxing moments like soaking in natural hot springs pools or walking through downtown historic district where buildings date back as far as 1885!
I've created a one-day itinerary for families that will help take care of all your needs while visiting Lava Hot Springs. So pack up the car with bathing suits, towels and sunscreen and head down I-84 from Boise, or up I-15 from Salt Lake City for some non-stop fun!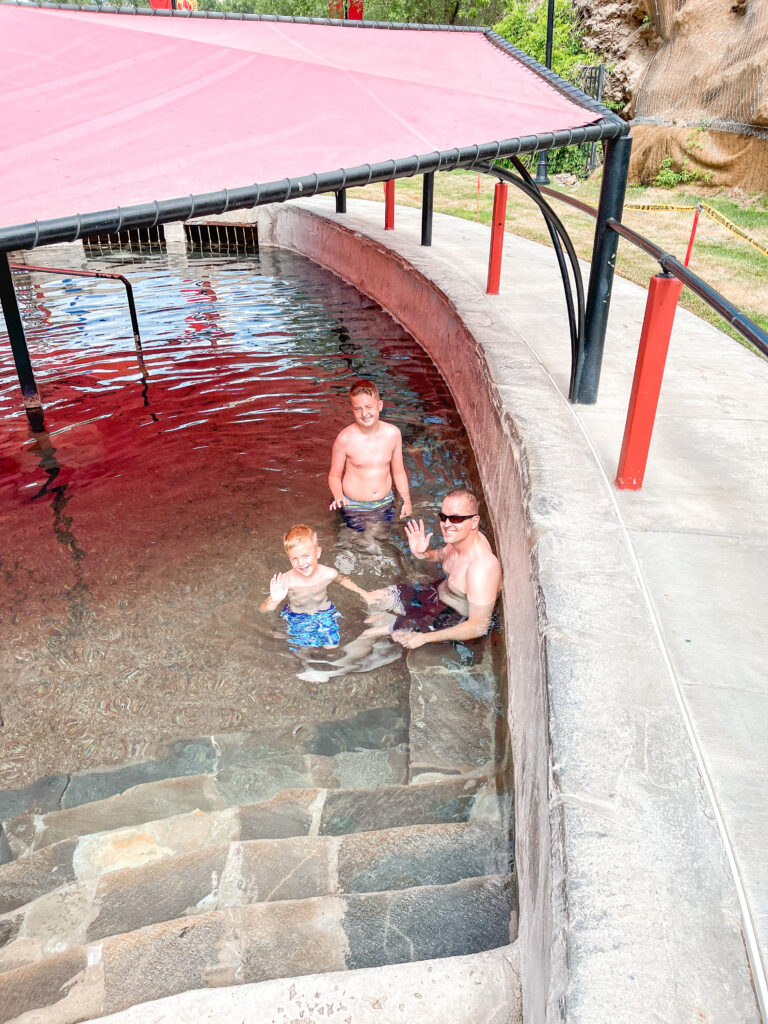 Don't let the name fool you, Lava Hot Springs is a family-friendly destination that provides some of the most amazing experiences for kids. With miles and miles of lava rock trails surrounding the city, there are plenty of places to explore with your children.
You can also find a variety of waterfalls in different shapes and sizes within walking distance from one another. Another great thing about this location is that you're never too far away from civilization, so it's a quick drive to your hotel or campground.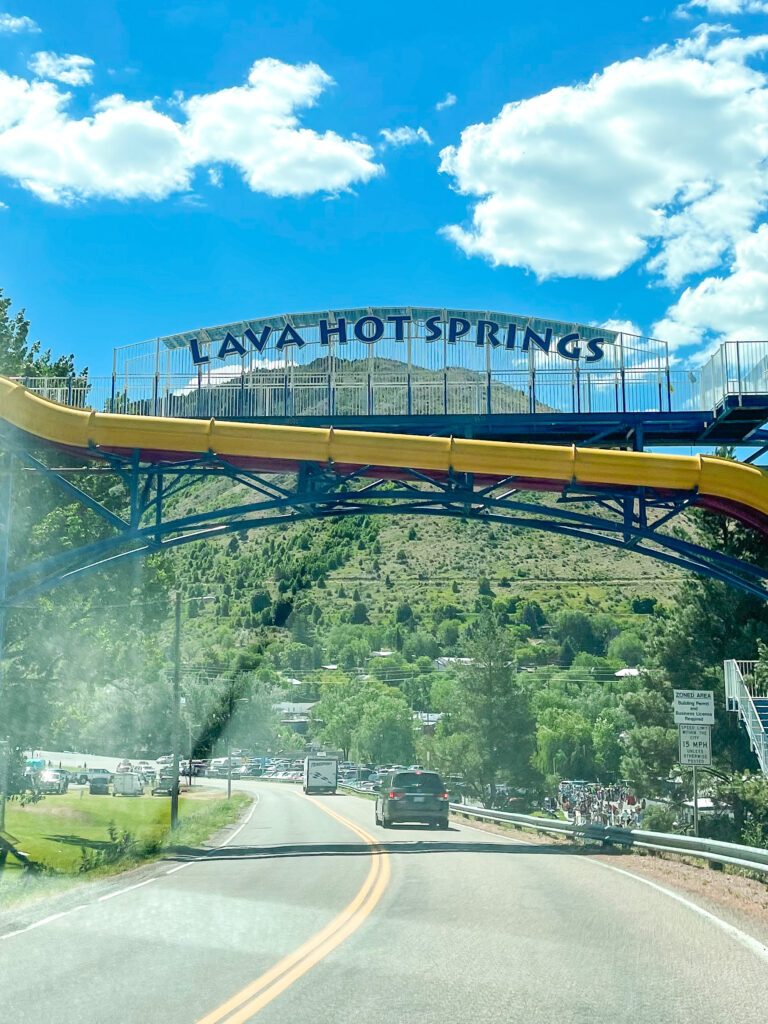 What is Lava Hot Springs
Lava Hot Springs is located in south east Idaho, on the West End of Yellowstone National Park. It's a resort town with hotels, campgrounds and over 80 geothermal springs that are used for therapeutic purposes. The warm water is purported to have healing properties.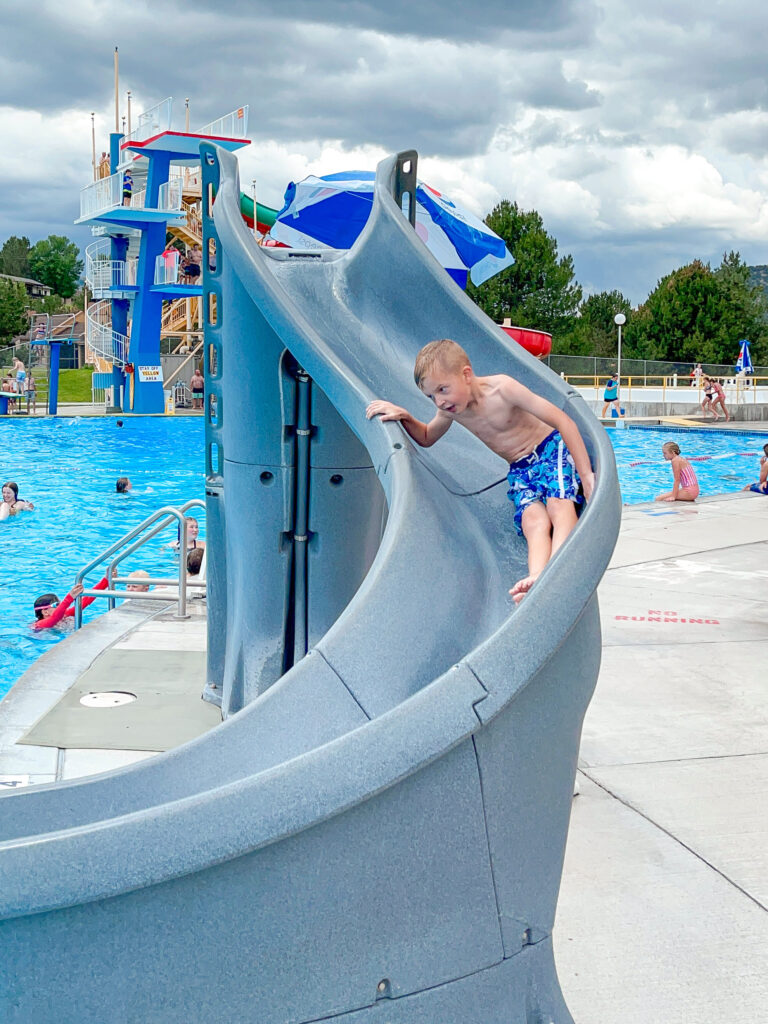 How to Get to Lava Hot Springs
Lava Hot Springs is located 70 miles from Idaho Falls. It's about 4 hour drive from Boise, a 2 hour drive from Salt Lake City, and 2.5 hour drive from Jackson, Wyoming.
Lava Hot Springs from Boise, Idaho:
Get on eastbound I-84.
Follow I-84 and I-86 East and take Exit 47 from I-15.
Continue eastbound on US-30 for 11 miles.
Lava Hot Springs from Salt Lake City, Utah:
Head north on I-15.
Take Exit 44 from I-15.
Go east on US-30 for 11 miles.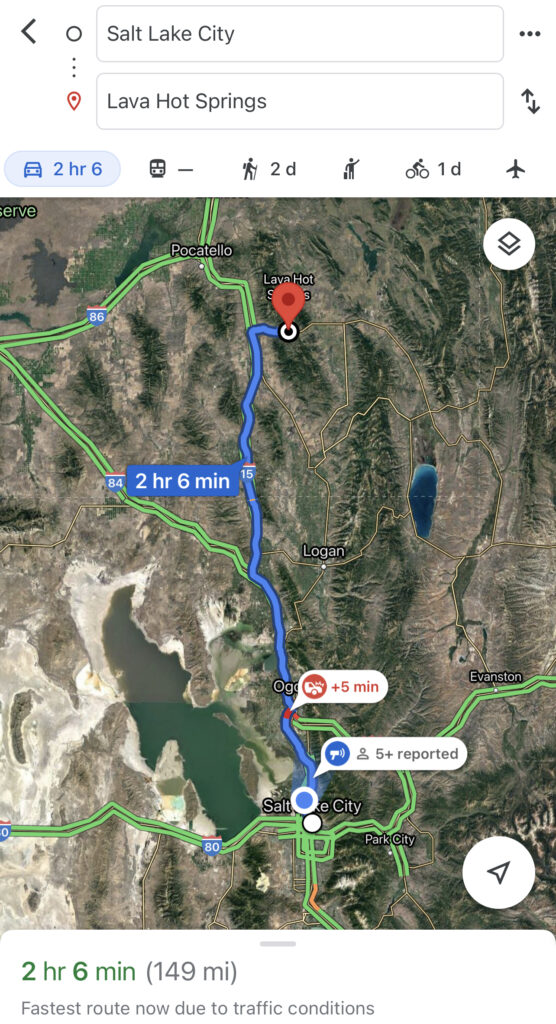 Lava Hot Springs from Jackson Hole, Wyoming:
Head south on US-89.
Continue soutwest on US-34.
Follow US-30 west for 22 miles.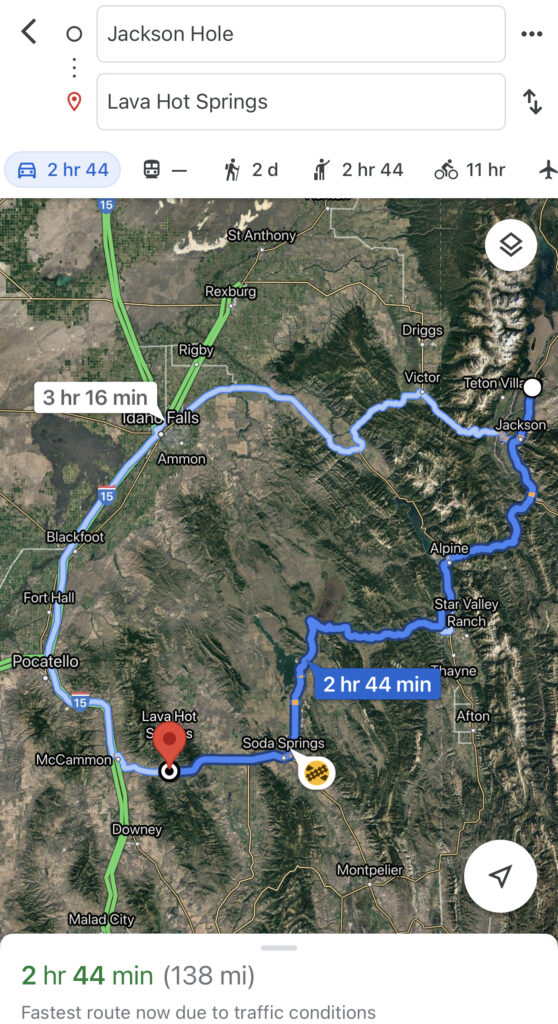 Facts About Lava Hot Springs
The average temperature of the water is 101 degrees Fahrenheit (38 degrees Celsius) and contains large amounts of dissolved solids such as calcium, magnesium, sodium and sulfur. It's known for its therapeutic benefits and also serves as a great place to relax if you visit Idaho.
The springs were first used for medicinal purposes and recreational bathing in 1882 by John Hafen, who built the first bathhouse here. He also built trails that allowed people to visit from nearby towns, and he added a swimming area. Later additions like a diving board made it possible to swim there during warmer months.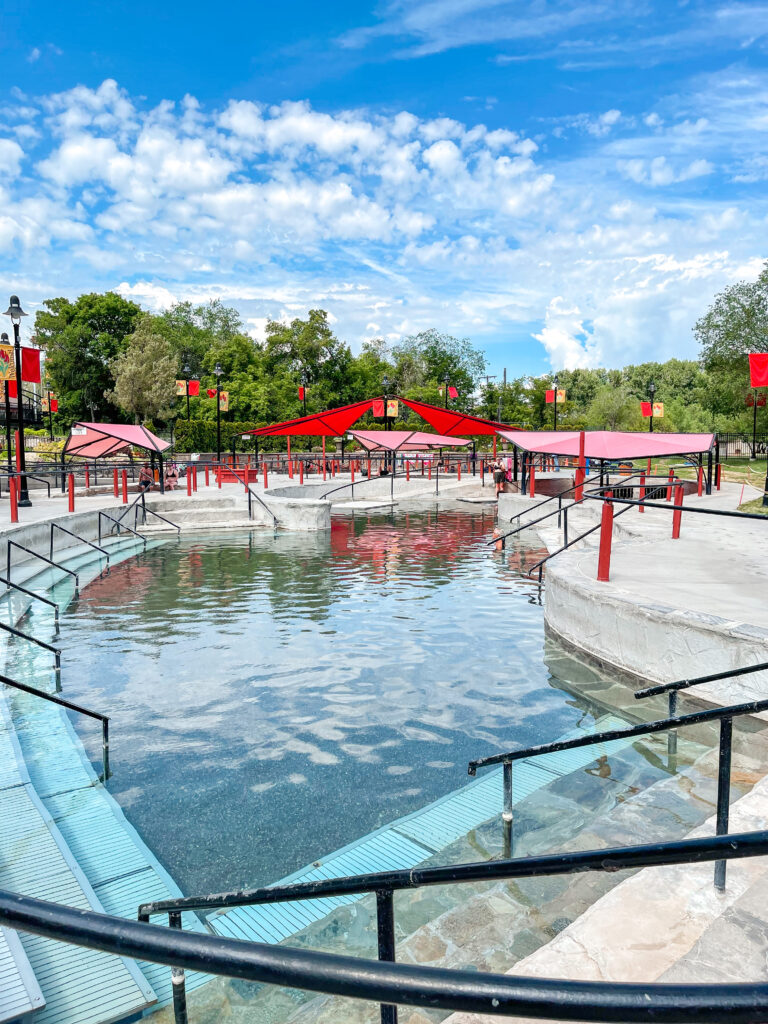 What to do in Lava Hot Springs
Lava Hot Springs has many things to do around town and in the surrounding area. Here are a few things you might want to do with your kids.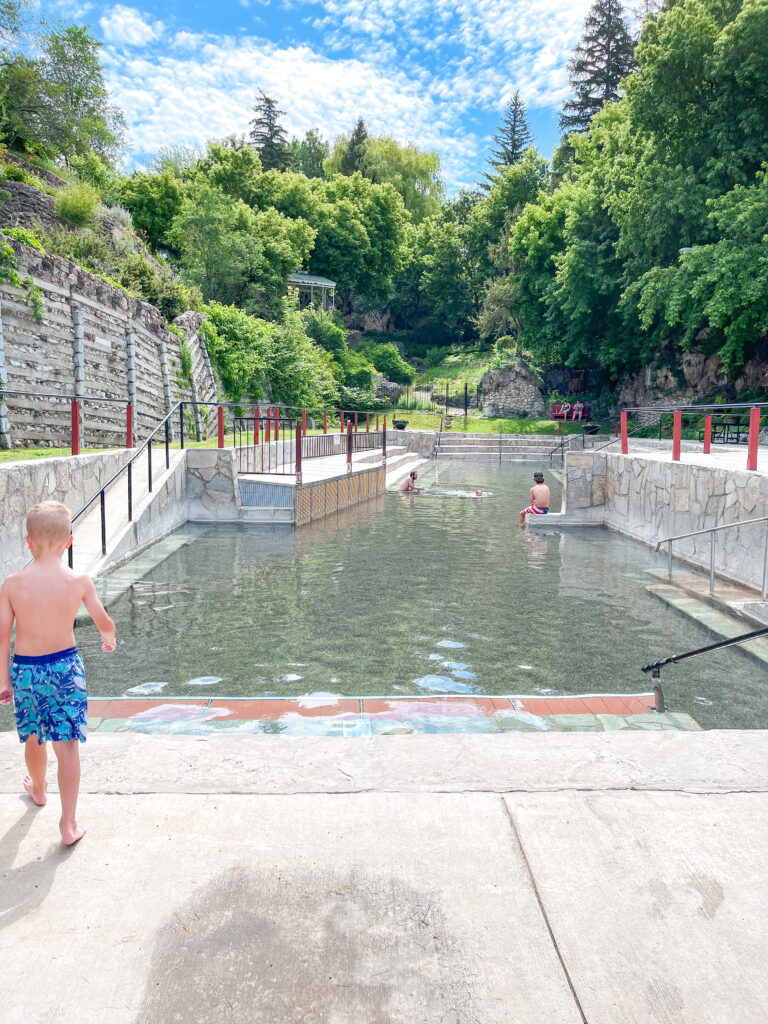 Lava Hot Springs Hot Pools
The Lava Hot Springs Mineral Pools are located on the east side of town. There is a changing area, bathrooms, and lockers.
There are multiple pools in the complex that range in temperatures from 101 degrees, all the way up to 112 degrees.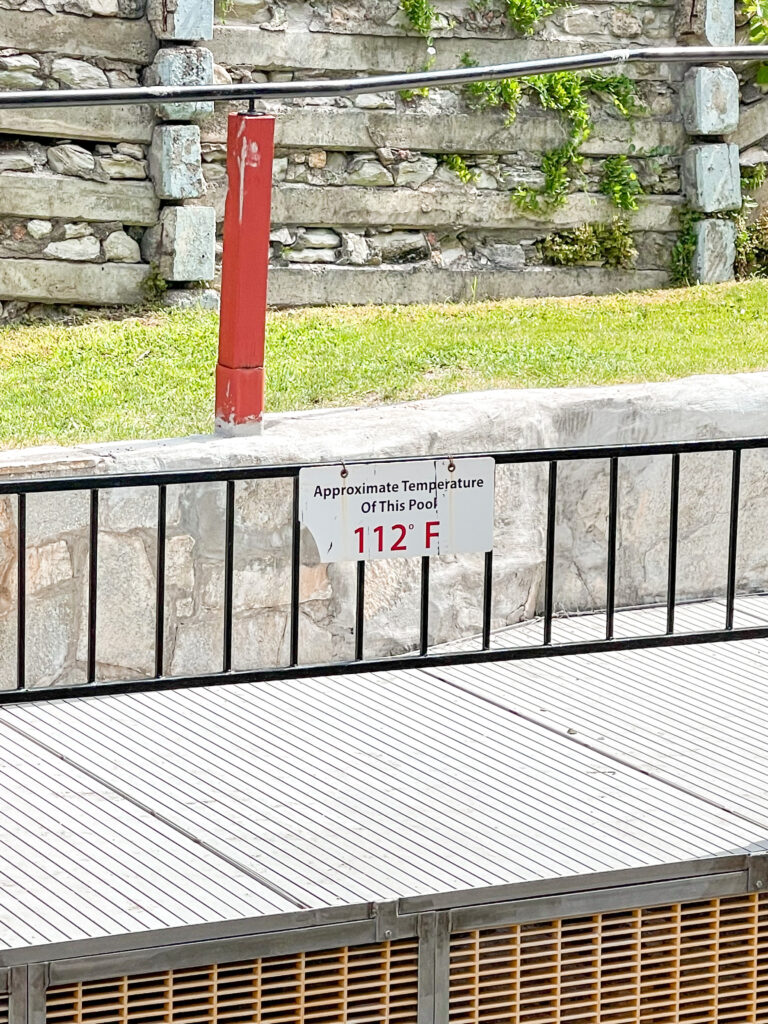 Each pool is clearly marked with the temperature. I would start with the coolest pools to the hottest.
Lava Hot Springs Swimming Pool
The swimming pool is also called the Olympic Swimming Complex. The complex has a large outdoor pool, 5 water slides, a diving platform, two diving boards, an indoor water playground, and an indoor pool with a diving board and a rock climbing wall.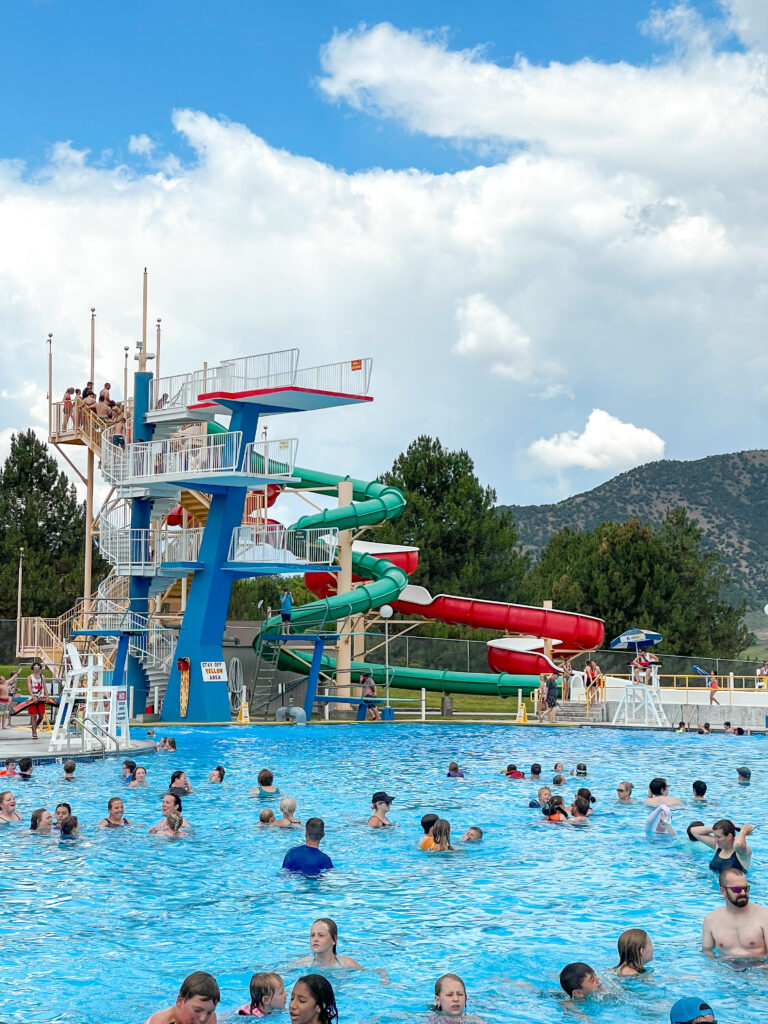 Float the Portneuf River
The Portneuf River flows through the heart of Lava Hot Springs. A fun thing to do is to rent a tube and float down the river. Life jackets are provided for anyone who wants them. I recommend bringing a pair of water socks or waterproof sandals that strap around your feet to avoid stepping on sharp rocks.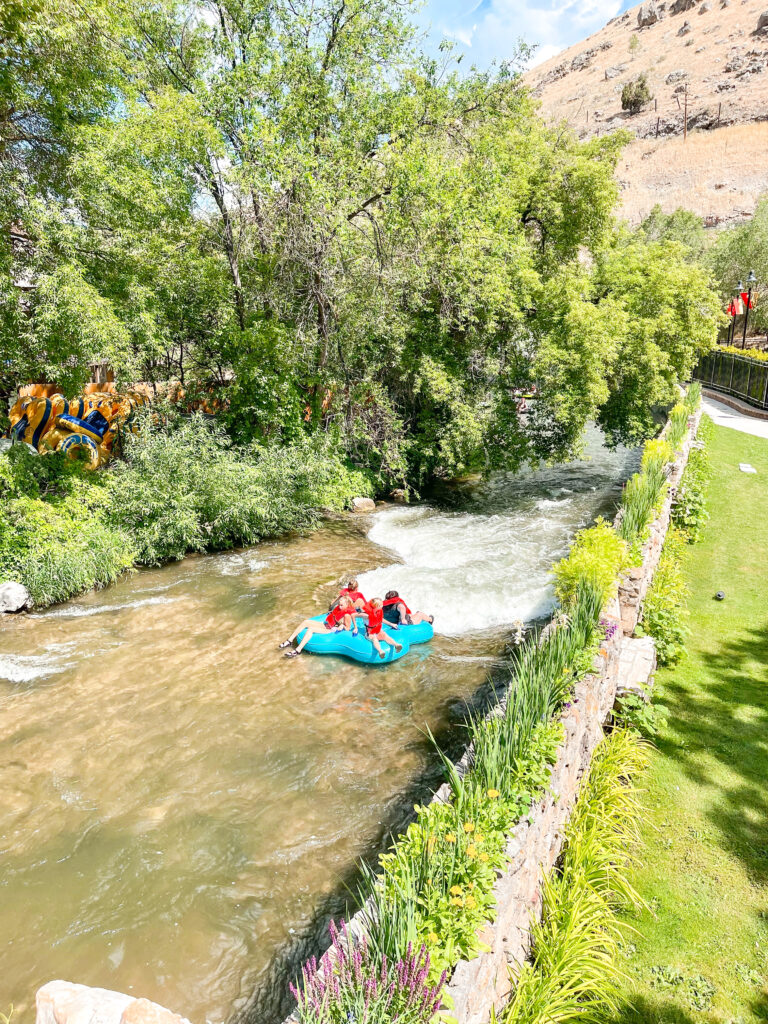 How Much is Admission to Lava Hot Springs
Hot Pools Monday – Thursday
Ages 2 & Under
Ages 3-11
Ages 12-59
Age 60+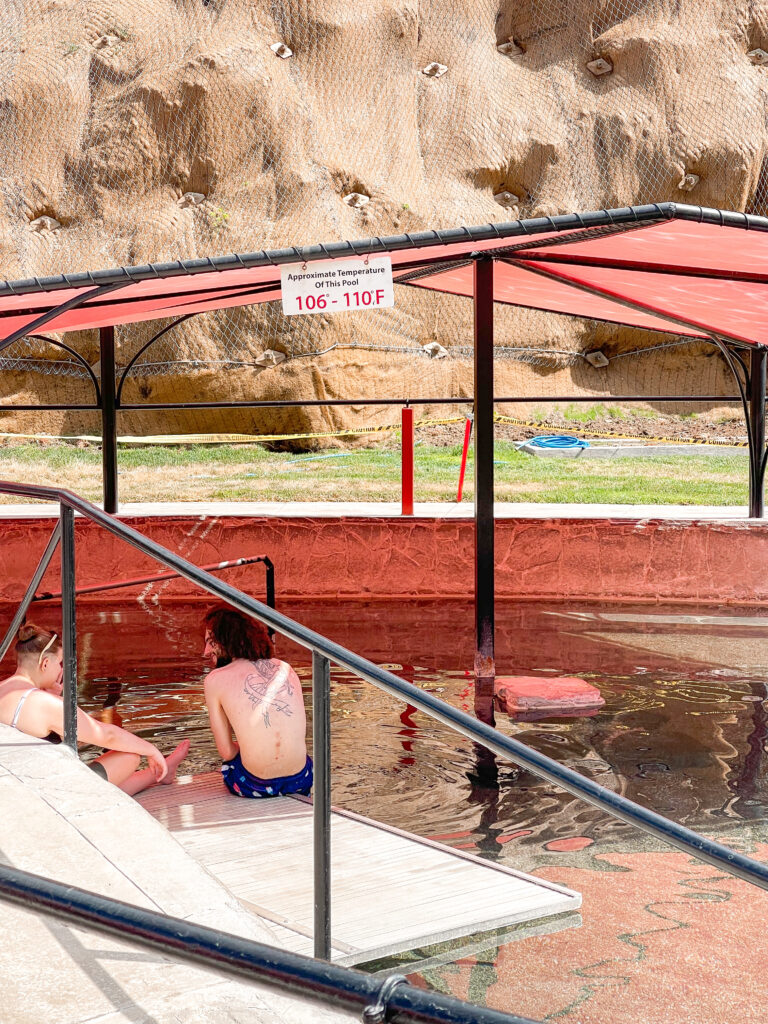 Hot Pools Friday – Sunday
Ages 2 & Under
Ages 3-11
Ages 12-59
Age 60+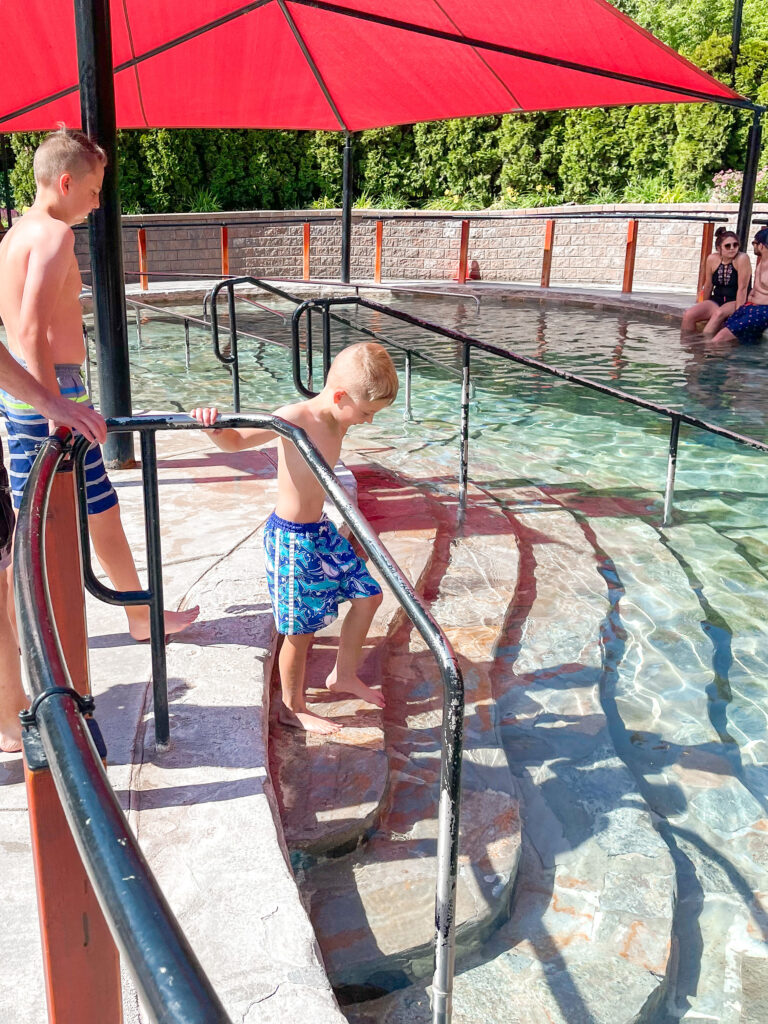 Swimming Pool Monday – Thursday
Ages 2 & Under
Ages 3 – 11
Ages 12+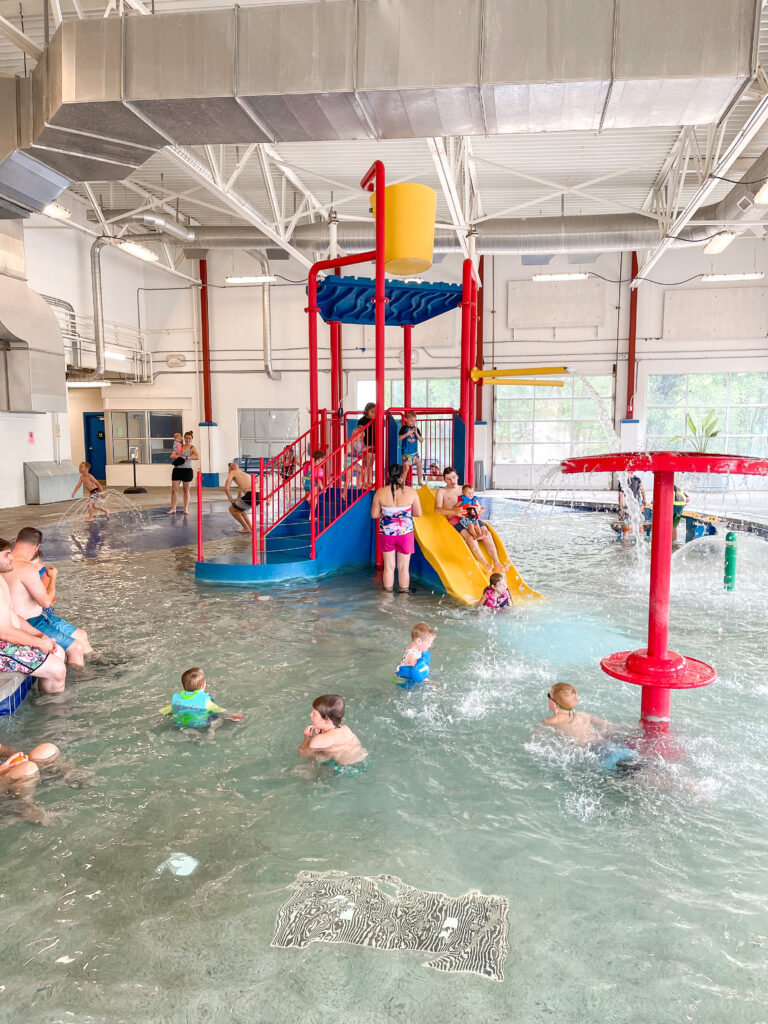 Swimming Pool Friday – Sunday
Ages 2 & Under
Ages 3-11
Ages 12_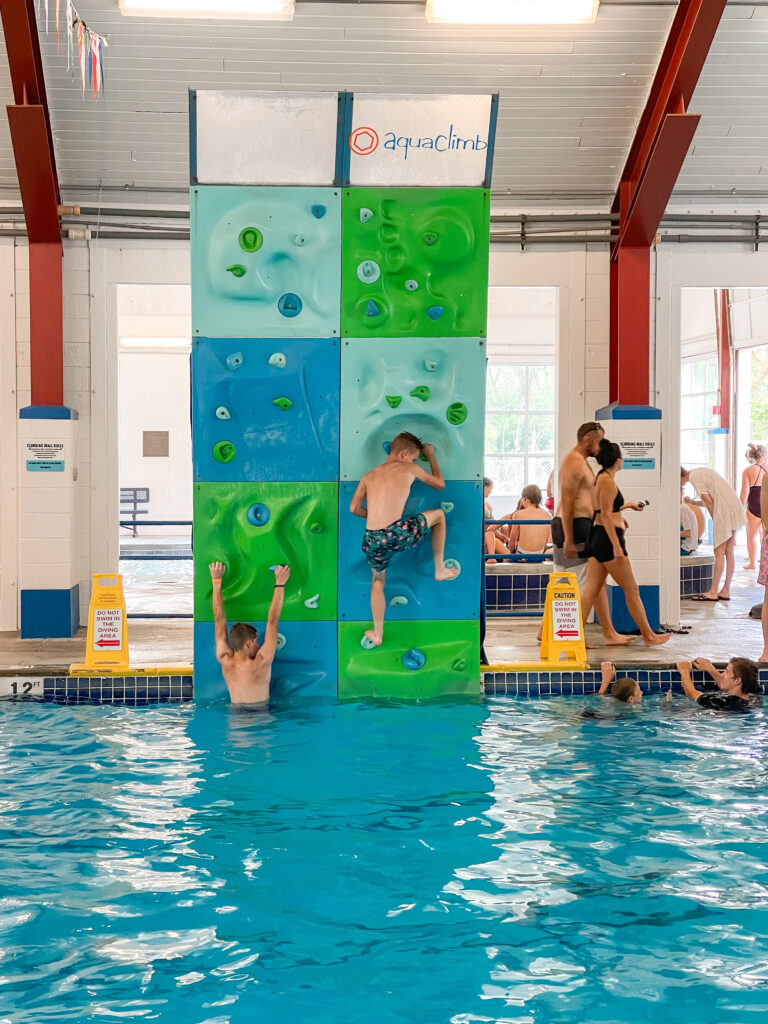 Combo Pass
The combination pass includes a one time admission to the Hot Pools and an all day swim pass. The prices are as follows:
Ages 2 & Under
Ages 3+ (Mon-Thurs)
Ages 3+ (Fri-Sun & Holidays)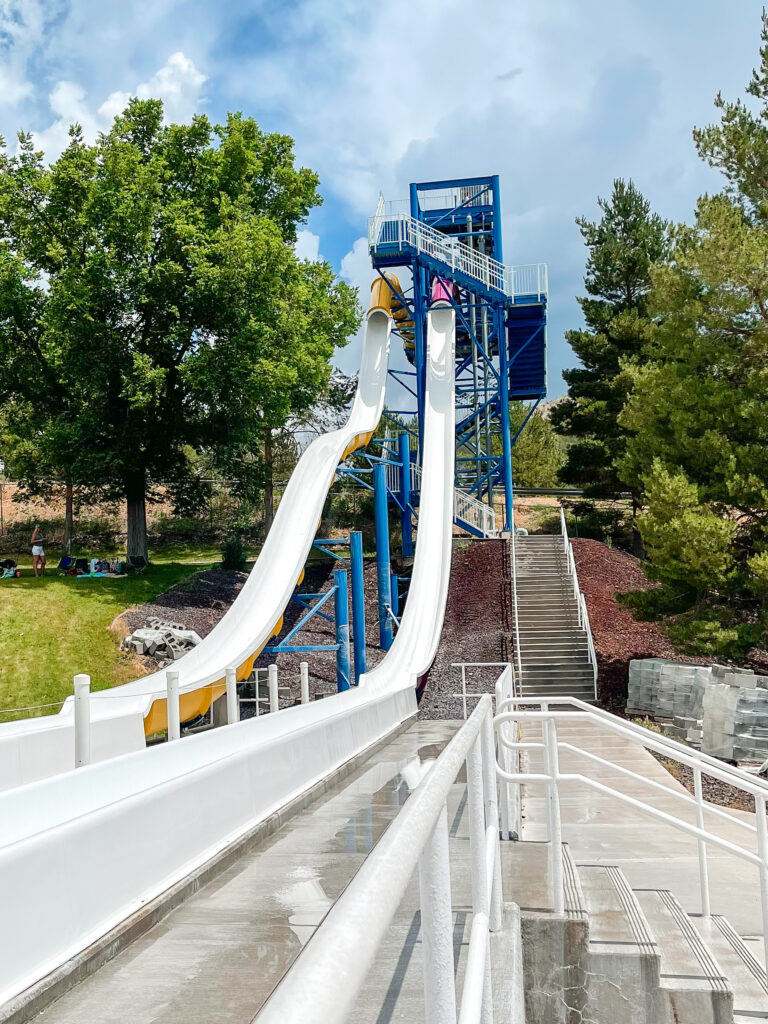 Where to Stay in Lava Hot Springs
There are many lodging options available in and around Lava Hot Springs for visitors of the resort. From camping to hotels, there is something for everyone!
We opted to stay at Hampton Inn & Suites in Pocatello, Idaho about 35 north west of Lava Hot Springs.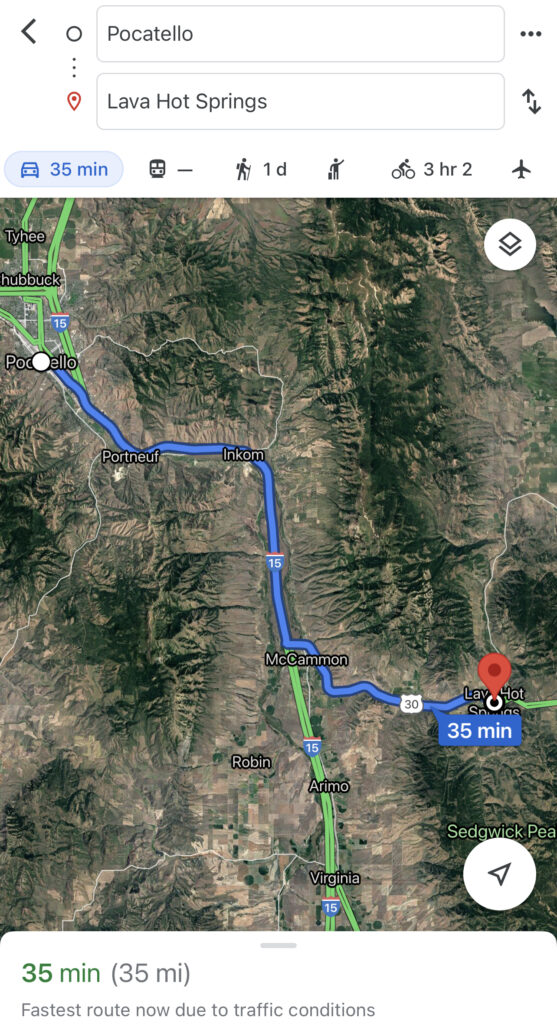 One-Day Itinerary at Lava Hot Springs
10:00 am – Arrive at Lava Hot Springs Hot Pools. Parking is available right across the street. Pay for a combo pass and enjoy the hot pools.
11:30 am – Head four blocks west down main street and arrive at Lava Hot Springs Olympic Swimming Pool Complex. Find a shady spot and enjoy a picnic lunch.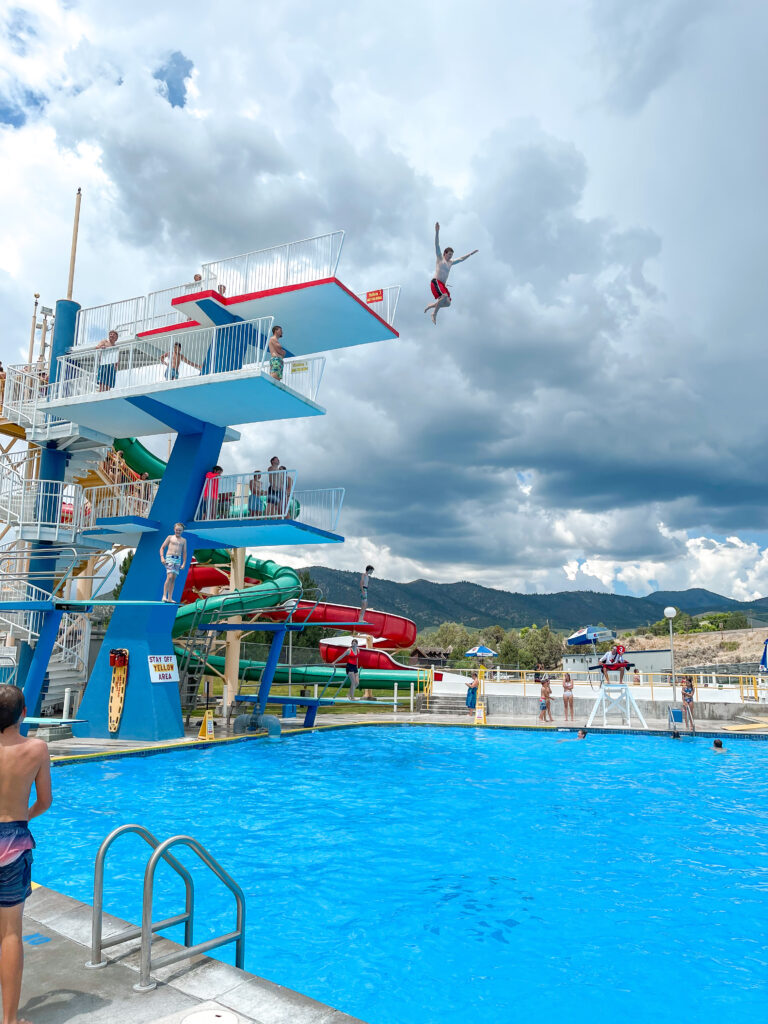 12:00 pm – Enjoy the pools, water slides, diving boards, and diving tower and the swimming complex.
3:00 – Rent a tube and float the Portneuf river.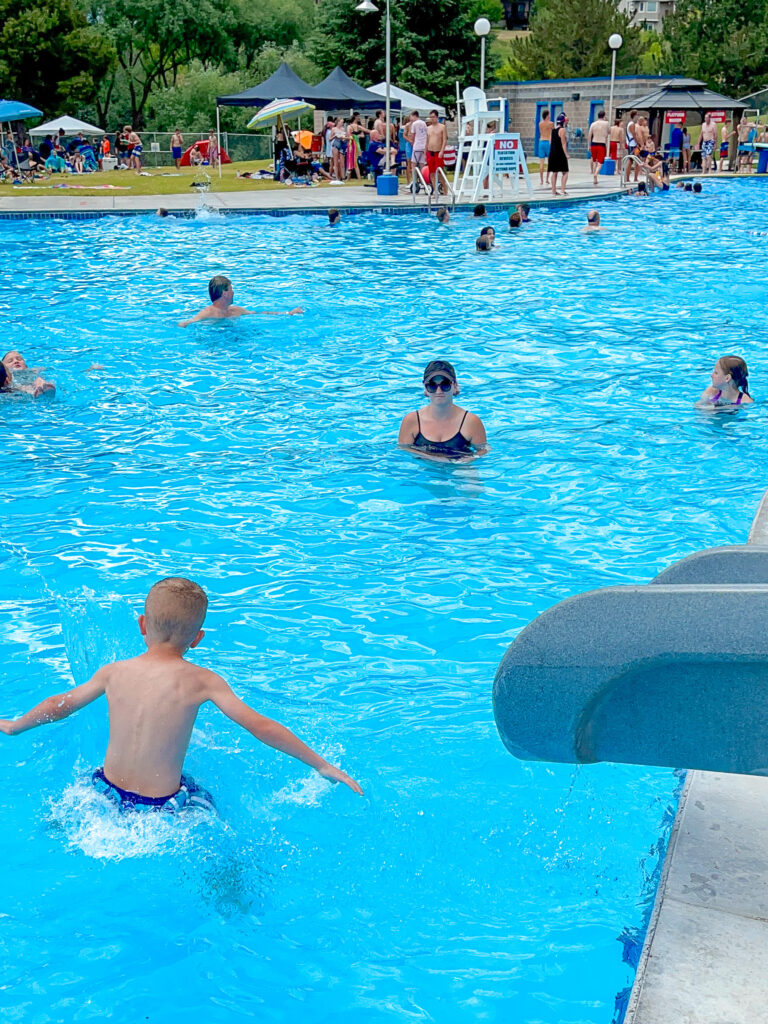 When to Visit Lava Hot Springs
A visit to Lava Hot Springs is a great activity to add on to the beginning or the end of a trip to Yellowstone National Park. If that is something you want to do, check out my tips for visiting here.
Lava Hot Springs is open year round. In the summer, you can enjoy the hot pools and outdoor water slides and pool. If you visit in the winter, the indoor pool and playground are fun for kids, and the hot pools feel amazing in the cold air.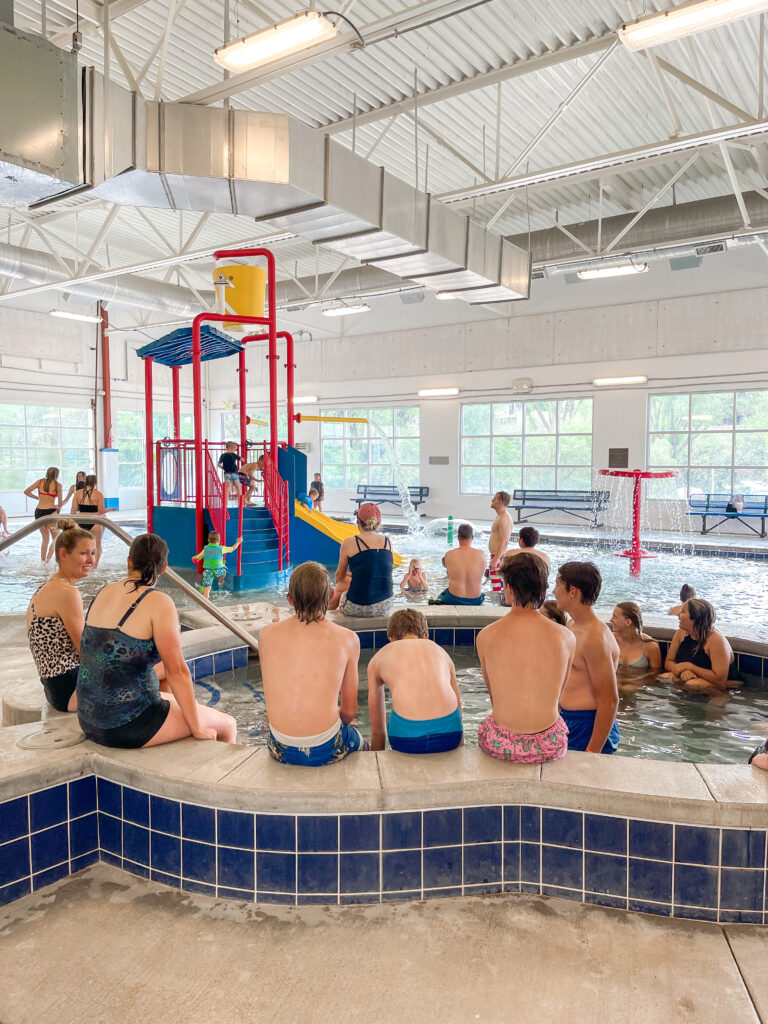 What to Pack for Lava Hot Springs
Swim suit
Sun screen
Change of clothes
Towels
Flip flops
Sunglasses
Rash Guard
Water shoes
Water Toys
Water bottles
Snacks
Picnic lunch
Secure Sandals for floating the river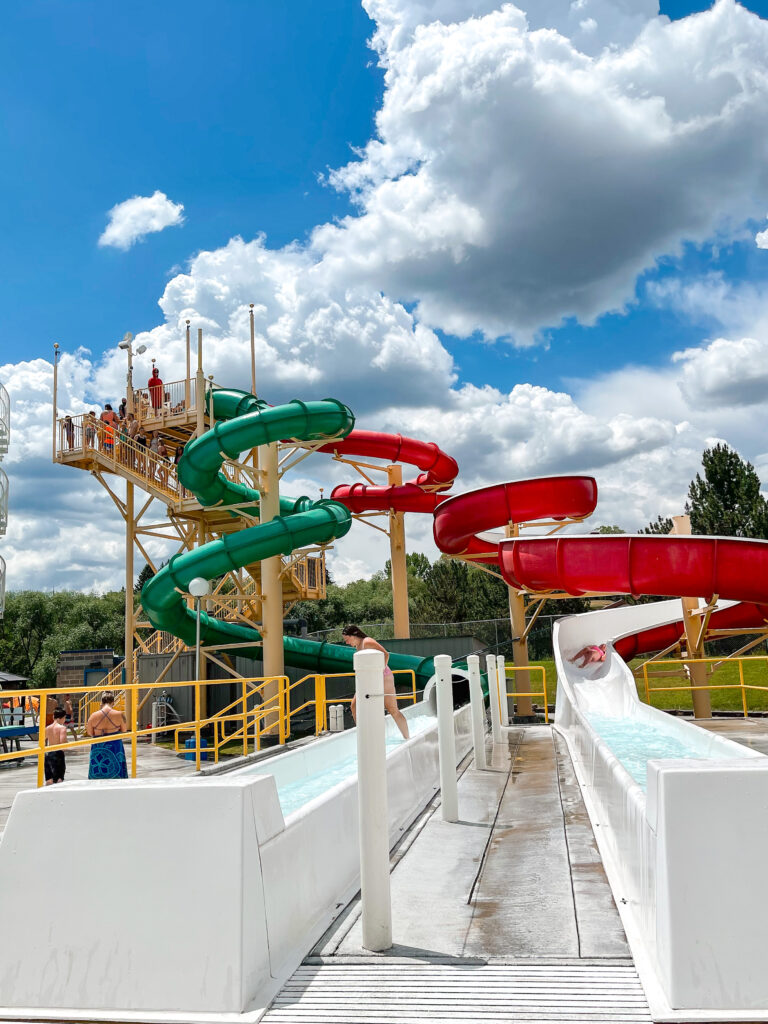 Lava Hot Springs is a great place for families to get away and relax. With so many things to do, you can spend your whole day at the resort or make it an overnight trip.
Remember to save this post for later if you're looking for some ideas on what to pack and where to stay.I hope that this information was helpful to you when planning your visit to Lava Hot Springs. Let m know if you have any other questions about planning your family vacation in the comments below.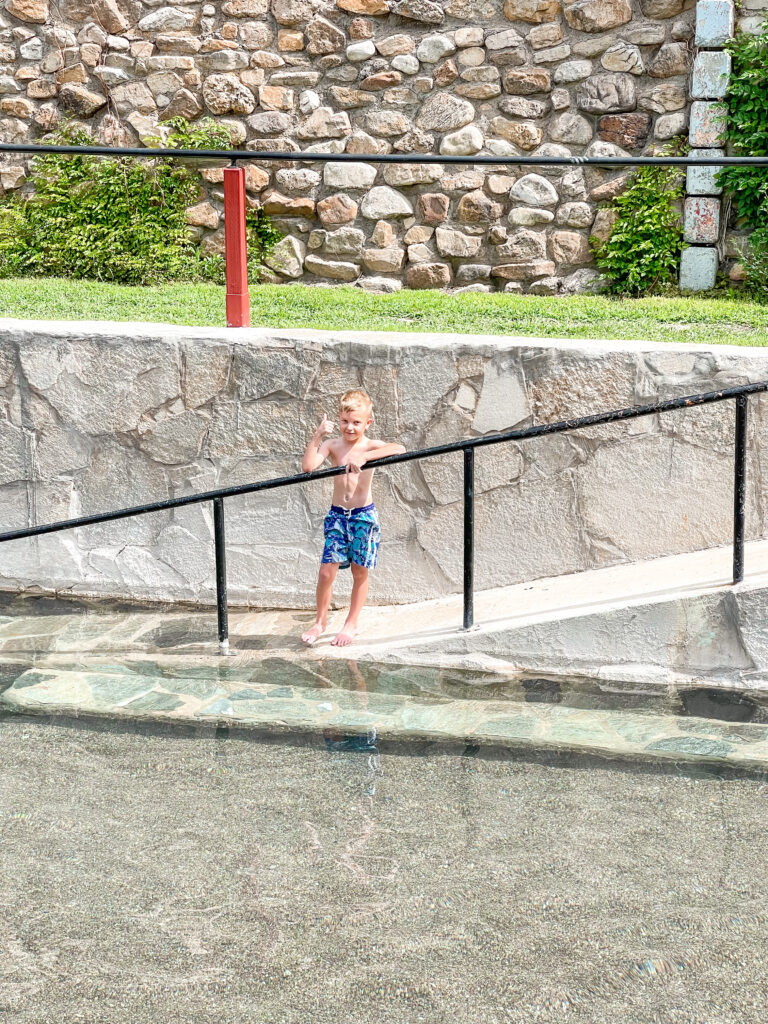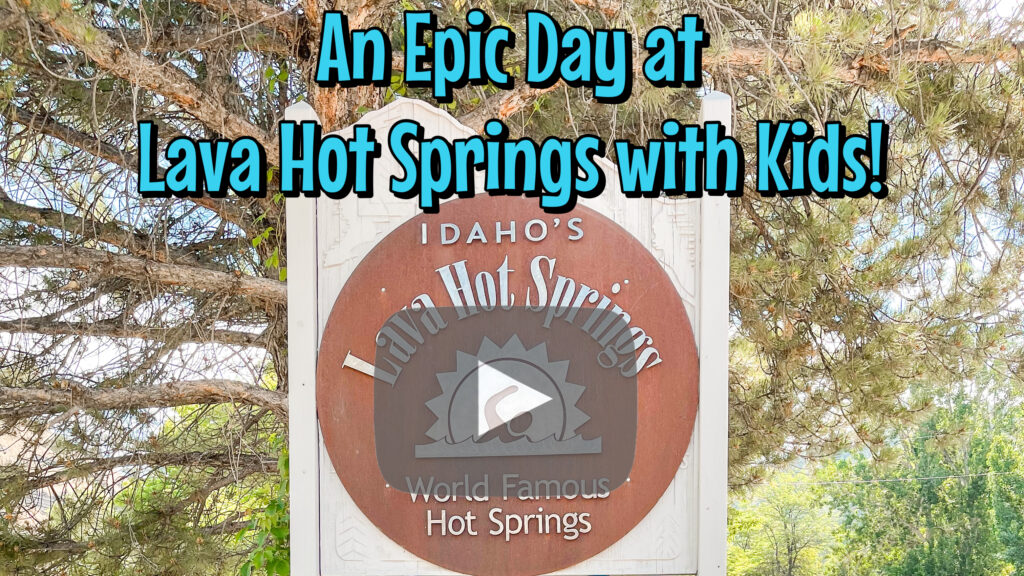 Other Articles You Might be Interested in: