Here are 9 places that you MUST see when you visit Yellowstone with kids! Also find out where to stay and where to eat near the park.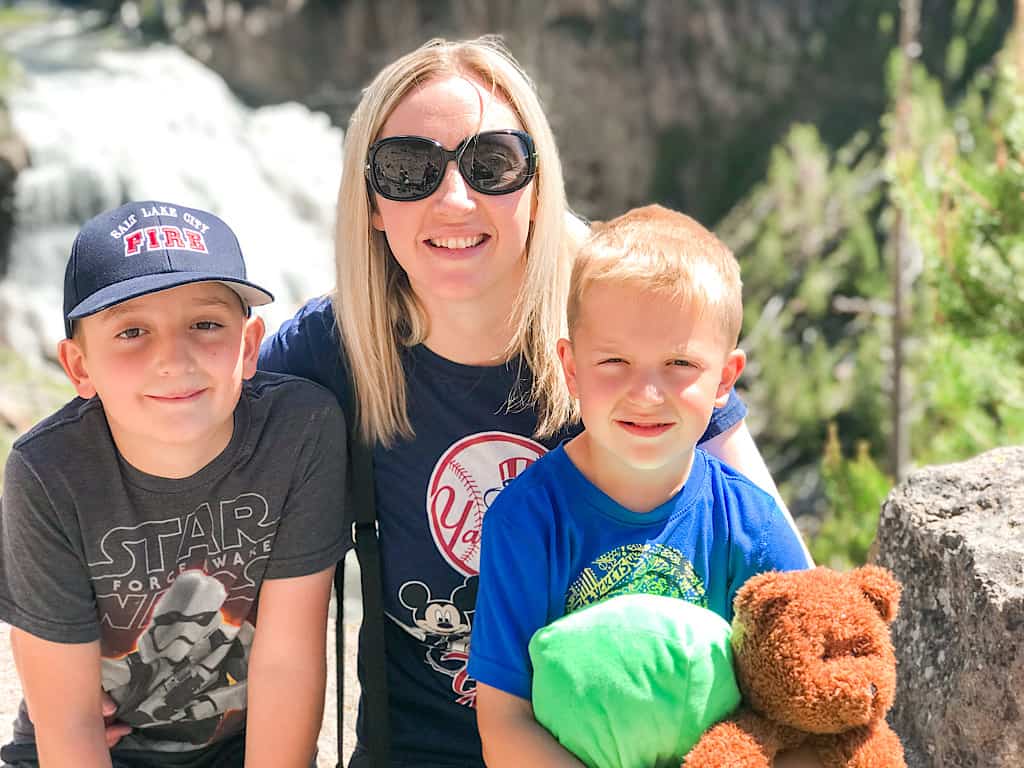 This post may contain affiliate links. When you click on these links, I get a small percentage back at no cost to you! For more information see my disclosure policy.
We are continuing our summer of National Parks with kids to show you all of the fun that you can do when you get outside and see all of the beauty nature has to offer!
Fourth Graders in the U.S. have the opportunity to visit all National Parks for free with a pass provided by the Every Kid Outdoors program and we have had so much fun exploring fun destinations closer to home.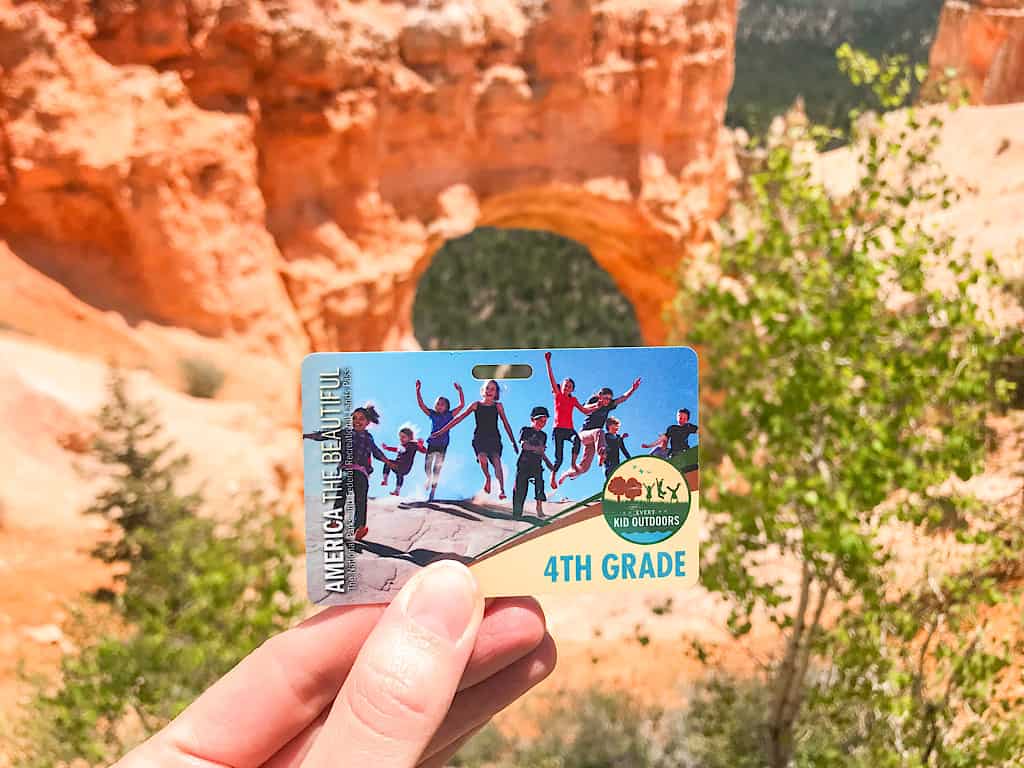 So far we have visited Zion National Park, Bryce Canyon National Park, Arches National Park, and Canyonlands National Park.
Yellowstone National Park
Yellowstone National Park is located in north-western Wyoming with a little of it spilling over into Montana and Idaho.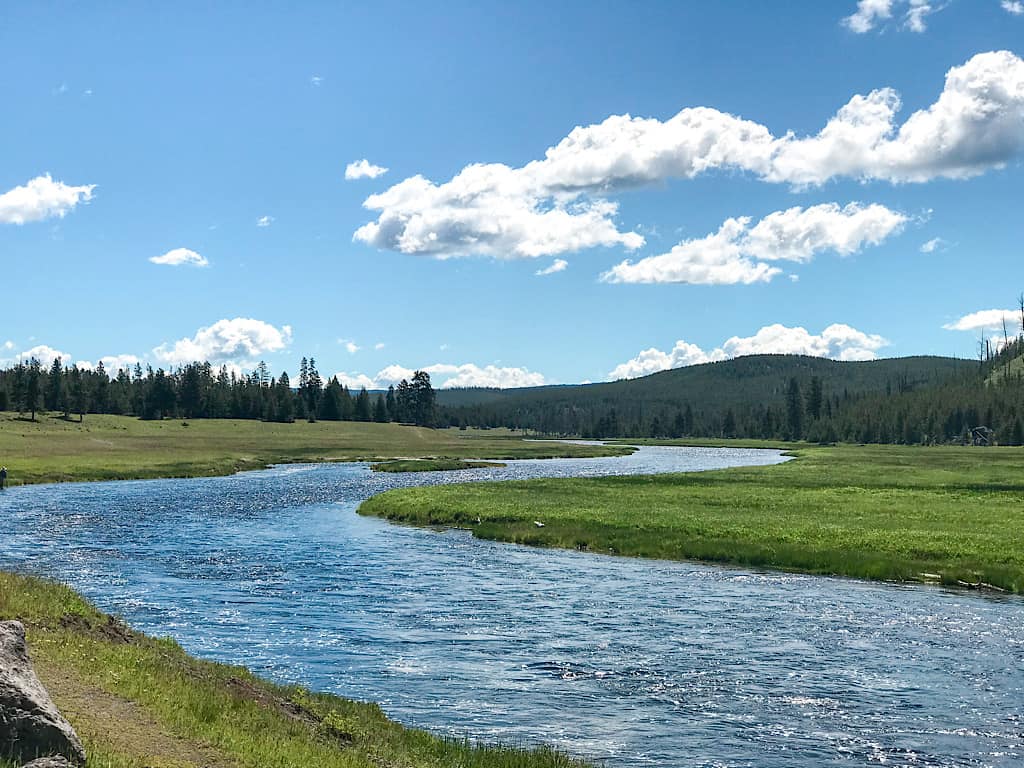 There are five entrances into the park that feed into the main roadway, the Grand Loop.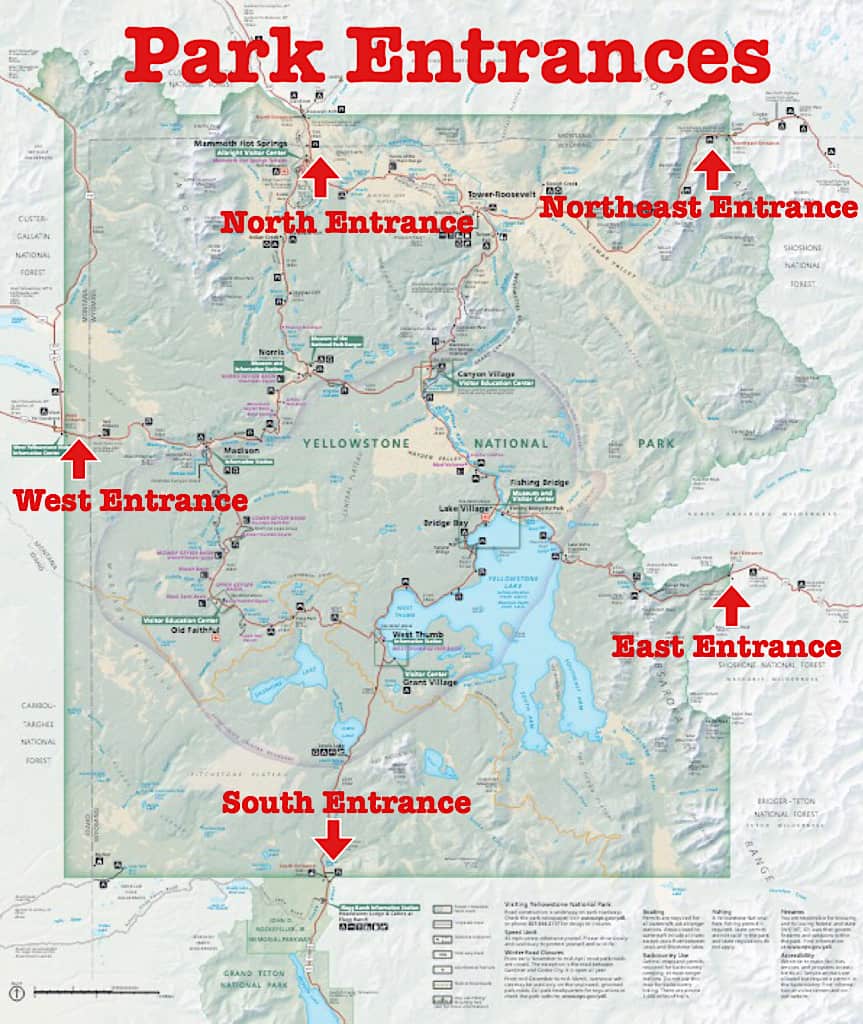 During our visit, we entered the west entrance through West Yellowstone Montana.
On our last day we exited to the south and drove through Grand Teton National Park on our way to Jackson Hole Wyoming.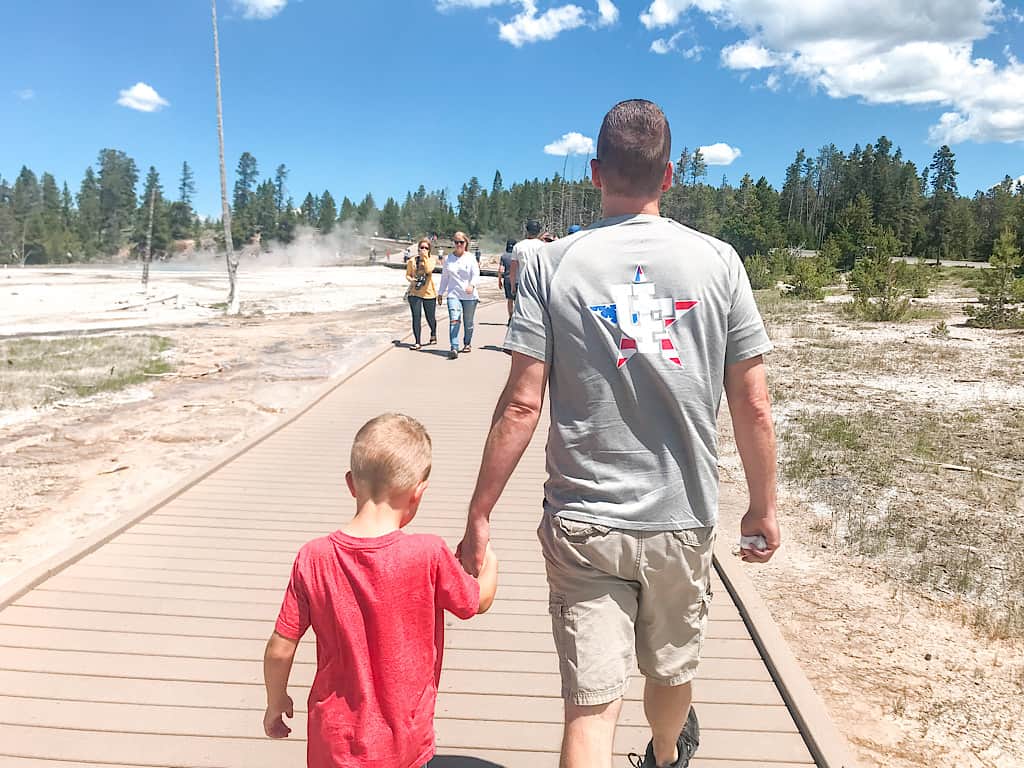 9 Things to See in Yellowstone with Kids
When we go to Yellowstone, we like to spend two days inside the park.
The main drive through Yellowstone basically makes a figure 8. We spend one day doing the upper loop and one day doing the lower.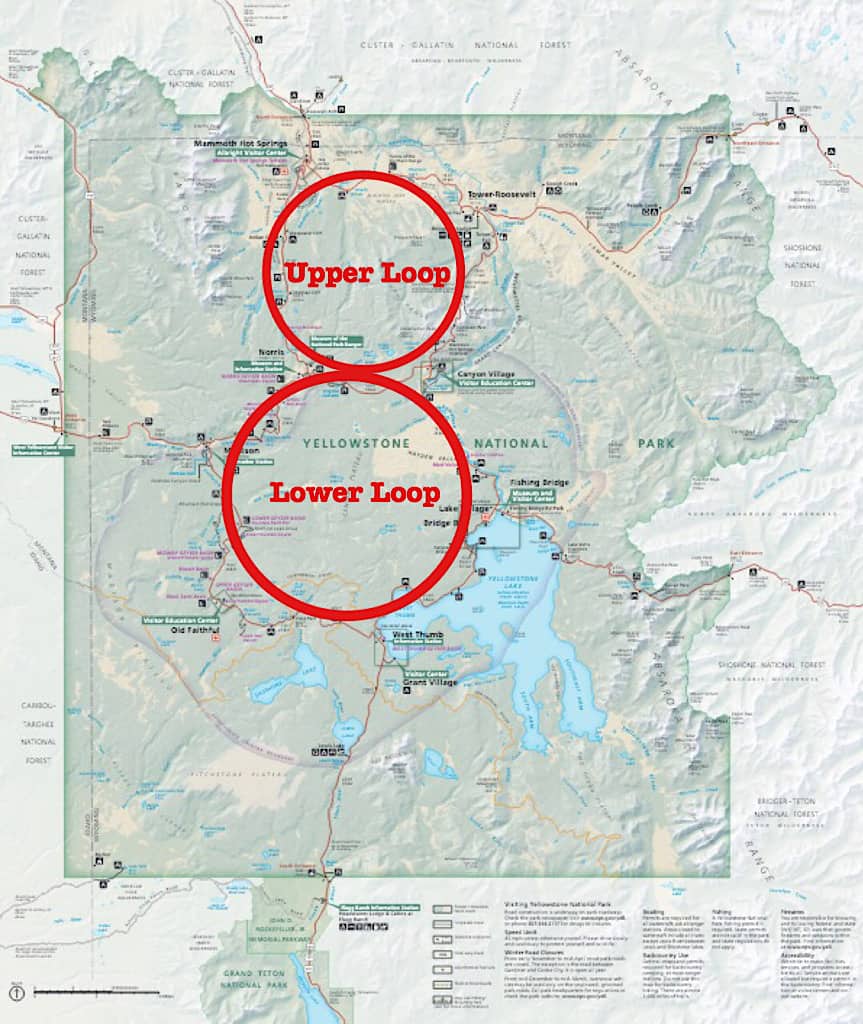 Numbers 1-6 are in the upper loop and 6-9 are in the lower loop.
#1 Terrace Spring
Terrace Spring was our first stop after entering the park through West Yellowstone.
It is a collection of small springs that are in a flower-filled meadow.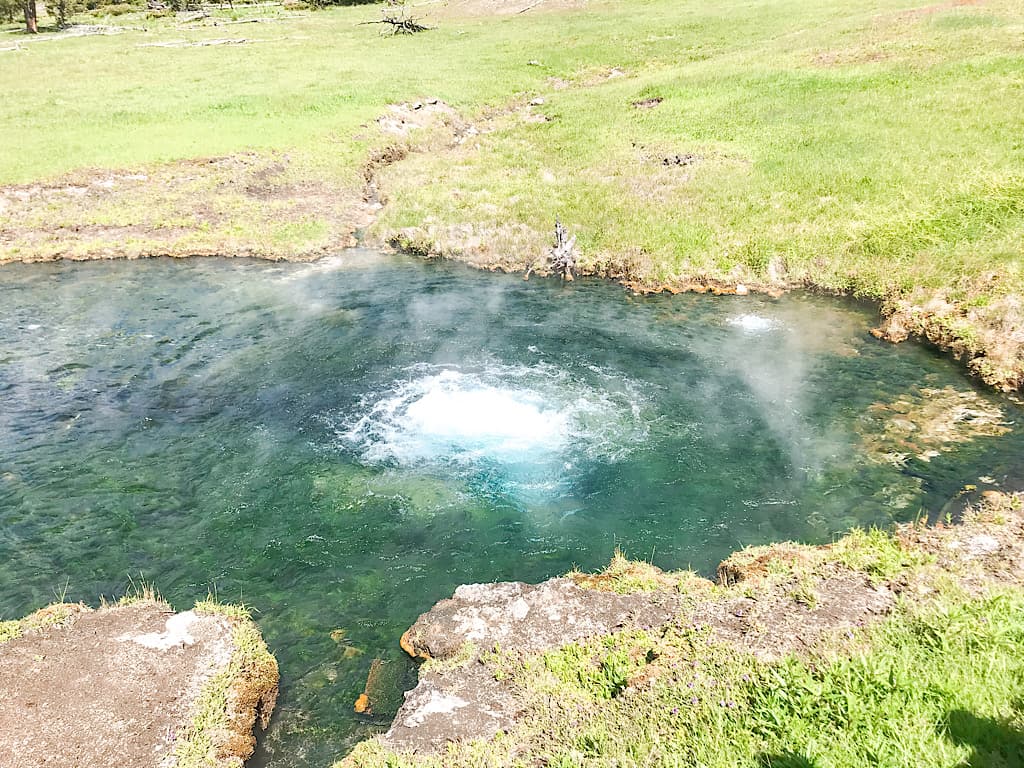 The parking lot was quite small, but there was enough room for those who wanted to take a look at the springs.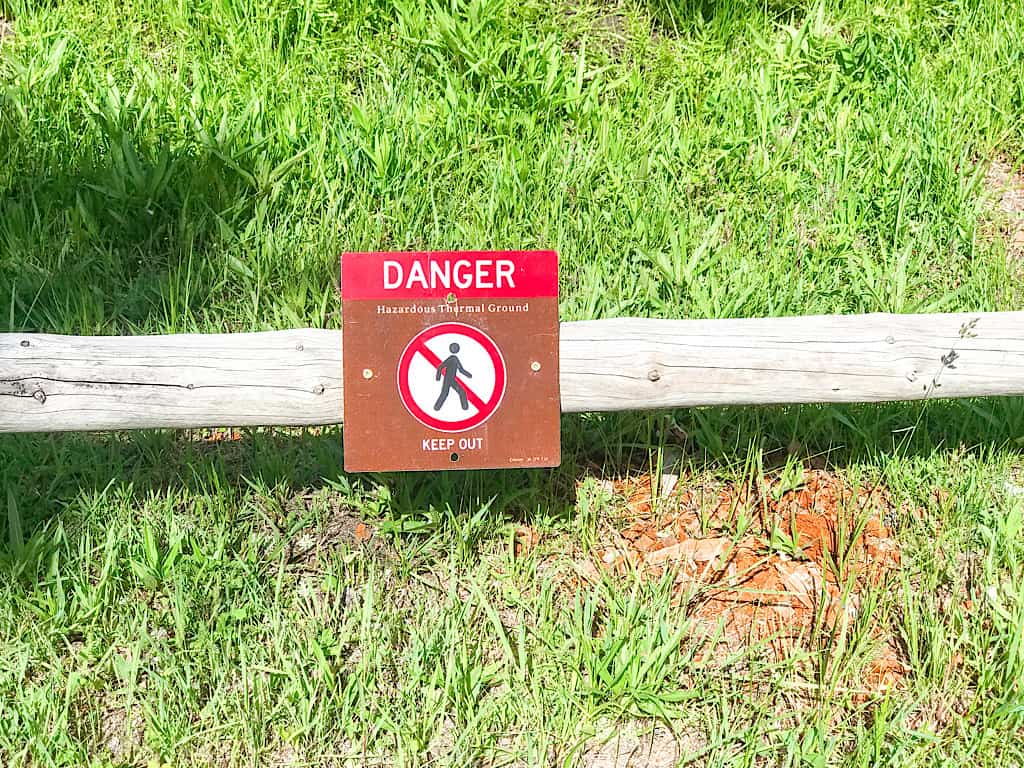 There is a boardwalk that leads you around Terrace Spring that keeps you on the right path. There are also plenty of warnings that going off the boardwalk can be very dangerous.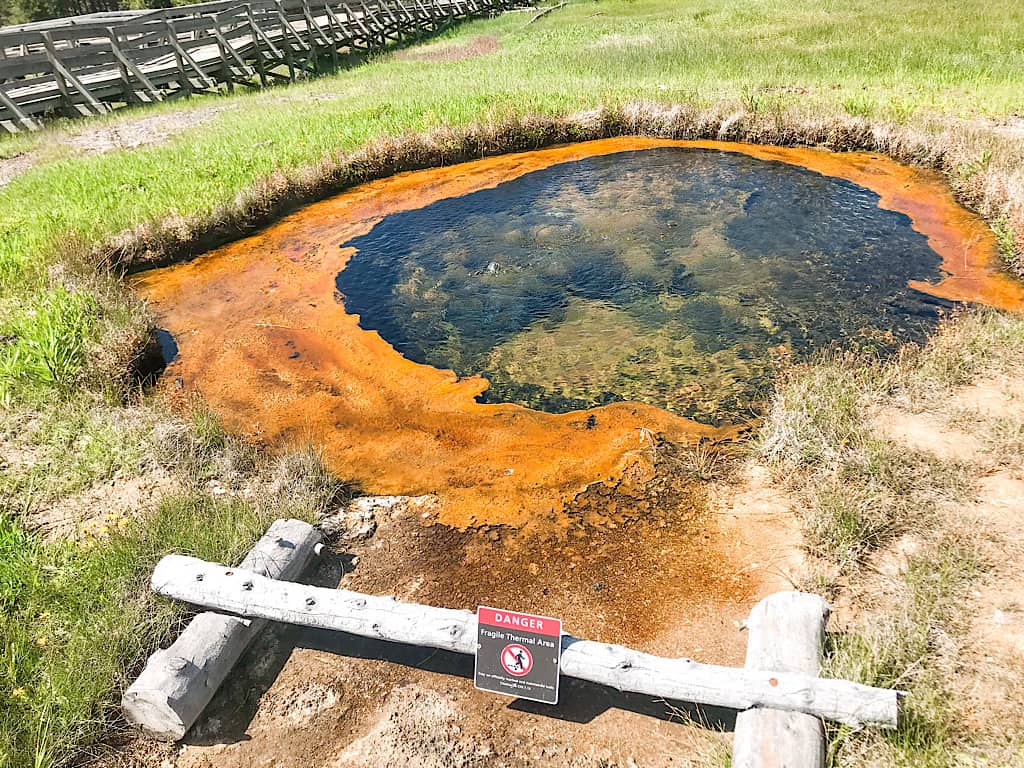 The green land all around is beautiful. My boys were delighted that we found a squirrel and got to see him looking at us and then run through the meadow!
Make sure to check out the video of our visit to see the cute little squirrel!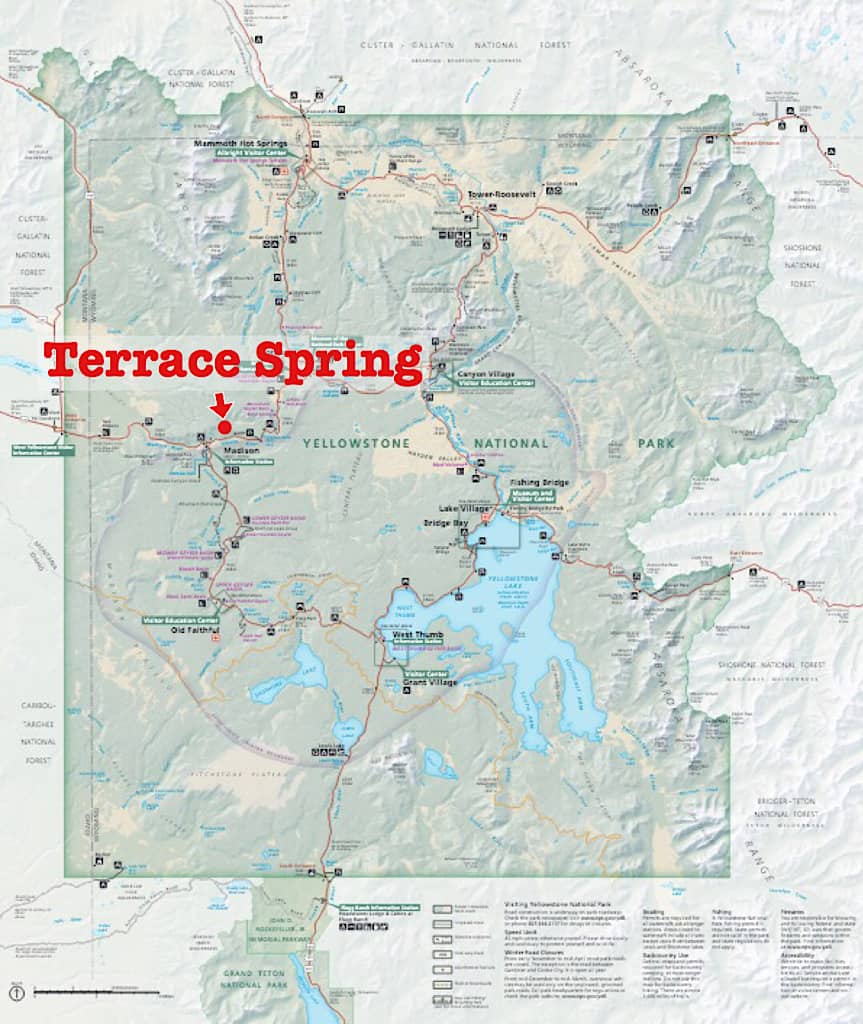 #2 Gibbon Falls
Our next stop was Gibbon Falls. Gibbon Falls is a waterfall on the Gibbon river and is on the north west side of Yellowstone National Park.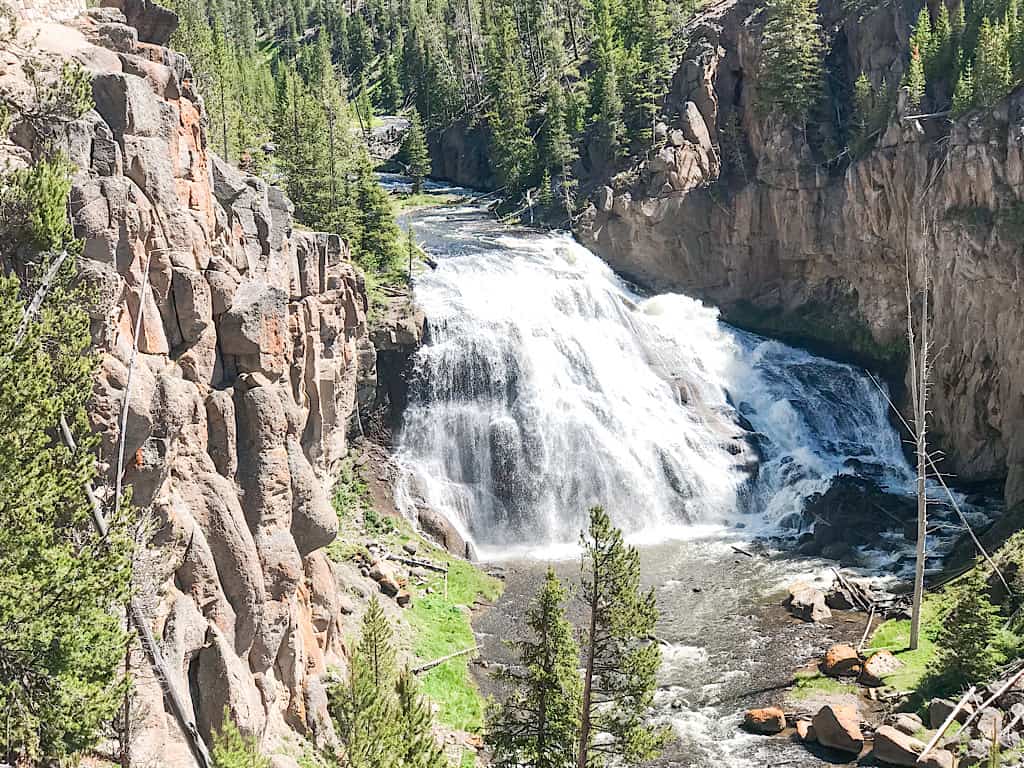 There is a small parking lot and a short, paved walkway that will take you to a viewing area.
There is a large drop off, so make sure to hold on tight to your little ones. Gibbon Falls is definitely a must-see landmark in Yellowstone!
#3 Artists' Paint Pots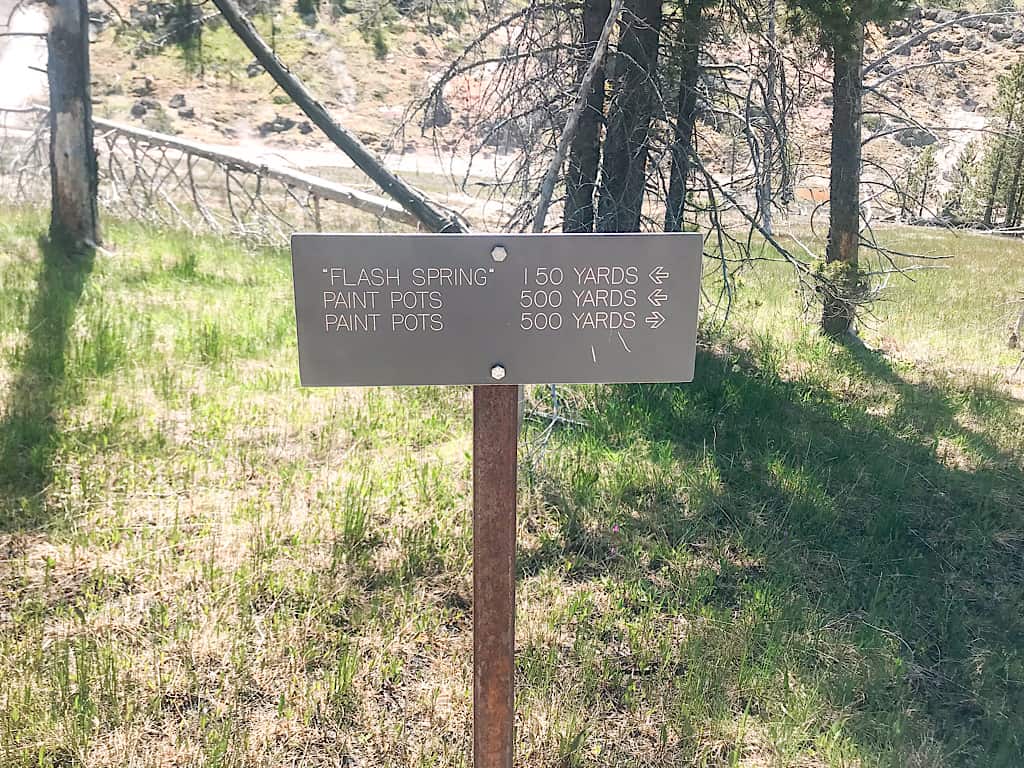 The Artists' Paint Pots area was one of our favorite sights in Yellowstone.
To get to the Paint Pots, you follow a trail that leads to a boardwalk.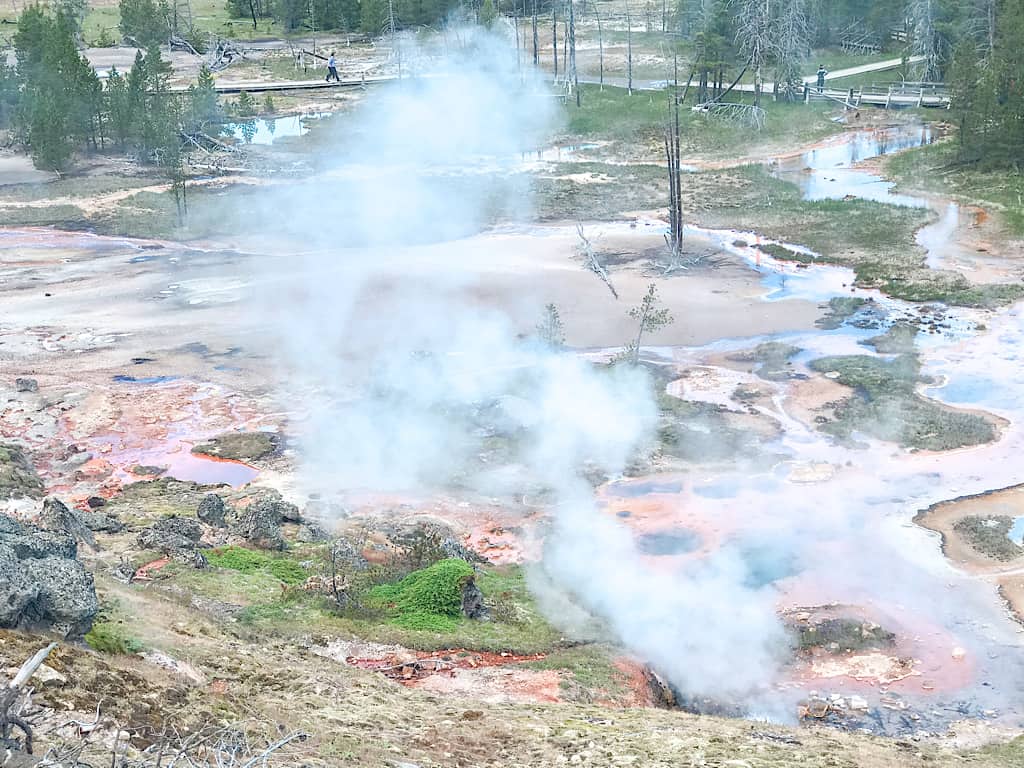 The boardwalk is a loop that circles many geothermal features including colorful hot springs, a fumarole, mudpots, and active geysers.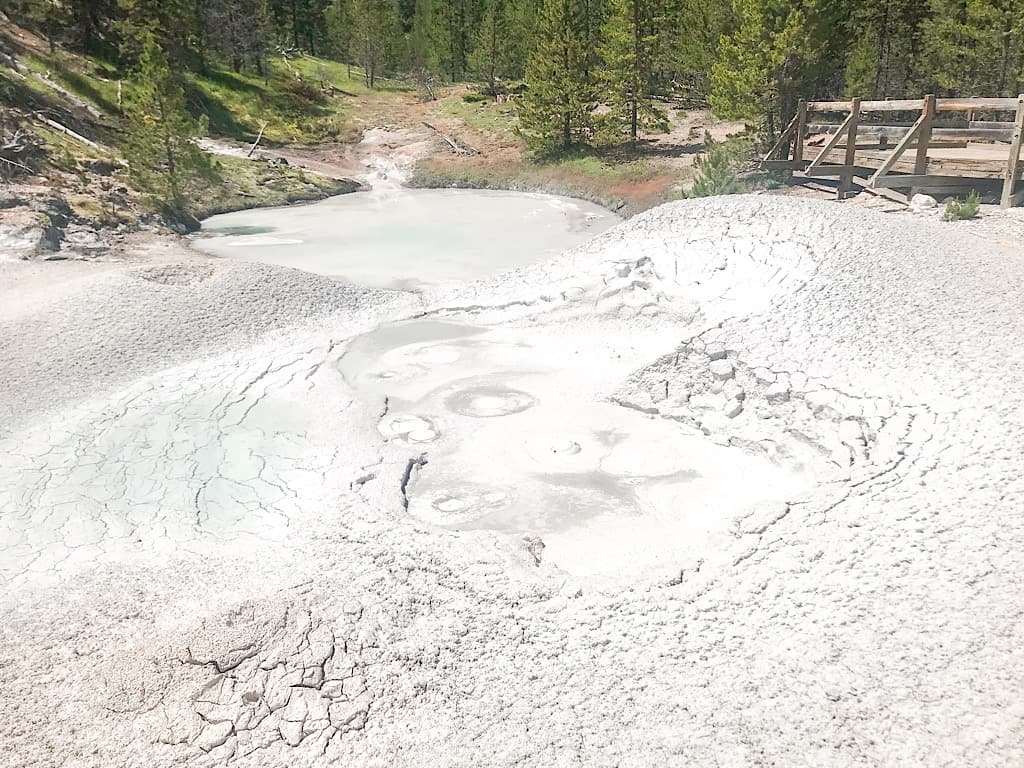 The total walk from the parking lot is about one mile.
Part of the loop around the Artists' Paint Pots involves climbing stairs, so keep that in mind if you have small children.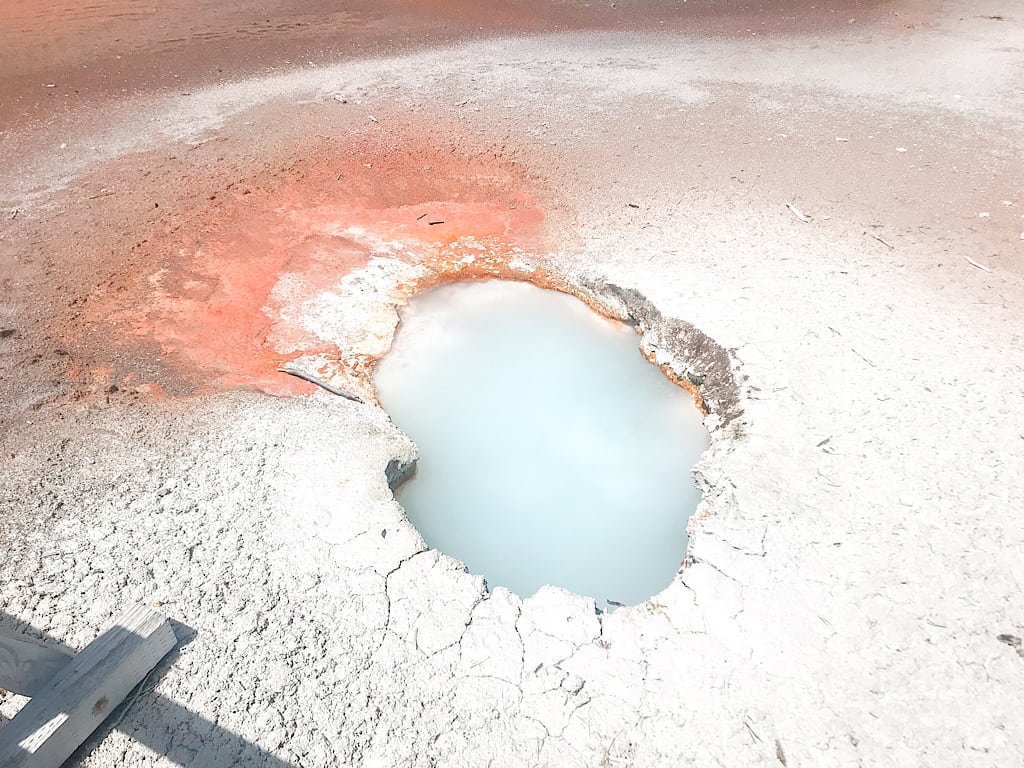 Also, make sure to stay on the trail. The ground is really unstable!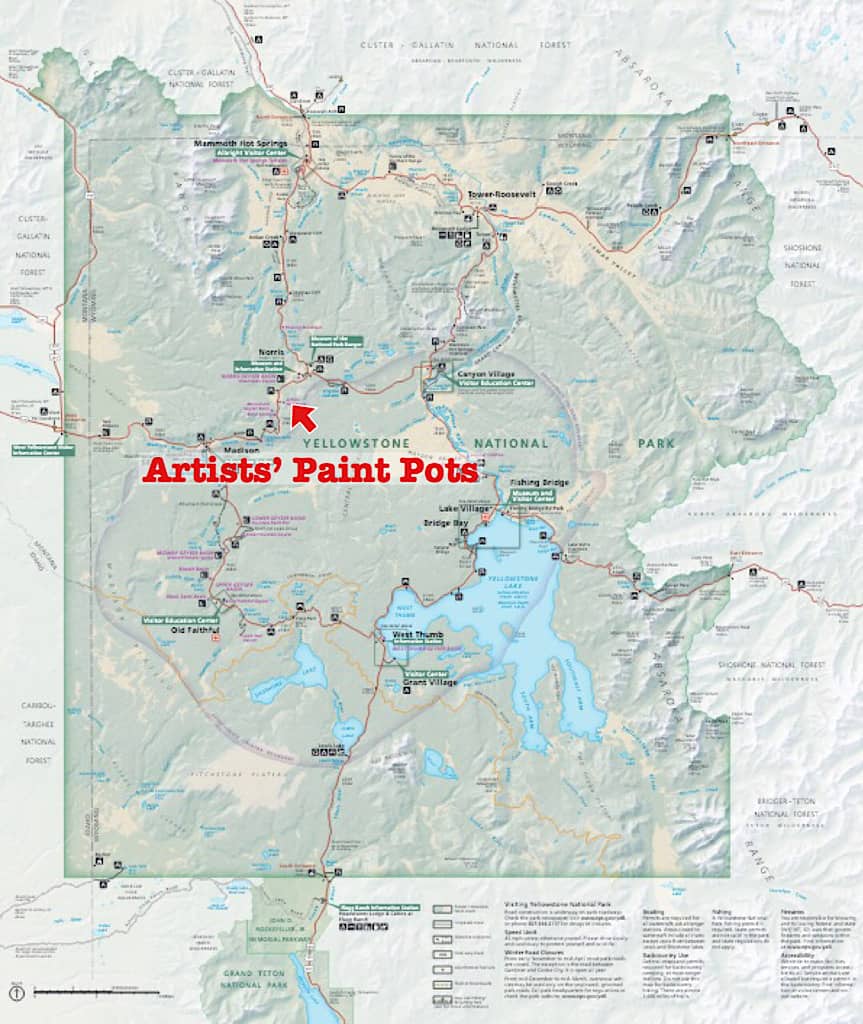 #4 Roaring Mountain
Roaring Mountain was a fun little stop just off the road, no hiking involved. This mountainside is full of fumaroles.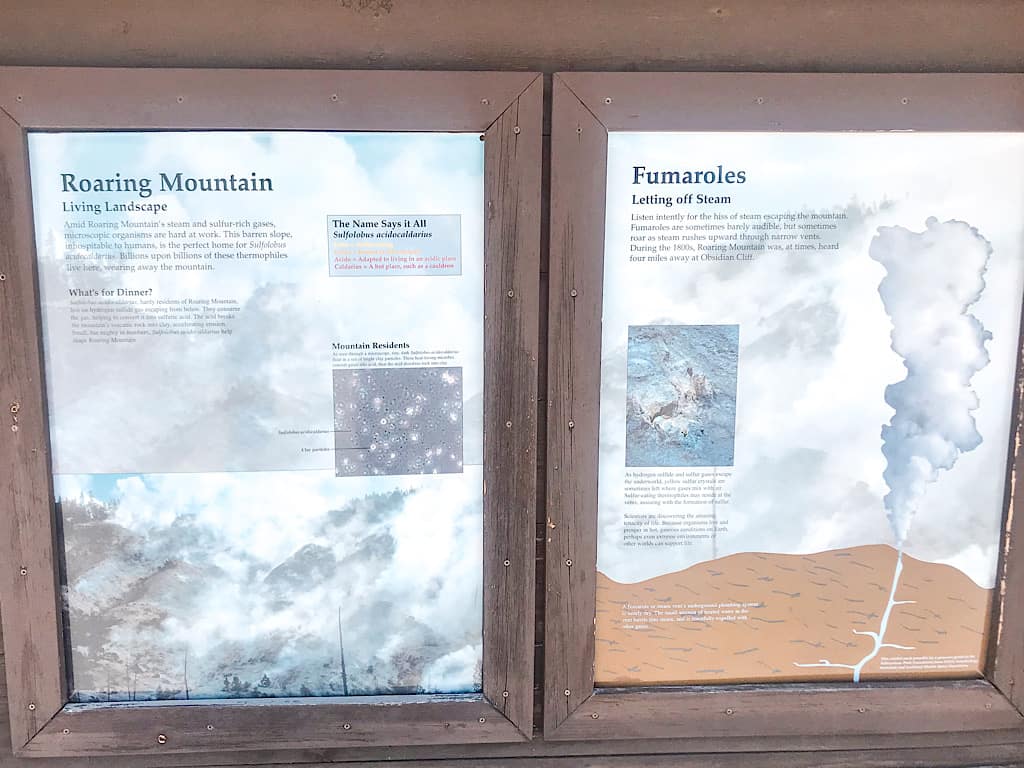 Fumaroles are basically hot air vents. Hot water under the ground boils away before reaching the surface, then steam and other gasses escape through holes.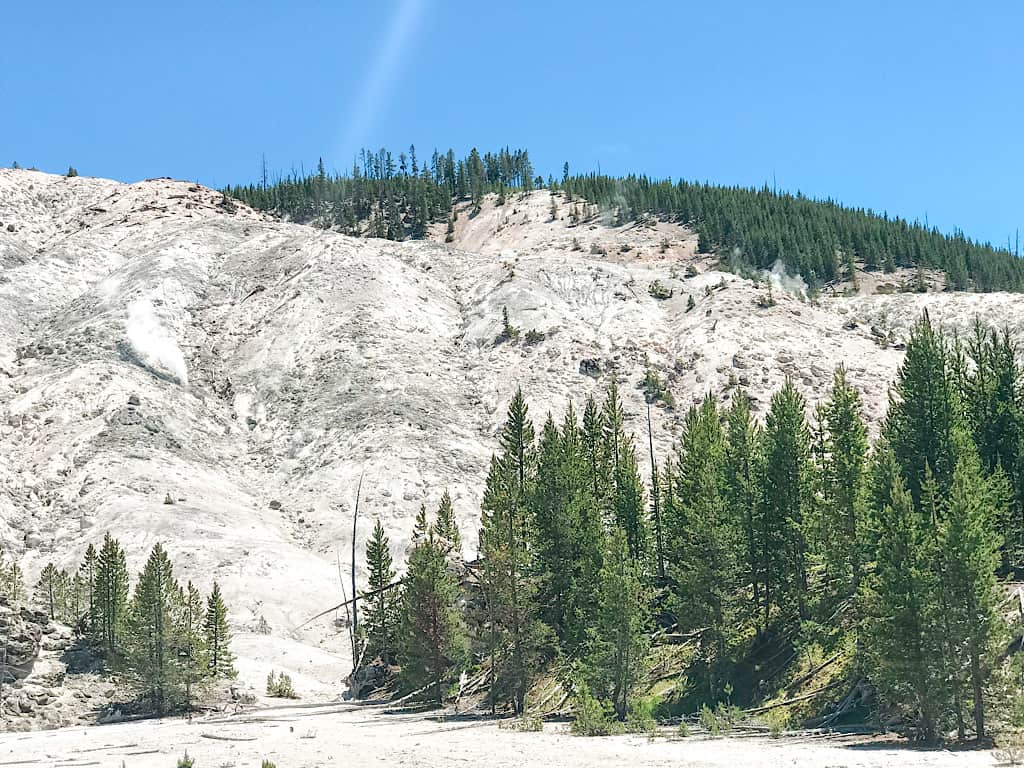 It was fun to see these features at Roaring Mountain. Pockets of steam were popping out all over the place, then seemed to move to a different location. My kids loved it!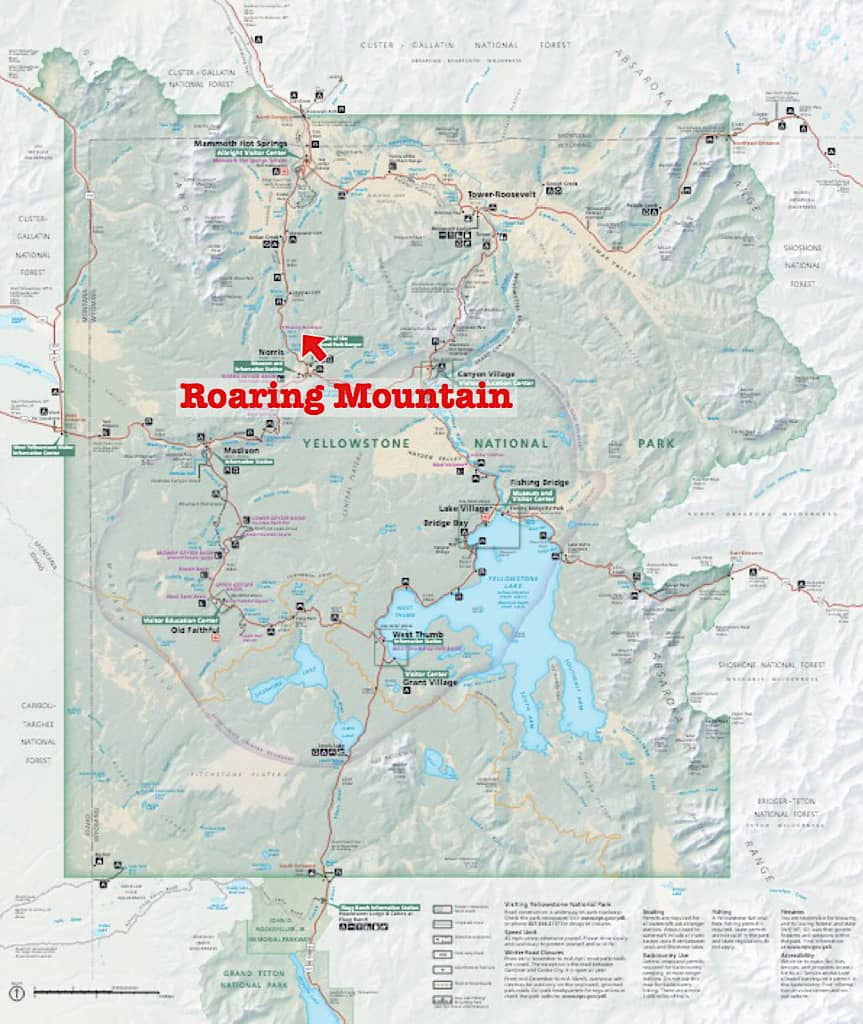 #5 Lamar Valley
If you came to Yellowstone to see animals, go to Lamar Valley.
This valley surrounds the Lamar River, which eventually feeds into the Yellowstone River.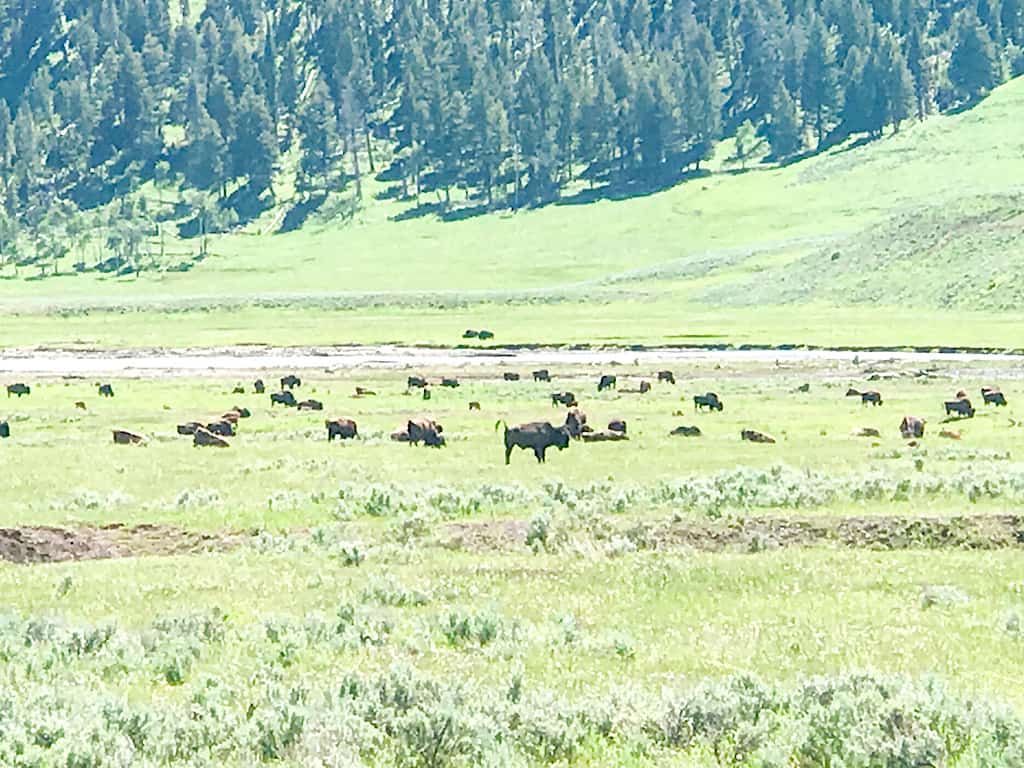 This is the perfect environment for many animals. We were able to see hundreds of bison, deer, a coyote, and a black bear. It was amazing!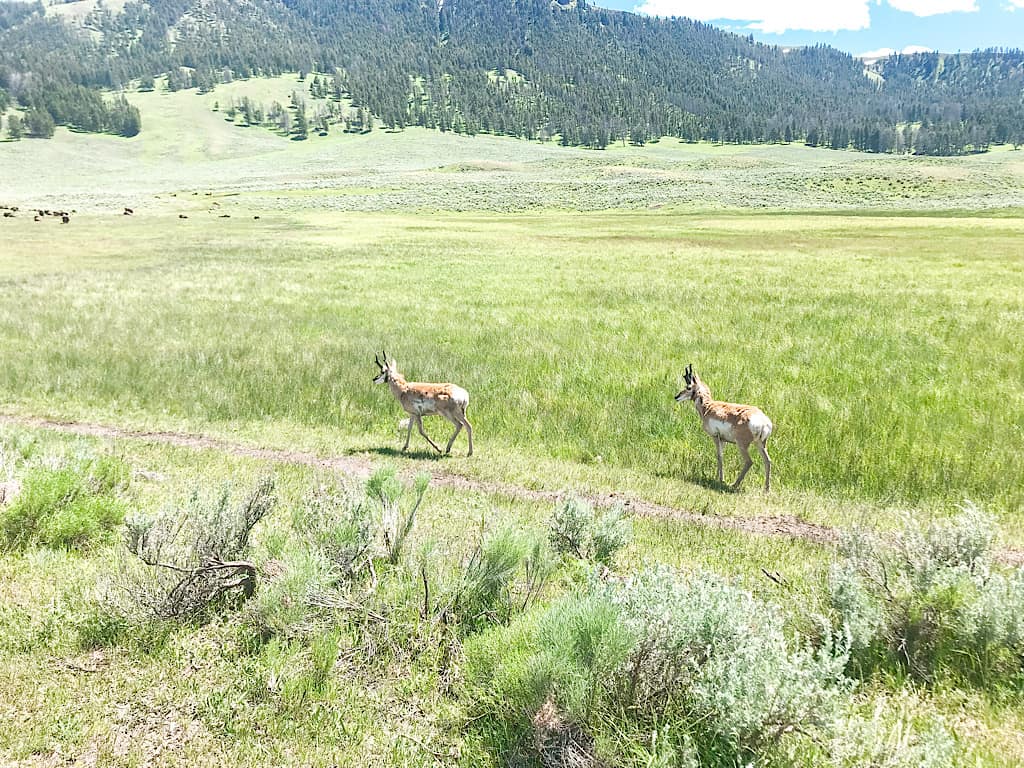 The Lamar Valley is in the northeast corner of Yellowstone National Park and is near the North East Entrance.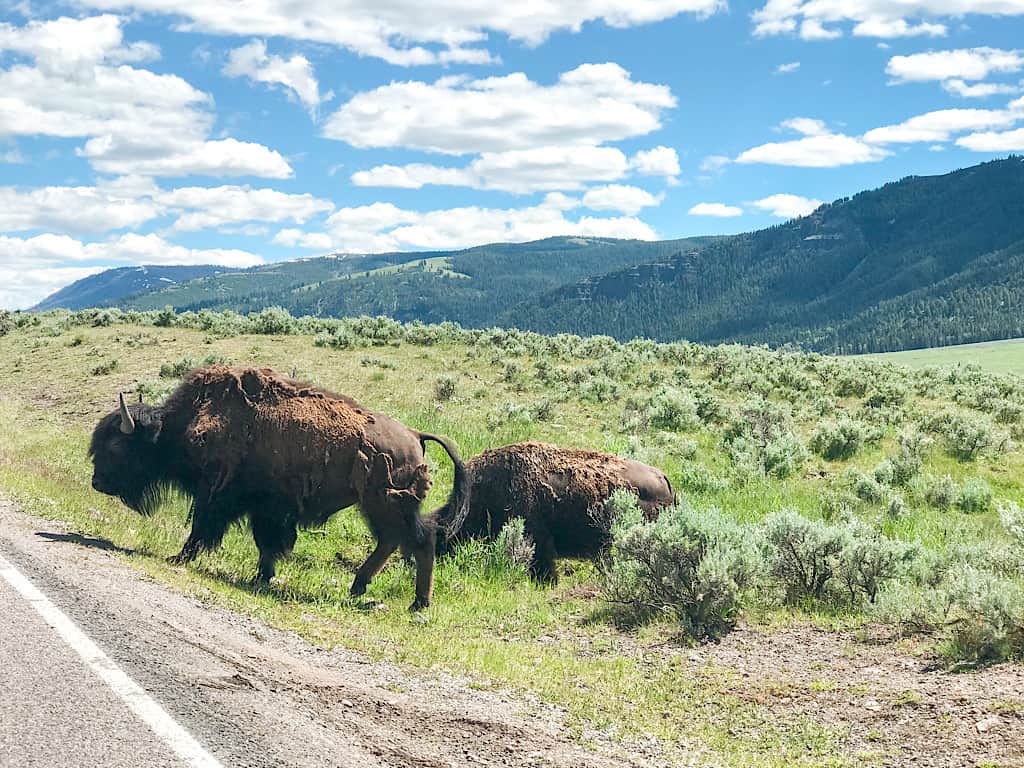 There are plenty of pull out areas where you can stop your car to look at the animals.
Also, watch for animals crossing and walking in the road. We were stuck behind bison in the road quite a few times!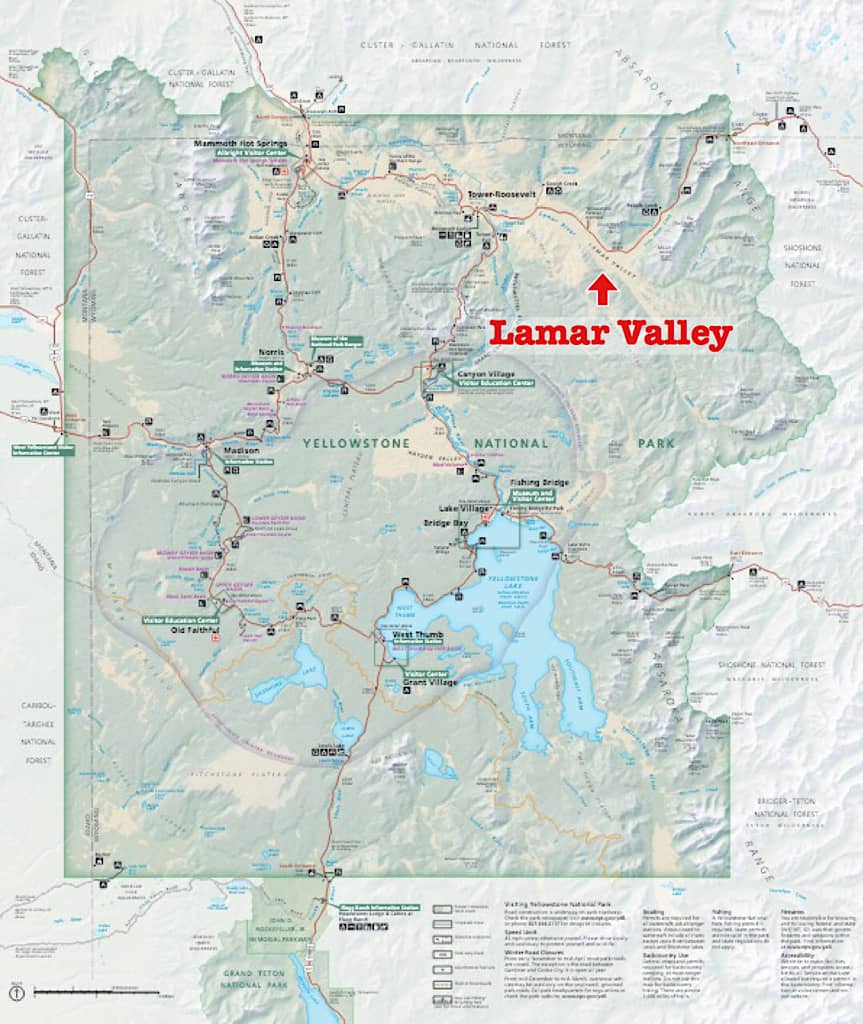 #6 Mammoth Hot Springs
There is so much to see and do in the Mammoth Hot Springs area in Yellowstone.
Not only will you find the amazing hot springs, but you can also talk to a Park Ranger at the Albright Visitor Center, visit Fort Yellowstone, grab some lunch at a restaurant, and see some elk!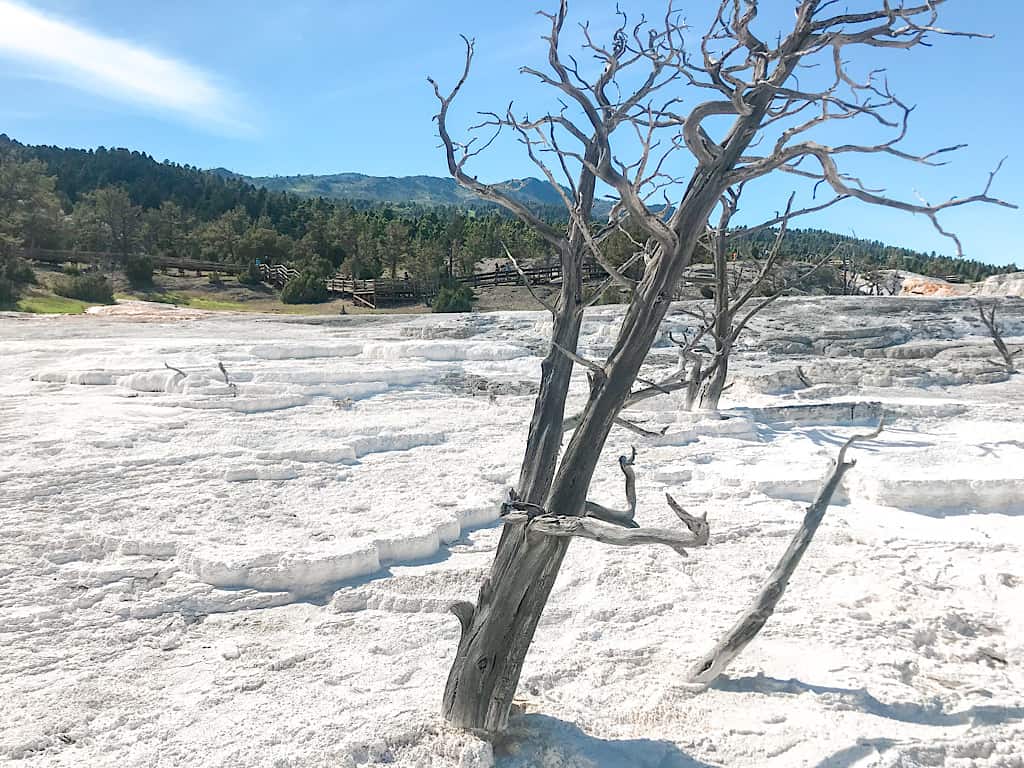 Every time I have been to Mammoth, there have been elk. Please remember to keep your distance though. These animals are wild!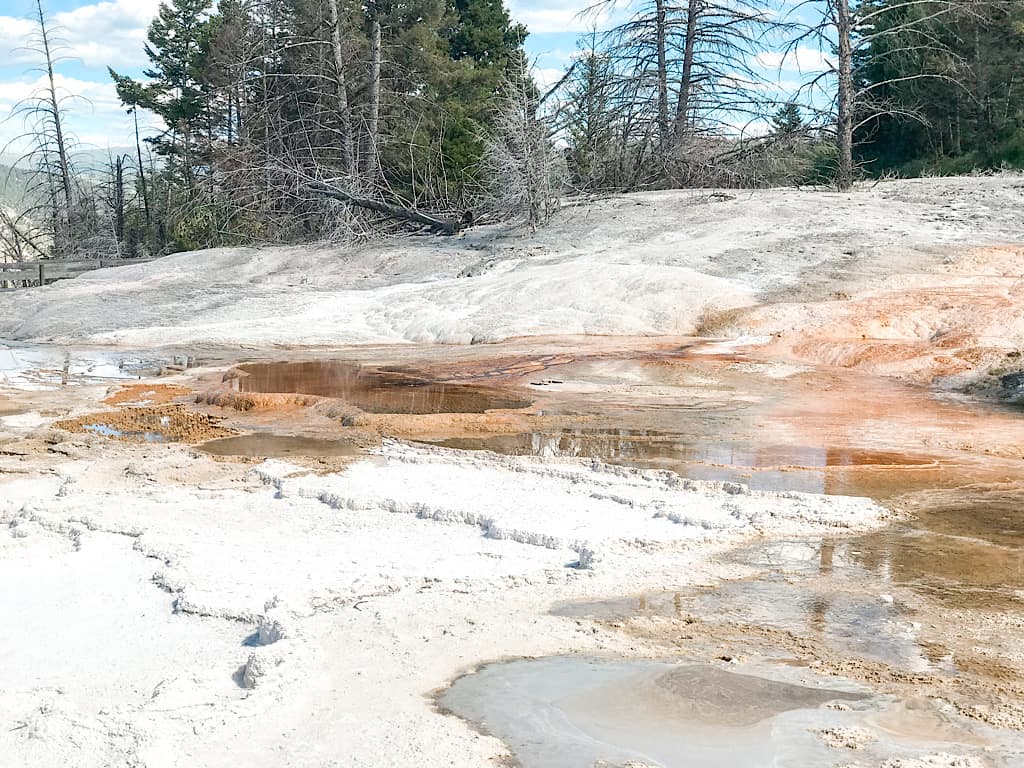 There is a driving tour through Mammoth as well as boardwalks that you can use to explore the amazing hot springs.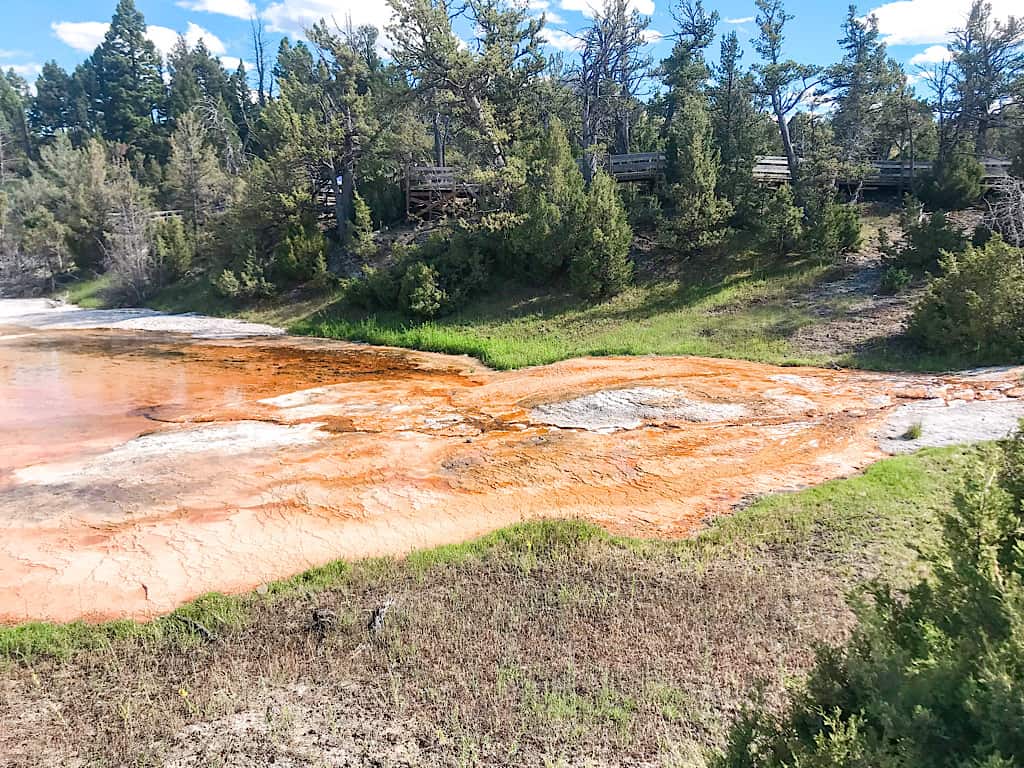 We walked around Canary Springs. The most amazing part to me are the bright blue pools with the clear water. It is so beautiful!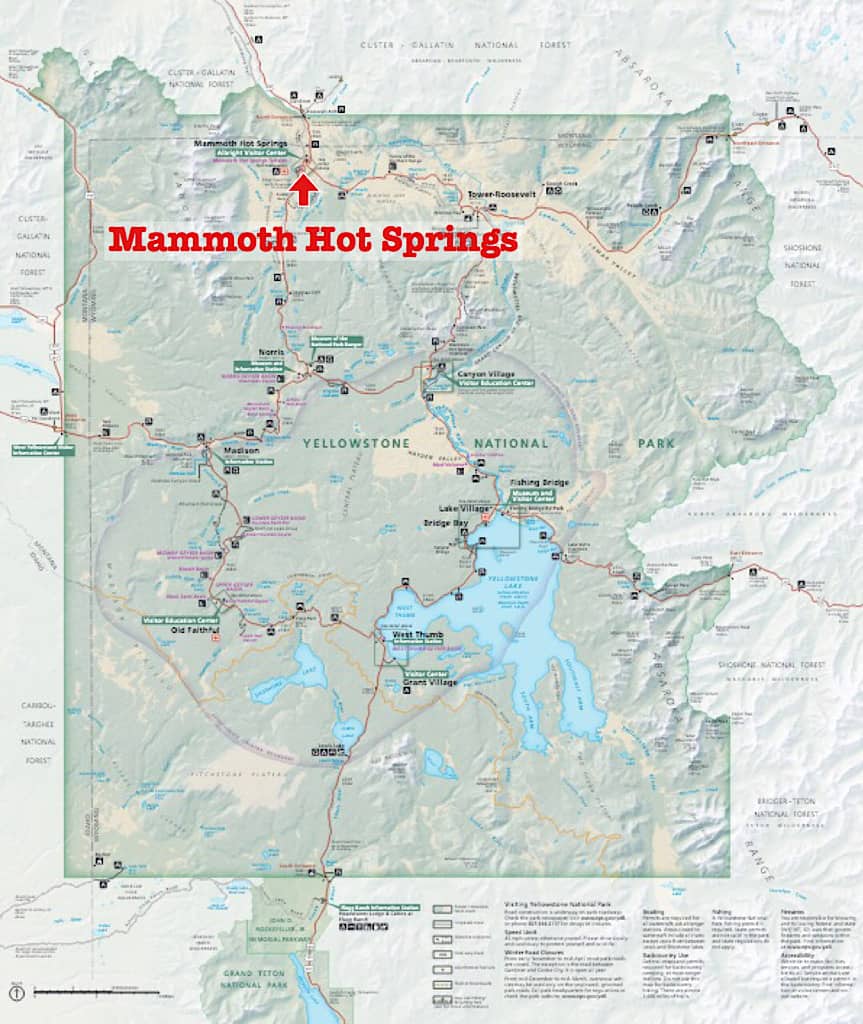 #7 Firehole Falls
Firehole Falls is a waterfall on the Firehole River. It is just south of the Madison Junction.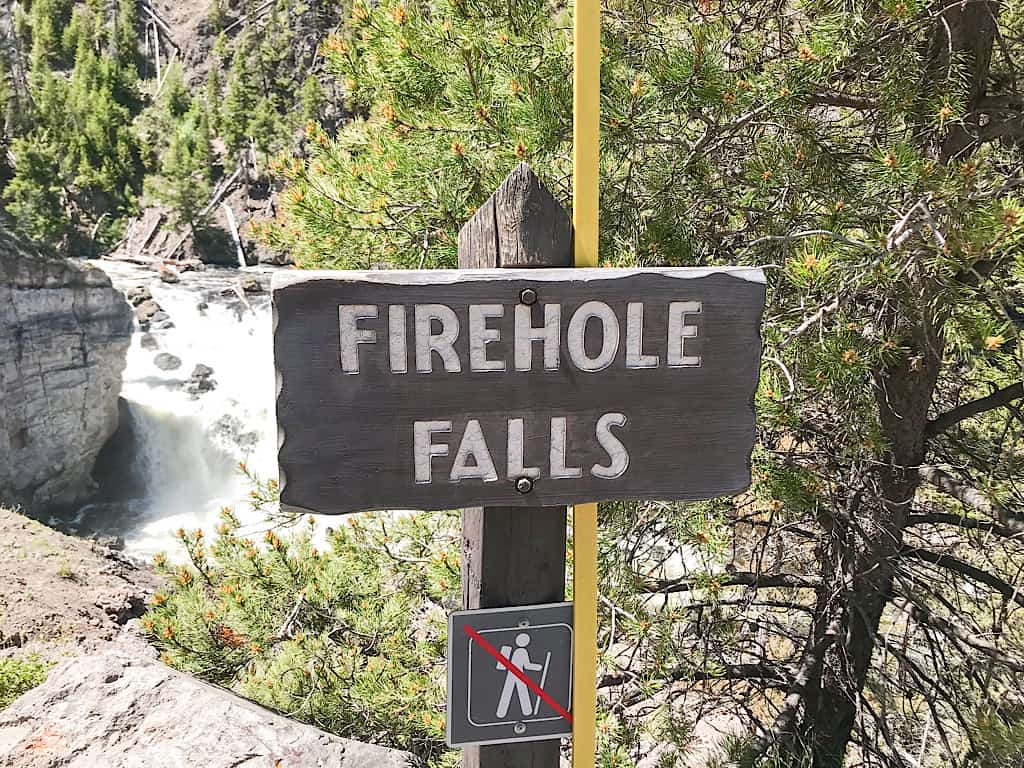 You drive on a one way road through a canyon that is next to Firehole River.
When you get to the falls, there is a small parking lot where you can park and take in the beauty of the area.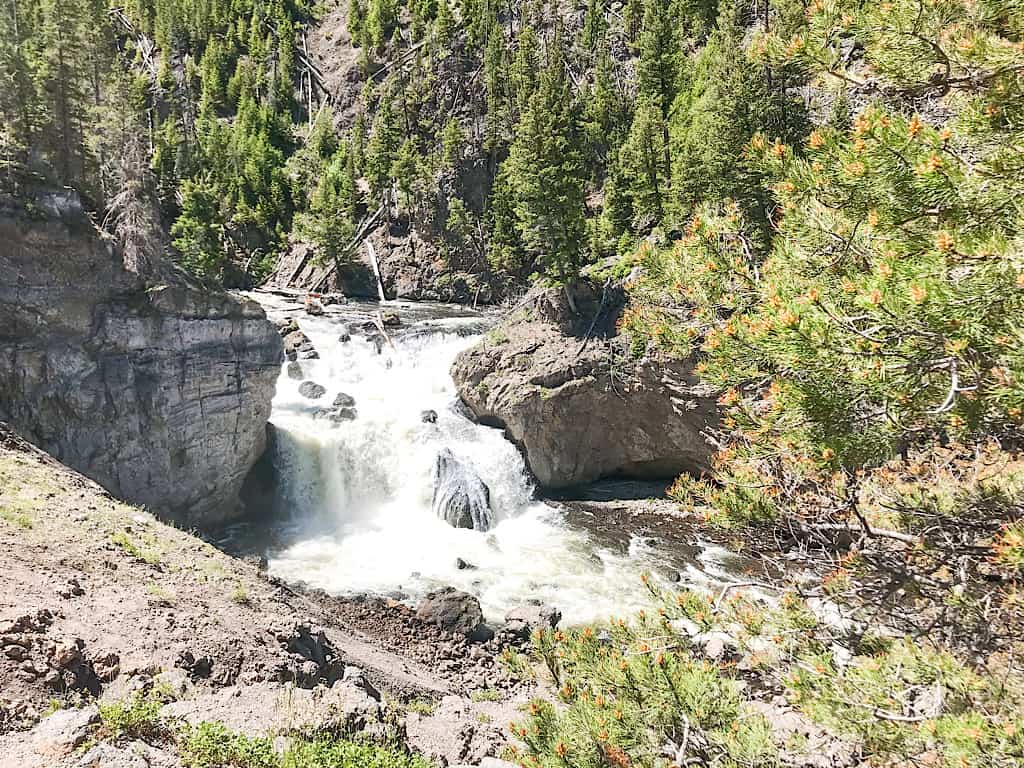 Farther down the road there is swimming area, but it was closed during our visit.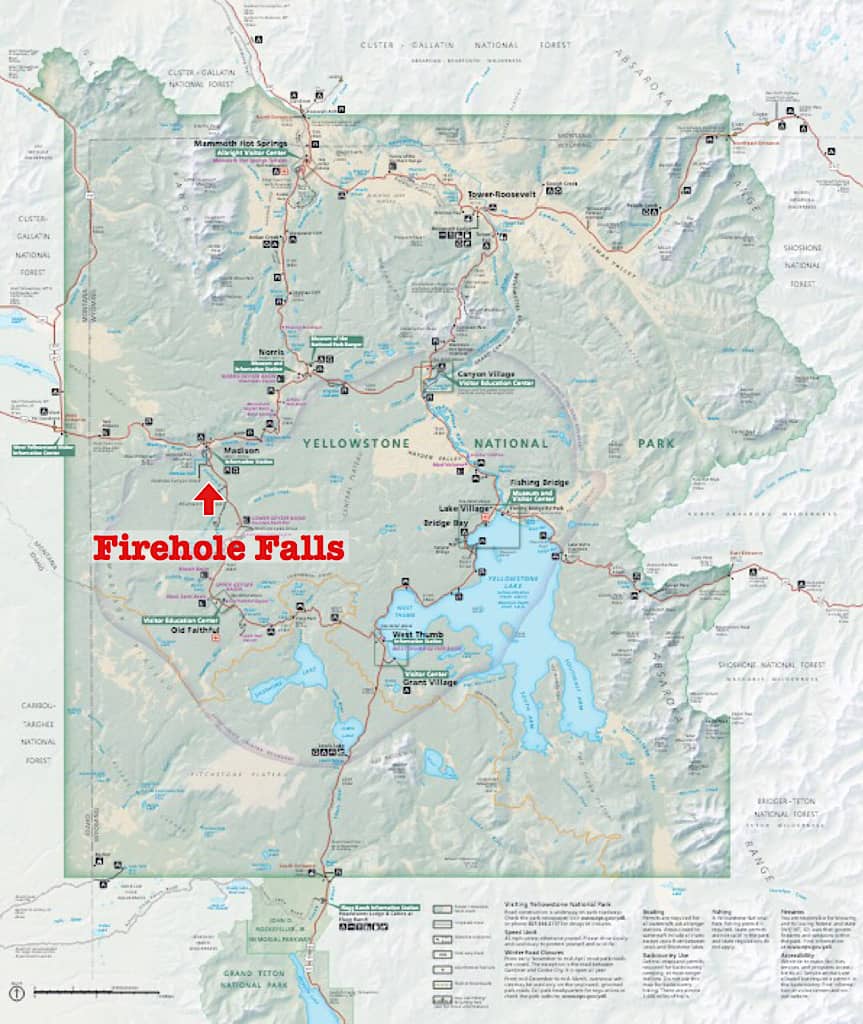 #8 Fountain Paint Pots
The Fountain Paint Pot trail takes you on a large loop around a number of thermal features including hot springs, geysers, fumaroles, and mud pots.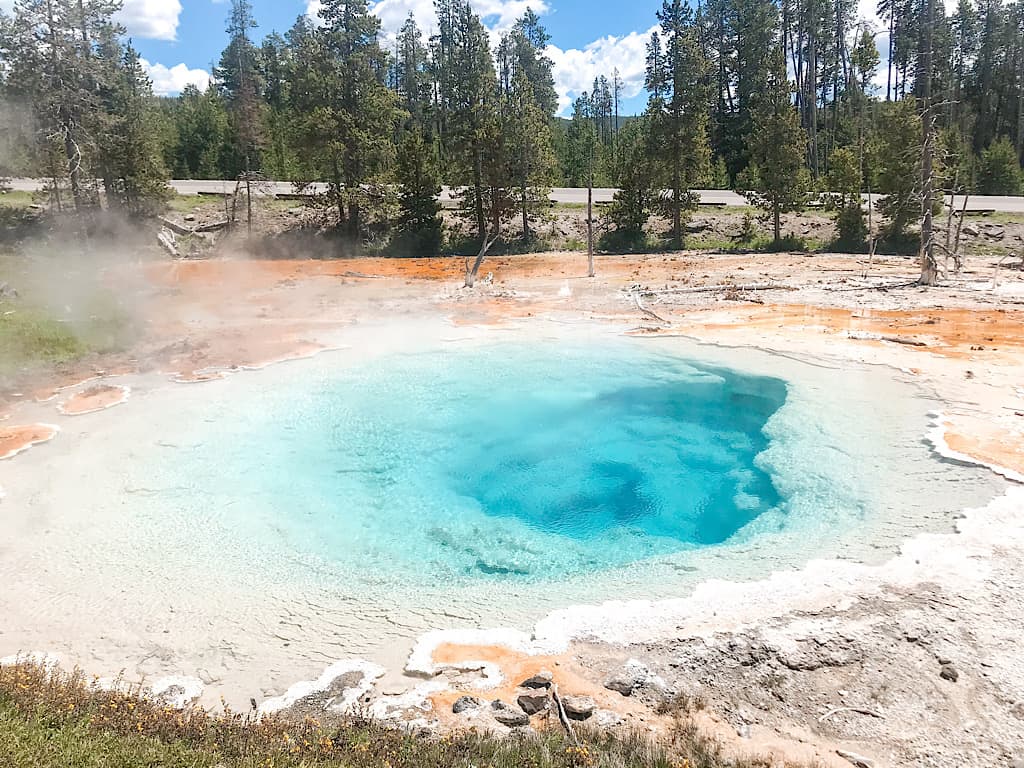 The walk around the Fountain Paint Pot area is about 1/2 mile.
It is a boardwalk hike, but there is a spot with a couple of stairs at one point.
It's definitely a pretty easy hike for kids, just make sure they stay on the path.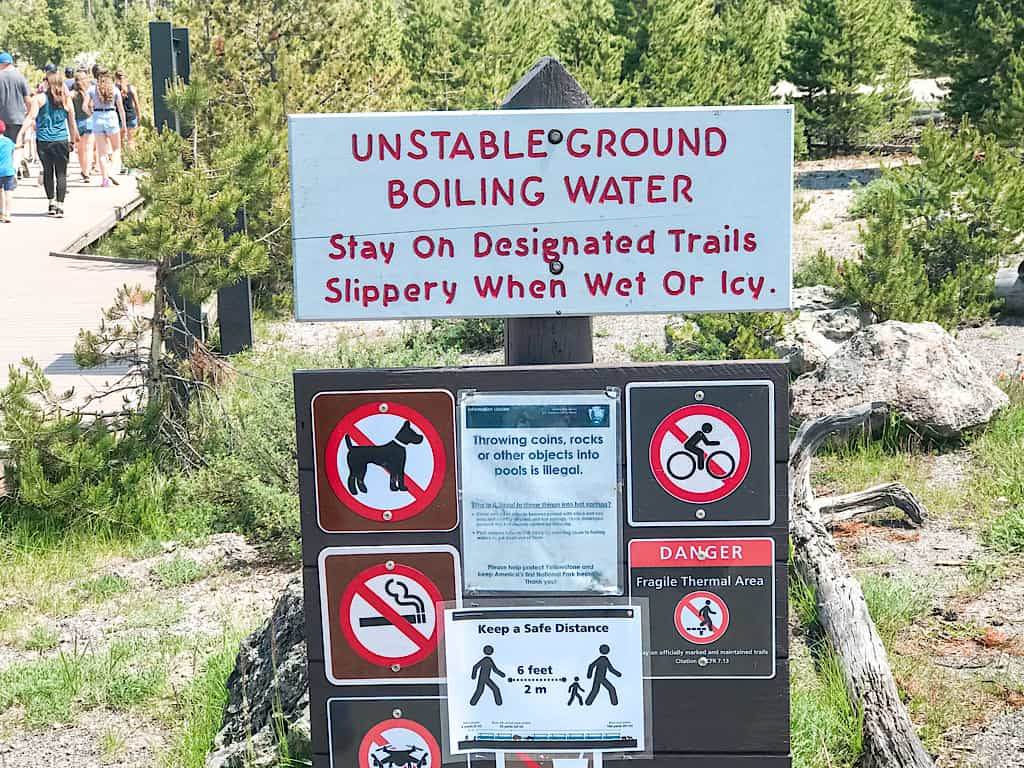 Here are a few of the cool features we liked: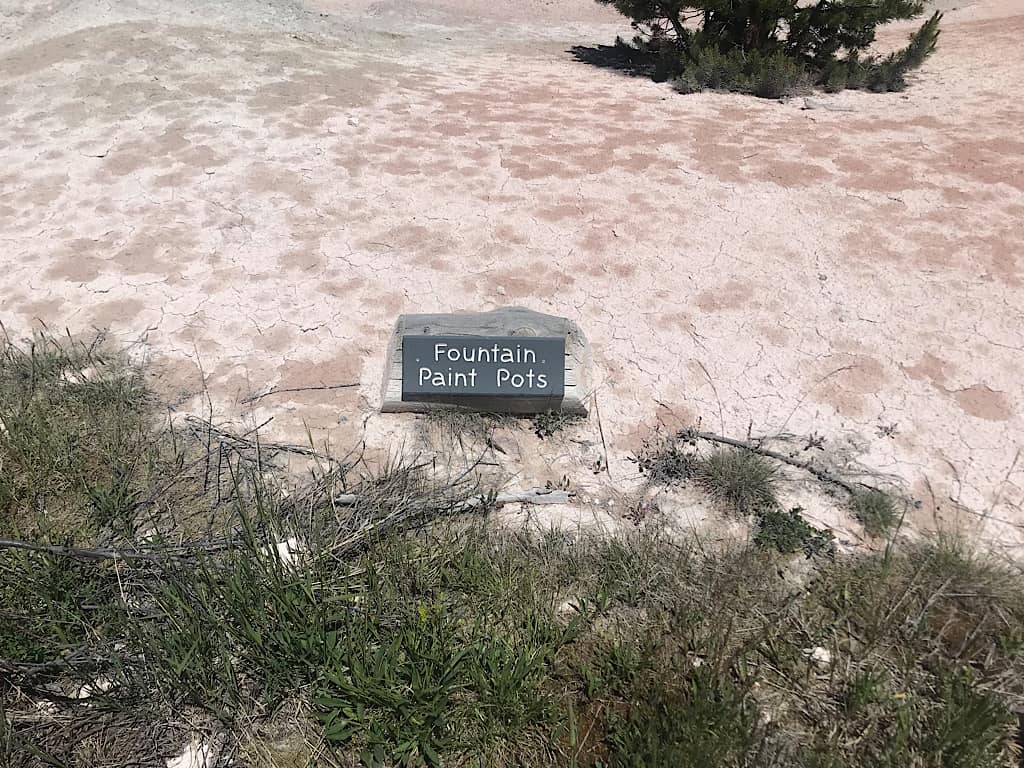 Volcanic Table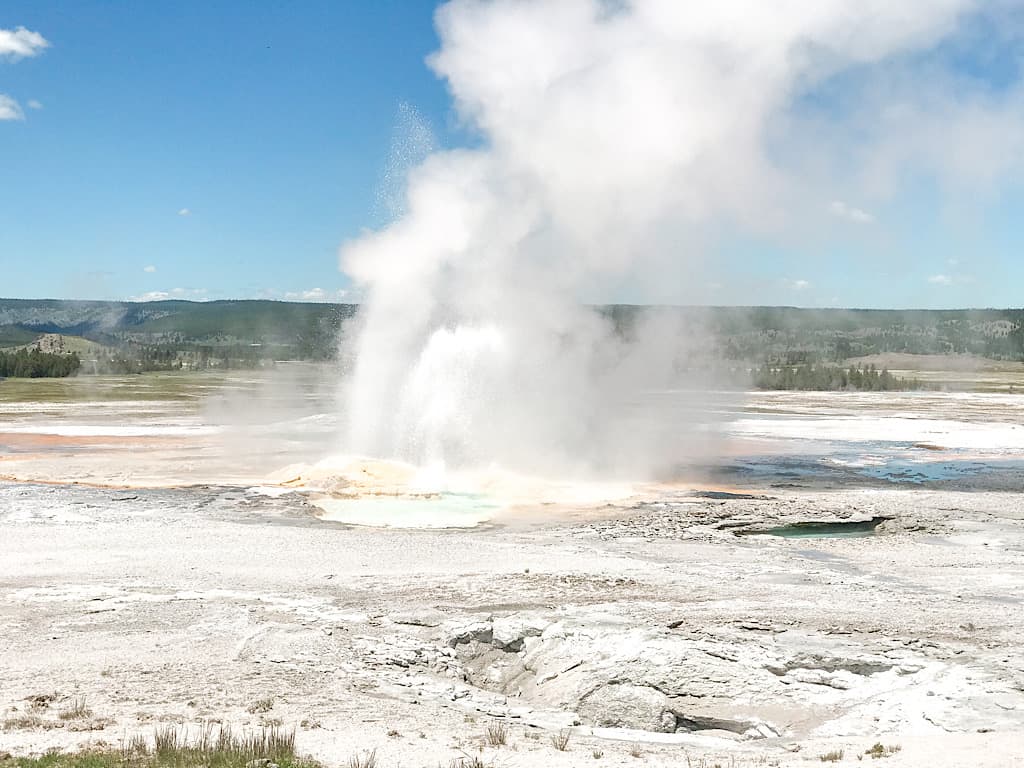 Map to Fountain Paint Pots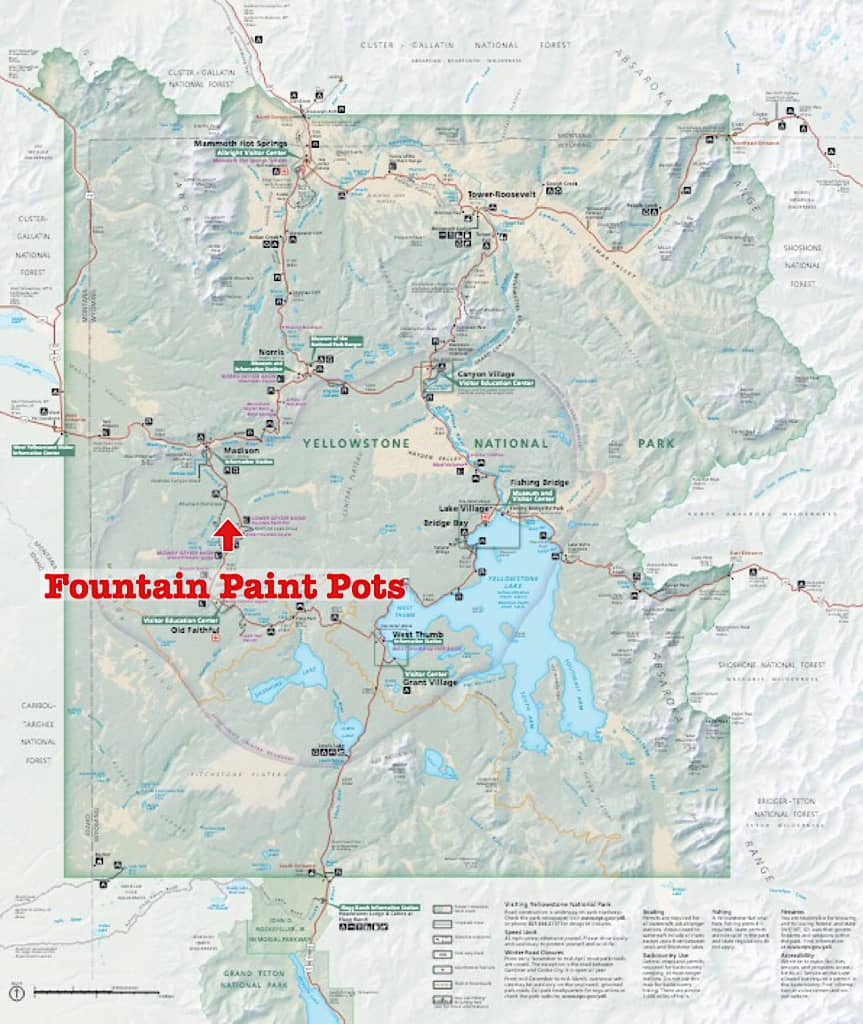 #9 Old Faithful
Old Faithful is the most iconic part of Yellowstone National Park and is definitely a must-see attraction, especially when you visit with kids.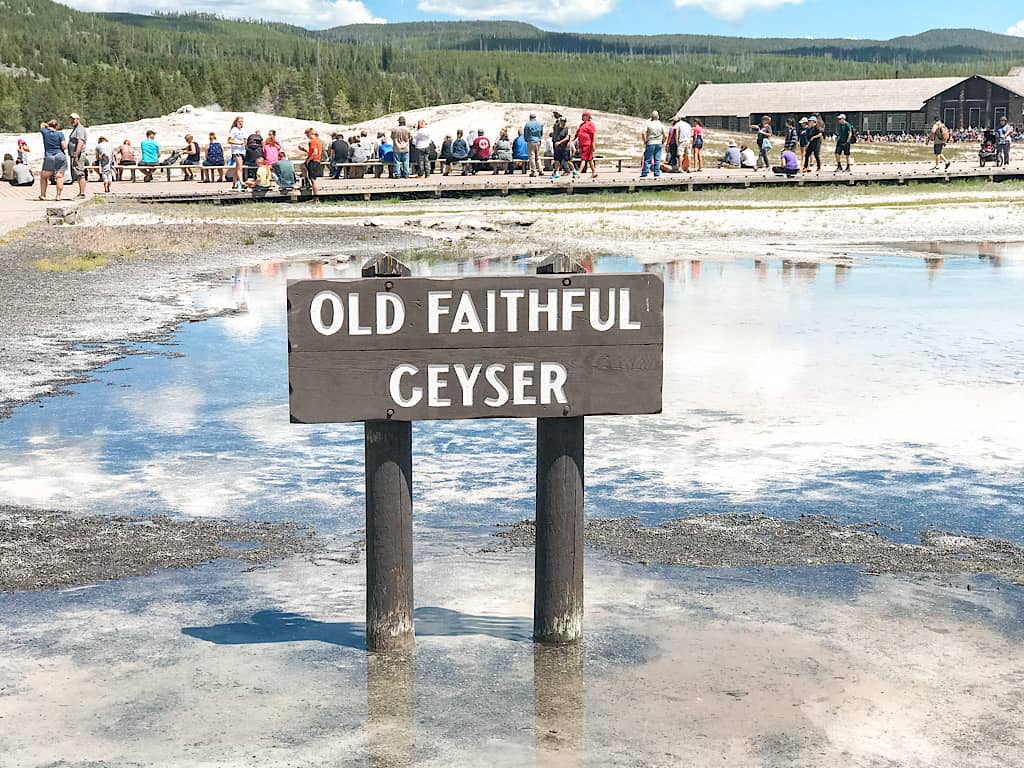 It is on of 500 geysers in Yellowstone and one of only 6 that erupts on schedule.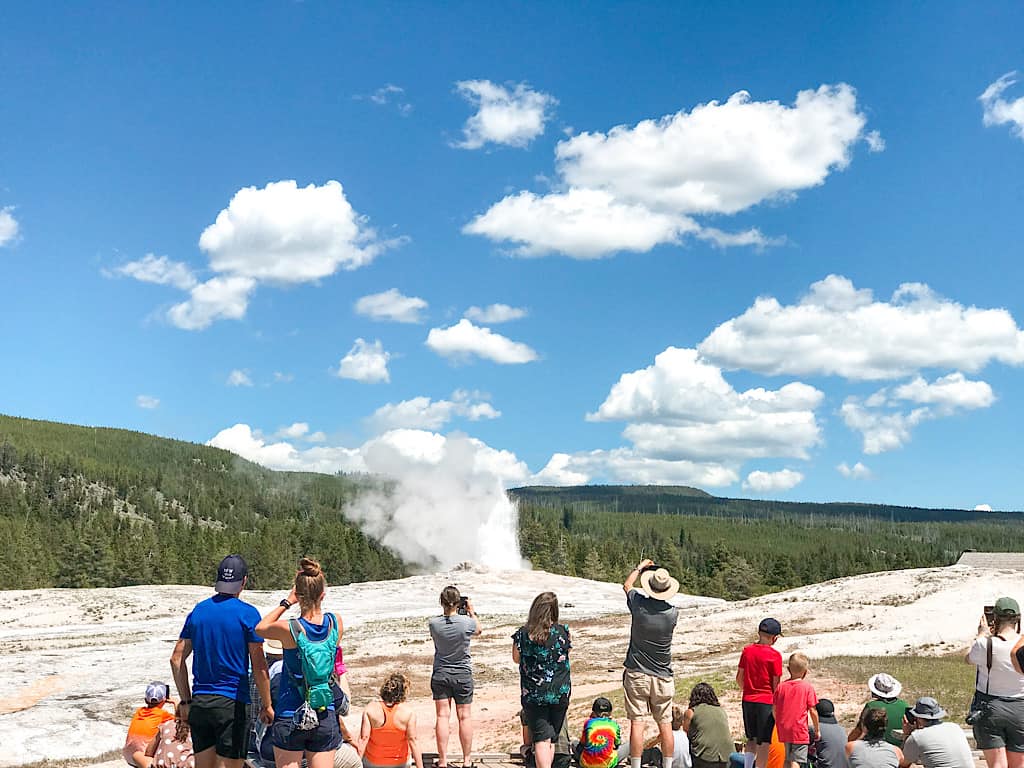 Park Rangers are able to predict the times of this famous geyser almost to the minute, which is why it has the name "Old Faithful".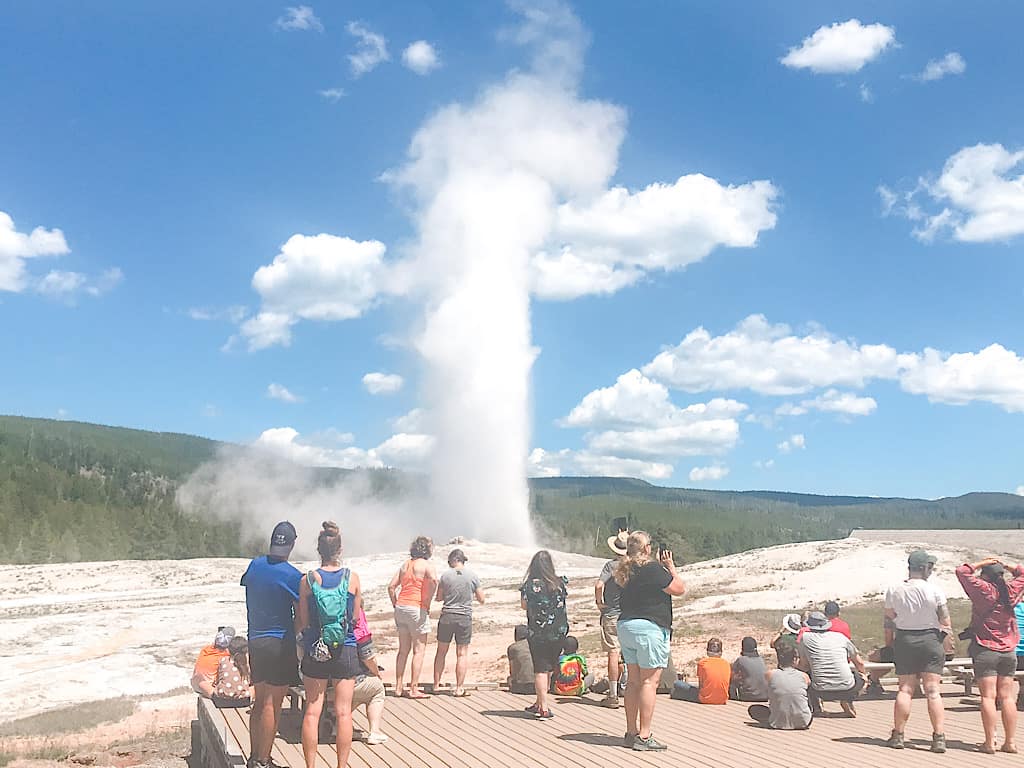 When we arrived, there was about 25 minutes until the next event so we took that time to walk around the area.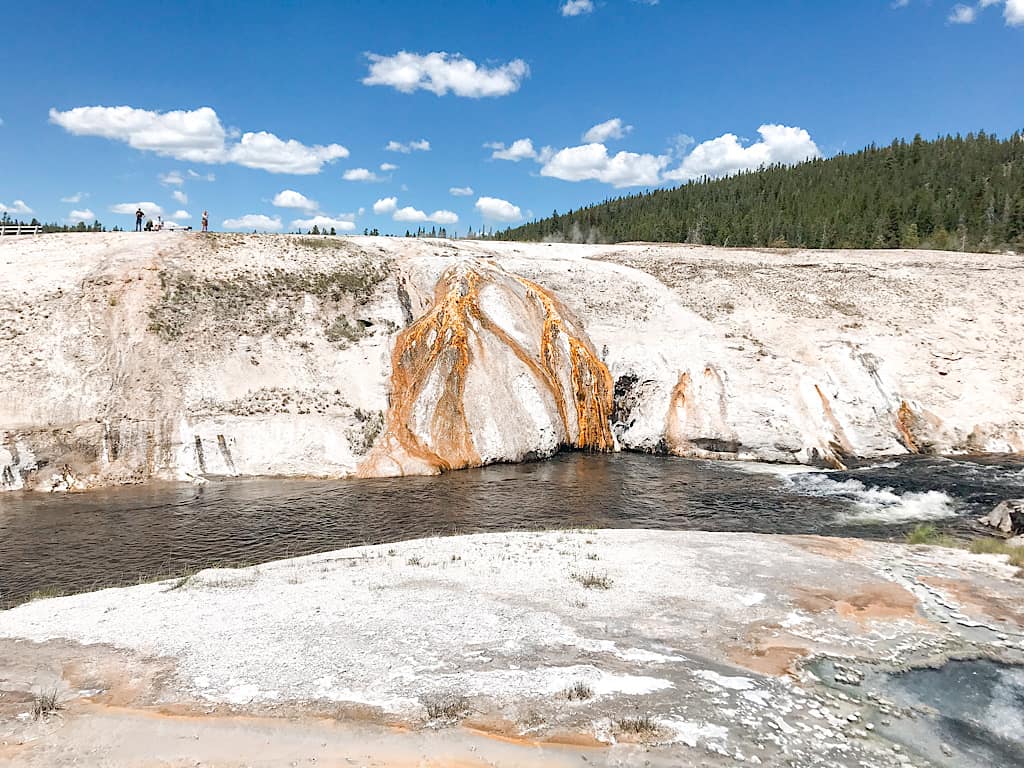 Behind Old Faithful, there were more thermal features including some boiling hot springs.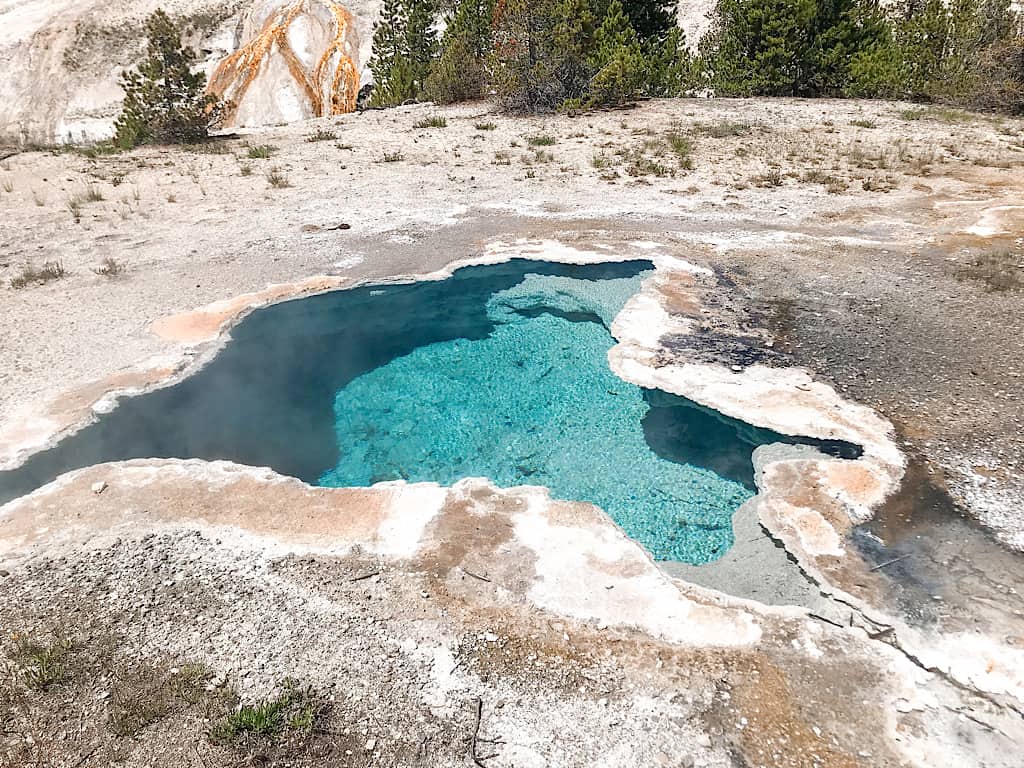 To the west of Old Faithful, there was a large meadow with a lone bison.
He stood in the same spot for awhile, before slowly walking toward a group of people on the path.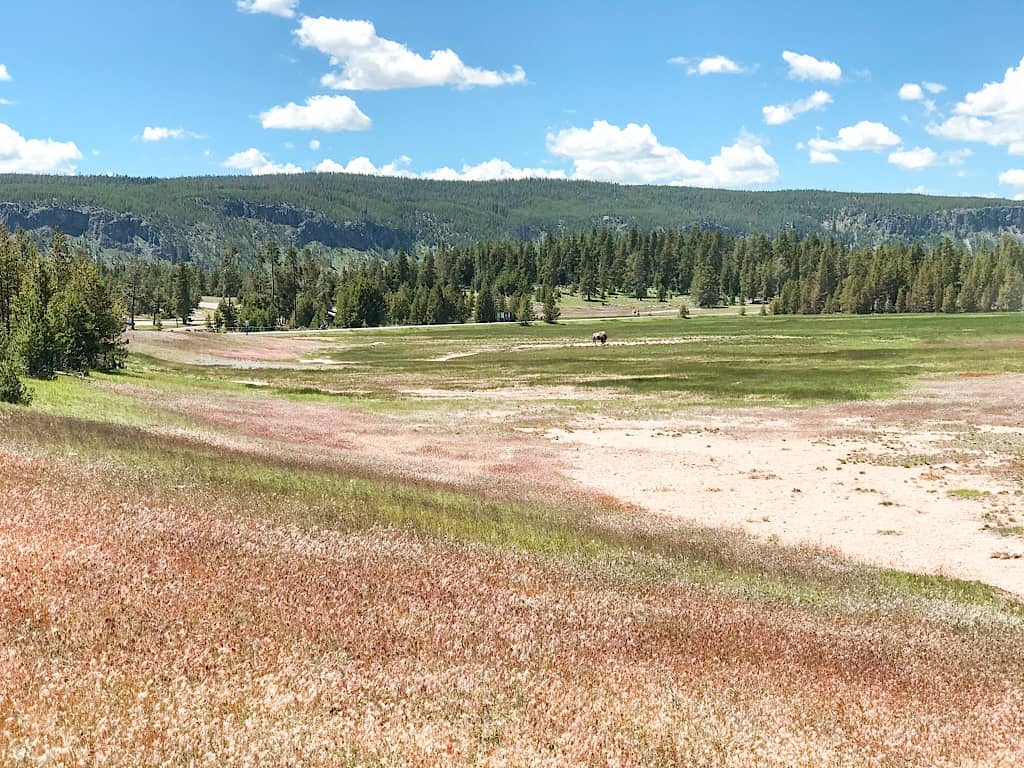 The people were excited to take a selfie with the large animal, but were way too close.
Fortunately, they were fine, but the day after we where there, a bison gored a park goer in the same area.
Make sure to watch our video to see how close they were!
Once again, please give these wild animals their space. They are not something you want to mess around with!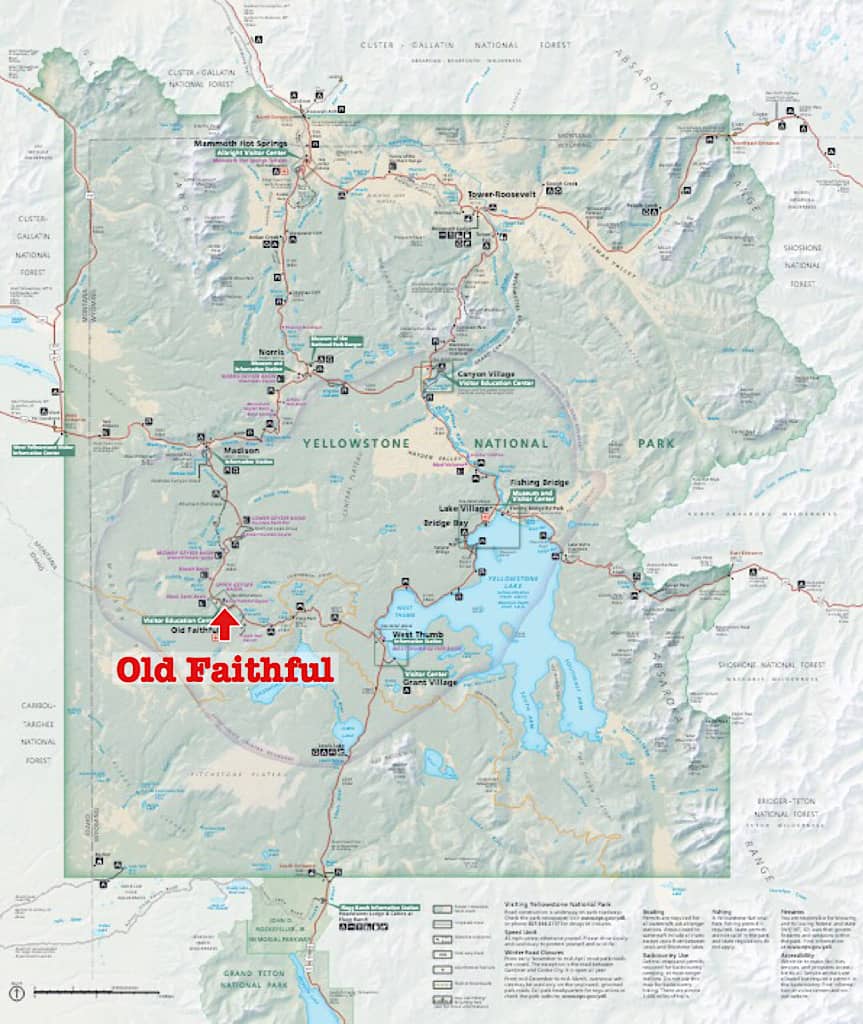 Where to Stay Near Yellowstone with Kids
On our visit to Yellowstone with our kids, we decided that spending 3 nights would be perfect for us.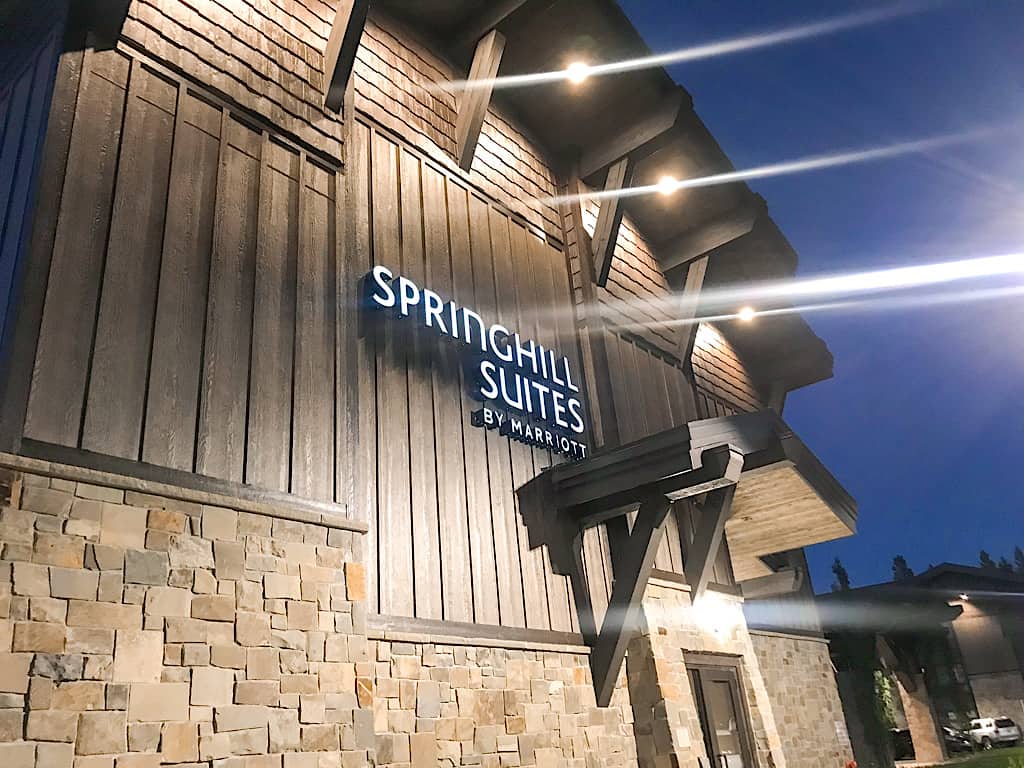 We drove from Salt Lake City through Northern Utah and Eastern Idaho to the town of Island Park.
Island Park is about 25 minutes from the West Entrance to Yellowstone National Park and was a great place to stay.
Springhill Suites Island Park Review
We stayed at a brand new Springhill Suites location for our first two nights.
It was a beautiful property with surrounded by trees and the Snake River.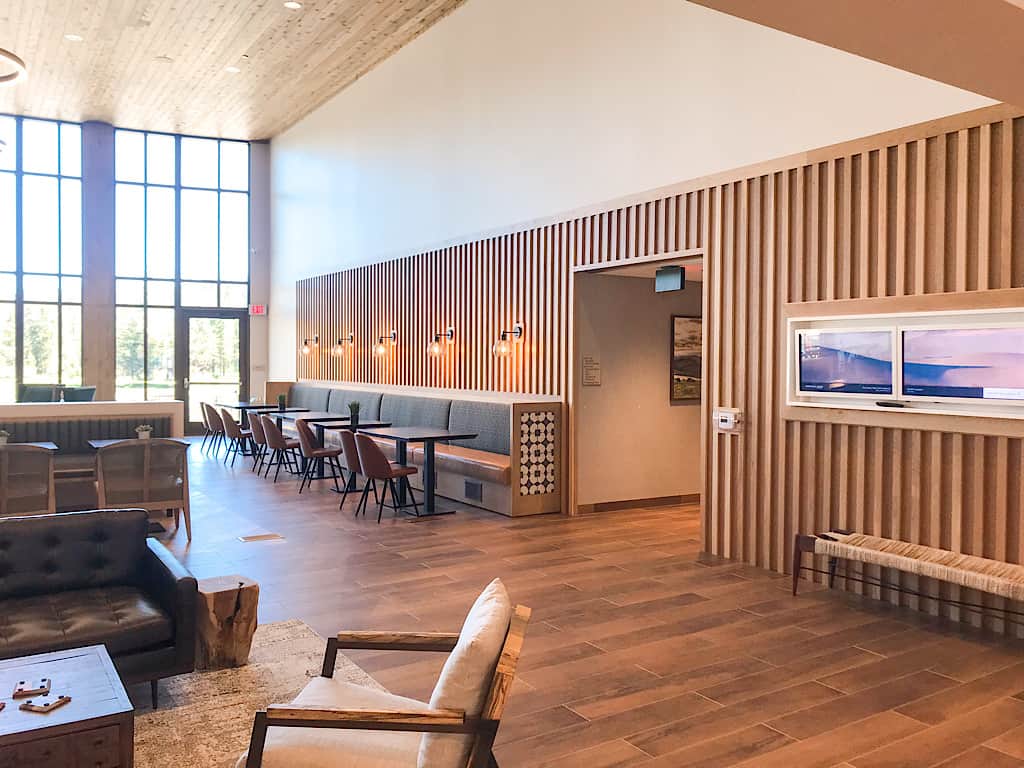 The lobby had 2 story windows facing the river and was absolutely breathtaking.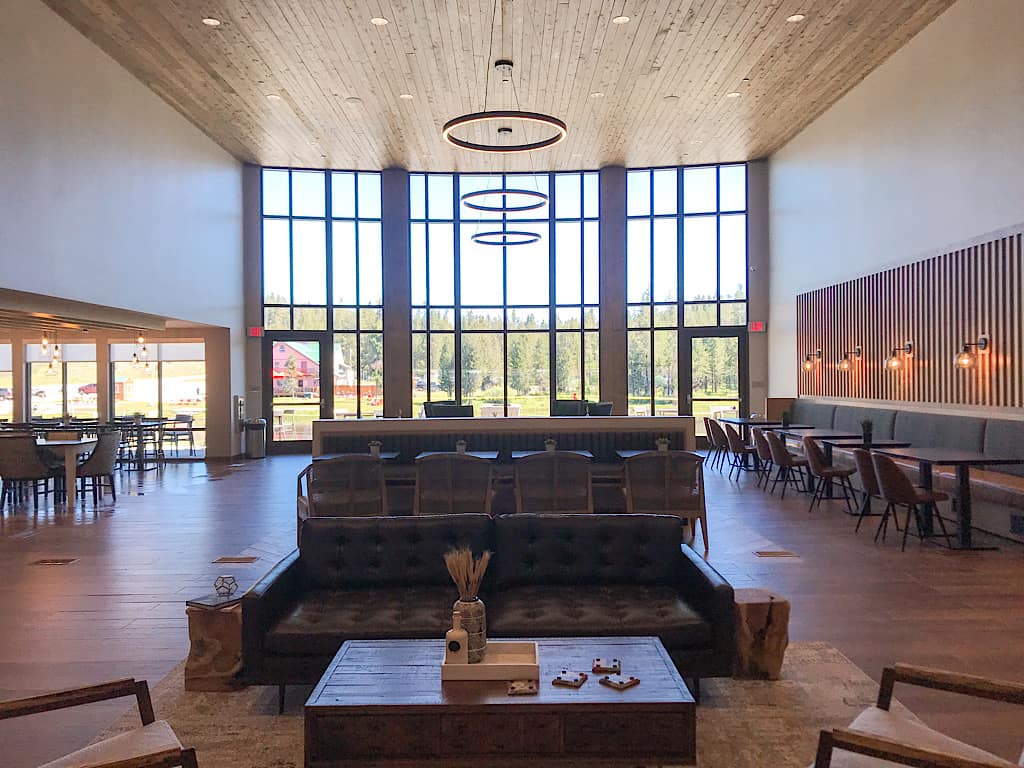 There was an indoor climate-controlled pool, and a large outdoor hot tub.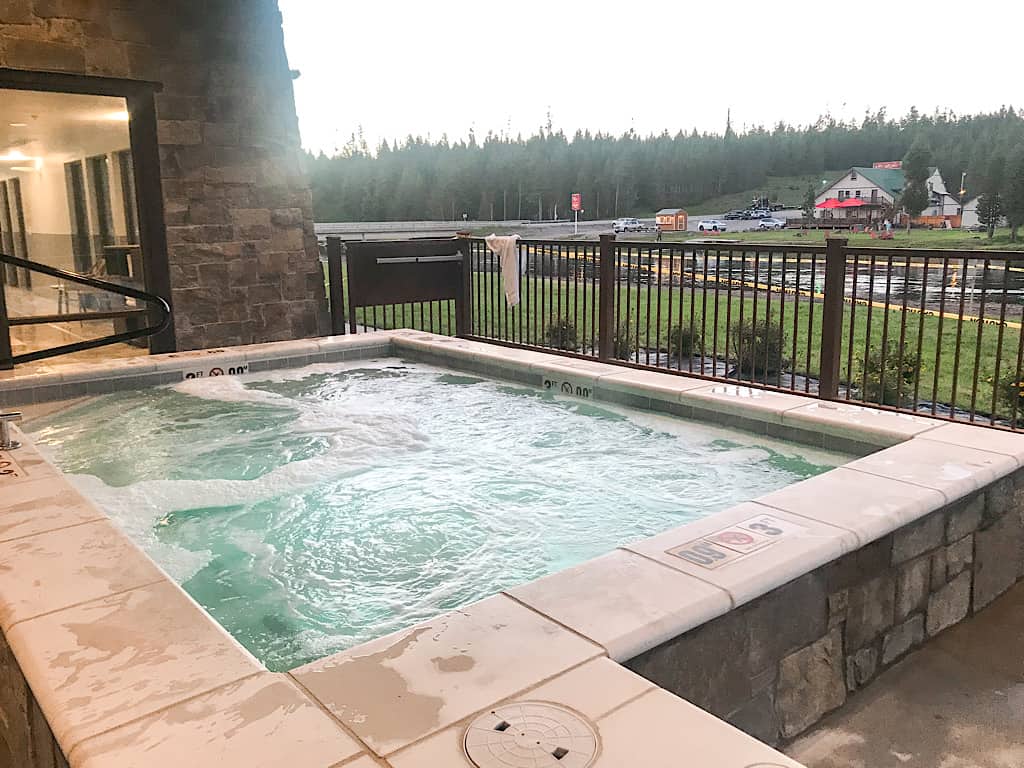 Springhill Suites offers a complimentary breakfast for their guests which was a grab-and-go style during our stay.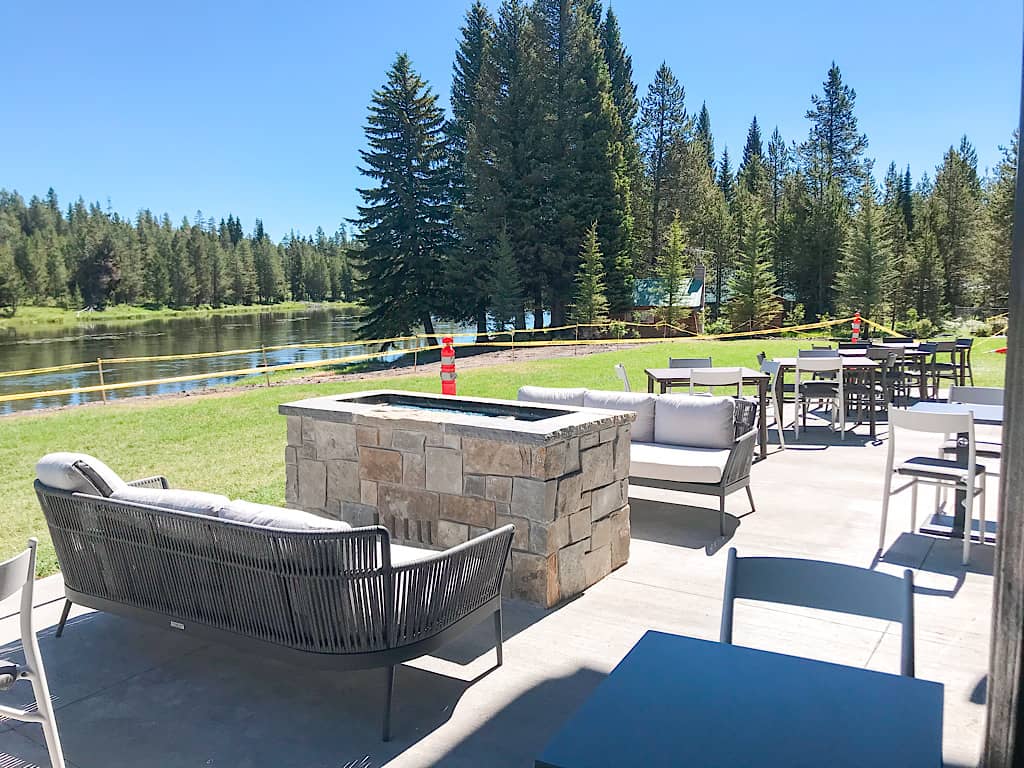 Hotel Room
There was a mix up with our reservation and the room we had reserved wasn't available.
But Springhill Suites was very helpful and gave us two guest rooms to make up for the mistake.
King Suite
As you enter our suite, you will see a mini-fridge and a microwave which definitely comes in handy with kids.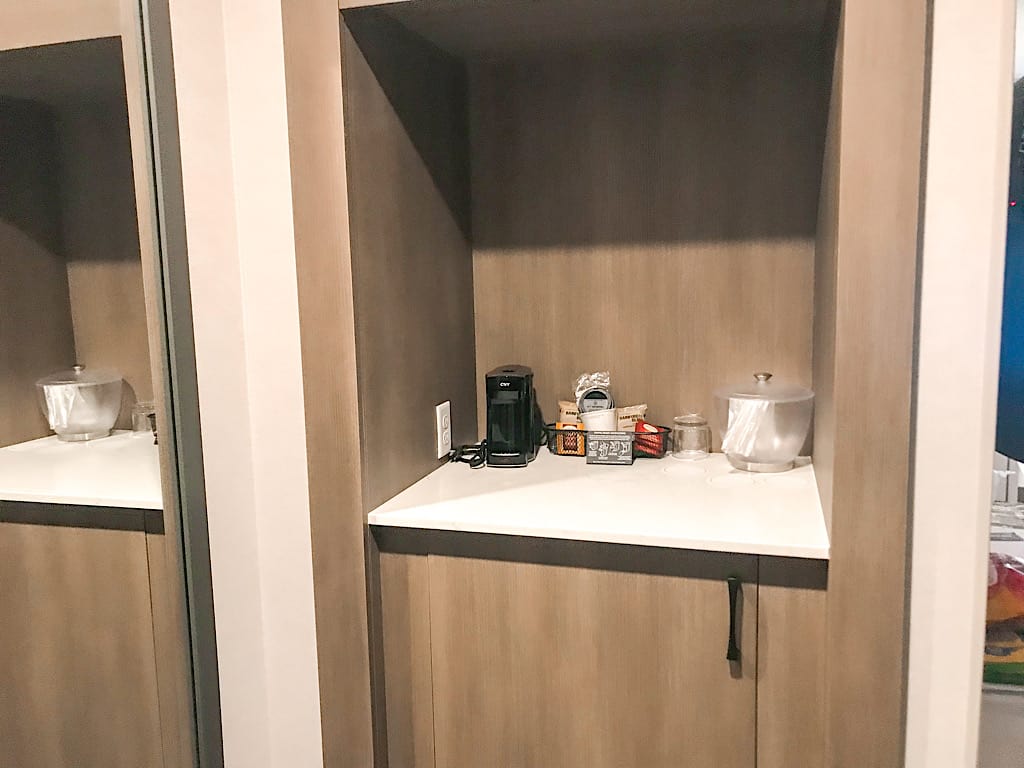 There is also a sitting area with a desk and chair, an ottoman, and a sofa.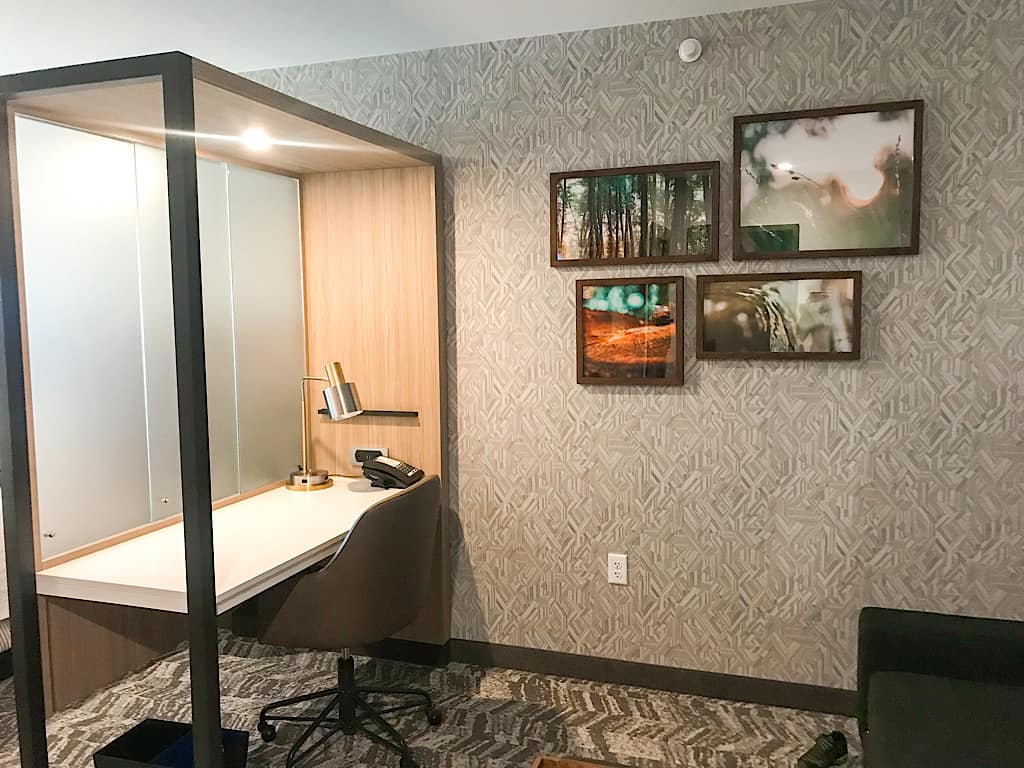 My kids loved that the sofa had a trundle bed that could be pulled out to accommodate another guest.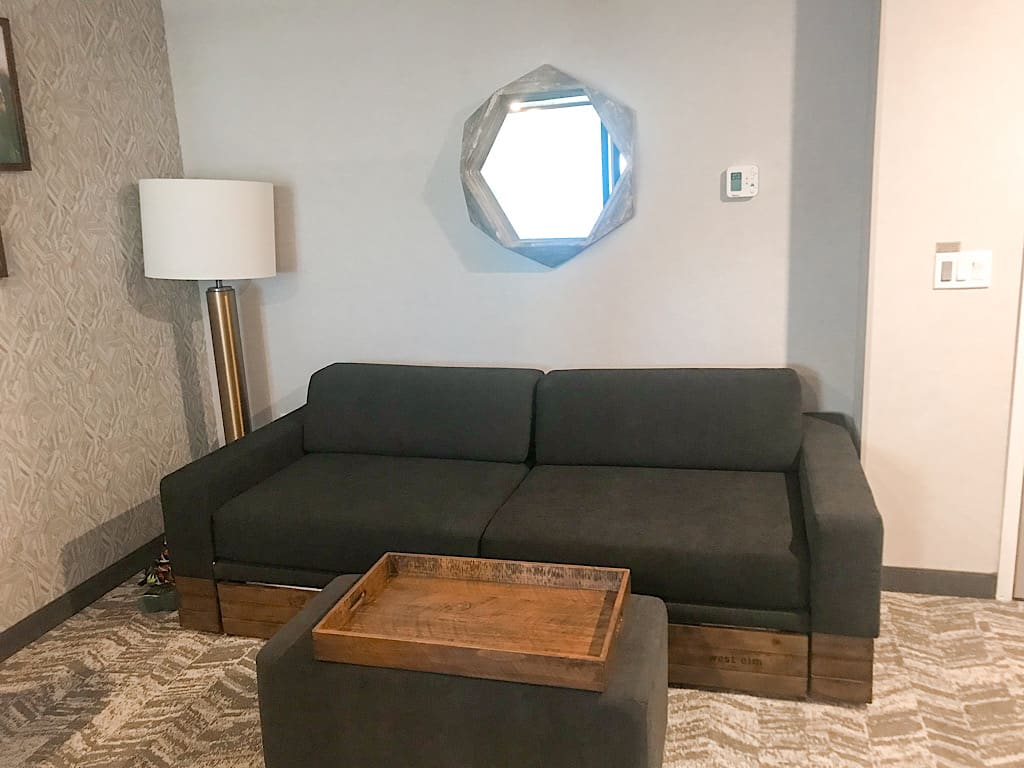 Next to the desk is a partition and on the other side is a King Size bed, a closet, and the bathroom.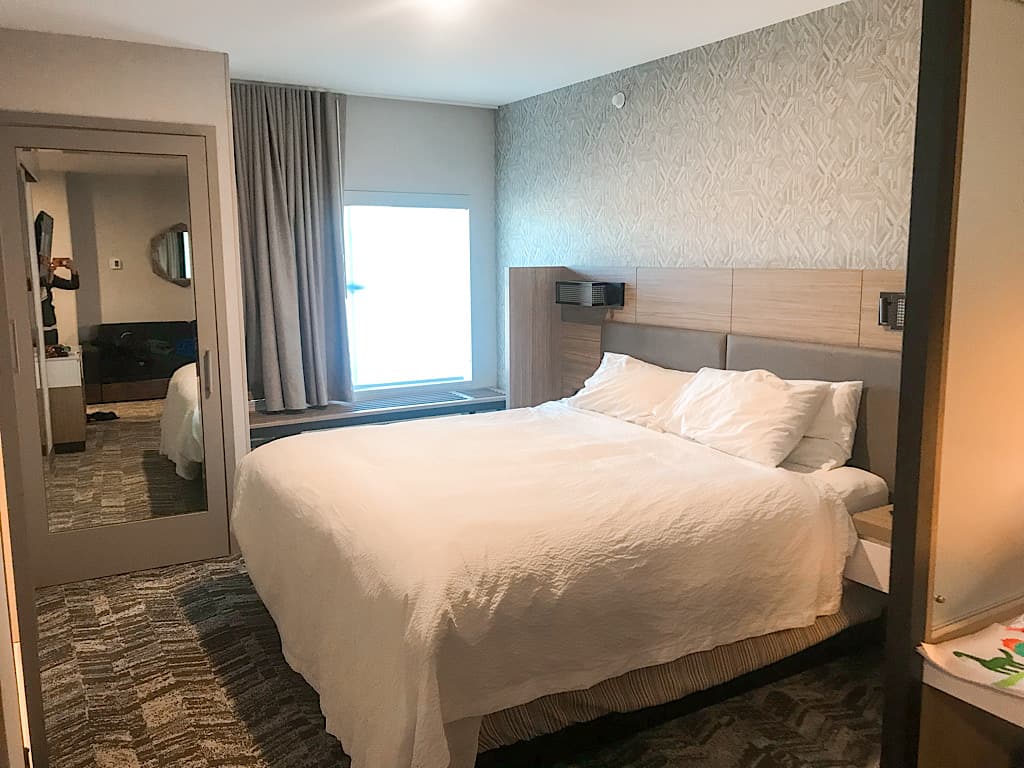 The bathroom was very spacious and has a great light up mirror over the sink.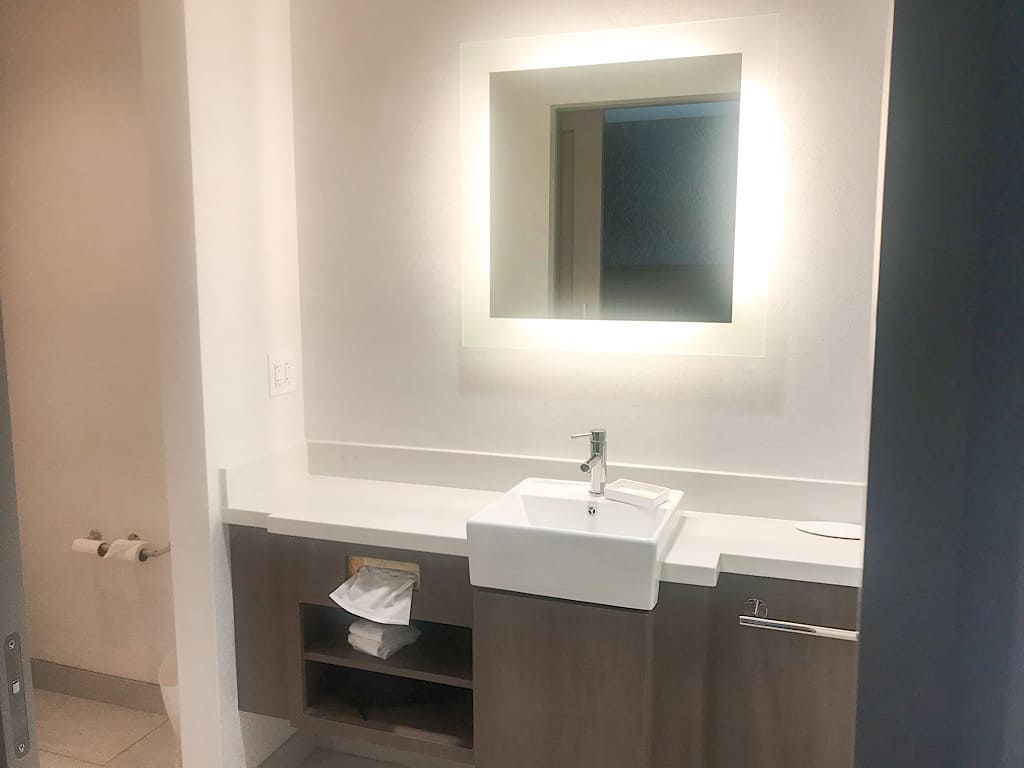 There was no bath tub, but there was a stand-up shower.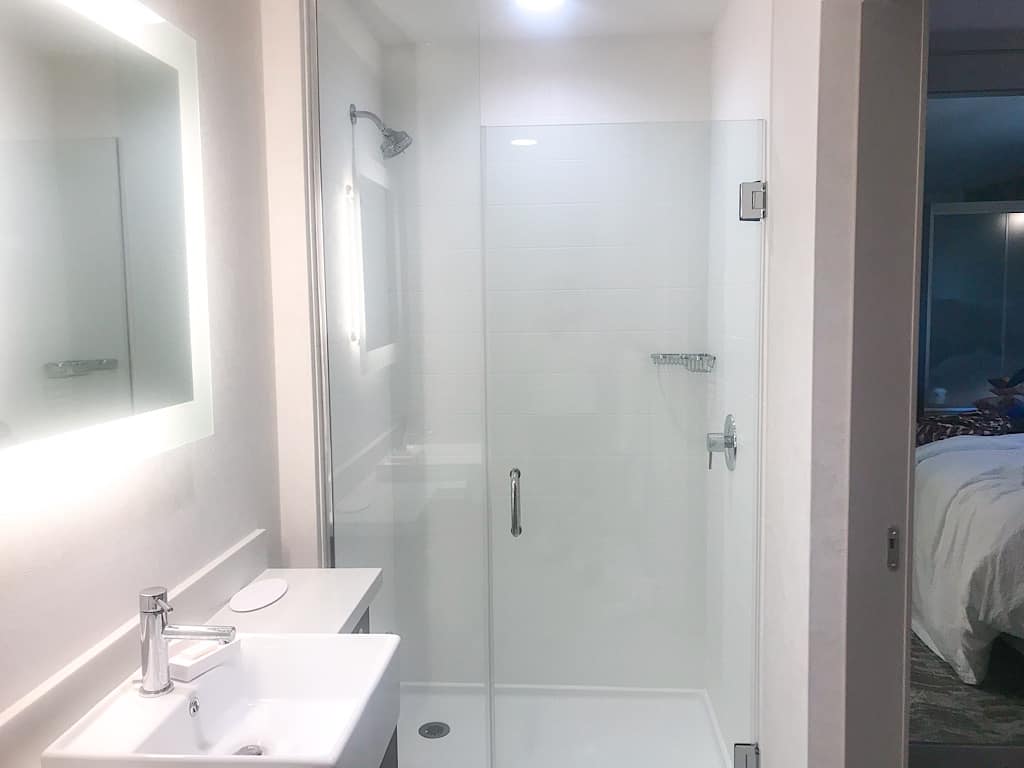 Springhill Suites Jackson Hole Review
For our third night, we decided to drive back to Salt Lake City through the South Entrance of Yellowstone.
We stayed at Springhill Suites in Jackson Hole, Wyoming.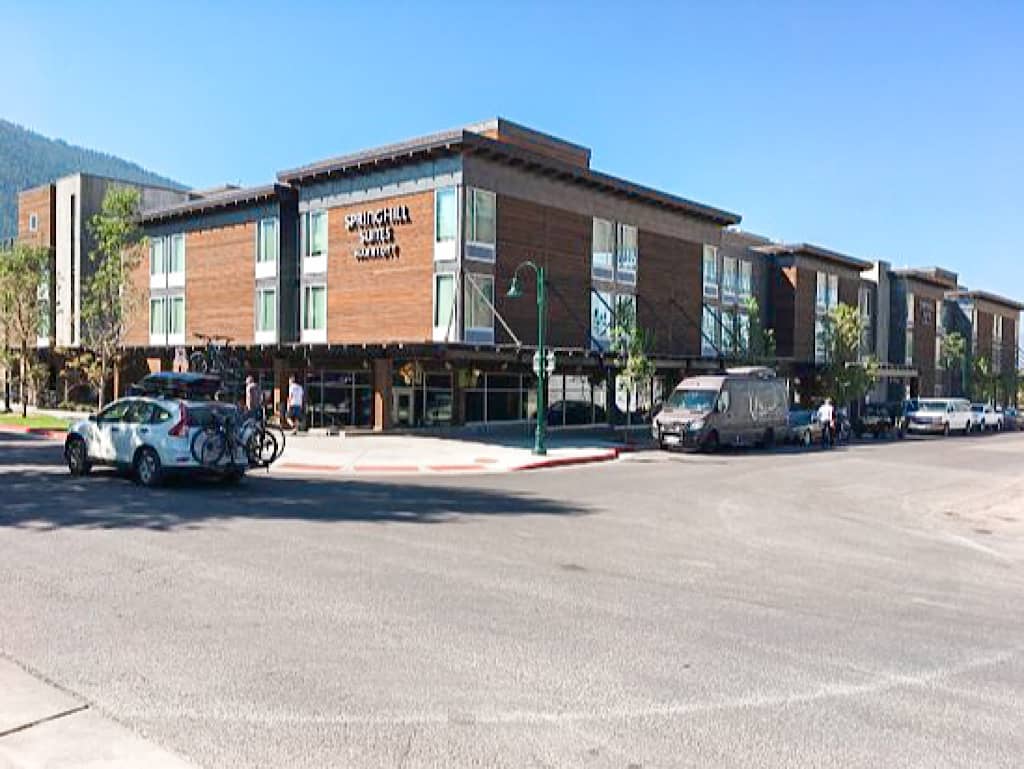 This location is right down town and is in walking distance to many restaurants. We ate at a delicious pizza place called Pinky G's Pizzeria.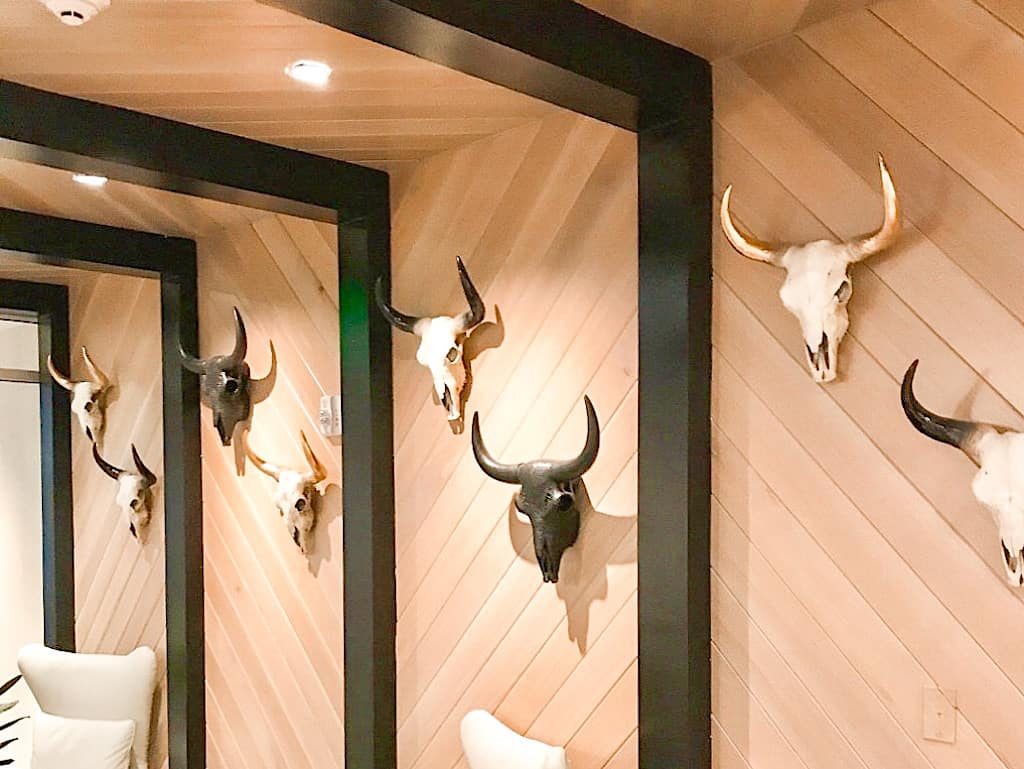 Hotel Room
For this stay we had a suite with 2 Queen beds.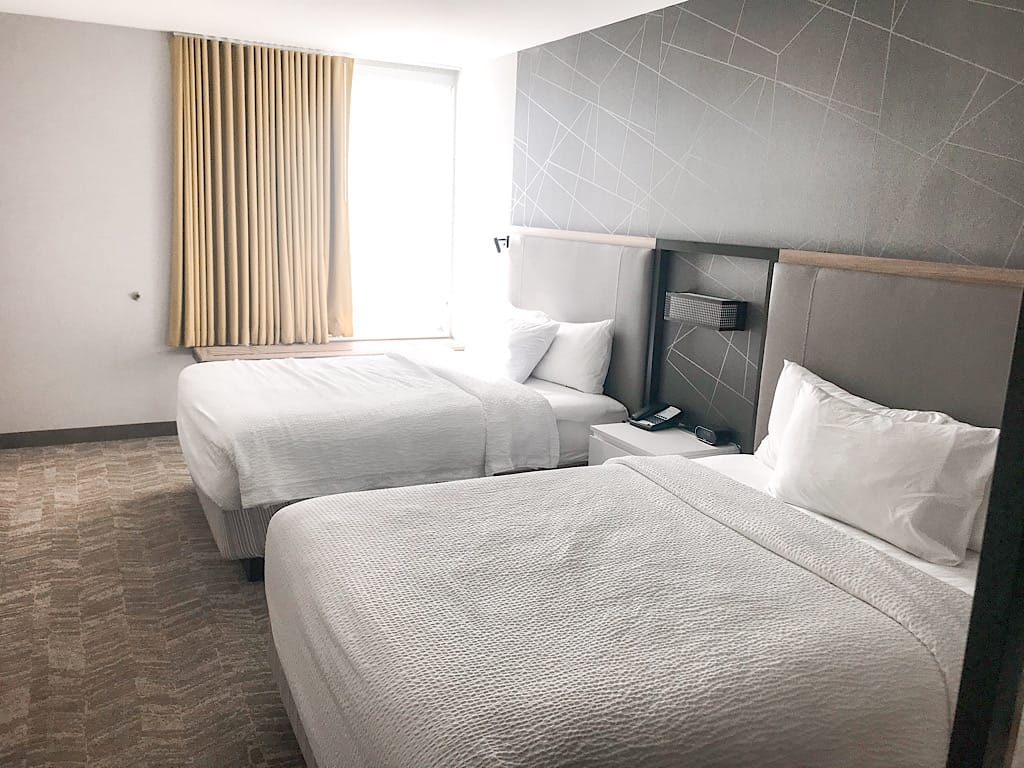 This room also came equipped with a mini-fridge and microwave.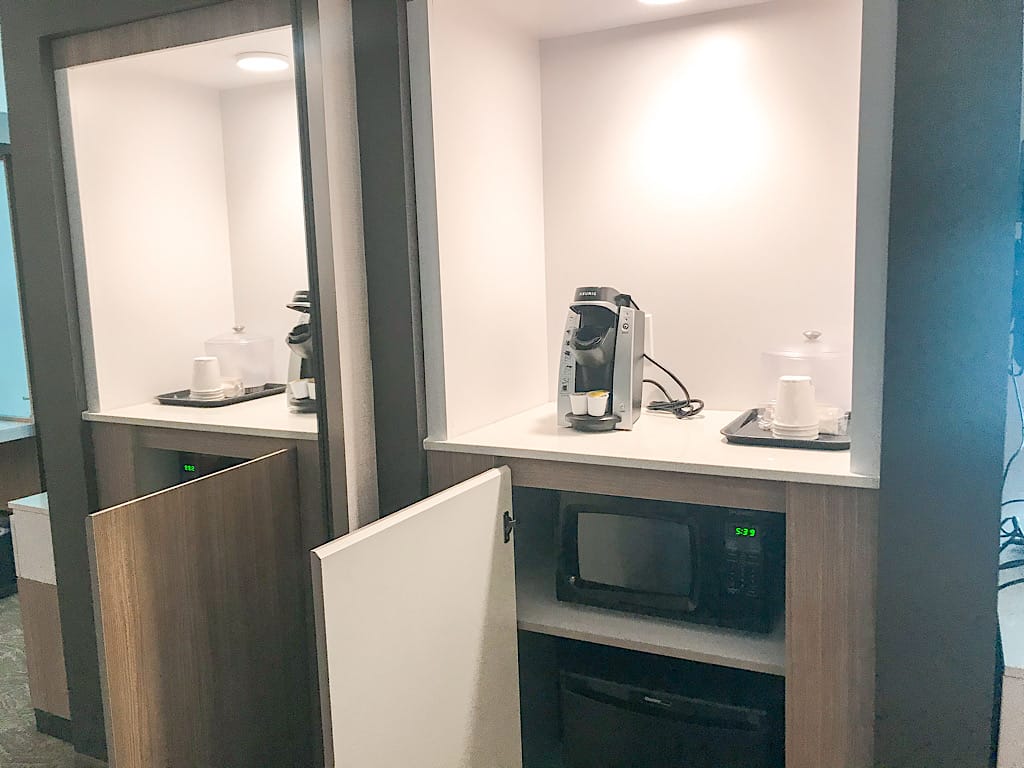 The pull out trundle bed was also a feature of this room to the delight of my boys.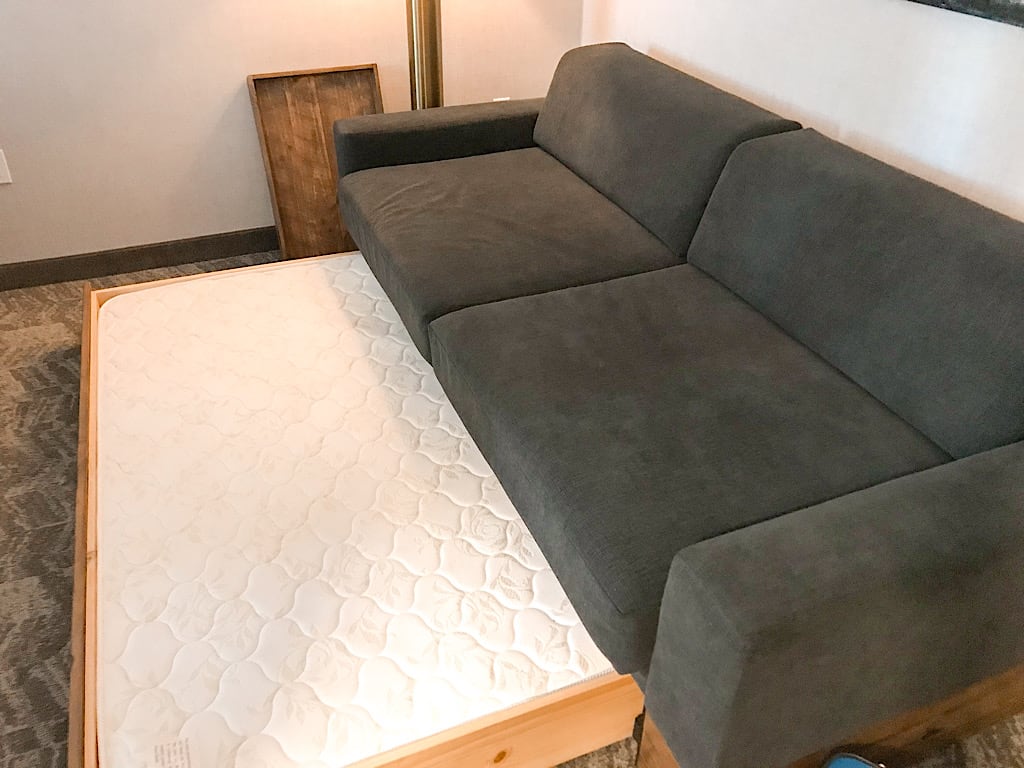 The bathroom was also very spacious and had a stand up shower.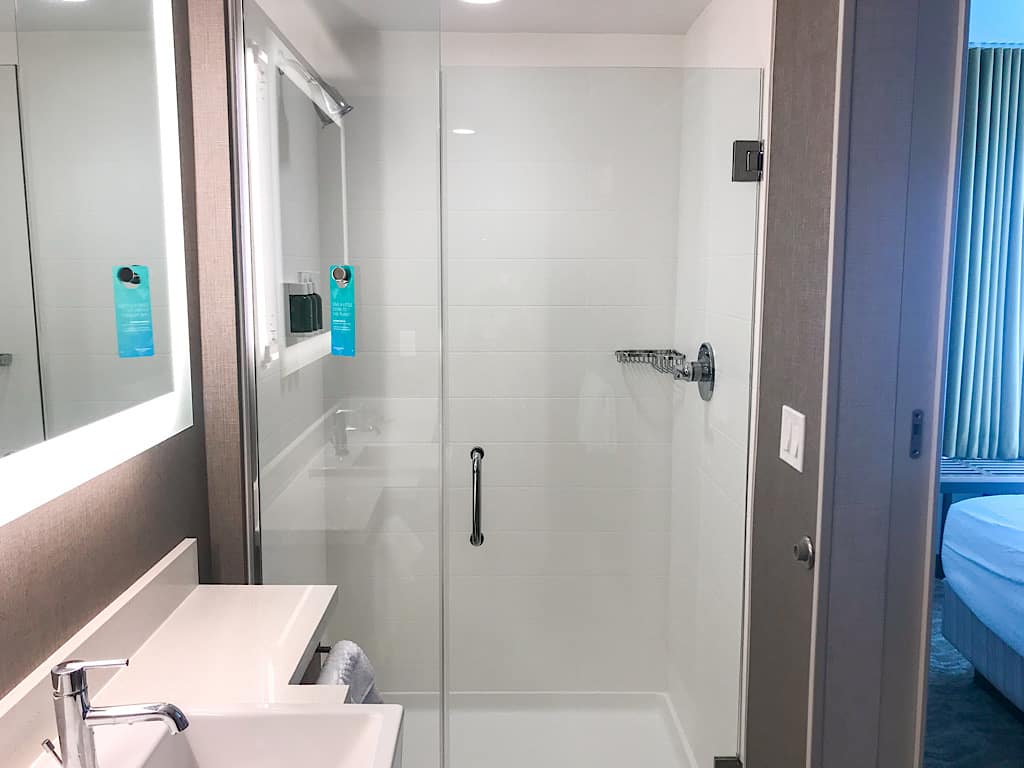 The only thing I wasn't a fan of was that there was frosted glass in the bathroom door.
That means that if someone uses the bathroom while everyone is sleeping, the bathroom light is seen throughout the room.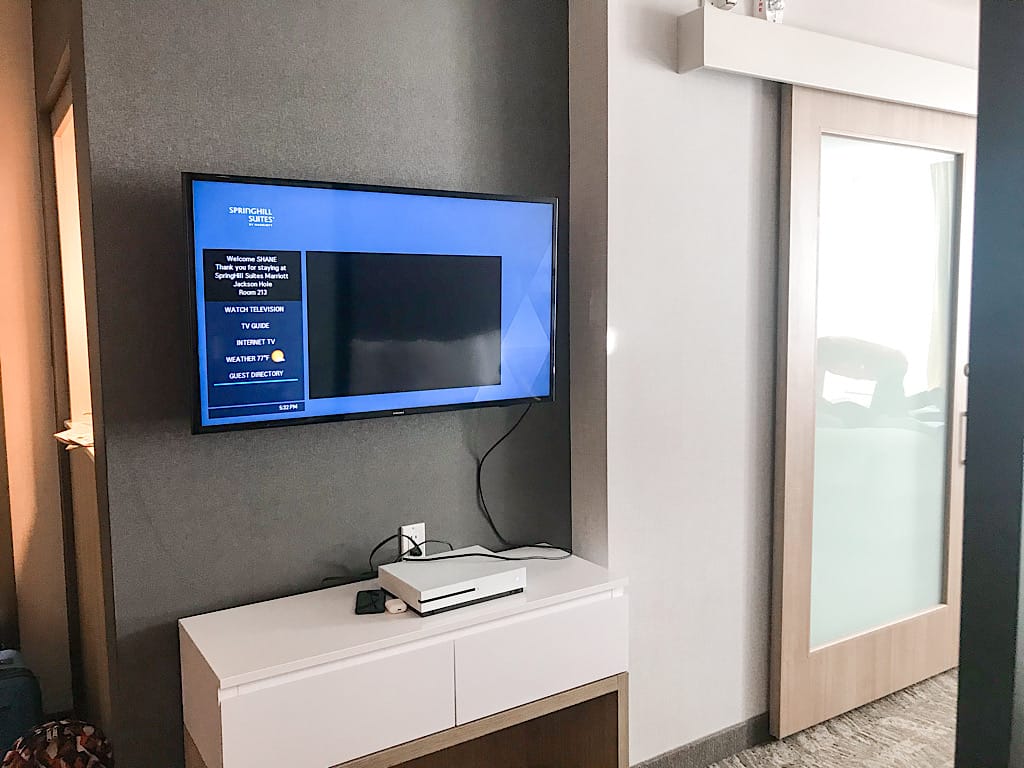 Breakfast at this location is also included. To get your breakfast, head down to the lobby and you will order what you want from a helpful employee.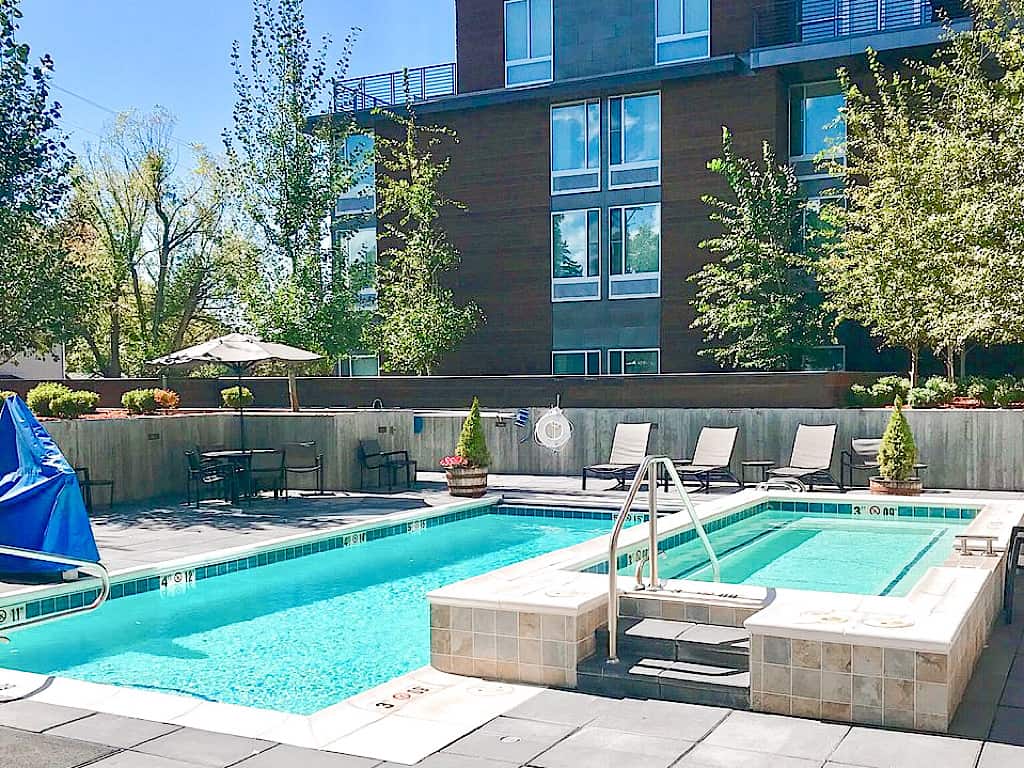 We loved both Springhill Suites locations and would definitely stay at both again.
Where to Eat near Yellowstone
On our visit to Yellowstone, we ate dinner in Rexburg, West Yellowstone, and Jackson Hole. Here is where we ate and what is available for kids!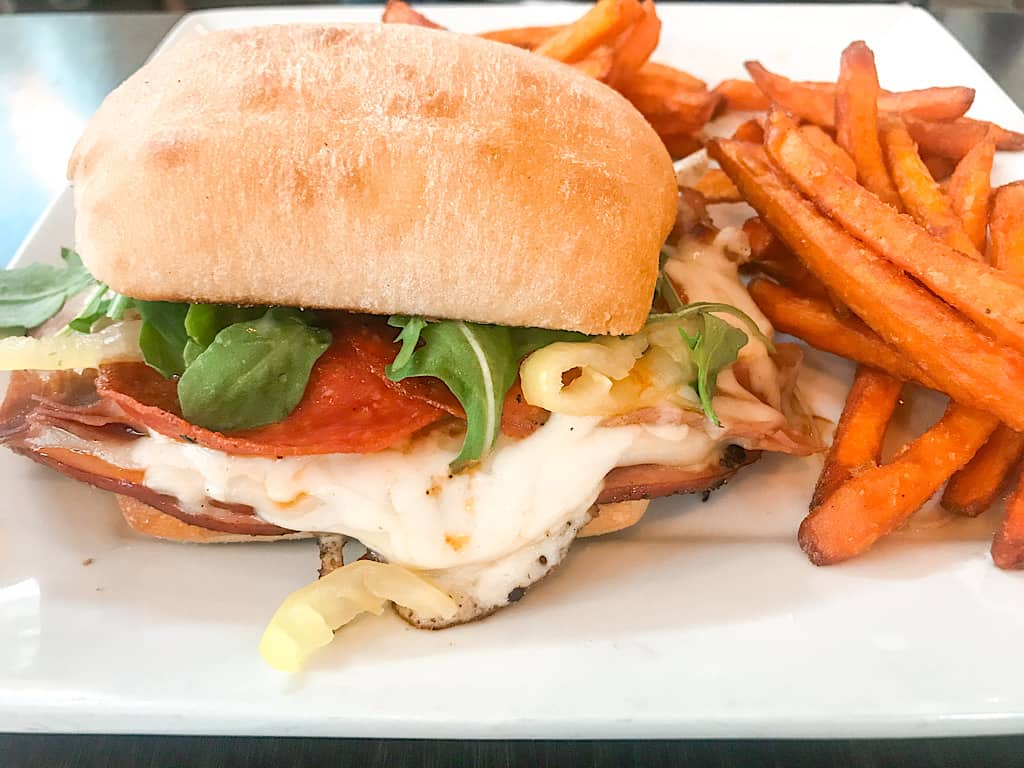 Fresco Kitchen & Grill
This fun restaurant is located in Rexburg, Idaho and was absolutely delicious!
We stopped here on our way to Island Park after a visit to Yellowstone Bear World.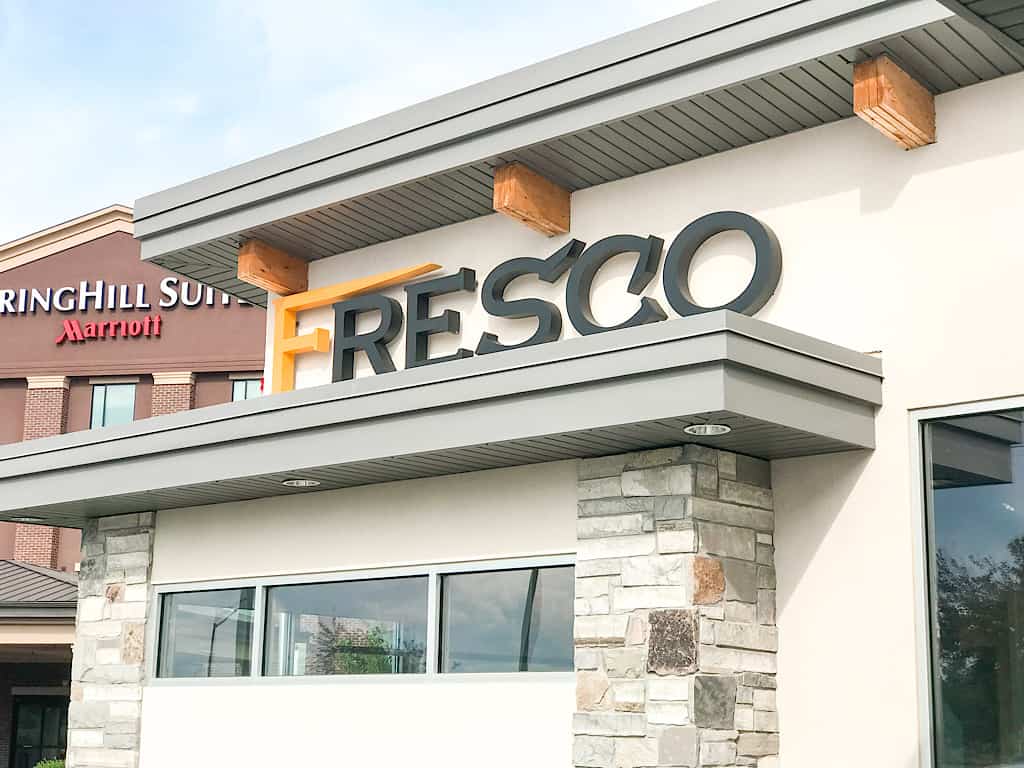 Fresco Kitchen & Grill has salads, soups, sandwiches, pasta dishes, and artisan pizzas.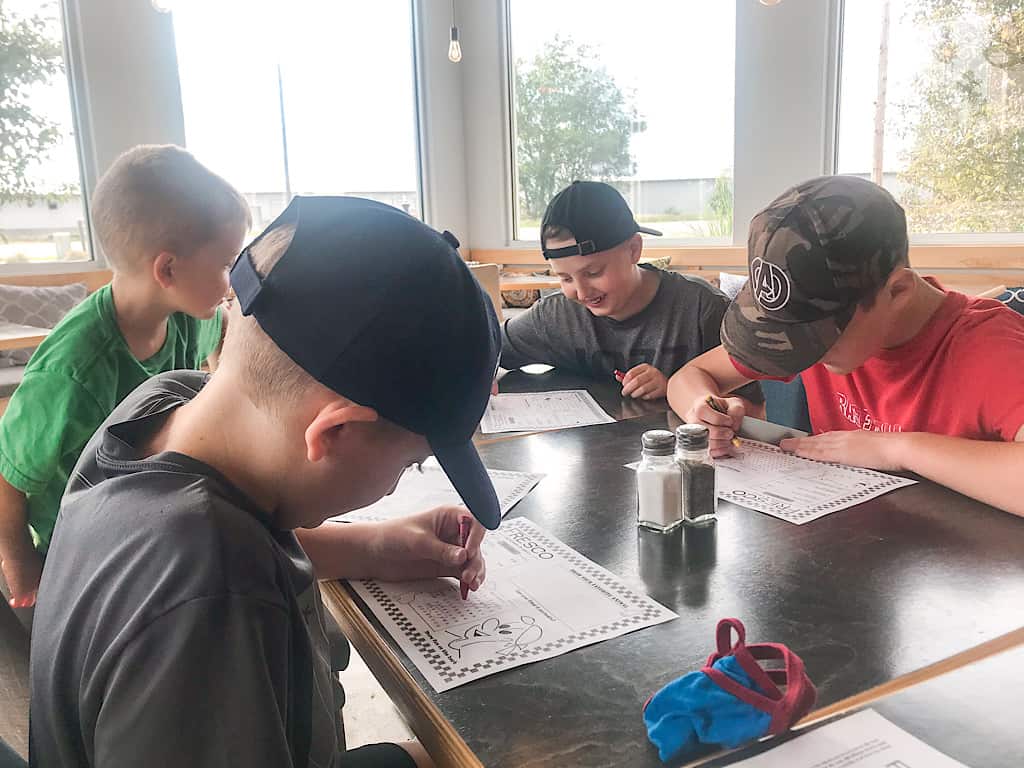 My husband and I split the Italian Melt and we ordered a side of Loaded Fresco Fries, which were both amazing.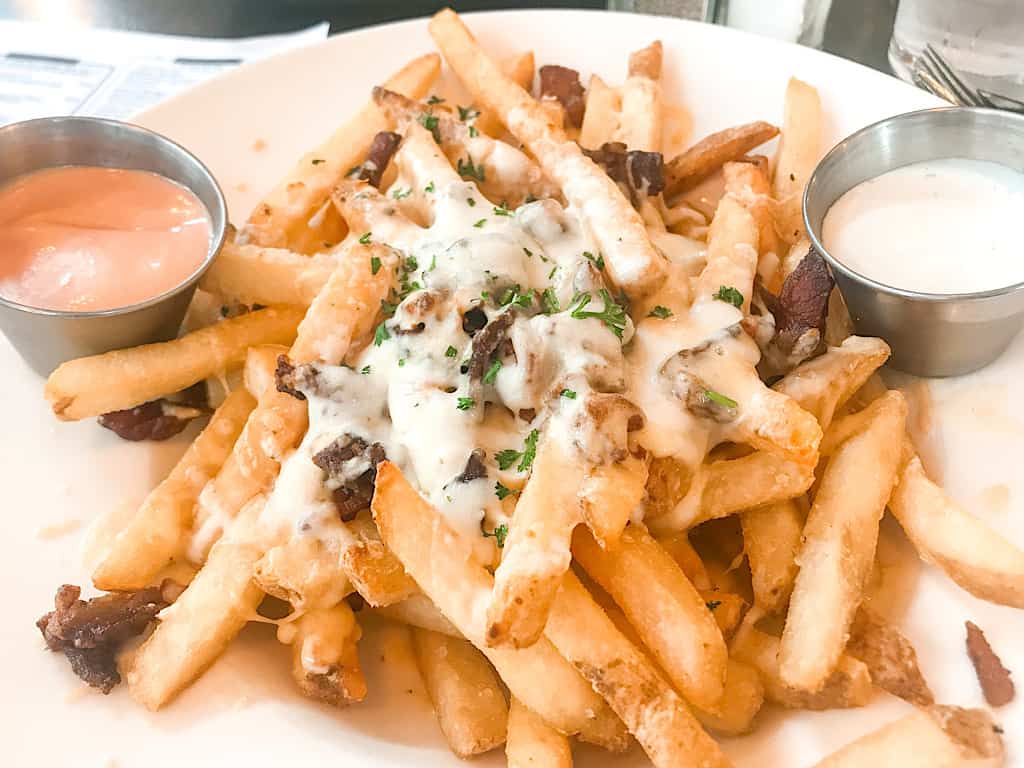 Kids meals were $4.99 and include a soft drink or juice. The choices are Kid Pizza, Grilled Cheese, Chicken Fingers, and a Hamburger.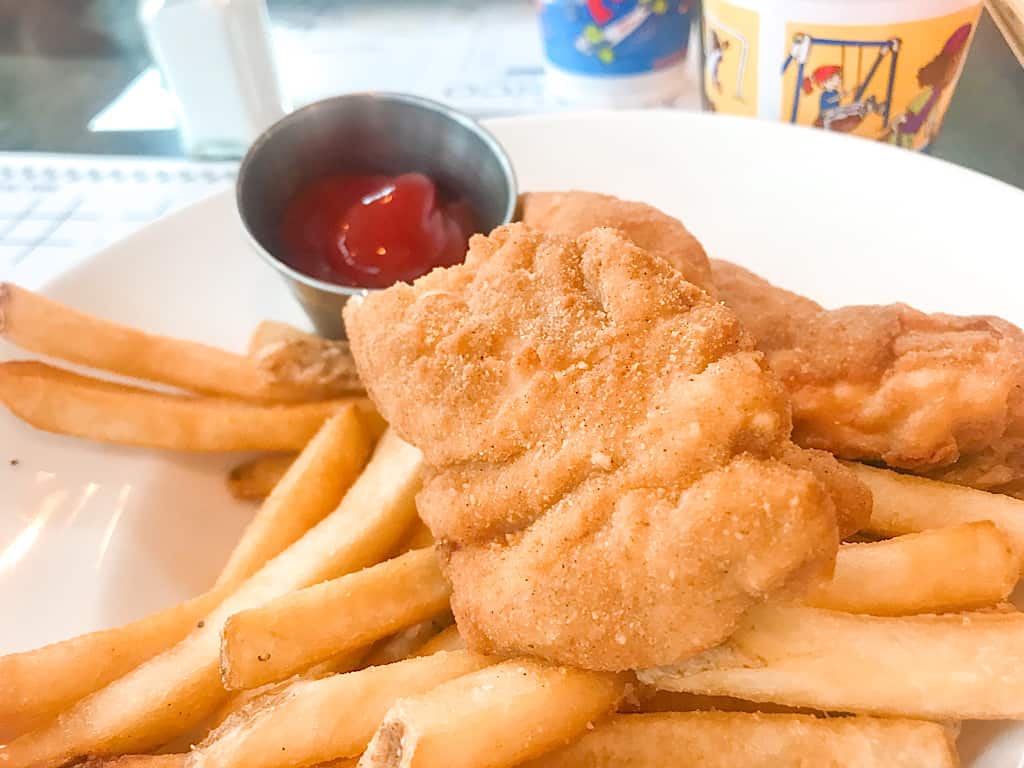 Beartooth Barbecue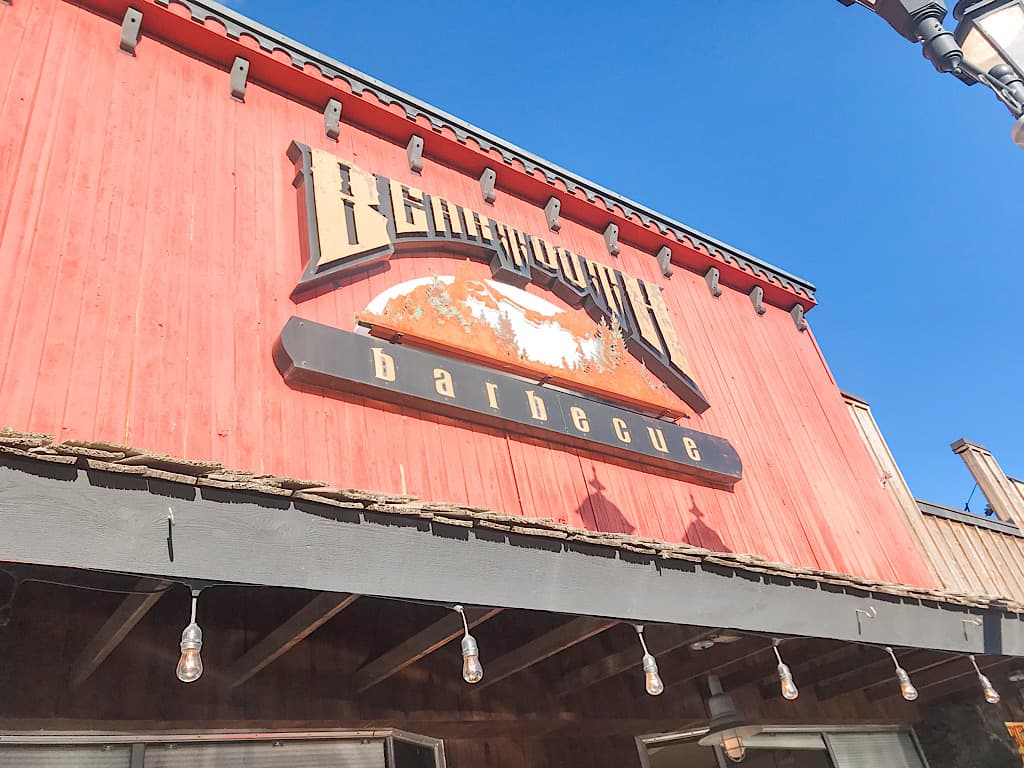 We ate at Beartooth Barbecue in West Yellowstone, Montana after our first full day at Yellowstone and it didn't disappoint!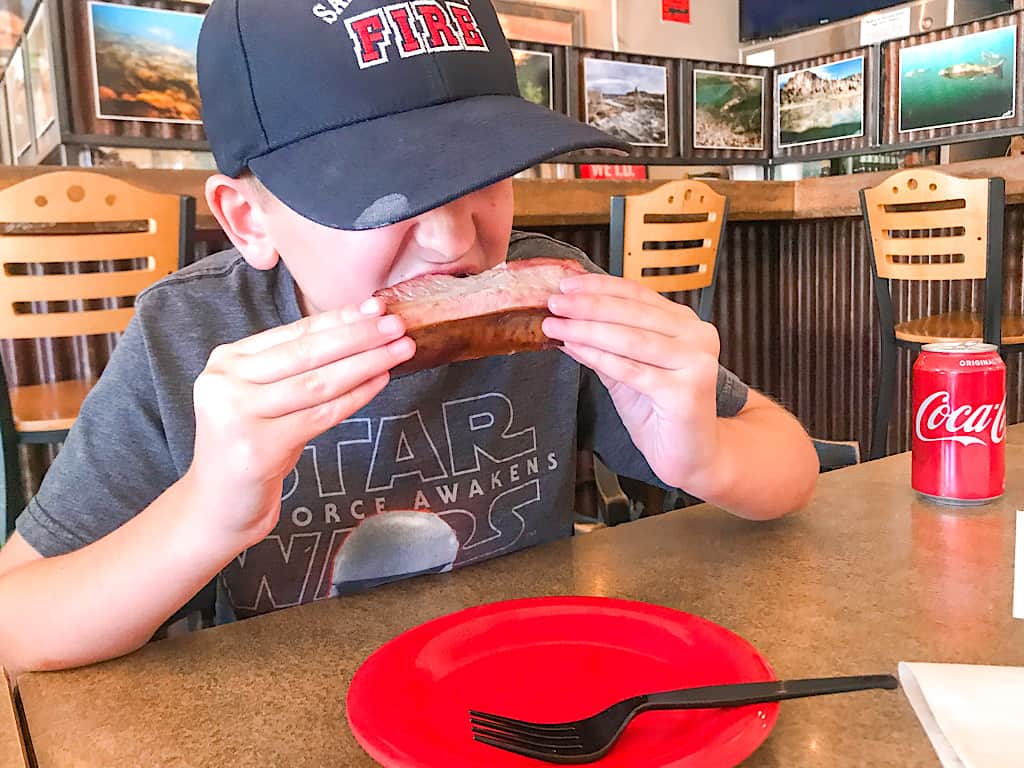 I ordered the Brisket Sandwich with a side of Cowboy Caviar, which was like a black bean and corn salad.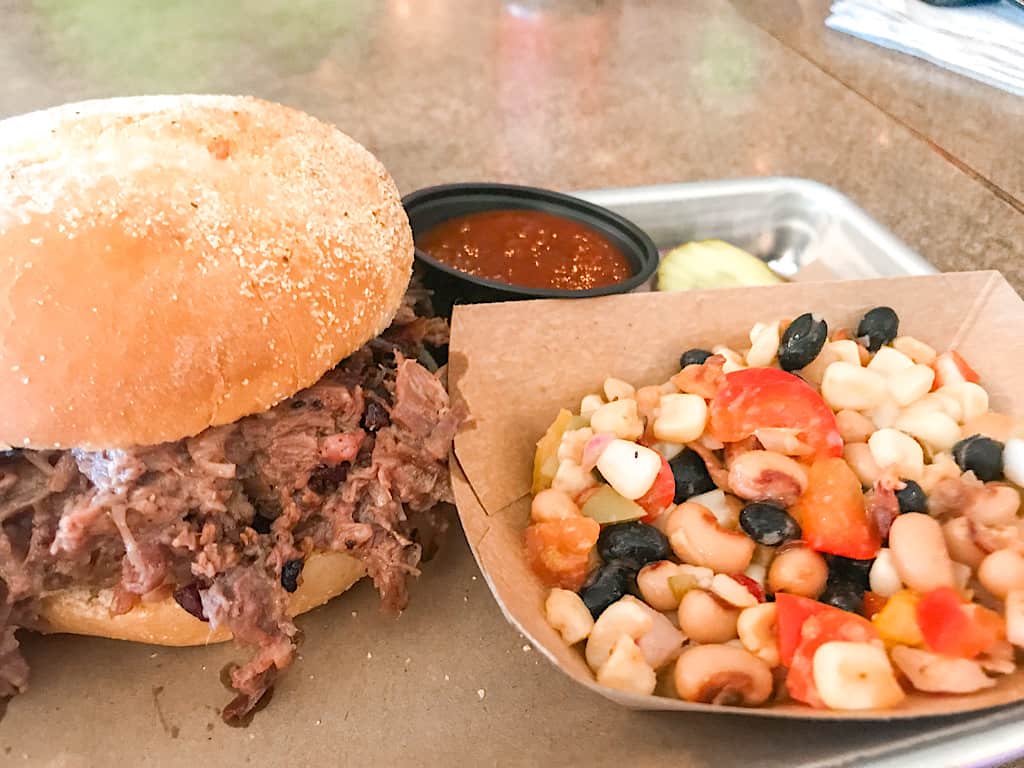 My husband ordered the Sliced Beef Brisket dinner with a side of potato salad and homemade Barbecue Chips. I highly recommend the chips!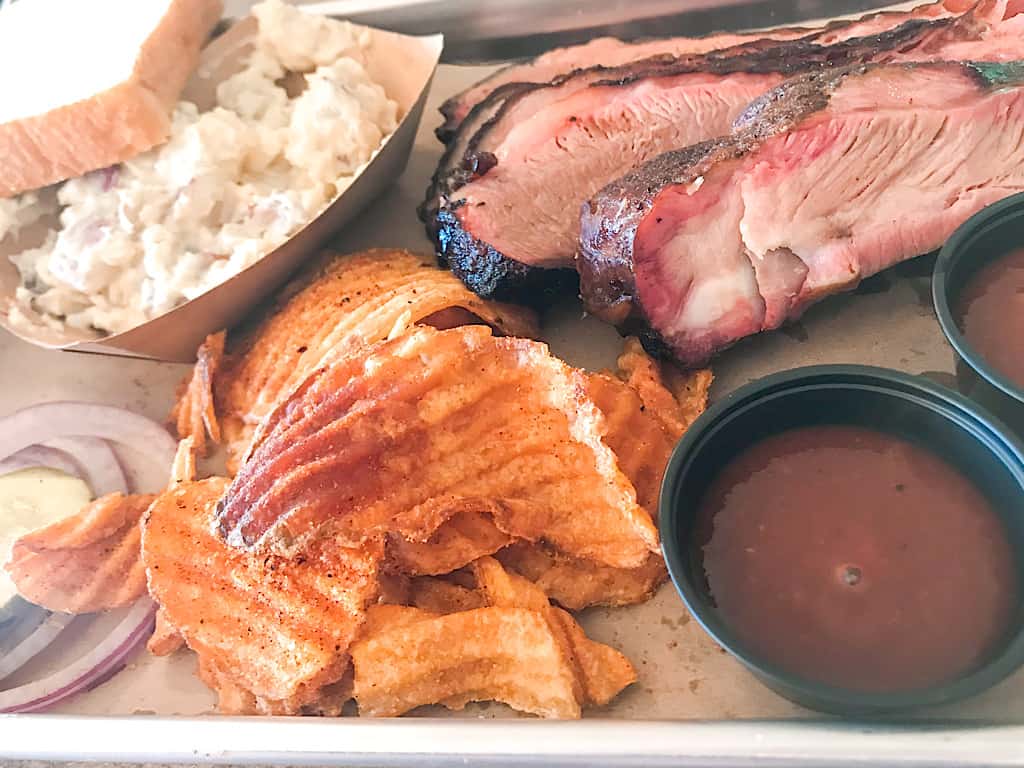 The kids meals were $7.49 and did not include a drink. The options were a Hot Dog, Pulled Pork Sliders, or Chopped Beef Sliders.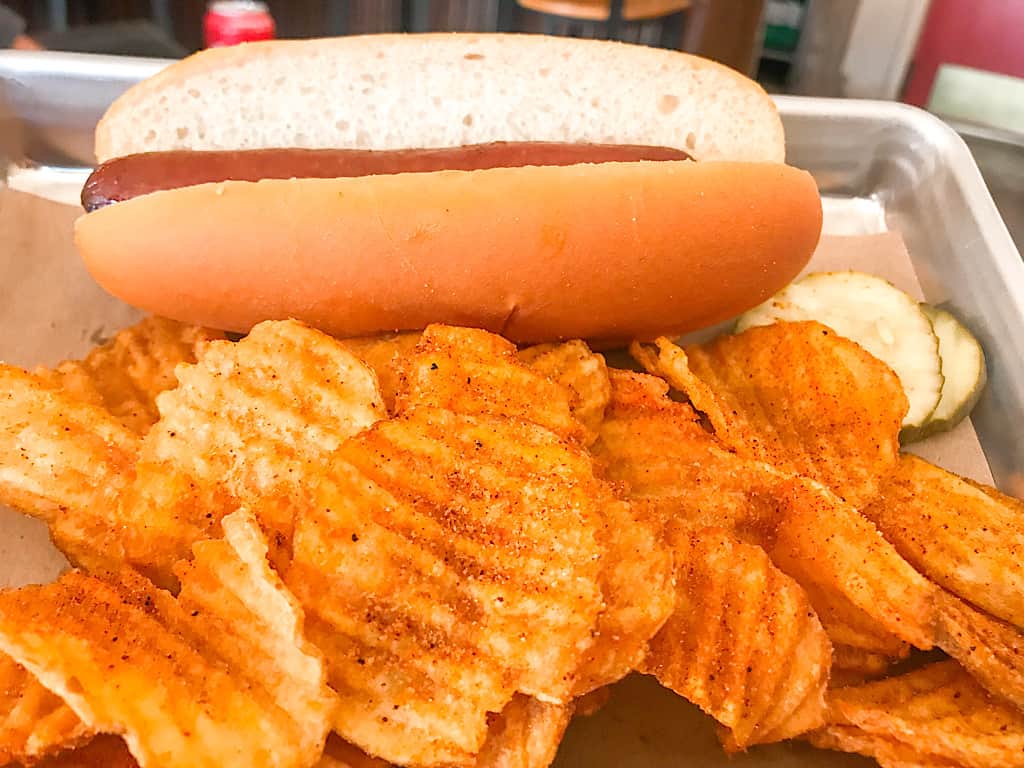 Pinky G's Pizzeria
We found out about Pinky G's Pizzeria through the Food Network show, Diners Drive-In's and Dives.
We ordered the cheese bread and all I have to say is wow! You definitely want to get this.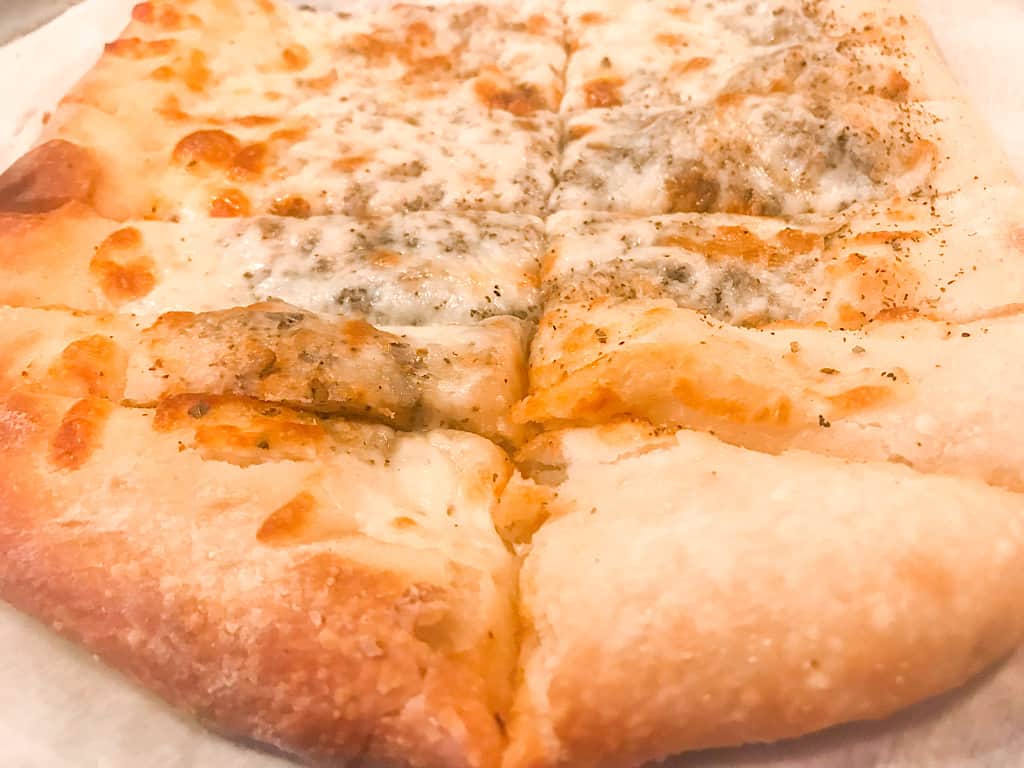 Eating with kids, we couldn't be too adventurous with our pizza toppings, so we had an 18″ pizza with half cheese and half pepperoni.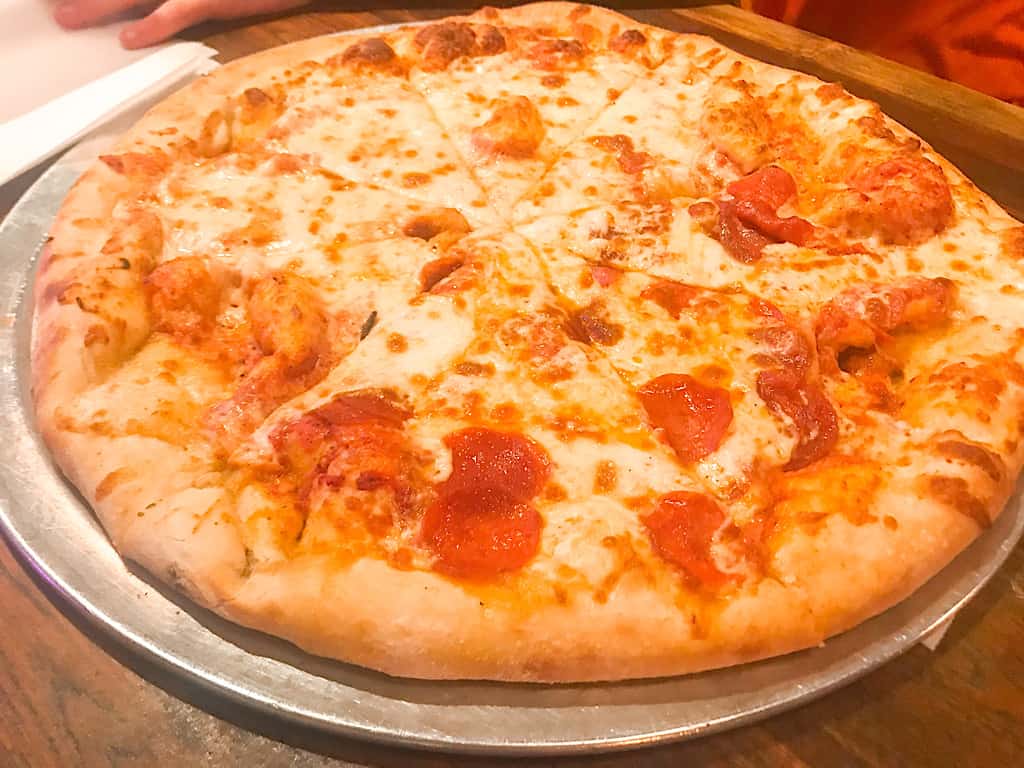 But that crust, was amazing! I'm kind of glad we went light on the toppings so we could fully enjoy the crust!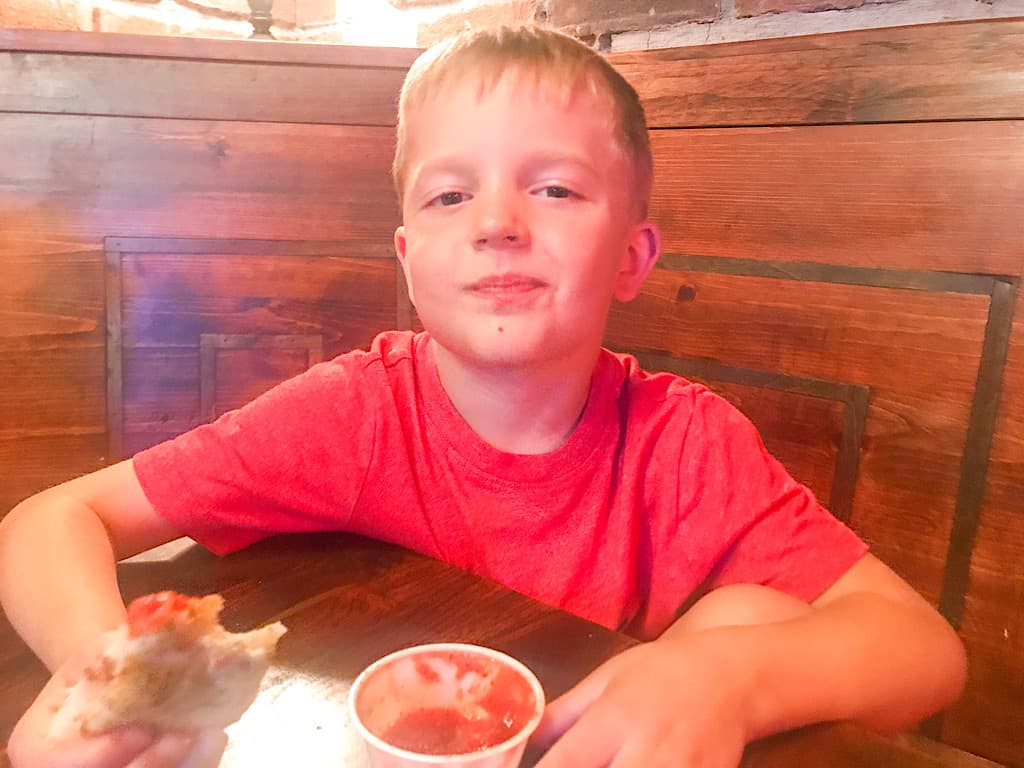 Yellowstone National Park with Kids
Hopefully I have given you an idea of some of the fun things you can do at Yellowstone with kids.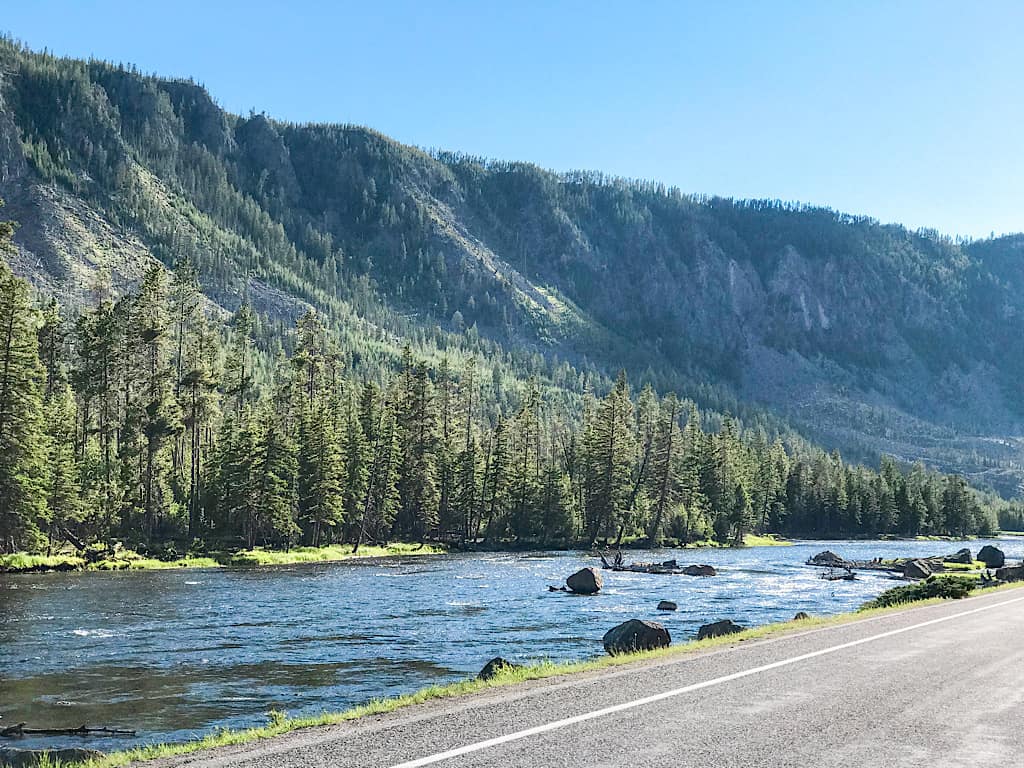 There is definitely more to the park than this, but that's why we'll be going back again in a year or two.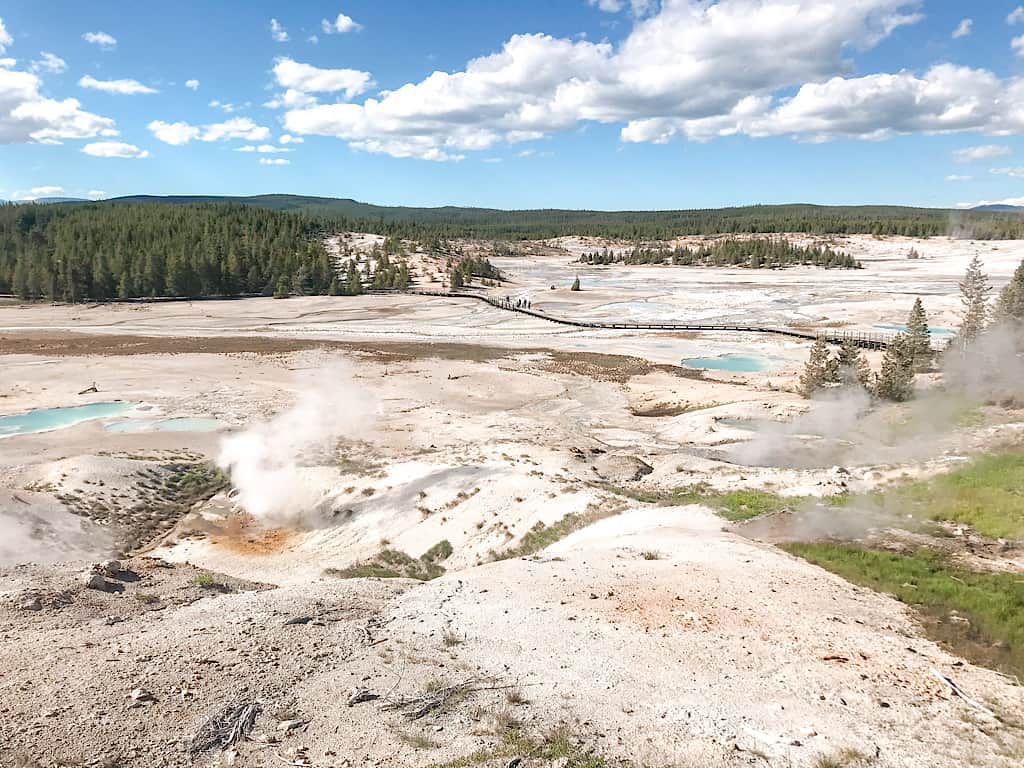 Want to know more about taking your kids to National Parks? Check out these posts:
Watch the video below to see everything Yellowstone!