Green Chile Sour Cream Chicken Enchiladas are a delicious and easy Mexican-style dish that you can make in no time. This recipe features chicken-filled flour tortillas covered in an amazing sour cream sauce with green chilis. With its bold flavors and comforting texture, this is an excellent way to take your taste buds on a trip south of the border that your whole family will love!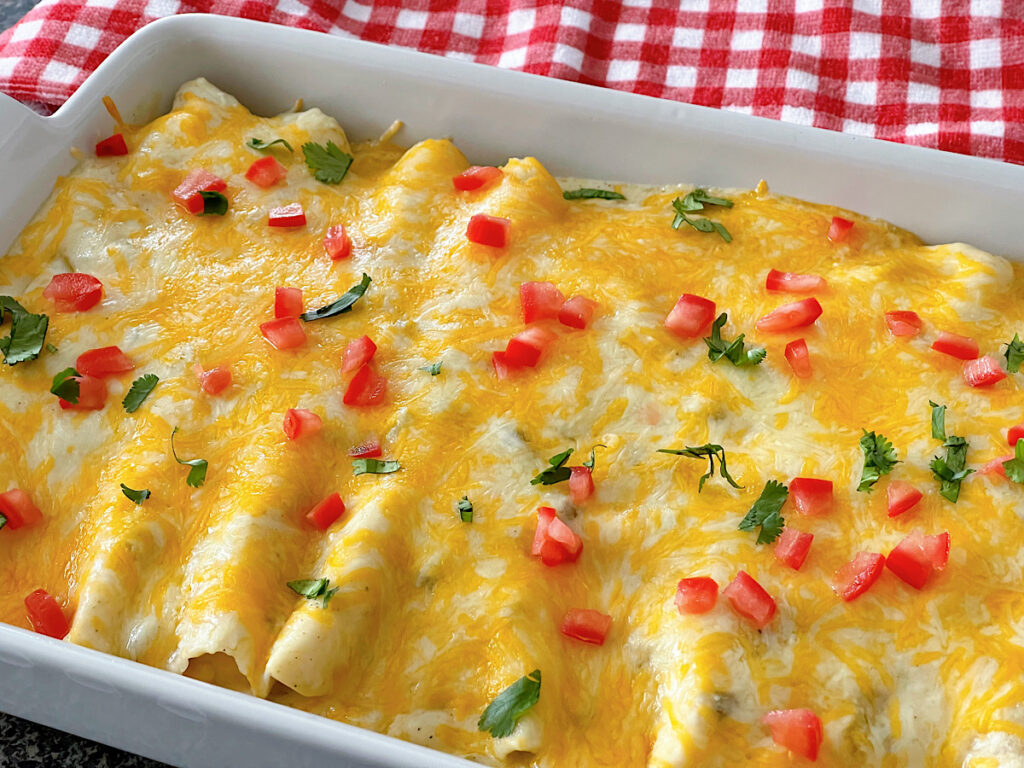 This post may contain affiliate links. When you click on these links, I get a small percentage back at no cost to you! For more information see my disclosure policy.
Below you will find tips, tricks and helpful hints for making this recipe including step by step instructions with pictures. If you would like to go directly to the recipe, scroll down to the recipe card or tap "Jump to Recipe" at the top of the page.
Why You'll Love This Sour Cream Chicken Enchilada Recipe
This easy-to-make enchilada recipe is the perfect weeknight dinner option. It's full of bold flavors and protein-packed ingredients, so it's sure to fill you up. Plus, the green chili sour cream sauce adds a creamy, cheesy element that really brings these enchiladas to life!
Looking for more Mexican-style recipes? Try my Restaurant-Style Cheese Enchiladas, Sweet Pork Barbacoa, Taco Bell Mexican Pizzas, Creamy Tomatillo Ranch, and Churro Bites!
Sour Cream Enchilada Ingredients
*Ingredient amounts are located in the recipe card at the end of this post.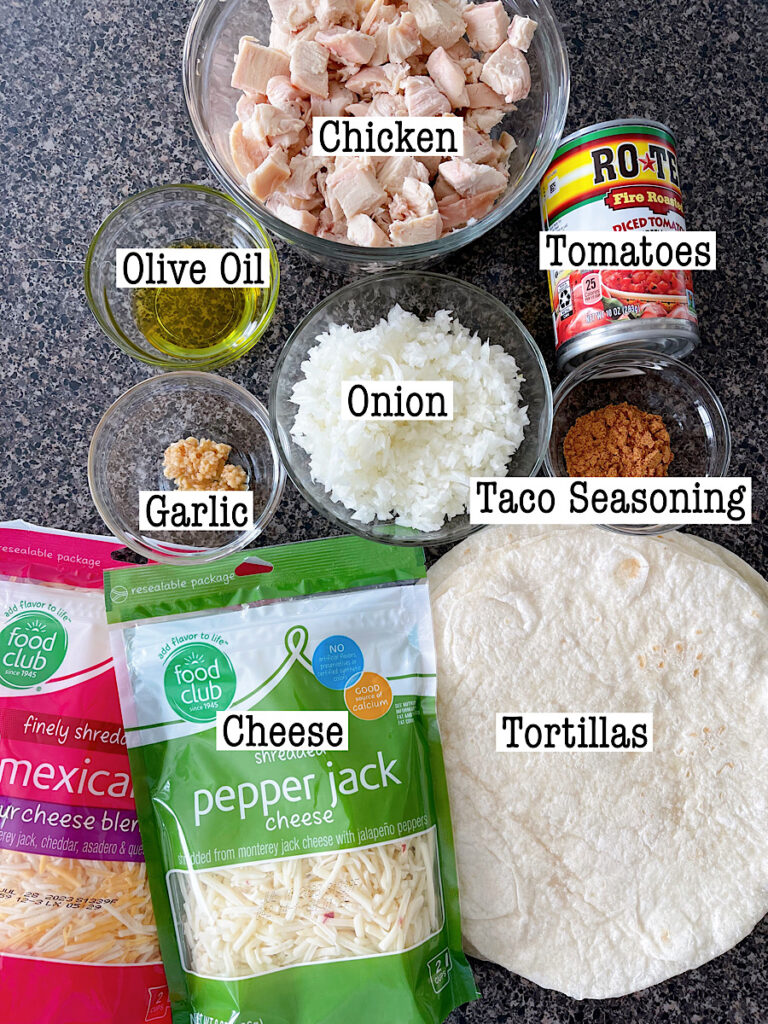 Enchilada Filling
Onion: For the enchiladas, use a yellow, white or sweet onion.
Garlic: Minced garlic adds flavor to the enchiladas.
Olive Oil: This will be used to saute the onion and garlic.
Chicken: Use cooked chicken breasts such as rotisserie or other pre-cooked shredded/diced chicken. This recipe is a great use of leftover chicken.
Rotel: This canned diced tomato with green chiles mix will add heat and flavor to the enchiladas.
Taco Seasoning: This will add flavor to the enchilada filling.
Cheese: Use a Mexican blend cheese, cheddar cheese, pepper jack cheese, or Monterey Jack cheese for the sauce and to top the enchiladas.
Flour Tortillas: Medium-sized flour tortillas are needed to wrap up the enchilada filling.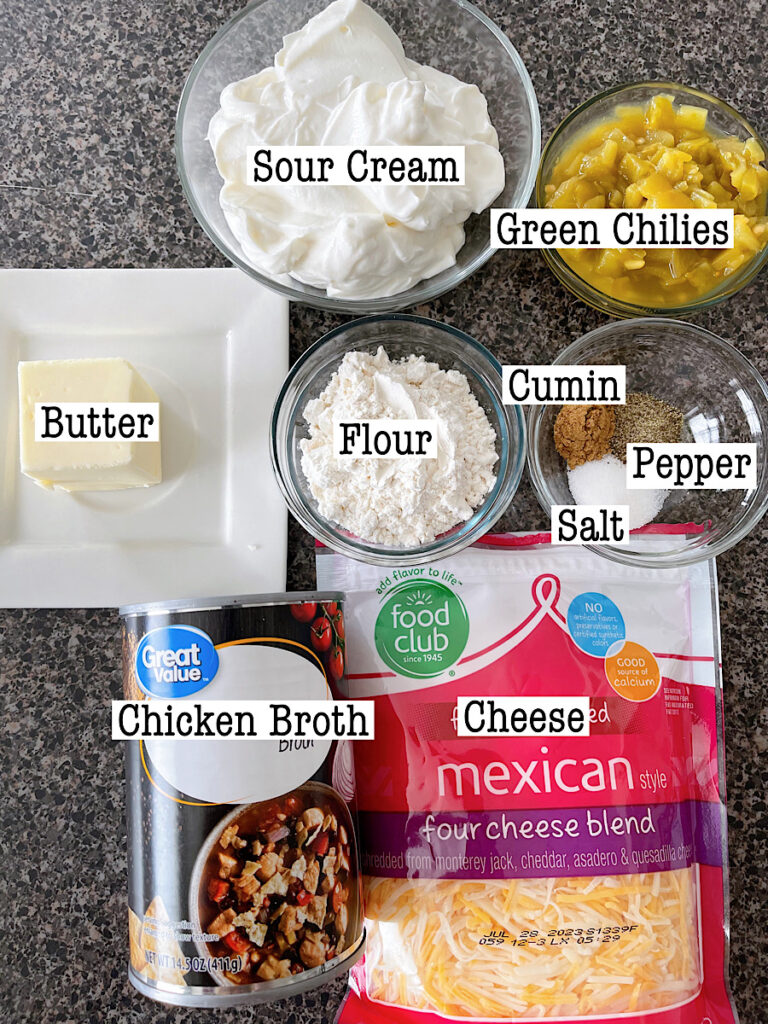 Sour Cream Sauce Ingredients
Butter: This will be the base of the roux used to thicken the sauce.
Flour: All-purpose flour is used as a thickener for the sour cream sauce.
Chicken Broth: Use this to thin out the sauce and bring all of the flavors together.
Cumin, Salt and Pepper: These seasonings add flavor to the sour cream sauce.
Sour Cream: This will be used to thicken and create the creamy base of the sauce.
Chopped Green Chilis: These add flavor and mild heat to the sauce.
How to Make Sour Cream Enchiladas
[1] Preheat oven to 350°F. Grease a 9×13-inch baking dish with cooking spray.
[2] Chicken Filling: In a large skillet over medium heat, add olive oil and diced onion. Saute until onions are softened and lightly browned, about 5 minutes. Add minced garlic to the skillet and sauté for 30 seconds more.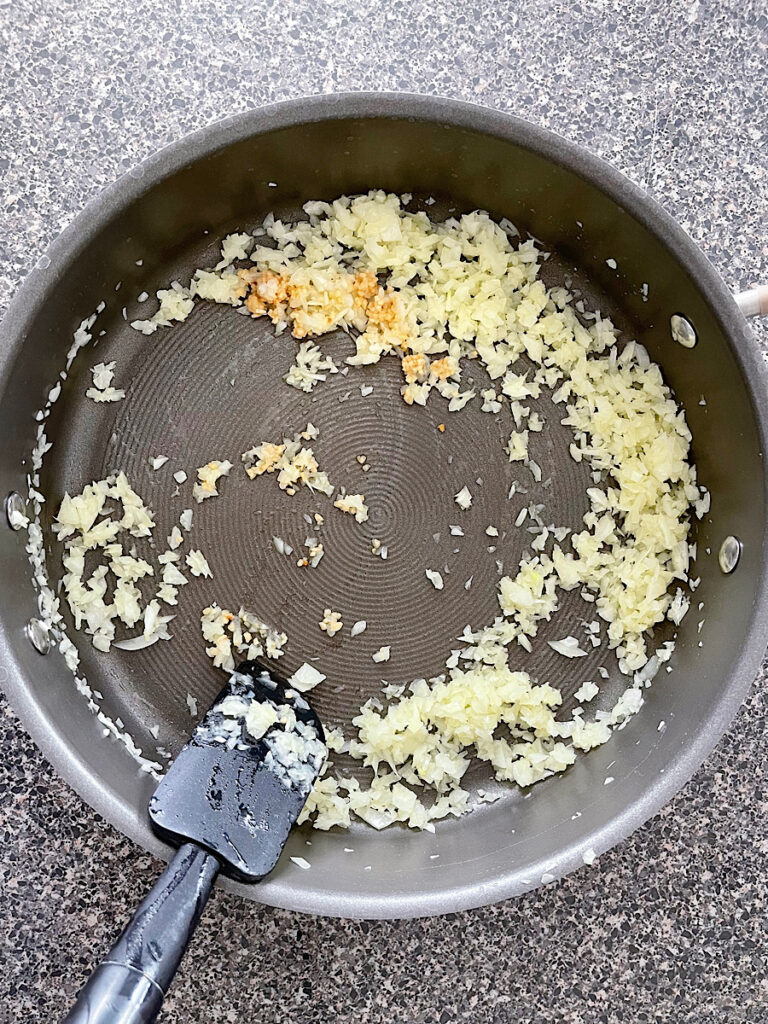 [3] Add cooked chicken, Rotel and taco seasoning to the skillet and stir to combine. Cook until heated through, about 5 minutes.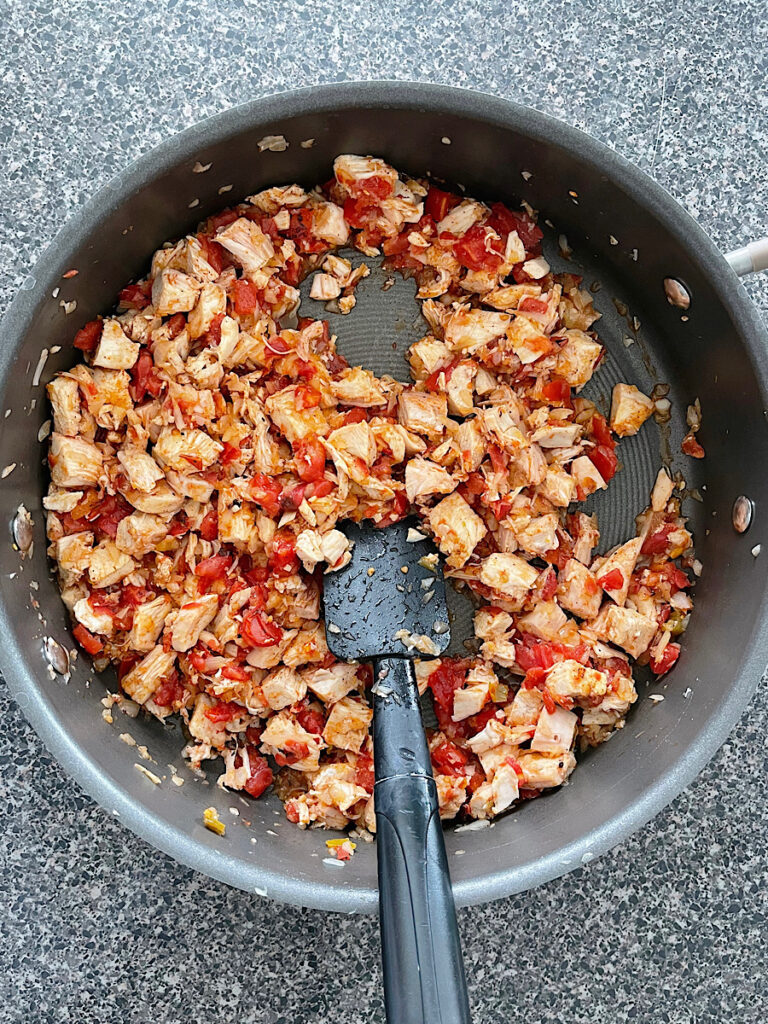 [4] Turn off heat and add 1/2 cup of shredded cheese to the chicken mixture and stir until combined. Set aside.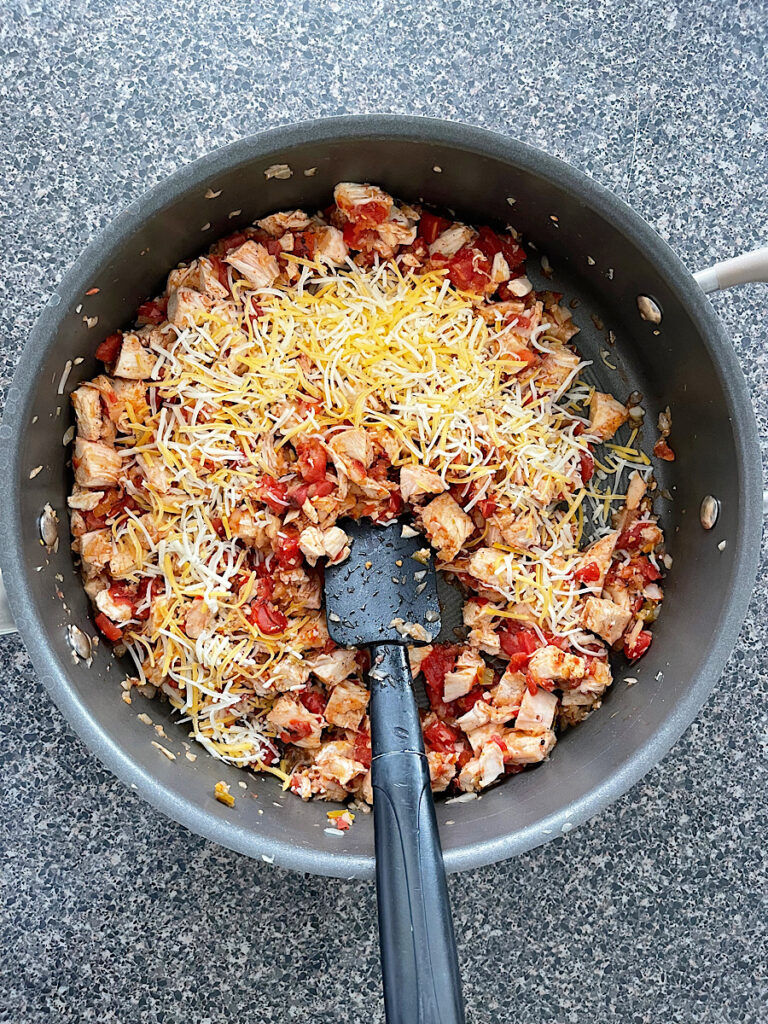 [5] Sour Cream Sauce: In a medium saucepan, melt butter over medium heat. Whisk in flour and cook for 1 minute, stirring constantly.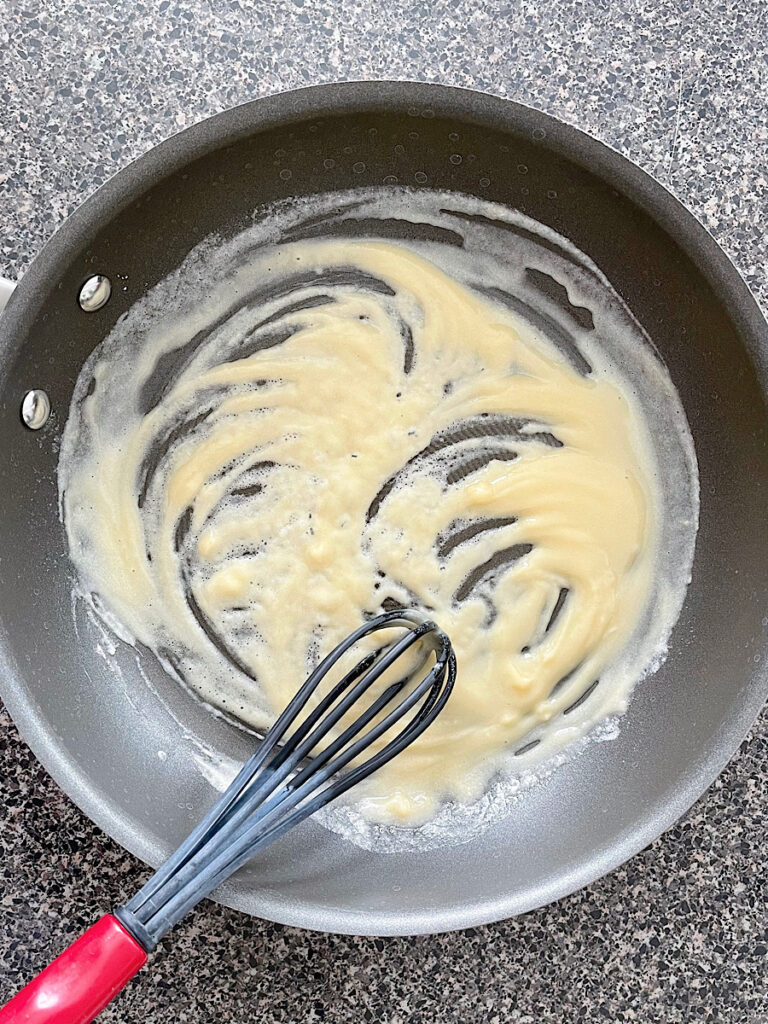 [6] Slowly pour in chicken broth while whisking until the mixture is smooth and thickened, about 2 minutes.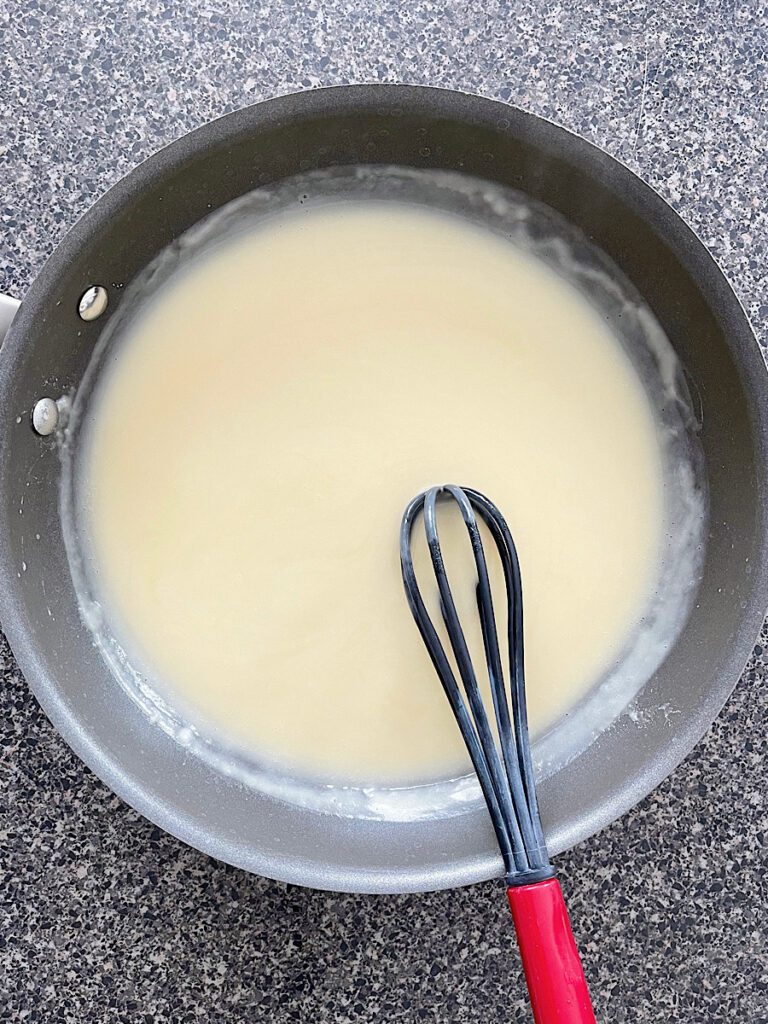 [7] Stir in cumin, salt, pepper, sour cream and chopped green chilies. Cook the enchilada sauce until heated through, about 2 minutes more. Then add 1/2 cup of cheese and stir until melted.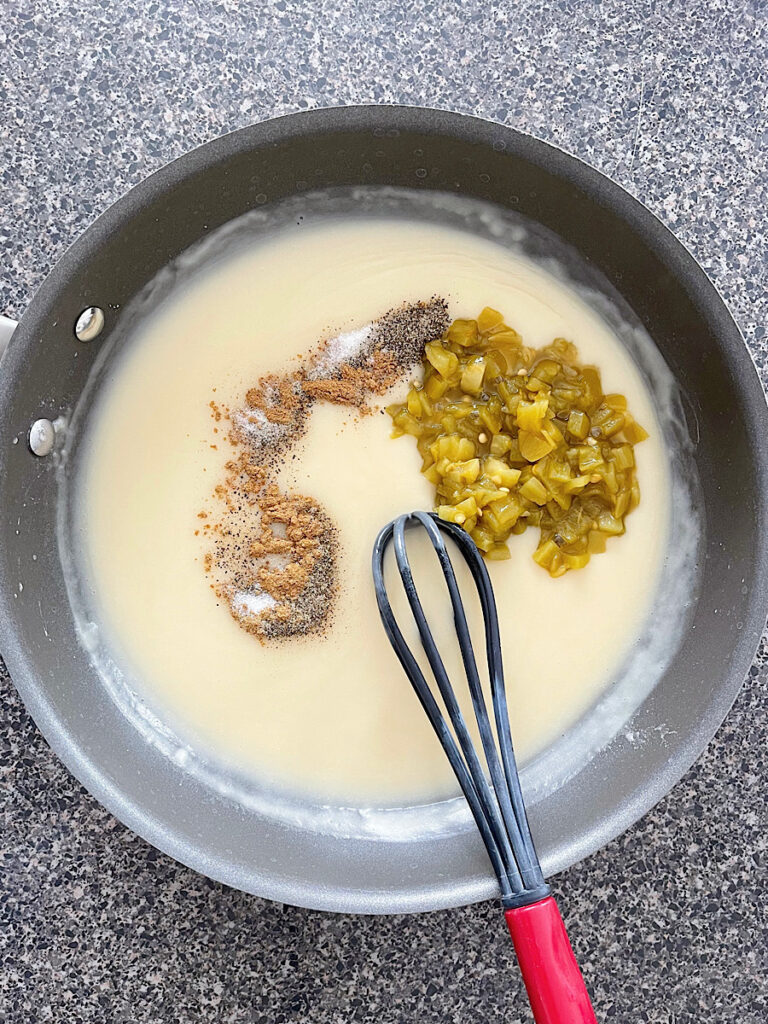 [8] Enchilada Assembly: Cover the bottom of the baking dish with about 1/2 cup of the creamy white sauce. Place a heaping spoonful of the chicken mixture into the center of the tortilla. Roll up the tortillas and place seam-side down in the prepared baking dish.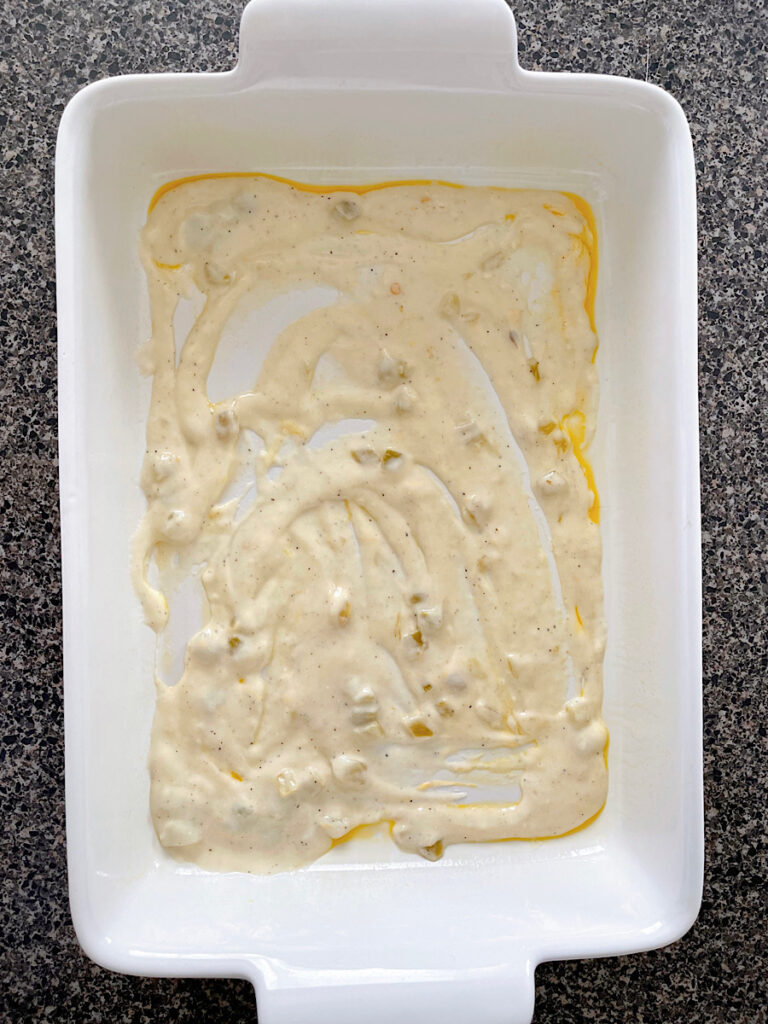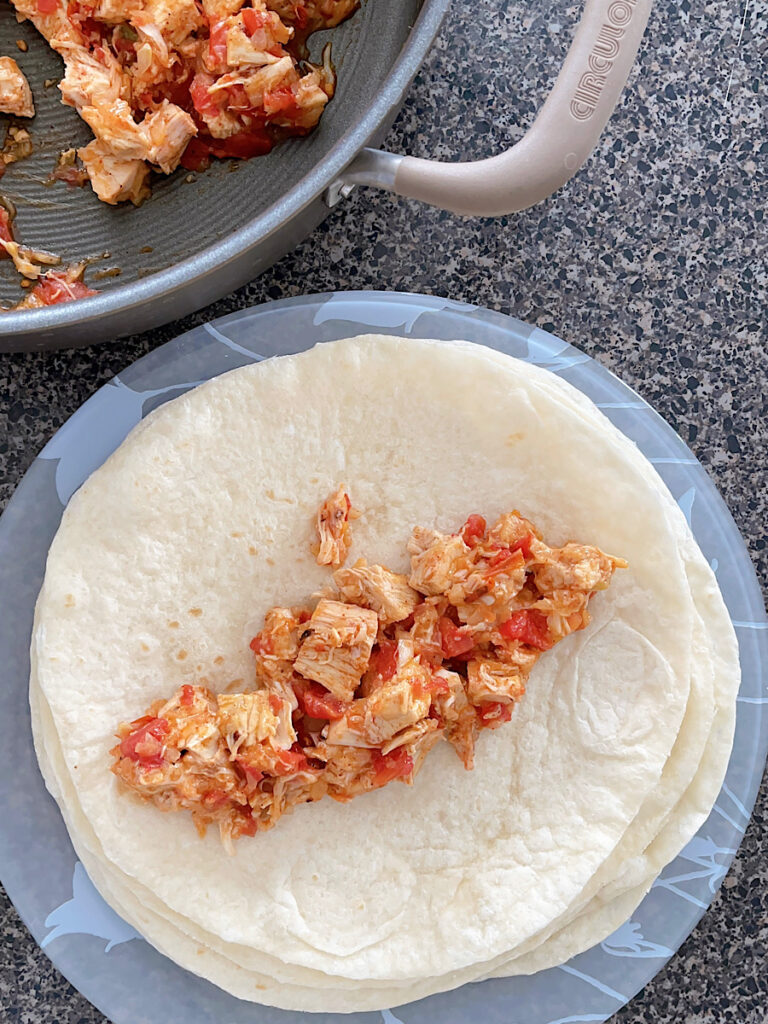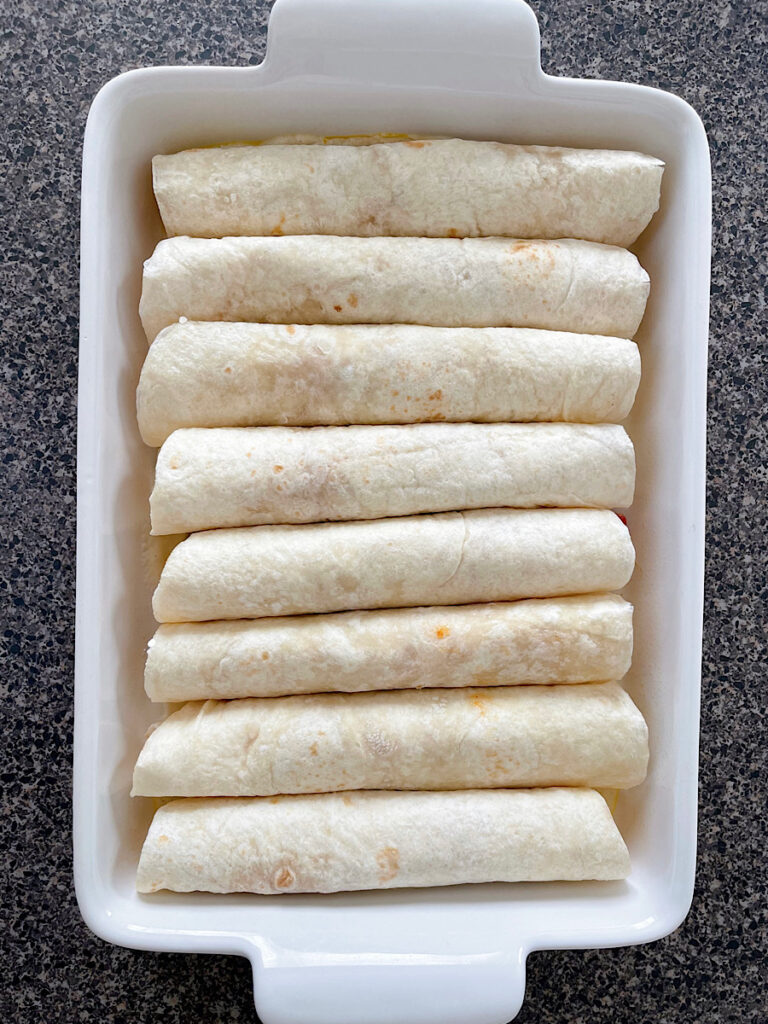 [9] Pour sauce over the rolled-up enchiladas and spread it out evenly with a spatula. Top with remaining 1 cup of cheese.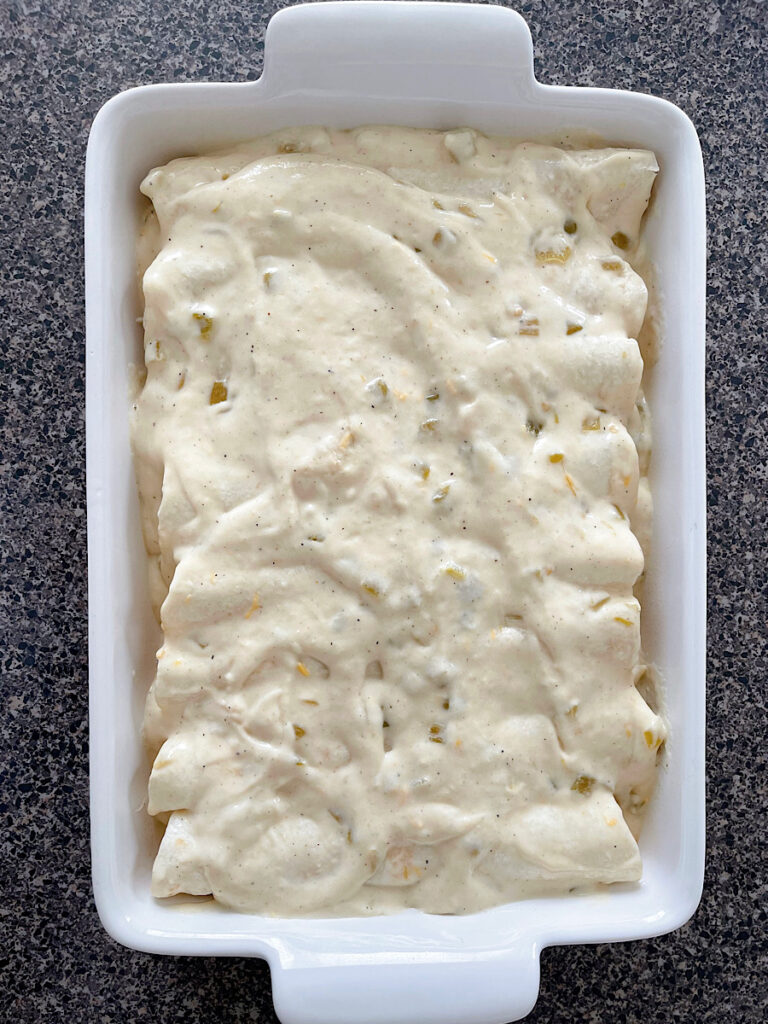 [10] Bake in a preheated oven for 25-30 minutes or until cheese is melted and bubbling.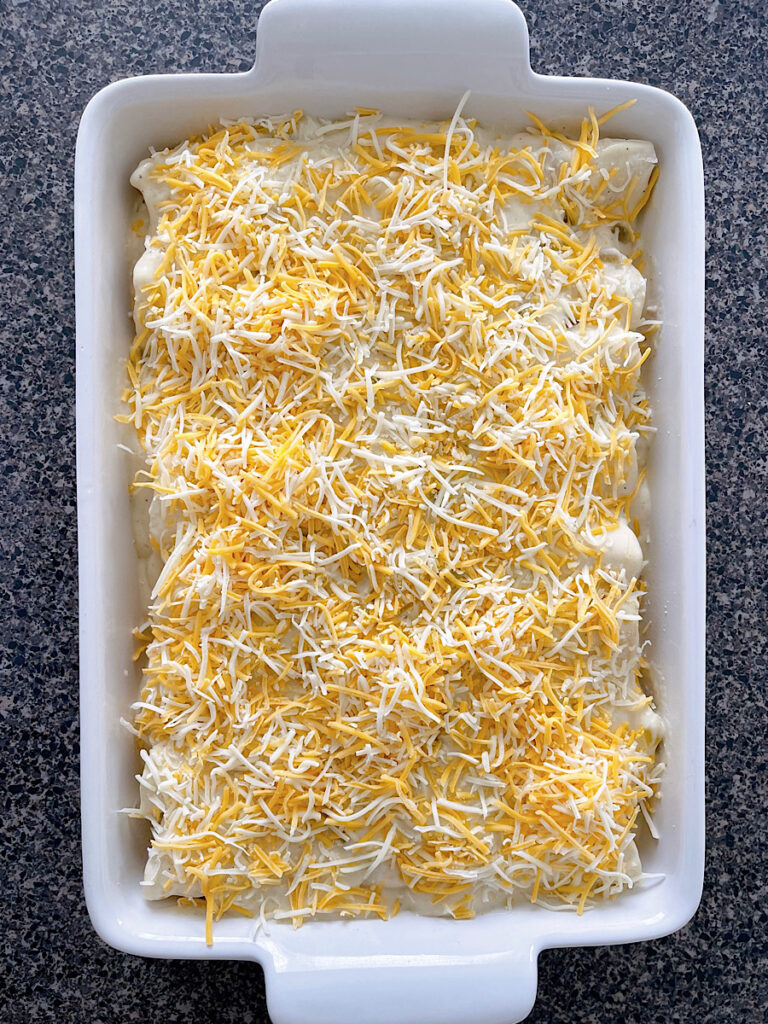 [11] Let cool for 5 minutes before serving.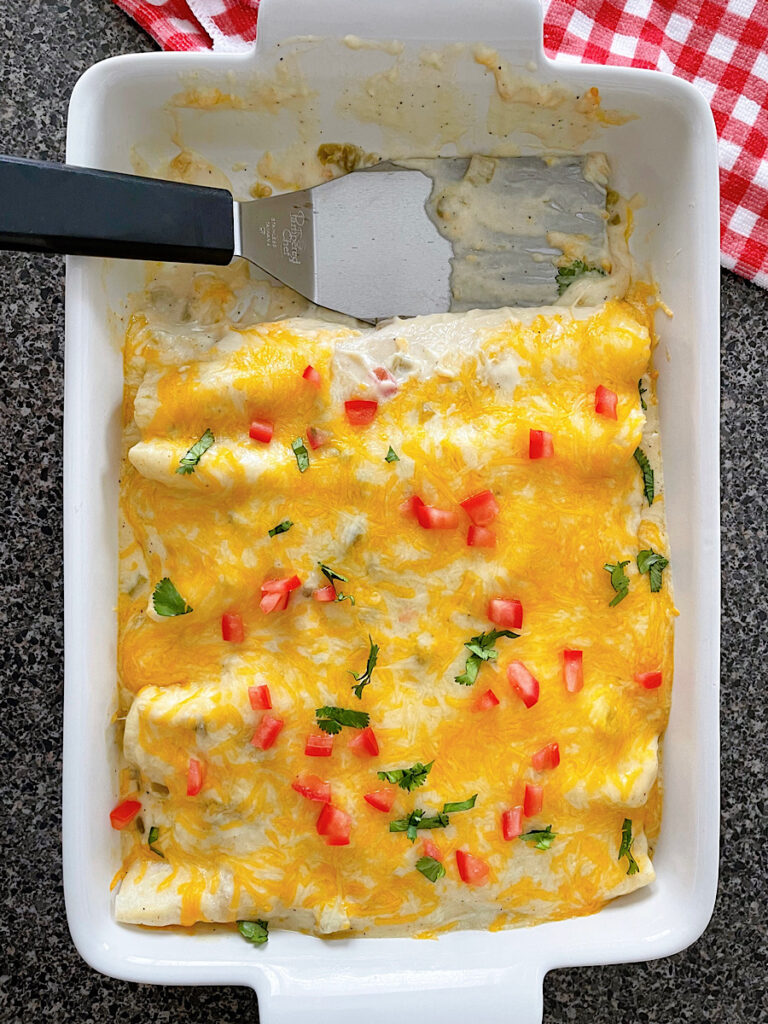 Optional Toppings for Easy Chicken Enchiladas
Sour Cream
Diced Fresh Tomatoes
Fresh Cilantro
Jalapenos
Salsa
Avocado
Green Onions
Black Olives
Helpful Kitchen Tools: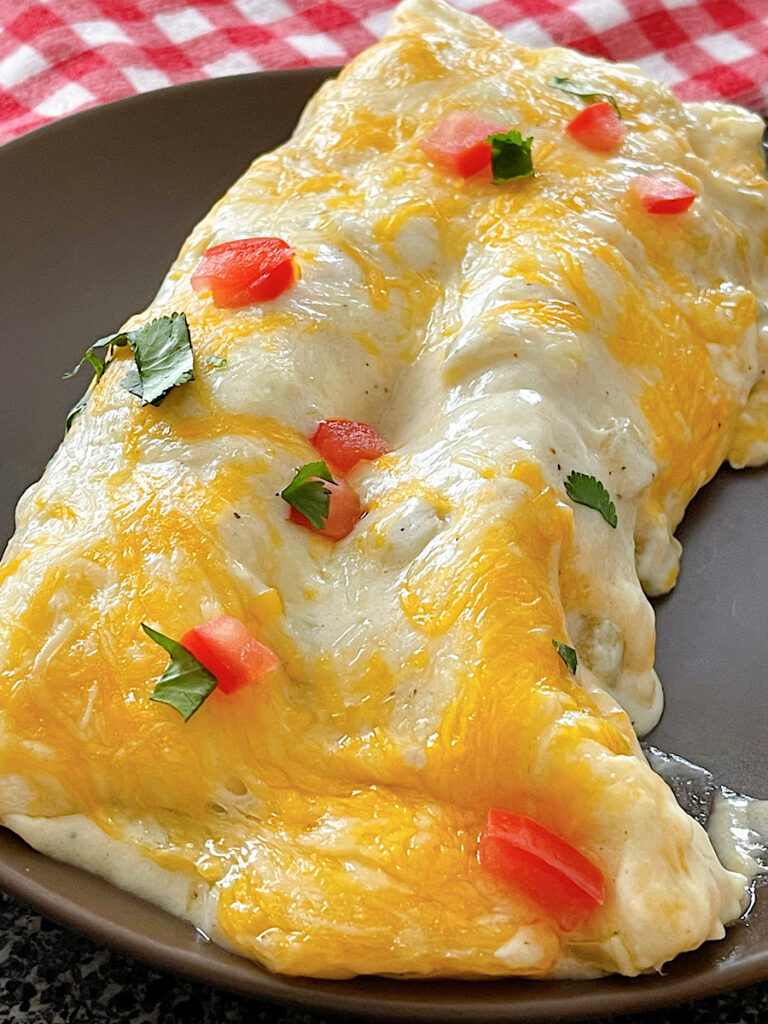 How to Store Leftovers
Store any leftover enchiladas in an airtight container or covered in plastic wrap in the refrigerator. They will stay good for up to 5 days.
You can also freeze these enchiladas wrapped in aluminum foil for up to 2 months. To reheat, simply place them on a baking sheet and bake at 350°F for 15-20 minutes or until heated through.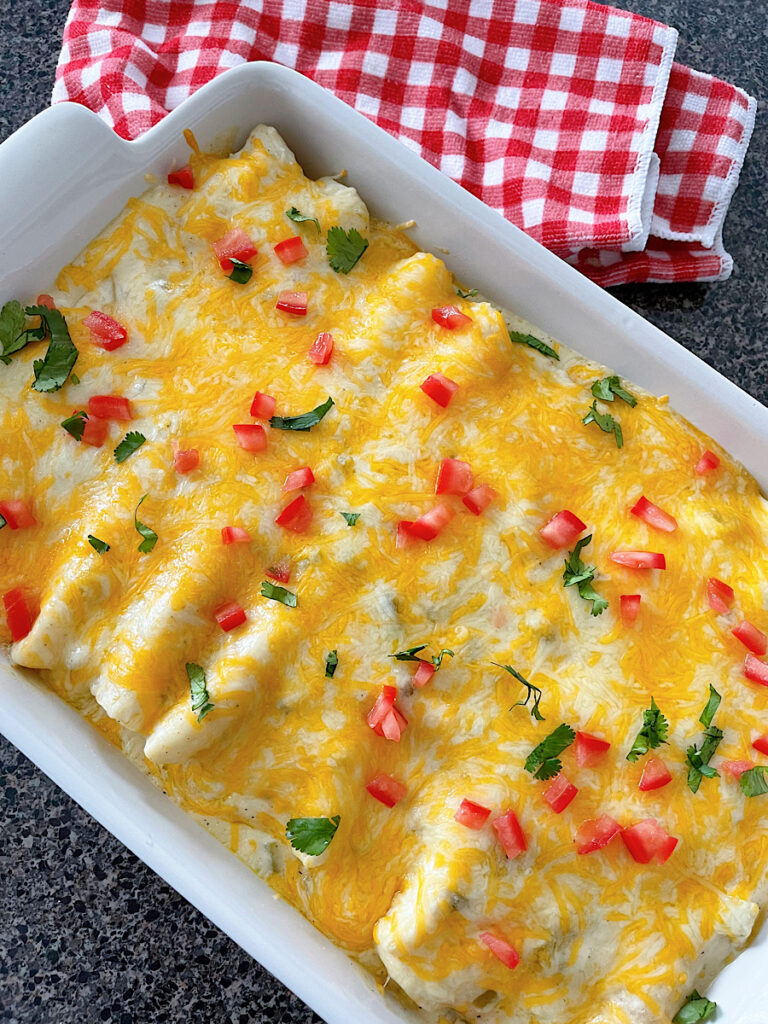 Frequently Asked Questions
Can I use corn tortillas instead of flour?
Yes, you can substitute corn tortillas for the flour ones. Just make sure to lightly fry them before filling and rolling up.
Is this recipe spicy?
This recipe is mildly spicy due to the Rotel and green chilies in the sauce. If you want to make the enchiladas spicier, you can add more diced jalapenos or hot sauce.
What should I serve with these enchiladas?
These enchiladas are great served alongside Mexican rice, refried beans, and a side salad. They can also be served with a dollop of sour cream and some fresh diced tomatoes, cilantro, or jalapenos.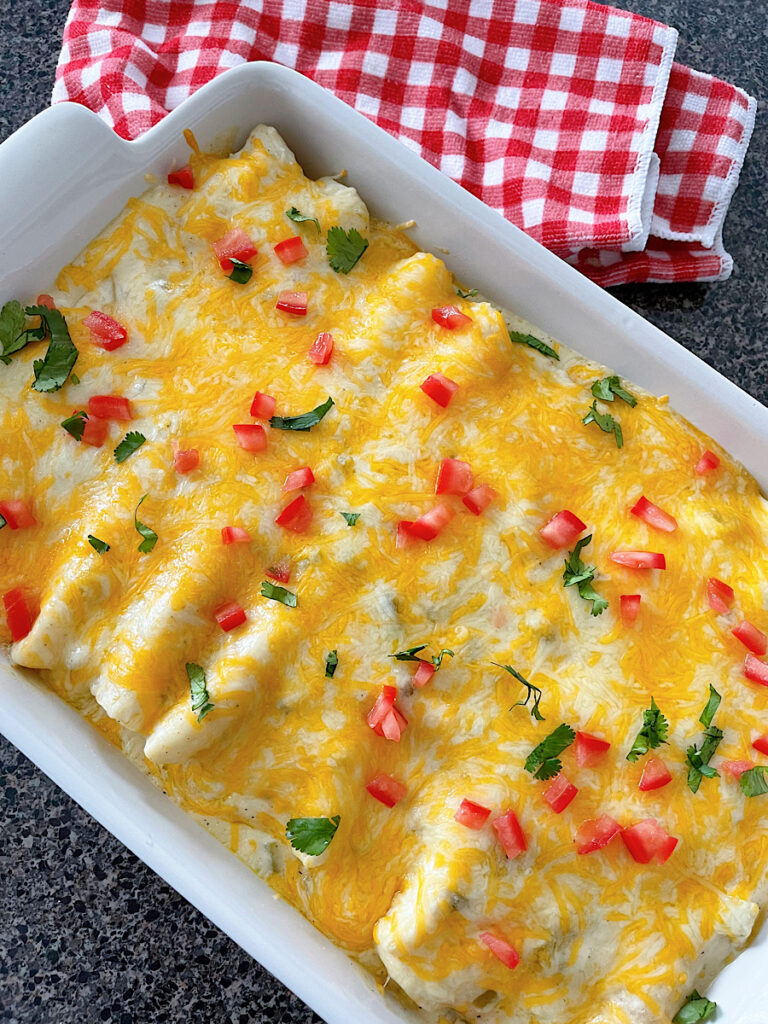 Final Thoughts
These Sour Cream Chicken Enchiladas are a delicious and easy meal that are sure to be a family favorite. With a creamy sauce, flavorful chicken filling and melted cheese on top, these enchiladas are sure to be your new favorite Mexican dish! Serve with some fresh toppings for a complete meal. Enjoy!
More Mexican Food to Try:
Green Chile Sour Cream Enchilada Video: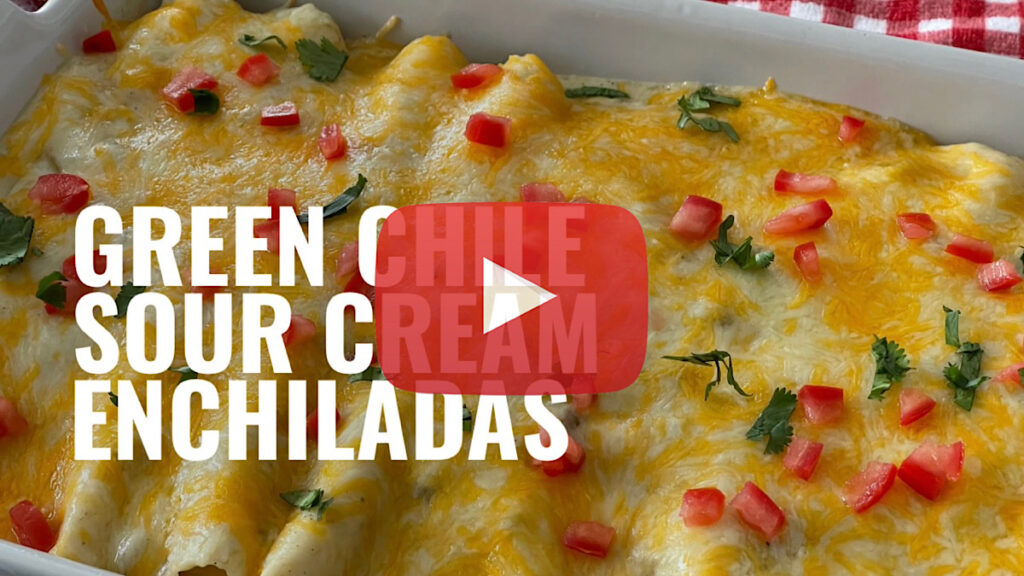 Pin for later: