A delicious and fun Butterbeer Cupcakes recipe inspired by Butterbeer from the Harry Potter Books and Movies! Butterscotch Cream Soda cupcakes that are filled with the amazing flavors of creamy butterscotch whipped cream and topped with fluffy Cream Soda Vanilla buttercream frosting. The perfect cupcakes for any Harry Potter fan any time of year!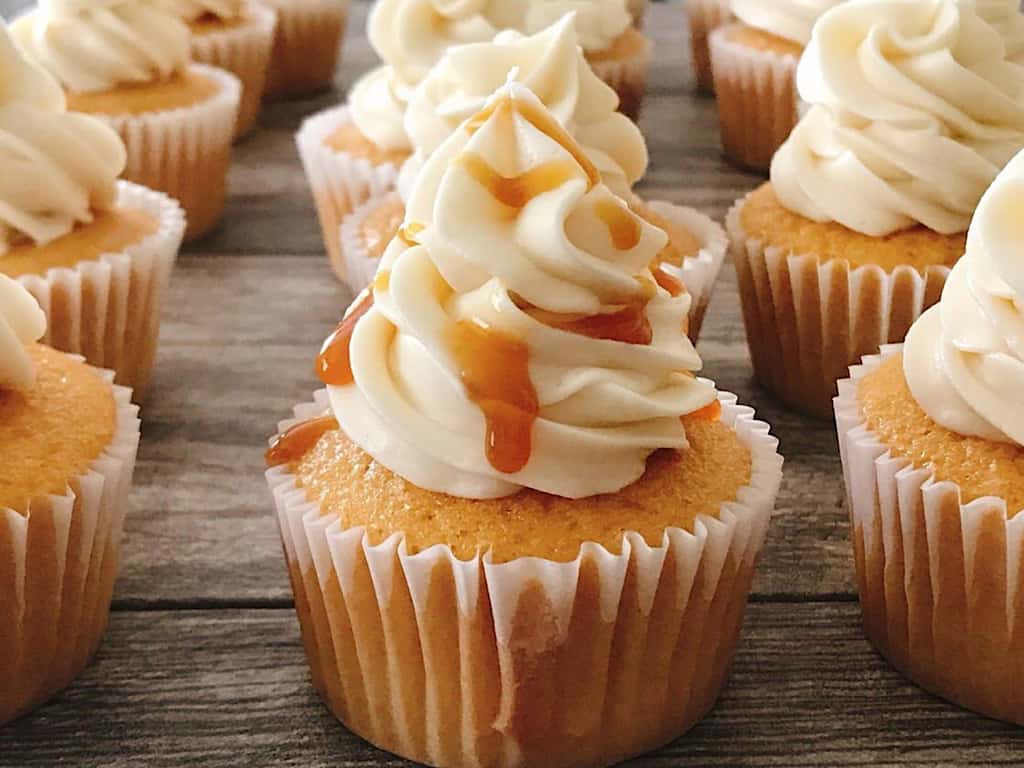 This post may contain affiliate links. When you click on these links, I get a small percentage back at no cost to you! For more information see my disclosure policy.
Below you will find tips, tricks and helpful hints for making this recipe including step by step instructions with pictures. If you would like to go directly to the recipe, scroll down to the recipe card.
What Inspired This Recipe
The first time that I read Harry Potter I was in college studying to become an elementary school teacher. I had never heard of Harry Potter before, but was intrigued by the book.
Fast forward and I now have 3 boys who absolutely love everything Harry Potter!
Last week happened to be Harry Potter's birthday and my boys wanted to celebrate. I knew that these Harry Potter Butterbeer Cupcakes would be the perfect treat for the celebration! These cupcakes have become one of my favorite Harry Potter recipes!
What are Butterbeer Cupcakes?
These Harry Potter inspired butterbeer cupcakes are vanilla cupcakes flavored with a box of instant butterscotch pudding and cream soda. It is so flavorful!
I also added some butterscotch flavored whipped cream for the filling. Finally frost cupcakes with a fluffy vanilla cream soda buttercream that tastes like butterbeer frosting!
You can also drizzle the tops of the cupcakes with caramel, just to send their awesomeness over the top.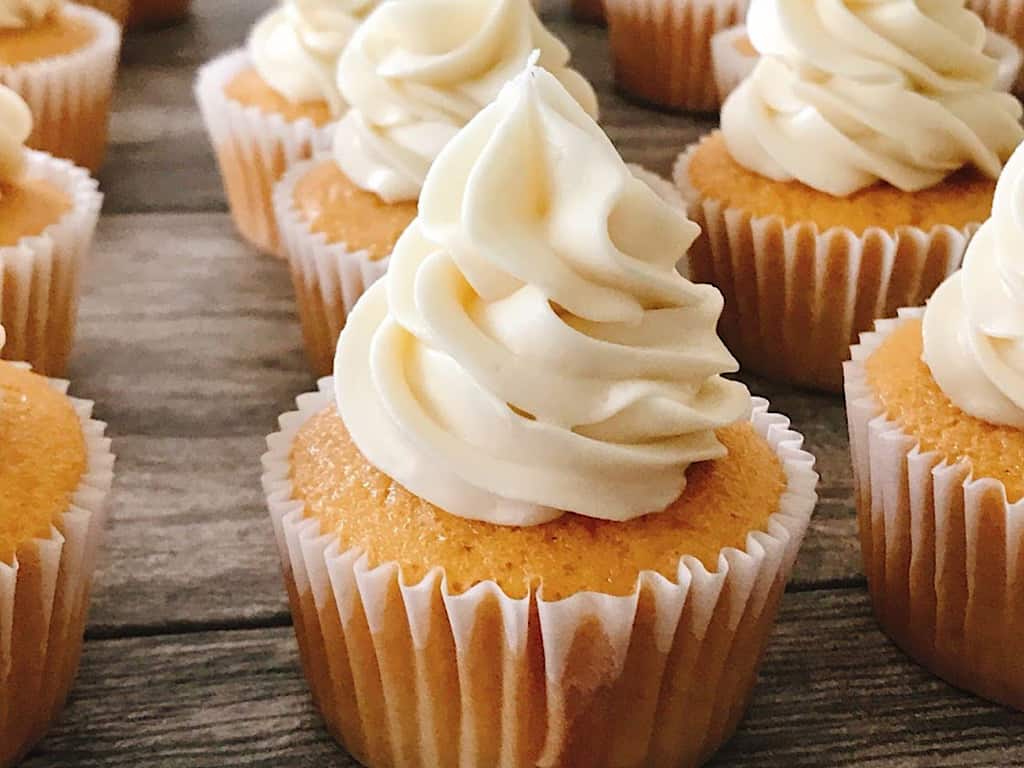 Ingredients for Butterbeer Cupcakes
*Ingredient amounts are located in the recipe card at the end of this post.
Cupcakes
Vanilla Cake Mix- My favorite cake mix brand to use for cupcakes is Betty Crocker, but feel free to use what you like.
Instant Butterscotch Pudding- This can be found on the baking aisle of almost any grocery store.
Eggs- Bind the cake ingredients together. Use large eggs for this butterbeer cupcake recipe.
Melted Butter- I use melted butter instead of oil with the cake mix.
Cream Soda- Do not use diet cream soda for this recipe, it will affect the flavor.
Butterscotch Cream Filling
Heavy Cream- Use high quality high fat whipping cream for the best results.
Butterscotch Pudding Mix- You will need 1 tablespoon of pudding mix which can be taken from the box used in the cupcakes. This will contribute to the butterbeer flavor of these cupcakes.
Sugar- Sugar is used to sweeten the butterscotch whipped crea.
Vanilla Cream Soda Buttercream
Softened Butter- Use salted or unsalted butter according to your preference.
Powdered Sugar- Sift the powdered sugar to avoid lumps in the frosting.
Cream Soda- Again, make sure not to use diet cream soda here.
Vanilla Extract- Pure vanilla extract is always best in my opinion, but feel free to use what you have on hand.
Cupcake Topping
Caramel Ice Cream Topping- This can be used to drizzle over the frosting. It is optional.
How to Make Butterbeer Cupcakes
To Make butterbeer cupcakes, begin by checking the instructions on the back of the cake mix box. You'll be using the cake mix as a guide for this recipe, it will just be "doctored up" a bit.
If the cake mix calls for 3 eggs, which most do, use one more.
If the ingredients call for 1/3 cup oil, you will use 1/3 cup melted butter.
And finally you will replace the recommended amount of water with cream soda. If it says to use 1 cup of water, use 1 cup of cream soda instead.
Cupcakes
[1] Add the eggs to a large bowl or the bowl of a stand mixer. Beat the eggs for a minute or two.
[2] Then add the cake mix, the box of Instant Butterscotch Pudding with the exception of 1 tablespoon removed to be used in the filling, melted butter, and cream soda.
[3] Beat the mixture on low until everything is moistened, then turn the mixer to medium speed for about two minutes.
[4] Place cupcake liners in each cup of a muffin/cupcake pan.
[5] Use a 1 tablespoon cookie scoop, place three scoops of batter into each cupcake liner.
[6] Bake the cupcakes at 350 degrees for 14-16 minutes, or when a toothpick inserted comes out clean.
[7] Allow the cupcakes to cool completely on a wire racks.
Butterscotch Filling
[1] Add the heavy cream, Butterscotch instant pudding, and sugar to a medium bowl or the bowl of a stand mixer.
[2] Beat the ingredients until light and fluffy.
[3] Add the whipped cream to a large disposable piping bag and set aside.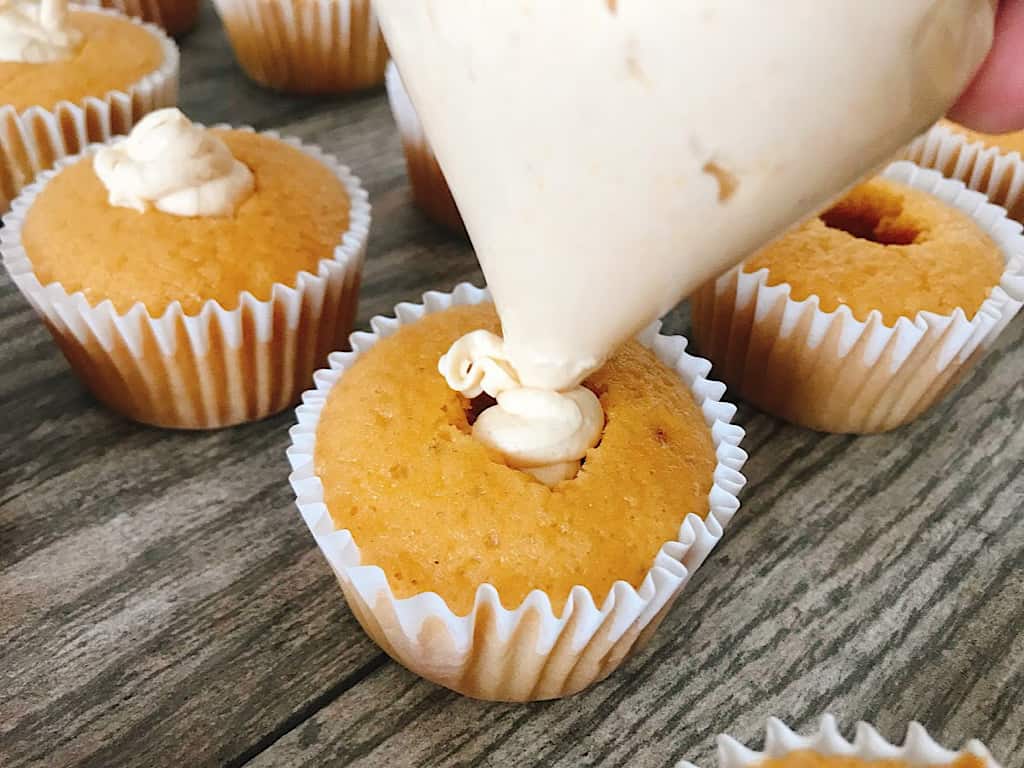 Vanilla Cream Soda Buttercream Frosting
[1] Add the softened butter to a mixing bowl or the bowl of a stand mixer and beat for a minute or two to cream butter.
[2] Measure in the vanilla extract and beat again.
[3] Add the powdered sugar, one cup at a time, mixing in between.
[4] Slowly add the cream soda, one tablespoon at a time until your frosting is nice and creamy and ready to be piped on the cupcakes. Add the frosting to a pastry bag.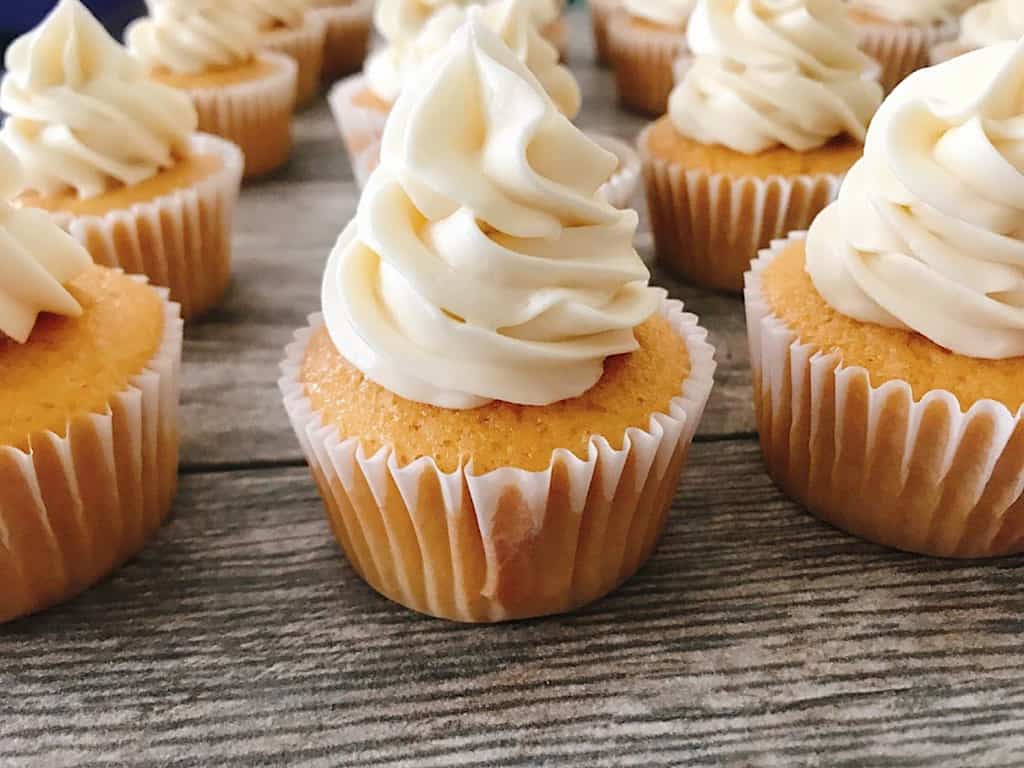 Cupcake Assembly
[1] To assemble all of the ingredients together into these delicious Harry Potter Butterbeer Cupcakes, you'll first need to remove the centers of the cupcakes. You can do this using a knife, or you can use a cupcake corer.
[2] Once the cupcake middles are removed, put the Butterscotch Cream in a piping bag or gallon ziplock bag. Cut off the end of the bag and pipe the cream into the center of each cupcake.
[3] Add the Vanilla Cream Soda Buttercream to a piping bag with a large star tip, and pipe the frosting onto the cupcakes using a swirling motion.
[4] Drizzle some caramel ice cream topping on top, if desired and enjoy your delicious butterbeer cupcakes!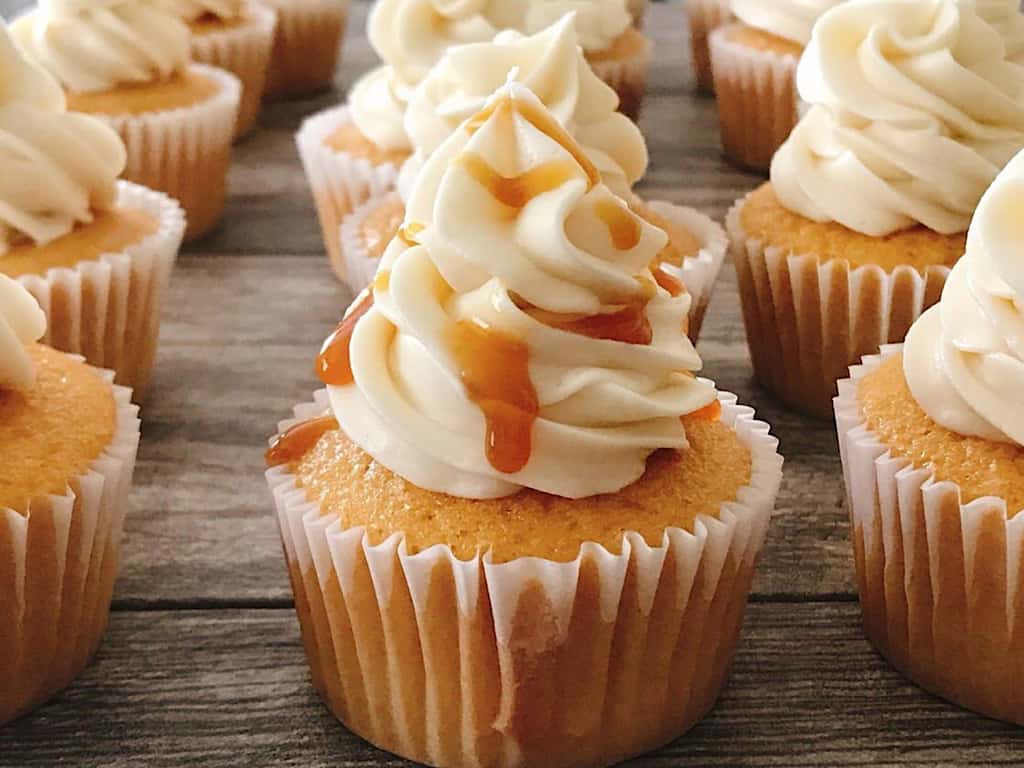 Helpful Kitchen Items you can Find on Amazon
Do You Need Cupcake Liners?
I love using cupcake liners when I make cupcakes. It makes the process much easier and less messy. If you don't have cupcake liners on hand, you can use a regular cupcake tin and spray it with non-stick cooking spray.
You can also use silicone baking cups. These are reusable and come in a variety of colors and sizes.
Can I Make These Cupcakes Without the Caramel Topping?
Yes, absolutely! The caramel topping is completely optional.
Can I Make These Cupcakes Ahead of Time?
You can make the cupcakes ahead of time and store them in an airtight container at room temperature for up to 3 days.
You can also freeze them for up to 2 months. Thaw the cupcakes overnight in the refrigerator before assembling.
What is the Best Way to Store these Cupcakes?
Store these cupcakes in an airtight container at room temperature for up to 3 days.
You can also store them in the refrigerator for up to 1 week.
What is Butterbeer?
Butterbeer is a fictional drink that is found in the Harry Potter books and movies. It is described as being a sweet and creamy drink that tastes like butterscotch.
Do Butterbeer Cupcakes Have Alcohol in Them?
No, these cupcakes are completely alcohol-free.
What is the Best Way to Remove the Cupcake Centers?
I like to use a cupcake corer to remove the centers of the cupcakes. It's quick and easy and doesn't make too much of a mess.
You can also use a knife to cut out the centers of the cupcakes. Cut a small cone out of the top of each cupcake, being careful not to cut too deep. Turn the cupcake upside down and tap it gently on the counter to remove the center.
How Many Cupcakes Does this Recipe Make?
This recipe makes 24 cupcakes.
When are These Cupcakes Done Baking?
The cupcakes are done baking when a toothpick inserted into the center comes out clean.
Where Do You Get Butterbeer?
You can purchase butterbeer from at Universal Studios Hollywood and Universal Studios Orlando at the Wizarding World of Harry Potter.
More Cupcake Recipes:
Pin Here: