A decadent, moist, chocolate fudge cupcake filled with creamy OREO cheesecake filling and topped with fluffy OREO Buttercream frosting! The BEST OREO Cupcakes ever! An easy and quick recipe using a doctored up cake mix!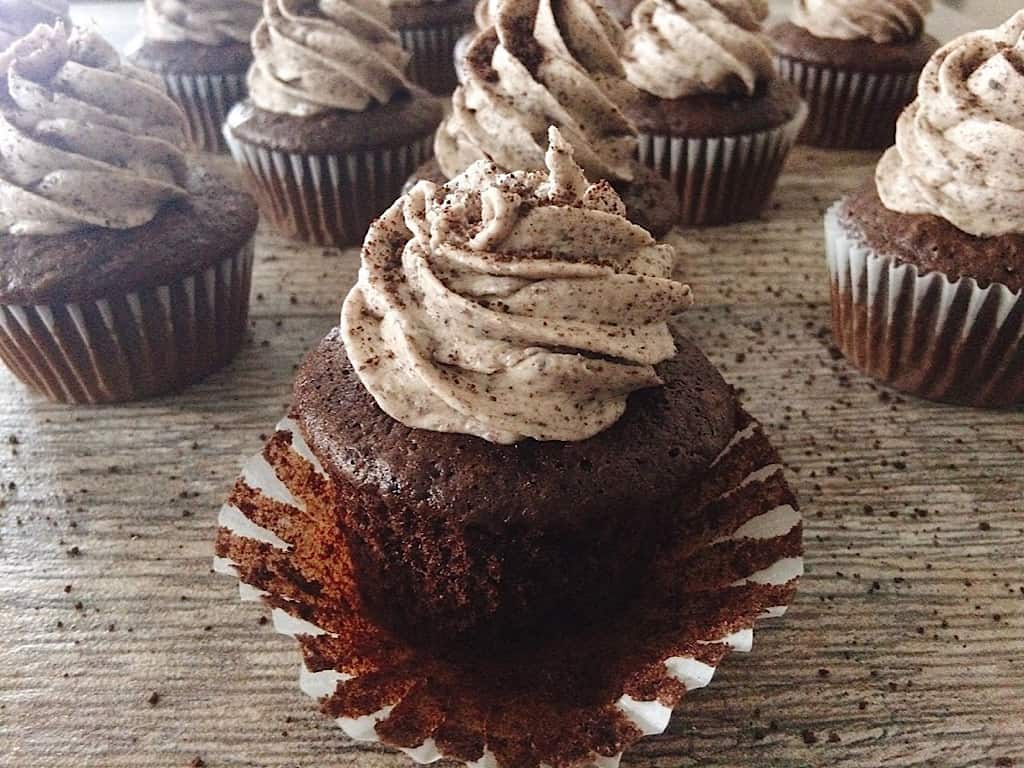 This post may contain affiliate links. When you click on these links, I get a small percentage back at no cost to you! For more information see my disclosure policy.
Before I started this website, I used to run a little home-based cupcake business. It was so much fun and I had a blast coming up with different flavor combinations.
This is how my business worked. First, I would announce the cupcake flavor of the week to my neighborhood Facebook group.
Second, I would take orders for that particular cupcake. Third, I would make and deliver the cupcakes to my customers
The first week I did this, I sold about 4 dozen cupcakes! I was so excited! The second week, I made these Death by OREO cupcakes. They were definitely a game changer. I more than TRIPLED my orders.
Apparently, people like OREOs. Who knew? I was definitely overwhelmed, but with the help of my husband, I was able to fill all of the orders.
Of all of the cupcake flavors I made for my neighbors, Death by OREO cupcakes was always a favorite and a top seller.
I knew that when I made them, it would be a good week for cupcake sales. I am so excited to get to share this recipe with you, so you can amaze your friends as well!
How to Improve a Cake Mix
This recipe starts with a chocolate fudge cake mix. I like to use a store-bought cake mixes when I bake cupcakes because they are always consistent.
But I like to make a couple of improvements though. Instead of using water that is called for on the back of the box, I use the same amount of milk or buttermilk.
I add one more extra egg than is called for, and I used melted butter in place of oil.
Believe me, these little additions will do wonders for your cake mix! You can use any cake mix you want, but I alway use Betty Crocker Triple Chocolate Fudge Cake Mix. I get great results, every time!
The filling for these OREO cupcakes is a creamy, OREO cheesecake filling. Pipe that into the center of the cupcake and then add the frosting.
The frosting is like a little piece of heaven! It is so fluffy and delicious and is packed with OREO flavor! You will definitely fill your cookies and cream craving with these little beauties.
Ingredients to make Death by OREO Cupcakes
Cupcakes
1 1/4 Cups Milk

4 Eggs

1/2 Cup Butter, Melted
OREO Cheesecake Filling
1 Block Cream Cheese, 8 ounces

12 OREO Cookies, crushed

3-4 Cups Powdered Sugar
OREO Buttercream Frosting
1 Cup Butter, softened

1 Teaspoon Vanilla Extract

12 OREO Cookies, crushed

3-4 Cups Powdered Sugar

2-3 Tablespoons Milk

Snack Size OREOS for Mickey Ears
Helpful Kitchen Tools:
How to Make Death by OREO Cupcakes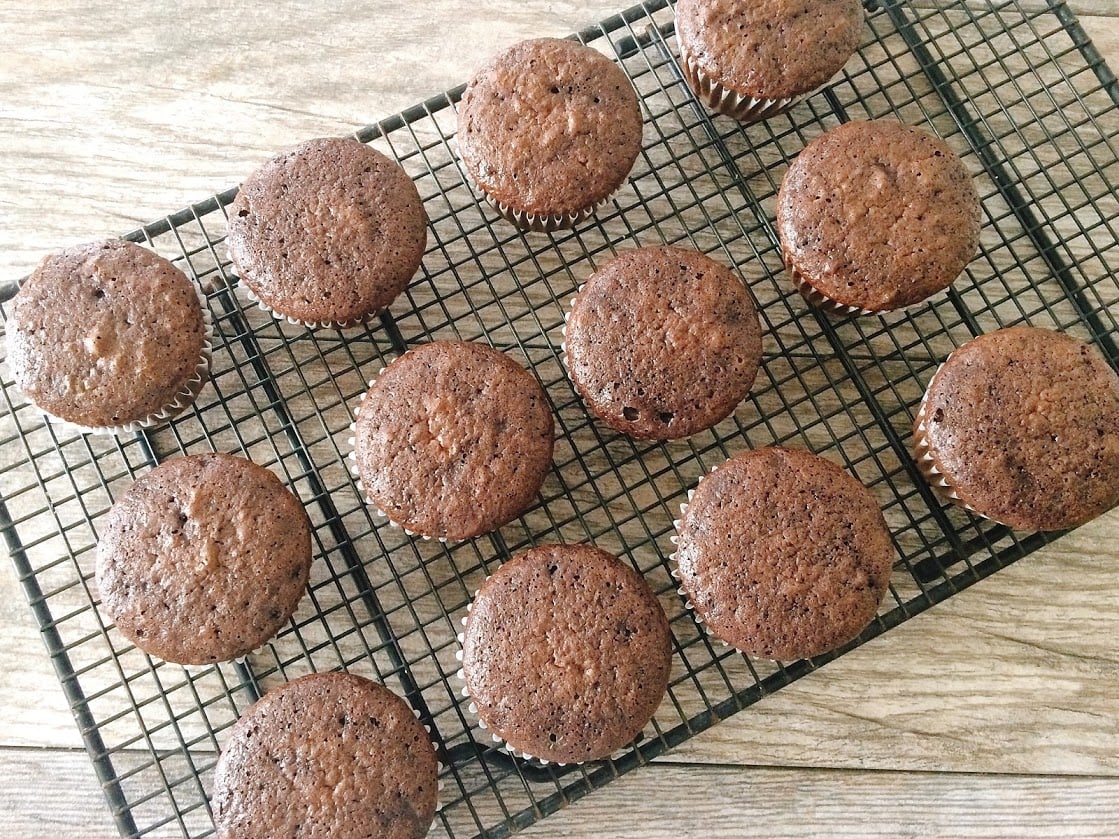 Cupcakes
The first thing you'll need to do is prepare the cupcake batter. Add the eggs to the bowl of a stand mixer or a large mixing bowl.
Beat the eggs lightly. Then add the cake mix, melted butter, and milk.
Beat the batter on low for about 30 seconds until moistened, then on medium speed for about 2 minutes.
Bake the cupcakes for 13-15 minutes or until a toothpick inserted comes out clean. Baking times may vary by oven, so watch your cupcakes carefully.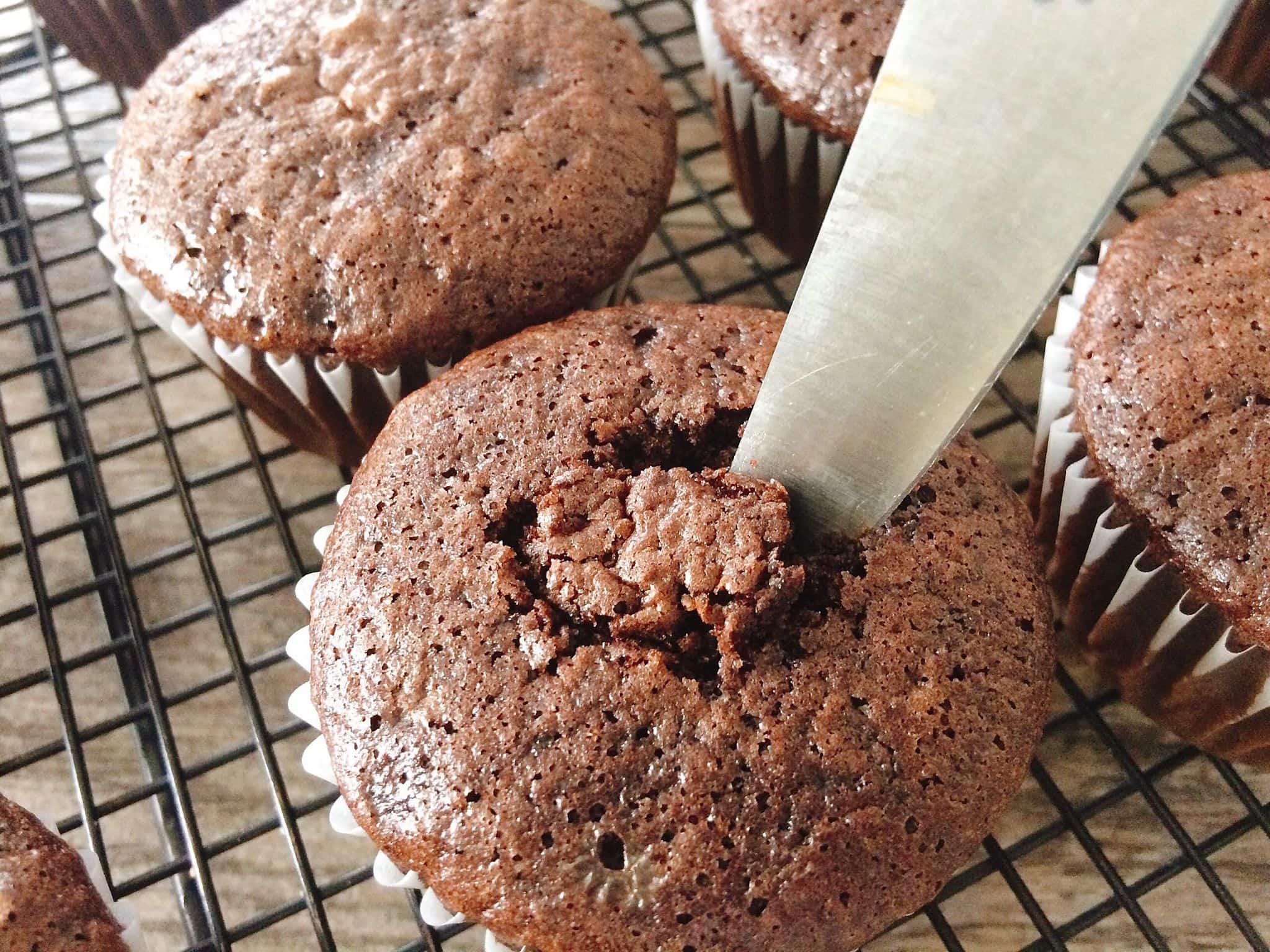 Remove the cupcakes from the oven and allow them to cool for 2-3 minutes.
Take the cupcakes from the pan and place them on a cooling rack to completely cool.
Once the cupcakes have cooled, use a knife or a cupcake corer to remove the center of each cupcake.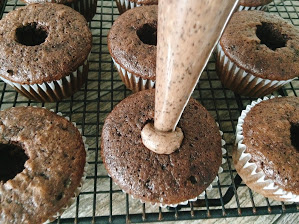 OREO Cheesecake Filling
While the cupcakes are cooling, begin to prepare the filling.
Add the softened cream cheese to a mixing bowl. Beat the cream cheese until smooth.
Add the cookie crumbs to the cream cheese and mix.
Slowly add the powdered sugar, a little at a time and beat until incorporated.
Pipe the filling into the holes in the center of the cupcakes.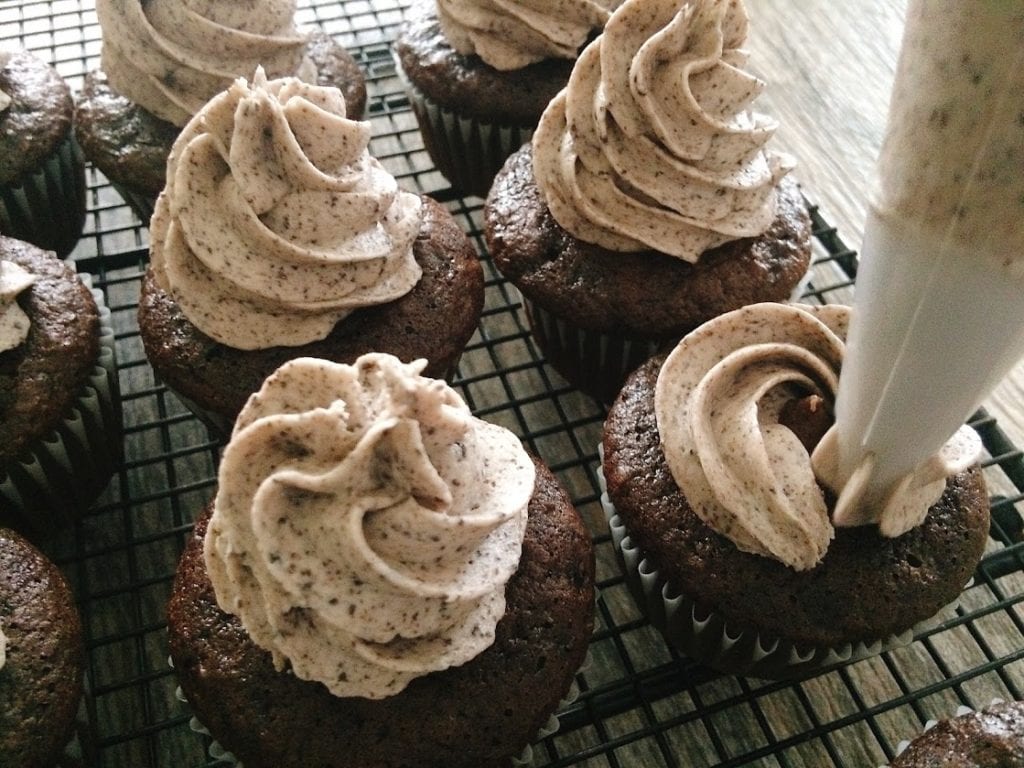 OREO Buttercream Frosting
After filling the cupcakes, prepare the frosting.
Crush the OREO cookies in a food processor or blender.
Beat the softened butter in a stand mixer until light and fluffy.
Add the vanilla and crushed cookie crumbs. Mix together.
Place the powdered sugar in the mixing bowl, one cup at a time, mixing in between.
Add the milk one tablespoon at a time, until your desired consistency is reached.
Beat the frosting for 1-2 minutes.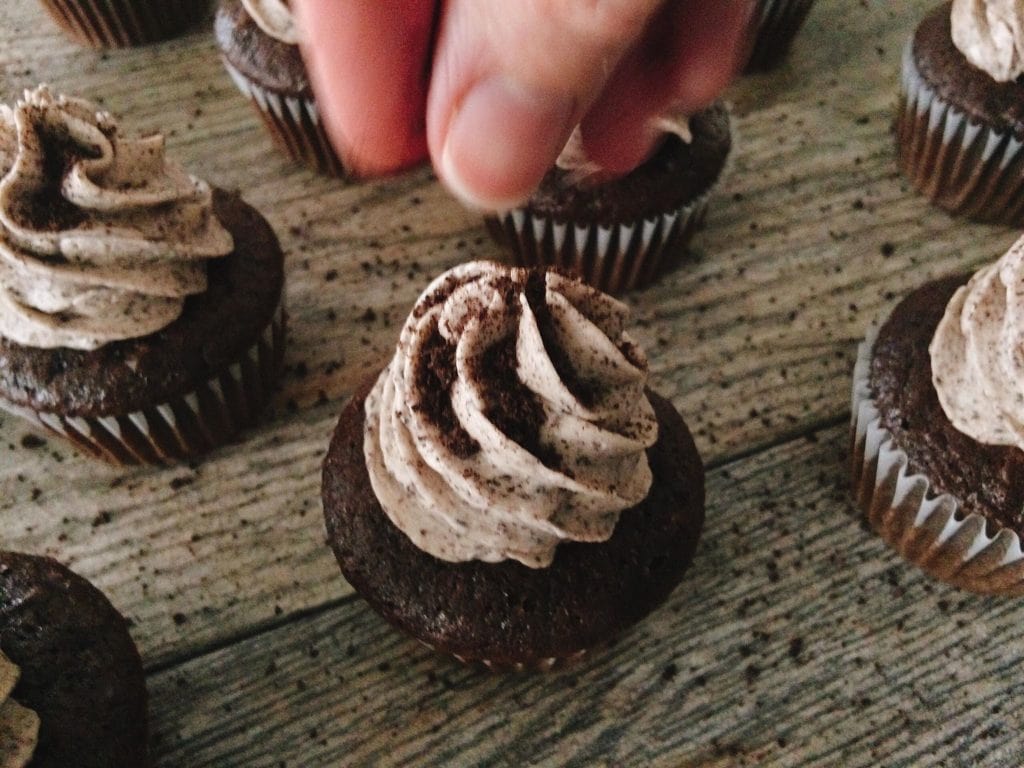 How to Assemble the Cupcakes
Pipe the frosting on top of the cupcakes in a circular motion.
Sprinkle extra OREO crumbs on top or add mini-OREOs to make Mickey Mouse ears!
I hope you enjoy these cupcakes as much as I do! Don't forget to pin this recipe! Make sure you tag @mommymouseclubhouse on Instagram if you make these delicious cupcakes. I want to see your creation!
If you like Death by OREO cupcakes, you might also like my Triple Chocolate Salted Caramel Cupcakes recipe as well!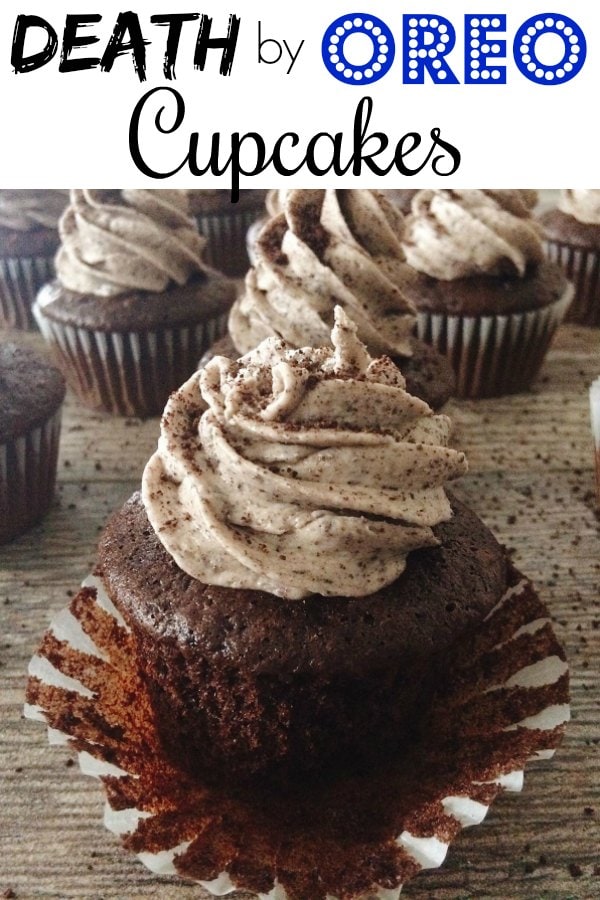 More Cupcake Recipes