Delicious sweet cream pancakes topped with creamy no-bake cheesecake topping, chopped strawberries and graham cracker crumbs. Strawberry Cheesecake Pancakes are sure to become a family favorite recipe!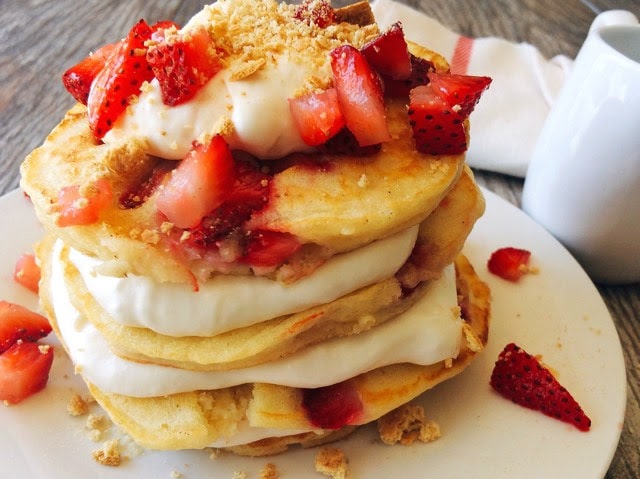 This post may contain affiliate links. When you click on these links, I get a small percentage back at no cost to you! For more information see my disclosure policy.
One of my favorite pastimes is to go to breakfast. I love going to a restaurant that specializes in breakfast foods, especially pancakes. It's kind of like eating dessert for breakfast.
I've ordered Strawberry Cheesecake pancakes from places like IHOP before, but I've learned that sometimes its better to make specialty pancakes at home where you can control how much "topping" you use.
My husband LOVES toppings on everything. Toppings and sauces. It's kind of an obsession of his.
Getting fed up with not having enough strawberries and cheesecake on top of his pancakes, my husband challenged me to create a Strawberry Cheesecake Pancakes using my Sweet Cream Pancakes recipe.
So that's just what I did! These Strawberry Cheesecake Pancakes will surely become a favorite once you take a bite of this decadent breakfast.
The toppings are so versatile you could even mix it up and use them on Amazingly Perfect French Toast instead of pancakes! Go ahead, I dare you!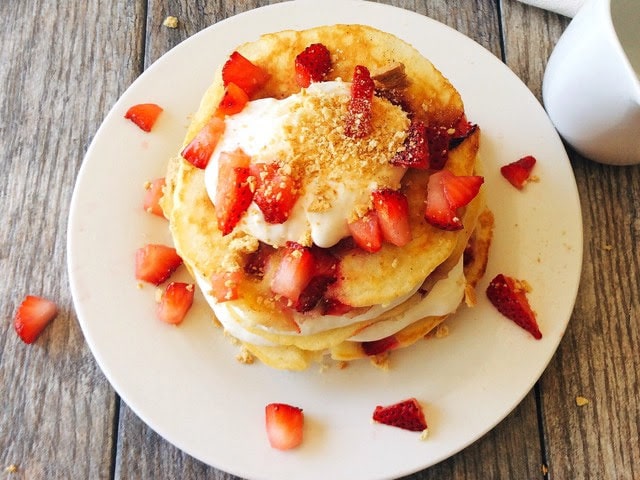 A note about the Sweet Cream Pancakes. The batter is super thick and they will take a minute or two longer than a typical pancake, but the results are amazing!
If the batter is too thick for your liking, you can thin it with a little milk.
Ingredients for Strawberry Cheesecake Pancakes
Sweet Cream Pancake Batter
2 Cups All-Purpose Flour

2 Teaspoons Baking Powder

1 Teaspoon Baking Soda

1/2 Teaspoon Salt

1/3 Cup Sugar

2 Eggs

2 Teaspoons Vanilla Extract

3 Cups Heavy Cream

Chopped Strawberries
Cheesecake Topping
4 Ounces Cream Cheese, softened

1 Cup Heavy Cream

1 Teaspoon Vanilla Extract

1 Cup Powdered Sugar
Pancake Topping
Chopped Strawberries

Graham Cracker Crumbs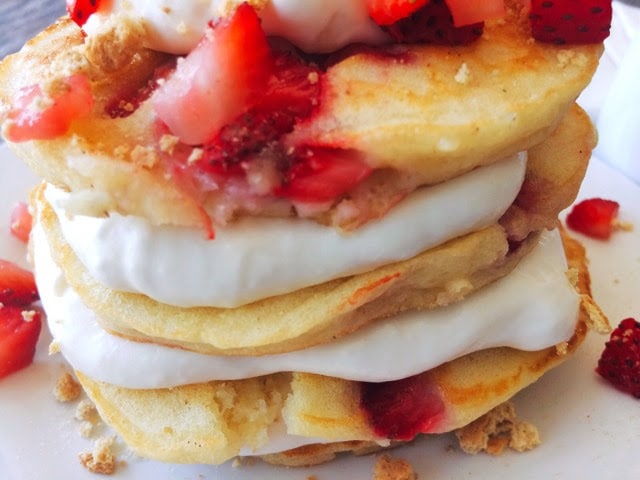 Directions
Cheesecake Topping
For this recipe, prepare the strawberry cheesecake topping first. That way, everything will be ready to assemble once the pancakes have cooked.
To prepare the topping, beat the softened cream cheese with a hand mixer or in the bowl of a stand mixer until it is smooth and creamy.
Add the vanilla. Incorporate the powdered sugar, a little at a time.
In a separate bowl, beat the heavy cream until peaks form. Fold the whipped cream into the cream cheese mixture.
Pancakes
To make the sweet cream pancakes, mix the flour, baking powder, baking soda, salt, and sugar in a mixing bowl.
In a separate bowl, beat the eggs, vanilla, and heavy cream together with a whisk.
Heat an electric griddle to medium high heat (about 300 degrees) and spray with cooking spray.
Place approximately 1/4 cup of batter on the griddle for each pan cake. Sprinkle some chopped strawberries over the batter.
Cook for 2-3 minutes until little bubbles begin to appear. Flip the pancakes over and cook for another 2-3 minutes until golden.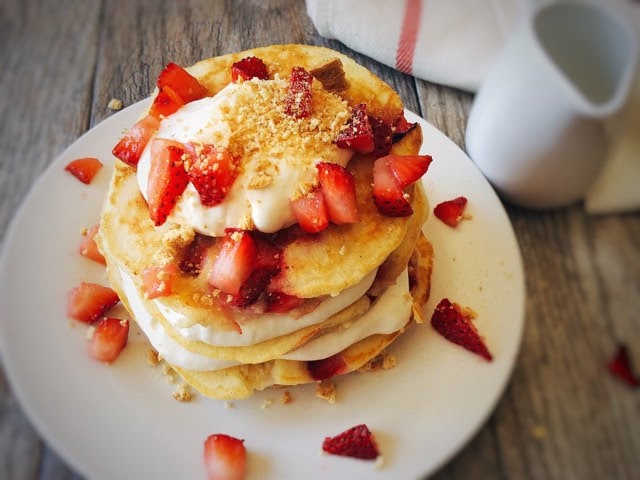 Pancake Assembly
To assemble the Strawberry Cheesecake Pancakes, top each pancake layer with a dollop of cheesecake topping, more chopped strawberries and graham cracker crumbs. Pour on some maple syrup , if desired.
Helpful Kitchen Items
I hope you love these specialty Strawberry Cheesecake Pancakes as much as I do! Make sure you pin this recipe for later and check out more yummy recipes here.
Tag @mommymouseclubhouse on Instagram if you make these pancakes. I want to see your creation!