Want to know what it is like to stay at Disney's Animal Kingdom Lodge? Here is a tour and review of the resort as well as a tour of our room with a Savanna view. This article will help you decide if staying at Disney's Animal Kingdom lodge is worth the money.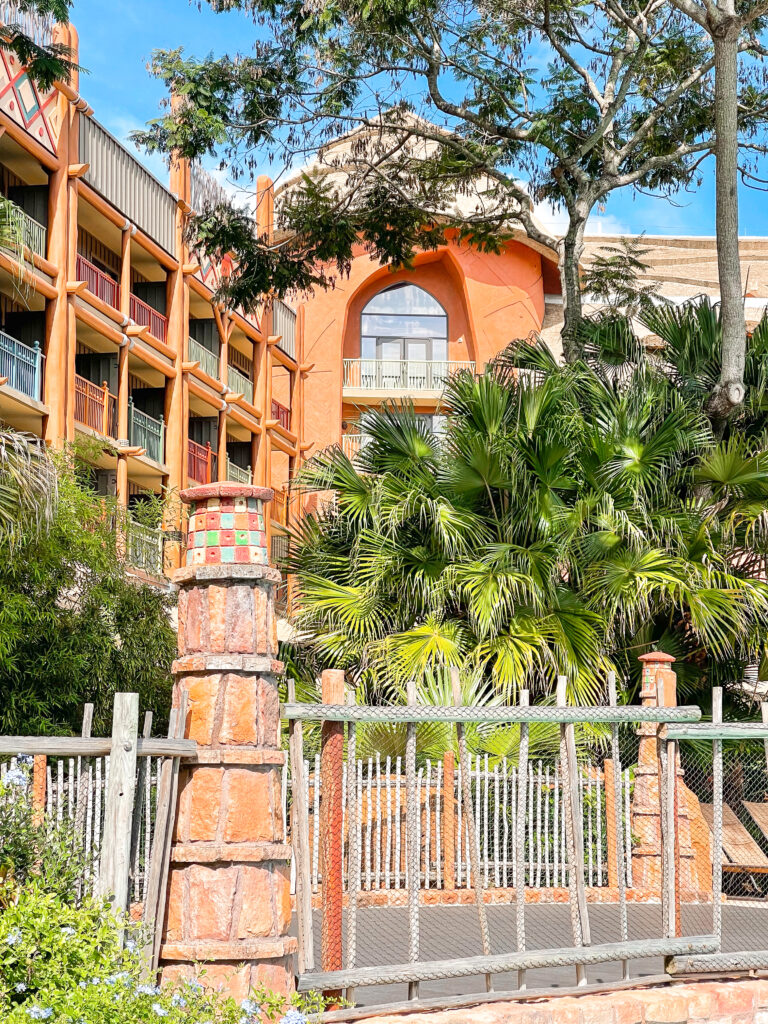 This post may contain affiliate links. When you click on these links, I get a small percentage back at no cost to you! For more information see my disclosure policy.
Finding the perfect hotel for your Disney World vacation can be hard. There are so many options both on Disney property and off.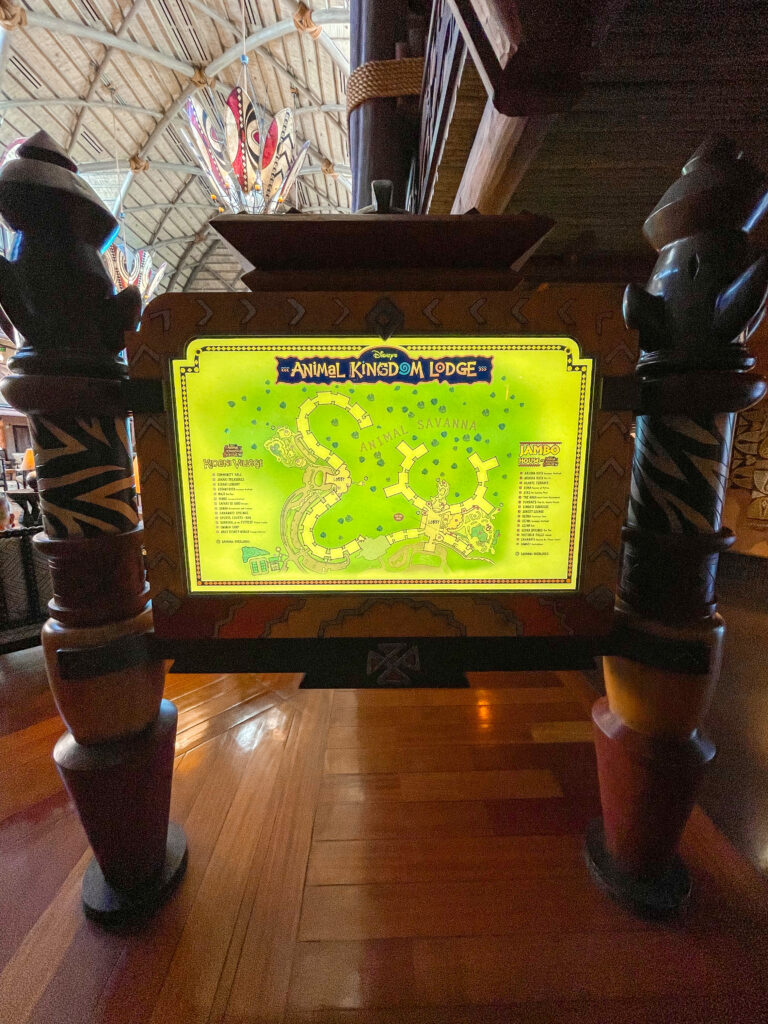 We recently stayed at Disney's Animal Kingdom Lodge in Walt Disney World, Florida. This was our first time staying there and we loved it! The rooms were beautiful, the service was excellent, and the location made getting around easy.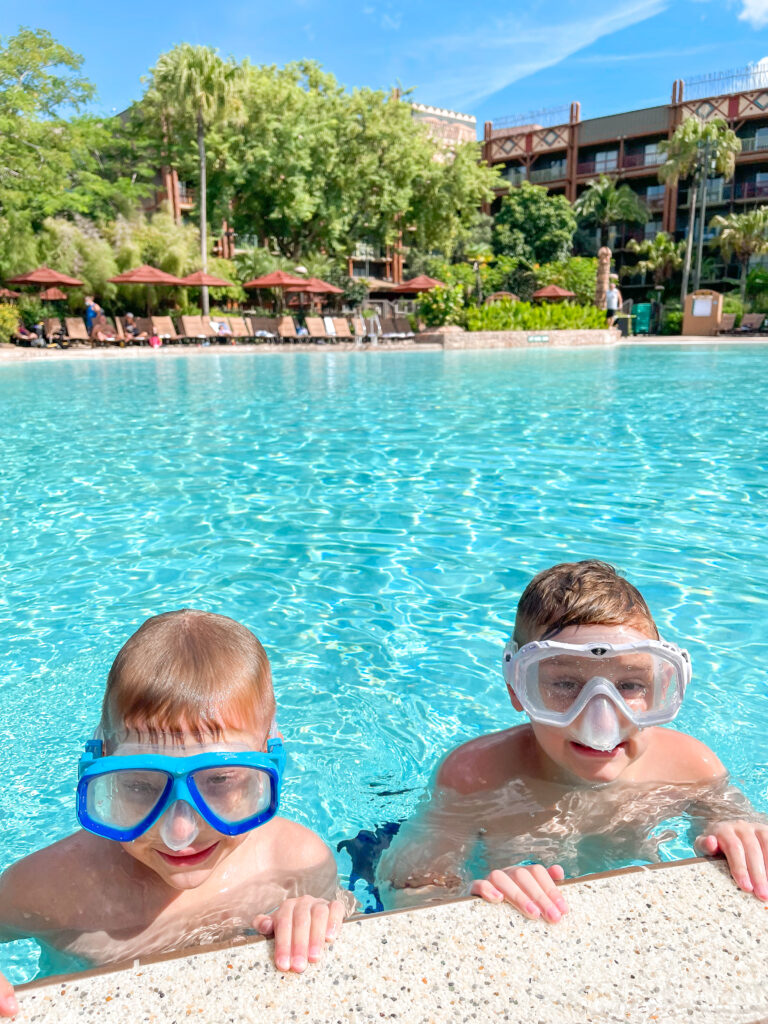 If you are looking for a resort with great amenities, deluxe accommodations, and amazing views, then this could be a good option for you! If you are still deciding on a resort, make sure to check out my review of Disney's Contemporary Resort as well as other Orlando area hotels like Hilton Lake Buena Vista Palace!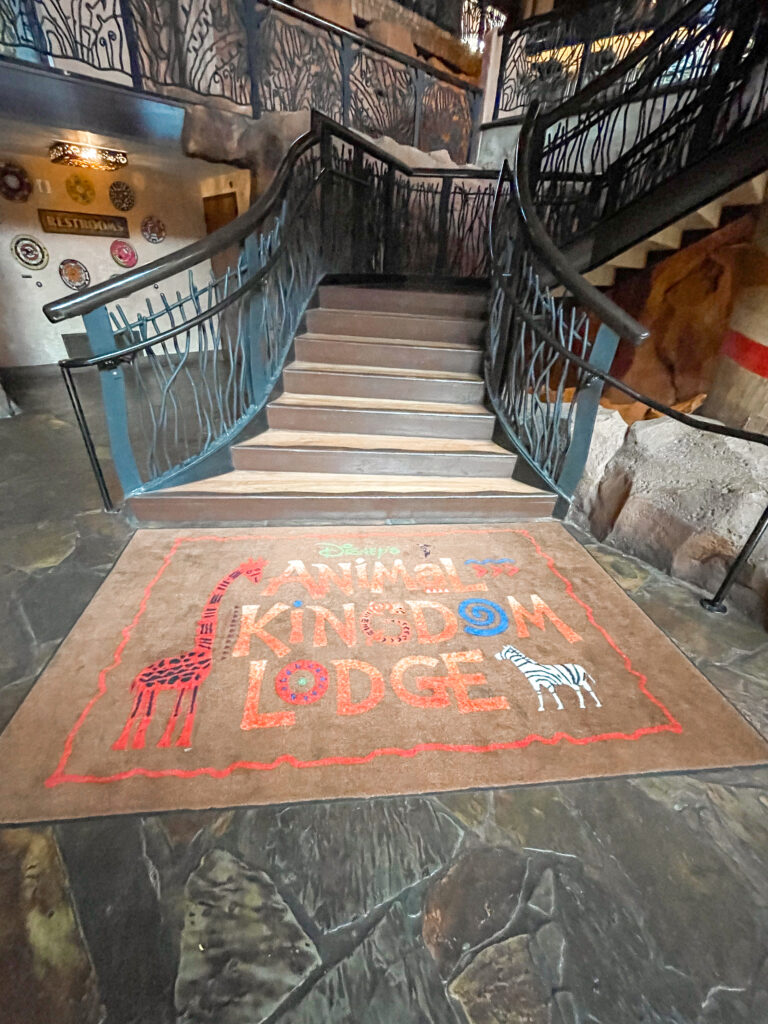 Hotel Lobby
When you first walk into the lobby of Animal Kingdom Lodge, be prepared to be amazed. It is absolutely breathtaking!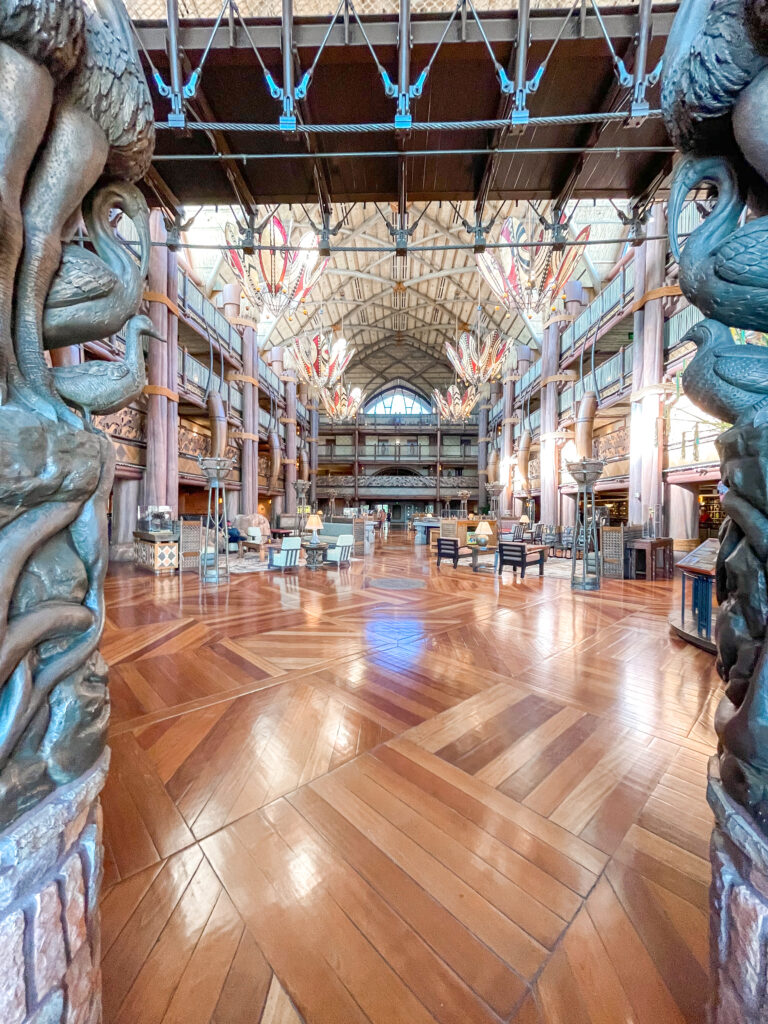 The lobby has three stories featuring high vaulted ceilings and beautiful light fixtures.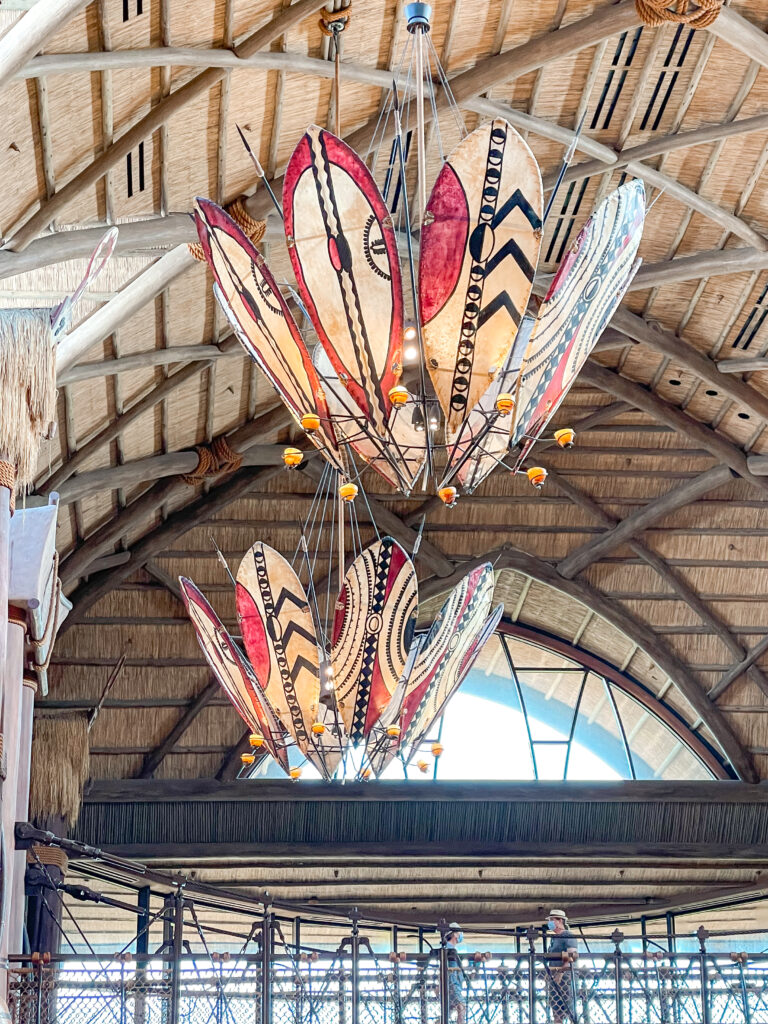 As you enter the lobby, the front desk is located to the left. If you have the My Disney Experience app, you will be able to check into your room before arriving, and you can use the app or your magic band as your room's key, so there really is no need to go to the front desk when you arrive.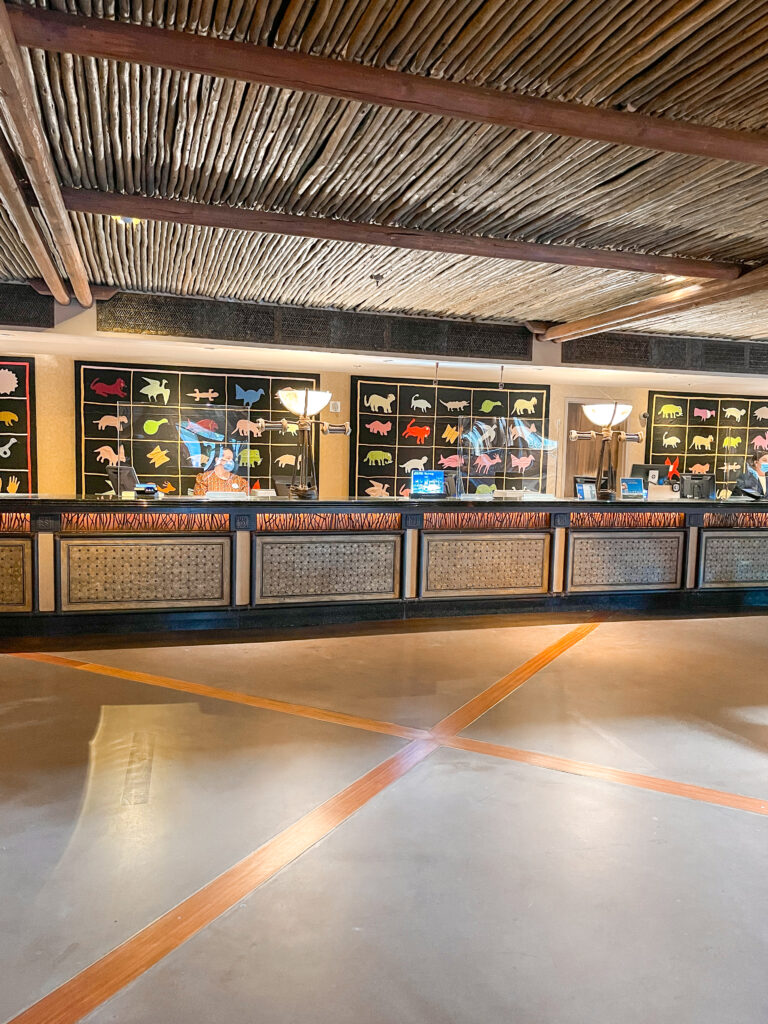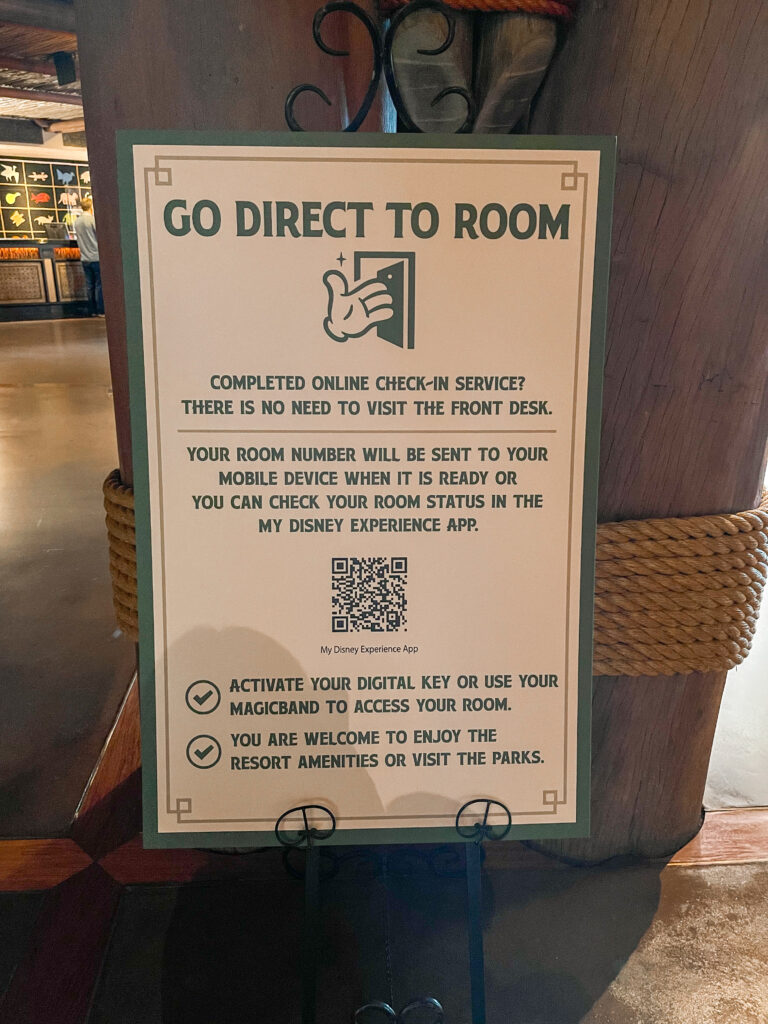 There is a fun bridge on the top floor of the Lobby that gives you a great view. My boys managed to find there way up there to wave at me down below.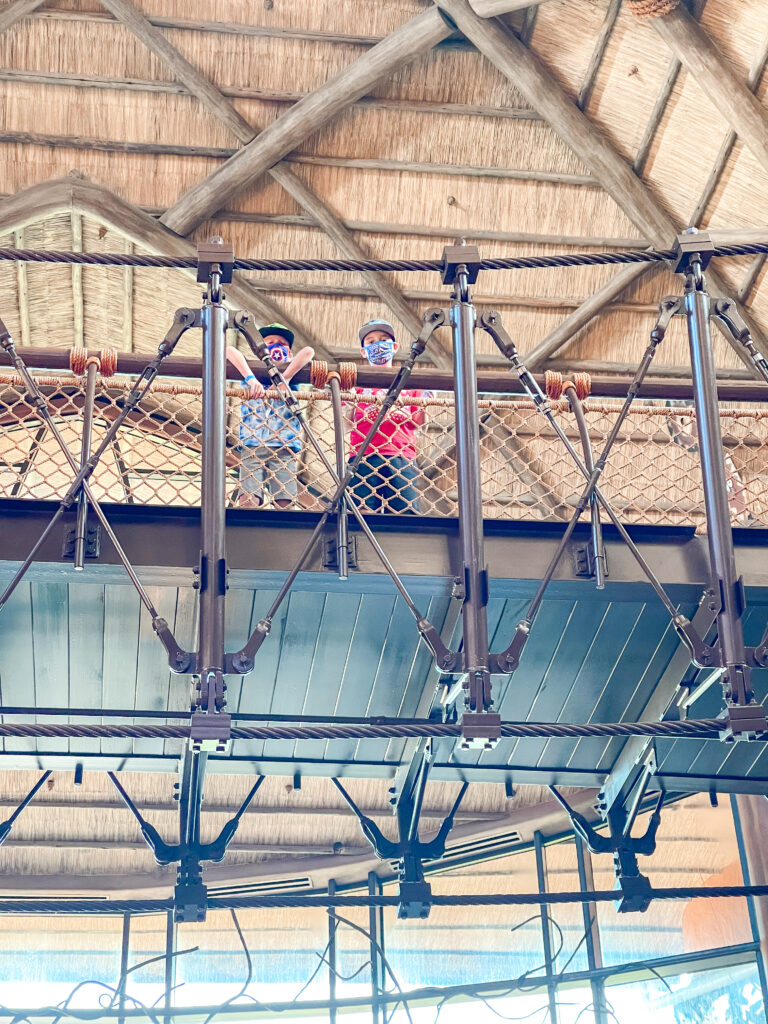 As you head toward the back of the lobby, there are floor to ceiling windows giving you an amazing view of the Savanna. You can also see some of the animals that are out on the savanna.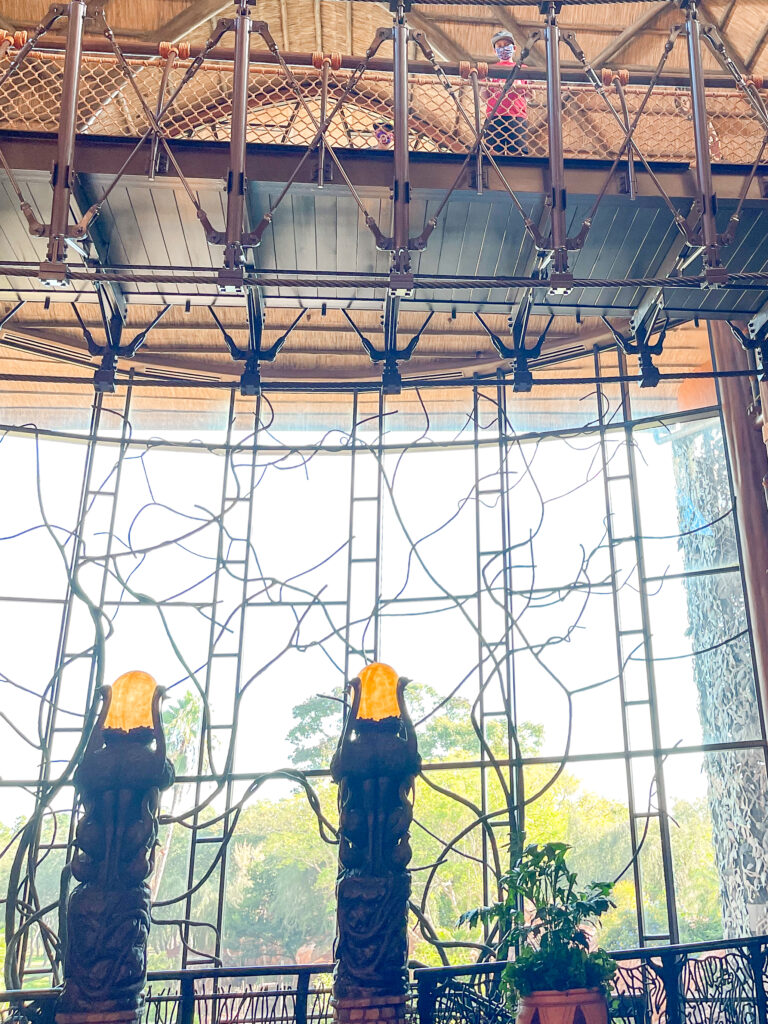 Hotel Grounds
There is no denying, that one of the main reasons to stay at Disney's Animal Kingdom Lodge, is the hotel grounds.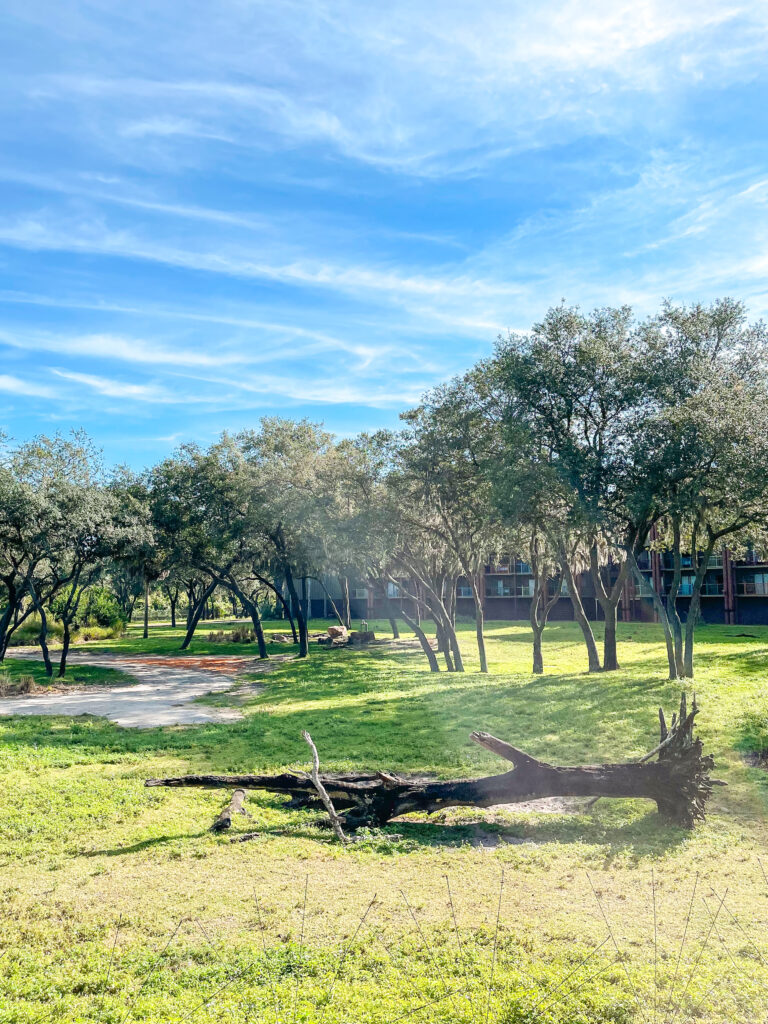 Where else can you walk outside your hotel and see a giraffe or a zebra? We had fun taking in all of the scenery and checking out a few animals. Here is the view from just outside the lobby.
We saw giraffes, zebras, wildebeests, and some interesting birds.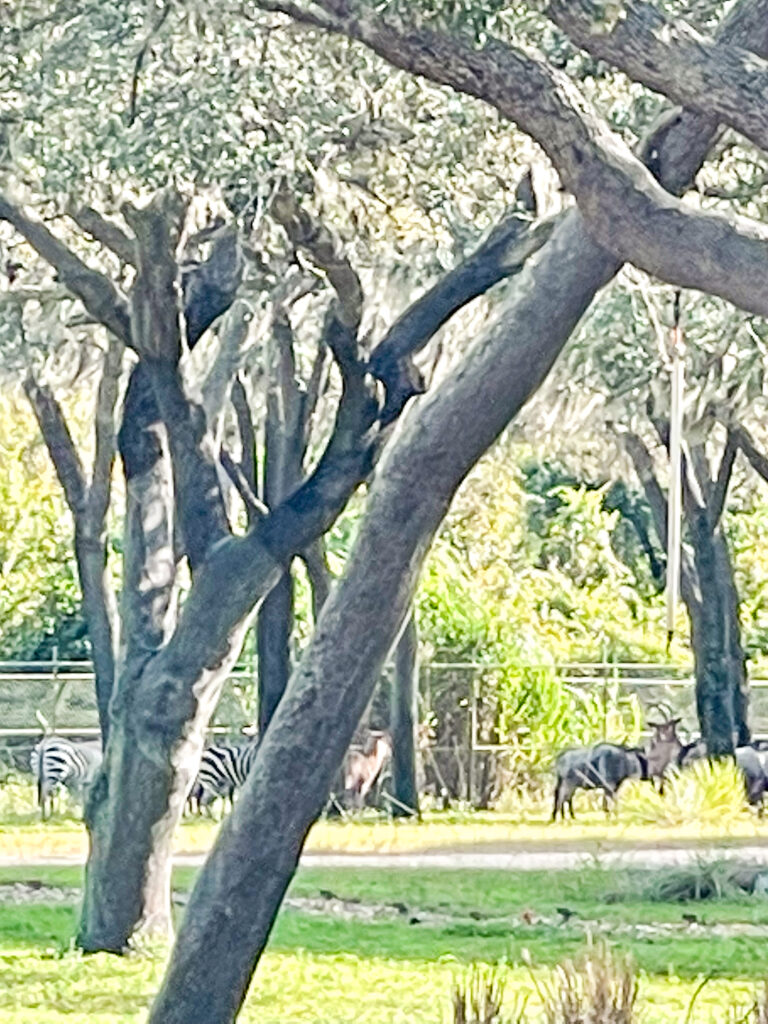 On the other side of the building, we saw a flock of flamingos, who happened to be very noisy some times.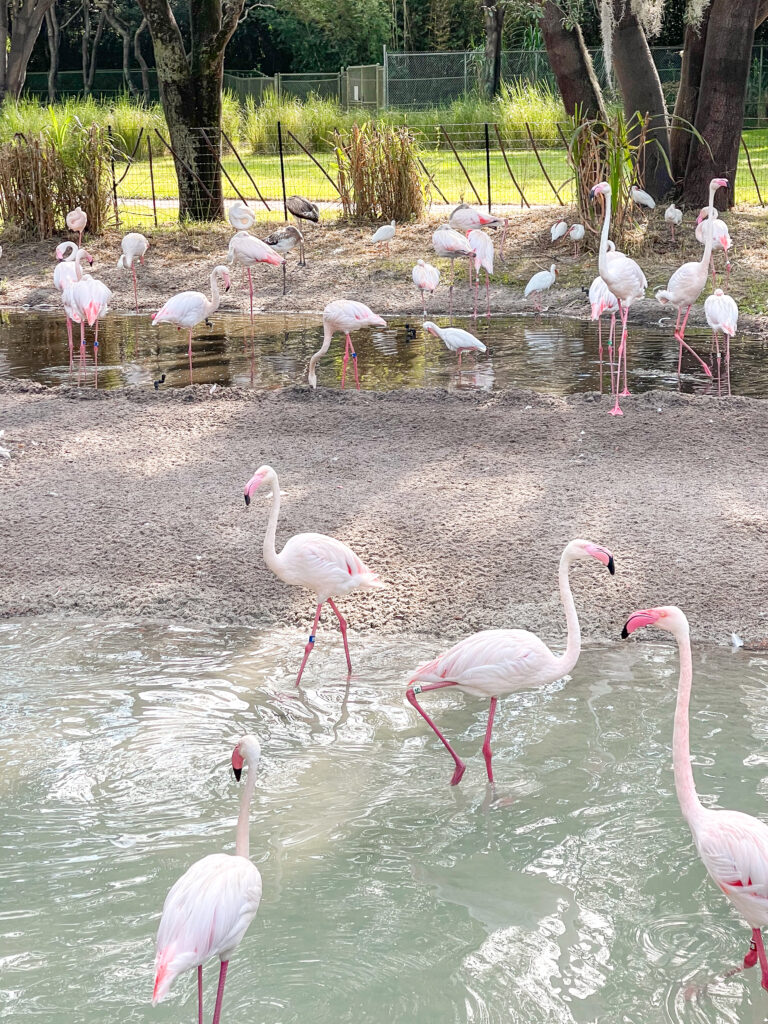 Hakuna Matata Playground
Also located near the flamingoes is Hakuna Matata playground which is a great place to let little ones play and burn off some energy.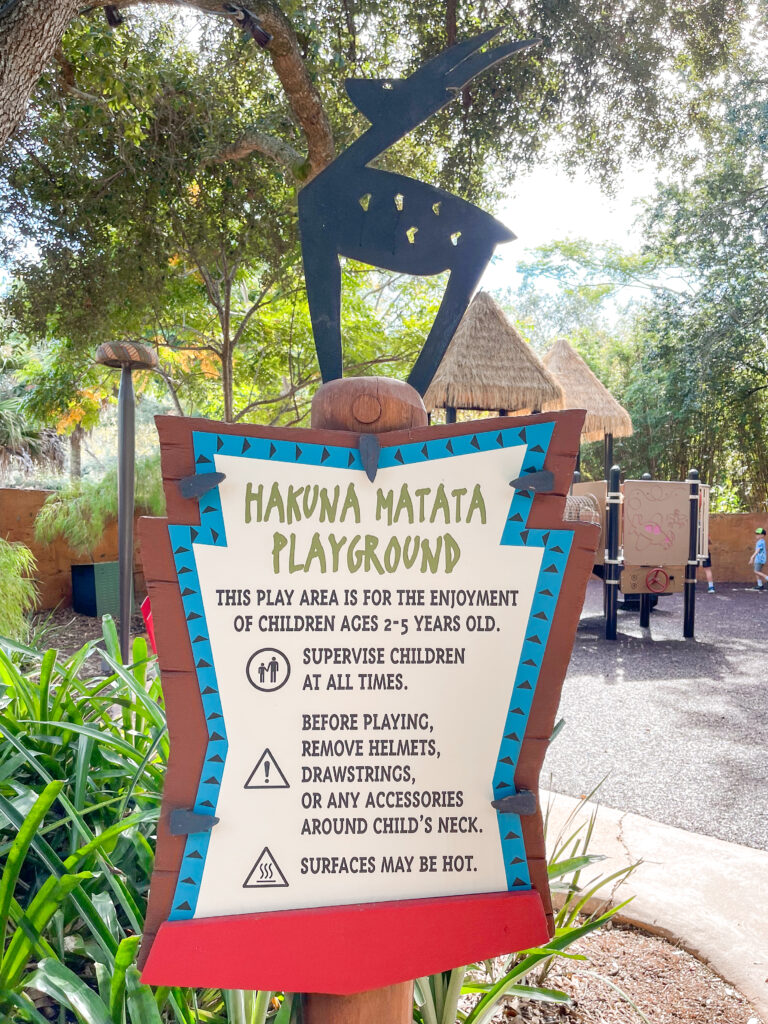 Savanna View Room Tour
Our room was located in Jambo House and had a savanna view, which came with a much steeper price tag than rooms that don't face the savannah.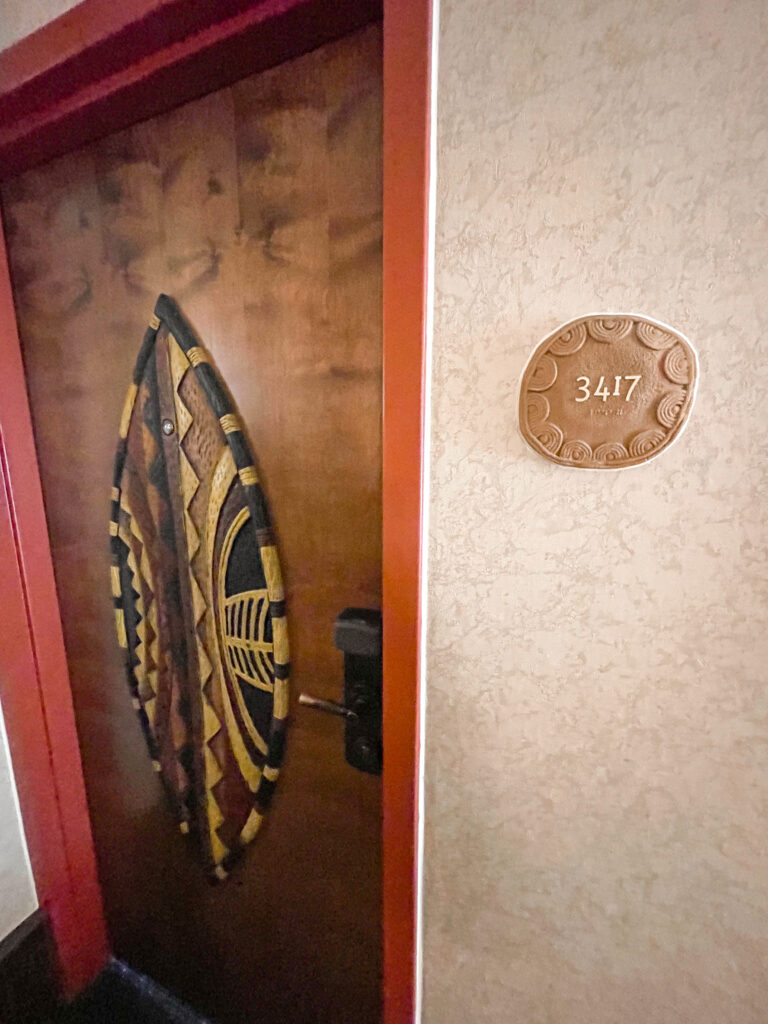 We were on the third, which was very convenient, because we were on the same level as the lobby and were only a short flight of stairs up from the pool level.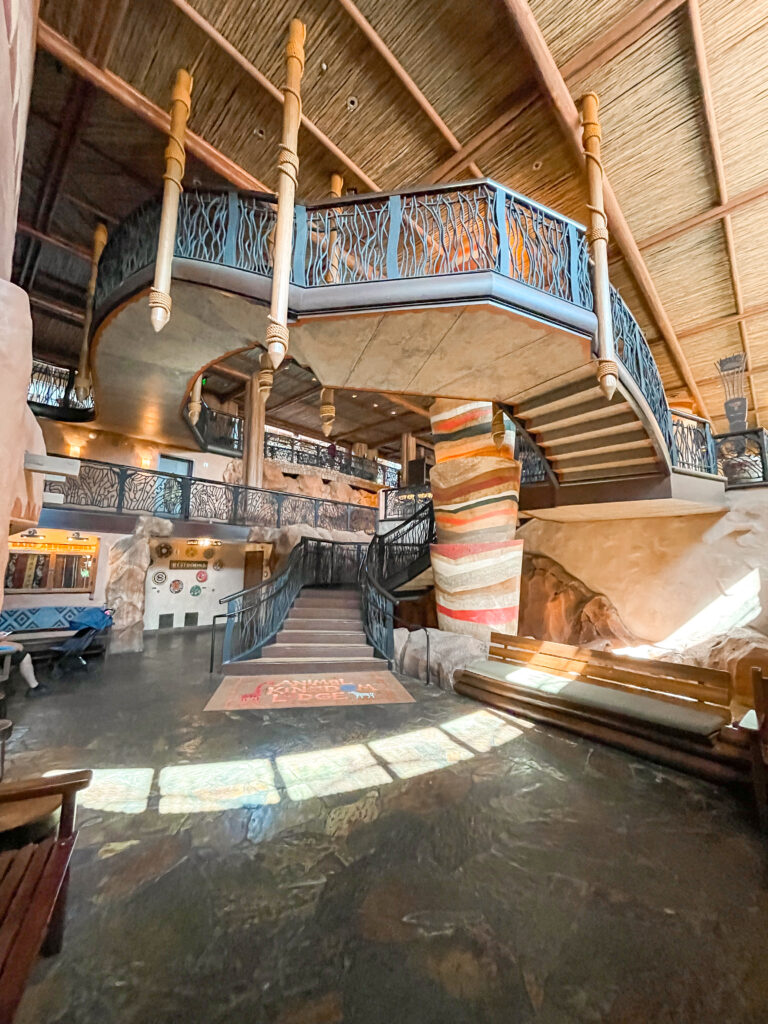 Our room had two queen sized beds and hard wood floors. There were night stands on either side of the beds, as well as plenty of USB ports which made charging phones really convenient.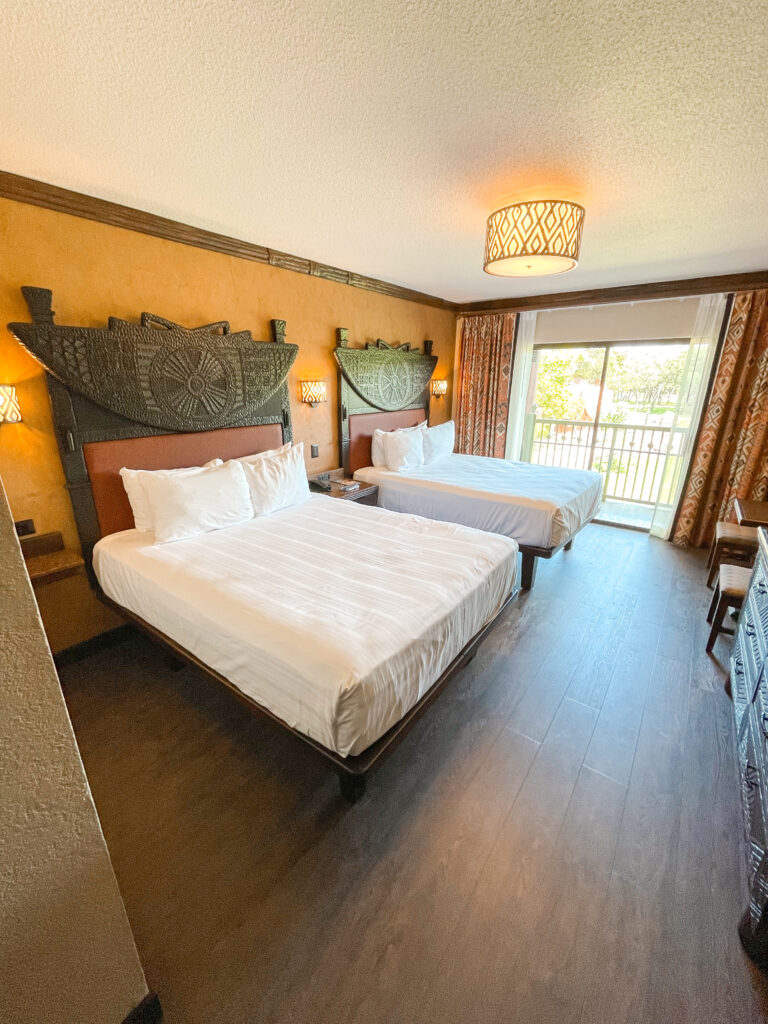 There is a small table with two chairs and a dresser with a large tv. I really appreciated all of the drawers and storage space available.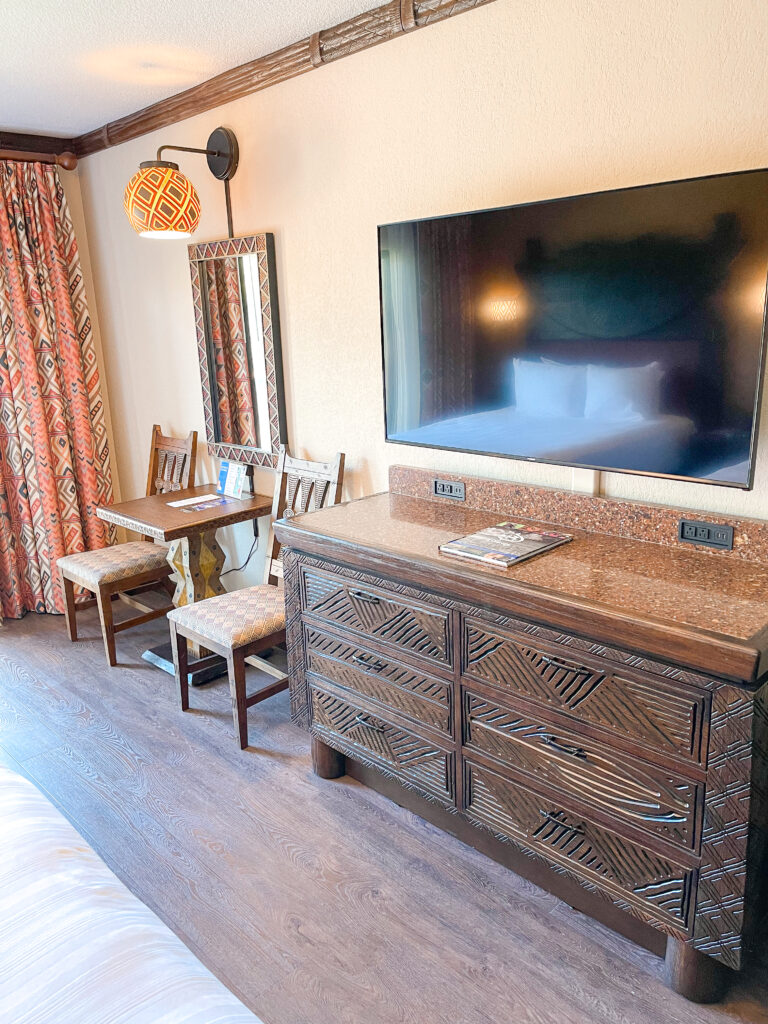 This is the little kitchenette area with an ice bucket, a coffee maker, and a drawer full of different varieties of coffees and teas.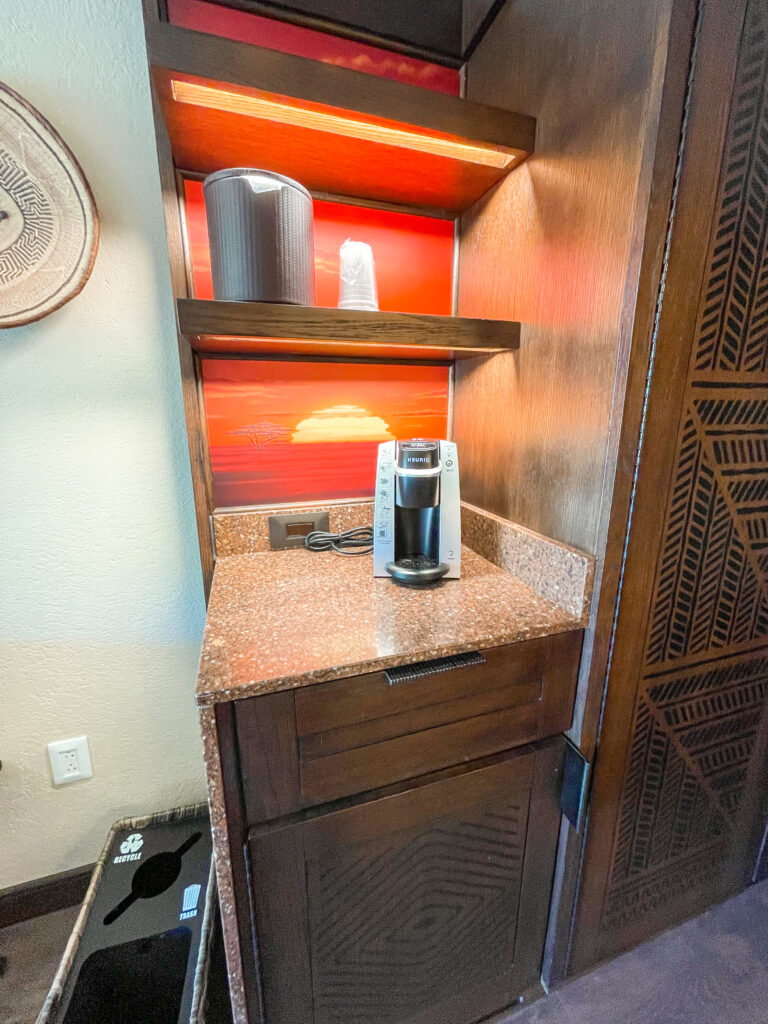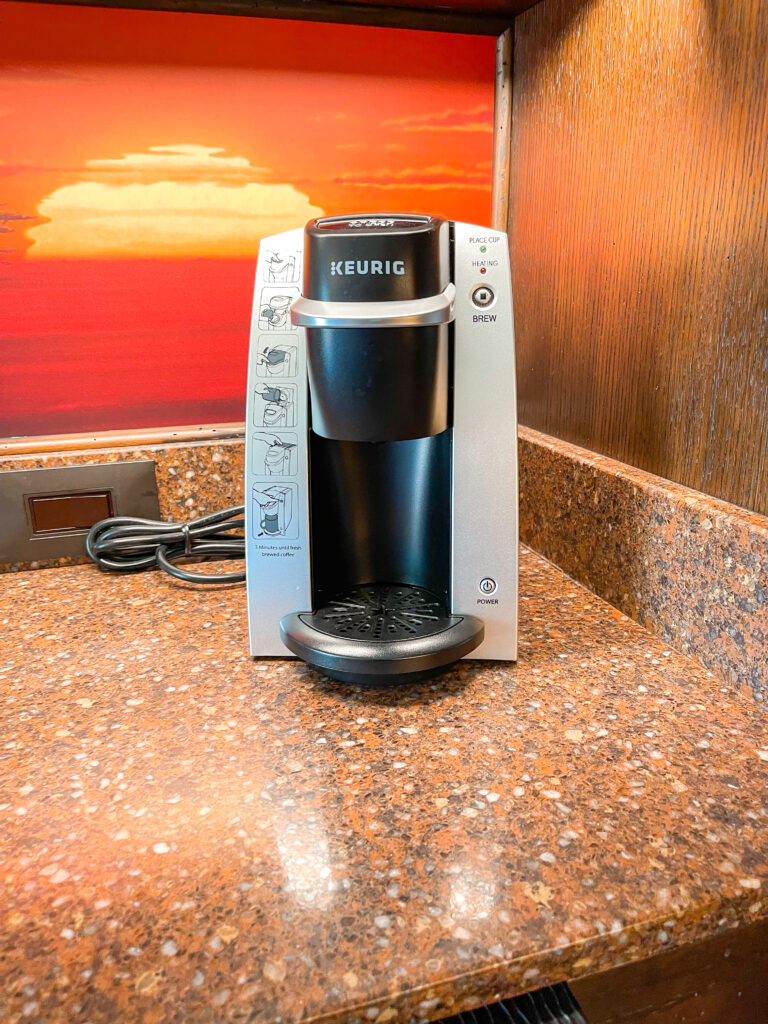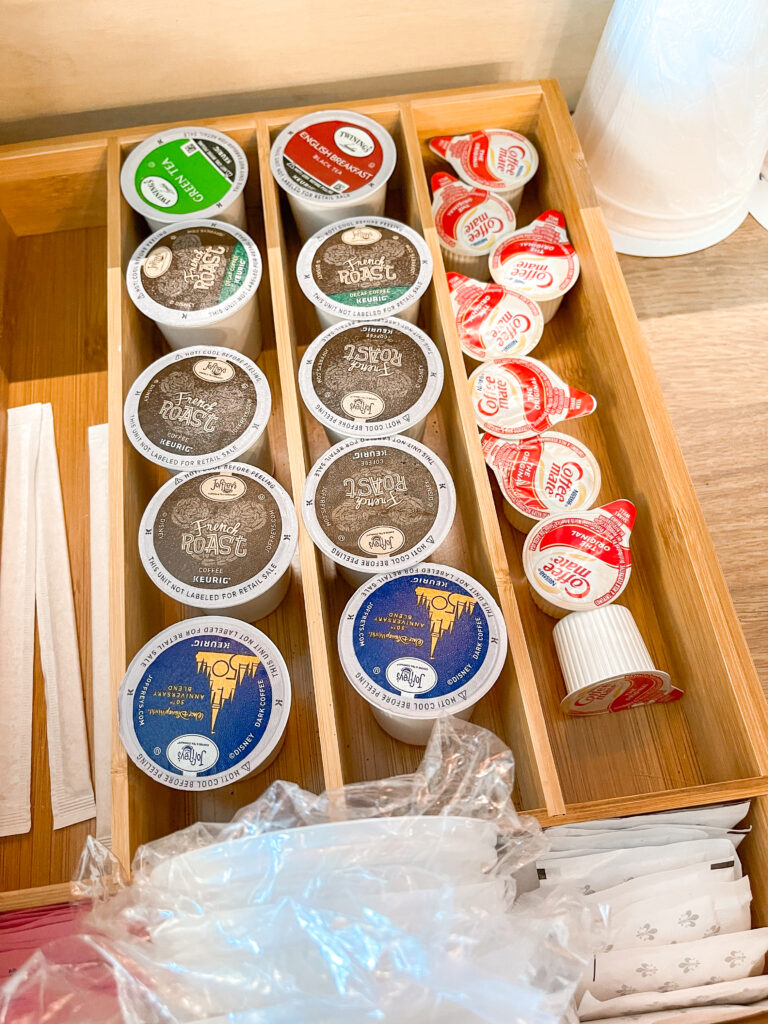 Below the coffee drawer is a small refrigerator that is the perfect size to keep bottles of water and a few snacks.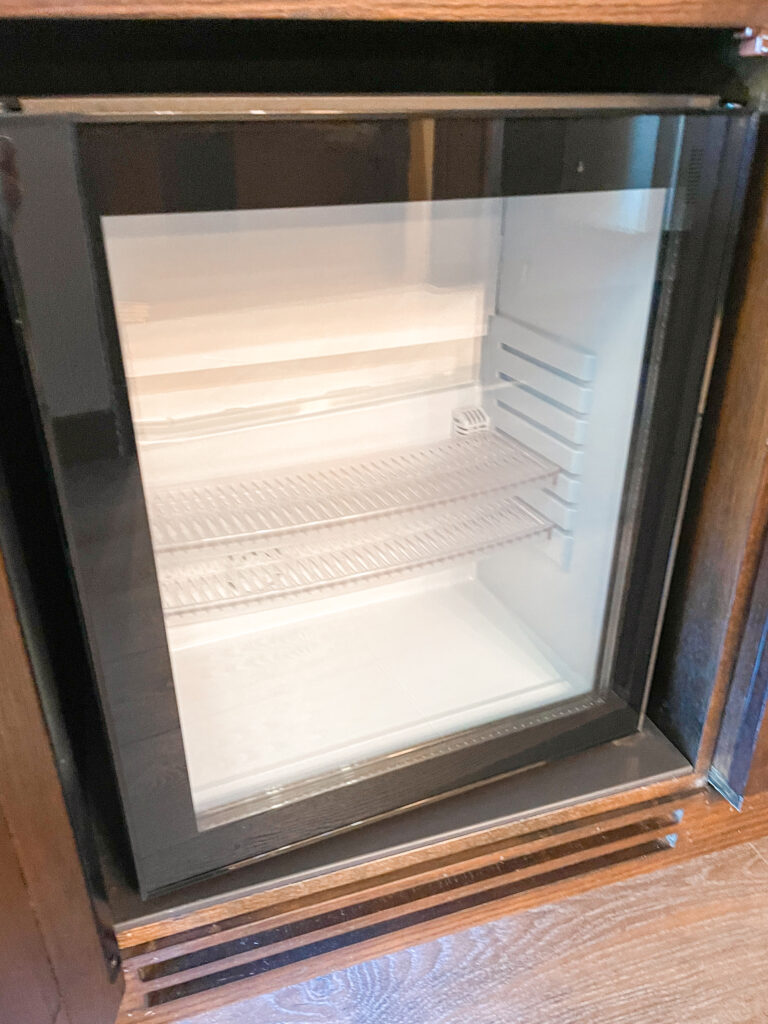 Next to the kitchenette is a large wardrobe style closet with a safe and a steamer.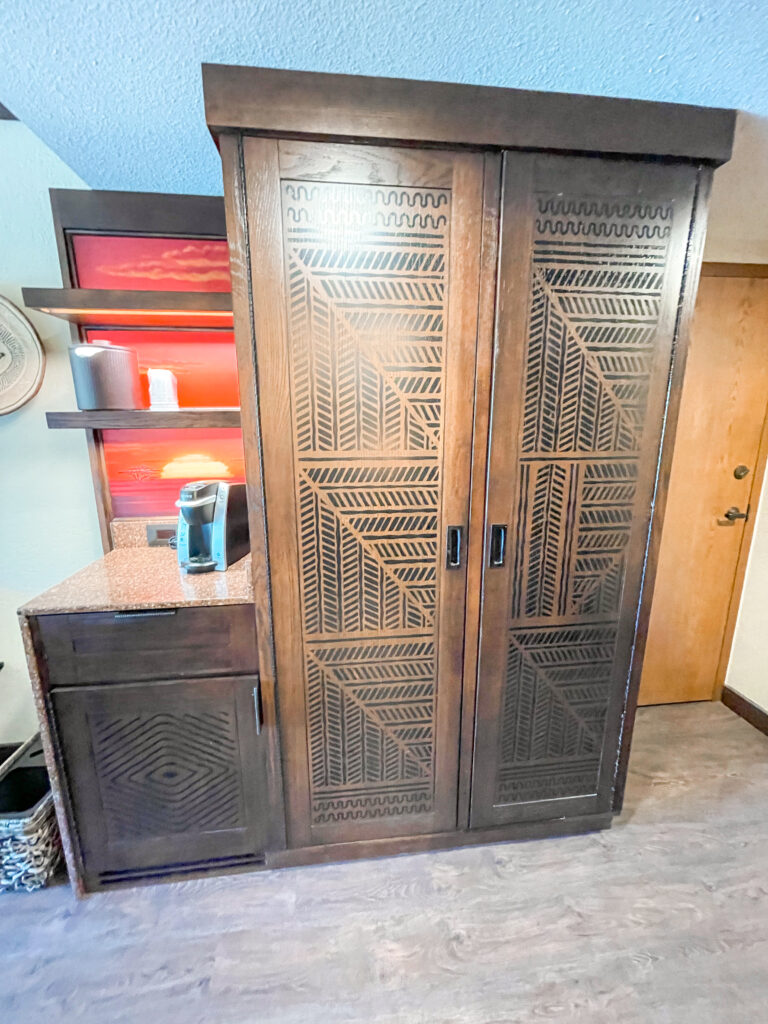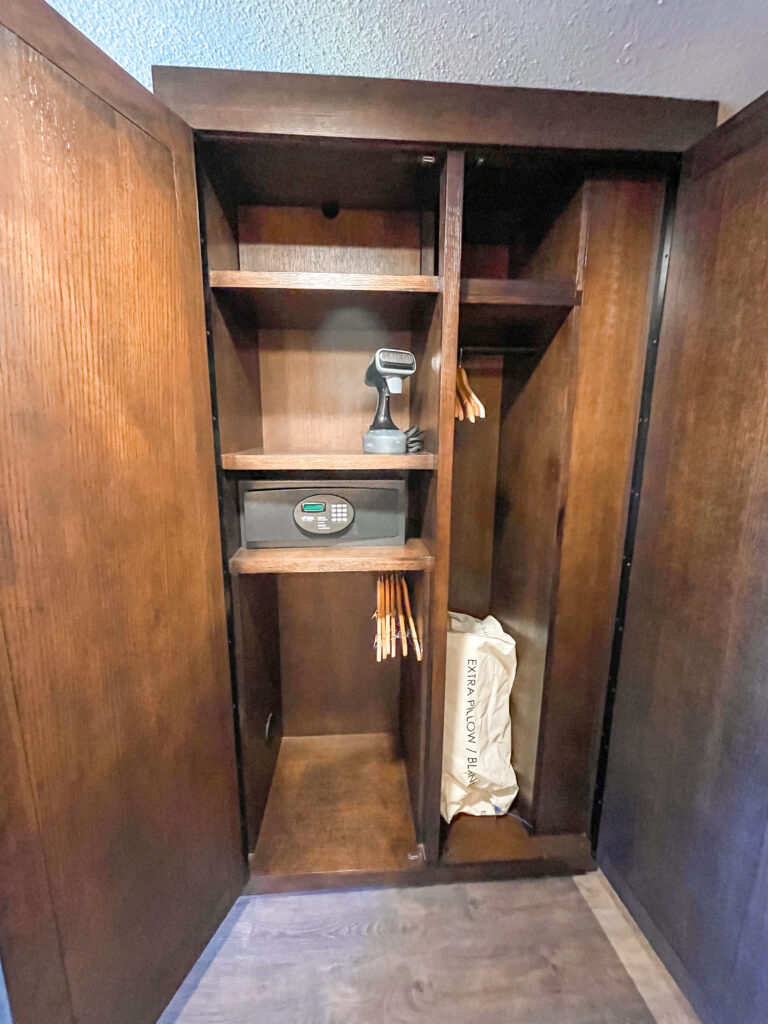 The bathroom has a separate room for the shower and the vanity, which helps when multiple people are getting ready at the same time.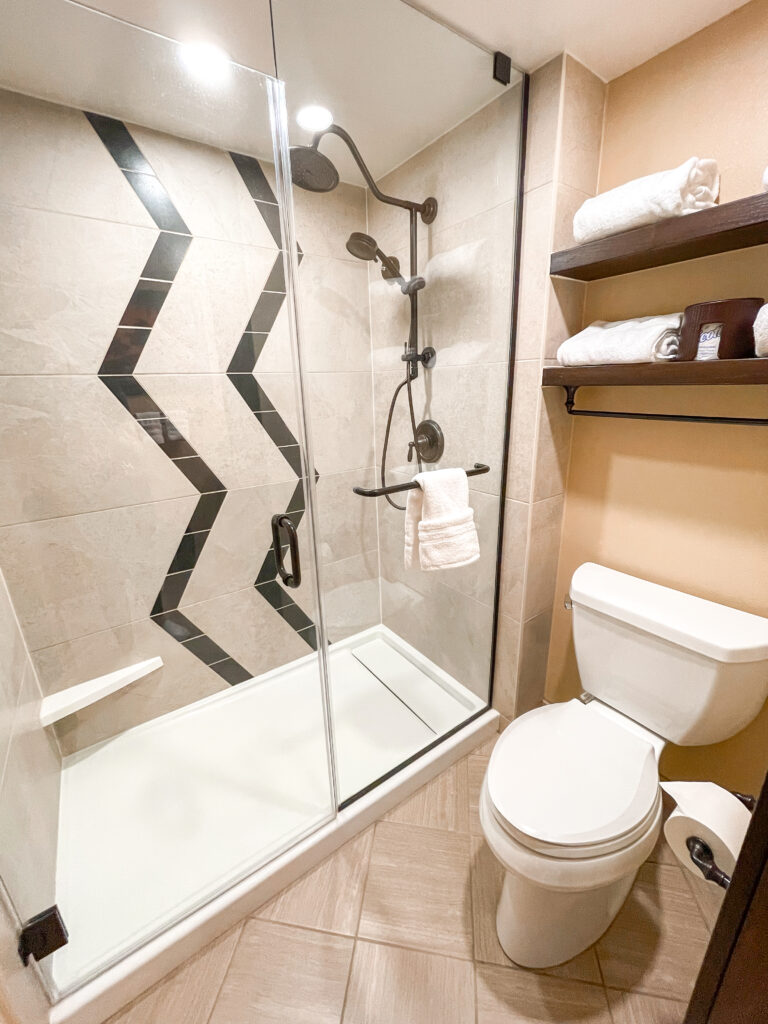 The shower is stocked with plenty of Disney's H20 products, which I am hooked on and have purchased for my own home from shopDisney.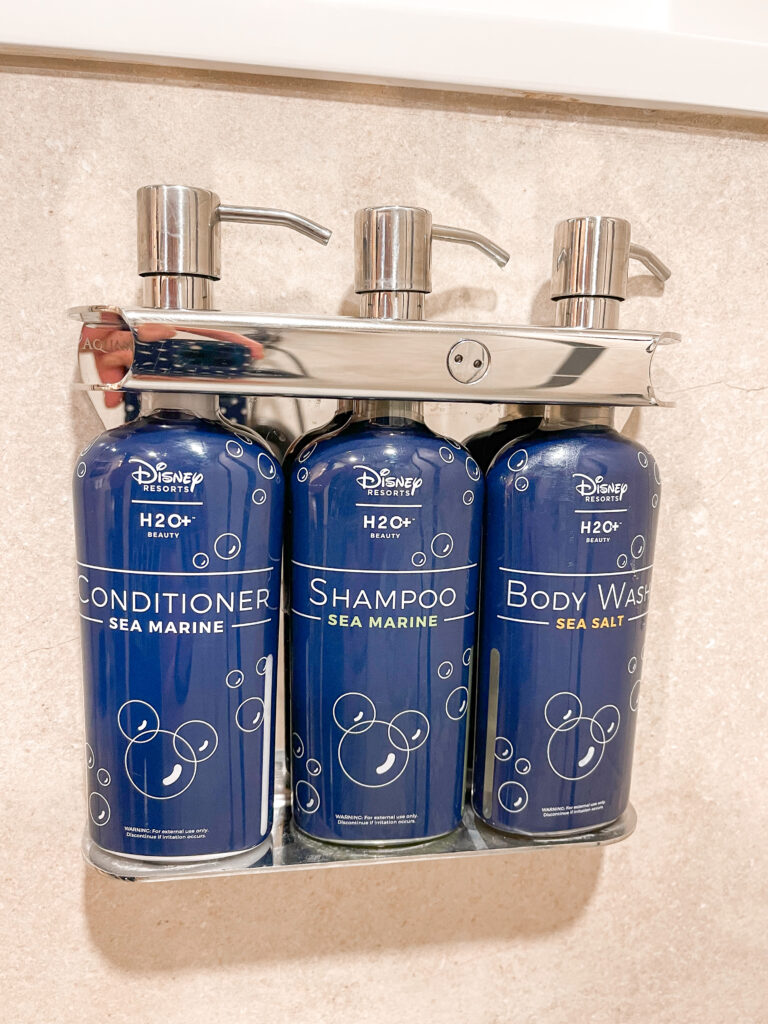 There are two sinks in the vanity as well as a large mirror with amazing lighting. There is also a cute picture of Timon, Pumbaa, and Simba from the Lion King.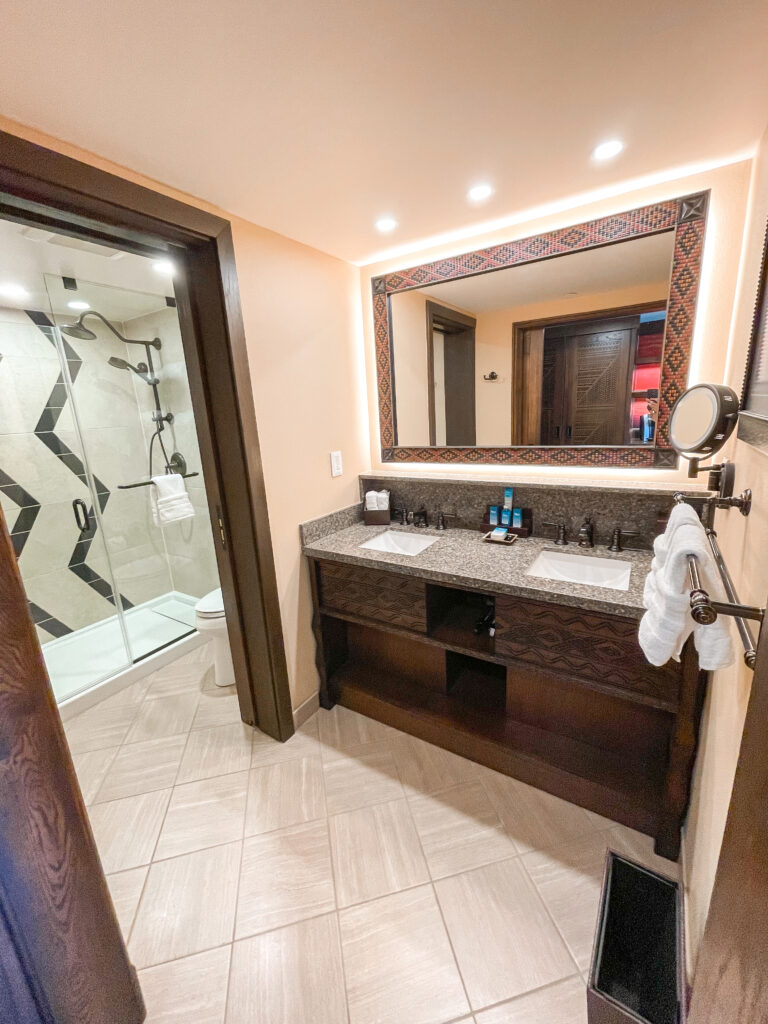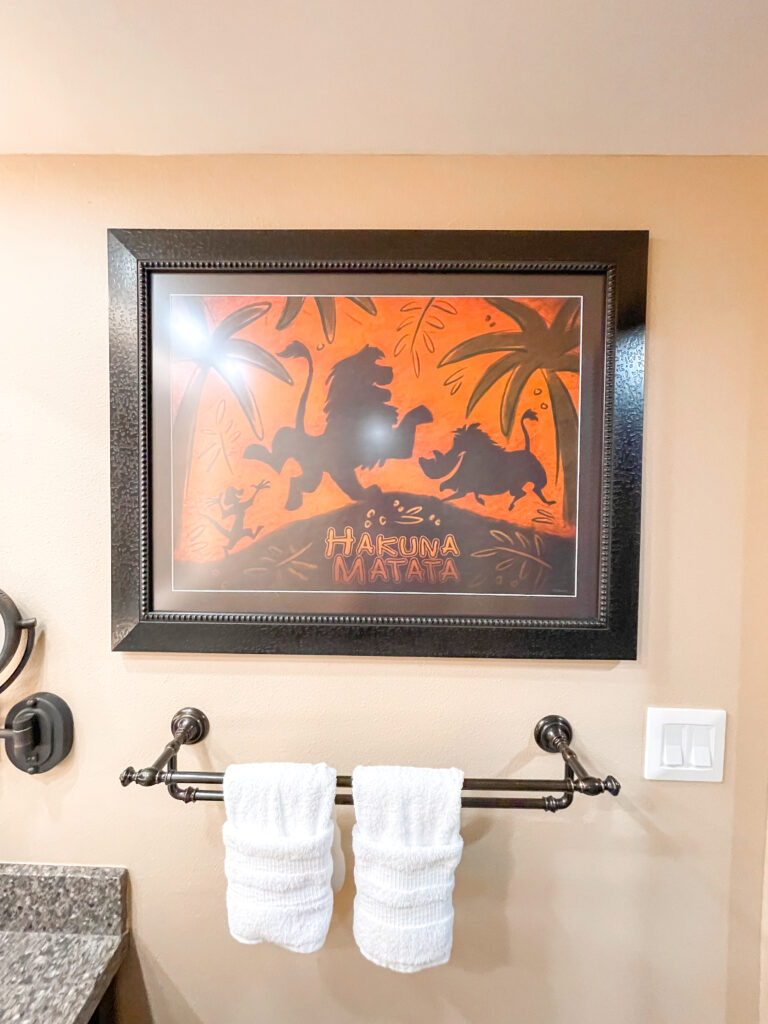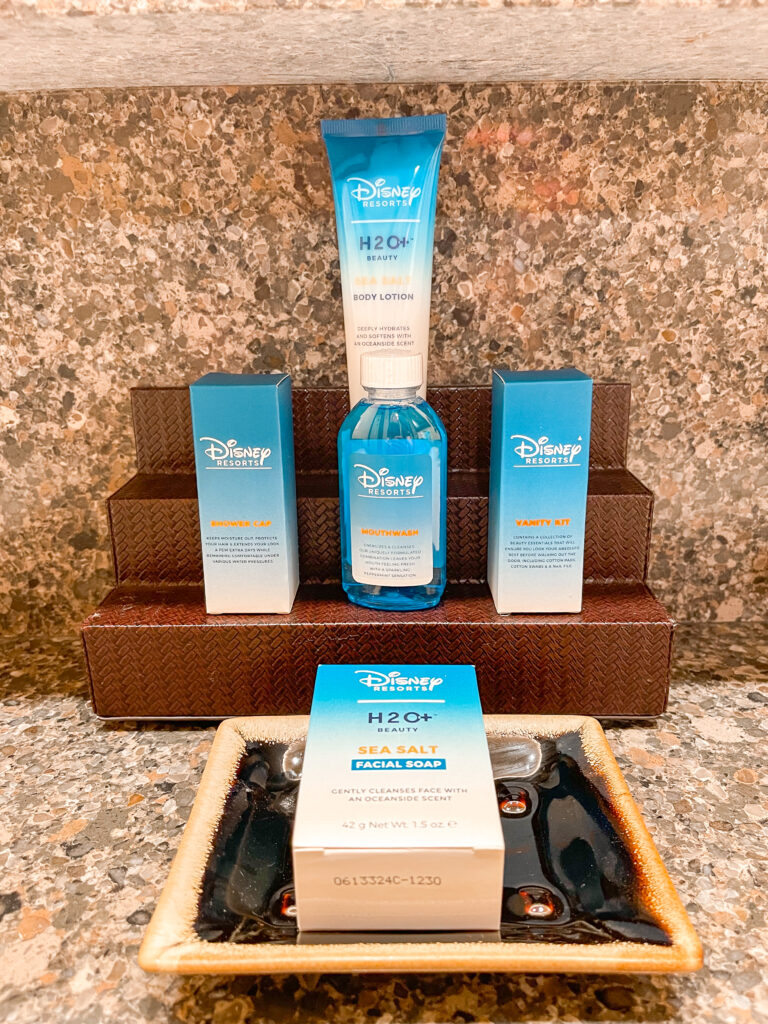 Savanna View
Remember that view I was telling you about? Well, here it is!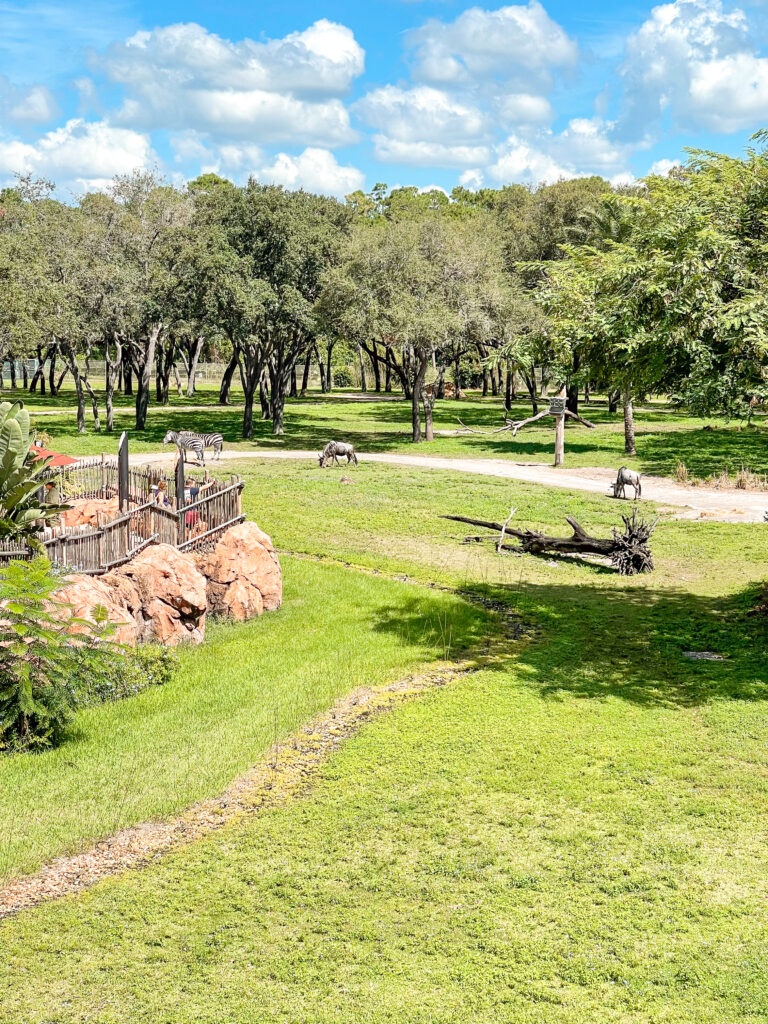 I was worried when booking this room that we would show up and we would never see any animals. Fortunately, that was not the case! There were a few times that were quieter than others, but there was always some type of animal to check out each time we came out to the balcony.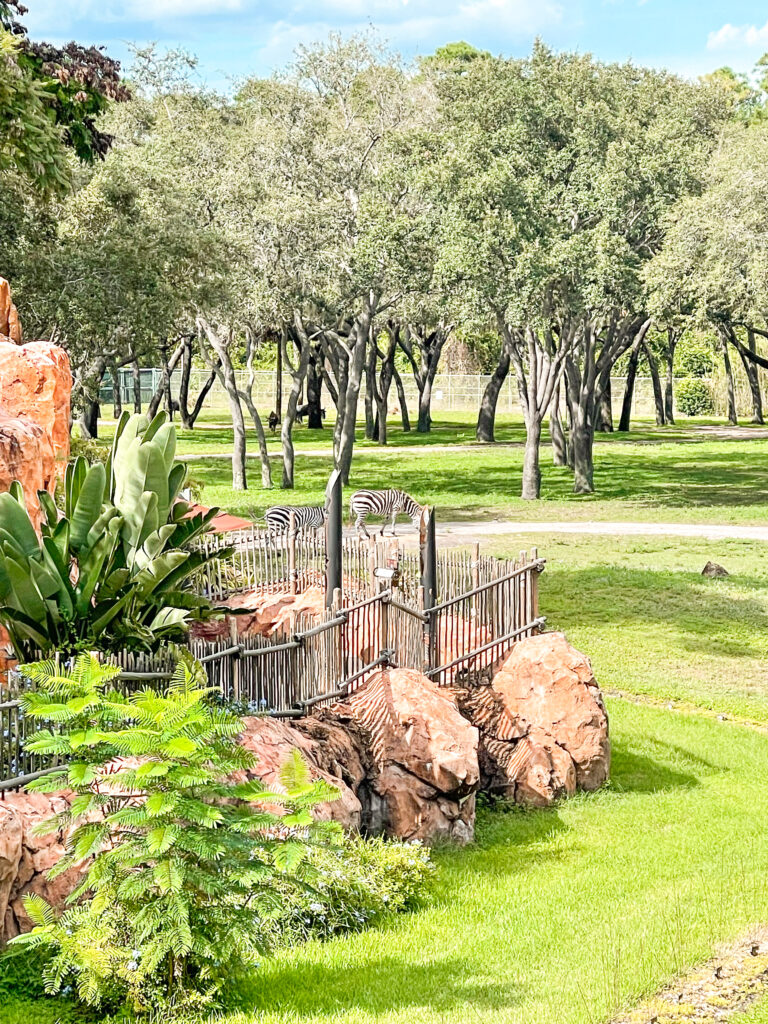 If a view of the animals is high on your list of priorities when staying at Animal Kingdom Lodge, here is what I recommend that you request:
Savanna view
Zebra Trail
Near Elevators
That is what I requested, and it was an amazing view of the animals!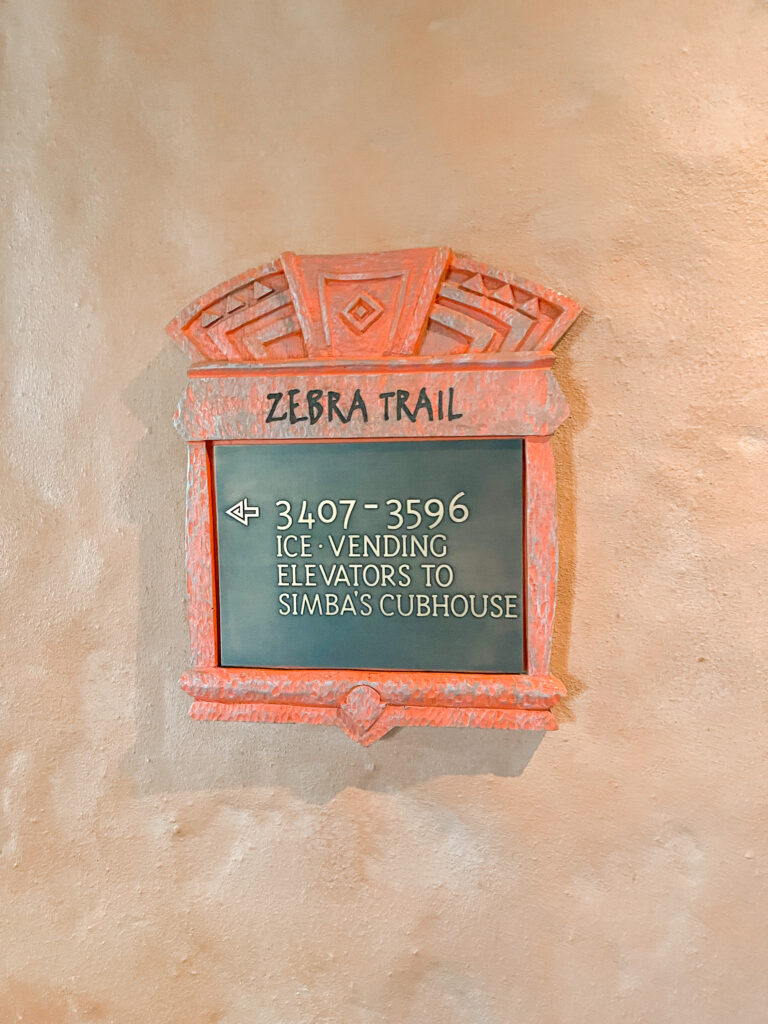 We noticed that the most active time for the animals was dinner time, around 5:00-6:00. That's when we saw a ton of animals feeding at the same time!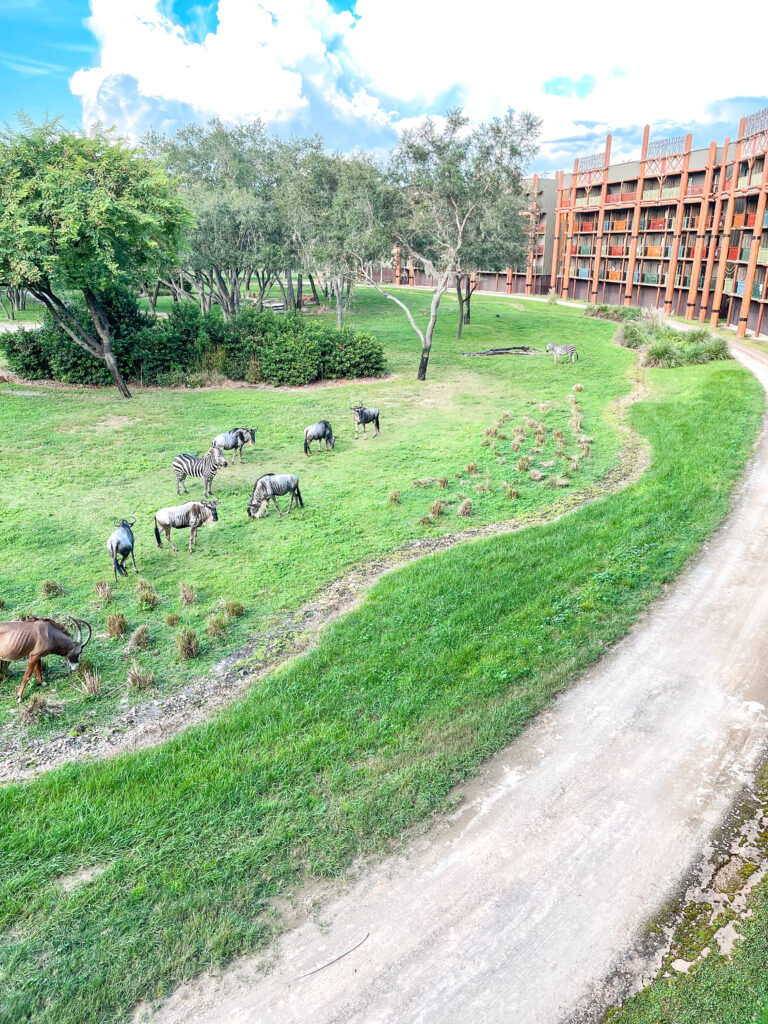 Animal Kingdom Lodge Pool
The pool very large and my boys spent a lot of time during our stay, swimming.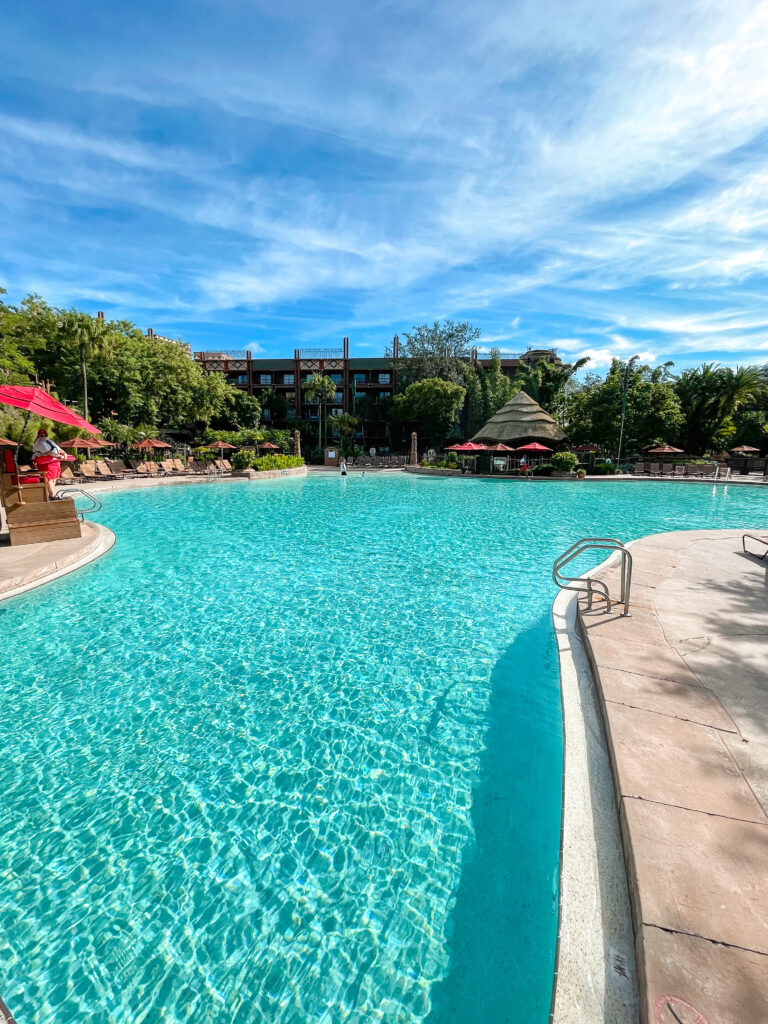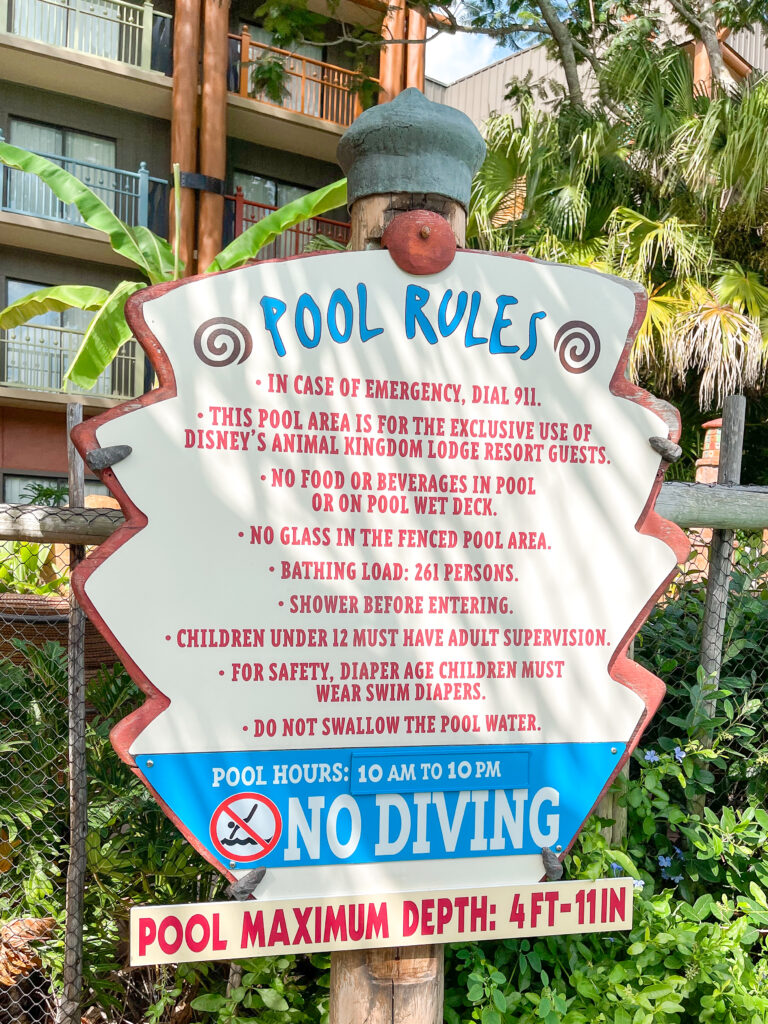 There are tons of lounge chairs around the pool to sit on. Some are in the shade from trees and others are shaded by umbrellas.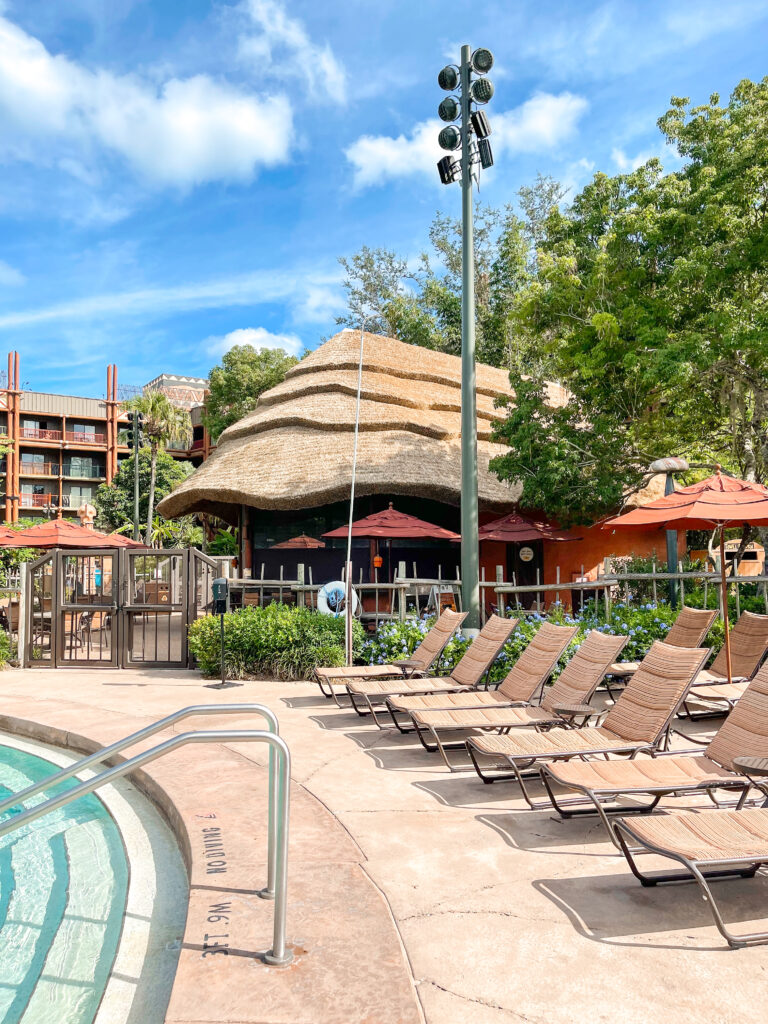 You can find complimentary life jackets next to the pool and there are also plenty of life guards on duty.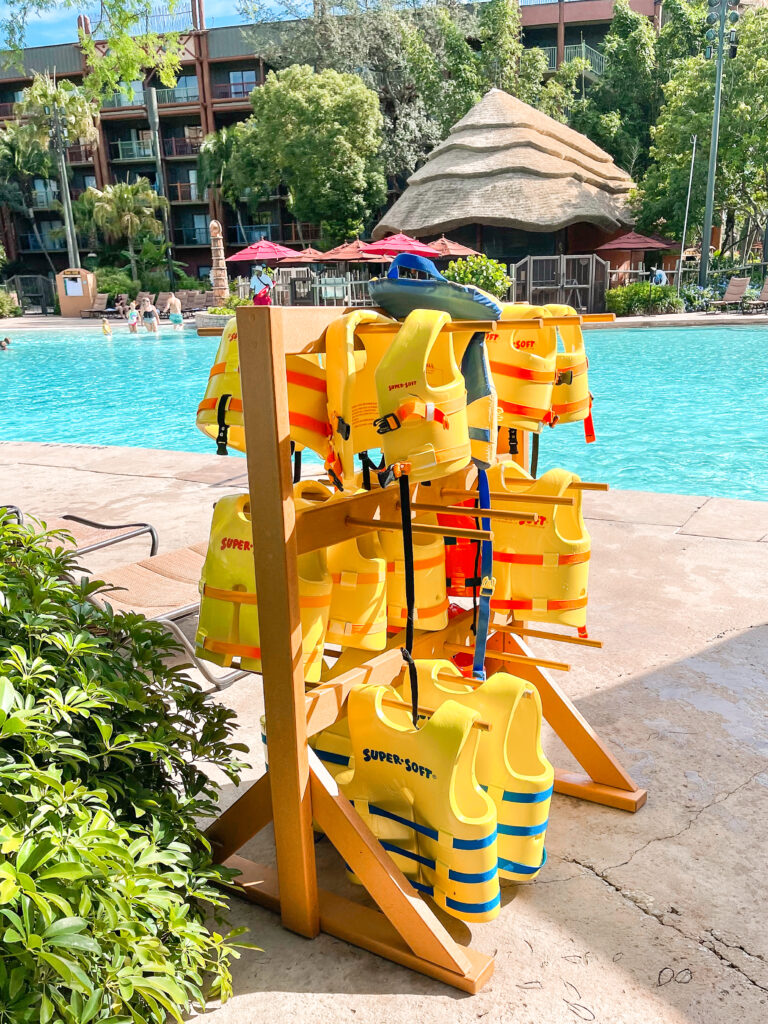 Besides the large pool, there is also a super fun waterslide! I lost count of how many times my boys went down the slide.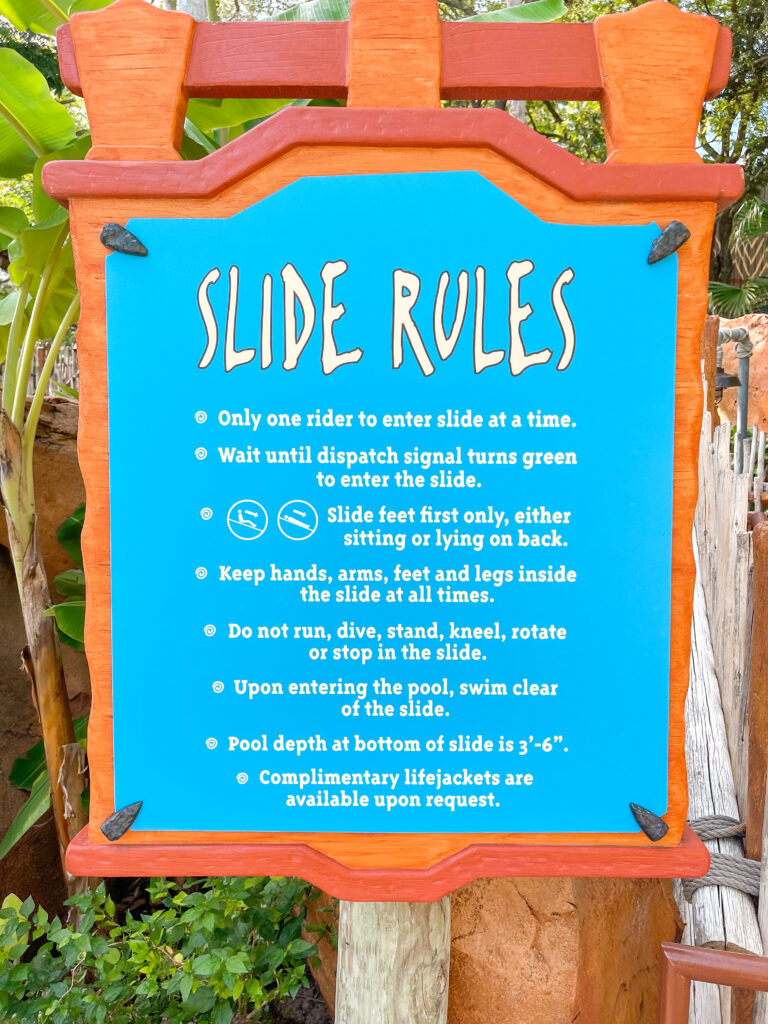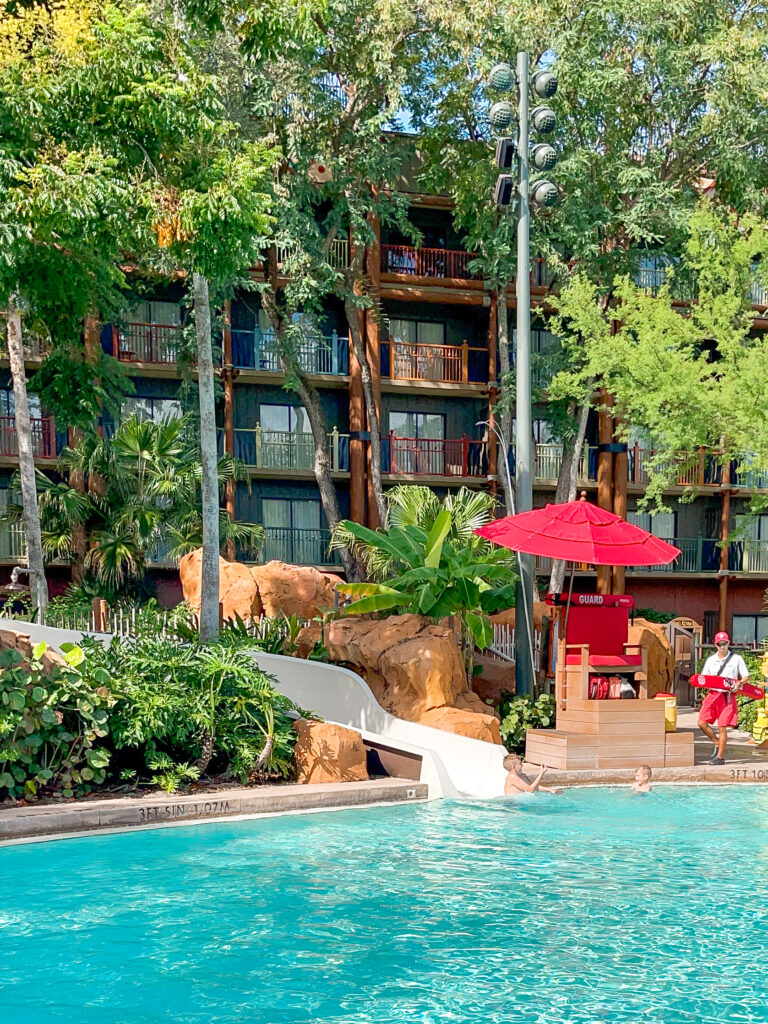 The pool area also had three hot tubs.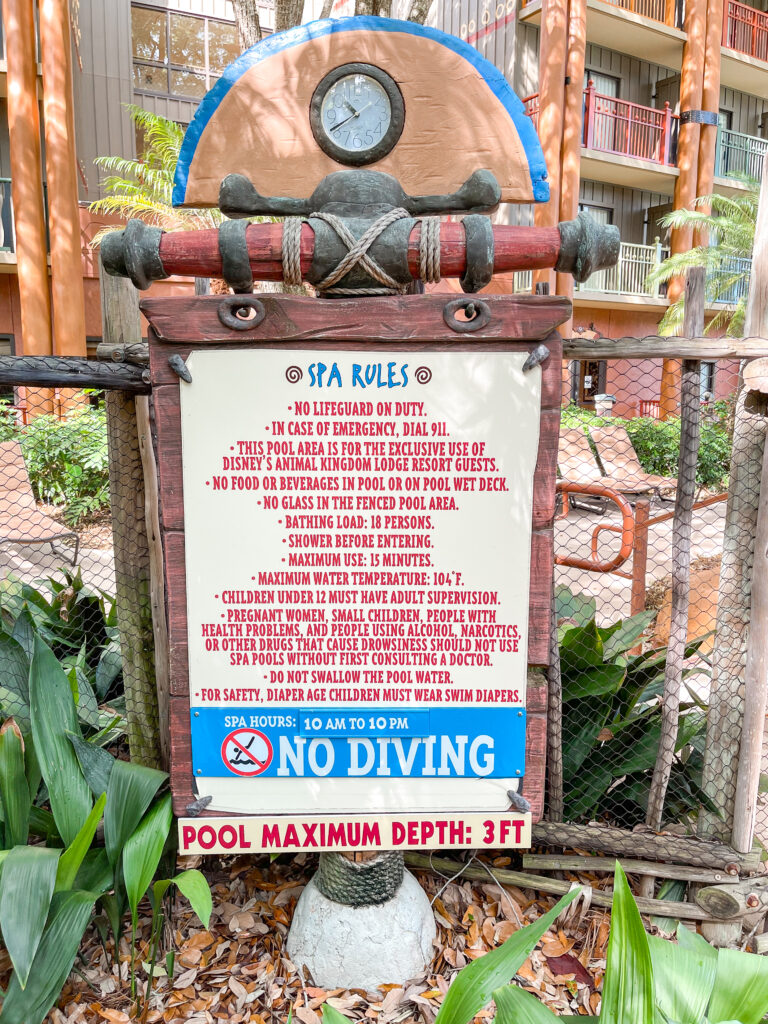 Be sure to check out my video review of Animal Kingdom Lodge to see the slide in action!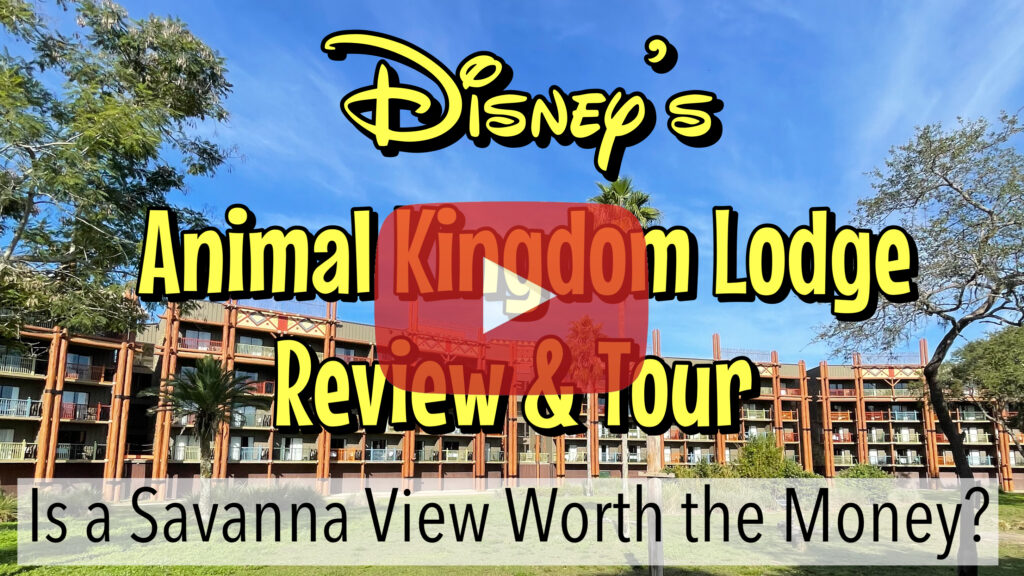 Daily Entertainment Schedule
One of the great things about Disney resorts is the entertainment. At Animal Kingdom Lodge, there are fun activities to do each day of the week like scavenger hunts, crafts, and campfires. Here is a picture of the daily activity schedule.
My boys loved participating in the poolside activities.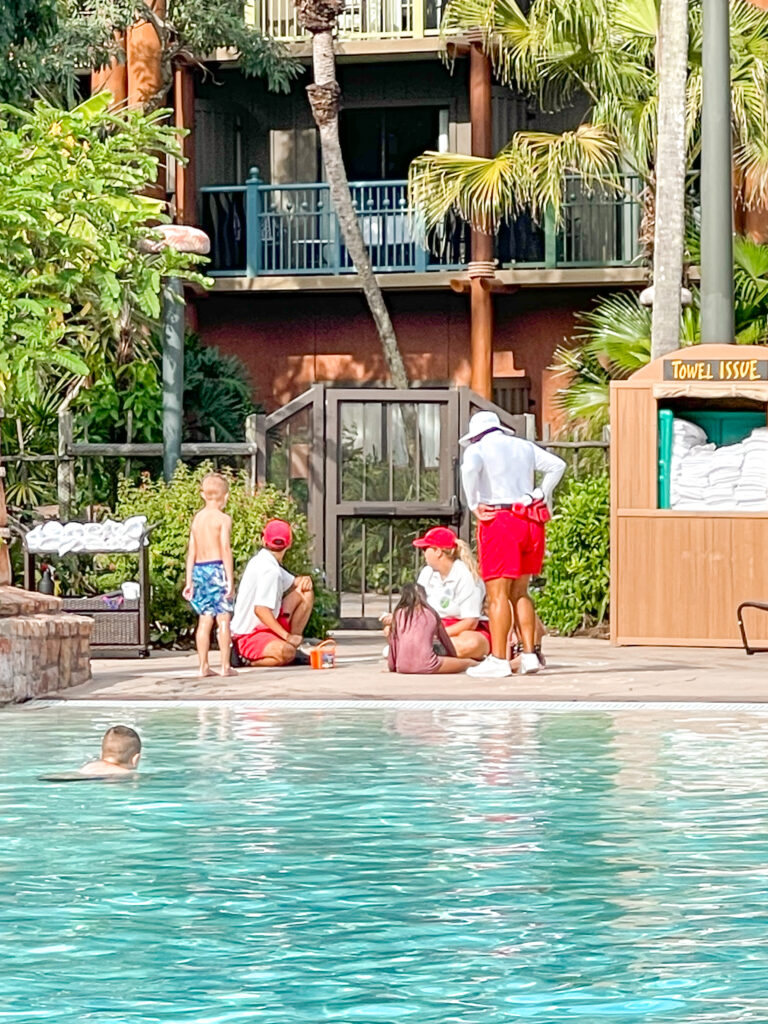 Arcade
There is a fun arcade called Pumbaa's Fun & Games located near the pool. My husband took our 7 year old there a couple of times and said that the prices for the games were pretty reasonable.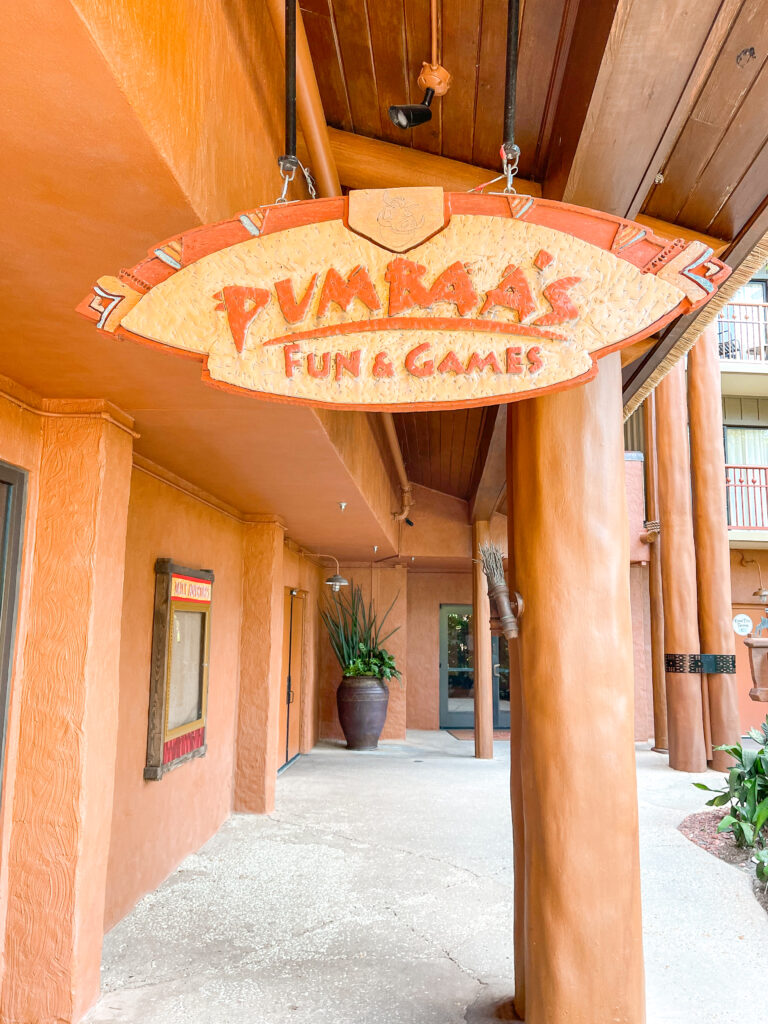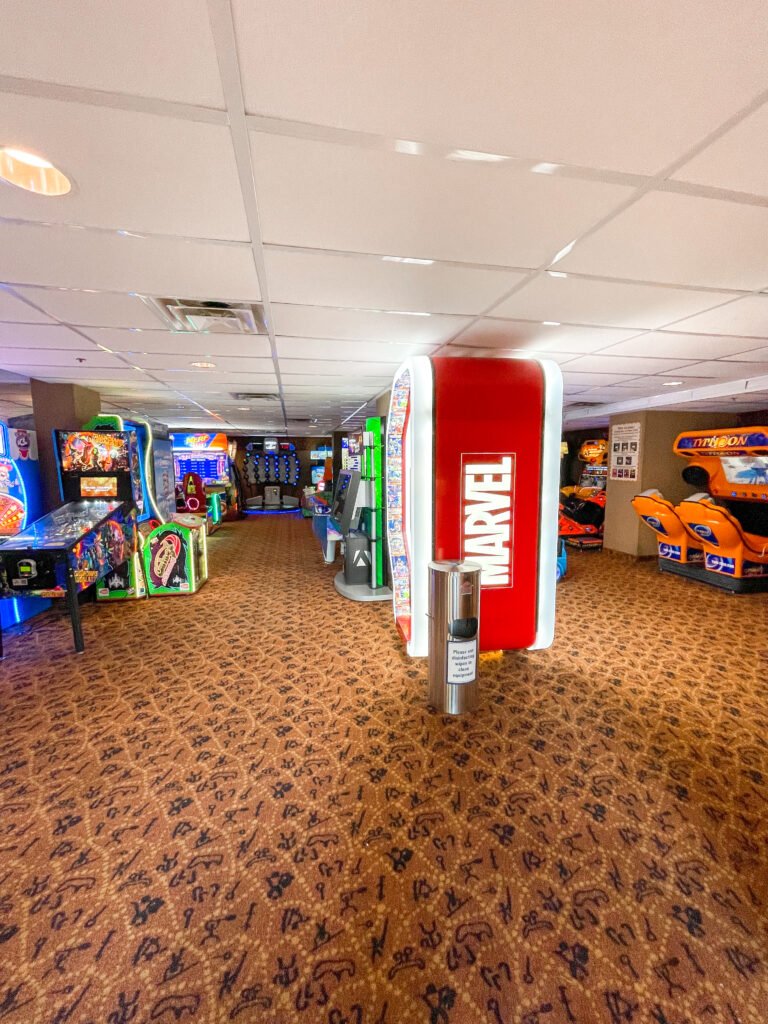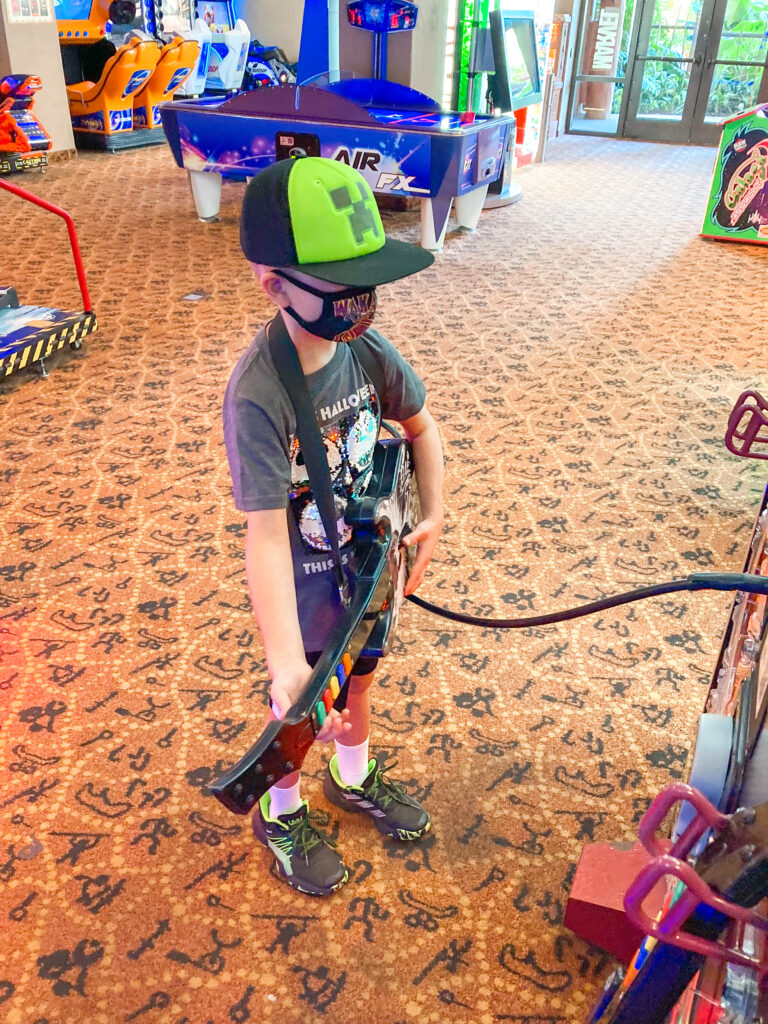 Dining Options
Here are some of the dining options at Animal Kingdom Lodge. The Mara is a quick service location located near the pool. We ordered lunch here one day and it was pretty good.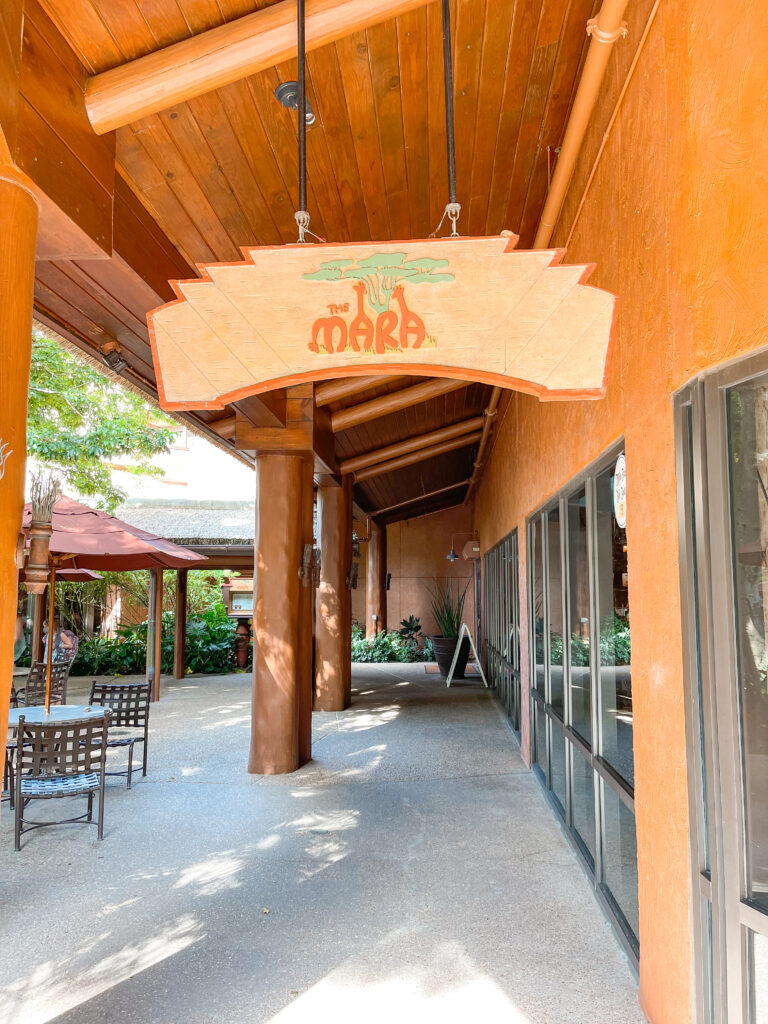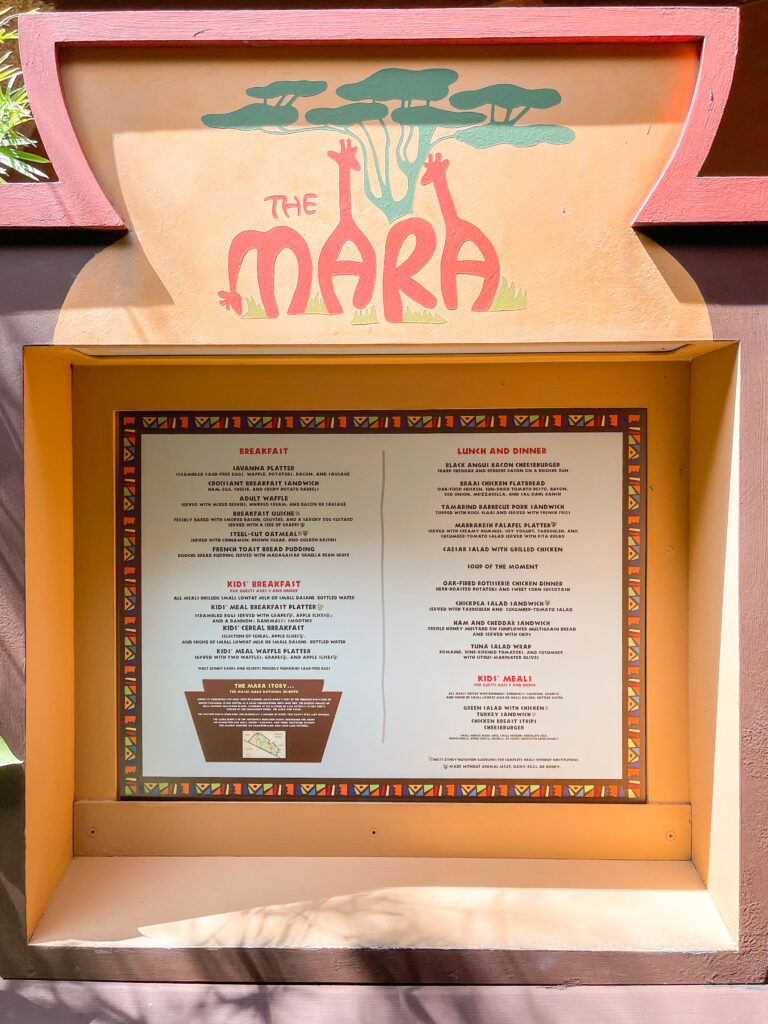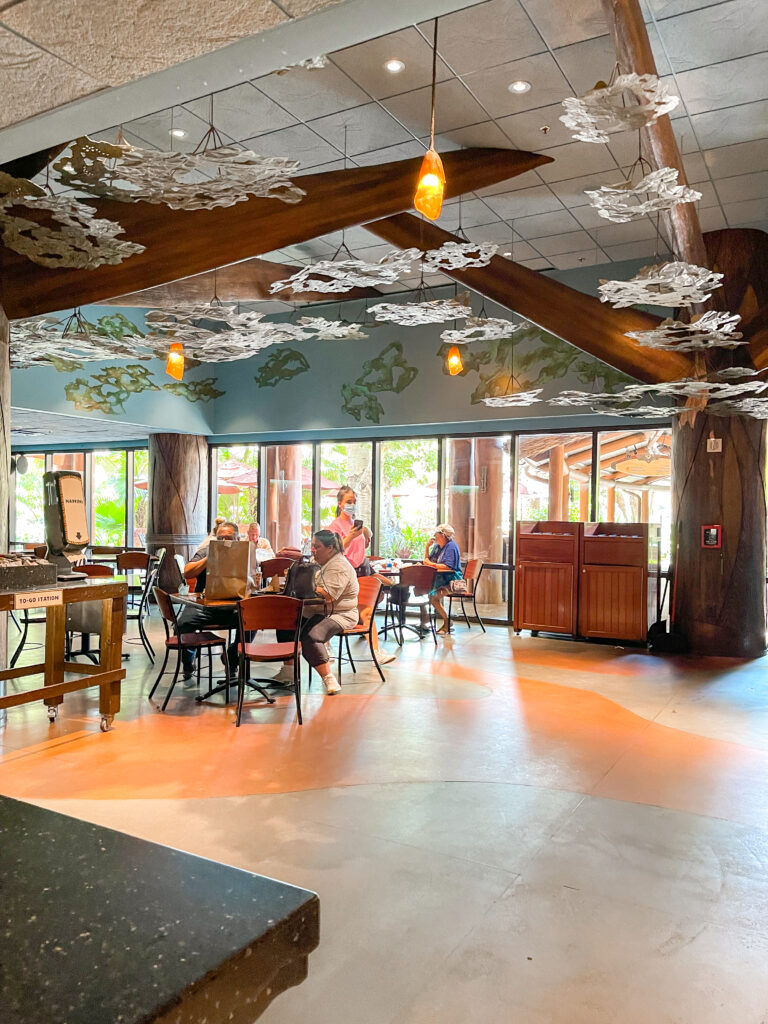 My boys had cheeseburgers and my husband and I had a chicken Caesar salad. We also shared the 50th Anniversary tart out on our balcony.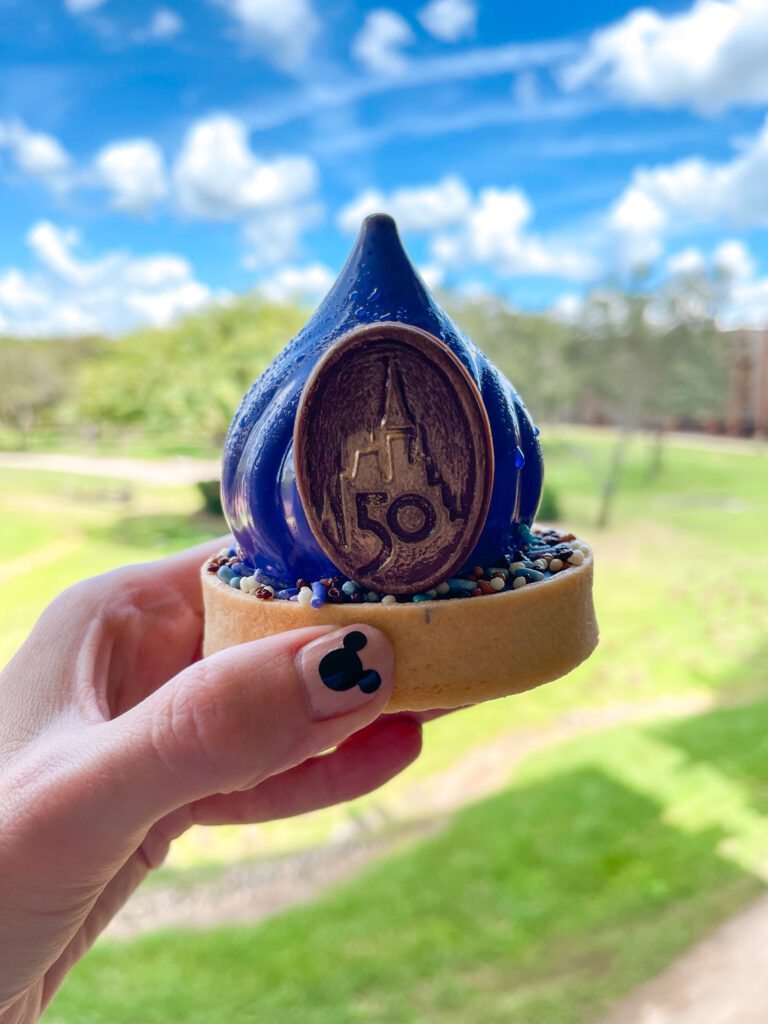 Jiko-The Cooking Place serves fine dining African cuisine. Unfortunately it has not reopened yet.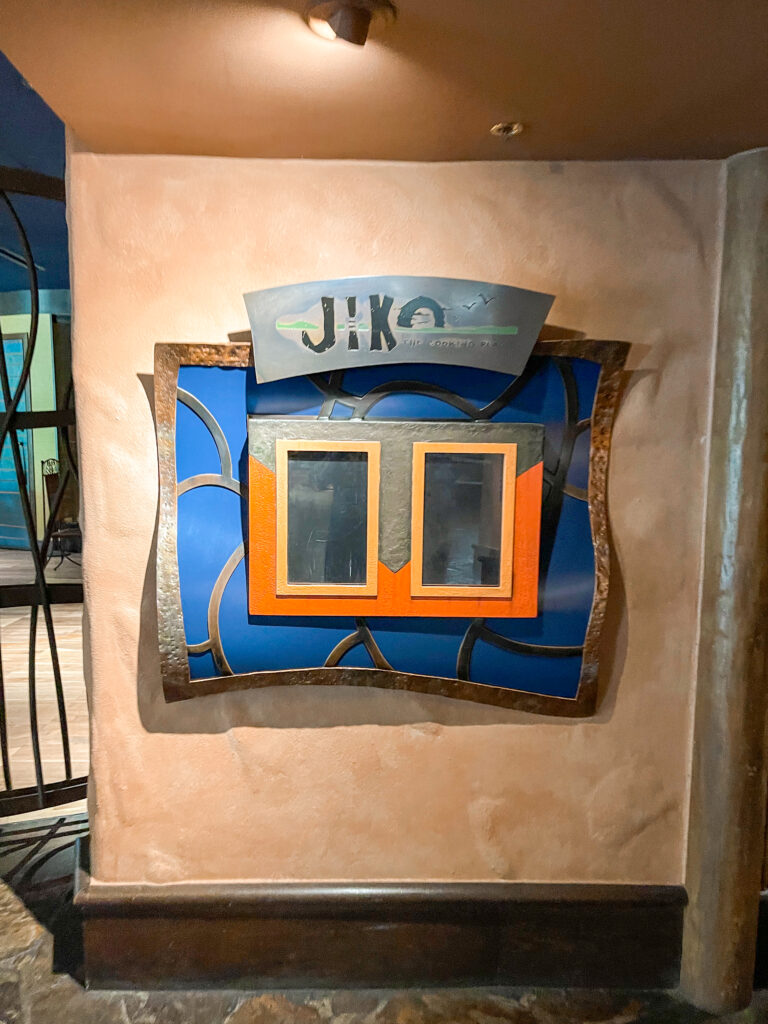 Boma- Flavors of Africa is a buffet style restaurant that is open for breakfast and dinner.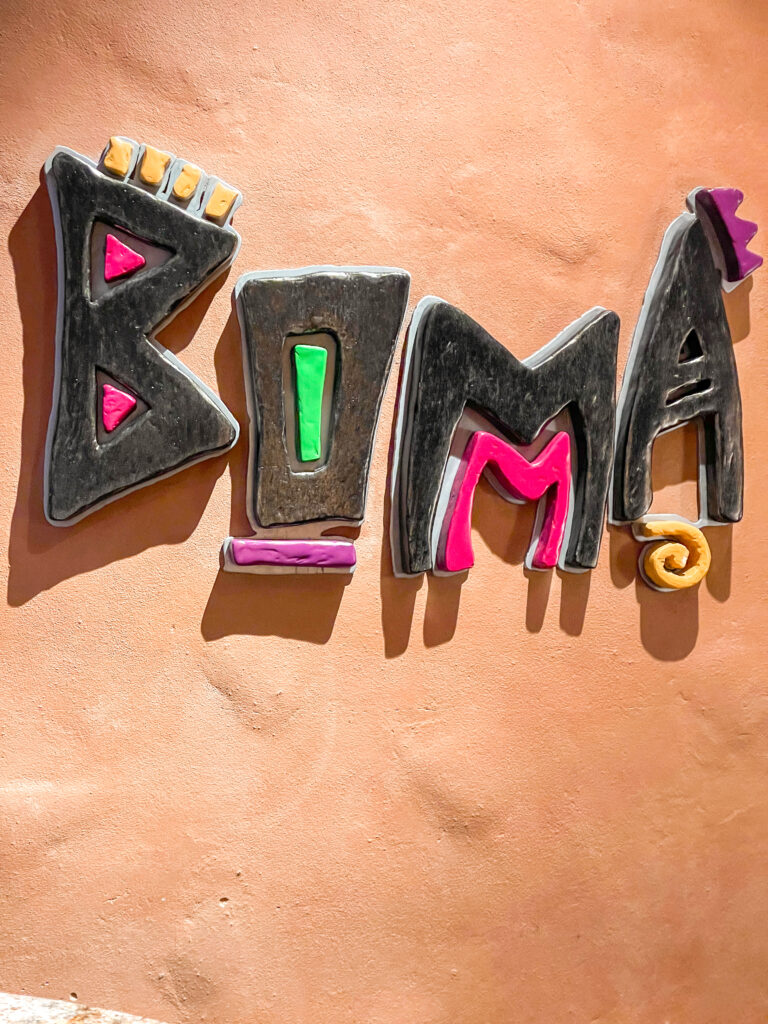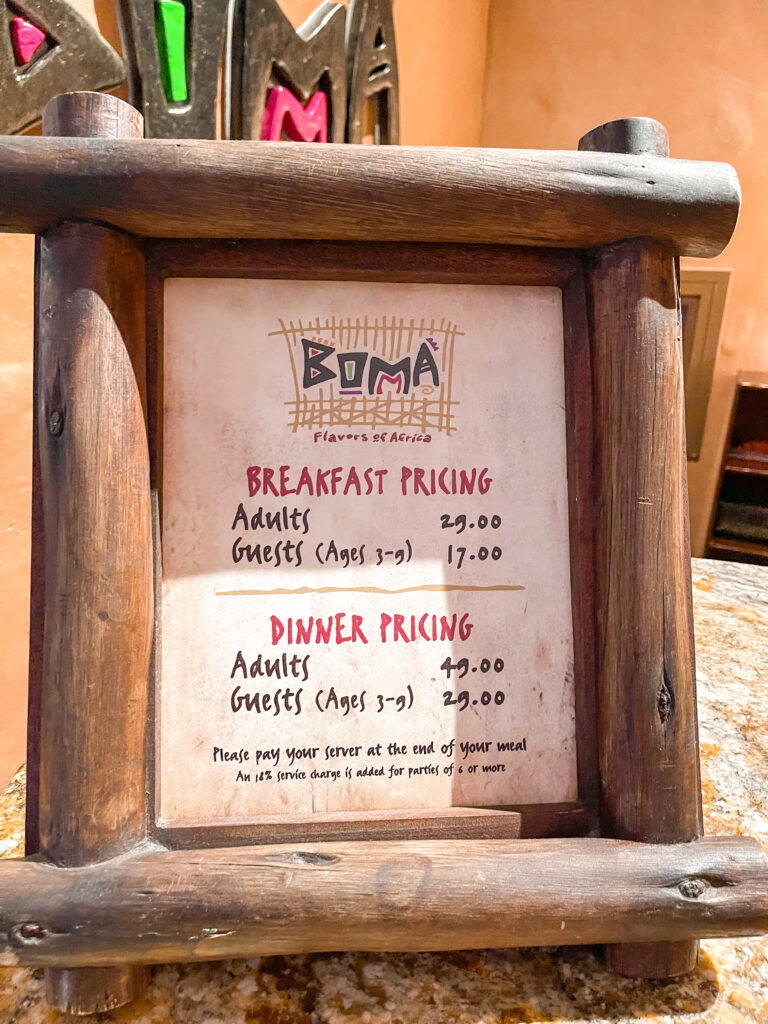 Gift Shop
You can't go to Disney without checking out the gift shop, right? We had a good time taking a look around at the Disney items for sale.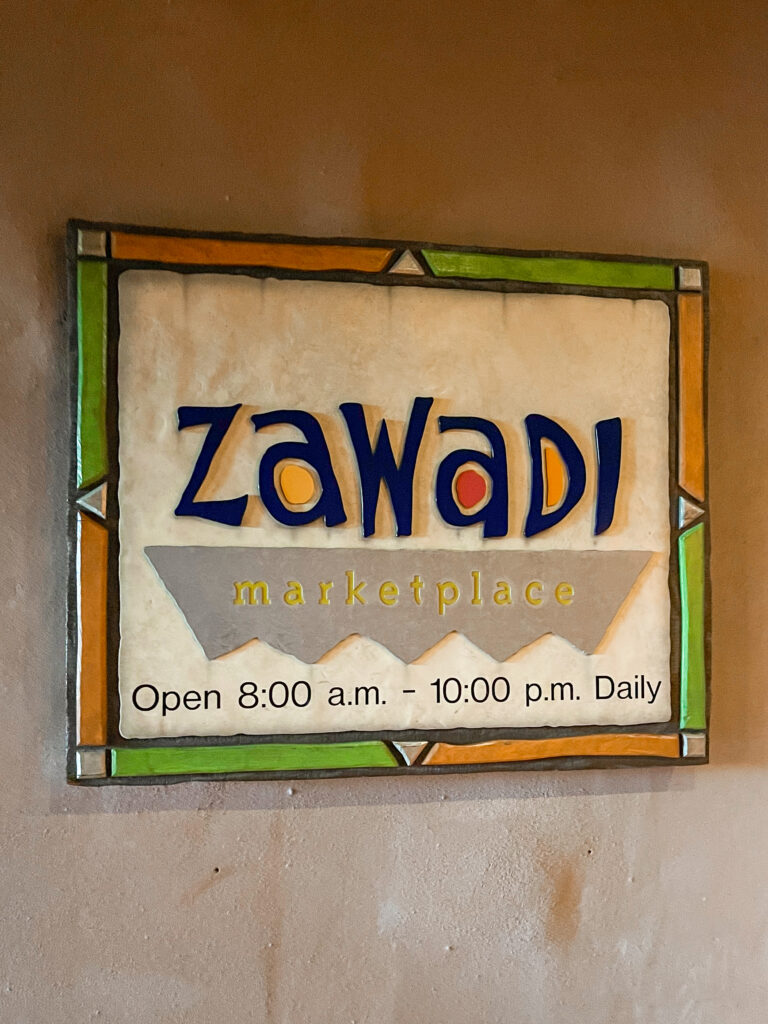 There was a lot of Lion King merchandise here, probably because it is Animal Kingdom Lodge. This gift shop also came in handy when we ran out of sunscreen.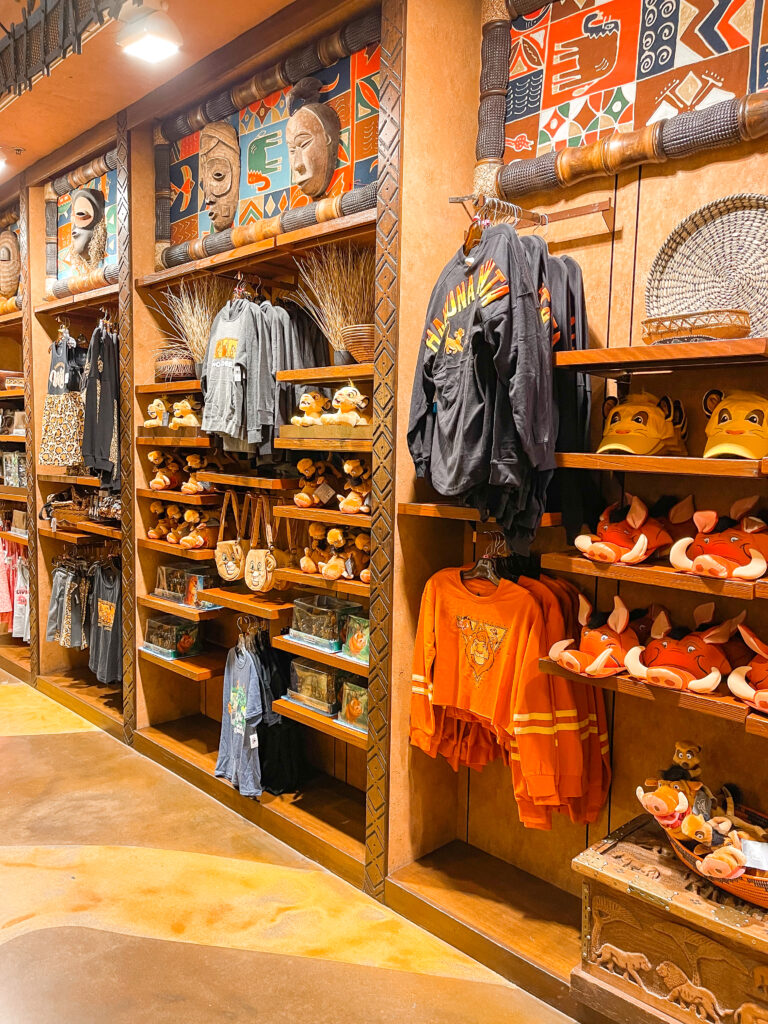 Fitness Center
If you want to get in a workout during your stay, Animal Kingdom Lodge has a really nice and spacious fitness center located across from the pool.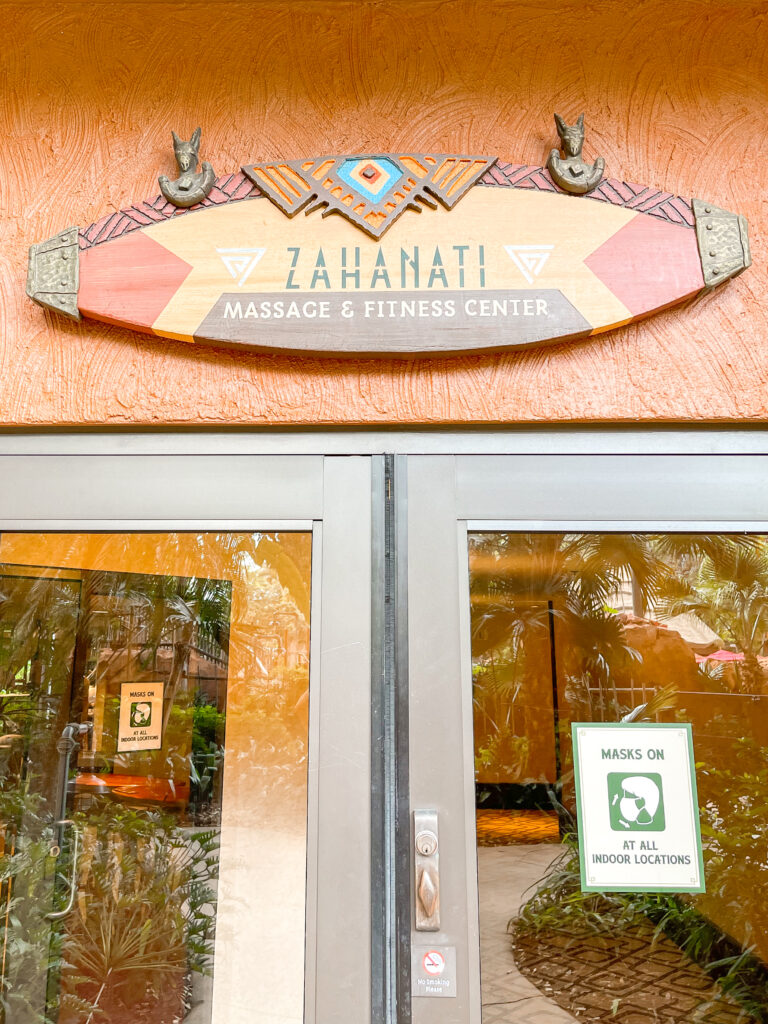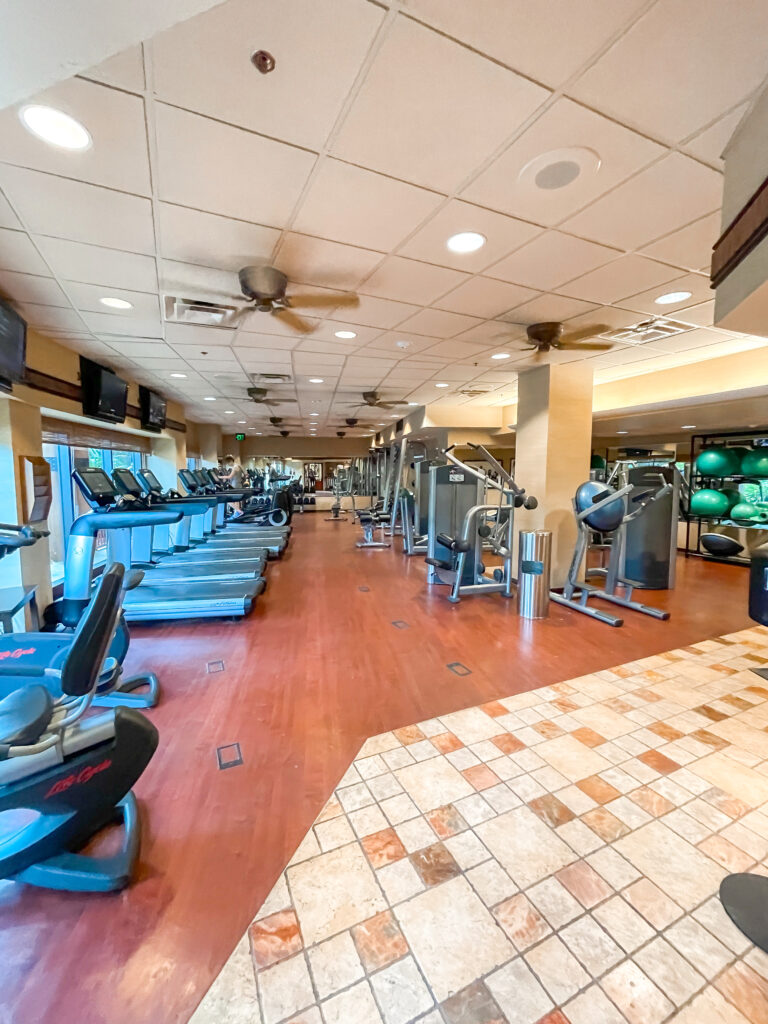 Disney Transportation
A perk of staying at a Disney resort is the free Disney Transportation. You can head outside the front doors of the hotel turn left and catch a bus to Disney World park as well as Disney Springs and the Disney water parks!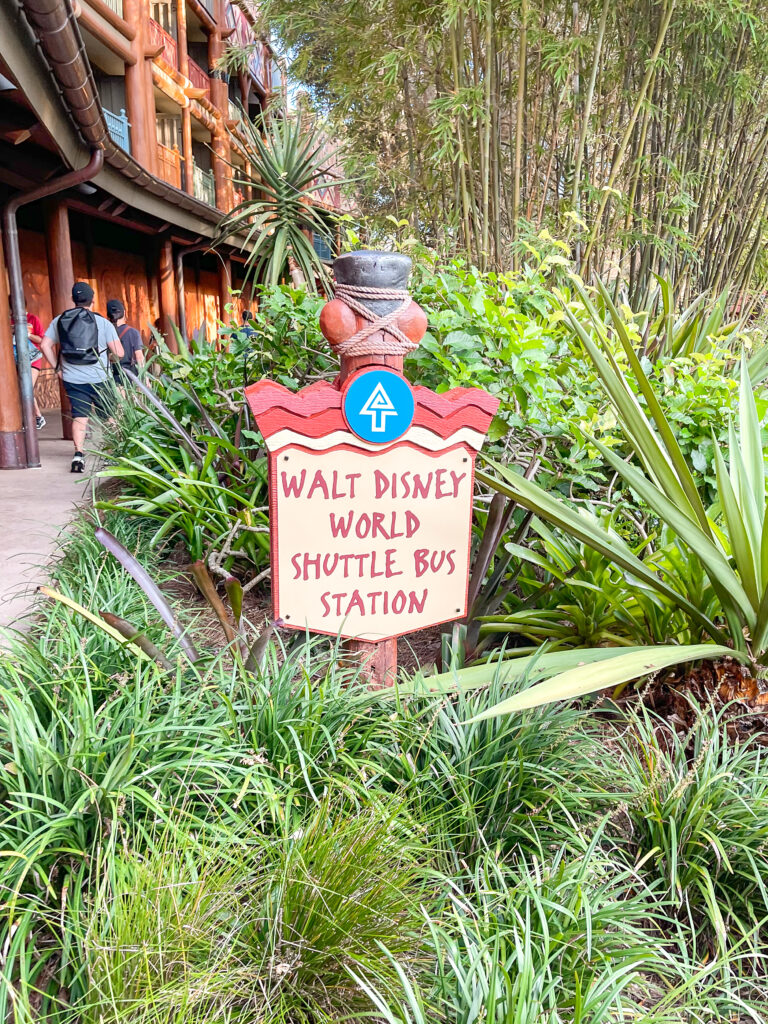 We took the bus to Disney Springs one night and picked up dinner at The Chicken Guy. We highly recommend it!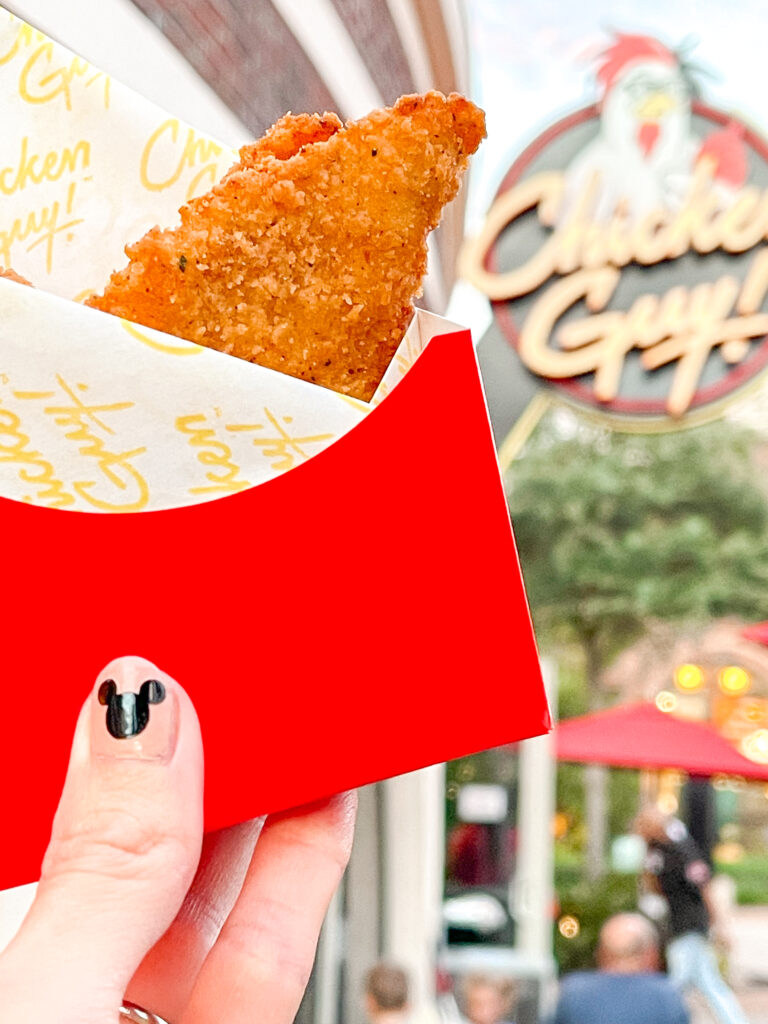 Disney's Magical Express
Disney's Magical Express is a perk that will be going away soon. It offered complimentary transportation to and from Orlando International Airport. I was glad that we got to experience it one last time.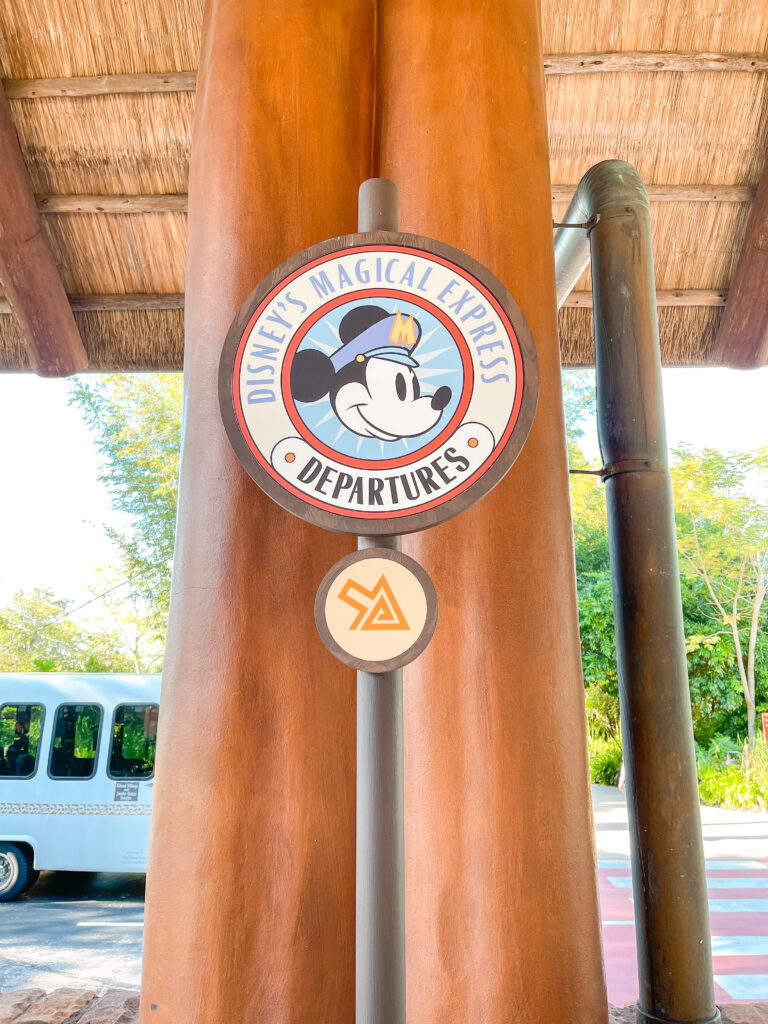 We received an envelope the night before we checked out that listed our pick up time. The pick up location is outside the front doors across the valet parking area.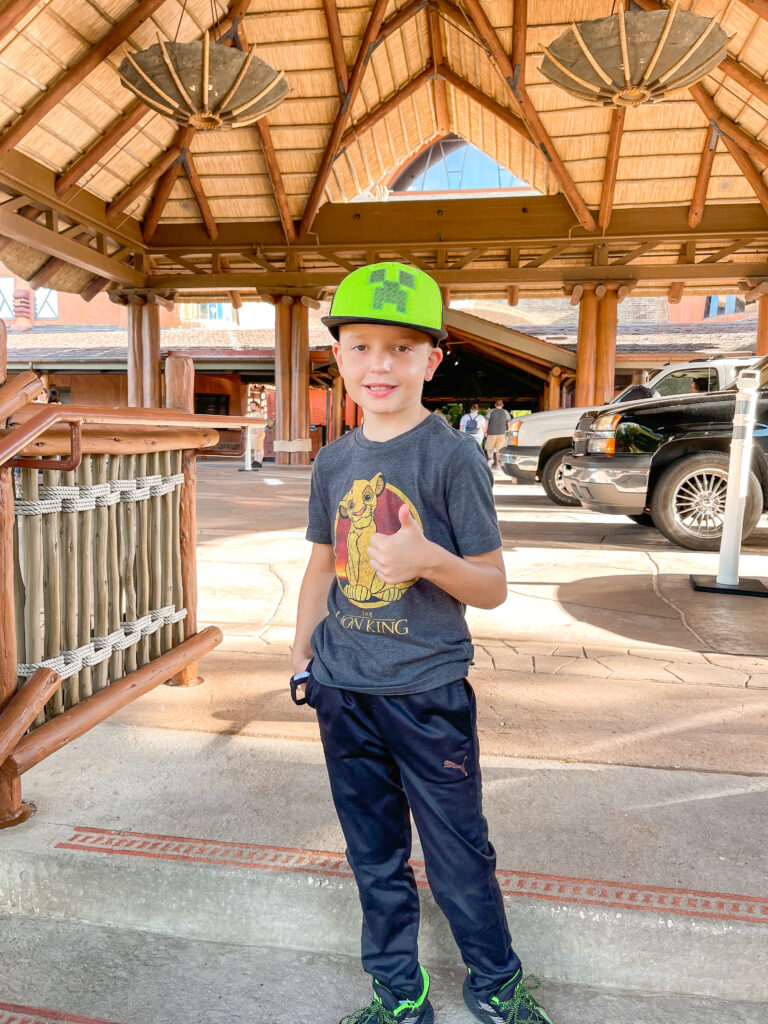 Although we did get to ride the Magical Express, I was kind of disappointed that the bus we had was not decorated as a Magical Express Bus. It kind of took away from the Magic.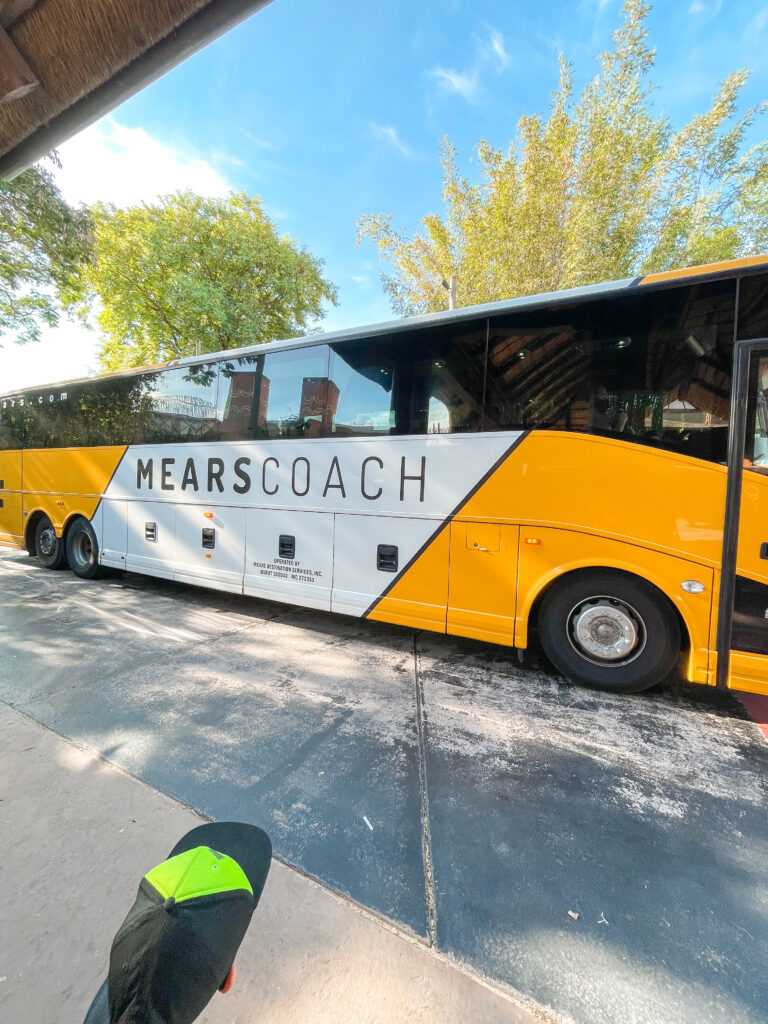 We spent two amazing days at Disney World with our boys while staying in this resort. I loved watching them have so much fun while playing on all of the fun features Disney has to offer. The service here was also amazing!
If you are looking for an unforgettable family vacation and you don't mind spending some at a Disney World deluxe resort, then Animal Kingdom Lodge is definitely the way to go.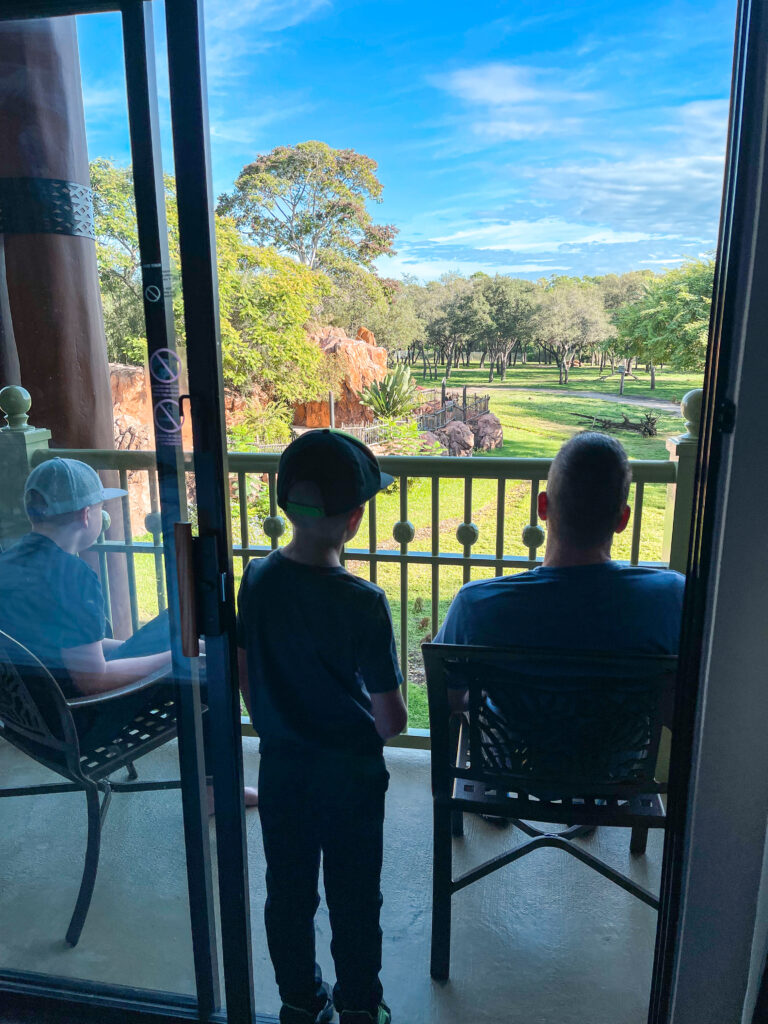 Animal Kingdom Lodge was an amazing resort! If you would like to see more about our stay with a video review , click HERE to be taken to it on YouTube.
If you are planning your Disney World vacation, I recommend checking out my travel partner, Get Away Today. They can help you get the best deals on hotels and ticket packages. I have booked with them for years and have always been impressed with their customer service.
Get a free Disney World Vacation Quote from Get Away Today here!