Disneyland is a magical place that evokes excitement and joy for all ages. In December, the Disneyland Resort transforms into a winter wonderland with holiday treats and decorations. Let's take a look at some of the ways you can make your Disneyland vacation extra special this December!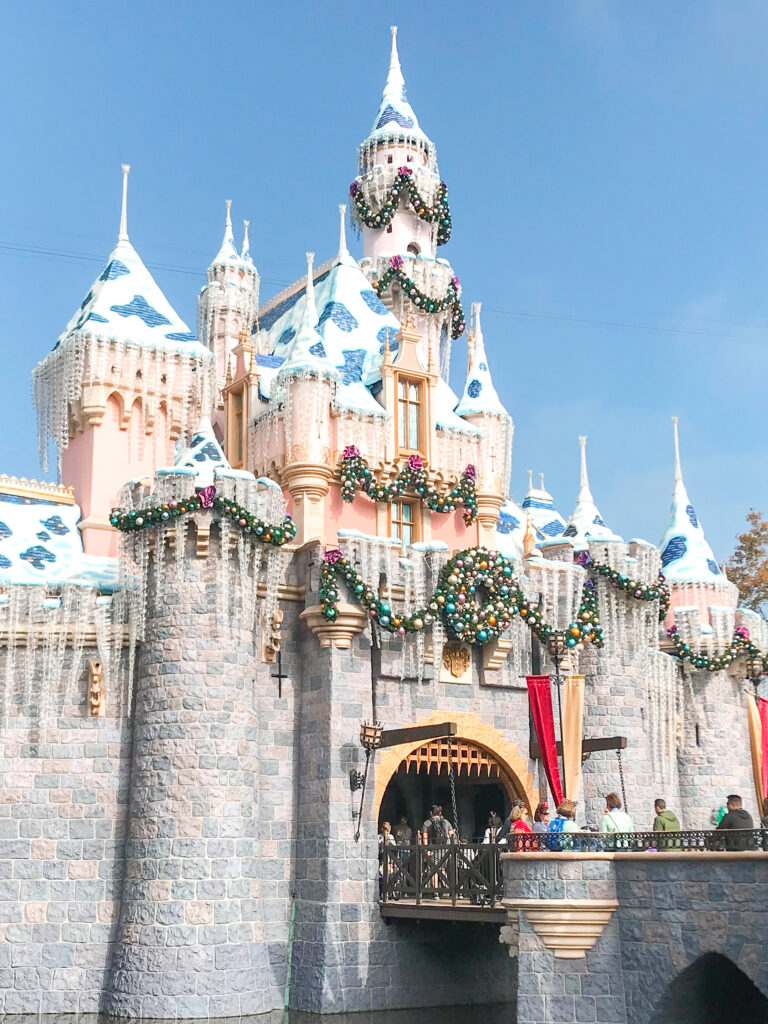 This post may contain affiliate links. When you click on these links, I get a small percentage back at no cost to you! For more information see my disclosure policy.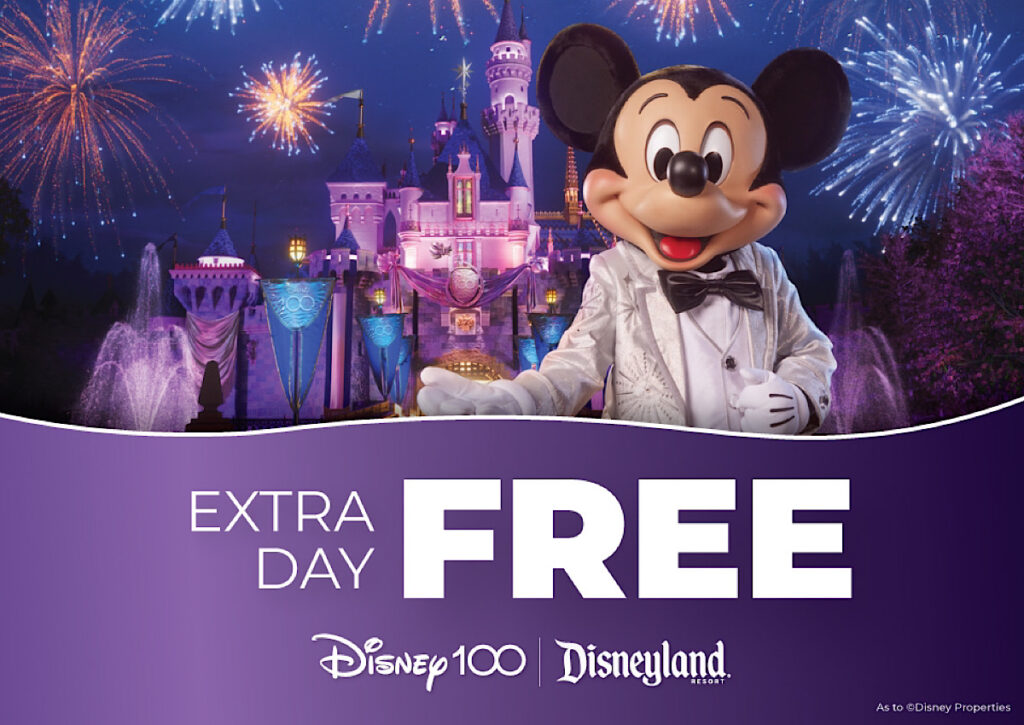 To celebrate Disney100, you can get an EXTRA DAY FREE when you purchase tickets from Get Away Today. Combine this deal with a hotel stay and use code: Clubhouse10 to save even more!
Disneyland in December
I love visiting Disneyland during the Christmas season. It really helps make it the most wonderful time of the year at the Happiest Place on Earth!
Although it is very magical, there tends to be larger crowds during the holidays. But have no fear! I'm here to help you know all about what to expect at Disneyland in December so that you and your family will have the best time ever! Check out my Disneyland Christmas Guide here!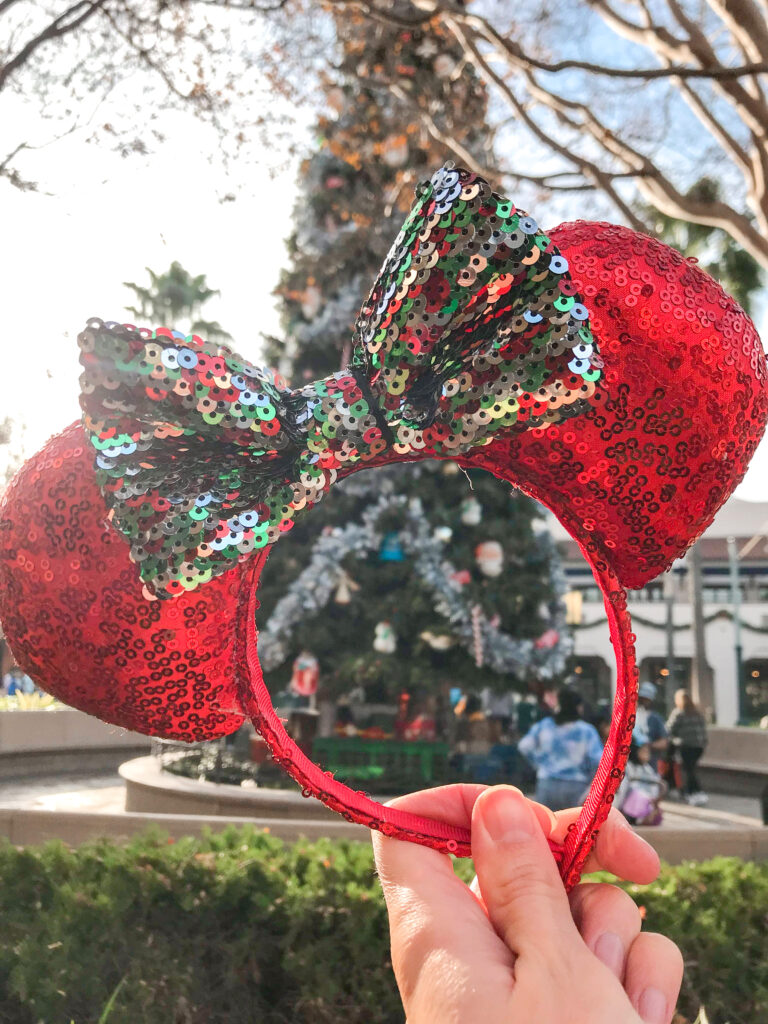 Get Discount Disneyland Tickets & Vacation Packages
My travel partner, Get Away Today, offers park tickets that are always a few dollars less than what you can purchase directly from Disney. I have been buying my tickets for them for many years and their customer service can't be beat! You can check ticket prices here.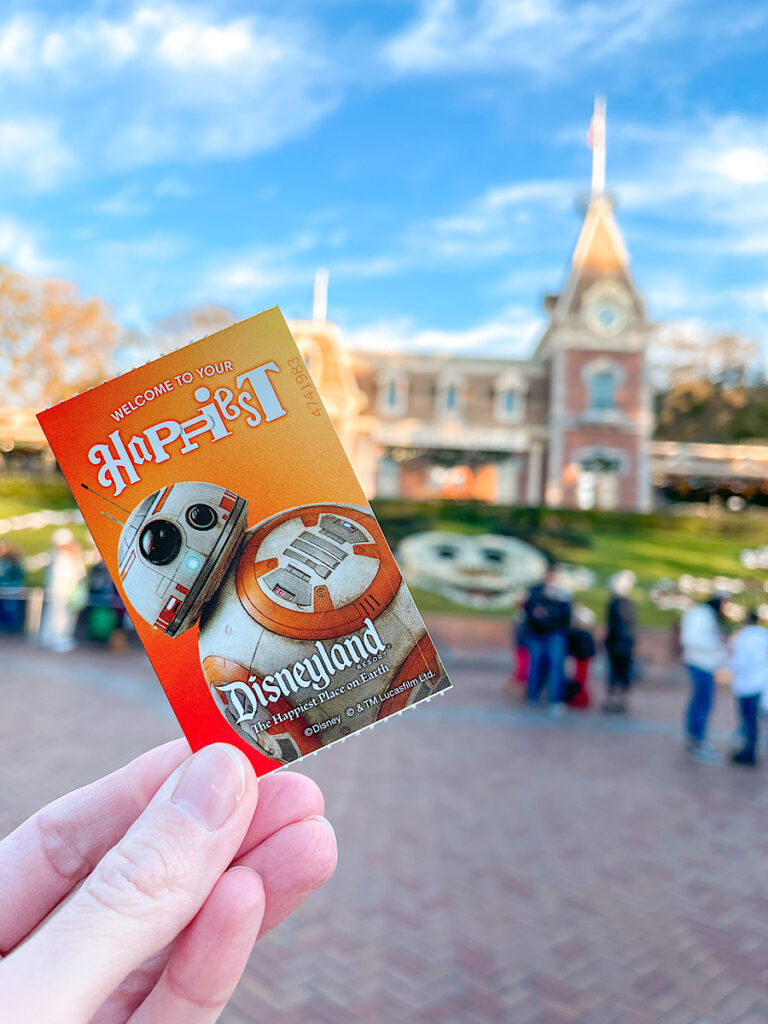 You can save even more when booking your tickets in a vacation package combined with a hotel stay. Get Away Today often offers deals through many Disneyland Good Neighbor hotels where you can get a 3rd or 4th night free! And they offer amazing layaway plans!

And, my readers can use the coupon code: Clubhouse10 to save even more on a 2-night or longer Southern California vacation package! You can check package prices for your next trip here or give them a call at 855-GET-AWAY and tell them Mommy Mouse Clubhouse sent you.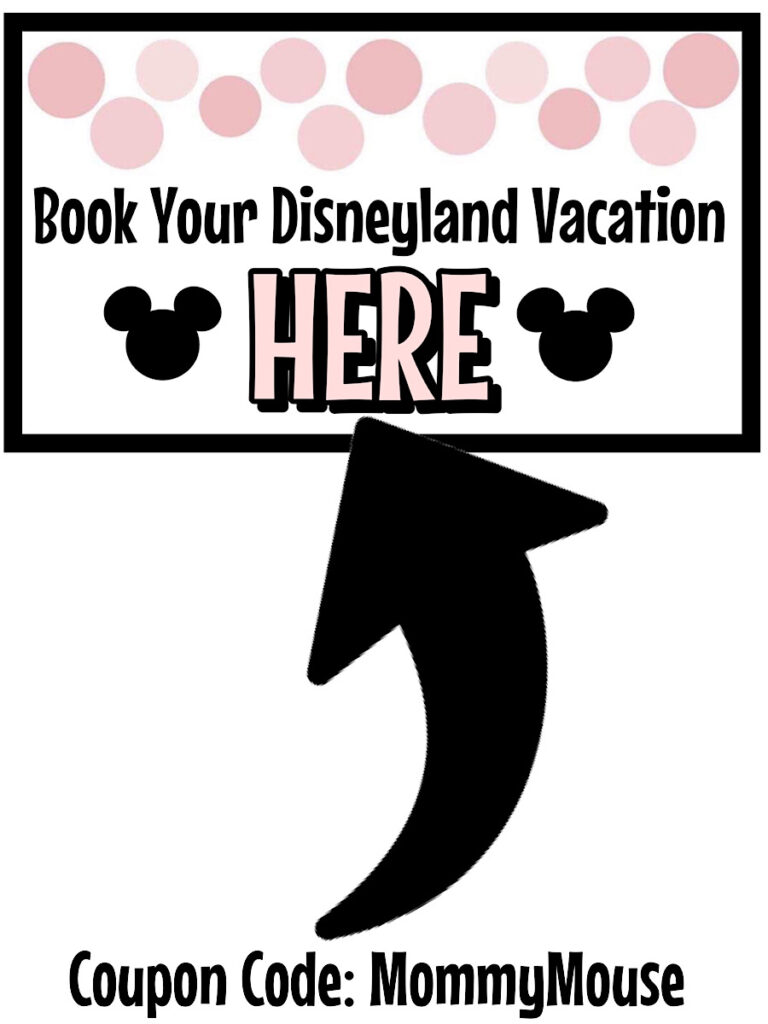 Here are a few hotels I recommend that can be booked through Get Away Today: Disneyland Hotel, Radisson Blu Anaheim, Cambria Hotel & Suites Anaheim, Embassy Suites Anaheim South, and Howard Johnson Anaheim Hotel & Water Playground.
Tips for Disneyland

in December
My first tip would be to purchase your tickets as soon as possible after you secure the dates of your visit. Then you will want to make park reservations as well. Check out these park hopper tips to help you get the most bang for your buck in December. You will also want to check out how to go to Disneyland on a budget!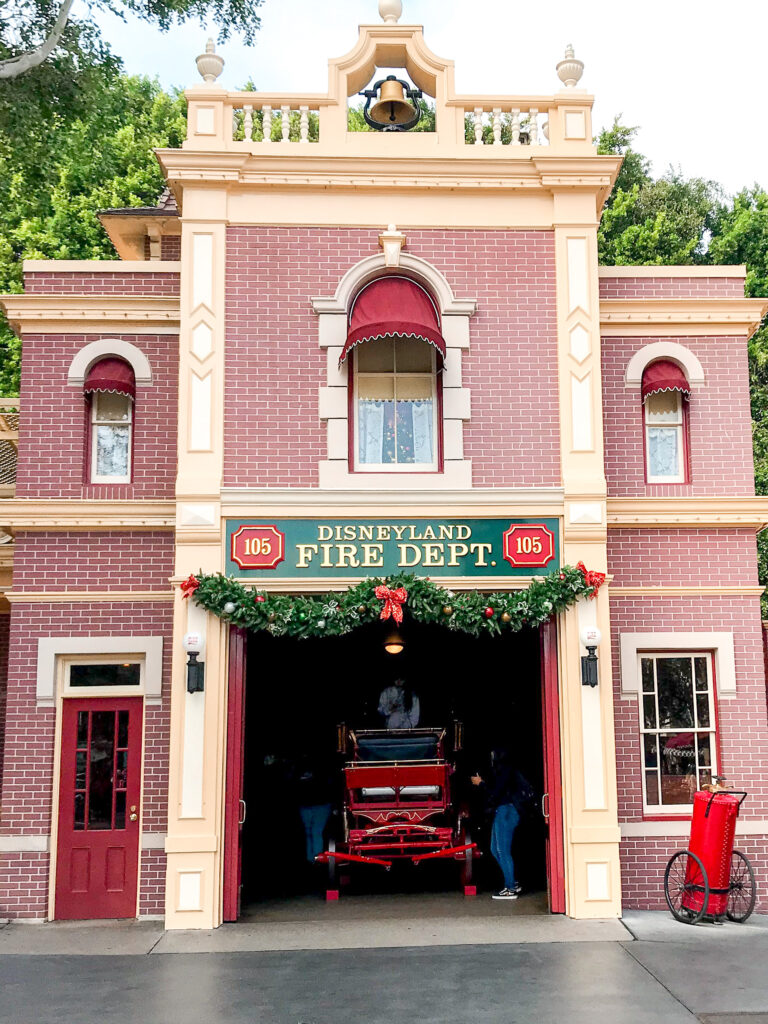 The best days to go are an off-peak day, like Tuesday or Wednesday. This is not to say that days like Thursday or Friday won't be fun – they will just be more crowded.
Get to the park an hour before it open for rope drop, or plan to arrive about 30 minutes after opening to avoid crowds at the gates of Disneyland and Disney California Adventure.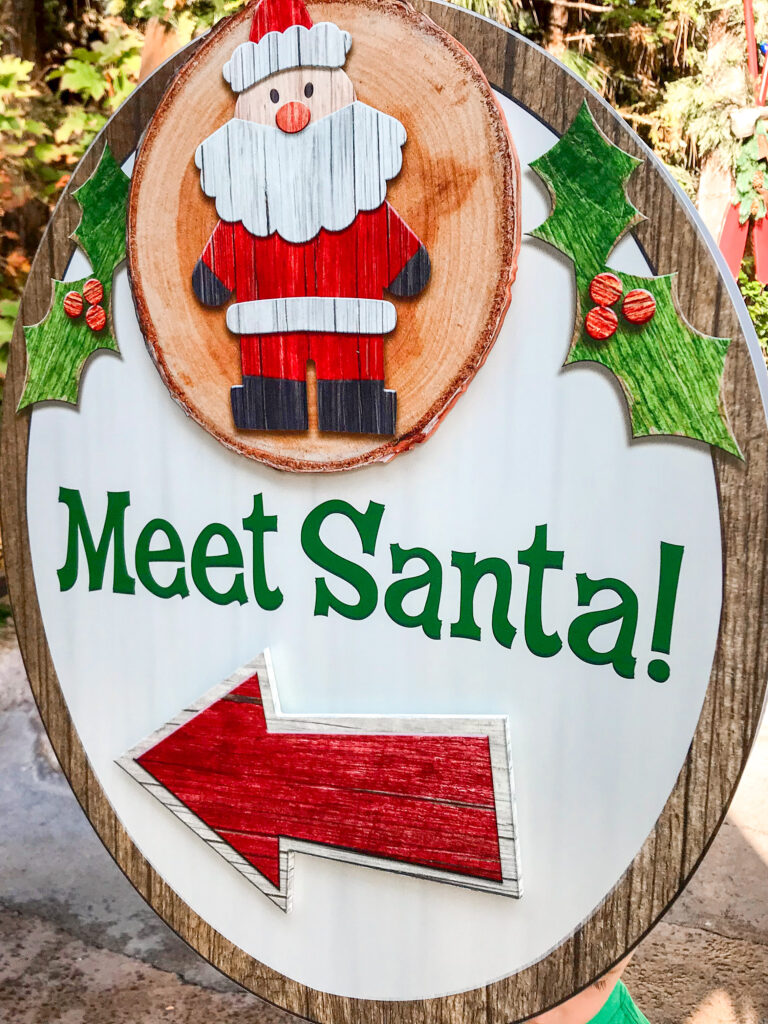 If you're wondering what Disneyland is like in other months of the year? Check out my posts for January, February, March, April, May, June, July, August, September, October, and November.
Crowd Sizes at Disneyland in December?
Crowds are generally pretty manageable in early December, but as the Christmas holiday approaches, crowds will definitely increase. The busiest days seem to be the week between Christmas Day and New Year's Eve. My family has a tradition of visiting the week before Christmas and we always have a great time by utilizing the following tips.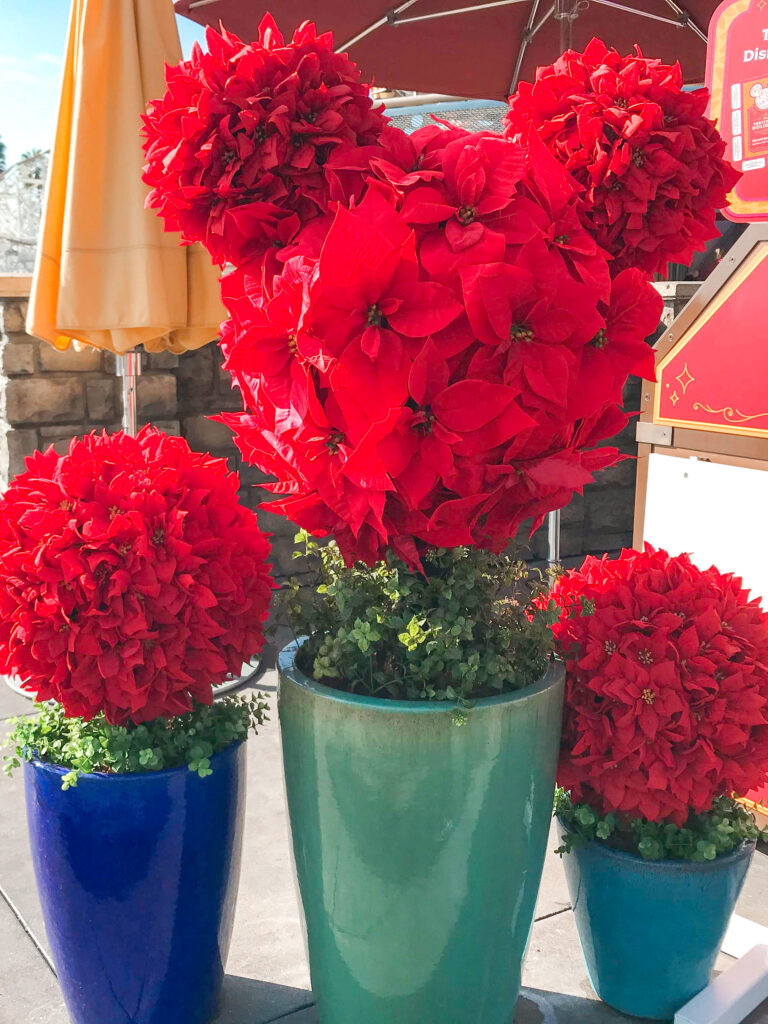 Use Genie+
Genie+ has replaced the old Fastpass and MaxPass service and will now cost $25 per person per day. Although this extra cost is annoying, I work it into my budget because the time saved not waiting in long lines is worth it to me.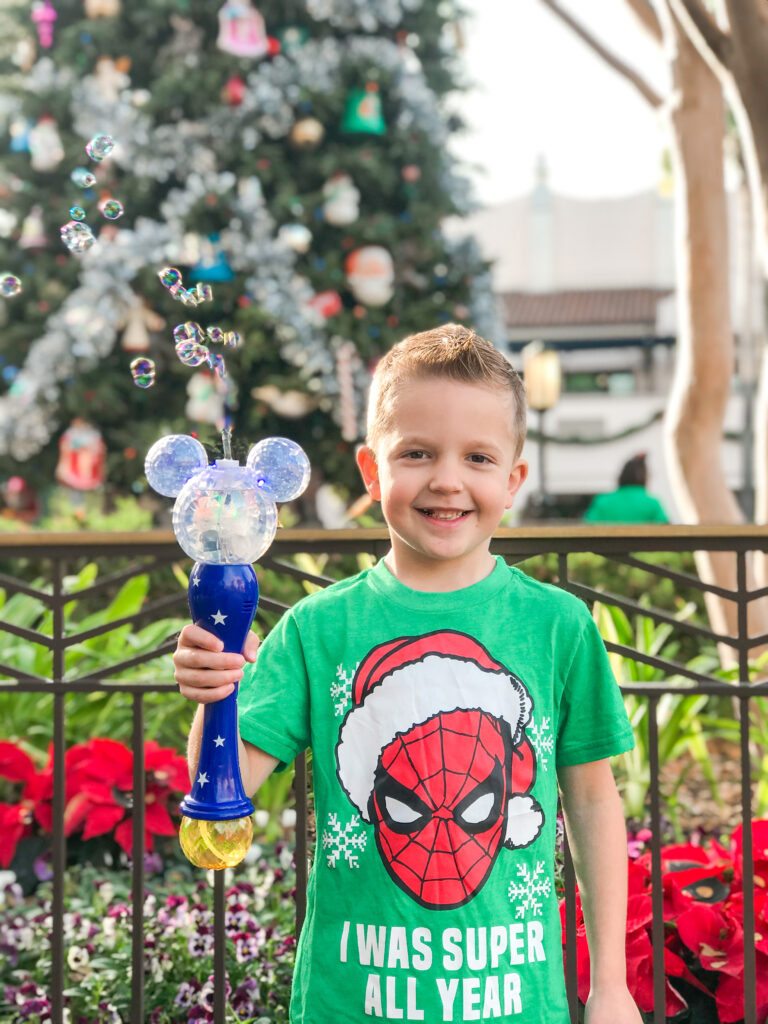 Arrive Early
​Try to get to the parks 30-40 minutes before opening. This will give you time to get through security, the ticket gate, and on to Main Street so you'll be ready to start riding as soon as the rope drops.
The first hour or two that the park is open is a great time to get a lot done before large crowds start to trickle in the rest of the day.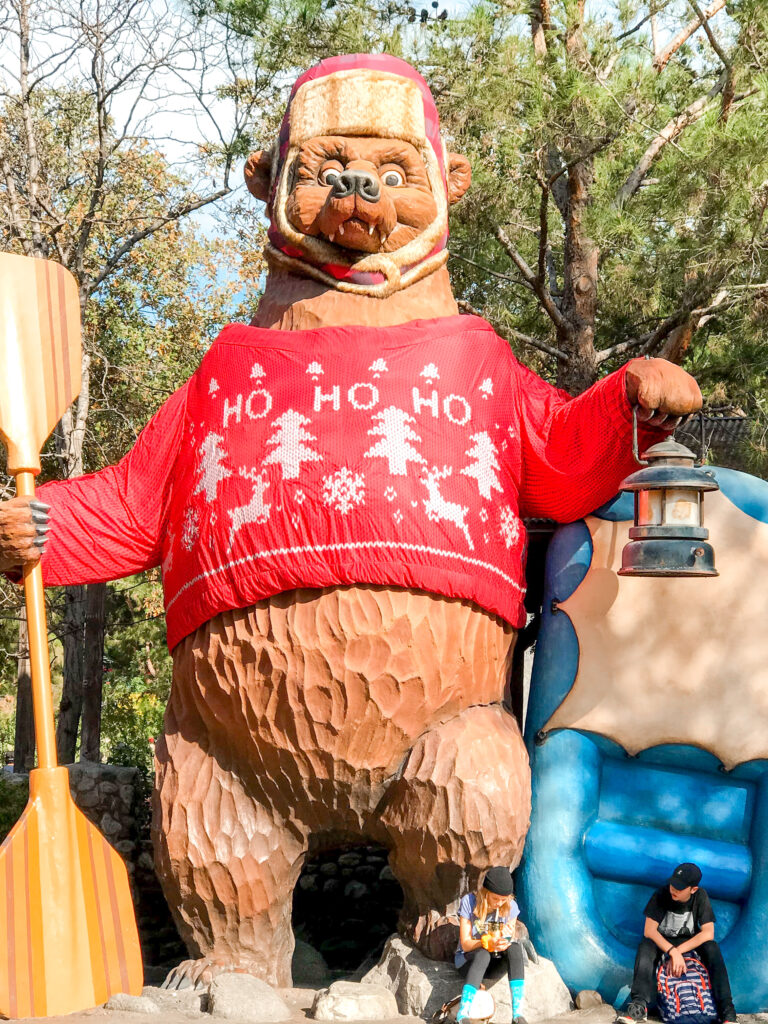 Stay on Property
If you stay at a Disneyland Resort hotel, you can get into the parks for Early Entry, which is 30 minutes before everyone else is allowed in.
Doing this last year, two days before Christmas, my family was able to ride Space Mountain two times as well as Matterhorn Bobsleds before the official opening of the park!
Read about our Christmas Disneyland Trip here and my review of the Disneyland Hotel here.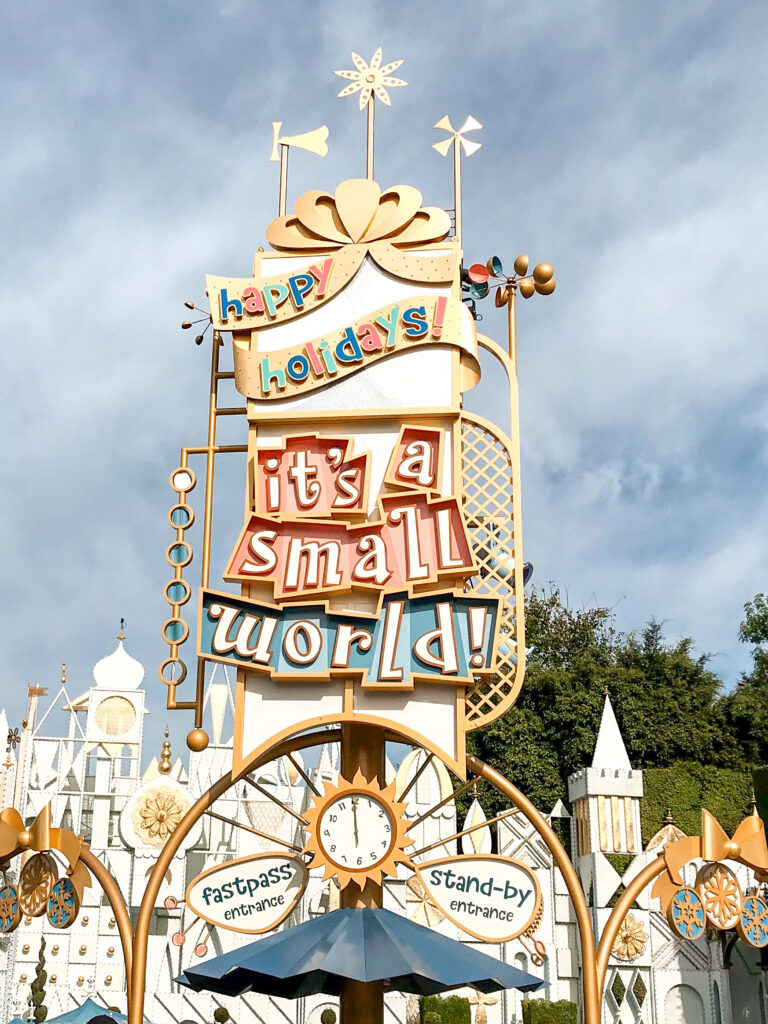 Special Events at Disneyland in December
Holidays at the Disneyland Resort begins November 10, 2023 – January 7, 2024. Below is what you can expect at each of the theme parks. Get a full overview of Christmas at Disneyland here.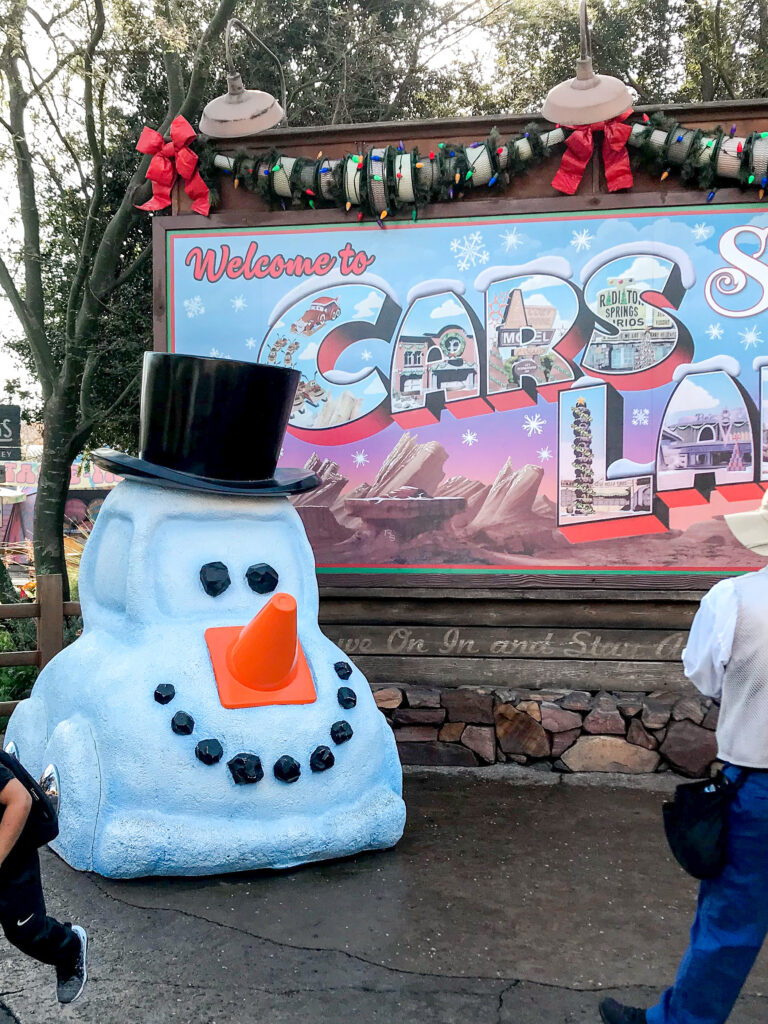 Disney California Adventure Park
Disney Festival of Holidays will immerse you in the sights, sounds, and flavors of different cultural traditions and activities!
Ride Mater's Jingle Jamboree and Luigi's Joy to the Whirl in Cars Land.
World of Color – Season of Light show brings the classic holiday stories from around the world to life! (Read my review of the World of Color Dessert Party here.)
Meet Santa Claus at Redwood Creek Challenge Trail.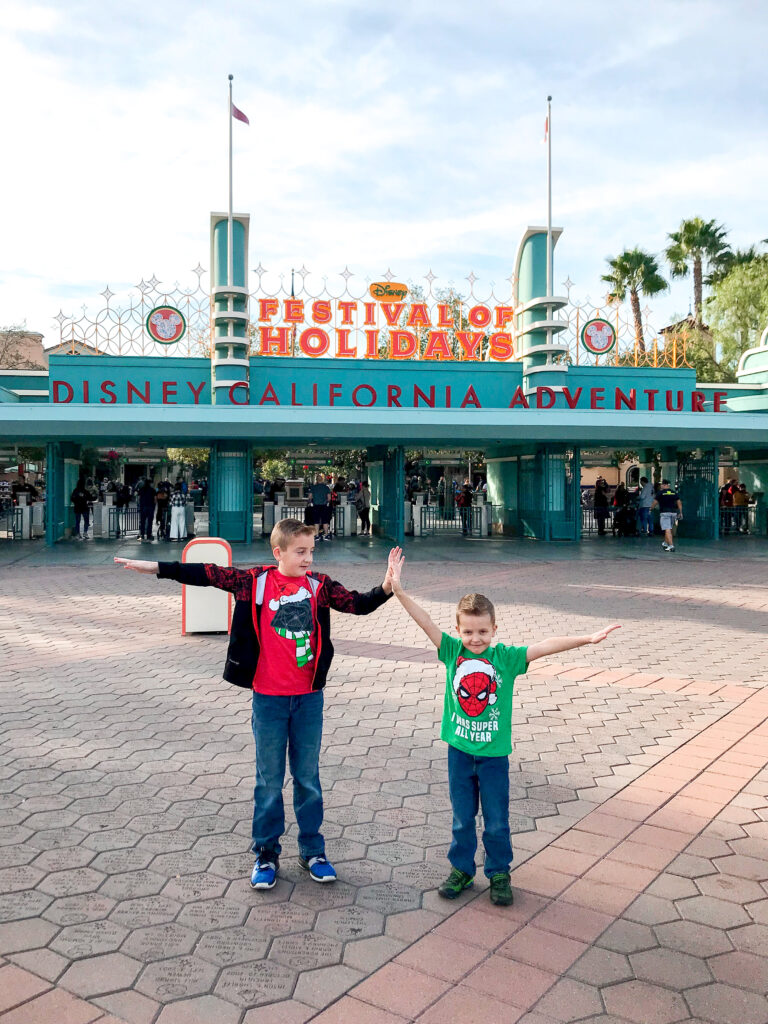 Disneyland Park
Special Treats Available at Disneyland in December
One of my favorite things about visiting Disneyland and Disney California Adventure in December is the treats! There are always special treats available to celebrate the holiday season.
Here are a few examples of the treats that are available at Disneyland in December:
Santa's Cookies & Milk Churro – A churro dusted in Biscoff cookie crumbs served with a sweet cream dipping sauce. Get the recipe to make at home here.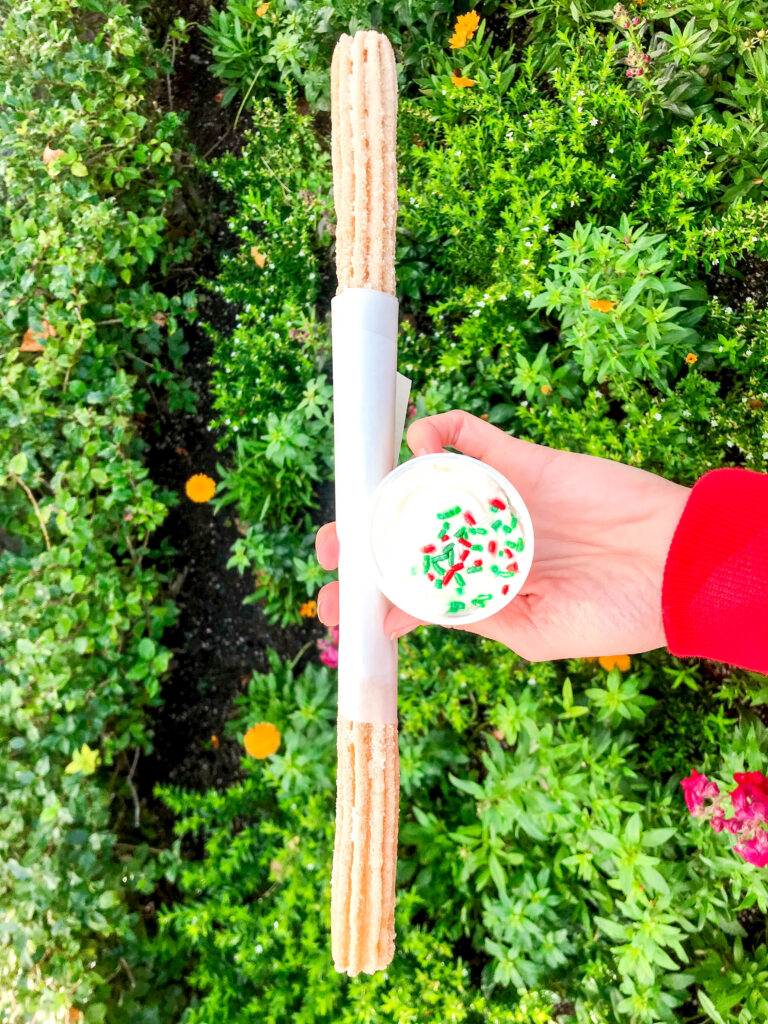 Santa Hat Macaron – A Santa hat-shaped macaron filled with raspberries & cream. Available at Jolly Holiday Bakery & Cafe.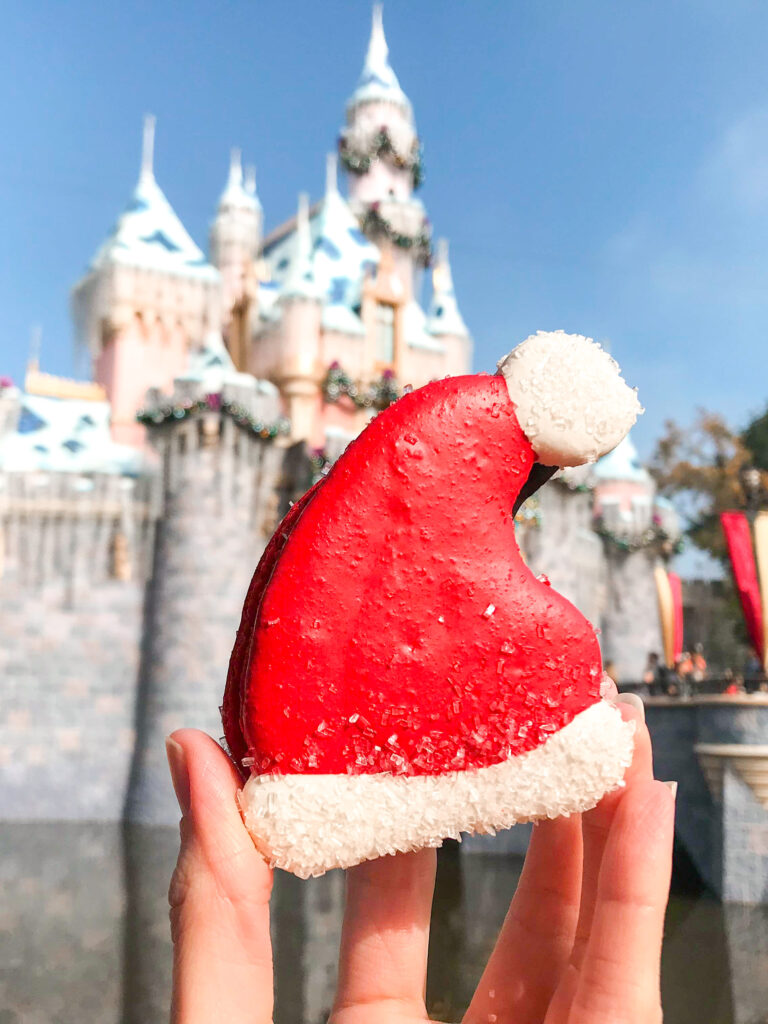 Peppermint Christmas Tree Ice Cream Cone- Peppermint ice cream covered in Christmas sprinkles with a star on top. Available at Cozy Cone Motel in Cars Land.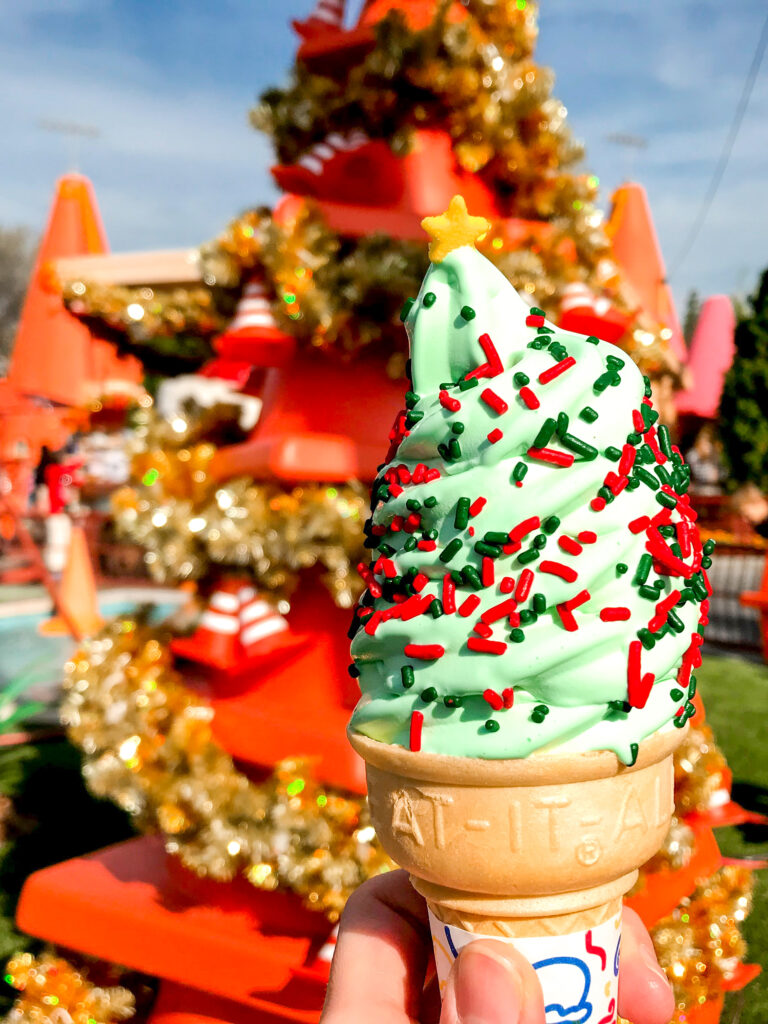 Candy Cane Mickey Beignets- Mickey Beignets dusted in powdered sugar and crushed candy canes.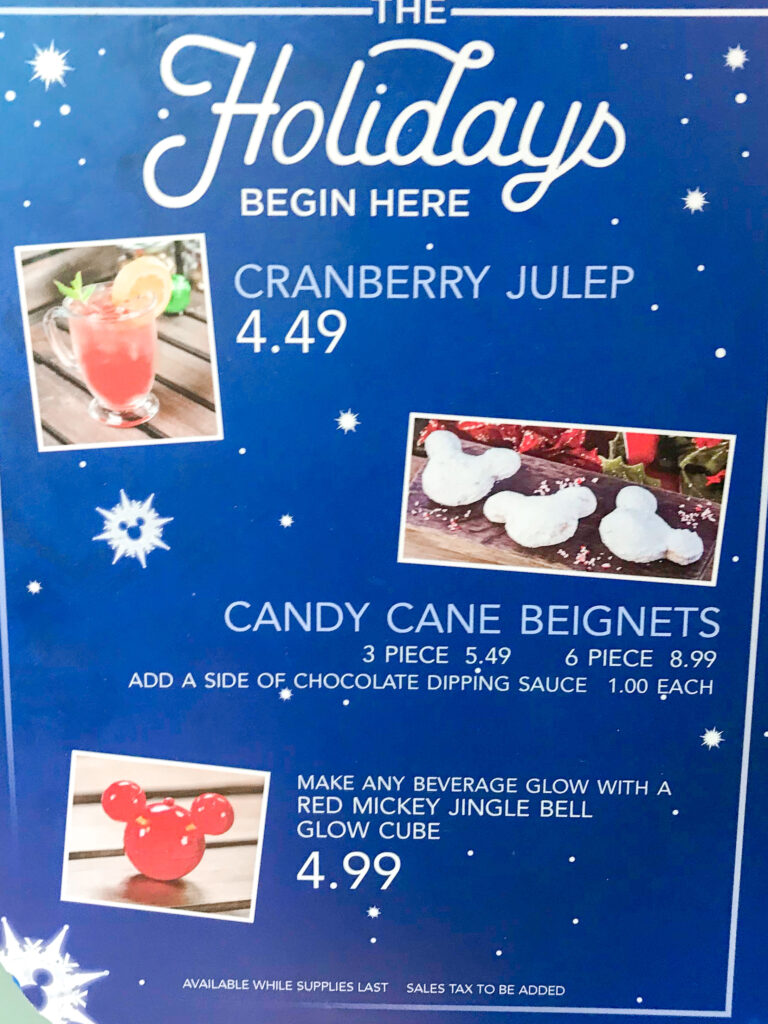 Cranberry Julep- A cranberry infused Mint Julep served at Mint Julep Bar.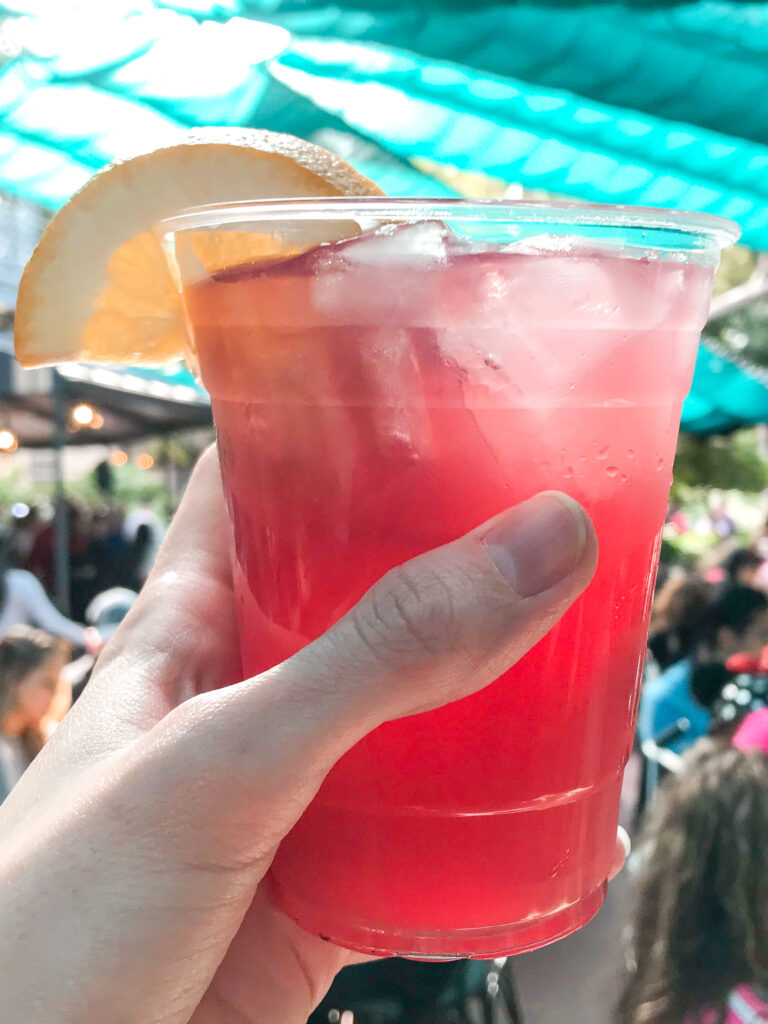 Mickey Gingerbread Cookie- A classic gingerbread cookie decorated and shaped like Mickey Mouse.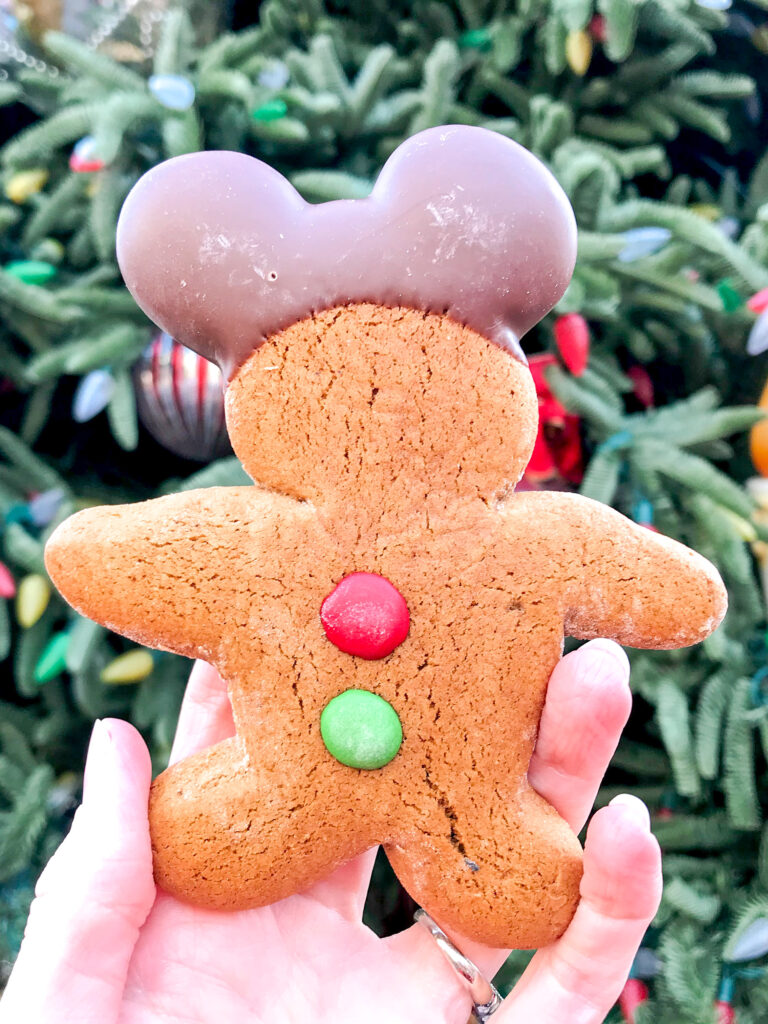 Pecan Pie Churro- A classic churro topped with maple glaze, toasted pecans, and chocolate drizzle. Available at Willie's Churro Cart.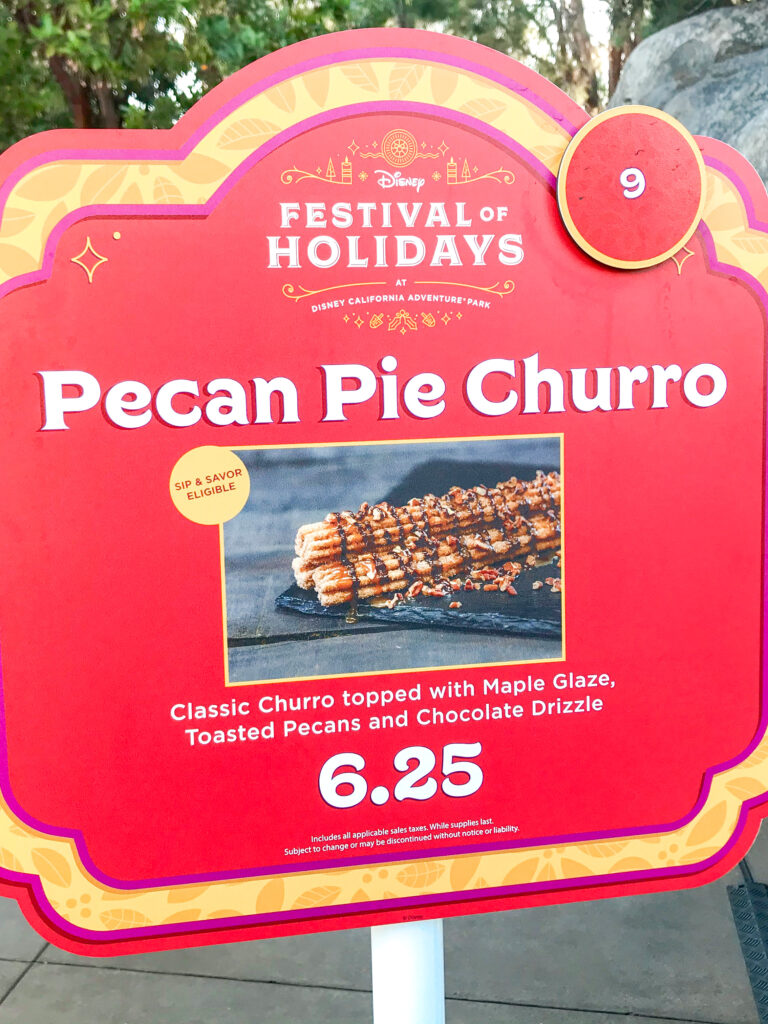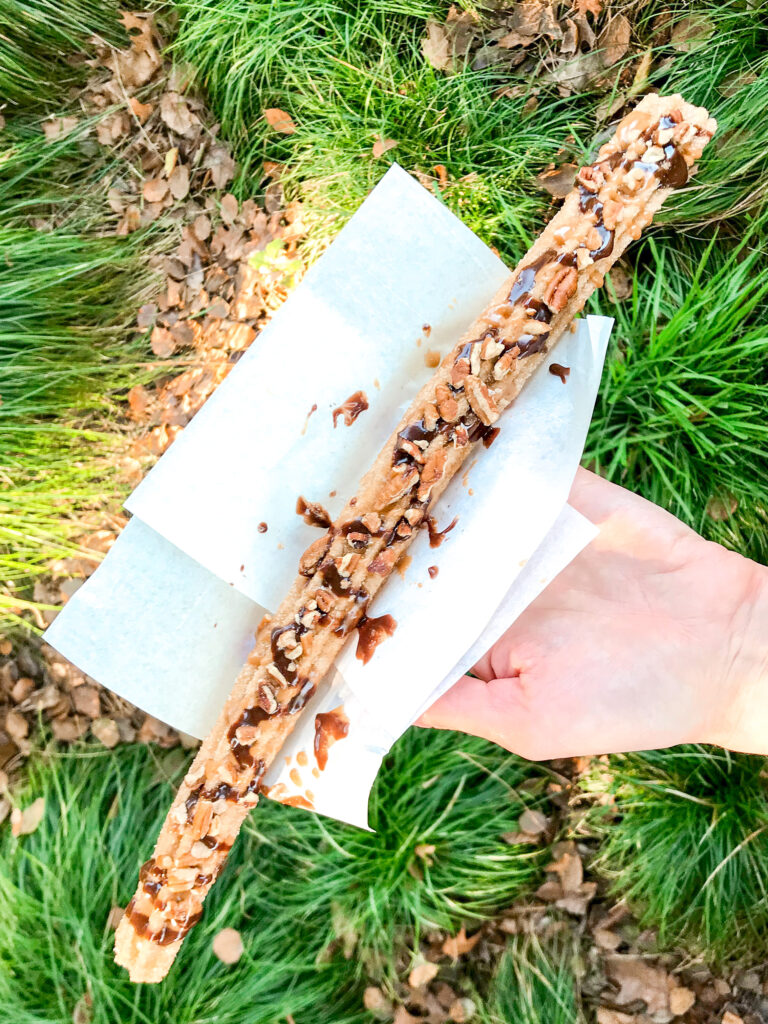 What is the Weather Like at Disneyland in December
The average high temperatures at Disneyland in December are in the mid 60s to low 70s and lows are in the upper 60s. Most days will be sunny or partly cloudy with a few scattered rainy days here and there. Sounds great to me!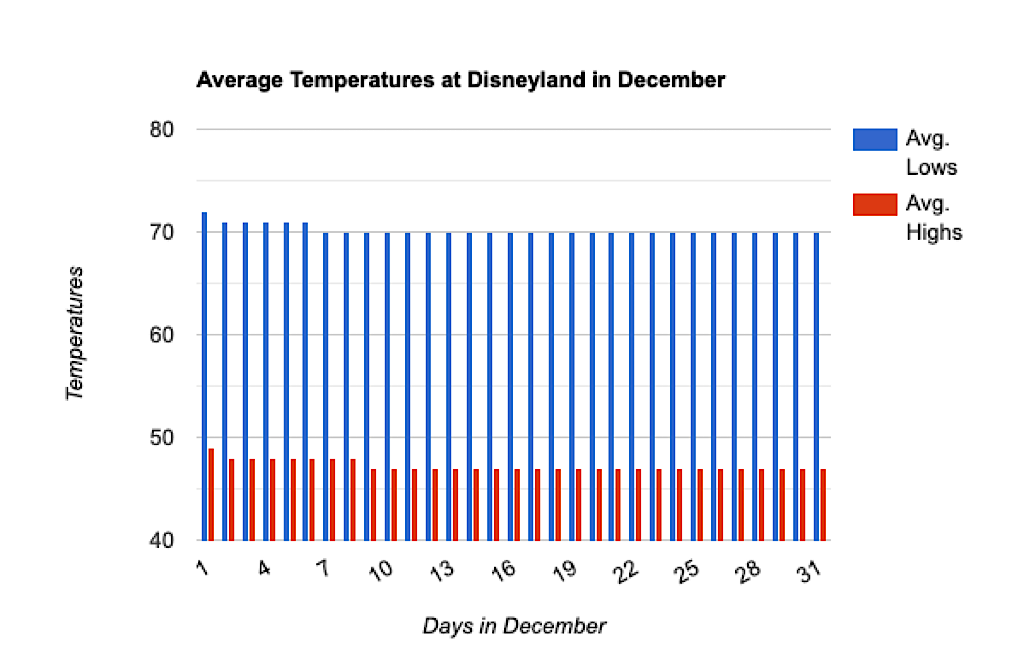 But, as you probably know, the weather has a mind of its own and can be unpredictable.
It can change at any time, so make sure to check the current weather forecast before you leave, so you will know what to expect.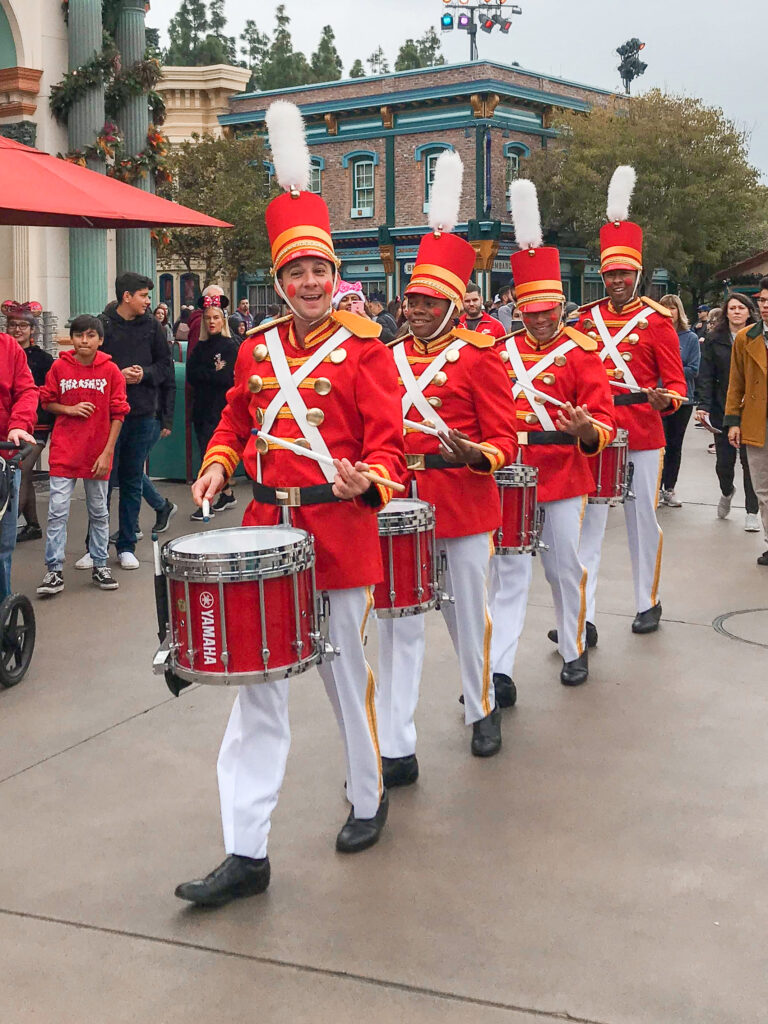 What to Pack for Disneyland in December
Do you need to know what to pack when going to Disneyland in the month of December? Well, I've got you covered! Check out my list below as well as some options that you can purchase ahead of time to be prepared for your Disneyland vacation!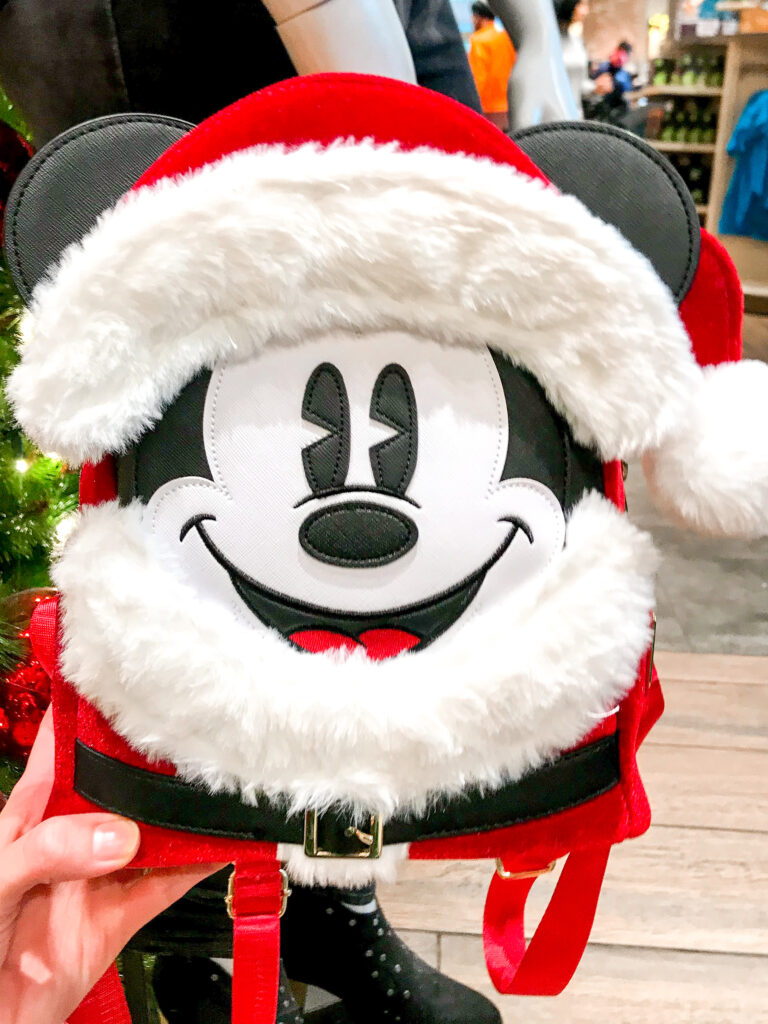 Also, make sure to read my post on what you should have in your Disney Park Bag and how you can use Amazon to save money at Disney! You can find my complete Disney packing list here.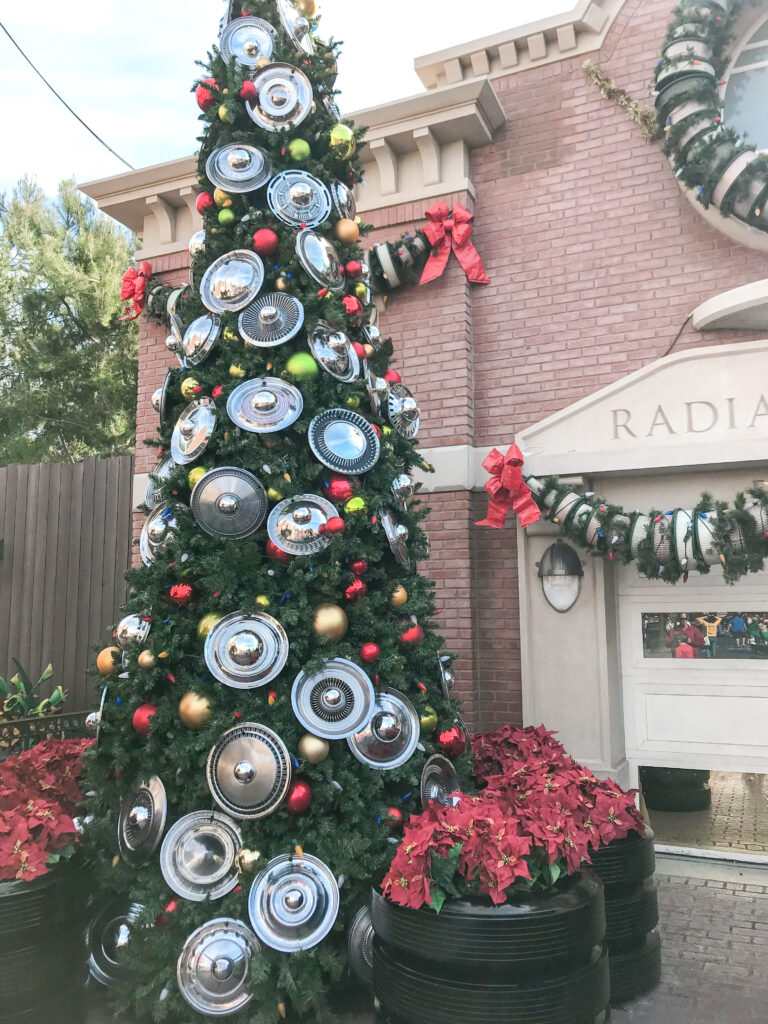 Pack Rain Ponchos
Although it doesn't rain much in December at Disneyland, I always take disposable ponchos with me.
My kids and I are not big fans of getting wet on rides. Splash Mountain and Grizzly River Run happen to be a couple of my favorite rides, so wearing a poncho while riding, allows us to still enjoy them!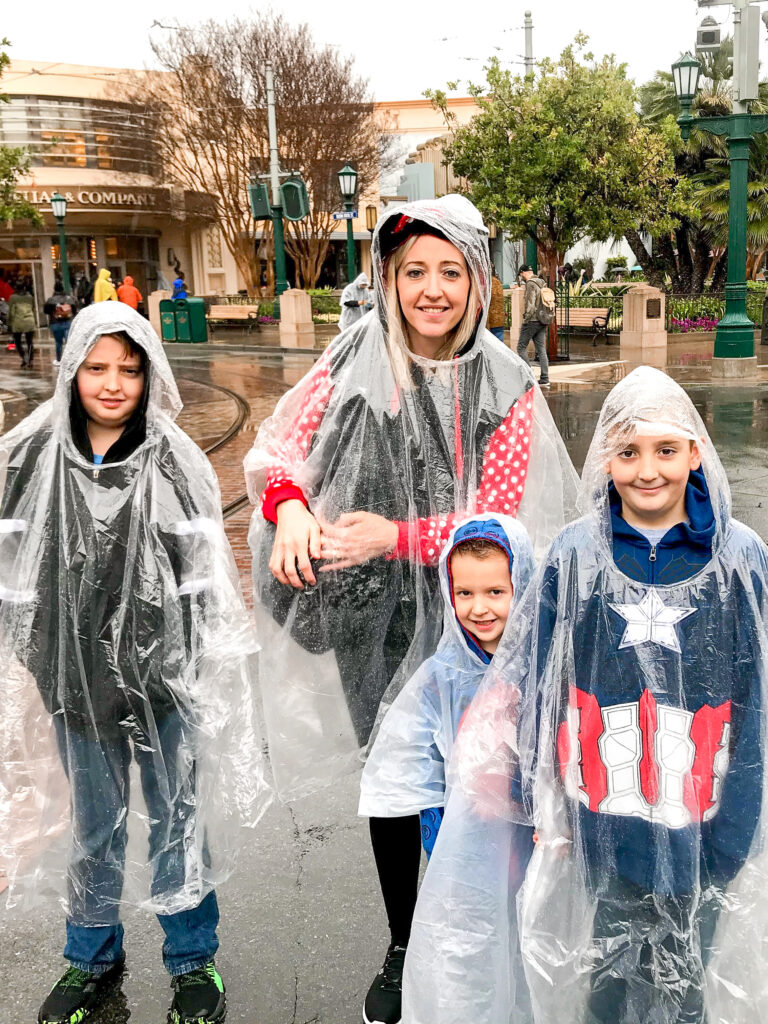 It is so much easier to carry around a couple of ponchos than it is to bring a spare set of clothes for my kids when the get wet.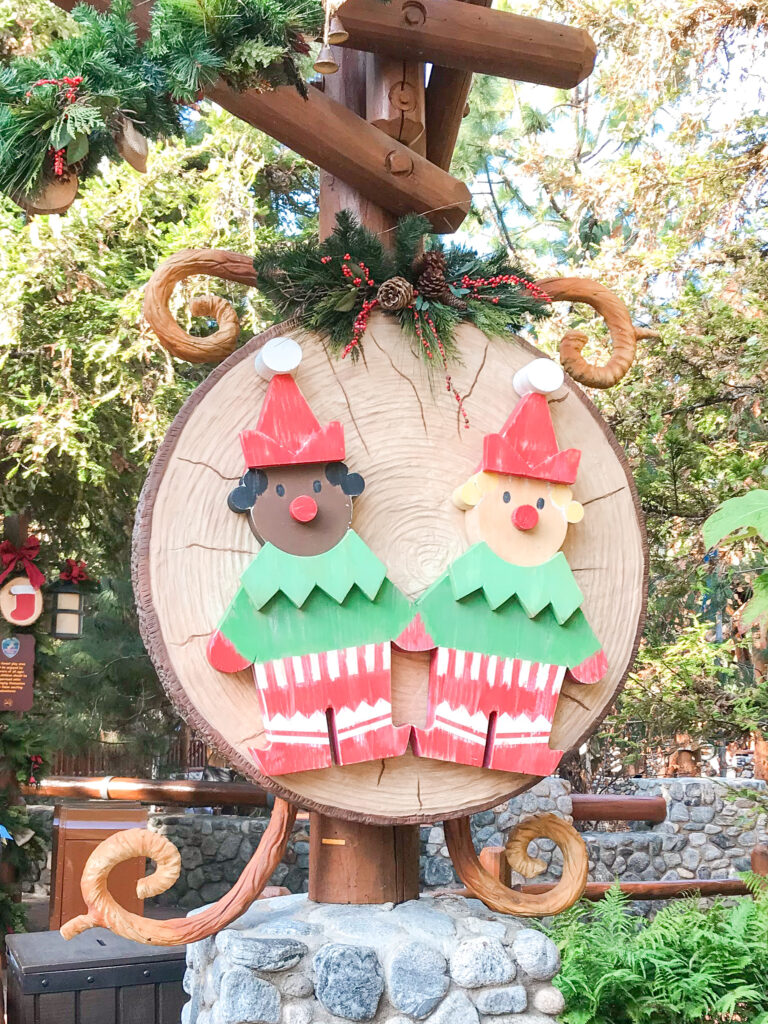 Pack Sun Protection
You might not think that you need sunscreen in December, but I'm here to tell you that although it is winter, the California sun can still be brutal. Make sure that you are ready for the UV rays by packing some sunscreen, a hat, and sunglasses.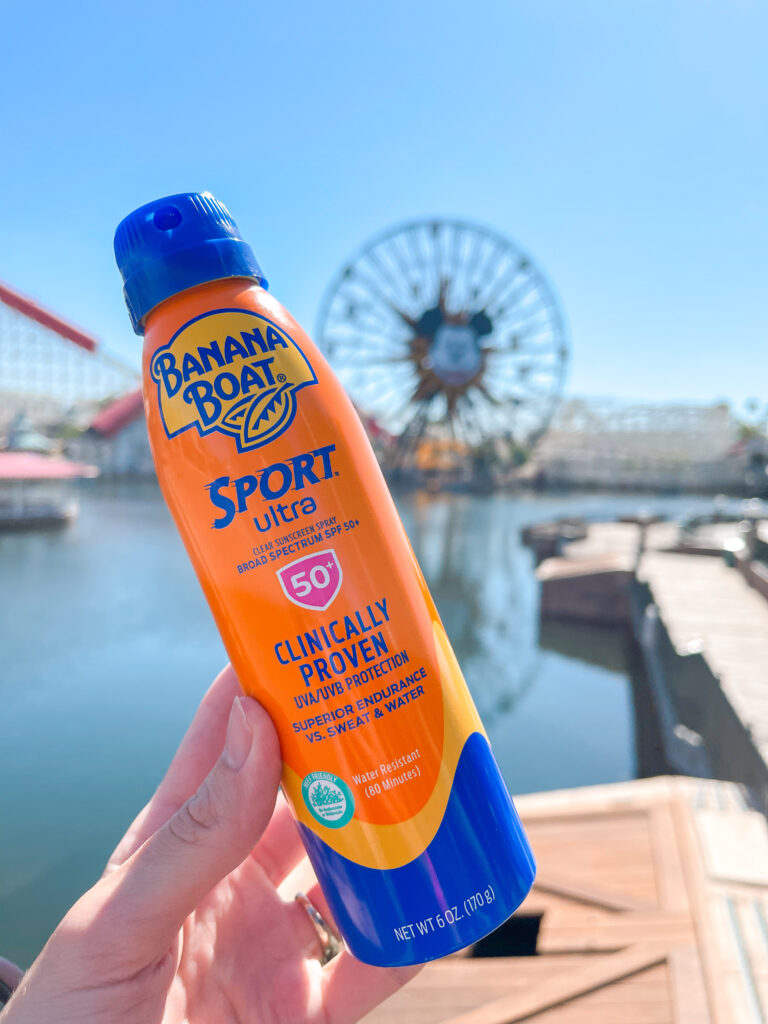 Also, make sure your kids are protected too. Nothing ruins a magical vacation like a sunburn!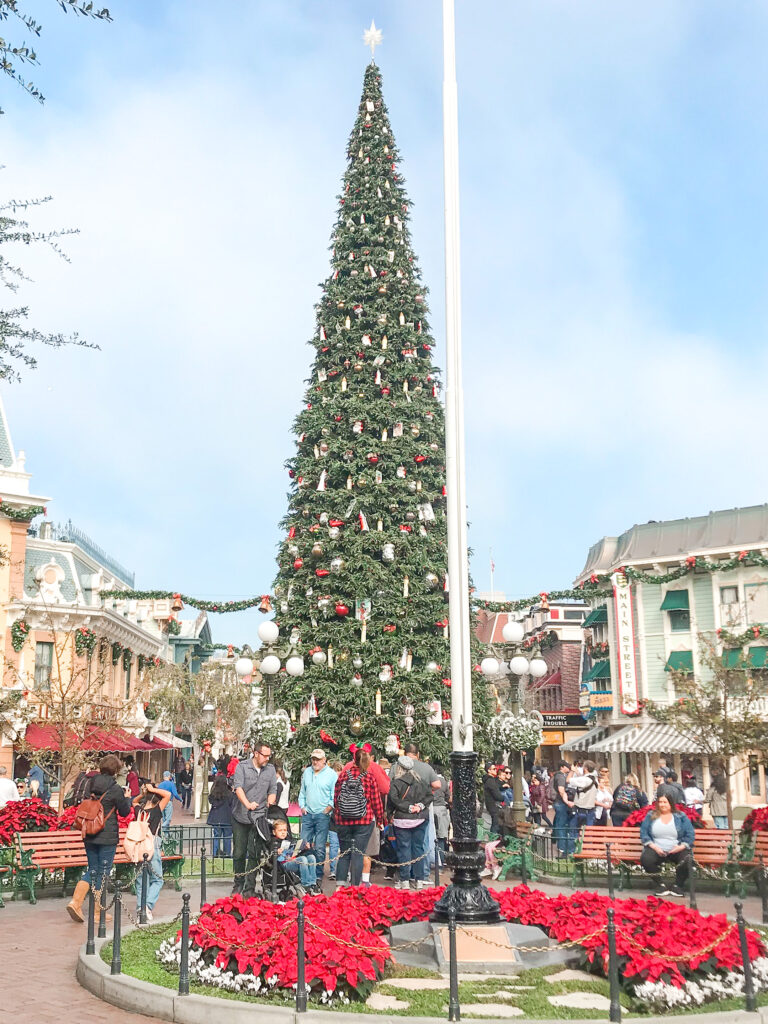 What to Wear at Disneyland in December
First of all, if you're going to Disneyland in December, the Christmas season will be in full swing. You will definitely need some cute Disney-themed Christmas apparel.
The mornings and evenings at Disneyland will get a chilly in December, especially if you take advantage of Rope Drop or Early Entry.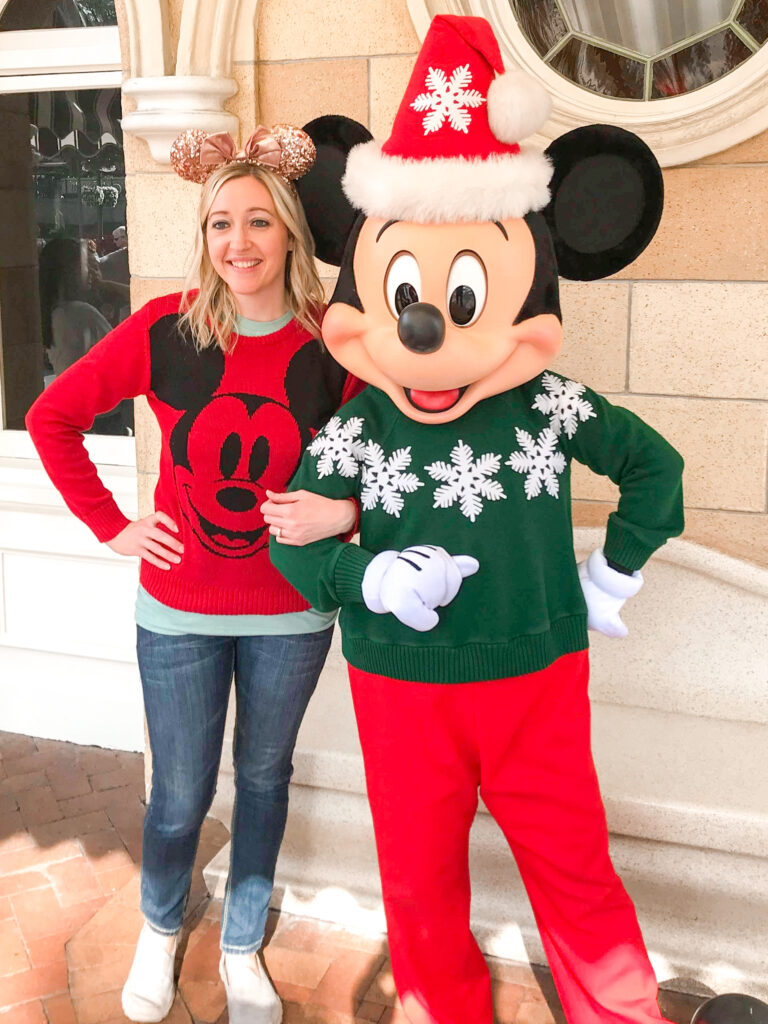 I recommend wearing a short-sleeved shirt with a pair of comfortable leggings during the day, but bring a lightweight jacket or sweatshirt to wear when it cools down.
Make sure that whatever sweatshirt or jacket you choose, it is light enough that you can keep it in a backpack or tied around your waist.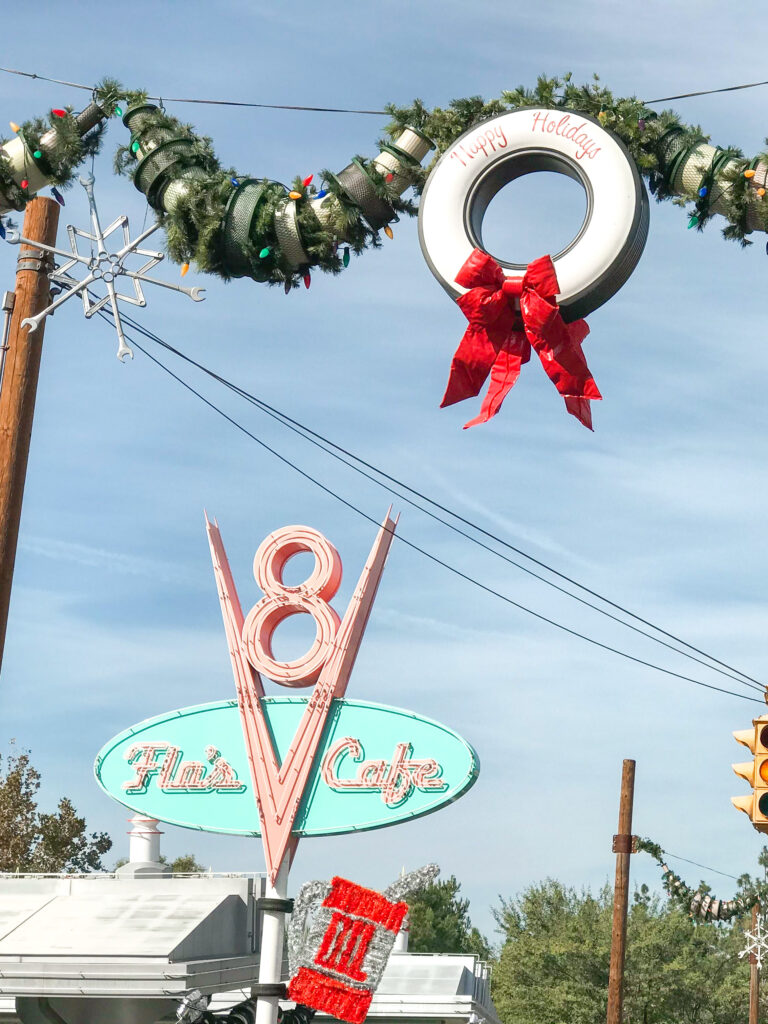 Where to Find Adorable Disney-Themed Apparel
I like to dress my family in Disney-themed apparel when we go to Disneyland, but the cost can really add up. I am always looking around for good deals. Here are a couple of places I have bought shirts for my family when preparing to go to Disneyland.
Jane.com
Before I go on a Disney vacation, I like to check out Jane.com for adorable and affordable Disney vacation t-shirts. I have found so many cute Disney-themed accessories and cute shirts for around $20!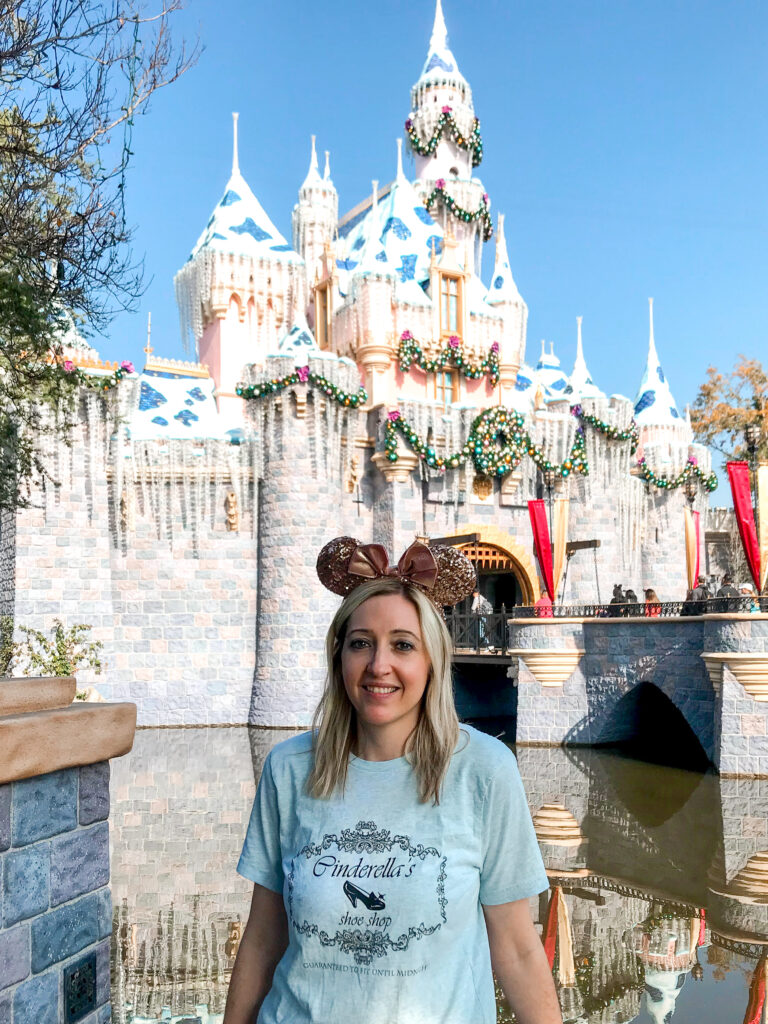 Just head to Jane.com and type "character" or "vacation" into the search bar and all of the cute Disney stuff should show up!
The deals change daily, so make sure to check back often and follow @mommymouseclubhouse on Instagram to keep up on all the cute merchandise!
shopDisney
I've also had really good luck taking advantage of sales from the Disney Store! If you can catch a sale, you can save so much money over what you would pay for the same items at the parks. Click the shopDisney button below to see what is on sale right now!
Disneyland Park Hours in December
Here are the projected hours for Disneyland Park and Disney California Adventure Park in December.
As always, these hours are subject to change so check Disneyland's website for current information.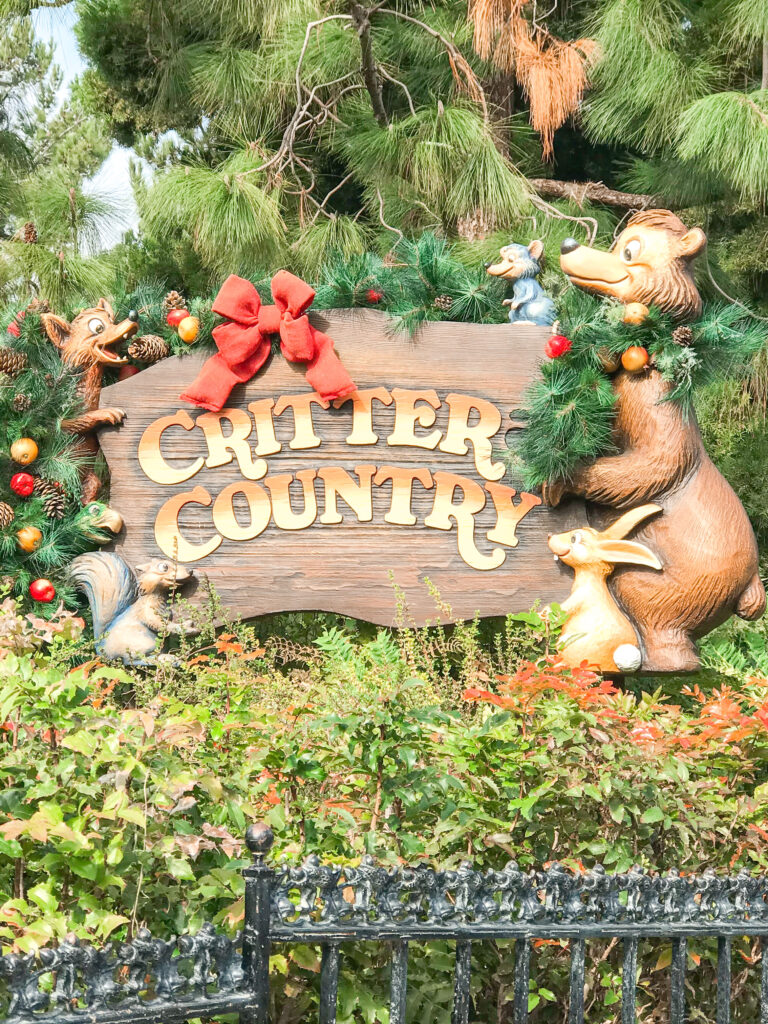 Disneyland Park
Early Entry 7:30 am – 8:00 am
Open from 8:00 am – 12:00 am
Park Hopper Hours 11:00 am – 12:00 am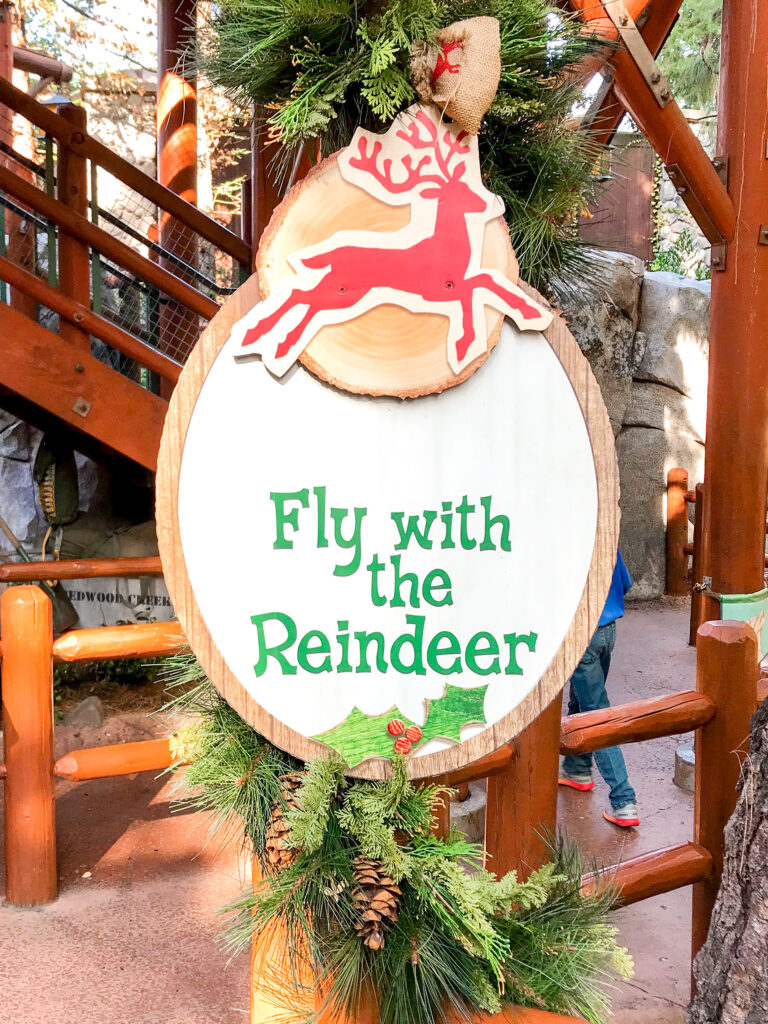 Disney California Adventure Park
Early Entry 7:30 am – 8:00 am
Open from 8:00 am – 10:00 pm
Park Hopper Hours 11:00 am – 10:00 pm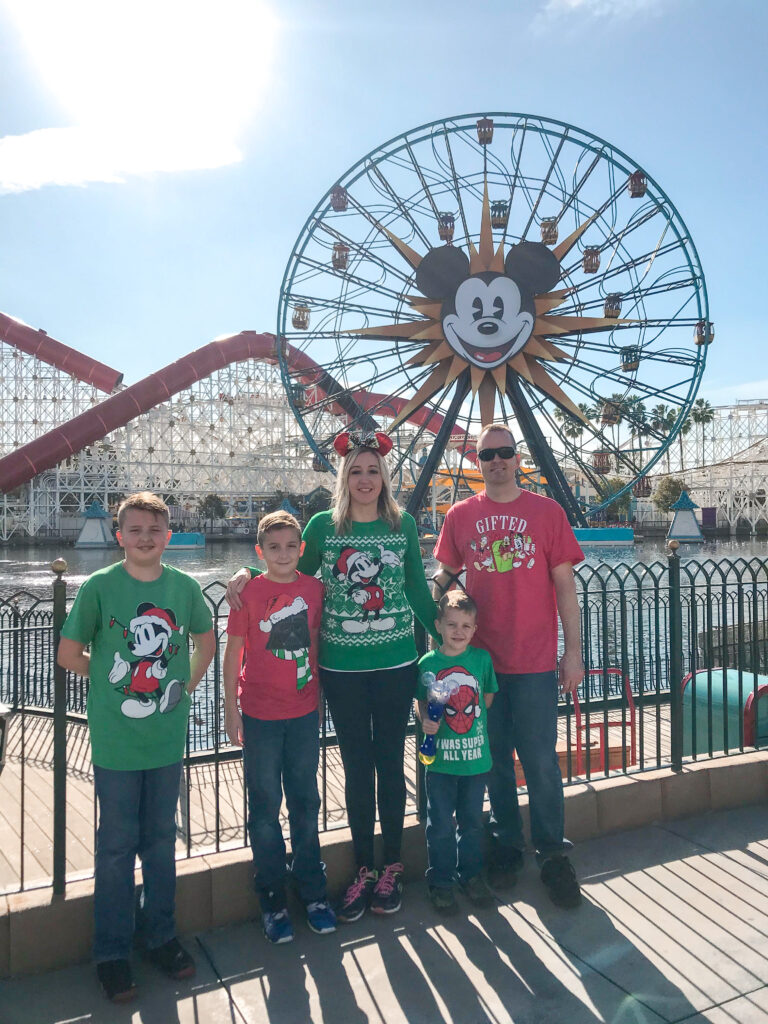 Ride Closures in December
I love that great pride is taken in Disney parks and attractions. Because of this, there are usually a few rides at both parks that are closed for refurbishment at different times throughout the year. You can stay up to date with ride closures by checking Disneyland.com.
Disneyland seems to update their list of refurbishments one or two months ahead of time, so check back for December closures in October or November.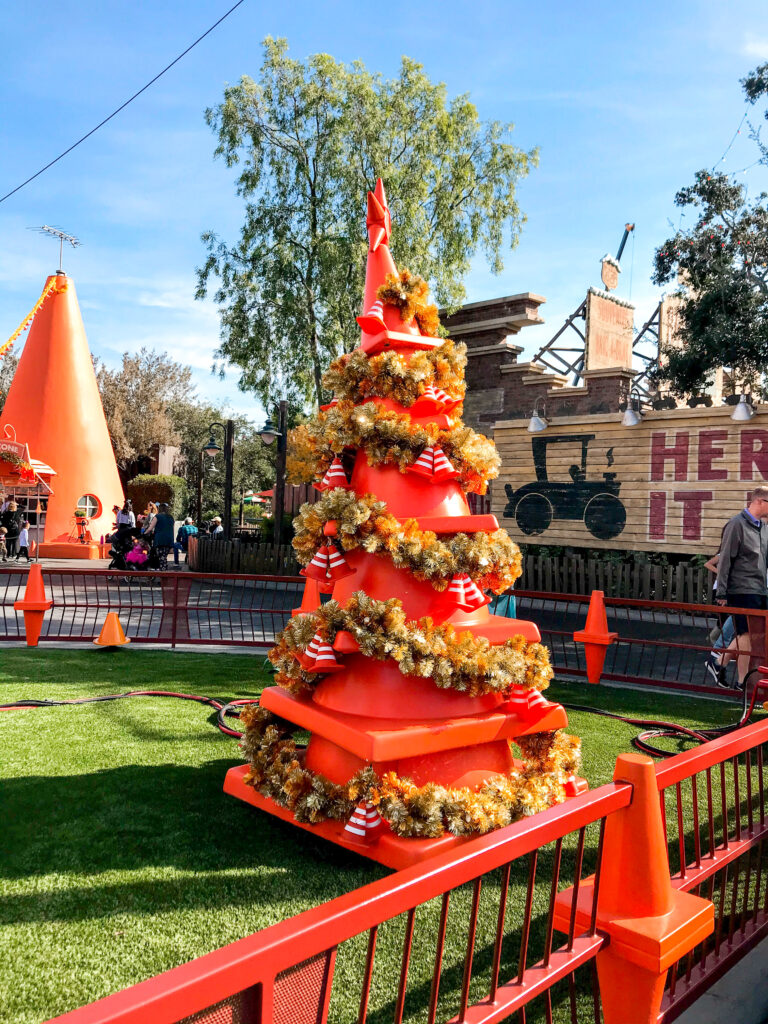 Disneyland Ticket Savings
There aren't a lot of Disneyland ticket discounts out there, but they can be found if you know where to look. Make sure that if you buy Disney tickets from a third party, that they an authorized ticket seller.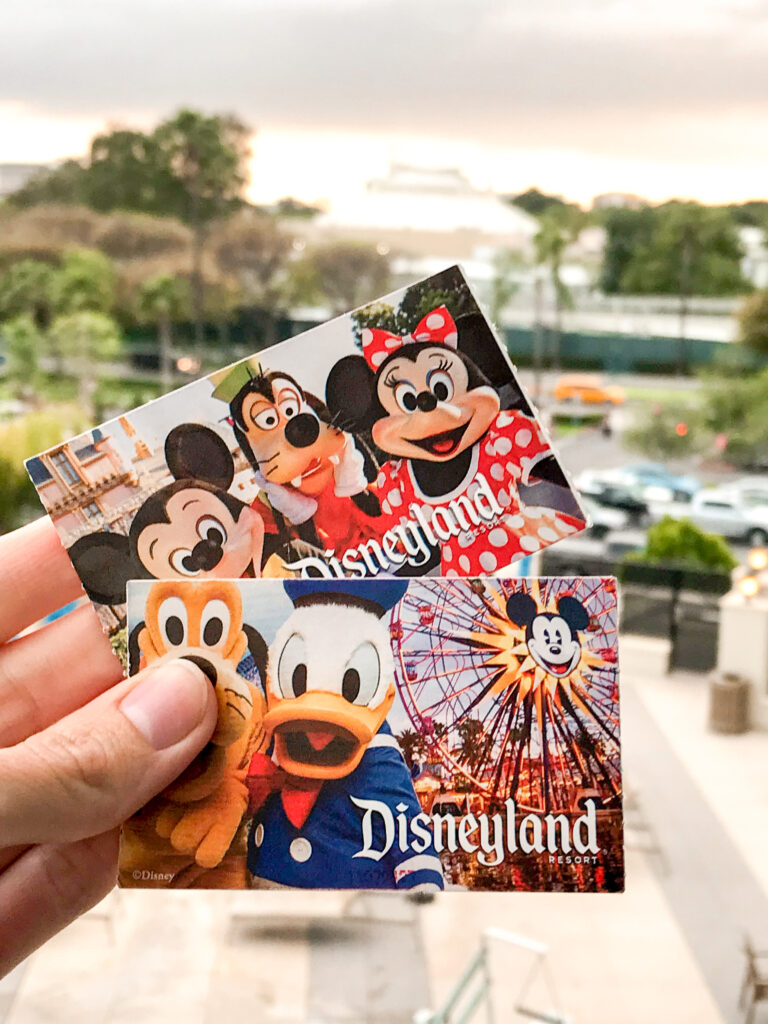 I buy my tickets and book my hotel rooms with Get Away Today. Their ticket prices are always a few dollars cheaper than Disneyland's gate prices and you can now purchase tickets from them that include Disney Genie+!
Get Away Today is almost always offering some kind of special on tickets and/or hotel vacation packages.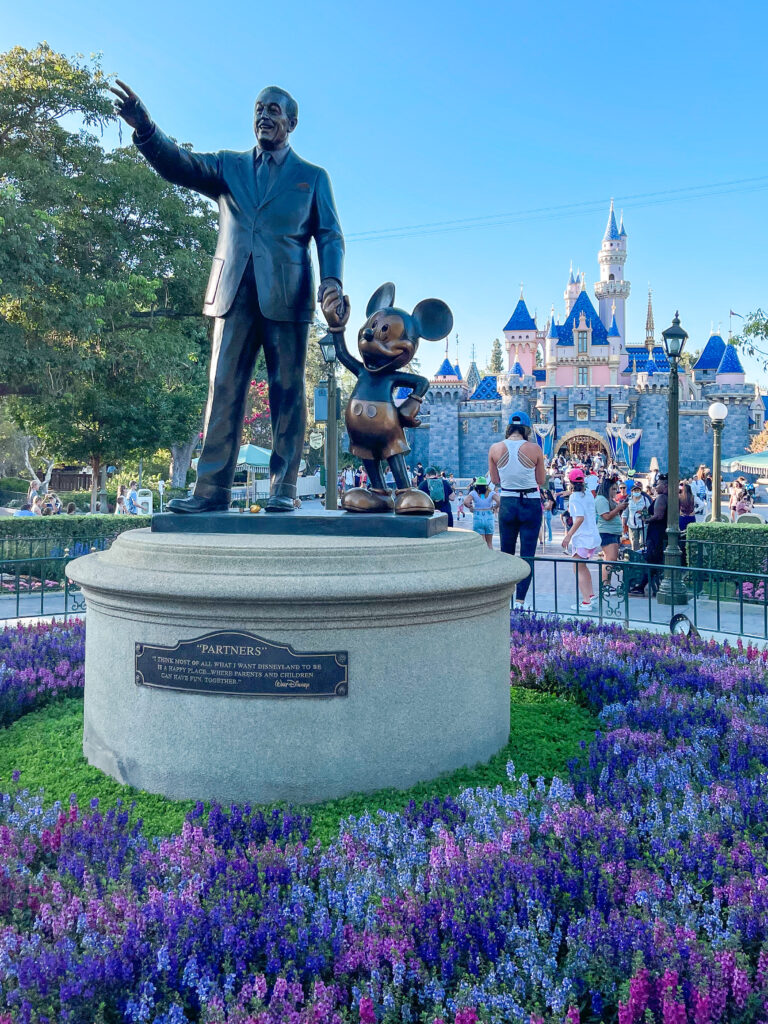 Use the promo code: Clubhouse10 to get an extra $10 off any 2-night or longer Southern California vacation package. (Hotel and 2 ticket minimum purchase to qualify for the discount.)
Use this coupon code in conjunction with a sale, the Layaway Plans, and the Peace of Mind Plan, and you will get the best deal on a Disneyland vacation around!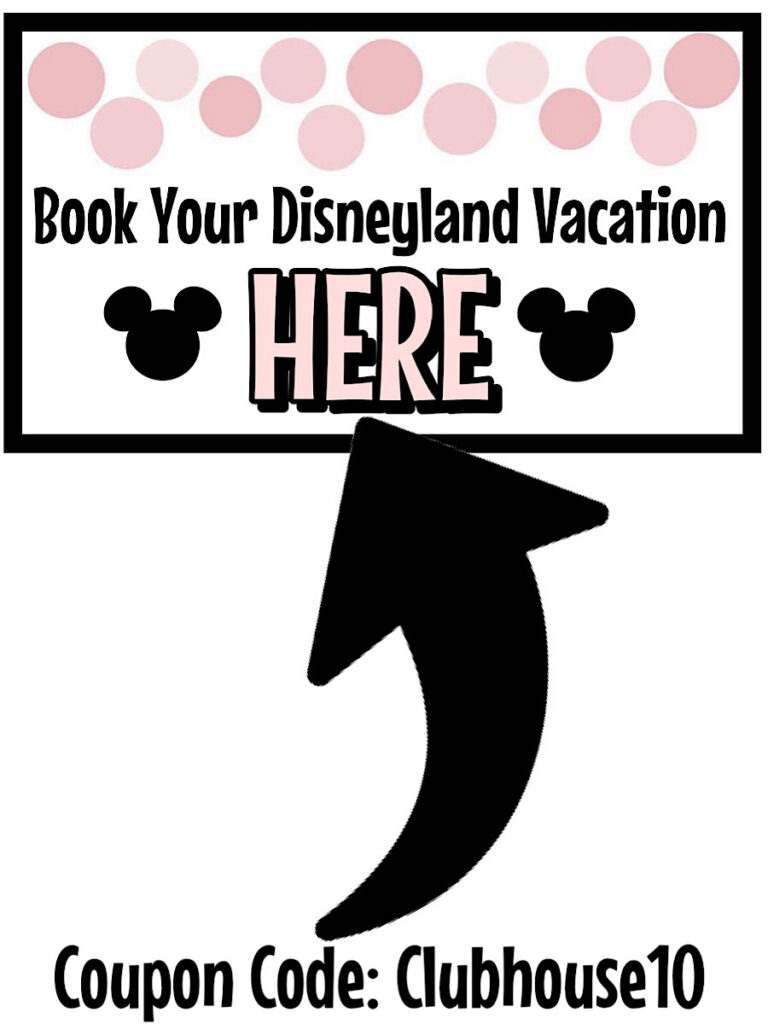 Final Thoughts
There are so many things to think about when you are planning your trip. Hopefully these tips will help you plan a magical Disneyland vacation!