If you're thinking about going to Disneyland in May, you are in the right place! Here you will find all of the information you need to plan an amazing Disneyland vacation in May! Including the best days to go to Disneyland in May, what to pack, what weather to expect, what to wear, and how to get discount Disneyland tickets!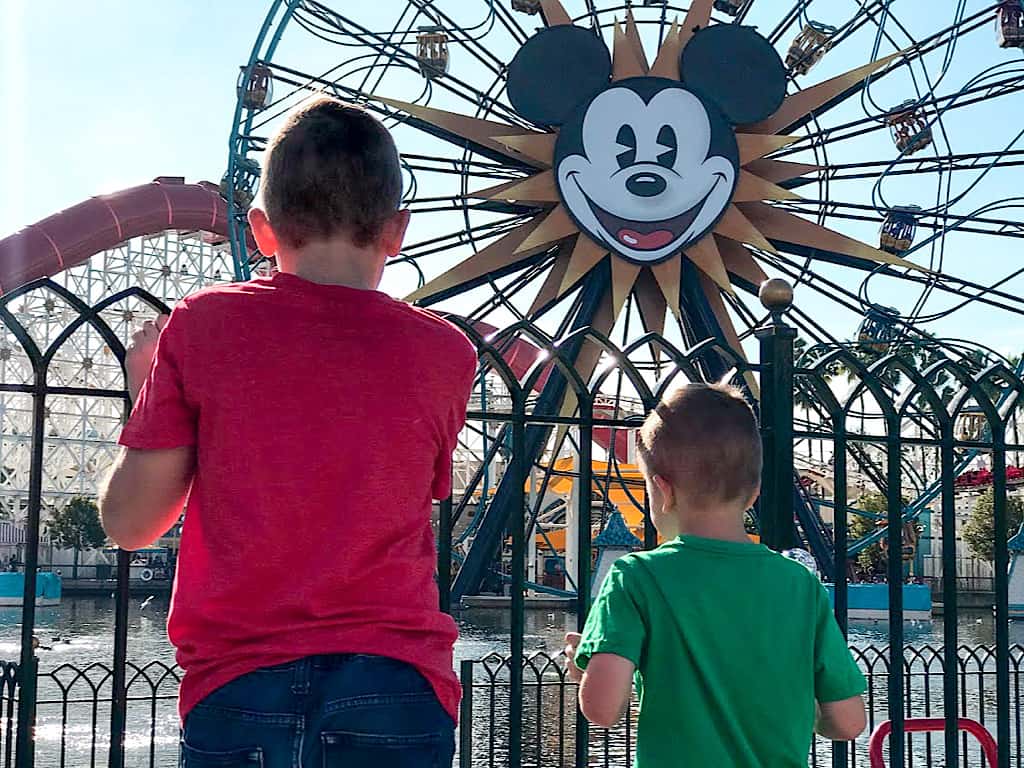 This post may contain affiliate links. When you click on these links, I get a small percentage back at no cost to you! For more information see my disclosure policy.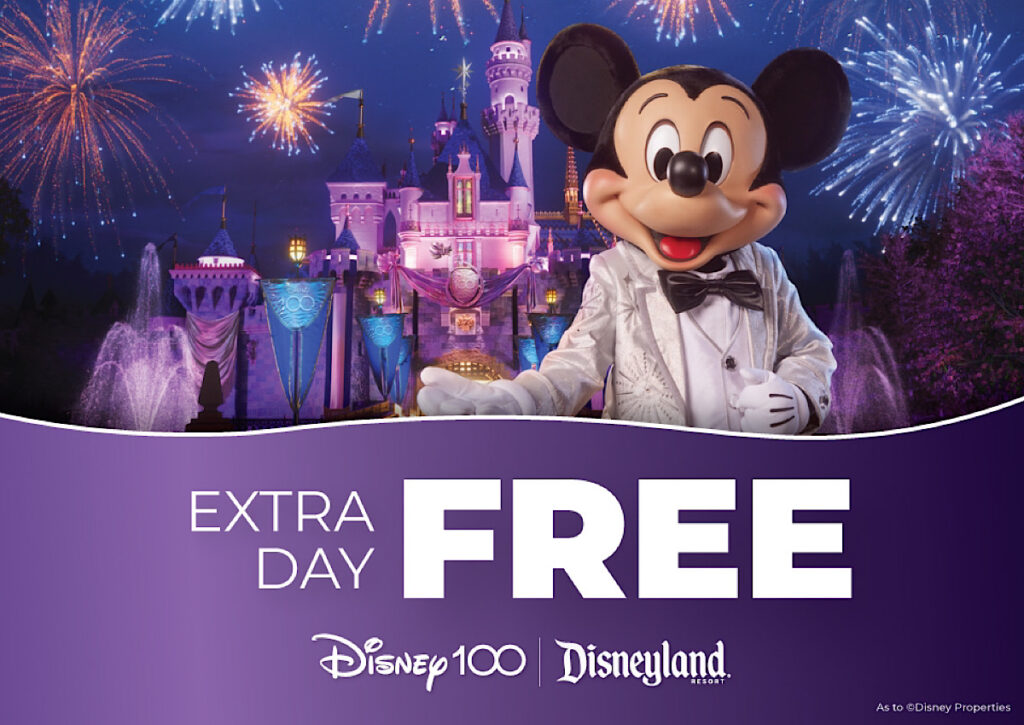 To celebrate Disney100, you can get an EXTRA DAY FREE when you purchase tickets from Get Away Today. Combine this deal with a hotel stay and use code: Clubhouse10 to save even more!
If you're wondering if May is a good time to go to Disneyland, I'm here to help you decide! May happens to be a great time and one of my favorite times to visit for many reasons that I'll explain below.
After you decide if May is right for you, make sure you check out some of my other Disneyland planning tips that might be helpful.

Get Discount Disneyland Tickets
If you're going to Disneyland in May, you will want to save as much money as you can, which includes purchasing discount Disneyland tickets.
I recommend purchasing tickets from my partner, Get Away Today. They have the best customer service and are often having ticket specials where you purchase a certain amount of days, and get an extra day for free! Check Disneyland ticket prices here. Don't forget to make your theme park reservations!

You can save even more by bundling your tickets in a vacation package with your hotel through Get Away Today! They have partnered with many hotels near Disneyland and can offer a 3rd or 4th night free at select hotels.
Book now and use their layaway plans to pay over time. Use the coupon code: Clubhouse10 to save even more on a Disneyland vacation package! Check prices here.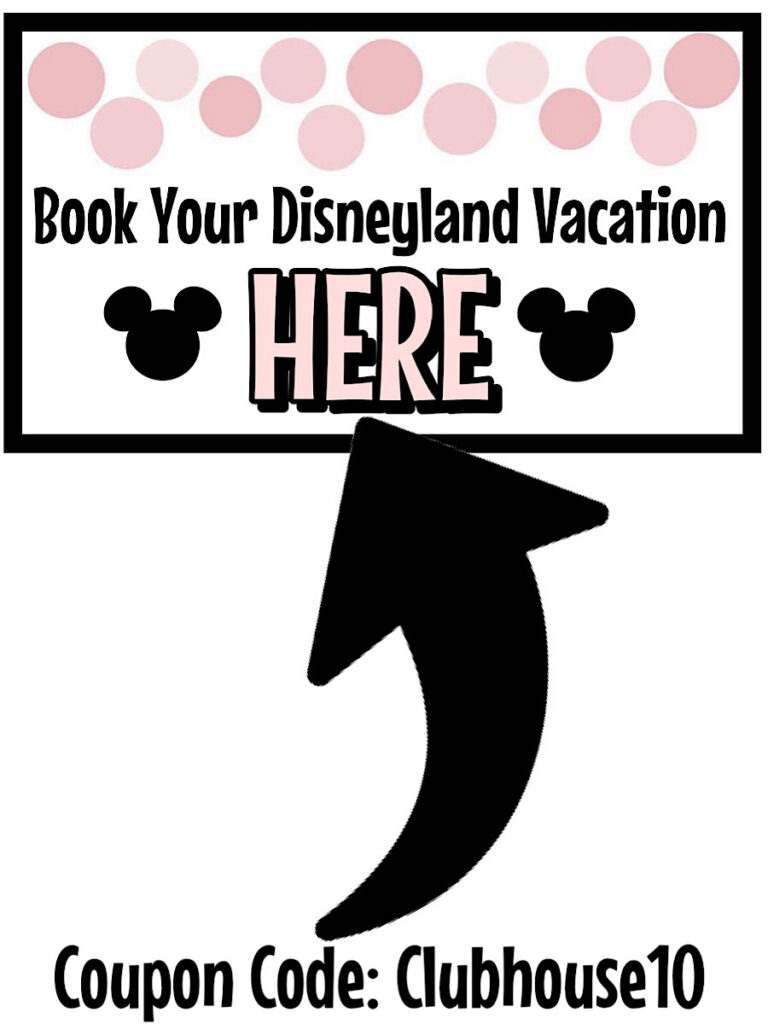 Disneyland Hotel Reviews
Disneyland Crowd Sizes in May
The crowd levels at Disneyland in May will fluctuate, depending on special events that are going on at the parks and holiday weekends. To avoid large crowds and long lines, the best time to go is in the middle of the week, like Tuesdays, Wednesdays, and Thursdays.
In early May, you will need to consider Star Wars Day and Mother's Day. The End of May brings Memorial Day.
Also avoid Grad Nites for high school seniors and be aware that park hours will be different on these dates as well as the dates of Disneyland After Dark: Star Wars Nites (after hours event).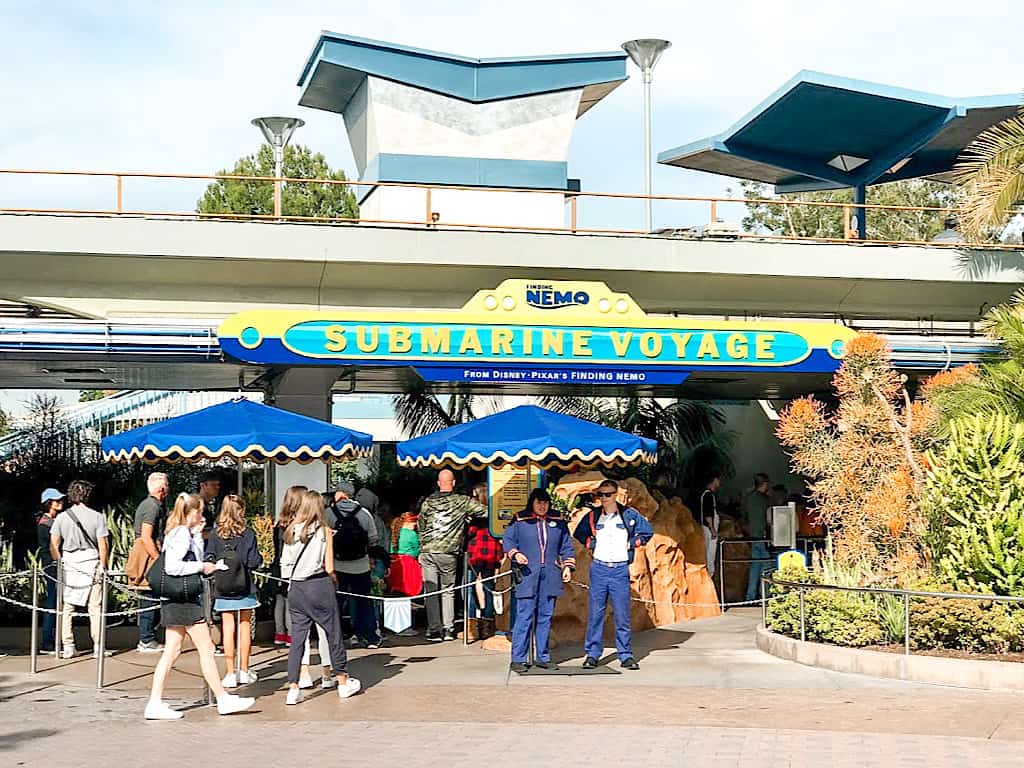 Disneyland Events in May 2023
How to Beat the Crowds in May
Crowds are almost inevitable in May, but there are some things you can do to limit your wait times for attractions and still enjoy the parks at the Happiest Place on Earth:
Rope Drop at the parks
Purchase Disney Genie+
Use mobile food ordering
Use Single-Rider lines when possible
Stay at one of the Disneyland Resort hotels and get early access to the parks
Use Rider Switch
Avoid popular rides at peak times
Book a dining package for World of Color, Fantasmic, or a Parade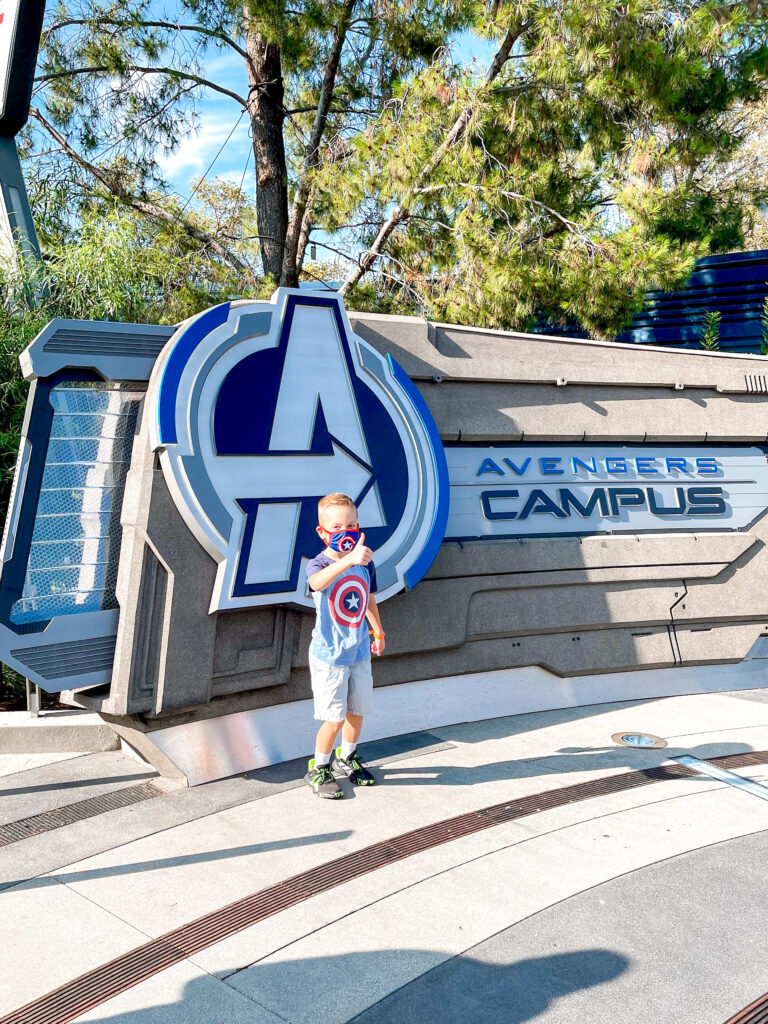 Disneyland Weather in May
You can expect to have great weather at Disneyland during May. The average high temperature at Disneyland in May are in the upper 70s to mid-80s and lows are in the upper 50s and low 60s.
The weather forecast for Disneyland in May calls for mostly sunny or partly cloudy days with relatively no rain showers.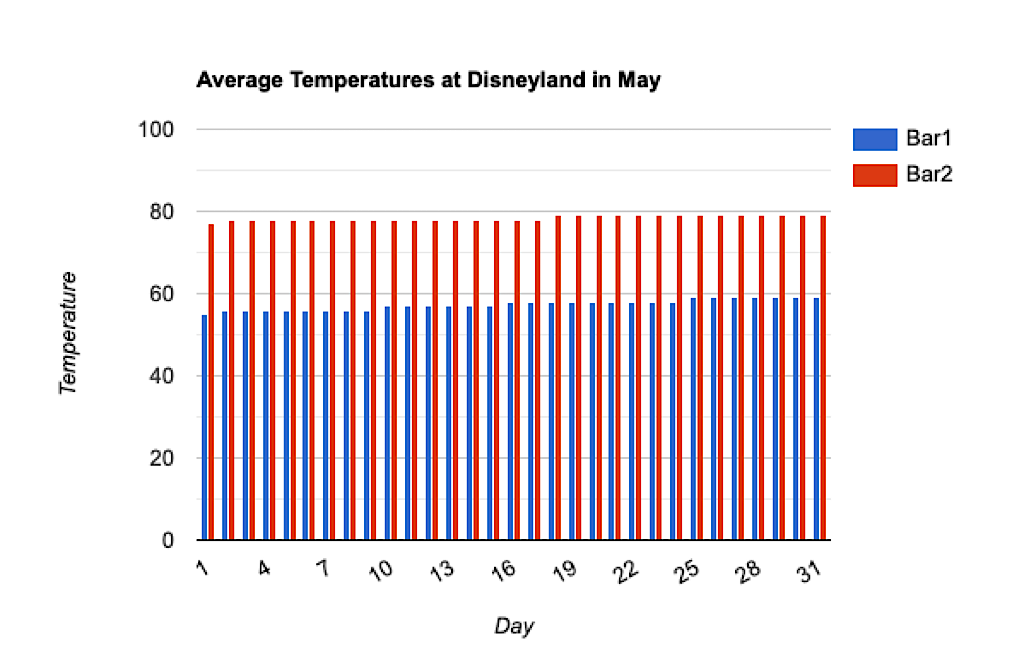 But, the weather is always unpredictable and can change. Make sure you check the current weather forecast before you leave, so you know what to expect.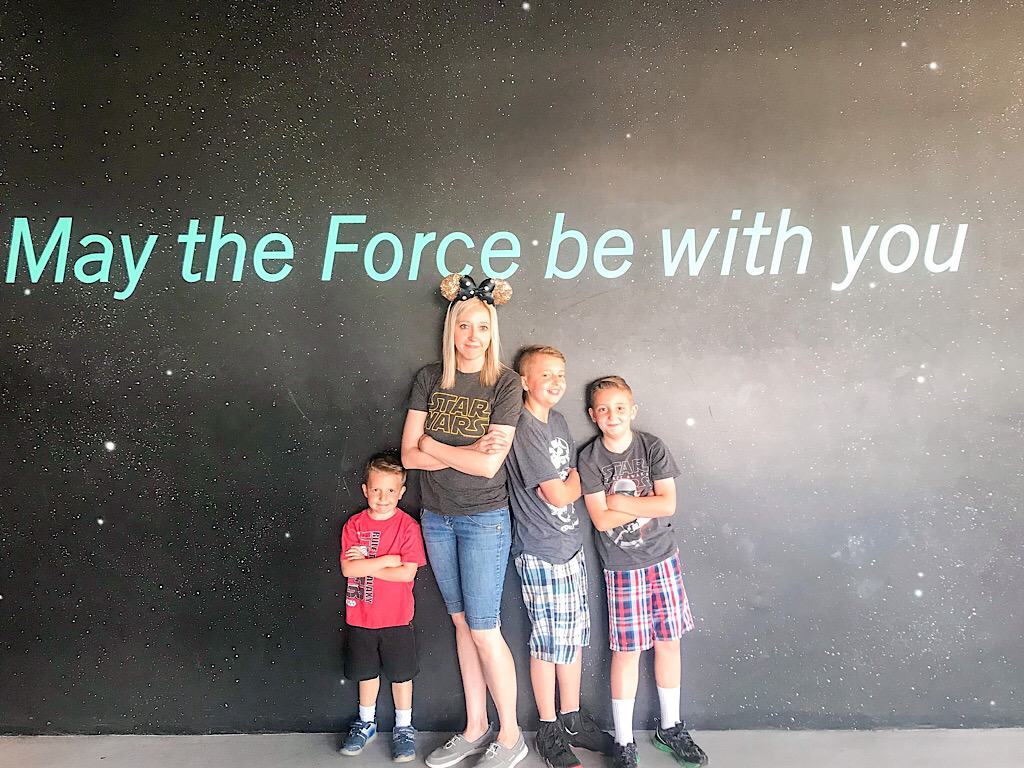 What to Pack for Disneyland in May
When you're planning a trip to Disneyland during May, make sure you know what to pack. Don't let your precious vacation budget go to waste because you didn't prepare ahead of time – check out my Disney Packing List, How Amazon Can Save You Money at Disney, and 10 Things You NEED in Your Disney Backpack.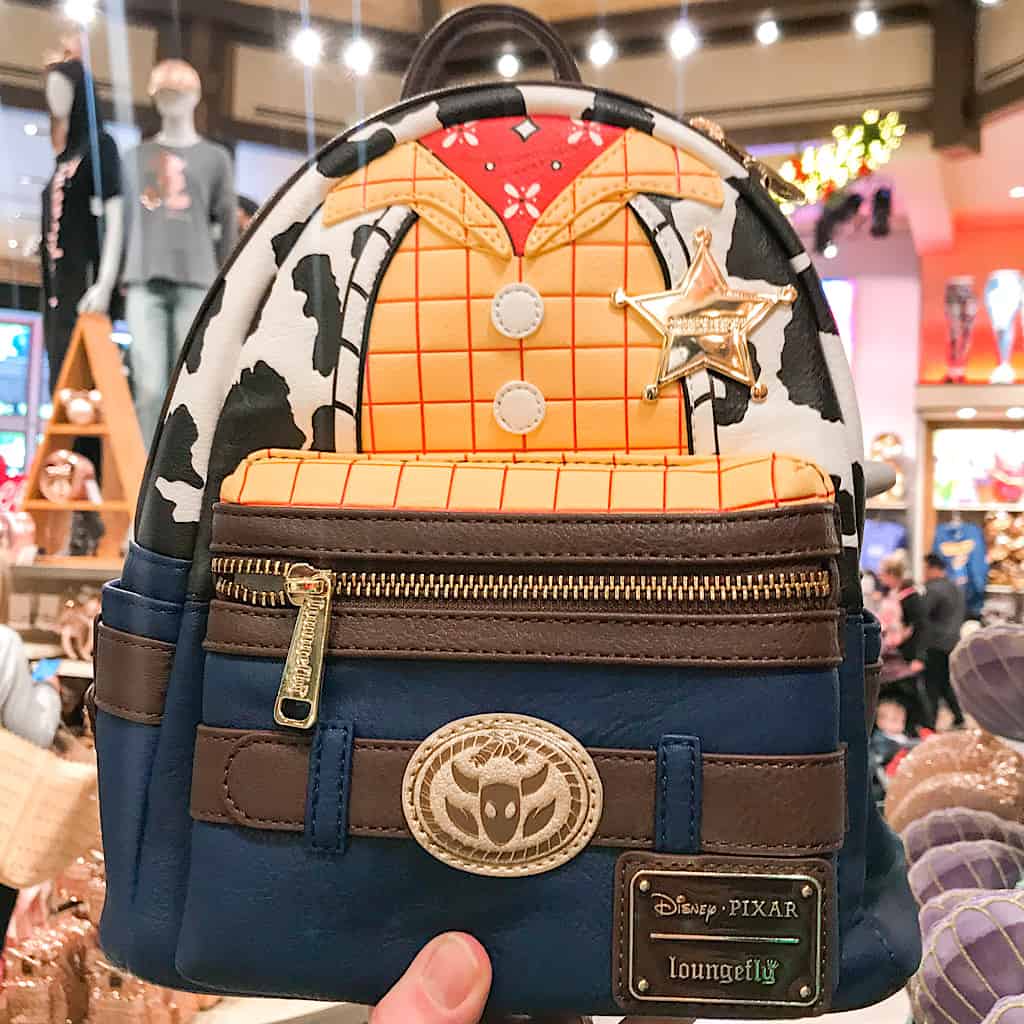 Most important are comfortable shoes, sunscreen, a hat, sunglasses, a reusable water bottle, snacks, and an extra layer for chilly nights. Depending on the length of your stay, you might want to also consider packing swimwear or ponchos in case of unexpected rain showers.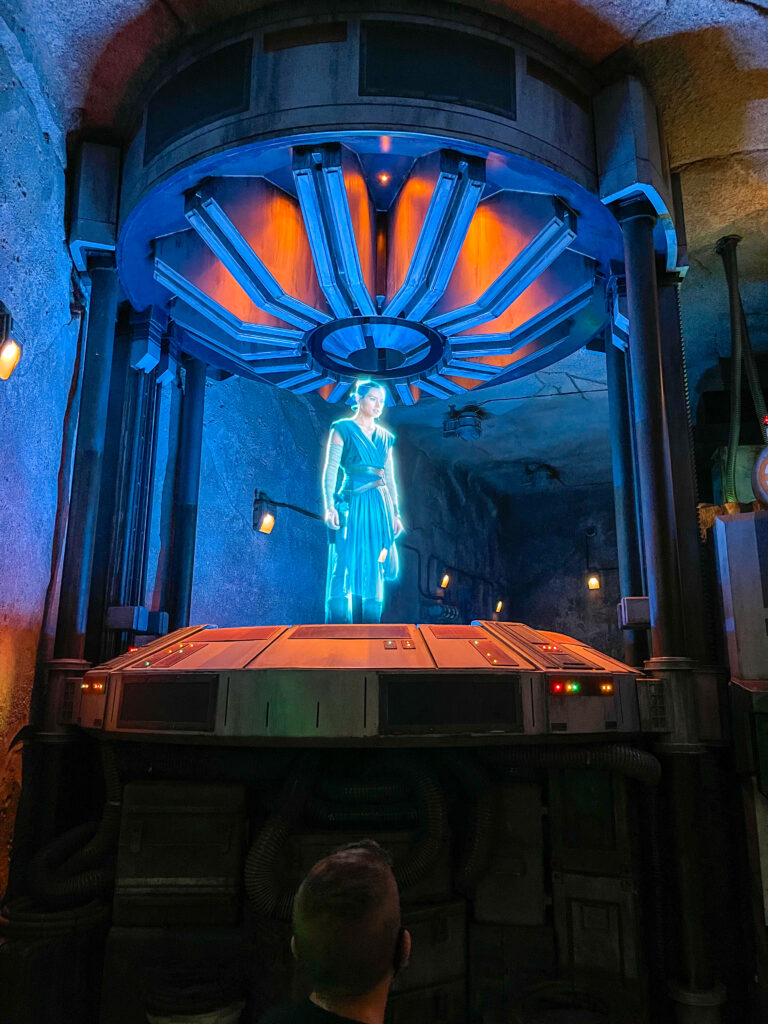 Pack and Umbrella or Poncho & Stroller Protection
Although the weather forecast for Disneyland in May doesn't usally show much rain, we all know that can change at any time, especially this year.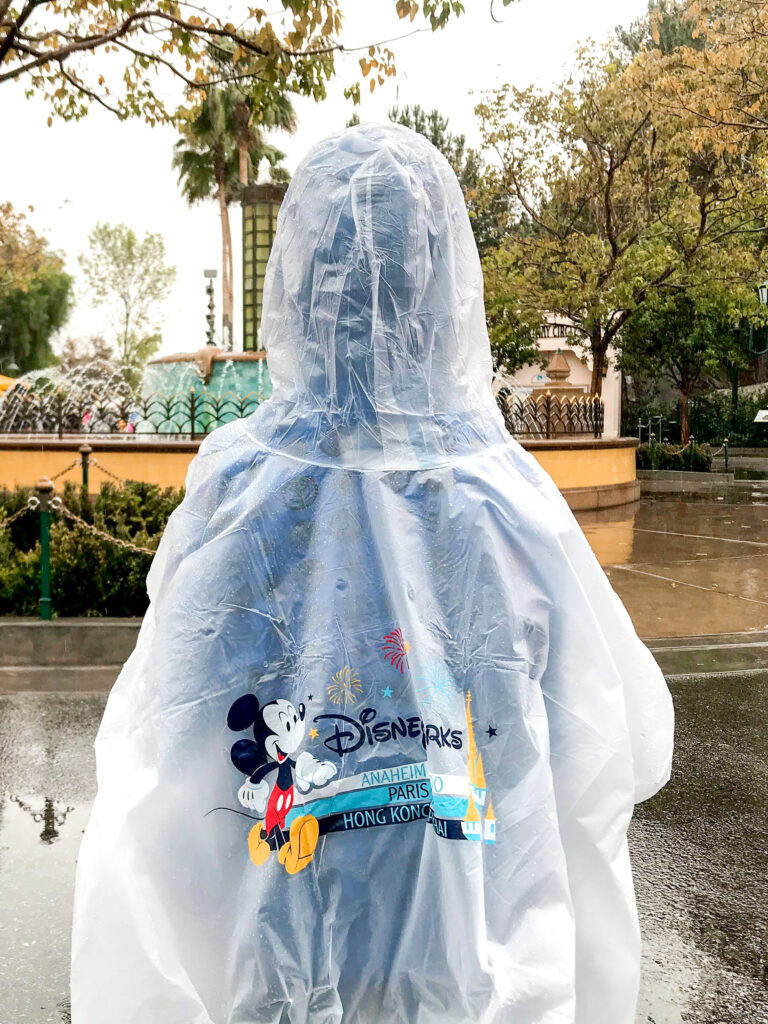 I like to be prepared with a small travel umbrella or a poncho. These things can easily be kept in the car or hotel room if rain isn't in the forecast that day.
A poncho can come in handy even if it doesn't rain. Wear it on rides like Splash Mountain at Disneyland Park or Grizzly River Run at Disney California Adventure to keep your clothes dry!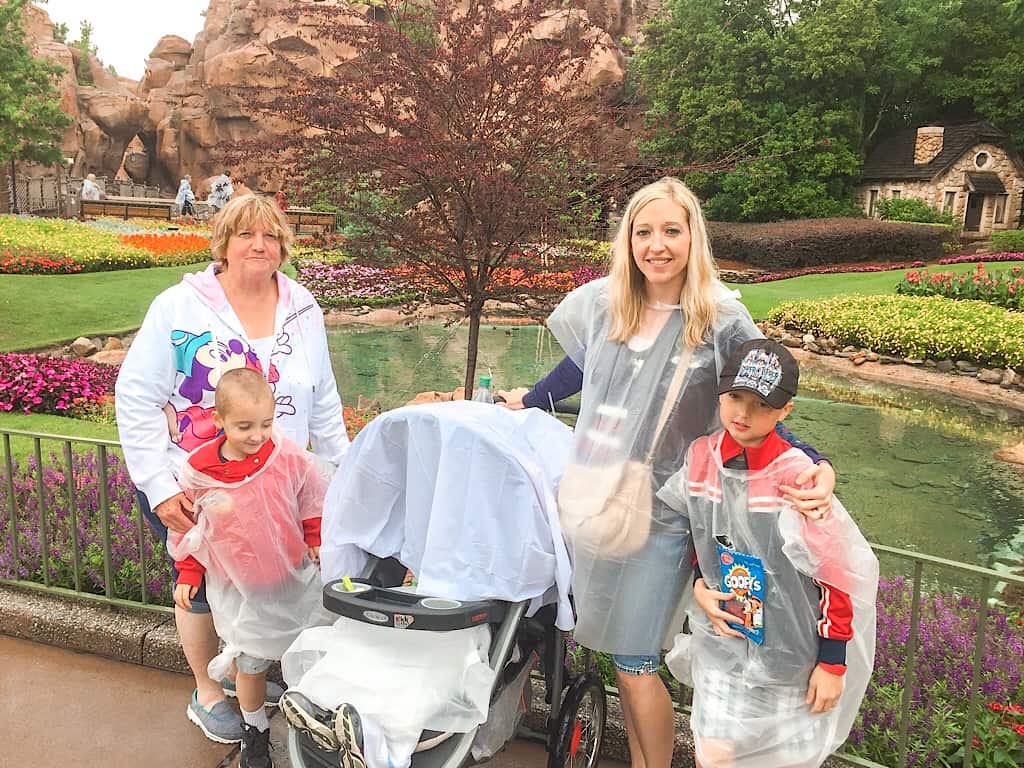 If you have a stroller with you, you'll also need to think about keeping it, and your child dry, if rain does decide to strike.
Some strollers have covers you can buy that are specifically made for them but can be expensive. You can find universal stroller covers on Amazon, like the one below.
Or, another option is to buy a shower curtain liner from Dollar Tree and use clothes pins to hold it in place over the stroller. The cost is only $2.00 and works like a champ!
Pack Sun Screen
The California sun can be brutal, even in May. Make sure that you are ready for the UV rays by packing some sunblock, sunglasses, and a cute Disney hat.
Also, make sure your kids are protected too. Nothing ruins a magical vacation like a sunburn!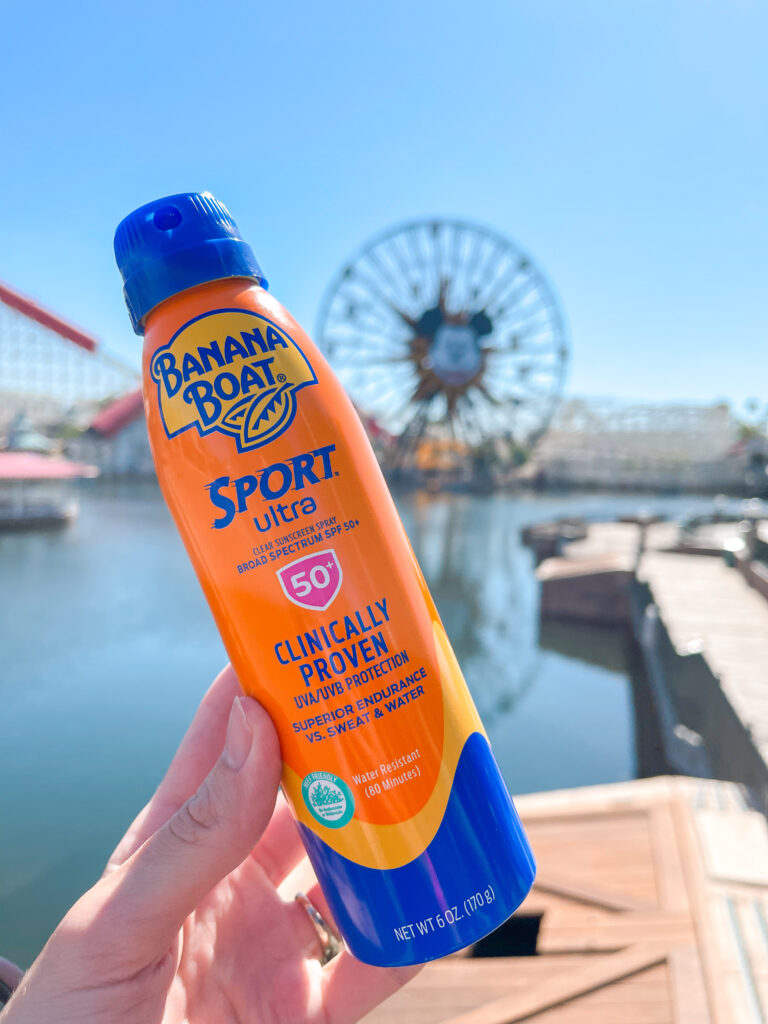 What to Wear at Disneyland in May
The mornings and evenings at Disneyland in May can be kind of chilly, but the days will be warm. This makes packing clothing for Disneyland in May a little tricky.
I like to wear a pair of jeans or leggings to stay warm and comfortable during the cooler temperatures and a cute Disney-themed t-shirt during the day.
When it is warm, shorts or a casual dress are they way to go! Check out some cute options on Amazon, here.
For the early morning and evening, I bring along a lightweight jacket or sweater that can be kept in a backpack or worn around your waist during the day.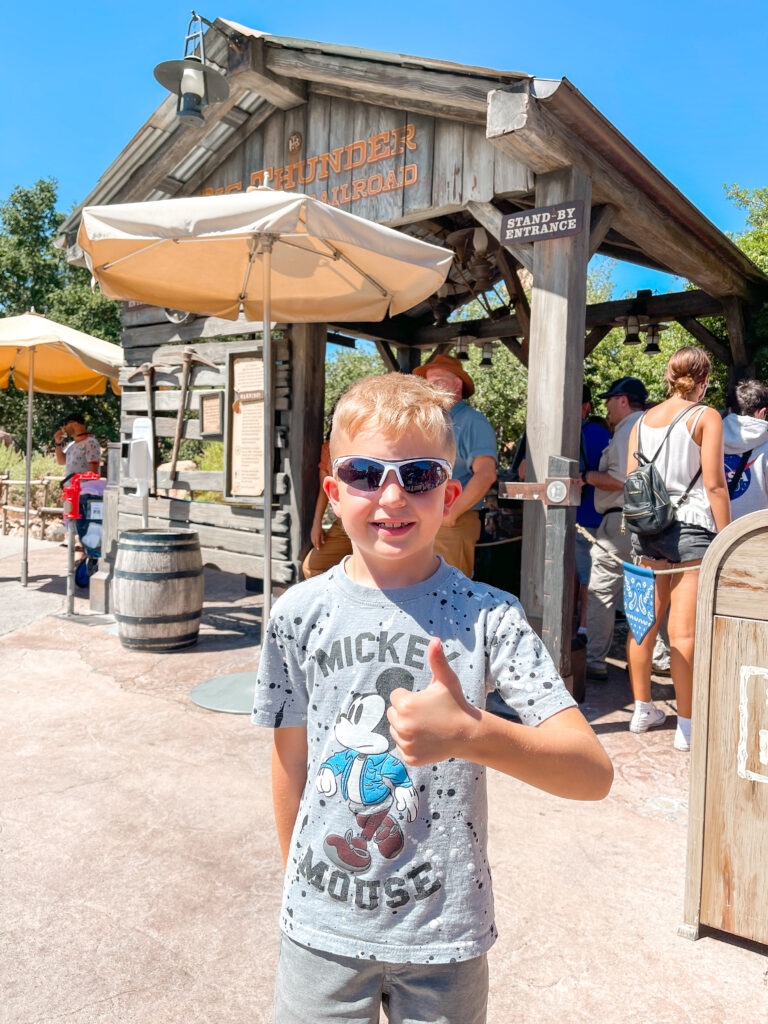 Where to Get Disney Apparel
I like to dress my family in cute Disney clothes when we go to Disneyland. My husband and teenagers are not fans of matching shirts, but that doesn't mean we can't still coordinate!
At Disneyland, we tend to go for a Marvel or Pixar theme on California Adventure days, and Mickey or Star Wars-themed shirts on Disneyland days.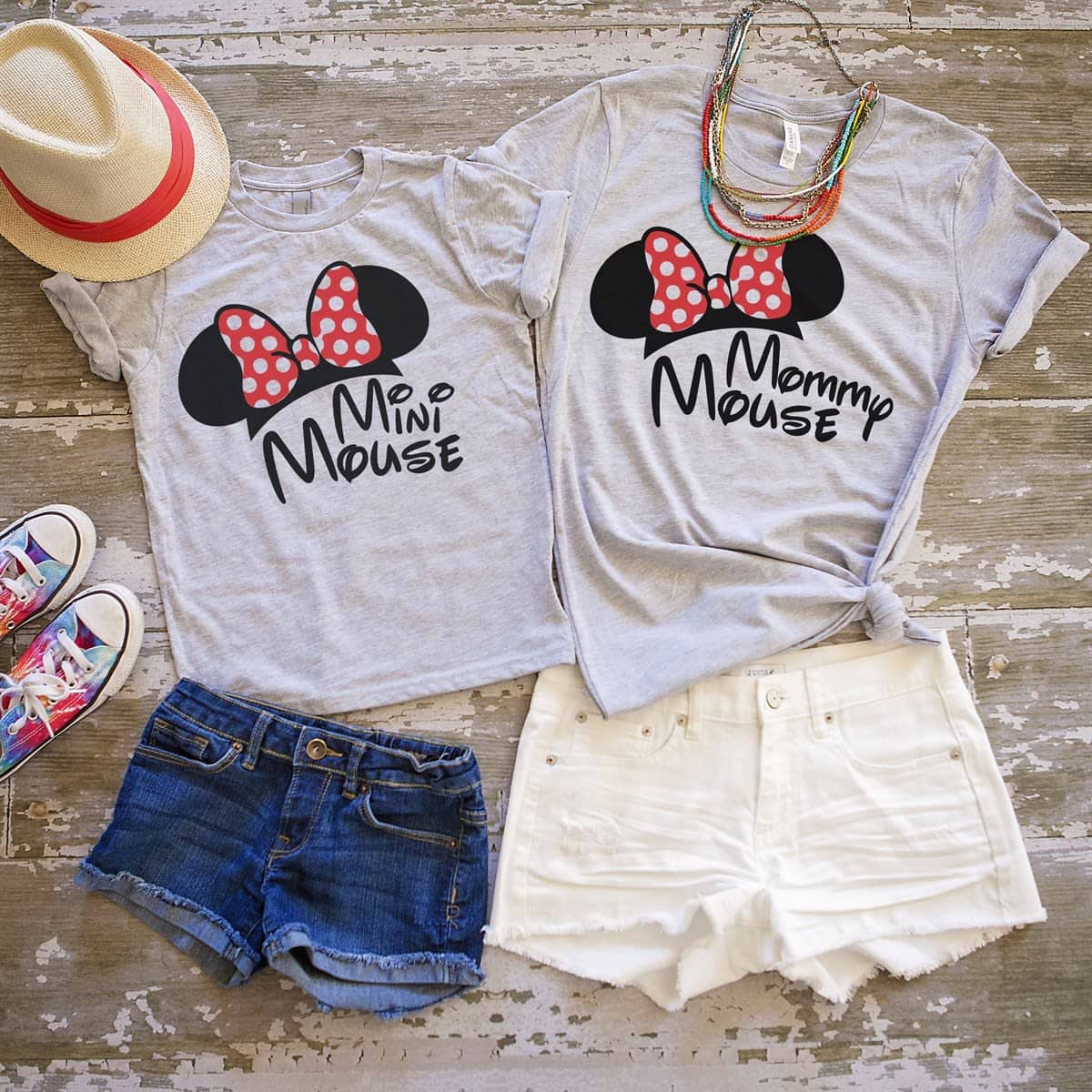 Jane.com: Before any Disney vacation, I always check out Jane for adorable and affordable Disney vacation t-shirts! I have found so many cute shirts for under $20! Just head to Jane.com and type character or vacation into the search bar and the available deals will pop up. Be aware that the deals change daily, so make sure to check back often or follow me on Instagram to keep up on all of the amazing Disney-themed merchandise.
Amazon: Amazon has a great selection of Disney-themed shirts, hats, sunglasses, etc. for the whole family! Take a look at my Amazon Shop for some ideas!
Target & Walmart: Target and Walmart are other great choices to find Disney clothing for adults and kids.
ShopDisney: I like to sign up for emails so I can be alerted to when items go on sale at shopDisney.com. They have adorable t-shirts, some that can also be found at the parks, but for much cheaper online.
Box Lunch and Hot Topic: These are both great stores to find unique clothing and Loungefly backpacks. You can find items in-store or online.
Disneyland Hours in May
Here are the projected typical hours for Disneyland Park and Disney California Adventure Park in May. As always, these hours are subject to change so check Disneyland's website for current information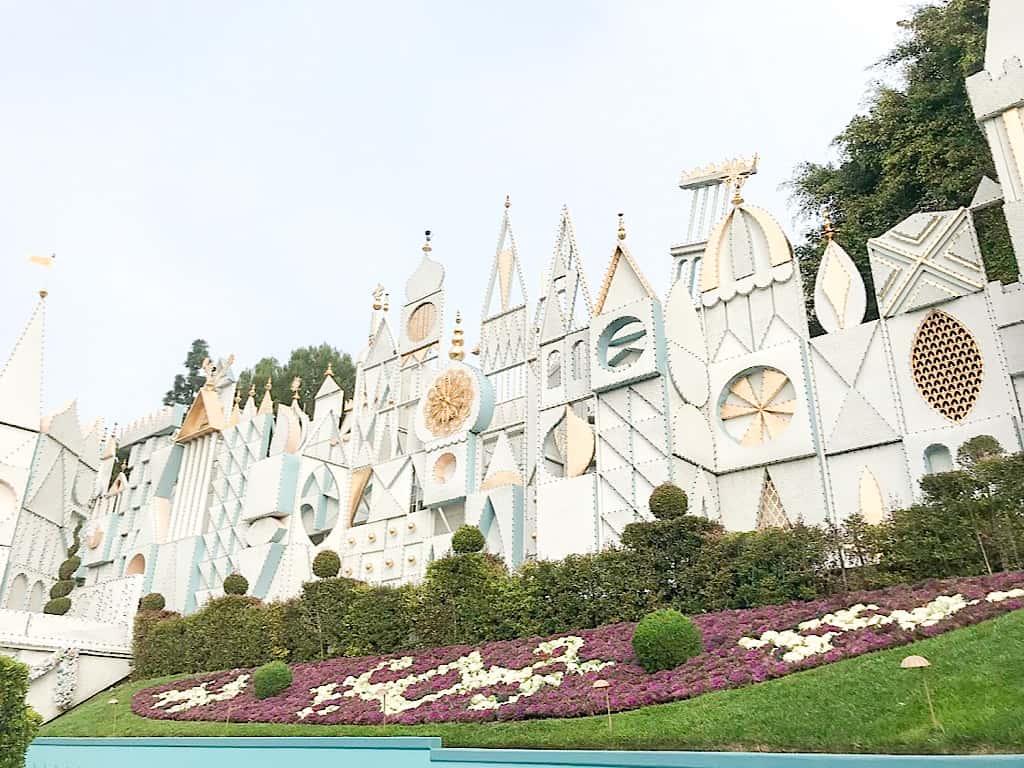 Disneyland Park
Open from 8:00 am – 11:00 pm
Park Hopper Hours 11:00 am – 10:00 pm
Early Entry 7:30 am – 8:00 am
Disney California Adventure Park
Open from 8:00 am – 10:00 pm
Park Hopper Hours 11:00 am – 10:00 pm
Early Entry 7:30 am – 8:00 am
Downtown Disney District
Open from 7:00 am – 12:00 am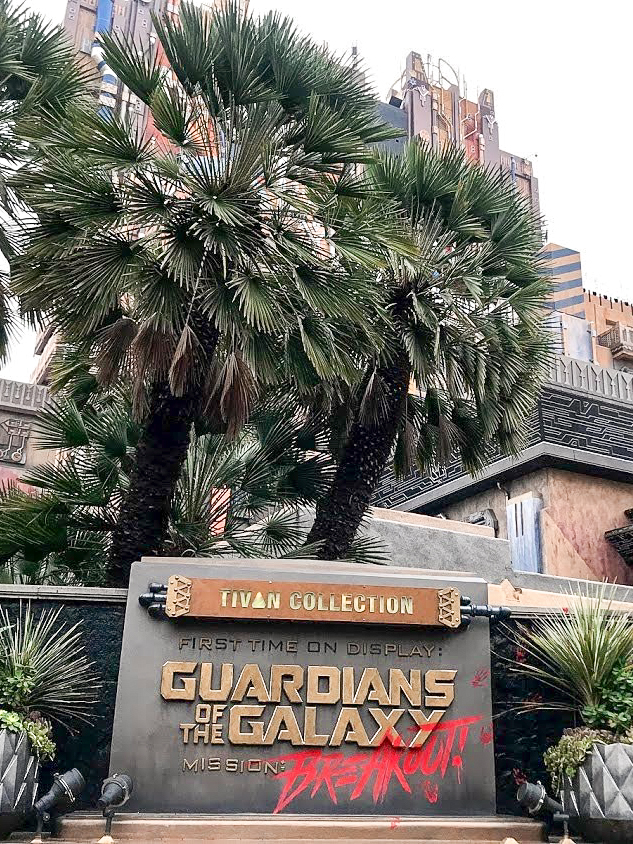 Ride Closures in May
Disneyland takes pride in their park and attractions and because of this, there are usually a few rides at both Disneyland park and Disney's California Adventure park that are closed for refurbishment at different times throughout the year.
Stay up to date with ride closures by checking Disneyland's website. Disneyland usually updates their list one or two months ahead of time, so check back for May's closures in March or April.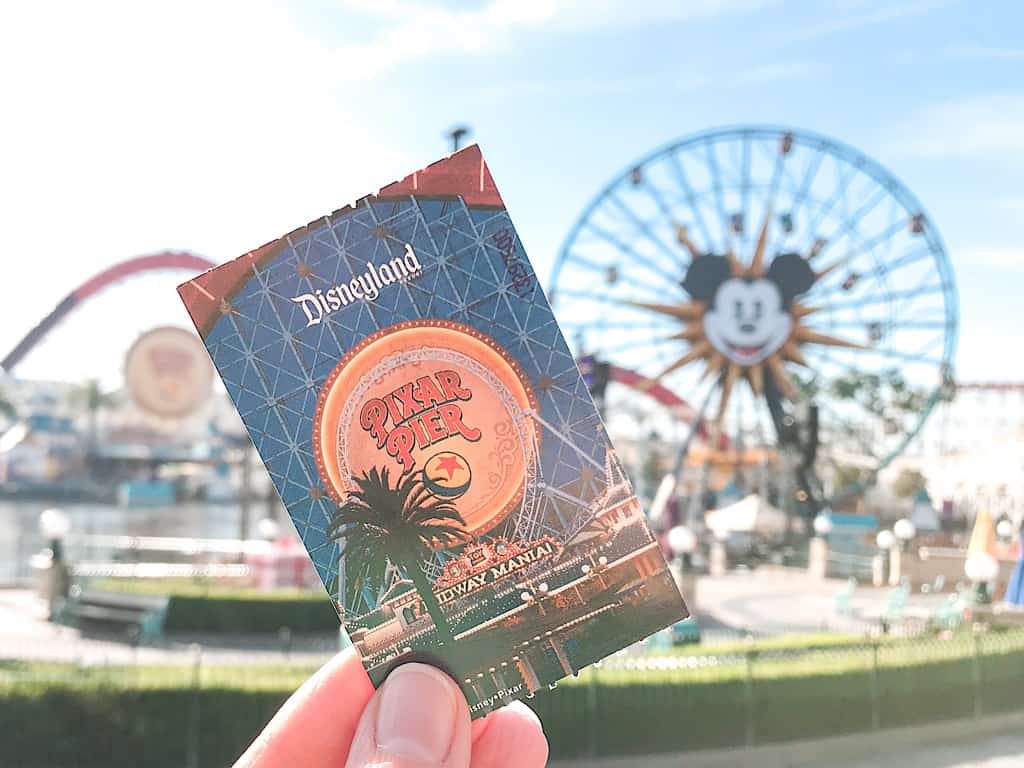 Book Your Disneyland Vacation
As I mentioned above, if you're ready to plan your Disneyland vacation in May, you'll want to check prices with Get Away Today. They are an authorized Disney ticket seller and their ticket prices are always a few dollars cheaper than purchasing directly from Disney.
Get Away Today is almost always offering some kind of special on tickets and/or hotel vacation packages. Use the promo code: Clubhouse10 to get an extra $10 off any 2-night or longer Southern California vacation package. (Hotel and 2 ticket minimum purchase to qualify for the discount.)
Disneyland Monthly Guides
Not sold on going in May? Check my guides for visiting each month: January, February, March, April, May, June, July, August, September, October, November, and December.