This Easy Lemon Icebox Pie is made with sweetened condensed milk, egg yolks, and a pre-made graham cracker pie crust. It is the perfect dessert for lemon lovers on a warm spring or summer day, or anytime you have a craving for lemon! It is the best easy lemon pie recipe ever!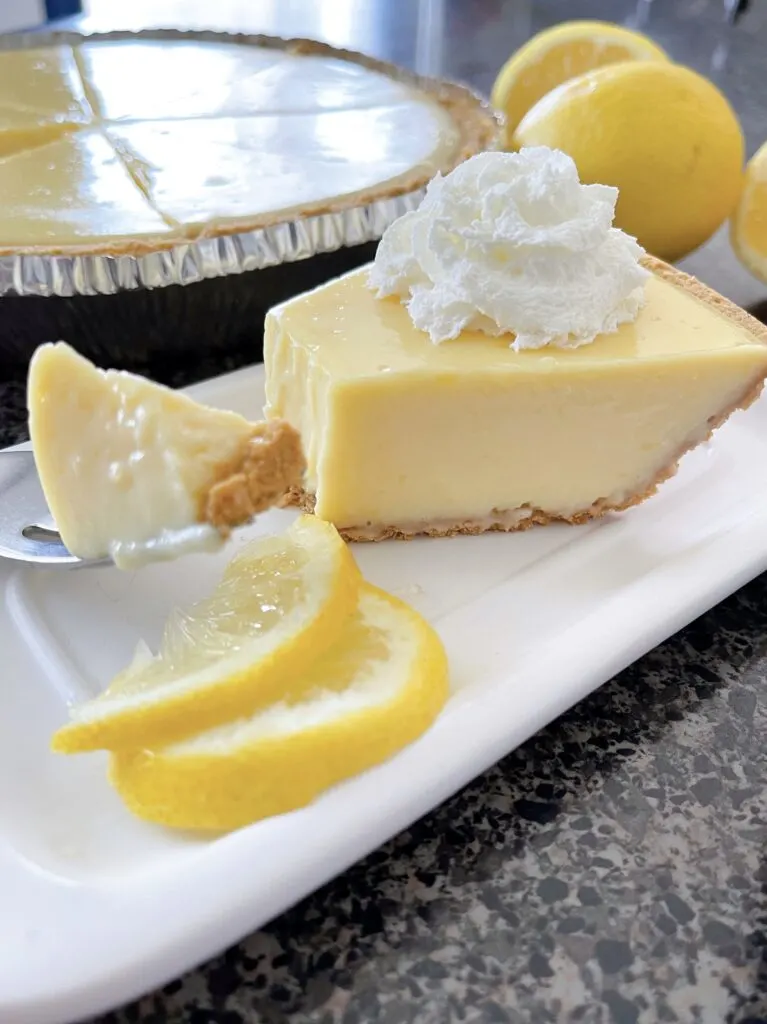 This post may contain affiliate links. When you click on these links, I get a small percentage back at no cost to you! For more information see my disclosure policy.
Below you will find tips, tricks and helpful hints for making this recipe including step by step instructions with pictures. If you would like to go directly to the recipe, scroll down to the recipe card or tap "Jump to Recipe" at the top of the page.
Why I Love This Pie
I was introduced to this delicious creamy lemon icebox pie on my second Disney Cruise on the Disney Dream. Disney Cruises are a great time to try new food items, and while dining at Animator's Palate, our server recommended the Lemon Icebox Pie as the best dessert on the menu.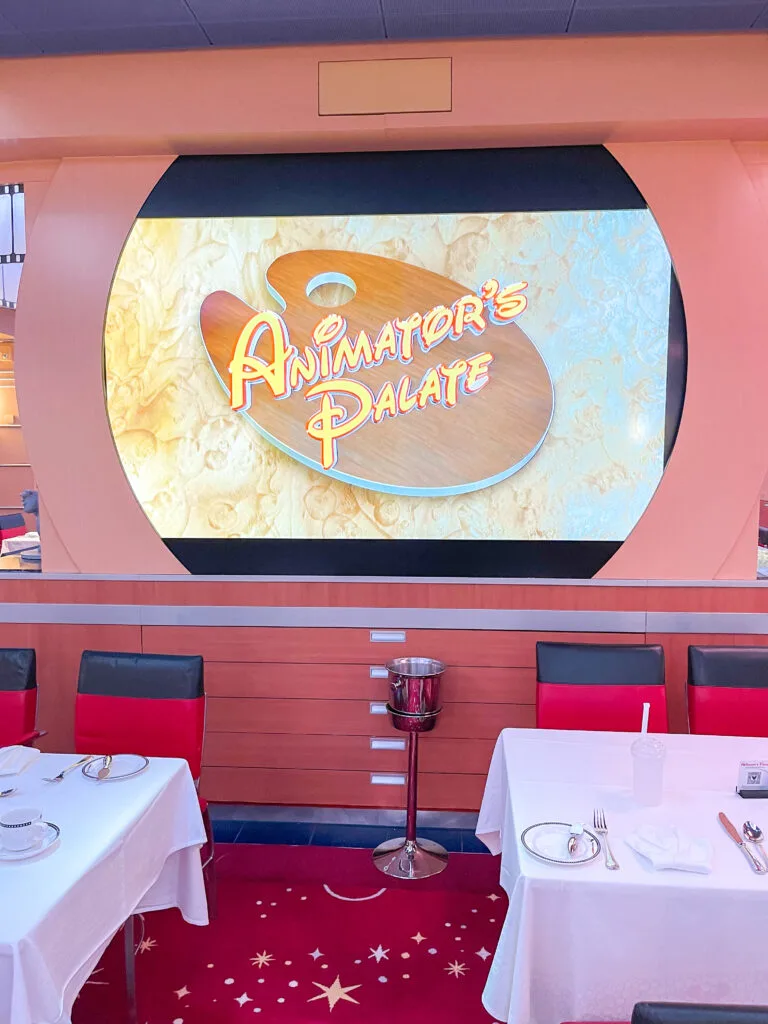 So I ordered it, and was definitely not disappointed! As someone who likes to recreate Disney recipes at home, I knew that this perfect pie was next on the list!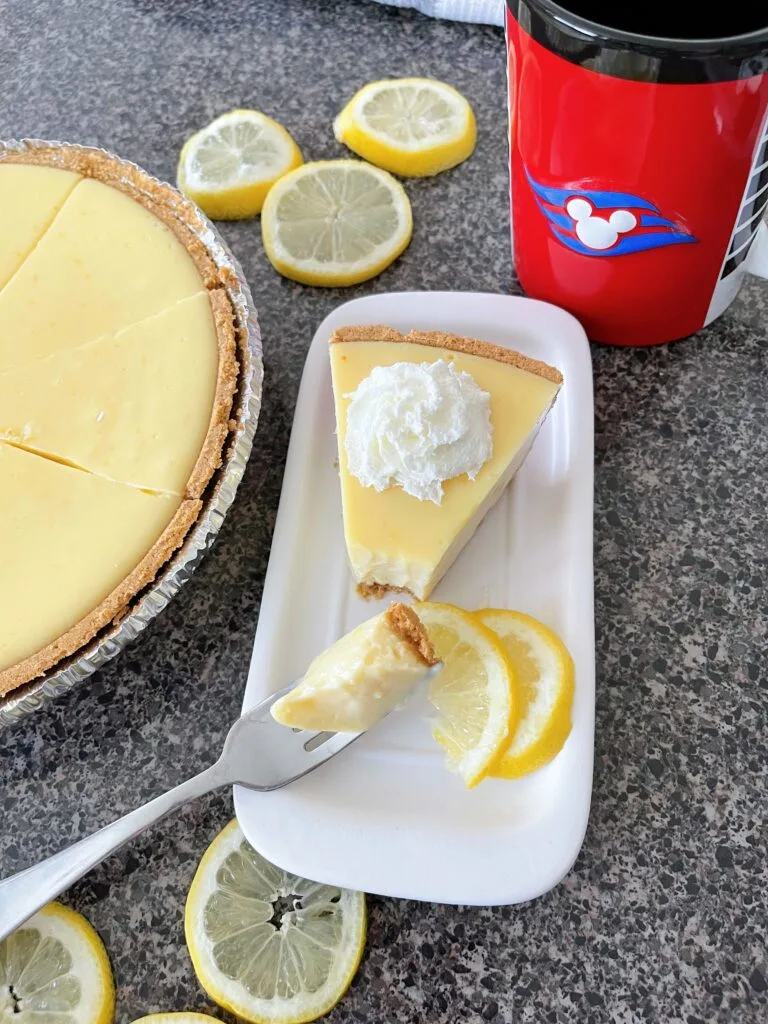 Why is it called an icebox pie?
This pie gets its name from the fact that it needs to be refrigerated (or "iced") in order to set properly. It is similar to a cheesecake in that respect, but much easier to make!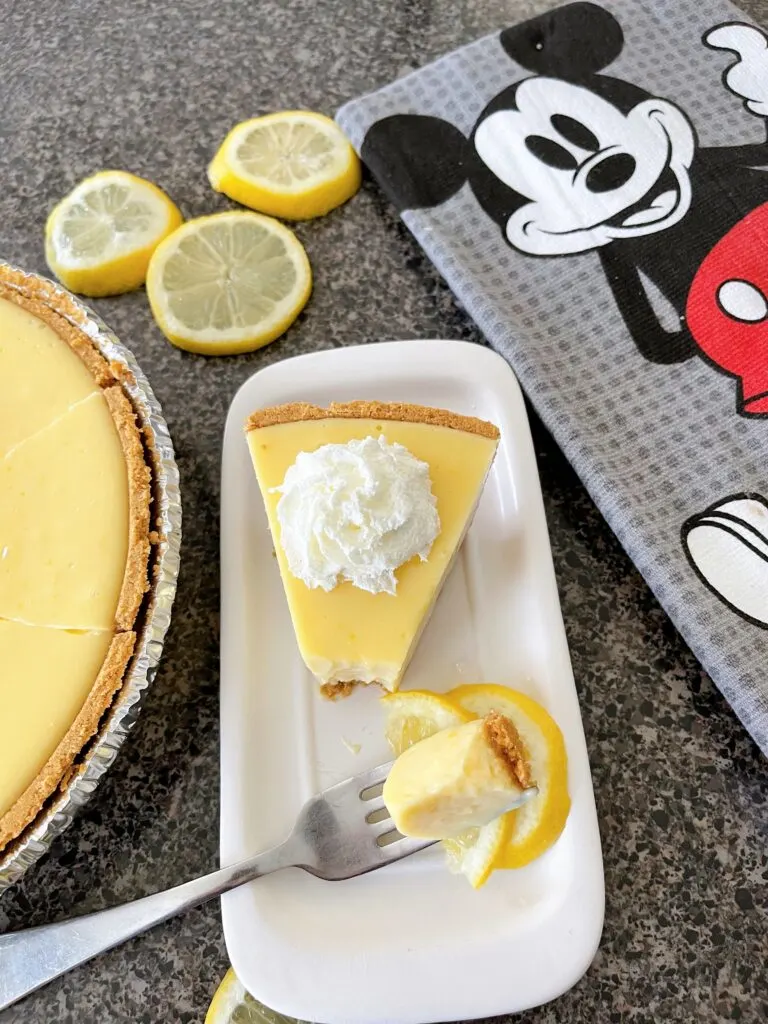 What is lemon pie filling made of?
This lemon pie filling is made with just three ingredients: lemons, egg yolks, and sweetened condensed milk. That's it! It is so simple, but so delicious!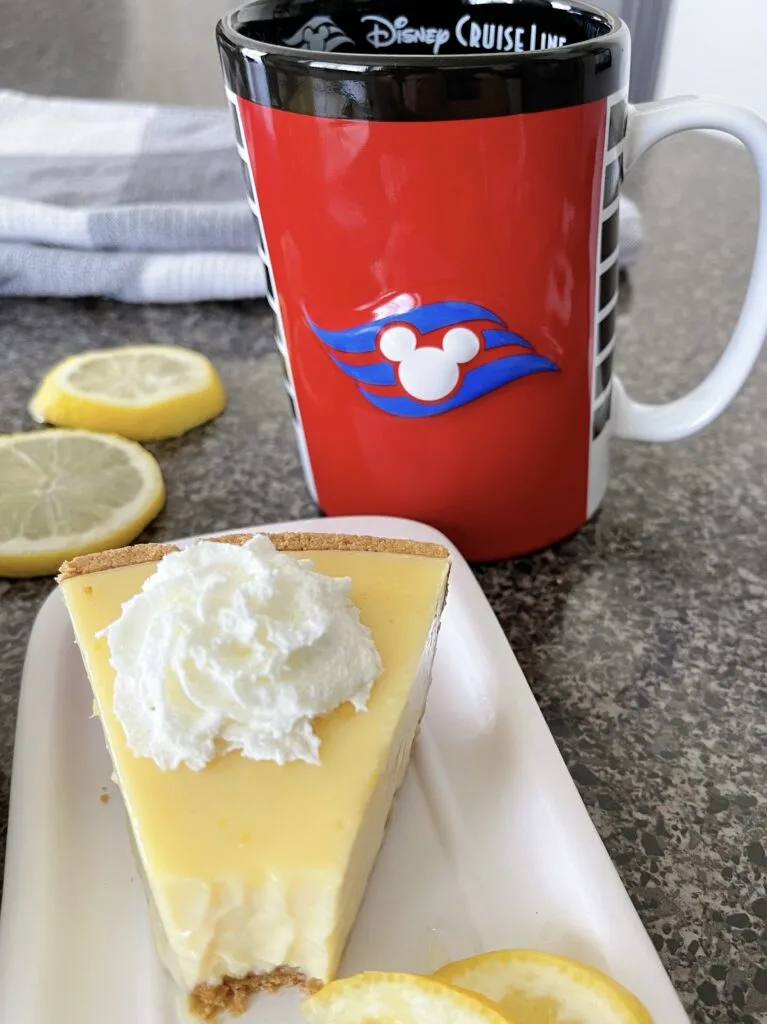 Fresh Lemon Juice vs. Bottled Lemon Juice
For this recipe, I recommend using fresh lemon juice. Bottled lemon juice just doesn't have the same potent flavor, and it can make your pie taste a little more bland.
If you don't have any fresh lemons on hand, you can definitely use bottled lemon juice in a pinch. Just be aware that the flavor won't be quite as strong.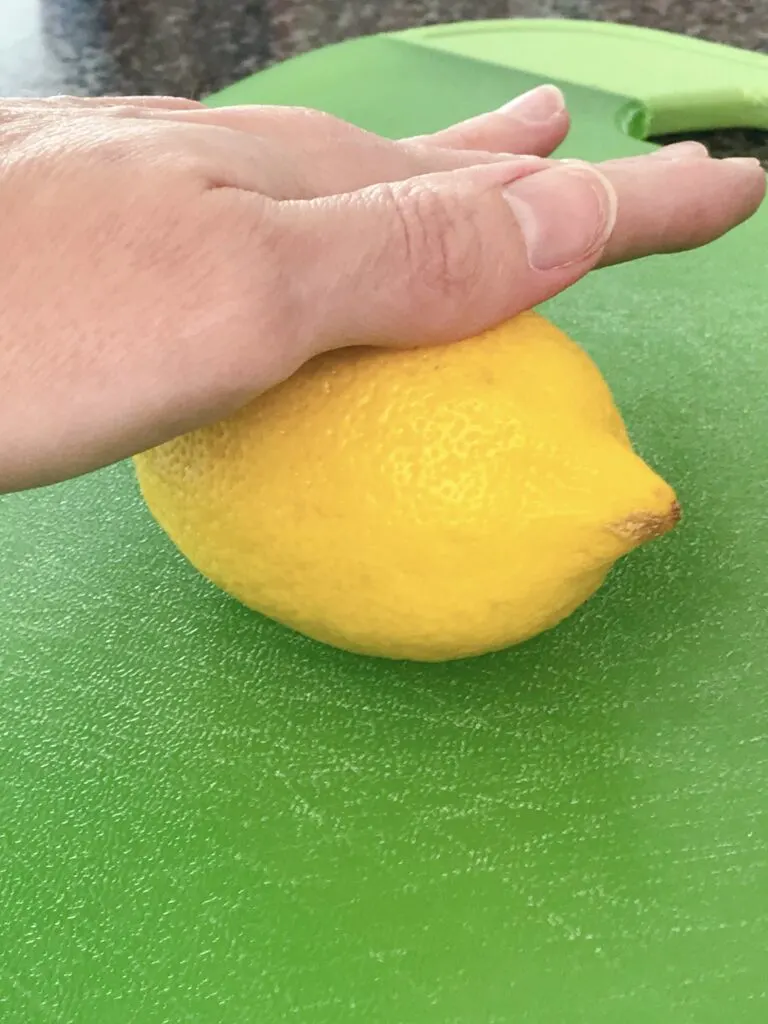 How Long Will This Pie Last?
This Easy Lemon Ice Box Pie will last up to 5 days in the refrigerator. If preferred, you can freeze this pie for up to 3 months.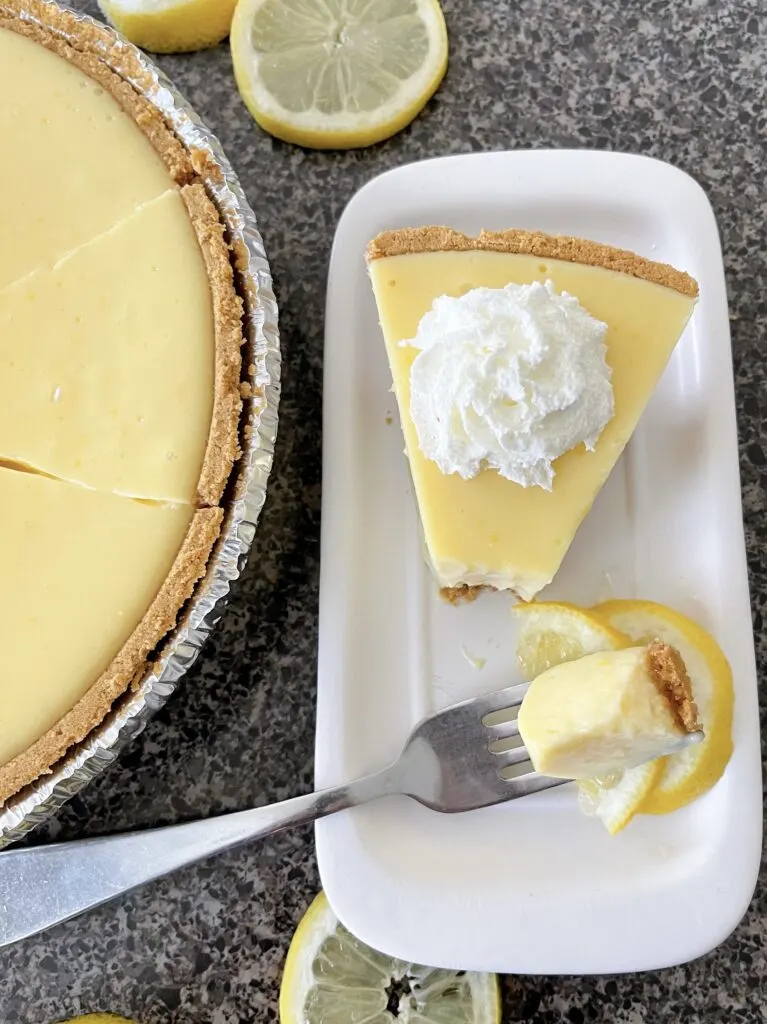 How To Store Lemon Icebox Pie
To store this pie, make sure it is covered tightly with plastic wrap and placed in the refrigerator.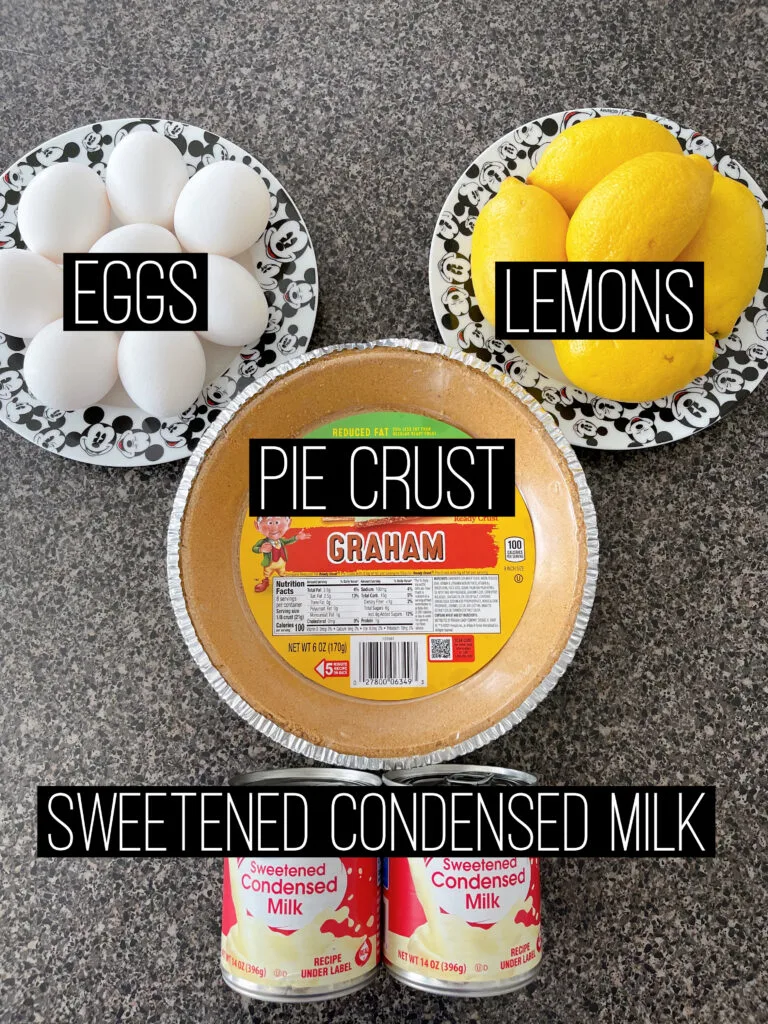 Ingredients
*Ingredient amounts are located in the recipe card at the end of this post.
Pre-Made Graham Cracker Crust- I wanted to make this delicious lemon dessert recipe as easy as possible, that is why I used a store-bought pie crust. If you prefer, a homemade graham cracker crust would be amazing as well. You can use the crust recipe for my Key Lime Pie here. All you'll need is graham crackers and melted butter!
Lemon Juice– You will need about 6-8 lemons to make enough juice for this pie or you can use bottled lemon juice.
Sweetened Condensed Milk- This is what gives the pie its creamy consistency.
Egg Yolks- The egg yolks help to thicken the filling and make it set up properly. I used large eggs. Try to use room temperature eggs if possible.
Lemon Zest- The lemon zest is optional, but I think it really adds a nice flavor to the pie. The zest from one lemon should be enough.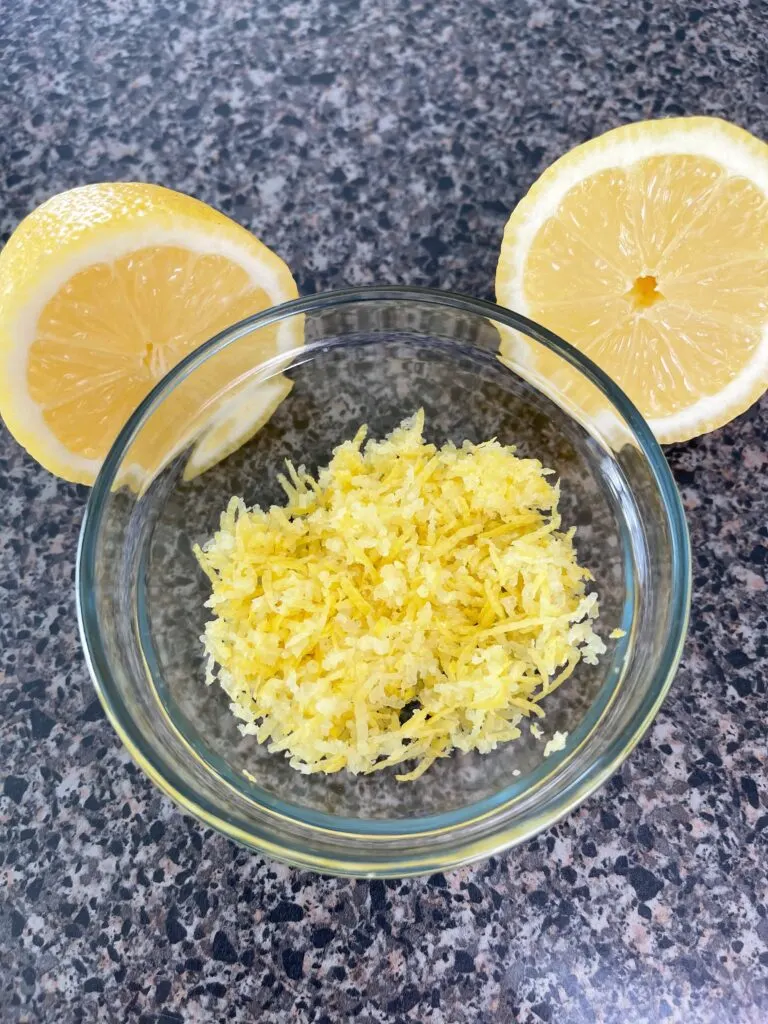 Helpful Kitchen Tools
Instructions
[1] Prepare the lemons by squeezing the juice from 6-8 lemons to make 1 1/4 cups of juice and zesting 1 lemon.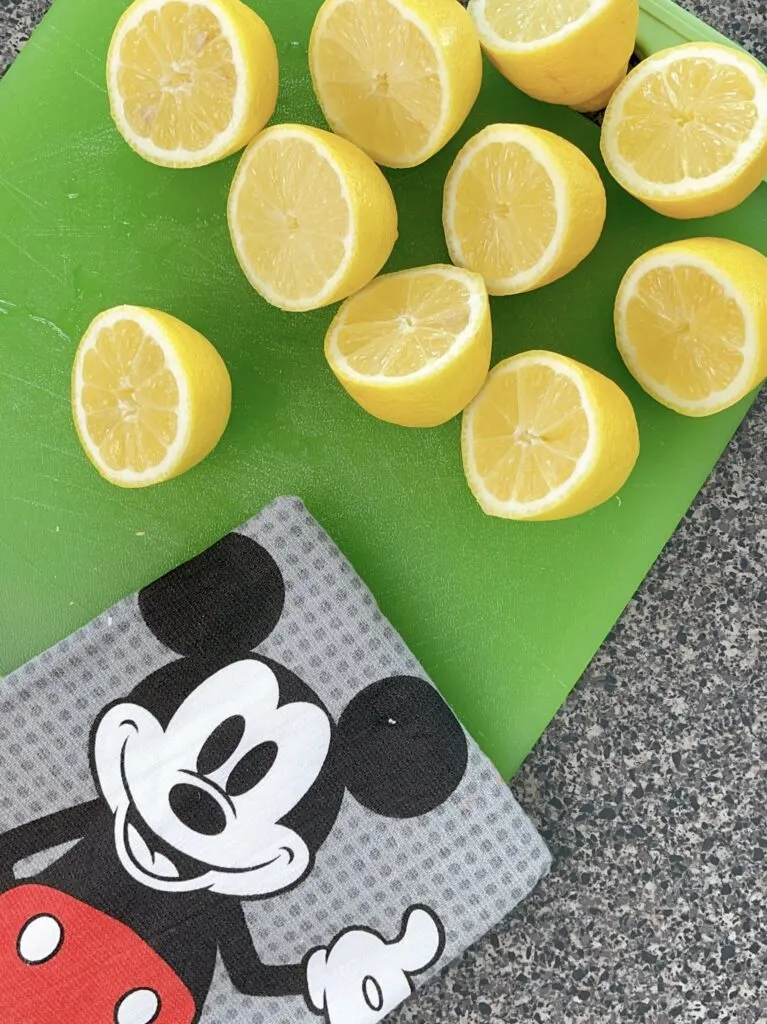 [2] Pour the sweetened condensed milk and lemon juice into a mixing bowl and whisk together.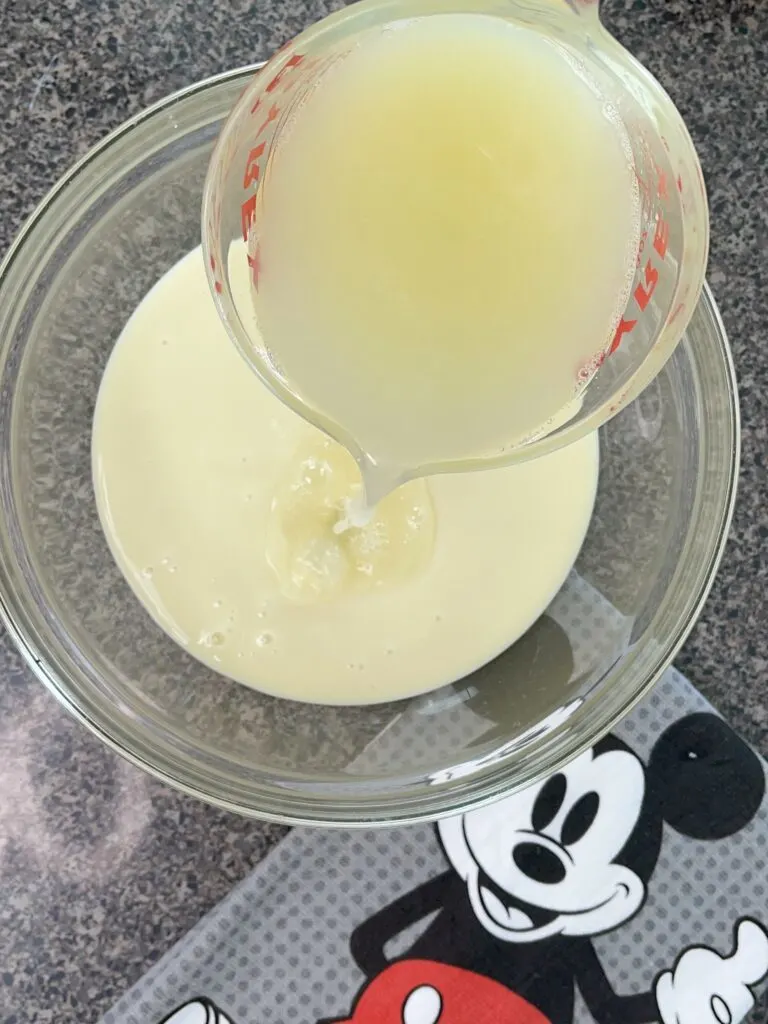 [3] In a separate large bowl or food processor, beat together the lemon zest and egg yolks using a whisk or electric mixer.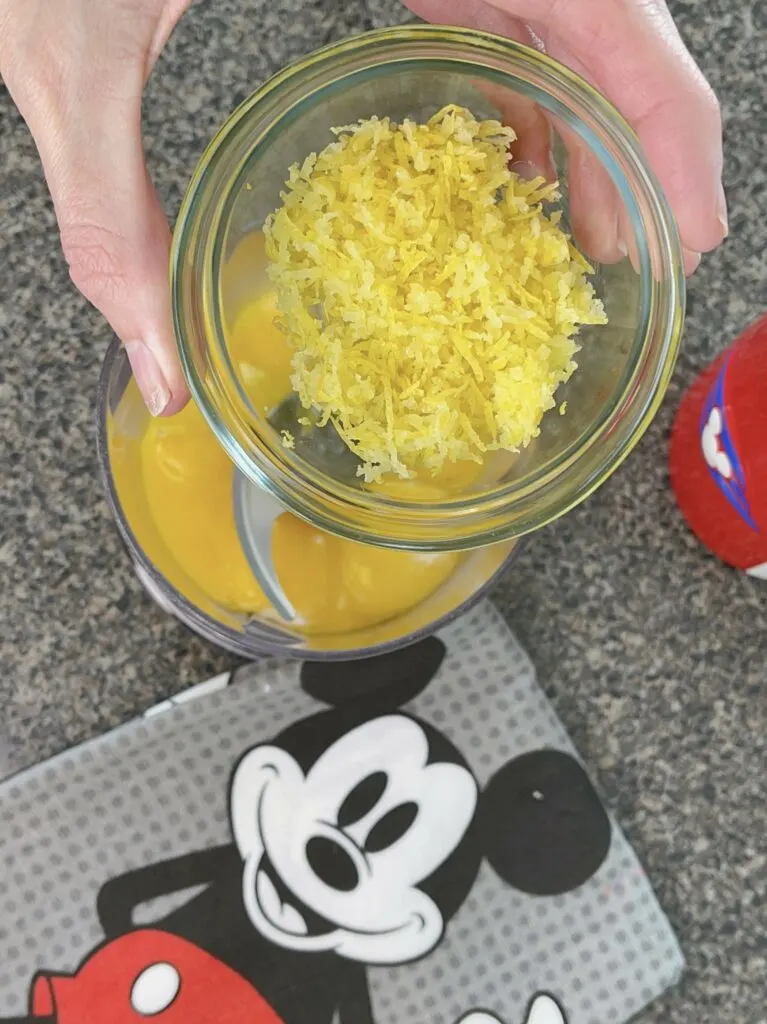 [4] Pour the egg mixture into the lemon juice mixture and stir until completely combined. Do not over mix, as this can affect the creamy texture.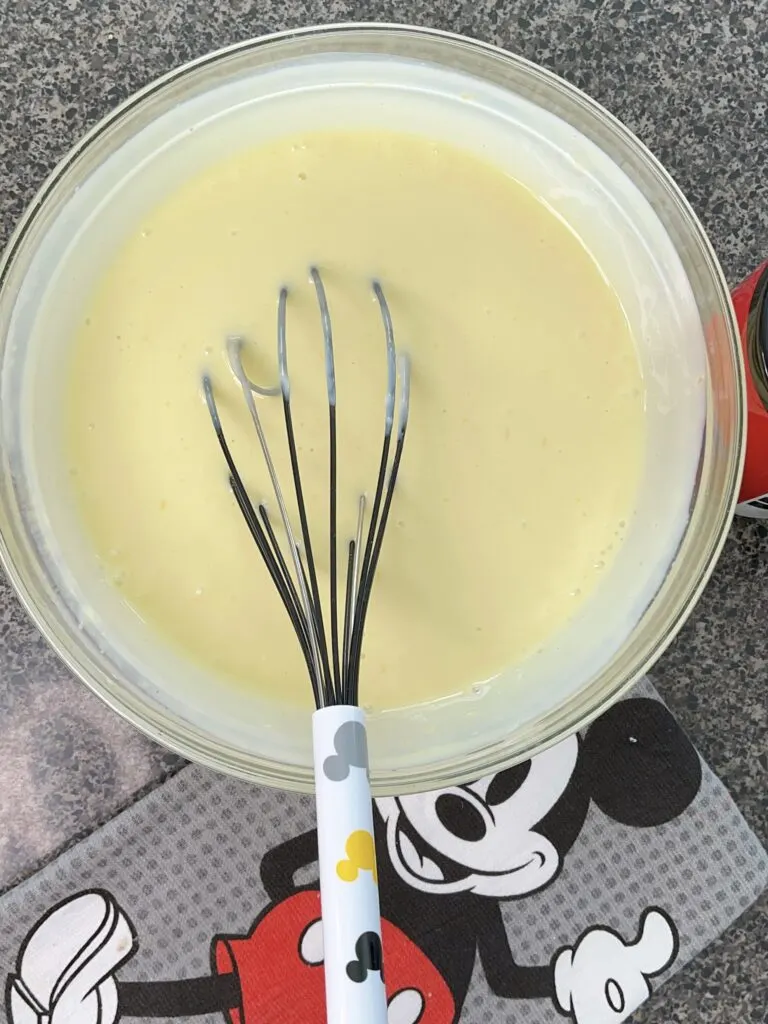 [5] Pour the pie filling into the prepared graham cracker crust and bake pie at 325 degrees for 25 minutes.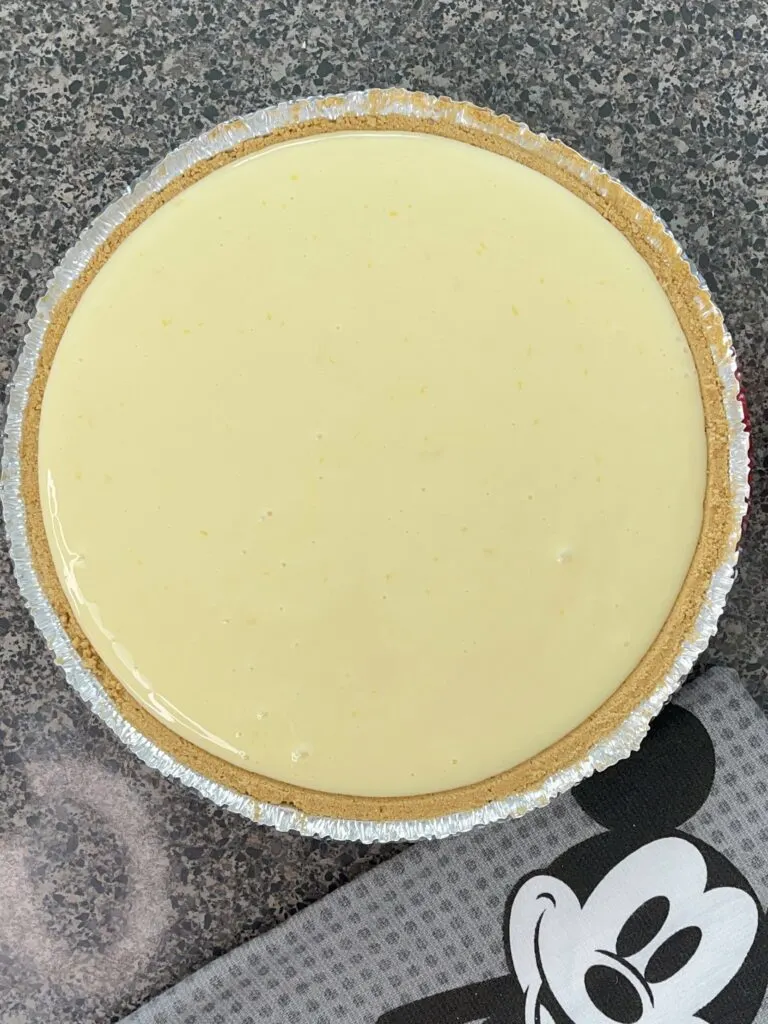 [6] Remove the pie pan from the oven and allow to cool for one hour, then refrigerate for at least 6 hours to overnight before serving. Add whipped cream and lemon slices to the top of the pie when served.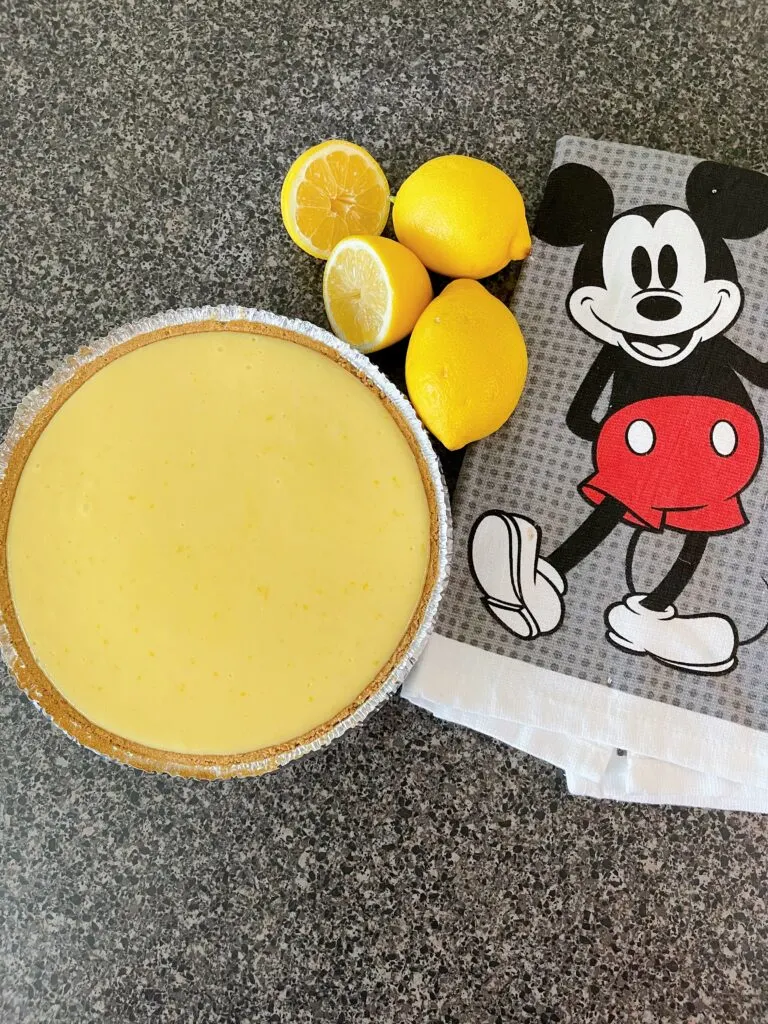 Final Thoughts
Lemon Icebox Pie is the perfect delicious dessert for a hot day in the summer months or a refreshing snack after a meal. This tangy, sweet pie with a crumb crust is easy to make and is sure to be a hit with everyone at the table.
With a buttery graham cracker crust and smooth, creamy filling, lemon icebox pie is a classic recipe that will stand the test of time. If you are looking for easy desserts, try making it for your next family gathering or dinner party and see for yourself just how delicious it truly is!
More Pie Recipes:
Watch the Video: