What is it like to take a San Diego Disney Cruise on the Disney Wonder? You're about to find out! This article will take you through a quick tour of some of the ship's highlights, and go through what each day is like on a 5 Night Itinerary to Cabo San Lucas and Ensenada, Mexico. Follow along with us as we learn how this magical cruise works!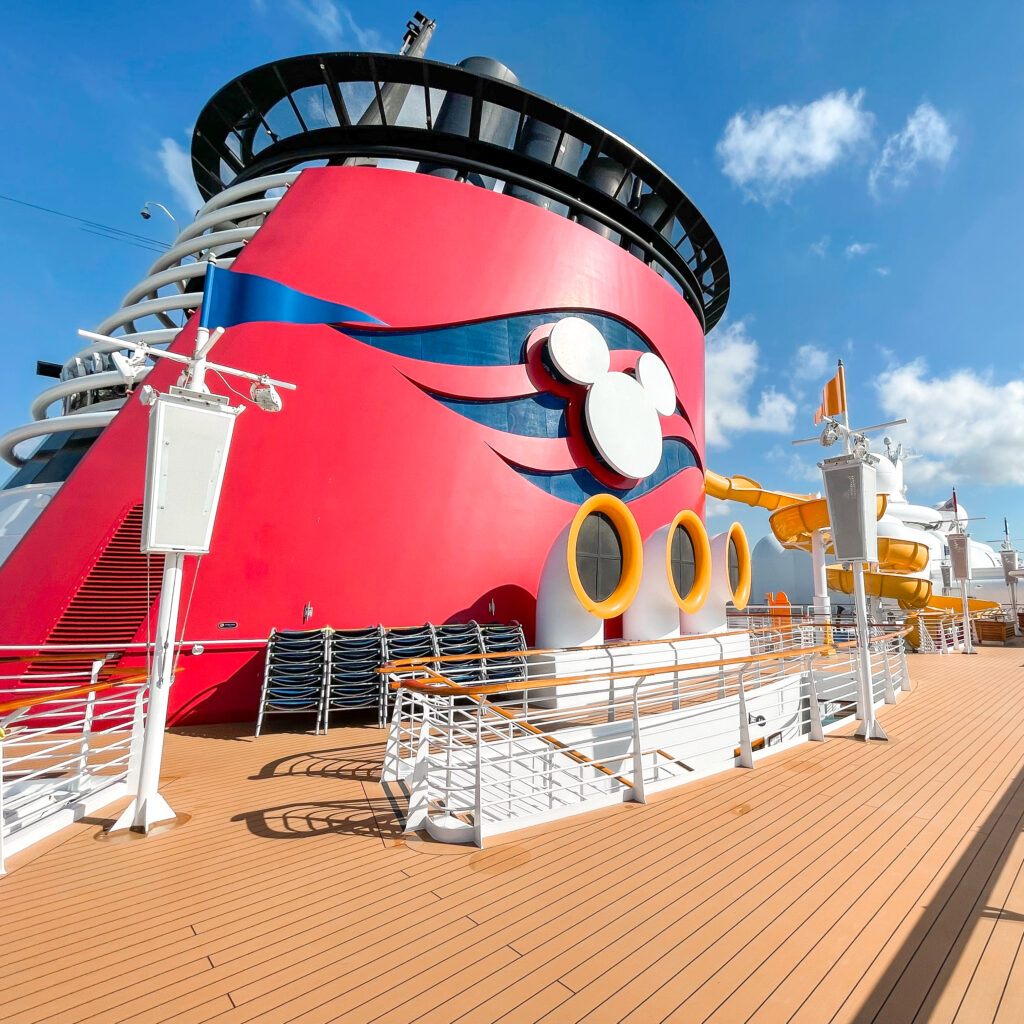 This post may contain affiliate links. When you click on these links, I get a small percentage back at no cost to you! For more information see my disclosure policy.
Check out prices below or get a free quote by calling 877-510-2929 and let them know Mommy Mouse Clubhouse sent you!
Cruising can be a great way to see multiple destinations in one trip, but it's not always clear how it works or what to expect.
In this article I will take you through all you need to know about the Disney Wonder cruise ship from Disney Cruise Line. I will show you how to get on board, take you on a tour of a family suite, and show you some of the highlights of the ship.
I will also explain how the dining and entertainment work so that you'll feel ready for your magical cruise vacation to Baja California!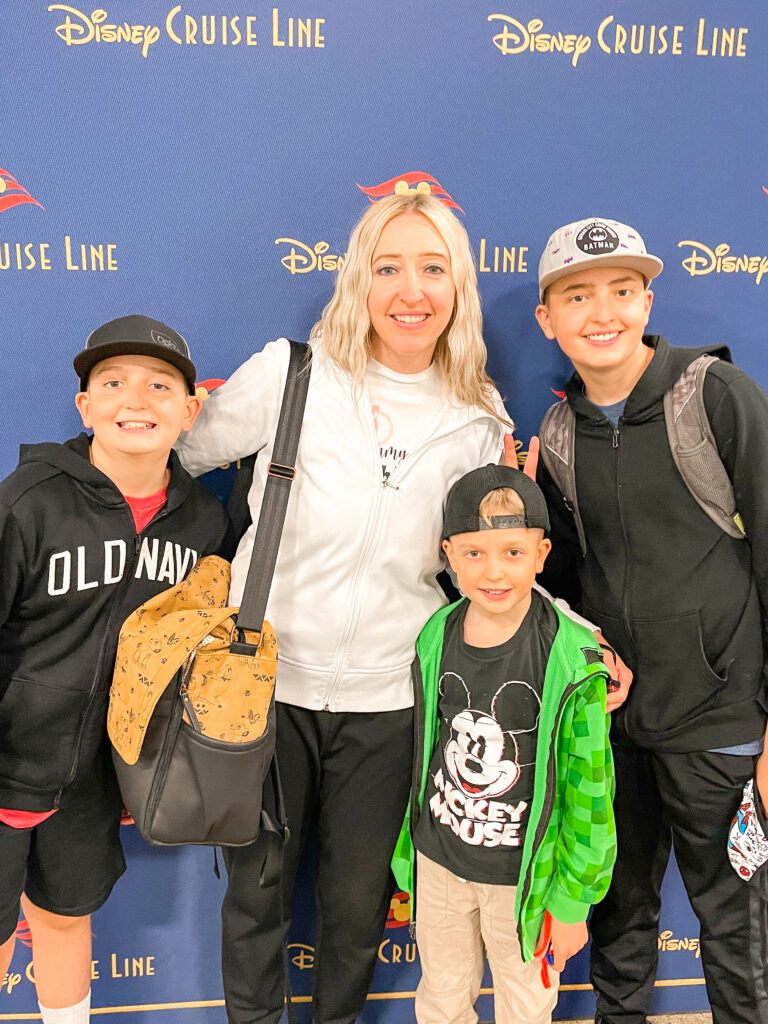 Day One: Embarkation
This first section is all about Day one on our recent cruise on the Disney Wonder.This was a 5 night cruise that embarked out of San Diego with stops in Cabo San Lucas and Ensenada, Mexico.
Watch the Video Here: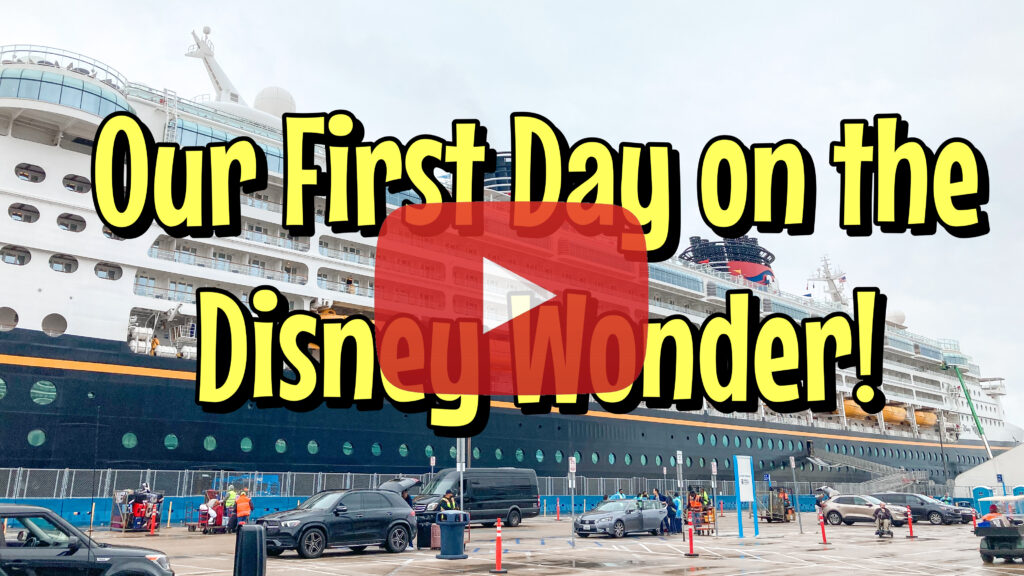 Before we get started, please make sure to subscribe if you are Disney Fan like me so you can also check out my other Disney Cruise videos. Now back to the Disney Wonder.
We stayed in San Diego the night before our cruise at our favorite hotel, the Best Western Island Palms on Shelter Island. I always recommend arriving in your port city the day before your cruise. I find it too risky to travel the day of embarkation.
We arrived at the port at about 11:00 am and dropped off our luggage. We were then directed to go across the street to the Wyndham hotel for our pre-cruise test.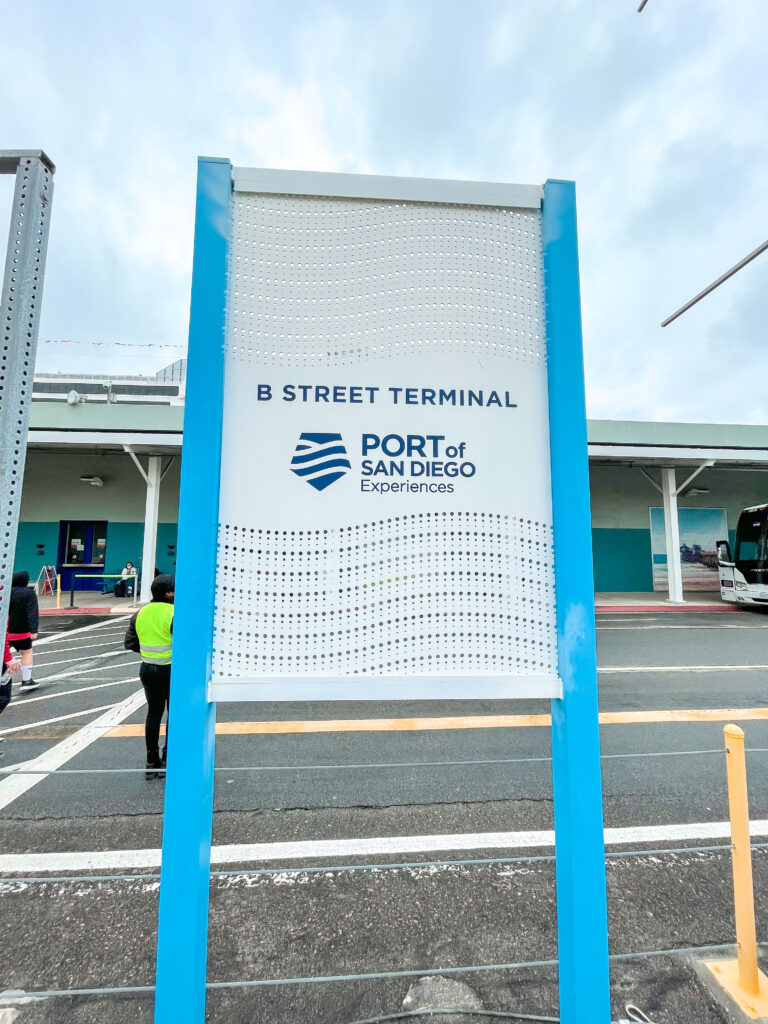 We waited in the ballroom for about 25 minutes for our results. After being cleared, we headed back to the cruise terminal.
Going through customs took about 20 minutes, then we were ready to board the ship! Be prepared to give your name as you get on the ship so the crew members can announce your arrival.
After boarding, we headed to our assigned spot on Deck 4 to complete the mandatory safety drill.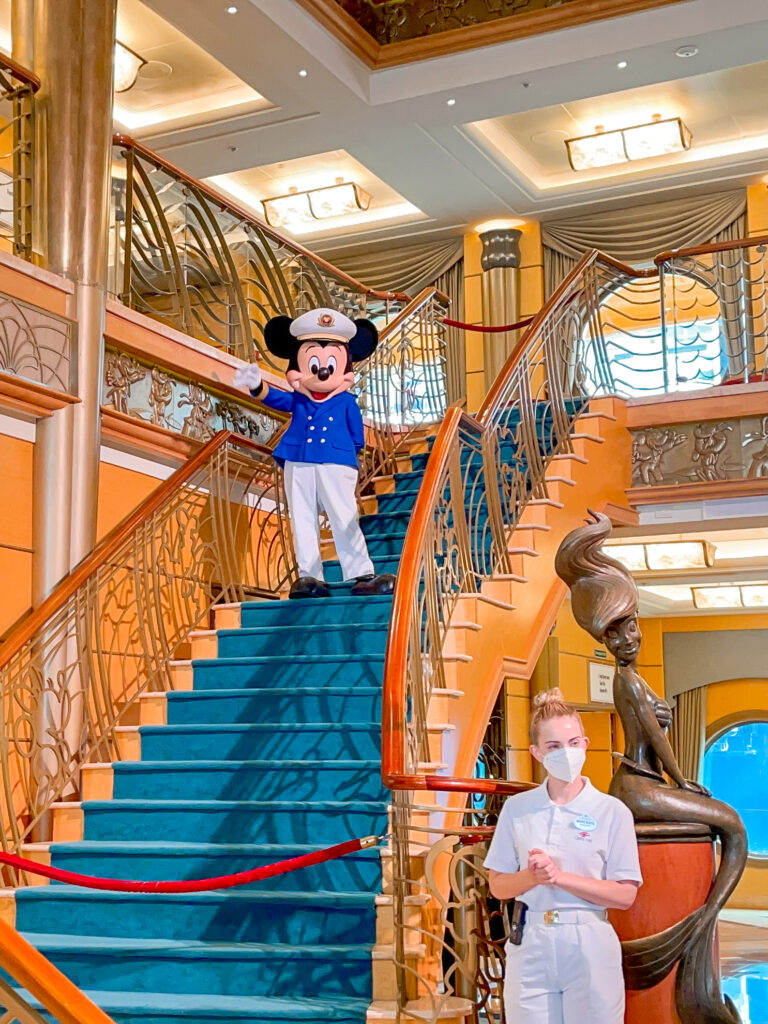 Lunch at Cabanas Buffet
After the drill, we were ready for lunch, so we headed up to Deck 9 to check out the buffet at Cabanas.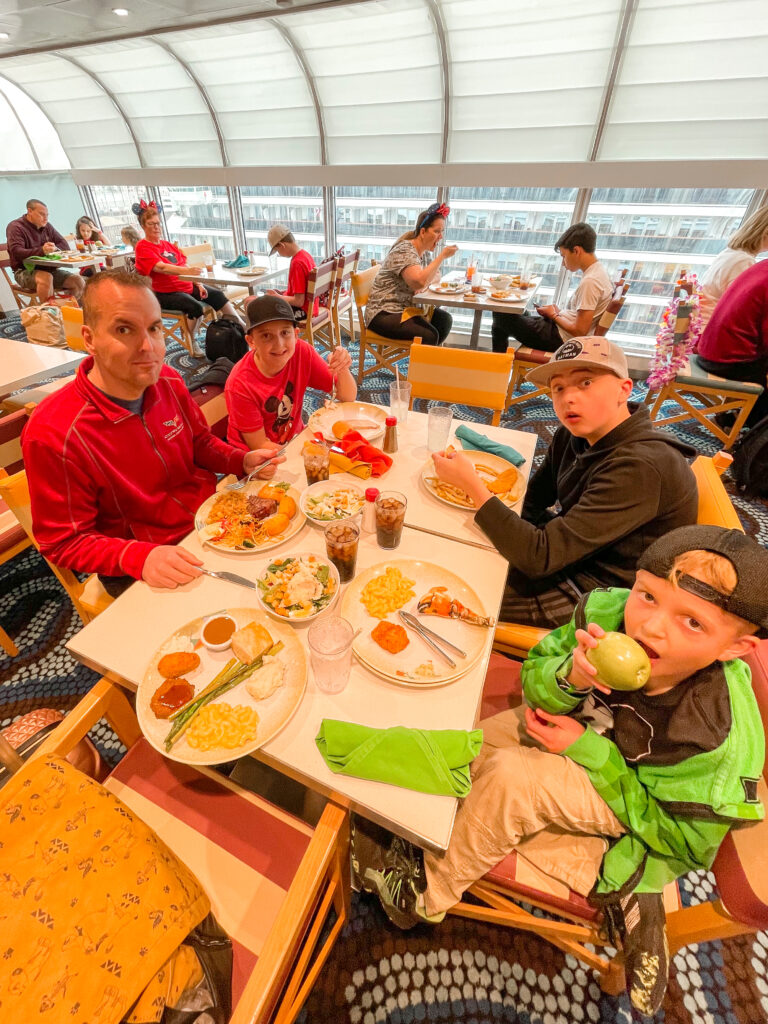 Other options for lunch include the main dining rooms, which for us was Tiana's Place, or there are quick service areas like Pinocchio's Pizza or Daisy's Delights where you can grab a sandwich or salad also on Deck 9.
And don't forget about my boys favorite cruise perk, unlimited ice cream cones!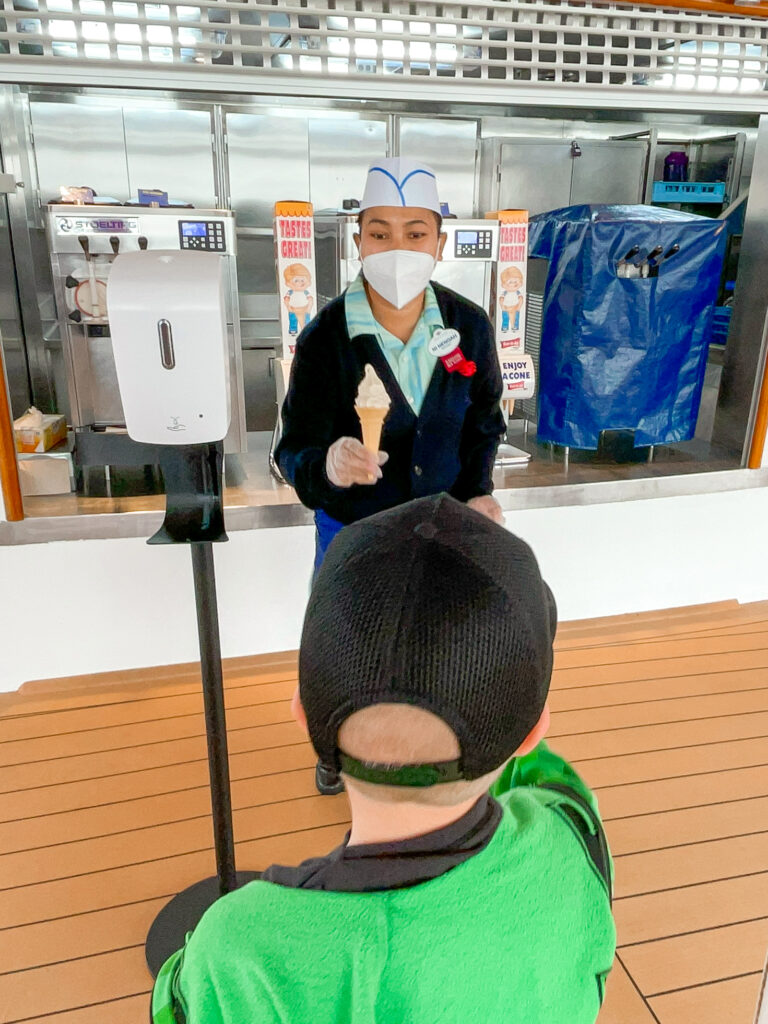 Edge (Club for Tweens Ages 11-14)
Our next stop was the Edge, which is the club for kids ages 11-14. On our last cruise, my two oldest boys spent almost all of their free time there. The had a blast playing video games, board games, doing crafts, making friends, and getting to know the counselors.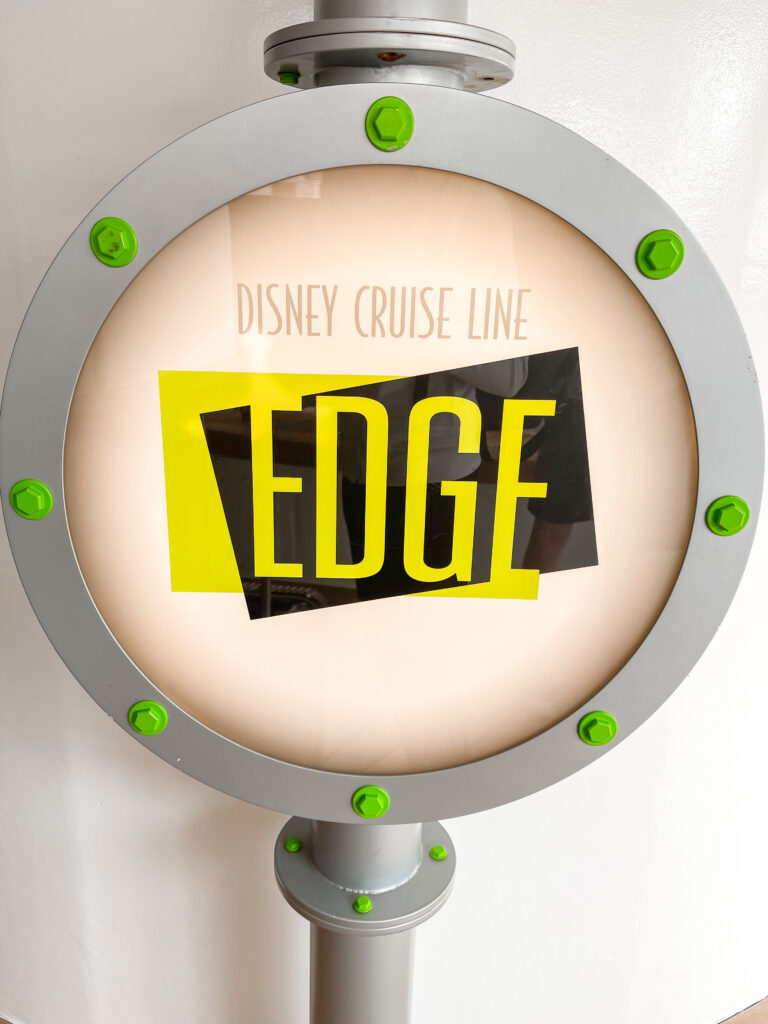 There is a list of activities that is posted every day, and some of the activities will be listed in the Disney Cruise Line Navigator App.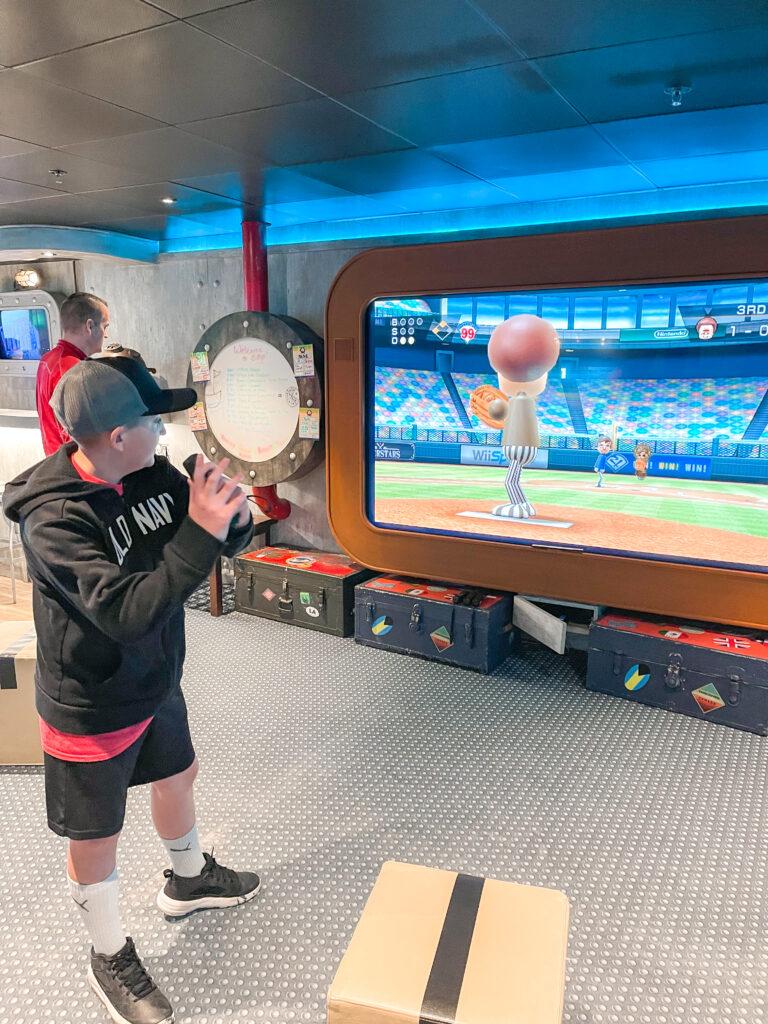 Disney Wonder Room 8572
By about 1:30, our stateroom was ready, so we headed there to drop off our stuff and check out the room.We were located on Deck 8, near the aft, or back, of the ship.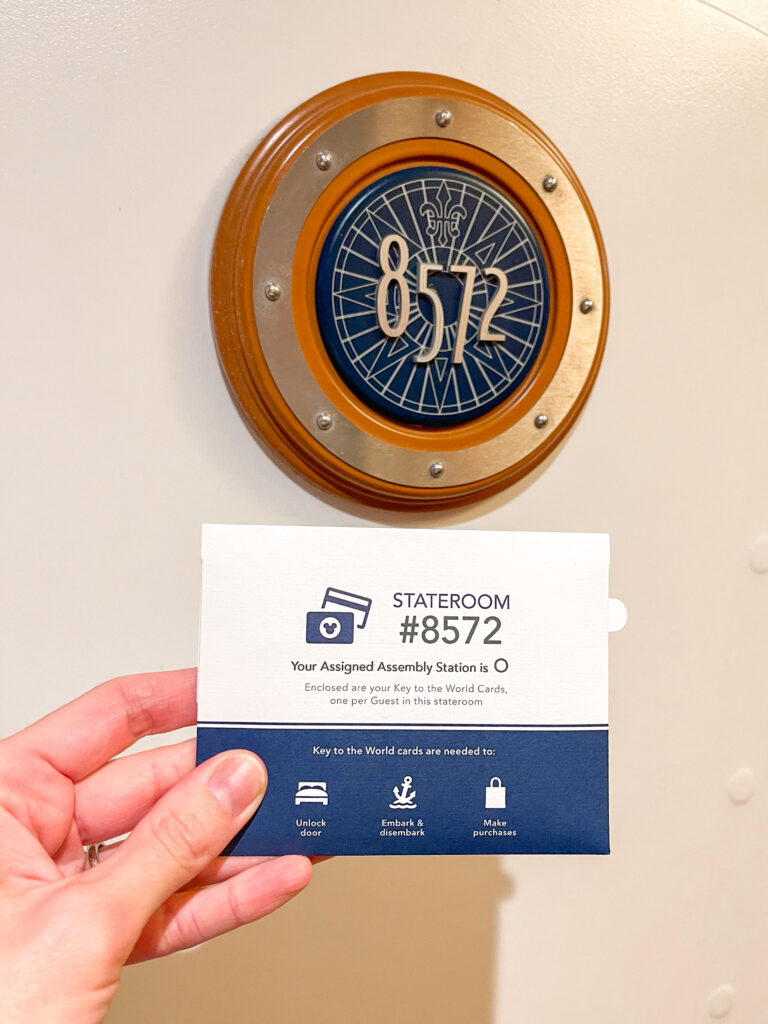 Our stateroom was a Deluxe Family Suite with a Verandah, which is nice because it can sleep all five of us.
There is a queen size bed, that has outlets on both sides. There is tons of storage space under the bed, which is where we kept our luggage during the cruise.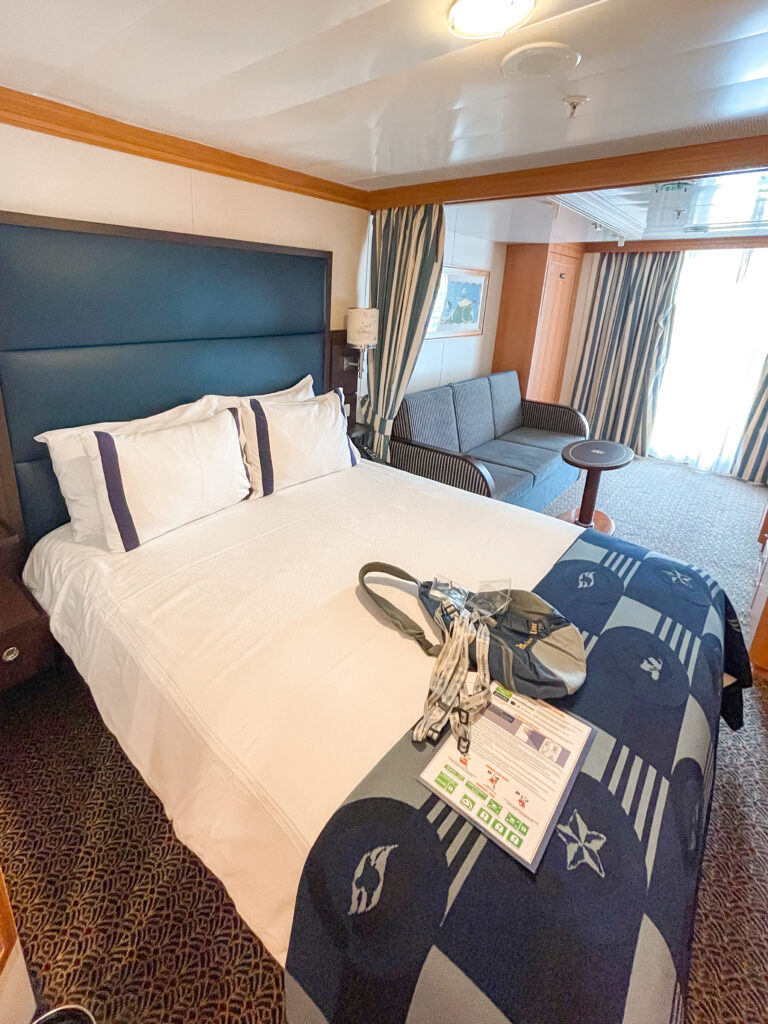 And a sitting area with a couch and a coffee table. There is also a chair that is used for the vanity in the sitting area.
At night, your stateroom host or hostess will fold the couch into a twin sized bed, pull down a bunk bed from the ceiling, and pull down the Murphy bed that is located near the verandah door.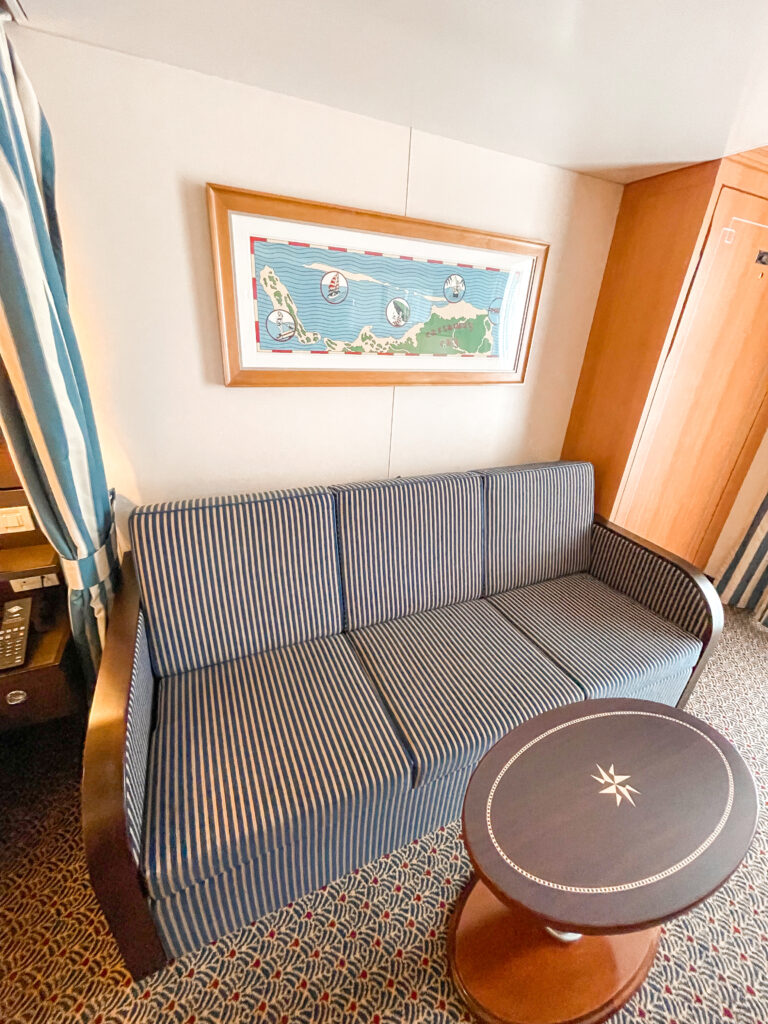 I loved all of the storage space in our room, like this dresser and the upper and lower cabinets. Next to the mirror, you will find more outlets as well as the outlet for the stateroom's hairdryer.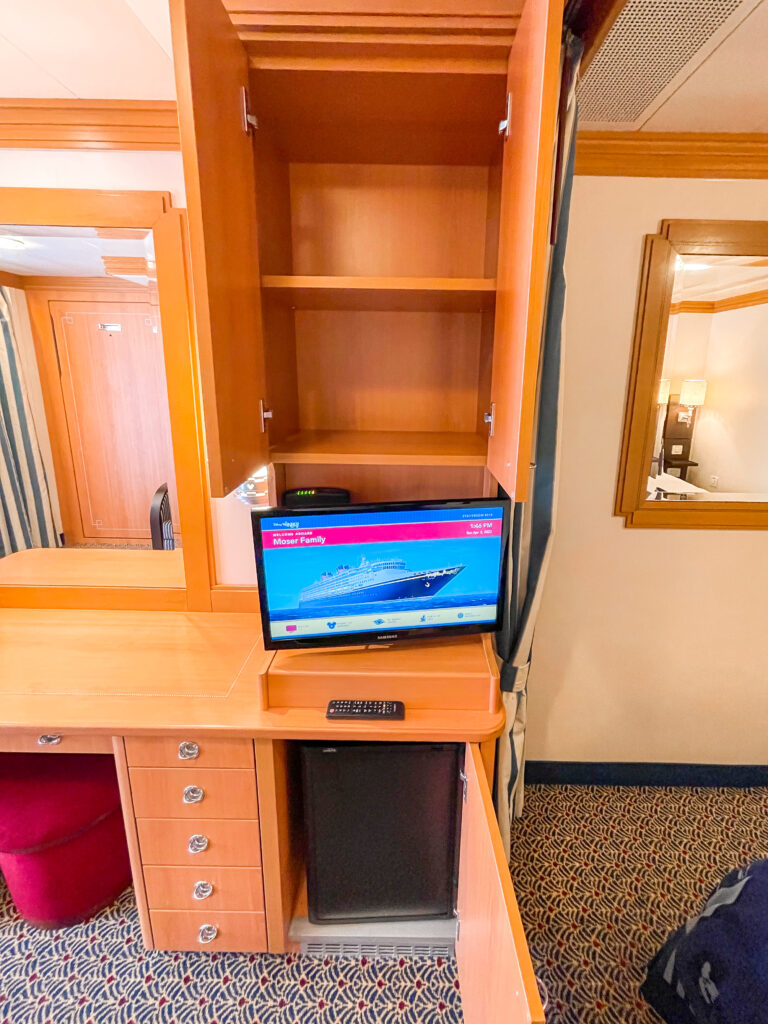 Below this cabinet is the stateroom TV where you can watch messages from the cruise director, safety information, activity information, a few tv channels and on demand Disney movies and shows. Below the tv is a small refrigerator.
Out on the verandah you will find two small chairs, a table, and amazing views!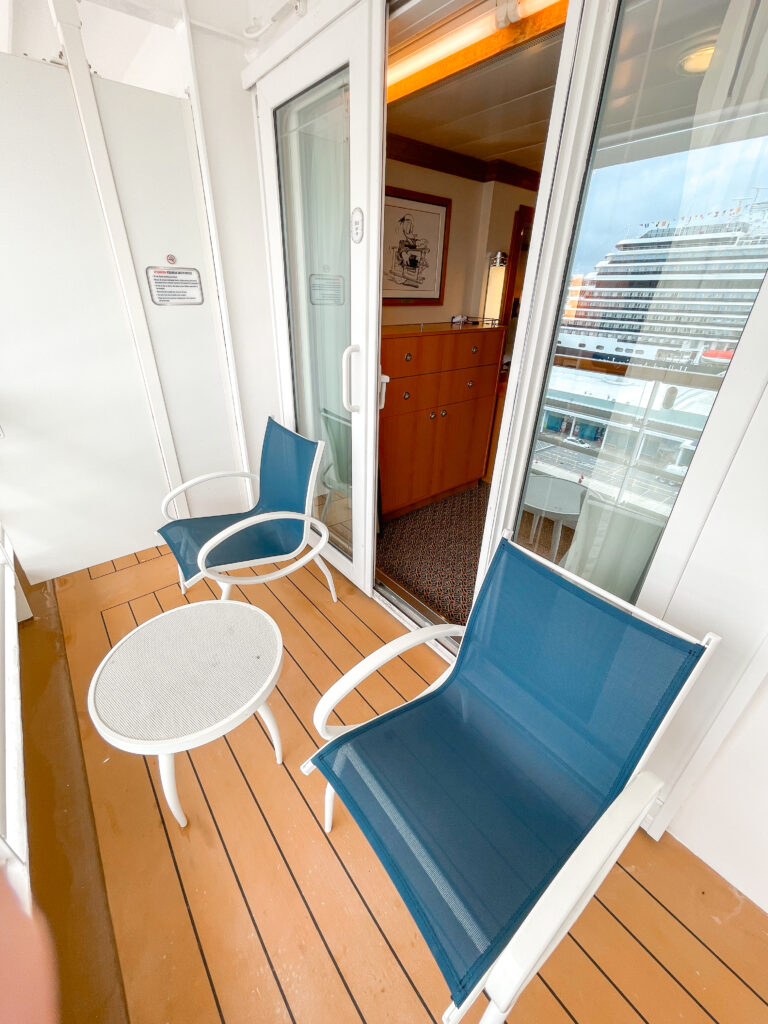 Each stateroom has a split bathroom. One room has a toilet, mirror, sink, and garbage can. The second room has a shower/tub combination, mirror, sink, and garbage can.
There is no need to bring along shampoo, conditioner, or body wash. There are full size bottles of Disney's H20 products available in the shower.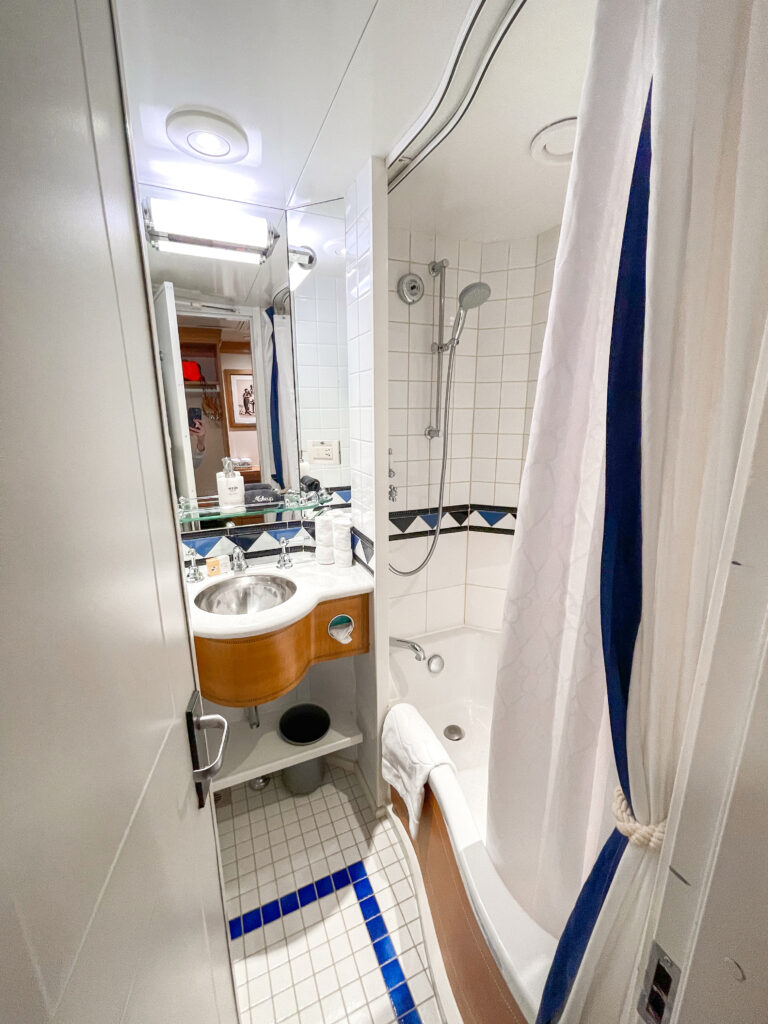 Across from the bathrooms is the closet which is large and gives you even more places to store items that you brought on board.
Once we were settled in the room, we ordered the All Hands on Deck cheese and crackers from room service to snack on until dinner time.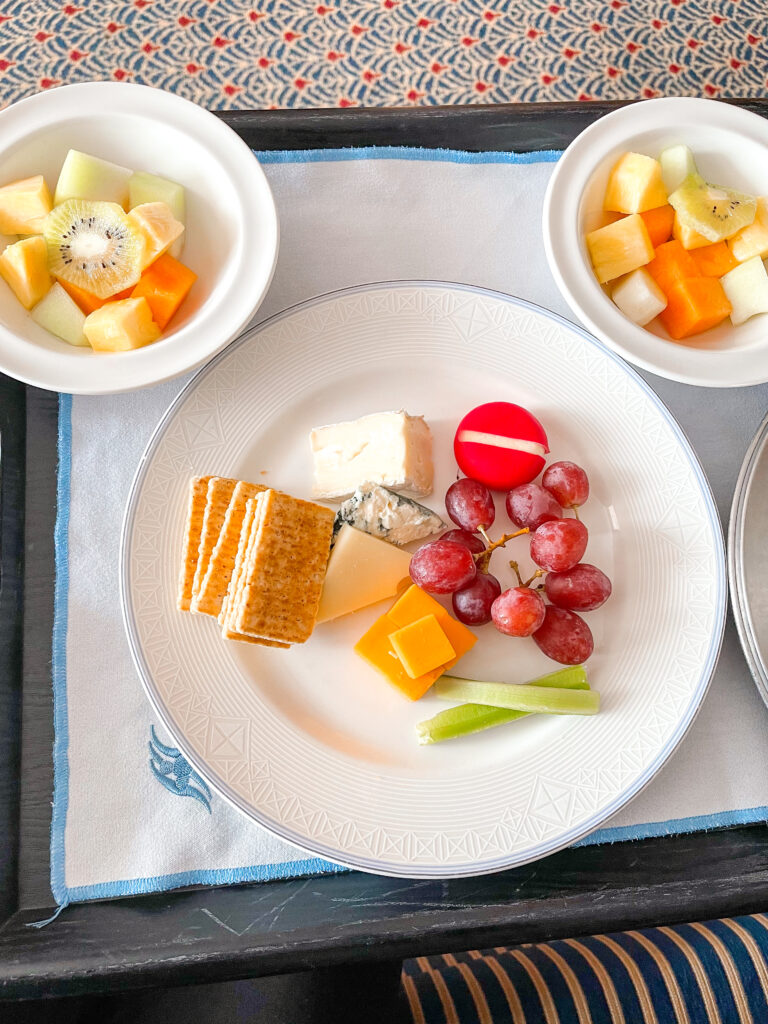 Oceaneer Club
We saw on the Navigator App that there was an open house in the Oceaneer Club, so we took my 7-year-old to check it out. During the open house, you can visit the clubs with your child to see what they are all about. On our cruise there was an hour each day for an open house.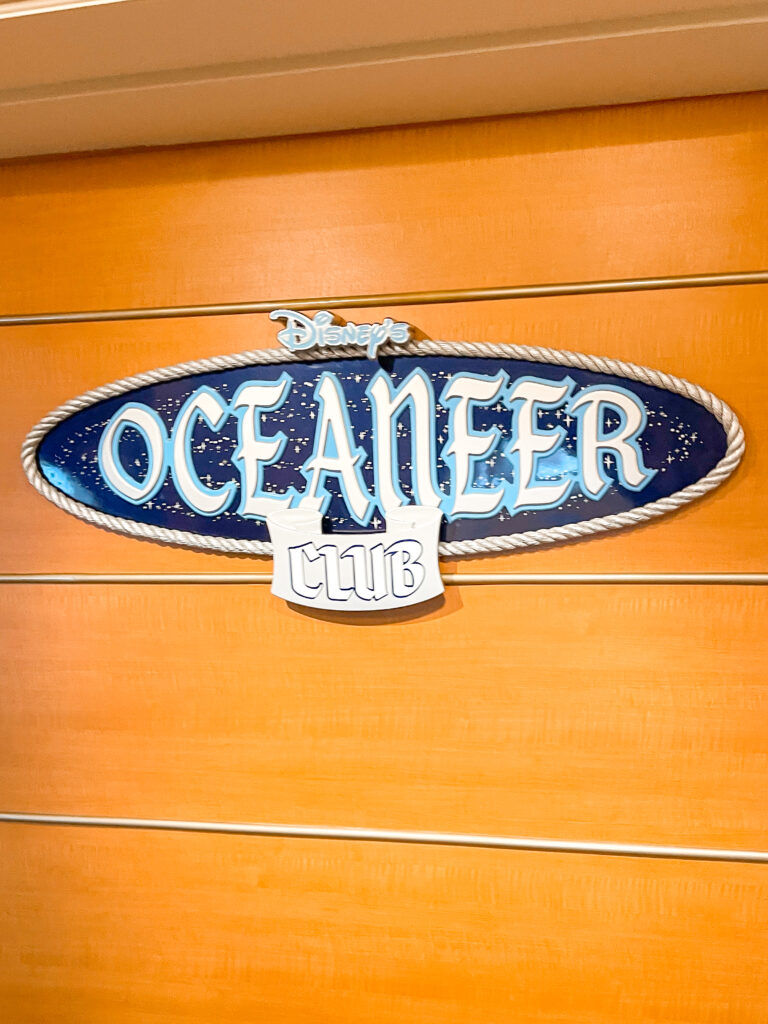 Each time you enter the kids club, you will get to use this cool contraption to wash your hands.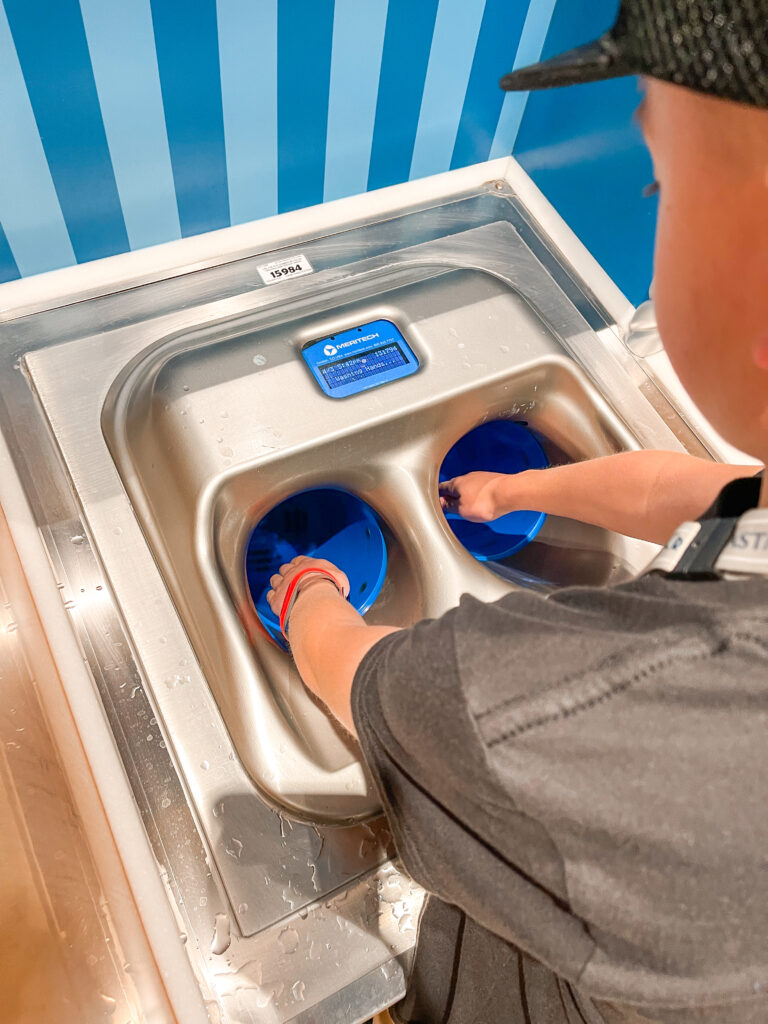 This is the Toy Story Room complete with over-sized toys and a Slinky Dog Slide!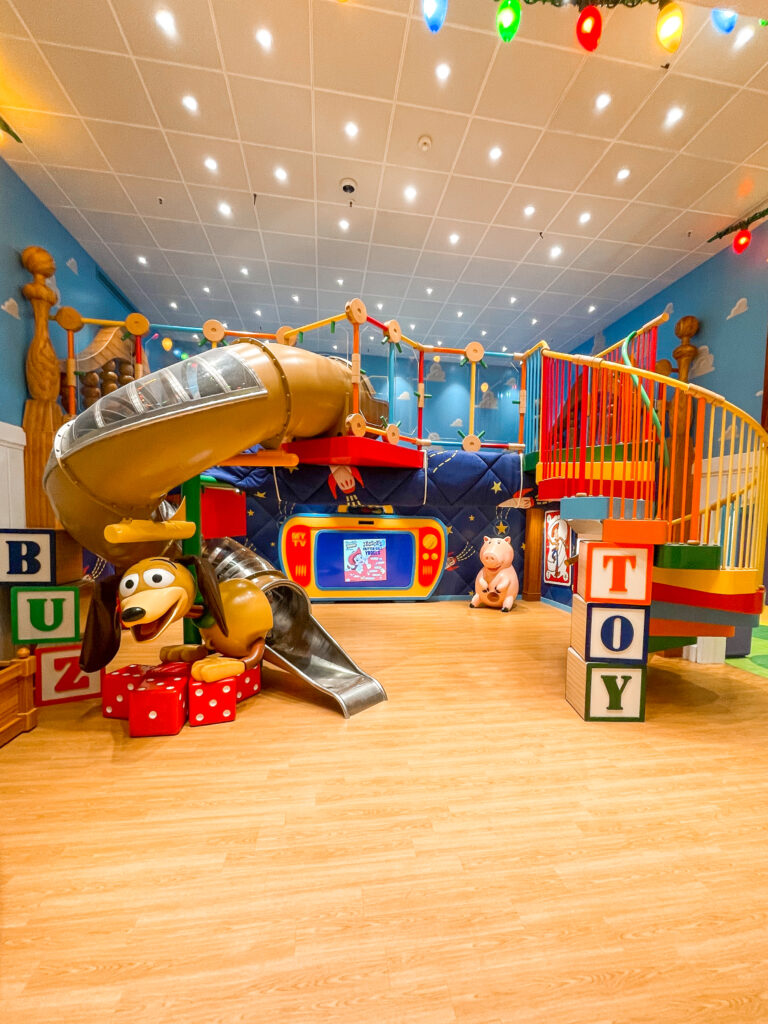 In the main area, there are character experiences like story time with Tiana.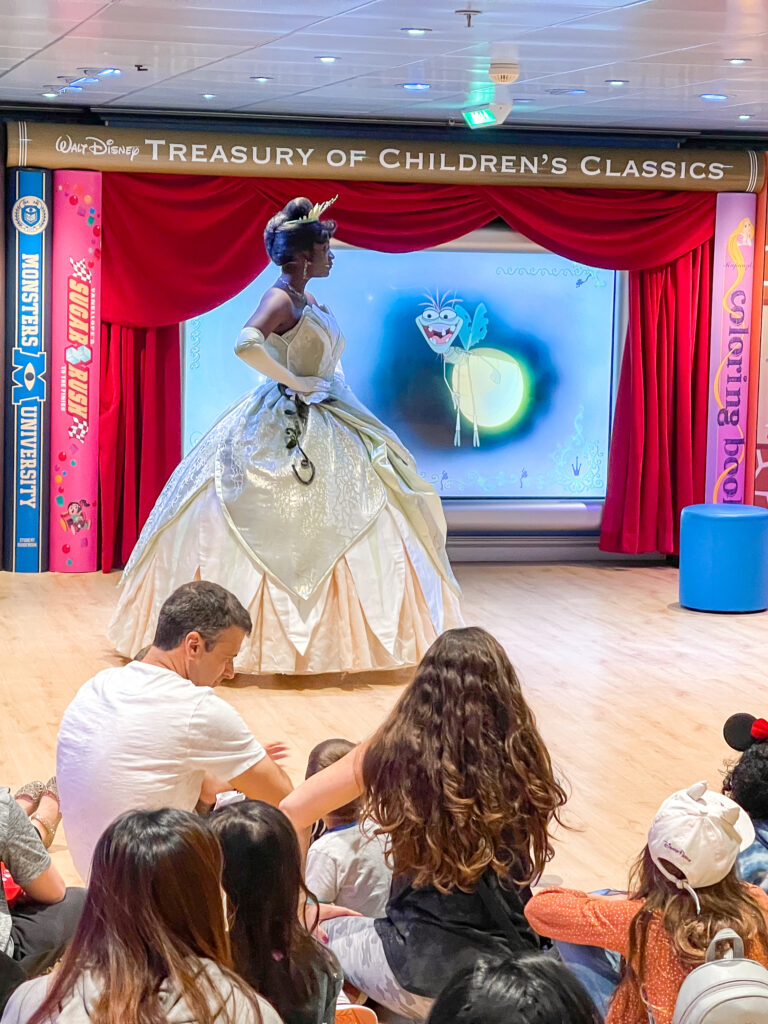 The Oceaneer's Lab is also great for Marvel fans. This entire room is filled with super hero treasures, which my boys loved!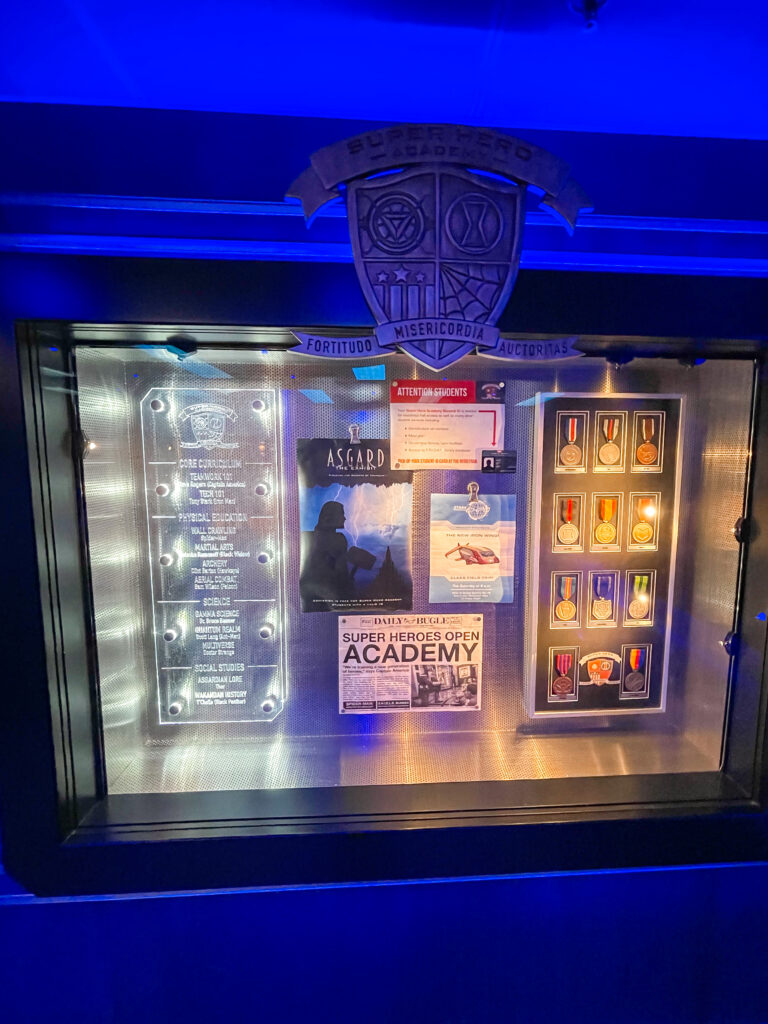 Sail Away
After visiting the Kids Club, an announcement was made that we would be leaving San Diego soon. We decided to head down to deck so we could see the city as we sailed away. We caught a glimpse of some Disney characters on the way!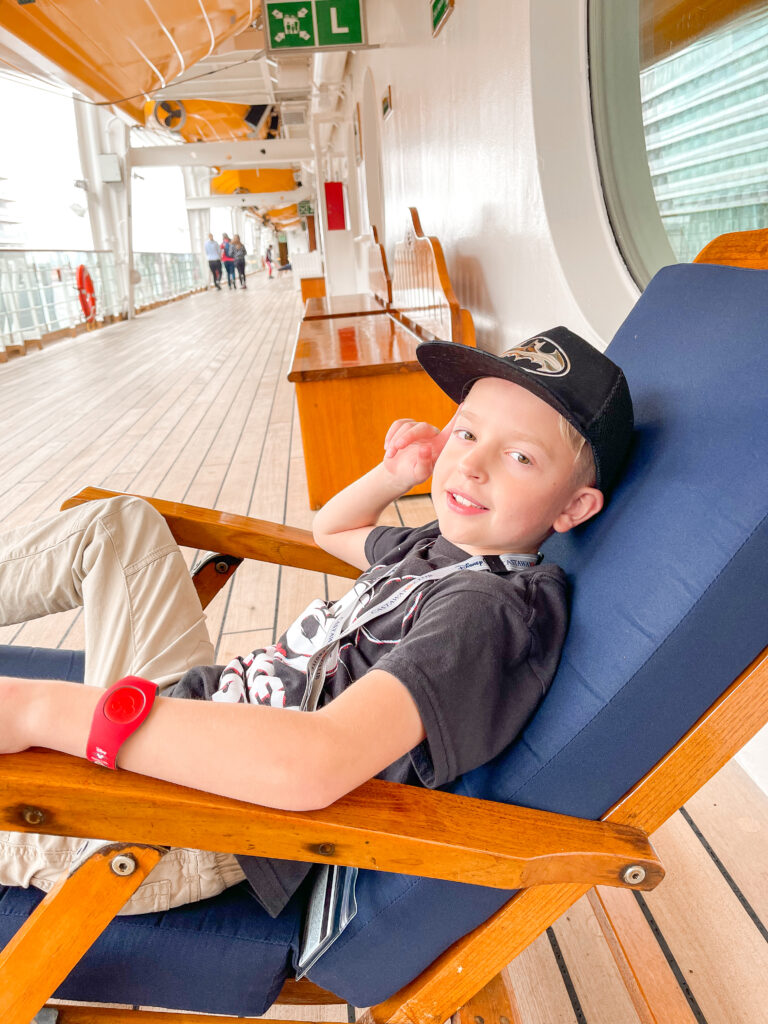 San Diego is one of our favorite cities to visit, so it was fun to see some familiar landmarks from a different perspective. We could see the USS Midway, which I highly recommend visiting if you are in San Diego and in the distance you can see the bridge that takes you to Coronado Island.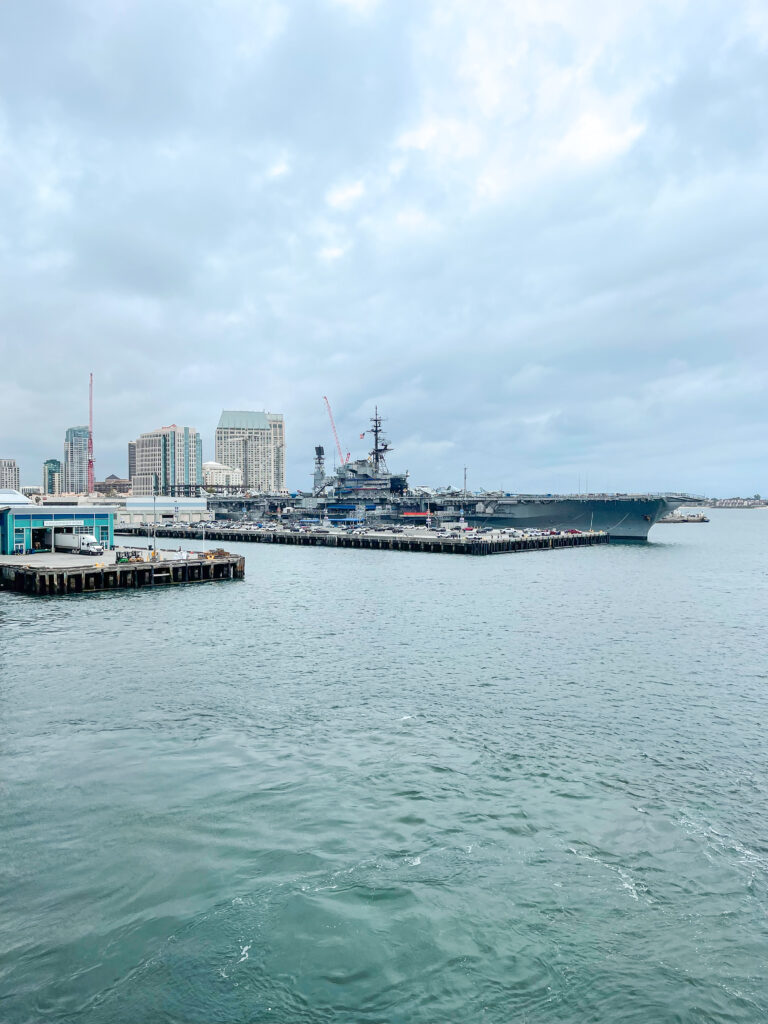 If you'll be visiting San Diego for your cruise, make sure to check out my video with the best places to eat in San Diego as well as my review of the Best Western Island Palms, one of our favorite hotels!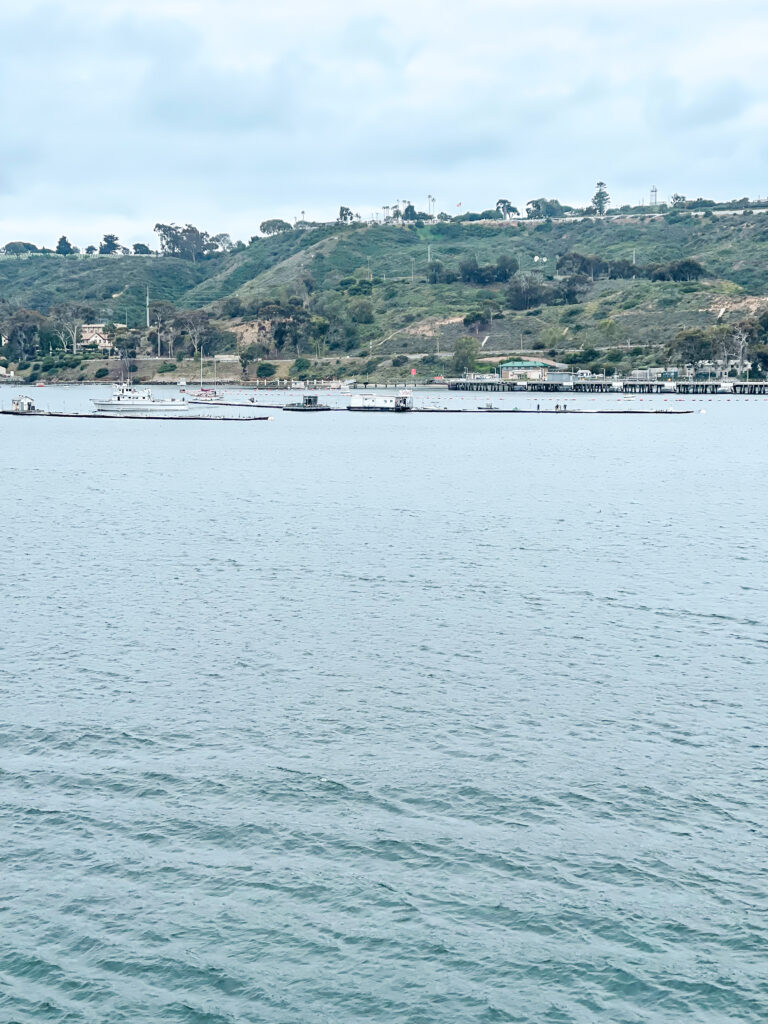 Cadillac Lounge Piano Music
With our kids at the Oceaneer Club, Edge, and Vibe, my husband and I had some free time before dinner so we headed to the Cadillac Lounge to listen to some amazing piano music.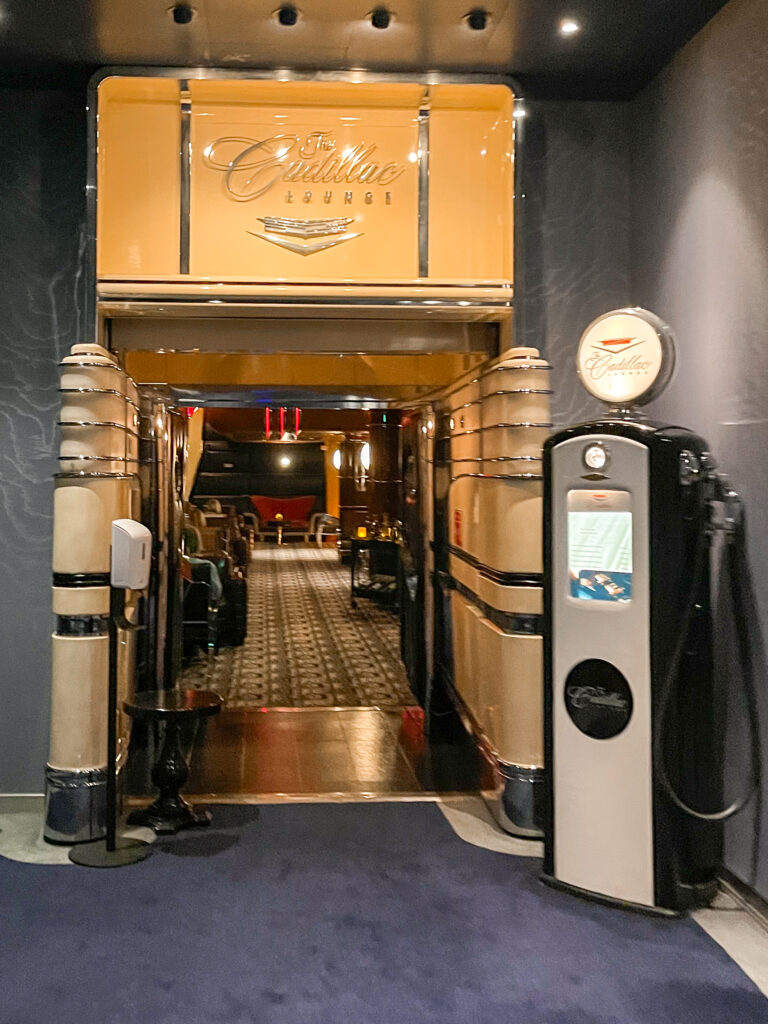 Animator's Palate
Dinner on our first night was Animator's Palate. The restaurant is mostly black and white, with color being added to the decor throughout dinner. There are cool animations you can watch while you eat.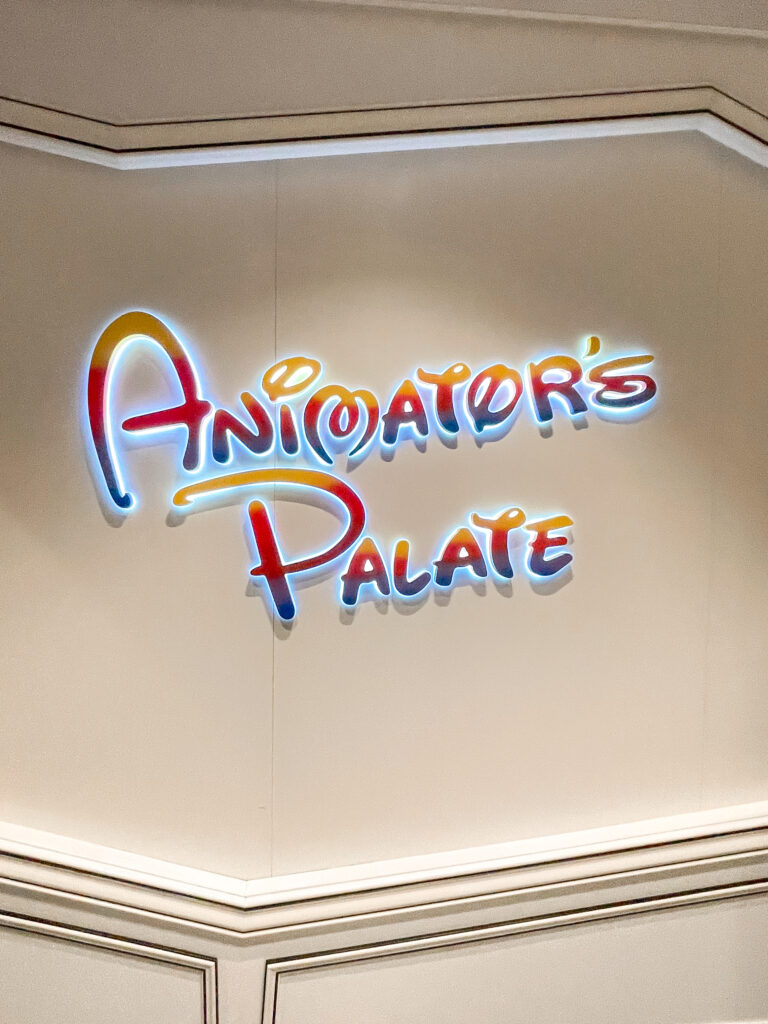 One thing we noticed about dinner on day one was how much the ship was vibrating while we were dining. I'm guessing this was because we were traveling at a high speed in order to make it to Cabo on Day 3, but it made enjoying dinner a little interesting.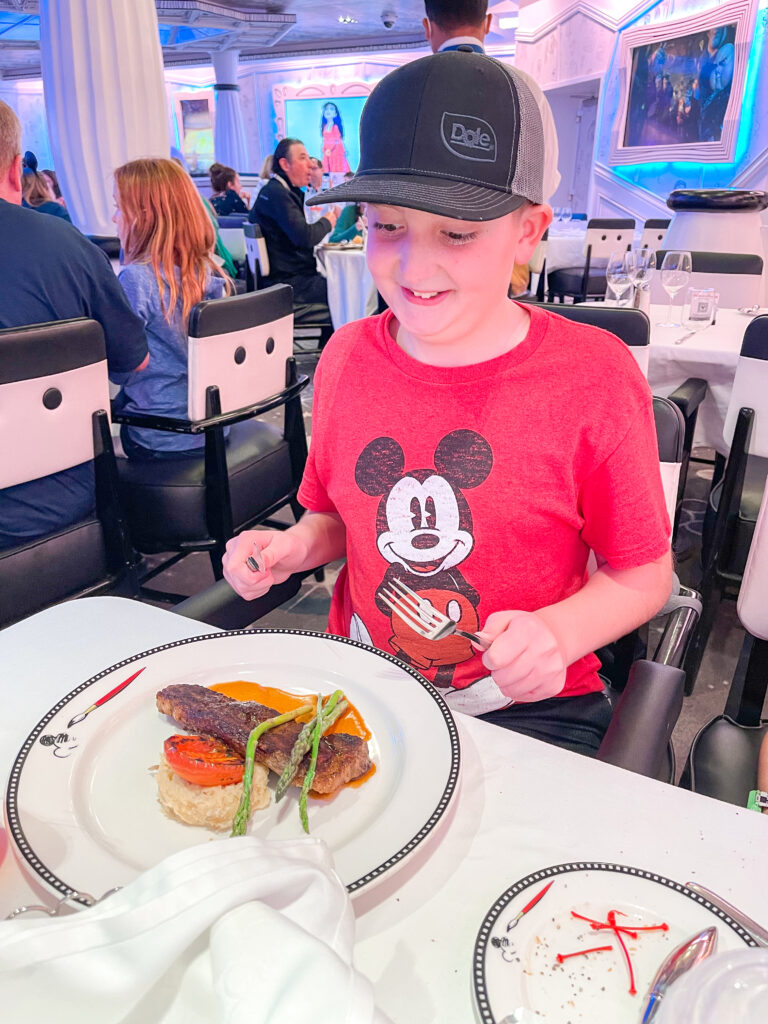 Everything we ordered for dinner at Animator's Palate was delicious. Here are some of the items I recommend.
Calamari
Charcuterie
Mango Soup
Grass-Fed Steak
Beef Wellington
Roasted Chicken
Strawberry Shortcake (Kids Menu)
Cookie Sundae
After dinner, the kids went back to their clubs for a little while, but we had the second seating for dinner, so it was almost bedtime. Our stateroom hostess made this cute penguin for us using a towel and a blanket.
Day 2 At Sea
We're going to continue our journey on the Disney Wonder as we explore more of the ship and enjoy all the amazing activities and entertainment that it has to offer.
Watch the Video Here: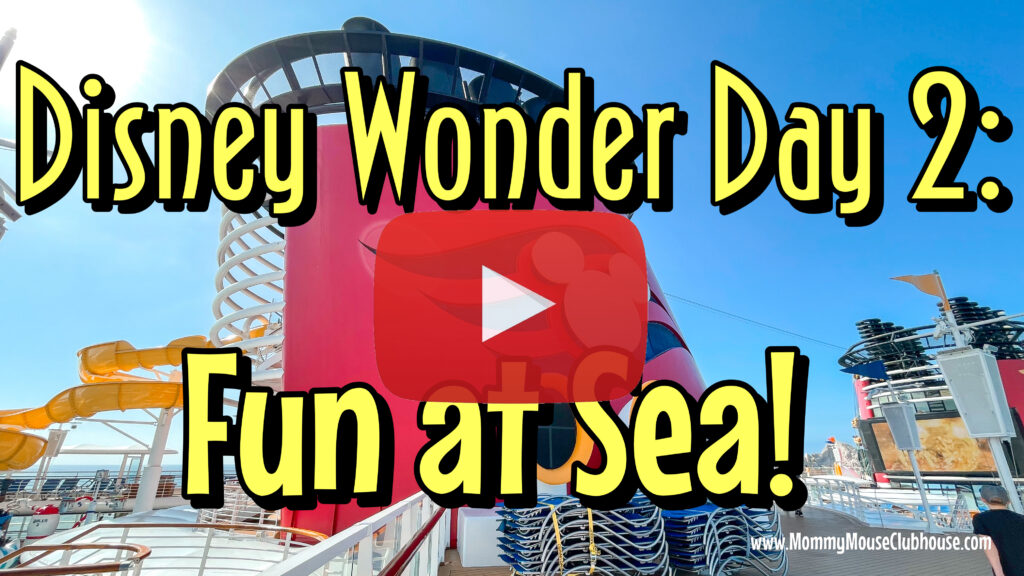 This section is about Day 2 of our cruise on the Disney Wonder and today we're going to check out all the amazing things this ship has to offer.
There's so much to do, from swimming in the pool, playing in the kids' club, or watching one of the amazing shows they have onboard. So come along with us as we explore everything this ship has to offer.
Before we get started, make sure to subscribe, if you haven't already and turn on notifications so that you won't miss any of the Disney Fun.
Buena Vista Theater
On day 2, we decided to have breakfast at Cabana's, the buffet located on Deck 9. This ended up being our go-to breakfast on this cruise. When we were finished eating, my 7-year-old wanted to go to the Oceaneer Club and my 14 year old went to the Vibe.
My 12-year-old son, husband and I went to the Buena Vista Theater to watch the showing of Dr. Strange. The great thing about having a movie theater on board is that you can watch popular Disney, Marvel, and Star Wars movies on the big screen!
When the movie was over, we grabbed an ice cream cone from Deck 9 then headed back to our stateroom to enjoy our verandah. For a complete tour of our room, make sure to check out my video from Day 1.
Disney Animation Class
After relaxing for a few minutes, my husband wanted to take a nap, so I took my 12 and 7 year old boys to a Disney animation class.
Disney Cruises are great because the have all kinds of activities and entertainment available all day, every day. Check here to see examples of the types of activities you can expect on a Disney Cruise.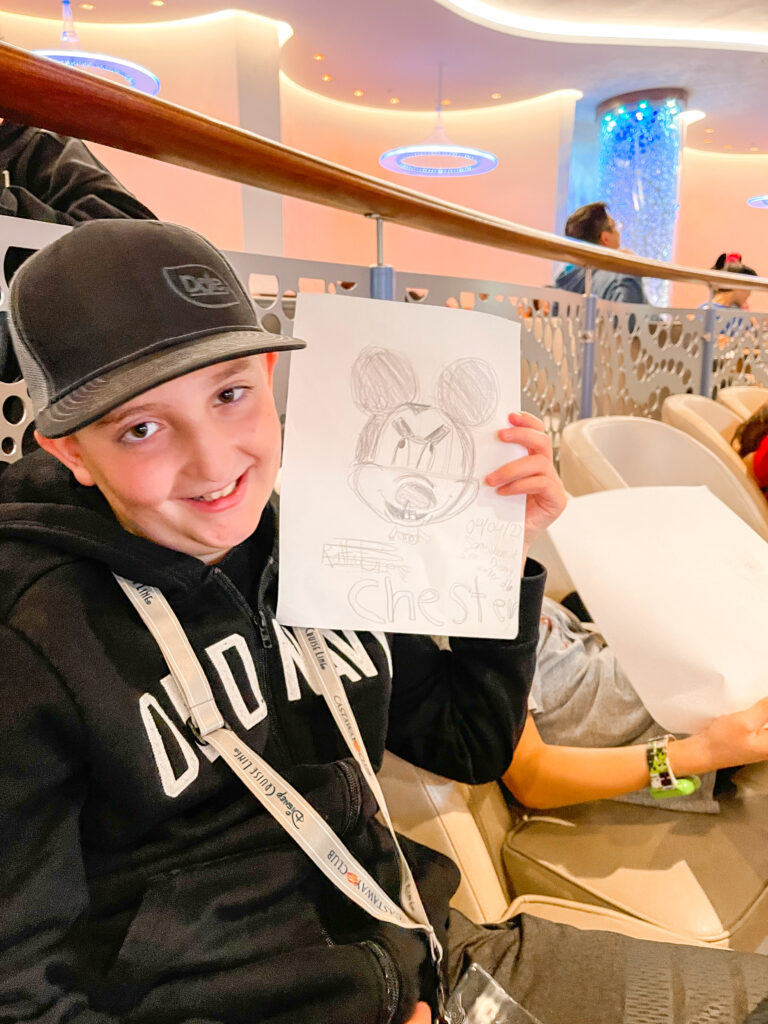 After learning how to draw Mickey Mouse, we headed up to Deck 9 for some lunch at Pinocchio's Pizza and some swimming!
Oceaneer Lab
When the boys were done swimming, my 7 year old wanted us to come visit the Oceaneer Lab during the open house. There was an open house in each club each day for about one hour. During this time, anyone is allowed to come and take a look around.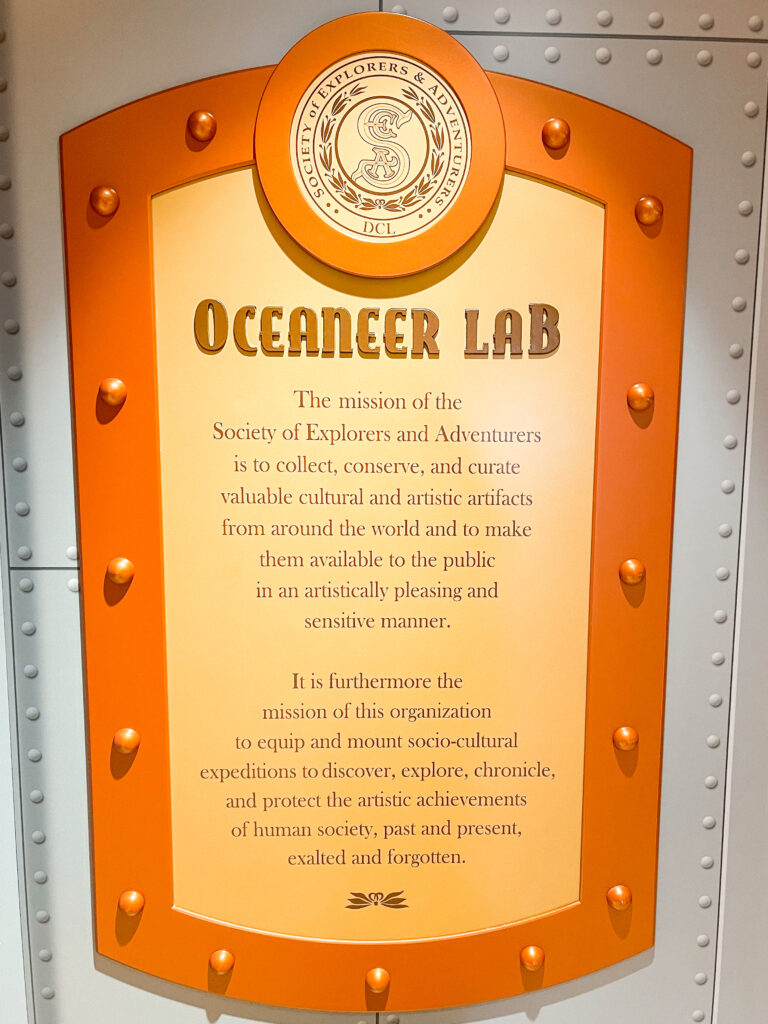 My son's favorite part of the Oceaneer Lab was being able to steer the Disney ships in and out of port!
Golden Mickeys
Our show for the night on Day 2 was the Golden Mickeys in the Walt Disney Theater. It's a cute show that lasts about one hour and you won't want to miss it!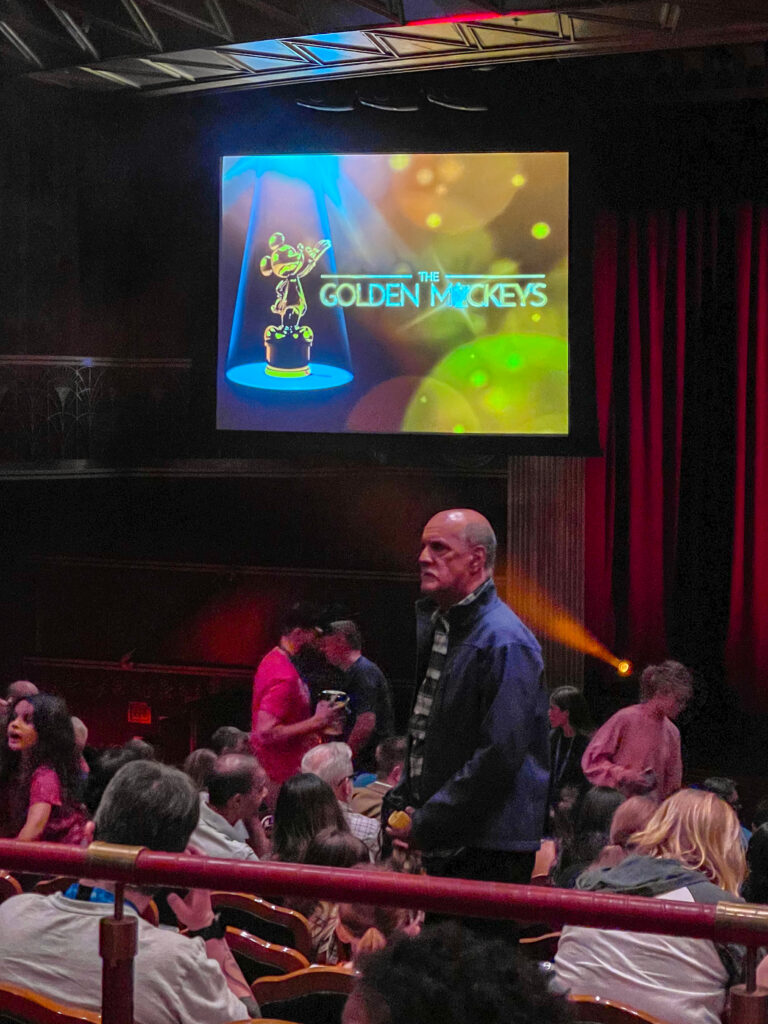 Dinner at Tiana's Place
Our Main Dining Room experience for dinner was Tiana's Place. Tiana's Place is a New Orlean's style restaurant themed after the Princess and the Frog and even includes live entertainment!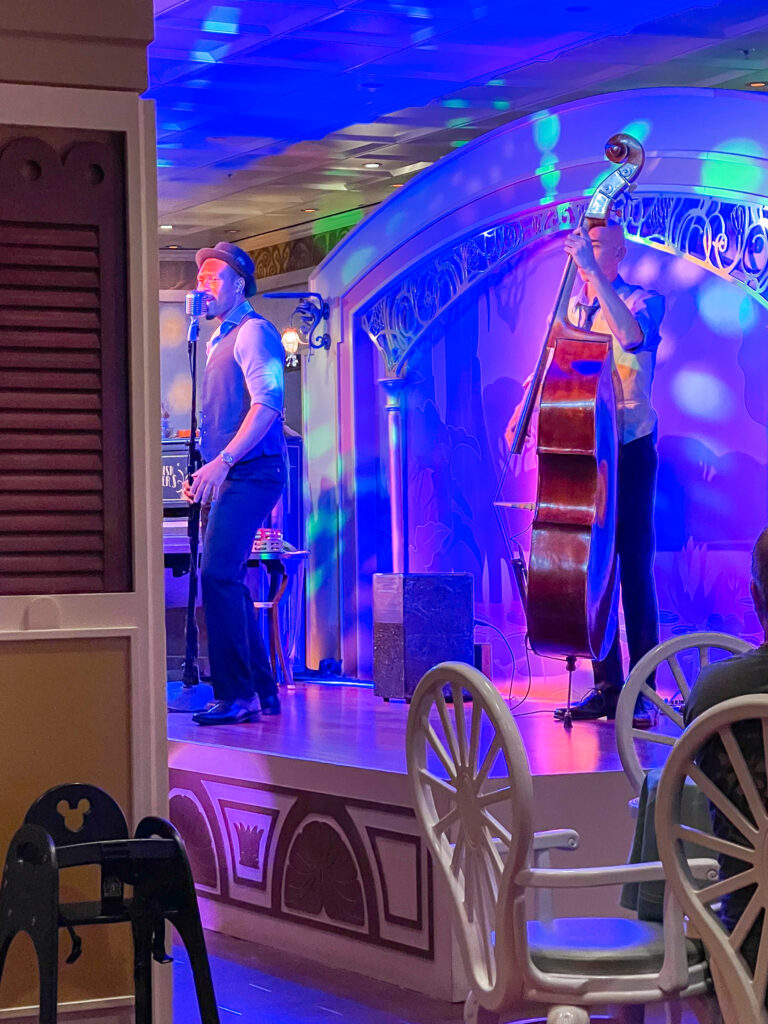 Here are some of the items we ordered from Tiana's Place. Everything we had was delicious, especially the Beignets!
Sautéed Gulf Shrimp and Grits
Roasted Creole Half Chicken
Eudora's Artichoke Ravioli
Tiana's Buttermilk Beignets
Mama Odie's White Chocolate Bread Pudding
Lemon Raspberry Mousse Bombe
During dinner at Tiana's there is a parade through the restaurant. It's fun to watch, or join in if you want!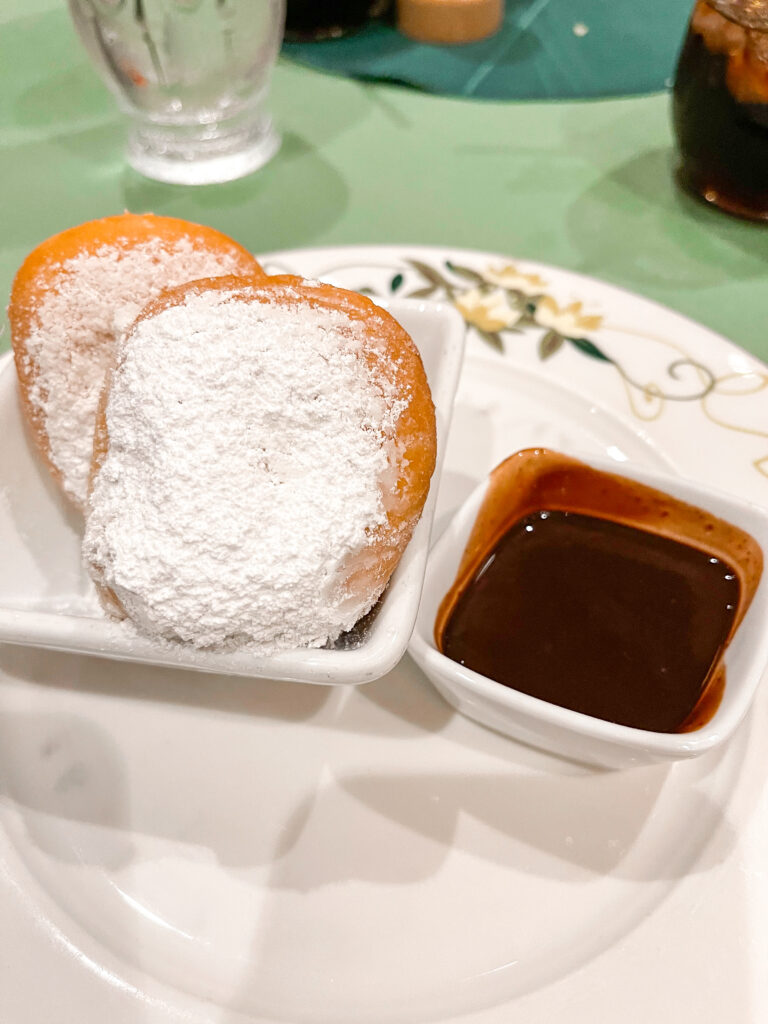 Silent Dance Party
Before this cruise on the Disney Wonder, I had never heard of a Silent Dance Party. When you enter this activity, you will be given a set of head phones that play music.
There are different channels playing different music. The most entertaining thing to do is to take off your headphones and watch everyone else dancing and singing to music only they can hear! It was so much fun!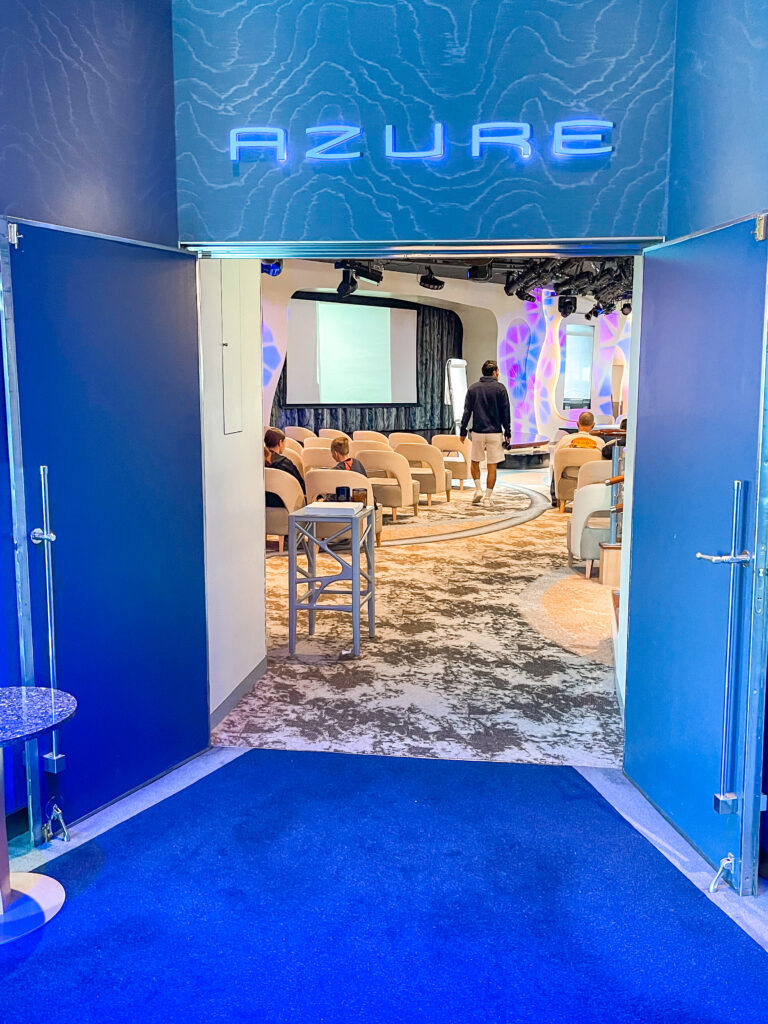 Deck 4 Running Track
My favorite thing to do each night was to walk around Deck 4 before bed. There is a running and walking track that takes you completely around the ship. Its nice and relaxing to listen to the waves as you make your way around the track.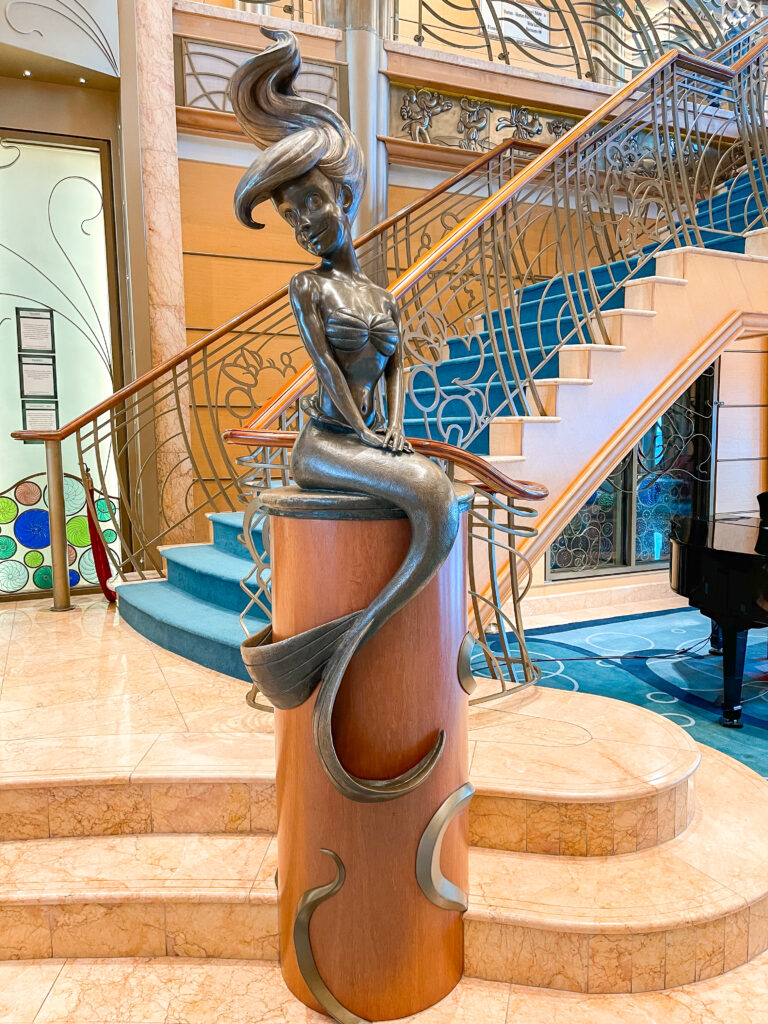 Day 3 Cabo San Lucas
In this section, we're going to take a look at some of the fun things there are to do in Cabo San Lucas, Mexico. If you're thinking about cruising the Mexican Riviera on the Disney Wonder, stick around so you can see what it's like!
Watch the video here: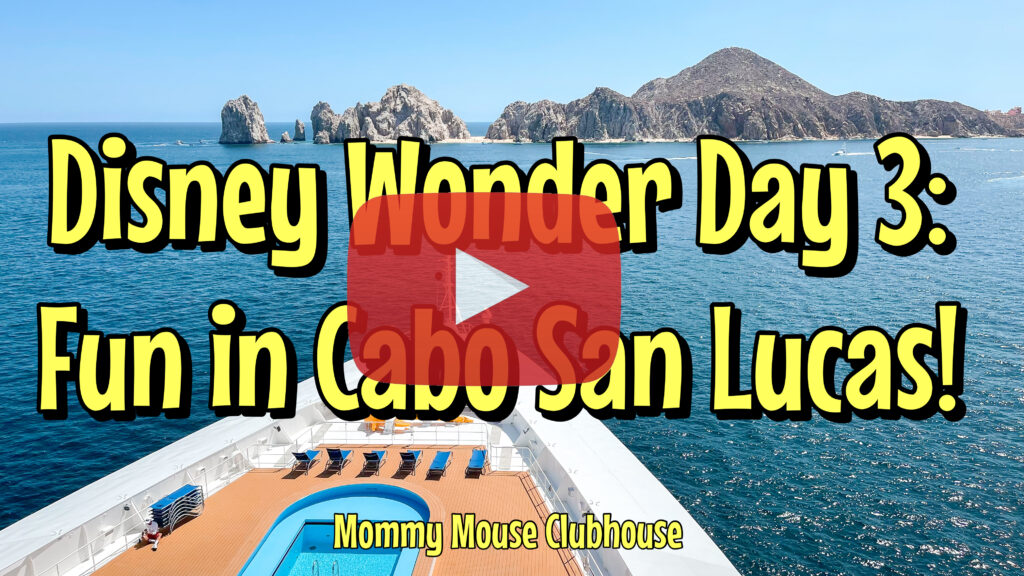 When we woke up for the day, we stepped outside on our verandah to take a look at the view of Cabo San Lucas. When you stop in Cabo, there is not a dock big enough for the cruise ships, so to get ashore, you will need to take one of these water taxis.
After getting dressed, we headed upstairs to grab breakfast at the buffet, Cabanas. We chose a table outside so we could enjoy the view.
When breakfast was over, we walked around the top decks for a few minutes to enjoy the ship.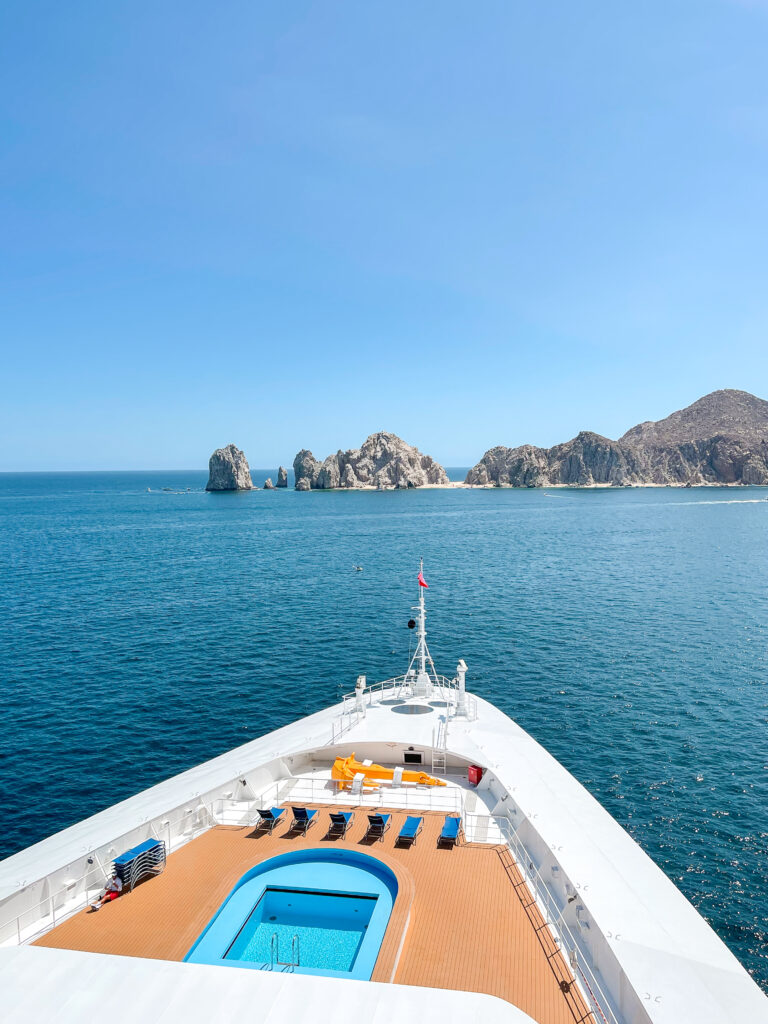 Port of Cabo San Lucas
For this cruise, we wanted to take it easy so we chose not do go on an organized excursion. Instead, we waited to tender off the ship and planned to do some shopping.
We waited inside Animator's Palate restaurant until it was our turn to get on the boat that would take us ashore.
Touring the Disney Wonder
After returning to the ship, we stopped for lunch at Cabanas. I didn't notice until after I ate, that Cabanas was serving Fajitas that day, so if you make this stop on your cruise, don't miss out on the Fajitas!
My oldest went to the Vibe to hang out with his new friends, and my 7 year old wanted to go back to the kids club to play. My 12-year-old stayed with my husband and I while we went to explore more of the Wonder.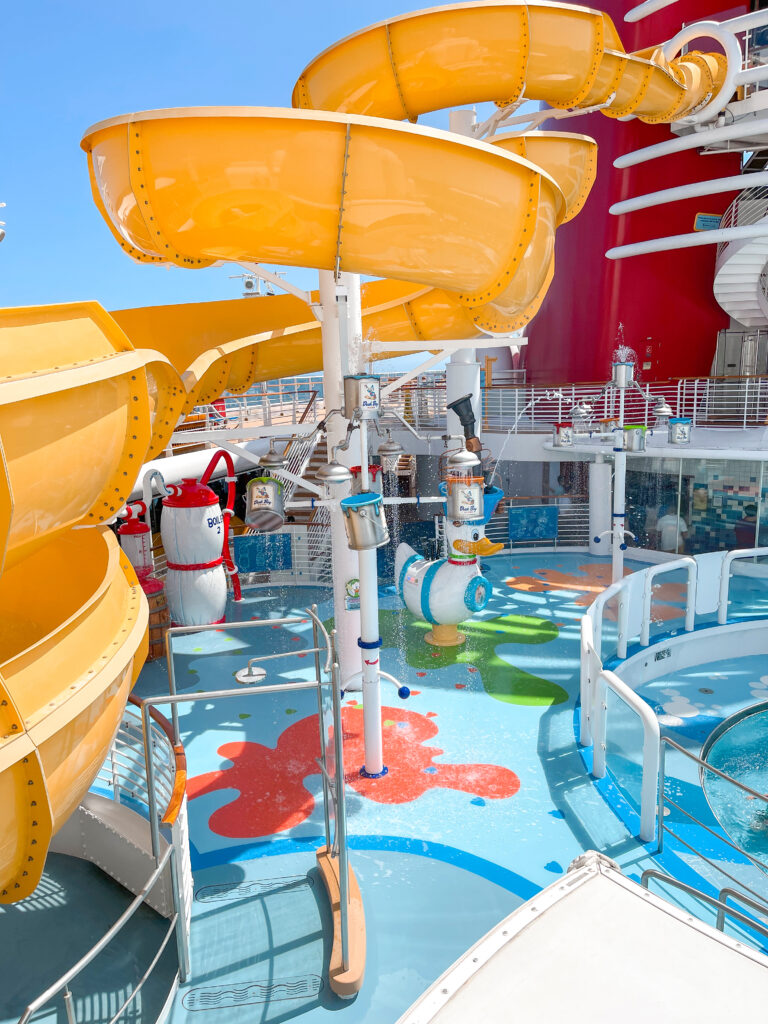 Wide World of Sports
At the front of the ship is the Wide World of Sports where you will find basketball hoops, Table Tennis, and a foosball table.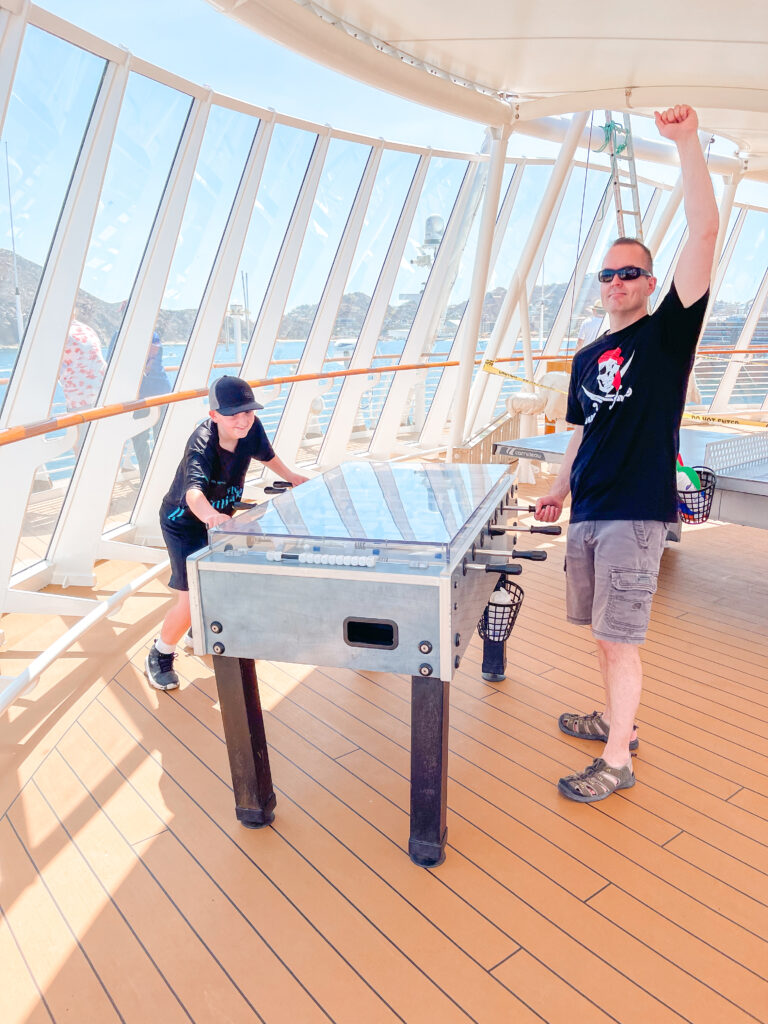 Disney Trivia
Next up, was some Disney Trivia that turned out to be one of my favorite activities on the ship. For a list of activities on a Disney Cruise, check out Mommy Mouse Clubhouse .com or visit the link in the description.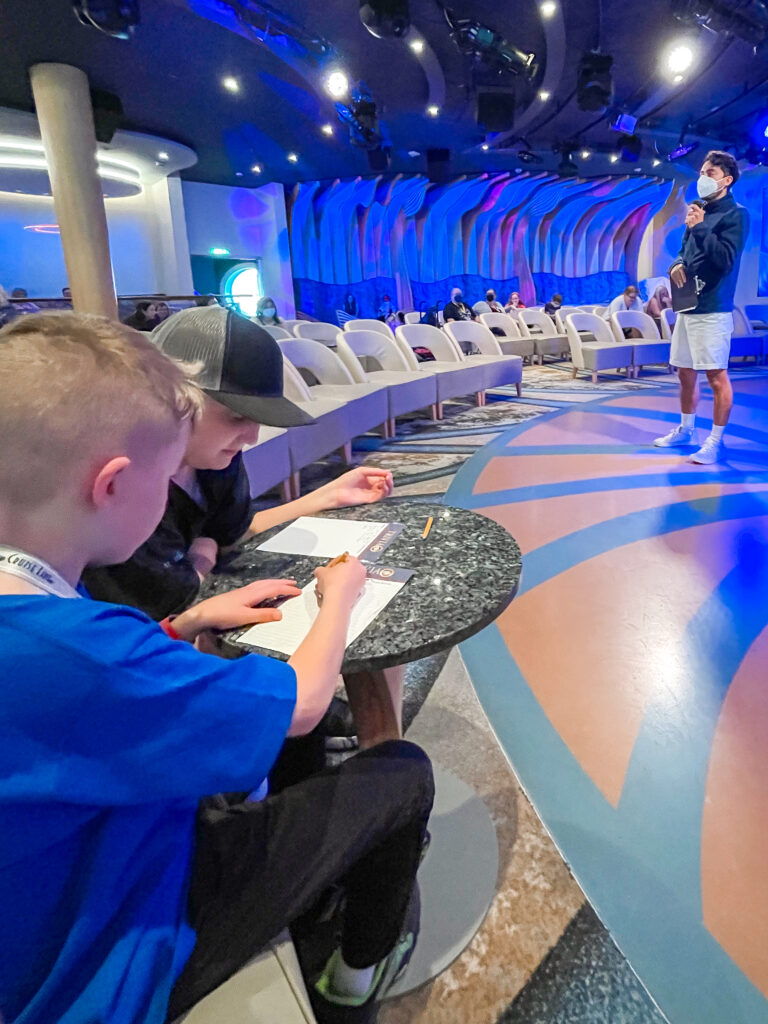 Magic Show
Our entertainment show for the night was a magician named Joh Armstrong. He as been on a few TV shows and was an amazing performer. I definitely recommend you check him out.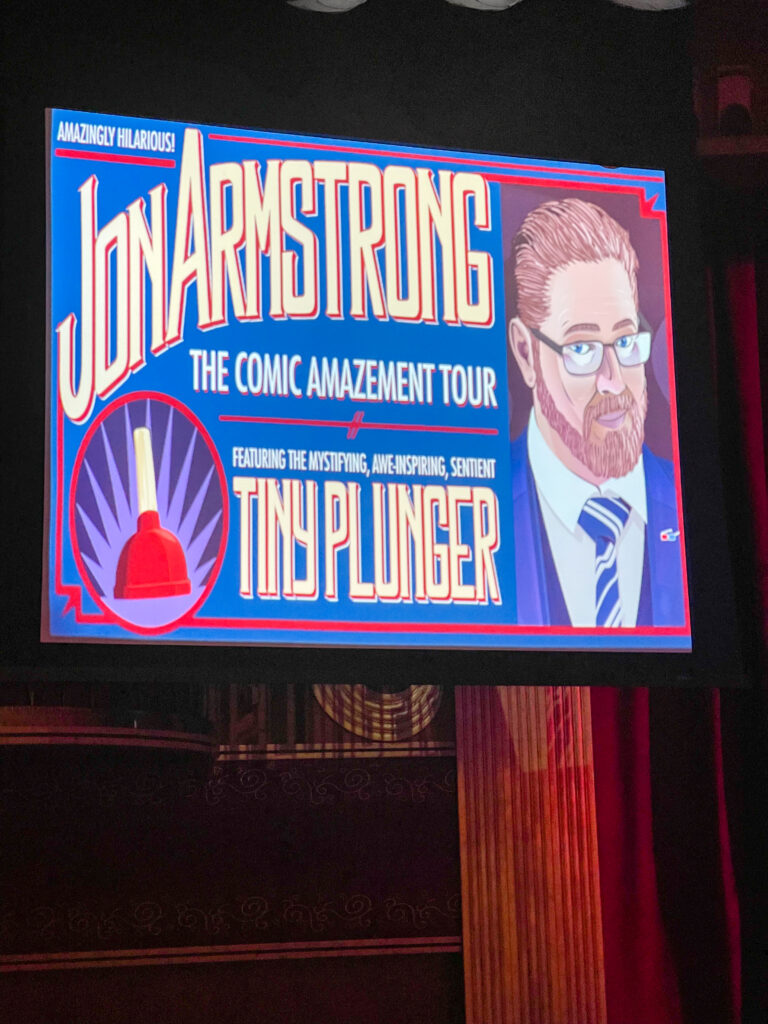 We decided to purchase a popcorn bucket, just outside the Walt Disney Theater. The bucket cost about $8 and we were able to refill it for $1 throughout the rest of the cruise.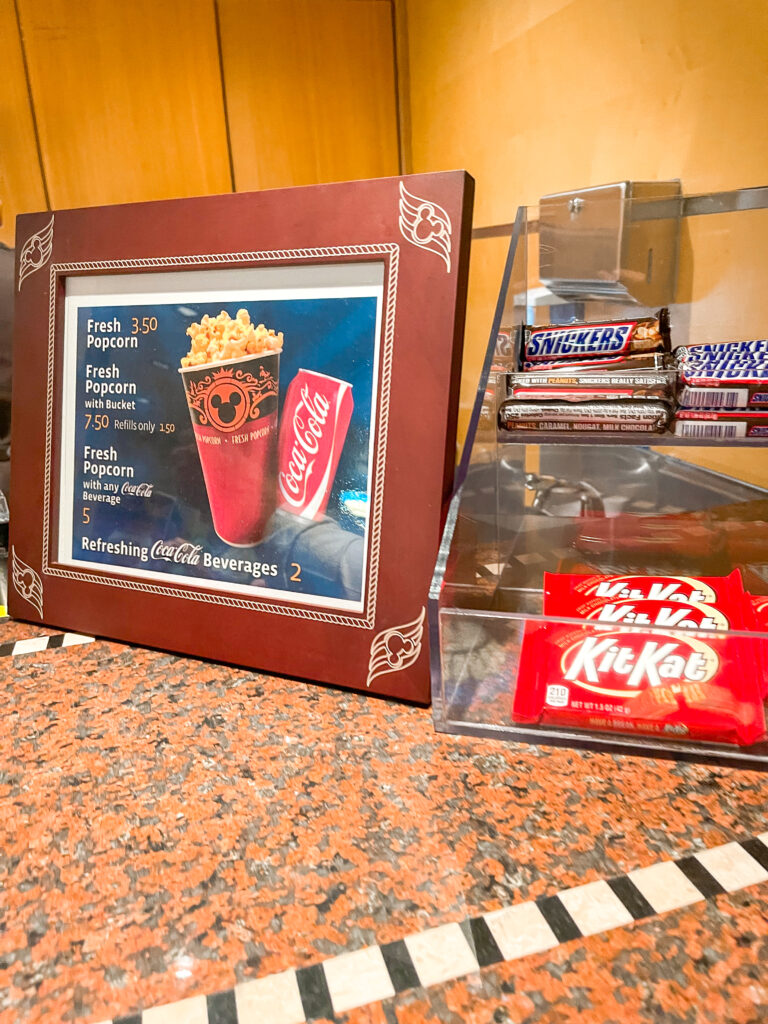 After the show, we decided to relax and watch the sunset on our verandah before dinner. I also found this delicious Waffle cone chocolate bar from the gift shop.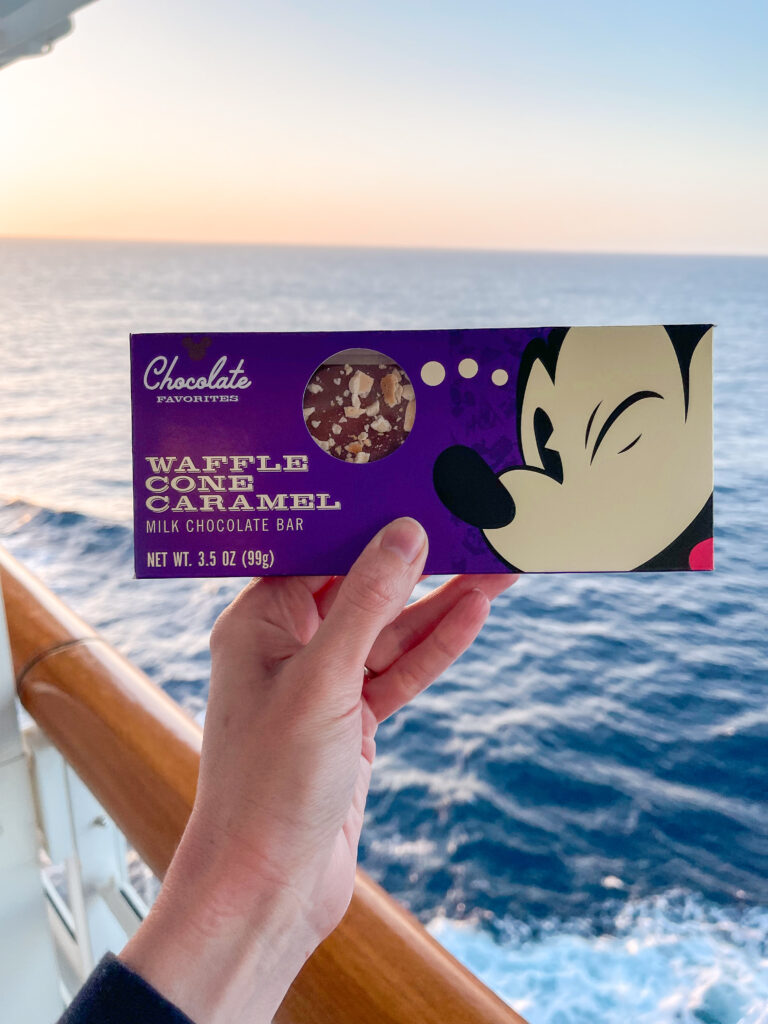 Pirate Night
Day 3 of our cruise to Mexico was Pirate Night. We ate at Tiana's Place again, but this time the menu was pirate themed. Check out the Pirate Night menu for Disney Cruises here.
Most people dress up for pirate night, which makes it really fun. My 7-year-old likes to go all out, so he wears a Halloween pirate costume. The rest of us wear pirate-themed t-shirts that I found on Amazon.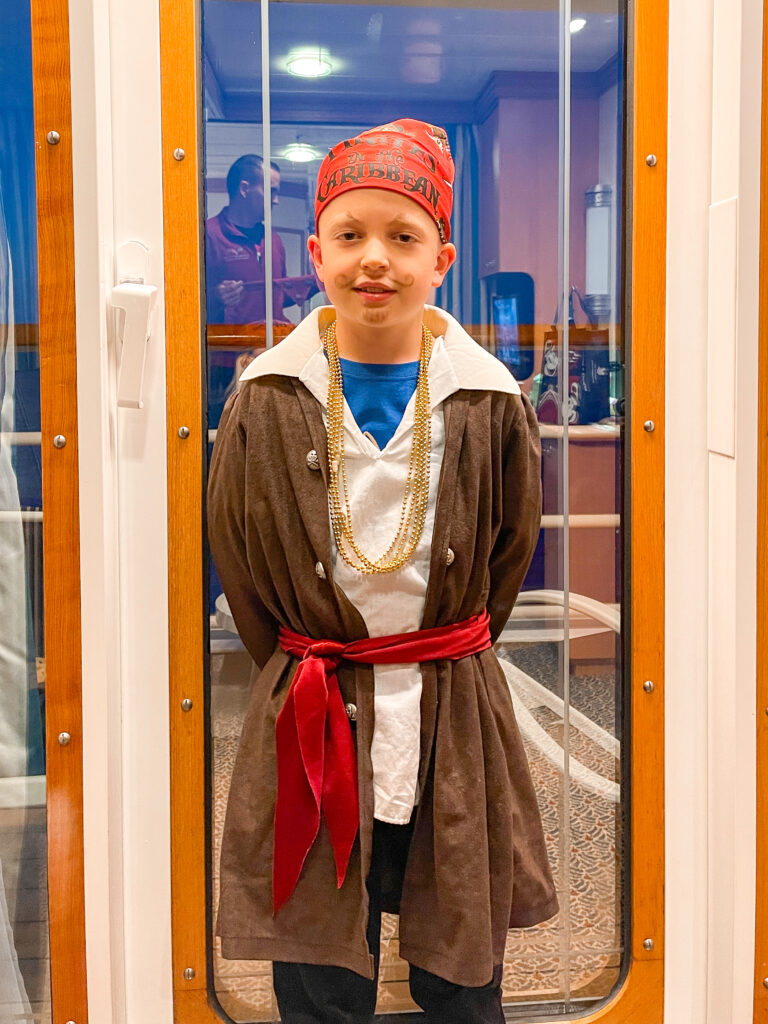 Bed Time
When we got back to our stateroom, we had a fun little surprise from our room hostess. Not only did we have a pirate themed blanket friend, but my boys each had Marvel-themed sheets!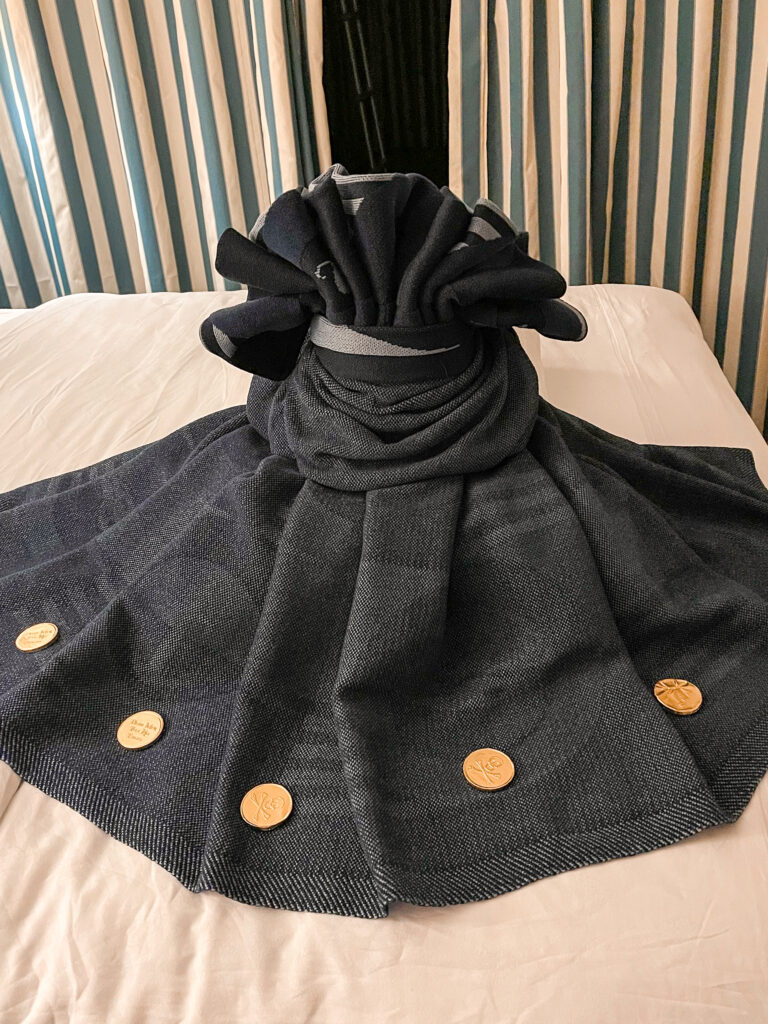 They were amazing and my boys loved them! I really appreciated the pixie dust we received.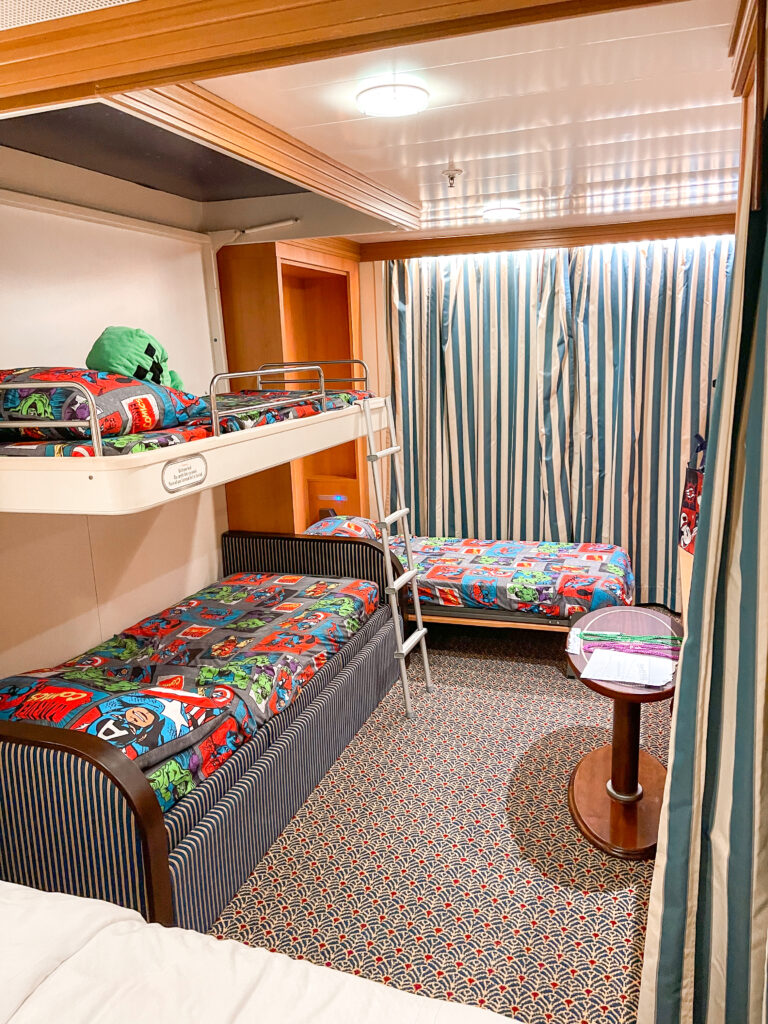 Day 4 At Sea
In this section, I'm going to show you what we did on our fourth cruise day at sea on the Disney Wonder Mexico Cruise from San Diego, California. We had a lot of fun exploring the ship, playing games, and enjoying the beautiful weather. Stay tuned to see all the amazing things we got up to. Before we get started, make sure to subscribe and let's get started!
Watch the Video Here:
Breakfast at Cabanas
We began our sea day eating breakfast at Cabanas and enjoying the view. We loved having breakfast at Cabanas on this cruise.
Disney Trivia
After breakfast, we headed down to the D Lounge for some more Disney Trivia. Unfortunately we did not win, but I was impressed with the knowledge of some of the other cruise guests!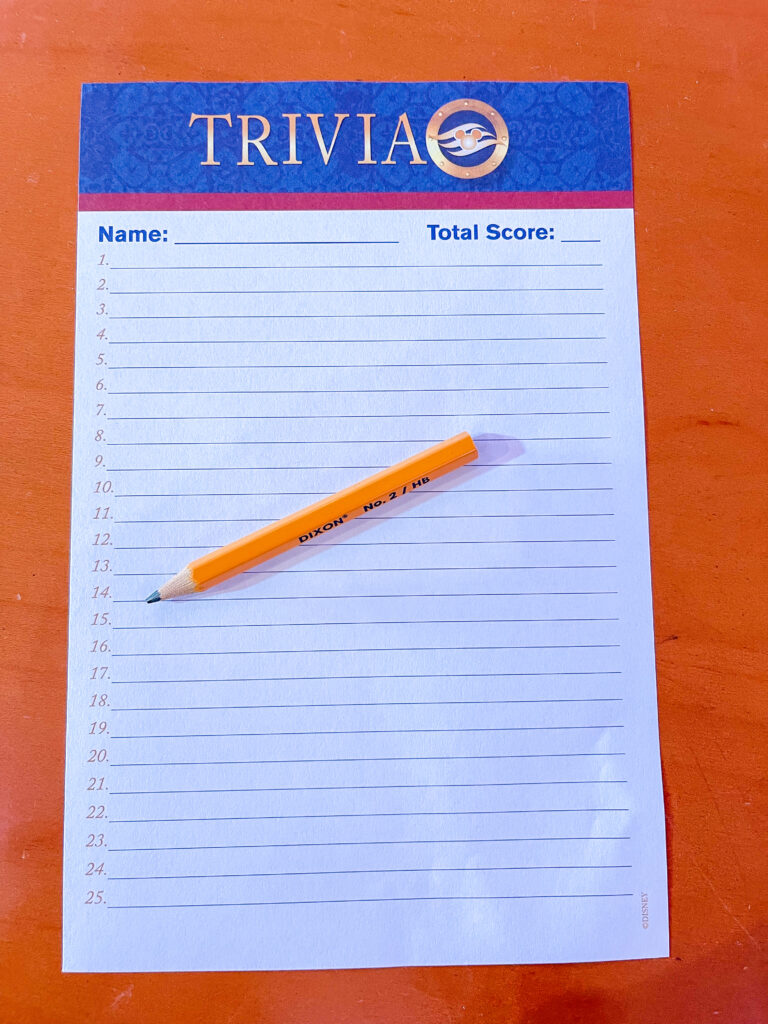 Relaxing
The great thing about sea days is relaxing! There are tons of activities going on all the time, but sometimes its nice to head back to the room, turn on a good Disney Movie and just relax.
Cake of the Day
While hanging out in the room, we decided to order the Cake of the Day from room service which happened to be a chocolate Swiss roll. For the full room service menu, head to the description below for the link.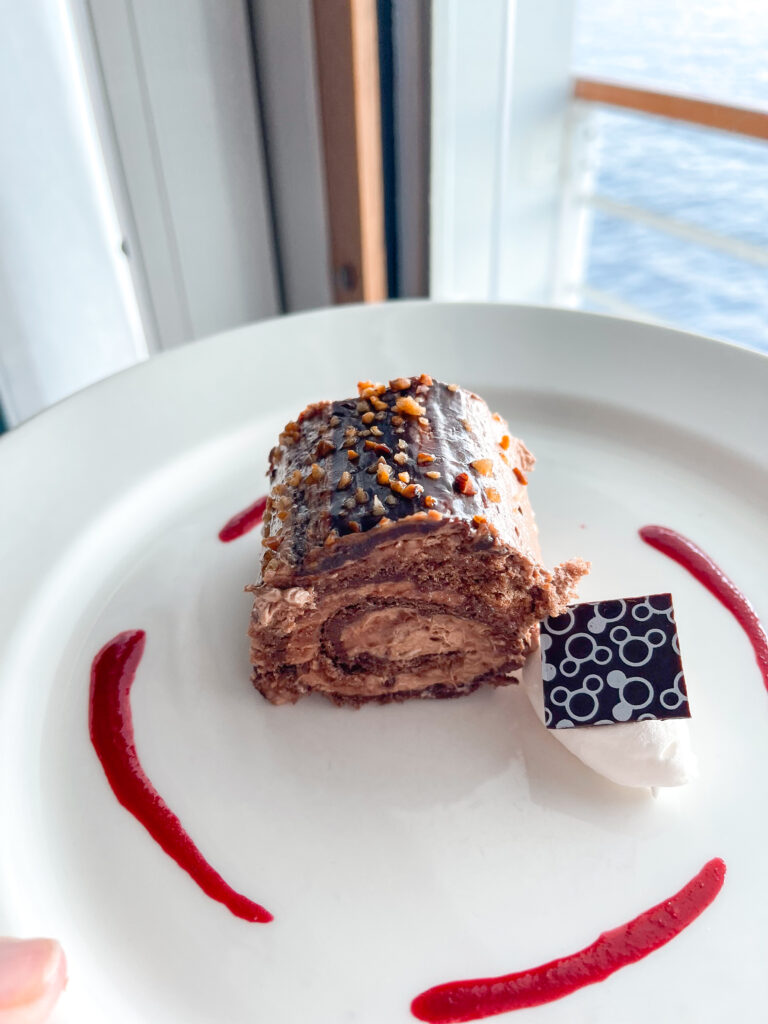 TV Tunes Trivia
Our kids wanted to spend most of the day in the Kids club, the Edge and the Vibe, so my husband and I headed to the Crown & Fin Pub for some TV Tunes Trivia. Here are some of the tunes if you want to check your own knowledge.
Dinner at Triton's
On night 4 our dinner was at Triton's, the only restaurant we had not experienced yet. This Little Mermaid-themed restaurant is beautiful and definitely feels upscale.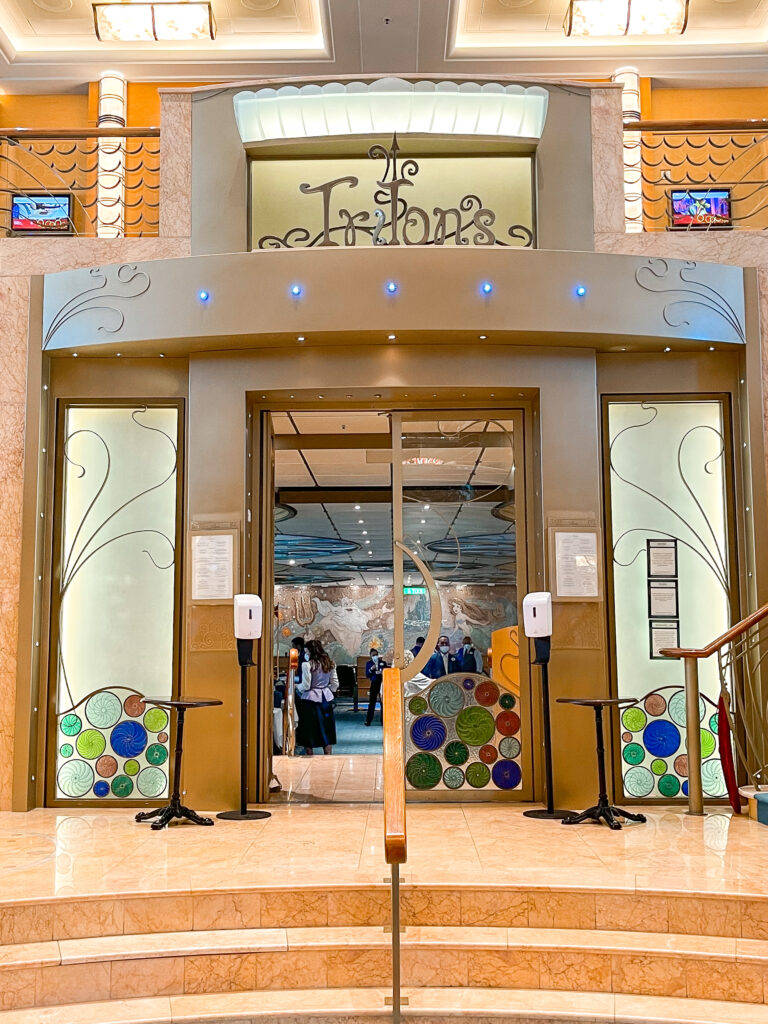 Here are some of the things that we ordered for dinner: French Onion Soup, Chicken, Strawberry Shortcake Sundae, Grand Mariner Soufflé. Our servers sang Happy Birthday to my 15 year old and gave him a delicious chocolate cake.
Bed Time
Here is the cute towel turkey left by our room hostess for the night. We also received the envelopes used to pass out tips to our servers and room host on the last day.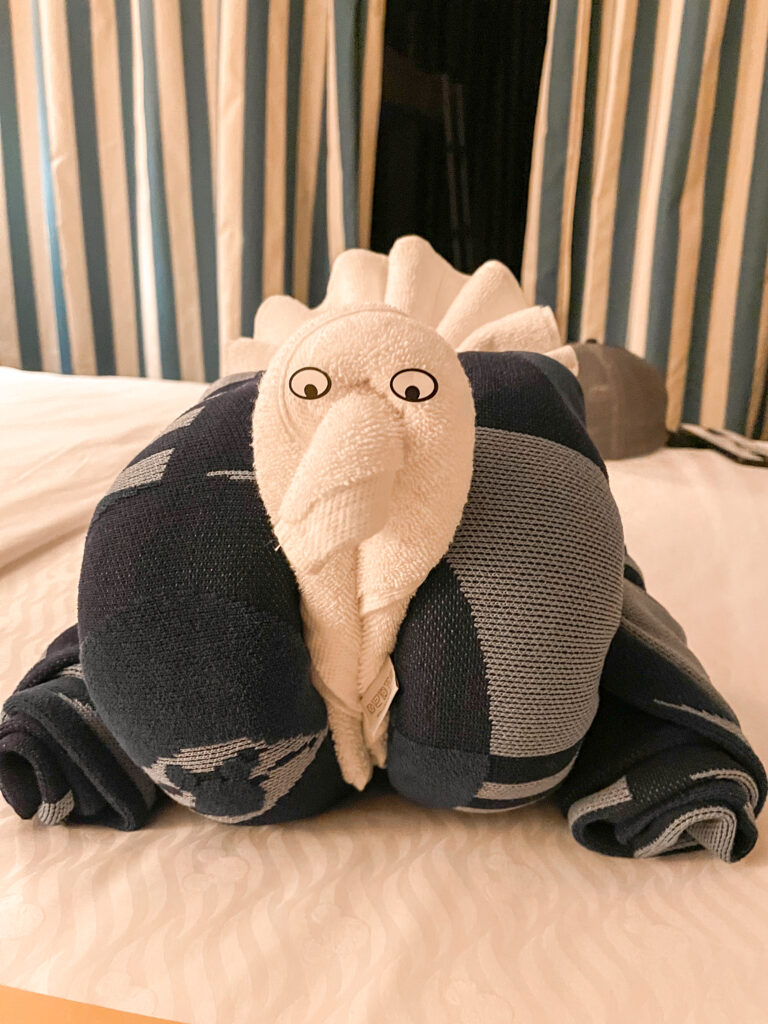 Day 5: Ensenada
On Day 5, we woke up in Ensenada Mexico. Once again, we wanted to keep this cruise low-key and chose not to book an organized excursion. Our plan was to walk around and do a little shopping.
After the kids got out of bed, we headed up to Cabanas for breakfast before getting off the ship.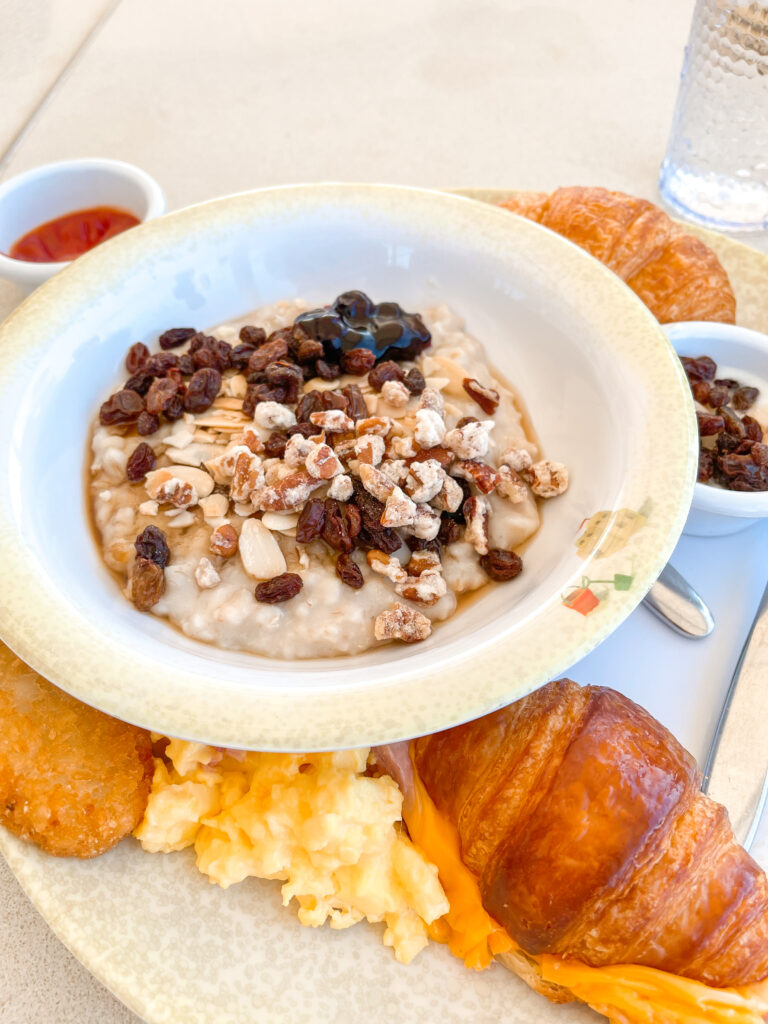 Port of Ensenada, Mexico
From the port to the town of Ensenada was about a 20 minute walk. We had some great views of the Disney Wonder from the port so we stopped to take a few pictures. My 12-year-old chose to stay on the ship and go to the kids club while we went exploring. We bought a couple of snacks, my son bought a hat, and we found a cute little purse for our friend Scout, back at home.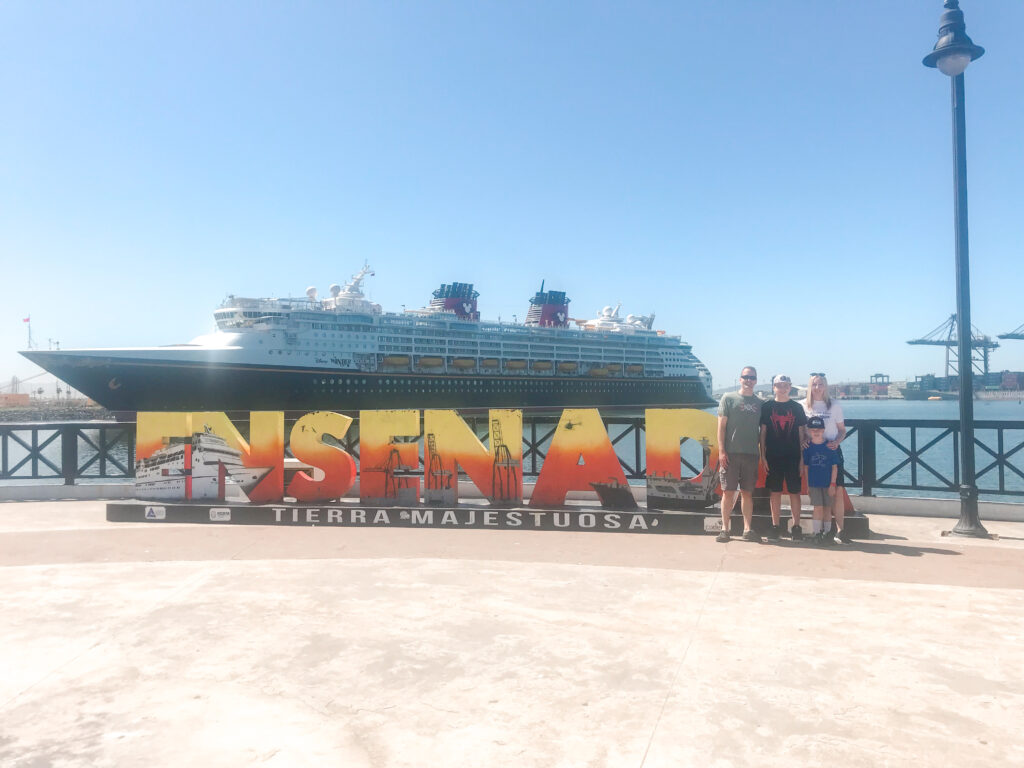 Swimming and Ice Cream
Back on the ship, I took my 12 and 7 year old up to Deck 9 for some swimming and ice cream.
Family Silent Dance Party
We were supposed to see Frozen on night 5, but the show was cancelled so we took the boys and went to the Family Dance Party! Like I mentioned in my last video, Silent Dance parties are fun because you wear headphones that play music and everyone dances, but can't hear each other's music. It's pretty entertaining.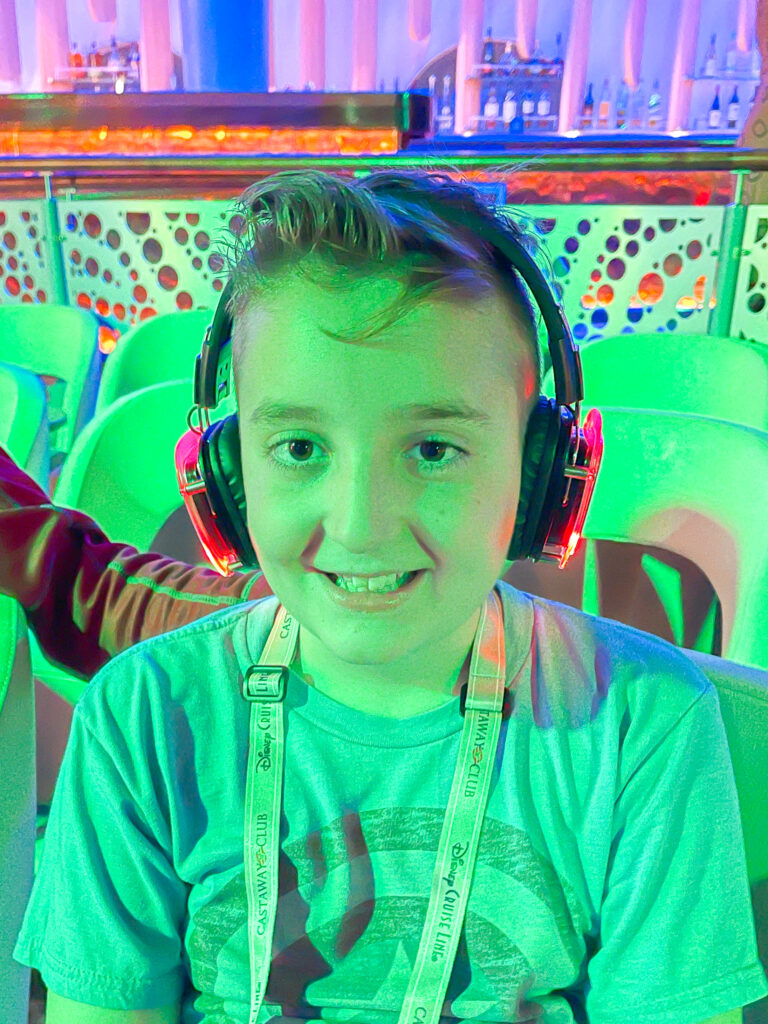 Dinner at Animator's Palate
Our last main dining experience was back where we started at Animator's Palate. Here are some items that we ordered from the menu: Sliced Serrano Ham, Black Truffle Pasta Purseittes, Baked Potato and Cheddar Cheese Soup, Chicken and Walnut Salad, Pennete Bolognese, Ginger- Teriyaki dusted Angus Beef Tenderloin, Cookies 'n Cream Sundae, and Lemon Icebox Pie.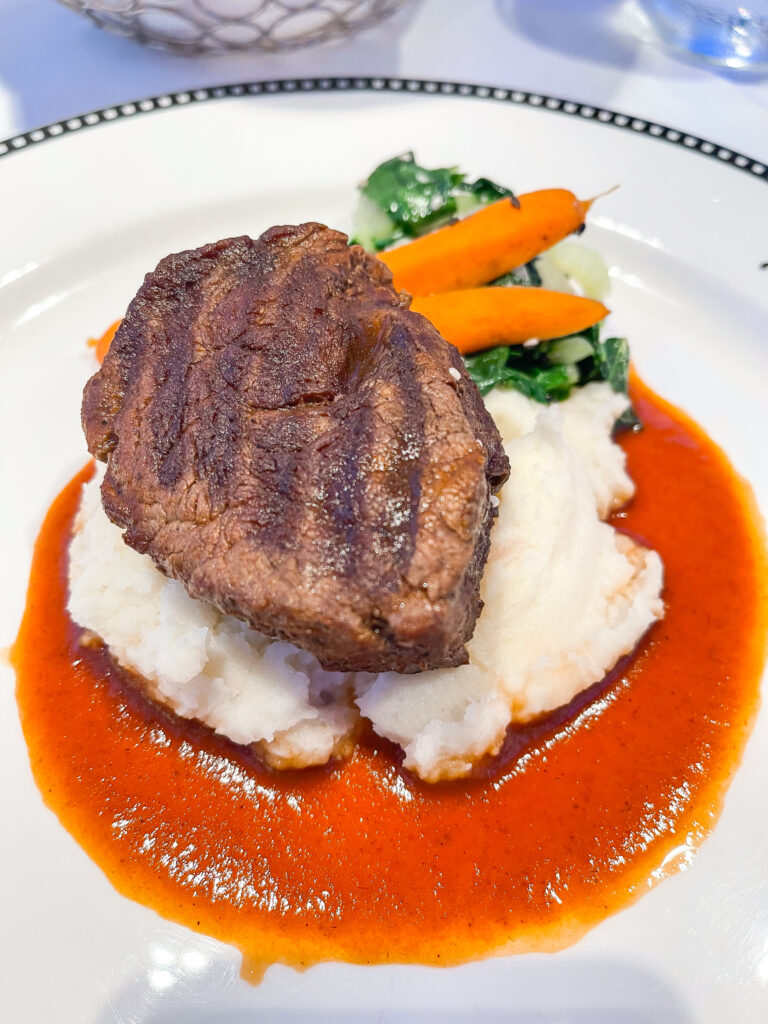 The experience on Day 5 was a little bit different as there were drawings and a show during dinner. We even had a visit from Mickey Mouse himself!
This Lemon Icebox Pie was one of my favorite desserts on our Disney Wonder Cruise. I loved it so much, I came home and recreated the recipe for my family. If you would like to make this pie at home, here is the recipe.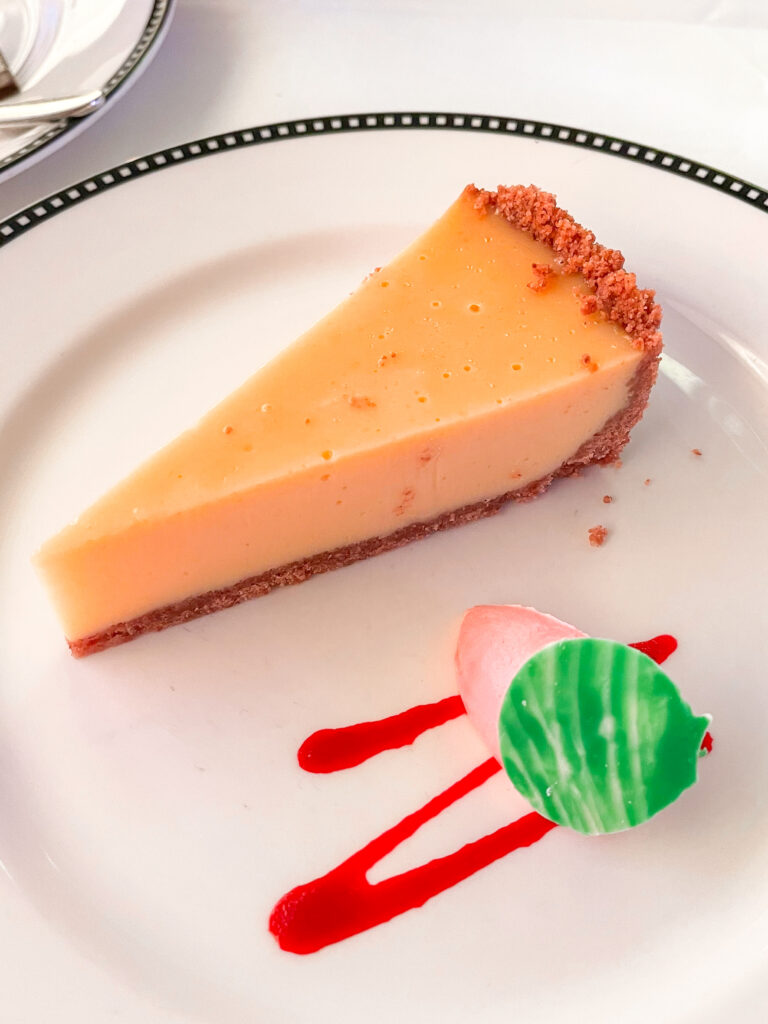 Bed Time
After dinner, we headed back to the room to begin packing. My husband pointed a couple of cool things about the carpet in the hallways. There is a map that shows the 4 current Disney Ships and where they sail.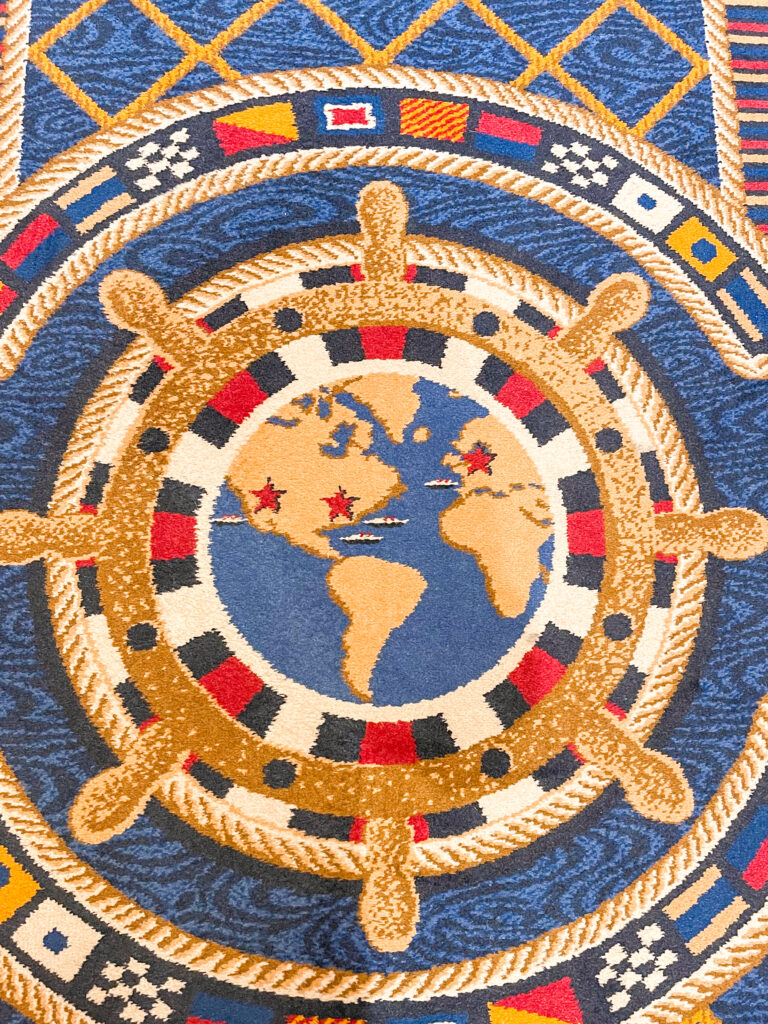 To know which direction you are heading on the ship, just look at the stars on the carpet. They point towards the front or forward of the ship.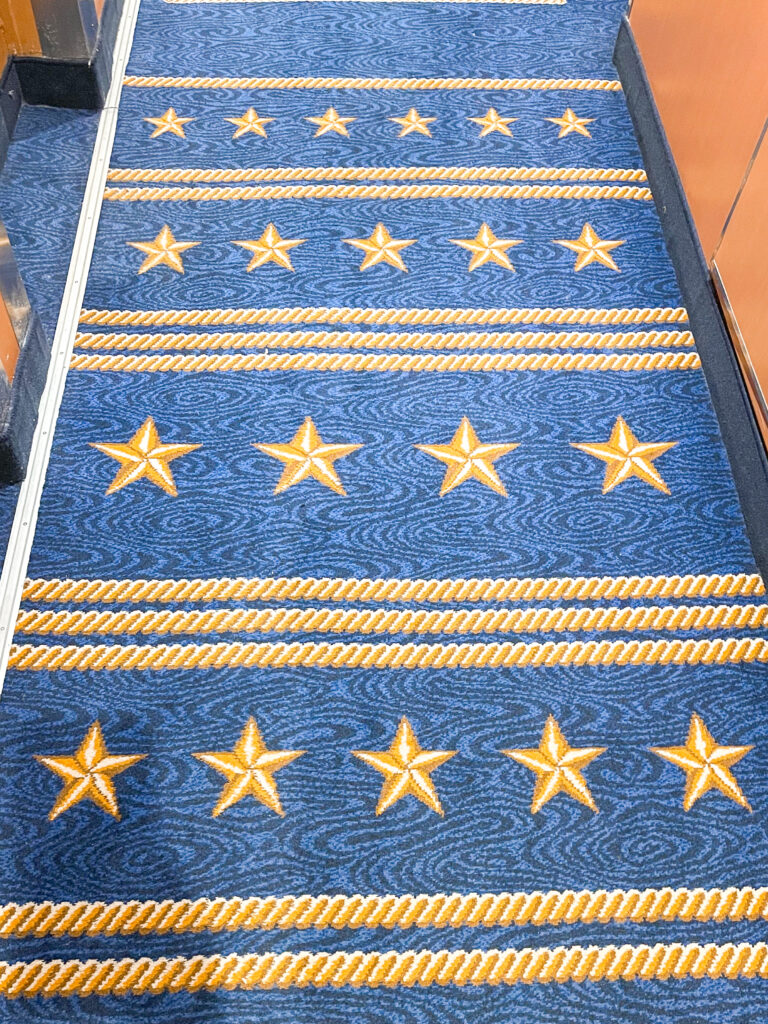 Here is one last look at the cool Marvel sheets from our room hostess as the kids get ready for bed.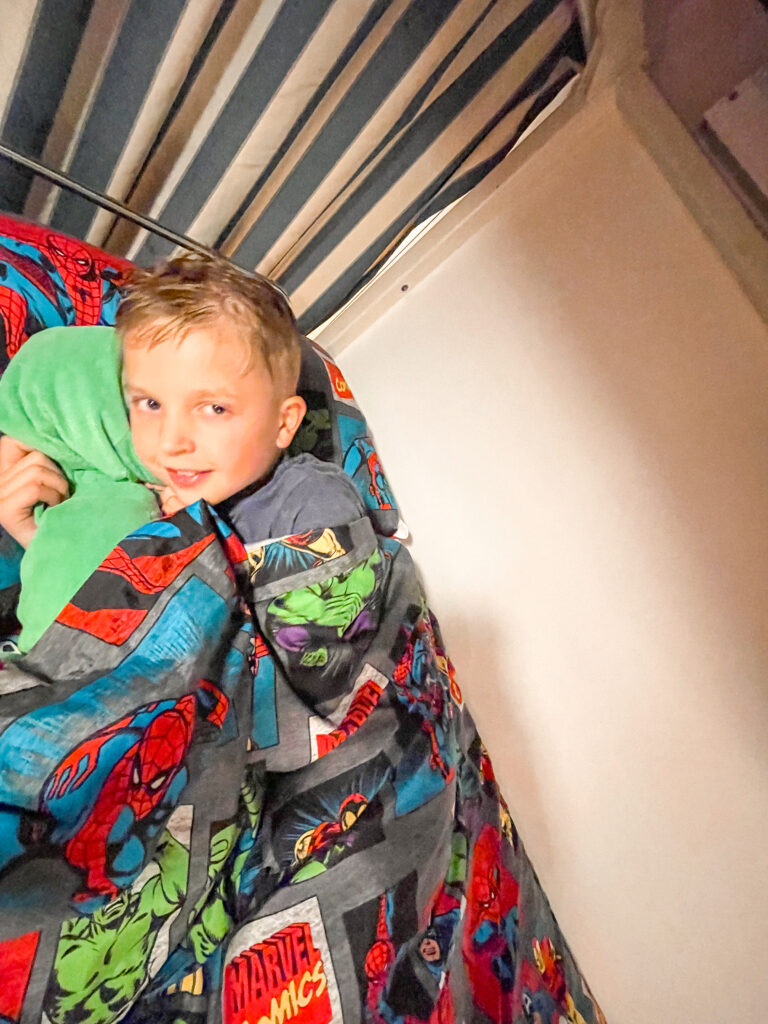 Port of San Diego
When we woke up the next morning, we were back in the US at the Port of San Diego. After a quick breakfast at Cabanas, it was time to dissembark.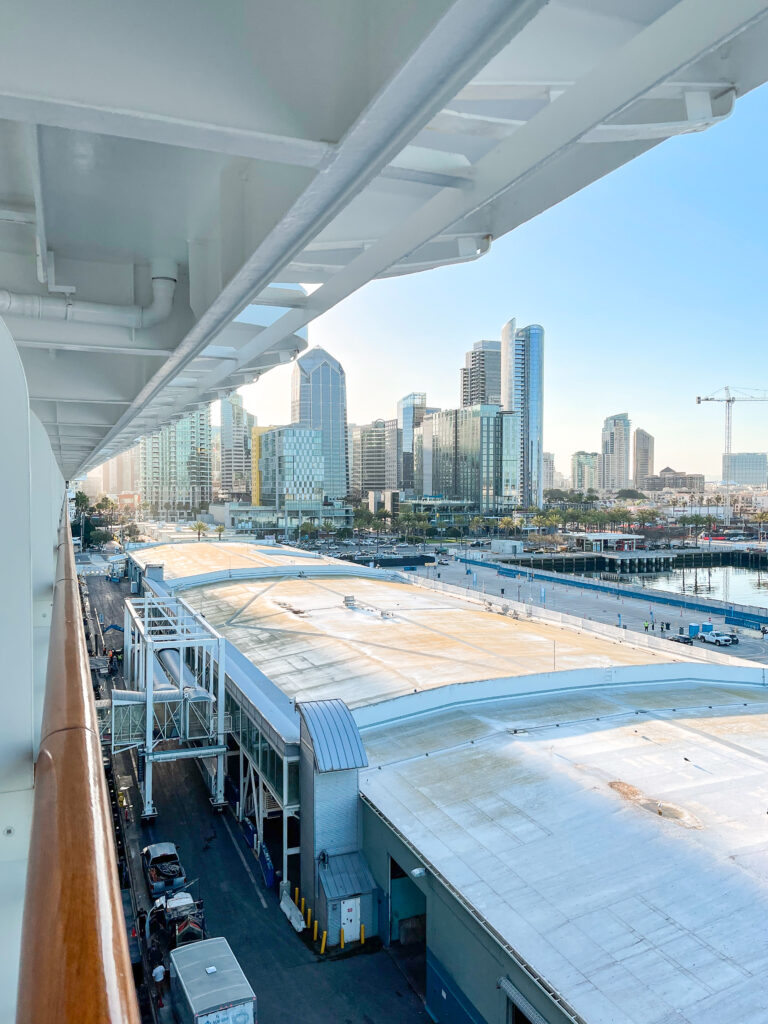 How Much Does a San Diego Disney Cruise Cost?
The cost for sailing on the Disney Wonder out of the Port of San Diego will vary greatly on the time of year you go, the number of guests, the length of the cruise, and the type of room you need/want.
I recommend finding a trusted travel agent to give you a quote. Using a travel agent takes the guess work out of booking a Disney Cruise and it is a completely free service to use.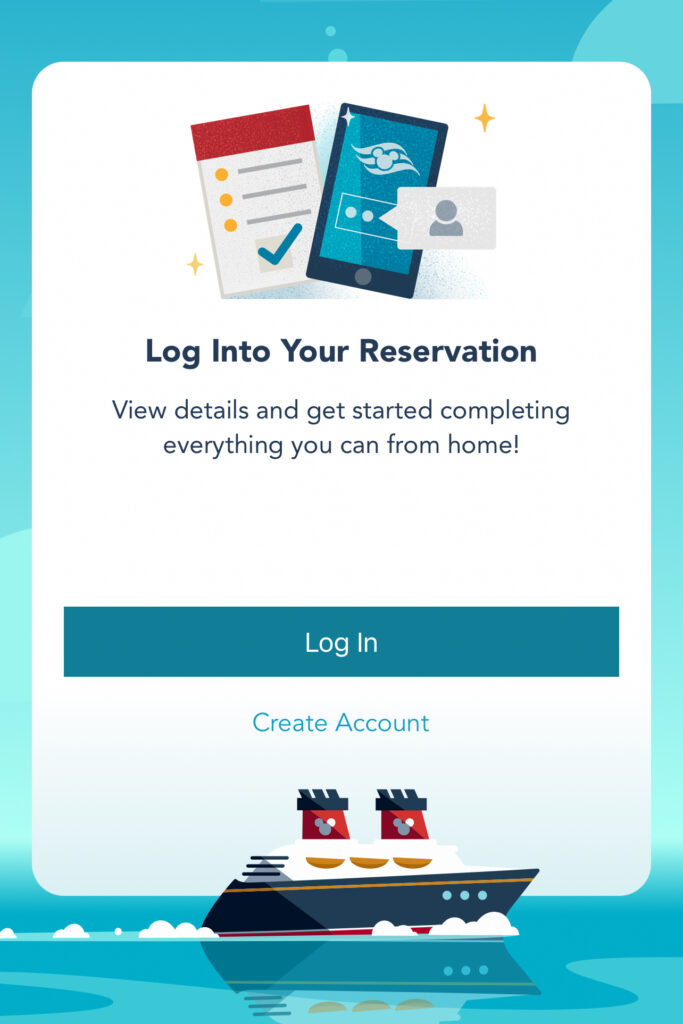 Travel agents are also nice because they can take care of any issues or problems that may arise. My favorite travel agency is Get Away Today. I have been booking my Disney vacations through them for over 20 years!
They would be happy to give you a no obligation quote on any itinerary you might be interested. Check them out here and tell them that Mommy Mouse Clubhouse sent you!