As a seasoned Disney cruiser, I've learned a lot of tricks and insider secrets that can make all the difference in your cruise vacation. If you're planning your first Disney cruise, here are some tips to help you navigate the pre-booking process, pack your bags, and make the most of your time onboard!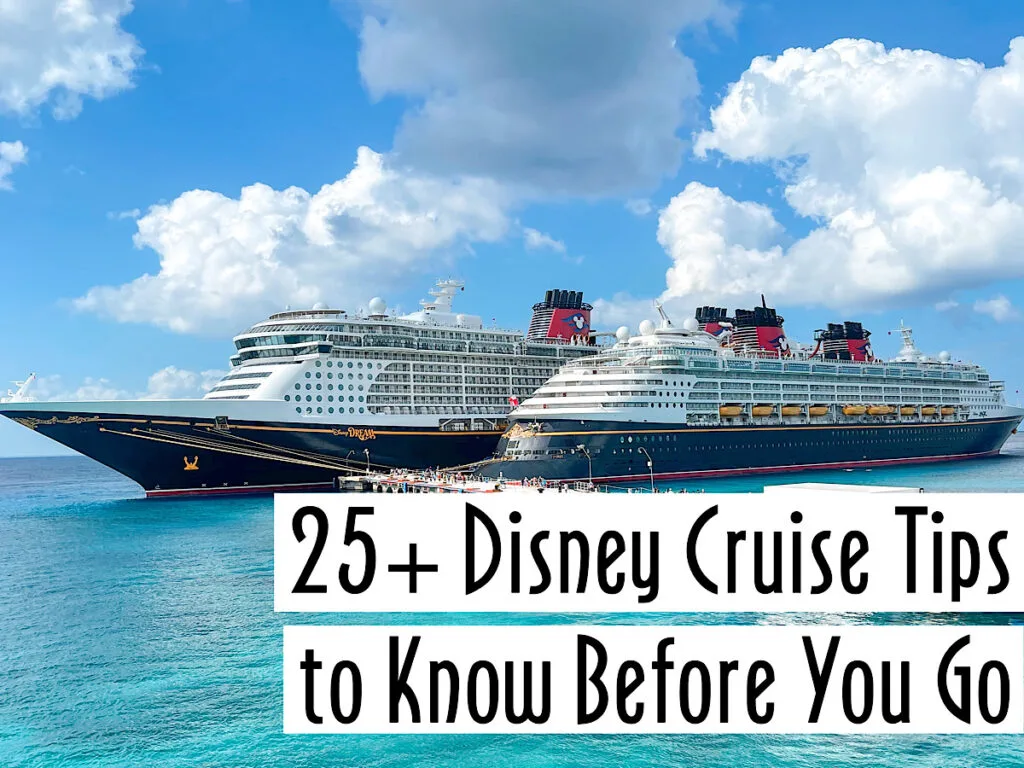 This post may contain affiliate links. When you click on these links, I get a small percentage back at no cost to you! For more information see my disclosure policy.
The Best Disney Cruise Tips
A Disney Cruise is a once-in-a-lifetime experience for many people that can create unforgettable memories for the whole family. However, planning and executing your Disney cruise vacation requires careful consideration and preparation to ensure the best possible experience.
From packing essentials to insider knowledge, the best Disney cruise tips can help you get the most out of your vacation. Whether you're a first-time cruiser or a veteran of the seas, this article will provide a comprehensive guide to help you navigate your next Disney cruise like a pro.
Get ready to set sail and make some magical memories with some of the best Disney Cruise tips around!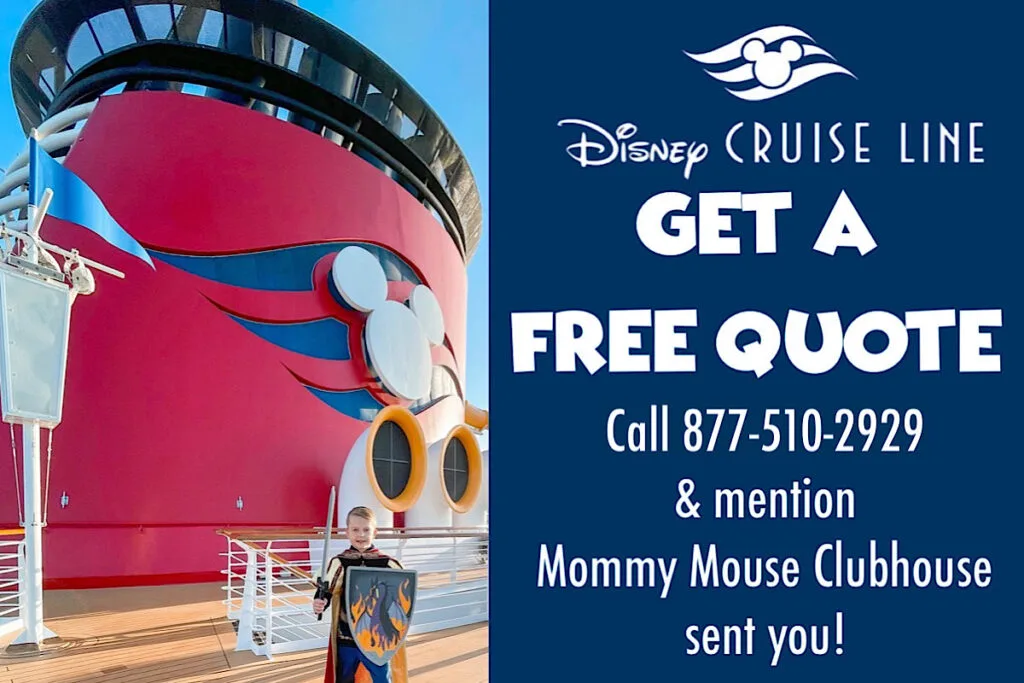 Check out prices below or get a free quote by calling 877-510-2929 and let them know Mommy Mouse Clubhouse sent you!
Pre-Cruise Tips
Preparing thoroughly before embarking on a Disney Cruise is always key. This section is all about pre-cruise tips and tricks that'll have you feeling like a seasoned Disney cruiser before you even climb aboard.
Book Early
Disney cruises are incredibly popular, and some cabins can sell out months in advance. Decide on your travel dates and book your cruise as soon as possible to secure the best room and any promotions that may be offered during that time.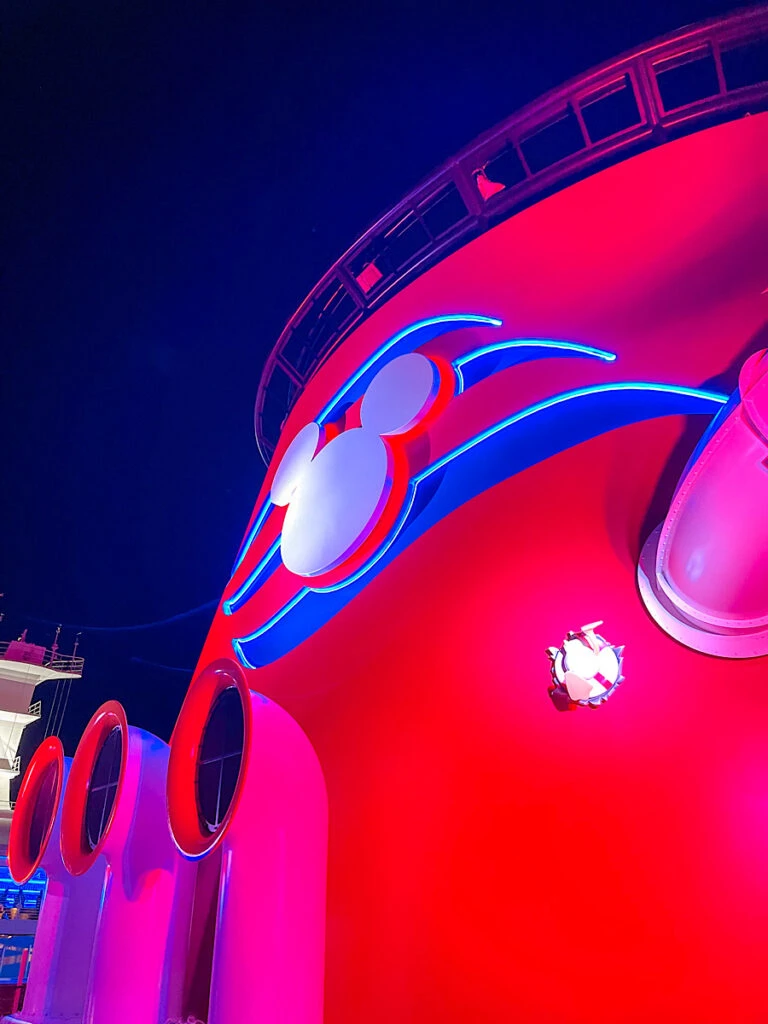 Get the Best Cruise Rates
Generally, the farther out from the cruise you get, the lower the price is. As the date approaches and demand goes up, so does the price. If possible, book your cruise as soon as dates are available (usually 12-18 months in advance).
You can also get a great deal if your desired cruise date offers a guaranteed rate. These rated can be found by searching for your cruise or by clicking on "Special Offers" on the Disney Cruise Line website.
If you are interested in these rates, they do come with stipulations. Many times Disney will choose your room for you, you must pay in full at the time of booking, and there are no changes or refunds available for any reason.
I booked a cruise for my family of five with a "guaranteed with restrictions" rate and had a great experience. I saved over $2000 dollars booking two of these rooms over booking one deluxe family verandah suite.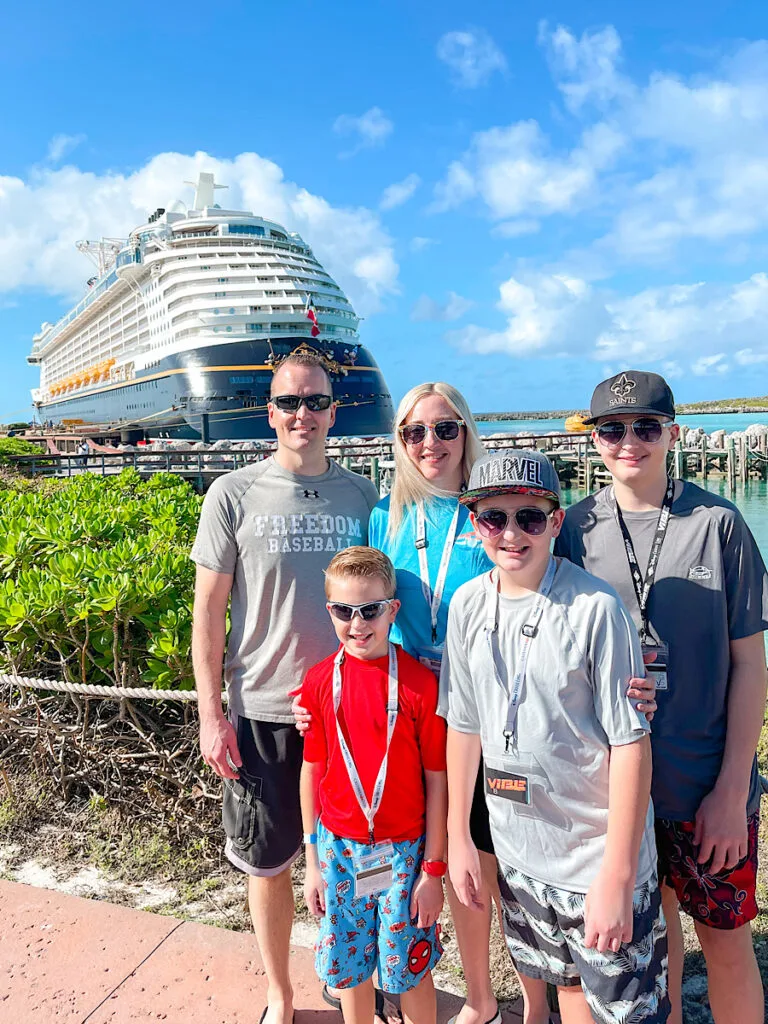 Use a Travel Agent
I always recommend using a travel agent to book your Disney Cruise. They have easy access to Disney and can take care of any problems easily that may arise. And, using a travel agent is completely free!
If you're thinking about going on a Disney Cruise for your family, I recommend booking with my travel partner, Get Away Today. They can help you find the best ship and itinerary for your cruise vacation. I have used them many times and they have the BEST customer service. Give them a call at 877-510-2929 and mention Mommy Mouse Clubhouse sent you to get the best deals!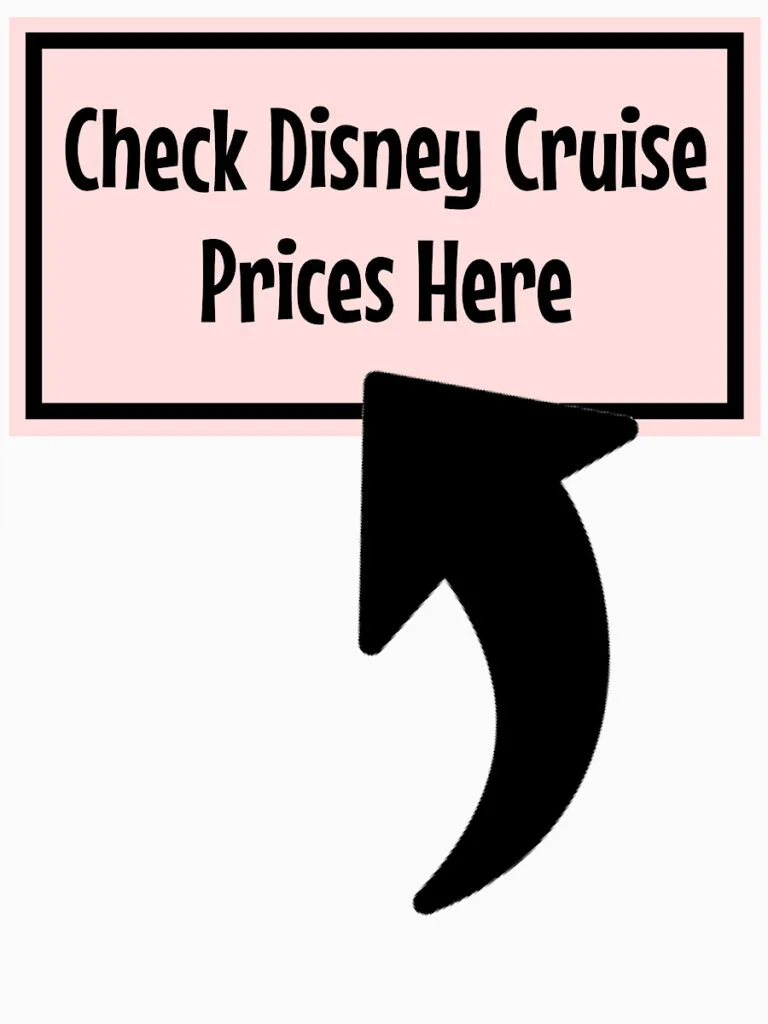 Get Travel Insurance
Travel insurance is always a good idea if you're planning an expensive cruise. Not only can it protect your investment, but it can also cover things like missed flights or medical emergencies that may occur during your trip.
Fly in a Day Early
I highly recommend booking a flight that will arrive the day before your cruise departure. This will give you time to rest up, get acclimated to the area, and avoid any travel delays due to bad weather or airline issues.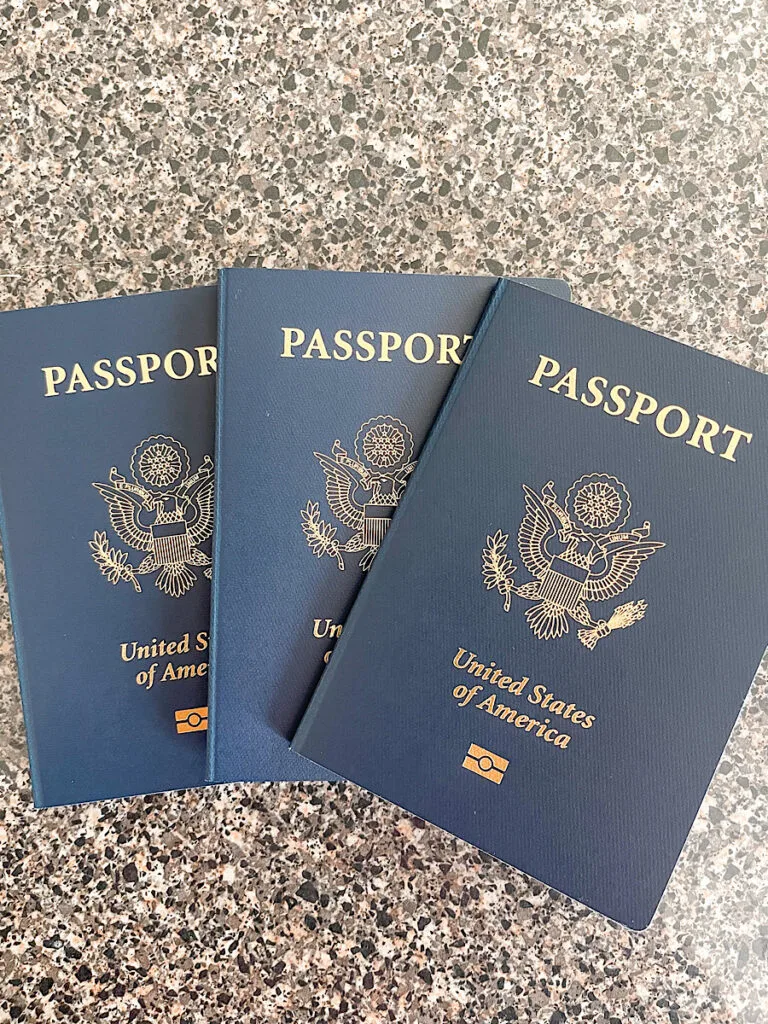 Update Passports
You will be leaving the country when you sail on a Disney Cruise, so it is important to have the proper documentation like a passport.
Make sure that your passport is up-to-date and not about to expire. If it is, you'll want to get one or get it renewed as soon as possible. It can take anywhere from 2-3 months for this process depending on whether or not you pay to expedite.
If you are in a time crunch, I have found that you can contact your local Congressman to help you get a new or renewed passport very quickly. I had to contact our's before our Mediterranean cruise and they were very helpful and happy to do it!
If you are on a closed-loop cruise (where you start and end in the same destination within the United States) you can use a certified copy of your birth certificate and a driver's license, but I highly recommend a passport.
If something happens in a port or you have a medical emergency that requires a helicopter, you will have many problems if you do not have a passport.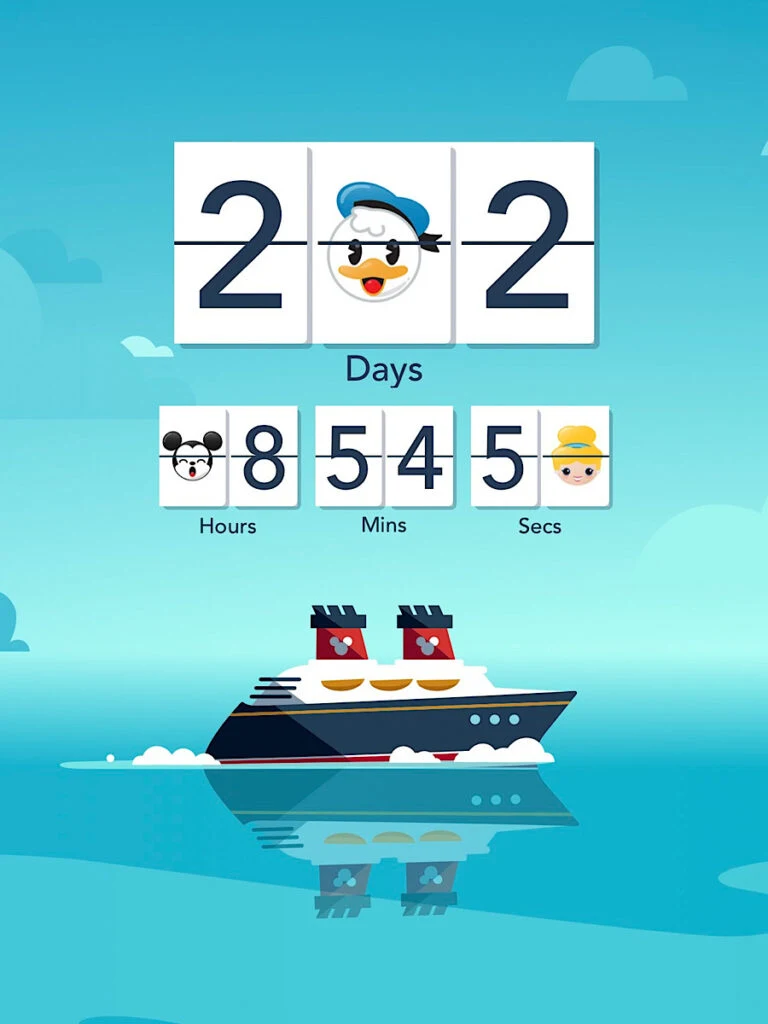 Disney Cruise Line Navigator App
Disney Cruise Line has their own app that is essential to download before your cruise. A benefit of downloading this app early is that it will give you a fun countdown until your cruise, complete with Disney characters!
Before your cruise, the app will show the countdown, your stateroom number, any balance owed (which can be paid through the app), check-in, maps, future plans, and available excursions.
During your cruise, the app will show the schedule of activities, restaurant menus, dining times, and more! So definitely download the app as soon as you book your sailing!
Join Your Cruise Facebook Group
As soon as you book your cruise, search Facebook for the date and ship you will be sailing. There is almost always a Facebook group that includes other passengers on your cruise.
This is a great resource for your particular sailing and is also the place where you can sign up to participate in Fish Extender groups (more on that later) or magnet exchanges.
Set Up a Character Call
This is a fun one! Before your cruise, you can set up a Character Call from the Disney Cruise Line for free! A Disney character will call your child at home and let them know about their upcoming trip! It's such an amazing way to build excitement prior to departure.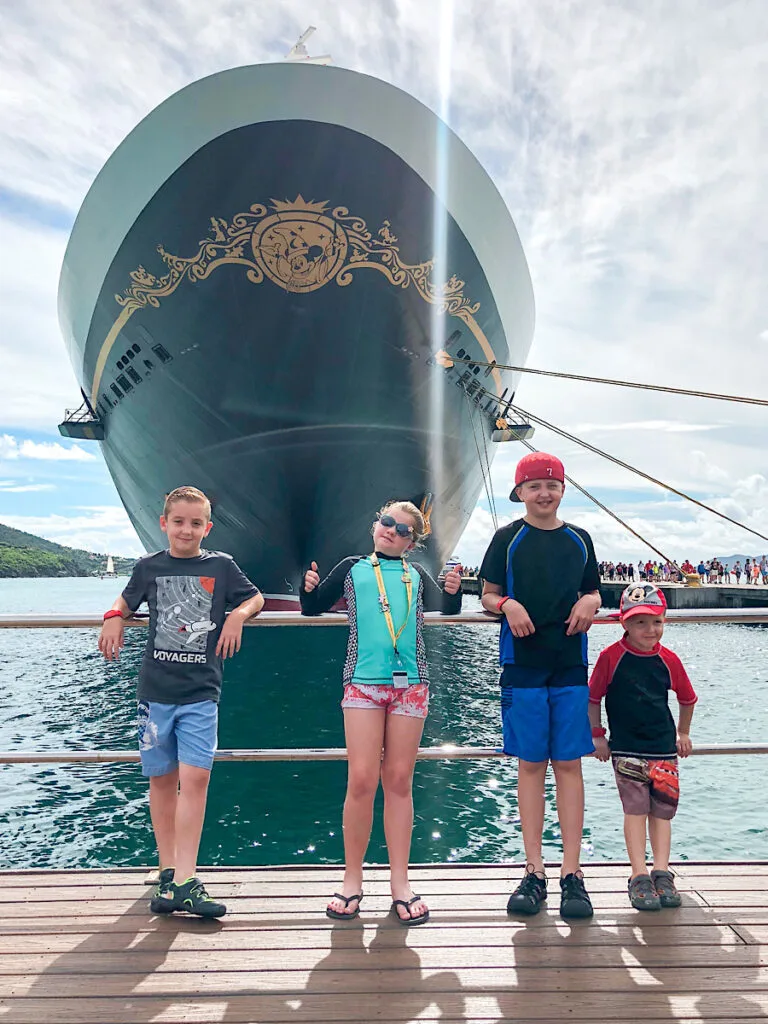 Sign Up for Fish Extenders (If you want to)
Fish Extender groups are a group of cruise guests that sign up to give each other surprise gifts throughout the cruise. They got their name from the fish-shaped hook outside each stateroom on the Fantasy, Dream, Wonder, and Magic.
Participation in these groups is totally voluntary and whether you sign up for them or not, depends on the type of vacation you want.
I have both participated and not participated in Fish Extender gift exchanges on various cruises and both have been fun! It depends on my mood whether or not I sign up or not.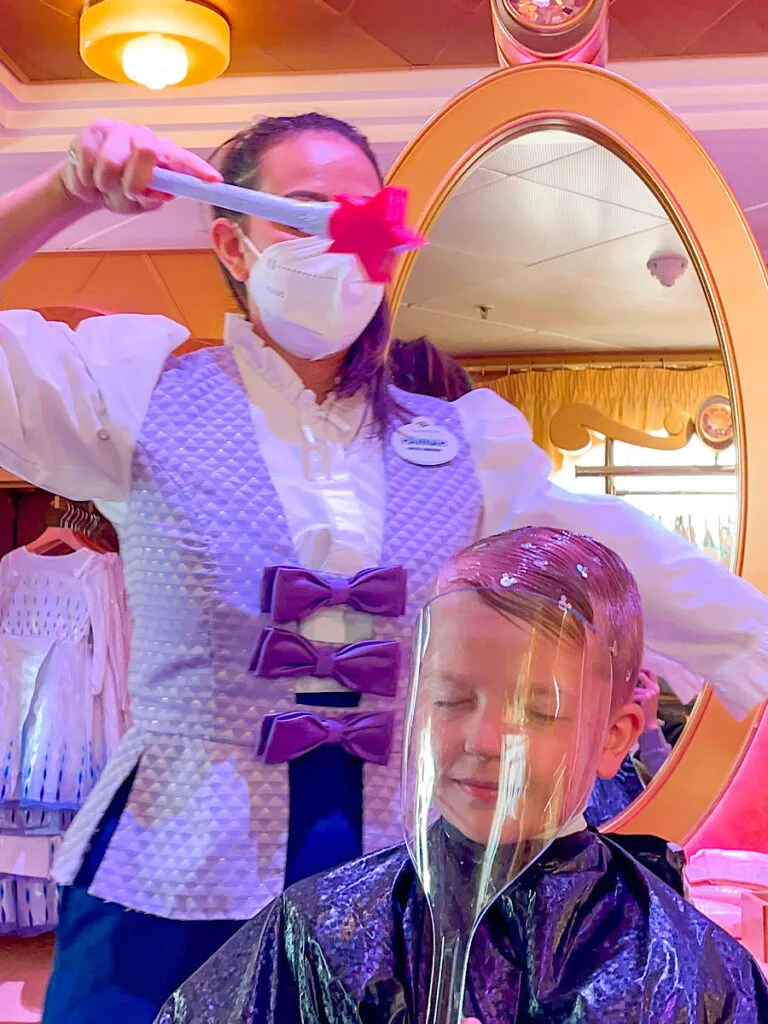 Book Bibbidi Bobbidi Boutique
For cruisers ages 3-12, the Bibbidi Bobbidi Boutique is a really fun experience. Kids can be transformed into their favorite princess, a Royal Knight, Captain Mickey or Minnie, or even a pirate!
One tip to save money at the Bibbidi Bobbidi BoutiqueYou can read all about our experience at the Bibbidi Bobbidi Boutique here.
These appointments can fill up quickly, so if this is an activity you want to do, make an appointment as soon as you can:
First-Time Guests: 75 days prior to sail date
Silver Castaway Club Members: 90 days prior to sail date
Gold Castaway Club Members: 105 days prior to sail date
Concierge Guests and Platinum Castaway Club Members: 120 days prior to sail date
Cruise Check-In Tips
There are dates to know and procedures that are unique to cruising with Disney, so you'll want to know these tips below to help you with the check-in process. With these tips, you'll be ready to tackle everything from boarding groups to make reservations for certain onboard experiences.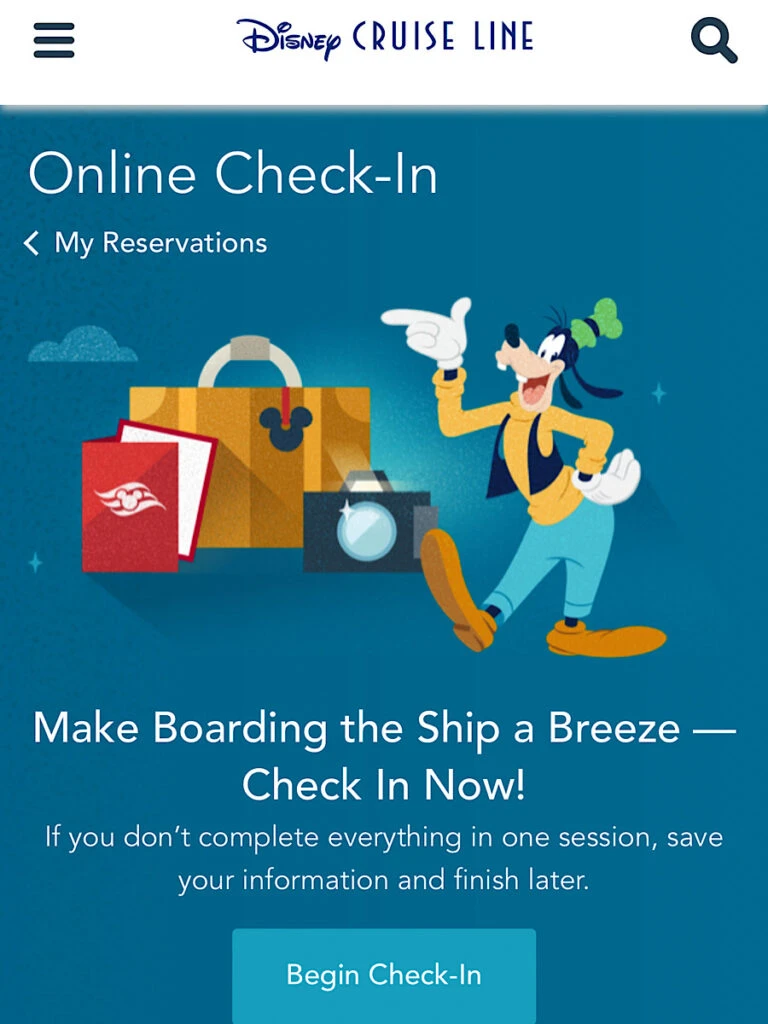 Know When to Check-In for a Disney Cruise
Your check-in time will vary depending on how many Disney Cruises you have been on. The breakdown is as follows:
First Time Guests: 30 days before sailing
Silver Castaway Club: 33 days before sailing
Gold Castaway Club: 35 days before sailing
Platinum Castaway Club: 38 days before sailing
Pearl Castaway Club & Concierge Guests: 40 days before sailing
Make a Reservation for the Princess Royal Gathering
The Princess Royal Gathering is a popular event on a Disney Cruise where guests get a reserved time to meet and greet the Disney Princesses. Reservations for the Princess Royal Gathering always fill up quickly, so you'll want to get online and make a reservation for this event right at the 30 day mark (which is Eastern Standard Time)
If you are unable to secure a reservation, you can check with guest services or the Disney Navigator App as soon as you board the ship, to find out if there are any openings.
Get an Early Port Arrival Time (PAT)
When you check in for your Disney Cruise, you will be able to select your PAT or Port Arrival Time. I like to choose the earliest time that I can, so I can maximize my time on the ship!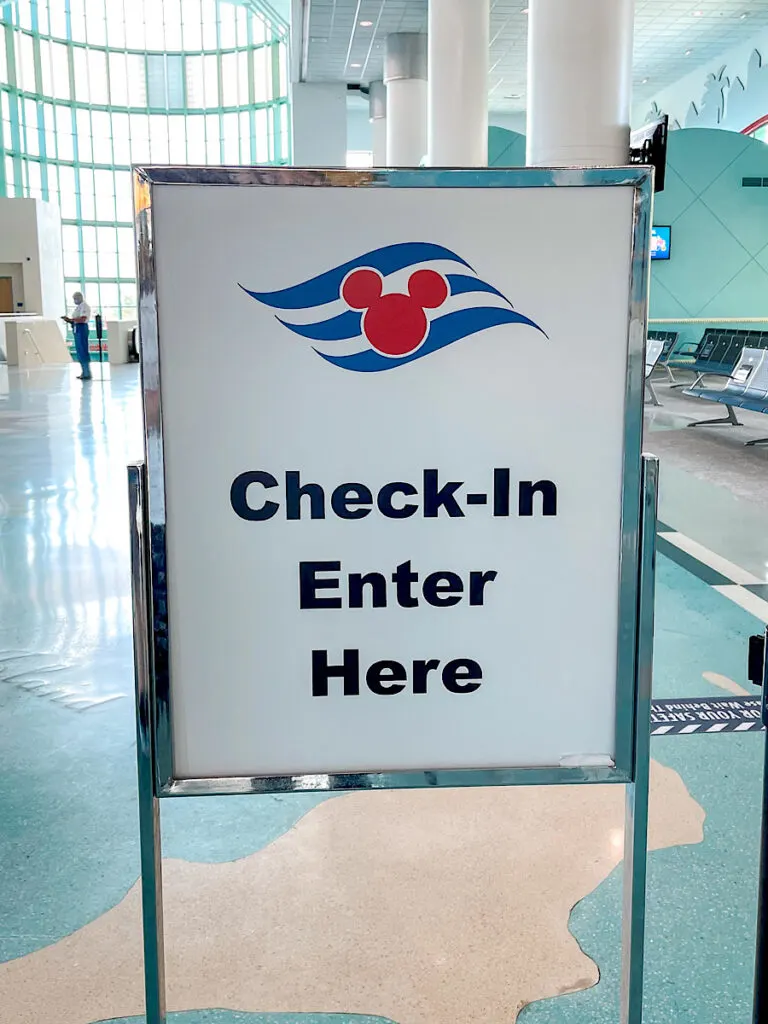 Tips for Booking Cruise Port Adventures (Excursions)
Port Adventures (also known as excursions) will vary by cruise. The following tips & tricks will help you with making reservations for fun on the land!
Research Port Adventures Ahead of Time
You can find a list of all port adventures for your destinations at www.disneycruise.disney.go.com. I like to go through them and decide which excursions I want to do so that I'm ready when it's time to book.
You are able to cancel Port Adventures up to 3 days before sailing and once completed, they will be charged to your onboard account.
Book Excursions As Soon As Possible
Some popular excursions sell out quickly, so it's a good idea to decide what excursions you want to participate in and book them as soon as your booking window opens up. To book, your cruise must be paid in full. Here is the excursion booking schedule:
First-Time Cruisers: 75 days before sail date
Silver Castaway Club Members (2nd – 5th cruise): 90 days before sail date
Gold Castaway Club Members (6th – 10 cruise): 105 days before sail date
Platinum Castaway Club Members (11th – 25th cruise): 120 days before sail date
Concierge Guests & Pearl Castaway Club Members (26th+ cruise): 123 days before sail date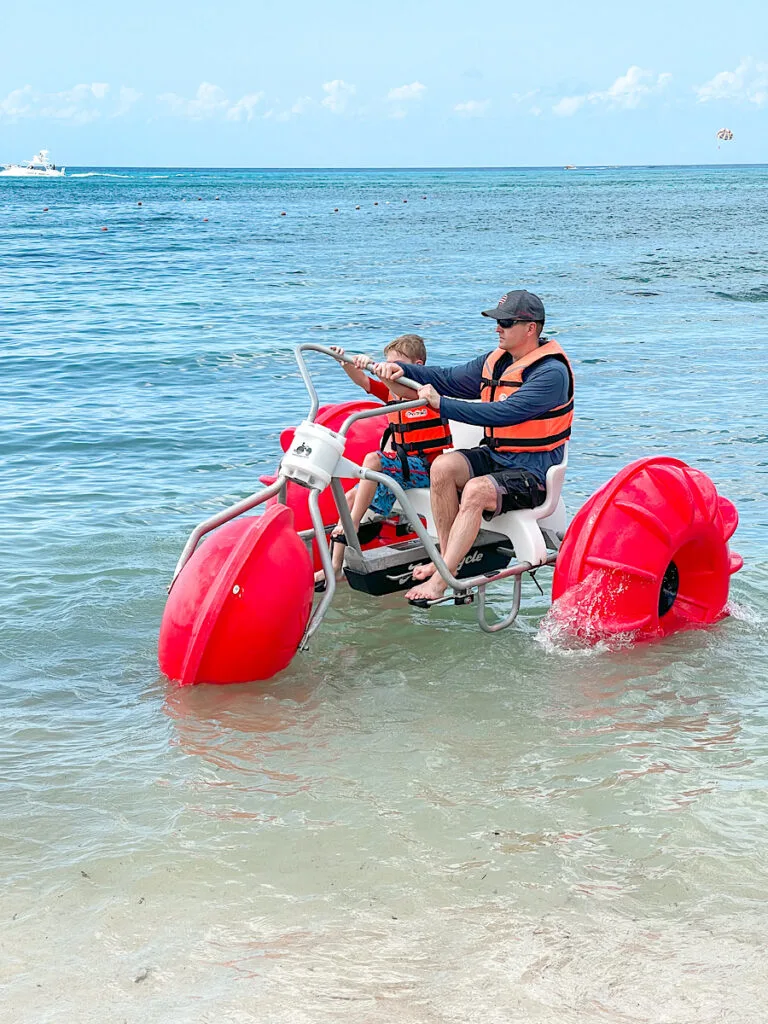 Check Excursion Prices with Other Companies
When planning your cruise, it is important to know that you are not limited to the excursions offered through Disney Cruise Line. There are many tour companies that offer similar excursions in most ports of call. Some even have a cheaper price tag!
Before booking, search the internet for your port and compare excursions with Disney Port Adventures to find the right one for you! During my Mediterranean cruise last summer, I did a combination of Disney Port Adventures and private tours and loved all of the experiences.
Explore On Your Own
Often times when you visit a port, you don't even need an organized excursion. Do some research for your ports of call, but I have had luck grabbing a taxi and heading to the beach on my own.
Skip a Port and Stay on the Ship
Sometimes its worth it to skip a port and stay on the ship! This allows you to enjoy the ship with fewer people, meaning you can use the pools and water slides with no lines!
My family did this when the Disney Wonder was in port in Ensenada, Mexico as well as when the Disney Fantasy was in St. Thomas and we had a great time.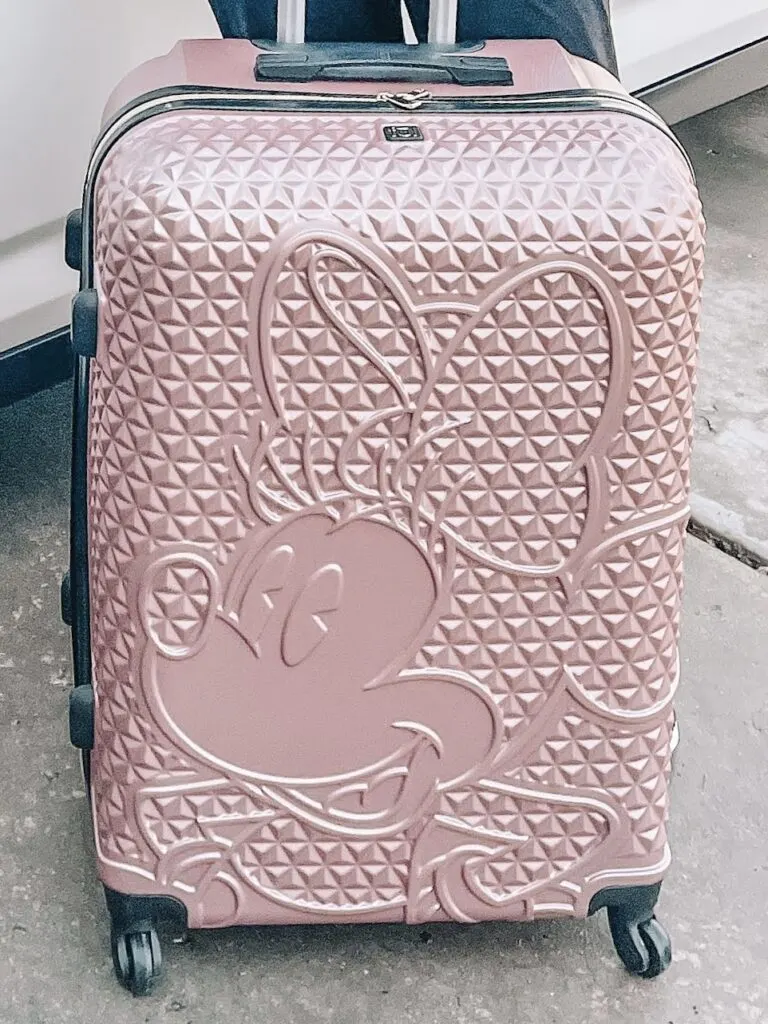 Cruise Packing Tips
When it comes to packing, make sure to bring plenty of sunscreen and swimwear. Disney cruise ships have multiple pools and water features, and it's easy to spend the majority of your time outside. Read my complete Disney Cruise packing list here.
Don't Overpack
Even though I have an extensive packing list for Disney cruises here, don't feel like you need to bring everything, especially when it comes to clothing.
The laundry facilities are easy to use on a Disney Cruise, so I often pack half of what I think I need and plan to do laundry if necessary.
You really only need shorts and a T-shirt during the day, a couple of swimsuits and cover-ups, nice clothes for dinner, and pirate clothes!
Pack a Light Sweater
Even in tropical climates, it can get cold on the ship. I always pack a light sweater to wear in the theaters and dining rooms.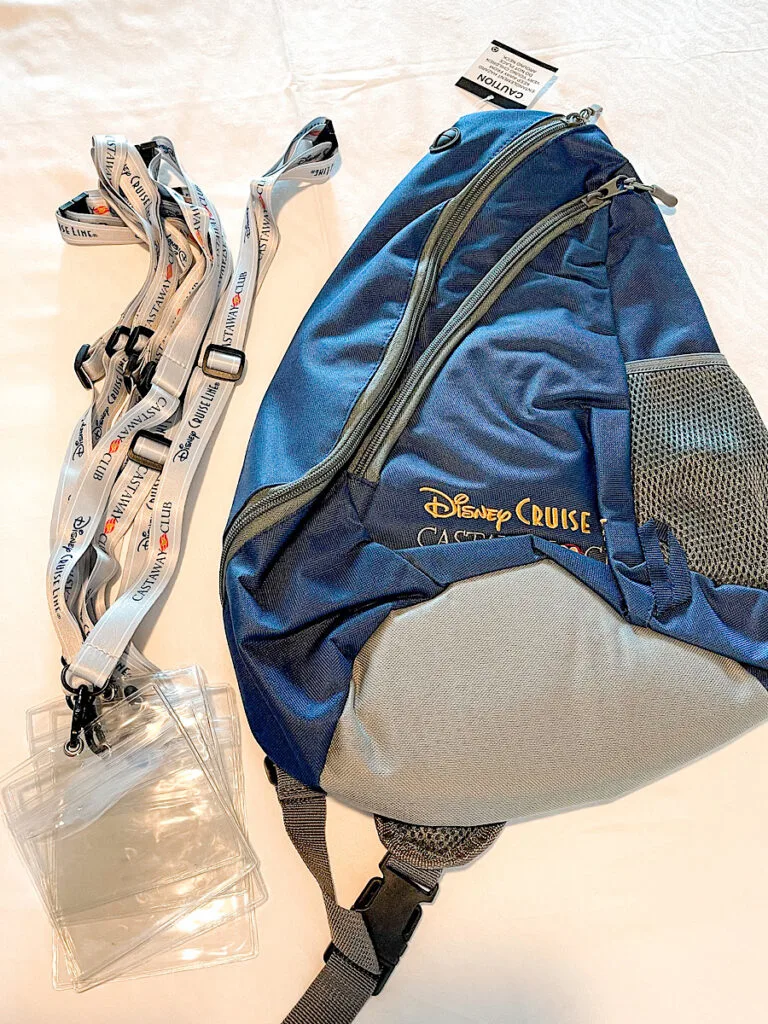 Bring a Lanyard
If this is your first cruise, you might want to think about getting a lanyard to carry your Key to the World Card. This card will be your room key, will allow you to make purchases, and will be used each time you get on or off the ship.
A lanyard is nice to help you keep track of your key card, especially for kids. Check out these cute Disney Cruise Lanyards from Amazon. If you will be going on your second Disney cruise or any cruise thereafter, Disney will give you a lanyard.
Cash for Tips
Gratuities will be charged to your card at the end of your cruise for your room attendant and diing service team, but you will need to tip the porters who collect your luggage, room service attendants, and possibly tour guides on excursions. Bring some cash in small denominations so that you can easily provide tips during your stay.
Check the Prohibited Items List
Since you will be traveling on a cruise ship, you want to make sure that the items you bring with you are approved. Disney Cruise Line has a long list of prohibited items here that you should review before packing.
Bring Your Own Pharmacy Kits
Having over-the-counter medication for common ailments can save time and money on your Disney Cruise. I like to pack my own first aid kit with motion sickness medication, ibuprofen, antihistamines, and nasal spray for allergies. This can save you time if you need to grab something quick the ship store is closed. Read my full packing list here.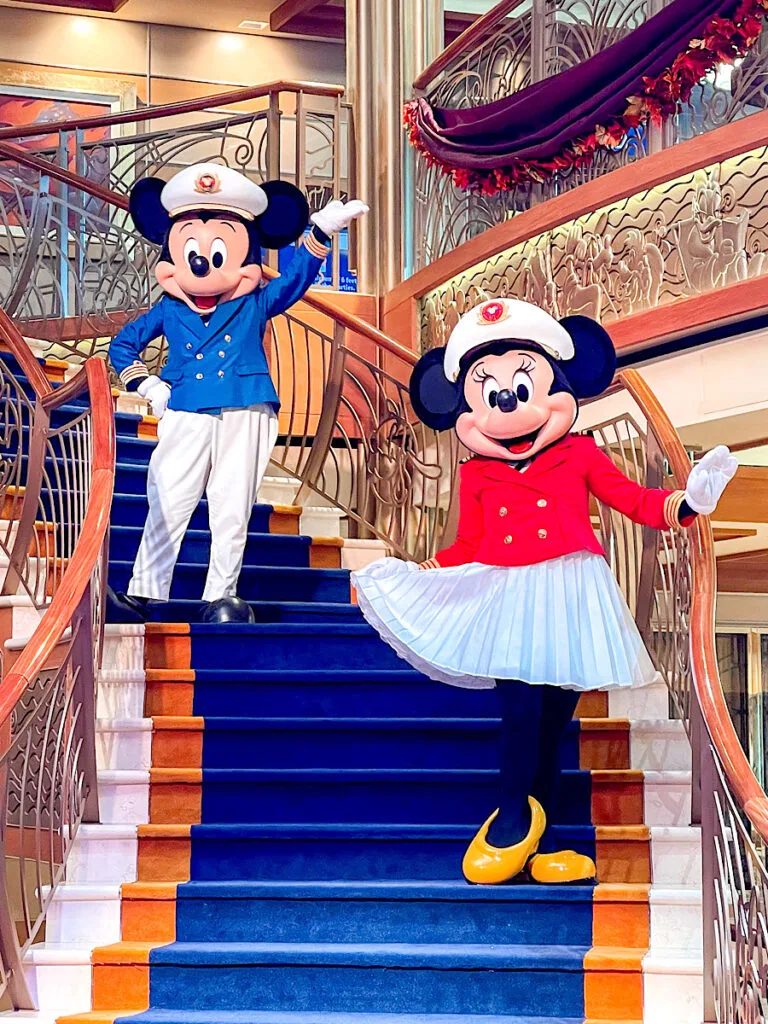 Embarkation Day Tips
The day you board your Disney cruise ship is called Embarkation Day. There are many things you need to know to have a successful embarkation day, so check out the tips below.
Port Arrival Time (PAT)
Your Port Arrival Time will be assigned to you at check-in. Try to time your arrival to the port around this time to avoid a long wait in the terminal.
Disney Transportation
Disney provides paid transportation to the ports for some cruises. If you choose to use this Disney transportation option, you will not need a Port Arrival Time.
Paperwork
I like to print out my paperwork for Embarkation Day to have a hard copy. To board the ship, you will need the QR code with your reservation number and port arrival time that you get at the time of check-in. It is much easier for me to keep the code printed out on a piece of paper than trying to pull it up on my phone each time I need it.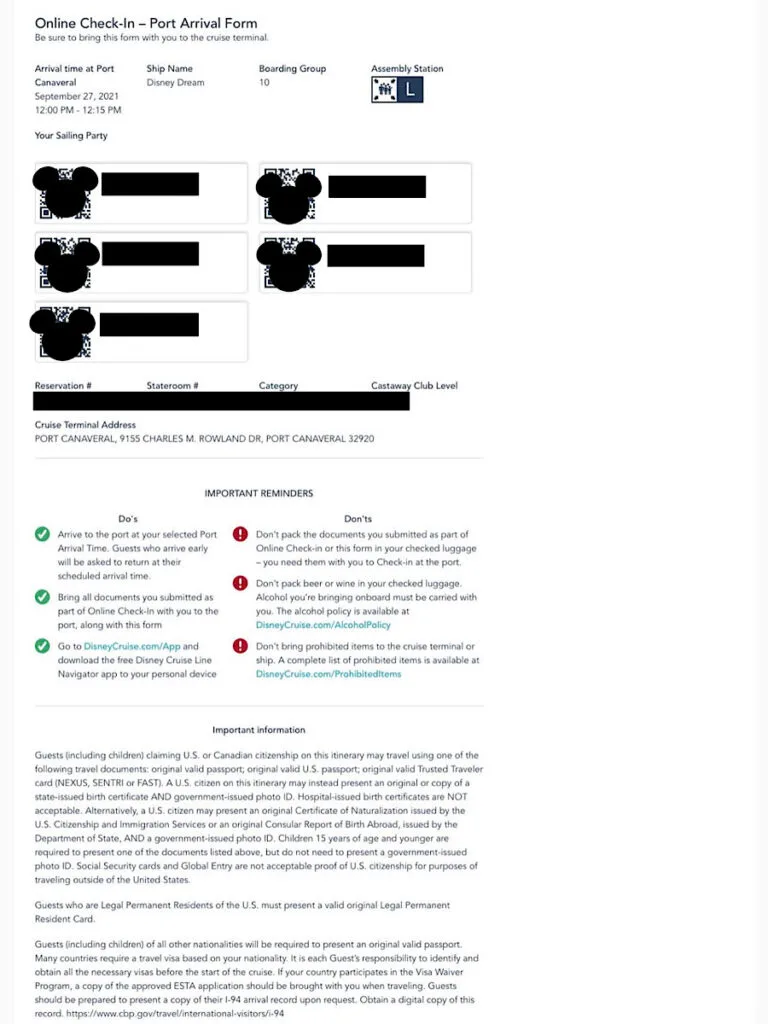 Carry-On Bag
When you arrive at port, you will give your luggage to the porters and it will arrive outside your room later in the day. I like to pack a carry-on bag to store items that I want to keep with me, including my cruise paperwork and passport.
Ask to Upgrade
You might be able to upgrade your room at a lower rate when you get to the port. I have heard of many people that asked at the port if any upgrades were available and were able to move from an inside room to a verandah room or even to a concierge room for a fraction of the price of booking that room ahead of time.
Wear a Swimsuit
On embarkation day, I suggest wearing your swimsuit under your clothes. That way, you can go straight to the pool area as soon as you board and get the most out of your first day on the ship. Often you can go on the AquaDuck, AquaDunk, and AquaMouse (depending on your ship) with very short wait times.
Carry On Your Own Wine
Disney Cruise Line allows you to bring a limited amount of beer or wine onboard with you. You will need to carry this on with you (do not pack it in your luggage). Check the DCL website for specific amounts allowed an restrictions.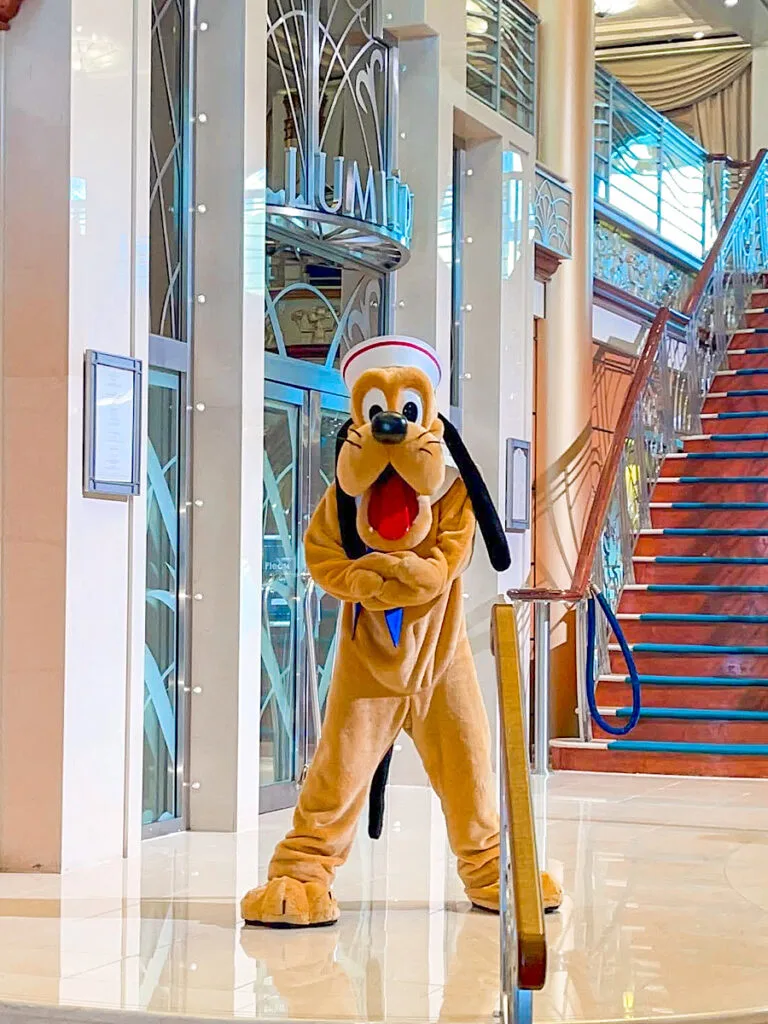 Bring a Case of Water
You can purchase a case of water from the "Onboard Gifts" section of the Navigator App, but it is very expensive. We usually bring a case of water with us onboard in our carry-on suitcase.
Bring Your Own Soda
Soda is included on a Disney Cruise, but it is only Coke products. If you prefer a different brand, you are welcome to bring your own soda with you onboard. Just like with alcohol, and a case of water, you will need to carry it on with you.
Swim First, Then Eat
I already mentioned wearing your swimsuit on Embarkation Day, so this tip works with that. Most people head to the buffet as soon as they board and then go swimming. You can enjoy even shorter lines if you head straight to the water slides and eat lunch when you're done!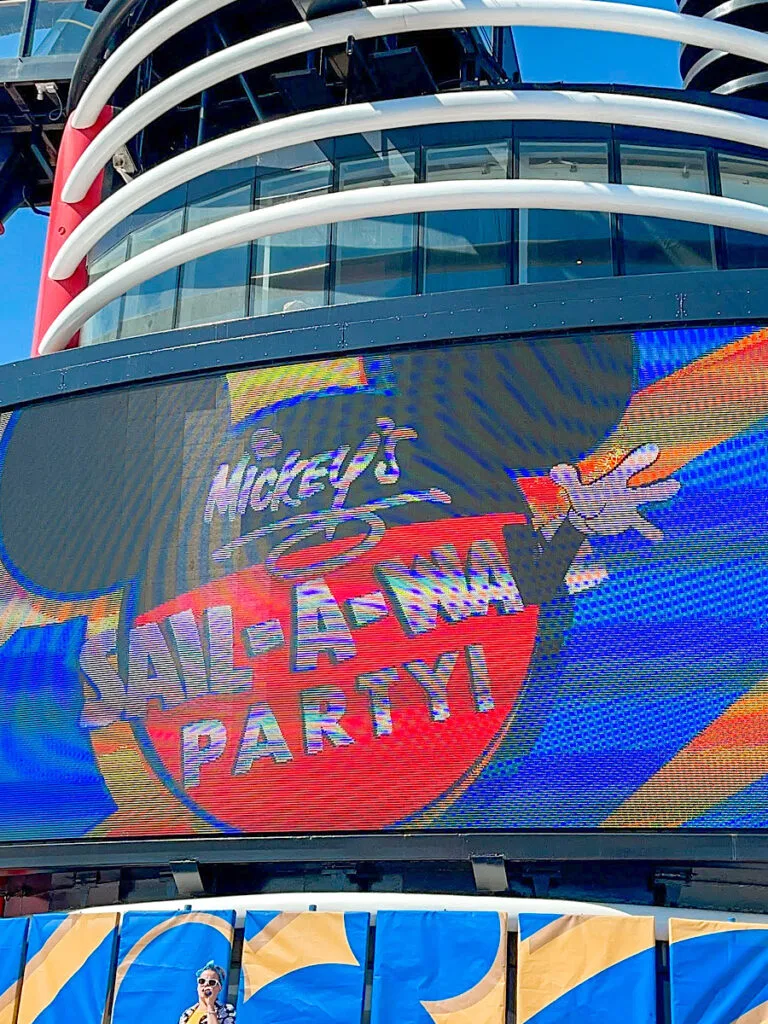 Find a Sail Away Spot
After attending the Sail Away Party, it's fun to find a good spot to watch as you sail away from port. You can wave at people in port or on a neighboring cruise ship as you set sail. If you want to see some marine life, try to find a spot as far forward on the ship as you can and watch for dolphins to lead the ship out to sea!
Tour the Kids Clubs & Teen Clubs
Embarkation Day is a great time to check out the kids and teen clubs on the ship. All clubs have "open house" time on this day where anyone can go visit and see what they are all about. I like to take my kids to visit during this time so they can know what to expect.
Onboard Disney Cruise Tips
The following tips will help you with experiences while on the ship. These things are good to know so that you can be prepared and understand what is going on while you are on your cruise vacation.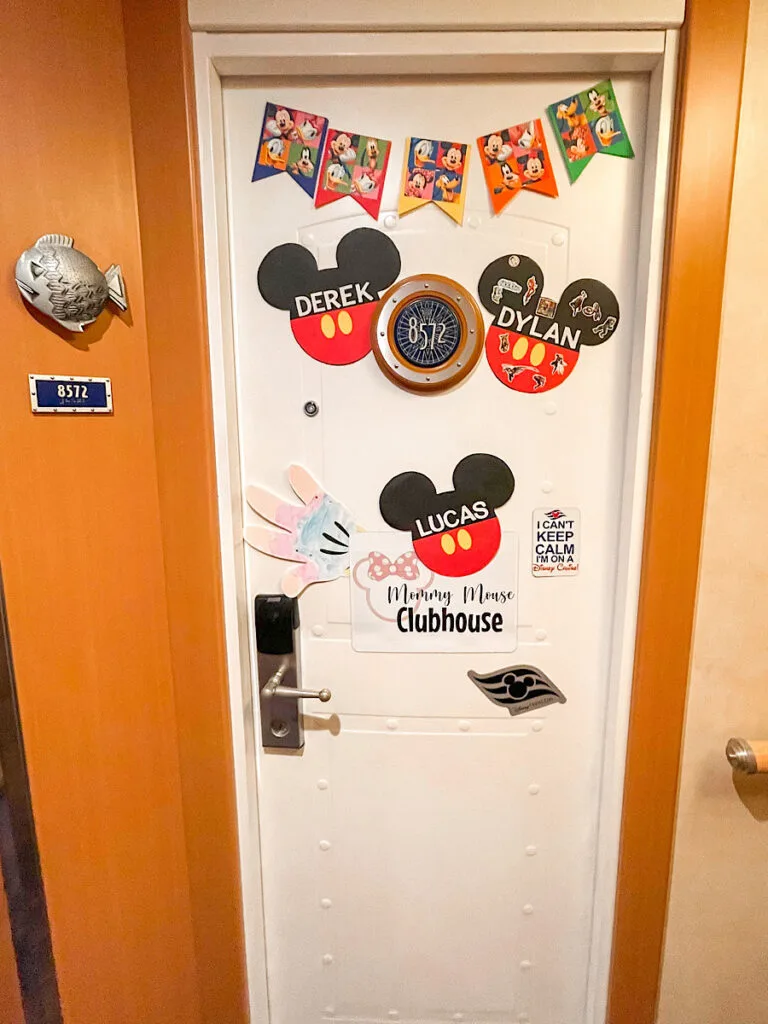 Stateroom Door Decorations
It is a tradition (not a requirement) to decorate your stateroom door with cute Disney-themed magnets. You can go all out and purchase magnets from Etsy, or you can make DIY magnets yourself, which is what I did and have continued to reuse cruise after cruise!
Pirate Night
Pirate Night is one of my favorite nights on a Disney Cruise. On this night, you can dress up like a pirate! Dinner has a pirate-themed menu, and there will be a pirate show up on the pool deck.
You can make the most of this night go all out with a pirate costume (get one on Amazon or check clearance sales after Halloween) or you can put minimal effort in and just wear a T-shirt (this is what I do).
Princess Royal Gathering
For all of the little princesses out there, Disney Cruise Line offers a fun event called the Princess Gathering. In order to participate in this activity, you will need to make a reservation through the Disney Cruise Line Navigator app, 30 days prior to sailing (which is actually 29 days, 59 minutes, 59 seconds).
This experience is included with the price of your cruise, but making reservations is necessary. Just be aware that reservations can go quickly! But, if you are not able to snag a reservation at 30 days, keep checking the app for cancellations or talk to guest services as soon as you board the ship.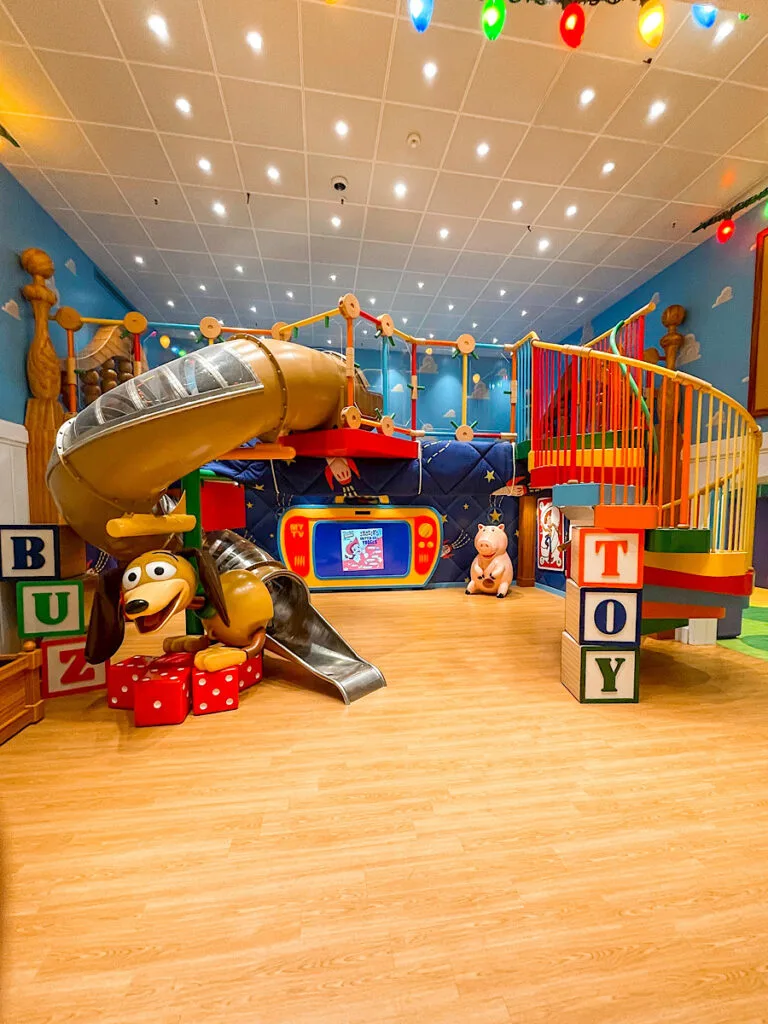 Character Meet & Greets
Another fun tip is to participate in the onboard activities, including character meet-and-greets and trivia games. Be sure to download the Disney Cruise Line app before your trip, as it will show the schedule for each event, activity, or show.
Broadway-Style Shows
On a Disney Cruise, you will experience a different show every night from Magic shows to Broadway-caliber shows like Frozen and Beauty and the Beast. The great thing about Disney is that you do not need a reservation for these shows.
Just check the Navigator app for the show and showtime each night. If you have an early dining time, you will go to the late show. If you have a later dinner time, you will go to the early show.
Daily Activities
Once you board the ship, your Navigator app will change and you will be able to see a list of activities for each day. I like to go through the activities and tap on the heart next to the activities my family wants to do each day. That way we can easily see what activities we are interested in and the app will also send you reminders about activities that you choose. Find an example of the Disney Cruise activity schedule here.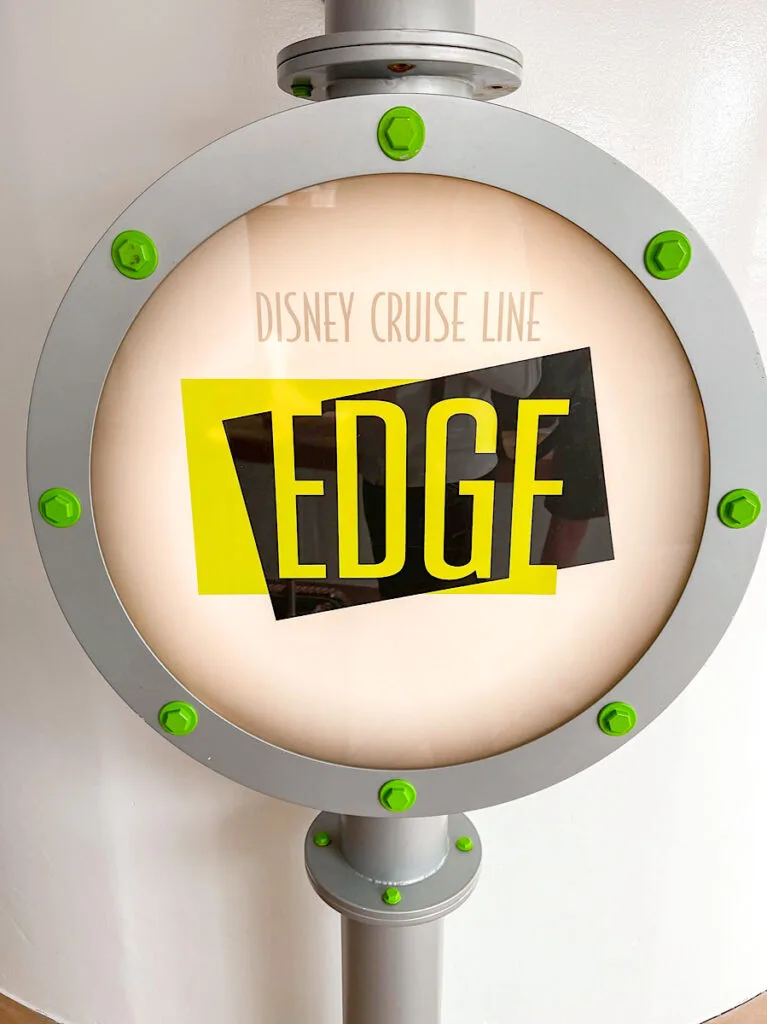 Disconnect and Enjoy your Vacation
Take time to disconnect and enjoy your vacation. This might mean turning off your phone for a few hours or even for a full day. I find that it is so important to unplug from technology sometimes and just enjoy the moments of being with family. You're spending a lot of money to go on a Disney Cruise so put away the distractions and have some fun!
Use Booster Seat for Shows
If you're traveling with little ones, there are booster seats available for them to use while watching the shows and movies!
Pop-Up Hamper
I always bring a pop-up hamper to keep in our stateroom closet. This helps keep our room clean and organized and makes it super easy to do a load of laundry during the cruise!
Beware of the Spa
The spas on Disney Cruises are amazing and I enjoy getting a massage from time to time. Just beware ahead of time, that the cast member will give you a heavy sales pitch at the end to try and get you to purchase their products. Feel free to buy them if you want, but don't feel pressure or guilt to purchase them if you don't.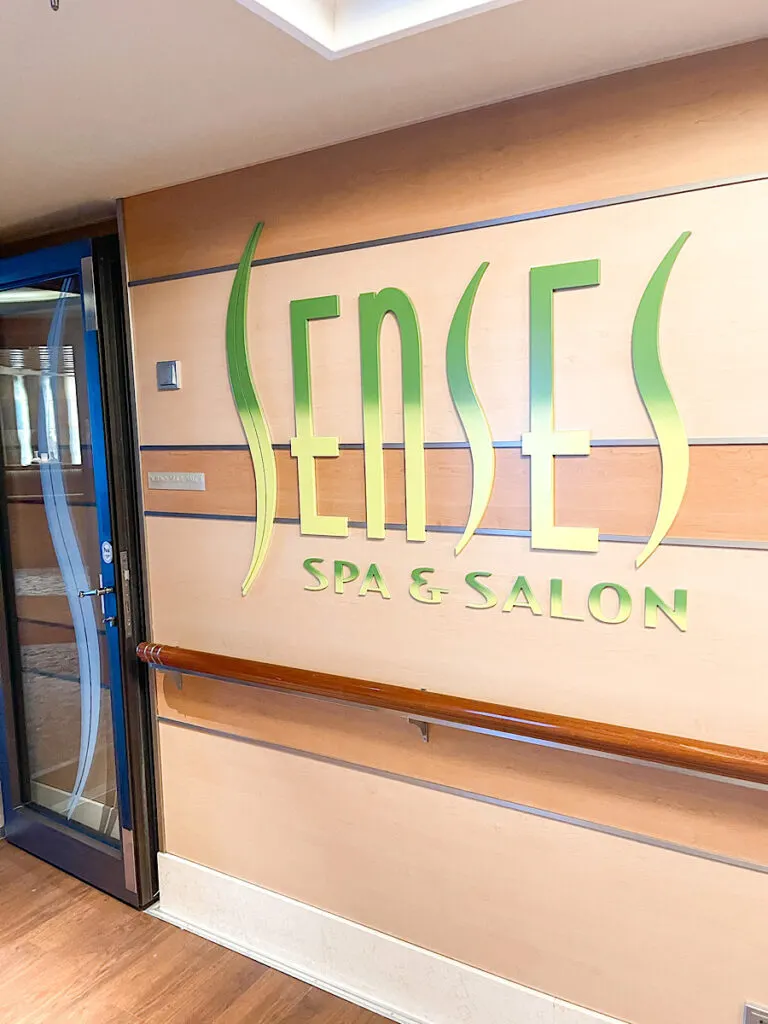 Strollers
If you absolutely need to bring a stroller for your little one (I've been there) Disney recommends that you bring your own, but there are a few available for rent on the ship. If you bring one, try to bring a small umbrella stroller. The hallways and elevators are a tight fit!
Midship Detective Agency
If your kids are looking for something fun to do, I highly recommend the Midship Detective Agency game on the Disney Dream and the Disney Fantasy. It is a scavenger hunt-style game and it's so much fun!
Buy Souvenirs Early
If you see something you want to buy in the gift shops onboard or at Castaway Cay, buy it. Items tend to sell out quickly (sometimes on the Day 1) and what you want might not be available the next day.
Pixie Dusting
Pixie Dusting is along the same lines as the Fish Extender gift exchange, only a lot less pressure. With Pixie Dusting, you can bring your own small gifts and treats to share with random staterooms. I actually prefer this to Fish Extenders because I can give out these surprises as I please.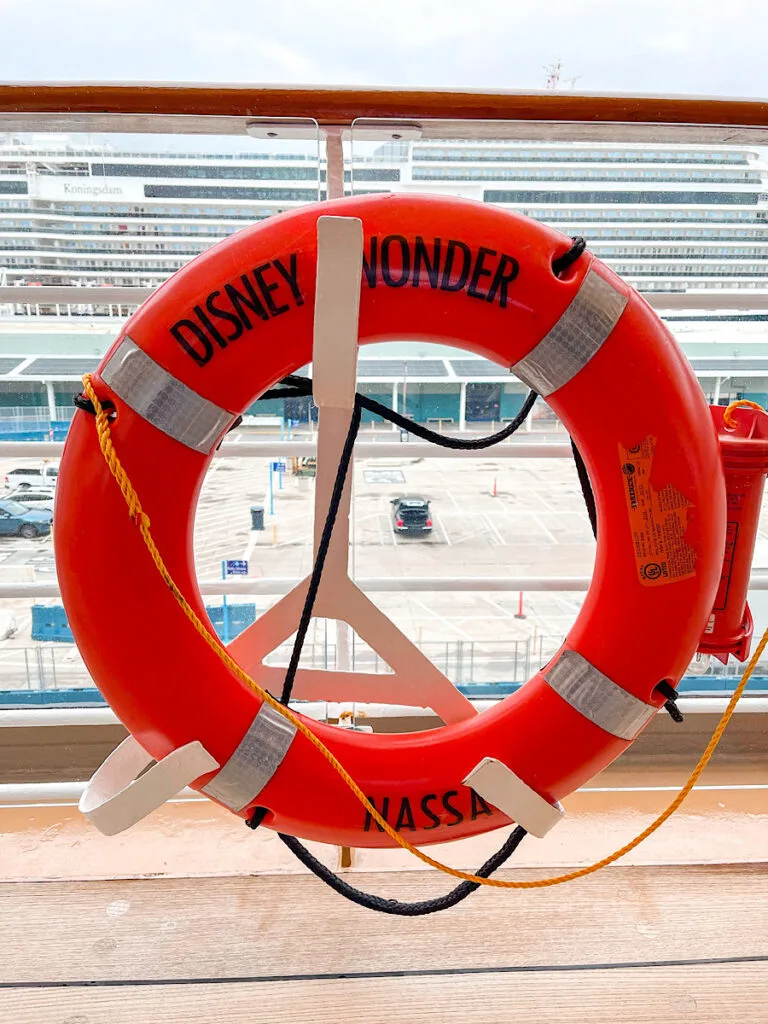 Return Kids Club Wrist Band
When your kids go to the kids clubs (Oceaneer Lab & Oceaneer Club) they will be given a wristband to wear for the entire cruise, similar to a Magic Band. You are welcome to keep this wristband as a souvenir, but you will be charged around $12-13. To avoid this charge, return the wristband to the kids club on the last night of your cruise.
Book a Placeholder While Onboard
To save money on a future cruise, you can purchase a placeholder while onboard through the Navigator app. You will pay $250 which can be applied toward the deposit for a future cruise in the next two years and you will also receive 10% off the price of your sailing.
If your future cruise is 7-nights or longer, you will also get 50% off the required deposit. Should you end up not using the placeholder, your $250 will be refunded.
If you use a travel agent to book your cruises, you will want to alert them of your placeholder and have them call Disney Cruise Line to have the placeholder transferred to them within 30 days.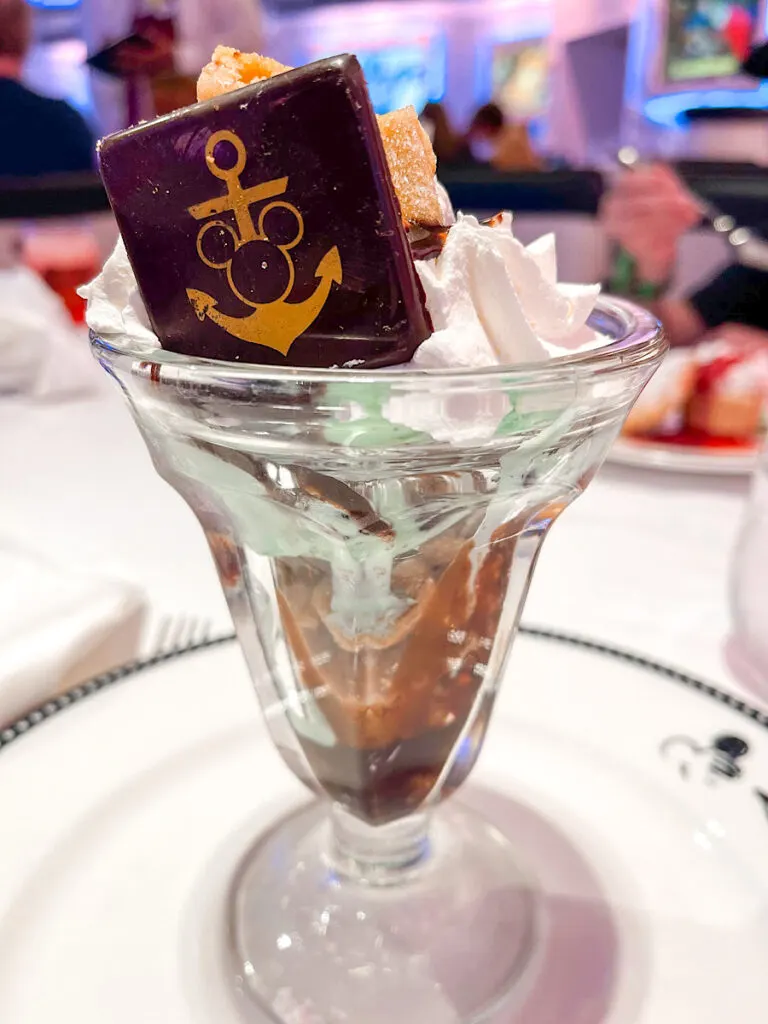 Disney Cruise Dining Tips
Rotational Dining
Disney Cruise Line is different than many other cruise lines when it comes to the Main Dining Room (MDR) experience. Most cruise lines have one main dining room where you will go every night for dinner unless you have a specialty dining experience booked.
With Disney, instead of heading to the same main restaurant each night, your will rotate to a different restaurant. Your dinner time will remain the same and your serving team will rotate with you as well.
Main Dining Room
When you go to the Main Dining Room for dinner, know that you can order as much or as little from each course on the dinner menu. If you want 3 appetizers and no entrée, you can go ahead and order that! Or order two desserts if that's what you want! Your servers will be happy to get you whatever you'd like.
I also have one drink that I prefer each night (Cherry Coke Zero) so I let my serving team know that I want that each night of the cruise. This cuts down on ordering time when we arrive at the restaurant because my server has our drinks ready for us.
You can also order items from other restaurants (sometimes). On our San Diego Disney Cruise, my kids fell in love with the Strawberry Shortcake Sundae from Lumiere's and our amazing serving team were able to get that for their dessert for the next to nights. It never hurts to ask! See everything we ate on the Disney Magic here.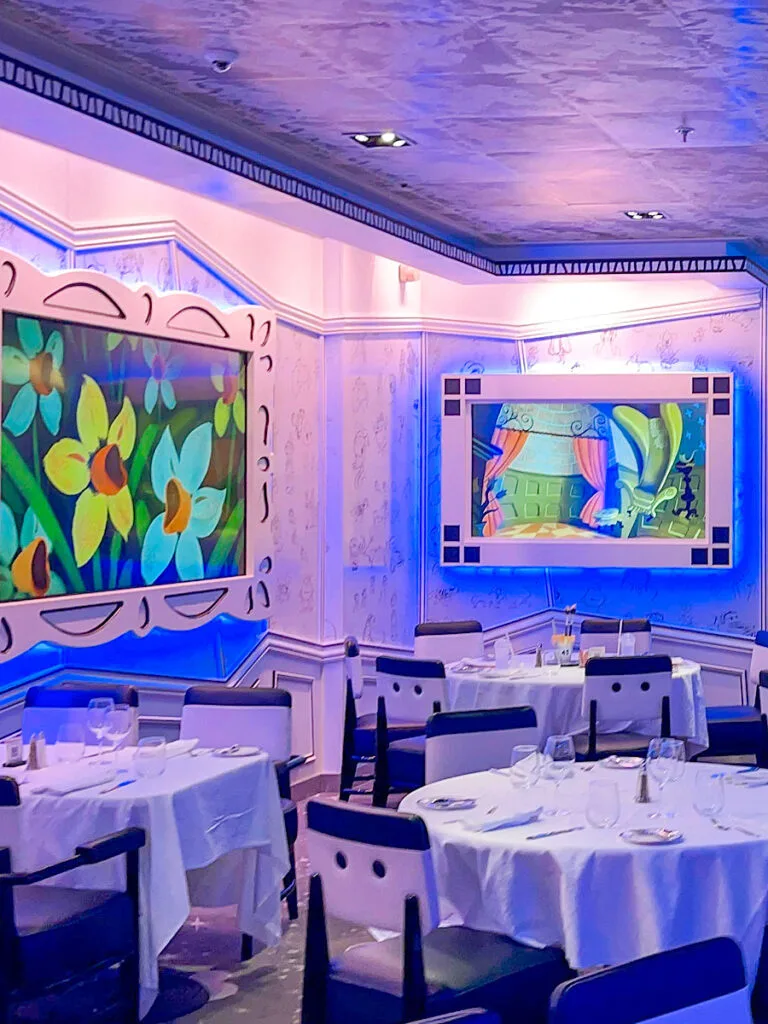 Late Seating
There are two different seating times on a Disney Cruise. The Main Dining time is around 5:00 and the Late dining time is around 8:00. I have done both, but I prefer the later dining because I feel like I have more time after returning from excursions, and the dining room is generally quieter because most small children utilize the main dining time.
If you prefer the main dining time but have been assigned the later dining time, you can be placed on the waitlist. If you are not moved before your cruise, make sure to ask once you board if you can switch. It isn't always the case, but sometimes they can accommodate the change.
Themed Restaurants
One thing that sets Disney Cruises apart from other cruise lines is the themed dining experience. Each night, guests rotate to a different restaurant with a new theme and menu.
For example, on the Disney Wonder, you have the chance to dine at Tiana's Place, themed after the Princess and the Frog movie and the menu includes things like "Mama Odie's Creamy Tomato Soup" and "Tiana's Buttermilk Beignets"!
Request a Private Table
Depending on the size of your party, you may or may not be seated with another family. Some people enjoy getting to know other cruisers, but for others, this is a deal breaker. If this is something you don't want to do, you can request to be seated at a private table and Disney will do their best to accommodate your request.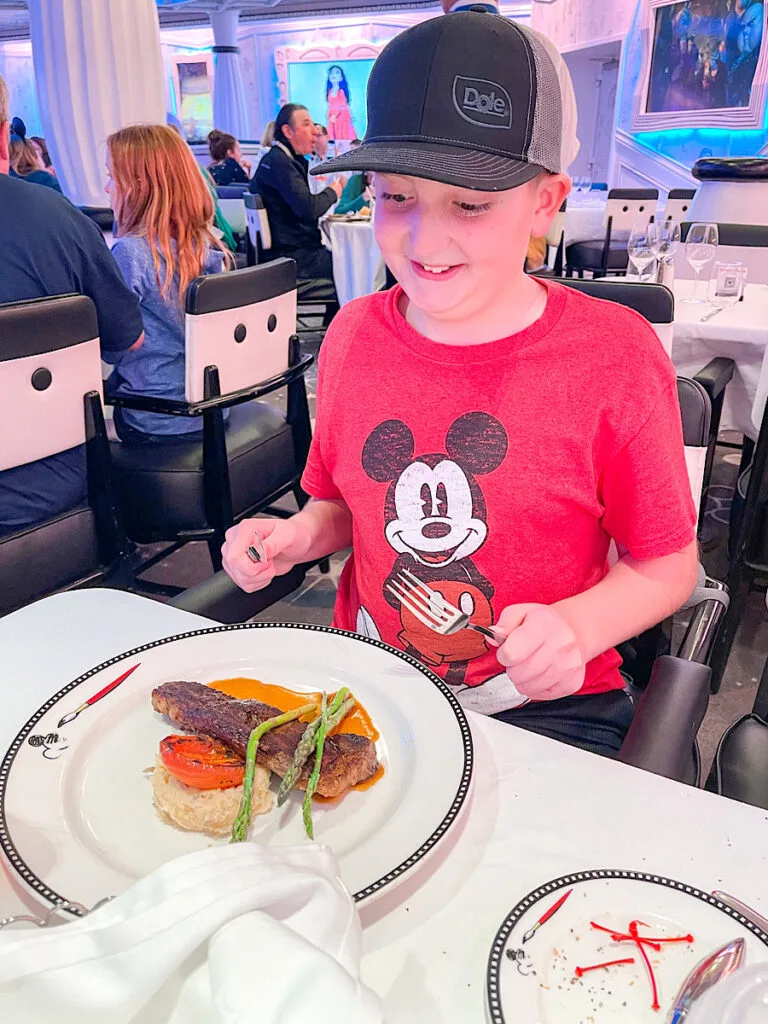 Dining with Kids
If your kids have a hard time making it through a long dinner time, you can request that your serving team deliver their kid's meals with the adult's appetizers.
Once the kids have finished their meals, have an adult take them to the kids club, and then finish your meal without having them lose their patience. This works well with teenagers too, I know from experience!
Popcorn Buckets
Outside the shows and movie theaters, you are able to purchase popcorn. They have refillable popcorn buckets for sale and a refill will cost around $1.50+tip.
My boys LOVE Disney Cruise popcorn, so we bring our bucket with us each time we sail. You can also bring refillable buckets purchased at Disney World or Disneyland and get the refill price as well!
DIY Ice Cream Sundaes
A perk of sailing on a Disney cruise is the unlimited ice cream cones! One thing you can do to take this up a notch is to bring your own sprinkles, chocolate chips, nuts, and chocolate syrup. Grab a cup from the soda station and make your own ice cream sundaes!
Make a Float
Along with making hour own ice cream sundaes, you can also make your own ice cream floats combining soft serve and soda!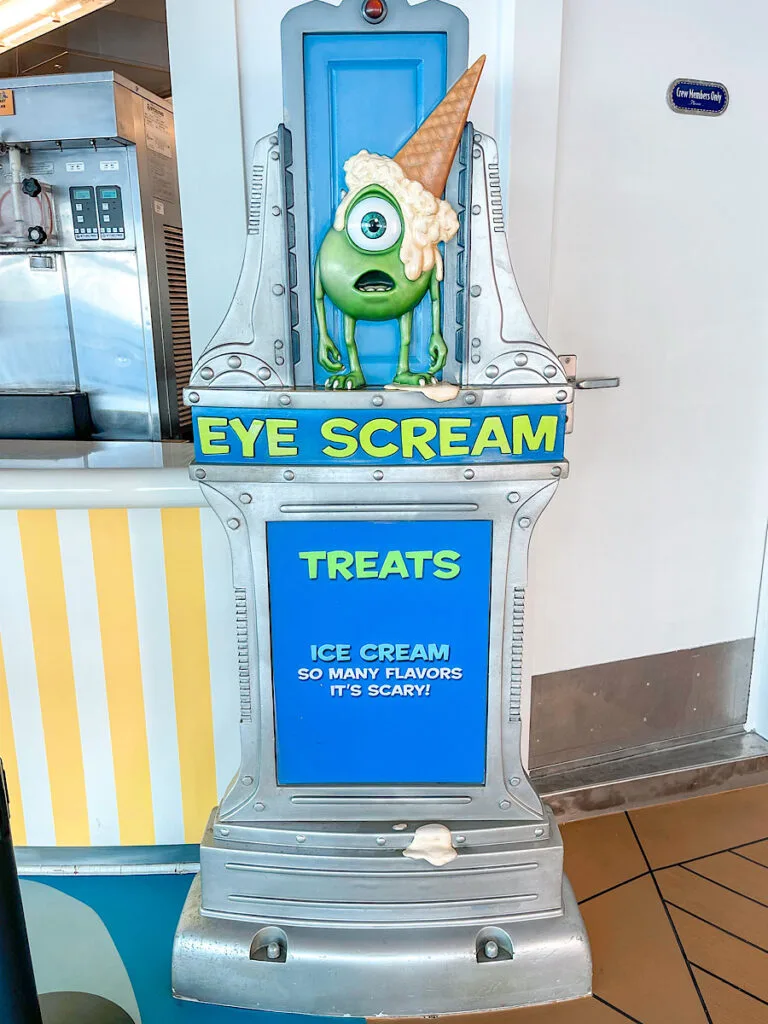 Bring Your Own Soda Cups & Cup Holder
Disney cruises include unlimited soda, which you can get up on the pool deck. I like to bring our own reusable cups, with lids and straws, so that we can take our soda with us. There are small cups available at the soda stations, but there are no cups and straws.
I also like to bring along a cup holder (I get one from fast food restaurants) to make it easy to bring drinks with us to the movies and shows.
Drink of the Day
Each day or your cruise, Disney offers a "Drink of the Day". You can purchase this for under $7 including tip!
Free Room Service
Room Service on a Disney Cruise is included with your cruise fare, but you will want to make sure to tip the cast member who delivers your order at least $1-$2 per item. We like to order war chocolate chip cookies and milk just before bedtime.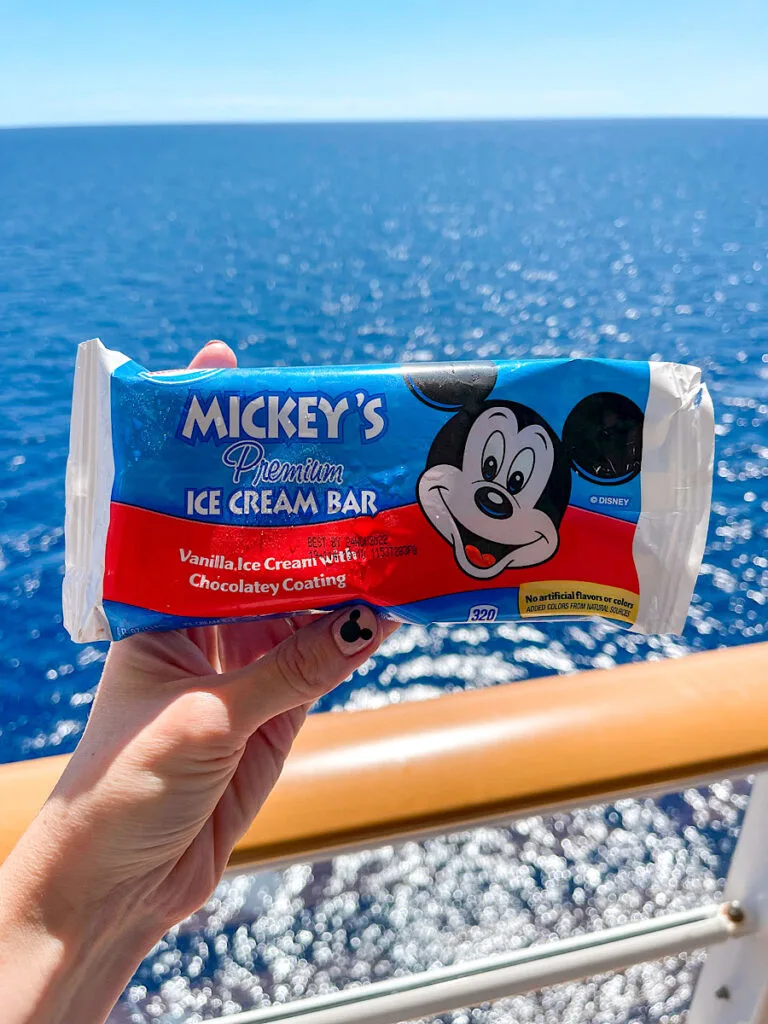 Secret Room Service Menu
Don't feel like you are restricted to the Room Service Menu on the Disney Navigator App. There is also a "secret room service menu" that includes things like Mickey Premium Ice Cream Bars and Uncrustables!
Order a Mickey Ice Cream Bar
Everyone loves a Mickey Ice Cream Bar at the parks, but on a Disney Cruise, you can order as many as you like! They are available for dessert in the dining rooms and also through room service.
Get Uncrustables for Excursions
For port days, I like to order some Uncrustables sandwiches (prepackaged peanut butter and jelly sandwiches) to take along with us on excursions. These are great as a snack for kids and adults alike. If you're going to use this trick, make sure to order them the night before a store them in the refrigerator.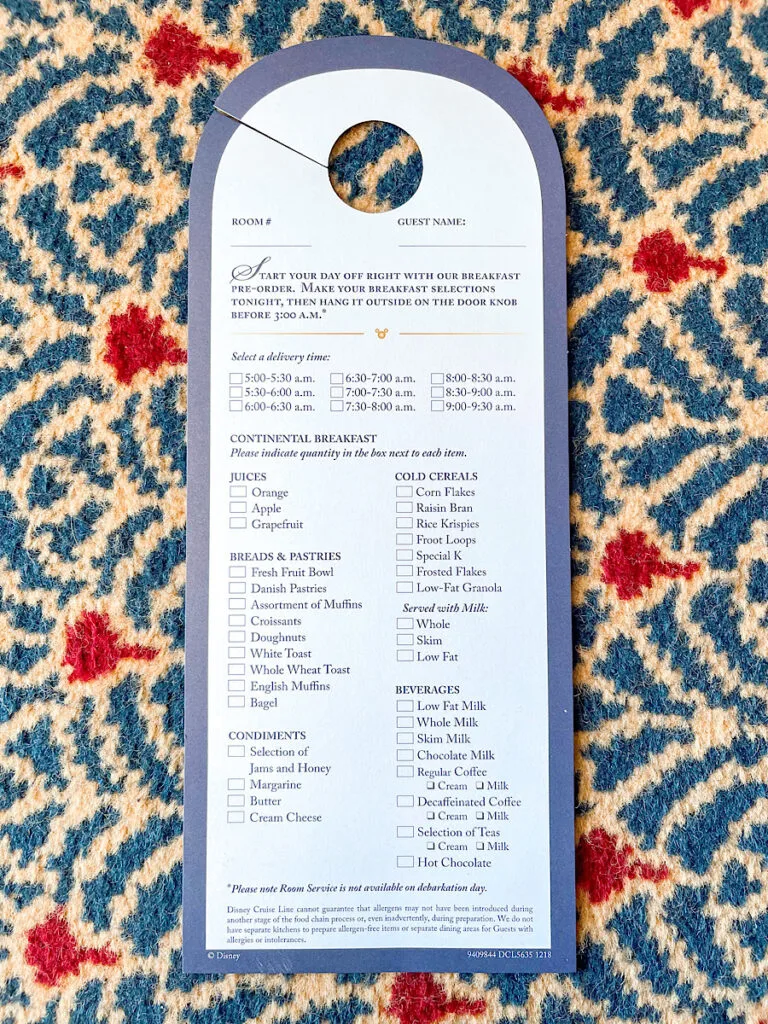 Breakfast & Coffee from Room Service
In every stateroom, you will find a breakfast room service menu that you can fill out and place on your stateroom door at night. You will choose a time for delivery and your order will appear in the morning!
If you are a coffee drinker, many people like to order a carafe of coffee at night and it will stay warm until morning.
Cove Cafe Pastries
Cove Cafe is the specialty coffee shop on a Disney Cruise. The coffee from Cove Cafe is not free, but the pastries are! Get as many pastries and croissants as you want, and you don't have to purchase anything. I happen to think that these pastries are better than the ones served in Cabanas (the buffet).
Cove Cafe Card
If you do like specialty coffee-make sure to get the Cove Cafe stamp card so you can get a free coffee after your 5th paid one. Also, save your card for the next cruise and use it then, previous stamps will be honored.
Tips for Disney's Castaway Cay
If you are going on a Caribbean Disney Cruise, you will most likely have a stop at Disney's private island, Castaway Cay. Below you will find tips and tricks to maximize your time at this amazing destination!
Adult-Only Beach
If you visit Castaway Cay, make sure to spend some time on the adults-only beach, Serenity Bay. We like to drop our kids off at the kids club on the island and take the tram to Serenity Bay. It's quiet and a great way to start the day. You can also grab lunch, or an ice cream cone, at the BBQ restaurant.
Scuttle's Cove Kids Club
Scuttle's Cove is an extension of the kid's club on the ship. The same counselors from the Oceneers Club and Oceaneers Lab will be there, which helps a lot of kids feel more comfortable. At Scuttle's Cove, you will find sand castles, games, and a small splash pad.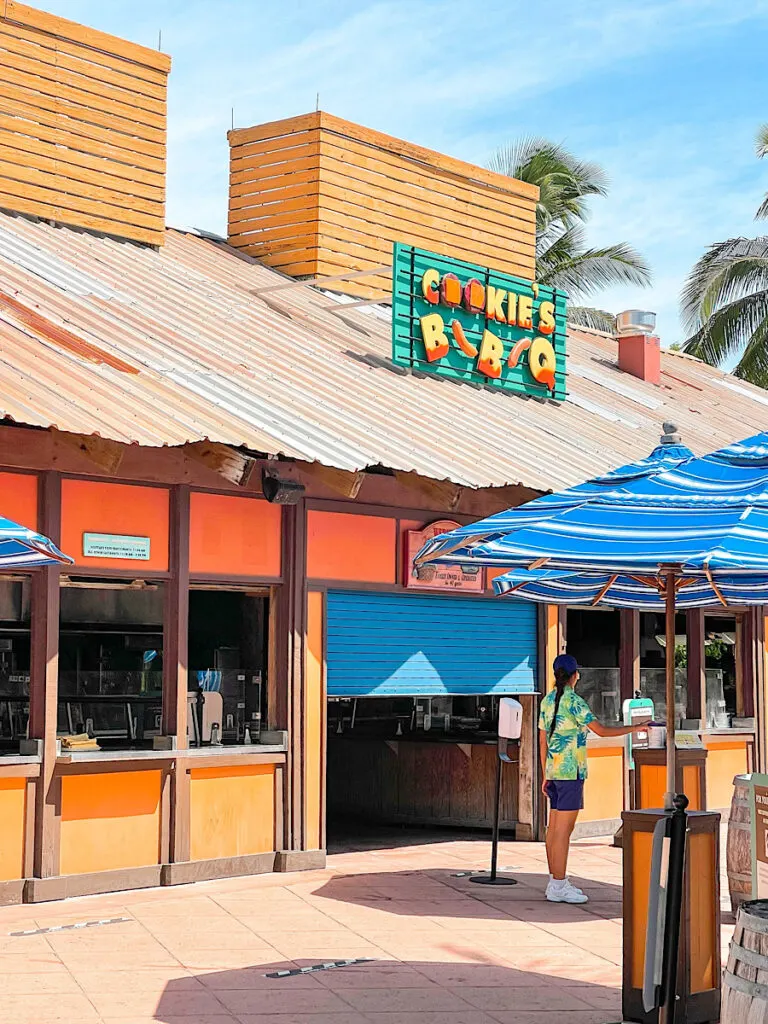 Cookies BBQ
Cookies BBQ is the restaurant available to guests at Castaway Cay. The food is complimentary and you will find BBQ chicken, ribs, hamburgers, hot dogs, and more! Be aware that it closes at 2:00, so be sure to grab lunch before that time.
Complimentary Strollers
We always bring our stroller from home, but if you forget or don't have one, Disney has complimentary strollers for guests to use on Castaway Cay. These are great for those who need a little assistance getting around the island.
Snorkeling Gear
Snorkeling is really fun on Castaway Cay because there are hidden Disney gems under the water. There is snorkel gear for rent on the island, or you can bring your own. We use our masks from Amazon. You will need to use a complimentary life vest available at the rental shack.
Sunscreen with Sea Lice Repellent
Some times of the year people have complained about sea lice in the waters of Castaway Cay. I combat this by bringing sunscreen that includes sea lice repellent. I use this brand from Amazon.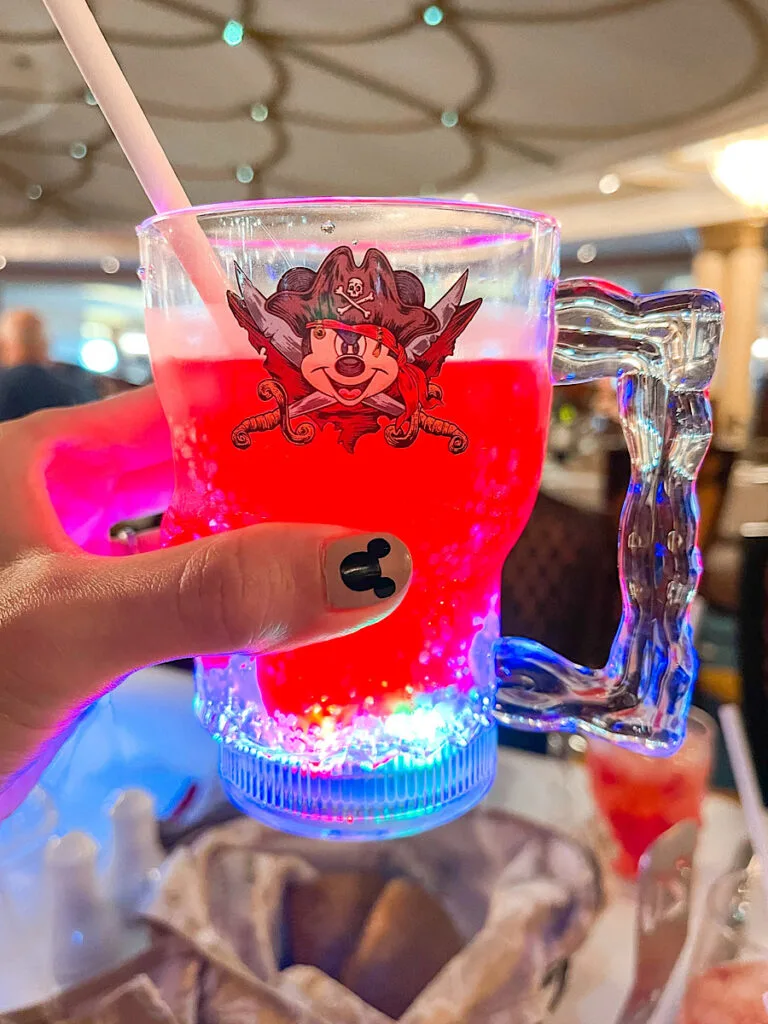 Disney Cruise Debarkation Tips
The debarkation process is streamlined on a Disney Cruise. On the day you debark from the ship, you will go to breakfast around 7:00 AM if you have an early dining time, or around 8:30 if you have a late dining time. Below are some tips to help you navigate this procedure.
Express Walk-Off
For most guests, you will get a set of character-themed luggage tags on the last day of your cruise. You will fill out the tags and attach to your luggage, then set your luggage outside your room the night before debarkation.
Your stateroom host or hostess will pick up your luggage, and you will retrieve it when you get off the ship. You will be called to debark the ship by the character on your luggage tags.
If you have an early flight or don't want to wait for your character to be called, you can do "Express Walk-Off". To do this, you will keep your luggage with you and then debark the ship at your leisure (usually by 9:30 at the latest).
Breakfast at Cabanas or Marcelline Market
If you do not want to eat in your assigned Main Dining Room restaurant the morning of debarkation, the buffets (Cabanas and Marceline Market) are generally open until 8:30 am on debarkation day. There are fewer options on debarkation day, but it is an option for you if you prefer the buffet breakfast.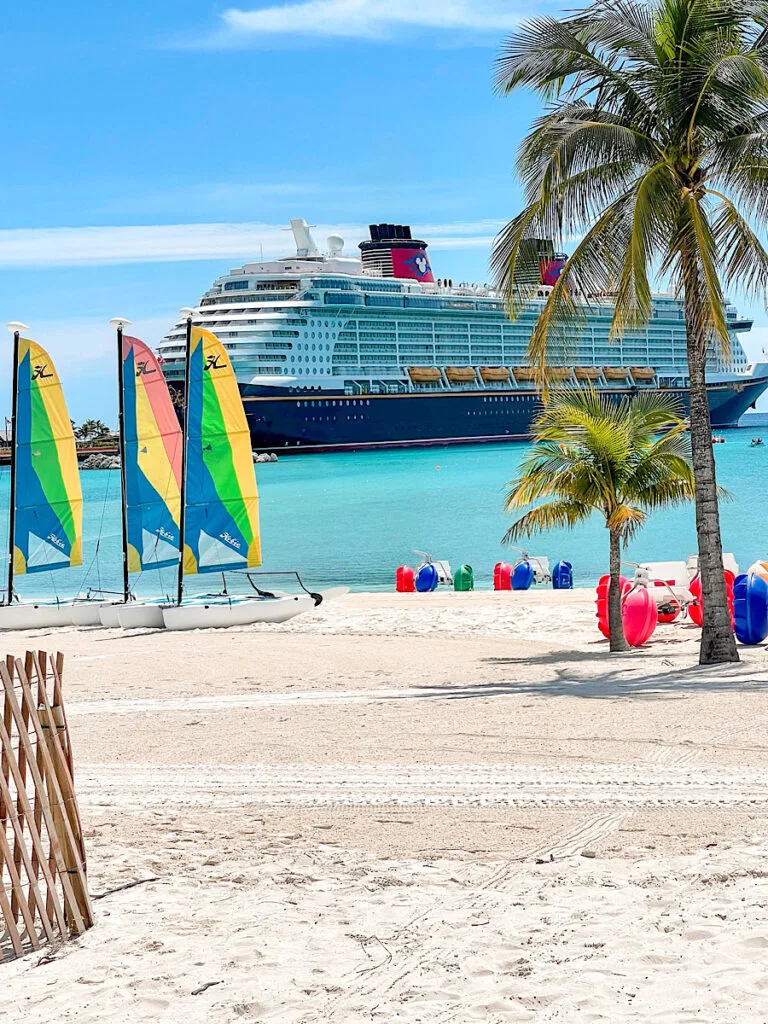 Disney Cruise Frequently Asked Questions
What is included in a Disney cruise?
A Disney cruise includes a variety of amenities and activities on board, such as dining, entertainment, recreation options, a fitness center, soda, free room service, and unique experiences like character meet & greets.
What is not included with a Disney cruise?
Alcoholic drinks, spa services, Bibbidi Bobbidi Boutique, shore excursions, and some restaurants.
Are there kid's clubs available on the ship?
Yes! Disney Cruise Line offers the Oceaneers Club and Oceaneers Lab for children ages 3-12, as well as Scuttle's Cove Kids Club on Castaway Cay.
Are there any pools or waterslides?
Yes, each ship has several pool areas with waterslides, hot tubs, and other family-friendly water activities.
Can you bring your own alcohol on a Disney cruise?
Yes, you can bring a certain amount of beer or wine. Check the Disney Cruise Line website for current restrictions.
How much does a Disney cruise cost?
The cost of a Disney cruise varies depending on the length, destination, and time of year. Generally speaking, 3-4 night cruises start at around $1000 per person.
Do you need a passport to go on a Disney cruise?
Yes and no, depending on the cruise. If the cruise is closed-loop (begins and ends in the same port) you can use a birth certificate and valid driver's license. But I still recommend a passport.
For all other cruises, a valid passport is required for all guests on Disney Cruises. Be sure to check the Disney Cruise Line website for current passport requirements.
Are Disney cruise ships worth it?
Yes! Disney cruise ships offer a unique experience for the entire family. The ships are full of activities and amenities that you won't find on other cruises, such as character meet & greets, Broadway-style theatre shows, pool areas with waterslides and hot tubs, kids' clubs, and more. There is something fun for everyone!
What are the 4 Disney cruise ships?
There are actually 5 Disney cruise ships now, and more on the way! Currently sailing are the Disney Magic, Disney Wonder, Disney Dream, Disney Fantasy, and Disney Wish.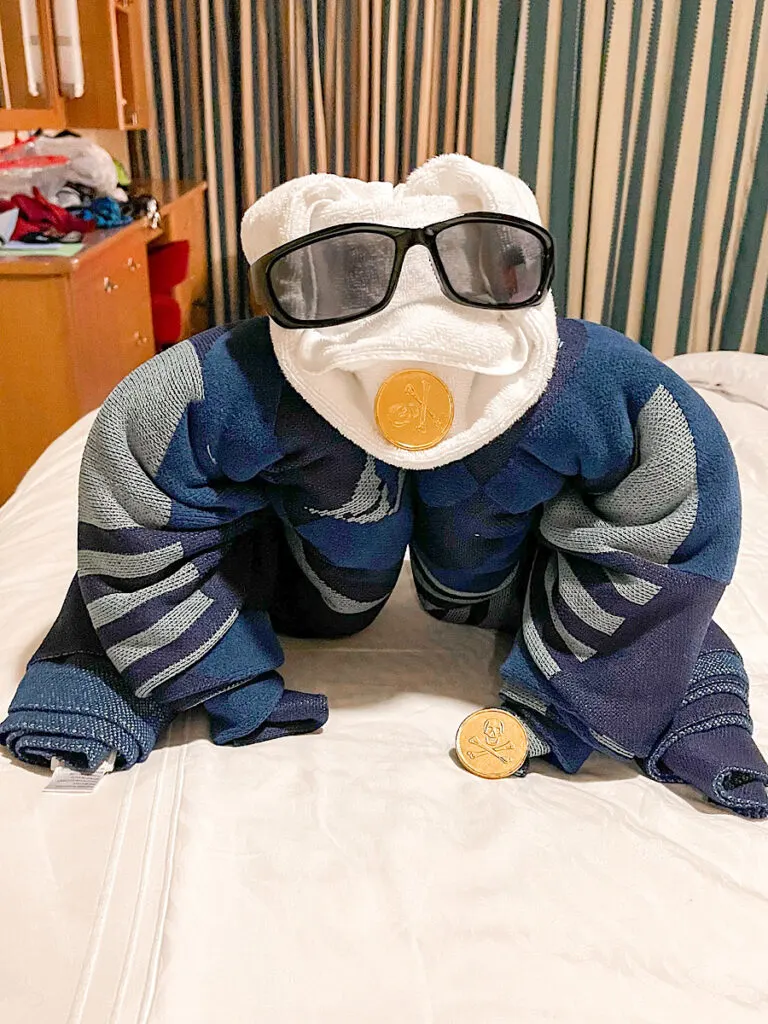 Final Thoughts
Getting ready to embark on a Disney cruise can seem intimidating, but it doesn't have to be. With the right planning and preparation, you can make sure that your last morning on board goes as smoothly as possible.
Whether you choose express walk-off or take advantage of breakfast at Cabanas or Marceline Market, following these tips will ensure that you have a stress-free and magical trip!
Good luck on your upcoming voyage, and happy sailing! If you have any questions, feel free to send me a DM on Instagram @mommymouseclubhouse!
Read My Disney Cruise Reviews: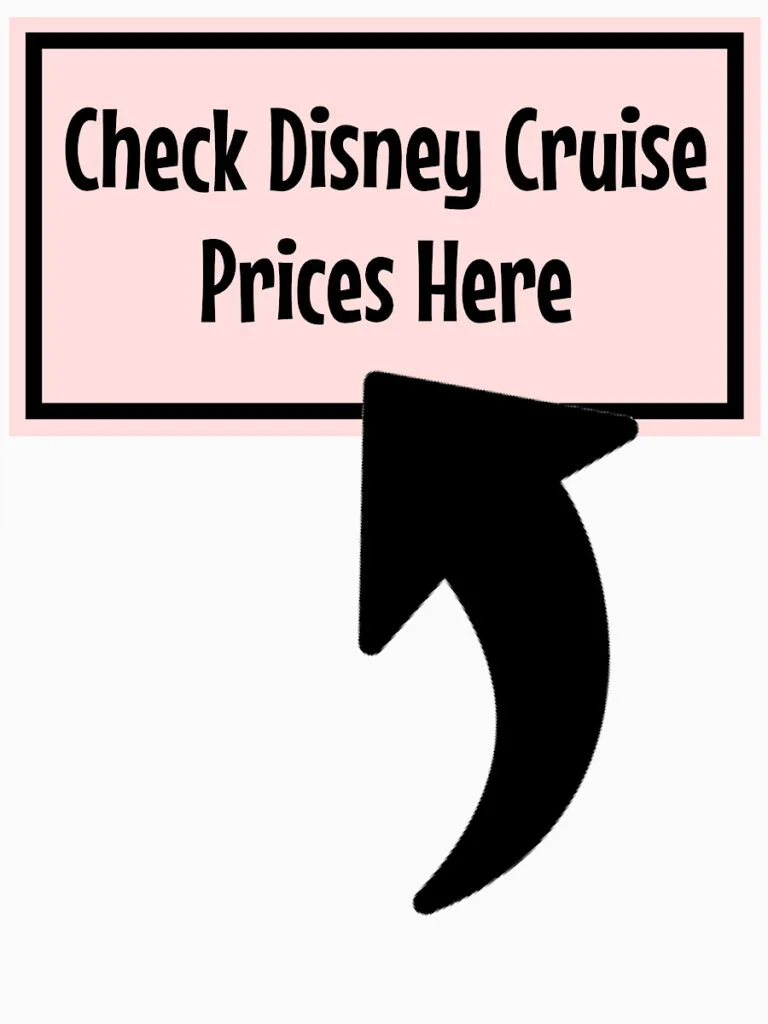 More Disney Cruise Information: