Packing for a cruise can be overwhelming. That's why having a complete list of items to pack is essential! This article outlines the must-have items you need before boarding the cruise ship. From swimwear and sunscreen to medicines and multi-port adaptors, this list will help ensure that you have everything you need for an amazing cruise. Not only will these cruise essentials make your vacation smoother, but they'll also free up your time so that you can enjoy every moment on board. So what are you waiting for? Pack up and set sail with our ultimate packing list for cruises!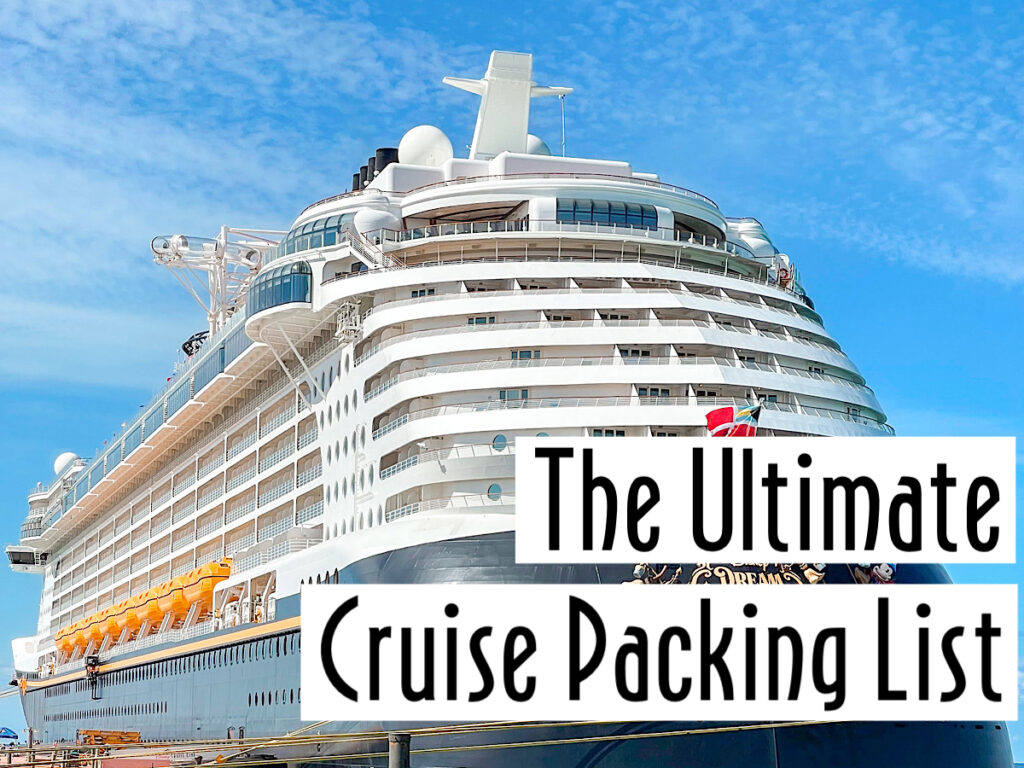 This post may contain affiliate links. When you click on these links, I get a small percentage back at no cost to you! For more information see my disclosure policy.
Check out prices below or get a free quote by calling 877-510-2929 and let them know Mommy Mouse Clubhouse sent you!
The Best Way to Pack for a Cruise
I have packed for many vacations for myself and my family and I have recently : how amazing it is to pack with packing cubes! I am able to stay organized and pack so much more when using them. In fact, I was able to pack my a carry-on sized bag for each family member for a 9-day cruise in Europe!
Check out the packing cubes that I purchased and use from Amazon here.
After packing for 7 cruises, I have learned to get out all of the clothing that I think I'll need, then put half of it away. I used to always overpack, but have definitely become better at packing the right amount over the years.
I use an app called Pack This on my iPhone that is a checklist that includes all of the items below. It definitely helps me to not forget things that I need!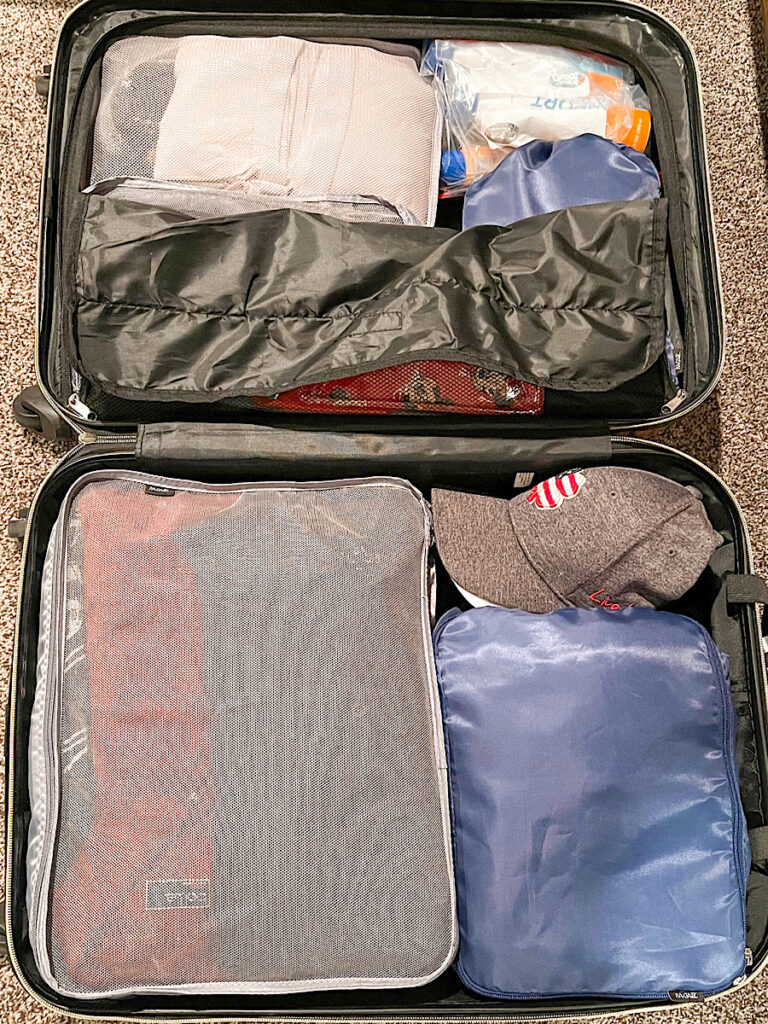 Documents to Pack
Be sure to pack your identification! Whether it's your passport or your birth certificate and photo ID, you won't be able to board the ship without them! I always recommend a passport when possible, but a drivers license and birth certificate are acceptable for US citizens on closed-loop cruises out of the United States.
It's a good idea to bring a copy of your passport or keep a picture of it on your phone in case of emergency. You don't generally need to bring your passport off the ship with you when you are at a port or on shore excursions, but it's nice to have a picture of it if something does happen and it needs to be replaced.
Pack your cruise documents. Most cruise lines will need a QR code or reservation number when you check-in. I always bring a hard copy of this in case something happens to my phone's battery or there is a connectivity issue.
Some cruise lines (like Disney) will provide you with sticker luggage tags that will be sent to you before your cruise. Other cruise lines (like Royal Caribbean) will require you to print your luggage tags. Make sure to print these ahead of time and pack them. You can staple them to your suitcase or you can purchase luggage tag holders like these that I found on Amazon here.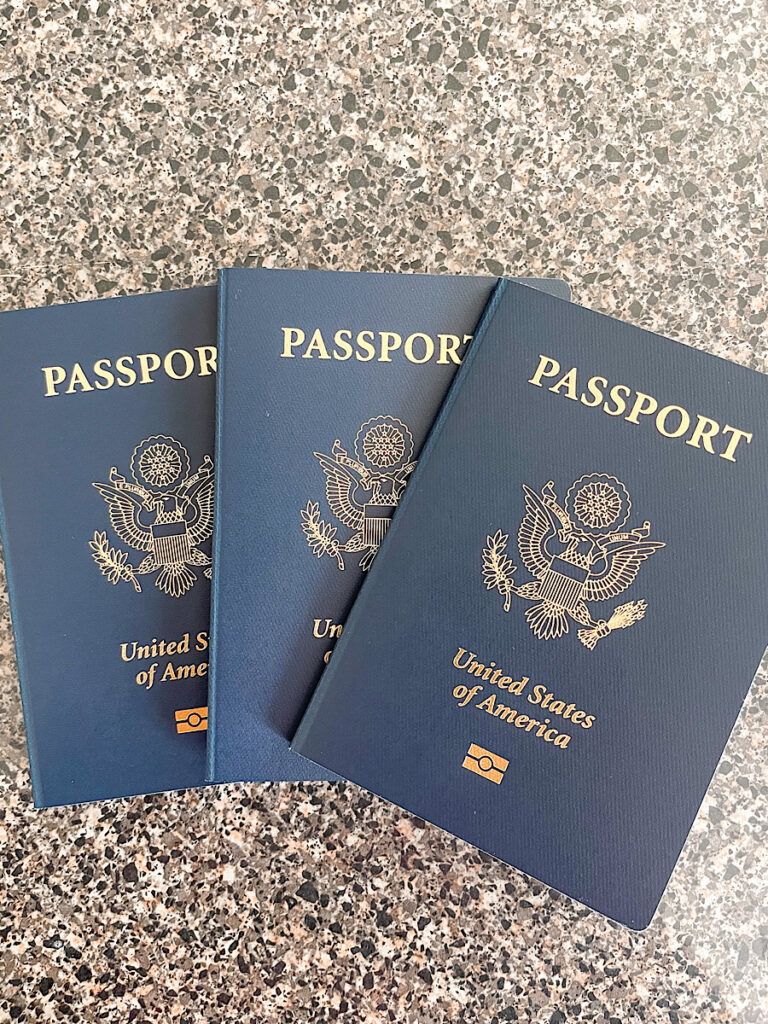 What to Wear on a Cruise
Deciding what clothing to pack for a cruise is very personal, so take from the list below what will be comfortable and work for you.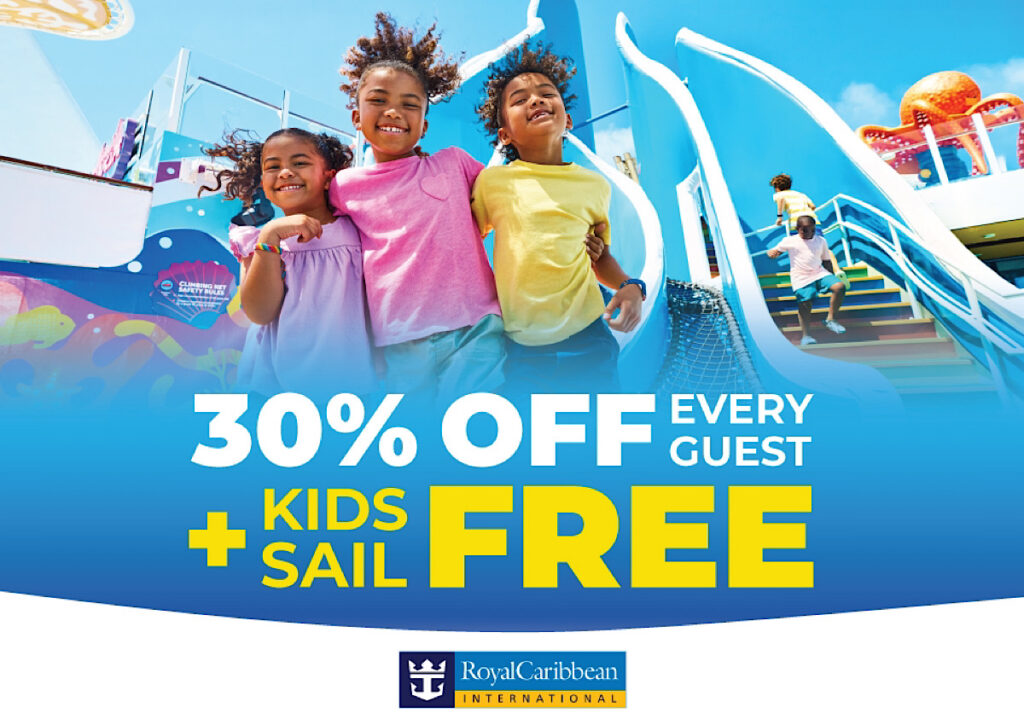 Right now you can get 30% off every guest + Kids Sail Free on Royal Caribbean Cruises! Call 855-GET-AWAY to get a quote and tell them Mommy Mouse Clubhouse sent you or click the button below!
Daytime Clothing
Depending on where you are cruising, you will want to bring lightweight, comfortable clothing including shorts and T-shirts.
A swimsuit (or two) are a must to pack for a cruise. I usually bring two per family member which allows one to dry while you are using the other.
You'll also want to bring swimsuit cover-ups to wear while walking around the ship or stopping to get lunch at the buffet.
A rash guard is also a great idea to pack for a cruise. The sun can be brutal, especially in the Caribbean, so a rash guard can be a life-saver to keep from getting a sunburn.
A comfortable pair of shoes such as sneakers, flip flops, sandals, or even water shoes are great to wear at the beach or around the ship during the day.
A Sun Hat and sunglasses to protect you from the sun are also great to pack.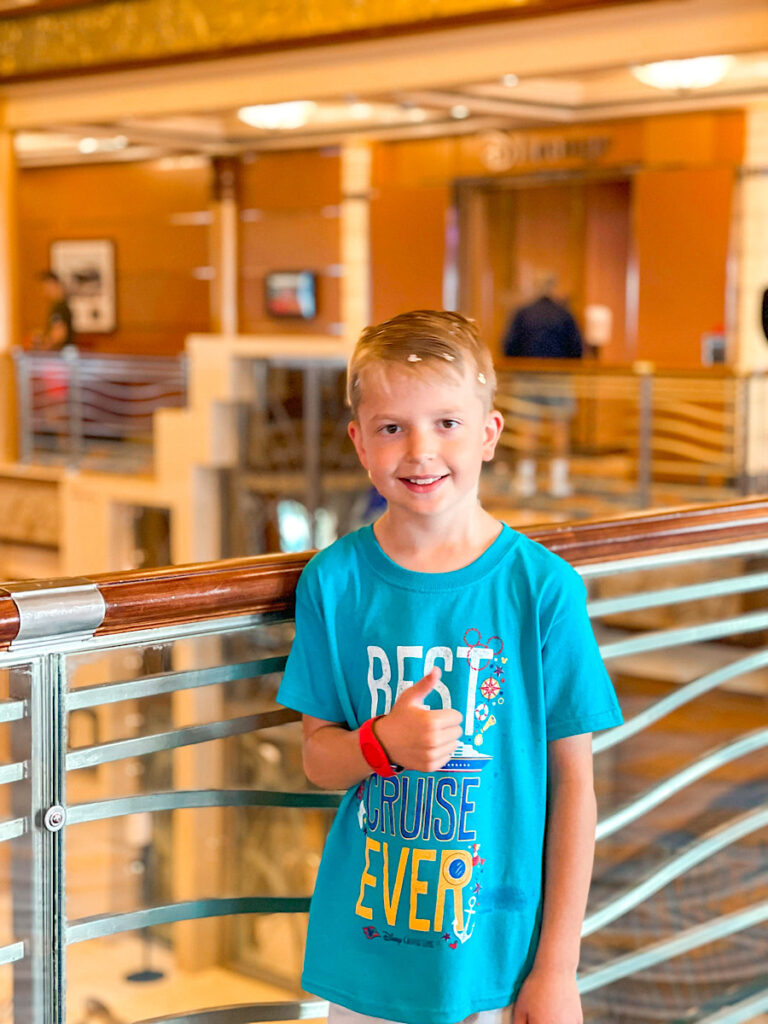 Nighttime Clothing
When it comes to evening attire, it can vary greatly depending on the itinerary and cruise line you choose.
If your cruise vacation has formal nights where guests dress in formal wear or evening wear such as a suit or nice dress (don't forget coordinating shoes). Be sure to plan ahead for your particular cruise and bring something appropriate for each family member. Read all about what to wear on a Disney Cruise Formal Night here.
Most cruise lines prefer that you don't wear beach wear to dinner, so I recommend packing a nice sundress for women and girls and a nice pair of slacks or shorts, and a button-up or polo shirt for men and boys.
Some cruise lines also offer themed nights like Pirate Night on a Disney Cruise or 80s Night on a Royal Caribbean cruise.
I always pack a sweater, hoodie, or light jacket to wear on the ship. The dining rooms and theaters can get cold and it's nice to be prepared with something to help you stay warm.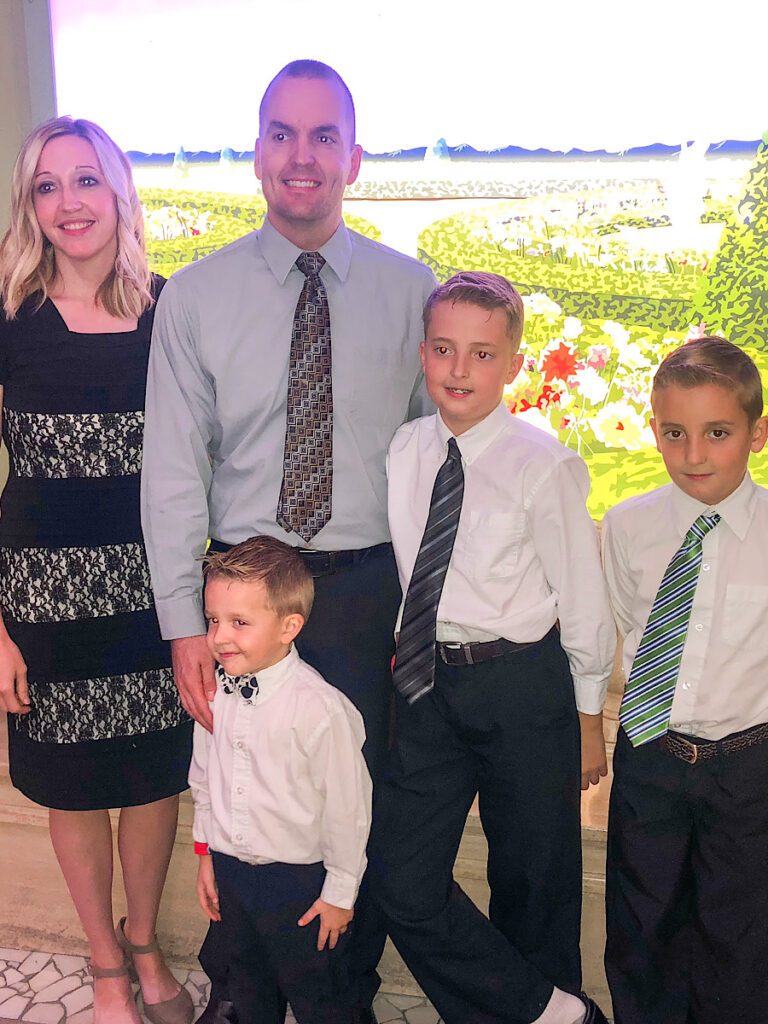 Toiletries to Pack
You'll want to bring the usual toiletries like deodorant, razor, brush, comb, tweezers, nail clippers, toothbrushes, toothpaste, lip balm, etc.
If there is a particular shampoo and conditioner that you like to use, you might want to consider packing a travel-size version of the product. Disney Cruise Line has great shampoo, conditioner, body wash, and lotion, but my experience with other cruise lines is that some ships will have a hair and body wash combination and no conditioner. If this is something you need, I recommend that you pack what you like!
Makeup: I don't wear a lot of makeup during the day on a cruise, but I make sure that what I do wear includes sunscreen. I do like to bring some makeup for dinner and evening shows.
Pack a lot of sunscreen! You will be in the sun a lot, on the top decks, swimming, outdoor activities and excursions. It is much more cost effective to pack your own sunscreen. I like this sunscreen that is also sea lice and jellyfish repellent!
Even though you pack sunscreen, there are always times when you forget to reapply or maybe miss a spot. After-Sun lotion with Aloe is a life saver in these situations. You probably won't need a lot, so get one that is travel-sized or add some to a travel sized bottle!
Medications to Pack for a Cruise
Packing medications is where I feel like I can never be over-prepared. I try to plan for almost every situation so that I have what I need right in my own stateroom. I bring a small packing cube with a few of each of the following that my family calls our "cruise pharmacy".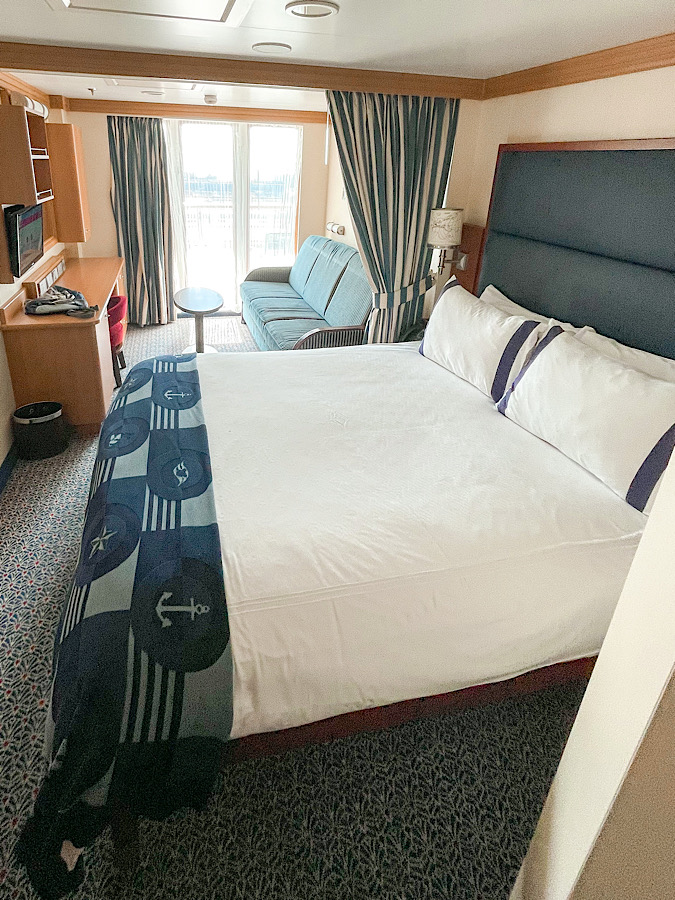 Things to Pack for Your Cruise Cabin or Stateroom
The following items are helpful to have in your stateroom or cabin, but may or may not be necessary for everyone. Take a look at each item and decide if it is worth the space to pack in your suitcase.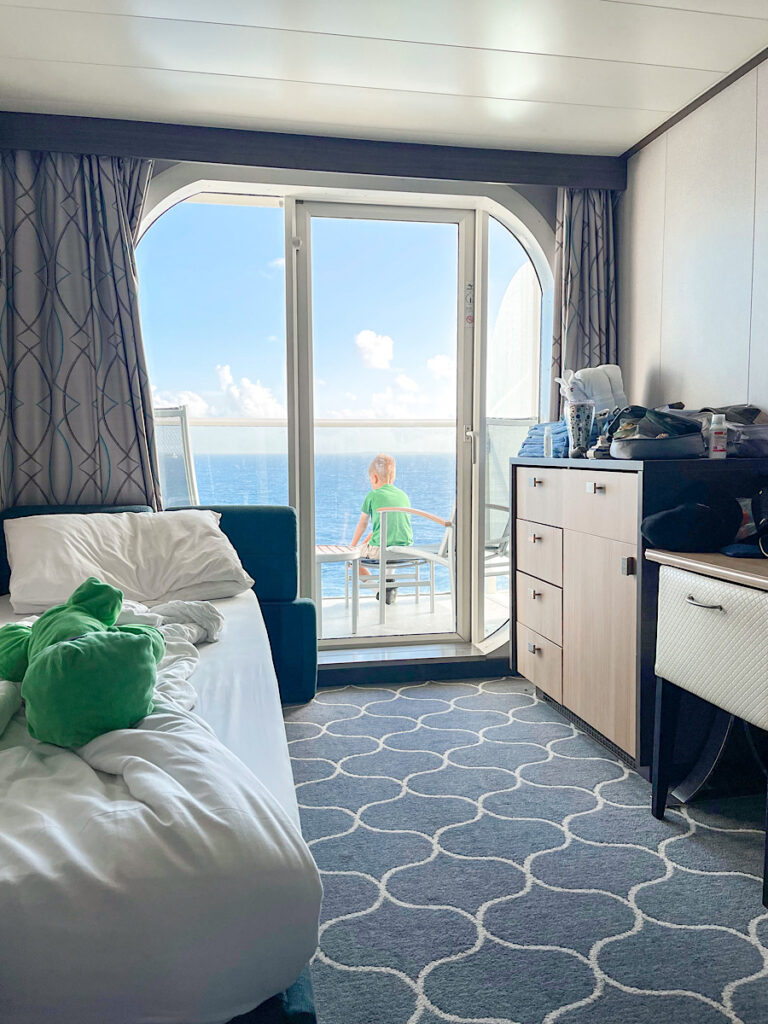 Miscellaneous Items to Pack for Your Cruise
Just like the list of stateroom essentials above, the list of items below are suggestions that can are nice to have and can come in handy on a cruise. Pick and choose the items that will work for you.
Hand Sanitizer: Cruises can definitely breed sicknesses, so you'll want to make sure to wash your hands frequently and use hand sanitizer.
Baby Powder: This is nice to help remove sand off your feet before returning to the cruise ship.
Wet Wipes: There have been so many times when having wet wipes has come in handy on a cruise. I always bring a pack when we fly or go on a road trip anyway, so they are always in my travel bag.
Waterproof Bag: I use a waterproof bag to store my phone when I am off the ship and on an excursion, especially a beach excursion. You can also get a waterproof phone case.
Ziplock Bags: I always pack various sizes of ziplock bags when we go on a cruise. From snack size ziplock bags, all the way up to 2-gallon size ziplock bags.
Mask and Snorkel: This is not a necessity, but it's nice to have our own snorkel gear for beach days.
Lanyard for Your Room Key Card: A lanyard is nice to have to help you keep track of your room key. If going on a Disney Cruise, you won't get a lanyard on your first cruise, but will get one on your second cruise and every cruise thereafter.
Phone & Cruise App for Everyone: As I mentioned before, most cruise lines will have an app that you will need to download before you board the ship. This app will show you the list of daily activities, menus, and other information about your cruise. Some apps will even allow you to message other members of your group. It is helpful for your entire group to have a phone to be able to communicate with each other.
Lightweight Backpack: You will want a lightweight bag or small backpack to carry supplies with you on port days and excursions. You can also use this as extra space at the end of your cruise to store souvenirs if you did a lot of shopping!
Refillable Water Bottles: You will want a water bottle to keep water with you and in your room when you need it.
Towel Clips: These are not necessary, but are nice to have to keep your towel in place while lounging on the upper decks of the ship.
Old Gift Card: Many of the new cruise ships require you to place your room key in a slot by the front door in order for the power to work in your cabin. I like to bring an old gift card, library card, or something similar to keep in the slot.
Binoculars: Binoculars are nice to have to watch dolphins, whales, and other wildlife from the ship.
Cash for Tips: Most cruise lines will charge tips for your stateroom host and dinner servers to your credit card on file, but you may need cash to tip porters that help you with your baggage or tour guides that take you on excursions. I also like to tip in cash when ordering room service. (Check out the Disney Cruise room service menu here.)
White Noise Machine or App: This is a great thing to have if you are sensitive to sounds while sleeping or if you have little ones that need to nap.
Sponge with Dish Soap: This is a tip that I saw in a group on Facebook and it is genius! You will need to get a cheap sponge and soak it in water. While it is wet, cover it in dish soap and allow it to dry. Cut the sponge into multiple pieces and pack it in a ziplock bag. When you need to wash something like a refillable water bottle, get the sponge wet and it will already have soap!
Insect Repellent: This will be necessary depending on the ports you visit. I purchased insect-repellent wipes because they are easier to pack.
Sand Toys: If you are cruising with kids and plan to go to the beach, you might want to bring along some sand toys. My boys always spend hours digging in the sand, so it is something that we pack for every cruise.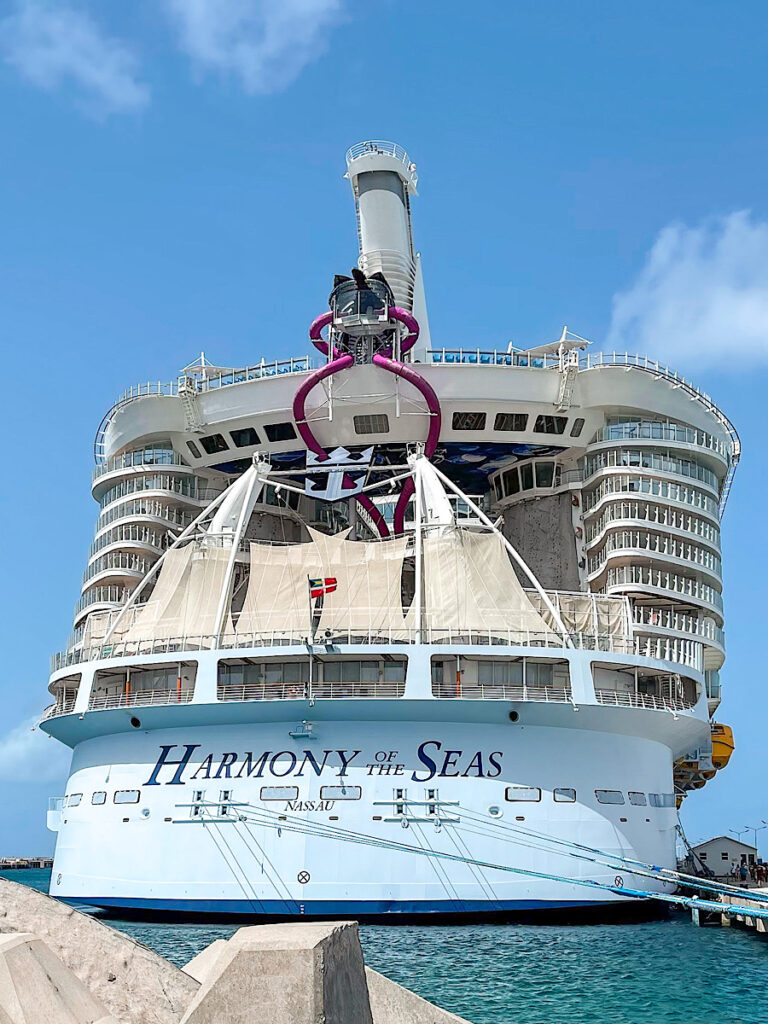 Laundry Supplies
Depending on the cruise line, you may or may not have access to a washer and dryer while on board. Disney Cruise Line, for example, has washers and dryers available for guest use. Royal Caribbean Cruise Line does not. Here are some supplies you might want to bring.
Laundry Pods: I pack one or two when I go on a Disney Cruise. Doing laundry is so easy on the ship and allows me to pack less and do less laundry when I return home.
Dryer Sheets: These are not only good for doing the laundry on the ship, but they can help keep your packed clothes smelling fresh as well!
Wrinkle-Release Spray: This is a great way to reduce wrinkles in clothes without the use of an iron.
Travel-sized Detergent Sheets: If you do not have access to laundry facilities on your cruise, you may need to bring travel-sized detergent that allows you to wash a few items in the sink of your room.
Pop-Up Hamper: Having a pop-up hamper has been a lifesaver for keeping our stateroom clean and organized. It gives you a place to contain dirty clothing and can also be used to transport your laundry to the laundry room if available on your cruise.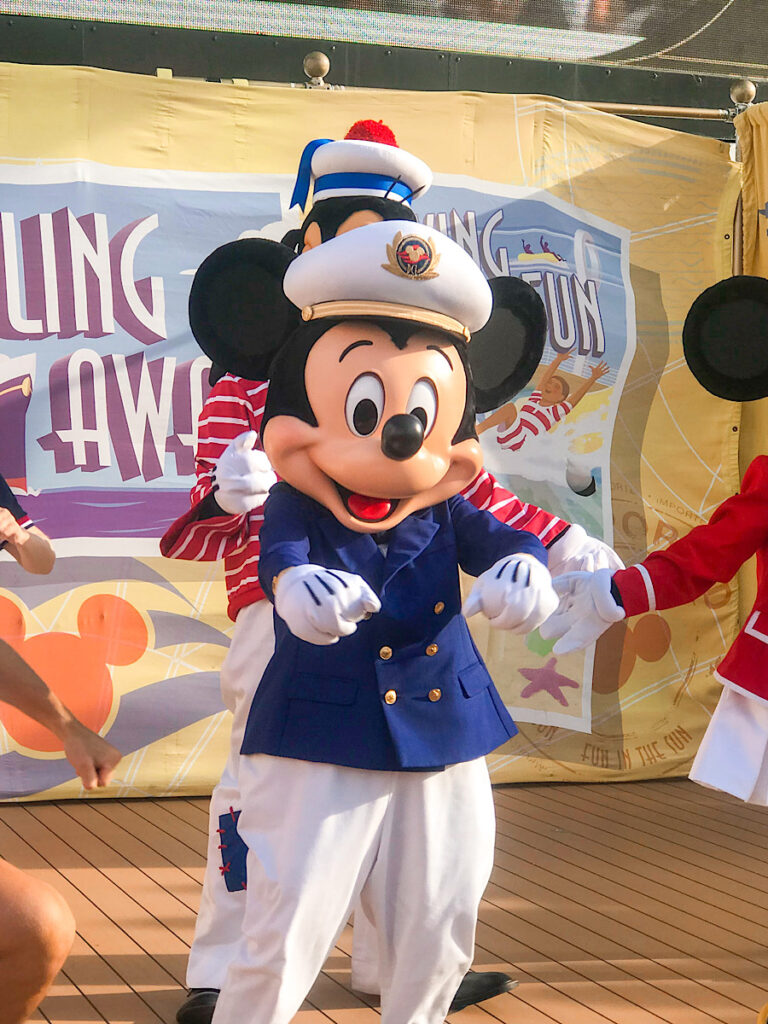 What to Pack for Embarkation Day
When you board a cruise ship, you usually don't have access to your luggage right away. Because of this, I recommend bringing a carry-on suitcase with a few essentials.
Passports
Cruise Documents
Prescription Medications
Bathing Suit
Sunscreen
Sunglasses
Change of Clothes
Can I Pack Alcohol for a Cruise?
If you're wondering if you can pack your own alcohol for a cruise, the answer is, it depends. Some cruise lines will allow it and some will not. You'll want to double check your cruise line's website for their official policy. If you are able to bring alcohol on your cruise, here are some items you might want to include in on your packing list.
Corkscrew: You will need one of these if you are bringing your own bottle of wine.
Bottle Stopper: These are a great way to keep an open bottle fresh for another day.
Leakproof Wine Bottle Protector: If you are packing wine in your suitcase, make sure to bring a bottle protector to prevent any leaks.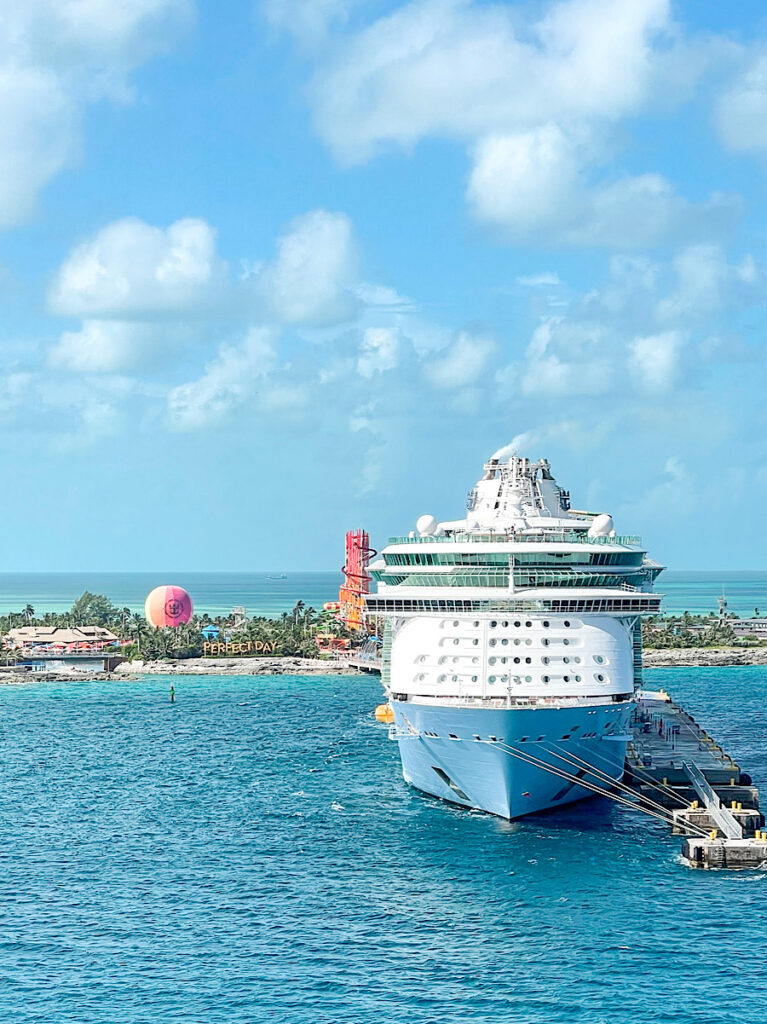 What NOT to Pack for a Cruise
With this expansive list of what to pack, there are also many things that you should not pack because they are not necessary or are not allowed. As with bringing your own alcohol, you'll want to check your cruise line's official list of what is not allowed. Below are some examples of what not to pack:
Firearms and ammunition, any kind of knife, sword, dagger, bullwhip or any other type of weapon. Firearm replicas, including non-firing, imitations, toys and their components.
Homemade, pre-cooked, or other perishable items.
Electrical appliances and components: blenders, bottle sterilizers and warmers, coffee makers, diffusers, electric blankets, electric irons and steamers, extension cords, power strips and surge protectors, heating pads, hot plates, microwave ovens, and rice cookers.
Wheeled recreational equipment and transport devices: any footwear with wheels (i.e. Heely's type shoes), bicycles, hoverboards, inline & roller skates, scooters, Segways, and skateboards.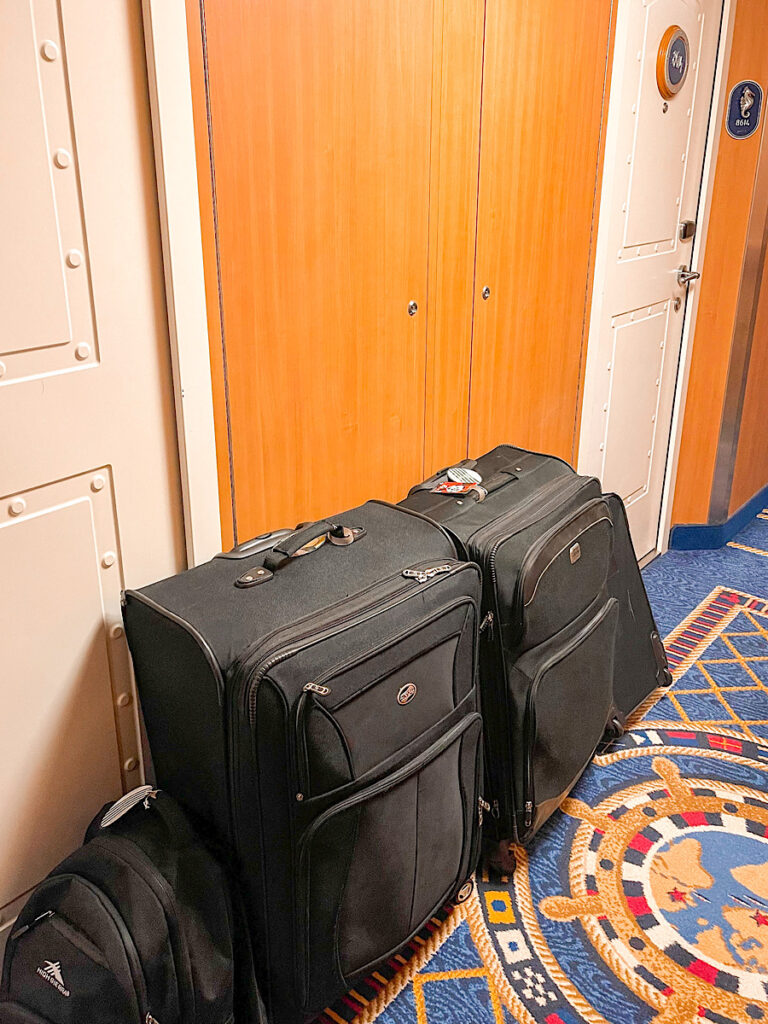 What to pack for a Disney cruise?
I have been on a variety of cruise lines and this list encompasses all of them, but there are a few specific items I recommend specifically for a cruise with Disney Cruise Line. Also, if you're thinking about planning a Disney Cruise, check with my travel partner Get Away Today online here or give them a call at 855-Get-Away and let the know Mommy Mouse Clubhouse sent you! They can help you plan the perfect cruise for you and your family!
Tumblers: Disney has free soft drinks included for all guests, but the cups available near the soda machines are small. I like to bring reusable tumblers for my family so they can refill them throughout the day.
Disposable Straws or Reusable Straws: Disney only has paper straws, so if this does not work for you, pack your own straws!
Luggage Tags: Disney will send you sticker luggage tags. Make sure to pack these and attach them to your luggage before or when you arrive at the port.
Door Magnets: Decorating your stateroom door is a big deal on a Disney Cruise. Some people go all out! I have made my own out of cardstock that I reuse ever cruise, but you can find many customizable choices on Etsy and Amazon.
Pirate Costumes: Most Disney cruises that are 4-nights or longer will have a Pirate Night. If you want to dress up, you can go all out with a costume (like this) or stick with a pirate-themed T-shirt (like this or this).
Popcorn Bucket: If you have purchased a popcorn bucket from one of the Disney parks, you can bring it with you and get popcorn before shows at the refill price!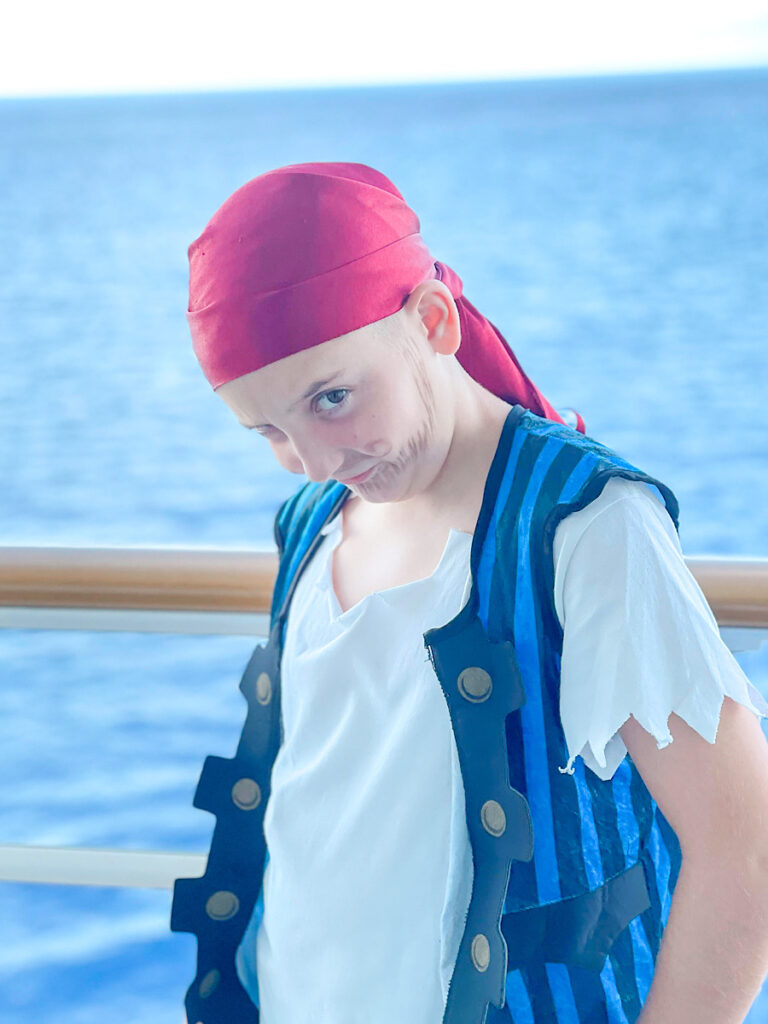 Cruise Deals
If you are in the planning stages of your cruise, I highly recommend you check out cruise deals from my travel partner, Get Away Today. They can help you find the best itinerary at the best price on the best cruise line for you! Give them a call at 855-GET-AWAY and let them know Mommy Mouse Clubhouse sent you and they will take great care of you!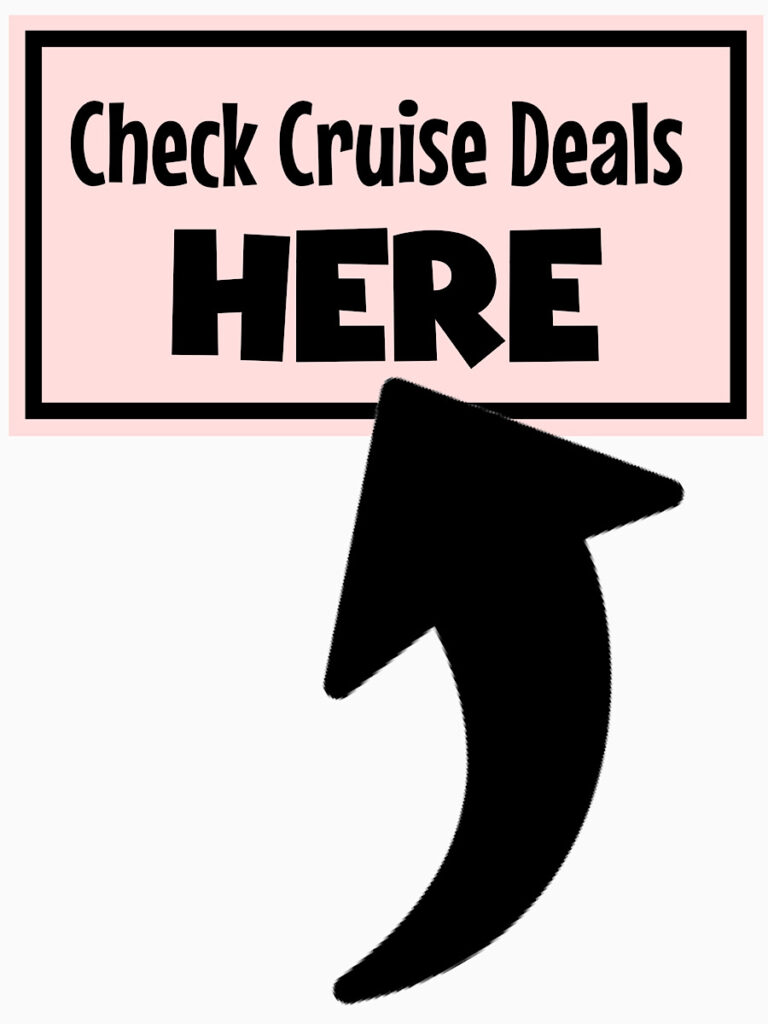 Final Thoughts
Remember, when packing for a cruise be sure to check the official lists of items that are allowed and prohibited by your cruise line and make sure to leave ample space in your suitcase for souvenirs!
I hope this ultimate cruise packing list will help you plan the perfect adventure. If you have any questions about this list, the best way to reach me is to send a DM on Instagram @mommymouseclubhouse!