Going on a Disney Cruise? Below you will find screenshots of the Royal Palace Menu on the Disney Dream and the Disney Fantasy so you will be able to decide what you want to choose before you even set sail!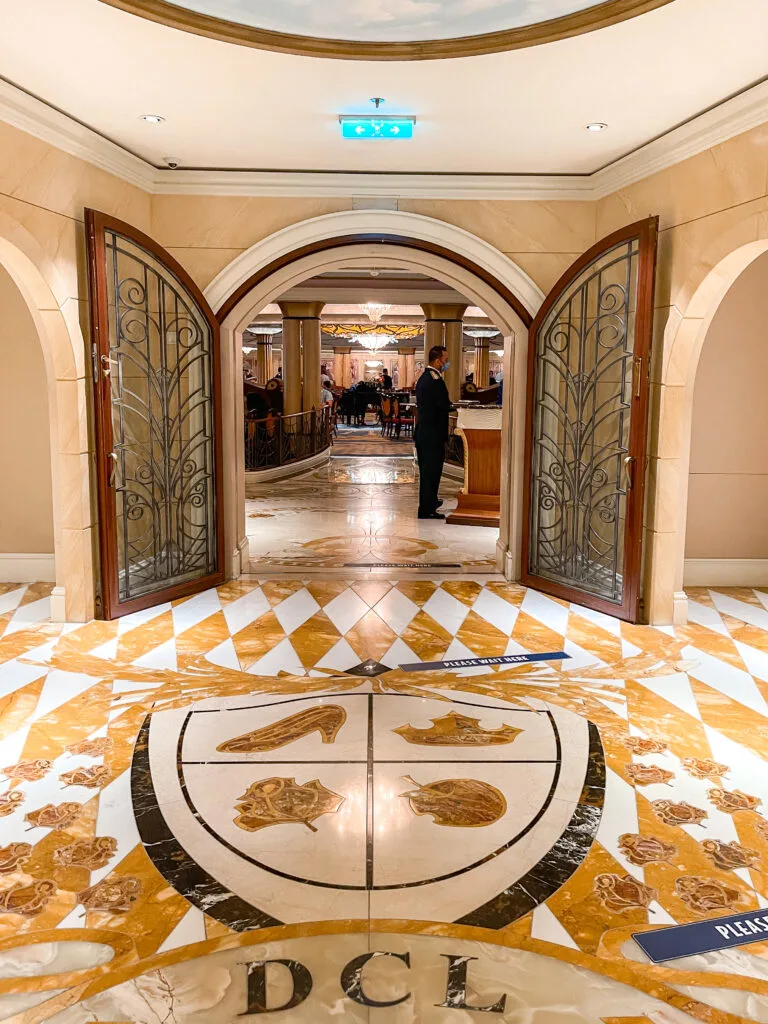 This post may contain affiliate links. When you click on these links, I get a small percentage back at no cost to you! For more information see my disclosure policy.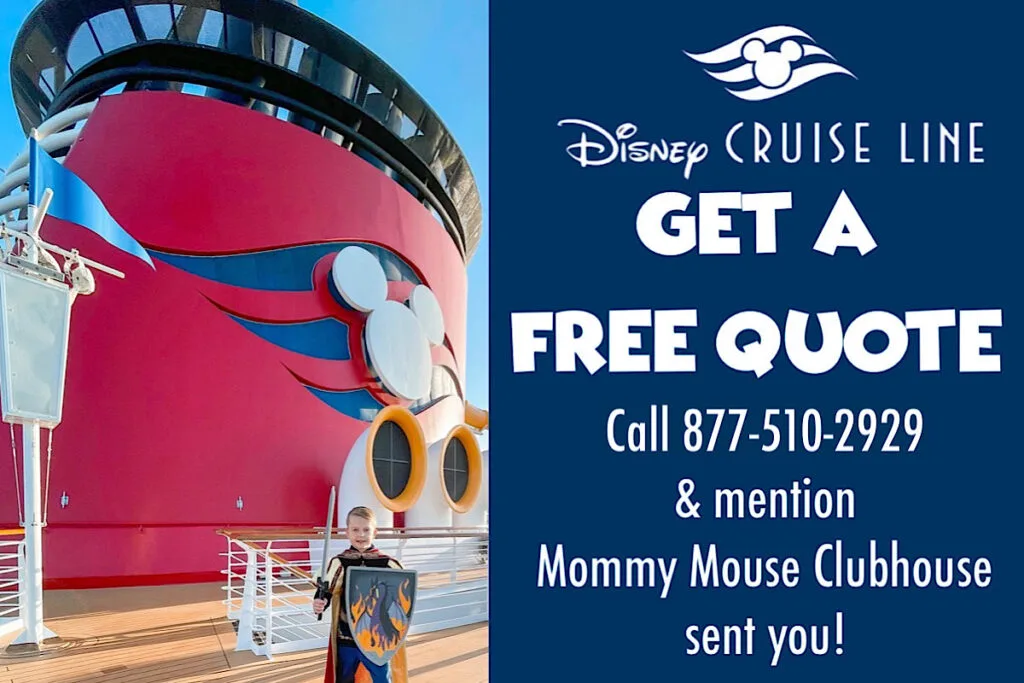 Check out prices below or get a free quote by calling 877-510-2929 and let them know Mommy Mouse Clubhouse sent you!
If you're curious about what your dining choices will be when eating at Royal Palace on the Disney Dream and Disney Fantasy, your are in the right place!
I am a planner and always like to be prepared and know details before I travel anywhere. My husband, is the total opposite.
In case you are like me, I hope that you find this post and these screenshots helpful, so you will know what to expect.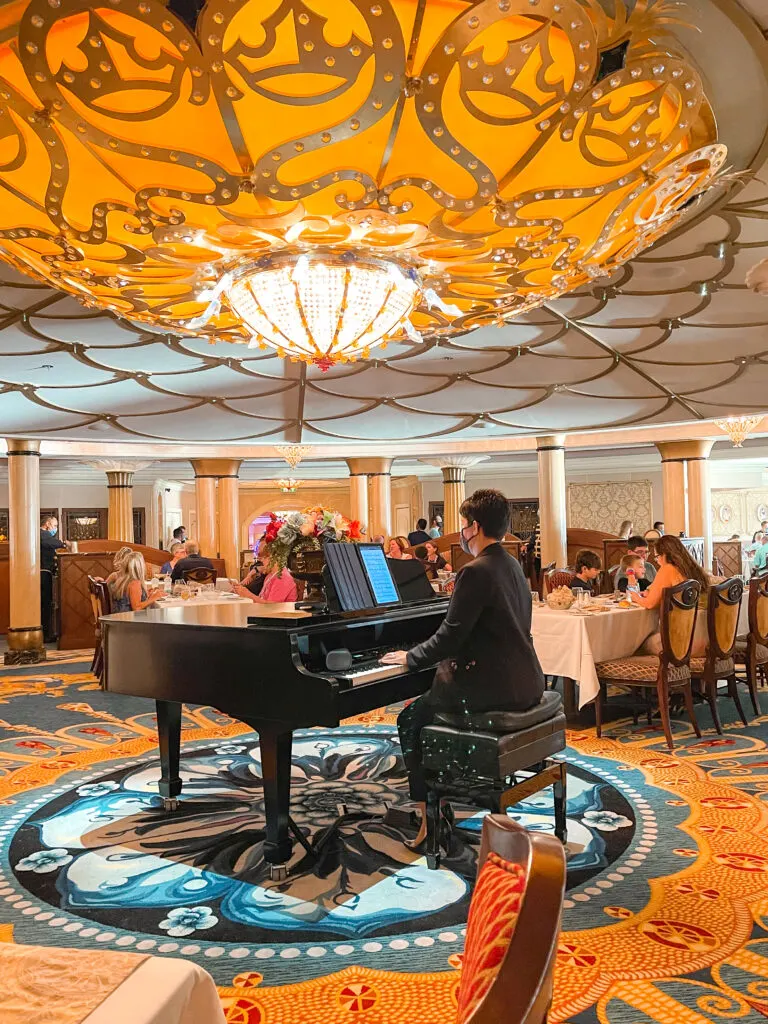 Disney Cruise Line uses rotational dining, which means you will be assigned to a different restaurant each night.
On our recent four night cruise, we dined at Royal Palace two nights. This is the menu for night two. On night 3 we ate at Royal Palace again, but this time the menu was pirate-themed.
If you would like to see the menu for Enchanted Garden, you can head here. Here is the menu for Pirate Night as well as the menu for Animator's Palate, Breakfast, and Room Service. I also have pictures of all of the daily activities on board the Dream that you can find here.
Royal Palace Menu (Screenshots from Disney's Navigator App)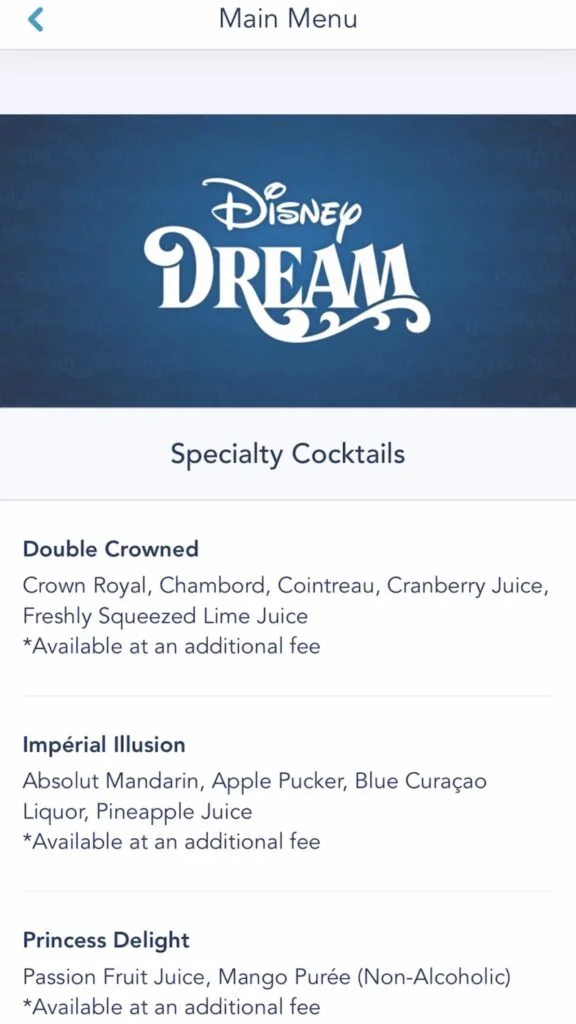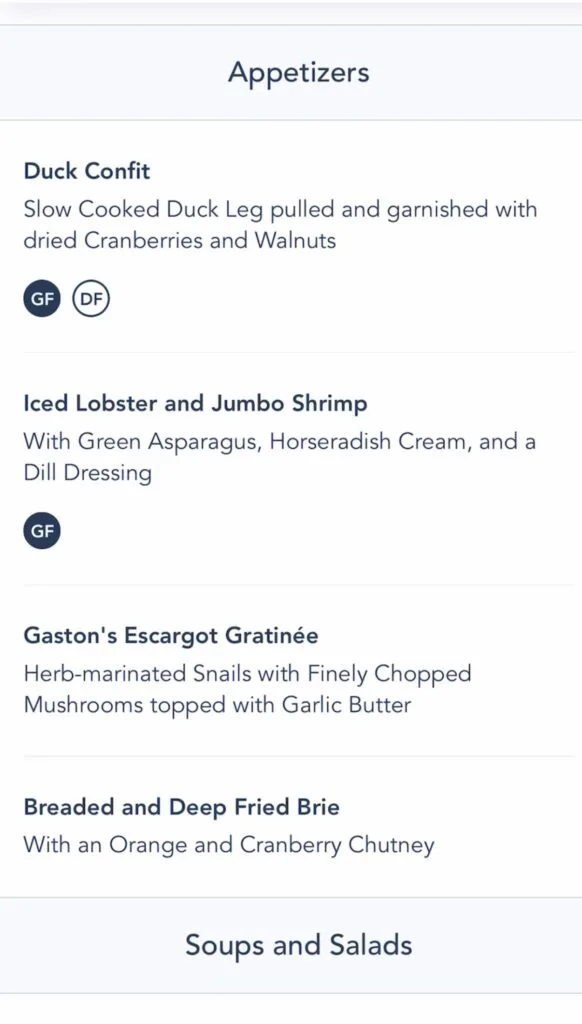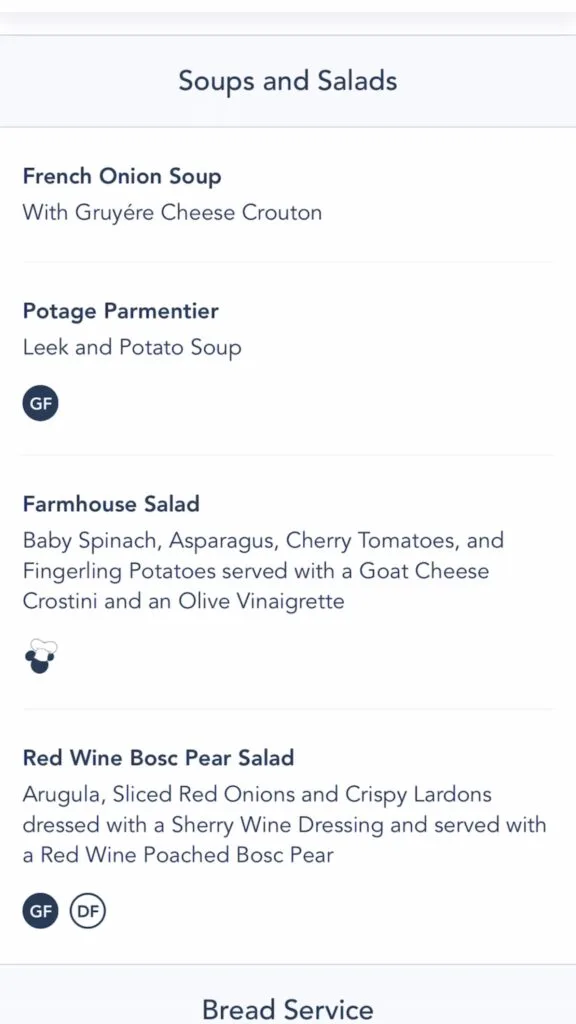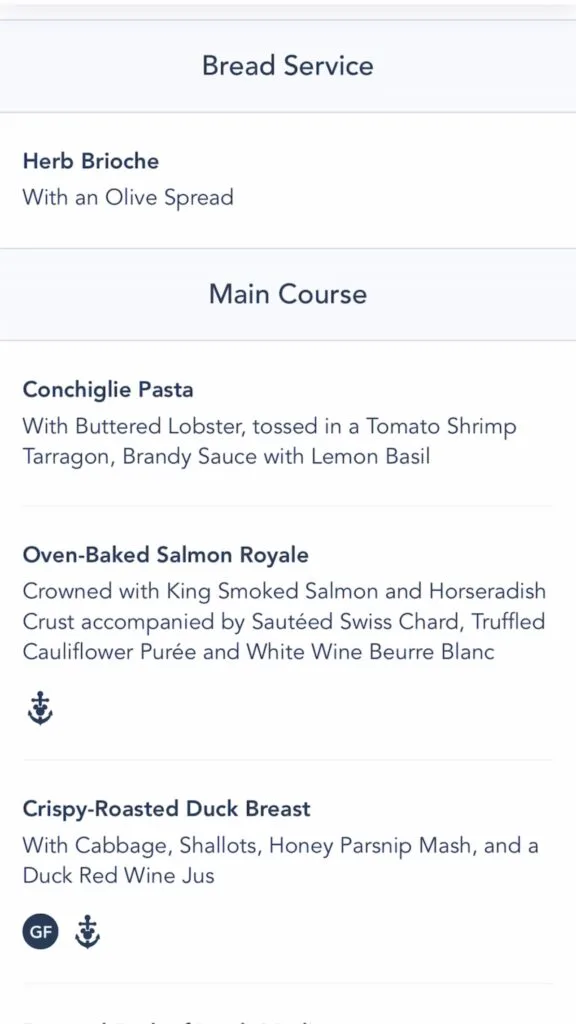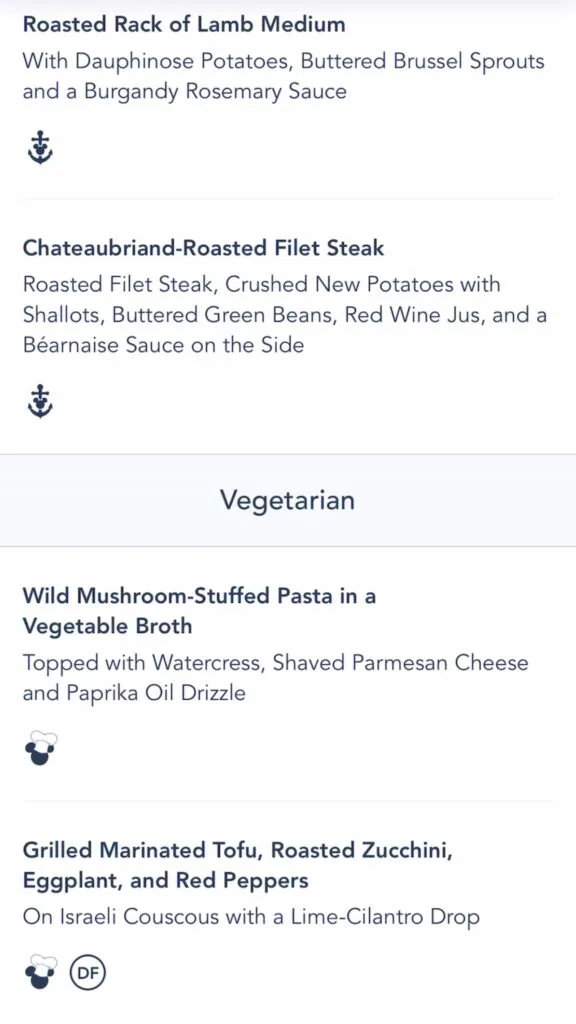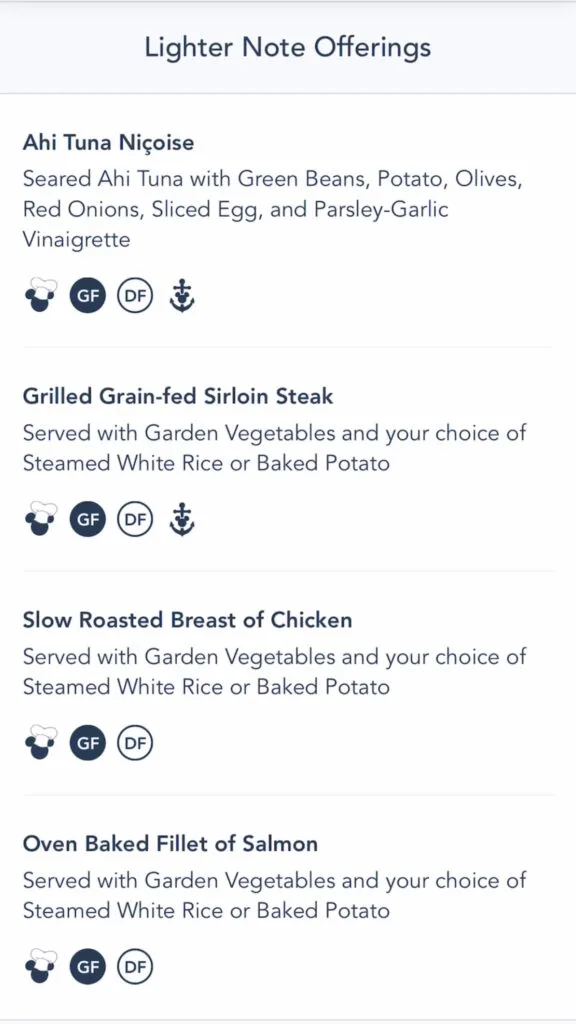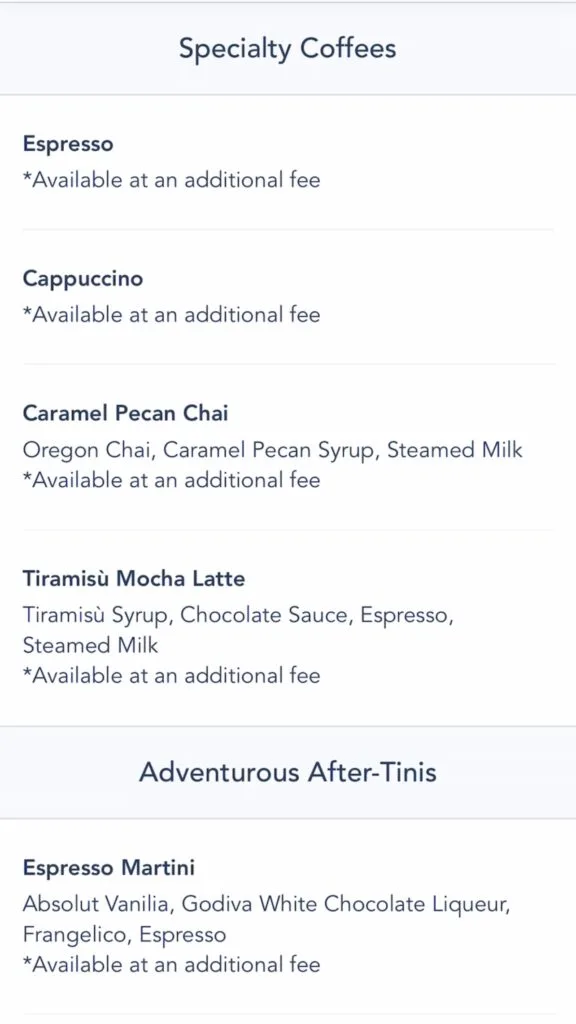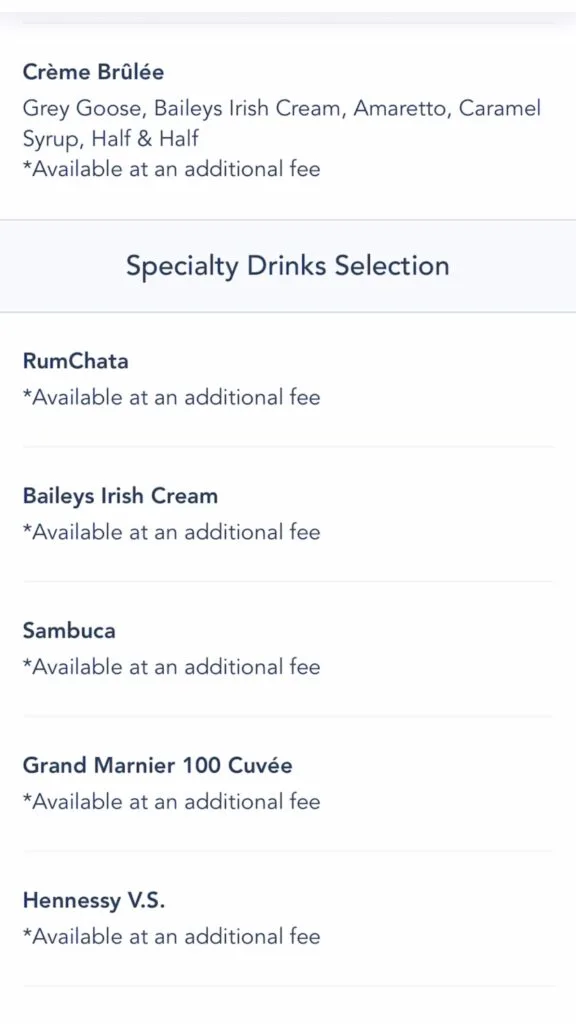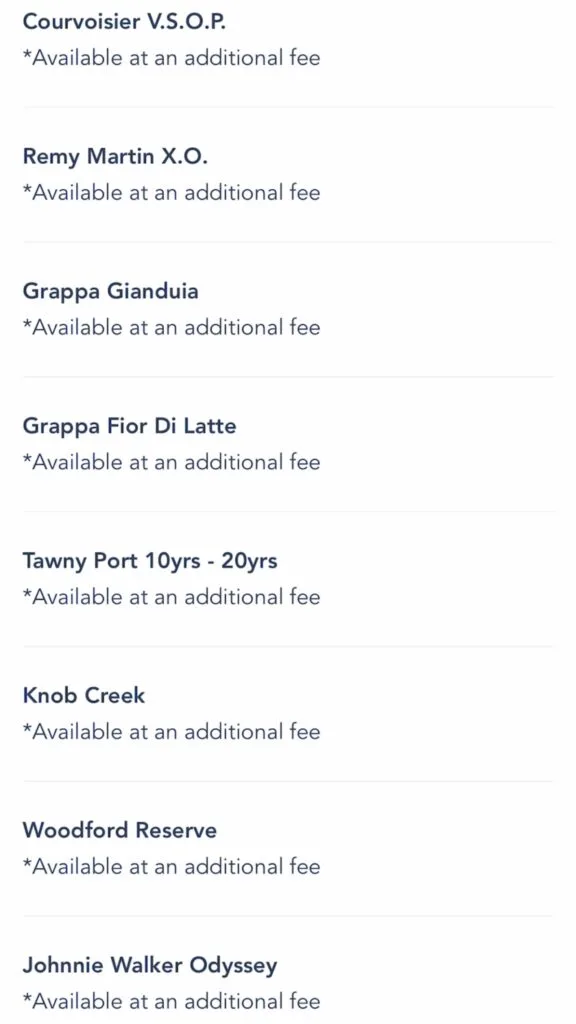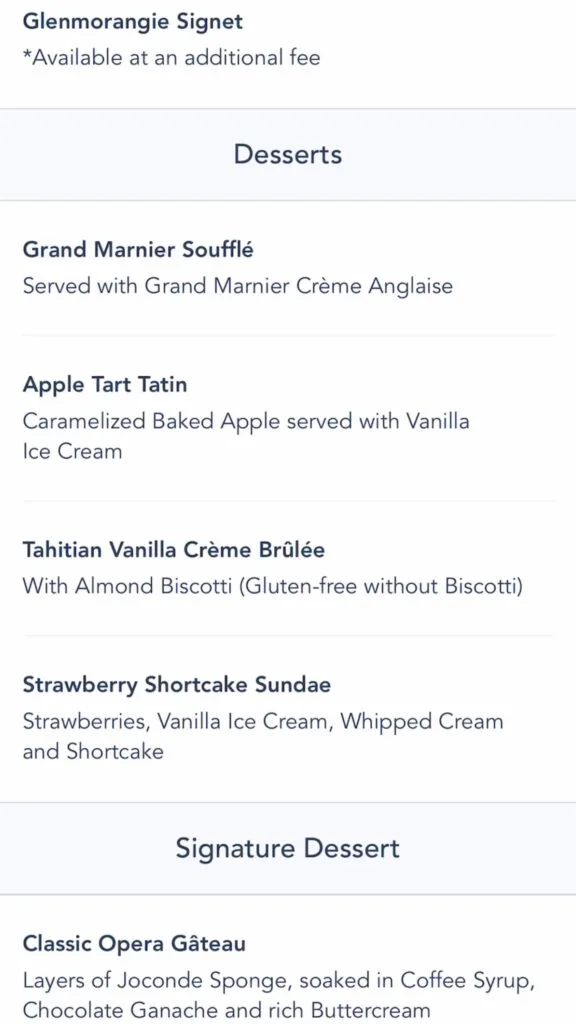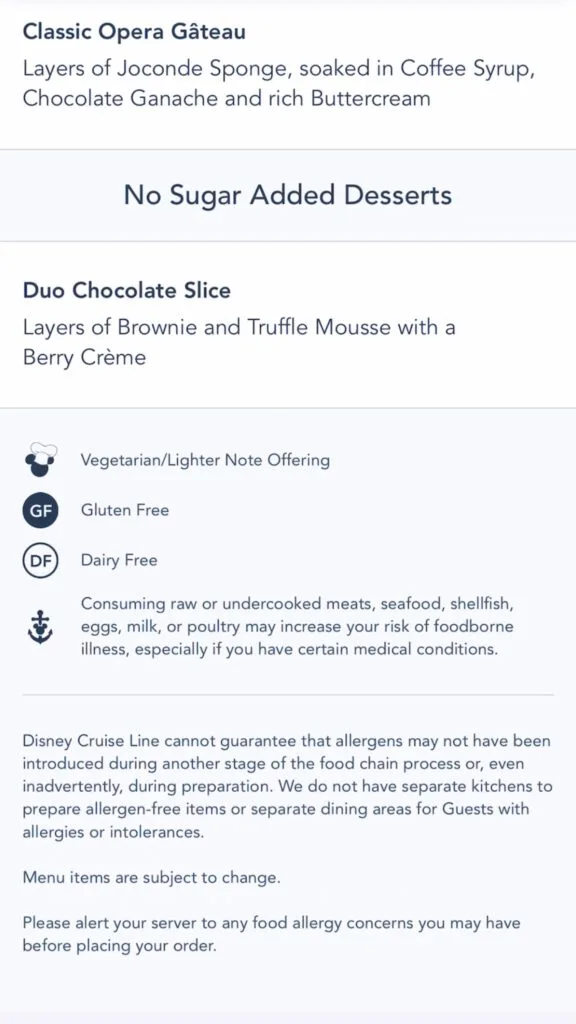 Royal Palace Menu from the Disney Dream
Specialty Cocktails
Double Crowned- Crown Royal, Chambord, Cointreau, Cranberry Juice, Freshly Squeezed Lime Juice,
Imperial Illusion- Absolut Mandarin, Apple Pucker, Blue Curacao, Liquor, Pineapple Juice
Princess Delight- Passion Fruit Juice, Mango Puree (Non-Alcoholic)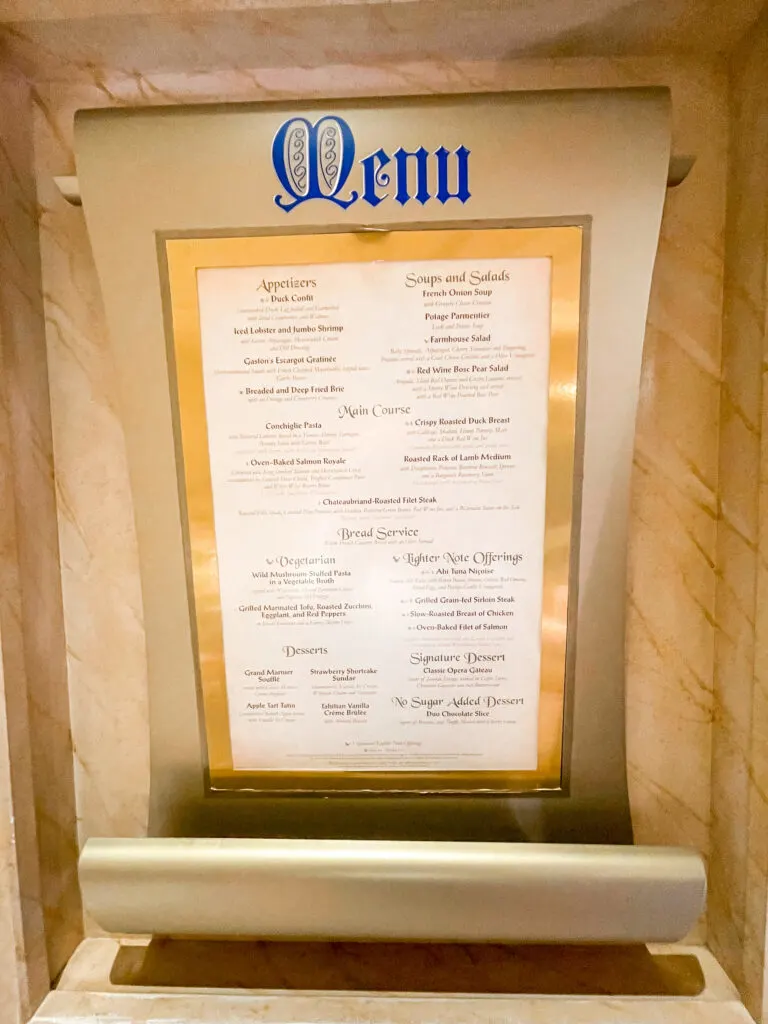 Appetizers
Duck Confit- Slow Cooked Duck Leg pulled and garnished with dried Cranberries and Walnuts
Iced Lobster and Jumbo Shrimp- With Green Asparagus, Horseradish, Cream, and a Dill Dressing
Gaston's Escargot Gratinee- Herb-marinated Snails with Finely Chopped Mushrooms topped with Garlic Butter
Breaded and Deep Fried Brie- With an Orange and Cranberry Chutney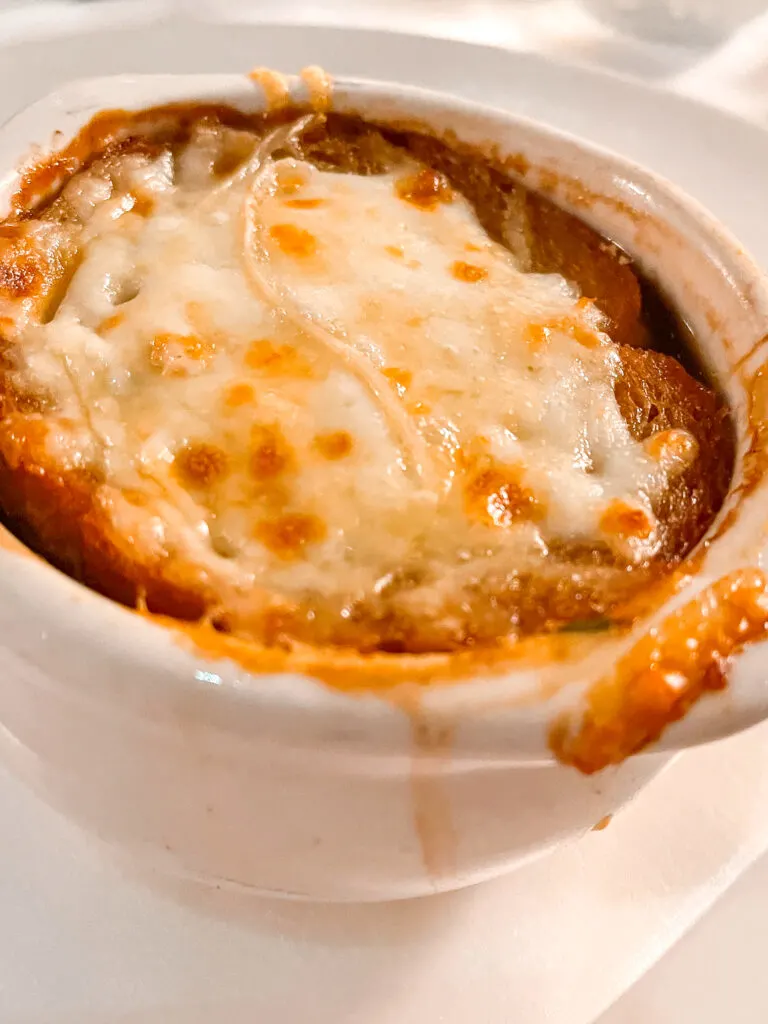 Soups and Salads
French Onion Soup- With Gryere Cheese Crouton
Pottage Parmentier- Leek and Potato Soup
Farmhouse Salad- Baby Spinach, Asparagus, Cherry Tomatoes , and Fingerling Potatoes served with a Goat Cheese Crostini and an Olive Vinaigrette
Red Wine Bosc Pear Salad- Arugula, Sliced Red Onions and Crispy Lardons dressed with a Sherry Wine Dressing and served with a Red Wine Poached Bosc Pear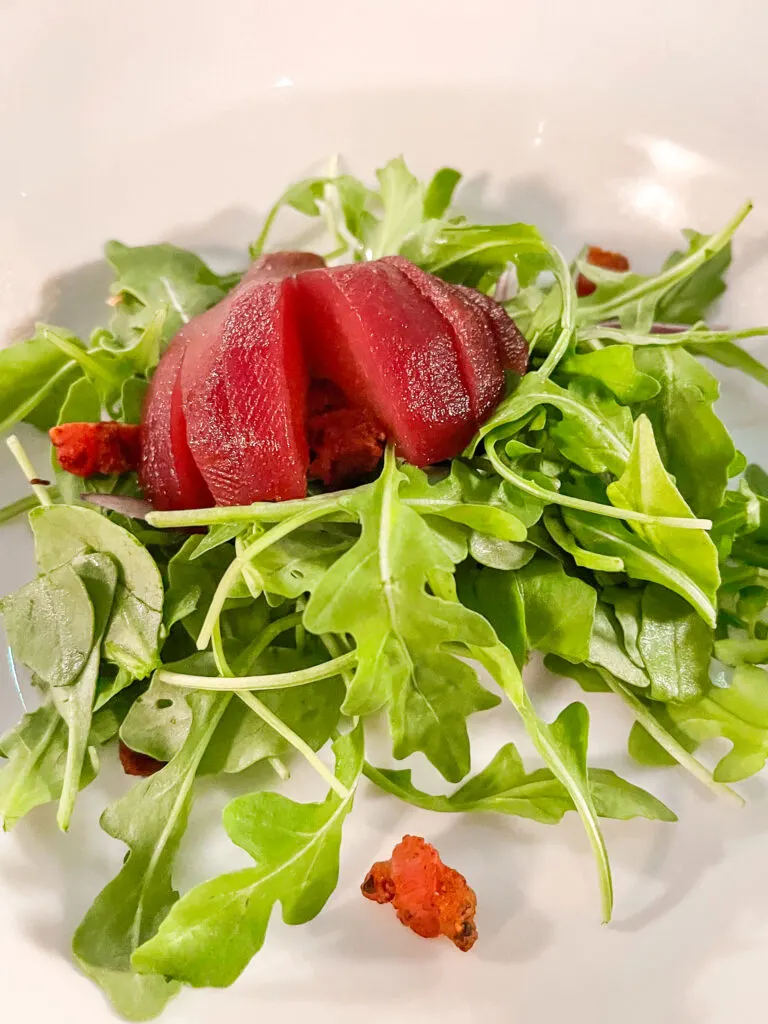 Bread Service
Herb Brioche- With an Olive Spread
Main Course
Conchiglie Pasta- With Buttered Lobster, tossed in a Tomato Shrimp Tarragon, Brandy Sauce with lemon Basil
Oven-Baked Salmon Royale- Crowned with King Smoked Salmon and Horseradish Crust accompanied by Sauteed Swiss Chard, Truffled Cauliflower Puree and White Wine Beurre Blanc
Crispy-Roasted Duck Breast- With Cabbage, Shallots, Honey Parsnip Mash, and a Duck Red Wine Jus
Roasted Rack of Lamb Medium- With Dauphinose Potatoes, Buttered Brussel Sprouts and a Burgandy Rosemary Sauce
Chateaubriand-Roasted Filet Steak- Roasted Filet Steak, Crushed New Potatoes with Shallots, Buttered Green Beans, Red Wine Jus, and a Bearnaise Sauce on the Side.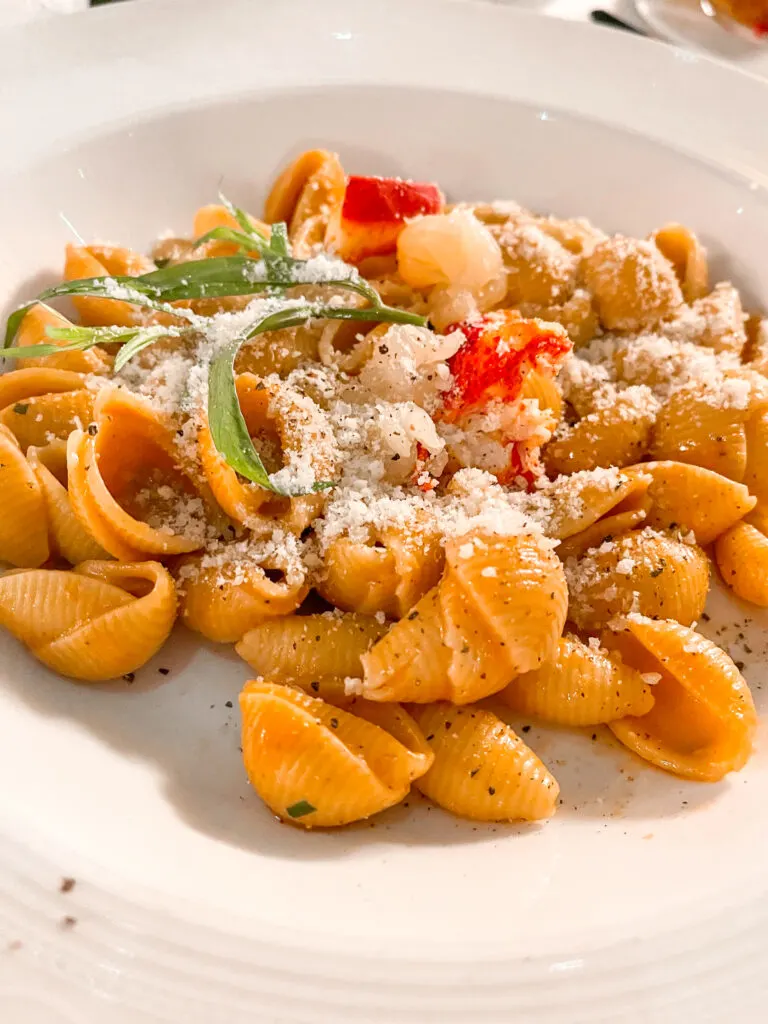 Vegetarian
Wild Mushroom-Stuffed Pasta in a Vegetable Broth- Topped with Watercress, Shaved Parmesan Cheese and Paprika Oil Drizzle
Grilled Marinated Tofu, Roasted Zucchini, Eggplant, and Red Peppers- on Israeli Couscous with a Lime-Cilantro Drop
Lighter Note Offerings
Ahi Tuna Nicoise- Seared Ahi Tuna with Green Beans, Potato, Olives, Red Onions, Sliced Egg, and Parsley-Garlic Vinaigrette
Grilled Grain-fed Sirloin Stead- Served with Garden Vegetables and your choice of Steamed White Rice or Baked Potato
Slow Roasted Breast of Chicken- Served with Garden Vegetables and your choice of Steamed White Rice or Baked Potato
Oven Baked Fillet of Salmon- Served with Garden Vegetables and your choice of Steamed White Rice or Baked Potato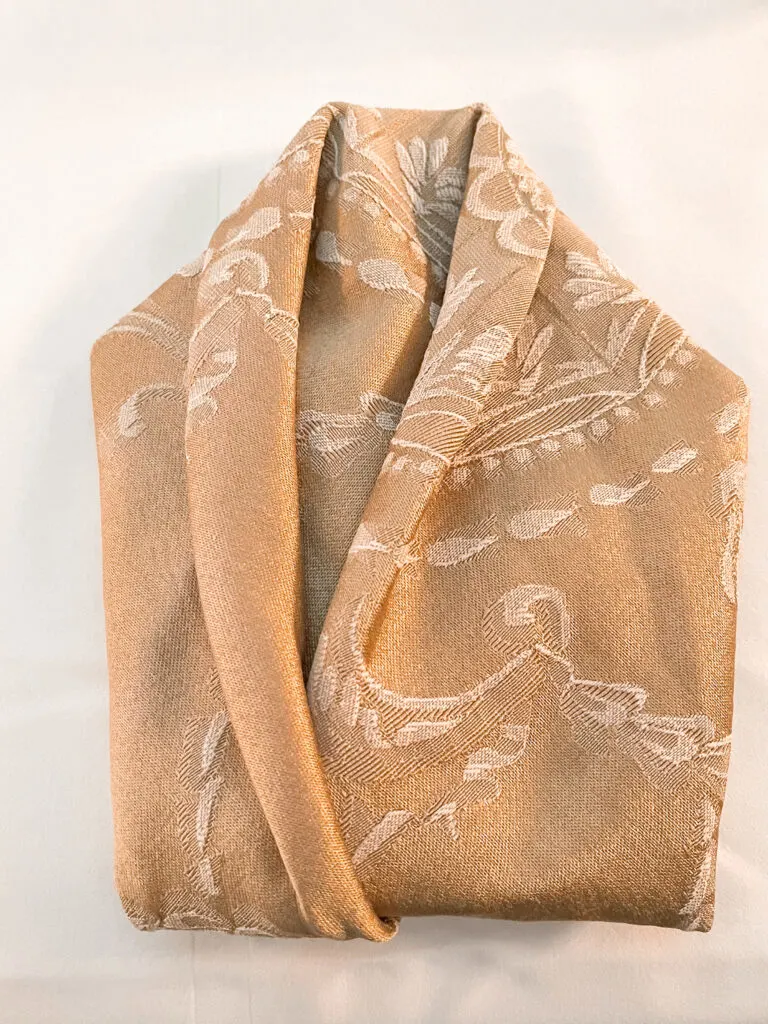 Specialty Coffees
Espresso
Cappuccino
Caramel Pecan Chai- Oregon Chai, Caramel Pecan Syrup, Steamed Milk
Tiramisu Mocha Latte- Tiramisu Syrup, Chocolate Sauce, Espresso, Steamed Milk
Adventurous After-Tinis
Espresso Martini- Absolut Vanilla, Godiva White Chocolate Liqueur, Frangelico, Espresso
Creme Brulee- Grey Goose, Baileys Irish Cream, Amaretto, Caramel Syrup, Half & Half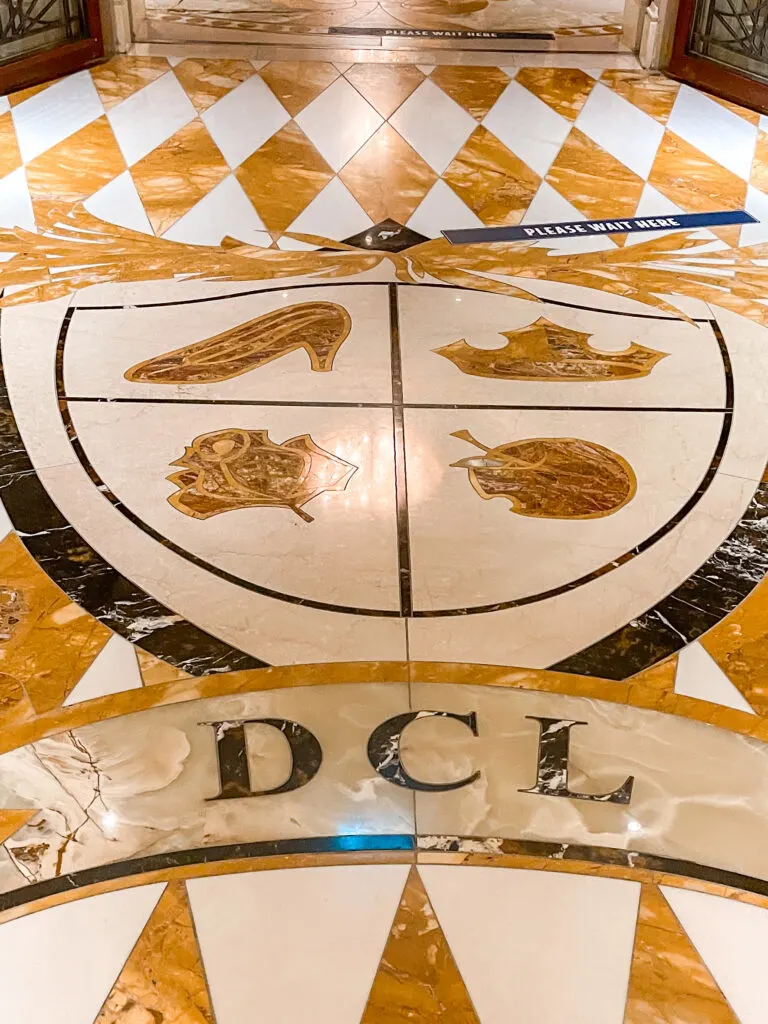 Specialty Drinks Selection
RumChata
Baileys irish Cream
Sambuca
Grand Mariner 100 Cuvee
Hennessy V.S.
Courvoisier V.S.O.P.
Remy Martin X.O.
Grappa Gianduia
Grappa Fior Di Latte
Tawny Port 10yrs-20yrs
Knob Creek
Woodford Reserve
Johnnie Walker Odyssey
Glenmorangie Signet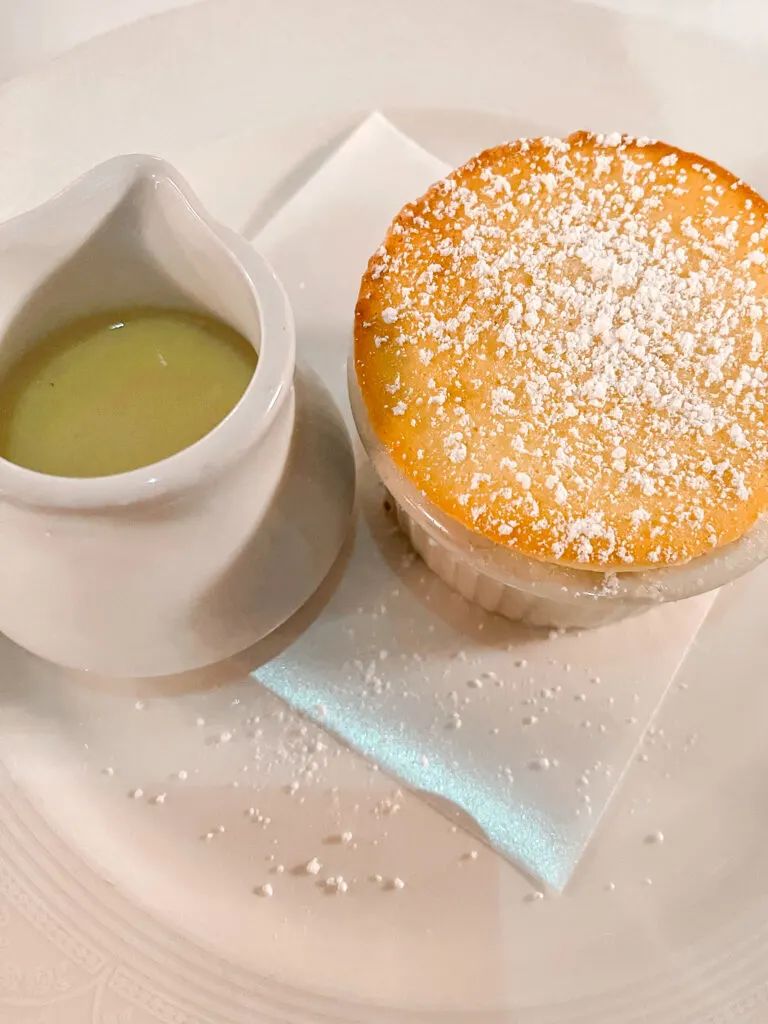 Desserts
Grand Mariner Souffle- Served with Grand Mariner Creme Anglaise
Apple Tart Tatin- Caramelized Baked Apple served with Vanilla Ice Cream
Tahitian Vanilla Creme Brulee- Caramelized Baked Apple served with Vanilla Ice Cream
Strawberry Shortcake Sundae- Strawberries, Vanilla Ice Cream, Whipped Cream and Shortcake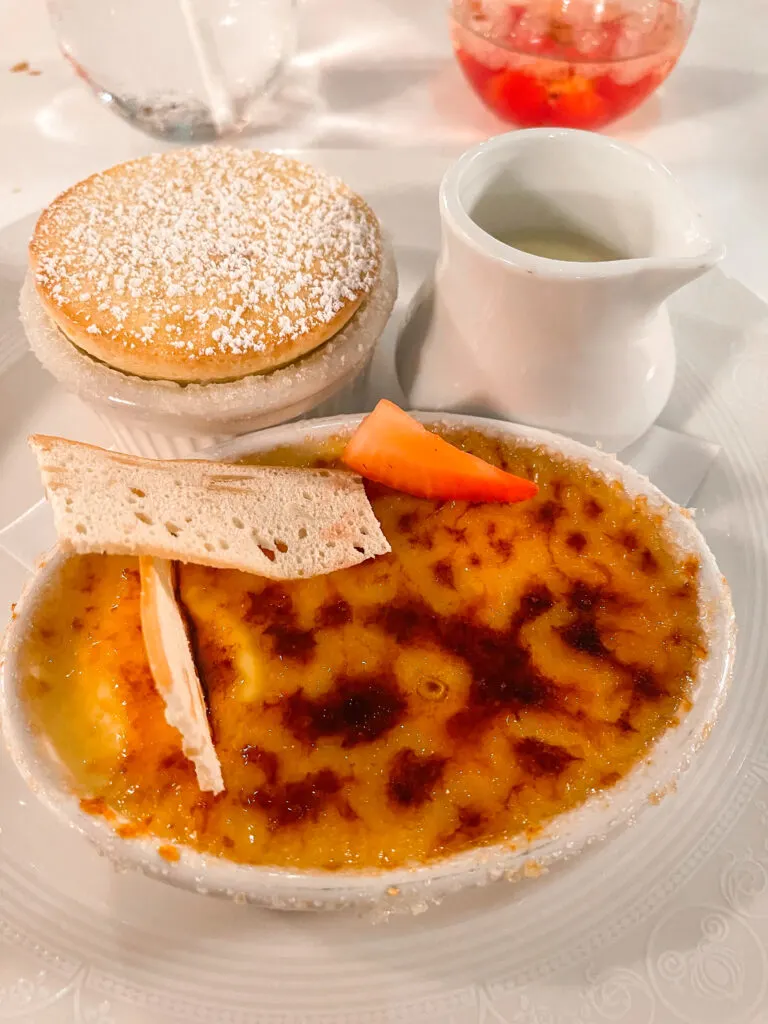 Signature Dessert
Classic Opera Gateau- Layers of Jaconde Sponge, soaked in Coffee Syrup, Chocolate Ganache and rich Buttercream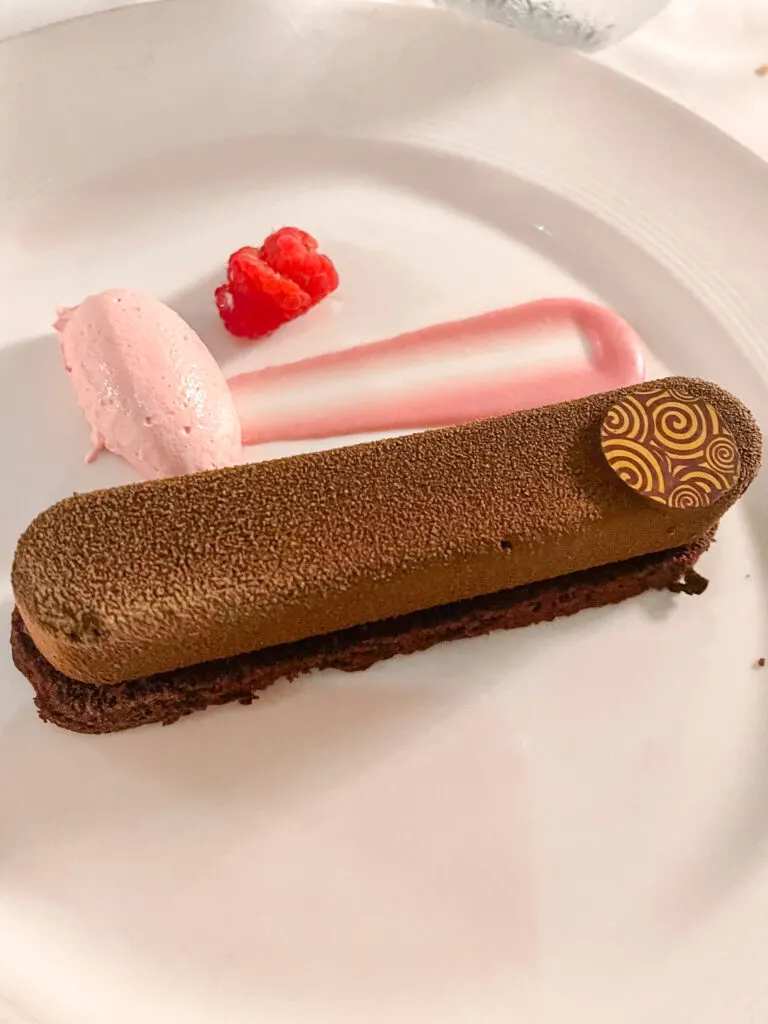 No Sugar Added Desserts
Duo Chocolate Slice- Layers of Brownie and Truffle Mousse with a Berry Creme
More Disney Cruise Tips: