If you're planning a Disney Cruise, you may be wondering about the best way to stay connected while you're at sea. Disney Cruise Line offers several different internet plans, each with its own benefits and drawbacks. In general, the cruise line's Wi-Fi is sometimes reliable but can be expensive. Here's everything you need to know about Disney Cruise WiFi cost, reliability, and why you may or may not need to purchase a plan.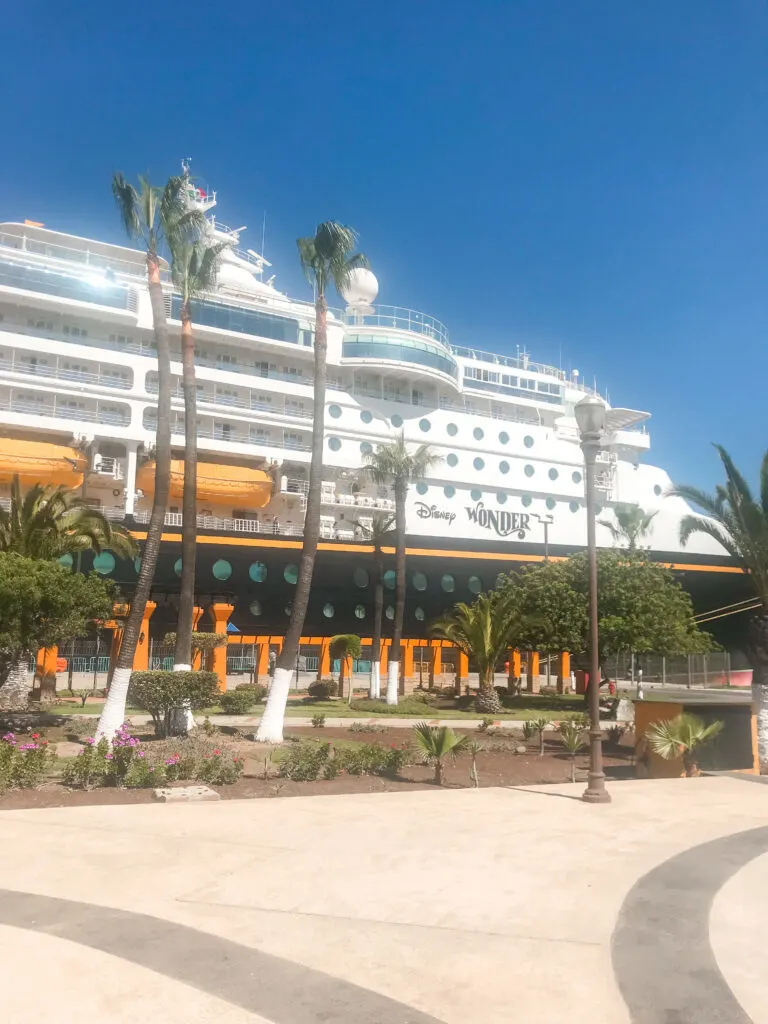 This post may contain affiliate links. When you click on these links, I get a small percentage back at no cost to you! For more information see my disclosure policy.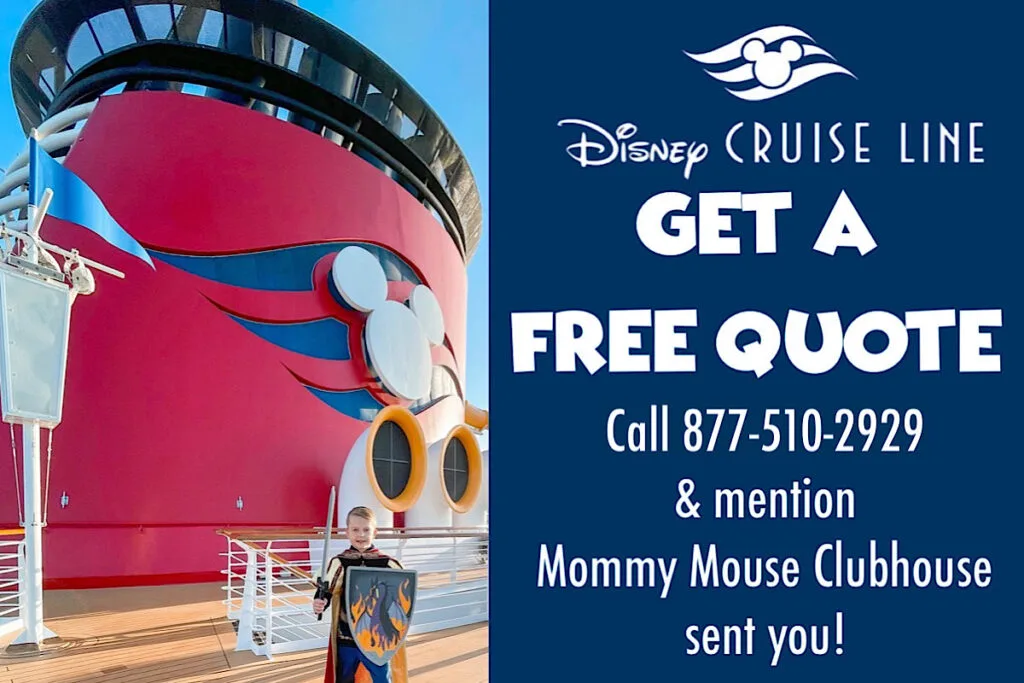 Check out prices below or get a free quote by calling 877-510-2929 and let them know Mommy Mouse Clubhouse sent you!
Staying connected while on vacation is important, but can be expensive and unreliable. Taking a cruise is a time to relax and disconnect from the world, but sometimes you need to stay connected for work or family emergencies.
Disney Cruise Line offers several different internet plans to help you if Wi-Fi access is a necessity for you. In general, the cruise line's wifi is sometimes reliable but can be very, VERY expensive.
Disney has recently updated their Wi-Fi packages and I was able to try them out on my recent Mediterranean Disney Cruise.
Below I will give you information on the Disney Internet Plans available during your cruise as well as provide some pros and cons to help you decide if purchasing Wi-Fi on a Disney Cruise Ship will be worth it to you.
I'm including the new plans as well as the previous plans so that you can compare the two for your information.
New Disney Cruise Wi-Fi Packages 2022
As I mentioned earlier, I while I was on the Disney Magic recently, Disney updated their Wi-Fi plans available to guests. I was told they also updated their equipment to give guests better connections.
There are three different tiers of internet packages now available. Here are the descriptions of each.
"Stay Connected" ($10.00 Plan)
The "Stay Connected" plan is the lowest tier available and starts from $10.00 per day. In a nutshell, it allows you to post text and pictures on social media accounts. Here is the full description:
"Stay connected on social media with our most affordable internet plan. With this plan, you can:
Note: This plan does not support surfing the web, accessing email or video streaming."
"Basic Surf" ($20.00 Plan)
With the second tier of Disney's internet packages, you can post to social media, surf the web, and send and receive emails. Here is the description from Disney:
"Enjoy all the benefits of the Stay Connected plan – plus, full web access. With this plan, you can:
Note: This plan does not support long-form video streaming platforms such as Netflix and Hulu.
"Premium Surf" ($30 Plan)
With the top tier $30.00 per day wi-fi plan, you will have faster connection speeds, the ability to stream music, and all of the benefits of the lower plans. Here is the description from Disney:
"Experience faster connection speeds and access to music platforms such as Pandora, Spotify and Apple Music – plus, all the benefits of the Basic Surf plan. With this plan, you can:
My Experience
When I go on a cruise, I normally like to disconnect from the outside world and enjoy my vacation time, but on our cruise to the Mediterranean, we needed to complete a test before being allowed to enter the U.S.
Our tests had to be taken within one day of our departure home, which happened to land on a Day at Sea on our cruise. The test kits we used were from eMed.com and required supervision over a video call.
The "Premium Surf" plan for $30 included video calls, so i purchased this plan on our last day at sea. The speed for surfing the web was not fast, but it was faster than Disney's previous service.
For the video chat, we were able to connect with our test proctors, and out of four tests taken, only lost our connection one time.
Previous Disney Cruise Internet Plans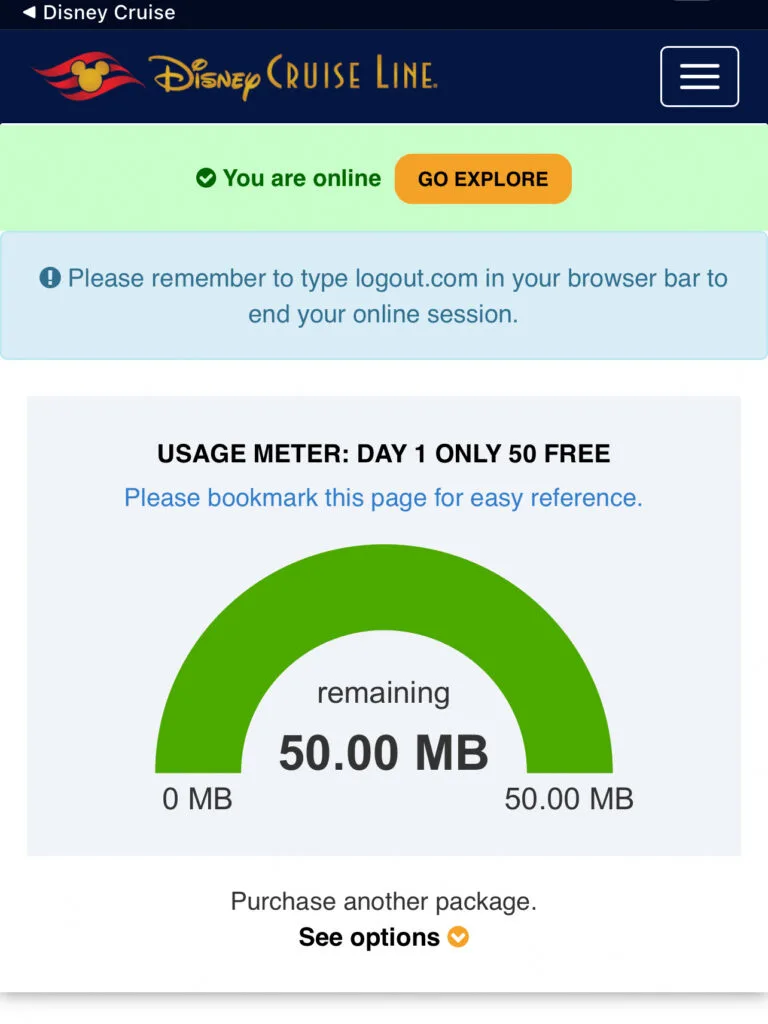 Is There Wi-Fi Onboard Disney Cruises?
Yes! For most cruisers, being at sea is the perfect time to disconnect from the world and just enjoy your family and friends. But, there are times when that isn't always an option for some guests.
Whether you need to keep in touch with family members at home, you child needs to complete school assignments, or your job requires you to be able to be reached while away, Disney has plans to help you stay connected.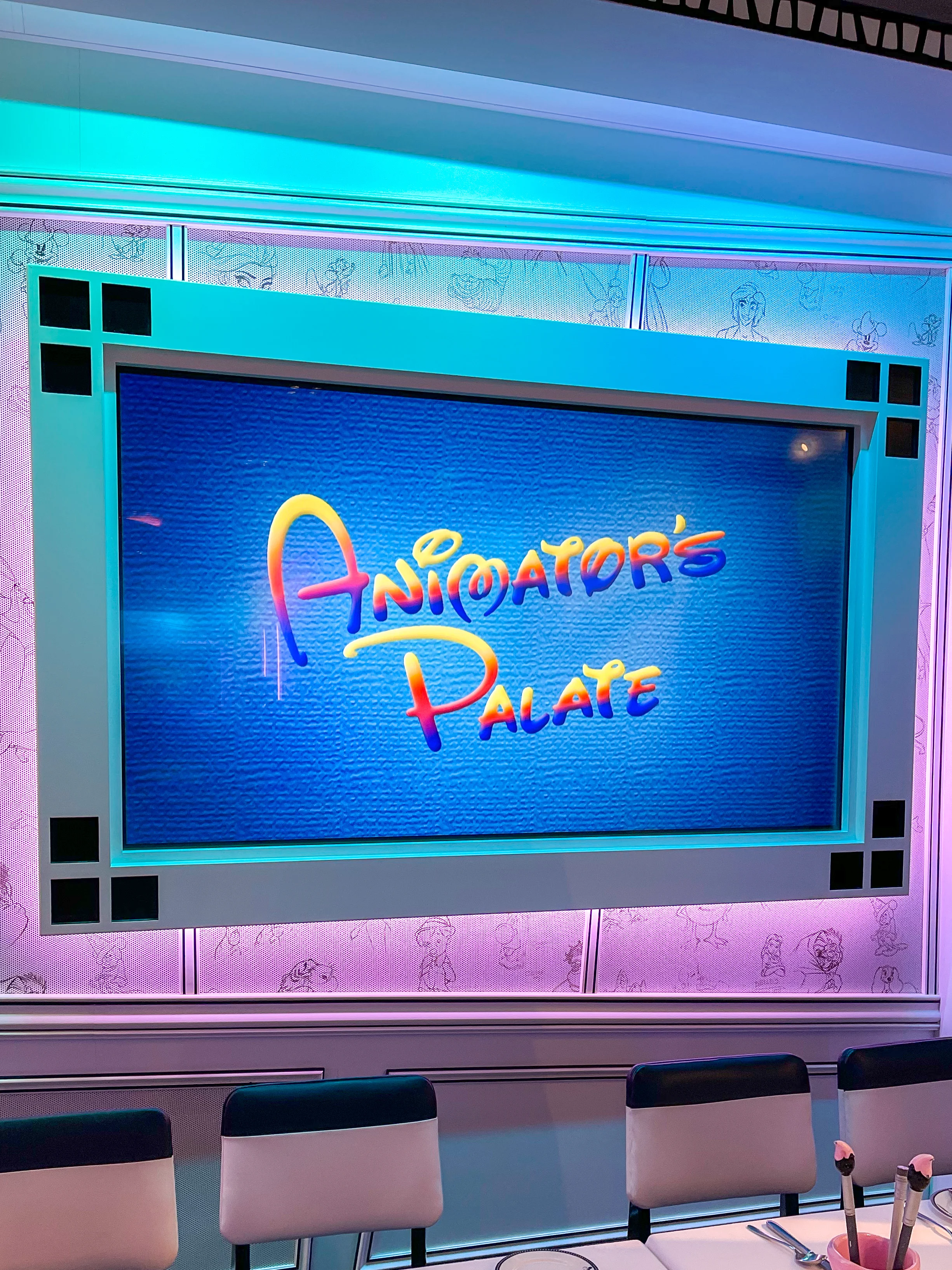 Through Connect@Sea, Disney Cruise Line offers a variety of on board Internet packages to suit your needs. Depending on how much you use your wireless devices, you can choose from a variety of plans.

www.DisneyCruise.Disney.Go
Once you've boarded, access our DCL-GUEST Wi-Fi network to learn about the different offerings and specific pricing for your cruise. You can use your data plan on as many devices as you want. Your Internet plan will be charged to your stateroom folio."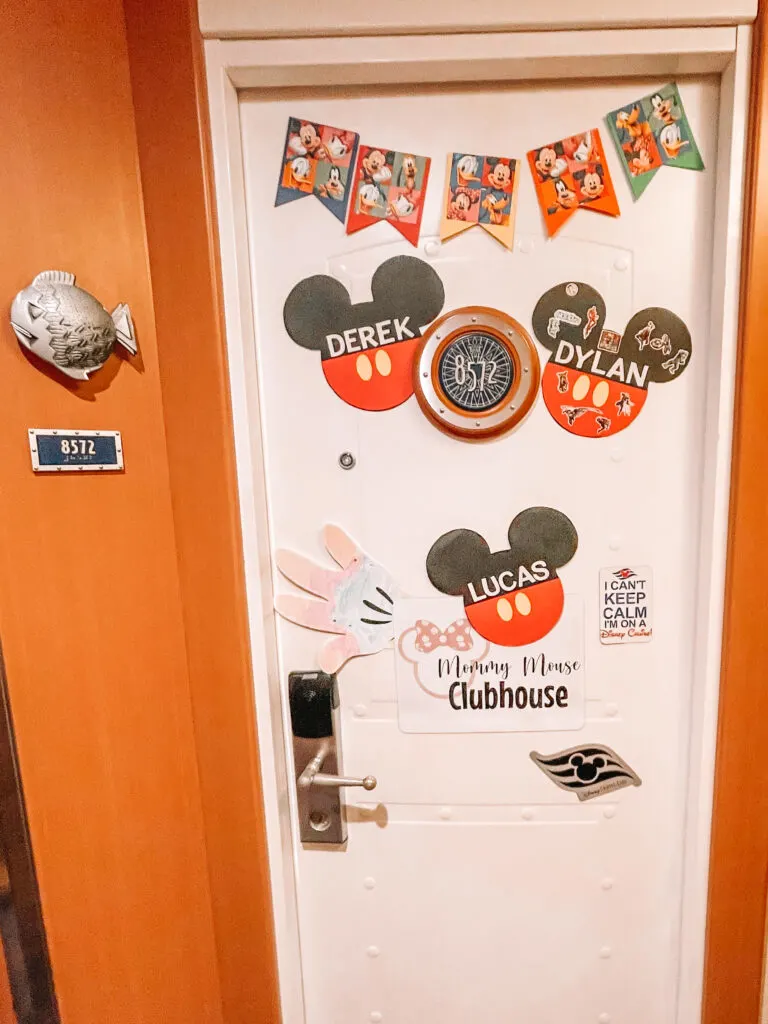 Disney Cruise Wi-Fi Package Costs
Below you will find the prices for each Disney Cruise internet package that is available.
Pay-As-You-Go per MB
With this plan, you will be charged $0.25 per MB used. This is a great option if you plan to check your texts or email quickly, then log off.
Small
The "Small Plan" will get you 100 MB of data for $19.00.
Medium
The "Medium Plan" offers you 300 MB for $39.00.
Large
The "Large Plan" is the best value and will give you 1000 MB for $89.00.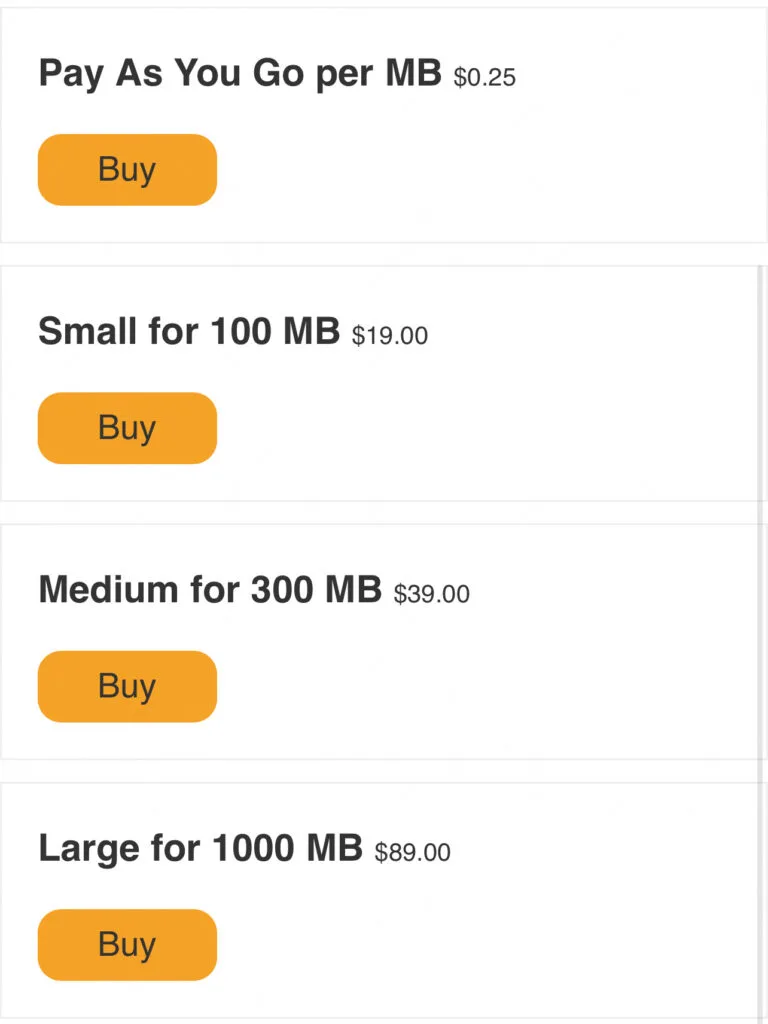 How to Connect to the Internet on a Disney Cruise
When you board the Disney Magic, Disney Fantasy, Disney Wonder, Disney Dream or Disney Wish, you will need to connect to the "DCL-GUEST" WiFi and turn your phone on airplane mode.
This will allow you to use the Disney Cruise Line Navigator App. When you open the Navigator App, you will find "Connect@Sea". If you click on that, you will be taken to a page that will show you all of the options I mentioned above.
You can make you selection, then make your desired purchase. After your purchase, you will be able to see a page that displays your data usage.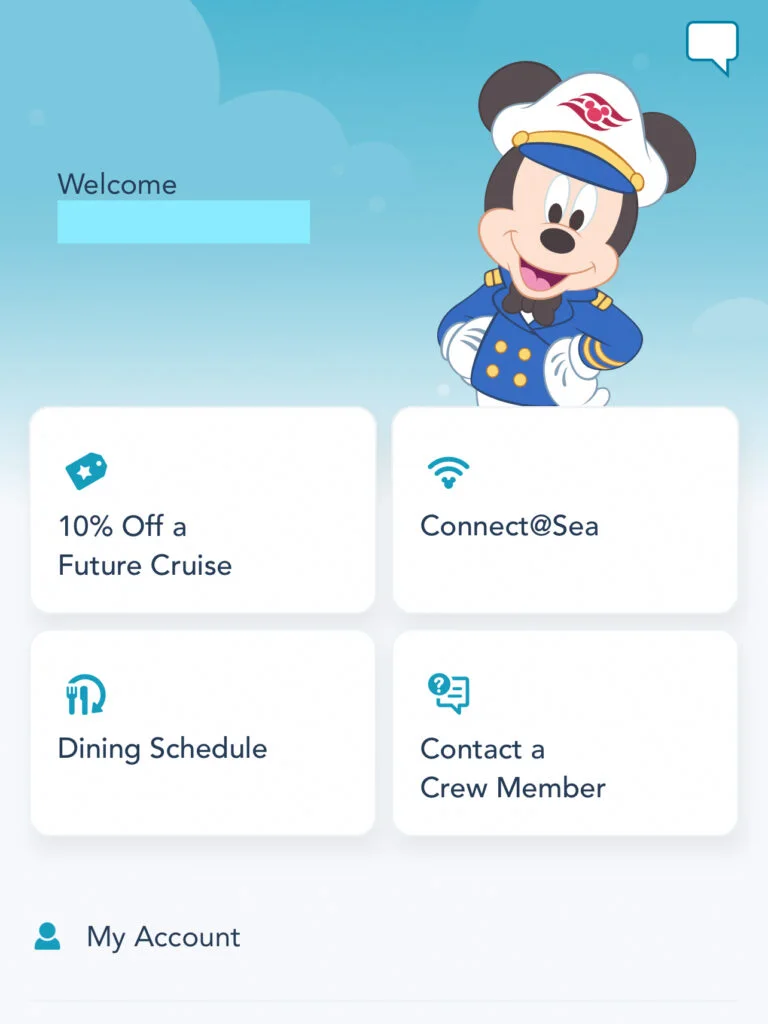 How to Get Free Wi-Fi on Day One
Every DCL guest is allowed 50 MB of internet service for free on the first day of the cruise. To access this, you will follow the same steps as mentioned above. But, you must sign up for this 50 MB before midnight on Day 1.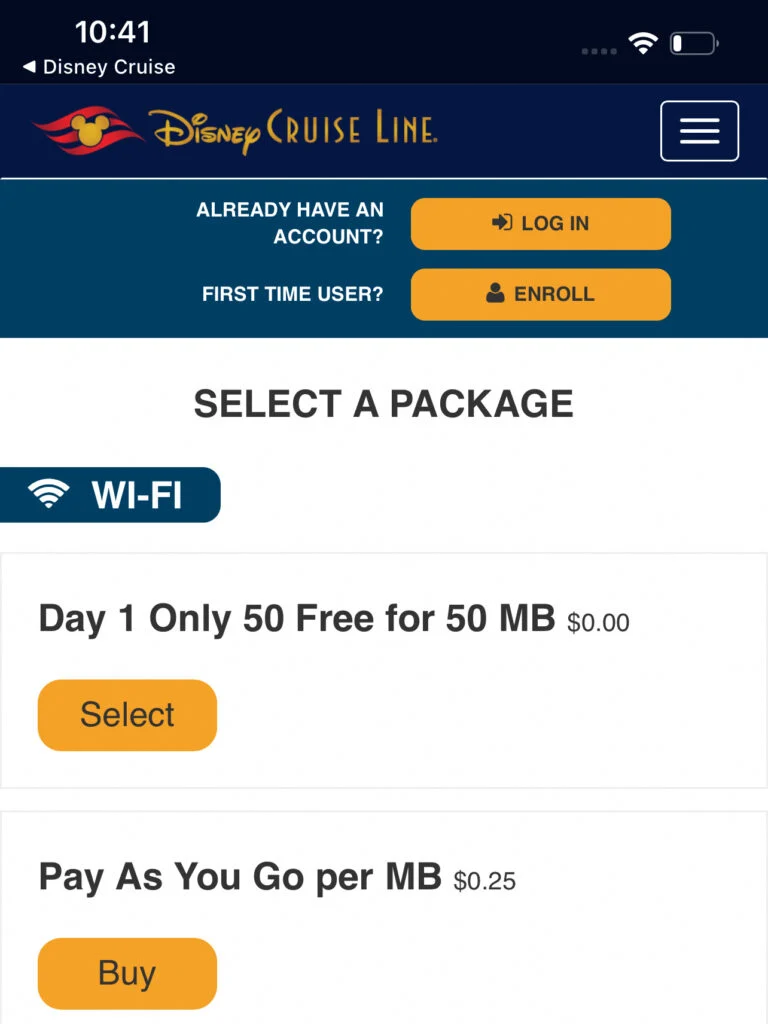 Internet Usage Tips
There are some things that can use up your Connect@Sea wifi on a Disney Cruise. Make sure that before you sign in to use the Wi-Fi access you have purchased, you have turned off all of your apps, apps that may be in the background, apps that have automatic updates, your photo stream, etc.
If these things are running while you connect to the internet, they will use up your data quickly. Also, make sure to logout of the Connect@Sea wifi as when you are finished, so that it will not continue to use up your data, while you're not actively using your plan.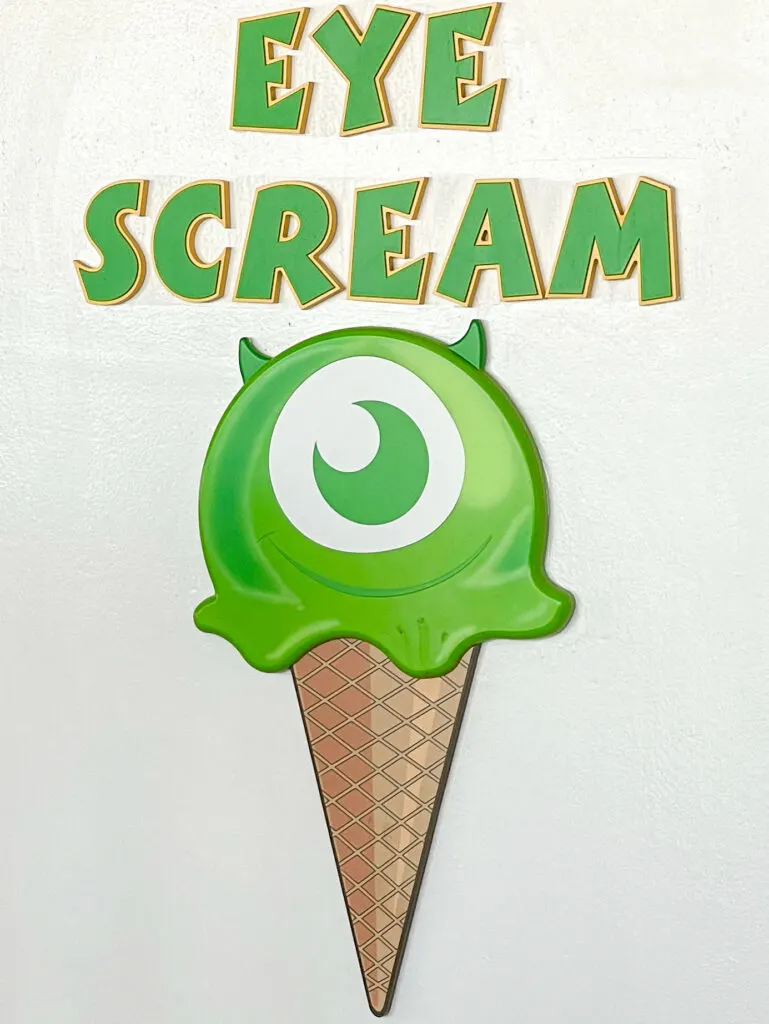 How Fast is WiFi Speed at Sea
Being at sea, you can plan on Wi-Fi speeds being significantly slower than what you are used to on land. The further away from land you are, the slower the Wi-Fi speed will be.
But, if you need to download or upload anything big, I recommend doing so when the ship is docked. The closer to land = the better and faster speeds you will have.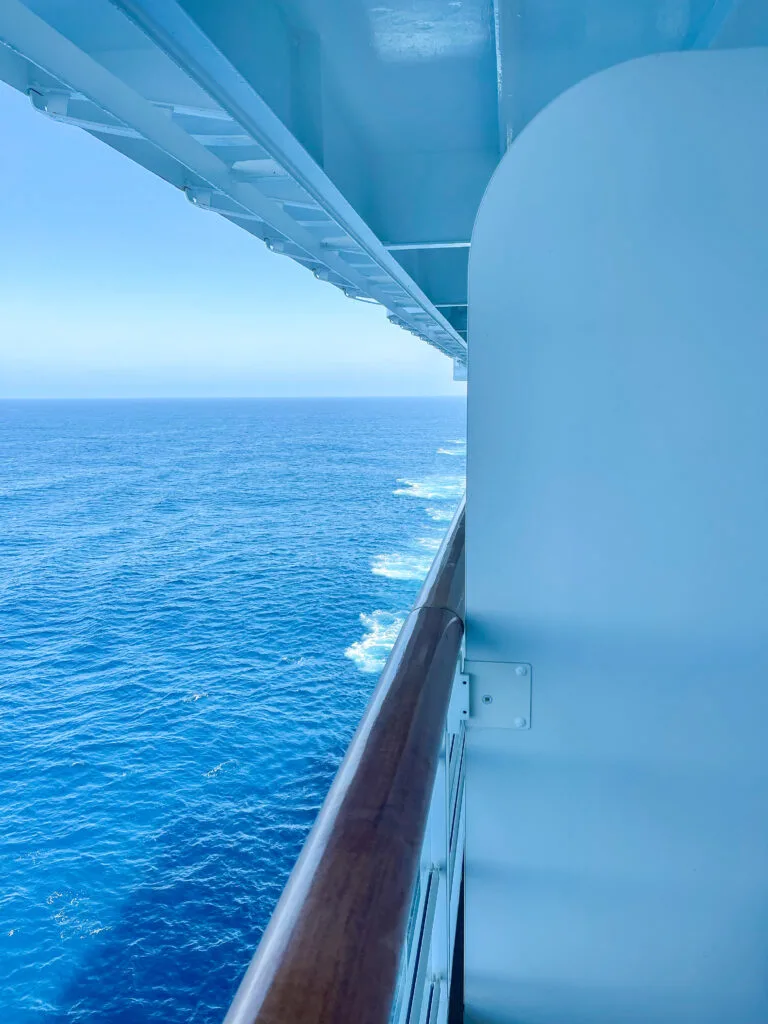 Other Ways to Access the Internet on a Disney Cruise
The Connect@Sea Wi-Fi packages are great for use on sea days, but when you are in port, there are other options that will allow you to get online, without these plans.
Many service providers offer international plans for around $10 a day, which is a great option for use for port days. You will want to check with your own carrier to see what is provided.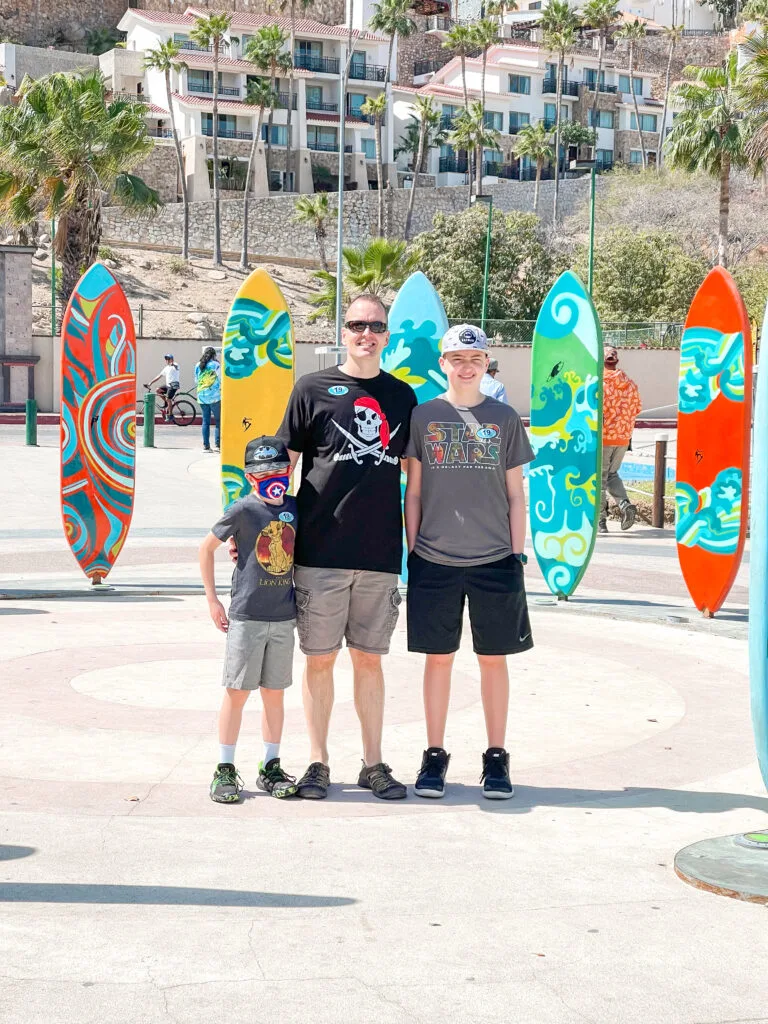 If you are looking for free Wi-Fi on a Disney Cruise port day, there are many cafes that are close to the ship that offer free wifi to their customers. This is a great option if you just want to check your email quickly when you get off the ship.
Occasionally, some phones will randomly work at some ports. For example, on one of our cruises, my phone did not work in Tortola, British Virgin Islands, but it worked a couple of days later on St. Thomas. But my husbands phone did not work in either port, so your mileage may vary.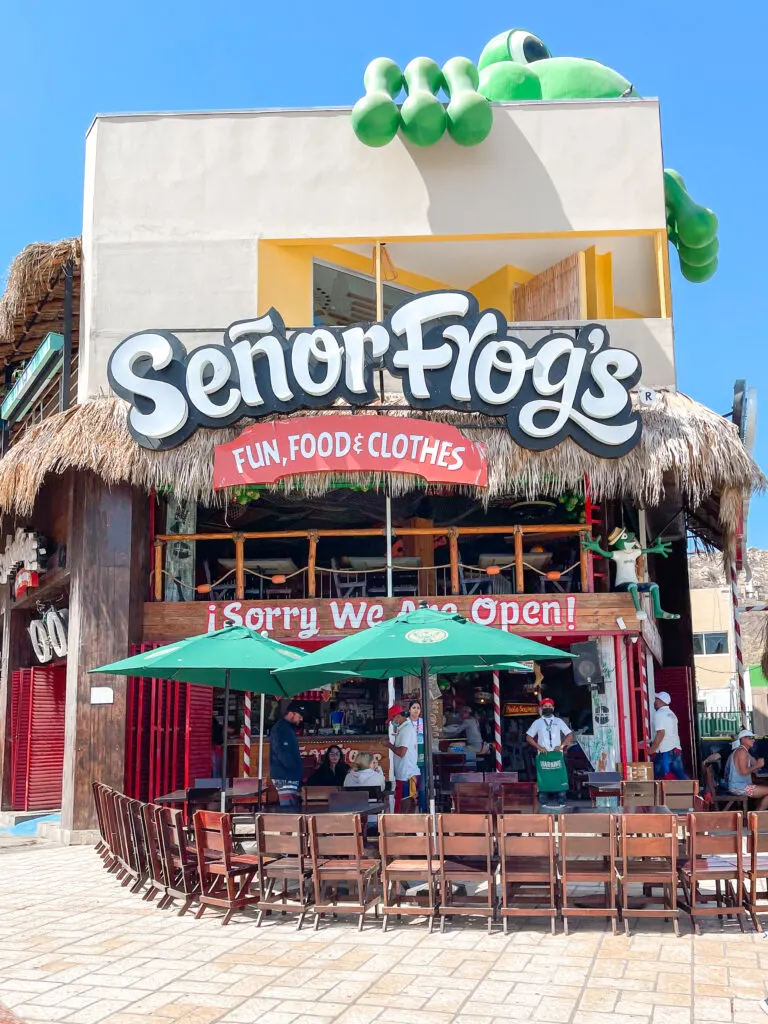 iMessage
If you happen to have an iPhone, you may be able to send text messages through iMessage both to others iPhone customers onboard, as well as iPhone users back home.
On our last Cruise to the Mexican Riviera on the Disney Wonder, my husband, son, and I were able to message each other, and could message my mom back at home to check on our dog. But halfway through the cruise, this ability randomly stopped working for my son and I, but my husband could still text home.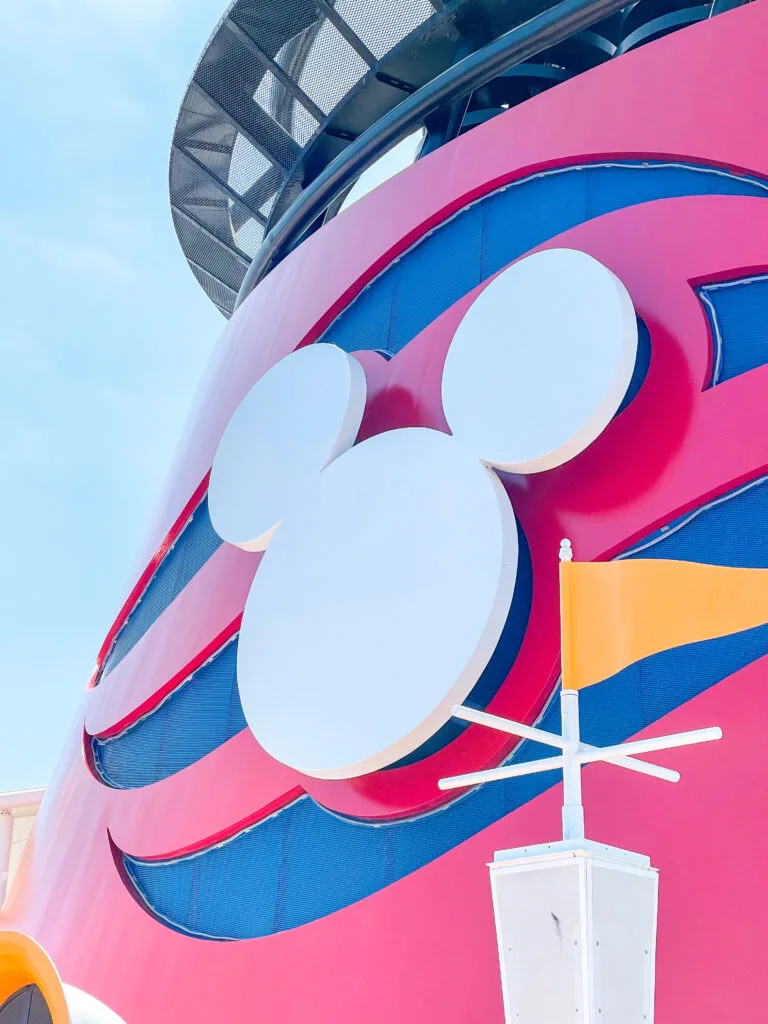 What About the Disney Cruise Line Navigator App?
The Disney Cruise Line Navigator App is a necessity now days on a Disney Cruise and is free to use for all guests while onboard the ship.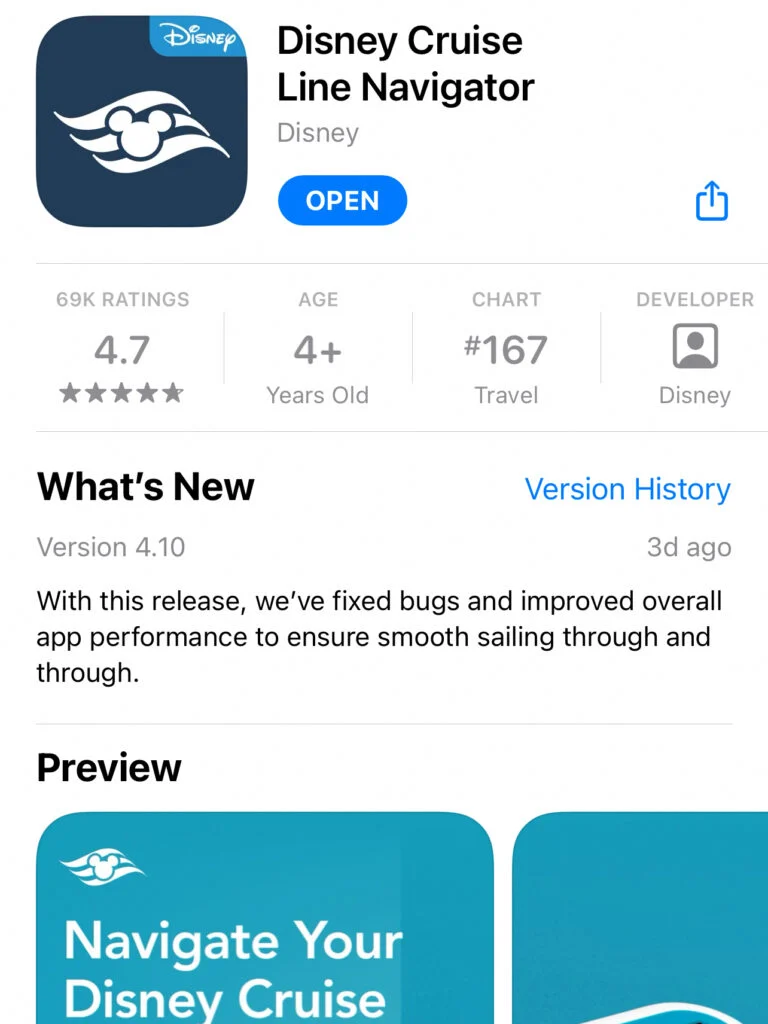 With the absence of paper Navigators, etc., you will be using the app, multiple times a day to the the most up-to-date information from the cruise crew.
You will also need it to access the daily activities schedule, entertainment times, restaurant menus, port details and more!
You can also communicate with other friends and family that are sailing with you through the onboard chat feature, which was nice for us to keep track of our teenagers at the Vibe and Edge clubs on the ship.
You'll want to download the app well before your cruise because you will be able to check in for your cruise, upload your passport, book onboard activities, and even show you a countdown for your upcoming sailing!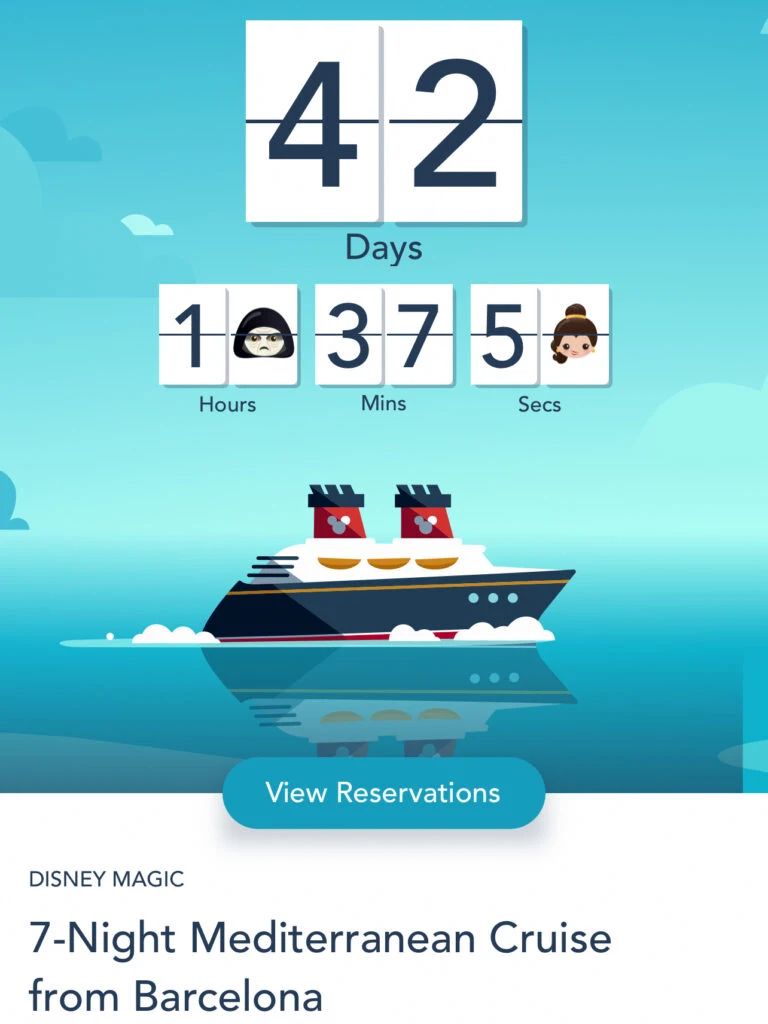 What Devices Can Connect to DCL-GUEST?
Any device that allows you to access the internet, will be able to connect to DCL-Guest for use with the Disney Cruise Line Navigator App. We used the app on my son's iPad recently, because he liked to keep an eye on the daily activities by himself.
How to Book a Disney Cruise
There are a couple of ways to book a Disney Cruise. You can book online at DisneyCruise.Disney.go.com or you can book through a travel agent. I have booked both ways and have used a couple of different travel agents, and definitely prefer a travel agent.
Travel agents are great because they are pretty knowledgable about the different ships and itineraries and can help you find the right cruise for you and your family.
It's also nice to have a travel agent because they can keep and eye on specials and do all of the leg work (like waiting on hold to talk to DCL) for you!
My preferred travel agency is Get Away Today. They have always been really helpful and have made the process of booking a cruise easy and seamless. If you would like a quote on a Disney Cruise, head to www.GetAwayToday.com or give them a call at 1-800-GET-AWAY and tell them that Mommy Mouse Clubhouse sent you!
My Review
All in all, Disney's wifi service is a good option for those who need to stay connected while on vacation. However, it can be expensive and the reliability is sometimes questionable. If you're looking for an affordable and more reliable option, consider using your own hotspot or data plan. Have you ever used Disney Cruise Line's wifi service? Let me know in the comments if you think you will use Disney's wifi service.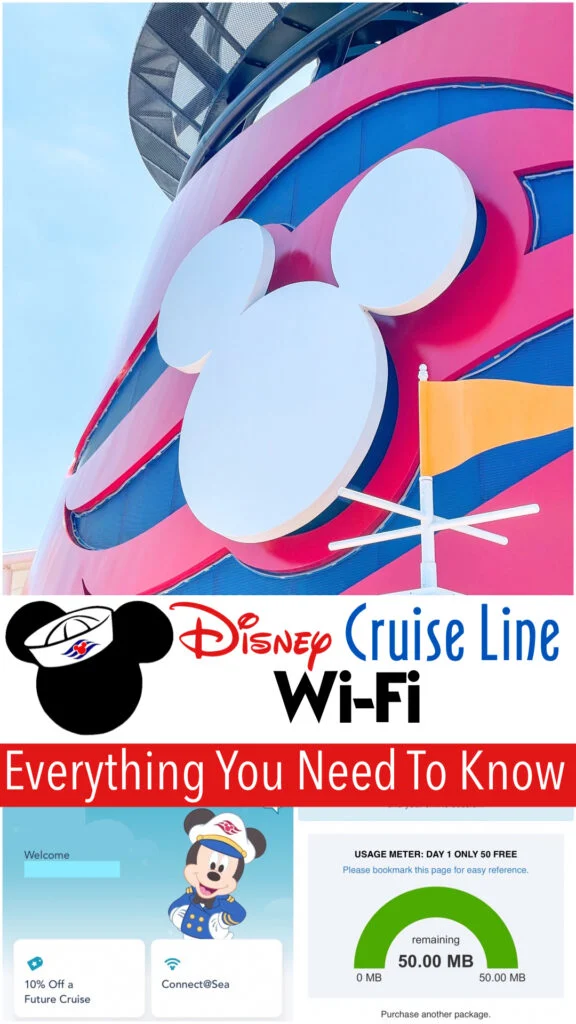 More Disney Cruise Tips: