Want to know what it is like to board a Disney Cruise? You are in the right place! I will show you what is required in order to board, how the boarding process works, and all about Day 1 of a Halloween on the High Seas Disney Cruise on the Disney Dream.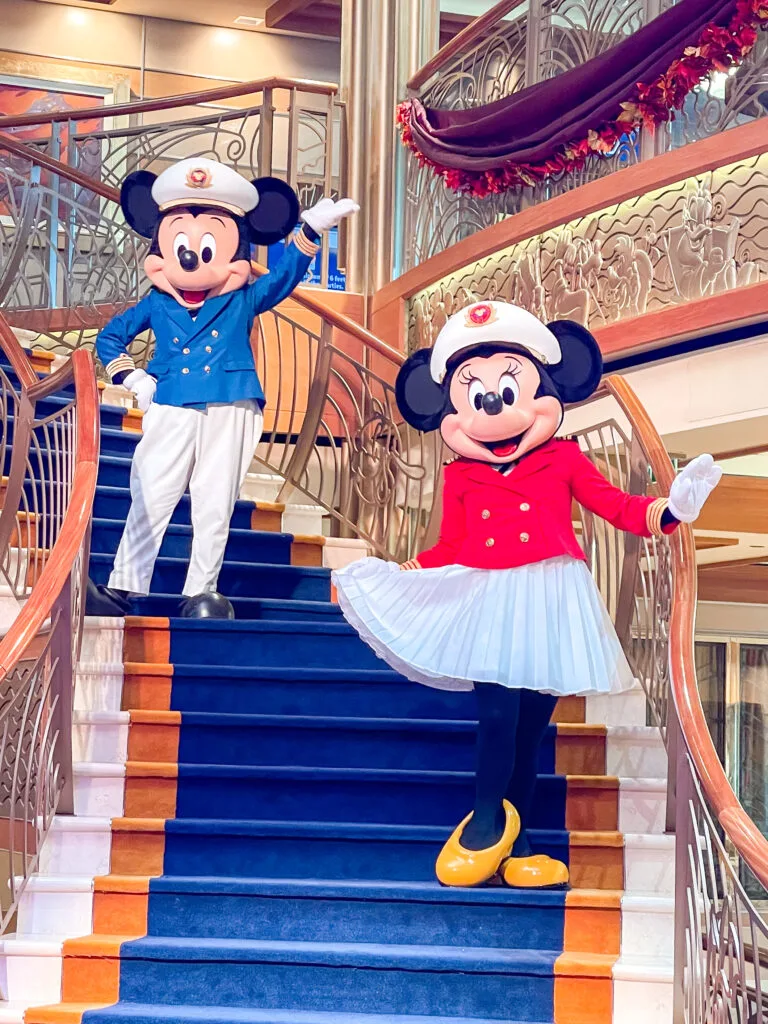 This post may contain affiliate links. When you click on these links, I get a small percentage back at no cost to you! For more information see my disclosure policy.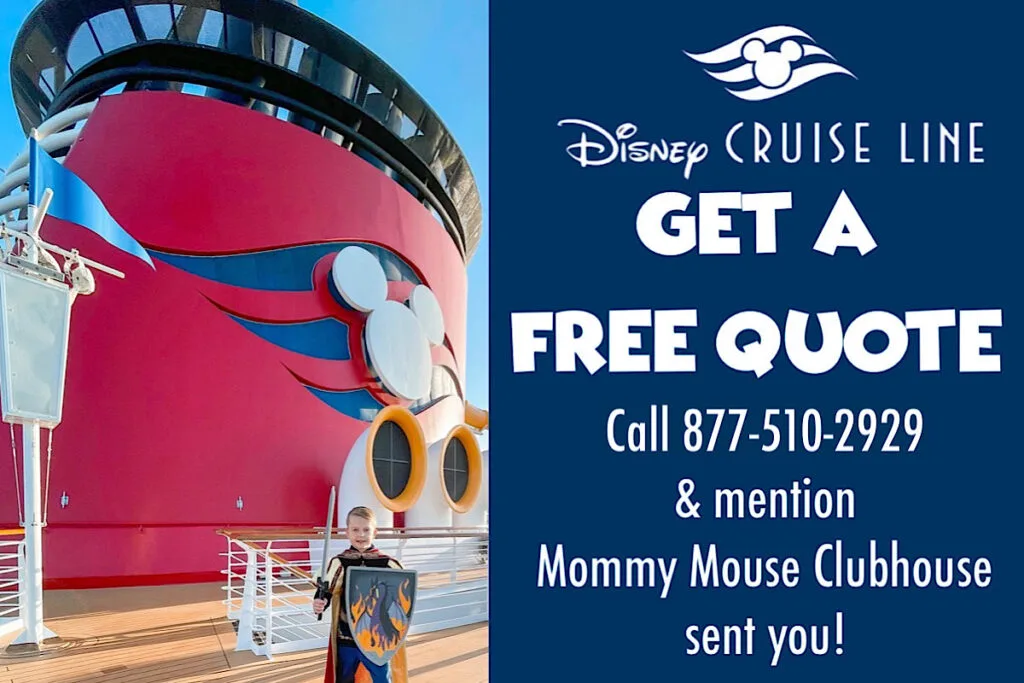 Check out prices below or get a free quote by calling 877-510-2929 and let them know Mommy Mouse Clubhouse sent you!
Getting on a Disney Cruise is an amazing experience, but it can be overwhelming to figure out what you need to do in order to get on the ship, especially with the current conditions in the world.
The process of getting on and off the ship can be intimidating for first time cruisers and veterans alike. You have to worry about testing, checking your luggage, going through security, and then boarding the boat itself. It's not as simple as just showing up at the port with your ID!
We took our family on a Halloween On The High Seas cruise aboard the Disney Dream ship for 4 nights from Port Canaveral, Florida with two stops at Castaway Cay, Bahamas! This article will tell you everything you need to know before embarking on a cruise with DCL!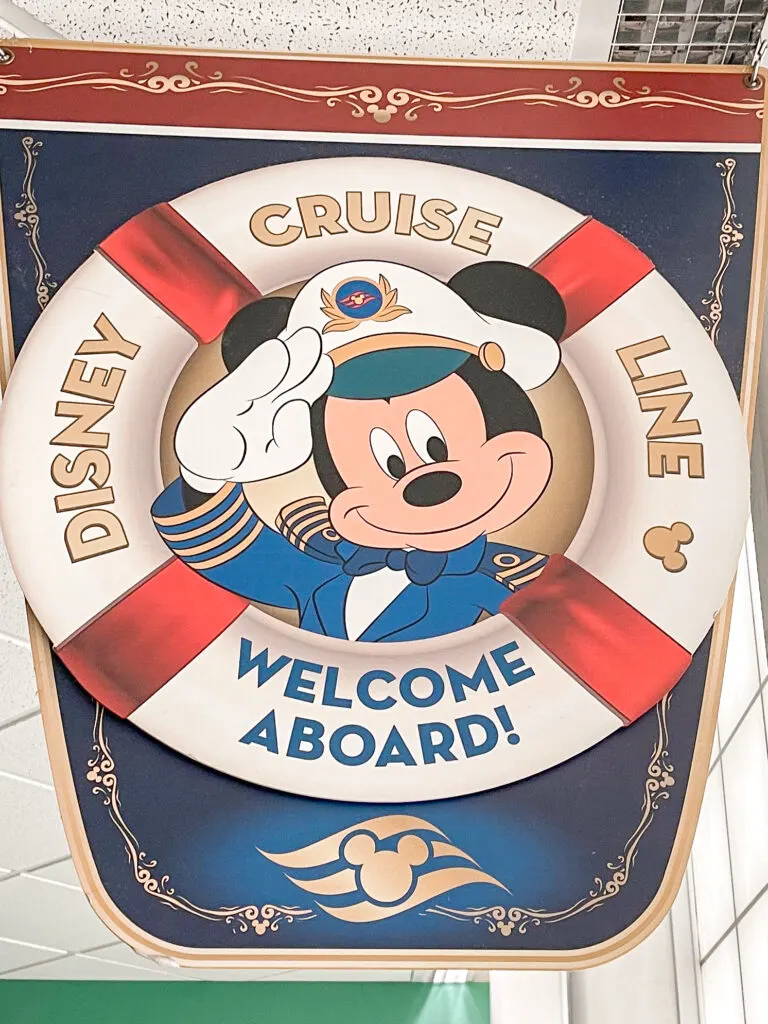 Watch Day 1 of our Disney Dream Cruise Here
When to Arrive for a Cruise
If you will be traveling to a port for your cruise, whether driving or flying, I recommend arriving at least one day prior to embarkation. You don't want delayed flights or traffic back-ups to cause stress on the first day of your cruise. Even if your cruise is over a weekend, it's still best to arrive one day before departure.
Our cruise was set to embark on a Monday so we flew to MCO on Sunday, the day before. We stayed at the Hyatt Regency inside the Orlando Airport and it worked out perfectly!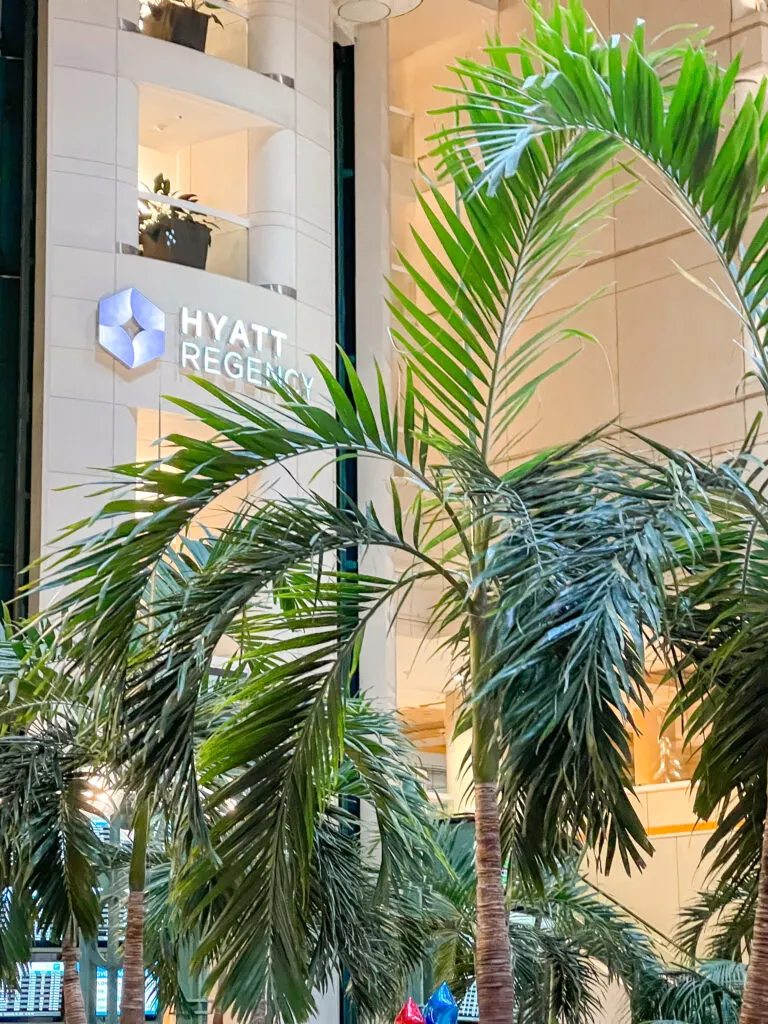 We had our room number before our plane landed, and were able to head right up to our room as soon as we picked up our luggage from baggage claim. I had downloaded the Hyatt app on my phone and it has the ability to open our room, so there was no need to stop at the front desk to check in.
The next morning, we were able to pack up, grab an Uber and head straight to Port Canaveral!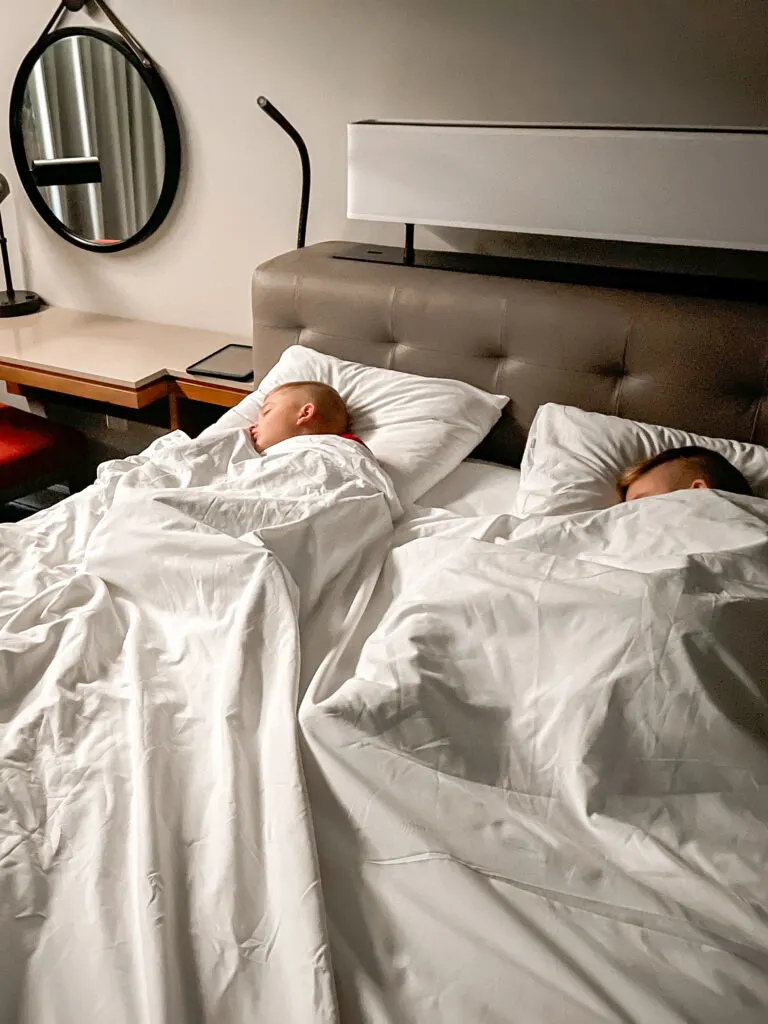 What is Required to Embark on a Disney Cruise
For our cruise at the end of September 2021, all passengers over 12 were required to provide proof of vaccination and those under 11 needed to complete a PCR test 3 days – 24 hours before boarding. All of these need to be uploaded to Disney's Safe Passage website in order to be cleared to arrive at port.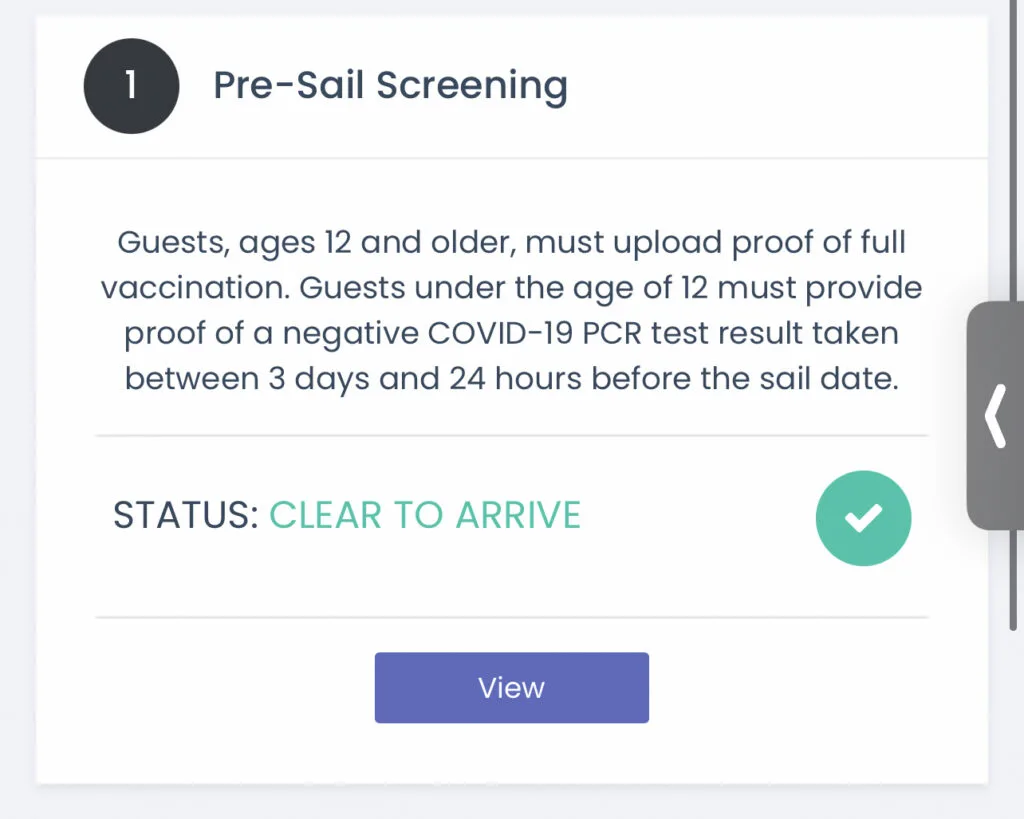 The required testing for my younger boys was a little challenging because the 3 day mark landed on a Friday and we needed to ensure that our test results came back quickly.
We had to find a location that could provide a rapid PCR test, which was done at our own cost. All of these requirements are changing frequently, so make sure to check the Know Before You Go section on the Disney Cruise Line website for the most up to date information.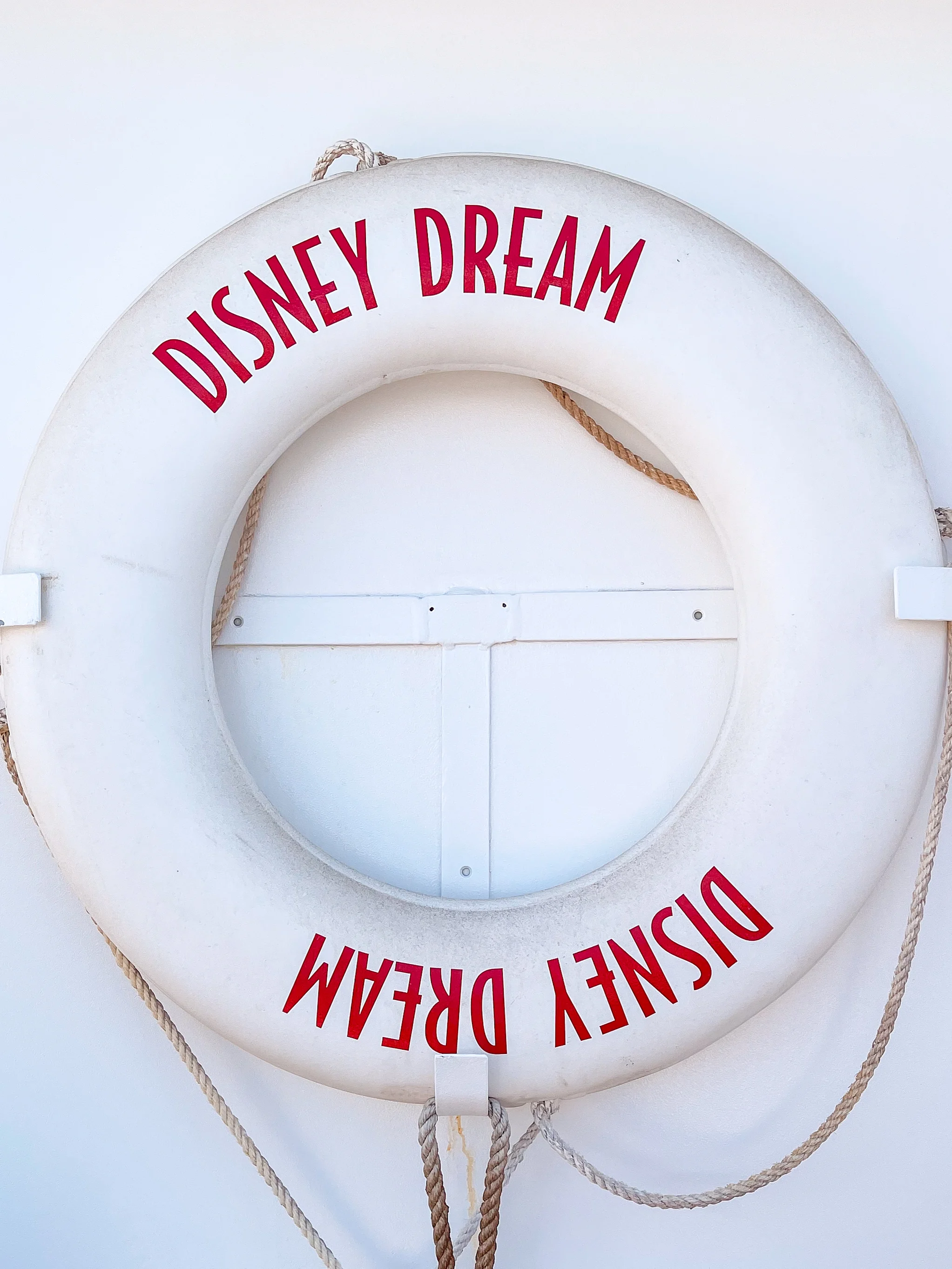 Health Questionnaire
The day of your cruise, you will be asked to fill out a health questionnaire for everyone in your party. Here are the questions below: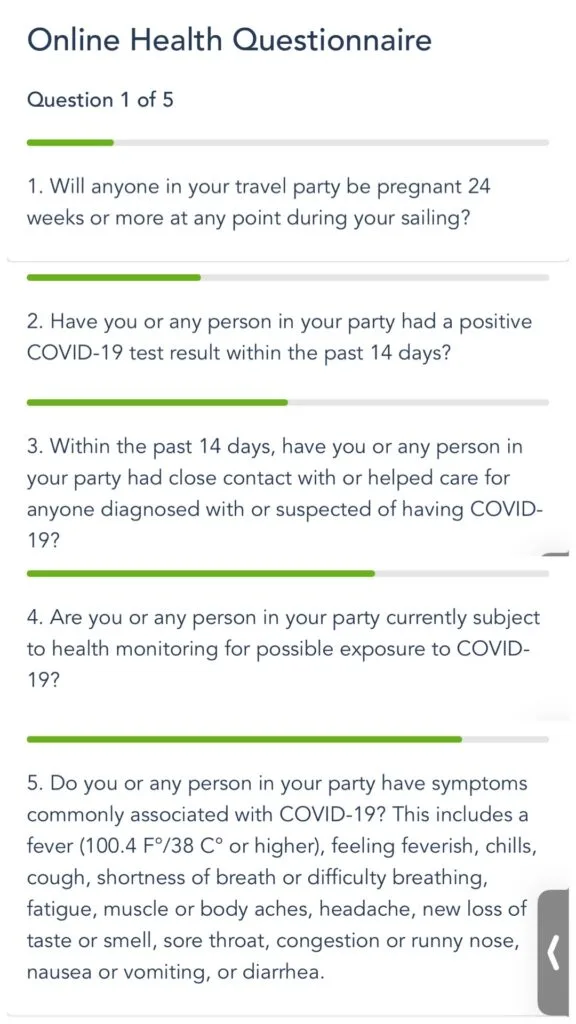 Port Arrival Time
During this check in, you be given a port arrival time. This is generally a 15 minute window. Currently, you are not able to arrive before your assigned time, or you will be turned away.
Our port arrival time was between 12:00 pm and 12:15 pm. I was able to time our Uber so that we arrived at 12:13.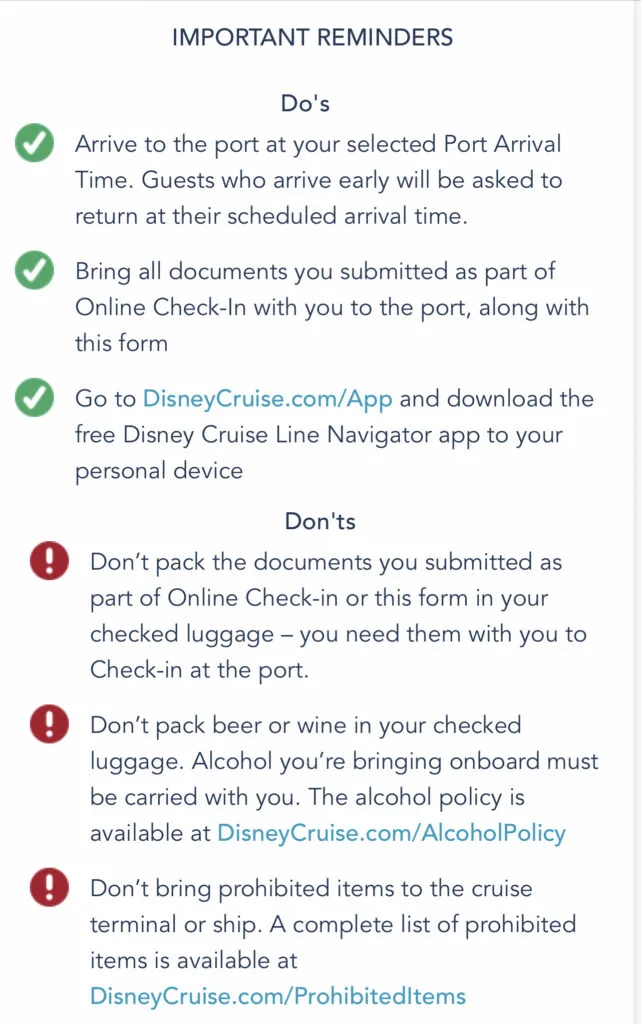 At the Port
When you arrive at the port during your port arrival window of time, the first thing you will do is check your luggage. Disney Cruise Line will send you a set of luggage tags that you will attach to all of the bags you want to be delivered to your stateroom.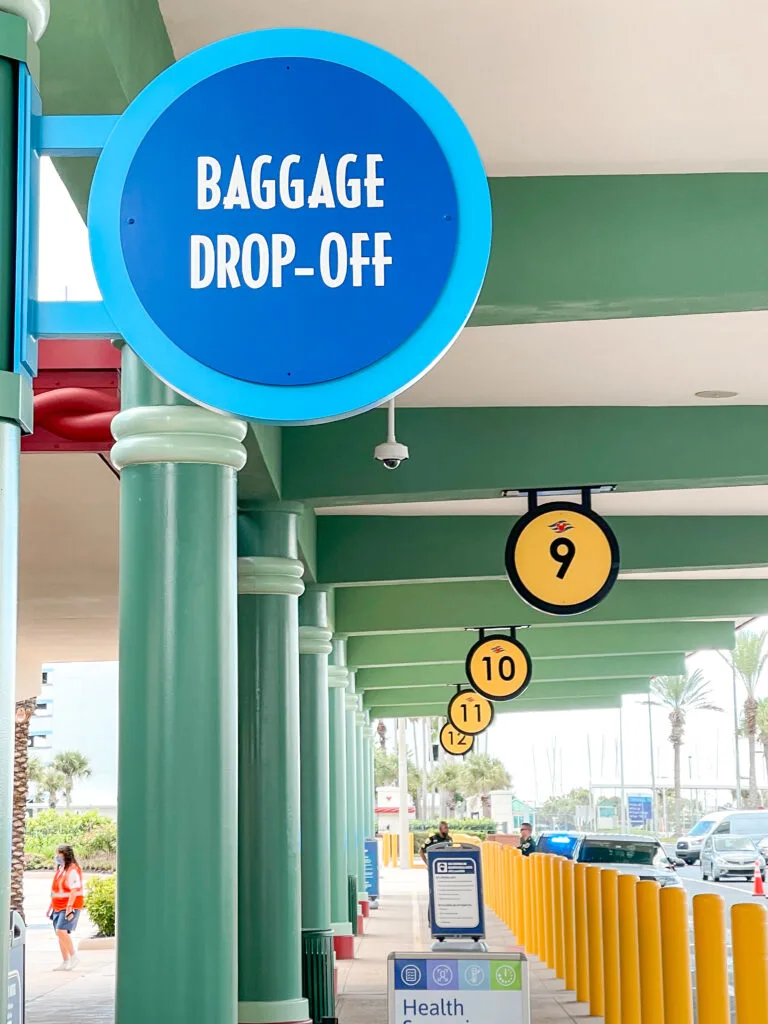 We were given 10 tags for the 5 people in our family. You will want to keep a carry-on bag with you that has all of your important documents like passports or birth certificates as well as any beverages you want to bring with you on board.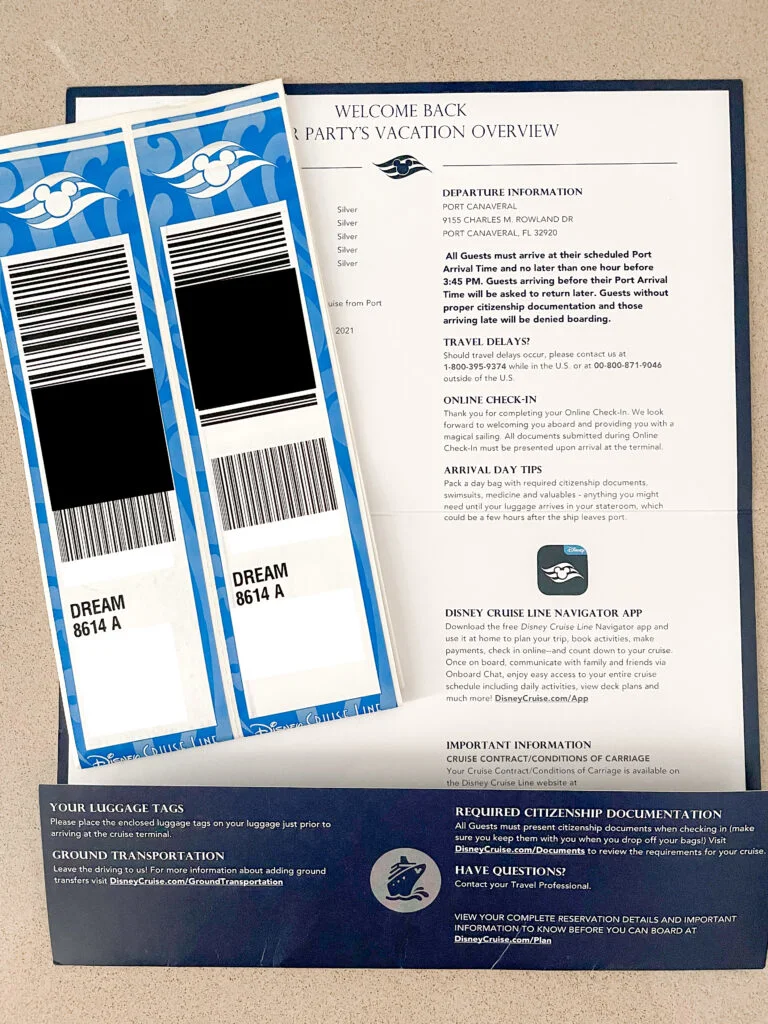 We ordered a case of bottled water through Instacart and had it delivered to us in the morning at the Hyatt. We placed the water in a carry on suitcase to bring with us on board.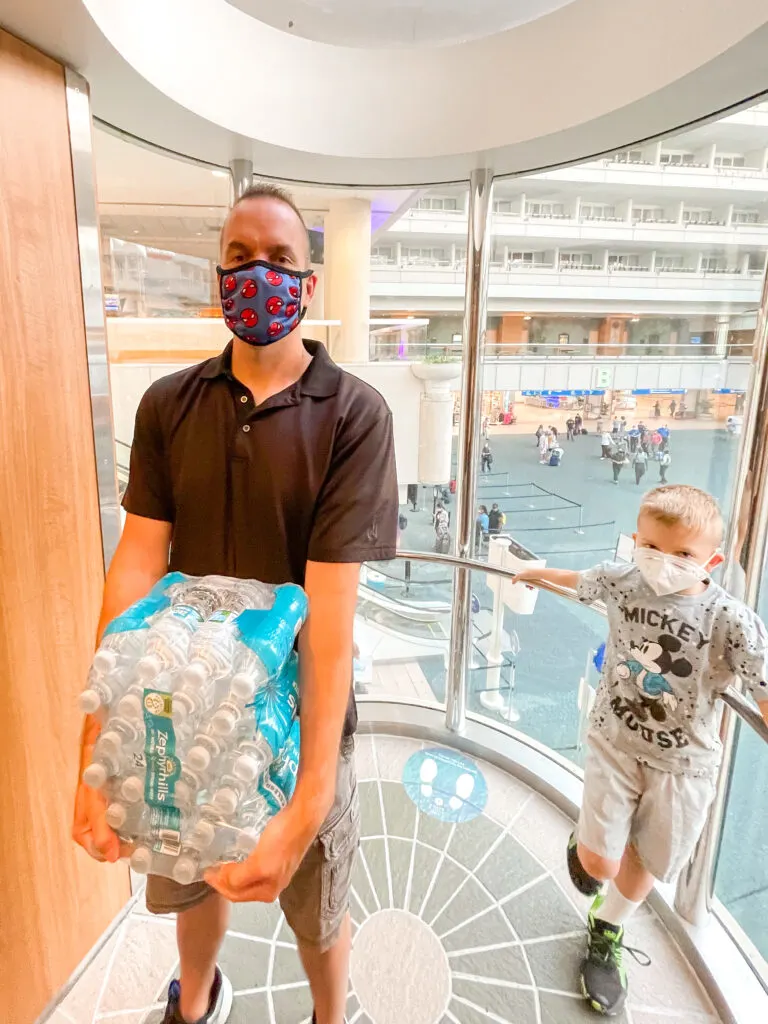 You will also want to bring a swimsuit in your carry on bag so that you can enjoy the pools and the AquaDuck once you board, while you are waiting for you stateroom to be ready.
Pre-Boarding Testing
After dropping off your luggage, you are then directed to a tent, where everyone in your party will take a rapid test. You will be able preform this test yourself, which cut down on a lot of anxiety for my kids.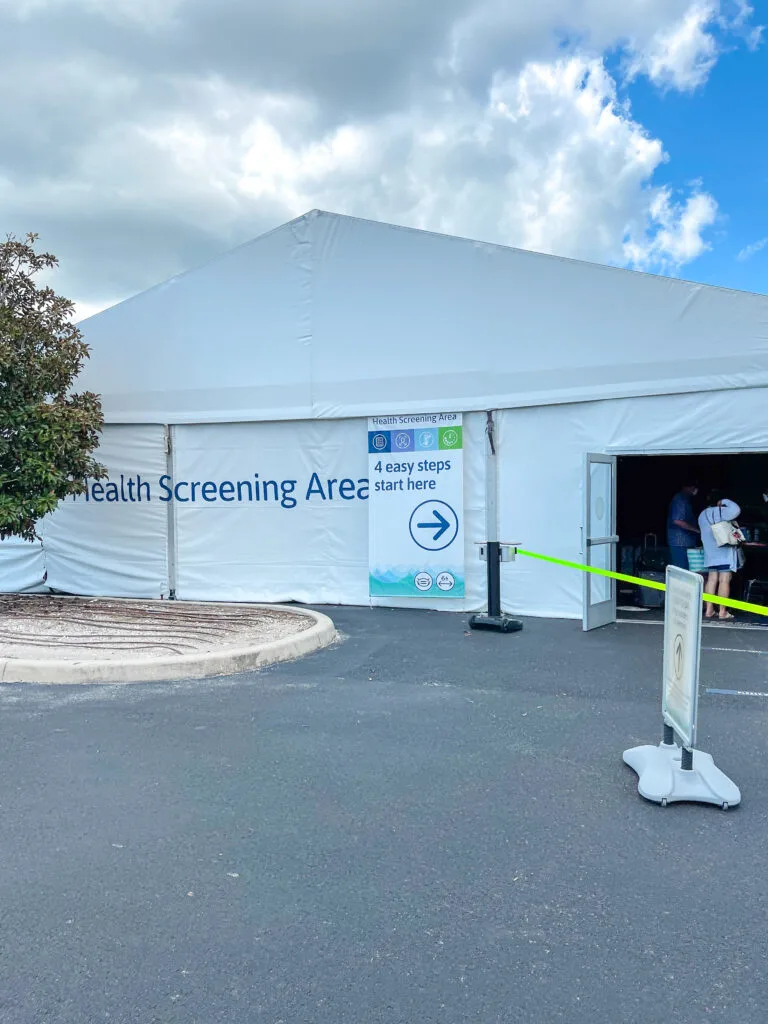 Before testing, you will be asked to show your QR code, which can be found in the Disney Navigator app, but I found it helpful to print it out so that I was not constantly trying to find it on my phone.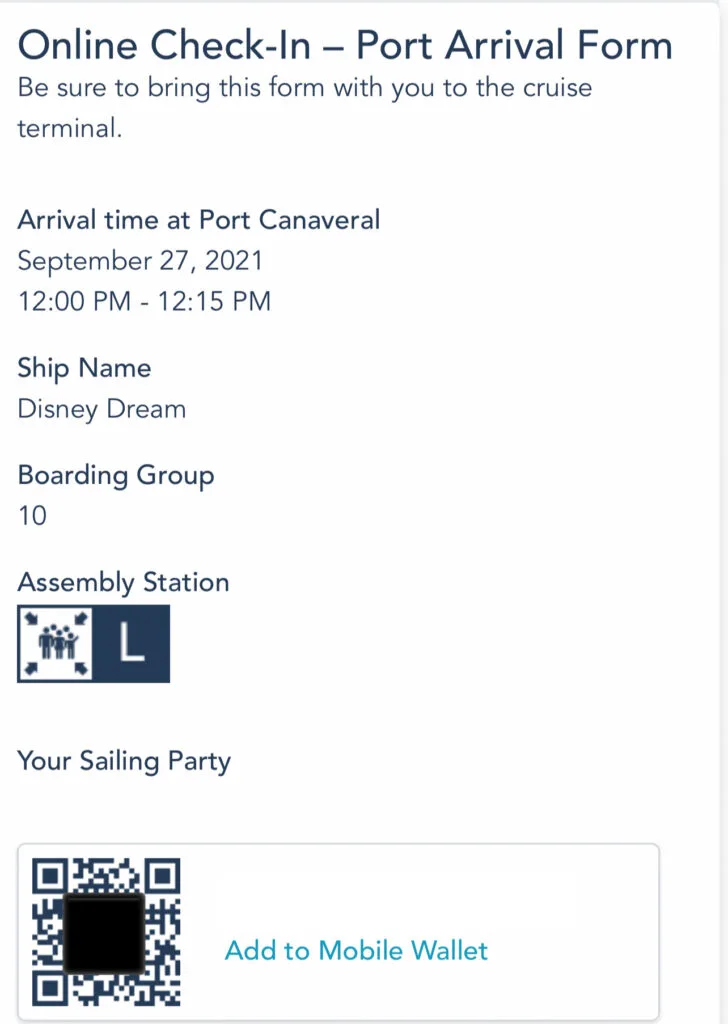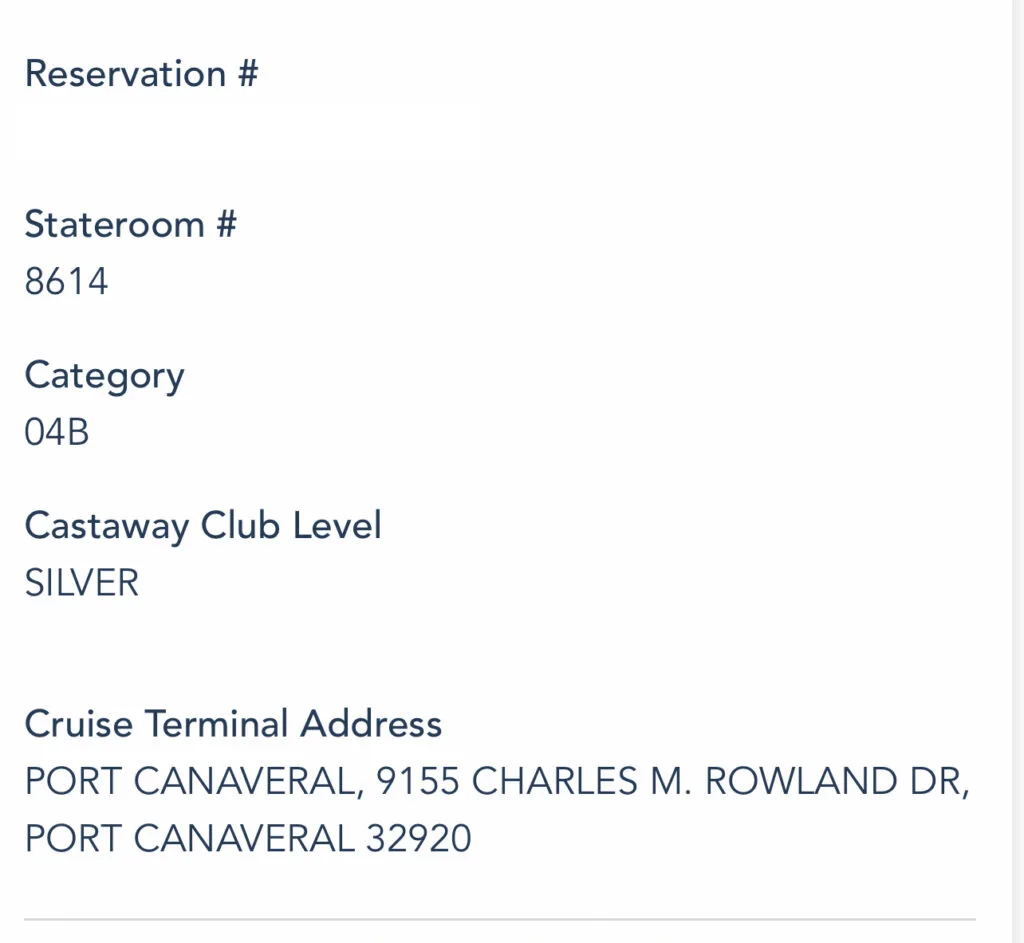 When you complete your tests, which took about 10 minutes for all five of us from start to finish, you will either wait in your car or be led to another tent to wait for your results.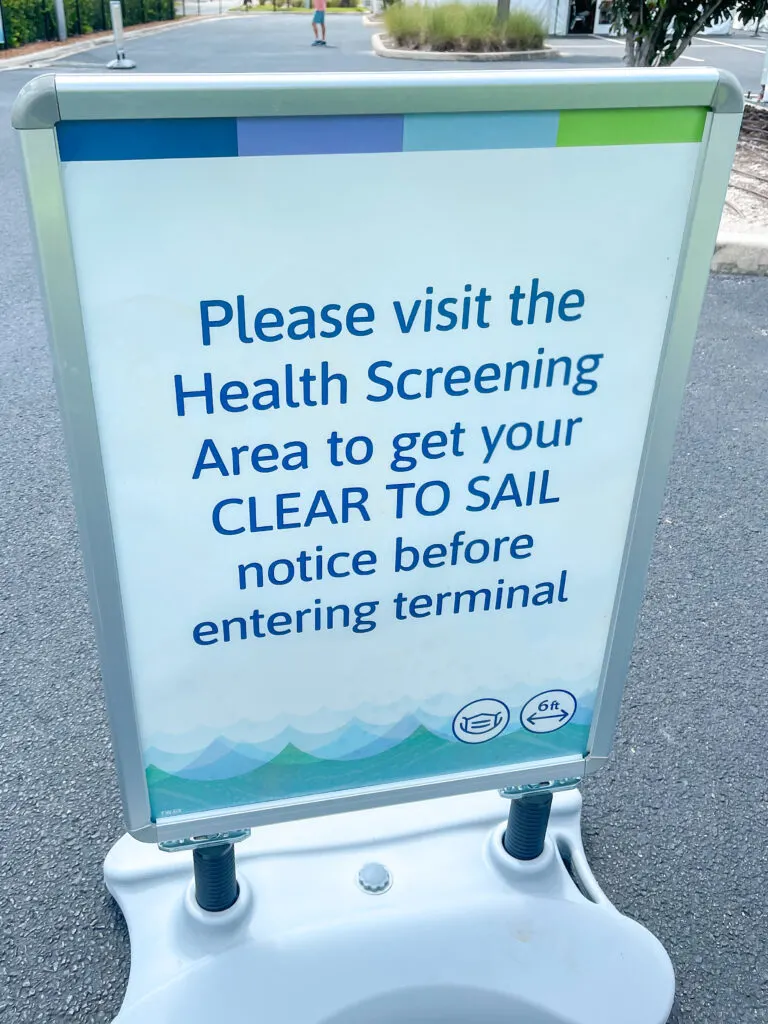 Inside this tent there is a large television that will list your reservation number and the status of your test results. I noticed that it either said "proceed to the terminal" or it directed you to visit another tent. I'm guessing that was for guests who either had inconclusive tests or tested positive, which unfortunately happened to a few passengers on our cruise.
I found it faster to refresh the Safe Passage website and keep an eye on our "cleared to sail" status.
By 1:00 pm, we were cleared to head to the Disney Cruise Line Terminal.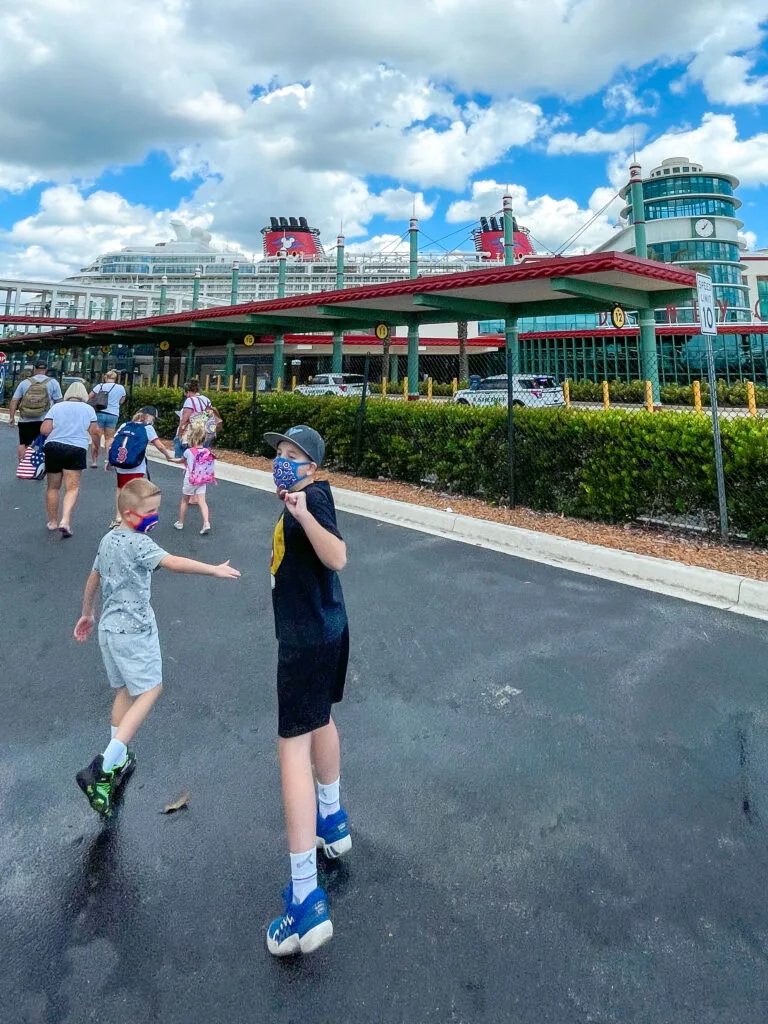 Cruise Check-In
When you are able to enter the terminal, a cast member will again scan your QR code. You will then enter the terminal and present your passport or birth certificates. Then you will pass through a security check point and head up the escalator.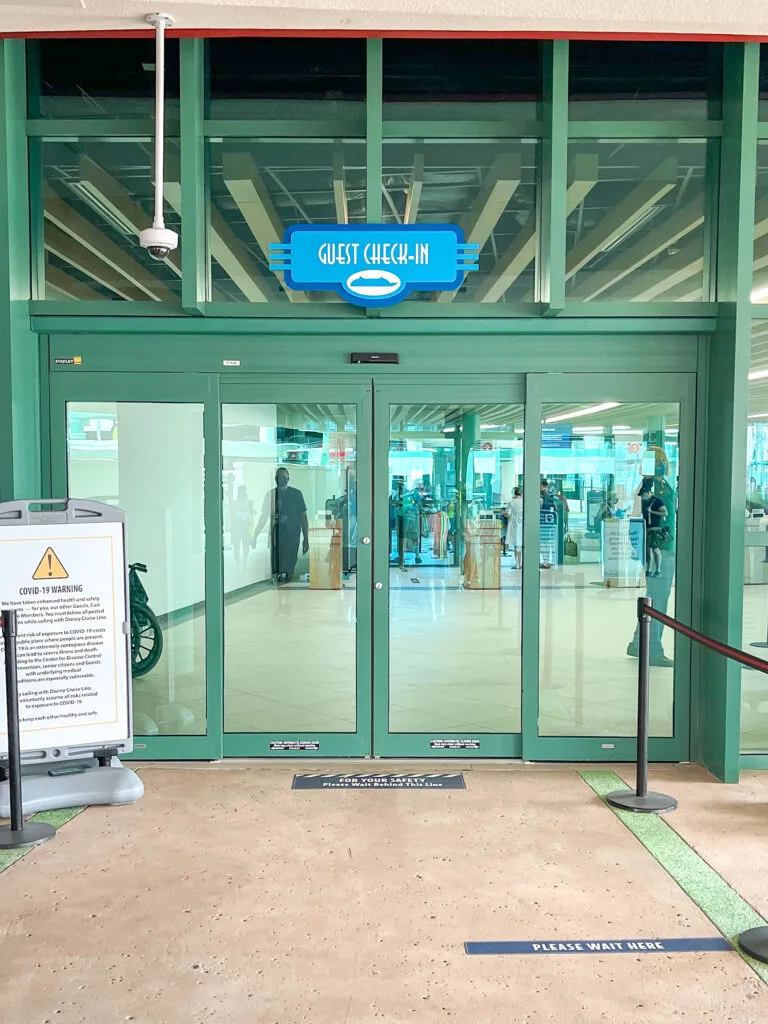 You can then check your QR code to find your boarding group. If your group has been called, you can enter the line to board the ship. We were onboard the ship by 1:45 pm.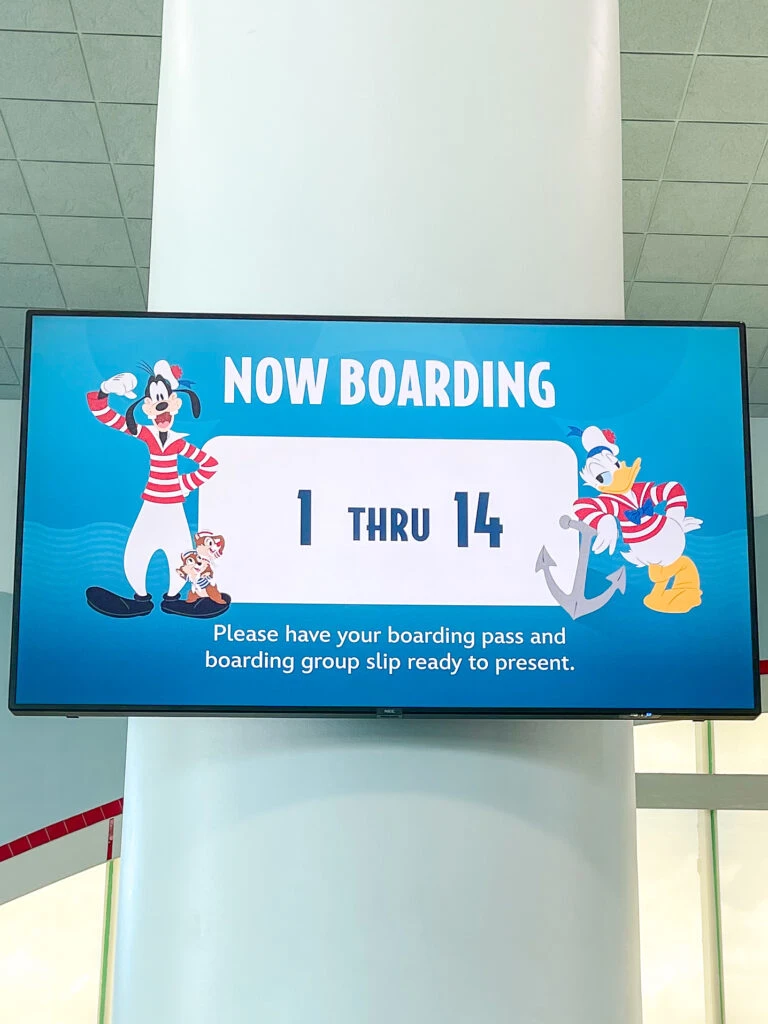 Boarding the Ship
Disney is allowing about five or six families to board at a time. One of the things we like about boarding a Disney cruise ship is that they announce your family's arrival.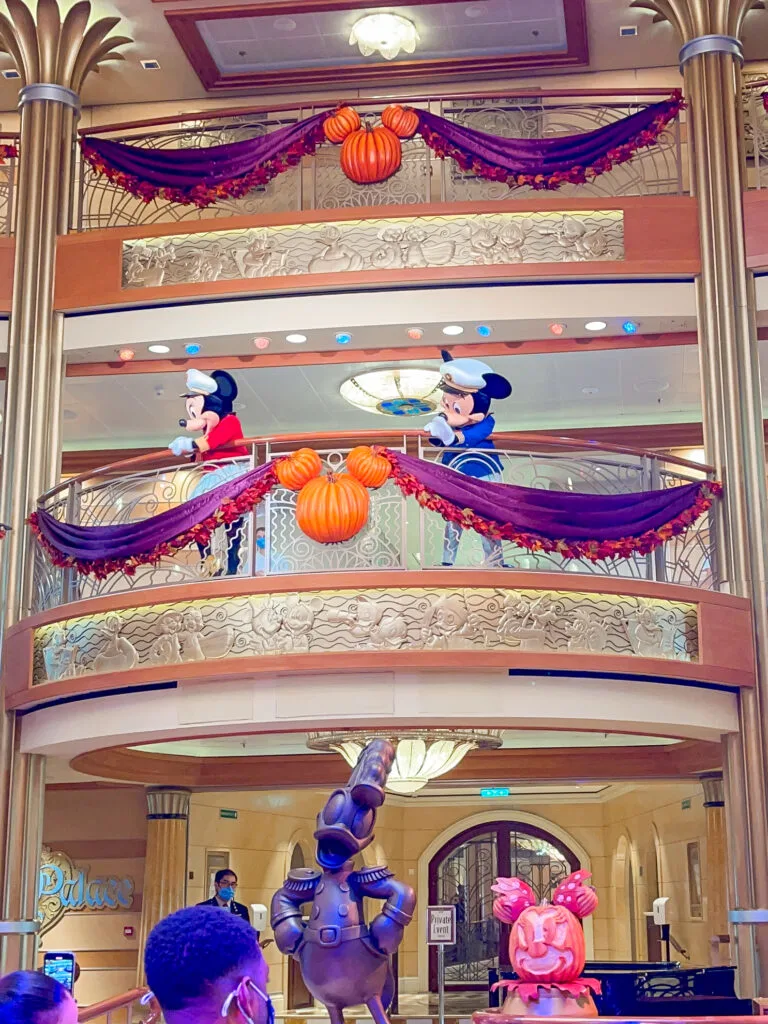 Once you enter the atrium, you will stand on a socially distanced marker while a few of the cruise staff, as well as Captain Mickey and Captain Minnie will sing and dance to welcome you aboard.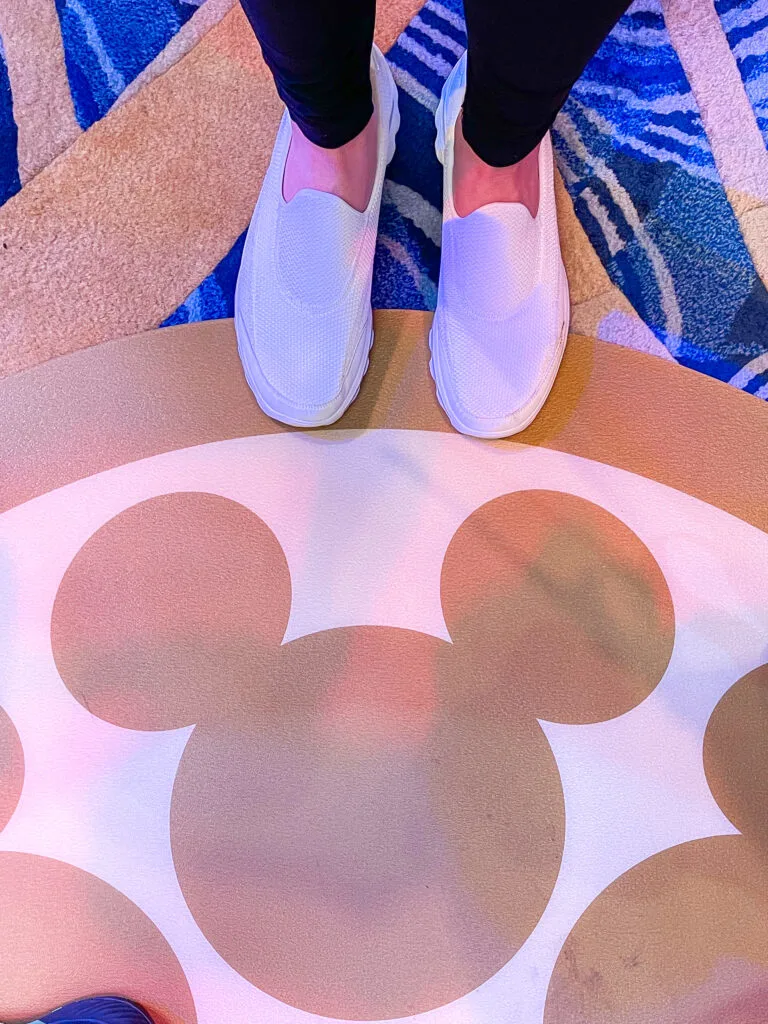 When the show was over, you will head to your assigned location on the ship to complete your safety drill. In the past, all passengers were required to gather together for the muster drill. Now, you will go to your location and a cast member will help you complete the drill in the Navigator app.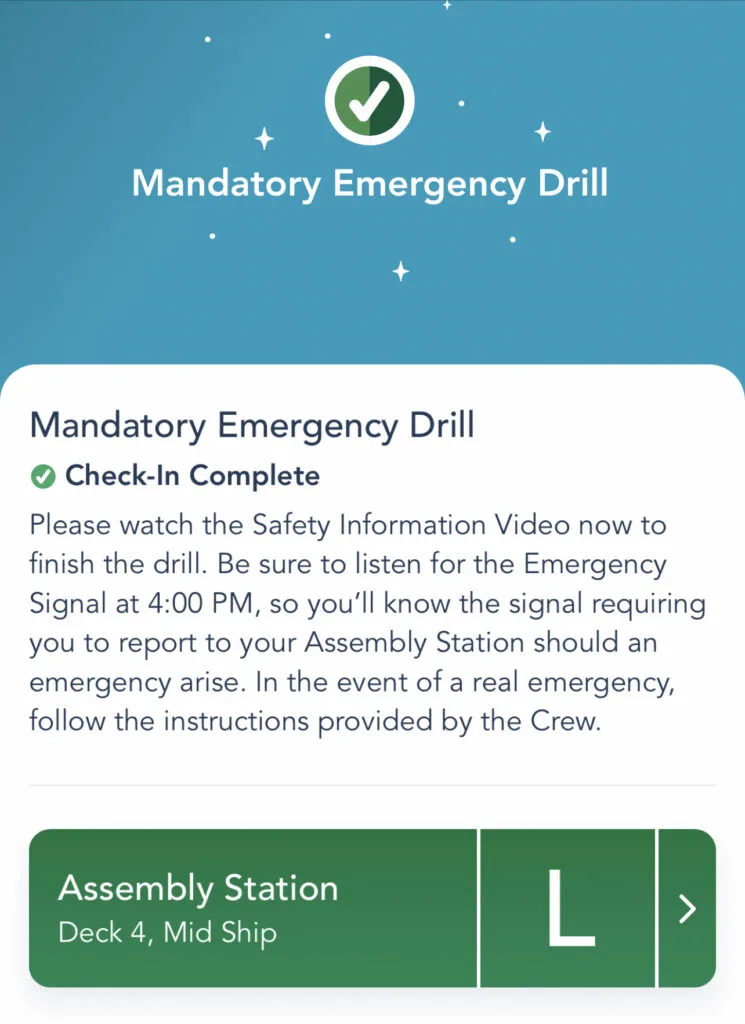 Deluxe Family Suite with Verandah
Our stateroom was ready at 2:00 pm, so after our safety drill we headed up to deck 8 to room 8614. We loved staying on deck 8, mid-ship because we were a few decks below the pool and the buffet on deck 11, and a few decks above the Oceaneer's Club down on deck 5.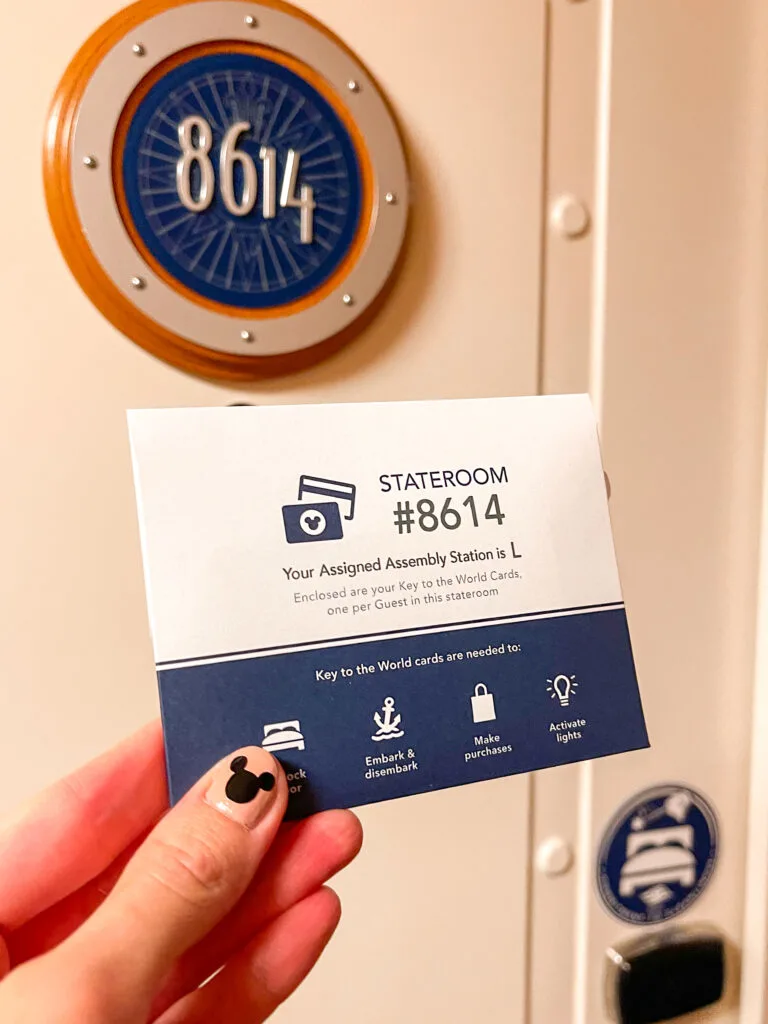 Sitting Area
In this suite, there is a couch, a chair, and a small coffee table. There is also a dresser with 6 drawers, a vanity mirror, two lower cabinets and two upper cabinets. There is also a tv where you can find ship information or watch Disney movies on demand. One of the lower cabinets contains a small refrigerator.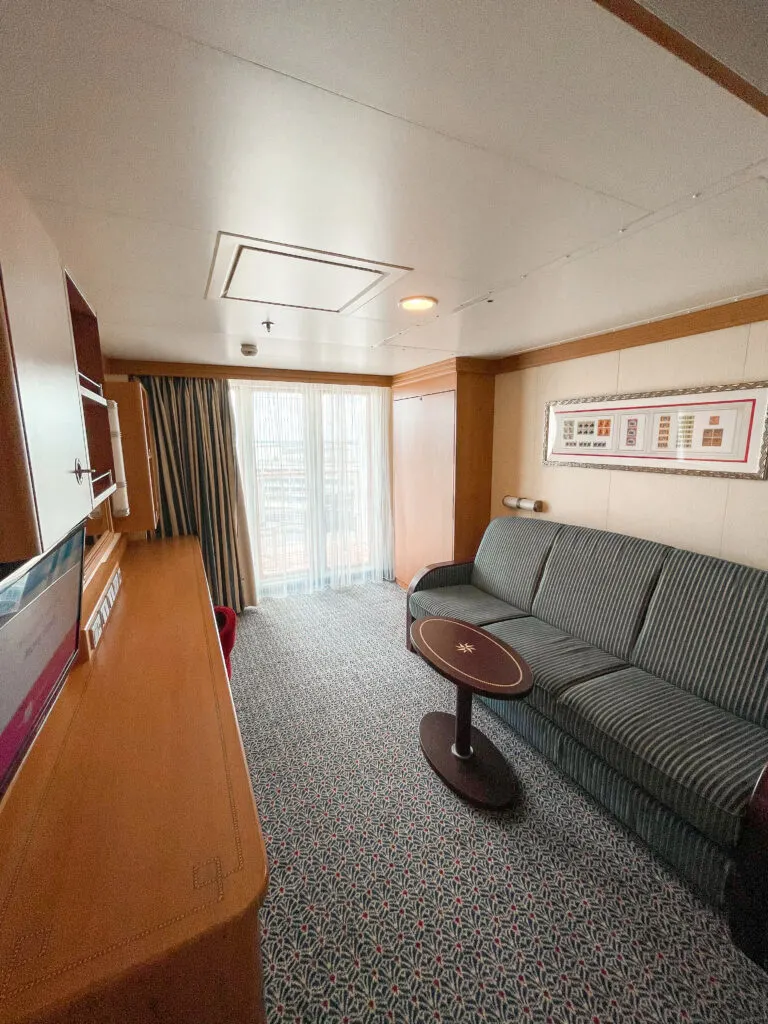 You will also find the outlets for this room. There were two regular outlets as well as a special outlet for the hair dryer that is located in the top drawer.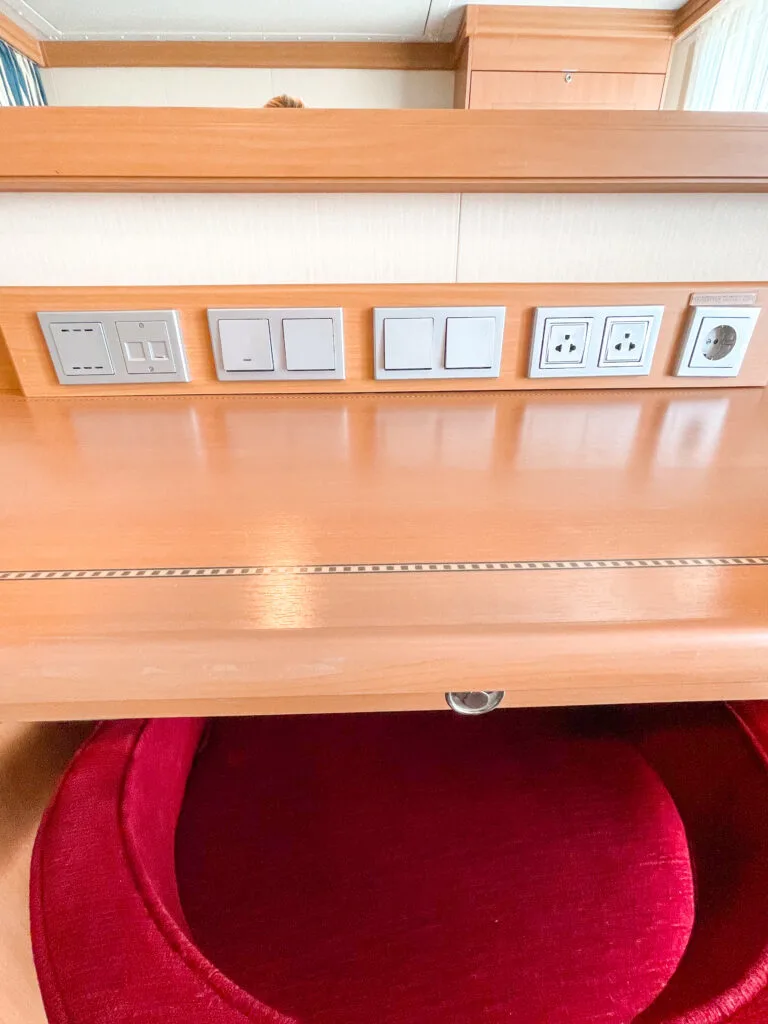 Beds
This deluxe family suite will sleep 5 people, which was perfect for my family. There is a queen bed, with a nightstand on each side, and an alarm clock with two usb ports.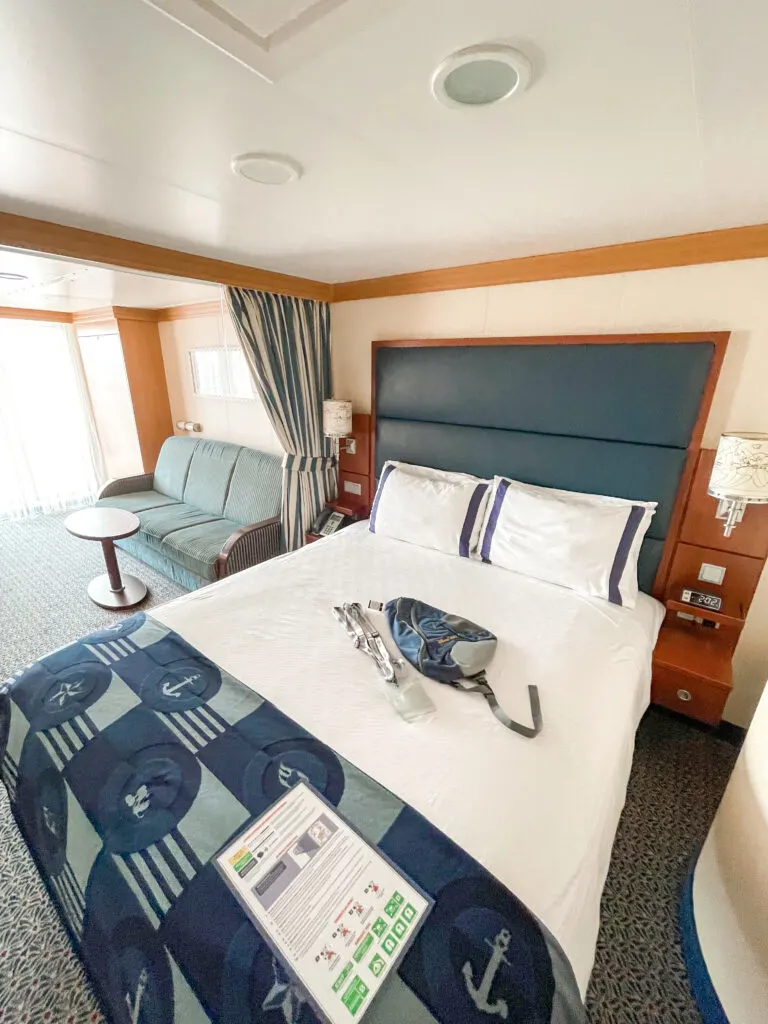 In the sitting area, the couch will fold down into a twin-size bed. A bunk bed will pull out from the ceiling. The third bed is a Murphy bed that will fold down in front of the verandah door.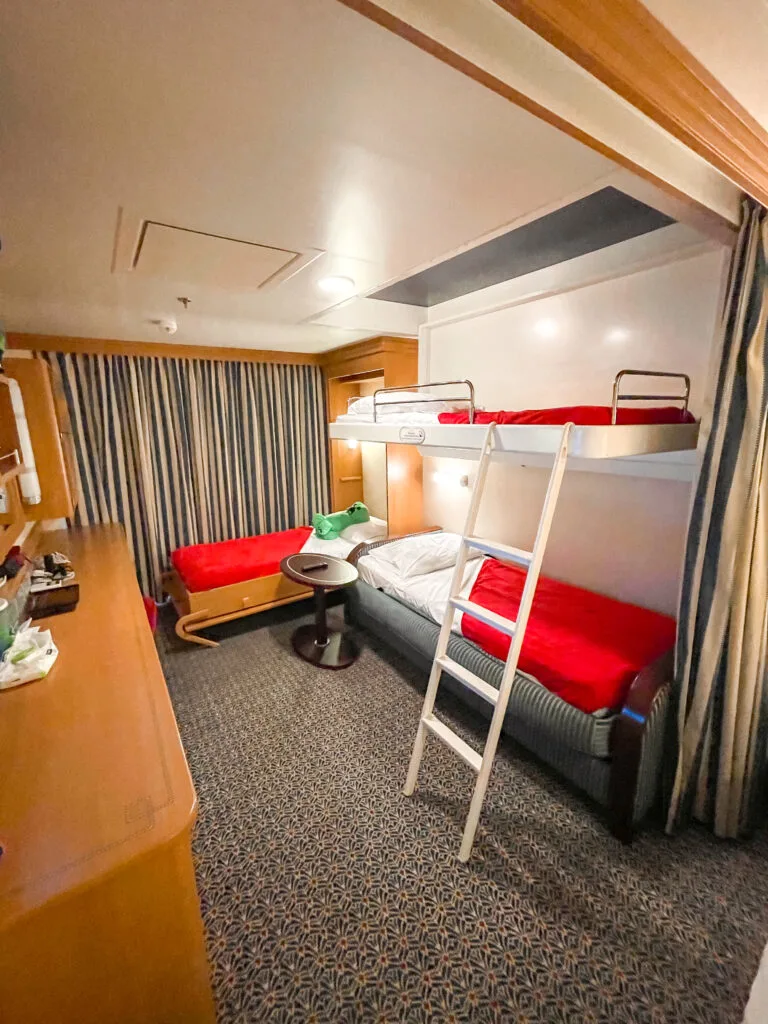 Bathrooms
All Disney staterooms have two bathrooms. The first bathroom as you enter the room has a toilet, a sink, a mirror, and three shelves.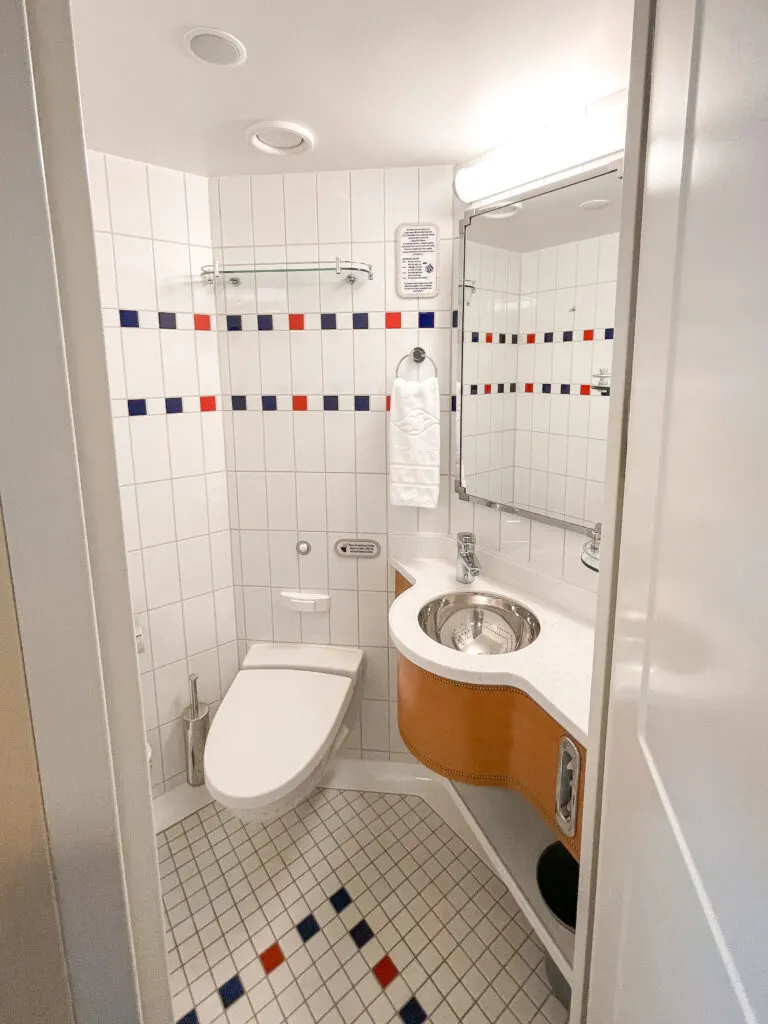 The second bathroom has a shower, sink, mirror, as well as a full-length mirror on the door. There is also a dedicated outlet specifically for an electric shaver.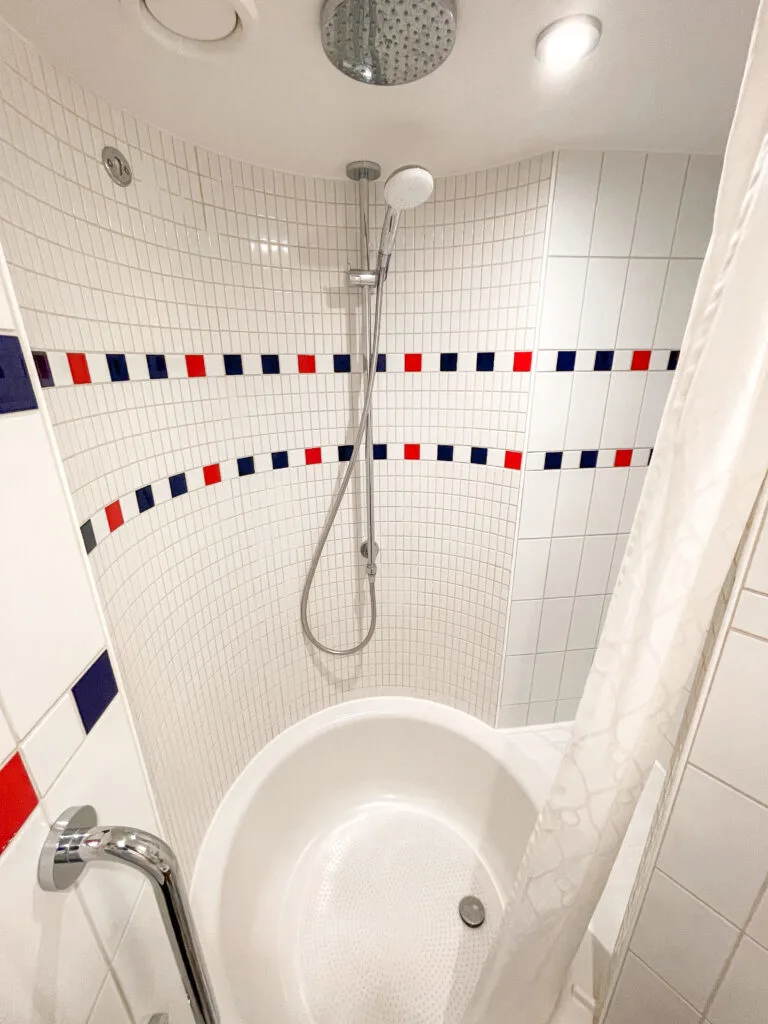 Closets
There are two closets in this suite. The one near the door when you walk in has two doors, and a few shelves and contains some of the stateroom life jackets. There is also an in-room safe in this closet.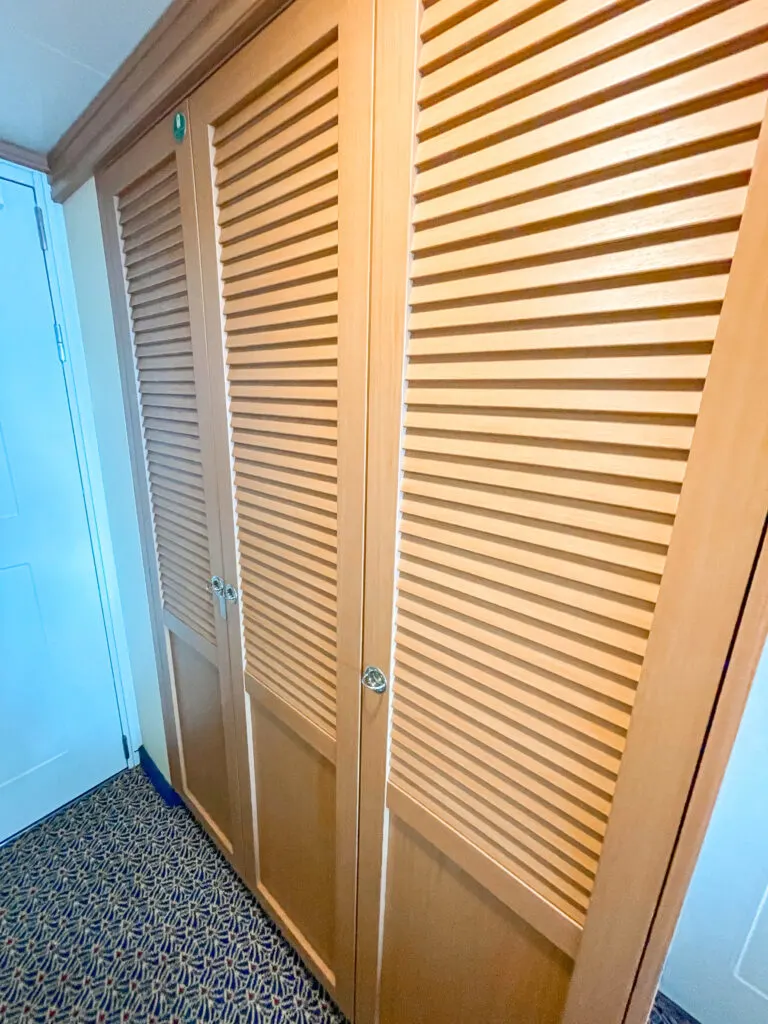 The second closet closet has a few hangers and contains the rest of the stateroom's life jackets.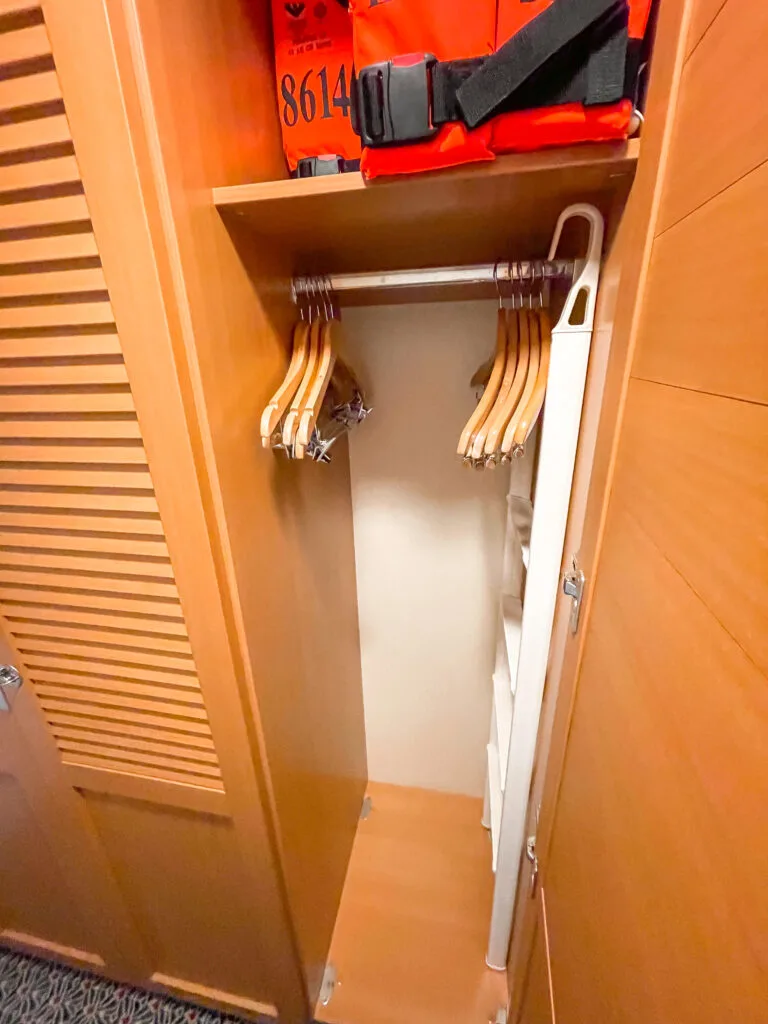 Verandah
The veranda has two chairs and a small table. There is also glass in front of the railing for safety. It also has some pretty amazing views both at sea and when visiting a port.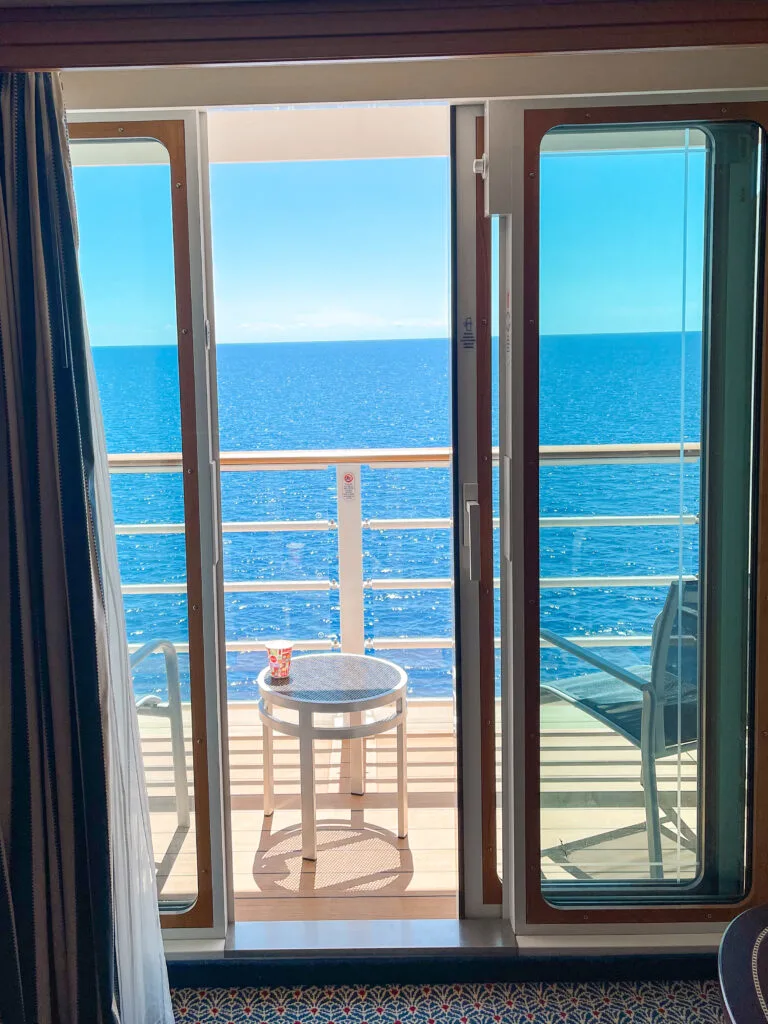 Cabanas Buffet
After checking out our room, we headed up to the buffet called Cabanas, located on Deck 11. They have many choices, so you should be able to find something for everyone.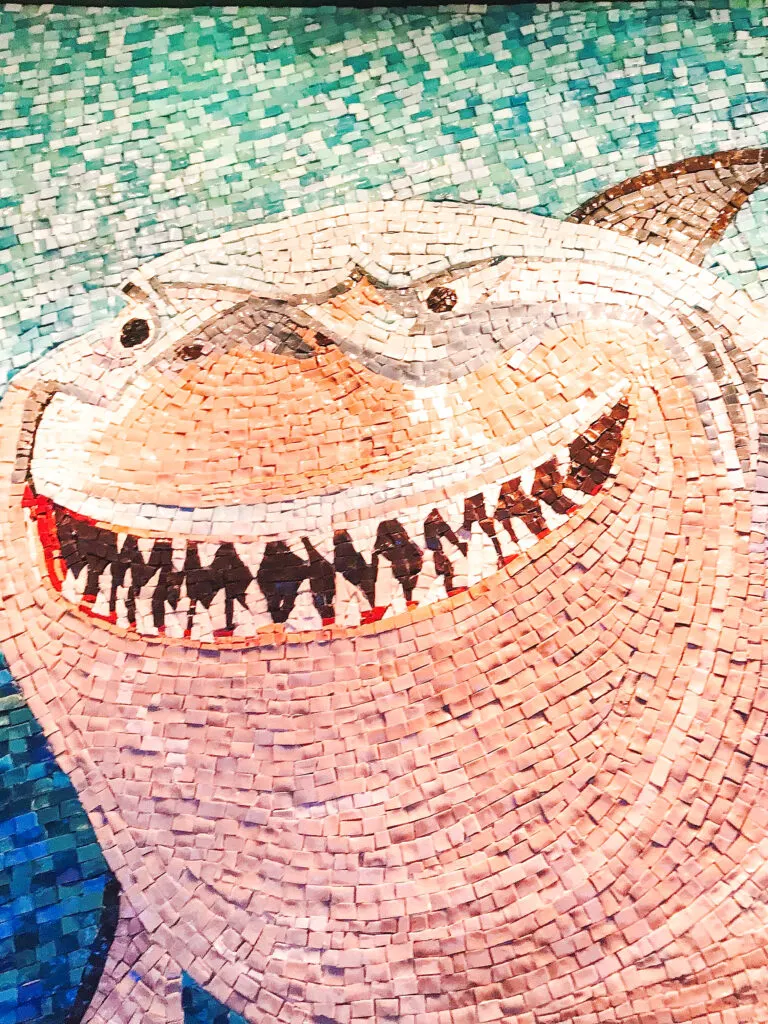 In the past, Cabanas was self-serve, but now a cast member will serve the food and beverages to you.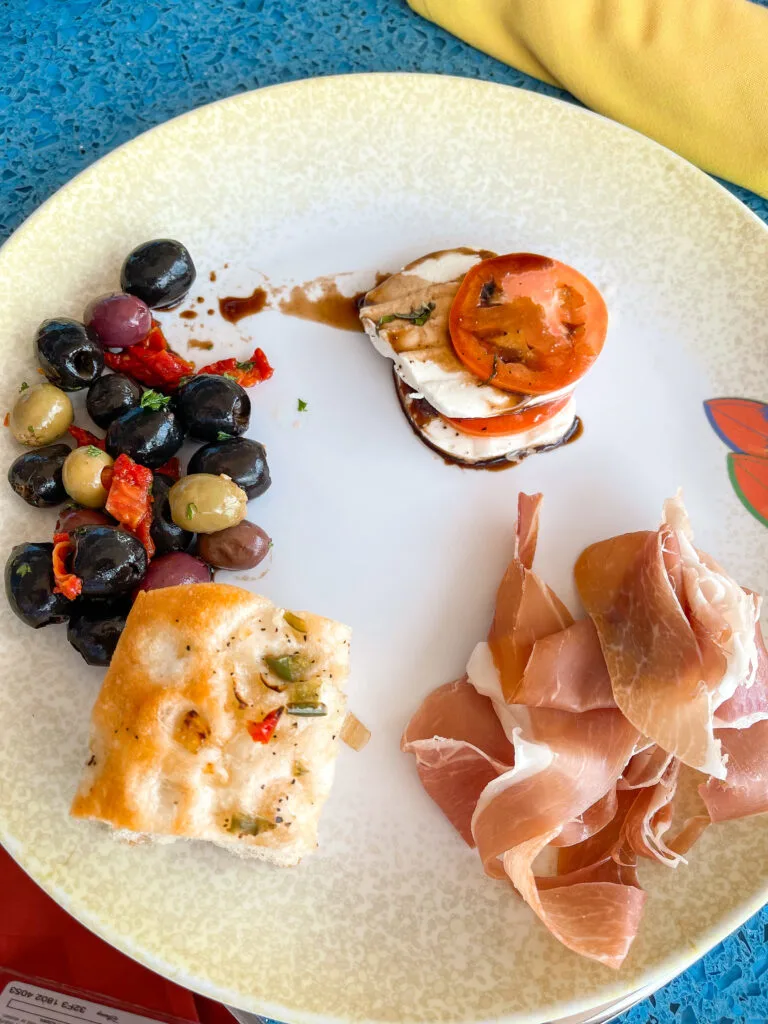 I recommend sitting outside when you dine at Cabanas. You will be located at the back of the ship and will have amazing views!
Unlimited Ice Cream Cones
On deck 11, there is an ice cream stand where you can get all of the ice cream cones you want! This is a perk that my boys definitely took advantage of. They grabbed an ice cream cone before heading back to our room.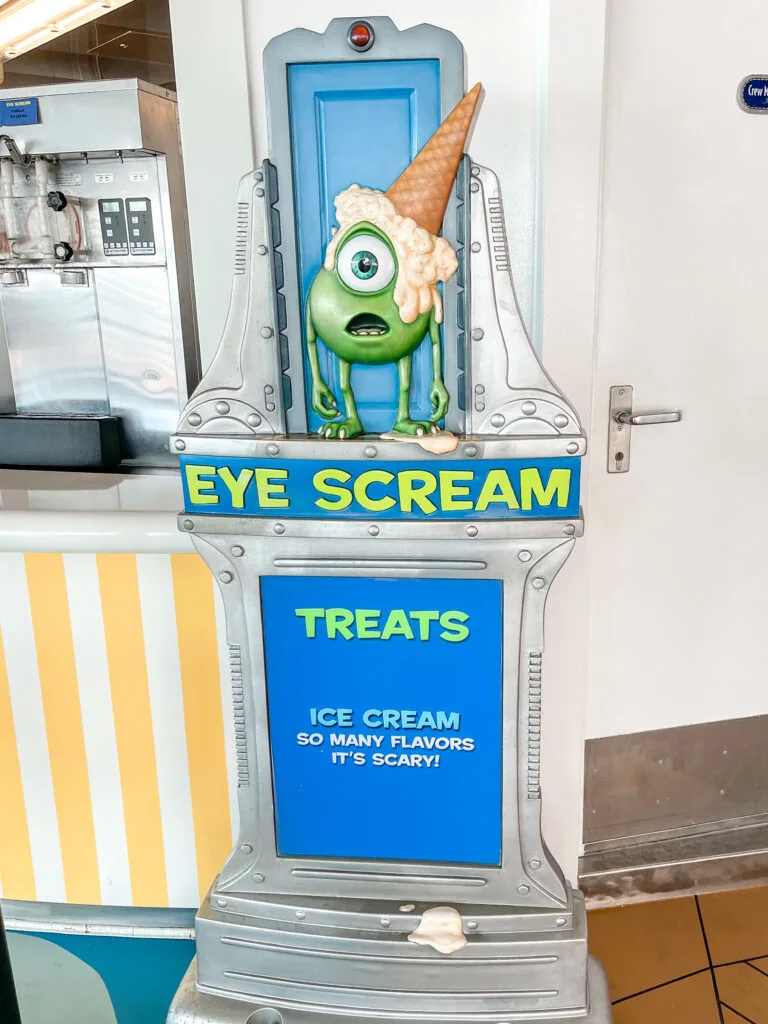 Pools & AquaDuck
We had about an hour before my boys were scheduled to visit the kids club, so they decided to make a few passes on the AquaDuck and visit the Mickey Pool and Donald Pool.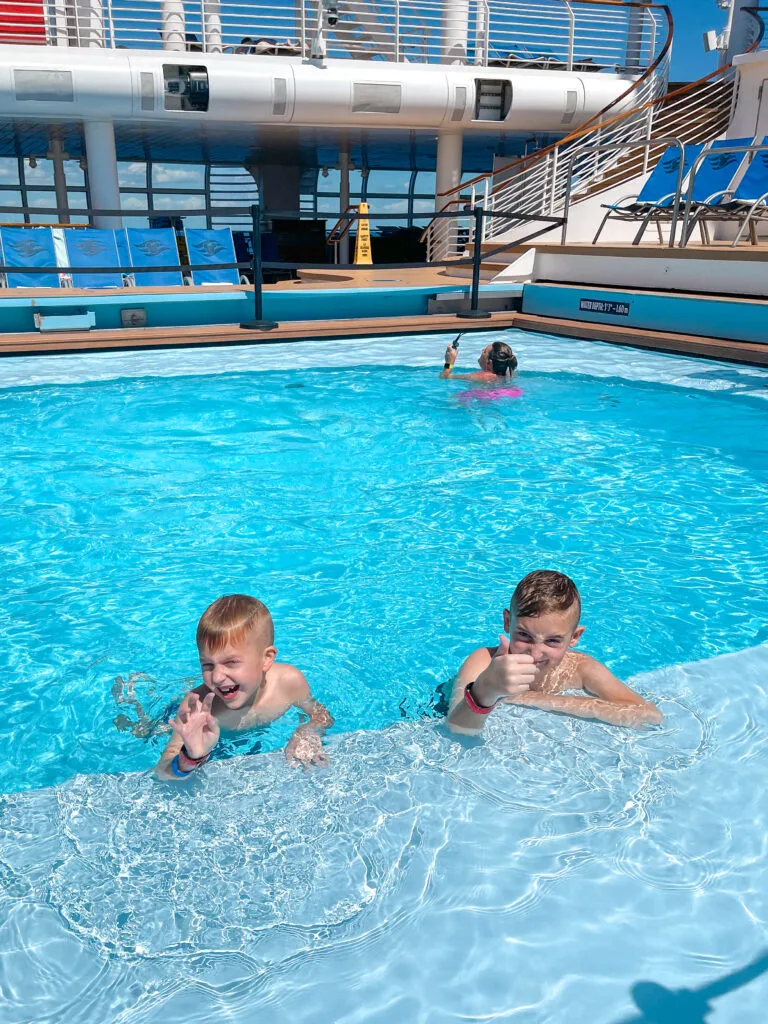 The AquaDuck is a transparent water slide that circles around the top of the ship. There is a height requirement of 42 inches. On our last cruise, my youngest son was about 1/4 inch too short, so he was really excited to be able to ride it this time with his brothers!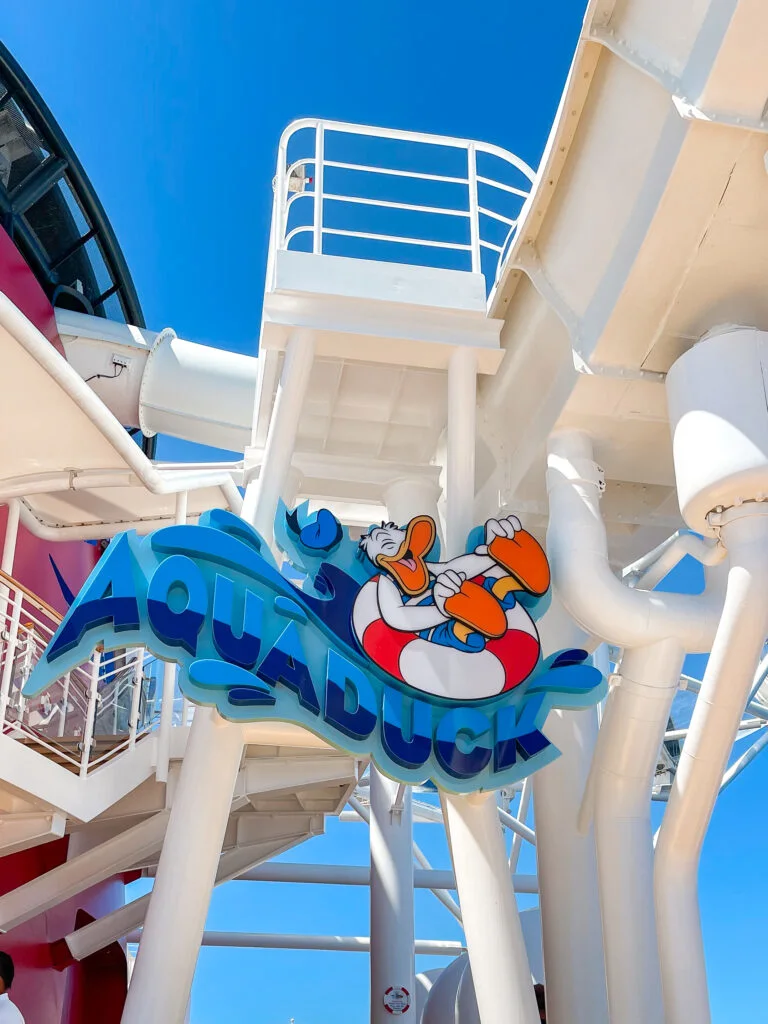 Oceaneer's Club & Oceanee's Lab (Kids Club)
During online check-in, you are able to schedule time for your kids (ages 3-11) to visit the kids club. You can schedule 1.5 hours on port days and 2.5 hours on days at sea.
Our scheduled time on Day 1 was from 4:00 – 5:30. When you take your child to the kids club, only one adult is allowed with them to help cut down on crowding. They will give your child a band (similar to a Magic Band at Disney World) that they will wear throughout the entire trip.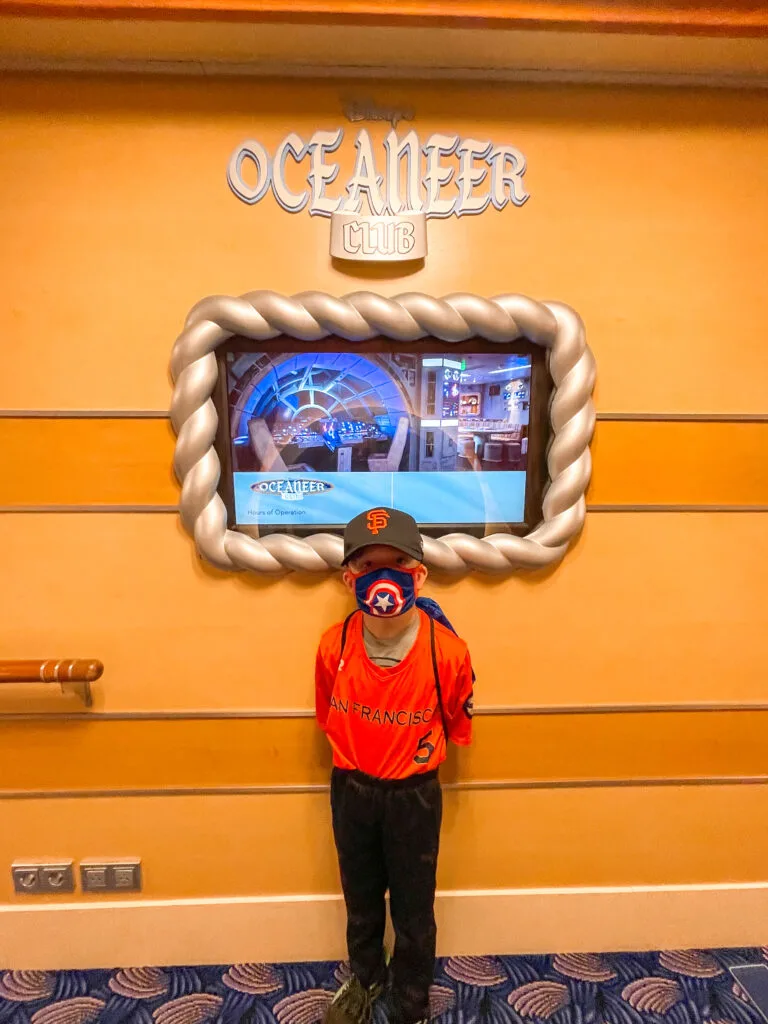 Also during online check-in, you can decided who will have the ability to decide who can drop off and pick up your child. You will need to choose a password that you will tell the cast member each time you get your child.
In the past, there were activities provided inside the kids club, but kids were basically free to roam around and do what they want. On our cruise, kids were kept in small groups with one counselor that would lead them in activities and keep the group together as they move about the kids club.
On this day, my boys reported that there was story time, they got to drive the Millennium Falcon, talk to R2D2, do a craft, and play Mario Kart. Sounds like fun to me!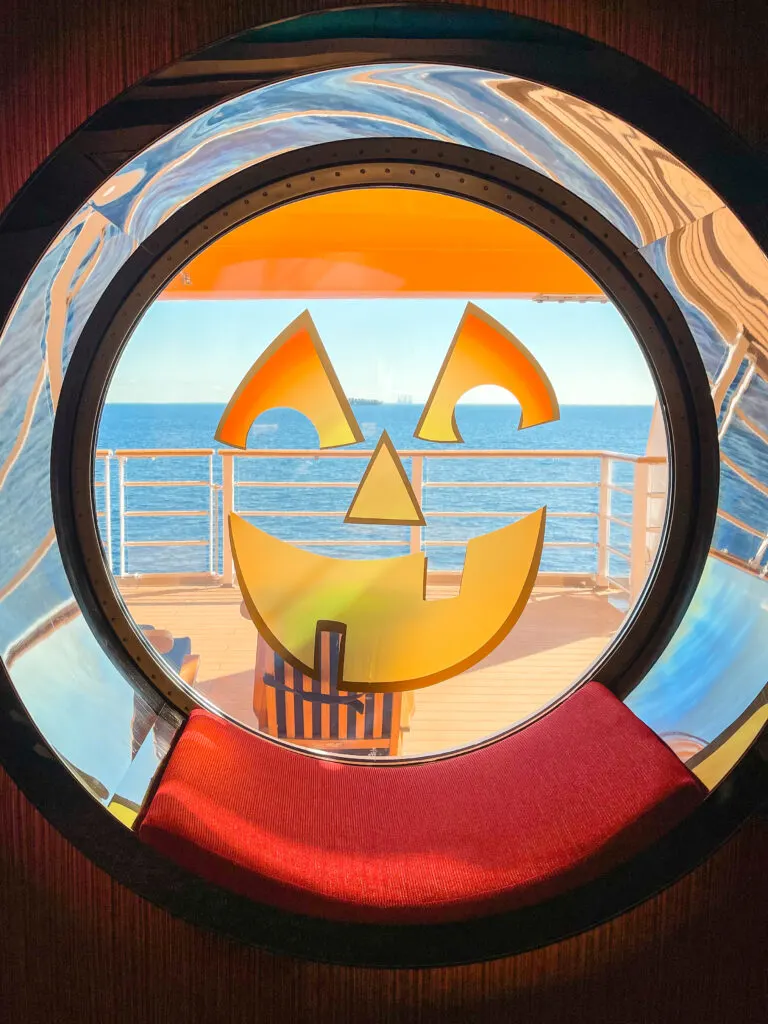 Onboard Activities
There are tons of activities available at all different times during the day. Here is a list of activities that were available on Day 1 of our Halloween on the High Seas Cruise on the Disney Dream.
Day 1
12:00 pm- A Goofy Movie, Crafts: Door Hangers, Youth Activities Open House
12:30 pm- Disney Trivia
1:15 pm- Disney Animation
1:30 pm- Shang-Chi and the Legend of the Ten Rings
2:00 pm- Appear and Wave, Making the Dream, Operation Hit the Decks!
2:30 pm- Operation Hit the Decks!
2:45 pm- Disney Animation
3:00 pm- Sarge Says!
3:15 pm- Disney Trivia
4:30 pm- Cinderella
4:45 pm- Disney Tunes Trivia
5:15 pm- Good Vibes with Jordan Caswell, Movie Quotes Trivia (18+),
5:30 pm- Shang Chi and the Legend of the Ten Rings
6:00 pm- Finding Nemo, Happy Hour at Pink, Happy Hour at Pub 687
6:15 pm- '80s Music Challenge (18+), Disney Animation, Showtime: Lynn Trefzger
7:15 pm- 1820 Society: Coffee Time, A Decade of Music with Jordan Caswell, Portraits with Scenic Backdrops
7:30 pm- Mouseketeer Madness!
7:45 pm- Generation Quest, Movie Quotes Trivia (18+)
8:00 pm- Champagne Tasting (21+)
8:15 pm- NFL Football
8:30 pm- Shang-Chi and the Legend of the Ten Rings, Showtime: Lynn Trefzger
8:45 pm- Disney Animation
9:00 pm- '80s Music Challenge (18+), Happy Hour at Pink, Happy Hour at Pub 687
9:30 pm- Cognac Tasting (21+), Luxury of Time: Discover Breitling, Portraits with Scenic Backdrops
10:00 pm- Mousketeer Madness!, Whisky Tasting (21+)
10:15 pm- Gershwin & Porter Tribute with Bernadett Bihari, Match Your Mate (18+), Movie Quotes Trivia
10:30 pm- Film Scores with Jordan Caswell
10:45 pm- Tim Burton's The Nightmare Before Christmas Sing and Scream
11:15 pm- Family Superstar Karaoke, Jungle Cruise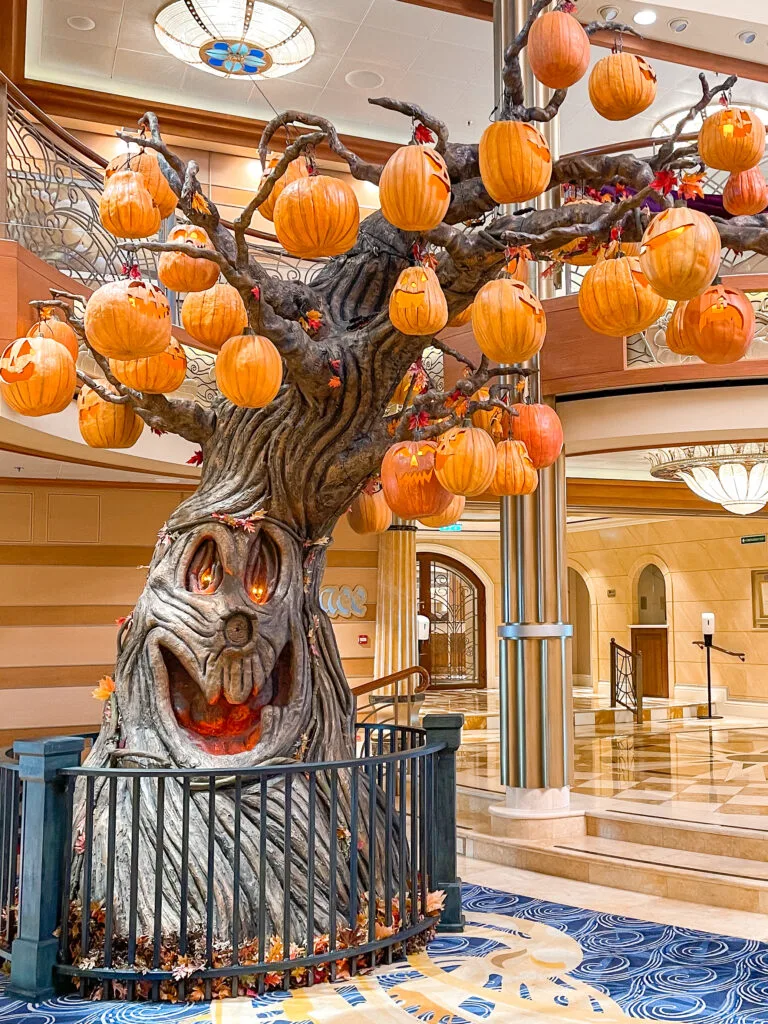 Dinner at Enchanted Garden
Disney Cruises have rotational dining that allows you to move to a different scheduled restaurant each night. We had the early dinner which began at 5:35 pm.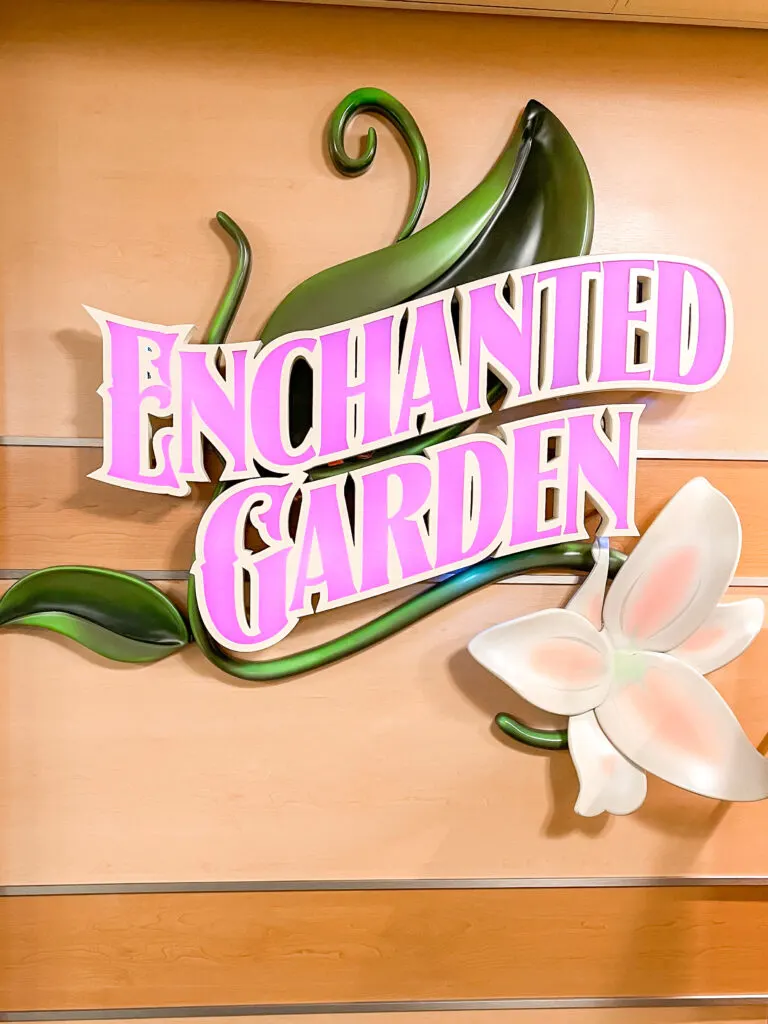 Our first restaurant was Enchanted Garden. This restaurant is down on deck 2. I was really impressed with our server, Dee. She knew all of our names before we arrived.
On a Disney Cruise, you will have the same wait staff throughout the entire cruise. I love this because you and your server really get to know each other during your time on the ship. Get screenshots of the Enchanted Garden menu from the Navigator app here.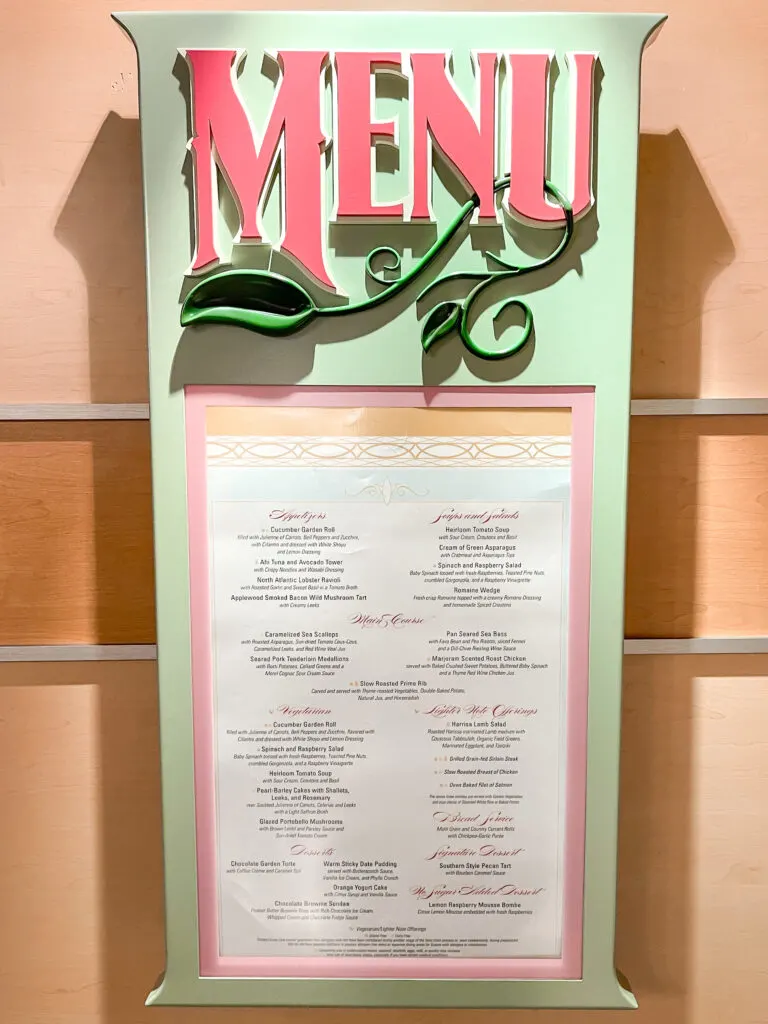 Enchanted Garden Menu
Specialty Cocktails
Golden Leafs
Nutty Chocolate
Northern Garden
Appetizers
Cucumber Garden Roll
Ahi Tuna and Avocado Tower
North Atlantic Lobster Ravioli
Applewood Smoked Bacon Wild Mushroom Tart
Soups and Salads
Heirloom Tomato Soup
Cream of Green Asparagus
Spinach and Raspberry Salad
Romaine Wedge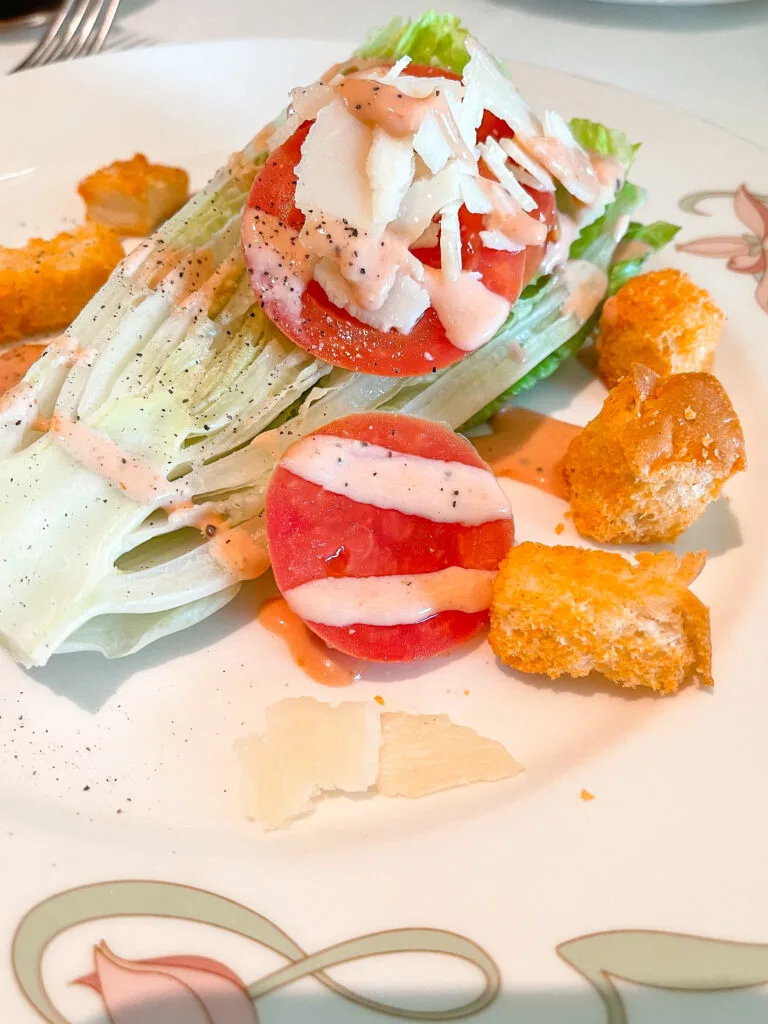 Bread Service
Multigrain and Country Currant Rolls
Main Course
Caramelized Sea Scallops
Pan Seared Sea Bass
Marjoram Scented Roast Chicken
Seared Pork Tenderloin Medallions
Slow Roasted Prime Rib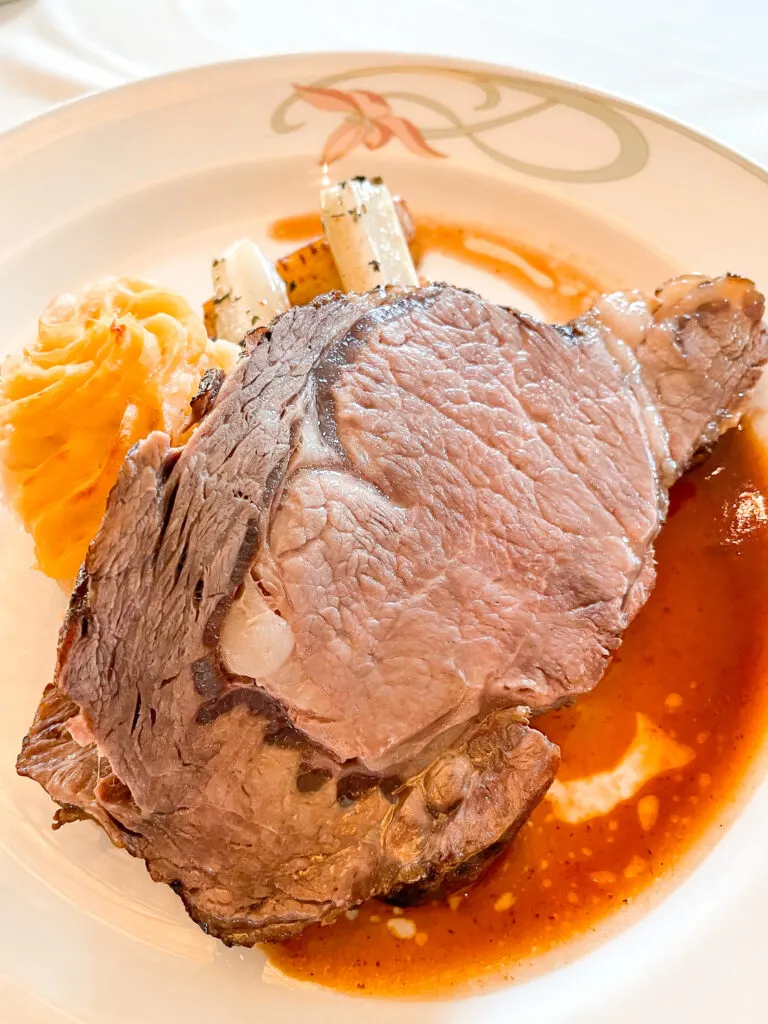 Vegetarian
Cucumber Garden Roll
Spinach and Raspberry Salad
Heirloom Tomato Soup
Pearl-Barley Cakes with Shallots, Leeks, and Rosemary
Glazed Portobello Mushrooms
Lighter Note
Harissa Lamb Salad
Grilled Grain-fed Sirloin Steak
Slow Roasted Breast of Chicken
Oven Baked Fillet of Salmon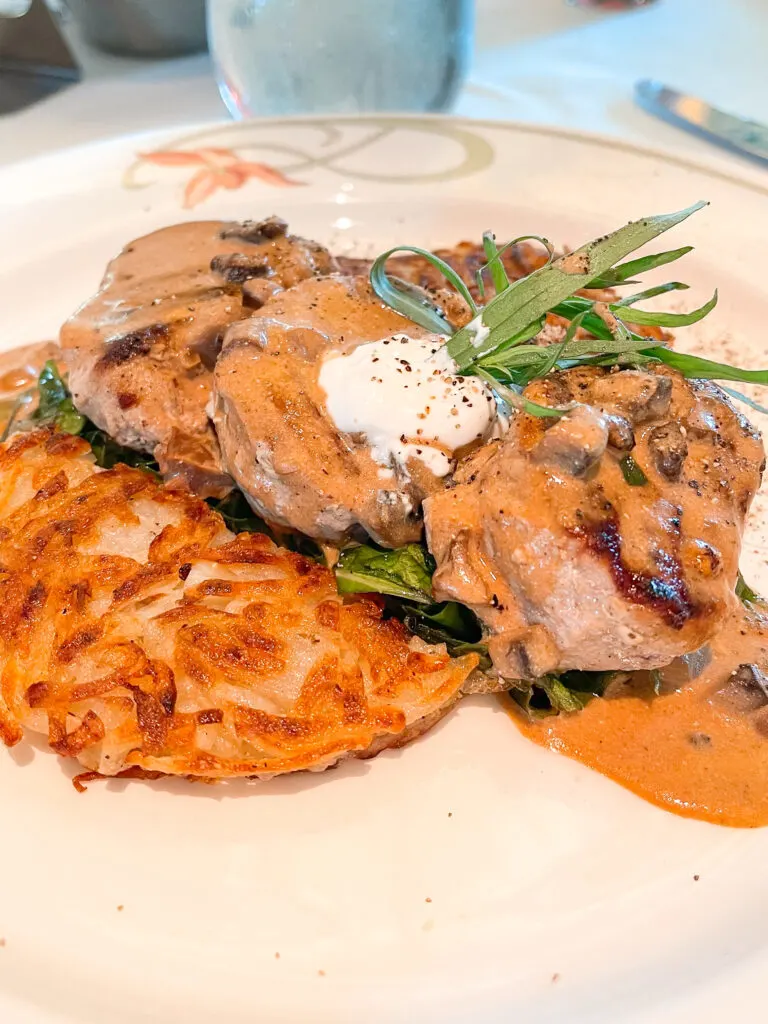 Specialty Coffees
Adventurous After-Tinis
Espresso Martini
Creme Brulee
Specialty Drinks Selection
RumChata
Bailey's Irish Cream
Sambuca
Hennessy V.S.
Courvoisier V.S.O.P.
Remy Martin X.O.
Grappa Gianduia
Grappa Fior Di Latte
Tawny Port 10yrs – 20yrs
Knob Creek
Johnnie Walker Odyssey
Glenmorangie Signet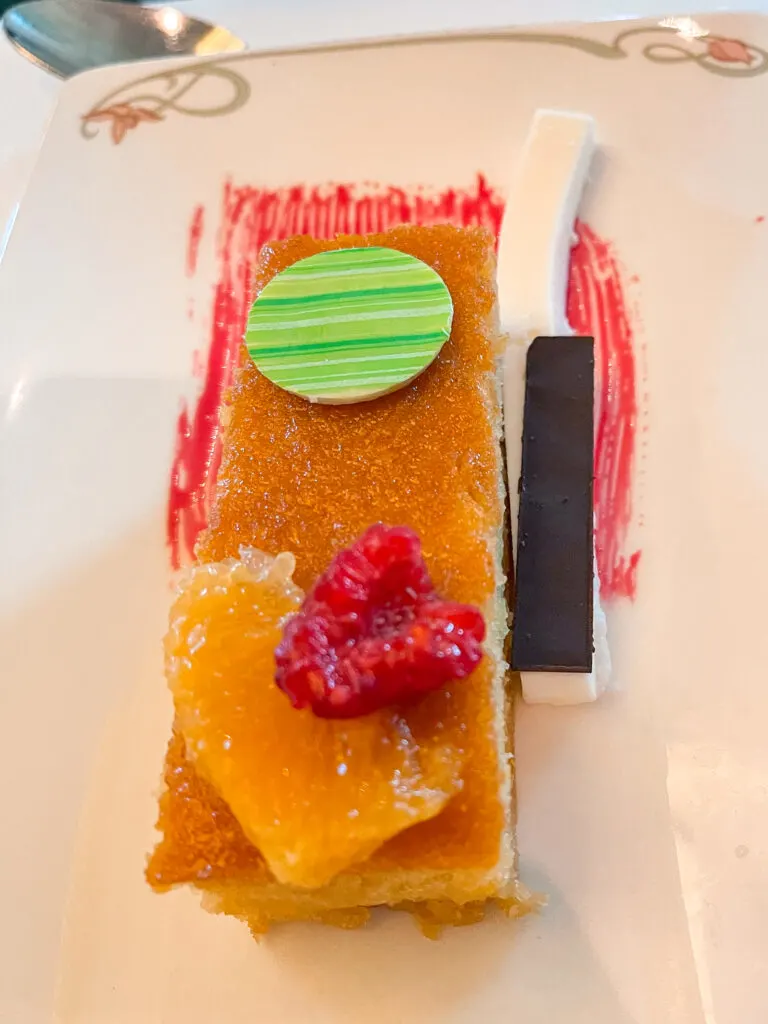 Desserts
Warm Sticky Date Pudding
Chocolate Garden Torte
Orange Almond Cake
Chocolate Brownie Sundae
Signature Dessert
Southern Style Pecan Tart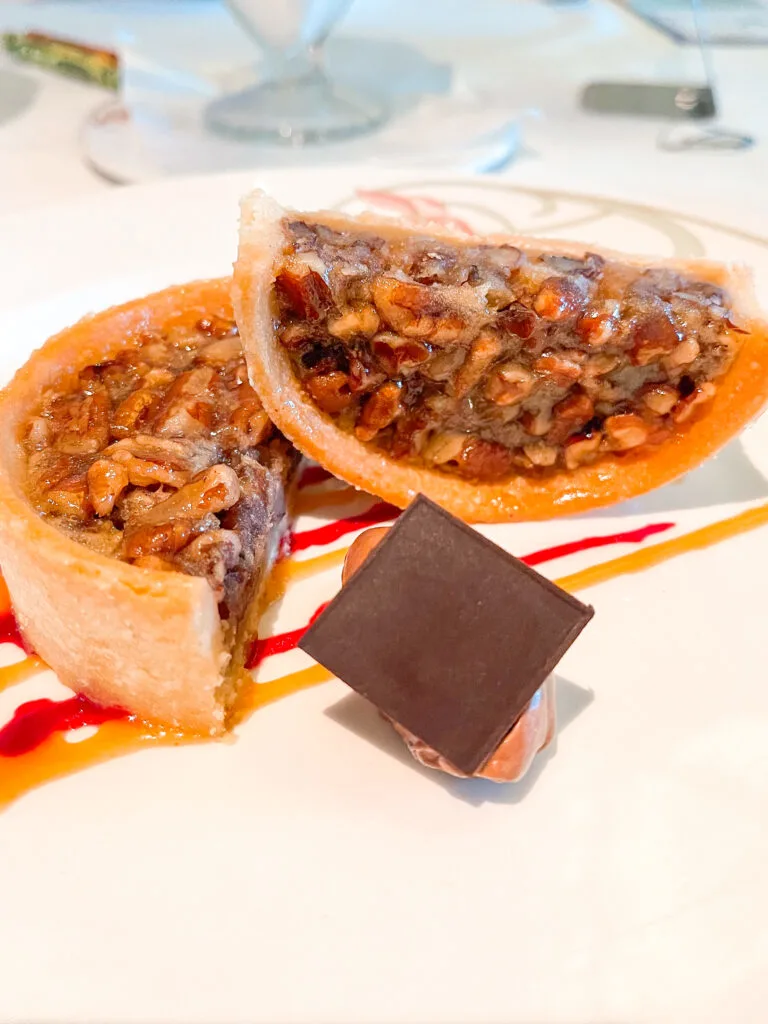 No Sugar Added Desserts
Lemon Raspberry Mousse Bombe
During dinner, we were finally able to set sail. It was 6:10 pm. We were seated near a window so we had a fun view of Port Canaveral as we were leaving.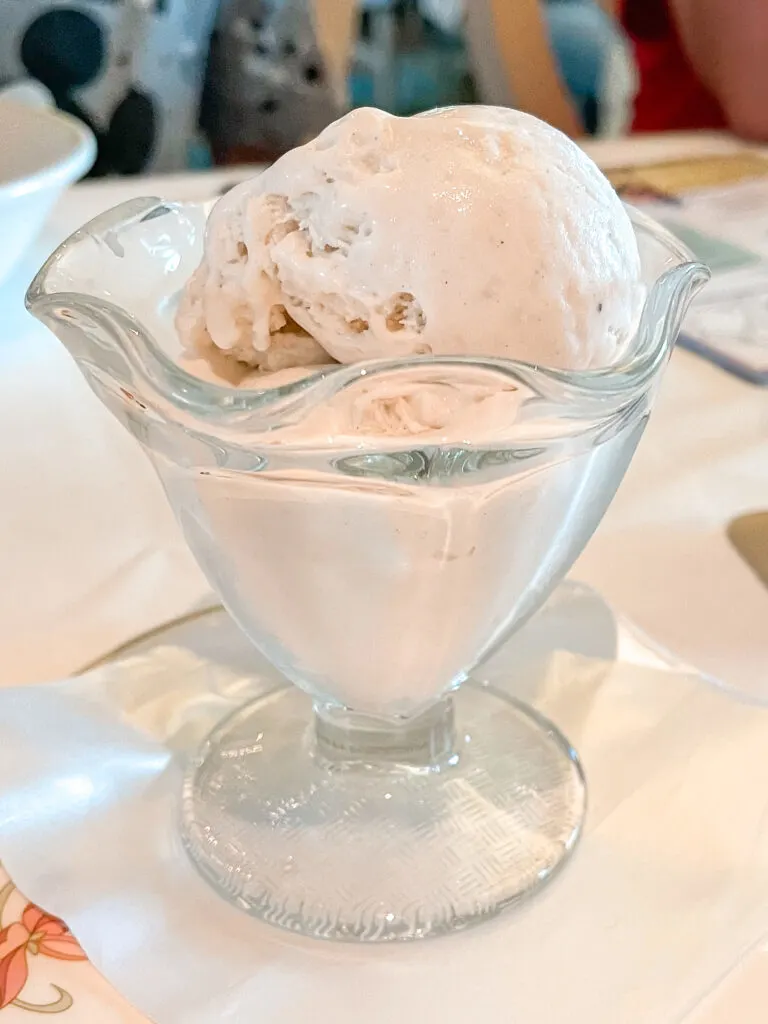 Sunset on the Ship
After dinner, my husband, youngest son, and I went back to the room to enjoy the sunset view from our verandah. My 11 and 14-year-olds went to the Edge (the club for kids ages 11-14) to hang out and play video games.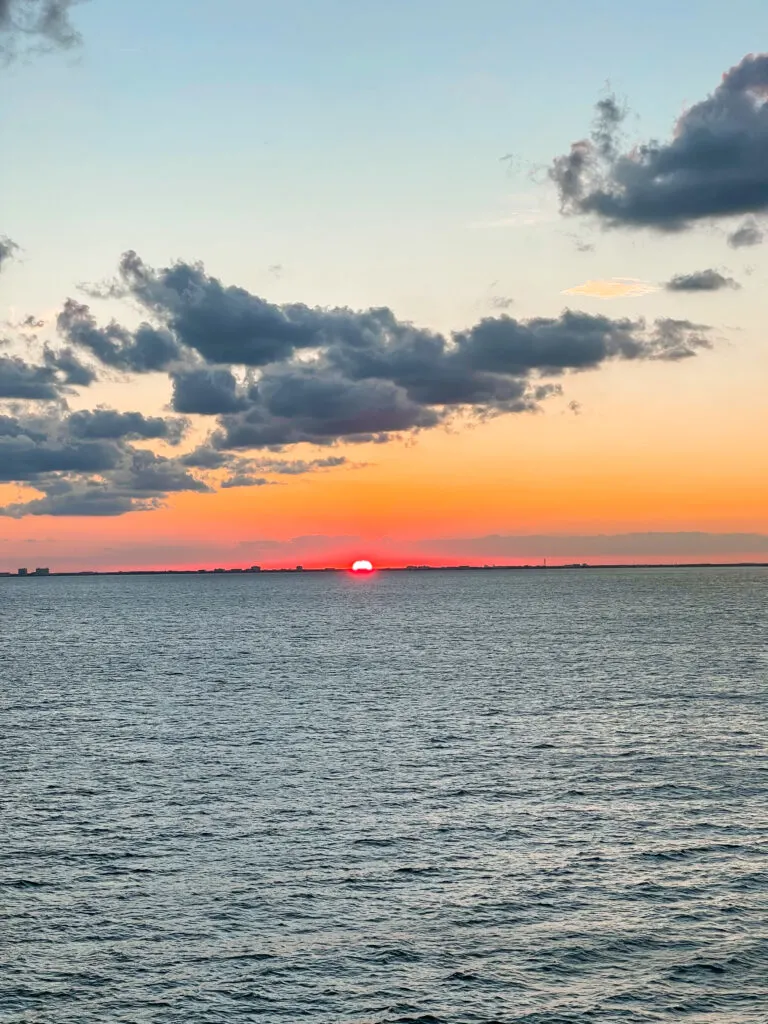 Ventriloquism & Comedy Show
The show for the night in the Walt Disney Theater was ventriloquist and comedian Lynn Trefzger. The show was scheduled to start at 8:30, so we headed down at 8:00 to make sure we could get a good seat.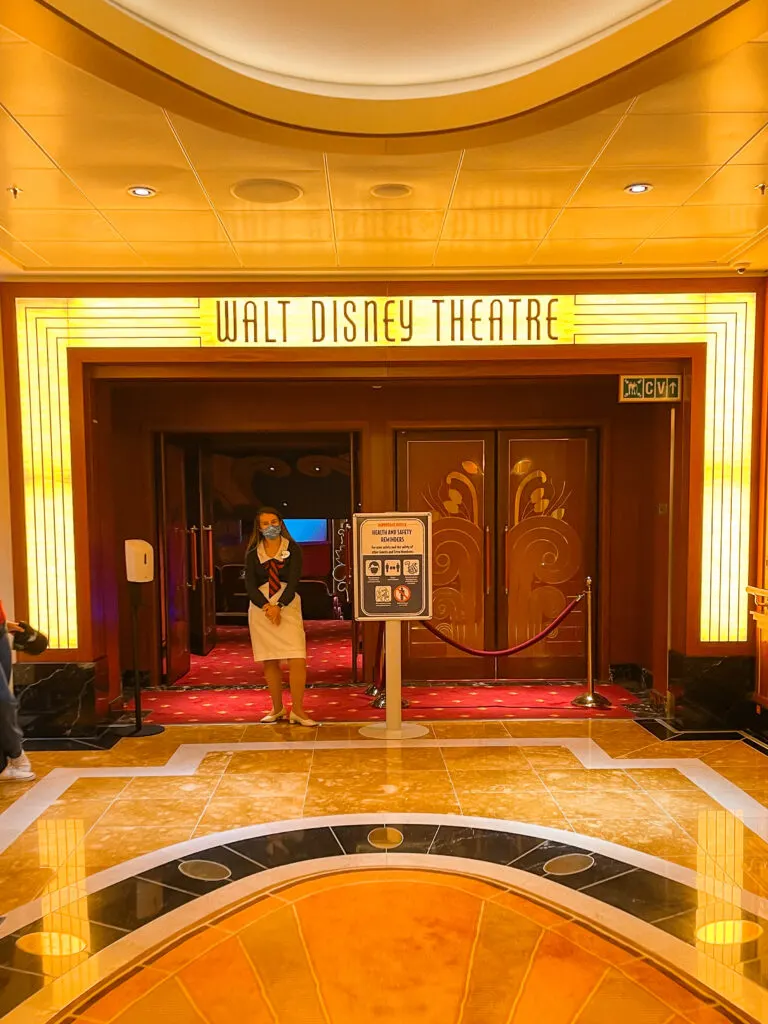 They are observing social distancing in the theater, only utilizing every other row, with about 4 seats in between each group.
We all loved the show! Lynn had four or five puppets that were absolutely hilarious. If you get the chance to see her show, I highly recommend it!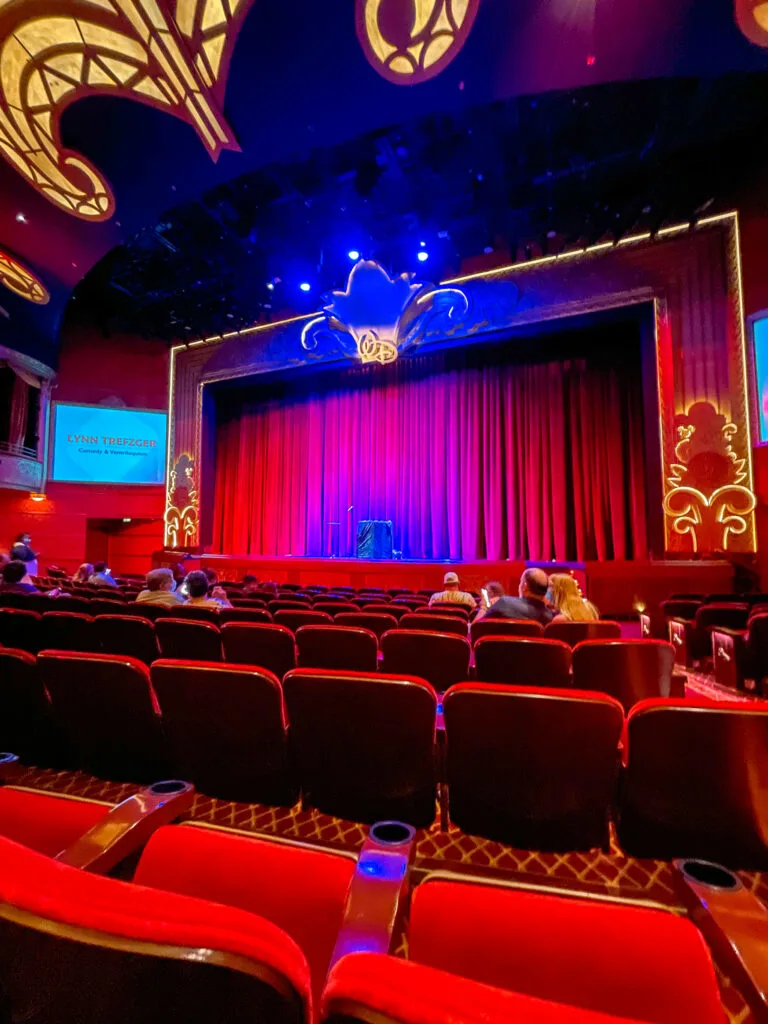 Night Swimming
The ventriloquist show ended at 9:15, and my son was begging to ride the AquaDuck again. It was scheduled to close at 10:00 so he and I quickly changed and headed up to Deck 12.
We rode the AquaDuck 8 times in a row! We were the only people riding at the time, so there was absolutely no wait. After riding, my son swam in the Donald Duck pool for a few minutes, then we got an ice cream cone and headed back to the room to go to bed.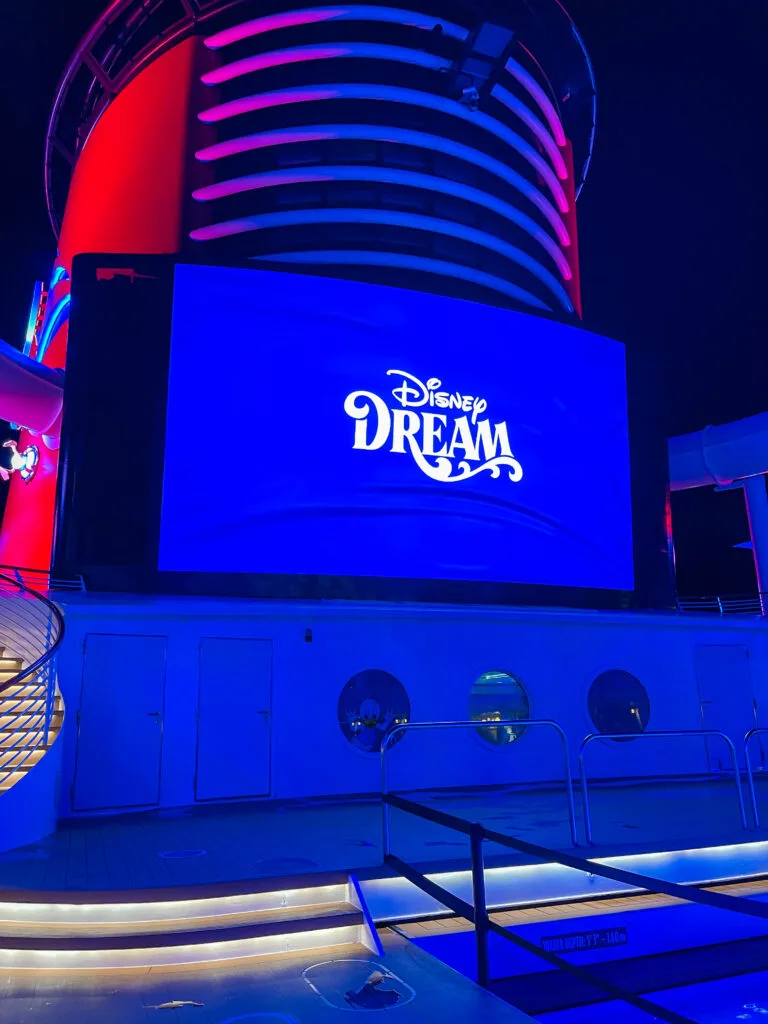 End of Day 1
I would say that the first day of our Disney Dream Halloween cruise was a success. Once we were on the ship experiencing all of the Disney Cruise magic, we realized that all of the stress and preparation before the cruise was totally worth it.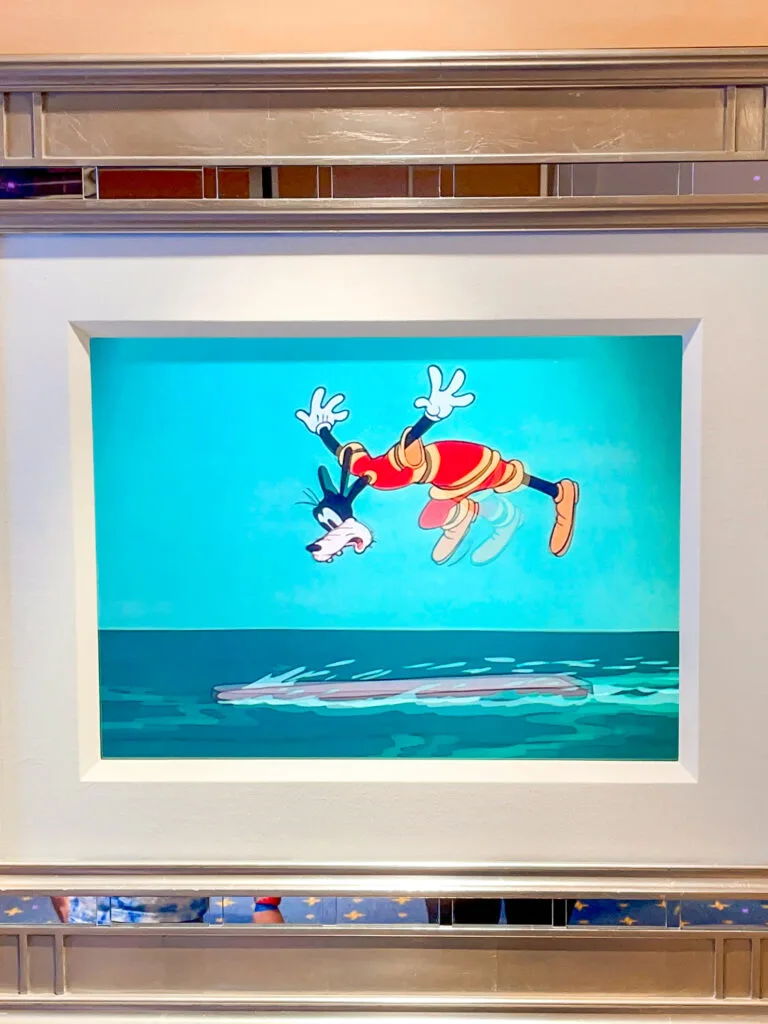 Let me know in the comments if you have any questions about our cruise and I will get back to you. Make sure to read all about Day 2 At Sea here, and watch the video of our adventures on Day 1 below!
Watch the Video: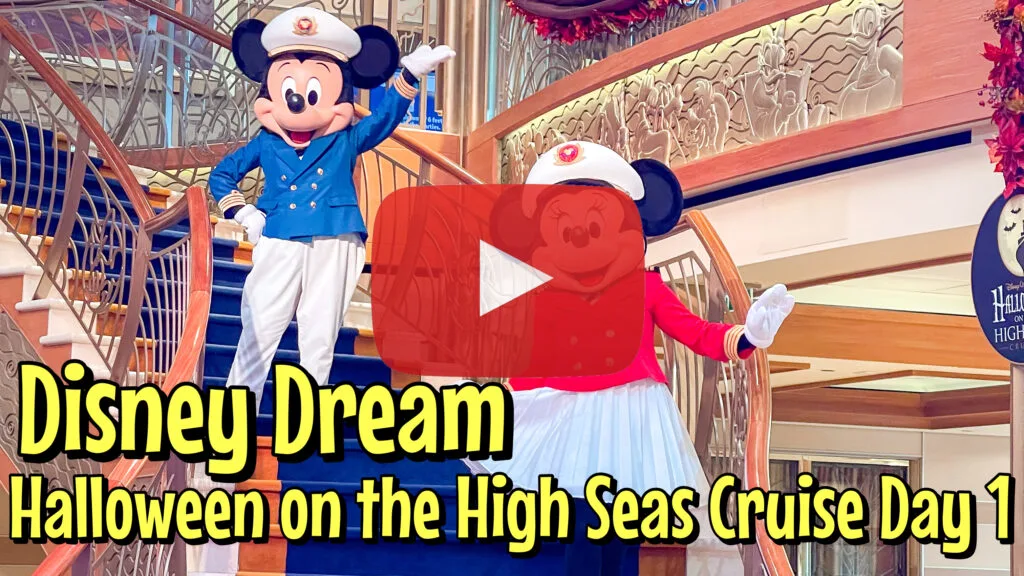 Disney Dream Day 1 Itinerary
Here is a summary of what we did and at what time on day 1 of our Disney Dream cruise:
8:30 am- Picked up our Instacart bottled water order from the lobby of Hyatt Regency Orlando Airport.
9:30 am- Ate Breakfast in the room from McDonald's.
11:30 am- Ordered a ride through Lyft.
12:15 pm- Arrived at Disney Cruise Line Terminal. Our port arrival time was 12:00-12:15. Checked in our luggage.
12:25 pm- Pre-board Testing
12:35 pm- Waited in the tent for test results.
1:00 pm- Cleared to set sail. Entered the terminal and passed through security.
1:45 pm- Onboard the Dream. Watched the welcome show in the atrium.
1:50 pm- Completed the safety drill.
2:00 pm- Our stateroom was ready.
2:30 pm- Got lunch at Cabanas.
3:10 pm- The boys got ice cream and went swimming.
4:10 pm- Kids Club, The Edge and Unpacking
5:15 pm- Picked up kids
5:35 pm- Dinner at Enchanted Garden
6:10 pm- The Dream set sail.
7:00 pm- Relax in the room and watched the sunset.
8:00 pm- Walt Disney Theater to see the ventriloquist/comedy show. Older boys went to The Edge.
9:30 pm- Rode the AquaDuck and went swimming.
10:30 Bedtime.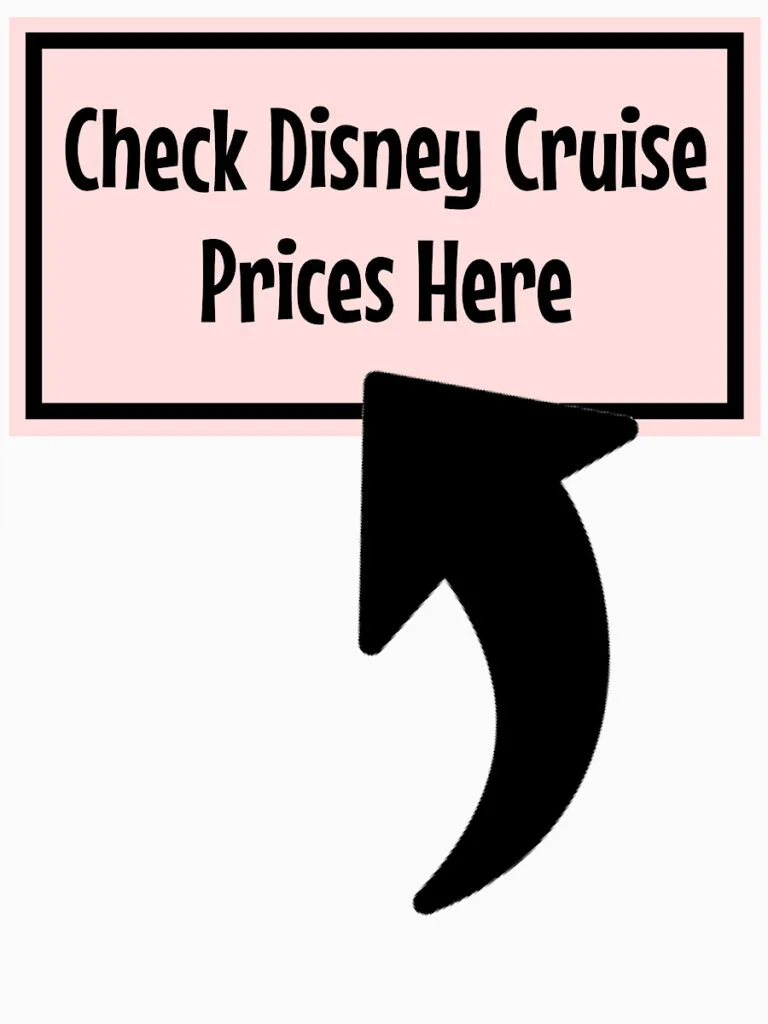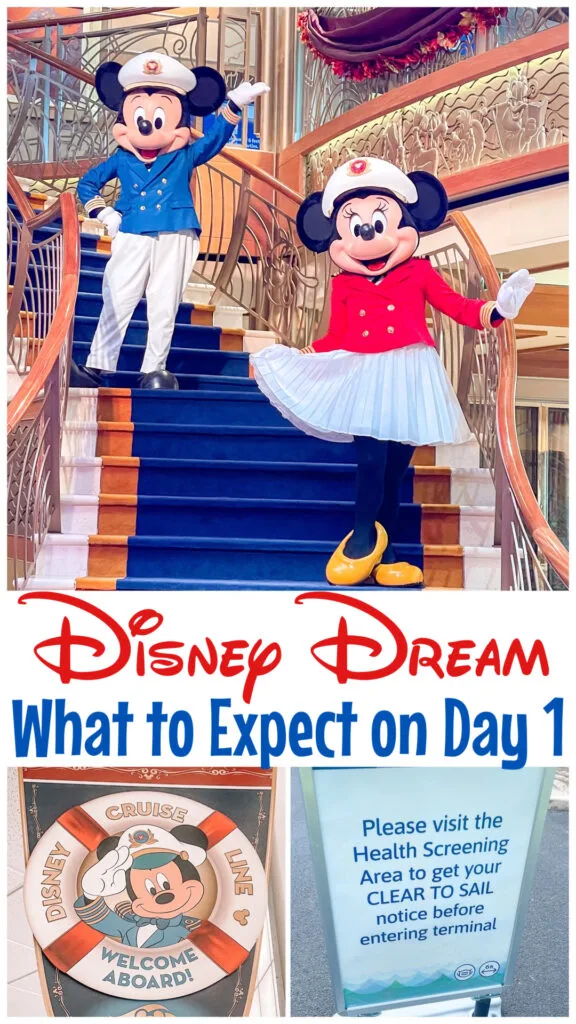 More Disney Cruise Tips: