Are you wondering what the food is like on a Disney Cruise? I've got you covered! Here you will find a review of all of the dishes we ate on the Disney Magic at each restaurant including Animator's Palate, Rapunzel's Royal Table, Lumiere's, Cabanas, and Palo! Find out (and see pictures) of the delicious food on the menu!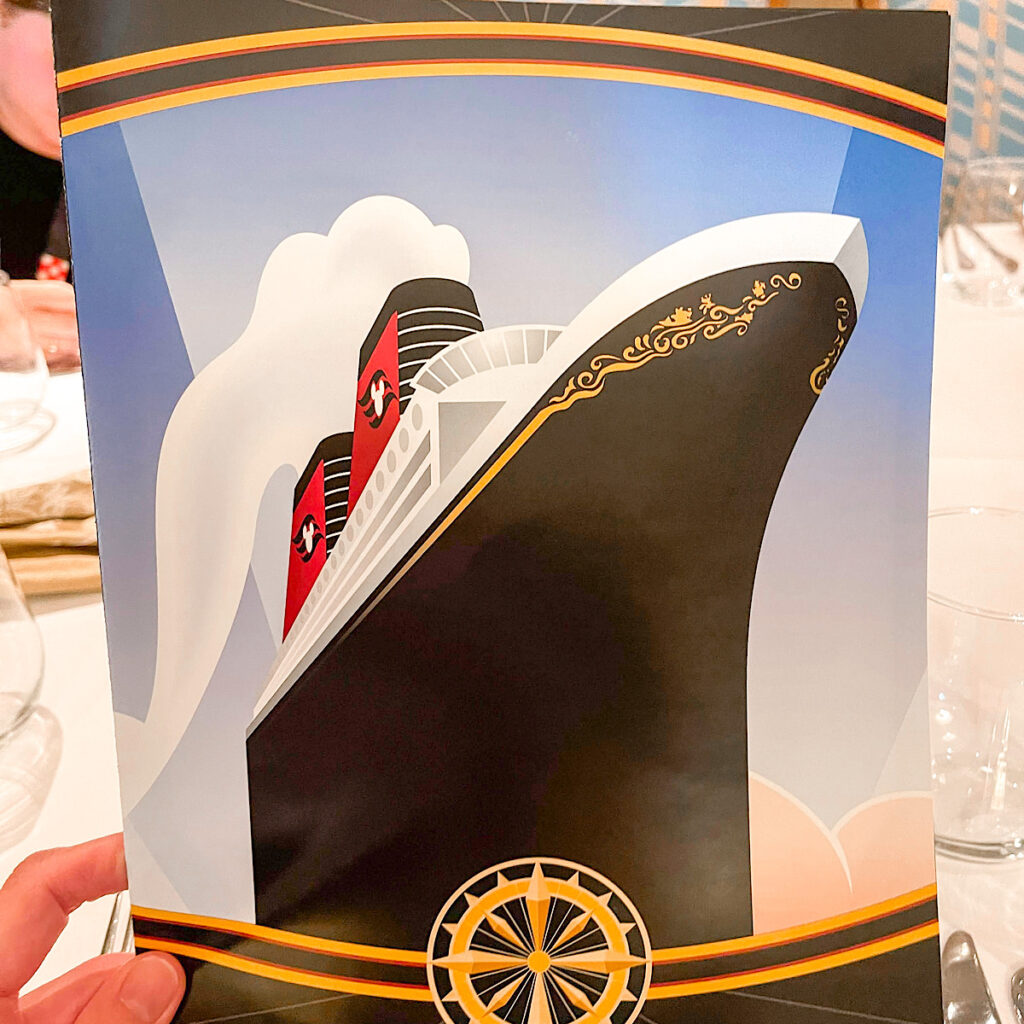 This post may contain affiliate links. When you click on these links, I get a small percentage back at no cost to you! For more information see my disclosure policy.
Check out prices below or get a free quote by calling 877-510-2929 and let them know Mommy Mouse Clubhouse sent you!
It can be hard to know what the food is like on a cruise, especially when there are so many different restaurants to choose from. Will the food be good? Will there be options for picky eaters? What about dietary restrictions?
I've been there, done that! In this post, I'll review all of the dishes we ate on the Disney Magic at each restaurant including Animator's Palate, Rapunzel's Royal Table, Lumiere's, Cabanas, and Palo.
My family cruised on the Disney Magic for a total of 7 nights which included two nights at each of the main dining restaurants and one night with a Pirate themed menu.
Check out my review of our 7-Night Mediterranean Disney Cruise on the Disney Magic here!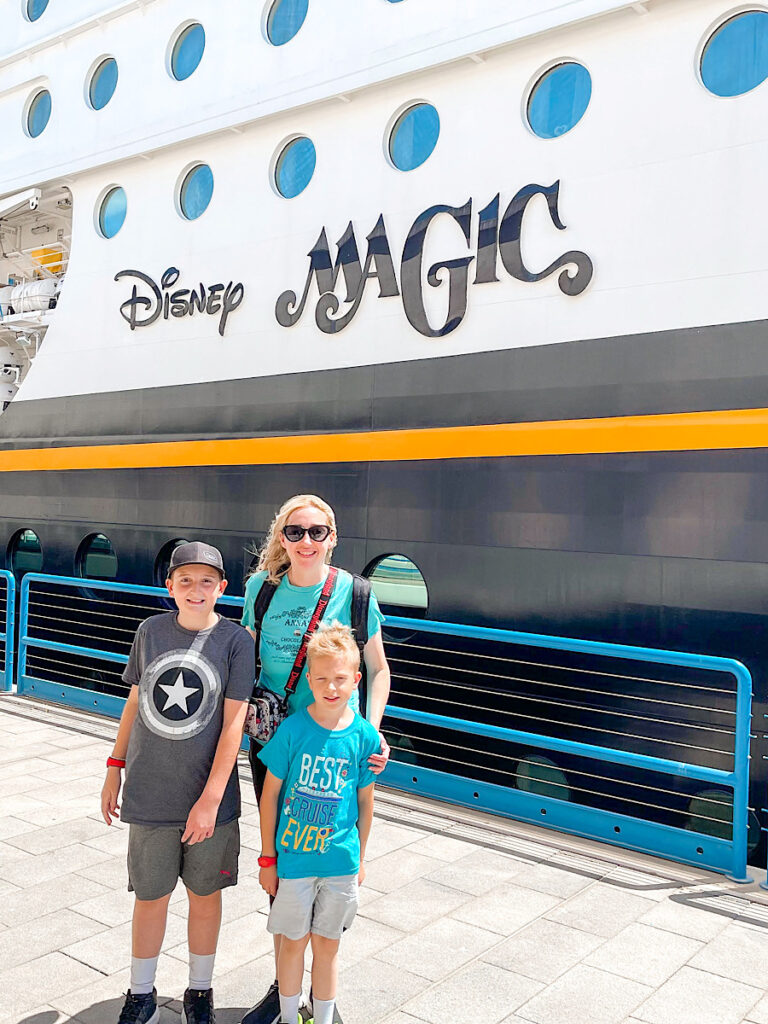 How to Book a Disney Cruise
If you are considering embarking on a Disney Cruise, I always recommend using a travel agent. My favorite company to work with is Get Away Today.
They have the best customer service and will help you throughout the process so that you and your family will have an amazing time.
You can get a free quote from them here or by calling 1-888-GET-AWAY. Make sure to tell them that Mommy Mouse Clubhouse sent you, and they'll take great care of you!
Animator's Palate
The first restaurant we'll visit is Animator's Palate. There is an Animator's Palate restaurant on 4 of the Disney ships, the Magic, the Wonder, the Dream, and the Fantasy.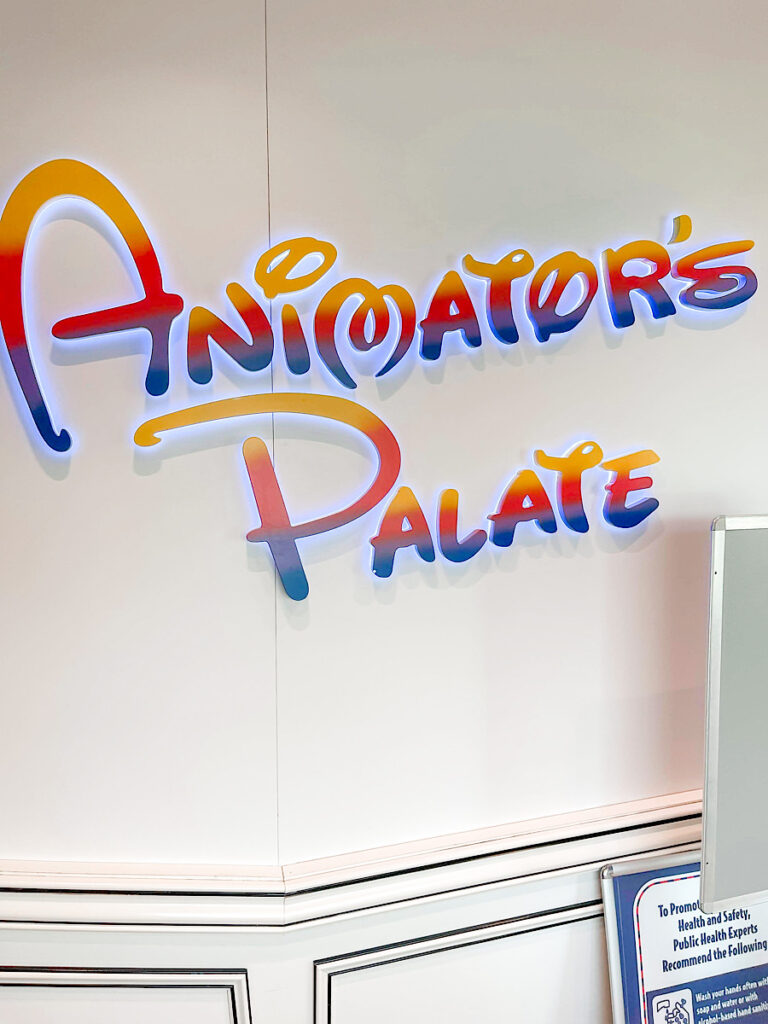 The menu is similar on each ship. We had dinner here two nights and I will be highlighting some of the menu items sampled.
Disney Magic Animator's Palate Menu: Night One
Below you will find some of the items that my family and friends ordered on our first night at Animator's Palate.
Black Truffle Purseittes: Pasta Purses filled with Truffle-scented Cheese and coated with a delicate Champagne Sauce.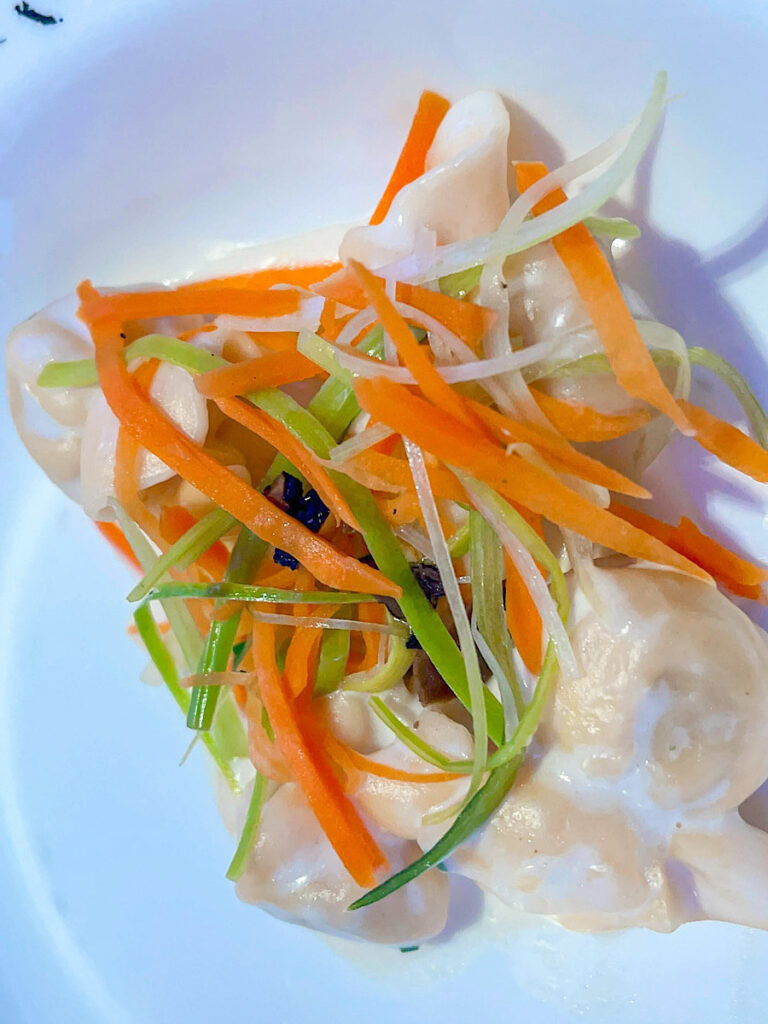 Baked Potato and Cheddar Cheese Soup: With Bacon Bits and Chives. It was delicious.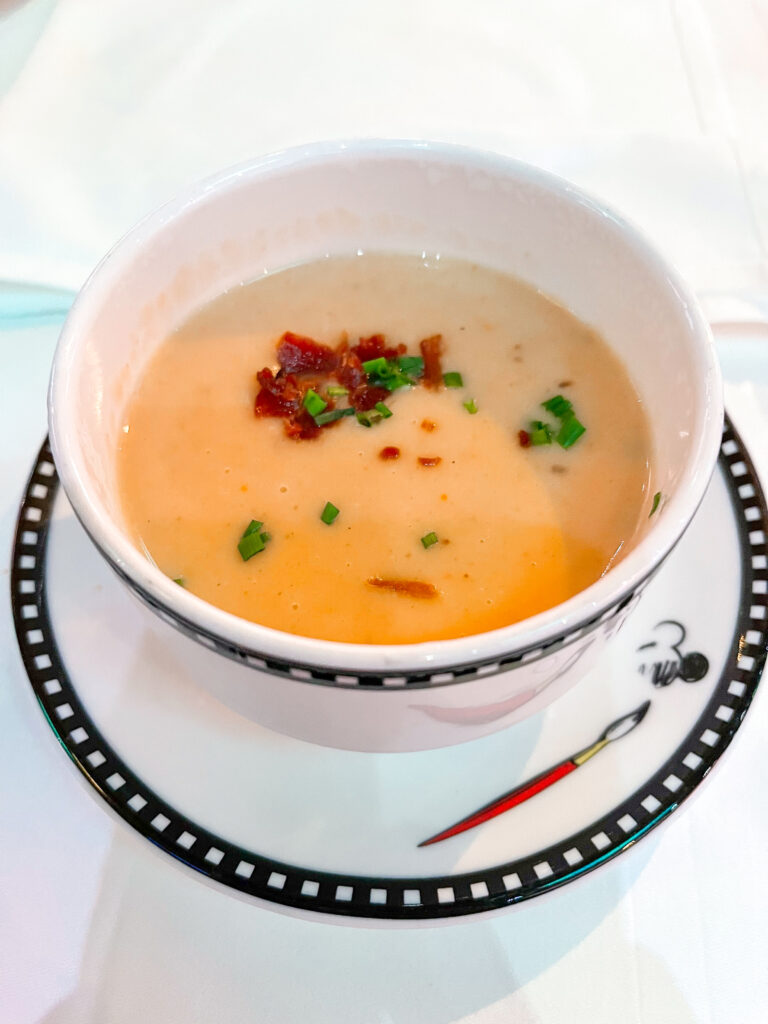 Ginger Teriyaki Dusted Angus Beef Tenderloin- Served with Wasabi Mashed Potatoes, Bok Choy and a Tamarind-Barbecue Reduction and is one of my favorite Disney Cruise meals.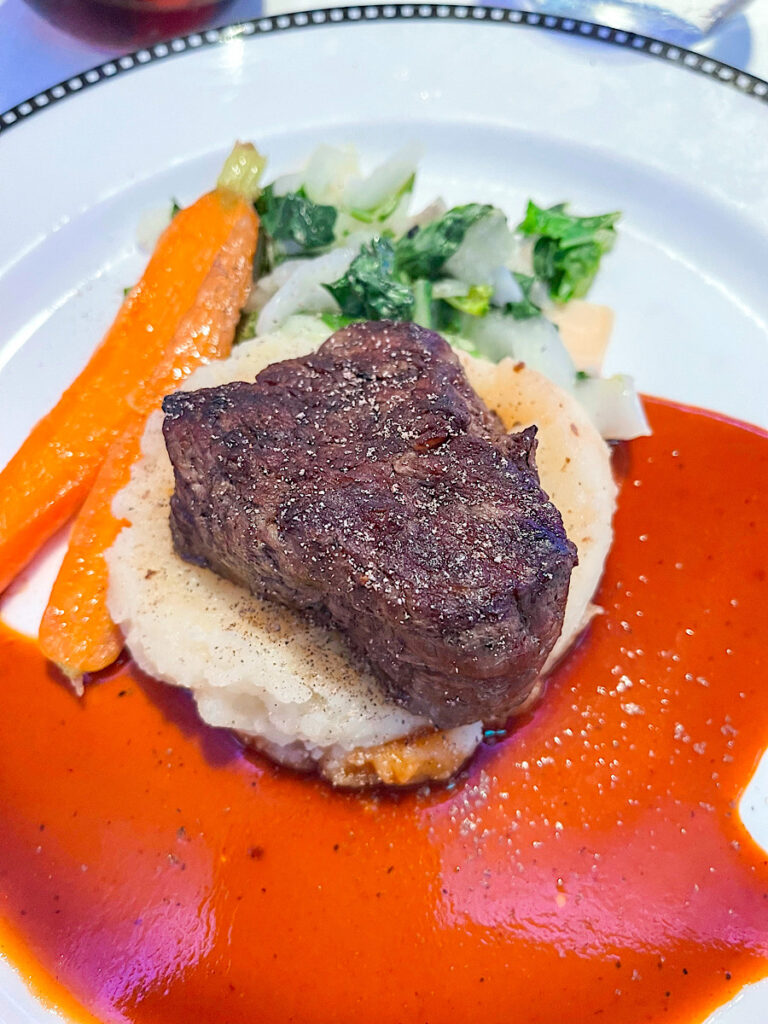 Lemon Icebox Pie: Served with Lemon Curd and Berry Cream. Get the recipe to make at home here.
Disney Magic Animator's Palate Menu: Night Two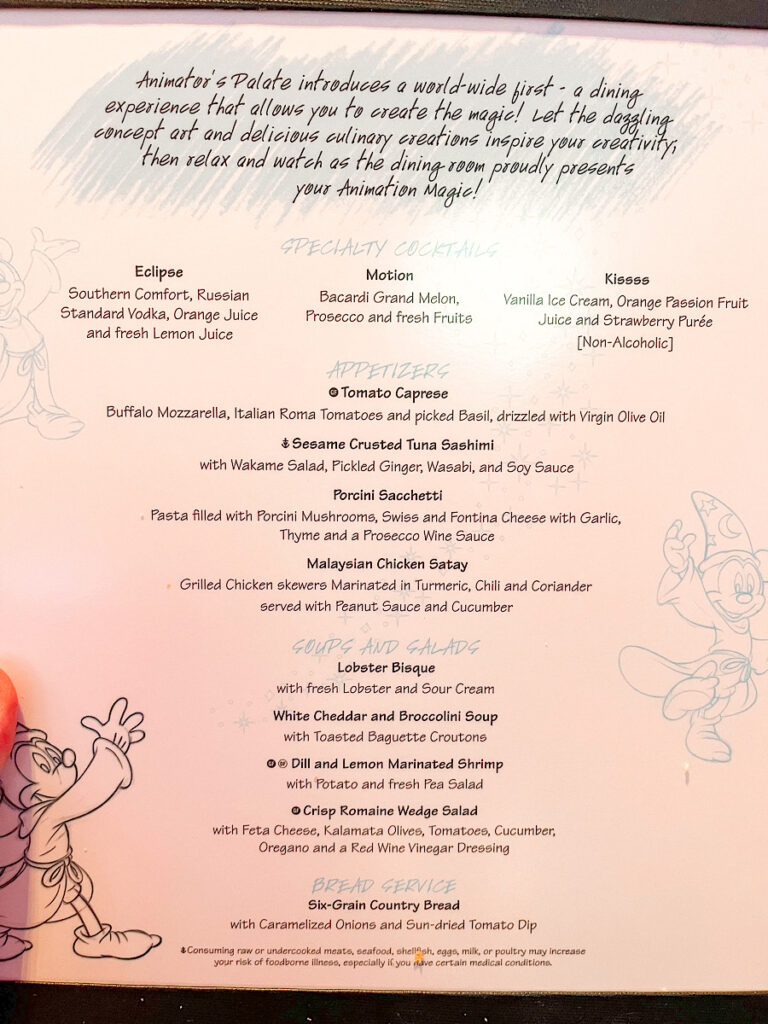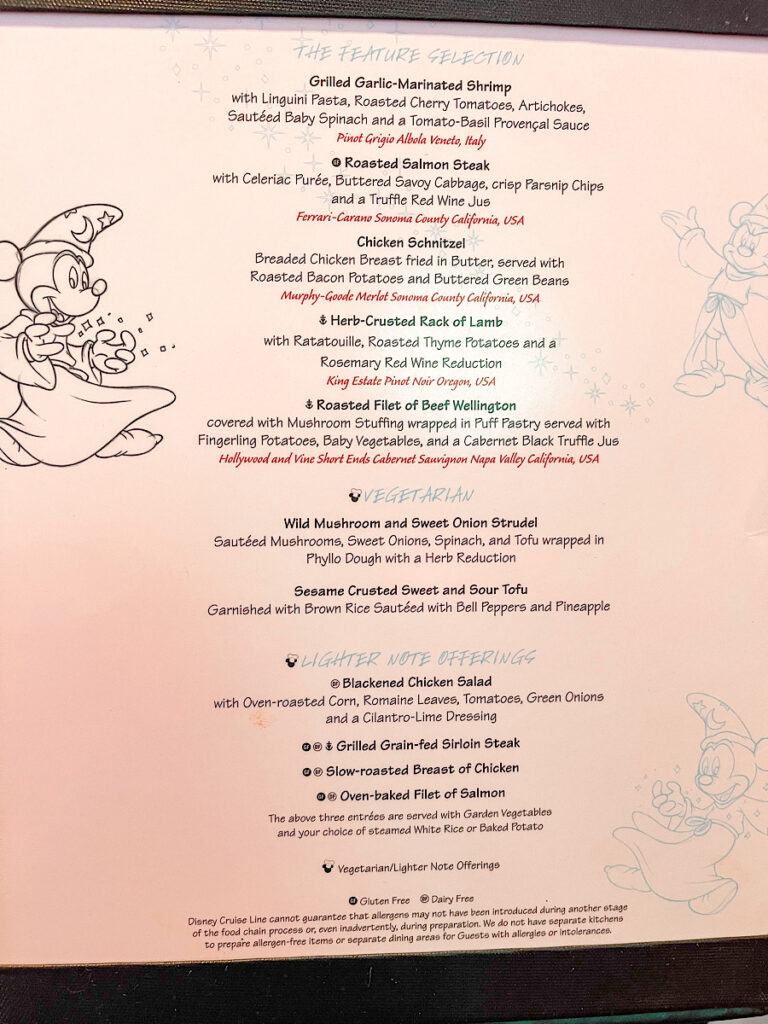 Tomato Caprese: Buffalo Mozzarella, Italian Roma Tomatoes, and pickled Basil drizzled with Virgin Olive Oil.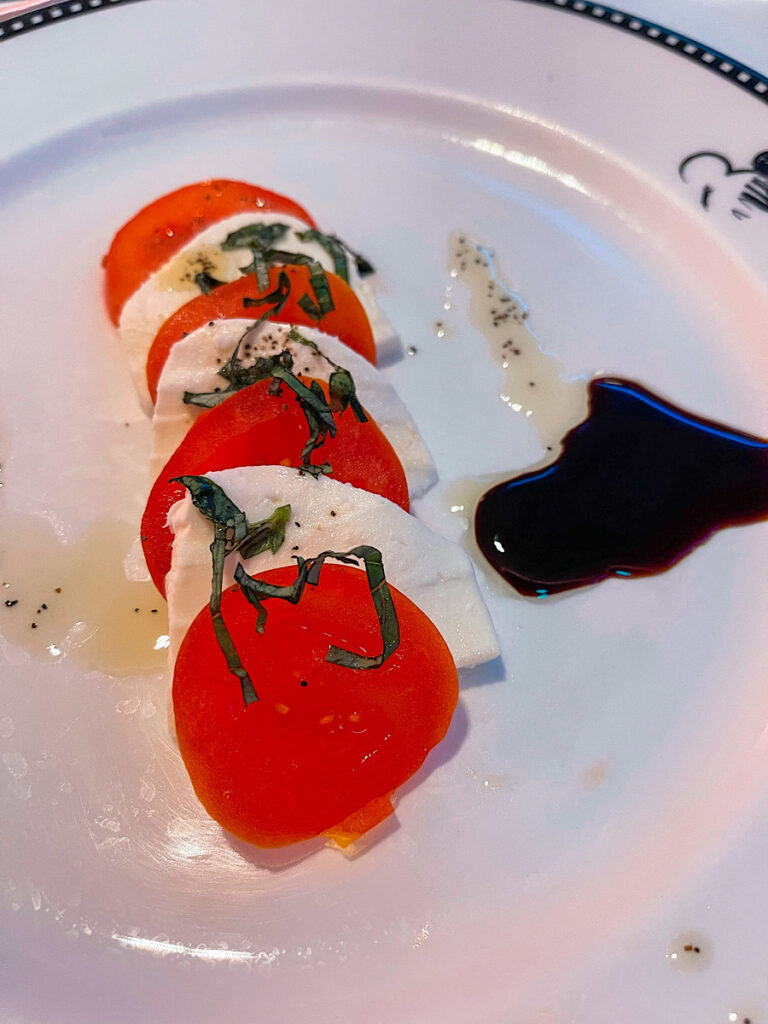 White Cheddar and Broccolini Soup: with toasted Baguette Croutons.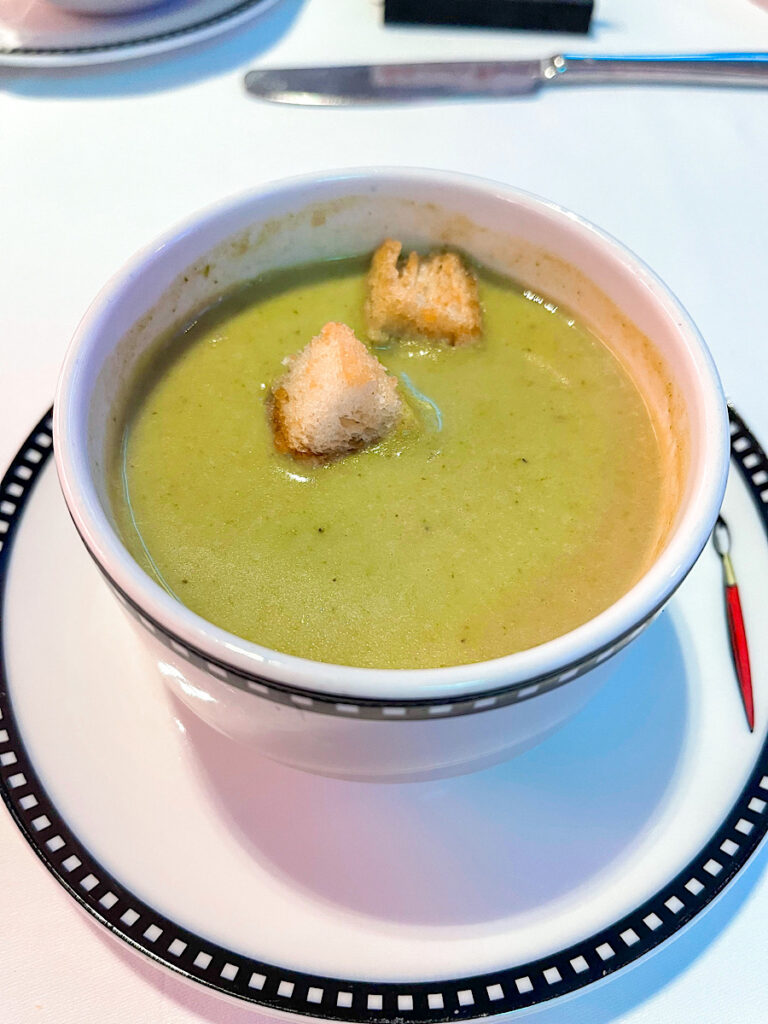 Roasted Filet of Beef Wellington: is covered with mushroom stuffing wrapped in puff pastry and is served with fingerling potatoes, baby vegetables, and a cabernet black truffle jus.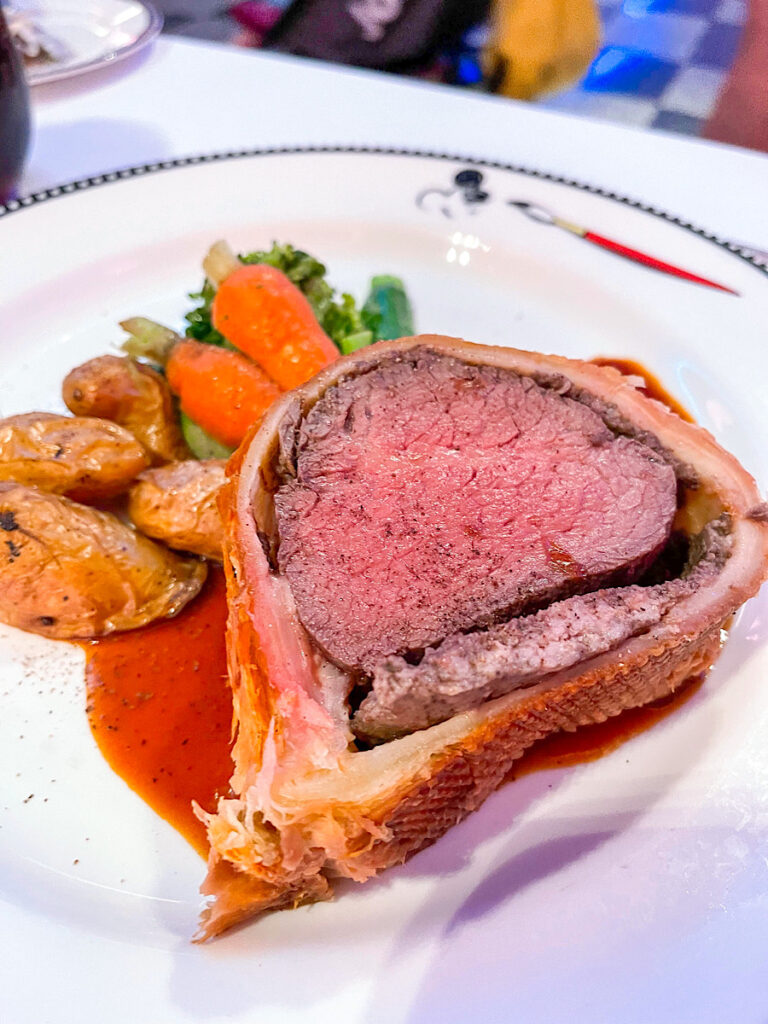 Chicken Schnitzel: Breaded Chicken Breast fried in Butter, served with Roasted Bacon Potatoes, and Buttered Green Beans.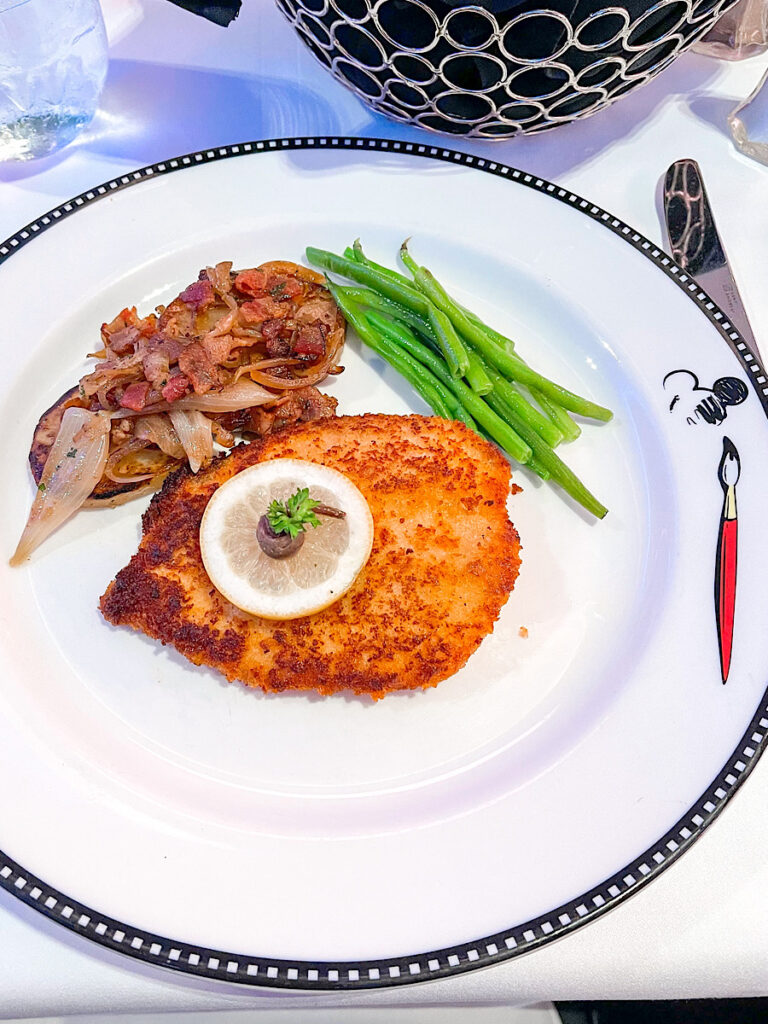 Blackened Chicken Salad- with oven roasted corn, romaine leaves, green onions, tomatoes, and a cilantro-lime dressing.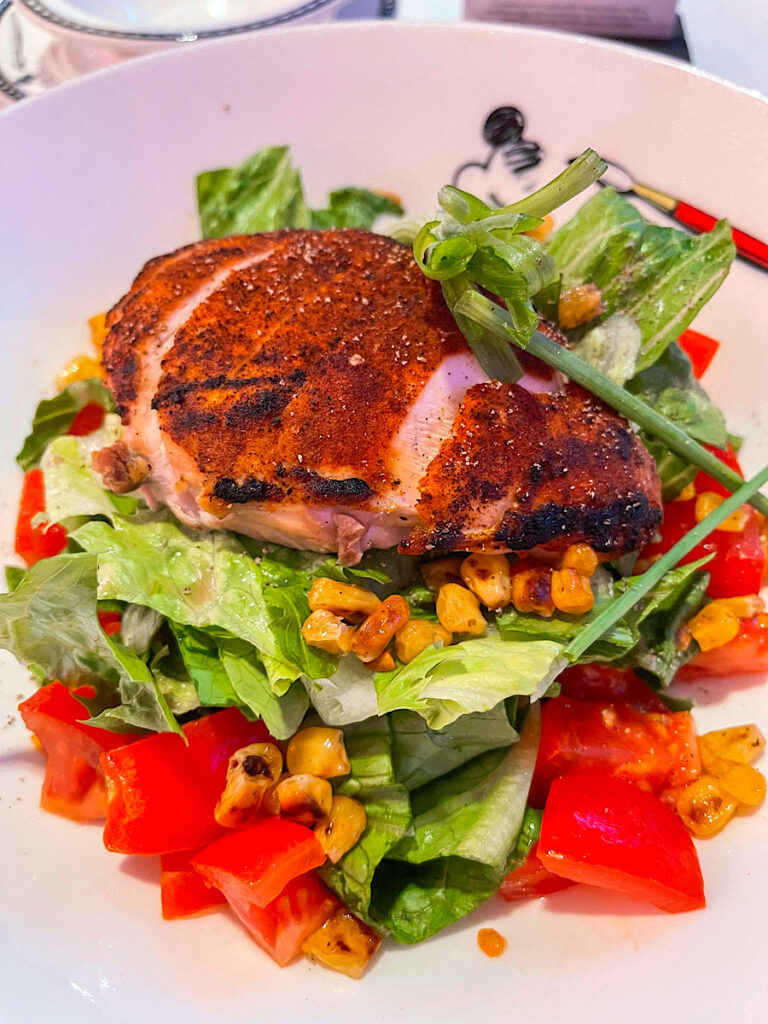 Orchard Peach Tart- which is a warm almond peach tart with rich vanilla sauce, and dulce de leche ice cream.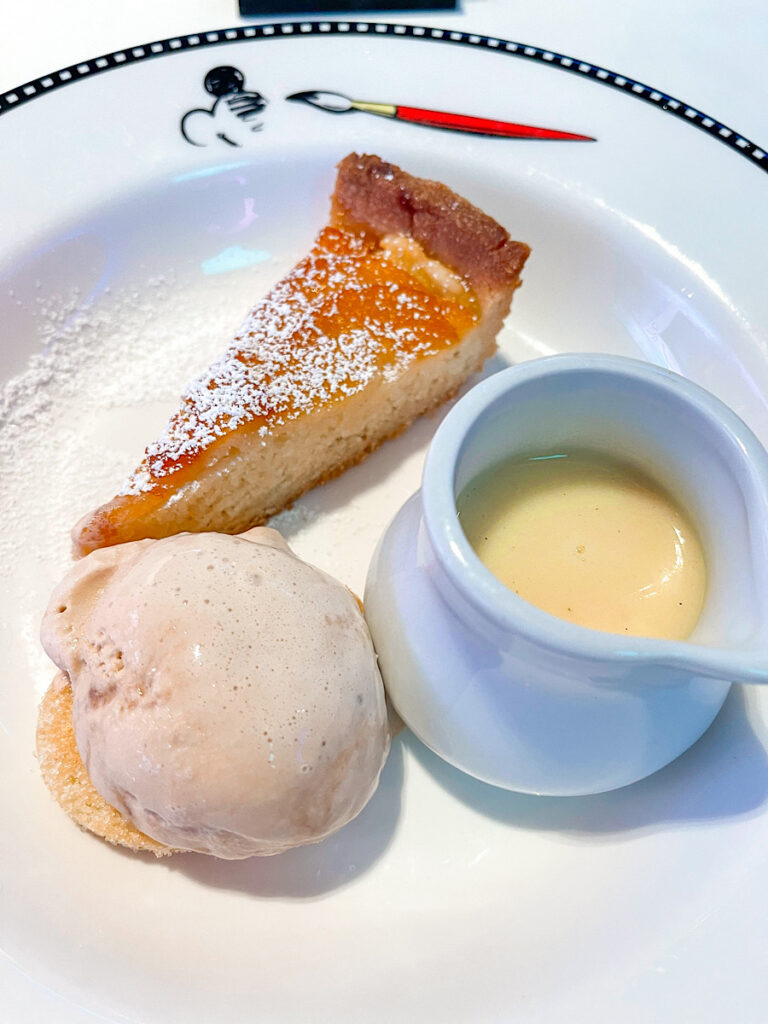 Celebration Cake: layers of cheesecake covered with strawberries, and embedded in rich vanilla cream.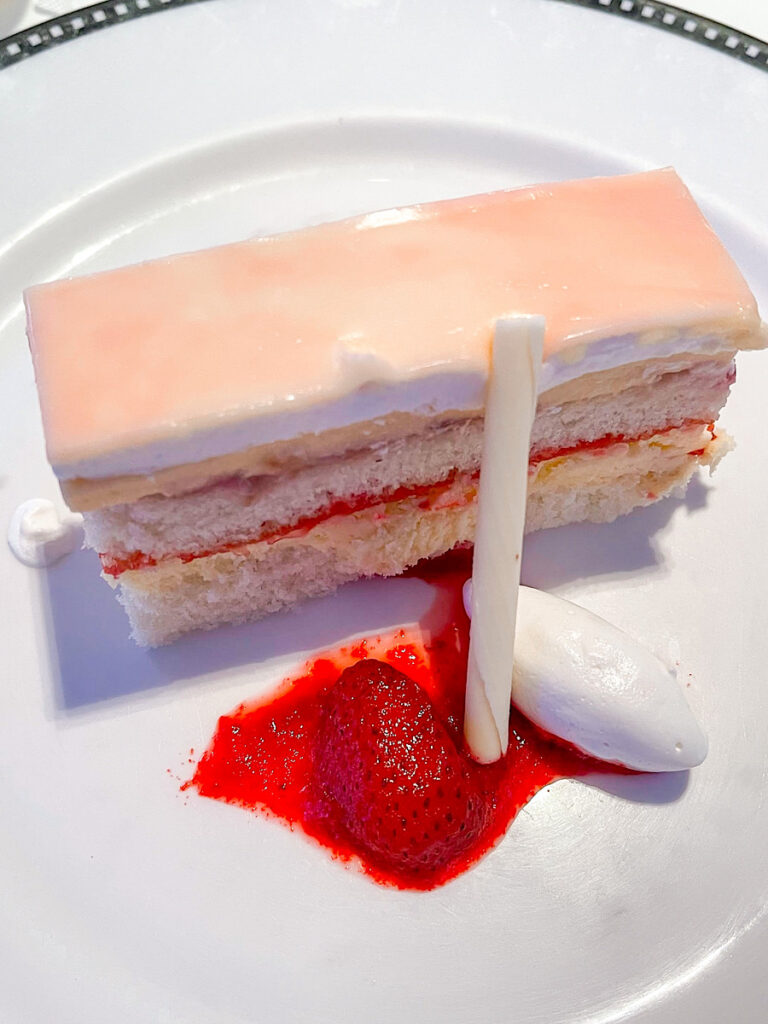 Cheesecake from the Kids Menu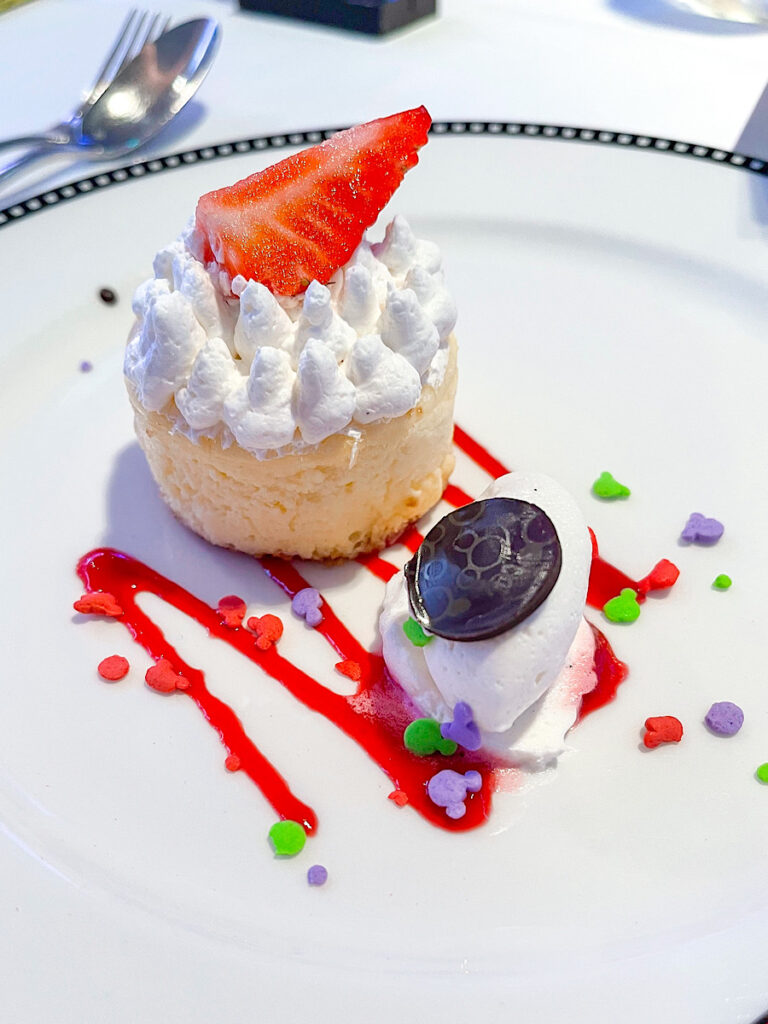 Rapunzel's Royal Table
Rapunzel's Royal Table is a Tangled-Themed restaurant that is exclusively on the Disney Magic. The great thing about dining here is the live music and entertainment! I really enjoyed the menu both nights we ate here as well.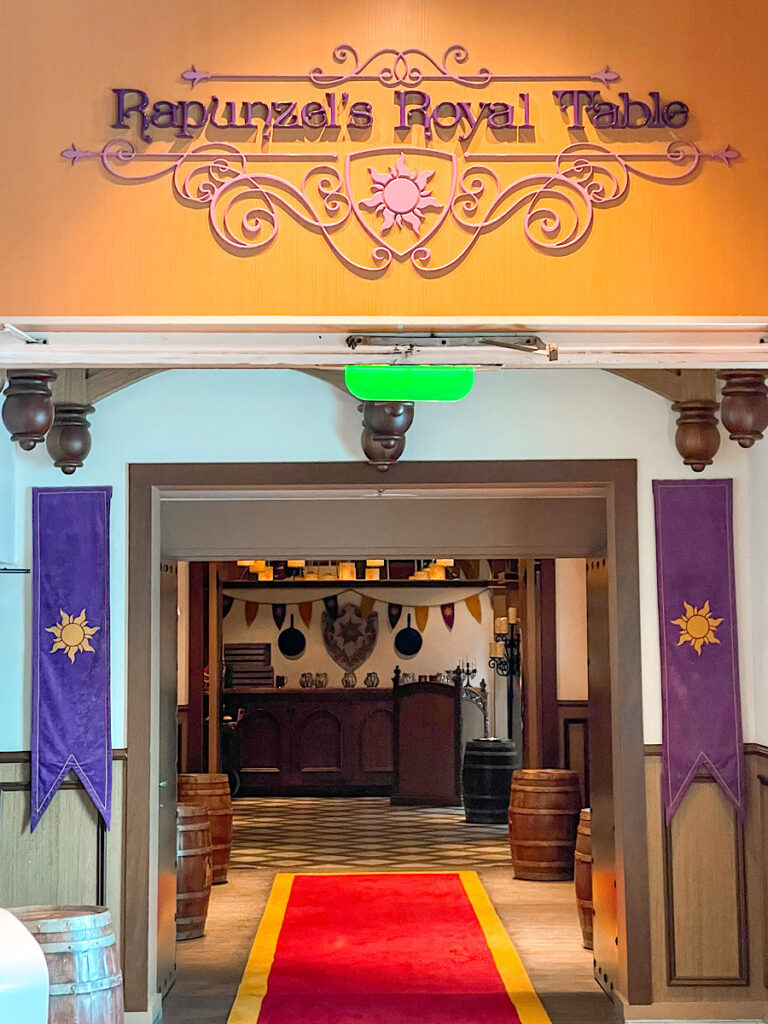 Rapunzel's Royal Table Menu: Night One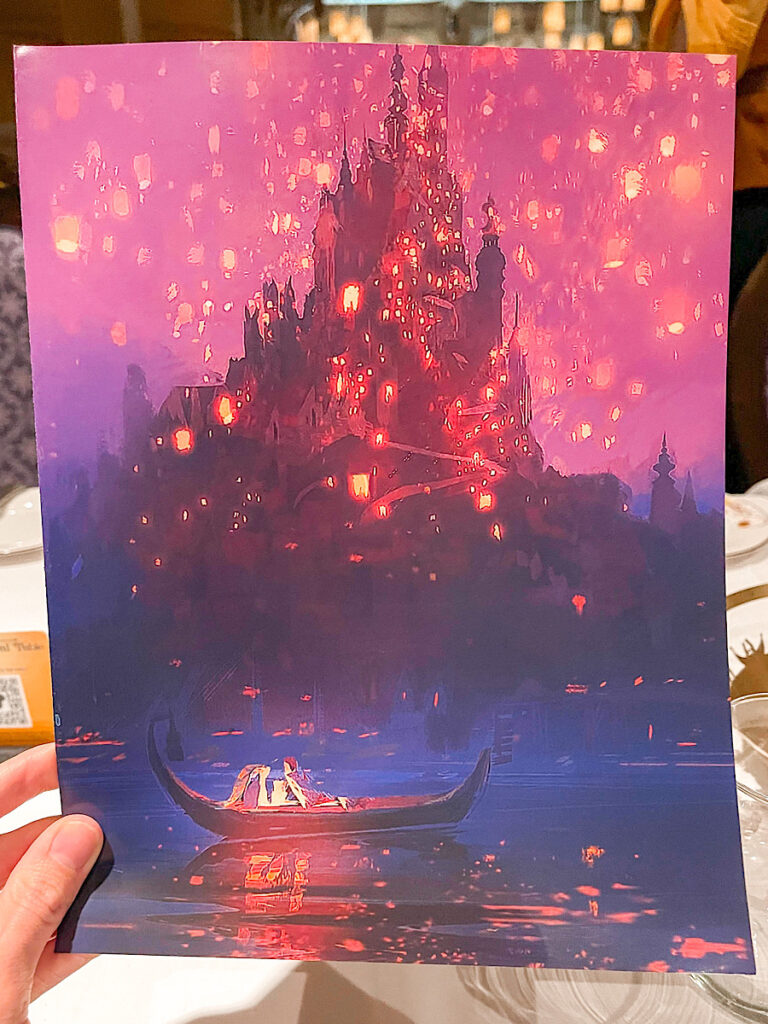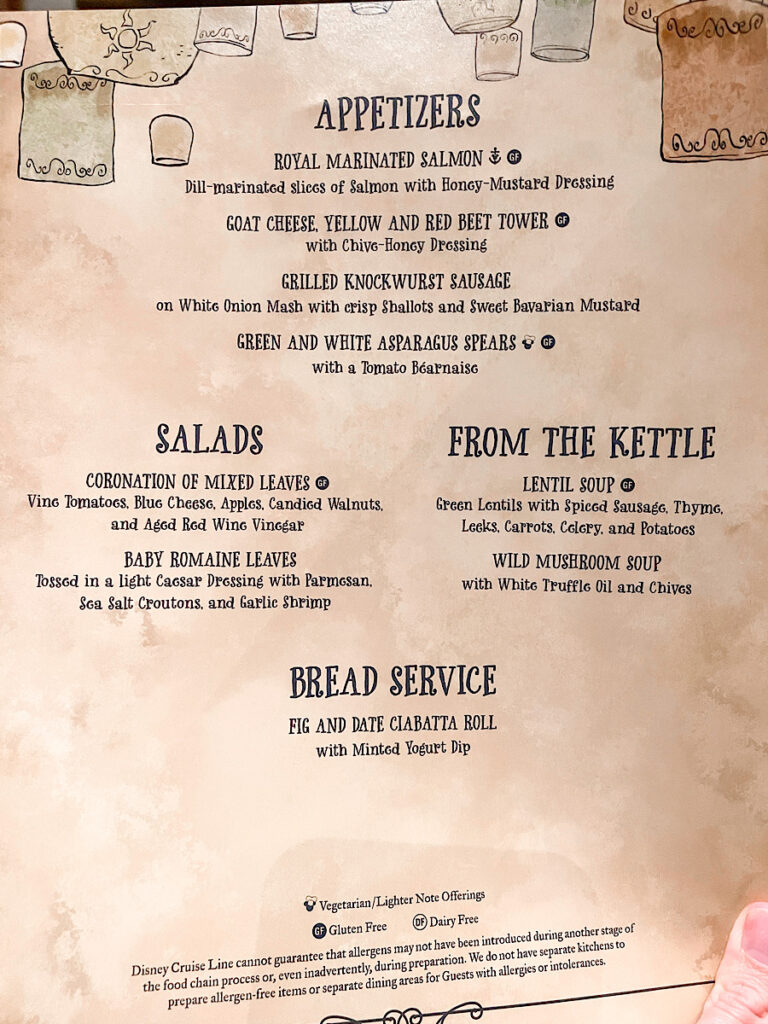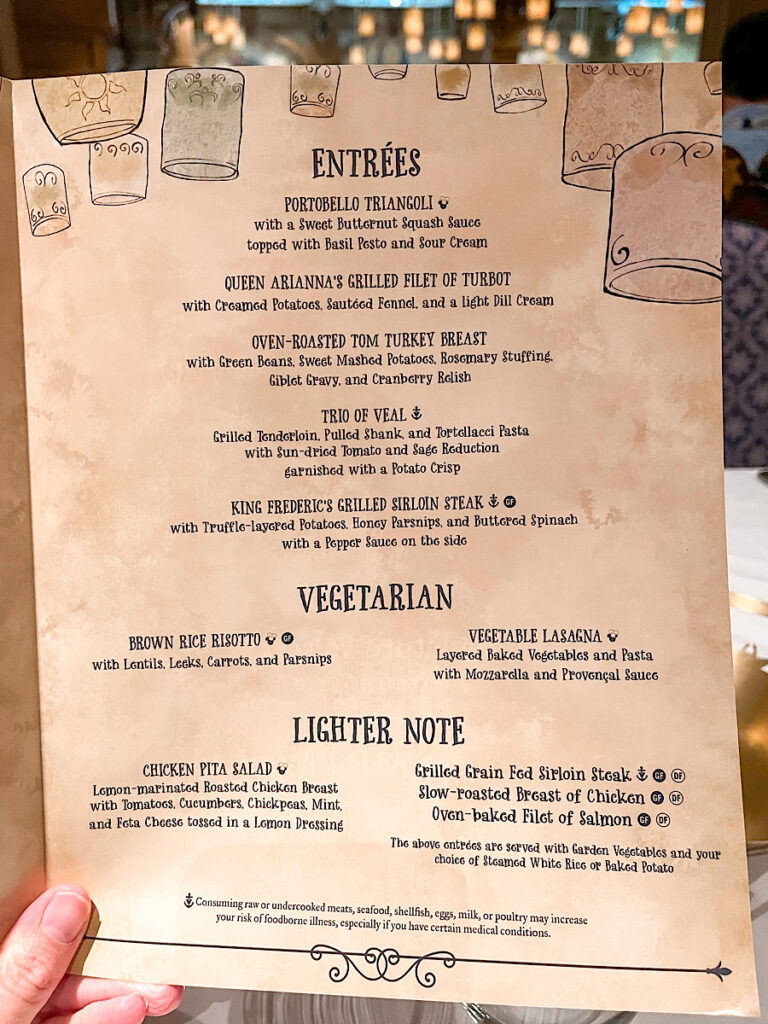 Yellow and Red Beet Tower with Goat Cheese: with a Chive & Honey Dressing.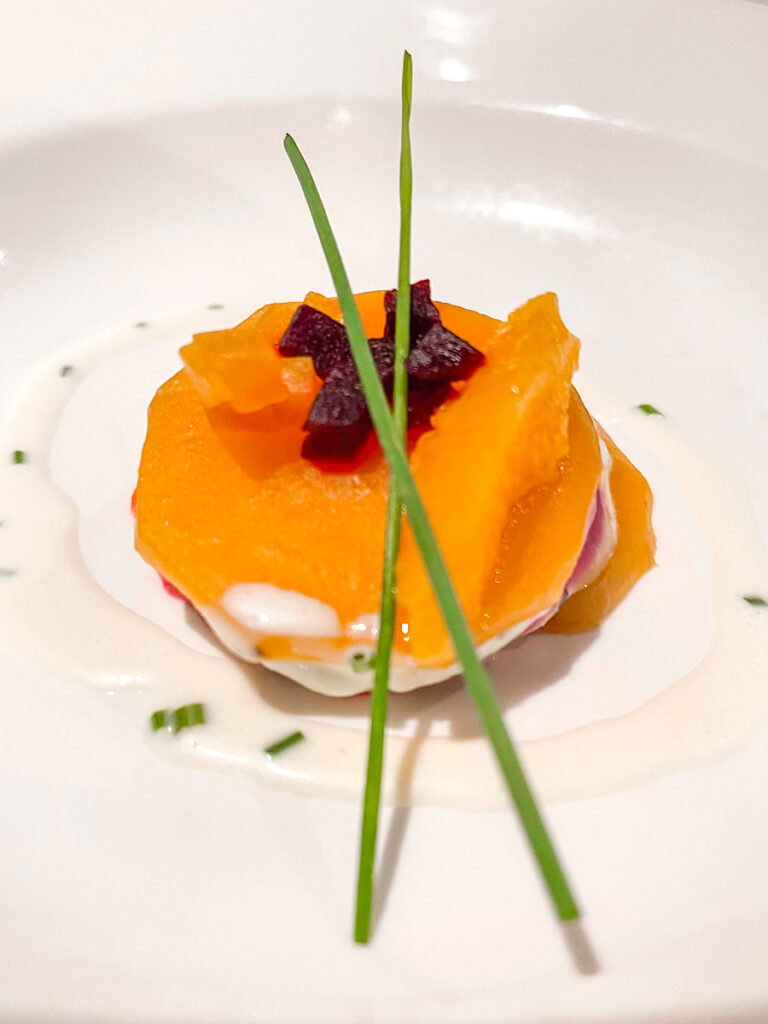 Chicken Pita Salad: Lemon marinated roasted chicken breast, tomatoes, cucumbers, chickpeas, Mint, and feta cheese tossed in a lemon dressing.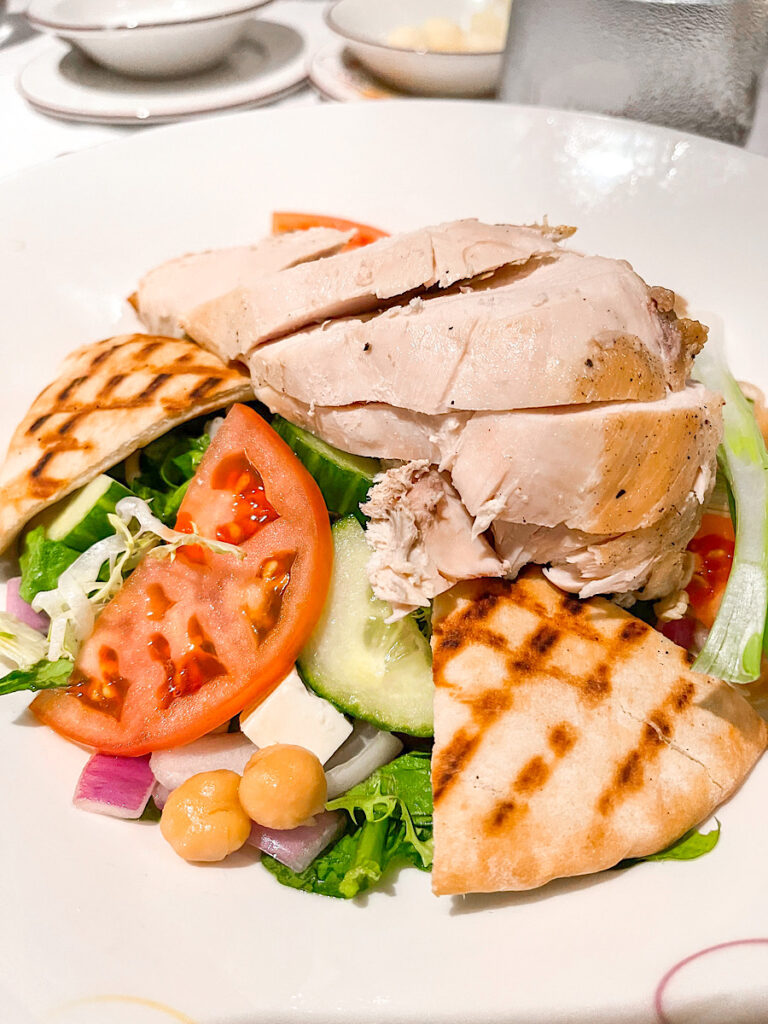 King Frederic's Sirloin Steak: with truffle layered potatoes, Honey Parsnips, and buttered spinach, with a pepper sauce on the side.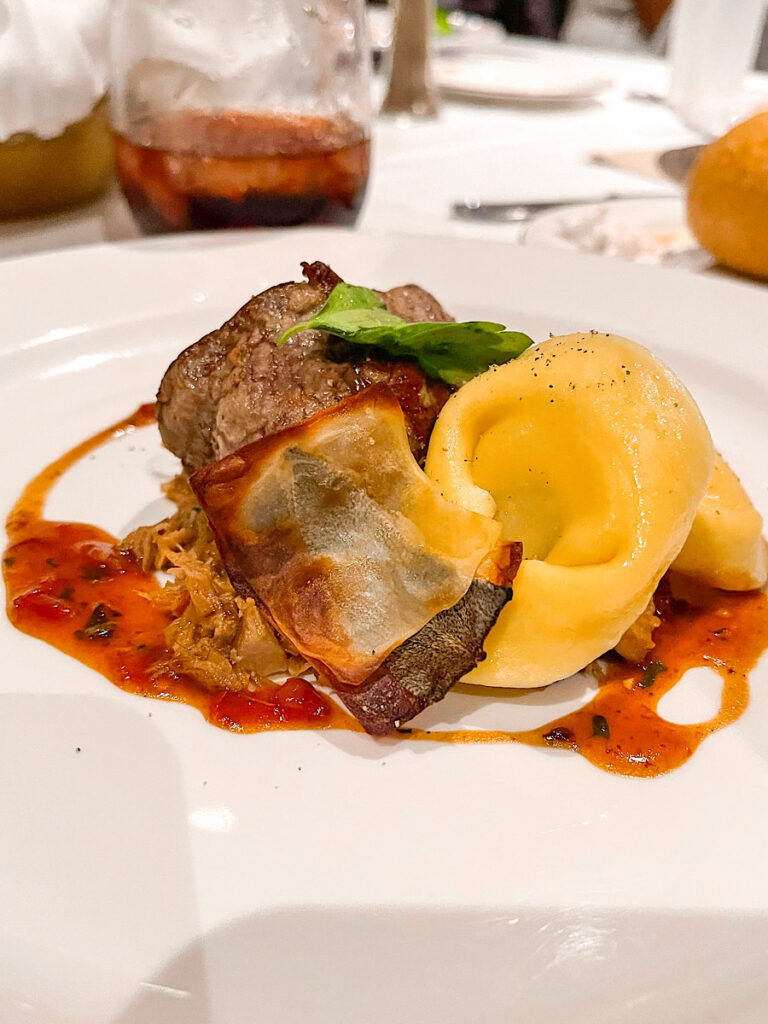 Queen Arianna's Grilled Filet of Turbot: with Creamed Potatoes, Sauteed Fennel, and a light Dill Cream.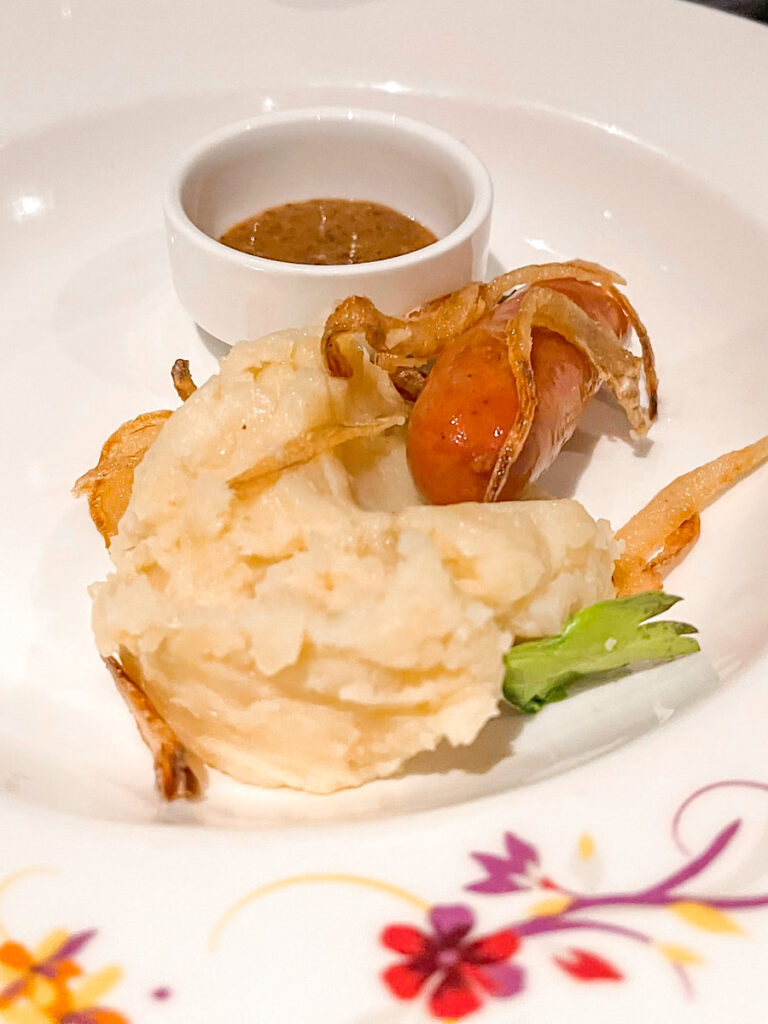 Rote Grutze Sundae: Vanilla Ice Cream, Berry Rote Grutze, and Fresh Whipped Cream.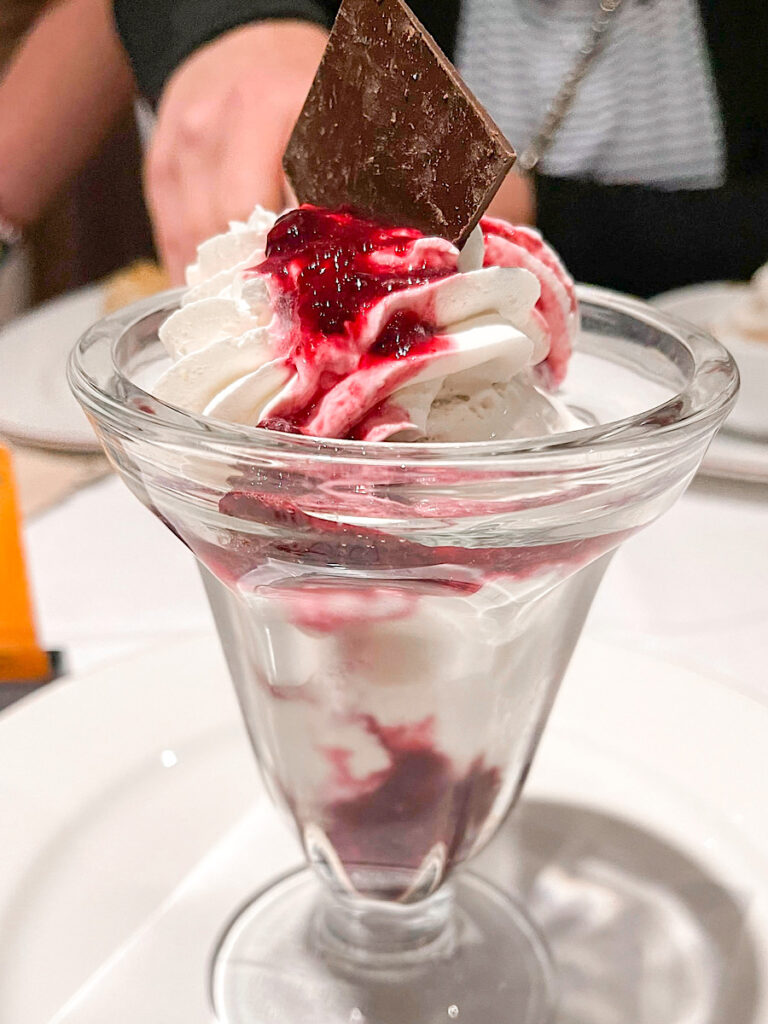 White Chocolate Bread Pudding: with Praline Sauce and Vanilla Ice Cream.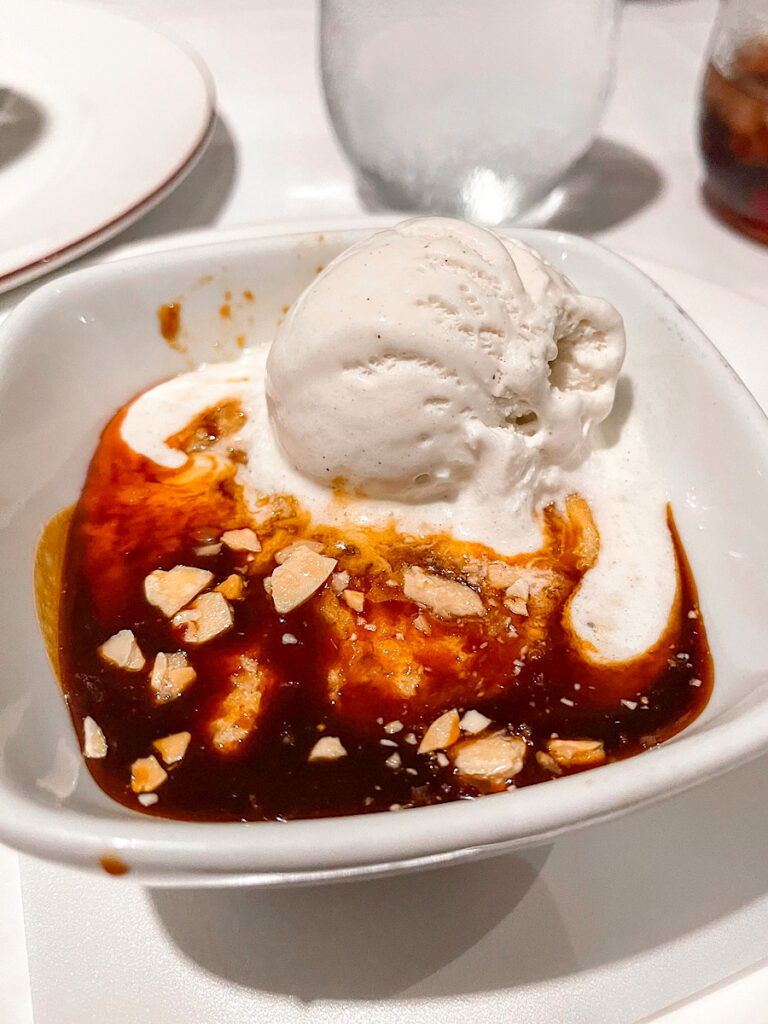 Blueberry Streusel Cake: Baked Berry-Almond Cake topped with streusel and served with berry compote.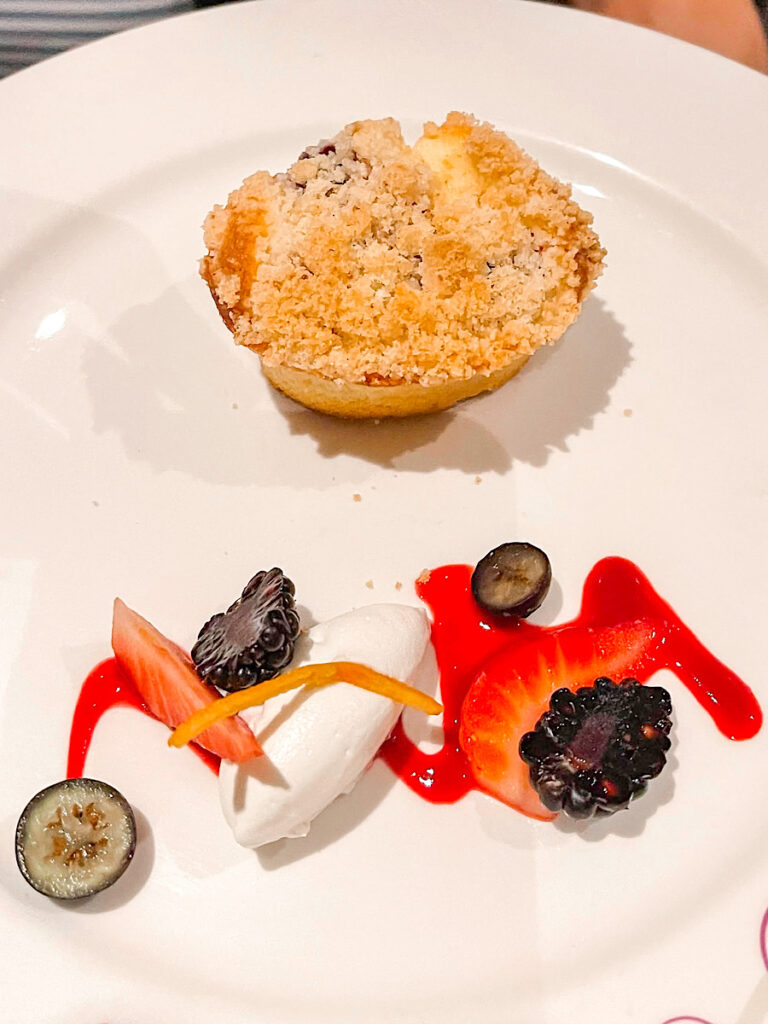 Atilla's Sublime Cupcake: Red Velvet Cupcakes with cookies and cream filling and cream cheese frosting.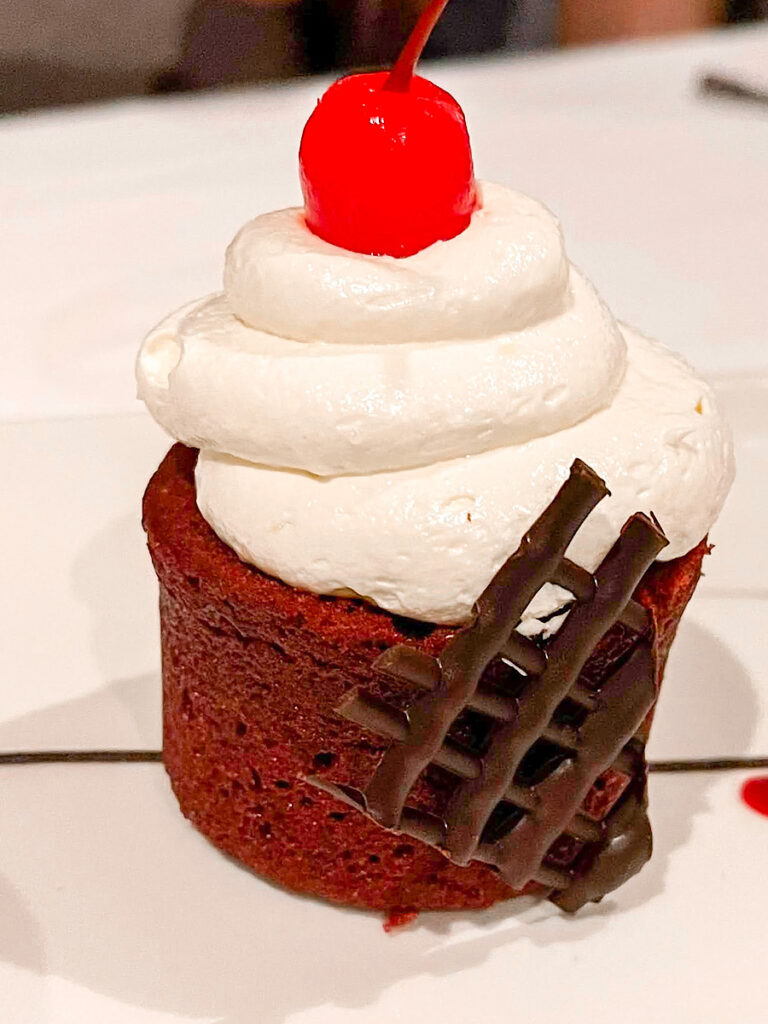 Rapunzel's Royal Table Menu: Night Two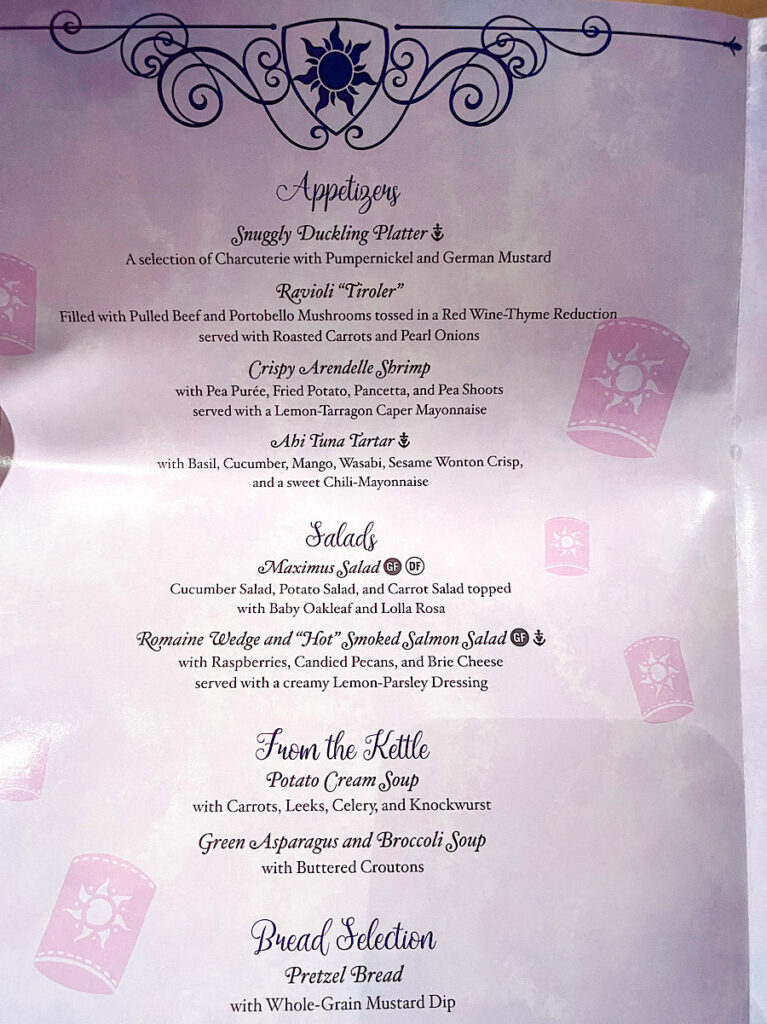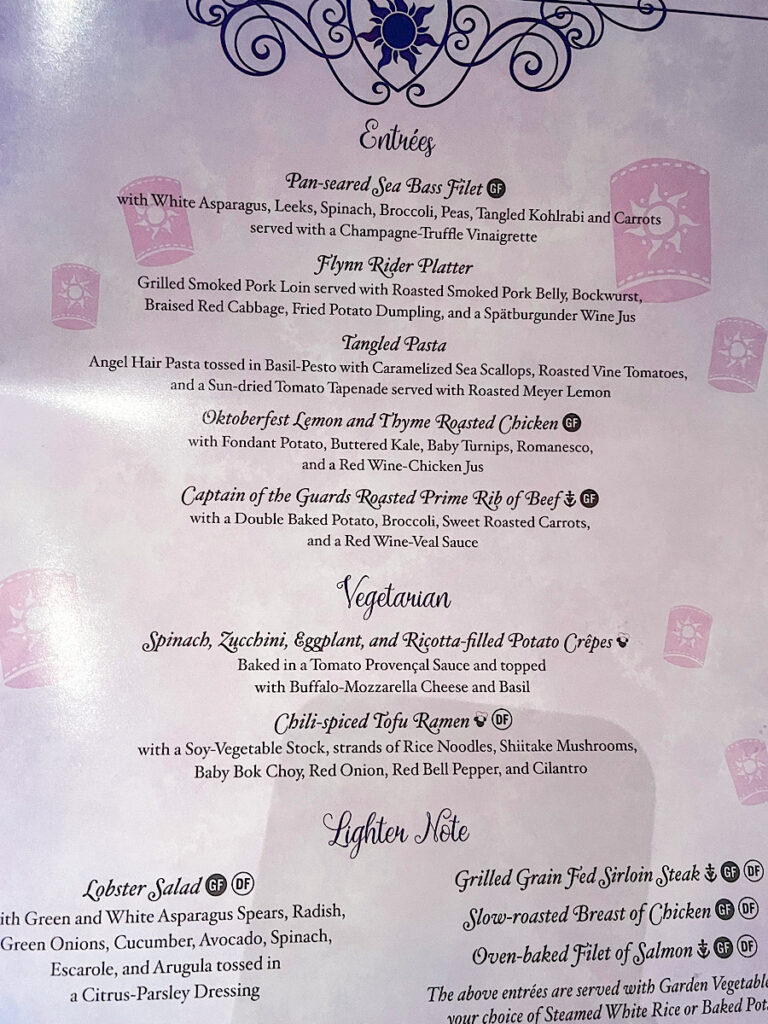 Snuggly Duckling Platter: A selection of Charcuterie with Pumpernickel and German Mustard.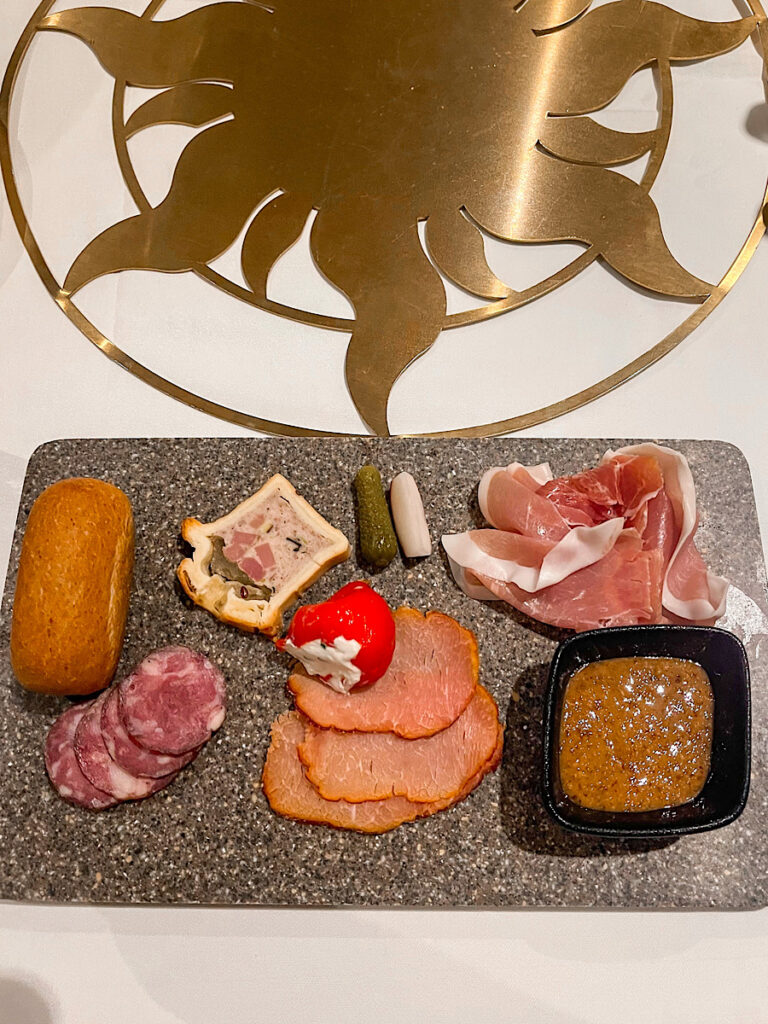 Maximus Salad: Cucumber Salad, Potato Salad, and carrot salad topped with Baby Oakleaf and Lolla Rosa.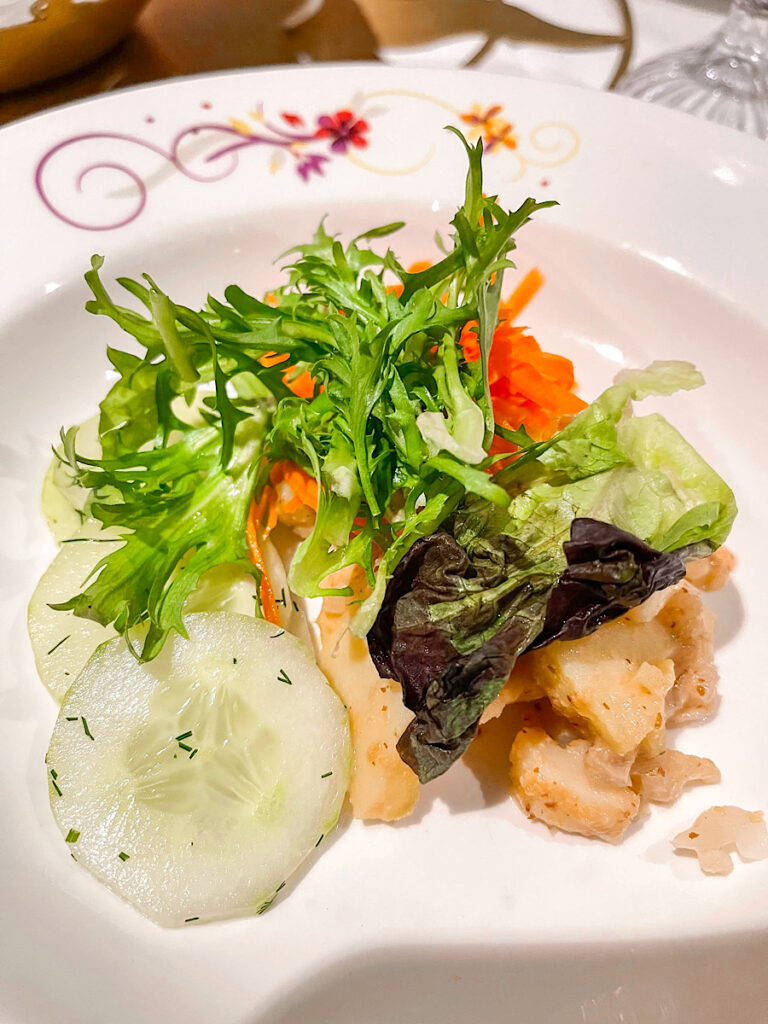 Ahi Tuna Tartar: with Basil, cucumber, Mango, Wasabi, Sesame Wonton Crisp, and a sweet chili mayonnaise.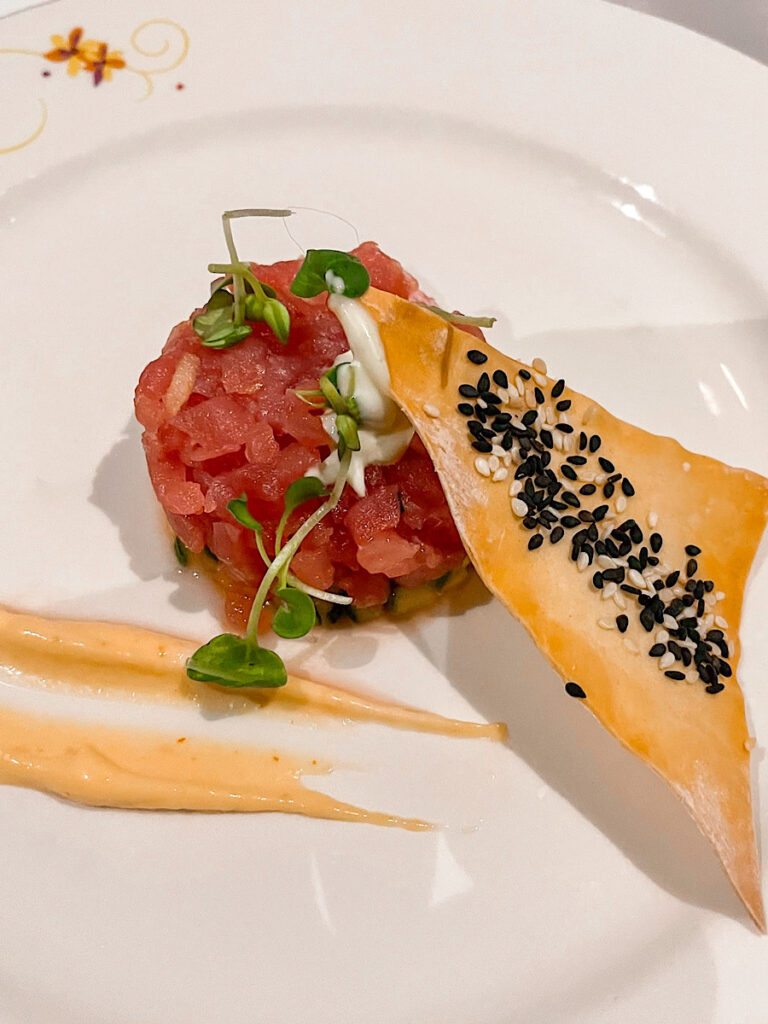 Crispy Arandelle Shrimp: with Pea Puree, Fried Potato, Pancetta, and Pea shoots, served with a lemon tarragon caper mayonnaise.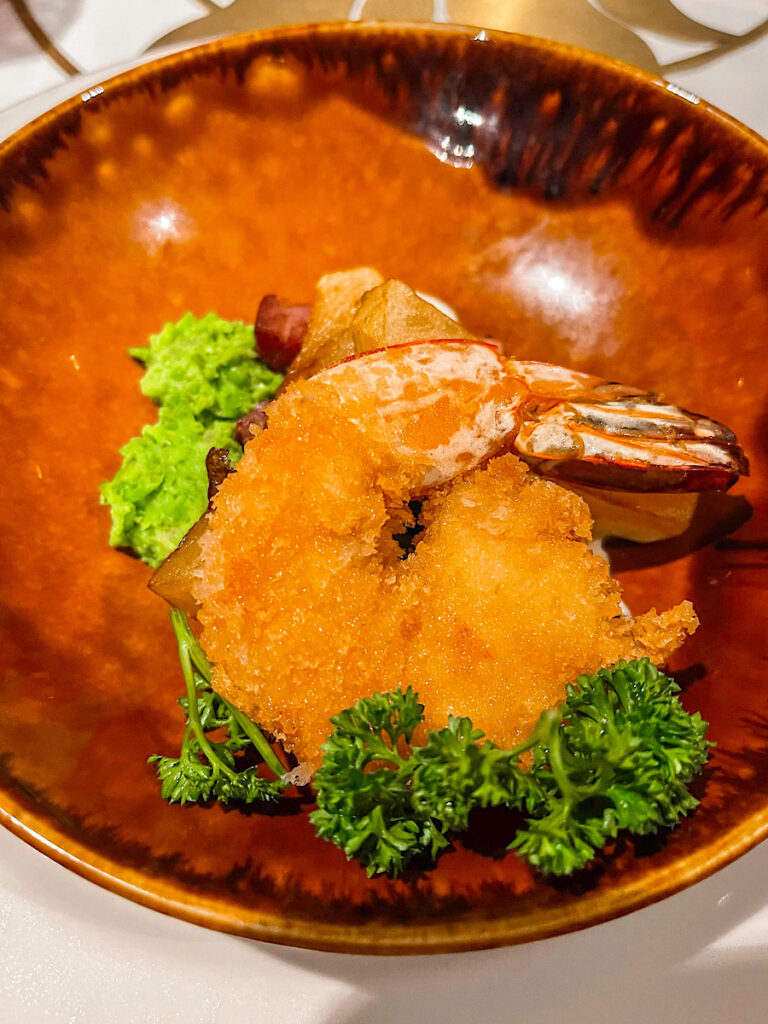 Flynn Rider Platter: Grilled Smoked Pork Belly, Brockwurst, Braised Red cabbage, and fried potato dumpling.
Spinach, Zucchini, Eggplant & Ricotta-filled Potato Crepes: Baked in tomato sauce and topped with Buffalo-Mozzarella and Basil.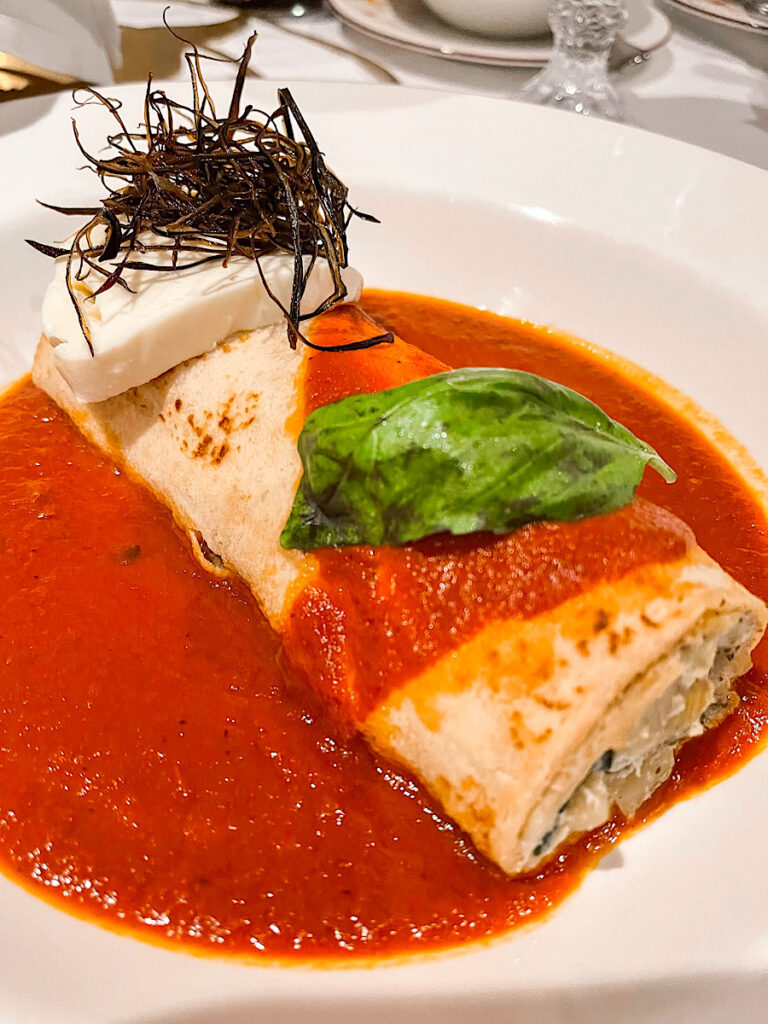 Tangled Pasta: Angel Hair Pasta tossed in Basil Pesto with caramelized sea scallops, Roasted vine tomatoes, and a sun-dried tomato tapenade, served with roasted Meyer lemon.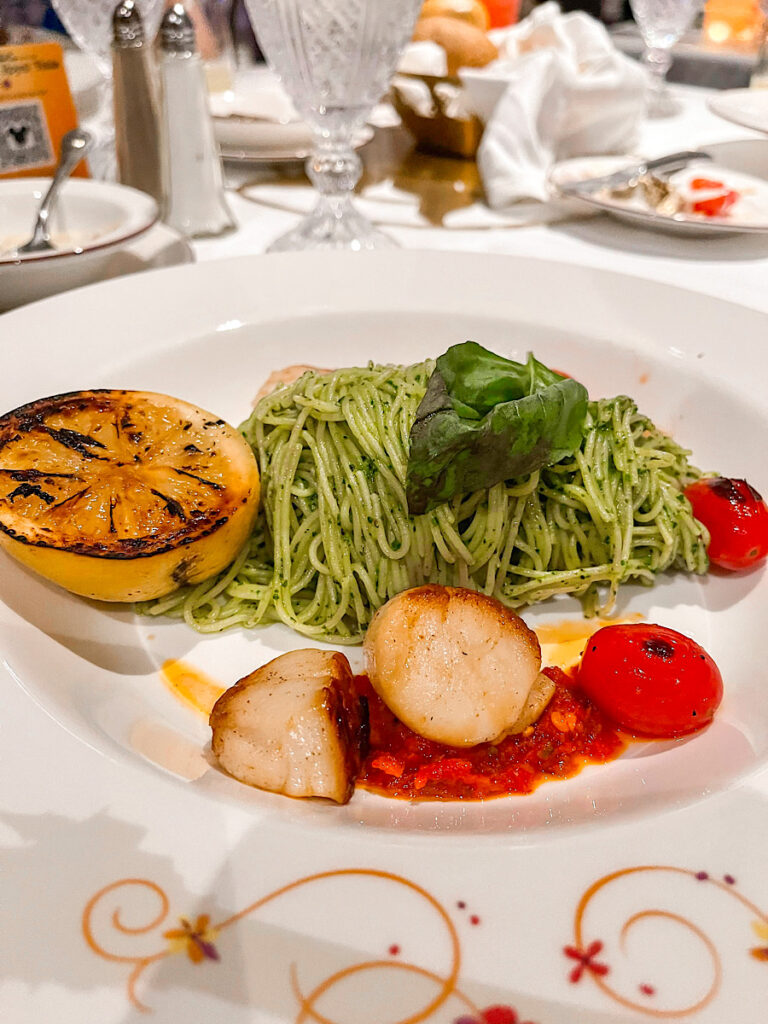 Kids Menu Pasta: Penne pasta with marinara sauce and topped with parmesan cheese.
Gothel Black Forest Tower: Rich Chocolate Creme, Cherry Compote, and a chocolate cake tower.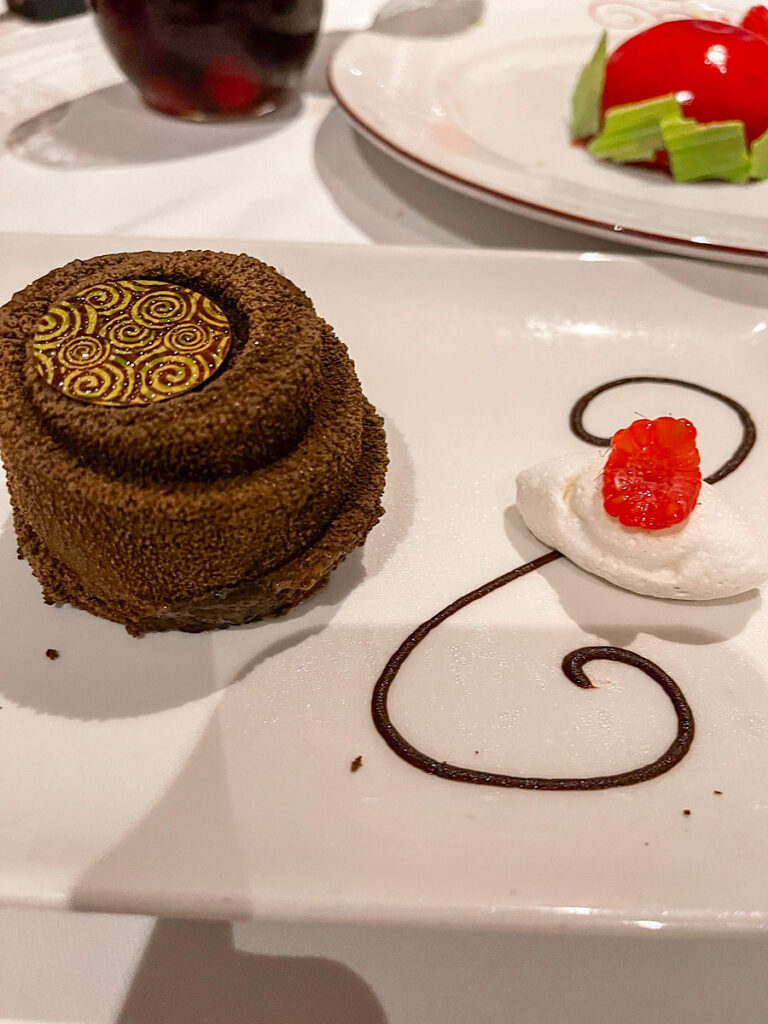 Rapuzel's Fry Pan Sweet Bread: Fry bread dusted with powdered sugar, with Chocolate Hazelnut Sauce, served in Rapunzel's Fry Pan.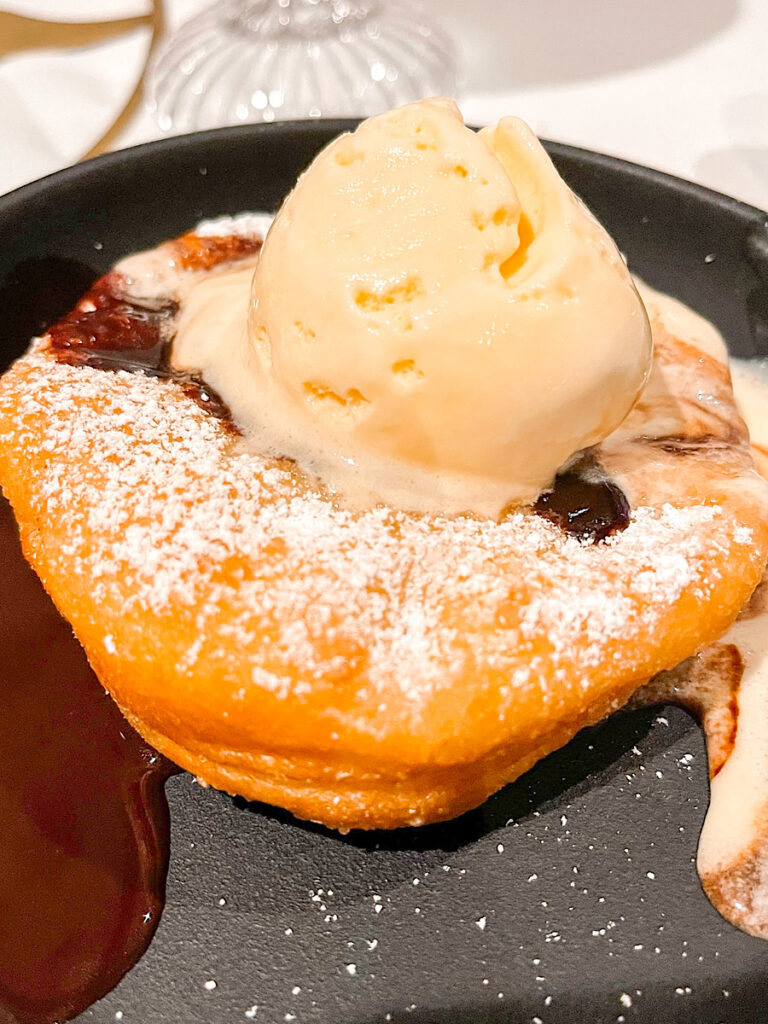 Creme Brulee Cheesecake: Layer of Baked Cheesecake, with Caramelized Creme Brulee, served with Fresh Whipped Cream.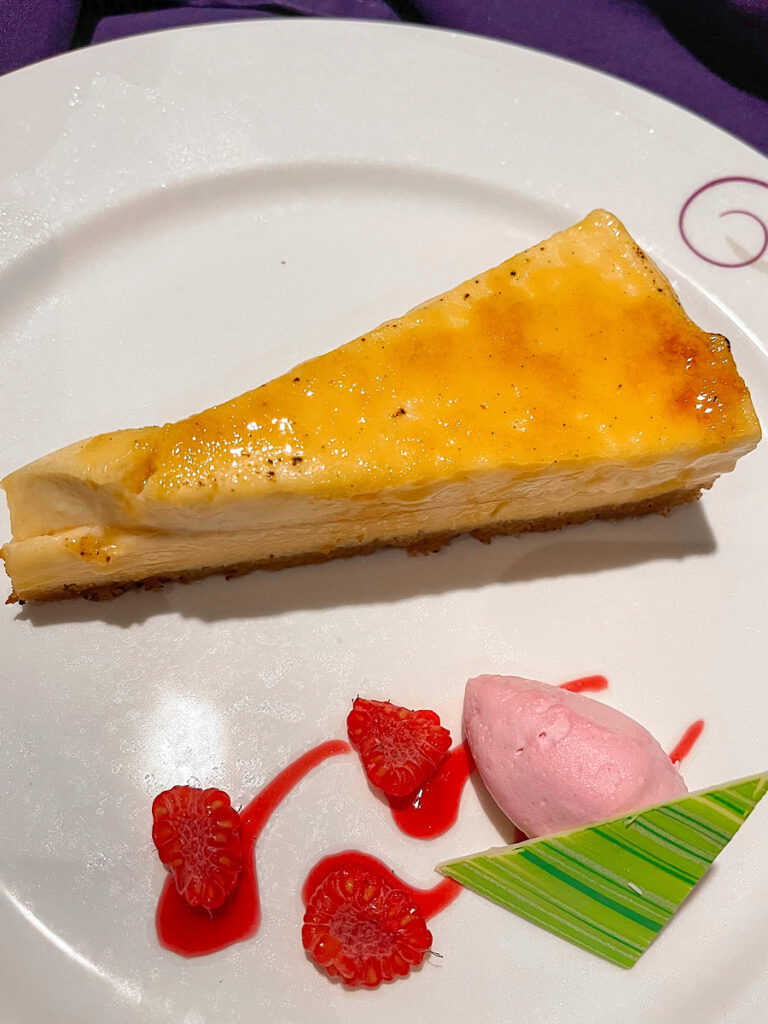 Lemon-Raspberry Mousse Bombe: Citrus Lemon Mousse embedded with Fresh Raspberries.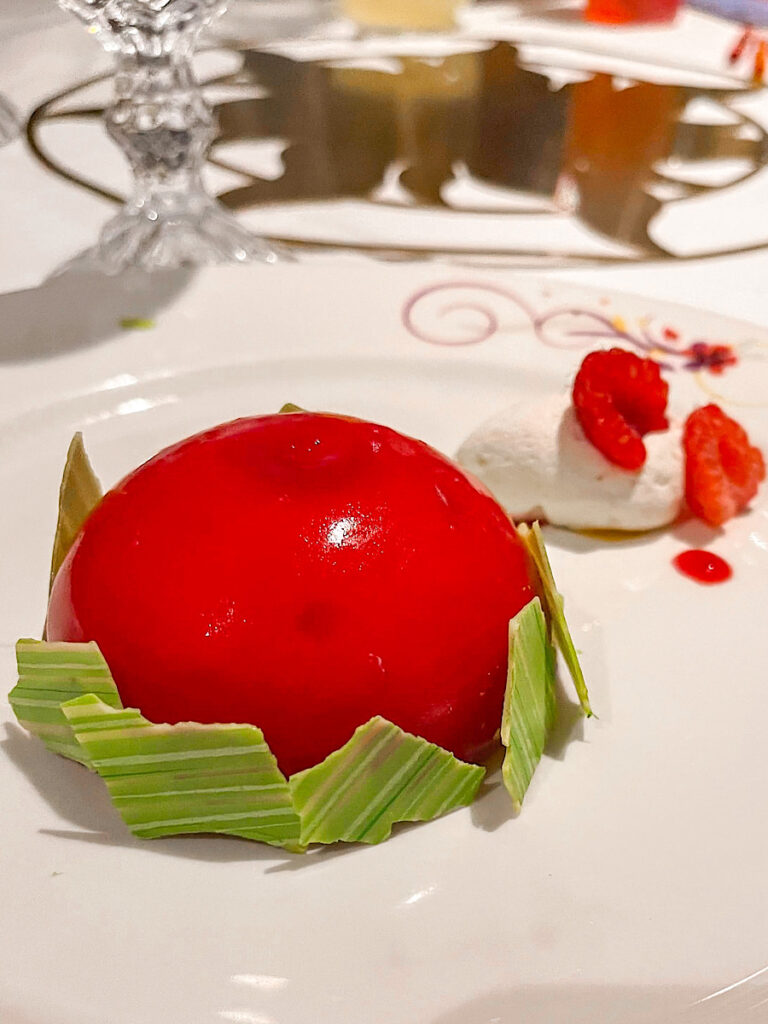 Lumiere's
Lumiere's is a Beauty and the Beast-themed restaurant right off of the atrium of the Disney Magic.
This restaurant is similar to Triton's on the Disney Wonder, Royal Palace on the Disney Dream and Royal Court on the Disney Fantasy.
Lumiere's Menu: Night One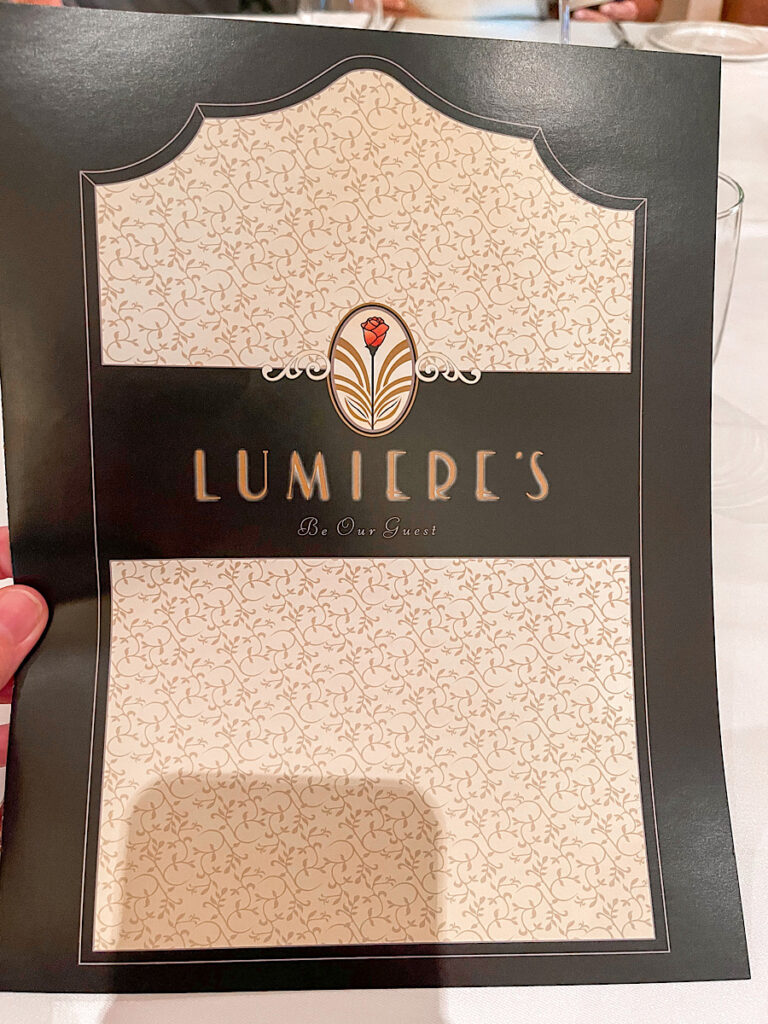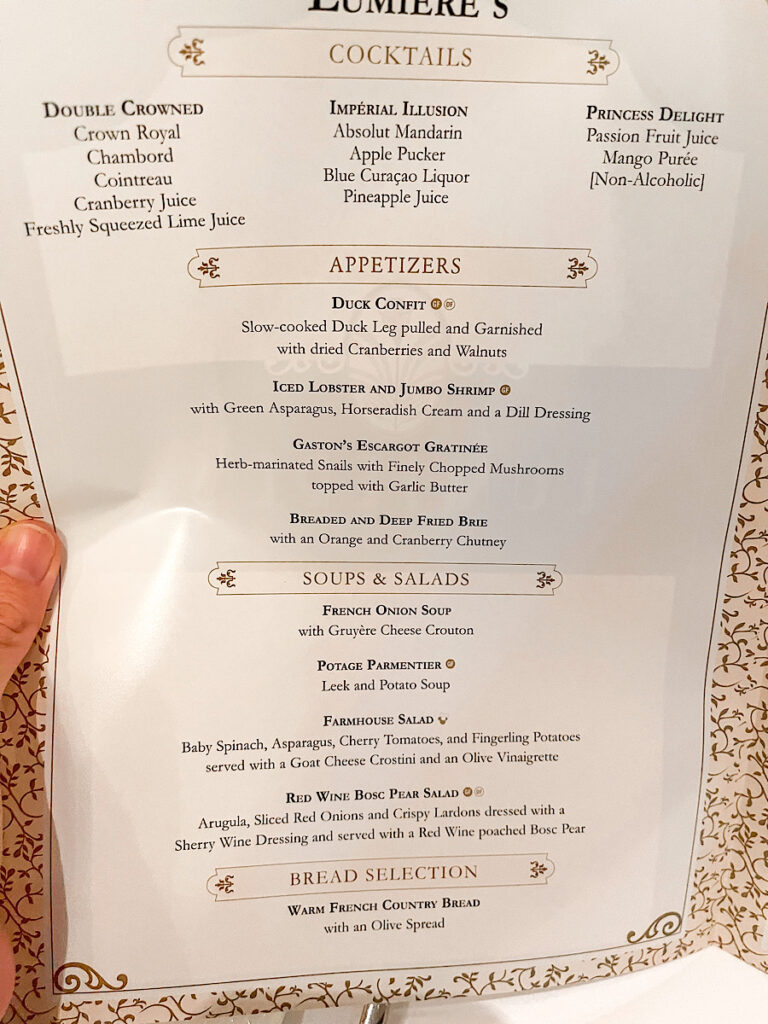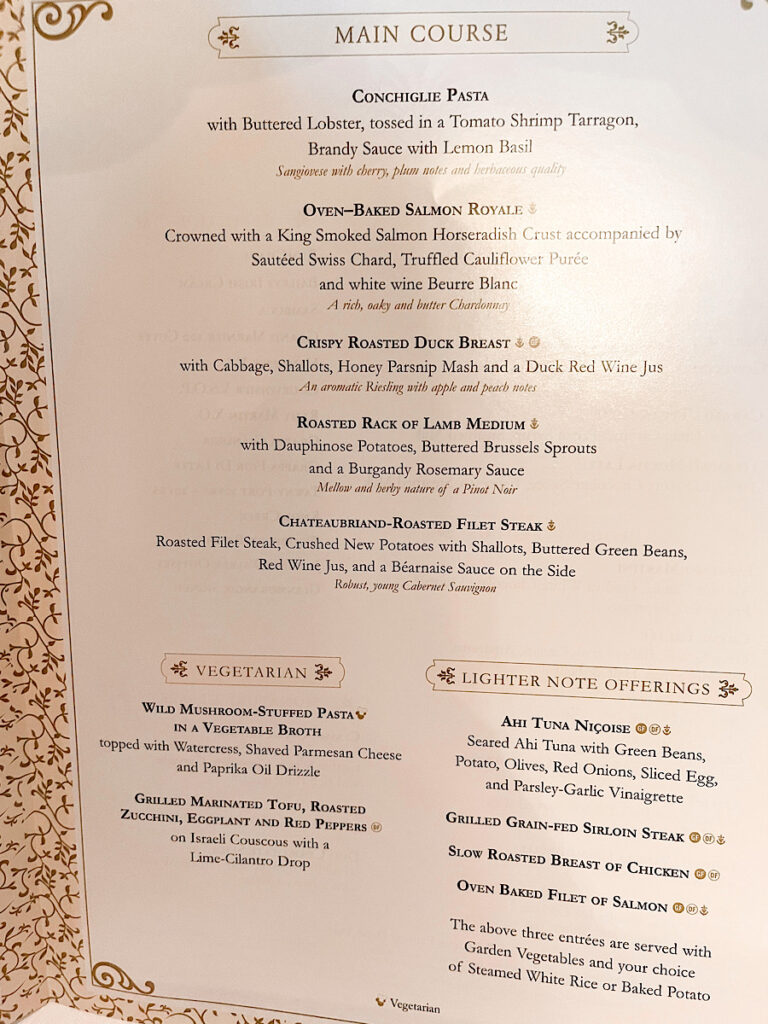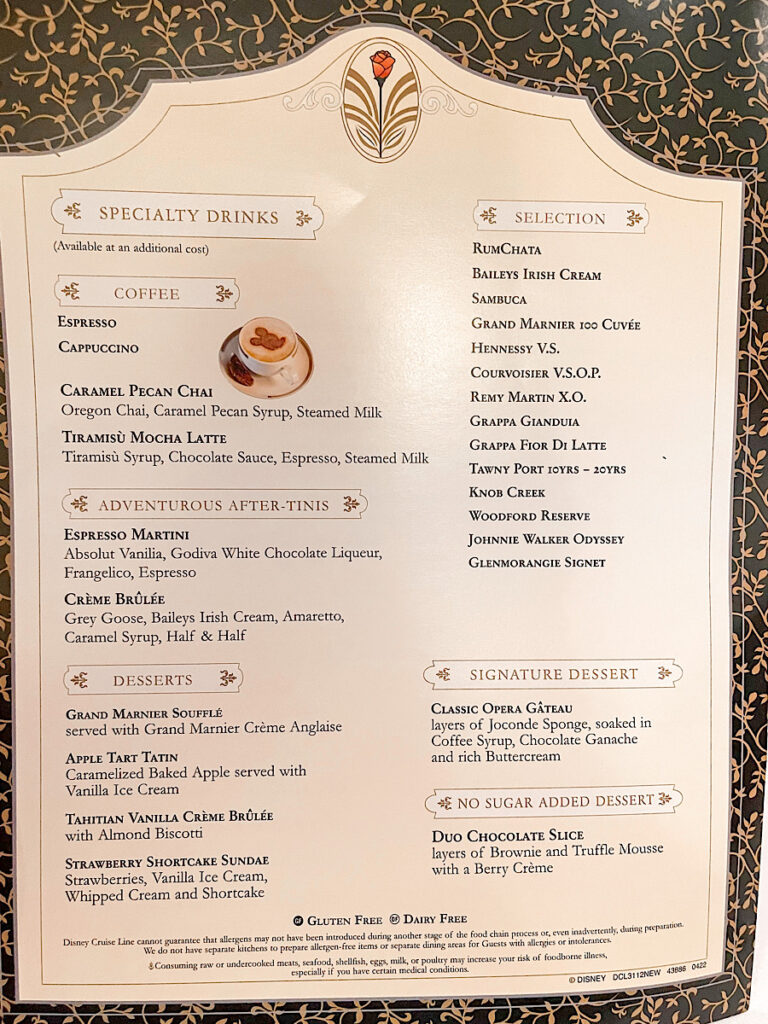 French Onion Soup: with a Cheese Crouton.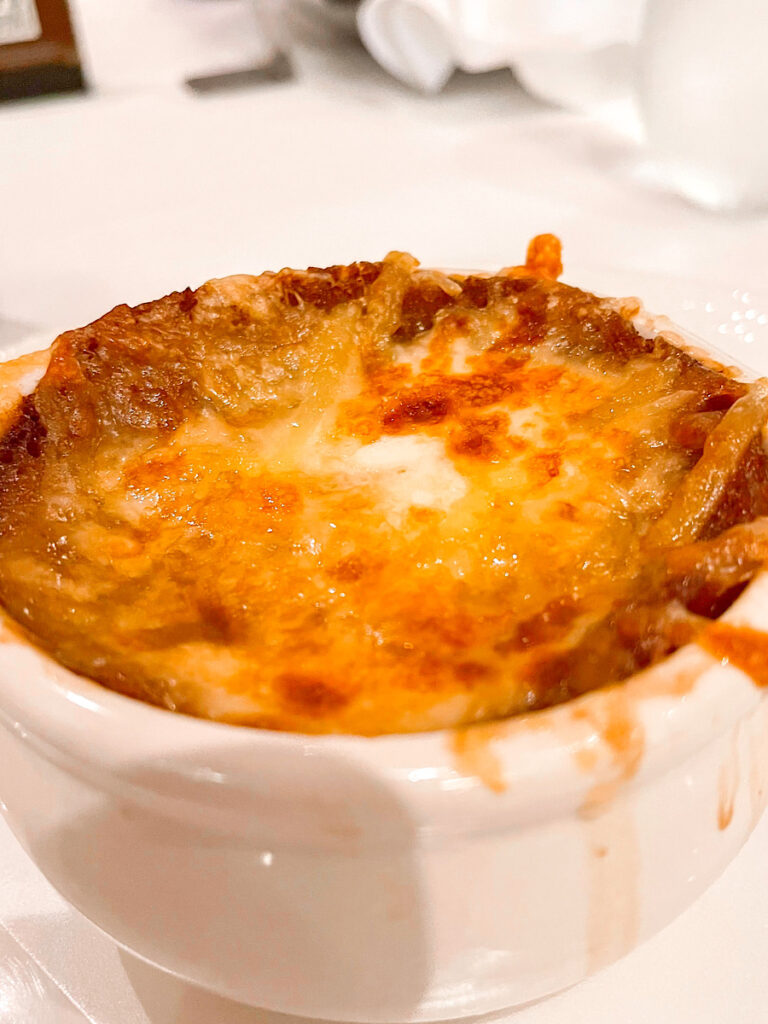 Grilled Marinated Tofu, Roasted Zucchini, Eggplant, and Red Peppers: on Israeli Couscous with a Cilantro Lime Drop.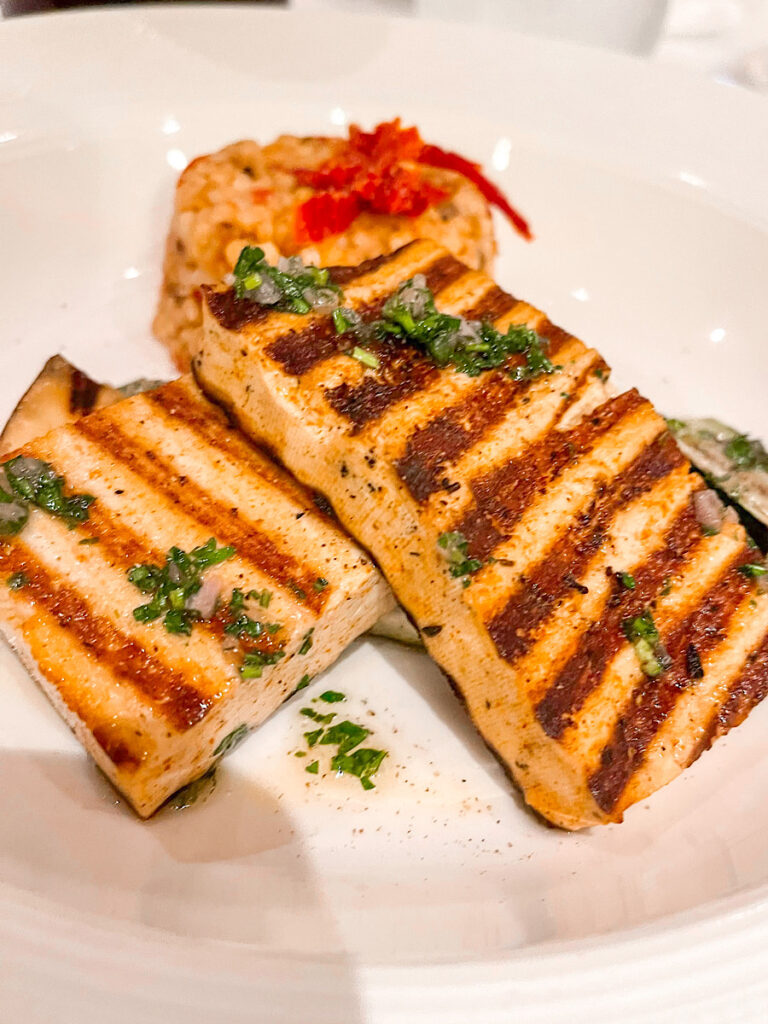 Oven-Baked Salmon Royale: Crowned with a King Smoked Salmon Horseradish Crust, accompanied by sauteed Swiss Chard, Truffled Cauliflower puree and white wine Beuree Blanc.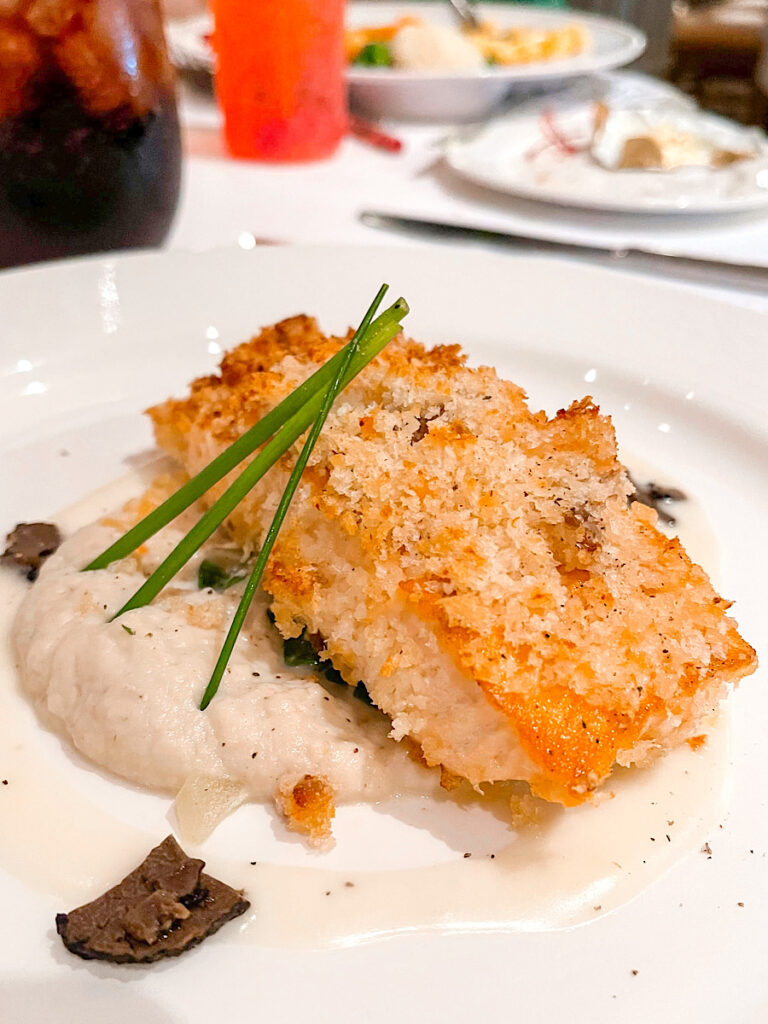 Strawberry Shortcake Sundae: Strawberries, Vanilla Ice Cream, Whipped Cream and Shortcake.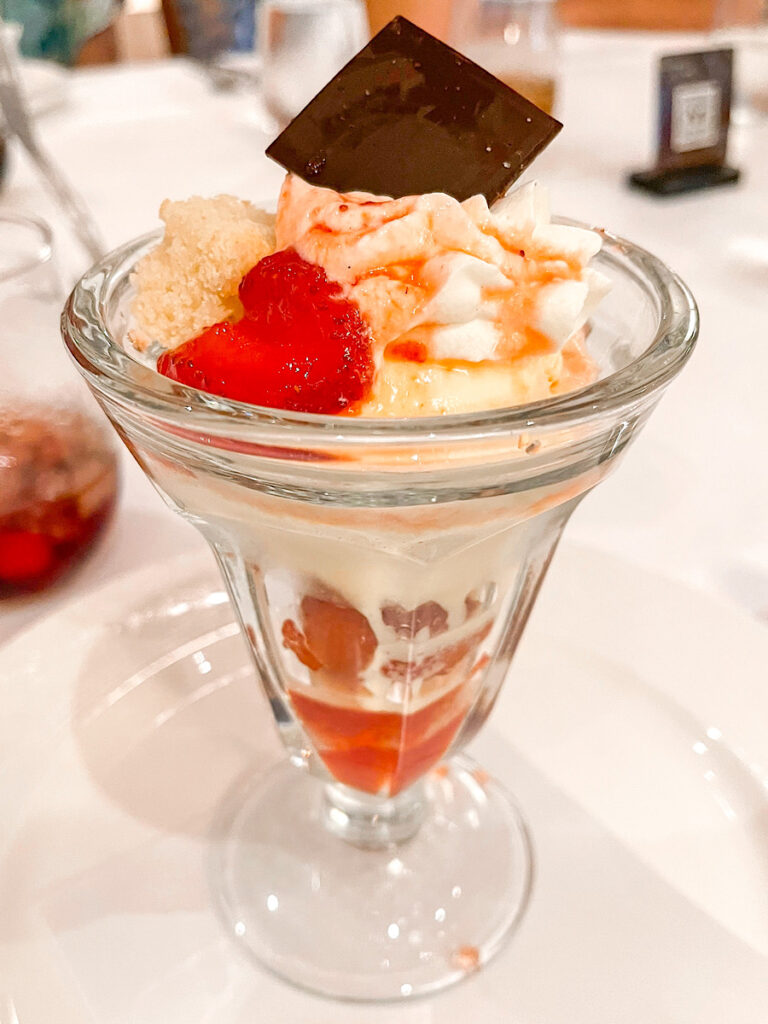 Lumiere's Menu: Second Night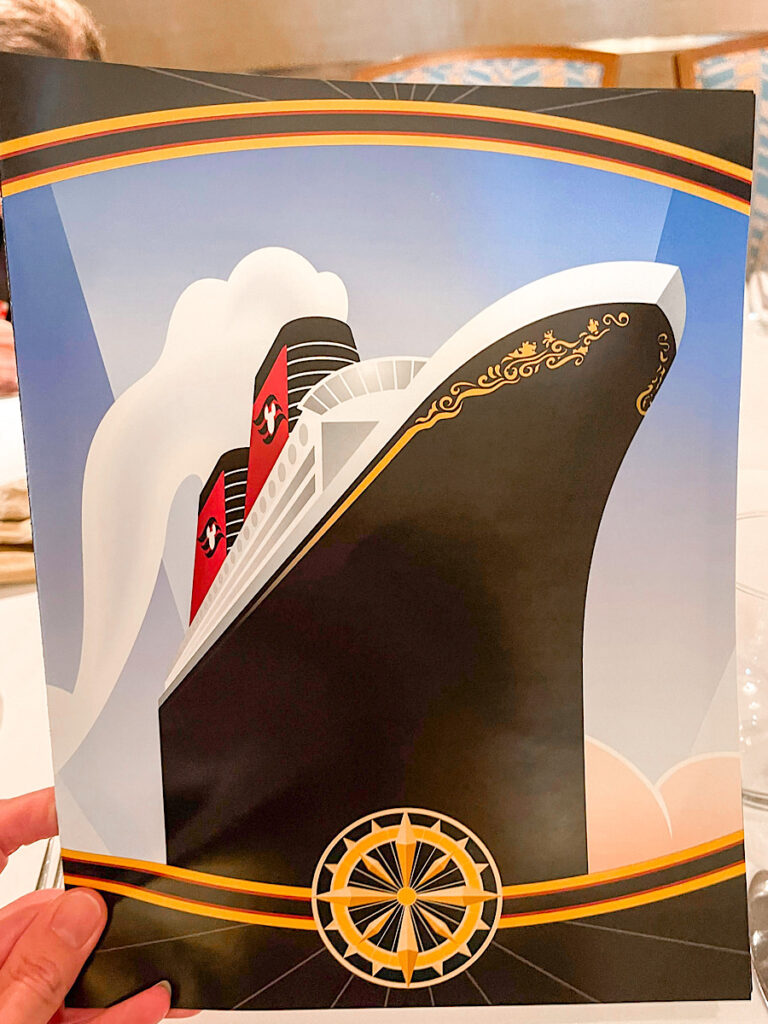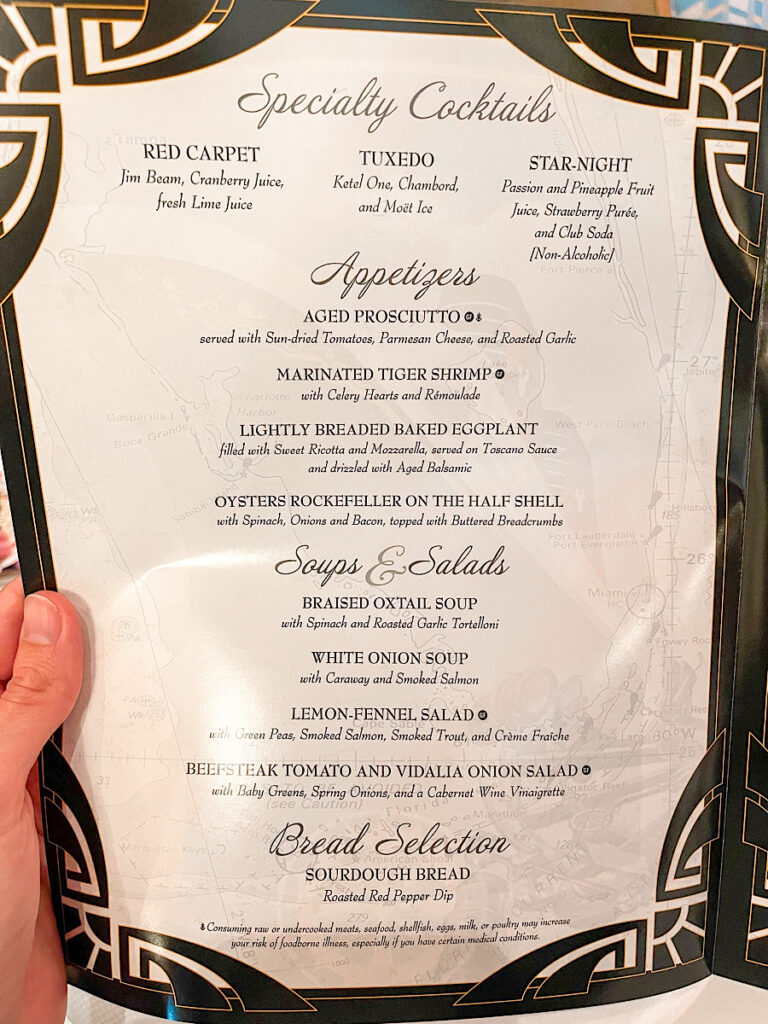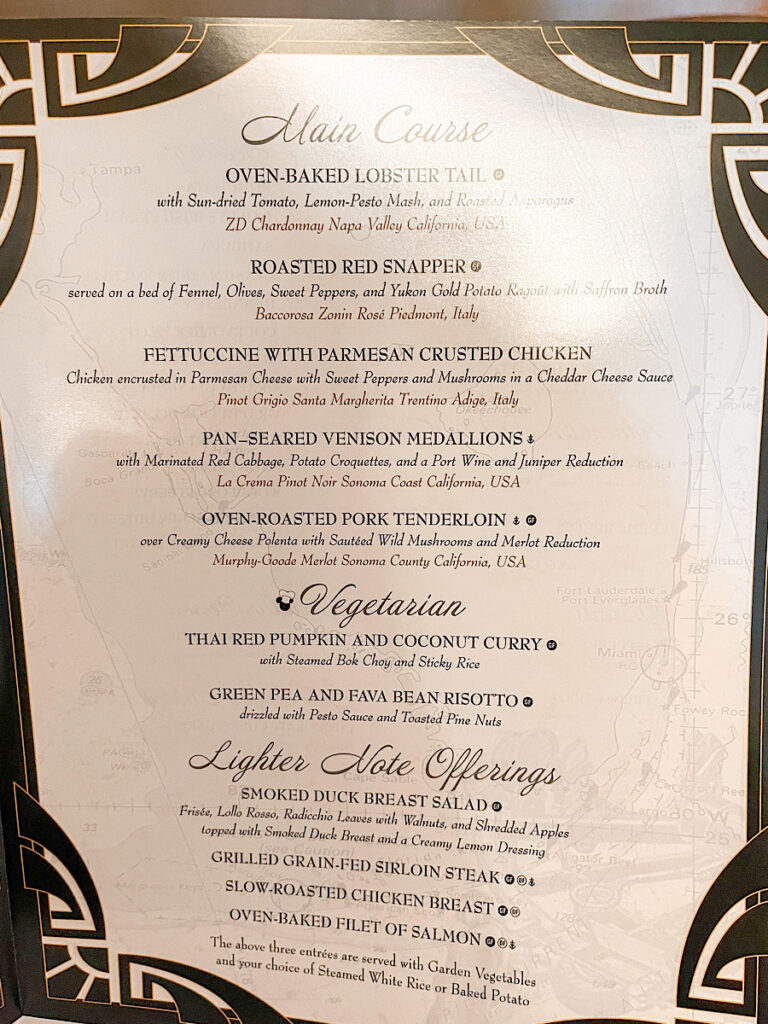 Aged Proscuitto: served with Sun-dried Tomatoes, Parmesan Cheese, and Roasted Garlic.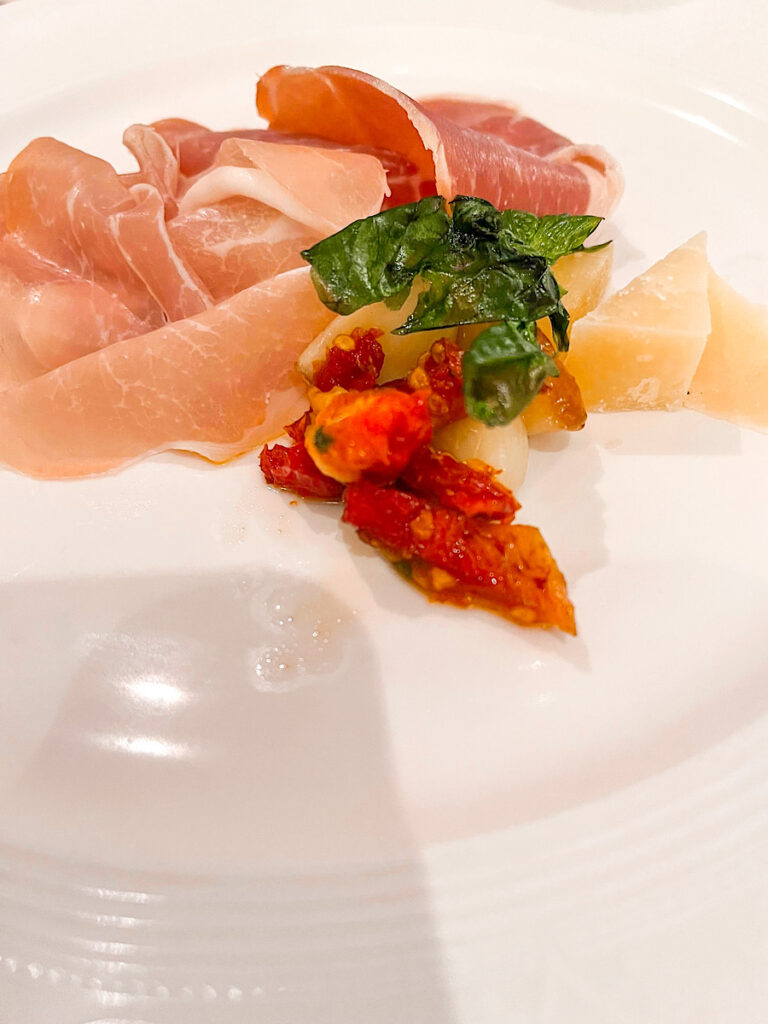 Marinated Tiger Shrimp: with Celery Hearts and Remoulade.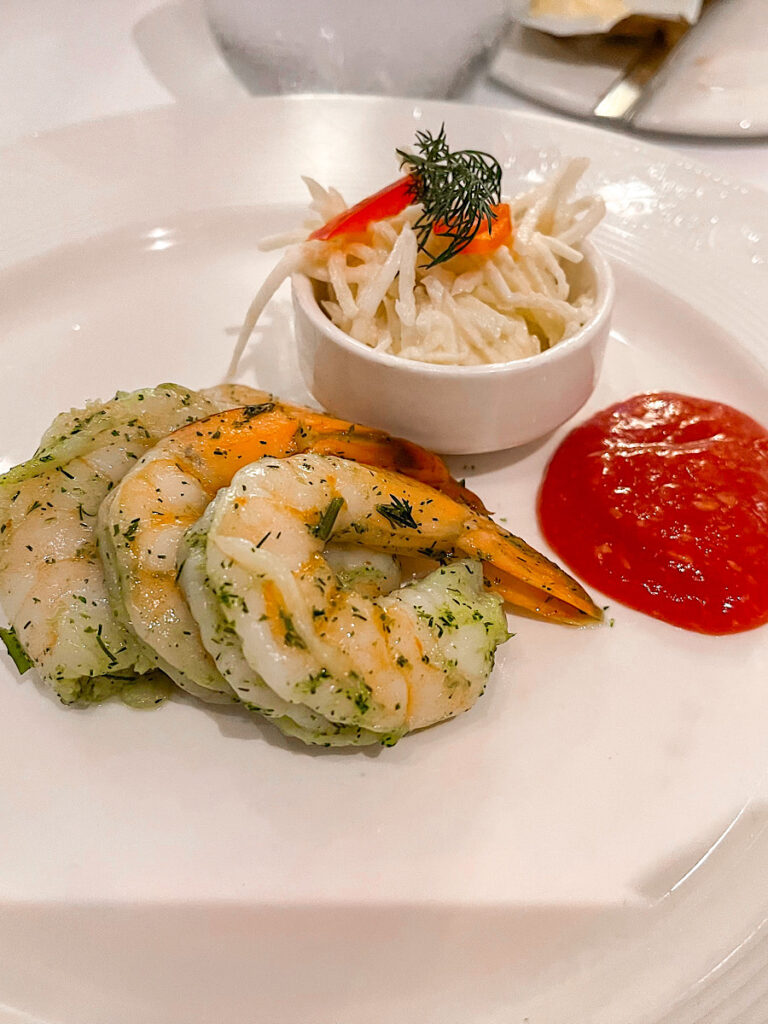 Beefsteak Tomato and Vidalia Onion Salad: with Baby Greens, Spring Onions, and a Cabernet Wine Vinaigrette.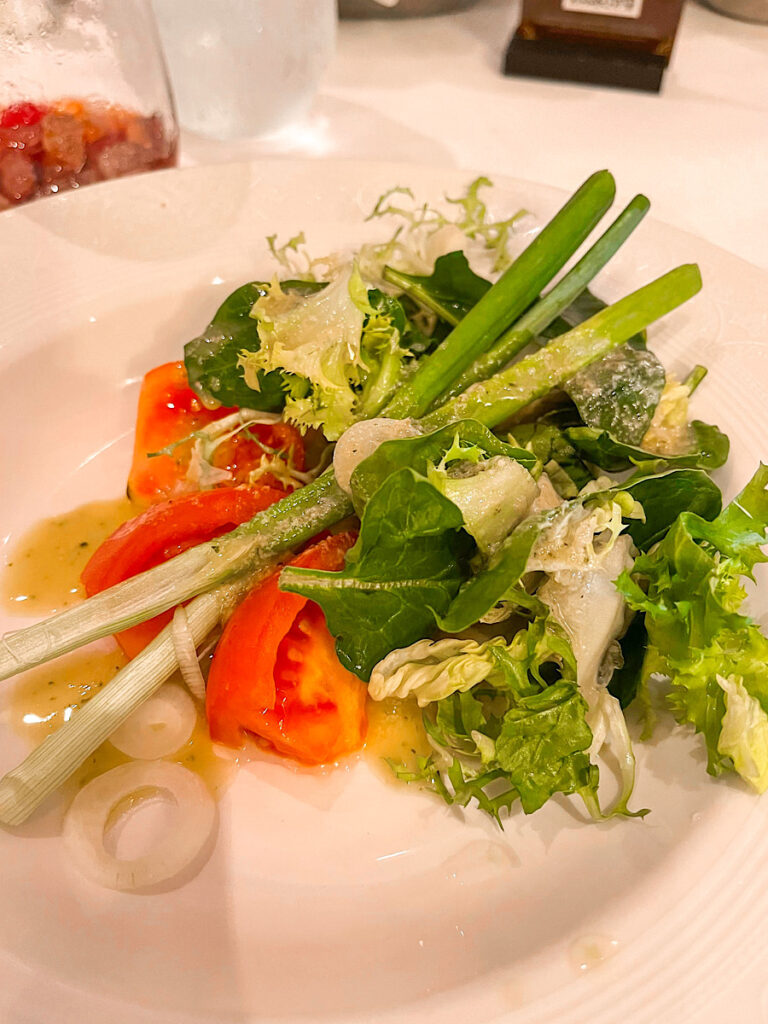 Oysters Rockefeller on the Half-Shell: with Spinach, Onions, and Bacon, topped with Buttered Breadcrumbs.
Oven-Baked Lobster Tail: with Sun-Dried Tomato, Lemon-Pesto Mash, and Roasted Asparagus.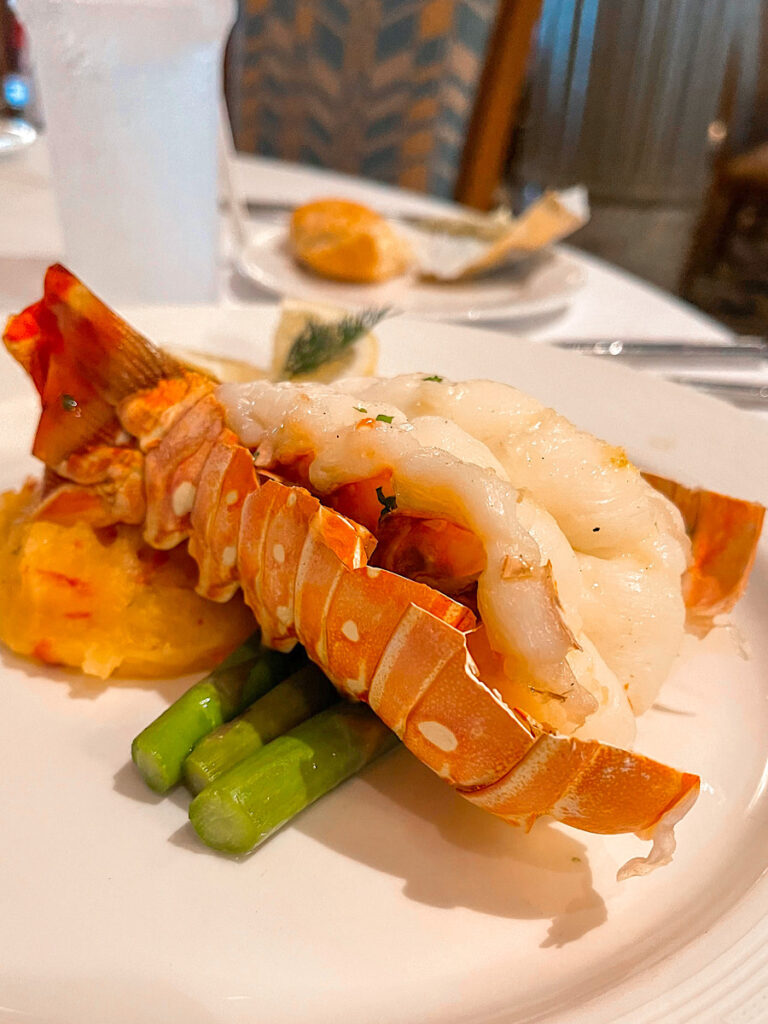 Fettuccini with Parmesan Crusted Chicken: Chicken encrusted in Parmesan Cheese, with Sweet Peppers and Mushrooms, in a Cheddar Cheese Sauce.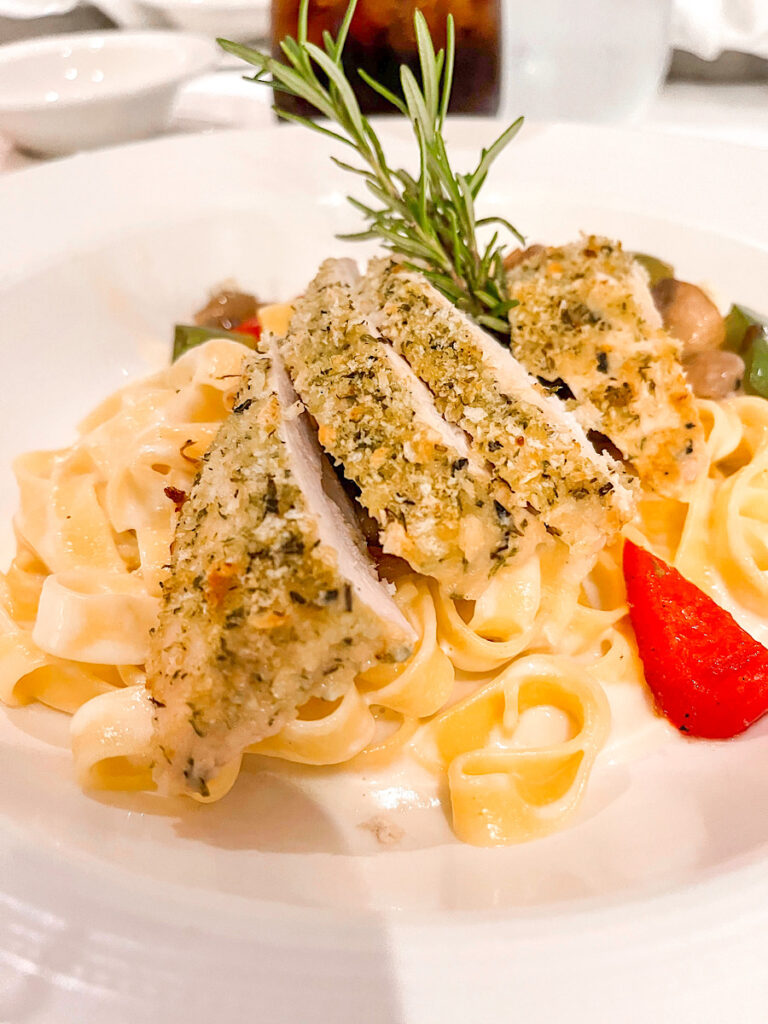 Tahitian Vanilla Creme Brulee: with Almond Biscotti.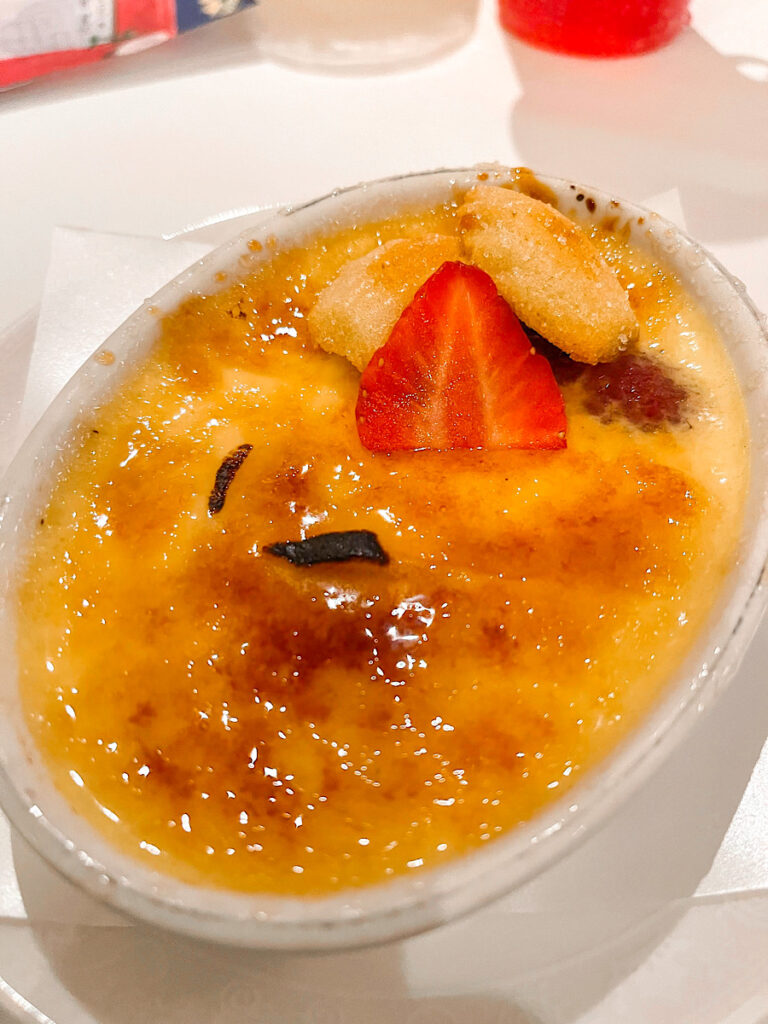 Warm Chocolate Lava Cake: with Vanilla Ice Cream.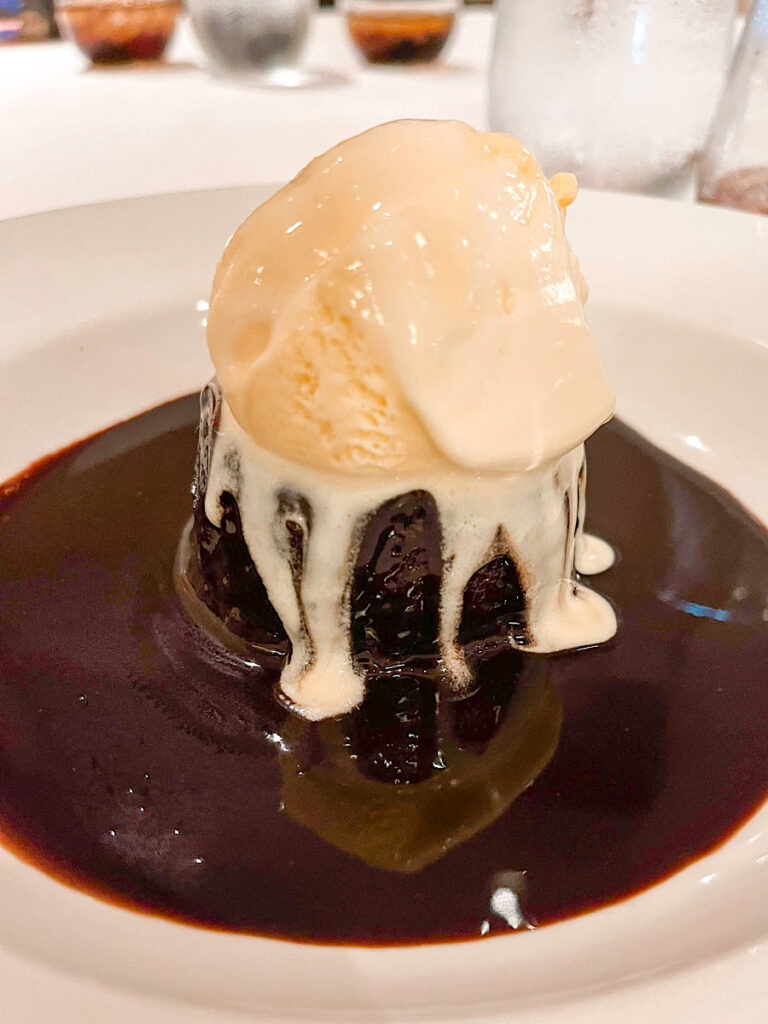 Chocolate Mint Sundae
Pirate Night
Our Pirate Night dinner was located in Animator's Palate, but featured a pirate-themed menu. This menu is the same on the Disney Wonder, Disney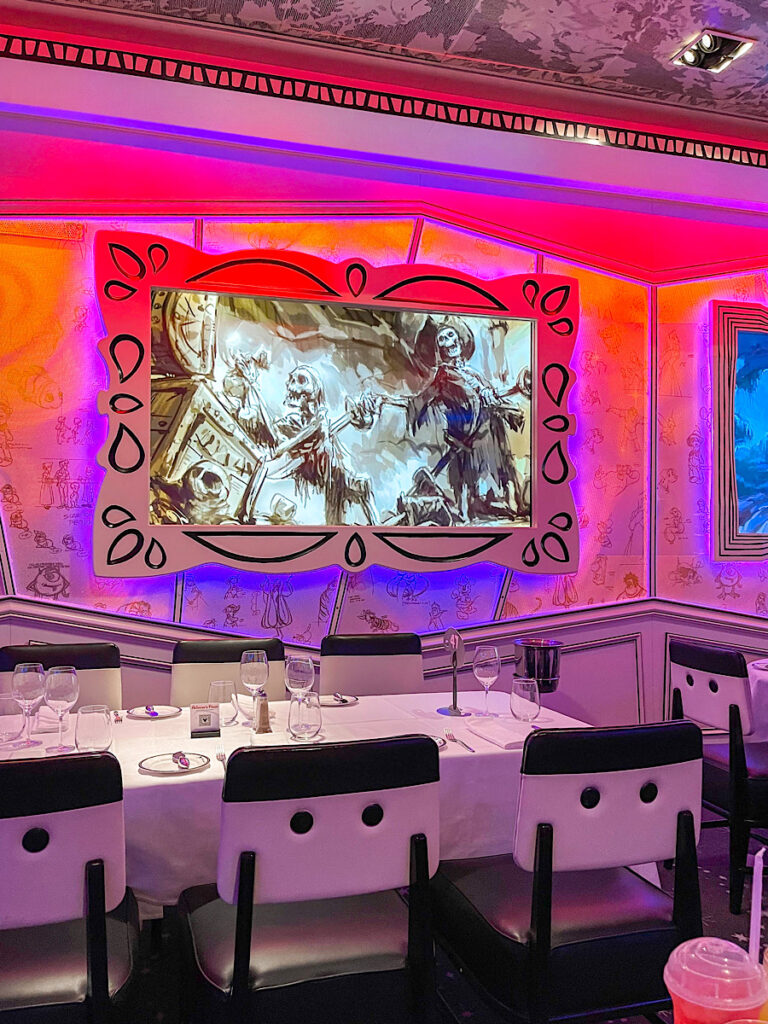 Deep Fried Calypso Crab Cake: With Cajun Remoulade, Green Onion and Lemon.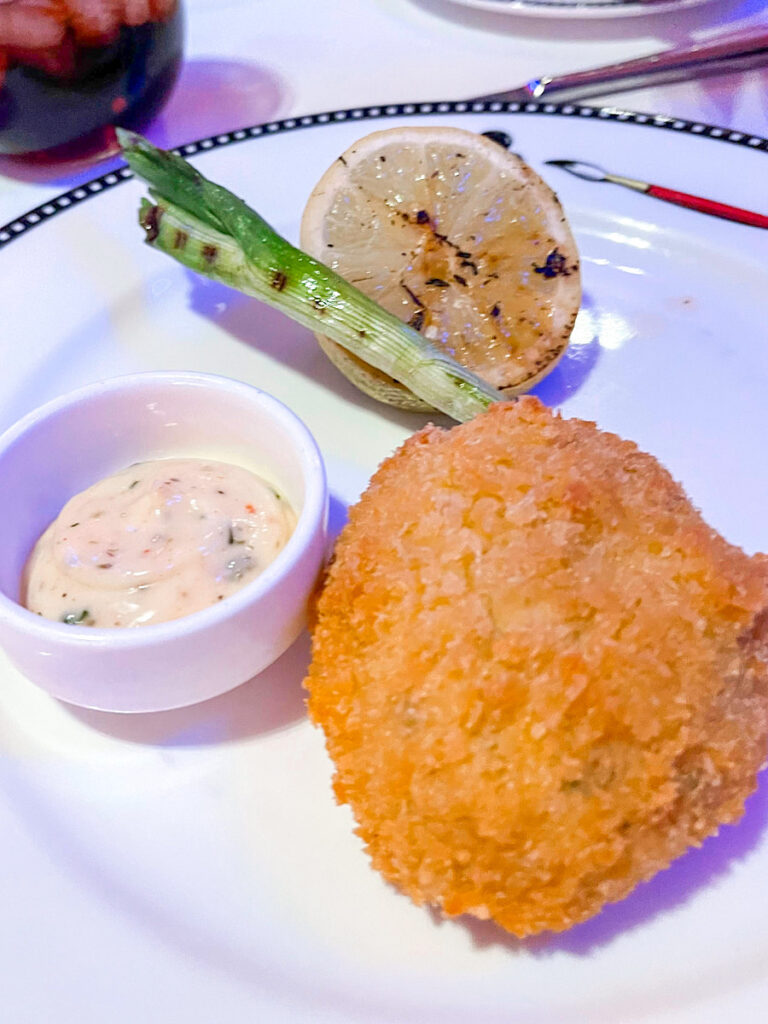 Vegetable Samosa: With Potato, Peas, Garlic, Cumin and Ginger served with Tamarind and Mint Chutney.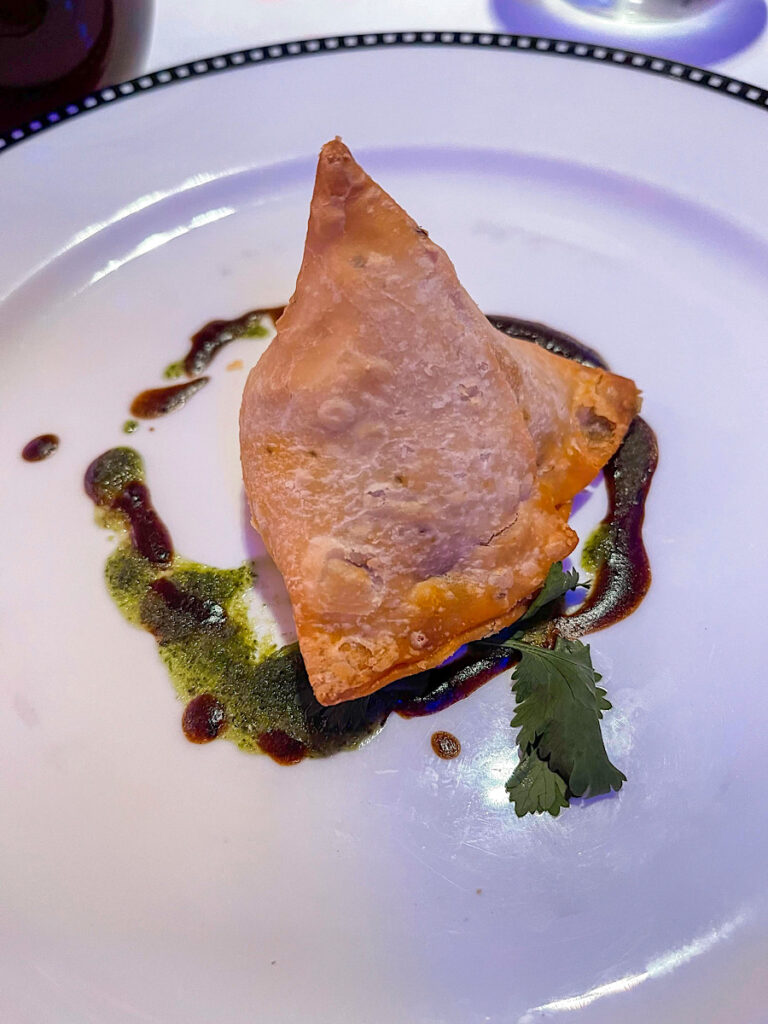 Chilled Mango Soup: With Passion Fruit, Ginger and Coconut.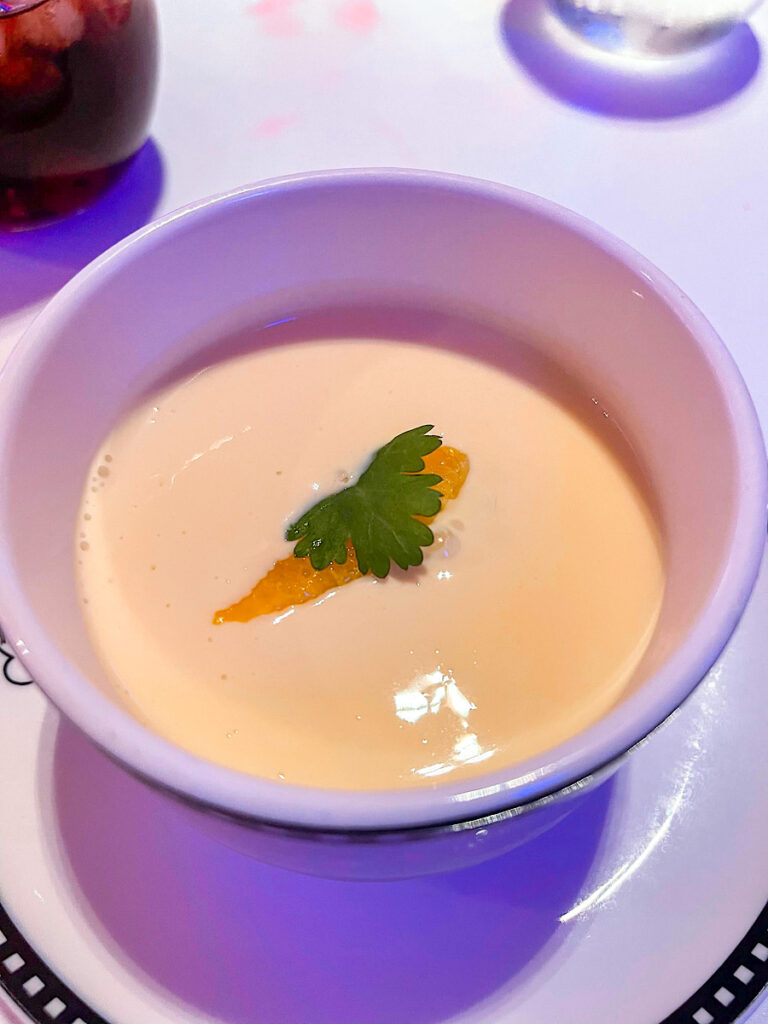 King George's Roasted Privateer Strip Loin: With Thyme-Roasted Potatoes, Buttered Savoy Cabbage, Yorkshire Pudding and a Rosemary Wine Sauce.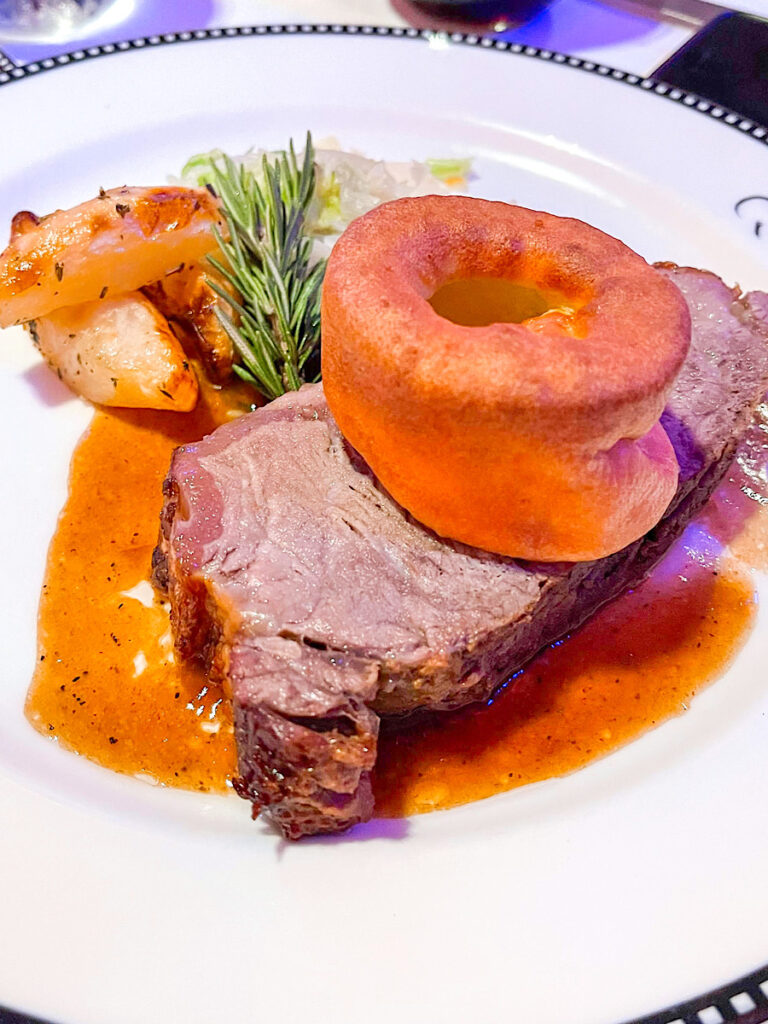 Tia Dalma's Jerk Chicken:- 48 hour Jerk-Marinated Chicken, Grilled and served with Rice and Peas, Fried Plantains and a Pineapple-Chili Salsa.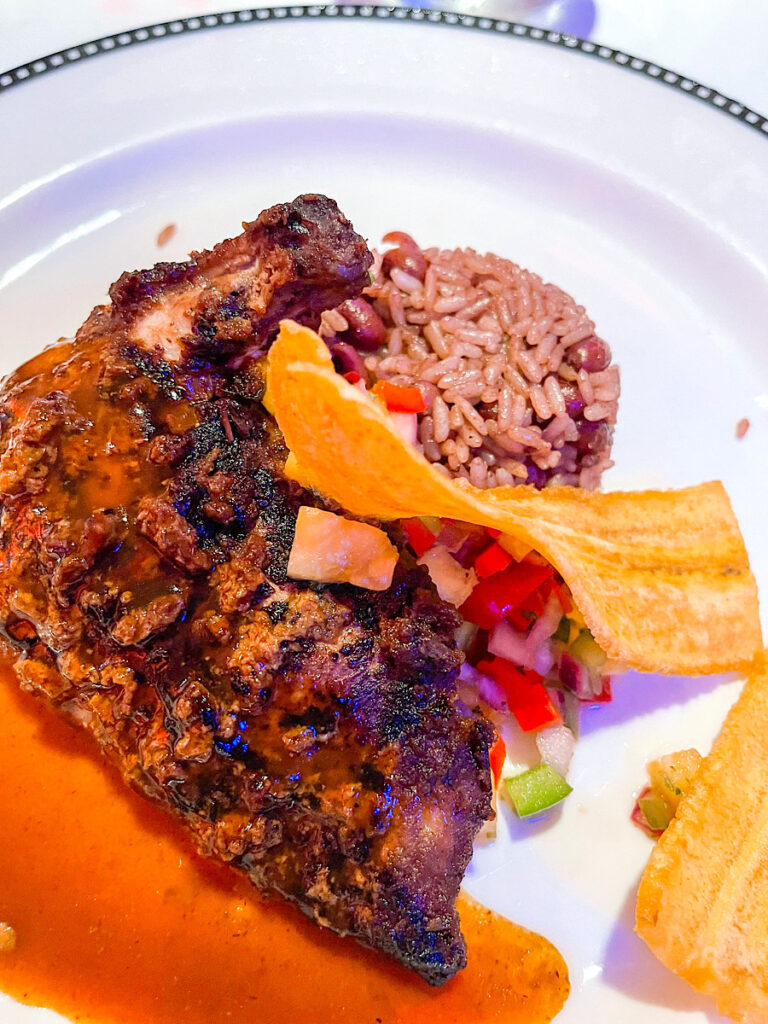 Braised Barbecue Beef Rib Salad- Slowly Braised Barbecue Beef Rib with Romaine Leaves, Spinach, Macadamia Nuts, Carrots, Roasted Corn Kernels and Shallots served with Cornbread and a Tomato Sour Cream Dressing.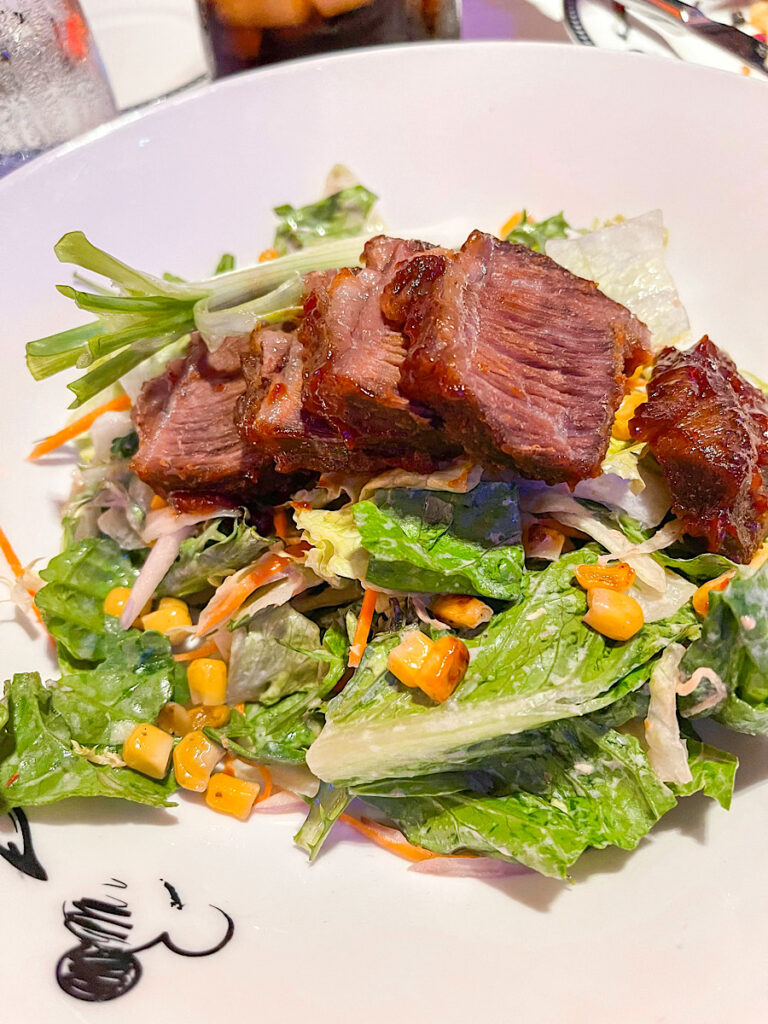 Caramel Macadamia Nut Cheesecake Tart: Served with Whipped Cream and Caramel Ganache.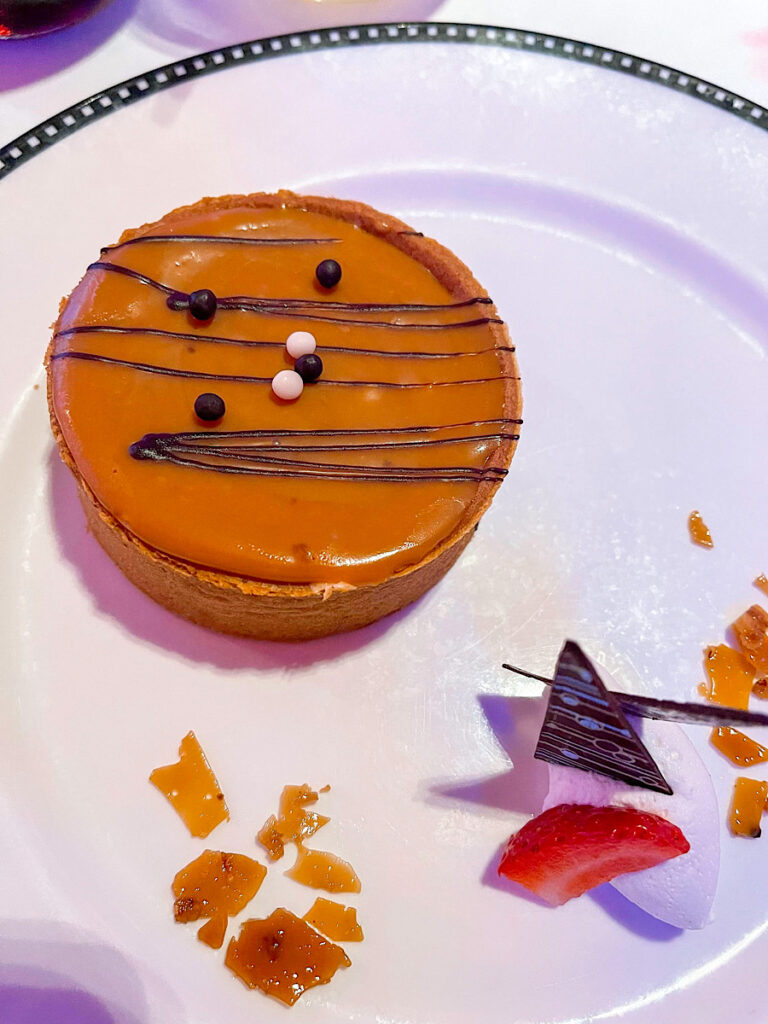 Bounty Fruit Cobbler: With Vanilla Ice Cream.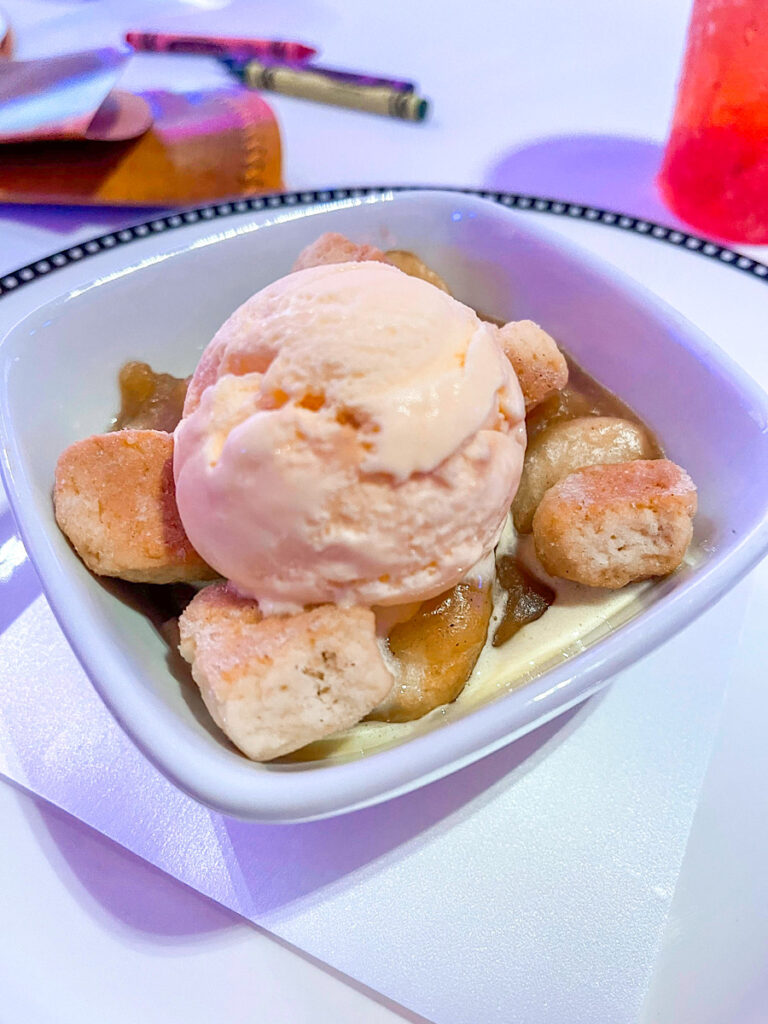 Cabanas
Cabanas is the buffet located aft on the Disney Magic. They serve American and international cuisine for breakfast and lunch. It was very convenient to grab a quick breakfast in the morning before heading out on a fun excursion for the day.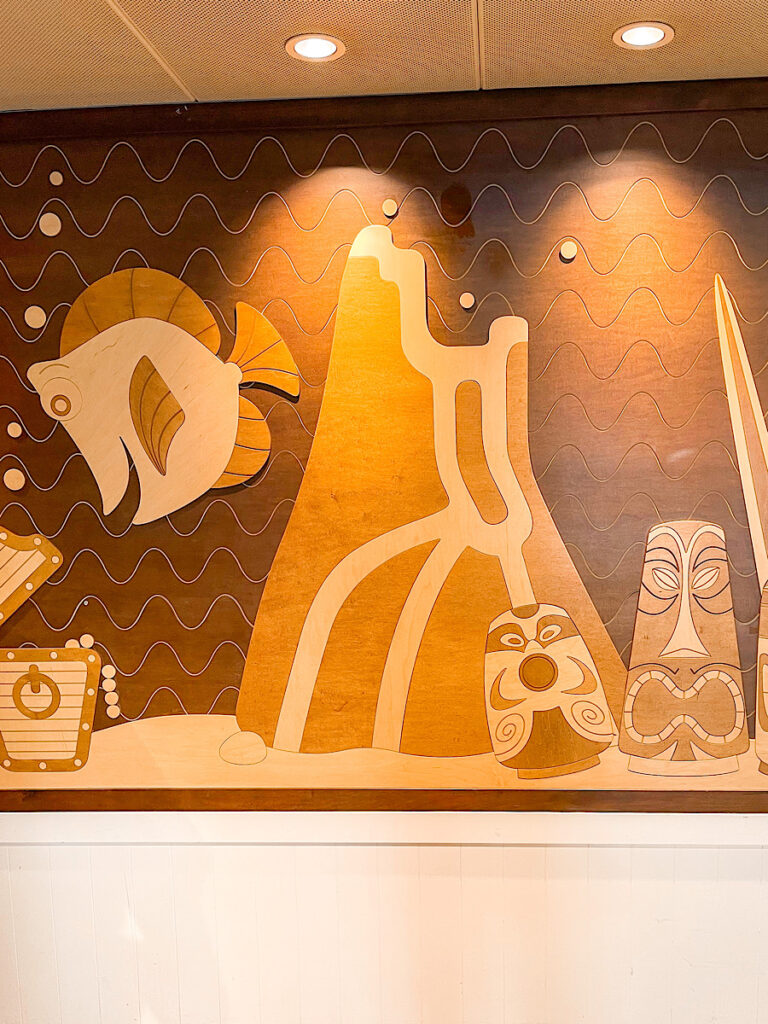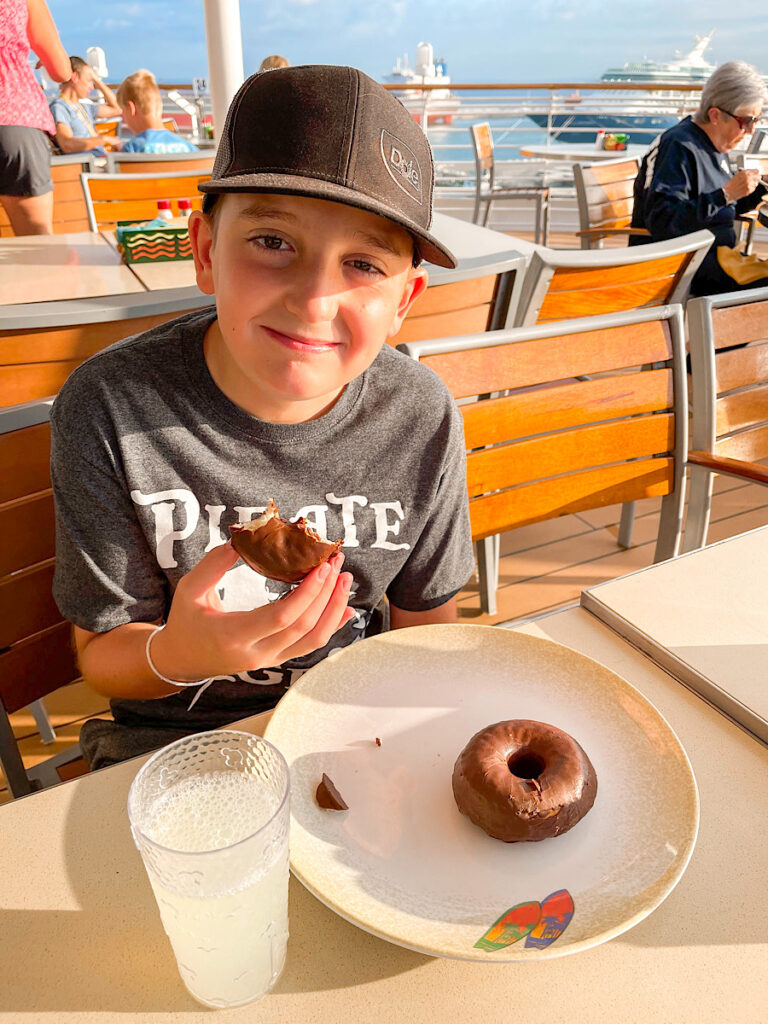 Some of the Breakfast items include Scrambled Eggs, Bacon, Sausage, an Omelette Station, Pancakes, French Toast, Fruit, a Yogurt Parfait Bar, and of course, Mickey Waffles!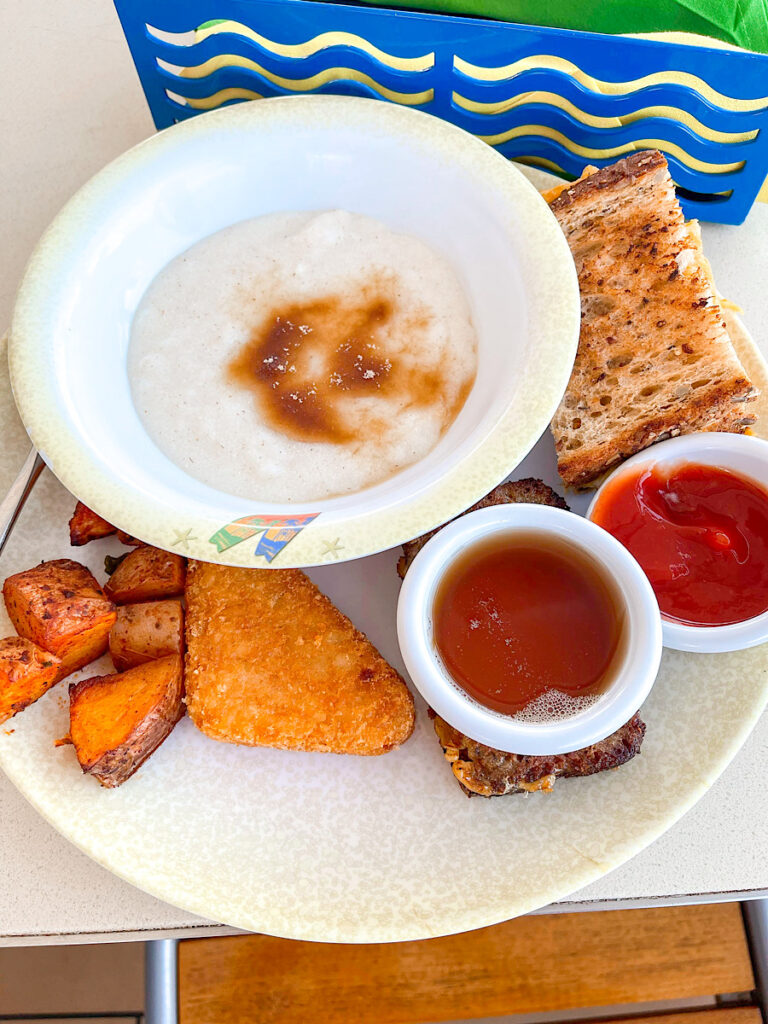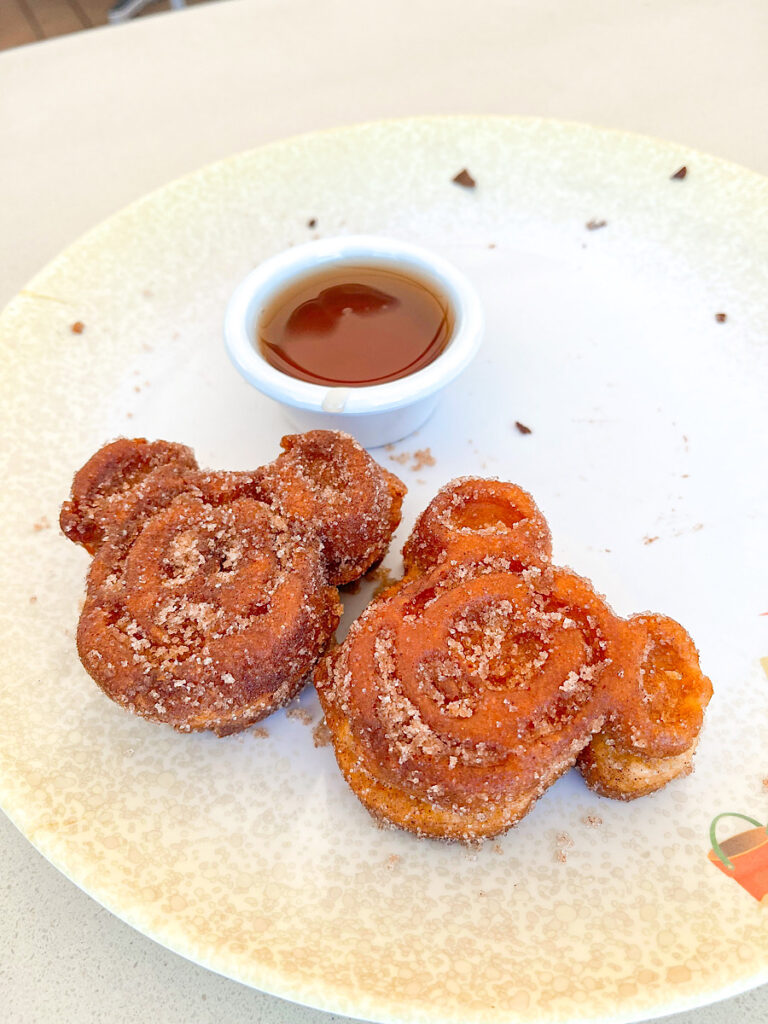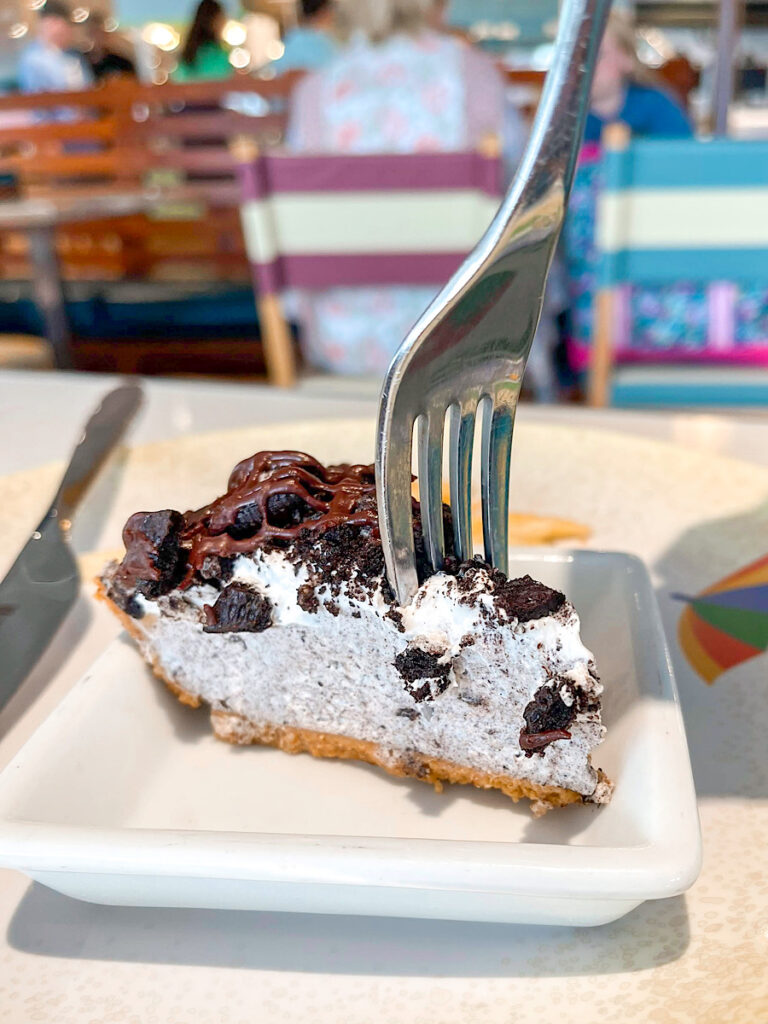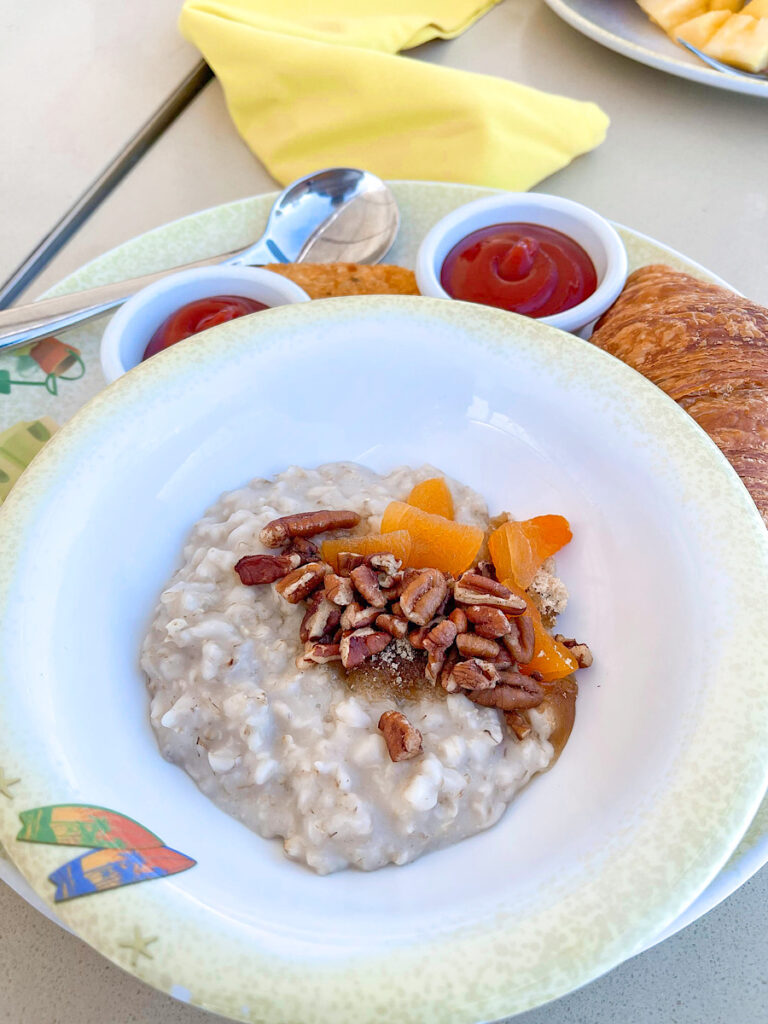 Palo
Palo is a specialty Italian restaurant on four of the Disney Cruise Ships. We had brunch here on our first sea day and it was delicious!
Palo Brunch Menu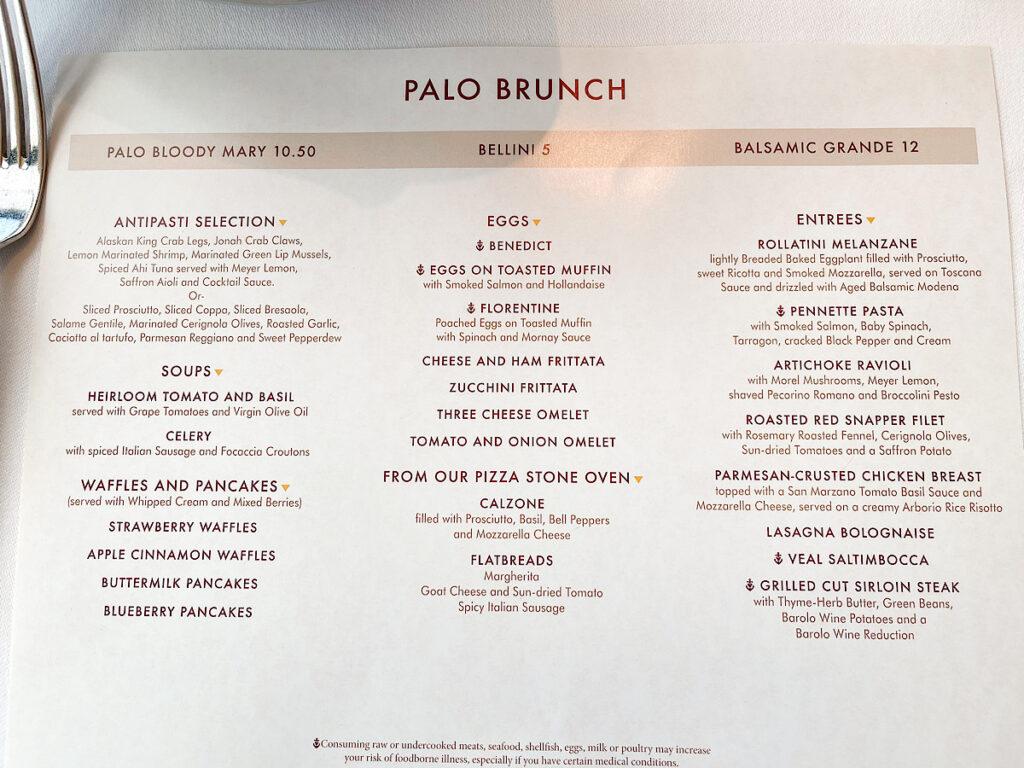 Seafood Antipasti: Alaskan King Crab Legs, Jonah Crab Claws, Lemon Marinated Shrimp, Marinated Green Lip Mussels, Spiced Ahi Tuna served with Meyer Lemon, Saffron Aioli and Cocktail Sauce.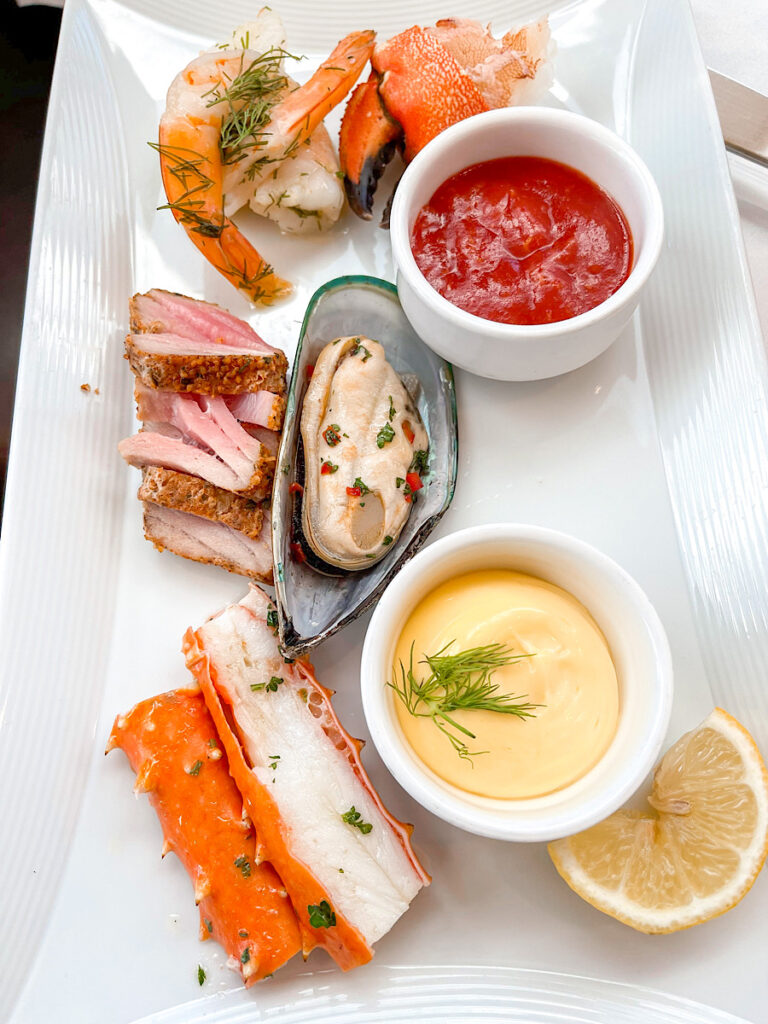 Antipasti: Sliced Prosciutto, Sliced Coppa, Sliced Bresaola, Salame Gentile, Marinated Cerignola Olives, Roasted Garlic, Caciotta al tartufo, Parmesan Reggiano and Sweet Pepperdew.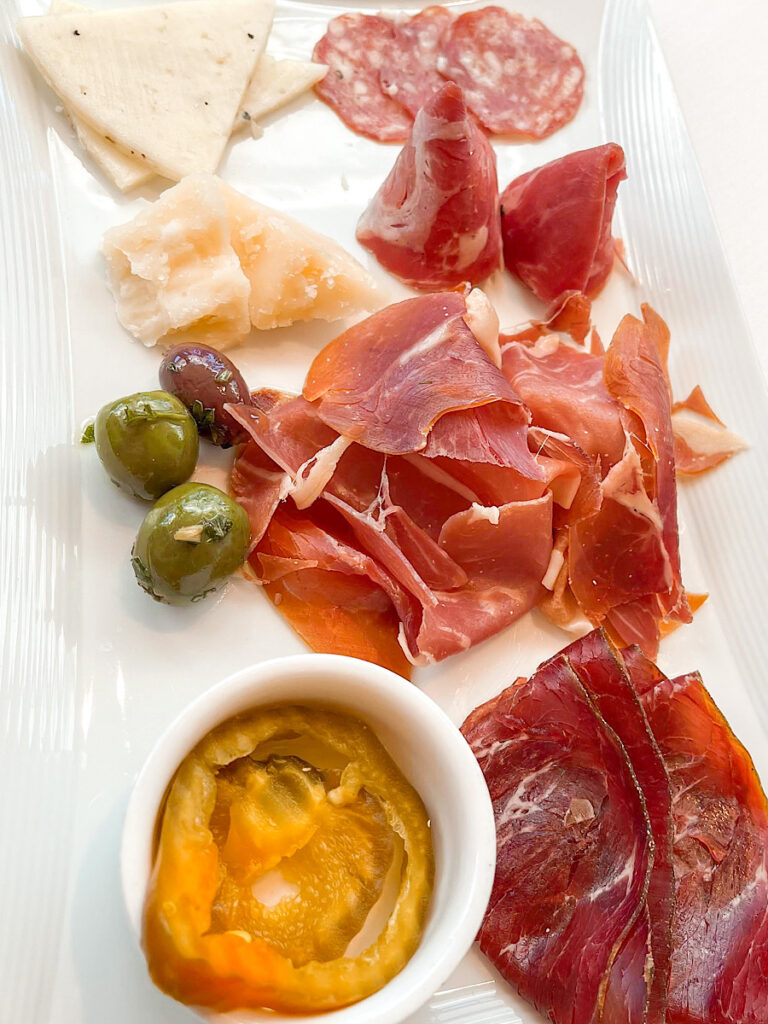 Heirloom Tomato and Basil Soup: served with Grape Tomatoes and Virgin Olive Oil.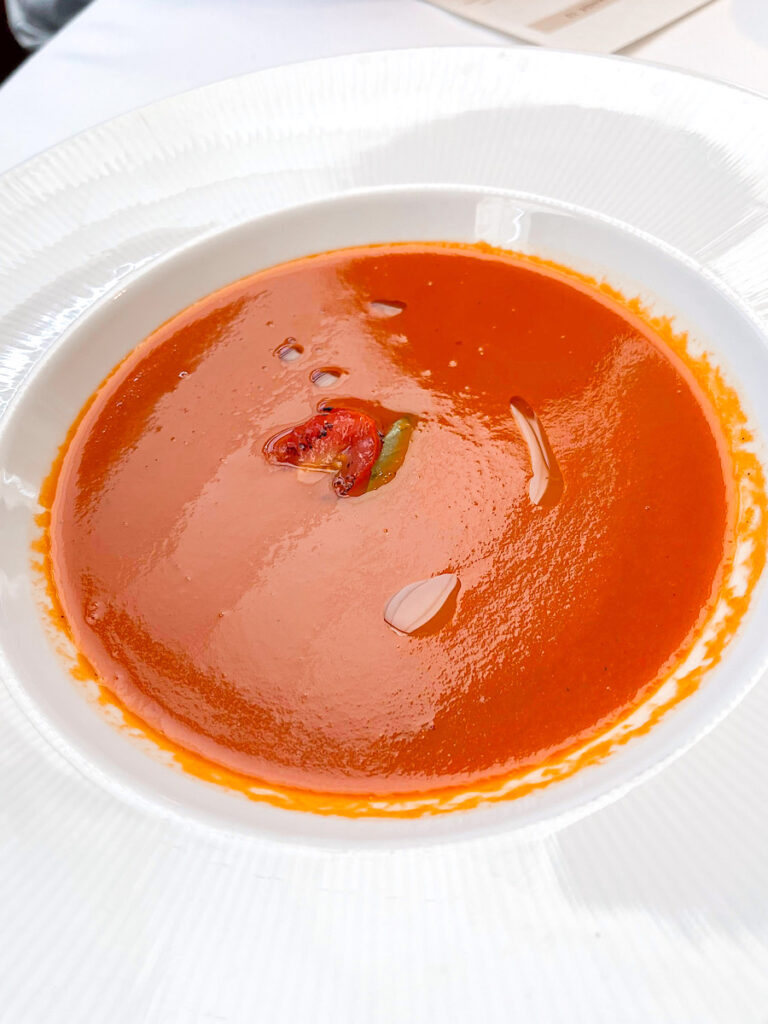 Eggs Benedict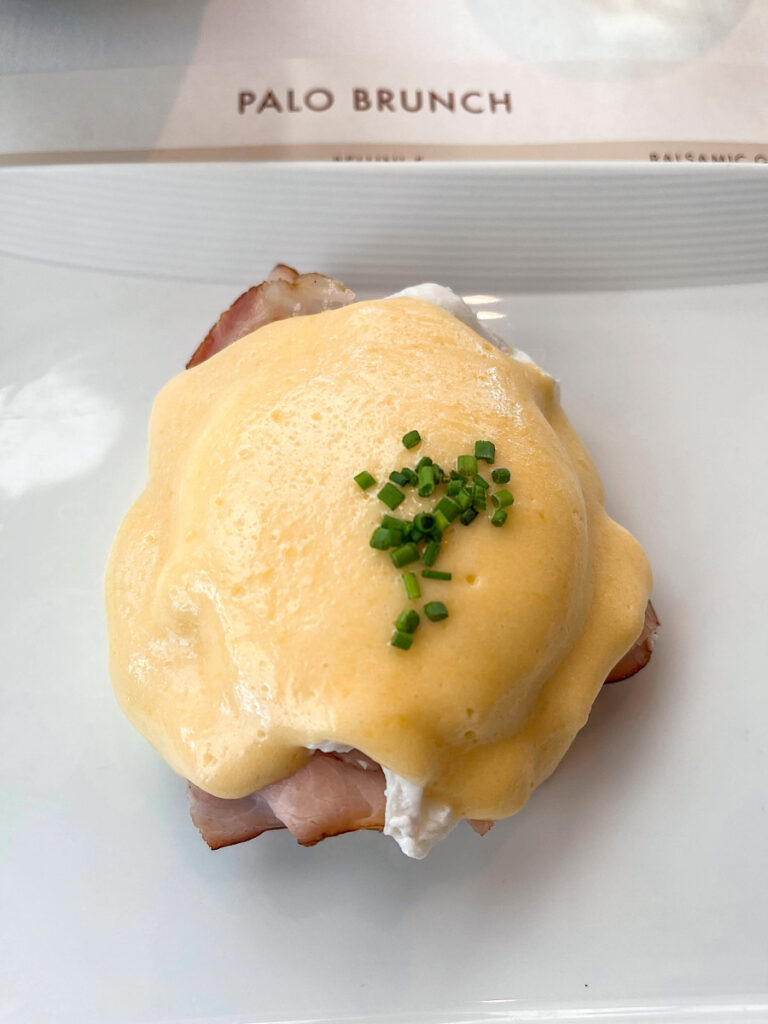 Lasagna Bolognaise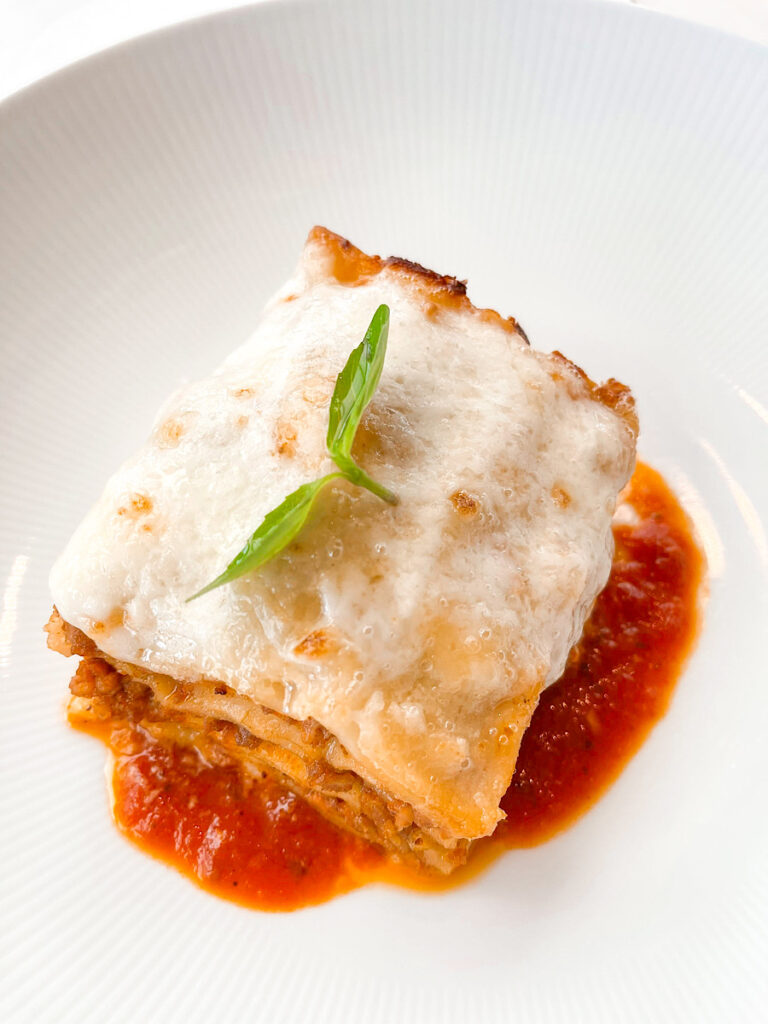 Artichoke Ravioli: with Morel Mushrooms, Meyer lemon, shaved Parmesan Romano and Broccolini Pesto.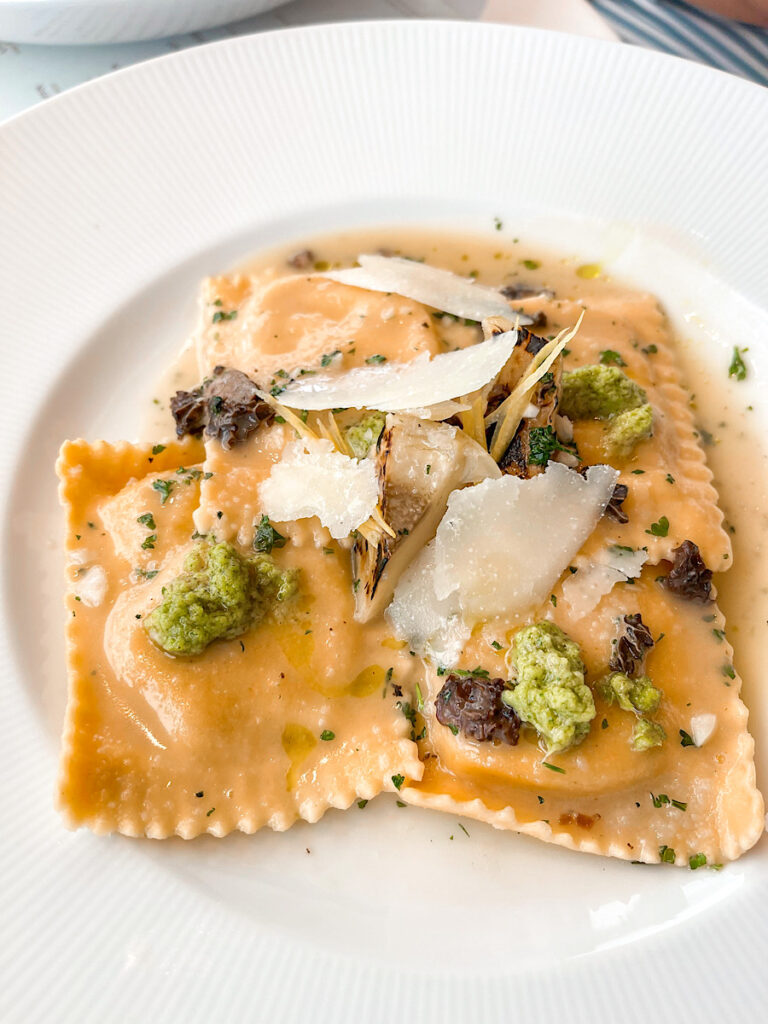 Parmesan-Crusted Chicken Breast: topped with a San Marzano Tomato Basil Sauce and Mozzarella Cheese, served on a creamy Arborio Rice Risotto.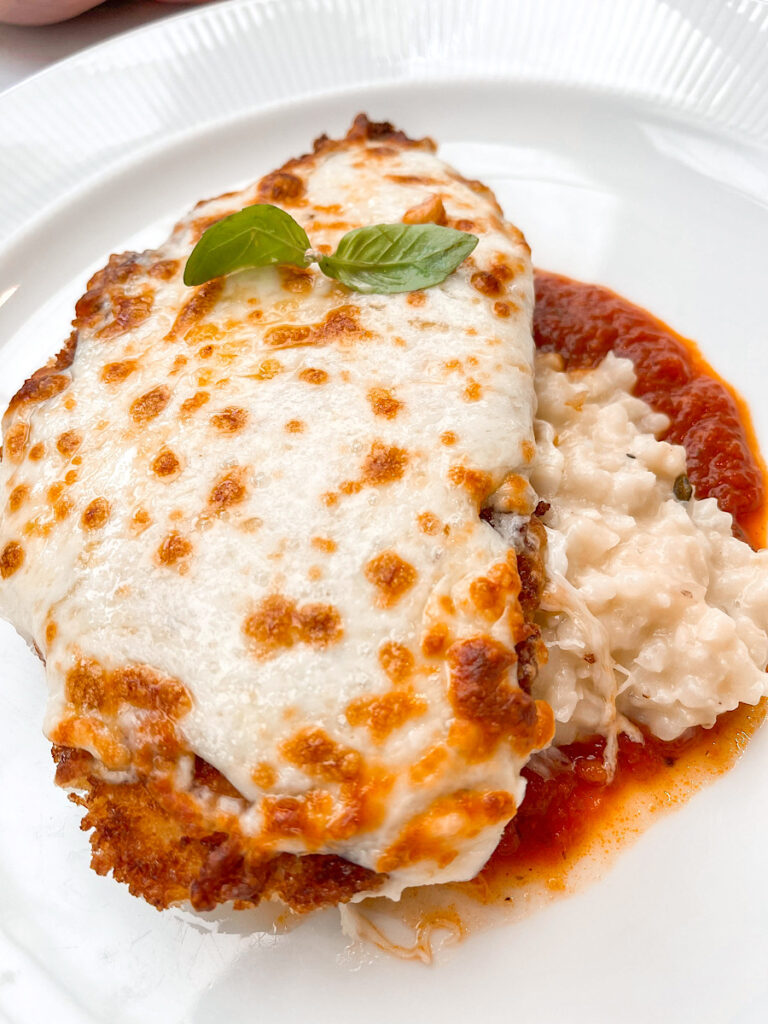 Rollatini Melanzane: lightly Breaded Baked Eggplant filled with Prosciutto, Sweet Ricotta, and Smoked Mozzarella, served on Toscana Sauce and drizzled with Aged Balsamic Modena.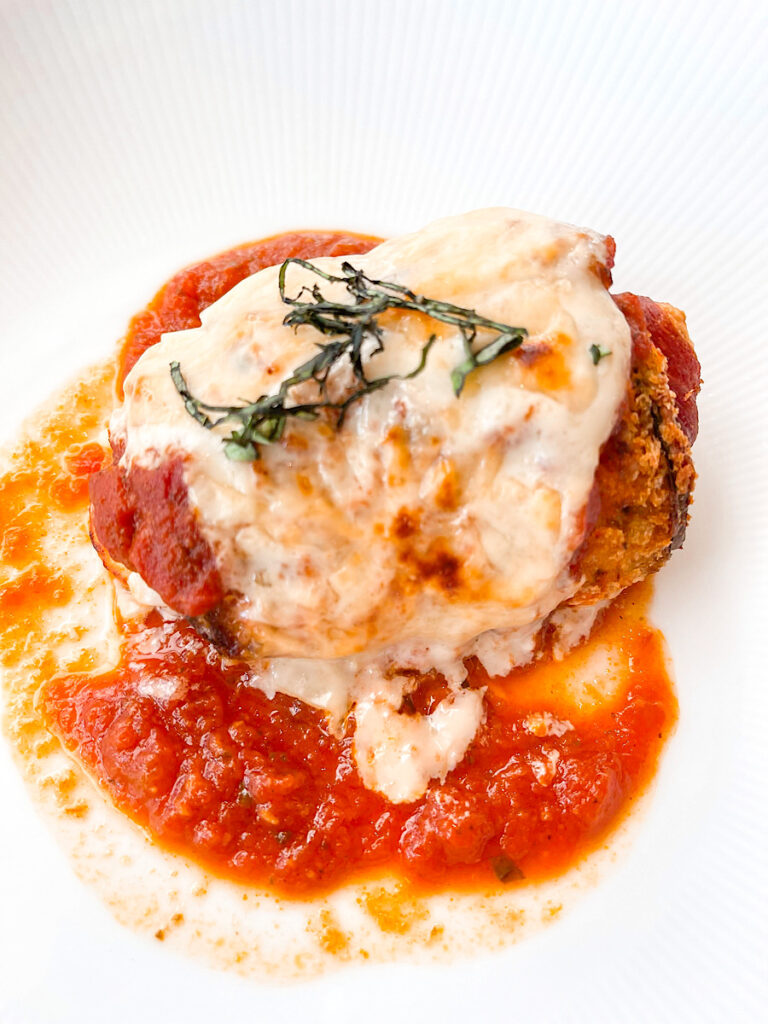 Palo Dessert Menu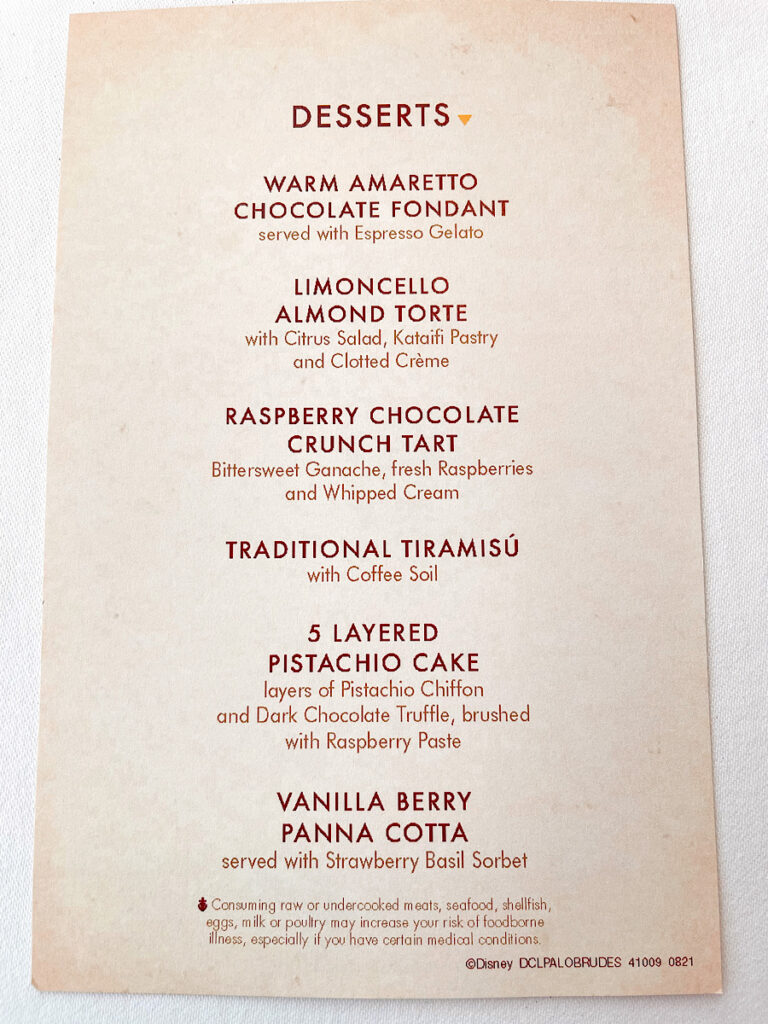 Raspberry Chocolate Crunch Tart: Bittersweet Ganache, fresh Raspberries, and Whipped Cream.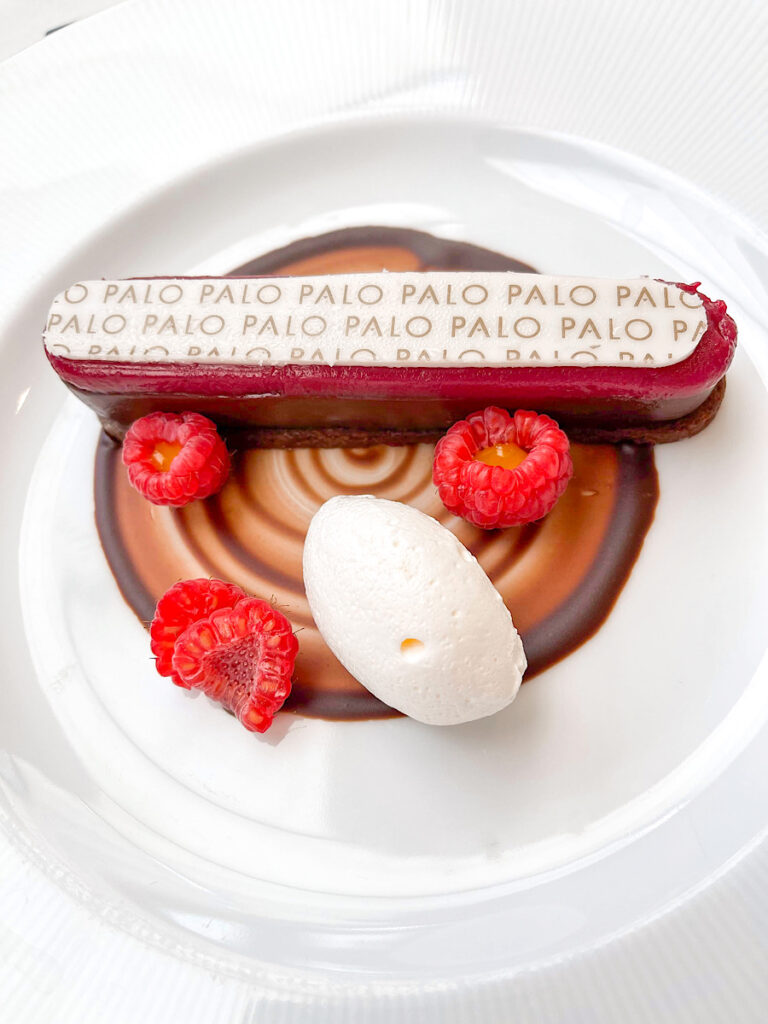 Vanilla Berry Panna Cotta: served with Strawberry Basil Sorbet.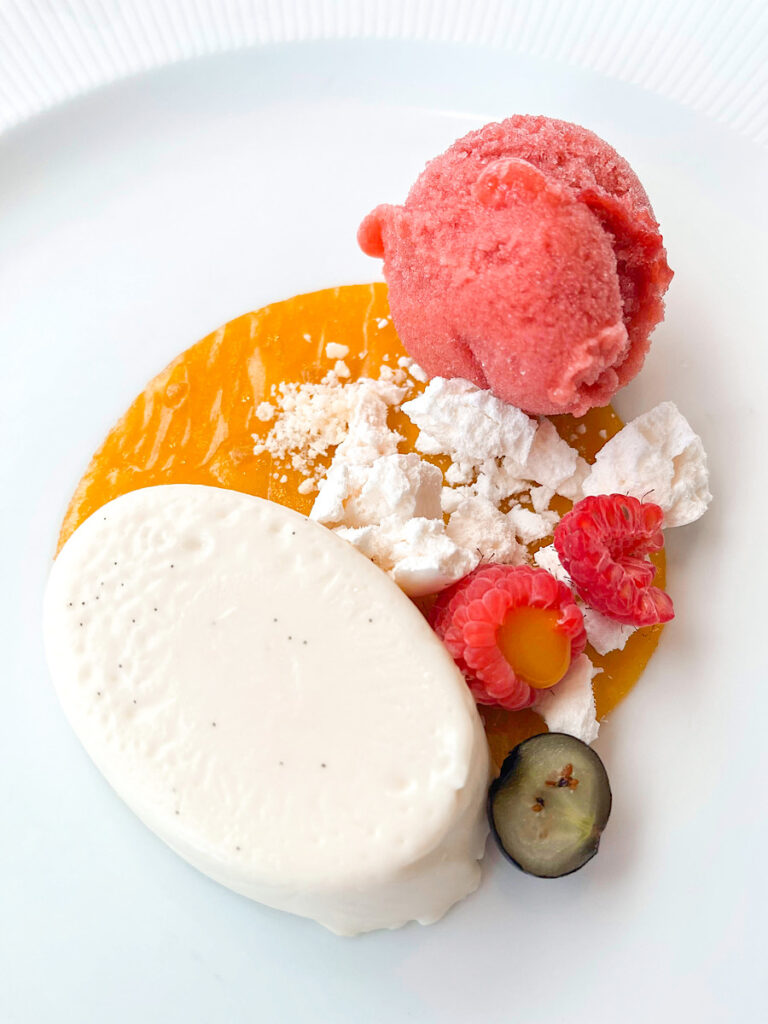 5 Layered Pistachio Cake: Layers of Pistachio Chiffon and Dark Chocolate Truffle, brushed with Raspberry Paste.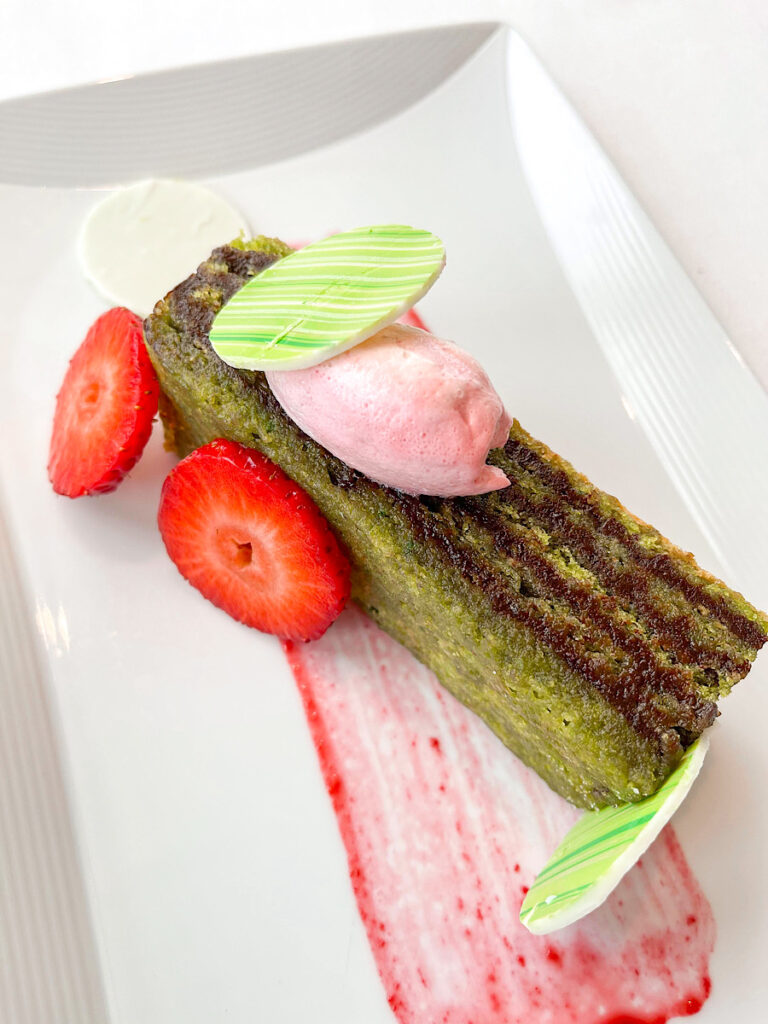 Final Thoughts
I hope you enjoyed this food review and have some idea of the menu items that you want to try on your next cruise on the Disney Magic.
Make sure to check out my travel partner, Get Away Today if you are thinking about taking the plunge to book a Disney Cruise.
You'll also want to check out my other Disney Cruise Tips and Disney Cruise videos from on YouTube about the Disney Dream in the Caribbean, the Disney Wonder out of San Diego, and our Mediterranean cruise on the Disney Magic.
Make sure to subscribe on YouTube below, if you haven't already, and I'll see you next time!
Watch the video on YouTube: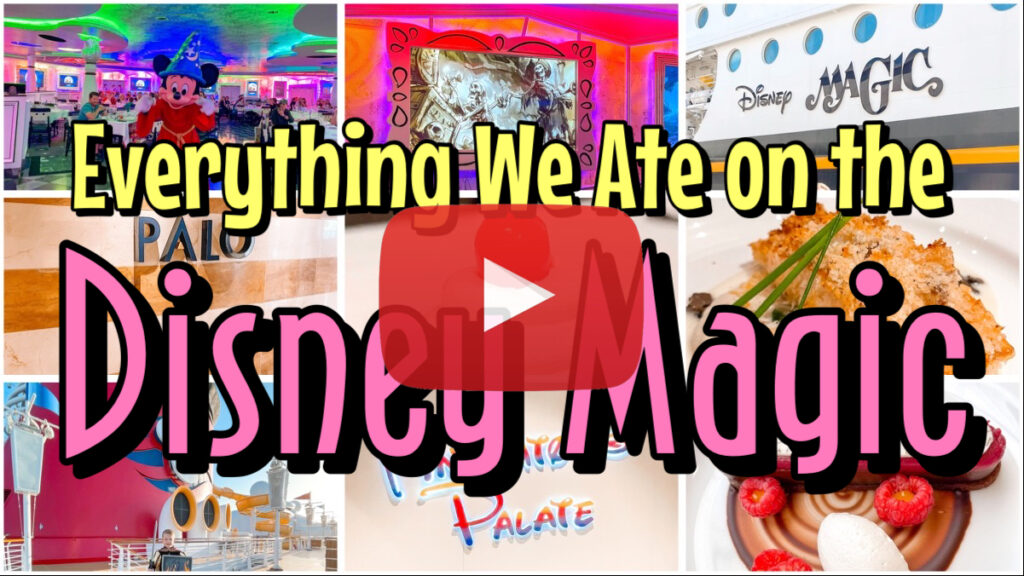 Pin for later: