Find out what it is like to go on a 7-Night Mediterranean Cruise on the Disney Magic! Everything from food, activities, cabin tour, ports, and excursions will be covered here! Make sure to read this before planning your own cruise!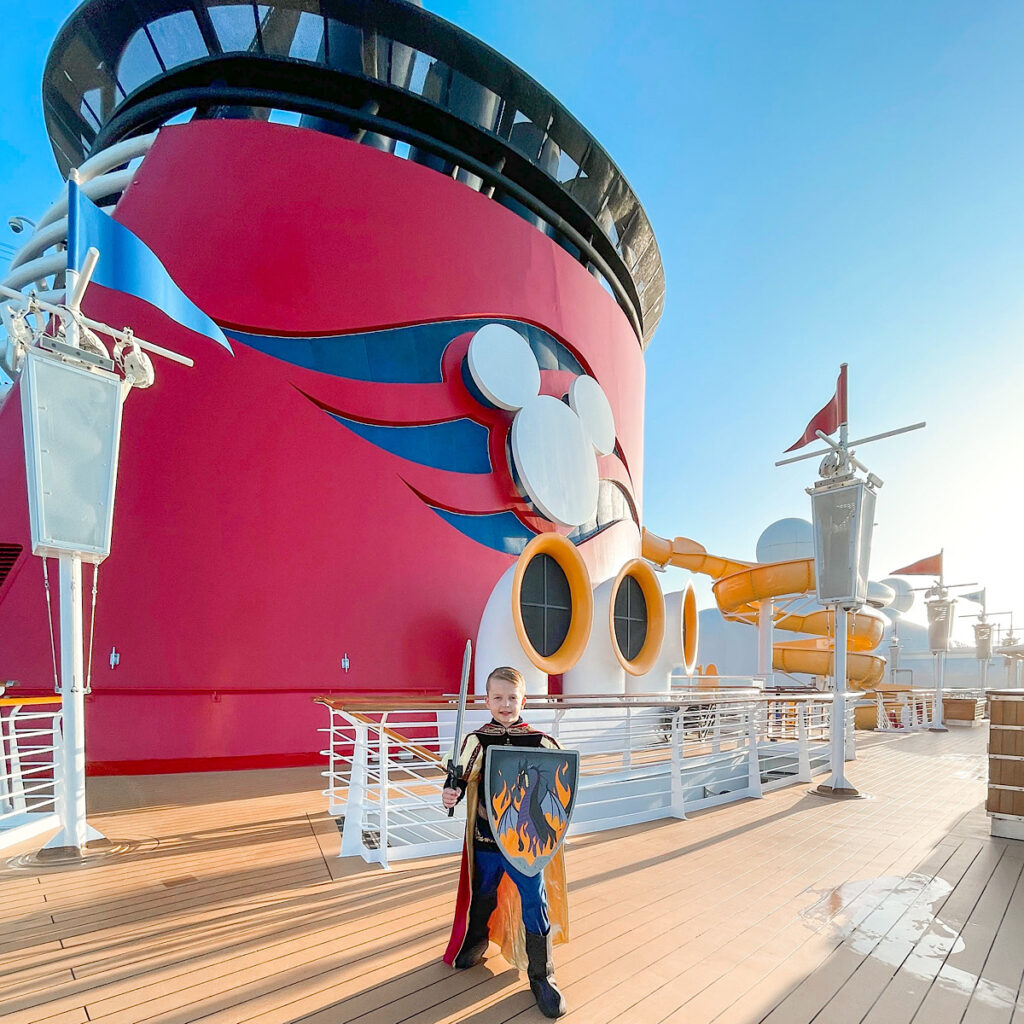 This post may contain affiliate links. When you click on these links, I get a small percentage back at no cost to you! For more information see my disclosure policy.
Check out prices below or get a free quote by calling 877-510-2929 and let them know Mommy Mouse Clubhouse sent you!
My family recently went on a 7-night Disney Cruise through the Mediterranean Sea beginning and ending in Barcelona, Spain. Our family included my husband, myself, my 12-year-old son, and my 8-year-old son. We were also traveling with our friends and their two daughters ages 18 and 13.
Tips for Booking a Disney Cruise
I highly recommend using a travel agent when booking or planning to book a Disney Cruise. A good travel agent is there to take care of all of the leg work, like making reservations, booking excursions, etc. so you can just enjoy your vacation.
If you are looking for a great travel agent, I recommend my travel partners at Get Away Today. There customer service is top notch (I've been booking Disney vacations with them for over 20 years) and they are very knowledgable and helpful.
Head here to get a free, no obligation Disney Cruise quote, and make sure to tell them that Mommy Mouse Clubhouse sent you!
Cruise Flight Tips
If you've ever cruised before, you know how important it is to arrive at least one day before your cruise is scheduled to embark. You never know what can happen with flight delays due to mechanics and weather. It's always a good idea to give yourself enough time to avoid missing your cruise.
You'll also want to make sure that your passports are up to date, and are not expiring in the near future. Some countries will not allow you to enter if your passport is expiring in the next 6 months, so that is something to be aware of.
Having said that, we left on a Wednesday night, and arrived on Friday, the day before embarkation.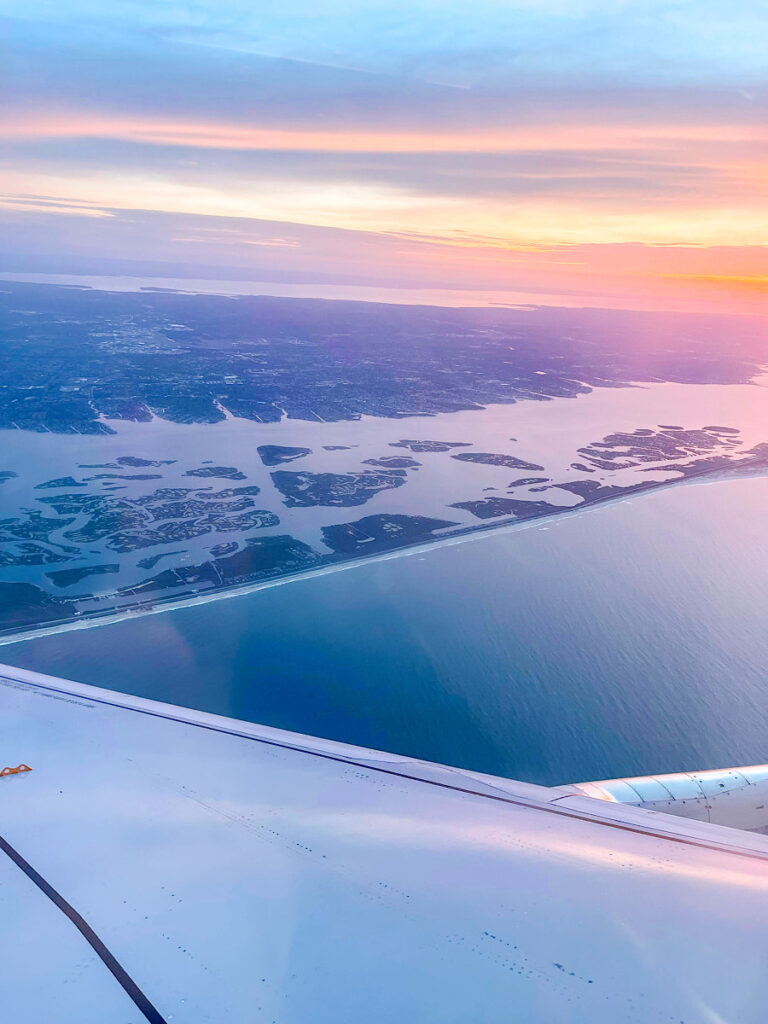 Traveling to Europe
The first leg of our flight was a red-eye flight from the west coast to JFK Airport in New York. We arrived at about 5:30 am and had a 12-hour layover before our flight to Barcelona.
I had done some research and discovered that JFK had a hotel right inside the airport that offered a day rate, similar to the Hyatt inside MCO in Orlando.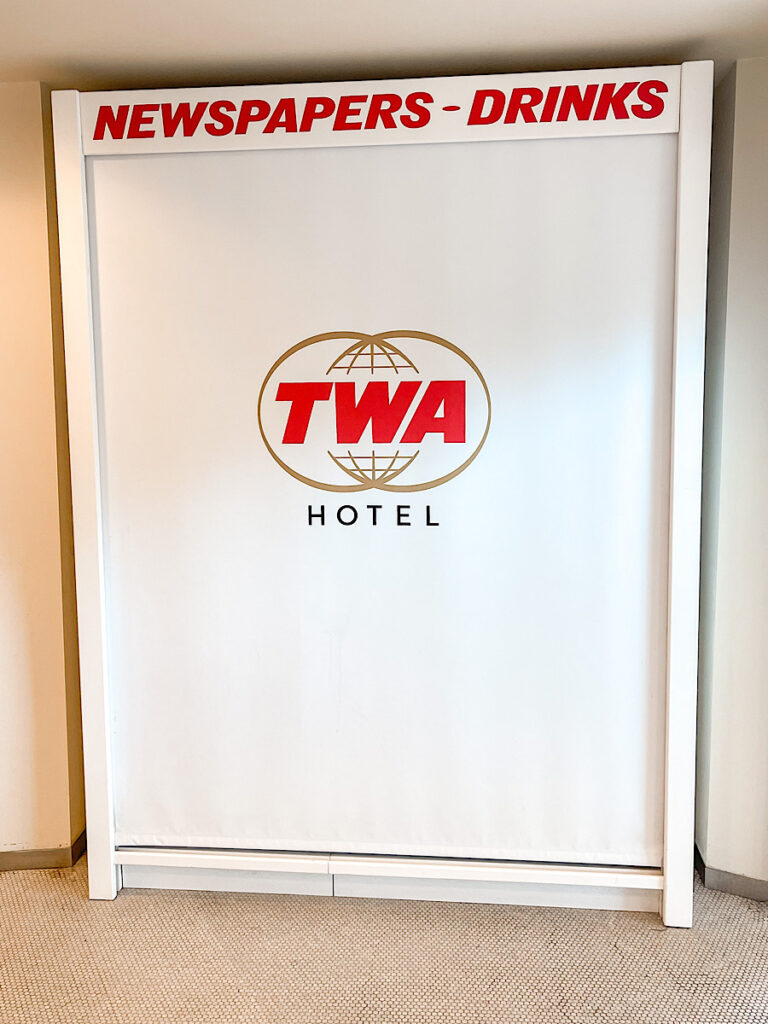 TWA Hotel
The TWA Hotel is located in the old TWA Terminal and offers hotel rooms, dining, and entertainment like a swimming pool and a roller skating rink! We were able to take an elevator right from baggage claim that took us to a large tunnel/walkway leading to the hotel.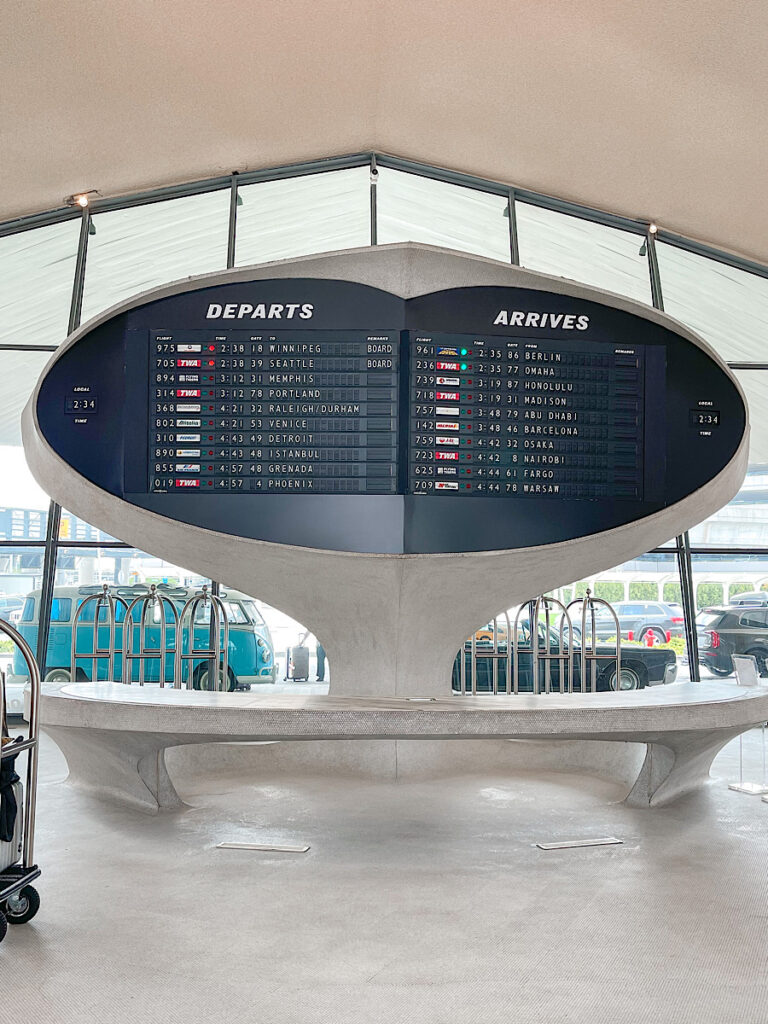 Check-in was very quick and easy, so we got our keys and headed straight to the room to get some sleep! The only issue that I had with our room was that there was only one pillow on each queen size bed, which was definitely not going to work for the four of us.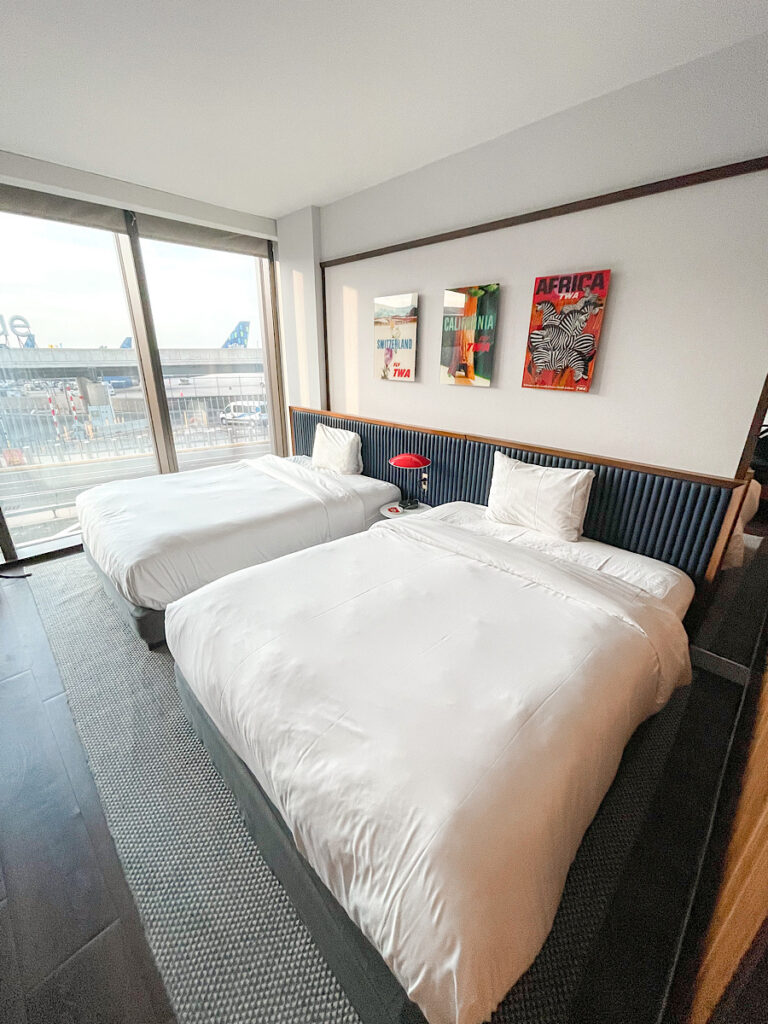 We called the front desk to request more pillows, but after waiting 30 minutes, I was tired and put up the "Do Not Disturb" sign and used my jacket as a pillow.
After some much needed rest, we headed to our terminal to board our next flight to Barcelona.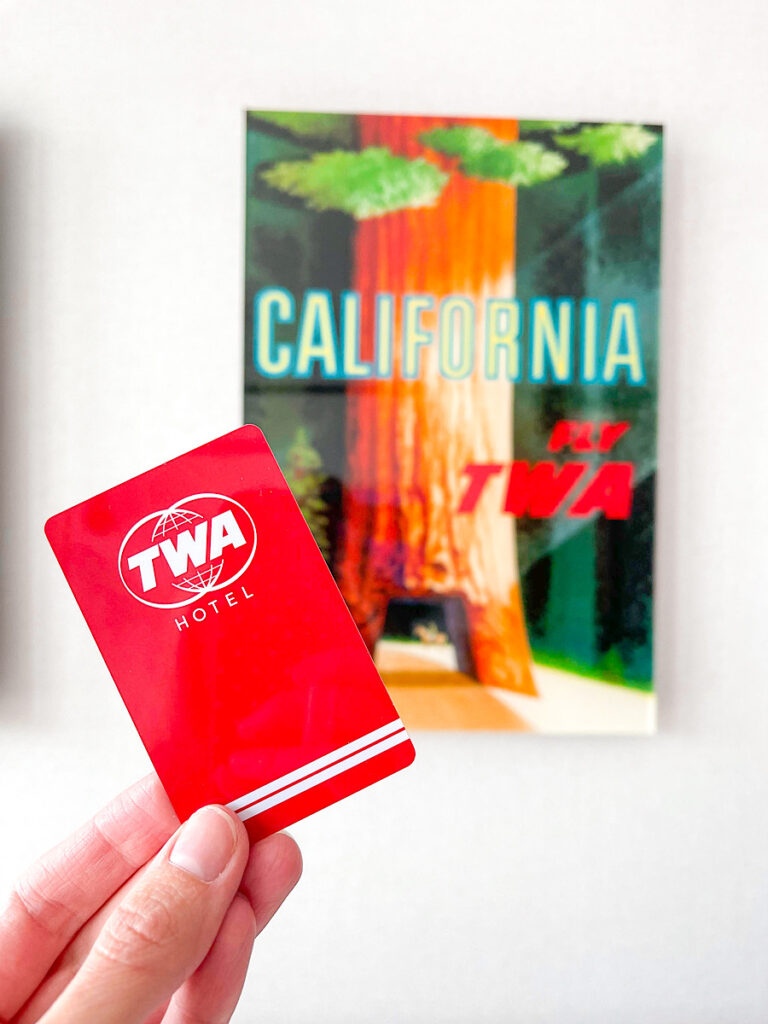 Arrival Day
As I mentioned above, we arrived early in the morning, the day before embarkation. Our friends had arrived the day before, so we went to our hotel, Hotel Santa Marta, to check-in. Our room was not ready yet, so we headed up to visit our friends.
A Day in Barcelona
We spent the day exploring Barcelona aboard a hop on hop off bus tour that was really fun! Some of our favorite things to see were Camp Neou, a gigantic soccer stadium, and La Sagrada Familia, a church that has been under construction for over 100 years!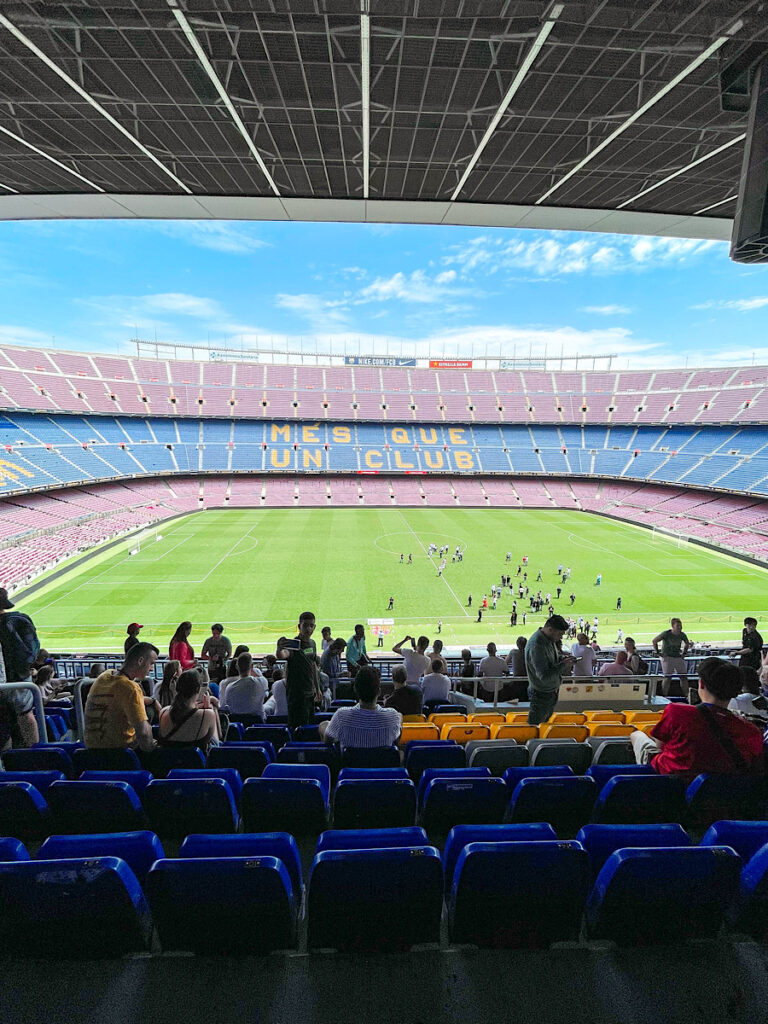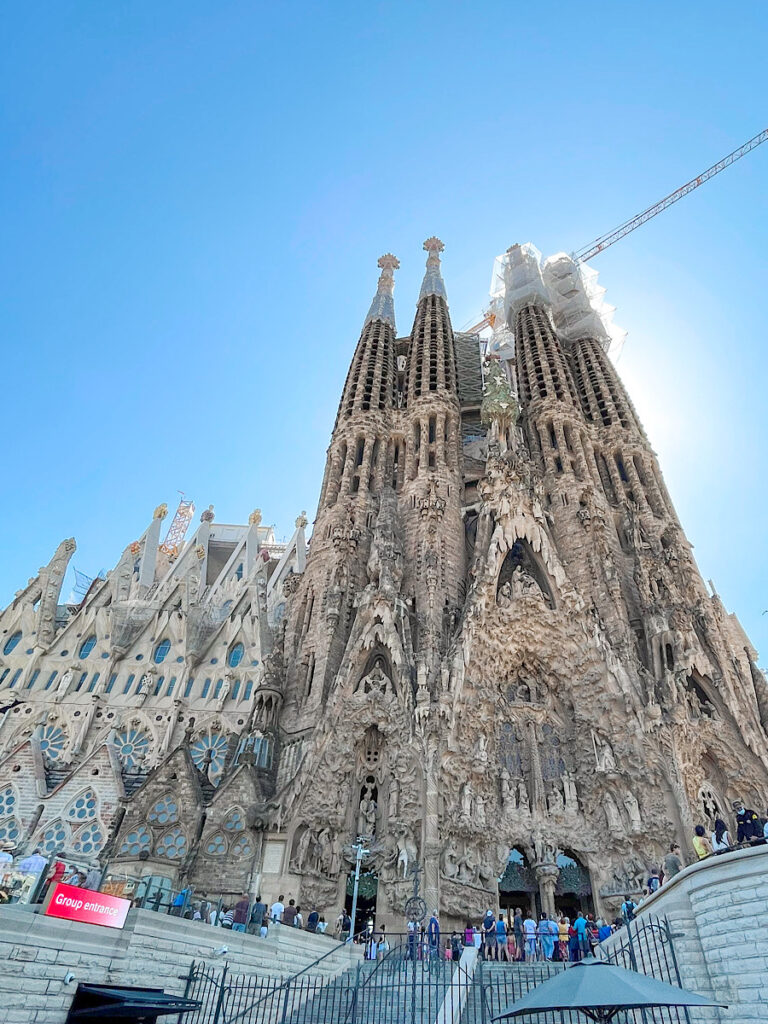 We also did a little shopping at a market downtown and of course, had some gelato!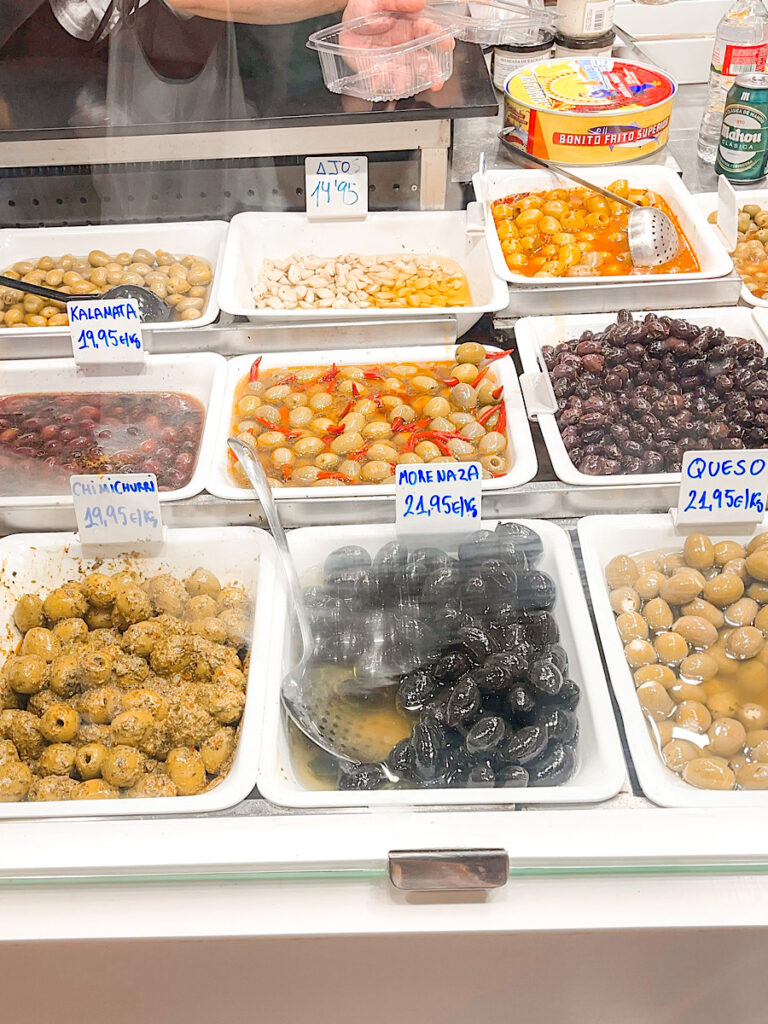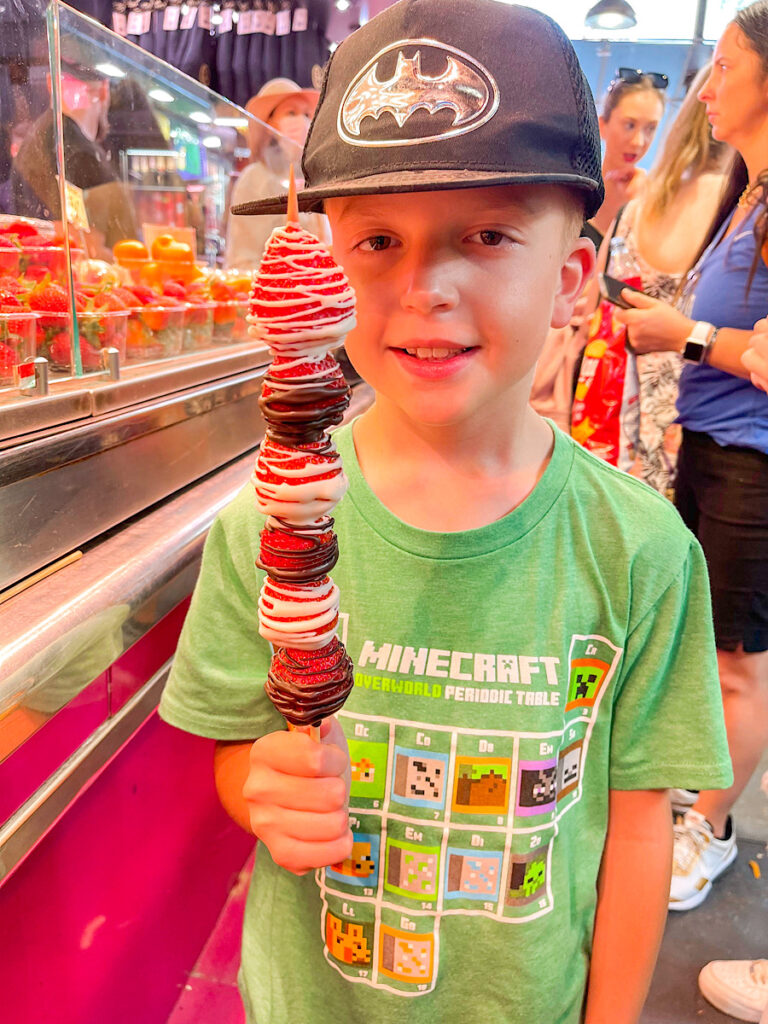 Disney Magic Embarkation Day
After getting a full 14 hours of sleep, thanks to jet lag from flying across the world, we were ready to head to the port and board the beautiful Disney Magic.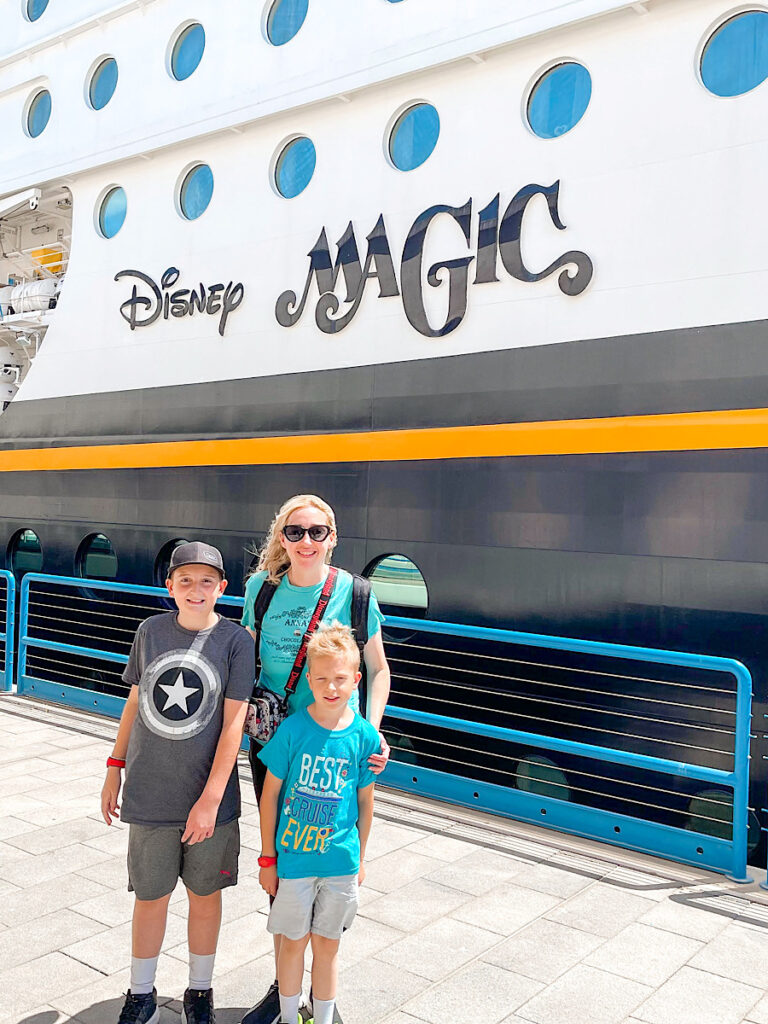 Cabanas
After completing our muster drill, we headed to Cabanas for lunch. I have really grown to love eating at Cabanas. The food is always top-notch.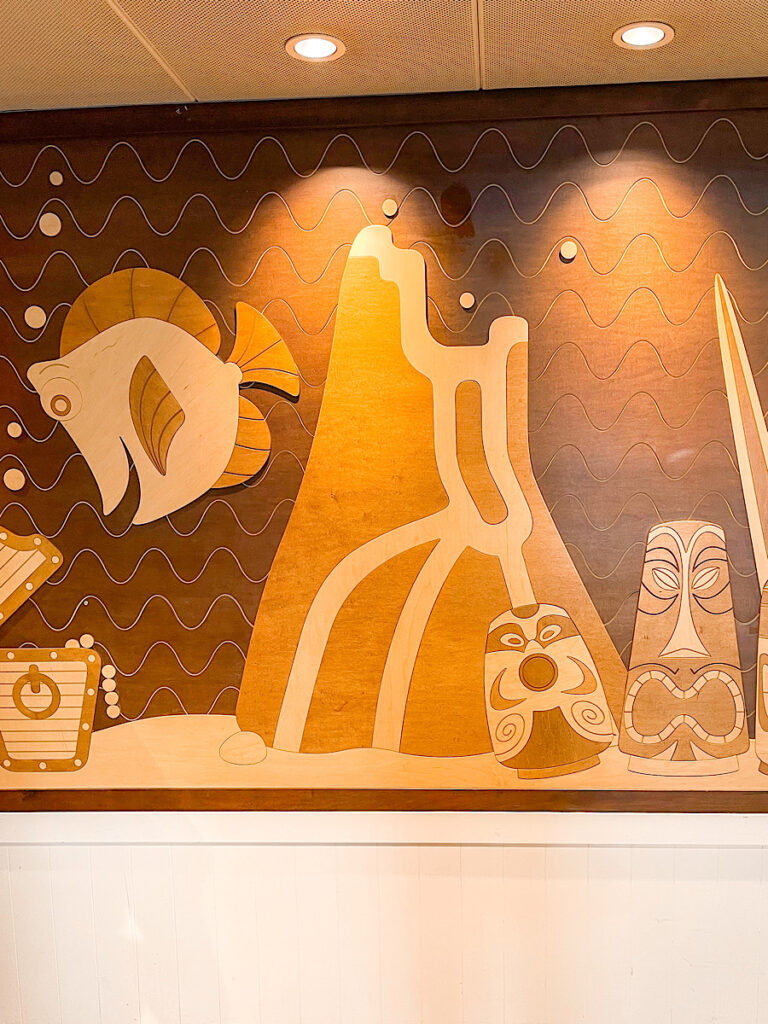 I've noticed that whenever I go to Cabanas on the first day of a cruise, I always get a salad, thinking that I'm going to eat light during our vacation. That never happens!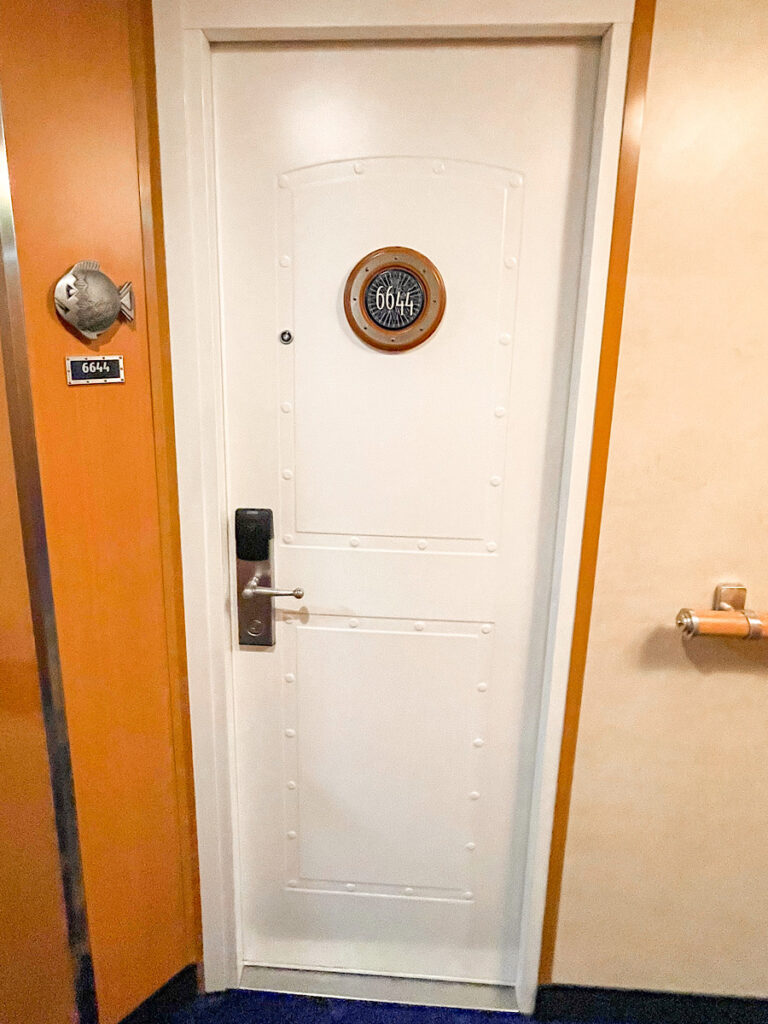 Stateroom Tour Disney Magic 6644
We booked a verandah room number 6644 that was located on deck 6 aft.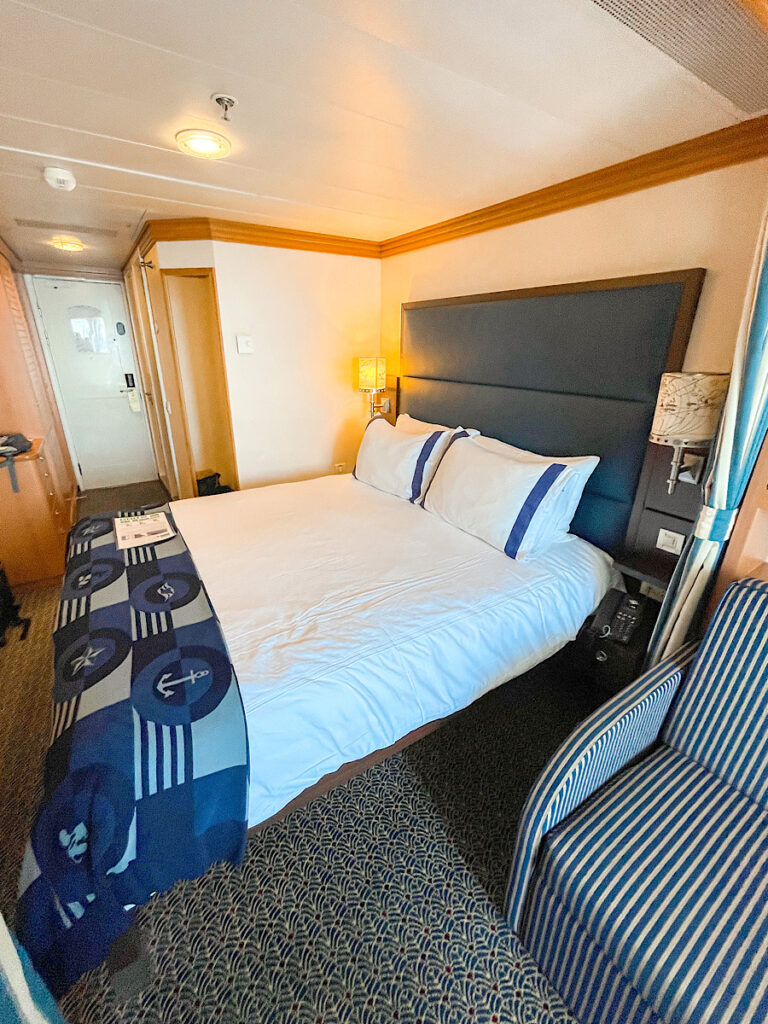 This room has a queen size bed, a sofa that turns into a twin-size bed, and a bunk bed that comes out of the ceiling.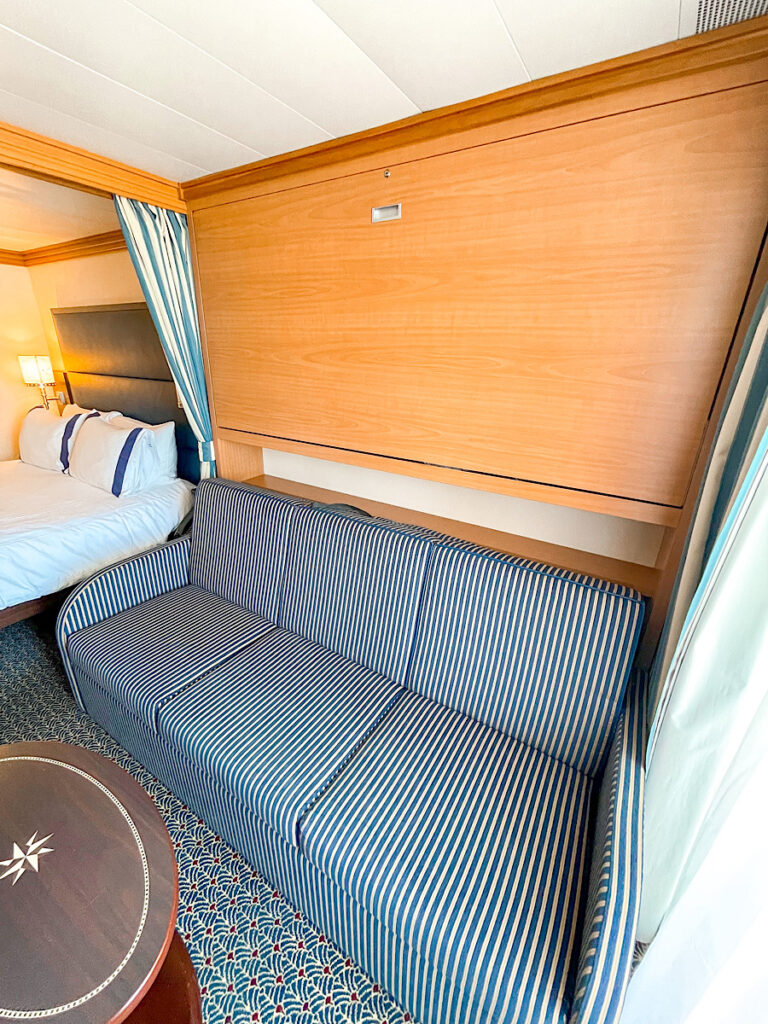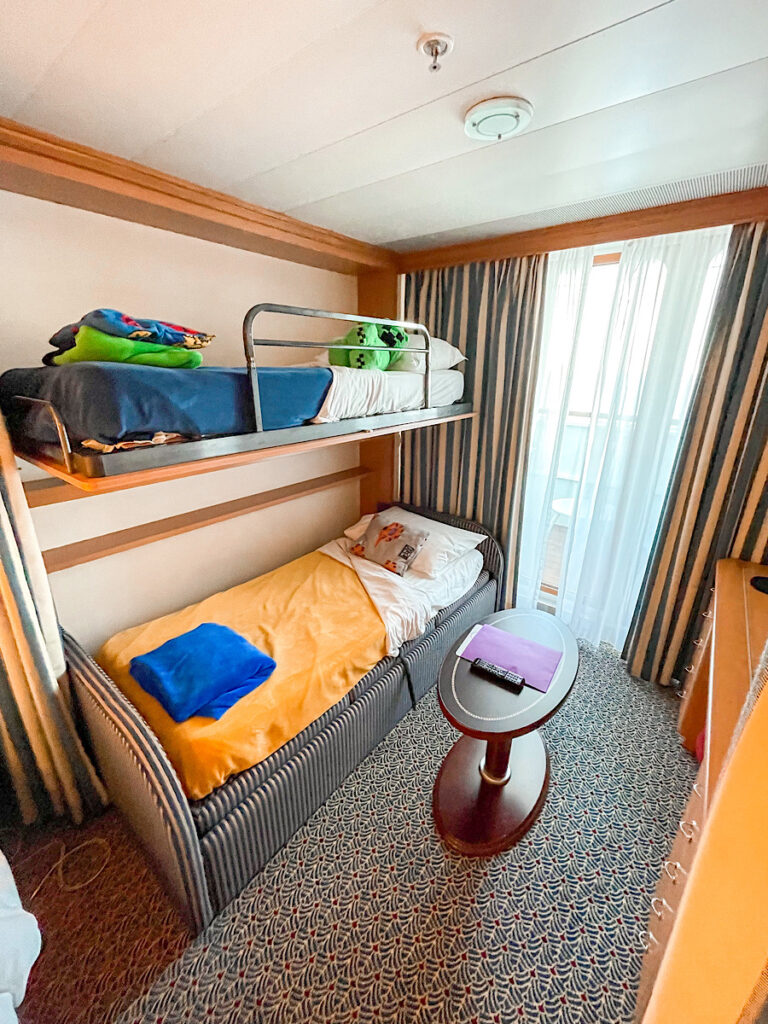 There is a lot of storage space and plenty of space to keep your suitcases under the bed and out of the way.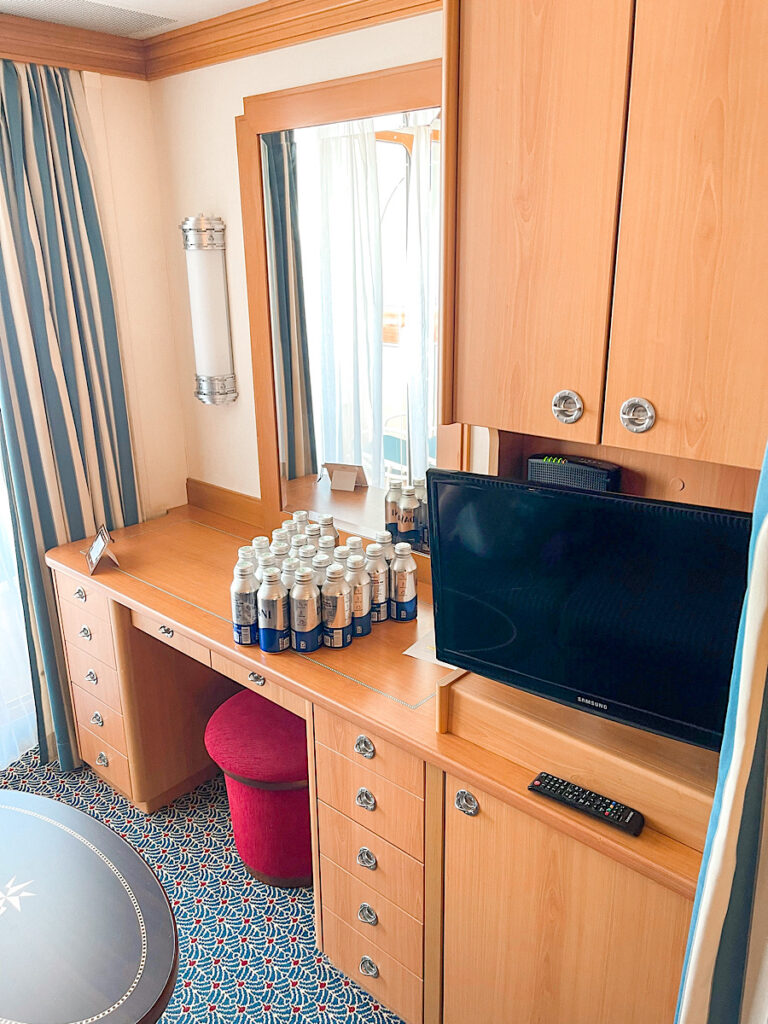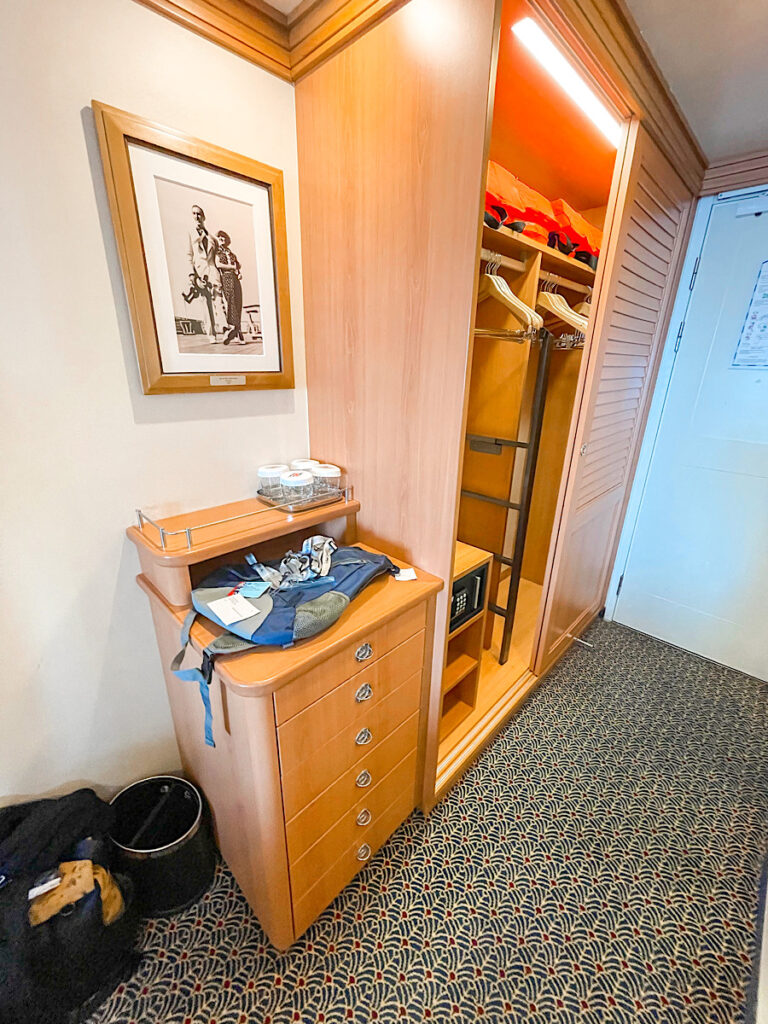 This room has a white wall verandah, which wasn't ideal, but it worked.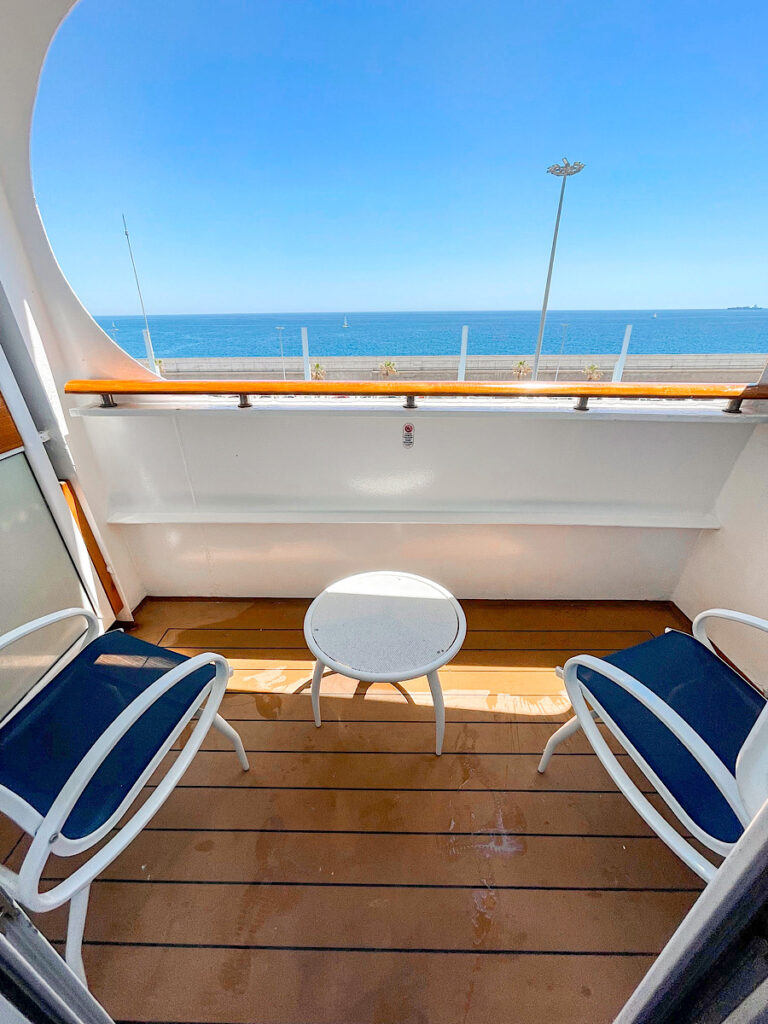 This room type has a split bathroom meaning that there is one room with a toilet mirror and sink and another room with a sink mirror and shower.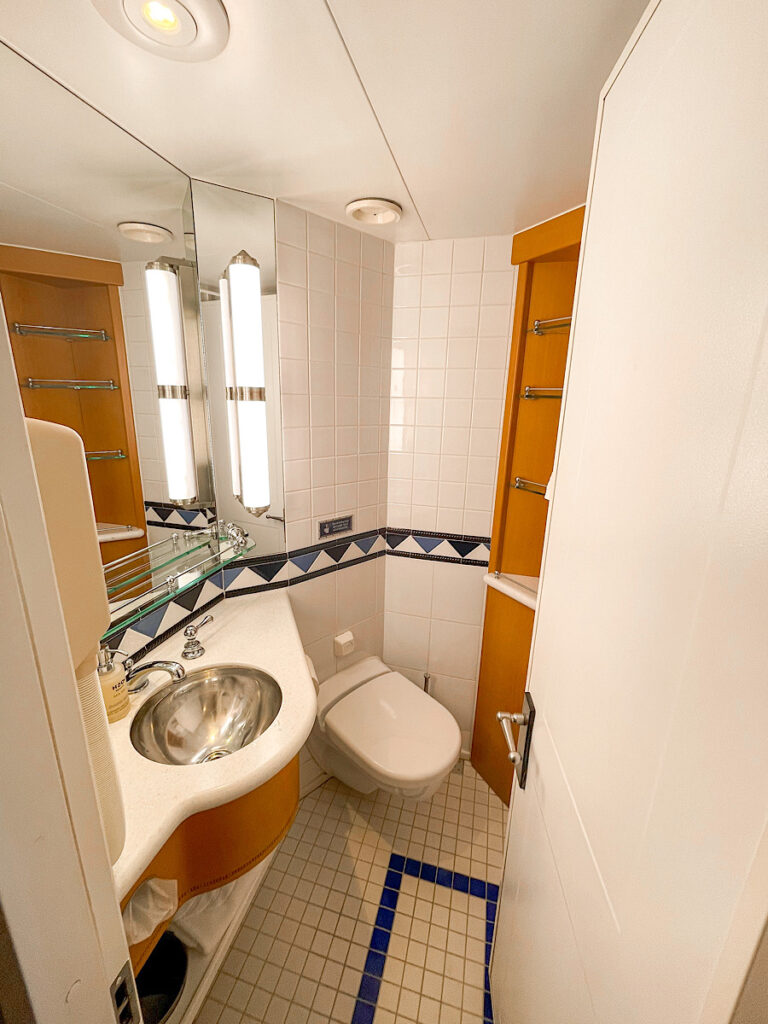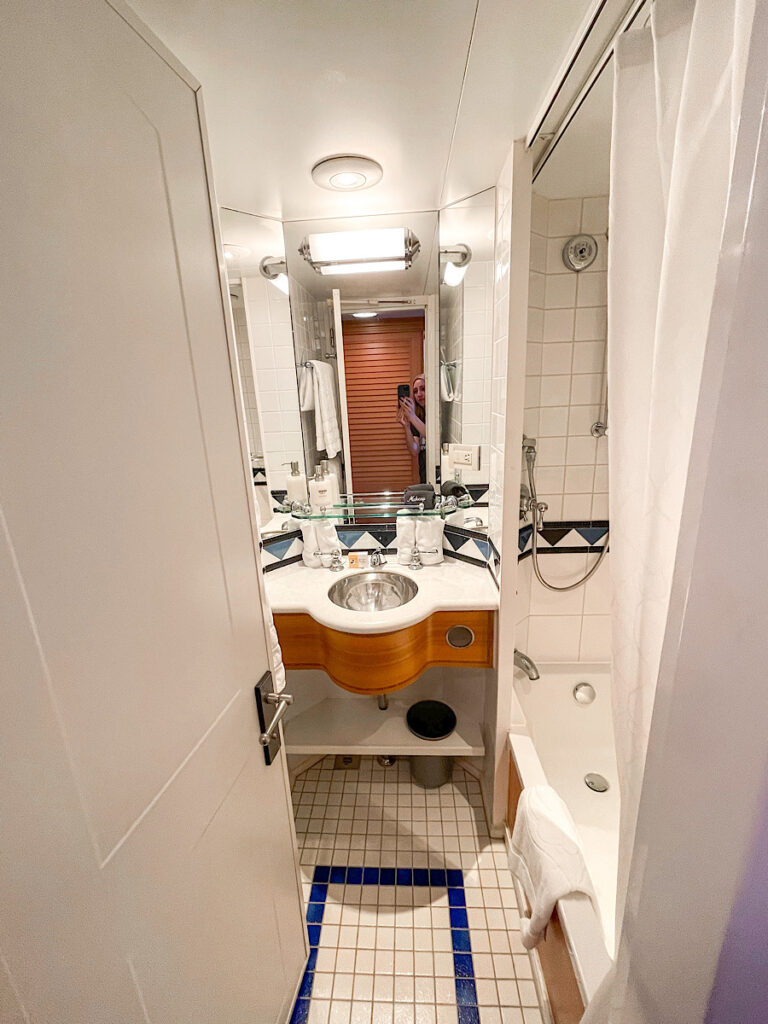 If you would like to see a room tour and video of a deluxe family verandah suite that can sleep 5 people, here is a complete tour of our room on the Disney Wonder.
Exploring the Magic
After getting settled in our room, my youngest son and I decided to explore the Disney Magic on our way to the kids club open house.
Oceaneer Lab
The Oceaneer Lab and Oceaneer Club were having an open house, so that was our next stop. During the open house, parents and other visitors can come inside the kid's clubs and take a look around.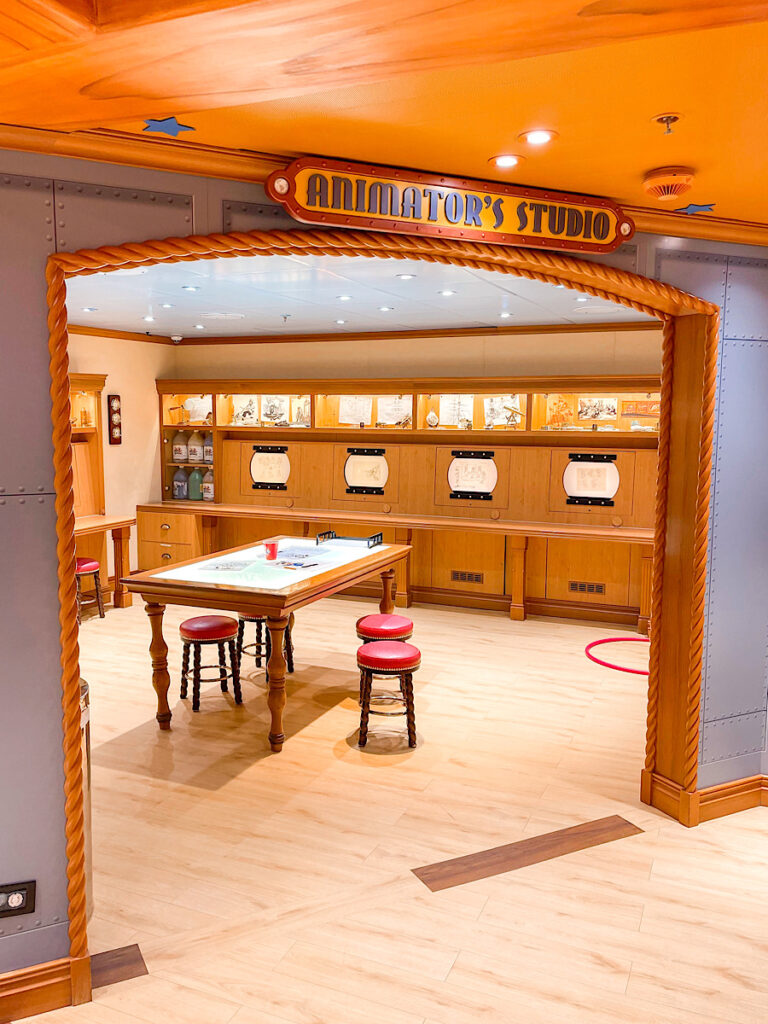 My 8-year-old prefers the Oceaneer Lab, where you can draw, play video games and do activities with the counselors. His favorite thing to do is to pretend to steer the different Disney ships.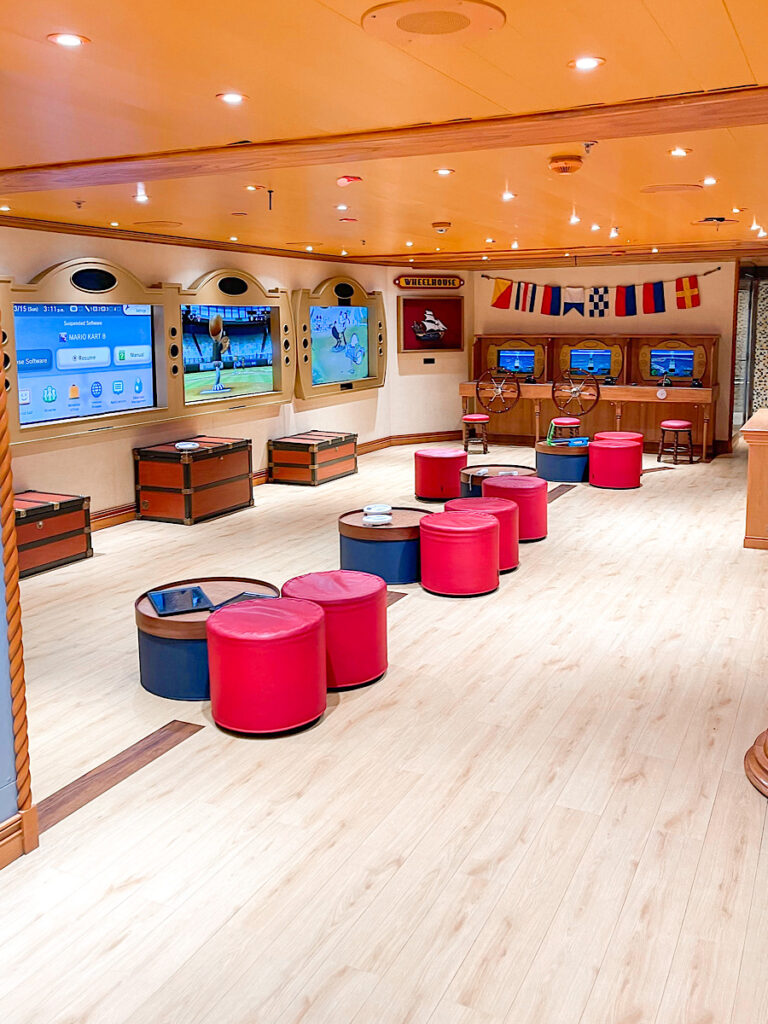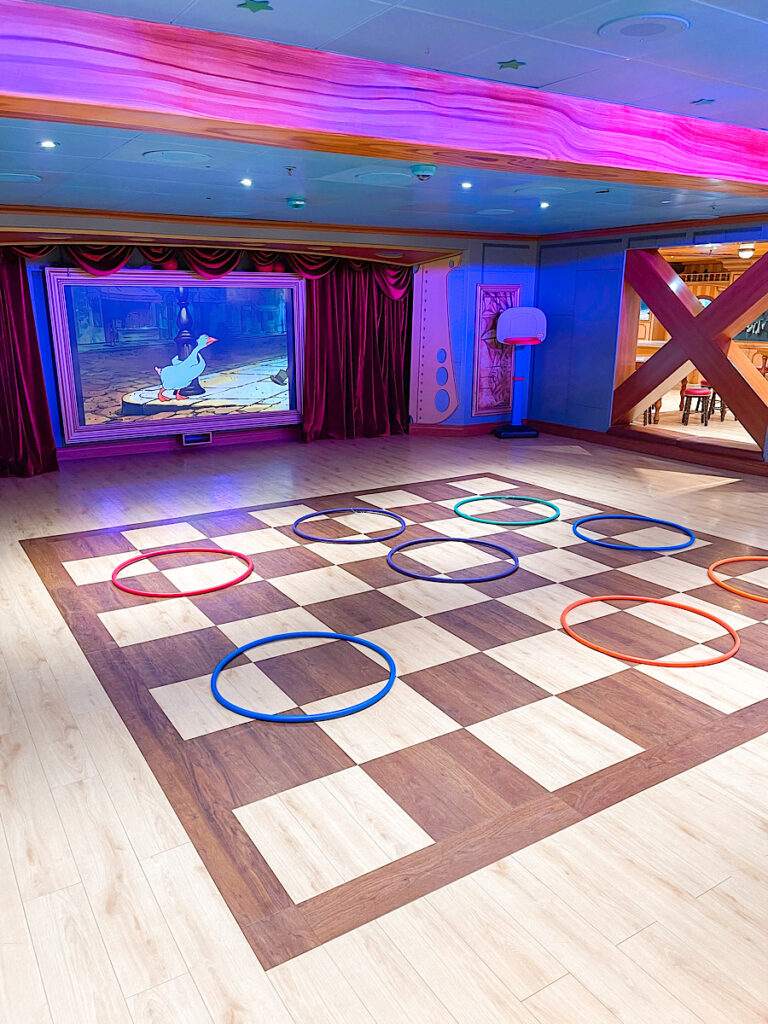 Oceaneer Club
If you have a Marvel fan in your group, you won't want to miss this Marvel room inside the Oceaneer Club.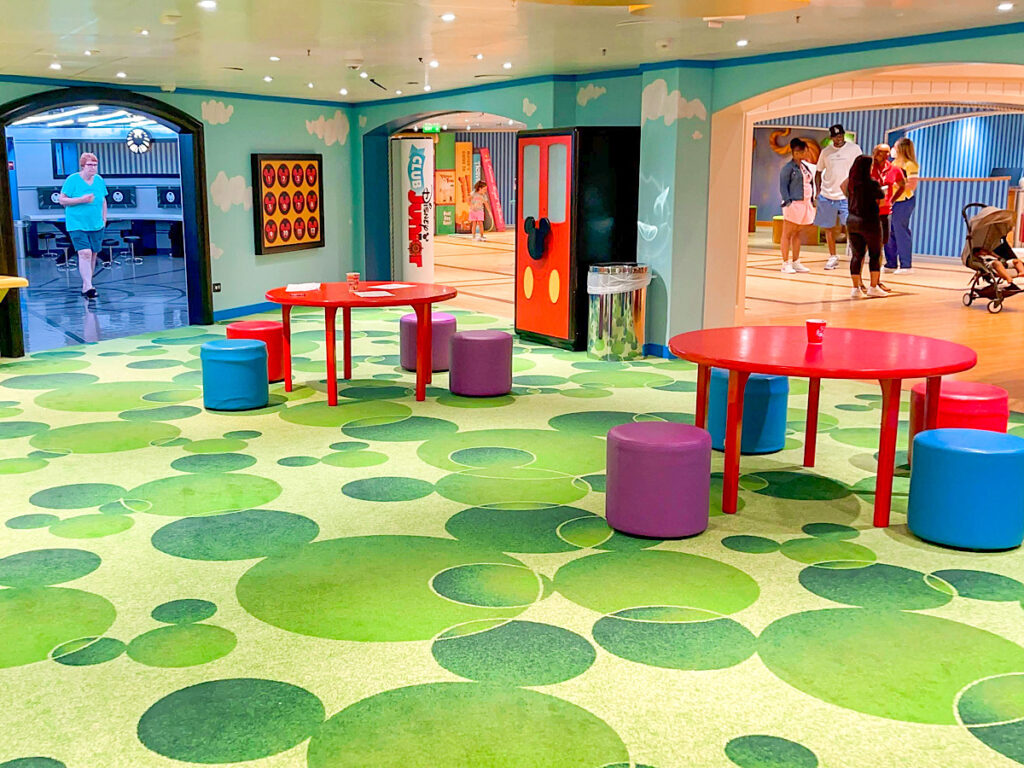 My 12-year-old and our 13-year-old friend joined us in the Oceaneer Club to play with the giant stacking cups!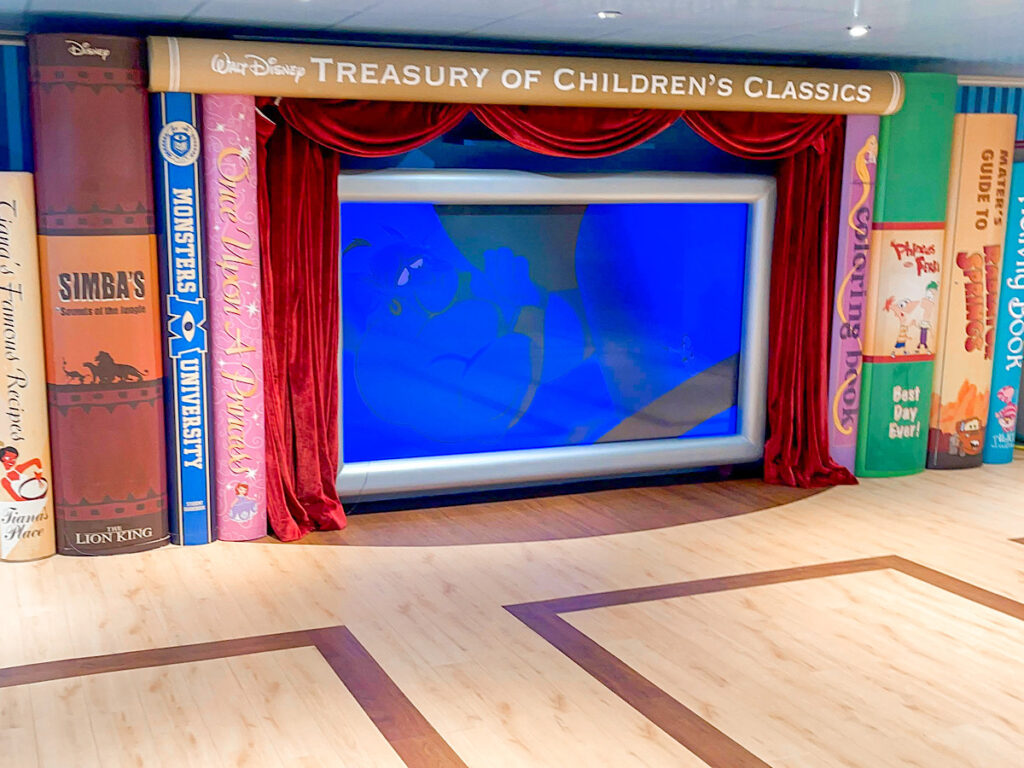 Sail Away Party
After our tour, it was time for the Sail Away Party up on deck 9! The Sail-Away Party is so much fun because you get to dance with Cast Members and many of the Disney Characters make an appearance as well. It is a great way to celebrate embarkation day.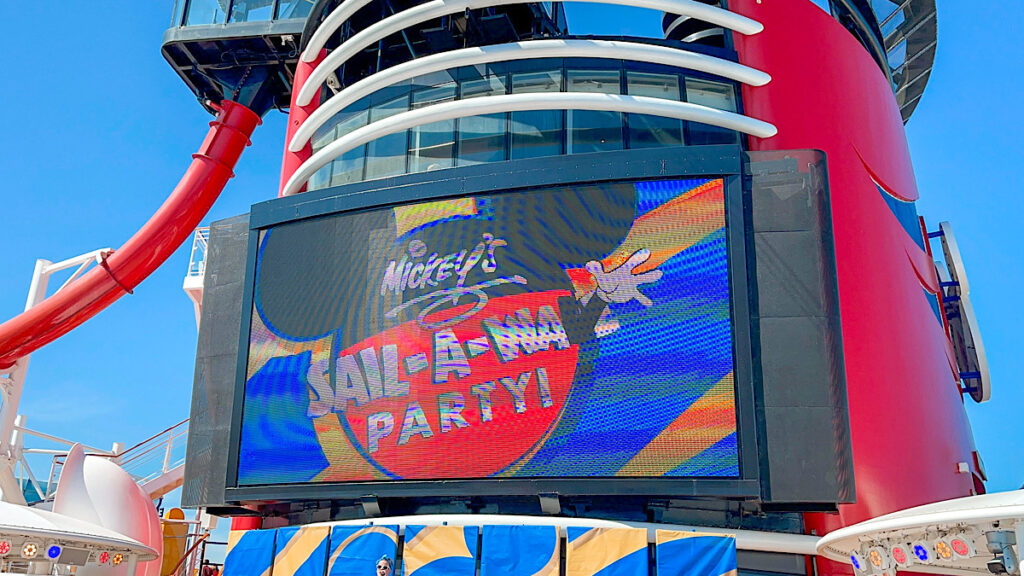 Dinner at Animator's Palate
Not long after the Sail Away Party, it was time for dinner. Our dinner was scheduled for Animator's Palate, an adorable restaurant on the Disney Magic (also on the Wonder, Fantasy, and Dream).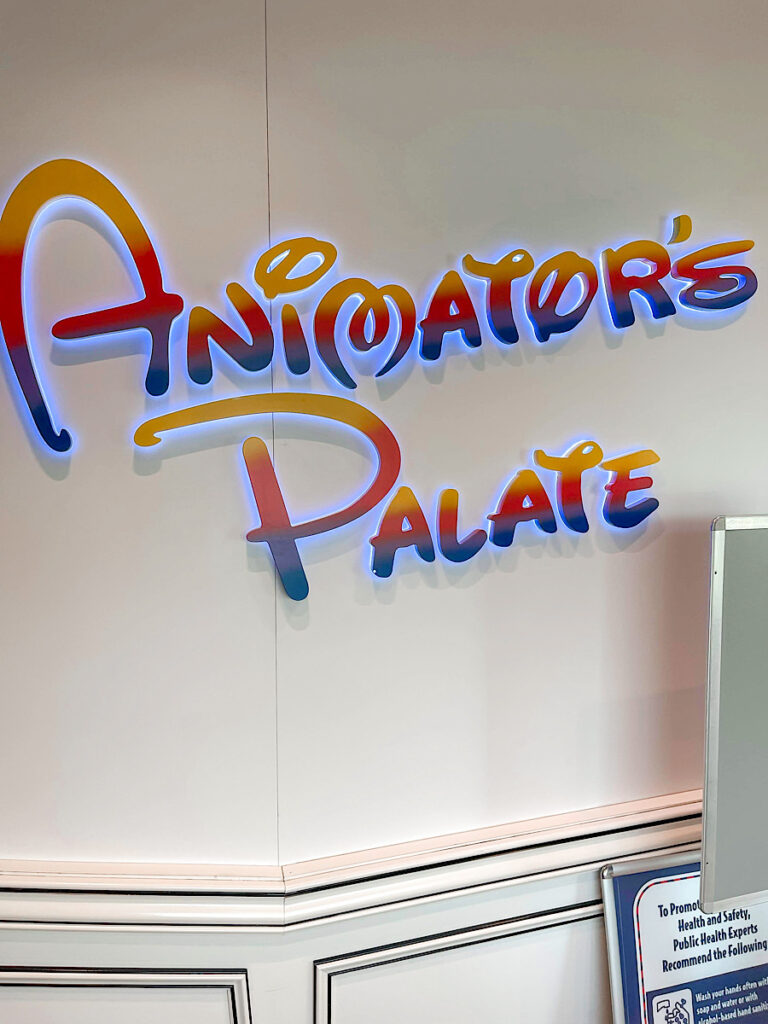 While you are enjoying your meal, you can watch the screens to see how Disney characters are drawn and then watch them come to life!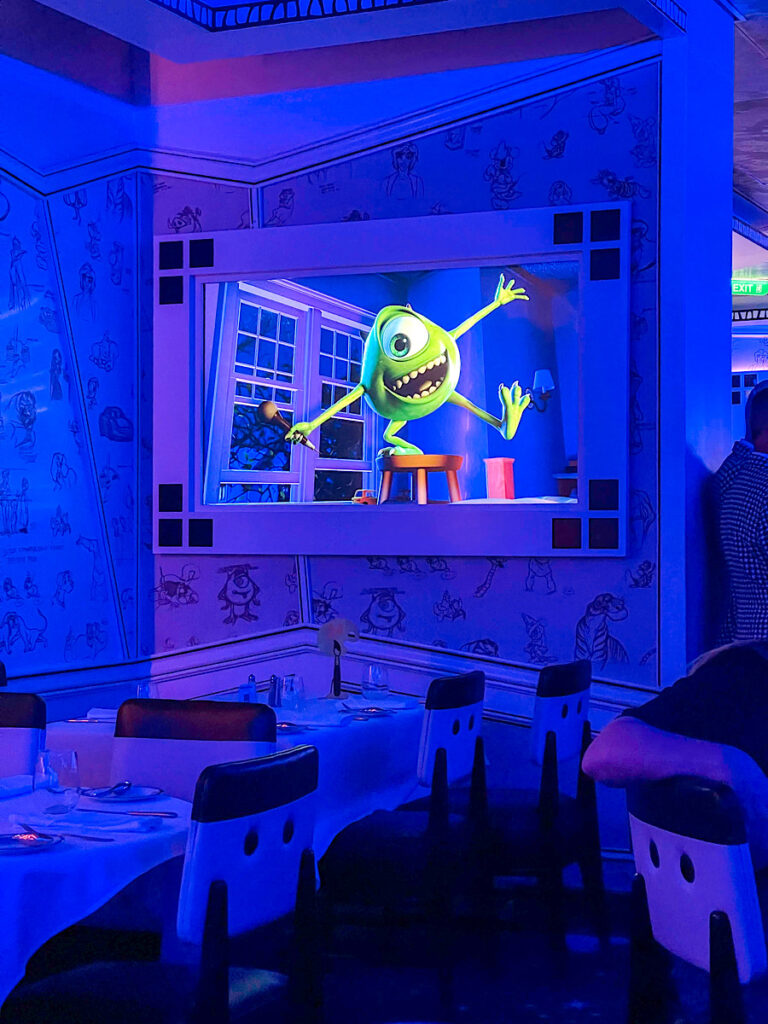 Here are some of the menu items we enjoyed:
Black Truffle Pasta Purseittes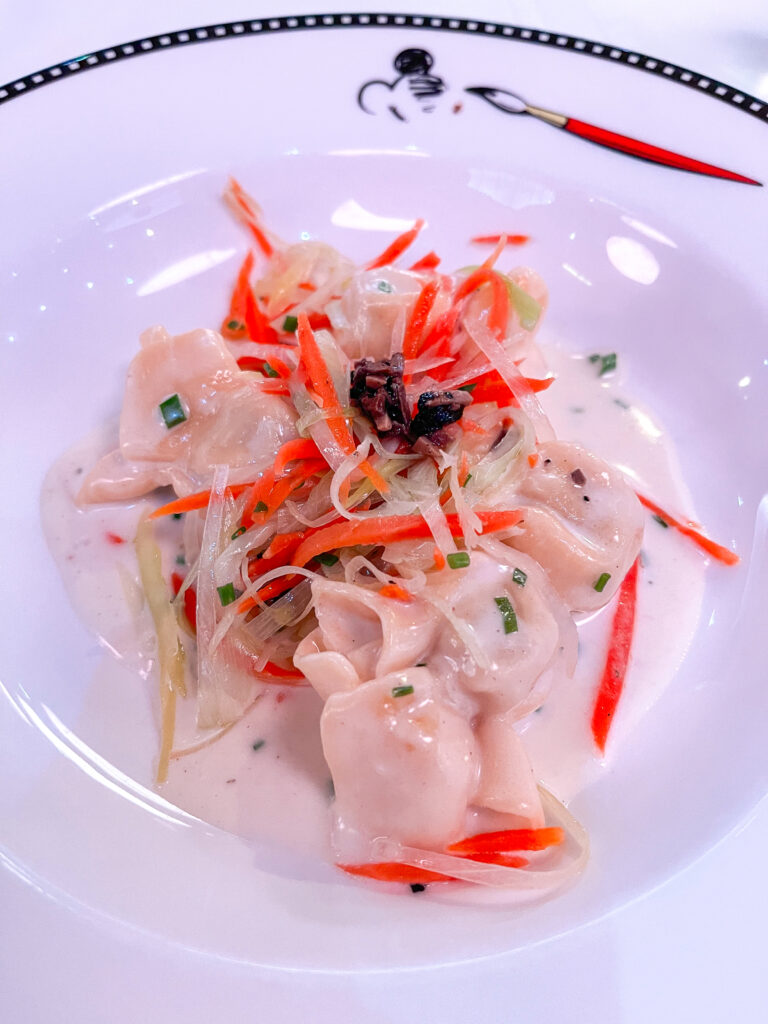 Baked Potato & Cheddar Cheese Soup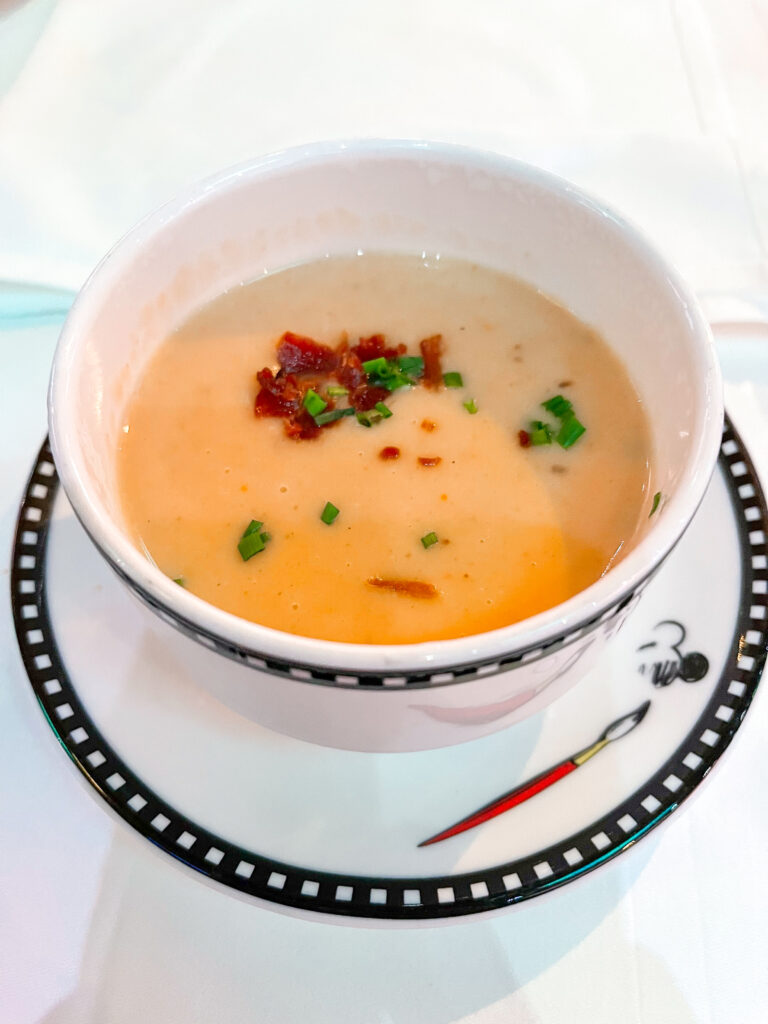 Ginger-Teriyaki Dusted Angus Beef Tenderloin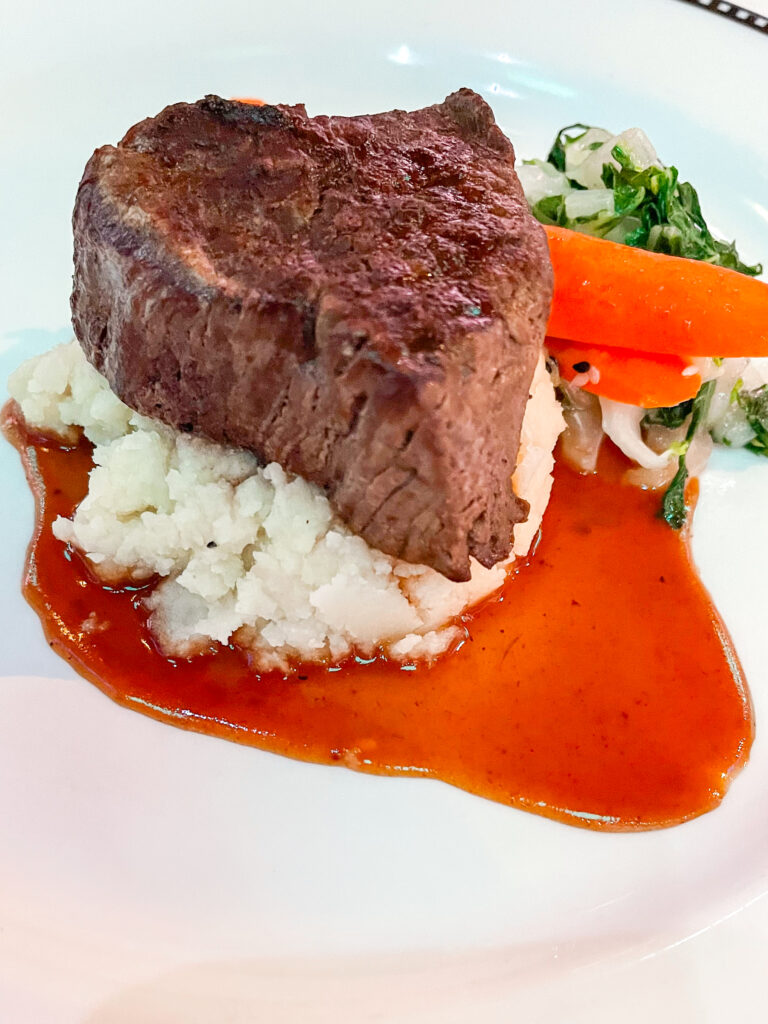 Lemon Icebox Pie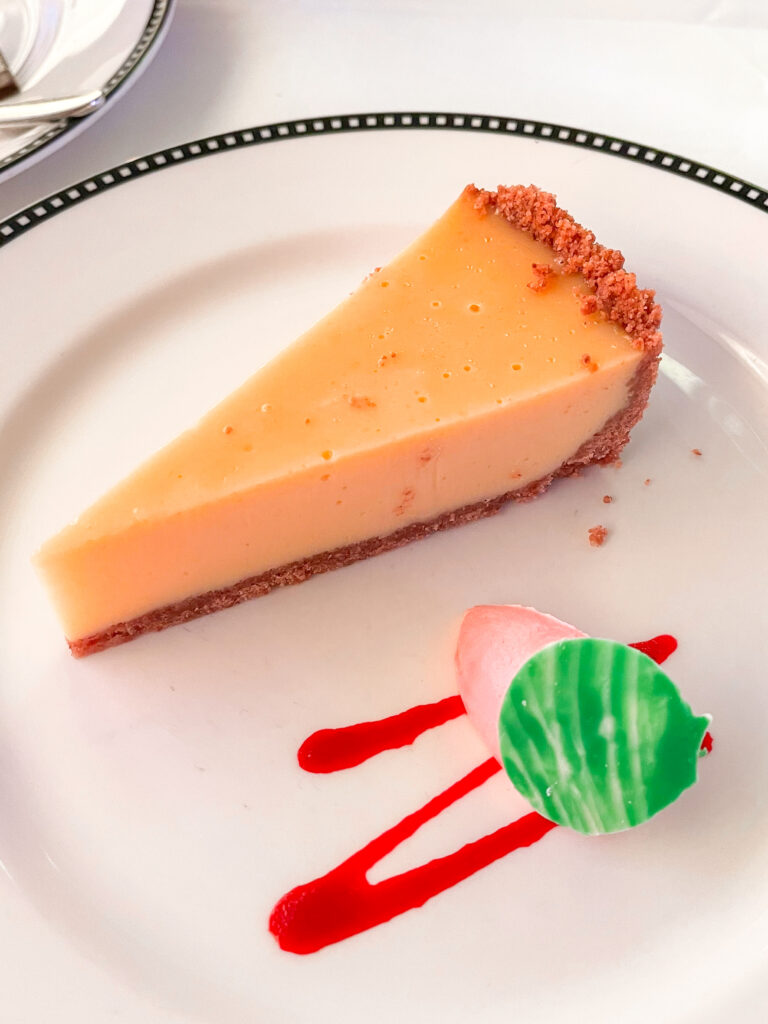 Nighttime Activities
After dinner, our room was ready for nighttime. This is what the bunkbeds in a verandah suite look like.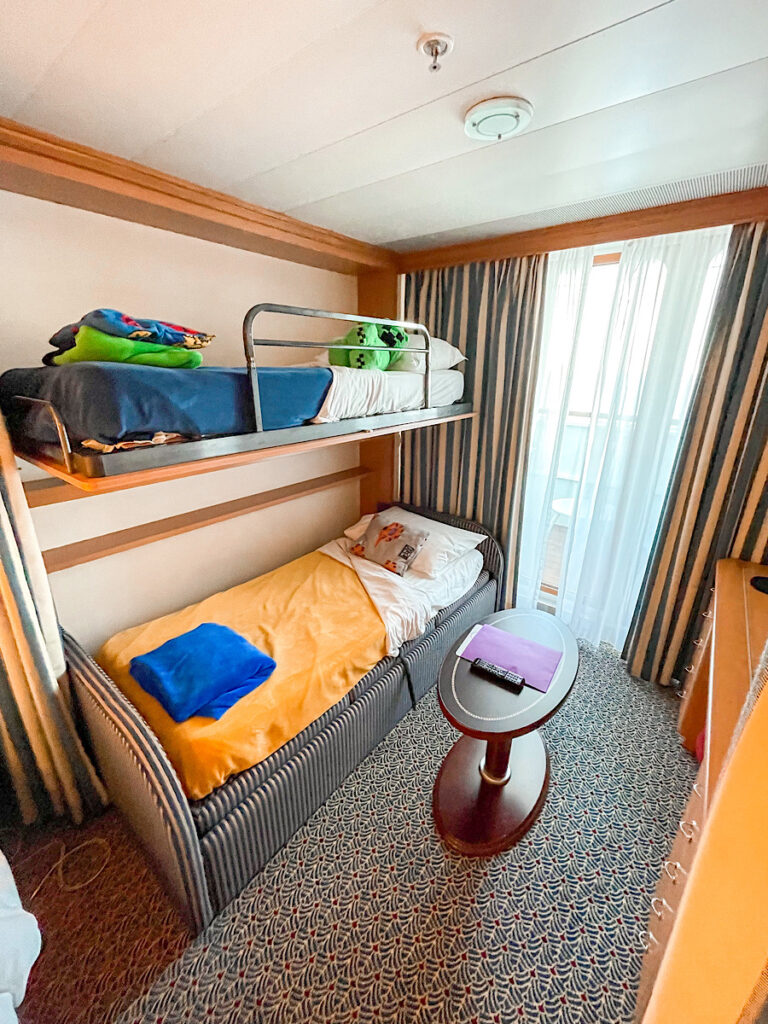 The boys went to the Oceaneer Lab and the Edge while my husband and I went to the comedy show in the Walt Disney Theater.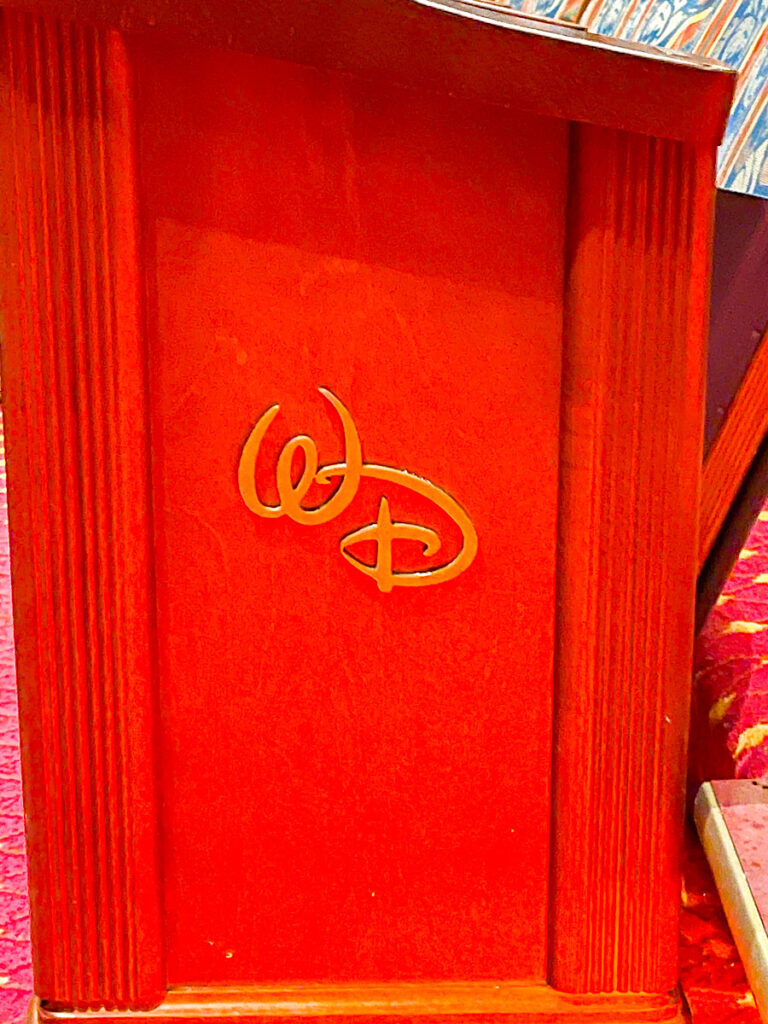 When the show was over, we headed up to deck 10 to check out the beautiful sunset over the Mediterranean Sea.
Watch the Video from Day 1: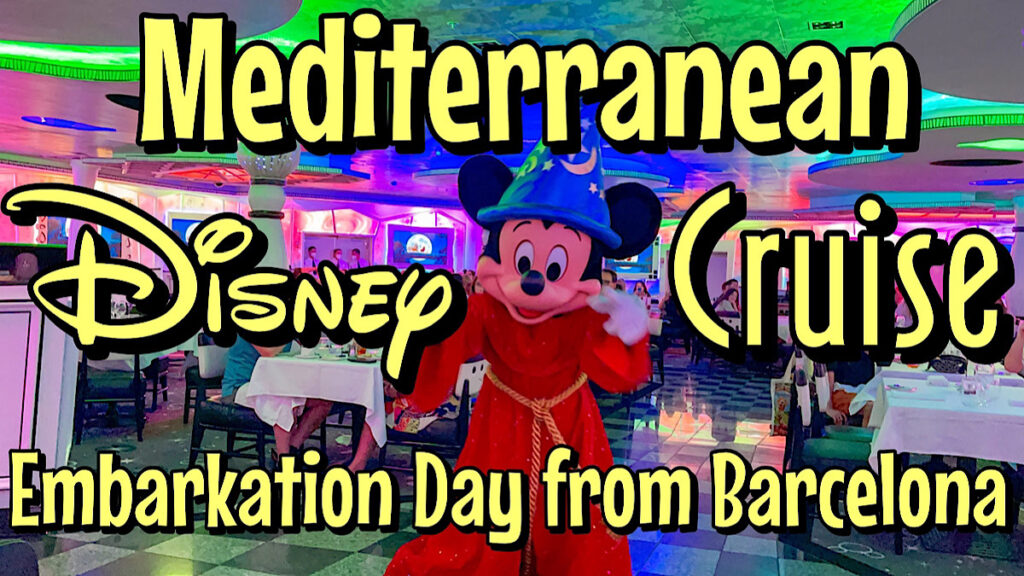 Mediterranean Disney Cruise Day 2 at Sea
Day 2 of our Disney Mediterranean Cruise was one of two days at sea, so we wanted to make good use of our time on the ship!
Disney Cruise Bibbidi Bobbidi Boutique Experience
Our first stop of the day was the Bibbidi Bobbidi Boutique on Deck 10. For this experience, my son was able to choose to be a pirate or a knight. After selecting his outfit, one of the Fairy Godmothers got to work on his hair.
She spent a lot of time talking to him about magic and slaying dragons while she put little silver Mickey's all over his hair. It was adorable that she called the hair gel, "Dragon Snot".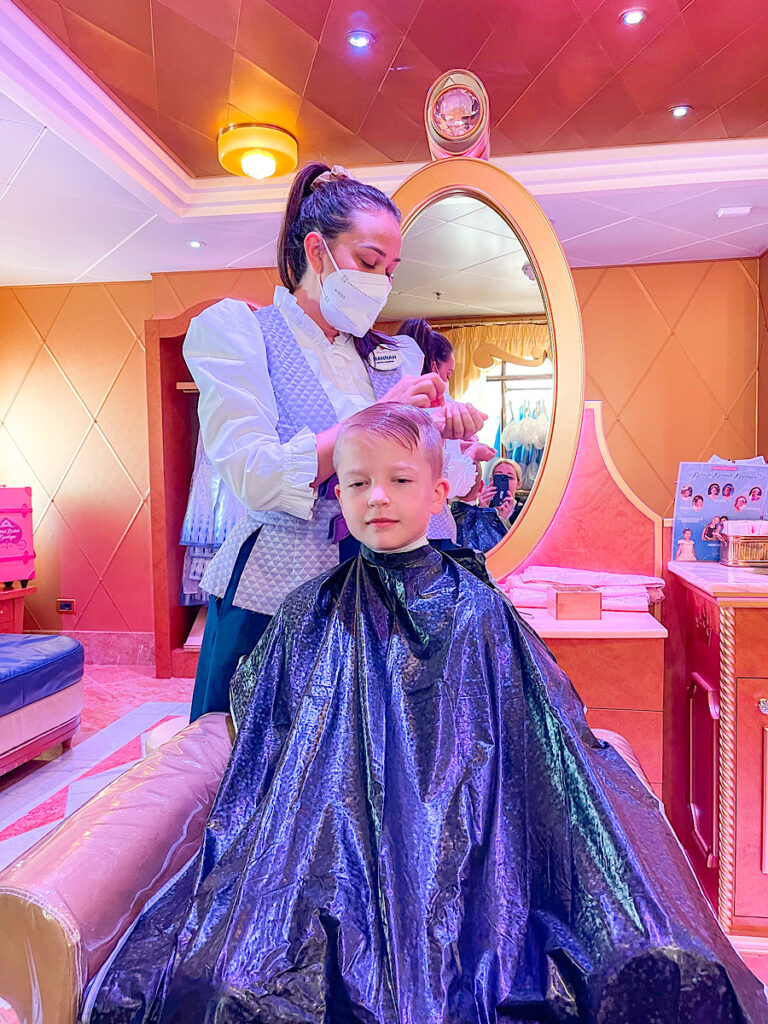 Here is how he looked as a Knigt!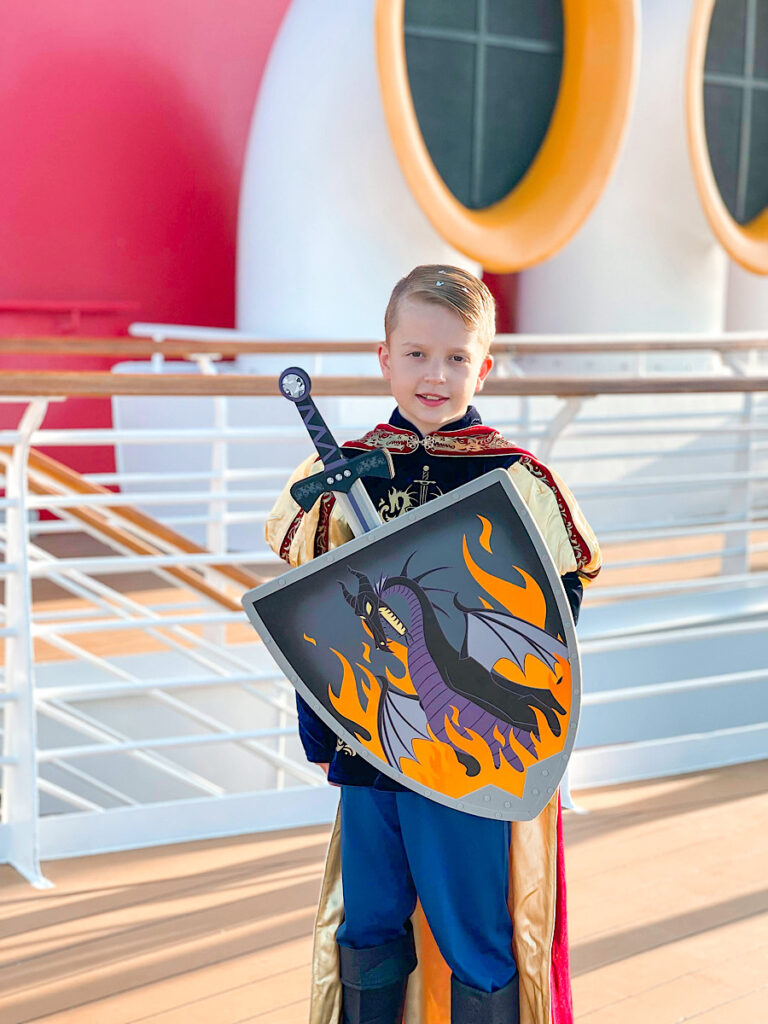 Breakfast at Cabanas
After our visit to the Bibbidi Bobbidi Boutique, we took the kids to get breakfast at Cabanas. They really liked the Churro Mickey Waffles and the chocolate donuts!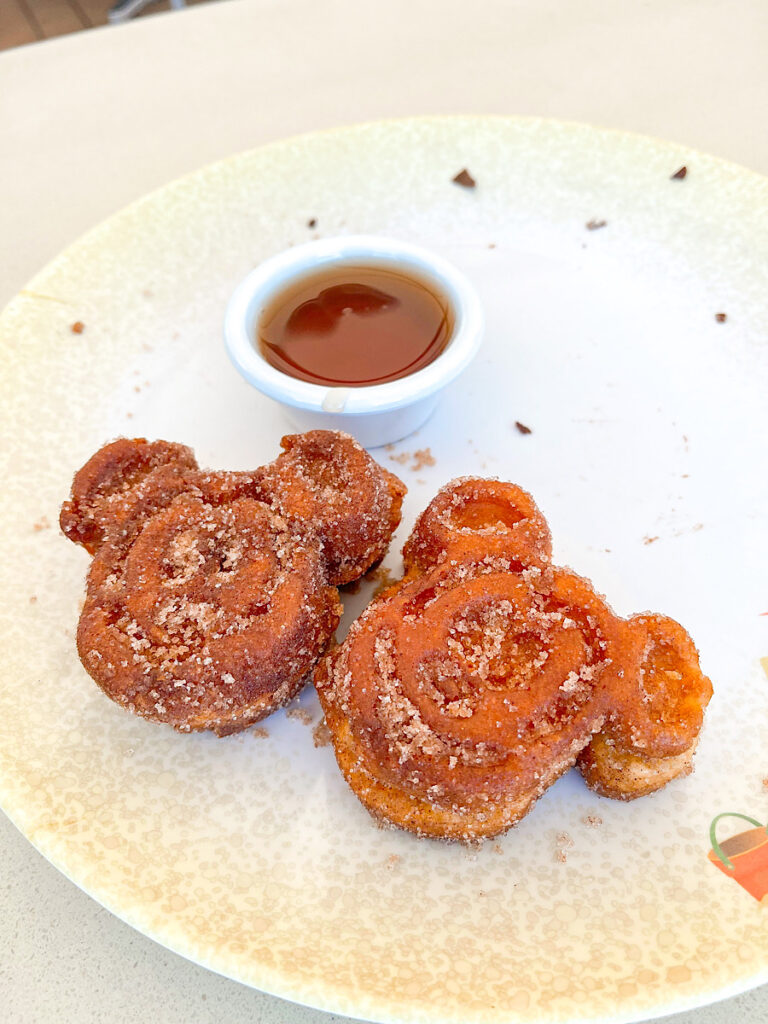 Brunch at Palo
When the kids were finished with breakfast, they headed to the kid's clubs and the adults had brunch at Palo, a specialty Italian restaurant on the Disney Magic, Wonder, Dream, and Fantasy.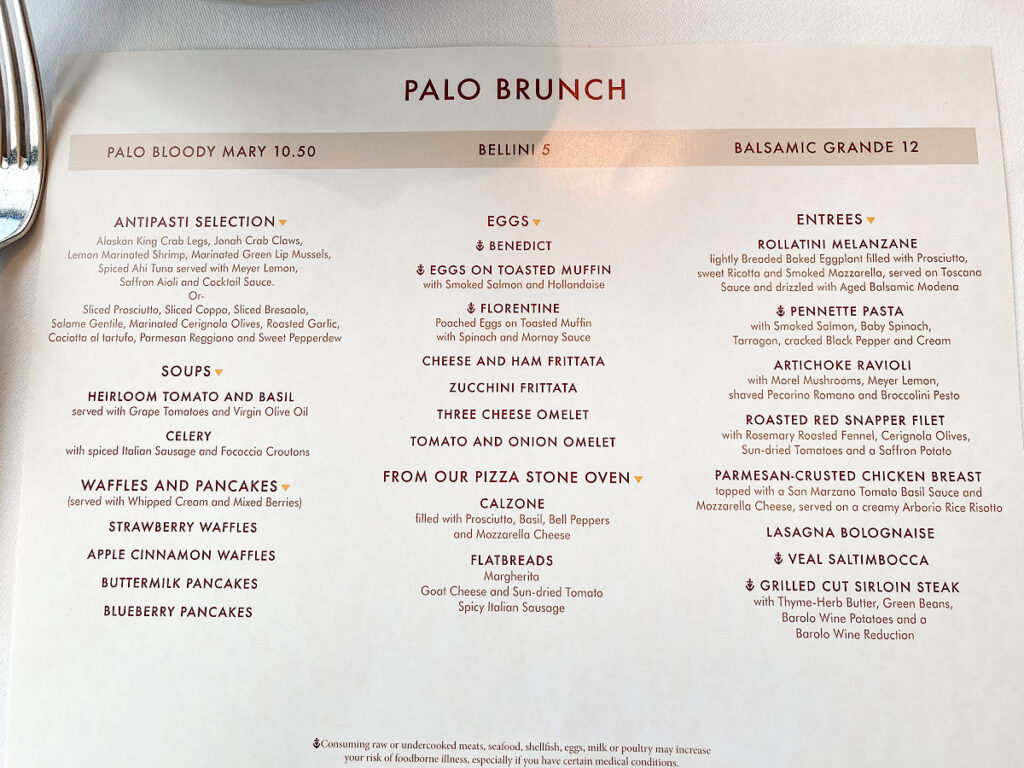 Here are some of the many different appetizers, breakfast items, and Italian dishes we enjoyed:
Antipasti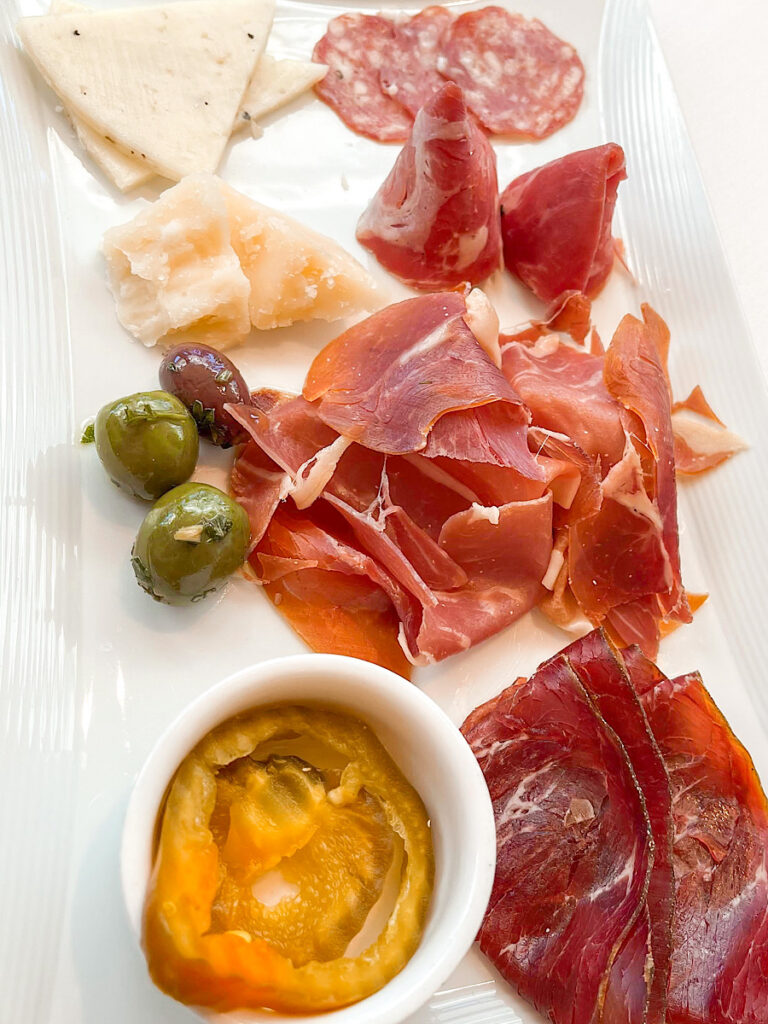 Seafood Appetizer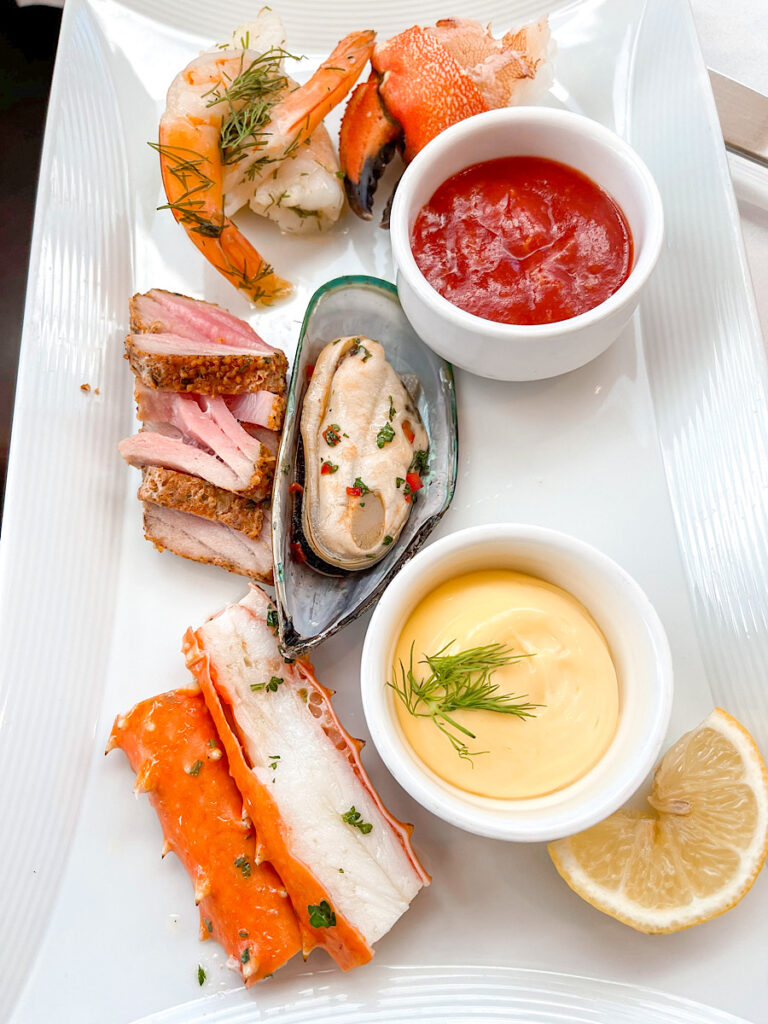 Heirloom Tomato and Basil Soup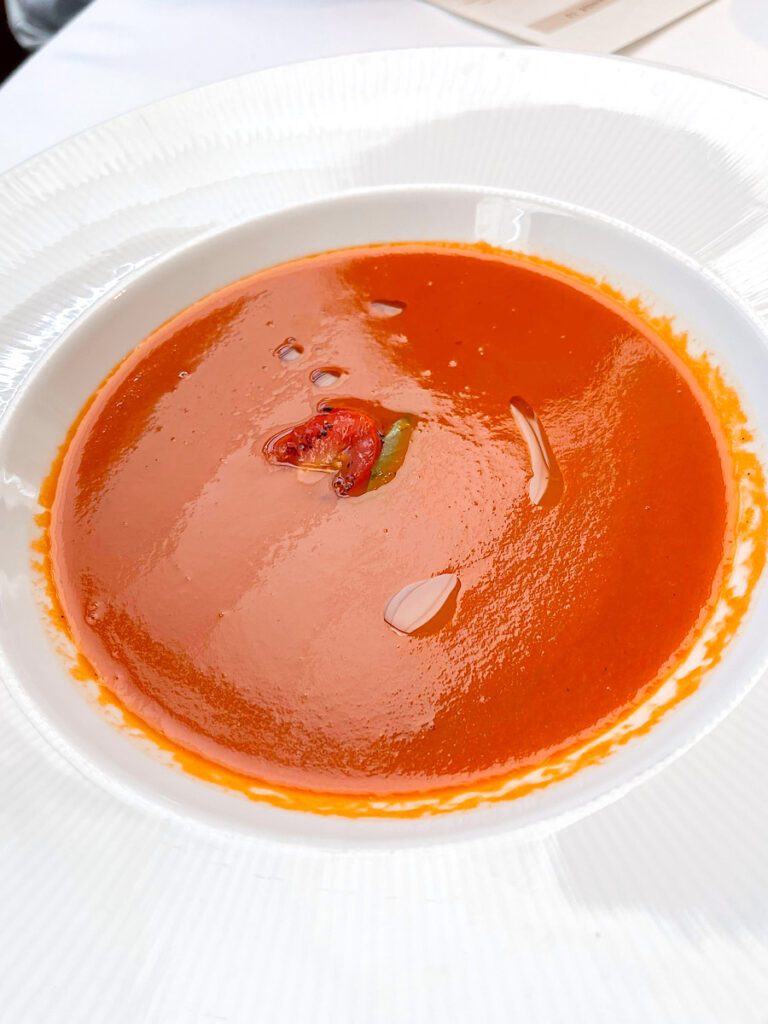 Eggs Benedict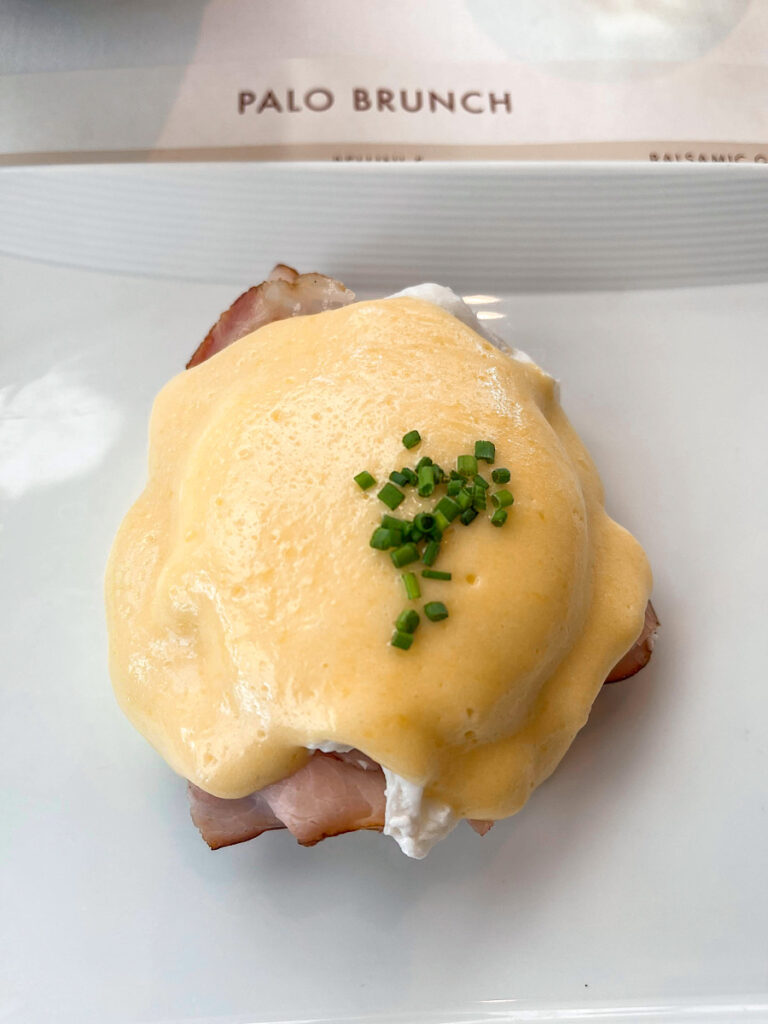 Artichoke Ravioli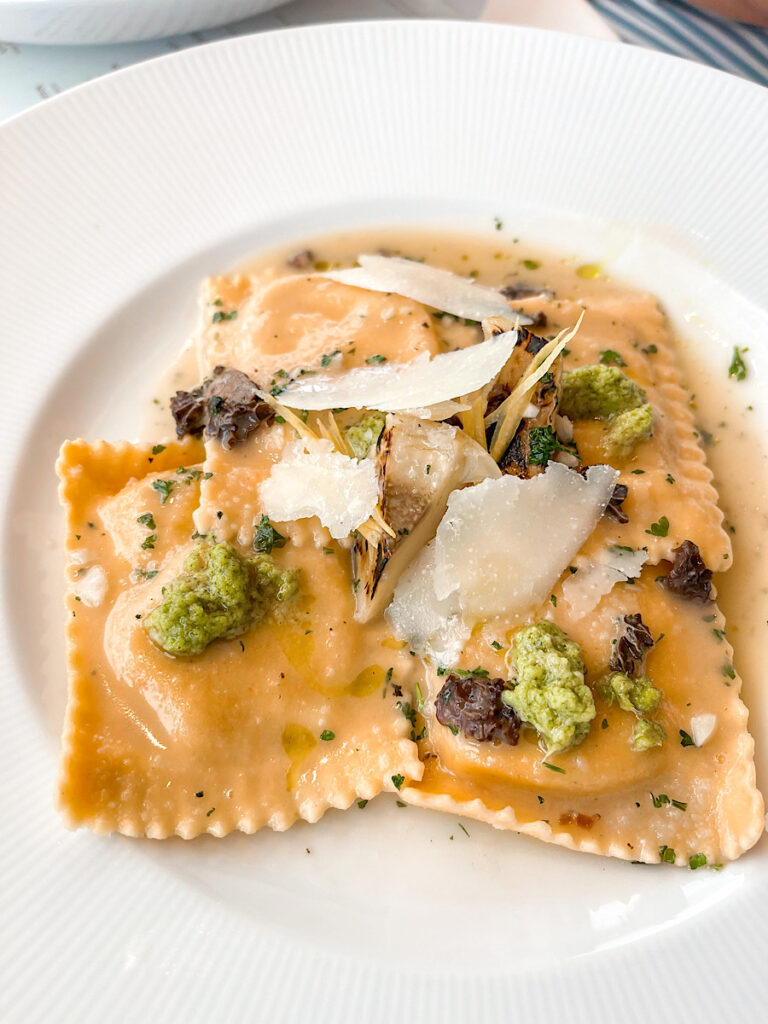 Rollatini Melanzane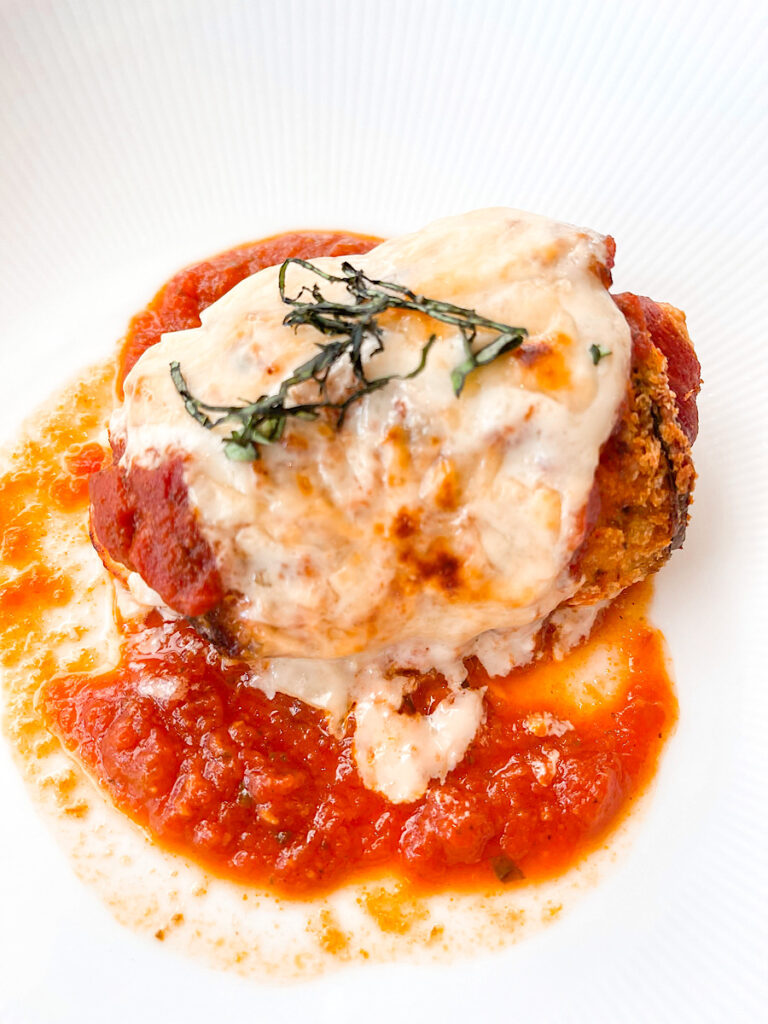 Parmesan Crusted Chicken Breast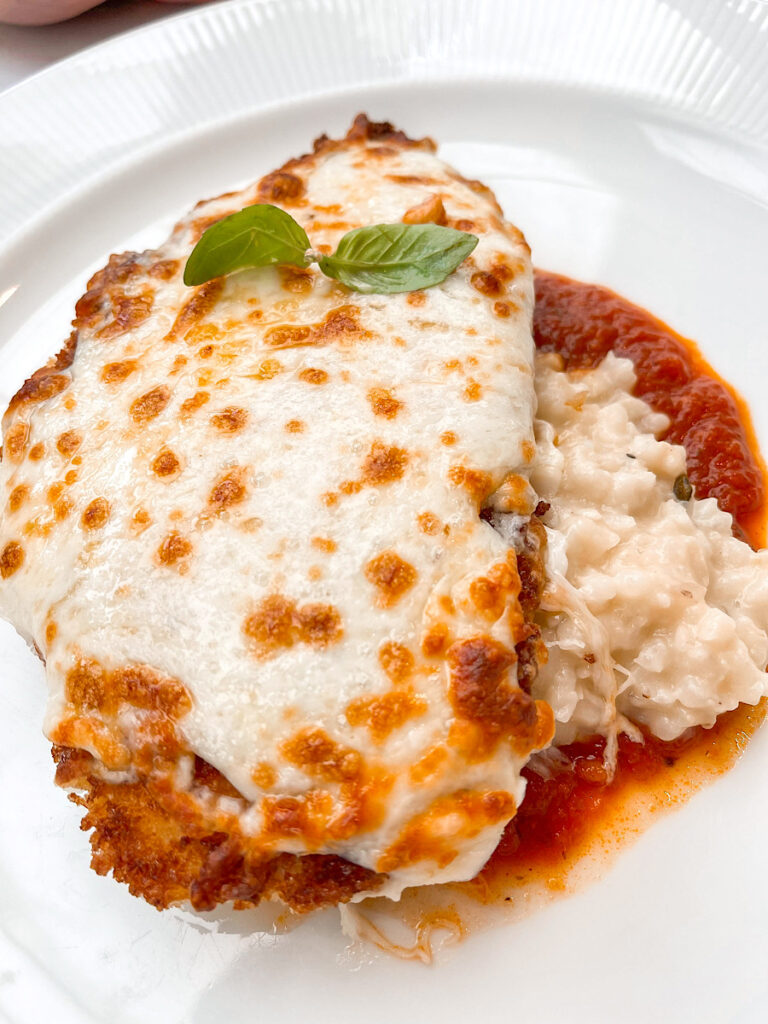 Lasagna Bolognaise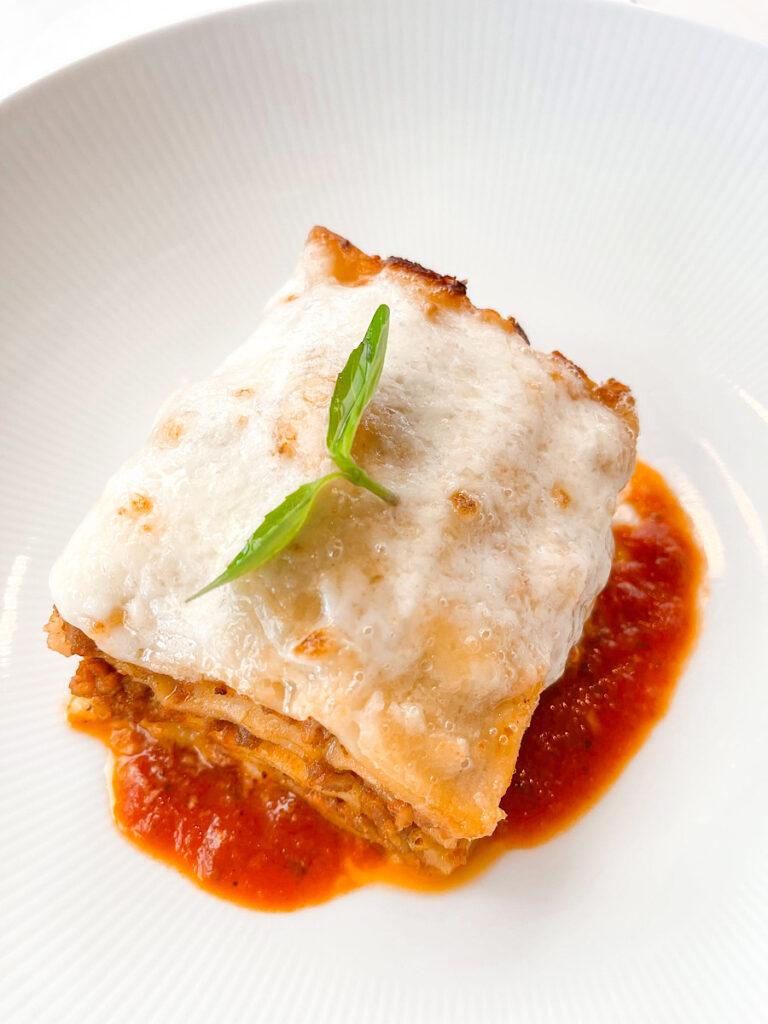 Palo Dessert Menu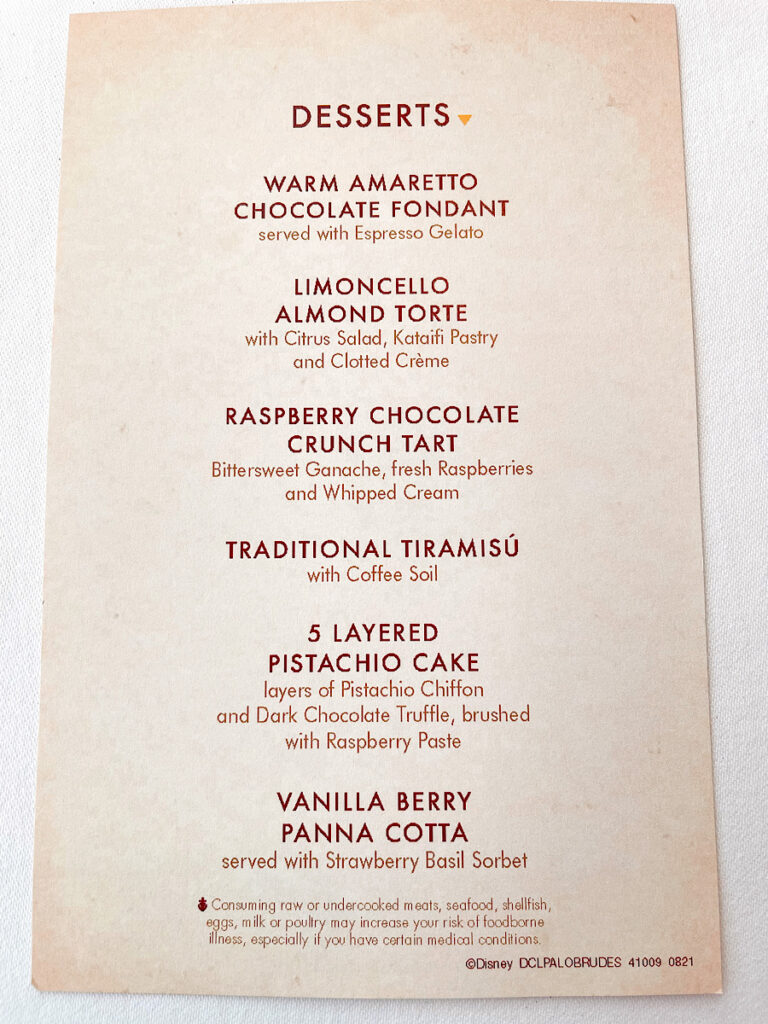 Raspberry Chocolate Crunch Tart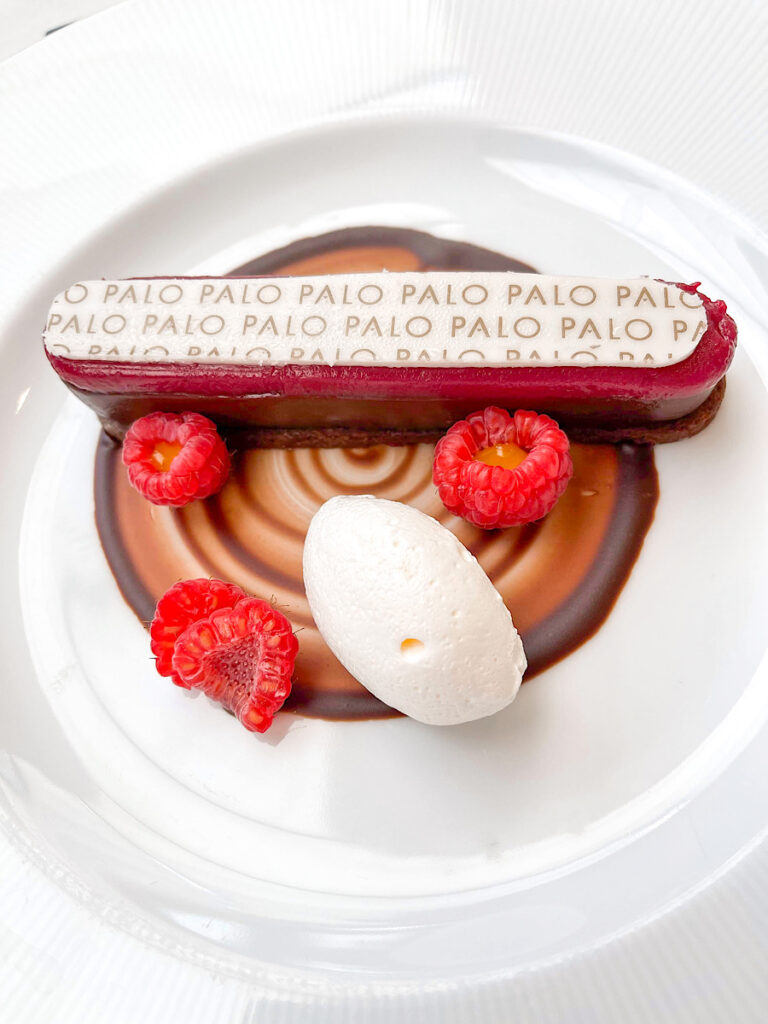 Vanilla Berry Panna Cotta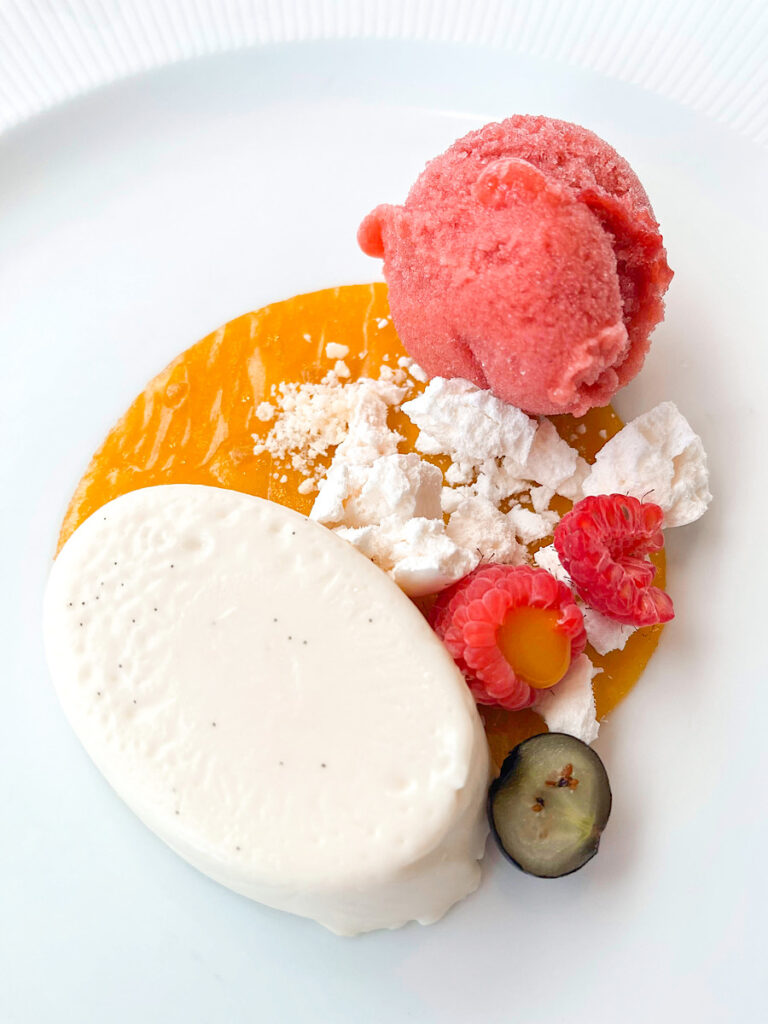 5-Layer Pistachio Cake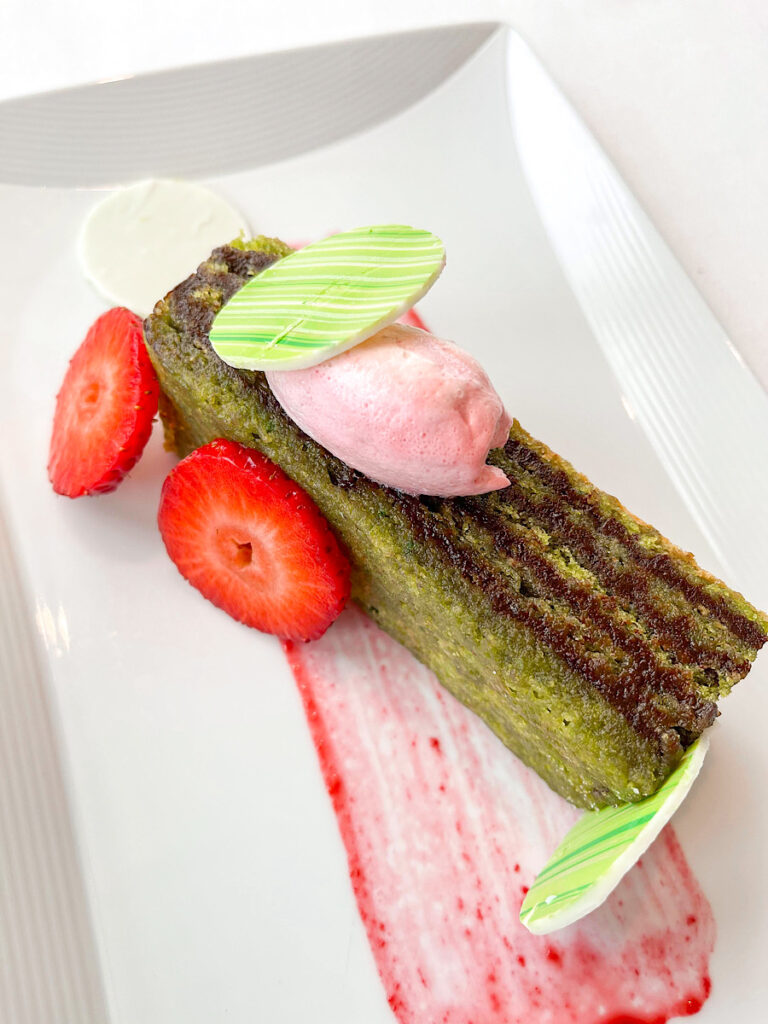 Fun on the Disney Magic
At about 2:00 pm there was an announcement that we would be sailing between the islands of Corsica and Sardinia and we would be able to see them both at the same time, so we headed up to Deck 10 to check it out. Of course, we had to get an ice cream cone on the way. Make sure to watch the video from Day 2 to see the two islands!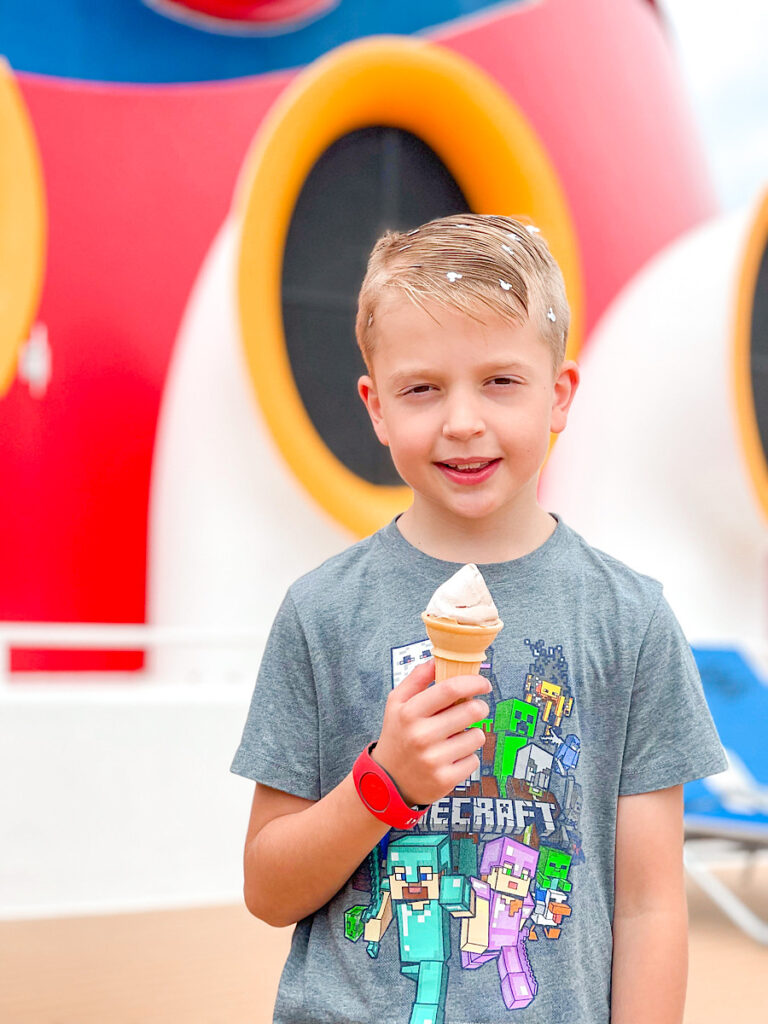 Character Meet & Greet with Donald Duck
After seeing the islands, we stumbled upon Donald Duck! My son was excited to meet him and show off the silver Mickey's in his hair. Watch the cute video of their interaction below.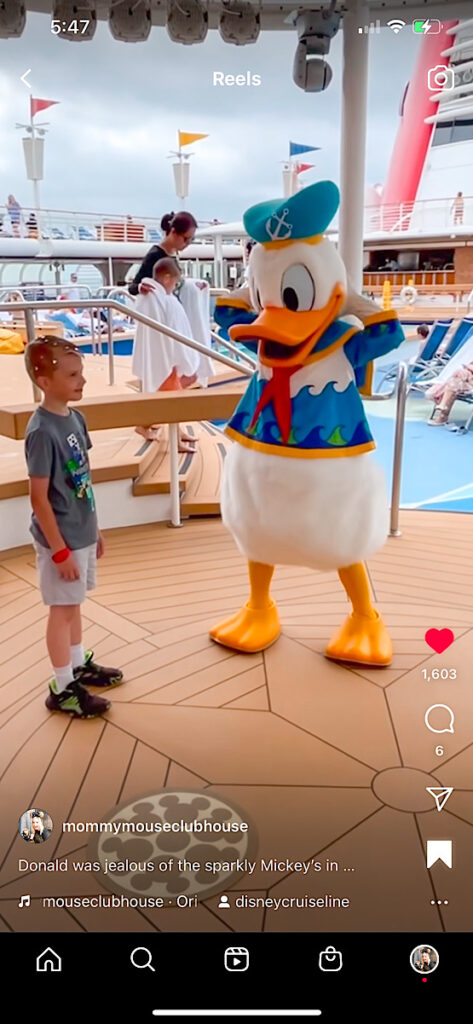 Pinnochio's Pizza
After meeting Donald, we grabbed a slice of pizza from Pinocchio's Pizzeria and watched a movie on the Funnel Vision.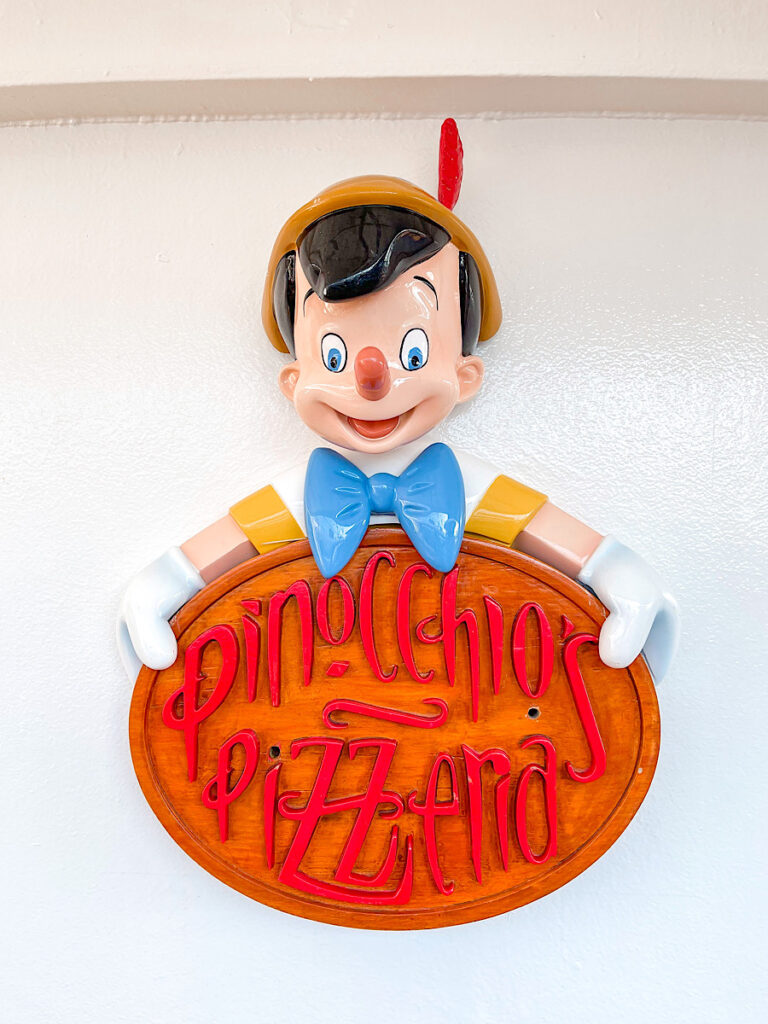 Shopping
Next, we headed down to Deck 3 in a cool elevator to do some shopping in the gift shops.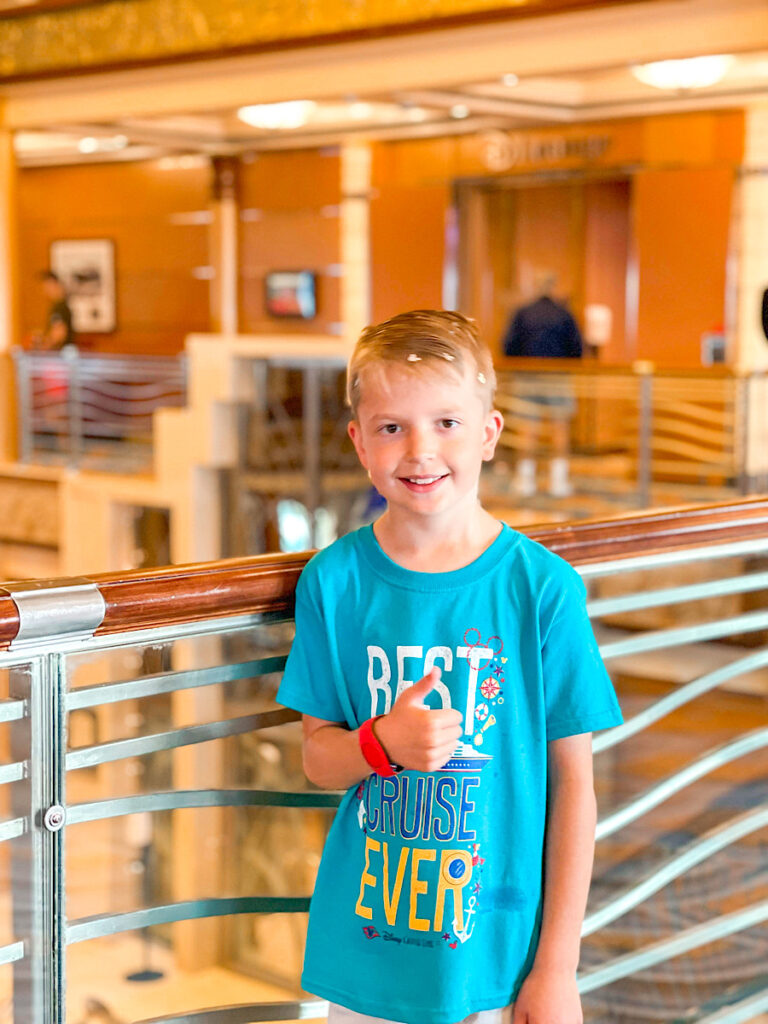 Deck 4 Walking Track
One of our favorite things to do on Disney cruises is to walk around the running track on Deck 4. Be sure to check out my video of Day 2 to see a complete lap around the ship.
AquaDunk Water Slide
We had a few minutes before dinner, so we decided to take advantage of the short lines for the AquaDunk! The AquaDunk is a fun water slide where you begin with a countdown, then the floor falls out from beneath you before you twist and turn all the way down the slide.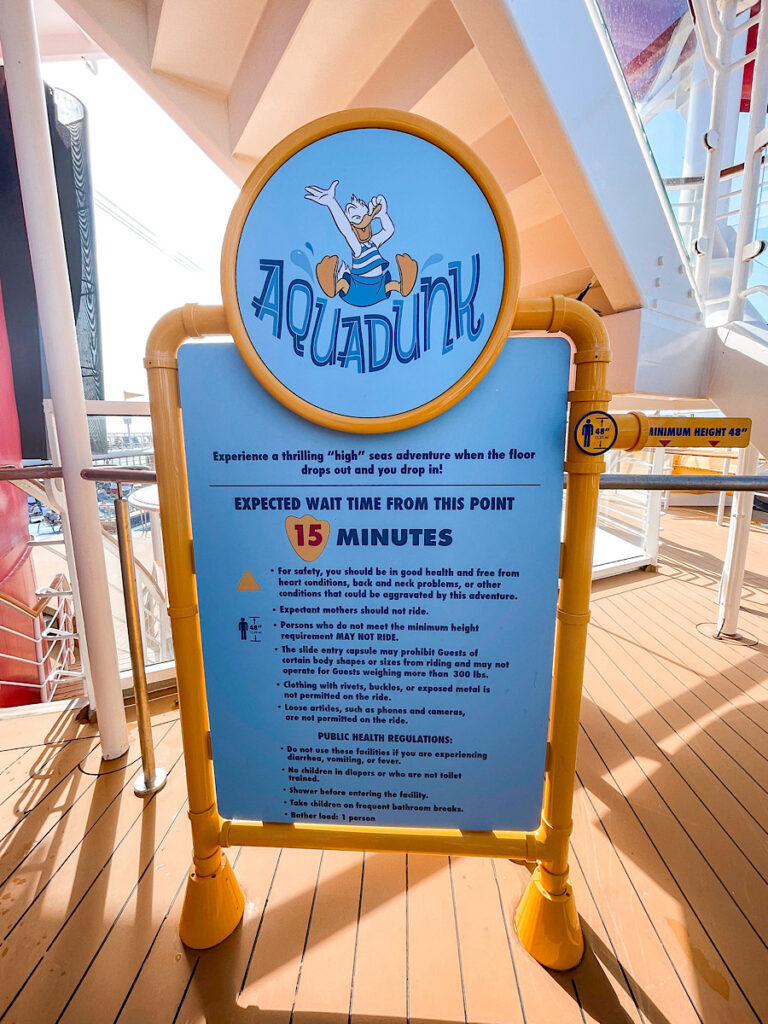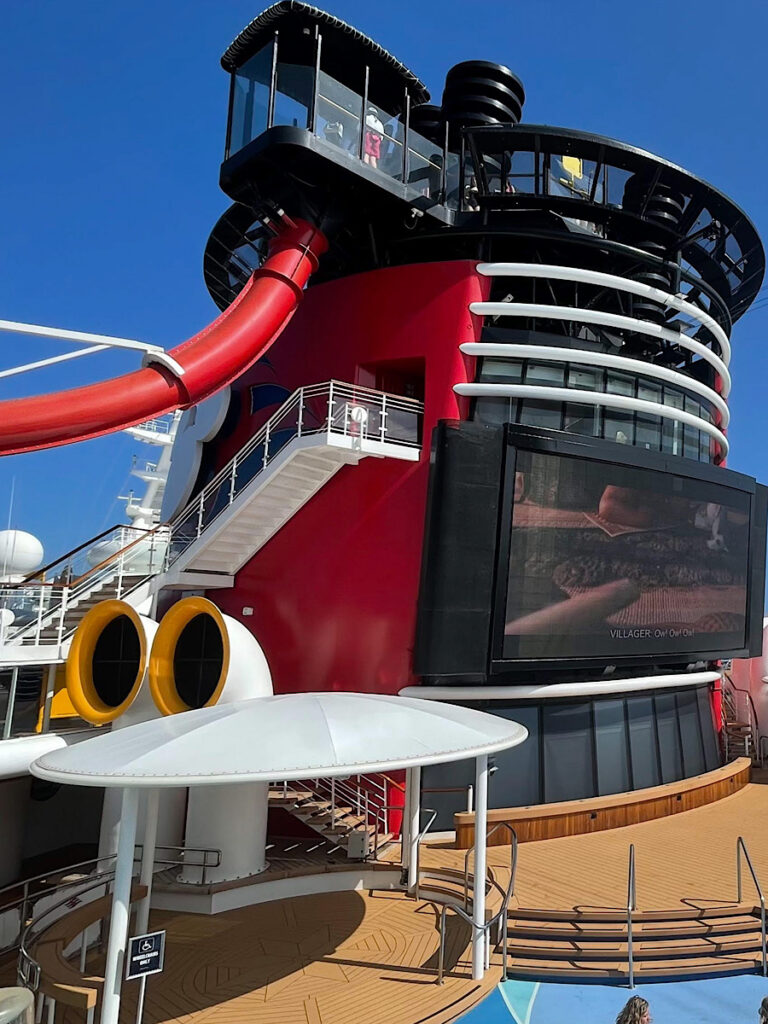 Dinner at Rapunzel's Royal Table.
Rapunzel's is a fun Tangled-themed restaurant where you get a delicious dinner and a fun show to watch!
Rapunzel's Royal Table Menu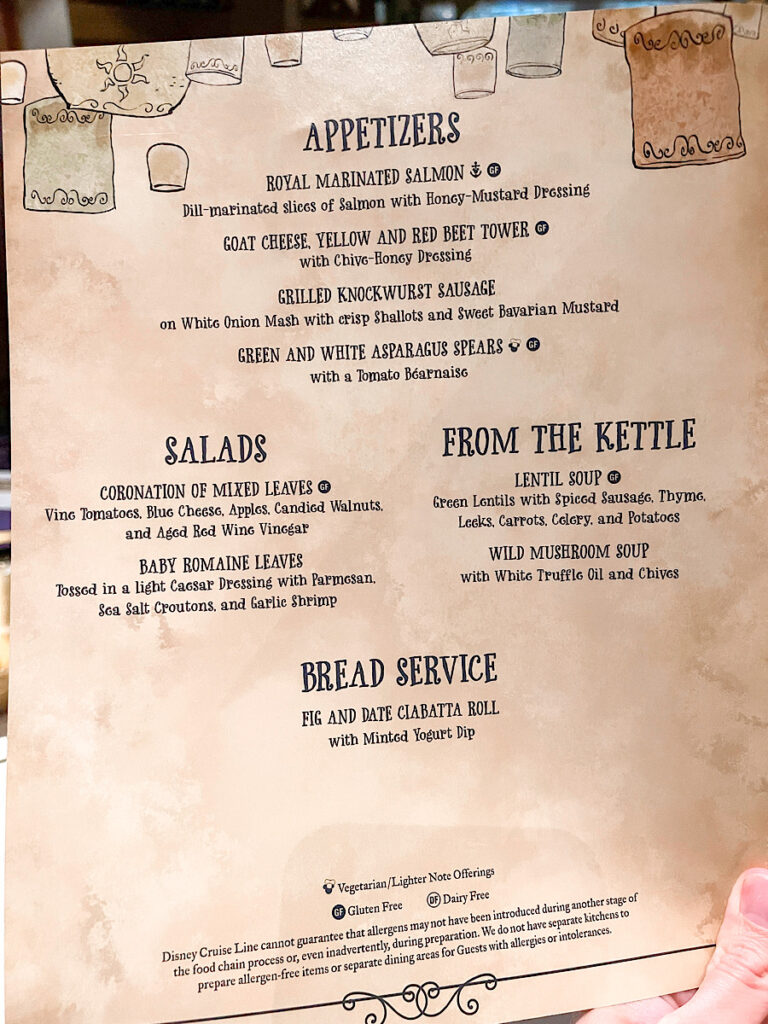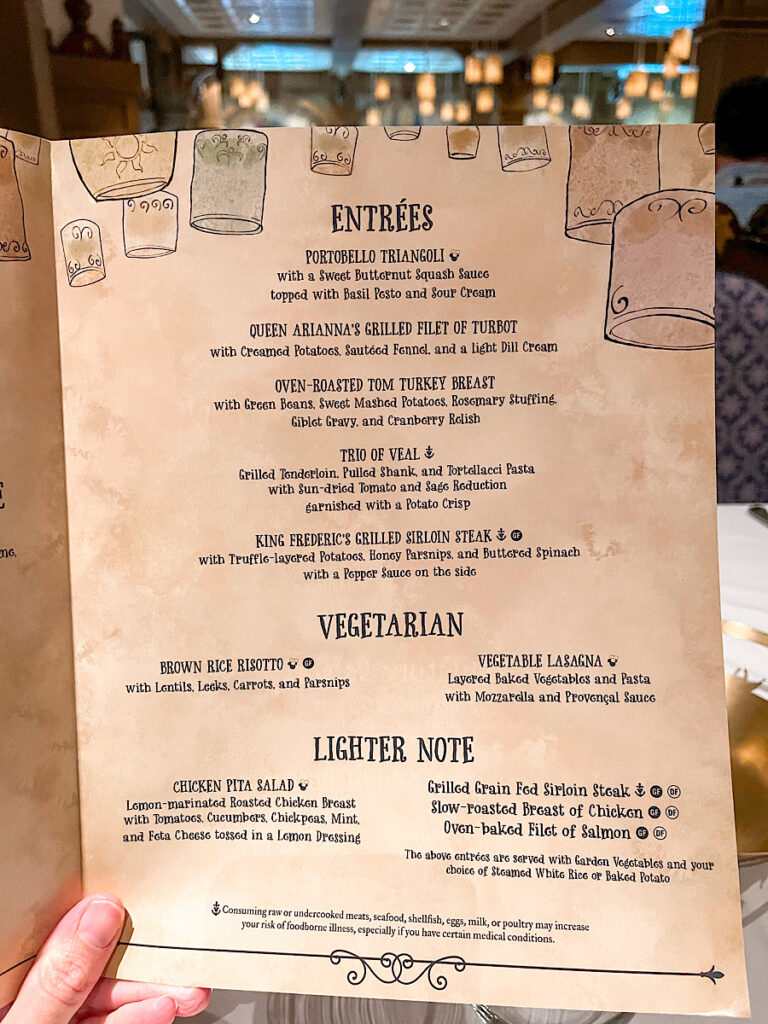 Here are some of the delicous things we ordered:
Goat Cheese, Yellow & Red Beet Tower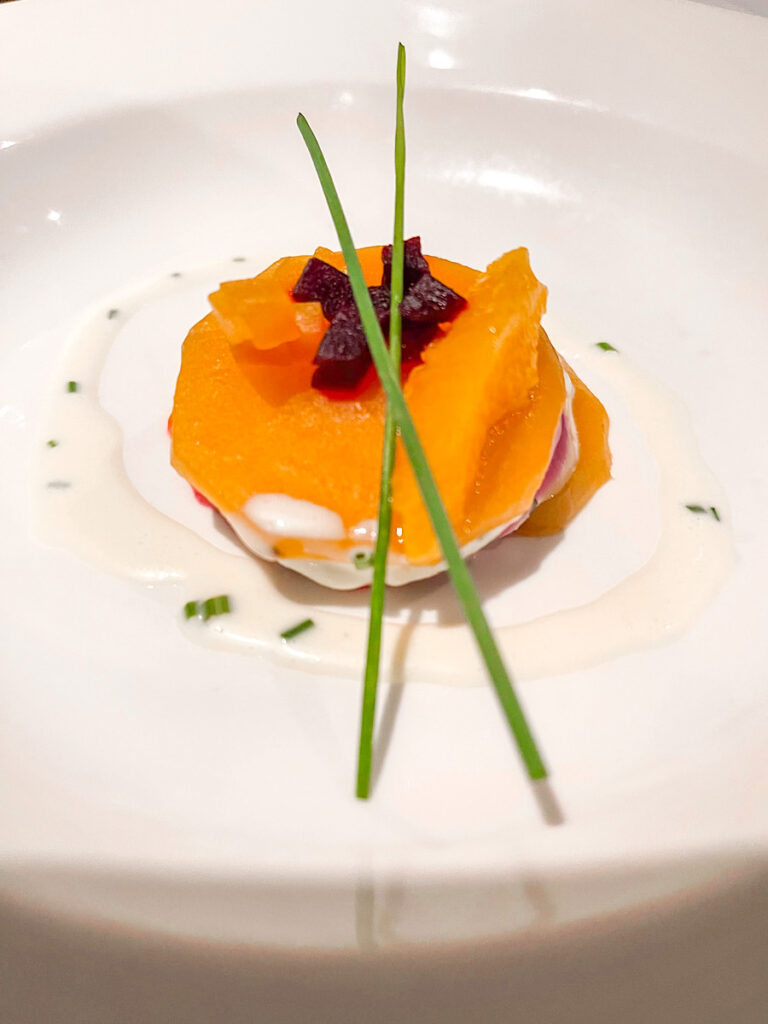 Chicken Pita Salad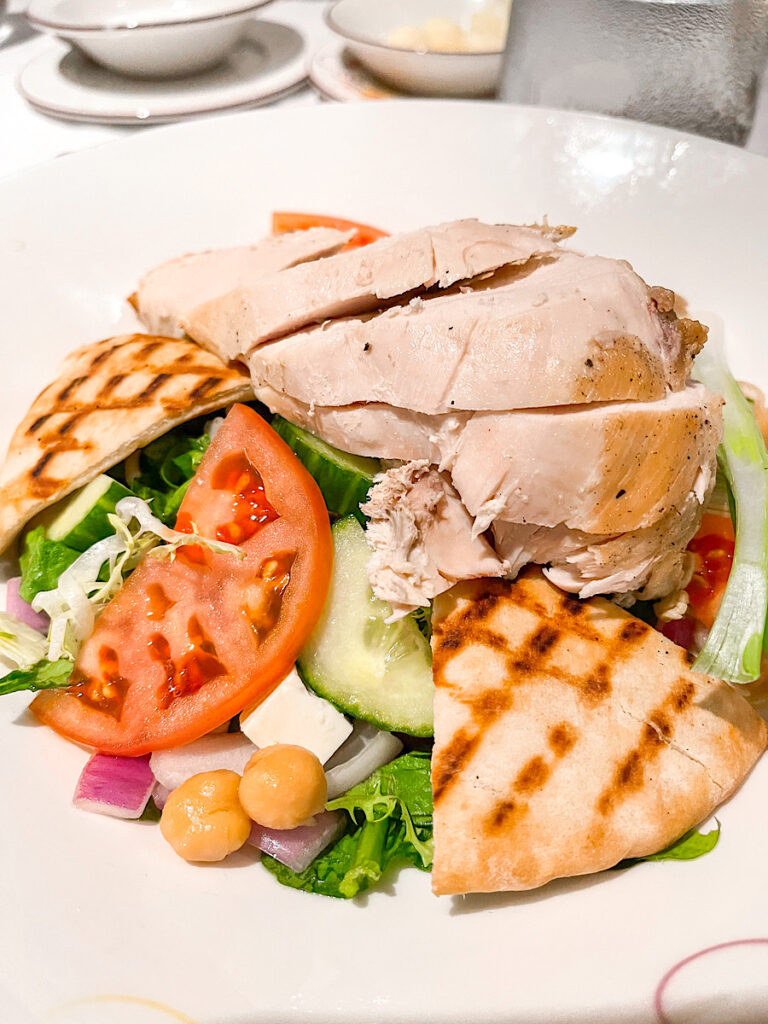 King Frederic's Grilled Sirloin Steak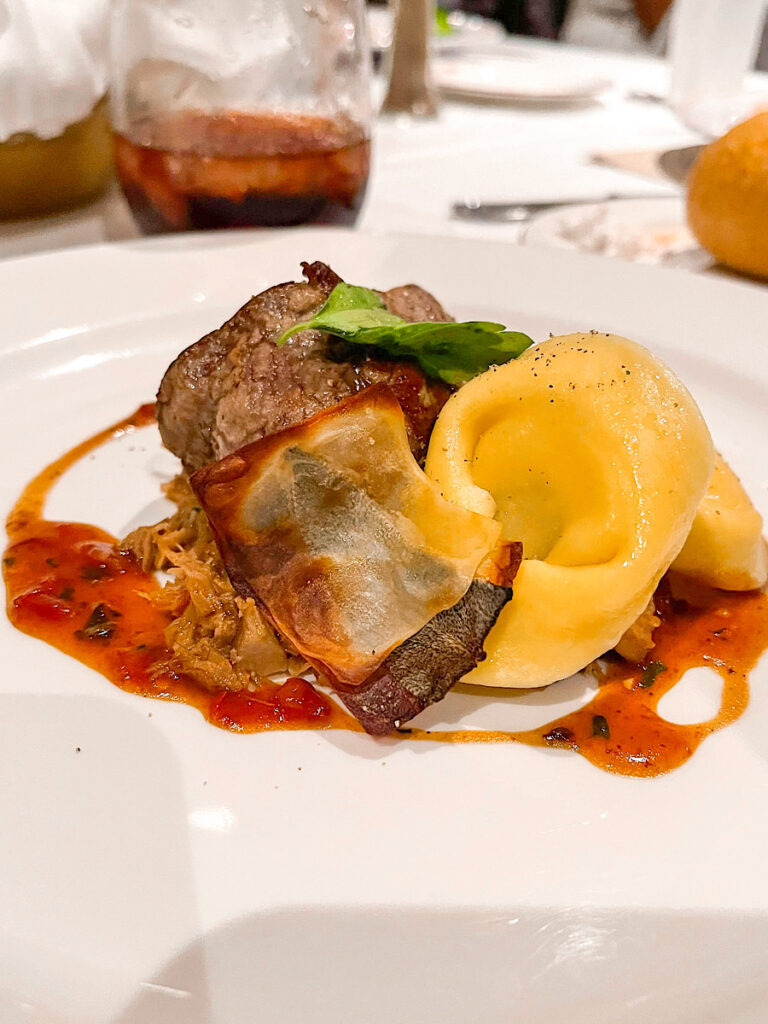 Rote Grutze Sundae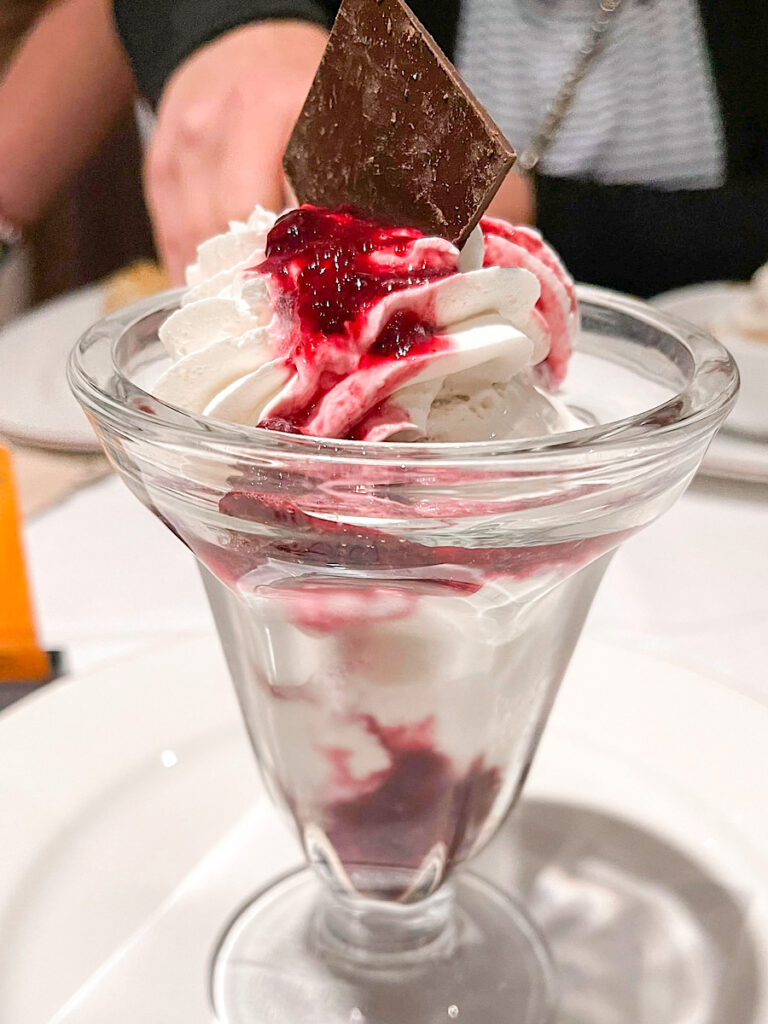 White Chocolate Bread Pudding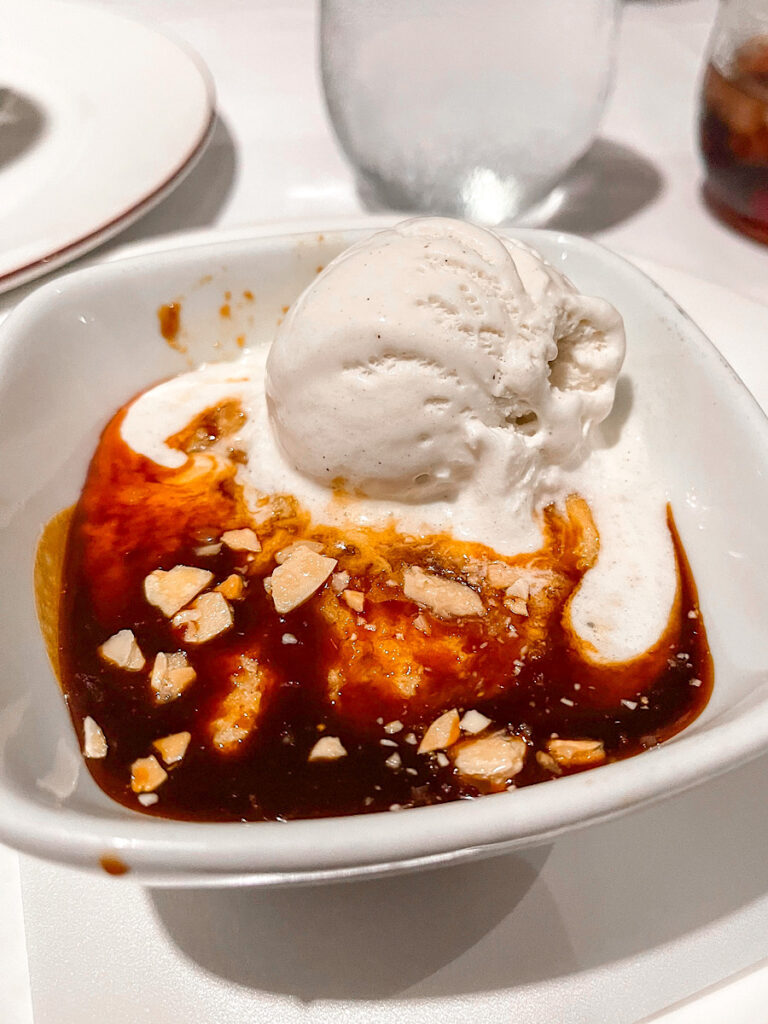 Blueberry Streusel Cake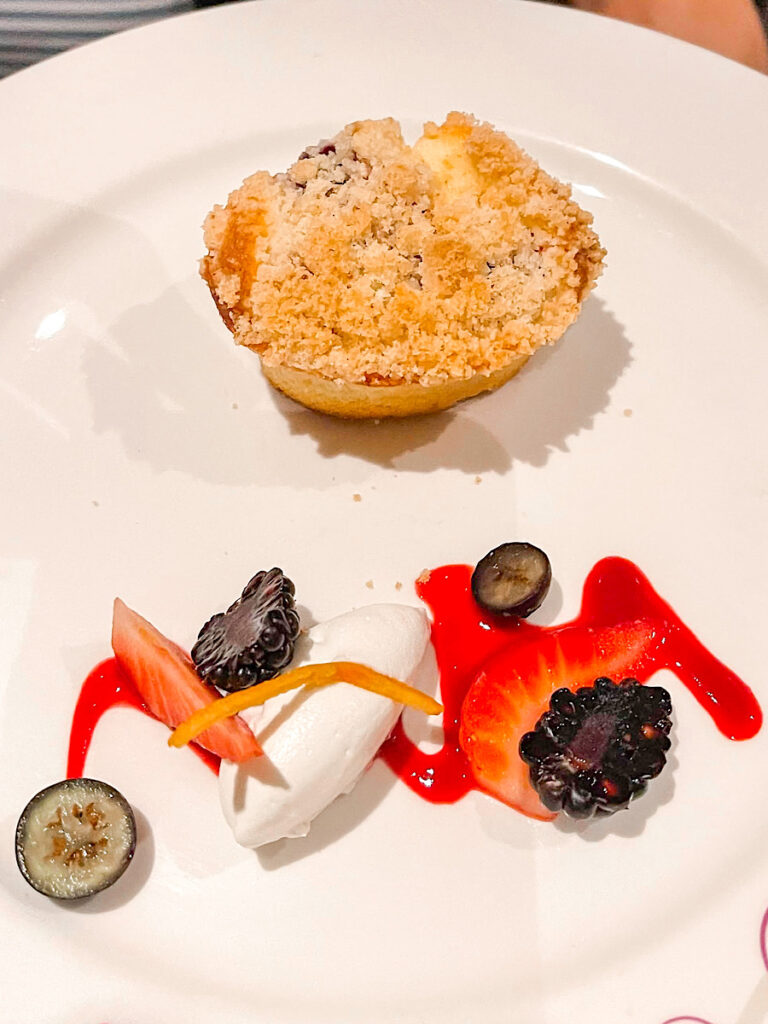 Atilla's Sublime Cake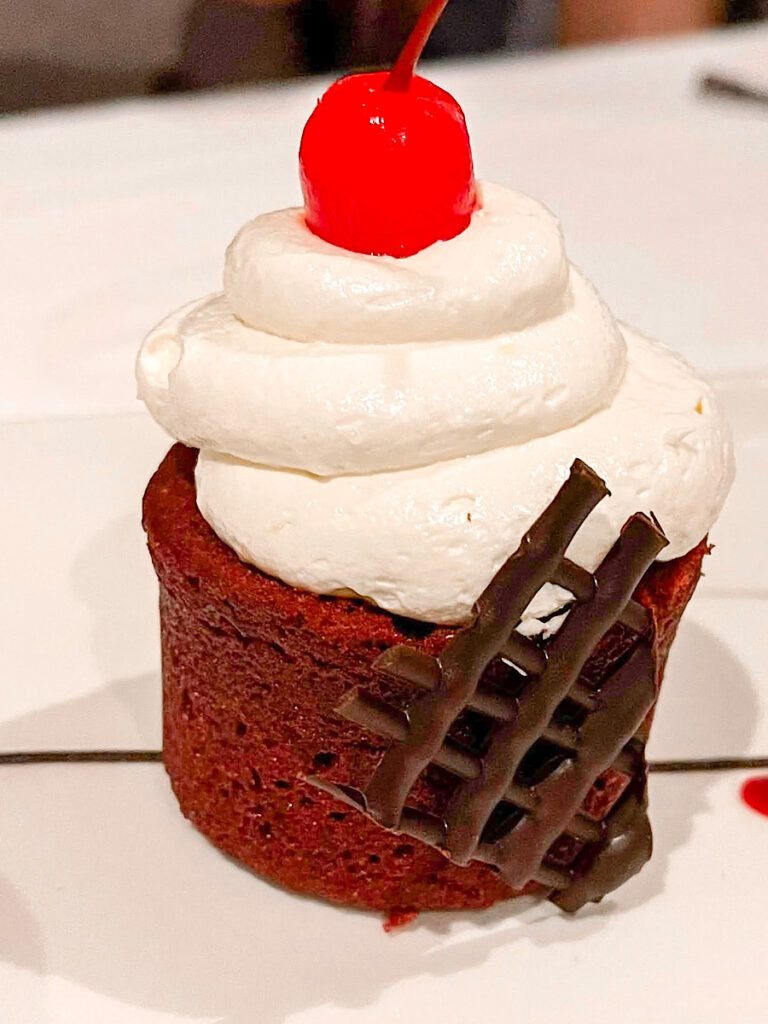 Pool & Hot Tub
For the rest of the night, we took it easy. The kids went to the kids clubs and the adults spent time in the pool and hot tub.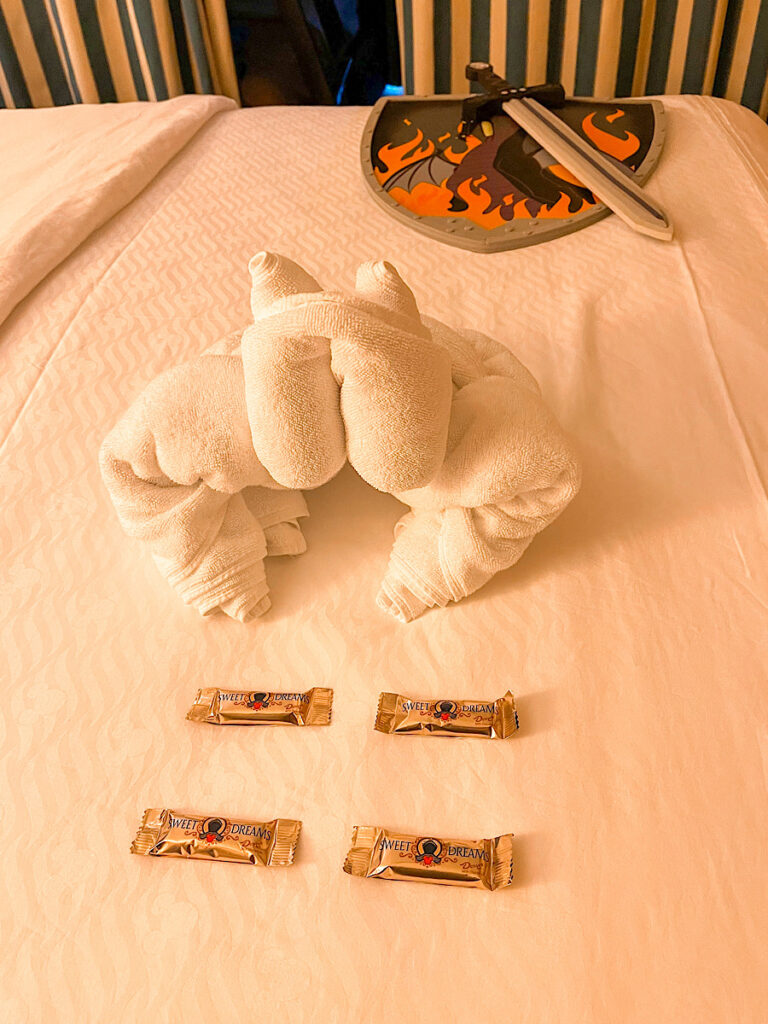 Day 3 Naples, Italy
On Day 3 we were in Naples. We booked an excursion through Disney Cruise Line, called "Pompeii Half Day" excursion. We met our group in the Walt Disney Theater at the appointed time, then headed on a tour bus to Pompeii.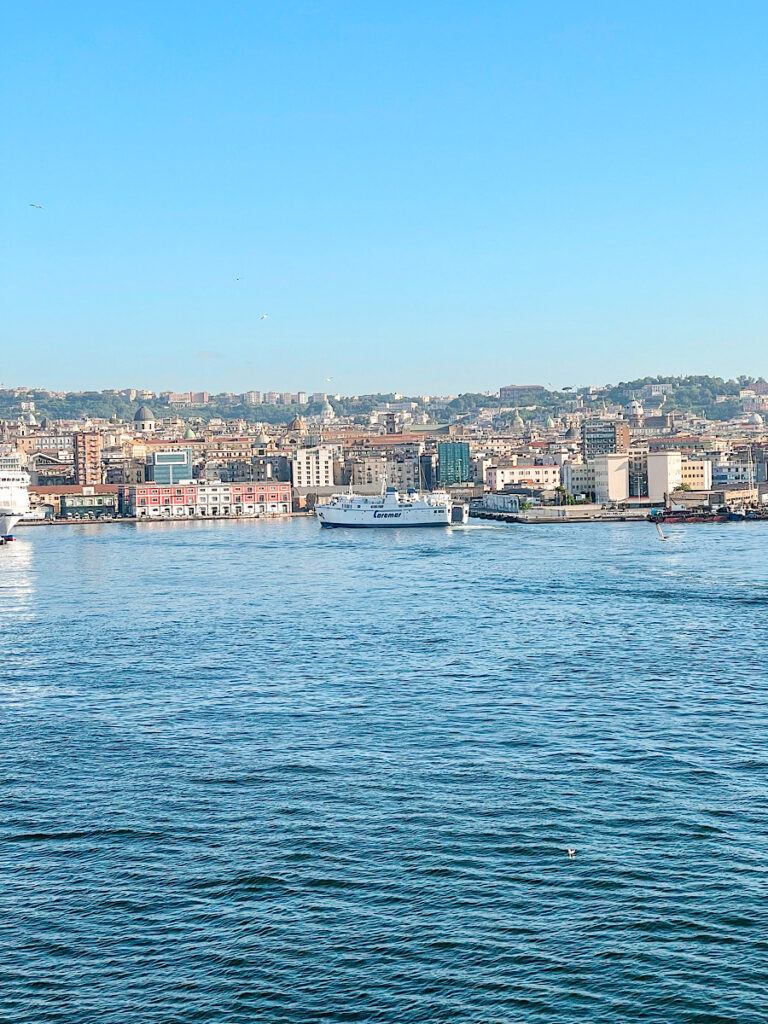 Pompeii, Italy
Pompeii was amazing and I highly recommend you take a tour if you ever visit Naples. Both the kids and adults had fun exploring the ancient ruins.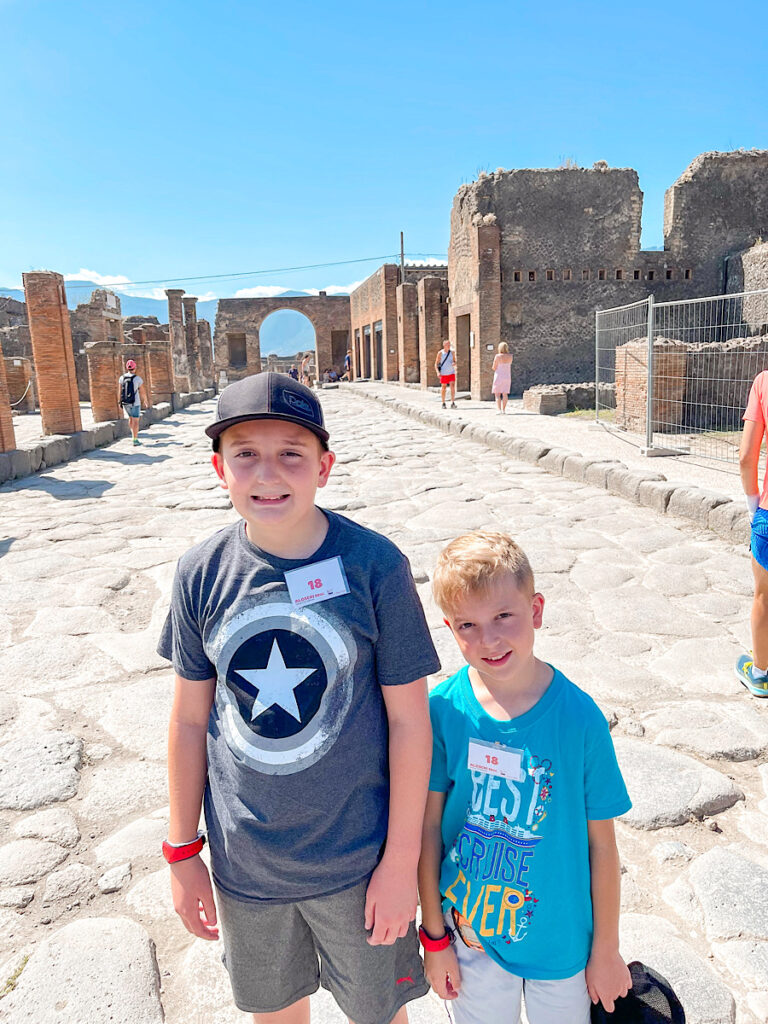 Naples, Italy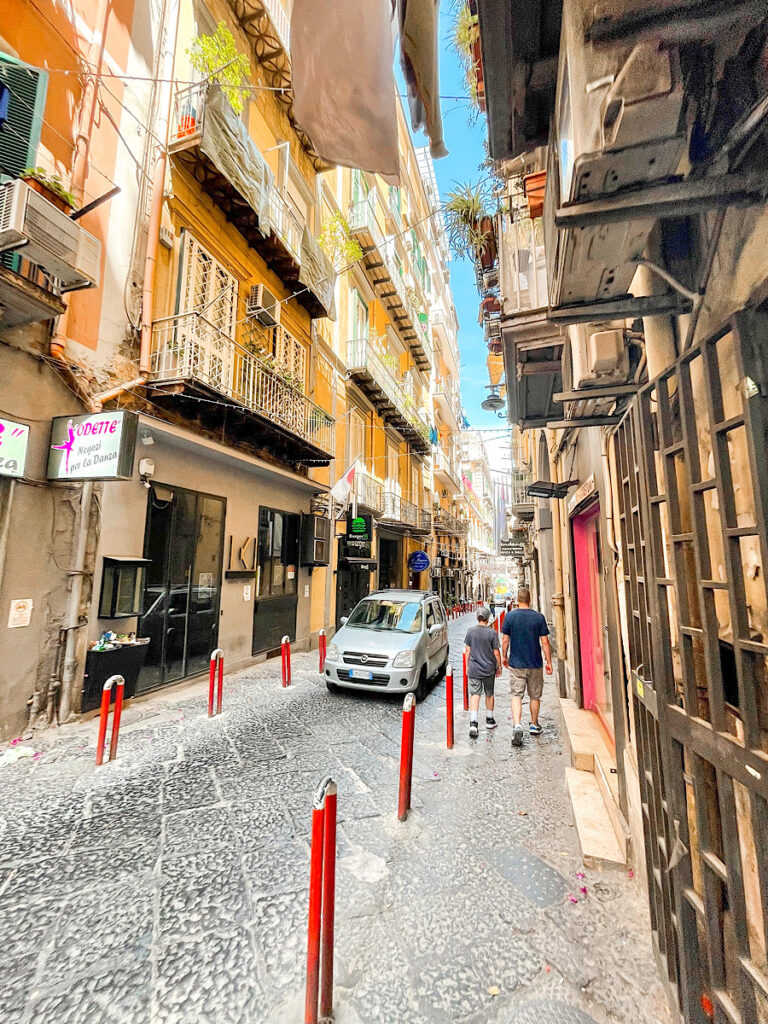 Our tour finished around 12:00. When we arrived back at the port, we decided to walk around Naples to get some pizza for lunch! The restaurant we chose was delicious, but we were surprised to learn that we were charged extra because we sat inside near the air conditioning.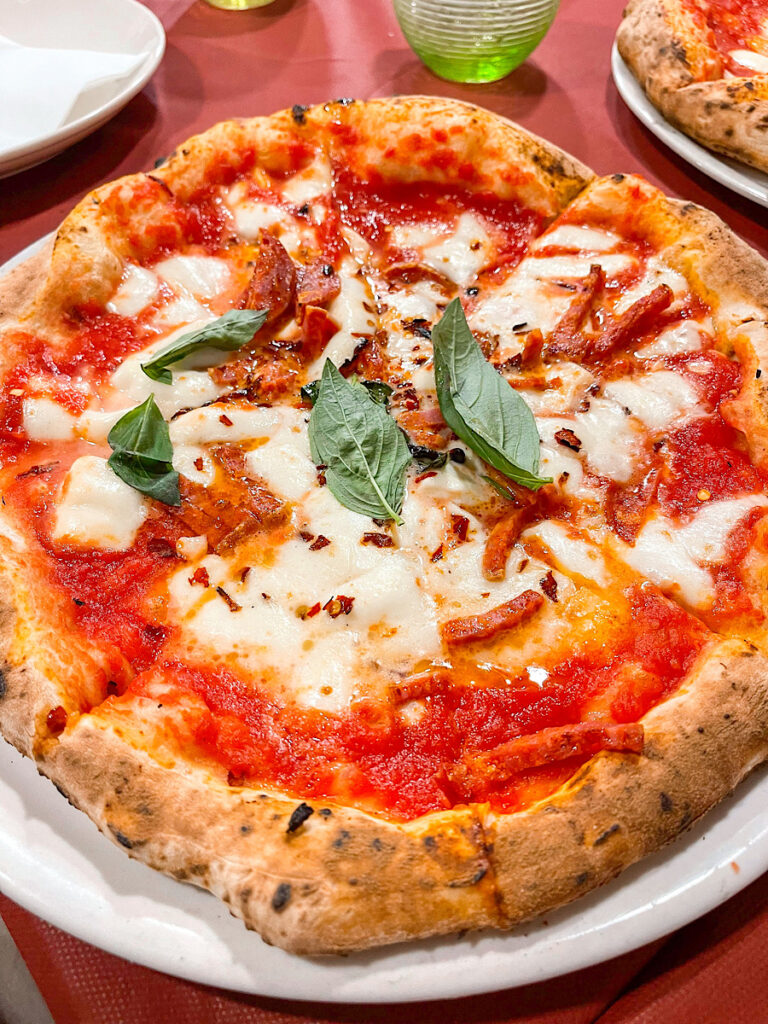 We also had the most amazing gelato, and that was the best we had on our trip! If you ever find yourself in Naples, you don't want to miss Il Gelato!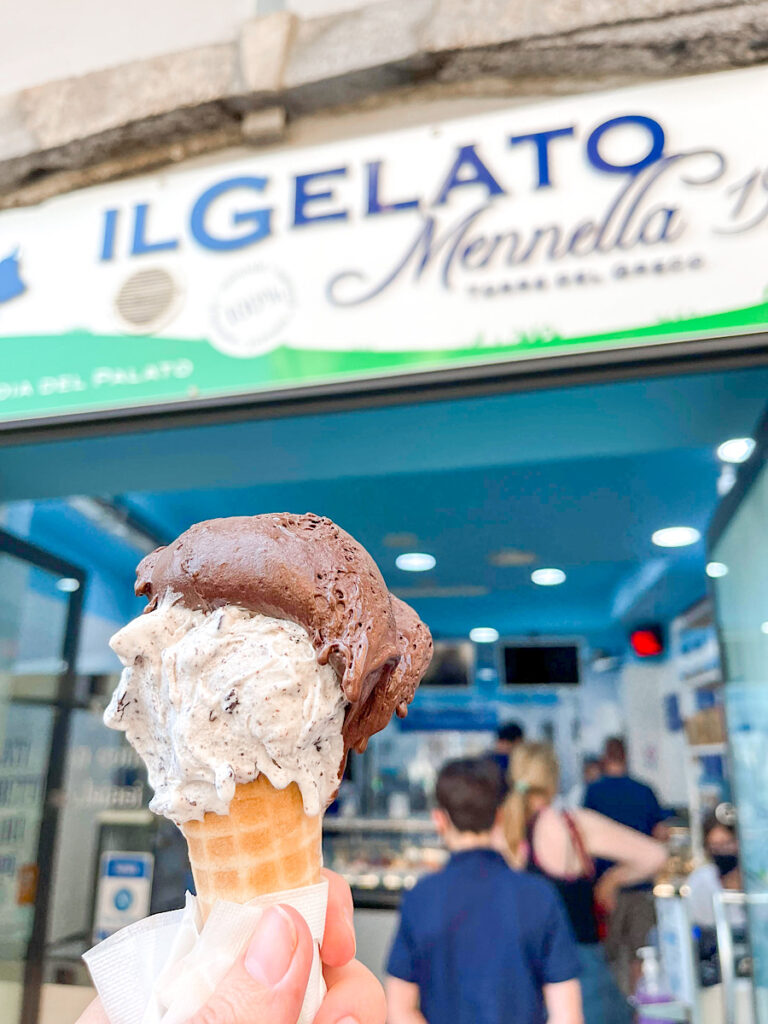 Dinner at Lumiere's
Dinner that night was back on the Disney Magic at Lumiere's, which is a Beauty and the Beast-themed restaurant.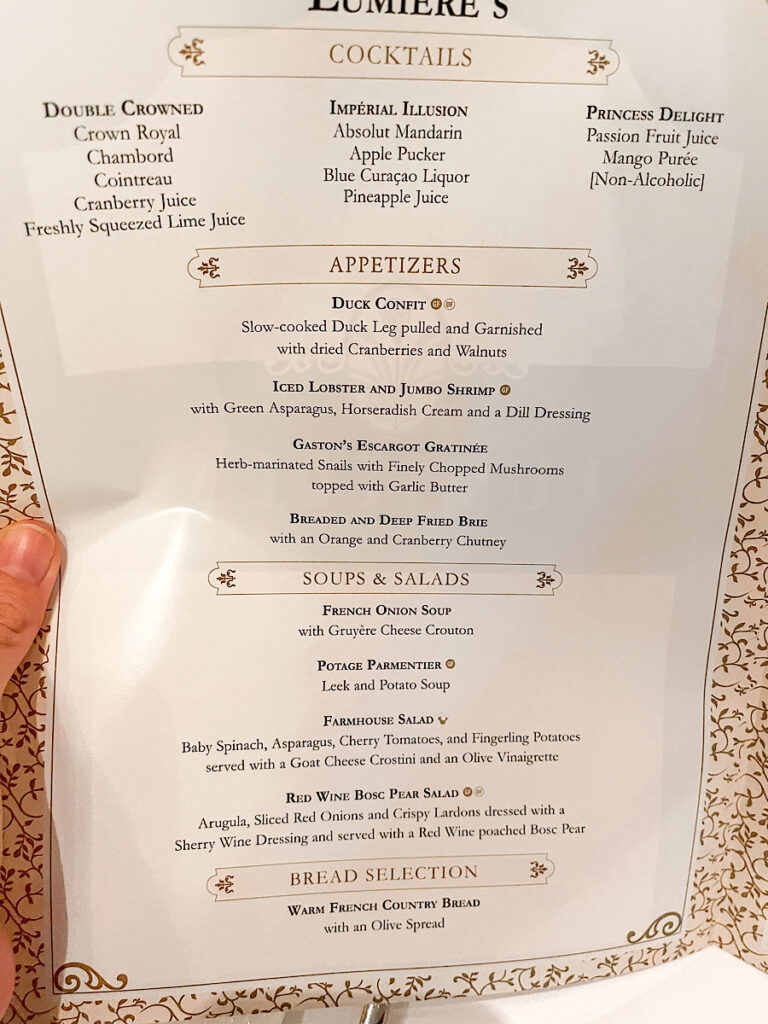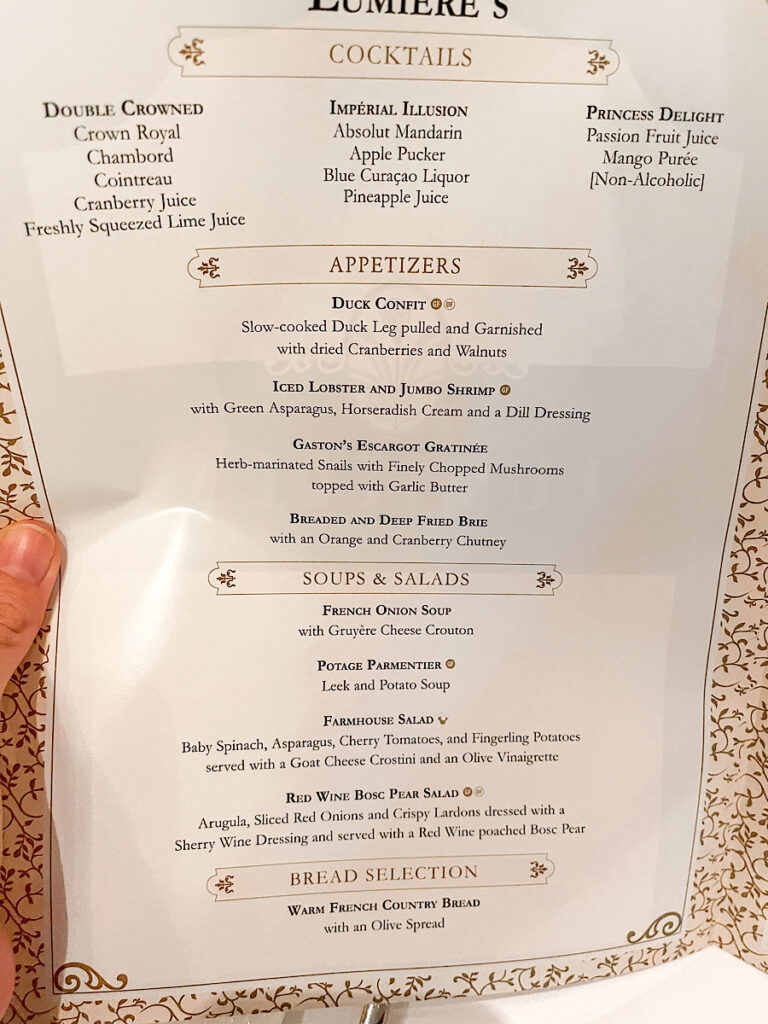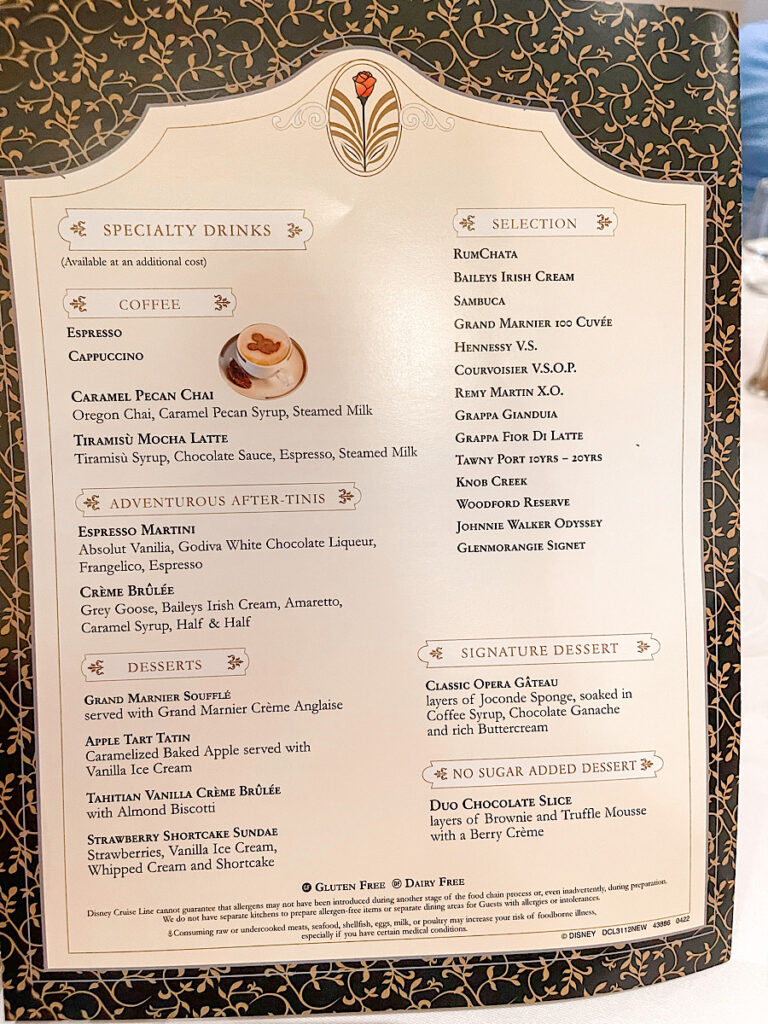 Here are some of the menu items we ordered.
French Onion Soup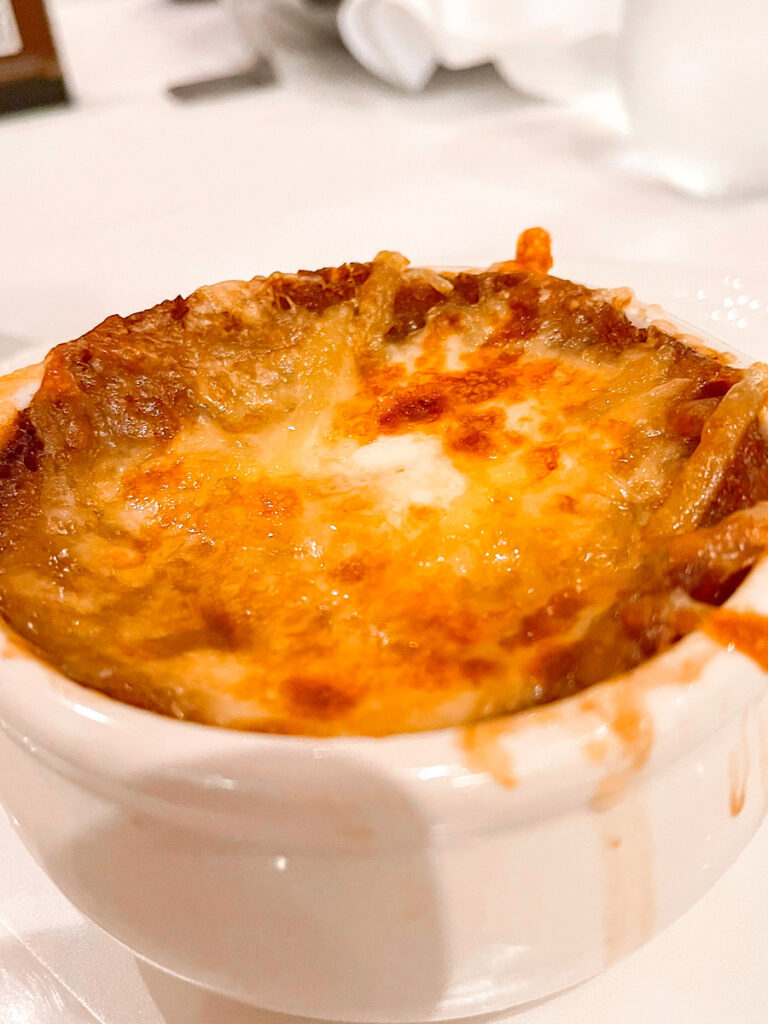 Oven-Baked Salmon Royal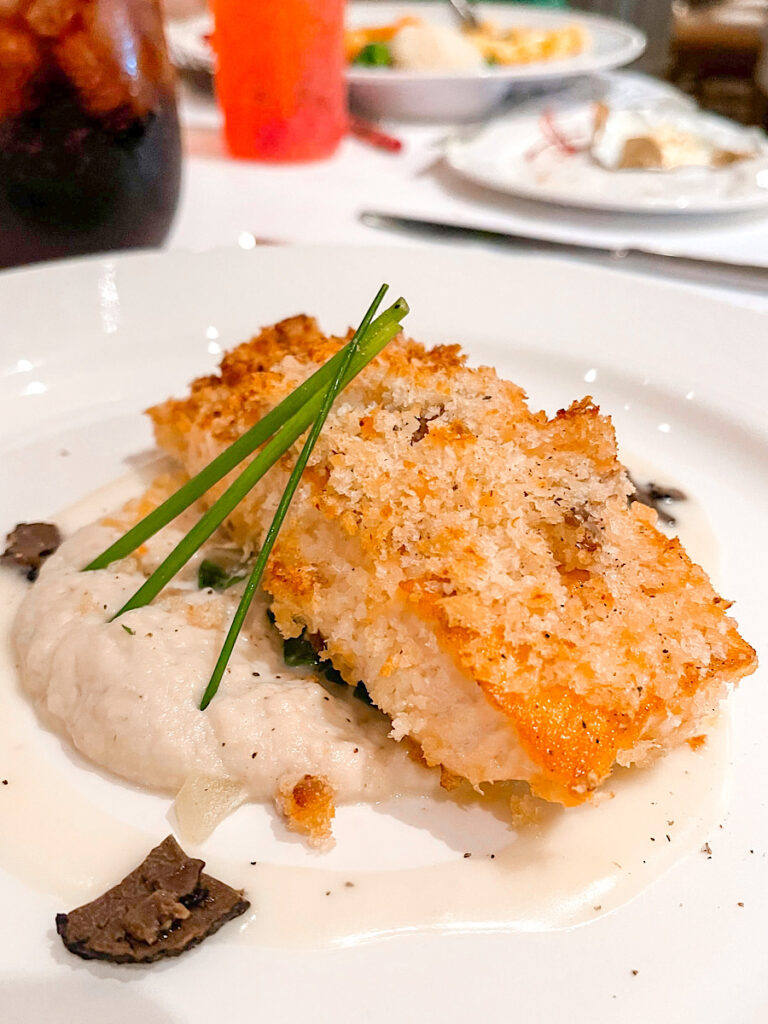 Grilled Marinated Tofu with Roasted Zucchini, Eggplant and Red Peppers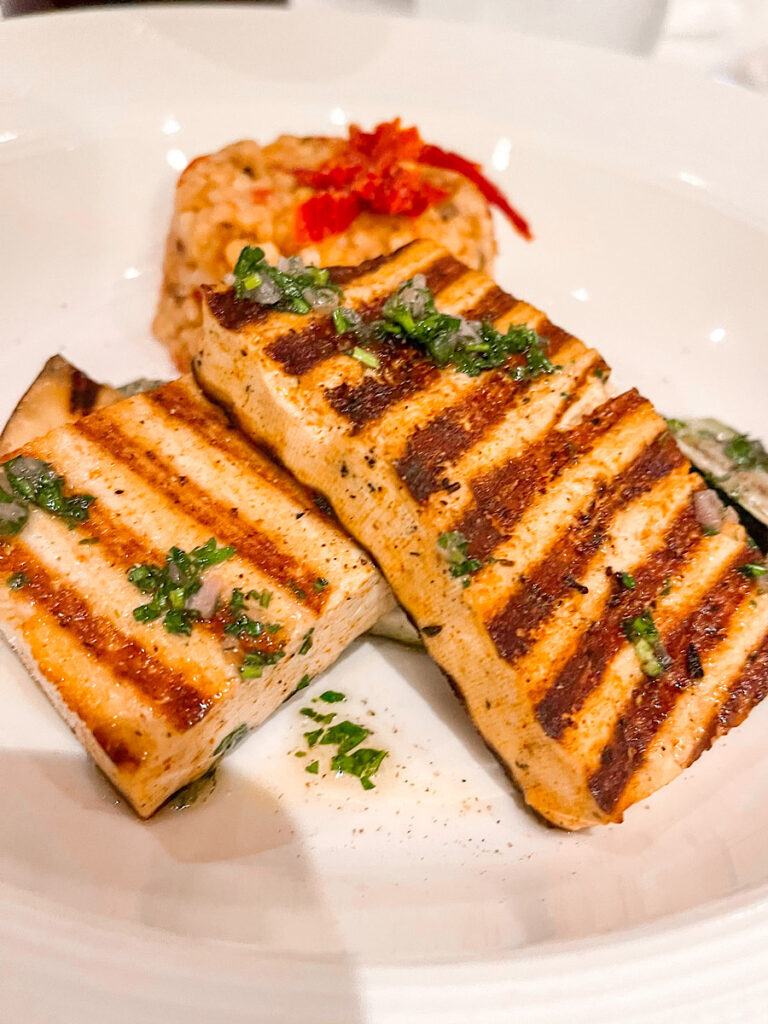 Strawberry Shortcake Sundae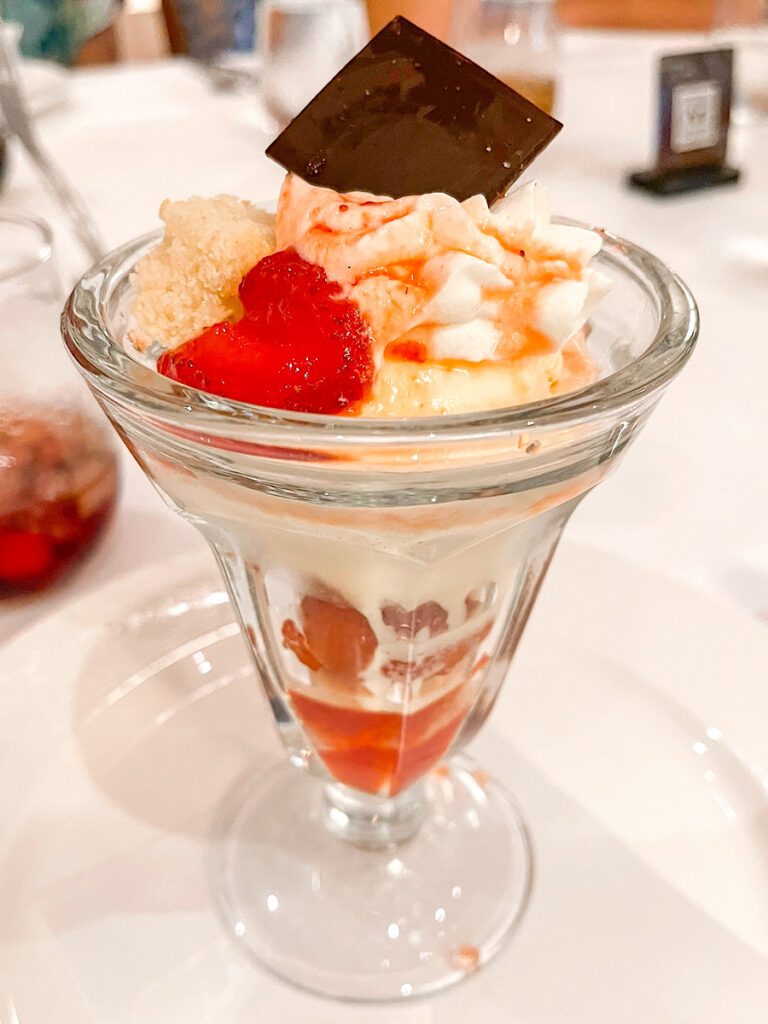 Day 4 Civitavecchia, Italy (Rome)
On Day 4, we woke up as we were pulling into port in Civitavecchia, Italy. After getting ready for the day, we went upstairs to have our usual breakfast at Cabanas buffet.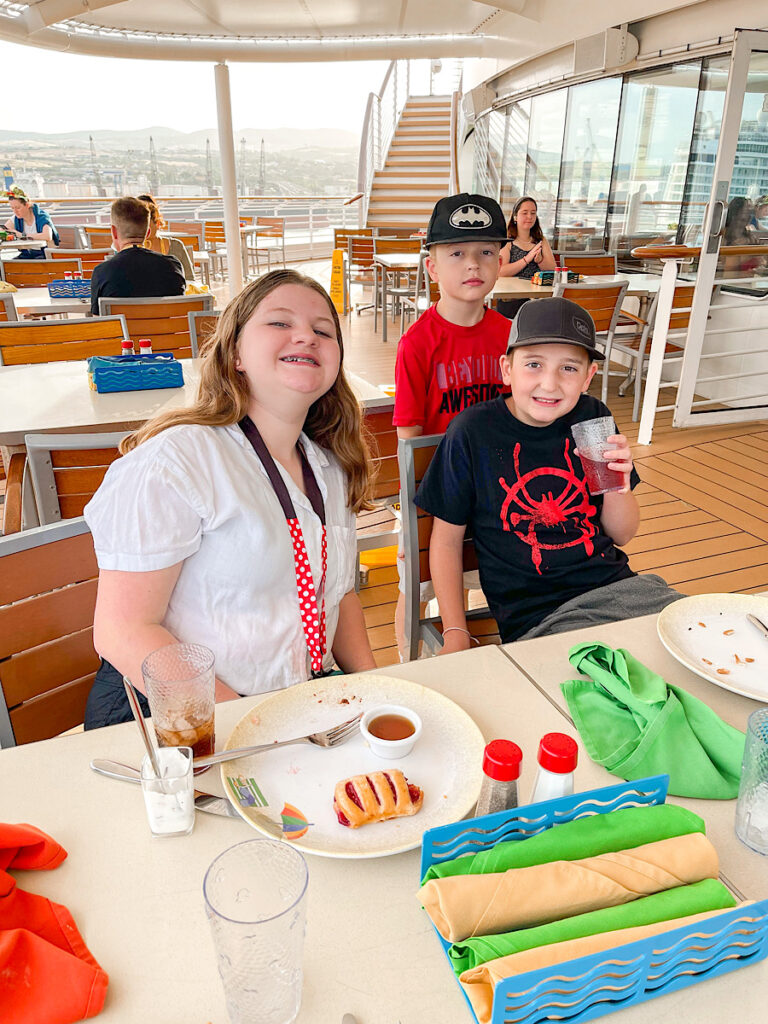 For our excursion to Rome, we went with a private tour guide. There were 8 of us, including our friends and the price ended up being less expensive than any of the Disney excursions.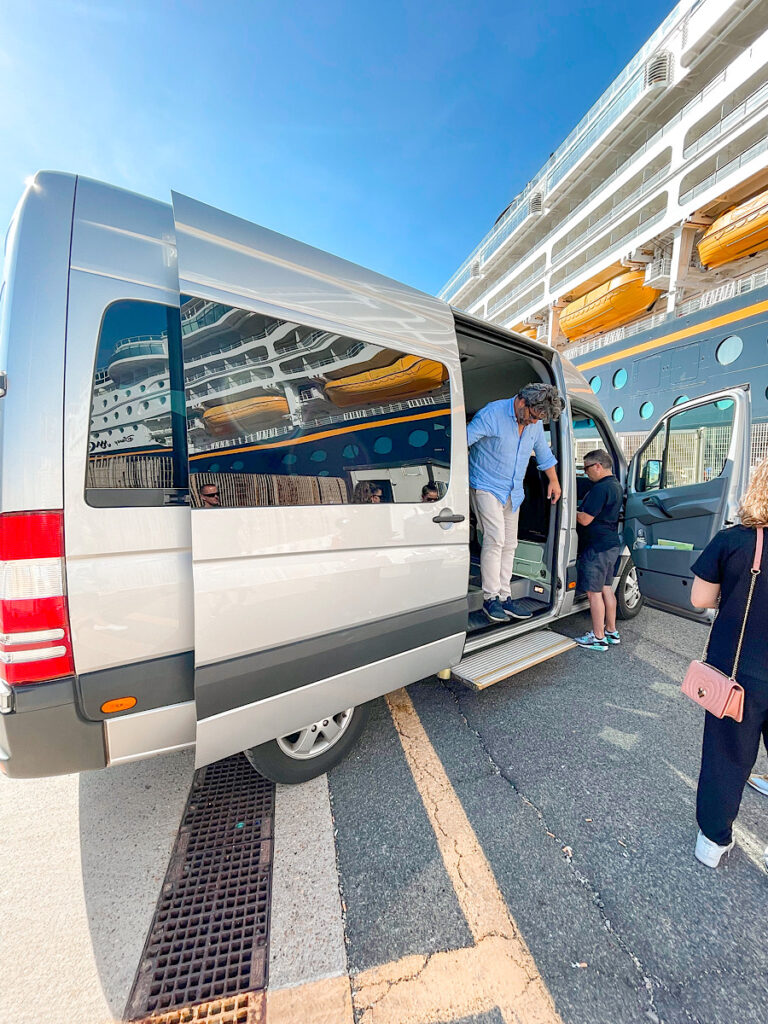 Our tour guide was waiting for us when we got off the ship and we got in a very roomy van, for our ride to Rome.
Touring Ancient Rome
One thing I learned is that there is a wall that completely surrounds Ancient Rome. Although the city is much larger now, the wall still stands.
Touring Rome was absolutely amazing, but I wish we had more time to spend looking at different land marks and going inside the Vatican and the Colosseum, but there is only so much time in the day!
Here are a few places we stopped to visit:
Trevi Fountain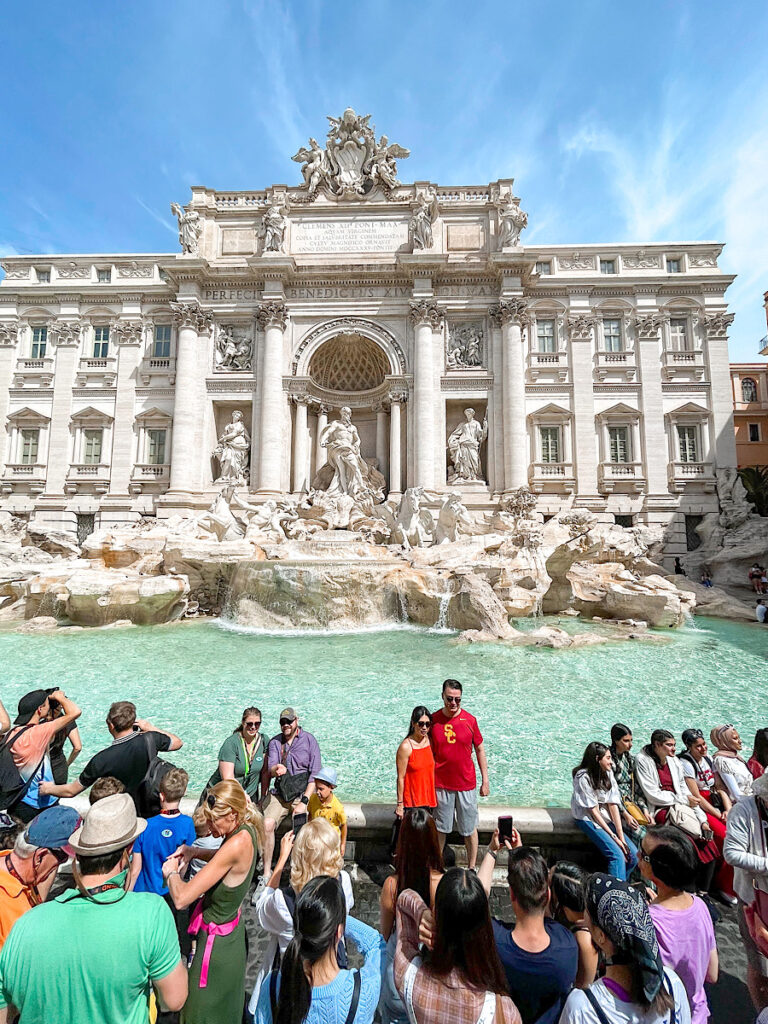 Spanish Steps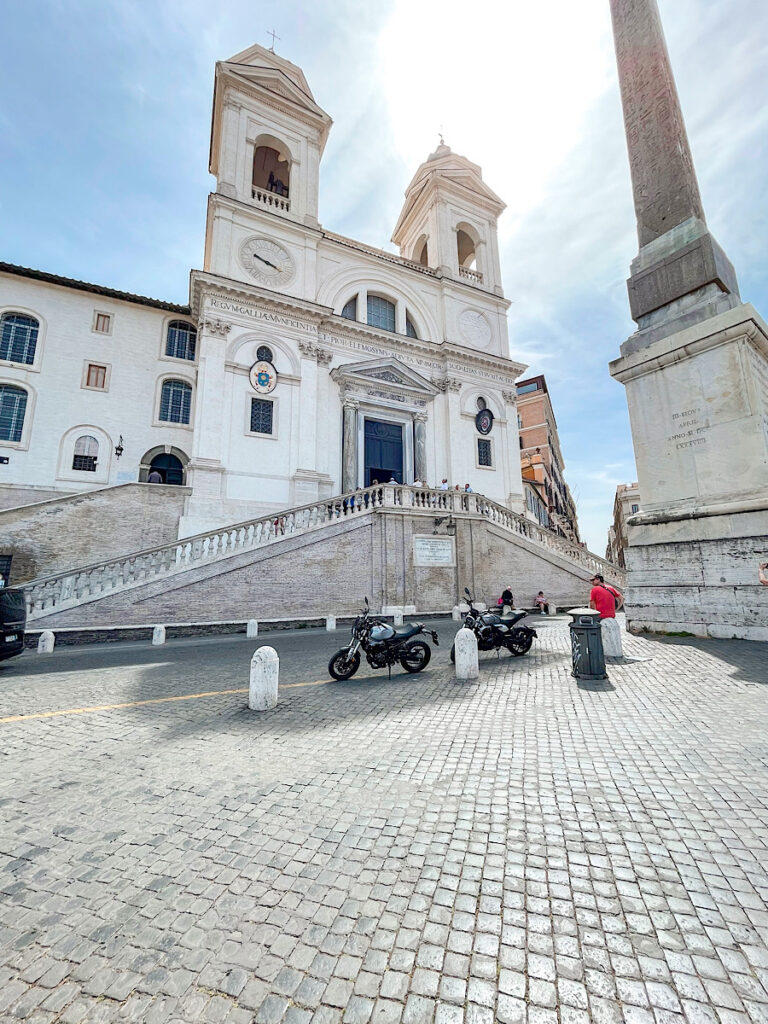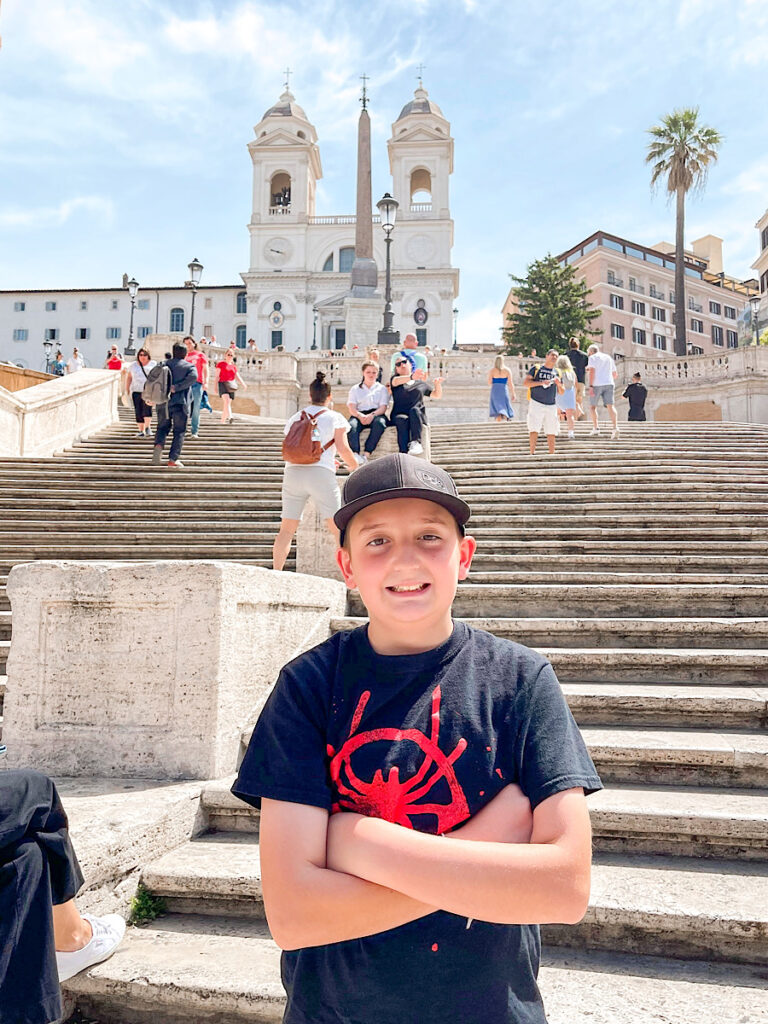 Victor Emmanuel II Monument (Wedding Cake)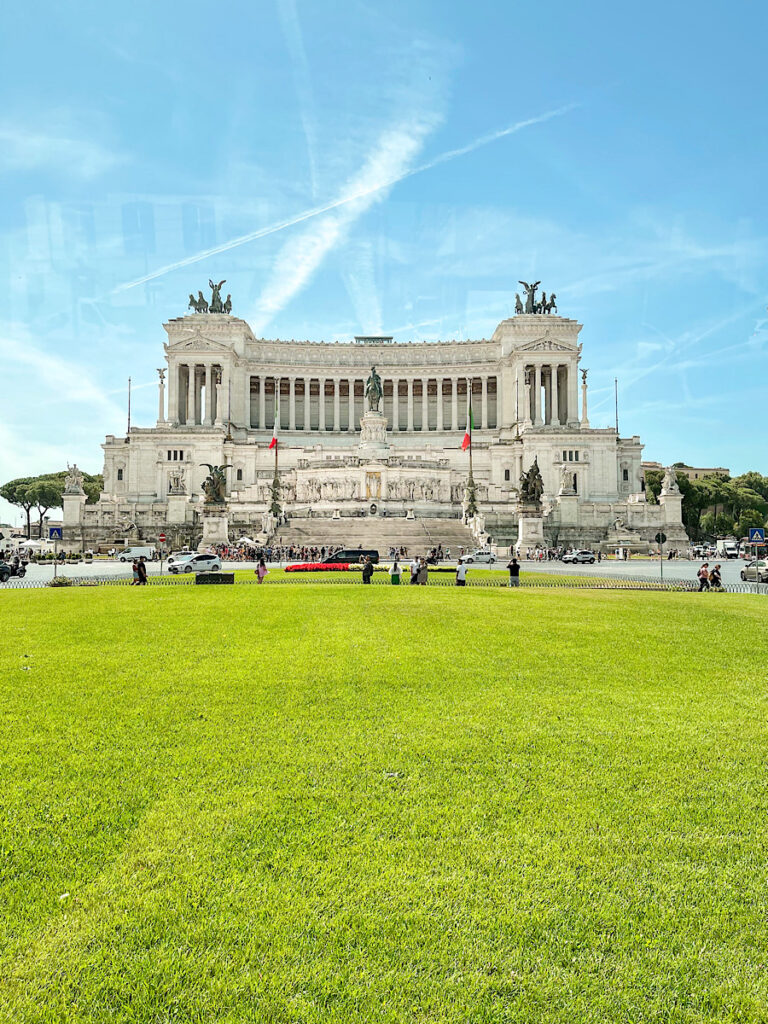 Roman Forum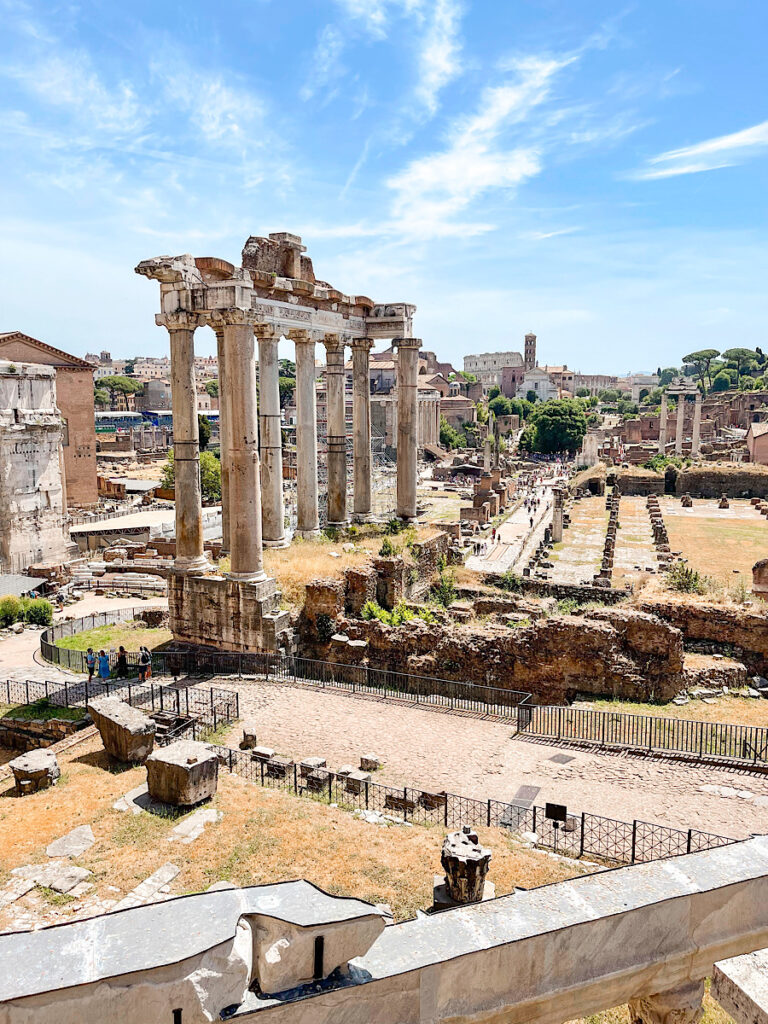 Perione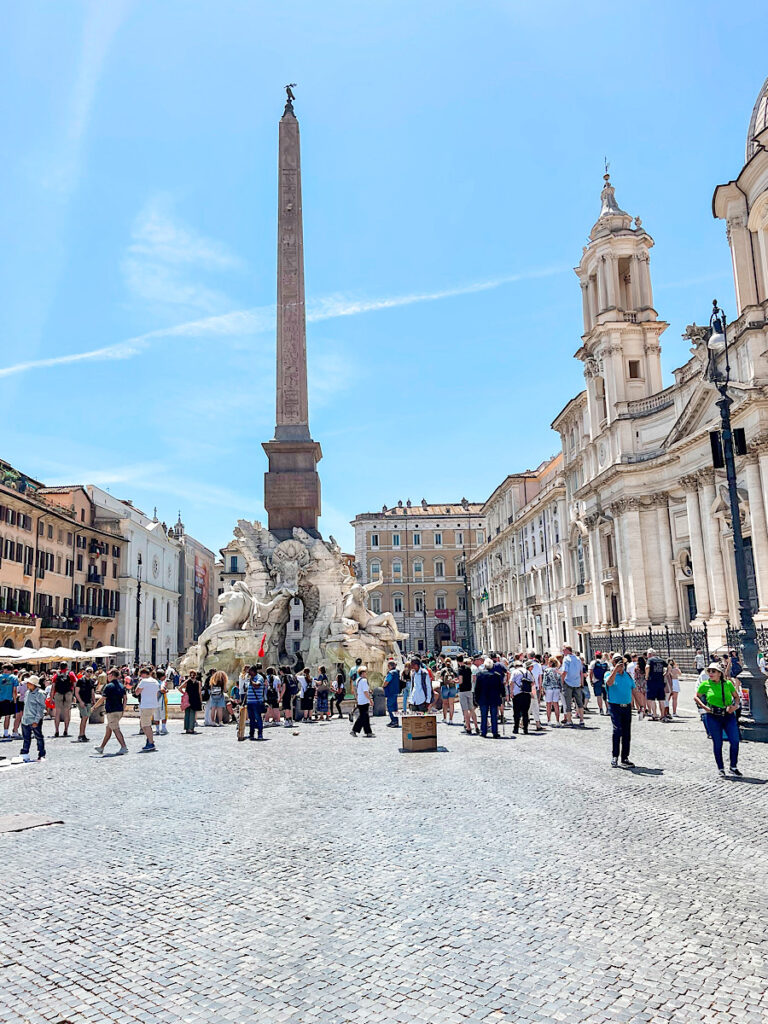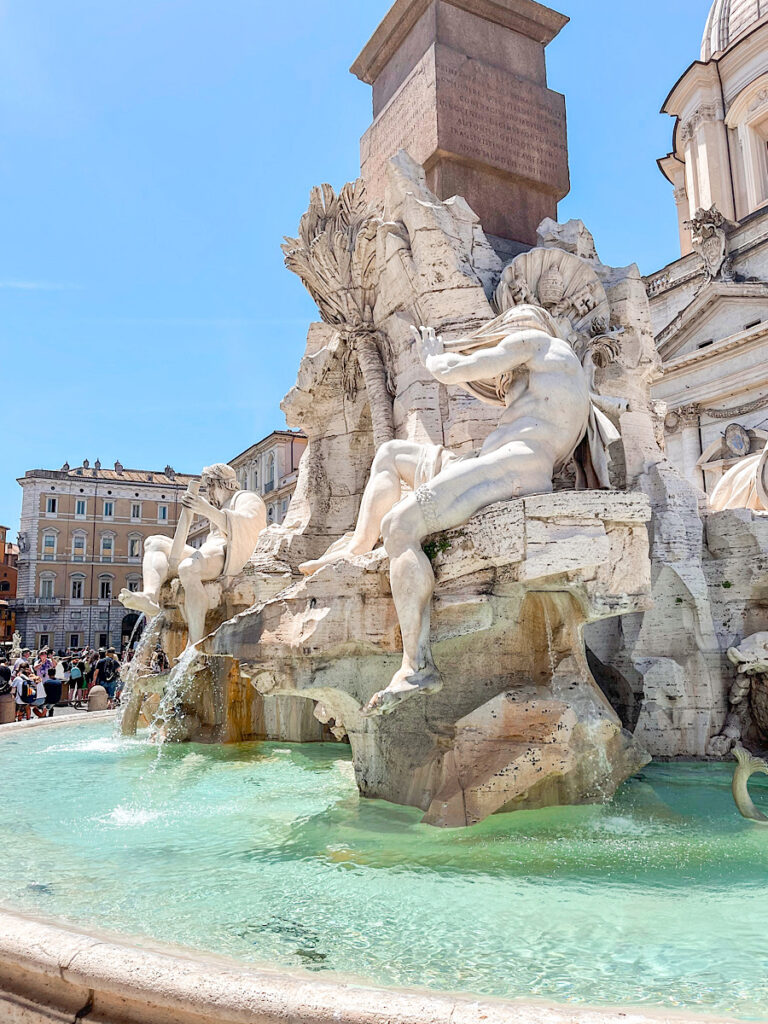 Colosseum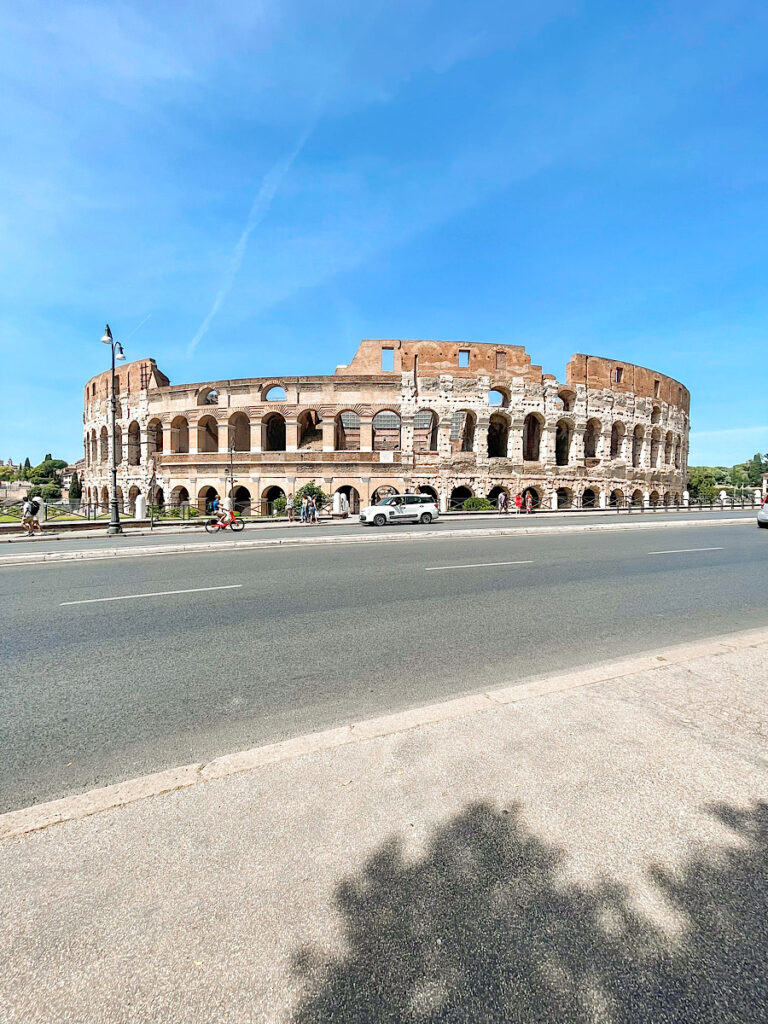 Gelato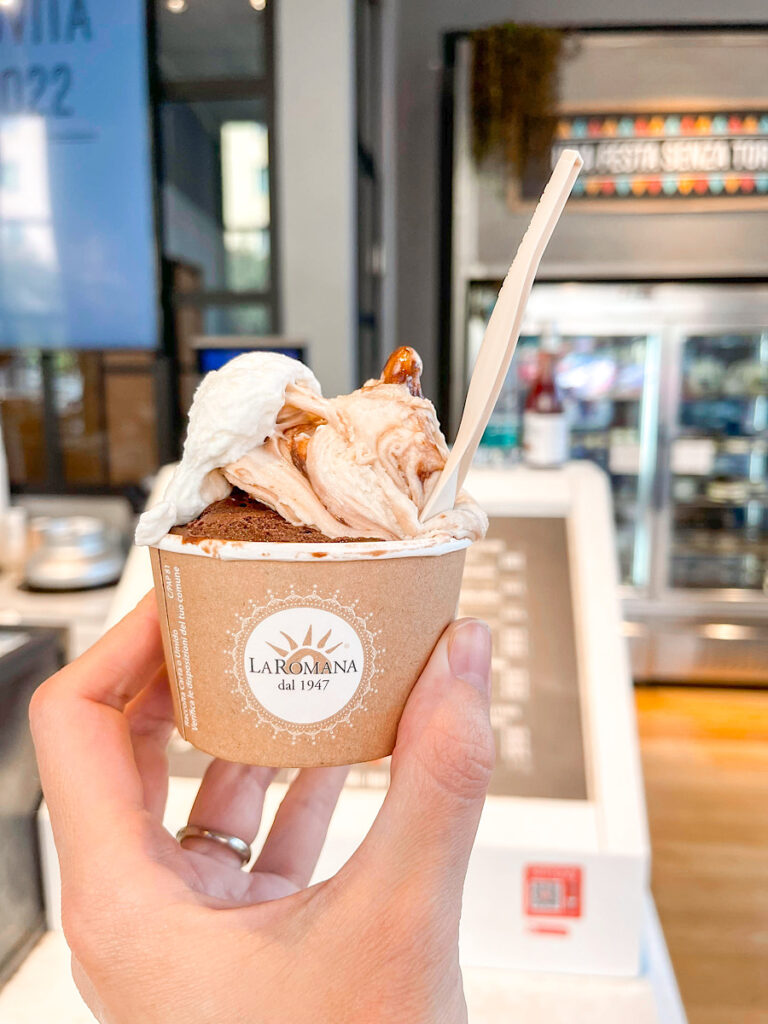 Dinner at Animator's Palate (Animation Night)
We made it back to the ship, just in time for dinner at Animator's Palate. On longer cruises, guests are able to draw their own character before dinner, then it will come to life later, after dessert. This was our night to animate!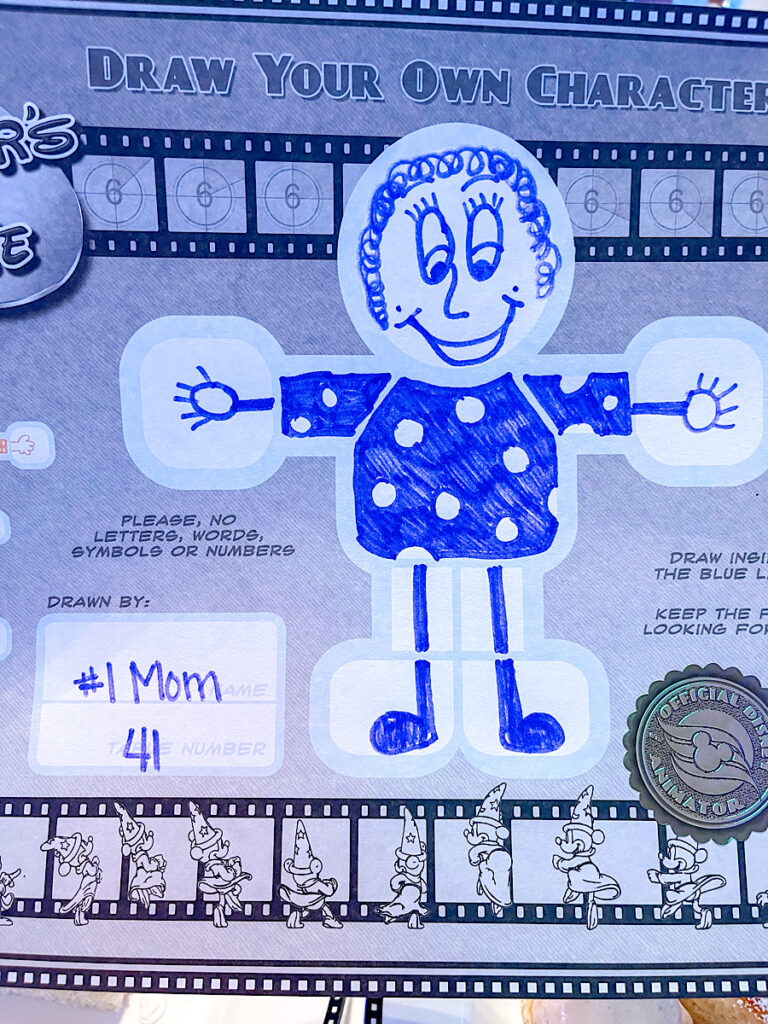 Check out this video about being a Disney animator below.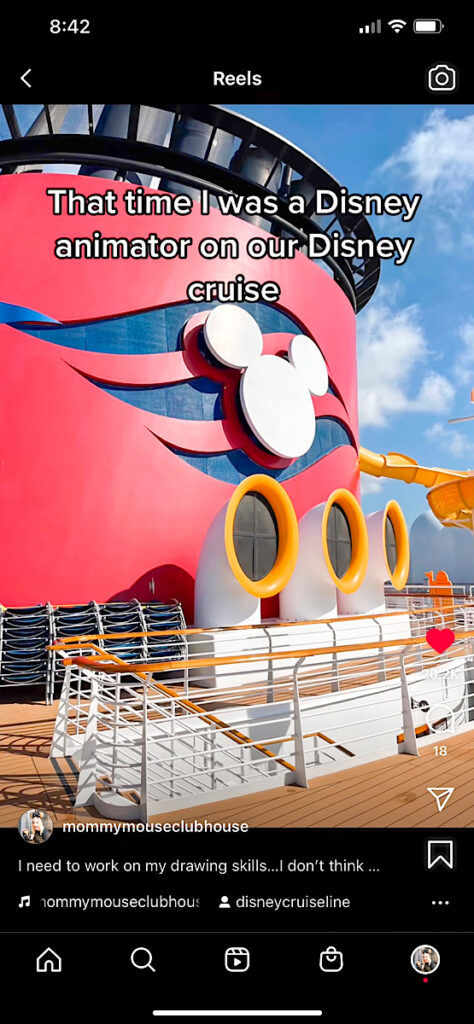 Animator's Palate Menu #2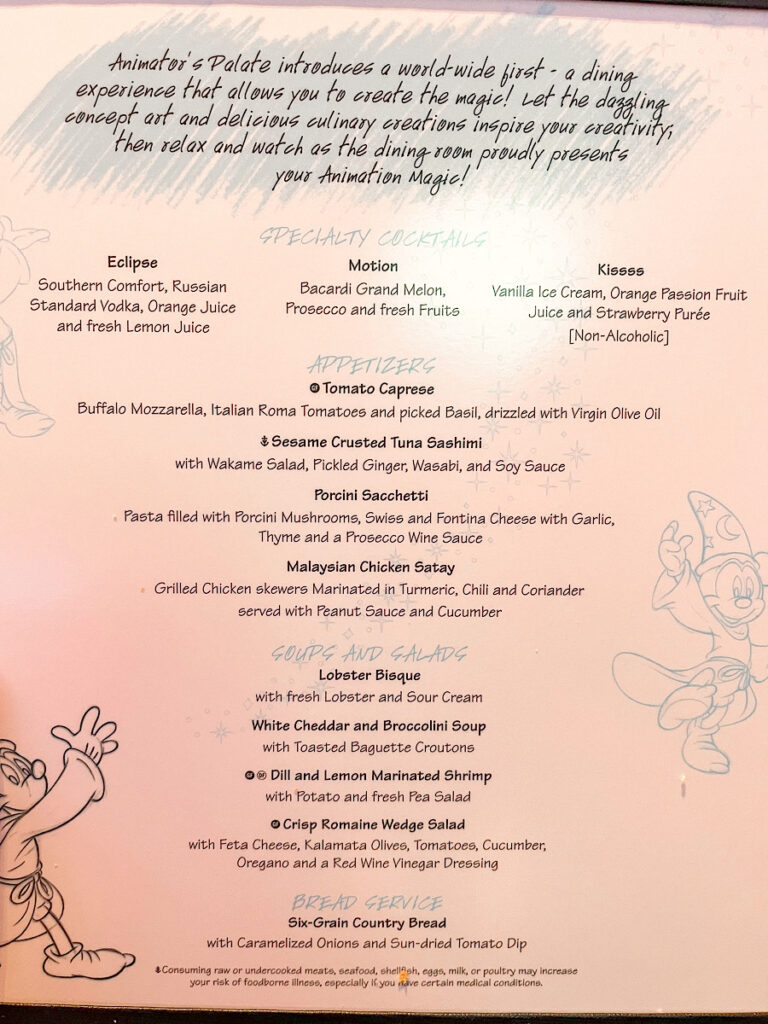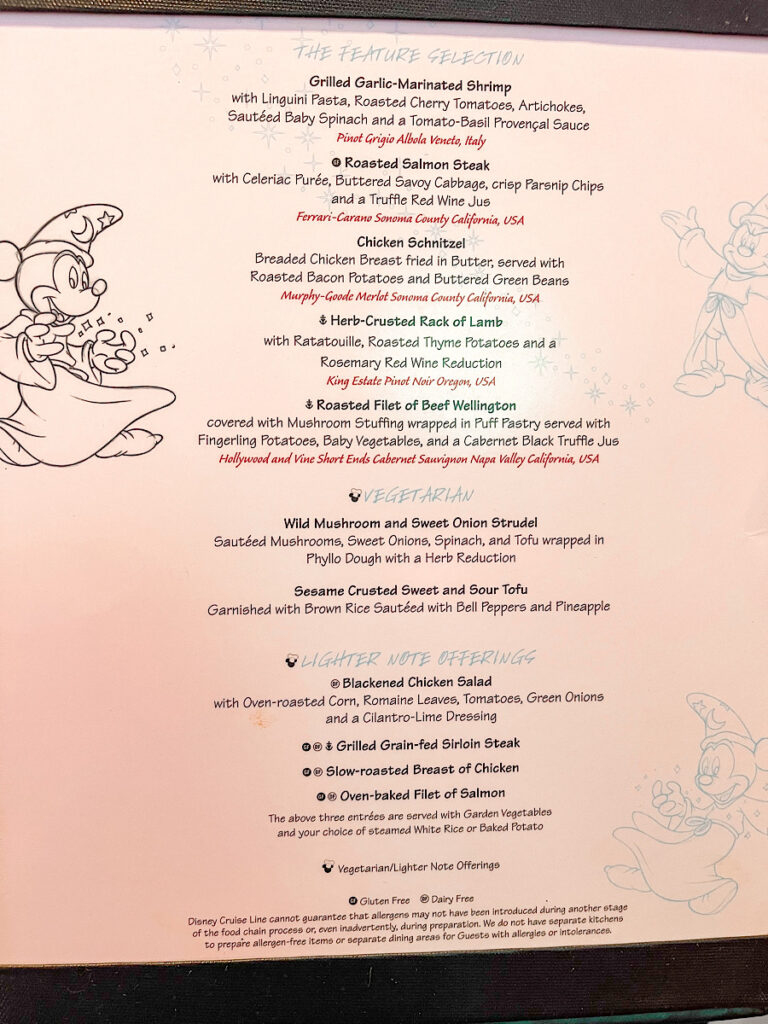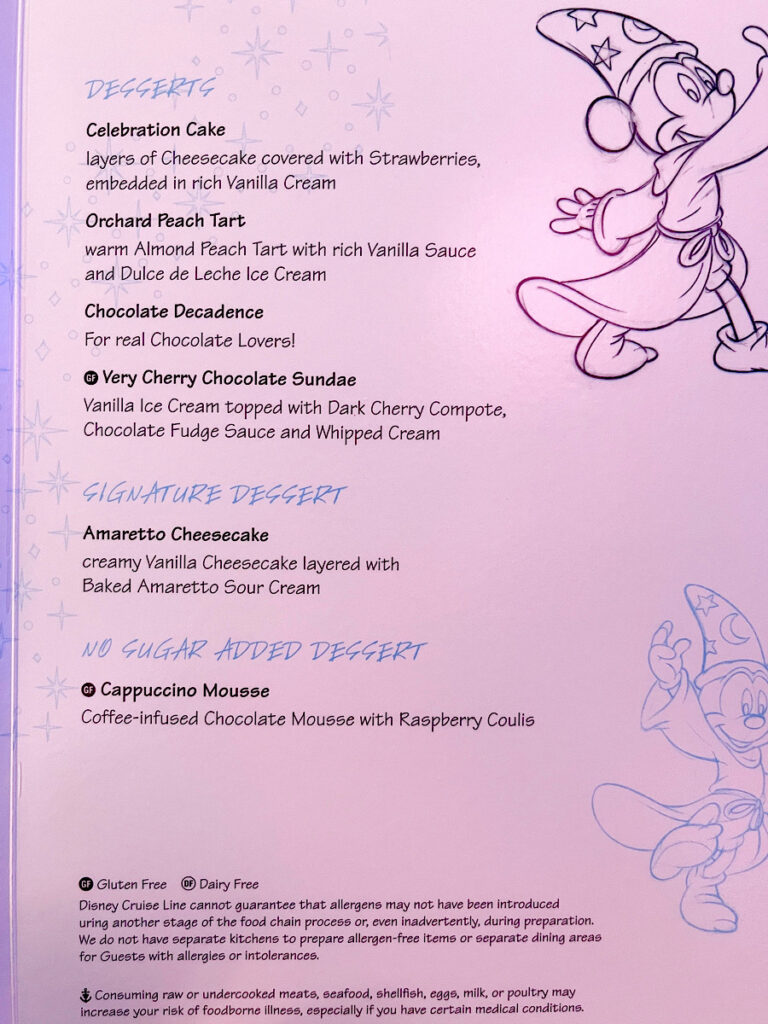 Here are some of the menu items we tried:
Tomato Caprese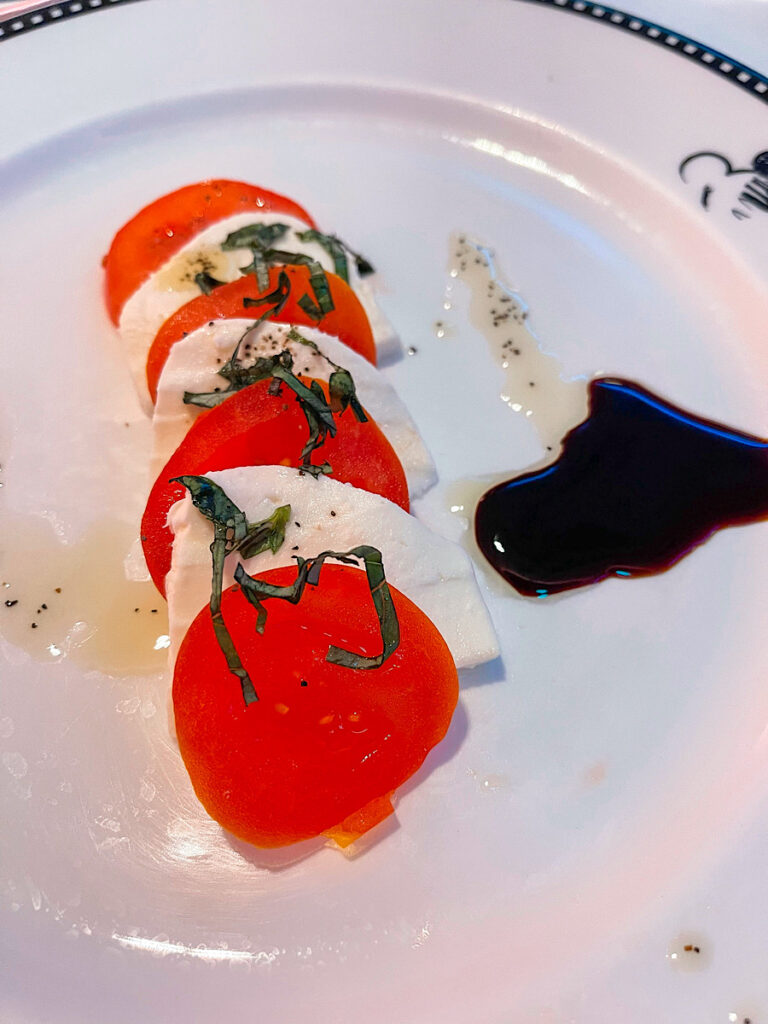 White Cheddar and Broccolini Soup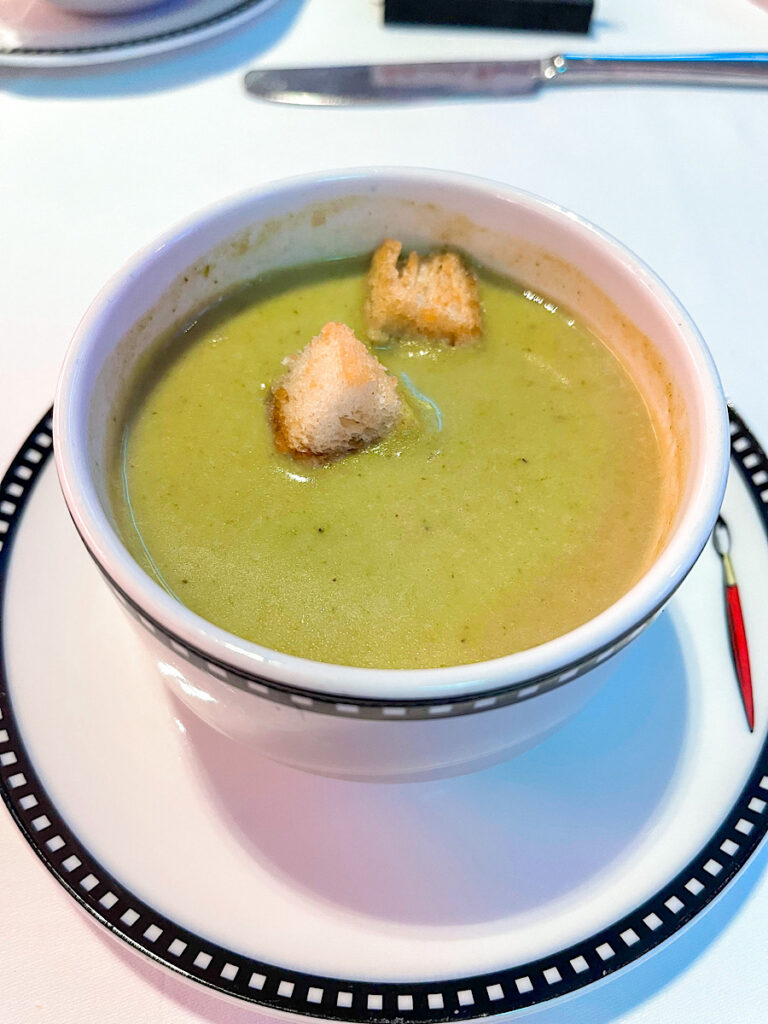 Chicken Schnitzel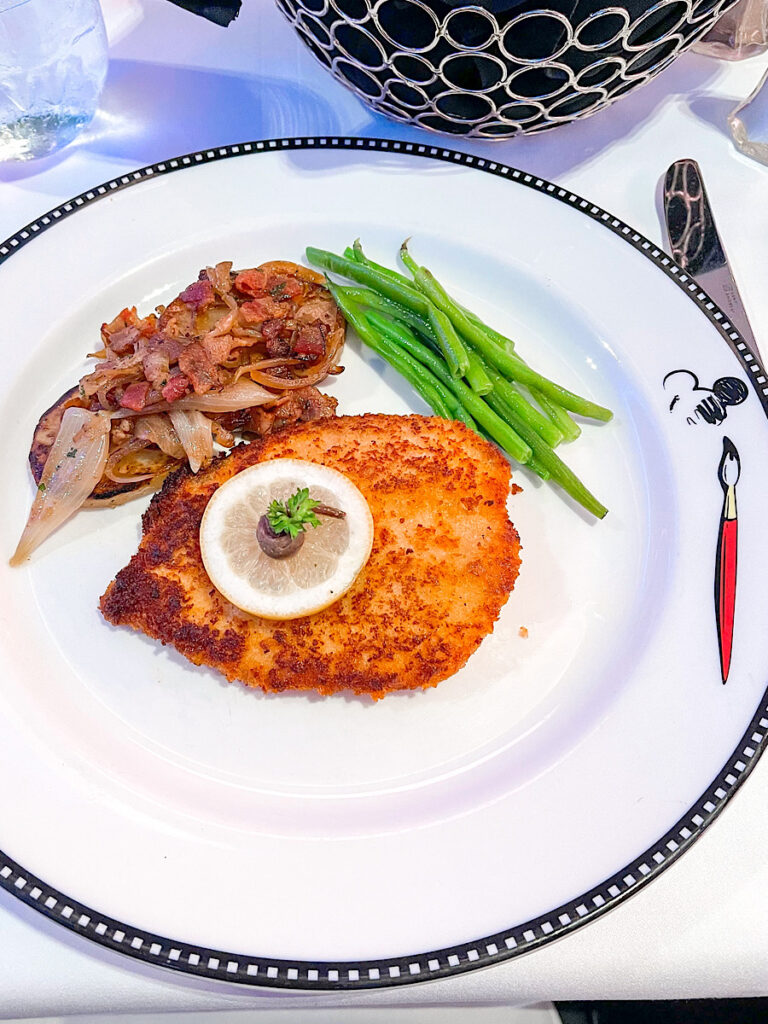 Blackened Chicken Salad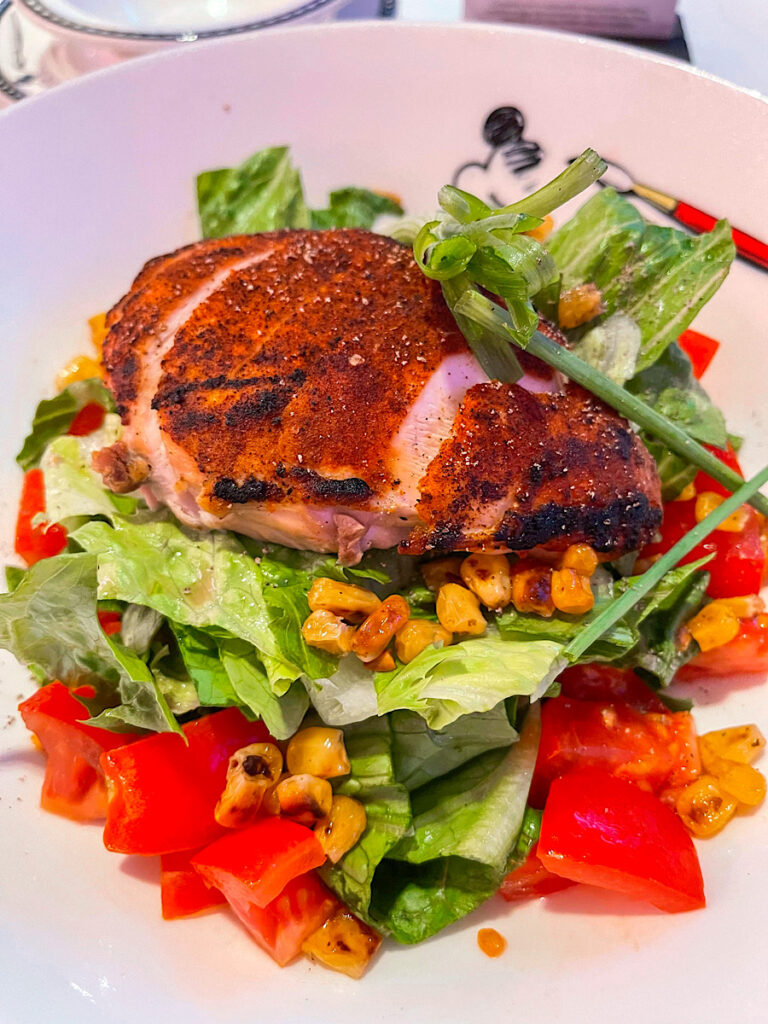 Celebration Cake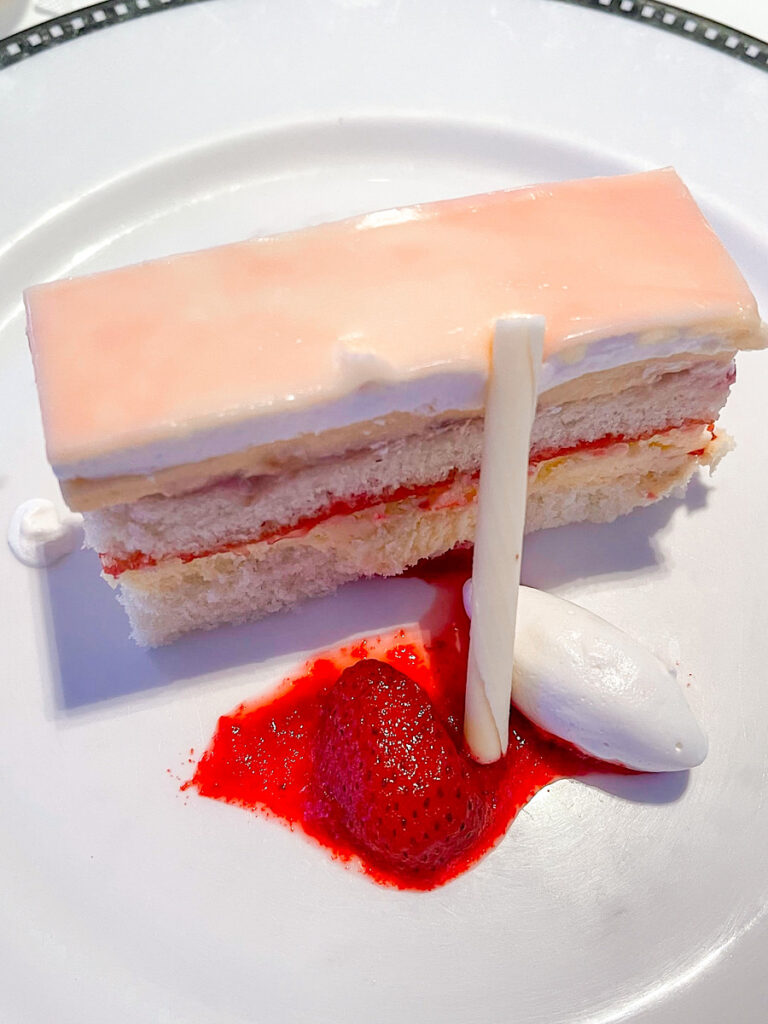 Chocolate Decadence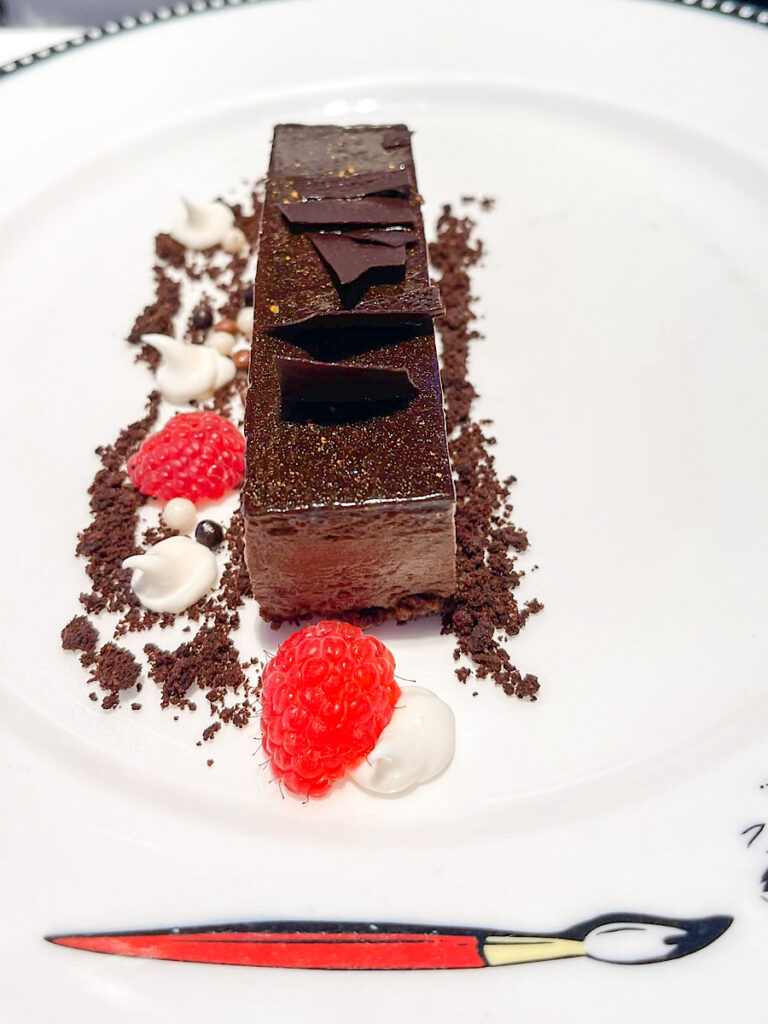 Orchard Peach Tart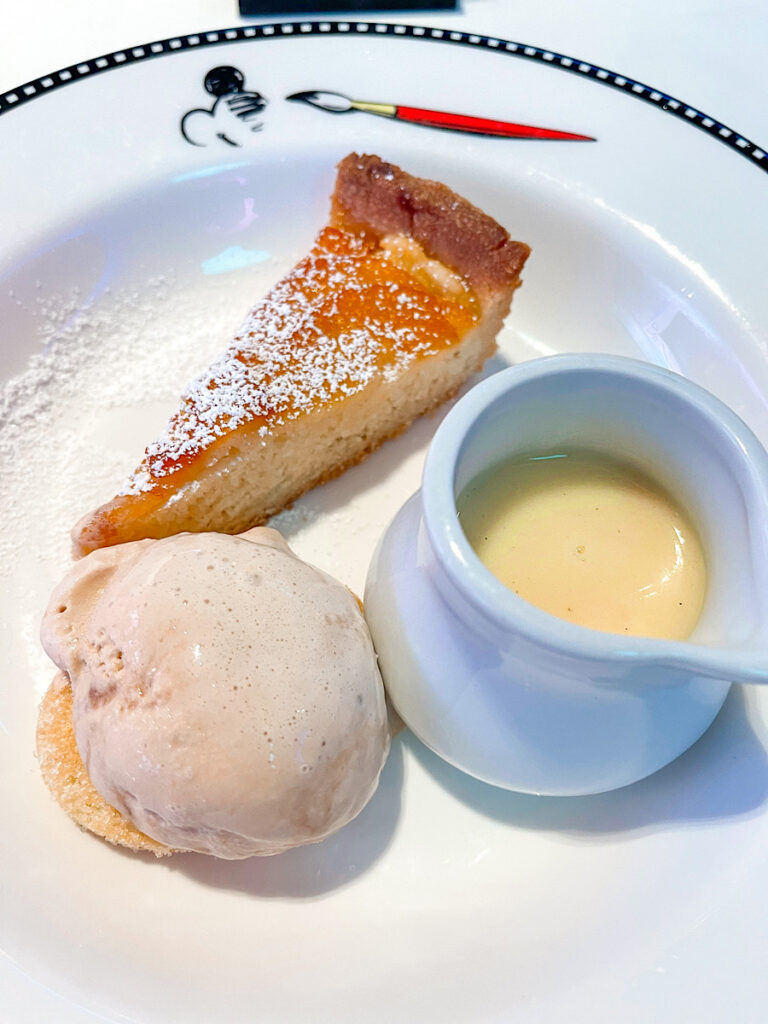 Kids Menu Cheesecake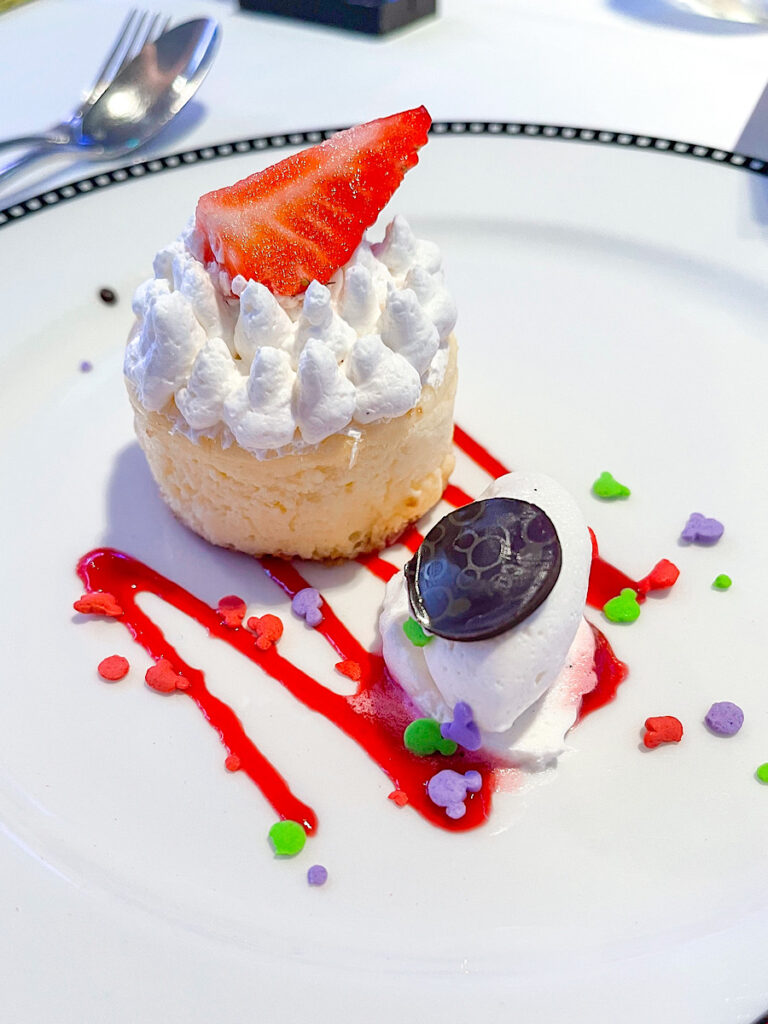 Hot Tub & Relaxing
Everyone was tired from our excursions so we ended up relaxing in the hot tub while the kids watched a movie on the Funnel Vision for the rest of the night.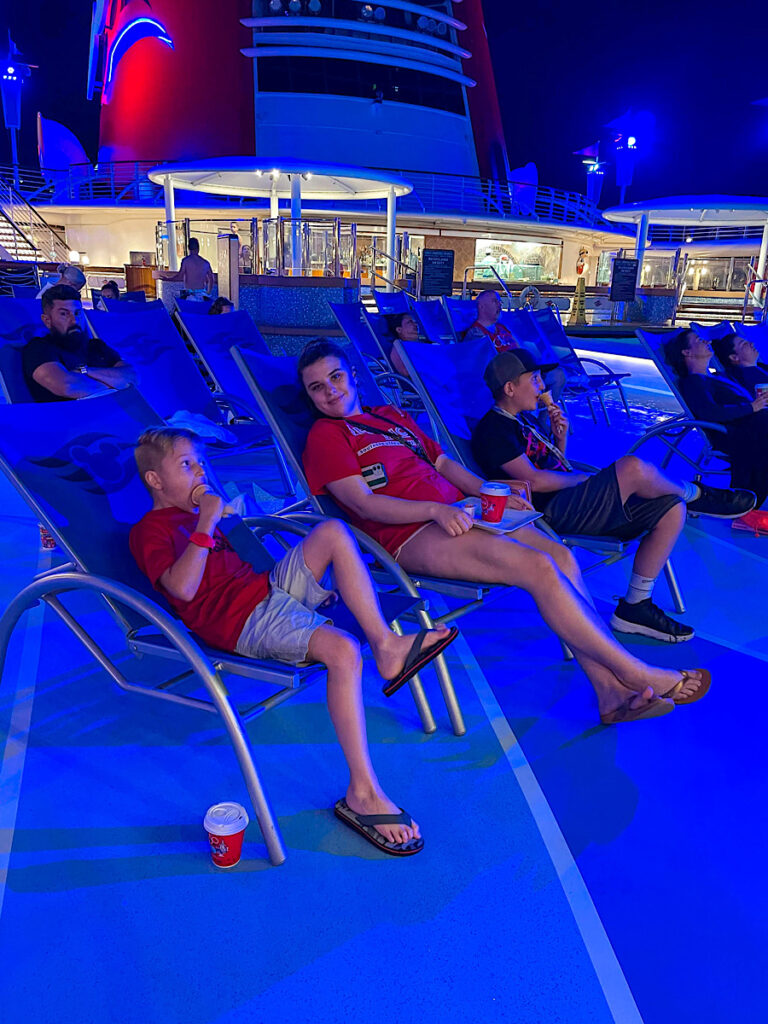 Day 5 Livorno, Italy (Florence & Pisa)
We woke up on Day 5 in Livorno, Italy which is the port that gets you to Florence and Pisa.
After having breakfast at Cabanas, we met with our Disney Excursion group in the Walt Disney Theater and boarded the bus that would take us first, to Florence.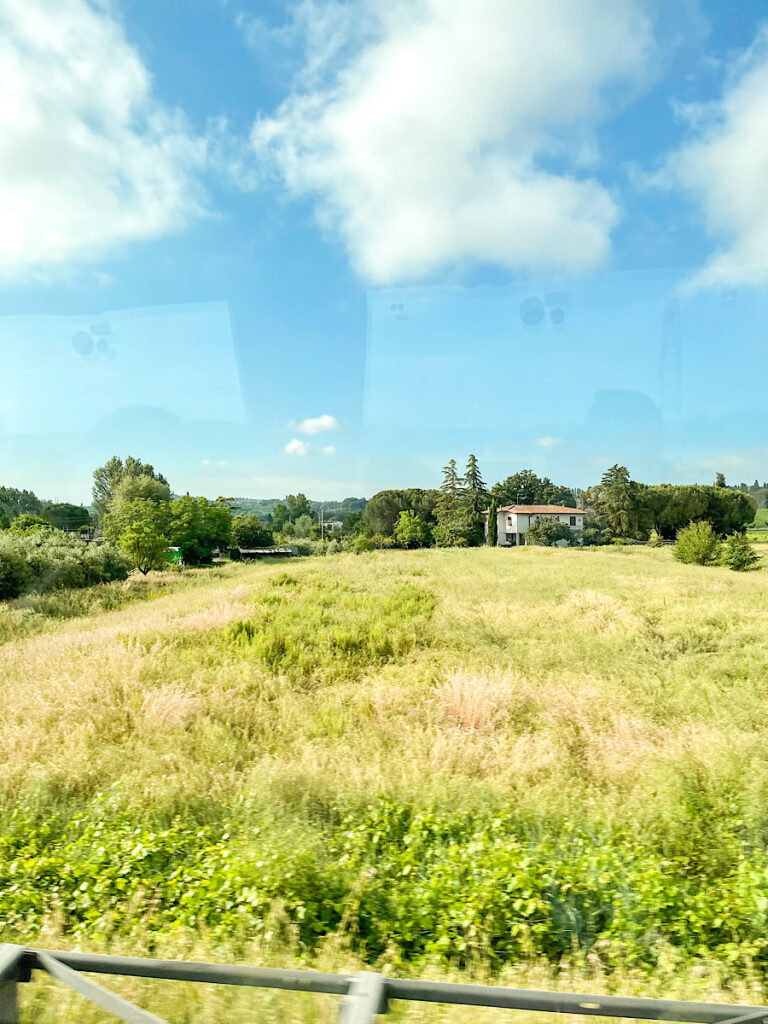 Disney Excursion to Florence
Our tour began in Florence. The tour did not include going inside the Uffizzi museum, so we had planned to visit ourselves and meet up with the group later. Unfortunately, the tickets we purchased tickets online before the cruise to see the David, were the wrong time and were not able to change them.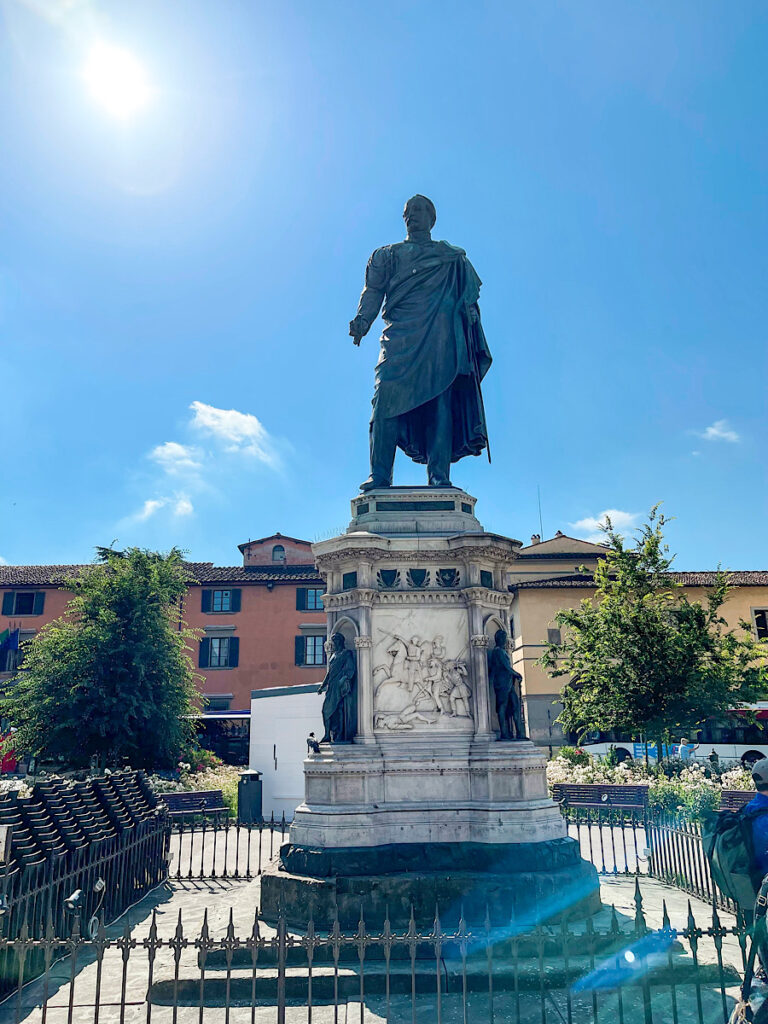 Luckily, we were able to follow the map from our tour guide and were able to catch up to our group a few minutes later.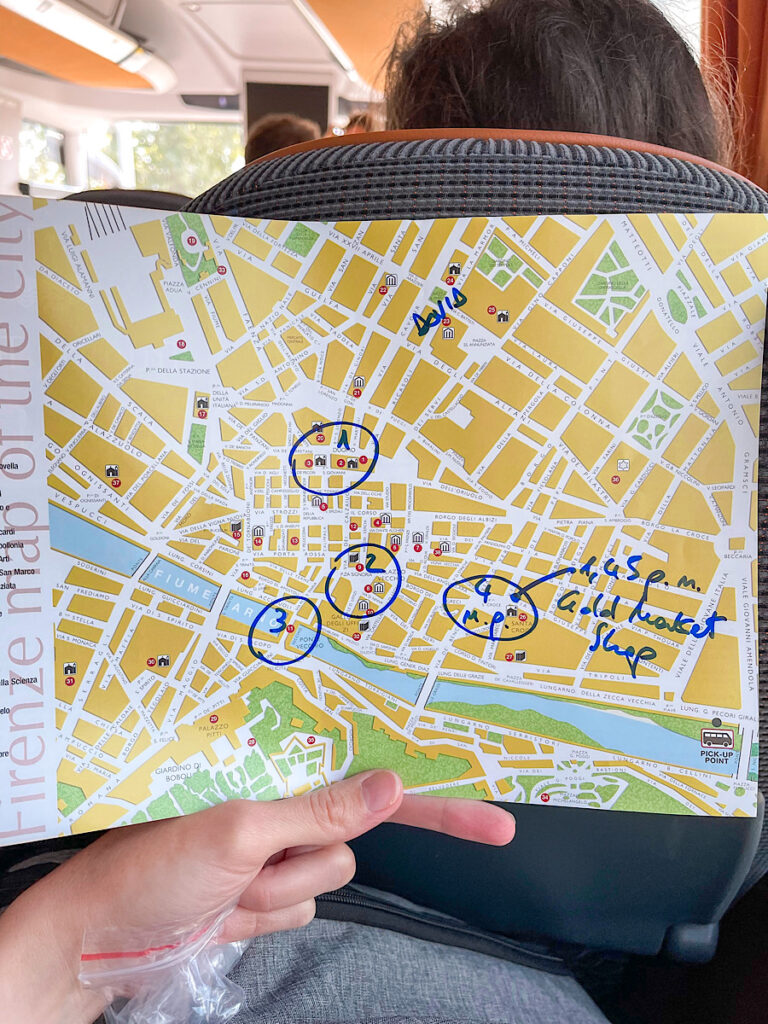 Here are some of the sights we saw in Florence:
Duomo Florence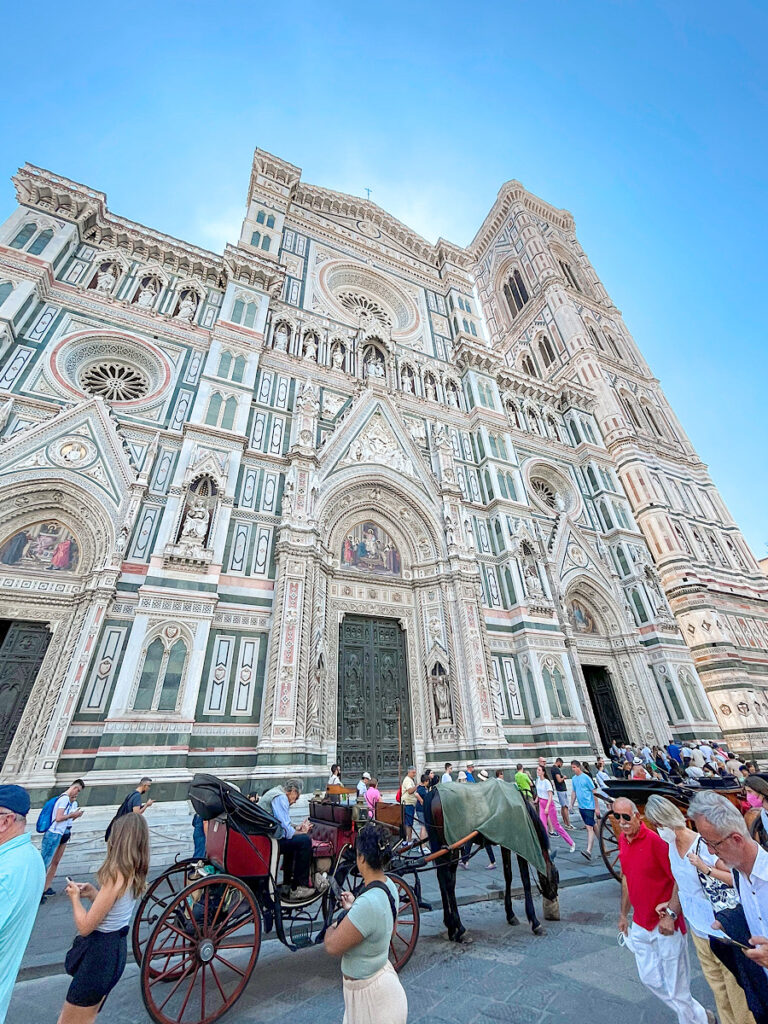 Piazza Della Signora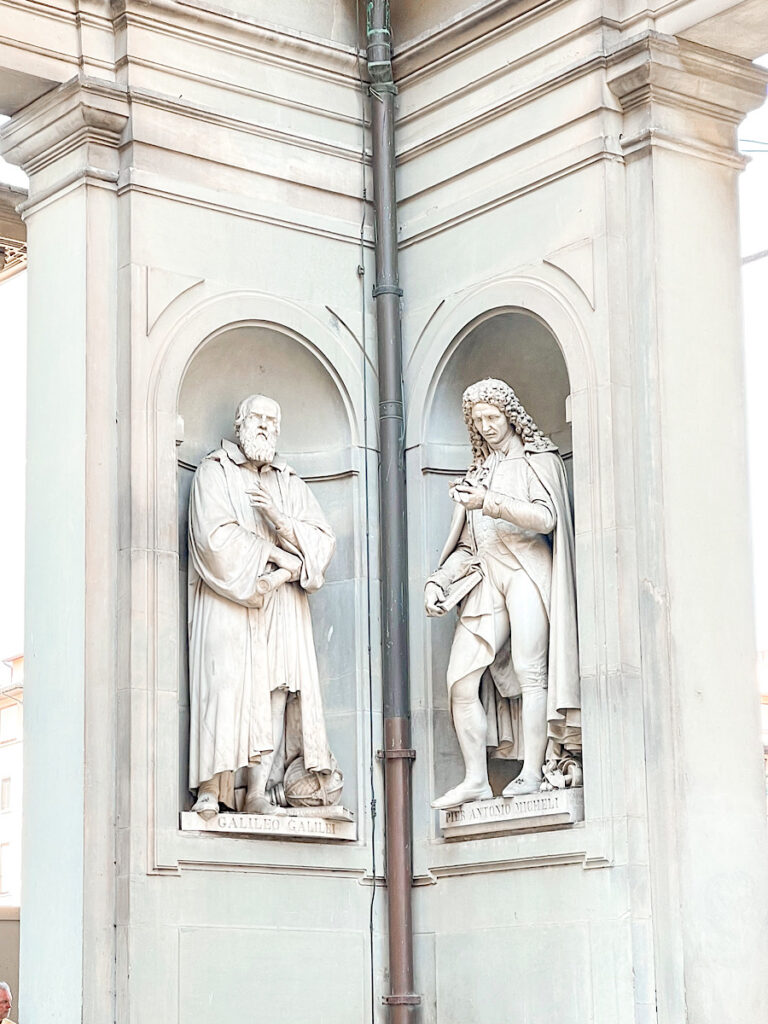 Ponte Vecchio Bridge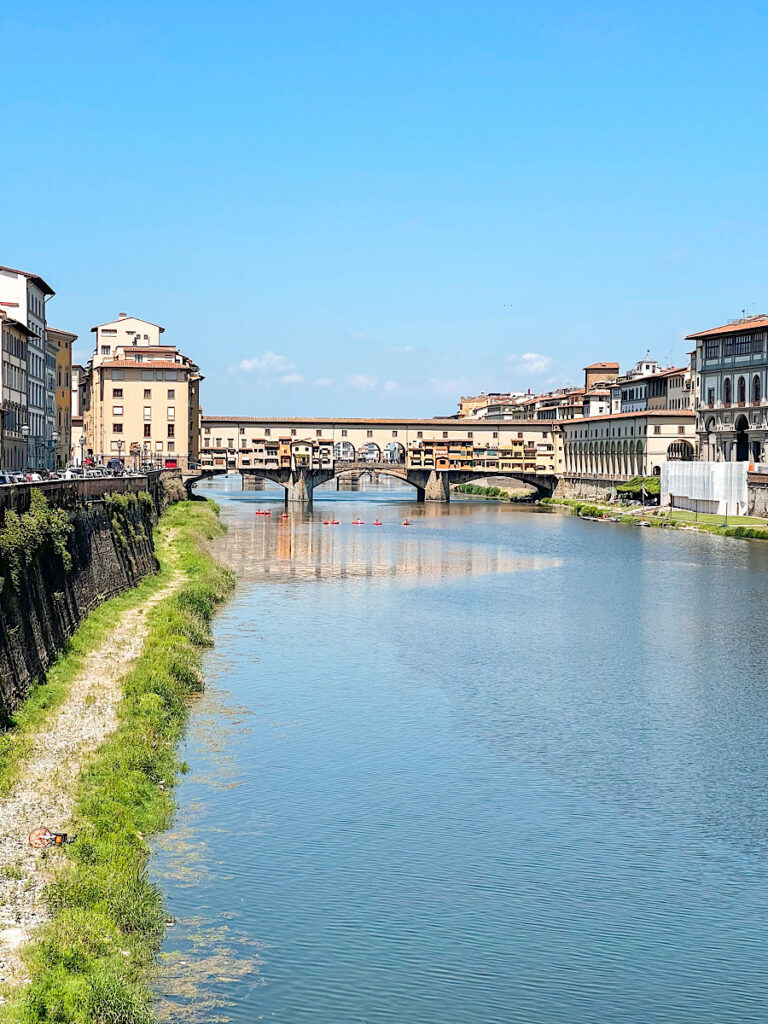 After exploring Florence we found a pizza restaurant for lunch.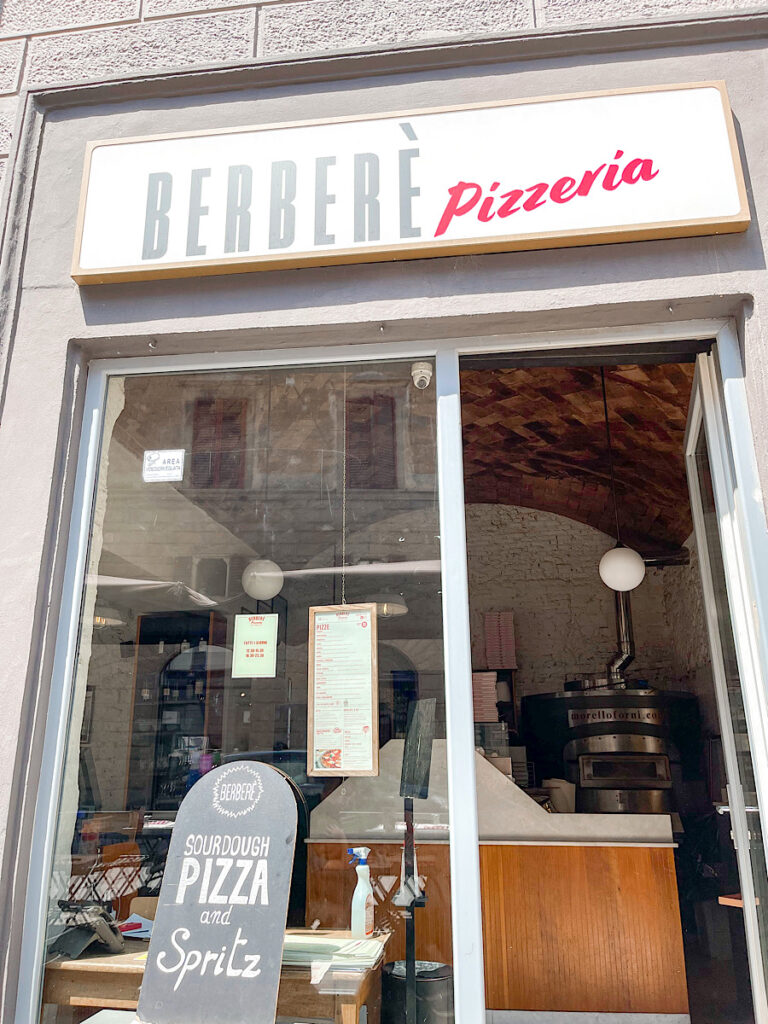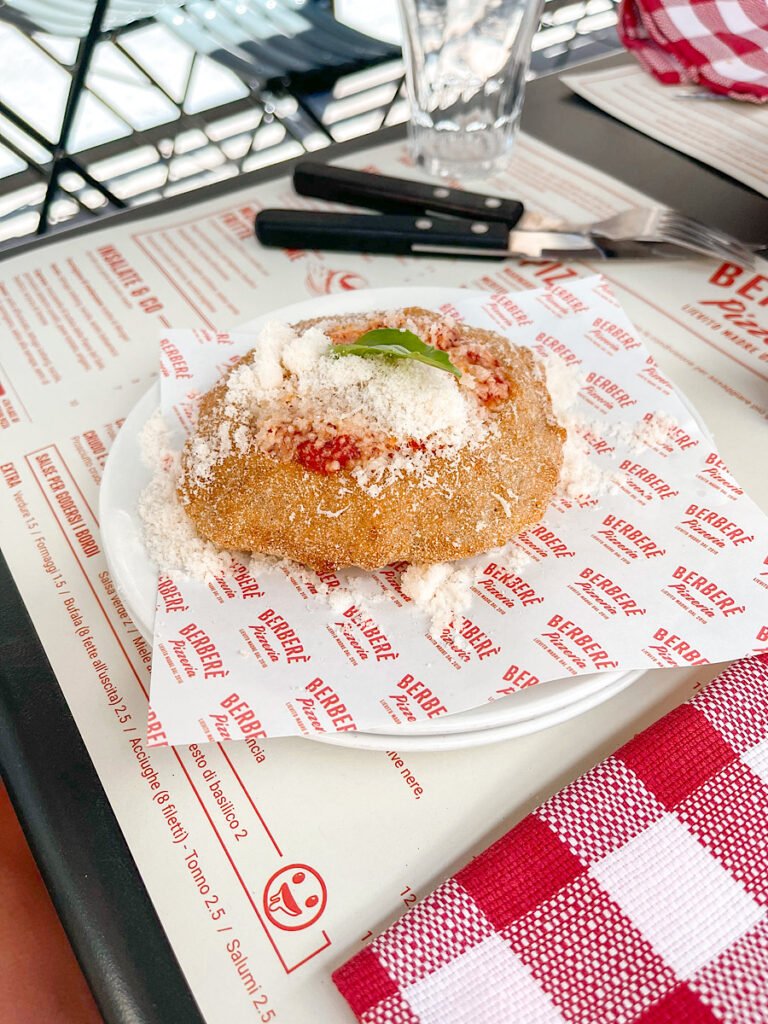 Then we headed to our meeting spot to wait for the rest of our group.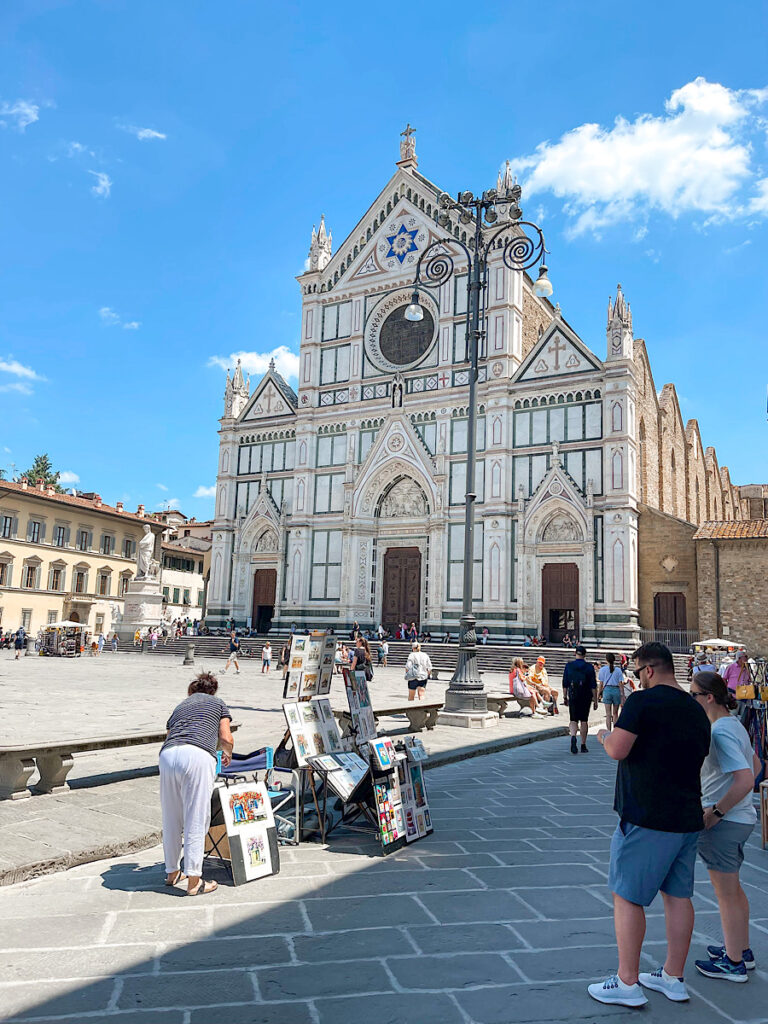 Leaning Tower of Pisa, Italy
After our tour of Florence, we got back on our bus and headed to Pisa. The leaning tower is just breathtaking. It was amazing to see it in person!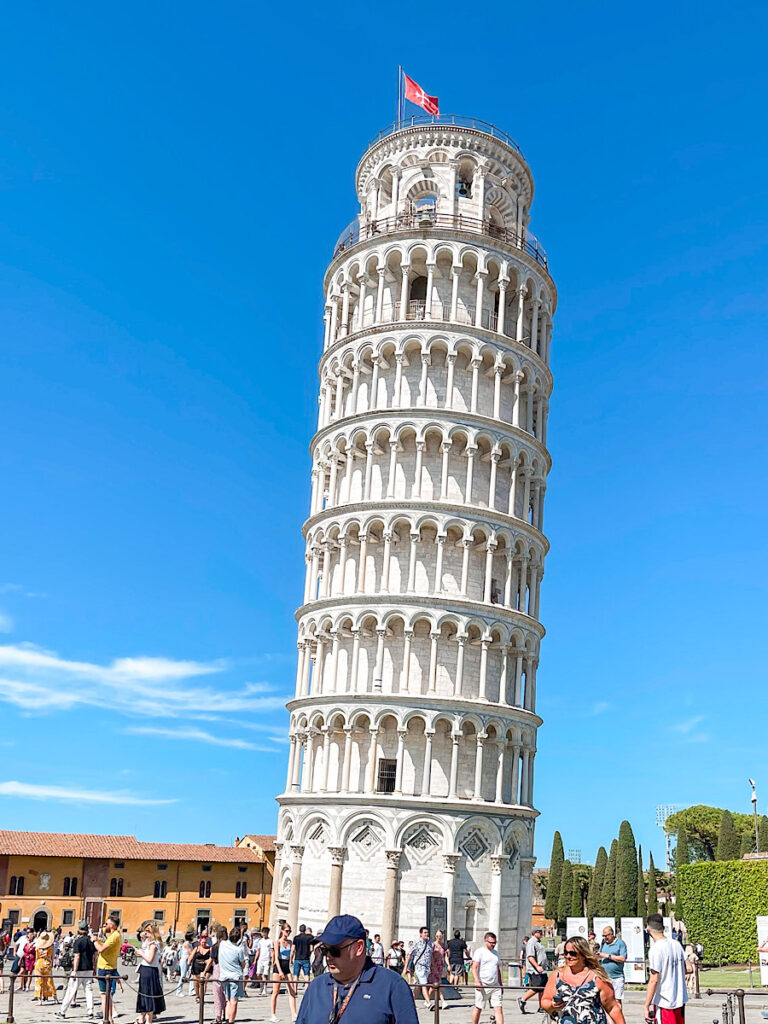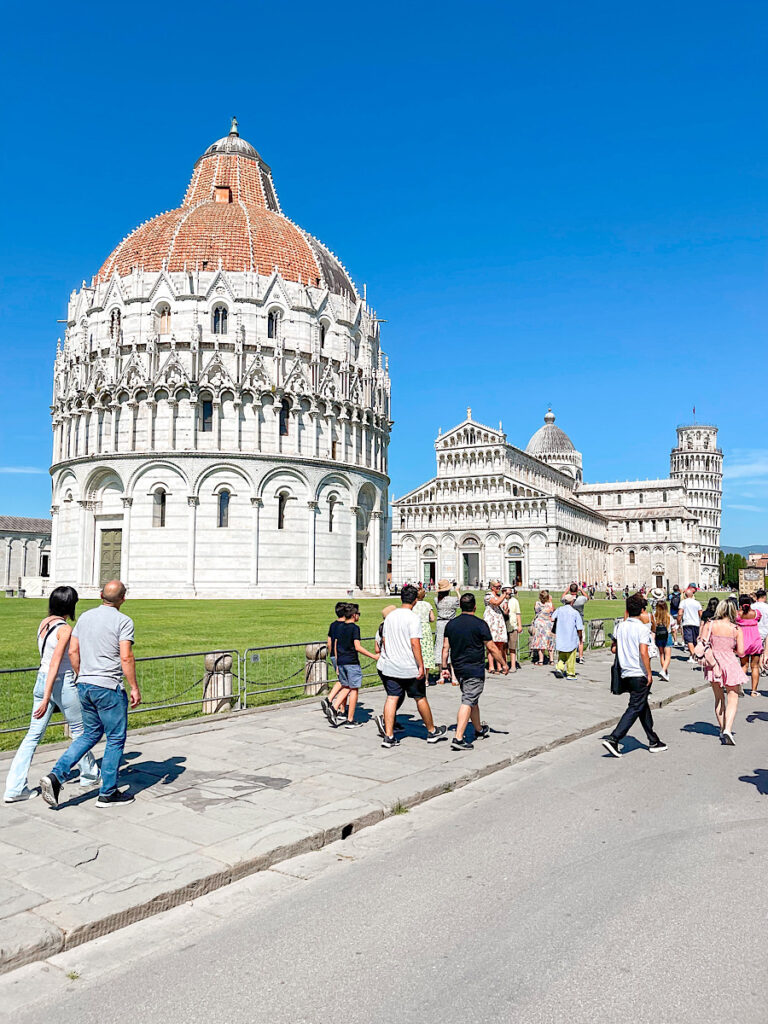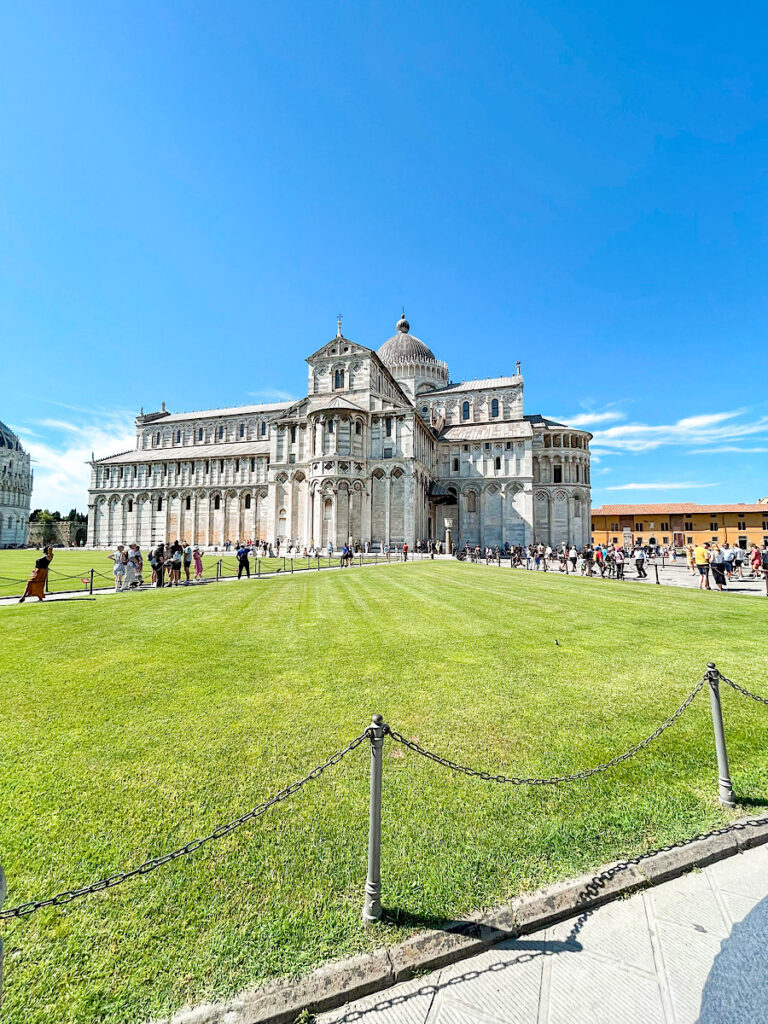 Disney Cruise Pirate Night
Our excursion returned back to the ship, just in time for our Pirate Night dinner! The pirate night menu has been the same on the Disney Dream, Disney Fantasy, Disney Wonder and Disney Magic. You can check out the entire menu here.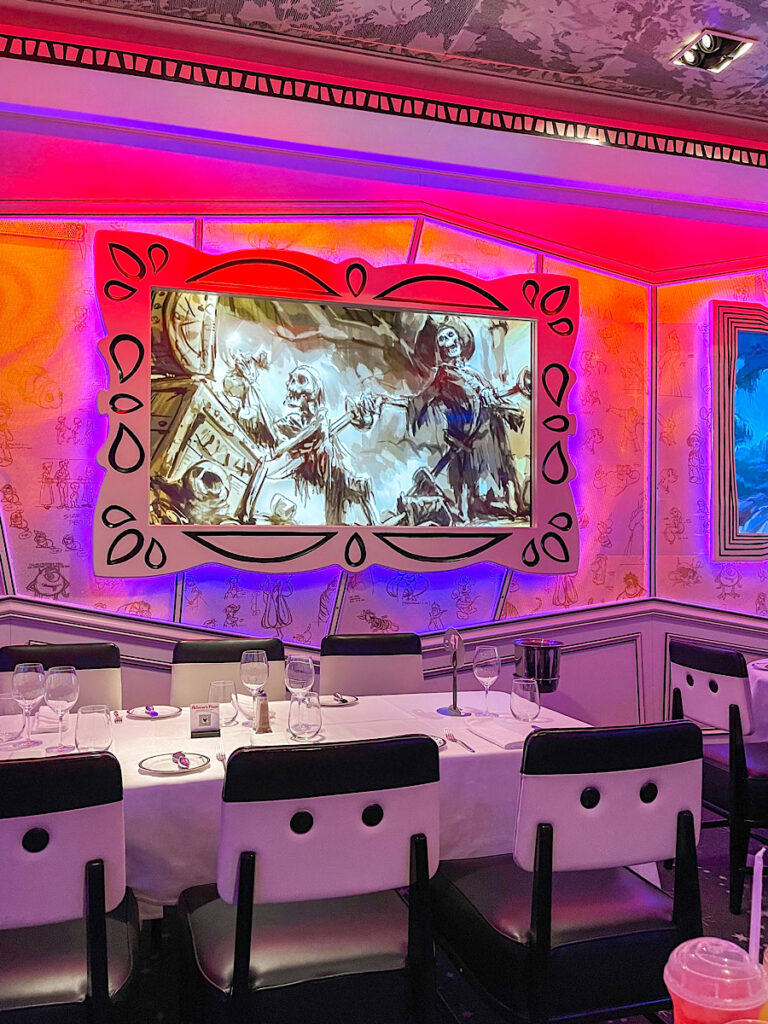 Here are a few of the Pirate Night menu items we enjoyed:
Sri Sumbahjee's Vegetable Samosa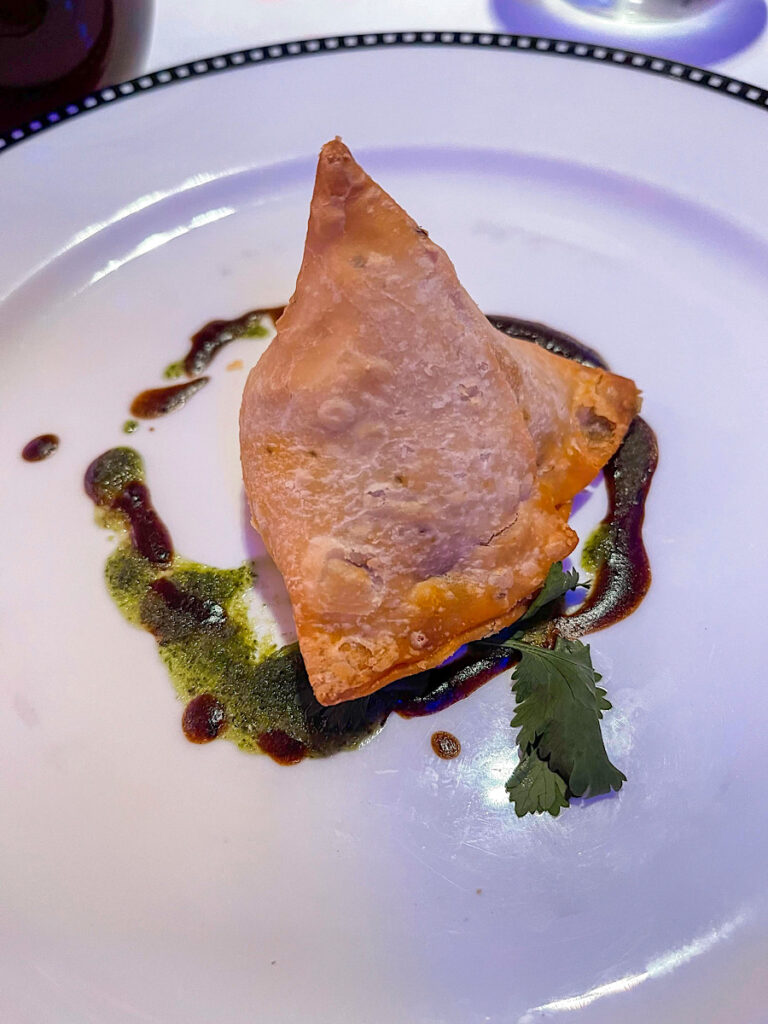 Deep Fried Calypso Crab Cake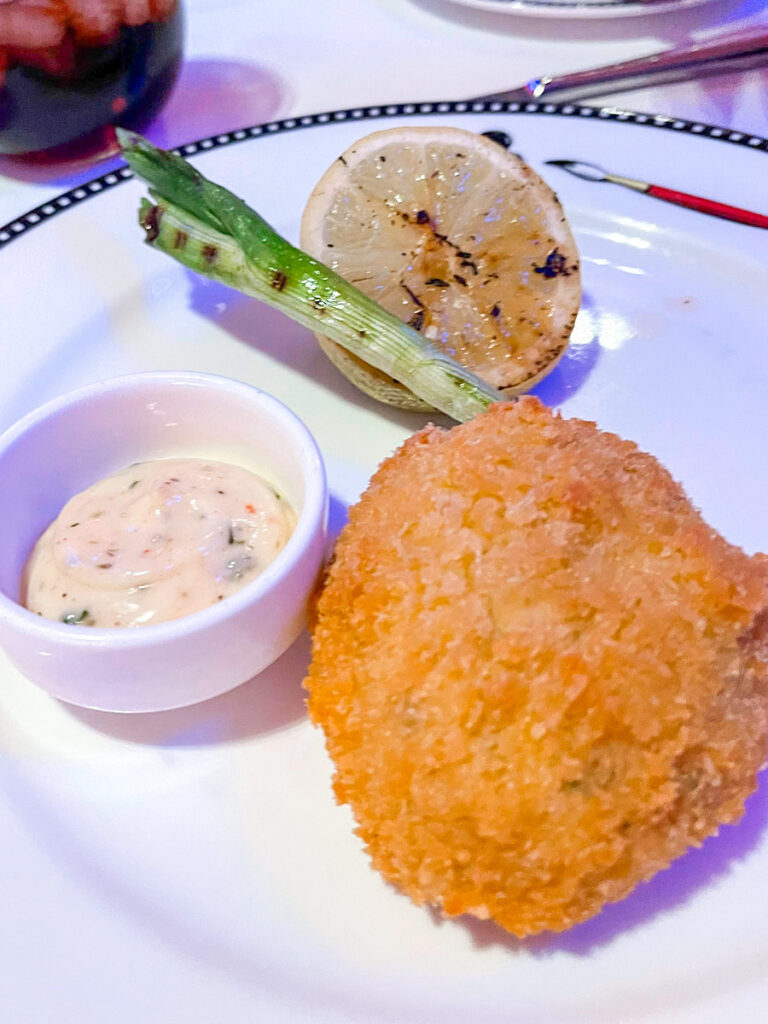 Chilled Mango Soup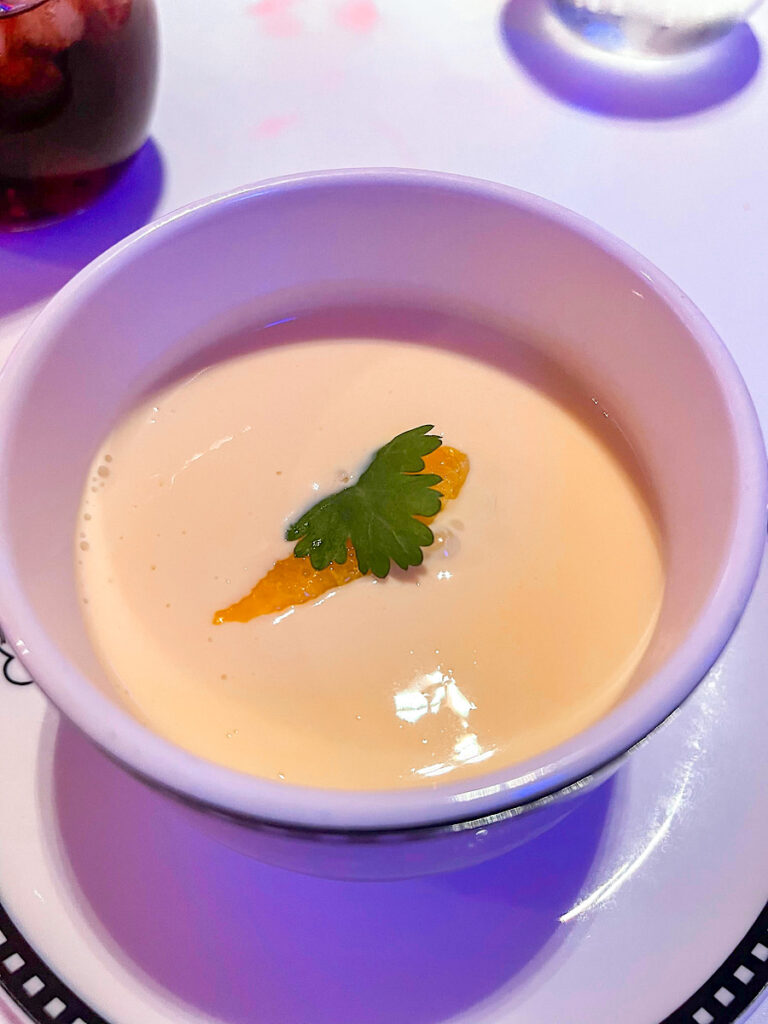 Tia Dalma's Jerk Chicken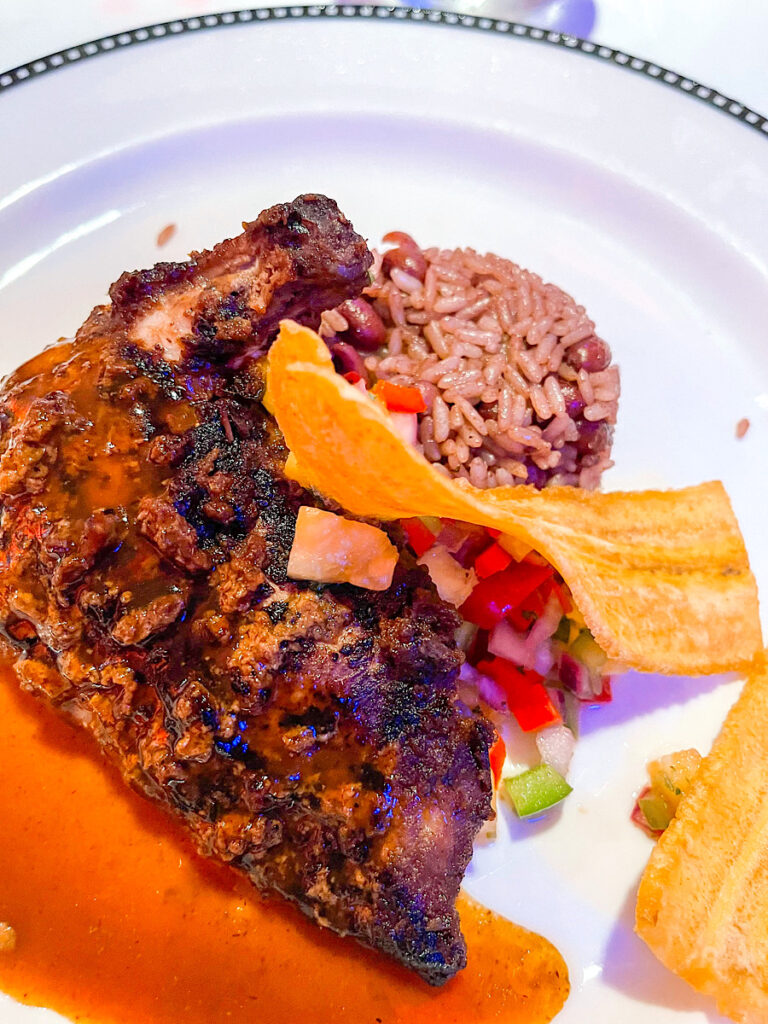 King George's Roasted Privateer Sirloin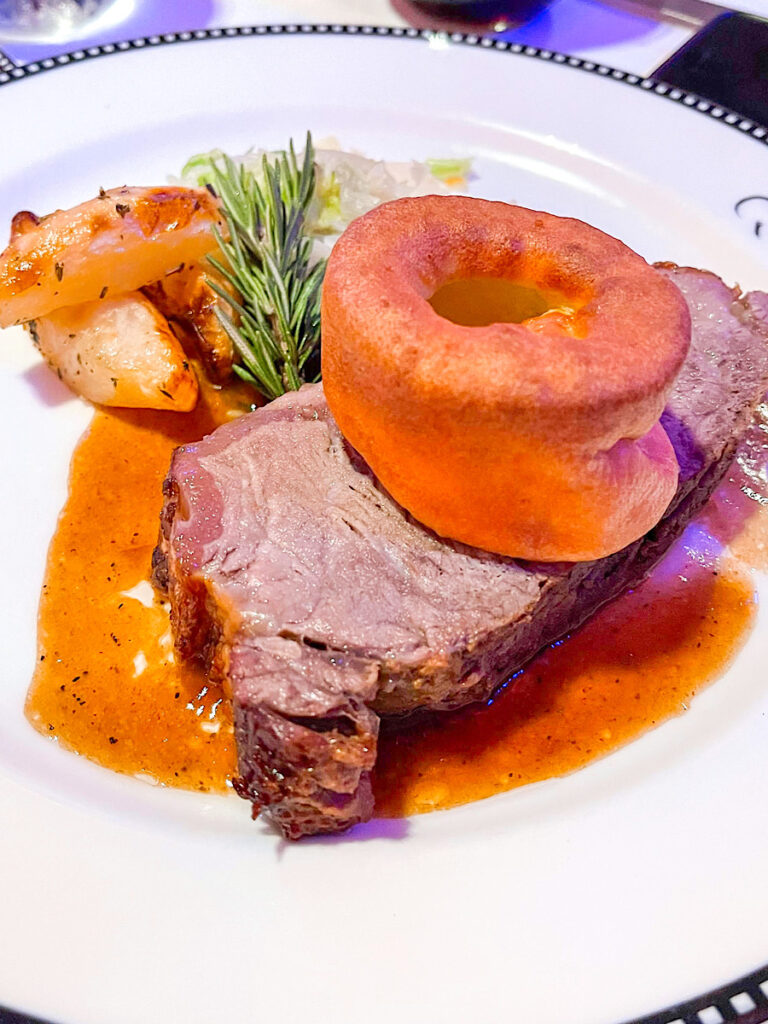 Braised Barbecue Beef Rib Salad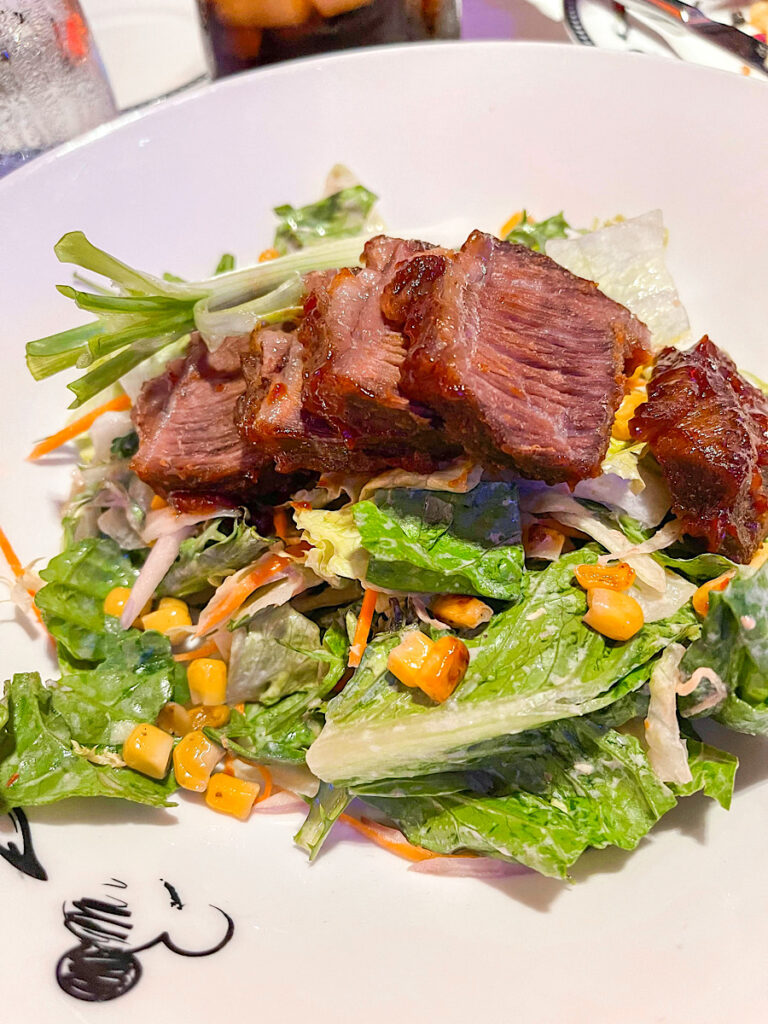 Caramel Macadamia Nut Cheesecake Tart
Bounty Fruit Cobbler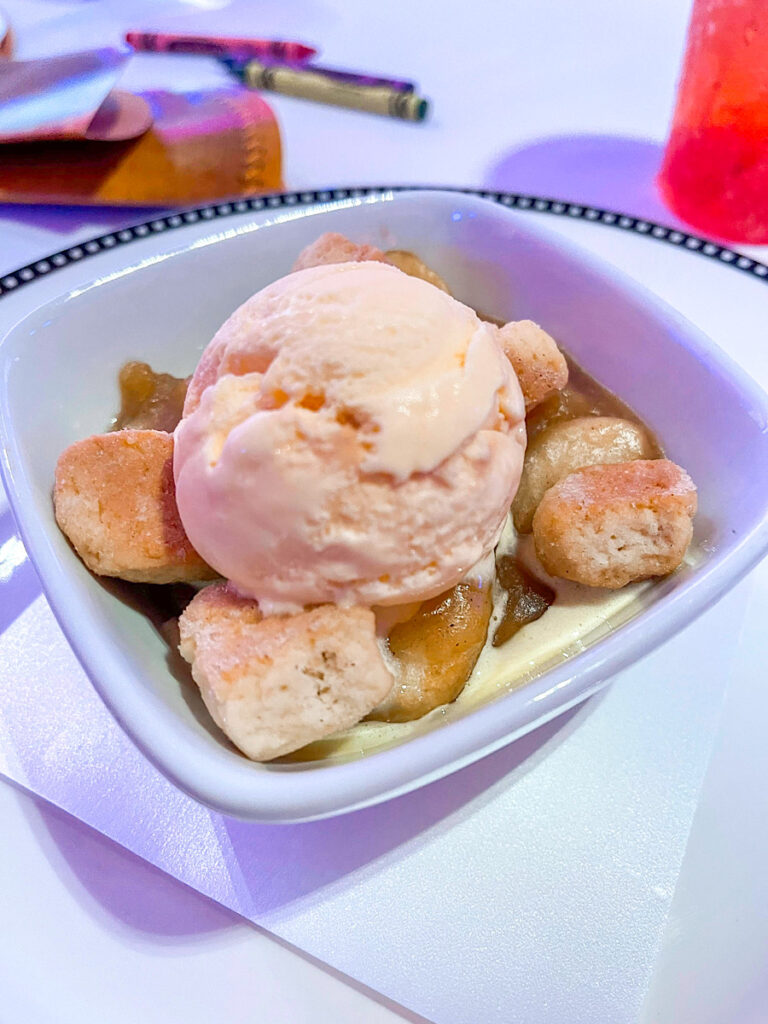 Day 6 Cannes, France
On Day 6, we woke up in Cannes France and just like the other days, we had breakfast at Cabanas before boarding a water taxi to take us to shore.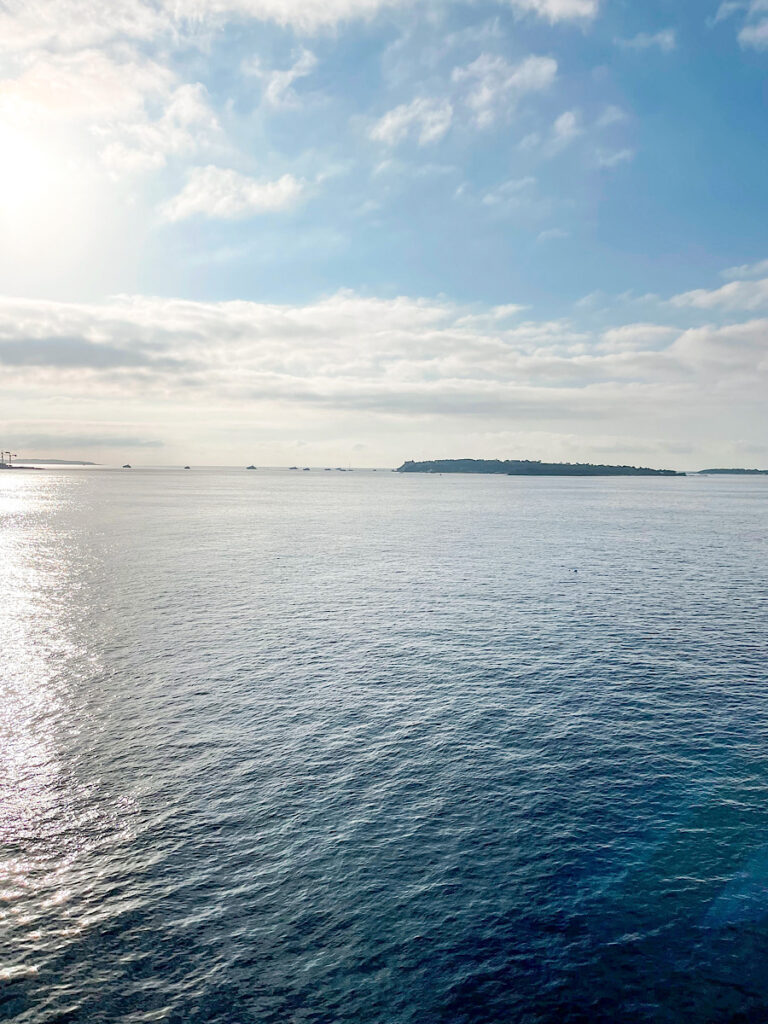 Excursion to Nice, France and Monaco
We booked a private tour with another family for the day, which ended up being cheaper than any of our Disney excursions. I liked touring this way because I felt like we had more time to spend exploring.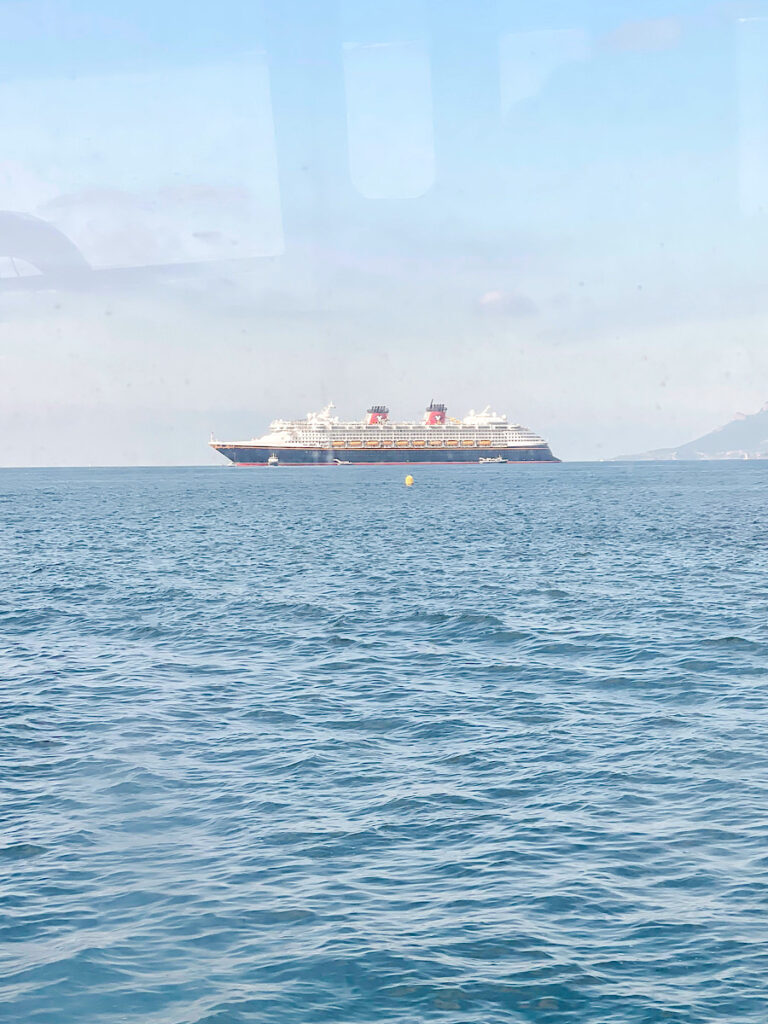 Nice, France
Our first stop was the flower market in Nice. There were many different flowers and food items for sale. We tried a French pastry with Swiss Chard, which I tried to like, but it just wasn't for me. Then we stopped for gelato.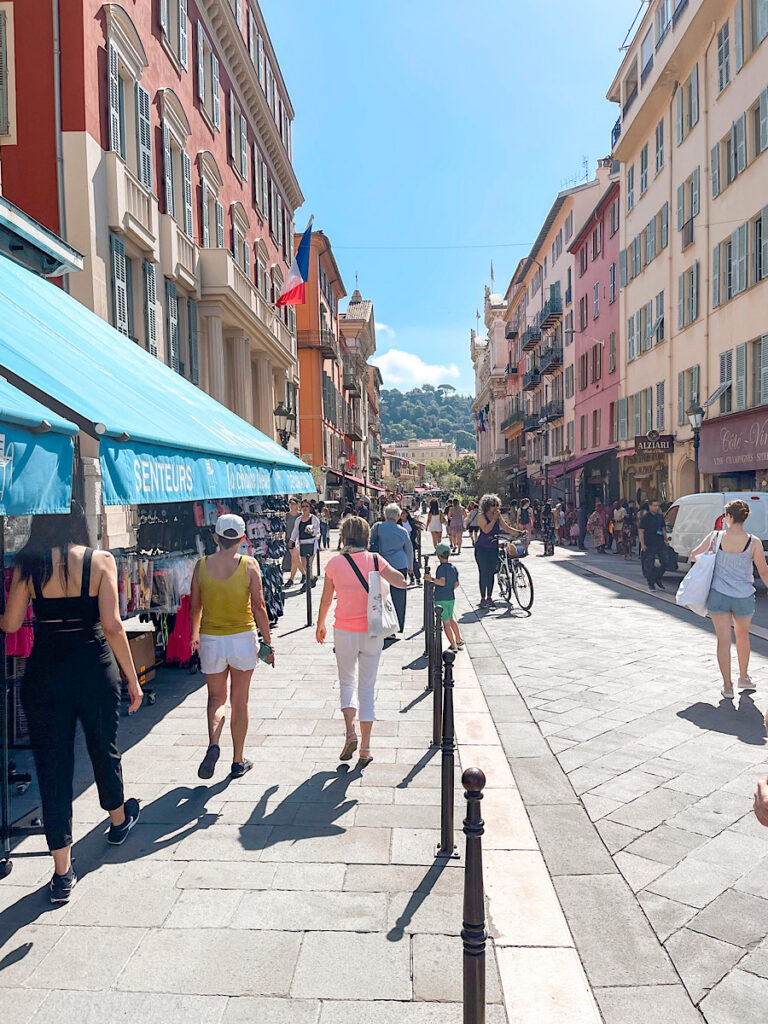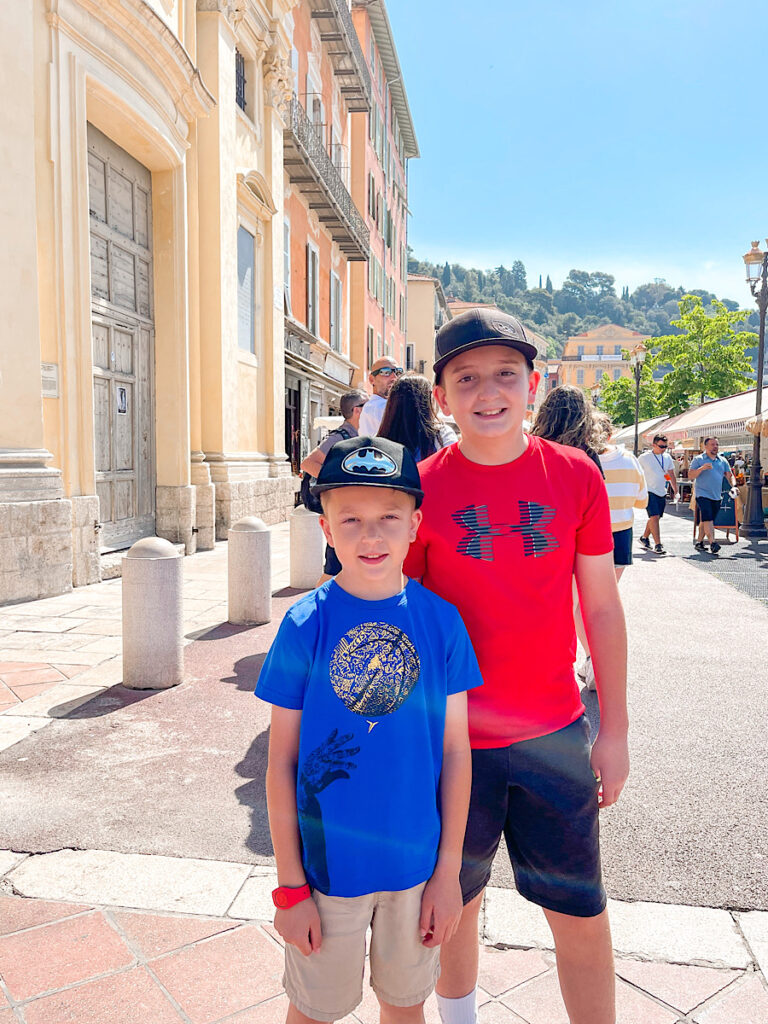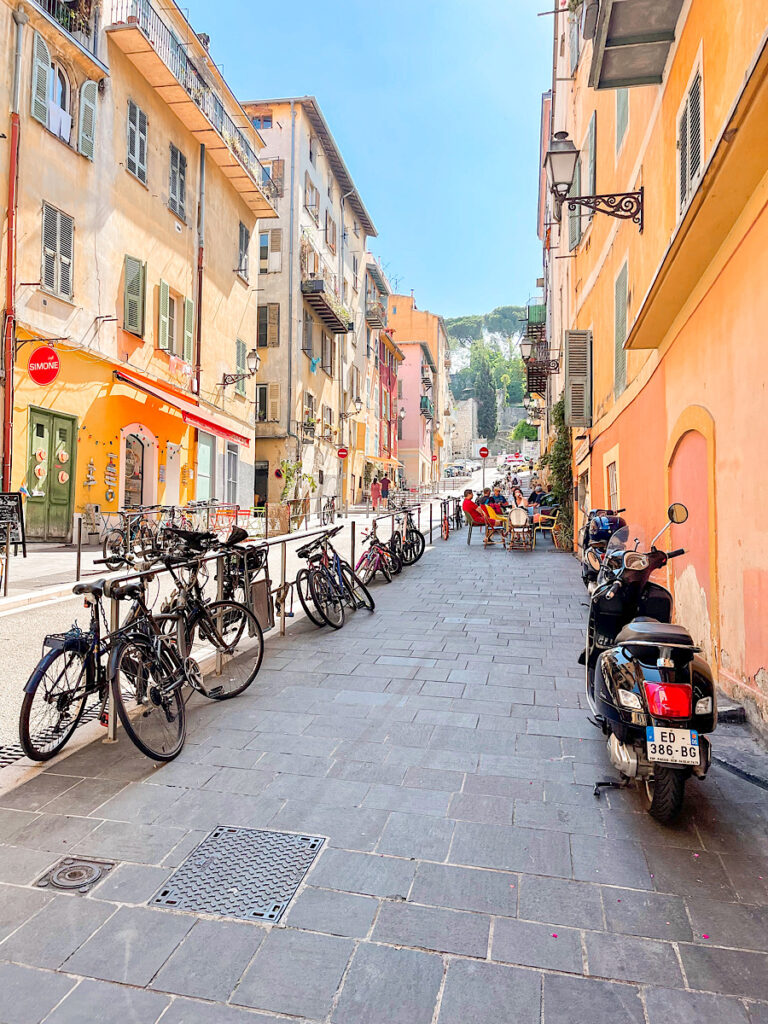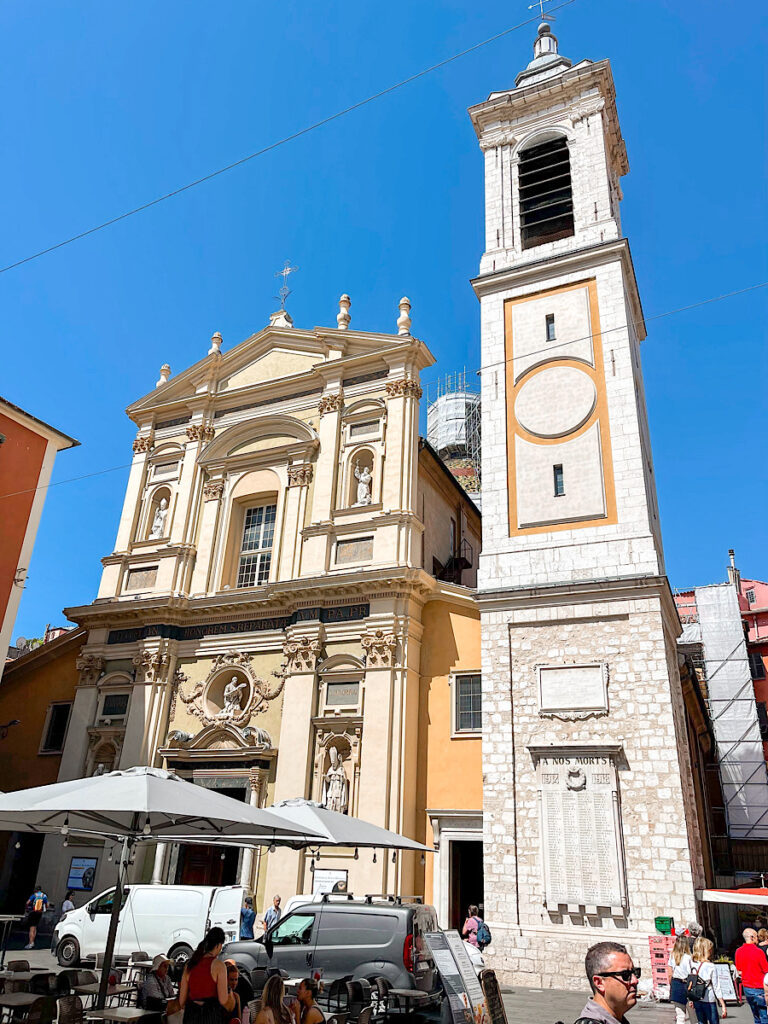 Monaco
Our next stop was about a 30 minute drive away to the country of Monaco. My family was extra excited to visit because it is the home of the Monaco Grand Prix Formula 1 race. We actually missed the race by just a few days, so many of the stands were still up.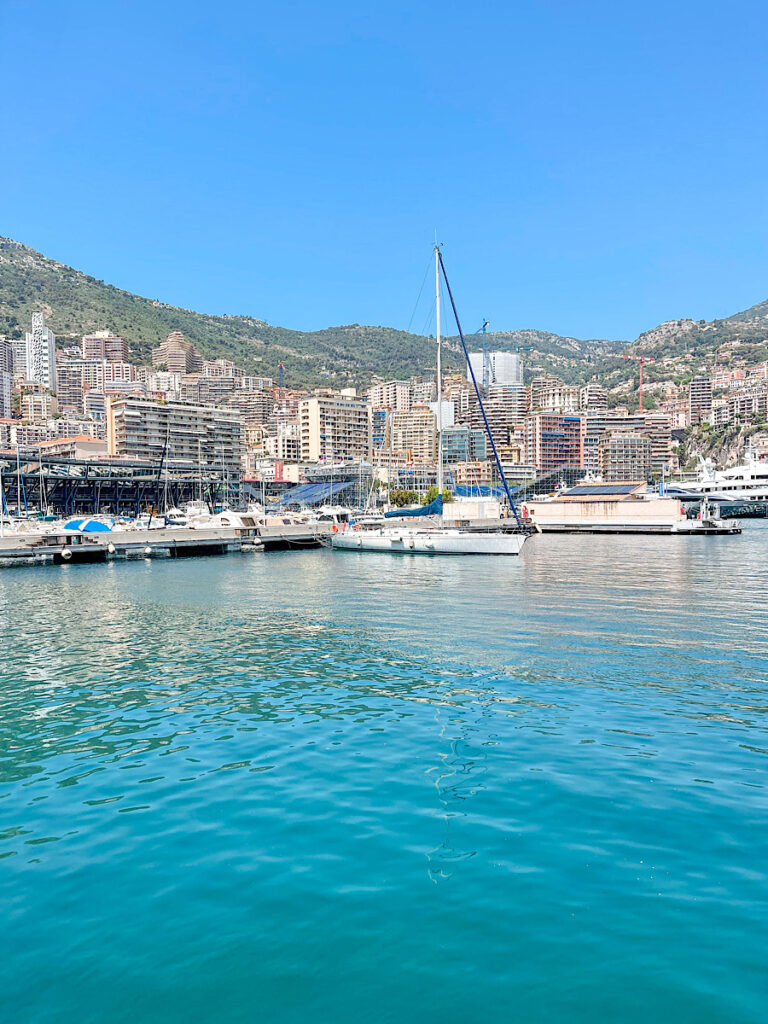 Our driver was nice enough to take us along the same route as the F1 drivers!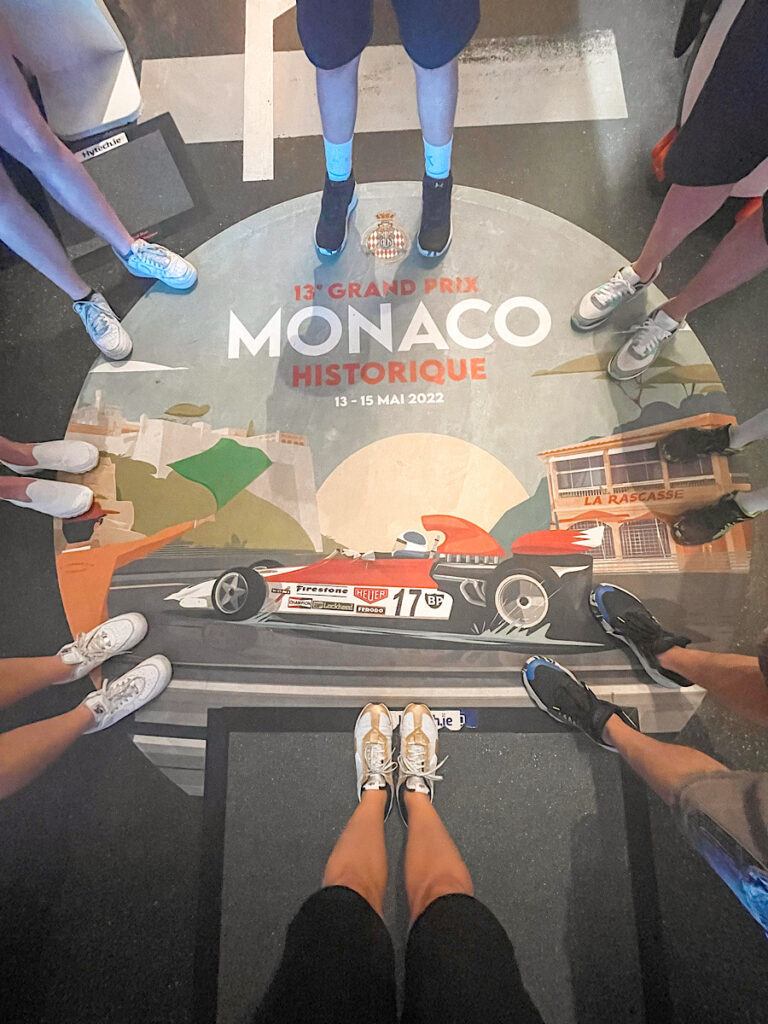 We had lunch at a fun Formula 1 Racing themed restaurant called Stars n Bars.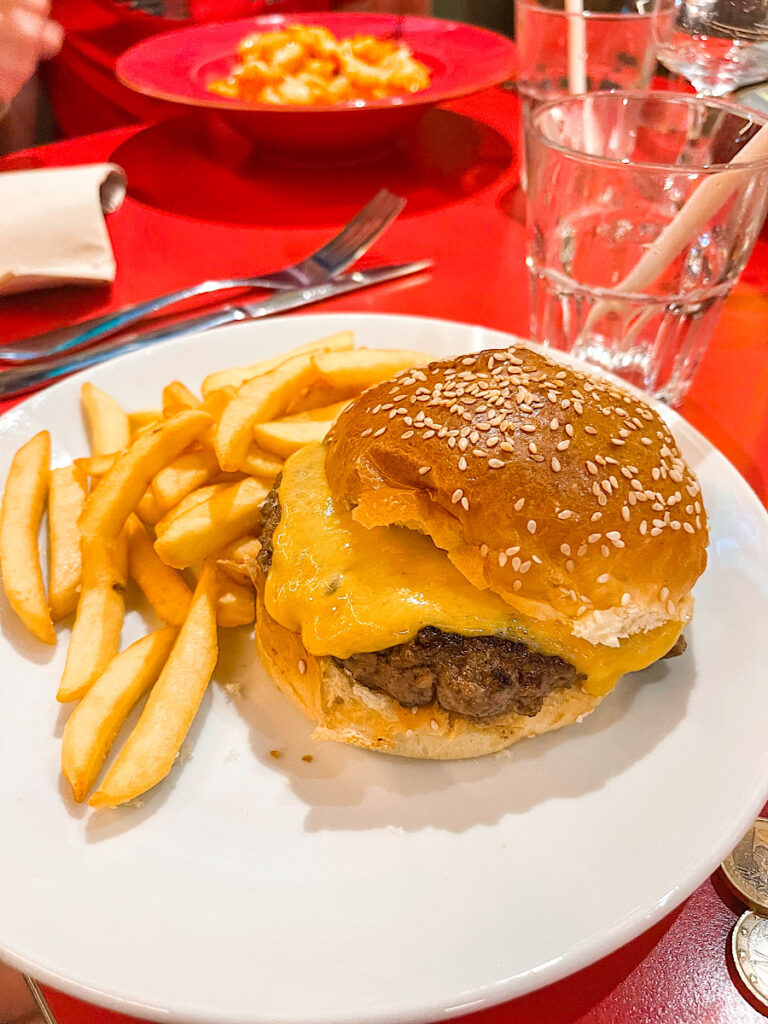 This was a cool view right here because you are able to see three countries at the same time. Monaco, France and Italy!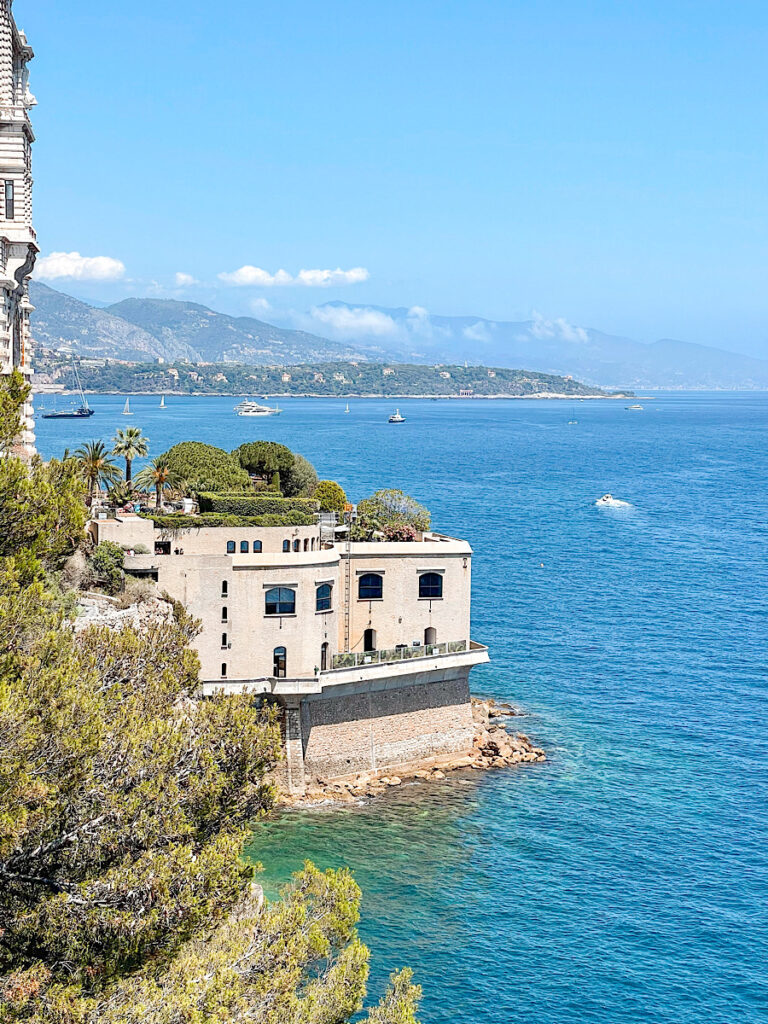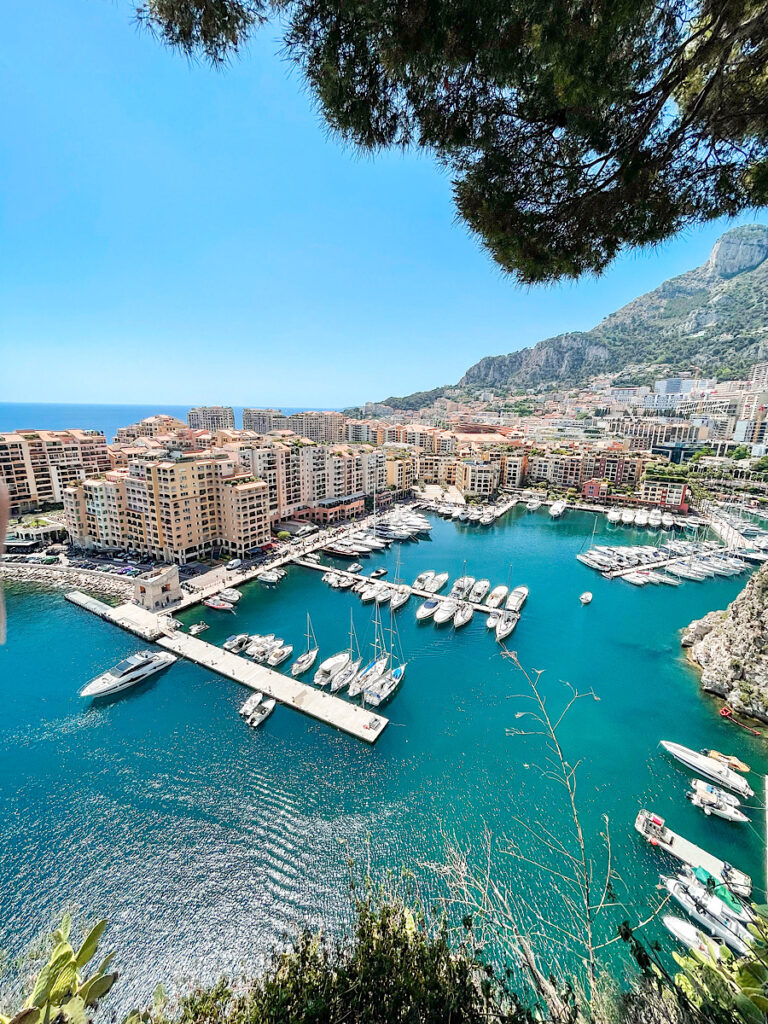 Here is a birds eye view of the Monaco Grand Prix race track.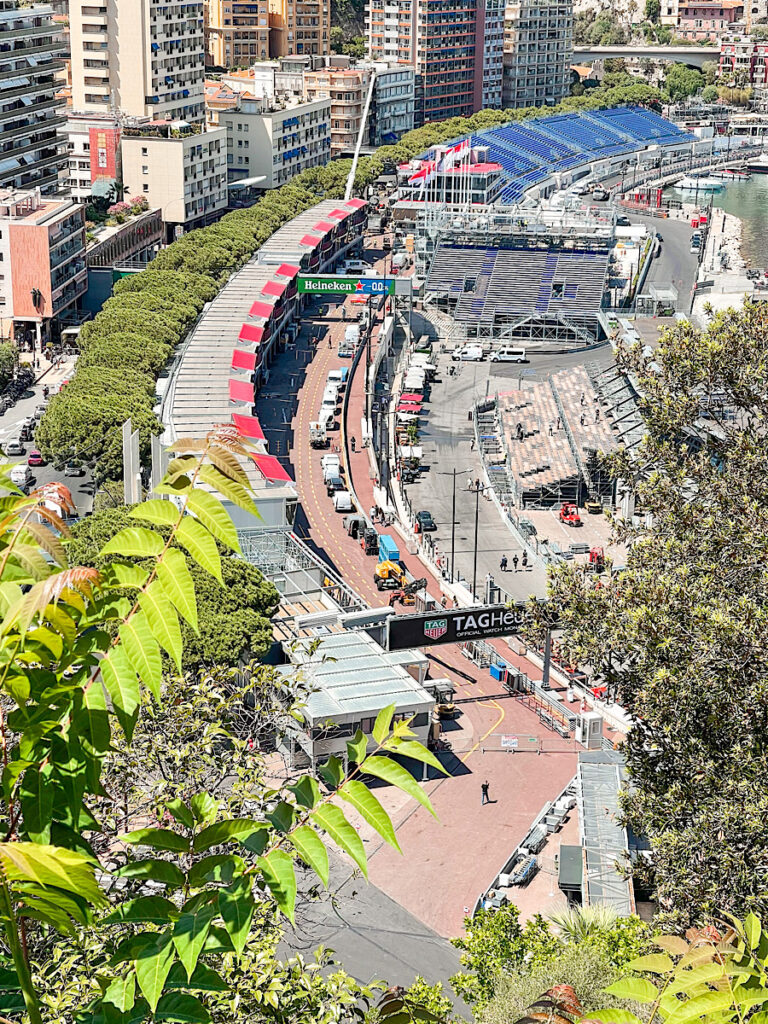 Eze, France
Our last stop in France was the medieval town of Eze which included a lot of stair climbing and beautiful Mediterranean views.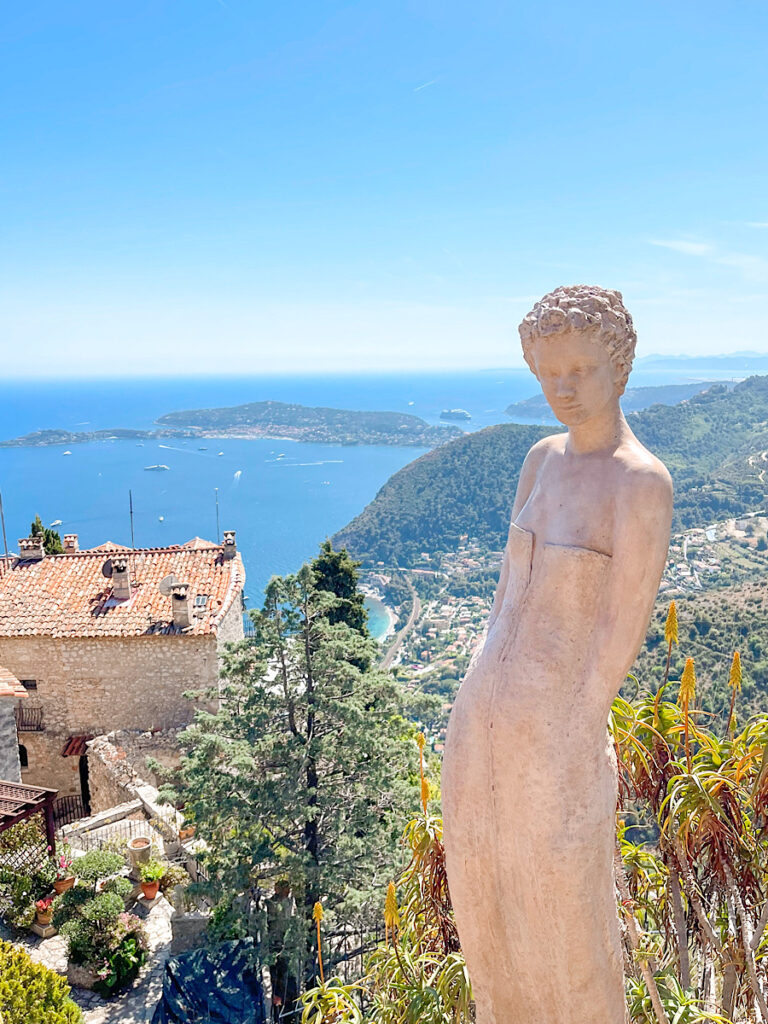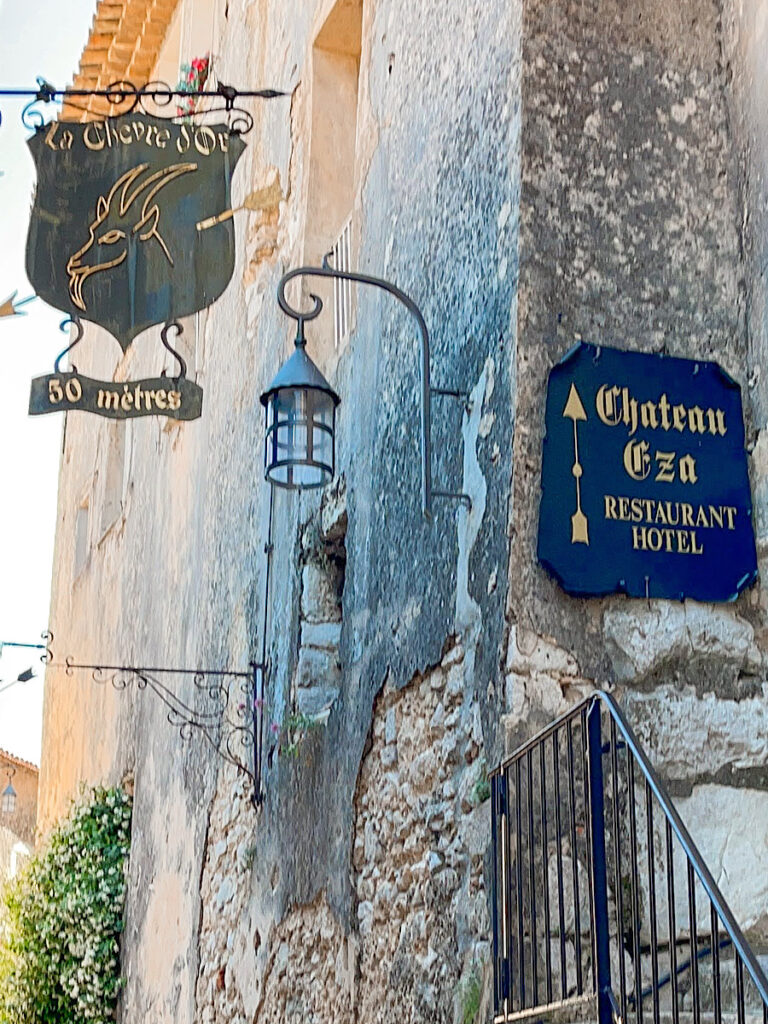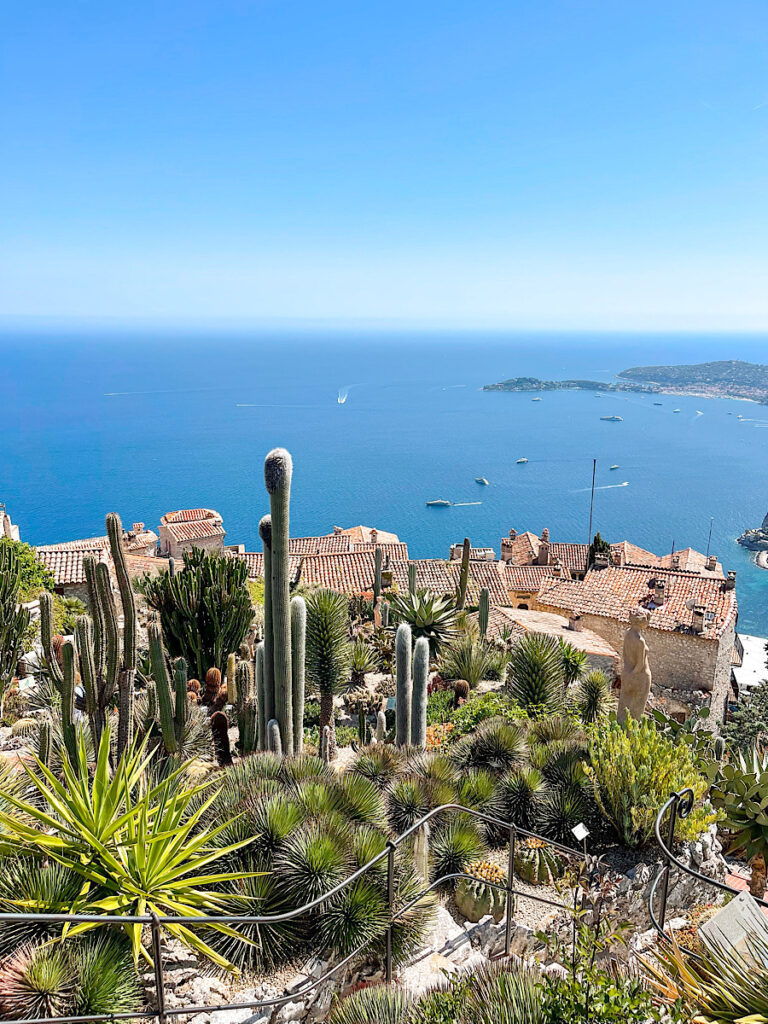 Dinner at Rapunzel's Royal Table (Second Menu)
When we returned to the ship, it was time for dinner at Rapunzel's Royal Table. The menu was different than previous nights and was delicious. My favorite was Rapunzel's Fry Pan bread for dessert!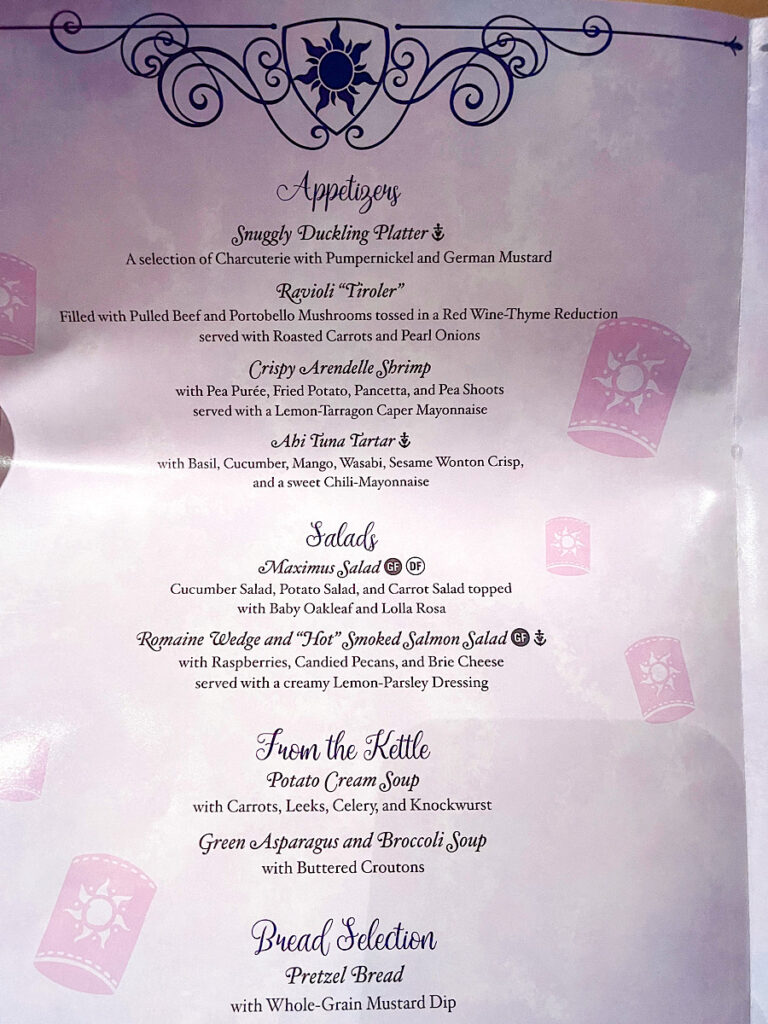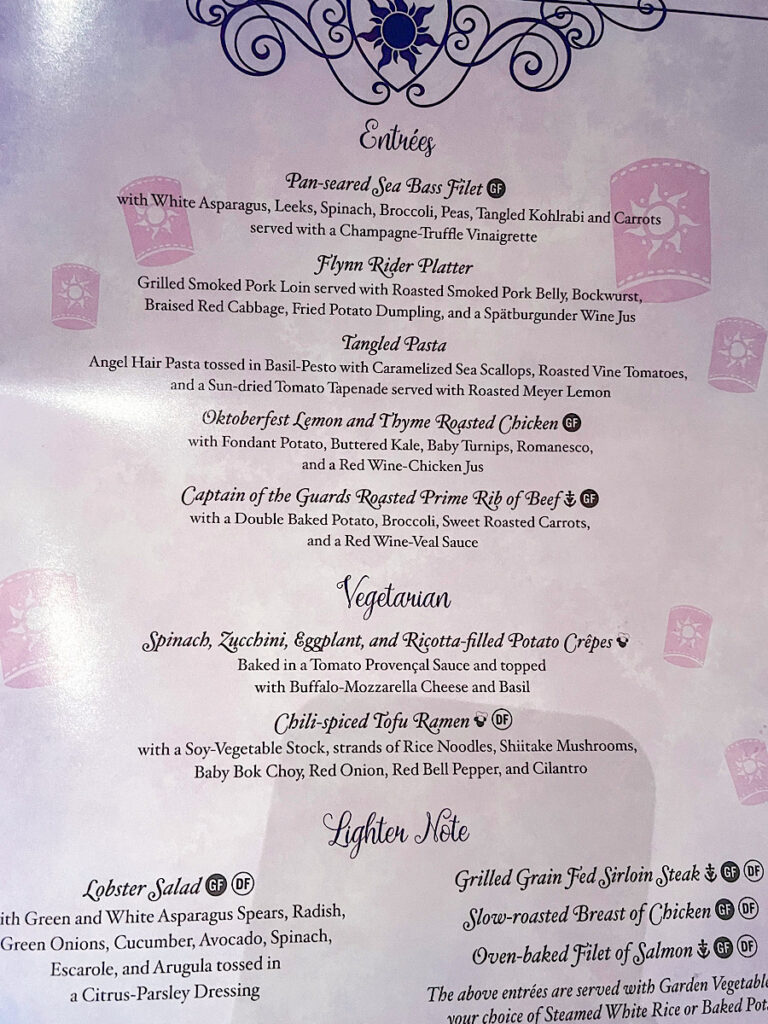 Here are some of the other menu items we ate:
Snuggly Duckling Platter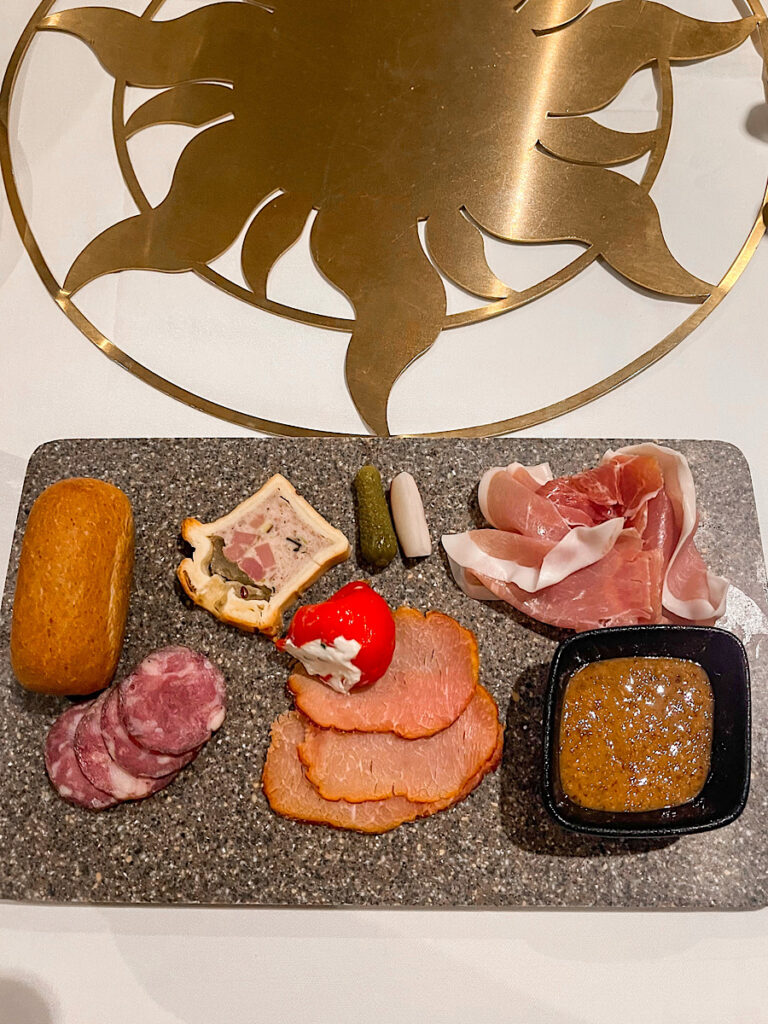 Crisp Arendelle Shrimp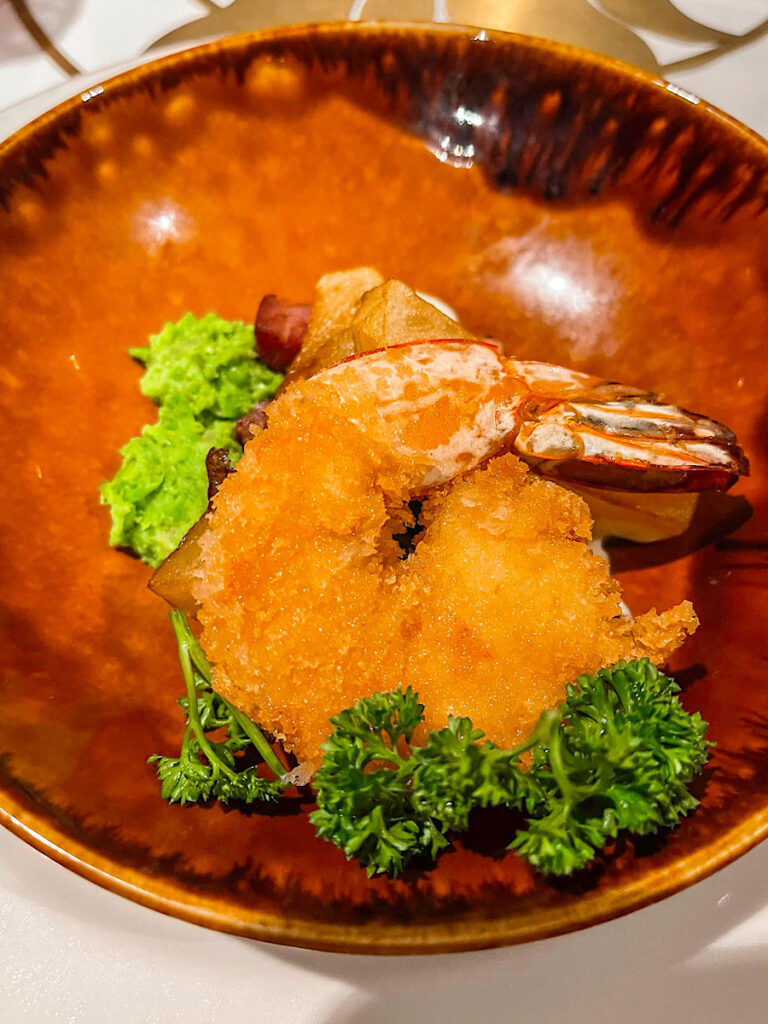 Ahi Tuna Tartar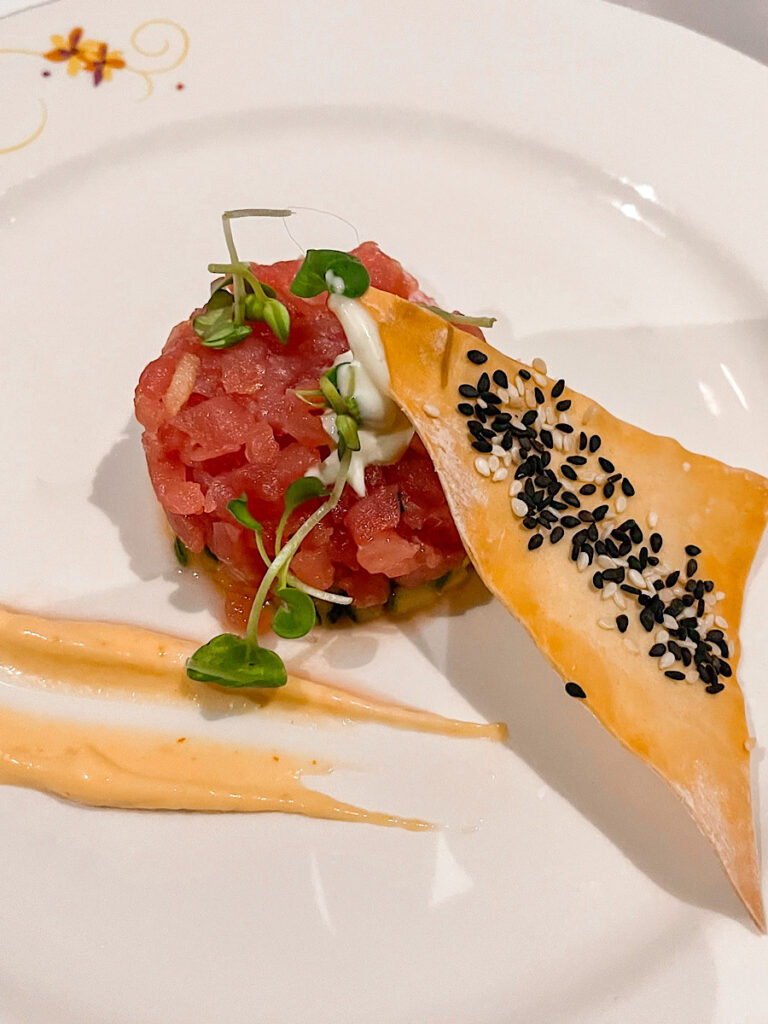 Kids Pasta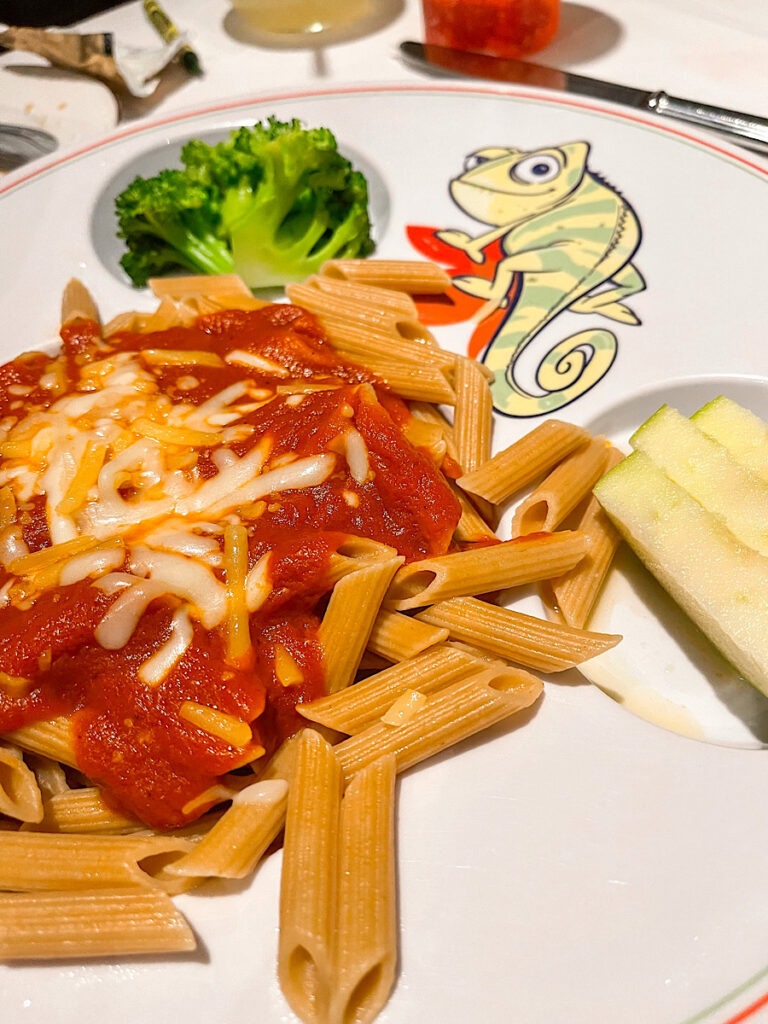 Maximus Salad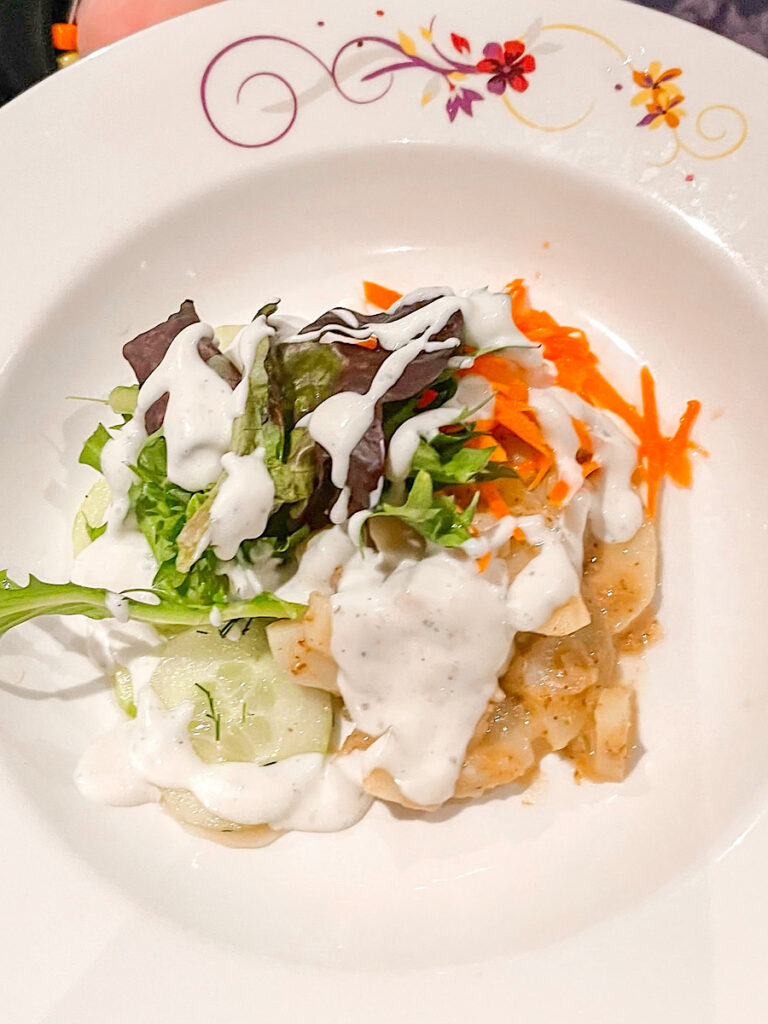 Flynn Rider Platter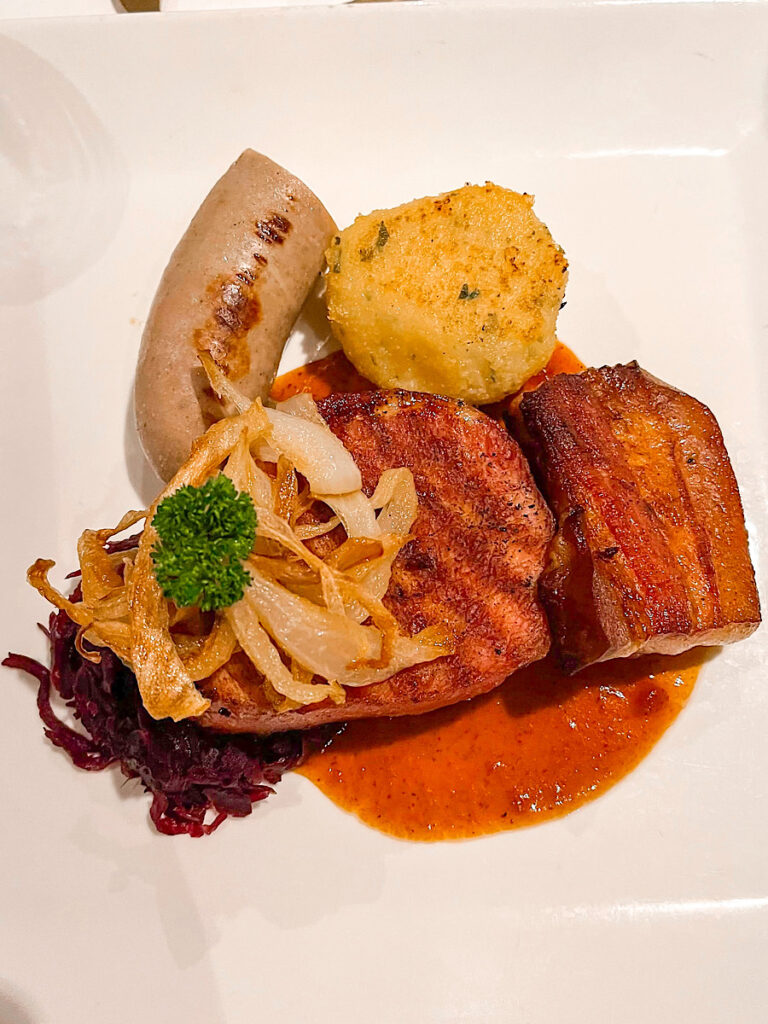 Tangled Pasta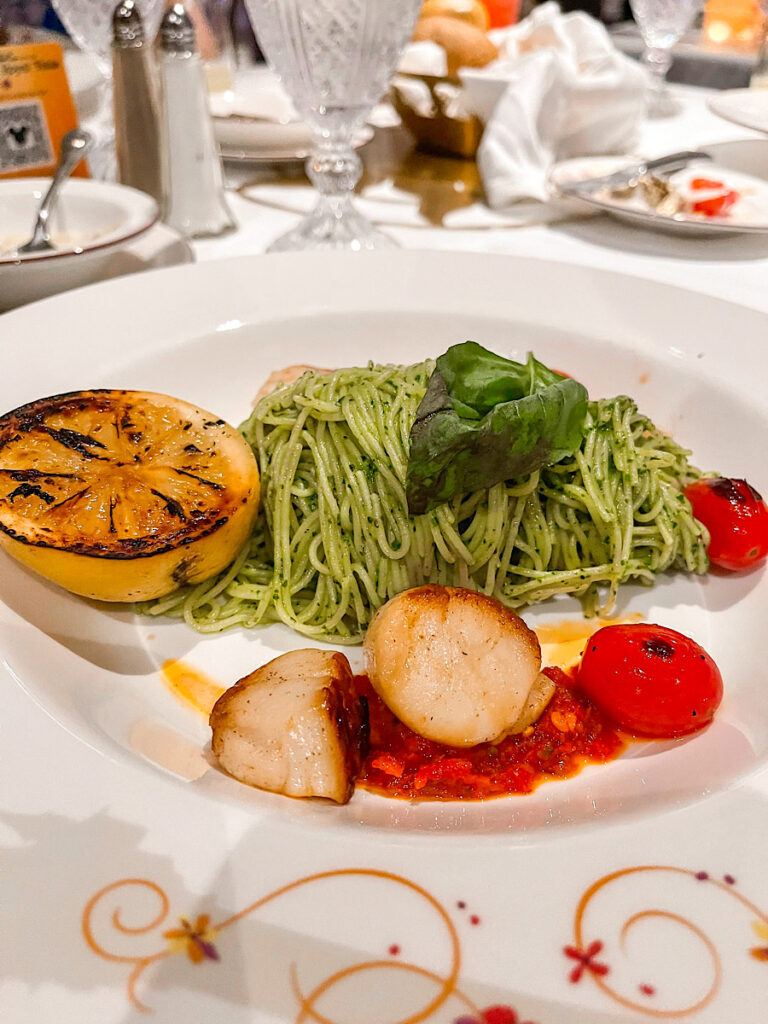 Spinach, Zucchini, Eggplant & Ricotta Filled Potato Crepes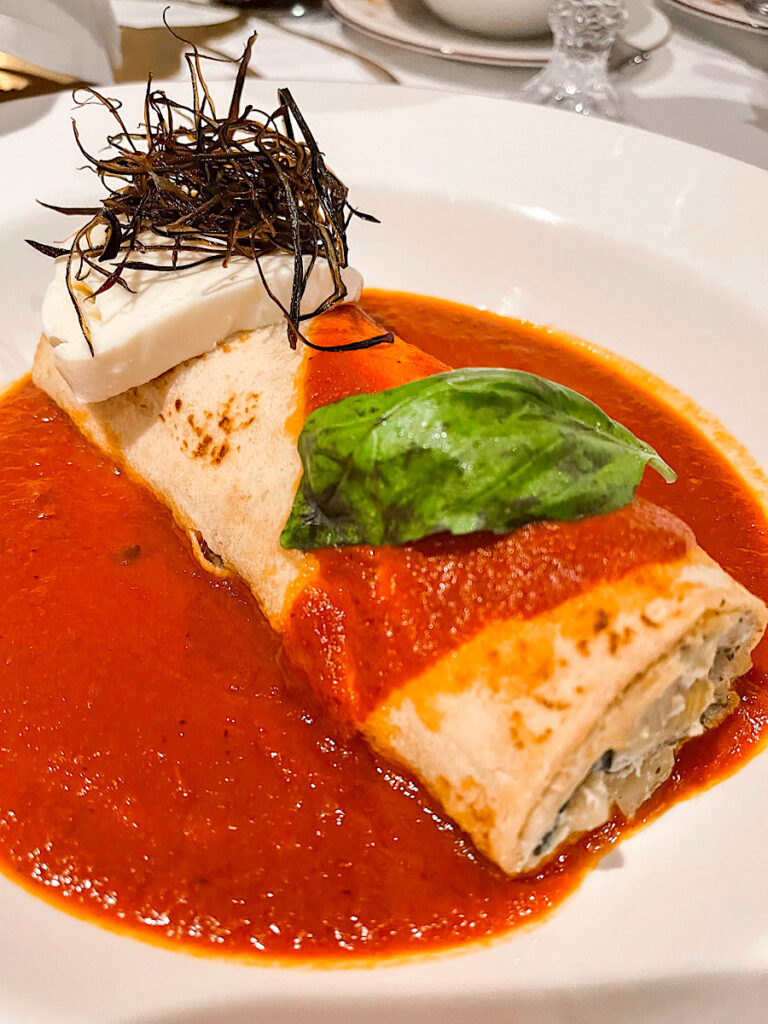 Lemon-Raspberry Mousse Bombe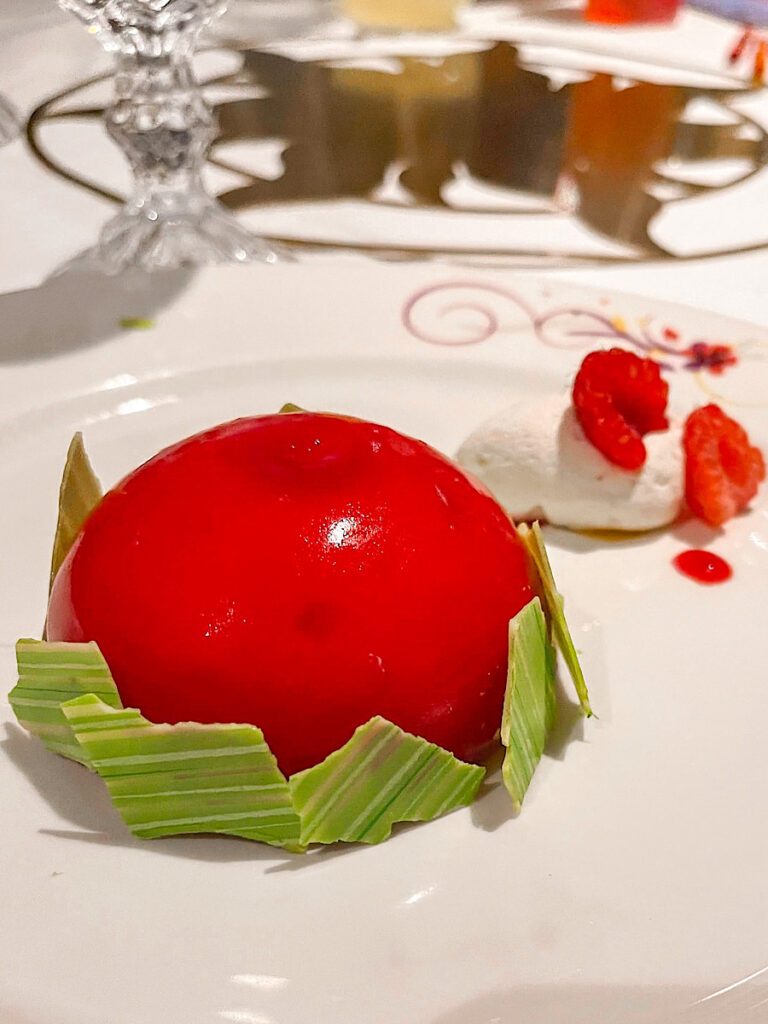 Gothel Black Forest Tower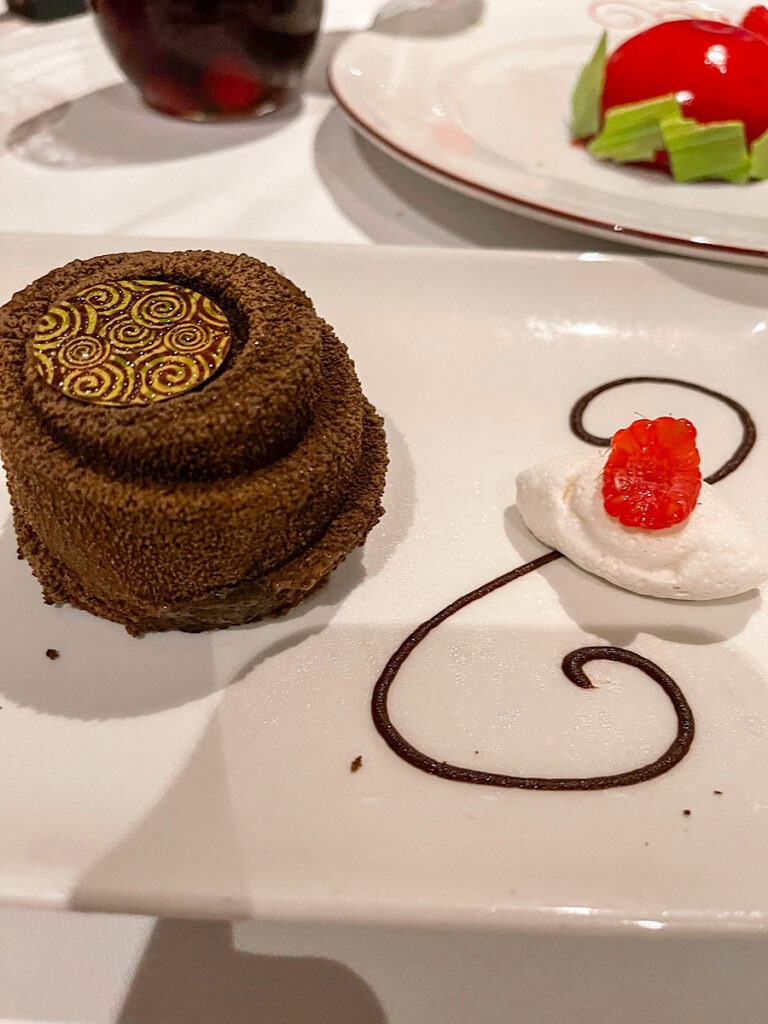 Rapunzel's Fry Pan Sweet Bread
Creme Brulee Cheesecake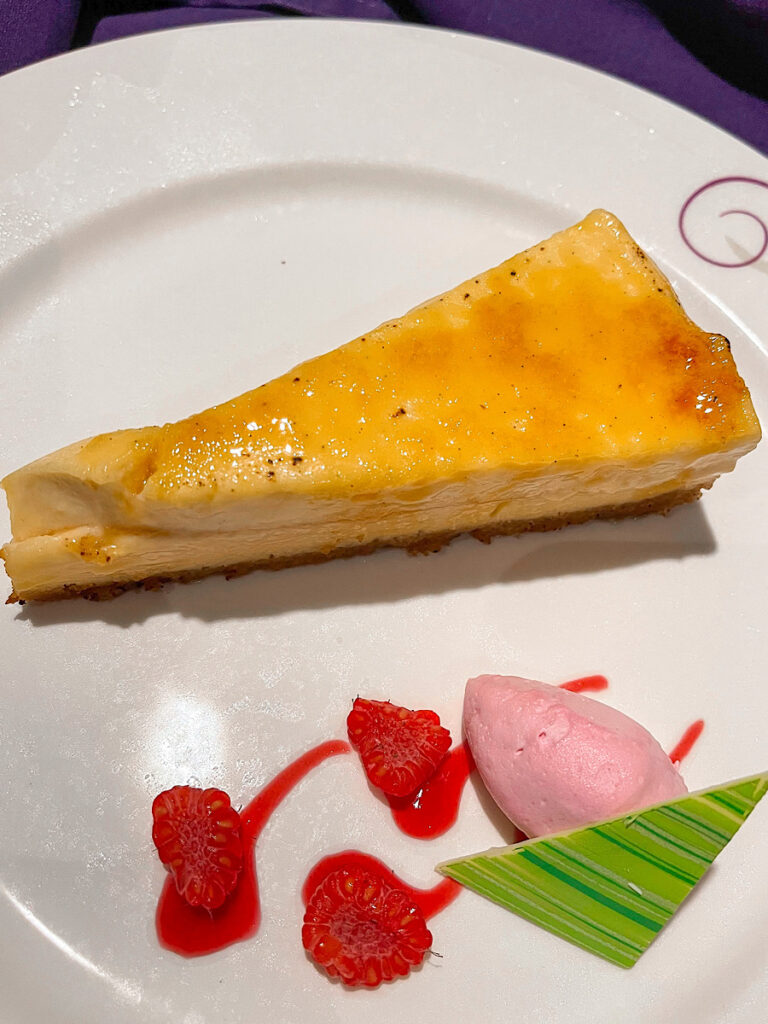 Tangled Show
The show that night was Tangled with Rapunzel and Flynn Ryder and it was amazing!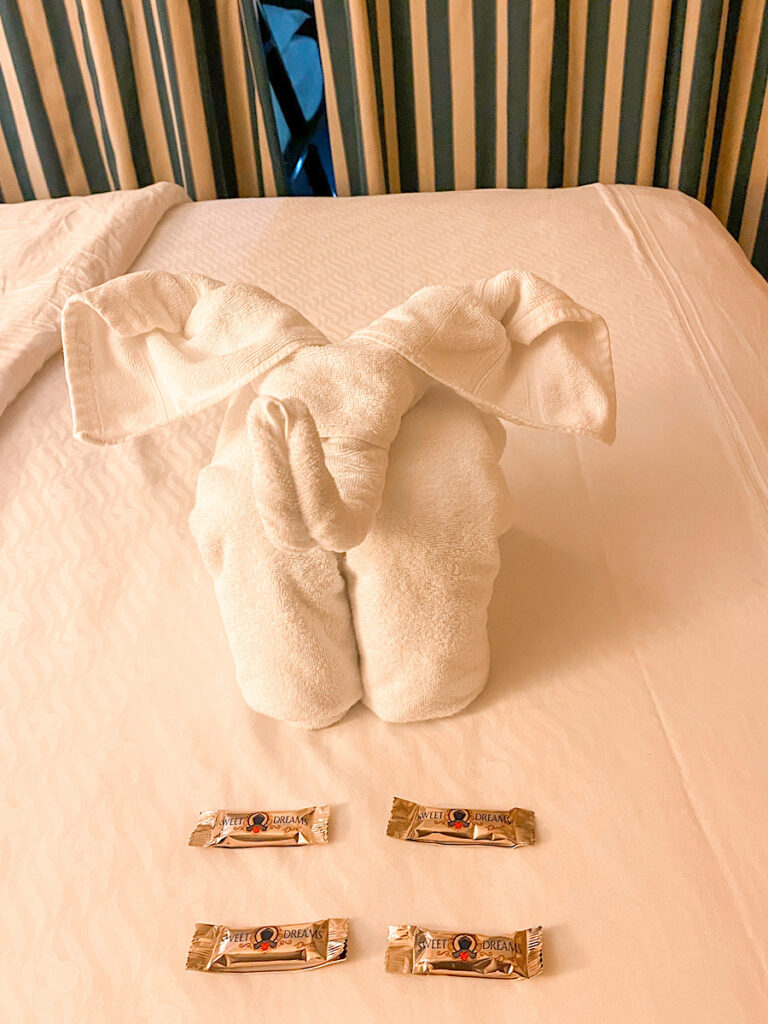 Day 7 At Sea
Our last full day was a day at sea. Everyone slept in past breakfast, so we had lunch in Cabanas then went swimming.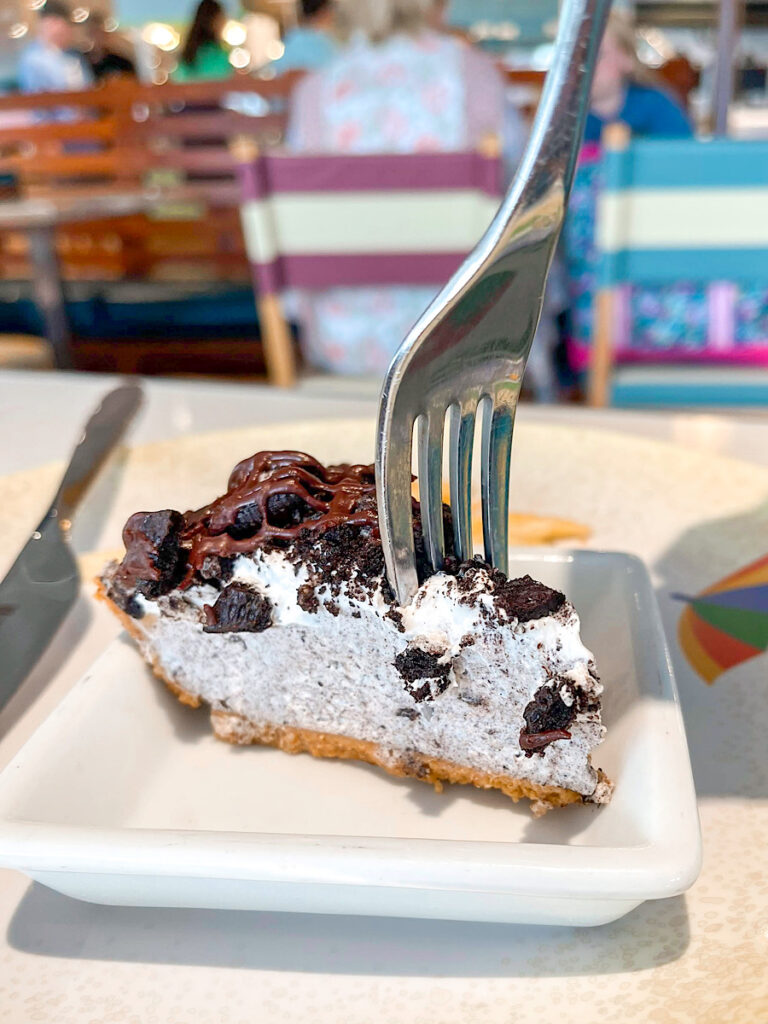 Dinner Lumiere's (Second Menu)
Our last dinner on this cruise was at Lumiere's and was delicious as usual. It was say saying good by to our servers who had been amazing throughout our time on the Disney Magic.