The dinner menu for Pirate Night on the Disney cruise ships is full of surprises! You'll be able to enjoy pirate-themed appetizers, soups and salads as well as many other dishes. The main course consist mostly in fish but don't worry there's also chicken and beef options available too; they even offer vegetarian meals if you're looking for something more unique than your usual vacation fare!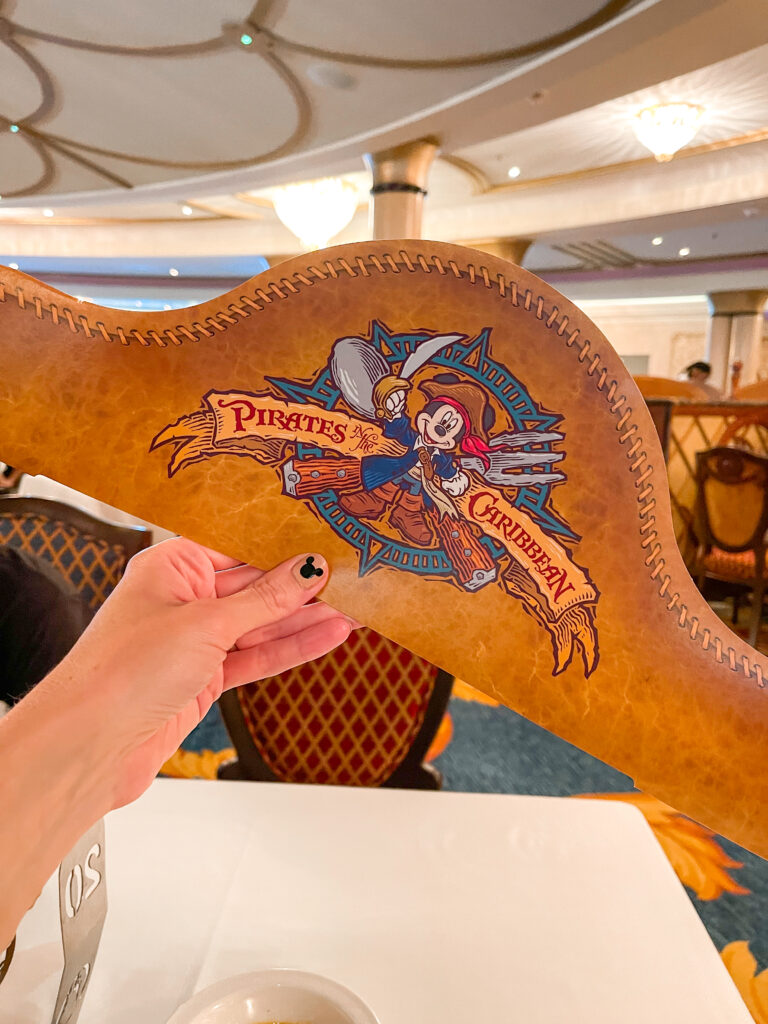 This post may contain affiliate links. When you click on these links, I get a small percentage back at no cost to you! For more information see my disclosure policy.
Check out prices below or get a free quote by calling 877-510-2929 and let them know Mommy Mouse Clubhouse sent you!
Pirate Night on a Disney Cruise is something that I look forward to every time I sail. My kids love to dress in their pirate gear!
Since the Disney cruise ships have set sail again, Pirate Night looks a little different than it has in the past. Currently, Pirate Night is condensed into a dinner experience.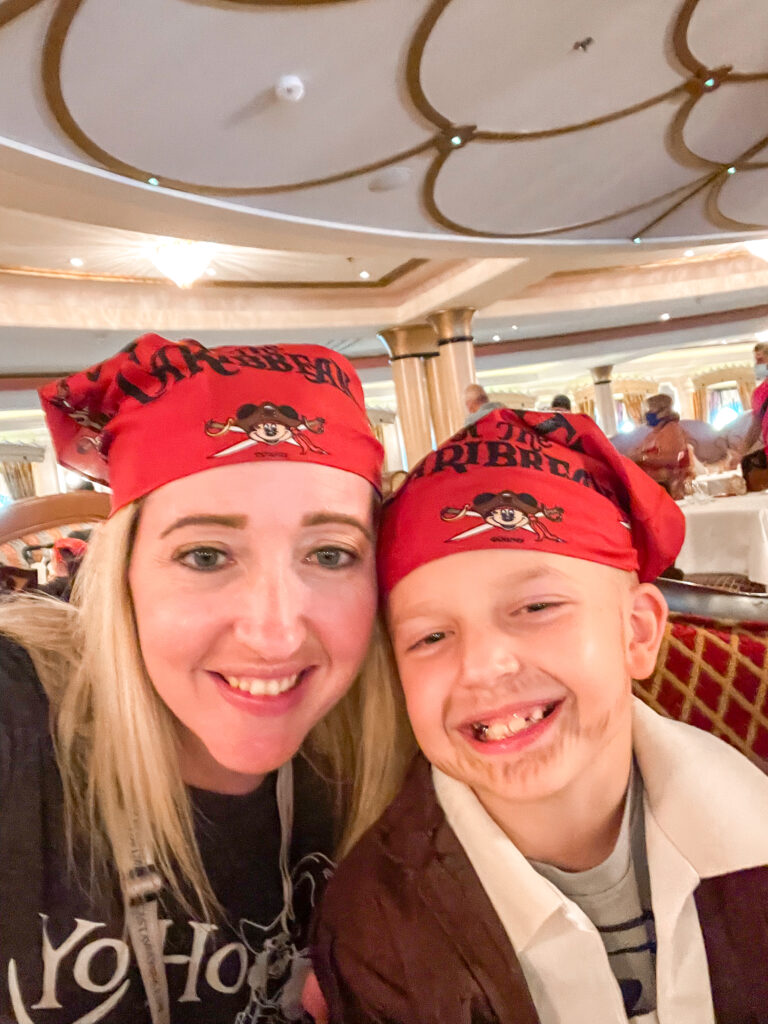 When you arrive at your assigned restaurant, your servers will be dressed in pirate gear and you there will be a Mickey Mouse pirate bandana for each person at your table.
There will be a pirate-themed menu (pictures below), then during dinner, a group of pirates will come in and sing a few pirate songs!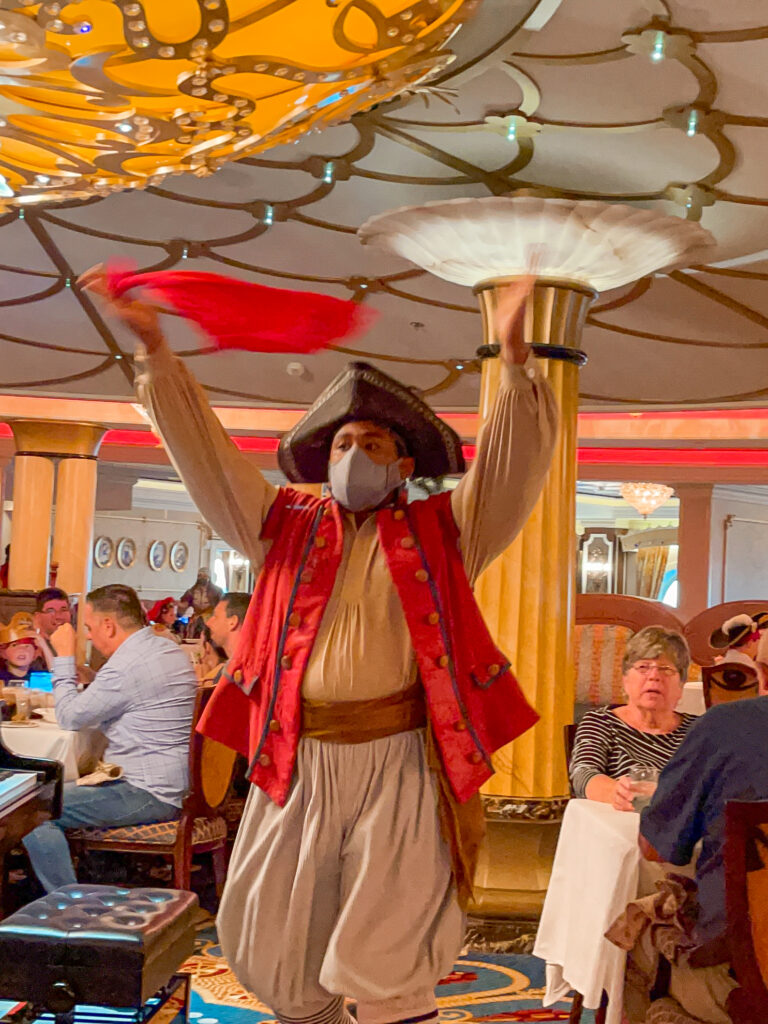 If you want to check out pirate night on our cruise, you can watch the video here or read all about Day 3 of our cruise here. You can also find reviews/videos for Day 1, Day 2 and Day 4.
Disney Cruise Pirate Night Dinner Menu (Screenshots)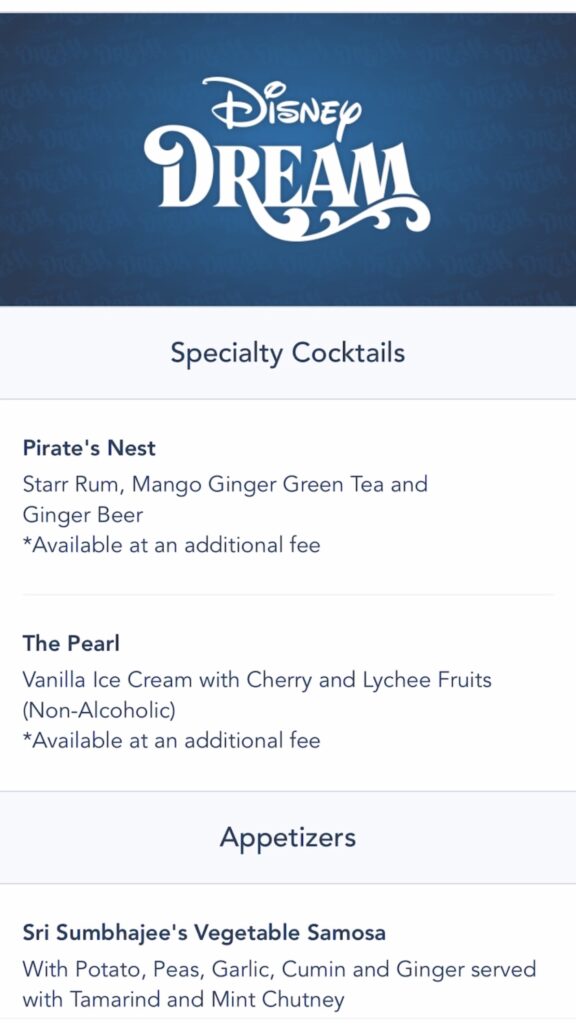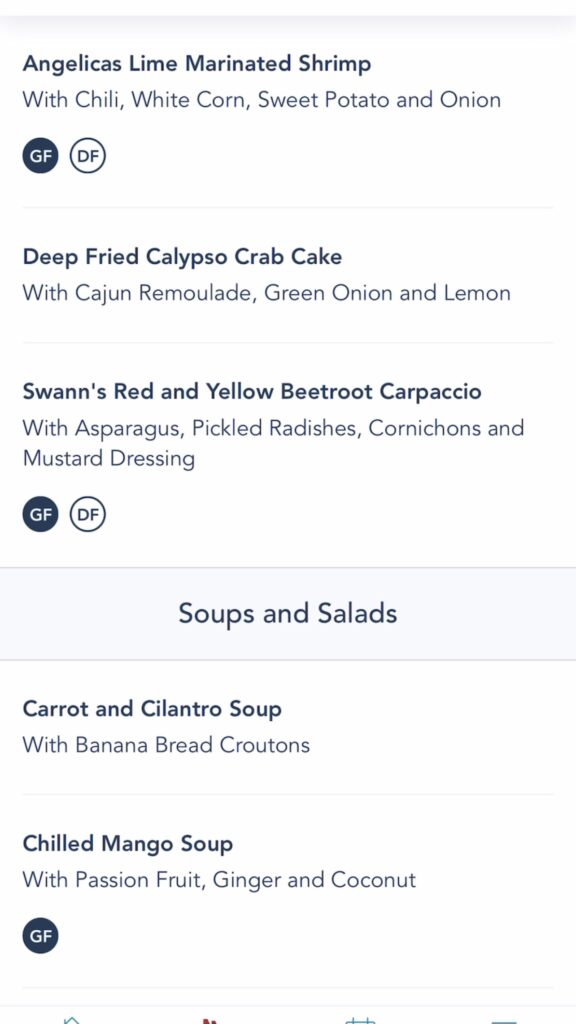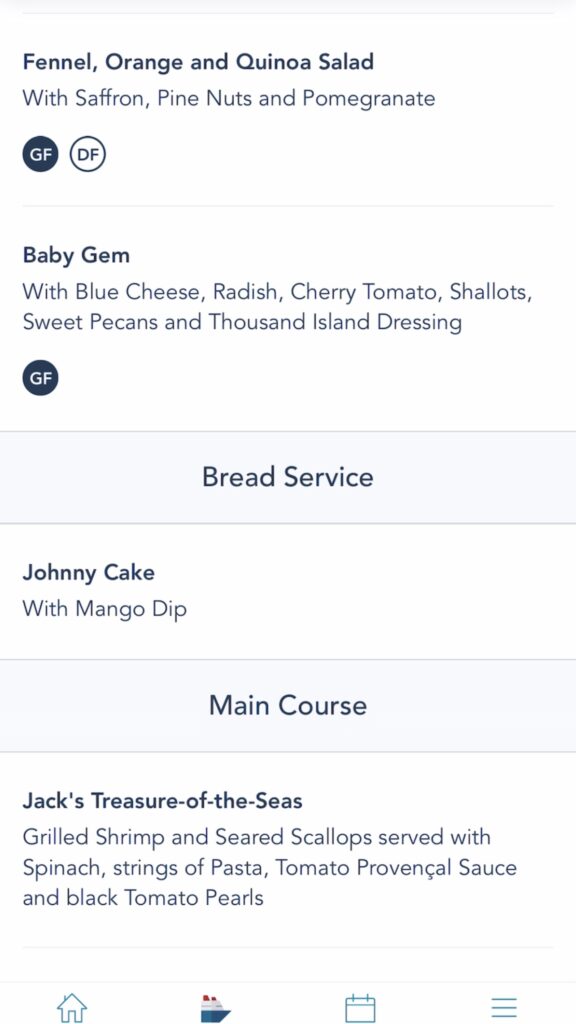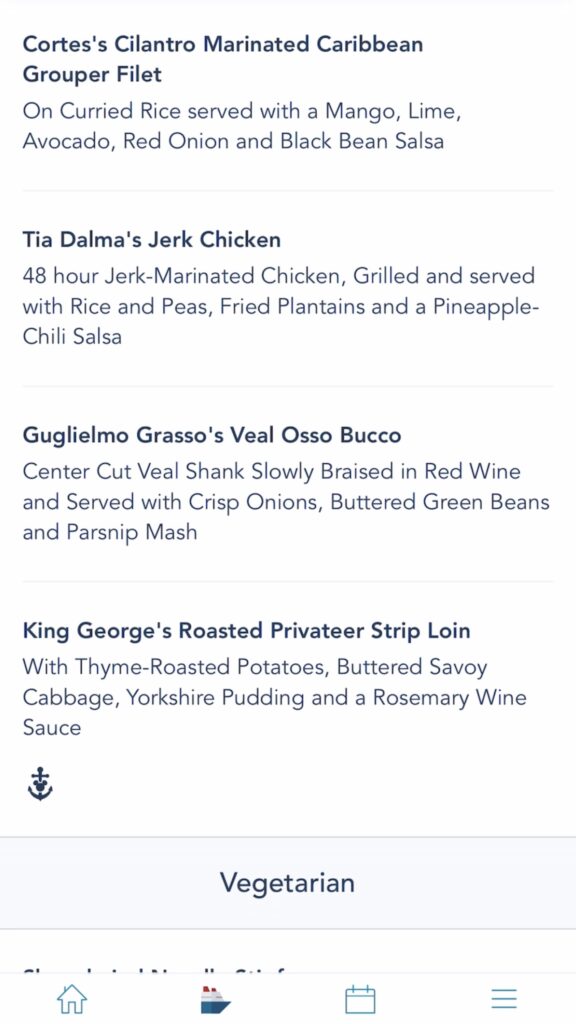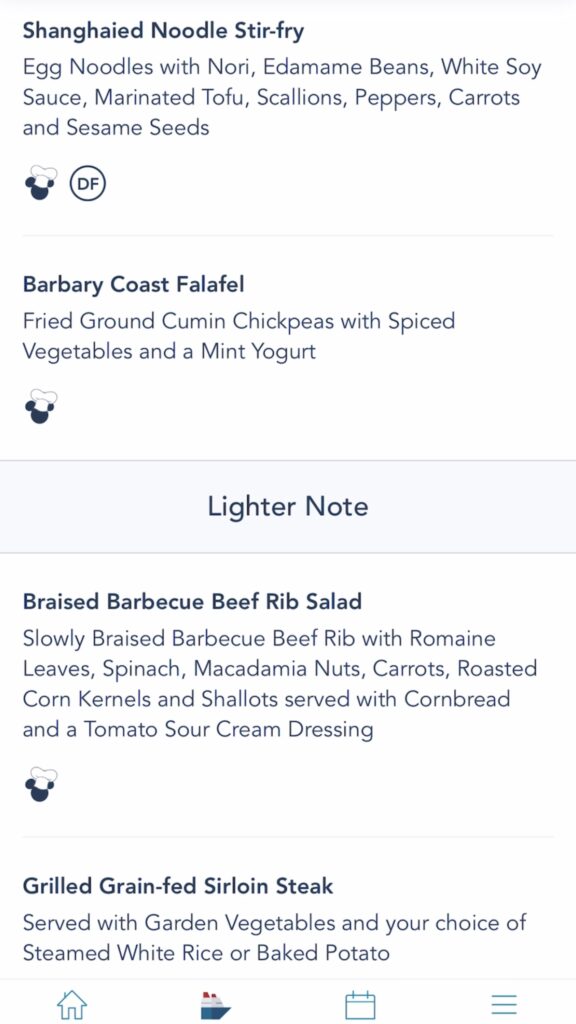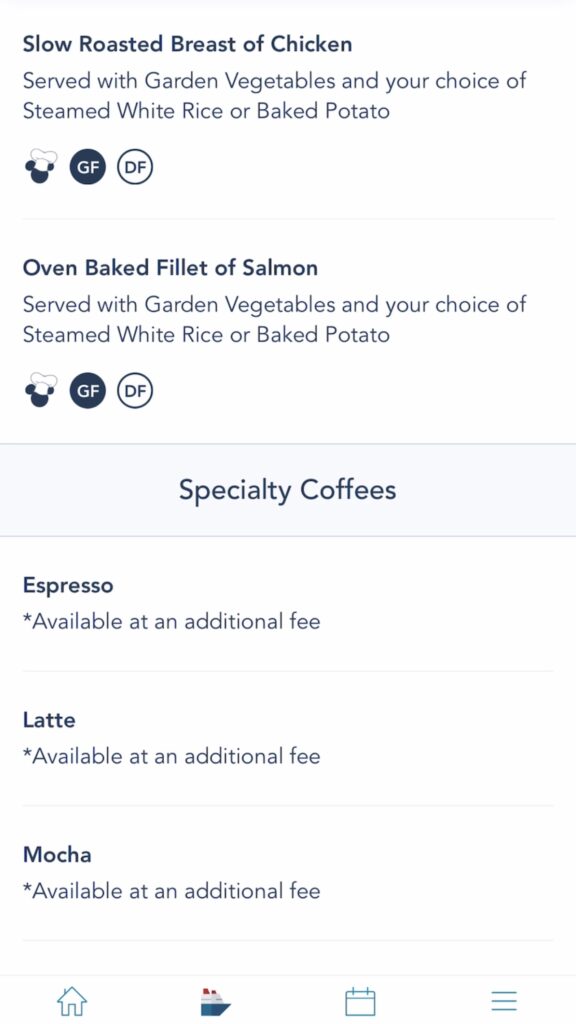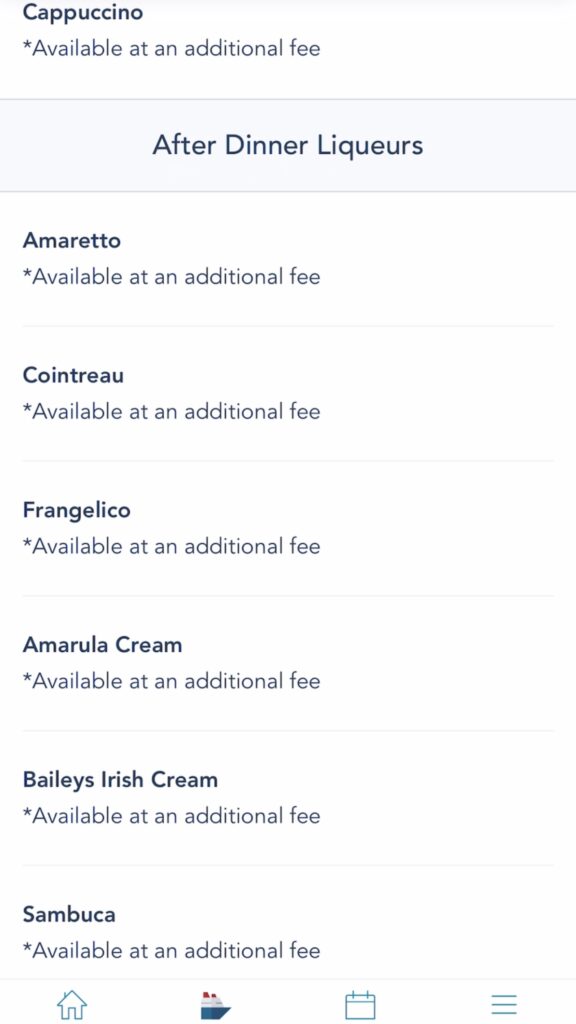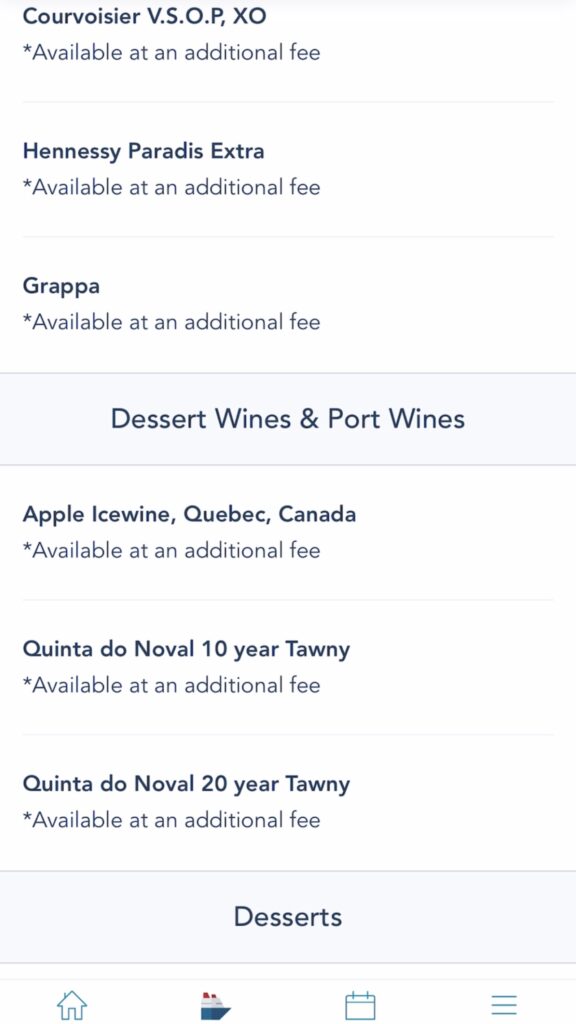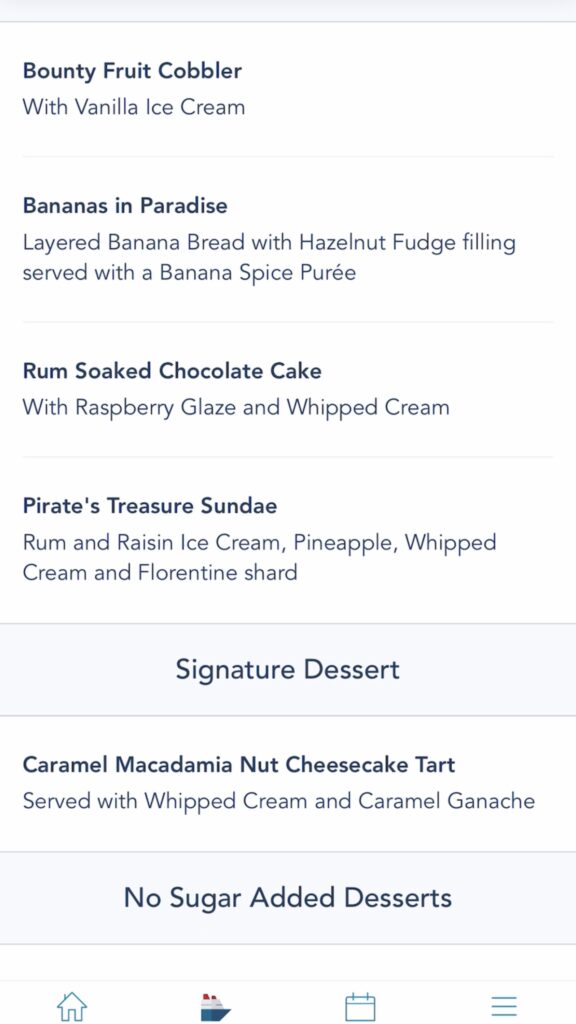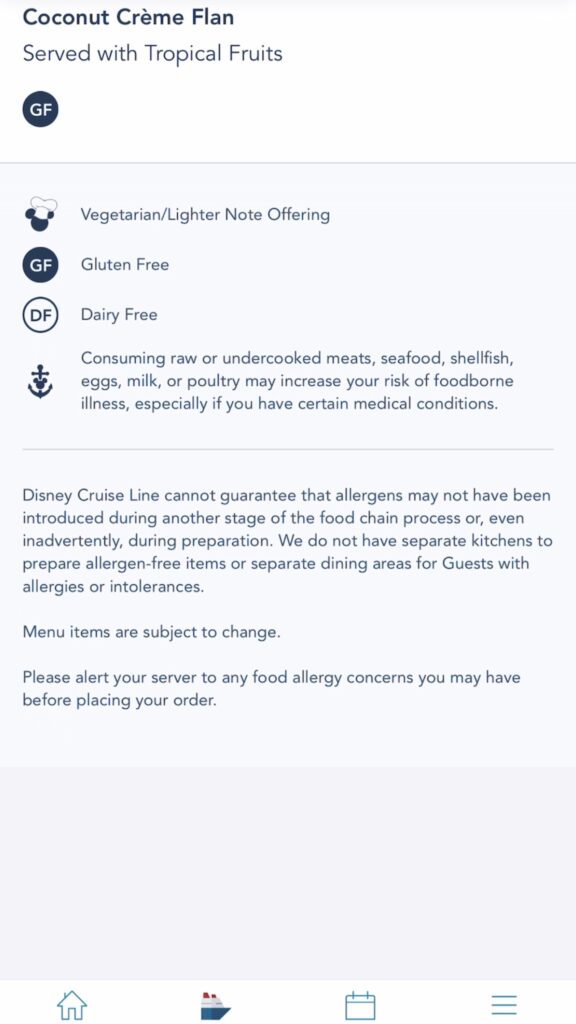 Pirate Night Menu
The Pirate Night menu, may have been on of our favorite of the cruise! Keep scrolling to see pictures of some of the items we ordered. I highly recommend the Chilled Mango Soup!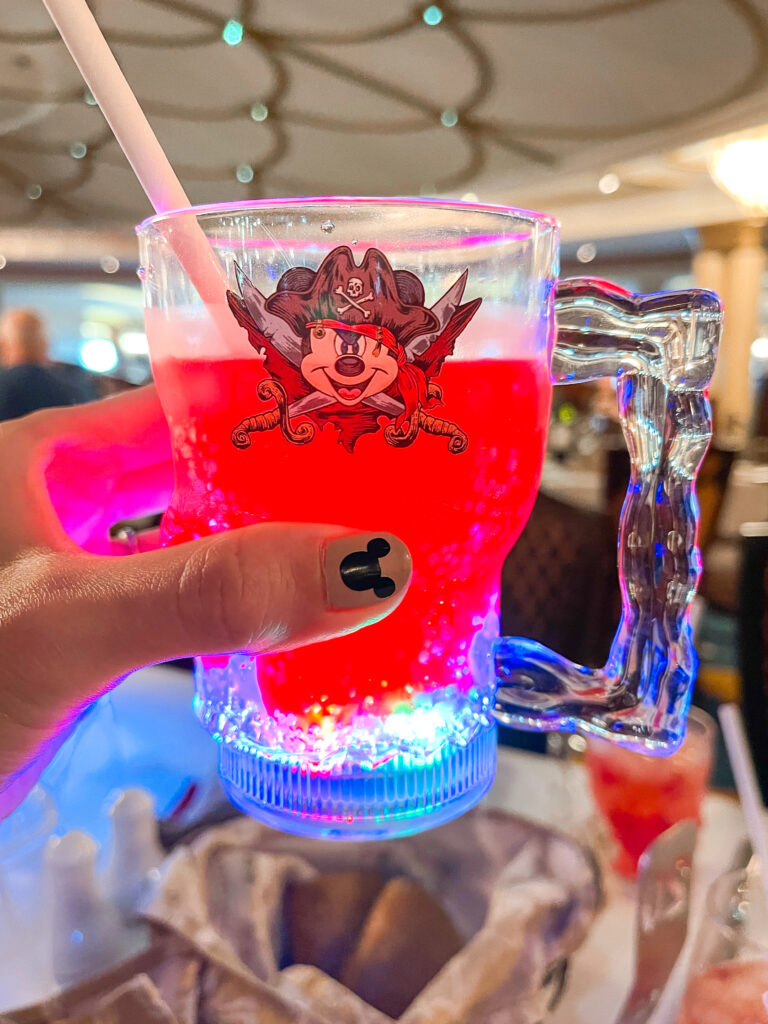 Specialty Cocktails
Pirate's Nest- Starr Rum, Mango Ginger Green Tea and Ginger Beer
The Pearl- Vanilla Ice Cream with Cherry and Lychee Fruits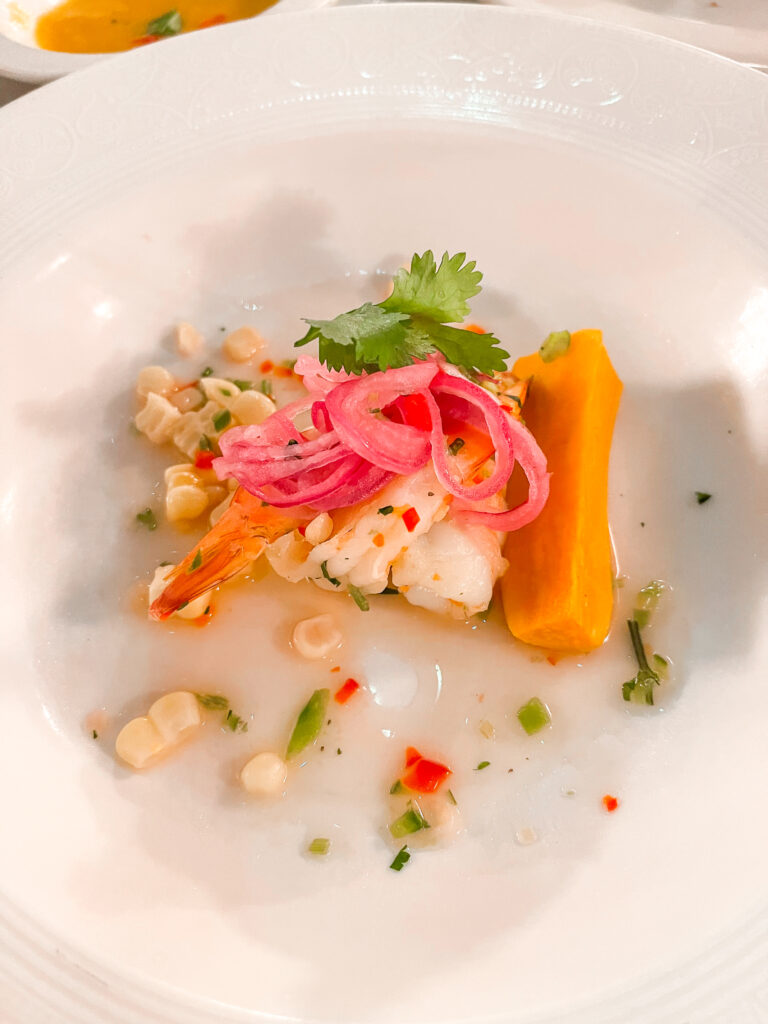 Appetizers
Sri Sumbhajee's Vegetable Samosa- With Potato, Peas, Garlic, Cumin and Ginger served with Tamarind and Mint Chutney
Angelicas Lime Marinated Shrimp- With Chili, White Corn, Sweet Potato and Onion
Deep Fried Calypso Crab Cake- With Cajun Remoulade, Green Onion and Lemon
Swann's Red and Yellow Beetroot Carpaccio- With Asparagus, Pickled Radishes, Cornichons and Mustard Dressing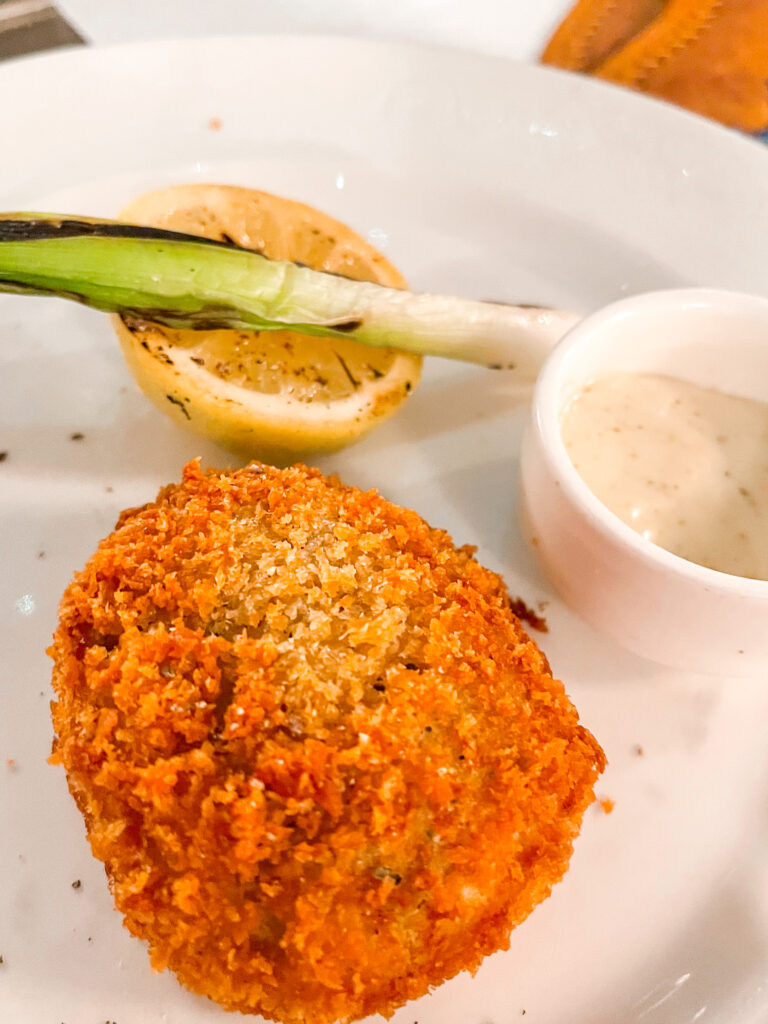 Soups and Salads
Carrot and Cilantro Soup- With Banana Bread Croutons
Chilled Mango Soup- With Passion Fruit, Ginger and Coconut
Fennel, Orange and Quinoa Salad- With Saffron, Pine Nuts and Pomegranate
Baby Gem- With Blue Cheese, Radish, Cherry Tomato, Shallots, Sweet Pecans, and Thousand Island Dressing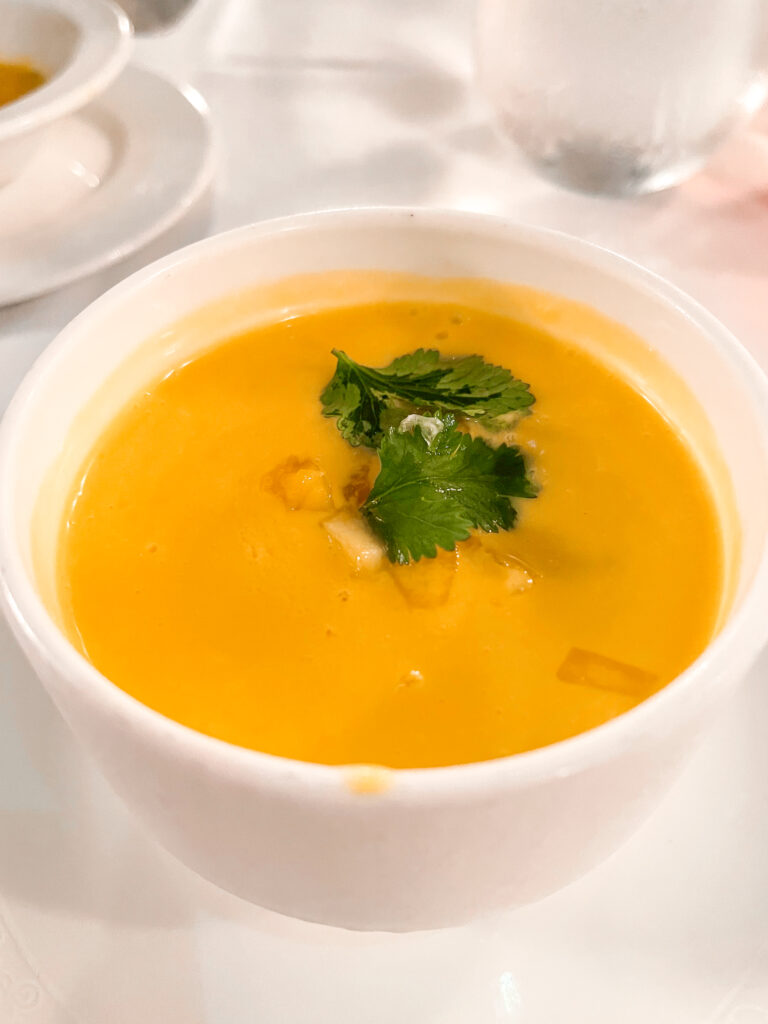 Bread Service
Johnny Cake- With Mango Dip
Main Course
Jack's Treasure-of-the-Seas- Grilled Shrimp and Seared Scallops served with Spinach, strings of Pasta, Tomato Provencal Sauce and black Tomato Pearls
Cortes's Cilantro Marinated Caribbean Grouper Filet- On Curried Rice served with a Mango, Lime, Avocado, Red Onion and Black Bean Salsa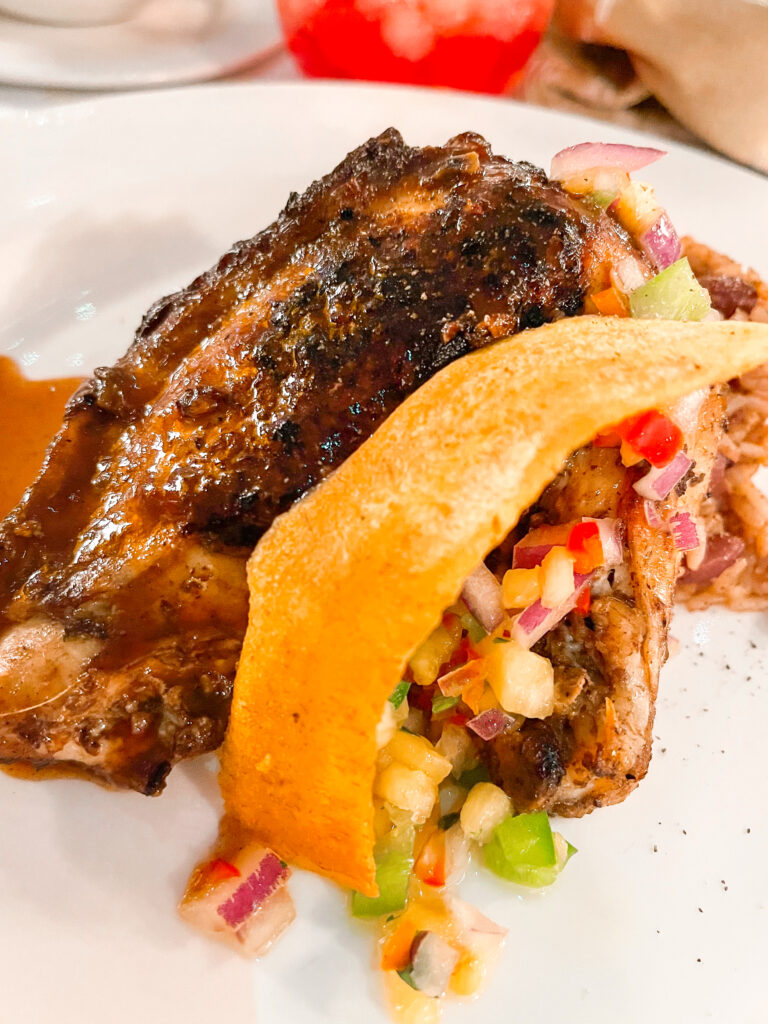 Tia Dalma's Jerk Chicken- 48 hour Jerk-Marinated Chicken, Grilled and served with Rice and Peas, Fried Plantains and a Pineapple-Chili Salsa
Guglielmo Grasso's Veal Osso Bucco- Center Cut Veal Shank Slowly Braised in Red Wine and Served with Crisp Onions, Buttered Green Beans and Parsnip Mash
King George's Roasted Privateer Strip Loin- With Thyme-Roasted Potatoes, Buttered Savoy Cabbage, Yorkshire Pudding and a Rosemary Wine Sauce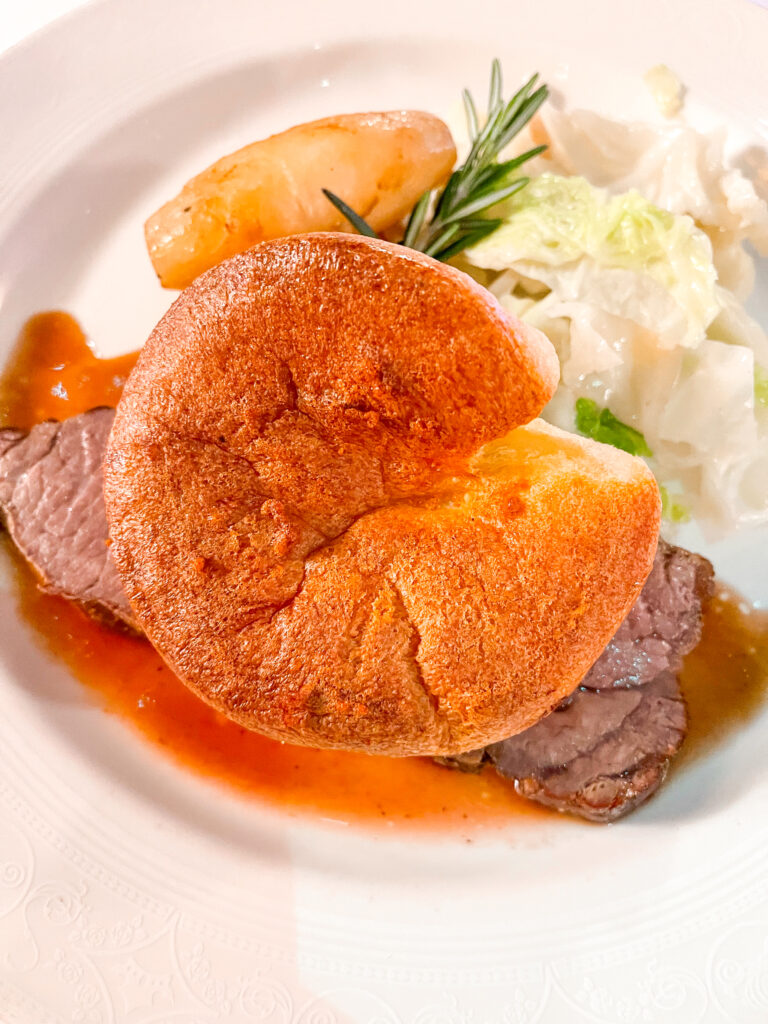 Vegetarian
Shanghaied Noodle Stir-fry- Egg Noodles with Nori, Edamame Beans, White Soy Sauce, Marinated Tofu, Scallions, Peppers, Carrots and Sesame Seads
Barbary Coast Falafel- Fried Ground Cumin Chickpeas with Spiced Vegetables and a Mint Yogurt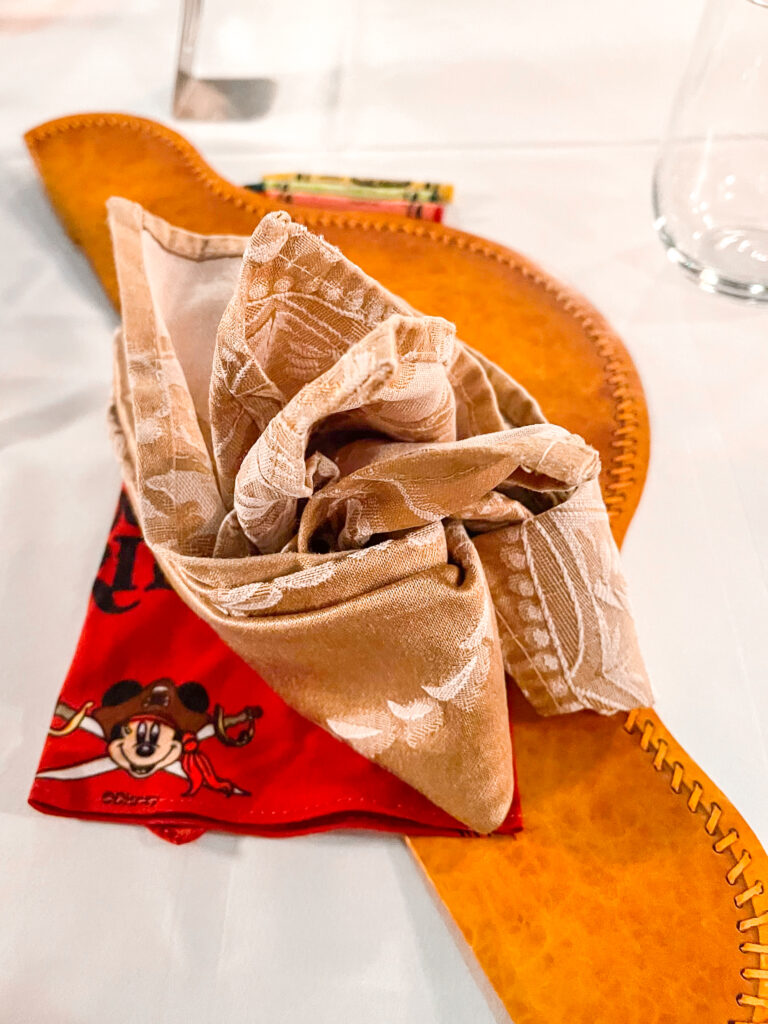 Lighter Note
Braised Barbecue Beef Rib Salad- Slowly Braised Barbecue Beef Rib with Romaine Leaves, Spinach, Macadamia Nuts, Carrots, Roasted Corn Kernels and Shallots served with Cornbread and a Tomato Sour Cream Dressing
Grilled Grain-fed Sirloin Steak- Served with Garden Vegetables and your choice of Steamed White Rice or Baked Potato
Slow Roasted Breast of Chicken- Served with Garden Vegetables and your choice of Steamed White Rice or Baked Potato
Oven Baked Fillet of Salmon- Served with Garden Vegetables and your choice of Steamed White Rice or Baked Potato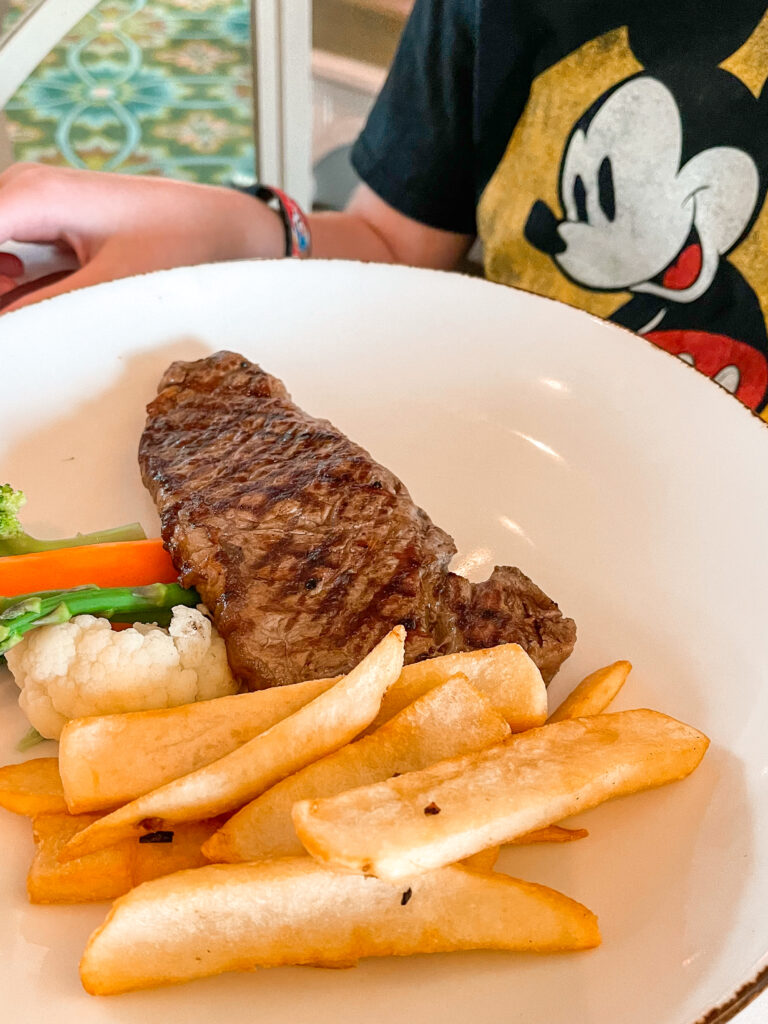 Specialty Coffees
Espresso
Latte
Mocha
Cappuccino
After Dinner Liqueurs
Amaretto
Cointreau
Frangelico
Amarula Cream
Baileys Irish Cream
Sambuca
Tia Maria
Grand Mariner
Godiva Chocolate
Pama Pomegranate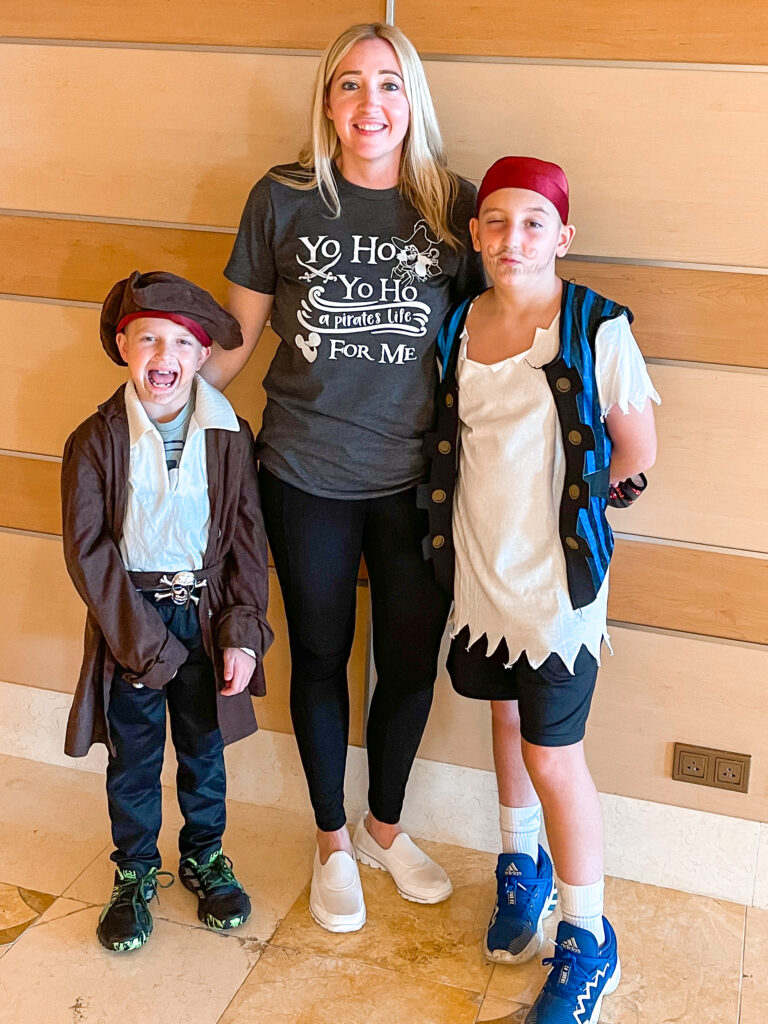 Cognac & Eaux de Vie
Remy Martin V.S.O.P, XO
Louis XIII Remy Martin
Armagnac
Courvoisier V.S.O.P, XO
Hennessy Paradis Extra
Grappa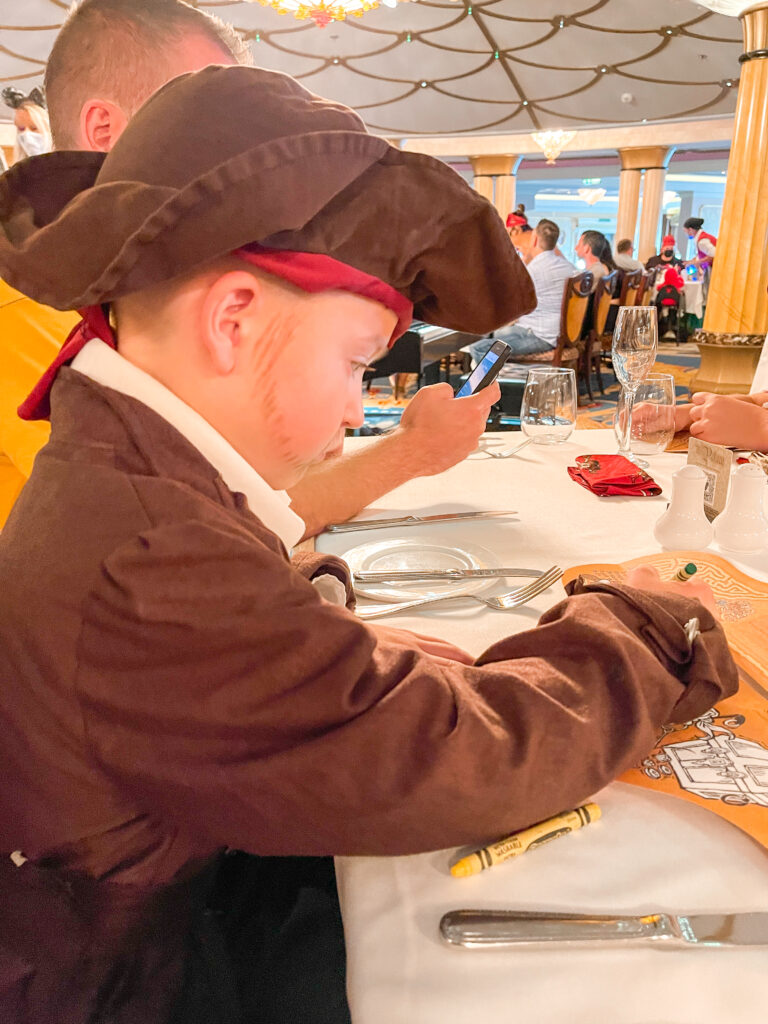 Dessert Wines & Port Wines
Apple Icewine, Quebec, Canada
Quinta do Noval 10 year Tawny
Quinta do Noval 20 year Tawny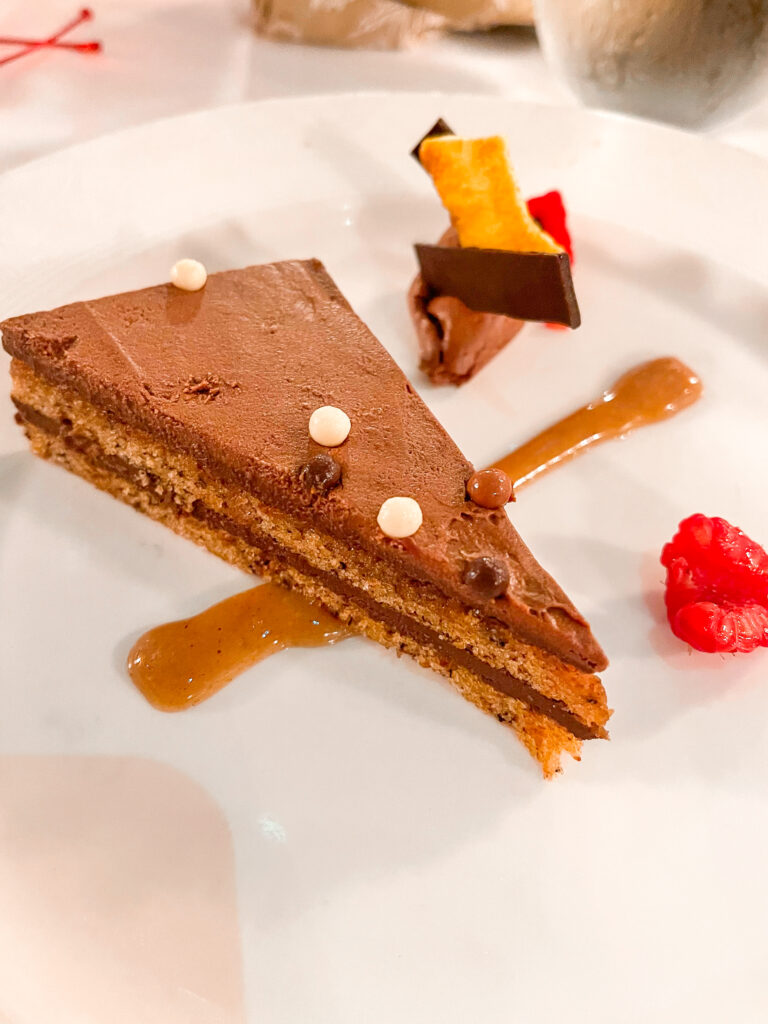 Desserts
Bounty Fruit Cobbler- With Vanilla Ice Cream
Bananas in Paradise- Layered Banana Bread with Hazelnut Fudge Filling served with a Banana Spice Puree
Rum Soaked Chocolate Cake- With Raspberry Glaze and Whipped Cream
Pirate's Treasure Sundae- Rum and Raisin Ice Cream, Pineapple, Whipped Cream and Florentine shard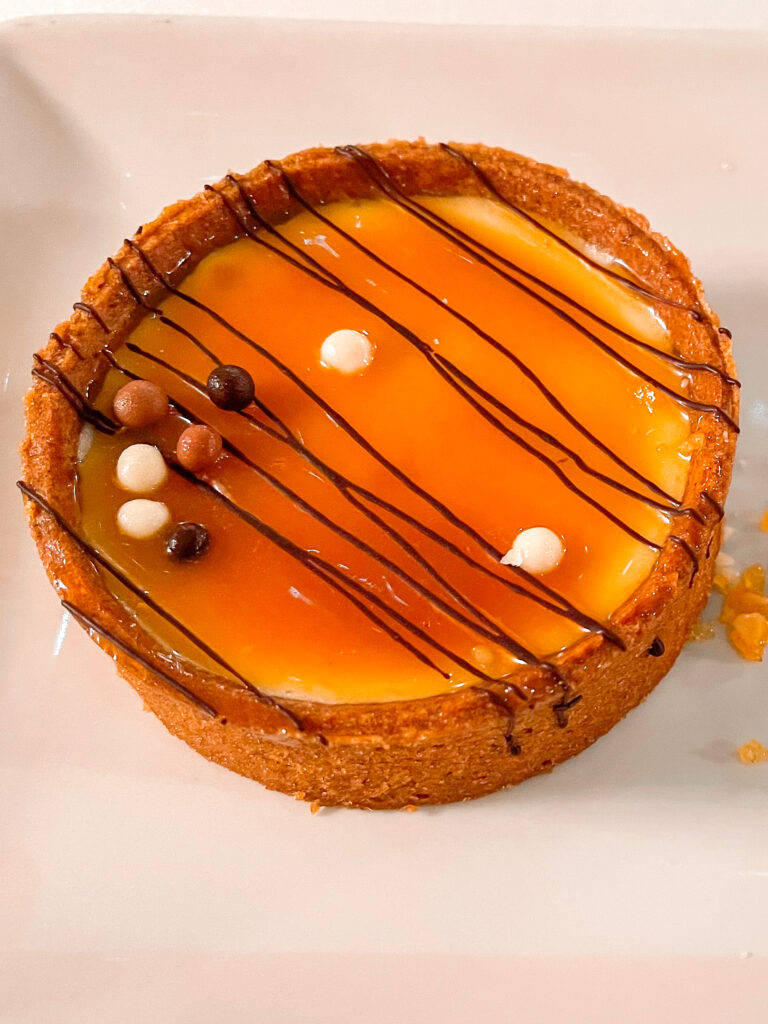 Signature Dessert
Caramel Macadamia Nut Cheesecake Tart- Served with Whipped Cream and Caramel Ganache
No Sugar Added Desserts
Coconut Creme Flan- Served with Tropical Fruits
More Disney Cruise Menus: