Want to know what a Day at Sea is like on a Disney Cruise? Find out all about activities that are available, the kids club, the Vibe club for teens, the Edge club for tweens, and riding on the AquaDuck!
This post may contain affiliate links. When you click on these links, I get a small percentage back at no cost to you! For more information see my disclosure policy.
Check out prices below or get a free quote by calling 877-510-2929 and let them know Mommy Mouse Clubhouse sent you!
My family and I recently decided to take a cruise on the Disney Dream! It was absolutely amazing! Day two was a Day at Sea, so I will include all of the activities we participated in and what we ate! You can watch the video on YouTube here.
In my post about Day 1, I showed you what it was like to go through the testing process and board the ship, so make sure to check out here. You can also find more tips for cruising with Disney here. Read about Day 3 at Castaway Cay here.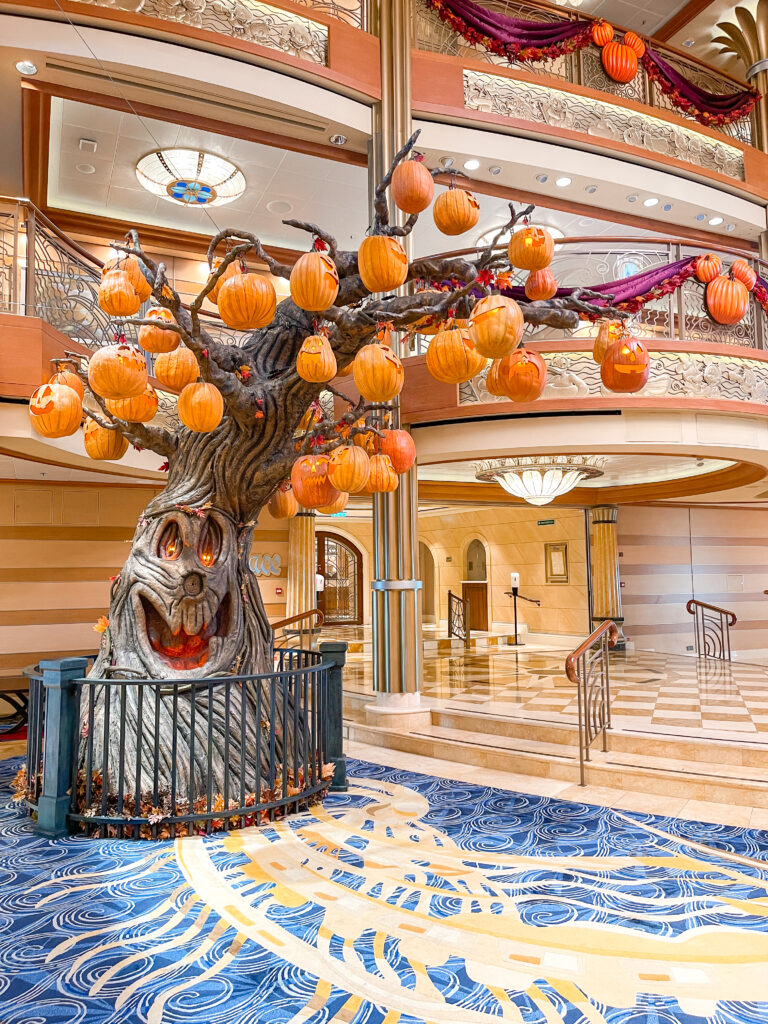 Before we get started, make sure you are subscribed on YouTube and have turned on notifications so you'll know when I upload videos for Day 3 and Day 4. You can also follow along on Instagram @MommyMouseClubhouse. Now, let's get started!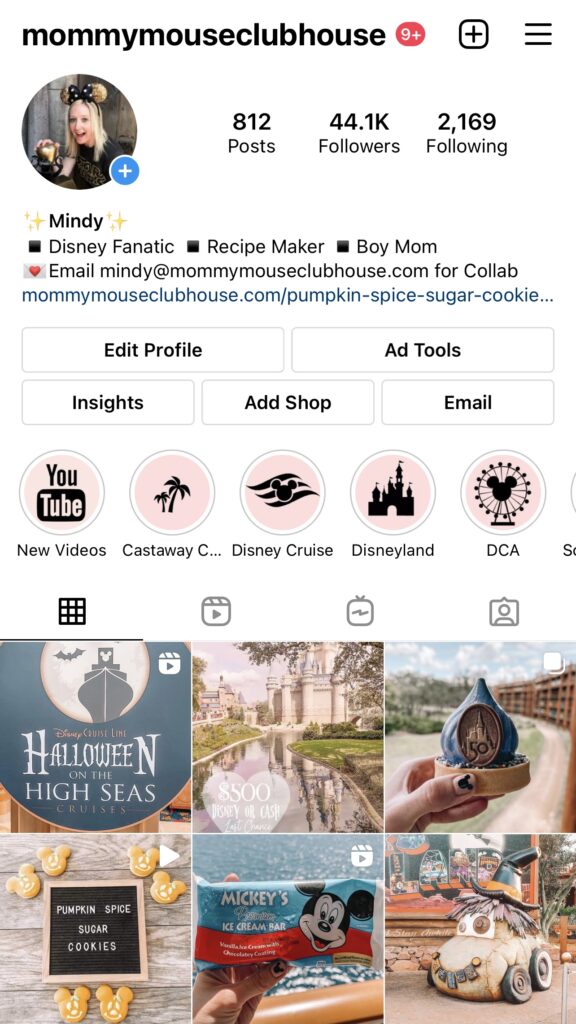 Breakfast at Enchanted Garden
We started out our day by having breakfast at Enchanted Garden. My older boys were still sleeping, so it was just my husband, myself, and my youngest son.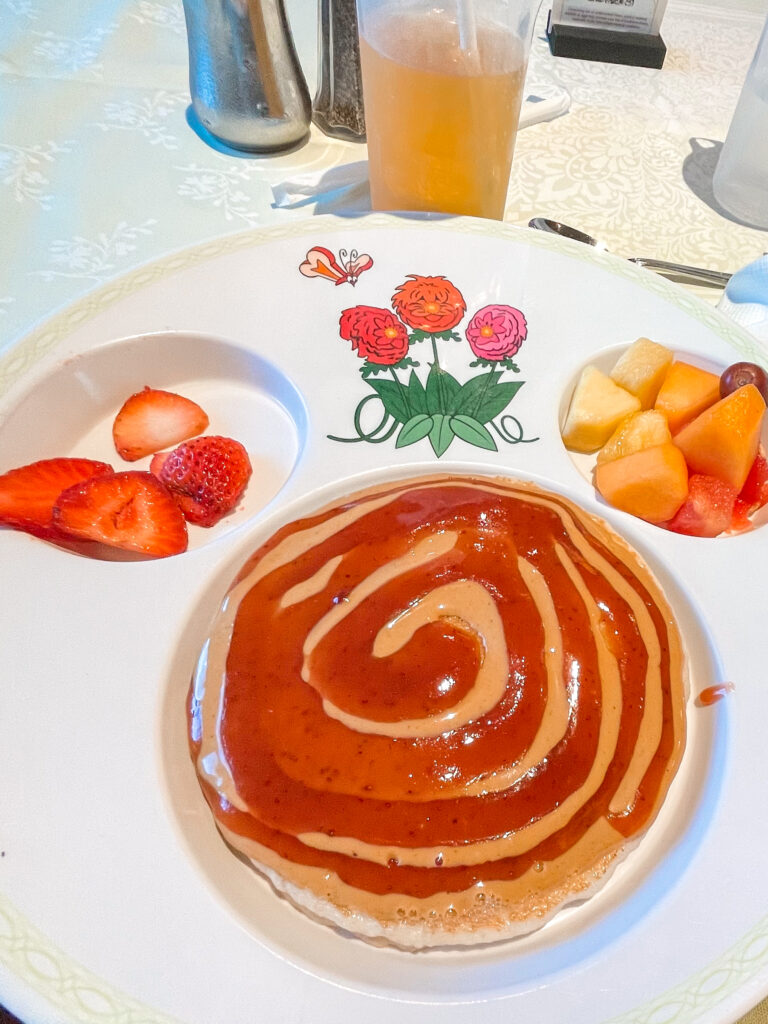 The menu had classic items like fresh fruit, yogurt, eggs, pancakes, and of course, Mickey Waffles. My son had the Peanut Butter Typhoon Pancakes, my husband had oatmeal, and I had Mickey Waffles!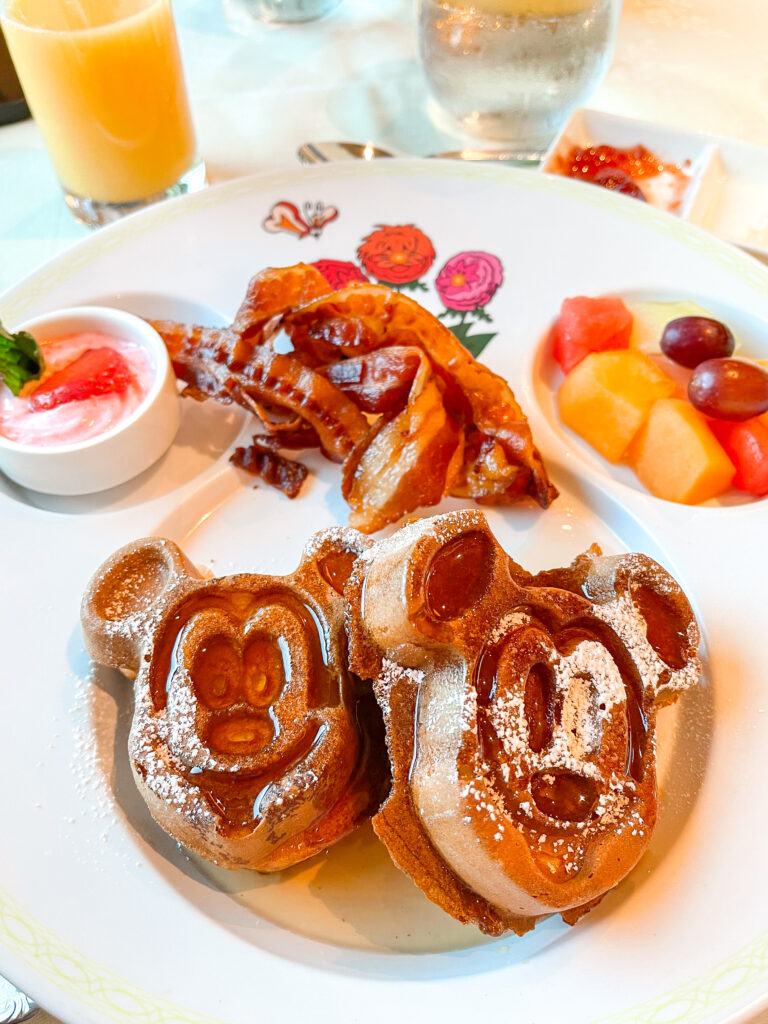 Shopping on the Disney Dream
After breakfast, the older boys were still sleeping, so we decided to look around the gift shops on Deck 3.
If you see something you like when you're shopping on the ship, make sure to grab it while you can. There are many items onboard that are only sold on the ships, and you don't want to regret not making a purchase once you get home.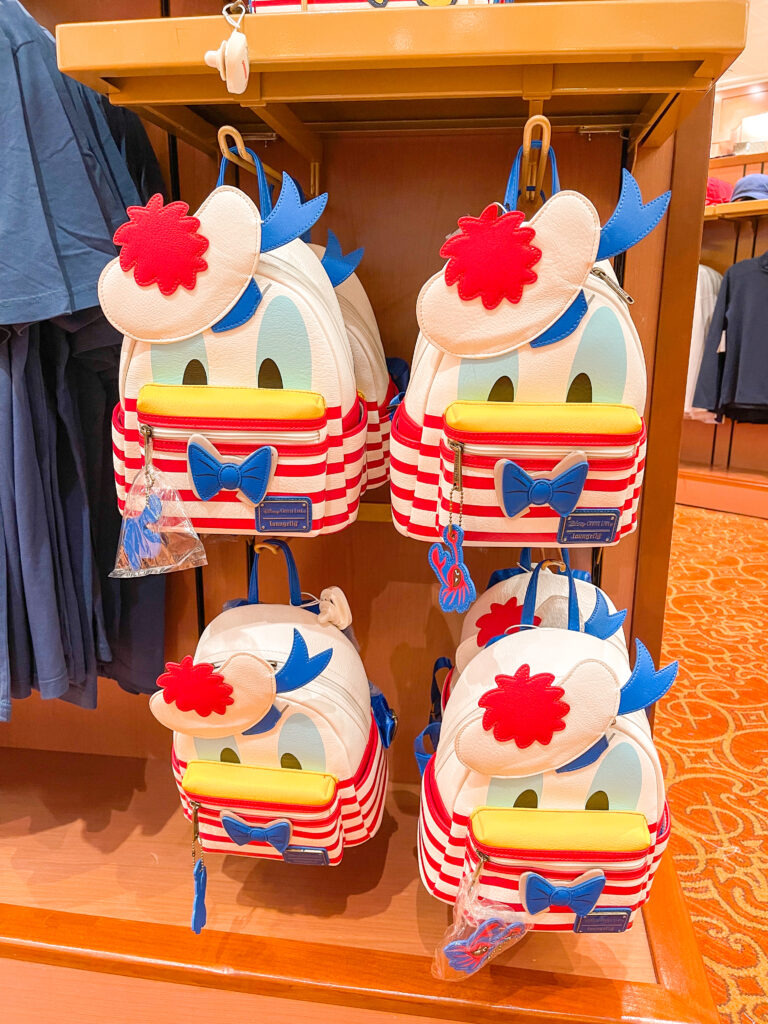 Disney Animation Class
Our next stop was the D Lounge for a Disney Animation class. The great thing about Disney cruises is all of the family entertainment on board. My son was so excited to learn how to draw some Disney characters.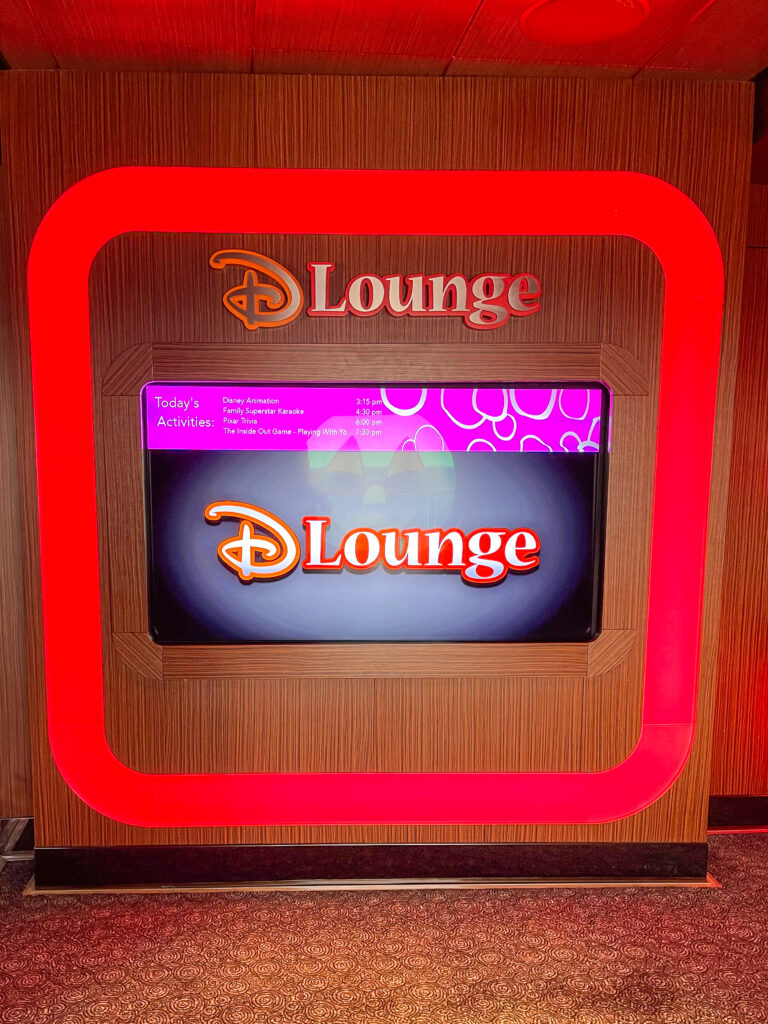 When you arrive at the class, there will be a piece of paper and pencil for each person. A talented crew member will show you step-by-step, how to draw a character.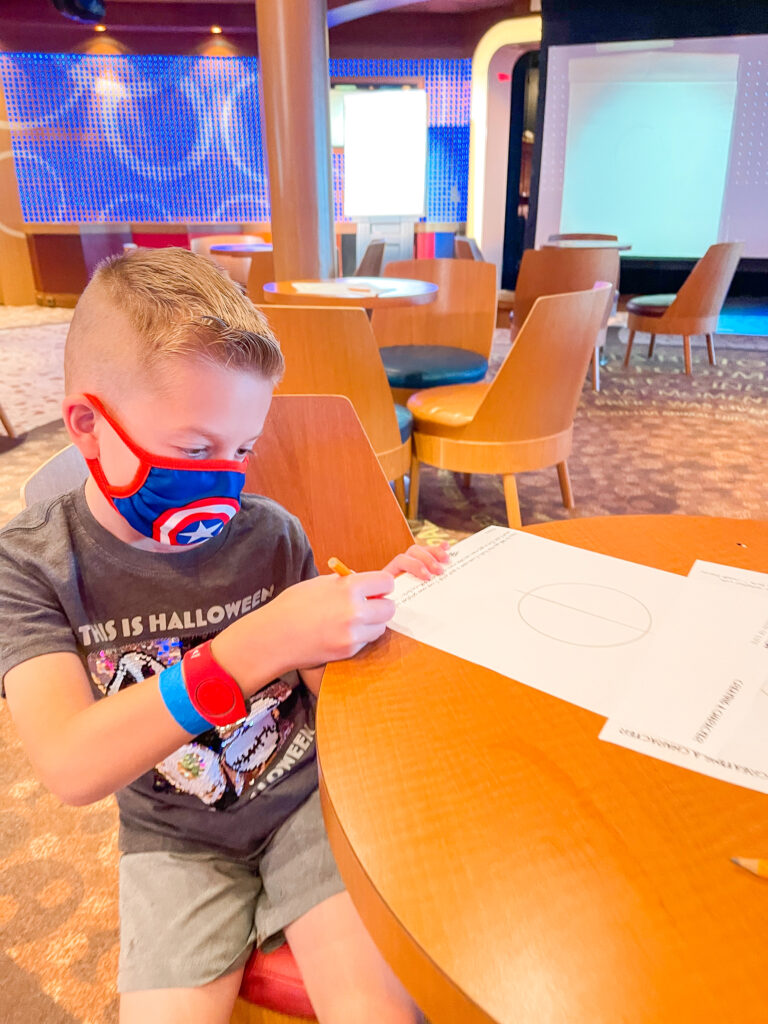 My son and husband had a great time learning how to draw Donald Duck. At the end of the class, Daisy came in to make sure everyone did a good job with their drawings!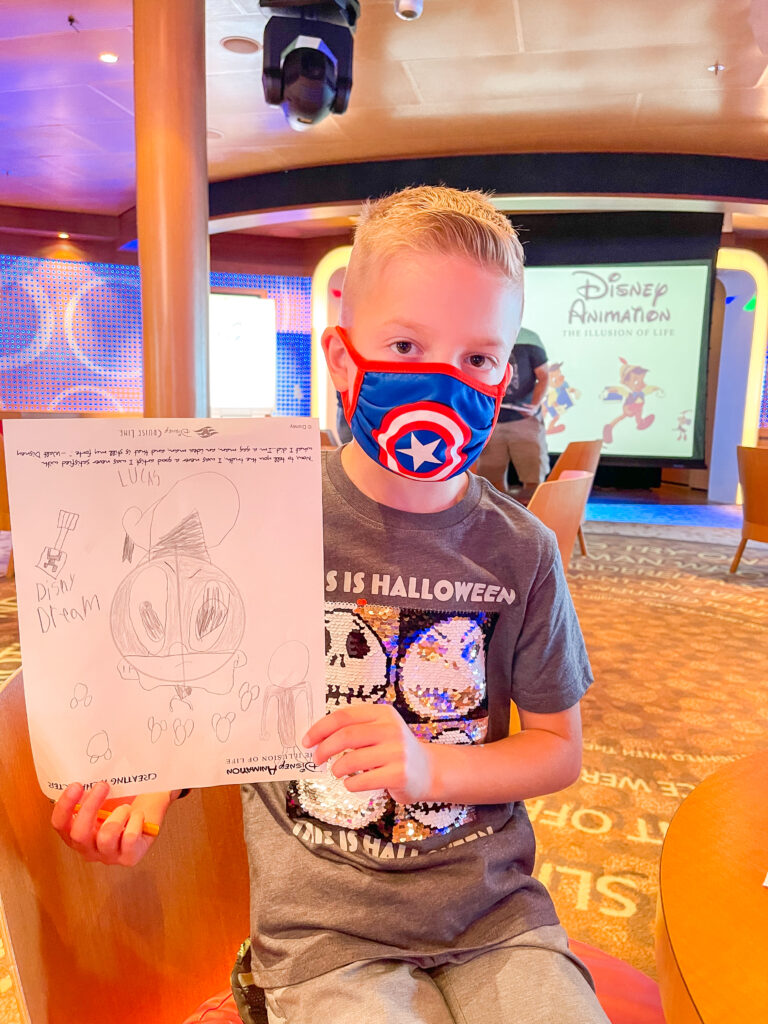 If you're curious about the daily activities available, I was able to take screen shots of all of the activities for all four days of our cruise. You can find the list of activities here, so you can know what to expect on your cruise.
Walk Around Deck 4
Down on Deck 4, there is a track that you can walk on that circles around the ship. We found out that two and a half laps around the track equals 1 mile. We tried to walk around Deck 4 at least once a day, so we could justify eating all of the delicious food on the cruise.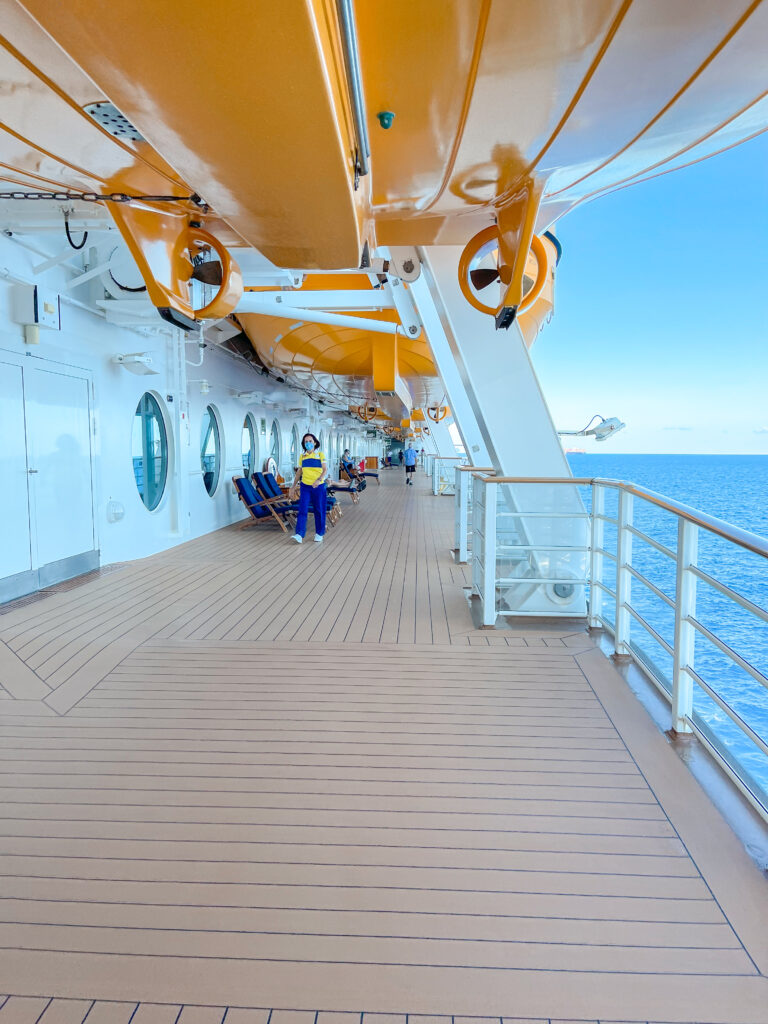 Disney Cruise Bingo
After our walk, we headed to Evolution, which was also on Deck 4 to play some family Bingo! We paid $10 for four Bingo cards, but unfortunately did not win. But, we still had a great time and the Cruise staff was so much fun!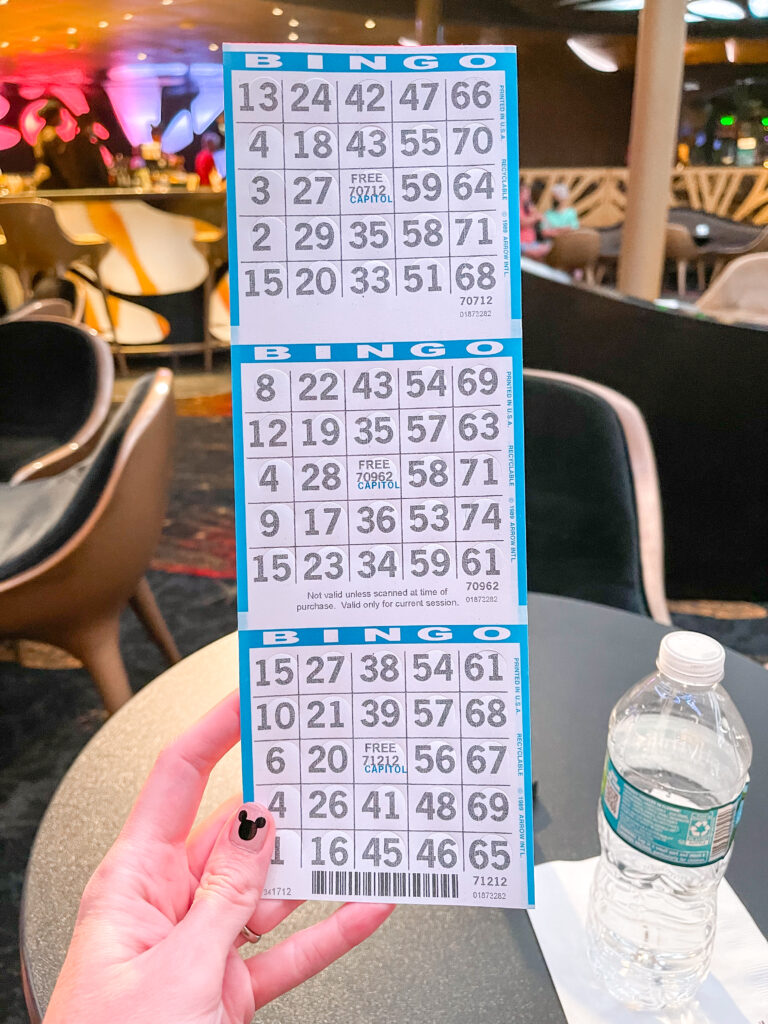 Midship Elevator
If you get the chance to sail on the Dream, you need to check out this elevator! It is located Midship in the atrium. The elevators closest to the atrium have glass sides, so once you reach Deck 6 there is an adorable mural that you can see as you ride. Make sure to watch my Day at Sea video, so you can check out the murals for yourself!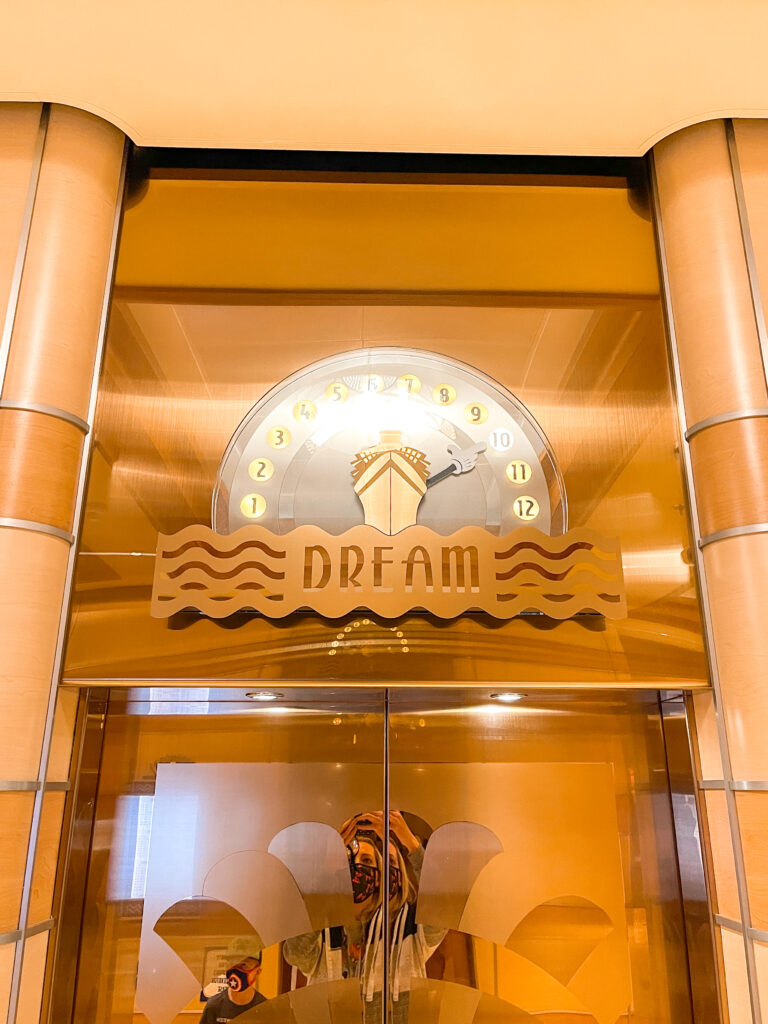 AquaDuck & Swimming
After Bingo, it was time for some fun on Deck 11! My oldest son spent the day on the Edge, which is hang out area for kids ages 11-14. But, my 11 and 7 year olds wanted to spend some time riding the AquaDuck and swimming in the pools.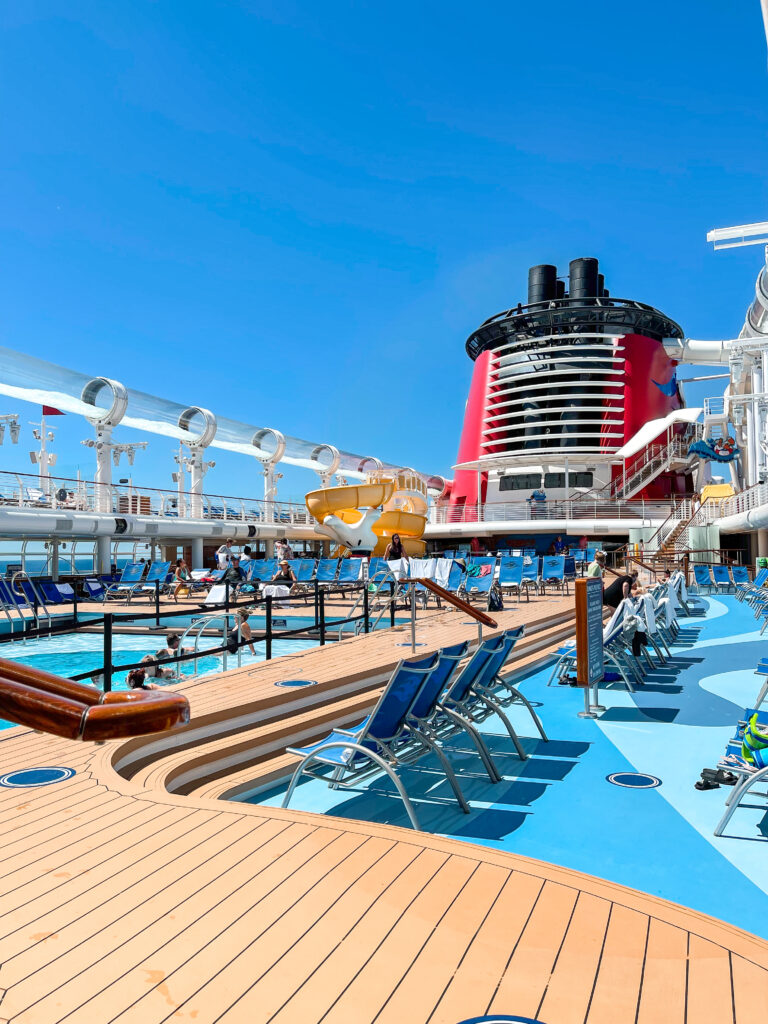 The AquaDuck has a height requirement of 42" and my son was just a little too short the last time we cruise, so he took full advantage of the slide this time.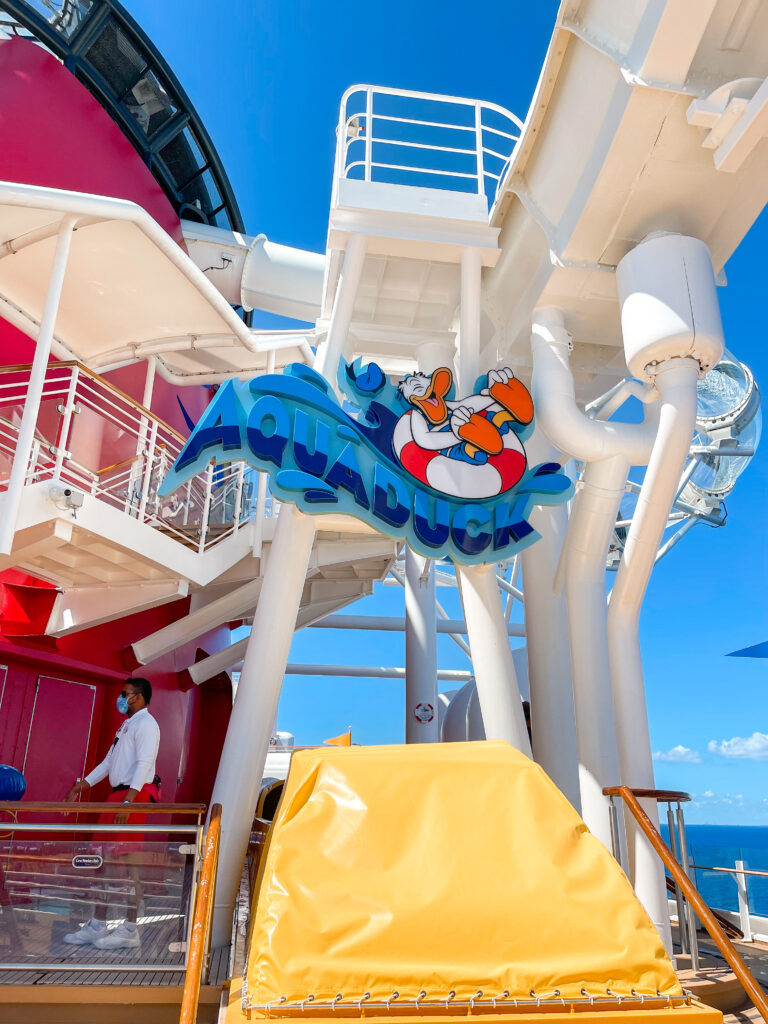 Door Decorations
If you go on a Disney Cruise, it is tradition to decorate your door with magnets. I loved walking down the hallway to our state room because I was able to see all of the cute decorations.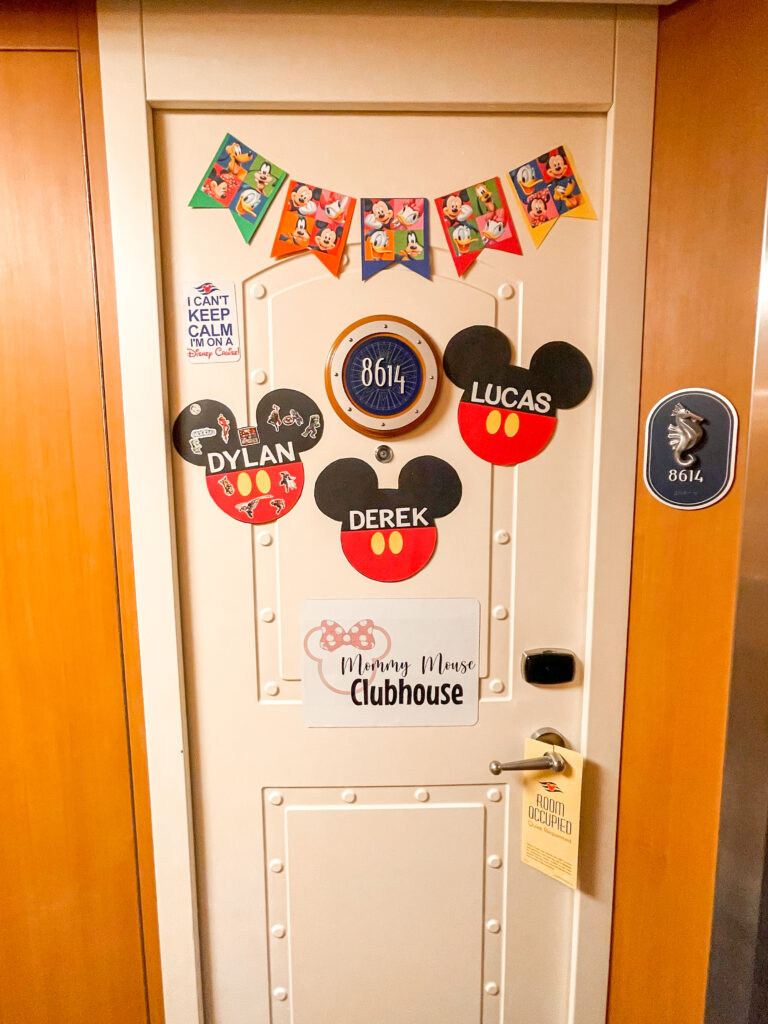 Room Service
Back in the room, we found three bags of Halloween candy from Disney, since trick-or-treating wasn't possible on our cruise. My boys loved the selection, and I may have eaten a piece or two when they weren't looking.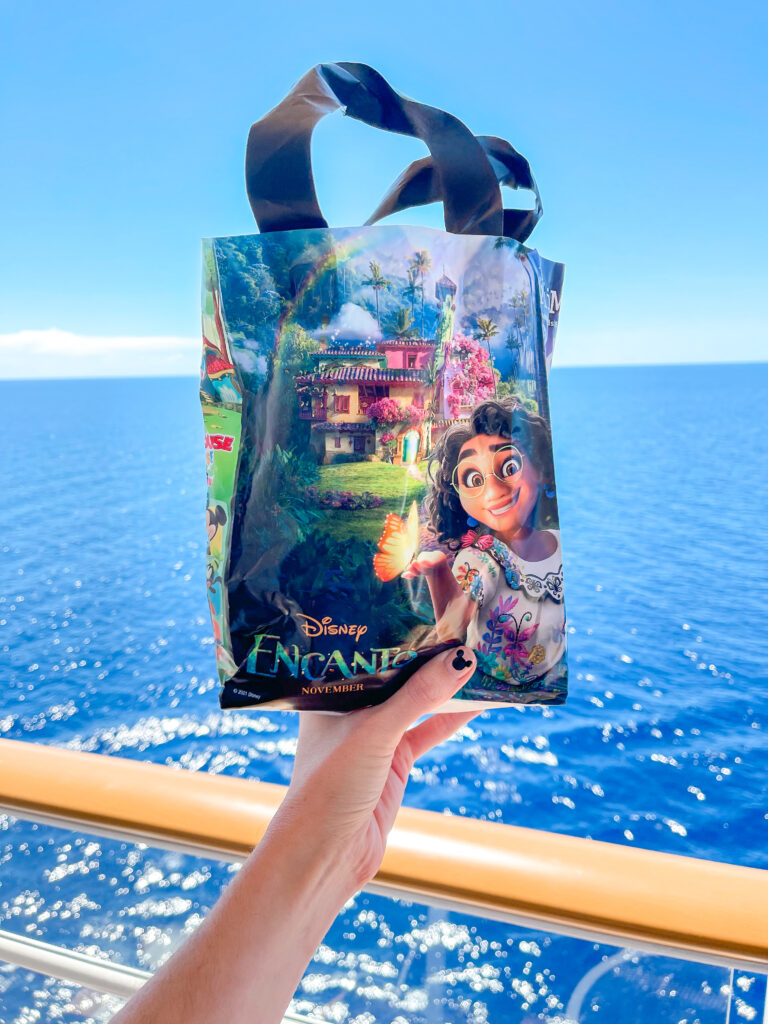 After my boys changed, my 11-year old joined his brother at the Edge and my 7-year old went to the kids club. My husband and I decided to order lunch from room service. Check here for pictures of the Room Service Menu.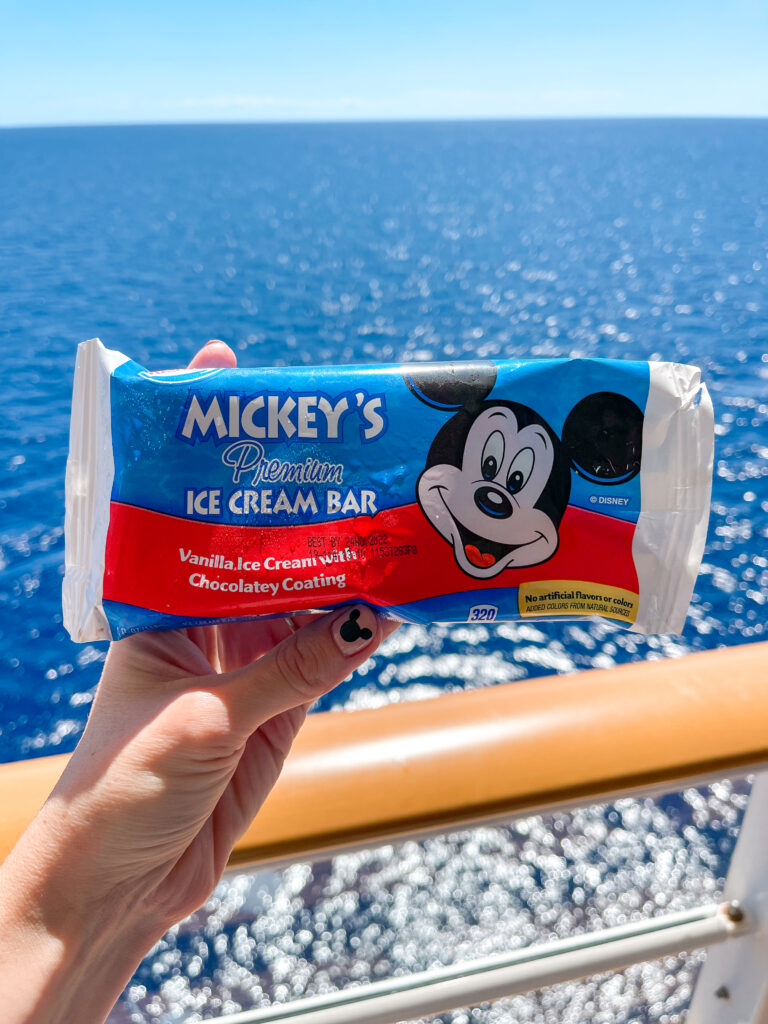 We ordered a New York Steak Panini, a slice of Key Lime Pie, and a Mickey Ice Cream Bar. Most of the items are included with the price of your cruise.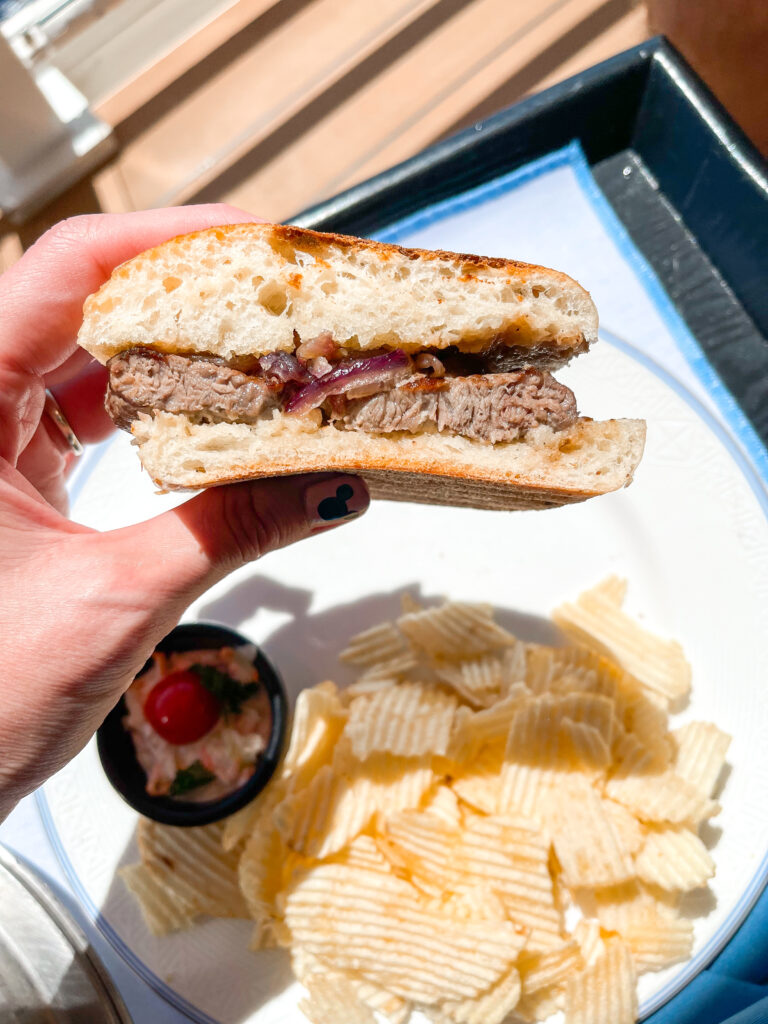 When your order is delivered, you will want to tip them at least a dollar or two per item.
Buena Vista Theatre
Then we headed down to the Buena Vista Theatre to watch Shang-Chi and the Legend of the 10 rings.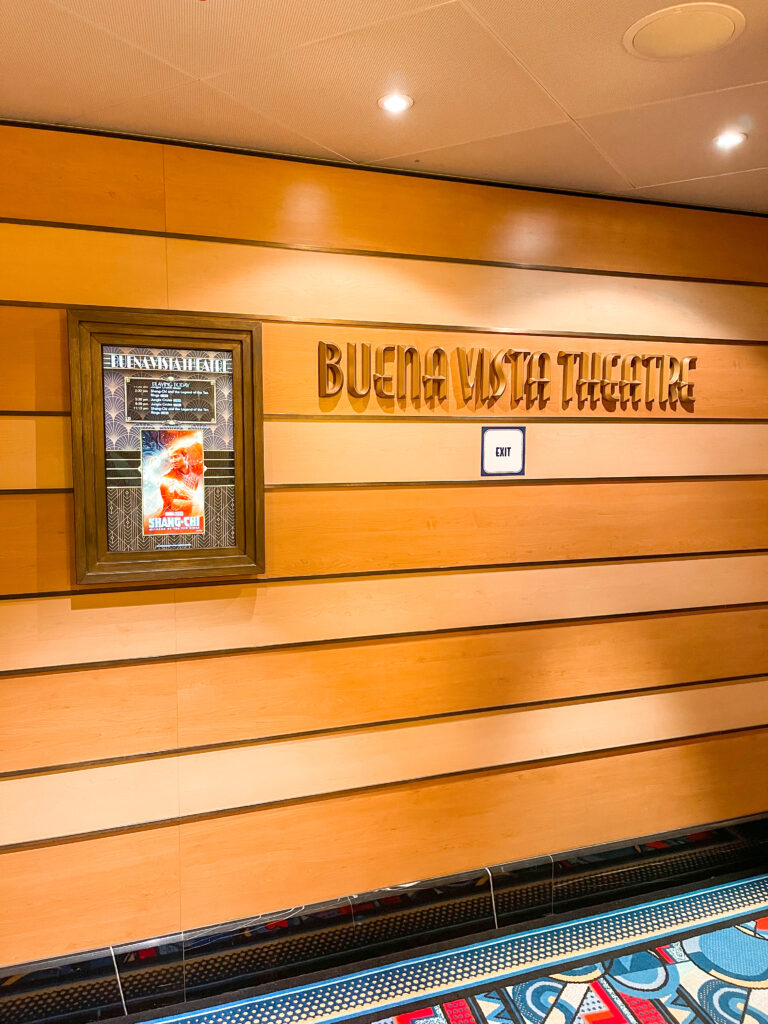 Halloween Decorations
Our cruise was a Halloween on the High Seas Disney Cruise, so the atrium and other parts of the ship were decorated to celebrate.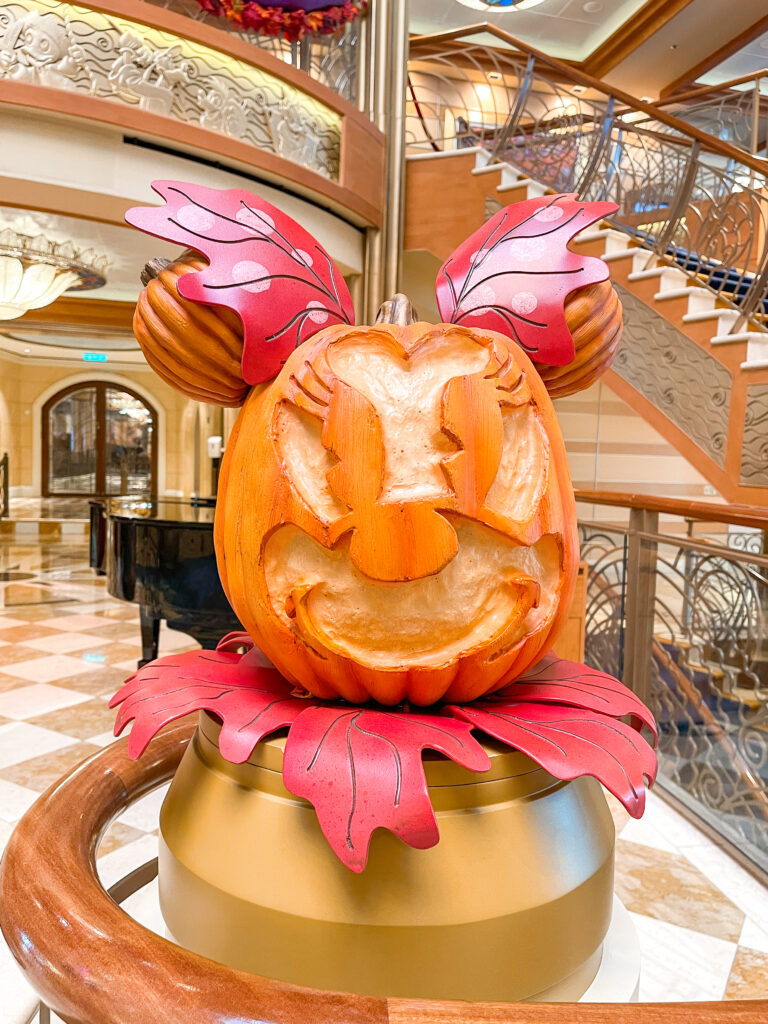 Dinner at Royal Palace
Dinner on Day 2 of our cruise was at Royal Palace on Deck 3, just off of the atrium. It is a princess themed dining room. Here is what is on the menu.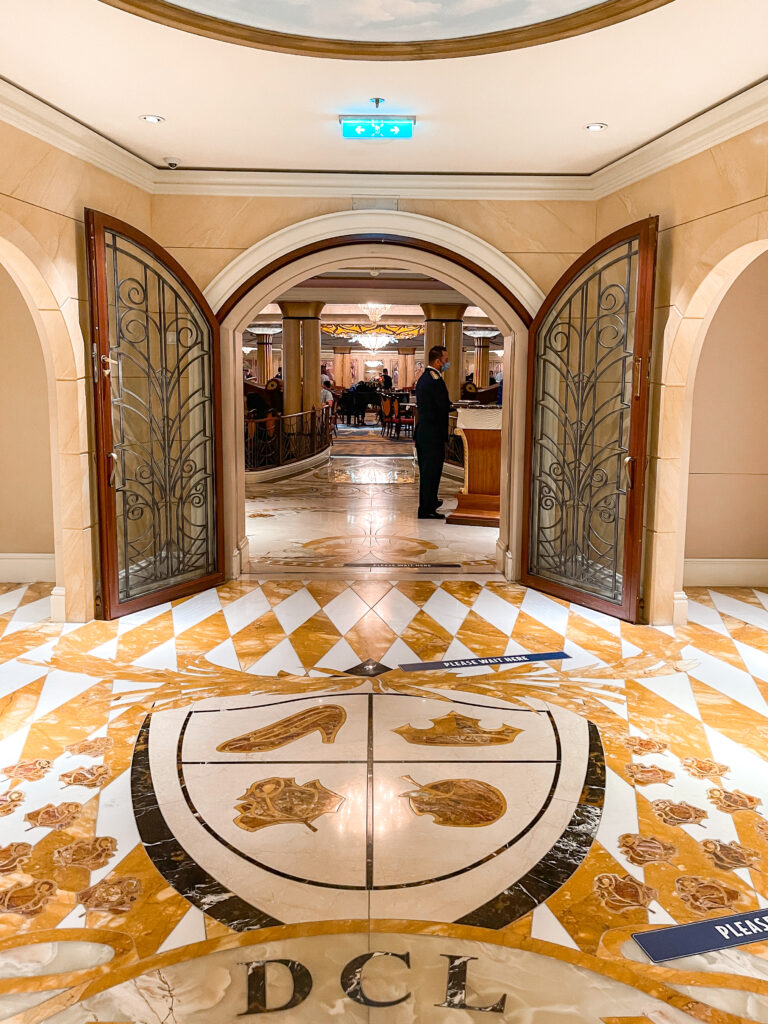 There was some live entertainment and if you look at the chandelier above the piano player, you will see Cinderella's glass slipper.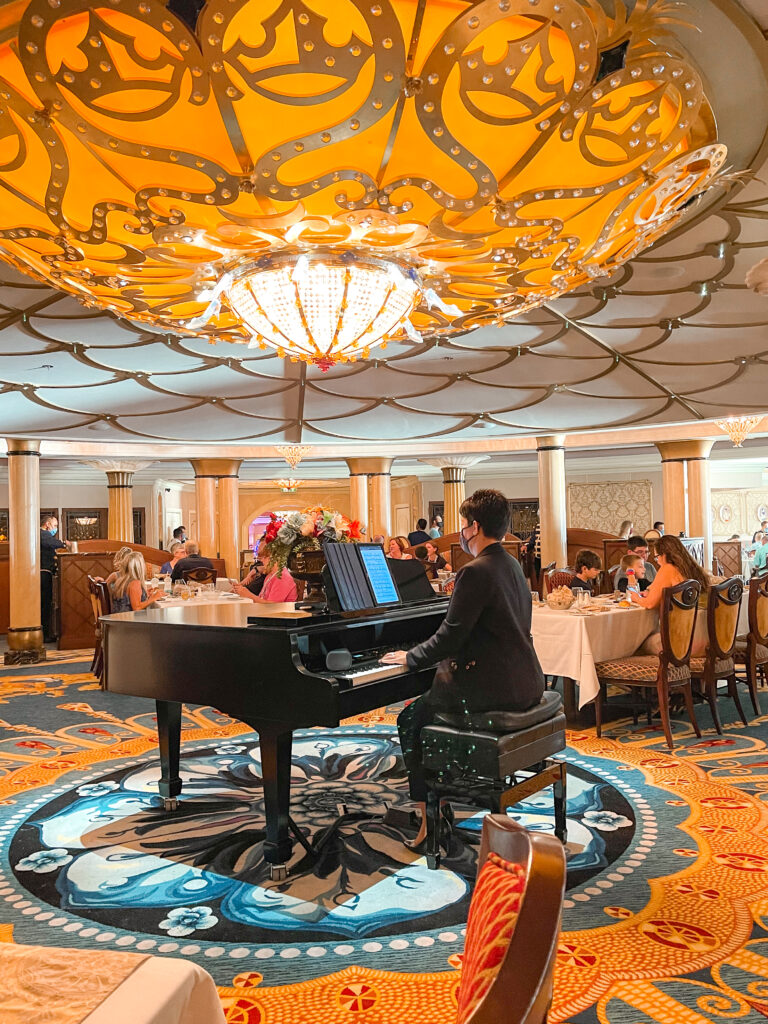 Here are some of the items we ordered at dinner. The red wine pear salad, French onion soup, lobster pasta, and roasted filet steak with crushed new potatoes.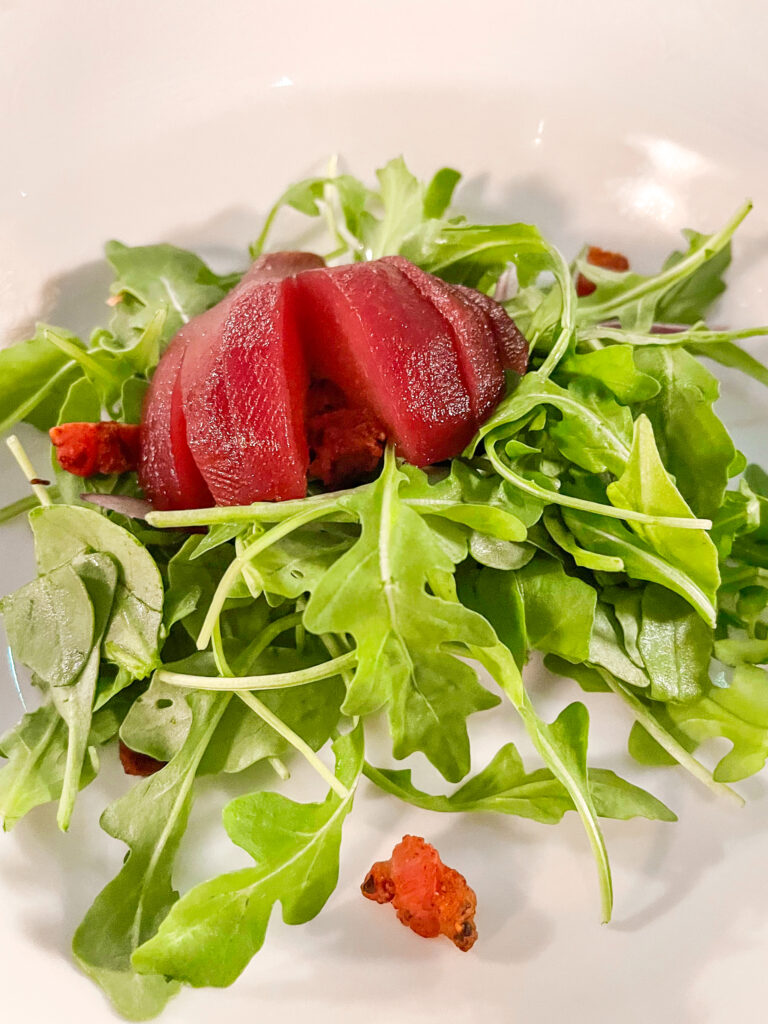 My boys ordered pasta, macaroni and cheese, and steak. For dessert we ordered the Duo Chocolate slice, Tahitian Vanilla Cream Brûlée and the Grand Mariner Soufflé.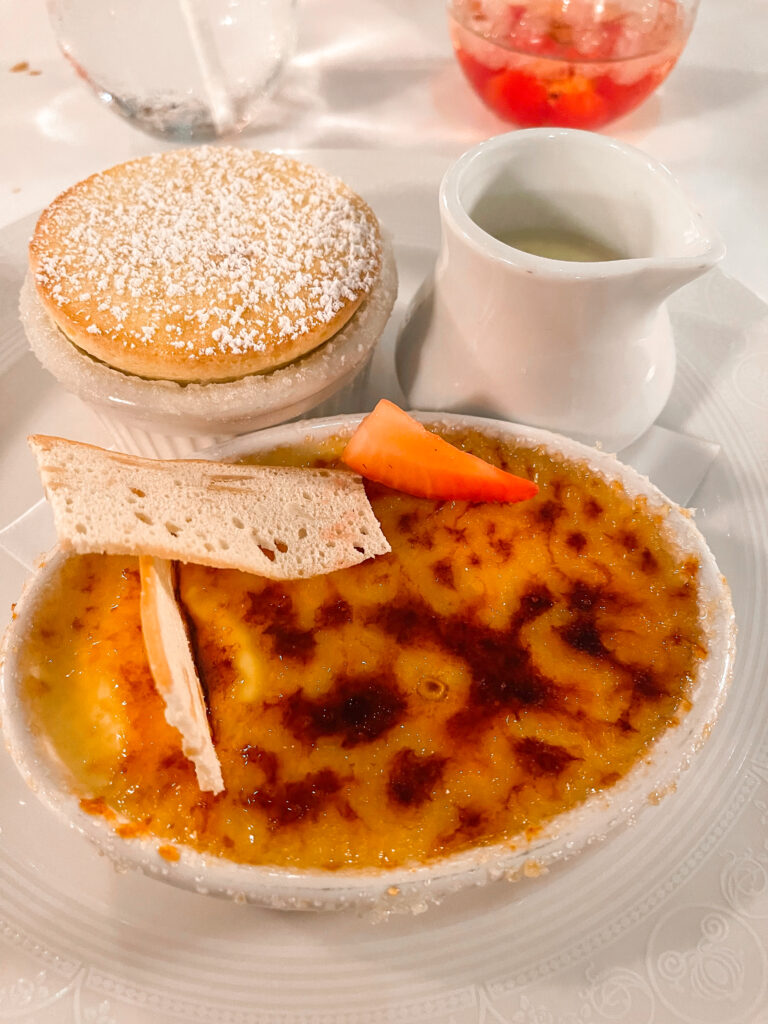 We had the best server on our cruise who kept my son entertained during dinner by using her Origami skills to make a paper frog!
Beauty and the Beast
Our show for the Day 2 was Beauty and the Beast and it was absolutely amazing. We headed to the Walt Disney Theater about 30 minutes before showtime to grab a seat. If you get the chance to see it, you should definitely see it.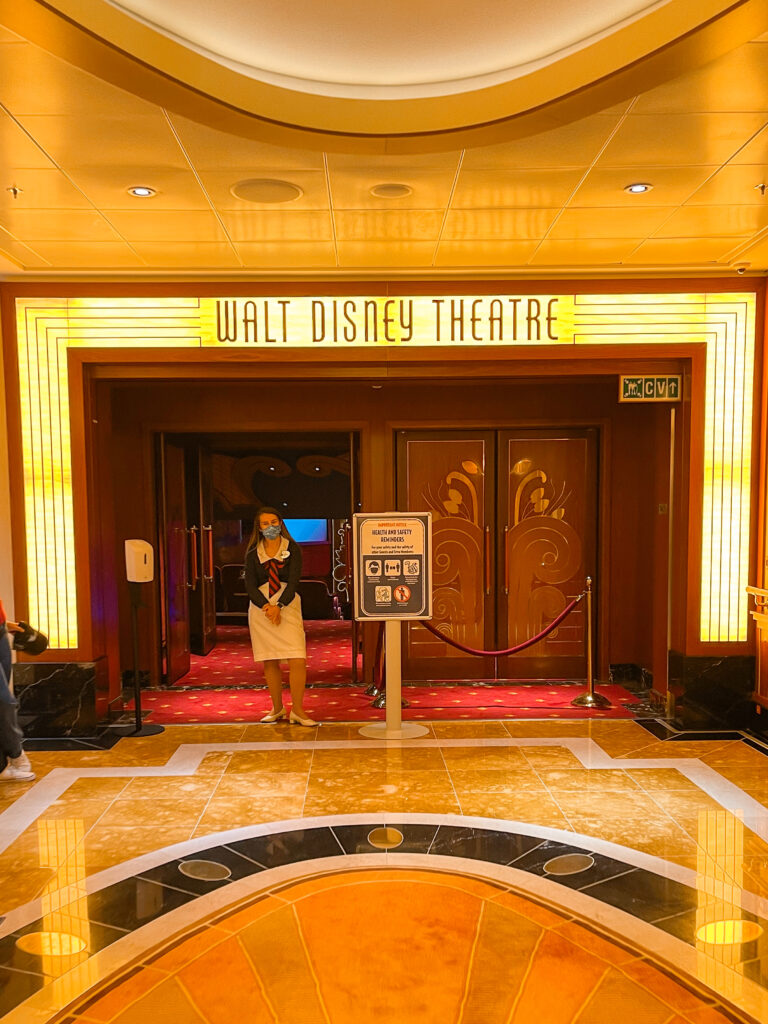 I hope you liked our Day 2 on the Disney Dream. We had a great day at sea! Make sure to check out Day one of our cruise for boarding tips. Please subscribe on YouTube and turn on notifications so you won't miss Days 3 and 4 at Castaway Cay. See you next time!
More Disney Cruise Tips
Watch the Video Here: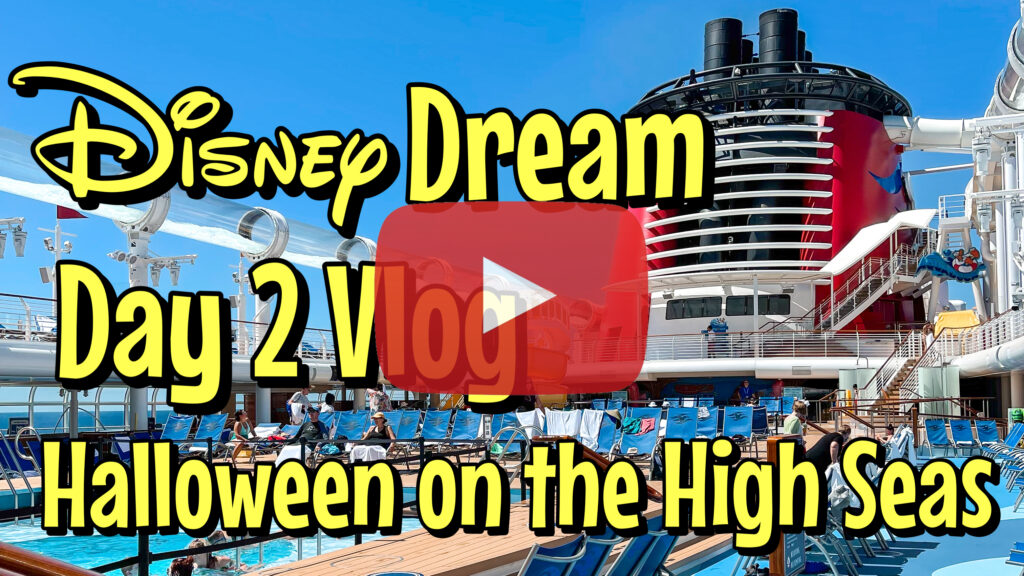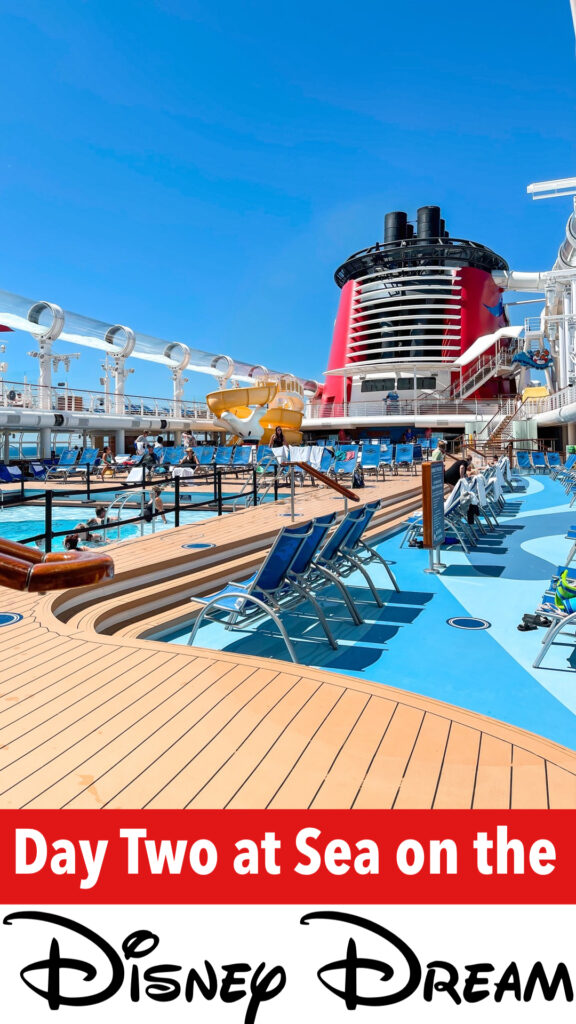 Disney Dream Day 2 Itinerary
7:00 Wake up
8:45 Breakfast at Enchanted Garden
9:20 Shopping
9:45 Animation Class in the D Lounge
10:30 Walk around Deck 4
10:45 Bingo
12:00 Lunch-Room Service
12:30 AquaDuck
2:00 Kids Club/Edge
2:30 Shang-chi in the Buena Vista Theatre
4:45 Shopping
5:35 Dinner Royal Court
6:30 Walk around the ship
8:15 Walt Disney Theater-Beauty & the Beast
10:00 Balcony
12:00 Bedtime