Find out what it is like on a Castaway double dip cruise on the Disney Dream! From Castaway Cay, lunch at Cookies BBQ, riding the AquaDuck and dinner at Animator's Palate, going on a Disney Cruise is a dream come true!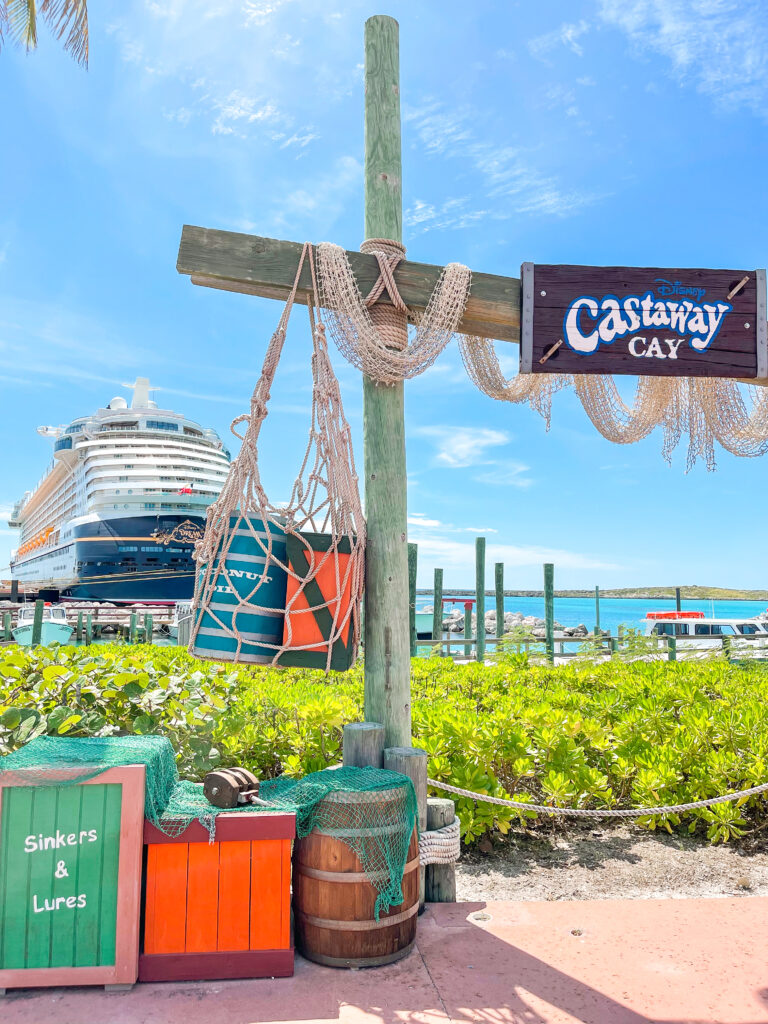 This post may contain affiliate links. When you click on these links, I get a small percentage back at no cost to you! For more information see my disclosure policy.
Check out prices below or get a free quote by calling 877-510-2929 and let them know Mommy Mouse Clubhouse sent you!
Make sure to check out my article and videos for Day One (read about Day One here or watch Day One on YouTube here) to see the boarding process, Day Two (read about Day Two here or watch Day Two on YouTube here) at sea, and Day Three (read about Day Three here or watch Day Three on YouTube here) which included Castaway Cay, Pirate Night, Mickey's Mouse-Querade Party, and fireworks on the ship!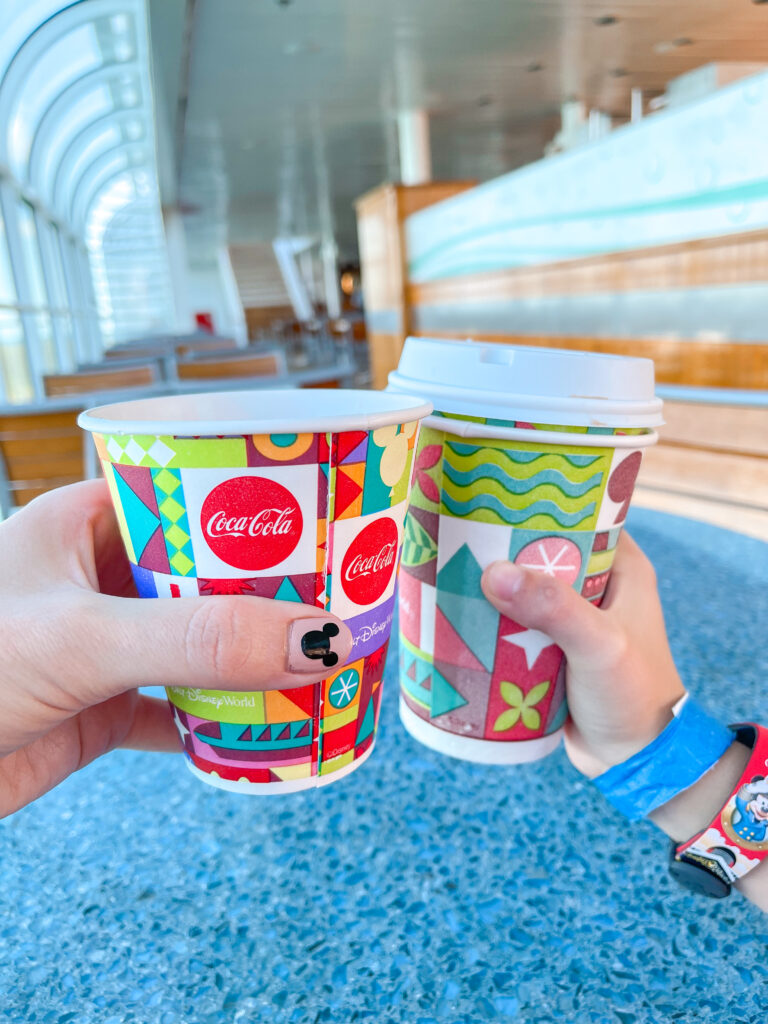 Please consider subscribing to my channel on YouTube for Disney tips and adventures and turn on notifications, so you won't miss any of the fun! Let's get started.
Second Day on Castaway Cay
We were lucky on our cruise to get to spend 2 days at Disney's private island, Castaway Cay. Check out my video from Day Three to see the fun things we did that day.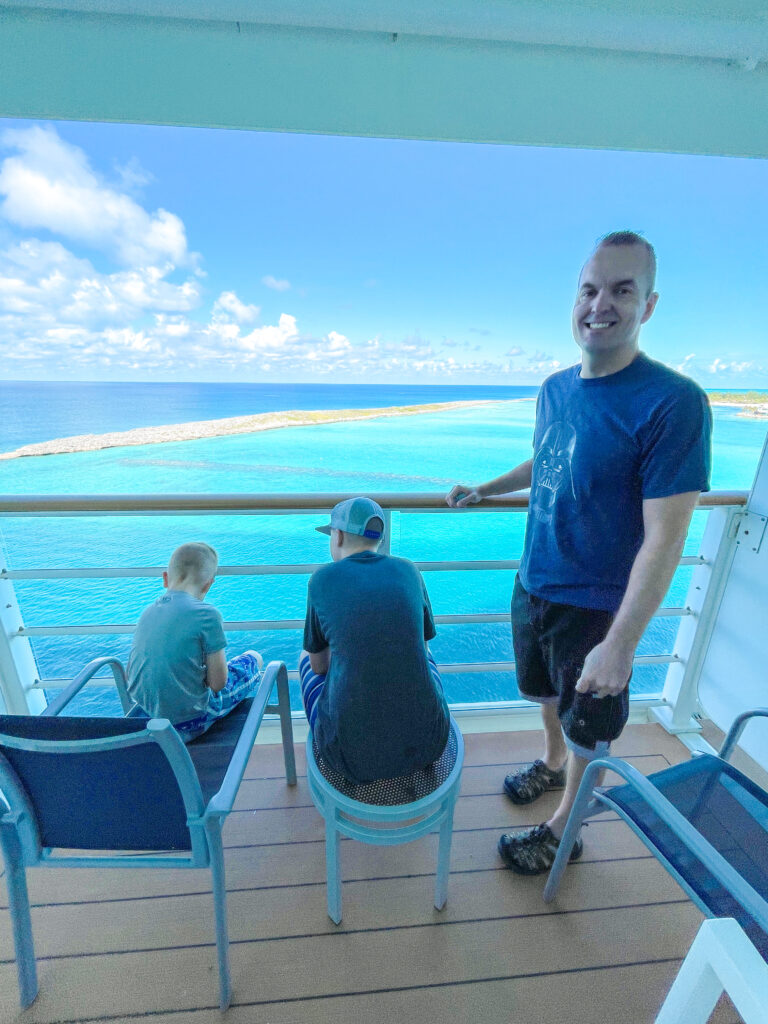 As we exited the ship and were walking toward the tram, we happened to run into one of our favorite Disney characters, Captain Jack Sparrow!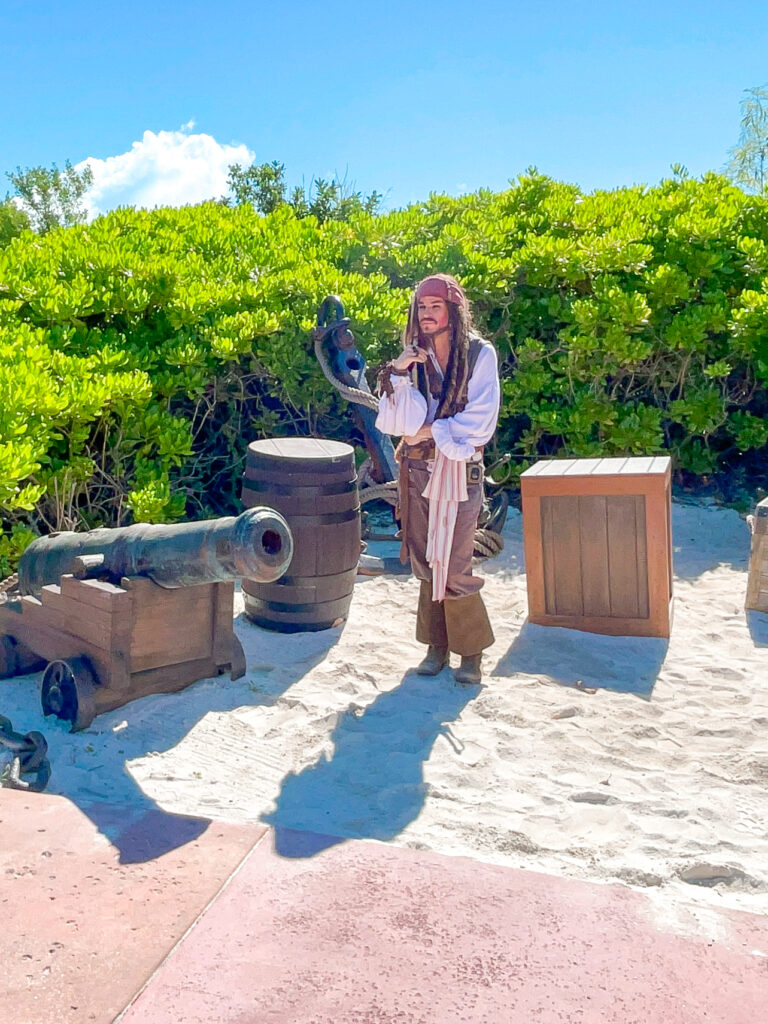 We found our way to the tram and took a ride to the first stop.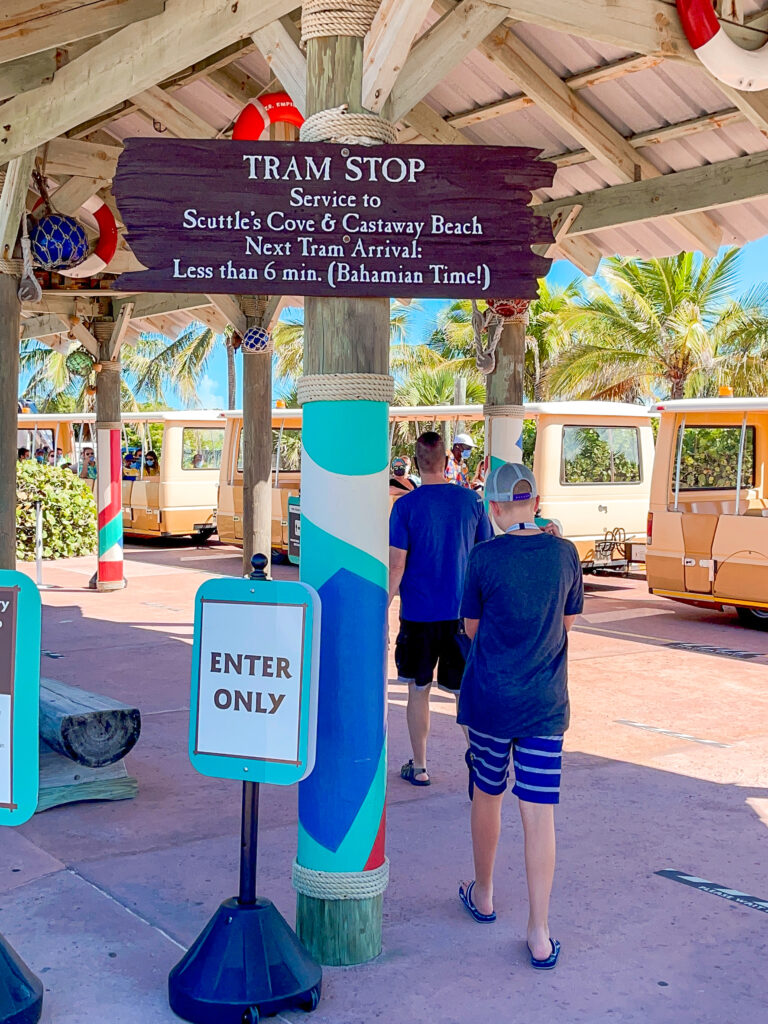 Scuttle's Cove
Castaway Cay has a kids club on the island called Scuttle's Cove. We dropped my 7-year-old off and he was super excited to play in the sand with some of the same cast members and friends that he had played with at the kids club on the ship. Scuttle's Cove has a splash pad and areas to build sand castles and dig for bones.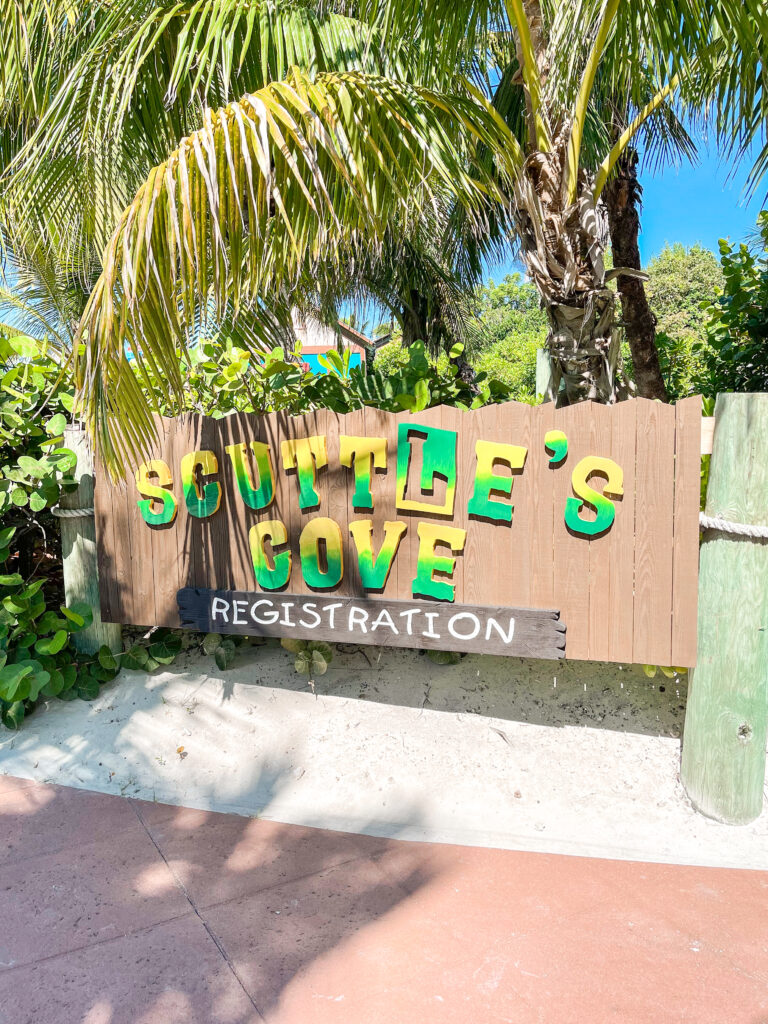 My older two boys went to the Teen Hideout to play some games with their friends from the Edge while my husband and I took another tram over to the adults only beach, Serenity Bay.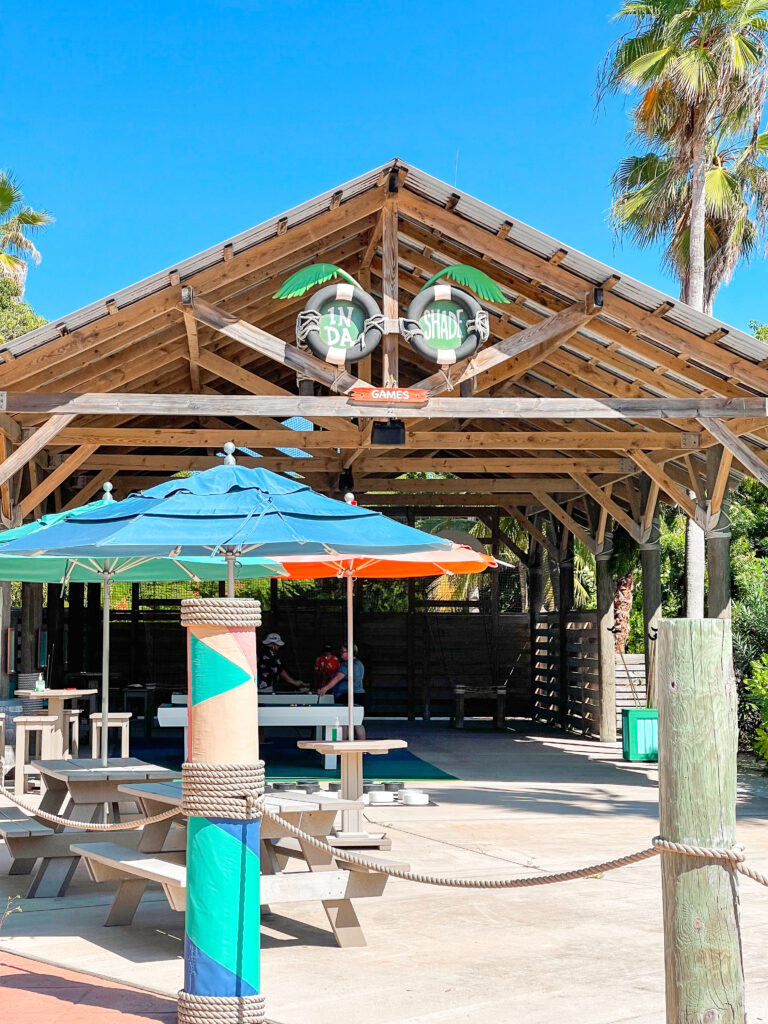 Serenity Bay on Castaway Cay
The Serenity Bay area is designated for ages 18 and over. You can eat lunch here or just grab an ice cream cone and then enjoy the view.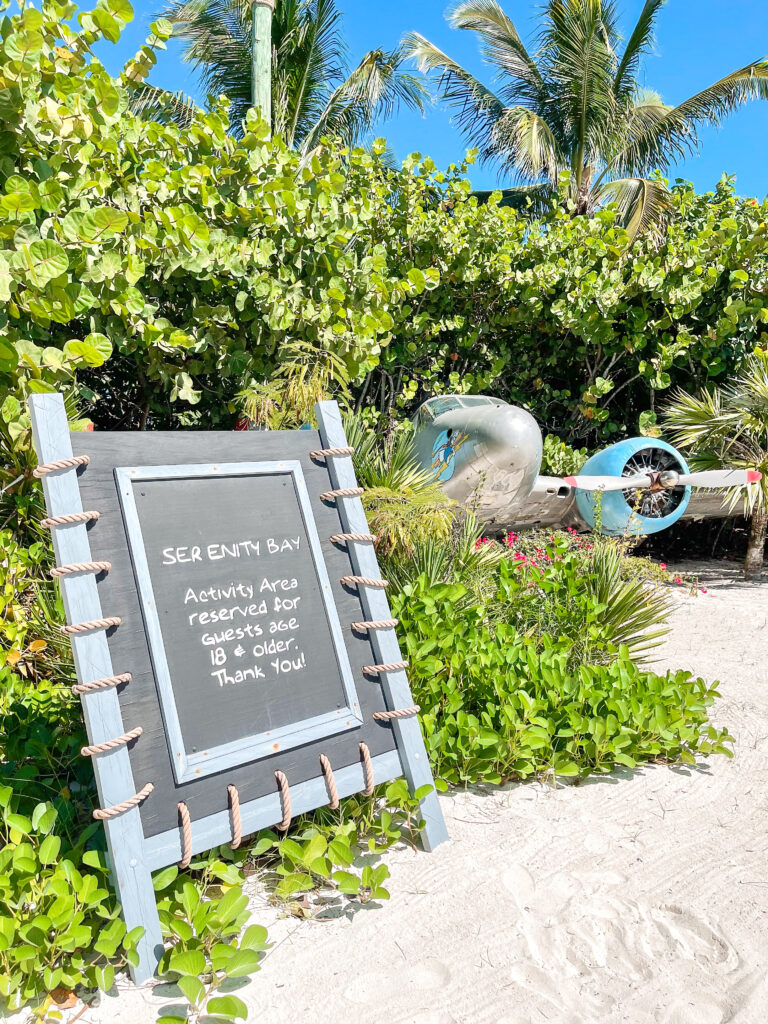 The kids club was scheduled to close at 12:30, so we didn't have much time to spend at Serenity Bay, and actually found it to be busier than the family beach. We headed back to pick up the kids for lunch.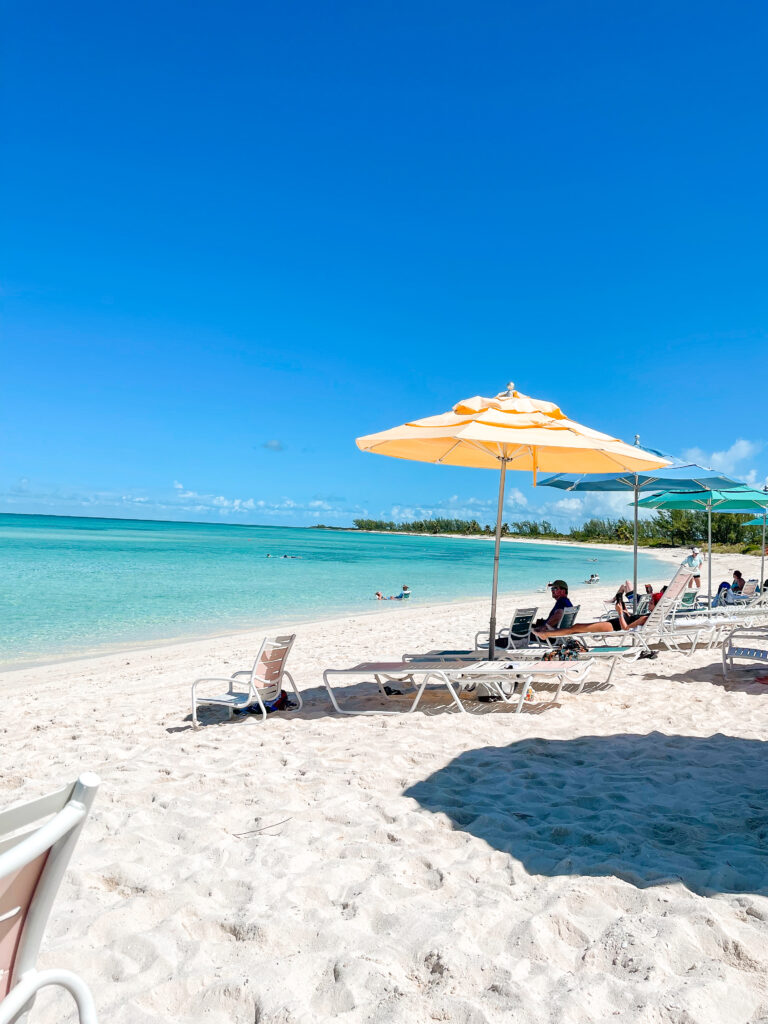 Lunch at Cookies BBQ
Lunch was once again, at Cookies BBQ. My boys love all of the food here. They had hamburgers, hot dogs, chicken, and ribs. We highly recommend the banana bread.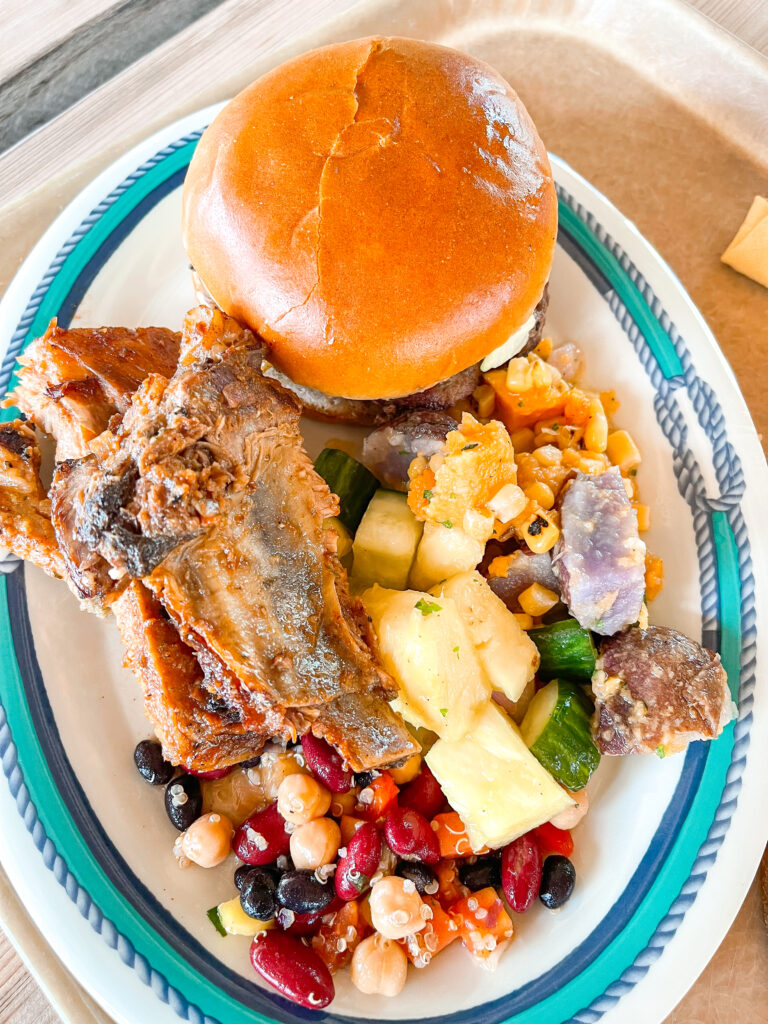 Family Beach
Like I mentioned in my Day 3 video, we wanted to keep this vacation low key and relaxing, so we didn't plan any excursions. My kids were perfectly content to play in the sand and in the water, for the next three hours. It was pure heaven, just relaxing and watching them play.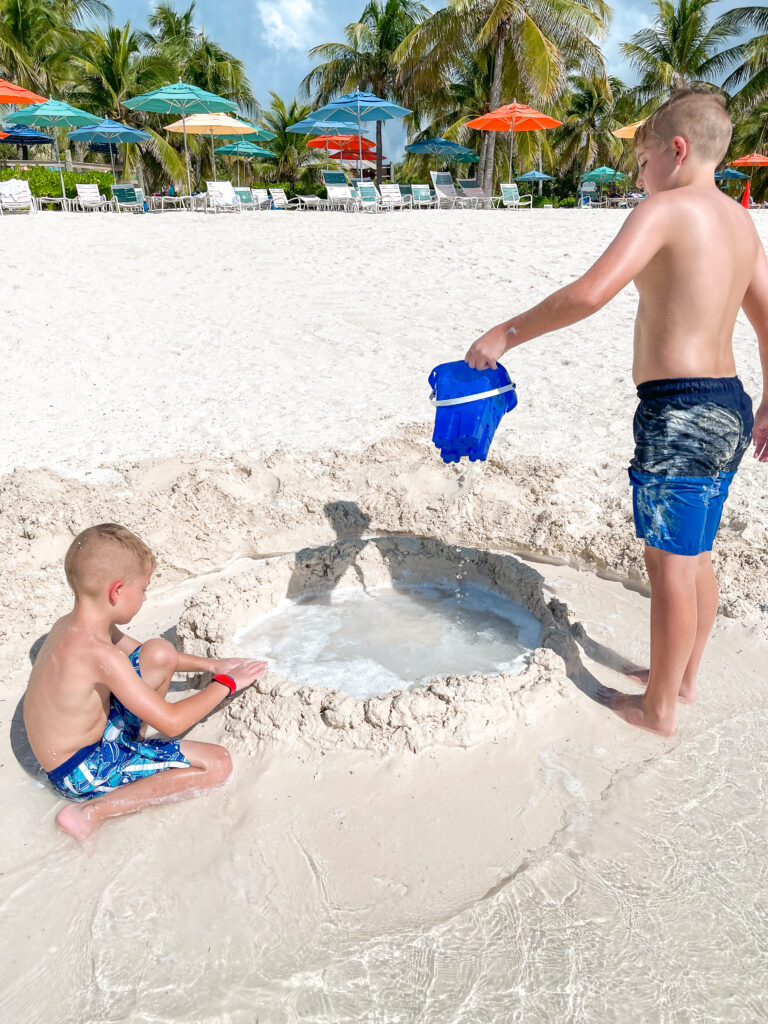 Check out the crazy storm that was on the horizon. We had our eye on it, but fortunately, it never interfered with our fun.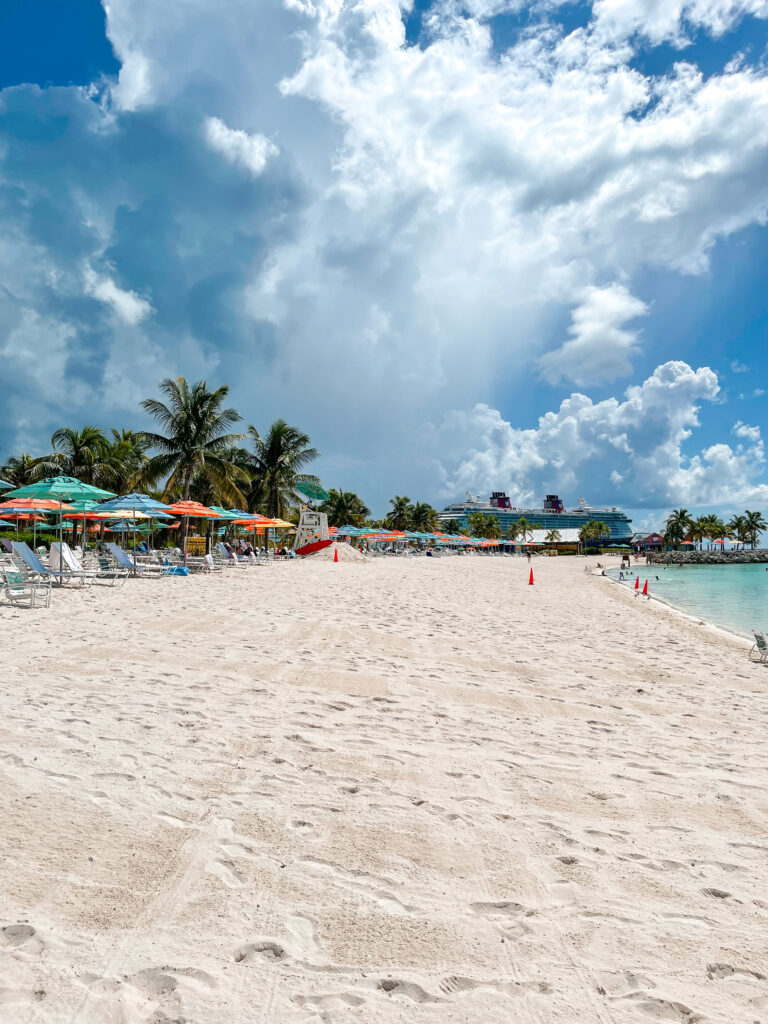 We did bring our own snorkeling masks, so my husband took our 11-year-old snorkeling, while my 14-year-old took a nap.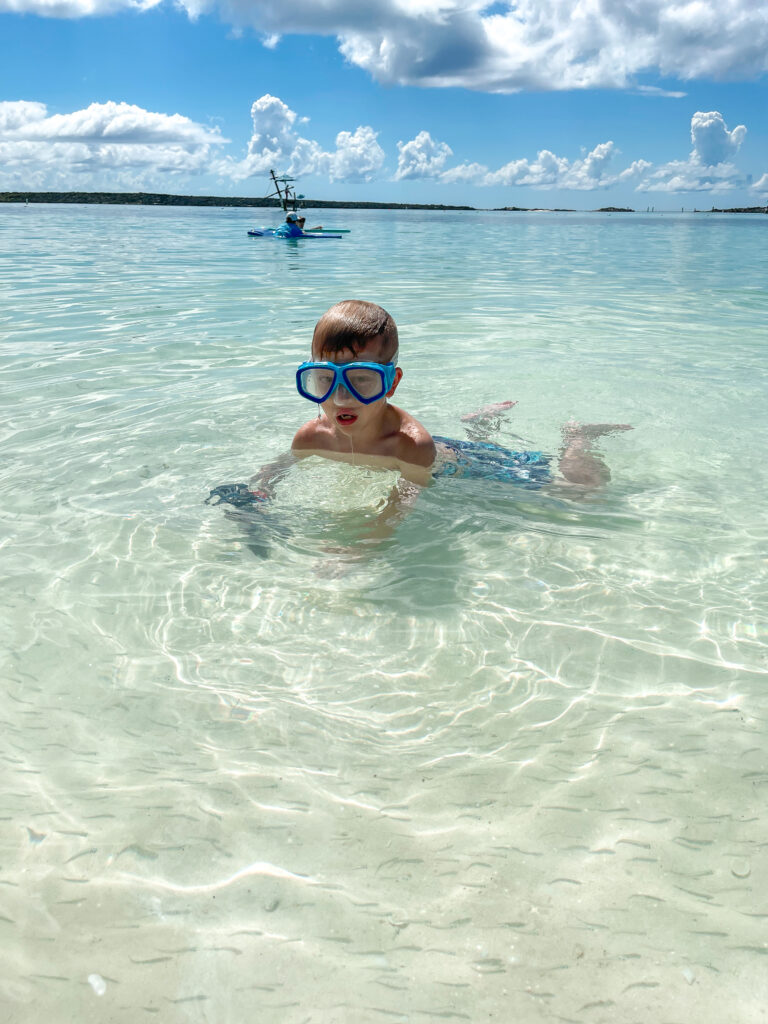 After being in the sun all day, it was time to head back to the ship.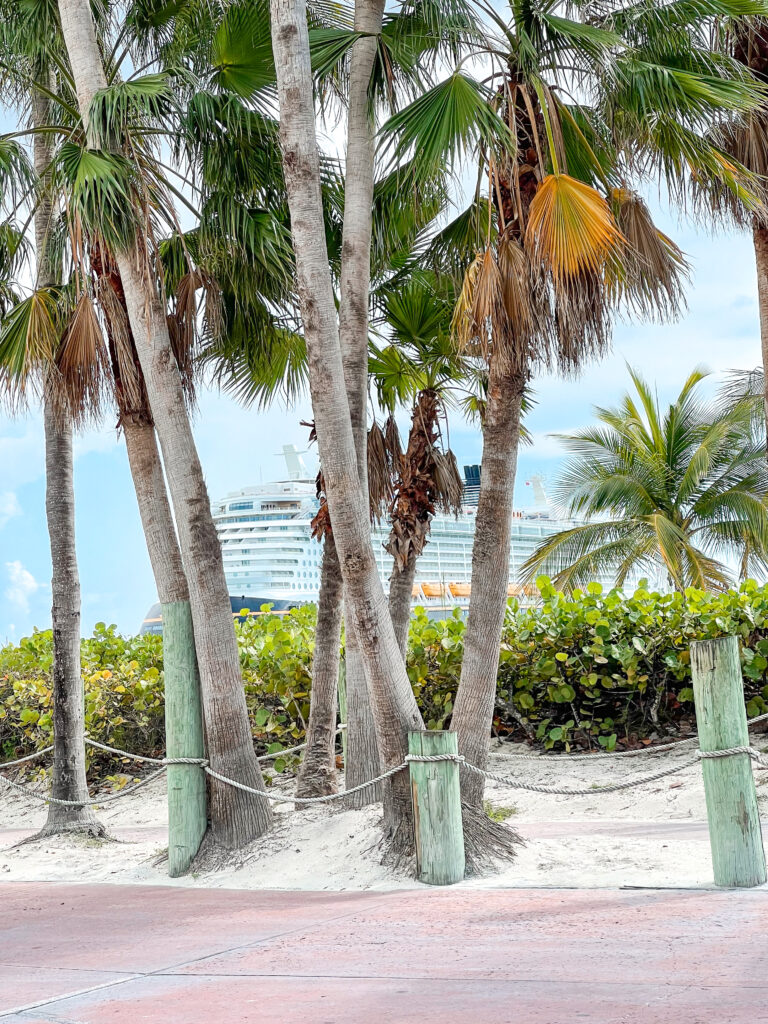 Back on the Disney Dream Cruise Ship
Back on the ship, my son and I went swimming and rode the waterslides while the rest of the family showered and got ready for dinner.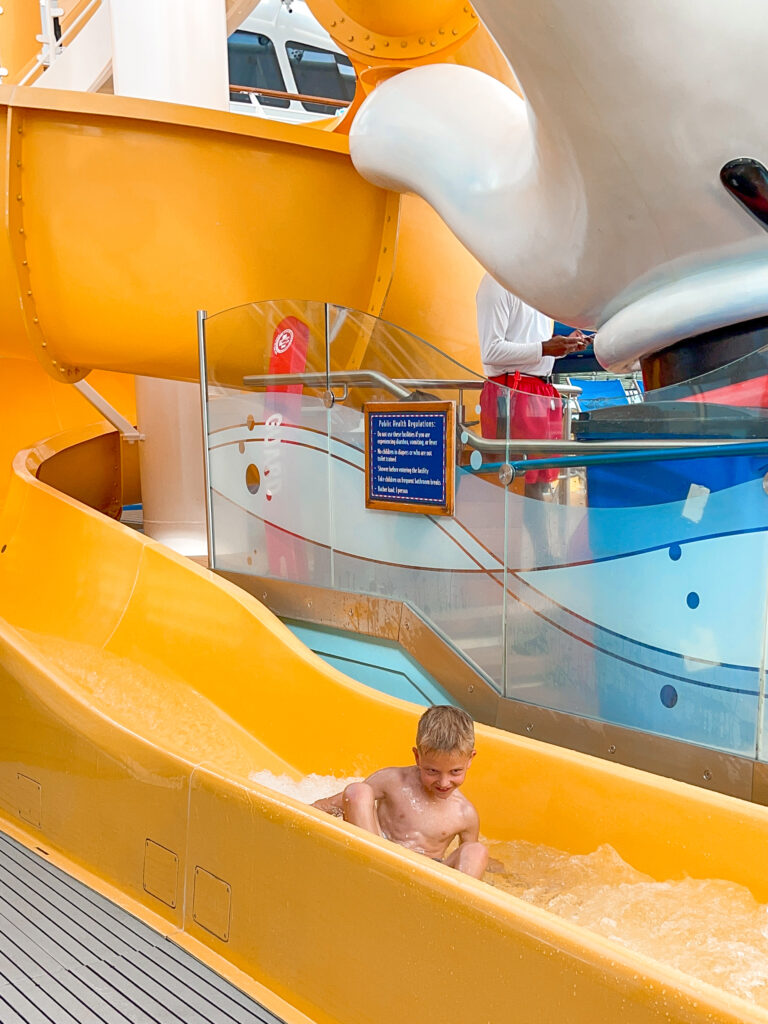 Remember those clouds I showed you when we were playing on the beach? Well, they finally decided to rain. And boy did it rain.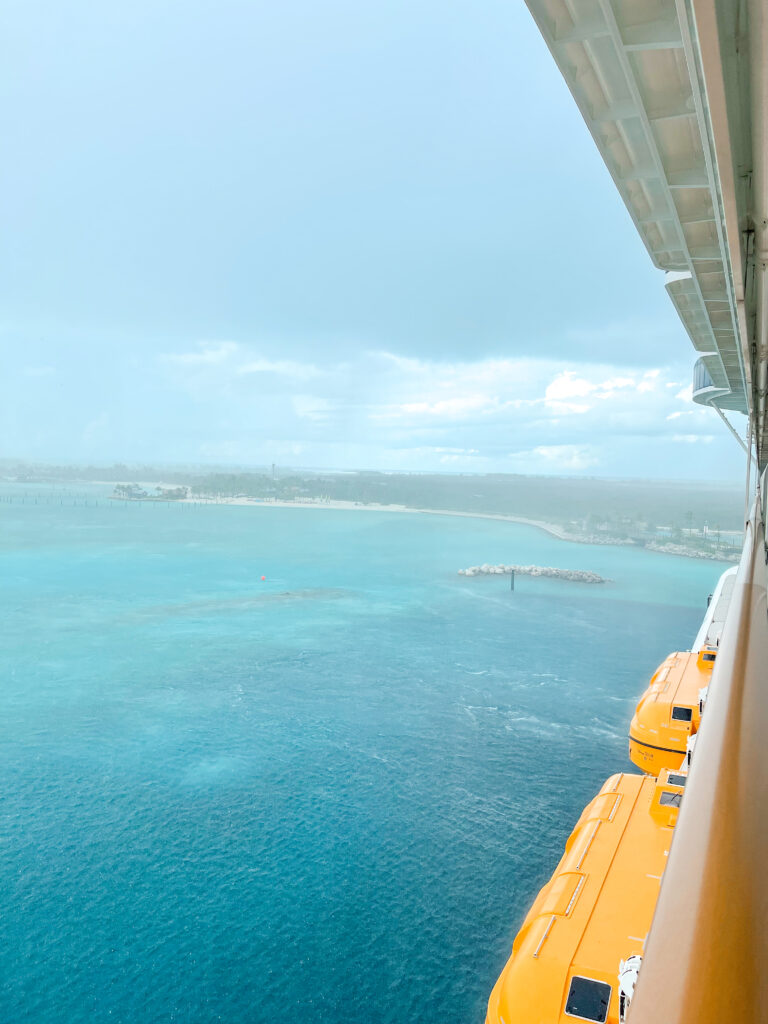 While we were gone, our room host left our luggage tags, which is always a sad sight, because it means our cruise is coming to an end. If you don't want to haul all of your luggage off the ship when you disembark, you can pack it up and leave its outside your room by 10:00ish the night before and it will be waiting for you in the morning at customs.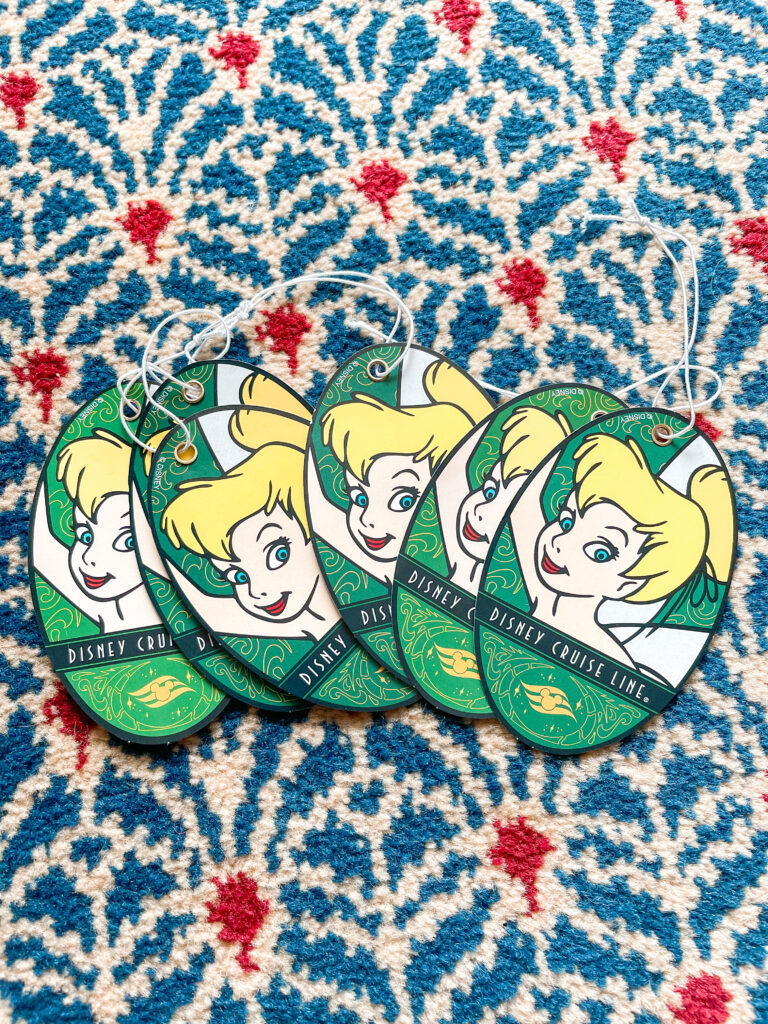 Also in our room were our prepaid gratuity envelopes that were ready to be passed out to all of our helpers from the cruise.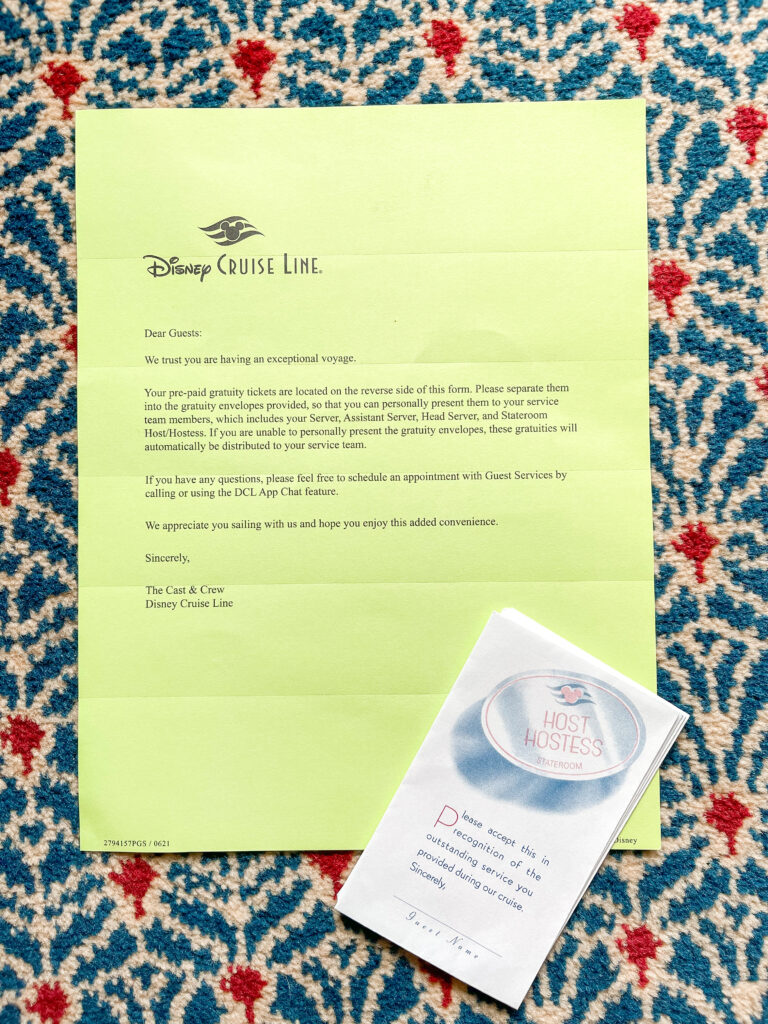 Dinner at Animator's Palate
That night, we had dinner at Animator's Palate, which I think, is the cutest restaurant on the Disney Dream! I love the adorable Mickey Mouse chairs!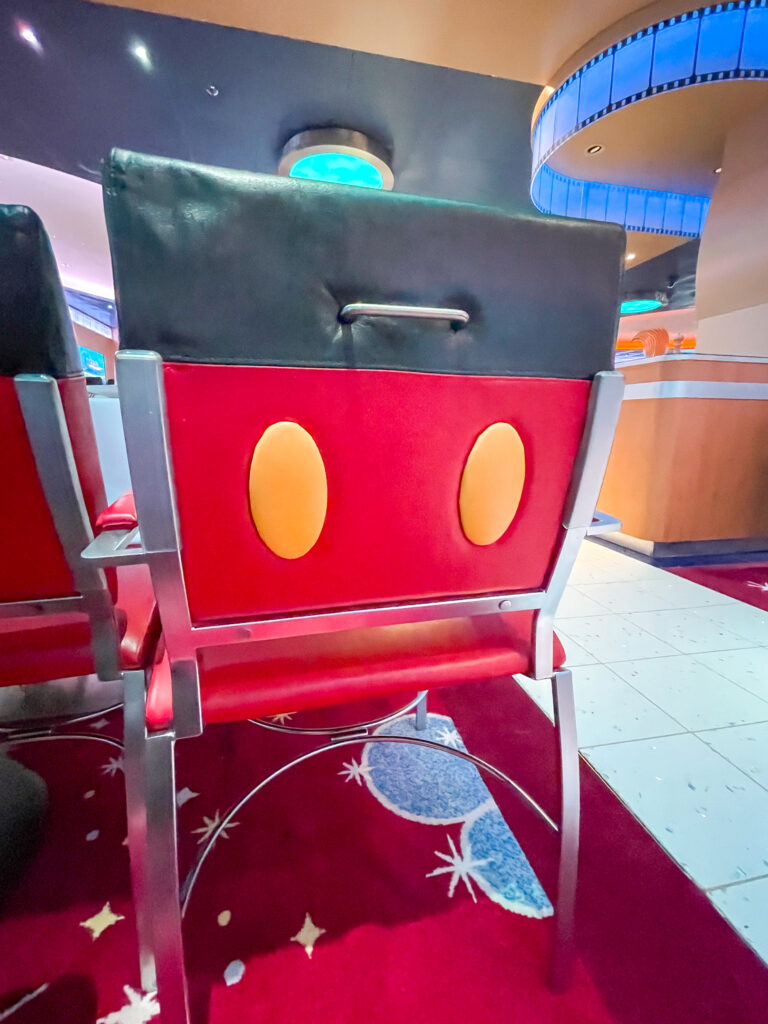 This black truffle pasta is filled with truffle-scented cheese with a champagne sauce was delicious!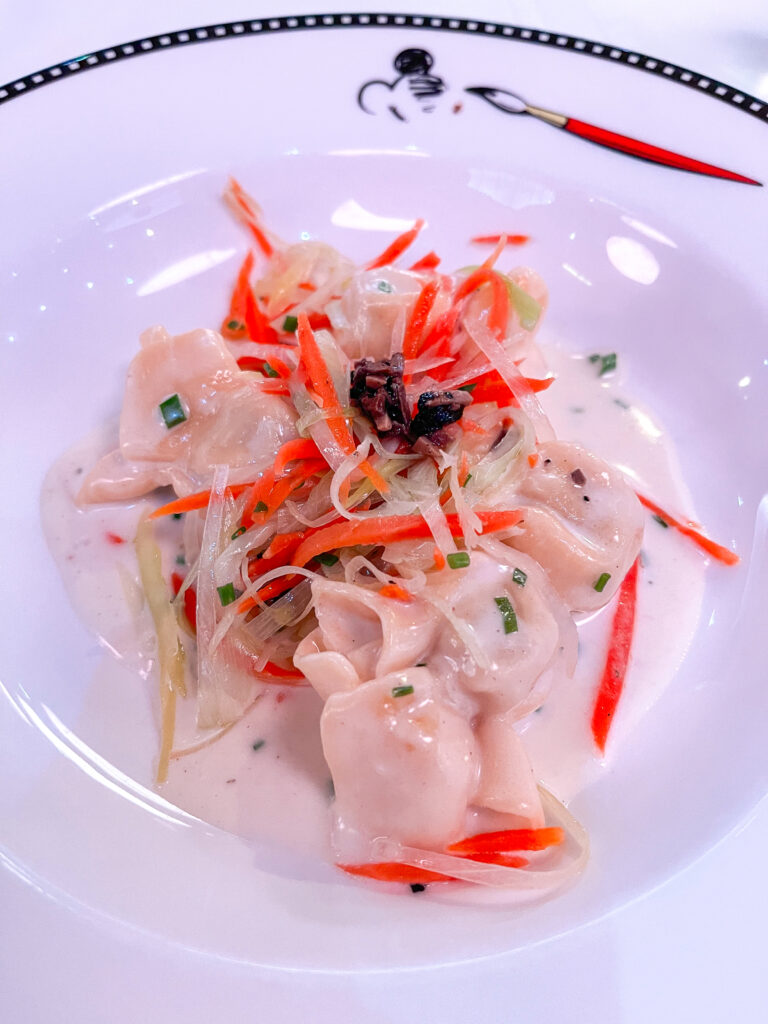 This is the Chicken and Walnut Salad with dried cranberries, red onions and a cranberry dressing.
The baked potato and cheddar cheese soup with bacon and chives.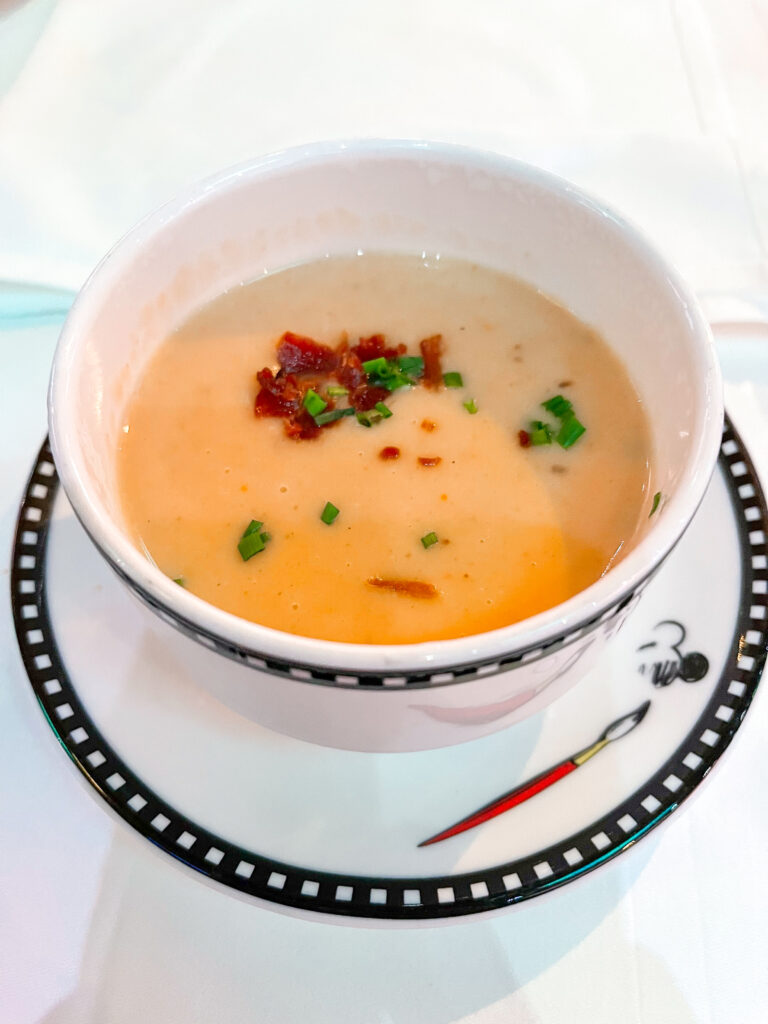 The herb crusted pork chop with sun dried tomato risotto.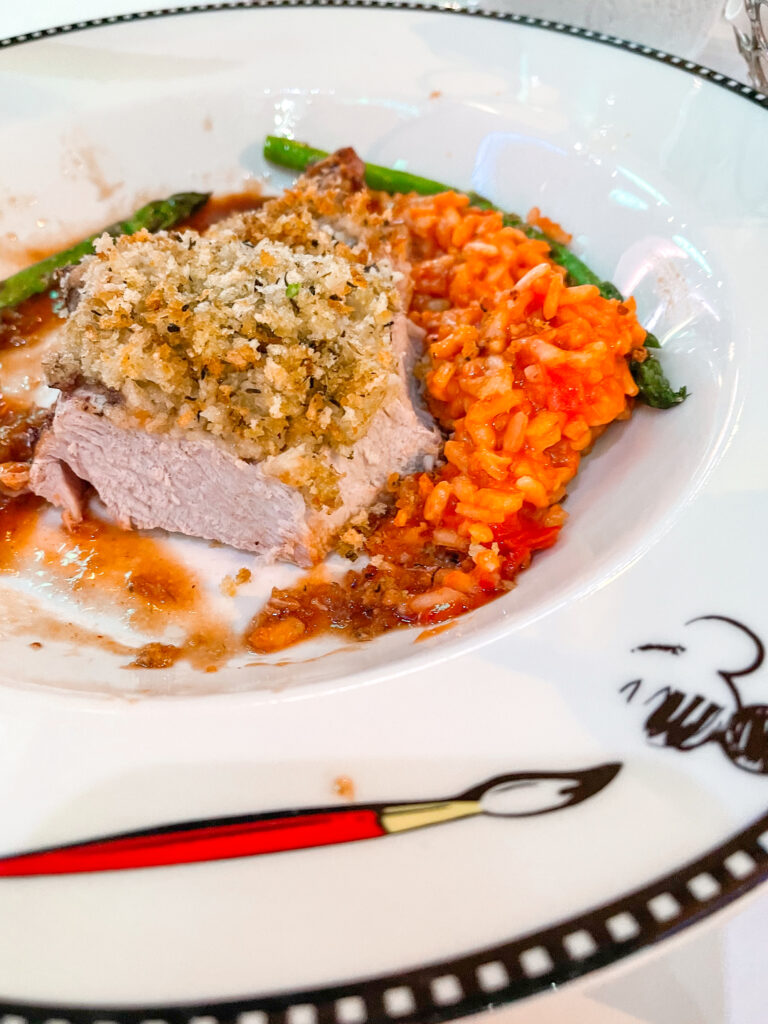 And this is the ginger-teriyaki dusted beef tenderloin with wasabi mashed potatoes. My boys ordered the pasta, a cheeseburger and steak.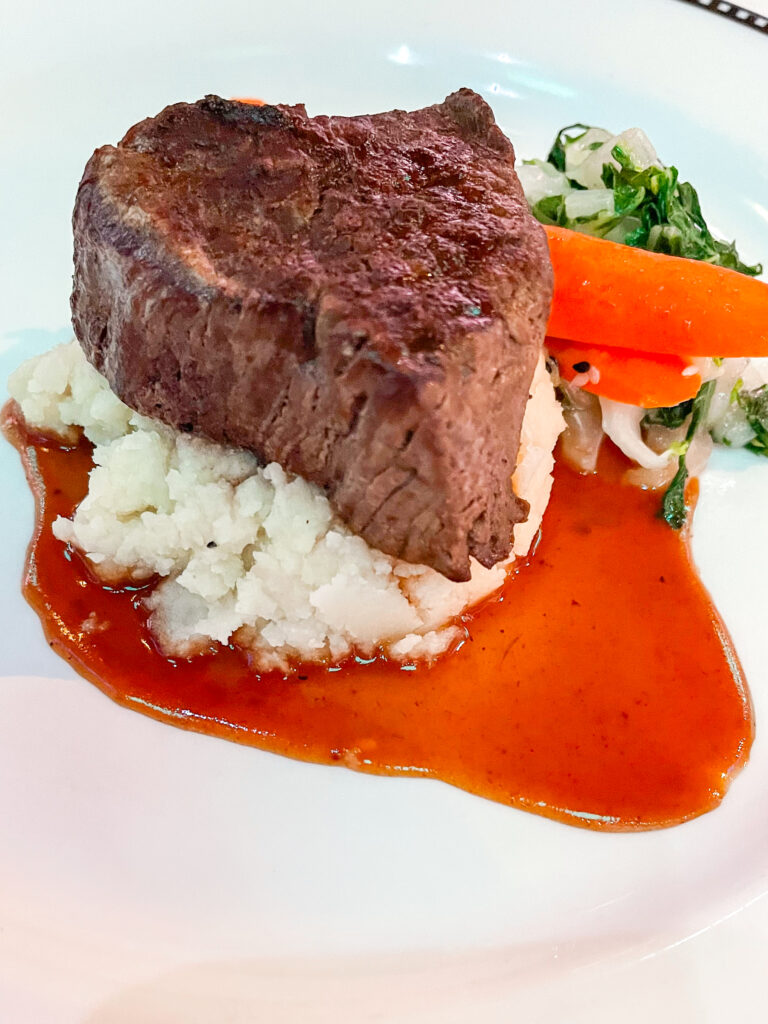 For dessert we had a Mickey Ice Cream Bar with sprinkles, Crunchy walnut cake with dark chocolate mousse, chocolate fudge cheesecake, and the lemon ice box pie.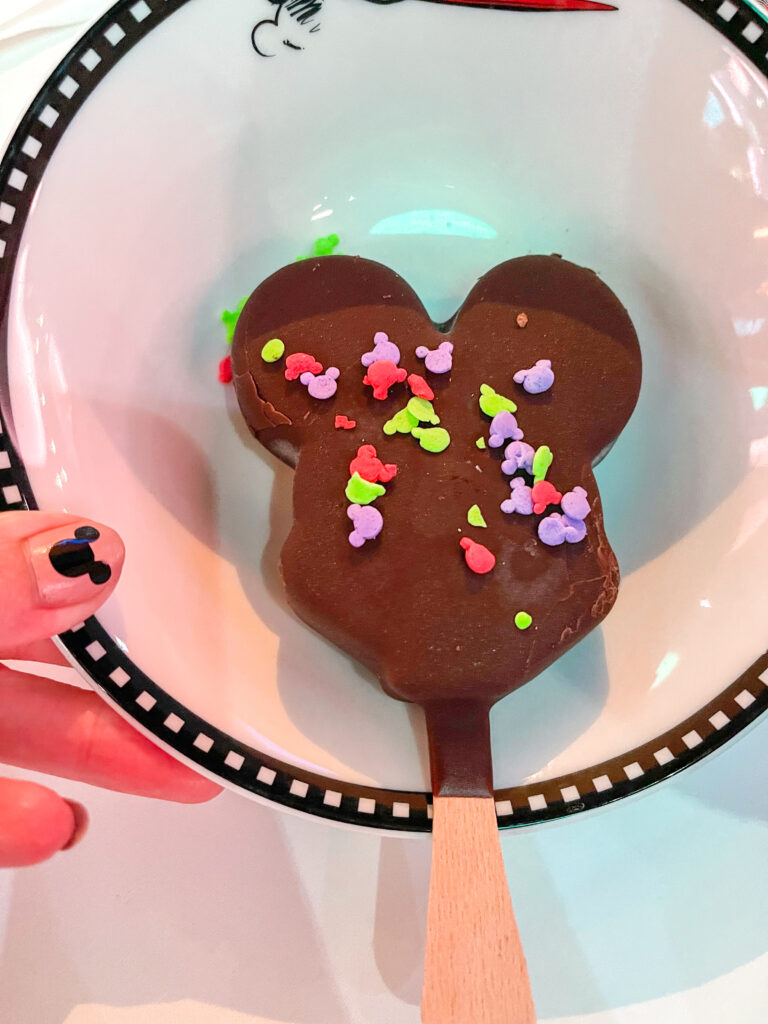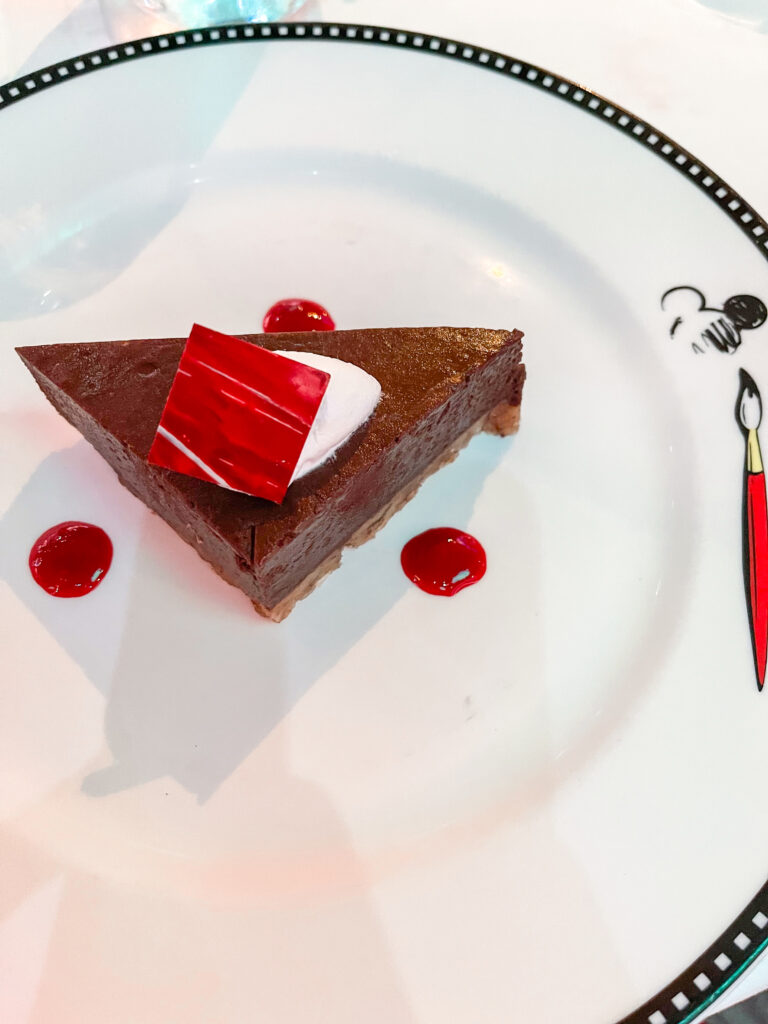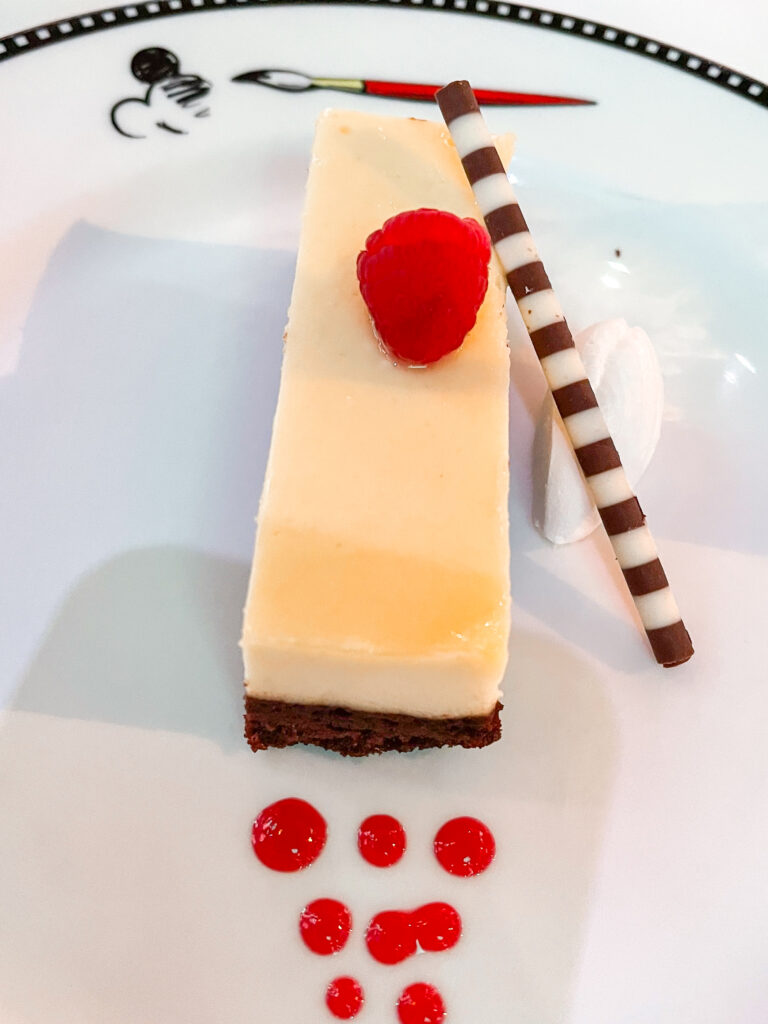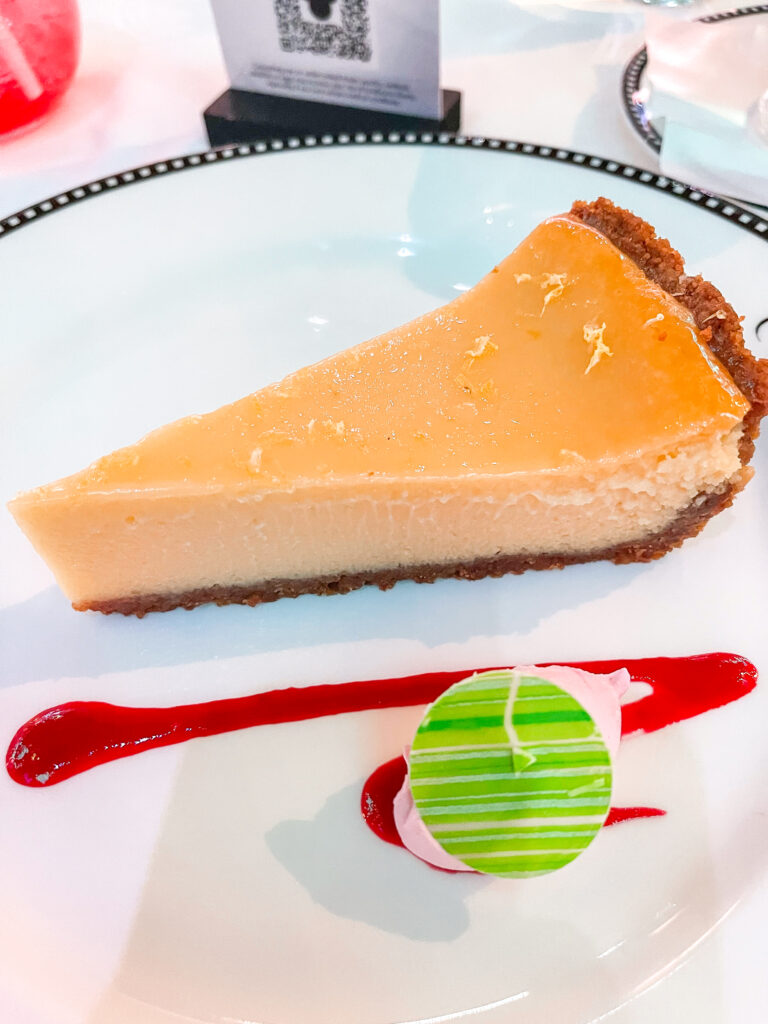 Time to Pack
After dinner, it was time to head back to the room to pack. I may or may not have been doing things to procrastinate because I didn't want our cruise to end.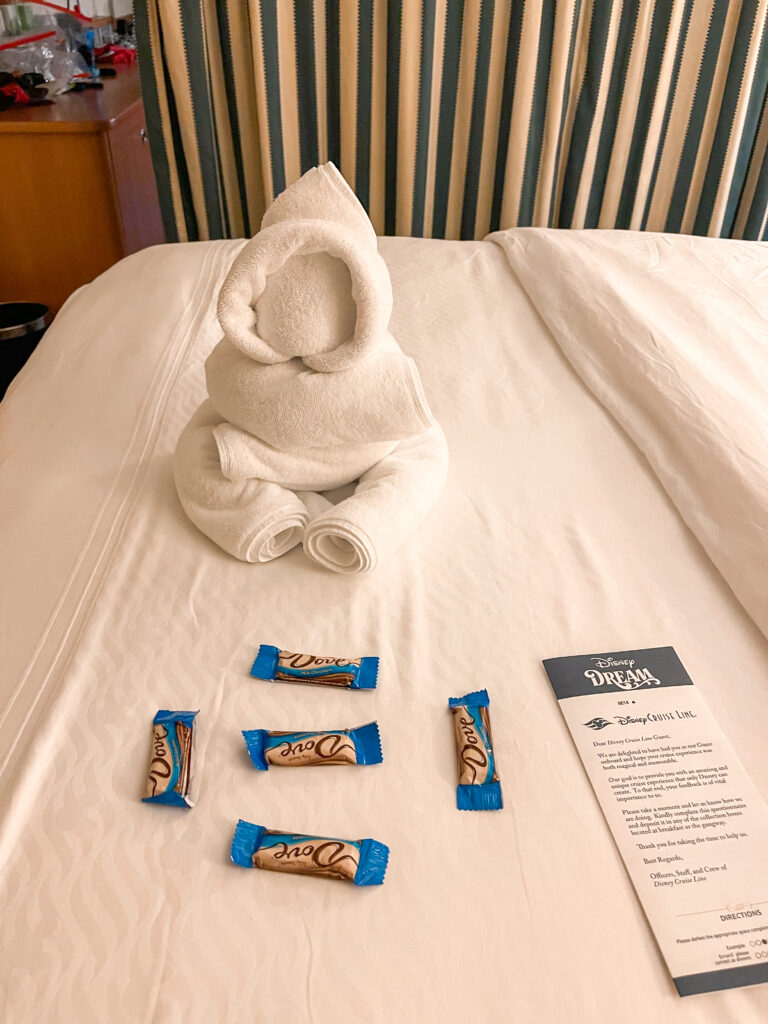 My older boys went back to the Edge, where they spent most of their time on the cruise, so my husband, 7-year-old and I sat out on the Verandah to enjoy one last sunset. I then asked my son to tell me about Scuttle's Cove on Castaway Cay.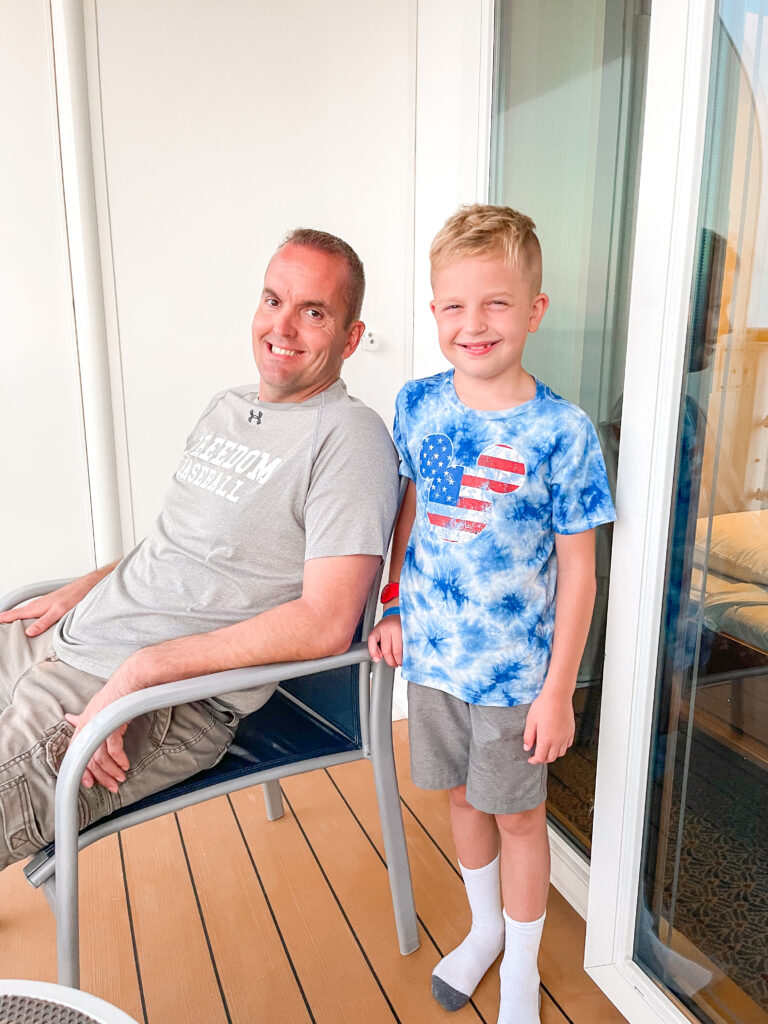 After dropping him off at the kids club, we stopped to see Goofy dressed as a Mummy and I bought a sweatshirt that I had my eye on for the whole cruise. Then we packed up our suitcases and headed to Trivia.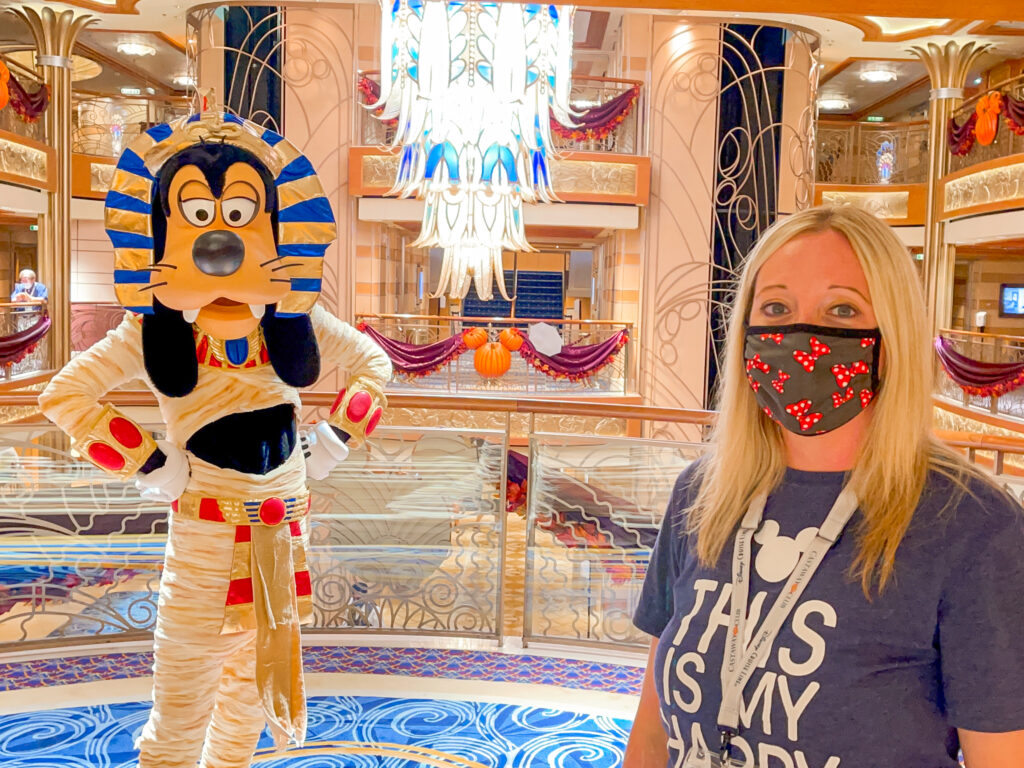 Disney Tunes Trivia
Disney Tunes Trivia was being held in the D Lounge and was a fun activity. If you want to see a schedule of activities for our Disney Cruise, you can find it here.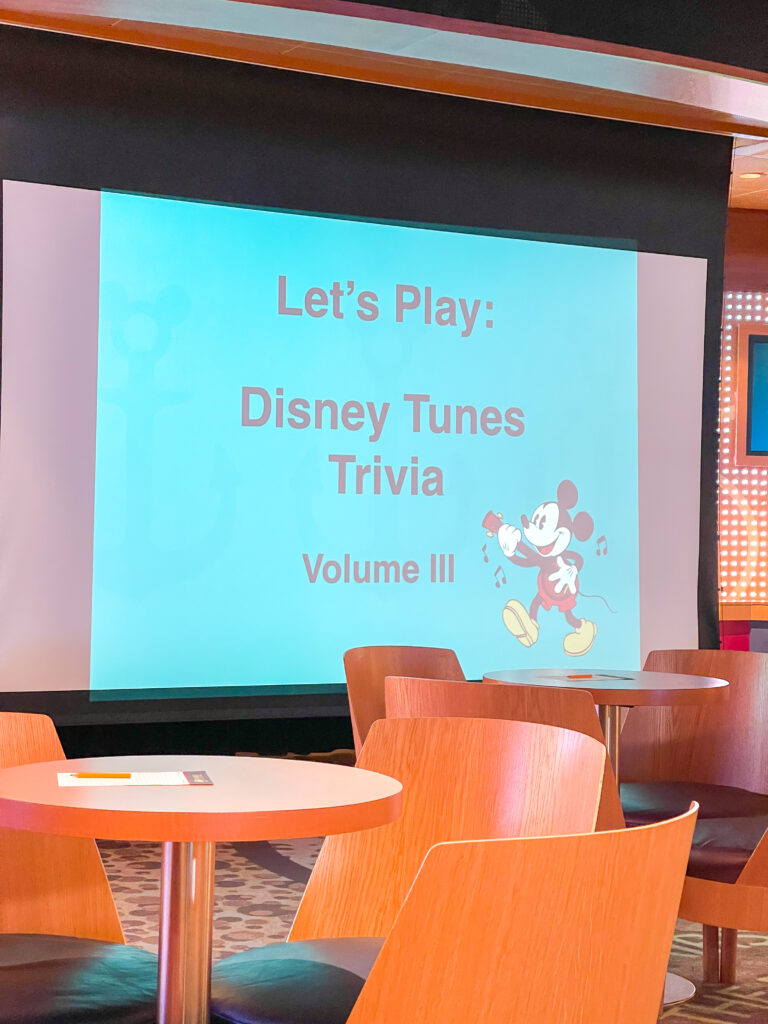 I knew a lot of the Disney songs, but let's just say, I have to brush up on my trivia skills. Some of the songs really stumped me!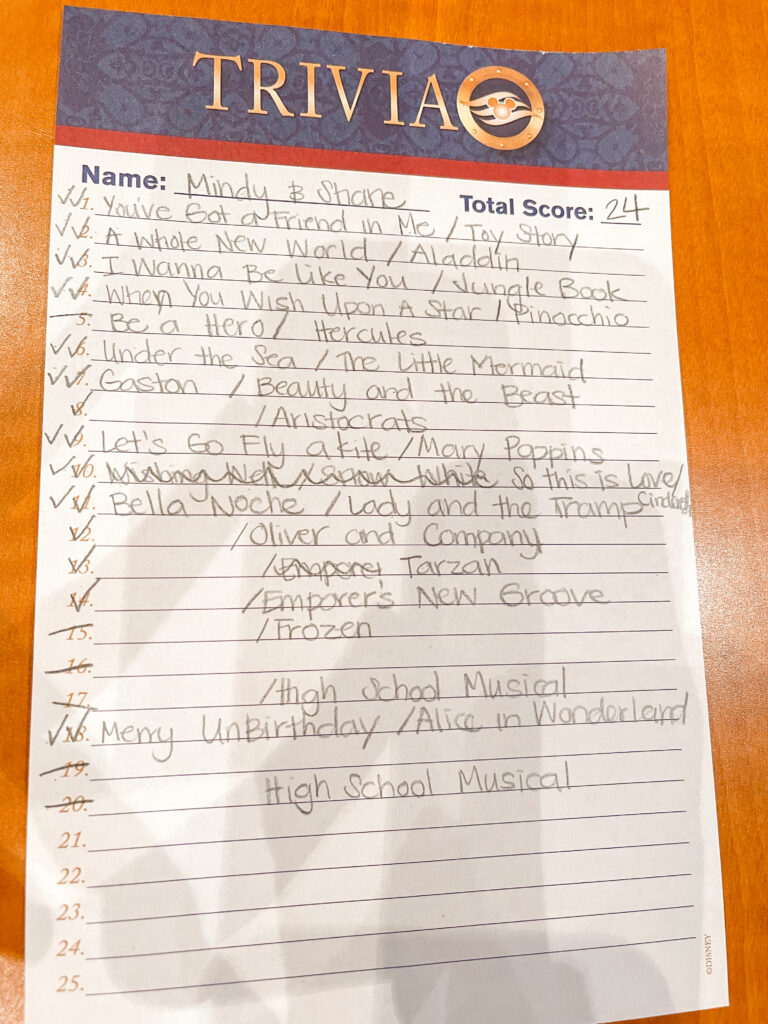 On Deck 11, my son got one last ice cream cone. My boys said that the strawberry banana twist ice cream was the best, but I liked the chocolate because it tasted like a Wendy's frosty. We went for one more walk around deck 4, then got everyone ready for bed.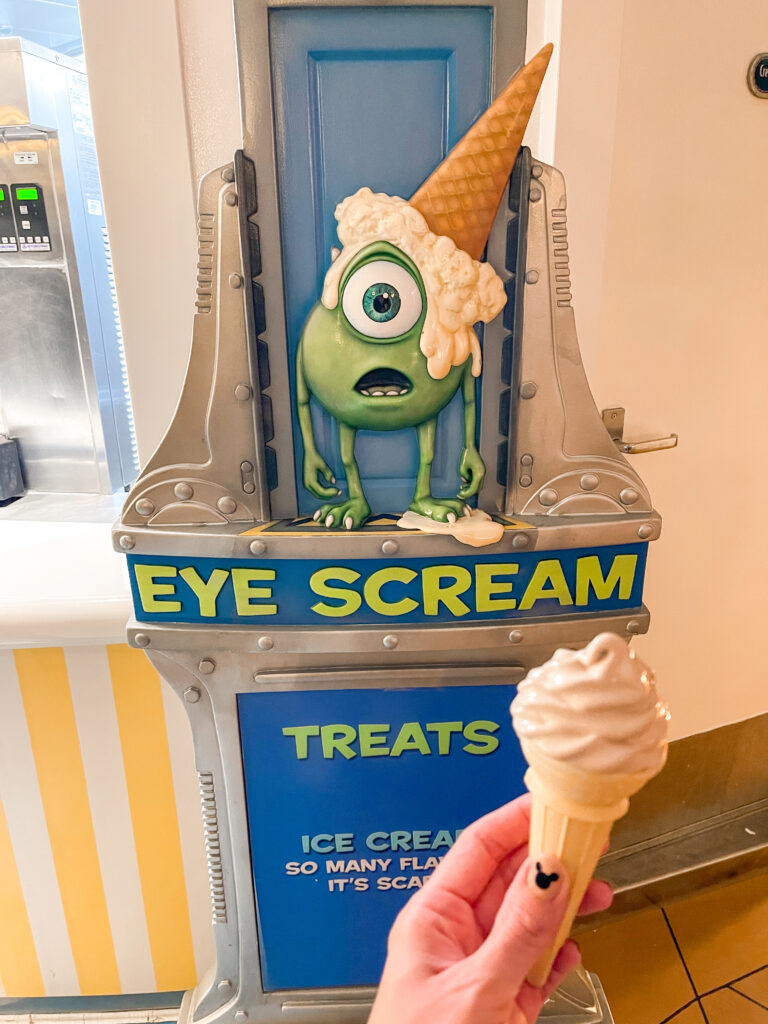 Disembarkation
On disembarkation day, we had to get up super early to make it to breakfast by 7:00 am. Our room looked pretty depressing without all of our stuff. We had a cool view of the terminal. We took one last look around our room, then headed down to breakfast.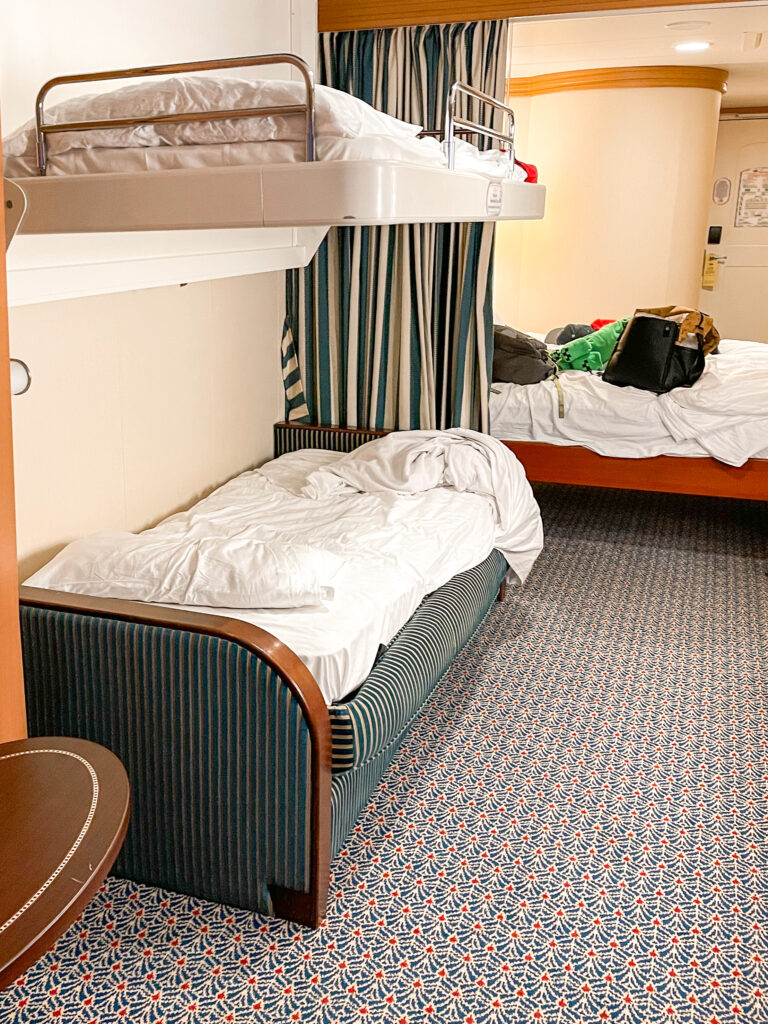 Our last breakfast was at Animator's Palate. The menu was not quite as extensive as previous days, but I think that is because they are trying to rush you off the ship.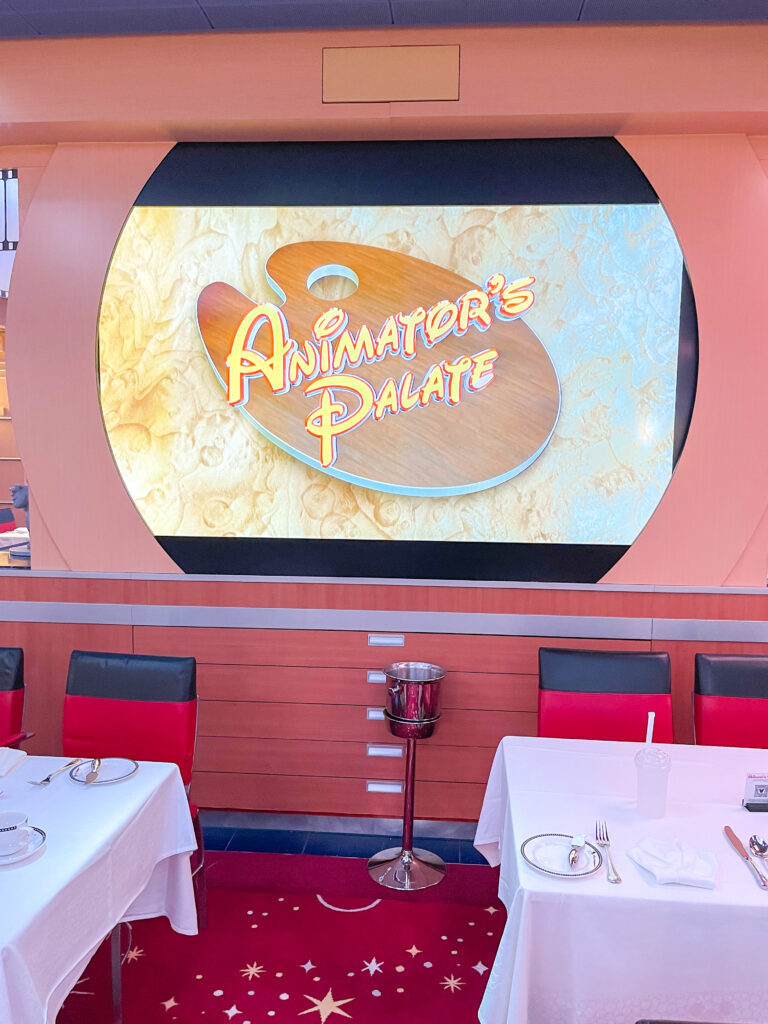 As I mentioned before, you find the menus for all of the restaurants on the Disney Dream here.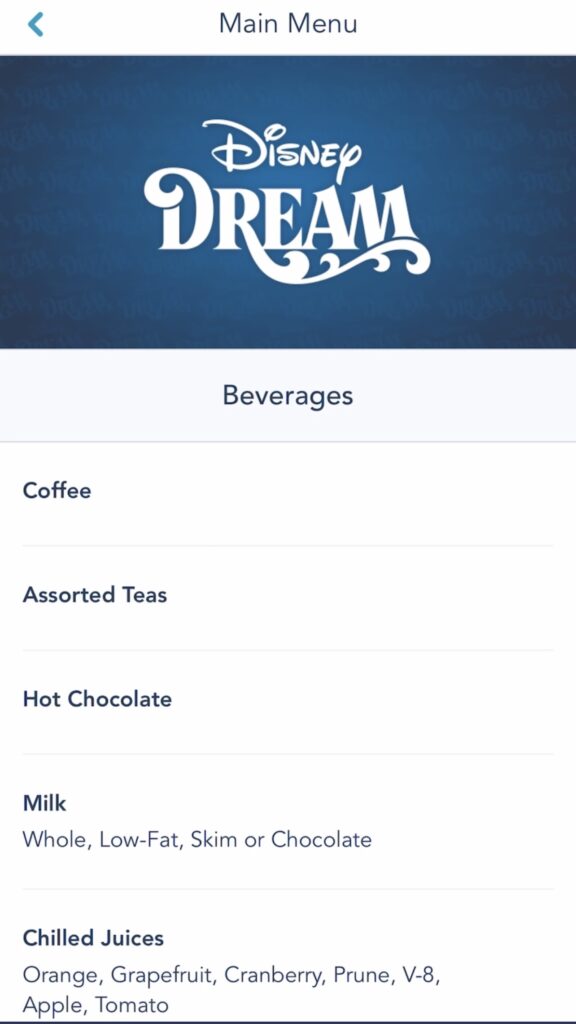 My boys had their donuts, my husband had yogurt, and I had an omelet and hash browns.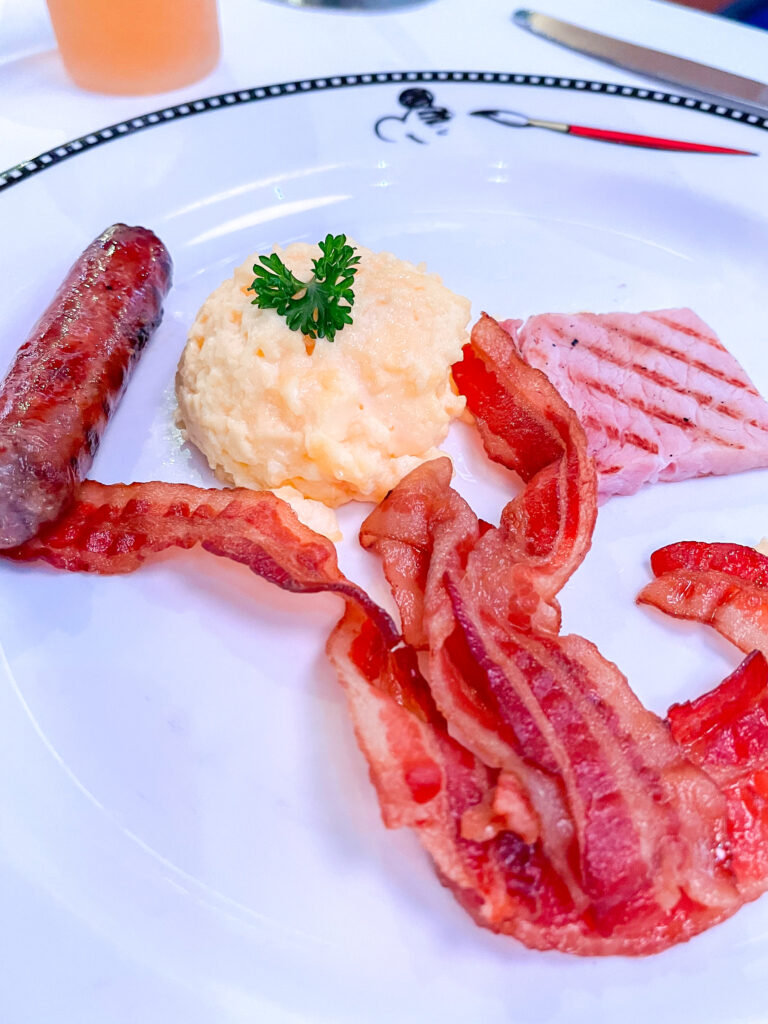 And just like that, our cruise on the Disney Dream has come to an end. We had an amazing time all four days, and I hope you had fun following along.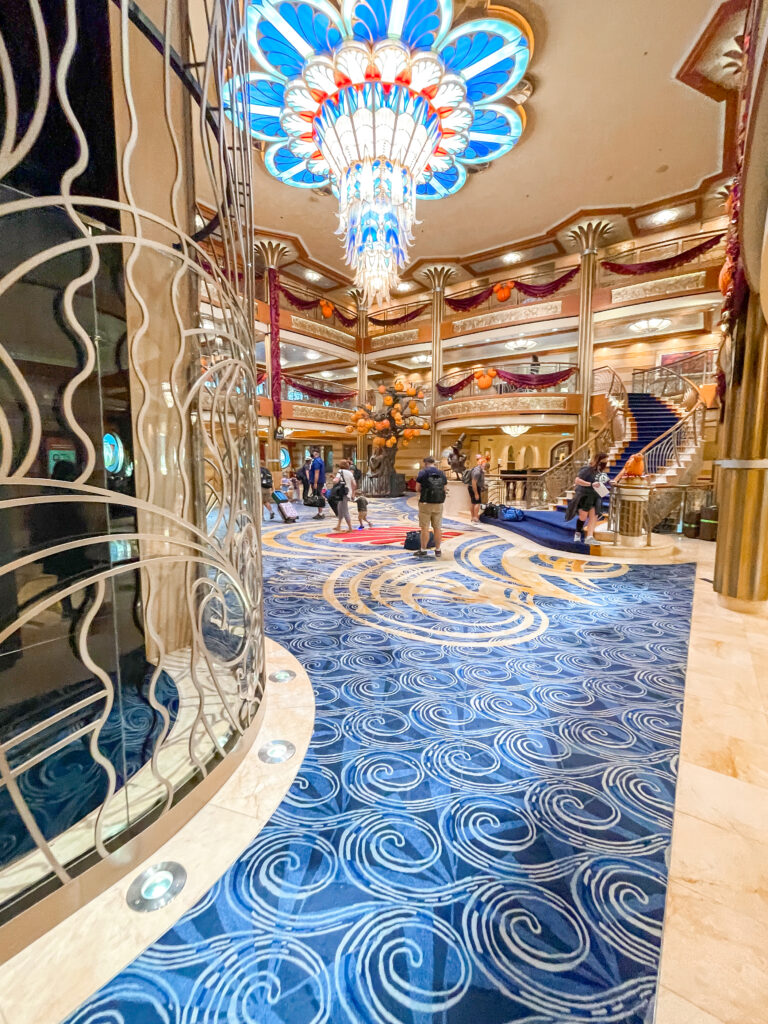 If you haven't already, be sure to check out days one, two, and three and don't forget to subscribe on YouTube, so you won't miss our next adventure at Disney's Animal Kingdom Lodge!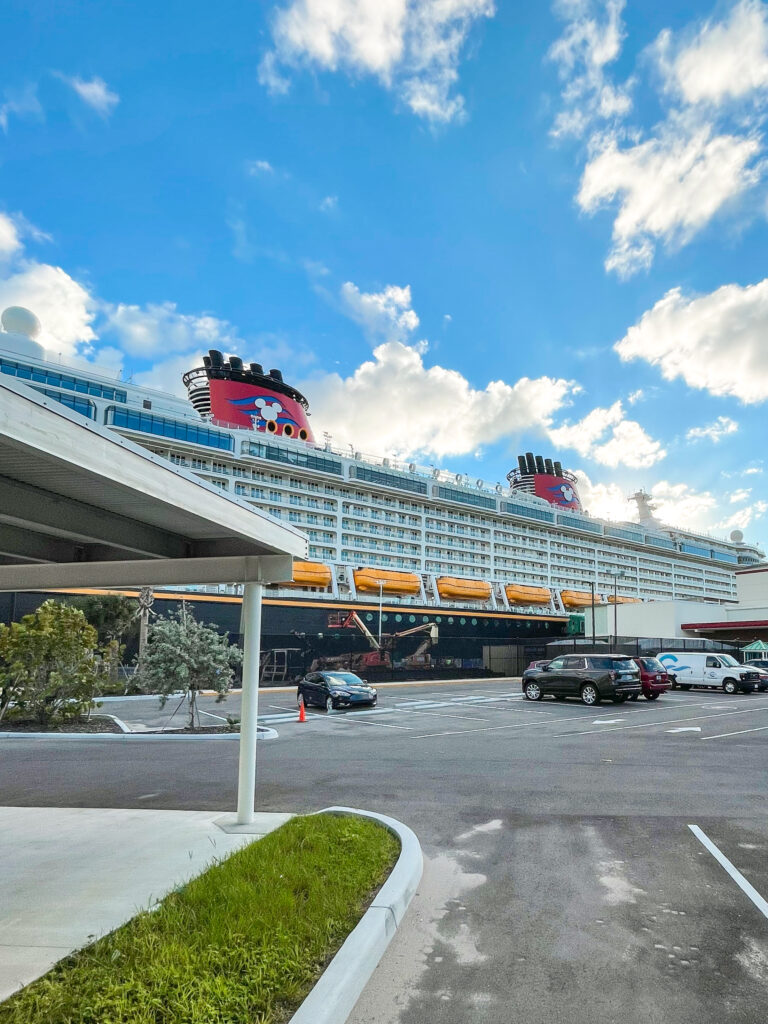 If you want to save some money on Disney tickets, visit my travel partner Get Away Today! I have been booking my vacations with them for years and I highly recommend them for discount tickets, hotels, and more. See ya next time!
Watch the Video Here: