Are you trying to decide what Disney Cruise excursion to take in Cozumel? You're in the right place! Find out my review of the Cozumel Beach Break excursion from my recent cruise on the Disney Dream.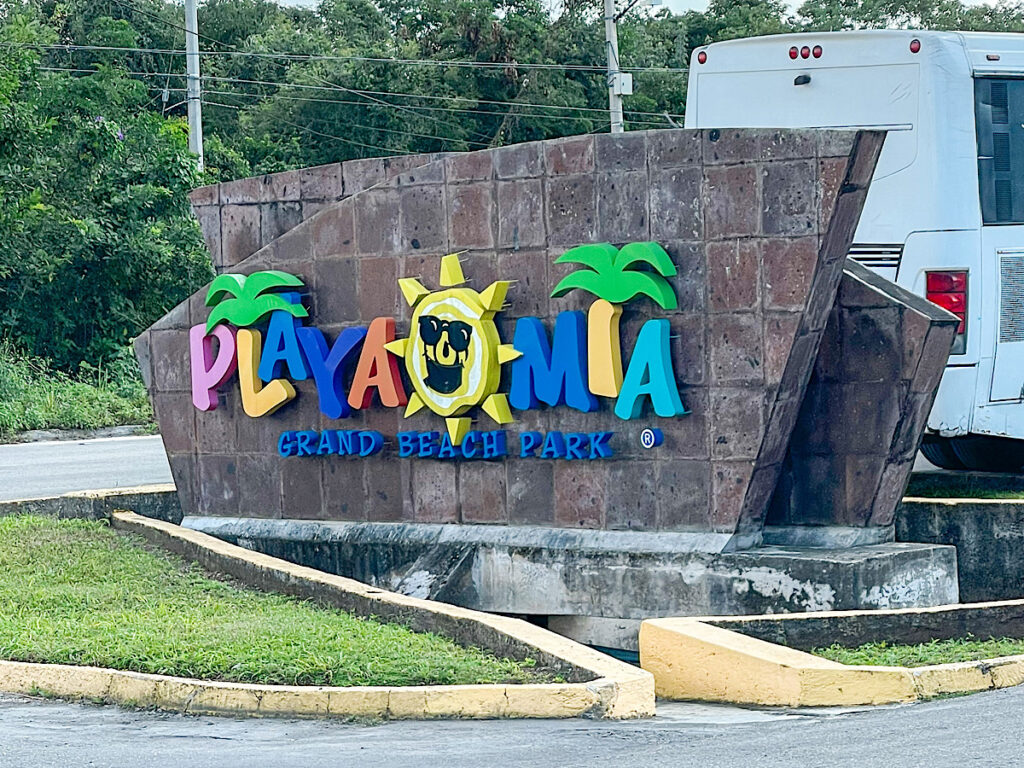 This post may contain affiliate links. When you click on these links, I get a small percentage back at no cost to you! For more information see my disclosure policy.
Check out prices below or get a free quote by calling 877-510-2929 and let them know Mommy Mouse Clubhouse sent you!
My family recently went on a 5-night cruise on the Disney Disney Dream, where one of our ports of call was Cozumel, Mexico.
After looking through the list of excursions available during our stay in Cozumel, we decided to choose the all-inclusive Beach Break excursion (CZ15) to experience the beautiful beaches.
Below, you can take a closer look at what is included and our experience.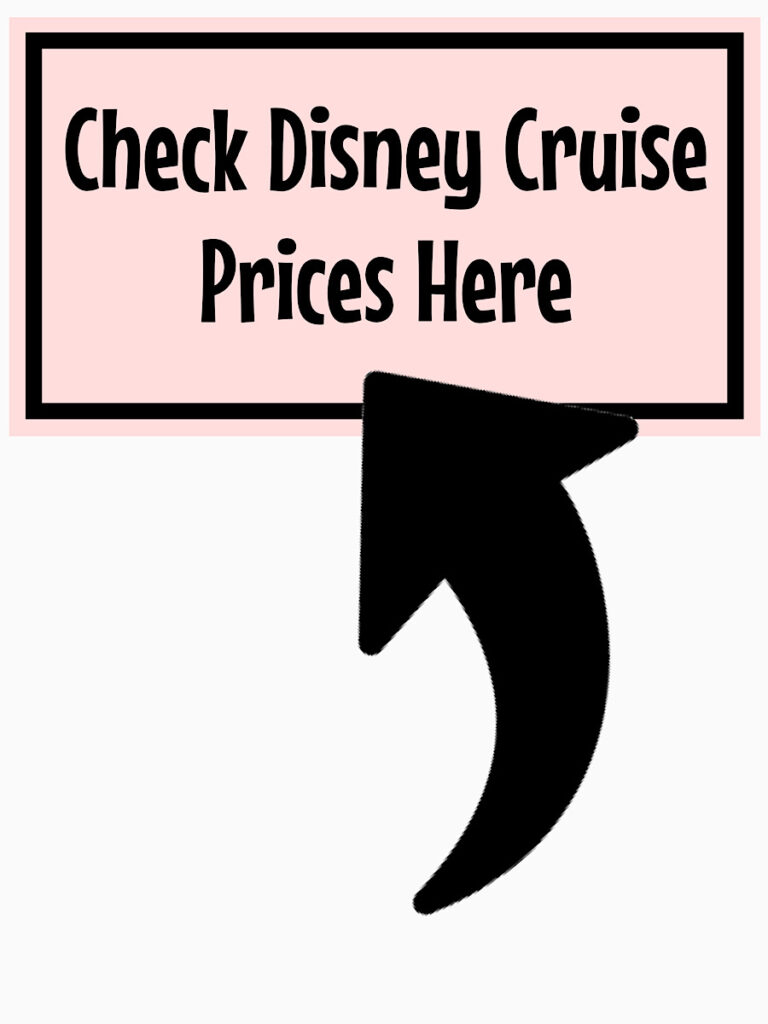 Cozumel Beach Break Description
So what exactly is the Cozumel Beach Break excursion? Here is the description directly from Disney Cruise Line:
Wet and Wild Fun
Go all-out at the swimming pools and water activities – or chill-out under an umbrella by the beach.
On this adventure you will…
Take an approximately 25-minute ride aboard an air-conditioned motorcoach to Playa Mia Grand Beach and Water Park.

Get ready to do as much – or as little – as you'd like at this beautiful beach park. Choose to lounge in a beach chair under an umbrella on the sand by the ocean or by the pool. Note: see restrictions in the section below.

Savor a delicious all-you-can-eat menu and domestic open bar, all included in your tour.

Enjoy the park's many activities such as an aquatic floating sports center, kayaks, water trampolines, aquatic iceberg, paddle boats, floating mats, water bicycles, ping pong tables, volleyball and soccer courts and an entertainment team featuring a kid's club.

After a great day at the beach you will head back to the pier.
How Much Does Cozumel Beach Break Cost?
The price for the Cozumel Beach Break excursion through Disney Cruise Line is:
$79 for adults (ages 10+)
$69 for kids (ages 3-9)
Free for kids (ages 0-2)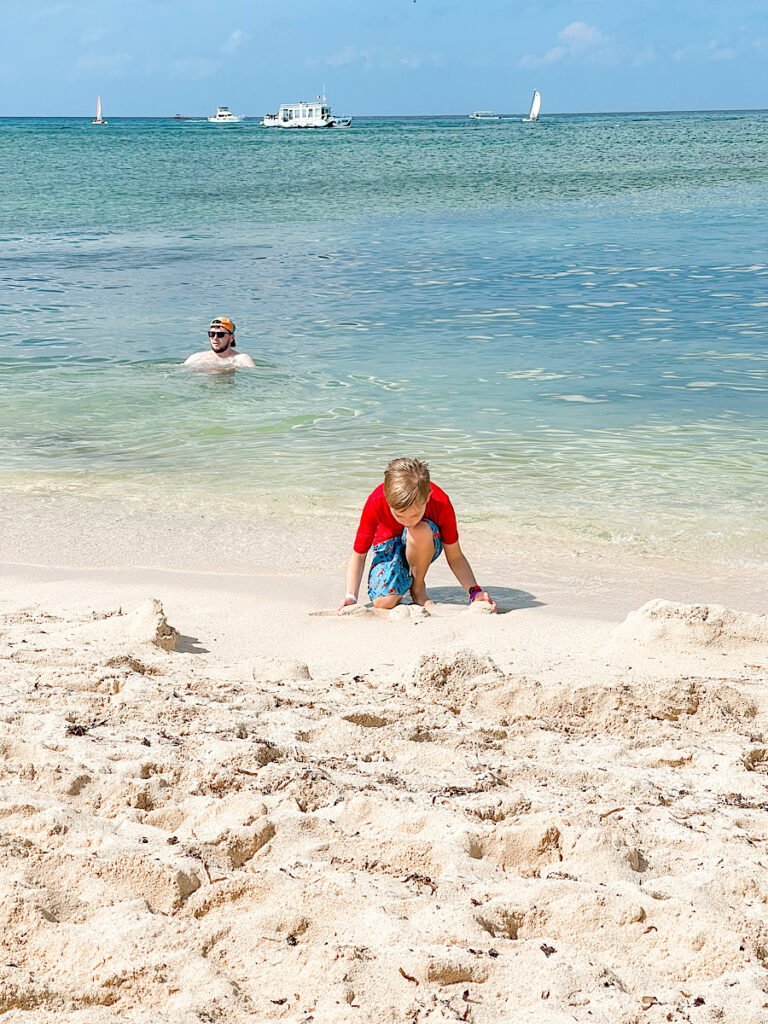 Playa Mia Grand Beach Park
Disney Cruise Line uses Playa Mia Beach Resort for their beach break excursion on the island of Cozumel and I'm sure other cruise lines use it as well. It is located about 9 miles from the cruise terminal that Disney uses.
The Disney Cruise Line Navigator app will tell you when and where your meeting point will be on the day of your excursion. The app will also tell you what you will need to bring with you, like your Key to the World Card, photo ID, etc.
Then you will leave as a group and walk through the outdoor shopping area and take a bus ride you to the resort. The total drive time was 20-25 minutes.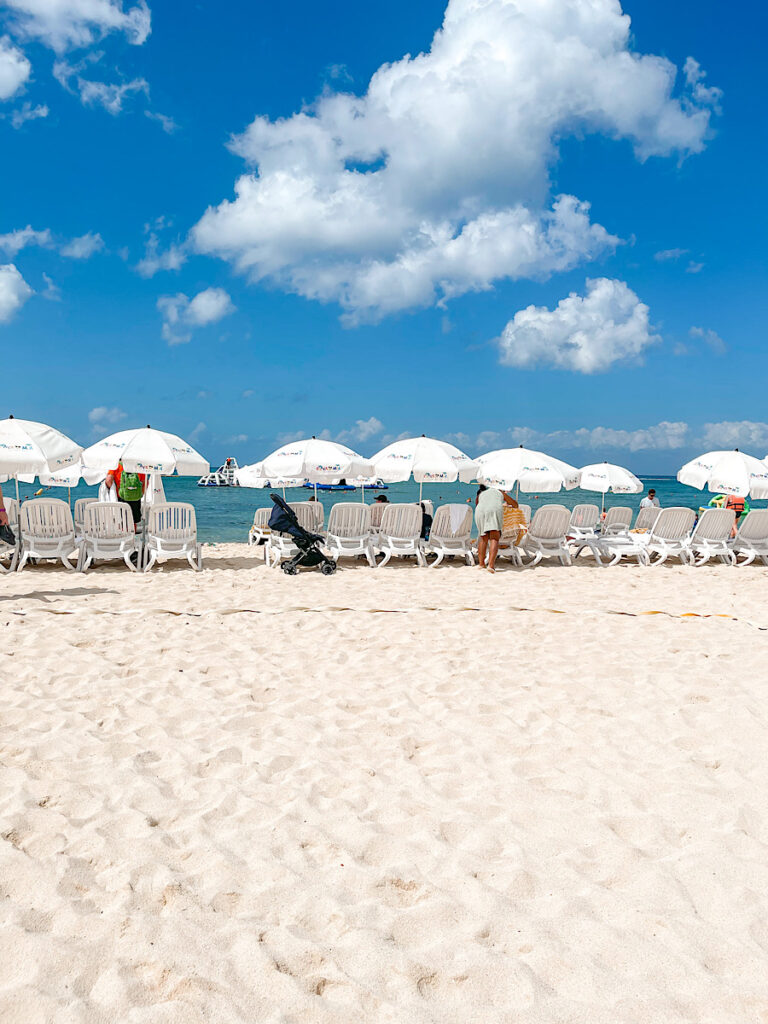 Beach Area
When we arrived at the resort, we immediately went to find a beach chair and umbrella. There were resort employees that helped us find a chair and set up an umbrella.
Some employees will take your drink orders (which are included) and deliver them to you. Remember to bring some money to tip these servers, if desired. You may also want some cash to tip the bus and tour operators as well.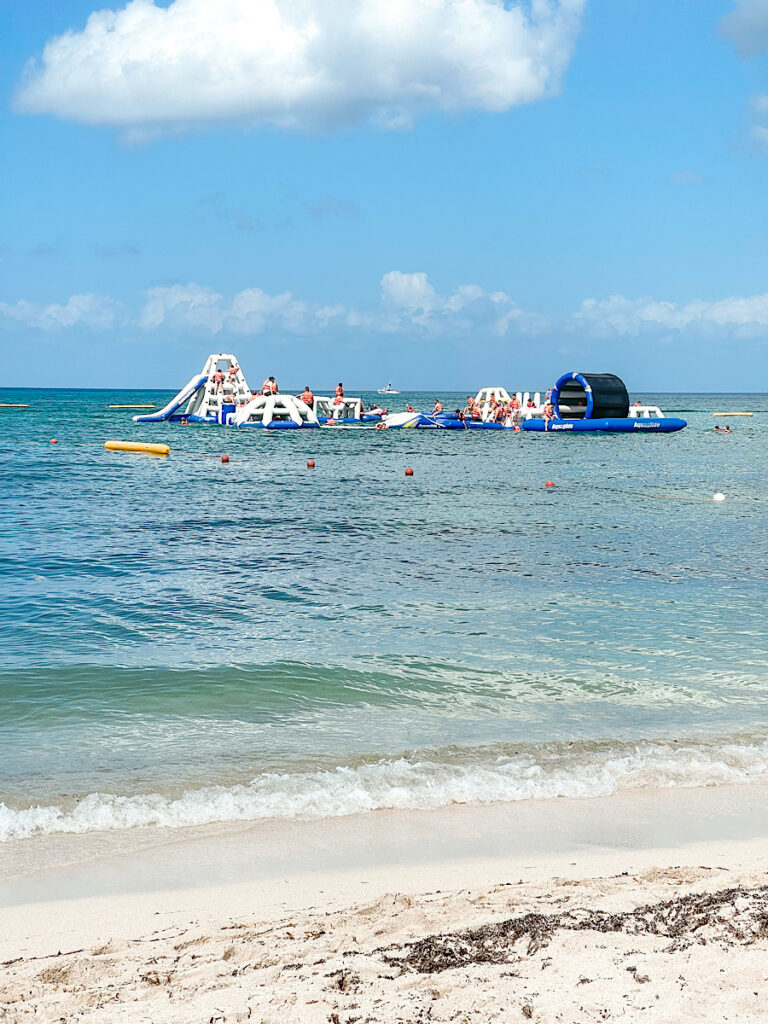 Inflatable Water Playground
Playa Mia has a water playground in the water, about 50 feet from shore. There is are life vests provided. To reach the playground, you will have to swim to it.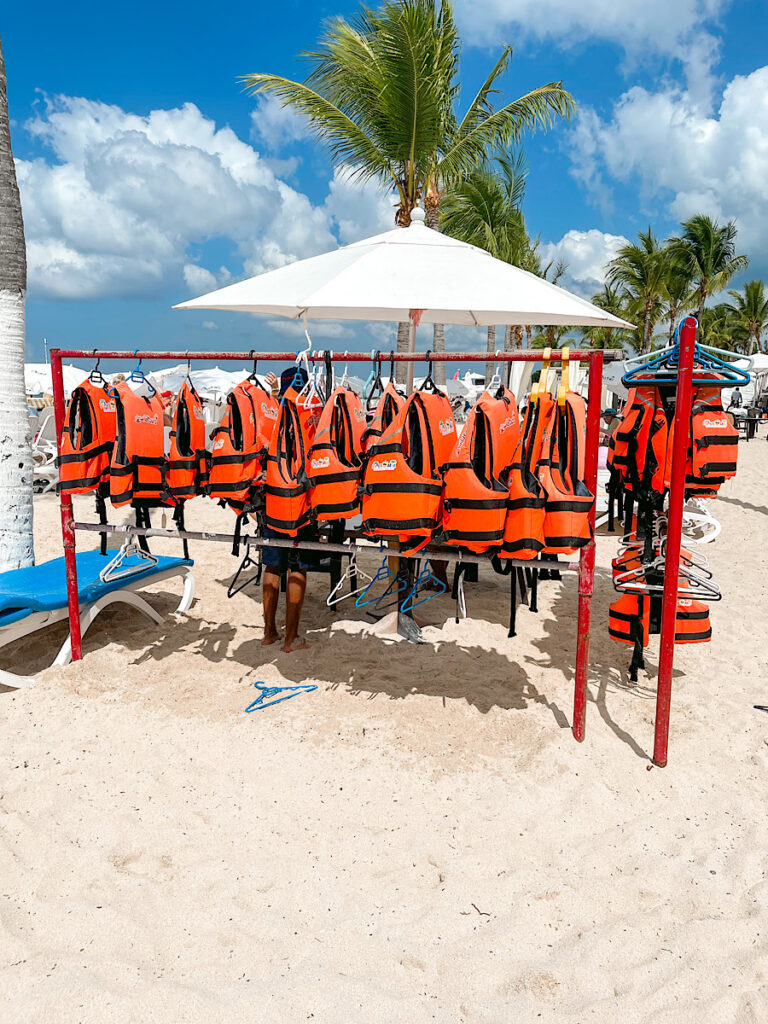 Water Sports Equipment
There are kayaks and water tricycles available to use as well. To use these items, check in with an employee at the tent and put on a life vest. You will be directed where to go.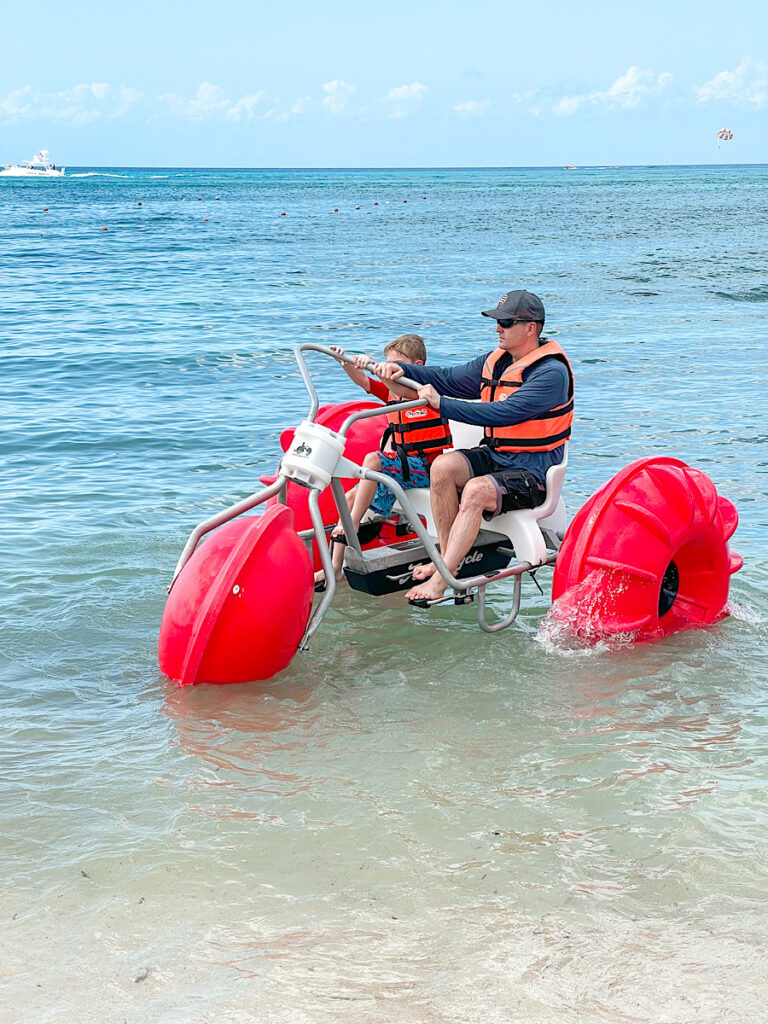 Pools
There are a couple of pools at the resort with swim up bars. It was nice to have the option of the pool to swim in as well as the ocean.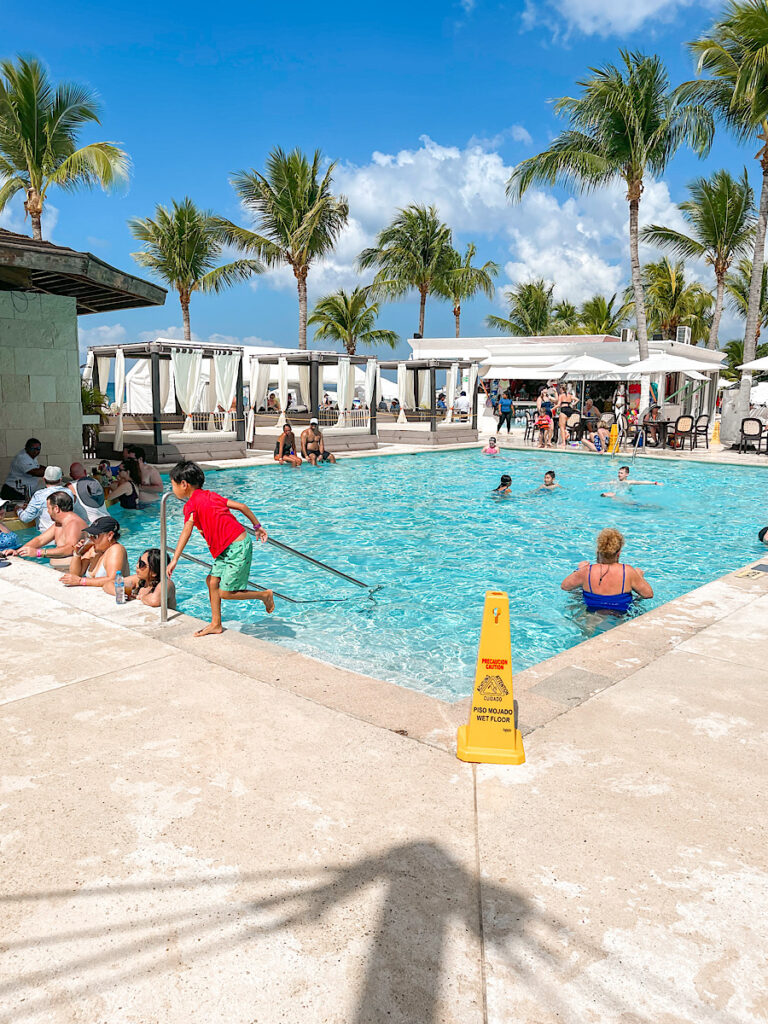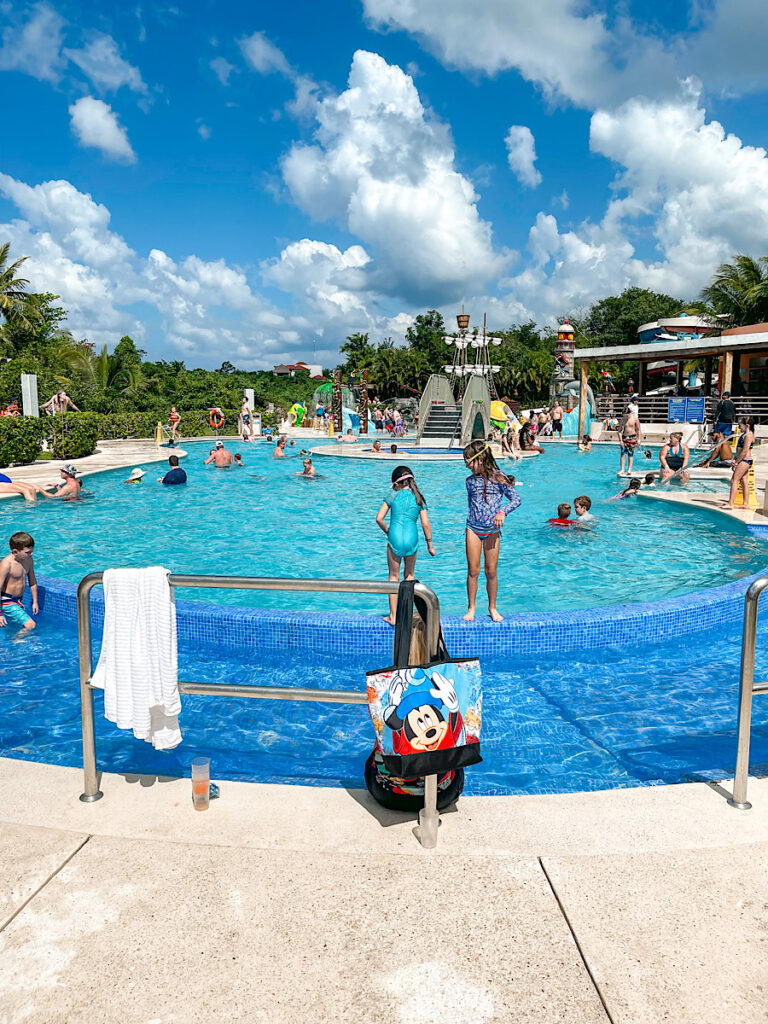 Water Slides
There are two large water slides that my kids and husband enjoyed. The lines for these slides never seemed long, which was nice.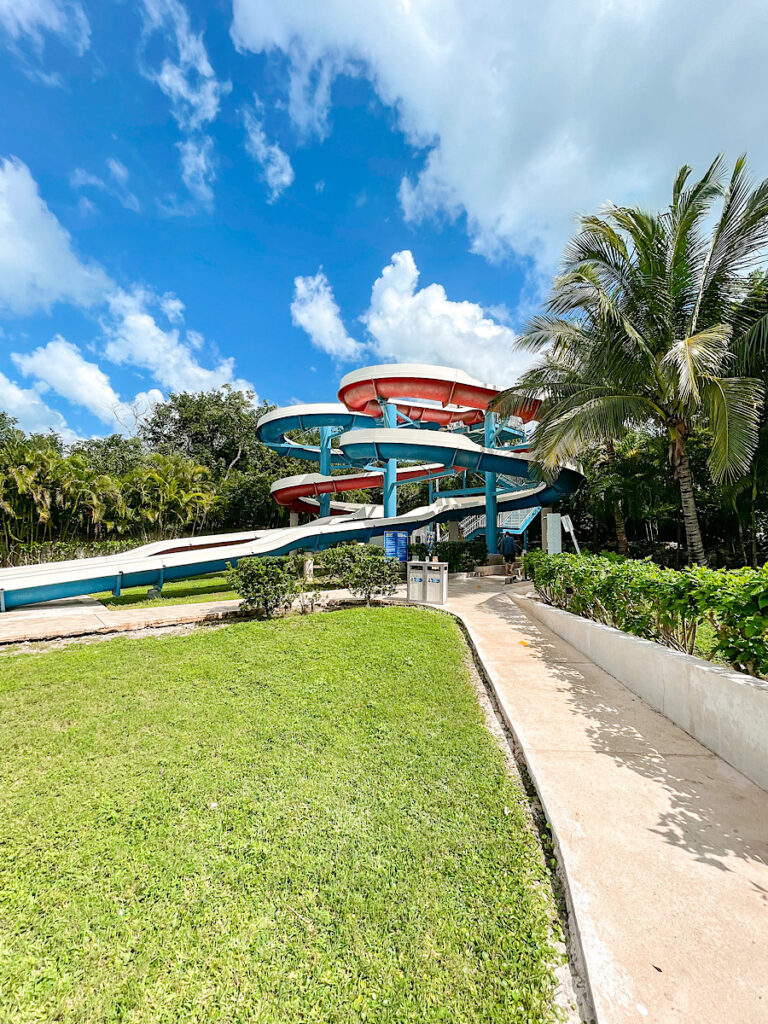 Water Playground for Kids
Between the pool and waterslides, there is a water playground area that would be really fun for young kids. There are small slides and splash areas.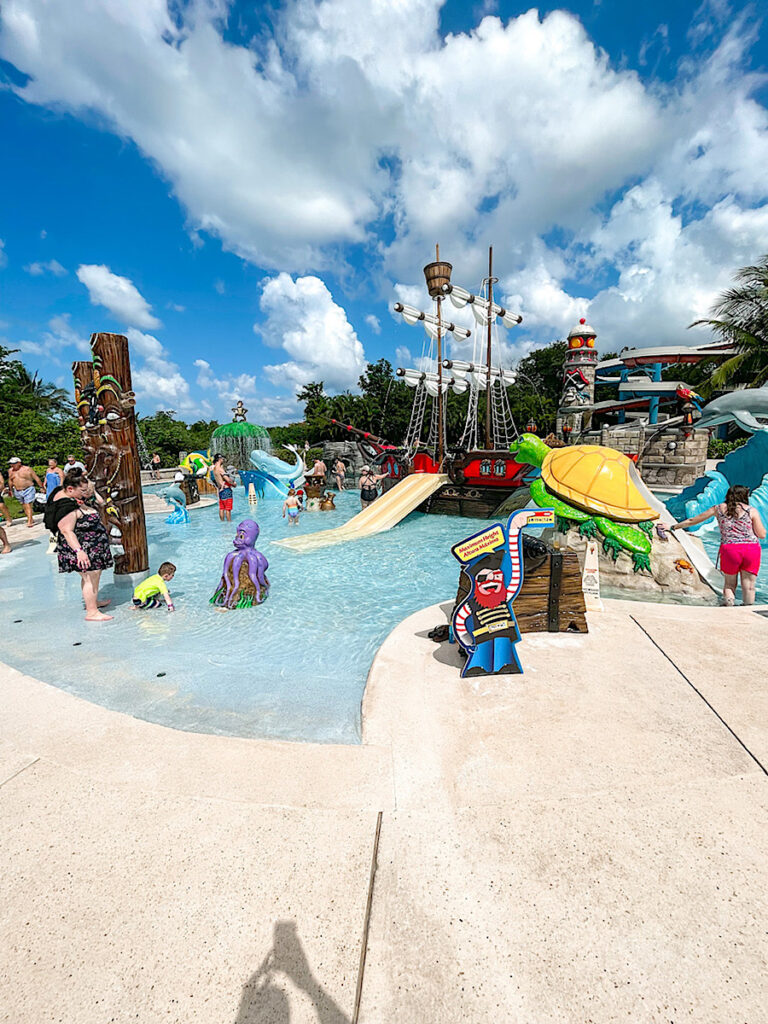 Lunch Buffet
Included with the Cozumel Beach Break is a buffet lunch. Some of the items available were fajita meat and vegetables, tortillas, tortilla chips, rice, beans, salsa, and hamburgers. Bottled water and soft drinks are also included.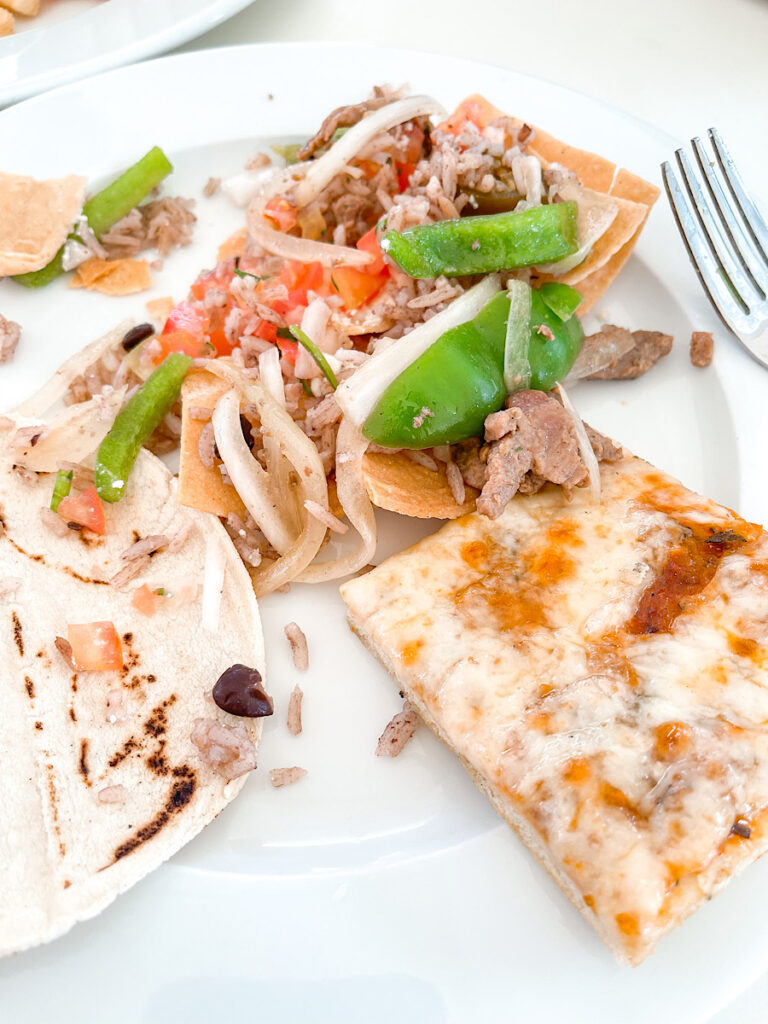 Return Time
Our tour operator let us know what time be back at the bus for our short ride back to the Cozumel cruise port at the end of the excursion, which was 2:30. I felt that we had just the right amount of time on our excursion.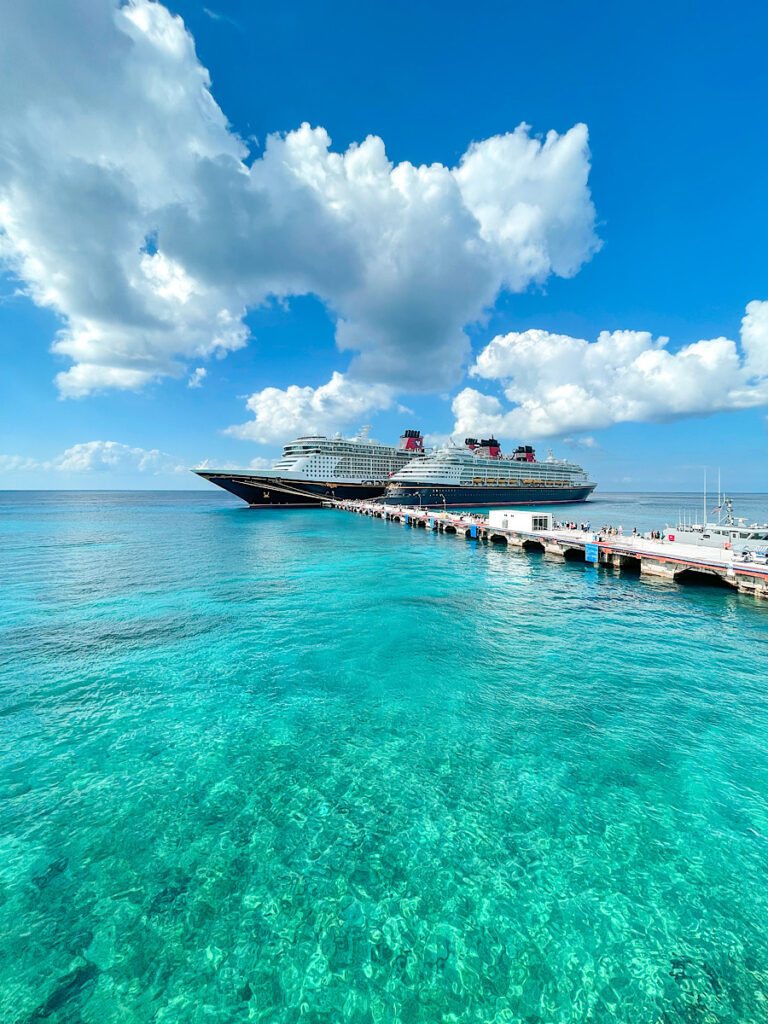 Cozumel Beach Break Review
My review of this excursion was that it was a great Cozumel excursion for the whole family. I felt that for the price, we got a good value for our money.
The beach activities, water slides, and pool were fun, and it was nice to have chairs and umbrellas to hang out on the beach.
My kids had a great time ordering the included virgin pina coladas and strawberry daiquiri's were great and the lunch buffet was just ok.
There are other all-inclusive resorts that can be booked through third parties or for direct rates for a beach day pass in Cozumel, but you will have to find your own taxi driver.
I liked the security of booking our Cozumel Port Adventure directly through Disney and not having to worry about making it back to the ship in time.
I would do this excursion again if I ever find myself in Cozumel.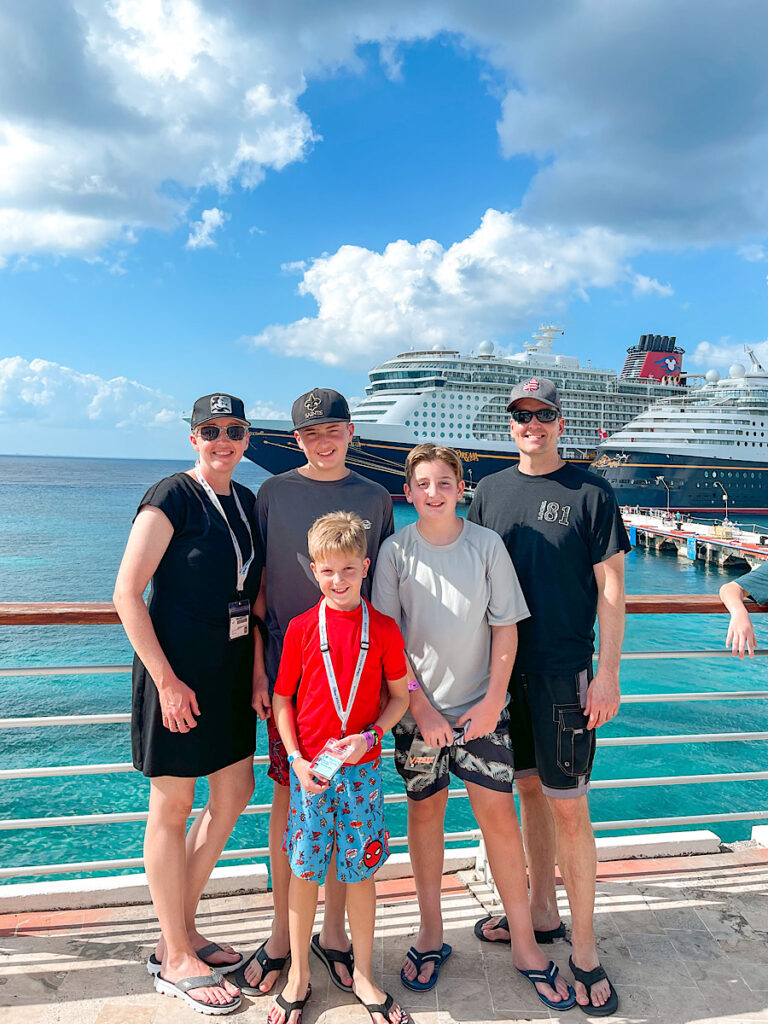 Frequently Asked Questions
Is the Cozumel Beach Break excursion a good value?
Yes. For the price, you get access to the beach and pool areas, lunch buffet and open bar, as well as all of the beach activities provided by Playa Mia Grand Beach and Water Park.
What time should I be back at the pier?
Your tour guide will let you know what time you need to be at the bus in order to be back in time to return to the ship.
Can I just go to Playa Mia without taking the excursion?
Yes, you can book directly through Playa Mia for a day pass. However, the excursion includes lunch and open bar which adds value to your experience.
How much does it cost?
The price for the Cozumel Beach Break excursion through Disney Cruise Line is $79 for adults (ages 10+) and $69 for kids (ages 3-9). Kids (ages 0-2) are free.
What amenities are included?
With the Cozumel Beach Break excursion, you will have access to the beach and pool areas, lunch buffet and open bar, as well as all of the beach activities provided by Playa Mia Grand Beach and Water Park.
Is food included?
Yes, lunch is included with the excursion. There is also a snack bar available at the resort that you can purchase additional items from.
What Disney Ships Visit Cozumel
Disney Dream
Disney Fantasy
Disney Magic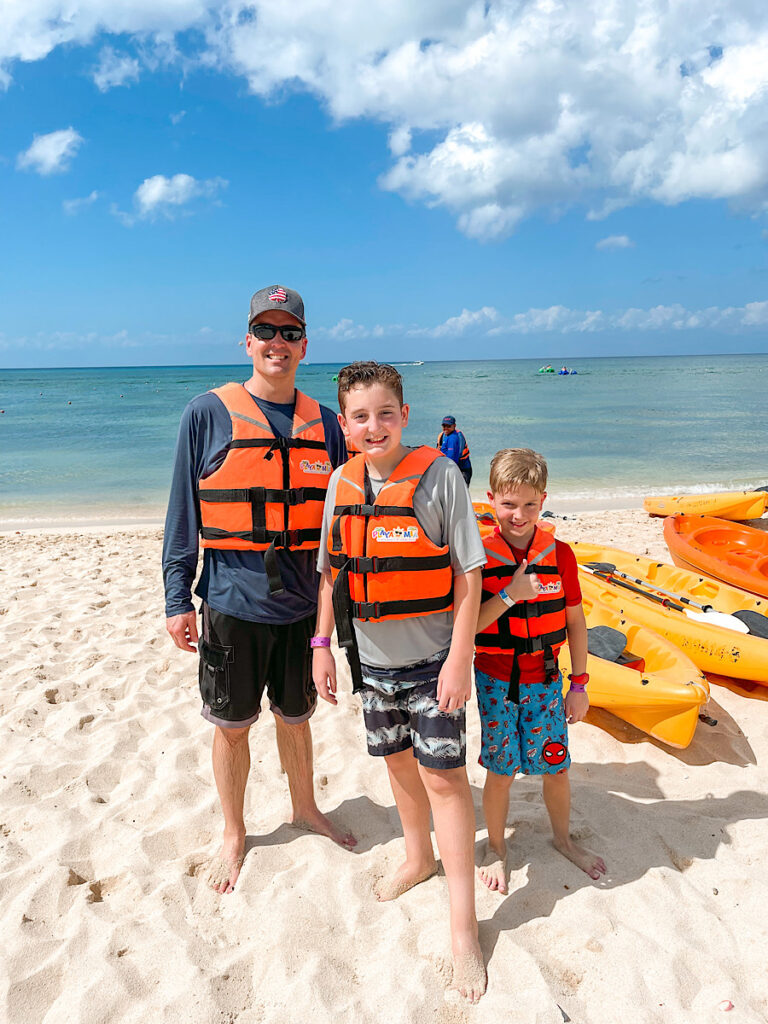 Final Thoughts
If you are looking for a fun beach day in Cozumel, the Cozumel Beach Break excursion is a great way to spend a few hours and we really had a good time.
The included activities and drinks make it worth the price of admission and the ability to also have a relaxing day. The resort is located close enough to the port that it makes for an easy and convenient excursion.
Make sure to check the Disney Cruise Line website for a full listing of excursions and variety of options available in Cozumel.
Cozumel Beach Break Video: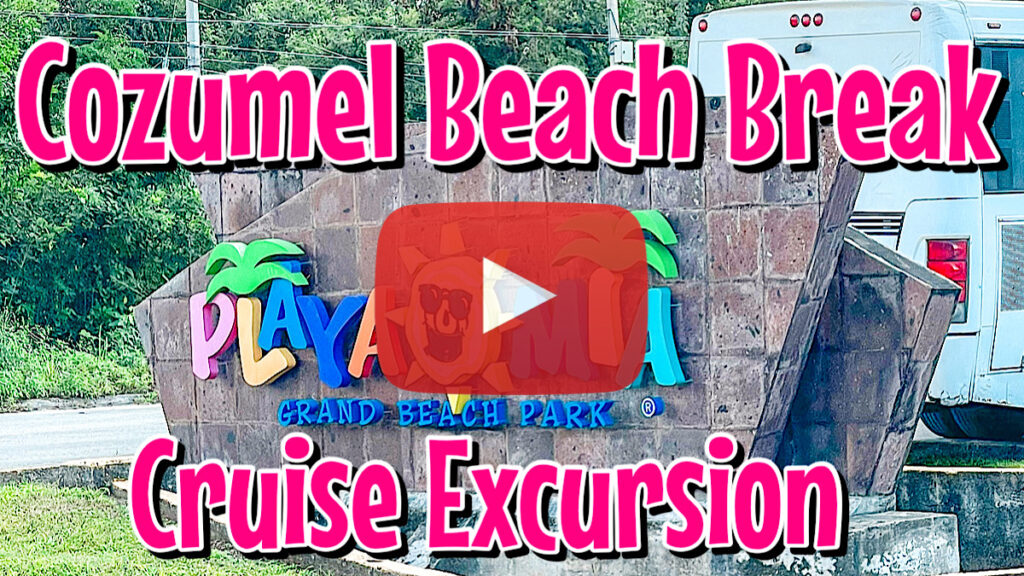 More Cruise Articles