If you're considering a trip to Disney World in October, you're in the right place! I'm going to show you why October is the best time of year to visit Disney World, as well as some tips on how to save money if you decide to go!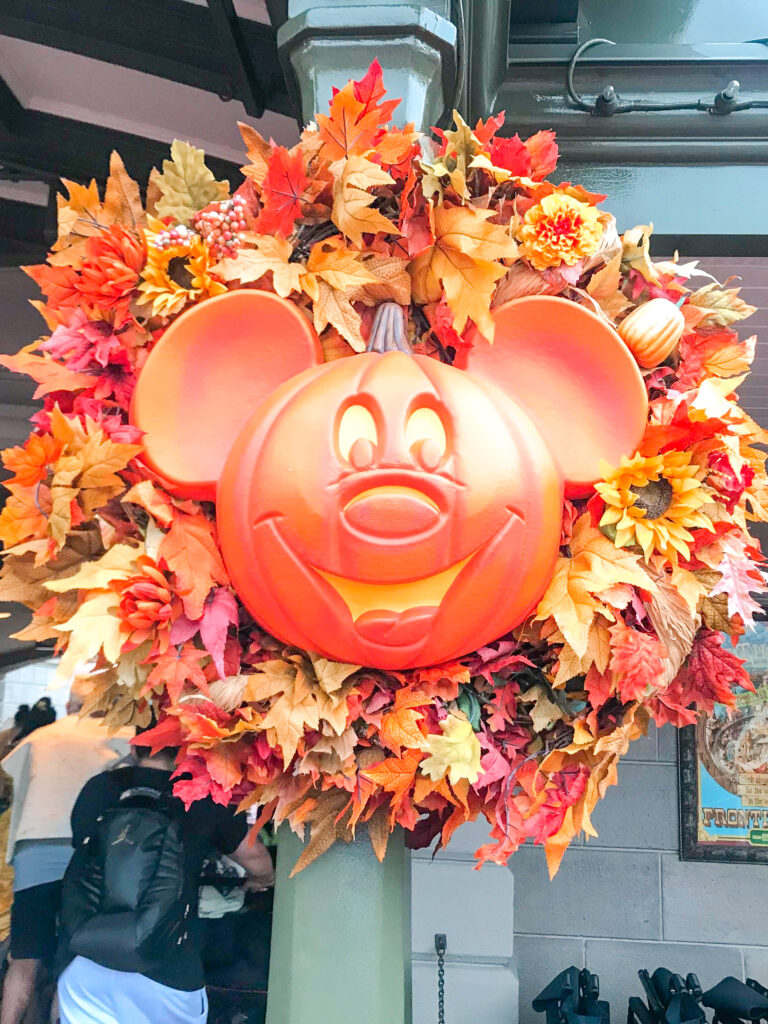 This post may contain affiliate links. When you click on these links, I get a small percentage back at no cost to you! For more information see my disclosure policy.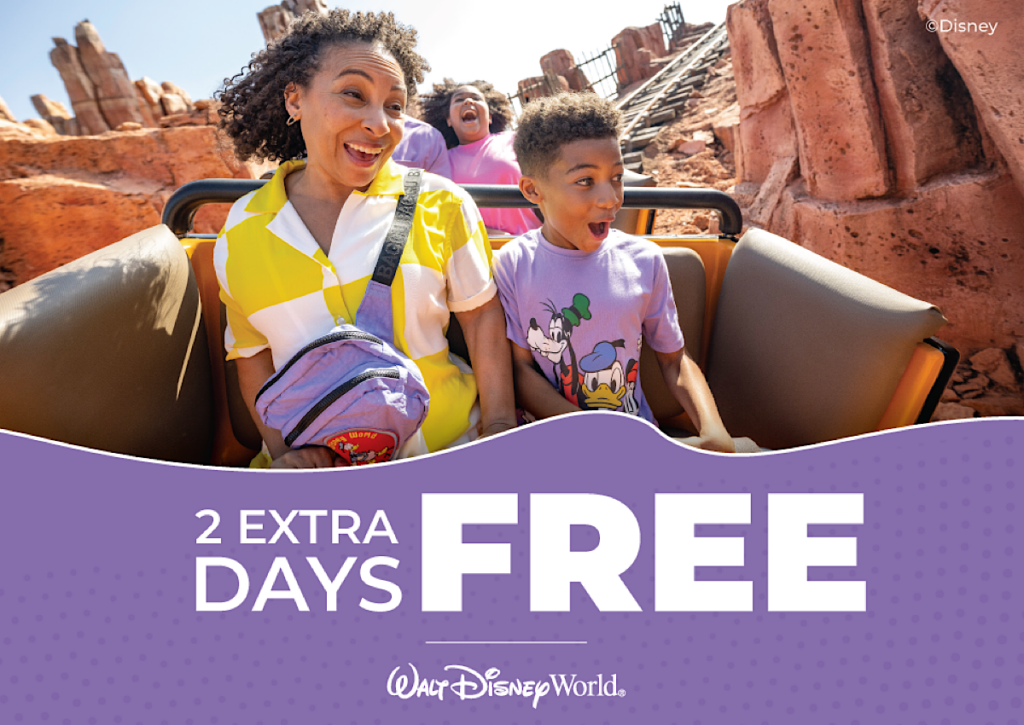 Get 2 EXTRA DAYS FREE at Walt Disney World when you purchase a 5-Day ticket from Get Away Today. Check prices & book here: www.GetAwayToday.com (use coupon code:Clubhouse10 or call 855-Get-Away and tell them Mommy Mouse Clubhouse sent you!
Disney World in October at a Glance
October is an amazing time to visit Walt Disney World in Florida. The weather is perfect, there are plenty of Halloween-themed attractions and activities available for all ages, and the crowds have died down! With this post as your guide you'll know exactly what to do when visiting Orlando's most popular visitor attraction during October.
This post will give you ideas on where to start your trip, what not miss when visiting during October, tips for planning your perfect vacation – all in one handy place 🙂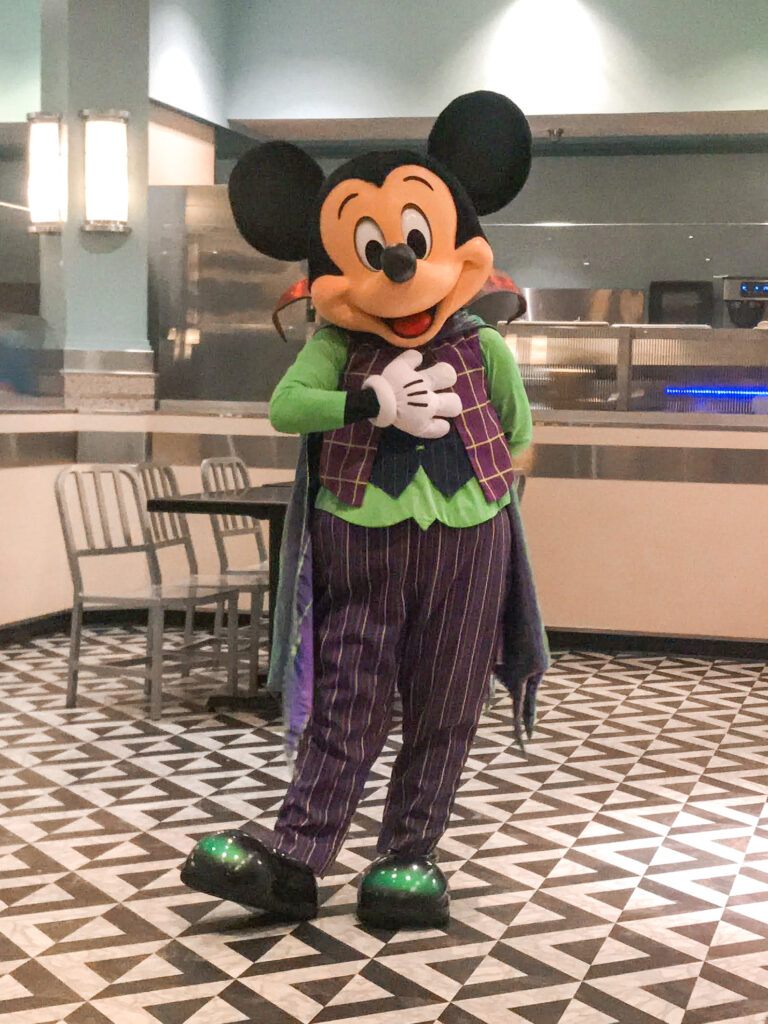 There are so many things going on throughout Walt Disney World that make October and the Halloween season such an amazing time to experience the Most Magical Place on Earth and make some great memories too! So I've put together this guide for Disney World in October!
If you haven't committed to October and want to know my tips for other months as well, check out my article about January, February, March, April, May, June, July, August, September, November, and December. You can find guides for every month of the year here!
Discount Disney World Tickets & Vacation Packages
Before we get started, I wanted to let you know where and how I get discount tickets to Walt Disney World. My travel partner, Get Away Today, offers amazing Disney World vacation packages as well as discounted tickets.
And, they have the most amazing concierge service that will help you plan, book, and make dining reservations, all at no charge to you! You can check Disney World ticket and package prices here and use coupon code: Clubhouse10, or call 855-GET-AWAY and tell them that Mommy Mouse Clubhouse sent you!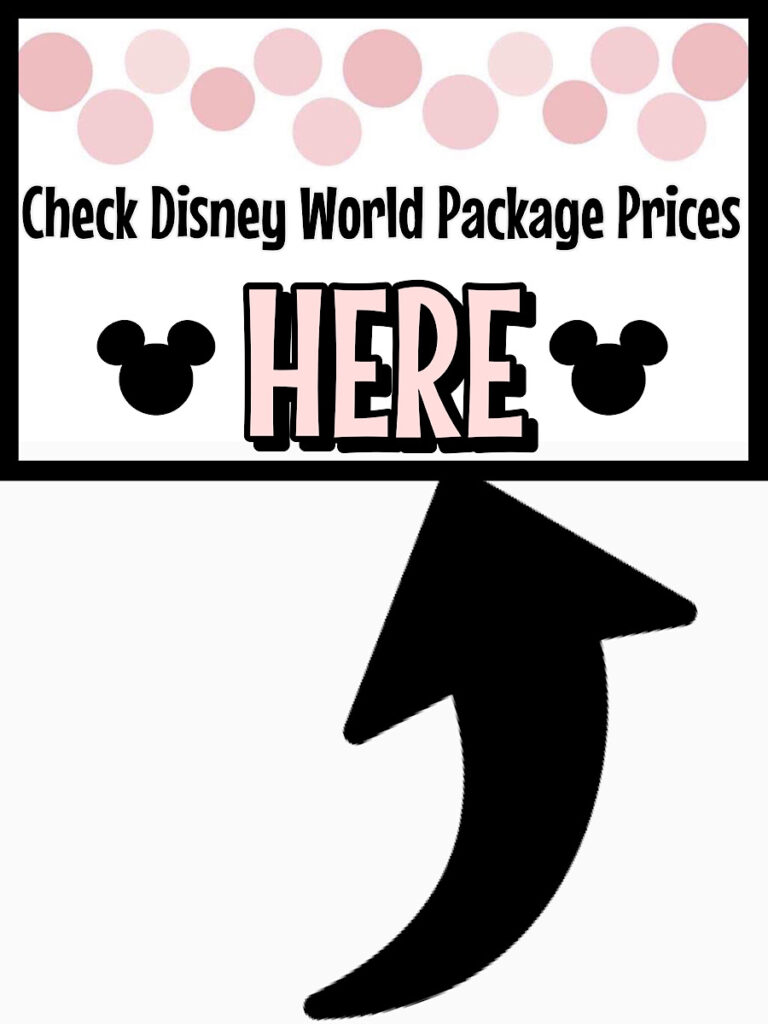 Crowd Sizes at Disney World in October
Disney World crowd calendars indicate that October is one of the busier times to visit. Don't let this scare you though because there are a lot of events happening during October that can either be good or bad for crowds, depending on your preference.
Although Disney World is busier than usual in October, crowd levels don't have to be much of a factor depending on what you are planning to do on your vacation.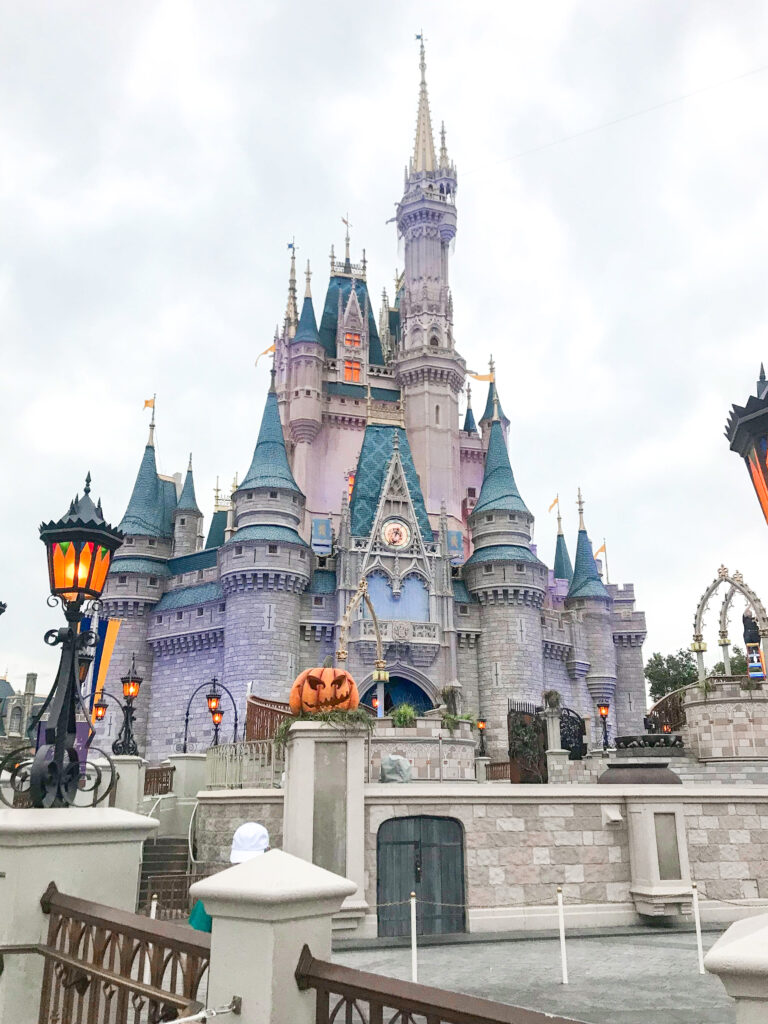 If you love Halloween and are interested in Mickey's Not So-Scary Halloween Party, then I would highly recommend going in October!
However, if all you want to do is ride rides, then maybe September or early November would be better for you. That being said, crowds in October are a lot better than some of the other times of the year because school has just started and people aren't taking vacation yet.
As long as you are prepared, have planned ahead, and know what to expect, you will have a great time experiencing all of the Halloween decorations and treats!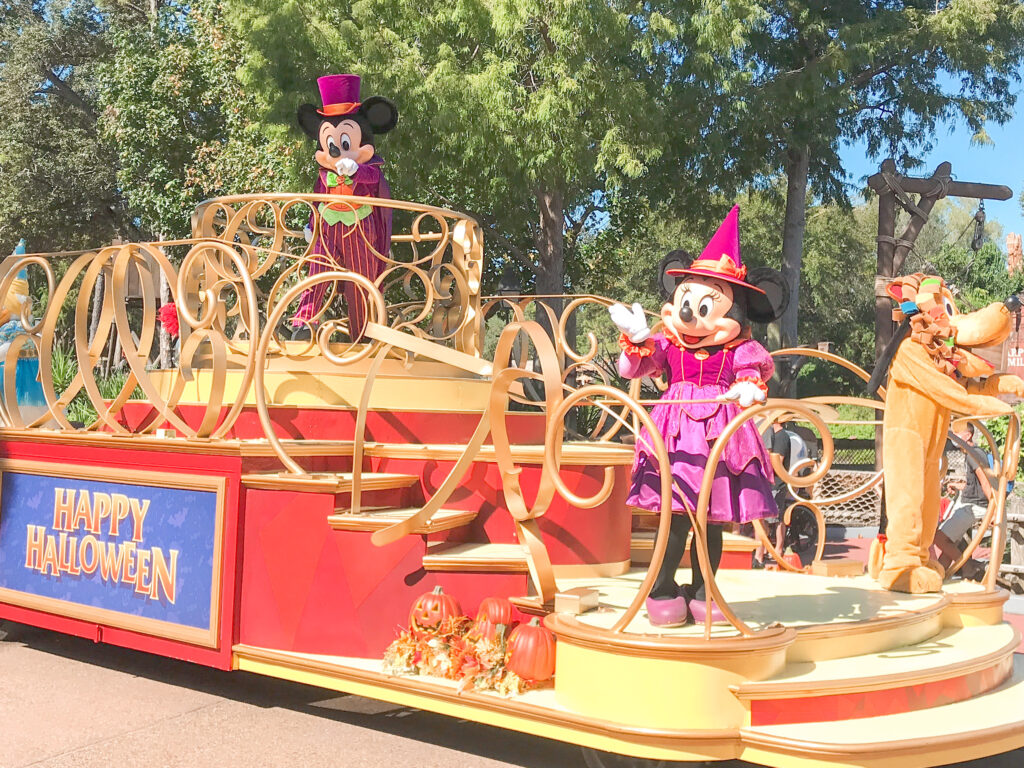 Special Events in October
Mickey's Not So-Scary Halloween Party – This ticketed event will offer special characters, food options, and trick-or-treating. Here are the Mickey's Not So-Scary Halloween Party dates for October: 1, 3, 5, 6, 9, 10, 12, 13, 15, 17, 19, 20, 22, 24, 26, 27, 29, and November 1st. Ticket prices in October range in price from $139 – $189. You can check party prices and availability here.
Epcot International Food & Wine Festival – July 27th – November 18th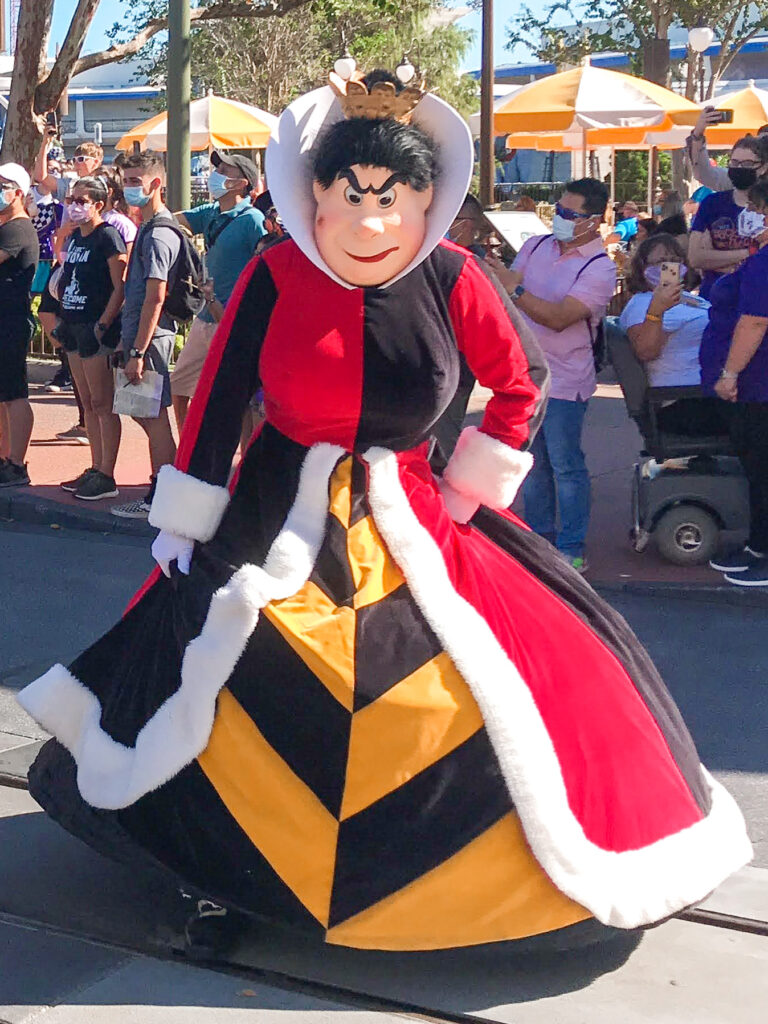 What is the Weather Like at Disney World in October?
The weather is actually really pleasant at Disney World in the month of October. The average high temperatures are in the 80s and the average low temperatures are in the mid 70s.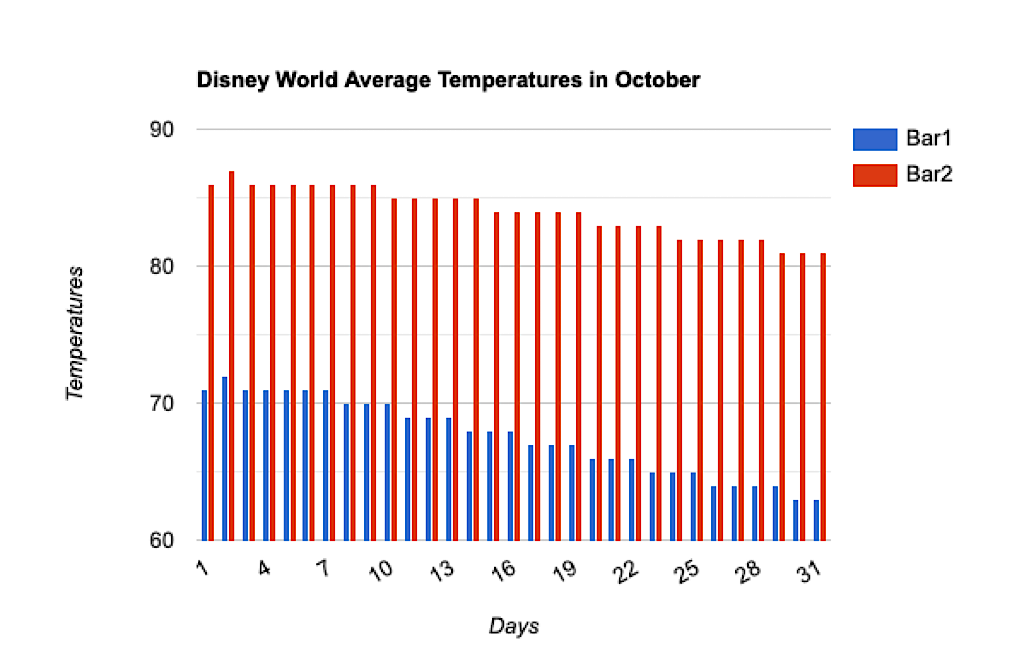 You can pretty much always expect a little rain in Central Florida, but October seems to be pretty mild when it comes to rain fall even though it is hurricane season.
The monthly weather forecasts for Orlando in October shows mostly sunny and partly cloudy days with a few days of light rain mixed in. Check HERE for a short term forecast.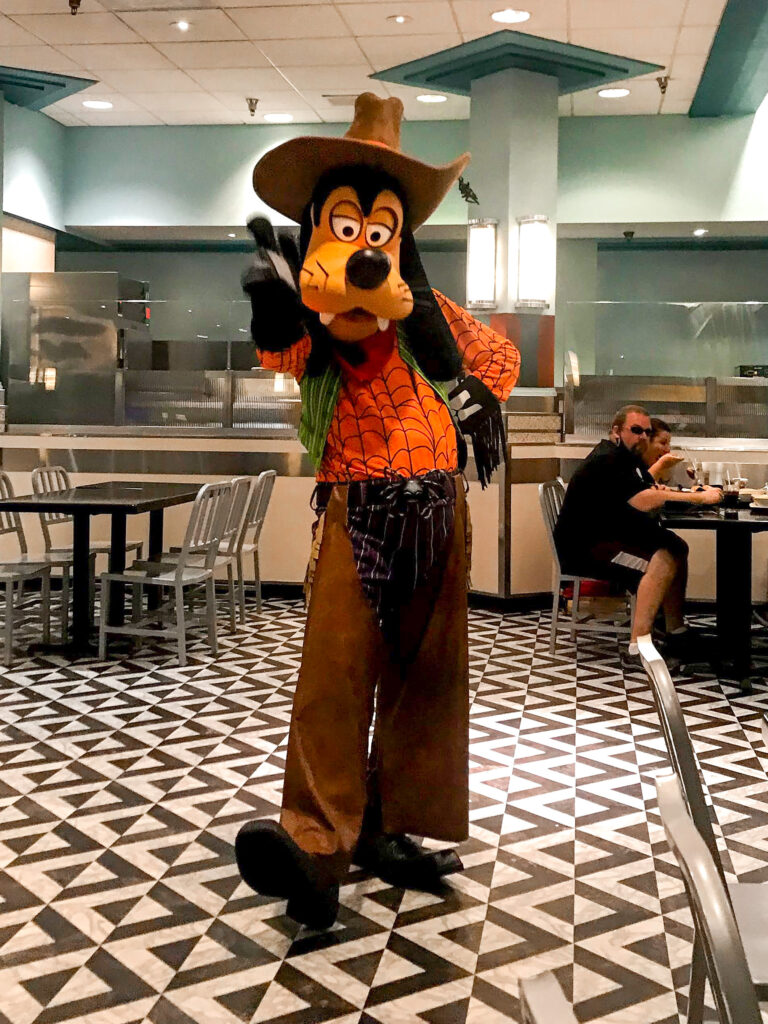 What to Pack for Disney World in October
October is the perfect time of year for a vacation to Disney, but it's important to plan ahead. It can be easy to forget what you need when packing your suitcase and end up needing more cash than you planned on spending during your trip because these things were not brought from home.
While you're planning what to pack, make sure to check out my post on How Amazon Can Save You Money at Disney and the 10 Items You Need in Your Disney Backpack!
Below are a few things you might want to think about packing if you're headed to Disney World in October. For my complete packing list click here!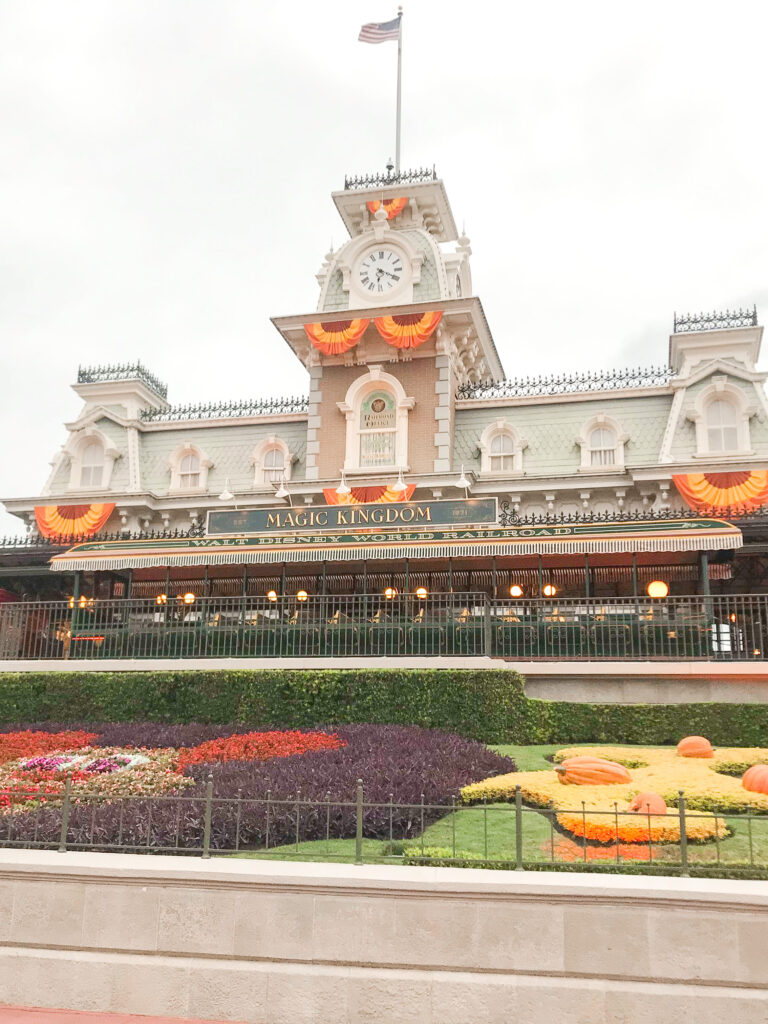 Pack for Rain
It's hard to predict the weather in Disney World. One minute it can be sunny and hot, and then the next it is rainy and chilly. That's why you should always be prepared for the worst. It's smart to bring an umbrella, a poncho, and stroller protection.
I like to bring a long a compact travel umbrella for the days that I know it will rain. If there is rain in the forecast for an entire day, most likely it will be A LOT of rain. Here is a link to the umbrella I use.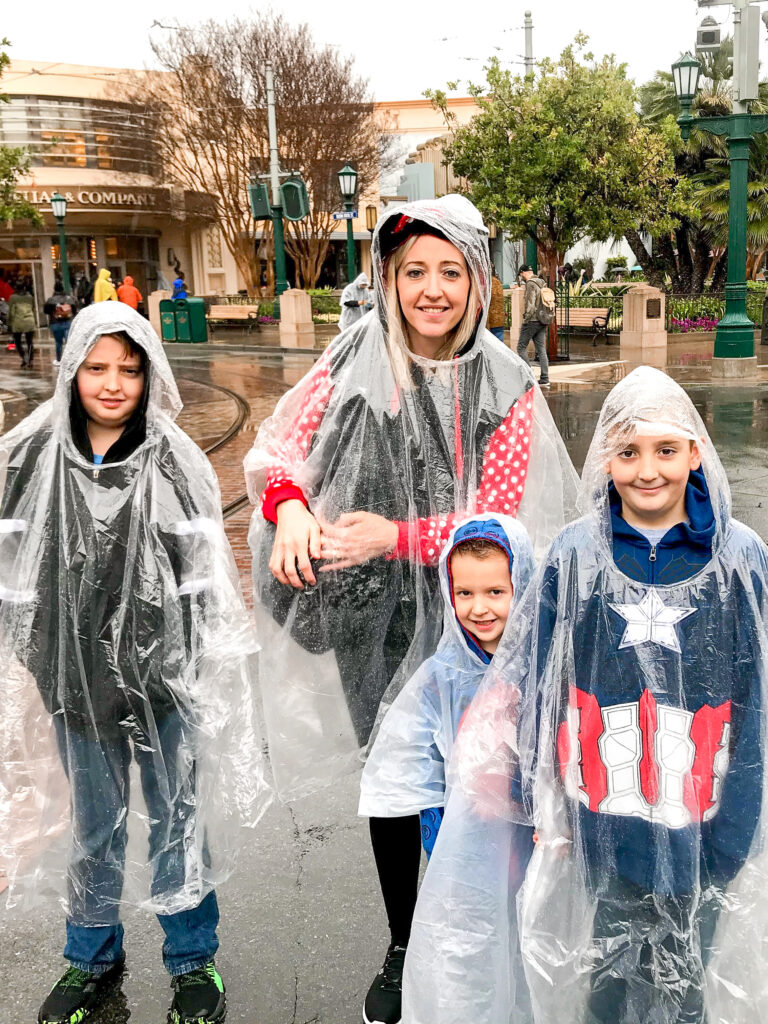 Ponchos are a MUST when I pack for Disney World. You can pick up some inexpensive disposable ponchos here that are small and light to keep with you at all times. They also come in handy if you want to stay dry while riding Splash Mountain (currently being transformed into Tiana's Bayou Adventure) or Kali River Rapids!
If you want to get a poncho that is a little more substantial, check out these ponchos on Amazon that have Mickey Mouse and Minnie Mouse printed on them!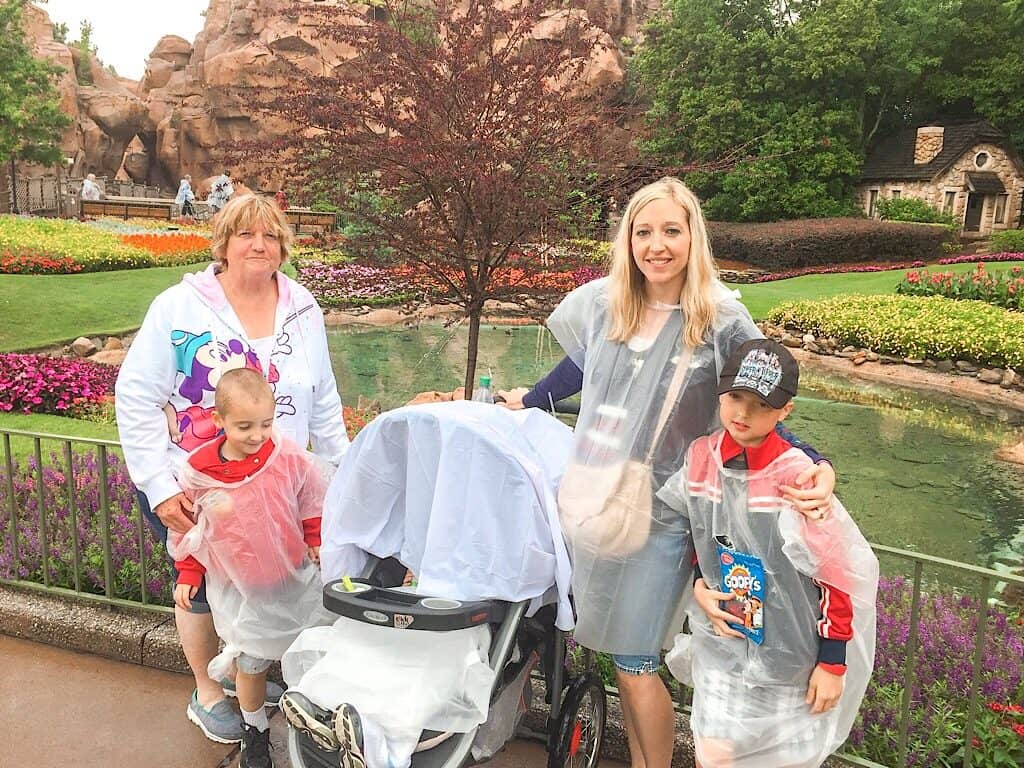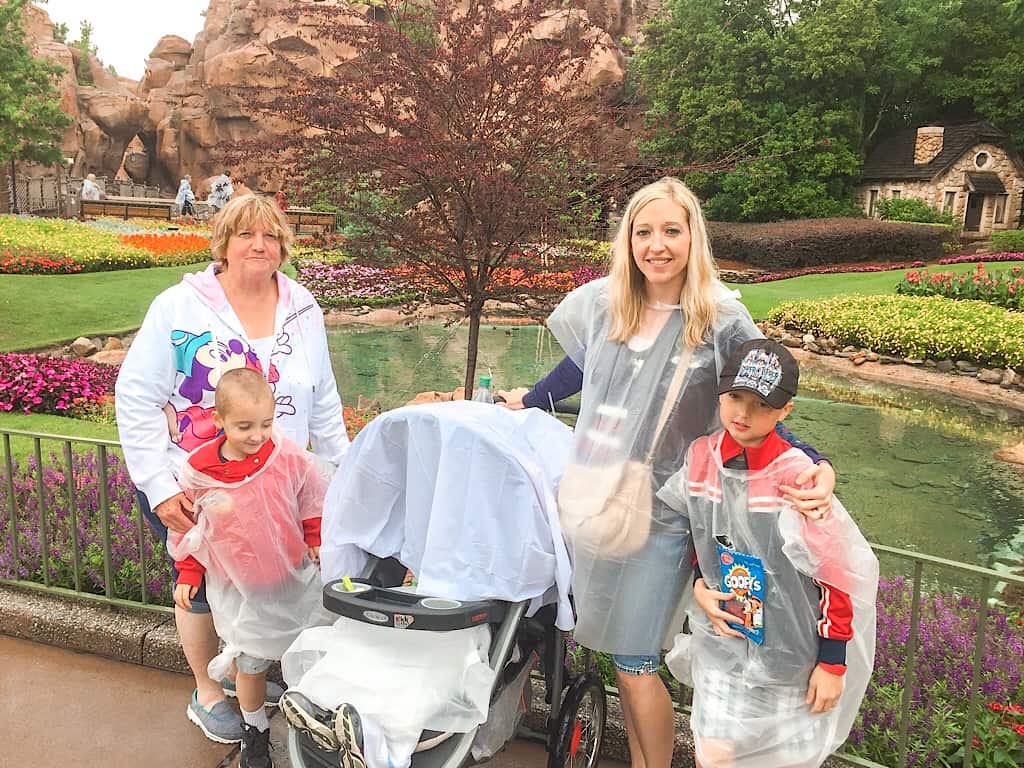 If you are taking a stroller with you, make sure you have something to protect it from the rain as well. You can purchase a universal stroller cover for a few dollars, or head to the dollar store and use a plastic shower liner and clothes pins to secure it. It totally works!
You might also want to pack an extra pair of shoes for when it rains. My shoes have been SOAKED from the rain and I had to dry them with a hair dryer so I could wear them the next day!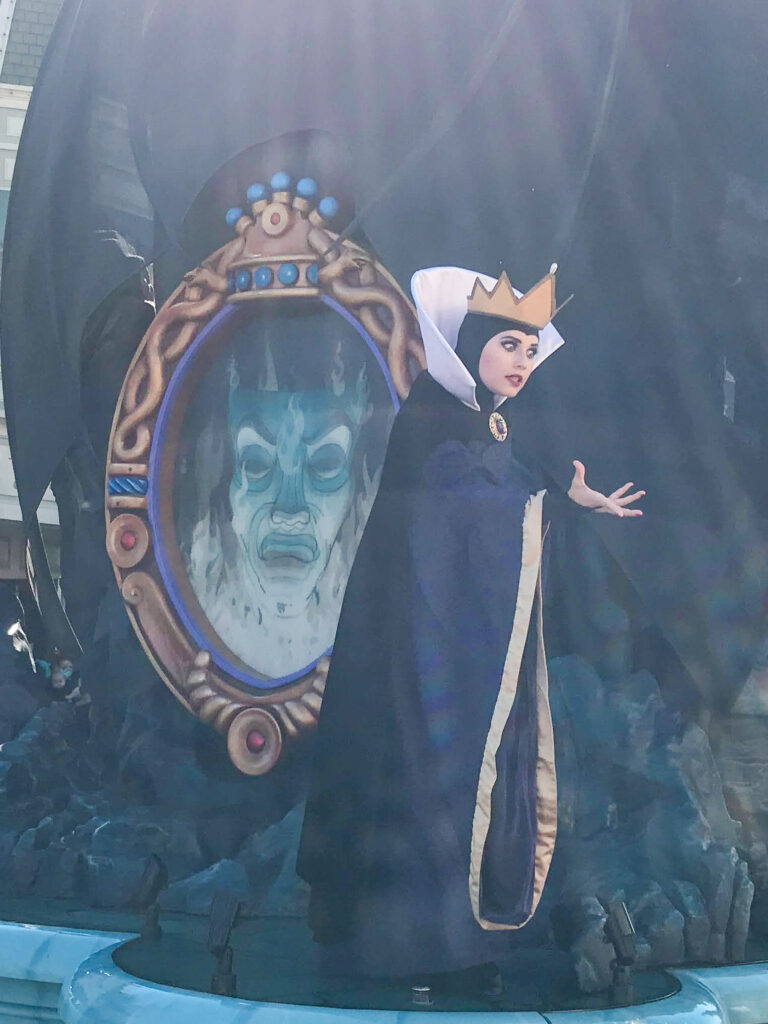 Pack Sun Protection
Florida's sun is one of the most intense in these United States! Be prepared for it with some sunscreen, a hat and sunglasses. Remember your kids too- nothing can ruin a magical vacation like a nasty burn from that brutal Florida sunshine!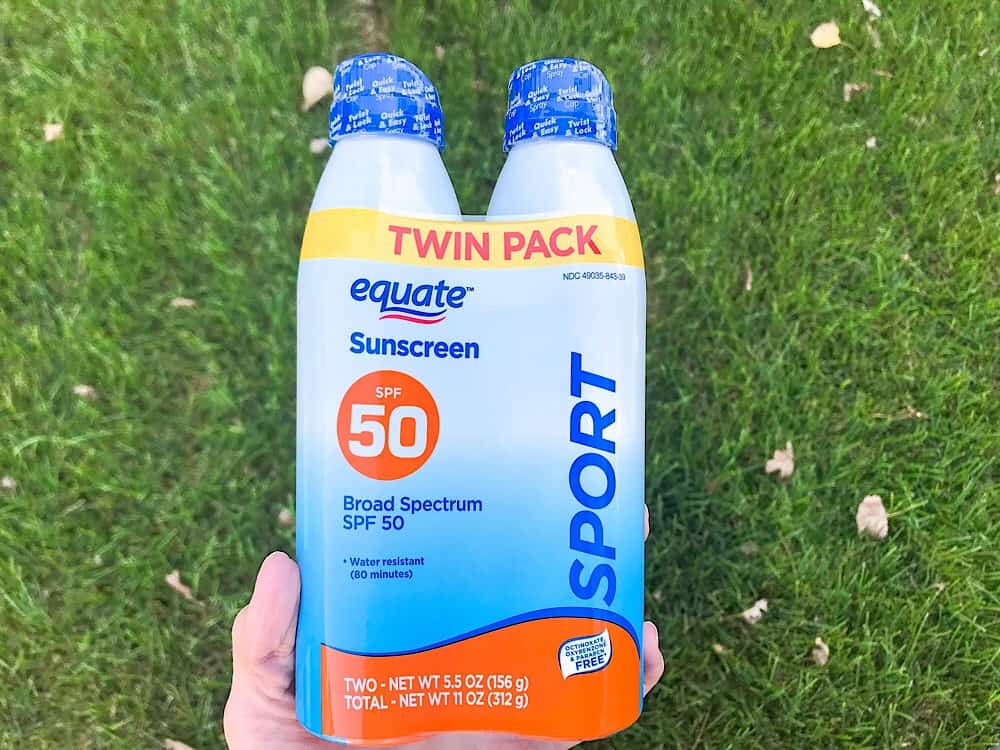 What to Wear at Disney World in October
The mornings and evenings in the Disney theme parks can be pretty chilly, but the days will be warm. This makes packing clothing for a trip during October tricky because you have to balance staying comfortable with not over packing for a day at the parks!
I recommend bringing jeans or leggings to stay warm and cozy on rainy days when the temperatures are cooler. You can also change into them for the evening if you happen to take an afternoon break at your hotel.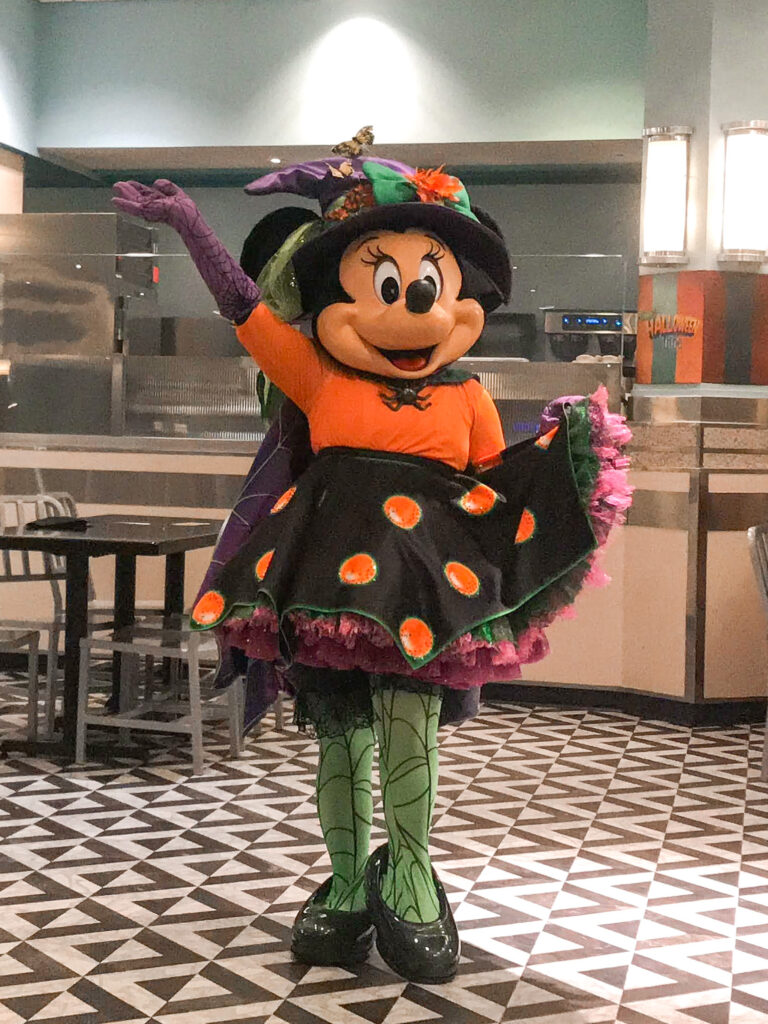 For the daytime, I would pack light clothing options for warm weather like short-sleeved tops and comfortable shorts, but bring along a light jacket or sweater for cooler weather in the early morning and nighttime.
Where to Get Good Deals on Disney Apparel
I love wearing adorable Disney t-shirts when I go on a Walt Disney World vacation (and at home). I'm always on the lookout for a new t-shirt with my favorite characters! And what better place to find them than Jane.com? They have so many cute shirts, all at affordable prices too – as low as $13.99! Plus, they often have deals with free shipping.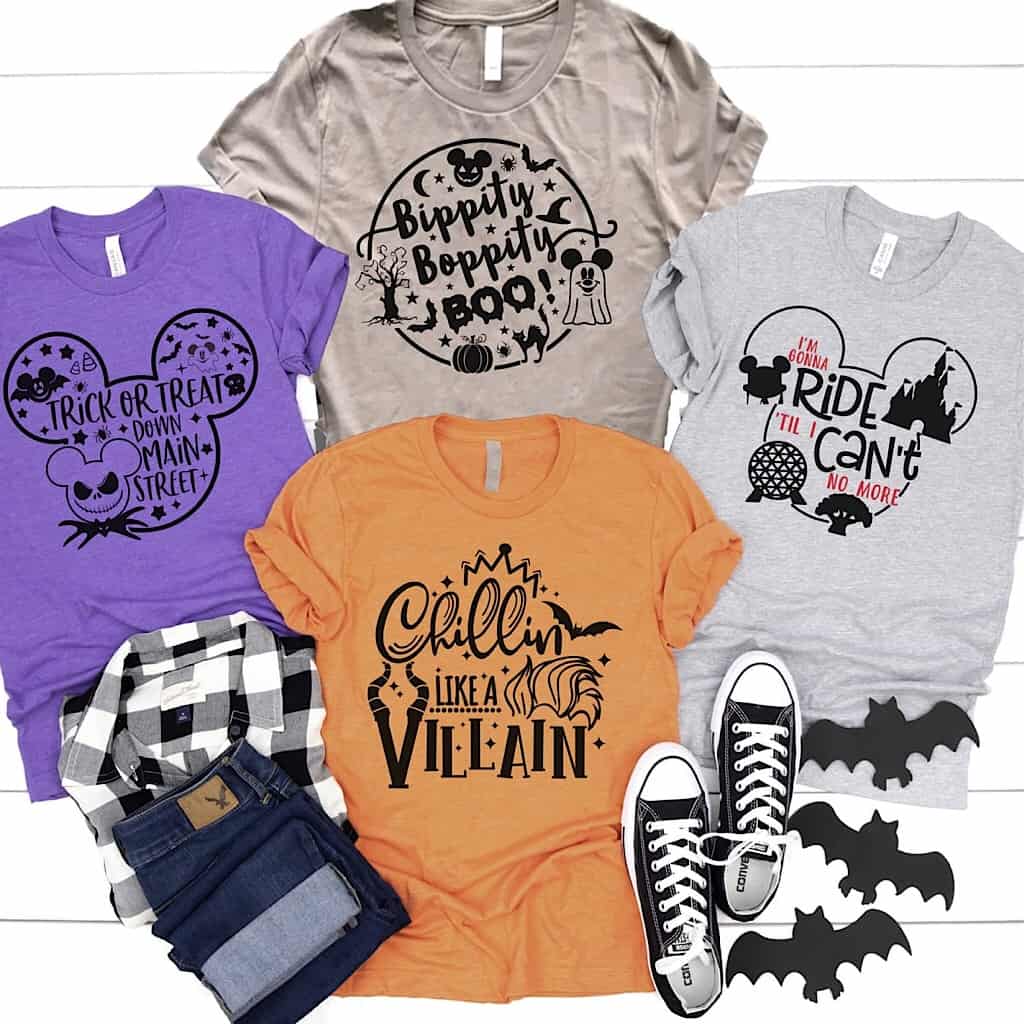 But be warned that the deals change daily on this website so make sure to keep checking back often or follow me on Instagram @MommyMouseClubhouse where I'll highlight all of the amazing merchandise from my favorite place in one convenient location!
Disney World Theme Park Hours in October
Official park hours for Disney World have not been released for October just yet. When that information becomes available, I will update this post. For current information, check Disney World's website here.
Magic Kingdom Park
Early Entry 8:30 am – 9:00 am
Open from 9:00 am – 6:00 pm or 10:00 pm
Park Hopper Hours 2:00 pm – 6:00 pm or 10:00 pm, depending on park closing time for MNSSHP on select dates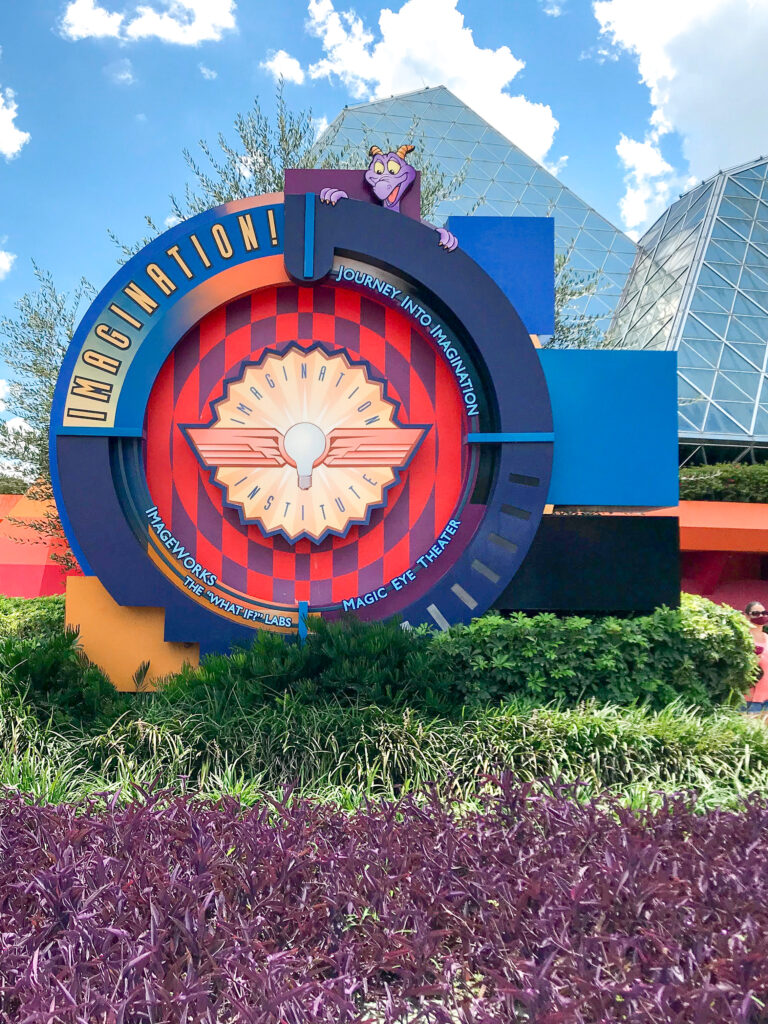 Epcot
Early Entry 8:30 am – 9:00 am
Open from 9:00 am – 9:00 pm
Park Hopper Hours 2:00 pm – 9:00 pm
Extended Evening Hours 9:00 pm – 11:00 pm (Mondays)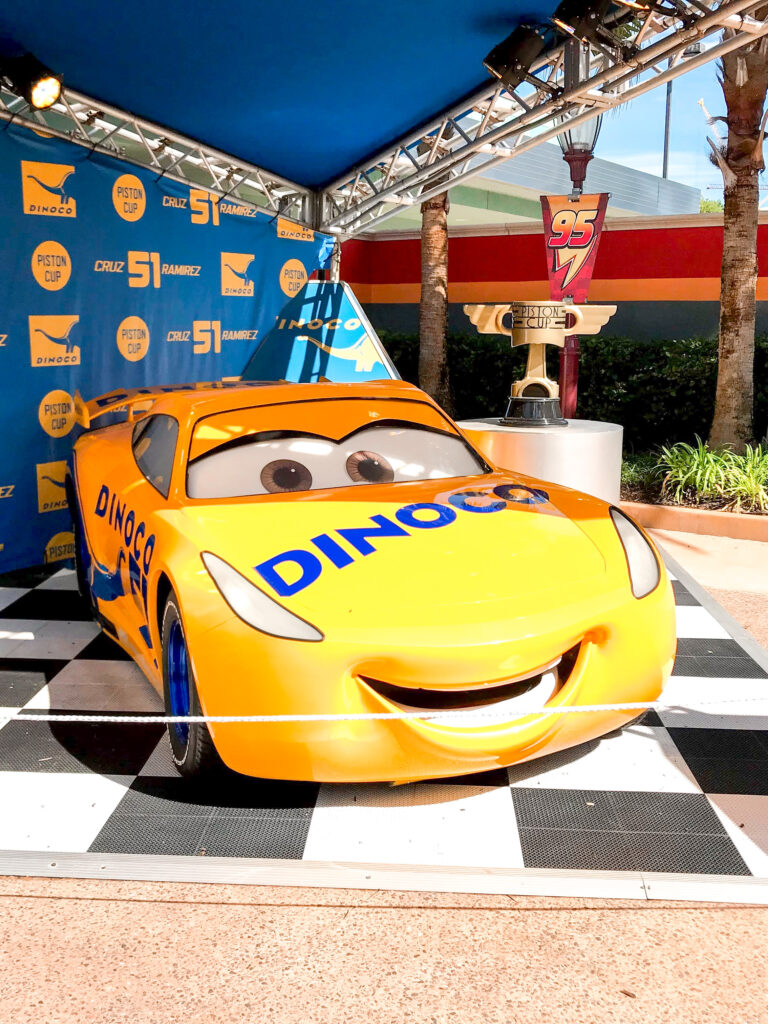 Disney's Hollywood Studios
Early Entry 8:30 am – 9:00 am
Open from 9:00 am – 9:00 pm
Park Hopper Hours 2:00 pm – 9:00 pm
Extended Evening Hours 9:00 pm – 11:00 pm (Some Wednesdays)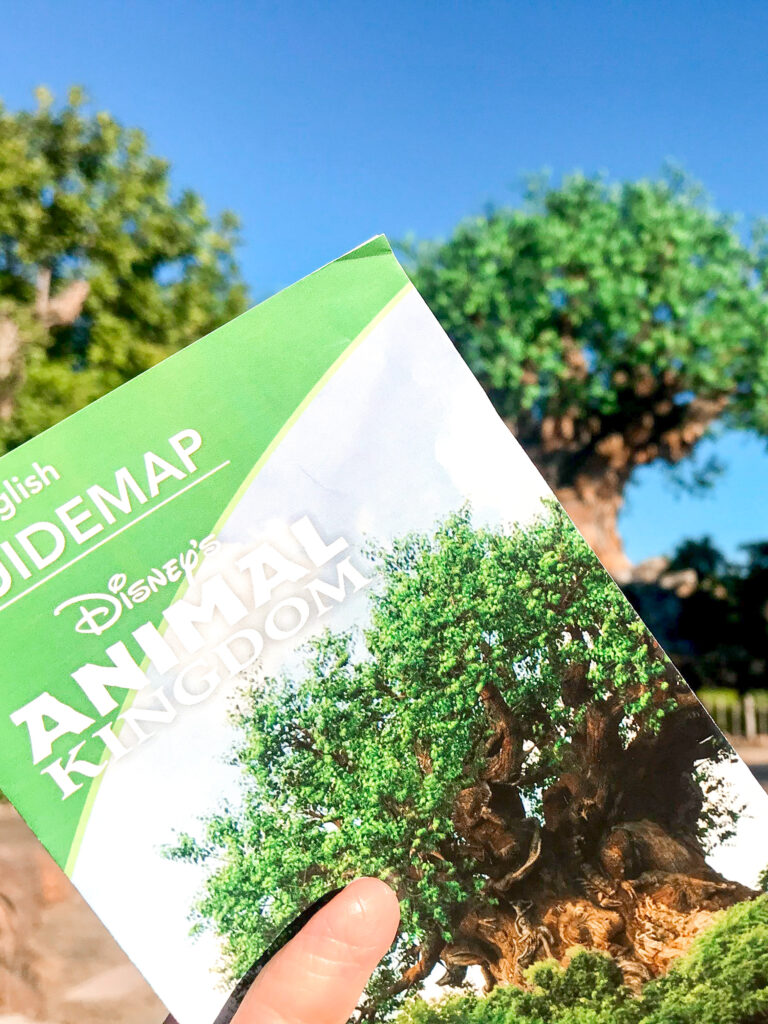 Disney's Animal Kingdom Theme Park
Early Entry 8:30 am – 9:00 am
Open from 9:00 am – 7:00 pm
Park Hopper Hours 2:00 pm – 7:00 pm
Ride Closures in October
I love that Disney takes pride in their parks and attractions. The downside to this is the rides will be closed for refurbishment at different times throughout the year, but it's well worth a visit when you can experience all of them! For current ride closure information, head to Disney World's website.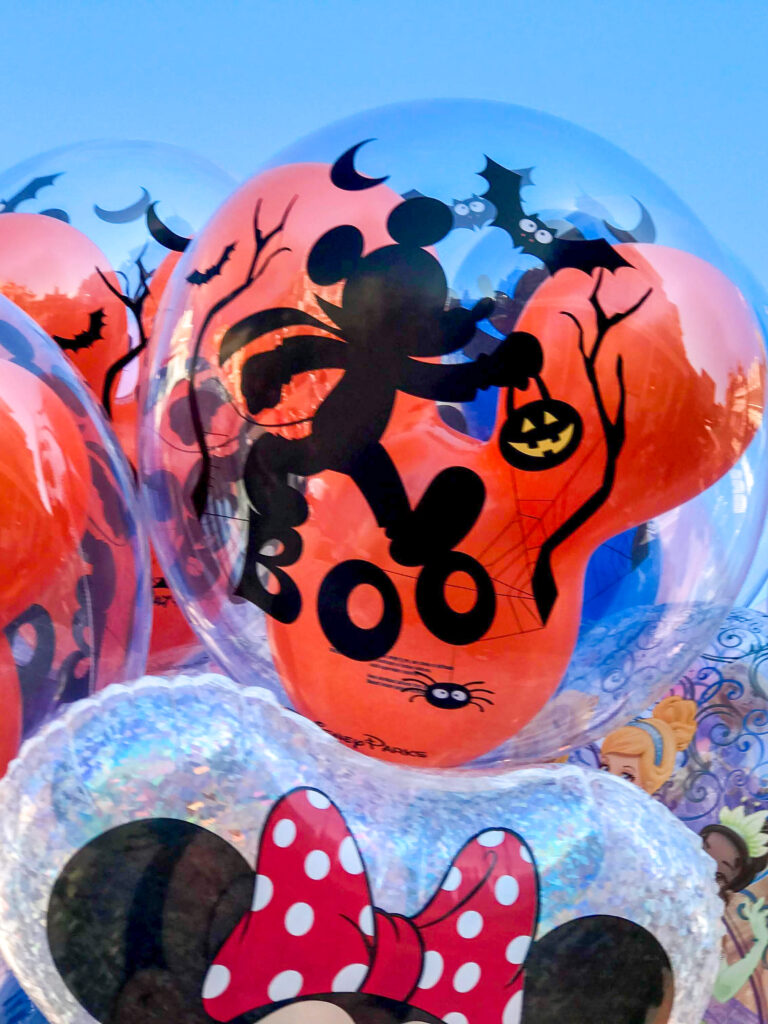 Other Helpful Disney World Tips
1. Make Advance Dining Reservations (ADR's)
Currently, you can make dining reservations 60 days in advance of your Disney trip. If you are staying off-site and not renting a car, I'd recommend making your dining reservations as soon as your 60 days starts because Disney restaurants tend to fill up quickly. This was an issue for us on our last minute trip. Fortunately, Door Dash came to the rescue!
I'll let you know now, this is not the most exciting tip ever, but trust me when I say that if you don't get them made early enough, it will be close to impossible to eat at the restaurants you want! Check out my favorite character meals here.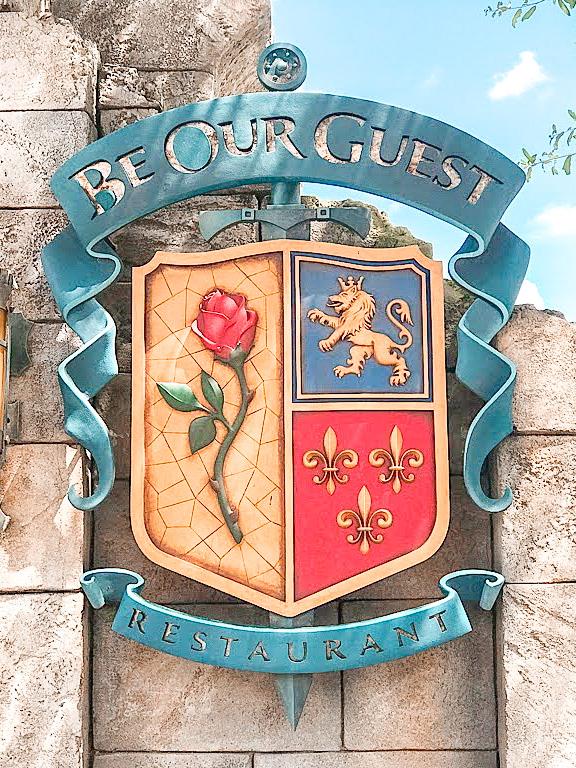 2. Stay in a Walt Disney World Resort Hotel
Staying on-site has a lot of perks, like free transportation around Disney World and early entry to the parks beginning October 1st. You are also able to make charges on a Magic Band, when staying at a Disney hotel, which can be very convenient. If you're considering staying on-site, check out my review of Disney's Contemporary Resort.
If you decide to get off-site hotels, I recommend staying at a Disney Good Neighbor hotel that will often offer some of the same perks as Disney hotels and sometimes larger hotel rooms. I love the Disney Springs area hotels like Hilton Lake Buena Vista Palace because they are so accessible and conveniently located.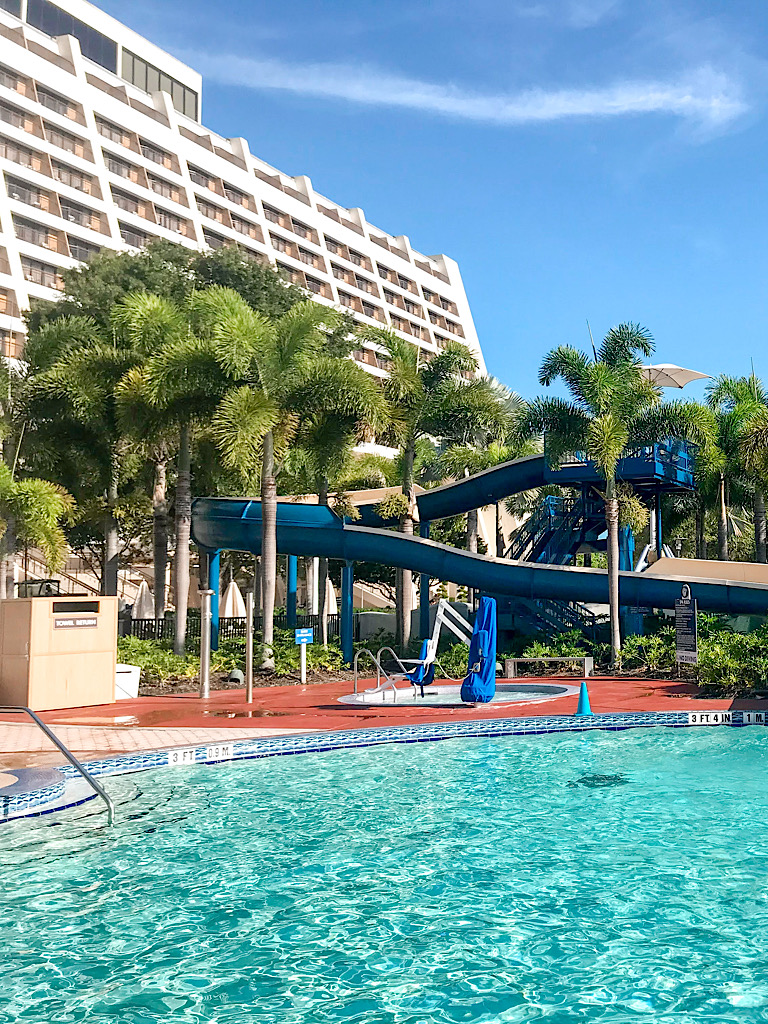 3. Use Disney Genie+
Even with the extra cost, using Genie+ can be a life saver on busy and even not so busy days. If you decide to purchase this service, make sure you reserve Genie+ attractions early as soon as you are able to book them. Read more about Genie+ here.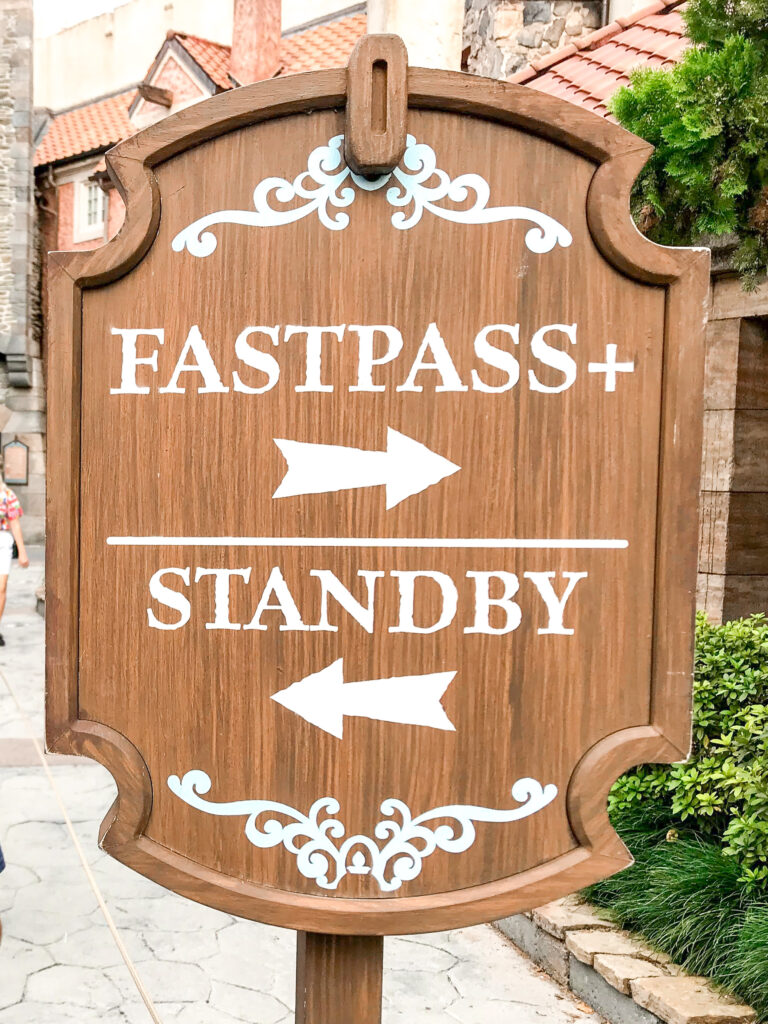 4. Take Pictures of Everything!
Don't be one of those people that forgets to take pictures of the amazing things you do at Disney World. If you can fit it in your budget, you might want to consider purchasing Disney's Memory Maker. This gives you unlimited downloads of photos that are take by Disney photographers as well as ride photos and videos.
Even if you don't purchase Memory Maker, you can ask the photographers to take a picture with your own phone or camera. But, some of the best Disney pictures are the candid moments when you are just spending time with your family, so but don't be afraid to take your own pictures!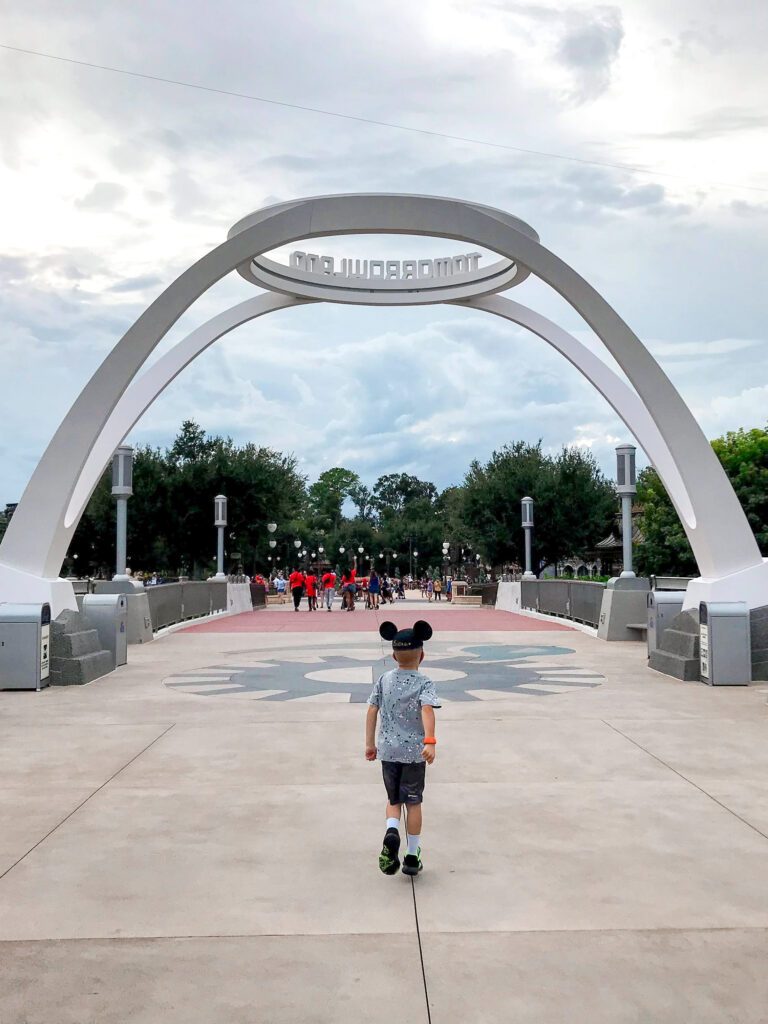 5. Pack Snacks
This may sound like a no-brainer, but you will definitely want to pack snacks for the parks so you can save money and not have to spend a lot at the parks.
Don't get me wrong, I LOVE Disney snacks, but sometimes you don't want spend the money and save some calories by bringing some small snacks to eat throughout the day.
My family's strategy is to have groceries delivered to our hotel which includes breakfast items. We eat breakfast in our room, pack a lunch (usually Uncrustables sandwiches, chips, and fresh fruit), and then eat dinner at the parks. We also pick up a few treats now and then.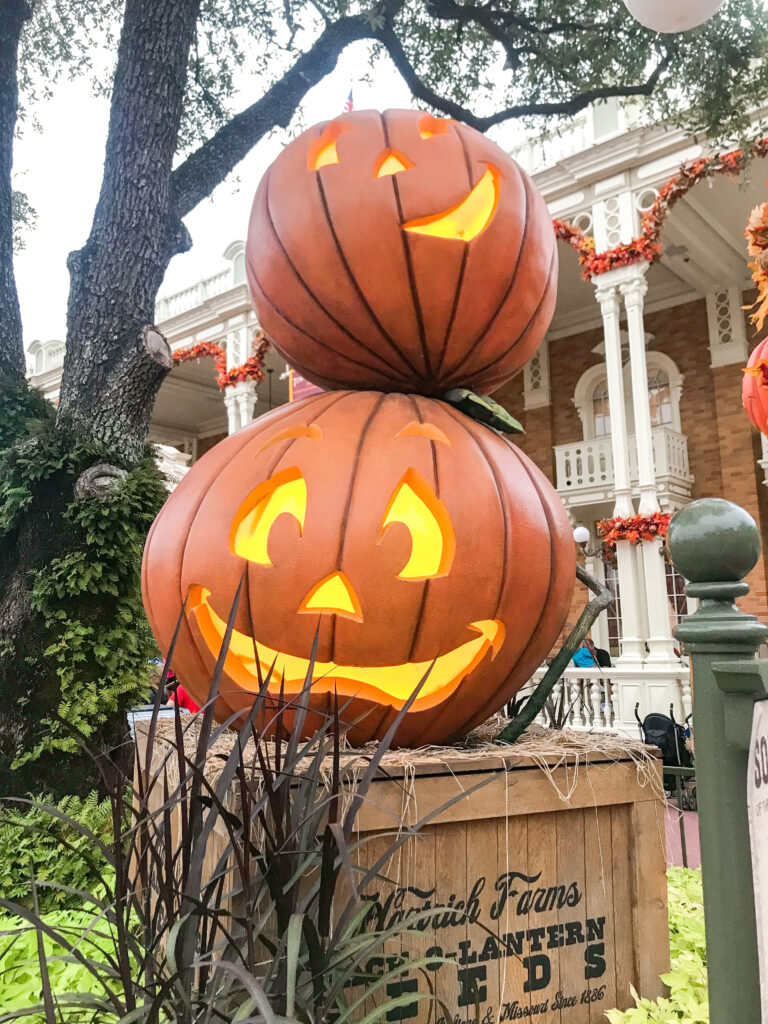 6. Bring Water and Sunscreen
Being in Florida, I'm sure you'll know how good sunscreen is, but not all people are aware that you should always bring water to Disney World during October because it's so hot there. It is very easy to get dehydrated if you're not careful! W usually order a case of water bottles and a box of flavor packets because Florida water does not have the best taste!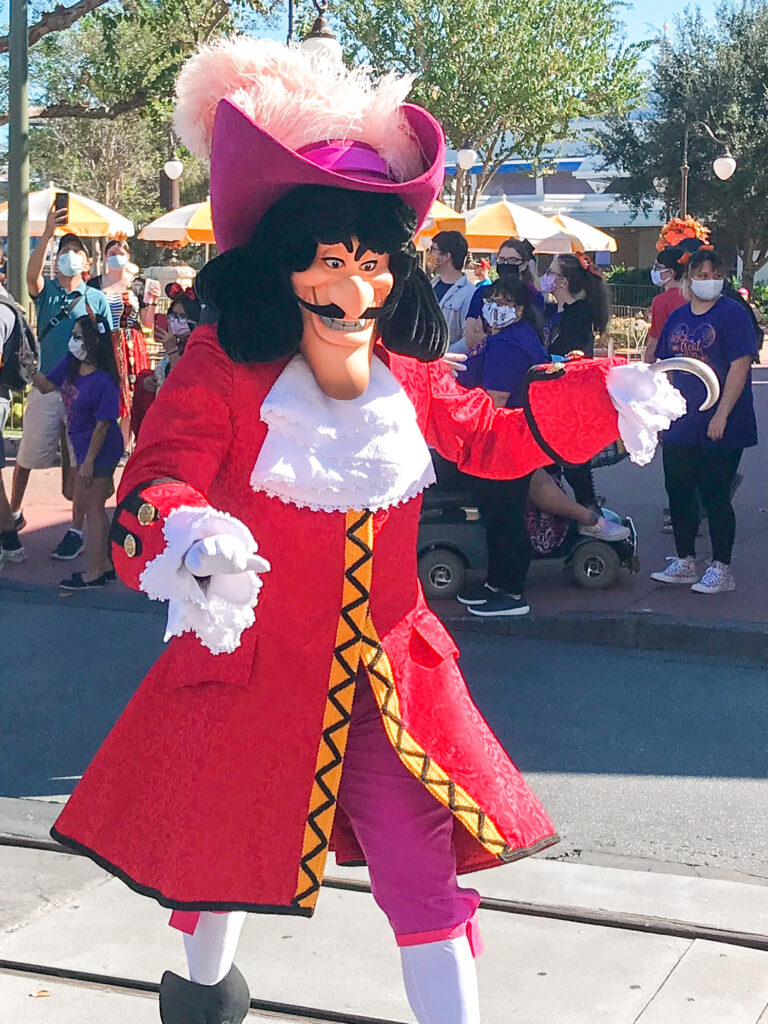 7. Let Your Kids Dress Up
There are so many cute Disney-inspired outfits available for kids, I highly recommend dressing your kids up because it's fun! There are almost always comfy Disney dresses on Jane.com. If you don't see any, check back often because their deals change every day.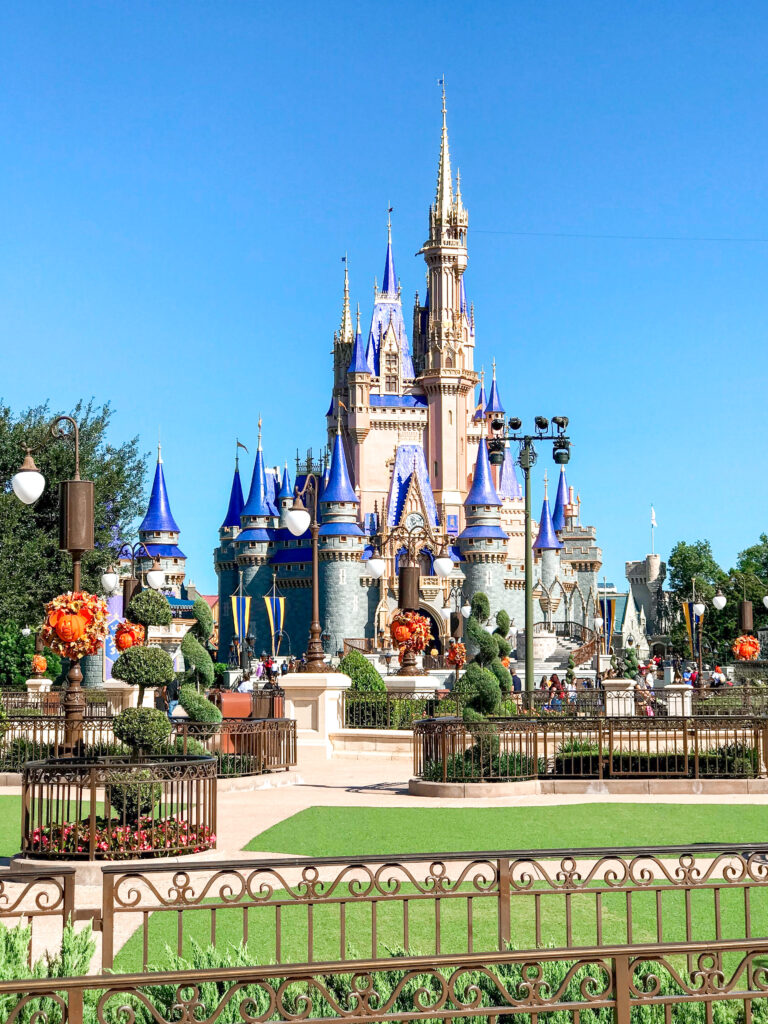 8. Bring a Stroller for Your Kids
There is absolutely no point in going to Disney World if you're not having fun! You should be enjoying every second there, so pack your suitcases with the stuff you need and leave what's not necessary at home. Bring a stroller for your kids so they can enjoy the park freely without you having to carry them.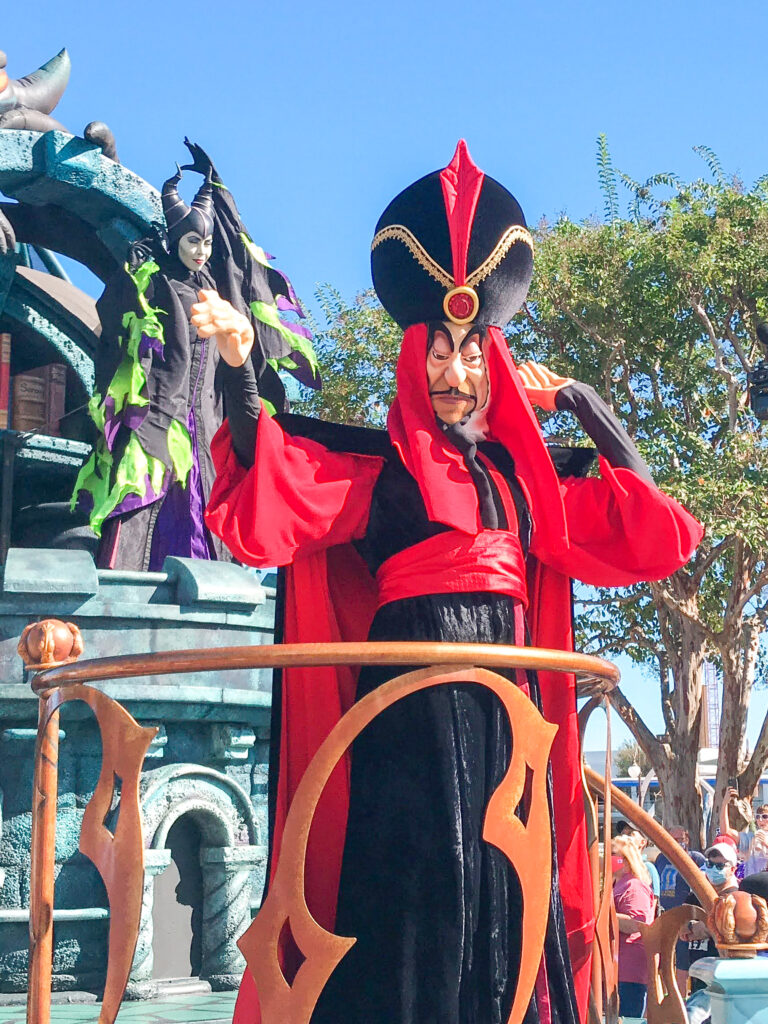 9. Get There Early (Rope Drop) and Meet the Characters!
If your kids are anything like mine, they'll want to meet all of the characters at Disney World. I know this sounds kind of stupid because you'll see tons of characters throughout the day, but I highly recommend getting to the Disney parks early. Not only will you see more characters, but this is one the best ways to beat the crowds, avoid long lines, and potentially ride more attractions with shorter wait times.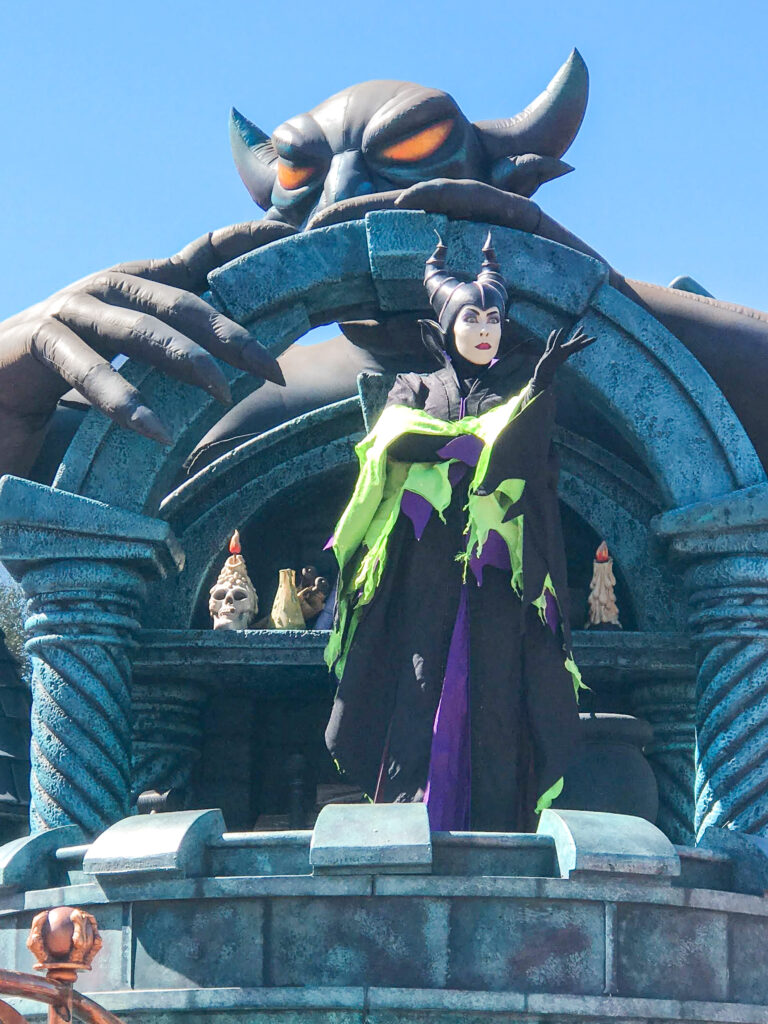 10. Use a Travel Agent
A lot of people apprehensive about using a travel agent because they think it's too much effort or that there's hidden fees involved. I'm here to tell you, especially for a Disney vacation, that this is not true and it will save you a lot of time and energy (which means money) in the end.
Travel agents are able to find better deals and book everything for you. I personally use Get Away Today. They are amazing! They helped me book our hotel, park tickets, fast passes, and dining reservations and park reservations with no effort from me whatsoever. Everything was under my control and the prices were amazing!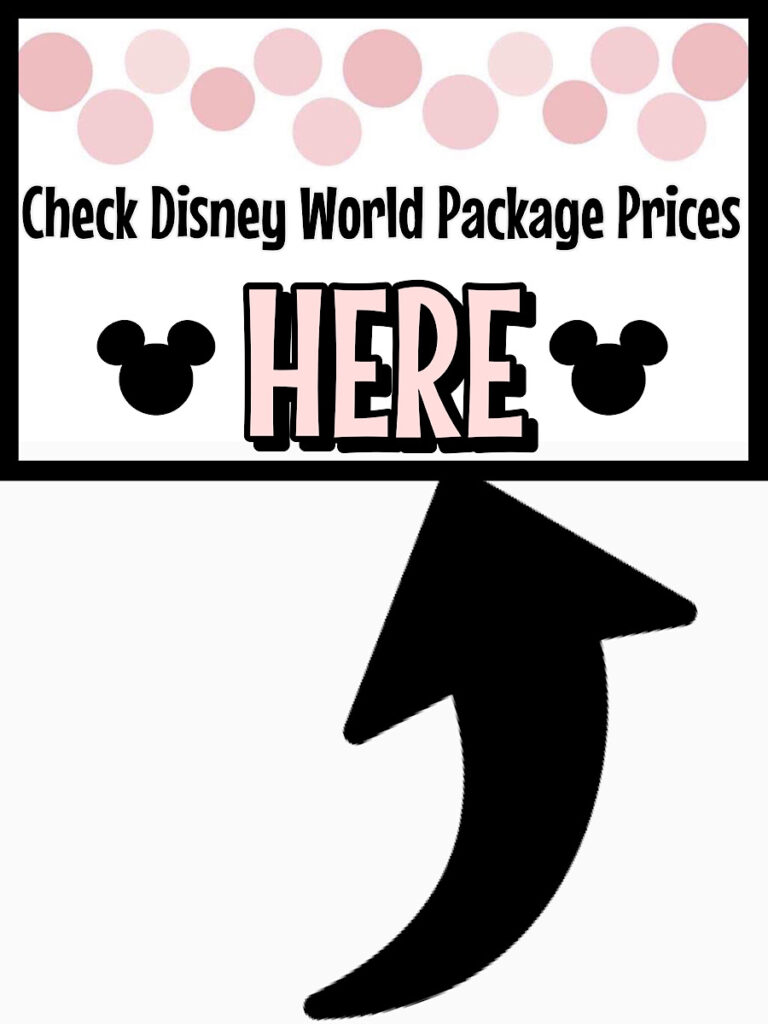 You can check Disney World hotel & ticket packages from Get Away Today right HERE and use the coupon code: Clubhouse10 to save even more! Or give them a call at 855-GET-AWAY and mention Mommy Mouse Clubhouse sent you.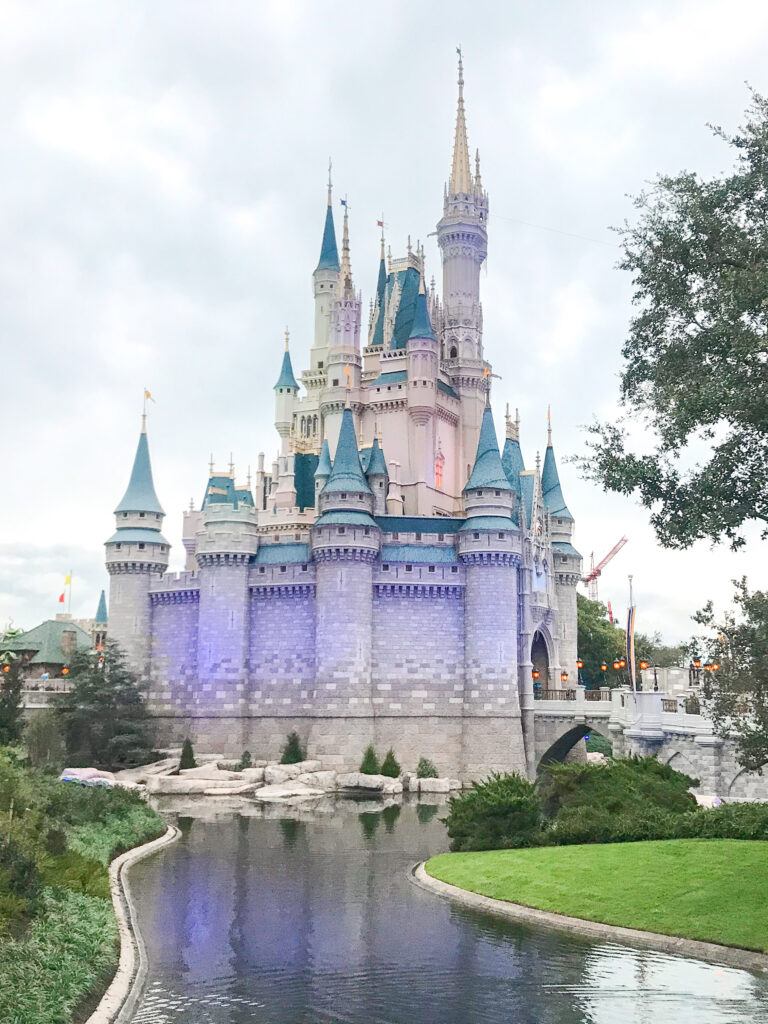 11. Park Tickets & Reservations
I feel like this should be a no-brainer, but I really want to stress this tip: NEVER PAY FULL PRICE FOR DISNEY WORLD TICKETS! Like I mentioned above, my travel partner, Get Away Today always has tickets for less than what you will pay at the gate.
Do yourself a favor and save a few dollars by purchasing your tickets from an authorized ticket seller like Get Away Today!
Final Thoughts
With all the tips and tricks I've shared, you'll be able to get more out of your next Disney World vacation. I hope this post has helped answer some questions about visiting during October – if not, let me know in the comments!