Easy Mickey Mouse Halloween Cupcakes are the perfect blend of pumpkin spice and Disney Magic! Make these adorable cupcakes with your kids and bring a little Disney into your kitchen for Halloween!!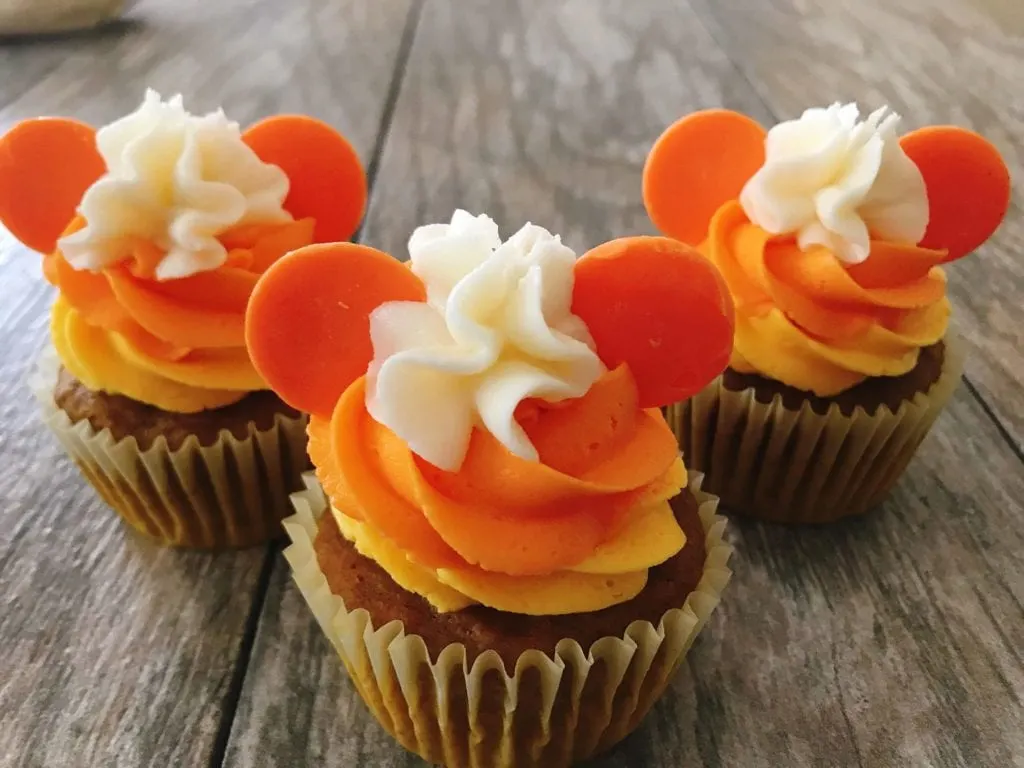 This post may contain affiliate links. When you click on these links, I get a small percentage back at no cost to you! For more information see my disclosure policy.
Below you will find tips, tricks and helpful hints for making this recipe including step by step instructions with pictures. If you would like to go directly to the recipe, scroll down to the recipe card or tap "Jump to Recipe" at the top of the page.
If you have visited my blog before, you know how much I LOVE Disney! Like probably more than is reasonable sane.
I won't apologize and I won't change. It is what it is. All kidding aside, I do have to admit that Disney sure knows how to celebrate holidays.
I have been to Disneyland or Disney World for almost all major holidays, and I can truly say that it is magical.
One of my favorite holidays to visit a Disney park is Halloween. Last year, I was able to go to Halloween Time at the Disneyland Resort as well as Mickey's Halloween Party and they were both amazing!
It is was so fun to be able to see the parks transformed with spooky decorations and to taste all of the yummy Halloween themed treats!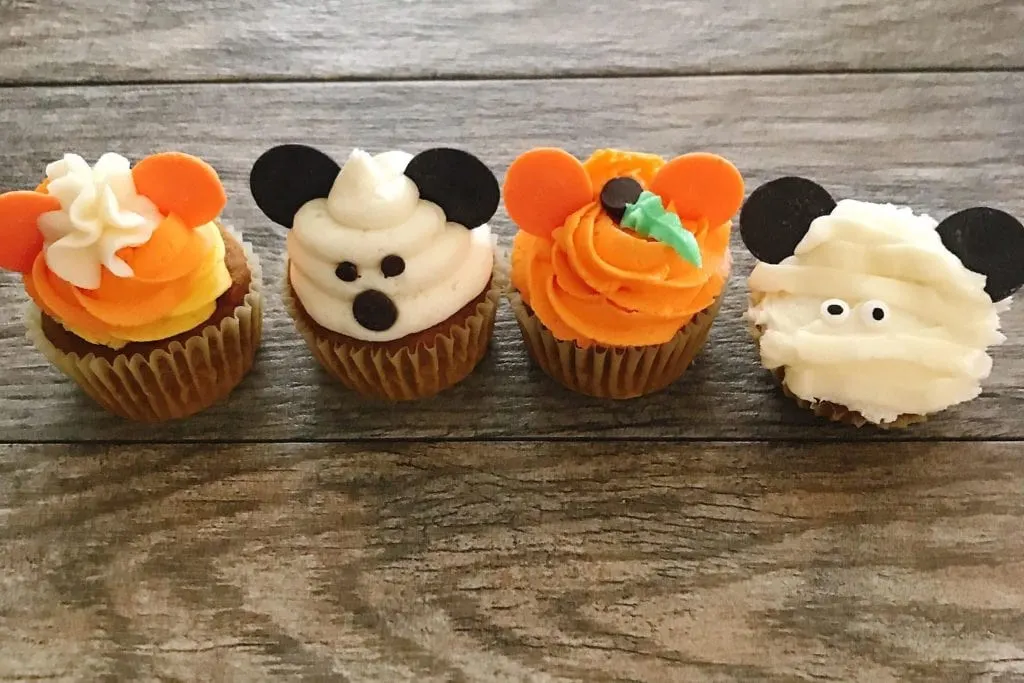 I am always looking to bring a little Disney magic into my home, so making Mickey Mouse Halloween Cupcakes was a no brained for us to help create a new Halloween tradition.
These cupcakes are almost too adorable to eat, almost, and are super easy to make. You can make all four varieties, or you can stick with just one!
Since it is Fall, I had to make the cupcakes pumpkin spice. It's the right thing to do. The recipe for these pumpkin cupcakes is super simple, but the results are amazingly delicious!
Easy Pumpkin Cupcake Recipe
*Ingredient amounts are located in the recipe card at the end of this post.
Ingredients
Eggs
Oil (Vegetable, Corn, or Canola)
Milk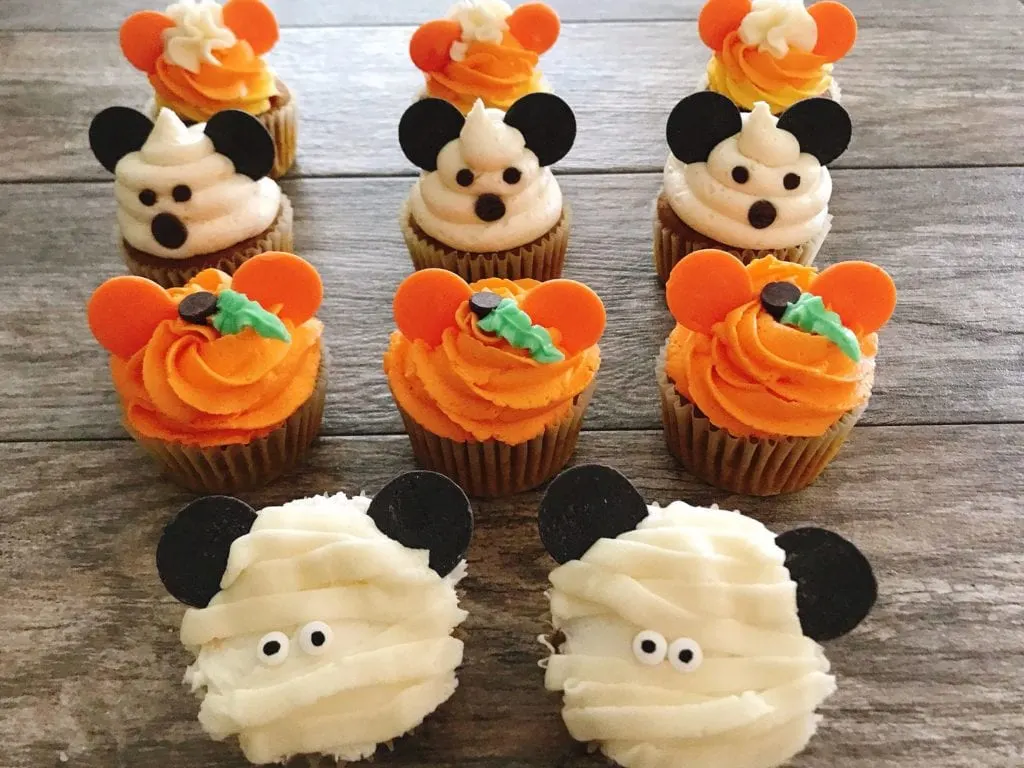 Helpful Kitchen Tools
How

to Make Easy Pumpkin Cupcakes
I have mad A LOT of cupcakes in my adult life and kind of have a fool-prof system to mix them together.
Although this method uses a are mix, the subtle changes take the moistness and flavor over the top!
Start by placing the eggs and pumpkin purée in the bowl of a stand mixer and beat them until combined.
Pour in the Spice cake mix, the oil and the milk. Mix on low for 30 seconds, then medium for a minute or two.
Line a muffin/cupcake pan with paper liners.
Using a 1 Tablespoon cookie scoop, place 3 Tablespoons of batter in each cup.
Bake the cupcakes at 325° for 14 1/2 minutes, or until a toothpick inserted comes out clean. (I have found that if I bake my cupcakes at 325° instead of 350°, the cupcakes will remain flat on top. This makes them easier to decorate)
Remove the cupcakes from the oven and allow them to cool completely on a cooling rack.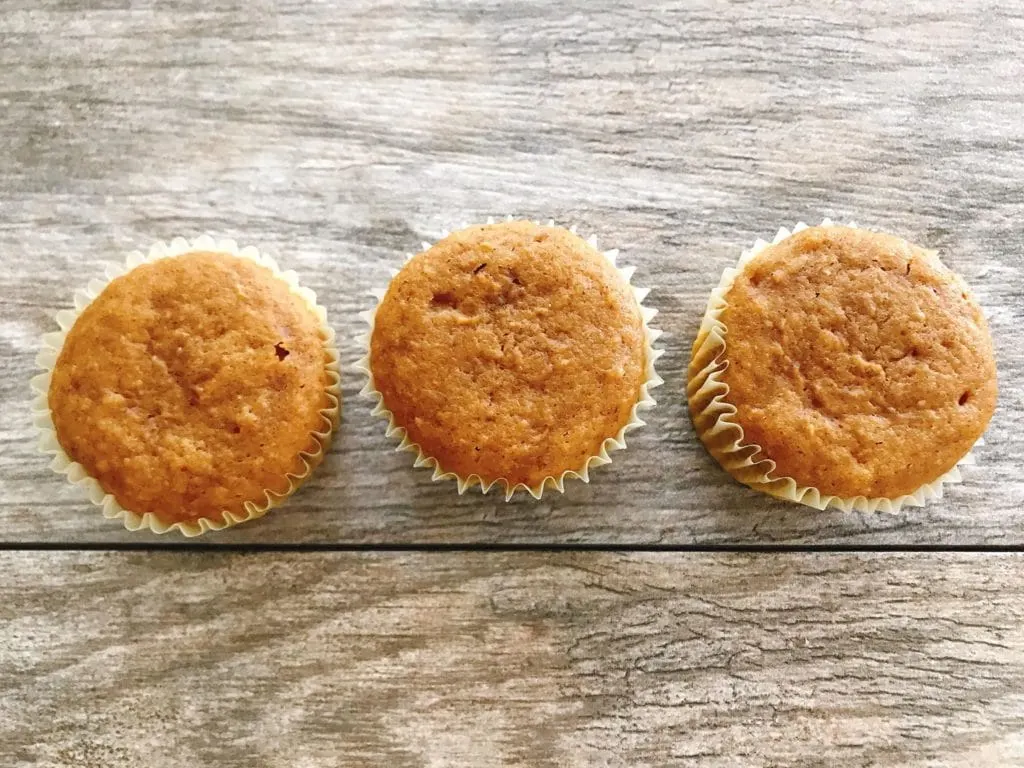 The BEST Vanilla Buttercream
*Ingredient amounts are located in the recipe card at the end of this post.
Ingredients
Butter, softened
Vanilla Extract
Powdered Sugar
Salt
Milk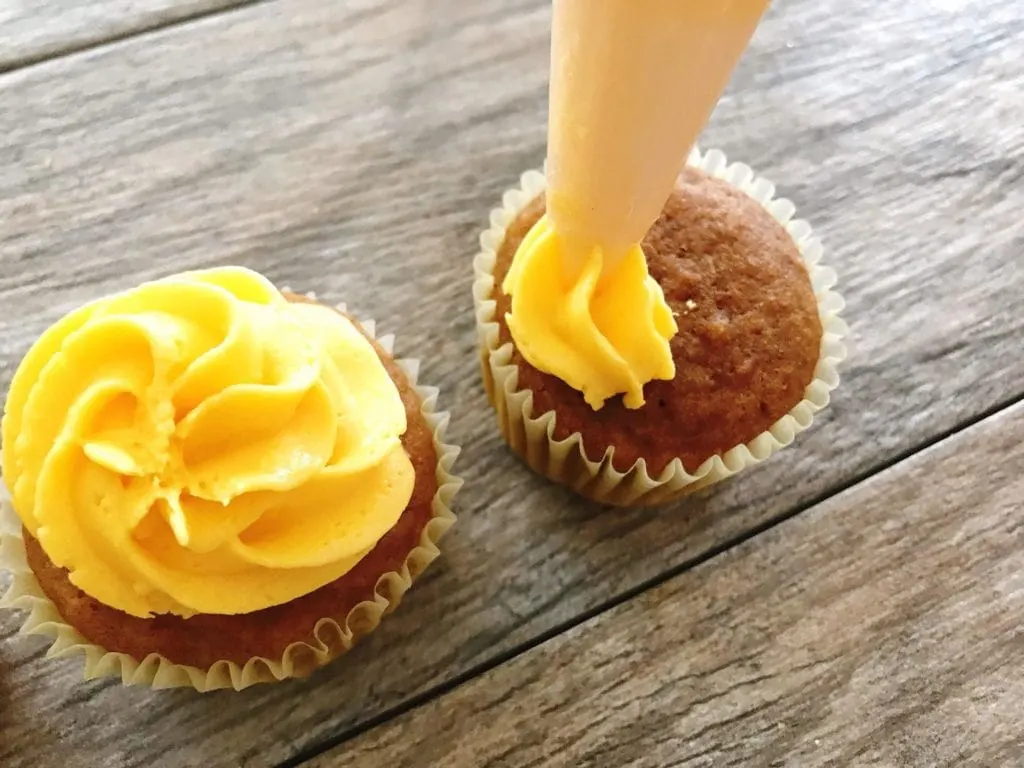 How to Make Vanilla Buttercream Frosting
Add the softened butter to the bowl of a stand mixer and use the paddle attachment to beat it nice and fluffy.
Add the powdered sugar, 1 cup at a time, beating in between.
Once all of the powdered sugar is incorporated, scrape down the sides of the bowl and whip the frosting for 2-3 minutes.
Check the consistency of the frosting. It should stick to your finger when touched.
If not, add a tablespoon of milk. If it's too soft, add a little more powdered sugar.
Use food coloring to created your desired color. I like to use Wilton Gel Food Coloring that you can get on Amazon HERE.
How to Decorate Mickey Mouse Halloween Cupcakes
Mickey Pumpkin Cupcakes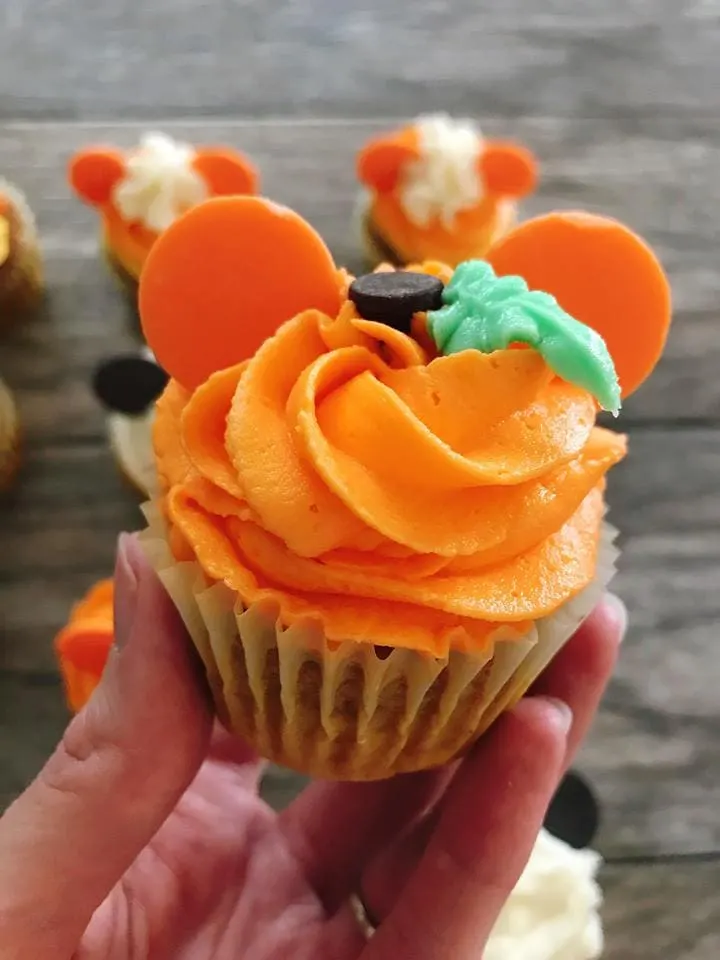 What You'll Need
Cupcakes, room temperature
Vanilla Buttercream Frosting colored orange
Vanilla Buttercream colored green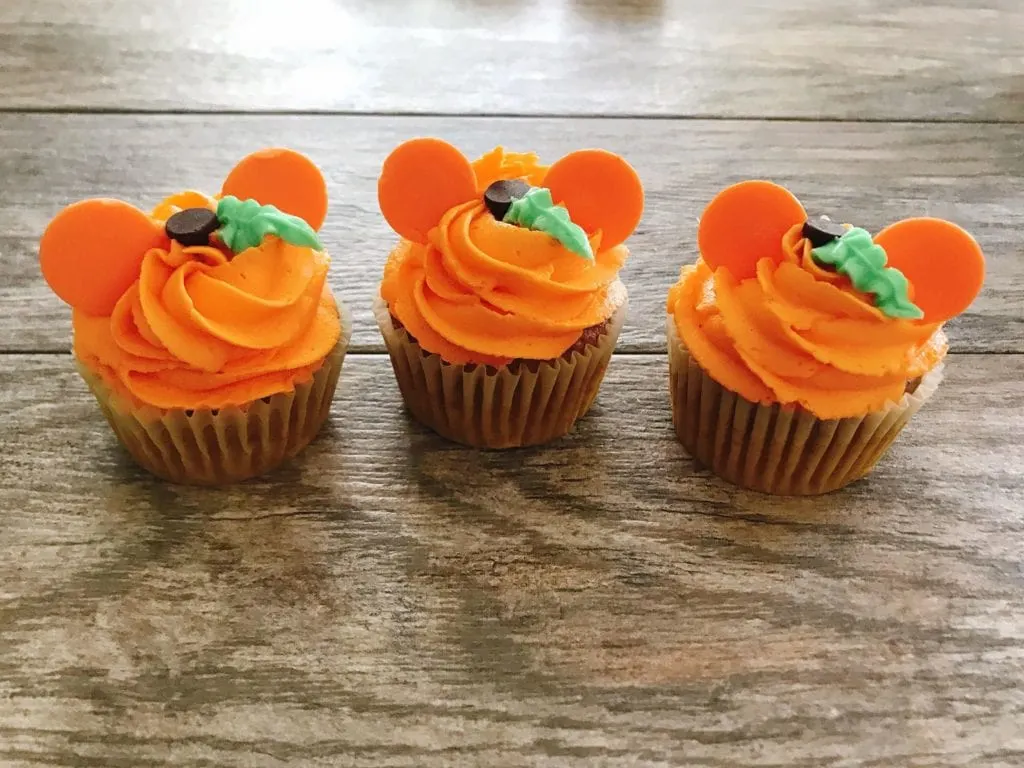 Assembly
Place the large star (get one HERE on Amazon) tip inside the large piping bag.
Add the orange frosting to the bag and swirl the frosting onto the cupcake like you would when making a soft-serve ice cream cone.
Place an upside-down chocolate chip on top of the orange frosting for the stem.
Fit a smaller piping bag with a coupler and a leaf tip.
Fill the piping bag with green buttercream frosting. Hold the end of the tip next to the chocolate chip.
Apply pressure to push out some frosting, then slowly move your hand back and release the pressure to create a leaf (see video below).
Place two orange candy melts on the sides of the frosting pile to create Mickey's ears.
Mickey Mummy Halloween Cupcakes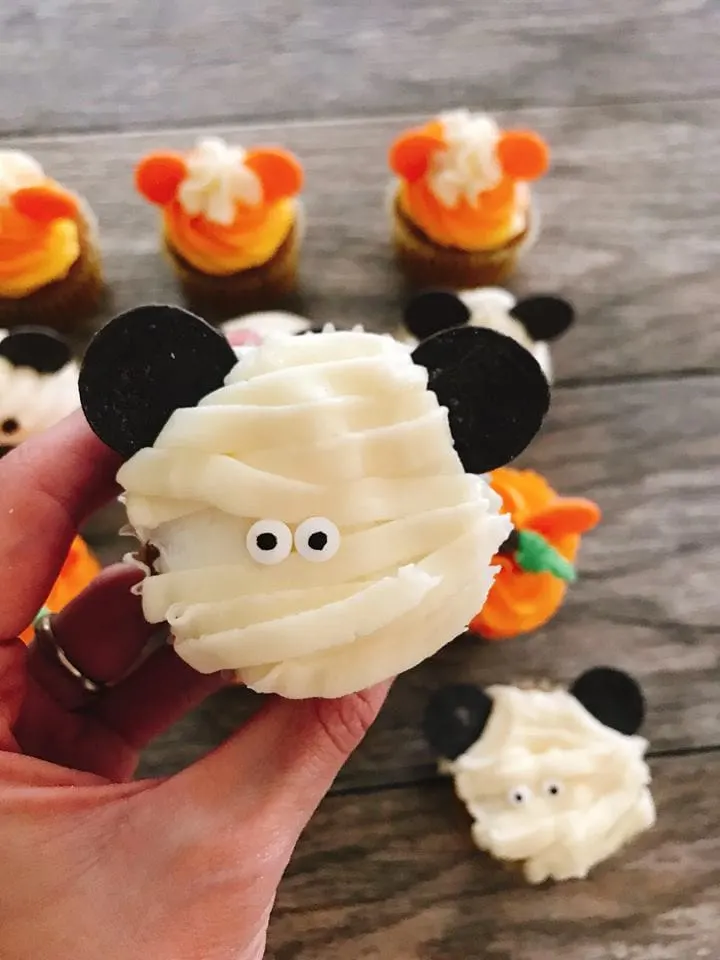 What You'll Need
Cupcakes, room temperature
White Vanilla Buttercream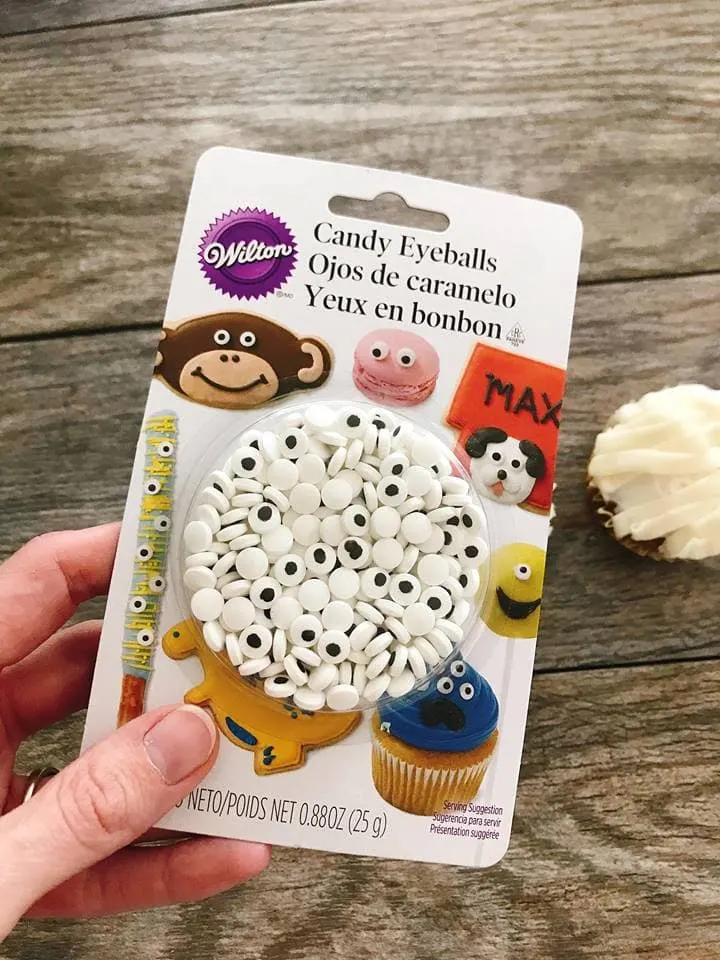 Assembly
Use an angled spatula to apply a thin layer of white vanilla buttercream to cover the entire top of the cupcake.
Fill a piping bag, fitted with a coupler and a flat tip, with white buttercream frosting.
Pipe flat lines across the top of the cupcake, leaving a space to place the eyes.
Add the candy eyes in the space ad place two black candy melts into the white frosting to make Mickey's Ears.
Mickey Candy Corn Cupcakes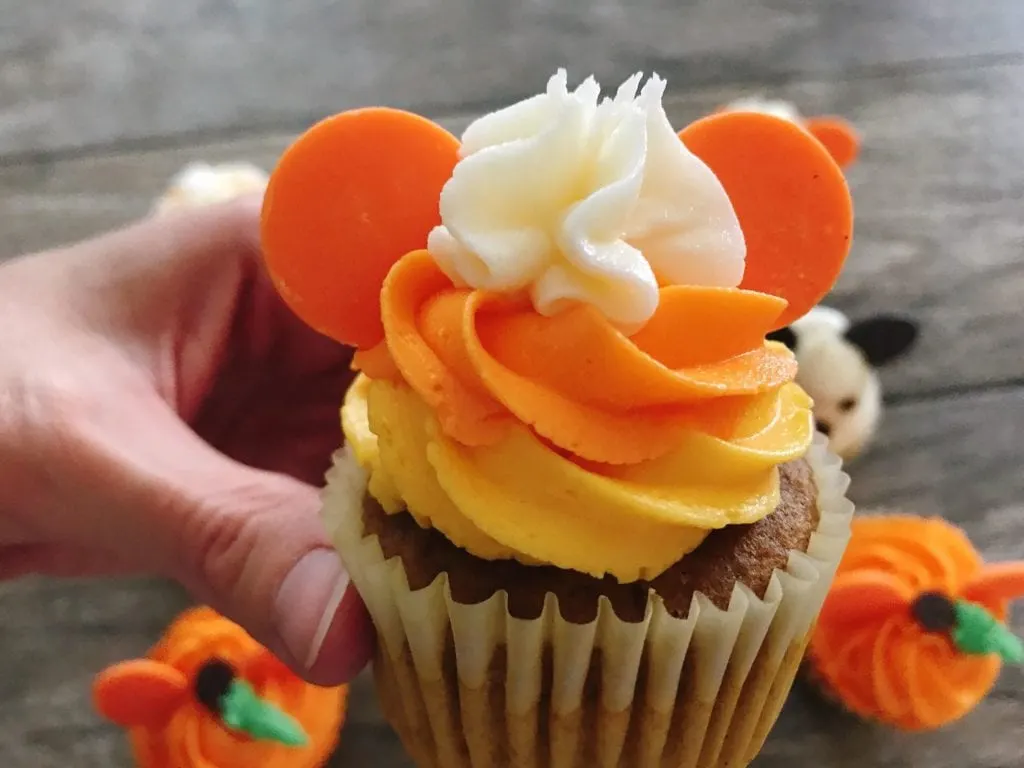 What You'll Need
Cupcakes, room temperature
Vanilla Buttercream colored yellow, orange, and white
Large Star Tips (3)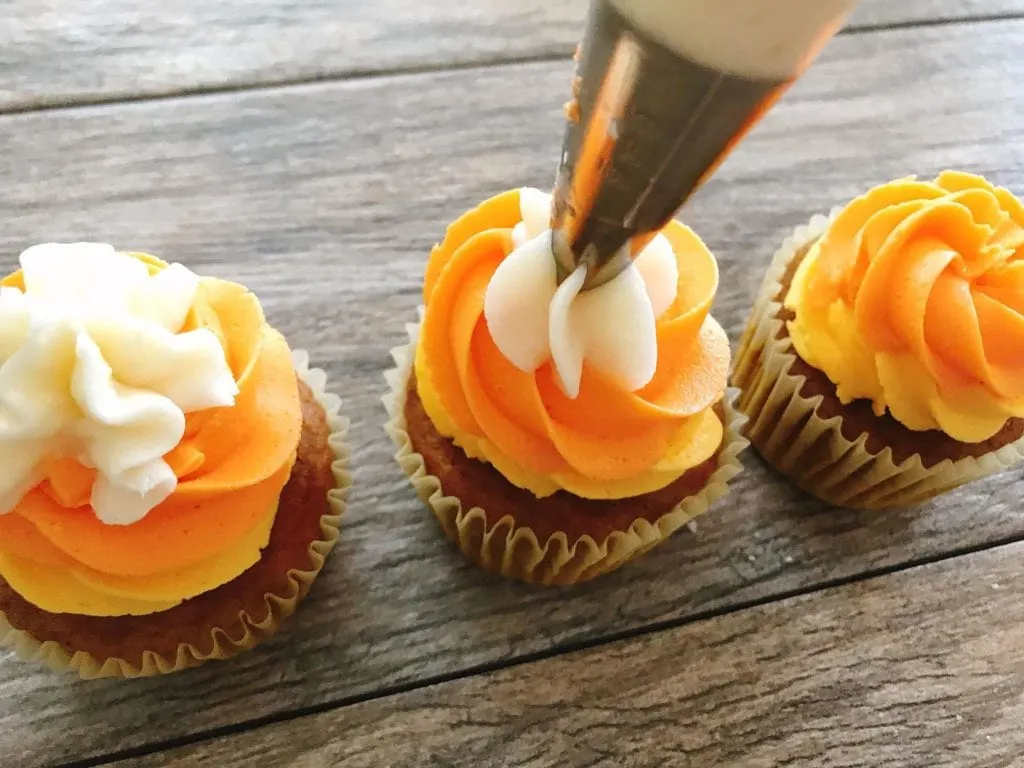 Assembly
Place the three large star tips into each of the three large piping bags.
Fill one bag with orange frosting, one with white, and one with yellow.
Make a large circle with the yellow frosting around the perimeter of the cupcake. I filled the center as well.
Pipe on a slightly smaller circle with the orange frosting on top of the yellow circle.
Hold the piping bag with the white frosting over the top of the cupcake. Apply pressure and release as you pull up to create a star.
Place two orange candy melts on the sides to create Mickey's ears.
Mickey Ghost Cupcakes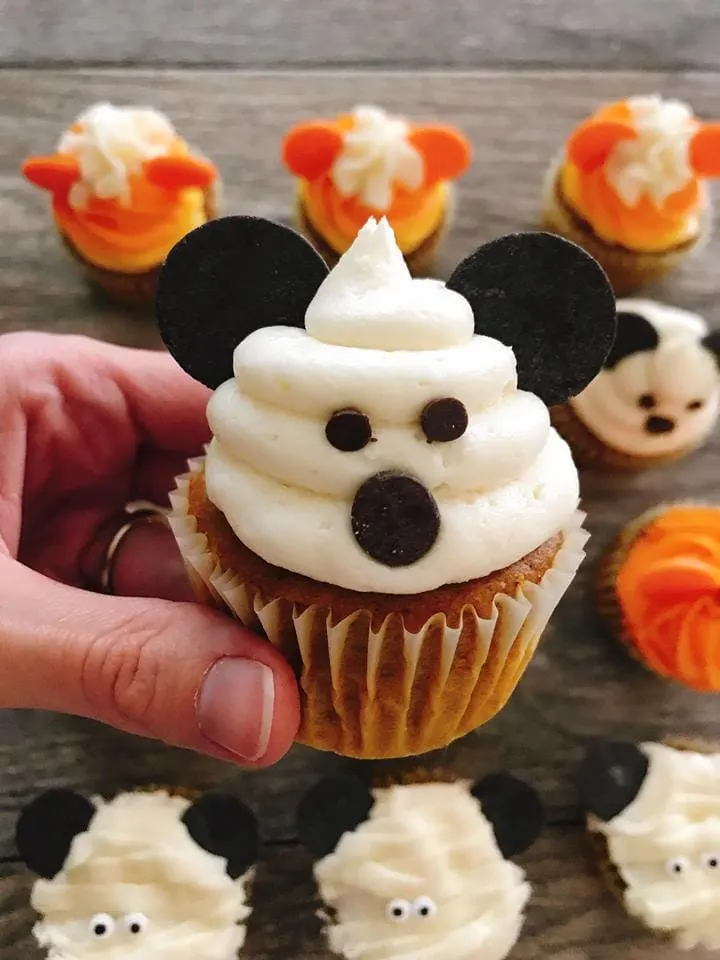 What you'll need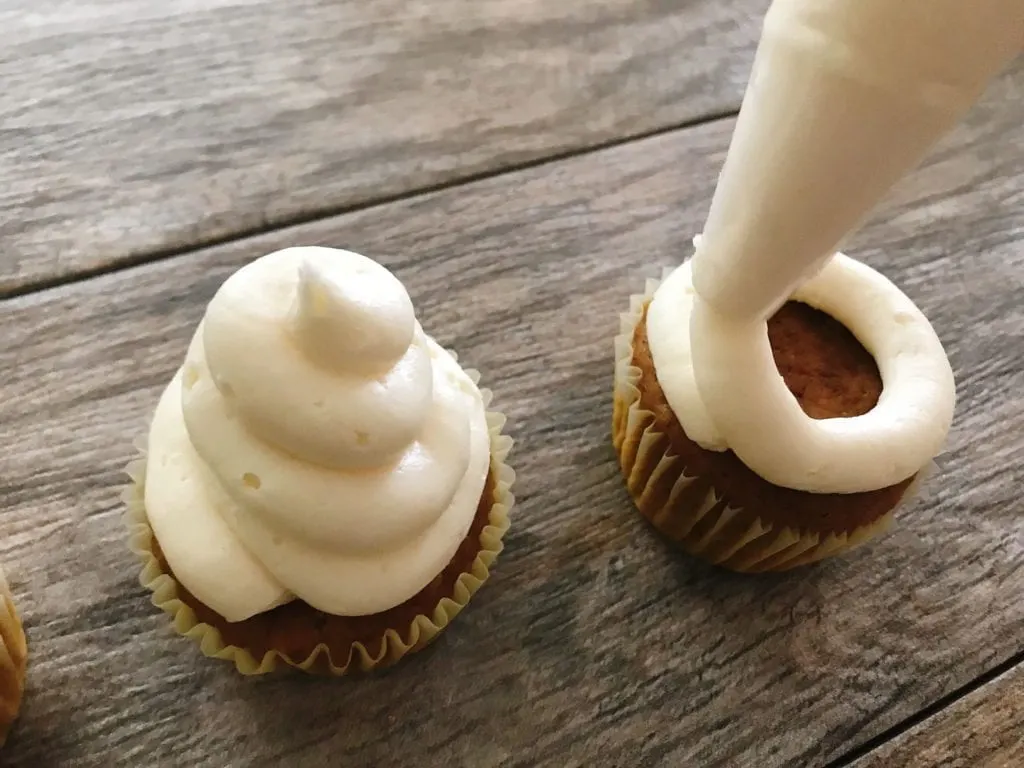 Cupcake Assembly
Fill a large piping bag, fitted with a large round tip, with white vanilla buttercream.
Swirl the frosting around the cupcake in a circular motion, like you would when making a soft-serve ice cream cone.
Place two mini chocolate chips, points facing in, on the frosting to make eyes.
Do the same with one standard size chocolate chip to make the mouth.
Place two black candy melts on the sides for Mickey's Ears.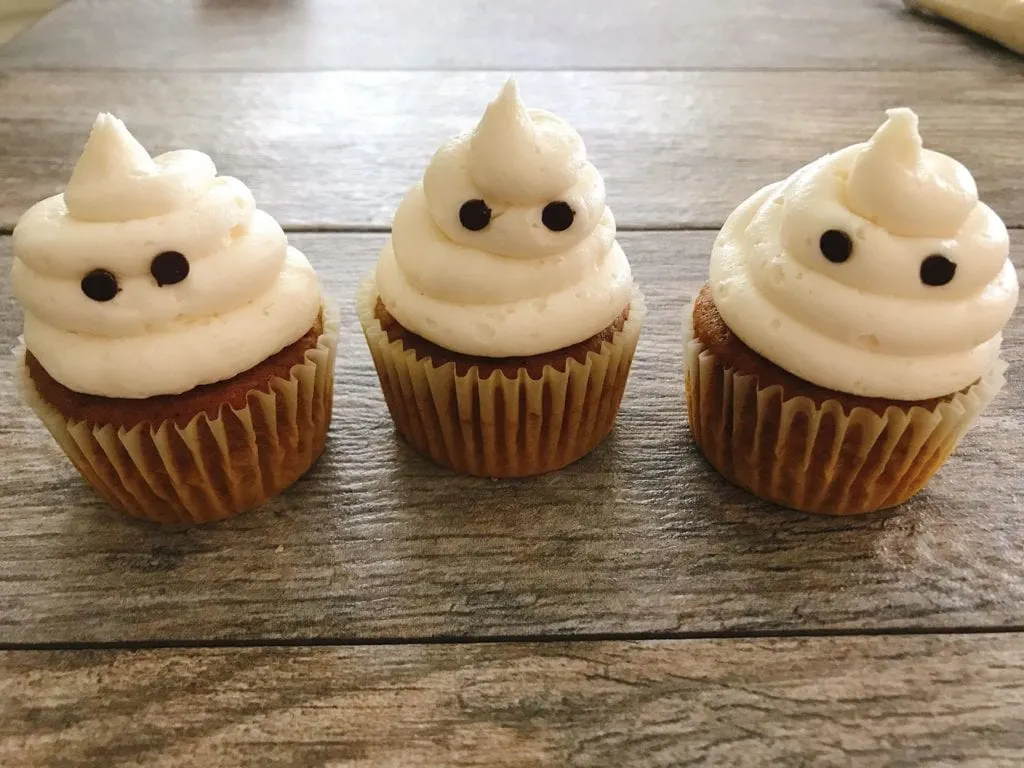 There you have it! These cupcakes were so much fun to create and my kids loved eating them too!
I hope you and your family enjoy them as much as we do.

Discount

Disney Tickets & Vacation

Packages
If you want to experience Halloween, or any time, at a Disney park in the future, I recommend booking through Get Away Today!
They are my go-to travel agency to plan my Disneyland and Disney World vacations.
Not only because their packages and prices can't be beat, but they also have the most stellar customer service.
You should definitely check out their Disneyland vacation packages. Many of the hotels they partner with offer 3rd and 4th nights free, which can be a big money saver!
Their Disneyland ticket prices are almost always cheaper than purchasing them at the gate, especially when Get Away Today has a sale!
You can also check prices for Discount Disney World Tickets and Disney World vacation packages too!
My readers also have access to use the promo code: Clubhouse10 to save an extra $10 on a 2-night or longer vacation package including hotel and tickets.
It's a great deal from a great company! Make sure to check GetAwayToday.com for current deals!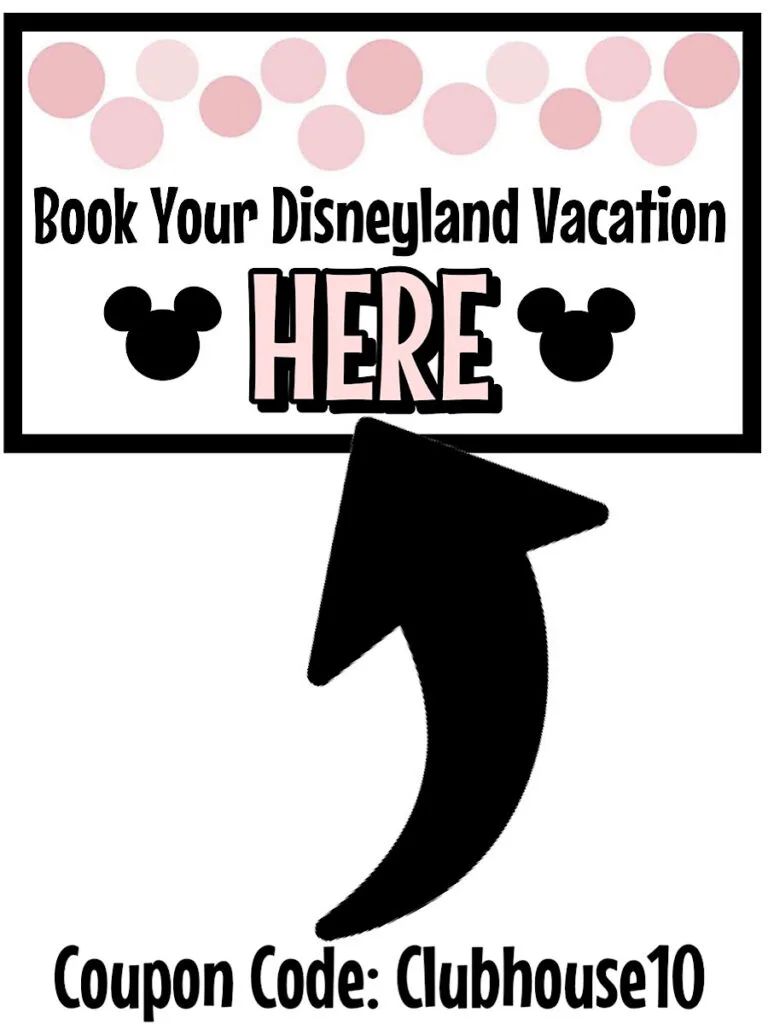 Or if you prefer, give them a call at 855-GET-AWAY and tell them the Mommy Mouse Clubhouse sent you!
More Halloween Recipes