What you should expect at Mickey's Halloween Party plus tips to make this special event spooky and magical for your whole family!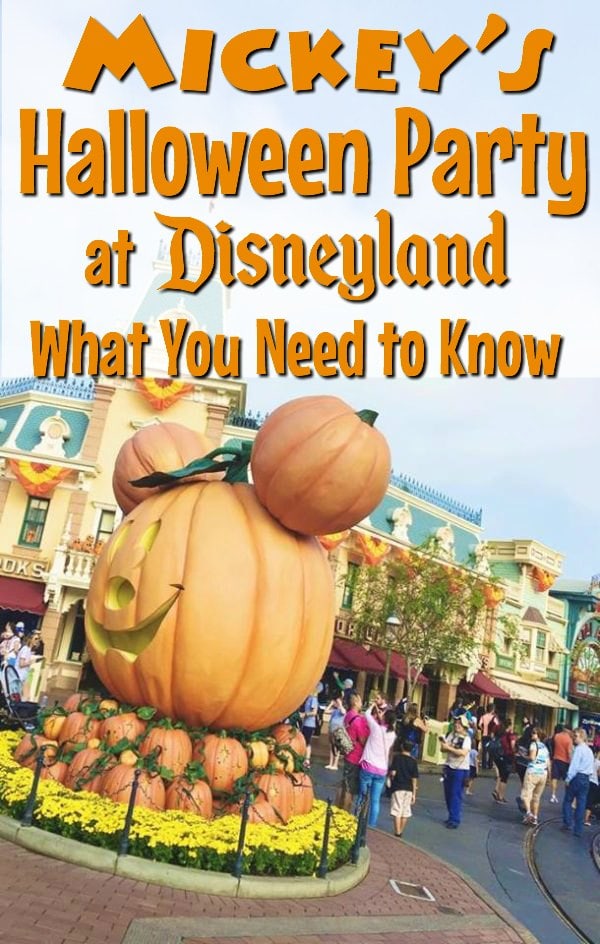 This post may contain affiliate links. When you click on these links, I get a small percentage back that helps me run my blog at no cost to you! For more information see my disclosure policy.
Halloween Time at the Disneyland Resort is truly magical! I love visiting during the holidays because of the decorations, food, and entertainment. Check out my Disneyland Halloween Time Bucket List for all of the fun things that are offered during September and October. Besides the regular Halloween Time festivities, Disneyland also offers Mickey's Halloween Party.
What is Mickey's Halloween Party?
Mickey's Halloween Party is a special ticketed event that is "appropriate for children of all ages and is available for 15 spooktacular nights in September and October." Here are some of the perks of attending Mickey's Halloween Party at Disneyland:
-Access to both Disneyland Park and Disney California Adventure Park 3 hours before the party.
-Disney MaxPass is included with your Mickey's Halloween Party ticket! This means you can make FASTPASS reservations right from your smart phone during your 3 hour park time before the Party (no FASTPASSES are issued during the Party) Check out my Disney MaxPass Guide for tips and tricks!
-Special overlays on certain Disney attractions including Haunted Mansion Halloween and Space Mountain: Ghost Galaxy!
-Wear your Halloween costume (within certain guidelines) in the Park for the duration of the event.
-Experience unlimited trick-or-treating stations. Walk through these areas as many times as you would like!
-View a special Halloween Screams fireworks show (amazing!)
-Enjoy dancing and eerie entertainment.
-Meet and Greet Disney characters dressed up for Halloween as well as dastardly Disney villains.
-Be thrilled by the Headless Horseman as he rides down Main Street U.S.A. before the parade.
-Experience the Frightfully Fun Parade, which is now one of my favorite parades!
-Tickets are only available while supplies last, so you can experience the Park with less people and shorter lines.
-Guests can enjoy unlimited downloads of PhotoPass photos captured during the event, for 45 days after capture.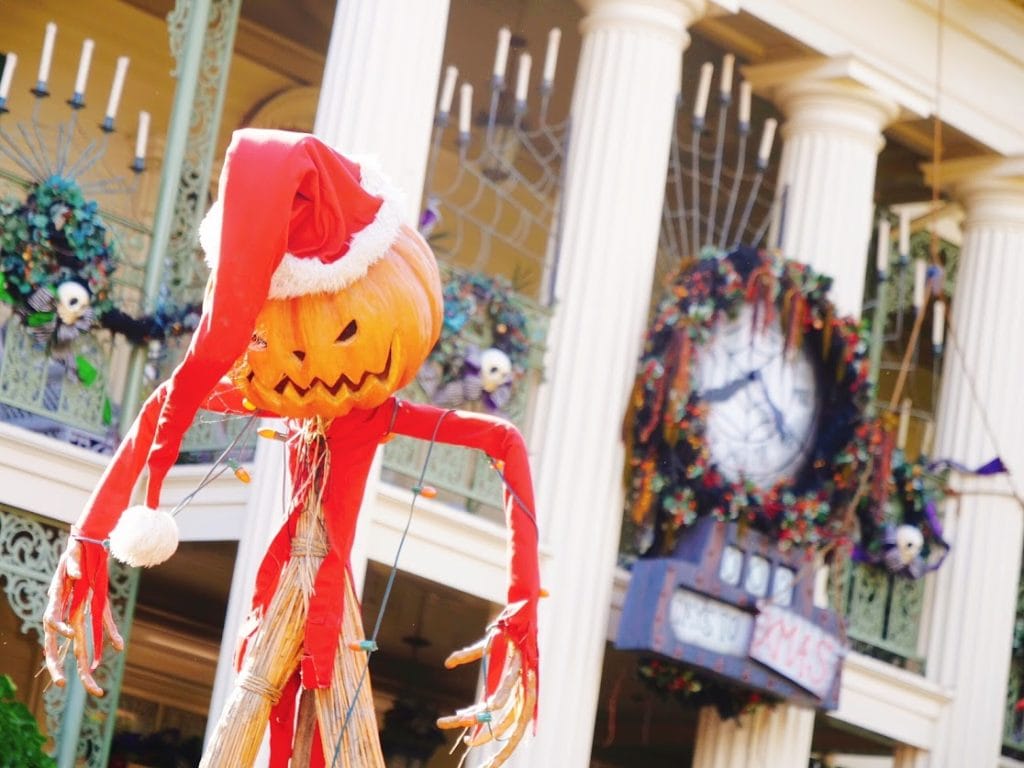 Costume Guide for Mickey's Halloween Party
On Disneyland's website costume guidelines are clearly laid out. The reason for these guidelines is to keep all guests safe. "Disney reserves the right to deny admission to or remove any person wearing attire that is considered inappropriate or attire that could detract from the experience of other Guests."
All Guests may dress as their favorite character, but must follow these guidelines as determined solely by Disney:
-Costumes must be family-friendly and may not be obstructive, offensive, objectionable or violent.
-Guests who dress like Characters may not pose for pictures or sign autographs for other Guests.
-Costumes may not contain any weapons that resemble or could easily be mistaken for an actual weapon.
-Costumes may not contain sharp objects, pointed objects or materials that may accidentally strike another Guest.
-Layered costumes or costume props that surround the entire body are strongly discouraged and may be subject to additional security screening.
-Costumes may not reach or drag on the ground (e.g., full-length Princess dresses).
For Guests ages 13 and younger:
-Costumes and some masks may be worn, as long as the mask does not cover the entire face and eyes are visible.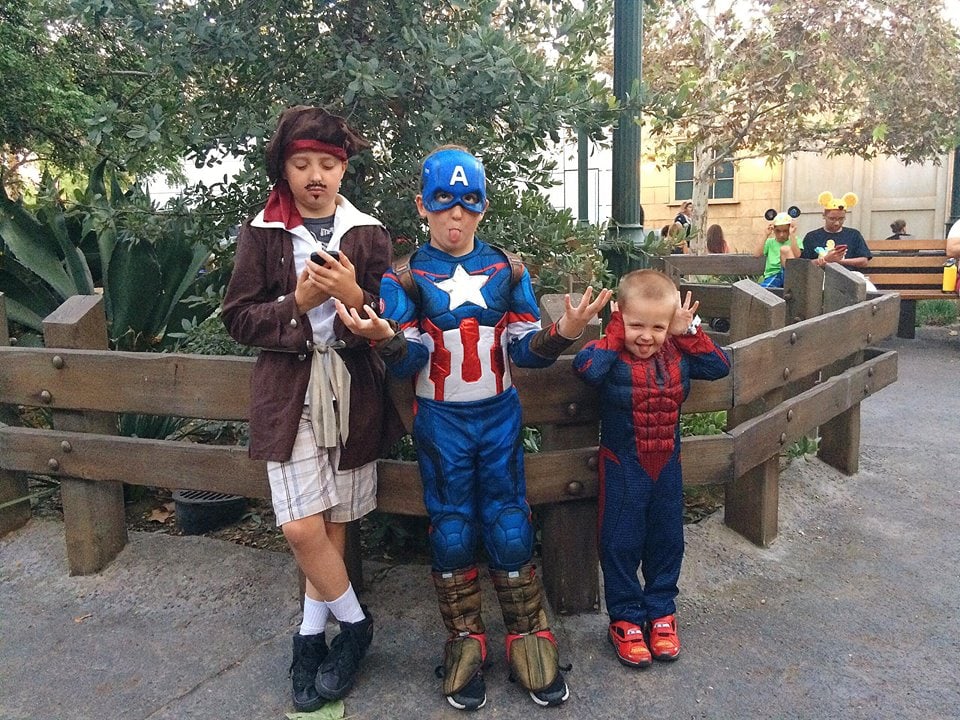 For Guests ages 14 and older:
-Capes may be worn if the length does not go below the waist.
-Themed T-shirts, blouses, sweatshirts and hats are acceptable.
-Acceptable accessories include: transparent wings, plastic light sabers, toy swords and tutus.
-Headwear may be worn as long as it does not cover the face.
-Guests may not wear masks of any kind.
"While we encourage creativity, we also value safety and good judgment. The above rules would apply only during the hours of the event. Standard Theme Park attire rules apply during all other times, and Guests ages 14 and older may not wear costumes in Disney California Adventure Park on the day of the event or in Disneyland Park if entering before the commencement of the event. Please note: all rules, regulations and guidelines are subject to change without notice."
How to Purchase Tickets for Mickey's Halloween Party
Remember, to attend Mickey's Halloween Party you will need to purchase a separate ticket for the event. That means that if you have a Park ticket and choose to attend the Halloween Party the same night, you would have to purchase a standard park ticket AND a separate Mickey's Halloween Party ticket (double the cost!) Because of this, I would recommend attending Mickey's Halloween Party on day that you are not spending the entire day at Disneyland.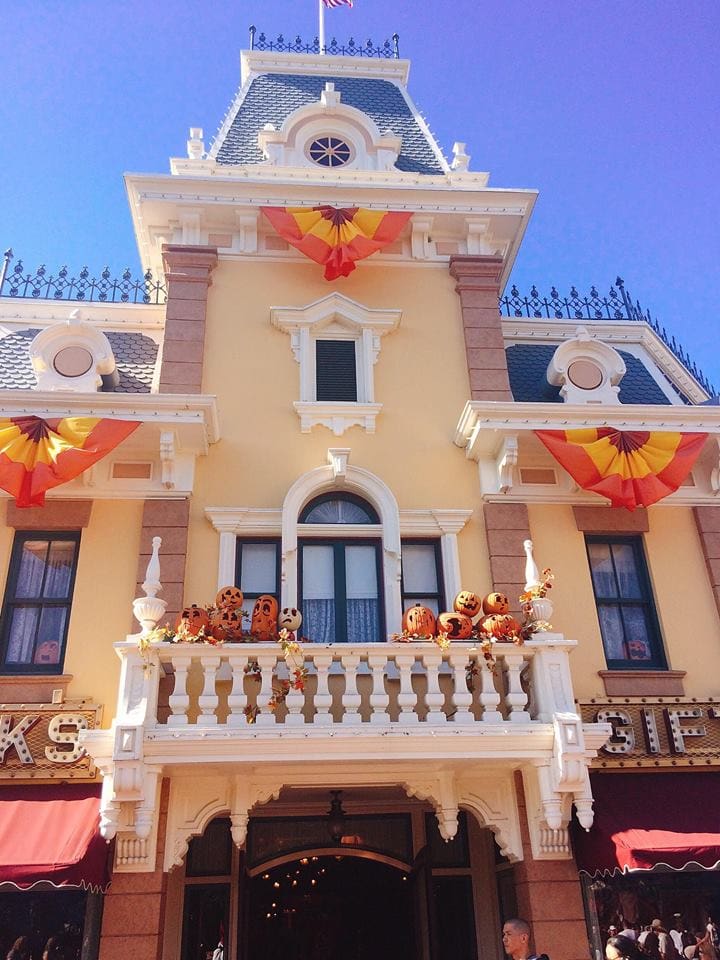 Step 1
To purchase a ticket to Mickey's Halloween Party, first, take a look at the calendar and determine availability for the night you would like to attend. You might notice that ticket prices vary from day to day. The days that are expected to be more popular will cost you a few dollars more and you should plan on those nights being busier than the lower priced dates.
Step 2
Mickey's Halloween Party tickets are only available online from Disneyland's website. You'll need to purchase them directly from Disney and your tickets will be sent to you via email. At the entrance gate, you will be able to scan your ticket right on your smart phone (you can also print out your tickets if you desire).
Step 3
Plan the rest of your trip! Unless you live close to Disneyland, you'll need a place to stay. Determine how many nights you'll be staying near Disneyland and also what other Southern California attractions you might want to visit. If you want to experience amazing customer service and great deals, then check out Get Away Today. More on that (plus a coupon code) later in this article!
Now that your Disneyland Halloween Time vacation is booked and you have purchased your Park tickets and Mickey's Halloween Party tickets, you should be all set! Remember to get to the parks 3 hours before the party starts for some extra Disney fun!
My Experience at Mickey's Halloween Party
Before the Party at Disneyland
I was able to attend Mickey's Halloween Party last October. The day we went, the Party was scheduled to begin at 6:00 P.M. so we arrived at about 2:30. Our plan was to begin our time at Disney California Adventure and then head over to Disneyland Park when we were allowed to enter at 3:00. But, when we saw the line to get into Disney California Adventure'[=\, we realized that everyone else had the same plan. So we headed to the much shorter Disneyland entrance line.
When we got to the entrance, I pulled up our tickets on my smart phone to be scanned. We were given a wristband to wear that represented our ticket to Mickey's Halloween Party. Make sure you wear the wristband, or you will be ushered out of the park with those who don't have a Party ticket when the Party begins.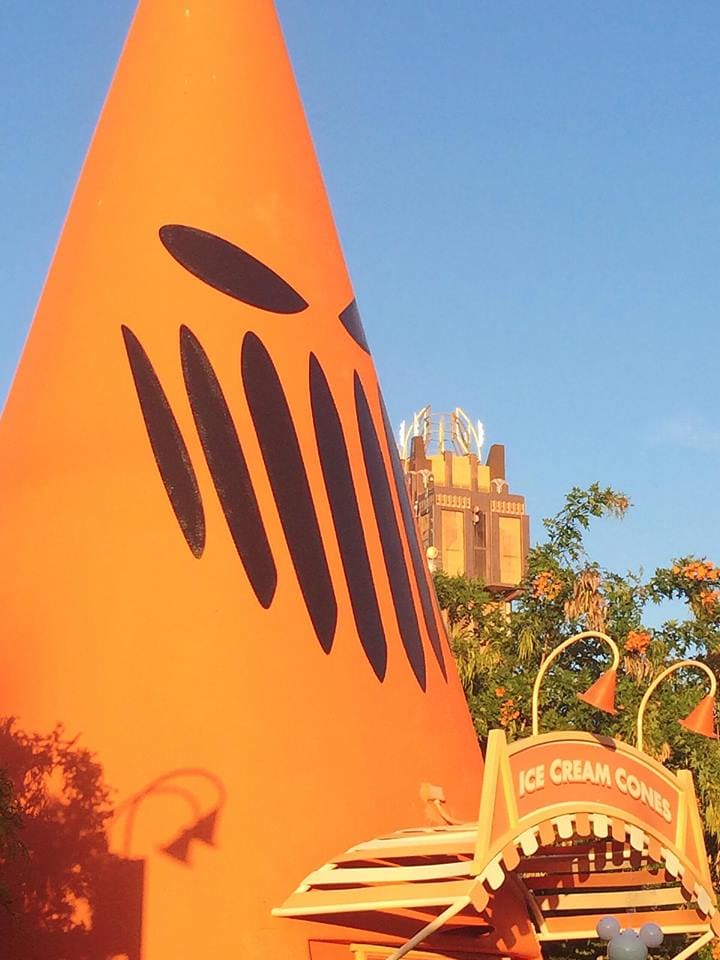 Once inside the Park, we were given trick-or-treat bags. Honestly, I was expecting the bags to be bigger. Everyone that I talked to about attending Mickey's Halloween Party, told me that I should expect TONS of candy, so I had brought extra bags.
After receiving our bags, we were able pull up MaxPass on my phone (included with your Party ticket) and book a FASTPASS for Guardians of the Galaxy: Mission BREAKOUT over at DCA for a couple hours later. I was totally excited! Having MaxPass included definitely helped us pack in a lot of attractions before the Party began.
Disney California Adventure
After a little time at Disneyland, we walked over to Disney California Adventure and rode Guardians of the Galaxy and California Screamin'. We also spent a little time in Cars Land which was totally decked out with Halloween decorations! We took the opportunity to let my little guys change into their Halloween costumes. By this time, the party was about to begin, so back to Disneyland we went.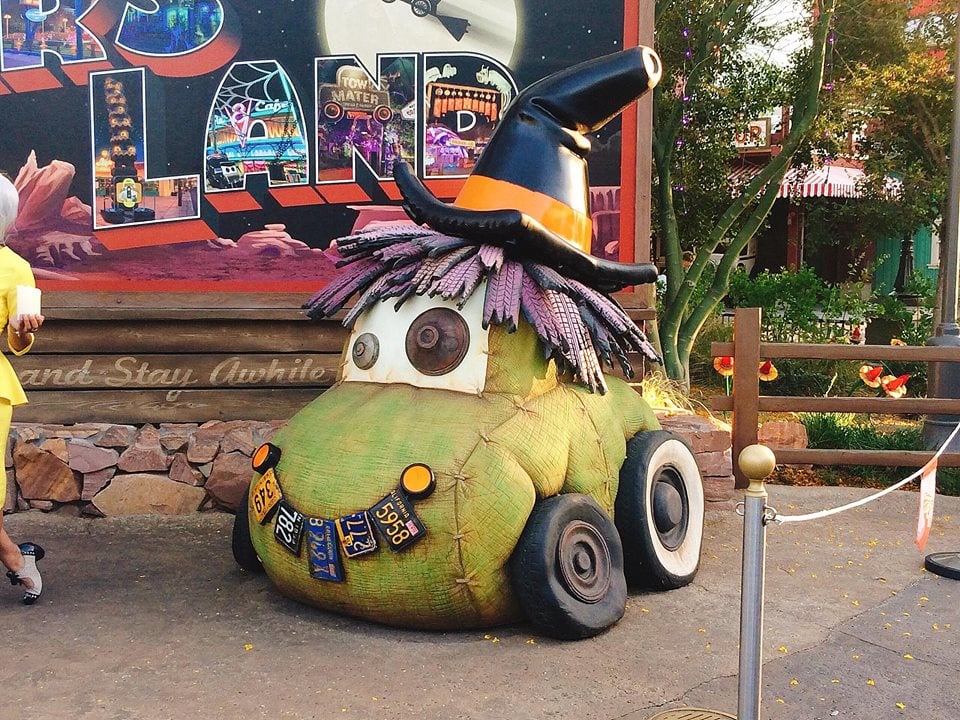 Party Time at Disneyland
When we went through the tunnels on to Main Street U.S.A. this time, the whole park seemed to have transformed into a spooky, but magical place. Right in the Main Street circle, was a trick-or-treat trail, so of course, that's where we started.
We hit a few more trick-or-treat trails on our way to Haunted Mansion Halloween. I just want to say that LOVE Haunted Mansion Halloween! If you haven't had the chance to experience it, you definitely should. I'm not necessarily a big fan of The Nightmare Before Christmas, but when it is incorporated into the Haunted Mansion, its amazing! The Haunted Mansion Halloween transformation happens in early September and lasts through the New Year! So you have plenty of time to see it!
Mickey's Halloween Party Entertainment
After riding the Haunted Mansion, my boys wanted to head to Tomorrowland and ride Space Mountain: Ghost Galaxy. Once we reached Main Street, we noticed that the Halloween Screams fireworks show was about to begin. We decided to stop by the entrance to Frontierland to watch, but noticed that others who were near us were being ushered away to find a different spot. While we were gathering our stuff to move, a cast member came up to me and asked if we wanted to sit in the VIP area. Ummmm…Yes! We were taken to a little area right in front of the castle to enjoy the show! It was amazing! It was probably one of the most magical experiences I've had at Disneyland!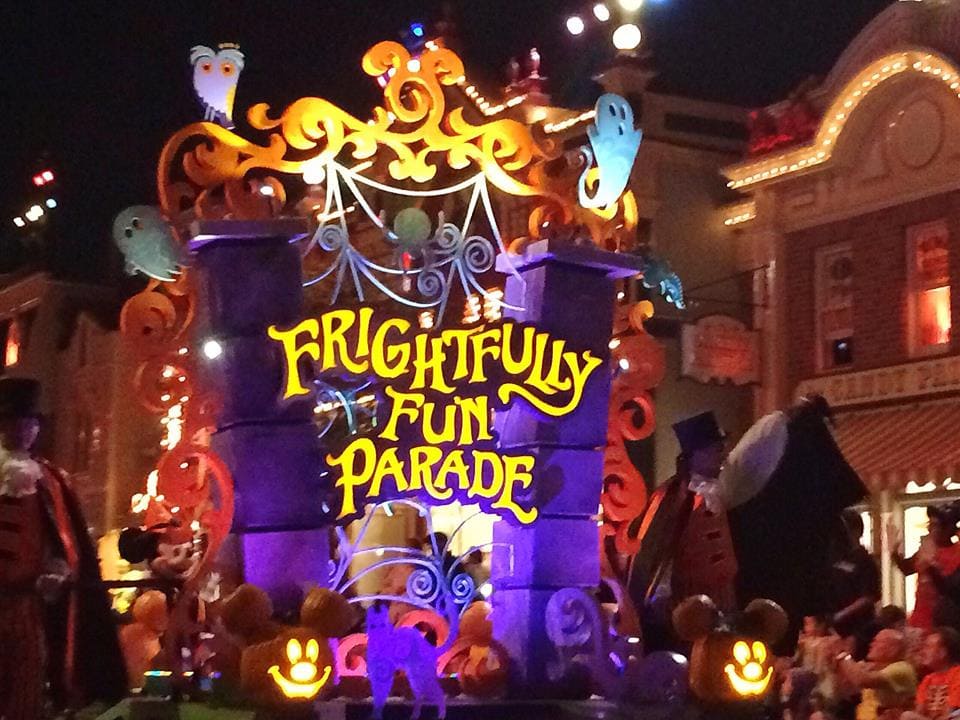 When the show was over, my husband and our two big boys went to ride Space Mountain: Ghost Galaxy while my littlest guy and I went to snag a spot for the Frightfully Fun Parade. I'm not usually big on viewing parades at Disney, mostly because I would rather be riding rides, but I am so glad we watched the Frightfully Fun Parade! The music, the dancing, the characters, it was all so much fun! I HIGHLY recommend not missing this parade if you attend Mickey's Halloween Party.
When the parade was over, my family was getting pretty tired and we decided that it was time to head back to the hotel after grabbing a couple of Halloween souvenirs of course!
Would I go to Mickey's Halloween Party again?
That's a really good question. The answer is, maybe. I thought the Party was a lot of fun and I had a good time, but I think I could have had just as much fun attending Halloween Time at Disneyland during regular park hours with a regular ticket. In fact, I think it would have been better because I felt kind of rushed and that I had to fit everything in, thus wearing out my kids.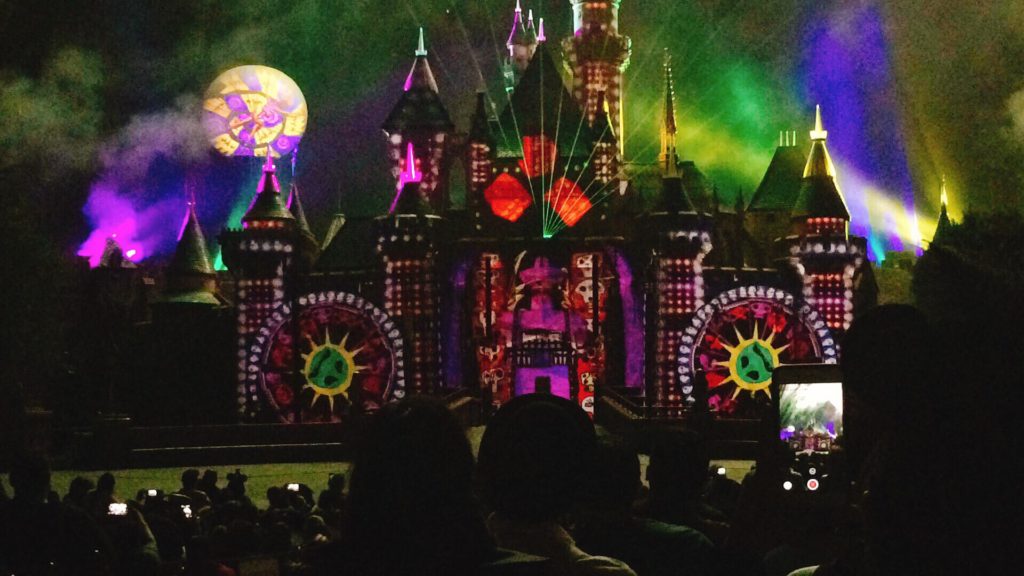 What I learned
After attending Mickey's Halloween Party, I definitely would do a few things differently if I decide to attend again.
-I wouldn't trick-or-treat. It was fun, but it took up A LOT of time. I think I would rather buy my kids a bunch of candy and spend our time elsewhere.
-I would have tried to meet more characters. Some of the characters that come out for Mickey's Halloween Party are rare and I wish we would have taken the time to snap a picture with them.
-I would have used PhotoPass more. Since MaxPass is included with your event ticket, so is PhotoPass, which means you get unlimited downloads of photos taken of you by Disney Photographers around the Park.
-I would have relaxed and tried to focus more on experiencing Mickey's Halloween Party and all of the activities and entertainment, rather than trying to ride all of the rides.
Basically, choosing to go to Mickey's Halloween Party depends on what you want to get out of it. If you go into it knowing that you won't have time to do everything, you will have fun.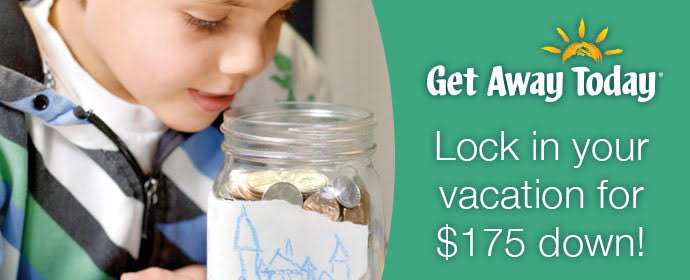 Booking your Disney Vacation
Whether you choose to go to Mickey's Halloween Party or just visit Disneyland during Halloween Time, I recommend using a trusted Disney travel agency like Get Away Today. I book my Disney vacations with them and am have been impressed with their customer service and savings every time!
They frequently have specials on Disneyland tickets, like getting the 4th Day Free when you purchase a 3-Day Park Hopper Ticket! There are also many hotel deals as well where you can get your 3rd or 4th night free! Check out www.getawaytoday.com for their current specials.
If you choose to book with Get Away Today, make sure you use the promo code MommyMouse to save an extra $10 on a 2-night or longer Southern California vacation package including hotel and tickets. You can use this code in addition to any specials they are running. You can also use the Layaway Plan and reserve your vacation for only $125! Such a great deal!

I hope this post helped you decide if attending Mickey's Halloween Party is right for you! Make sure you pin this so you'll have this information when you need it!
Here are some other Disneyland posts you might enjoy:
Disneyland Halloween Bucket List
Disney Max Pass (Everything You Need to Know)
Top Ten Disney Park Bag Essentials
Looking for Cute Disney Apparel?
I've had really good luck lately finding adorable and affordable Disney vacation t-shirts on the boutique deal website Jane.com! There have been quite a few options for men, women, and children for $13.99! I've even seen cute little Princess dresses for little girls. Just head to Jane and scroll through all of the deals, but be aware that their deals change daily. Make sure to check back often or follow me on Instagram to keep up on all of the amazing Disney-themed merchandise!