Want to know what it's like to sail on the Disney Wish? Find all about the dining rooms, room service, state rooms, ports of call, and my review of the Disney Wish below! Plus, find out what it's like to go on a back to back cruise.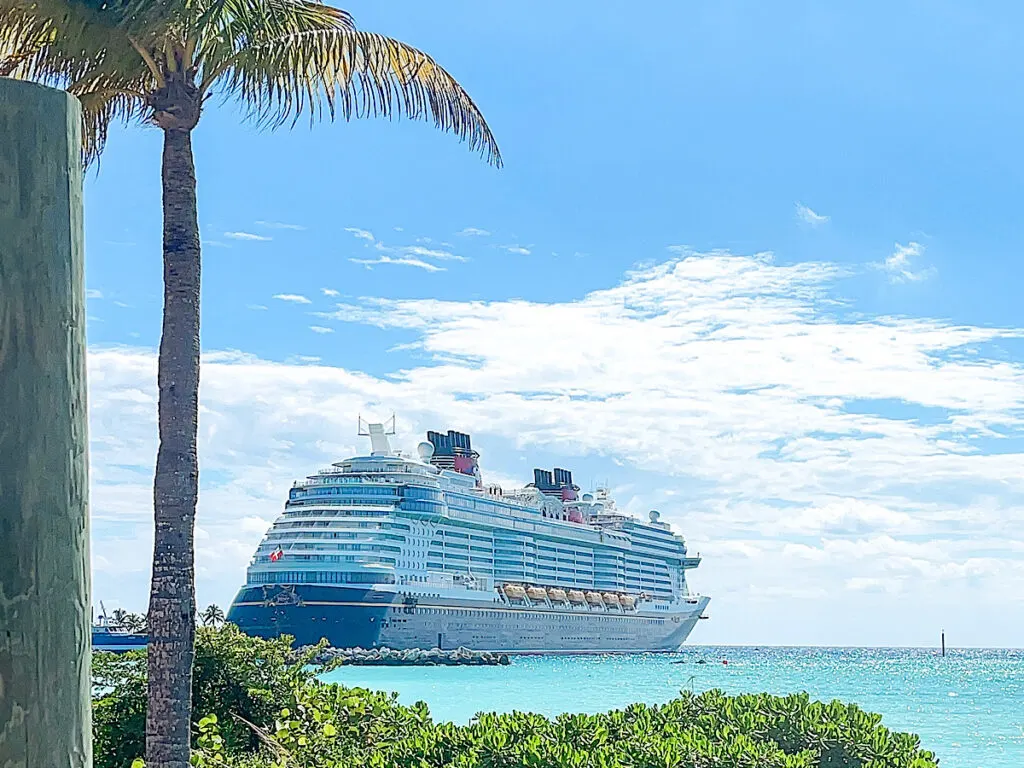 This post may contain affiliate links. When you click on these links, I get a small percentage back at no cost to you! For more information see my disclosure policy.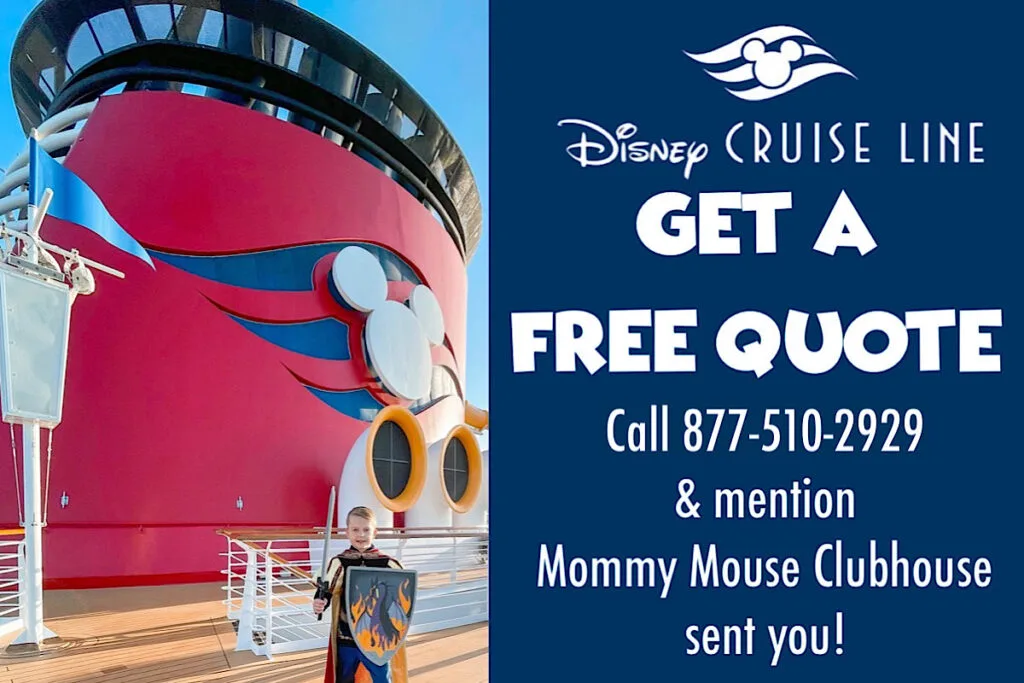 Check out prices below or get a free quote by calling 877-510-2929 and let them know Mommy Mouse Clubhouse sent you!
Why the Disney Wish?
The Disney Wish is the newest addition to the Disney Cruise Line fleet and offers guests a magical experience unlike any other. With its enchanting design, innovative features, and outstanding service, it's no wonder that this ship has quickly become a popular choice for families and Disney fans alike.
Having sailed on the older Disney Cruise Line ships, Disney Fantasy, Disney Dream, Disney Wonder, and Disney Magic, I wanted to give the new ship a try. The Wish is only offering 3-night and 4-night cruises right now, and both of those are too short for me, so we decided to book a back-to-back cruise to make our sailing 7 nights long!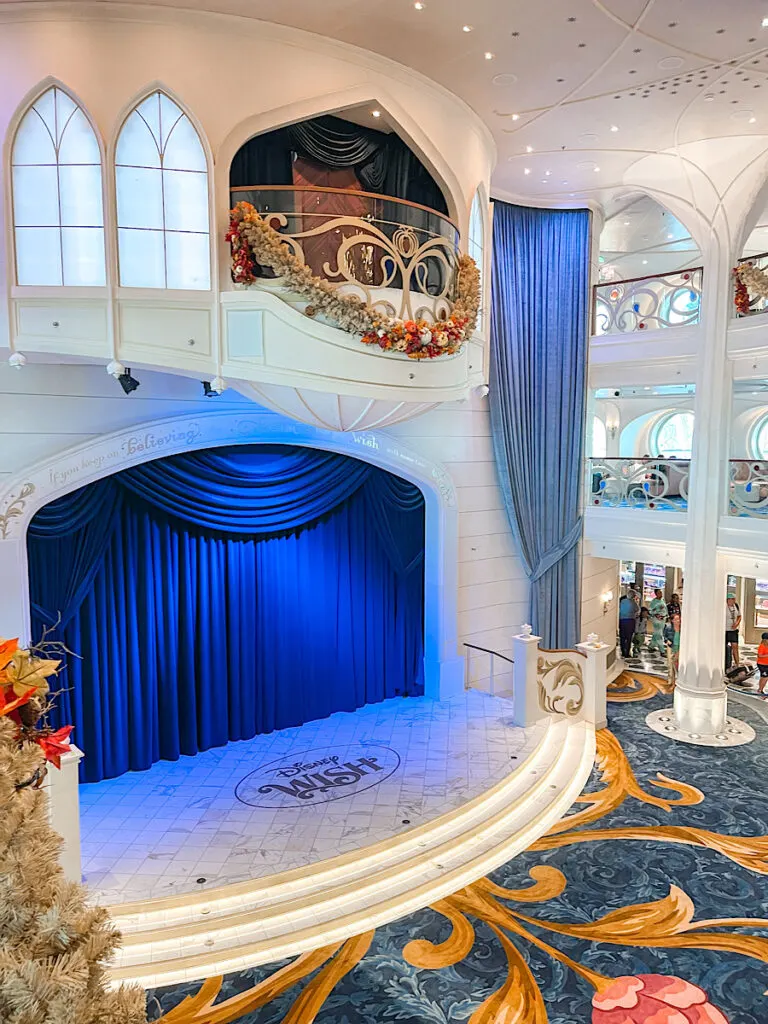 Want to Go on a Disney Cruise?
If you're thinking about going on a Disney Cruise for your family, I recommend booking with my travel partner, Get Away Today. They can help you find the best ship and itinerary for your cruise vacation. I have used them many times and they have the BEST customer service. Give them a call at 877-510-2929 and mention Mommy Mouse Clubhouse sent you to get the best deals!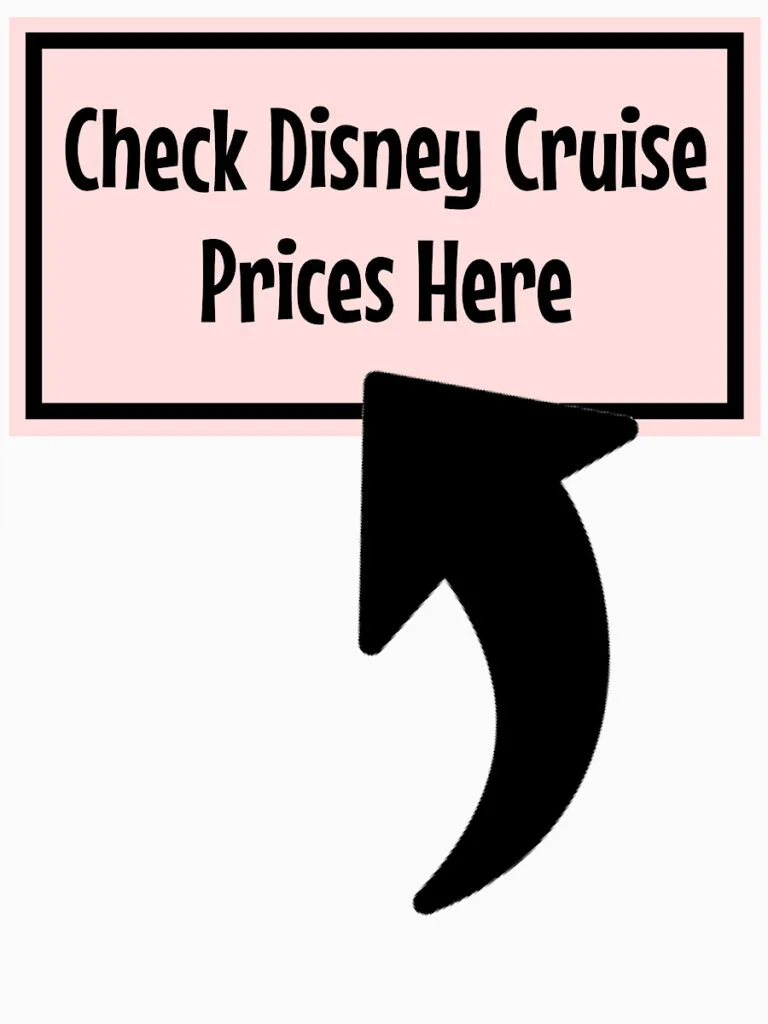 Before the Cruise
Our flight from Salt Lake City left at 10:50 am the day before the cruise and we arrived in Orlando at 6:00 pm. We chose to rent a car because we found a great deal that would only cost about $65 total to take us to our hotel and then to the port the next day.
We booked a room at Disney's Beach Club and had some major pixie dust when we arrived at the resort. We had been upgraded from a standard pool room view to the Newport Presidential Suite! All 2200 square feet of the room and access to the club lounge was amazing!
Day One: Embarkation
Our Port Arrival Time (PAT) was 12:00 pm. The was the time I had selected during the check-in process about a month before the cruise. This time allowed us to enjoy the Newport Suite in the morning, have breakfast, and be ready to check out at 11:00 am.
We made the 45 minute drive to Port Canaveral and dropped off our rental car. There was a shuttle that ran constantly between the rental agency and the port, so we only had to wait about 5 minutes.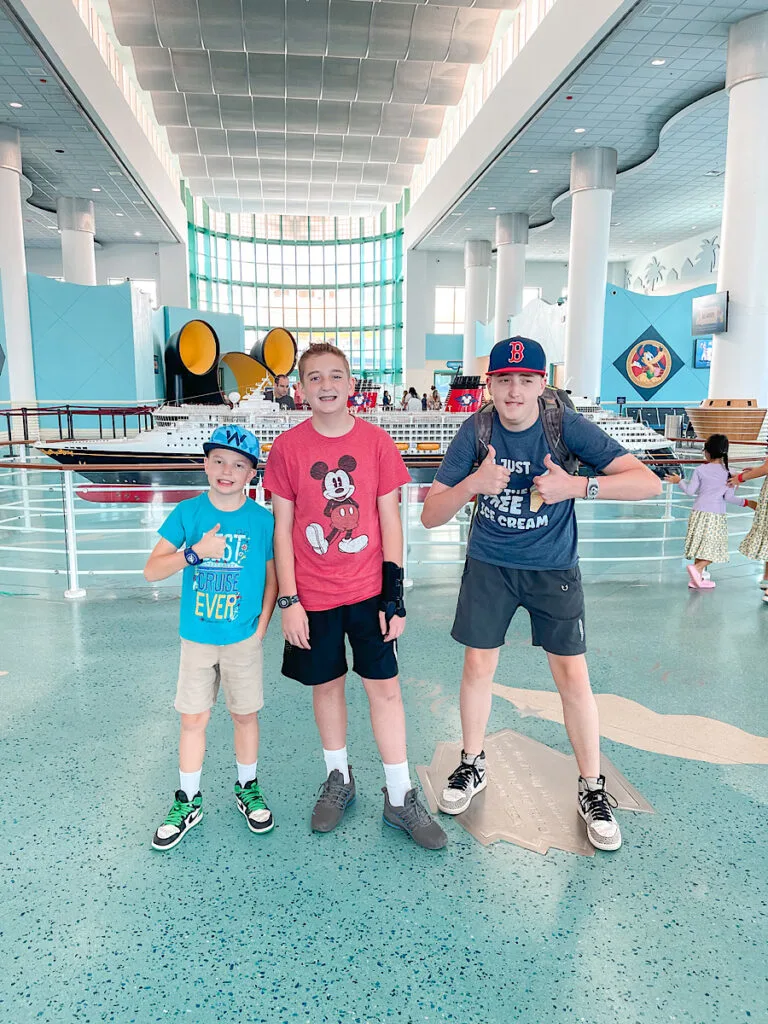 Port Arrival
It was about 12:15 when we arrived, so we were able to immediately enter the terminal and present our passports to the Customs officials. After being cleared, we headed up the escalators and could see the model of the Disney Magic and the giant Mickey Mouse head that you walk through to get on the ship.
At this time, all boarding groups had been called, so we were allowed to immediately board the ship. The lobby of the Wish is absolutely beautiful! The grand staircase is still present, like the other ships, and there is a large stage on one side, as well as a balcony for characters to greet guests.
The only thing missing from this area, compared to the older ships, is a bank of elevators. We had to head to either the aft or forward to take an elevator. So instead of the ship being split into fourths, with three sets of elevators, the Wish is divided into thirds, with two sets of elevators.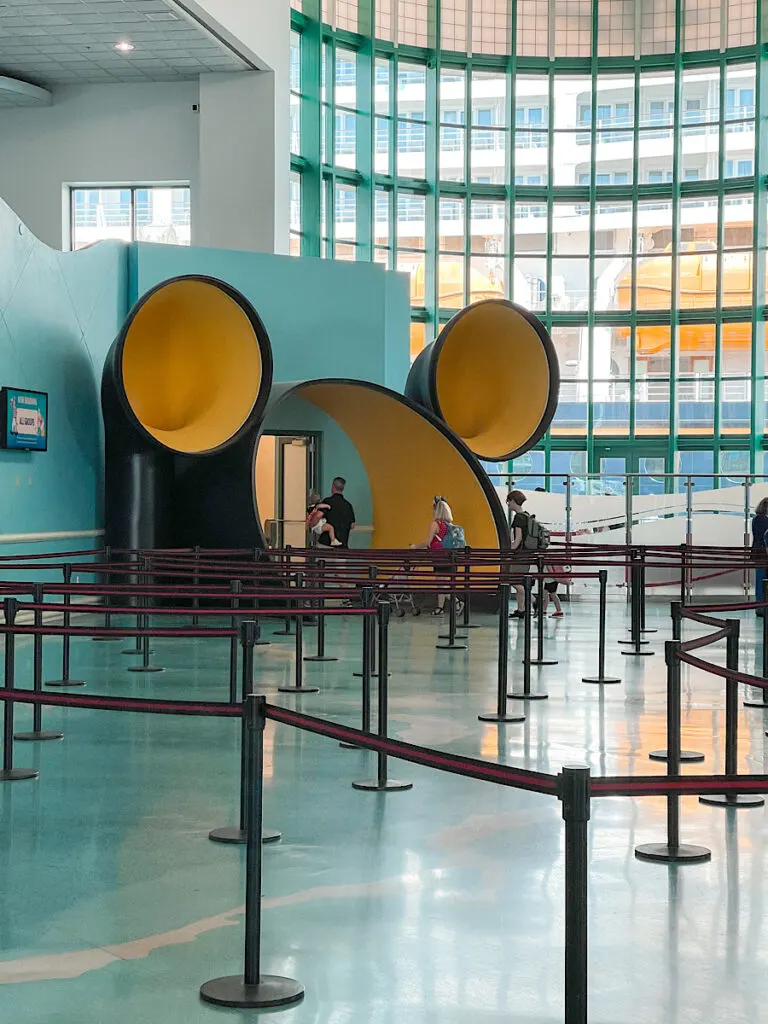 Lunch at Marceline Market
After boarding the ship, we decided to head up to deck 11 to have lunch at Marceline Market, which is the ship's buffet, similar to Cabana's on the other ships.
Marceline Market is not self-serve, like most buffets. Instead, you are given a plate by a crew member or you give your plate to them, and they will add the food for you.
There were a lot of different food options available, so most people should be able to find something they like. They even have a kids station that includes chicken tenders and macaroni and cheese. I chose to have a salad, pot stickers, and a charcuterie board.
The one think I didn't like about Marceline Market was that the walkways felt cramped, and there didn't seem to be enough seating.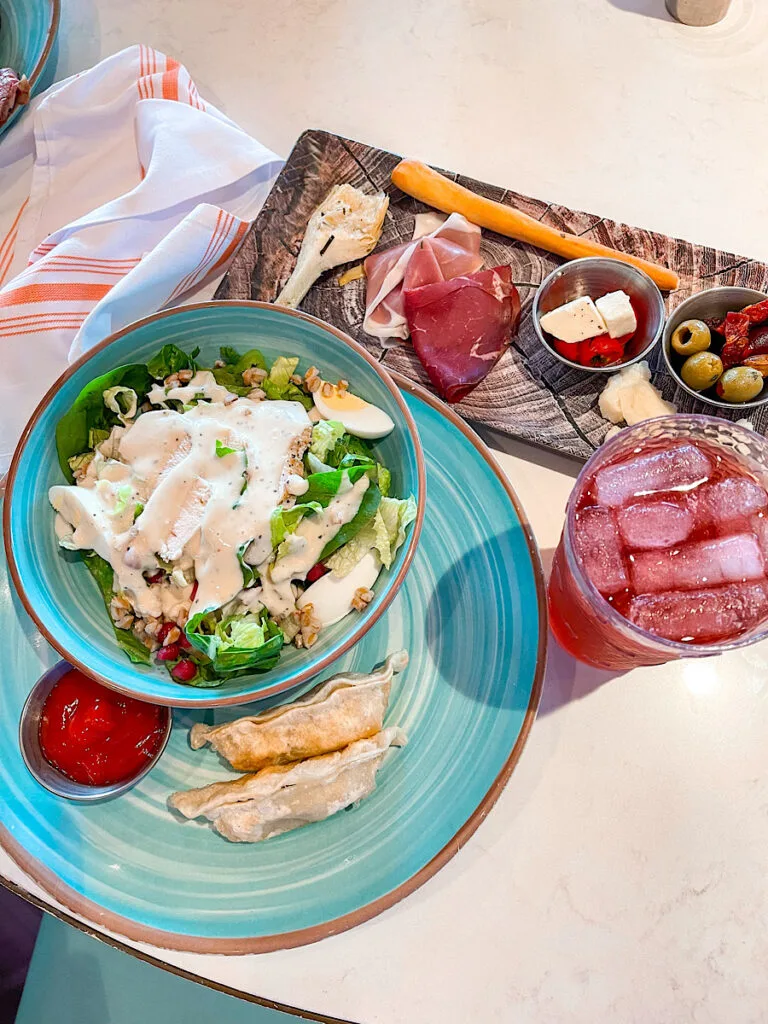 Stateroom 8566 Deluxe Family Room with Verandah
By the time we finished lunch, our room was ready. We headed there to drop off our items and check it out. This room is large enough to sleep up to 5 with a Queen bed, a couch that folds down into a Twin bed, a Twin that comes down from the ceiling, and a Twin-size Murphy bed that folds down in front of the verandah door at night.
This room had a Princess and the Frog theme, which I thought was adorable. I also loved the larger shower, compared to the old ships. We also had two amazing bathrobes in the closet.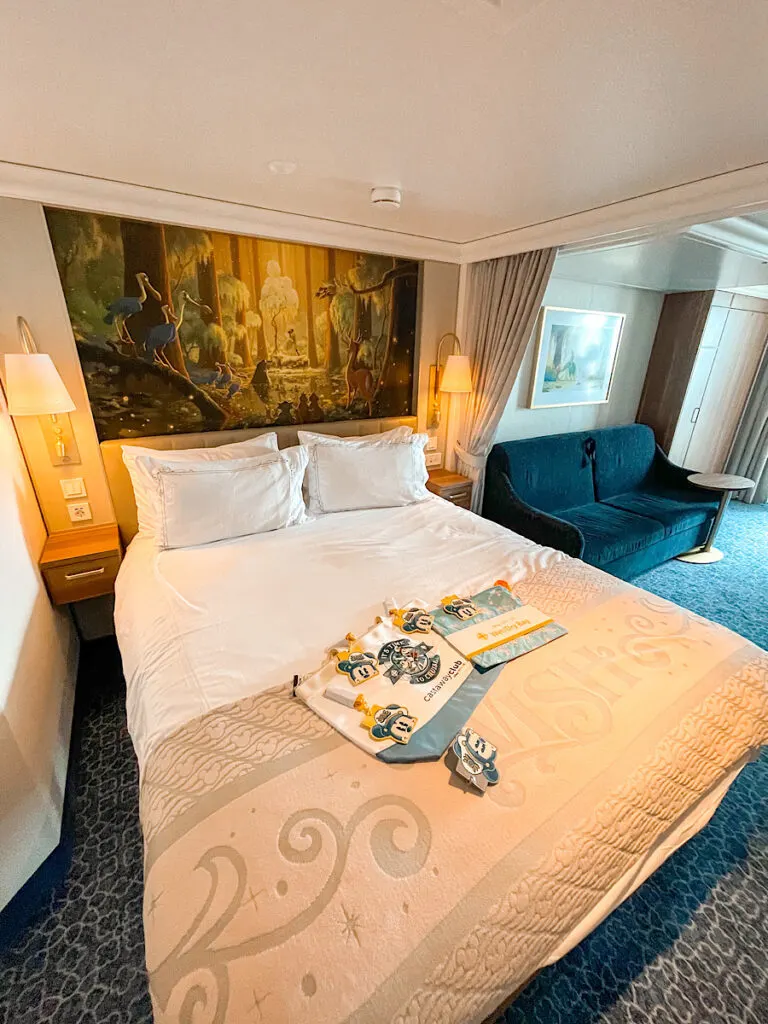 Castaway Club Gifts
For this cruise, we were Gold members of the Castaway Club. You are automatically part of the Castaway Club after completing your first Disney cruise and will receive certain gifts on each sailing, depending on your level.
For the Gold level, we received Gold lanyards, a Castaway Club vinyl beach bag, and a wet/dry bag.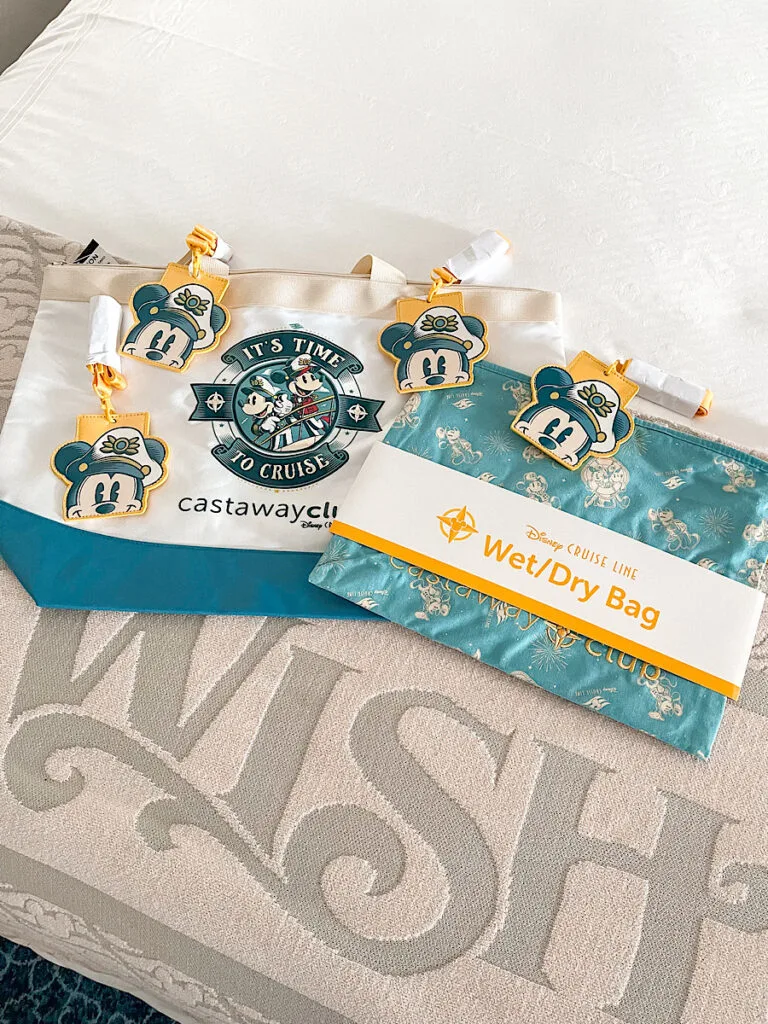 Hero Zone
Next, we went to check out the Hero Zone. This area can be accessed from the entrance of Marceline Market on Deck 11. You head up a set of stairs to Deck 12 to reach the entrance.
This indoor area has a large basketball court that is divided in half. One half is set up for basketball and the other is set up to play Cornhole. There is also a second level that circles around the court where you can play foosball, table hockey, or billiards. Next to the basketball court is four ping-pong tables.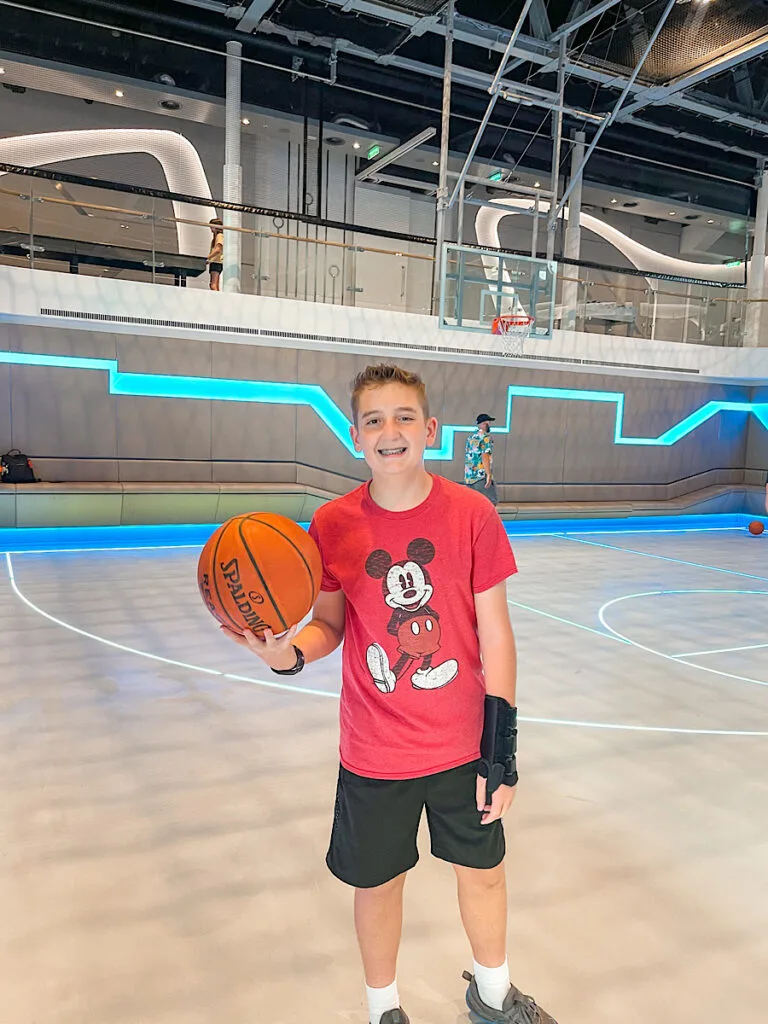 Registering in the Vibe
Vibe is the club for teens ages 14-17 and is located right next to Hero Zone. We headed there next to check it out, and to register my boys. My second child was 13.5 years-old at the time, so I had to fill out a parent-permission form so that he could use the Vibe facilities with his brother.
Once your teens are registered, they will receive an attachment to their Magic Band+ or a sticker on their Key to the World Card. This will alert the Vibe crew members that they are the correct age for that area.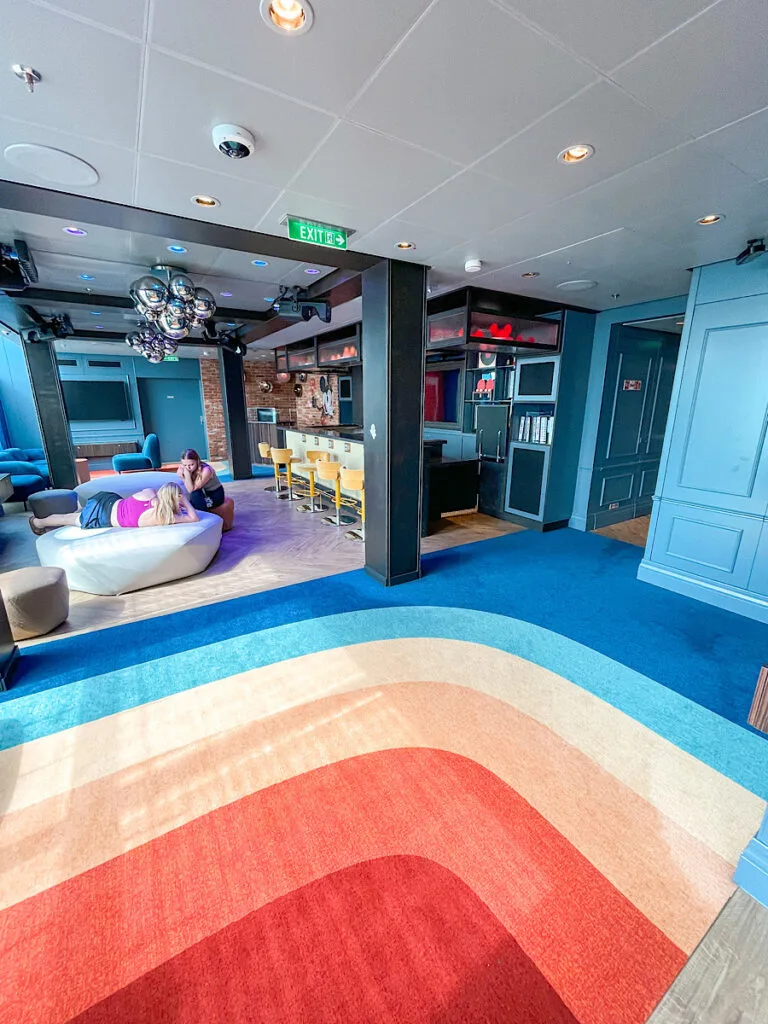 Oceaneer Club
Our next stop was the Oceaneer Club, to register my 9-year-old. The fun thing about this kids club on the Wish is that you can enter from the atrium on Deck 3 by going down a slide!
This club has different themed areas for Frozen and Marvel, a large area for arts and crafts, a play area for smaller children, and a cool game where kids can design their own Disney roller coaster! My son loved this and said that his Space Mountain creation was his favorite!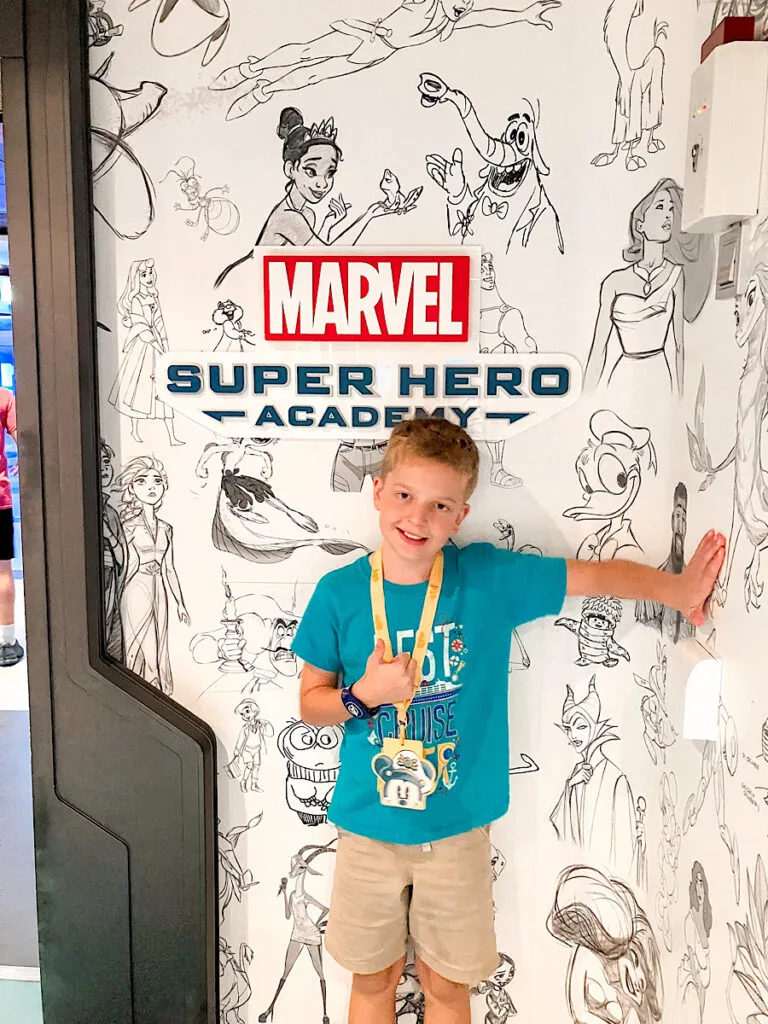 Disney Seas the Adventure
The main show for night in the Walt Disney Theatre was called Seas the Adventure. It was a cute show featuring Captain Minnie and Captain Mickey as well as many other favorite Disney characters. I thought it was super cute!
My 13 and 9-year-olds chose to go swimming and ride the AquaMouse water slide during this time because most guests were either at the show or at the first seating of dinner. They took advantage of the short line and rode the AquaMouse 32 times!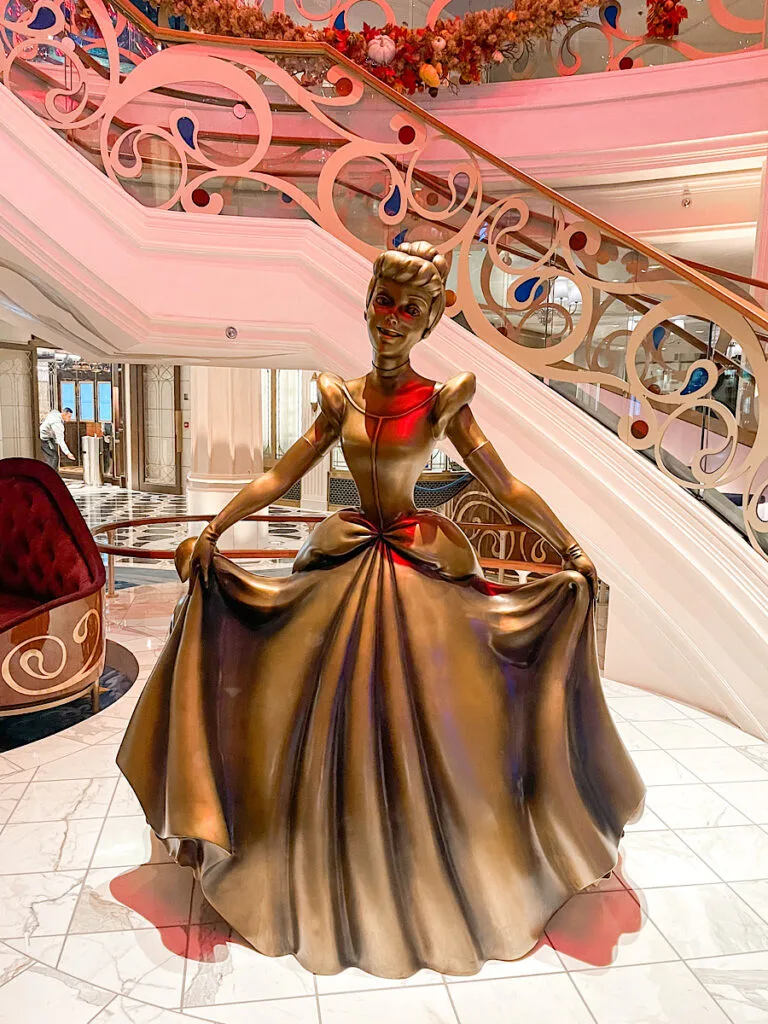 Dinner at Worlds of Marvel
On our first night, dinner was at one of the main dining rooms, World of Marvel. I was really excited to try out this restaurant because my 13-year-old is such a Marvel fan.
Disney Cruises have rotational dining, where all guests will switch to a different restaurant each night, and their servers will follow them.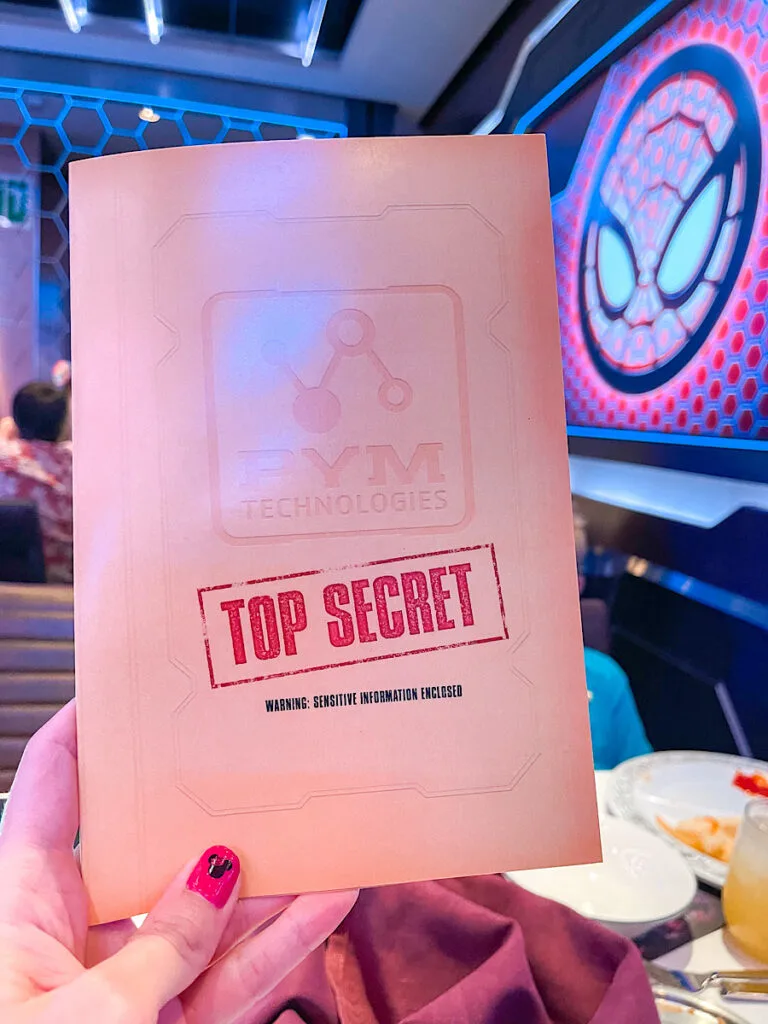 We met our server Engin and asisstant server Flor, and thought they were great! The show with Ant Man and the Wasp was cute and my kids liked interacting with by pushing the button on the table at the appropriate time.
For dinner I had the Steamed Bao Bun (wasn't my favorite), the Ricotta Gnocchi, and the Pym Donut Sundae for dessert.
After dinner, we had a visit from Spider-Man! He went around to visit each table, similar to a character meal, but did not spend as much time and there was not enough time to take pictures with him.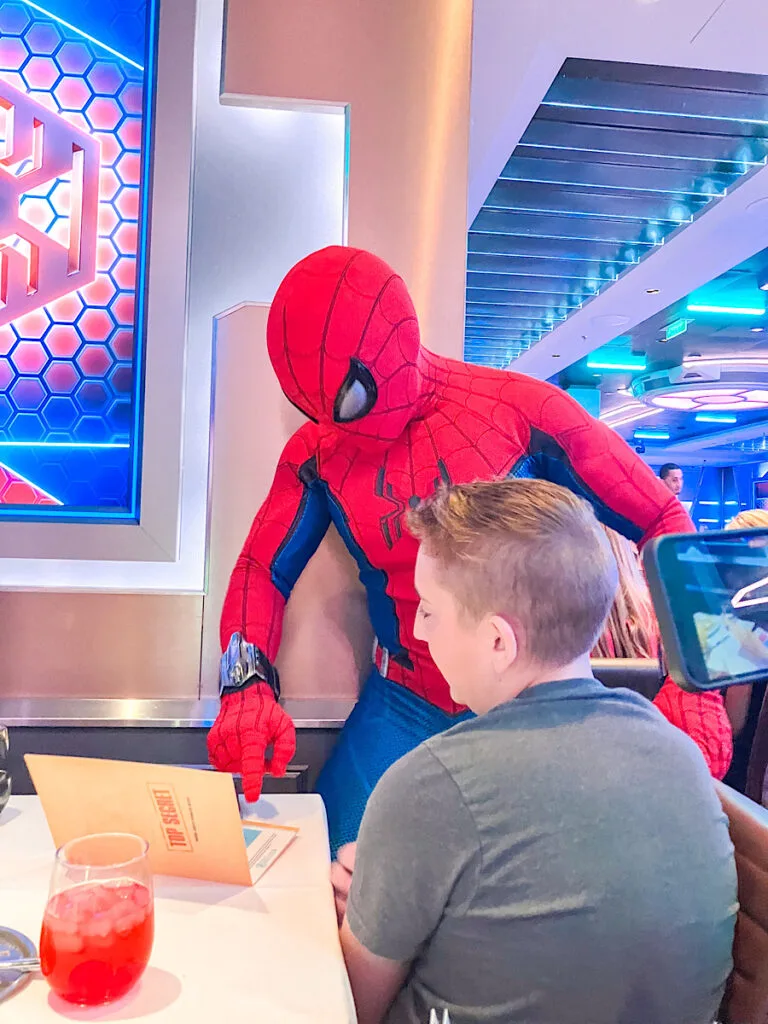 Day Two: Nassau, Bahamas
Our first port of call on this 3 night cruise was Nassau, Bahamas. We had never visited Nassau before and were excited to experience something new.
Breakfast at Marceline Market
We chose to have breakfast in the buffet again, and quickly decided that we wouldn't do that again. It was packed with people and hard to find a place to sit. The cramped walkways drove me crazy!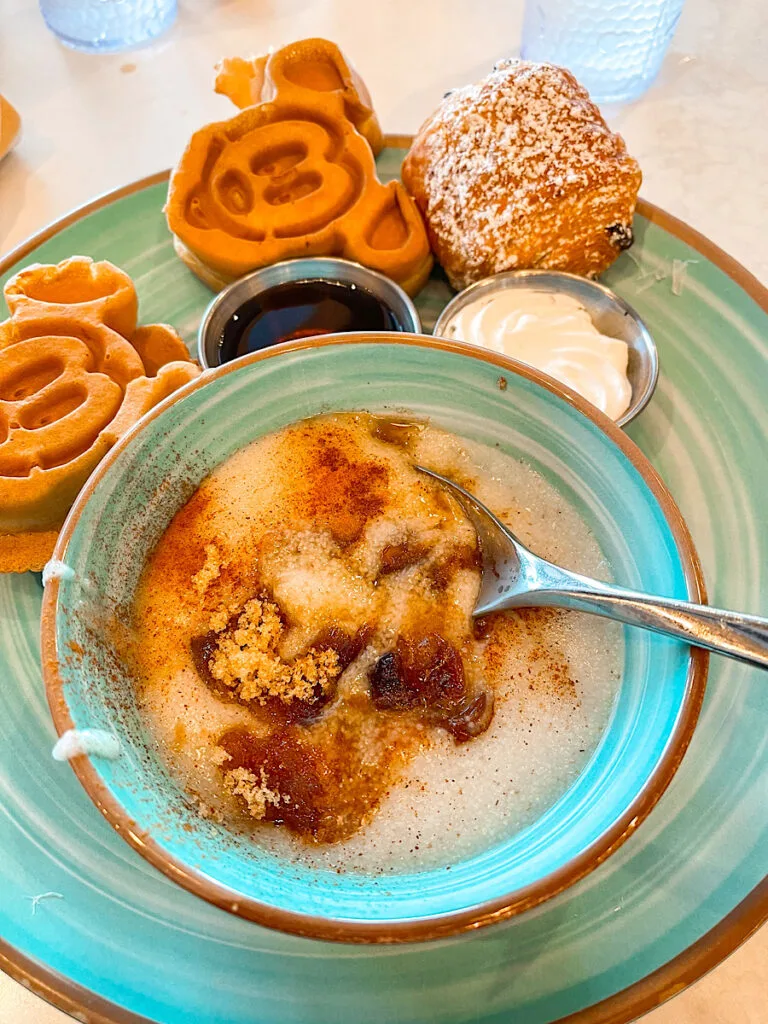 Atlantis Aquaventure Port Adventure
We booked the Atlantis Aquaventure excursion through Disney Cruise Line. There are other ways to book as well. You can purchase tickets directly through the Atlantis website and take a taxi to the resort from the port. I have also heard of people who book a room at the Comfort Inn located right next to Atlantis, that includes up to 4 Aquaventure passes that can cost less than booking through Disney.
But for me, the ease of having our transportation already figured out and the passes already purchased, made the extra cost worth the convenience.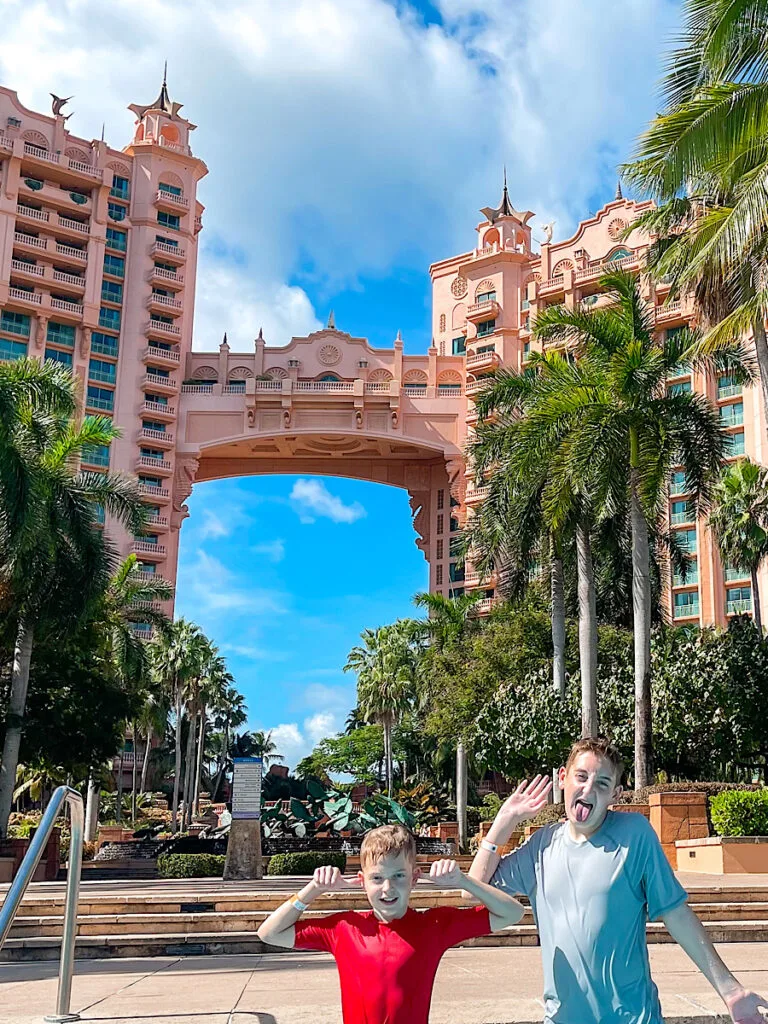 We checked in with the Atlantis employee and completed an online waiver, then walked through the hotel and casino on our way to the waterpark.
The first thing we did was find a few chairs to drop off our stuff and come back to sit on during breaks from the slides. The Disney Wish was the only ship in port that day, so fortunately for us, there was no problem getting a nice spot in the shade next to the pool.
We enjoyed all of the water slides and the river multiple times. The boys favorite slide was called the Leap of Faith. This is a drop slide that ends by sliding through a shark tank!
My favorite was the lazy river. But don't be deceived, this river is only lazy some of the time!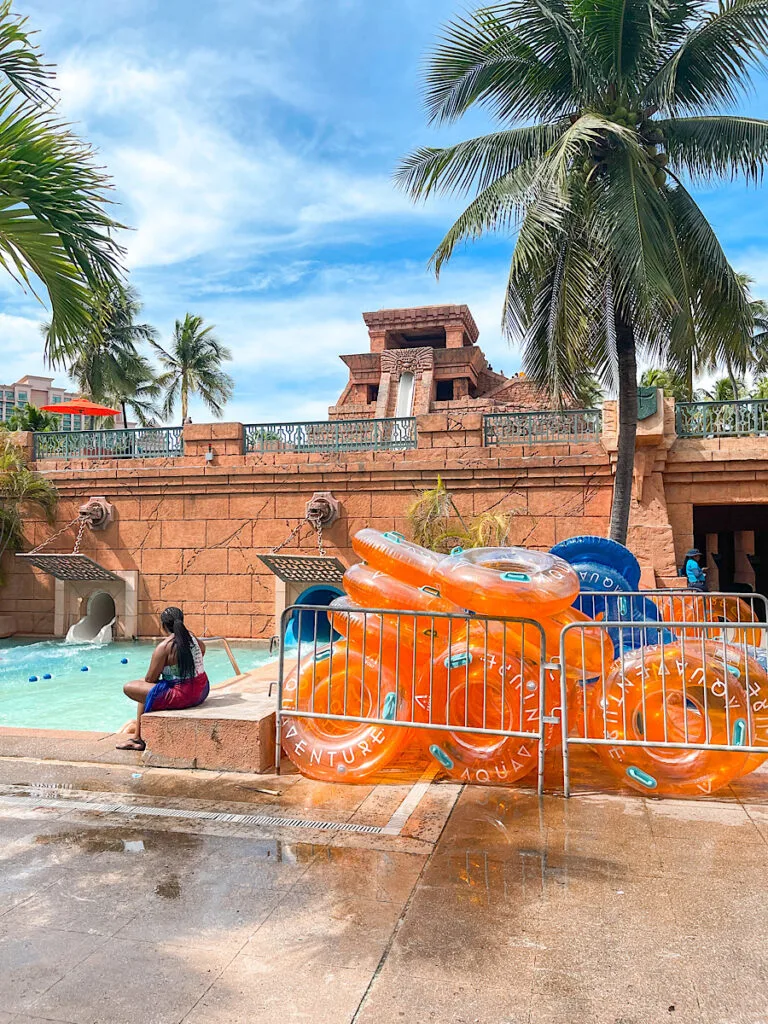 Bibbidi Bobbidi Boutique: Pirates League
When we got back on the ship, it was time for our appointment at the Bibbidi Bobbidi Boutique for a pirate makeover! My 9 and 13-year-olds were super excited for this experience.
After receiving new pirate names, Sam Bluefish and Willey Gunskull, they were led back to where they were transformed into their own version of Captain Jack Sparrow. The cast members were great and had some awesome pirate-style dad jokes to share with them.
After their transformation, we headed to the upper decks to take some pirate pictures. They turned out great!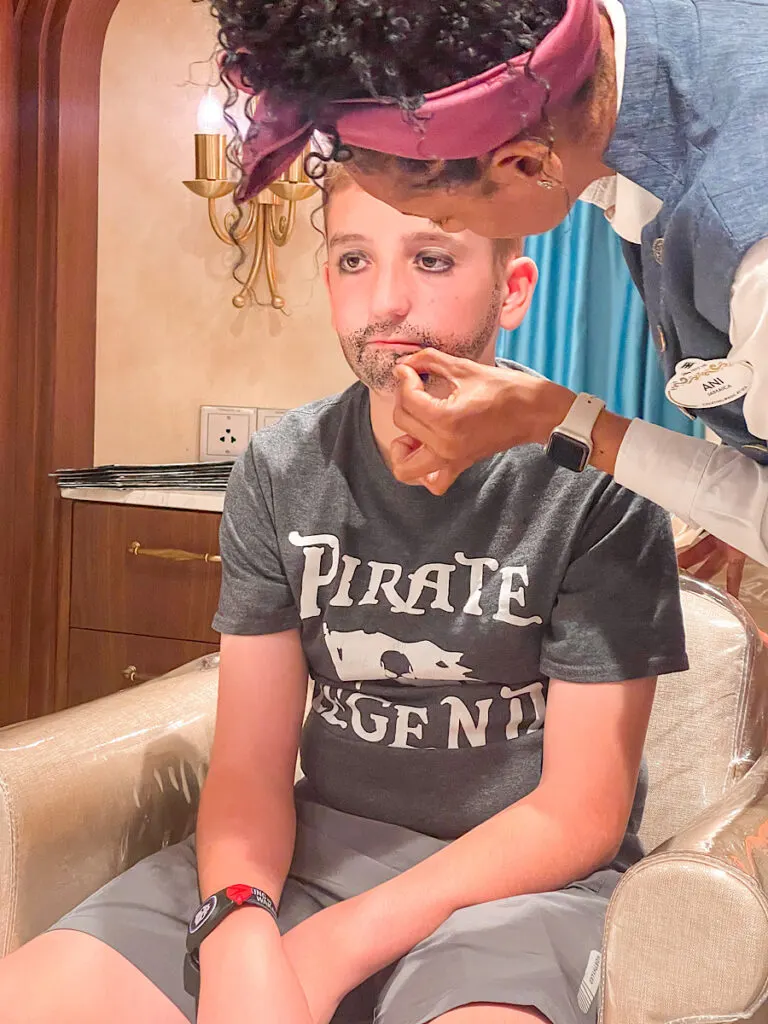 Dinner at Arendelle
On the second night, dinner as at Arendelle. I absolutely LOVED this restaurant. The theming is on point. Especially the entrance hallway that looks just like the movie! The premise for this dinner is that you have been invited to Arendelle to celebrate the engagement of Ana and Kristoff.
Ana, Elsa, and Kristoff make a quick appearance to greet your table on their way out of the restaurant, so be prepared with your camera!
For dinner I ordered the Blushing Oakeris Chilled White & Green Asparagus, Nordic Cucumber, Potato & Carrot Salad, Garlic & Thyme Roasted Beef Ribeye, and Kvaefjordkake for dessert. It was delicious!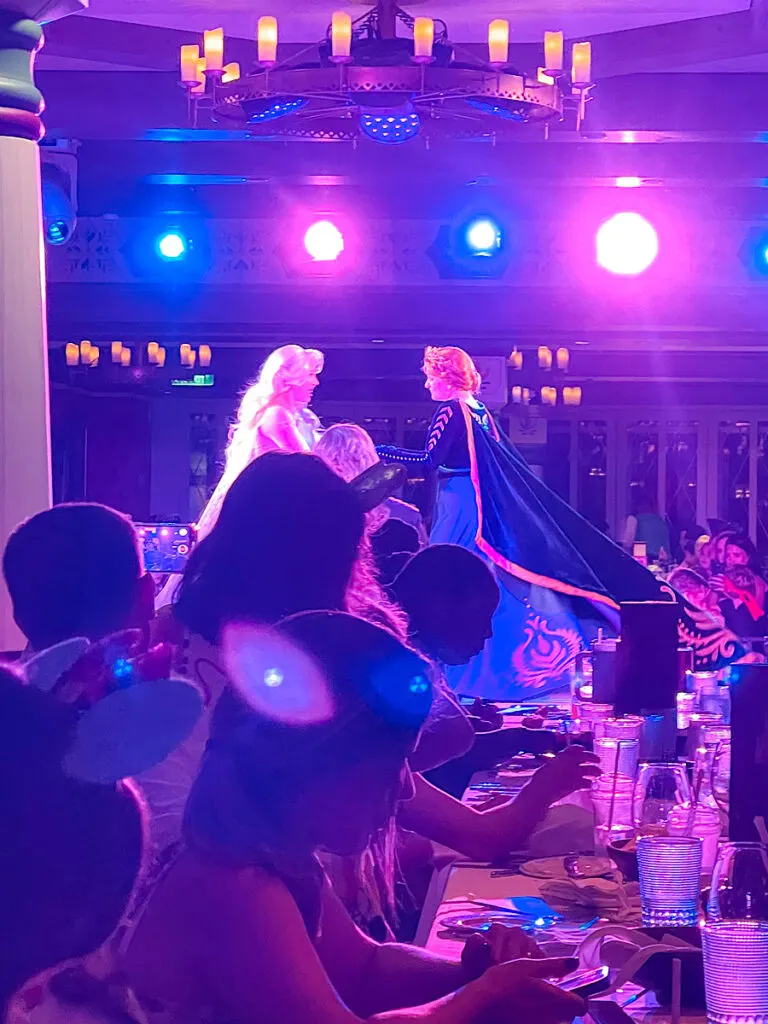 Day Three: Disney's Castaway Cay
Disney's Castaway Cay is Disney's private island in the Bahamas and it is so relaxing and fun. It's one of our favorite cruise stops.
Breakfast at 1923
To avoid the chaos of Marceline Market, we chose to have a sit down breakfast. This was located in 1923. The menu consists of a variety of items like omelets, Eggs Benedict, Pancakes, and yogurt parfaits.
My husband and I had the Eggs Benedict, my teenagers had the French Toast, and my 9-year-old had his favorite PB&J Typhoon Pancake. I have to admit that I was kind of jealous of his pancake!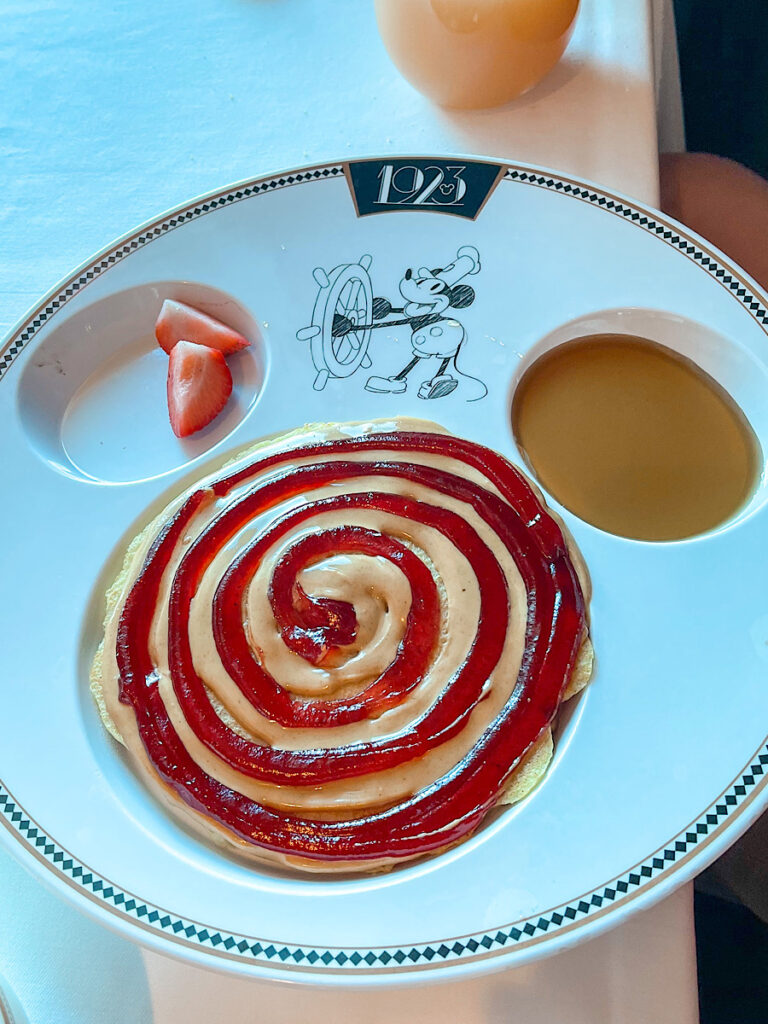 Castaway Cay Beach Time
The first thing we did on Castaway Cay was find some chairs and an umbrella near the family beach. We played in the water, dug in the sand, and my 16-year-old took a nap!
We ended up renting a couple of float tubes for the boys to play with in the water. They were $15 each and ended up being totally worth it.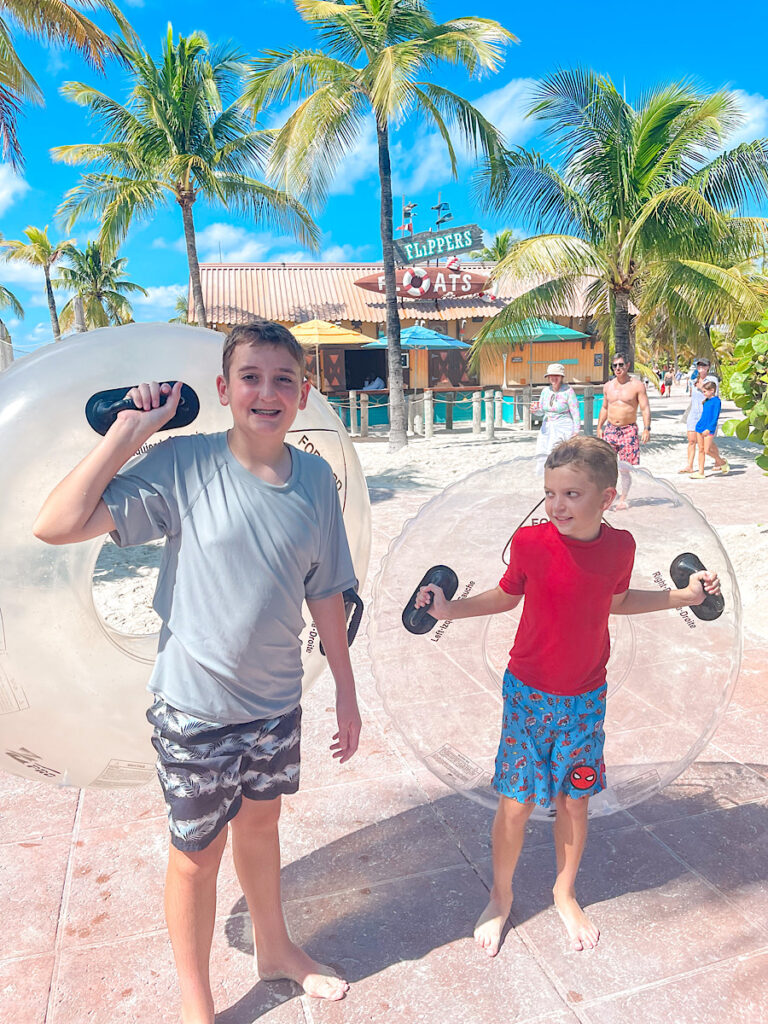 Free-Throw Competition
My husband and 16-year-old decided to participate in the Free-Throw competition in the game area called, In Da Shade. They had a lot of fun, but unfortunately did not win.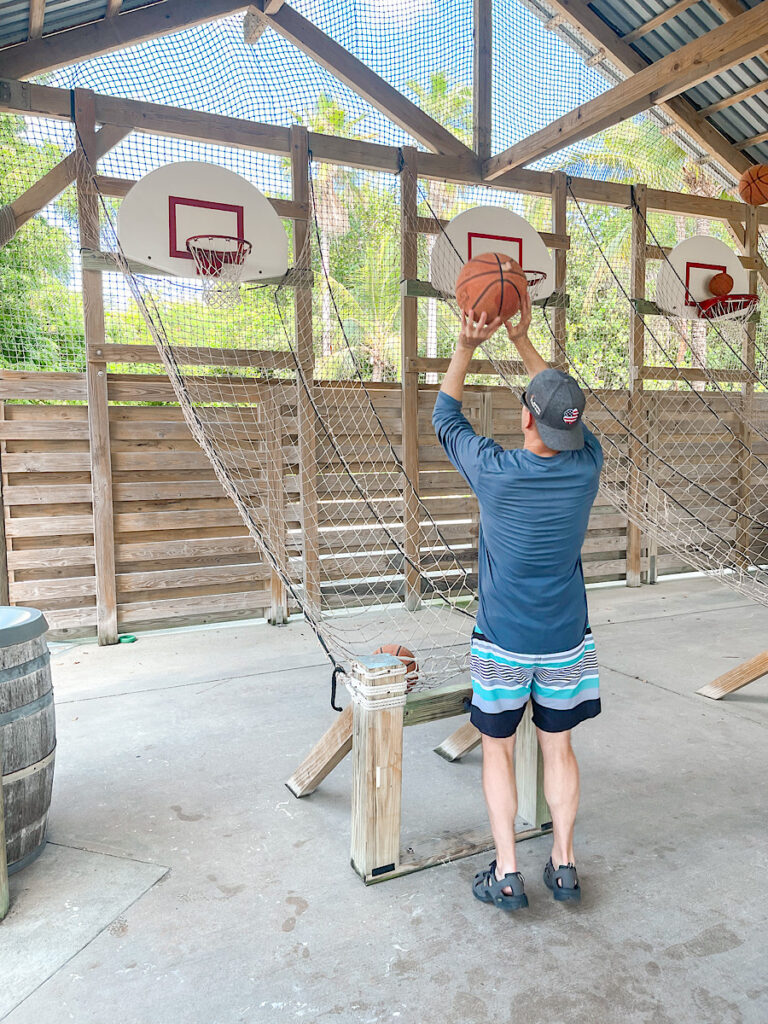 Quick Service Lunch
We decided to head back to the ship for lunch. My husband and I had burritos at Donald's Cantina. They were pretty good, but I think my favorite quick dining location was the BBQ.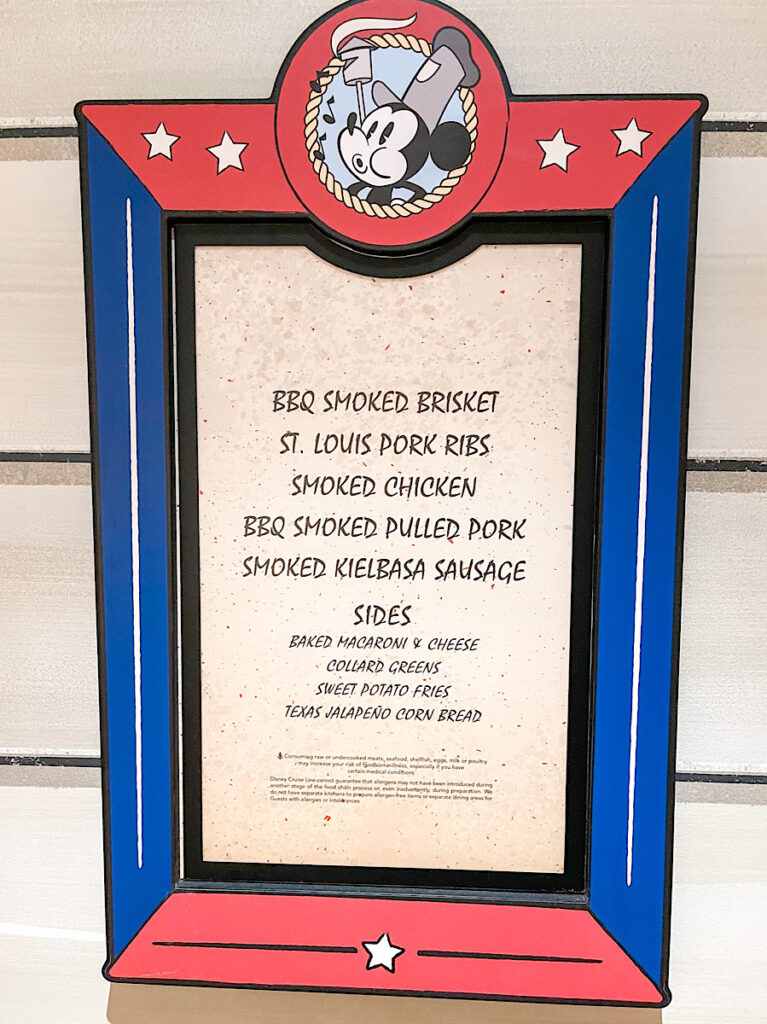 AquaMouse
We also took this time to ride the AquaMouse and swim in the ships pools because we were still in our swimsuits! It was a great time because most people were still off the ship on the island.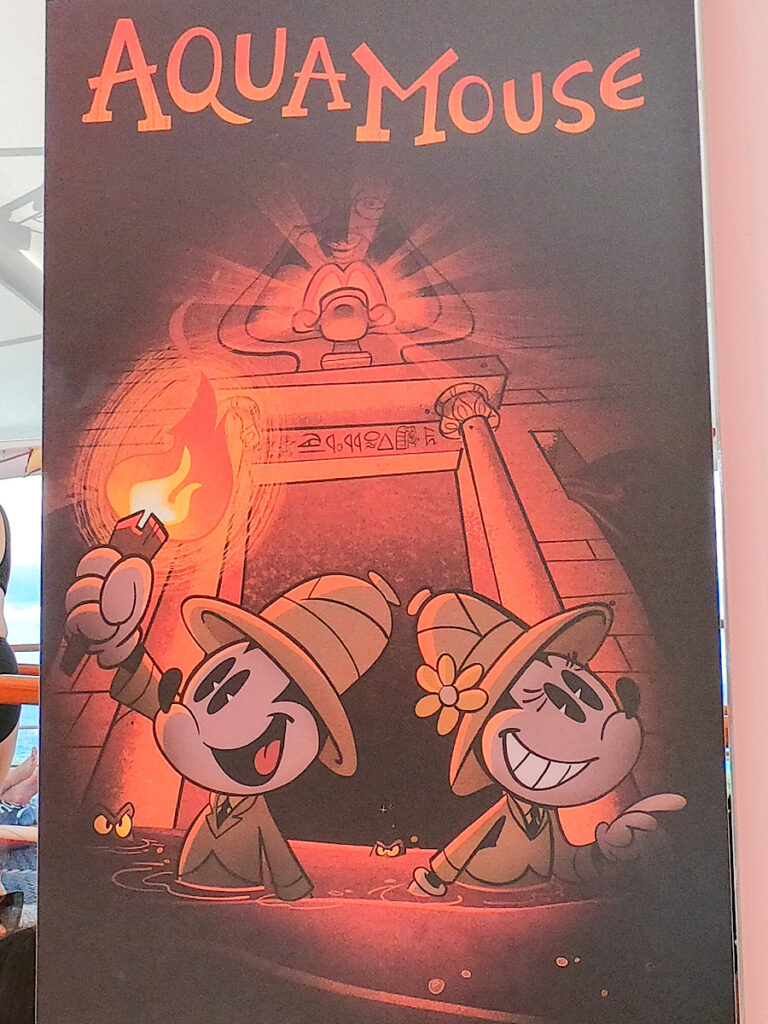 Trick-or-Treating
This was a Halloween on the High Seas Cruise so the kids changed into their Halloween gear and we headed up to Deck 11 to do some trick-or-treating. It was a little chaotic at first, but we were able to get through the line quickly and grab a bag of candy.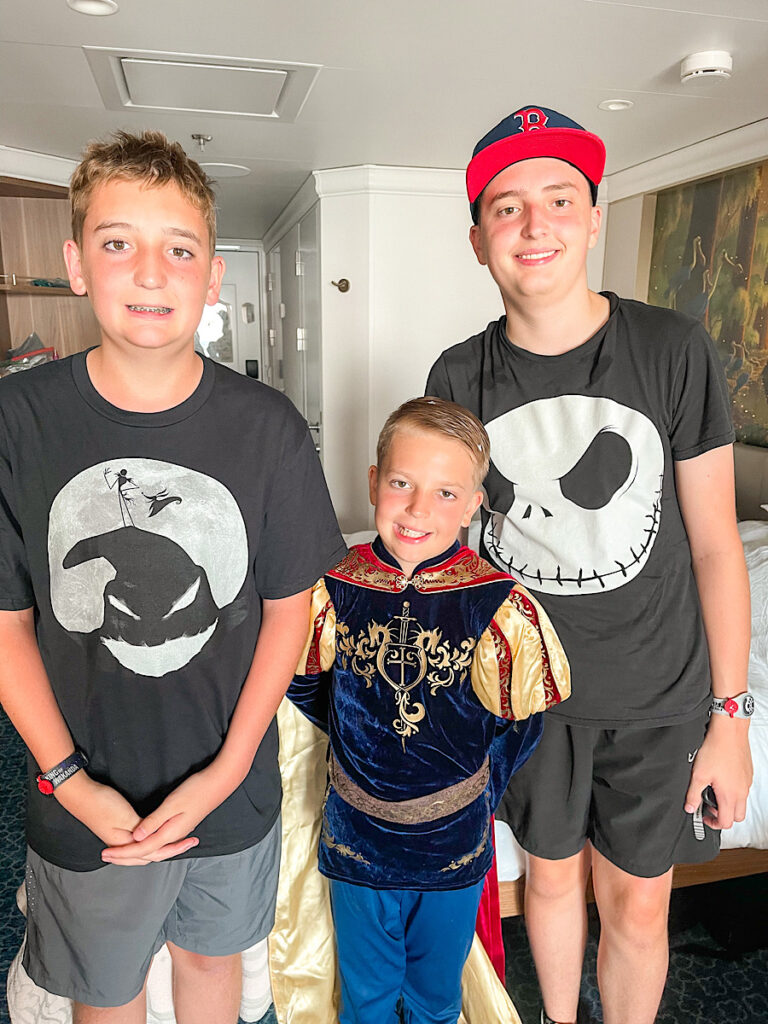 Aladdin
The live entertainment show that night was Aladdin and it was spectacular. We have seen a similar show on the Fantasy. The Genie always does an amazing job!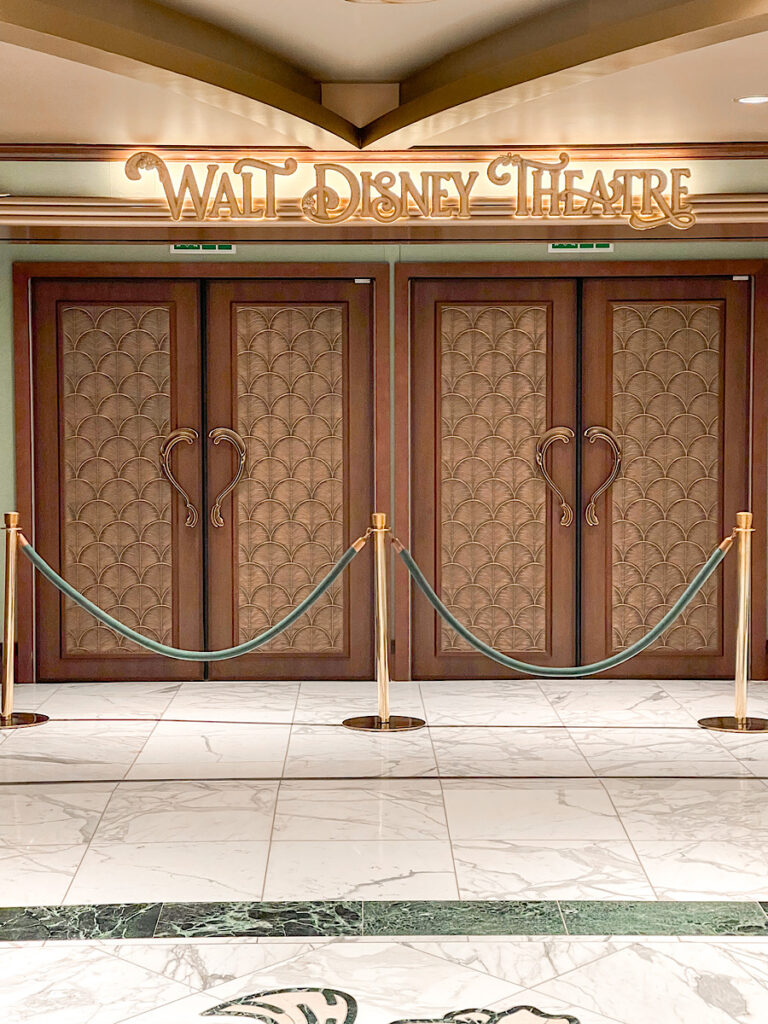 Dinner at 1923
That night we ate at the restaurant, 1923 which is themed after that period of time and features drawings of classic Disney characters.
For dinner I ordered Hyperion Four-Cheese Tri-Color Tortelloni, 1923 Peppered Filet Mignon, Churros Calientes, and Burbank Blueberry-Lemon Bavarian Cream for dessert.
This menu was by far our favorite of the three restaurants and we LOVED the Filet Mignon.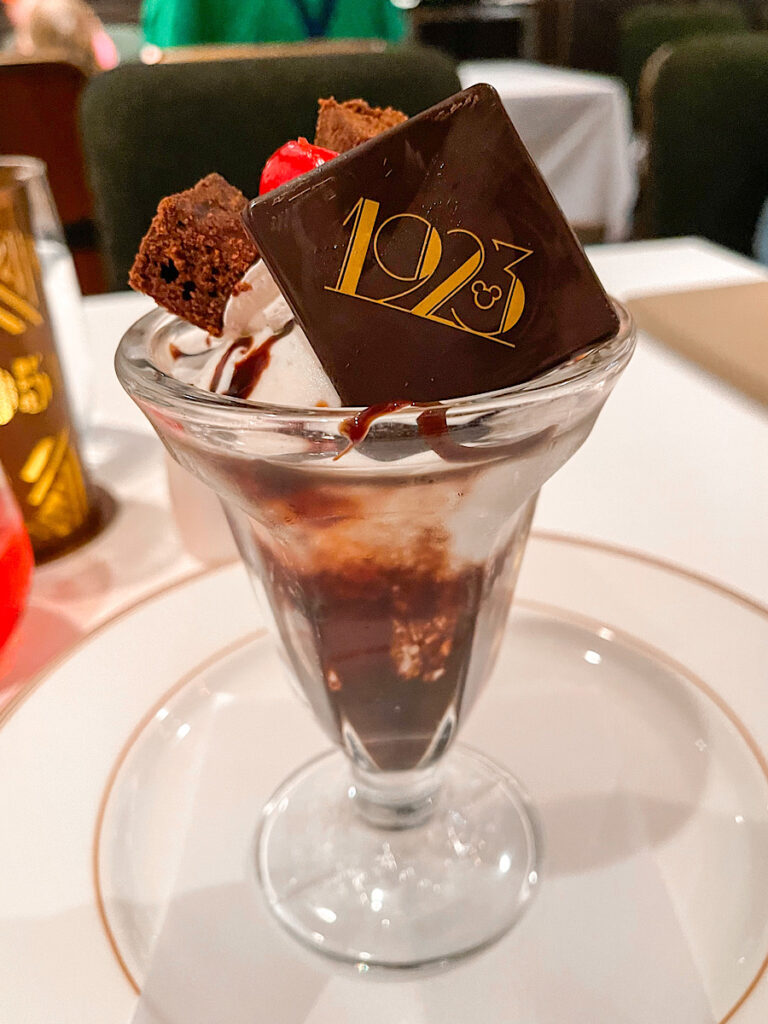 Live Music in the Bayou
After dinner, we listened to a band called The Wishers in the Bayou Lounge. The band was great! The Bayou lounge was in the center of two walk ways near the atrium on Deck 3. I liked it, but it was a little distracting having it in such a high traffic area.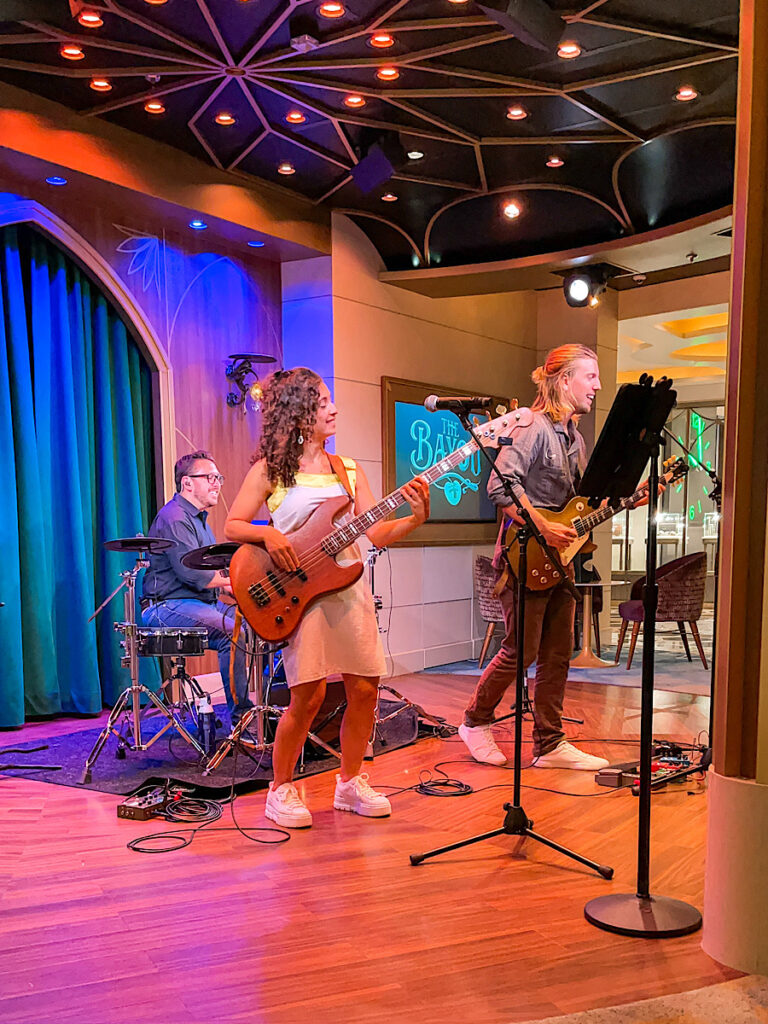 Day Four: Transition Day
This was the disembarkation day for our 3-day cruise and our embarkation day for our 4-day cruise. The night before, we were given instructions on what the procedure would be for back-to-back guests.
We were switching rooms, so we packed up our items, and then were told to leave our suitcases on the bed and they would be transferred to our new room by our stateroom host.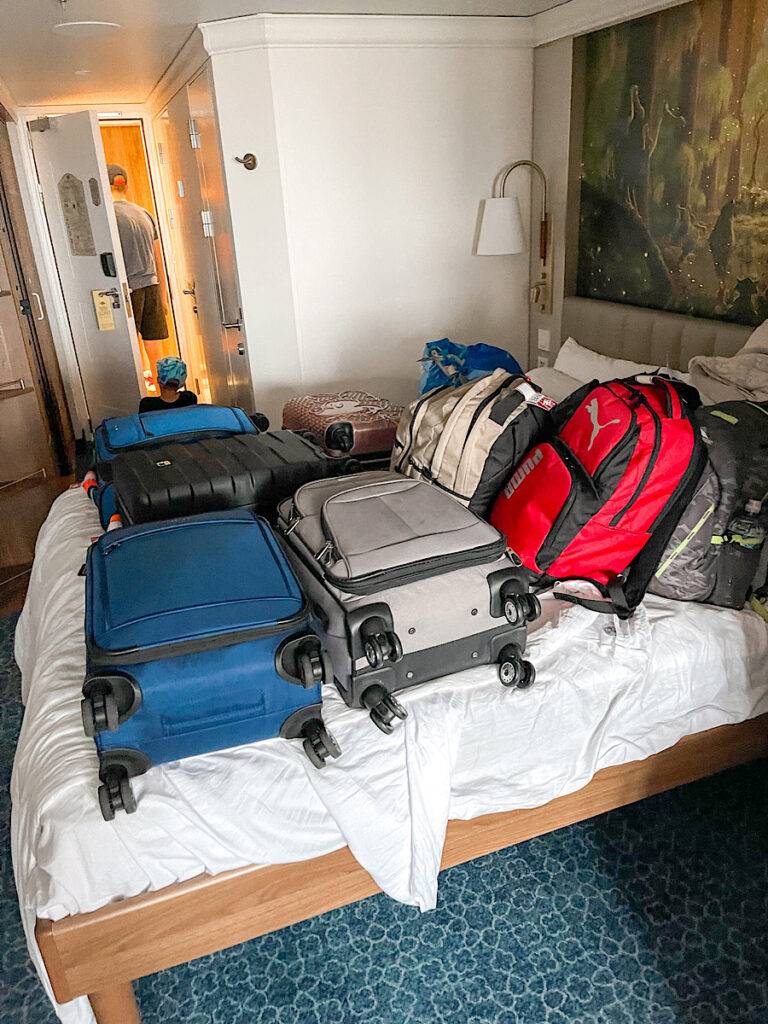 Breakfast at 1923
On the last day, the breakfast menu is a little more sparse than on other days as they are in a hurry to get you off the ship. Once again my kids had French Toast and my husband and I had oatmeal.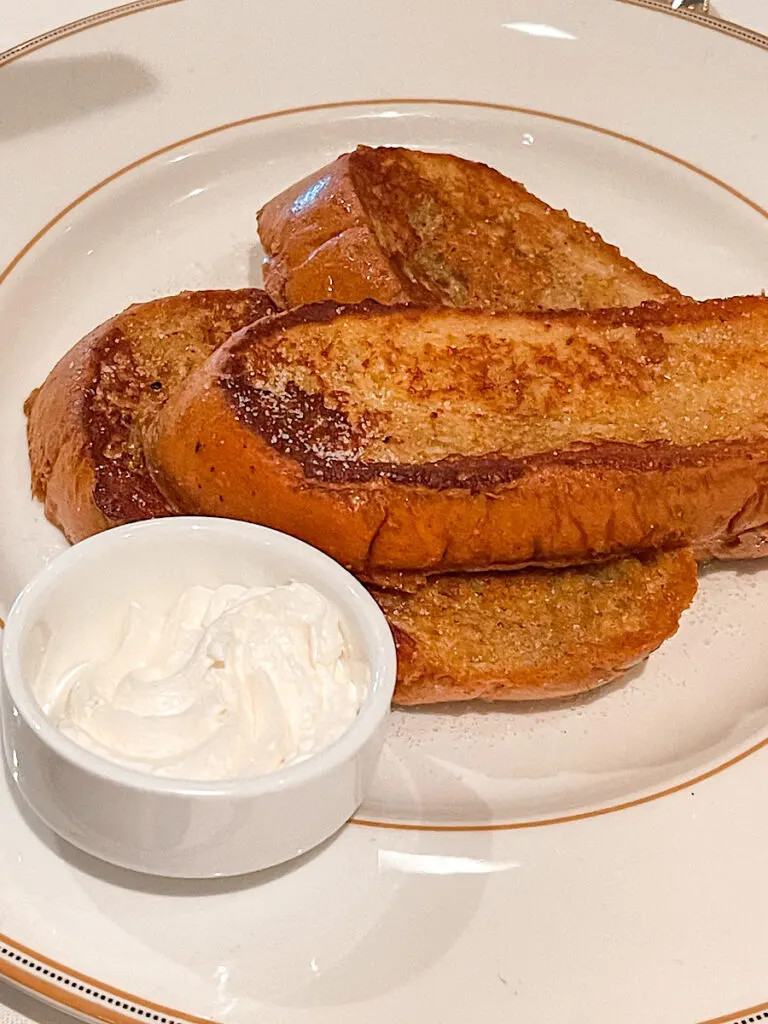 Meet in the Bayou
We were instructed to meet in the Bayou at 9:30 and a crew member would meet us and help us with the transition process. We waited for about 30 minutes until all of the other guests had exited the ship.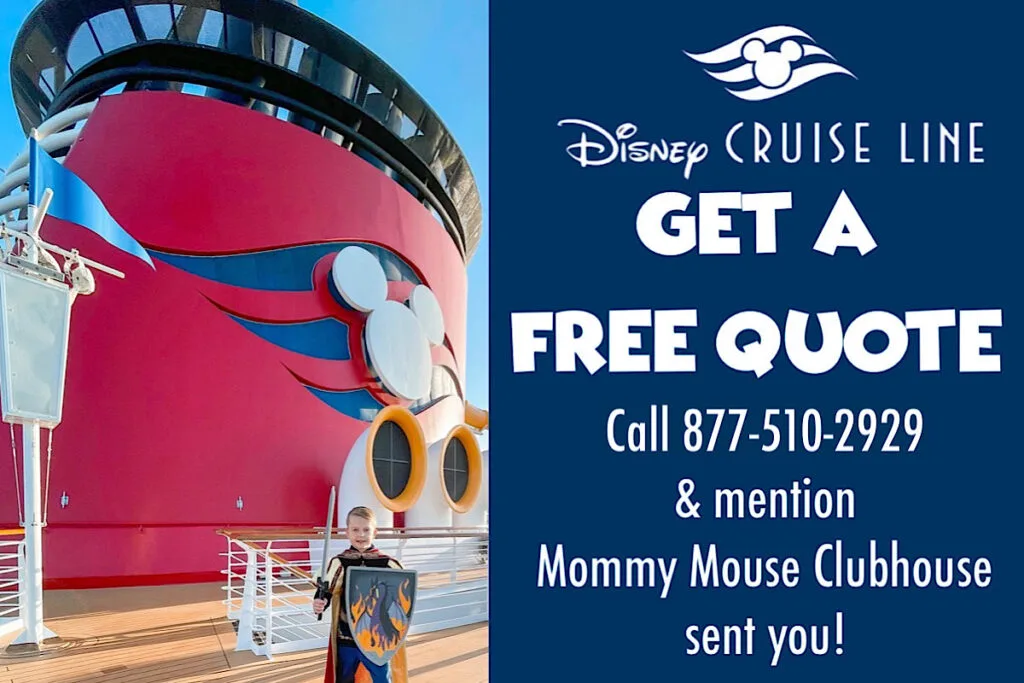 Check out prices below or get a free quote by calling 877-510-2929 and let them know Mommy Mouse Clubhouse sent you!
Back Through Customs
We were lead off the ship and taken to the Concierge Lounge to wait for about 20 minutes. Then we made our way back into the terminal to present our passports and go through the check-in process for the next cruise. Then we were allowed back on the ship and were given access to our room at 11:30 am.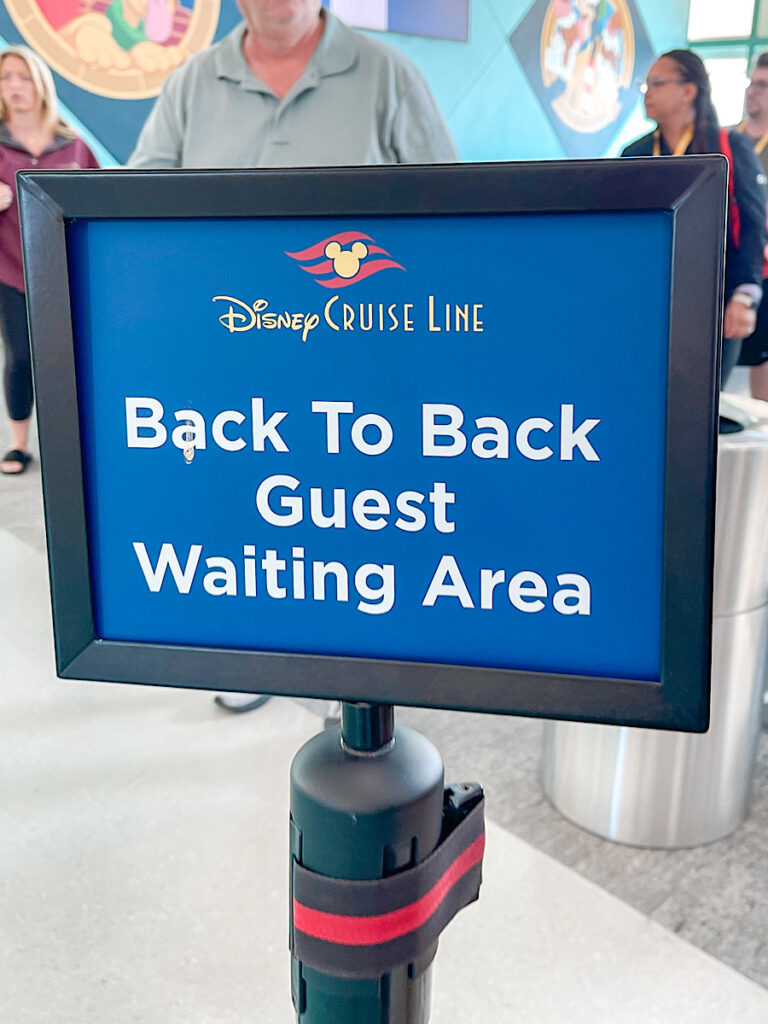 AquaMouse
Once back on the ship, we almost immediately had access to our new room, so we headed there to change into our swimsuits.
Other guests were just starting to board the ship, so there was no line for the AquaMouse. We ended up riding it five or six times in a row because no one else was waiting.
Quick Service Lunch
We didn't want to be in the craziness of Marceline Market, so we chose to grab quick service lunch again. I had two slices of cheese pizza that was pretty good.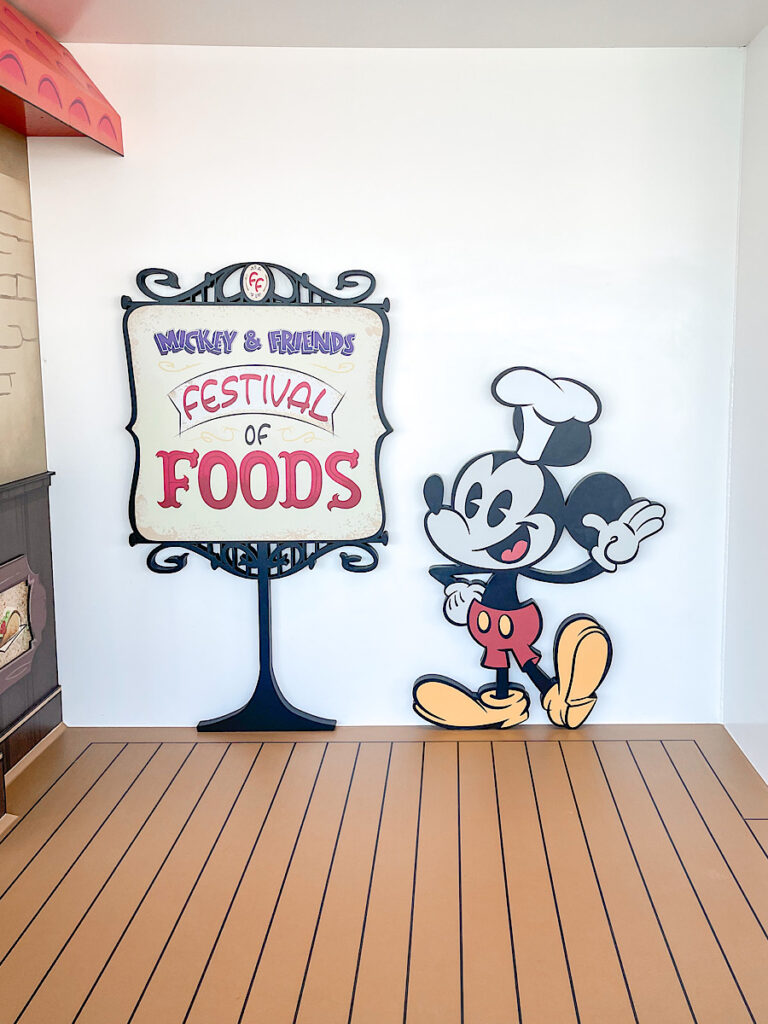 Joyful Sweets
After changing out of our swimsuits, my 9-year-old and I headed to Joyful Sweets to get a treat. We each choose to get a Macaron. They were small, but delicious!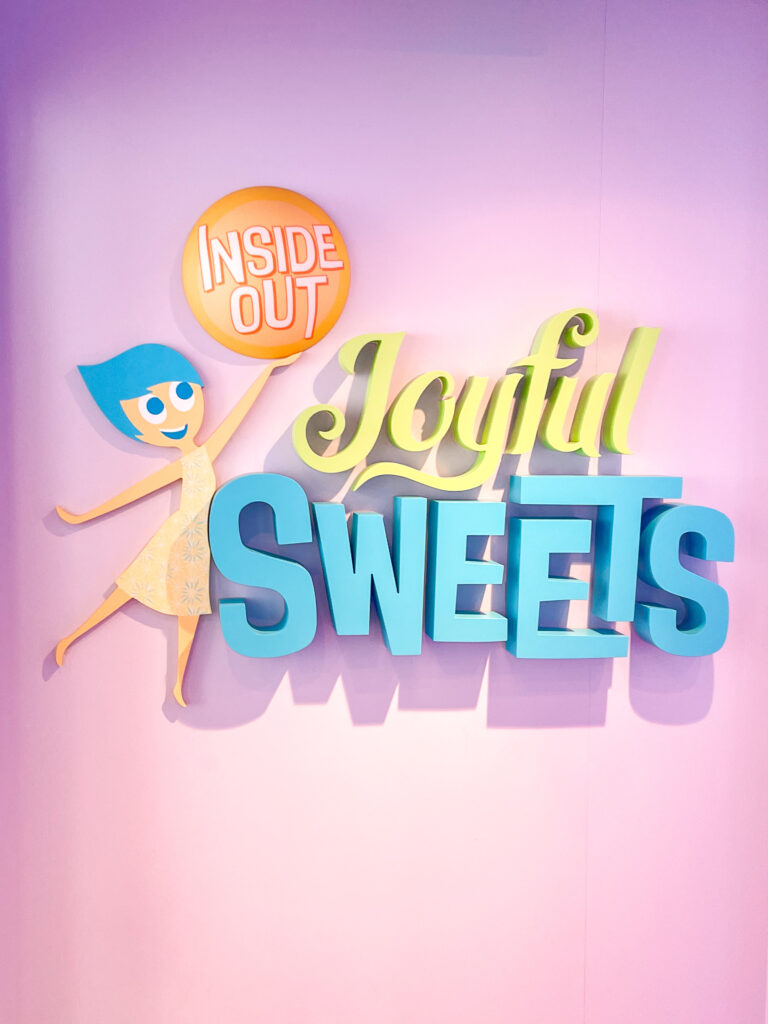 Adult Area
The first cruise went by so quickly that we never had the chance to visit the adult area and pools. My husband and I took the opportunity to go check them out and take a look at the Toy Story splash area as well.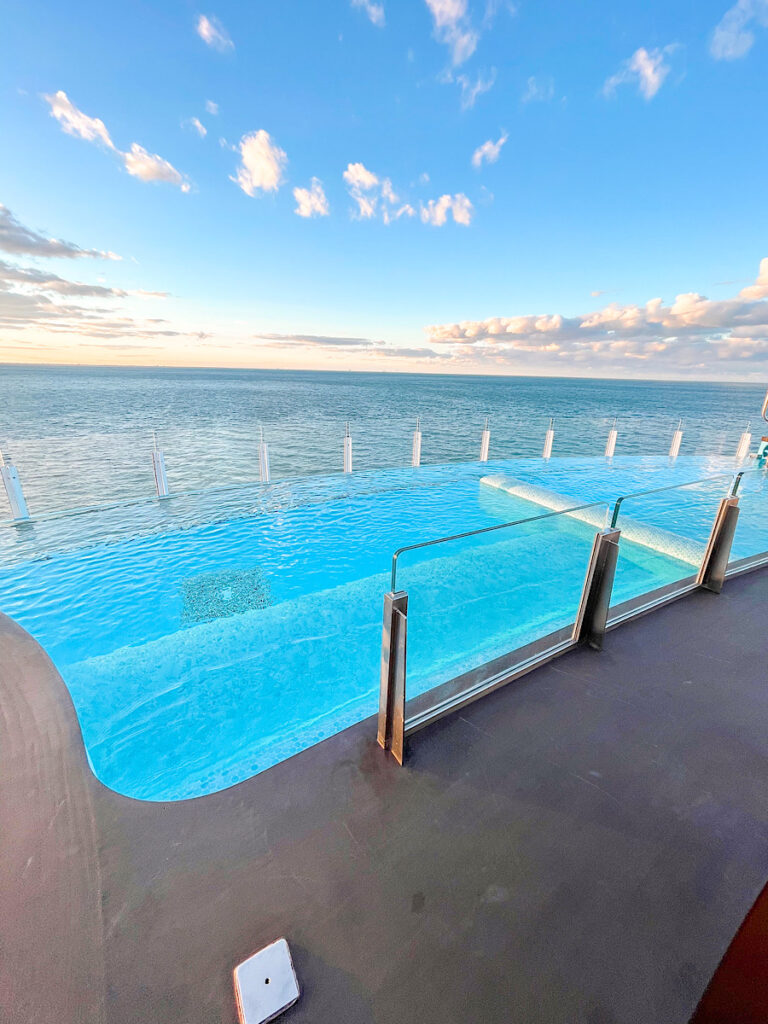 Dinner at Arendelle
We had our first dinner of this cruise at Arendelle a Frozen dining adventure. We had the same table and servers, which was nice because we had already been able to get to know them.
It was kind of nice to repeat restaurants because I was able to try even more menu items!
I ordered the Troll Valley Baby Field Greens, Arendelle Kjottkake (braised meatballs, rosemary cream reduction, egg noodles, and lingonberry chutney), and the Troll Family's Rock Chocolate Bar for dessert.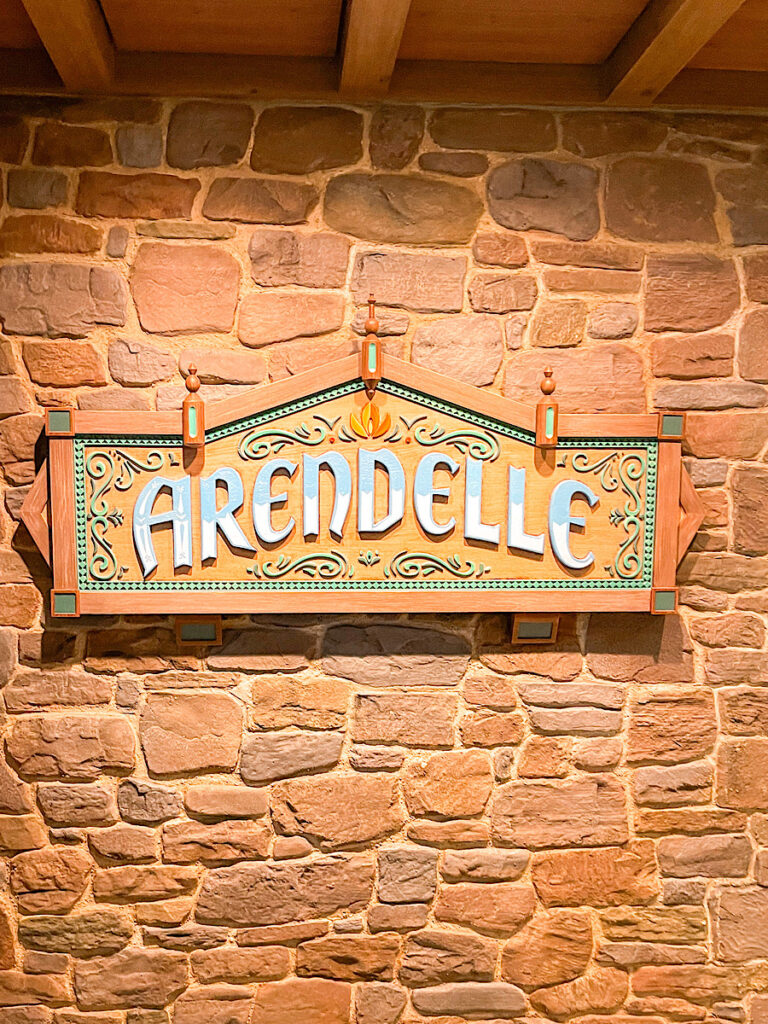 Day Five: At Sea
Unlike the 3-night cruise, this cruise had a day at sea. Sea days are sometimes my favorite because they are relaxing and there are tons of activities to do on the ship.
Breakfast at Marceline Market
Because we were able to sleep in a little bit, we decided to try having breakfast in Marceline Market again. It worked out better this day because we went about 30 minutes before they closed to switch over to lunch.
I had oatmeal, a sausage and cheese quiche, and the famous Disney Cruise hash browns.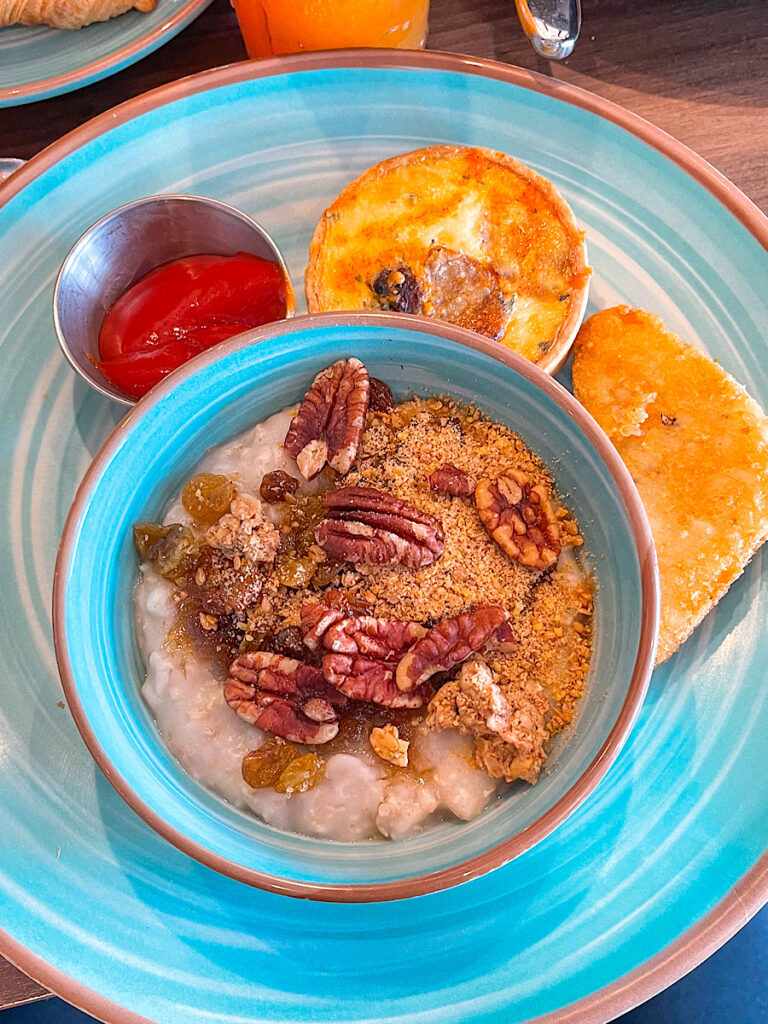 Three Point Competition
My boys decided they wanted to compete in the three point competition in the Hero Zone. In the Hero Zone we also played some ping pong, table hockey, and billiards. Then we stopped to grab an ice cream cone.
Haunted Mansion
We had been holding off on watching the new Haunted Mansion at one of the two movie theaters while we were on the cruise. We purchased a popcorn bucket on our San Diego Disney Cruise and we bring it with us every time we sail. The popcorn refill is about $1.50 and my boys always get it filled one or two times. Disney cruise popcorn is the best!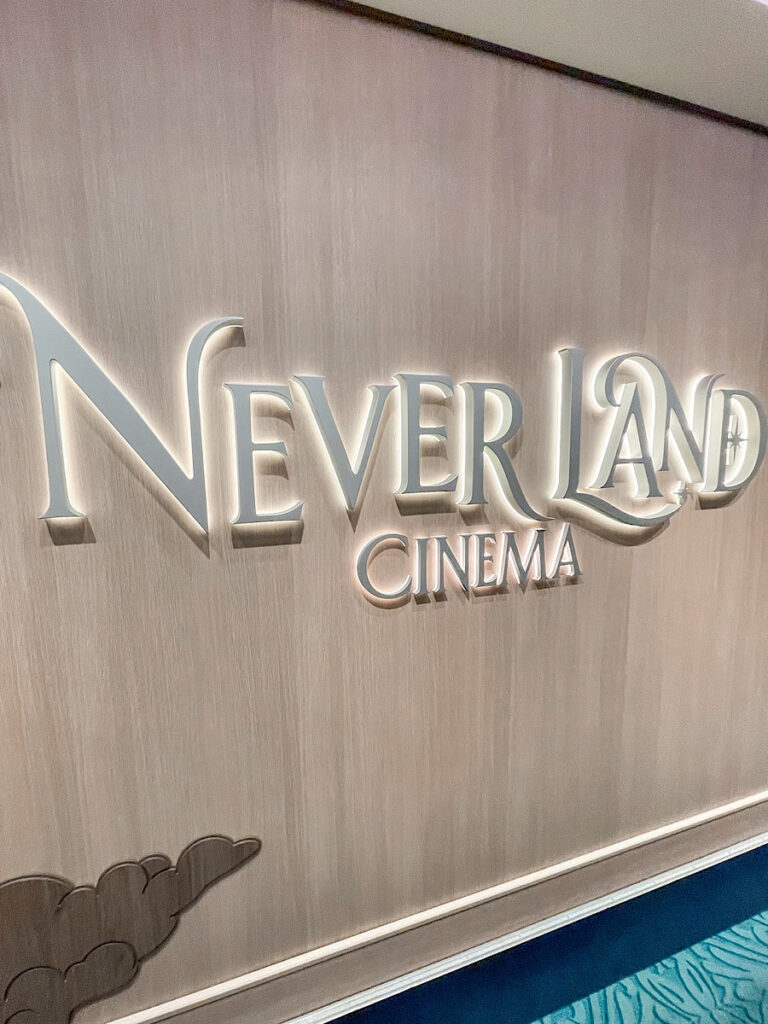 The Little Mermaid
The show for the night was The Little Mermaid. It was great, but not my favorite show that I've seen on a Disney Cruise. It seemed a little slow and like they could have added more detail to the set.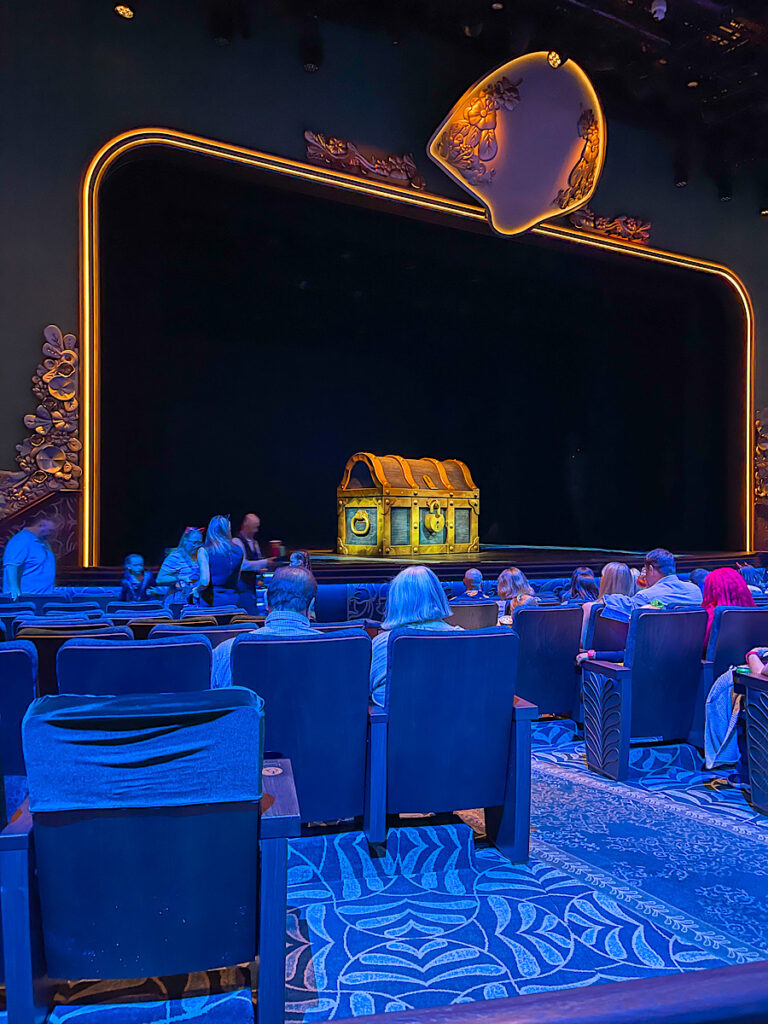 Edge Open House
After the show, my son wanted to go to the Edge for the open house. During an open house, anyone can visit the kids club, Edge, or Vibe.
In the Edge there were many different video game consoles to play with and a lot of board games. We played Jenga and stacking cups together.
Dinner at 1923
For this dinner at 1923 I ordered the Burrata Mozzarella Cheese & Prosciutto di Parma, Roasted Roma Tomato Soup, Tortiglioni Pasta, and the Hollywood Hills Hot Chocolate Fudge Sundae for dessert.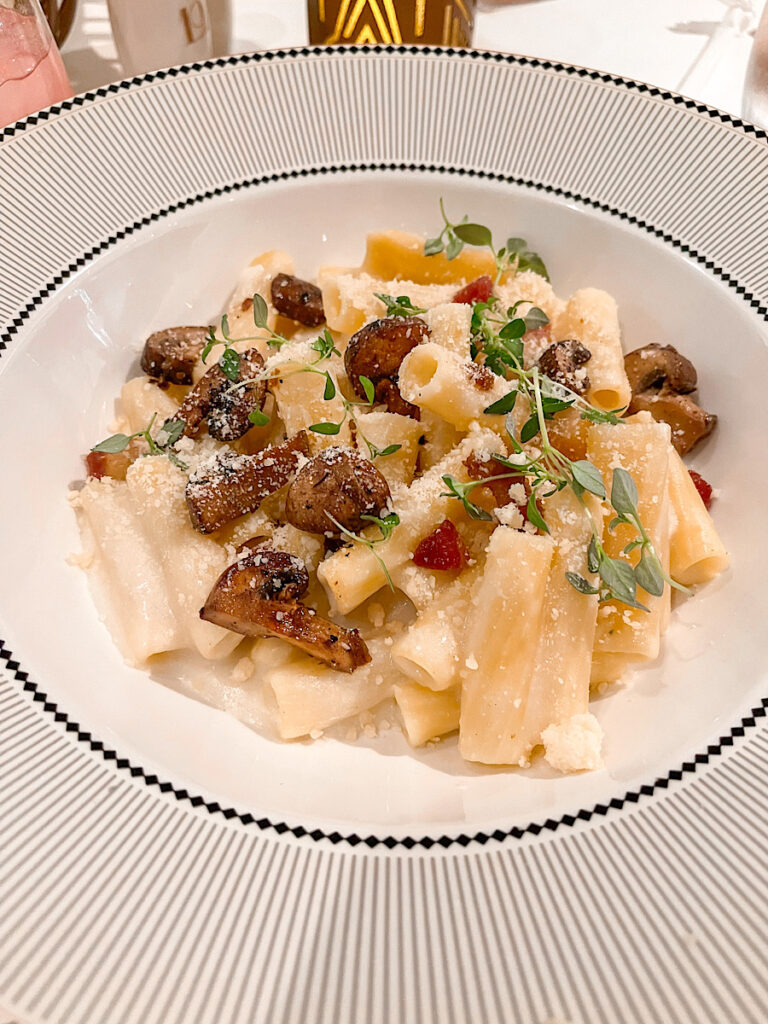 Disney Quotes Trivia
After dinner, my 9-year-old and I went to Triton Lounge to participate in Disney Quotes Trivia, while the teenagers went to hang out in the Vibe.
Trivia was super tough! Out of 40 points, the highest score was 23. Our dismal score was only 13!
Day Six: Nassau, Bahamas
Because we wanted to experience the ship more, we decided to stay on board instead of disembarking in Nassau.
Room Service for Breakfast
We decided to order room service for breakfast on day 6. In the desk drawer you will find a menu that you can fill out and hang on your door the night before. You can also select the time you want it to be delivered.
There are basic continental breakfast items like croissants, English muffins, cereal, muffins, and donuts. Our breakfast was delivered right on time and it was nice to enjoy our eating out on our verandah.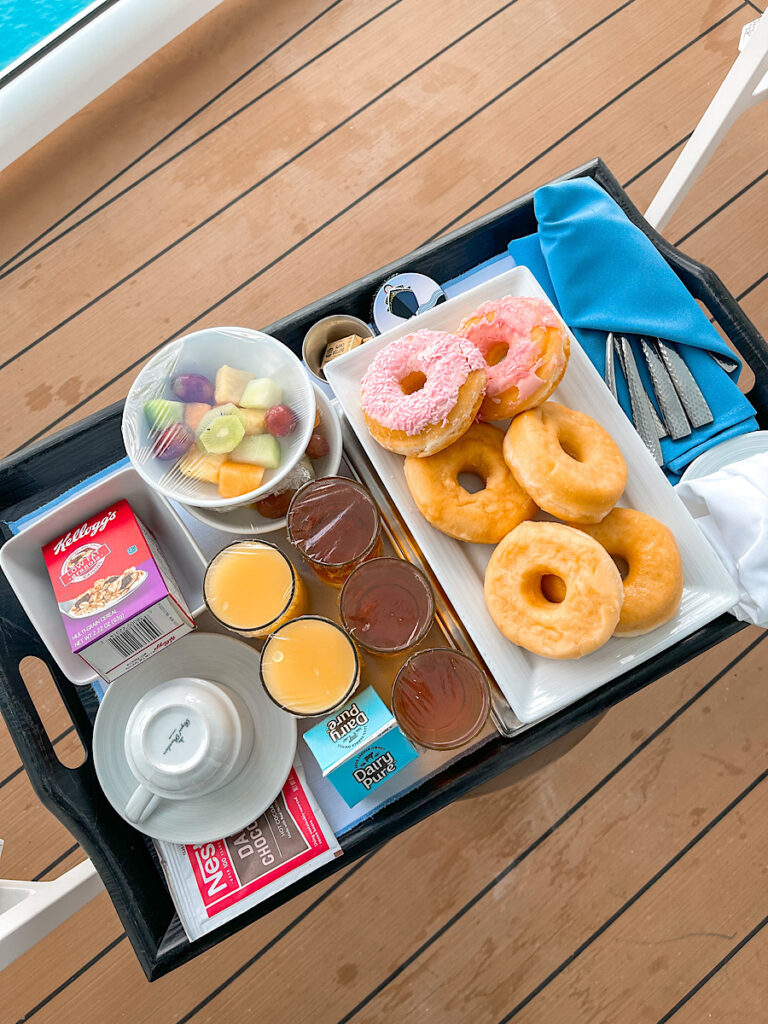 Incredi-Course
One of the cool things about the Disney Wish is that the Hero Zone can transform into a giant inflatable obstacle course themed after the Incredibles.
This was scheduled to be set up from 9:00 am to 3:00 pm on this day. We headed up to the Hero Zone just after it opened. The line was fairly long and it took us about 15 minutes. It was super fun and our plan was to try and go back agin later in the day.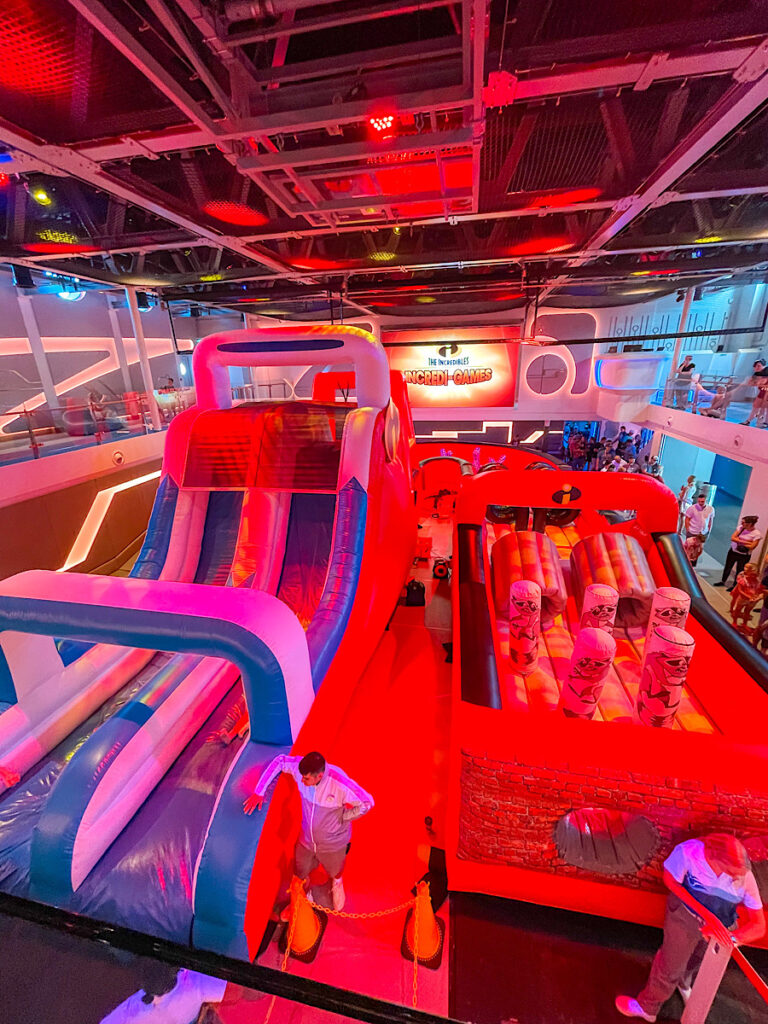 Lunch at 1923
We decided to mix things up and head to the restaurant for lunch, which we have never done before. Lunch was open from 12:00 pm – 1:30 pm for lunch.
We ordered the Herb Marinated Steak Salad, Cream of Tomato Soup, Baked Ziti Pasta, Southwest Black Bean Burger, The Gold Rush Sundae, and the White Chocolate Brownie Pie.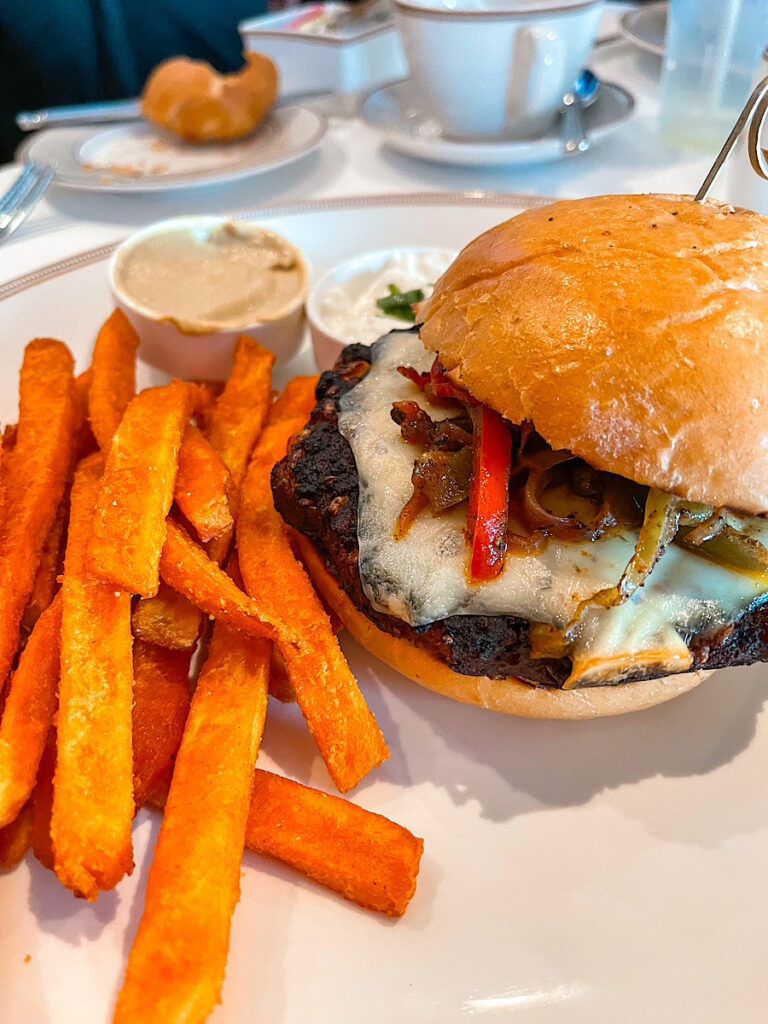 Hero Zone & Incredi-Course
After lunch, there was still time to visit the Incredi-Course at the Hero Zone, so my 9-year-old and I headed back up to compete again. I raced my son this time and obviously did not win. LOL.
We also played some of the other games while we were in there until my son wanted to spend some time in the Oceaneer Club.
Indiana Jones and the Dial of Destiny
This was another movie that we saved to watch on the cruise. Instead of having one large movie theater like the older ships, the Wish has two small theaters. Because of this, if you want to watch a movie here, I recommend arriving 20-30 minutes early to secure a seat.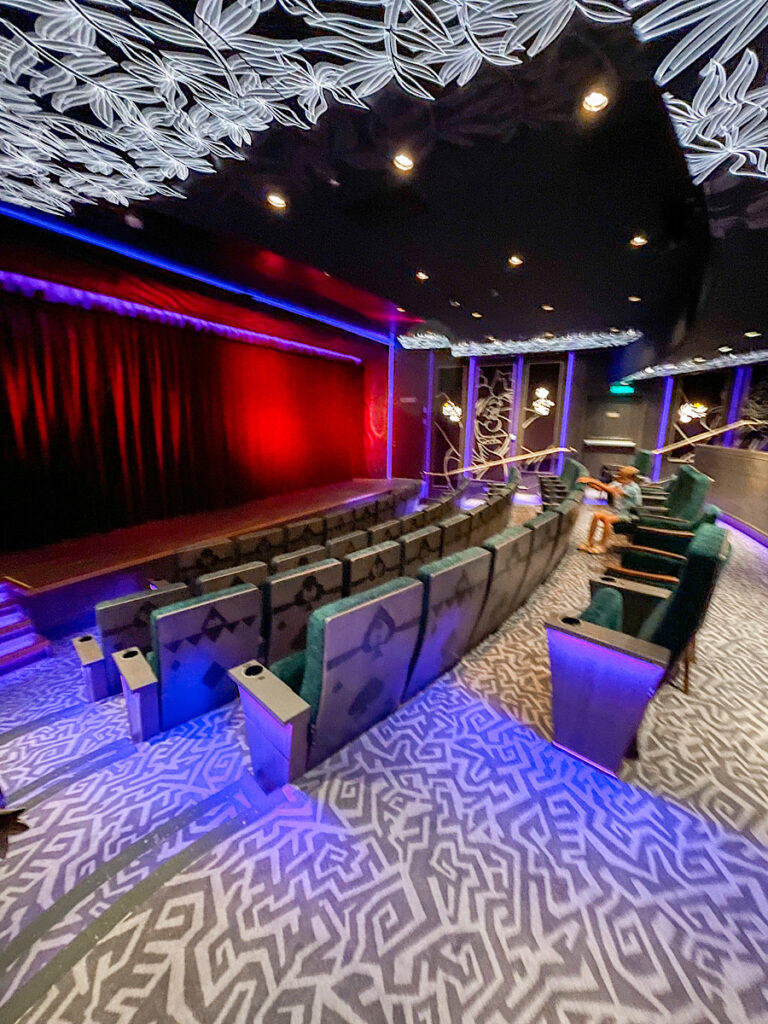 The Bayou
Our favorite cruise band, The Wishers, were playing again in the Bayou lounge, so we stopped by to listen. This time we decided to purchase an order of beignets. They were ok, but nothing like the beignets from Cafe Du Monde in New Orleans or even Mickey Beignets from Disneyland.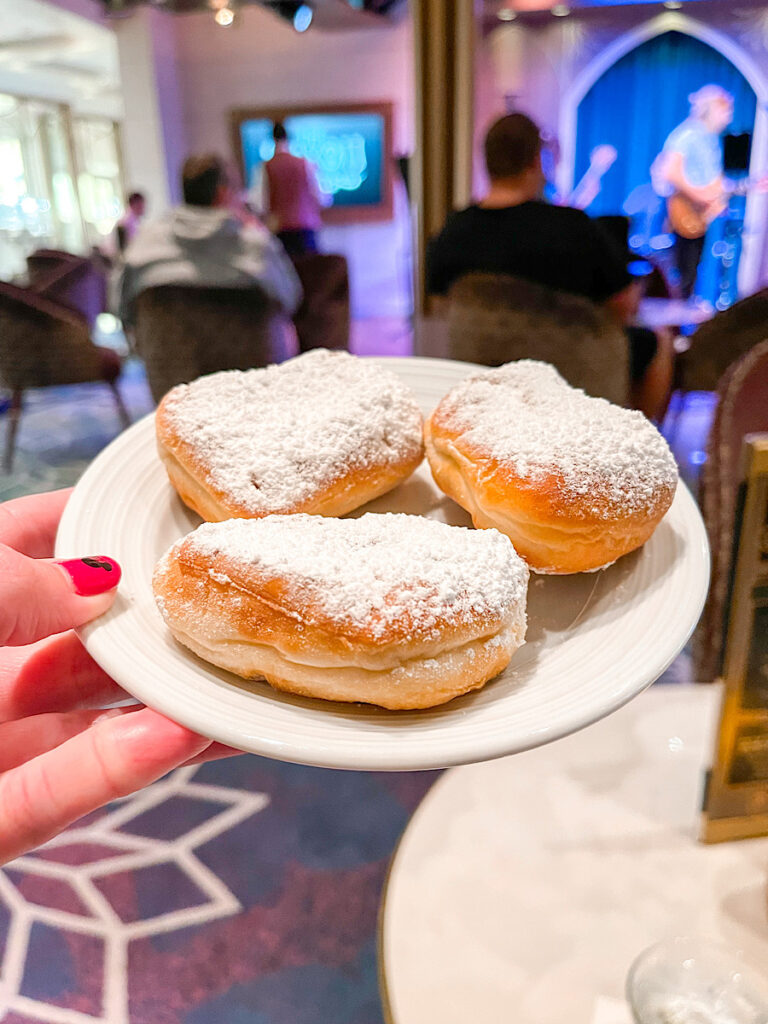 Pirate Night in 1923
Dinner was once again in 1923, but for Pirate night on the 4-night cruise, we were served the pirate menu.
For this dinner I ordered Sri Sumbhaee's Vegetable Samosa, Chilled Mango Soup, Shanghaied Noodle Stir-Fry, and the Pirate's Treasure Sundae.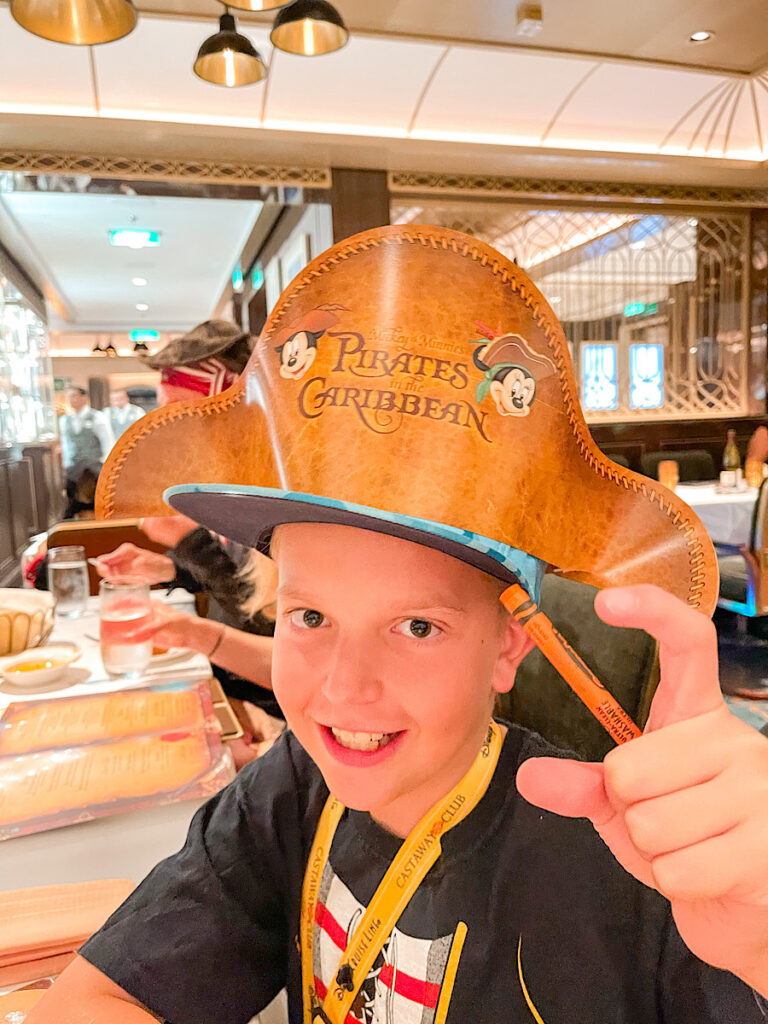 Shuffleboard & Hero Zone
After dinner my son wanted to play shuffleboard. We found out that we are not good at shuffleboard, but we did have a good time.
We also headed up to the Hero Zone for a few minutes before it closed for the night.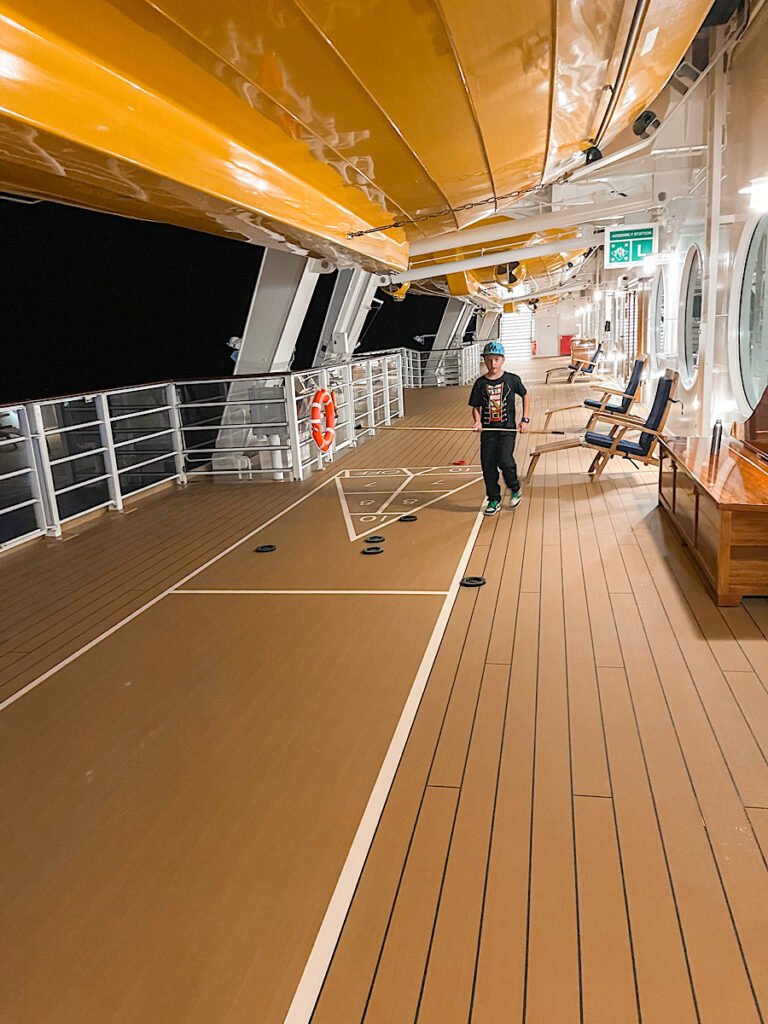 Day Seven: Disney's Castaway Cay
Our last full day on the ship and our second day at Castaway Cay. We had room service breakfast again, which worked out great, and were ready to get off the ship by 10:30.
Parasailing at Castaway Cay
I purchased the parasailing excursion for all five of us at Disney's Castaway Cay. We checked in and filled out our waiver, then waited at a picnic table with other's waiting to parasail at 11:00.
For the excursion, we were required to remove our shoes before getting on a small boat. This boat included my family of five as well two other family's for a total of 10 guests plus two guides.
My husband and 16-year-old went first, followed by myself, 13-year-old and 9-year-old. The other two families parasailed after us.
It was a really fun experience and I will definitely do it again. It did seem to go by really quickly though.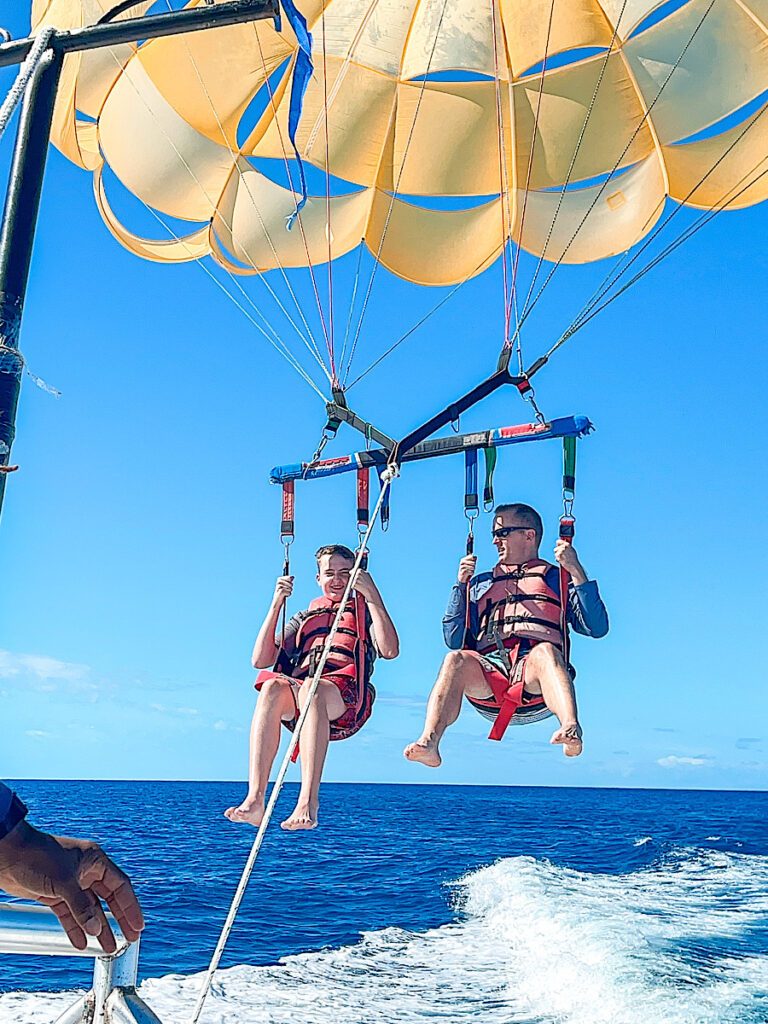 Lunch at Cookies BBQ
Lunch is provided to all guests on Castaway Cay. It is a buffet-style BBQ with many different choices and side dishes.
I had a cheeseburger, ribs, potato salad, macaroni salad, corn salad, and a chocolate cookie ice cream sundae.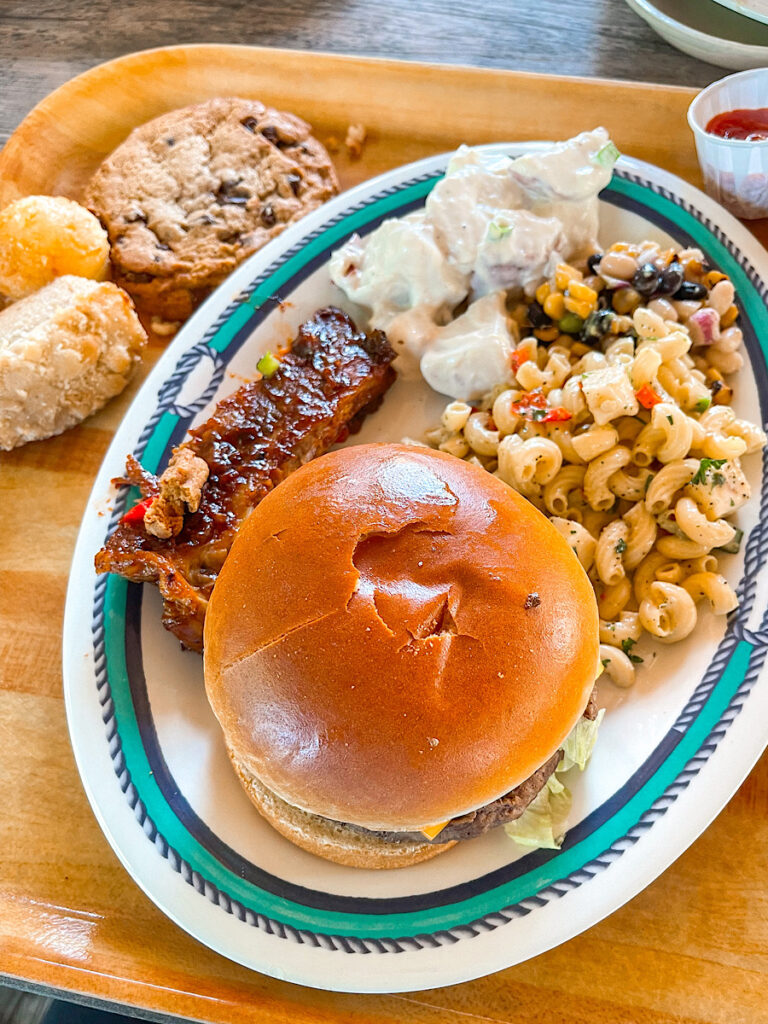 Pelican Plunge
After lunch we decided to take a slide down the Pelican Plunge water slides. The wait was not too bad, and the kids had a great time!
Room Service
Once back on the ship, the kids were hungry again so we made an order to room service. Room service is included on Disney cruise ships, its just standard to tip a dollar or two for each item.
We ordered a grilled cheese sandwich, tomato soup, cheesecake, the All Hands on Deck cheese platter, and a couple of Mickey ice cream bars.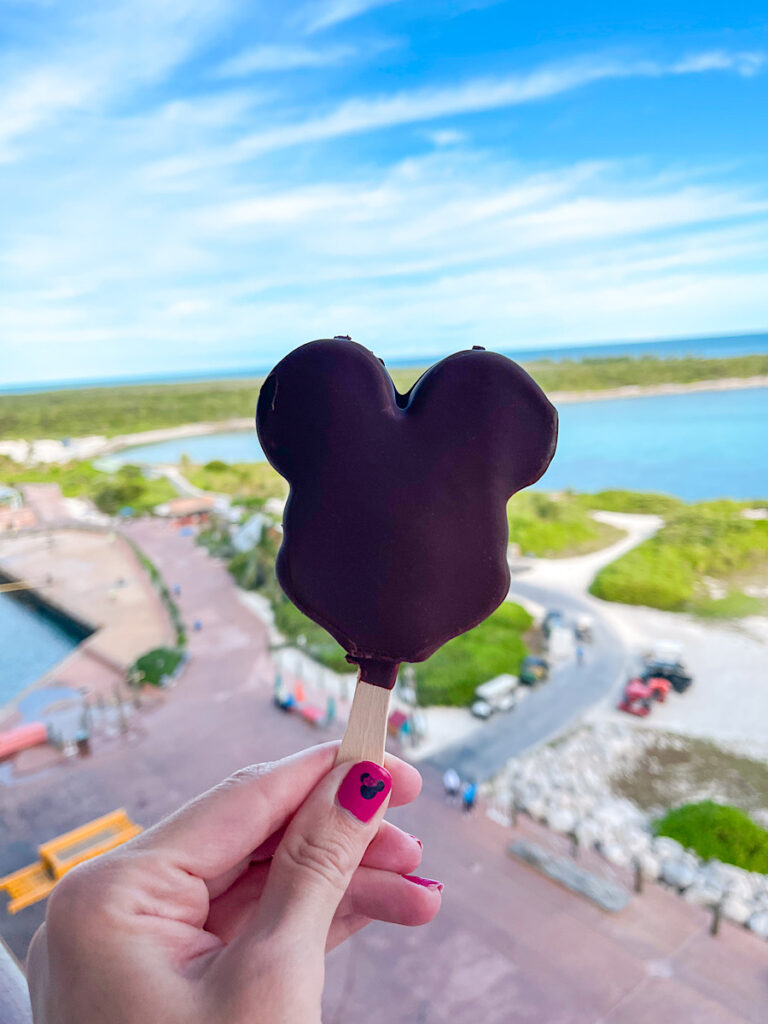 Dinner at World of Marvel
We enjoyed dining at World of Marvel again. The show was the same during dinner, but this time Spider-Man did not make an appearance.
For dinner I ordered the Iceberg Wedge Salad, White Cheddar Broccolini Soup and Ricotta Gnocci. For dessert I had Quantum Key Lime Pie and the Cheesecake Byte.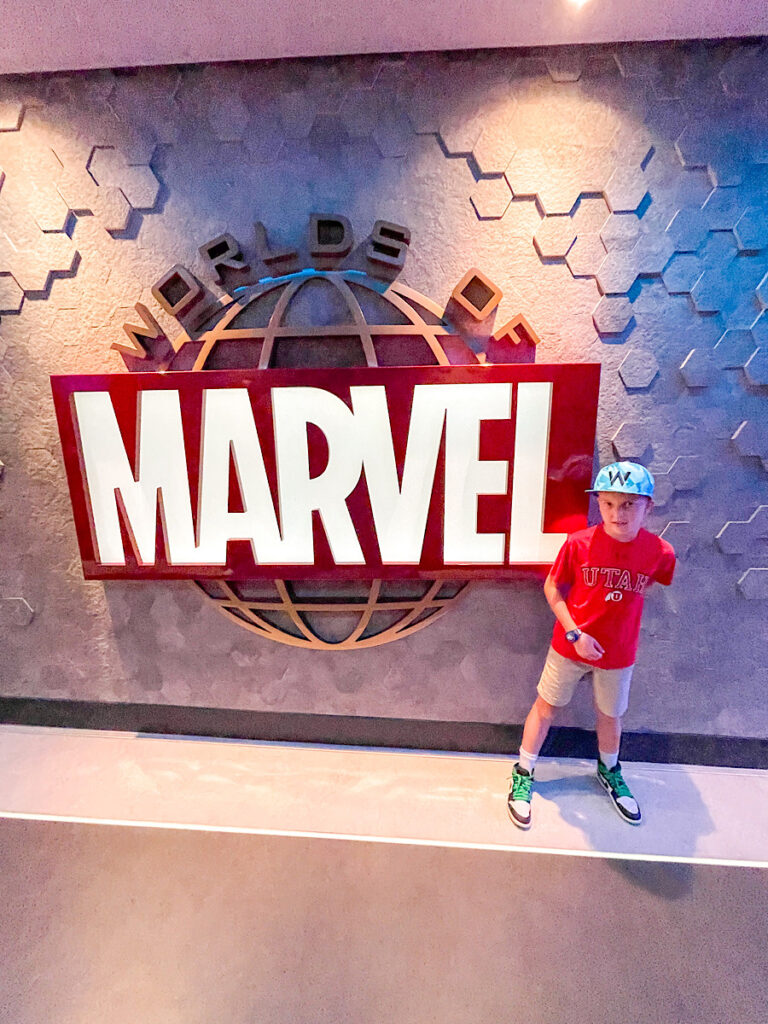 Packing
The last night of your cruise, you can pack up your suitcases and place them outside your door by a certain time, then your room host will take them to be removed from the ship in the morning. Doing this frees you up from having to carry your luggage around the next morning to breakfast.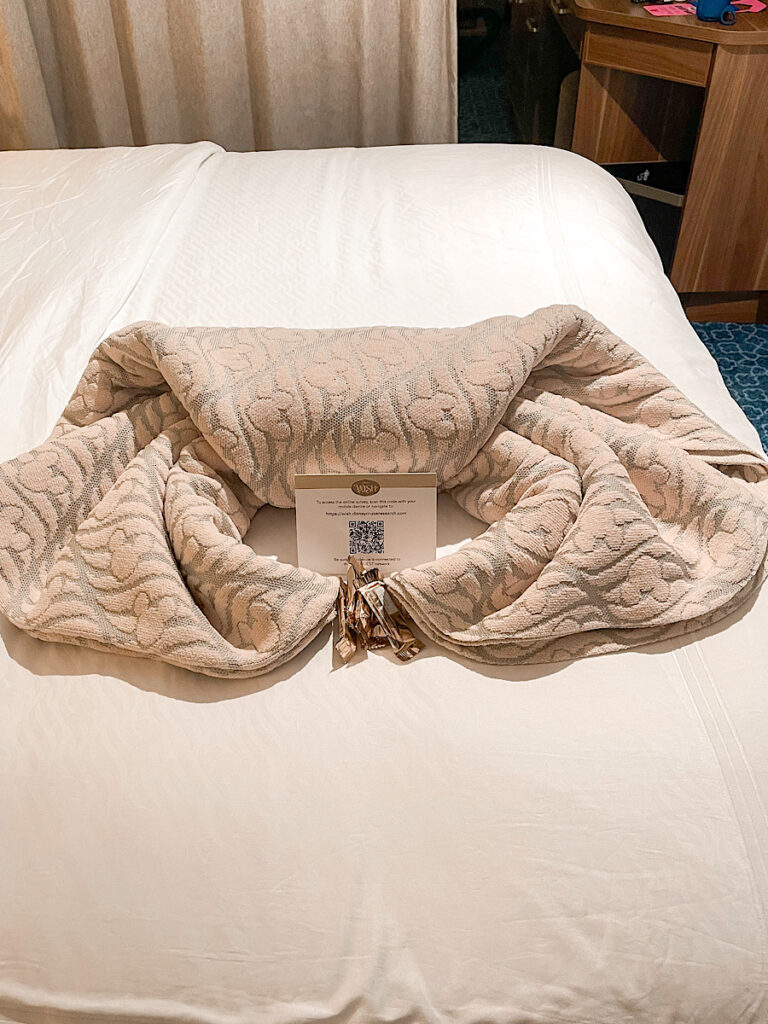 Day Eight: Disembarkation
Because we had the second seating for dining, we did not have to be out of our room until 8:00 am.
Breakfast at World of Marvel
Our last breakfast was at World of Marvel. It is the same breakfast menu for each restaurant and is not as full as other days. We ordered French toast, pancakes, and oatmeal.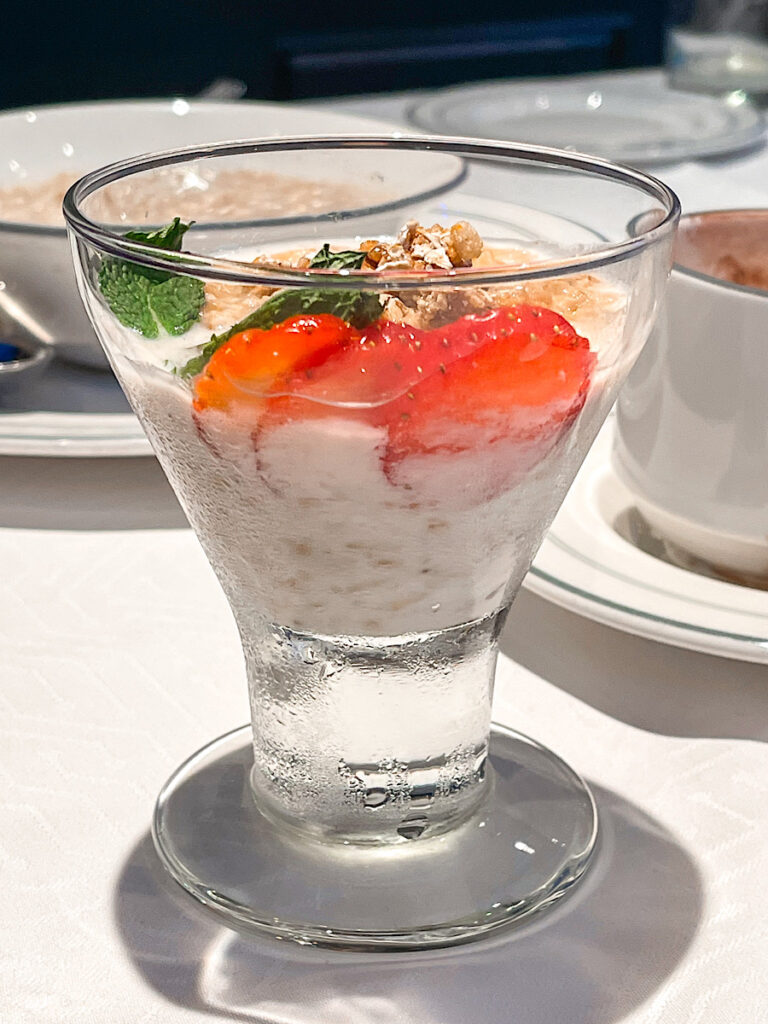 Disney Transportation
Our flight was scheduled from MCO to SLC at 1:50 pm. We chose to use Disney transportation back to the airport for a few reasons. We have rented a car in the past, but unfortunately there were no cars available for this trip.
I have also taken Uber to the airport, but the price was insane, so Disney transportation was the best choice for us.
After disembarking the ship and going through customs, there are signs that lead you out to where the busses wait. They will load you on to a bus based on what airline you are flying home.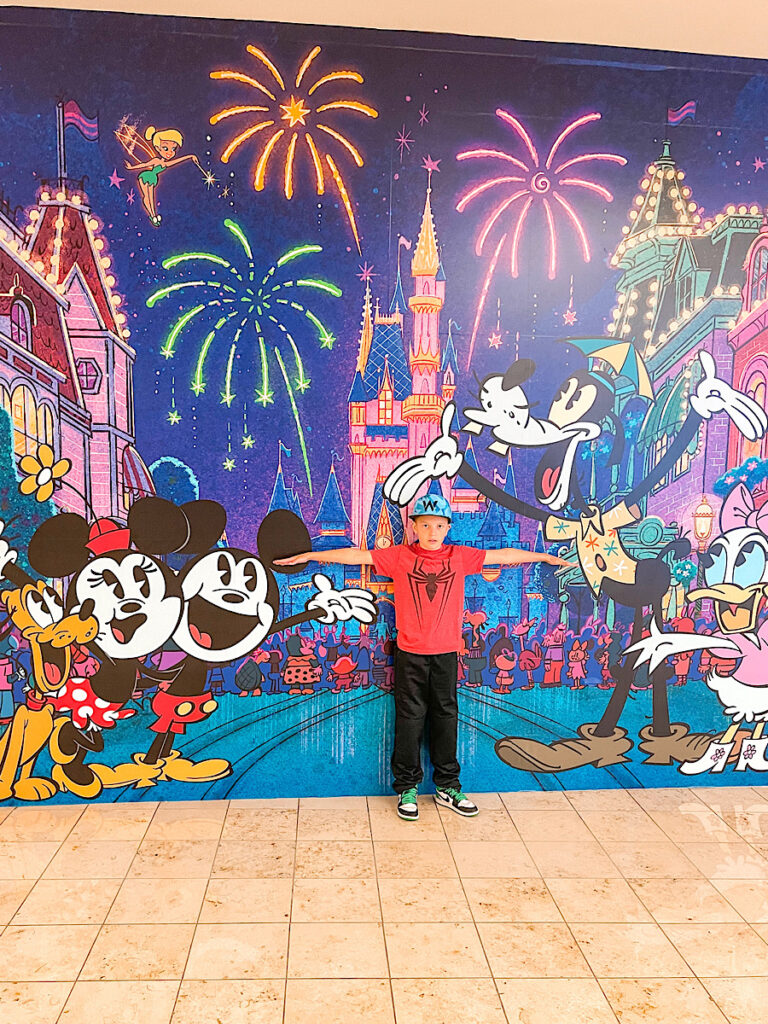 My Review of the Disney Wish
I was a little worried to sail on the Disney Wish cruise ship because I love the older ships so much and had heard some not very great reviews of the Wish. However, I ended up loving the Disney Wish!
There are a few things that I didn't love, but there are a few things on each ship that are not perfect. My biggest complaint about the Wish is that there is not an outside deck that circles all the way around the ship.
Something I liked more on on the Wish was the quick service food, Mickey's Festival of Foods, located on the pool deck. The quality and the variety was better on the Wish than any of the older ships.
Overall, I would sail on the Wish again, but it would have to be another back to back cruise because 3 or 4 days is not long enough!
Final Thoughts
Overall, our cruise on the Disney Wish was an amazing experience. The ship itself is stunning and offers a wide range of activities and entertainment for all ages. From delicious dining options to exciting shows and onboard amenities, there is never a dull moment on the Disney Wish.
One thing I appreciated about this ship was its attention to detail and dedication to creating a truly magical experience for guests. From character appearances throughout the day to special touches in each stateroom, it's clear that Disney goes above and beyond to make sure everyone has an unforgettable vacation.
If you're considering booking a cruise on the Disney Wish, I highly recommend it. Whether you're a first-timer or a seasoned cruiser, there is something for everyone to enjoy on this spectacular ship!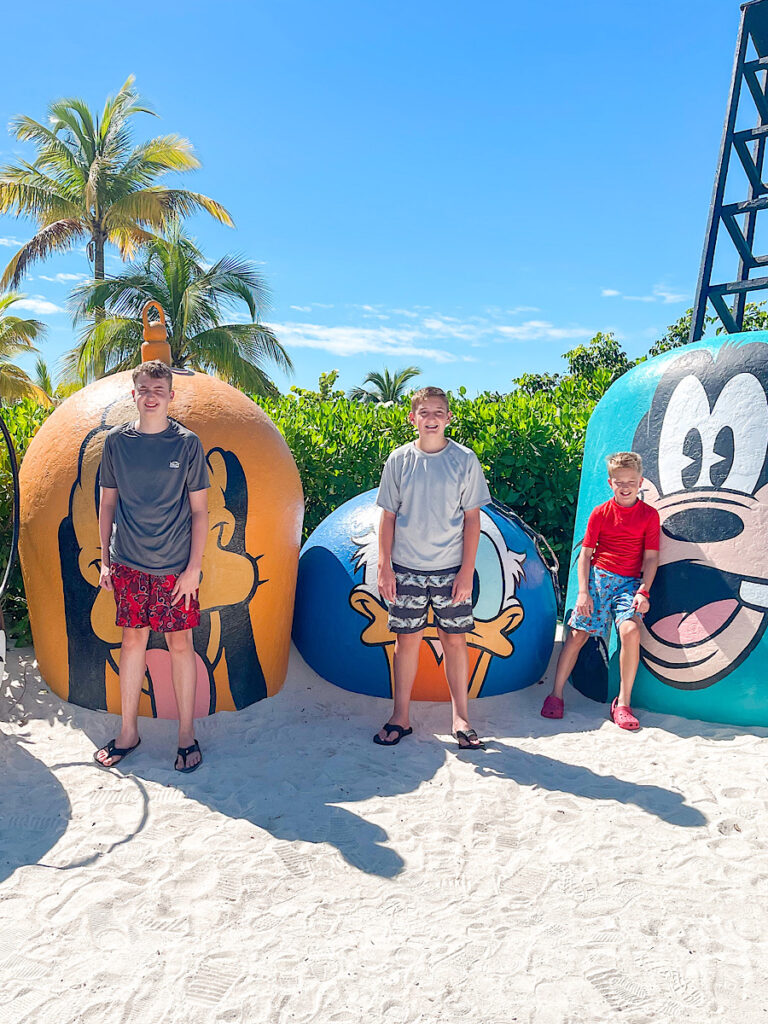 Want to Go on a Disney Cruise?
If you're thinking about going on a Disney Cruise for your family, I recommend booking with my travel partner, Get Away Today. They can help you find the best ship and itinerary for your cruise vacation. I have used them many times and they have the BEST customer service. Give them a call at 877-510-2929 and mention Mommy Mouse Clubhouse sent you to get the best deals!