Delicious nacho toppings piled on top of a bed of crispy tater tots! A copycat recipe of Woody's Lunch Box Totchos, or tater tot nachos, available at Disney World inside Toy Story Land. A bowl of pure comfort!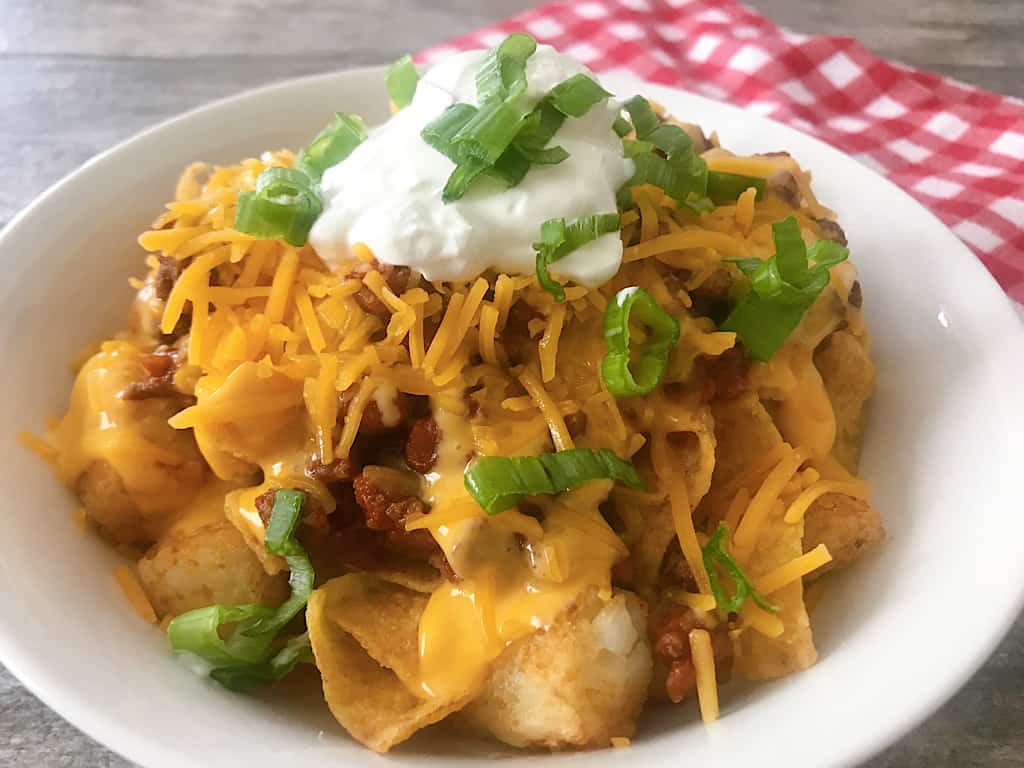 This post may contain affiliate links. When you click on these links, I get a small percentage back at no cost to you! For more information see my disclosure policy.
Below you will find tips, tricks and helpful hints for making this recipe including step by step instructions with pictures. If you would like to go directly to the recipe, scroll down to the recipe card or tap "Jump to Recipe" at the top of the page.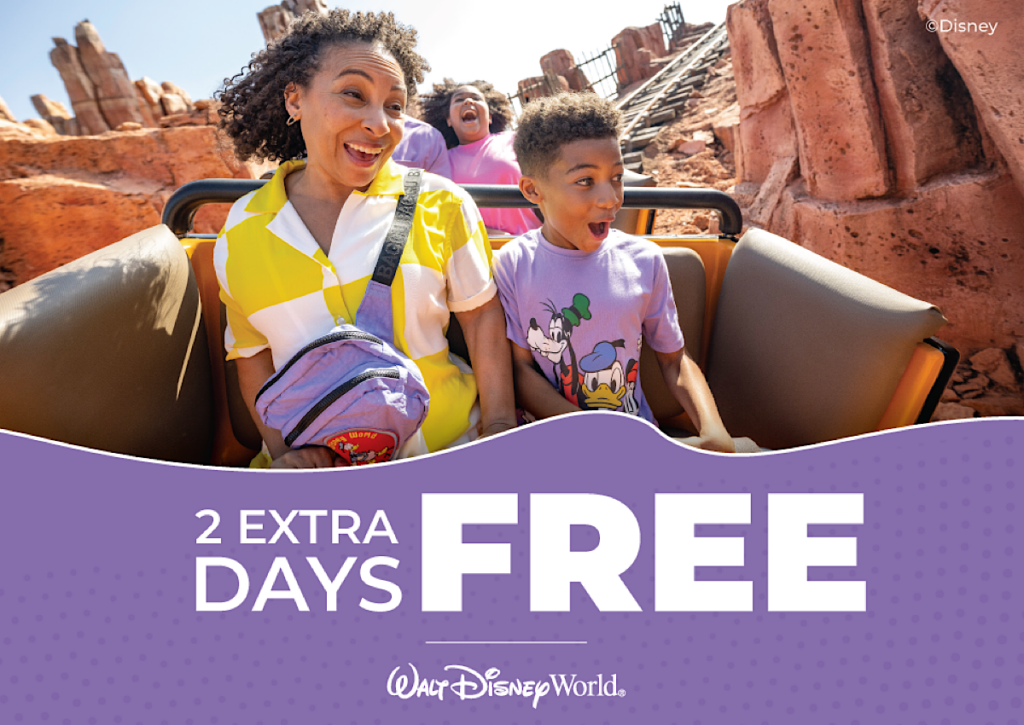 Get 2 EXTRA DAYS FREE at Walt Disney World when you purchase a 5-Day ticket from Get Away Today. Call 855-Get-Away and tell them Mommy Mouse Clubhouse sent you or get a free vacation quote here!
Why You'll Love This Totcho Recipe
Disney World has so many amazing entrees, snacks, and desserts available at the Parks. Unfortunately, most of us cannot be at Disney World all of the time, no matter how much we might want to.
But, that doesn't mean you can't experience Disney magic right in your own home with this recipe for Woody's Lunch Box Totchos! It's a copycat version of the loaded tater tots available at Toy Story Land.
These totchos are extremely easy to make, and they're sure to hit the spot every single time with the whole family. The warm and crispy tater tots are topped with melty cheese, chili, Fritos, and queso dip. Plus, they're completed with a sprinkle of green onions and dollop of sour cream.
You won't be able to resist the comfort food goodness that comes from this recipe. Have your family gather around the table for a movie night snack or serve it up at your next gathering. No matter what the occasion, Woody's Lunch Box Totchos will always be a hit!
What Are Totchos?
Totchos are a lot like traditional nachos, only instead of tortilla chips, you use Tater Tots. The tater tots are cooked until crispy and then topped with all your favorite nacho toppings. It's a delicious combination of salty, cheesy, and crunchy flavors that is sure to be a hit with everyone and make the ultimate gameday snack!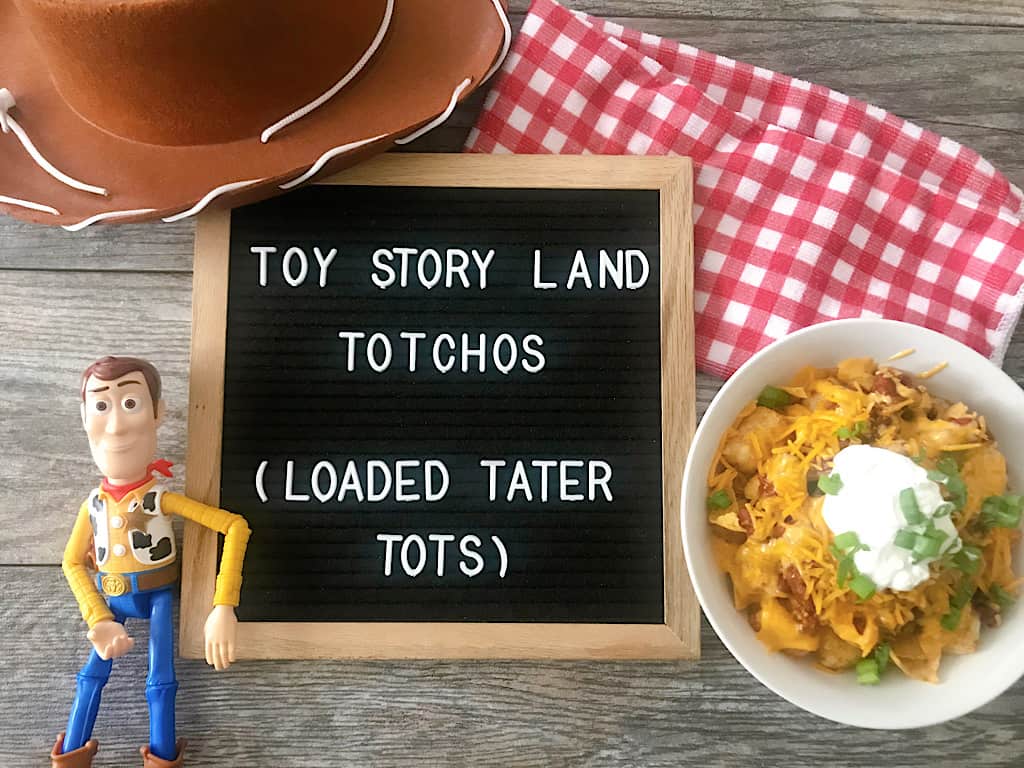 Where can you get Totchos at Disney World?
These loaded Tater Tots can be purchased inside Disney's Hollywood Studios at Woody's Lunch Box inside Toy Story Land.
"Totchos" are available for lunch and dinner for a price of $8.99. Here is the description from Disney's menu:
Potato barrels coated with Beef and Bean Chili, Shredded Cheese and signature Queso with Tomatoes and Corn Chips finished with Sour Cream and a sprinkle of Green Onions.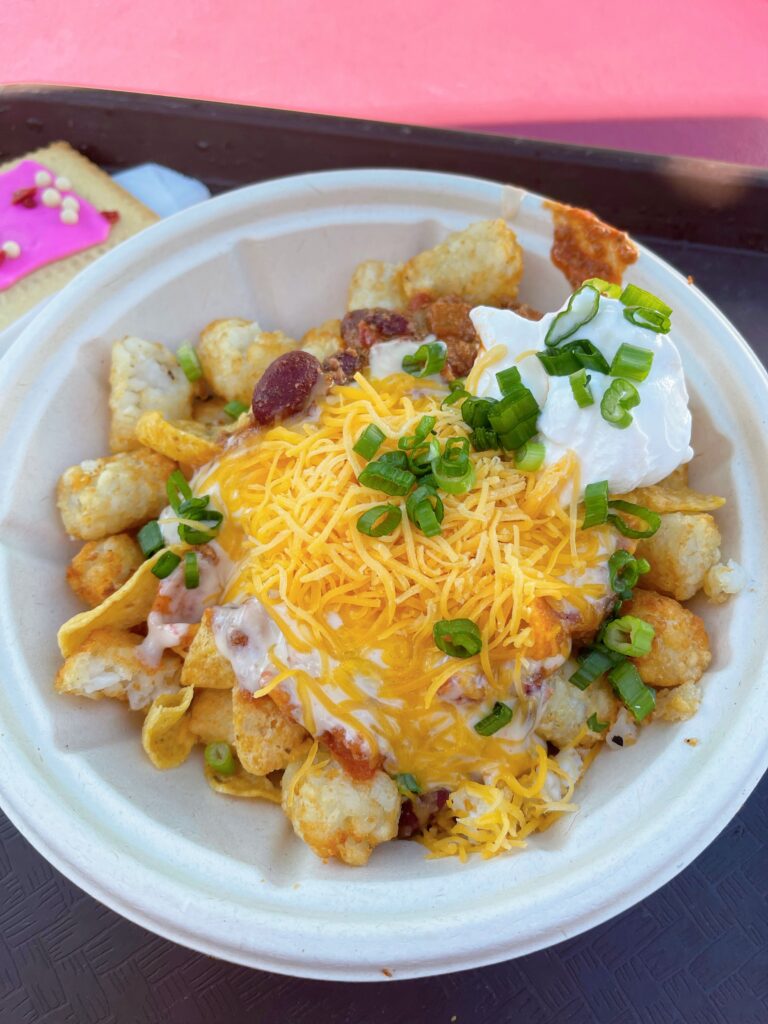 Sounds delicious, right? The homemade version of this snack is an easy recipe and can be created with all pre-made ingredients, but I highly recommend making this Disney World Chili to top the tater tots. It is so good!
If you're looking for more Toy Story Land recipes, you should definitely make the homemade version of the Grilled Three-Cheese Sandwich also from Woody's Lunch Box.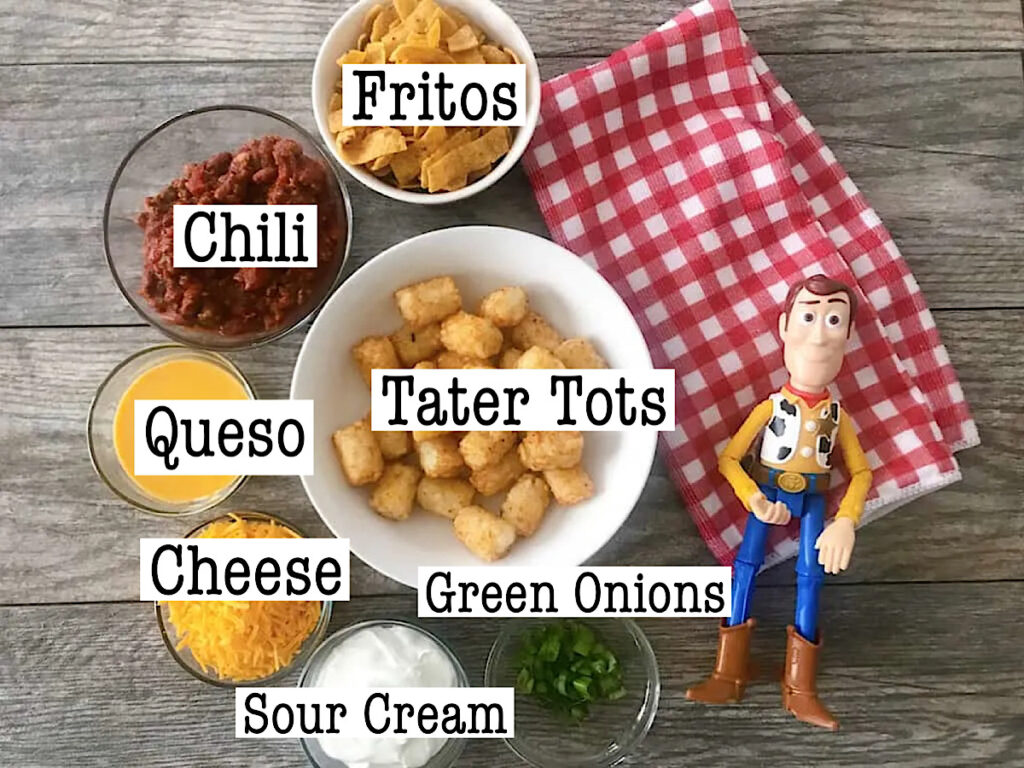 Totchos Ingredients
*Ingredient amounts are located in the recipe card at the end of this post.
Frozen Tater Tots: These can be found in the freezer section of most grocery stores. Frozen french fries or even hash browns can be used as well.
Fritos Corn Chips: I love using Fritos for this recipe because of the extra crunch they give. But any other brand of tortilla chips can be substituted.
Beef & Bean Chili: Use any pre-made chili or make this Disney World Chili! Black beans or refried beans are great substitutes for chili.
Queso Dip: This can also be found in the grocery store. Use your favorite brand.
Shredded Cheddar Cheese: Shredded cheese is always a great topping for nachos! The best varieties are cheddar, Mexican cheese blend, Colby Jack, or even Pepper Jack.
Sour Cream: This adds a delicious creaminess to the dish.
Chopped Green Onions: The perfect finishing touch.
How to Make Tater Tot Nachos
[1] Cook the Tater Tots according to the package directions or use this Air Fryer Tater Tots recipe to get crispy tots.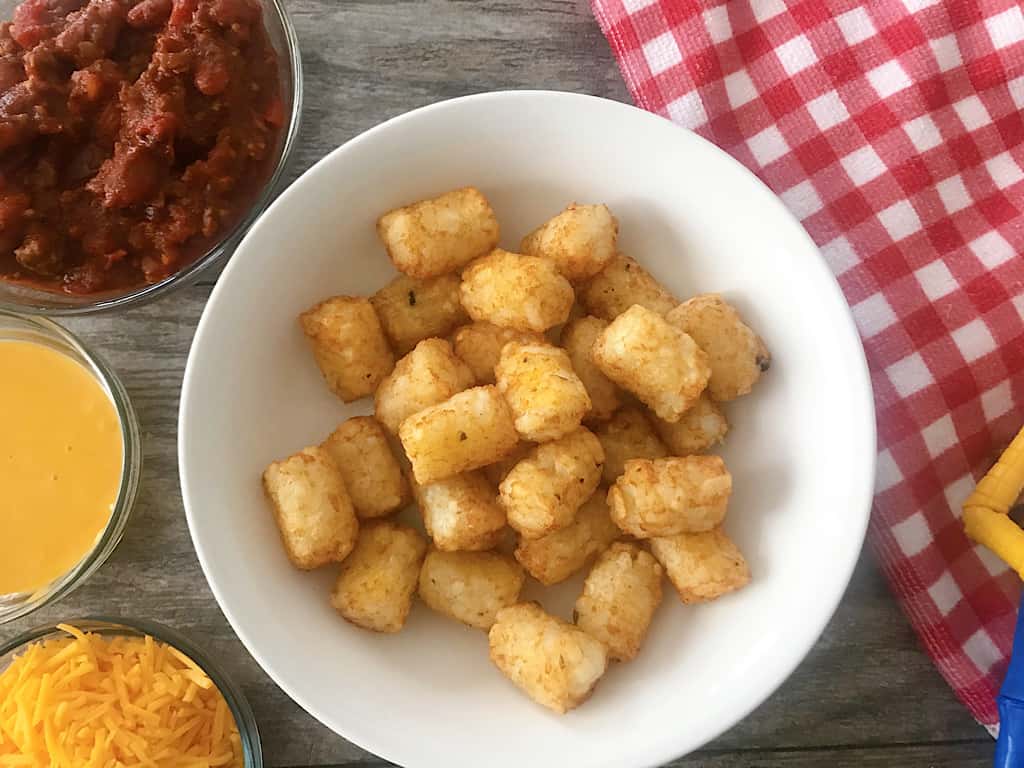 [2] While the tater tots are cooking, prepare the Disney World Chili or warm up a can of your favorite chili.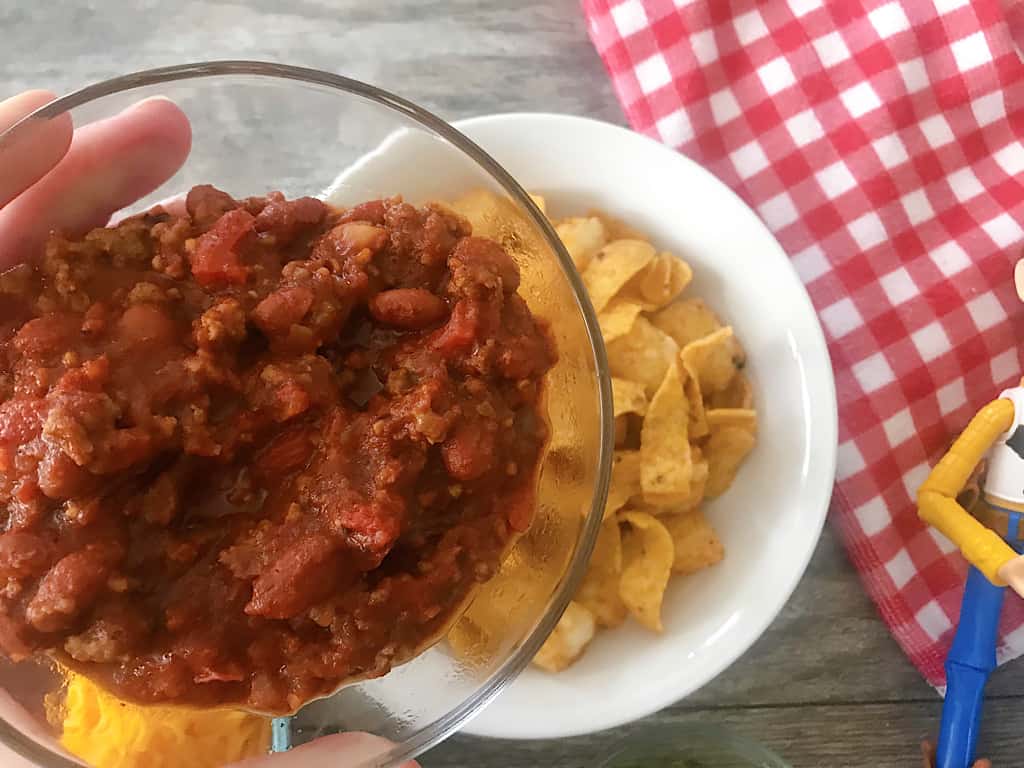 [3] Warm the Queso Dip on the stove in a small saucepan or in the microwave according to the directions on the jar.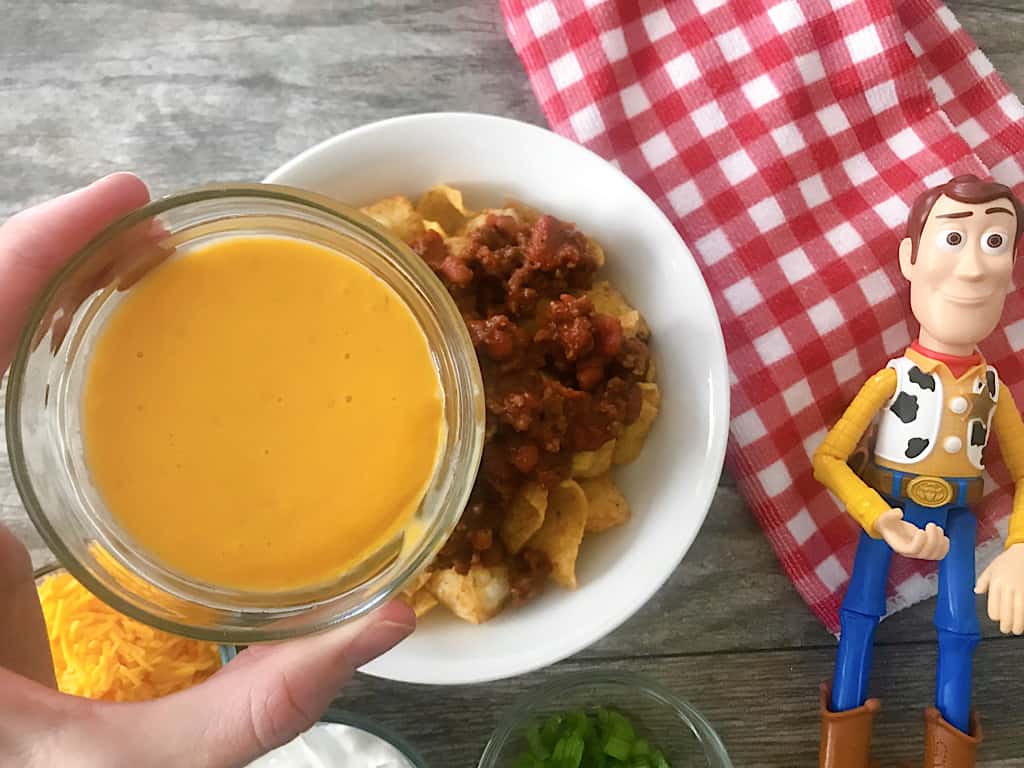 [4] Divide the tater tots among 6 bowls and top the tater tots with Fritos.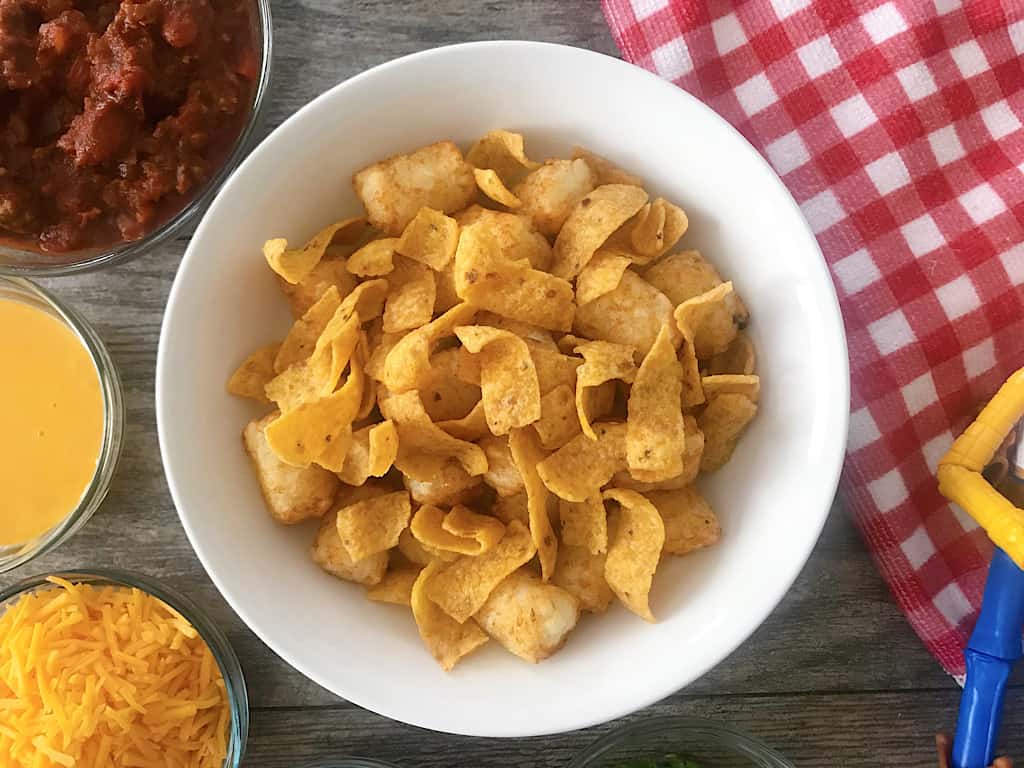 [5] Scoop the warmed chili over the Fritos.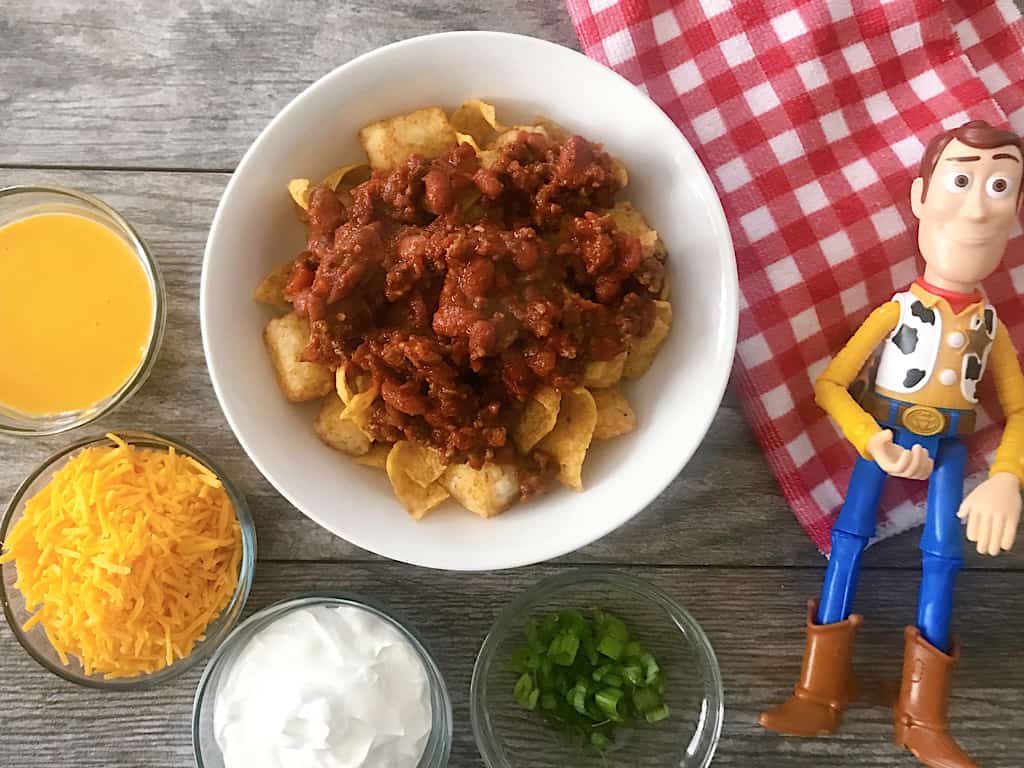 [6] Drizzle the Queso Dip over the chili.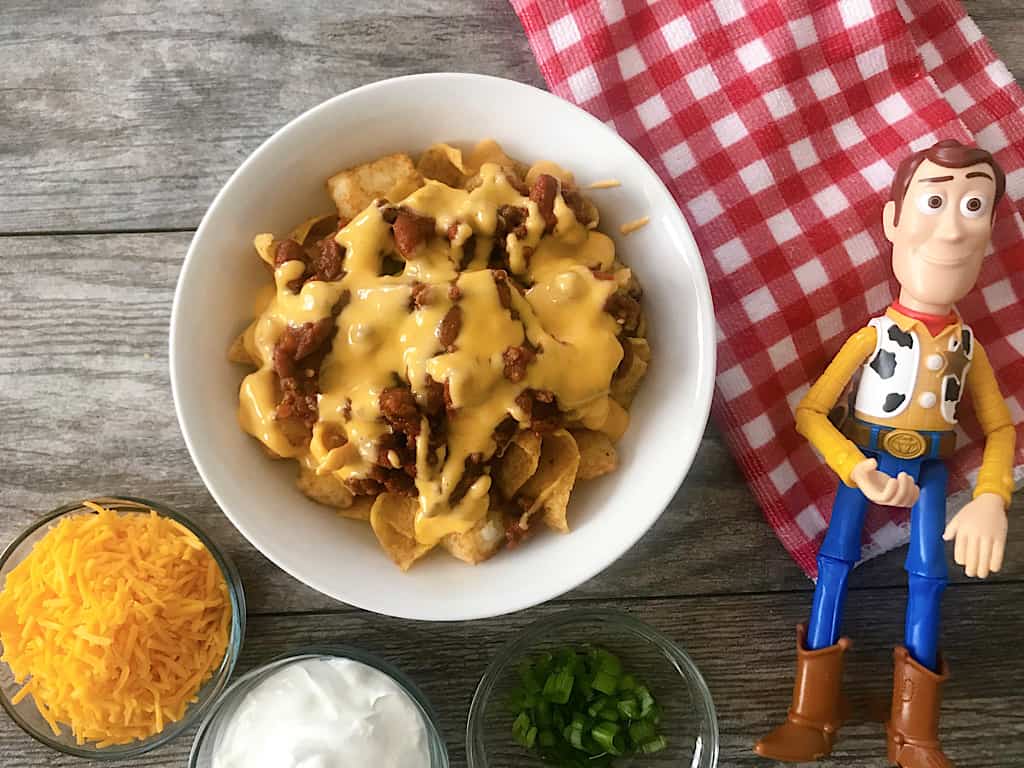 [7] Sprinkle with shredded cheese.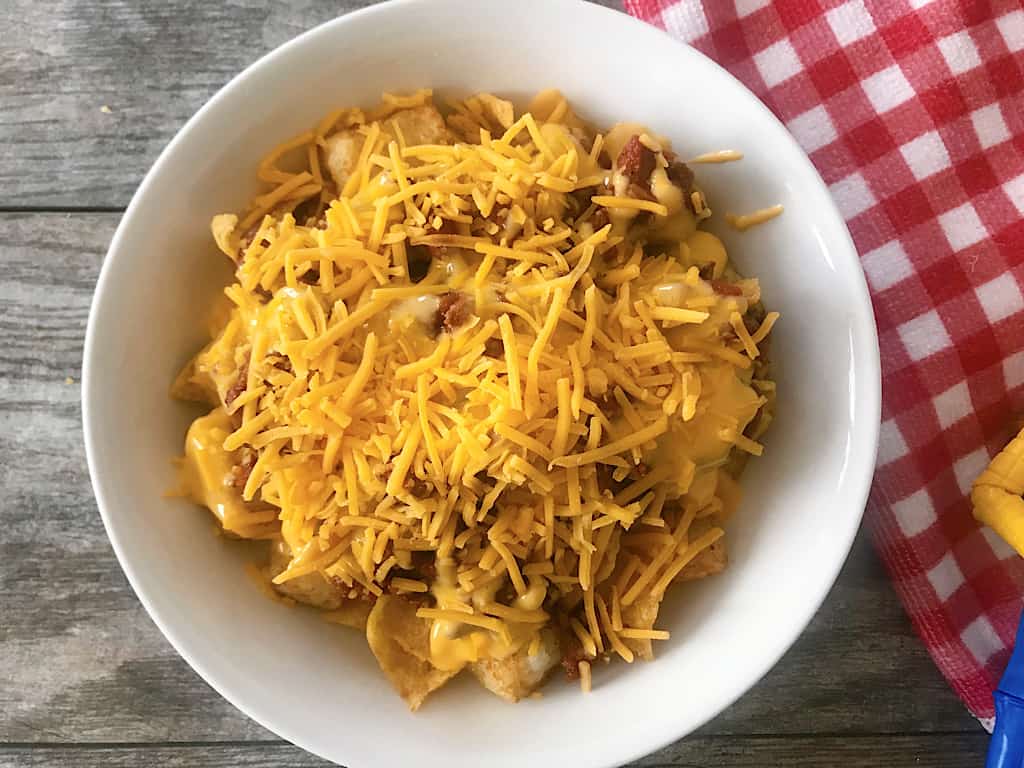 [8] Add a dollop of sour cream and top with chopped green onions.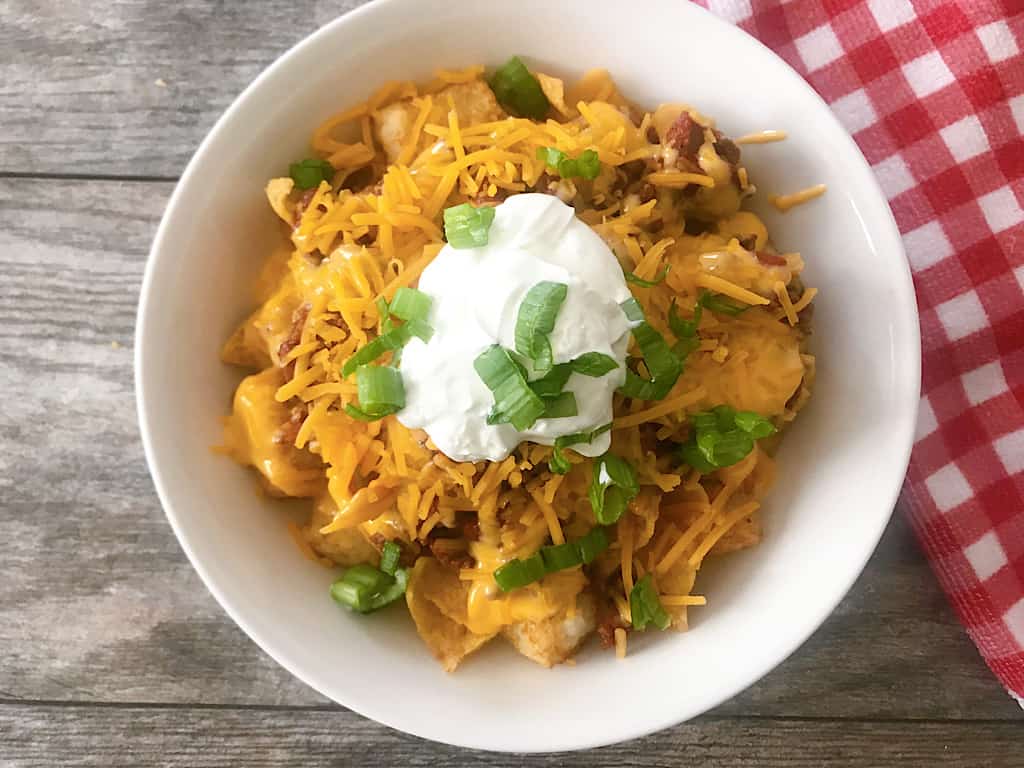 Helpful Kitchen Tools:
How to Store Leftovers
Let the leftovers cool completely, then store in an airtight container in the refrigerator for up to 3 days. Reheat on the stove or in the microwave until warmed through. Enjoy!
How to Serve Totchos to a Crowd
If you are making these Loaded Tater Tots for a gameday party or gathering, the best way to make them is to prepare the tater tots on a sheet pan, then add the toppings right to the potatoes on the sheet pan. You can then set the baking sheet in your serving area for guests to help themselves!
Optional Totchos Toppings:
Chopped Tomatoes
Pickled Jalapeno Peppers
Sliced Black Olives
Hot Sauce
Pico de Gallo
Sweet Corn
Fresh Cilantro
Frequently Asked Questions
What ingredients are needed for this totchos recipe?
The ingredients needed for tater tot nachos are frozen tater tots, Fritos corn chips, beef & bean chili, queso dip, shredded cheddar cheese, sour cream and chopped green onions. Optional toppings include guacamole, tomatoes, pickled jalapenos, olives, hot sauce and crispy bacon bits.
How much time does it take to prepare tater tot nachos?
The total time to prepare tater tot nachos is about 15-20 minutes. This includes 10 minutes of cooking time for the tater tots and 15 minutes of prep time.
Can I add extra toppings or customize my own topping combination?
Yes, you can absolutely customize your own topping combination for tater tot nachos. Feel free to add any extra toppings that you like such as guacamole, tomatoes, pickled jalapenos, olives, hot sauce and crispy bacon bits.
Can I make the totchos ahead of time?
Yes, you can make the tater tot nachos ahead of time. Let the leftovers cool completely and store in an airtight container in the refrigerator for up to 3 days. Reheat on the stove or in the microwave until warmed through before serving.
Can I make totchos without chili?
Yes! You can add seasoned ground beef to make beef totchos, shredded chicken, or even black beans or refried beans.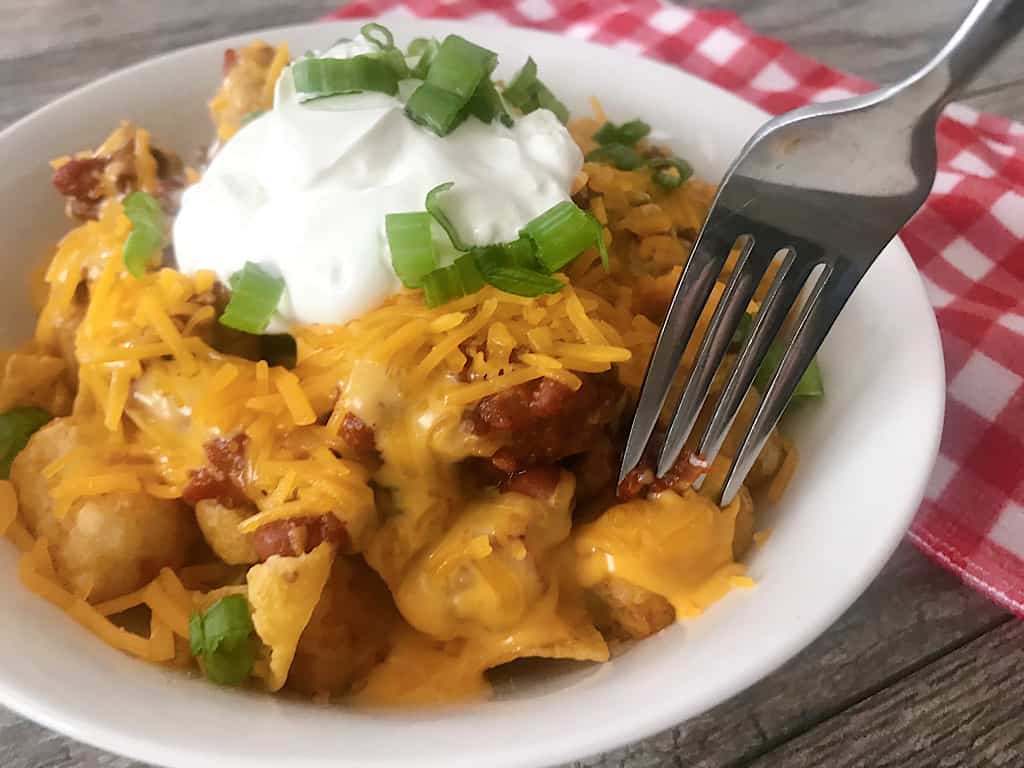 Final Thoughts
These Tater tot nachos inspired by Woody's Lunchbox are a delicious and easy snack that is perfect for gatherings, parties, or to enjoy all on your own. With just a few ingredients and minimal prep time, you can whip up this delicious dish in no time at all.
More Disney Copycat Recipes:
Watch the video here: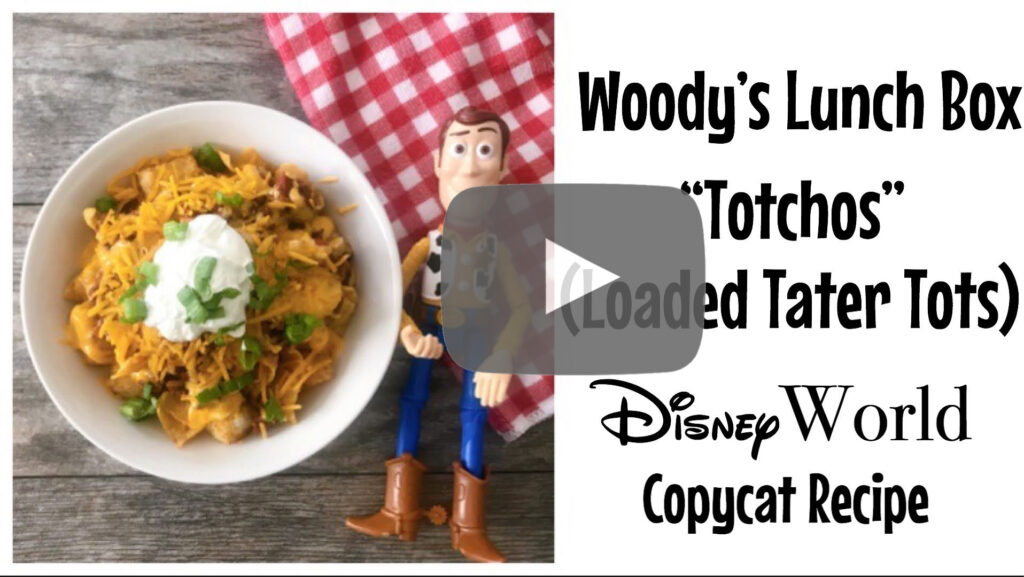 Pin for later: