This Chunky Guacamole recipe is fully loaded with yummy, flavorful ingredients and spices that will totally excite your tastebuds! Enjoy with tortilla chips, on toast, or on top of your favorite Mexican dish.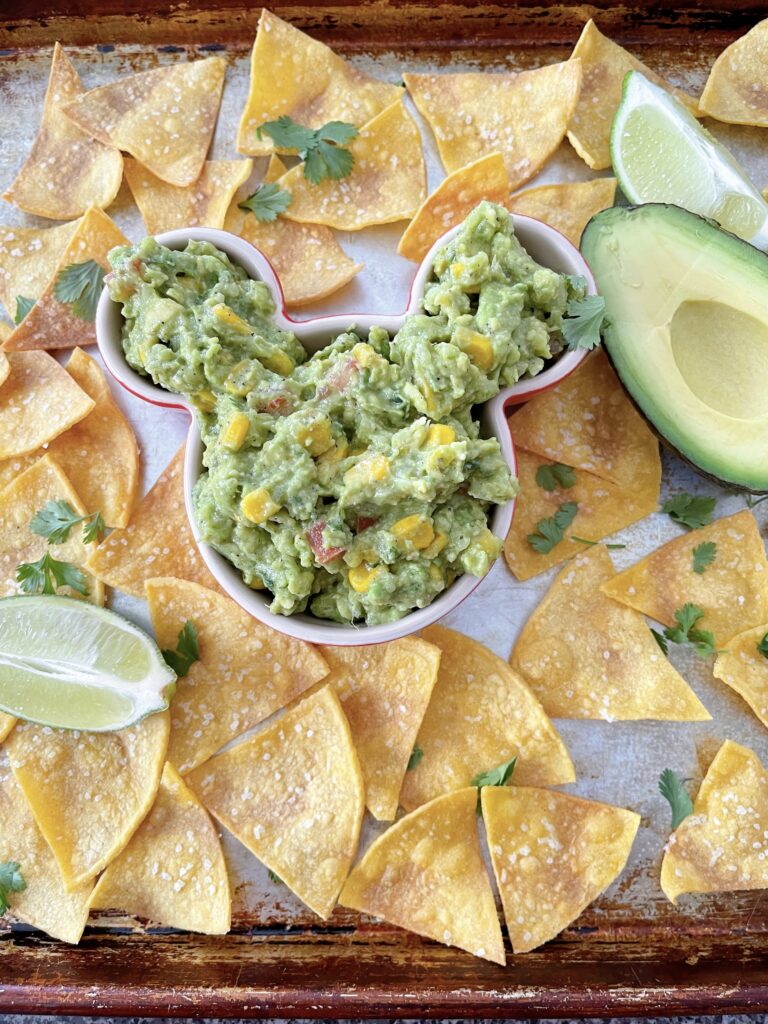 This post may contain affiliate links. When you click on these links, I get a small percentage back at no cost to you! For more information see my disclosure policy.
Below you will find tips, tricks and helpful hints for making this recipe including step by step instructions with pictures. If you would like to go directly to the recipe, scroll down to the recipe card.
It's May and that means Cinco de Mayo!!! I love Cinco de Mayo because it gives me the excuse to eat my favorite type of cuisine: Mexican Food!
I love everything about Mexican food. Give me all the tacos, enchiladas, burritos, rice, and beans and I will be a happy camper.
Oh yeah, and don't forget the Guacamole! Guacamole can take any ordinary dish and make it a party. Bring on the guacamole!
A couple of years ago, we had a get-together after my son's baptism. I wanted to make something easy and no-stress for my guests and decided on a Nacho Bar. It was so much fun!
Guests could choose yellow or white corn tortilla chips and top them with seasoned shredded chicken or ground beef, nacho cheese, sour cream, salsa, and guacamole. And HOLY GUACAMOLE! The guacamole totally stole the show!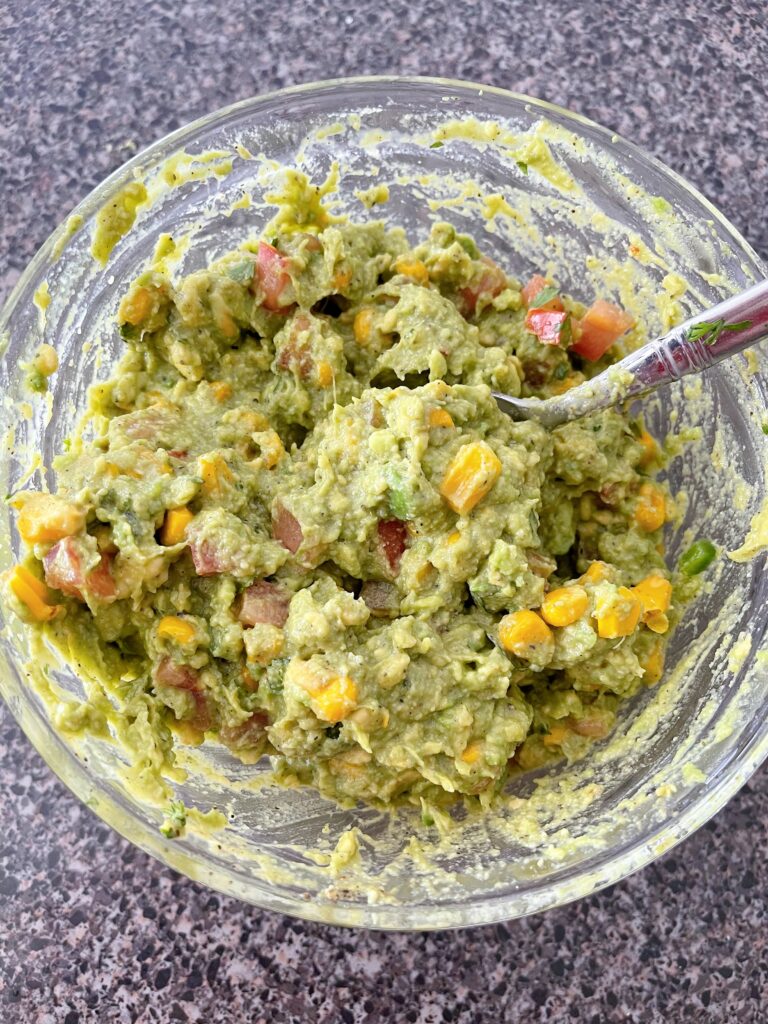 This guacamole recipe is based on the Four Seasons Guacamole recipe. I did make a few changes though.
I added delicious, sweet roasted corn, and a sweet onion instead of a red onion, and some garlic powder. If you don't like your guacamole chunky, this recipe is not for you. It is chunky, and fully loaded with flavorful ingredients.
One thing I can tell you, is don't skimp on the lime juice and salt. They give this guacamole so much flavor!
What is Guacamole?
Guacamole is a Mexican dip that is traditionally made from mashed avocadoes, lime juice, tomato, onion and jalapeno. It's totally versatile and can be used as a spread for sandwiches instead of mayo.
There are many ways you can serve guacamole. Some of my favorites are with these homemade baked corn tortilla chips, pita chips, crackers and my favorite grilled cheese with bacon pieces! Guacamole is also delicious as part of an appetizer platter at parties
Classic guacamole uses mashed avocados, but there are also versions of guacamole that are made using diced avocados mixed with other ingredients like diced tomatoes and onions.
This chunky guacamole takes the traditional approach of mashing the avocados, but you can definitely substitute diced avocados with amazing results!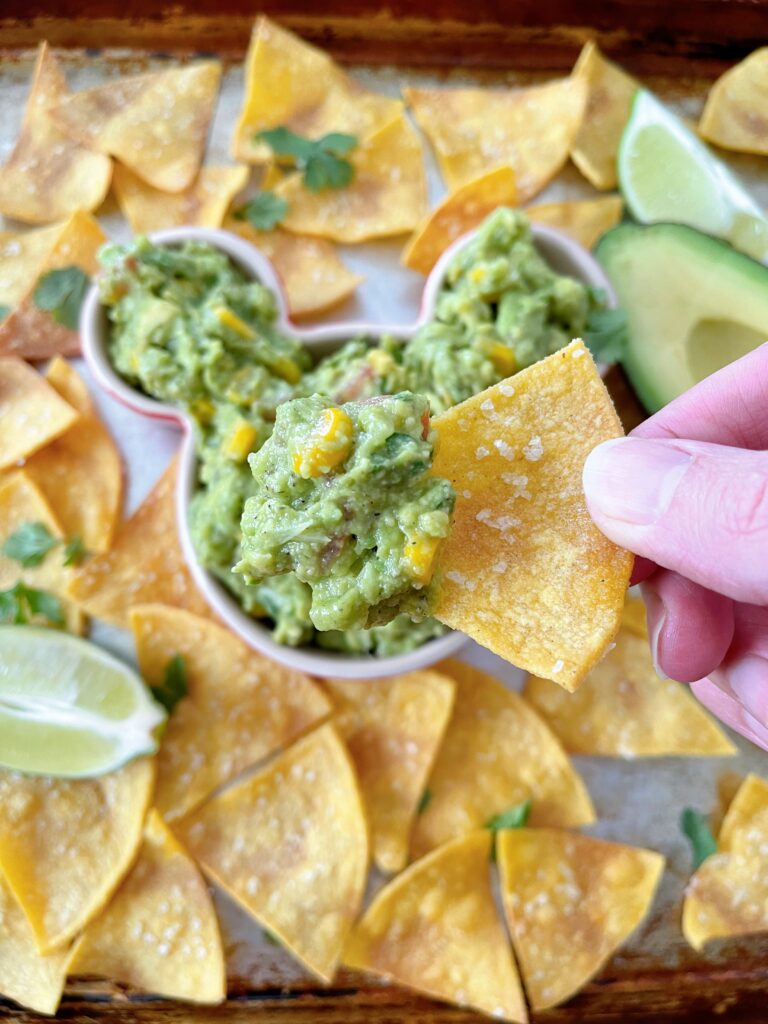 How to Choose the Perfect Avocado
Because avocados are the main ingredient in Chunky Guacamole, it's very important to choose the perfect one. I can't tell you how many times I have purchased an avocado, just to cut into it and find it is overripe or too hard. It's frustrating.
Since this guacamole recipe calls for four avocados, I'm going to share some tips I have learned to pick the perfect one!
Squeeze the avocados. If an avocado looks ripe, you should still squeeze it to test its ripeness. Hold it in the palm of your hand, and squeeze gently. A ripe avocado should yield to firm, gentle pressure, but shouldn't feel overly soft or mushy.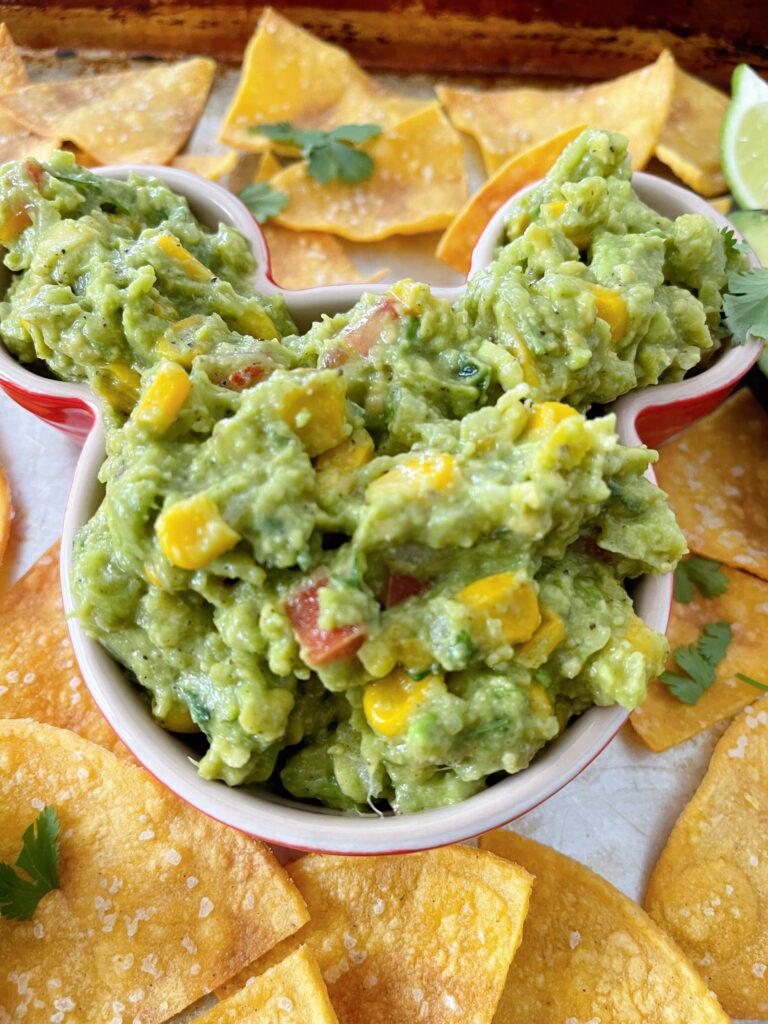 Check the end of the avocado. When you remove the stem, you want the little spot that is exposed to be green. If it is brown, it's too ripe.
Try to buy avocados the day you plan to use them. It's hard to buy them ahead of time because you never know when they are going to be ready.
How to Store Guacamole
If you plan to store guacamole to eat it at another time, make sure to put it in an airtight container. If it is airtight, the guacamole will last for two days in the refrigerator.
Guacamole can be frozen in airtight containers or plastic freezer bags with as much air removed as possible. Be sure to squeeze out any excess air before sealing. If frozen, guacamole should last for three or four months.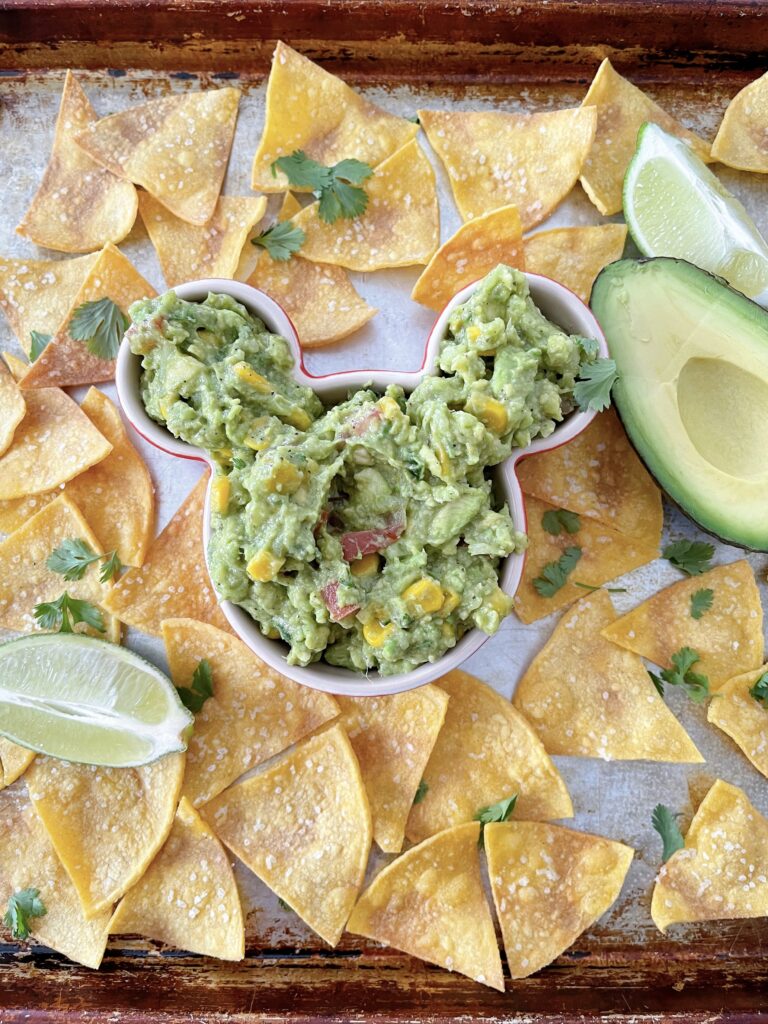 Why Does Guacamole turn brown?
Guacamole turns brown because the air, which is rich in oxygen, reacts with the fat. When you keep your guacamole in the refrigerator and it's still there after a day or two, that means it's not really fresh anymore.
To prevent browning, squeeze some more lime juice over it before putting the airtight container in the refrigerator.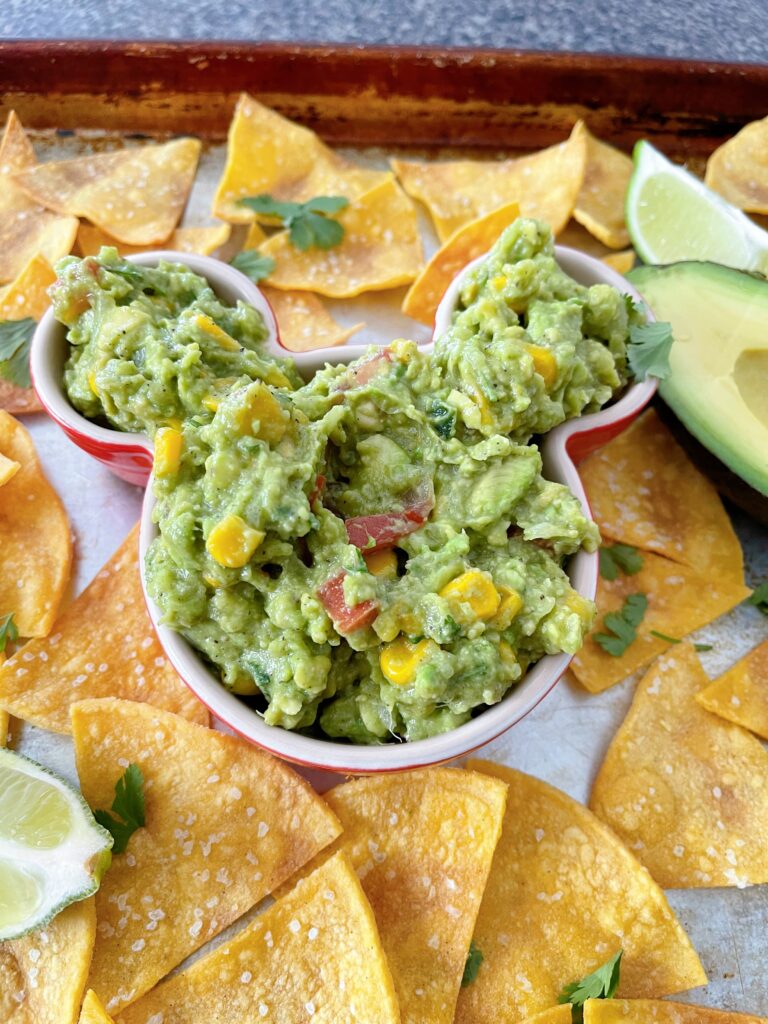 Ingredients
Once you have selected the perfect avocados you are ready to make your Chunky Guacamole. The ingredients you'll need for this recipe are:
Ripe Avocados
Lime Juice
Roma Tomato
Onion
Jalapeno
Corn
Cilantro
Cumin
Garlic Powder
Red Pepper Flakes
Black Pepper
Salt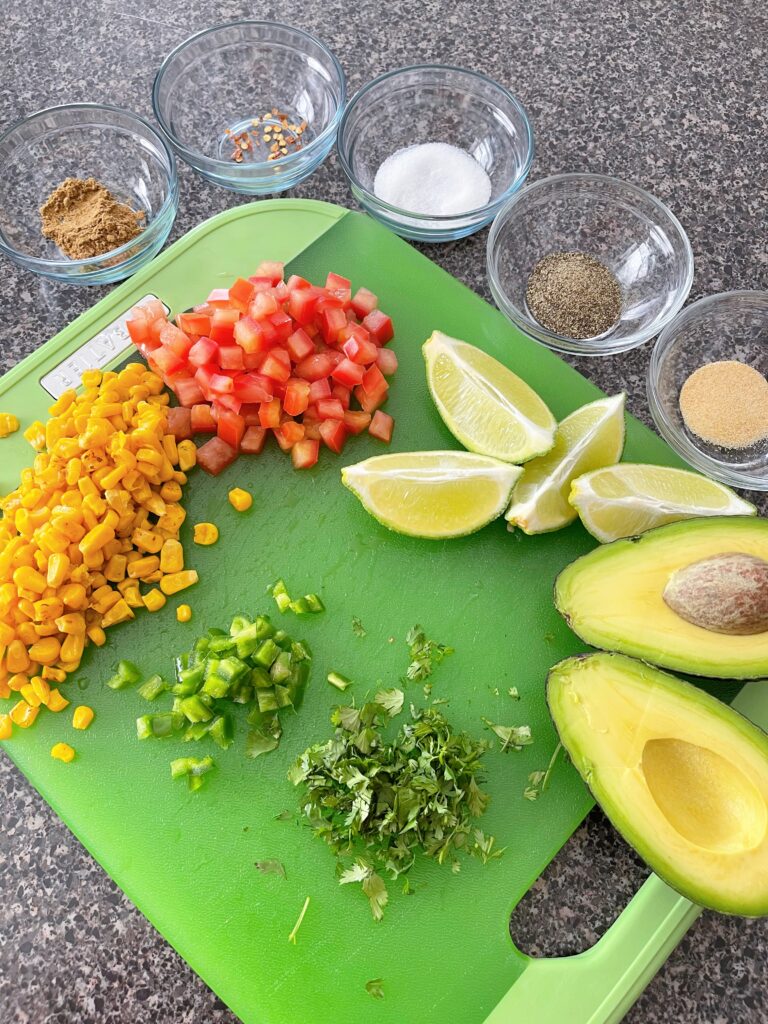 How to Make Chunky Guacamole
Begin by roasting the corn. You can use fresh corn right off the cob, or you can use canned corn. Spray a frying pan with non-stick cooking spray and place it over medium heat. Add the corn to the pan and fry until the corn begins to blacken. Stir occasionally.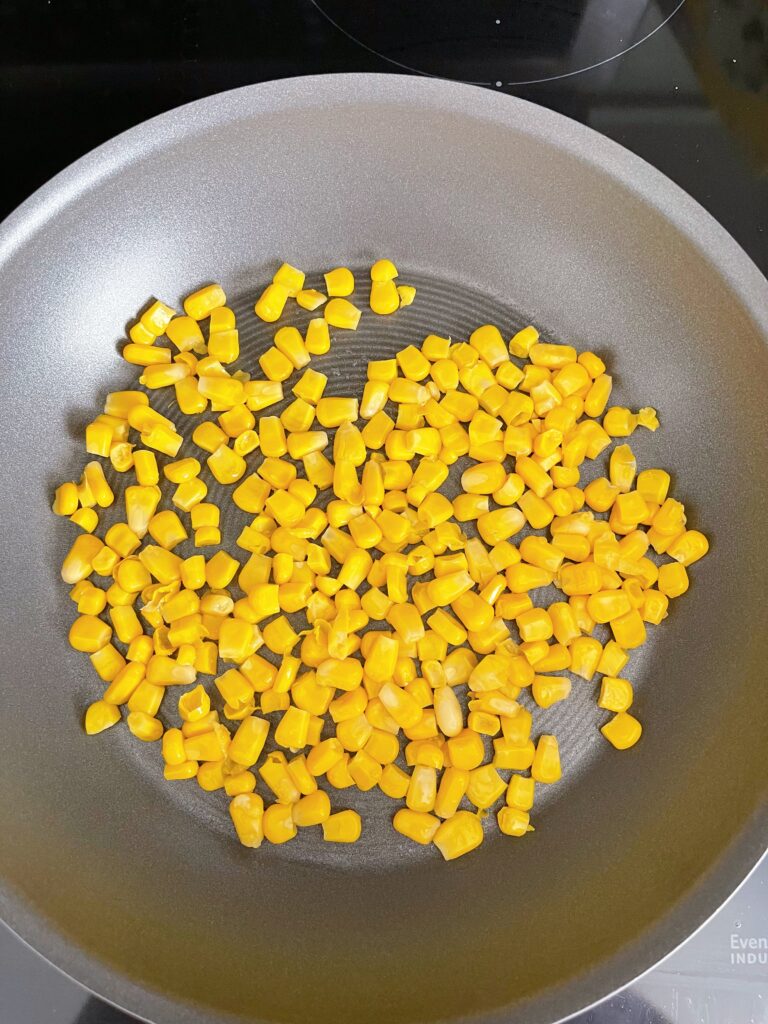 Dice the Roma tomato and onion, then chop the cilantro. Put on a pair of food safe gloves and slice the jalapeños in half. Remove the seeds from the jalapeno peppers for less heat or leave them in for more. Dice the jalapeños.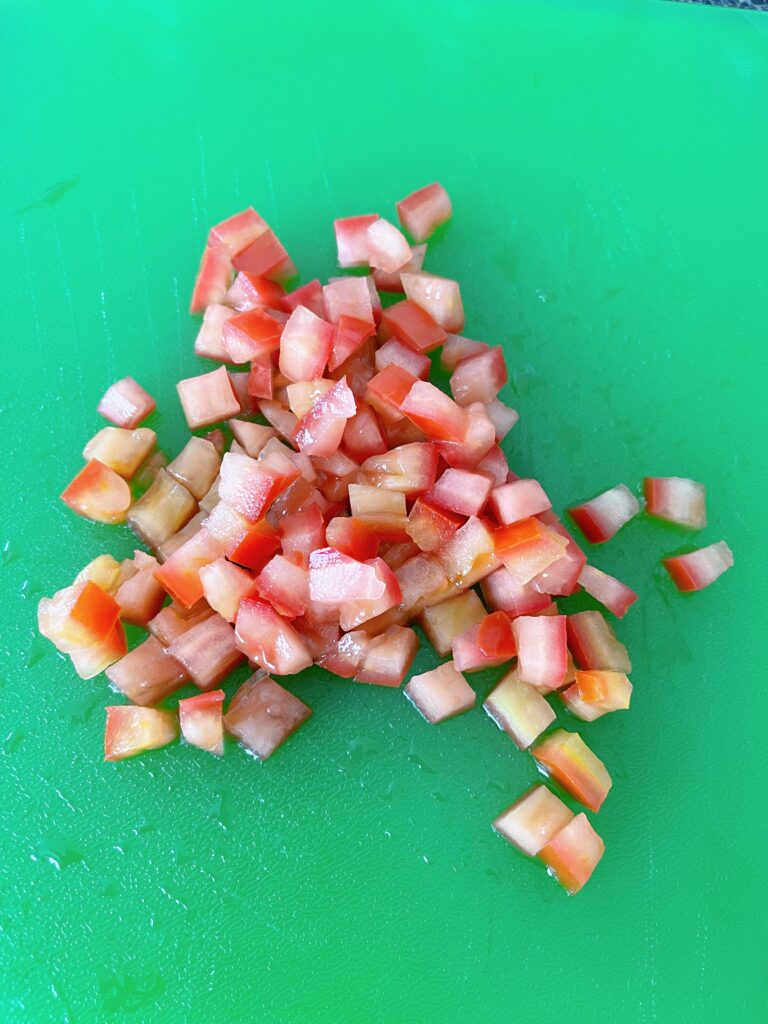 Cut the limes into quarters so they are ready to be juiced. Slice open the avocados and remove the pit. Using a spoon, scoop the green flesh into a mixing bowl.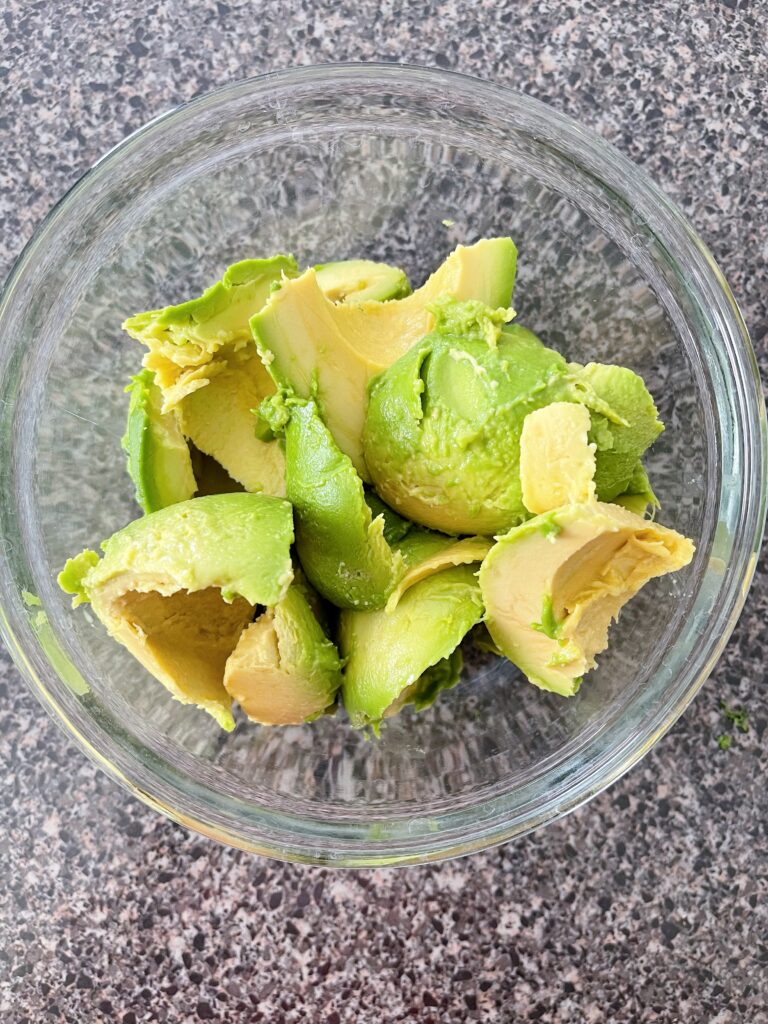 Use a fork or potato masher to mash the avocados.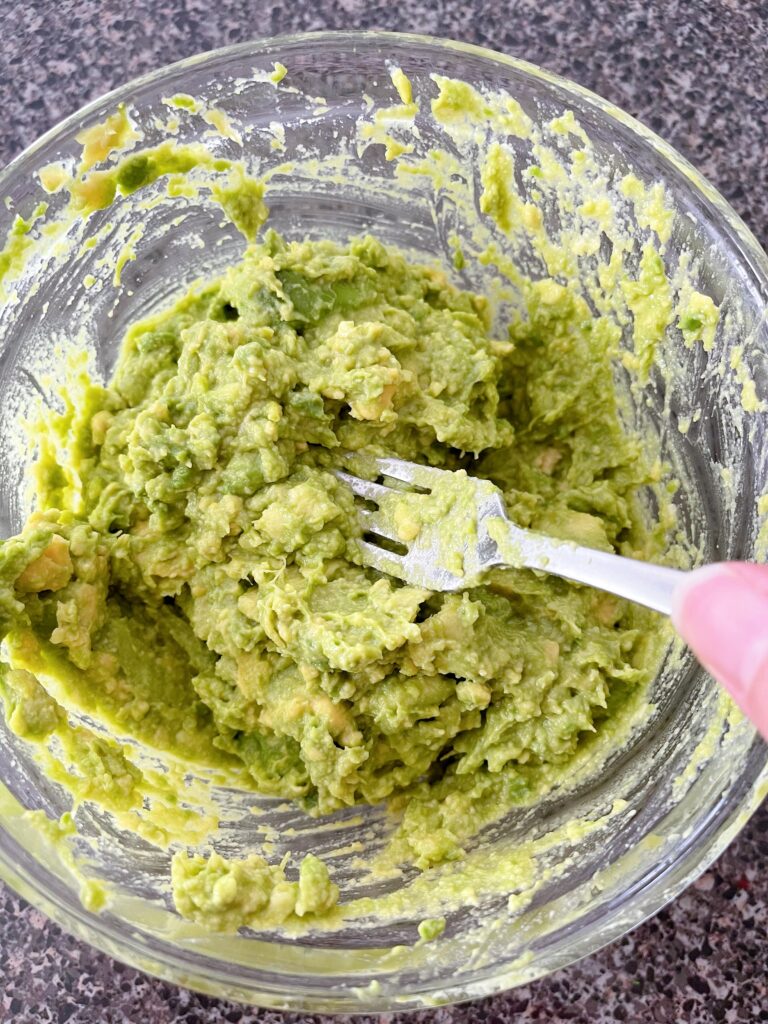 Immediately squeeze the lime juice from both limes into the mashed avocados and stir to avoid browning.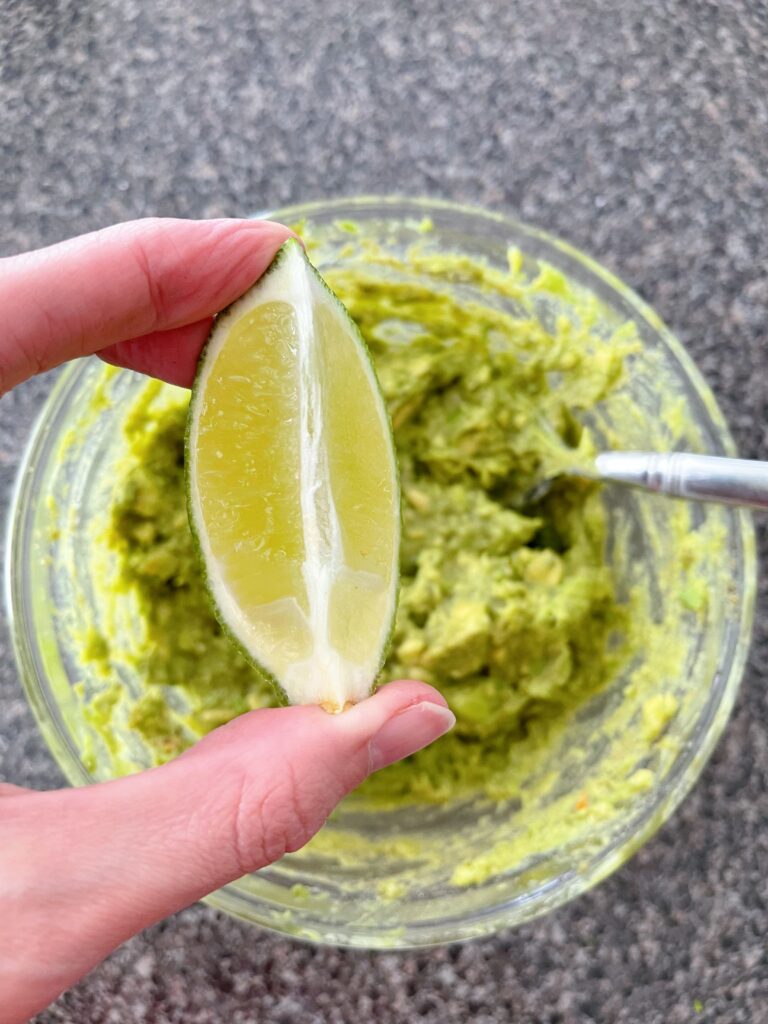 Add the diced tomatoes, diced onion, diced jalapeños, roasted corn, and chopped cilantro. Mix together.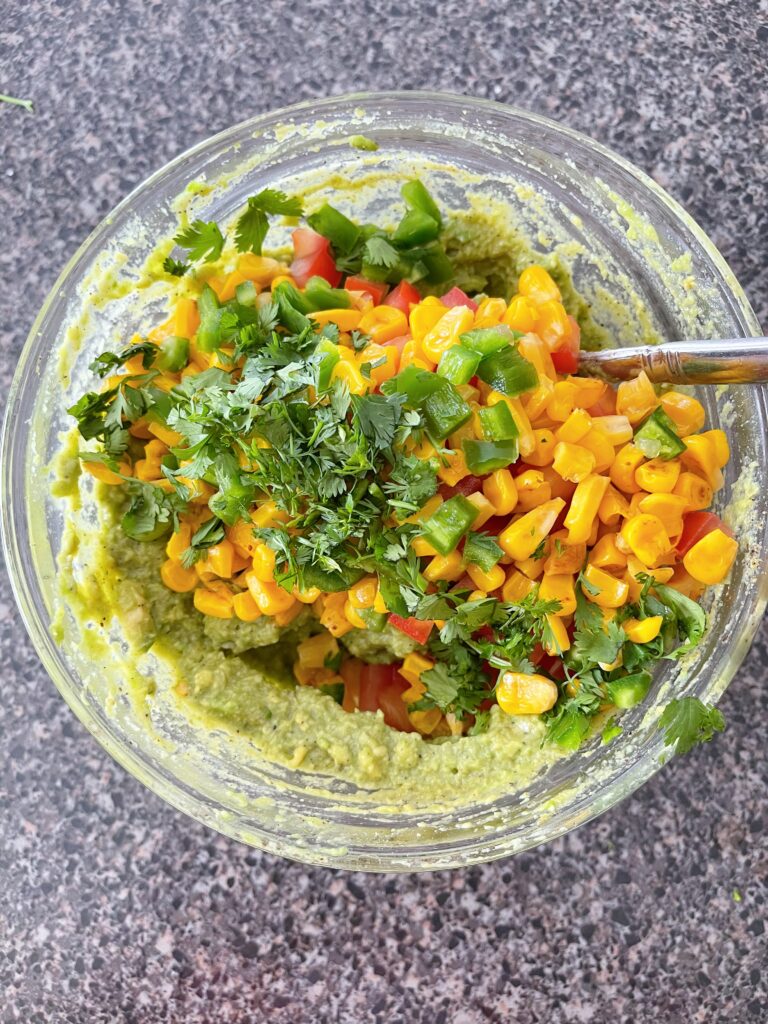 Next add the Cumin, Garlic Powder, Black Pepper, Salt and Red Pepper Flakes to taste.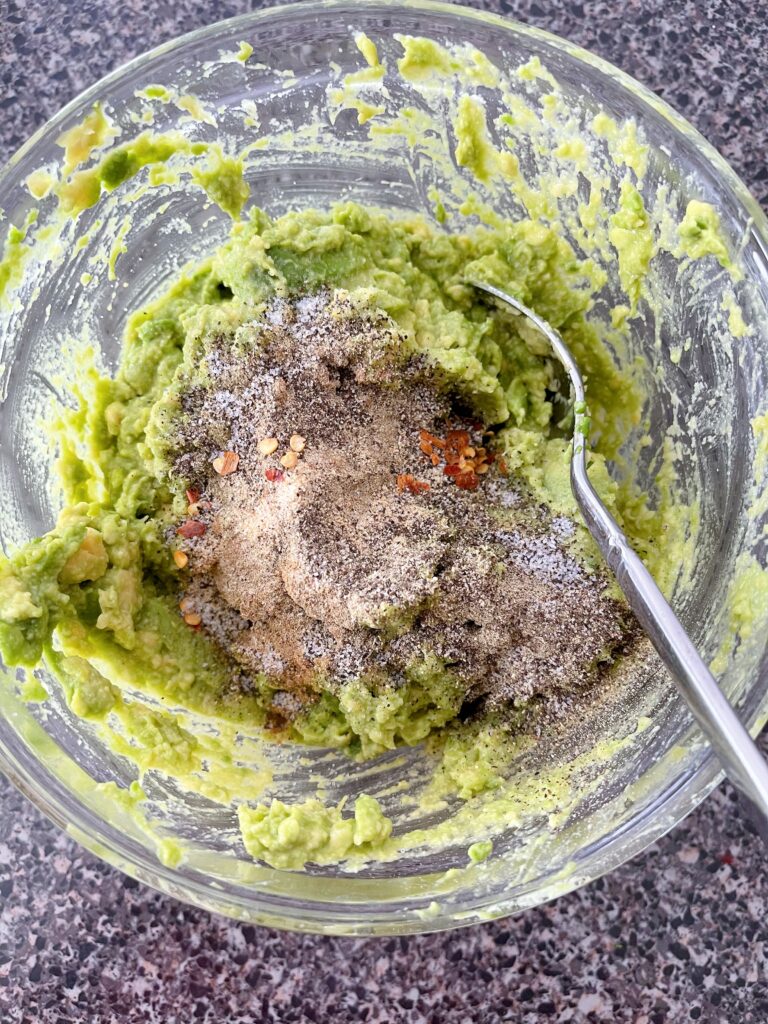 Transfer the chunky guacamole to a serving dish and enjoy with tortilla chips or on top of your favorite Mexican entree!
It is really delicious served with these Mini Mexican Pizzas or along with Sweet Pork Barbacoa!
Follow your meal with some homemade Disney Churros or Churro Bites! I hope you love this Fully Loaded Chunky Guacamole as much as I do. Make sure you pin this recipe for later.