Get ready to be the star of your next gathering with this Easy Seven Layer dip recipe! Start with a layer of refried beans, then add layers of guacamole, salsa, sour cream and shredded cheese. Top it off with some diced tomatoes and chopped scallions for a delightfully crunchy finish. This classic appetizer is sure to tantalize your taste buds while providing a truly unique flavor experience that will keep you coming back for more!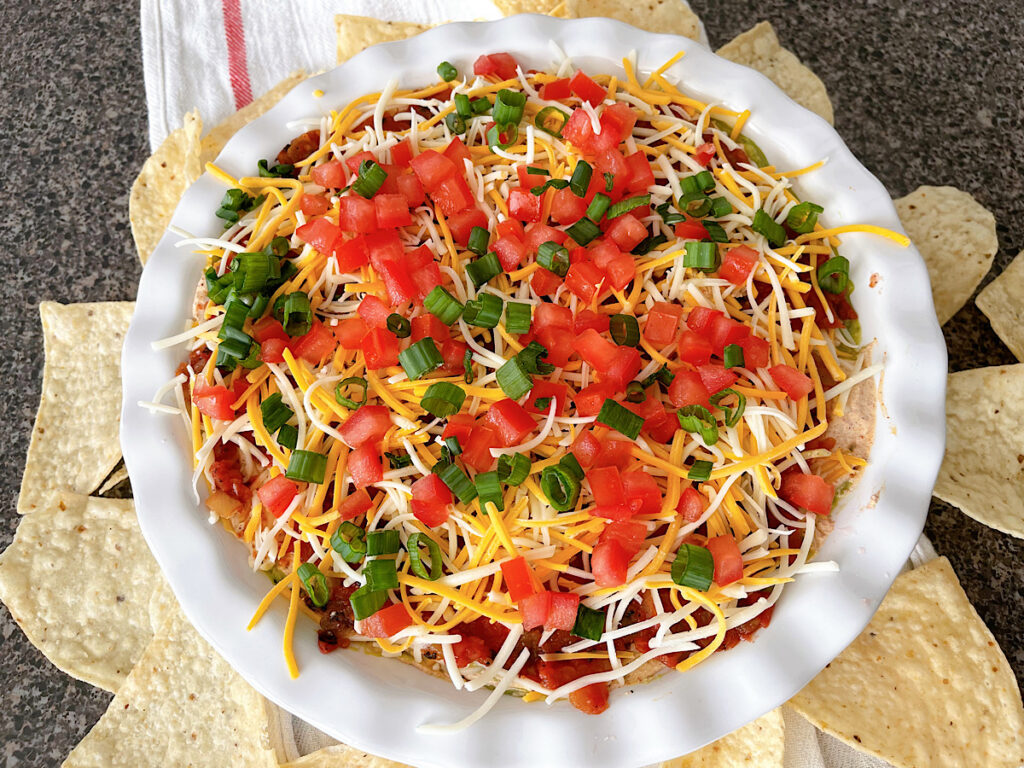 This post may contain affiliate links. When you click on these links, I get a small percentage back at no cost to you! For more information see my disclosure policy.
Below you will find tips, tricks and helpful hints for making this recipe including step by step instructions with pictures. If you would like to go directly to the recipe, scroll down to the recipe card or tap "Jump to Recipe" at the top of the page.
Why You'll Love this Recipe
This Seven Layer Dip is an easy and delicious appetizer that will please any crowd. It's loaded with layers of flavor, from the zesty refried beans to the creamy guacamole and tangy salsa.
This Mexican dip is especially perfect for Super Bowl parties as it can be made ahead of time, making it convenient for entertaining.
Plus, it is a great dip that you can customize to fit everyone's tastes and dietary needs, making it a great crowd pleaser!
So gather your friends together and get ready to enjoy this delectable dip!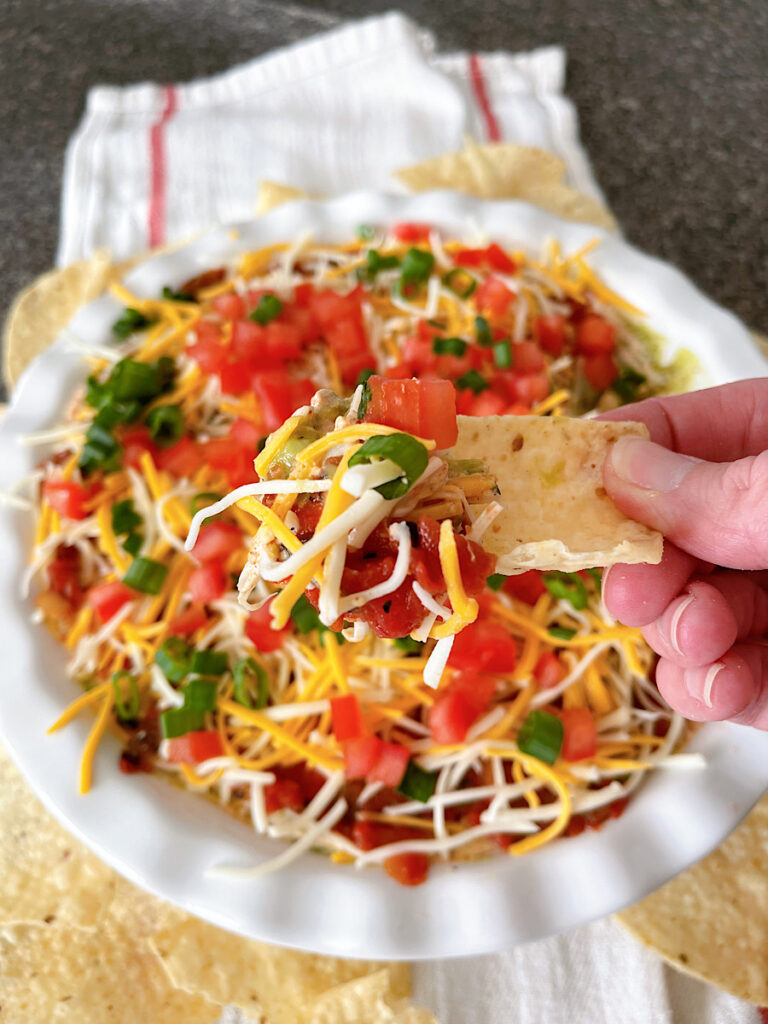 What's In Seven Layer Dip?
*Ingredient amounts are located in the recipe card at the end of this post.
Here are the ingredients that you will need to make this delicious Seven-Layer Dip!
Refried Beans- For the first layer, you can use your favorite brand and variety of refried beans. I use Rosarita's Green Chile and Lime refried beans.
Guacamole- Use your favorite brand of guacamole for this layer or you can make your own guacamole by combining two avocados with a tablespoon of fresh lime juice. You can also make homemade guacamole using this Chunky Guacamole Recipe.
Sour Cream- You will need 8 ounces of sour cream for this recipe. You can also use Greek yogurt in place of the sour cream.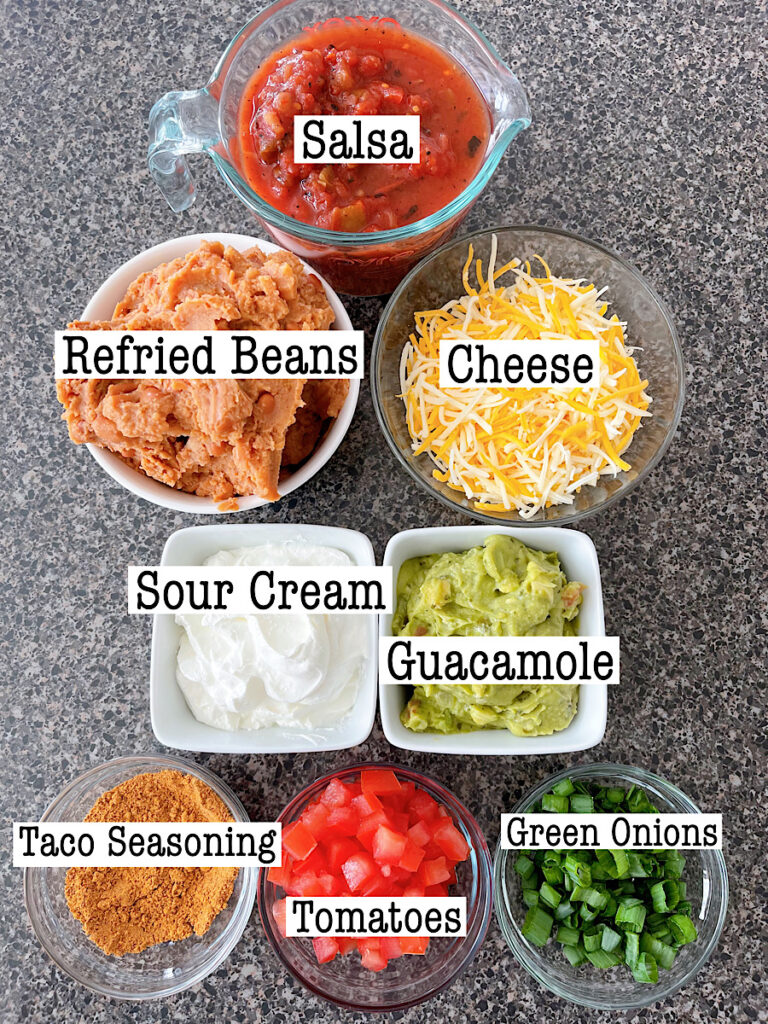 Taco Seasoning Mix- This is a blend of spices that you can find in the spice aisle of your local grocery store. If you don't have any on hand, you can make your own.
Salsa- For this layer you can use your favorite store bought salsa or your own homemade favorite. Draining the excess liquid from your salsa will help your dip to not be runny.
Mexican Blend Cheese- This cheese is a combination of Cheddar, Monterey Jack, Queso Blanco and Asadero. Cheddar cheese or sharp cheddar can also be used.
Tomato- You will need one Roma tomato for this recipe.
Green Onions- You will need half a bunch of green onions to create the finishing garnish. Chopped red onions would also be a great addition.
How To Make Seven Layer Bean Dip (Step-by-Step Instructions)
[1] In a medium bowl, combine the refried beans with about 2 tablespoons of the sour cream. This will help create creamy refried beans. Spread the mixture on the bottom of a 9 inch pie pan.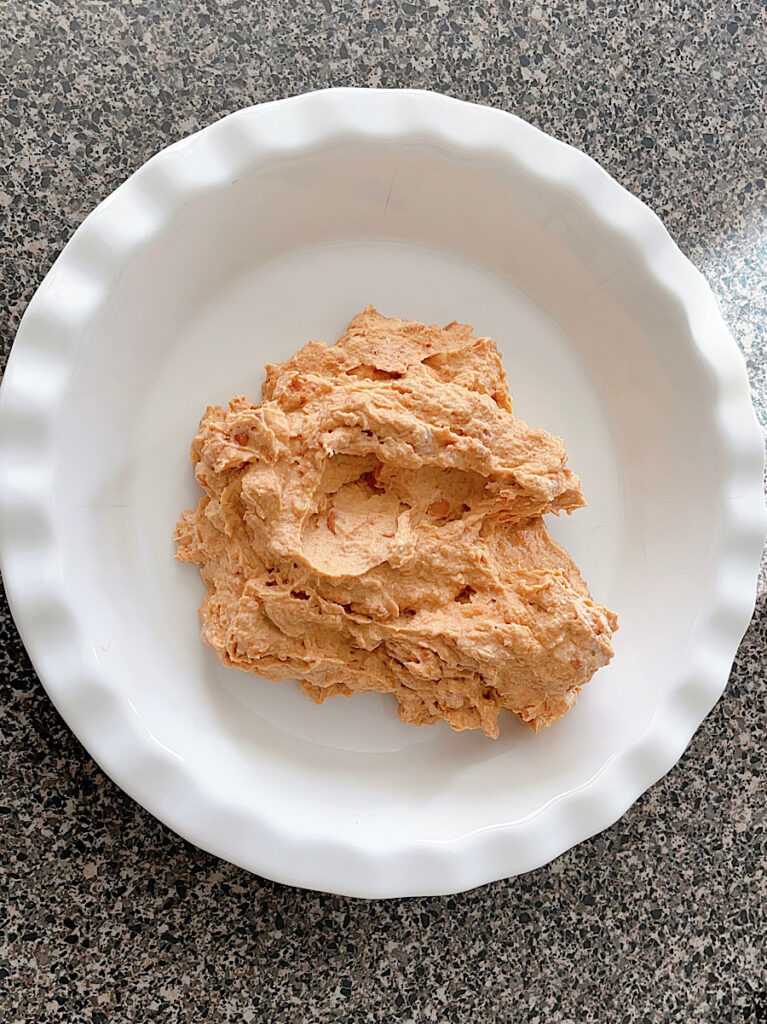 [2] Spread the prepared guacamole on top of the beans.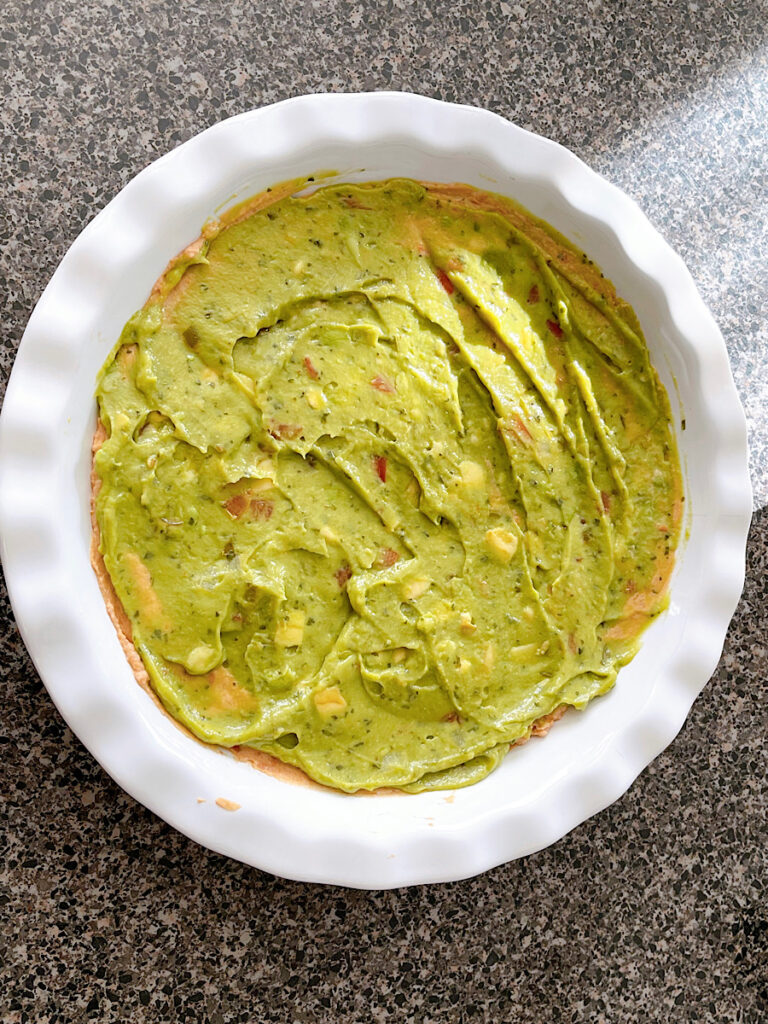 [3] Combine the remaining sour cream with the taco seasoning and spread the sour cream mixture over the avocado layer.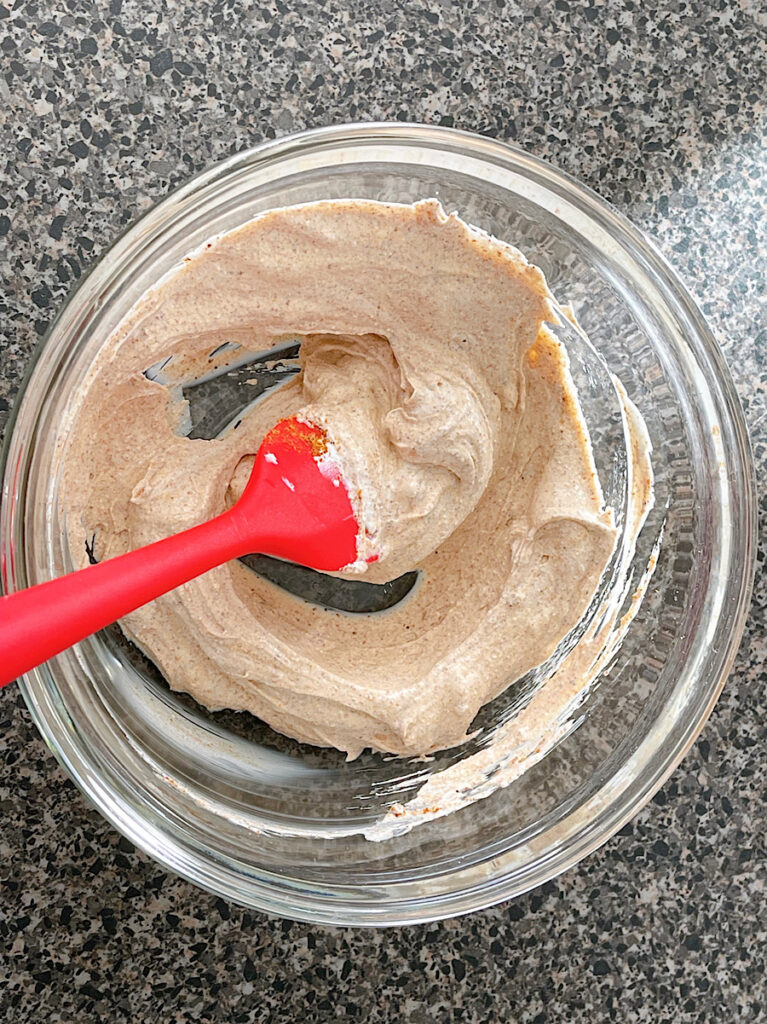 [4] Add the salsa to a strainer to remove the excess liquid, then spread on top of the sour cream layer.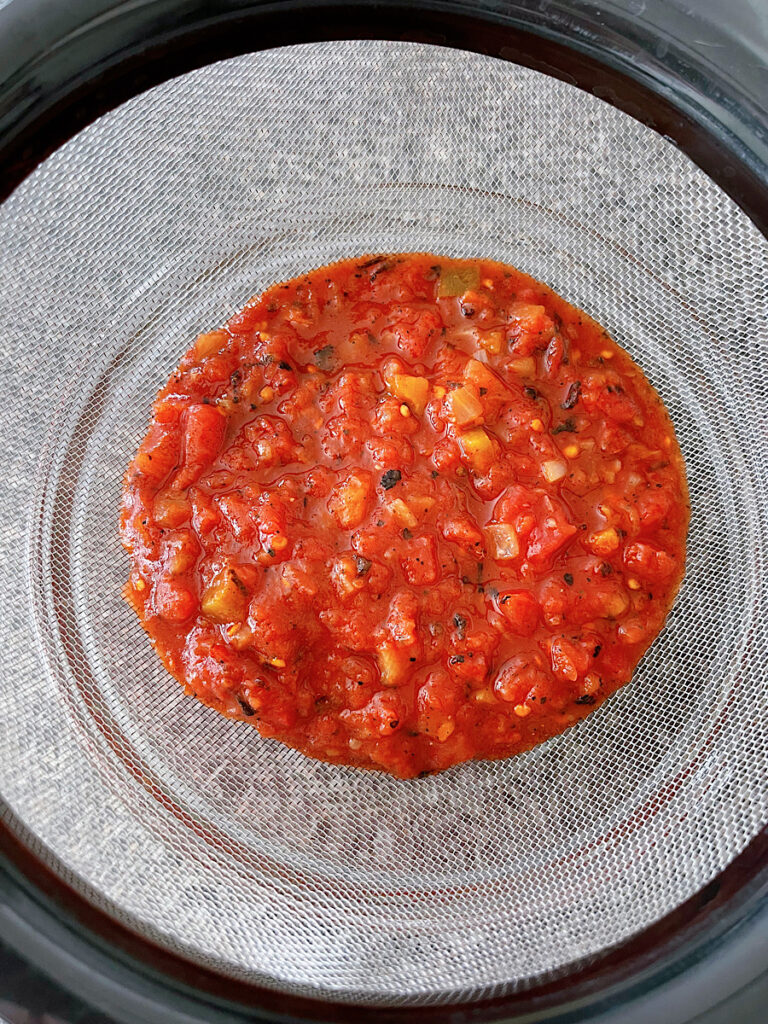 [5] Sprinkle the shredded Mexican cheese over the layer of salsa.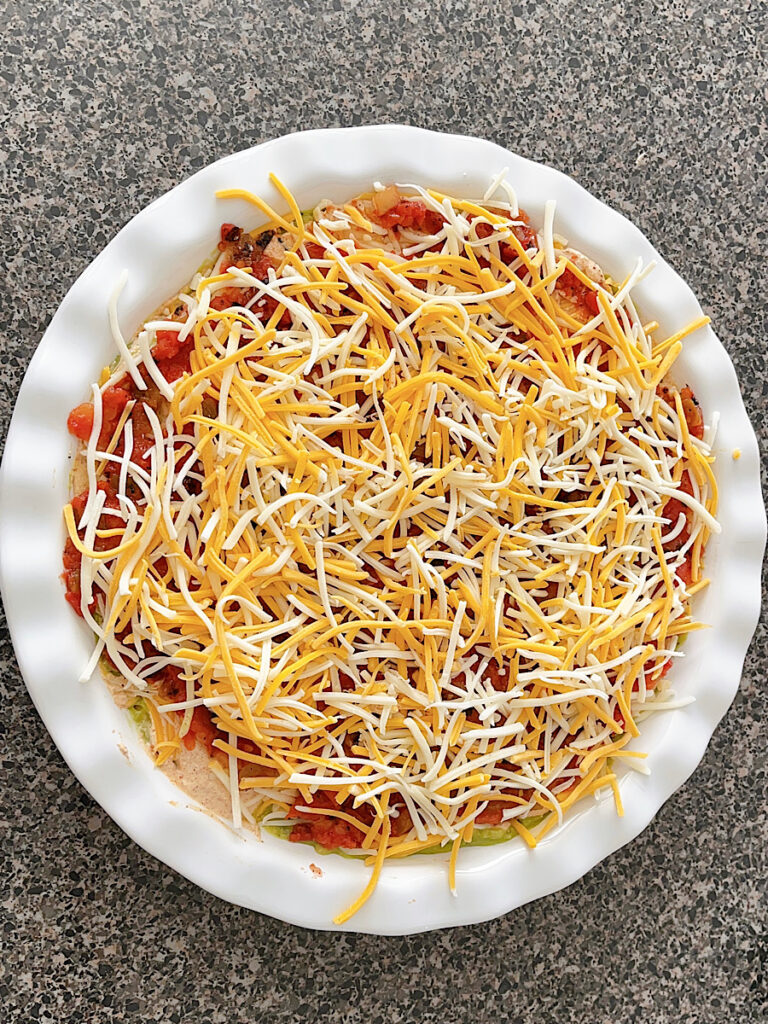 [6] Add the chopped fresh tomatoes and green onions over the cheese layer.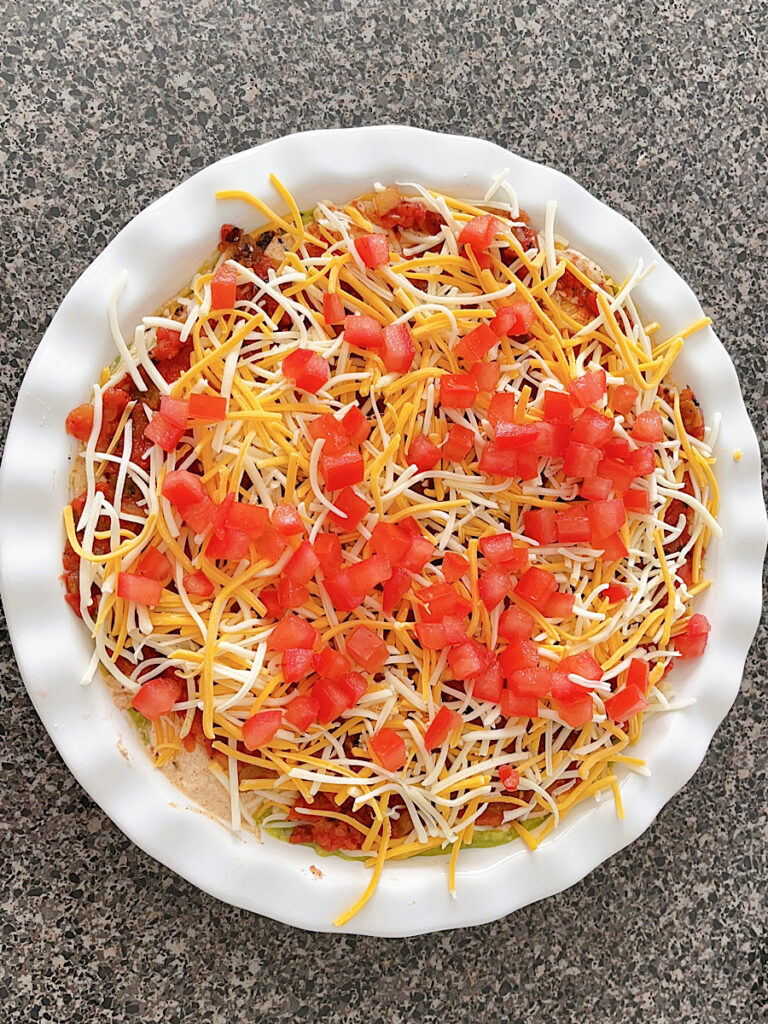 [7] Refrigerate for 30 minutes before serving with tortilla chips.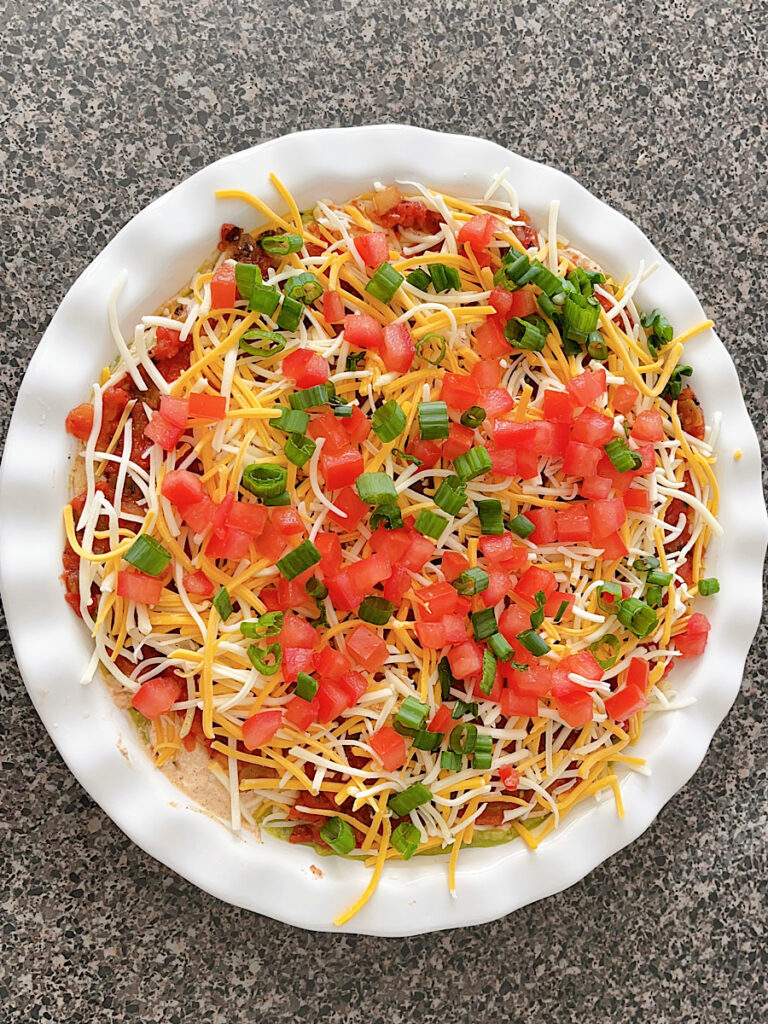 Helpful Kitchen Tools
How to Store Seven Layer Taco Dip
If you have any leftovers, store in an airtight container, or covered in plastic wrap, in the refrigerator for 3-4 days.
Variations
There are many ways that you can vary this easy recipe to fit your preferences. Here are a few ideas:
Add a layer of refried black beans for extra protein and flavor.
Switch up the type of cheese that you use. Try Pepper Jack or Colby Jack cheese.
Add a layer of cooked ground beef or chicken that has been seasoned with taco seasoning.
Add chopped black olives.
Top the dip with fresh cilantro for extra flavor!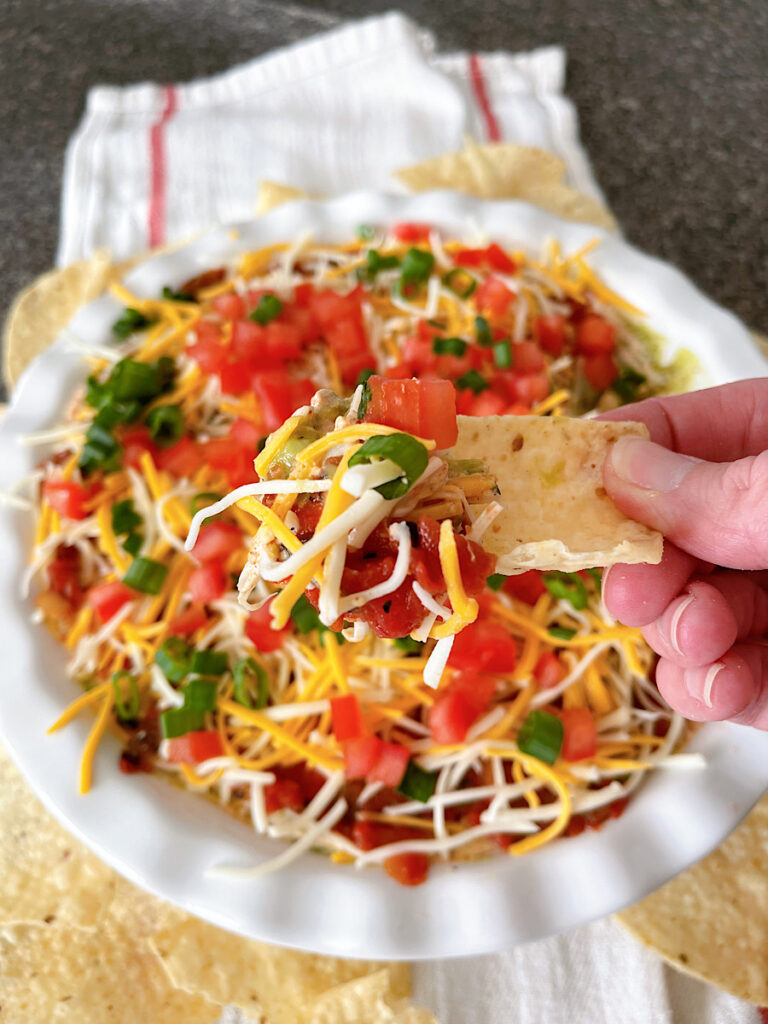 Frequently Asked Questions
What is Mexican 7 layer dip made of?
Traditional 7-layer dip is a Mexican-style appetizer made with seven different layers. The layers typically include refried beans, guacamole, sour cream, taco seasoning, salsa, cheese and tomatoes.
Can I make 7 layer dip ahead of time?
Yes! This dish can be made up to 1 day ahead of time.
Why is my 7 layer dip runny?
If your 7 layer dip is too runny, it may be because you used salsa with too much liquid. Try draining the excess liquid from your salsa before adding it to the dish.
What type of chips should I serve with this dip?
Tortilla chips are the traditional choice for serving with this dip, but you can also serve it with pita chips or vegetable crudites.
Can I freeze homemade 7 layer dip?
No, this dip does not freeze well. It can be stored in the refrigerator for 3-4 days.

What to Serve with Easy Seven Layer Dip: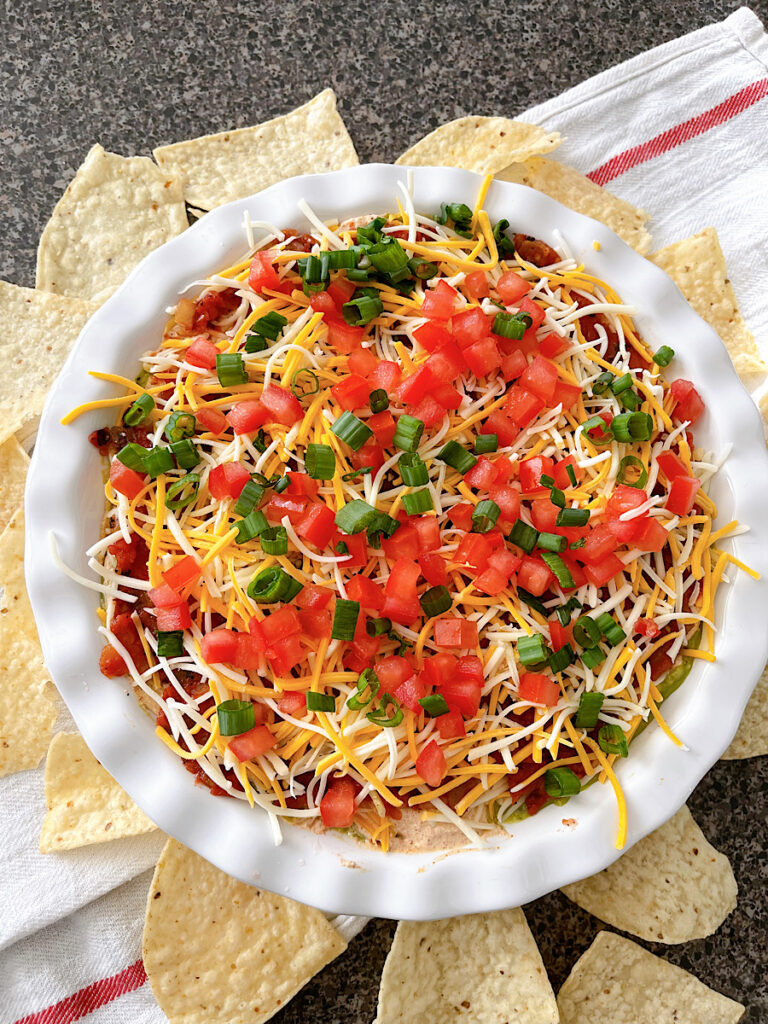 Final Thoughts
I hope you enjoy this delicious and easy Seven Layer Dip! It is one of my favorite appetizers and is sure to be a hit at your next gathering as it's loaded with flavor and can easily be customized to fit your preferences. Enjoy!
More Easy Appetizers for Game Day:
Seven Layer Dip Video: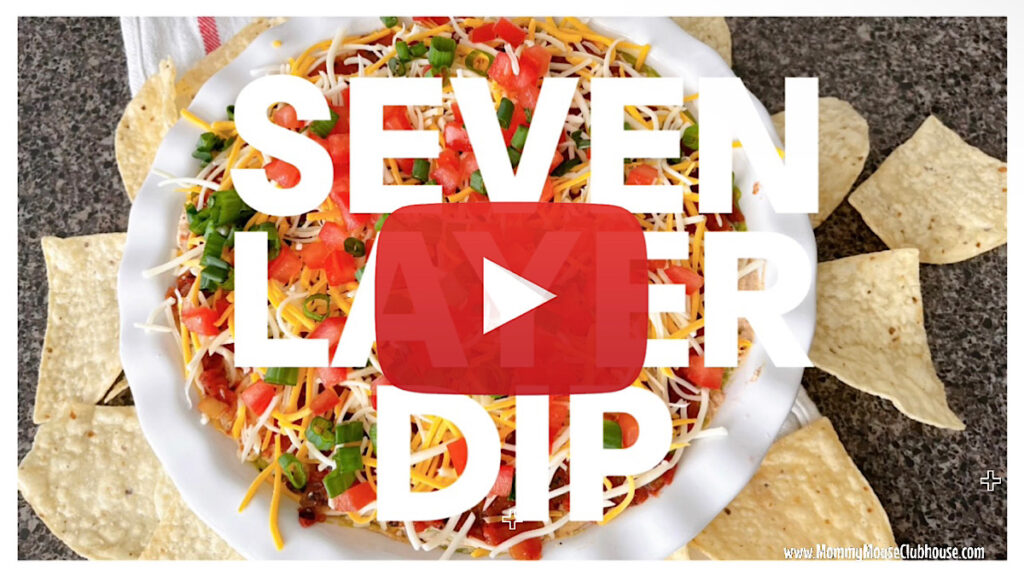 Pin for later: