This amazing Barbecue Chicken Salad is hearty and flavorful and may just be the best salad ever! Made with Chicken, and fresh vegetables with a tangy BBQ vinaigrette dressing. Plus, if you drizzle it with ranch, it takes it to a whole new level!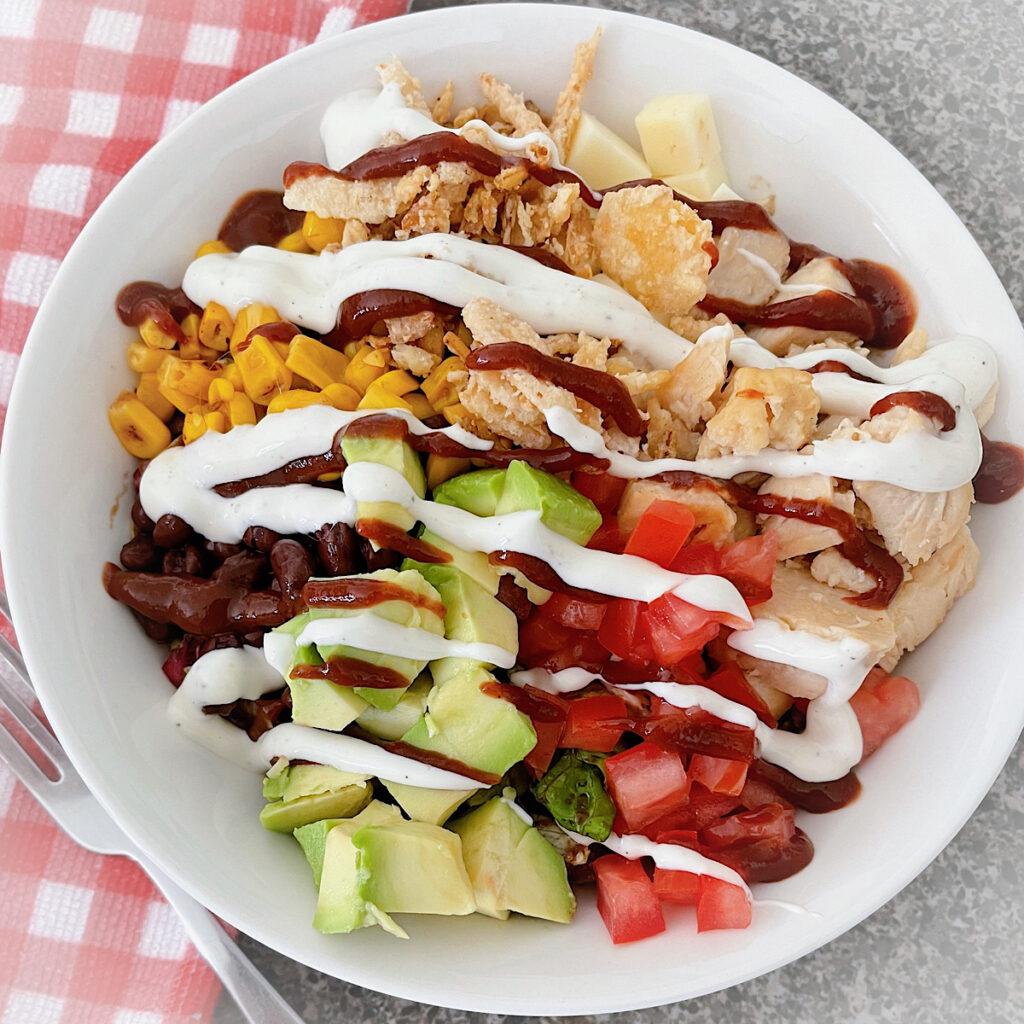 This post may contain affiliate links. When you click on these links, I get a small percentage back at no cost to you! For more information see my disclosure policy.
Below you will find tips, tricks and helpful hints for making this recipe including step by step instructions with pictures. If you would like to go directly to the recipe, scroll down to the recipe card.
Why You'll Love this Salad
I love to eat salad but I get tired of the same ingredients every time. That's why this Amazing Barbecue Chicken Salad has quickly become a favorite at my house.
The creaminess of the ranch dressing goes perfectly with the tanginess of the BBQ Vinaigrette.
All of these ingredients come together to make the perfect salad when you are craving the best salad ever!
Pair this with some Sweet Moist Corn Bread and you'll definitely have a winning combination!
Ingredients & Substitutions
*Ingredient amounts are located in the recipe card at the end of this post.
The great thing about this salad is that you can pick and choose what ingredients you include. Below you will find the list of ingredients as well as suggestions for substitutions.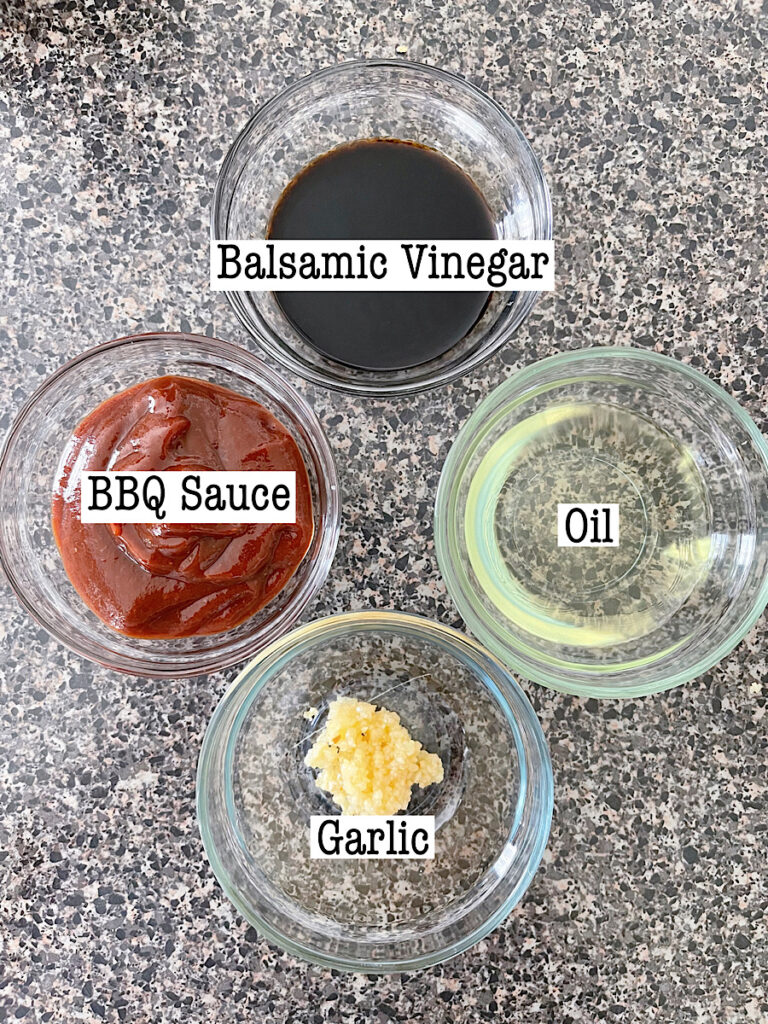 BBQ Vinaigrette
Oil: For this salad dressing, you can use canola, vegetable, or olive oil.
BBQ Sauce: Use your favorite BBQ sauce! This is one place you can really customize your salad.
Balsamic Vinegar: You could also use white wine vinegar or apple cider vinegar.
Garlic: I love garlic so I always use fresh minced garlic. If you don't have any on hand, you could use garlic powder.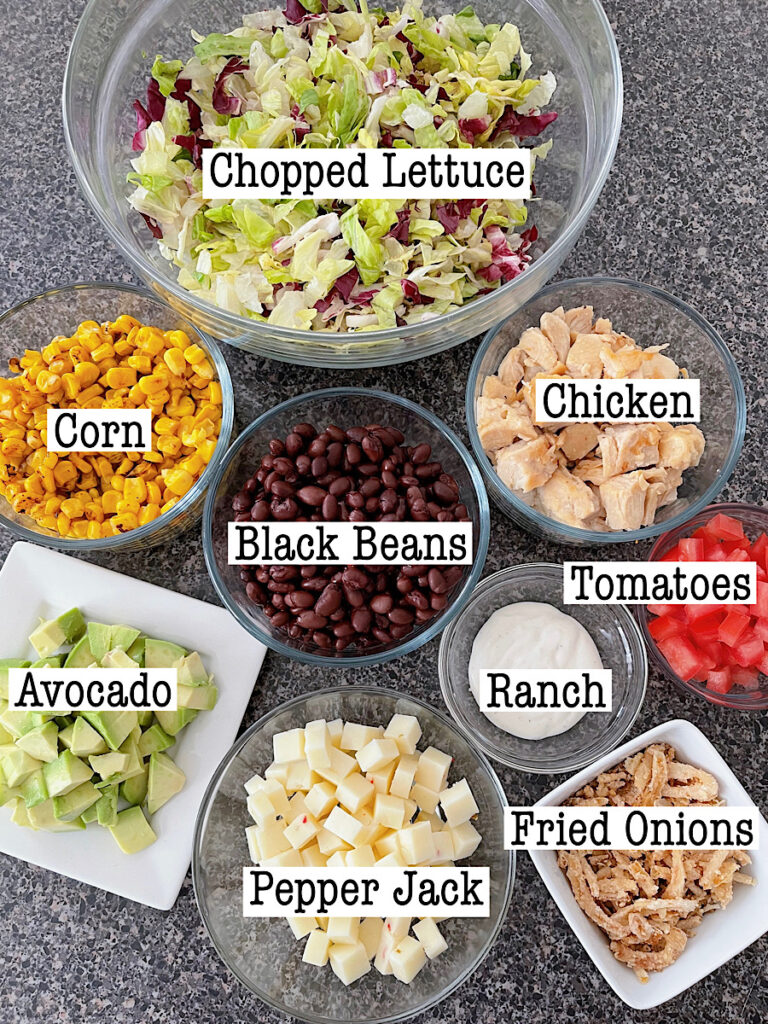 Salad Ingredients
Lettuce: You can use romaine, green leaf lettuce, or iceberg lettuce. Chop the lettuce to your desired size. For a time-saving tip, you can use a bag of chopped romaine lettuce as well.
Chicken: Use chicken breast that is cut into bite-sized pieces. To save time, you can use rotisserie chicken, leftover chicken, or pre-cooked chicken.
Corn: I used a can of sweet corn that was pan-roasted over medium-high heat.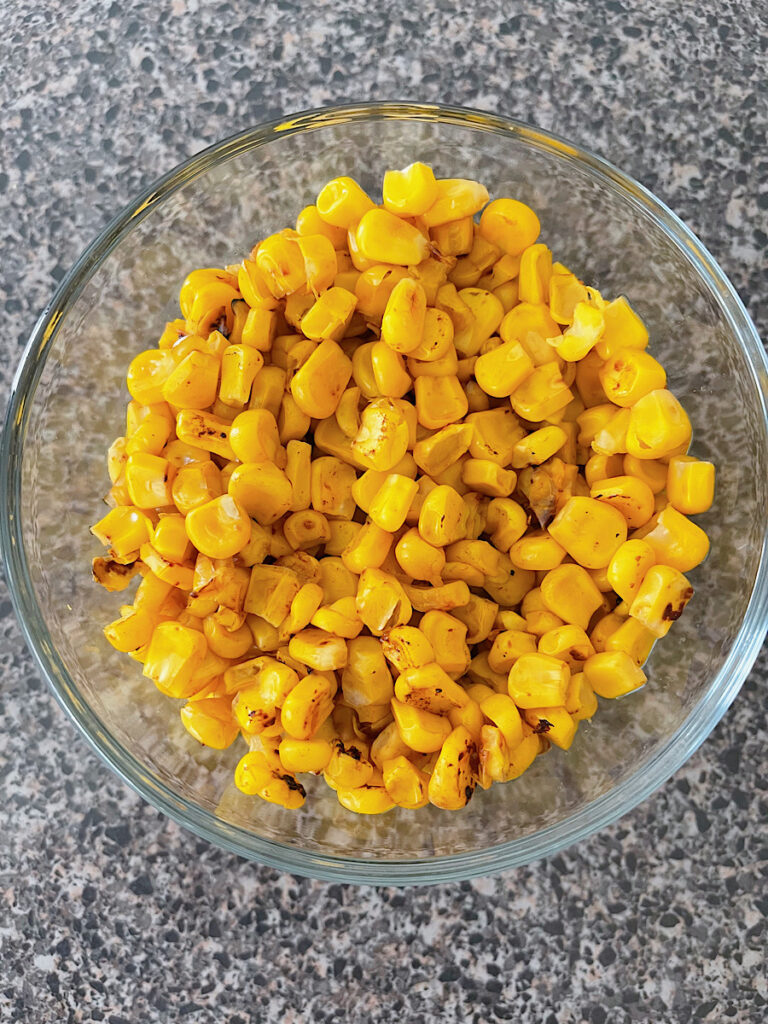 Black Beans: Use any can of black beans. Make sure to drain and rinse.
Tomato: I used diced fresh tomatoes but you could also use cherry tomatoes, grape tomatoes, or sun-dried tomatoes.
Avocado: This is a great way to add some healthy fats to your salad! You could also use guacamole.
Cheese: I like to use pepper jack cheese for a little spice, but you can use cheddar cheese as well.
Fried Onions: These onions can be found at the grocery store. A good substitution for the onions would be tortilla strips or crunchy tortilla chips
Ranch Dressing: Use your favorite store-bought ranch dressing or homemade ranch dressing to drizzle over the salad, if desired.
Helpful Kitchen Tools
Step by Step Instructions
[1] Make the BBQ Vinaigrette by whisking together the oil, bbq sauce, balsamic vinegar, and minced garlic. Set aside.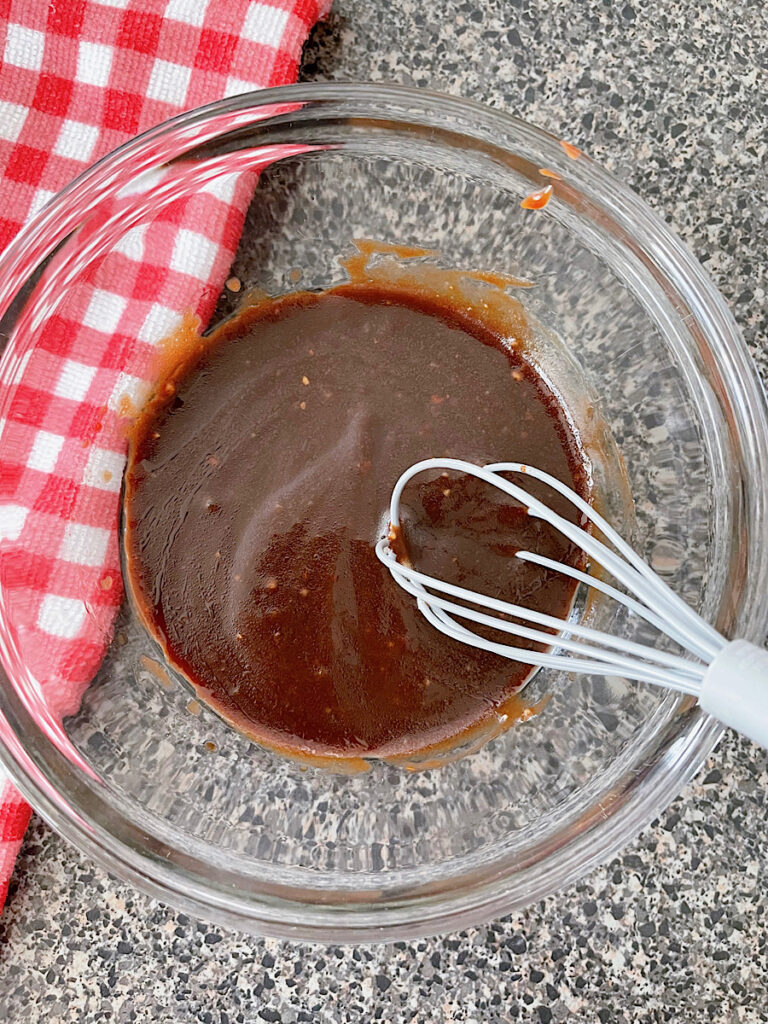 [2] Prepare the salad ingredients by cooking the chicken, roasting the corn, draining and rinsing the beans, and dicing the tomatoes, cheese, and avocados.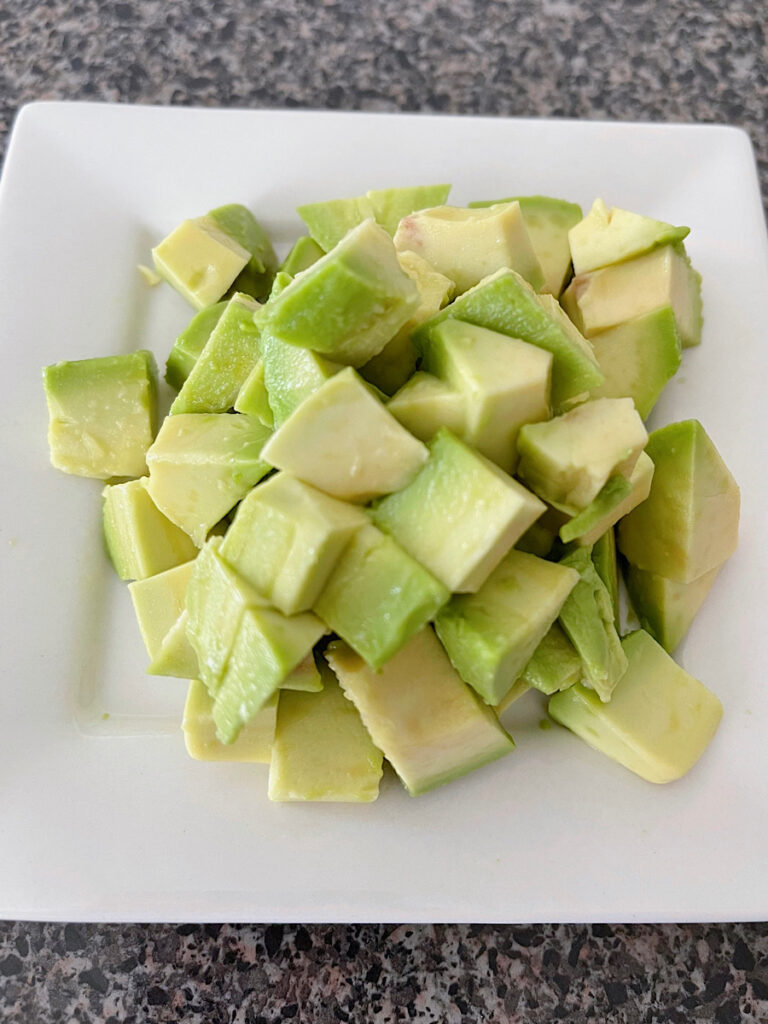 [3] Place your chopped lettuce in a large bowl with the vinaigrette and toss it to coat.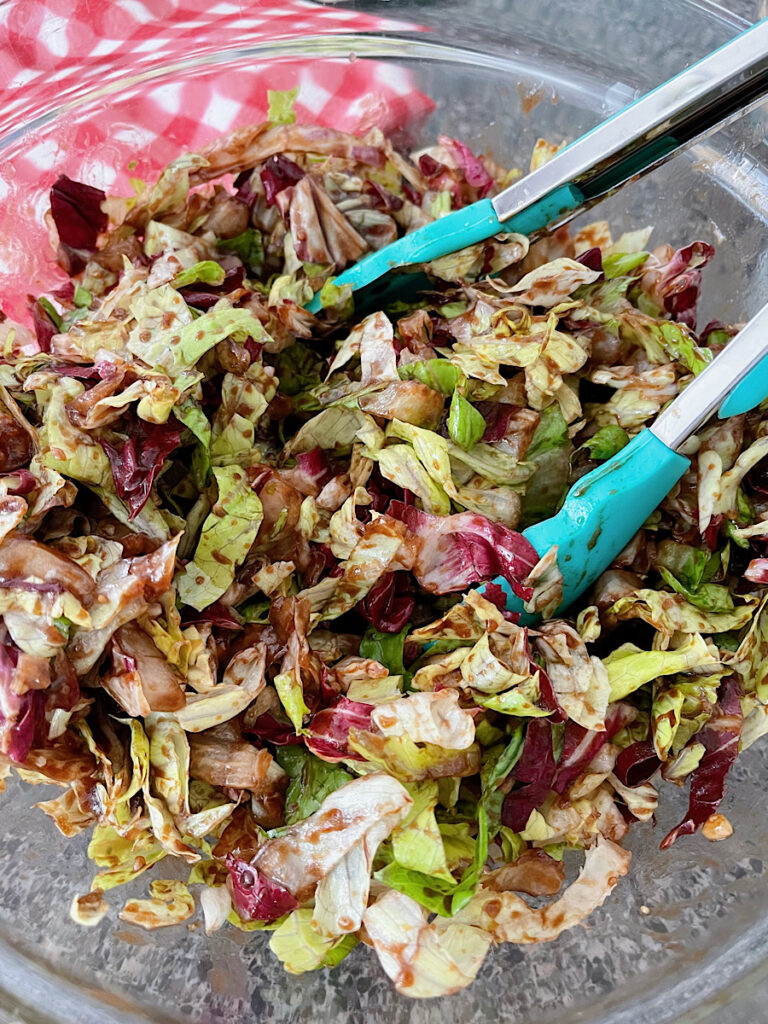 [4] Divide the lettuce among four bowls or plates for serving. Top the lettuce with the corn, black beans, cubed pepper jack, avocado, and chicken.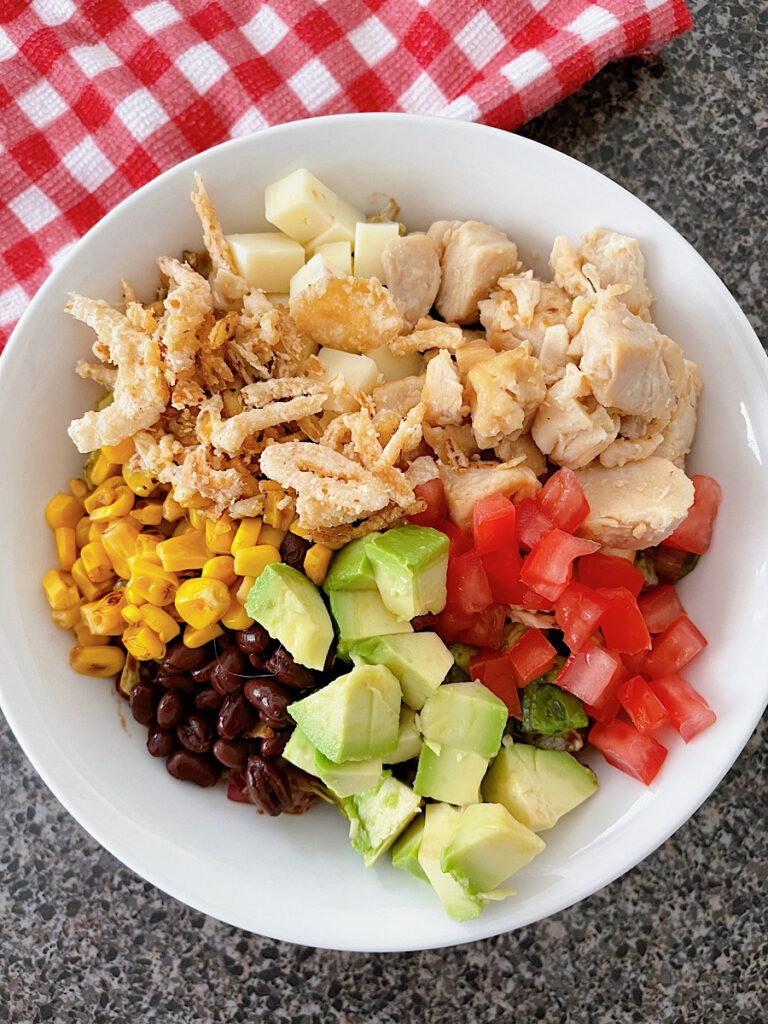 [5] Sprinkle with fried onions and drizzle with creamy ranch dressing and more bbq sauce, if desired. !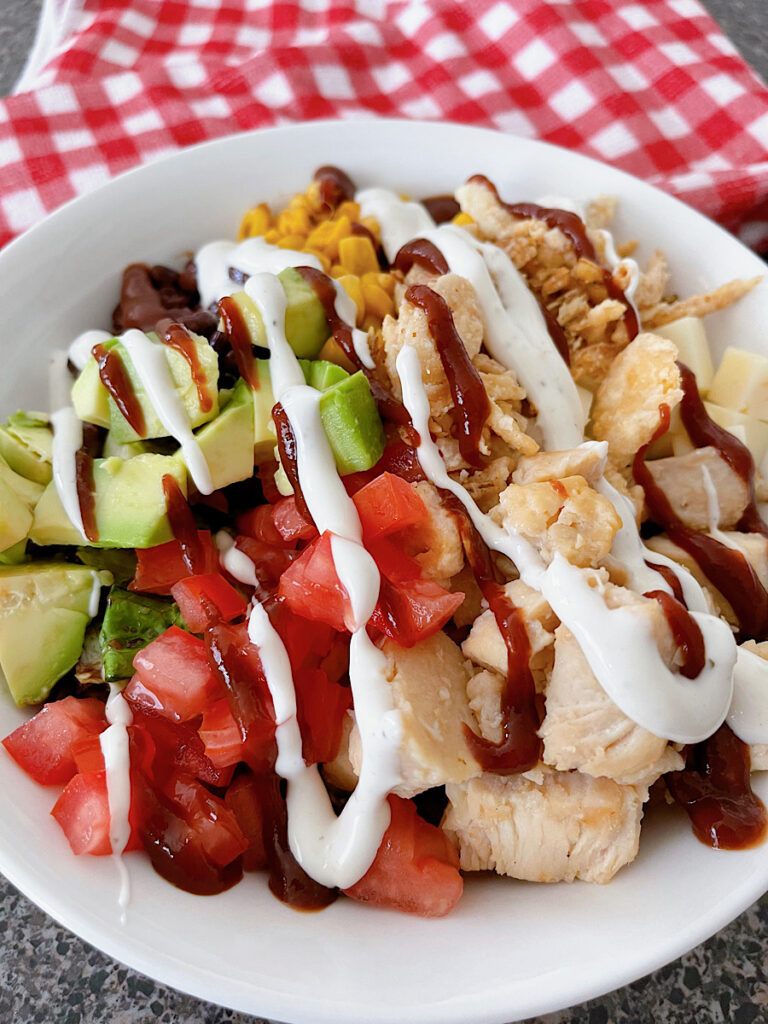 More Favorite Salads:
Frequently Asked Questions
Can I make this salad ahead of time?
Yes! This barbecue chicken salad recipe is great for meal prep. Simply prepare all of the ingredients and store them in separate containers. Assemble the salad when you are ready to eat.
I like to assemble the salad upside down in a container like a mason jar. Starting with the dressing, then the cooked chicken, corn, beans, cheese, avocado, tomatoes, and finally the lettuce.
When ready to eat, make sure the lid is on the container and shake the salad to distribute the dressing. Then top with fried onions.
Can I use a different type of cheese?
Yes! You can use cheddar, Swiss, mozzarella, or any other type of cheese that you like.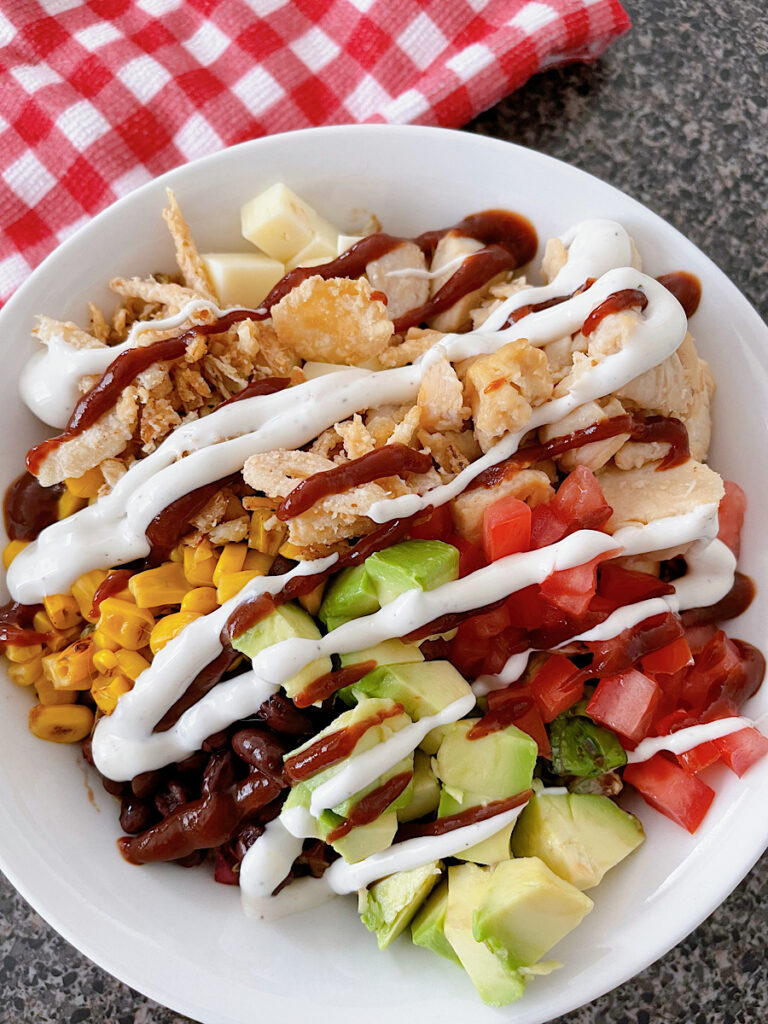 Can I use a different type of lettuce?
Yes! You can use romaine, green leaf, or iceberg. Chop the lettuce to your desired size. For a time-saving tip, you can use a bag of chopped lettuce.
Can I use a different type of bean?
Yes! You could use kidney beans, pinto beans, or any other type of bean that you like. Just make sure to drain and rinse them before adding to the salad.
What is the best way to store leftovers?
Leftovers can be stored in an airtight container in the fridge for up to 3 days.
Final Thoughts
I hope you love this quick and easy bbq chicken salad recipe as much as I do! If you make this salad, I'd love to know what you think. Please leave a review and a comment down below.
Pin for Later: