Kalahari Resort in Texas is the perfect getaway for families who are looking to have some fun together. The resort offers one an indoor waterpark, an indoor theme park, a spa, and much more. Here's everything you need to know about Kalahari Resort in Texas.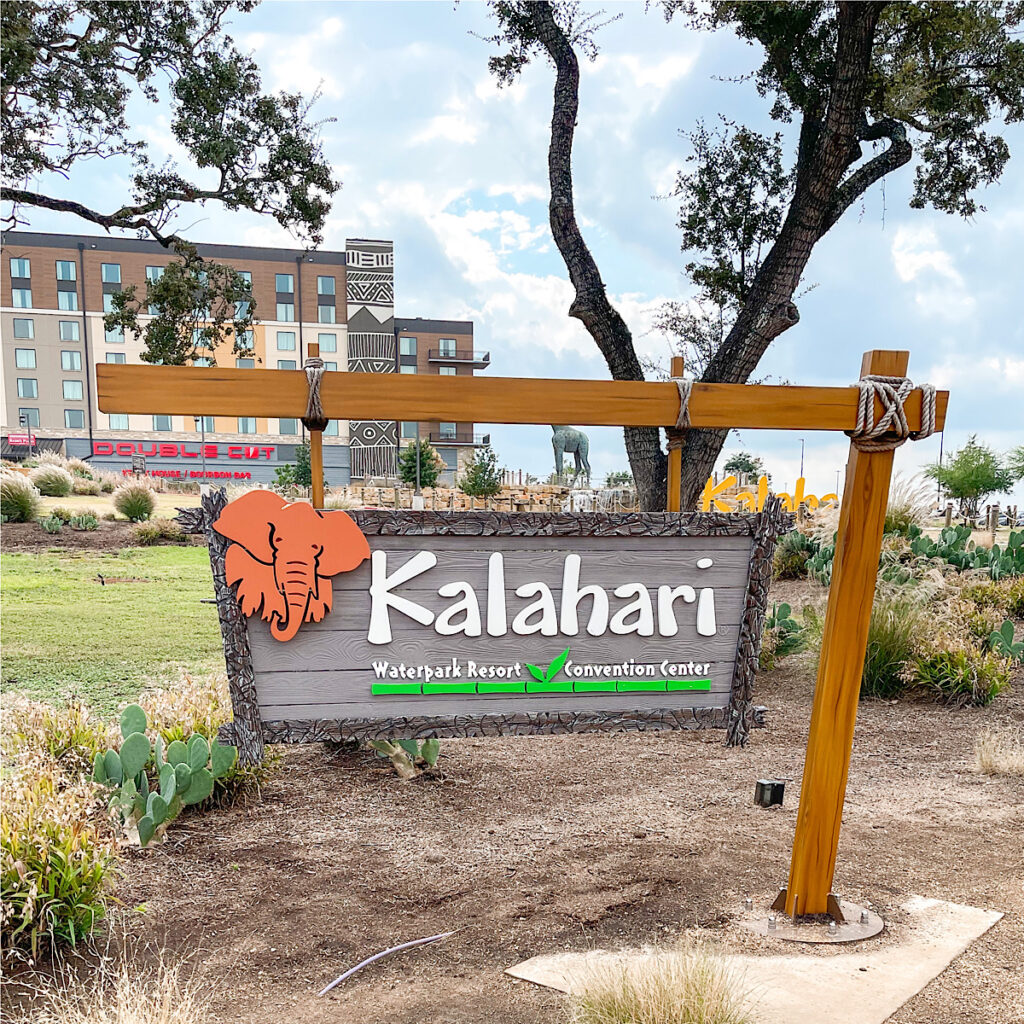 My family recently had the opportunity to visit Austin, Texas. While looking for a place to stay in the area, we were excited when we discovered Kalahari Resort, just outside of Austin, in Round Rock Texas!
Having visited many different Great Wolf Lodge locations, including Grapevine, Texas, I couldn't wait to experience a Kalahari vacation and see how it compared.
Below you will find out about all of the amenities at the Kalahari Resort, as well as go on a tour of our King Bunk Suite!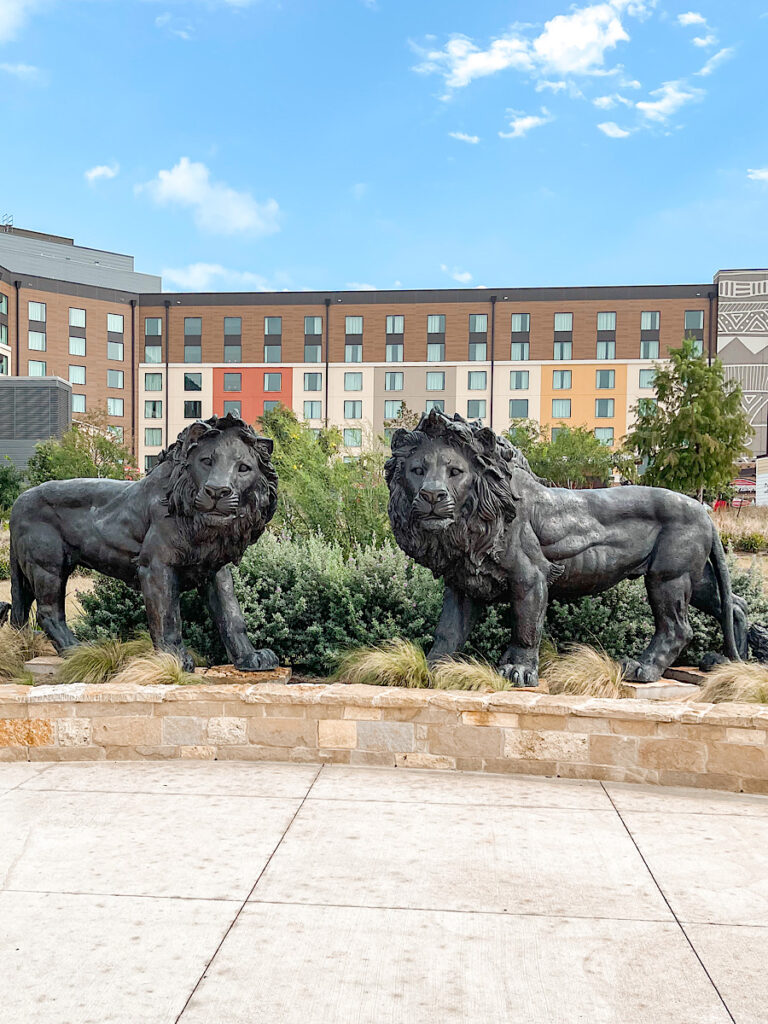 Kalahari Discount Codes
Before we get started, I wanted to share with you how to save some money on a stay at Kalahari resort in Texas.
You'll want to check Kalahari Resorts' website for a Kalahari Resorts promotion and special deals by clicking on "Specials and Packages".
From that page, you will see every promotional code and special offers, offered at the time.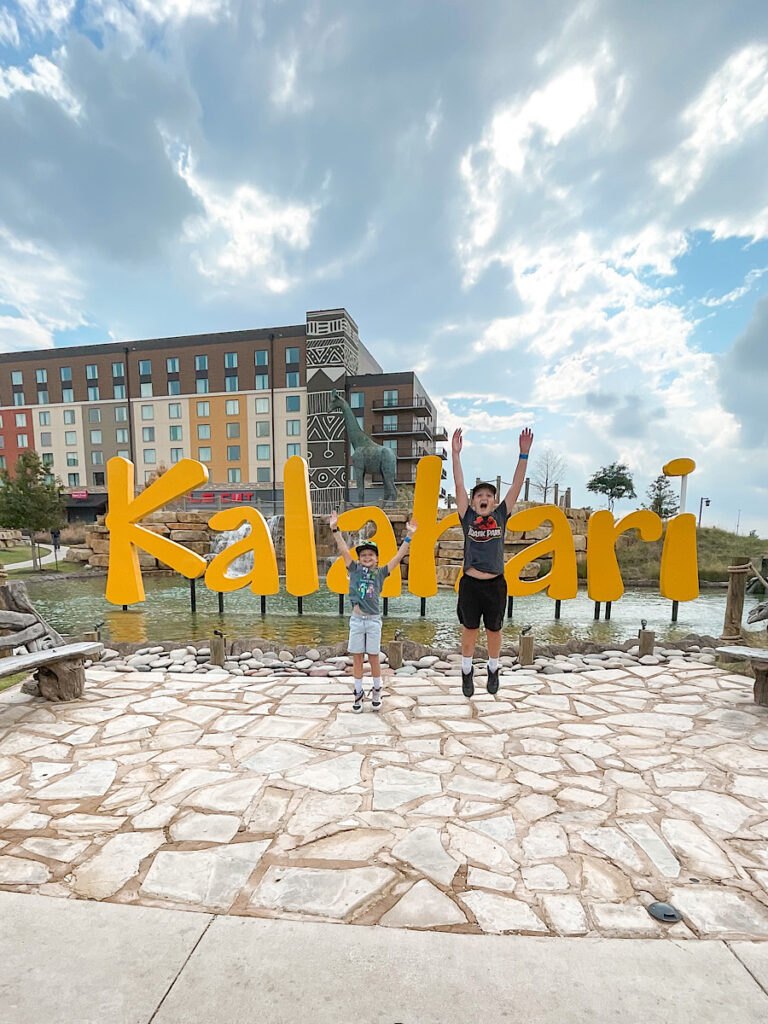 Currently, there is a promotion for:
Book Early and Save
Multi Night Savings
Kalahari Salutes (Military Discount for members of the military)
Tom Foolery! Package
For more discounts, you'll want to search Google for more Kalahari Resort promo codes that can be used on the checkout page.
Make sure to look for discounts around Black Friday and Cyber Monday for extra savings and exclusive pricing during those times.
Kalahari gift cards also make great Christmas gifts!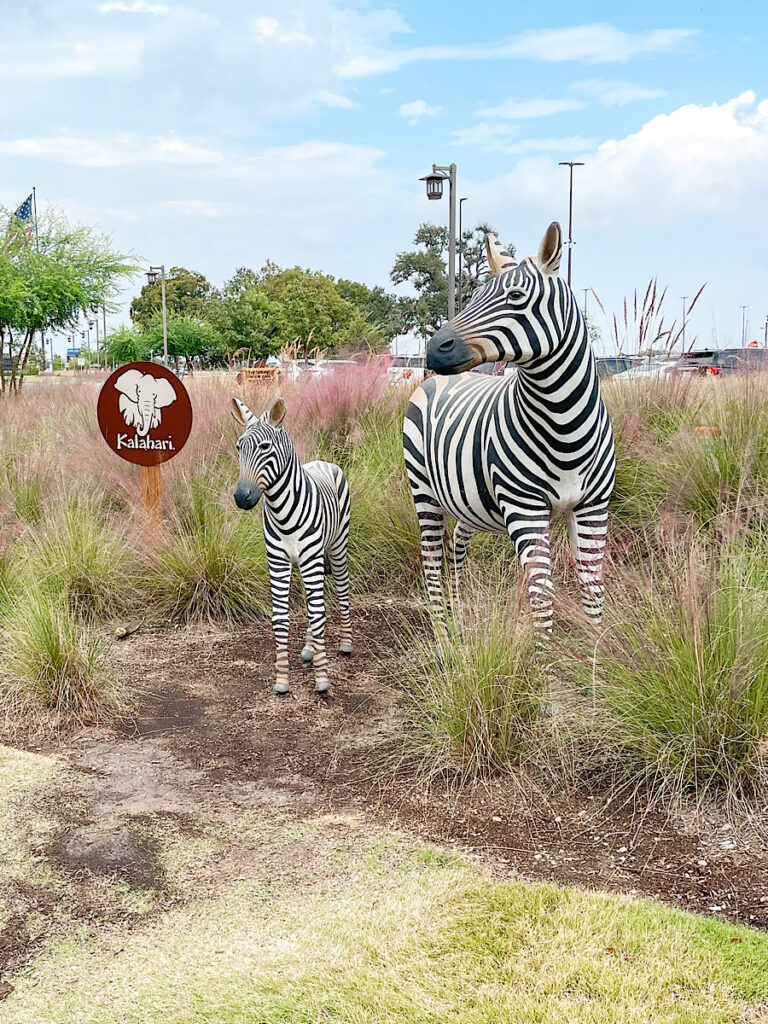 Indoor Waterpark
The indoor waterpark at Kalahari Resort is one of America's largest indoor waterparks. It features a lazy river, multiple slides, and a wave pool.
There is also a kiddie area for the little ones to play in. The waterpark is open year-round, so you can enjoy it no matter what time of year it is.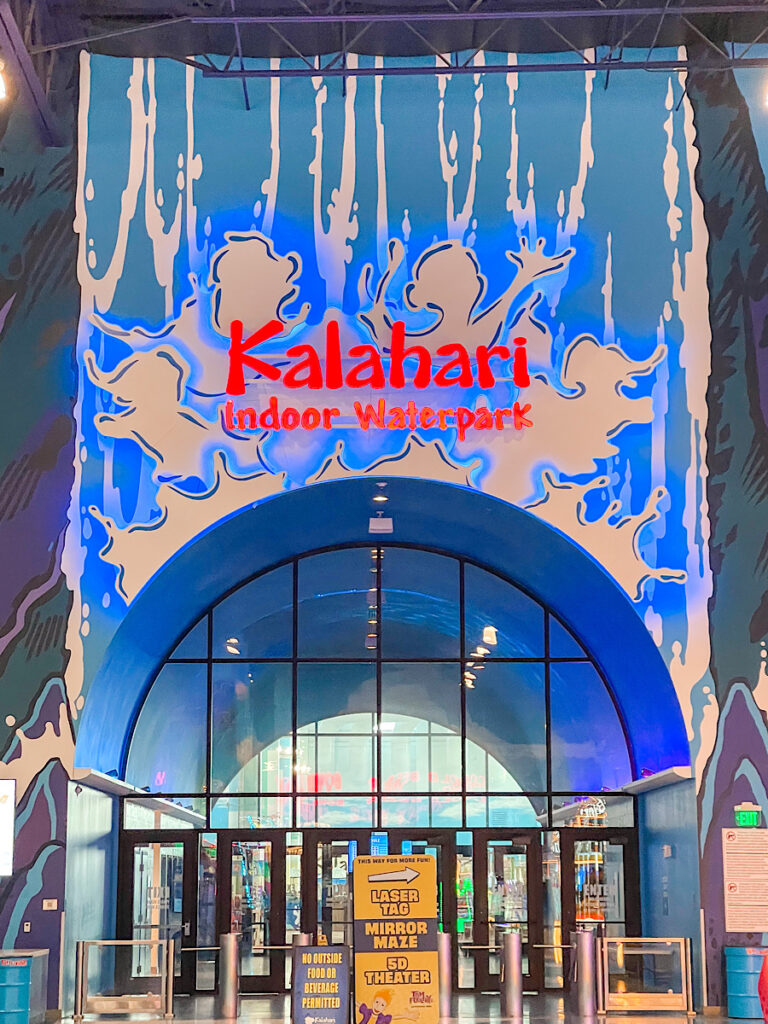 Towel Rental
Towels are available for hotel guests to use inside the water park. You must scan your room key when picking up the towels, then again when you return them or your will be charged $20 per towel.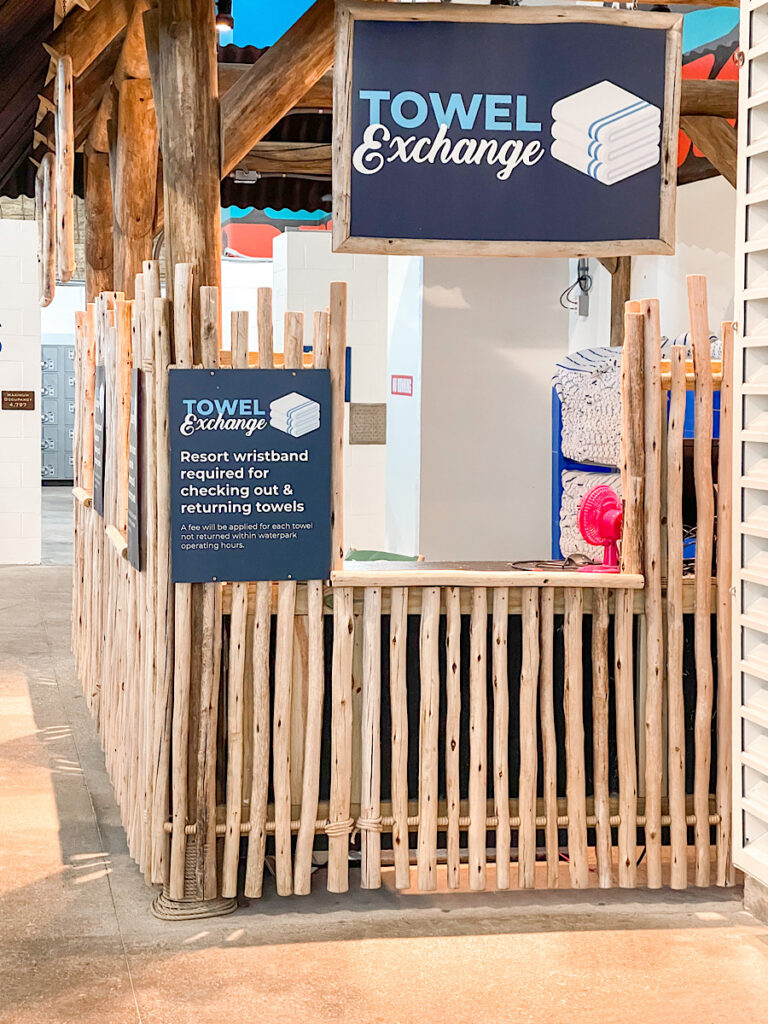 Tube Slides
Here is a list of the tube slides:
Barrelling Baboon – A two or four-person family raft slide
Kenya Korkscrew – A tandem one or two-person slide
Rippling Rhino – A slide for one or two riders. Must be 48″ to ride alone.
Serengeti Spinner – A one or two-person slide featuring 360 degree spins.
Stingray – A two or four-person extreme family raft slide
Swahili Swirl – A one or two-person slide featuring a funnel.
The Smoke That Thunders – A two or four-person family raft slide
Wild Wildebeast – A one or two-person tube slide.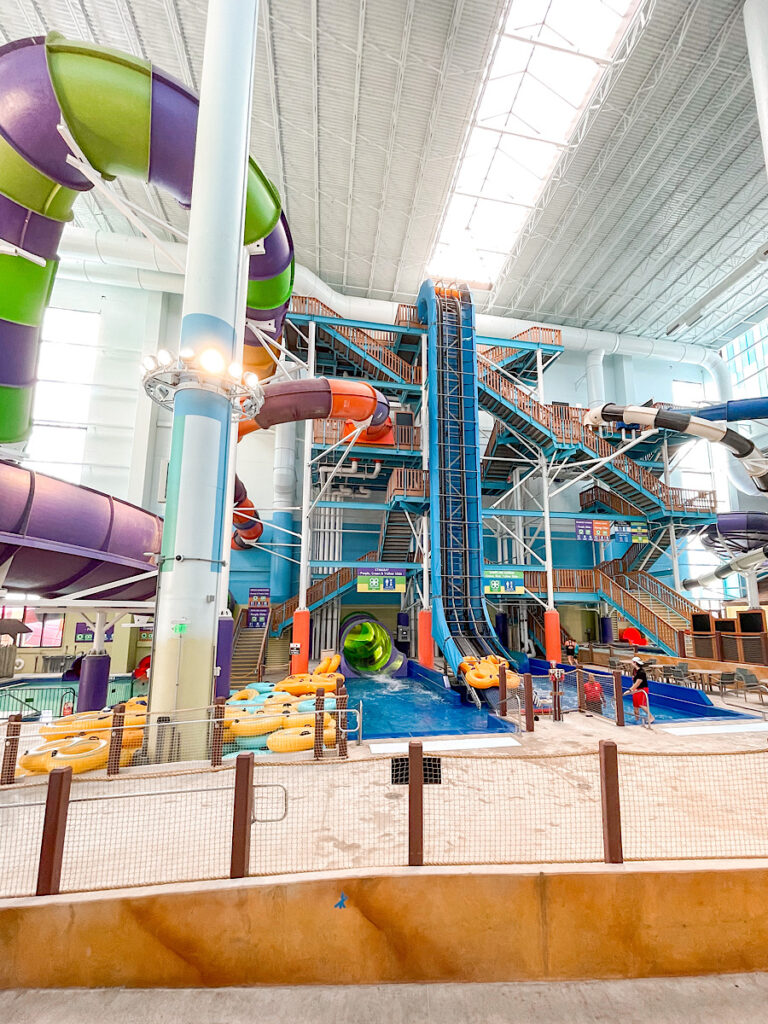 Body Slides
Cheetah Race – A set of four slides where riders race to a finish line
Dungeons of Hout Bay – A set of enclosed waterslides with a freefall drop into a pool below
Sahara Sidewinders – A pair of slides that are 250 feet in length.
Screaming Hyena – A 60-foot drop slide
Tanzanian Twister – Twist through a funnel flume at 40 miles per hour before dropping into a 7-foot pool.
Zig Zag Zebra – A fast body slide that will only take 6 seconds to complete!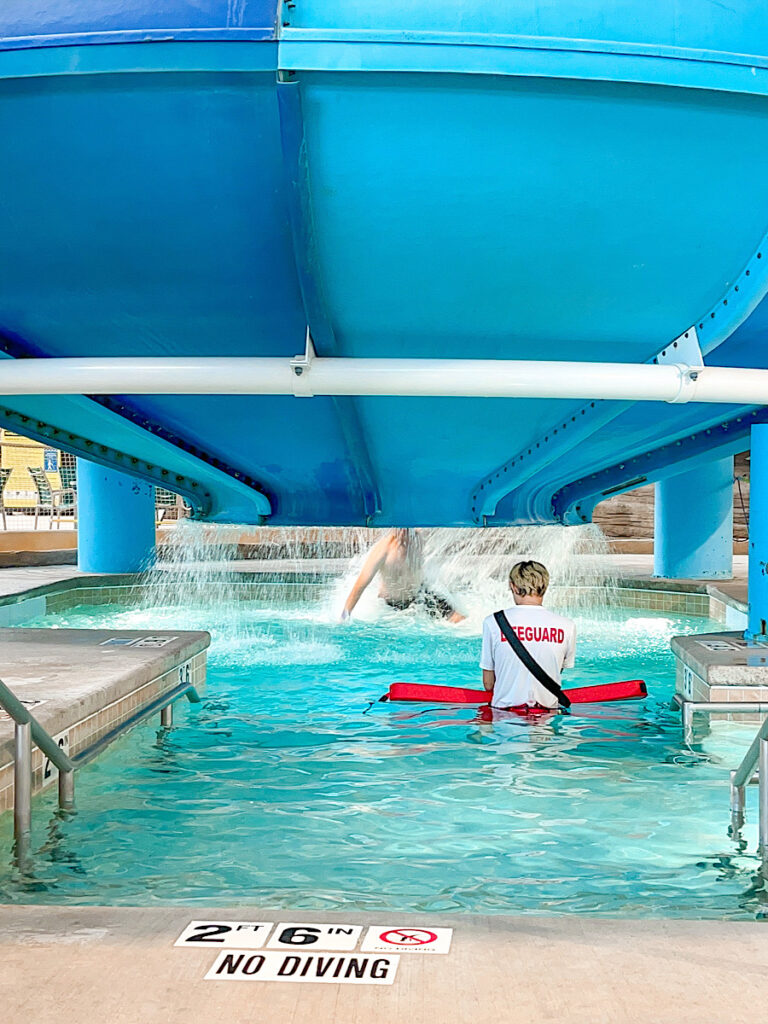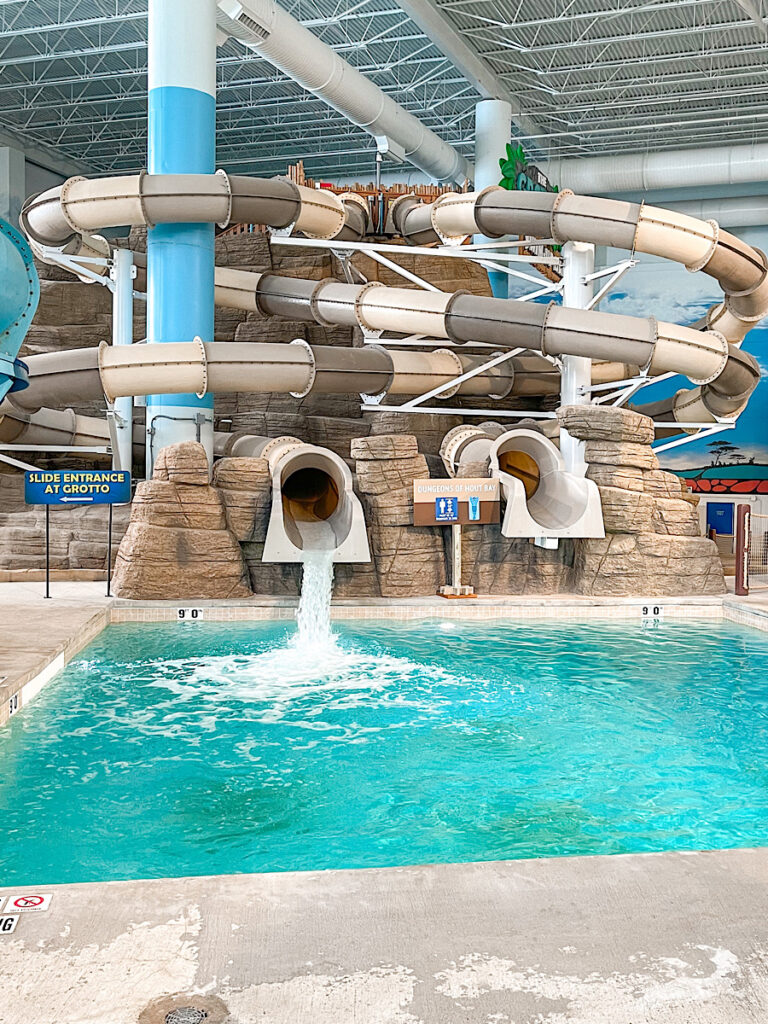 Water Attractions for Kids
Coral Cove – A zero-entry water playground with slides and mini basketball for small children and toddlers.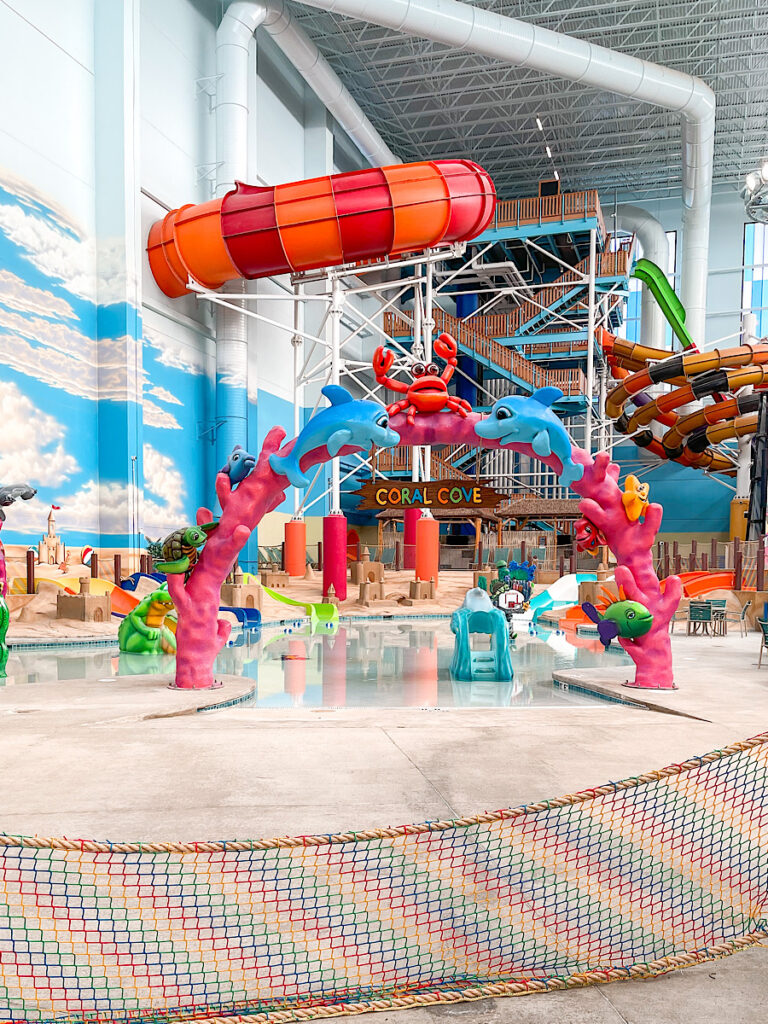 Tiko's Watering Hole – Another water area made just for kids with their own lazy river!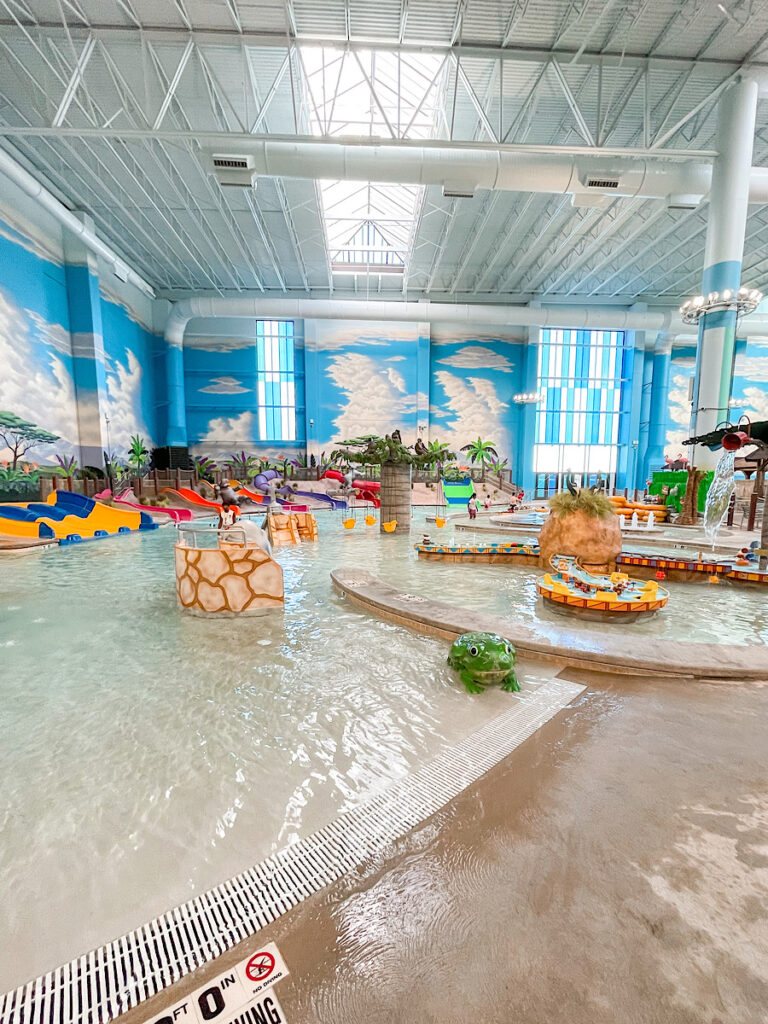 Life Jacket Requirements
Life jackets are required for guests under 48 inches and are available to use free of charge in the water park.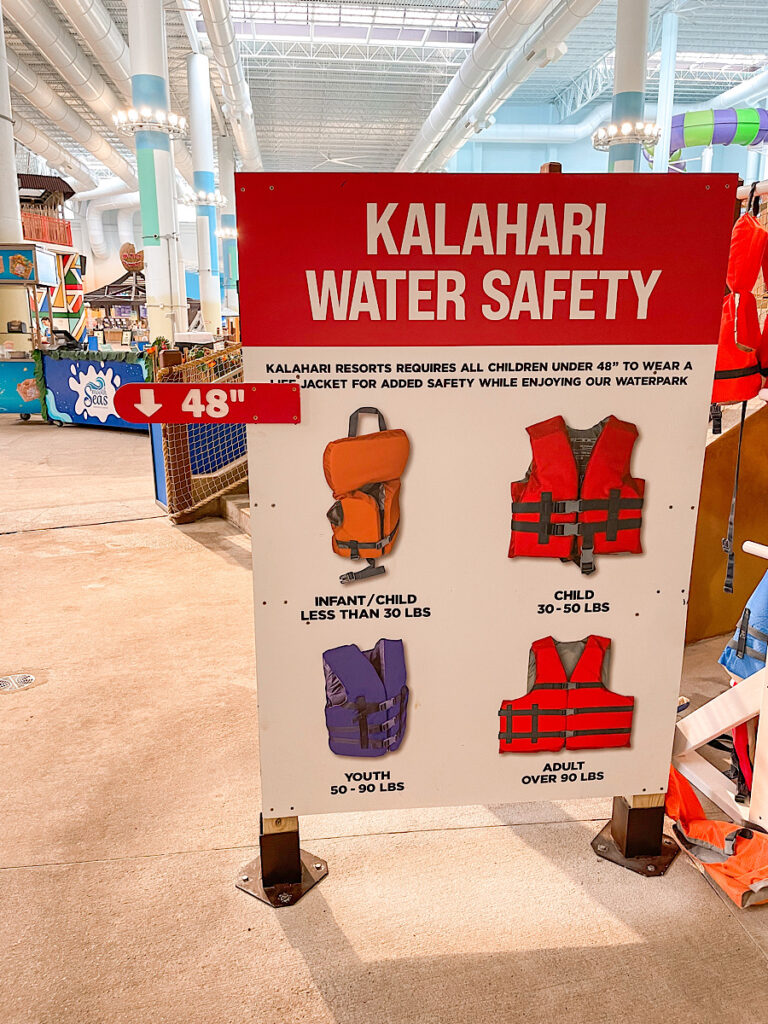 Family Fun Water Attractions
Flowrider – A five-foot wave simulator where you can test your body boarding and surfing skills.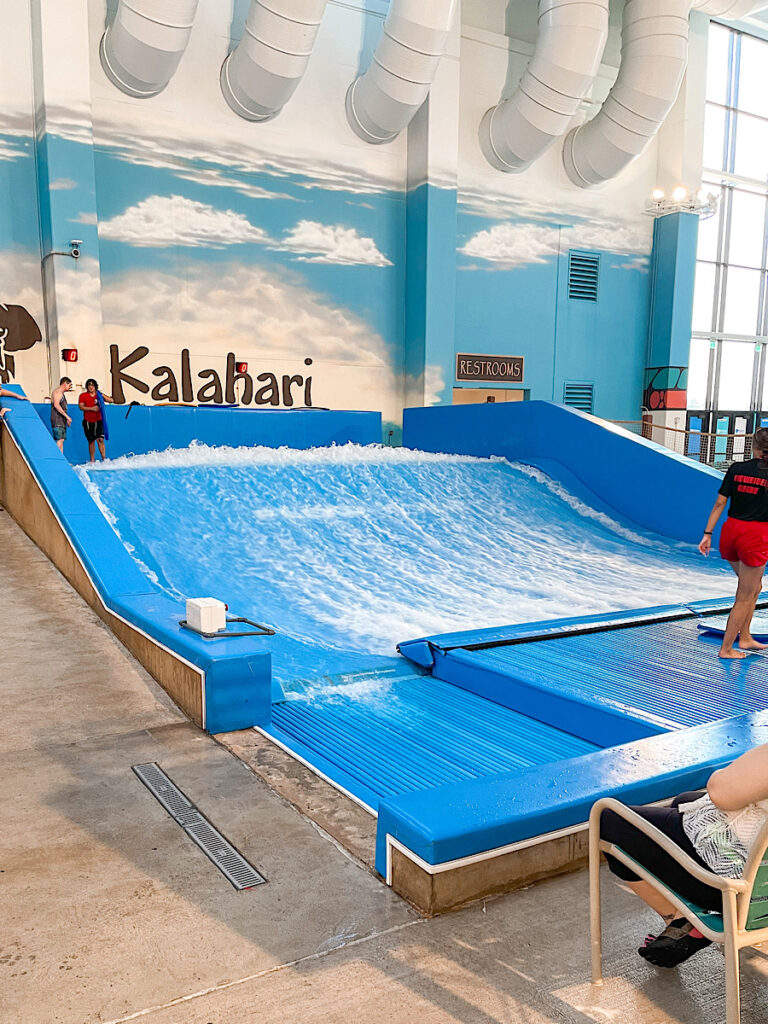 Lazy River – Take a break and relax as you take a lap around the lazy river.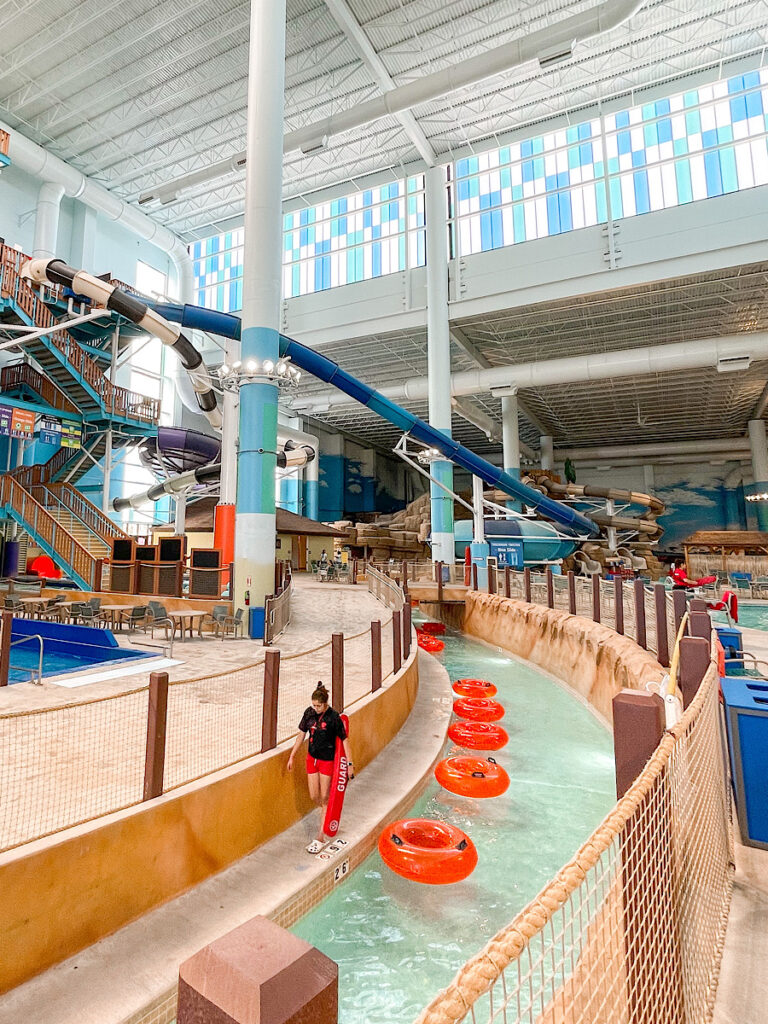 Lost Lagoon – A fun pool with basketball hoops and basketballs.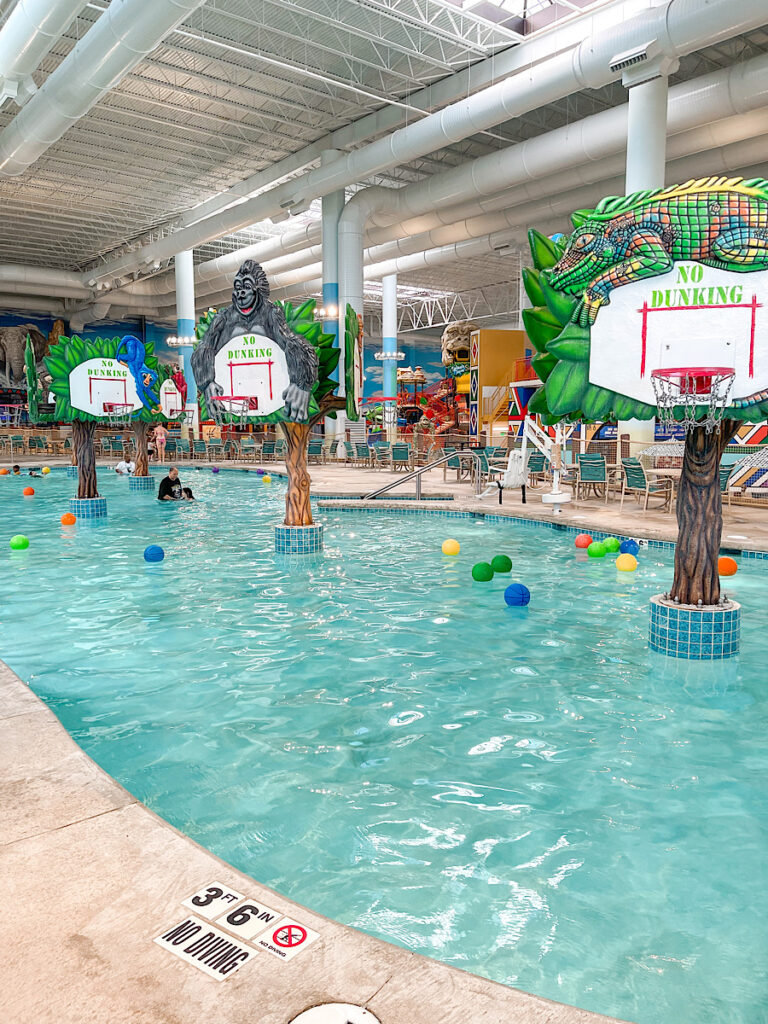 Splashdown Safari – A giant water playground with slides and water features.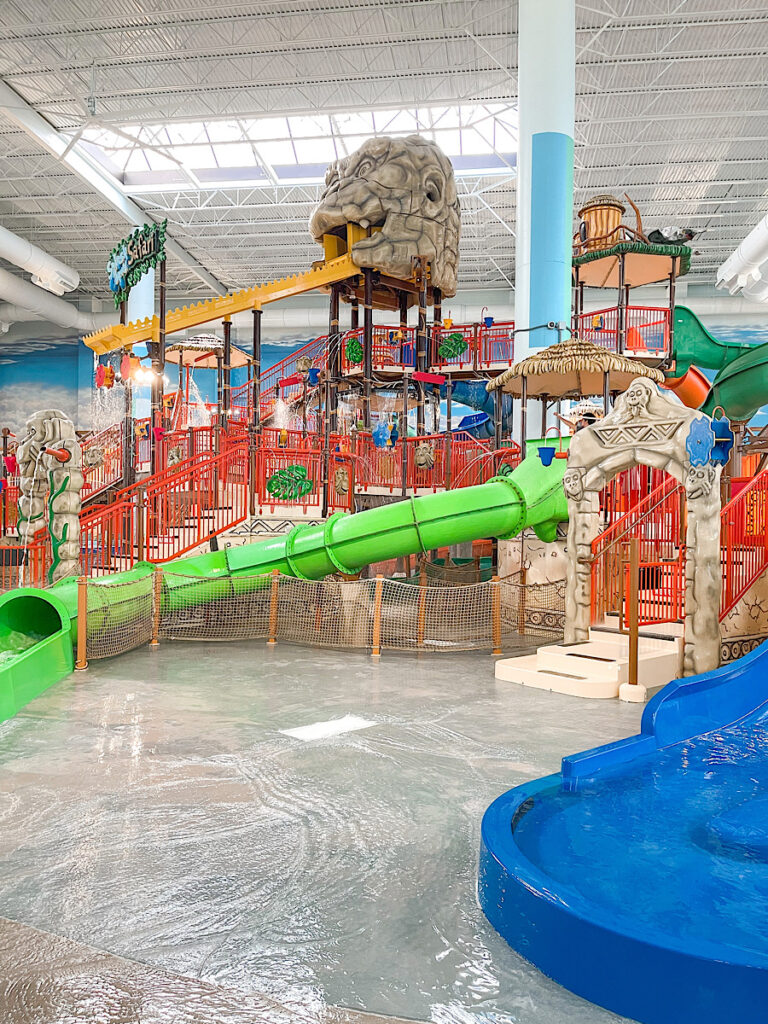 Wave Pool – A massive zero-entry wave pool.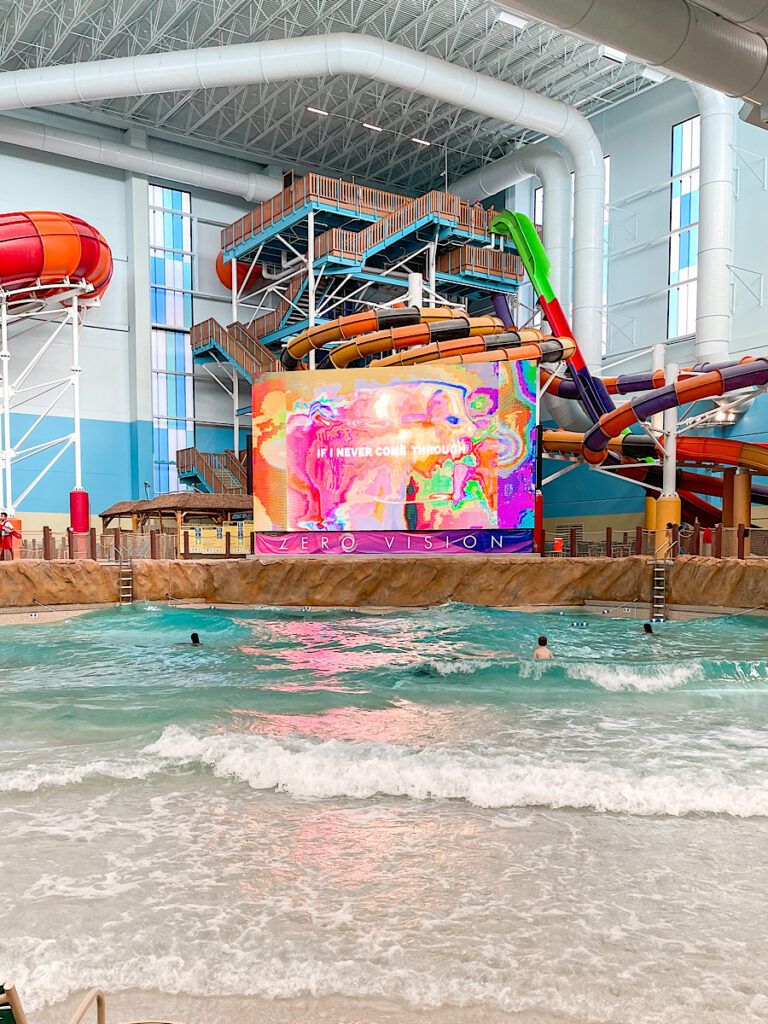 Zanzibar Pool & Swim-Up Bar – Relax outdoors on the pool deck and grab a cocktail.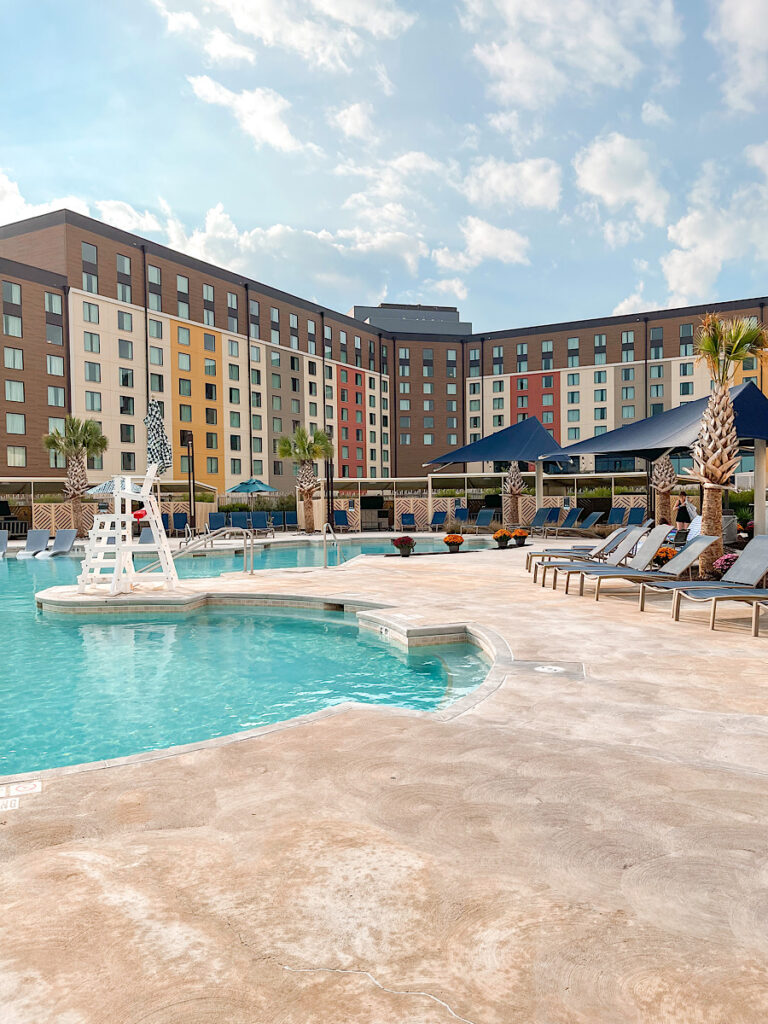 Savannah Springs – An outdoor swimming area with slides and a water playground.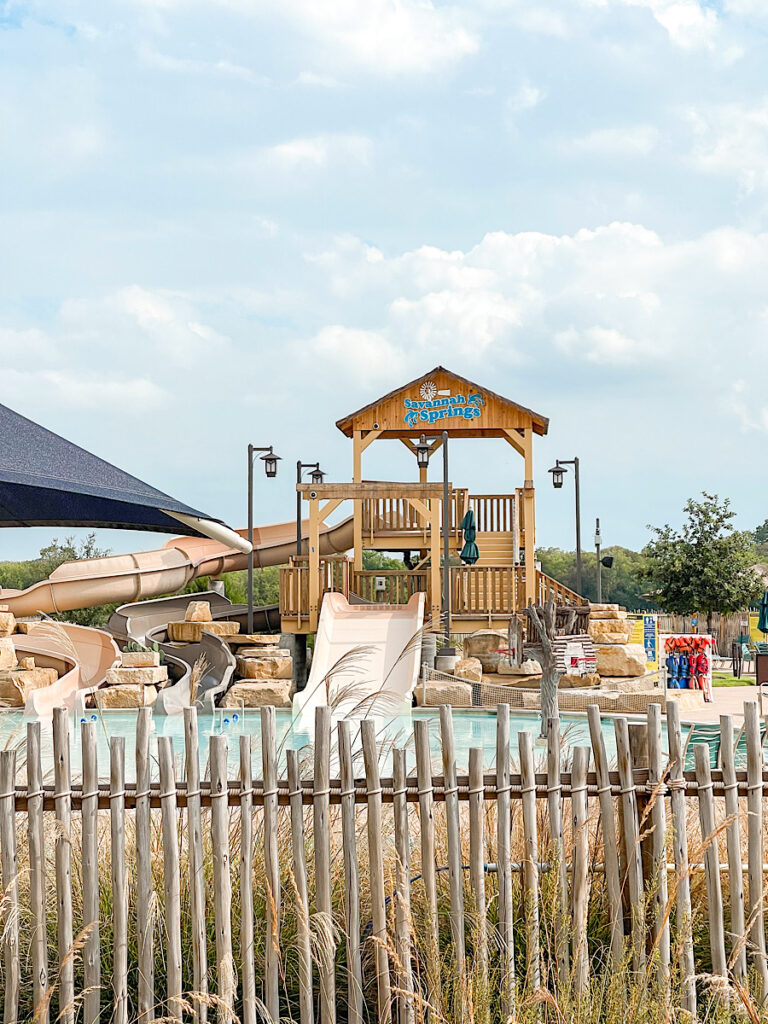 For Adults
Grotto Swim-Up Bar – Grab a cocktail inside the waterpark! Must be 21 to enter this area.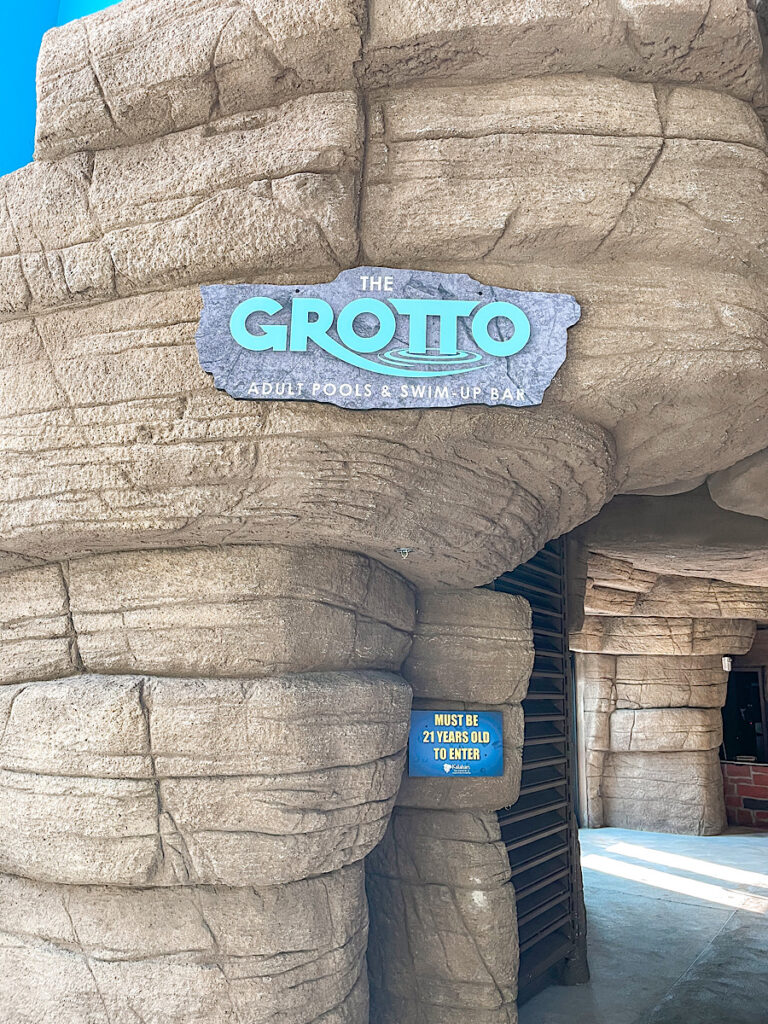 Grotto Outdoor Swim-Up Bar & Pool – The outdoor version of the swim-up bar.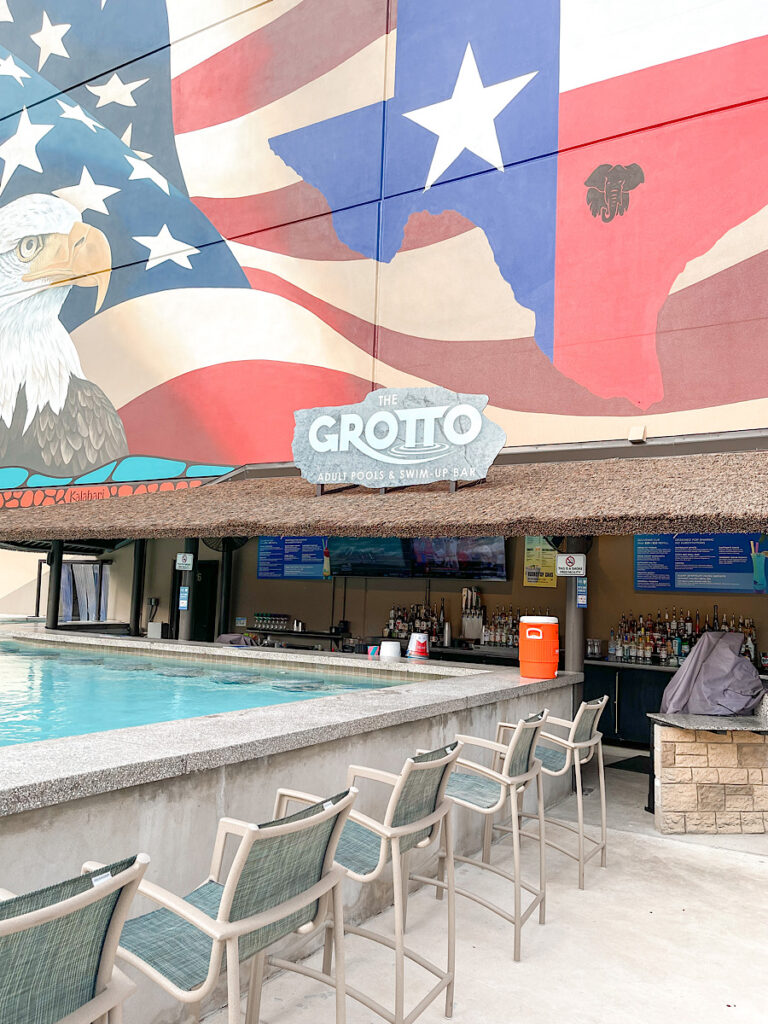 Tom Foolery's! (Indoor Theme Park)
The indoor theme park at Kalahari Resort is perfect for those days when you just want to stay indoors. It features an arcade, laser tag, mini golf, and more.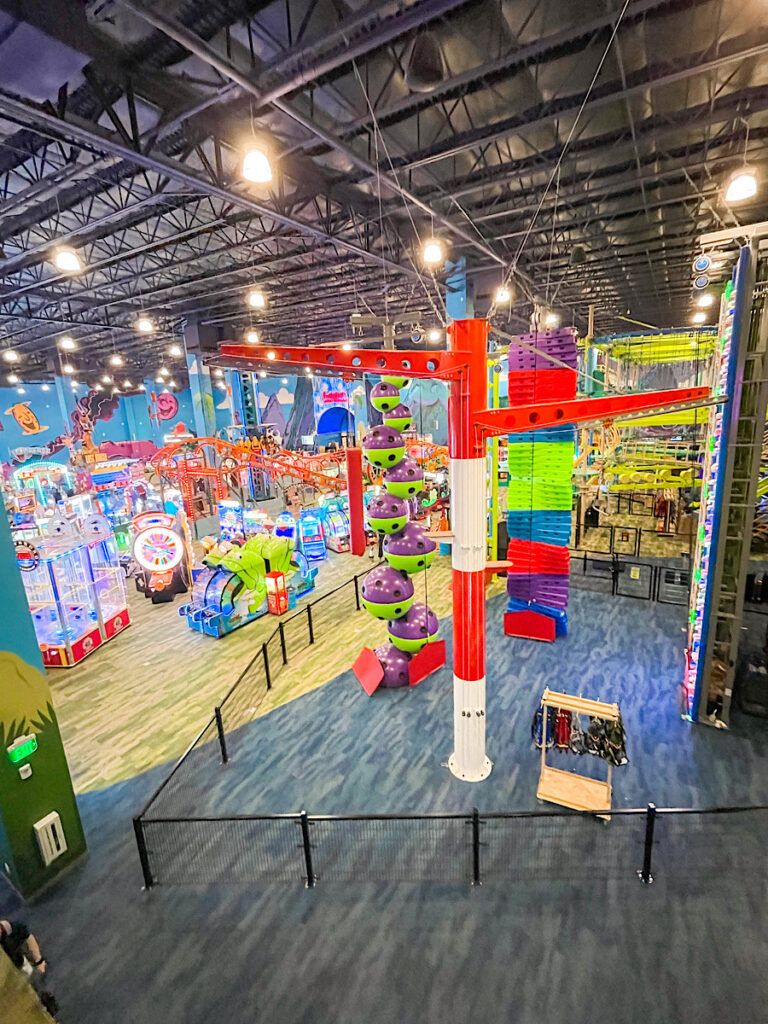 The indoor theme park is also open year-round, so you can enjoy it no matter what time of year it is.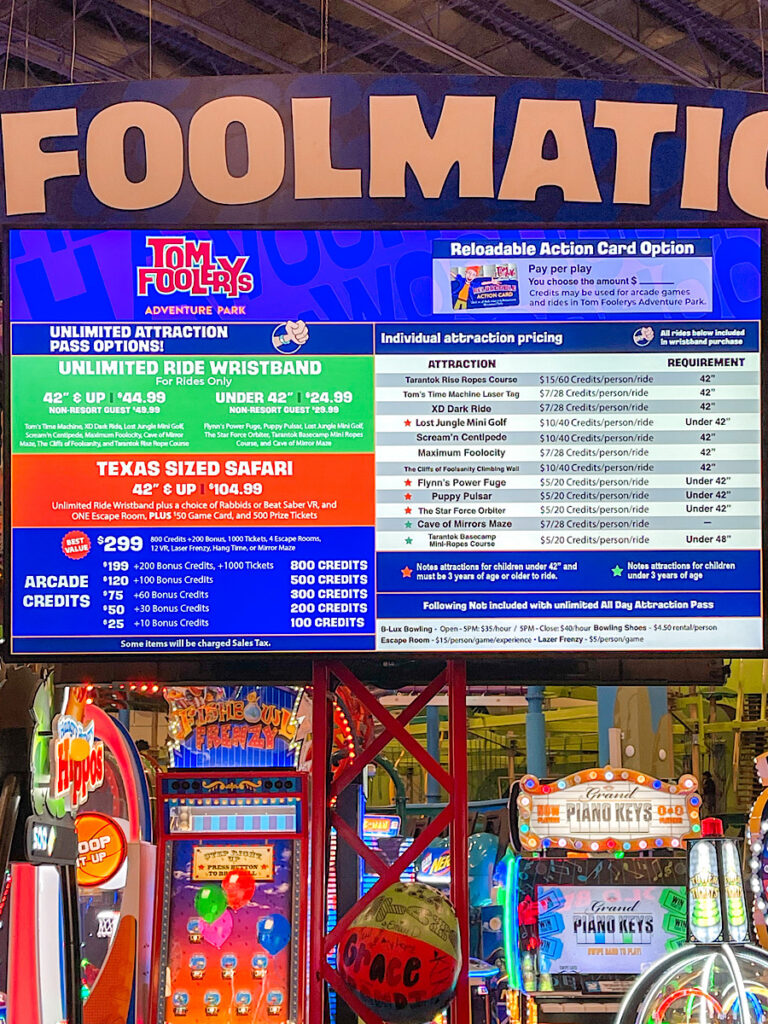 Tom Foolery Attractions
Cave of Mirrors – A super fun mirror maze that will have you twisting and turning as you figure out how to get out!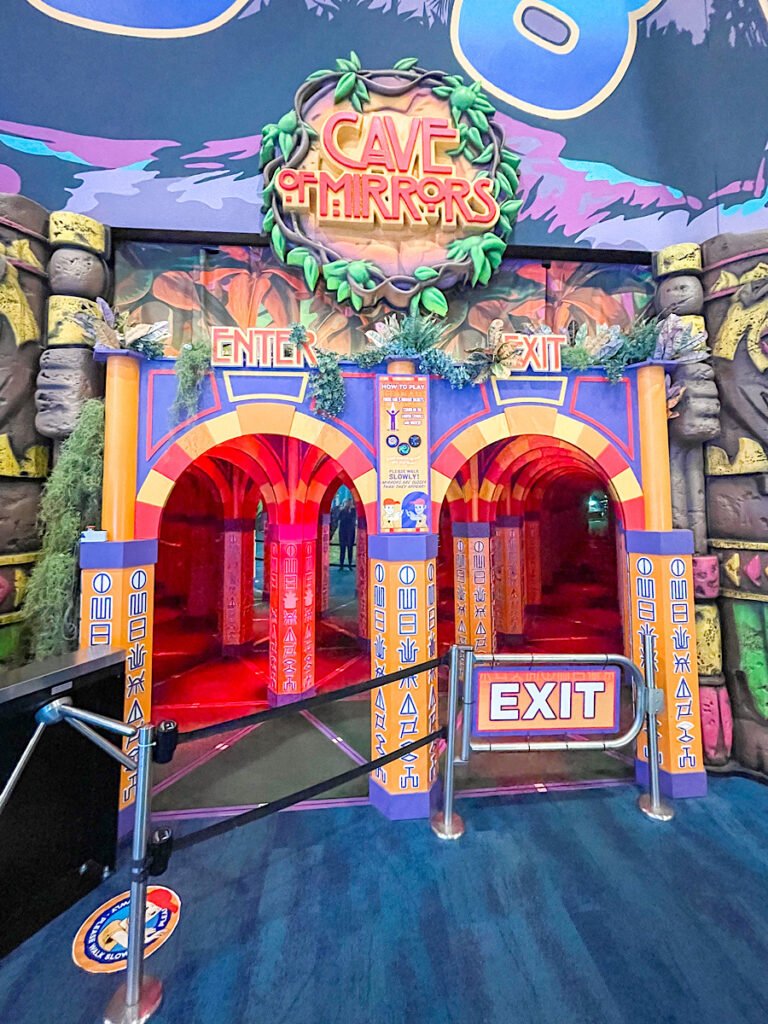 Flynn's Power Fuge – A teacup-type spinning ride.
Maximum Foolocity – A 50-foot ride that moves up and down as it spins around.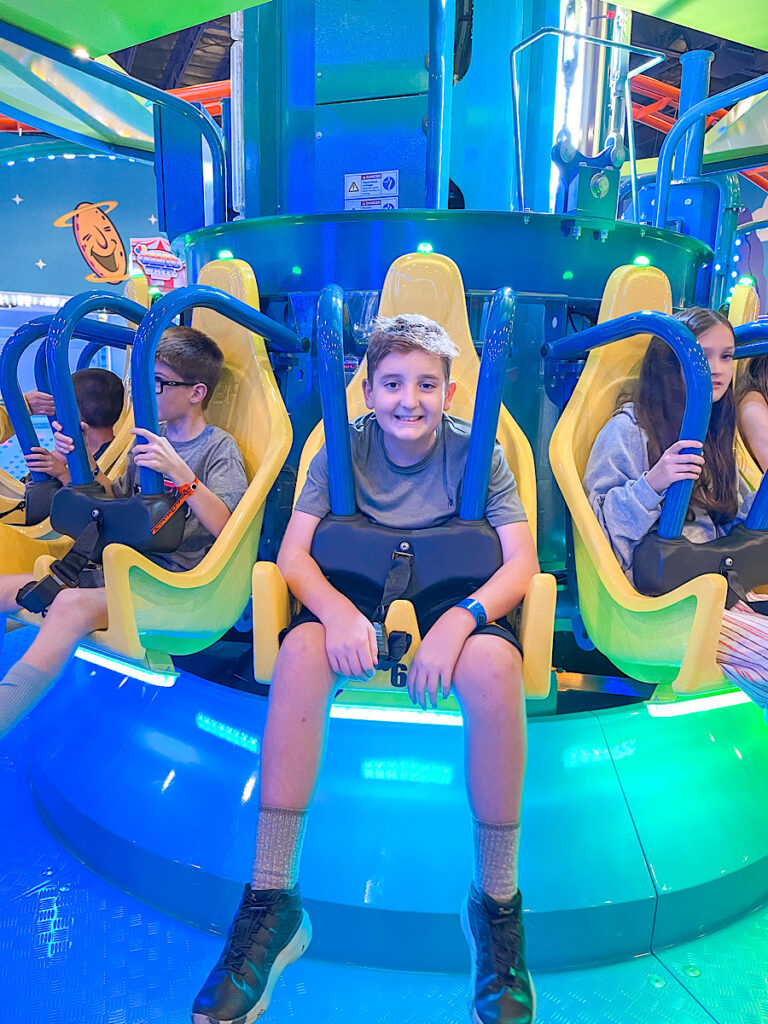 Scream'n Centipede – A spinning indoor rollercoaster.
Tarantok Basecamp – A challenge course for little ones.
Tarantok Rise – A 3-story ropes course with a zipline!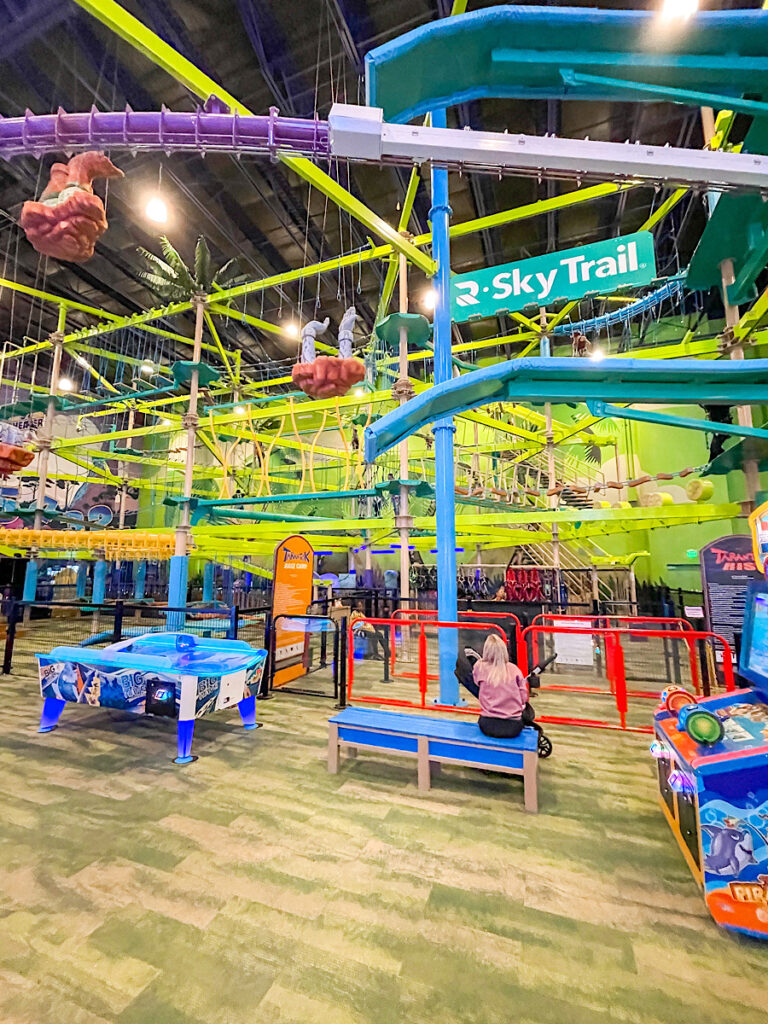 The Cliffs of Foolsanity – A set of climbing walls to test your skills.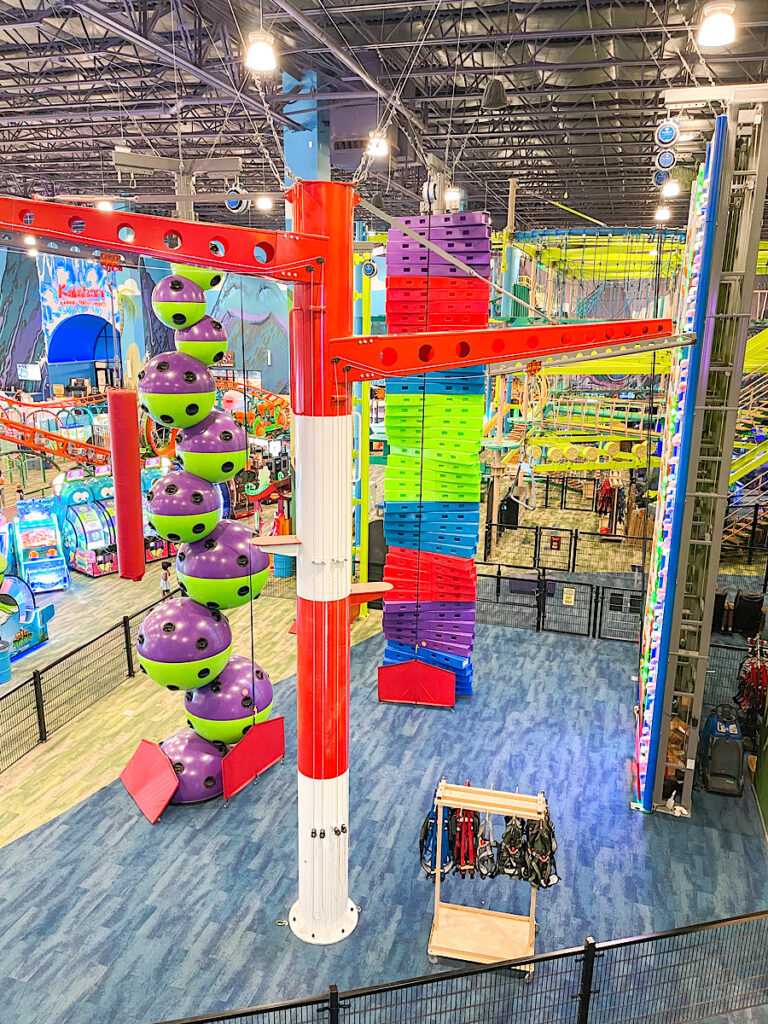 The Puppy Pulsar – A ride for little ones that goes up and down as it travels in a circle.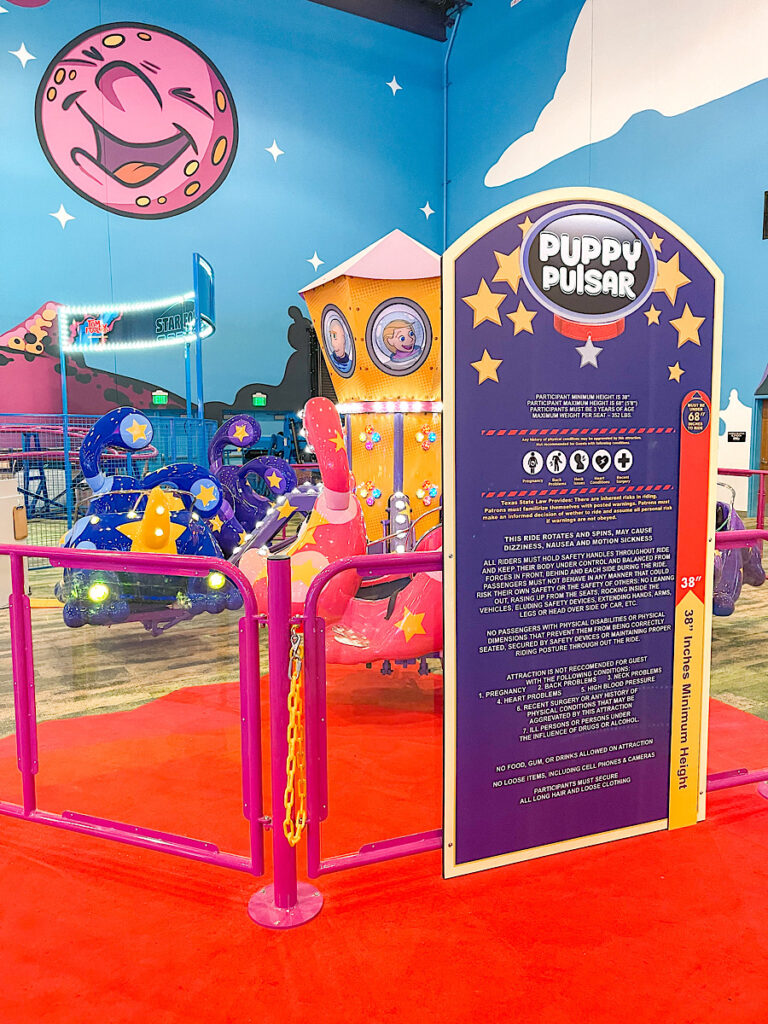 The Star Force Orbiter – An indoor roller coaster for little ones.
Tom's Time Machine Laser Tag – Indoor laser tag adventure.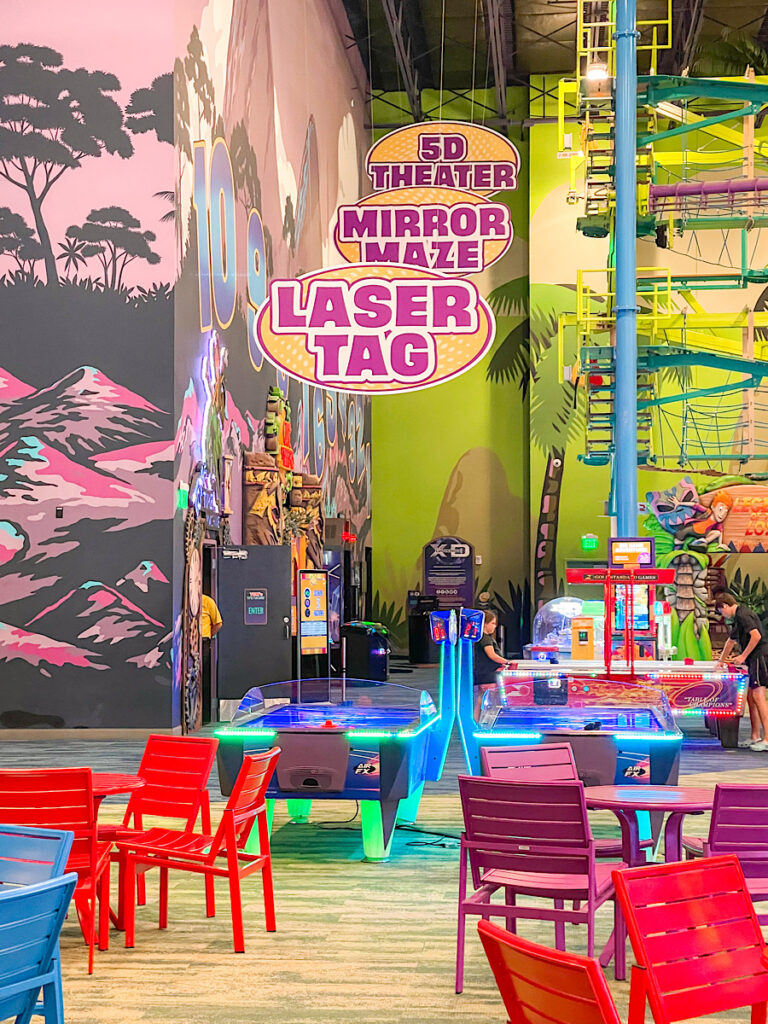 XD Dark Ride – A 5-D theater featuring different shows.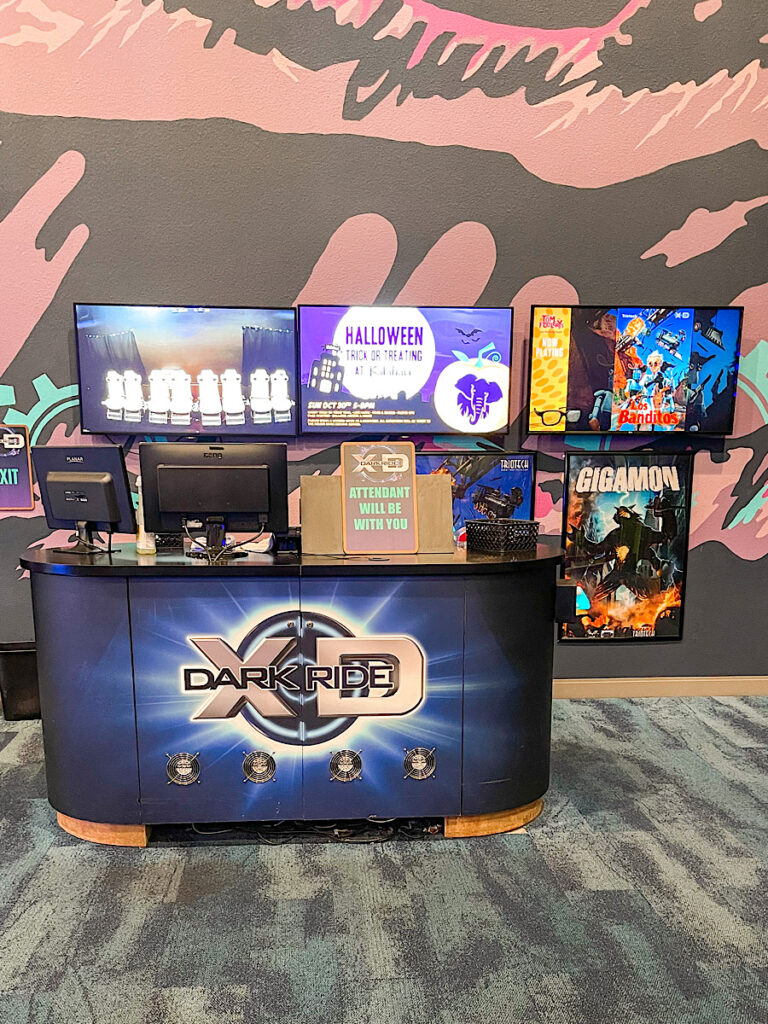 Jungle Mini Golf – A small indoor mini golf course.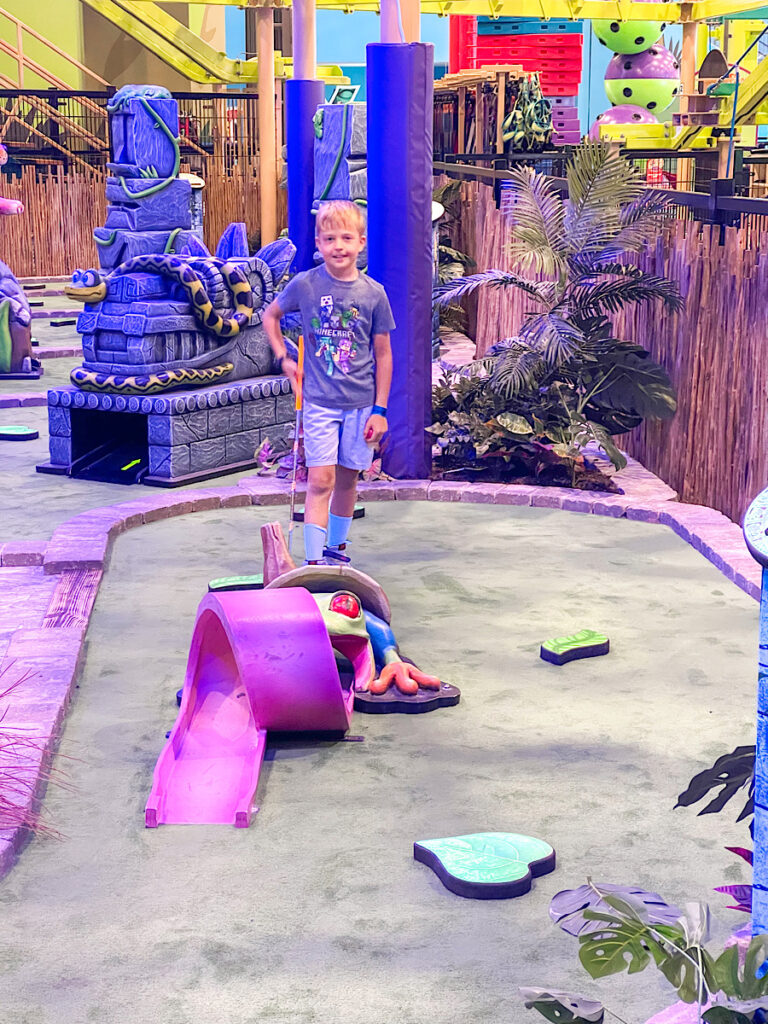 Kalahari Hotel Rooms
There are quite a few room types available at Kalahari Resort in Texas including: Double Queen Sofa that sleeps up to 6 people, Hospitality Suite that sleeps up to 6 guests, King Suite that sleeps up to 4 guests, 2 Bedroom 2 Bathroom Livingroom Suite that sleeps up to 8, King Bunk Suite that sleeps up to 6, and the 3 Bedroom Presidential Suite that sleeps up to 12.
King Bunk Suite
My family chose to stay in a King Bunk Suite, which was a two-room suite that was perfect for the five of us. My husband and I stayed in the bedroom with a King size bed, my 12 and 8-year-olds stayed in the room with a set of bunk beds, and my 15-year-old stayed in the living room on the sleeper sofa.
Here is a picture tour of our room: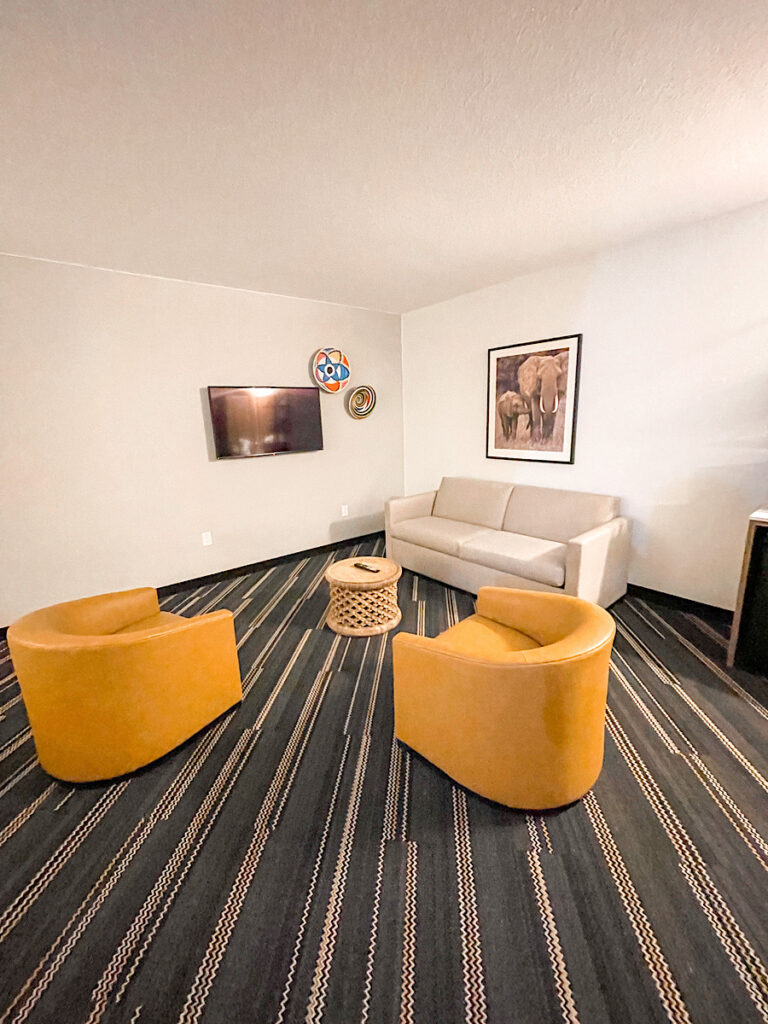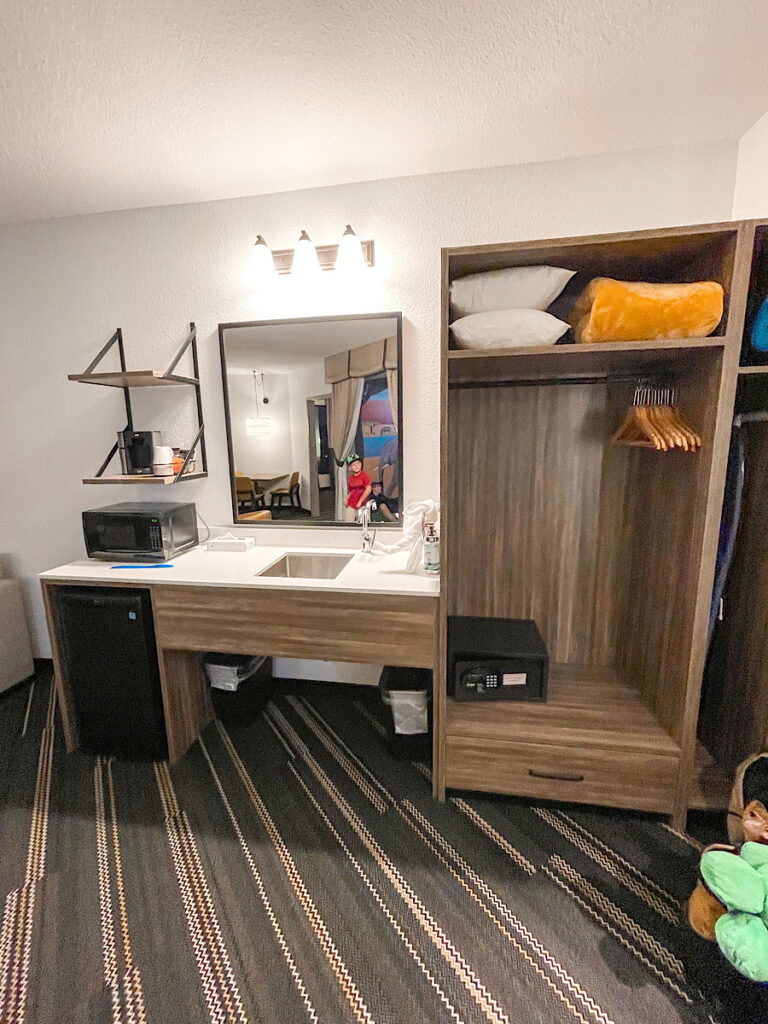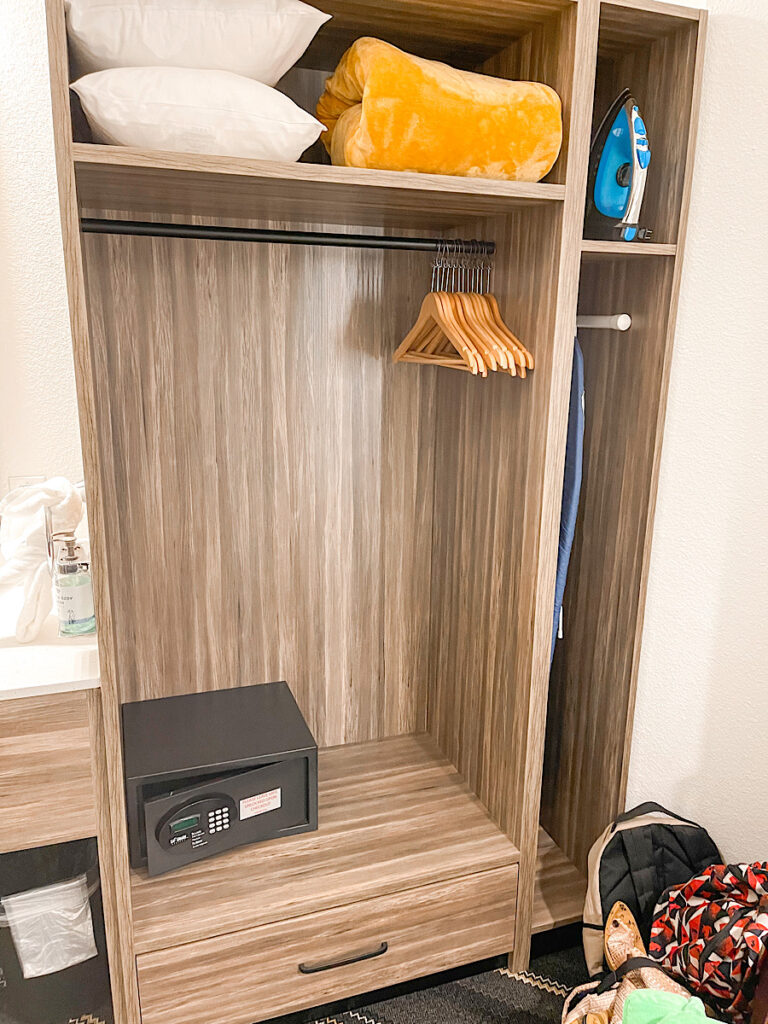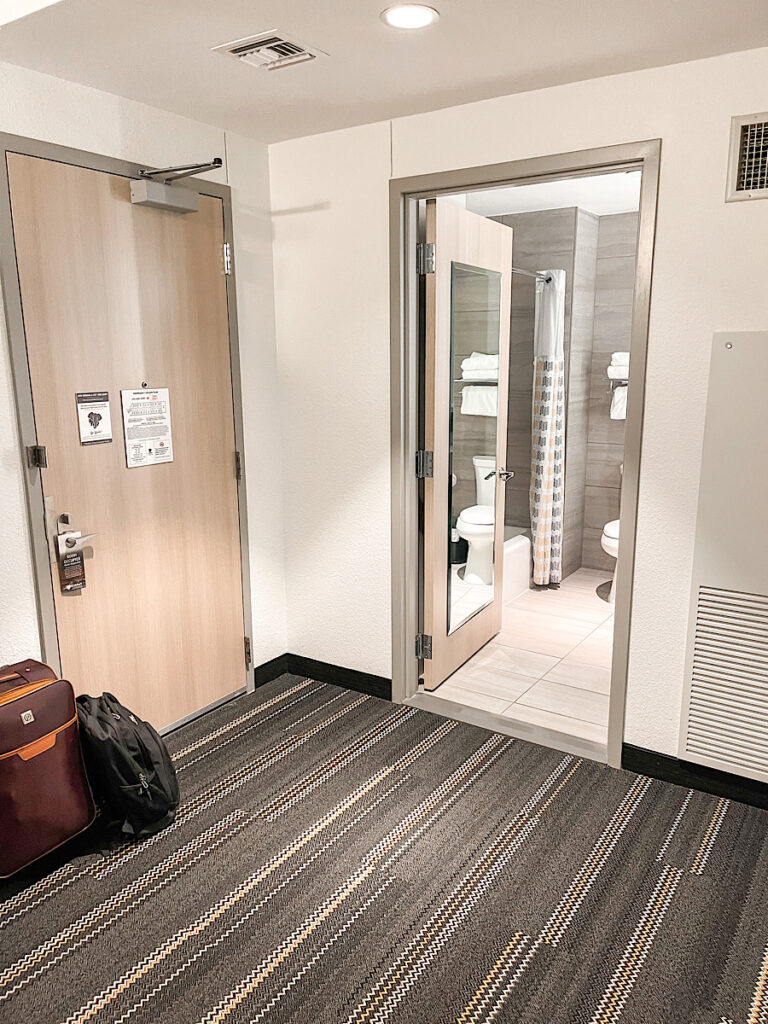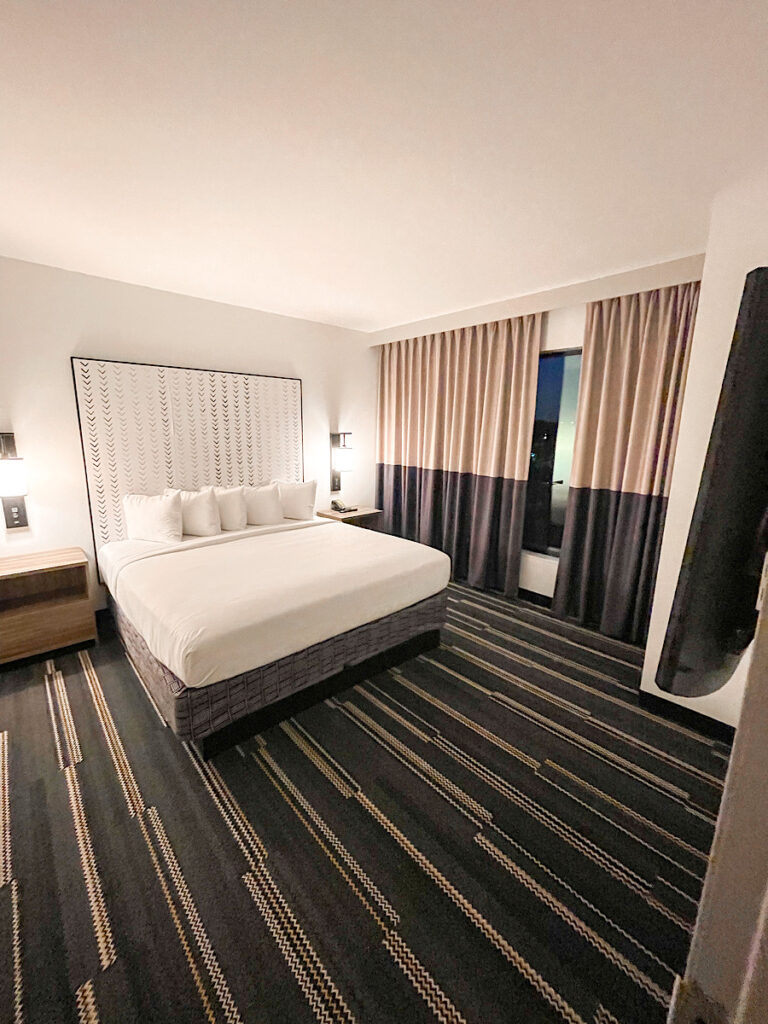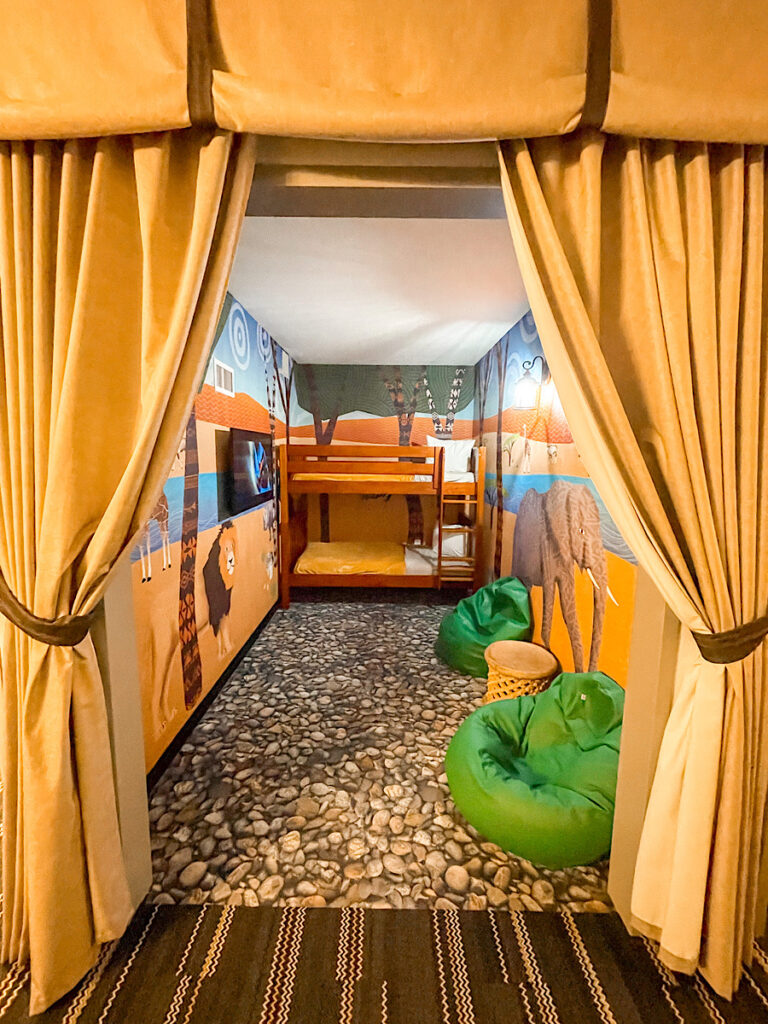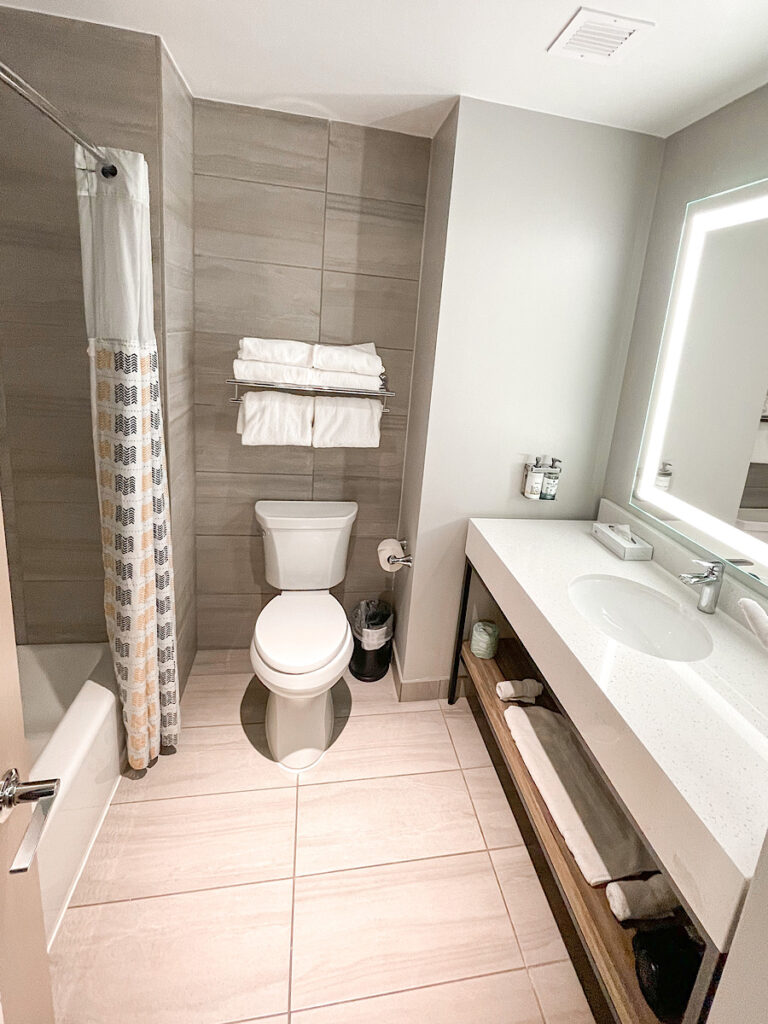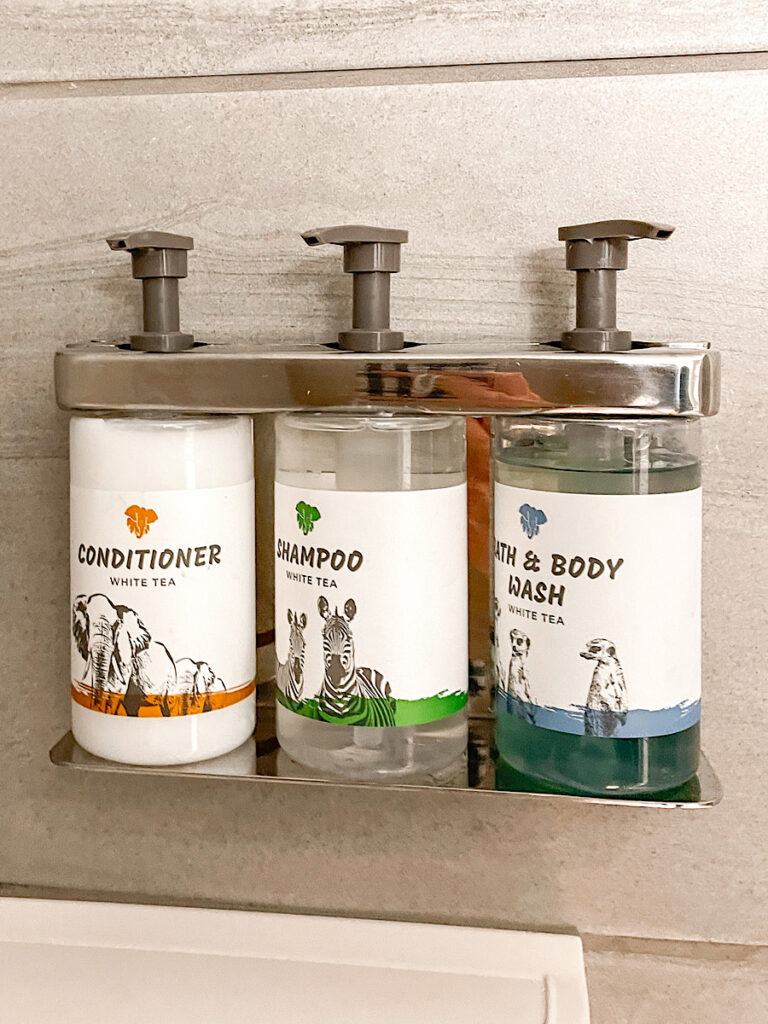 Laundry Facilities
There are a few laundry rooms at Kalahari Resort. Each has one washer and one dryer that are coin operated. One load in the washing machine will cost $1.75 and a load in the dryer is $2.00.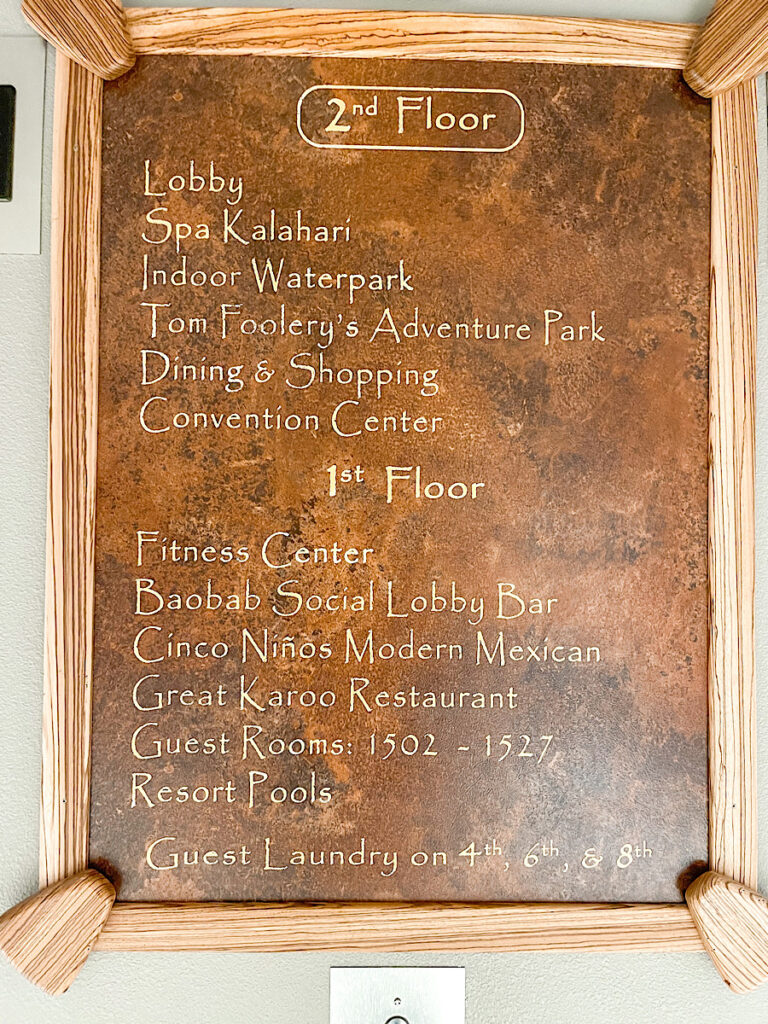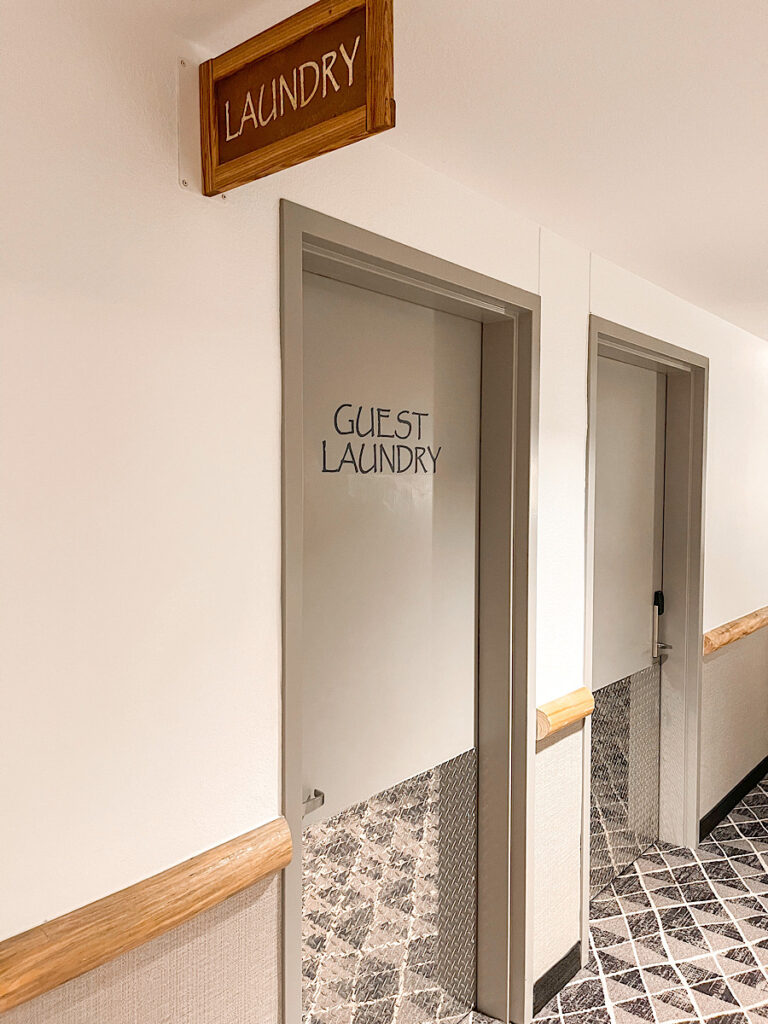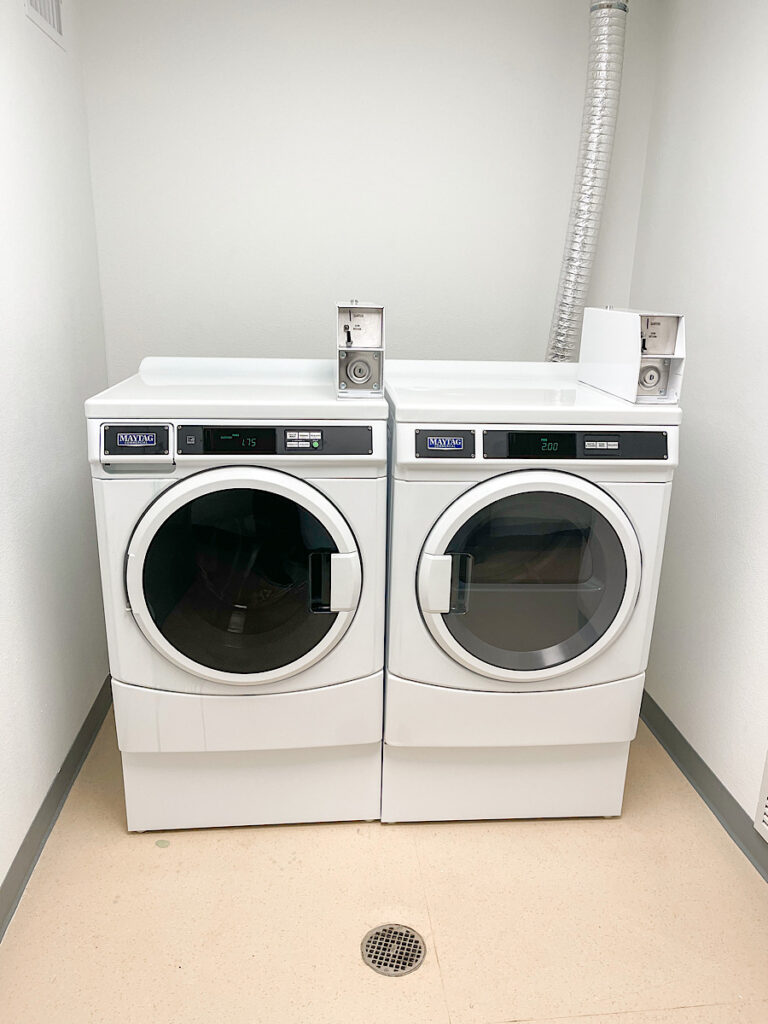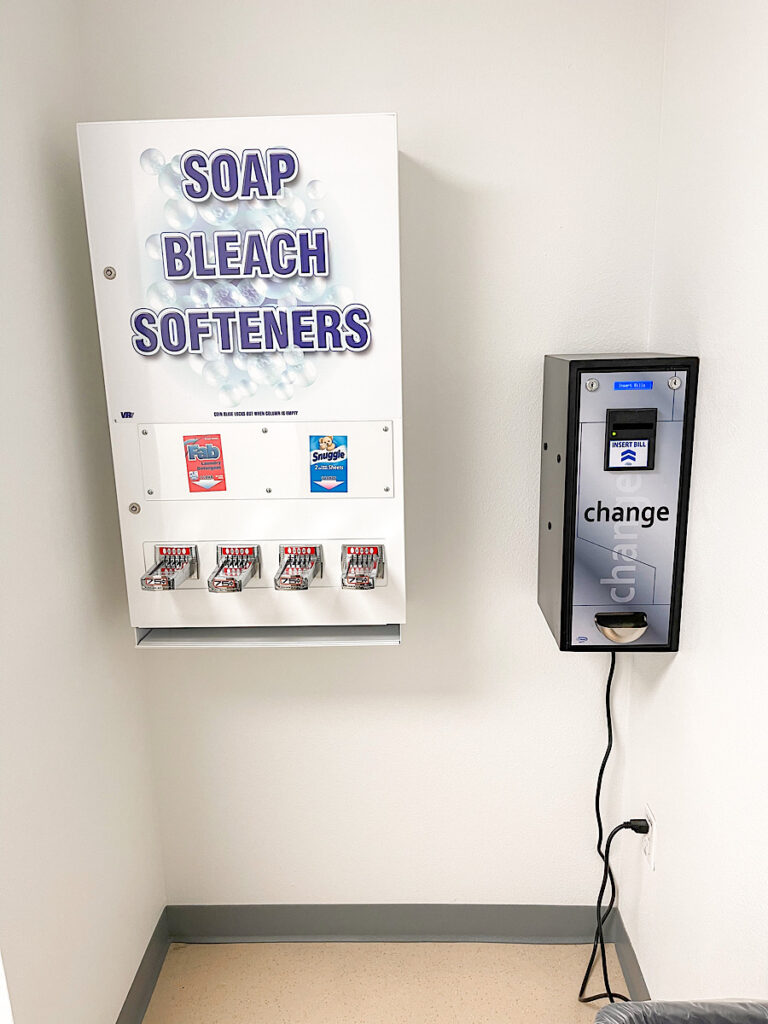 Fitness Center
Kalahari Resort in Texas has a great fitness area that is available to guests with both cardio machines and weight machines.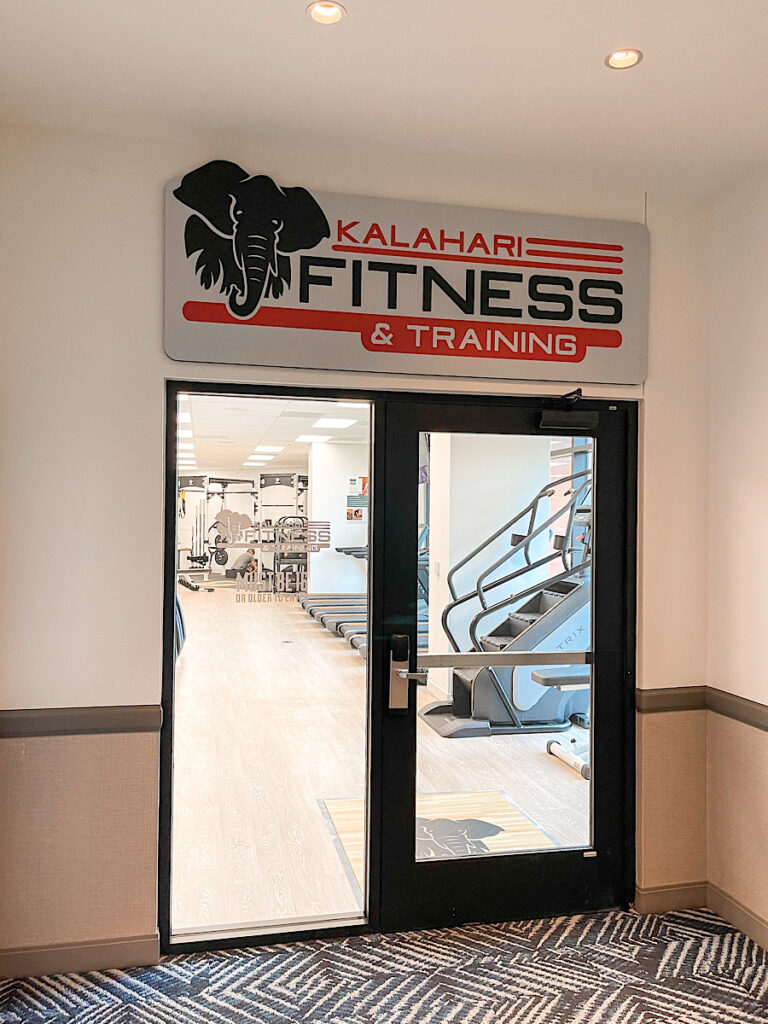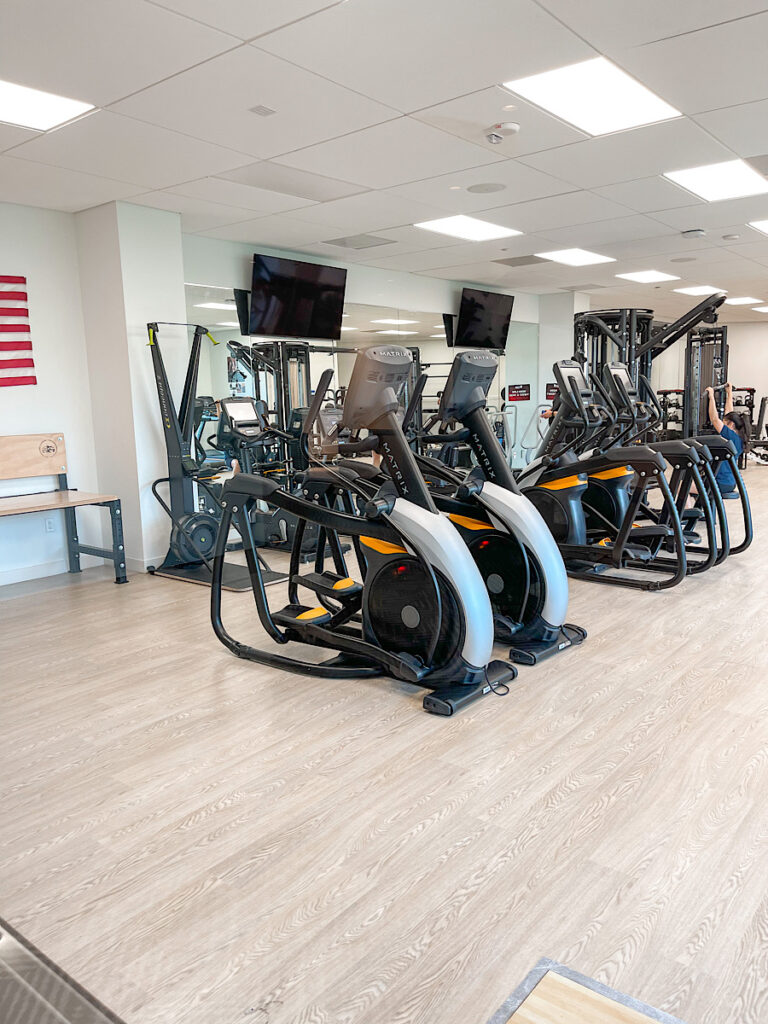 Kalahari Resort Dining Options
Kalahari Resort offers multiple dining options for guests. There are several sit-down restaurants on-site as well as options for quick service. You'll be able to find something to suit your taste no matter what you're in the mood for.
Double Cut Steak House
This restaurant is a standard steak house that also features chicken and fish dishes as well.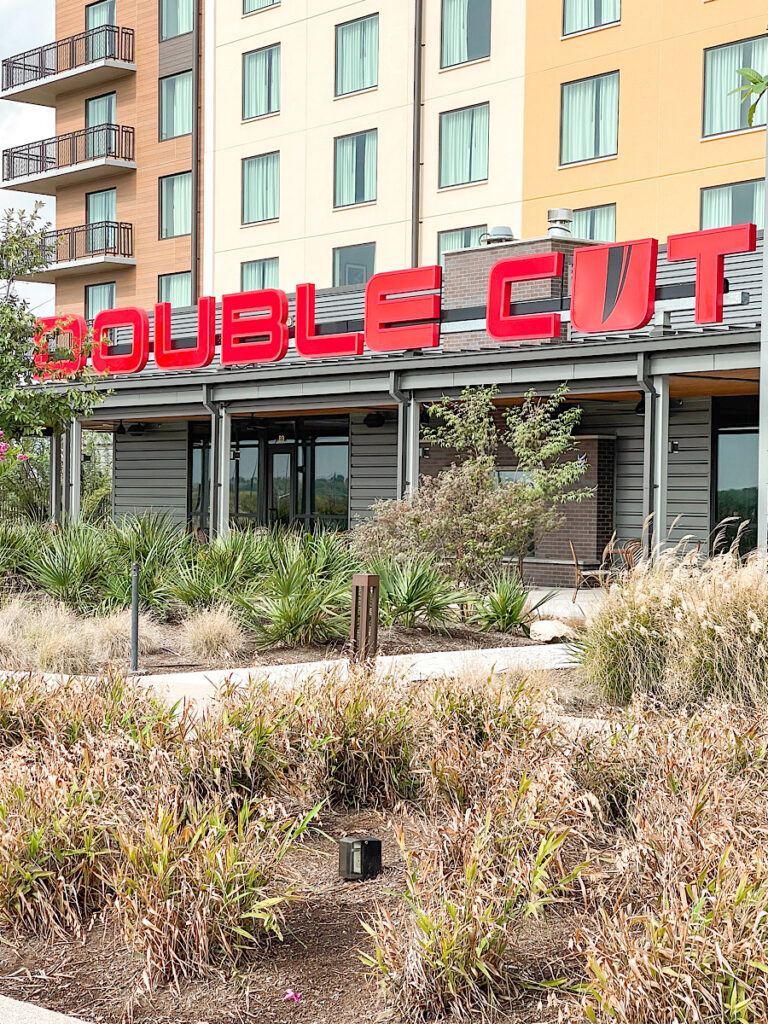 Sortino's Italian Kitchen
A classic Italian restaurant located right inside the resort. This restaurant also features:
Pizzeria Sortino's – We enjoyed a meat-filled pizza and loved it!
Sortino's Cafe & Gelato
Vinoteca Wine Lounge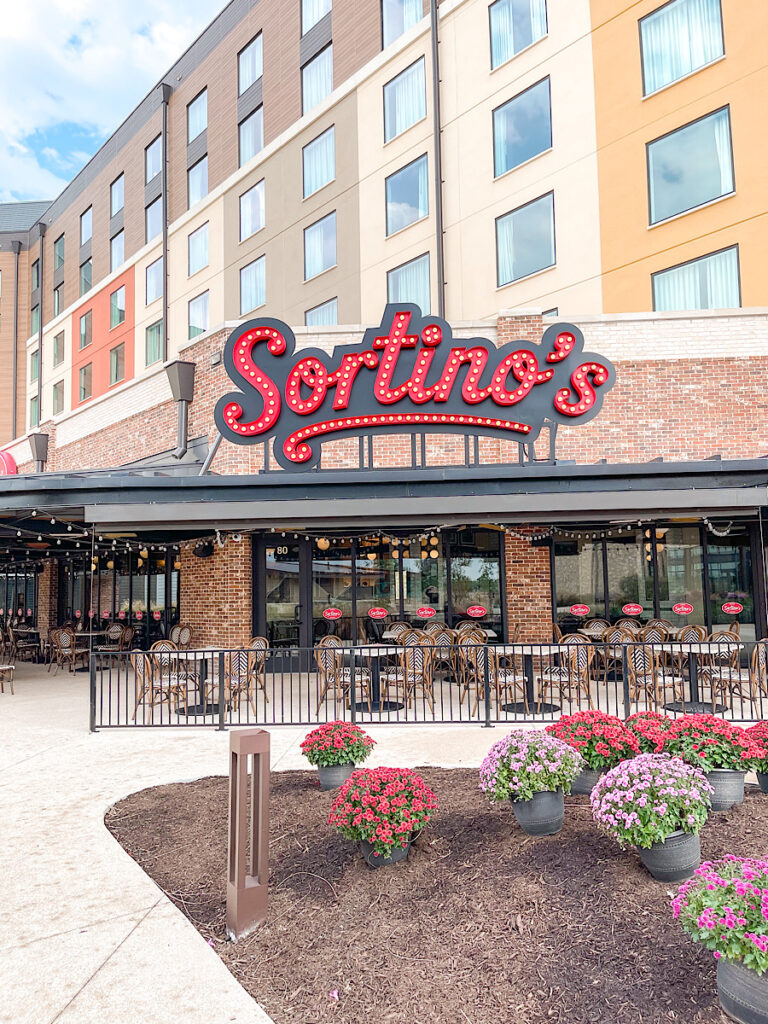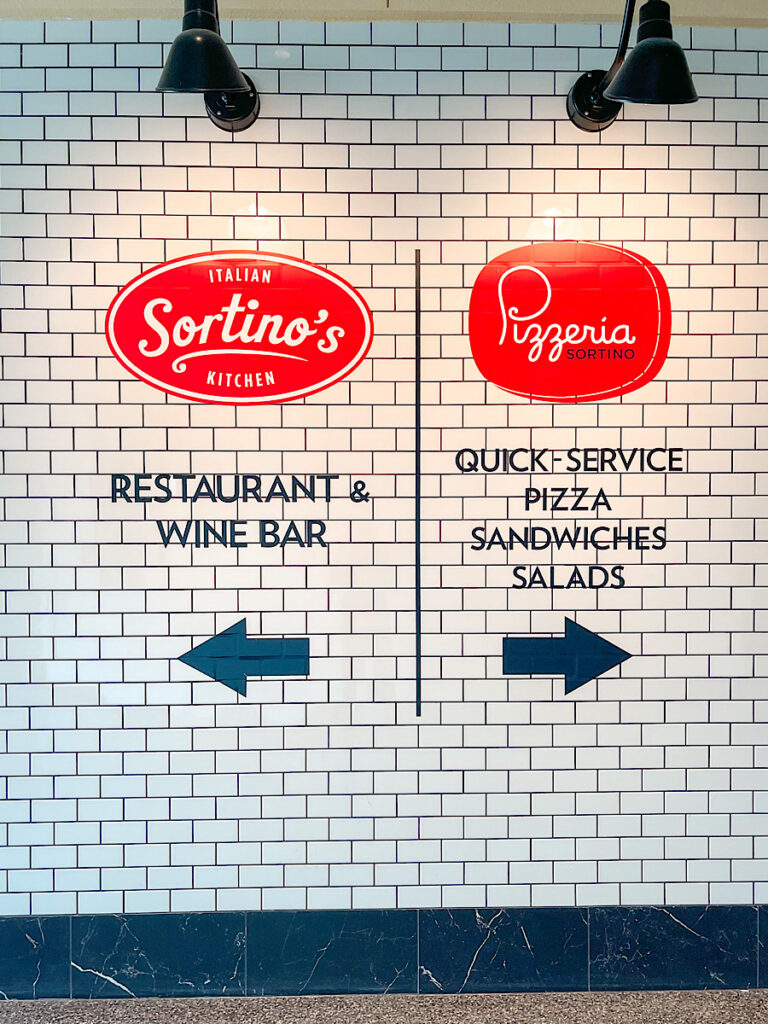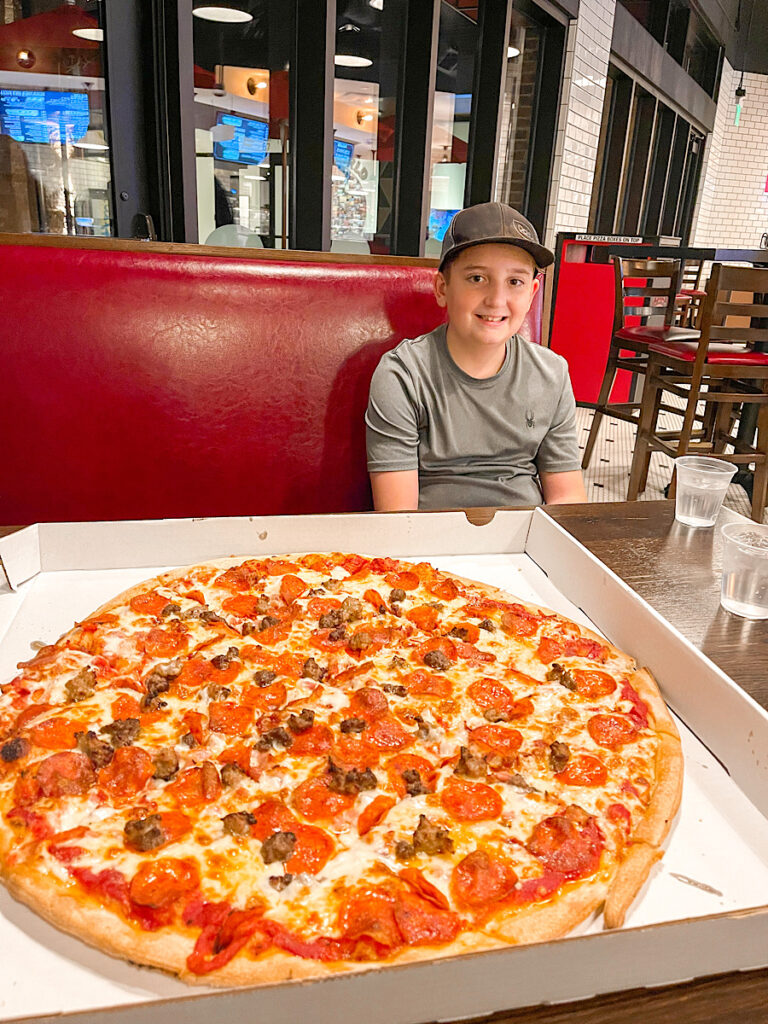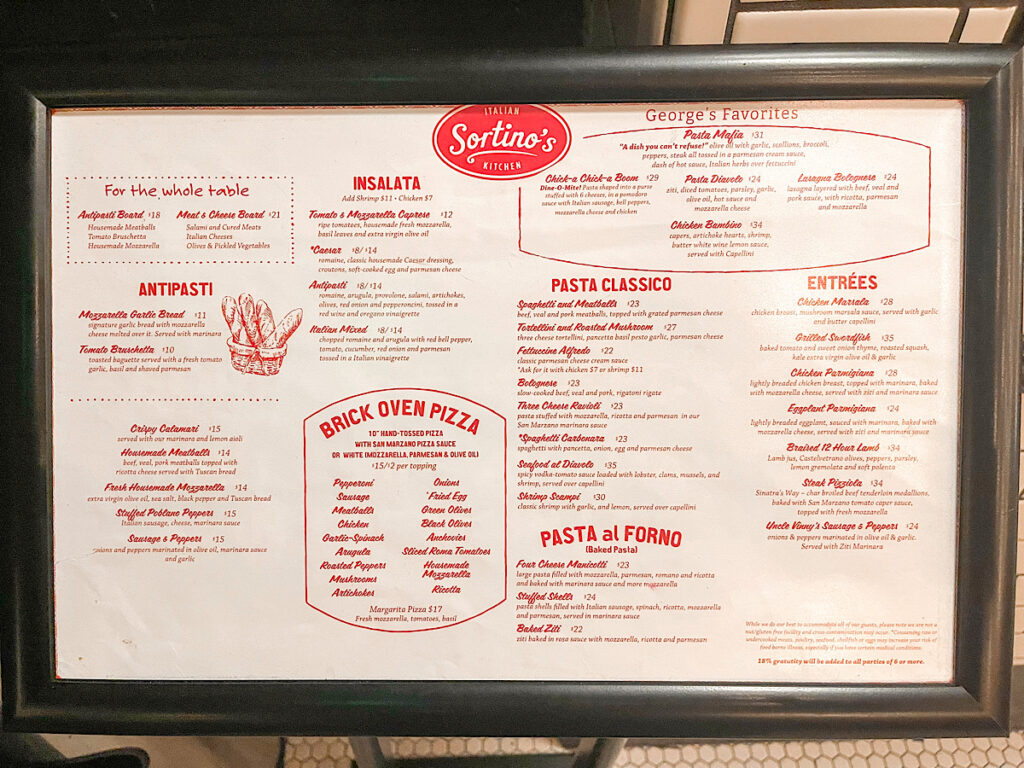 Cinco Ninos
A Mexican & tequila bar that features indoor and outdoor dining.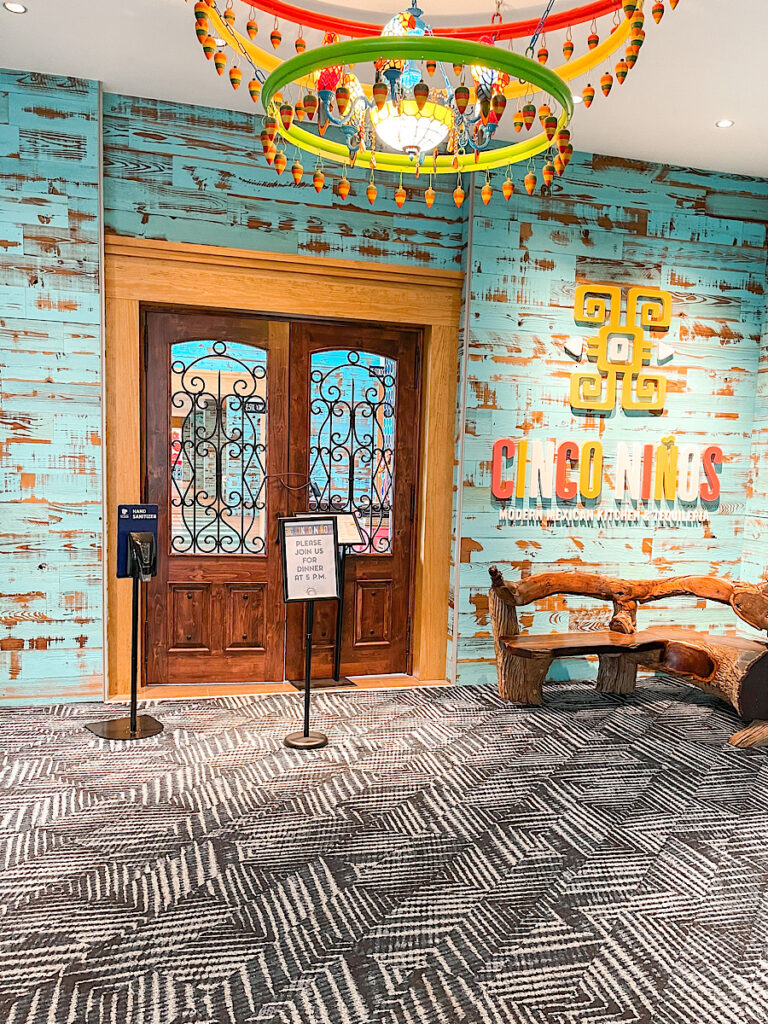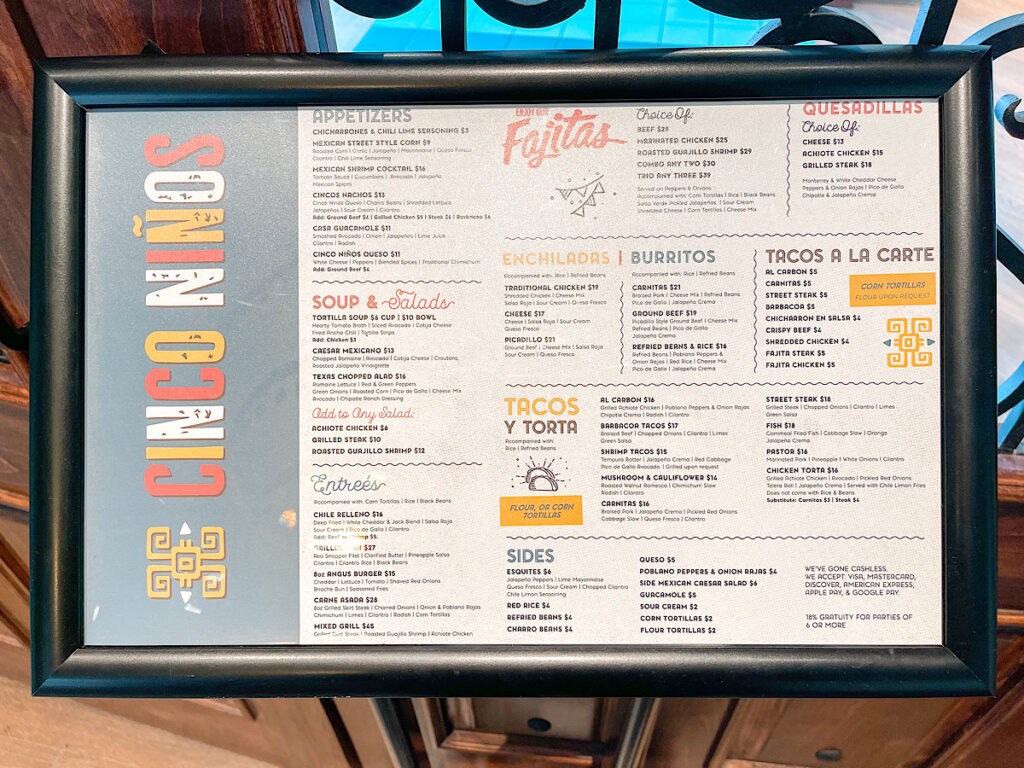 Redd's Piano Bar & Lounge
A bar that features live piano music and singing.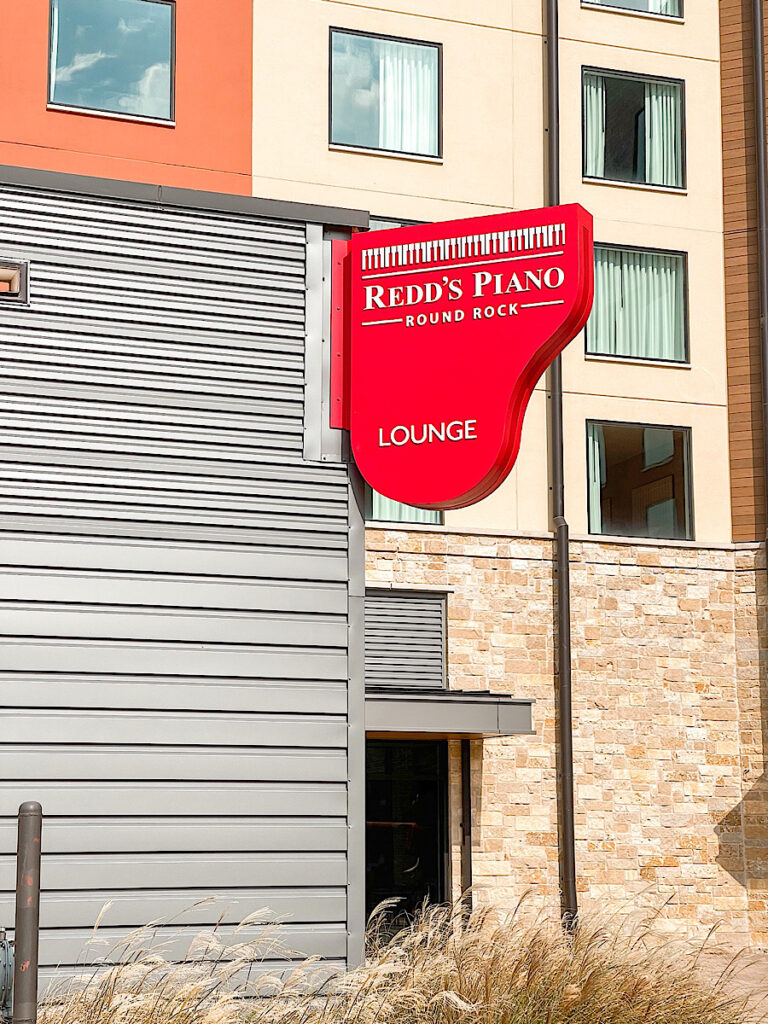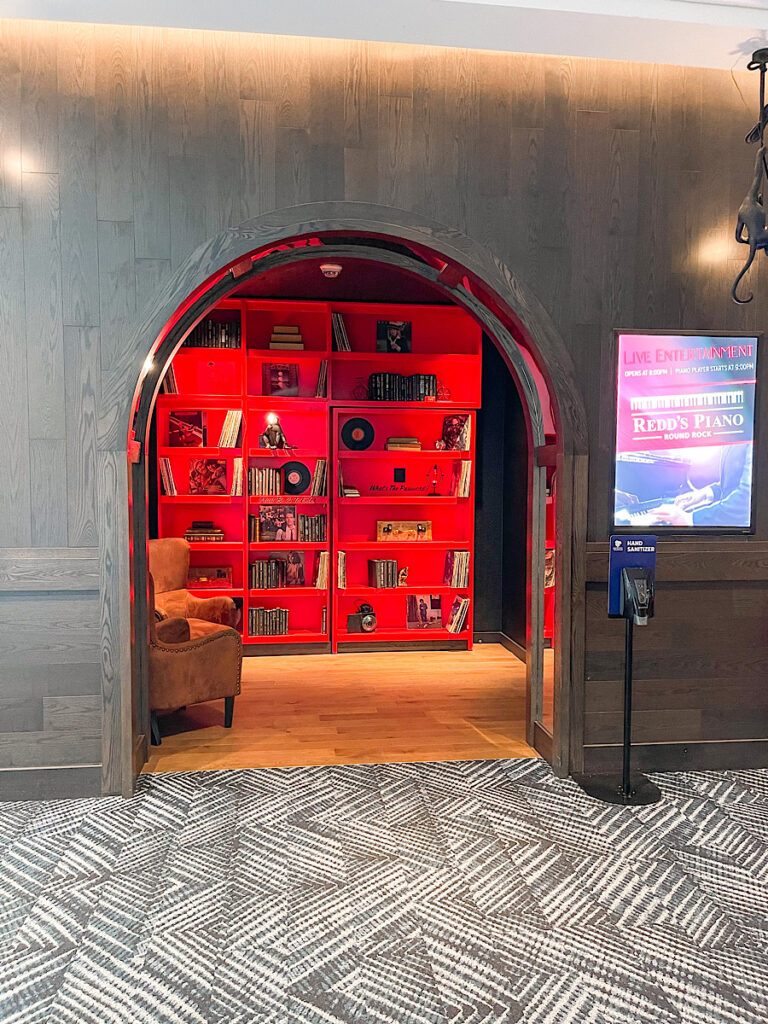 B-Luxe Grill & Bar
Located inside Tom Foolery's indoor amusement park, this restaurant features burgers, shakes, and a bowling alley!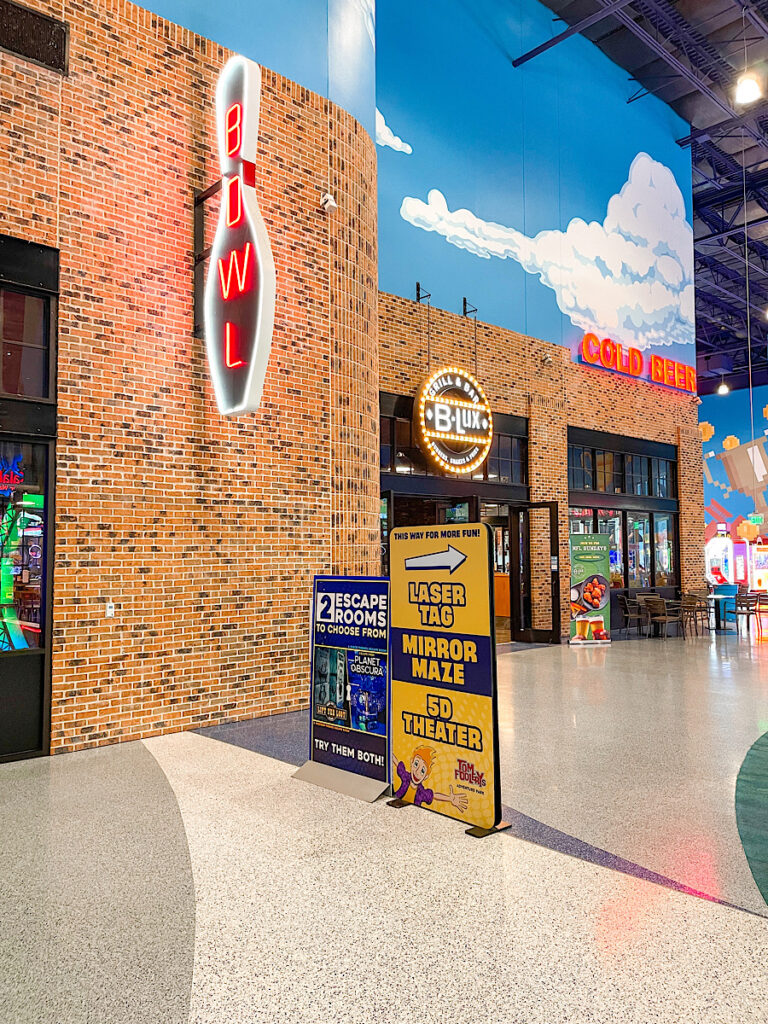 Baobab Social
This bar is located on the lower level of the beautiful lobby of the resort.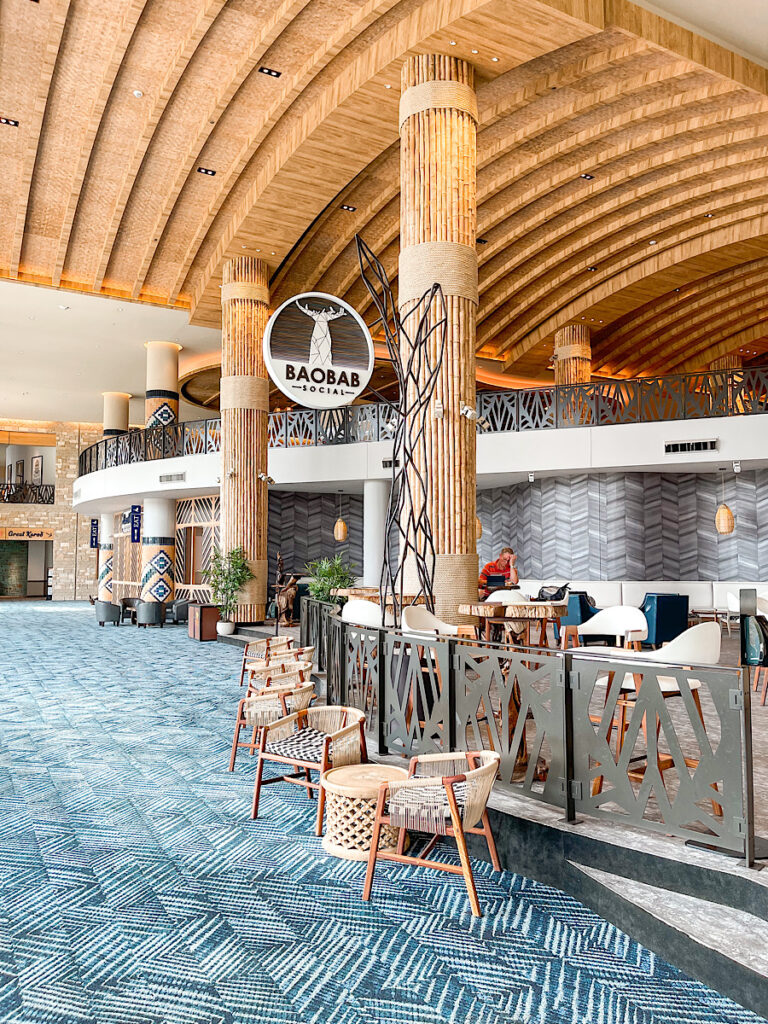 The Last Bite
A place to grab a delicious ice cream cone, gourmet hand-made candy, or a candied apple! We tried the Almond Coconut chocolate and it was delicious!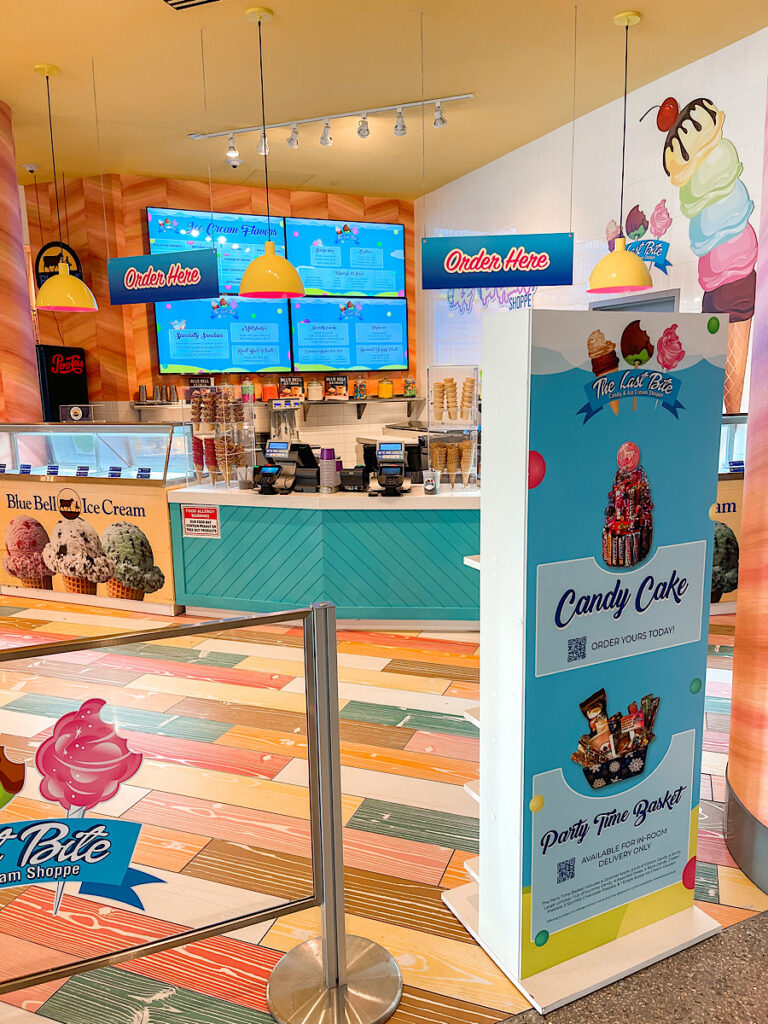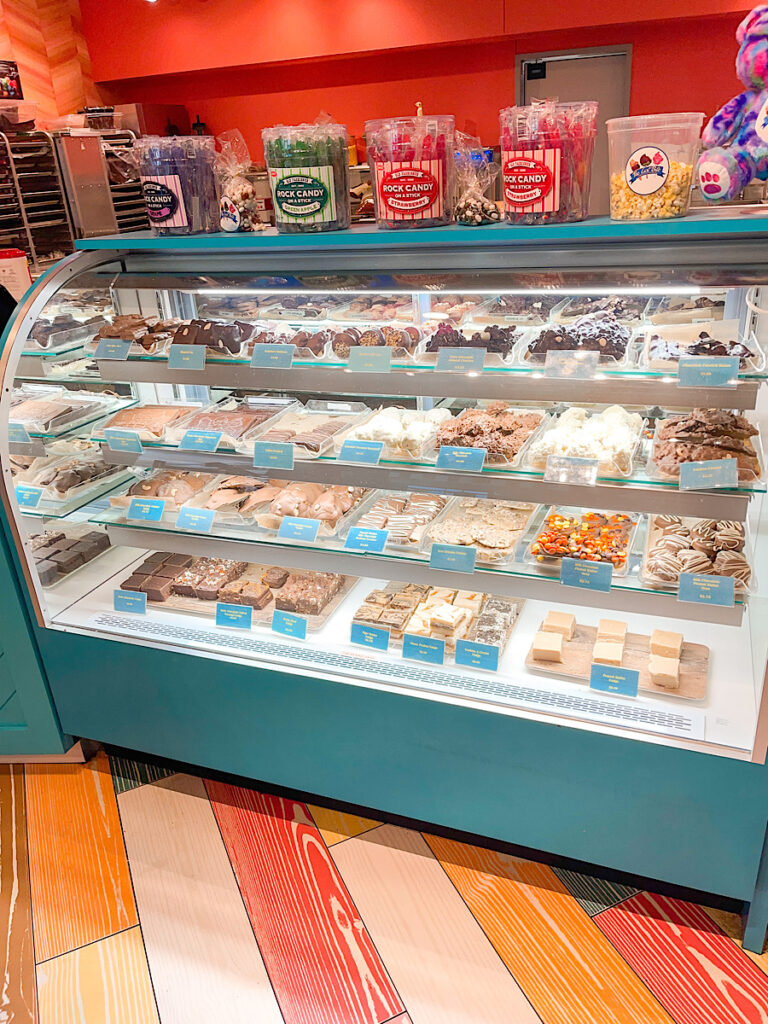 Waterpark Dining
There is an amazing snack bar located right inside the water park to grab a convenient bite to eat while swimming.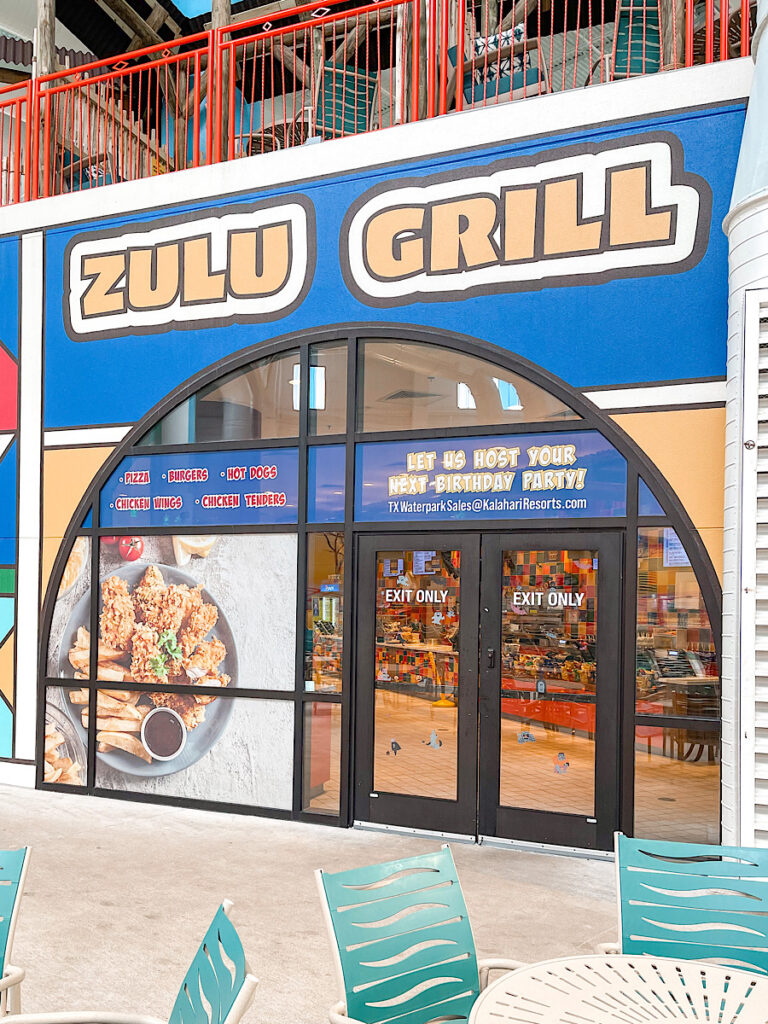 American Provisions
Located right off the lobby, you can get soups, salads, and sandwiches to go!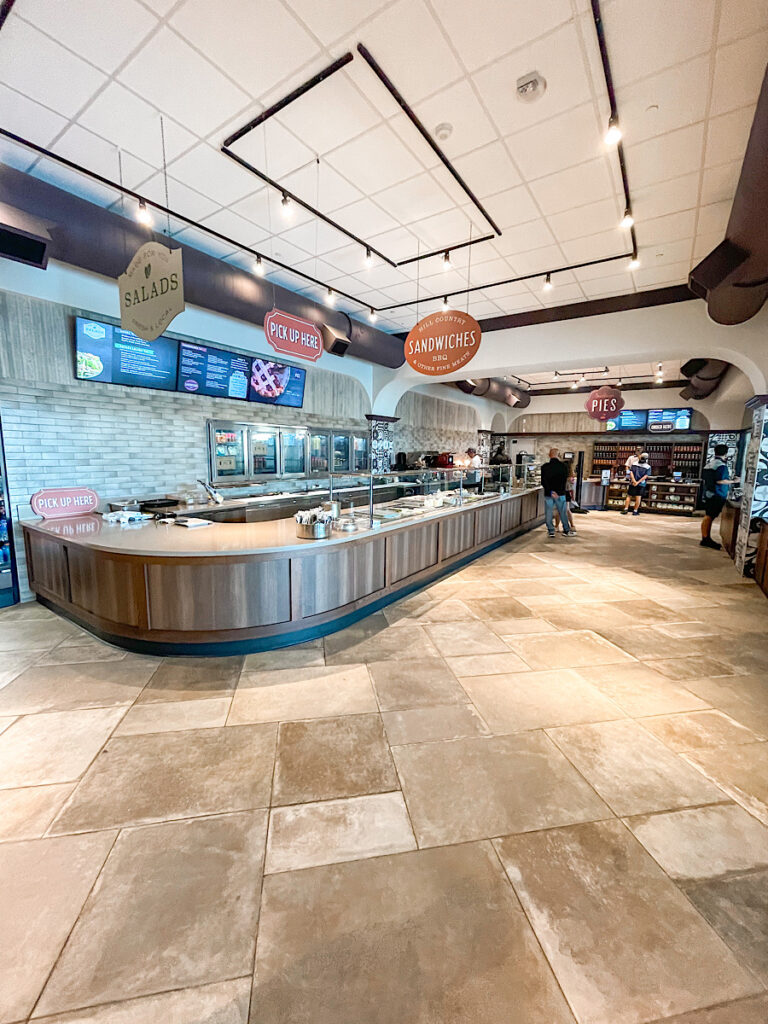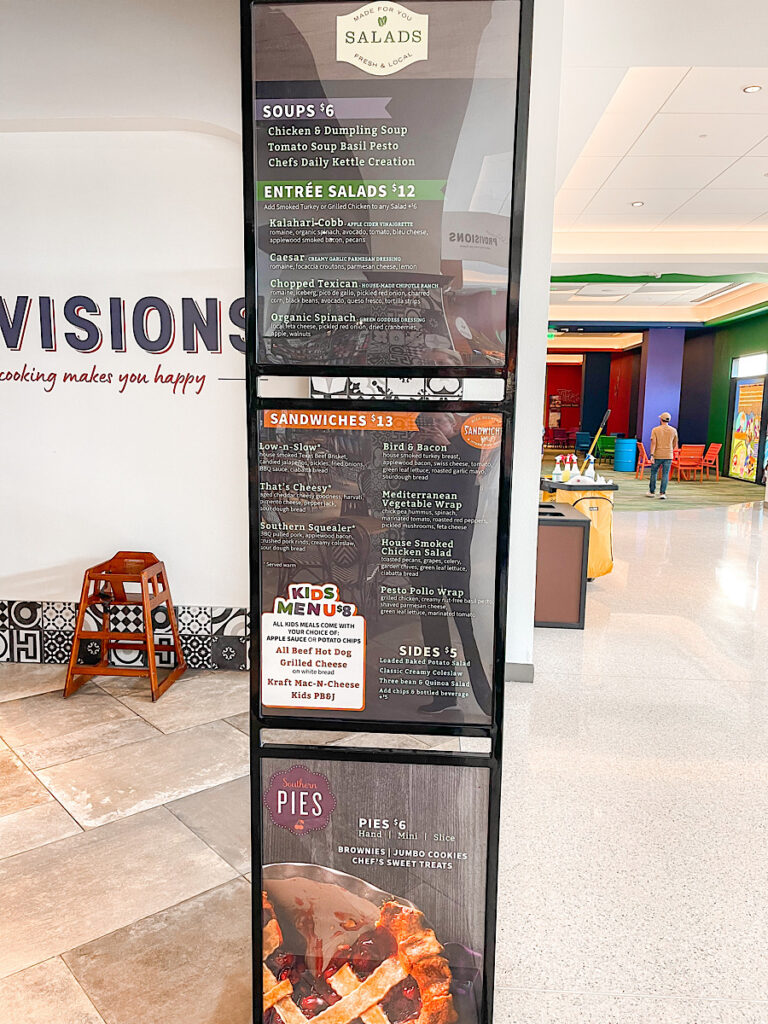 Great Karoo Marketplace
An African-themed restaurant and buffet.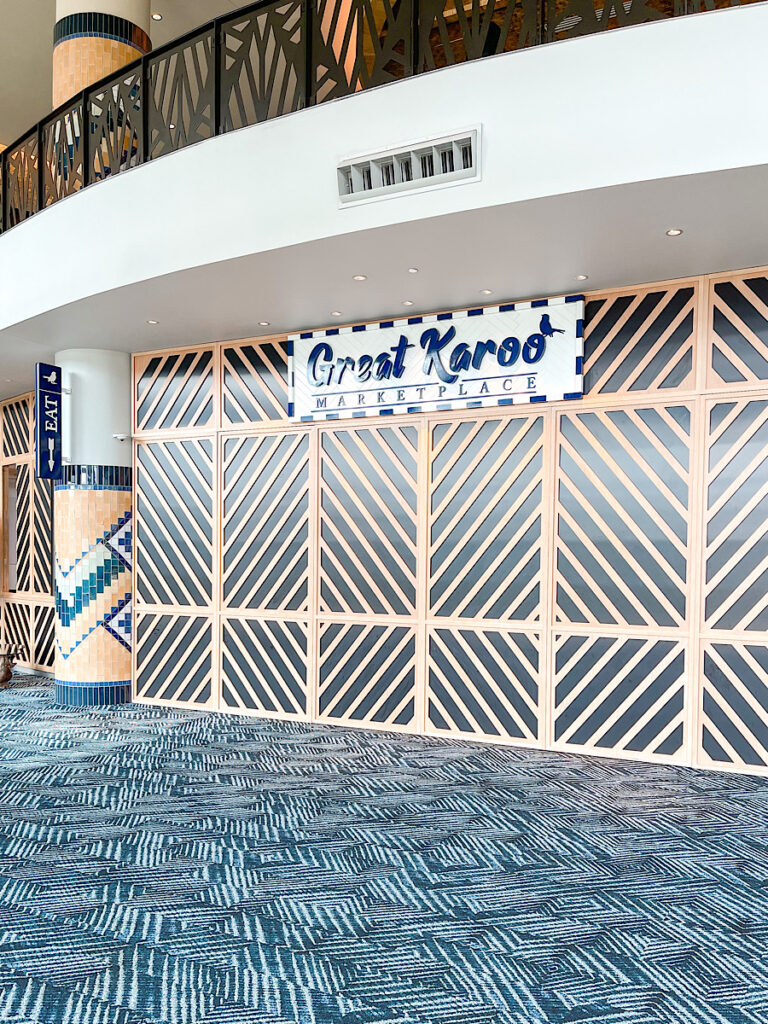 Java Manjaro
Get Starbucks coffee and fresh pastries right inside Kalahari's lobby. There were some amazing-looking cupcakes here!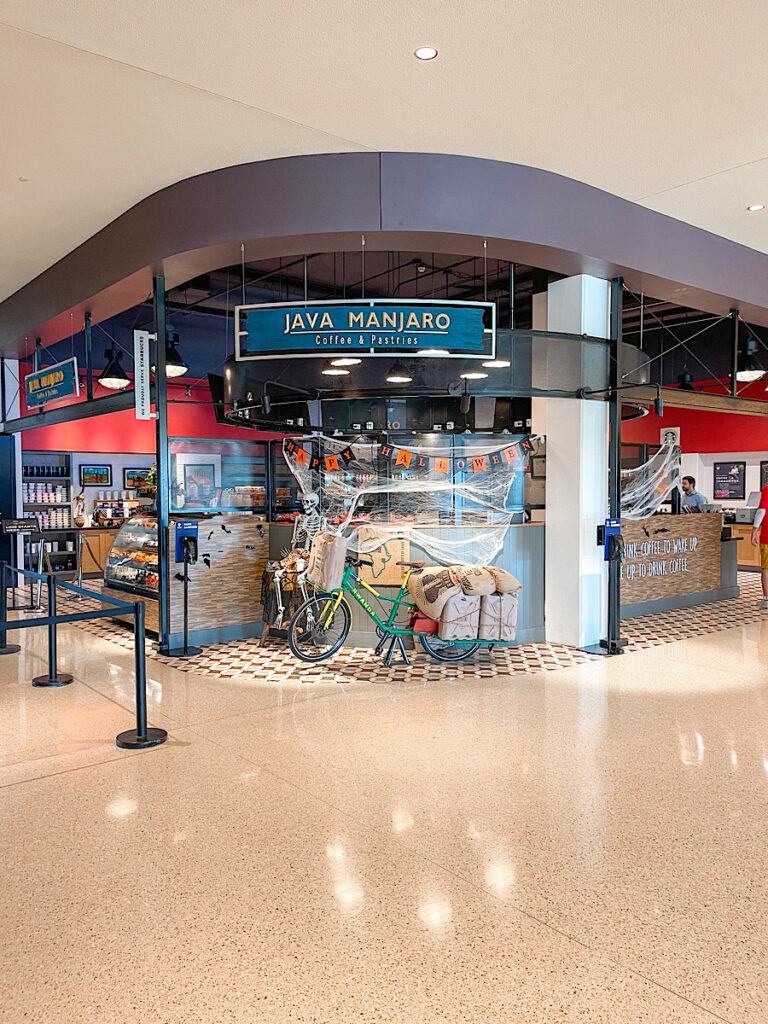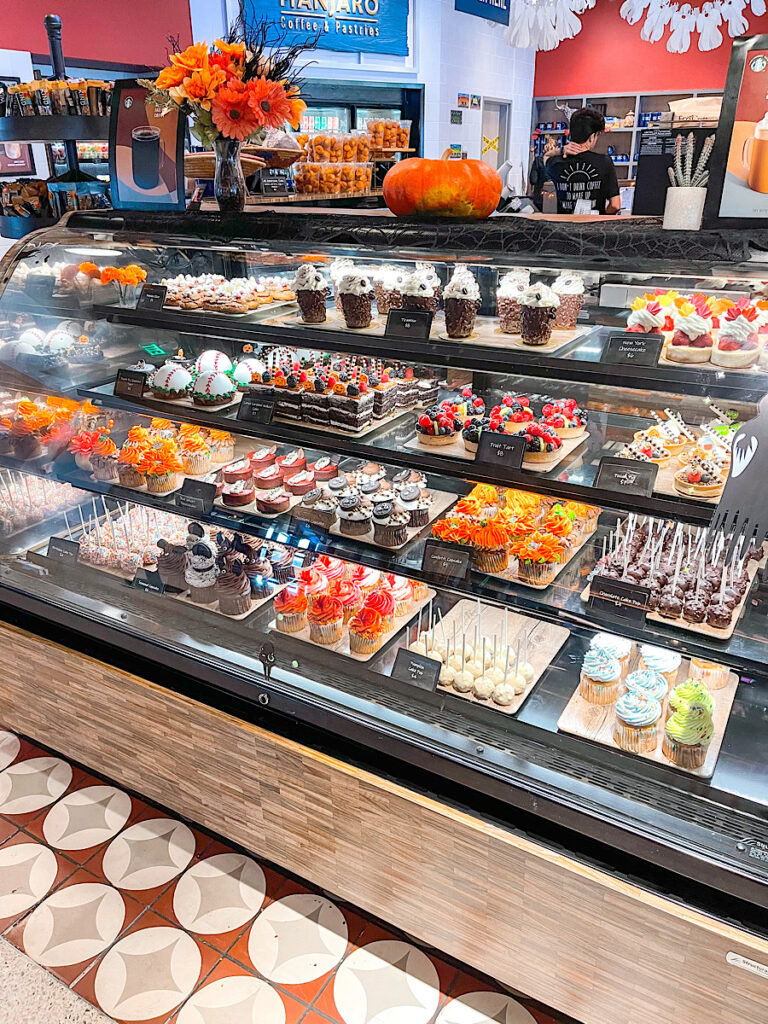 Spa Kalahari & Salon
The spa at Kalahari Resort is the perfect place to relax after a long day of exploring the resort. It offers spa services like massages, facials, and other treatments.
The spa is open year-round, so you can enjoy it no matter what time of year it is.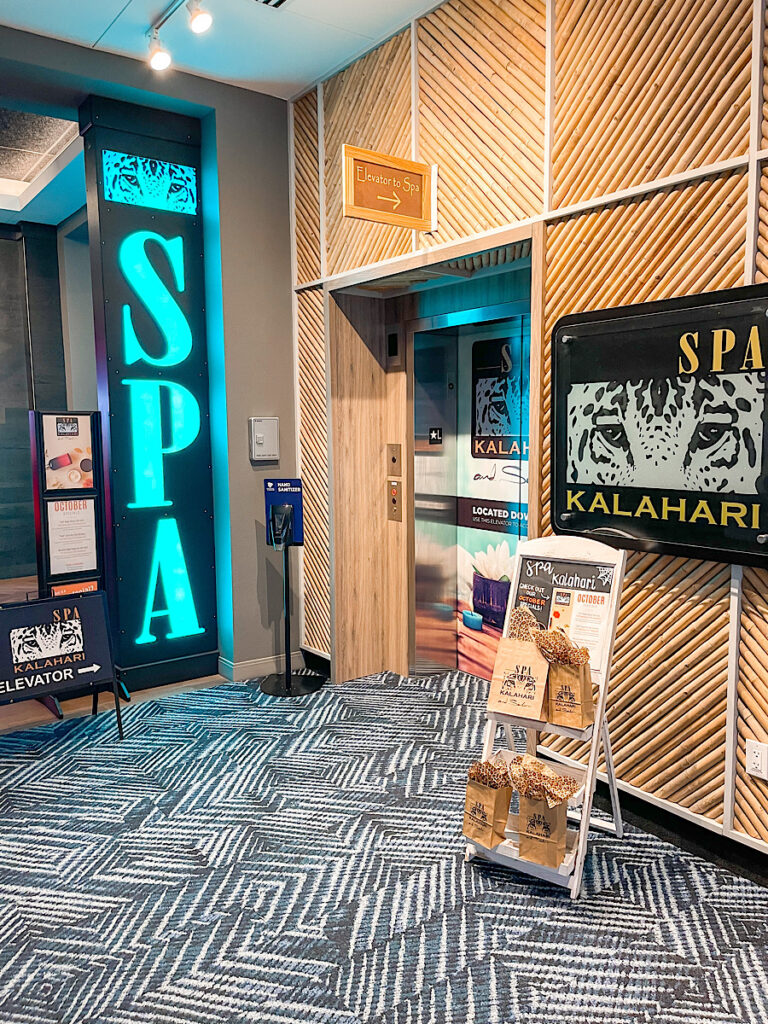 Shopping
Kalahari Resort also offers shopping options for guests. The resort features a retail store where you can purchase souvenirs, swimwear, and other items.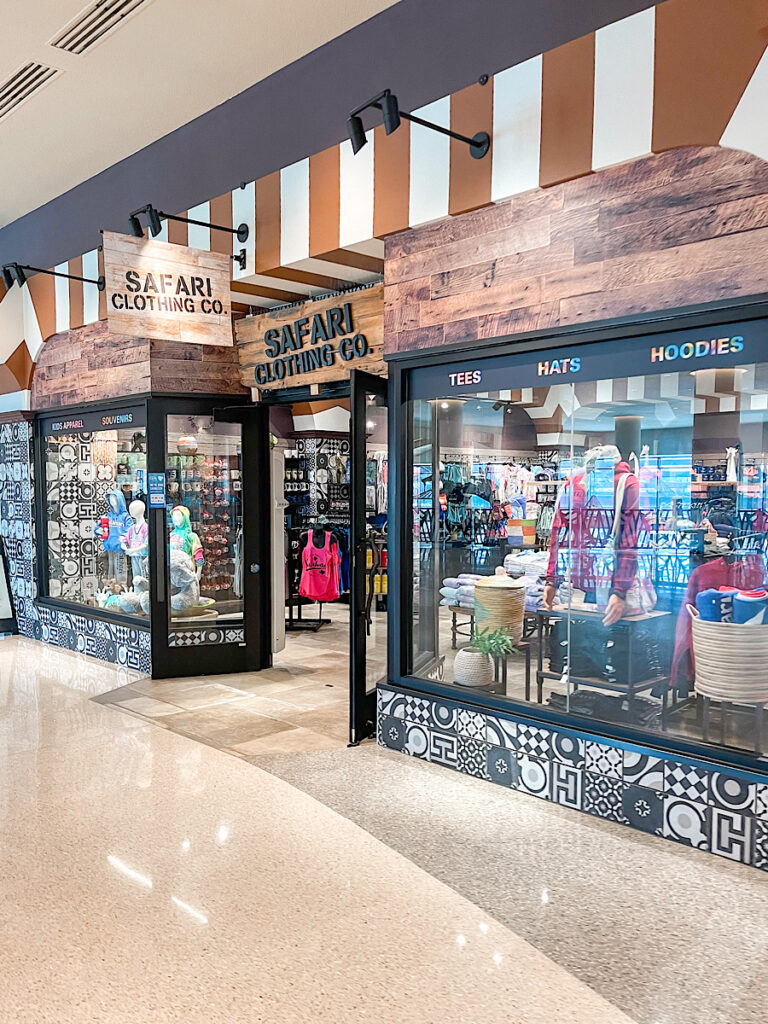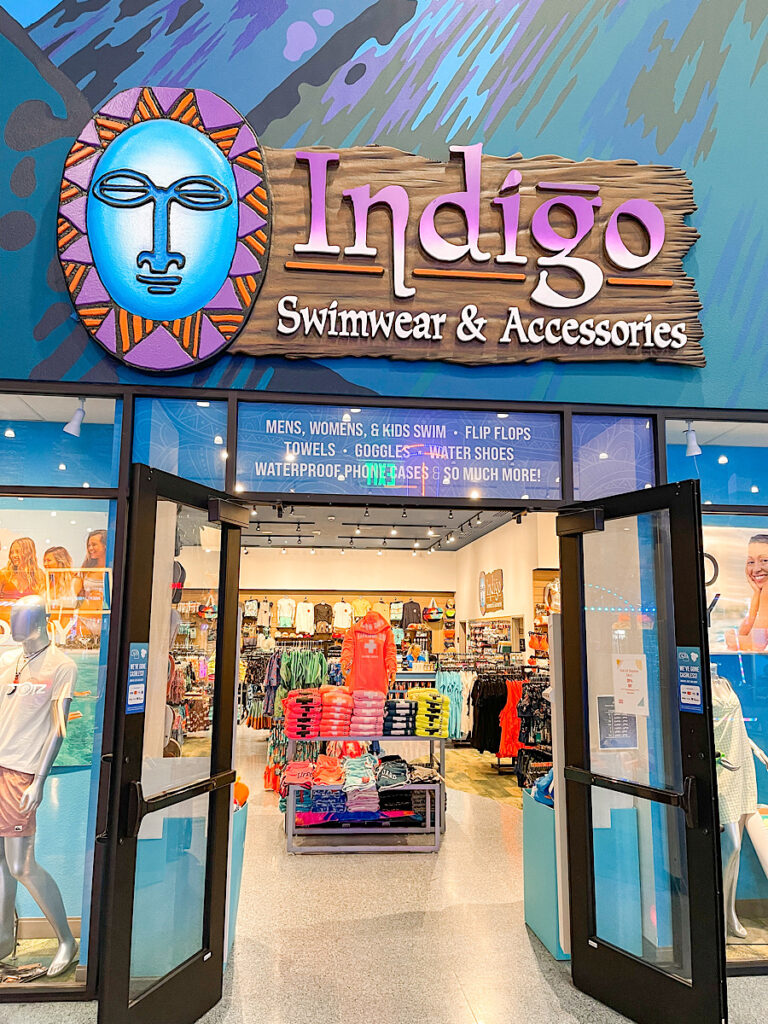 Conference Center
If you have the need, the Kalahari Resort offers a convention center right on the property. I happened to tour this area during a Tornado Warning, and it was spacious and nice.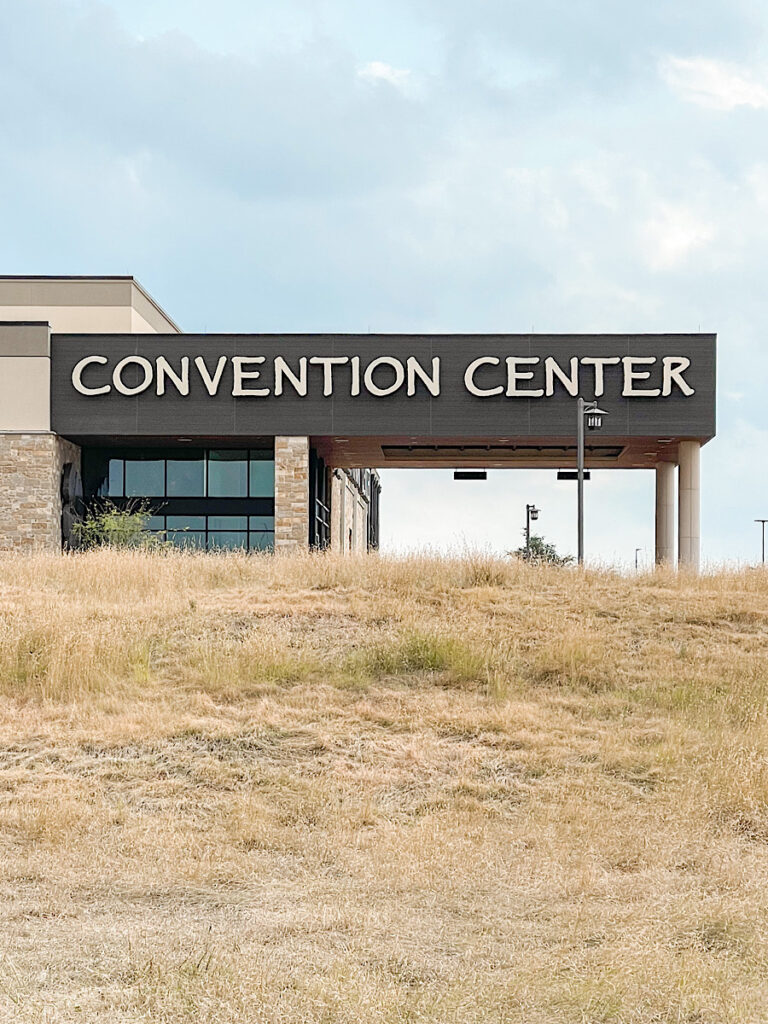 Other Kalahari Resort Locations
Round Rock, Texas
Pennsylvania, near the Pocono Mountains
Ohio
Wisconsin Dells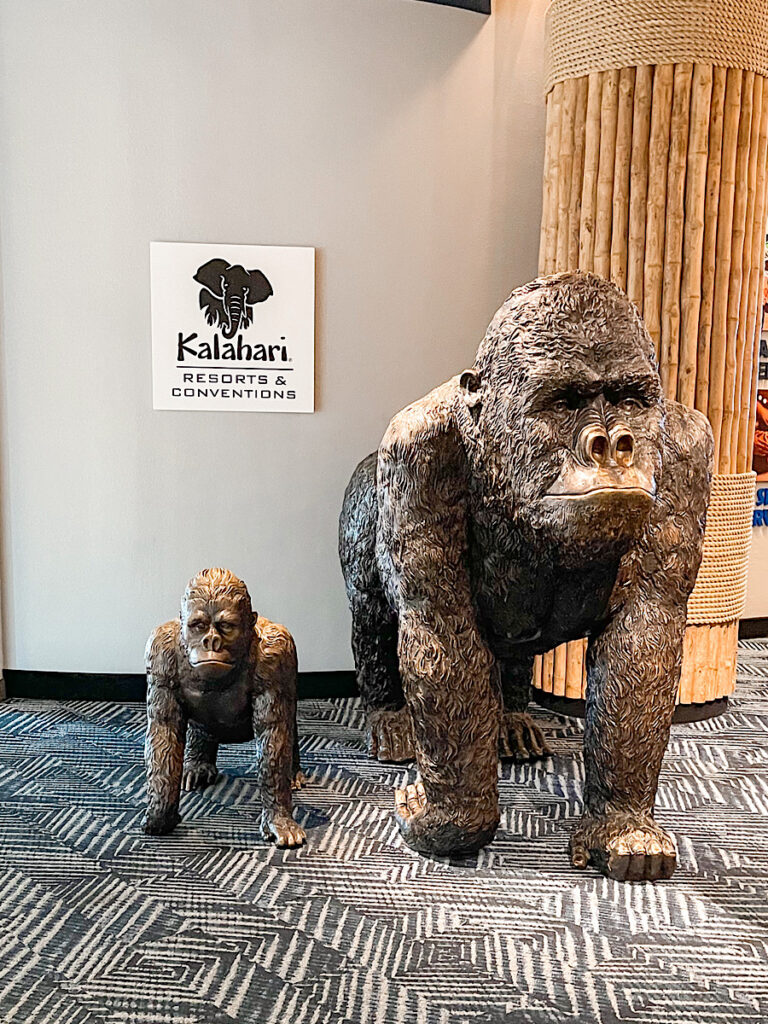 Final Thoughts
Overall, my family had an amazing time at Kalahari Resort in Texas. We loved being able to spend time together at the world's largest indoor waterpark!
Kalahari Resort in Texas is the perfect vacation spot for families who want to have some fun in the sun. With a waterpark, an indoor theme park, a spa, and multiple dining options, there's something for everyone at Kalahari Resort.
Pin for Later: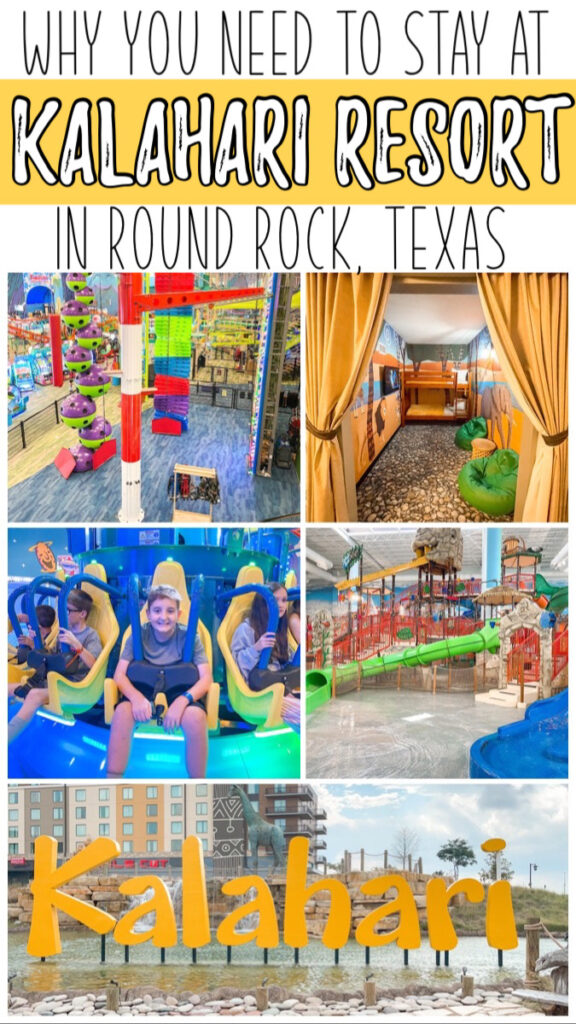 Great Wolf Lodge Reviews