Thanksgiving gravy is one of the most essential components of the holiday meal. A good gravy can make all the difference between a dry, bland meal and a feast fit for a king. Luckily, making this delicious Thanksgiving gravy recipe is not as difficult as it may seem. With just a few simple ingredients added to the turkey pan drippings, you can create a mouth-watering gravy that will complement any Thanksgiving dish.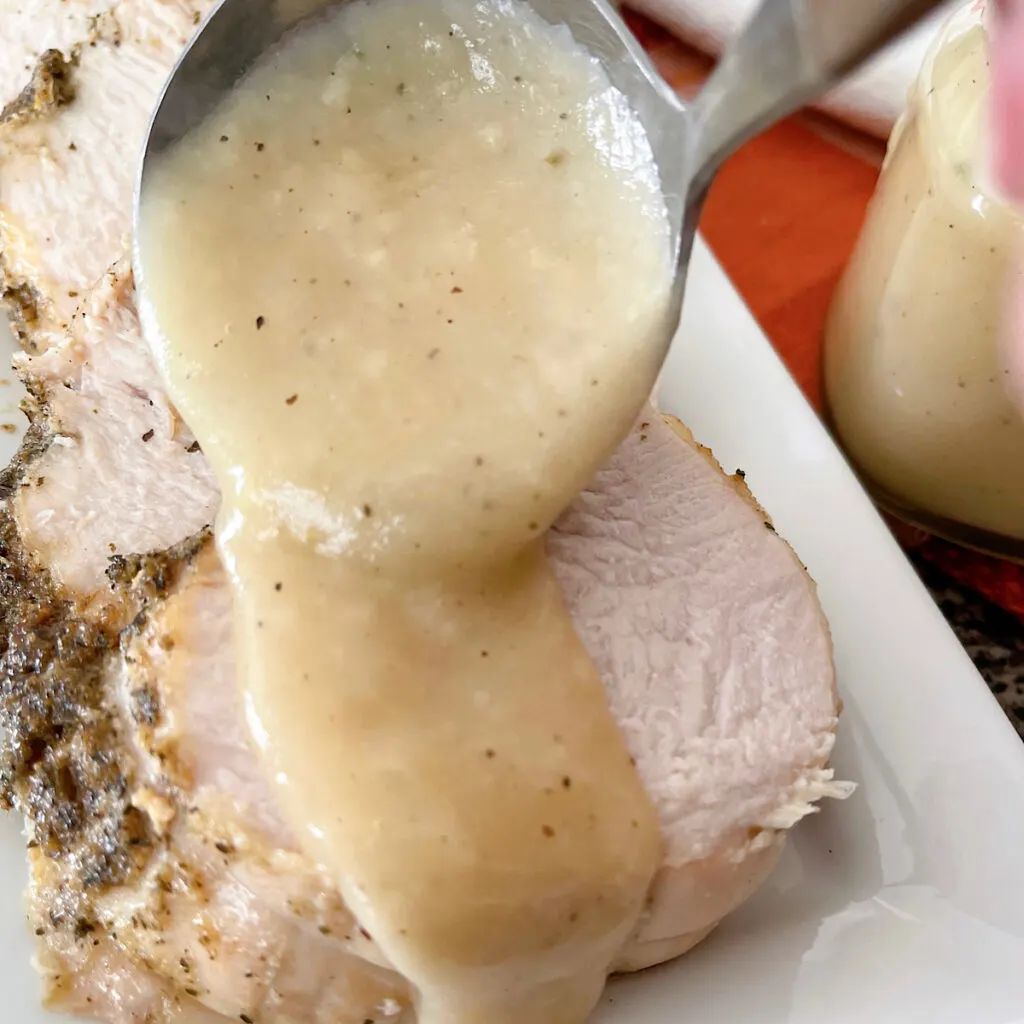 This post may contain affiliate links. When you click on these links, I get a small percentage back at no cost to you! For more information see my disclosure policy.
Below you will find tips, tricks and helpful hints for making this recipe including step by step instructions with pictures. If you would like to go directly to the recipe, scroll down to the recipe card or tap "Jump to Recipe" at the top of the page.
Why You'll Love This Gravy!
There is nothing quite like a delicious gravy to top off a Thanksgiving dinner. It can add flavor and moisture to otherwise dry dishes, and it can really make a meal feel special.
This flavorful gravy recipe is simple and easy to follow, so there is no excuse not to make it this year. It will add a touch of sophistication to your Thanksgiving feast, and everyone will be raving about it. Plus, I happen to think it is the best turkey gravy recipe I've ever made!
What To Serve With This Turkey Gravy Recipe
Serve this homemade turkey gravy over roasted turkey, stuffing, mashed potatoes, or with your favorite dinner rolls.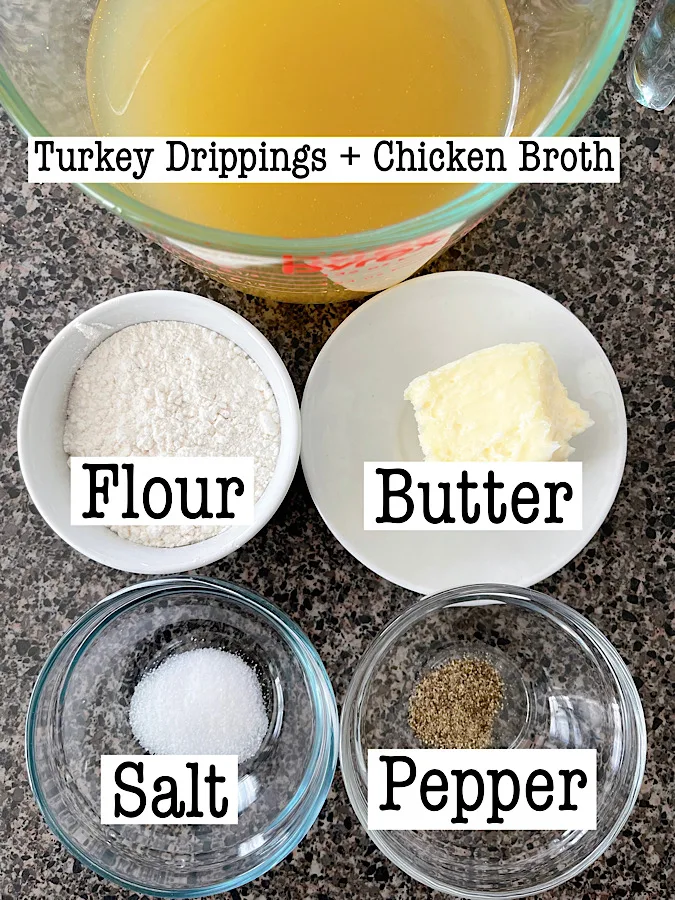 What Do I Need To Make Thanksgiving Turkey Gravy?
*Ingredient amounts are located in the recipe card at the end of this post.
Butter: You can use salted or unsalted butter. If you use salted butter, make sure you adjust the amount of salt you add in the recipe to avoid it being too salty.
Flour: This will be used with the butter to make a roux, which will thicken the gravy. I use all purpose flour.
Turkey Drippings: This is the juice at the bottom of the pan that the turkey was roasted in.
Chicken Broth: You will need enough chicken stock added to the turkey dripping to make 4 cups of liquid.
Spices: Salt and pepper are used to season the gravy.
How To Make Turkey Gravy
[1] Strain turkey drippings from the bottom of the roasting pan and allow to rest so the fat rises to the top.
[2] Spoon the fat layer from the top and discard.
[3] Add turkey stock or broth, if needed to have 4 cups of liquid.
[4] Melt butter in a medium saucepan over medium-low heat.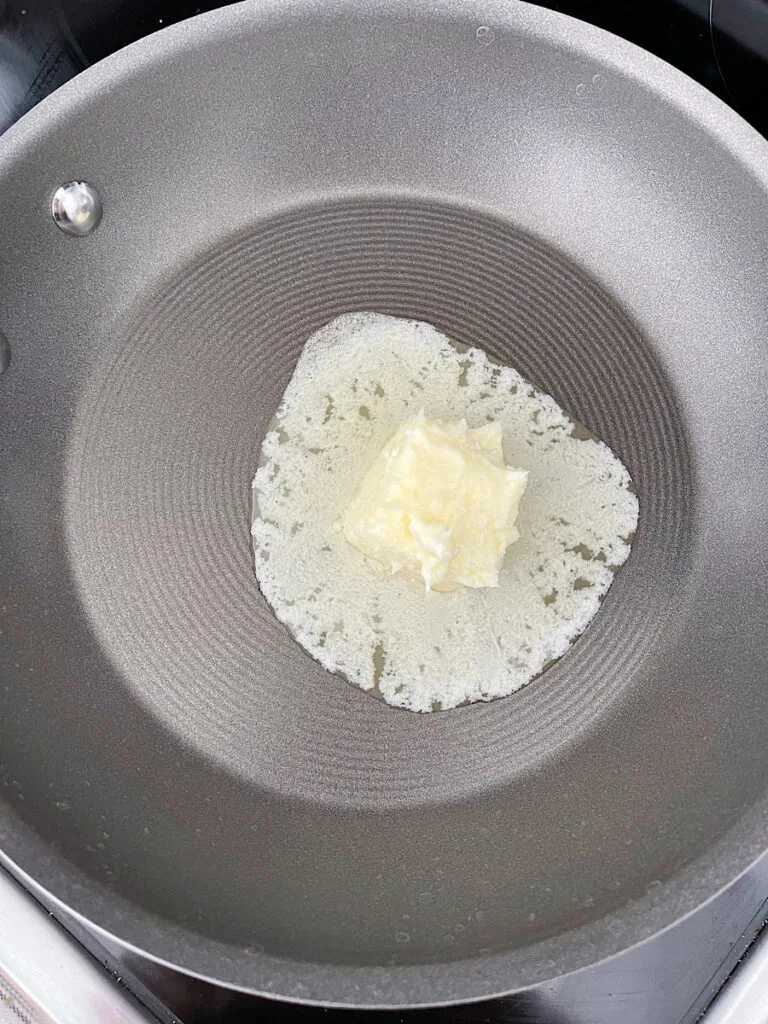 [5] Add flour and whisk to form a roux.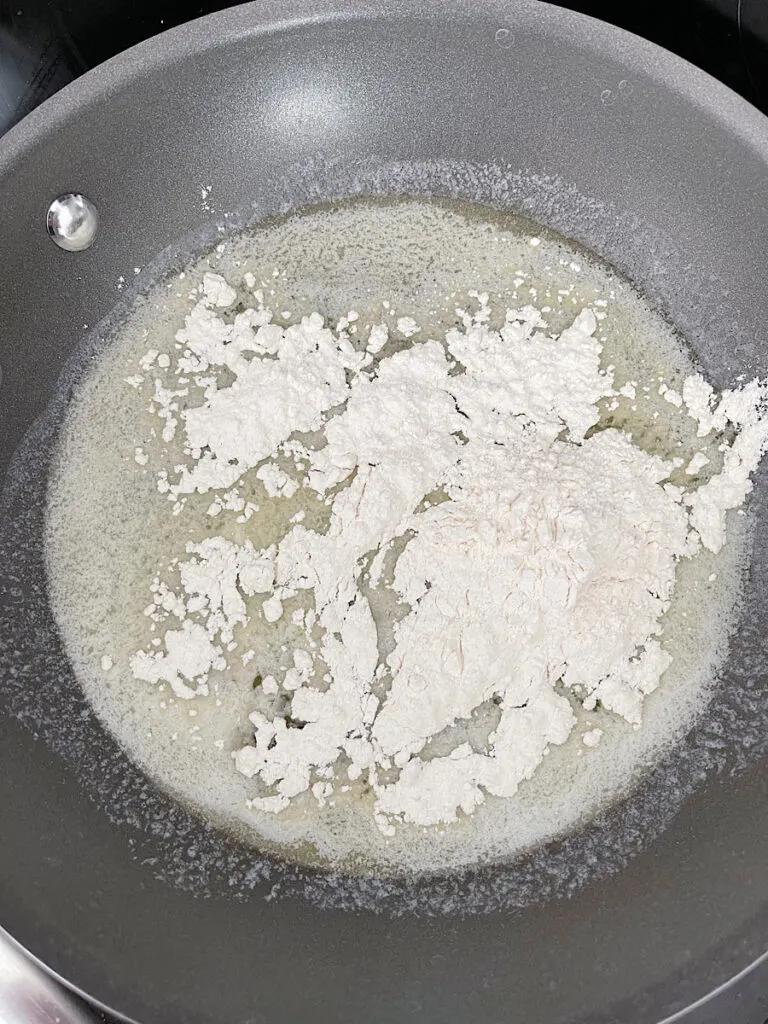 [6] Cook for 1 minute until nutty and fragrant.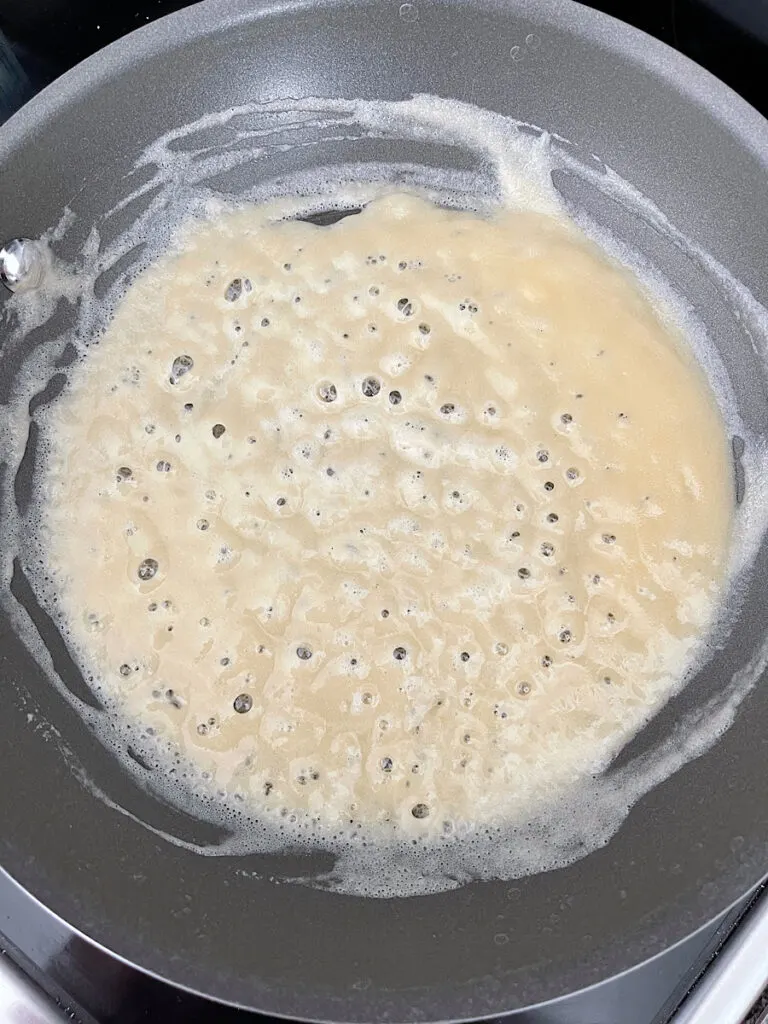 [7] Slowly whisk in the turkey juices, whisking constantly until gravy thickens.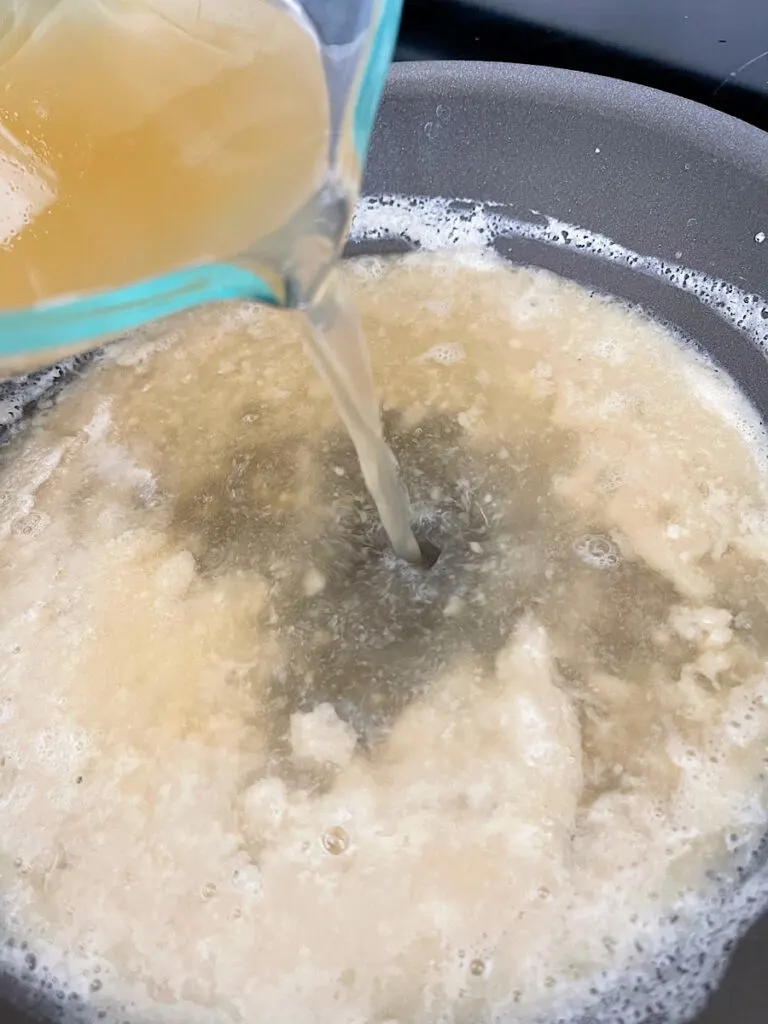 [8] Season with salt and pepper to taste.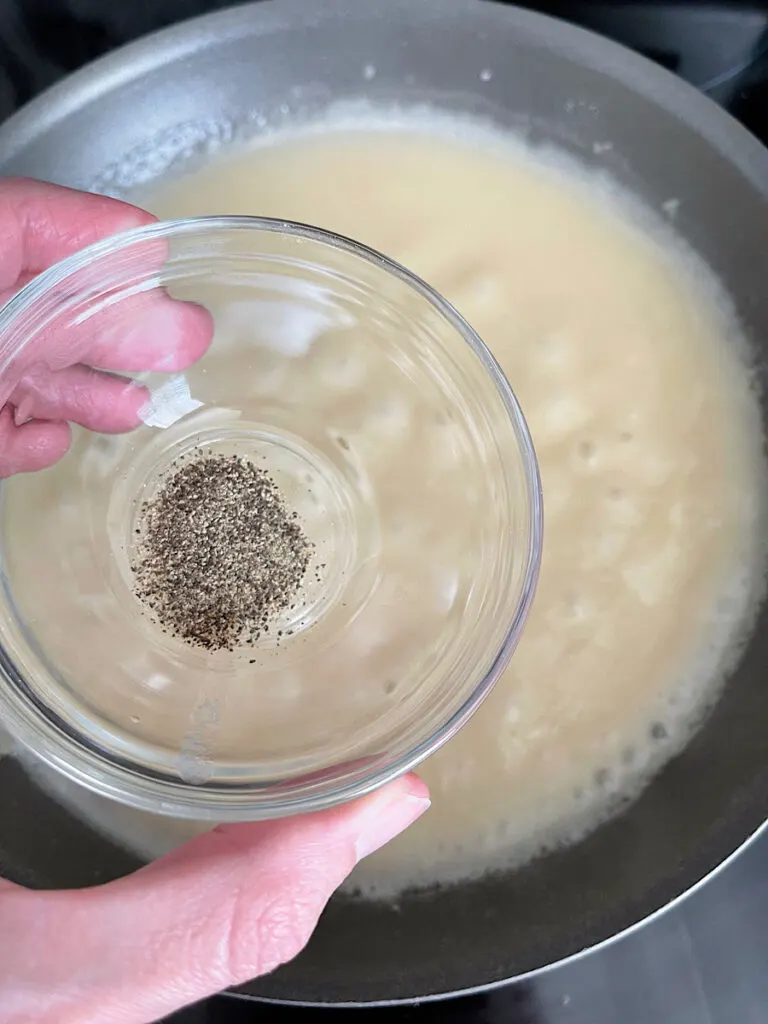 Helpful Kitchen Tools:
How to Store Leftover Gravy
Store leftover gravy in an airtight container and keep it in the fridge for up to 3 days. Reheat on the stove over low heat until warmed through.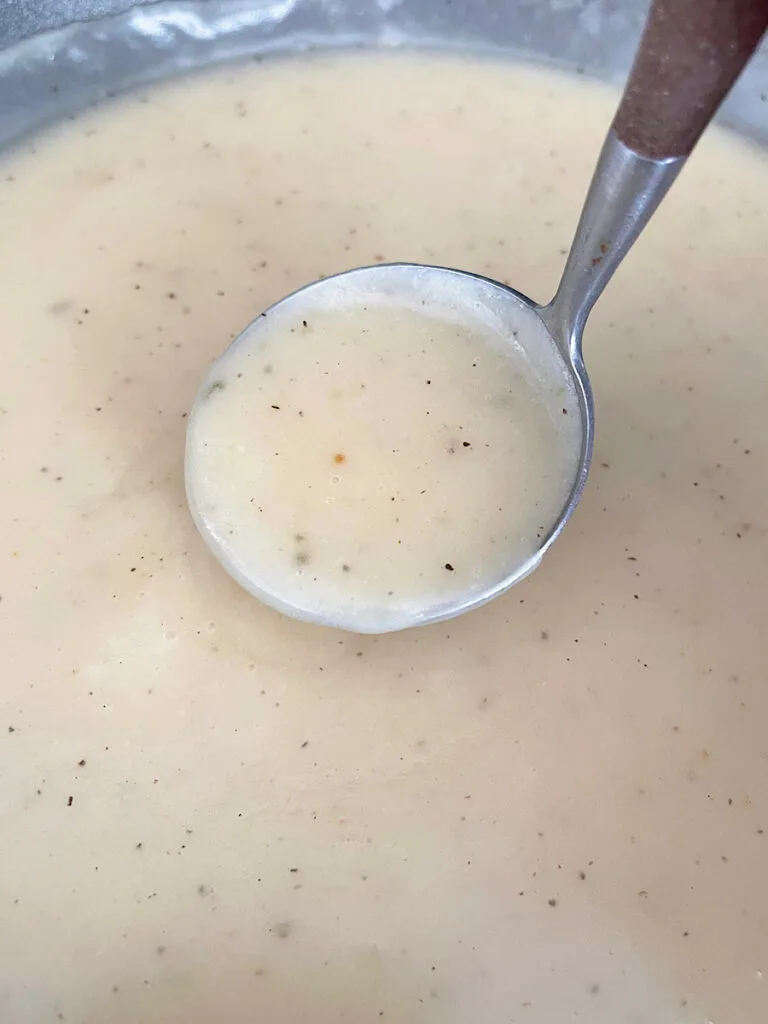 More Thanksgiving Recipes: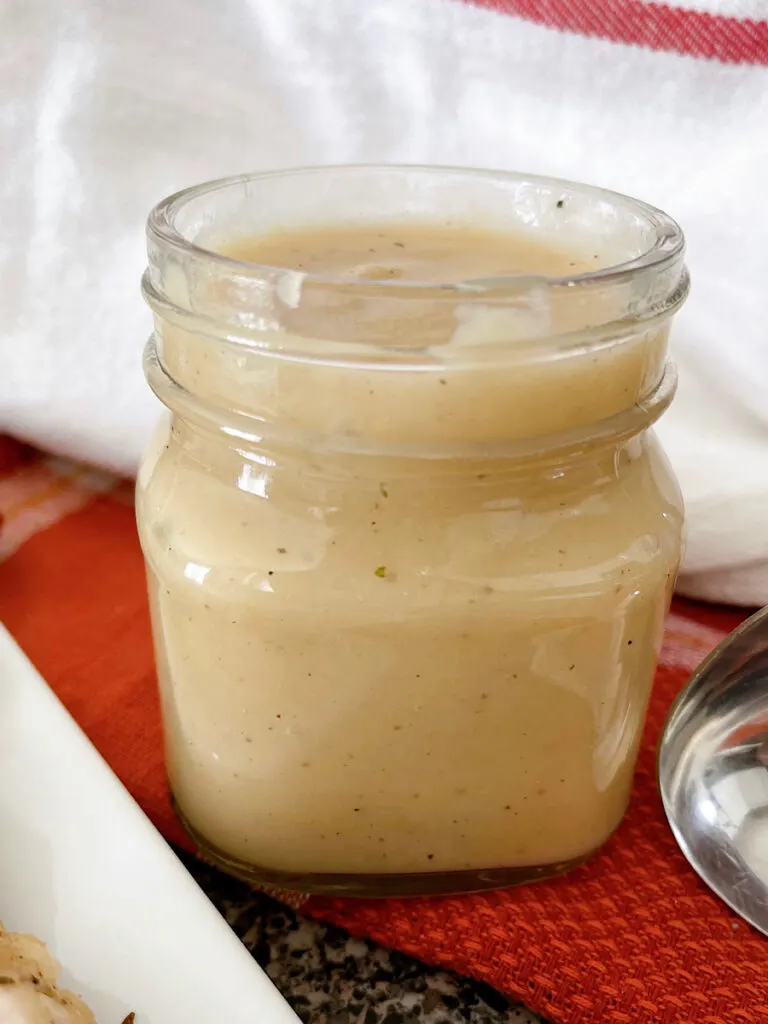 Frequently Asked Questions
How long does turkey gravy last?
Turkey gravy will last in the fridge for up to 3 days.
How do you make turkey gravy from scratch?
Making turkey gravy from scratch is easy! Just follow the recipe above.
What can I add to turkey gravy to give it more flavor?
If you want to add a little extra flavor to your turkey gravy, try adding some chopped fresh thyme or sage. You could also add a little chicken bouillon granules or a dash of white pepper. A little worcestershire sauce is also a great option.
My turkey gravy is too thick, what can I do?
If your turkey gravy is too thick, you can thin it out by whisking in additional chicken broth until it reaches the desired consistency.
My turkey gravy is too thin, what can I do?
If your turkey gravy is too thin, you can thicken it by whisking in additional flour or cornstarch. You could also cook it over medium heat until it reduces and thickens.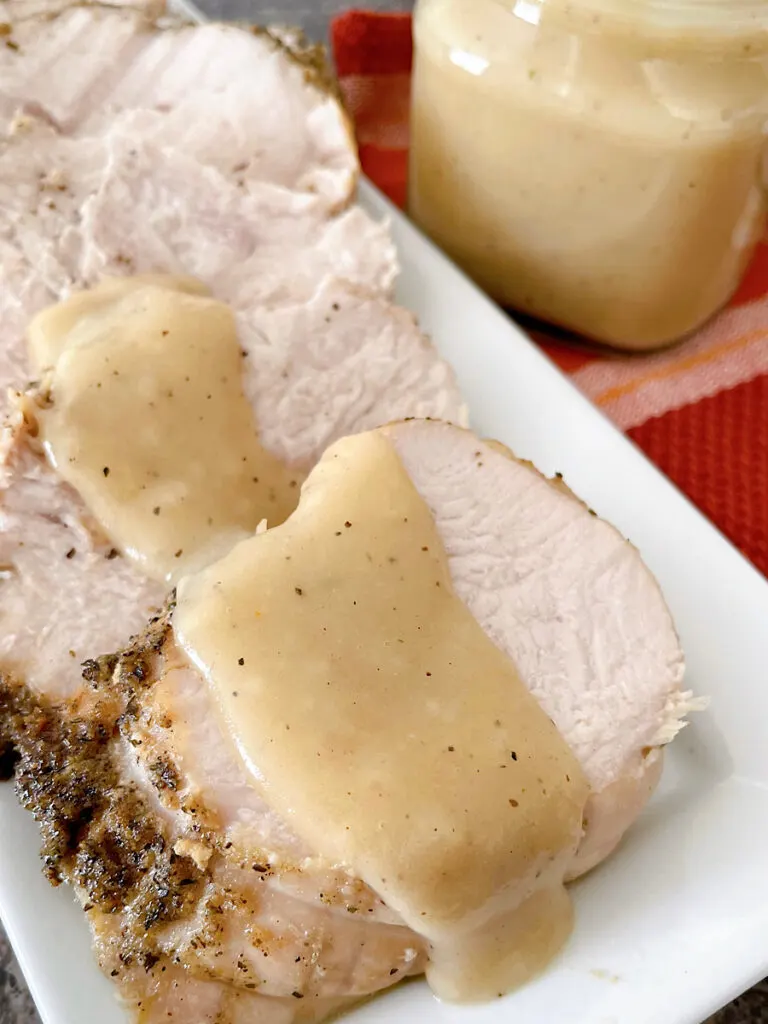 Final Thoughts
I hope you love this perfect Turkey Gravy. I make it every year for our holiday table and it really takes the holiday flavors up a notch!
This homemade gravy is simple to make and can be made ahead of time. It will last in the fridge for up to 3 days, so make it ahead of Thanksgiving and have one less thing to worry about on the big day!