Are you missing Disney right now? I know I am! My husband and I decided to take our boys and head down to Orlando to check out Walt Disney World since it reopened in July. Here's what it was like at Disney's Hollywood Studios!
This post may contain affiliate links. When you click on these links, I get a small percentage back at no cost to you! For more information see my disclosure policy.
Disney World's Safety Precautions
I was really impressed with Disney during our vacation. They took the safety of their guests and cast members seriously.
From the moment we stepped on Disney property (Disney's Magical Express 😉) we knew that our safety was top priority. I loved that all of the other guests at Disney followed the safety requirements as well.
Required Face Masks
All guests and cast members are required to wear face masks at all times in the 4 Disney Parks, unless seated and actively eating or drinking.
There were many cast members who are assigned to remind guests about wearing masks. It even happened to me!
Here is a link to the masks we wore at Disney World
I purchased a mask for my son at one of the gift shops in Hollywood Studios. When we were outside the gift shop, he tried it on and found out that it was too big.
We headed back into the shop to get the correct size, but had forgotten to have my son put his old mask back on.
I was reminded by a cast member almost immediately that he needed to have a mask. Ooops to me, and good job to Disney!
Social Distancing
There are social distancing markers EVERYWHERE at Disney World right now. They are located anywhere guests stand in line for rides, food, and even waiting in line to get into the park.
I have to admit that it was kind of nice to not have anyone in my personal space while waiting to ride Tower of Terror.
There are also tables that are closed at quick service dining locations so that there is enough space between guests while enjoying a meal or snack.
Social Distancing was also practiced while riding attractions. Instead of filling every seat on Slinky Dog Dash, there was at least one or two empty rows between each family or group.
Temperature Checks
Before entering Disney's Hollywood Studios, you will pass through a tent where a nice employee will take your temperature. They are screening guests for anyone with a fever.
Frequent Cleaning
While waiting in line for every ride, the cast members would occasionally stop loading guests and take a few minutes to sanitize the ride vehicles.
There were also cast members all over the place cleaning hand rails and even walls. Anything that might be touched by Disney guests.
Rides at Disney's Hollywood Studios
This video is part one of the day we spent at Hollywood Studios. As soon as we entered the gate, my boys wanted to head directly to the Twilight Zone Tower of Terror!
Twilight Zone Tower of Terror
The Twilight Zone Tower of Terror opened at Disney World in July 1994 and towers 199 feet over the park.
As you enter the lobby, cobwebs cover everything. You are then sent into the library to view a video that reveals the story of the attraction.
Because of social distancing restrictions, this aspect is not available right now. After you are led into an elevator car, the story continues and ends with a thrilling ride up and down in the dark!
As you exit the ride, make sure to check out the gift shop. There are so many cute items that you can only find here.
Rock 'n' Roller Coaster Starring Aerosmith
Rock 'n' Roller Coaster starring Aerosmith is a launched roller coaster that opened in July of 1999.
On this ride you will be propelled from 0 to 57 miles per hour in 2.8 seconds, then sent up and down hills and through corkscrew turns all while listening to the rock band Aerosmith.
The height requirement for Rock n Roller Coaster is 48 inches.
Lightning McQueen's Racing Academy
Lightning McQueen's Racing Academy is a cute 10 minute show attraction located right next to Rock n Roller Coaster.
It opened on March of 2019, and takes place after the events of the movie Cars 3.
During the show you will be greeted by Tow Mater and then Lightning McQueen will lead you on the race track projected on a 200 foot wide screen. This attraction is a Cars lovers dream.
Toy Story Land
If you haven't had a chance to visit Toy Story Land, you need to add it to your bucket list as soon as possible! It is absolutely adorable.
The entire land is themed from the Toy Story movies and is definitely larger than life. As you walk around the land, you feel like you are one of the toys from in the story.
With 3 family friendly attractions, we spent a lot of time here.
Slinky Dog Dash
Our first stop in Toy Story Land was Slinky Dog Dash. This was the longest wait we had out of all 4 Disney World Parks. It was only 40 minutes and it was totally worth the wait.
This low key roller coaster will send you through Andy's backyard while riding in Slinky Dog. The height requirement is only 38 inches so this is a fun ride for preschool age and up.
Woody's Lunch Box
Woody's Lunch Box is a super cute quick service dining location inside of Toy Story Land. Unfortunately for us, it was closed during our visit.
Luckily, I have recreated a couple of the recipes served at Woody's Lunch Box so you can make them at home! Woody's Grilled Cheese Sandwich is delicious and "Totchos" , or loaded tater tots are the perfect comfort food.
Toy Story Mania!
Toy Story Mania! is another fun attraction in Toy Story Land and has actually been at Hollywood Studios since 2008, but the entrance was moved so that it could be incorporated into this themed area.
On this ride, you will get to test your video game skills while wearing 3D glasses.
Alien Swirling Saucers
Alien Swirling Saucers is the third attraction in Toy Story Land. This ride is similar to Mater's Junkyard Jamboree at Disneyland and is themed around Buzz Lightyear.
You will swing around in a car driven by one of the little green aliens.
Disney's Hollywood Studios after Reopening Part 2
I hope you had fun spending the first half of our day with us at Disney's Hollywood Studios.
In Part 2 we will be visiting Star Wars: Galaxy's Edge, 50's Prime Time Cafe, and a few other fun things.
Make sure you're subscribed to Mommy Mouse Clubhouse on YouTube and have turned on notifications so you'll know when Part 2 is uploaded.
Don't forget to follow me on Instagram for fun Disney recipes and tips for the parks as well. See ya next time!

How to Save Money on Disney World Tickets & Hotels
When booking your next Disney World vacation, make sure to check out Get Away Today! Their customer service is THE BEST!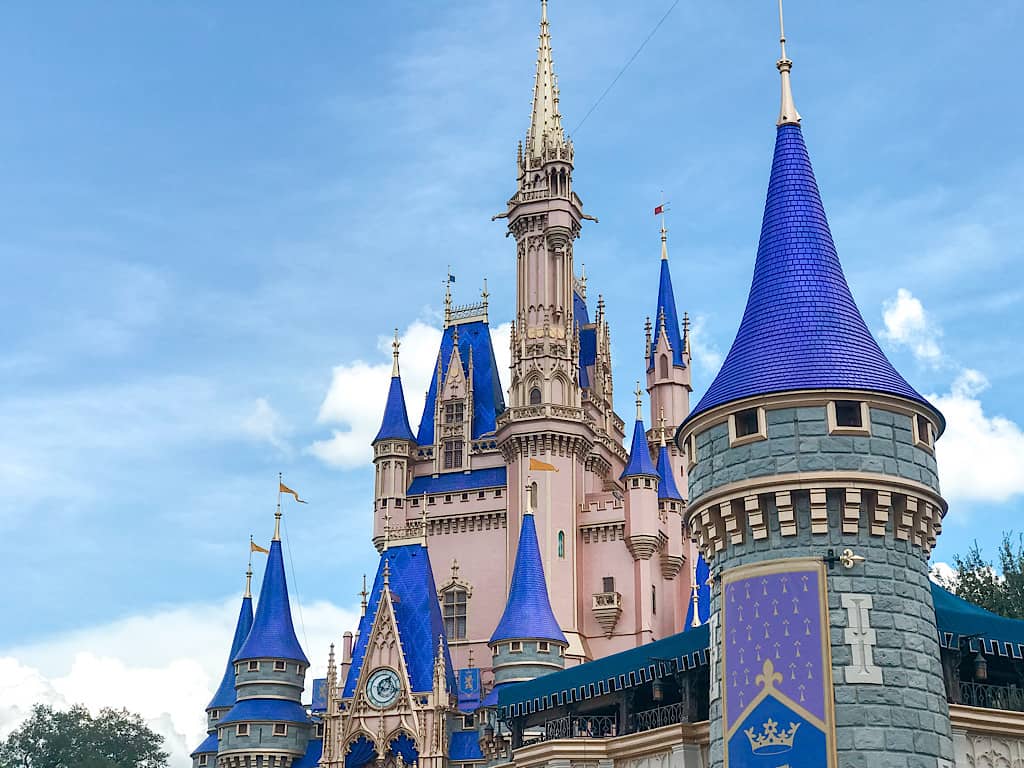 They are an authorized Disney partner that offers DISCOUNT DISNEY WORLD TICKETS and they often offer deals like discounts on rooms, free dining, and more when you book a vacation package!
Get a free customized quote here or give them a call at 855-GET-AWAY for current deals at Walt Disney World and tell them the Mommy Mouse Clubhouse sent you!