This post is sponsored by Hasbro, all opinions are my own.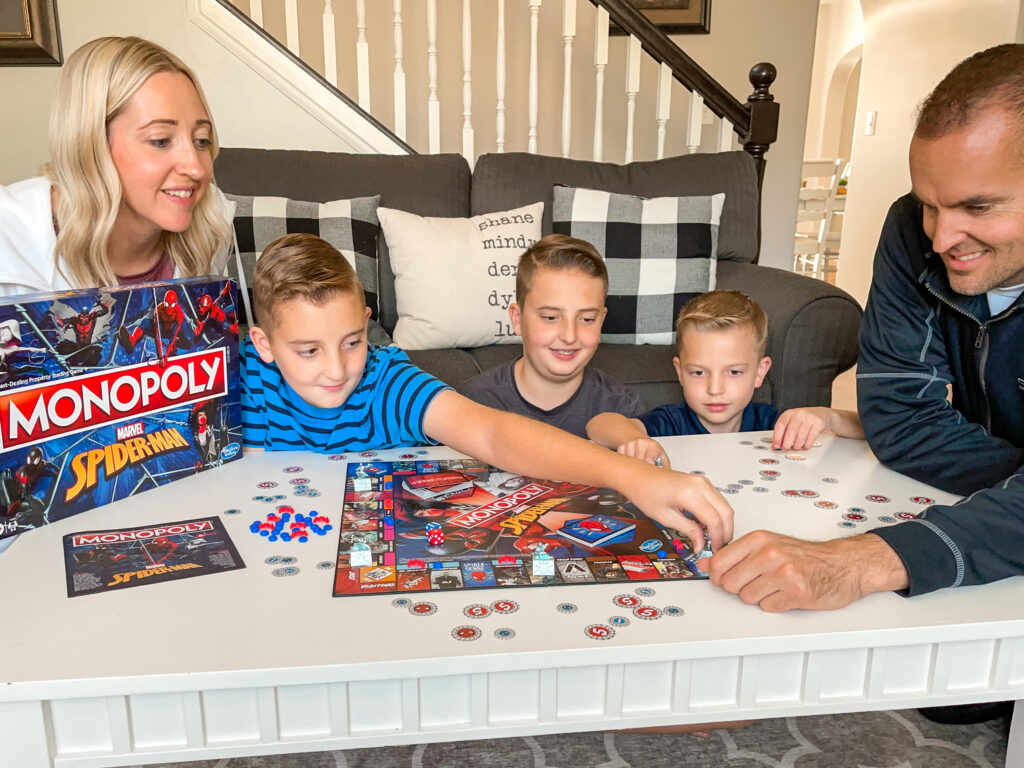 In my family, we think that Spider-Man is the best superhero and we are anxiously waiting for the release of Spider-Man: No Way Home??? on December 17th, 2021!
To keep our excitement going, we have been having family game nights playing MONOPOLY Spider-Man and Bop It! Spider-Man! available exclusively from Walmart.com!
I'm always looking for ways to get my family to spend more time together and playing games like these are not only fun for my kids, but my husband and I too – making them the perfect fit!
We have seriously been playing this game 2 or 3 times a day! It has been so fun to watch my boys try to outsmart each other by capturing super villains and deploying Spider-Bots.
Here is a little glimpse about how MONOPOLY Spider-Man works and why your Spider-Man fans will gain a new love for the game.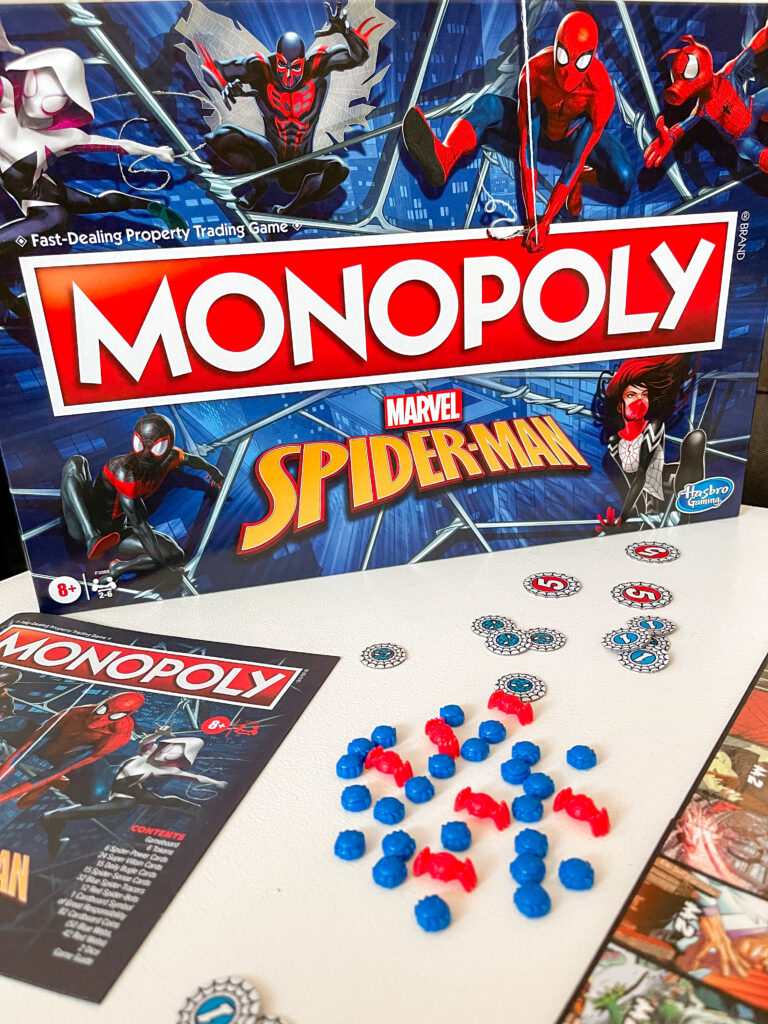 About MONOPOLY Spider-Man
MONOPOLY Spider-Man is a twist on classic MONOPOLY gameplay. Players take turns rolling the dice to travel around the board with the goal of capturing as many super villains as they can using their special Spider-Man powers. These powers are unlocked when the player is in possession of the "Symbol of Great Responsibility".
Super-villain tokens include Venom, Dock Ock, Mr. Negative, Electro, Green Goblin and Sandman.
I can't even begin to explain how fun this game is. My children constantly fight over which super villain should go up on the auction block next, but love it when other players land on their spaces. This is a perfect way to introduce your children to board games and keep them active in a fun way.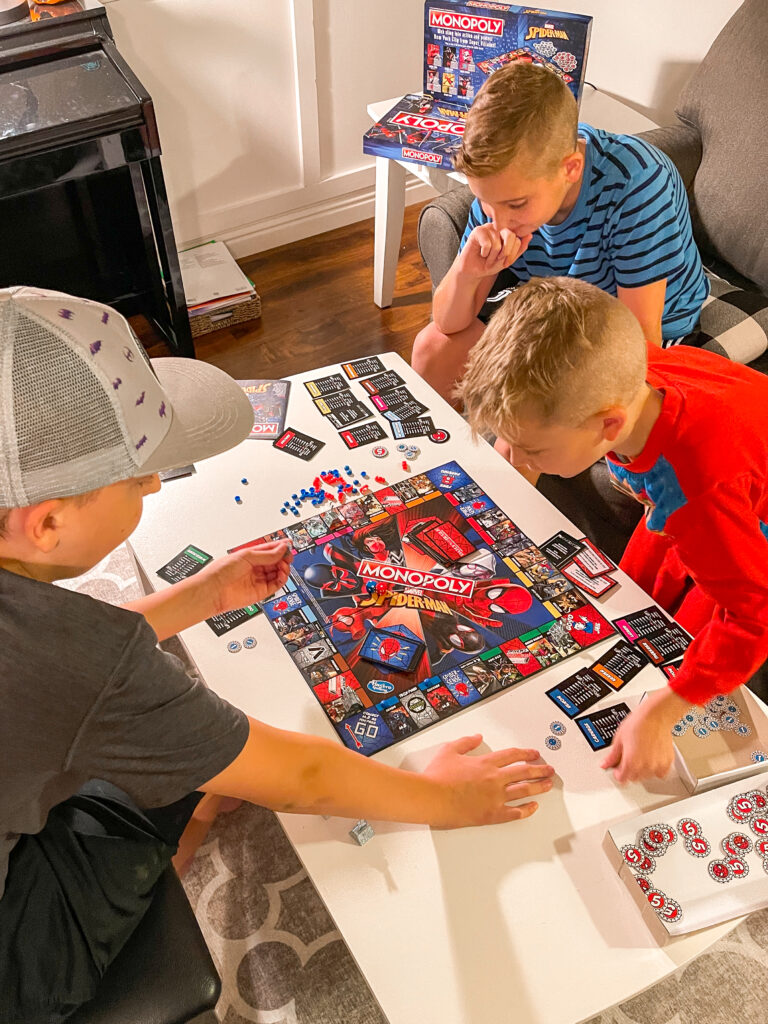 Goal of the Game
The goal of the game is to capture super villains to keep New York City safe. Each player may choose which version of Spider-Man they would like to represent them on the board. Each Spider-Man piece has a differed Spider-Power, so it is important to choose wisely. Here is what each Spider-Man can do:
Spider-Man (Peter Parker)- Collect 1 web from any player when someone lands on a Daily Bugle space.
Spider-Man (Miles Morales)- If you land on an occupied space, the other player must pay you 5 webs.
Ghost-Spider- If you don't like the numbers that you rolled, you may roll again but must take the second number.
Silk- When someone lands on a Spider-Sense space, you may choose one player to pay you 1 web.
Spider-Ham- When a player rolls doubles, they must pay you 1 web.
Spider-Man 2099- When you pass or land on the same space as someone else, they must pay you 1 web.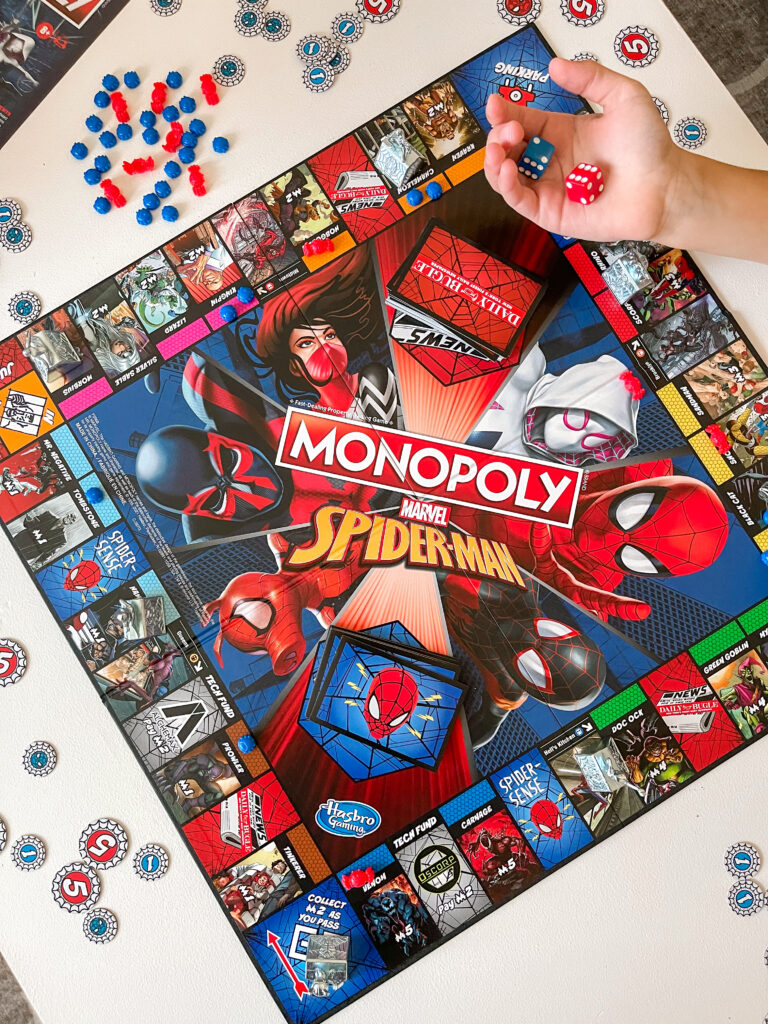 What is Different in MONOPOLY Spider-Man?
The spaces on the game board represent many different super villains. Players will capture these villains, while trying to collect all of the villains of the same color. There are Spider-Sense cards and Daily Bugle cards that can help players or give them obstacles that need to be overcome.
Subway shortcuts are another difference, but one that my boys thought was great. Once you land on that space, you can transport your game piece to any desired location across the board.
Once you have captured all of the villains of one color, you are able to start attaching Spider-Tracers and deploying Spider-Bots for each space, allowing you to collect even more webs from other players.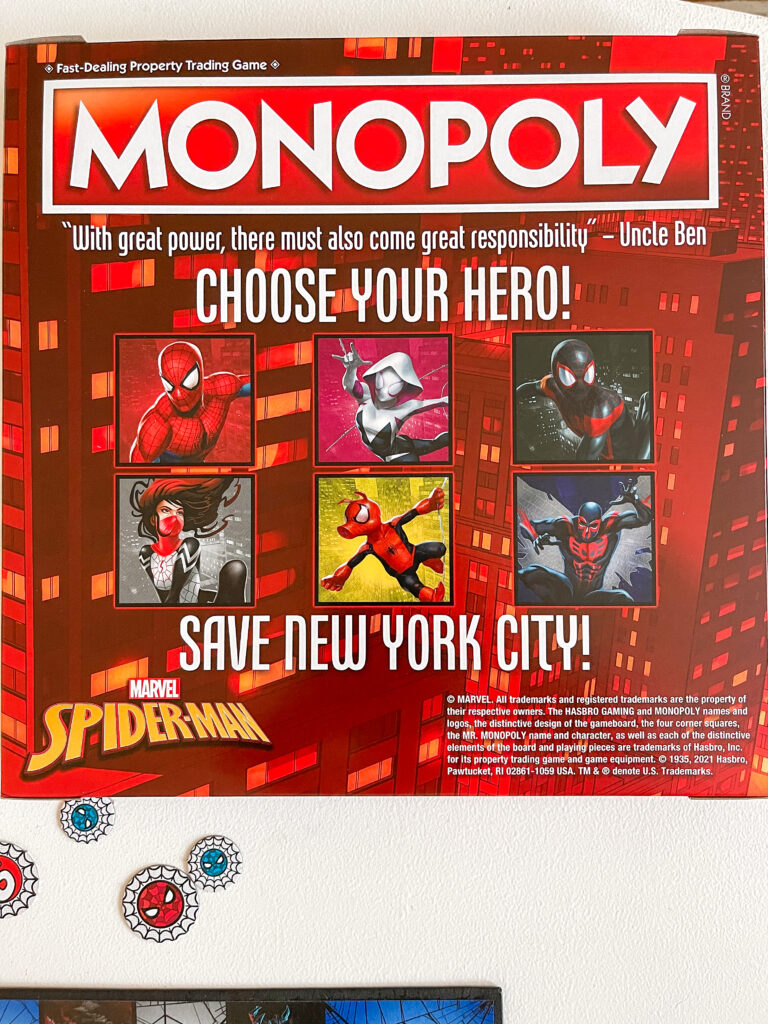 How Long is the Average Game?
MONOPOLY Spider-Man is designed for ages 8 and up for 2 to 6 players. After playing this game many times, with different numbers of players, we have determined that the average time for us was about 2 hours. There were times when we needed to take a break, so we left the board as it was and continued our game at a later time.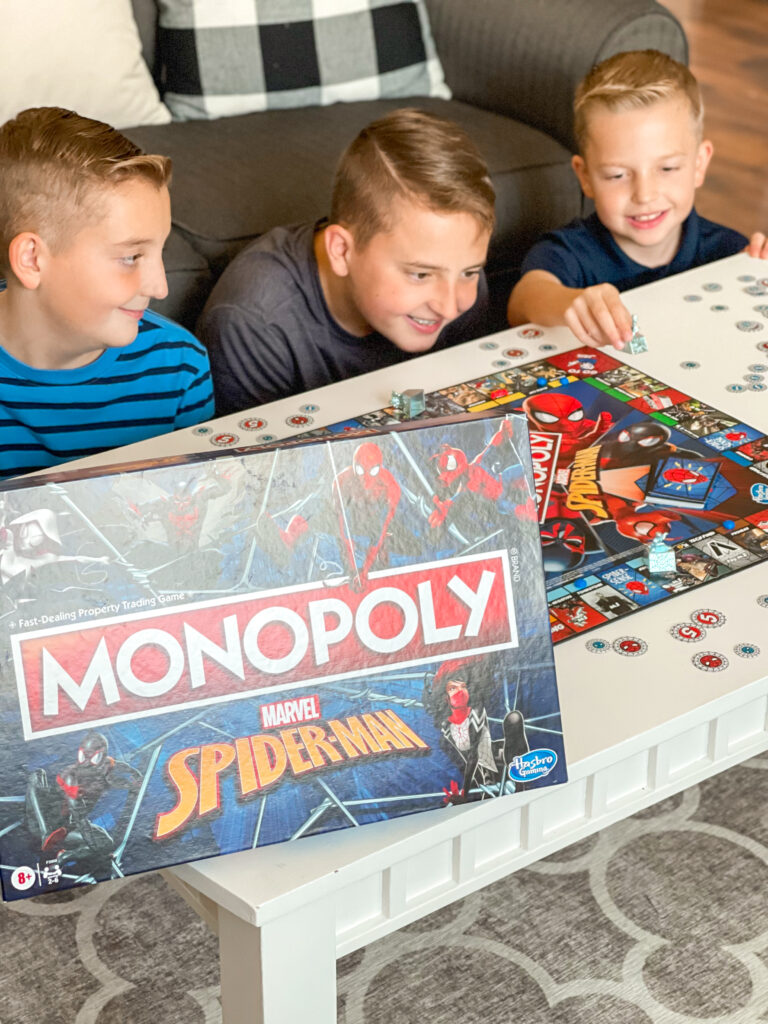 My Family's Experience
We had a blast playing this game! It definitely takes some strategy and skill, but I loved that my kids were learning to work together and compromise with each other through fun and heroic adventures!
My 8 year-old-says: "This is the best game ever! I beat my mom and caught a lot of villains!
My 11-year-old says: "I really liked collecting the Silver Sable and Black Cat cards because when someone would land on them, they had to pay me double the amount of webs that was shown on the dice!"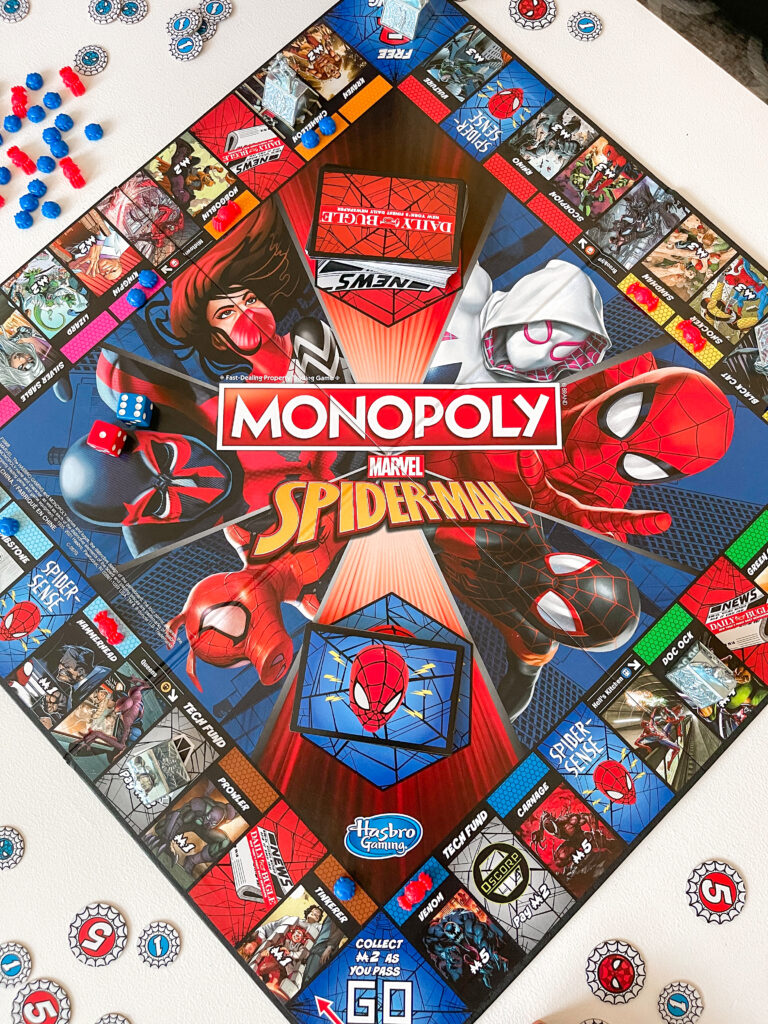 My 14-year-old says: "It was fun to negotiate and work deals with my brothers."
My husband says: "I have never seen our boys get along and have so much fun together as when they were playing MONOPOLY Spider-Man!"
So it's safe to say, that MONOPOLY Spider-Man was a big hit with our whole family!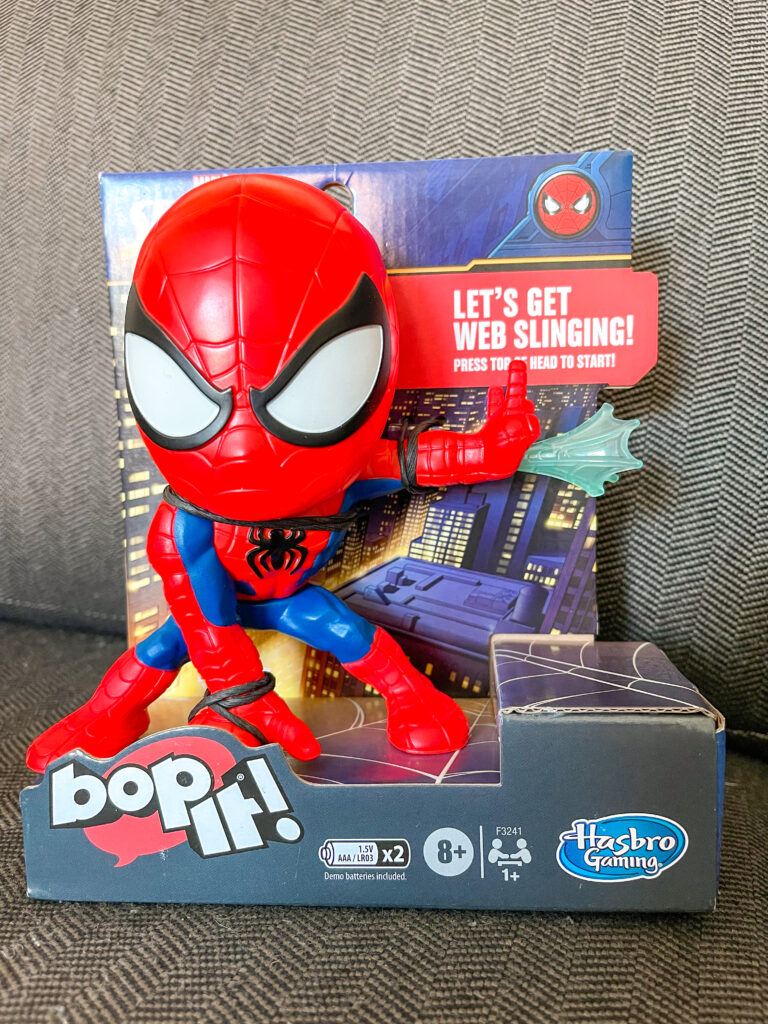 Bop It! Spider-Man
Another item we have been playing with is Bop It! Spider-Man. This toy is like the standard version, but it is shaped like our favorite superhero, Spider-Man!
The commands are similar in that you "Bop It" by pushing down Spider-Man's head, "Twist It" by twisting his legs, and "Pull It" by pulling on Spider-Man's web. However, the commands are all changed to sound like Spider-Man, making it fun for kids and adults alike!
My boys love this toy! They have been playing with it by themselves and also taking turns having me play with them. There are two modes: Solo and Pass It that allows kids to play alone or with their friends.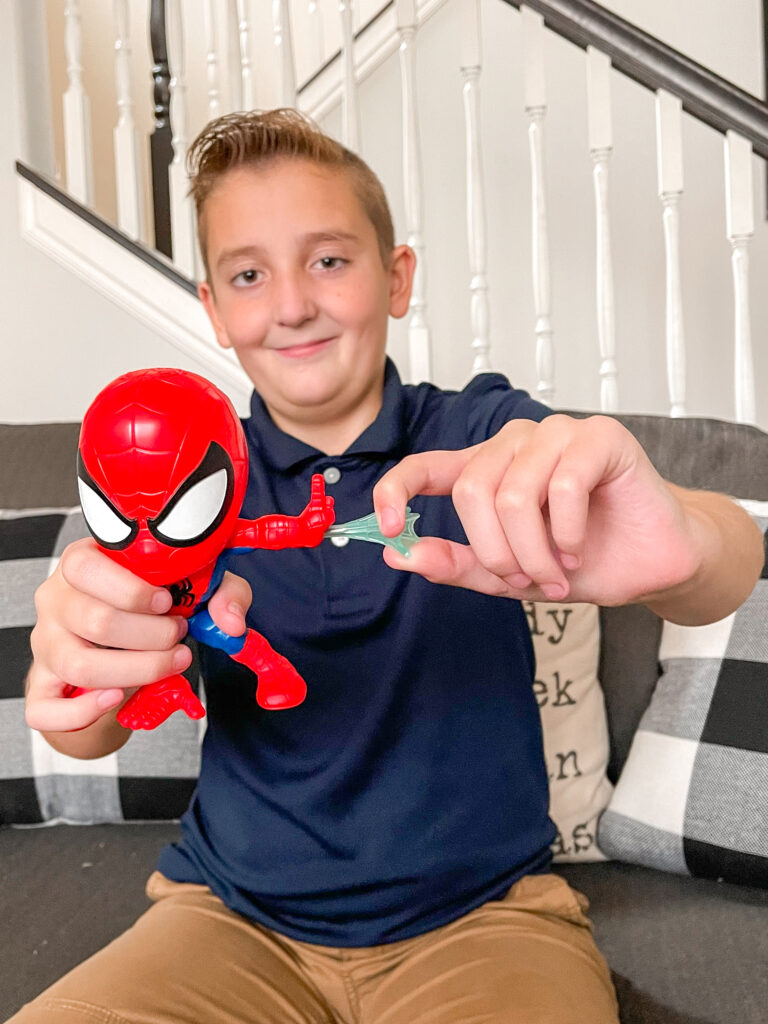 Makes a Great Gift!
I am so excited that these games will be available before the holiday shopping season starts. I have already thought of several families that I think would enjoy MONOPOLY Spider-Man and Bop It! Spider-Man as a gift!
If you have any Spider-Man fans on your gift list, you will definitely want to head to Walmart.com and check these games out for yourself!
The Spiderverse is coming to Walmart.com, and it's bringing with it some of the best games for any fan. Swing through game night at your house this holiday season by picking up these terrific new additions that will make a great gift for all the Spidey fans you know! Check out MONOPOLY Spider-Man and Bop It! Spider-Man today!