Tips and tricks for Jedi Training at Disneyland. Use these tips to make sure you get signed up!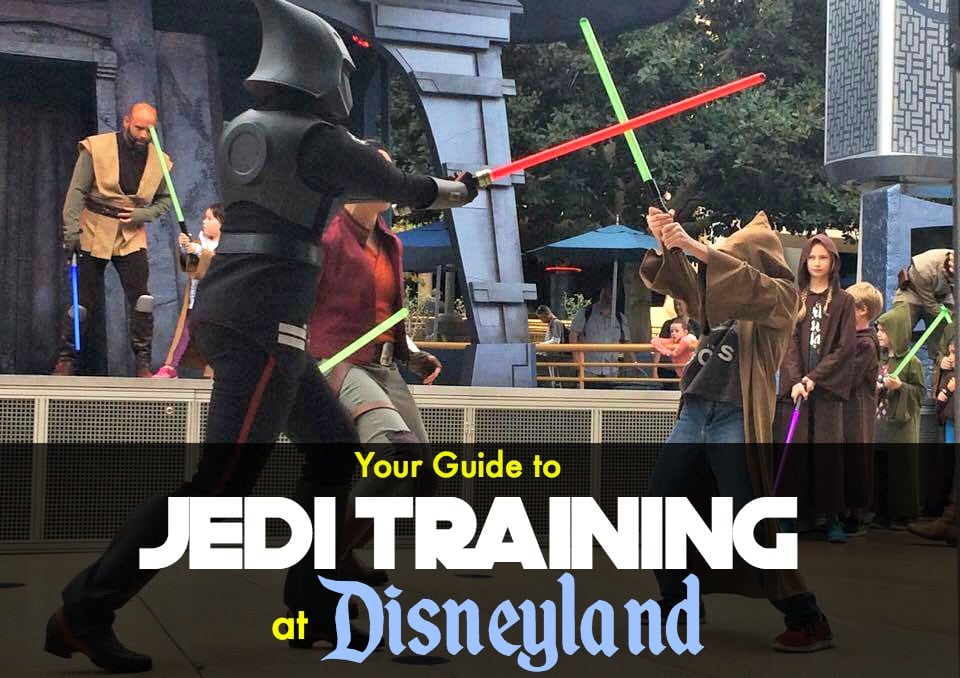 This post may contain affiliate links. When you click on these links, I get a small percentage back to me that helps me run my blog at no cost to you! For more information see my disclosure policy.
Tomorrowland in Disneyland is full of Star Wars experiences for people of all ages. One of the most fun and interactive experiences for kids is, Jedi Training: Trials of the Temple. My kids have done this in the past and loved it, but things have changed a little and its nice to know what to expect before you arrive at Disneyland. Here is Your Guide to Jedi Training at Disneyland!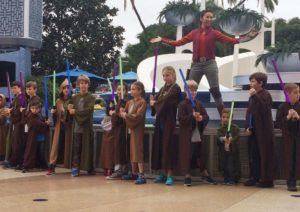 Here is the description for Jedi Training from Disneyland's website:
"Join the Force
The stirring Star Wars fanfare beckons a group of eager younglings in brown robes onto the stage.
Under the tutelage of a Jedi, the recruits learn how to use the Force—and their wit—to wield lightsabers. Now that the Empire has driven the Jedi to the distant corners of the galaxy, the training must proceed in secret at ancient Jedi temples.
But not even this precaution can shield the Jedi from the evil forces of the Dark Side for long. Soon, the novice Knights are challenged to use their new skills when they come face-to-face with Darth Vader—and now a new villain, the Seventh Sister Inquisitor from the popular Disney XD series Star Wars Rebels."
Sounds like fun, right? Below is a step by step guide on how to maximize your experience with Jedi Training at Disneyland!
Step 1: Who is Eligible for Jedi Training
Any child between the ages of 4 and 12 with valid theme park admission is eligible to sign up for Jedi Training at Disneyland. This is an important thing to know before you attempt to sign up.
Step 2: Choose a Jedi Training Show Time
Before going to Disneyland, check the Entertainment Schedule on Disneyland's website. If you will be going to Disneyland for more than one day, I would suggest trying to sign up for Jedi Training the first day of your visit. That way, If all of the spots happen to fill up before you get there, you will have other days to try and sign up again. Find your preferred day on the schedule, and choose one or two possible times. It is important to be flexible with show times if Jedi Training at Disneyland is something your child really wants to do.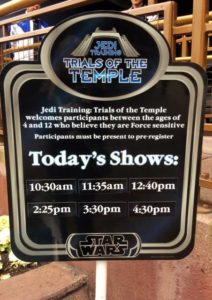 Step 3: Register for Jedi Training
Registration for Jedi Training begins when Disneyland Park opens for the day-including Extra Magic Hour or Magic Morning. Availability is offered on a first-come, first-served basis so it is important to get to the park a few minutes before it opens and head straight to registration once you are in through the gates. All children wanting to participate in Jedi Training at Disneyland MUST BE PRESENT AT REGISTRATION. Cast Members will not sign up a child who is not there.
Here is what you need to do the day you want to sign up:
Arrive 20-30 minutes before Disneyland Park Opens.
After entering the park, head down Main Street USA and turn right to enter Tomorrowland.
Walk past Astro Orbiter, Buzz Lightyear Astro Blasters, Star Tours and Space Mountain. Turn left and you will pass Star Wars Launch Bay.
The Registration Kiosk is right past Star Wars Launch Bay to the right, directly across from the entrance to Autopia.
Cast Members will be there to assist you with registration.
Step 3: Before the Show
When you complete registration, the Cast Member will give you a time, about 25-30 minutes before showtime, to return to the kiosk so that your child can prepare for the show. Your child will then be fitted with a Jedi robe and a Disney photographer will be there to take pictures. You can also take pictures at this time.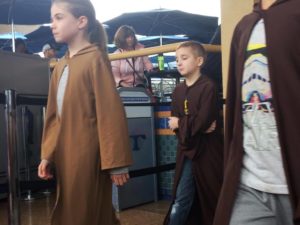 Step 4: Show Time
Jedi Training: Trials of the Temple is presented at the Tomorrowland Terrace stage adjacent to Galactic Grill. It is directly across from the Star Wars Launch Bay Entrance. When the kids are dressed and ready to go, parents of participants will be led over to the stage. You don't need to worry about finding a place to watch the show beforehand. There is an area reserved for parents of participants to view and take pictures of Jedi Training. A couple of minutes before showtime, the participants will be brought over to the stage and the show will begin!

Step 5: Conclusion of the Show
When the show is finished, the participants will return their light sabers and robes to the Cast Members. They will get a little button that says they completed Jedi Training and will be able to come find you in the audience.
That's it! Such a fun and memorable experience for the Jedi Trainees. My boys still talk about how much fun they had fighting Darth Vader and being visited by Kylo Ren. I hope Your Guide to Jedi Training at Disneyland helps you know exactly how to sign up for this fun experience. If your child loves Star Wars, this is definitely something you don't want to miss at Disneyland!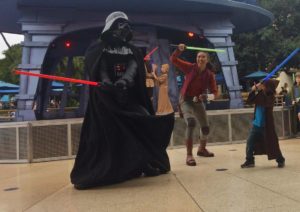 Disneyland Ticket & Hotel Savings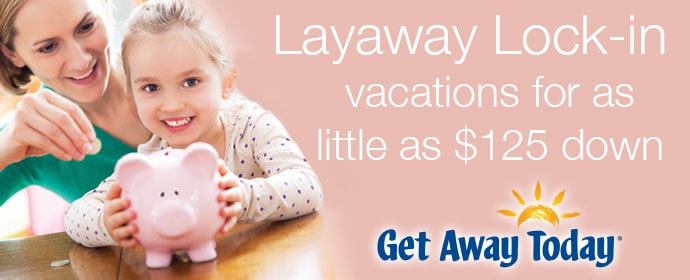 If you're looking to buy Disneyland tickets or book a hotel room, look no further than Get Away Today. Their ticket prices are almost always a few dollars cheaper than Disneyland's gate prices. They are also doing a special right now on their Disneyland tickets. You can get a 5-Day Park Hopper Ticket for the price of a 4-Day ticket! That's a free day at Disneyland! Check getawaytoday.com for current deals. Right now you can use the promo code MommyMouse to get $10 off any 2-night or longer Southern California package. (Hotel and 2 ticket minimum purchase to qualify for the discount)