A rich and hearty chicken and corn chowder with a southwest twist and so easy to make. Perfect for Fall, Winter, Summer or Spring!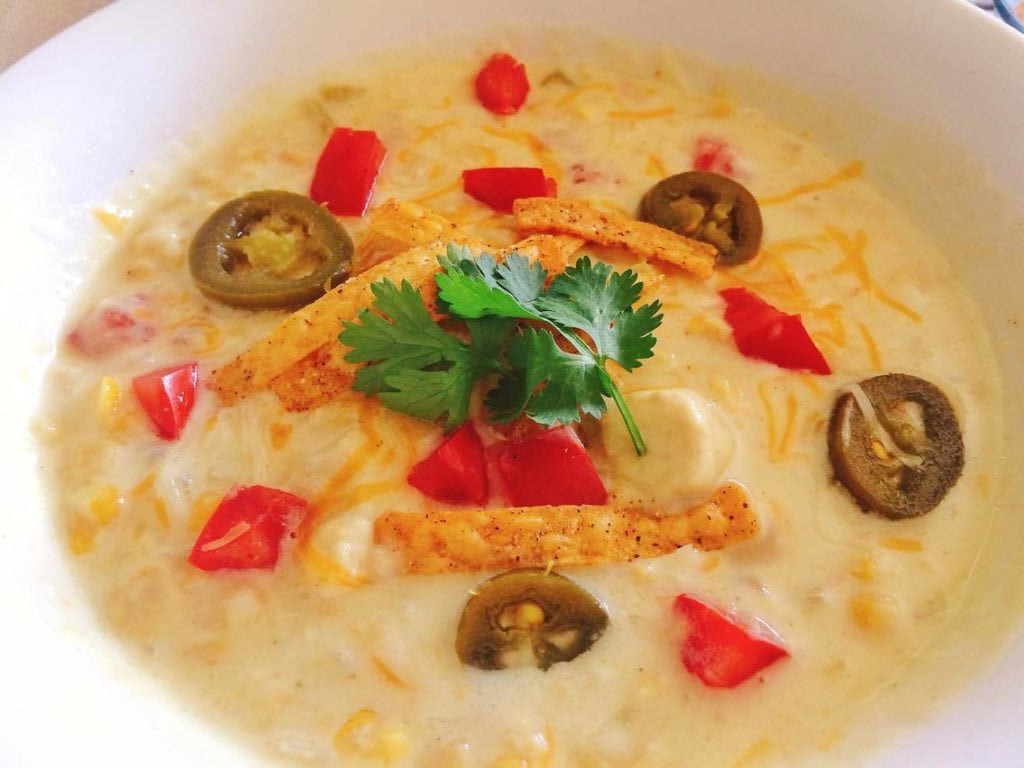 This post may contain affiliate links. When you click on these links, I get a small percentage back at no cost to you! For more information see my disclosure policy.
Every year, my neighborhood hosts a soup and chili competition. The first year that we attended, I made a cheesy potato soup from a recipe I received from my mom.
It was one that I had grown up and is still one of my favorite comfort foods. Unfortunately, my soup didn't win.
I didn't realize that I would be as disappointed as I was when I wasn't given an award. Well, the competitive side of me came out and I told my husband that I would win the next year.
Soup Competition Motivation
I knew I needed to get to work and create a delicious soup that was also a little unique.
At the time of the competition, I happened to be pregnant and craving ANYTHING with green chilies in it.
I began brainstorming different types of soups that would be tasty with green chilies added. My husband happens to be a big fan of corn chowder and orders it almost every time he sees it on a restaurant menu.
I thought that the sweetness of the corn would pair perfectly with the heat and flavor of the green chilies. Add in some Mexican spices and delicious toppings and behold this Easy Southwest Corn Chowder was born.
I entered the Easy Southwest Chicken Corn Chowder in my neighborhood competition the next year and won first place!
It is definitely a soup that my family and I eat often, especially in the fall and winter months when we're craving something warm.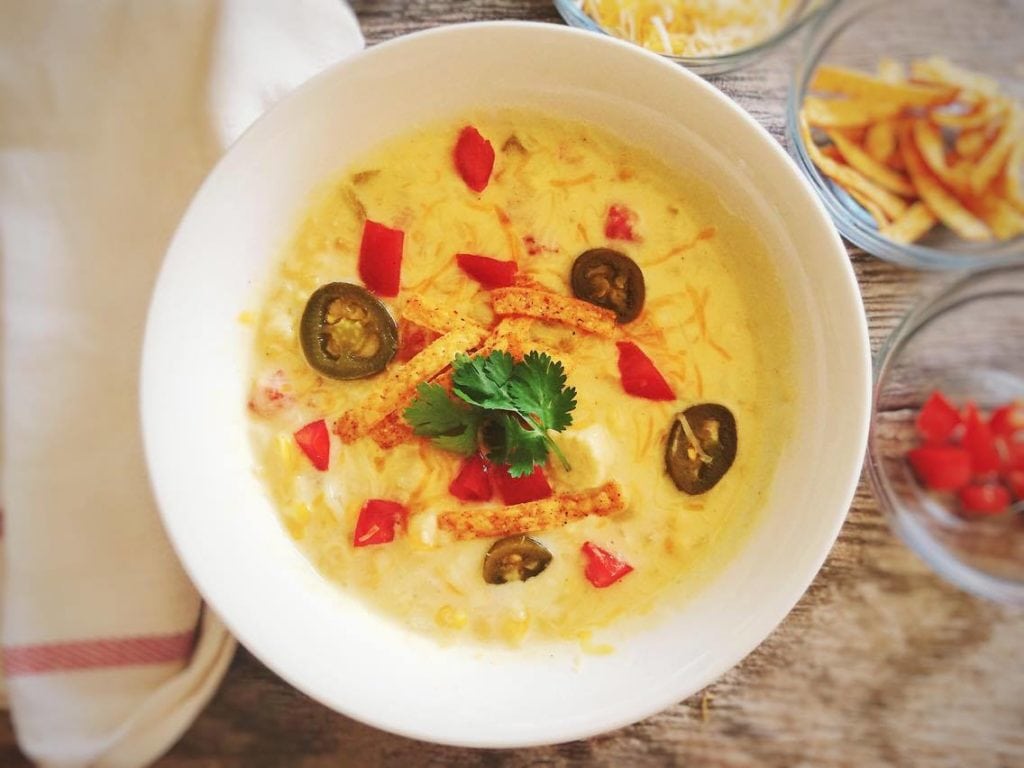 I love how easily this corn chowder comes together. It's perfect for a quick weeknight meal, especially paired with some yummy Honey Buttermilk Biscuits or Sweet Moist Cornbread!
A meal that is quick, easy, and can be prepared in about 30 minutes! It is also hearty and filling because of the addition of chicken. This corn chowder will definitely fill you up.
Southwest Chicken Corn Chowder Ingredients
Corn Chowder
2 Pounds Chicken Breast, cut into small pieces

3 Tablespoons Butter

1 Small Onion

2 Teaspoons Garlic, minced

1 Cup Water

2 Teaspoons Chicken Bullion Granules

1 Teaspoon Cumin

2 Cups Half & Half

2 Cups Pepper Jack Cheese, shredded

2 Cans Cream Style Corn (14.5 ounces each)

1 Can Corn (14.5 ounces)

1 Can Green Chilies (4 ounces)

1 Teaspoon Hot Sauces

1 Tomato, diced
Toppings
Cilantro

Sour Cream

Jalapeños

Tortilla Strips

Shredded Cheese

Tomatoes
Directions
Begin by melting the butter in a large soup pot. Dice the chicken and add it to the pot with the onion. Stir occasionally until the chicken is cooked through. Add the garlic and cook for one minute more.
Pour in the water, chicken bouillon and cumin. Bring the soup to a boil. Once it is boiling, reduce the heat and cover. Let the soup simmer for 5-10 minutes.
Add the half and half, pepper jack cheese, cream style corn, corn, green chilies and hot sauce. Stir together until it has heated through and the cheese is melted.
Mix in the chopped tomatoes and serve with your desired toppings.
Make sure you Pin this Easy Southwest Chicken Corn Chowder so you can come back to this recipe again and again, like I do! Enjoy!
More Soup Recipes: