Want to know if the Circle with Disney is right for your family? Check out this review of how the Circle works and all of its features!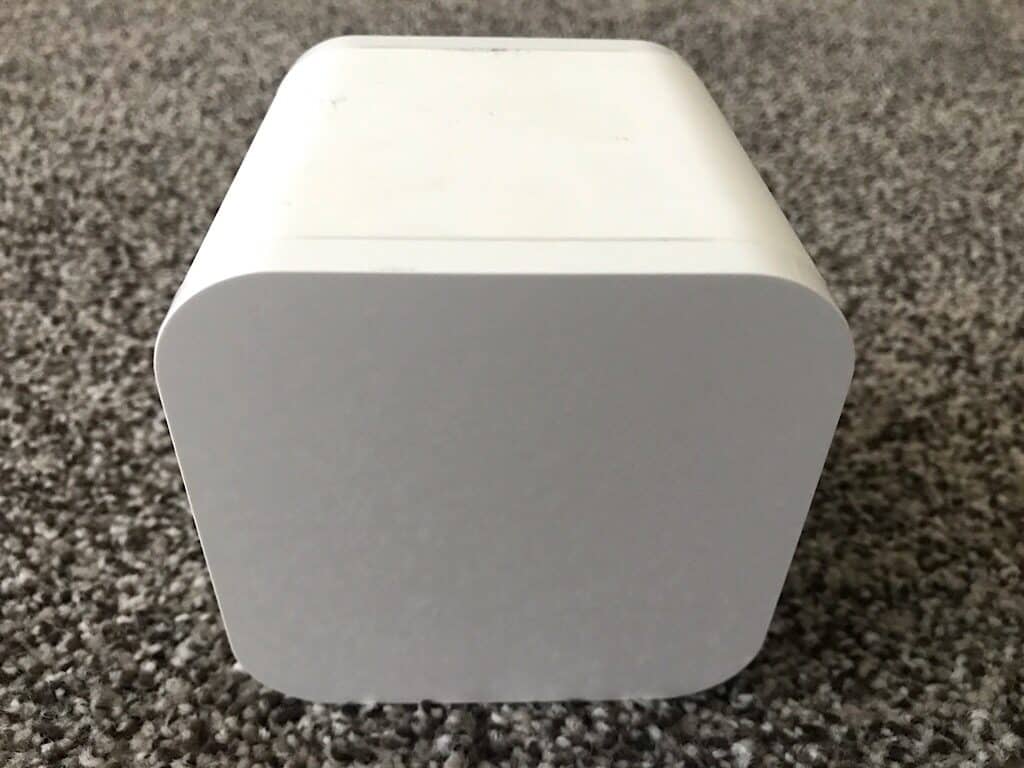 This post may contain affiliate links. When you click on these links, I get a small percentage back that helps me run my blog at no cost to you! For more information see my disclosure policy.
Our family has been using the Circle with Disney wifi management device for about two years now. The circle has been a welcome addition to our household.
What is Circle with Disney?
The circle is a wifi tool for parents. It manages your kids internet usage and your own (if you want).
It performs its functions via a small plug in cube that you locate near your internet router. It will not slow down your internet as it operates in the background and presents its information to you in an easy to read and understand (iOS and Android) app that can be controlled from anywhere.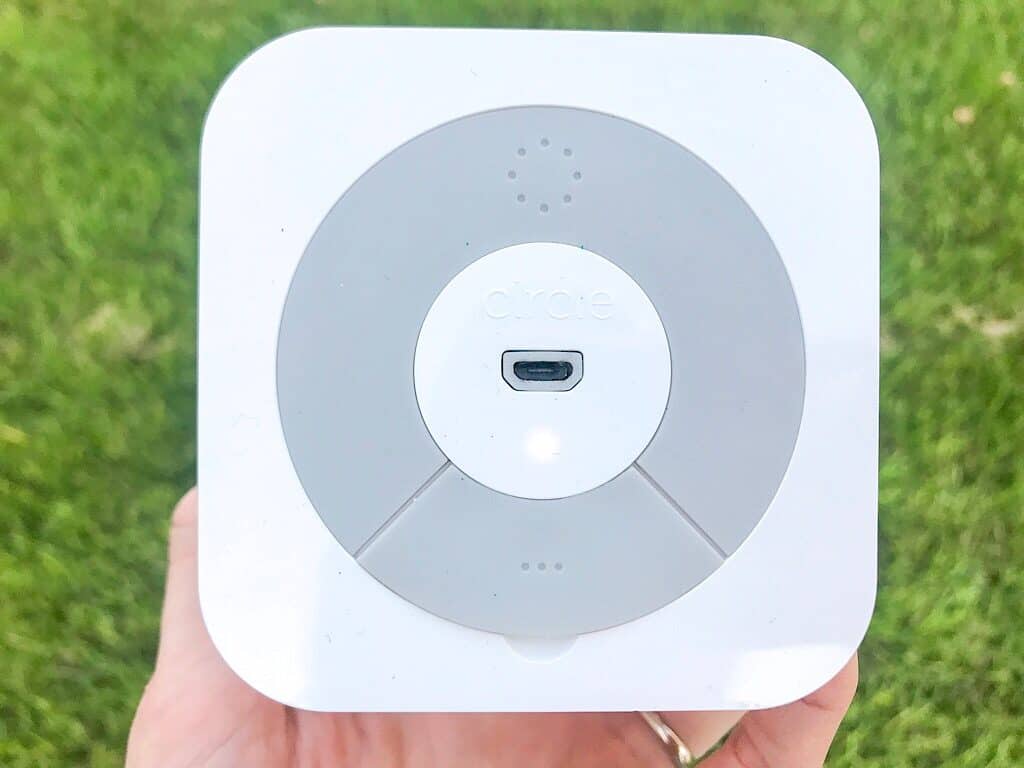 There are two models of the Circle with Disney.
What are the differences between Circle with Disney 1st

generation and 2nd generation?
We have the 1st gen. model of the Circle. This model provides all of the following functions for FREE:
Usage

Filters

Bedtimes

Time limits

Rewards

Pause

History
These functions are only provided for your home wifi.
Does Circle with Disney work with cellular data?
Generation one does not extend to cellular. This model is useful (and CHEAP) for your kids who have laptops, iPads, iPods, or cell phones without internet access.
There was an option to add cellular management for an additional monthly cost but this feature has been discontinued for this model.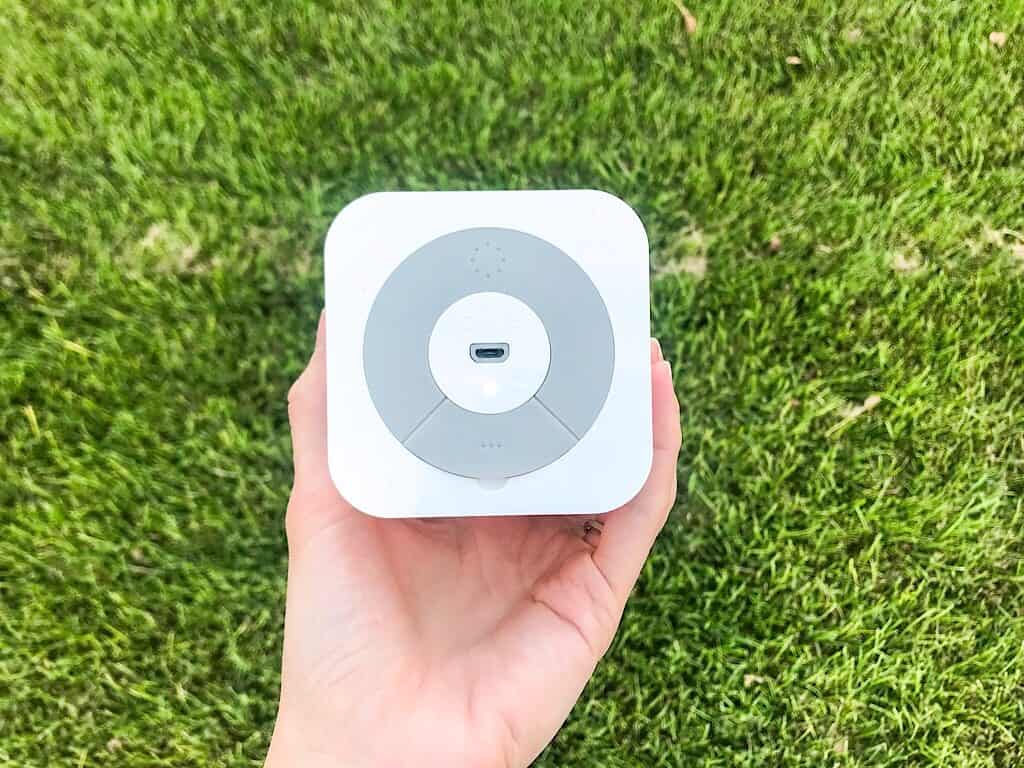 The 2nd gen. model was changed I believe to push more users into a monthly subscription.
It provides all of the same features but at different price tiers (included vs. premium).
Included features:
Premium features:
Time limits

Pause

Bedtime

Off time

Rewards

Location
Is there a monthly fee for Circle with Disney?
After a free one year introductory period there is a $9.99 monthly fee for ALL devices (wifi and cellular).
Let's break down the features with descriptions and pictures:
Profiles:
The Circle allows you to set up profiles for all of your family members and/or specific devices. My current profile set up includes each of my family members along with shared devices (Xbox, MacBook Air).
Pause:
A great feature is have the ability to Pause the internet whenever needed. This ensures that you have your family members attention when you need it. All you have to do is hit the large pause icon on the profile you need or for everyone.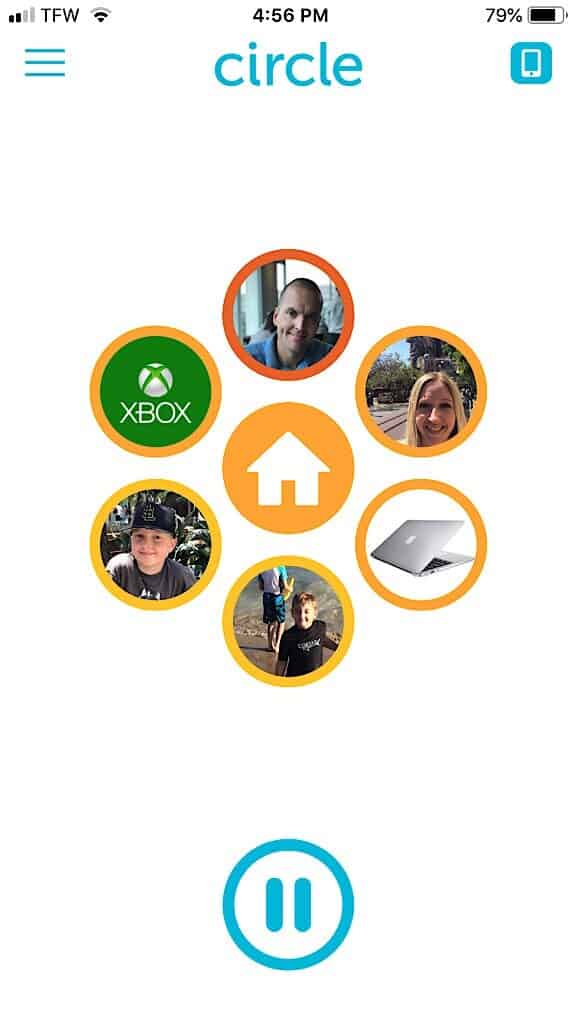 Filter:
The Circle provides pre-determined filter designations (Pre K, Kid, Teen, Adult, None). This allows tighter restrictions for younger family members and looser restrictions for teens or for Mom and Dad.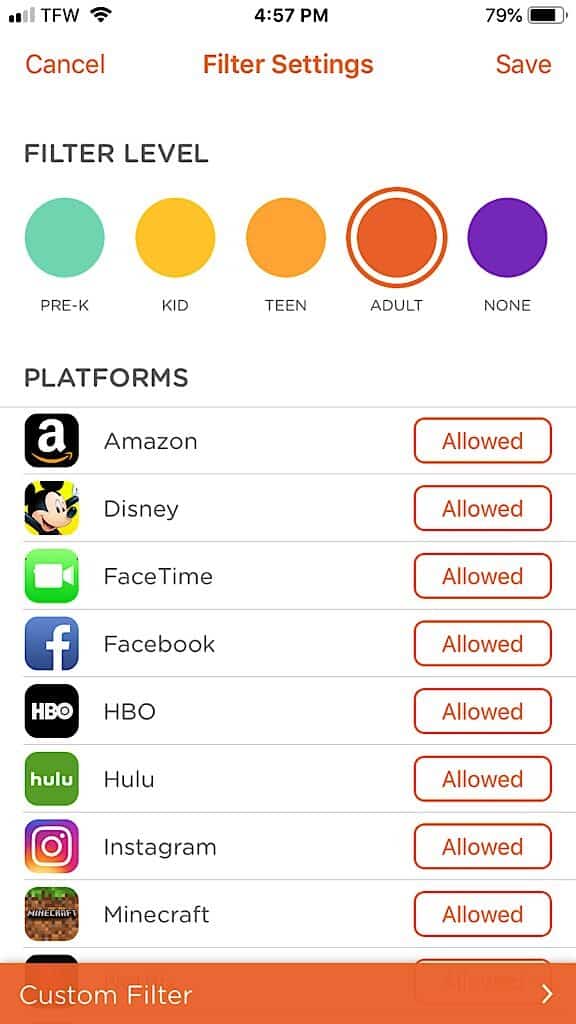 The filter feature lets you allow or not allow popular apps, categories, and privacy options.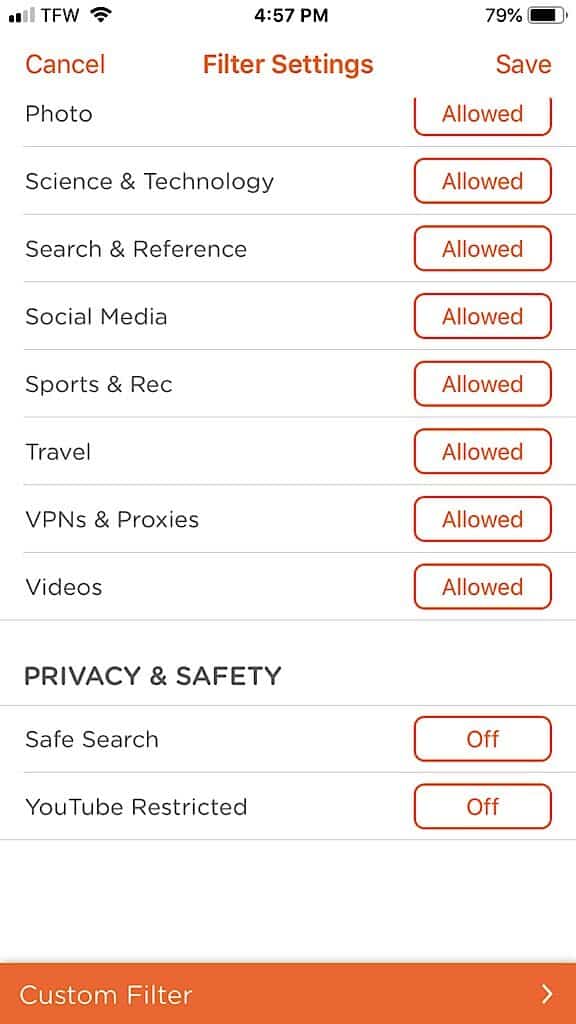 BedTime:
The Circle allows you to turn off wifi access at predetermined times. Our son's time turns of 8:00 PM and turns on at 10:00 AM. While we do have family time frames for internet use this ensures that all access ends at bed time. No sneaking extra time!
Time Limits:
The time limit feature allows you to customize time on specific apps. You do a general time limit for phone usage or break it up between apps (total of four hours with two hours for Netflix and two hours for YouTube).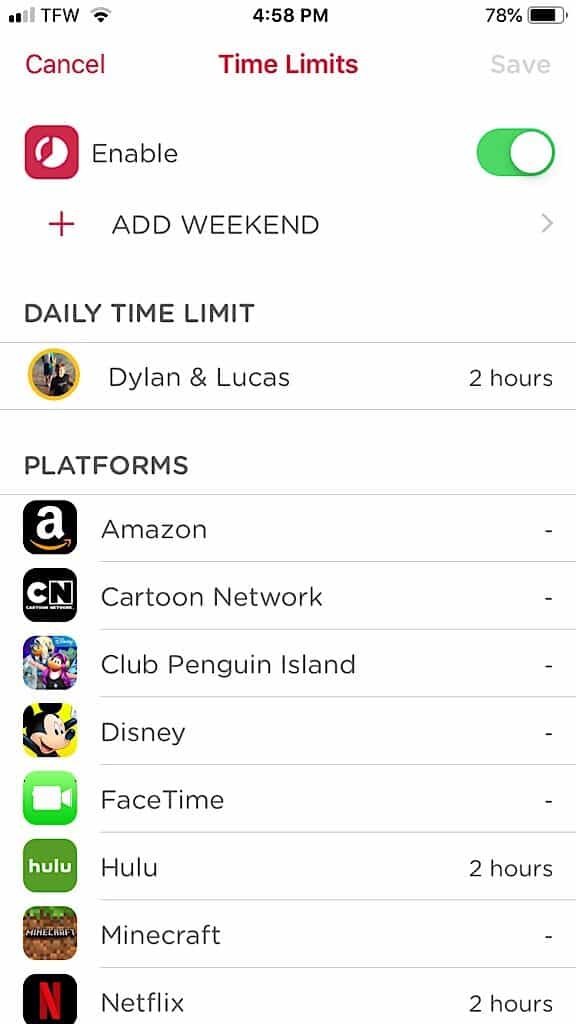 Off Time:
This is a feature that allows you to designate specific off times. This differs from bed time because you may need to limit time after school so that homework can be done for example.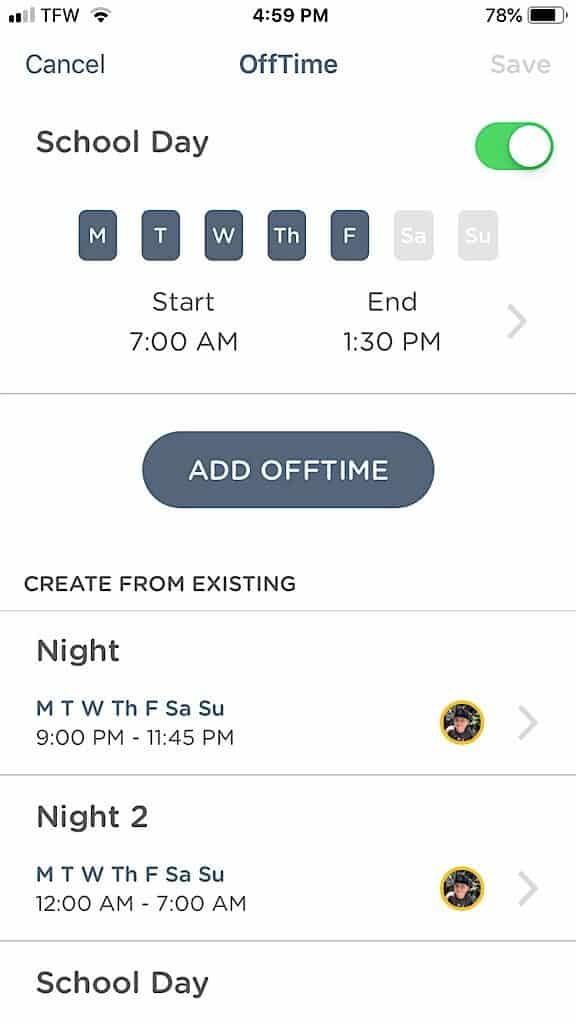 History:
Circle provides a history feature that allows you to supervise the websites that have been visited for each profile set up within the Circle app. Because some apps such as YouTube are encrypted you will not be able to see specific searches within some apps.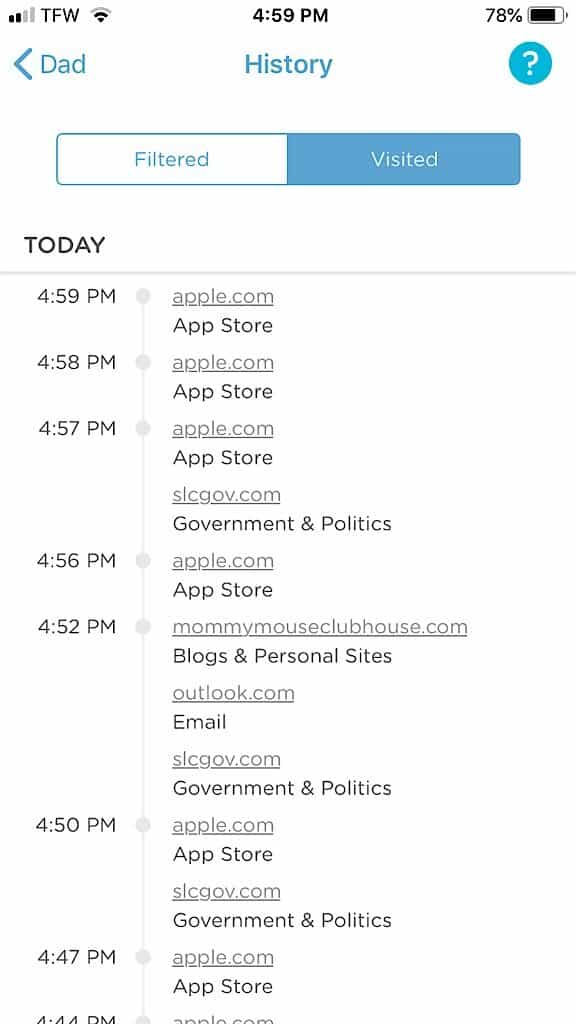 Rewards:
The reward feature allows you add additional internet access time without having to adjust other preset time limits.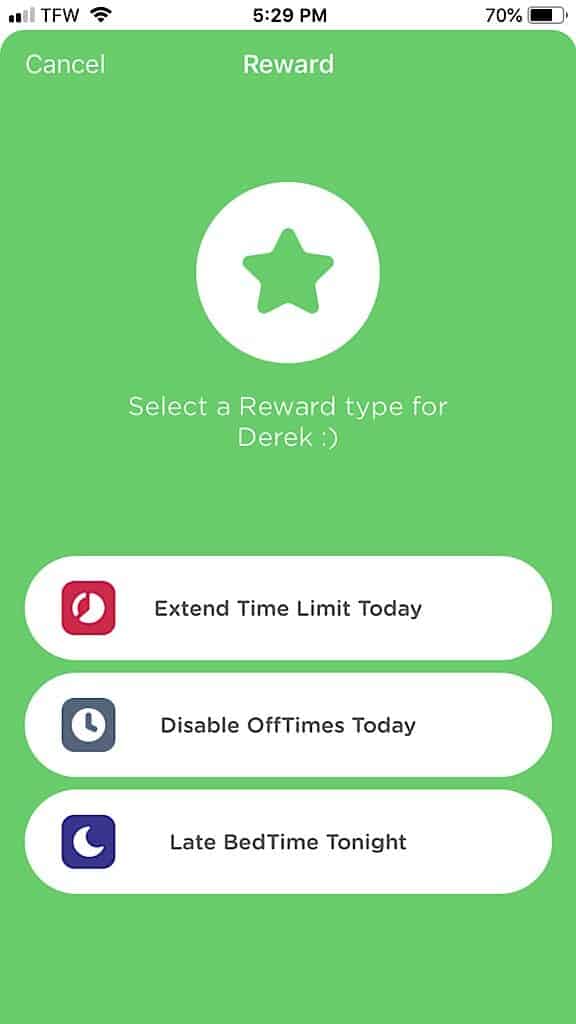 The Circle also has a rechargeable battery. The Circle will alert you when the battery gets low.
This helps when a mischievous family member thinks they can pull a fast one on you and unplug the Circle. Little do they know that Circle has already thought of their plan.
We have been very pleased with the Circle with Disney. It has provided us with an easy to control app that helps us control our families internet usage and allows us to sleep better at night.
Please visit this Amazon link to purchase the 1st generation for a cheap price or this Circle with Disney link for 10% off a 2nd generation version.