Find out which Disney stories you will see at Disney on Ice: Worlds of Enchantment! Get a dose of Disney Magic with some of your favorite characters live on ice!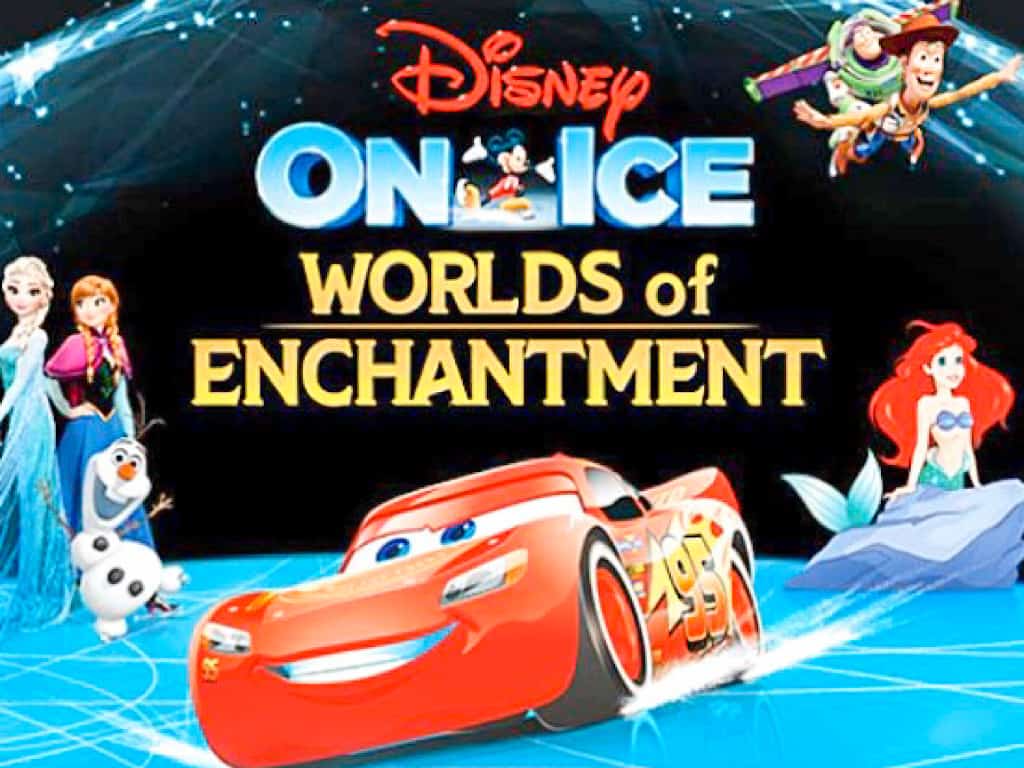 Tickets to Disney on Ice World of Enchantment were provided complimentary to my family. All opinions are my own.
If you haven't been to a Disney on Ice show, you are missing out!
I have actually not attended a Disney on Ice event since I was a little girl, so when I had the opportunity to bring my boys to the show I had to do it!
Disney on Ice Worlds of Enchantment will take you through some of your favorite Disney stories through the amazing visualizations of the performers on ice.
What to Do Before the Show
Make sure to arrive at the venue a few minutes before the show starts. This will give you time to find parking, pick up a snack or two, and find your seat. You don't want to miss any of the show!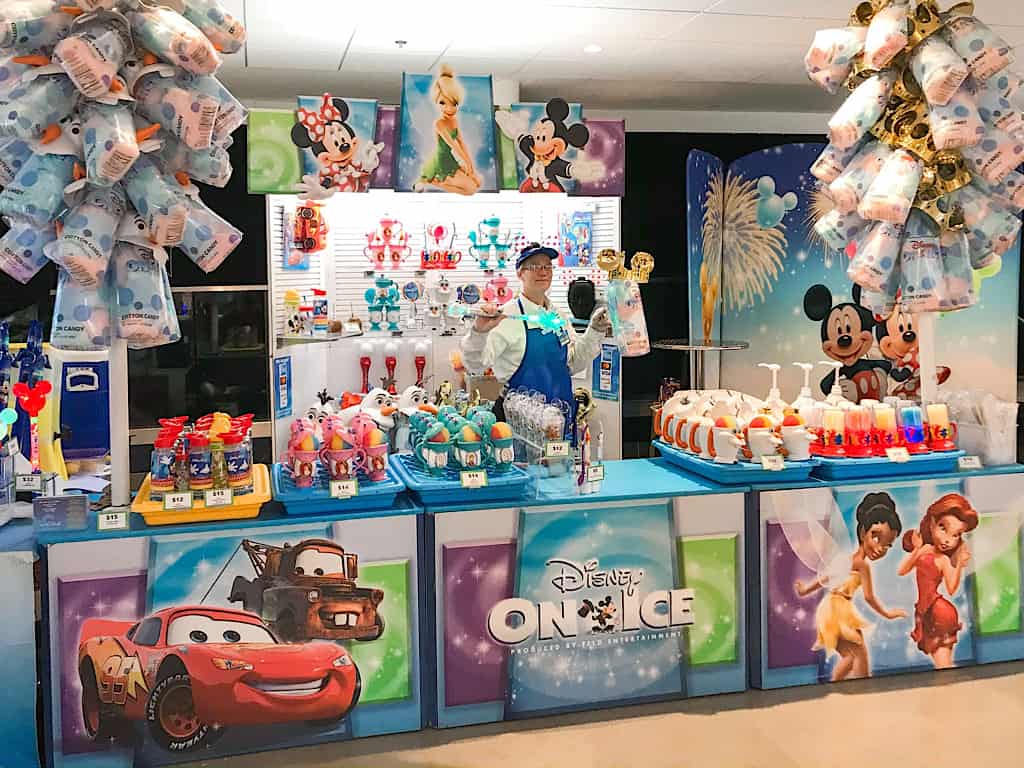 Before entering the arena, take a look around at all of the fun souvenirs. You will find everything from light up bubble wands shaped liked Mickey Mouse, to snow cones in Olaf cups.
My boys chose to get cotton candy with an Olaf hat right on top!
Mickey & Friends at Disney on Ice Worlds of Enchantment
The show begins with Mickey and Minnie coming out to greet the crowd. They are followed by Goofy and Donald.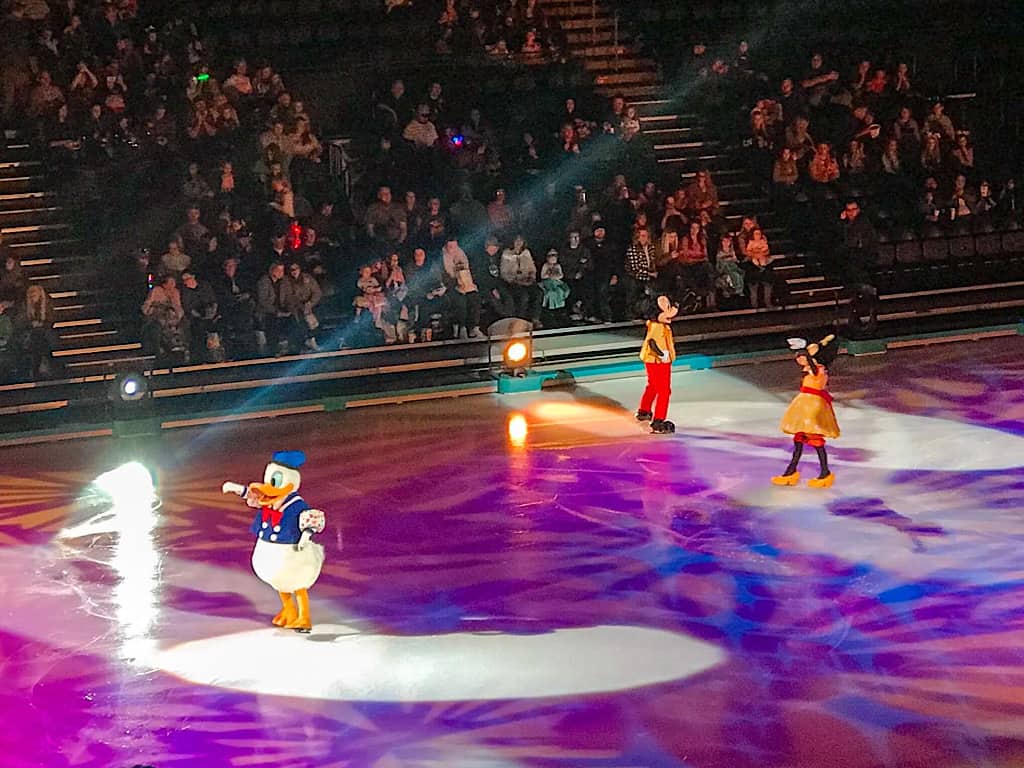 I love that the classic Disney characters appear right at the beginning. It's a great way to start the show with some Disney magic!
Toy Story
This version of Disney on Ice focuses on the Toy Story characters. You are able to follow along as your favorite toys like Buzz Lightyear, Woody, and Jessie try to escape from Sunnyside Daycare.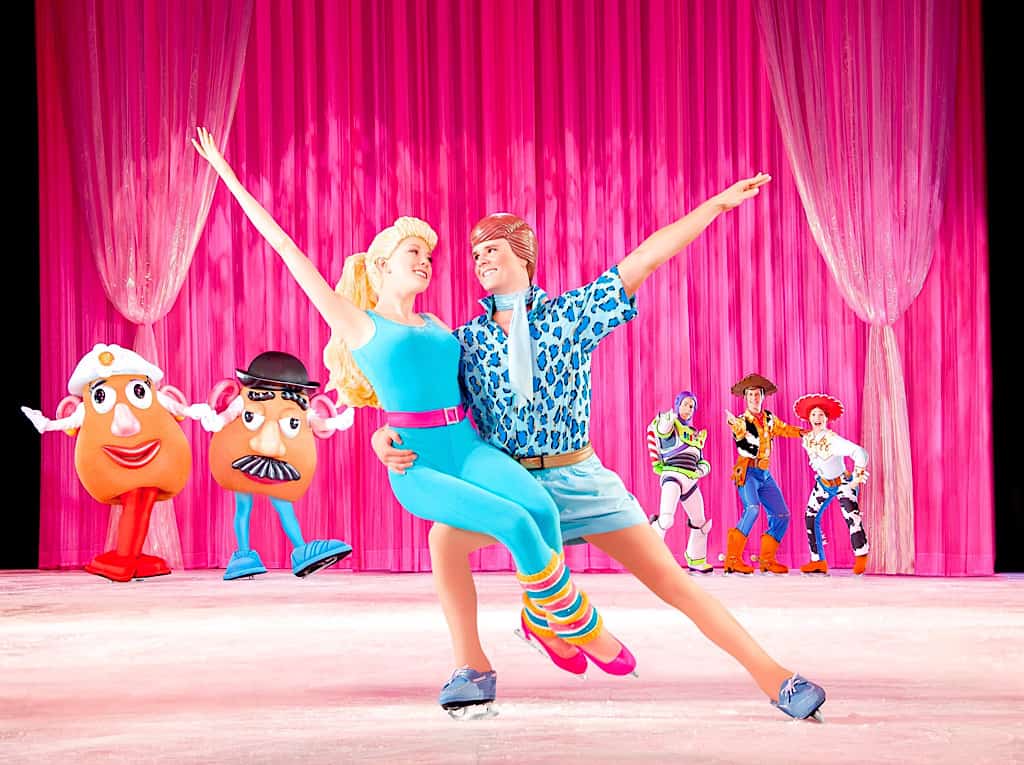 One of my favorite parts of the show is when Woody flies over the ice on a hang glider. My other favorite part was when Buzz is in Spanish mode. My boys thought that was hilarious!
The Toy Story section of the show is the main focus and therefore the most time is spent on this story.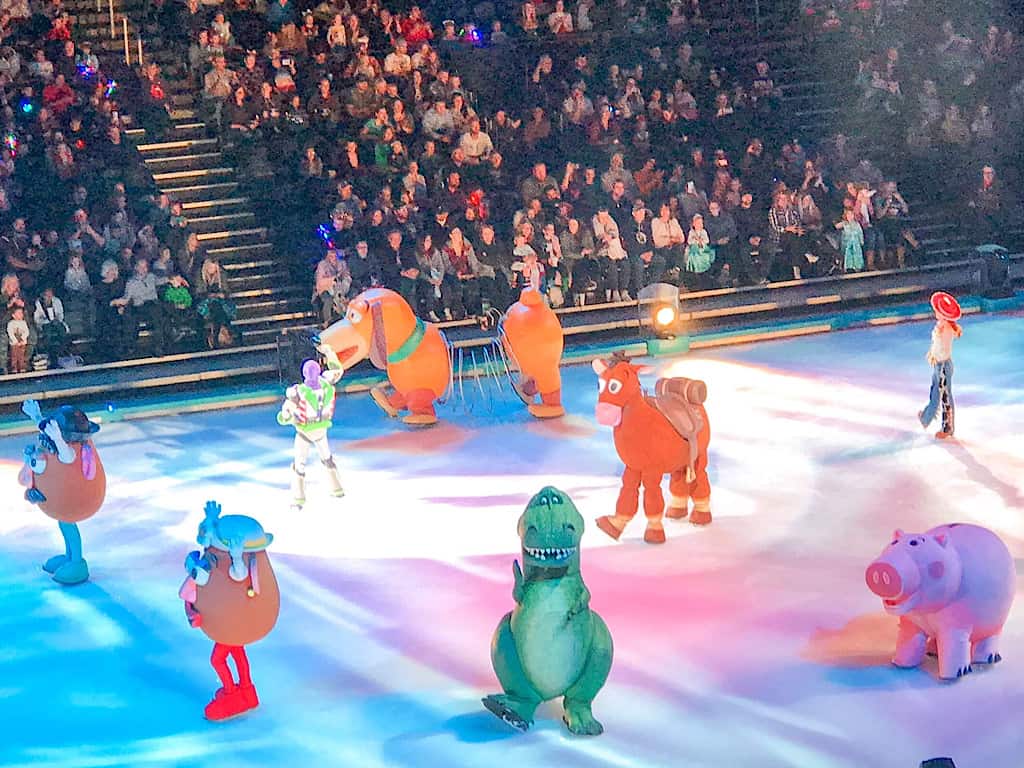 The Little Mermaid
When the toys leave the ice, out comes Flounder and Ariel from Disney's The Little Mermaid.
The best part of this story is that it brought me right back to my childhood. I knew that movie like the back of my hand and had a great time singing along to all of the songs like Kiss the Girl.
I'm pretty sure I embarrassed my kids!
Cars
After a short intermission, Mickey and Minnie make an appearance in their adorable car, only to find themselves having car trouble.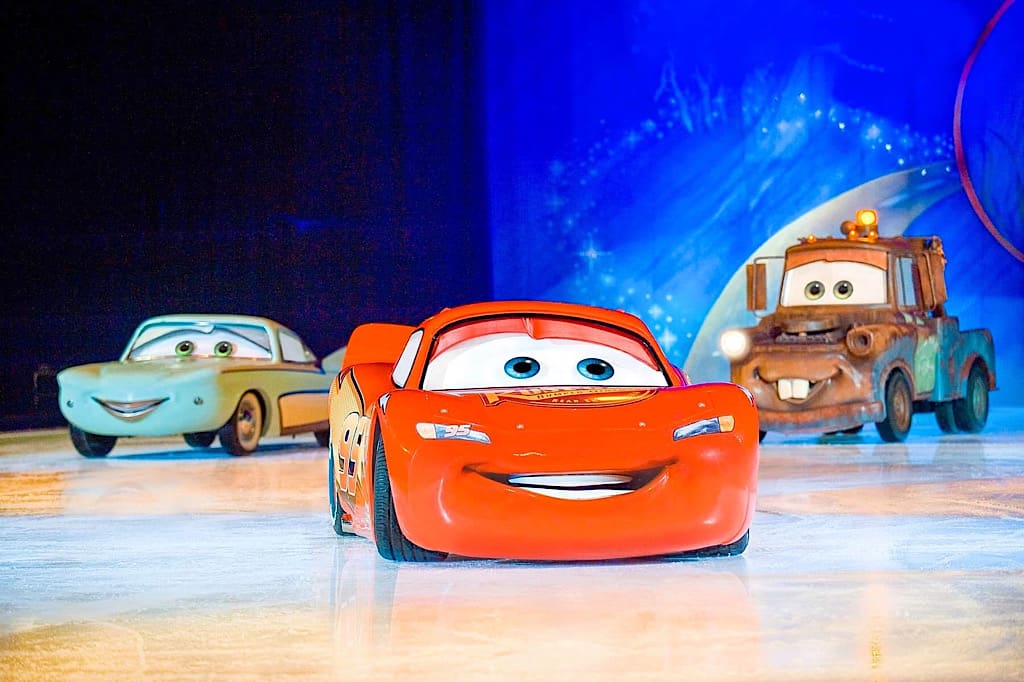 But, there's no need to fear! Tow Mater, Lightning McQueen, Sally and the rest of the Cars gang show up to save the day!
My kids and I spent this entire portion of the show trying to figure out if someone was skating inside the cars or if they are remote control.
I'm still not sure. But what I am sure of, is how fun it was to watch the cars fishtail across the ice with total precision. It was definitely one of the show highlights!
Frozen
The show concludes with the performance of Anna, Elsa, and Olaf in Frozen. Another one of my favorite stories, I definitely found myself singing along with the princesses.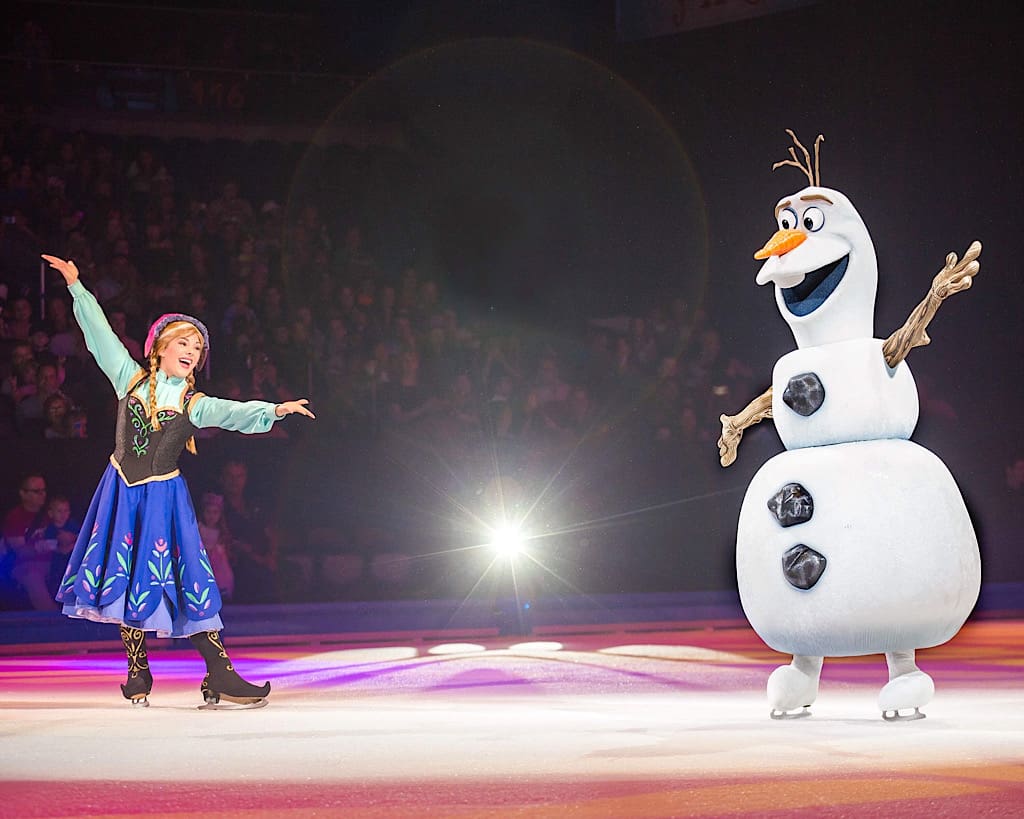 The culmination of the Frozen scene is definitely when Elsa sings Let it Go! A large staircase is brought out for her to climb and finish her song high above the ice.
Disney on Ice Review
I LOVED Worlds of Enchantment! I thought it was a great balance of stories for old and young as well as boys and girls.
Having never taken my boys to a Disney on Ice show before, I wasn't quite sure if they would enjoy it.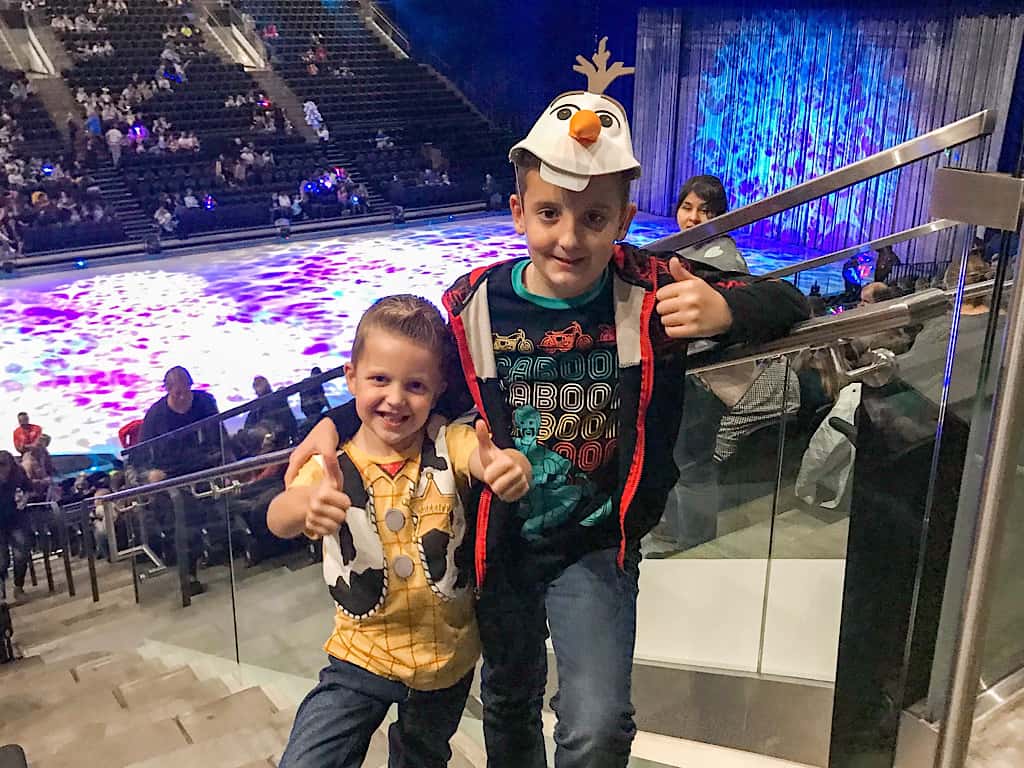 I am happy to say that they had a blast re-living their favorite stories with the performers on the ice.
How to Get Disney on Ice Tickets
If you want to find out if Disney on Ice: Worlds of Enchantment will be visiting your city, just head over to their website.
You will also be able to check on ticket prices and availability.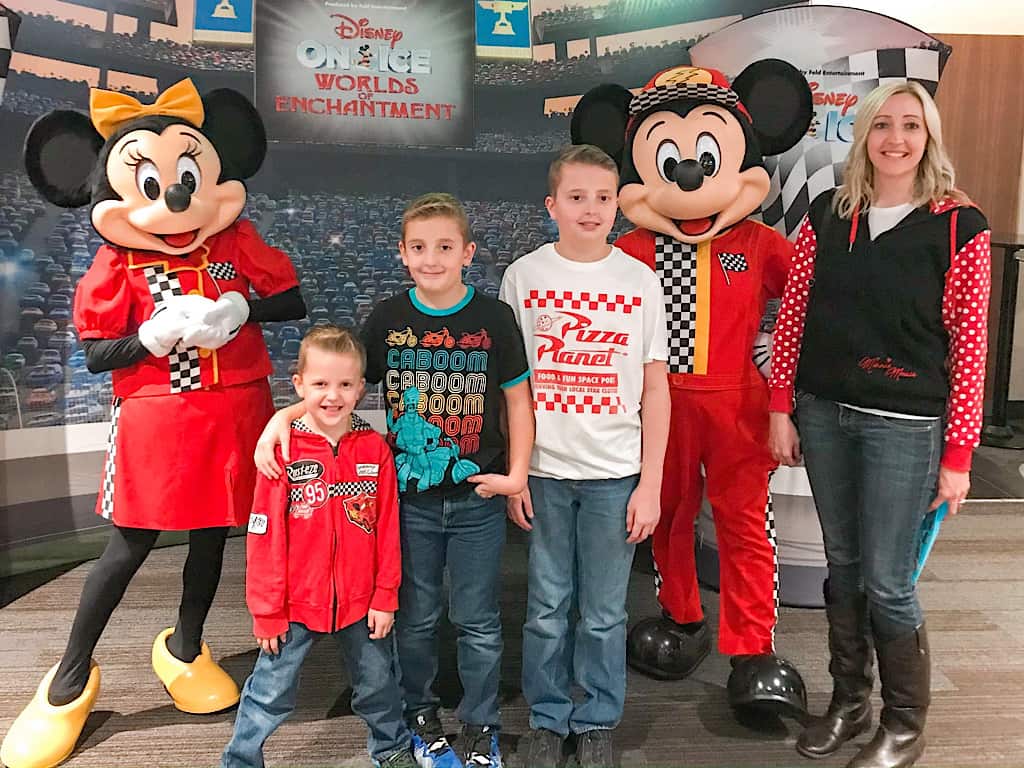 They even have a character meet and greet experience you can add on to your package! A great way to have a magical Disney experience right in your hometown!
I hope this review of Disney on Ice: Worlds of Enchantment will help you decide if this show is right for your family.
If you've seen the show, let me know what you think in the comments below!